This article is contributed by the team at AroiMakMak.com — a one-stop platform for all things Thailand. After a visit to Koh Kret, they wanted to share this hidden gem alternative for a weekend dose of fresh air near Bangkok.
Koh Kret is a man-made island in the Nonthaburi province, northwest of Bangkok. While most locals visit the urbanised part of Nonthaburi — famous for its temples and architecture, Koh Kret offers a laidback island vibe and a unique change of pace from Bangkok's hustle and bustle.
Despite being a travel destination, it's surprising to see that the island is still very much residential: it's the sort of place that becomes quiet after 6pm and the locals are super friendly.
Getting there
Being a small island, Koh Kret is completely isolated from the mainland. There are no bridges so the only way to get there is by boat. The boat runs between 5AM–9PM from Wat Sanam Nuea (Map). Once on the island, you can rent a bicycle or walk to get around. Motorcycle taxis are also available in several areas. Note that most shops on Koh Kret are only open on weekends.
1) Spot Instagrammable murals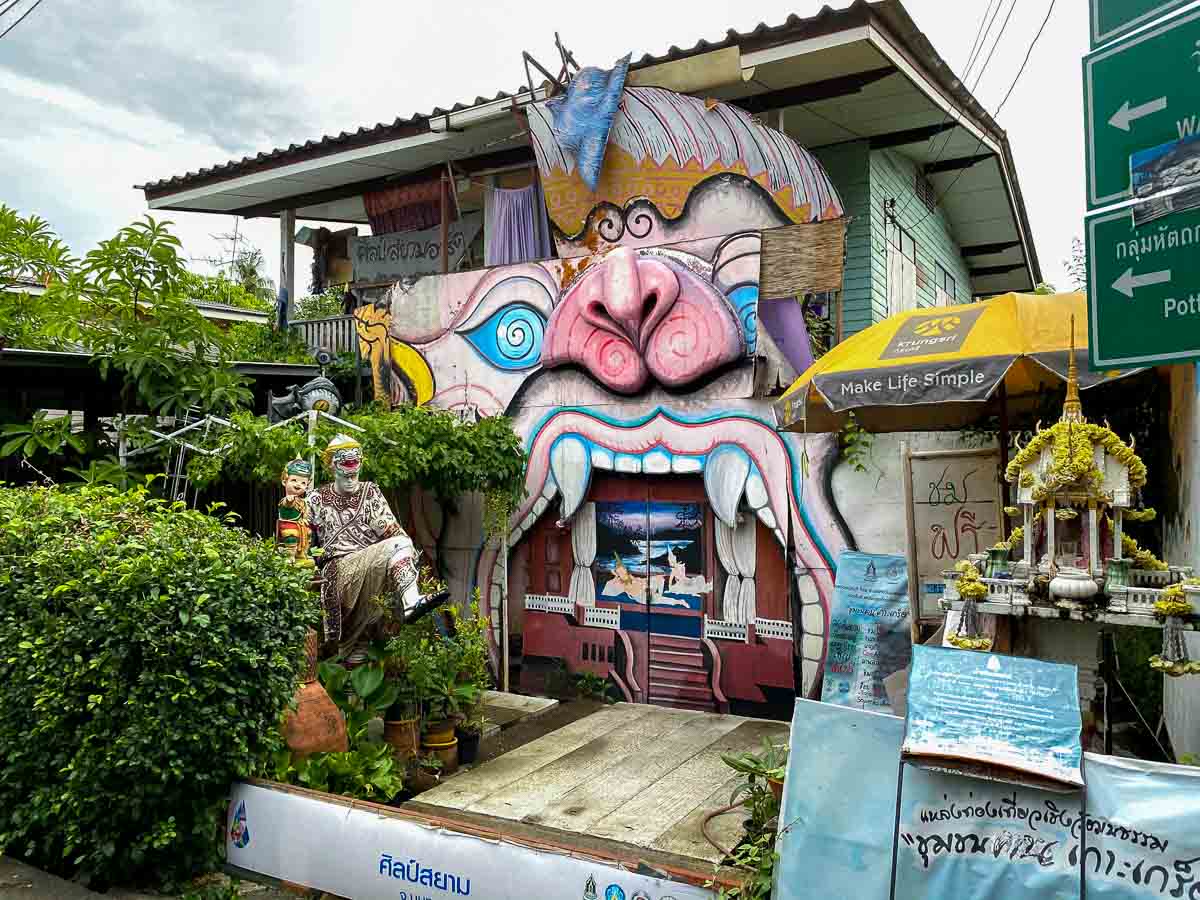 Baan Silp Siam, a theatrical art museum
As a community known for its craftsmanship, art is definitely part of the Koh Kret lifestyle. Besides unique potteries and historical ornaments in temples, you can also spot art pieces around the island in the form of murals — which make the perfect backdrop for photo opportunities.
2) Explore Koh Kret's culture and history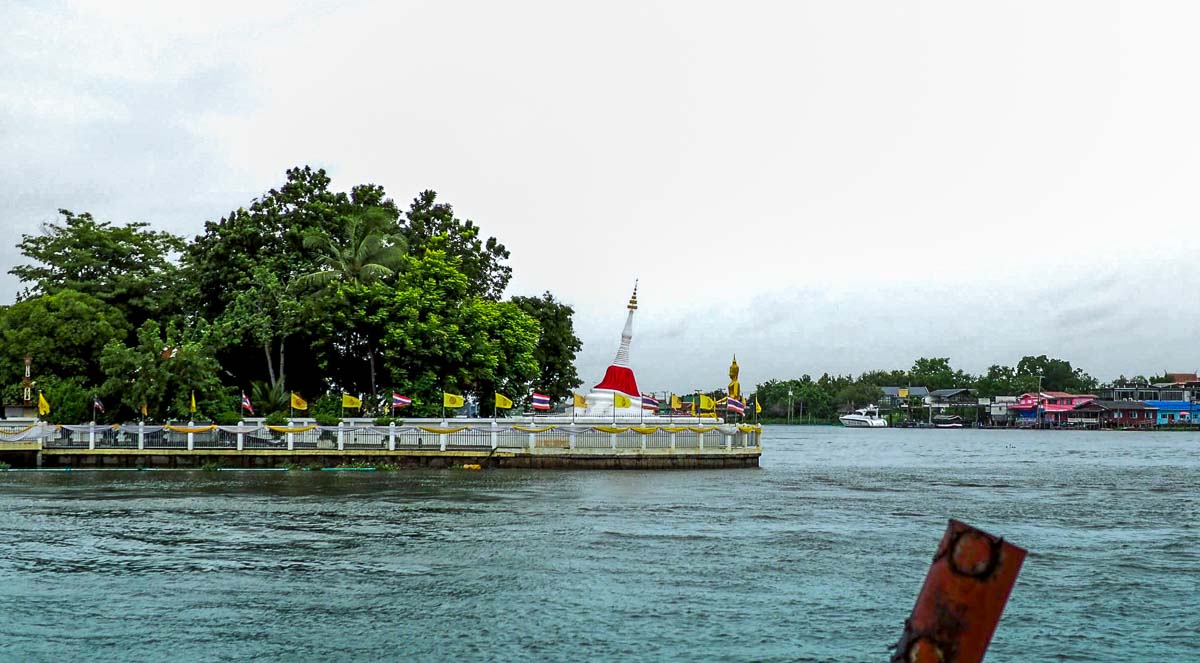 When you cross the river from Wat Sanam Nuea, Wat Paramaiyikawat is the first landmark of Koh Kret you'll see — a white leaning stupa. The three-century-old stupa started to tilt about 100 years ago due to water erosion.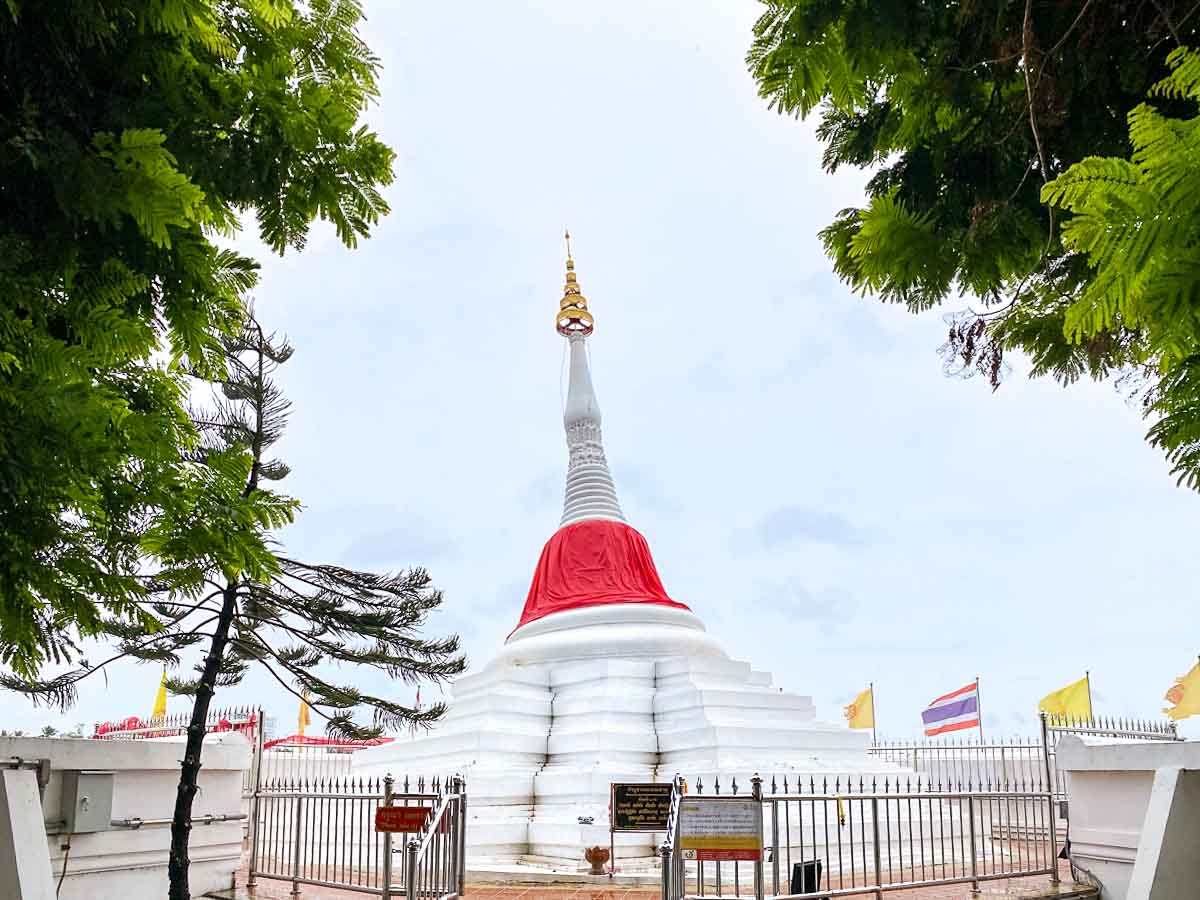 Wat Paramaiyikawat is an ancient royal temple with a couple of museums around. One of it is the King Rama V Museum which exhibits a collection of things that were used by his family, including household items like beds, cupboards, electric fans and water filters.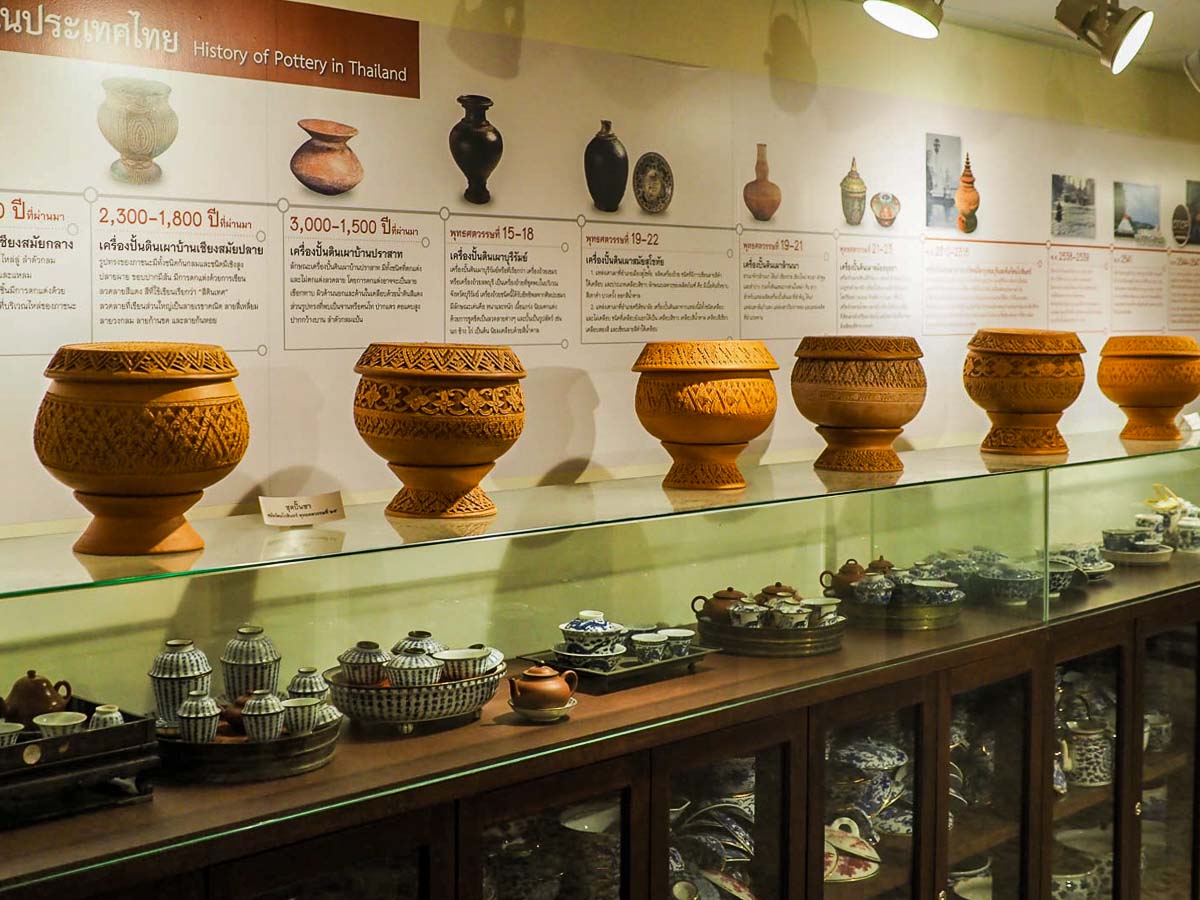 Downstairs in the same building is the Pottery Thai Nithat Gallery, which showcases the history of Koh Kret's pottery. Note that the descriptions in the exhibitions are in Thai.
2) Taste the specialties of Koh Kret
The best thing about Koh Kret is that there are plenty of riverside eateries at affordable prices you'll be spoilt for choice. Not to mention countless food stalls along the walkway market. Be sure to check out some of the island's specialties: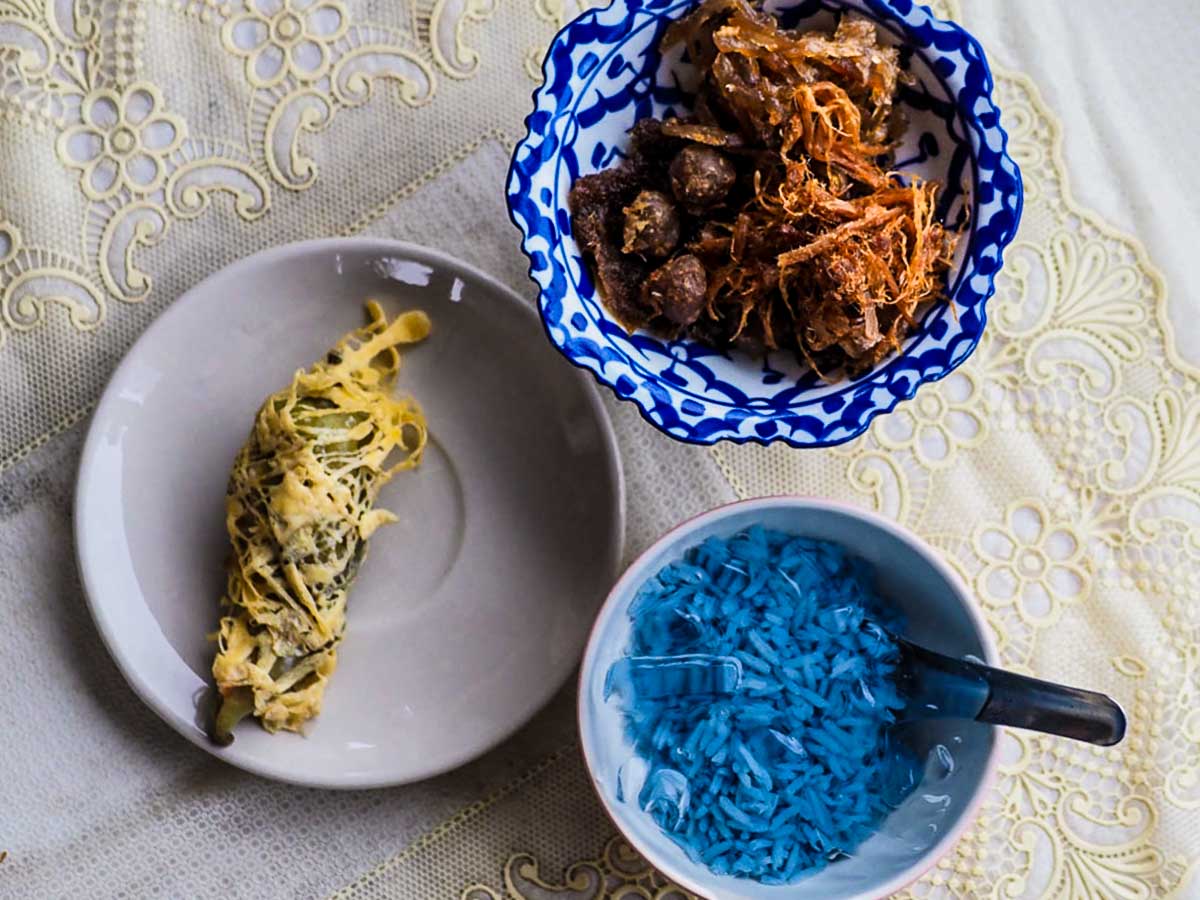 One of the island's specialties is Khao Chae made traditionally the Mon way. This unique dish is served as a set of rice in jasmine-scented iced water along with side dishes such as shrimp-paste balls, stuffed peppers and shredded sweetened pork. The proper way to eat Khao Chae is to eat the rice and side dishes separately, so remember not to mix it!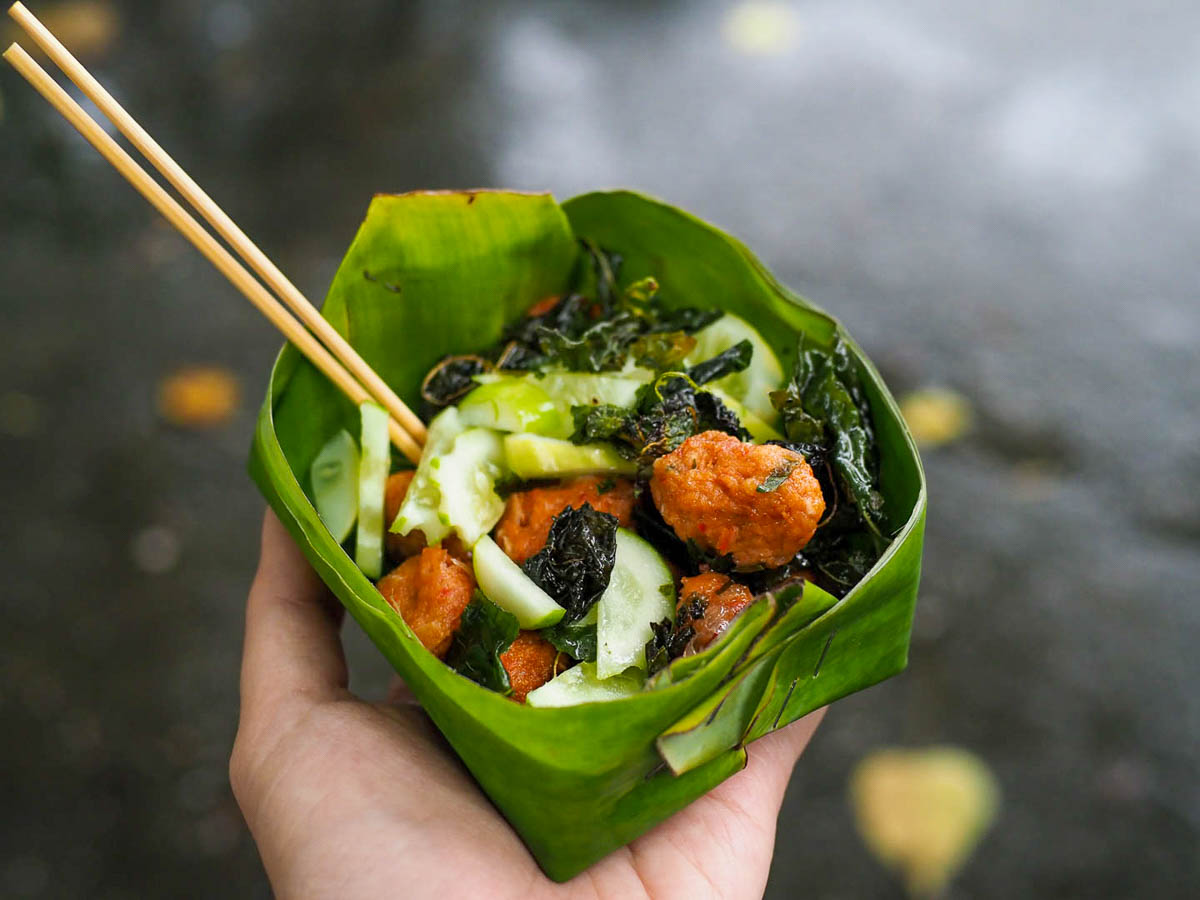 Other savoury snacks you'll find there include Thot Man Nor Kala, which is Fried Fish Cake mixed with Chilli Paste and the stem of Alpinia Nigra which gives a slightly crunchy texture and a gingery taste.
Dessert lovers, this is your paradise! Be prepared to taste from various Thai desserts stalls along the way. Besides traditional Thai desserts you can find in Bangkok, Koh Kret also has its speciality dessert.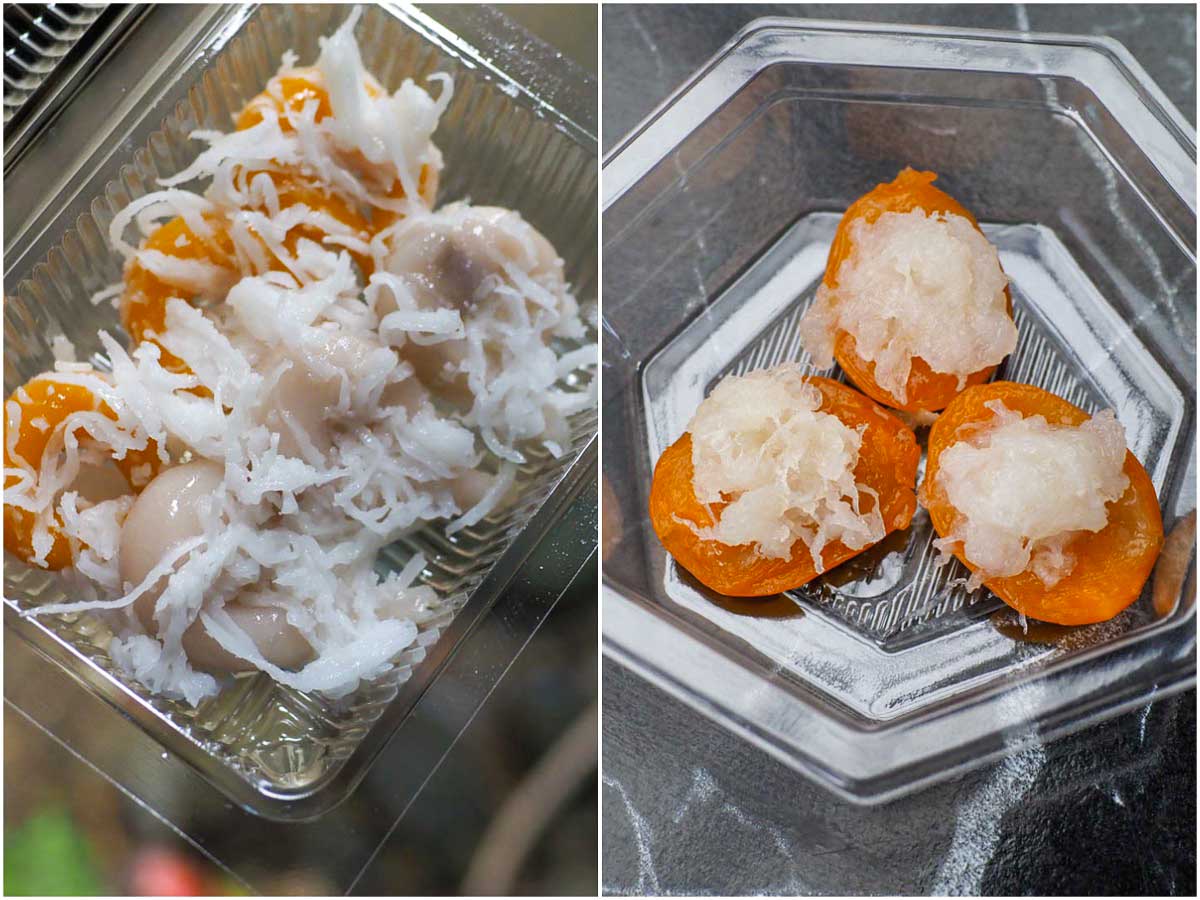 Khanom Khai Pla (left), Han Tra (right)
One of Koh Kret's unique dessert is Han Tra, a ball of mung bean or taro paste, coated in egg yolk, then boiled in syrup and served with egg white threads on top. Han Tra is sold at several stalls throughout the island.
Another rare Thai dessert that stands out is Khanom Khai Pla, toddy palm dumplings shaped like fish roe, served with shredded coconuts.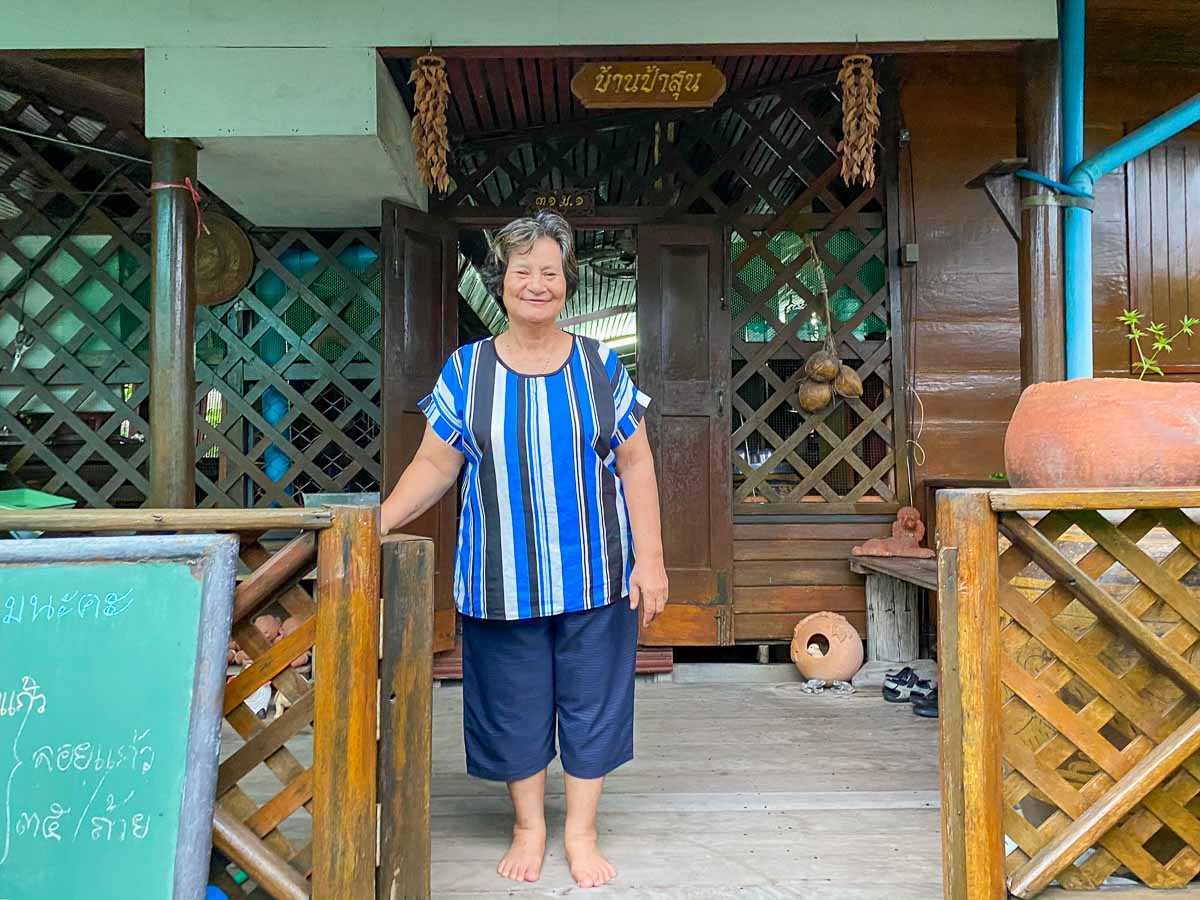 If you're in the mood for some syrupy, icy treats, drop by Baan Pa Sun, where you can enjoy homemade young toddy palms, green mango and santols in syrup. Great for a sunny day!
4) Learn about the island's special pottery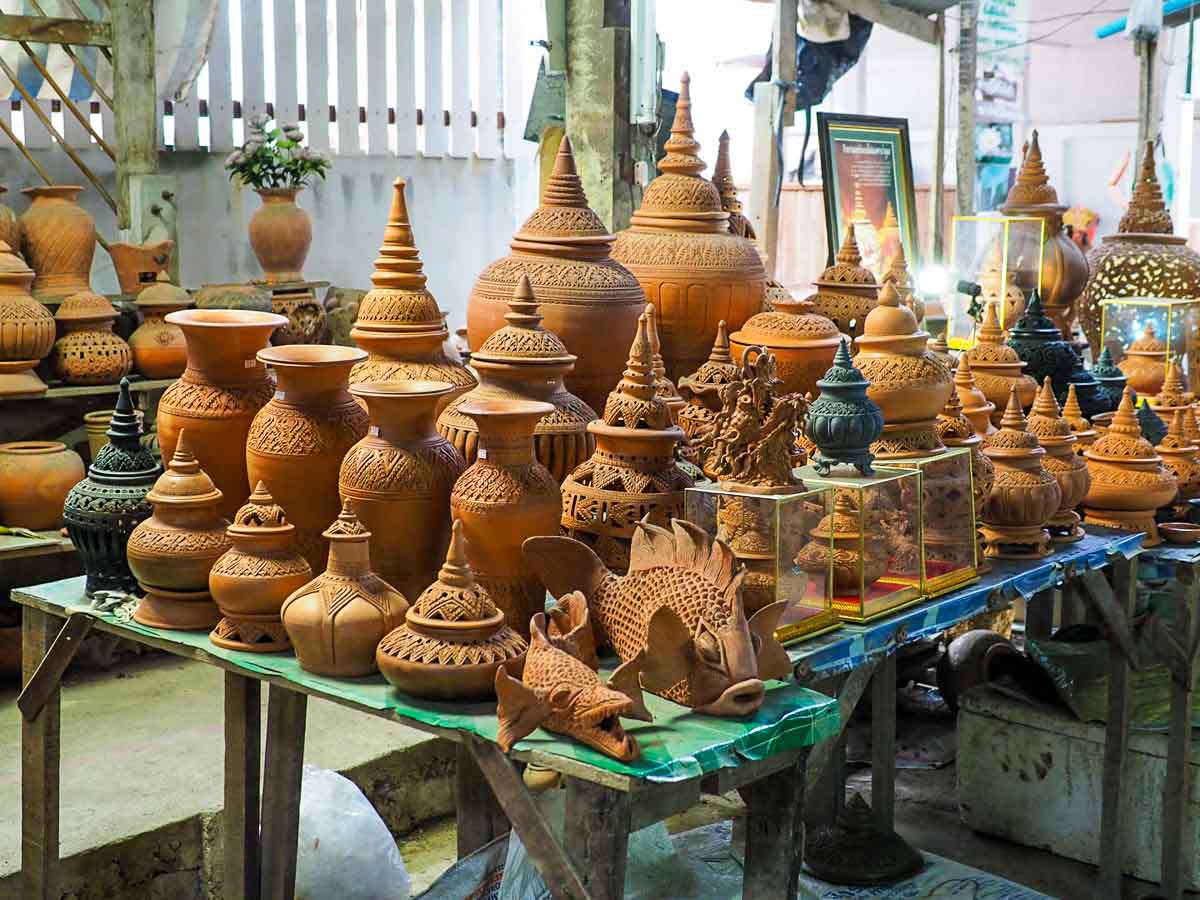 Koh Kret is also known for the craftsmanship of their unique pottery traditionally made of local clay and fired in a special kiln called Tao Lung Tao (Turtleback Kiln). They not only make the usual orange-red colour earthenware but have also introduced a technique to mix husk with clay and let it burn during firing to create its signature black colour — can you believe, no paint is involved? The remarkable feature of their pottery though is the detailed carving which comes in exquisite patterns.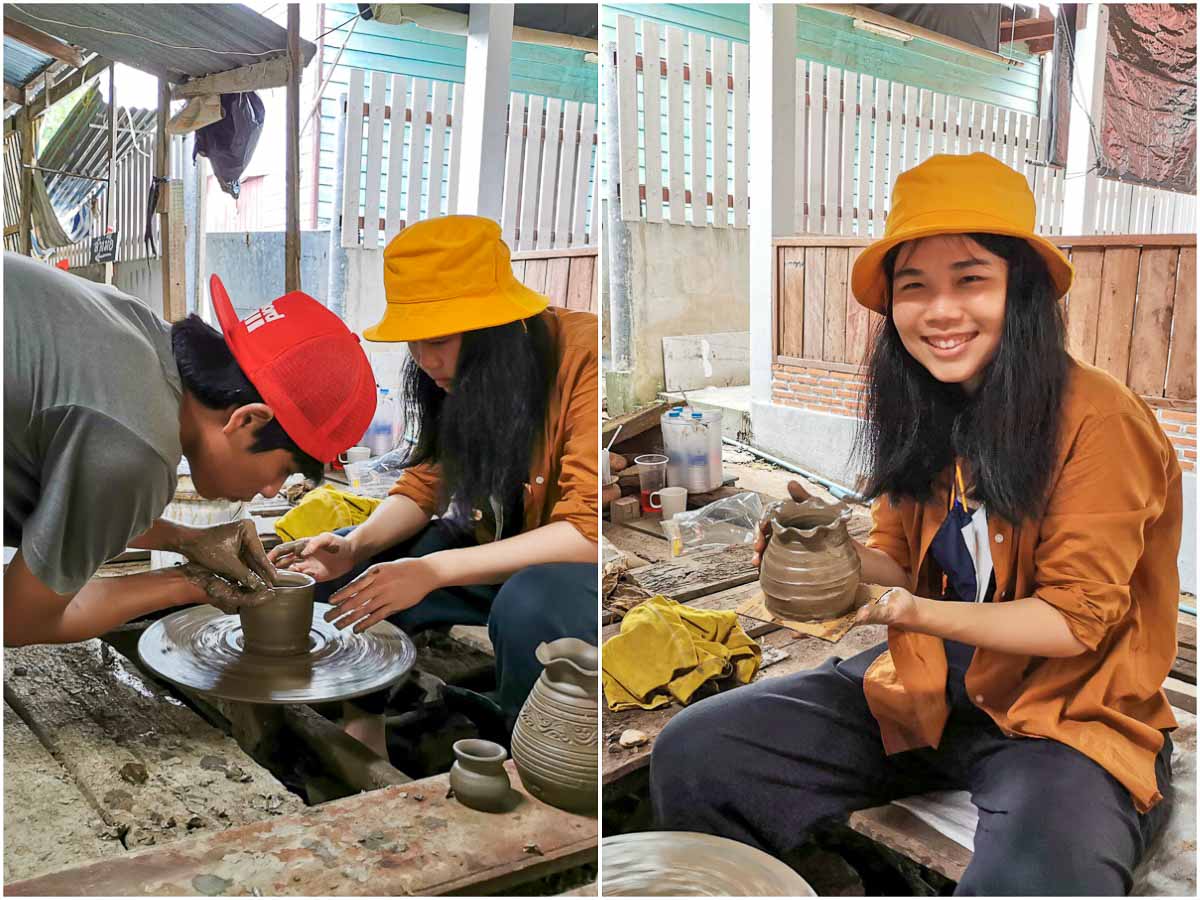 There are several pottery studios on the island where visitors can observe the process. You can also take part in short workshops to shape your own pot using a pottery wheel. This makes the perfect souvenir to bring home.
5) Explore the open-air market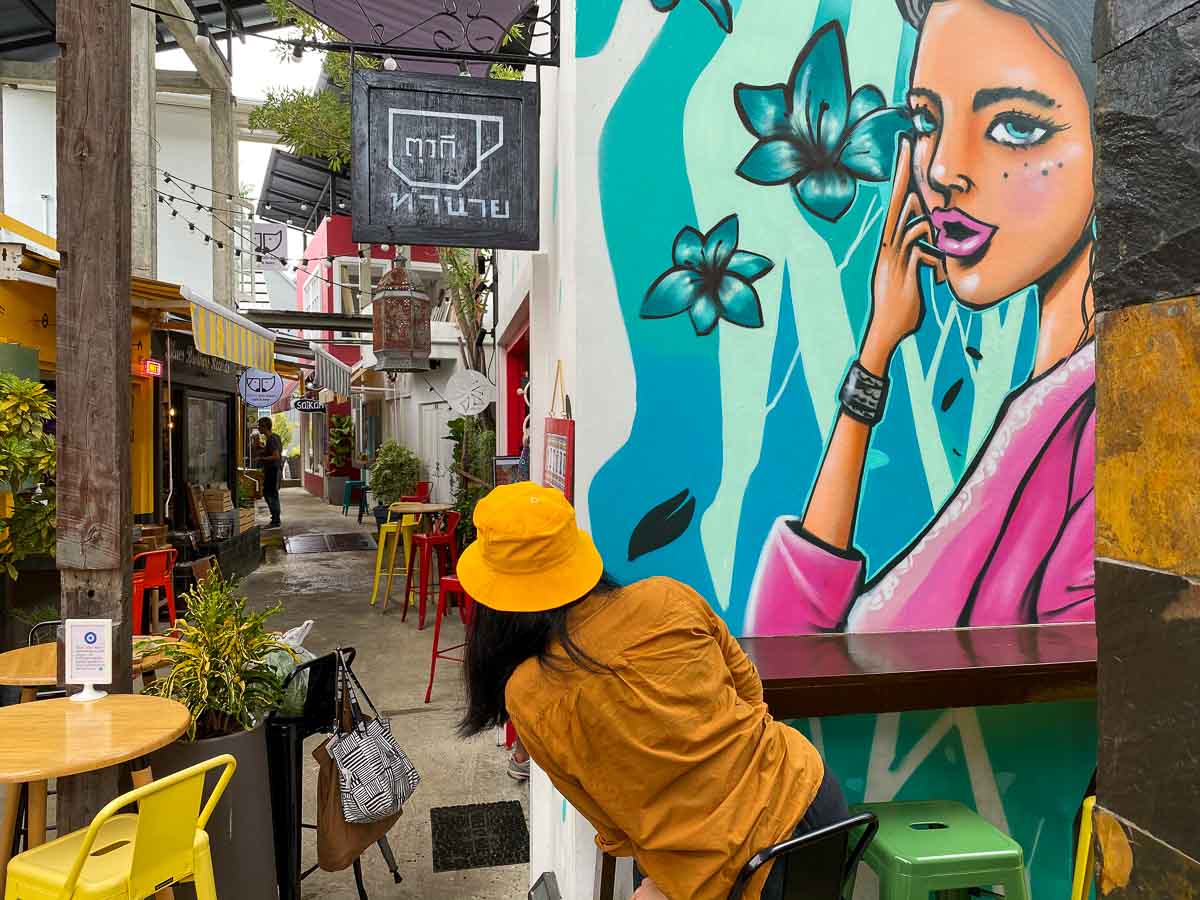 A Market Number 30 is an open-air complex where you can enjoy traditional coffee, shop for handmade accessories, dig for your favourite vinyl records, enjoy icy treats, and fill yourself up with a quick meal.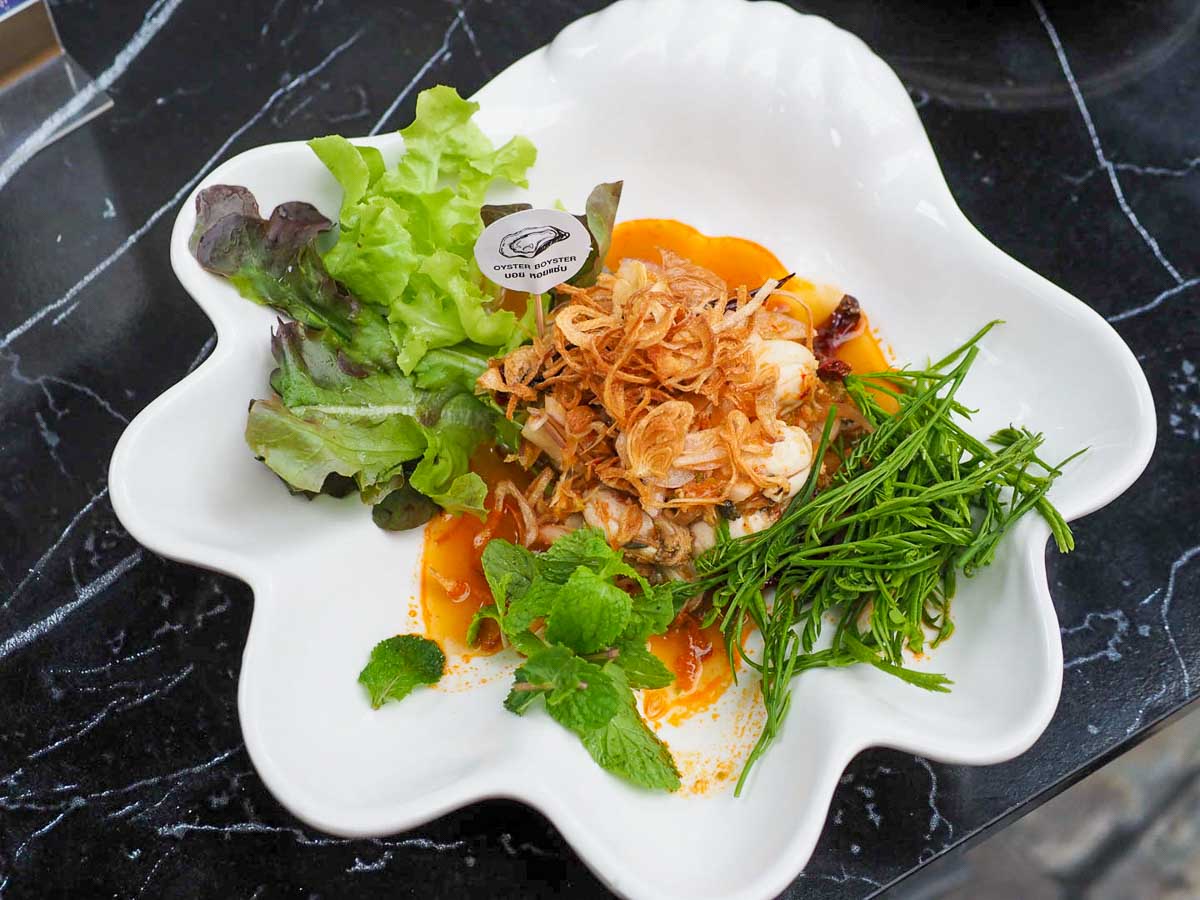 Like this fresh local oyster dish, served in a salad at Oyster Boyster.
6) Have a ฿100 Photoshoot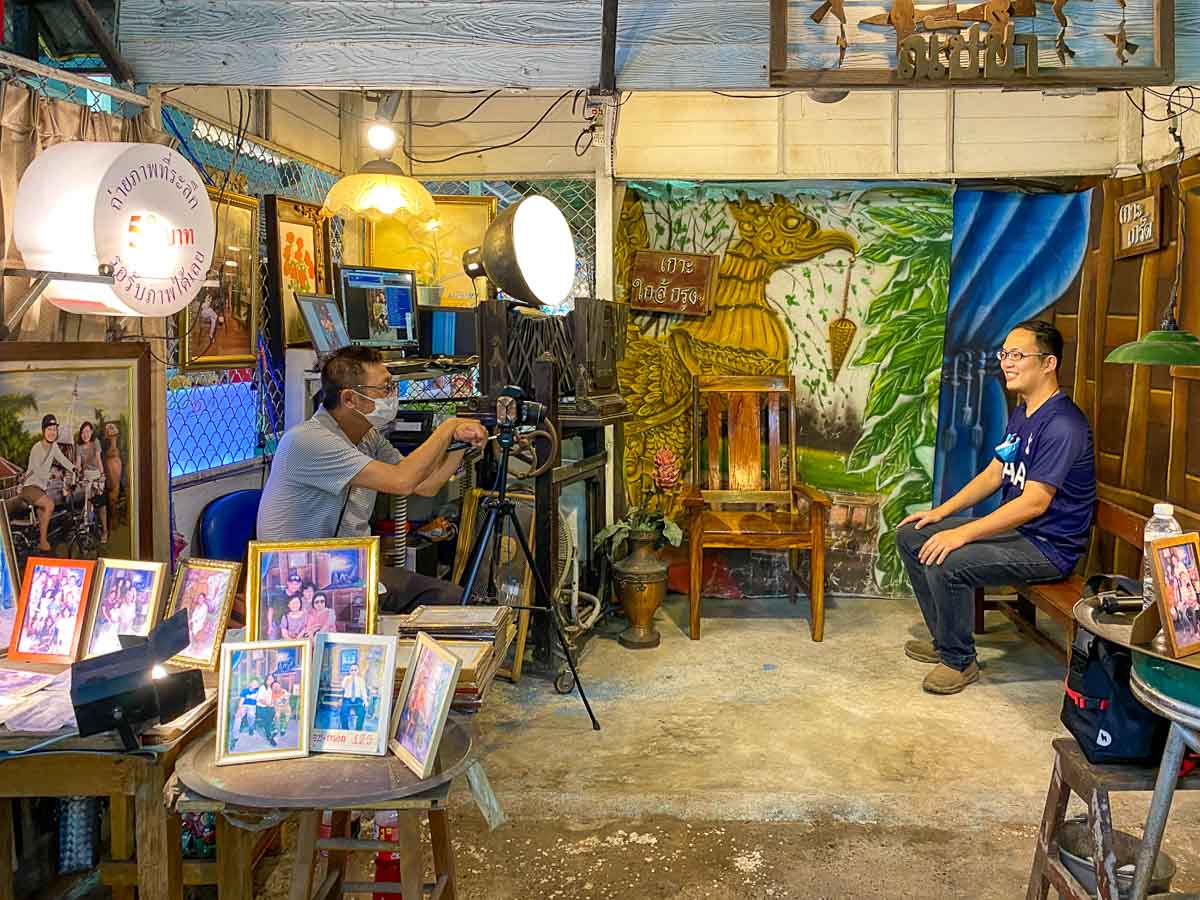 Another fun activity here is this quirky photo booth. For ฿100, you get a photographer along with some Koh Kret-inspired backdrops and wooden chairs set up for your photoshoot.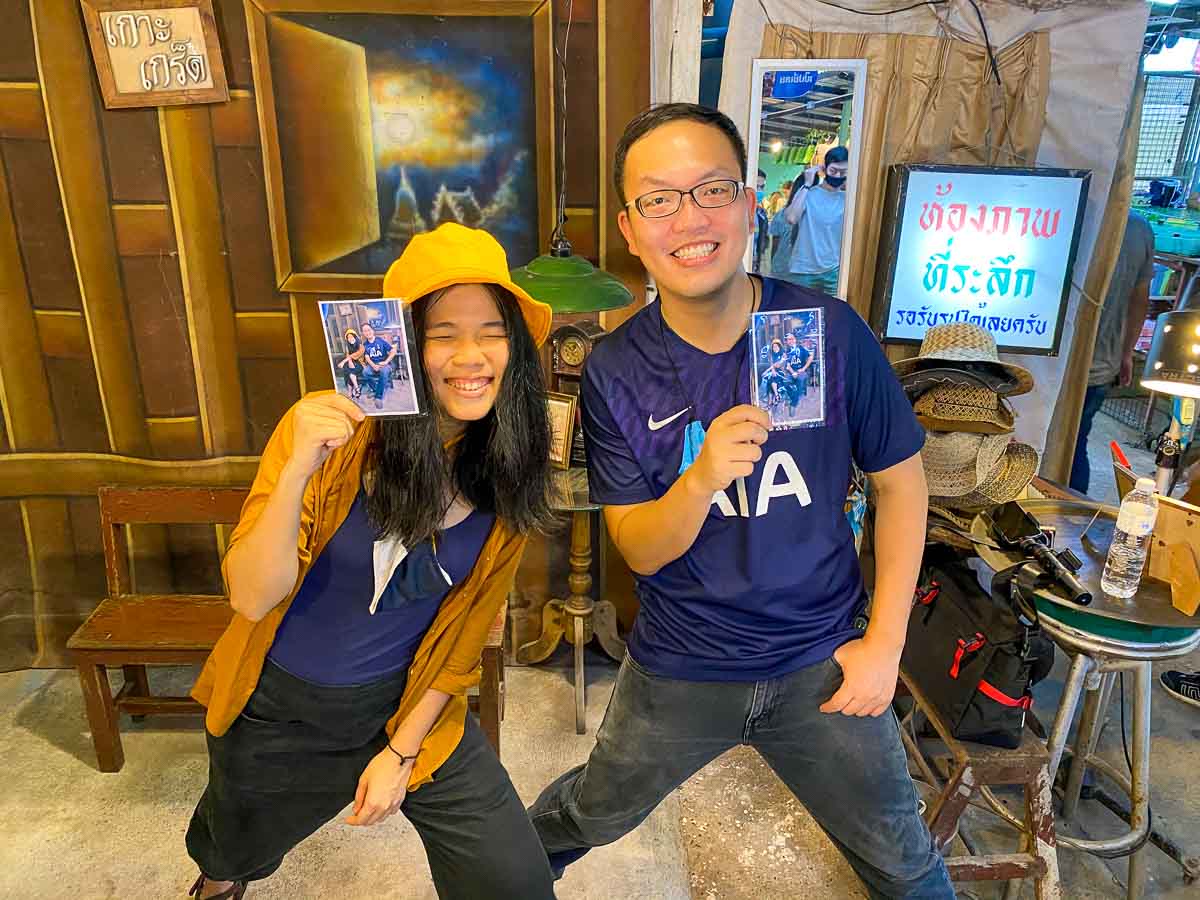 The result is a postcard-size inkjet print which you'll get in just a few minutes.
7) Dine at a rice-mill-turned-cafe and restaurant by the river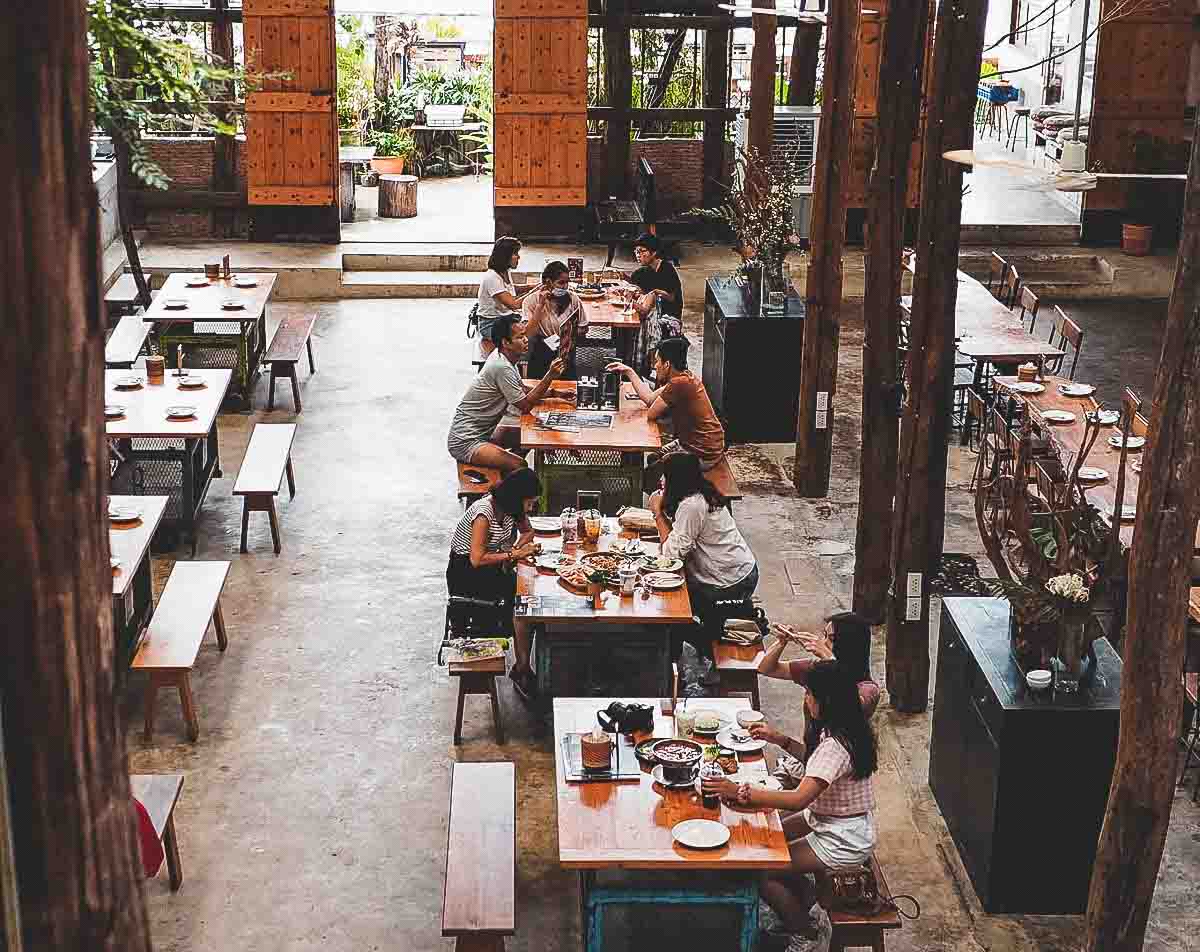 Rong Si Studio is a spacious cafe and restaurant by the river, which also doubles as a homestay. Rong Si means rice mill in Thai, reflecting the space that used to be an old rice mill. Some impressive original equipment can still be found around the space.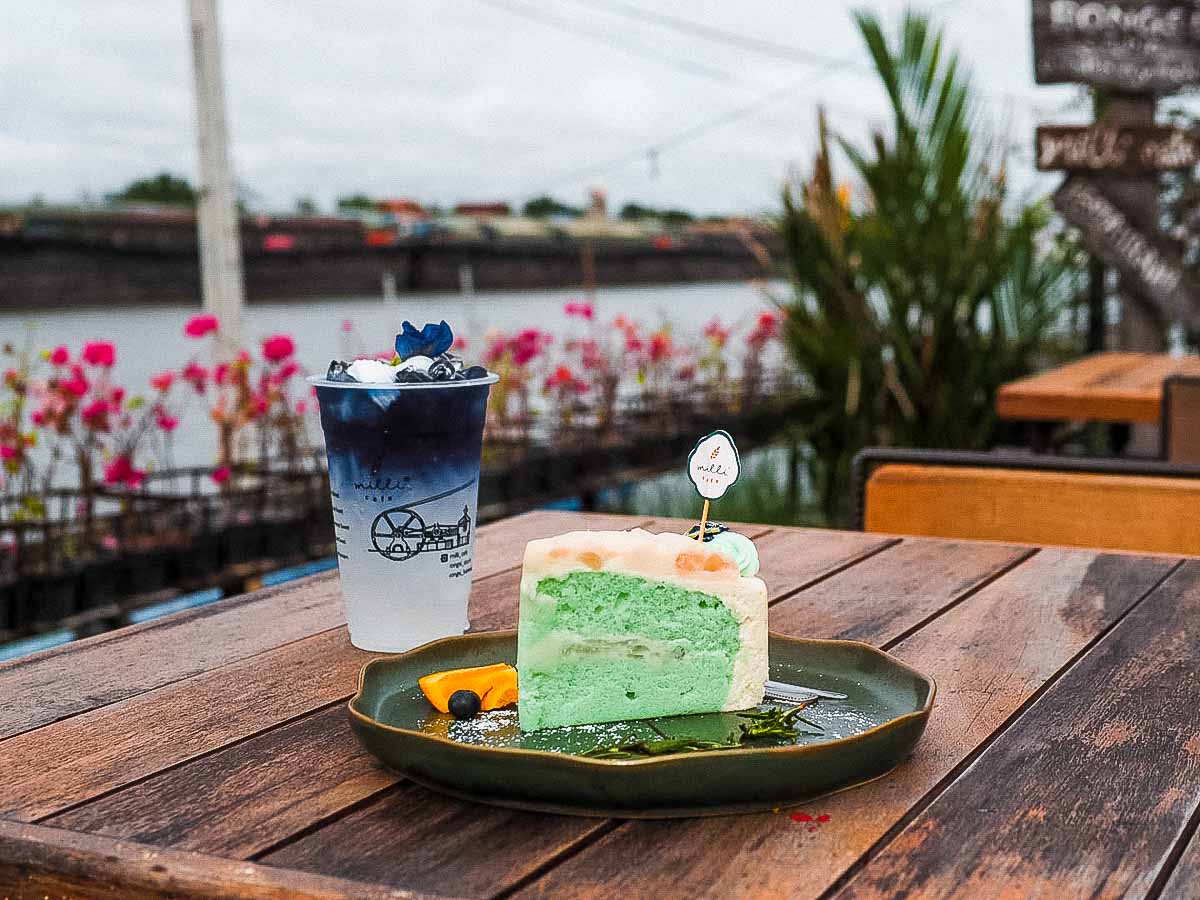 Butterfly Pea with Coconut Water & Toddy Palm Cake
Cool off indoors or grab a seat on the terrace to enjoy the river breeze. Rong Si studio serves an extensive menu of Thai food as well as cafe drinks and sweet desserts.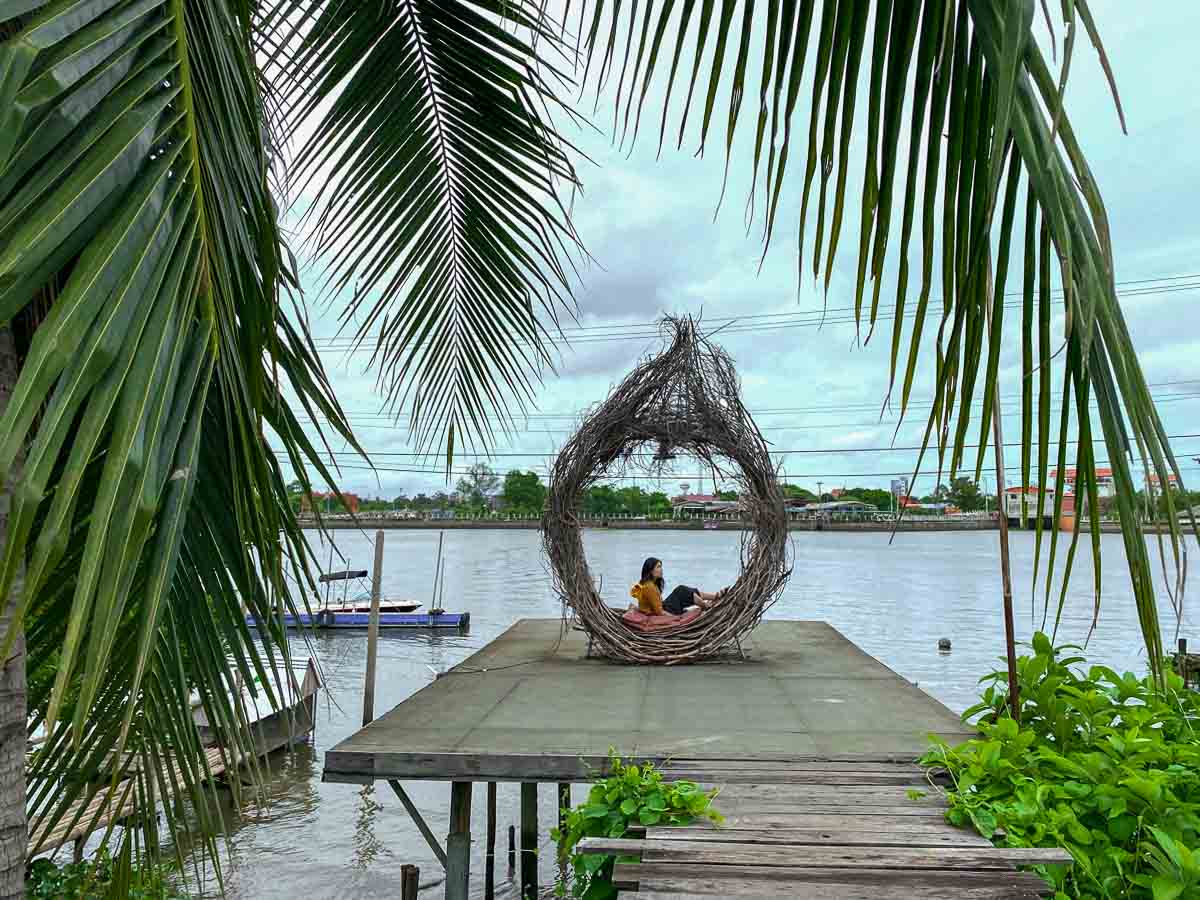 There are also several spots for different photo opportunities. Don't miss the nest-like chair on the wooden terrace facing the river.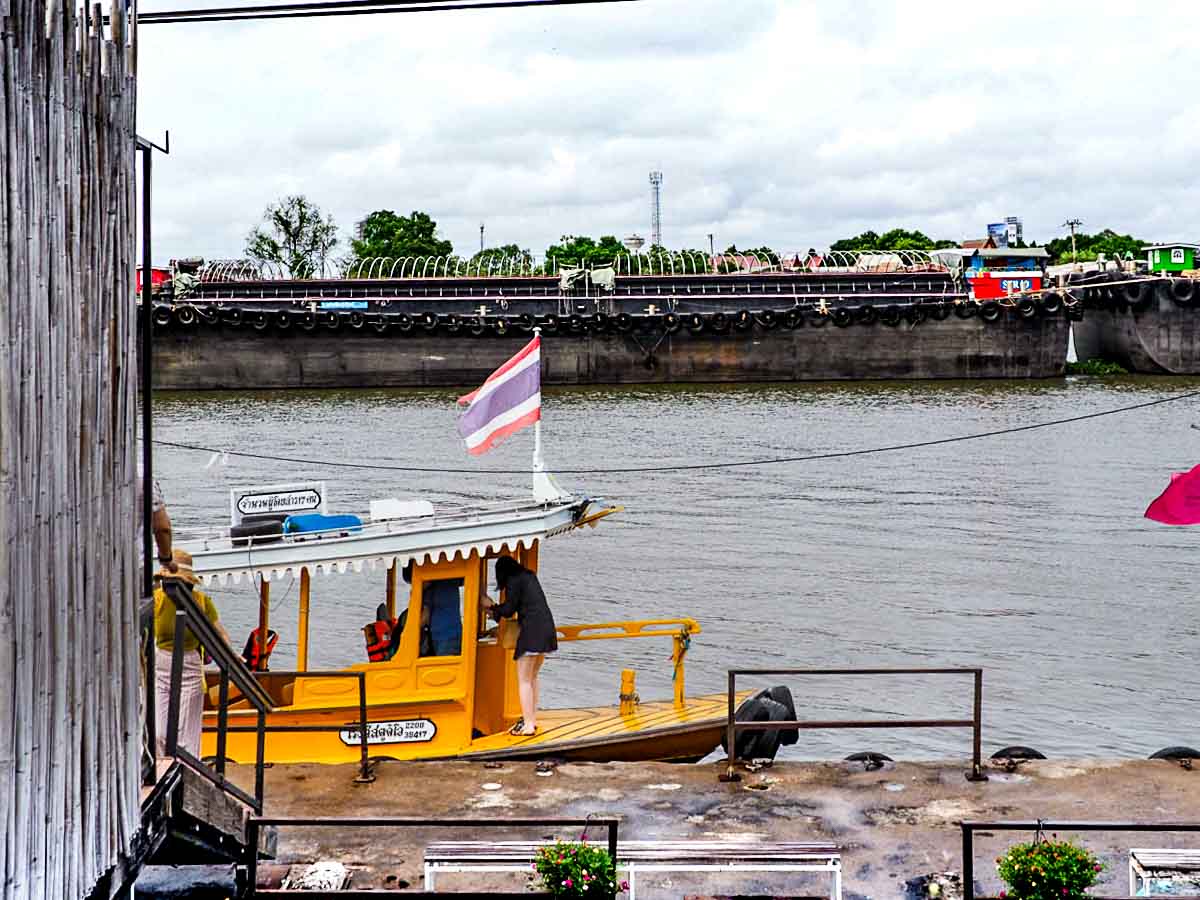 *Pro tip: You can also come to Rong Si Studio from their private pier in Nonthaburi (Map) where you can take their boat straight to the cafe (and back) for under ฿20 per trip, available during restaurant opening hours. They also offer private boat tours around the island for charter (regular boat at ฿1,800 for up to 15 persons or speedboat at ฿4,000 for 7-8 persons). The tour takes around an hour with no stops.
Opening hours: 10am-10pm
8) Sip local brews by the river after dark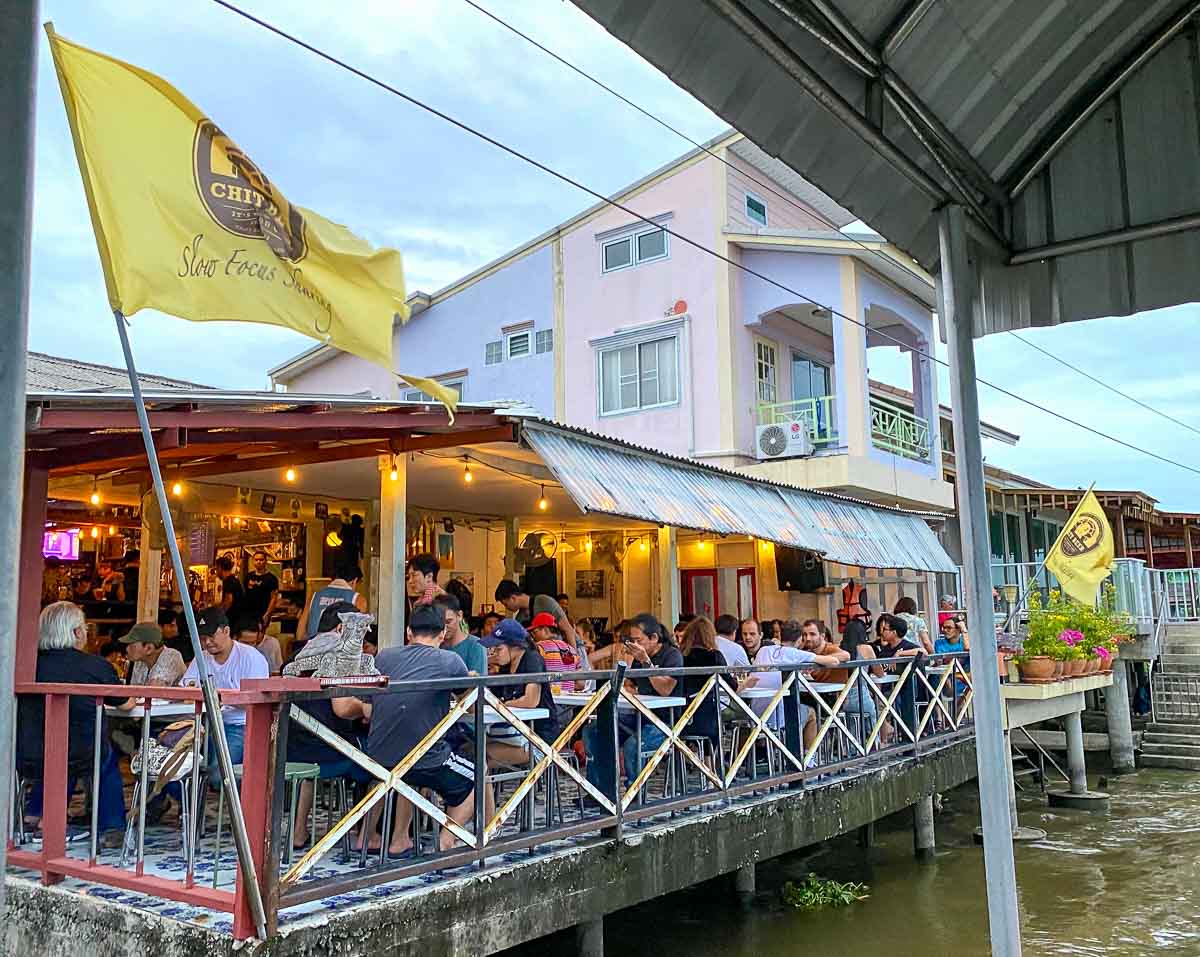 After 6pm, you'll find the island very quiet, as most shops are closed. But here's one place that comes alive (and crowded) in the evening during the weekends. Chit Beer is the pioneer in brewing craft beer in Thailand.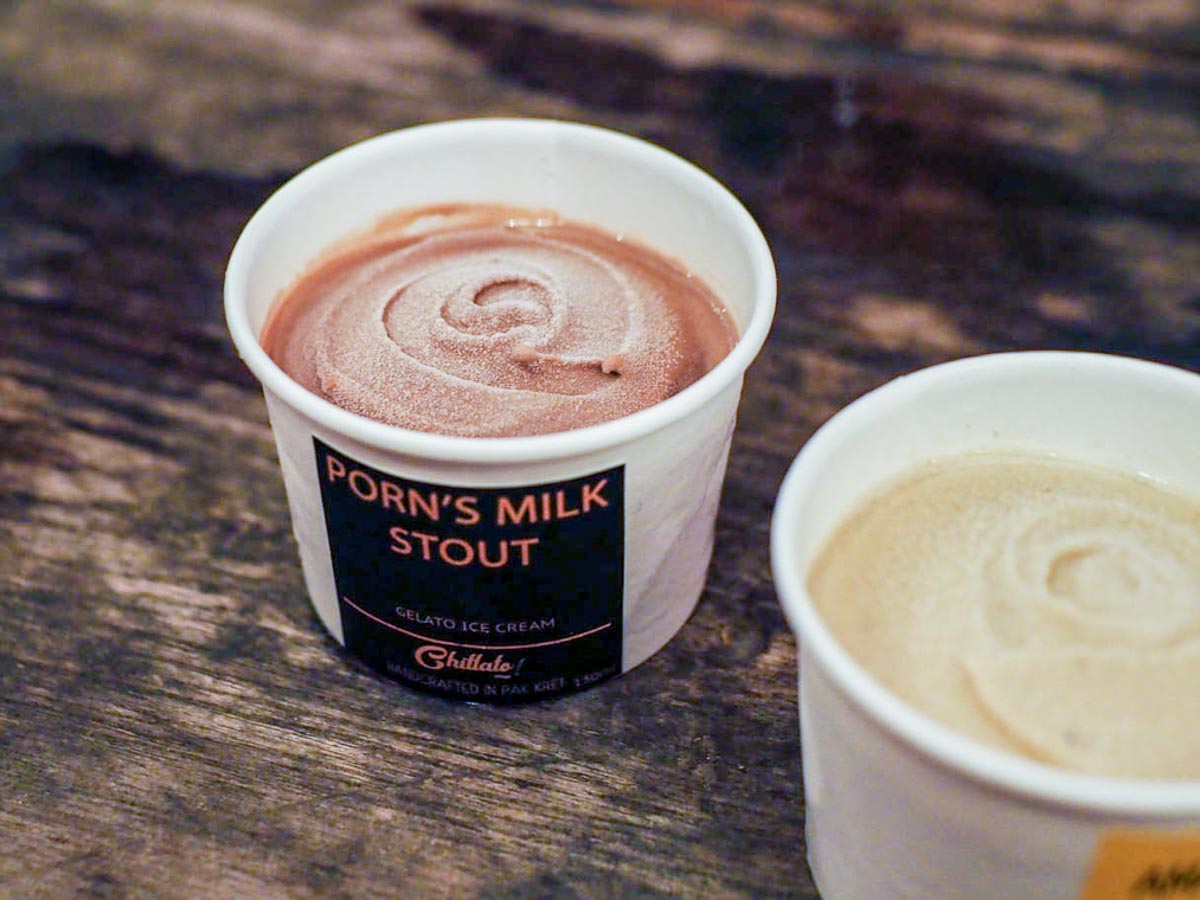 Here, you can taste their different styles of brews on eight taps, alongside some snacks and even some beer-flavoured ice cream.
Opening hours: Sat 12-9PM, Sun 1-9PM
Next time you're in Bangkok, venture just an hour northwest and explore what this quirky island of Koh Kret has to offer.
All images in this post belong to AroiMakMak.com.
---
This post is produced by AroiMakMak.com in partnership with the Tourism Authority of Thailand (Singapore).