One of Shikoku Island's four prefectures hosts some of the best outdoor experiences you can get in Japan. Here are 13 things to do in Kochi for a splashing good time!
If you're curious about this elusive Japanese city in Shikoku Island, don't simply Google 'Kochi'. I did that prior to the trip only to become more confused — why on earth would a Portuguese palace be built in Japan? That was when I realised I was looking at images of Kochi, like, the city in Kerala.
Search 'Kochi Japan' instead and you'll discover a completely different, and slightly less bamboozling digital scenery — unspoilt green nature, feudal-era castles, and an almost excessive amount of Sakamoto Ryoma statues. Oh, and that's because he helped overthrow the Tokugawa Shogunate and introduced Western ideals to Japan, which earned the Kochi-born samurai the Sir Stamford Raffles treatment.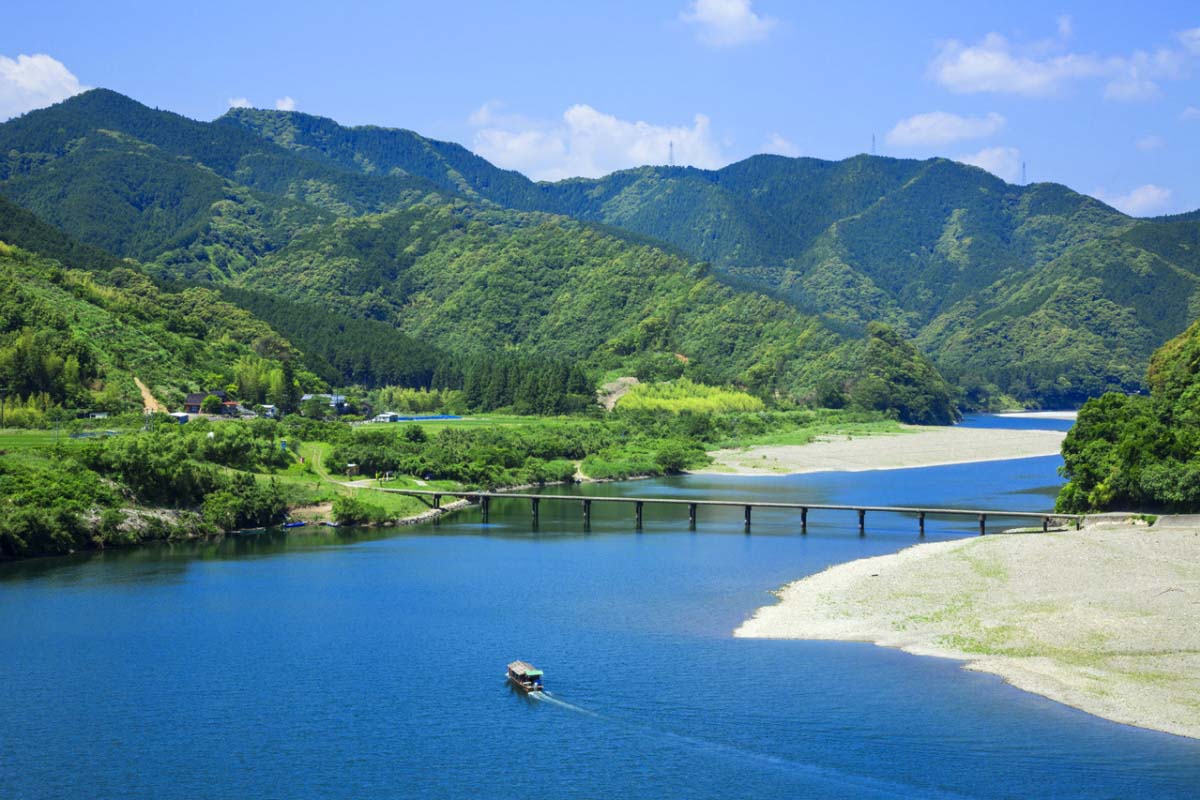 So what makes this one prefecture of Shikoku Island's "Big Four" worth visiting?
While Tokyo and Osaka may have 1,000 things to do, Kochi wins in its vast mountainous land, crystal-clear blue rivers where people frolic in, and a population only 15% of Singapore's. Where else can you find a place this quiet and low-key?
Most people rarely think of Kochi because a shinkansen takes seven hours from Tokyo, and the best way to get there is by flying in from Haneda Airport. But that's what makes this road less travelled an authentic, countryside Japanese experience away from the crowds for those who seek it.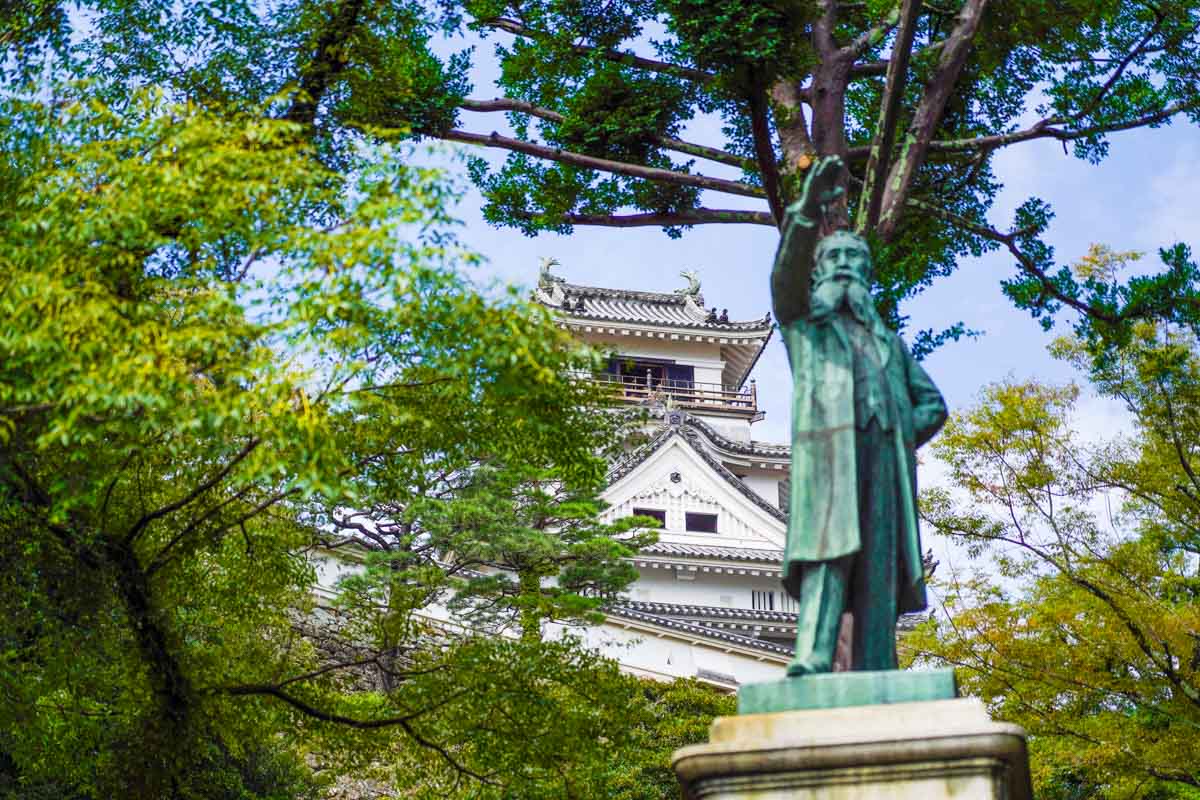 Up for exploring Kochi's great outdoors in Shikoku Island? Here are 13 things to note for your holiday plans:
1) Water sports in Japan's clearest rivers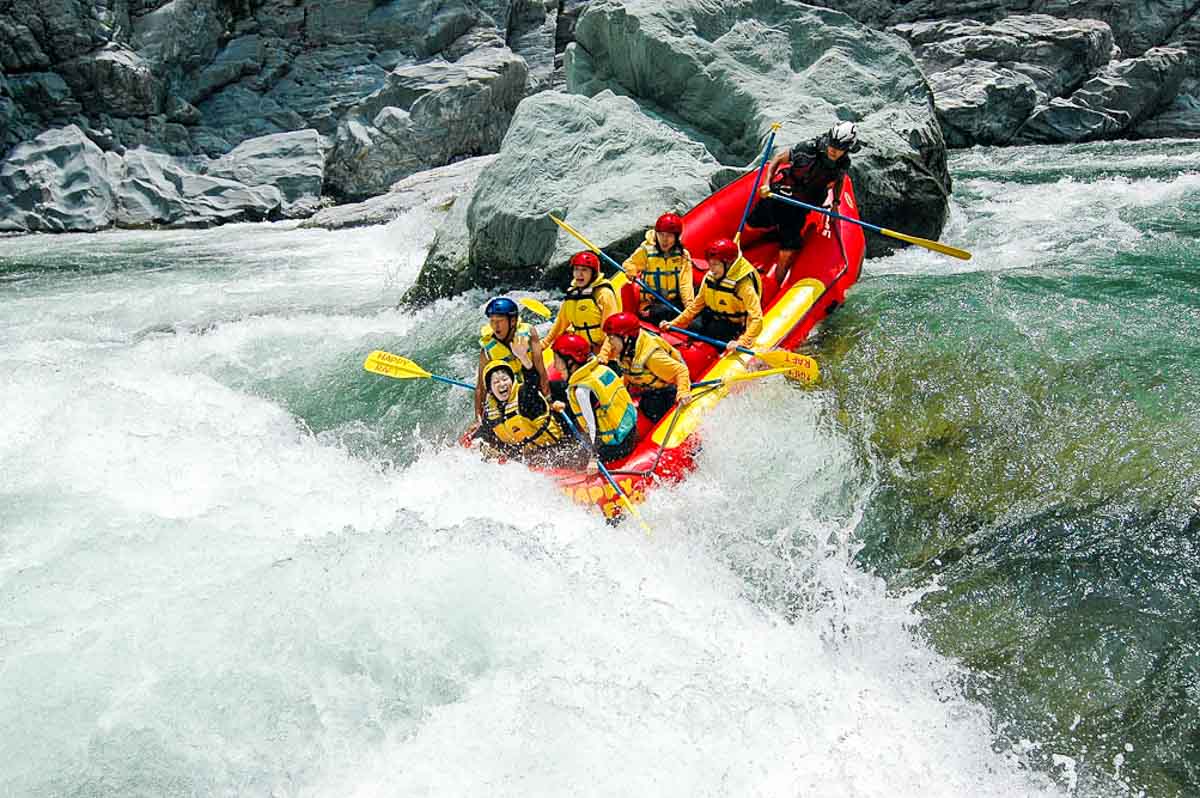 Canoeing! Kayaking! Canyoning! Whitewater Rafting! Snorkelling! There are so many kinds of river sports you can have a splash at in Kochi, it's an adventurer's… wet dream. The best part is you get to do it down some of Japan's best rivers. The Niyodo River is rated the best water quality in Japan, the Yoshino River is super clean, and you won't find a clearer stream in Japan than the Shimanto River.
Unfortunately, most operating companies can only speak Japanese, but HappyRaft (ハッピーラフト), opened by an Australian, has English-speaking guides and offers tours from half to three days long for rafting, canyoning, or both (kid-friendly tours available too)!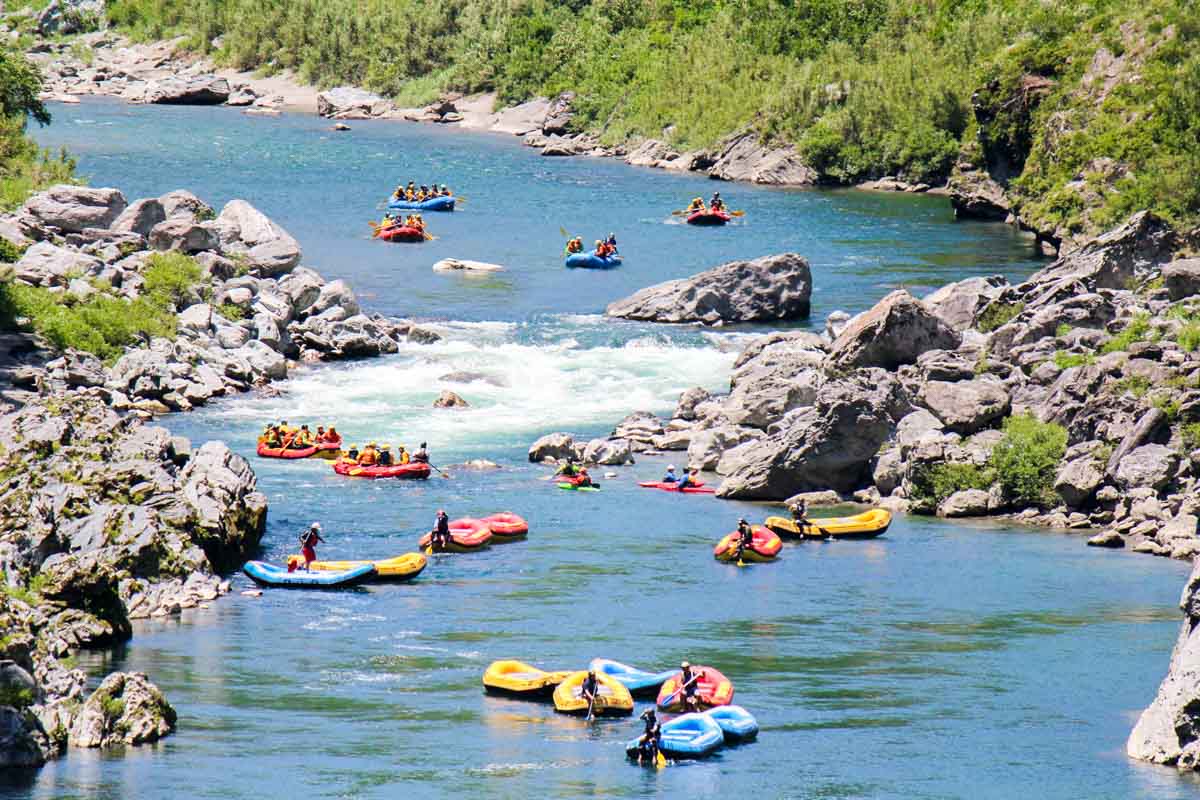 You can read more about their activities at their English website. The fees include equipment and insurance (lunch included for full-day tours).
Cost: From ¥5,000 (~S$50)
Opening Hours: 8AM – 6PM
Meeting Point: 221-1 Ikadagi, Otoyo-cho, Nagaoka-gun, Kochi, Japan 789-0157
2) Whale-watch from as close as 50m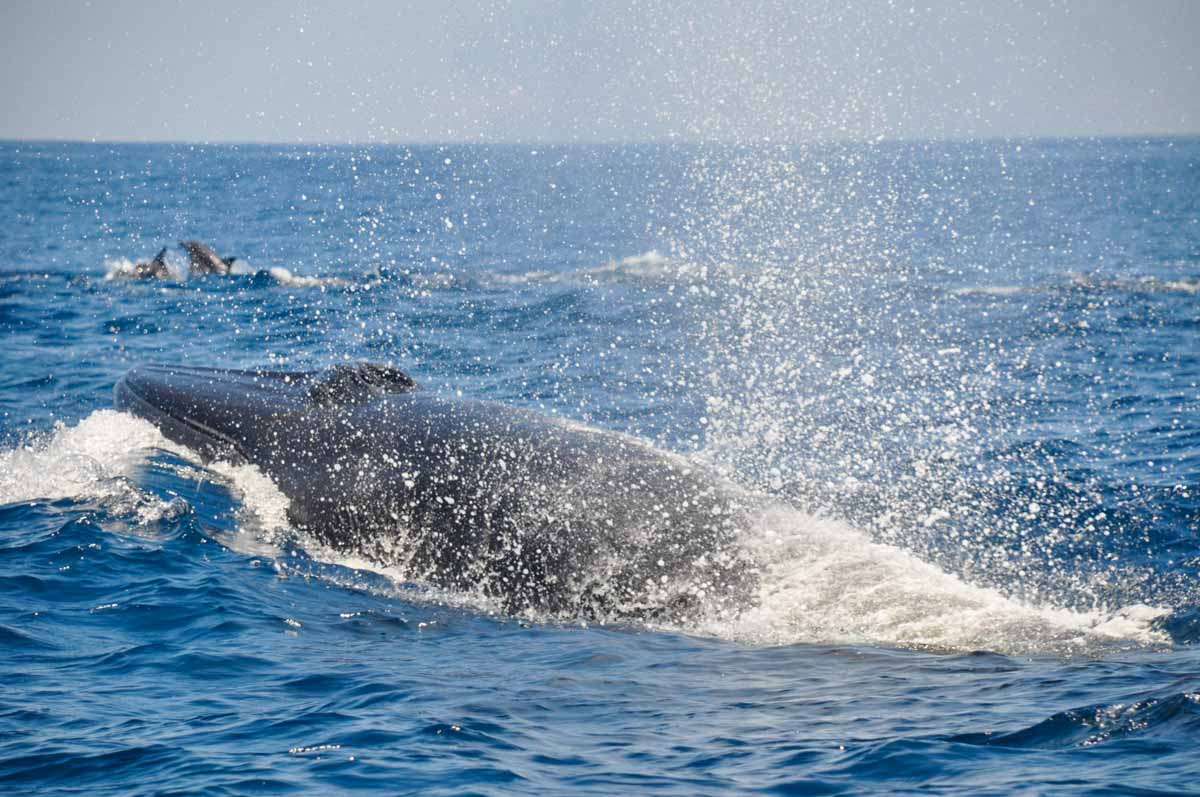 Get up close with dolphins, as well as Bryde's and toothed whales on boat tours out on the Pacific Ocean! You'll be brought out on local fishing boats, which allow swift manoeuvres to get to precise points where the whales are. In fact, the boat will get you just 50–100m away from the whales to capture these majestic mammals up close.
Each tour takes at least four hours, and while there's the risk that the whales may not show up at all, no refunds are given but companies like Ogata Whale Watching will hand out consolation postcards.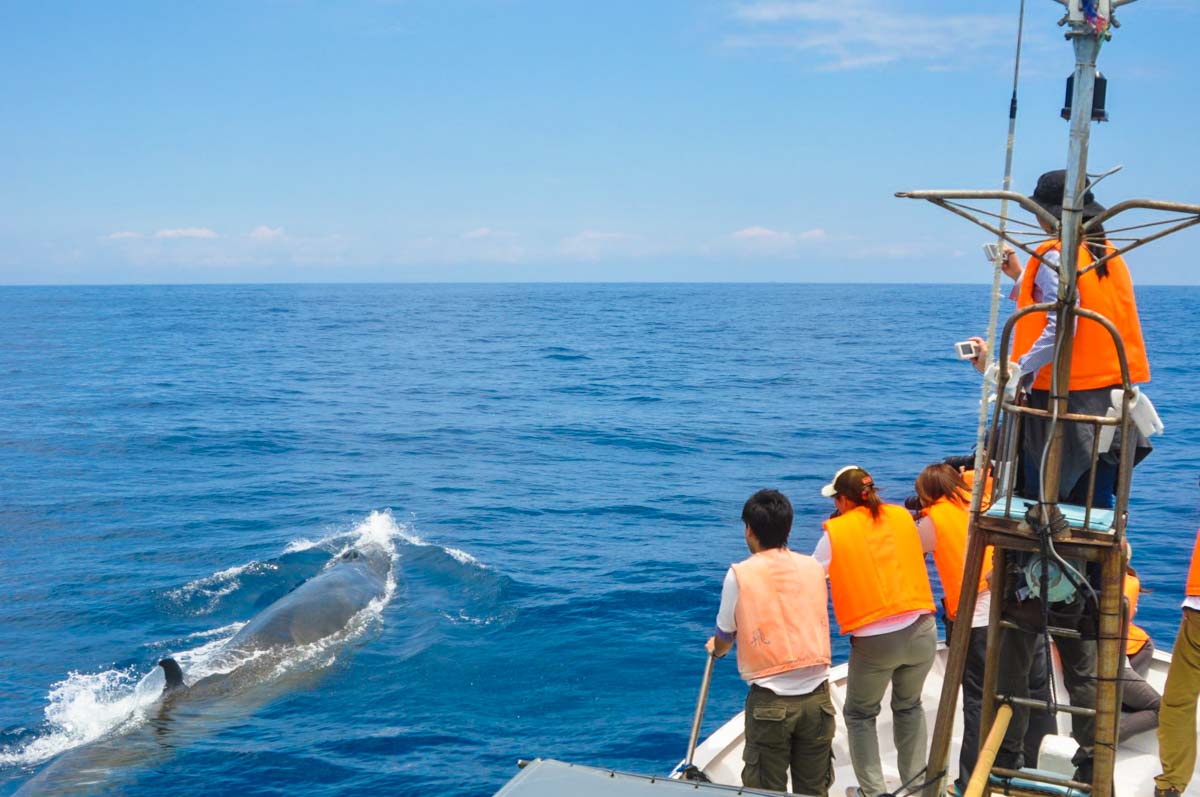 Just like the river sports, most operating companies may not offer English-speaking guides (though you may still hop on those boat tours just to see the whales). To find out more, consult the nearest tourism information centre at the train stations, or the Kochi Ryoma Airport.
*Note: Tour periods vary across the years, and run from mid-April to mid-October
Ogata Whale Watching (大方ホエールウォッチング)
Cost: ¥6,000 (~S$60)
Tour Times: 10AM. 8AM, 1PM slots available on weekends and PHs
Meeting Point: Irino Port (入野漁港), Irino, 入野227−ロ ビルA 1F, Kuroshio-chō, Hata-gun, Kōchi-ken, Japan 789-1931 ; 20-minute walk from JR Tosa-Irino Station
3) Grill your own Katsuo no Tataki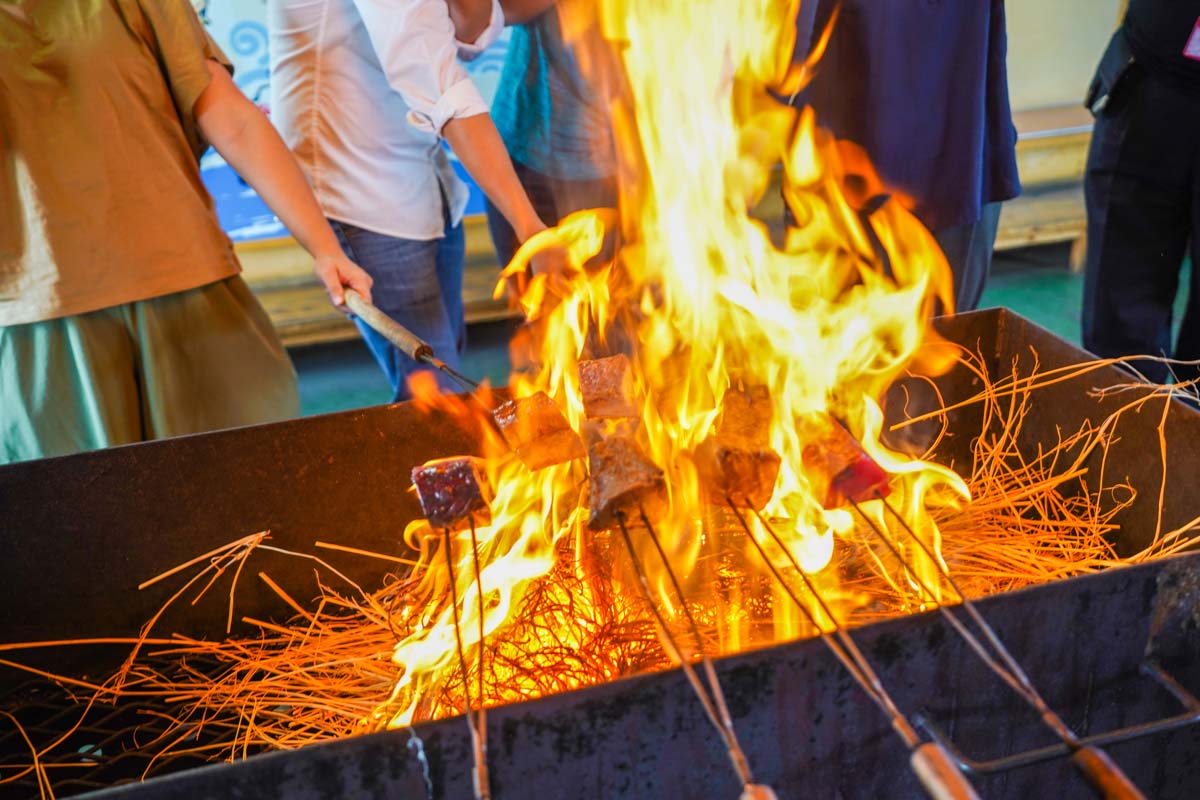 That's hot. And the results are sexy. At Tosa Tataki Dojo (土佐タタキ道場) you have the rare chance to grill your own Kochi specialty dish, the Katsuo no Tataki — a hunk of bonito fish roasted with straw for a minute, before it's cut thickly and served 90% raw in the middle. No longer sashimi, yet not really aburi.
It's tough to find bonito served like this elsewhere in Japan too. I've tried all sorts of raw fish, but this was my first time trying actual bonito fish. Usually, the closest you'd get is the dashi broth in udon, or bonito flakes on top of takoyaki.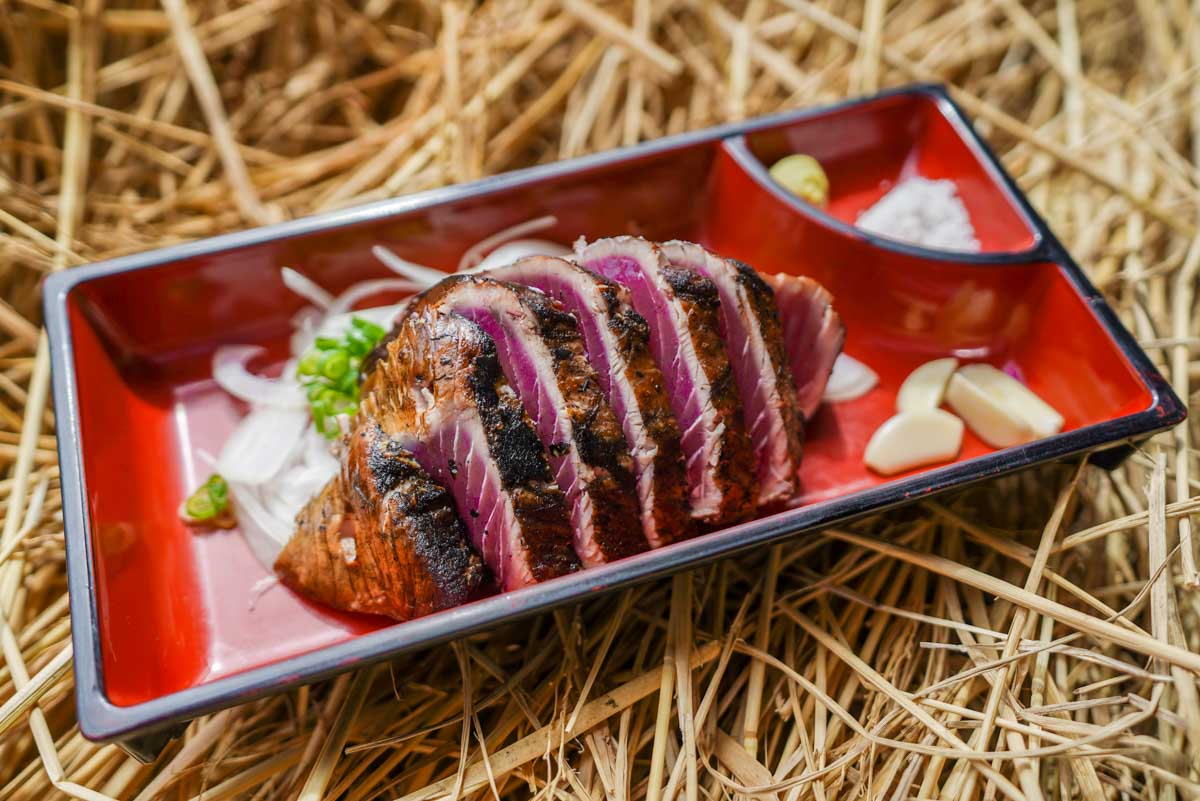 When you arrive at Tosa Tataki Dojo, the first floor is a souvenir shop selling everything bonito, and accompanying jarred sauces. Tell the front staff you'd like the "Warayaki Taiken Ryoma Zen" (藁焼き体験龍馬膳), and you'd be led upstairs to the grilling station. You'll be handed a speared chunk of bonito, do the roasting (warning: you will really feel the intense heat, but only for a minute), then hand it to a chef by the side who'll slice it up for you, before you sit at the actual restaurant to savour the meal.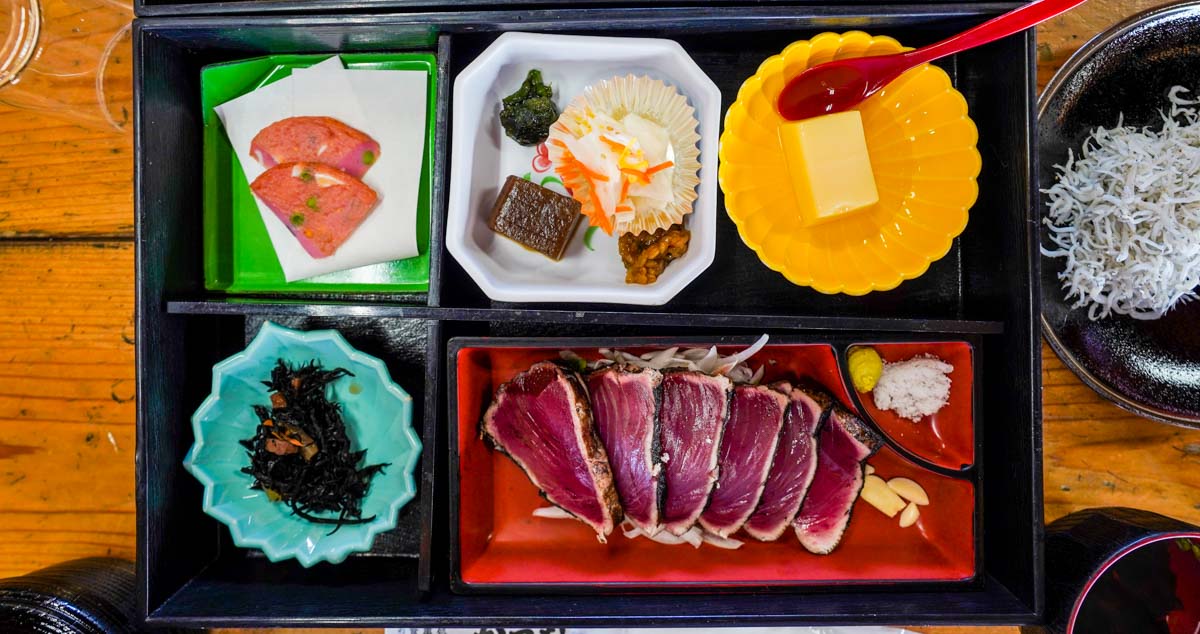 And it's so affordable. The lunch set with the grilling experience and an assortment of sides (above) with rice and miso soup is only S$25. There are several ways to enjoy Katsuo no Tataki — with salt, garlic, grated yuzu, wasabi, ponzu sauce or yuzu-infused vinegar.
Cost: ¥2,200 (~S$25)
Opening Hours: 10:30AM – 3:00PM
Address: 201-2 Niida, Kochi-city, Kochi Prefecture 781-0112
*Note: The Warayaki Taiken Ryoma Zen (¥2,200, ~S$22) is only available for large group orders (min 10 pax). Opt for the Katsuo Tataki Teishoku (¥1,600, ~S$16) instead if you're visiting in smaller groups.
4) Venture down the 175-million-year-old Ryuga Cave (龍河洞)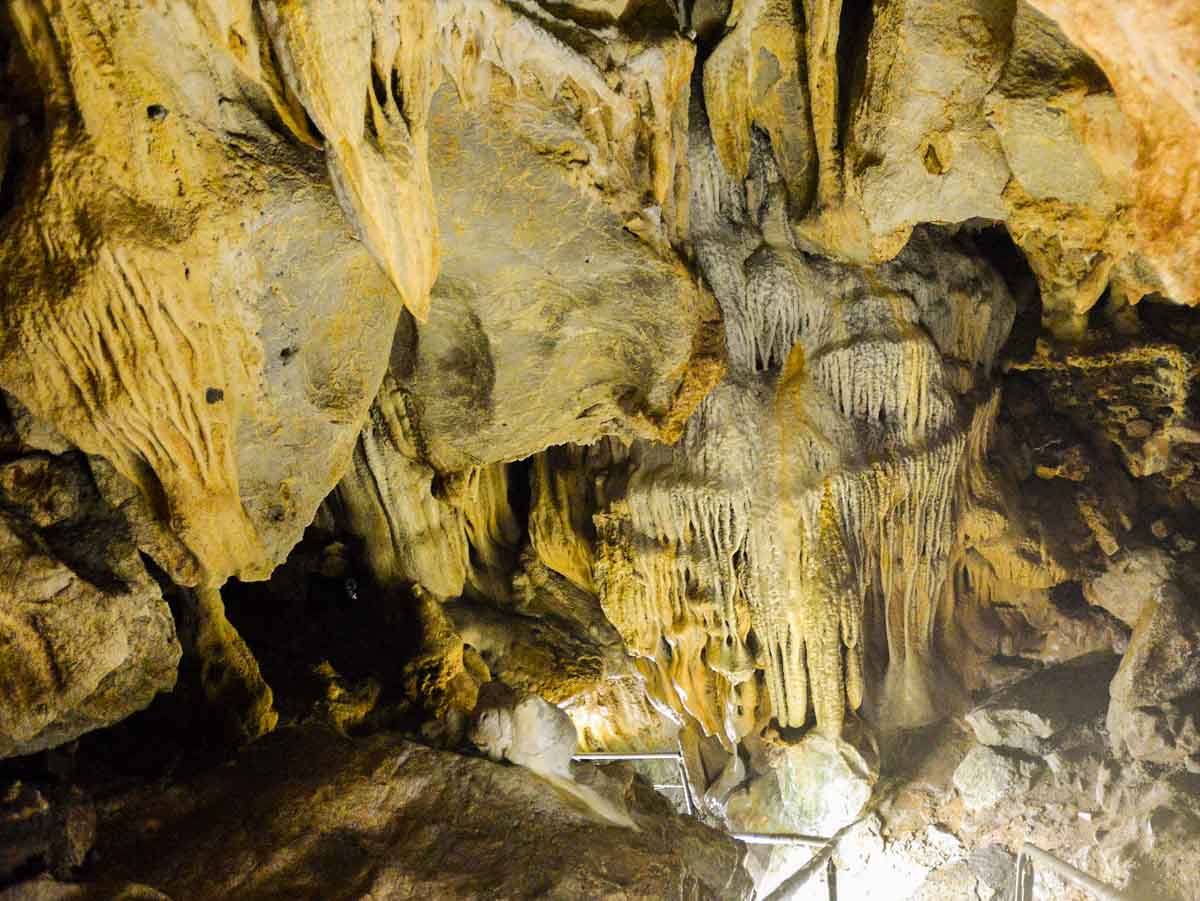 The limestone Ryuga Cave is known to inhabit cavemen from as early as the Yayoi era (300BC – 300AD), but was only discovered in 1931. The entire cave is 4km long, but only 1km has a walkable trail for tourists. That's long enough for you to have a firsthand look at the gigantic stalactite formations and trickling waterfalls along the way though. If you're lucky, you might even spot bats.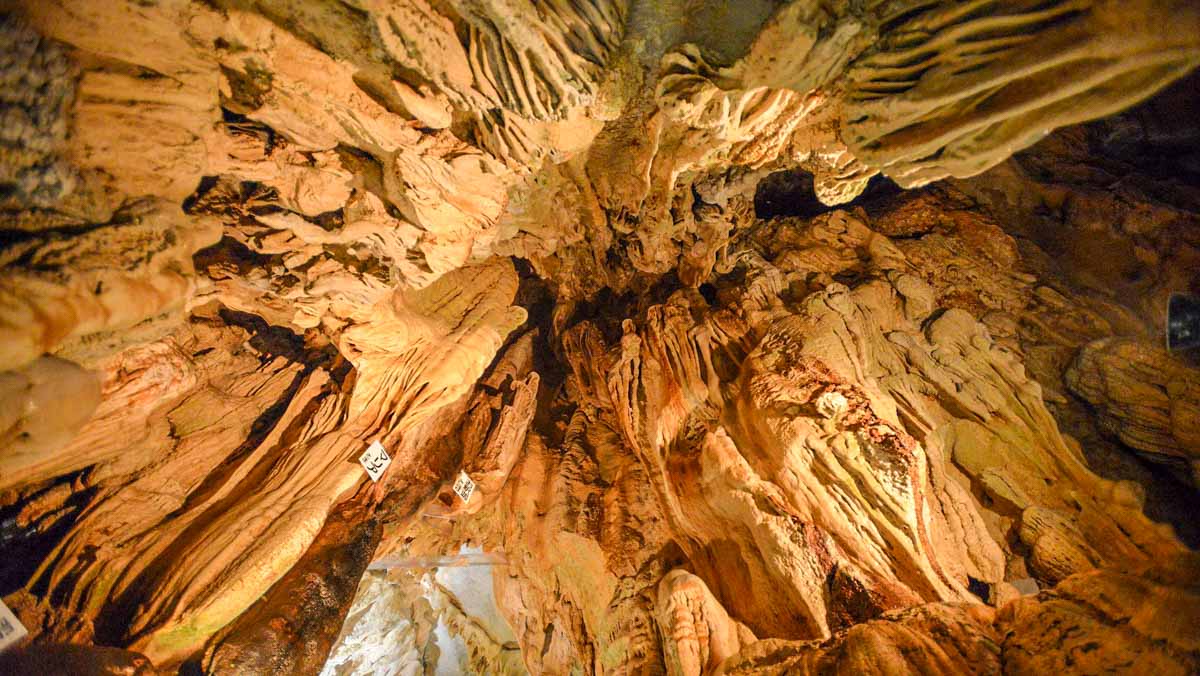 The walking course will take you 45–60 minutes to complete. There's even an additional Adventure Course with a top-up fee of ¥2,700 (~S$27) including safety equipment rental, where you venture deeper through narrow passageways, and even climb up rocks with ropes and ladders. Unfortunately you have to know Japanese to take on the course for safety reasons (the guides don't speak English).
Entrance Fee: ¥1,200 (~S$12)
Opening Hours: 8:30AM – 5PM (Closes 4:30PM from Dec – Feb)
Address: 1424 Tosayamadachō Sakakawa, Kami-shi, Kōchi-ken, Japan 782-0005
5) Panoramic views at the Shikoku Karst Natural Park (四国カルスト)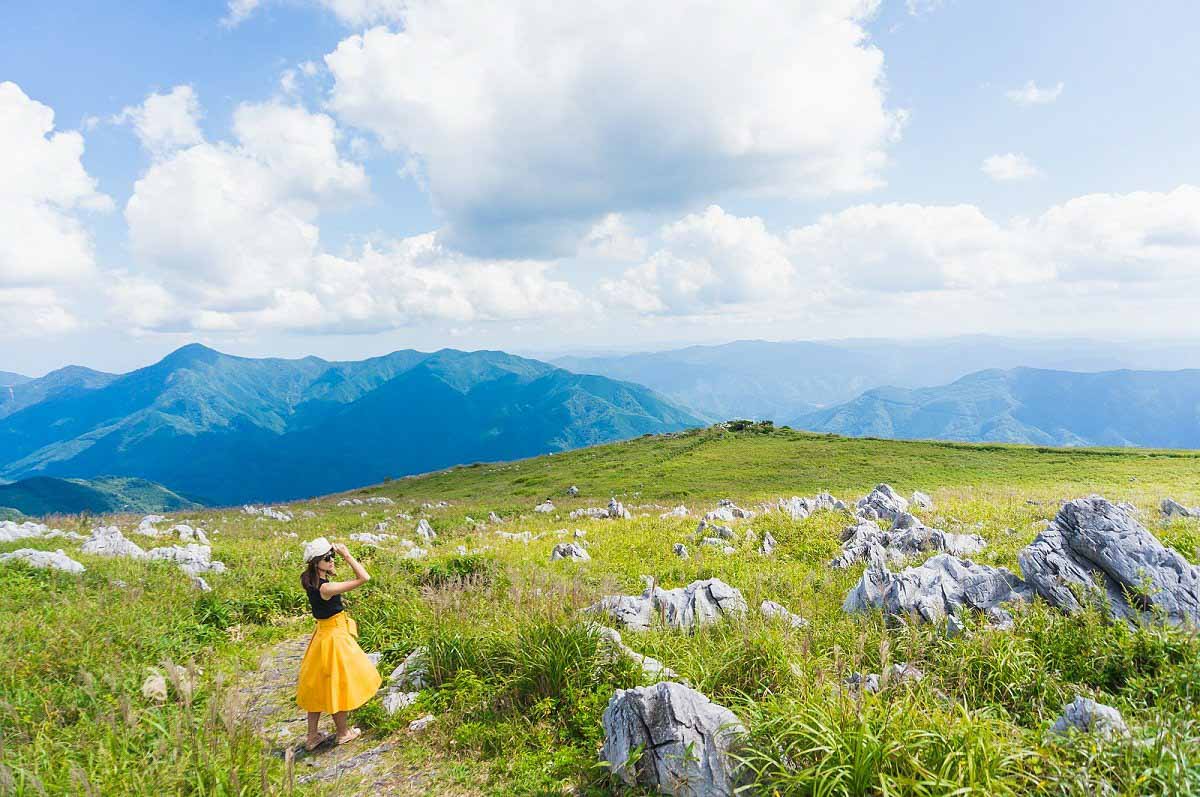 The Shikoku Karst Natural Park is true nature aesthetic. A "karst" is basically a landscape with limestone or gypsum rock formations that were eroded by acidic water, leaving behind unique, jagged shapes, and Japan only has three of such vast lands.
There are three main areas to Shikoku's karst, but if you're in Kochi, the most accessible point would be the Tengu Highland or Tengu Plateau, which is at the eastern edge and lies between Kochi and Ehime Prefectures. 1400m above sea level, on a perfect sunny day you'll have a panoramic view overlooking the Pacific Ocean.
For the hardcore adventurers, it's also a popular camping spot with designated facilities, far away from all the city lights — which means you get to camp under the stars at night!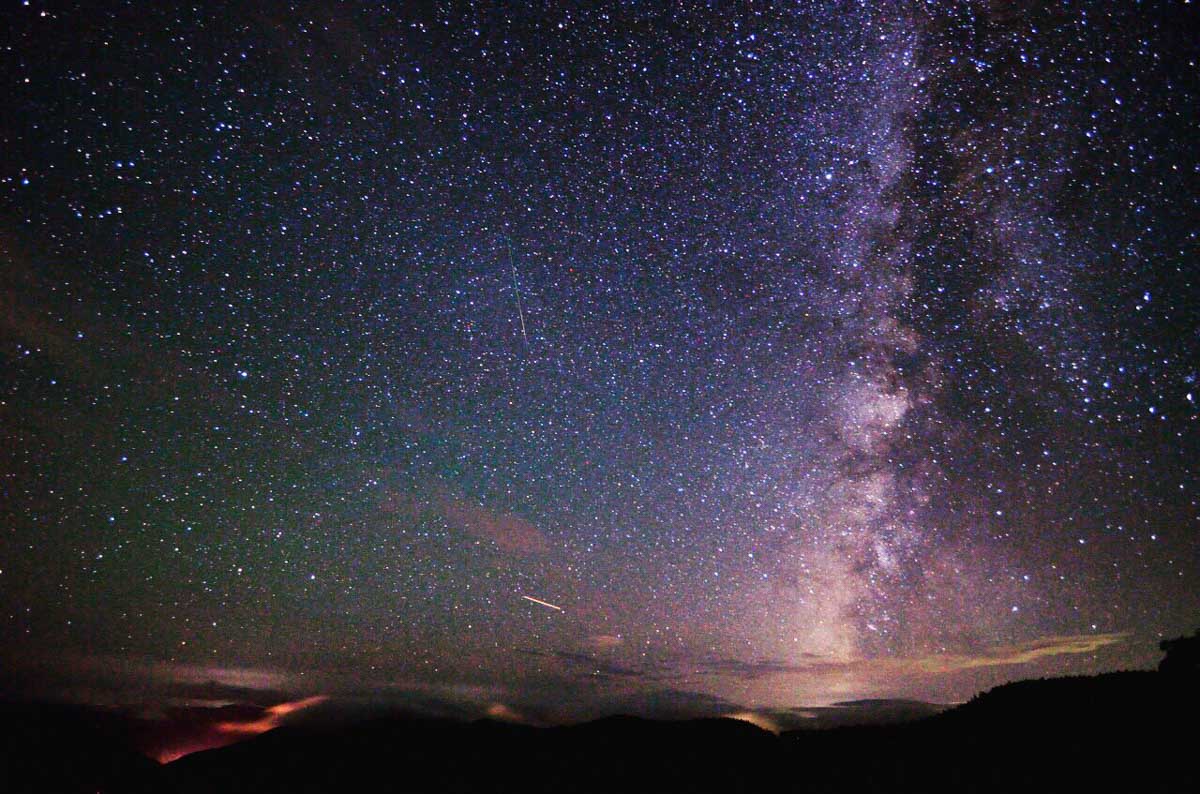 Entrance Fee: Free
Opening Hours: 24 hours
Address: Yoshiuno-otsu, Tsuno Town, Takaoka County, Kochi Prefecture
6) Hike to the 20m-tall Uryu Falls at Nakatsu Gorge (中津渓谷)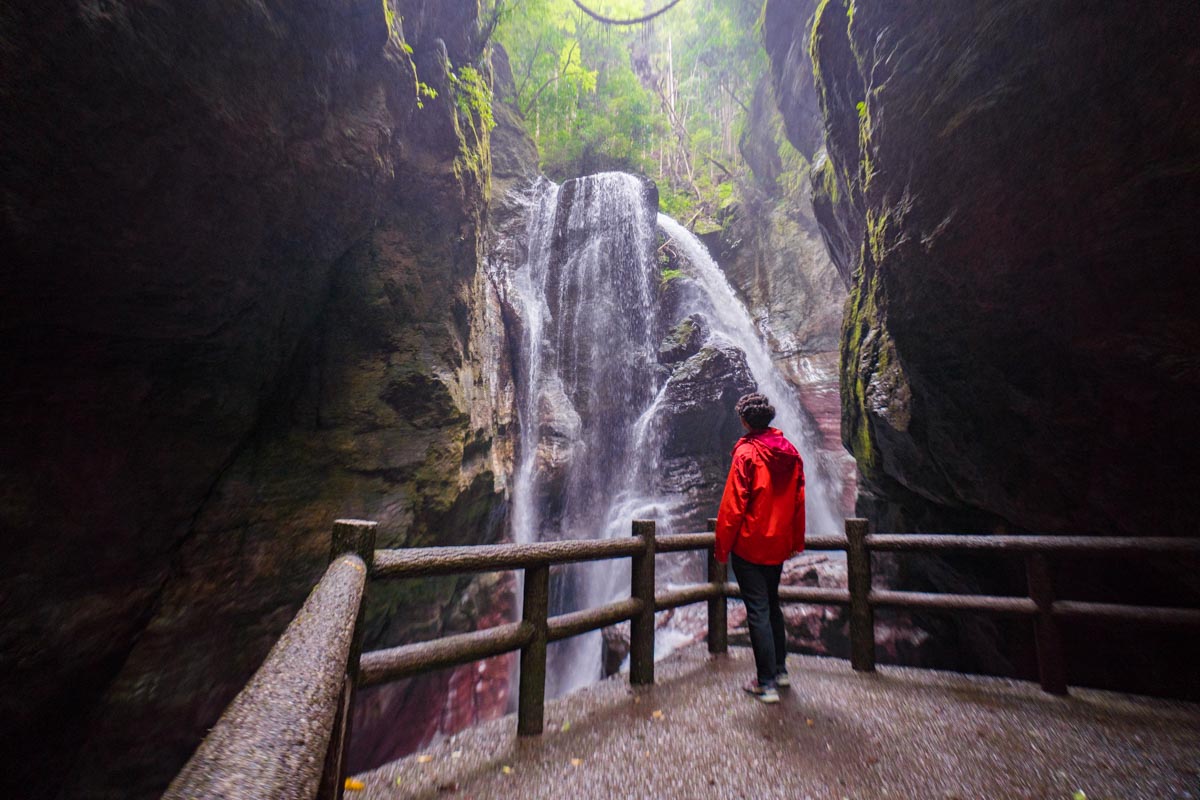 Hike through the Nakatsu Gorge and you'll realise why the Niyodo River is crowned Japan's cleanest for five straight years. If you'd been following our Instagram stories, you would've seen how clear the water was when we dipped the phone camera into the stream. It's even nicknamed the "Niyodo Blue" because of the unique blue formed by its crystal-clear quality.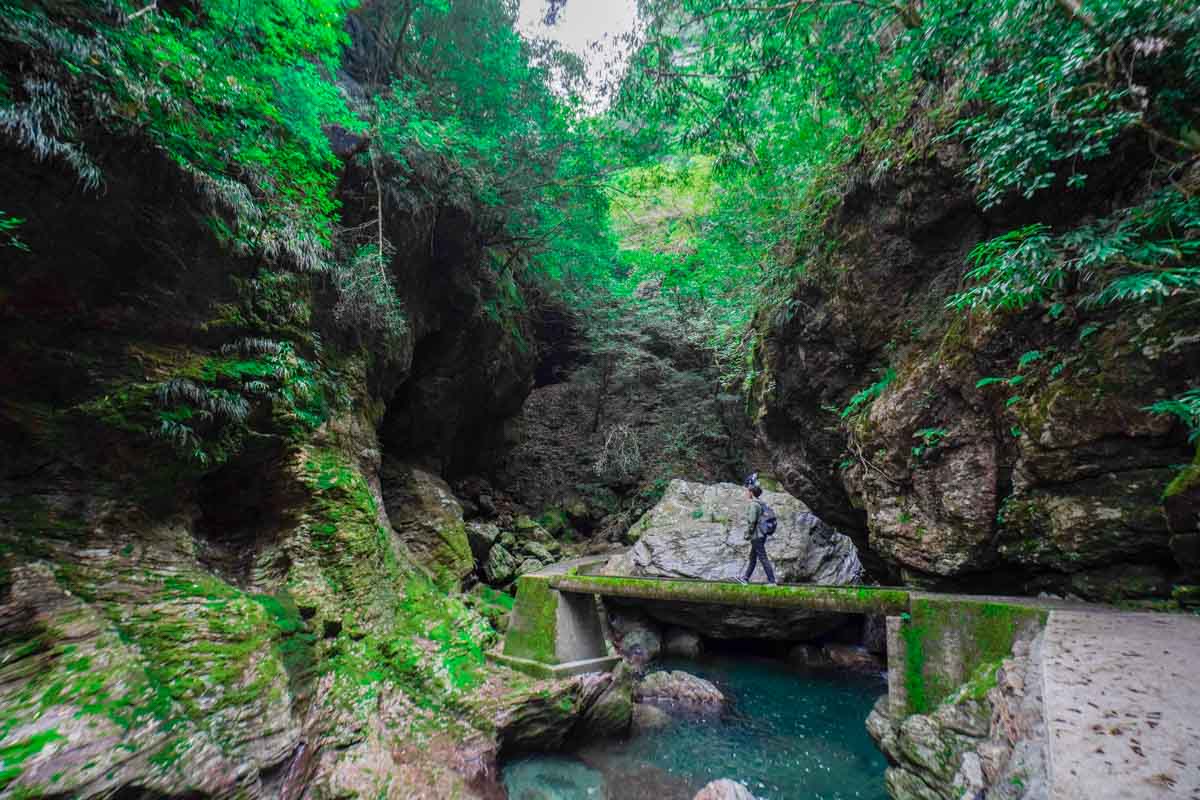 At a reasonable pace you can reach the mystical 20m-tall Uryu Falls in 20–30 minutes. Wear sturdy shoes because it can be slippery at parts when you have to traverse rocks and climb dirt steps. There are also seven statues of Japanese deities placed along the trail — it's tough to spot them all!
Entrance Fee: Free
Opening Hours: 24 hours
Starting Point: Nanokawa, Niyodogawa-cho, Agawa-gun, Kochi, Japan 781-1741
7) Catch the best ocean views at Cape Ashizuri (足摺岬, Ashizuri-Misaki)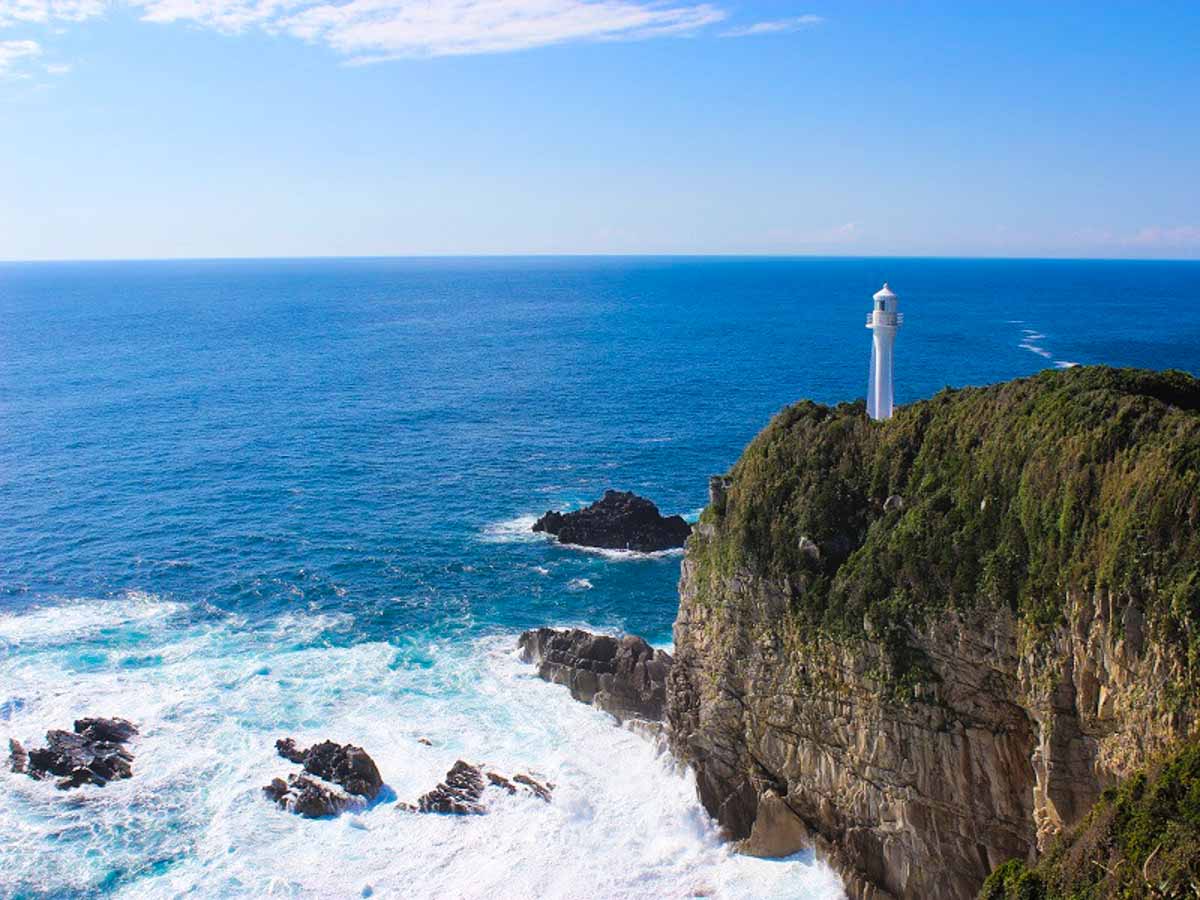 The area is part of the Ashizuri-Uwakai National Park (足摺宇和海国立公園), which also houses one of the biggest Buddhist temples in Shikoku's 88-temple pilgrimage route, the Kongofuku-ji.
The best way to get to Cape Ashizuri is by car. The road to this southern tip of Shikoku is as scenic as the destination, with plenty of rest stops and parks to stop at along the way.
Once at the cape, there is an observation deck where you can get a panoramic view of the ocean.
Entrance Fee: Free
Opening Hours: 24 hours
Address: Ashizuri-misaki, Tosashimizu City, Kochi Prefecture
8) Drink with locals at Hirome Market (ひろめ市場)
At night, make some friends at the Hirome Market as it comes alive with the smell of greasy bar bites and clinking of beer glasses. It hosts over 60 stalls selling food, drinks and other goods, ranging from local to Indian to Western cuisine. Can't say no to beer when a pint is half the price of what you'd get in Singapore!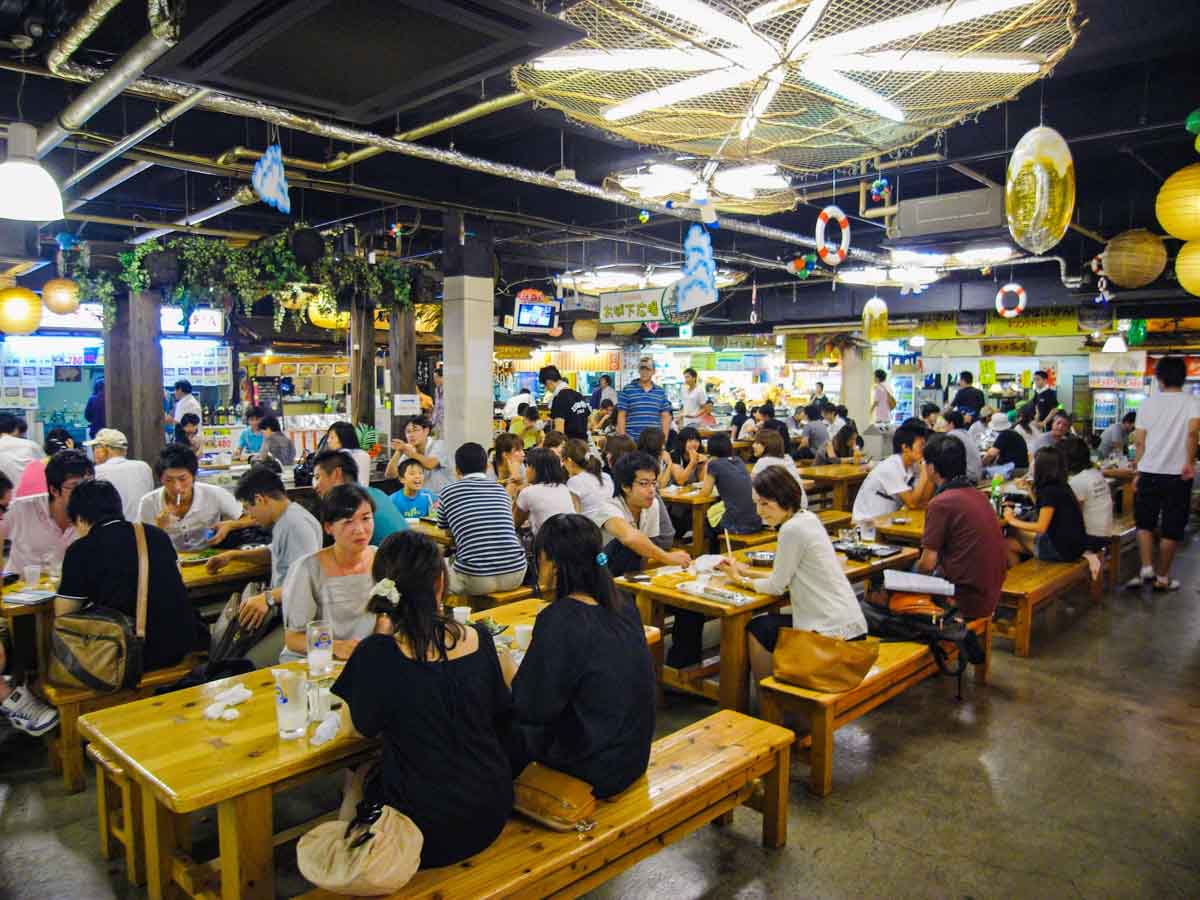 Unlike izakayas which tend to be more private with separate tables, it's open market here where it's all about communality. It's common for Kochi-jin to share tables and mingle with foreigners here (sometimes thanks to the help of alcohol) so it's the best place to meet other tourists, practice your Japanese, or learn something new about the culture.
Just outside the main entrance is also the Obiyamachi Shopping Arcade, a long albeit gentrified shopping street with souvenir shops and international names like Starbucks and McDonald's. The market is also walking distance from the Kochi Castle (more in #10).
Opening Hours: 10AM – 11PM. Opens 9AM – 11PM on Sundays. Shops may close earlier.
Address: 2-3-1 Obiya-machi, Kochi City, Kochi Prefecture 780-0841
*Pro-tip: Even though the market hall opens early, most individual stalls only open in the evening.
9) Feel the seasons at the Makino Botanical Garden (高知県立牧野植物園)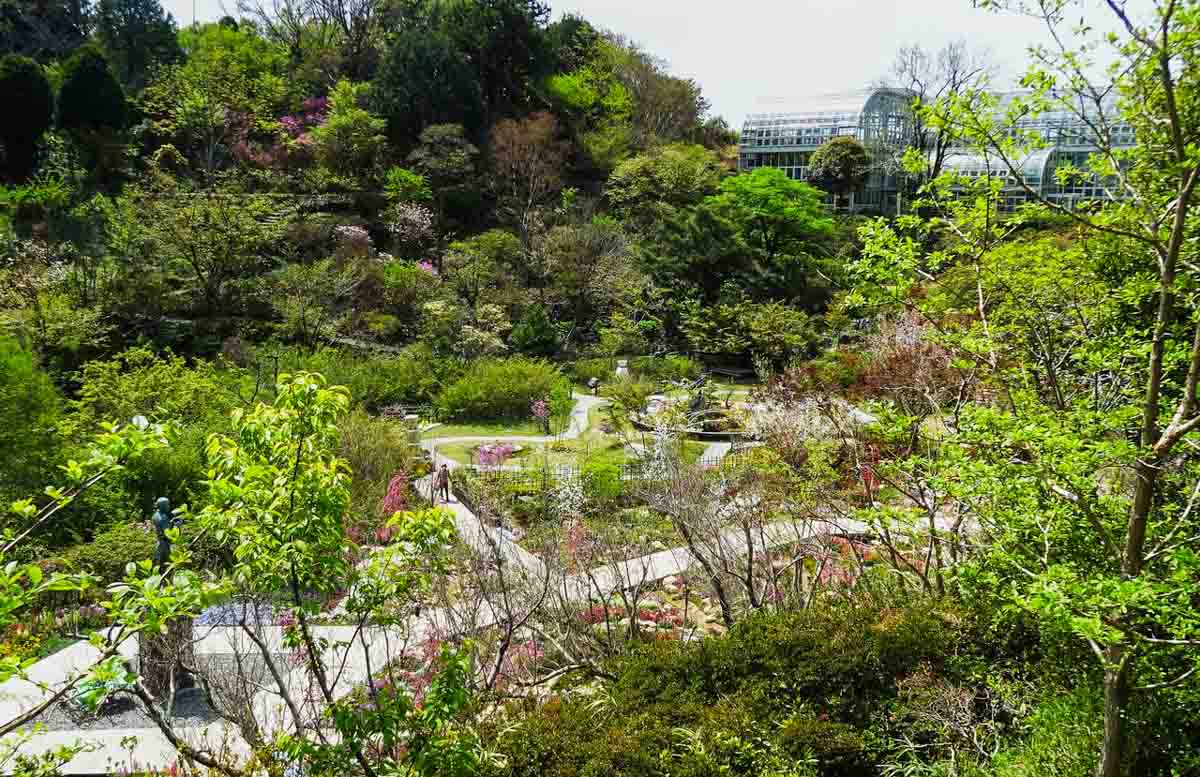 Housing 3,000 species spread across a whopping six hectares, the 60-year-old Makino Botanical Garden was named after the Kochi-born "Father of Japanese Botany" Dr. Tomitaro Makino.
With an open lawn, north and south gardens and a conservatory among others, it easily takes more than two hours to see everything.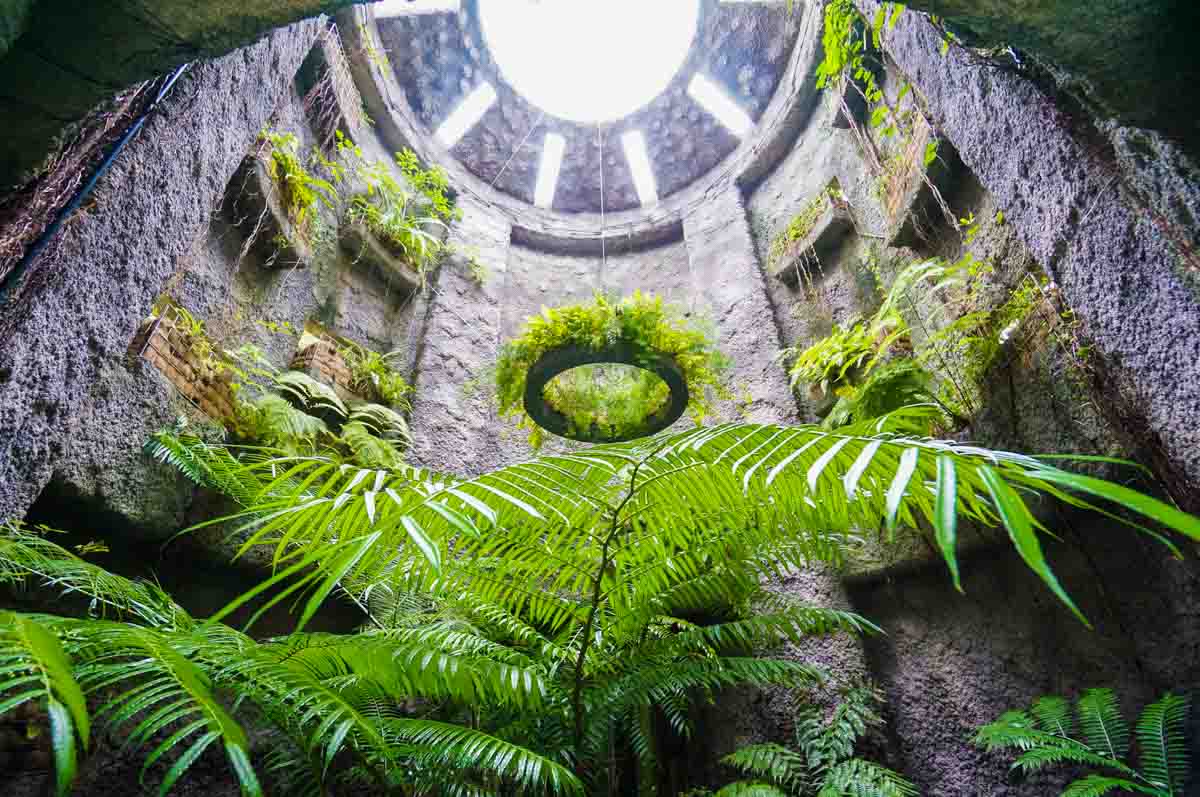 The best part is that every season brings a different scenery. Come in the springtime to catch sakura in full bloom, or in the autumn when everything transforms into ravishing shades of amber and red.
Entrance Fee: ¥730 (~S$7.30)
Opening Hours: 9AM – 5PM. Closed from 27 Dec – 1 Jan.
Address: 4200 Godaisan, Kōchi-shi, Kōchi-ken, Japan 781-8125
10) Explore the 17th-century Kochi Castle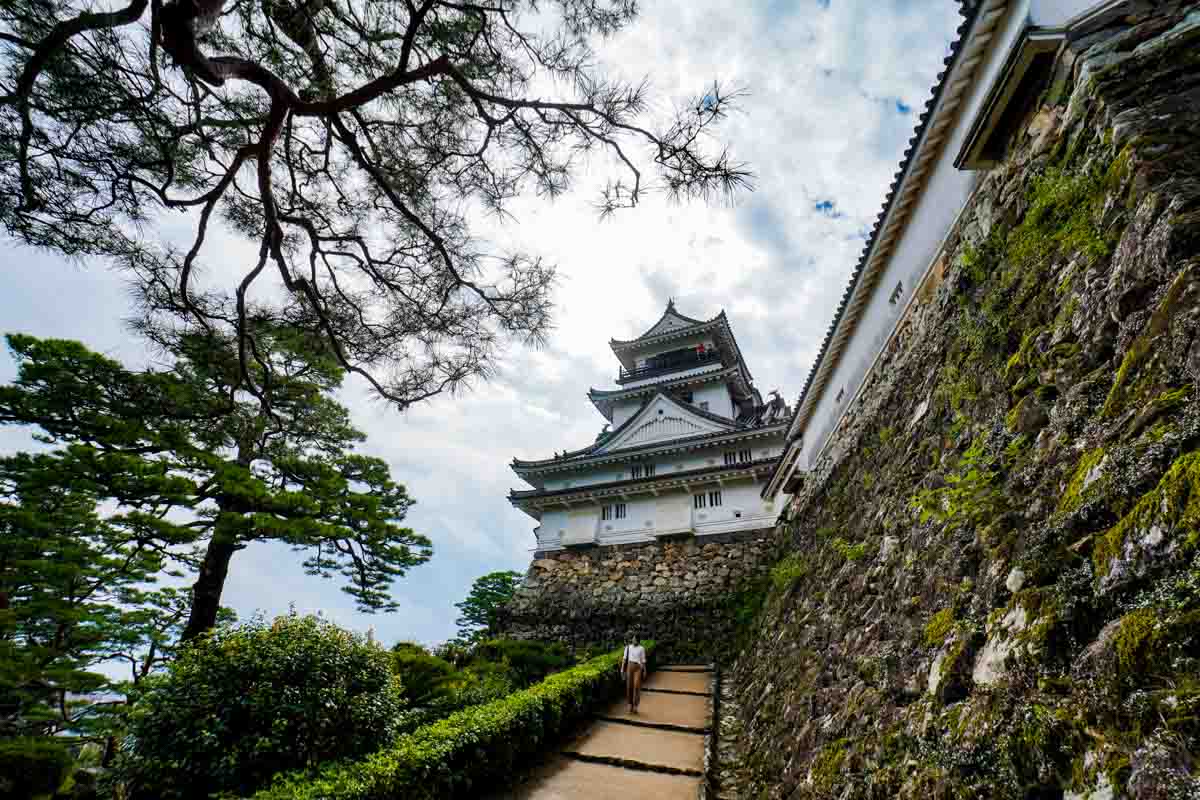 Only 12 castles in Japan remain in their original architectural state, and Kochi Castle is one of them. Now converted into a museum, step inside and learn about the inner workings of the feudal rulers, back when Kochi wasn't even named Kochi yet — formerly named Tosa.
Inside, you'll also learn about the castle's defence mechanism that uses stone gutters and cut-out holes for archers to shoot arrows from to protect against invasions. At the observation deck at the top, you'll be rewarded with a view of Kochi city with the mountains at a distance, where you can stand and look from the perspective of the ancient rulers. Shiok not?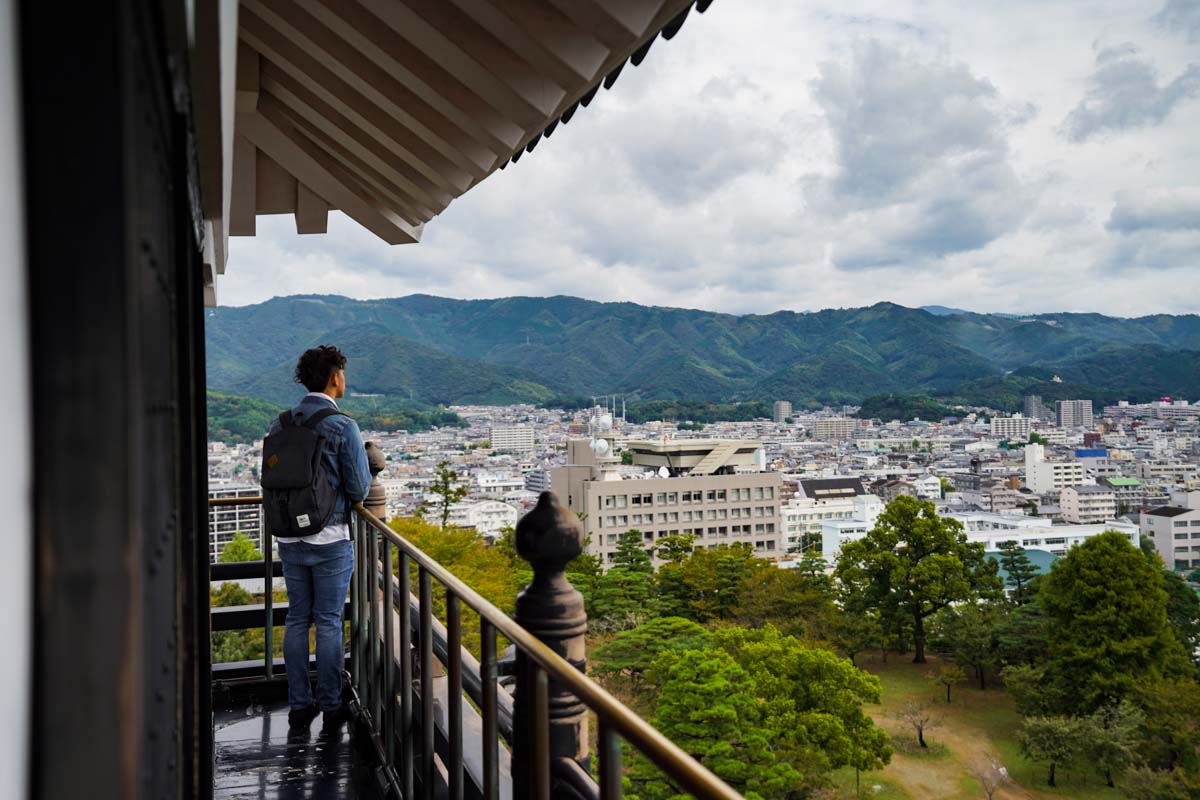 Entrance Fee: ¥420 (~S$4.20)
Opening Hours: 9AM – 5PM (Last entry at 4:30PM). Closed 26 Dec – 1 Jan.
Address: 1 Chome−2−1, Marunouchi, Kōchi-shi, Kōchi-ken, Japan 780-0850
11) Spend a day at Katsurahama Beach (桂浜)… without swimming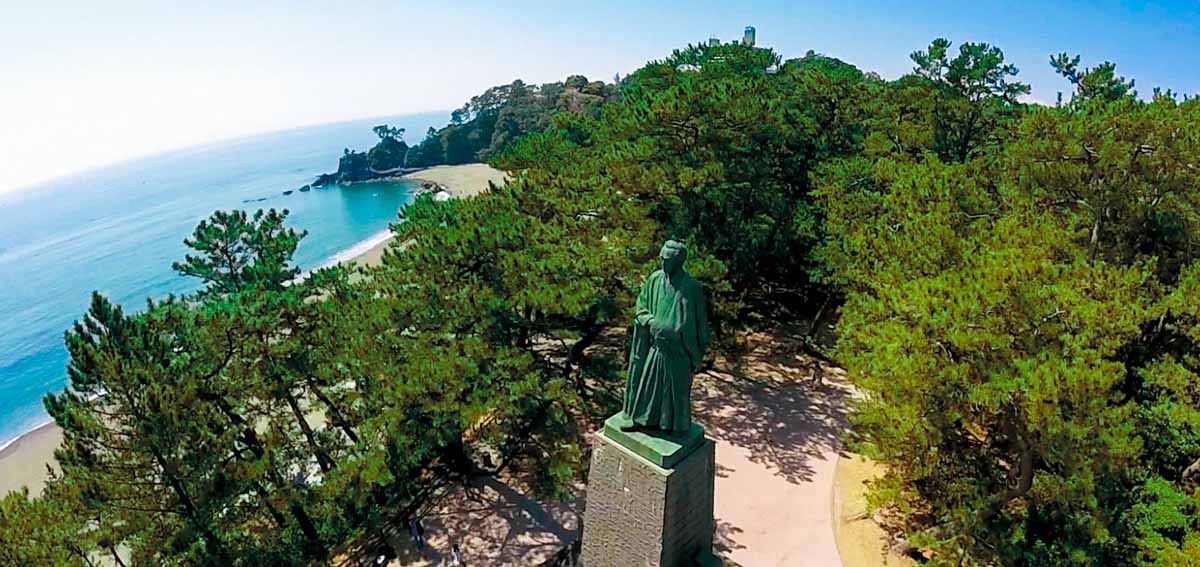 Nobody goes to Katsurahama Beach to swim. Sounds weird, but that's because the strong currents make it a dangerous place to do so. But that doesn't stop it from becoming one of Kochi's top attractions.
In the day, there is the Katsurahama Aquarium where you get to take photos with penguins, feed cute otters, and watch sea lion shows. There is also the huge 13.5m-tall memorial statue of Sakamoto Ryoma that overlooks the Pacific Ocean, with an accompanying modern memorial museum atop the hill where you can learn all about the legendary hero, along with some of his actual artefacts.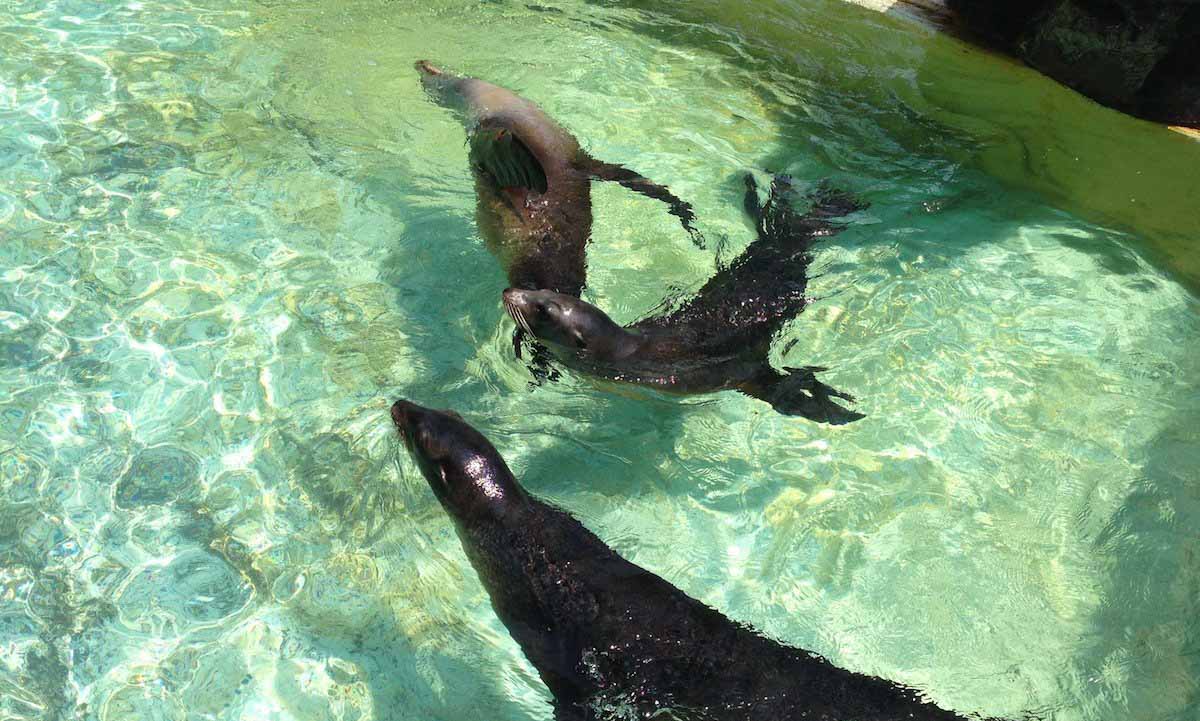 In the night, Katsurahama Beach is known for being a popular "moon-watching" spot. Plus, the area has many gelato, grilled squid and katsuo no tataki stalls where you can fatten up on, so you can basically spend an entire day there and chill with the sea breeze.
Entrance Fee: Free
Opening Hours: 24 hours.
Address: 778 Urado, Kōchi-shi, Kōchi-ken, Japan 781-0262
Katsurahama Aquarium (桂浜水族館)
Entrance Fee: ¥1,600 (~S$16.10)
Opening Hours: 9AM – 5PM
Sakamoto Ryoma Memorial Museum (坂本龍馬記念館)
Entrance Fee: ¥700 (~S$7)
Opening Hours: 9AM – 5PM
12) Participate in one of Japan's hottest summer festivals, Yosakoi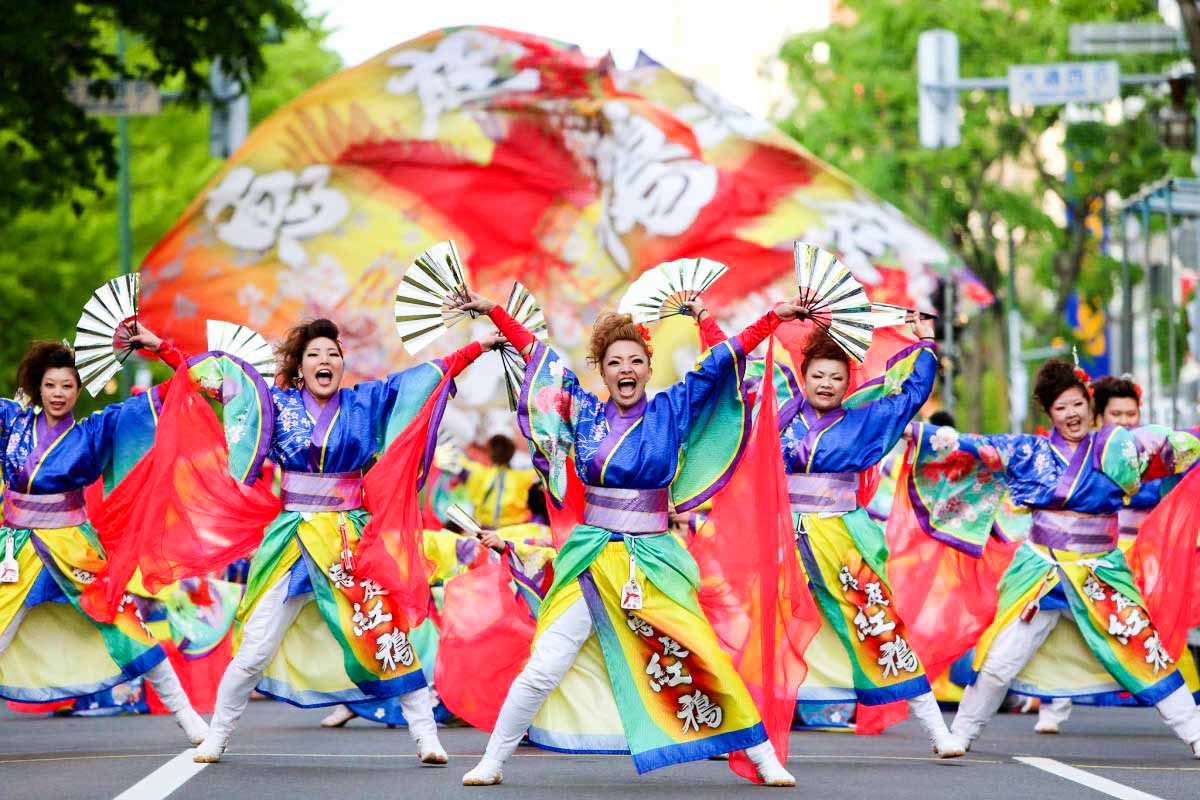 Characterised by high-octane street performances, the Yosakoi Festival is one of the biggest festivals in Japan that originated from Kochi.
It's one of the newer festivals out there, so there isn't necessarily a strict choreography to follow; everyone can bust out moves as they wish!
This festival isn't about standing by the side and watching — EVERYBODY regardless of age, race and dancing skills are encouraged to join in the fun. Either buy your own Naruko clappers from the shops around, or join the dancing teams, some of which comprise mainly tourists.
Annual Festival Dates: 9 – 12 August, fireworks on 9 Aug at 7:30PM
Address: All over Kochi City
13) Make your own Washi paper from scratch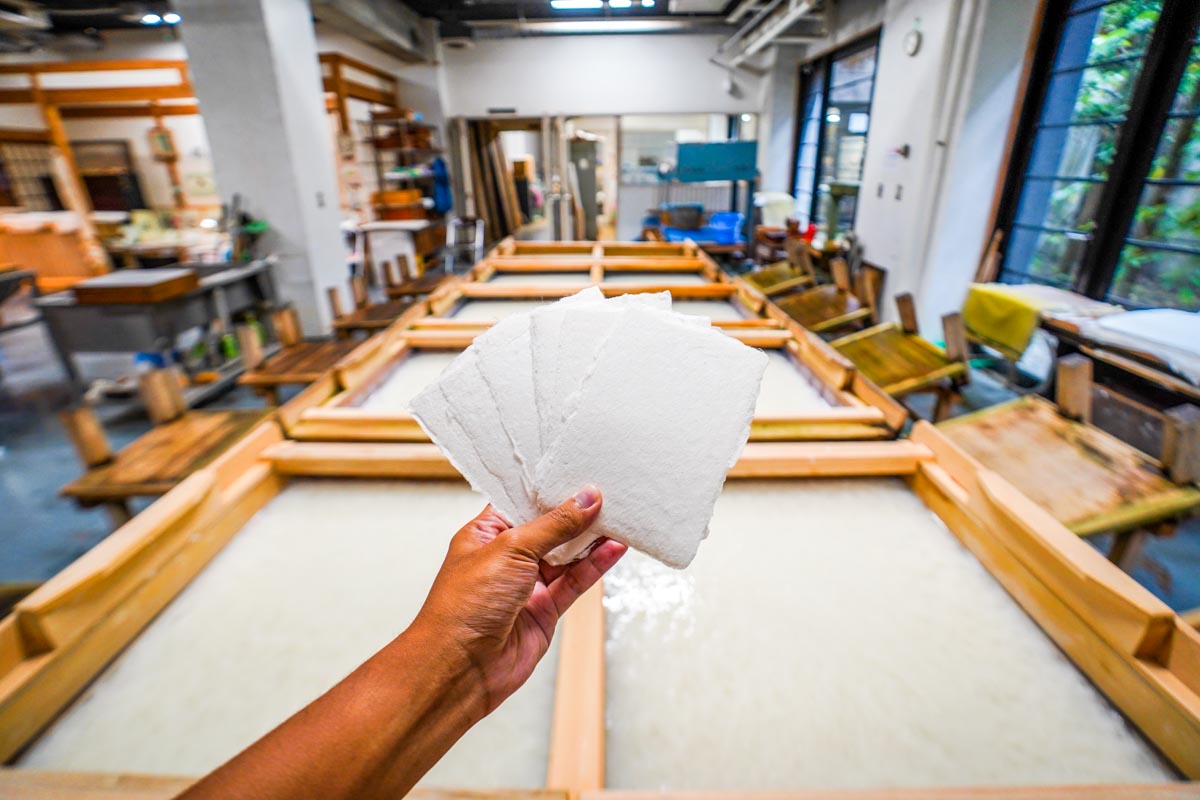 As you well know, the Japanese make quality products. That includes their traditional paper, washi, which many origami, shodo calligraphy and ukiyo-e paintings are made of.
Tosa washi, a Kochi variant, uses the barks of kozo and mitsumata plants, and are similarly super durable. In the Ino-cho Paper Museum you'd even see that people in the past made washi raincoats. Heck, I even have a washi man-clutch that survived a teh bing spill.
For an additional top-up fee, you get to make eight sheets of crisp, thick washi postcards the traditional way.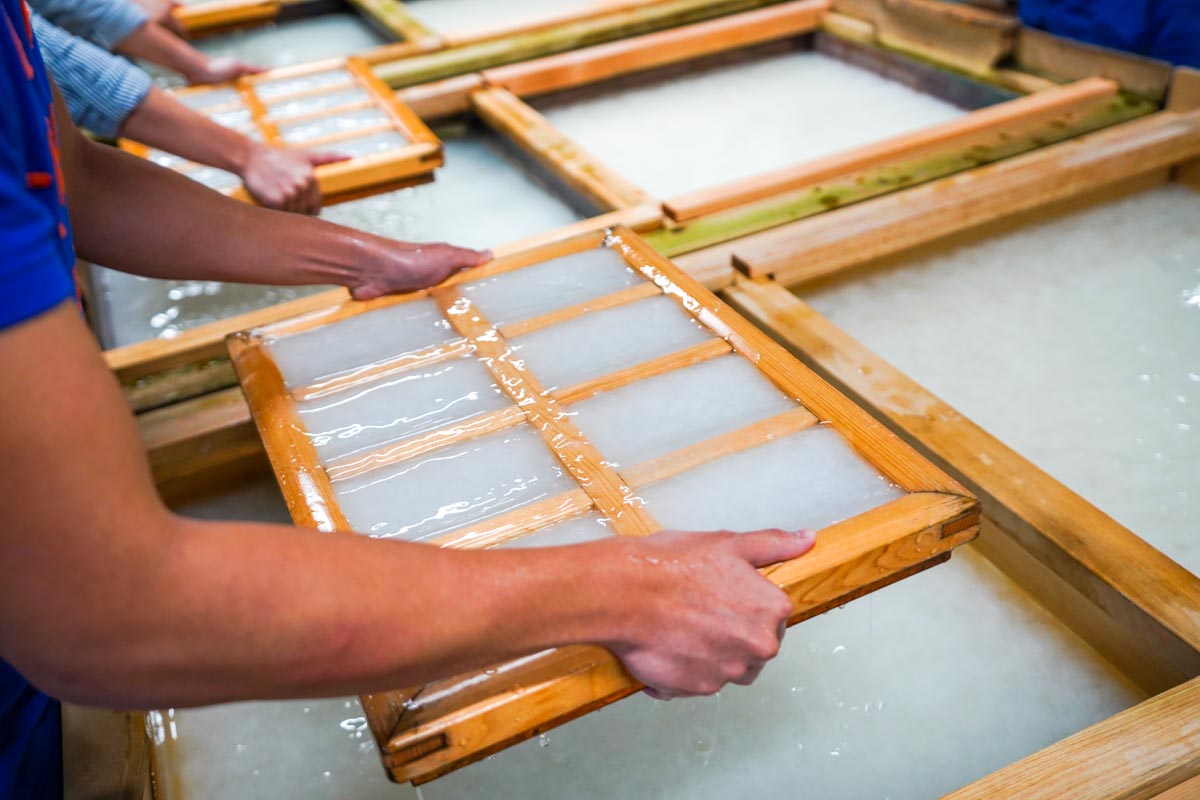 Our adroit instructor whizzed through the demonstration so effortlessly, we weren't expecting what turned out to be a full blown arms day. With the mould you scoop up the pulp in a huge vat of water, then slowly sieve the water out by quickly swinging side to side. Then repeat. Intense!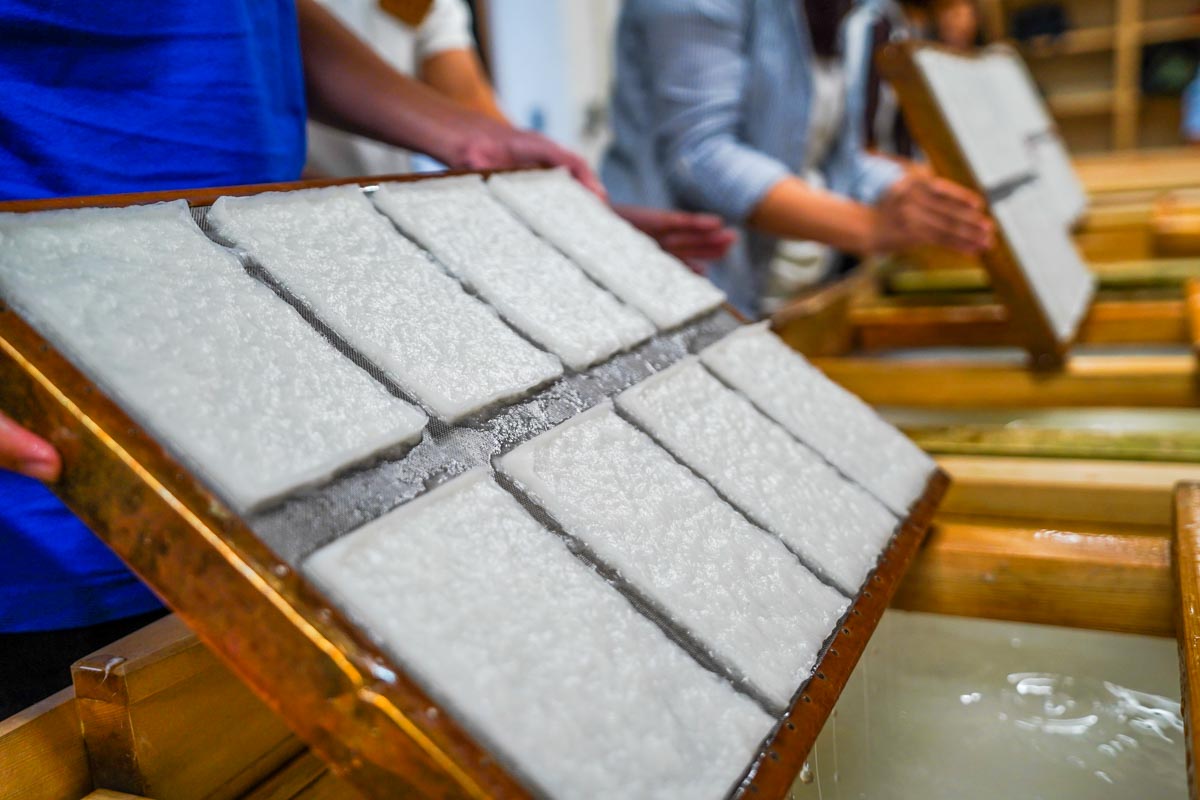 The entire experience takes one hour (30 minutes to make, 30 minutes to dry). While waiting for it to dry you can wander around the museum, or shop at their souvenir store selling washi hand-bound notebooks, wallets and other knick-knacks.
Cost: ¥900 (~S$9, incl. ¥500 entrance fee)
Opening Hours: 9AM – 5PM (Last workshop at 4PM). Closed on Mondays (Tue if Mon is a PH), and from 27 Dec – 4 Jan.
Address: 110-1 Saiwai-cho, Agawa-gun Ino-cho, Kochi 781-2103
Kochi is a complete 180° from modern cities like Tokyo, and one of the best places to experience a different side of Japan. Sure, it's not the most accessible, but that's what adds to the allure and untouched beauty of it, isn't it? They say no pain, no gain, but we wouldn't even call a two-hour domestic flight via JAL / ANA painful by any means. And even though public transport isn't as developed, that just screams… road trip!
Have you been to Kochi, Japan? Tell us about your experience in the comments!
---
This post was brought to you by VisitKochi as part of a media familiarisation trip.
For more travel inspiration, follow us on Facebook, Instagram, and YouTube.
View this post on Instagram