As a foodie, hunting down the best food in town has always been my top priority when travelling. When it comes to eating in Japan, the options are truly endless; from sushi to soba, we definitely were able to eat to our hearts content. There are even guided tours around downtown Osaka's food street.
After 6 days of non-stop feasting, I've put together a list of our favourite food-finds in Osaka and Kyoto! I've even included the Japanese names and addresses in case you need to ask locals for help. You're welcome!
In case you want to take a quick look at what's on the table:
*Pro-tip: For easy access to all these places on the go, view this Trip on TripAdvisor!
Osaka
1) Harukoma Sushi (春駒)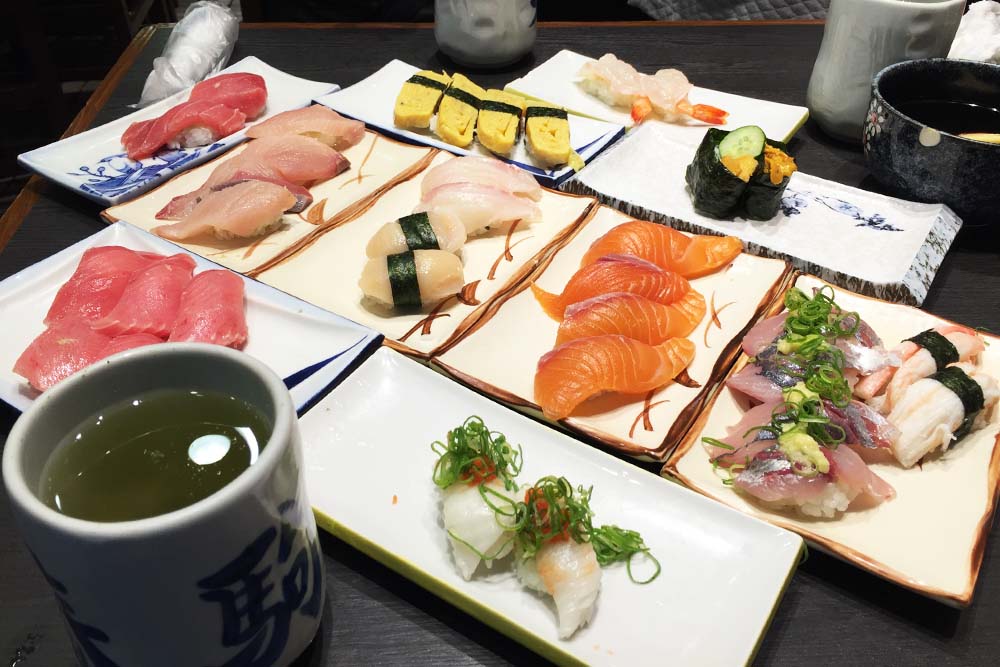 Usually spotted with a snaking queue along Tenjinbashisuji Shoutengai, Harokuma Sushi is a must go for all sushi lovers looking for value-for-money fresh cuts. Don't get turned off by the queue as it moves on really quickly – our wait was approximately 15 minutes for 6 people in front of us. Expect generous thick raw cuts for their sushi at affordable prices. We came out with bloated bellies after having ¥6,700 worth of food for all 4 of us!
Cost: ¥100 to ¥350 for a plate of 2 sushi
Opening hours: 11:00am – 10:30pm (Closed on Tuesdays)
Address: 5-5-2 Tenjinbashi, Kita-ku, Osaka, Osaka Prefecture
北区天神橋5-5-2
Nearest station: Tenjinbashi Station (天神橋筋駅)
Pro-tip: As the place is more catered to smaller groups, it would be good to go in groups lesser than 4 people.
2) Creo-Ru Takoyaki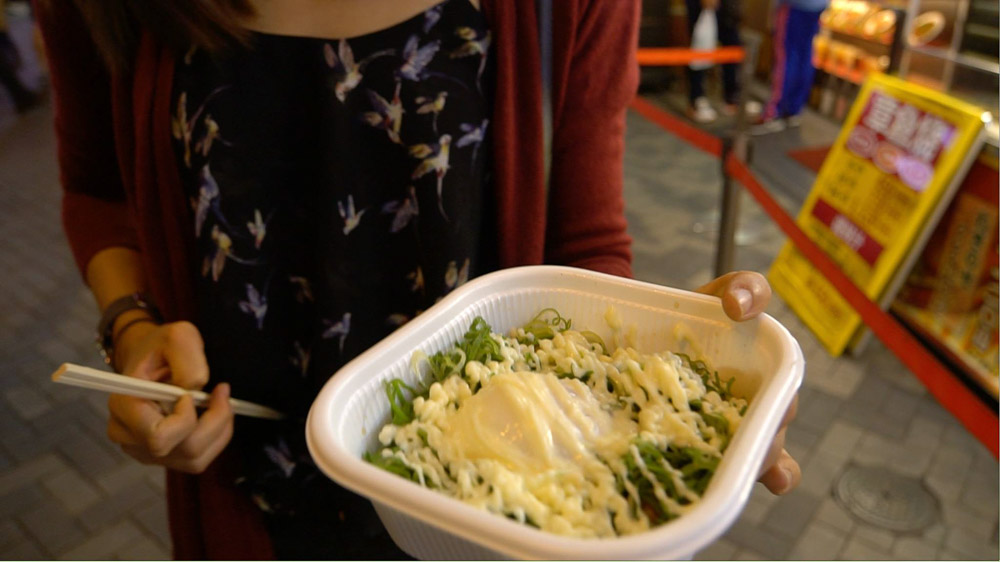 Our stroll along Dotonburi ogling at all kinds of street food eventually led us to Creo-Ru, home of unique takoyaki combos. Their takoyaki poached egg set caught our attention immediately and we loved how the taste of egg yolk, onions and fish flakes blended so harmoniously together. Definitely not to be missed – we slurped up all of it!
Cost: ¥550
Opening hours: 11:00am – 12mn
Address: Dotonburi Food Street 1-6-4
大阪市中央区道頓堀1-6-4
Nearest station: Namba station (難波駅)
3) Uchiya Bake Shop Cheese Tart (ウチヤベイクショップ ボワメゾン)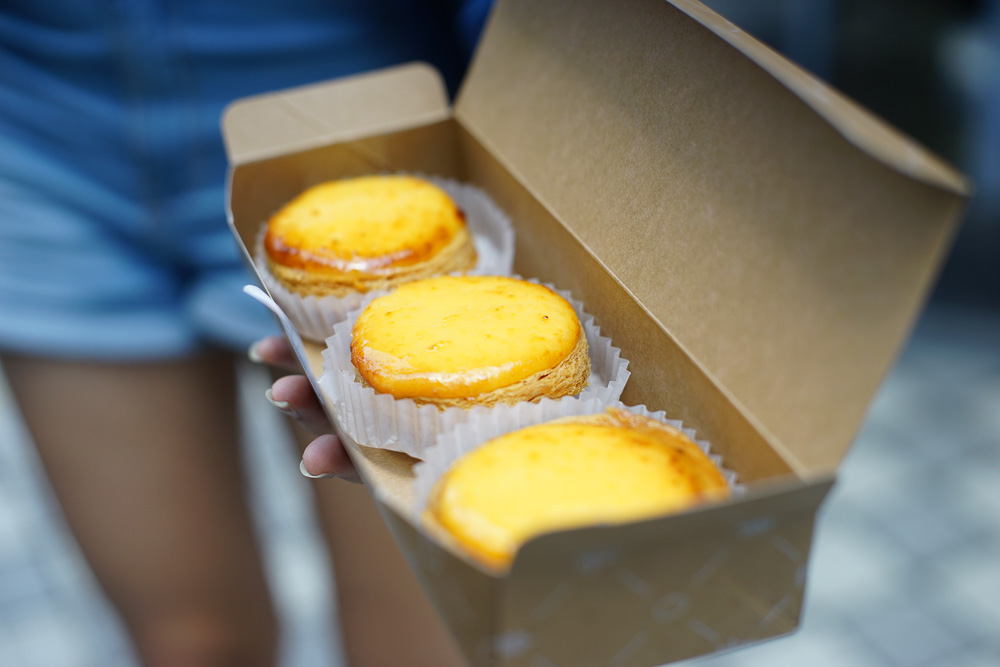 Layered crusts gave way with crisp crunches as we sank our teeth into the palm-sized goodness. My tongue felt the soft custard almost immediately, a little like beancurd with pockets of sugar. The light cheesy aftertaste ensued, enticing me to take the next bite. Uchiya offers cheese tarts in different flavours too – chocolate, green tea, yuzu and more!
Cost: ¥260 for original; ¥300 for flavoured
Opening hours: 11:00am – 7:00pm (Closed every Wednesday and the 3rd Tuesday every month )
Address: 1-16-1 Edobori, Nishi Ward, Osaka, Osaka Prefecture 550-0002, Japan
〒540-0012 大阪市西区江戸堀1-16-1
Nearest station: Higabashi station (肥後橋駅)
4) Kuromon Market Sesame Mochi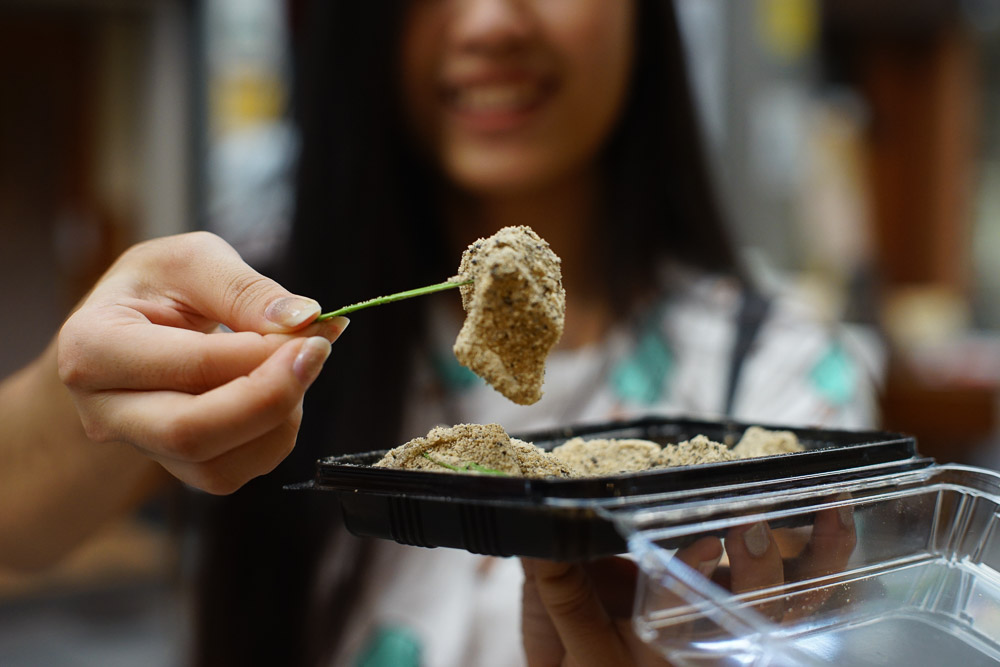 The perfect snack for the sweet-toothed, the sesame mochi was a delicate balance of the sweetness and fragrant sesame flavour. Greedily forking the satisfyingly large mochi cubes into my mouth, I was totally in love with the light nutty flavour with occasional bursts when the whole roasted sesame were chewed on. A great snack in-between meals and many other flavours to choose from!
Cost: ¥280
Opening hours: 8:00am – 6:00pm
Address: 〒542-0073 Osaka Prefecture, Osaka, Chuo Ward, Nipponbashi, 2 Chome−4−1
中央区日本橋2-4-1 Osaka, 大阪府 〒542-0073
Nearest station: Nipponbashi station (日本橋駅)
Pro-tip: Don't be afraid to try the samples of each flavour outside the shop before deciding on the flavour!
5) Pablo Matcha Cheesecake (
焼きたてチーズタルト専門店PABLO道頓堀店)
Buttery fragrance from the crust of the cheesecake wafted around the area, coupled with the catchy tune of Pablo's song, it was almost impossible to miss Pablo's shop front. The texture of the cake was rather cheesy and creamy, with mochi and red bean surprises hidden within. If you're looking for bite-sized treats, Pablo serves mini cheese tarts as well in various flavours with good reviews!
Cost: ¥1,200 for a 15cm large Matcha cheesecake
Opening hours: 11:00am – 10:30pm (for takeaways)
Address: 2-3-15 Shinsaibashisuji, Chuo-ku, Osaka 542−0085, Osaka Prefecture
〒542-−0085中央区心斎橋筋2-3-15
Nearest station: Namba station (難波駅)
6) Calpis Soft Serve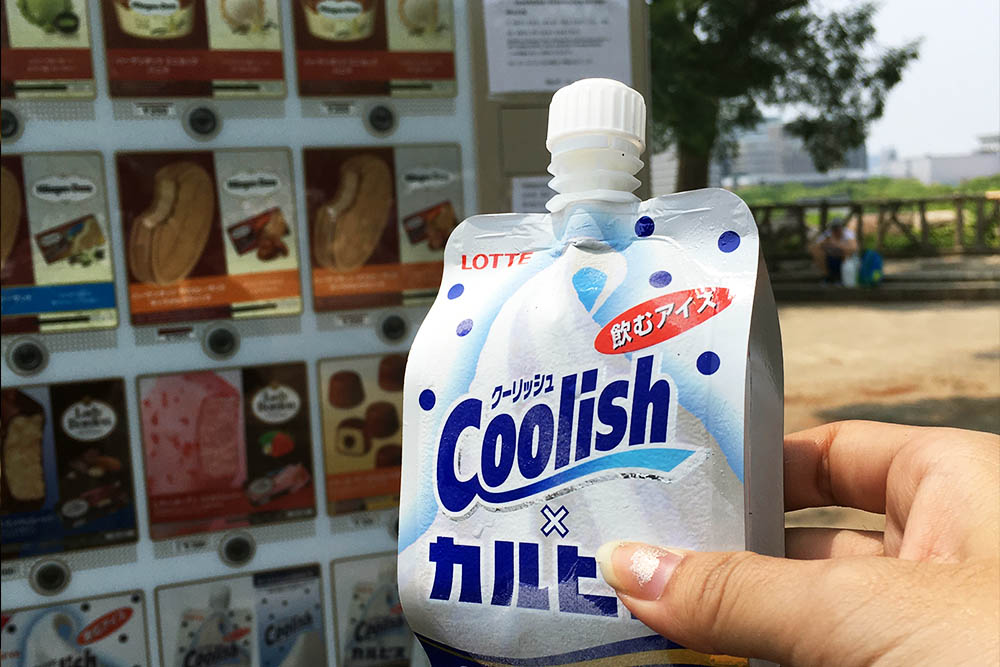 Ever wondered what ice cream and yakult taste like together? Try Calpis! One of my favourite soft serve flavours in Japan, I had one almost every day in Japan. Served in a mess-free packaging – just thaw it slightly and squeeze to enjoy that frozen Calpis goodness oozing out~
Cost: ¥140
Opening hours: 24hrs
Address: Family Mart/ Ice cream vending machines
7) Luke's Lobster (ルークス)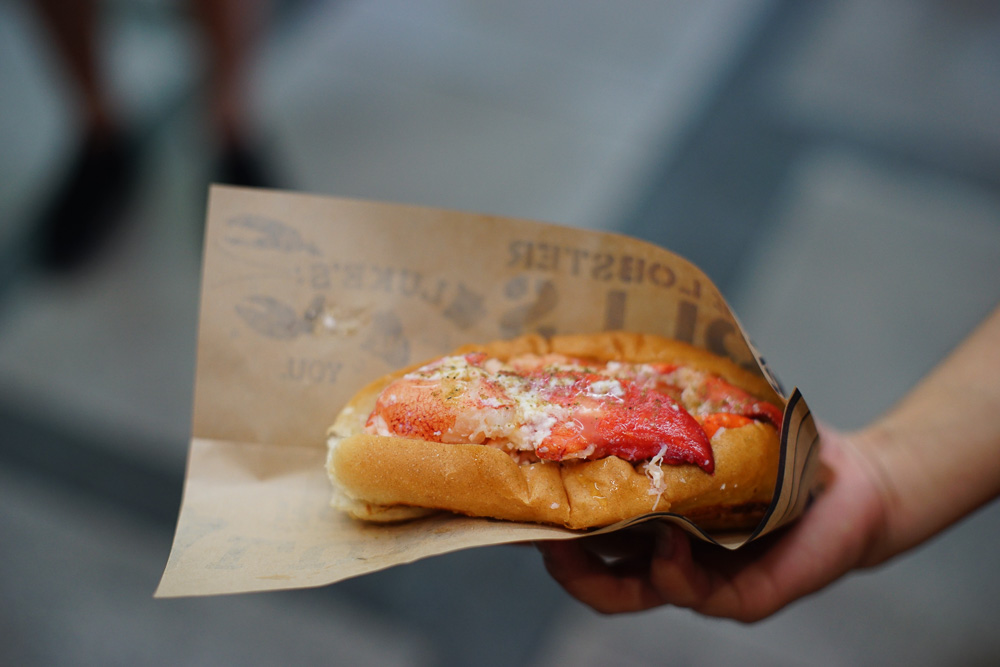 Crisp on the outside and pillowy soft in the inside, the toasted buttered buns were so tasty they can be eaten alone. Through their open kitchen concept, we observed how the chefs tossed huge lobster chunks in sauces and painstakingly compacted them between the buttered buns. Surprisingly, the cold lobster meat complemented the warm buttered bun really nicely.
Cost: From ¥980
Opening hours: 11:00am – 9:00pm
Address: 1-3-21 Shinsaibashisuji, Chuo-ku, Osaka 542-0085, Osaka Prefecture
〒542-0085中央区心斎橋筋1-3-21
Nearest station: Shinsaibashi (心斎橋駅)
Kyoto
8) Issen-Yoshoku Okonomiyaki
A ¥680 okonomiyaki may seem pricey at first – but the generous amount of ingredients in this savoury pancake fully justified its price and should be on your must-eat list! Exploding with ingredients, the okonomiyaki resembles a huge overflowing pancake.
Bonus when dining in: Seated at almost every table, experience the company of a well-dressed Japanese lady.. mannequin. 😛 A little freaky at first but we were entertained nonetheless.
Cost: ¥680
Opening hours: 11:00am – 3:00am (except Sundays close at 10pm)
Address: 238 Giommachi Kitagawa, Higashiyama-ku, Kyoto 605-0073, Kyoto Prefecture 〒605-0073東山区祇園町北側238番地
Nearest station: Gion-Shijo station (祇園四条駅)
9) Matsuba Sweet Stewed Mackerel Soba (総本家にしんそば松葉本店)
A local delicacy in Kyoto, the sweet stewed mackerel soba is not just another variation of soba available in Kyoto. The bowl of buckwheat noodles looked rather plain at first – clear soup with a piece of half submerged fish. The taste, however, was exceptional. A perfect balance of sweet and savoury, the stewed mackerel bought us over instantly. Coupled with the flavourful soup… OISHI!
Cost: ¥1,300
Opening hours: 10:30am – 9:30pm (Closed on Wednesdays)
Address: 192 Kawabatacho, Higashiyamaku, Kyoto 605-0076, Kyoto Prefecture
〒605-0076東山区川端町192
Nearest station: Gion-Shijo station (祇園四条駅)
10) Konnamonjya Soy Milk Donut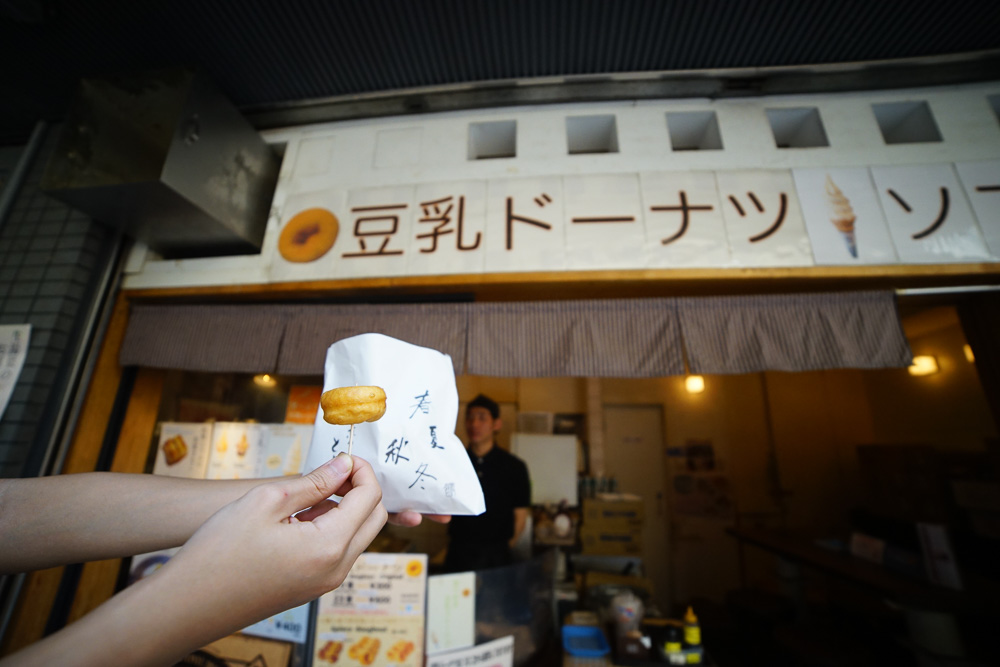 An exceptionally fluffy bite-sized sponge ring, these soy milk rings bring donuts to a whole new level. Each bite left me craving for more – no wonder they are sold in packets of 10; because anything less will definitely be nowhere near satisfying. My personal favourite from Nishiki Market, the soy milk donut comes in many assorted flavours as well!
Cost: ¥300 for 10 mini donuts (plain)
Opening hours: 10:00am – 6:00pm
Address: Nishiki Market 錦市場
Nearest station: Gion-Shijo station (祇園四条駅)
Pro-tip: Soy milk donuts taste best when hot – feast on them right away!
11) Ichiran Ramen (一蘭 京都河原町店)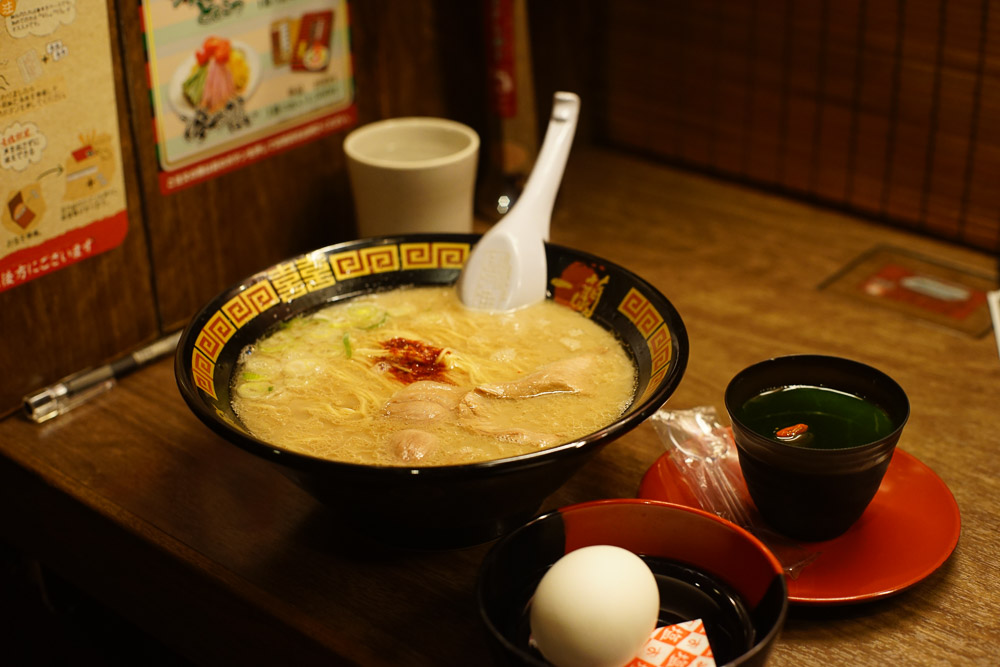 From dropping my coins into the slot and selecting my meal through a vending machine, Ichiran Ramen provided a superbly unique dining experience – of eating alone. With individual eating cubicles and hooks to hang my belongings, I could focus solely on my bowl of ramen. A setting people eating alone would appreciate.
Cost: ¥790 for a bowl of ramen
Opening hours: 24 hours
Address: 598 Urateramachi, Takoyakushi Sinkyogoku-dori Higashi-iru, Nakagyo-ku, Kyoto, Kyoto Prefecture 中京区0蛸薬師OKIビル1F
Nearest station: Hankyu Kyoto Main Line Kawaramachi Station
Pro tip: For those with an appetite, save some soup and add extra noodles! 130yen for half a serving and 190yen for a full serving.
12) Daiyasu Oysters (だいやす)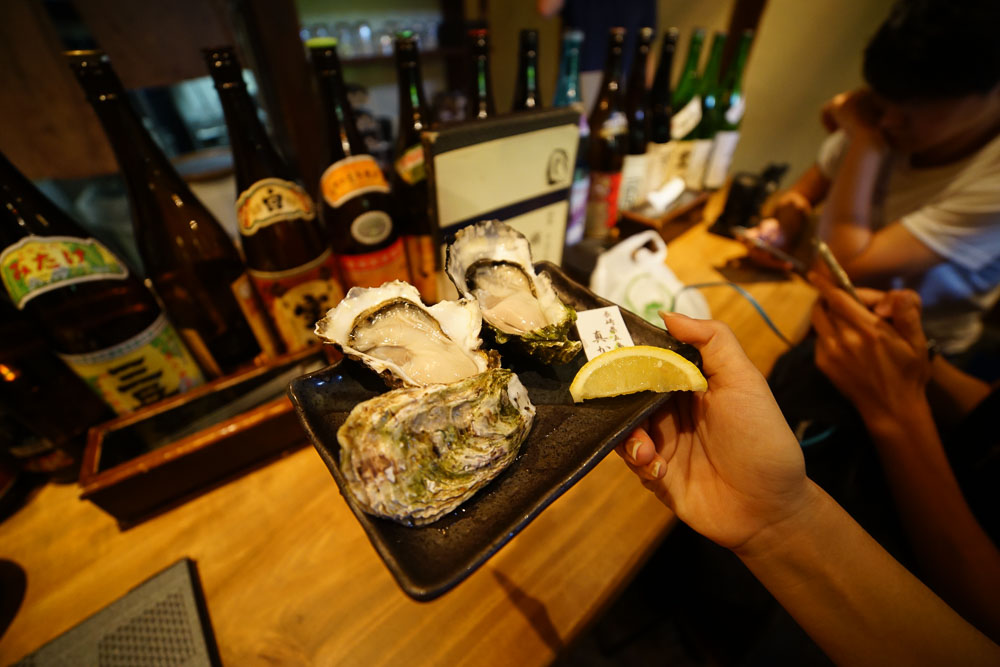 More than just aesthetically pleasing, this shelled dish was well worth its price tag. Enhanced with the sour tinge of lemon, the oyster glided swiftly off its shell onto my tongue. A mild taste of the sea, followed by a tinge of sweetness, and a whole lot of satisfaction. Oysters were available both raw and cooked, so no worries if you prefer cooked food!
Cost: ¥660 for 2 oysters (raw); 520 yen for 2 oysters (cooked)
Opening hours: 9:00am – 6:00pm (Closed on Wednesdays)
Address: Nishiki Market 錦市場
Nearest station: Gion-Shijo station (祇園四条駅)
13) Daiyasu Homemade Tofu (だいやす)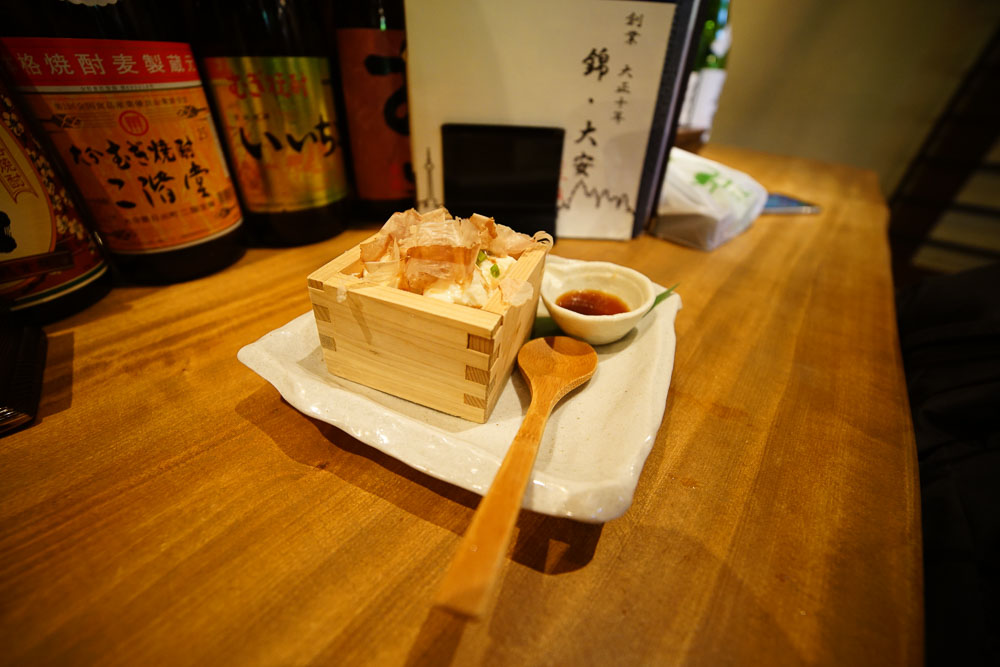 Although a pretty odd sounding dish to order when overseas, this delicate dish is no where close to the conventional ones available in supermarkets. With a creamier texture, this homemade delicacy felt more like dessert than a side ingredient or dish. Garnished with bonito flakes and onion, this should not be missed when dining in Kyoto.
Cost: ¥520
Opening hours: 9:00am – 6:00pm (Closed on Wednesdays)
Address: Nishiki Market 錦市場
Nearest station: Gion-Shijo station (祇園四条駅)
14) Sawawa Thick Matcha Soft Serve Cone (茶和々)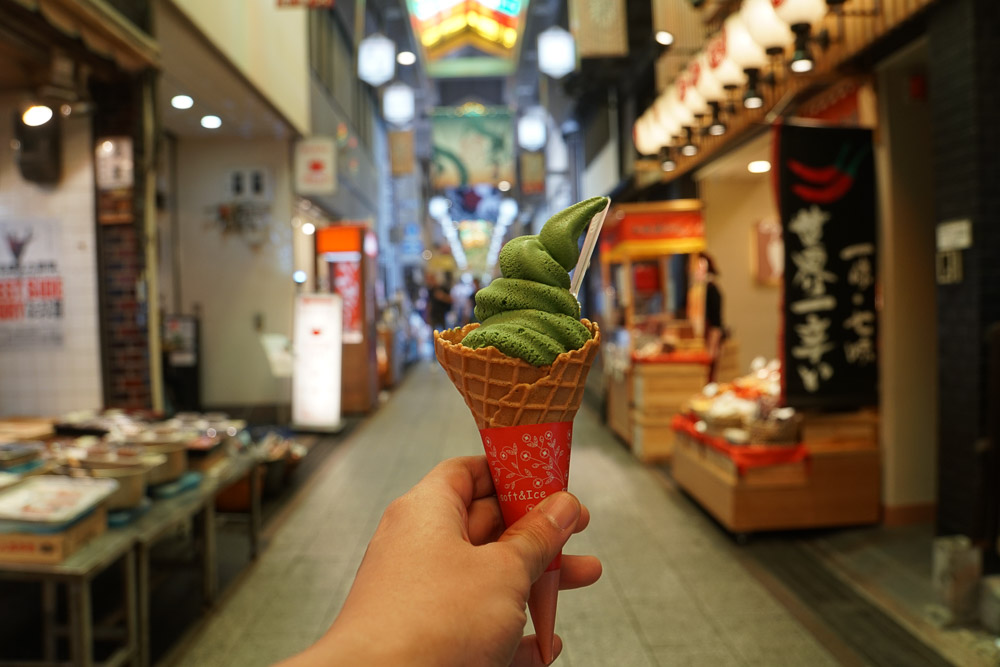 As suggested by the name, the soft serve tasted a whole lot like matcha, with a lingering tinge of bitterness; unlike the usual ones that are more milky and sweet. We were so hooked to the taste, regular matcha ice cream just did not hit the cut anymore – An undeniable treat for matcha lovers!
Cost: ¥480
Opening hours: 10.00 am – 6.00 pm
Address: Nishiki Market 錦市場
Nearest station: Gion-Shijo station (祇園四条駅)
15) Ajidontsuki Kyoto-style Beef Manju Bun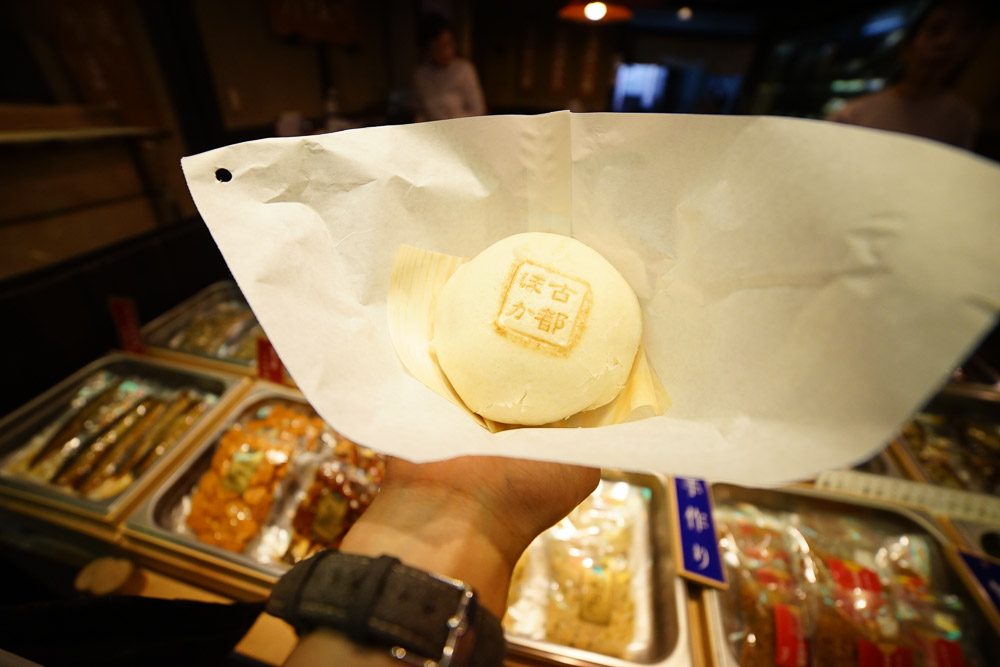 A combination of the usual pau and the chinese plain buns sandwiching braised pork, the Kyoto-style beef manju bun was served scalding hot, straight out from the steamer. A tinge of Asia in every bite, the Manju Bun is filled with flavoured burdock roots and beef slices. The bun steamer was also rather huge and easy to spot along the Nishiki Market!
Cost: ¥400
Address: Nishiki Market 錦市場
Nearest station: Gion-Shijo station (祇園四条駅)
16) Mackerel Tempura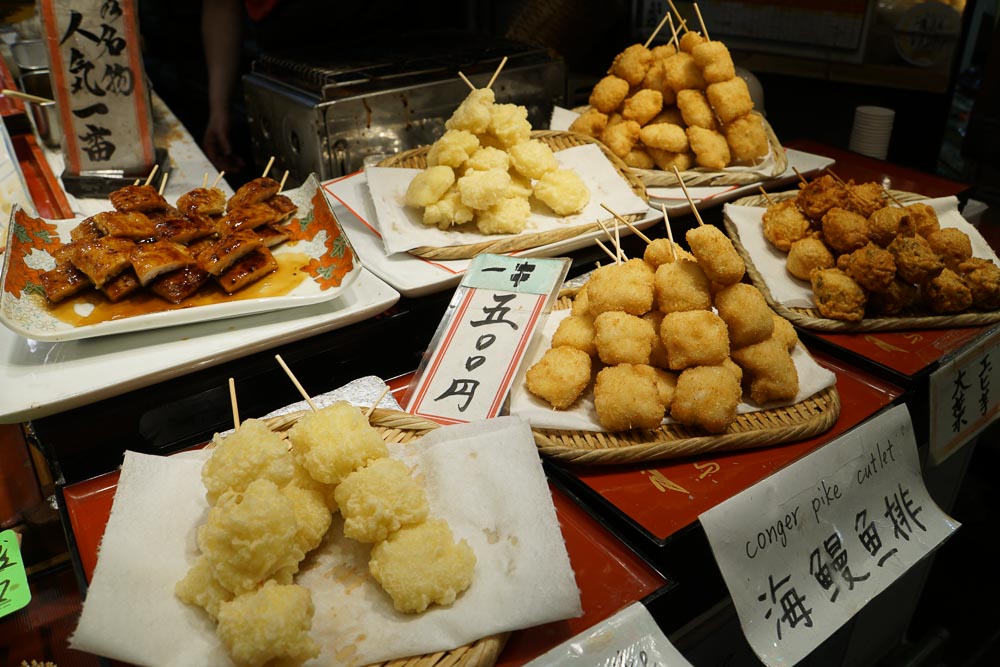 Flavoured and heated up on the spot, these mackerel skewers sure did confuse our taste buds – in a good way. The exceptional crispy tempura exterior gave way to tender fish meat. And just in case you are wondering, there wasn't a tinge of fishiness in the salted tempura we tried.
Cost: ¥500
Address: Nishiki Market 錦市場
Nearest station: Gion-Shijo station (祇園四条駅)
Getting Around in Kyoto, Osaka and Kobe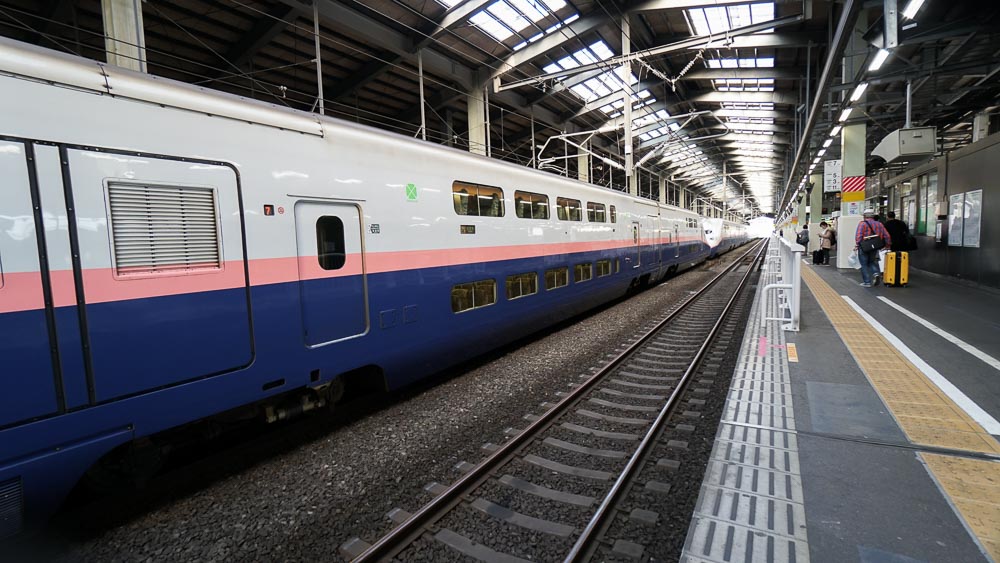 Transport can be expensive and confusing especially for the greedy foodie (like me, and most probably you who's reading this). That's why we're always looking out for the best transport passes to save us the cost and hassle!
For Unlimited Rides in Kyoto, Osaka, and Kobe: Many of the popular areas in Kyoto and Osaka are covered by the Hankyu Line so the Hankyu Tourist Pass comes in quite handy. For S$9.50/16.70, the pass gives you unlimited rides on the Hankyu Line for 1 or 2 days respectively. It even extends over to Kobe which is a must for foodies because Kobe beef is only a 30 minute train ride away from Osaka!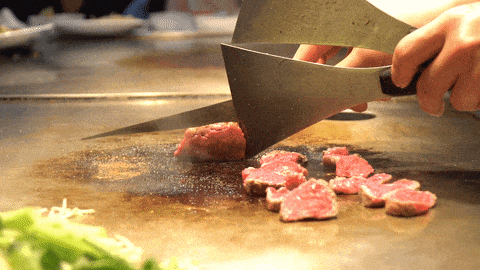 For a fuss free cashless experience: One disadvantage of the Hankyu Tourist Pass is that it doesn't cover the main subway lines in the city. You can use coins to purchase individual tickets at the station before each trip but if you'd like to skip the hassle, the ICOCA IC Card is the best alternative. This works like a rechargeable card and covers all the JR lines, subway, private railway and buses in the Kyoto, Osaka and Kobe region.
Coming from Tokyo: If your Japan itinerary includes Tokyo, Osaka, and Kyoto, your best bet would be to get the Whole Japan JR Pass for inter-city transportation.
Hope you enjoyed our list of foods you must try in Osaka and Kyoto because I got super hungry writing this.
Heading to Japan? You might find these helpful too: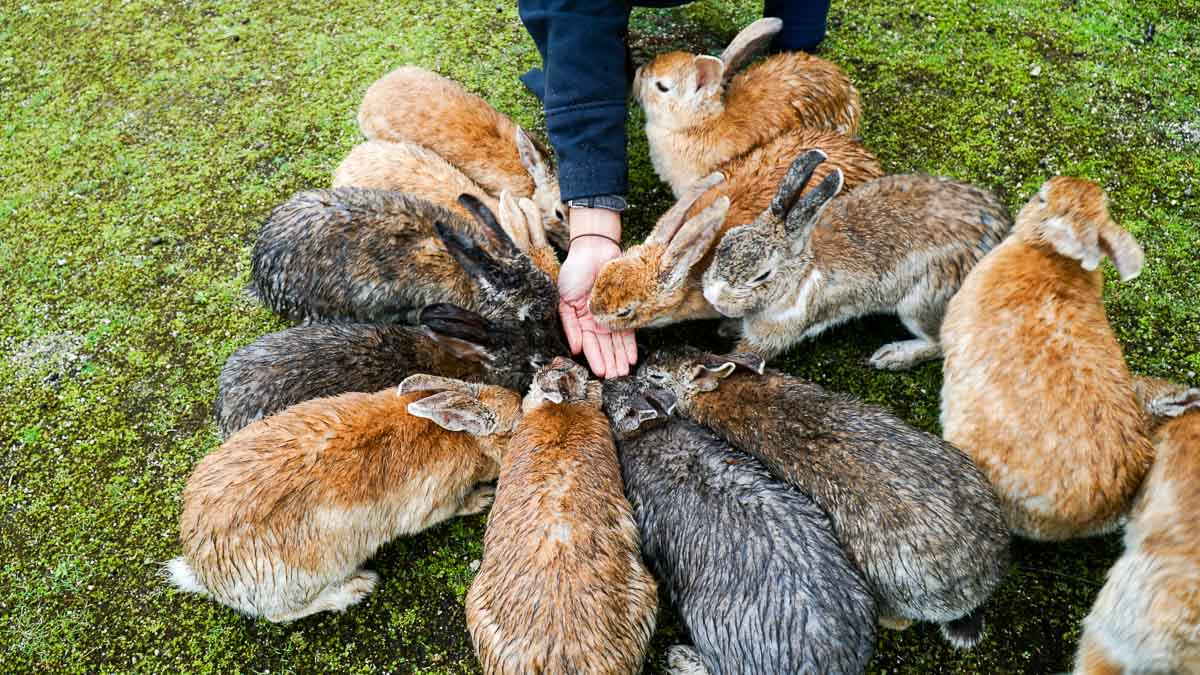 – 8D Kansai Itinerary for under S$1.1k incl. flight and accommodation: Covers Osaka, Kyoto, Hiroshima, Rabbit Island and 5 other amazing cities in Kansai
– 7D JR Pass Itinerary from Tokyo to Osaka for under S$1.1k: Cover Tokyo, Osaka and some hidden gems in between to maximise your JR Pass!
Know of any other must eats in Osaka and Kyoto? Share with us in the comments section below! Let's try to grow this list.