Update: Dream Cruises' World Dream has ceased operations since 2 March 2022.
With travel out of the books, we've been on the lookout for other meaningful ways to take a good well-deserved break.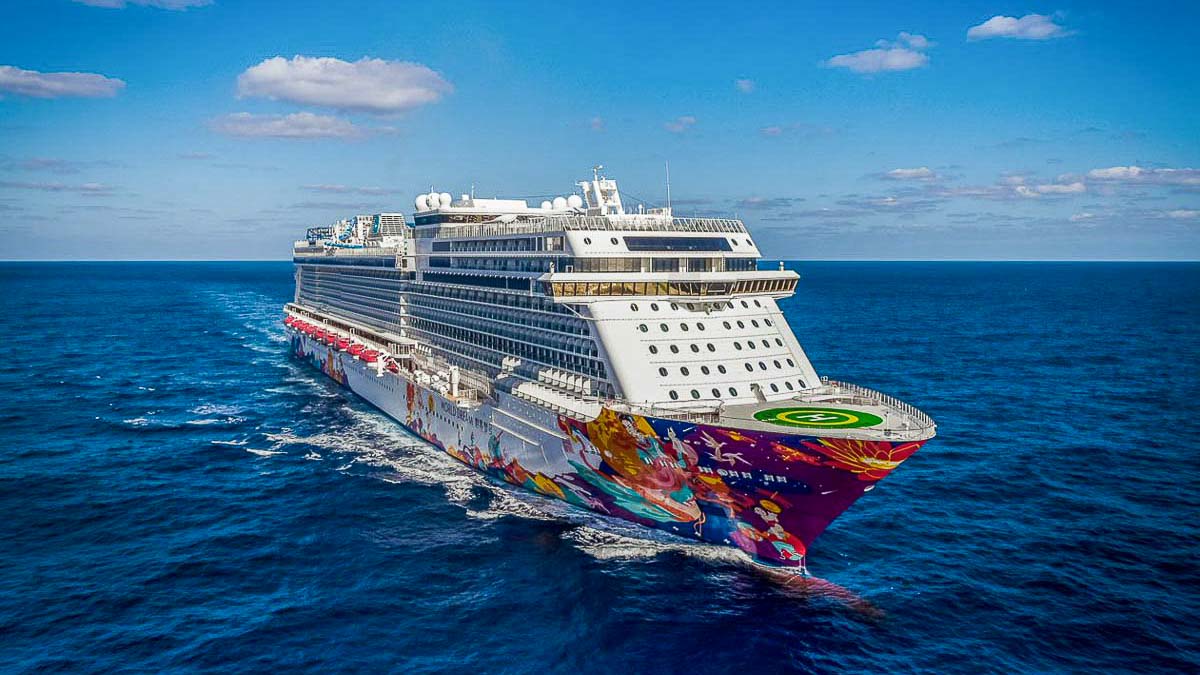 Photo credit: Dream Cruises
In Nov 2020, Singapore began cruises to nowhere. It's not very different from regular cruises except this time, there aren't any ports of call. You leave Singapore's shores and return without stepping foot in other countries.
We had the pleasure of sailing on the World Dream — the newest ship of the Dream Cruises fleet just built in 2017!
For those wondering if a cruise to nowhere is safe and worth it — we've sussed out the whole experience — from pre-boarding process and accommodation as well as things to do, food onboard, and safety precautions. Here's our no holds barred experience of our three-night stay on the World Dream!
Pre-boarding Process for a Cruise to Nowhere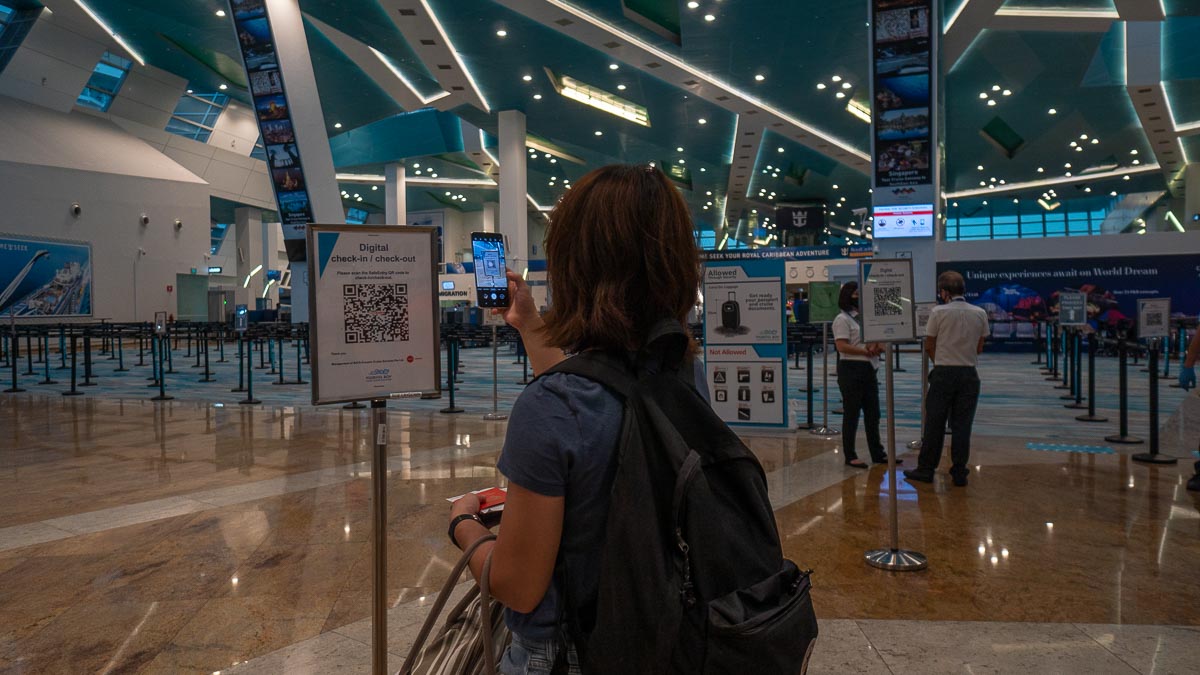 Thanks to COVID-19, there are a few extra steps to take before getting on the cruise:
1) Check-in online before your cruise (up to 90 days before departure) — upload a scanned copy of your passport or NRIC.
2) On the day of departure, guests will have to check in via SafeEntry, undergo temperature screening and fill in a health declaration form.
3) All guests will have to take a COVID-19 Antigen Rapid Test (ART) at the Marina Bay Cruise Centre (level 3). Check your pre-assigned timeslot for the test, printed on the ticket.
4) After receiving a negative ART result, check-in your baggage.
*Pro-tip: Pack light and skip the baggage check-in to save time.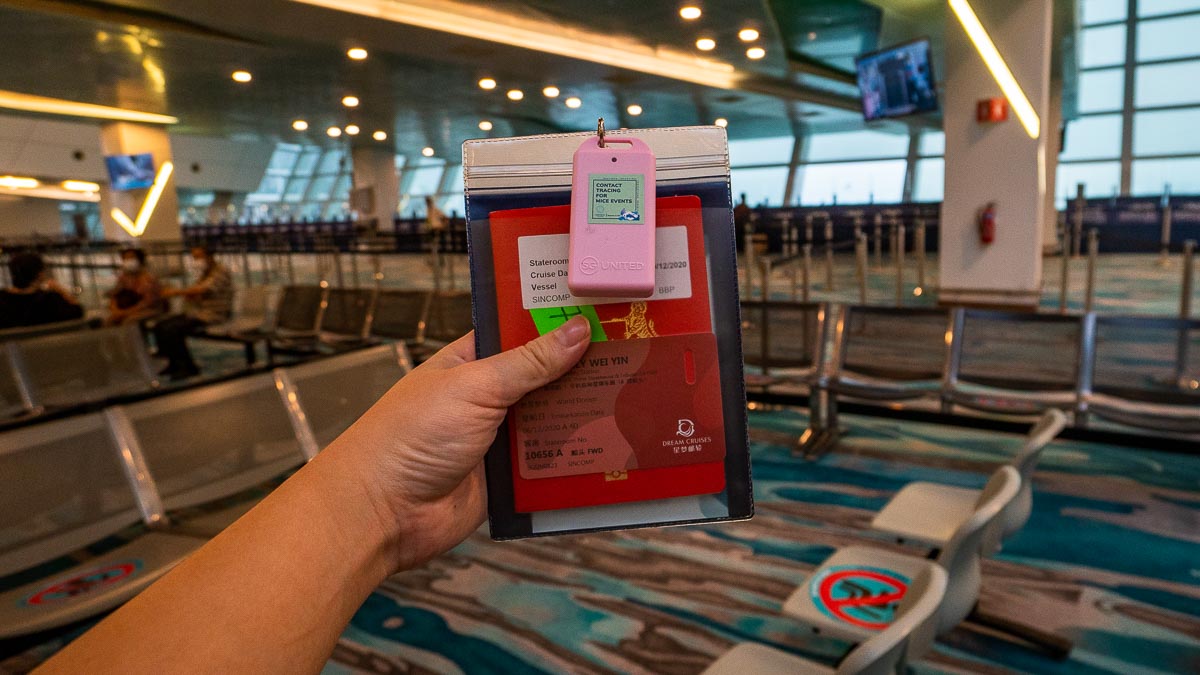 5) Collect your key card and TRACEY — for contact tracing. These must be with you at all times on the ship.
6) Lastly, immigration. The automatic lanes now use facial recognition, so you don't have to scan your thumb.
Despite the extra steps, the entire check-in process was actually very smooth and only took about 45 minutes in total. If you check the World Dream FAQ page, it states that waiting time for the swab results can take up to an hour — ours only took 20 minutes.
Note that the ART is slightly different from the PCR test — it's a lot less intrusive and painless!
Accommodation on board Dream Cruises' World Dream
Balcony Deluxe Stateroom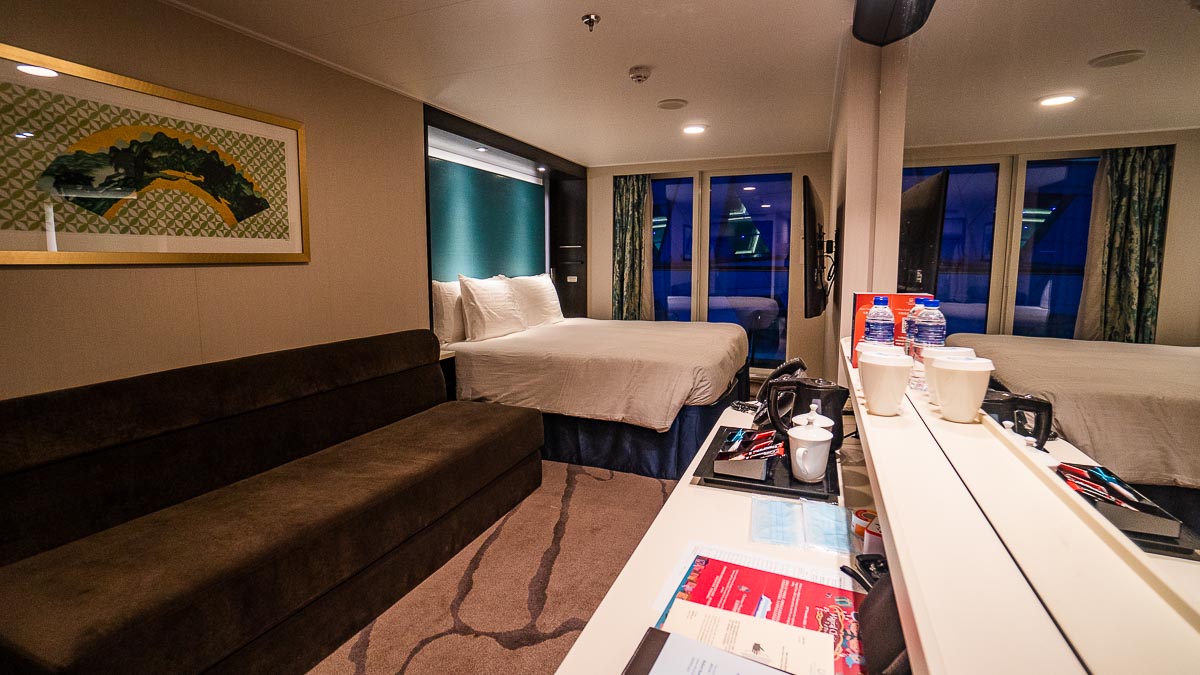 Our room for the next three nights!
Our Balcony Deluxe Stateroom had a comfy queen-size bed, large sofa, flat-screen TV and a private balcony. This was my virgin cruise experience and I was pretty impressed with the size of the room.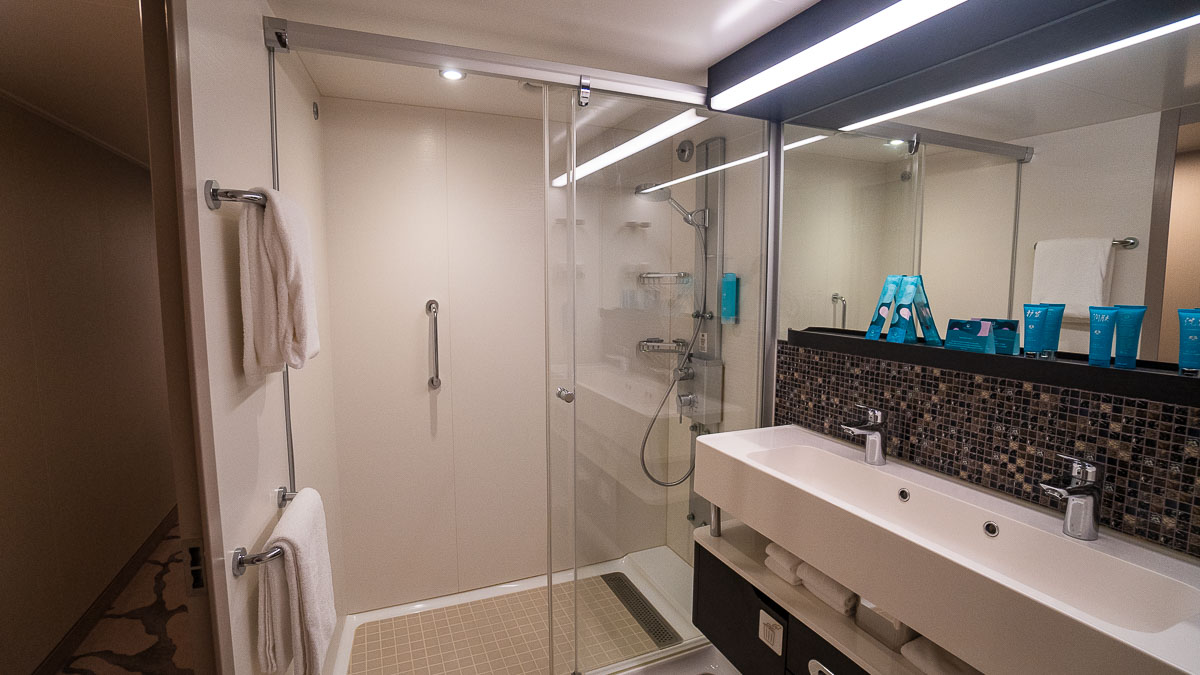 The bathroom was really spacious too, with a dual-tap sink and rain shower with seriously good water pressure — no complaints so far!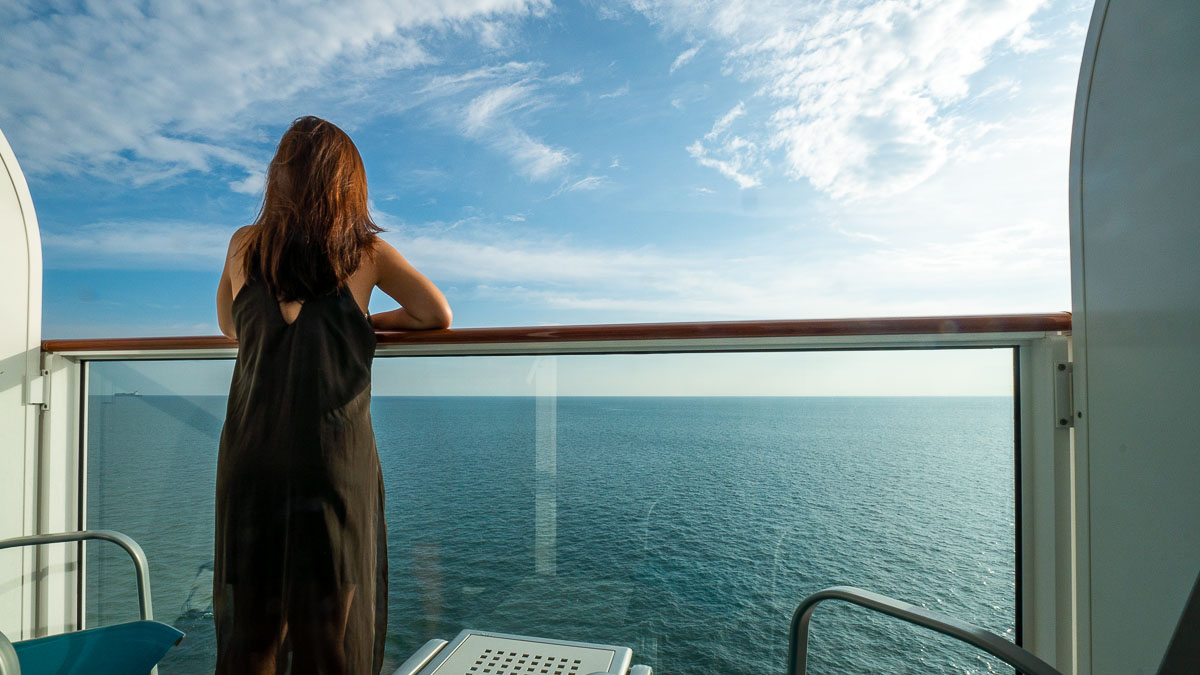 It was surprisingly comfortable, but the best part is looking out on the balcony and realising you're no longer on land — ah, that ever-changing sea view.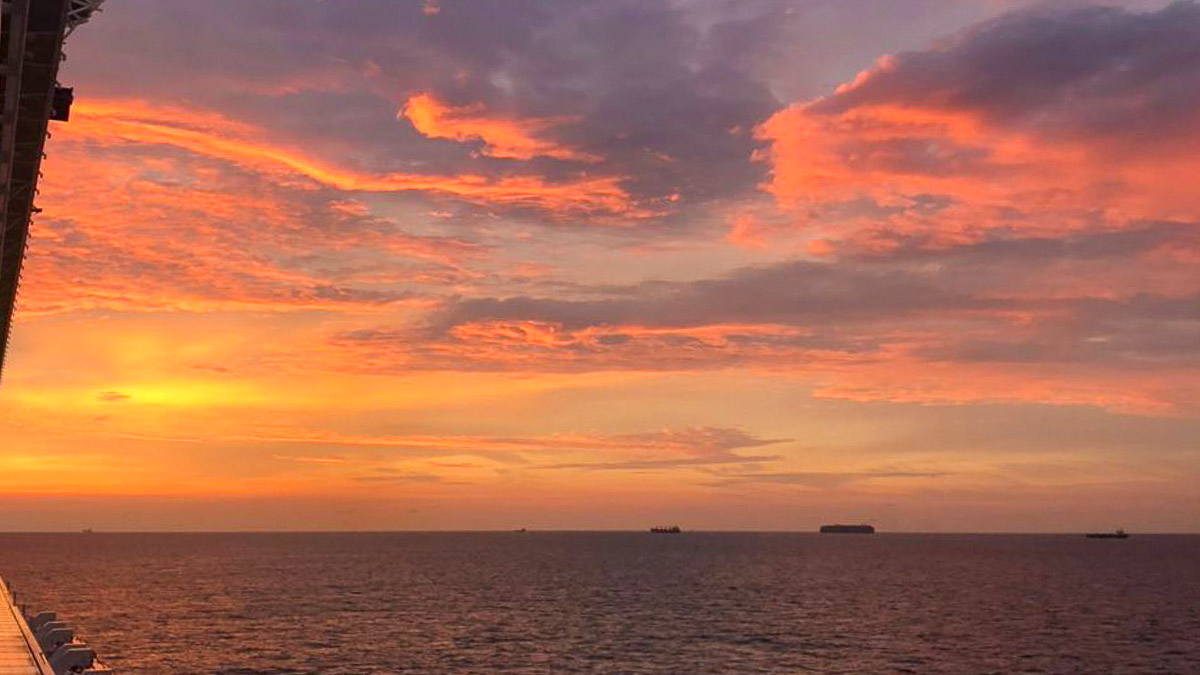 A gorgeous sunrise view from our balcony on the first morning
*Pro-tip: If your room isn't facing the east side, head to Zouk Beach Club at the back of the ship for an uninterrupted sunrise view.
Cost: From ~S$300/pax for two nights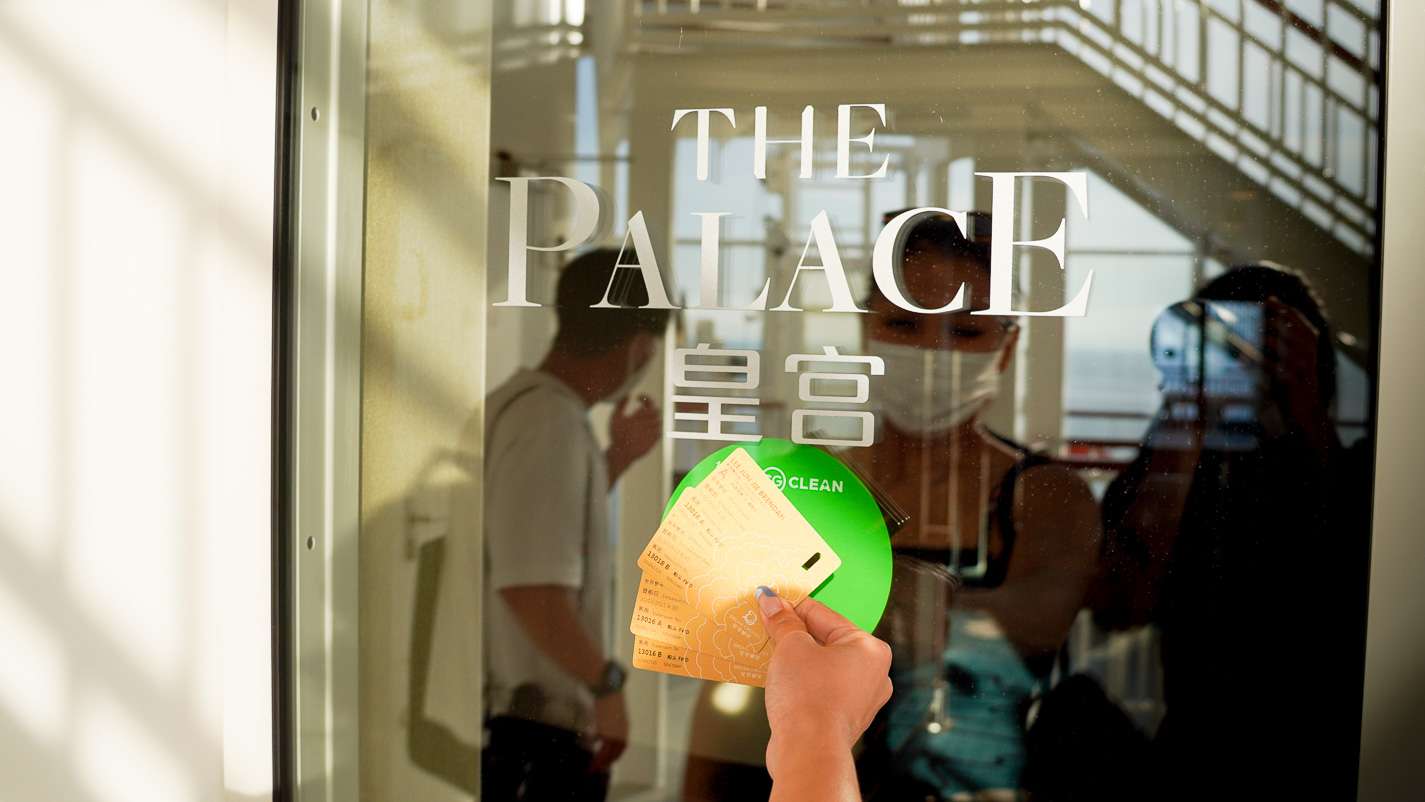 While the Balcony staterooms are cosy, we got to visit The Palace — it's basically the Sentosa Cove of the ship!
Staying here gives you access to exclusive restaurants and programmes, 24-hour butler service, and priority access to shows. The Palace also has its own facilities that non-Palace guests can't access, like a separate pool and gym — talk about living that bougie life for three nights!
Palace Suite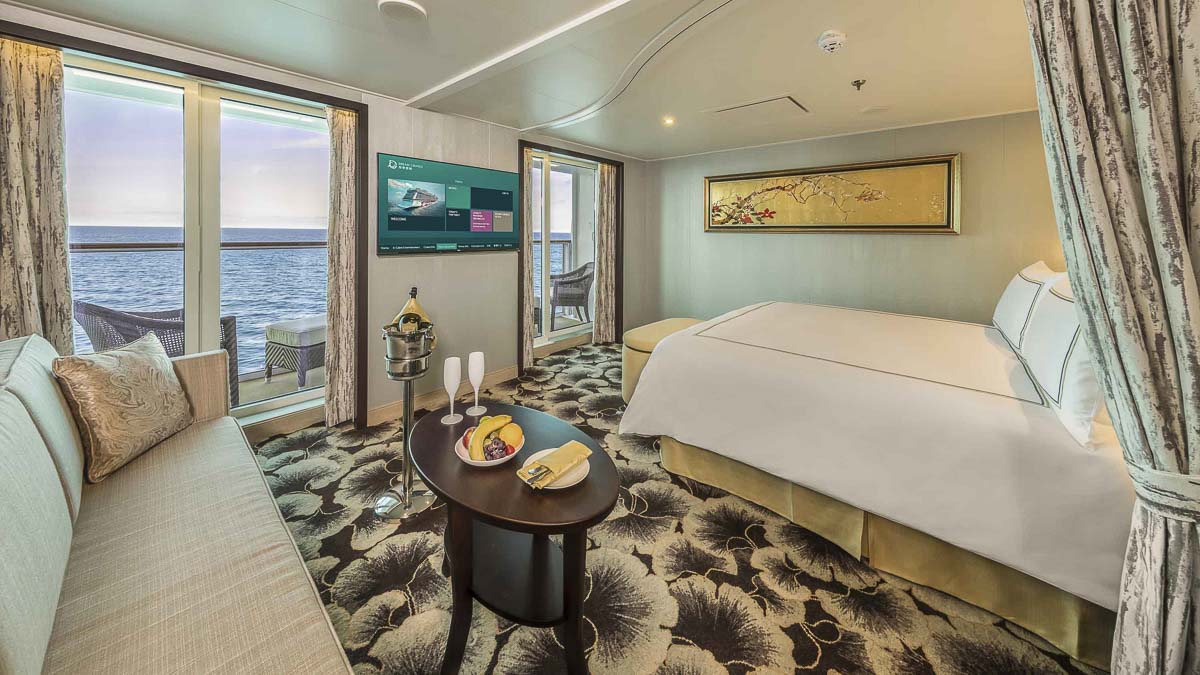 Palace Suites include a queen bed, sofa bed and a luxury bathroom with a bathtub. You can also look forward to a complimentary mini-bar and Nespresso coffee machine.
The best part is the balcony — it's twice the size of the one in the Balcony Deluxe Room!
Cost: From ~S$660/pax for two nights
Read more: Our Palace Suite Experience — Dream Cruises Review
Palace Villa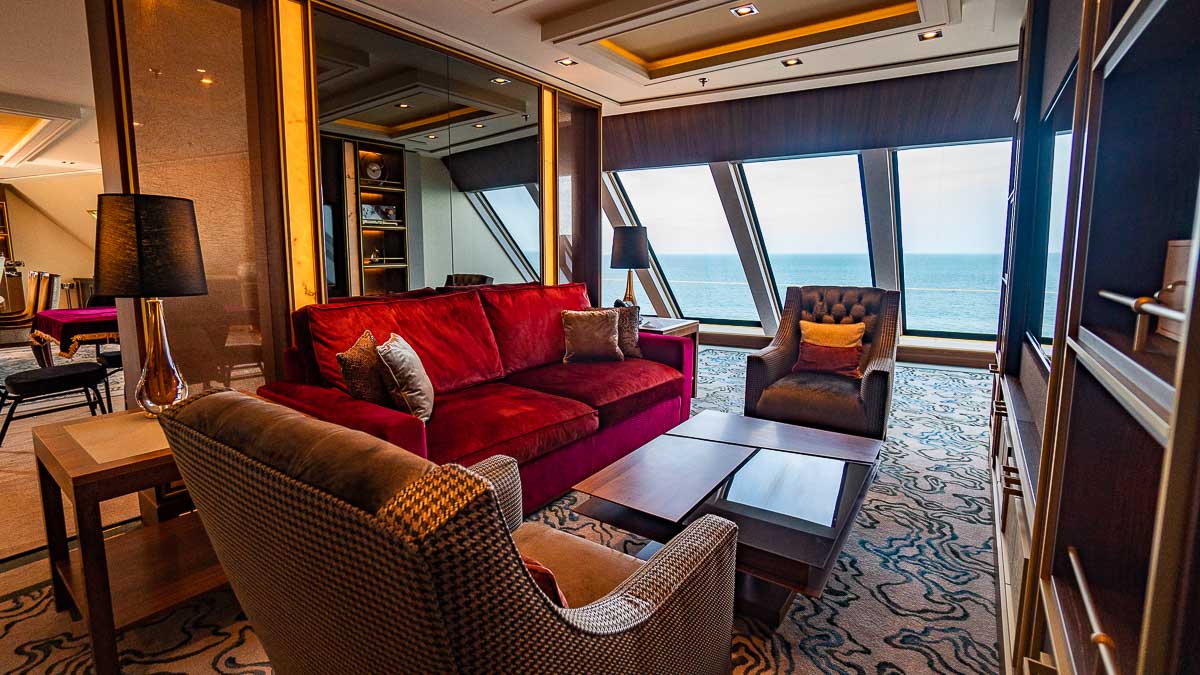 We also got to tour the best suite onboard — the Palace Villa. It has two bedrooms, a dining room, living room and three bathrooms.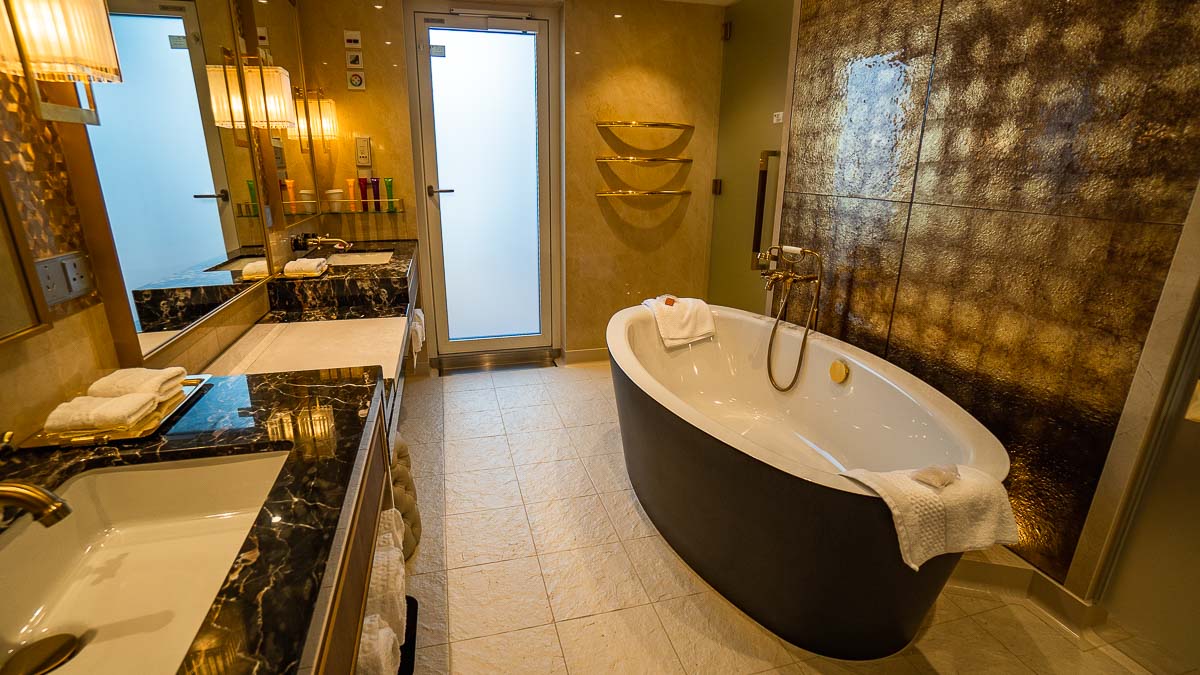 The Palace Villa's master bathroom. Just wow.
There's plenty of outdoor space too, like a private sun deck, jacuzzi and sauna. At the front of the ship, no less!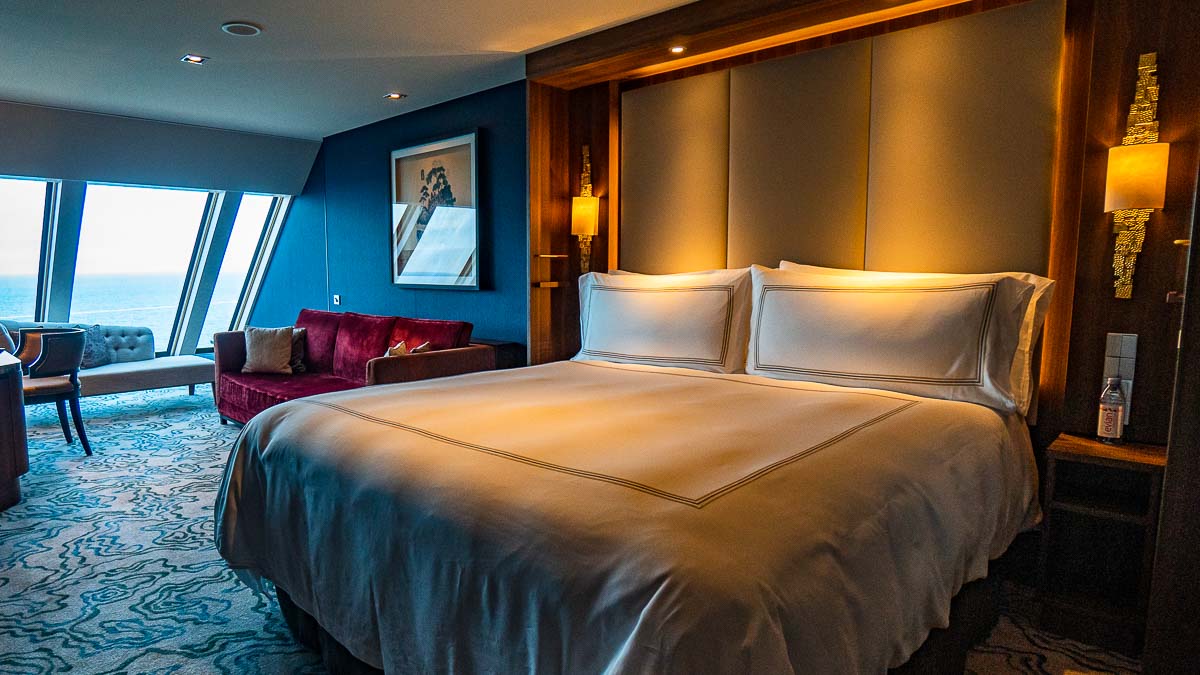 The guest room in the Palace Villa.
Free Things to Do on a Cruise to Nowhere
Thrilling Activities
Waterslide Park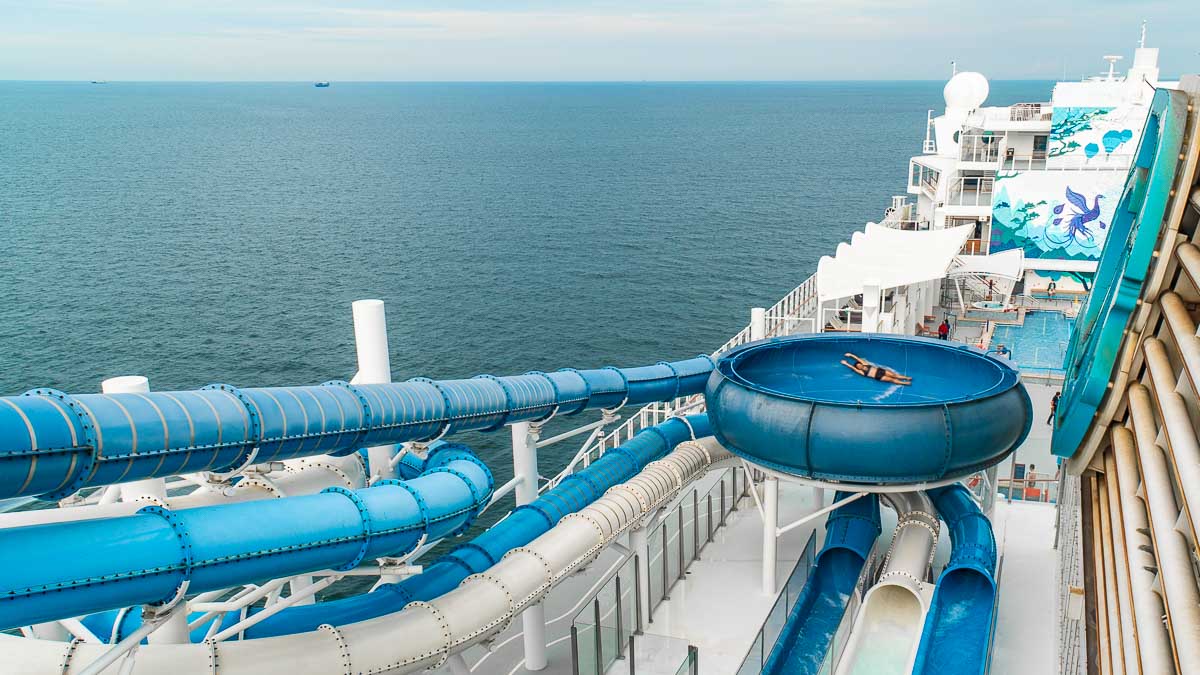 The Waterslide Park has five thrilling slides — three looping slides and two steep drops! The loop slides are a lot of fun, with clear segments for sneaky views of the ocean. Just a fair warning that the drops are not for the faint-hearted!
Workout and Dance Classes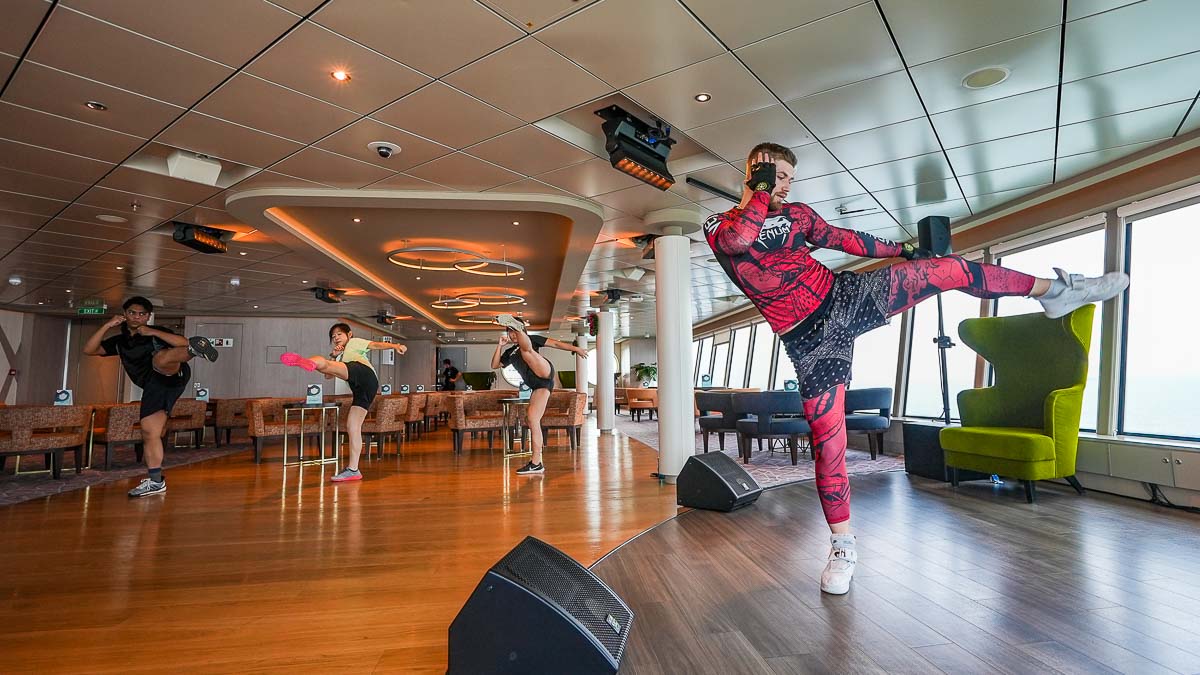 Some of the most underrated cruise activities are the free fitness and dance classes! There are at least two classes daily.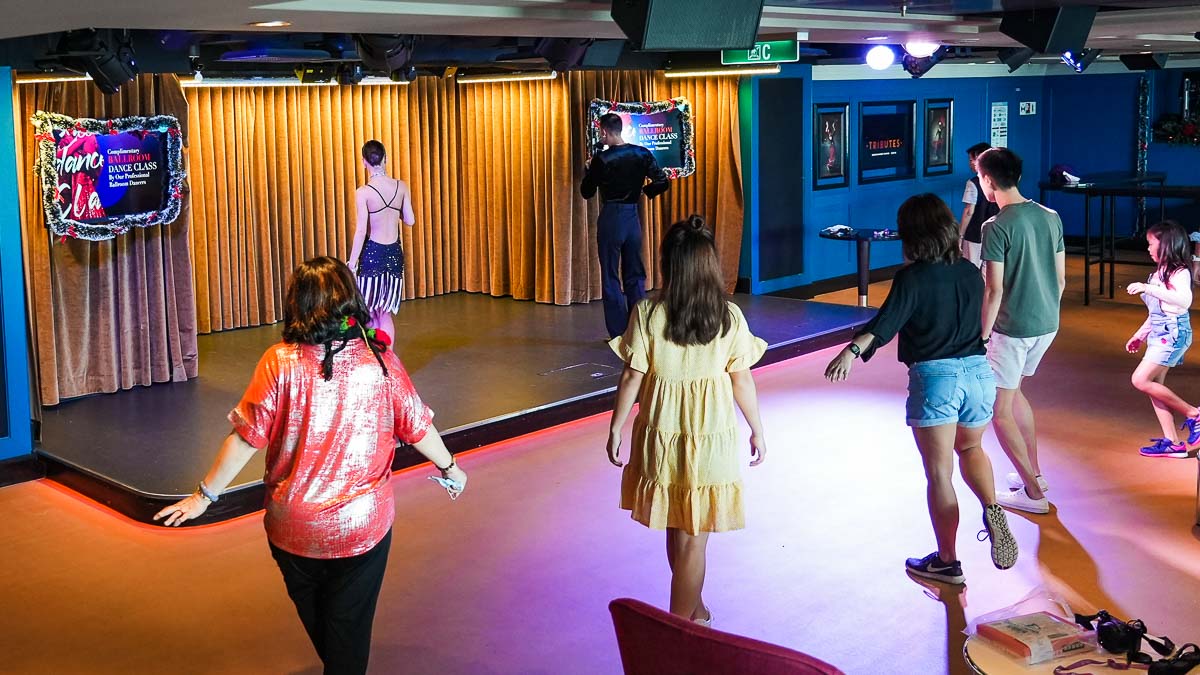 Ballroom dancing taught by Gabriele from Italy and Laura from Spain!
Being the fomo/kiasu travellers, we attended four in total — Muay Thai, HIIT, Ballroom Dance and Bellydance. These ended up being one of the highlights of our cruise! It was a great experience being taught by instructors from all over the world.
My favourites were the dance classes. As someone with no dance background and limited grace, they were a lot more fun than expected. The instructors were friendly and patient, and the moves weren't too hard to pick up — I'm ready to start my own dance crew now 😎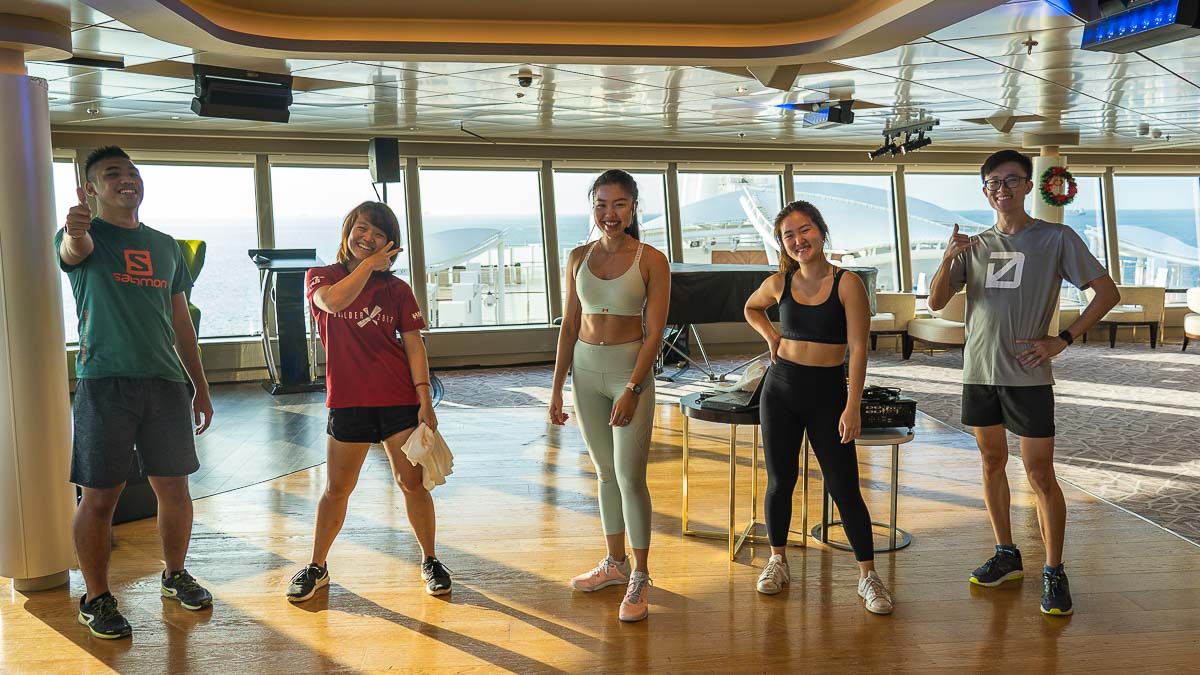 Post-HIIT with personal trainer Natalie Yeo.
Classes are limited to 15 – 20pax on a first-come-first-serve basis, but the ones we attended were less than half-filled. What a waste! But now that you can't leave the ship, it's the best time to try all these fun classes. Classes can be found on the Dream Daily — a daily newsletter you get at the start of each day.
Ropes Course and Zipline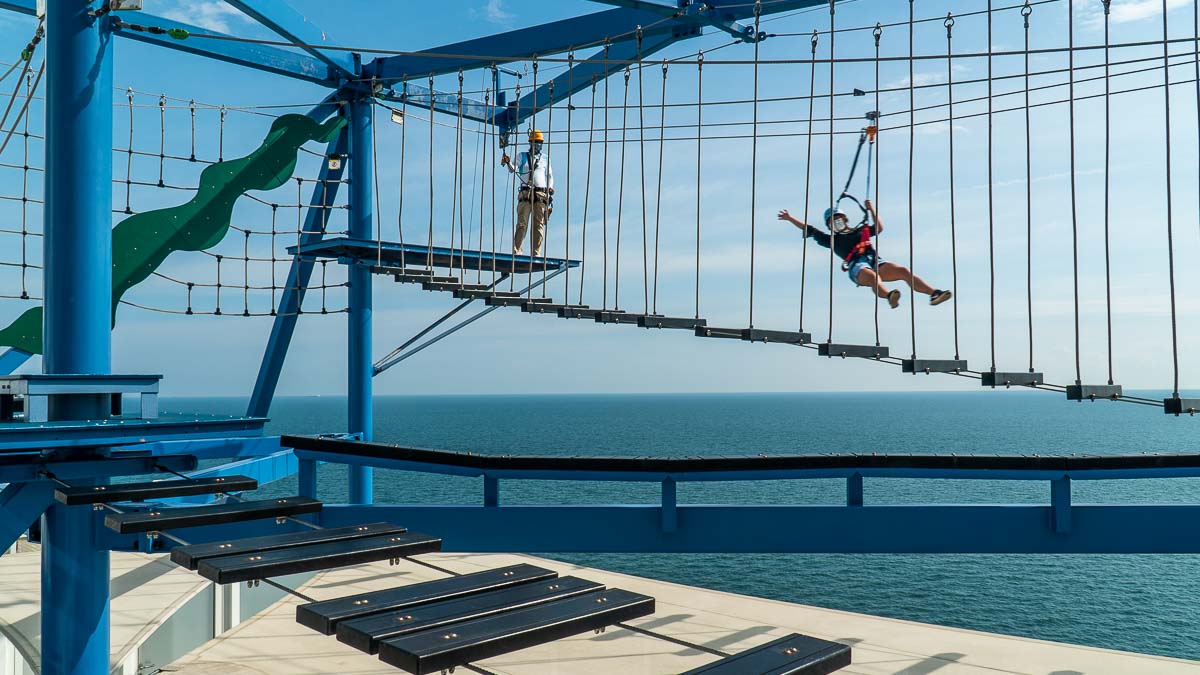 The rooftop Ropes Course is a good source of adrenaline — navigate through different obstacles and end off by ziplining over the ocean!
SportsPlex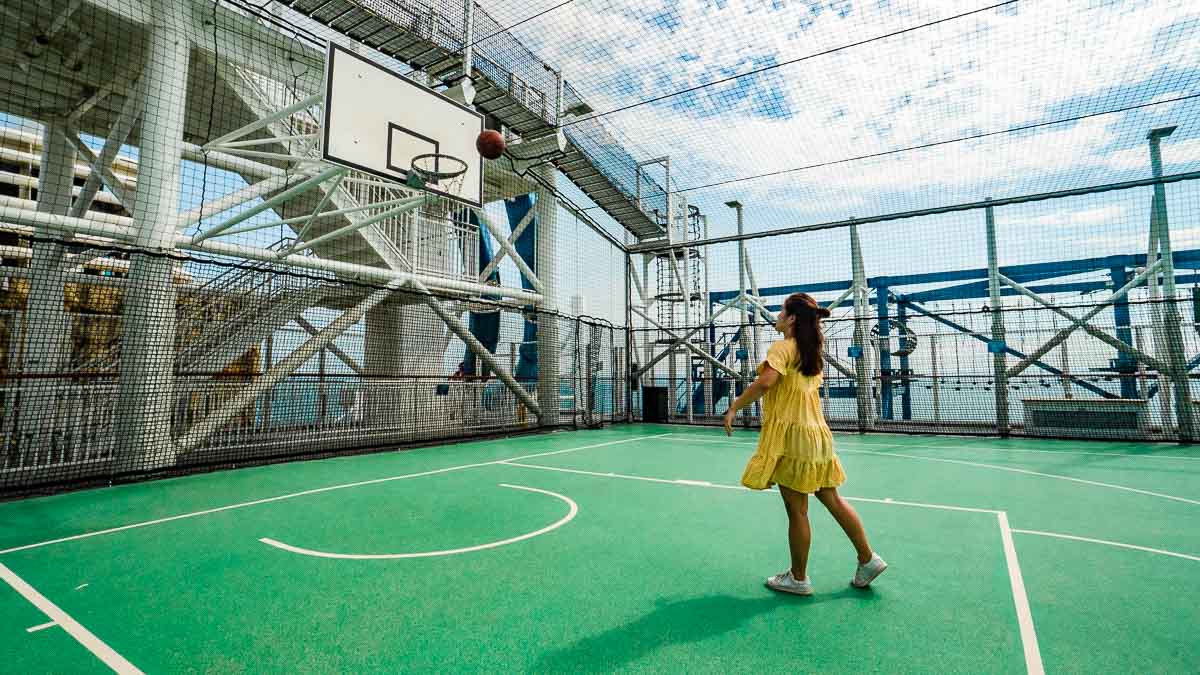 There's even a full-sized basketball court to shoot some hoops! This space is also occasionally used for fun activities like a reverse bungee run. Reserve your slot at Deck 18, at the Ropes Course area.
Rock Climbing Wall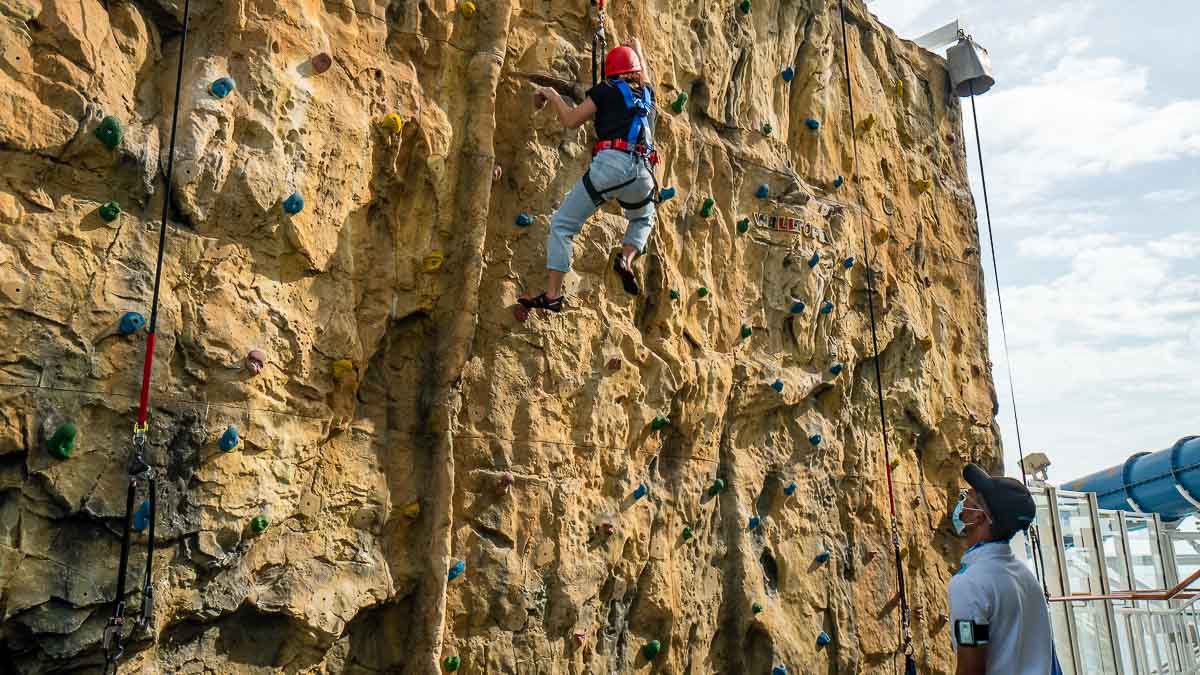 Scale new heights at the rock wall on Deck 18! The course isn't too difficult so it's perfect for kids and beginners.
Crystal Life Fitness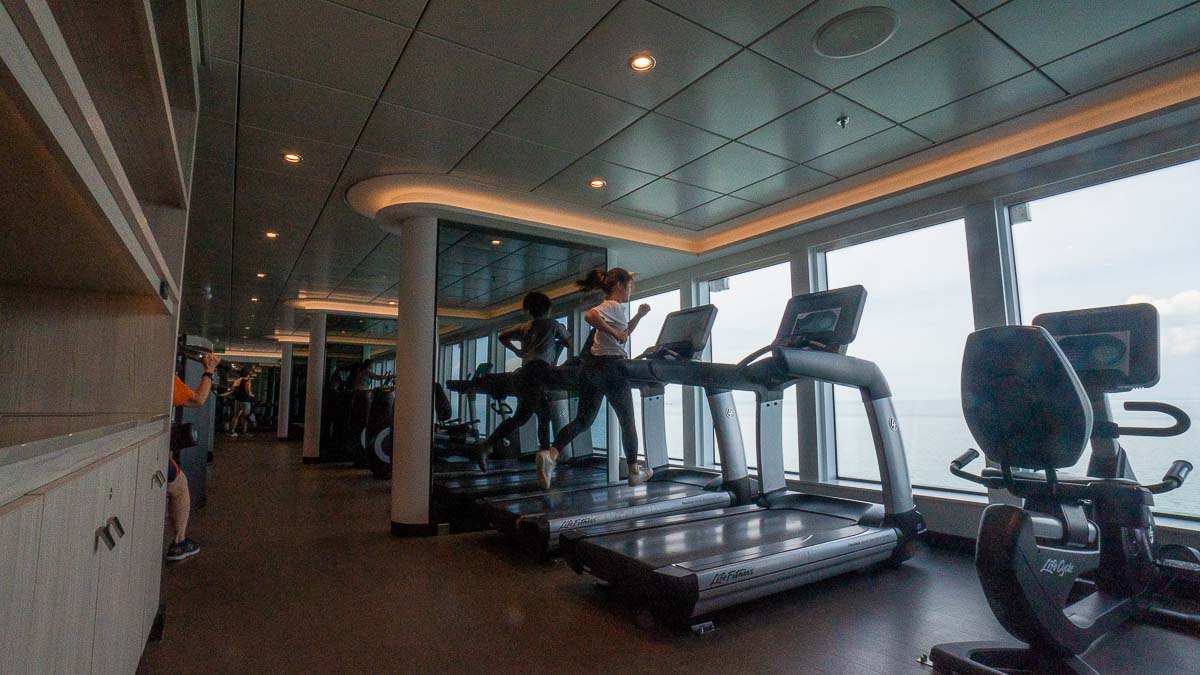 Squeeze in a quick workout at the well-equipped Crystal Life Fitness gym. There are several treadmills, gym machines, and a weight-training area to help you work up a sweat.
Plus the view provides extra motivation to work harder! Book a slot in person at the counter on Deck 15.
Chill Activities
Main Pool Deck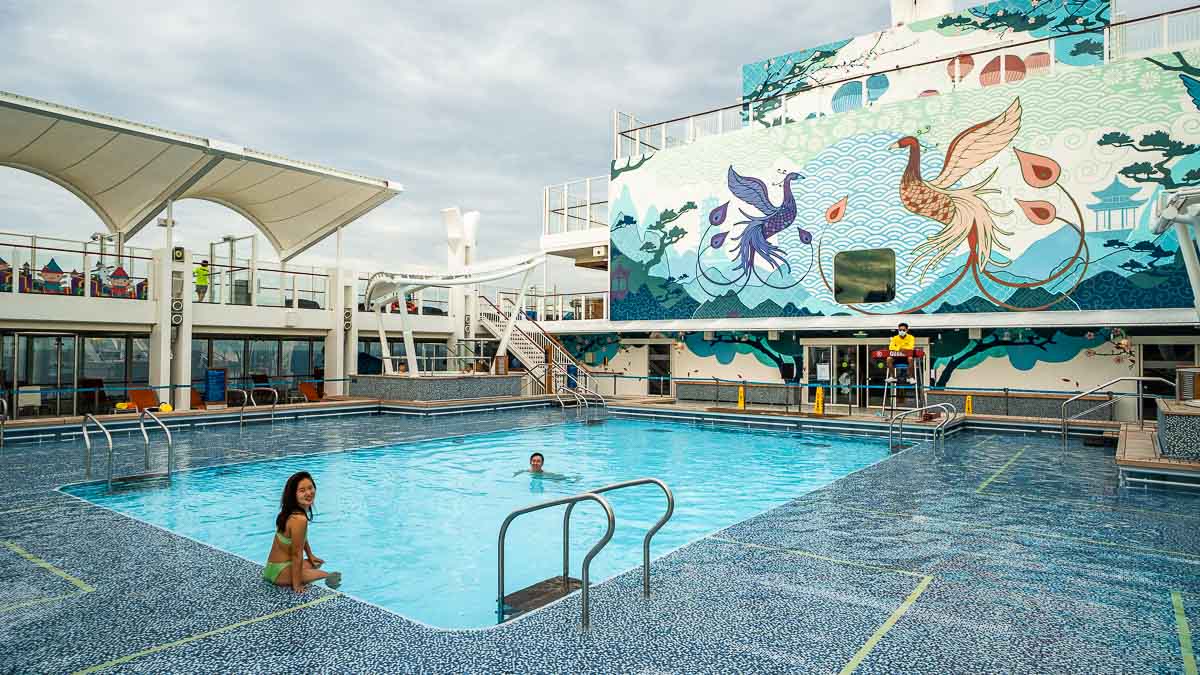 At the heart of all the action lies the main pool deck, with four relaxing jacuzzis.
Currently, the pool is limited to 26pax, while the jacuzzi is limited to two guests each for hourly timeslots. You'll have to reserve a slot at the pool reception desk.
Mini Golf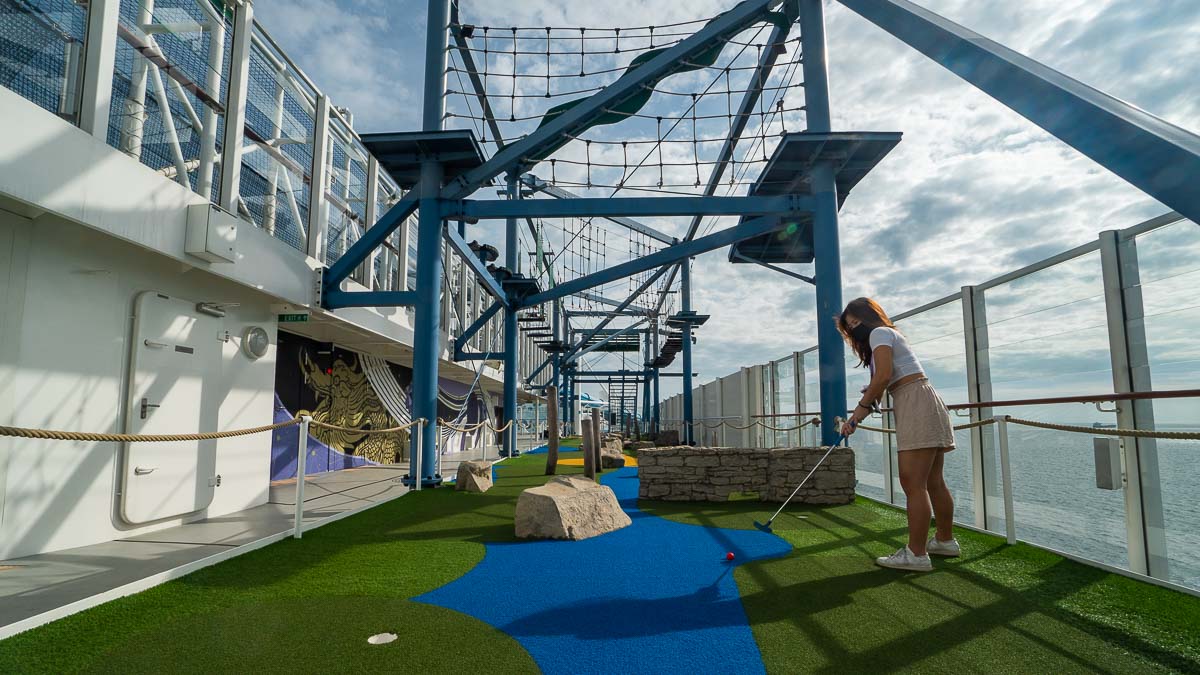 Enjoy a chill game of mini golf with your friends on Deck 17 — no bookings required!
Cinema at Sea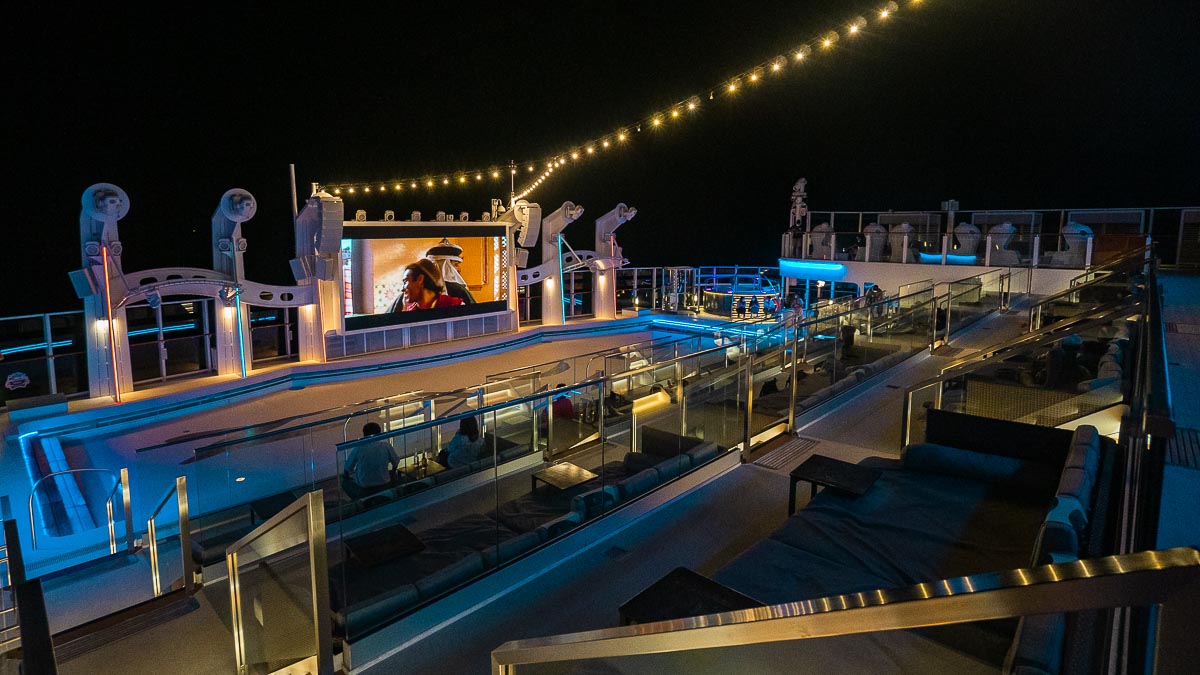 Zouk Beach Club is now used as an outdoor movie theatre!
There's a broad selection of films playing throughout the day around the cruise. On our sailing, there was Jumanji: The Next Level at the outdoor Zouk Beach Club, Spiderman: Far From Home at the Zodiac Theatre, and Bad Boys for Life at The Lobby. There are about six films playing each day.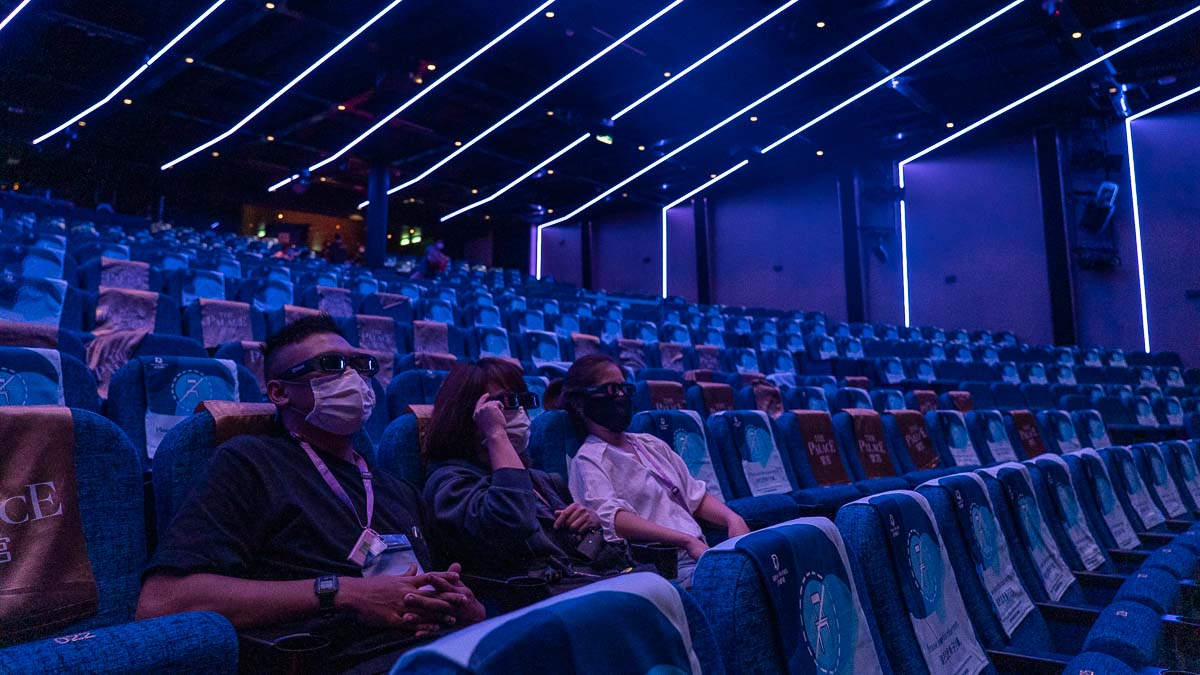 The Zodiac Theatre, also used for performances.
The Dream Boutiques, The Dream Store and Souvenir Mart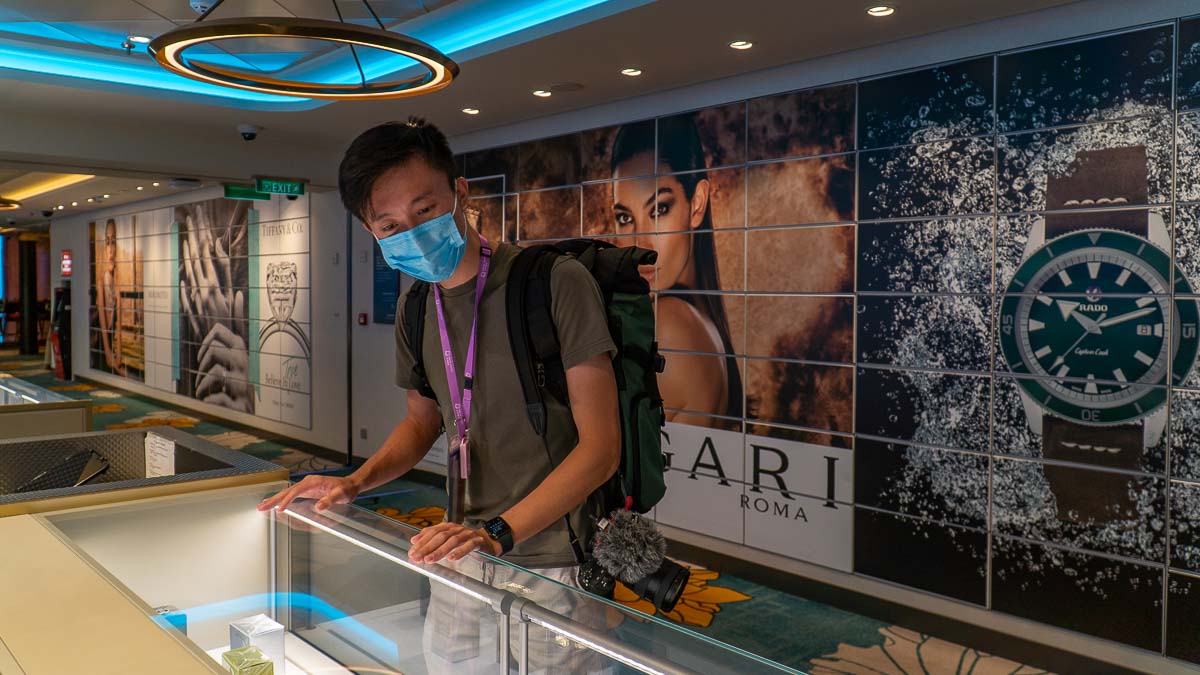 For the shopaholics, The Dream Boutiques offers a small range of luxury goods. Look out for occasional designer handbags and jewellery clearance sales on the Dream Daily!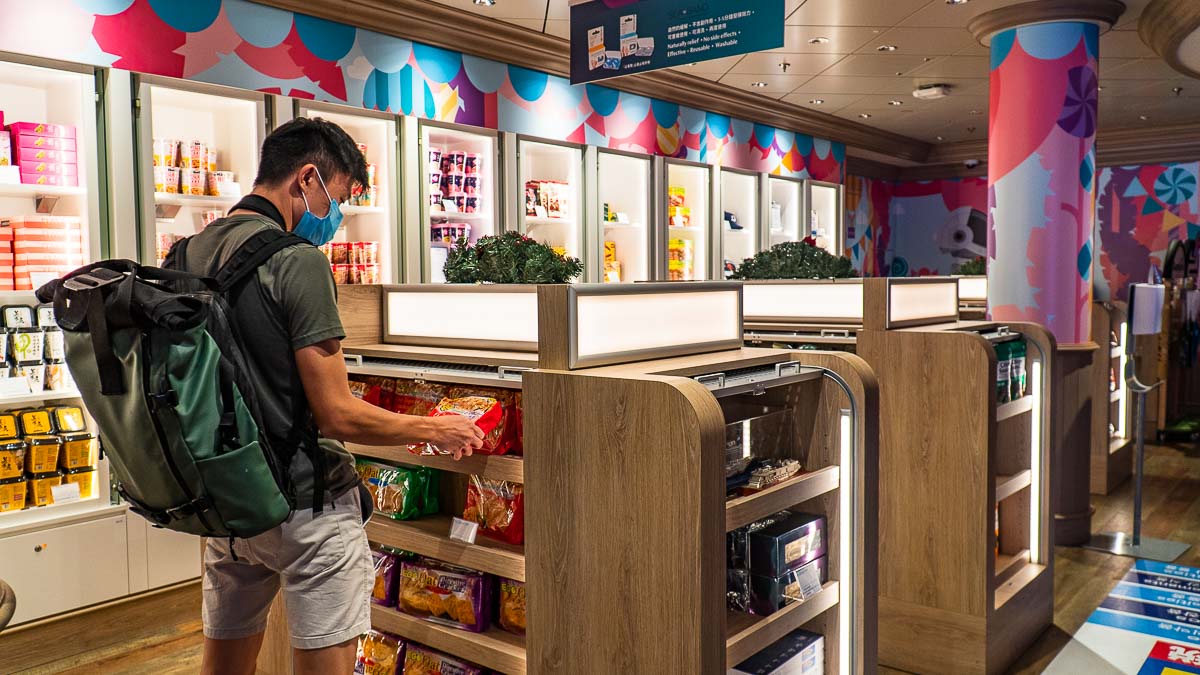 Snackaholics can head to The Dream Store for souvenirs and snacks.
Shows
FAITH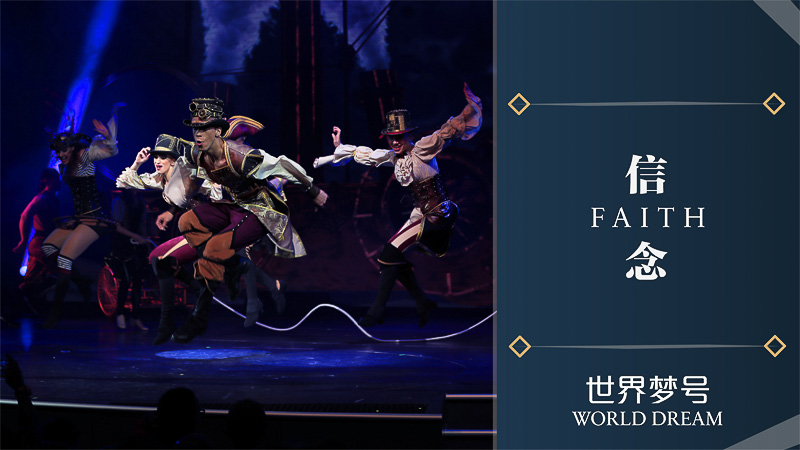 Photo credit: Dream Cruises
FAITH is everything you'd want in a show — ballet, acrobatics, comedy, visual technology. The cast features performers from all over the world, and it's the show's first time launching in Singapore!
LUMIERE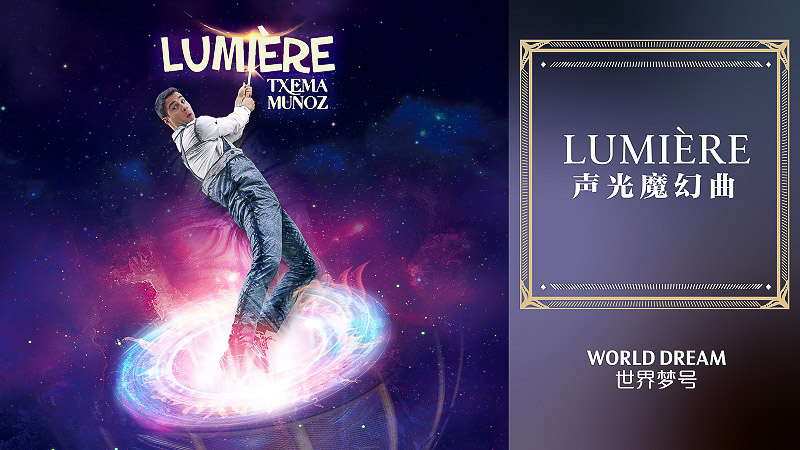 Photo credit: Dream Cruises
Join comedian Txema Munoz in a night of comedy and magic from 5 Nov 2021.
VISION by Vincent Vignaud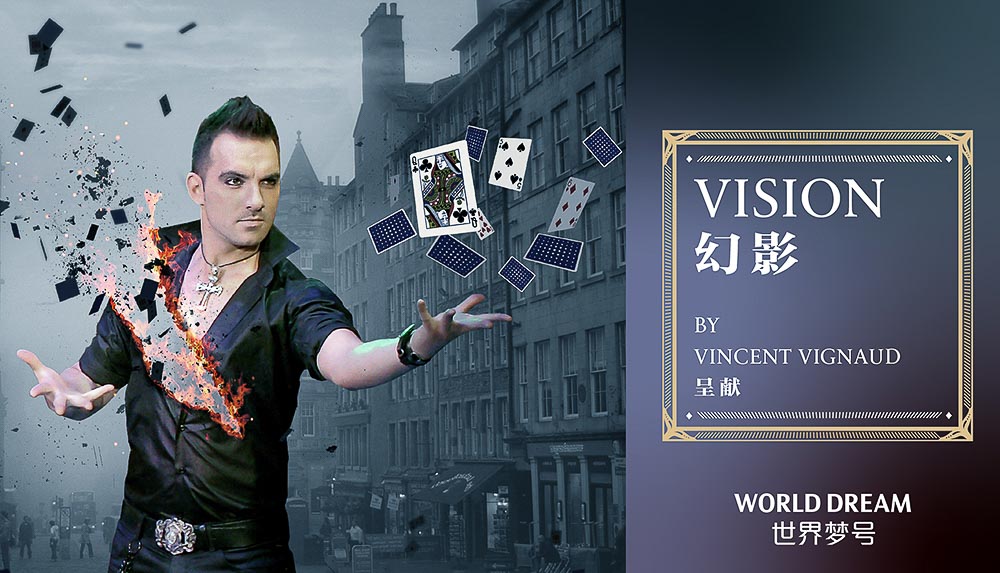 Photo credit: Dream Cruises
Experience the magic of illusions up close with renowned illusionist Vincent Vignaud — great for both kids and adults!
The Paid Stuff on a Cruise to Nowhere
Some activities on World Dream require an additional charge but are still worthwhile for a more unique experience.
Esc EXPERIENCE LAB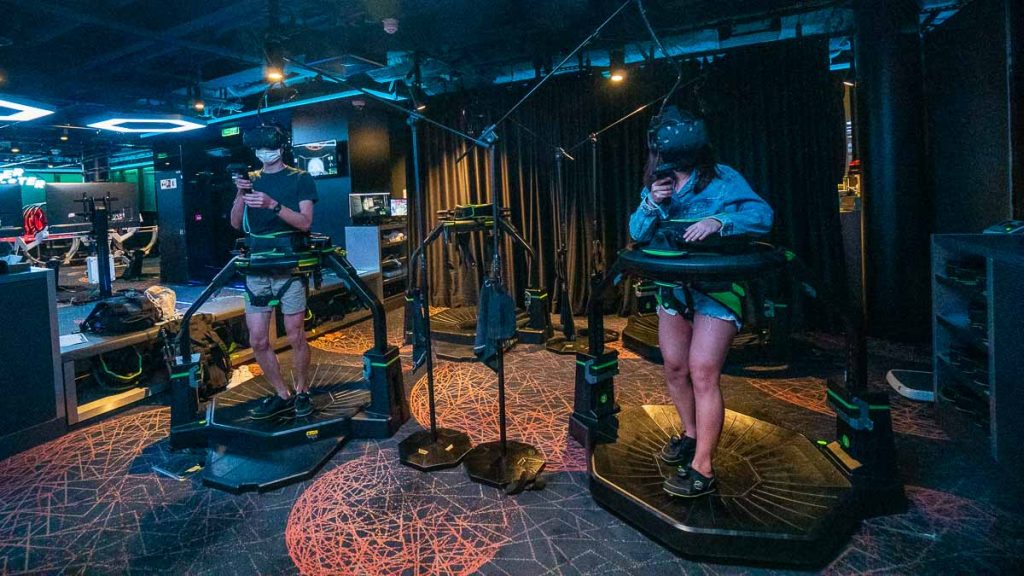 Virtuix Omni.
For some virtual reality fun, check out Esc EXPERIENCE LAB. On World Dream, there are eight exciting games — from full-motion rollercoasters to Formula 1 racing simulators.
Our top pick is the Virtuix Omni, a multi-directional simulator with free range of motion, allowing you to chase down (or run from) zombies.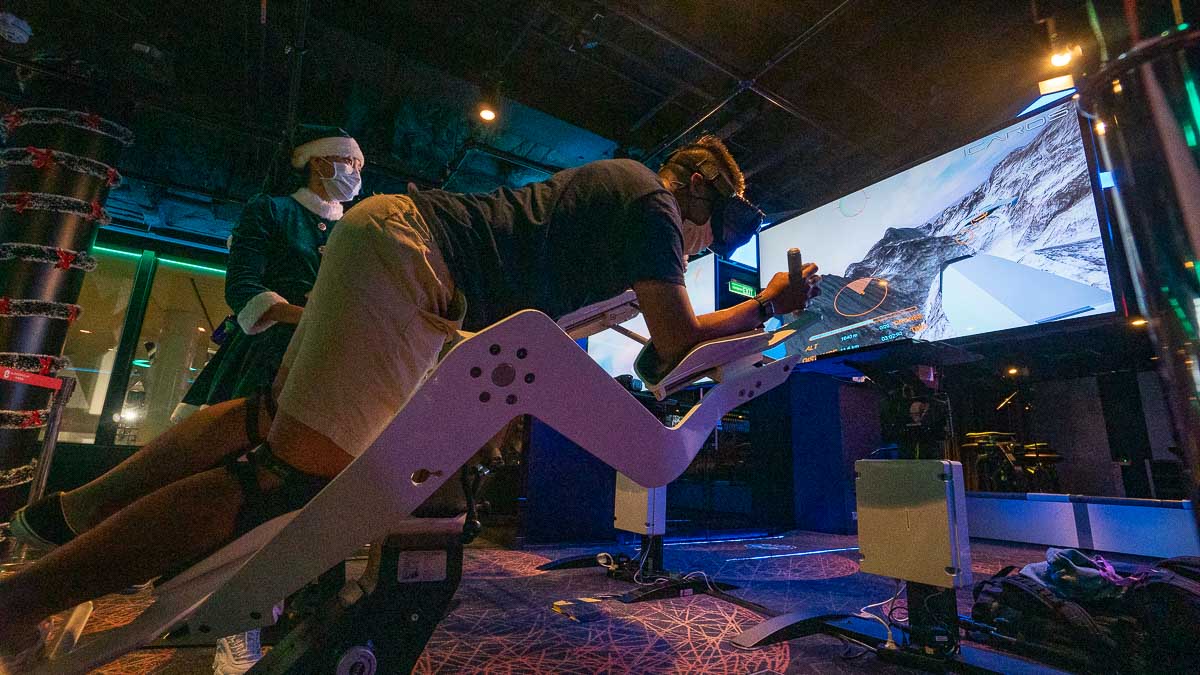 The Icaros Flying Simulator is a close second — you're essentially a drone hunting enemy drones.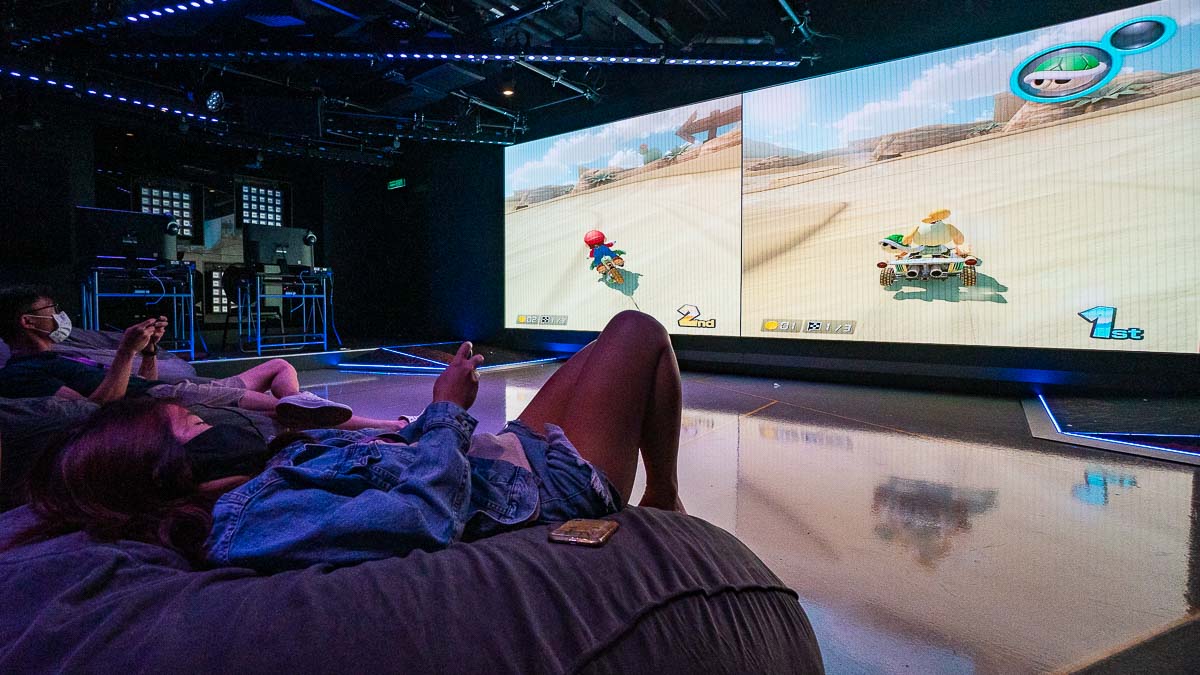 The Esc EXPERIENCE LAB includes an eSports Arena which hosts daily tournaments for popular games like Street Fighter and Tekken 7. When there aren't tournaments, you can book the space and enjoy games like Mario Kart on the big screen!
Cost: S$4 – S$20 per game
*Pro-tip: Look out for special game promotions on the Dream Daily like S$40 for 30 minutes of unlimited gameplay!
Arcade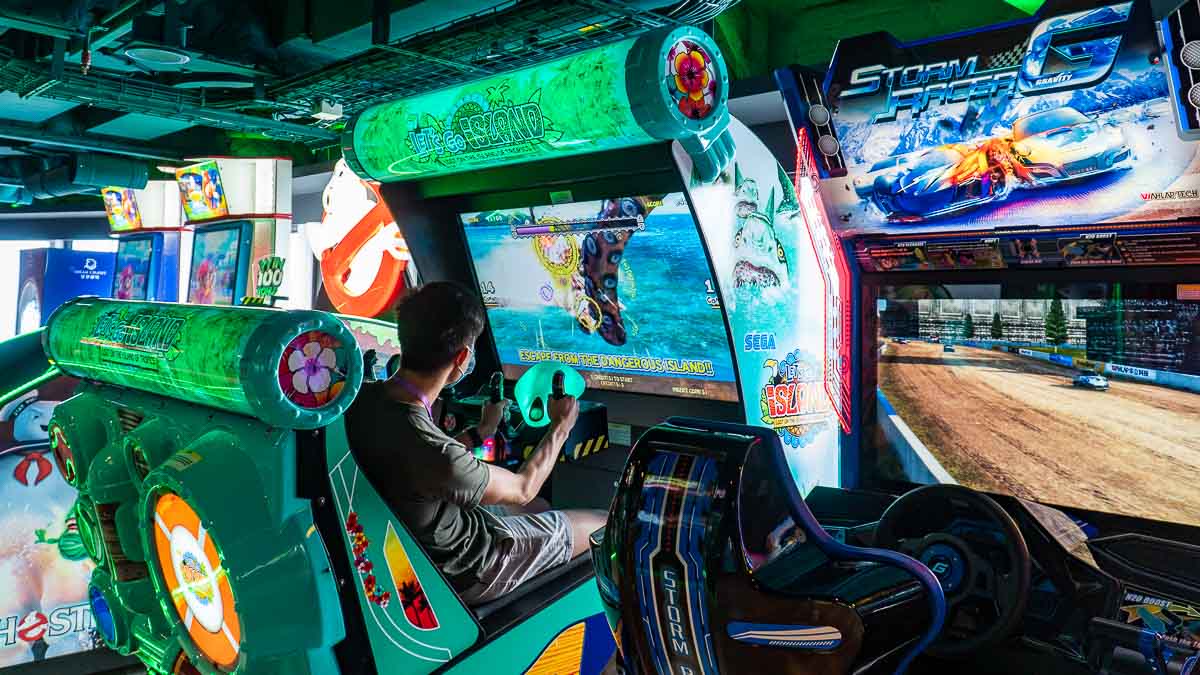 There's a small arcade onboard — a whole separate venue from the Esc EXPERIENCE LAB.
Cost: ~S$3/game
Crystal Life Spa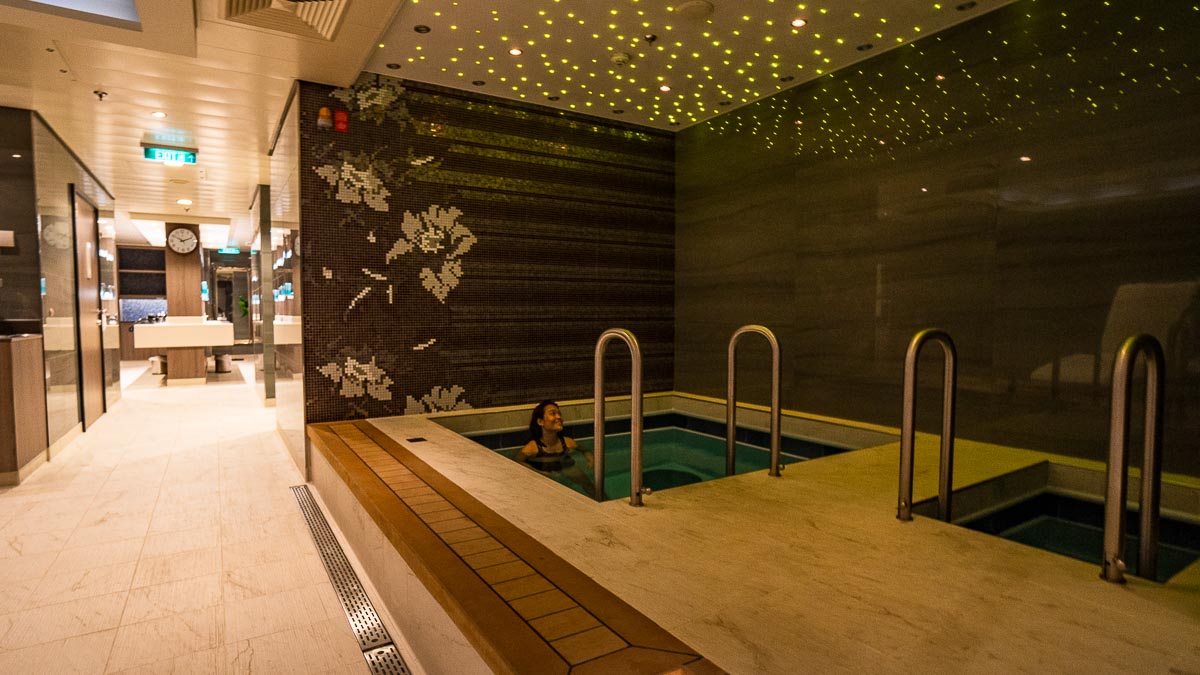 The Crystal Life Spa is the place to go for a full on pampering session. You could get a full-body massage, detox facial, or makeover. We opted for a spa access pass (S$20/pax) to enjoy the sauna, steam room and vitality pools (both hot and cold!).
Cost: From S$20
Food — Where and what to eat on a cruise to nowhere
Free Restaurants (no top-up required)
The Lido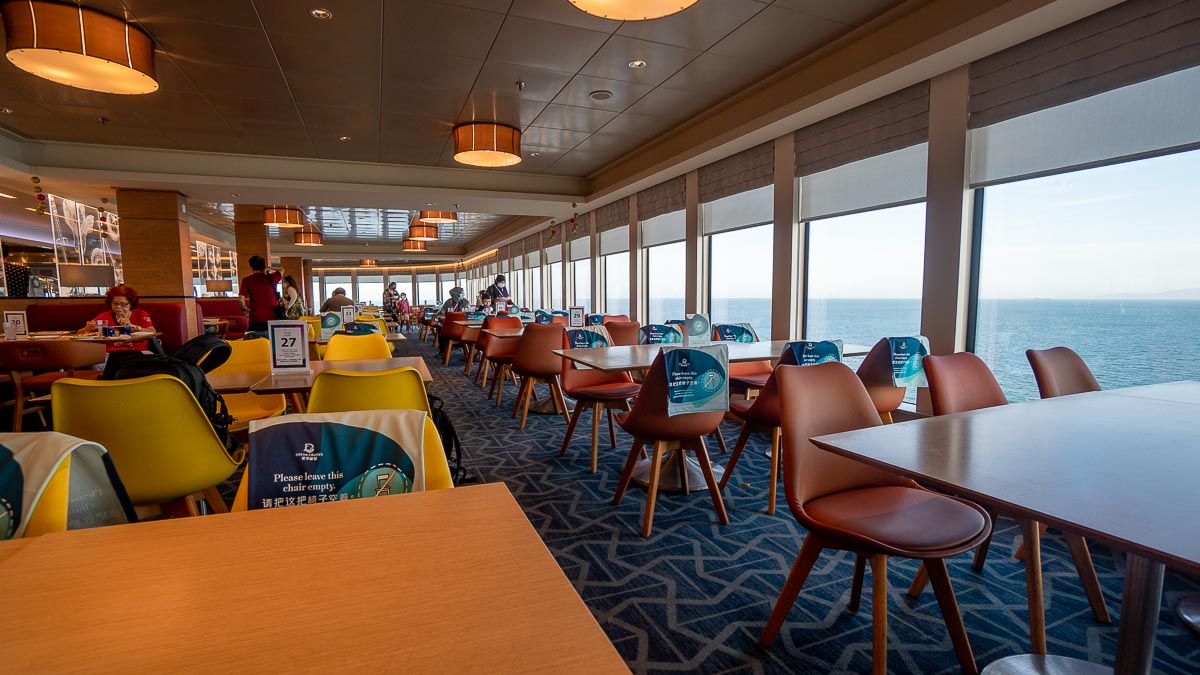 The Lido is the free buffet spread you'd expect on a cruise. Here, there are rows of international cuisine like Indian curry, laksa, pizza, and a mountain of desserts — all in one place.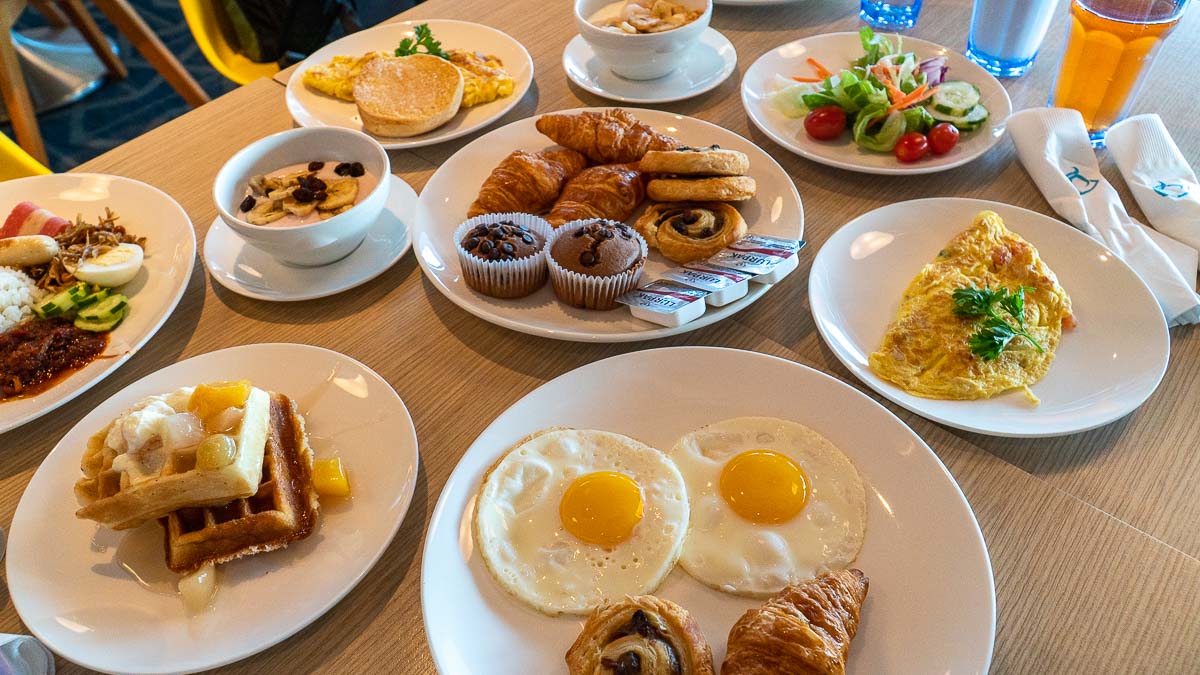 Breakfast for four! We might have gone slightly overboard.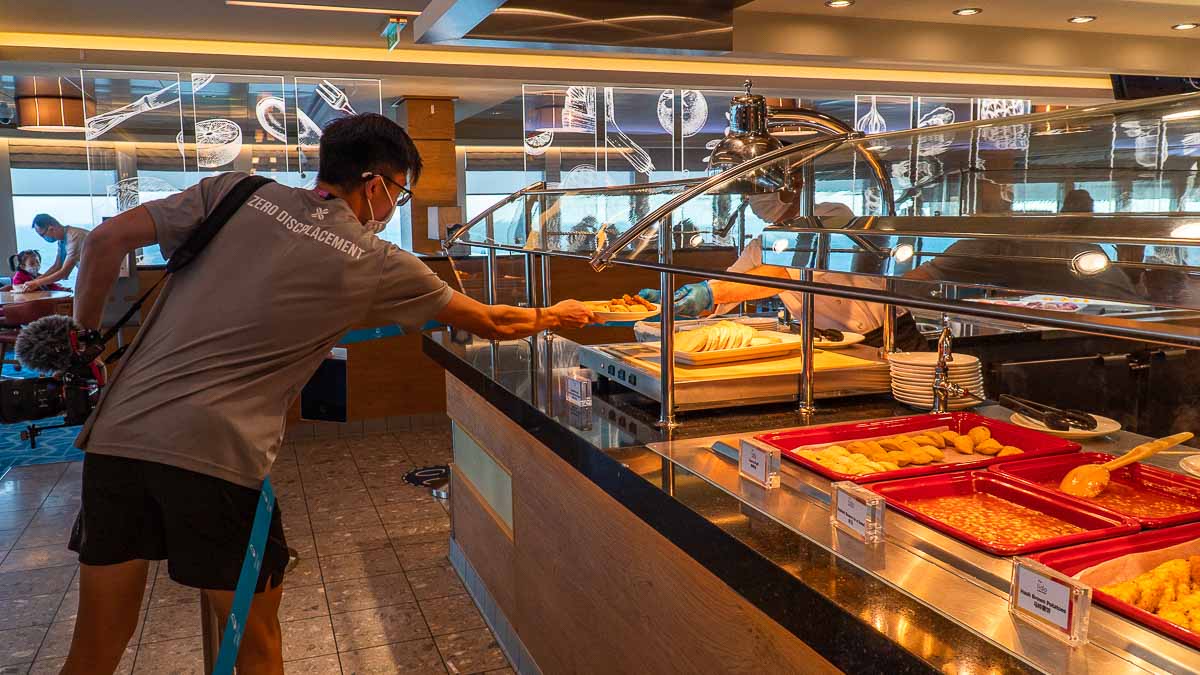 Due to COVID-19 restrictions, you won't be able to help yourself to the food. On the plus side, the friendly servers are very generous with the portions. There's also a 24-hour snack bar right outside, perfect for midnight munchies.
Dream Dining Room Lower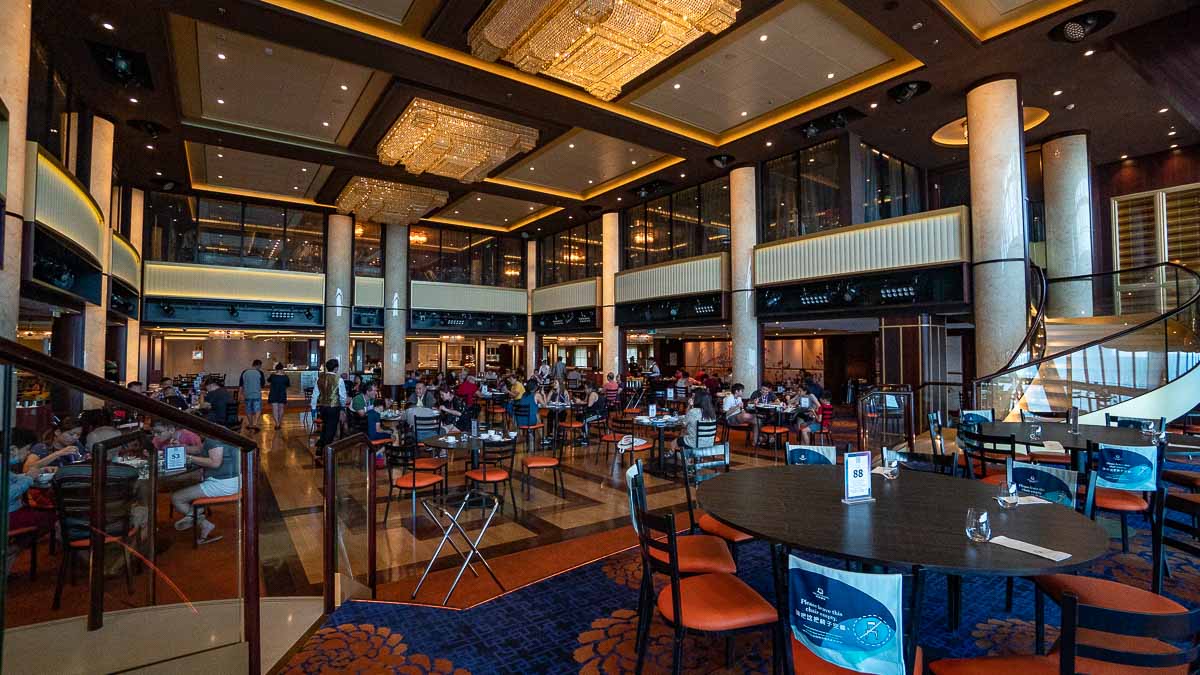 For Western fare, check out Dream Dining Room Lower for a tasty three-course meal!
Main course options for lunch include Sauteed Black Pepper Beef, Fish and Chips, and Fusilli Pasta. The menu varies a lot, so don't worry about having the same meal twice.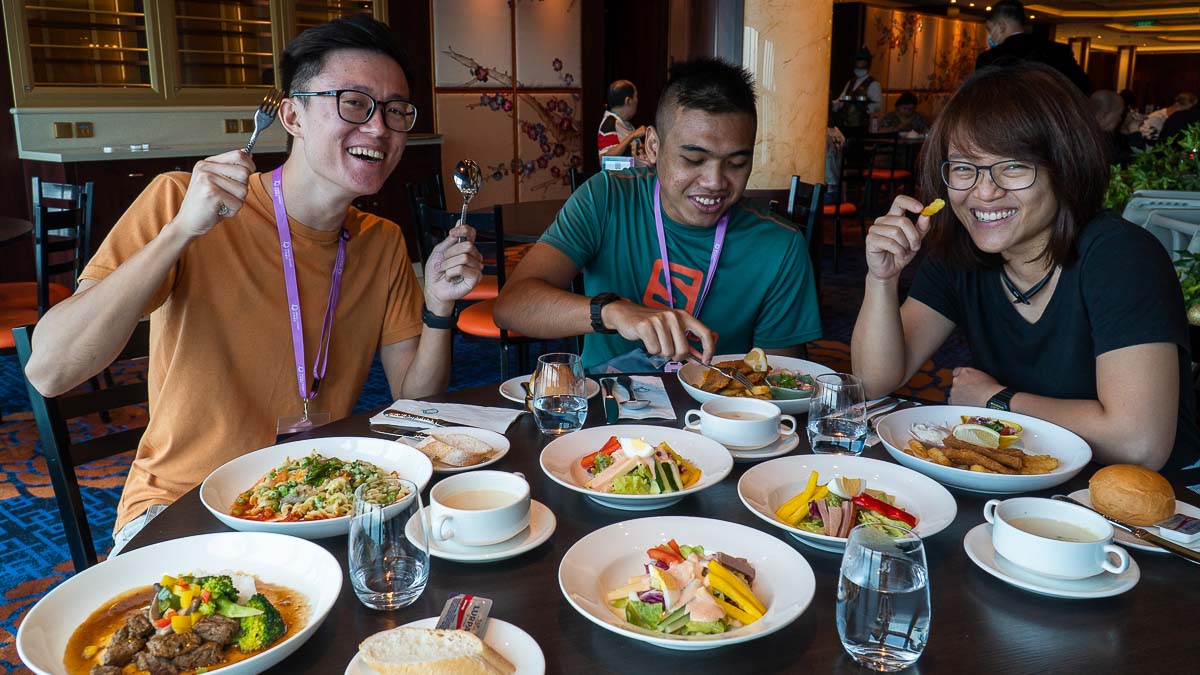 Dream Dining Room Upper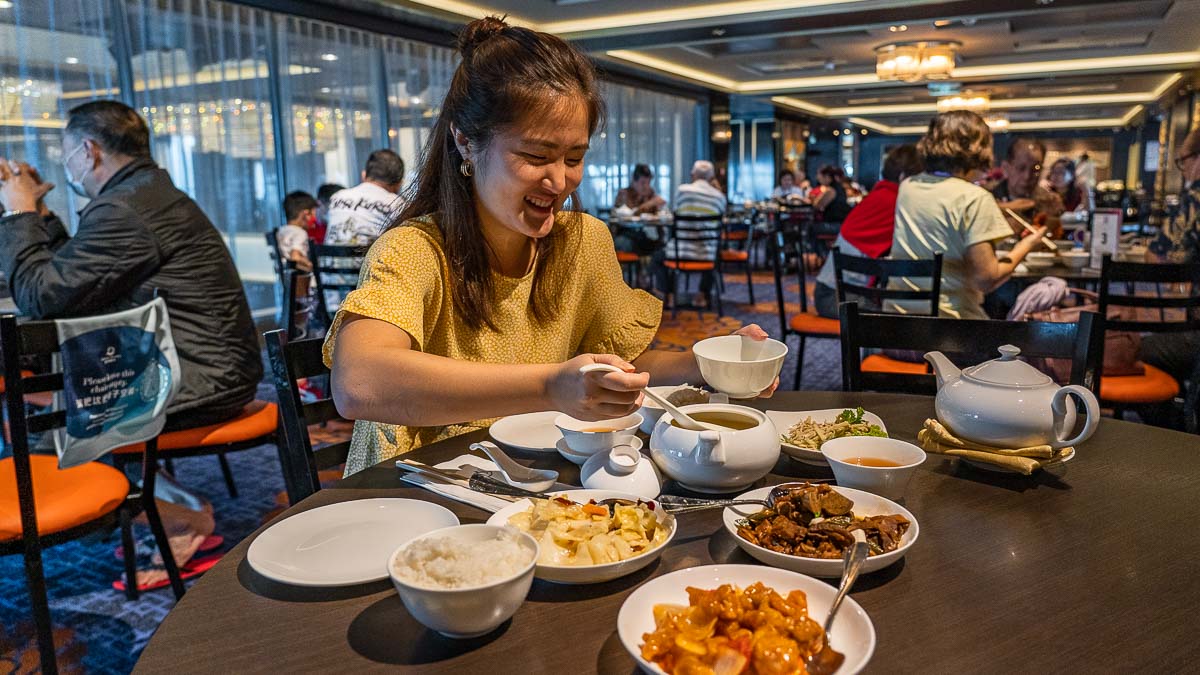 Dreaming Dining Room Upper serves zi char-style Chinese cuisine. On the menu for the day: Sweet and sour pork, Chinese cabbage, pork ribs, and bitter gourd soup.
The dinner menu that day looked really appetising — assam pedas seasonal fish and wok-fried frog legs!
*Pro-tip: Opt for lunch here as it gets pretty packed during dinner.
Specialty Restaurants (top-up required)
There are over 20 specialty restaurants and bars on the World Dream. The prices are comparable to Singapore restaurant prices, but with an 18% service charge.
For the experience, we'd recommend setting aside at least one meal at a specialty restaurant.
For us, we tried Umi Uma, a Japanese teppanyaki restaurant, where set meals start from S$58.
I've had teppanyaki before, but nothing like this. Our chef was a man of many talents. He taught us how to juggle an egg with a spatula and let us (attempt to) catch food with our mouths. Talk about dinner and a show!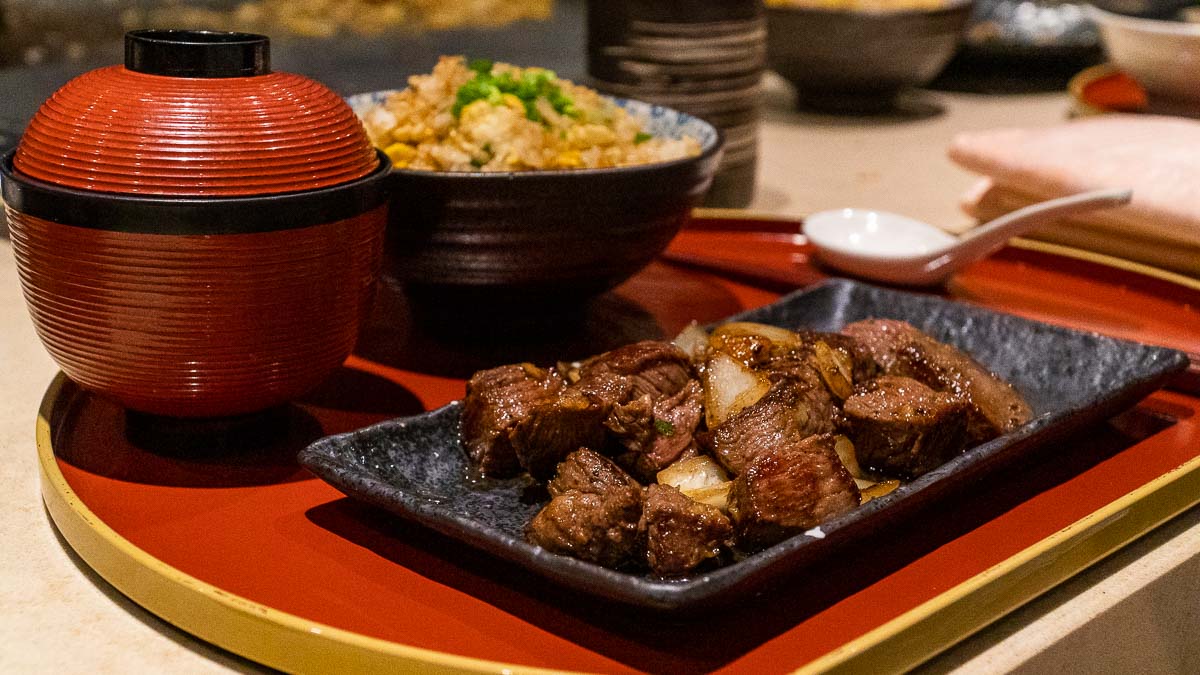 The food itself was great. I enjoyed a juicy filet mignon steak, with salad, fried rice and stir-fried veggies on the side. For dessert, I opted for green tea ice cream with a matcha cake. Yum!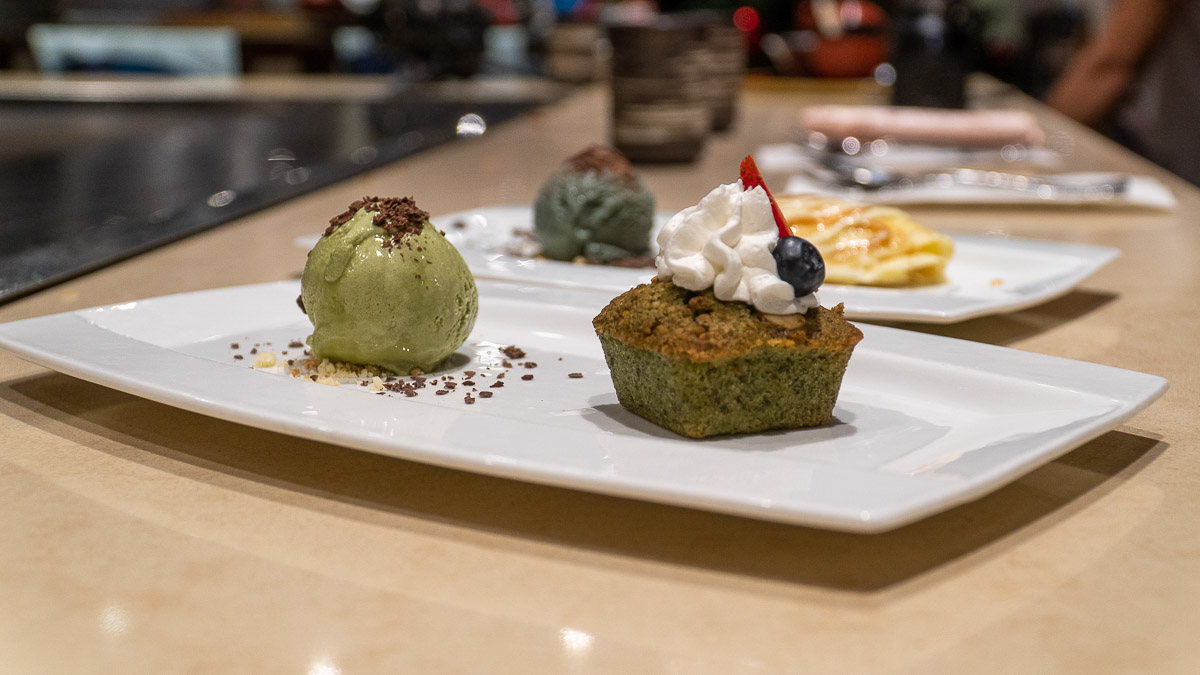 Themed Events on the World Dream
Dream Cruises runs periodic themed events on board, so there's always something new to look forward to. Check out World Dream's calendar for upcoming events!
A Nordic Christmas Adventure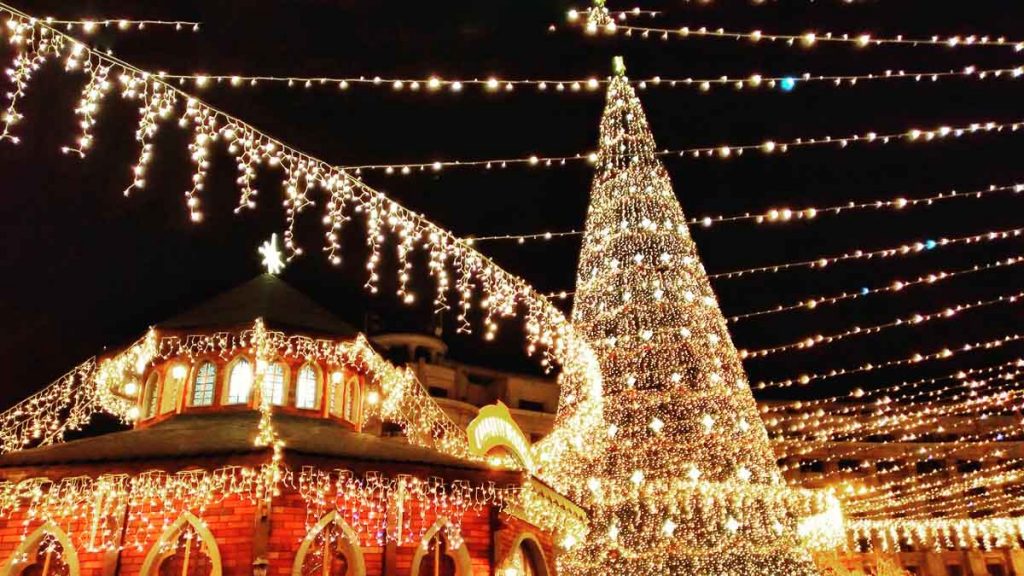 Photo credit: Dream Cruises
Celebrate Christmas the Scandinavian way with Dream Cruises' Christmas themed sailings from 17 Nov 2021 – 1 Jan 2022. Enjoy Nordic markets, cultural workshops and Holly Jolly — a special holiday production featuring contortionists, acrobats and elements from the Nutcracker ballet!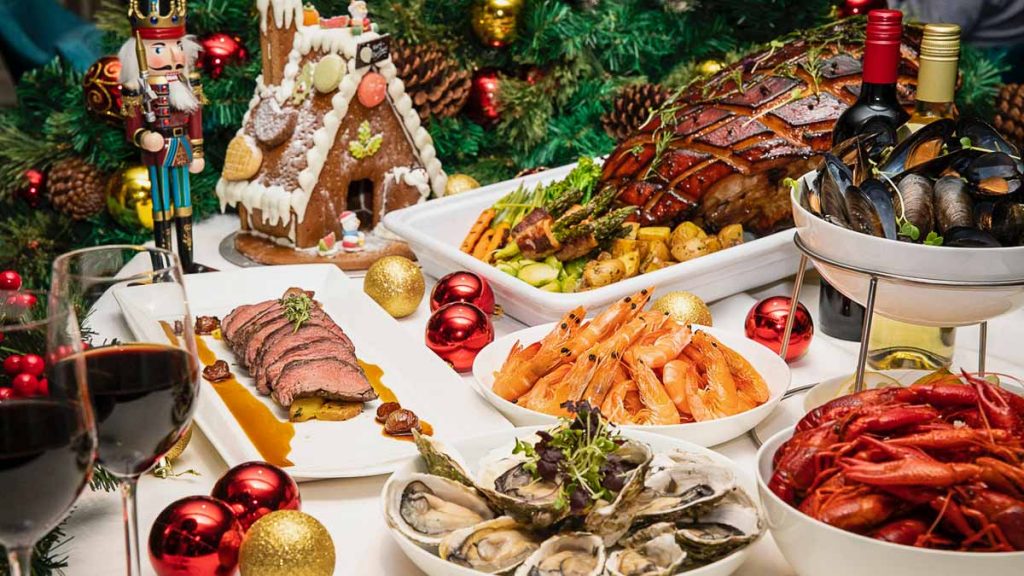 Photo credit: Dream Cruises
If you're sailing on Christmas Eve or Christmas Day, there'll be holiday favourites like roast turkey and beef wellington at The Lido and Dream Dining Room Lower. 😋
Frequently Asked Questions (FAQs) for a Cruise to Nowhere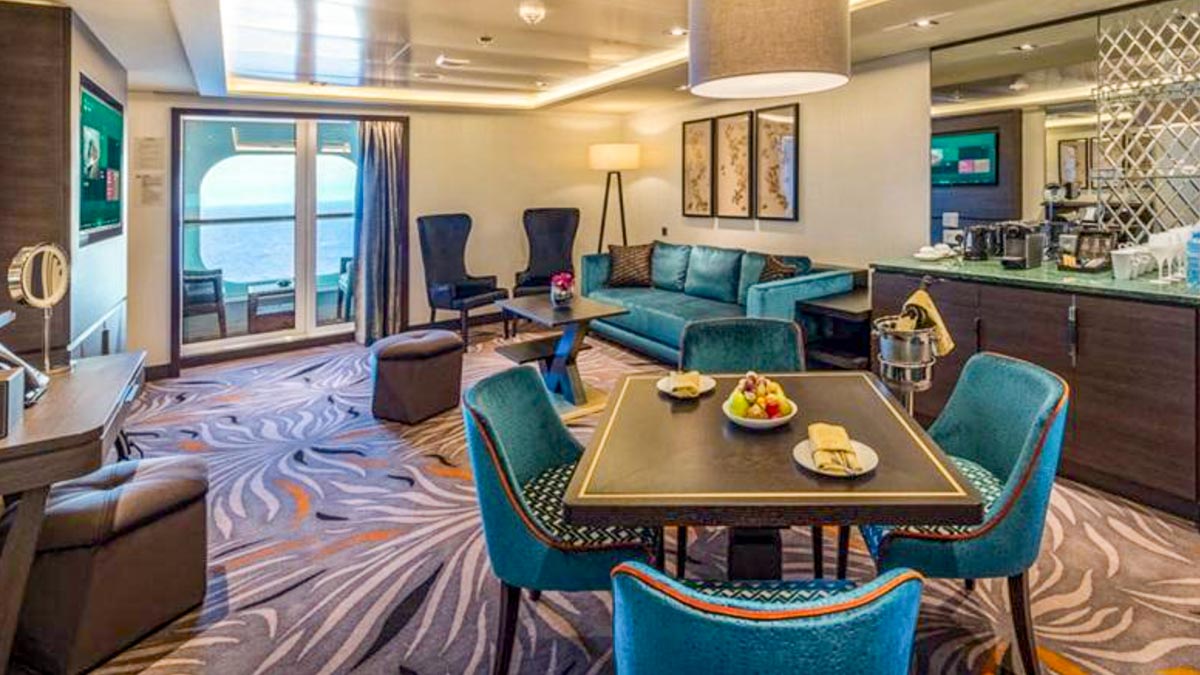 Photo credit: Dream Cruises
1) Do I need to be fully vaccinated to go on a Cruise to Nowhere?
As of now, guests don't need to be vaccinated. However, you do need to be fully vaccinated to dine-in on board — the same as the current guidelines.
Take note that from 21 Nov 2021, all World Dream sailings will require its guests to be fully vaccinated, excluding children aged 12 and below. Guests must complete their vaccination at least 14 days before the cruising date to be eligible for the cruise.
2) Do I have to take a COVID-19 test?
Yes, as an added safety precaution, all guests have to take the COVID-19 Antigen Rapid Test (ART) before boarding. The cost of the ART will be waived for new World Dream bookings for cruises departing from 20 Jan 2021 – 1 Apr 2022.
3) What are the safety precautions on board?
Contact tracing: Every guest is given a key card and TRACEY pod which has to be on you at all times. Your key card is required for tap in everywhere you go — restaurants, shops, shows etc. It's like the ship's version of SafeEntry.
Your temperature is also taken before entering potentially crowded areas, like theatres or restaurants.
Reduced capacity: In general, the ship is limited to a capacity of 50%, or 1,700 passengers — which is great for guests because other than mealtimes, we didn't feel it was crowded at all. Most activities like waterslides and virtual reality games didn't require waiting in queues!
This also applies to shows, restaurants and activities. The Zodiac Theatre, for example, currently allows 250 people, just 25% of its usual capacity. Don't worry about missing shows, there are multiple timings to ensure all guests have a chance to catch them.
Hand sanitiser: These stations can be found all over the ship, as well as safe distancing markers on the floor reminding guests to practise social distancing.
4) Are reservations required for activities and shows?
Shows and classes are on a first-come-first-serve basis. But places like the spa, swimming pool, jacuzzis, SportsPlex and gym require reservations.
5) Where can I get the detailed schedule?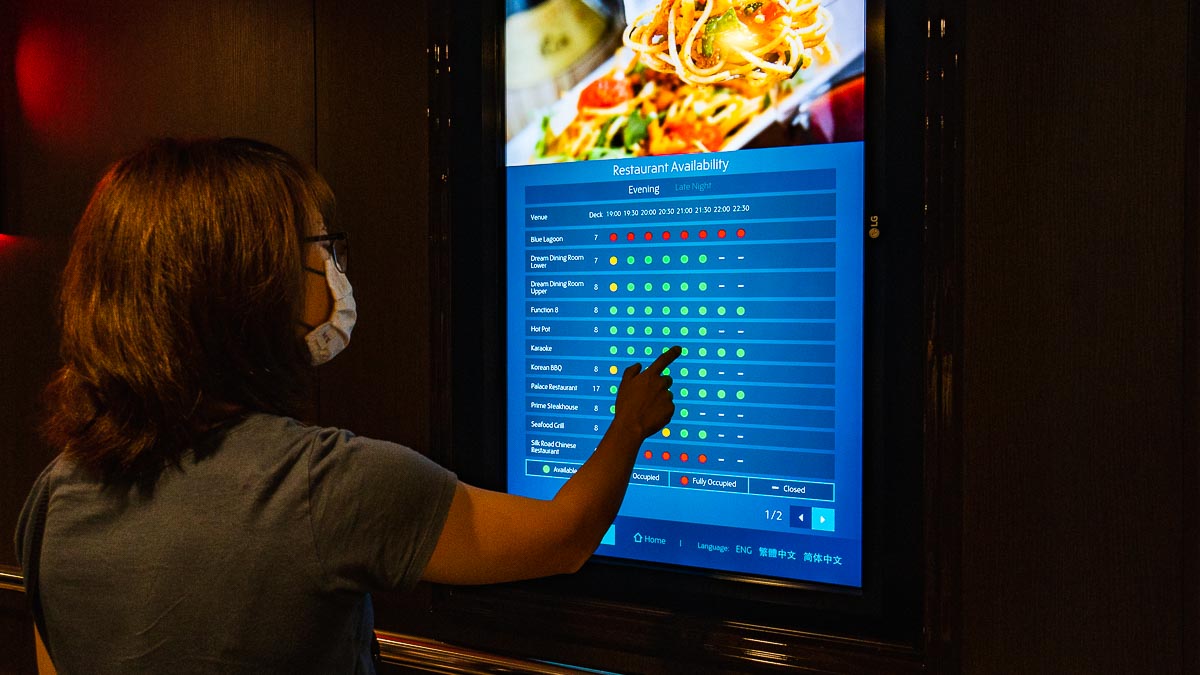 You can check the crowd level at each restaurant!
The detailed schedule is only accessible once onboard the World Dream, via a daily newsletter called the Dream Daily. You can find it on the Dream Cruises app, physical copies delivered to your room, and on the many screens around the ship.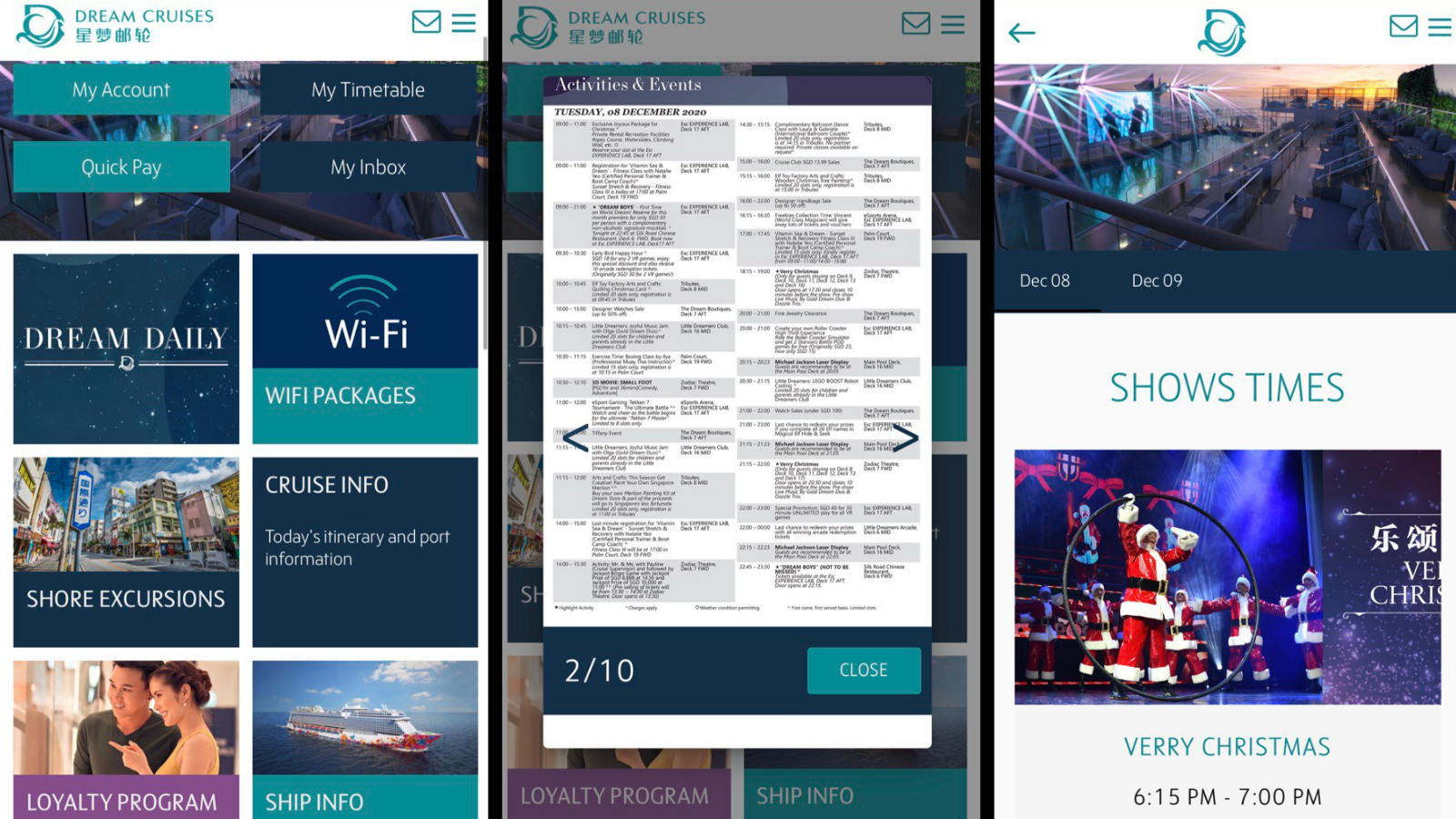 The Dream Cruises app
The Dream Cruises app allows you to book WiFi packages, view Dream Dining's menu for the day, as well as the day's highlights. Download the app before boarding!
The Dream Daily gets released at around 7PM – 11PM daily, so you'll know what's on the agenda for the next day.
6) WiFi on board?
WiFi packages are available via the Dream Daily app from S$9 per day. The WiFi speed was fast and reliable, I only experienced a short 10-minute disconnection during the entire cruise.
7) How do I pay for additional activities and specialty restaurants?
All payments will be charged to your room card. Payments must be settled on the World Dream app before you disembark.
8) Are the restaurants on board Halal-certified?
The World Dream is Asia Pacific's first Halal-friendly cruise ship! Both The Lido and in-room dining services are halal-certified. Halal options are also available at Dream Dining Room Lower upon request.
9) What other facilities are there for Muslim guests?
The World Dream offers a dedicated prayer room. Prayer gowns and mats will also be provided upon request.
10) Does the ship dock anywhere? Where will we be sailing to?
No, it is a cruise to nowhere, after all. The World Dream sails along the Straits of Malacca, where the waters are calmer.
Is a Cruise to Nowhere Worth It?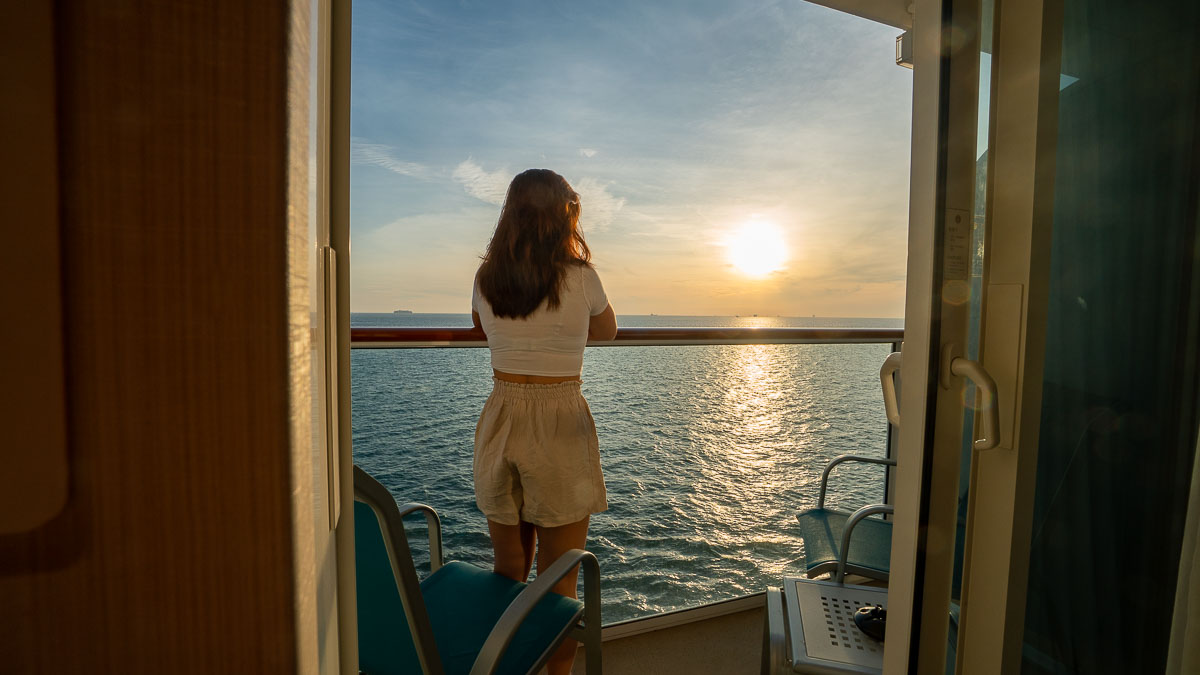 The most important question of all — Yes!
If you're willing to pay ~S$200/night for a staycation in Singapore (excluding food and activities), a cruise to nowhere is way more satisfying.
From ~S$259/pax, you get a two-night stay with a sea view and your meals are free. Not forgetting free access to amenities like the pool, gym, waterslide park, ropes course, as well as top-tier shows and fun classes. Just the free stuff alone is enough to keep you occupied!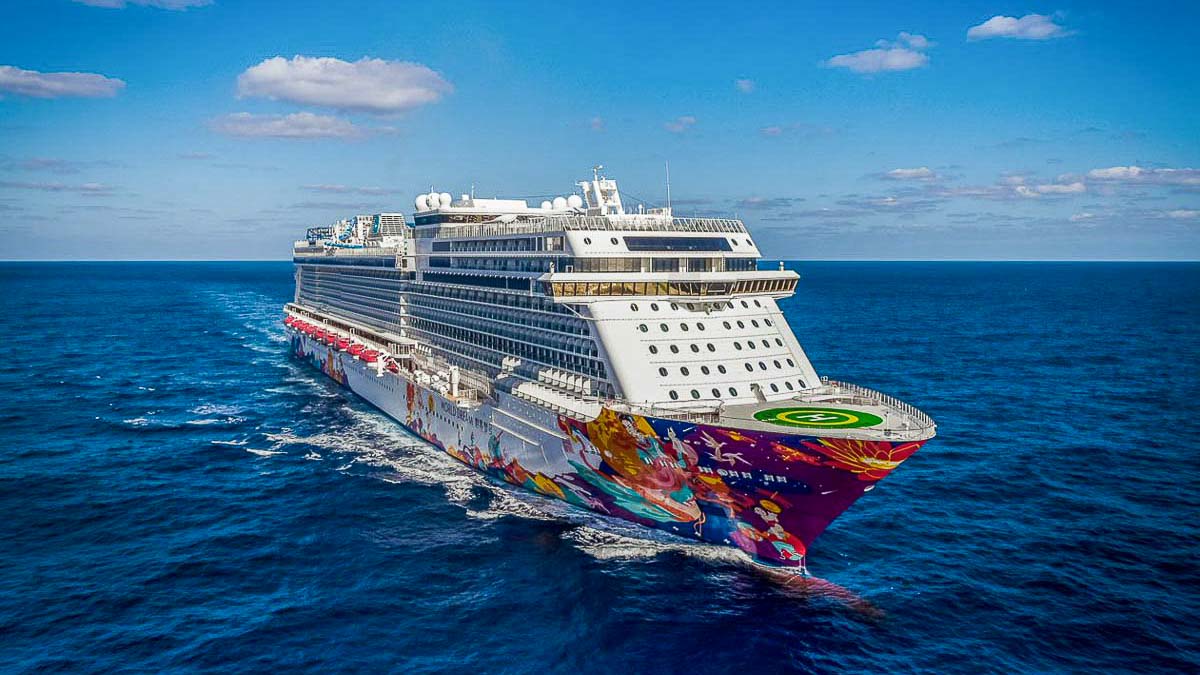 Photo credit: Dream Cruises
While some look forward to the various ports of call on pre-COVID cruises, a cruise to nowhere allows you to truly explore and enjoy the ship's facilities. Plus, you'll have time to try the different classes and watch all the shows!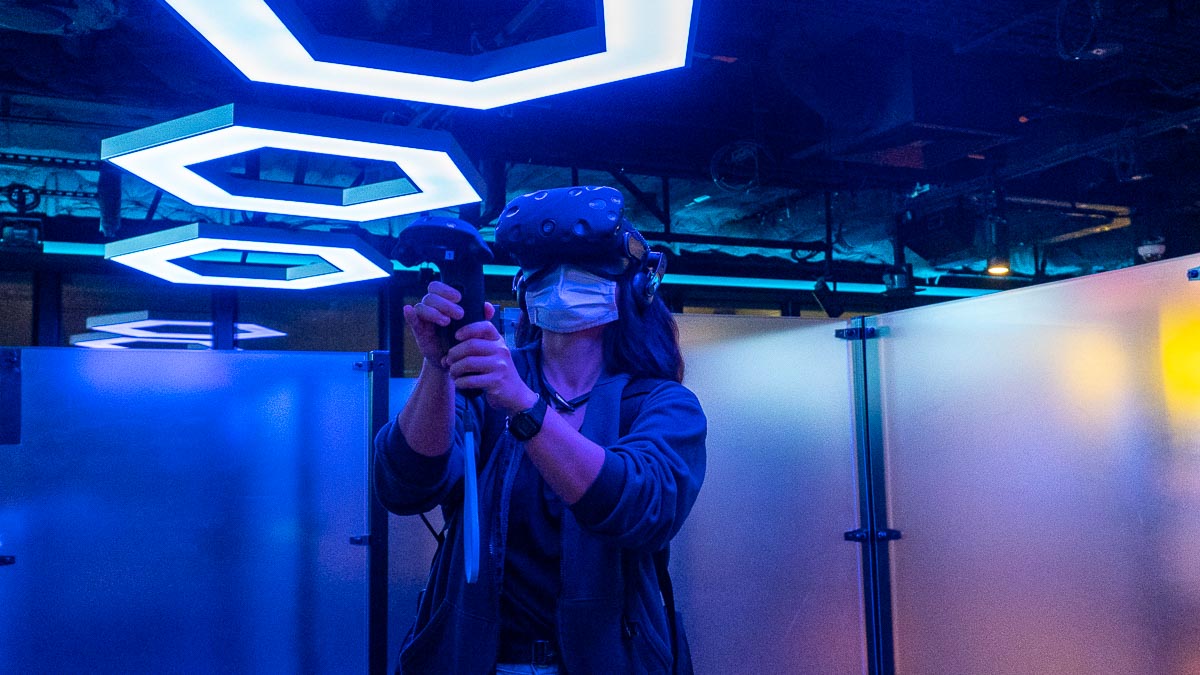 Although we didn't go anywhere, we still felt like we were on a holiday. Nothing like getting a text message asking you to activate your overseas data plan to get you in the vacation mood. 😂
Would you go on a cruise to nowhere? Share with us your thoughts in the comments!
---