Wanna grab brunch in Kyoto, New York or at an African Safari? These cafes go the extra mile for that out of Singapore experience.
Since the start of 2020, covid has pretty much thrown a wrench into all our travel plans. So we'll just have to find new ways to pretend we're out of the country — one being cafe-hopping.
From cherry blossom backdrops to American-style retro couches, Singapore has some pretty cool themed cafes where you can forget for a moment… that we still can't travel 🥺
Here are 11 of them you can dine at, plus take some Instagrammable photos as a "souvenir" to satisfy your travel cravings!
1) Central Perk Singapore
So no one told you life was gonna be this way ~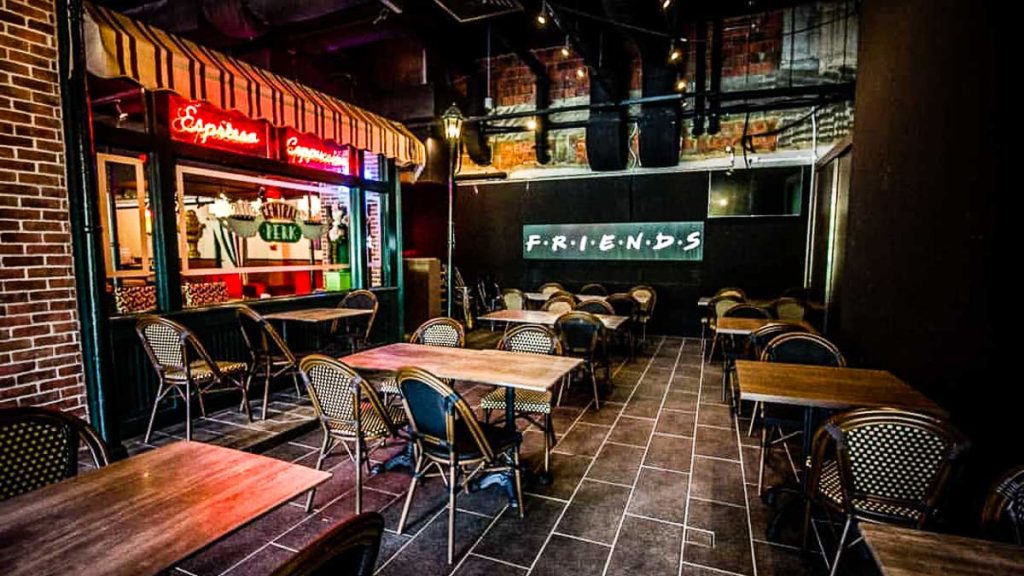 Photo credit: @centralperksg via Instagram
Dreams came true when the main casts of iconic TV sitcom F.R.I.E.N.D.S. reunited in 2021, on a recreated set of the original show in Los Angeles.
Did you know Singapore also has its own replica cafe from the show? Opened in 2016, Central Perk Singapore is modelled after the coffee shop where the six friends hung out.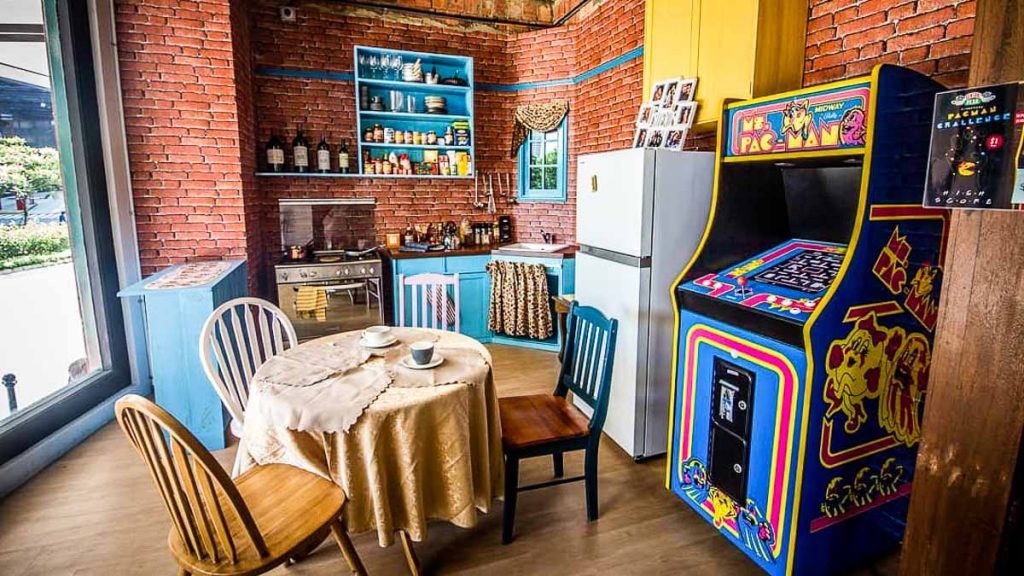 Photo credit: @centralperksg via Instagram
Whether it's the distinct couch in the cafe or the rooms they once lived in, no details were spared to give fans a taste of nostalgia. The stylish furniture and Western menu also reminds us of a New York City vibe.
Fun Fact: Central Perk Singapore is the only Warner Brothers-licensed F.R.I.E.N.D.S-themed cafe outside of the United States.
Opening hours: 11AM – 11PM
Address: 1 Magazine Road, Central Mall #01-01, Singapore 059567
2) Smile Dessert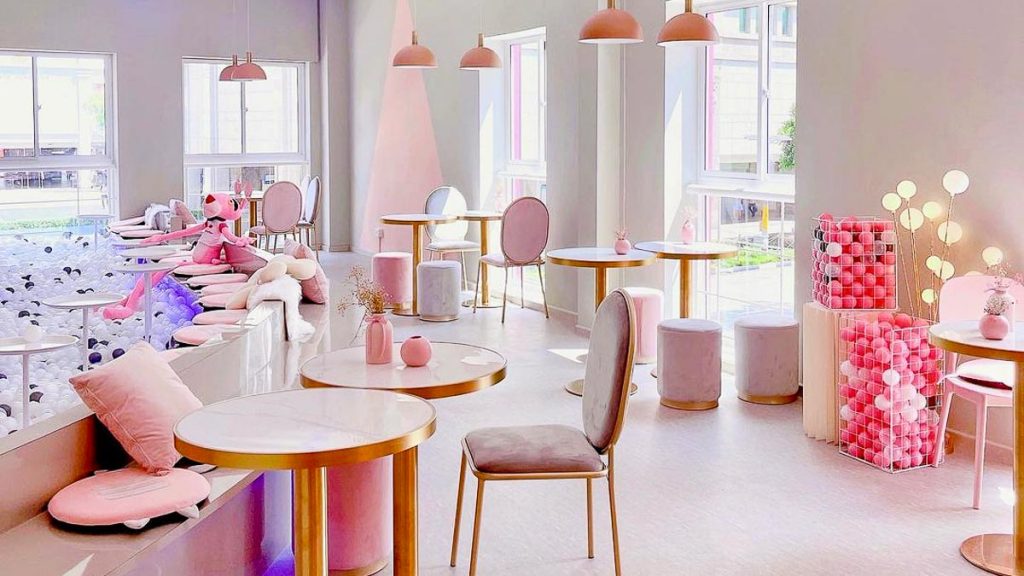 Photo credit: @saltyaaron via Instagram
Adding to the list of cafes opened in 2021, Smile Dessert is a pretty bubble-gum pink dessert shop standing at three-storeys tall. Its beautiful design and pastel colours remind us of themed cafes we often see in Korea.
Not to mention, this cafe in Bugis even has a ball pit for you to "drown" in.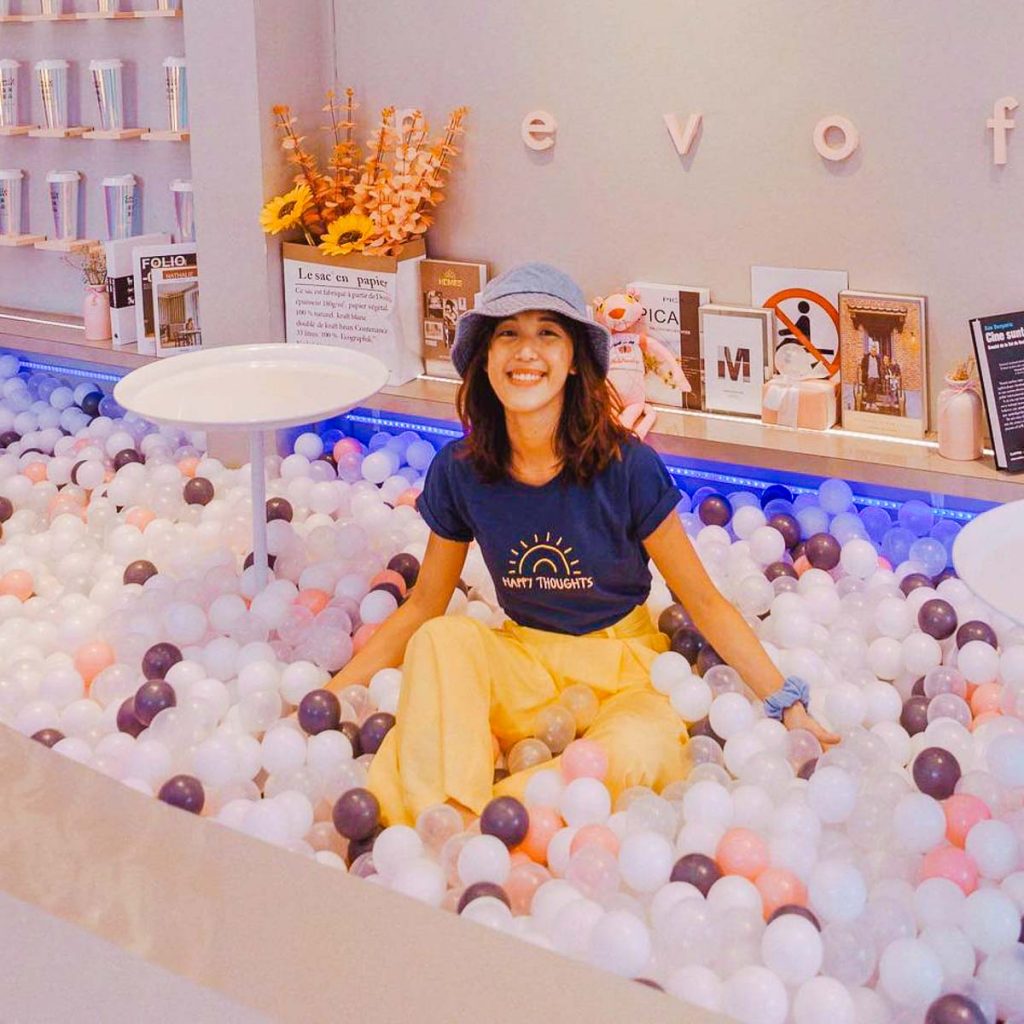 Photo credit: @shuutravels via Instagram
To top it off, not only is the environment super aesthetic, so is the food! You might want to check out their fluffy souffle pancakes or gorgeous crepes.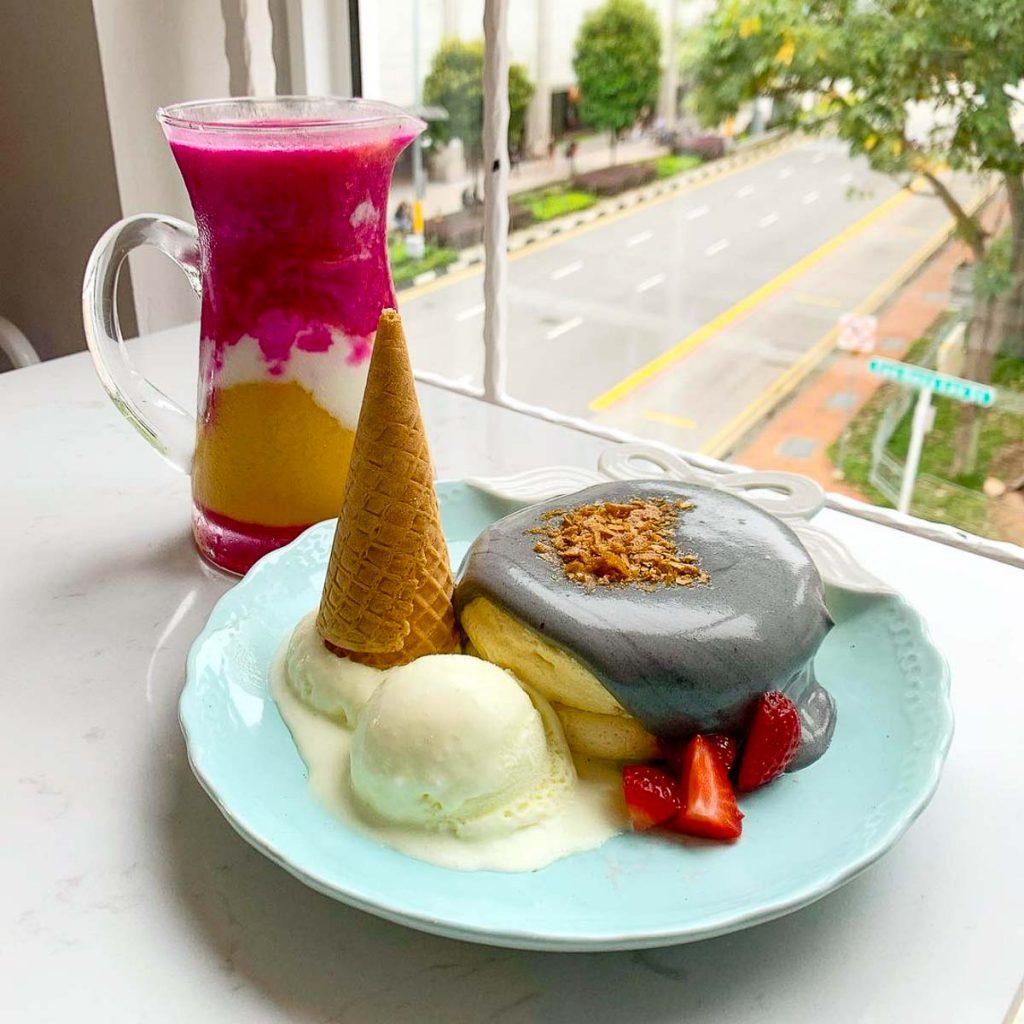 Photo credit: @heyiamjothefoodie via Instagram
Opening hours: 11AM – 3AM
Address: 534 North Bridge Road #01-01, Singapore 188749
3) Tiong Bahru Bakery Safari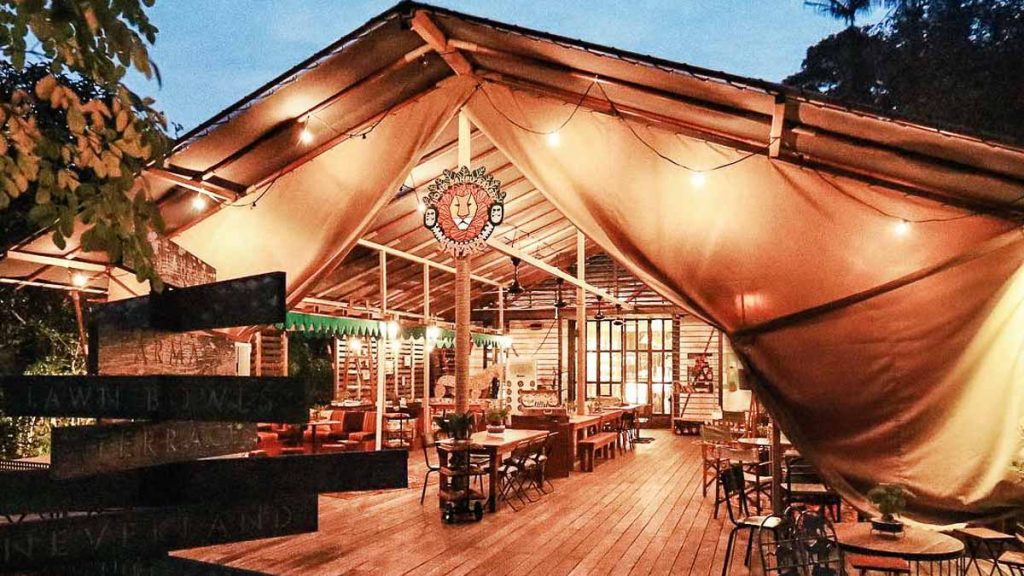 Photo credit: @tiongbahrubakery via Instagram
Who says you need to travel to Africa for a great safari experience?
Us. Seriously, just take a look at our Kenya safari itinerary guide and you'll know why.
In the meantime, here's the next best thing — Tiong Bahru Bakery Safari. This large tentage cafe surrounded by green foliage imitates an atmosphere of eating out in the wild, without potentially dangerous animals.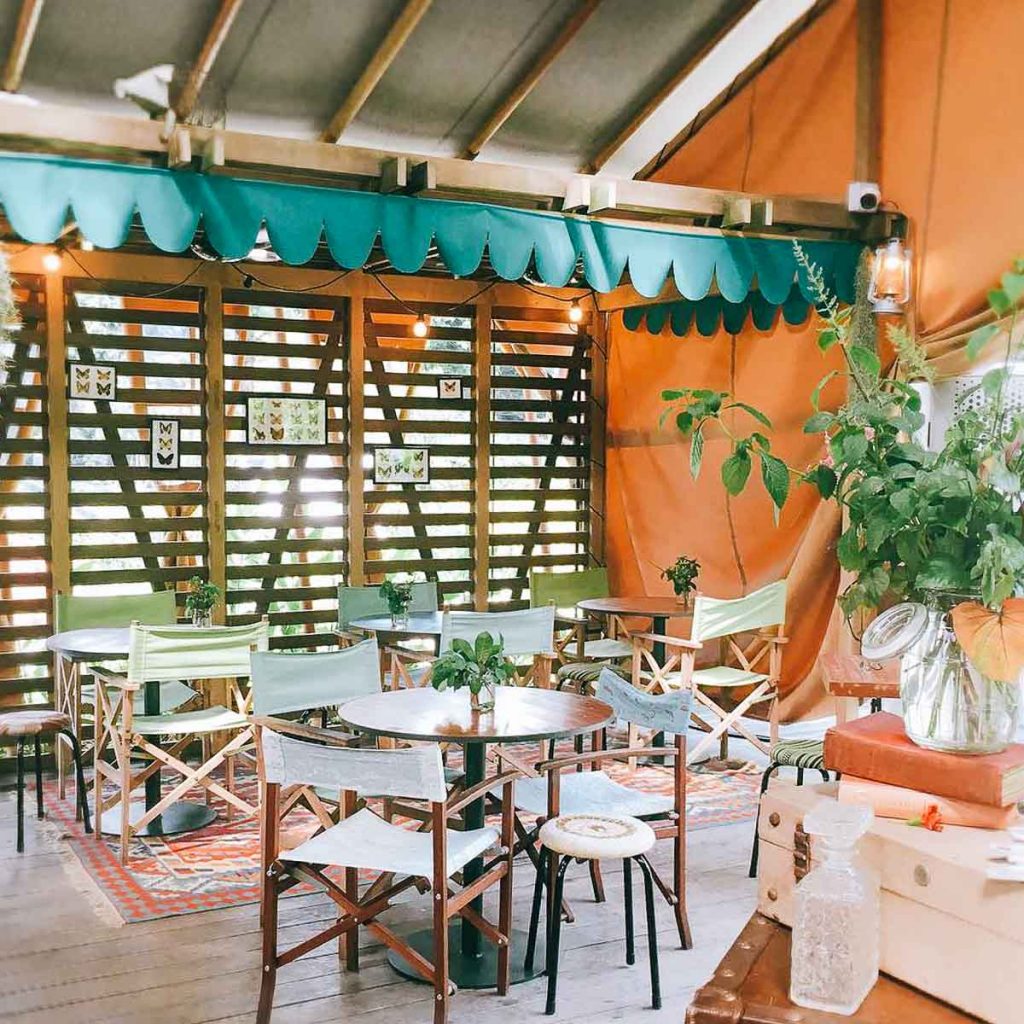 Photo credit: @iam_jia79 via Instagram
The vintage rugs and collection of butterfly taxidermies hung on the wall all add to a (close-to) authentic safari experience.
Fun fact: The theme was inspired by the founder's trip to the African safari in Botswana.
Opening hours: 8AM – 6PM
Address: 130E Minden Road, Singapore 248819
4) Cafe Monochrome
Photo credit: @threepointgold via Instagram
Pretend you're a manga (comic book) character at Cafe Monochrome — Singapore's first 2D cafe.
It's definitely an Instagrammable spot with its white and black interior depicting an illustration-style design. Have fun taking photos while blending in with seemingly flat furniture and backdrop!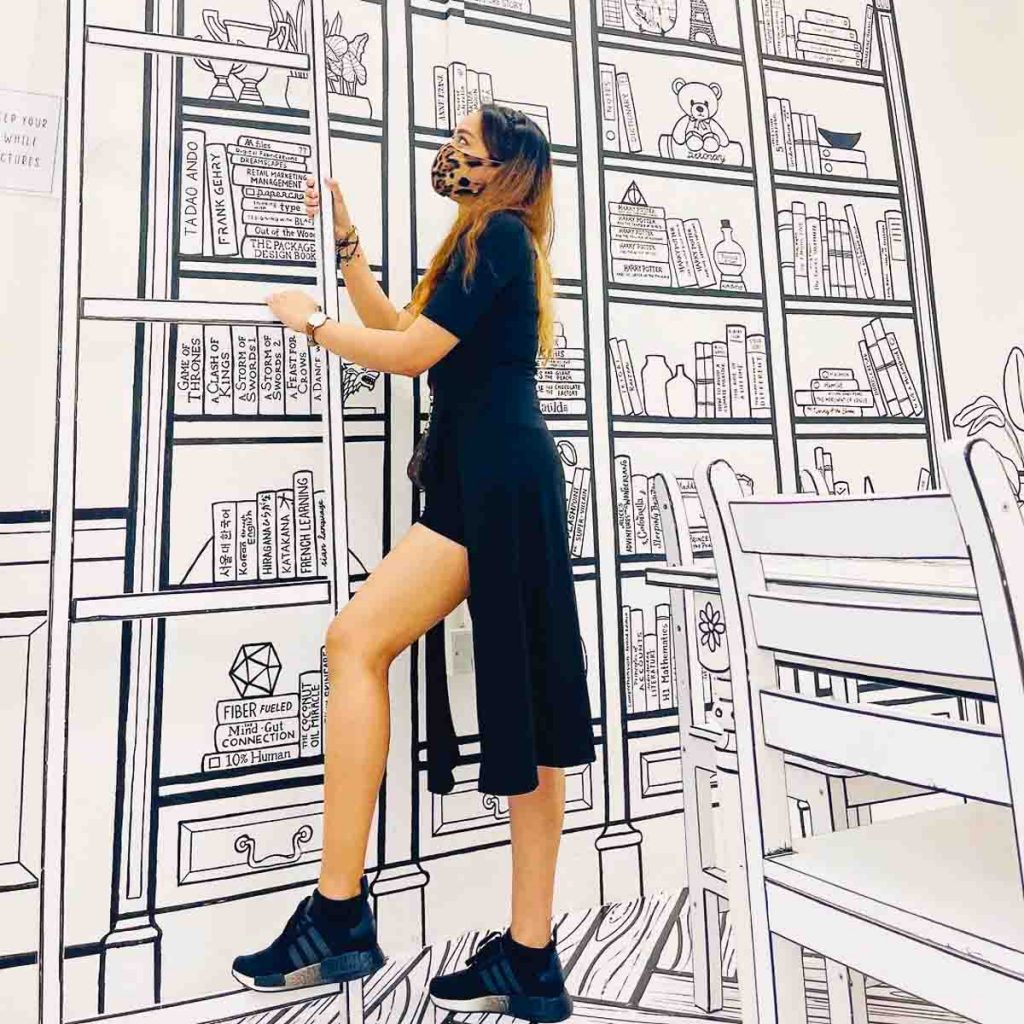 Photo credit: @mscomplikate via Instagram
Opening hours: 10AM – 10PM (Tues – Sun)
Address: 216 Syed Alwi Road, Singapore 207749
5) MoMiJi Kyoto Cafe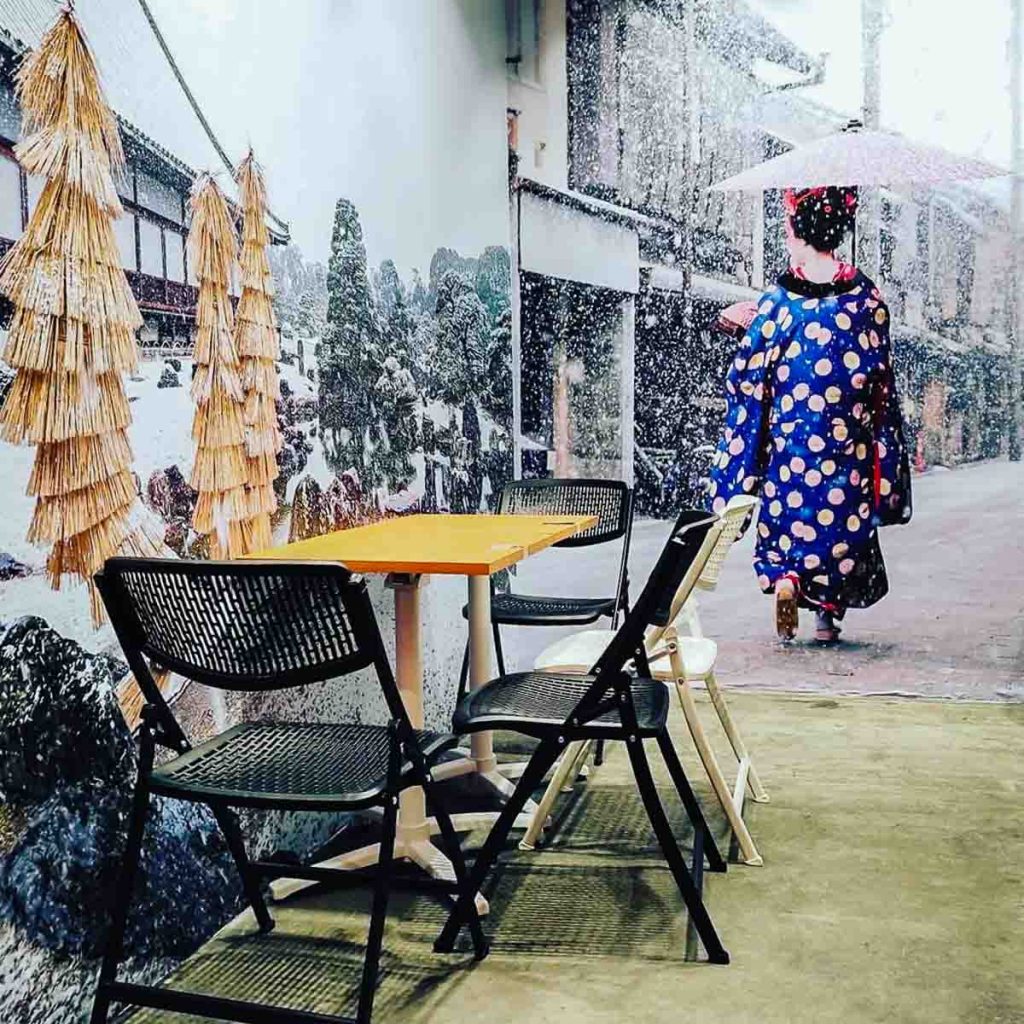 Photo credit: @cloudyun_niki via Instagram
There are so many things we miss about Japan, be it soaking in amazing onsens or admiring breathtaking flower fields.
While we can't travel there now, we can experience Japan's four seasons at MoMiJi Kyoto Cafe in Singapore.
One of the many concept shops opened by Teppei Group, it's tucked away in the corner of King Albert Park Mall.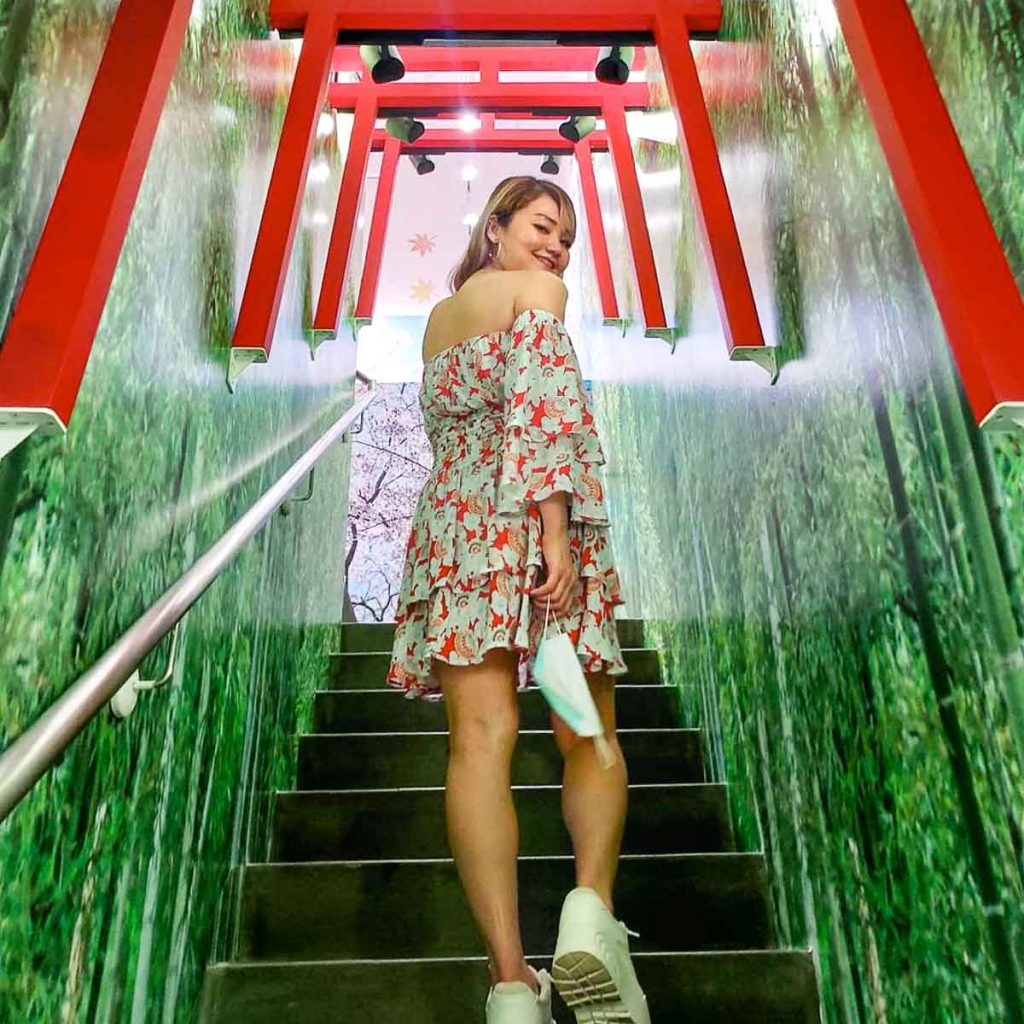 Photo credit: @thisfoodieangel via Instagram
Walkthrough "Torii gates" up the staircase to the second level and you'll come to a spacious area with dining booths — including curtains for maximum privacy.
You can also choose from different themes of Spring, Summer, Autumn, and Winter as a backdrop while dining.
Opening hours: 10AM – 7PM
Address: 9 King Albert Park, KAP Mall #01-37, Singapore 598292
Read also: 7 Things to do in Singapore on a Japan-themed Daycation
6) Joji's Diner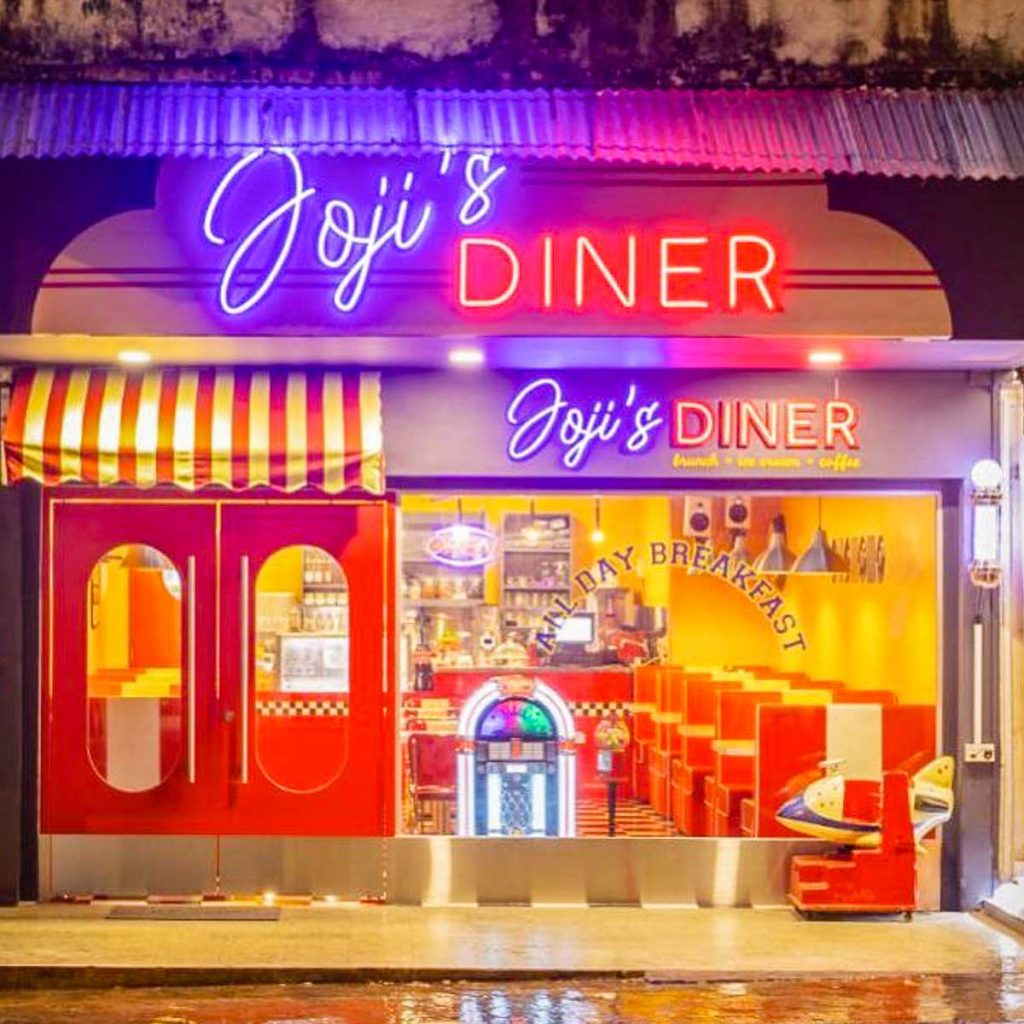 Photo credit: @jojisdiner via Instagram
Yet another cafe that landed on Singapore shores in 2021, Joji's Diner is a retro American-style diner in Serangoon.
Splashed in red, white, and blue colours with comfy vintage couches and a jukebox, this cafe reminds us of popular American culture. There's even a gumball machine and a kid's ride to boot!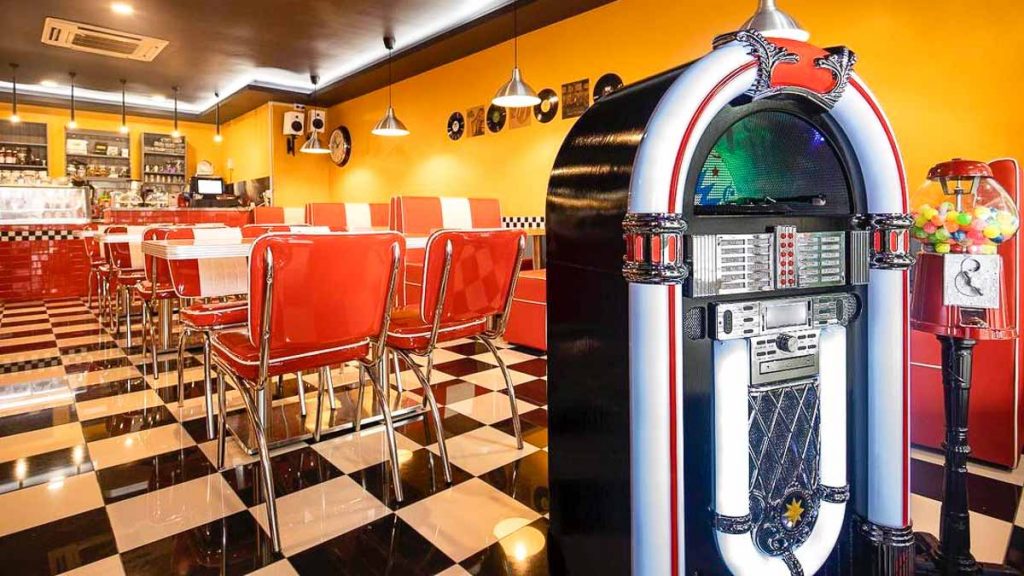 Photo credit: @jojisdiner via Instagram
Now all I need is to play me some 1950s American diner songs with a burger and milkshake in hand.
Opening hours: 10AM – 10PM (Mon – Sun), 10AM – 3PM (Wed)
Address: 534 Upper Serangoon Road, Singapore 534549
7) Wonderland Savour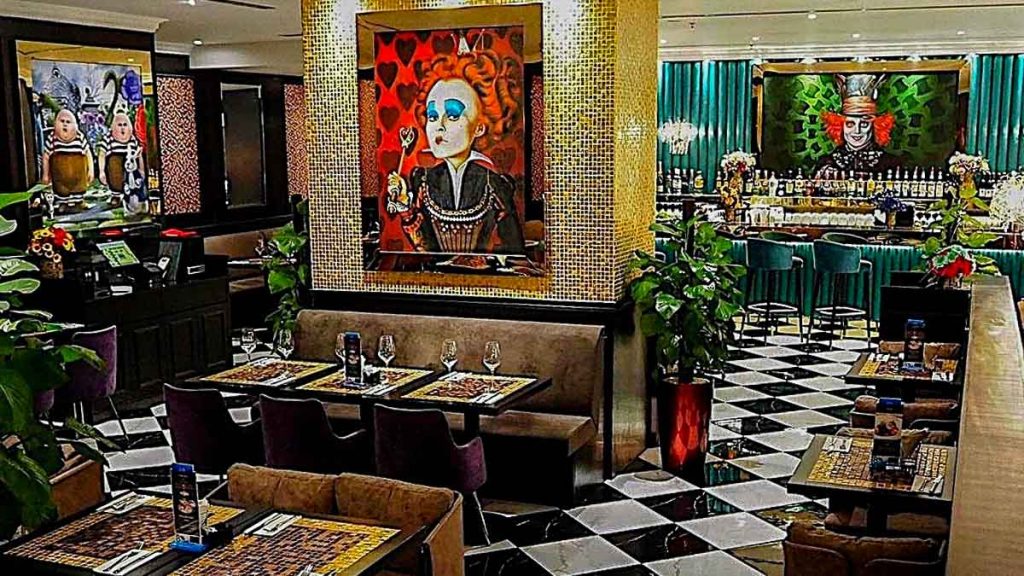 Photo credit: @wonderlandsavour via Instagram
Well, technically Wonderland Savour is more of down the rabbit hole rather than across borders. Either way, it's a whimsical place straight out of a children's storybook — but this one is based on Tim Burton's Alice in Wonderland film.
A touch of glamour incorporated in gold-coloured walls on top of the warm lighting adds to an incredibly grand atmosphere.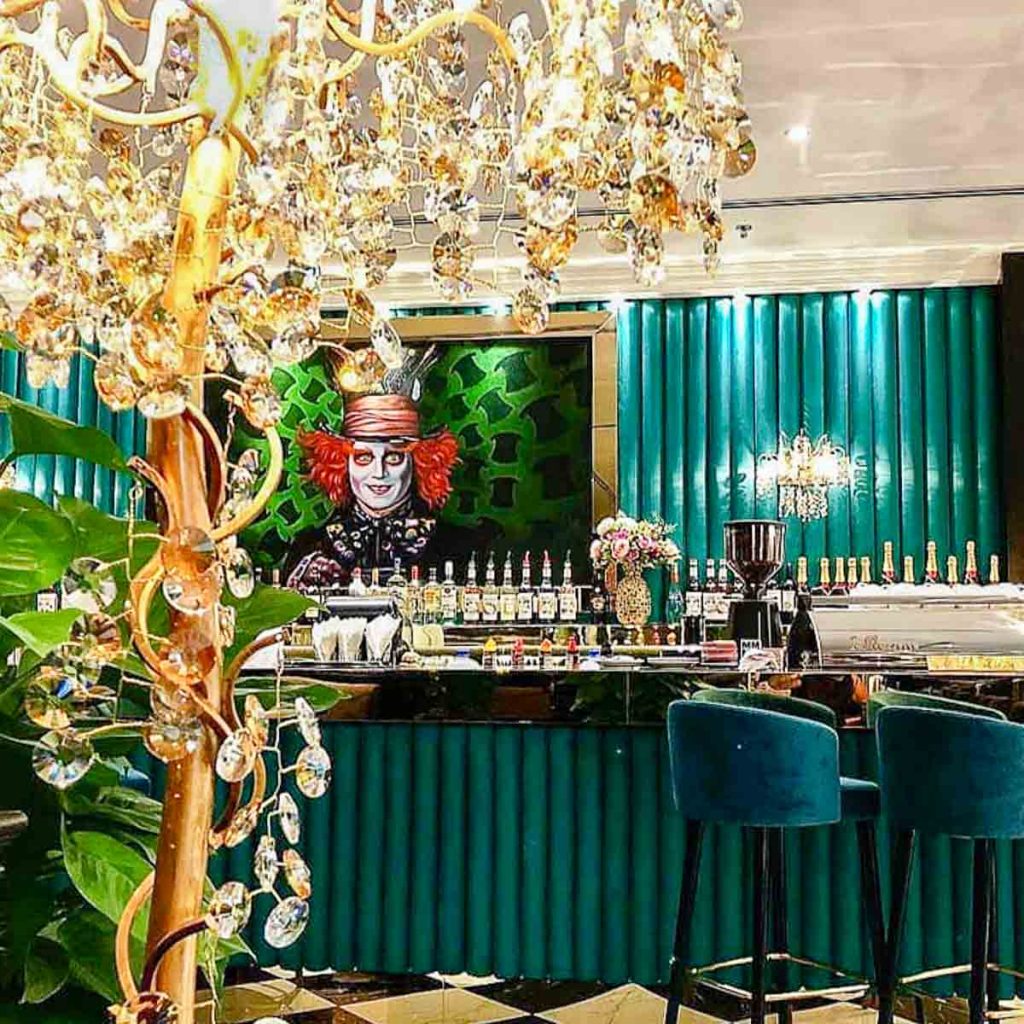 Photo credit: @wonderlandsavour via Instagram
Look out for photogenic paintings of the queen of hearts, mad hatter and other characters hanging on the wall when dining in.
Opening hours: 10AM – 10PM
Address: 435 Orchard Road, Wisma Atria #02-08, Singapore 238877
8) Suzuki Gourmet Coffee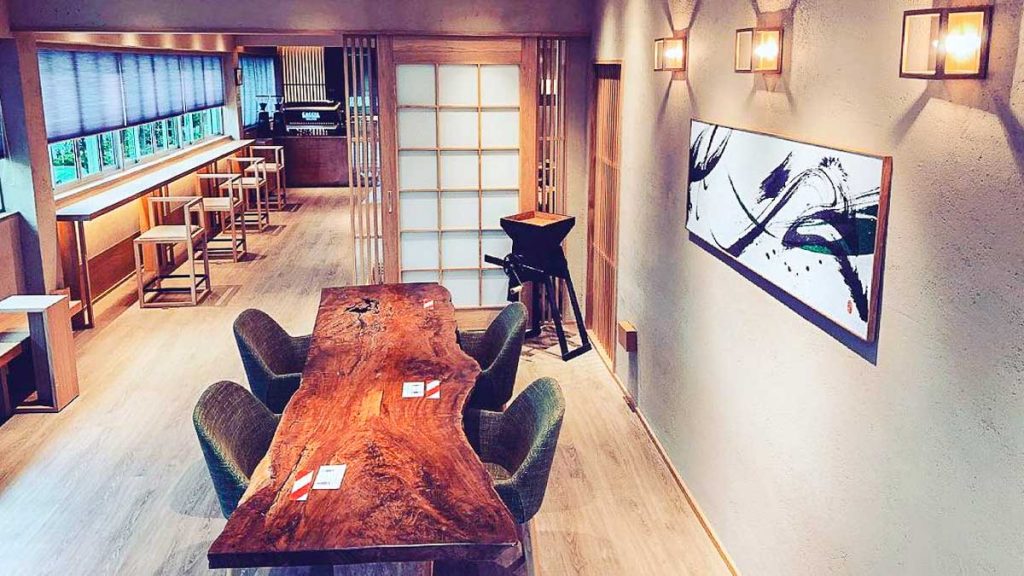 Photo credit: @suzukicoffee via Instagram
Channel your inner zen while having freshly brewed coffee at Suzuki Gourmet Coffee.
This Kyoto-inspired Japanese teahouse hidden in the industrial area of Boon Lay offers a wide selection of finely roasted gourmet coffee in Asia. It's also one of Singapore's oldest coffee roastery, having been around since 1979.
Photo credit: @chew.and.chill via Instagram
The cafe interior features wooden flooring and sliding doors, exuding a minimalist vibe. There's even a small fountain that slowly fills a hollow bamboo branch with water — something commonly found in a Japanese garden.
Opening hours: 10AM – 5PM (Tues – Fri), 10AM – 4PM (Sat – Sun)
Address: 8 Chin Bee Ave, Singapore 619932
9) Sweet Hut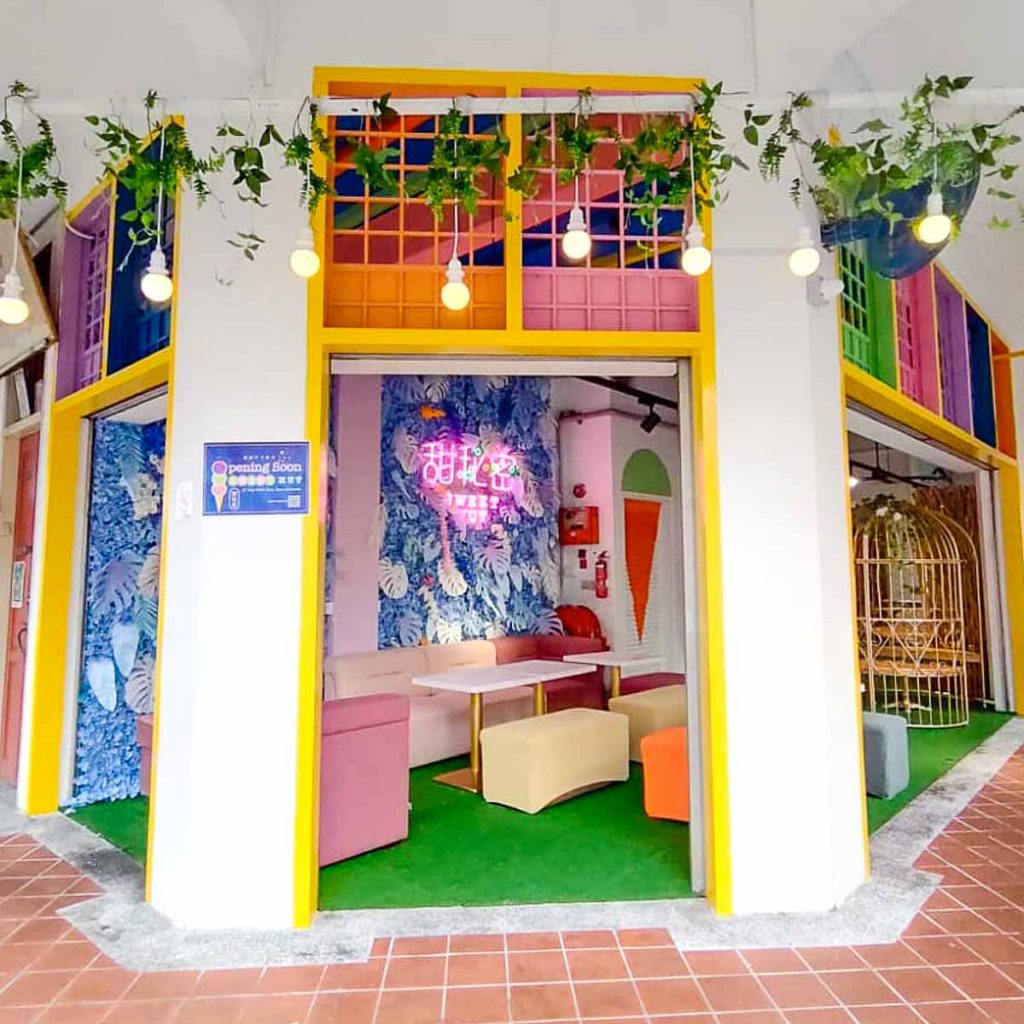 Photo credit: @sweethutsg via Instagram
People with a sweet tooth and a sweeter desire for Instagrammable photos might want to drop by Sweet Hut — a colourful and vibrant dessert cafe that opened in 2021.
Contrary to the traditional dessert stall in Singapore, this cafe features hanging neon lights and seats in the form of a Rubik's cube. There's even a backdrop covered in blue floral arrangements and a cage you can take pictures in.
Open past midnight, it's a good late night supper spot!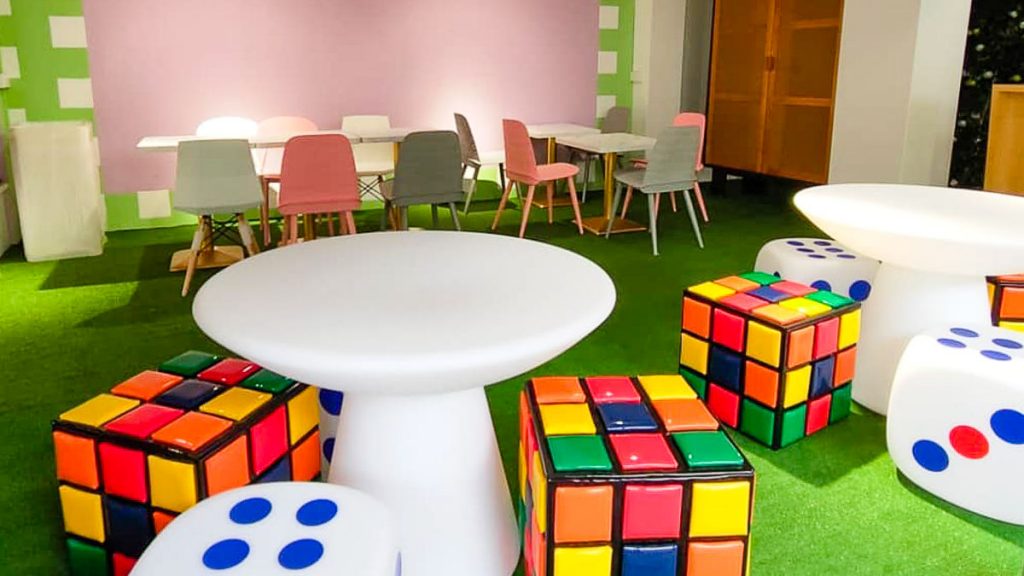 Photo credit: @sweethutsg via Instagram
Opening hours: 6PM – 3AM
Address: 654 Geylang Road, Singapore 389584
10) The Pantry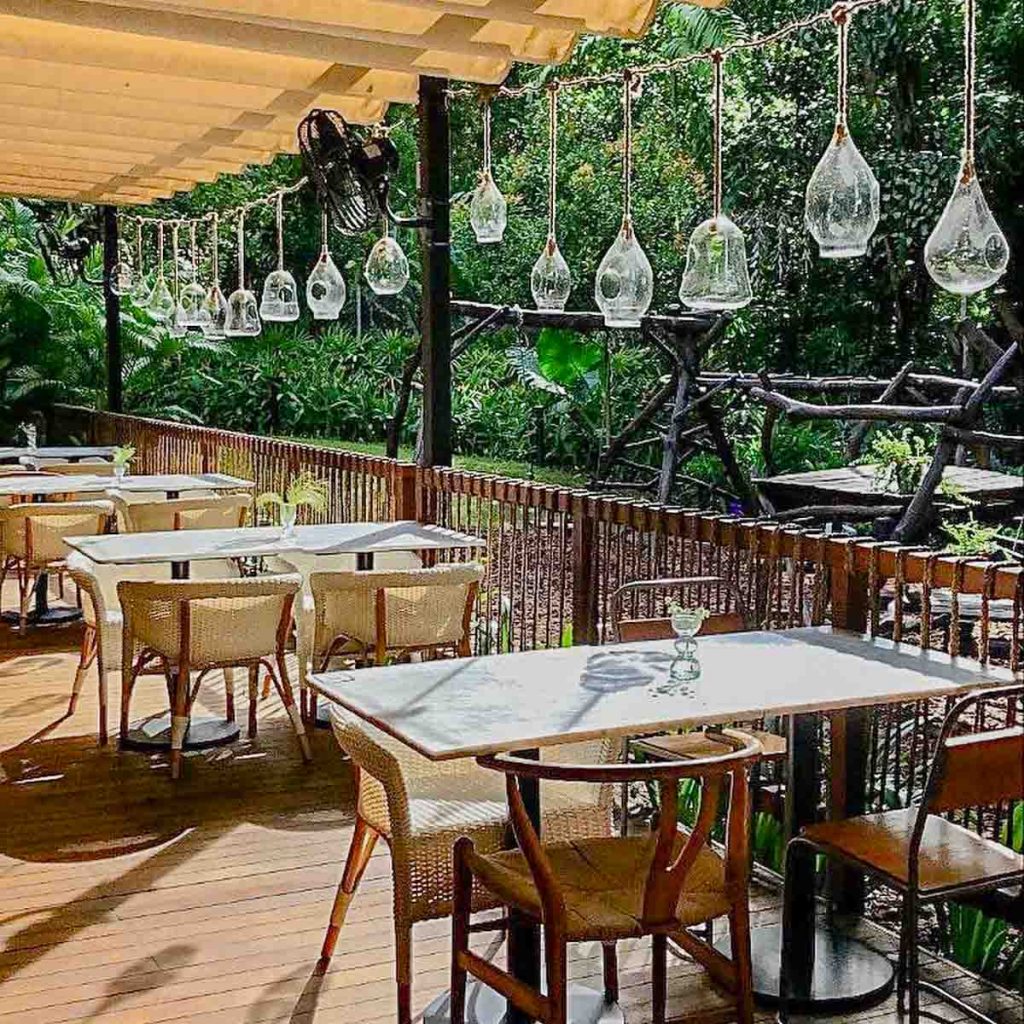 Photo credit: @thepantryatdempsey via Instagram
Although we can't have a meal among the mountains or next to rice paddies in Thailand now, The Pantry is the closest we can get to a cafe surrounded by nature in Singapore.
Be immersed in a beautiful natural setting among lush greenery and snap photos of the outdoor playgrounds — a treehouse and wooden jungle gym where your little ones can play in.
Who knew Singapore had such a cafe hidden away in the "woods"?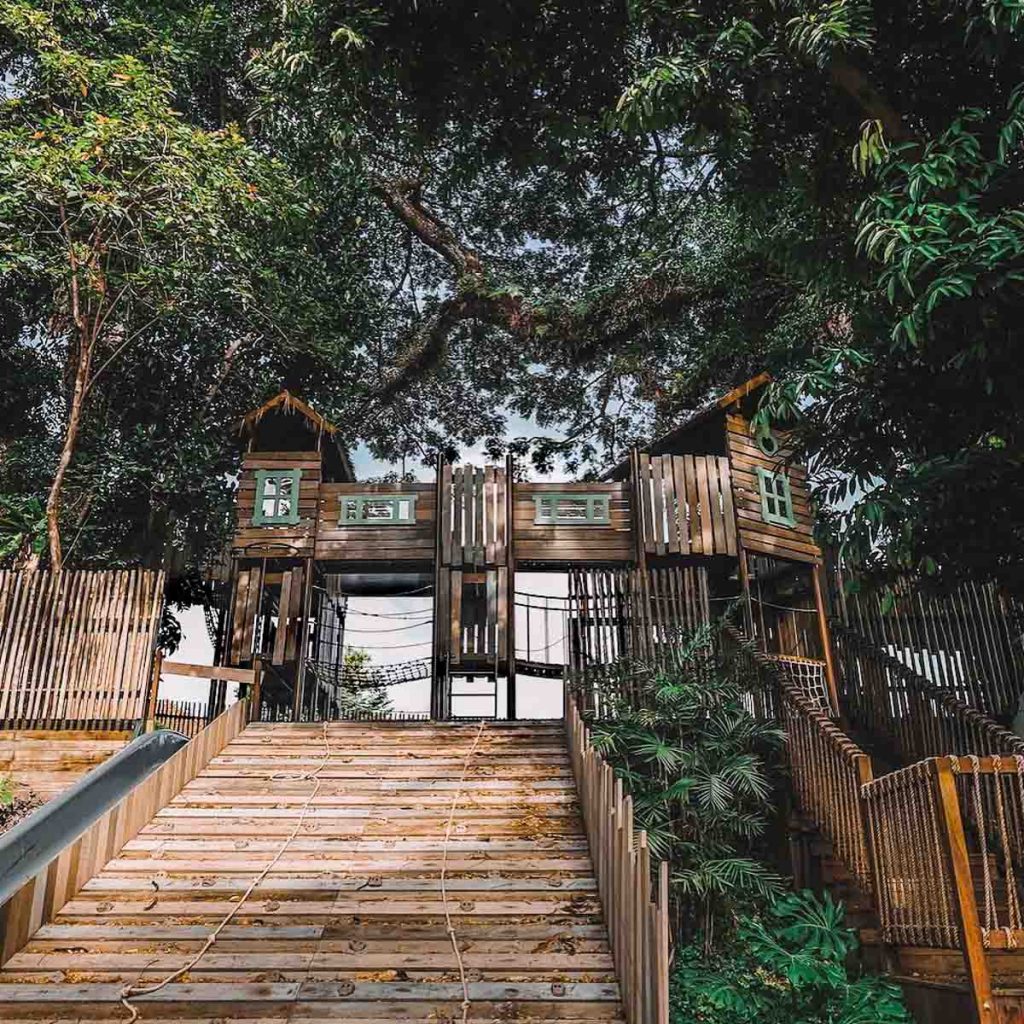 Photo credit: @thepantryatdempsey via Instagram
Opening hours: 9AM – 7PM (Tues – Thurs, Sun), 9AM – 9:30PM (Fri – Sat)
Address: 16A Dempsey Road (Level 1), Singapore 247695
11) Good Bites Cafe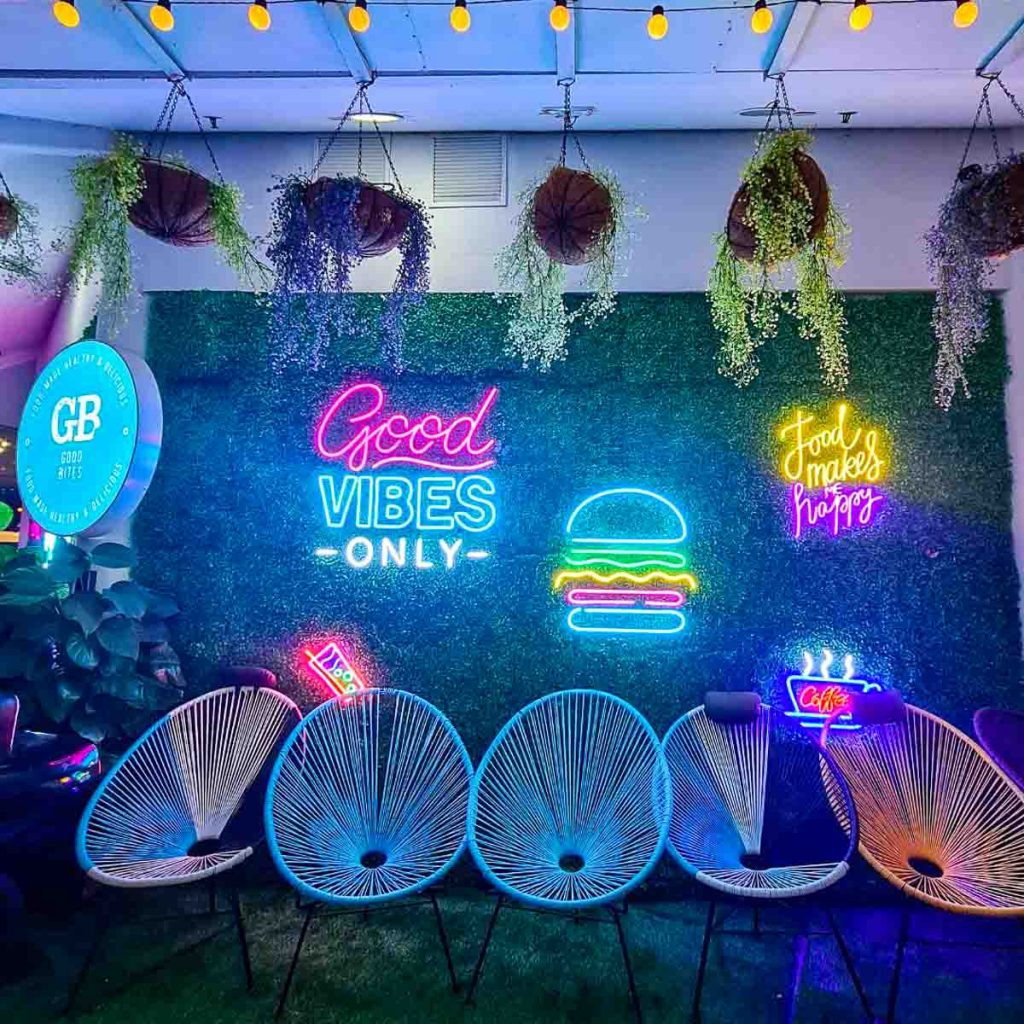 Photo credit: @goodbitessg via Instagram
Visit Good Bites Cafe in the evening and you'll be greeted by bright neon lights — a reminder of the nightscapes in Taiwan and Hong Kong.
It's a halal-certified western fusion cafe at Bishan Sports Hall, which features a posh indoor seating design including marble tables and velvet chairs.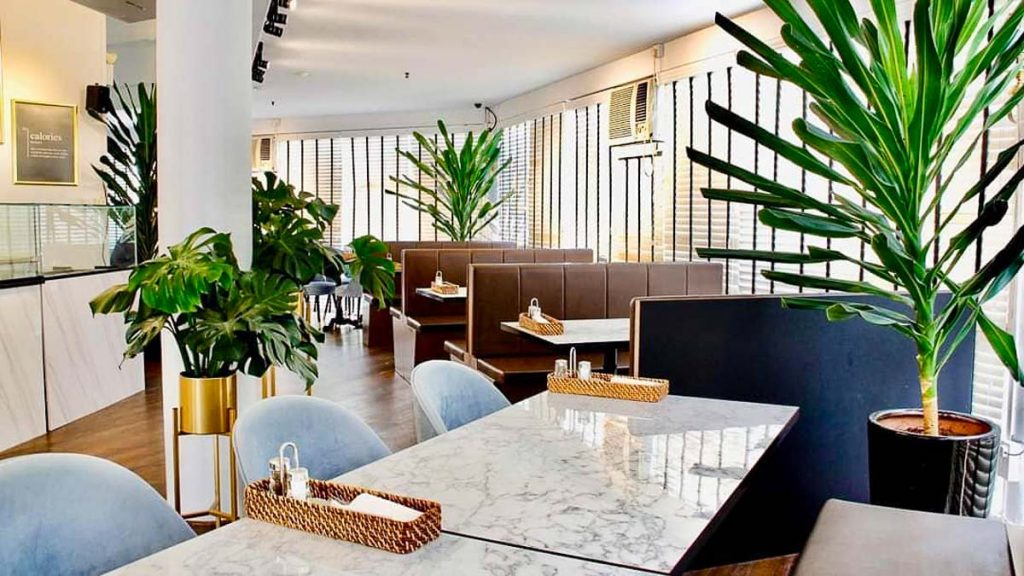 Photo credit: @goodbitessg via Instagram
The alfresco dining area is decorated in black and white walls, fairy lights and a bird cage seating for an IG-worthy photo.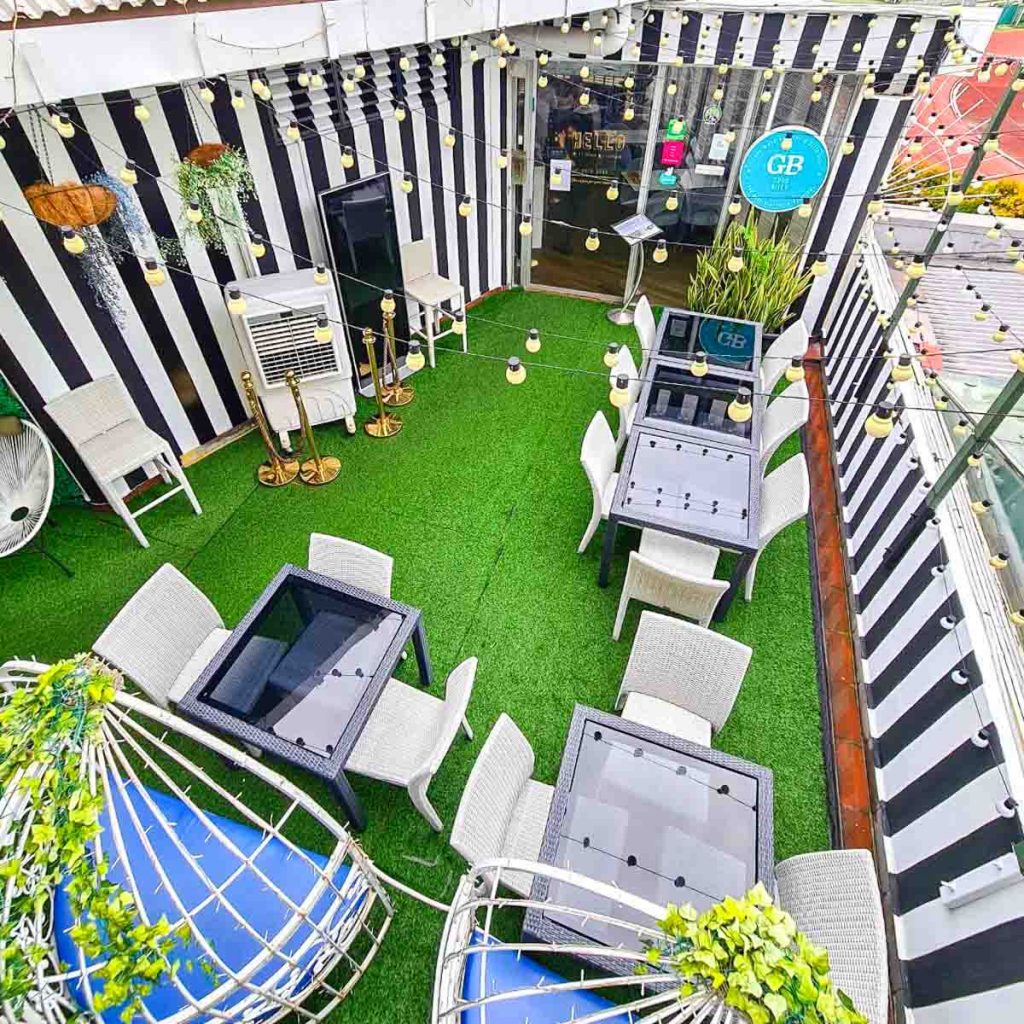 Photo credit: @goodbitessg via Instagram
Opening hours: 11AM – 10:30PM (Sun – Thu), 11AM – 2AM (Fri – Sat)
Address: 5 Bishan Street 14, Bishan Sports Hall #03-01, Singapore 579783
Read also: 12 Unique Restaurants in Singapore Even Non-Foodies Will Find Impressive
Cure Your Travel Blues Right Here in Singapore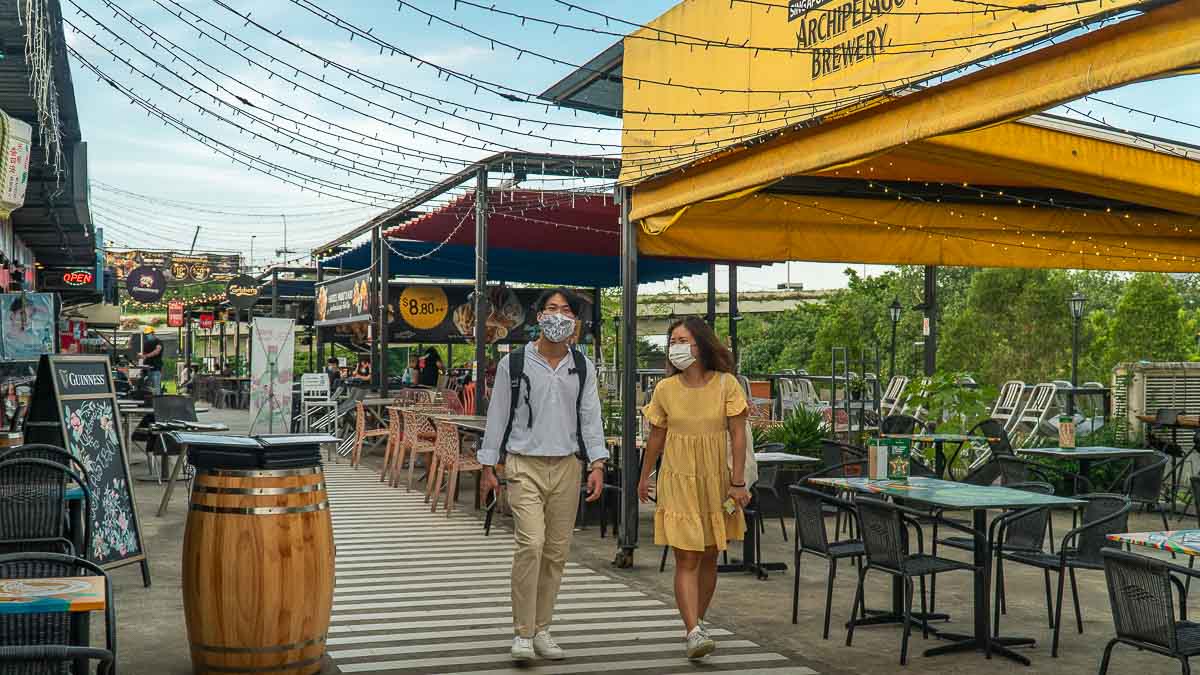 Despite travel being on hold for now, there are plenty of ways to satisfy our wanderlust here in Singapore.
Pretend you're out of Singapore by heading to some of the Instagrammable cafes mentioned up above. Or take a trip to Singapore's Southern Islands and experience what it's like being a local tourist.
Keep the travel spirit alive in hopes that we might experience the real thing soon!
Featured image credit: @tiongbahrubakery
What are some other Instagrammable cafes in Singapore that makes you feel like you're overseas? Let us know in the comments below!
---
Like what you see? Follow us on Facebook, Instagram, YouTube, and Telegram for more travel inspiration!