Next time you need an escape from the city, travel a little out of Bangkok and go cafe hopping in Thailand at these cosy spots surrounded by nature — all less than 2.5 hours from Bangkok!
It might not be the first place that comes to mind but cafe hopping in Thailand has lots to offer for nature lovers. Just a few hours outside of Bangkok are mountains to hike, pristine beaches to chill at and the great big ocean, teeming with sea life to explore. Wouldn't it be great if you could enjoy all that nature Thailand has to offer, while also sipping a cuppa?
These cafes offer exactly that.
1) Please Don't Tell, Khao Yai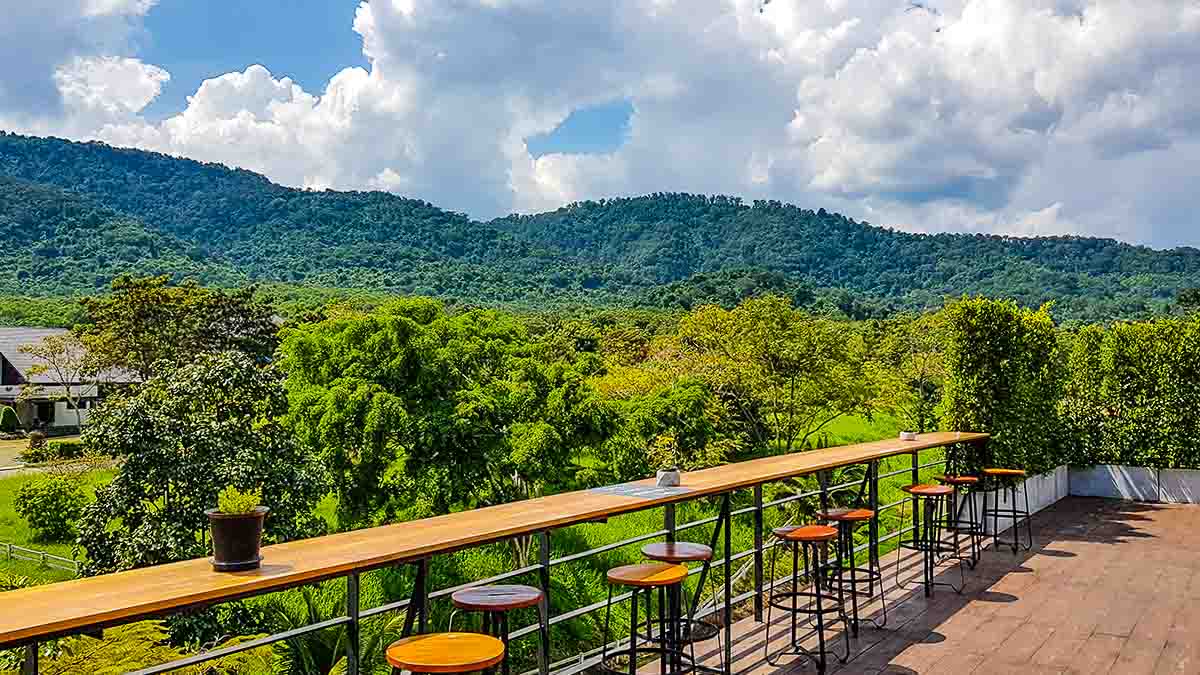 Though the name asks for confidentiality, we can't help it. This cafe among the mountains is the highest in Khao Yai and offers one of the most magnificent views. It's also "Thailand's longest coffee bar" so it's hard to miss stopping by if you're in the area.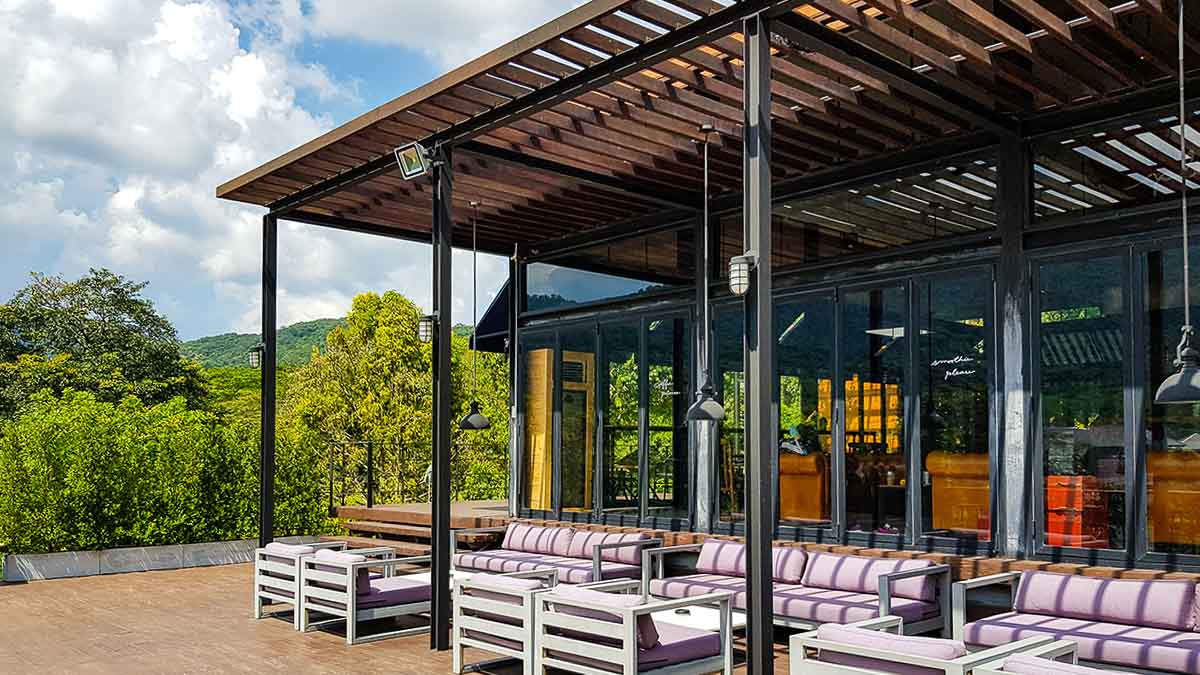 The cafe is part of a residence, so besides enjoying the views with cafe treats, you can also rent a villa for a stay.
Khao Yai National Park is the third-largest national park in Thailand, covering an area of 2,168 sq.km in four provinces. Located just a 2.5-hour drive from Bangkok, it's so popular among both the local and travellers that the area outside the national park, popularly known
as Khao Yai, has been developed to serve different visitors' interests such as cafe hopping, farm experiences and themed hotels.
Cost: ฿100-250
Opening hours: Mon-Sun 8:30AM-5:30PM
Address: Inside Monlada Khaoyai, Mu Si, Pak Chong District, Nakhon Ratchasima (~2.5hrs from Bangkok)
Read also: 4D3N Khao Yai Itinerary — Whimsical City Less Than 3 hours from Bangkok
2) Red Temp Coffee, Bang Saen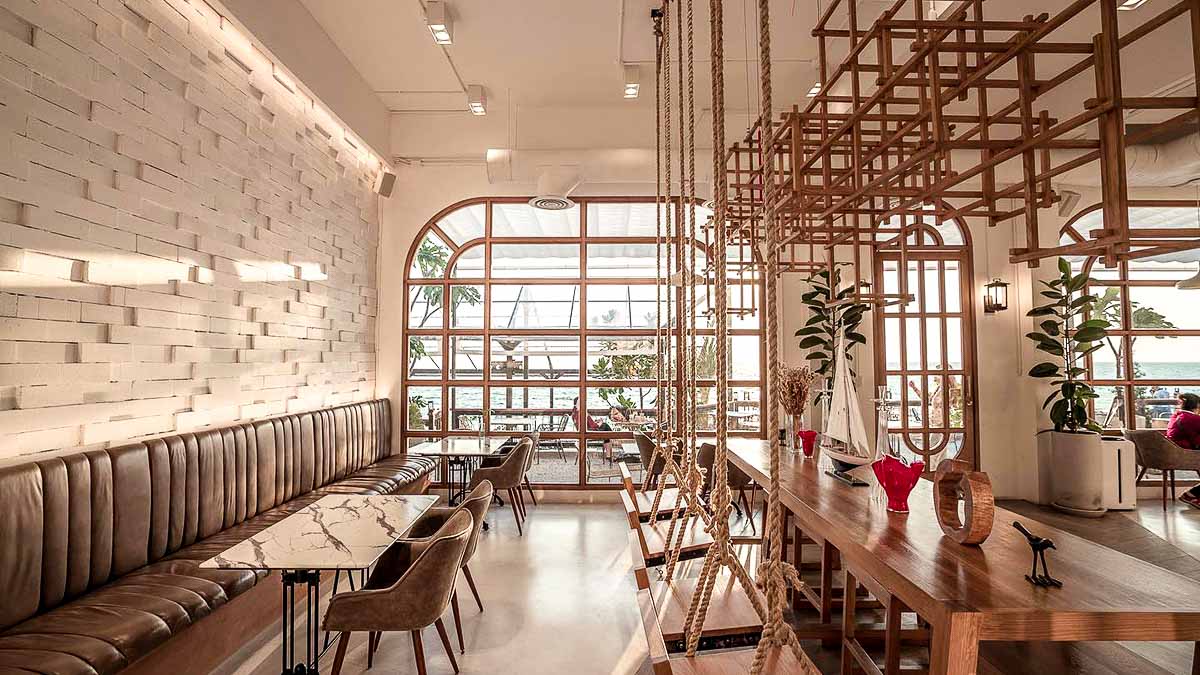 Photo Credit: Red Temp Coffee
When you're done strolling by the beach on a trip to Bang Saen, Red Temp is a great alternative to typical beach cafes. Built on a shorefront next to one of Bang Saen's well- known viewpoints, the cafe gives you the perfect sea view from an elevated perspective.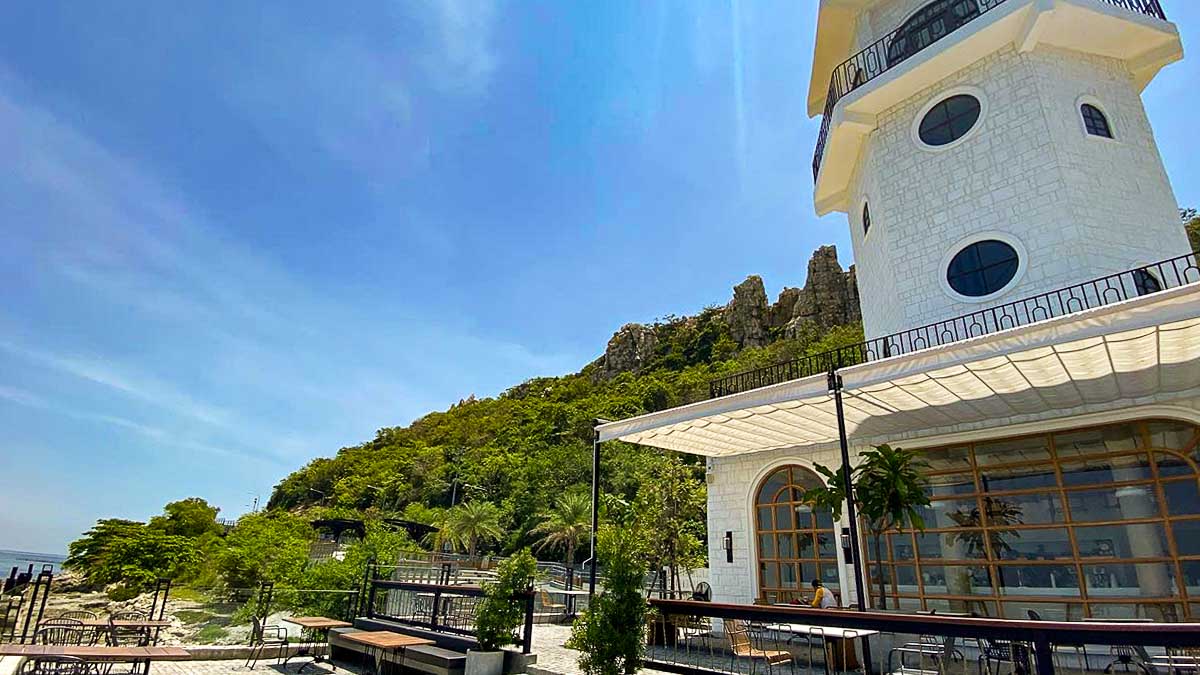 Photo Credit: Red Temp Coffee
The cafe has a Western-inspired design and is located below an iconic lighthouse with a spacious glass terrace that's hard to miss. Also great for taking the best photos! Apart from the staples of coffee, tea and non-caffeinated drinks, they also offer croissants and cakes.
Cafe hopping in Thailand doesn't get much better than this. Photo Credit: Red Temp Coffee
*Pro tip: The place is great for sunset and opens until 6pm. You can enjoy the sunset on the terrace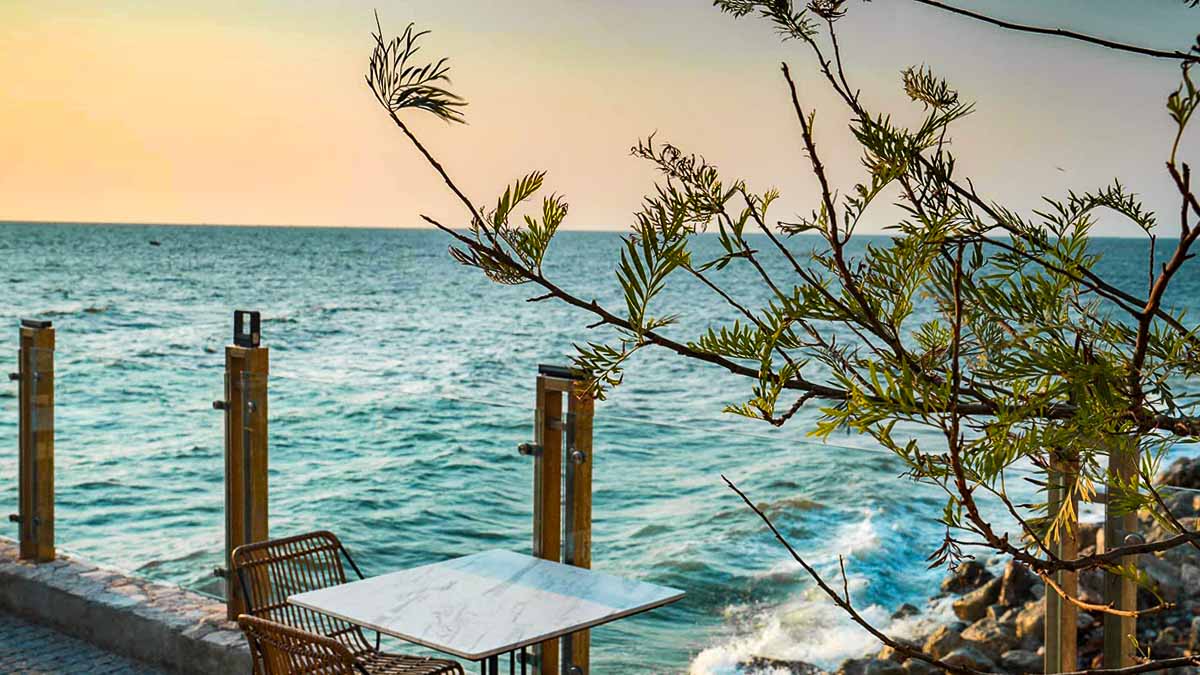 Photo Credit: Red Temp Coffee
Bang Saen is a beach area in Chon Buri, about 1.5-hour drive from Bangkok and can be visited on the way to, or back from, the better-known beach city of Pattaya. Along the shoreline, there are numerous eateries that locals flock to for live seafood. Apart from that, travellers like to enjoy chilling by the beach or shopping at the local shops. Bang Saen can get very busy on weekends.
Cost: ฿100-200
Opening hours: 9AM-6PM (Closes at 6:30PM on weekends)
Address: 33/99 Rob Khao Sam Muk, Saen Suk, Chon Buri (~1.5hr from Bangkok)
3) Meena Cafe, Kanchanaburi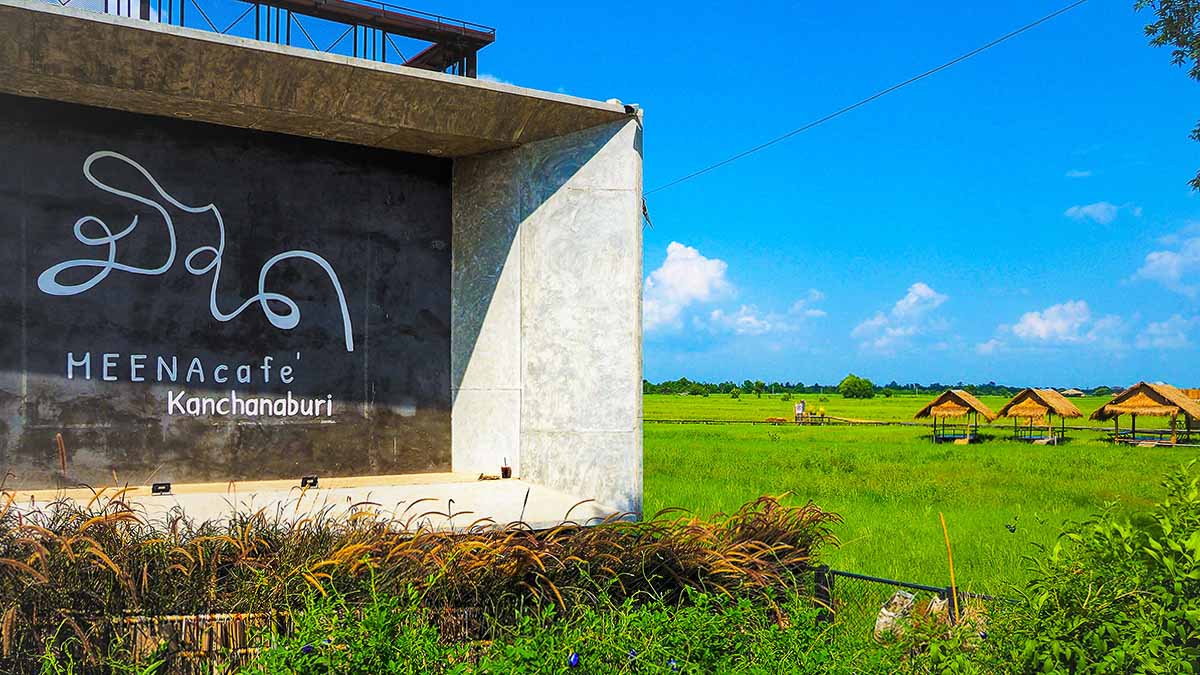 Photo credit: Aroimakmak
Step out to the back of this cafe tucked in Kanchanaburi and you'll be greeted by a large rice field with a stunning view of a Thai temple in the background. You can choose to sit indoors (air-conditioned), or stroll down to one of the terraces in the field. Just bring along your beverage and take a walk down the wooden path to find your best photo spot.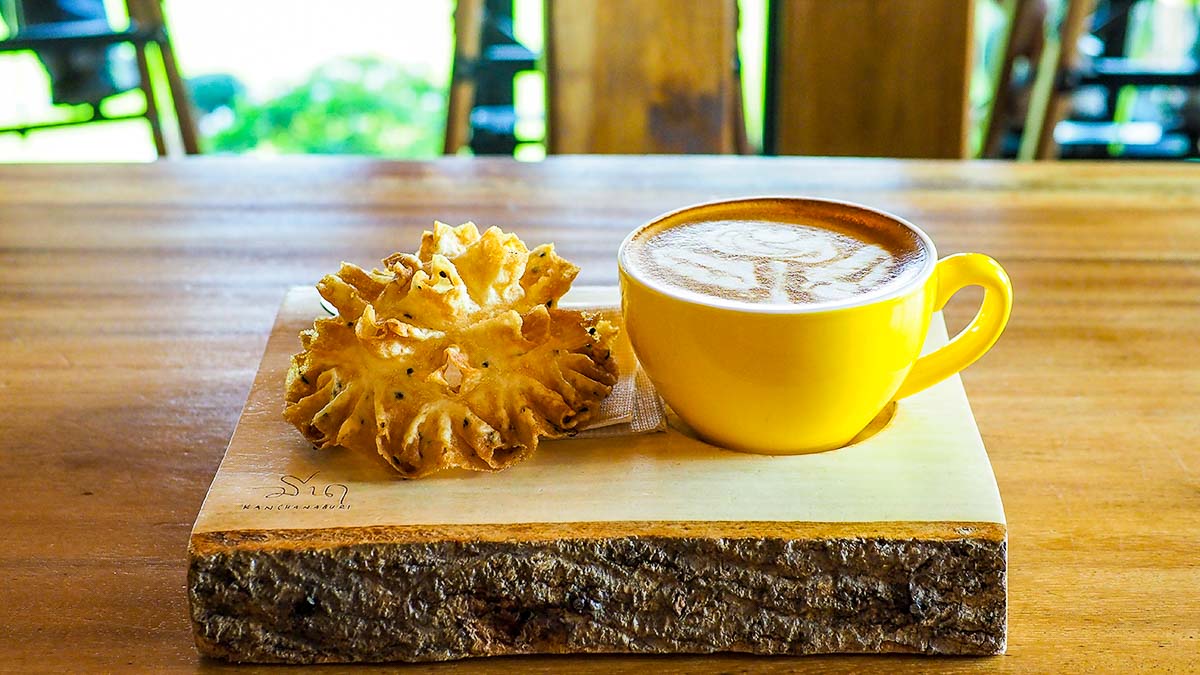 Photo credit: Aroimakmak
Order a hot beverage and you'll also get a traditional crunchy Thai crepe.
*Pro-tip: Visit in May or November for the greenest field and June or December for a view of the golden field.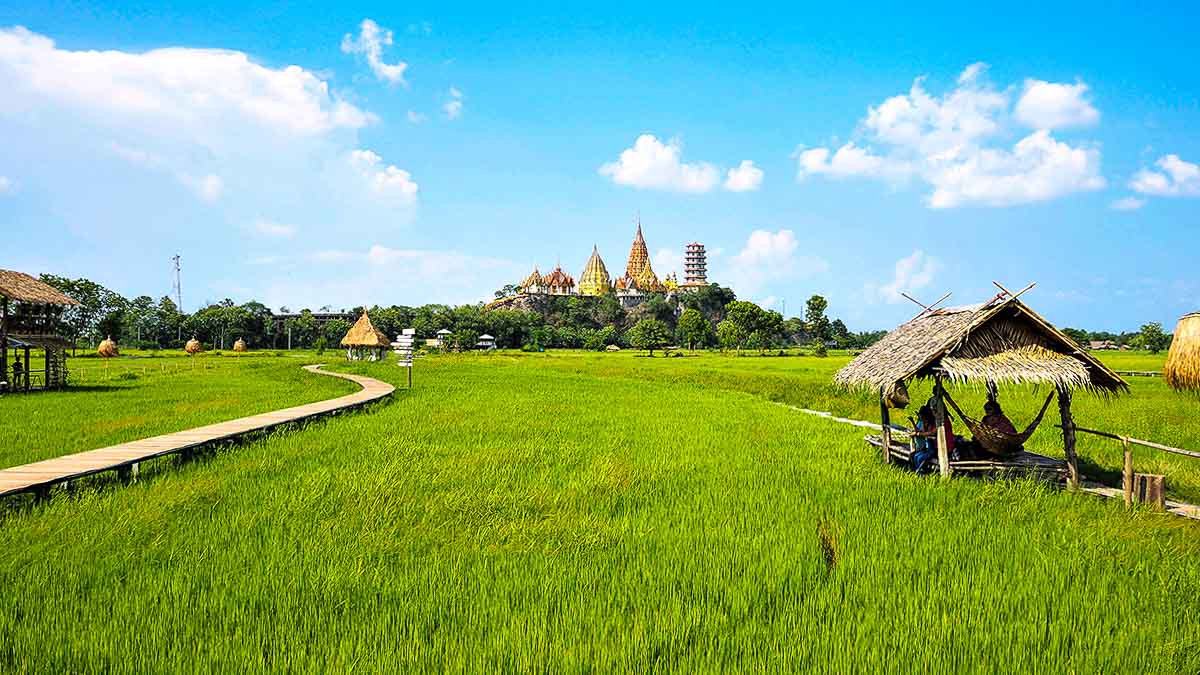 Photo credit: Aroimakmak
Kanchanaburi is a province in the West of Thailand, known for WWII-related attractions like The Bridge over River Kwai and the Death Railway, as well as the magnificent Saphan Mon wooden bridge. To get there, take the train, bus or chartered van from Bangkok.
Cost: ฿100-200
Opening hours: Mon-Sun 8:30AM-6:30PM
Address: 75/18 Muang Muang Chum, Tha Muang District, Kanchanaburi (~2.5hrs from Bangkok)
4) Little Tree Garden, Nakhon Pathom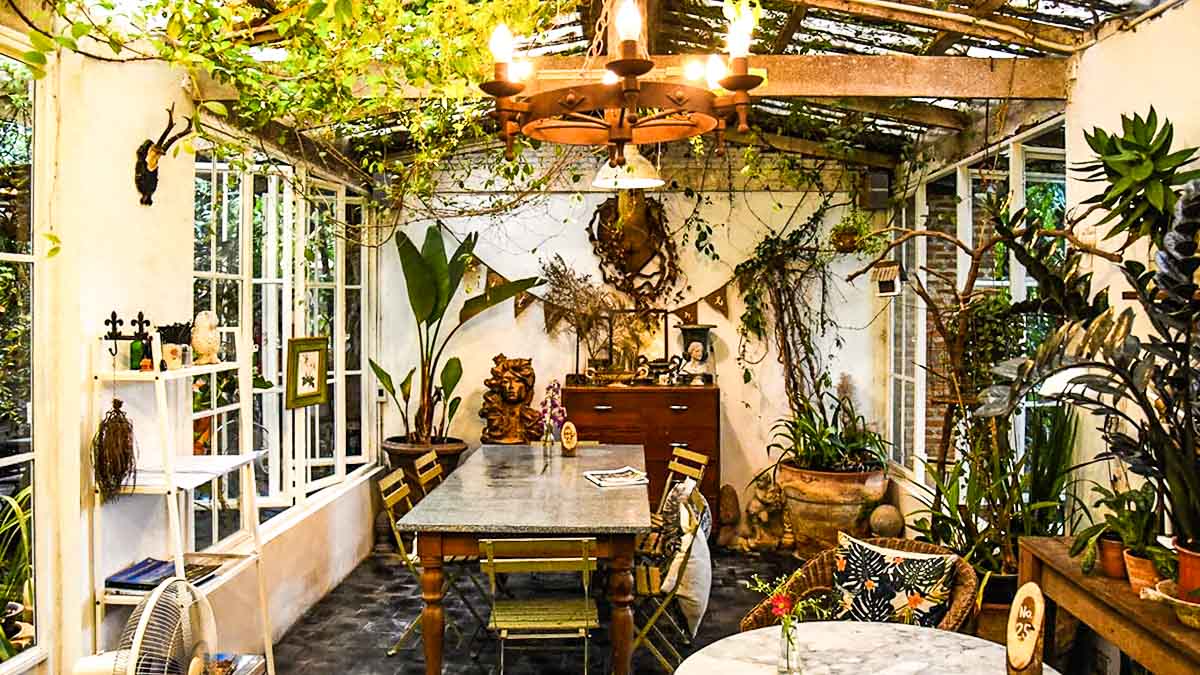 Photo Credit: Teppratan Sidabut
Tucked away in a deep alley, Little Tree Garden feels like a secret hideout that's absolutely worth the travelling for. The place is decked out in Western vintage style and separated into many zones with glasshouses, open-air seats, and outdoor tables.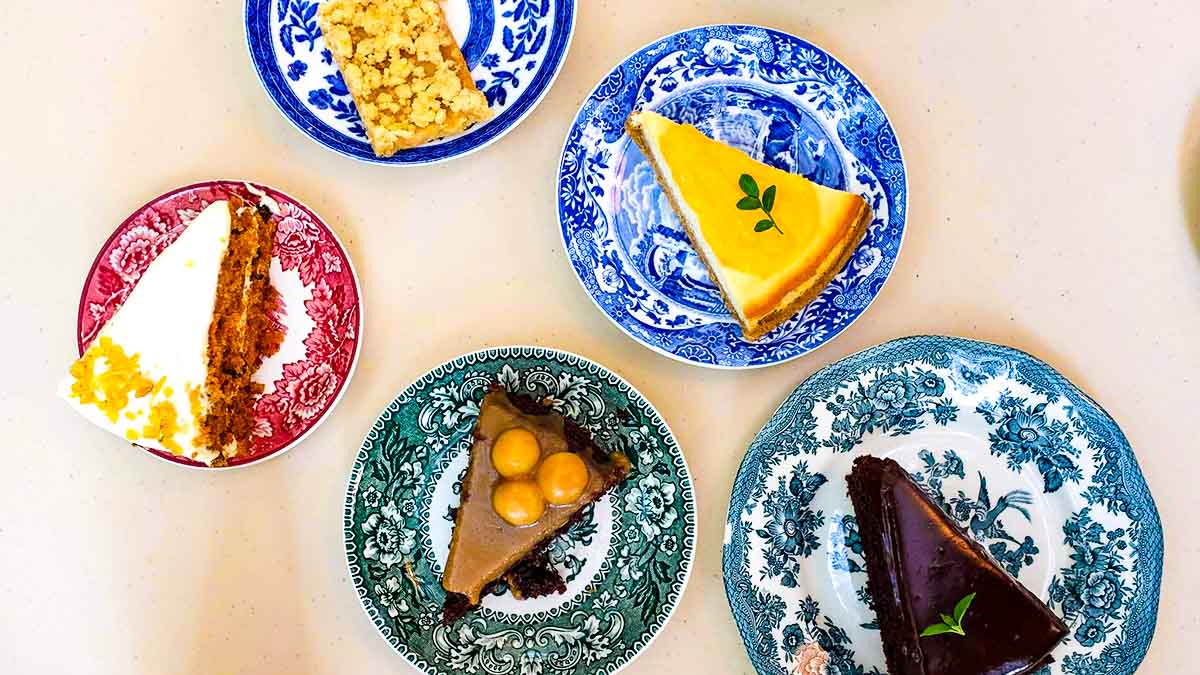 Photo credit: Aroimakmak
Besides delicious cakes and extensive beverage options, the cafe also offers comfort food that tastes equally good. While waiting for your order, there are plenty of things to explore in the area — the tableware collection that they sell, as well as the many Instagrammable photo spots.
*Pro-tip: Try to come on weekdays as the cafe is generally packed on weekends.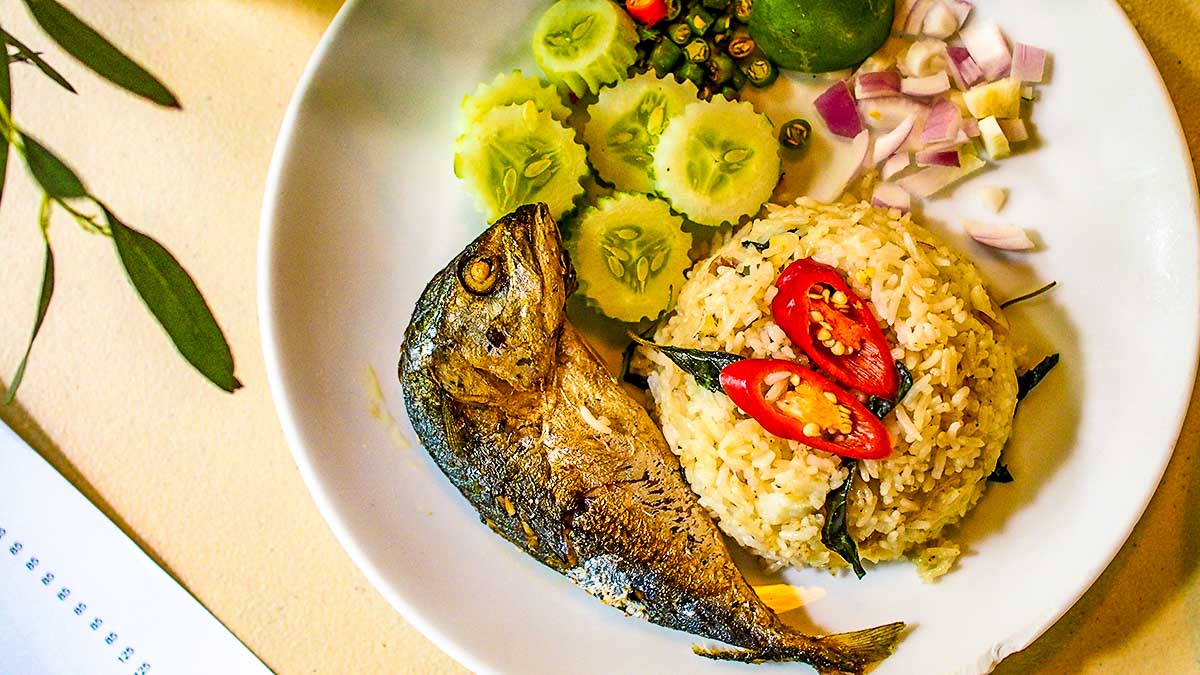 Photo credit: Aroimakmak
Nakhon Pathom is an oasis located only an hour from Bangkok. Apart from this cafe, you can visit organic farms, other cafes surrounded by nature or the renowned Phra Pathom Chedi pagoda. To get here, it's best to hire a van or rent a car.
Cost: ฿100-300
Opening hours: Mon-Sun 9AM-6PM
Address: 43 Moo 5, Ban Mai, Sam Phran District, Nakhon Pathom (~1hr from Bangkok)
5) Somdul Agroforestry, Amphawa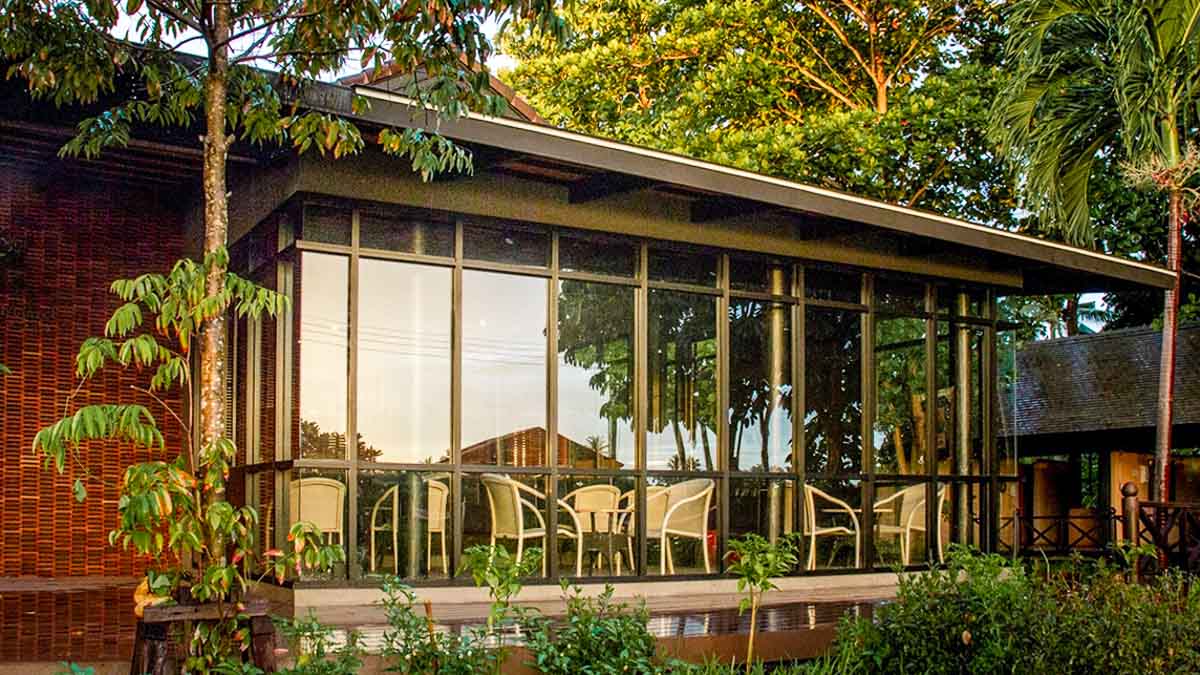 Photo Credit: Somdul Agroforestry Home
Somdul aims to be much more than just a cafe. On the 6-acre land the cafe occupies, the owners have created an agroforestry environment that also supports community learning, grows organic fruits and vegetables, keeps stingless bees and transforms their produce into products.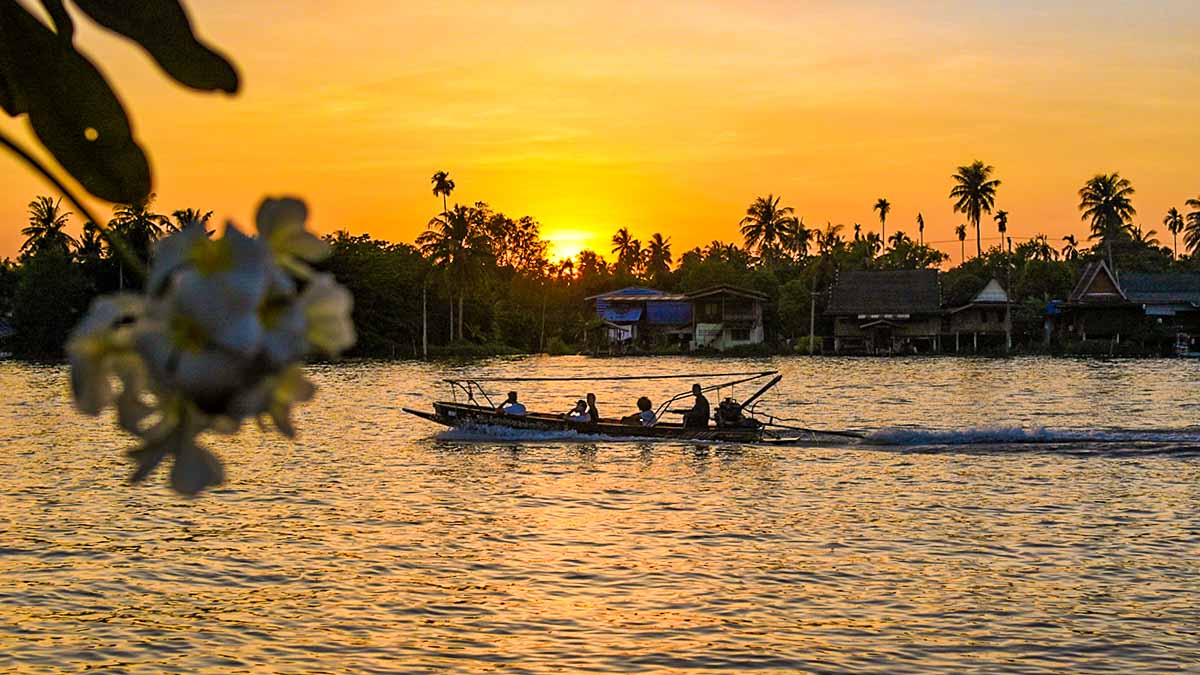 Photo Credit: Aroimakmak
What's more, the cafe sits by the river, offering a stunning view while you enjoy their selected shade-grown coffee and homemade food — yes, most ingredients sourced from their backyard!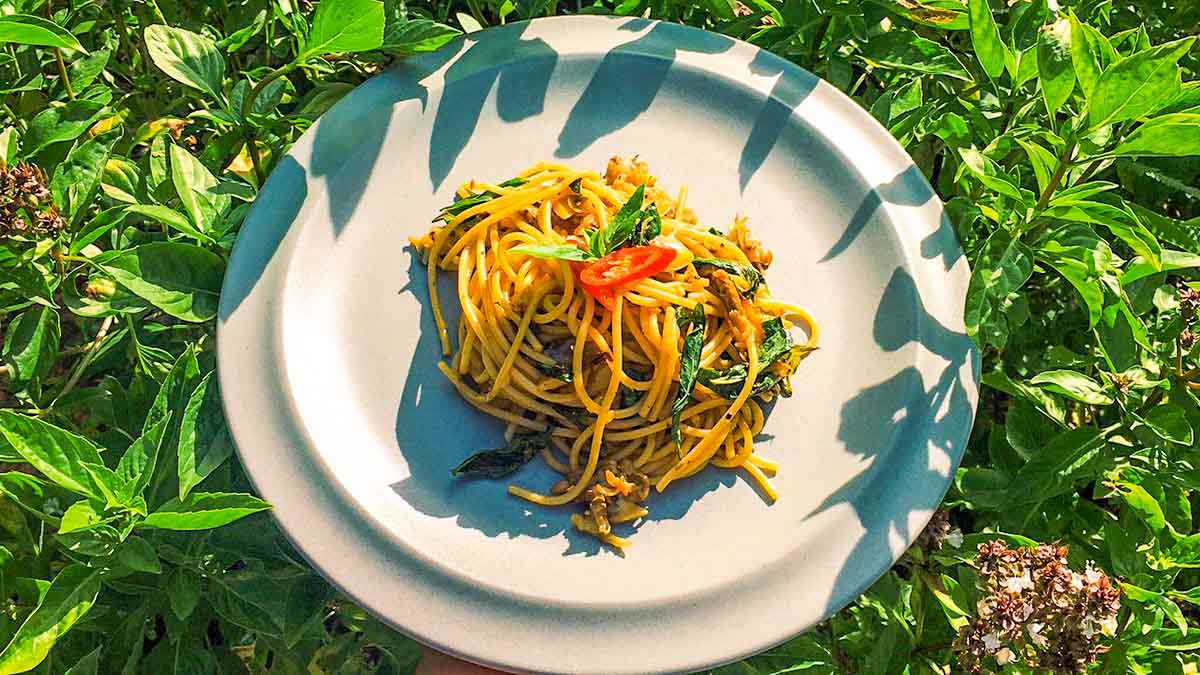 Photo Credit: Aroimakmak
Amphawa is a district in Samut Songkhram, famous for the floating market of the same name. If you take the train from Bangkok to Amphawa, you'll also (literally) go through the world-famous Maeklong Railway Market and witness how vendors rush to save their stalls from the passing train.
Cost: ฿160-200
Opening hours: Fri-Wed 9AM-6PM
Address: 9 Moo 2, Bang Phrom, Bang Khonthi District, Samut Songkhram (1.5hrs from Bangkok)
Map
What are some of your favourite nature-inspired cafes to visit when cafe hopping in Thailand? Let us know in the comment below!
---
This post is produced by AroiMakMak.com in partnership with the Tourism Authority of Thailand (Singapore).
Author: AroiMakMak is your one-stop platform for all things Thailand. We bring you the latest trends, best eats and most up-to-date travel tips from the Land of Smiles.)