Hidden waterfalls, epic sunsets, and cool beach clubs — here's an un-Bali-vably affordable Bali itinerary to inspire your next getaway!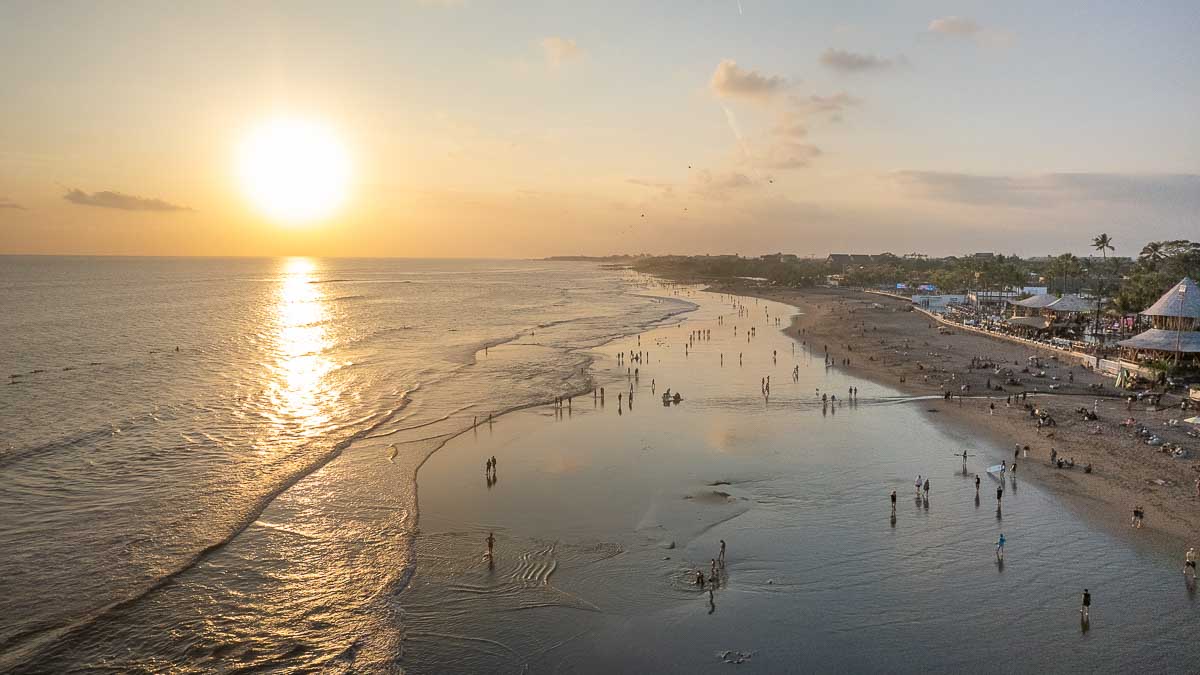 Our last trip to Bali (back in 2022) was a relatively short one, so we were excited to spend more time discovering the Island of Gods again!
This time, we went for more unique experiences — snorkelling with manta rays, discovering hidden waterfalls, and hiking an active volcano at sunset — most of which were surprisingly affordable.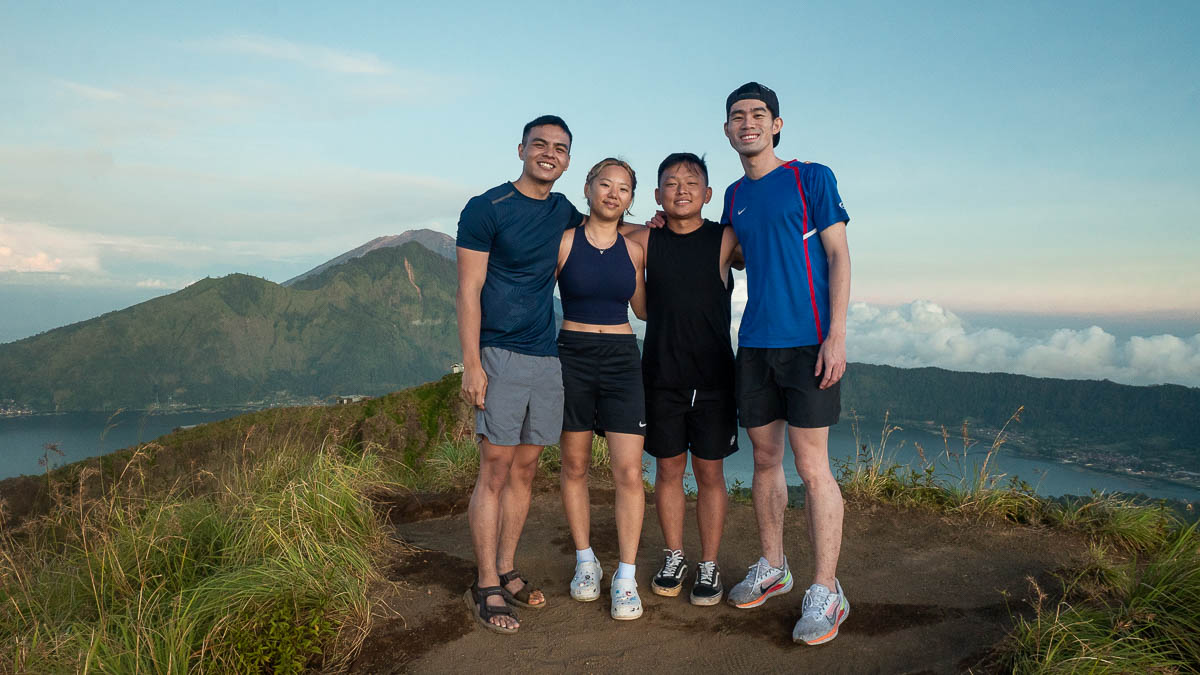 If going off the beaten path without breaking the bank sounds fun to you, then check out our five-day Bali itinerary!
Pre-trip Essentials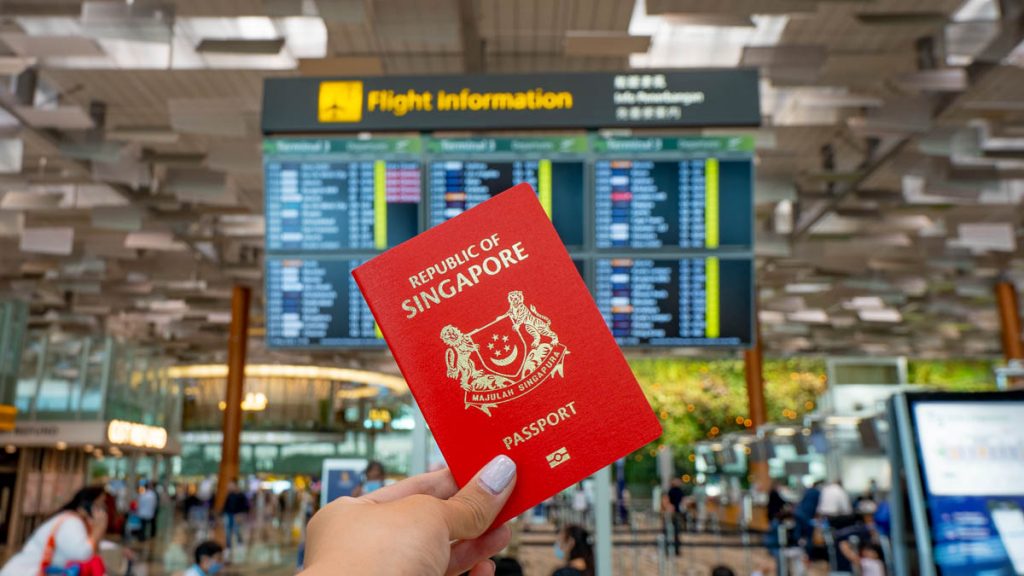 Connectivity: 18GB 4G data only e-SIM for 30 days (QR code delivered via email)
Travel insurance: TravelCare Insurance — don't skip out on this, as it protects you from unforeseen expenses in the event of losing your luggage or having your flight cancelled. Plus, it covers injuries sustained on trips and Covid-19 overseas medical costs
Ferry transport: Round-trip tickets between Bali (Sanur) and Nusa Penida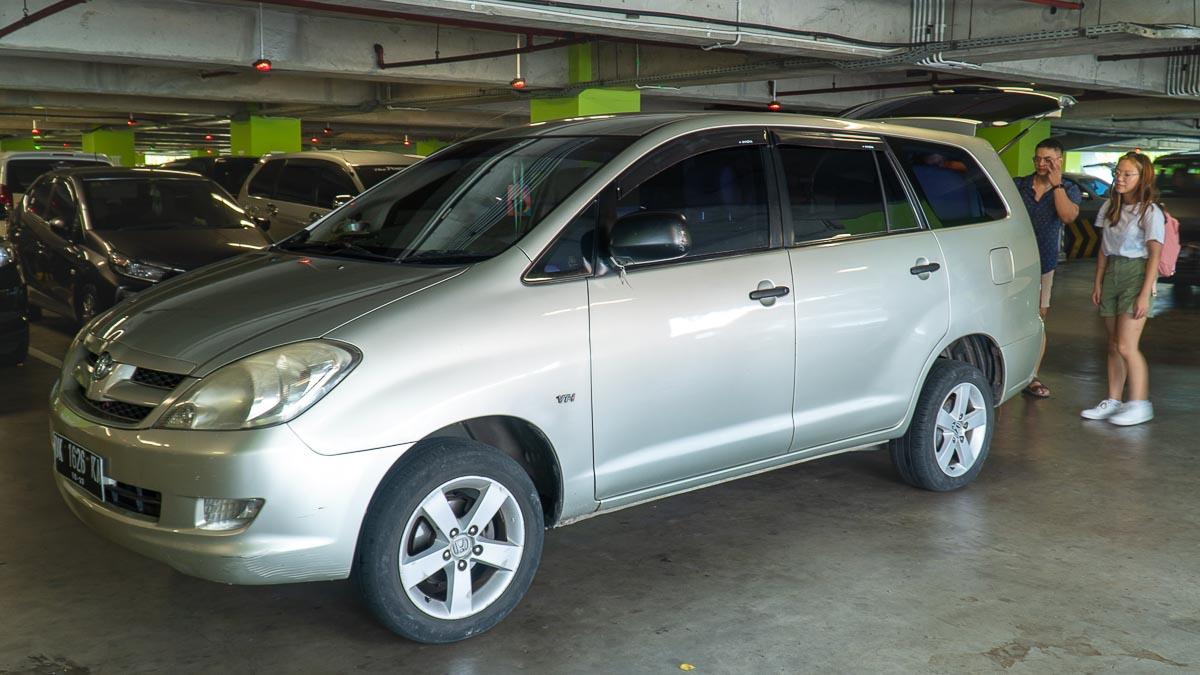 Airport transfer: Booking an Airport transfer is the cheapest and most convenient way out of Ngurah Rai International Airport.
*Note: Taxis have a monopoly on transport from the airport and are notorious for overcharging tourists. Plus, the nearest Grab and Gojek pick-up point is 1km away at HARRIS Hotel Kuta Tuban.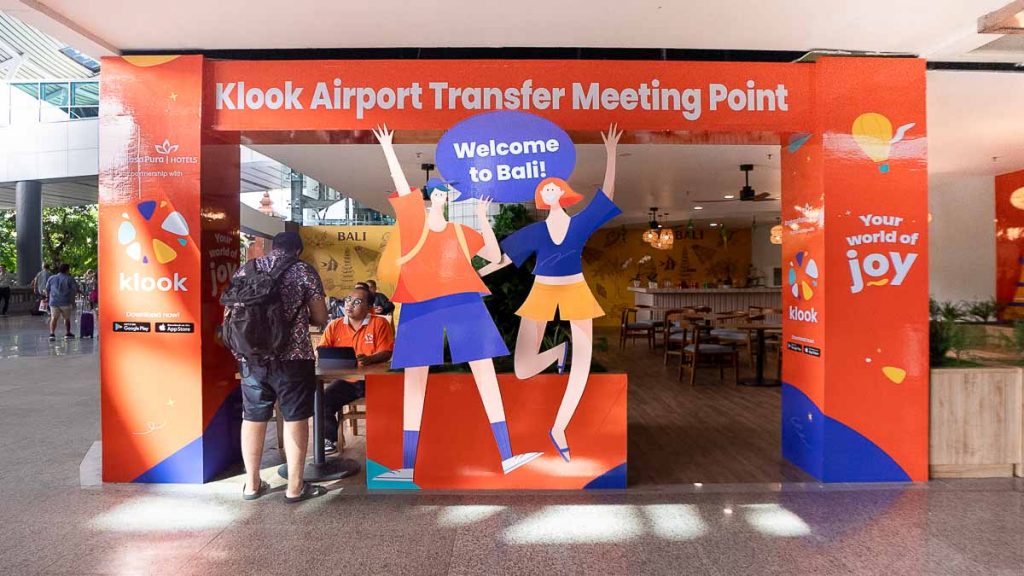 Meet your driver at this counter right outside the arrival hall. Super convenient!
And if you'd like some light refreshments (incl. free flow drinks) before getting your airport transfer, check out Klook's combo for a Private Airport Transfer with International Arrival Lounge Pass in Bali (from ~S$30.40/pax).
Bali Itinerary and Budget Breakdown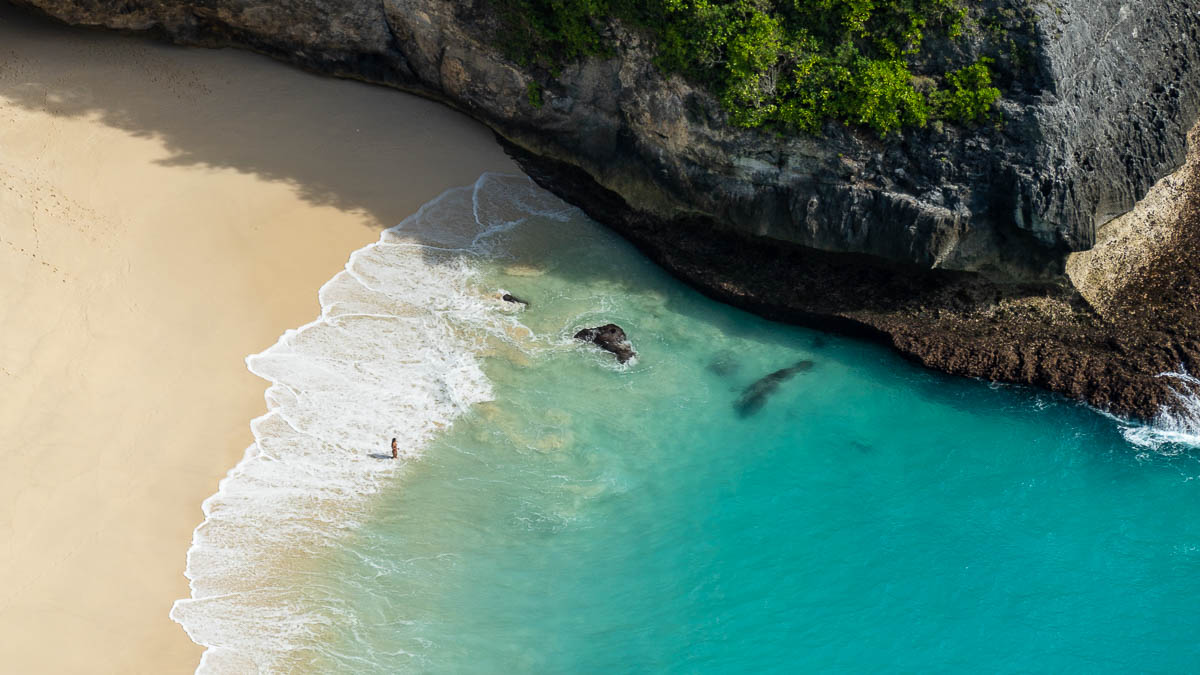 Accommodation: ~S$59/pax
Transport: ~S$98.15/pax (excl. flights)
Activities: ~S$243.55/pax
Misc (incl. food): ~S$96/pax
Total: ~S$496.70/pax
(Click here for a detailed breakdown)
Day 1: North Bali | Day 2: North Bali/Nusa Penida | Day 3: Nusa Penida | Day 4: Kuta/Canggu | Day 5: Canggu/Ubud
Day 1: North Bali
After arriving in Bali (day zero), we took a 3-hour airport transfer to Lovina and stayed a night before exploring North Bali on day one!
Aling-Aling Waterfall Trekking and Jumping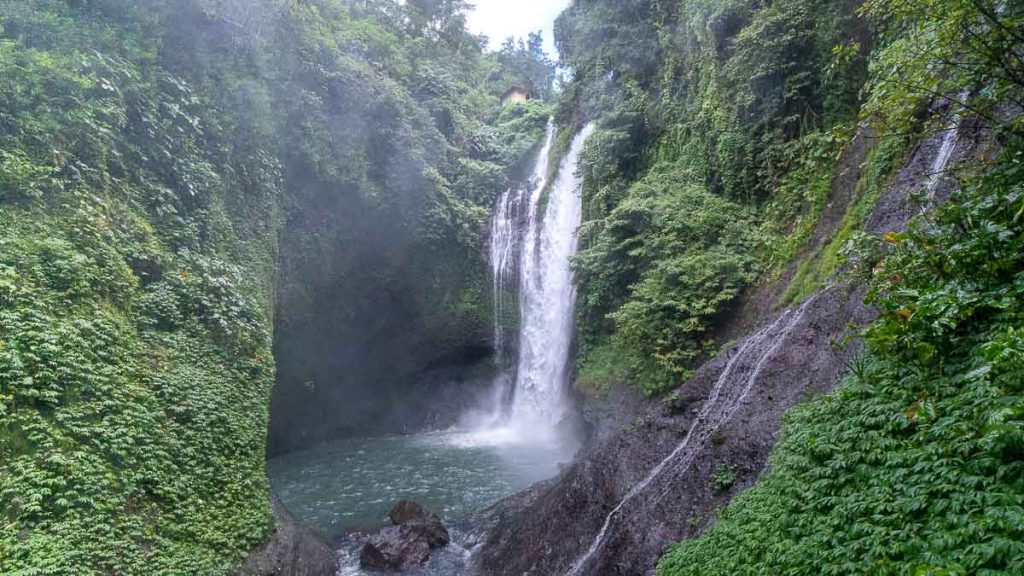 This Bali itinerary starts with a hike to Aling-Aling Waterfall. The sheer force of this 35m sacred waterfall left us drenched, but the gorgeous view (and photos) more than made up for it!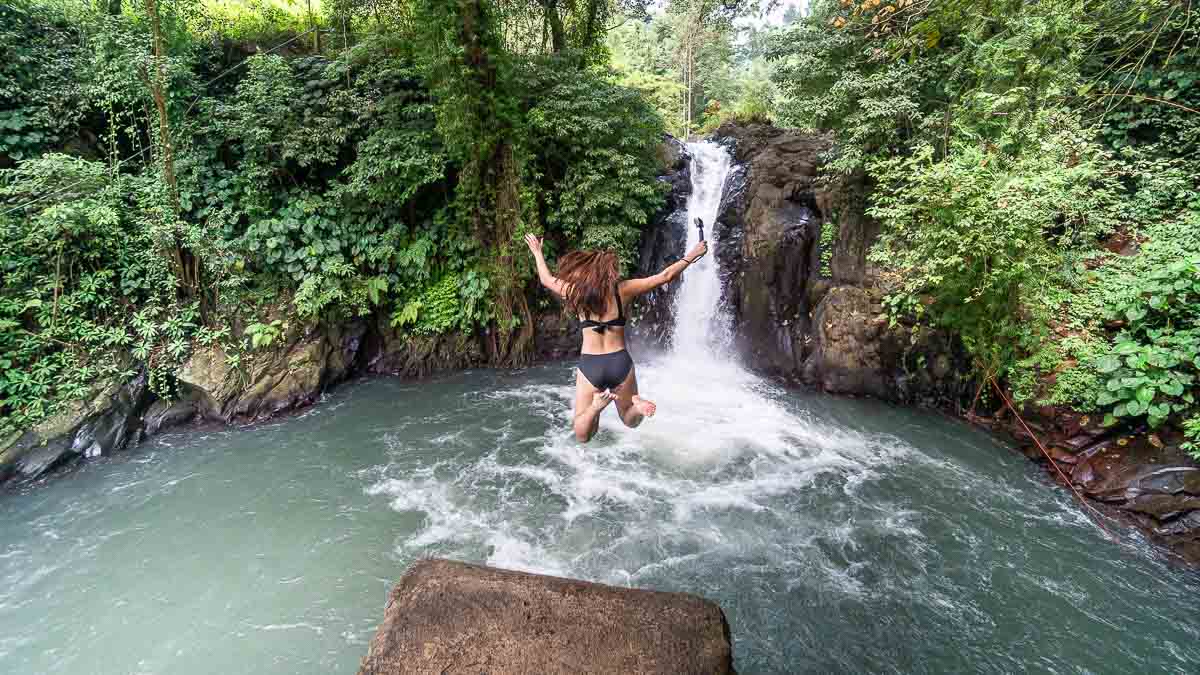 Activities here include cliff jumping and sliding down a natural waterslide at the nearby Kroya, Kembar and Pucuk Waterfalls.
We had a professional guide to ensure our safety before each stage, and there are ropes in the water to help you get back up. You can also wear a life jacket if you wish to.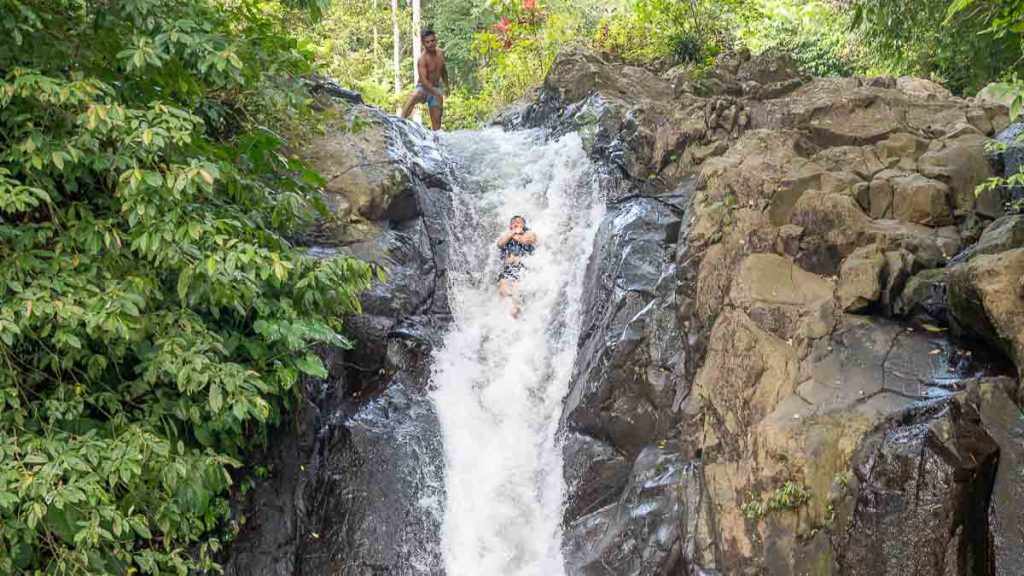 We started with the beginner-friendly 5m-tall cliff jump opposite Kroya Waterfall, before climbing back up to attempt the thrilling slide from the top of Kroya.
For a gauge of how forceful this natural waterslide is, I lost a contact lens during the 10m plunge!
Following that, we moved on to a 10m jump at Kembar Waterfall. This was honestly out of my comfort zone, but perhaps losing a contact lens made the height less scary 🤷🏻‍♂️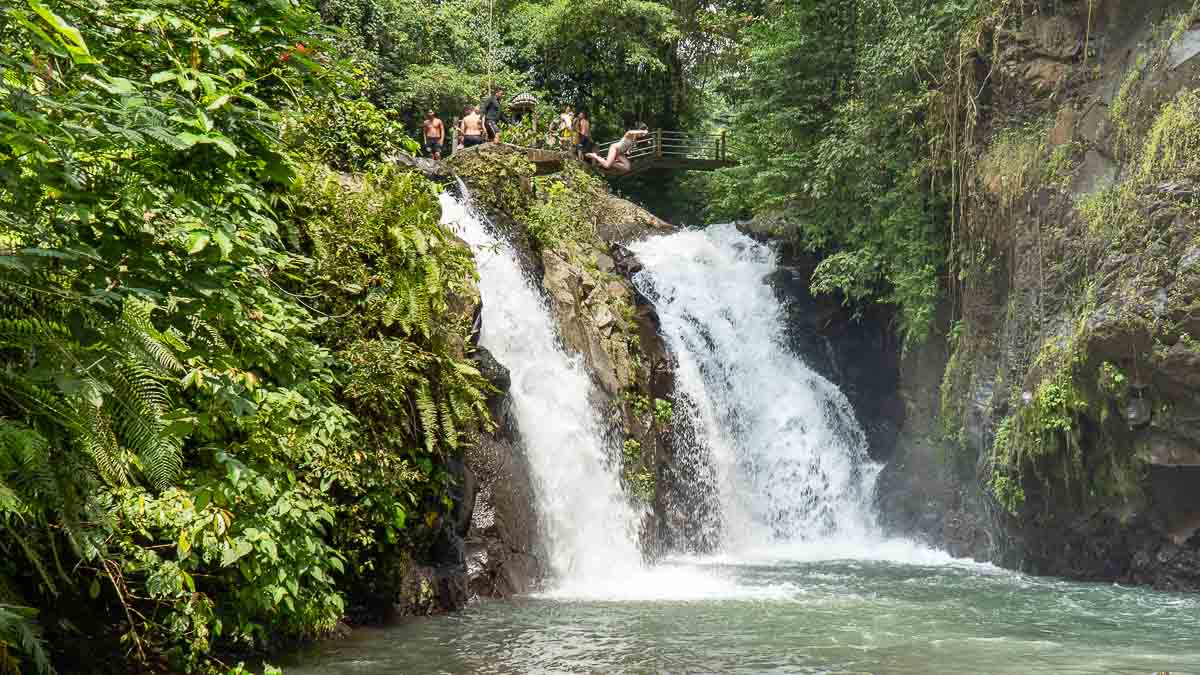 Since our form for the 10m jump wasn't great, our guide advised us against the 15m jump down Pucuk Waterfall as we could injure ourselves. But if you're confident and up for the challenge, definitely give the 15m jump a go!
*Note: Swimming, cliff jumping and rock sliding are prohibited without a guide.
Aling Aling Waterfall Trekking and Jumping in Sambangan Bali
Cost: From ~S$10/pax for a ~2hr experience (guide included)
Timing: 9AM
Meeting point: R4G3+XR Sambangan, Buleleng Regency, Bali, Indonesia
Batur Natural Hot Spring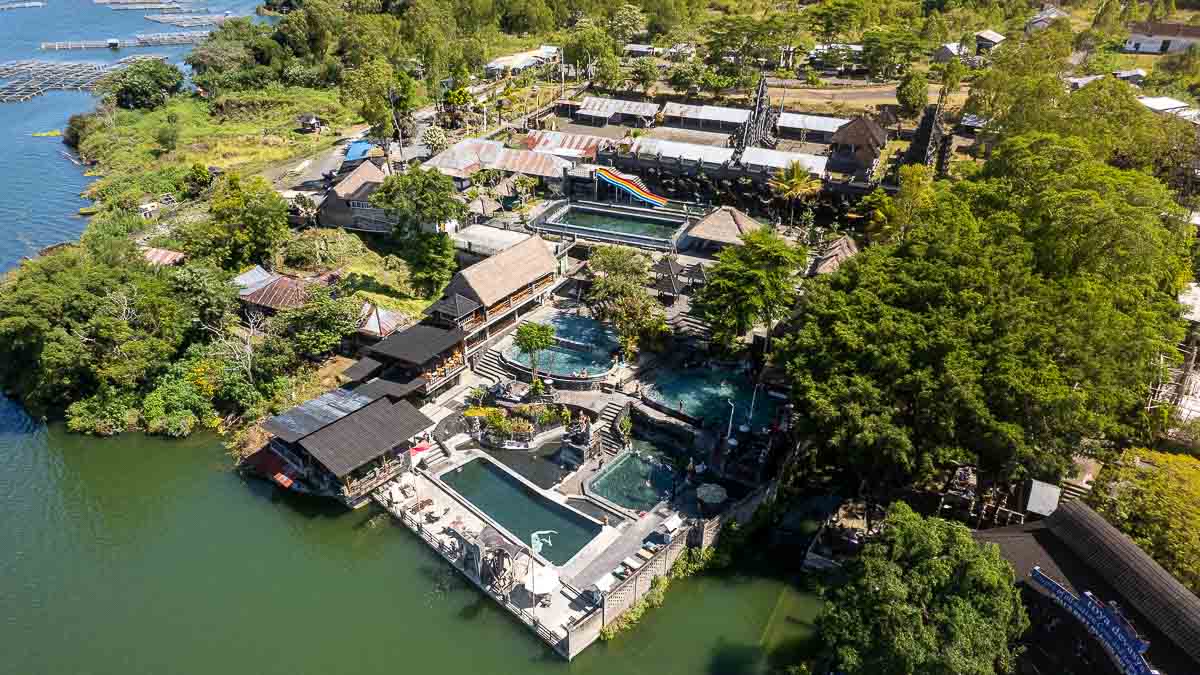 After an eventful morning, we headed for a soothing dip at Batur Natural Hot Spring to relax our minds, body and soul.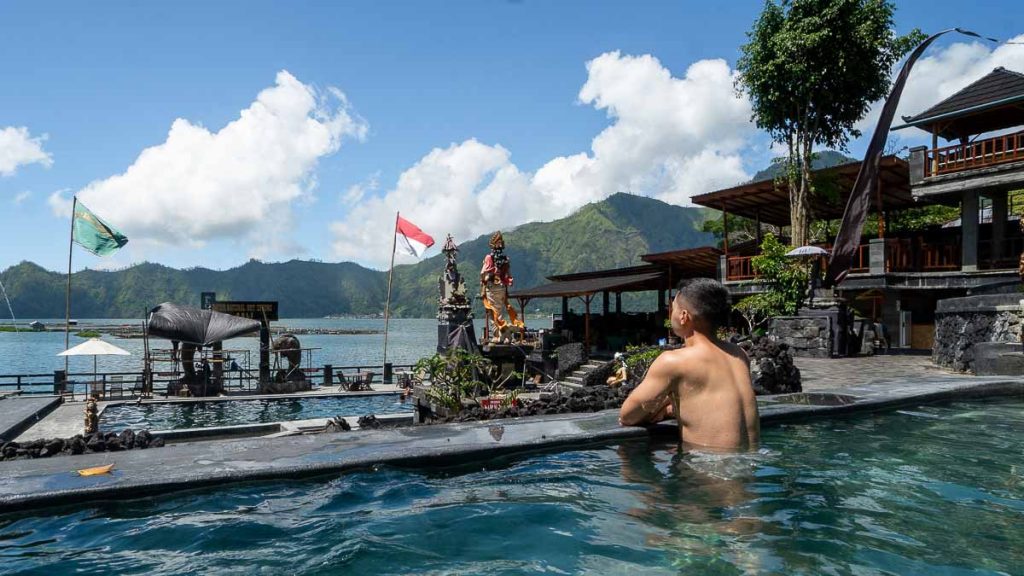 There are 10 pools here ranging from roughly 30°C to 40°C. The 40°C water was too hot for our liking, so we went for a short dip in the 30°C water therapy pool before having some fun at the children's slide.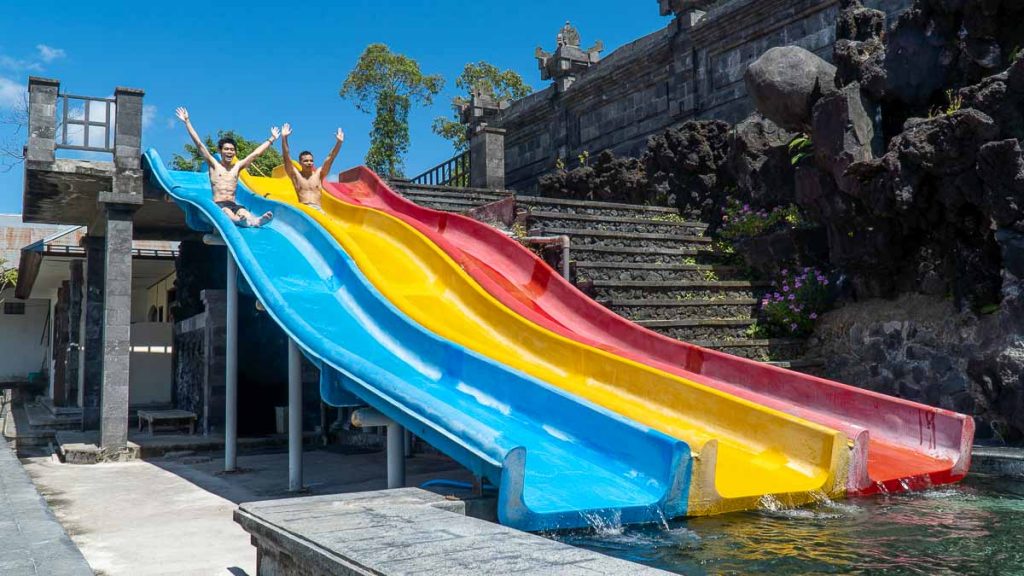 There's even an adult swimming pool if you'd like to clock some laps.
Entrance fee: ~S$9/pax via Klook (incl. a welcome drink)
Opening hours: 7AM – 7PM
Address: Toya Bungkah Kintamani Desa Pekraman Batur, Songan B, Kec. Kintamani, Kabupaten Bangli, Bali 80612, Indonesia
Lunch at Rejeng Bali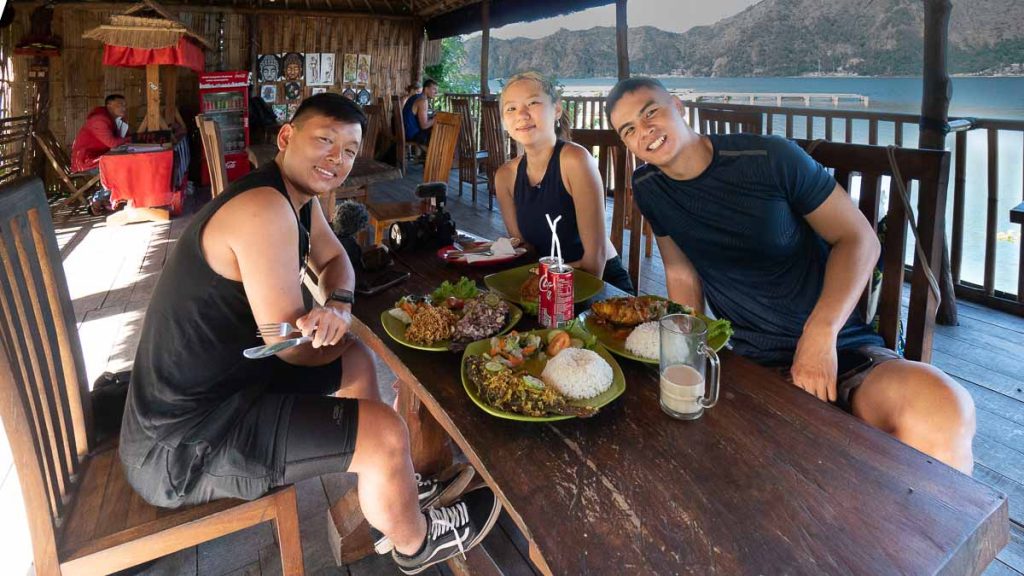 Tucked away along an obscure path just around the corner from Batur Natural Hot Spring is Rejeng Bali — the perfect place for authentic local food like grilled fish or chicken with rice.
I was extremely impressed at how fresh my order of Grilled Fish with Local Sauce was. Truly value for money for just Rp55,000 (~S$5).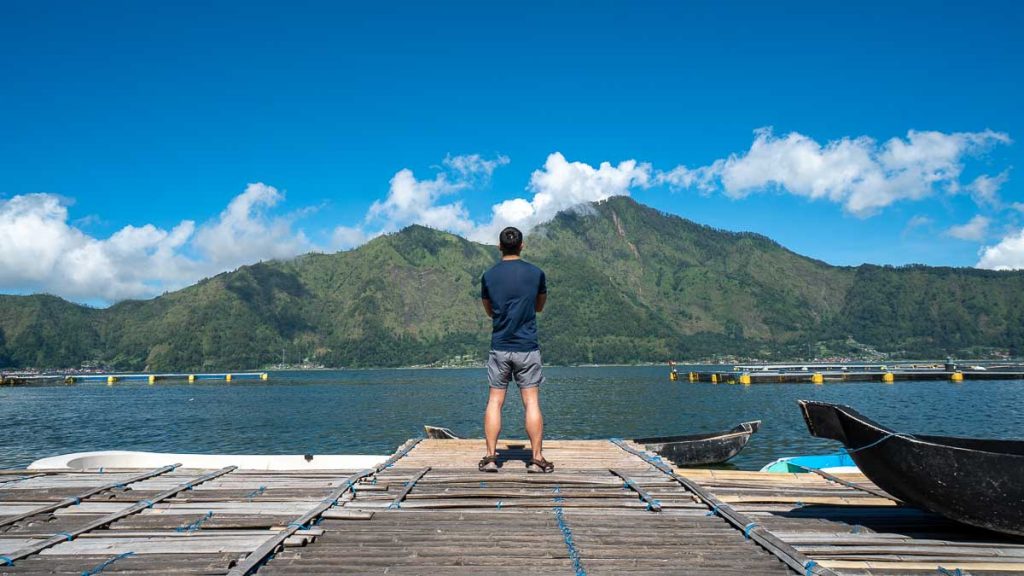 Plus points for this mesmerising view of Lake Batur and Mount Abang from the restaurant.
Cost: Rp55,000/main (~S$5)
Opening hours: 8AM – 9PM
How to get there: Walk 3mins from Batur Natural Hot Spring
Mount Batur Sunset Hike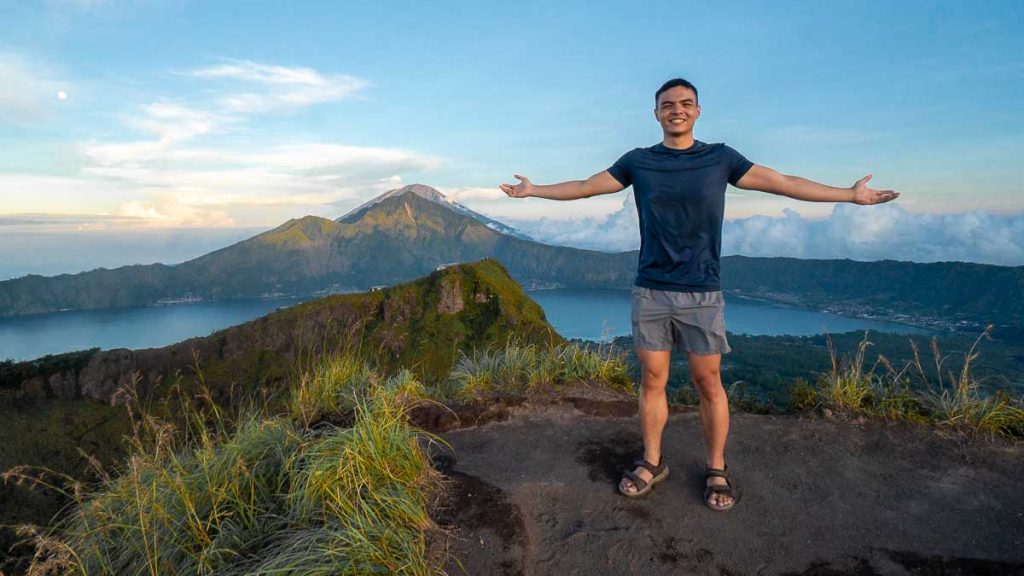 Catching the sunrise from the top of Mount Batur is probably one of the most popular things to do in Bali.
But hiking at sunset meant we had the entire peak to ourselves! We didn't have to cramp with 500 hikers or wake up at 1AM for our pick-up (yes, I know the pain 😭).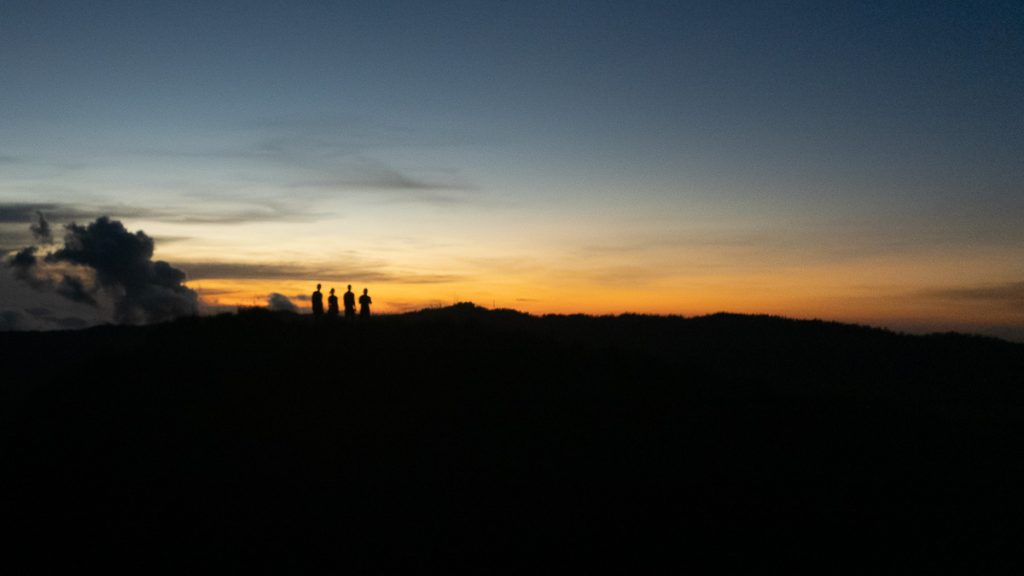 At 1,717m, it's a moderate 1.5-hour ascent. While it's possible to climb Mount Batur on our own, hiring a local guide was extra useful when it got pitch dark during the descent.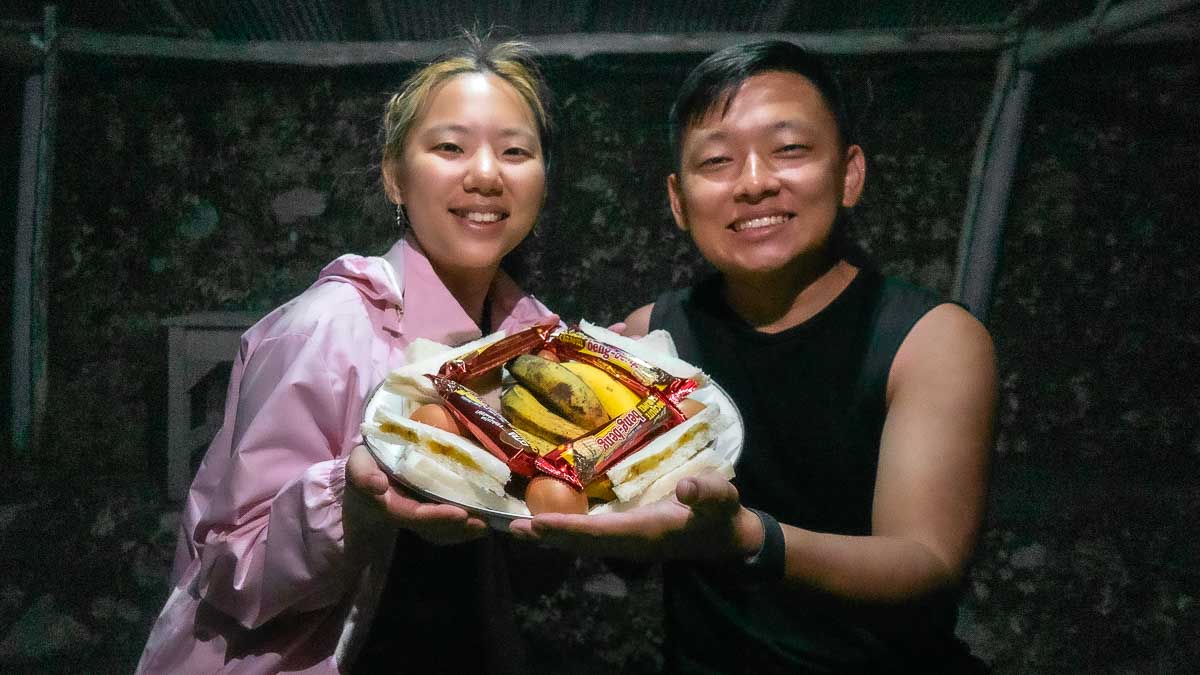 The tour also included light refreshments like hard-boiled eggs, banana bread and beng-beng, a local chocolate-combo snack (yum), which added a cherry to the top when watching the sunset.
Just beware of monkeys, they might want some of your food too!
*Pro-tip: Pack a windbreaker as it gets pretty cold at the peak! (or be a daredevil and wear a singlet like Choo 😛)
Mount Batur Sunset Trekking Experience
Cost: From ~S$55/pax for a ~4hr experience
Meeting point: Hotel pickup
Day 2: North Bali/Nusa Penida
We spent the morning chasing dolphins in Lovina before hopping on a fast boat to explore Nusa Penida on day two of our Bali itinerary.
Dolphin Watching in Lovina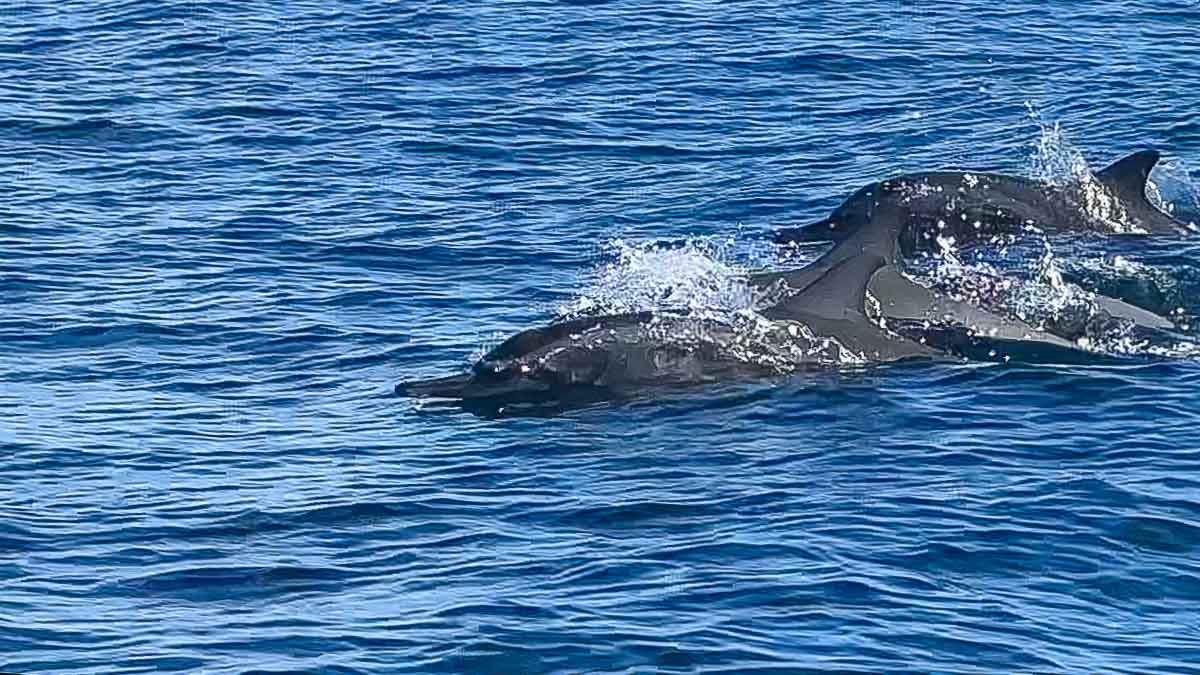 One of the most sought-after experiences in Lovina is dolphin-watching, so we were looking forward to it even though that meant getting out of bed at 5AM 😴
We sighted a few dolphins sporadically, but the beautiful sunrise we caught onboard made the experience even better!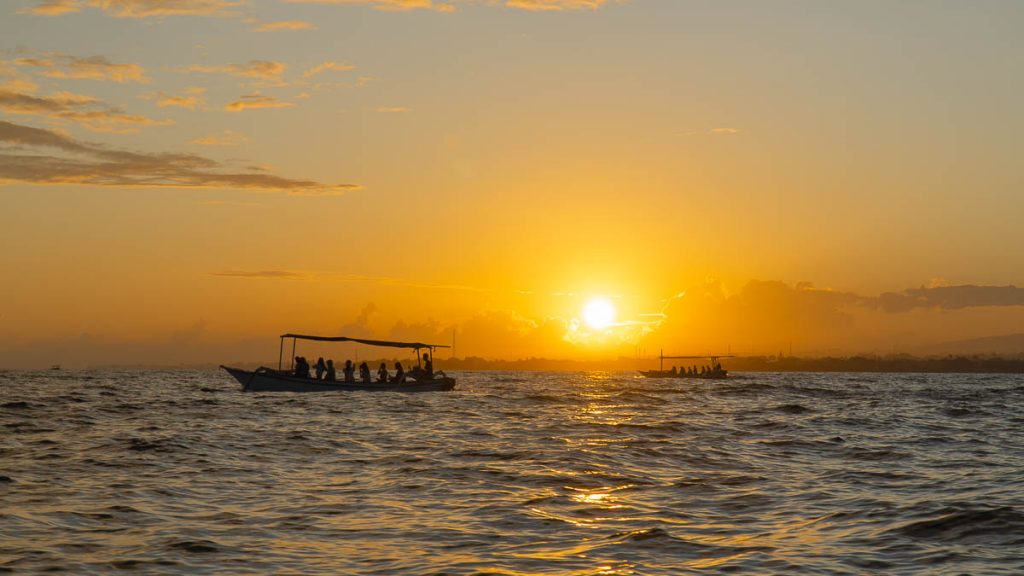 Other than watching dolphins, there's also the option to add snorkelling to your package as well!
Lovina Dolphin-watching and Snorkelling
Cost: From ~S$6.20 for a ~2hr experience
Tour timings: 6AM
Meeting point: V23V+F9 Anturan, Kabupaten Buleleng, Bali, Indonesia
Lunch at Asian Pantry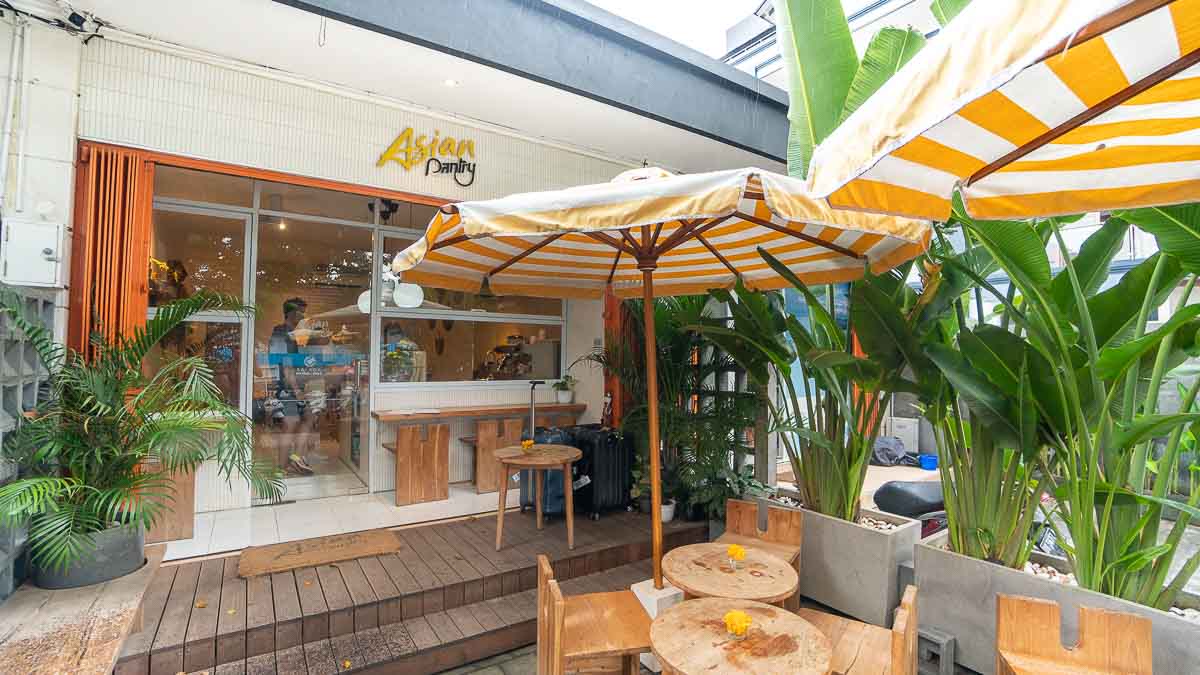 Located 5 minutes by foot from Sanur Harbour, we stopped by Asian Pantry for lunch before boarding our ferry to Nusa Penida.
The cosy cafe serves a variety of Asian food with mains like Pad Thai (Rp60,000), Pho Soup (Rp70,000) and Teriyaki Bowl (Rp60,000). My favourite here was the Thai green curry with chicken and rice (Rp65,000) — fragrant and not too spicy.
Cost: From Rp60,000/main (~S$5.40)
Opening hours: 6AM – 8PM
Address: 87H6+83 Sanur, Denpasar City, Bali, Indonesia
Tembeling Beach and Forest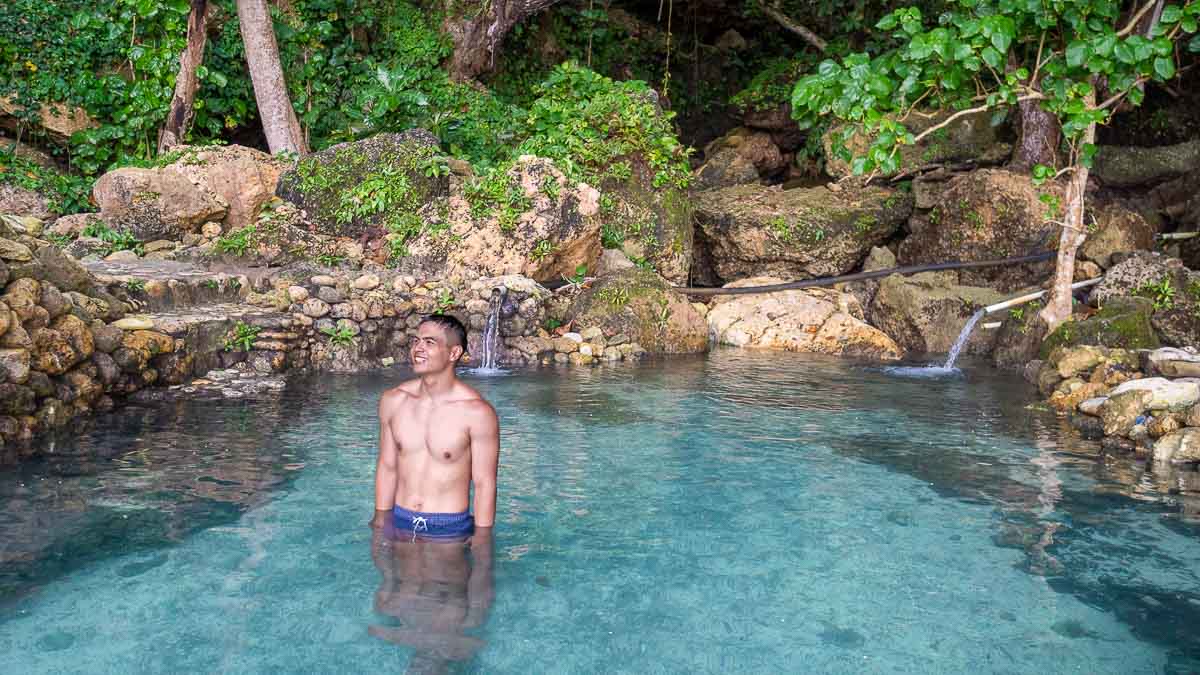 Known for its crystal clear natural pools located at the bottom of a hidden ravine, Tembeling Beach and Forest is one of Nusa Penida's best-kept secrets.
There was barely anyone here, making it a peaceful spot to chill and hang out with friends.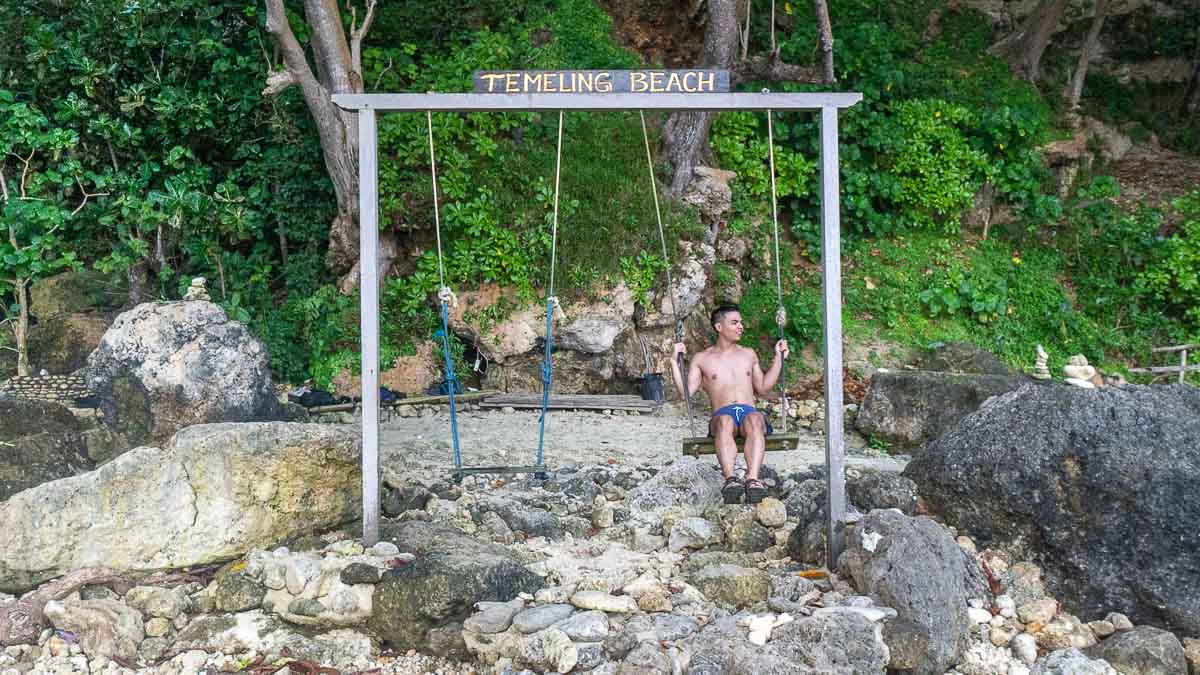 Getting to Tembeling Beach is an adventure in itself. The first option is to trek 40 minutes from Temeling Street. It's a pretty steep hike, but we promise it'd be worth the cardio!
To save time though, we paid a local and rode pillion (Rp100,000/pax) from Temeling Street. We arrived at a hut after 10 minutes and from there, it was another 10-minute trek to the first natural pool.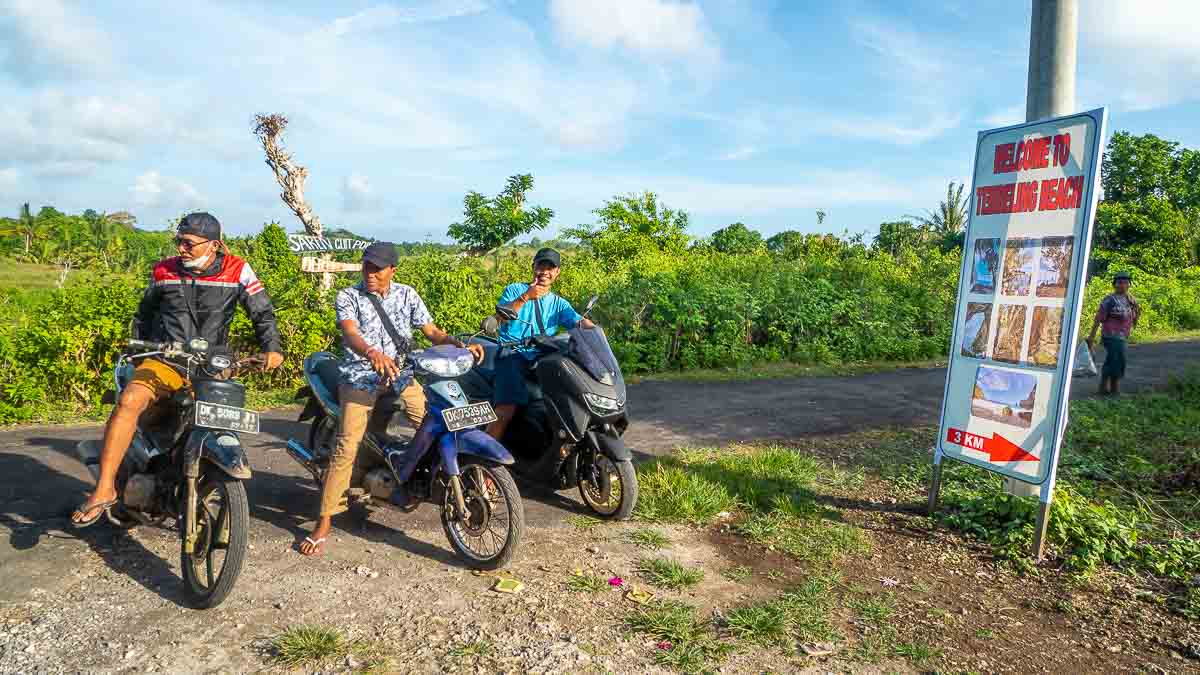 *Note: The road is steep, bumpy and especially slippery on rainy days. Those planning to ride a scooter down should be aware of the possible risk.
Entrance fee: Free
Opening hours: 24 hours
Address: 6FHW+PQG, Batumadeg, Kec. Nusa Penida, Kabupaten Klungkung, Bali 80771
Sunset at Smoky Beach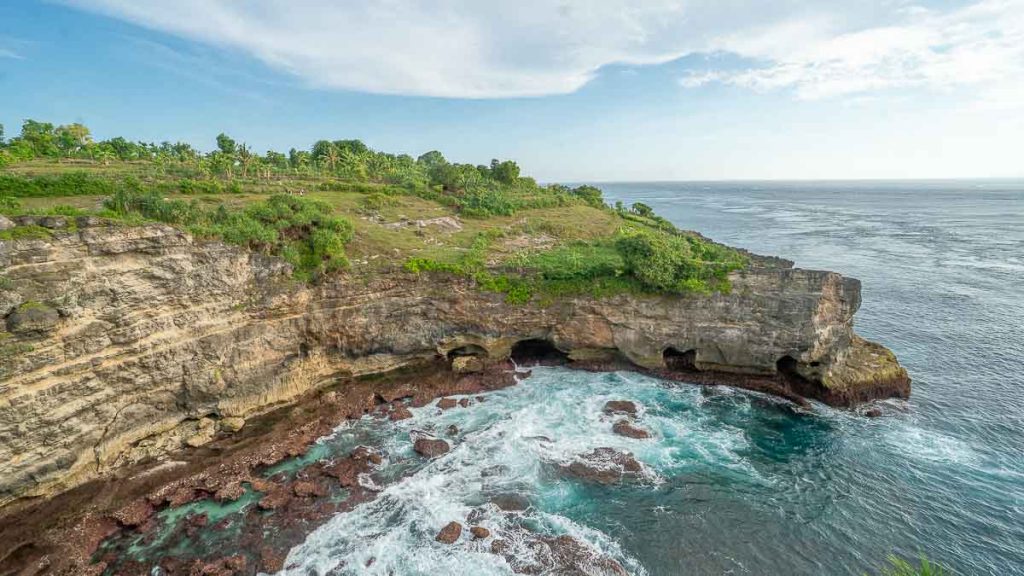 Speaking of lesser-known spots on Nusa Penida, catching a sunset at Smoky Beach was one of the highlights of this trip — since there was barely anyone else here 🙂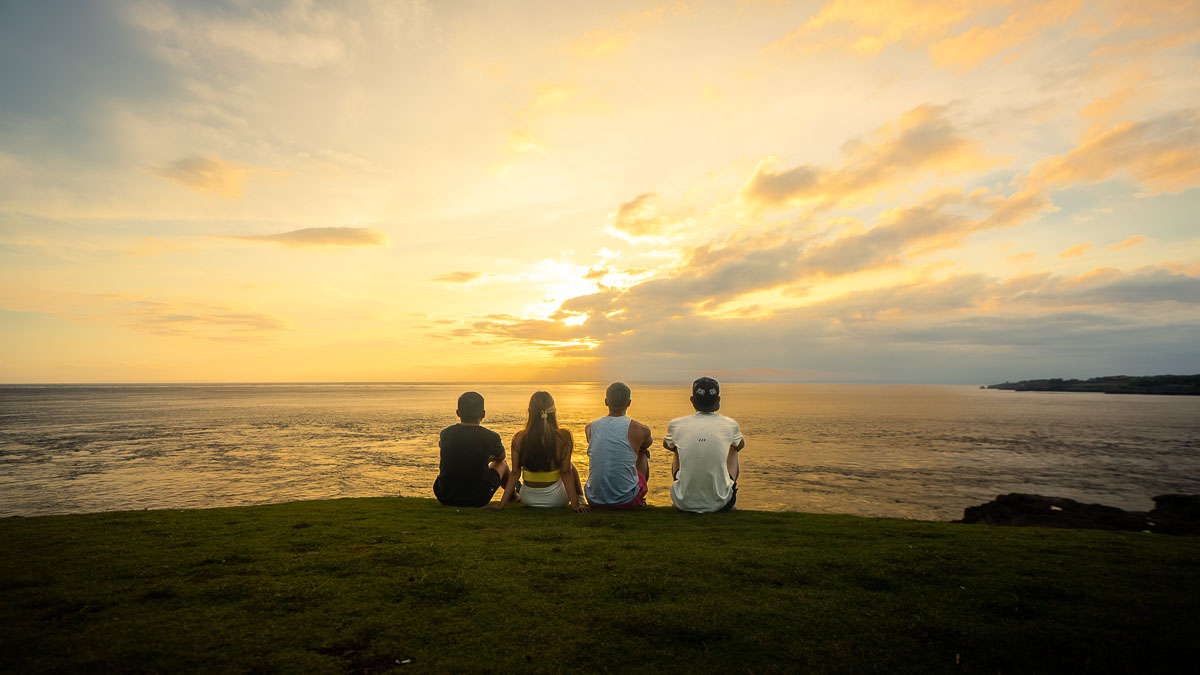 With beautiful cliffs and a lush green field, it's a great place for a picnic while waiting for the sun to set. If you're lucky, you might even spot some cows grazing here!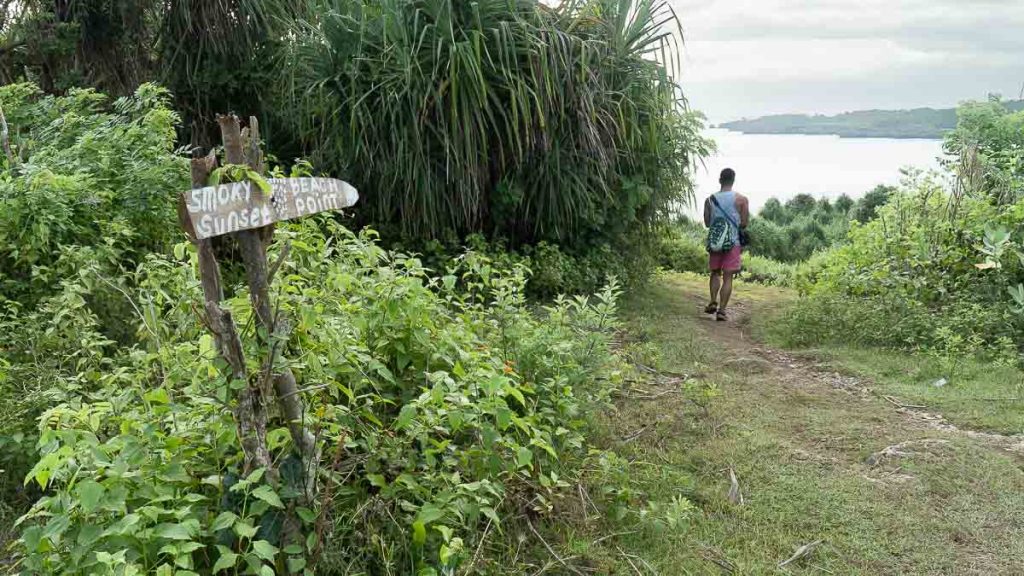 *Pro-tip: Follow these signs to the sunset spot and you know you're on the right track.
Cost: Free
Opening hours: 24 hours
How to get there: Drive 40mins from Tembeling Beach, then walk 10mins to the sunset spot
Day 3: Nusa Penida
The best decision we made when planning our Bali itinerary was to spend a full day in Nusa Penida snorkelling and exploring its beautiful cliffs!
Manta Ray Snorkelling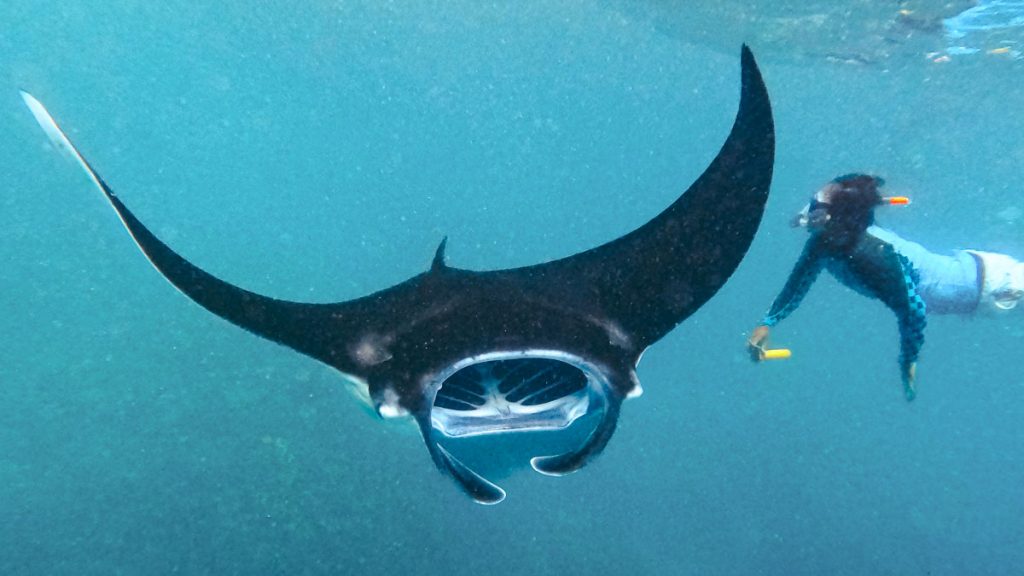 Manta ray snorkelling at Manta Point was undoubtedly one of the best things we did on this trip!
We were blessed with clear waters and it was dope to see Mantas up close for the first time. The Mantas were HUGEEEE and I even freaked out a little when I nearly swam head-on into one 😂 .
Our tour also included two other stops to swim around corals and spot turtles. But trust me, you wouldn't wanna leave once you start sighting the Manta rays 😄. We ended up spending ~1.5 hours at Manta Bay and gave the corals a miss.
*Note: Life jackets are provided for those who aren't confident with swimming in open waters.
Snorkelling Experience in Nusa Penida
Cost: From ~S$16.30 for a ~3hr experience
Timing: 9AM
Meeting point: 8FCQ+P9P, Ped, Nusa Penida, Klungkung Regency, Bali 80771
Lunch at Sunny Cafe Penida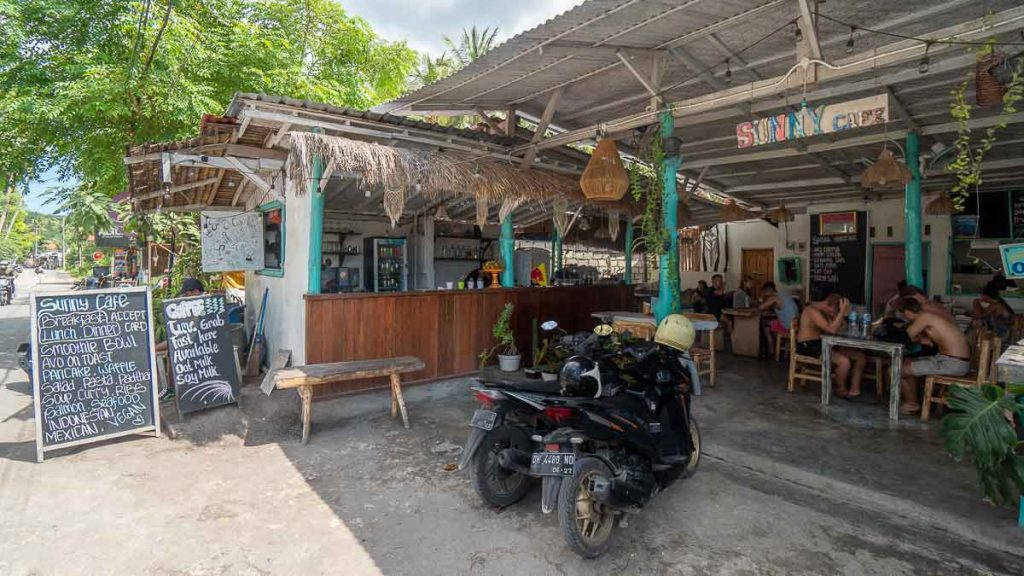 After a fun morning out at sea, we dropped by Sunny Cafe Penida for some food — ranging from smoothie bowls (from Rp69,000) to pasta (from Rp59,000) and all-day brunch (from Rp55,000).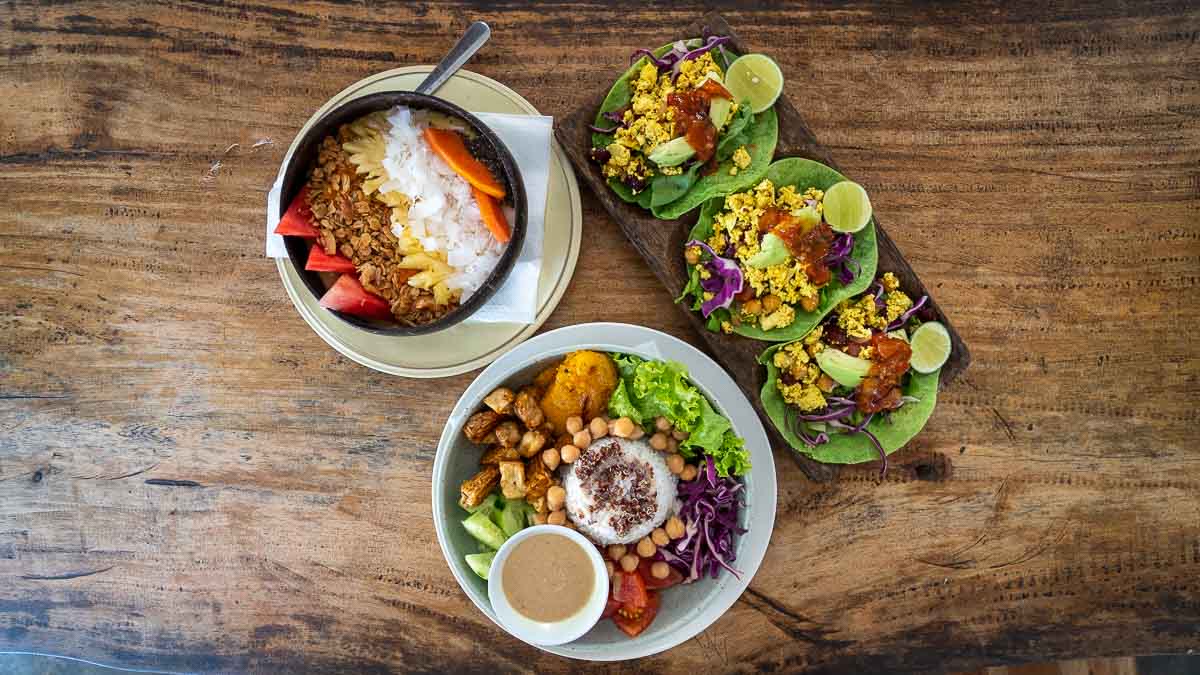 I'm a huge pasta lover but decided to go for something refreshing like the Green Smoothie Bowl (Rp69,000) — the frozen banana blended with avocado was exactly what I needed after a morning under the burning sun.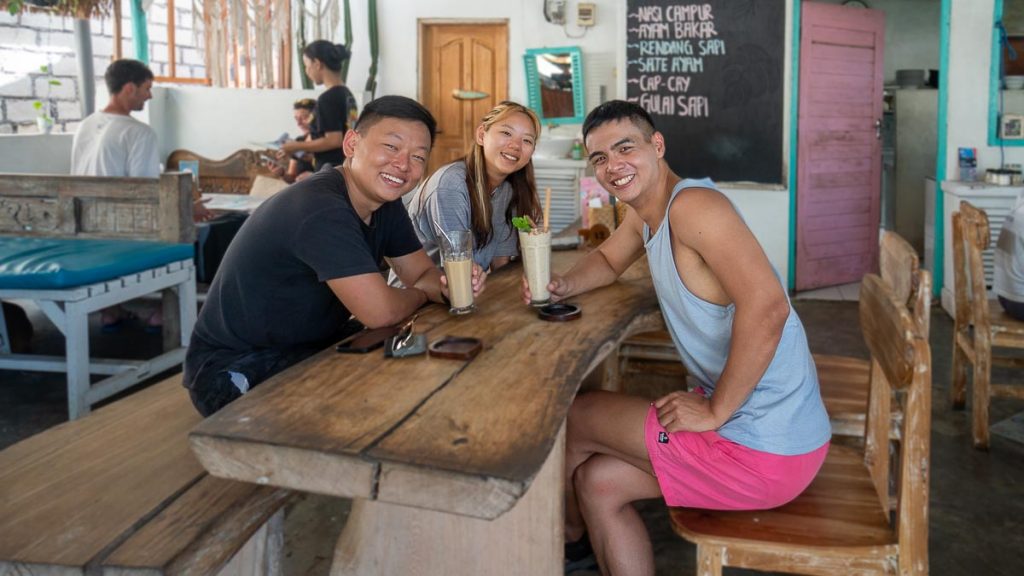 With plenty of drinks and desserts, the cafe is also a great option for some light refreshments throughout the day. There's even a 1-for-1 cocktail (from Rp85,000) happy hour at 4PM and 8PM daily for those interested!
Cost: From Rp40,000/main (~S$3.60)
Opening hours: 7AM – 10PM
Address: 8FCQ+9R Ped, Klungkung Regency, Bali, Indonesia
Paluang Cliff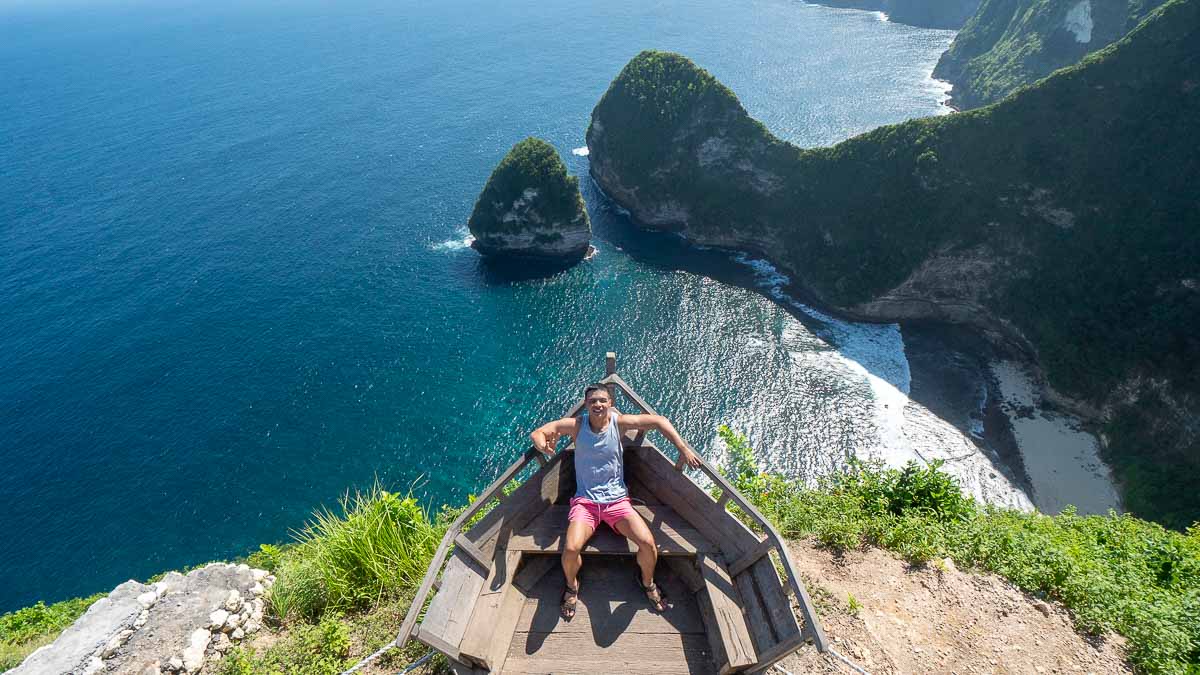 After a 40-minute drive, we arrived at the scenic Paluang Cliff which features breathtaking views of Kelingking Beach and its surrounding landscapes.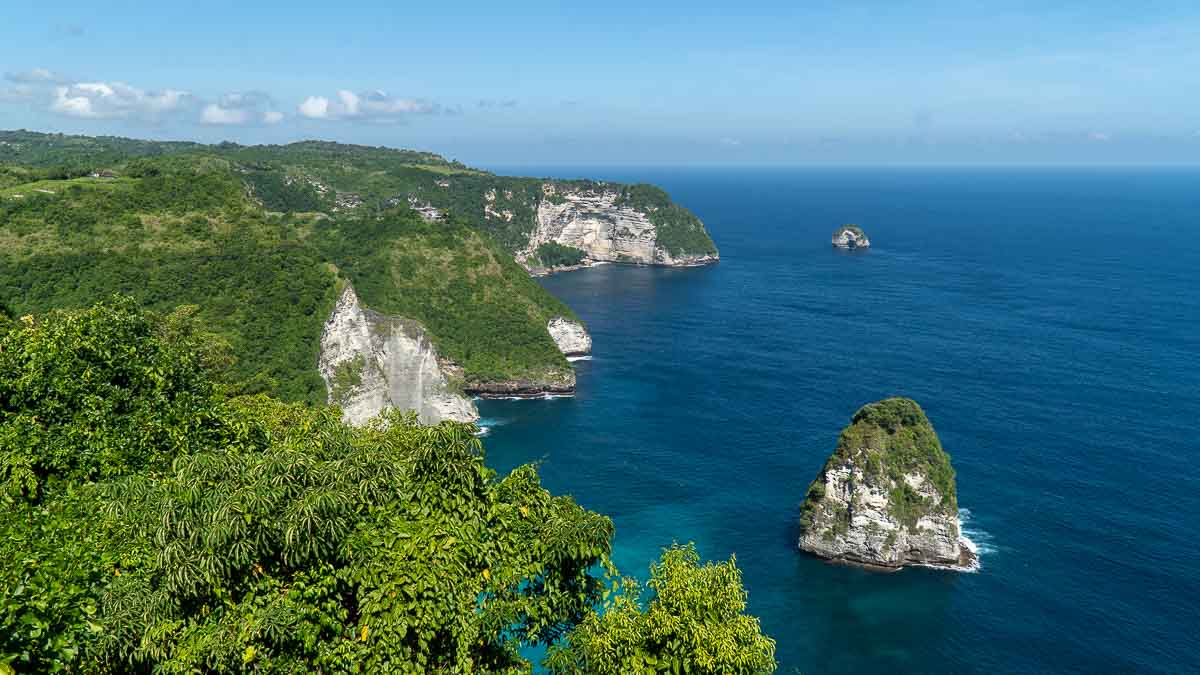 Of the seven designated photo spots here, I like this spot 👆 (to the left of the entrance) the most — it has a panoramic view of the island's beautiful rugged cliff edges!
There's even a stall here selling drinks and ice cream for those who'd like something to cool off from the heat.
Entrance fee: Rp30,000/pax (~S$2.70)
Opening hours: 24 hours
How to get there: Drive 40mins from Sunny Cafe Penida
Kelingking Beach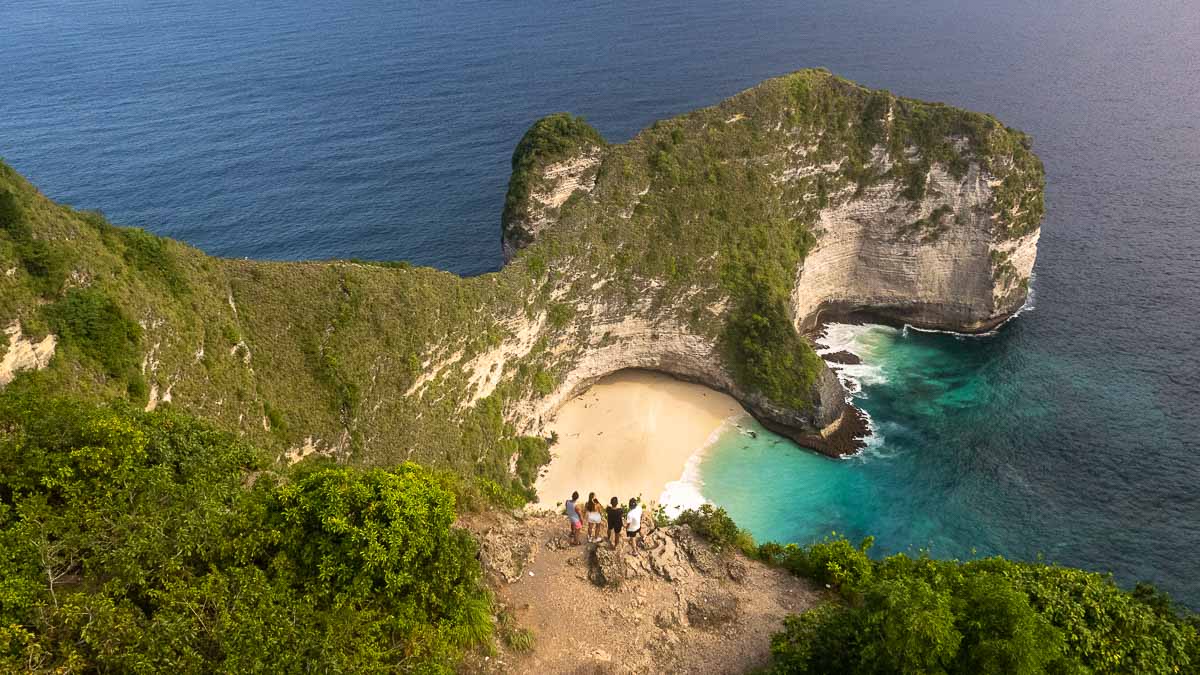 The next stop on our Bali itinerary needs no introduction, Kelingking Beach is one of Nusa Penida's most visited attractions.
But here's something different — instead of heading to its pristine turquoise beach, we went upwards for a stunning lesser-known cliff view. Just make a right turn and follow the path upwards when you spot this hut (pictured below) with green graffiti.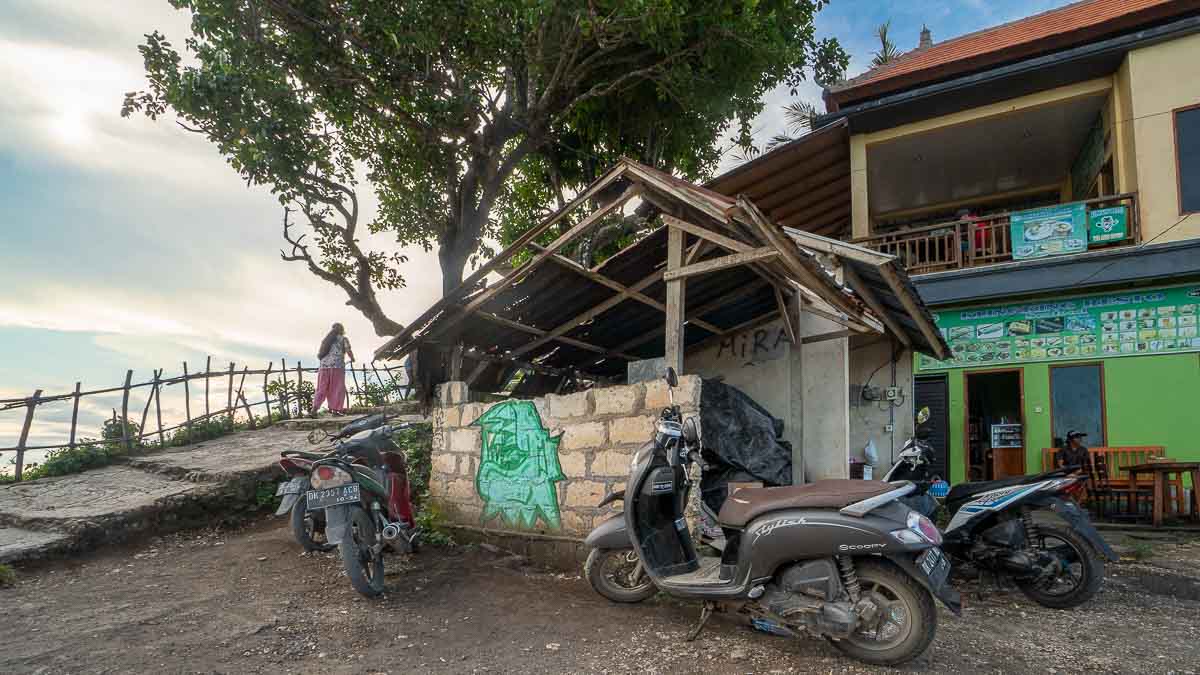 Checking one off my bucket list always feels good, but doing it a little differently made it more memorable 😊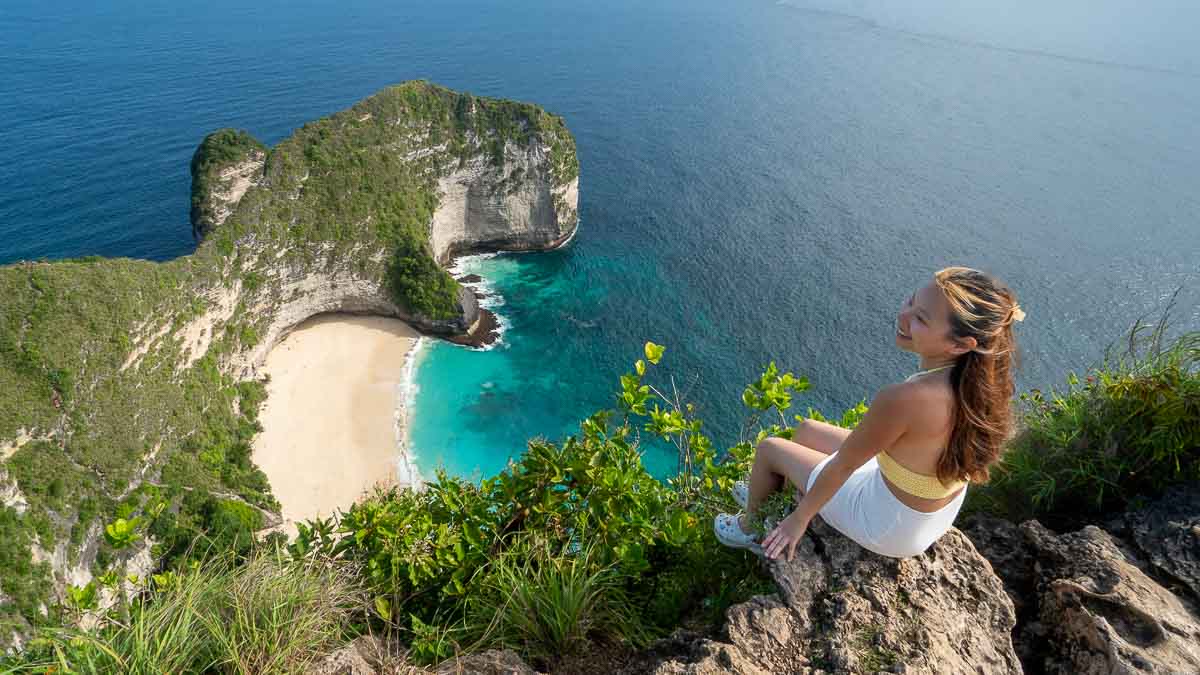 Cost: Free
Opening hours: 24 hours
How to get there: Walk 10mins from Paluang Cliff
Day 4: Kuta/Canggu
We got out of bed at 5:30AM to catch a fast boat back to Sanur 😴. But hey, at least the rest of the day in Canggu and Kuta was exciting!
Brunch at Dedari Cafe and Eatery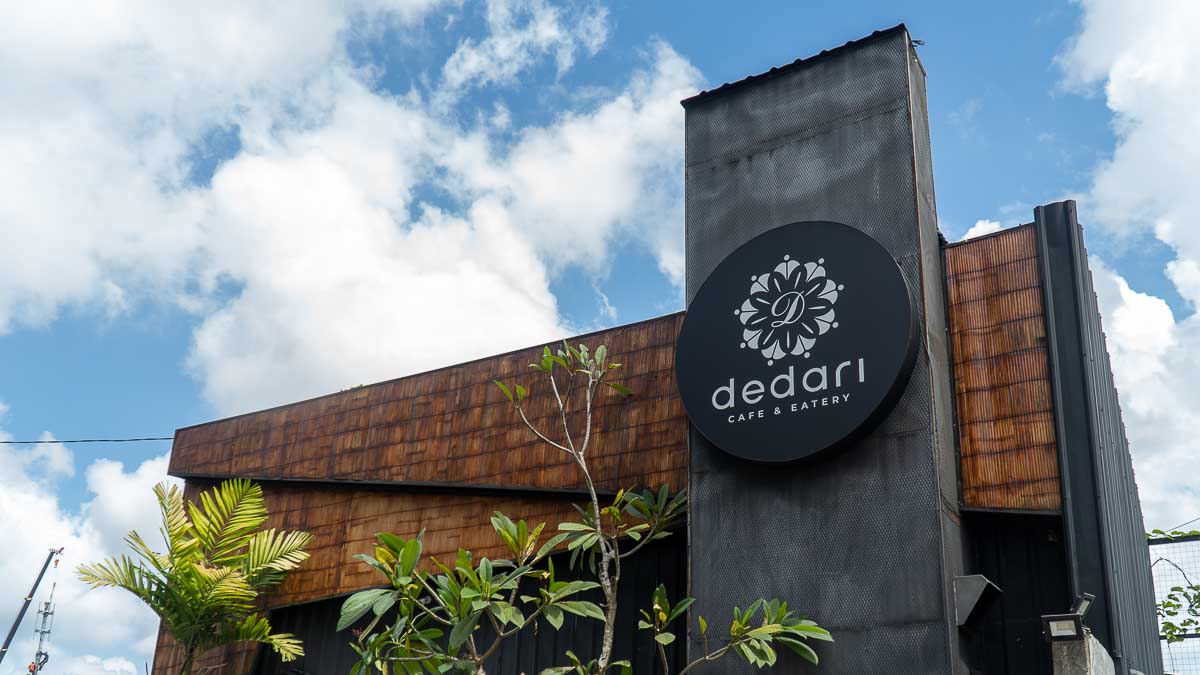 When looking for a place to grab brunch after arriving in Canggu, Dedari Cafe and Eatery's blend of good reviews and aesthetically-pleasing interior immediately stood out.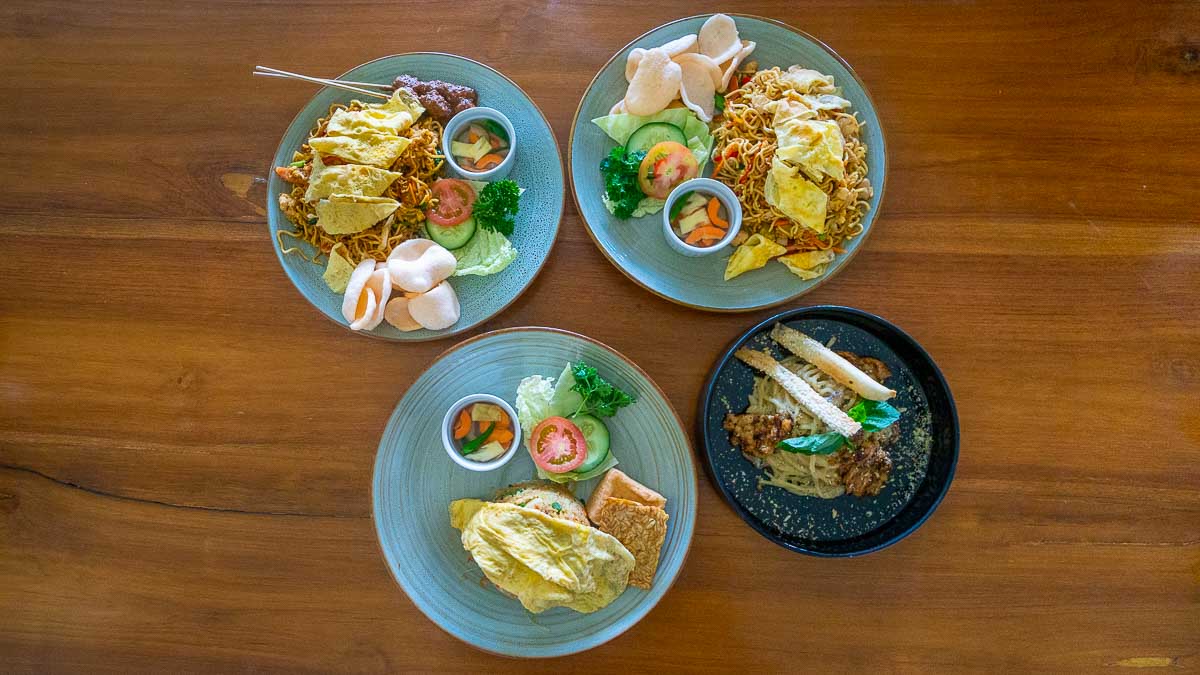 We arrived with growling stomachs but left with our tummies (and hearts) full from the food and friendliness of the staff 😊 My pick of the lot was their tasty carbonara pasta (Rp58,000) and thirst-quenching tropical slimmer smoothie (Rp42,000).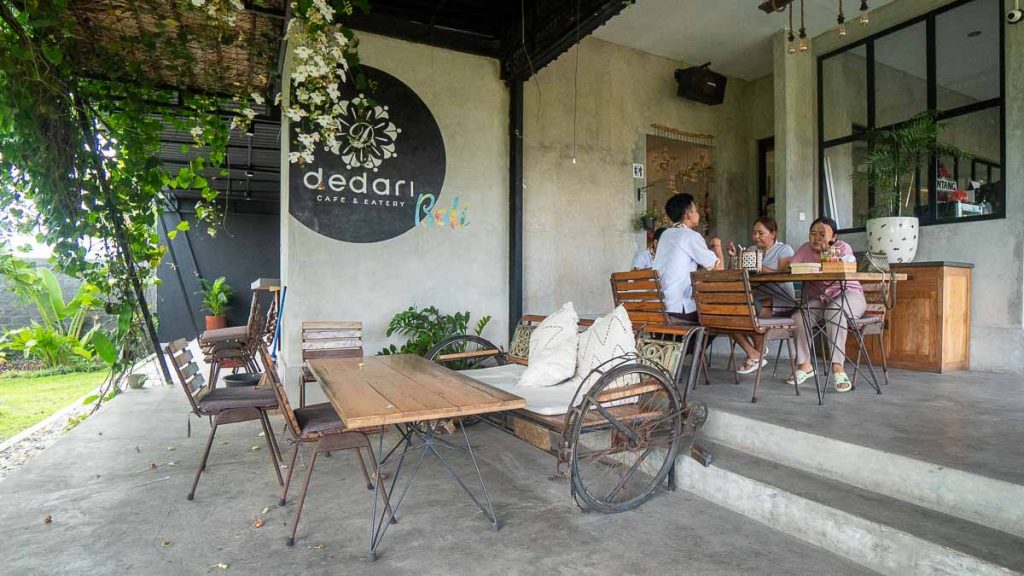 The staff also recommended visiting for dinner for those who'd like to catch a beautiful sunset at the outdoor seating area. (It's actually true after checking photos on Google!)
Cost: From Rp50,000/main (~S$4.50)
Opening hours: 10:30AM – 10PM
Address: 85V8+CQ Kerobokan, Badung Regency, Bali, Indonesia
Waterbom Bali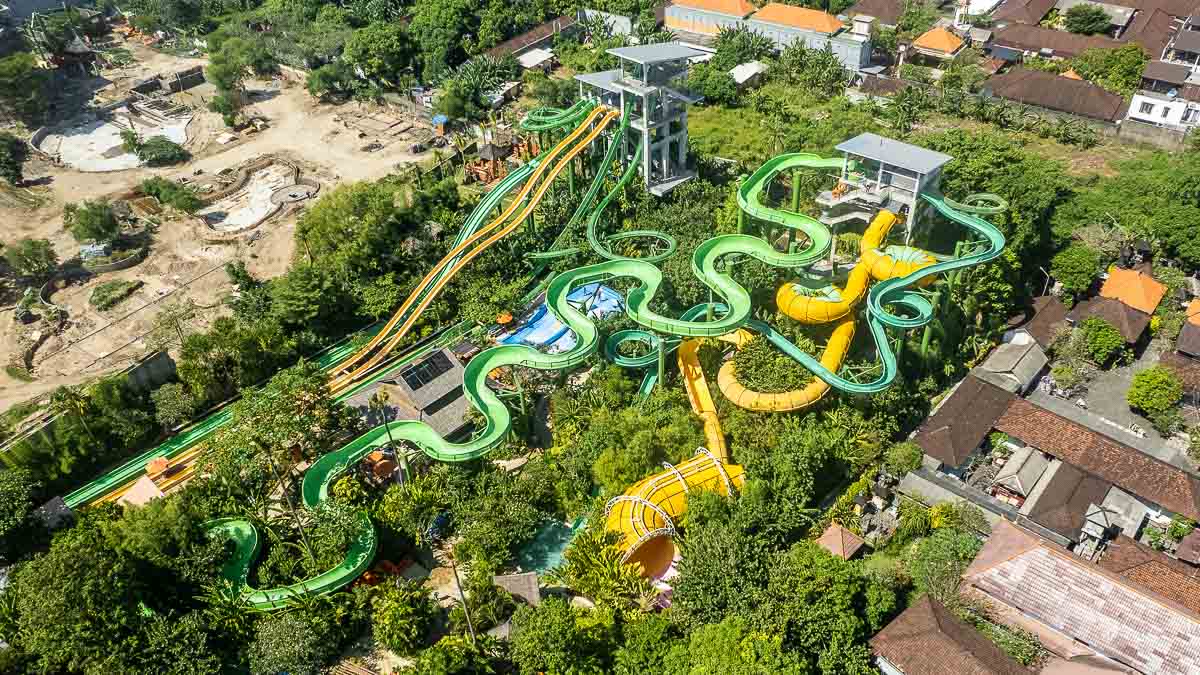 Next on our itinerary is one of Kuta's most iconic attractions — Waterbom Bali. After spending half a day here, we finally understood why it was voted Asia's top waterpark! Check out this video of our last visit to Waterbom Bali for a sneak peek.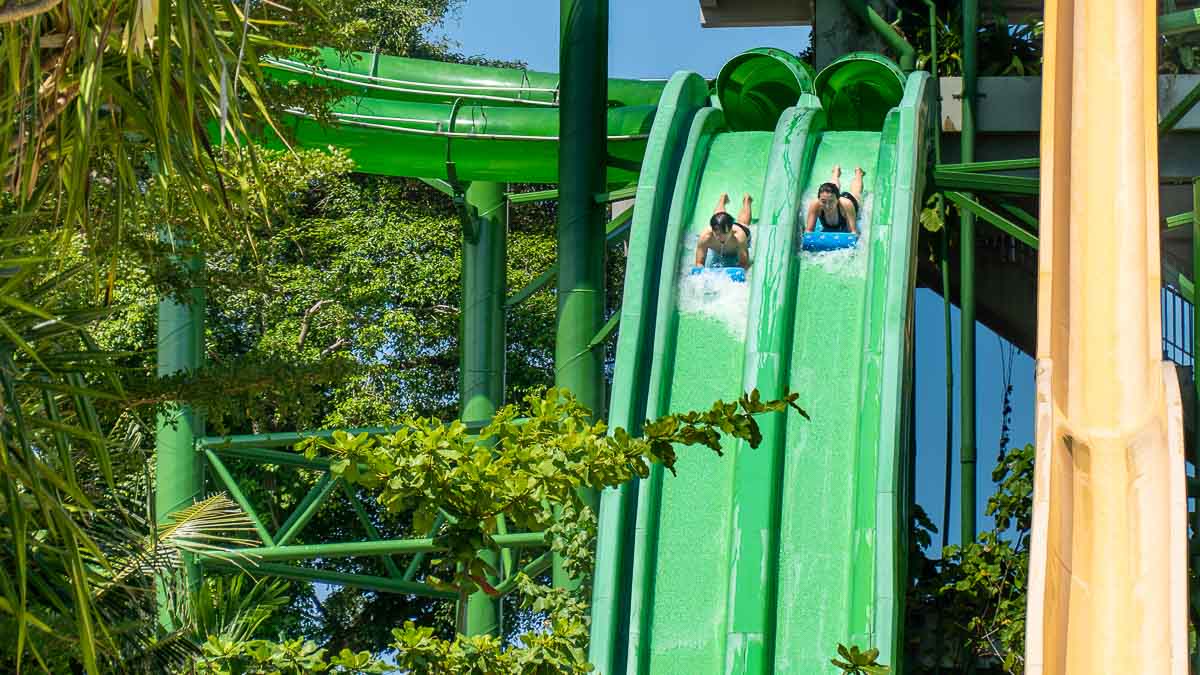 With 22 incredible waterslides, thrill-seekers are bound to have a field day 🤩 I loved racing my friends down the Twin Racers for its combination of speed, thrill and fun.
If you have nerves of steel (unlike me), free fall 26m into nothingness at Smash Down 2.0 — the park's most terrifying slide.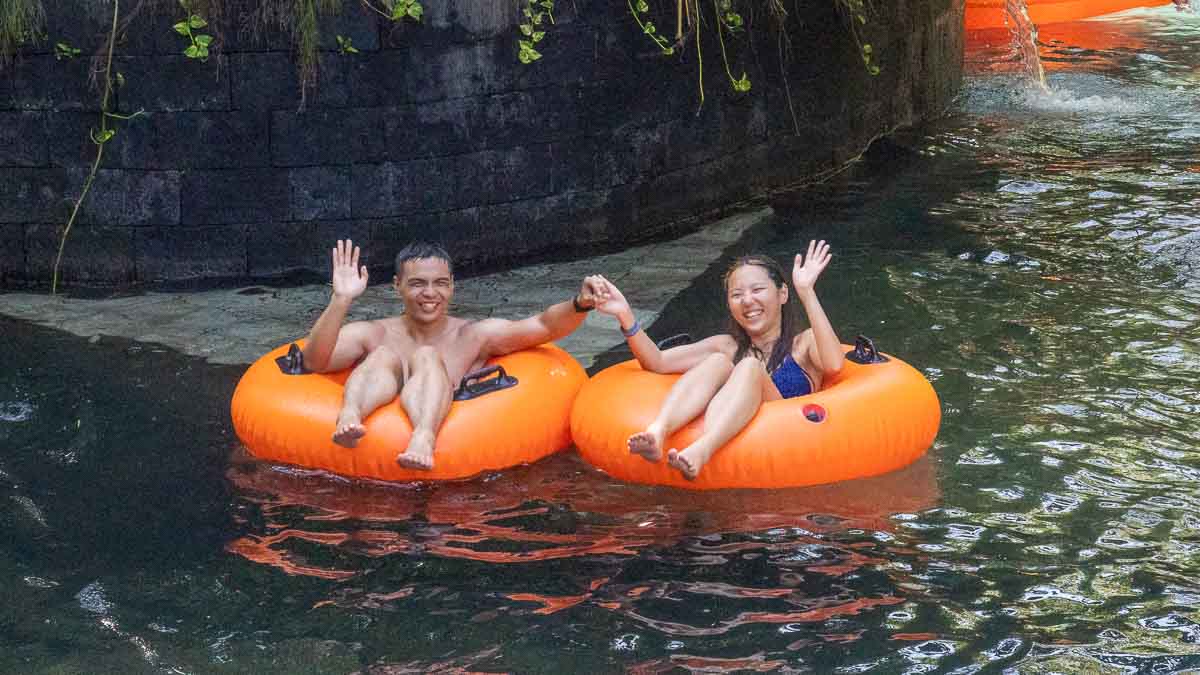 There're also plenty of options to chill here — floating in the Lazy River was our favourite, or grab a bite at one of four restaurants within the waterpark.
Entrance fee: ~S$40.20/pax via Klook
Opening hours: 9AM – 6PM
Address: 75C9+HP Tuban, Badung Regency, Bali, Indonesia
Dinner at Vue Beach Club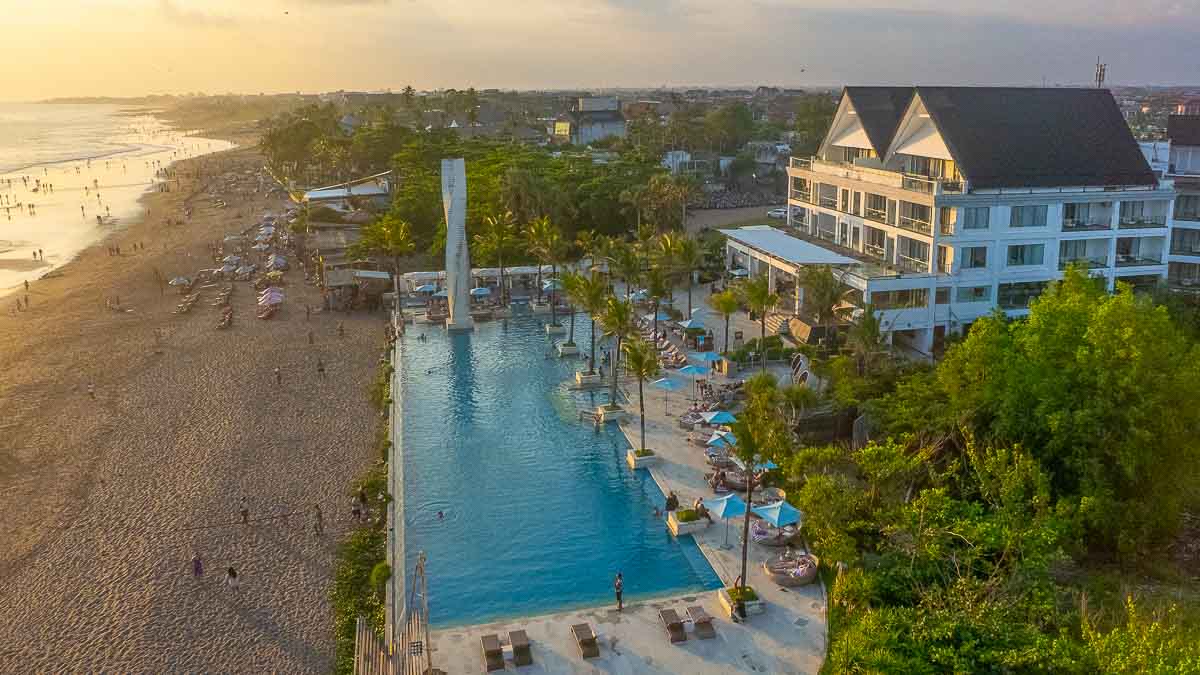 Canggu has plenty of beach clubs worth checking out. But if we had to pick one, it'd be Vue Beach Club for its beautiful sunset, selection of drinks and amazing atmosphere!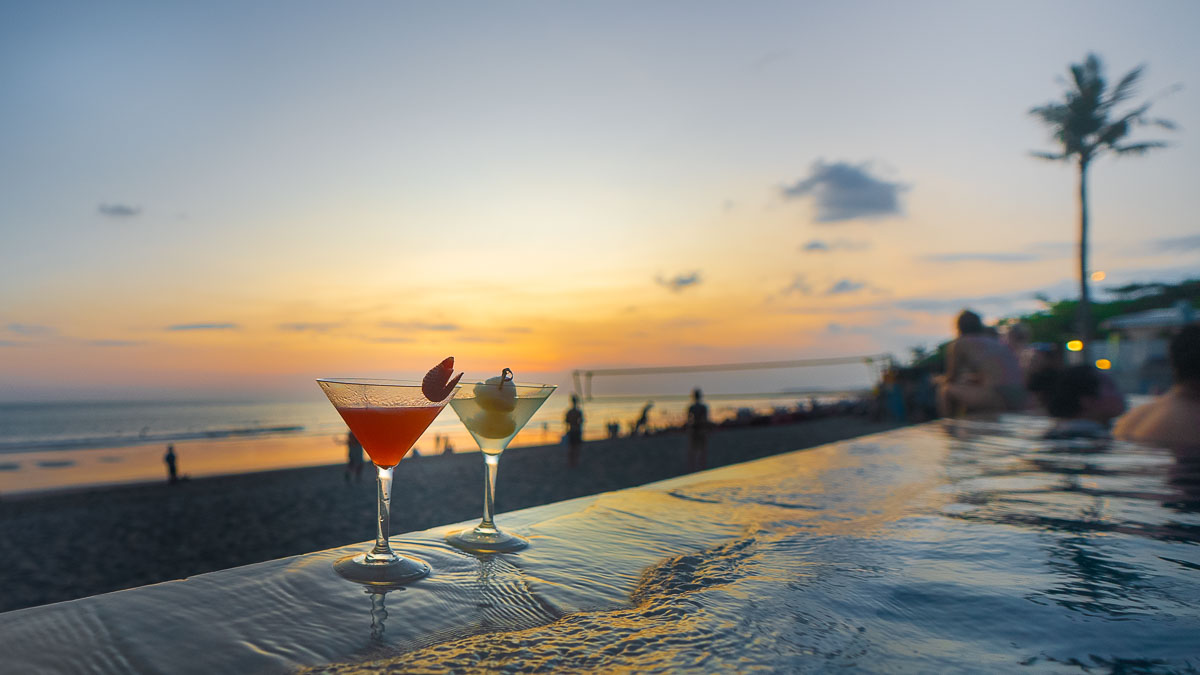 We caught the sunset in the spacious Infinity Pool while enjoying some Martini (Rp110,000/glass), before having a sumptuous dinner in a private cabana.
My favourite dish was the Shakshuka in Rendang Style (Rp225,000) — the heavenly combination of local and African cuisine is good for sharing among groups of three to five.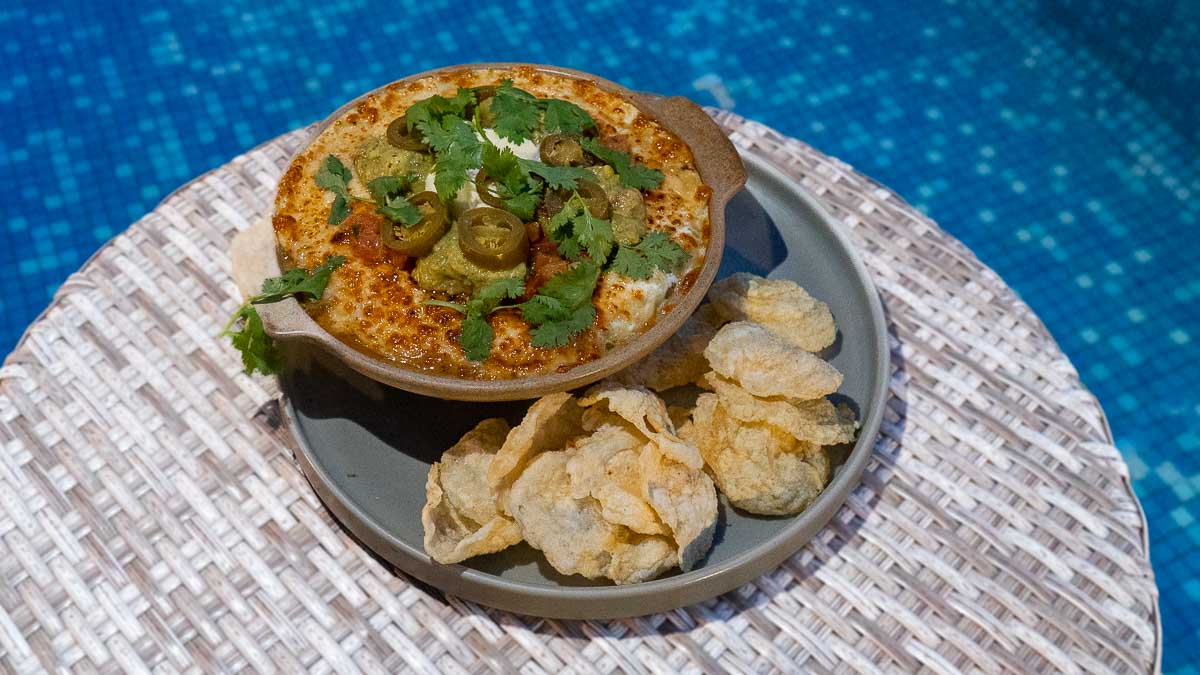 I used to think that beach clubs were all about partying, but after spending 4 hours here, I realised that having some quiet time and good convos with friends is also possible 😌
Entrance fee: ~S$12.10/pax via Klook
Opening hours: 9AM – 10:30PM
Address: 84JR+HG Canggu, Badung Regency, Bali, Indonesia
Day 5: Canggu/Ubud
Before catching our flight home, we squeezed some wellness activities into our Bali itinerary for maximum satisfaction!
Zero Gravity Floatation Therapy by Solace Float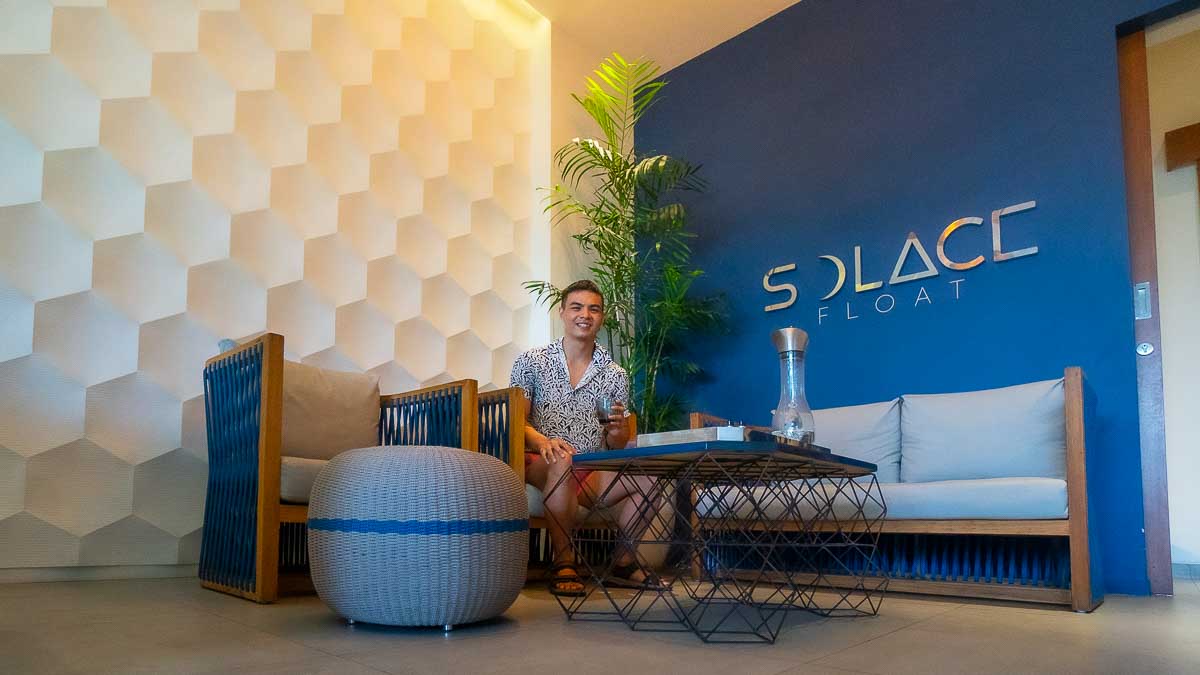 Float for 90 minutes in a sensory deprivation tank and let your tensions dissolve into weightless relaxation — sounds cool, doesn't it? 😎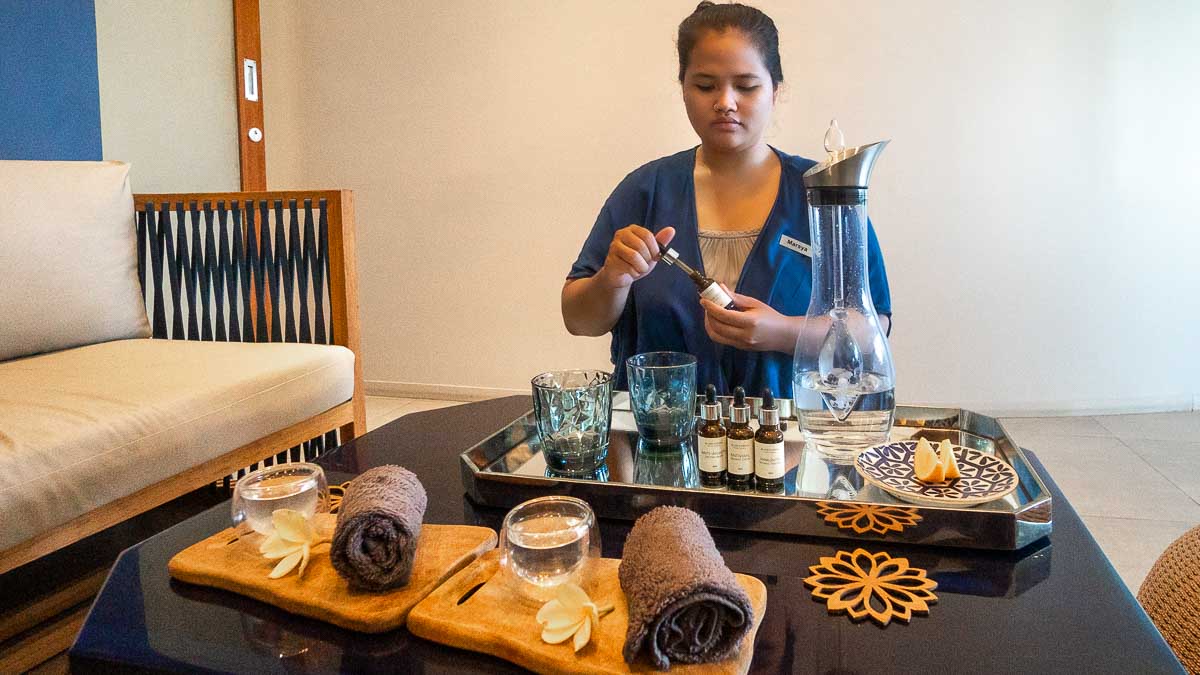 At Solace Float's Zero Gravity Floatation Therapy, we started our session by consuming one of four tonics designed to "enhance" our experience in the tank. Plus, we could also choose from a soundtrack of waves, rainforest or meditation music to listen to.
It may look scary but the experience was actually pretty peaceful — it was very dark inside, but floating on water while listening to sounds of nature was great for clearing our minds… and of course, taking a nap 😛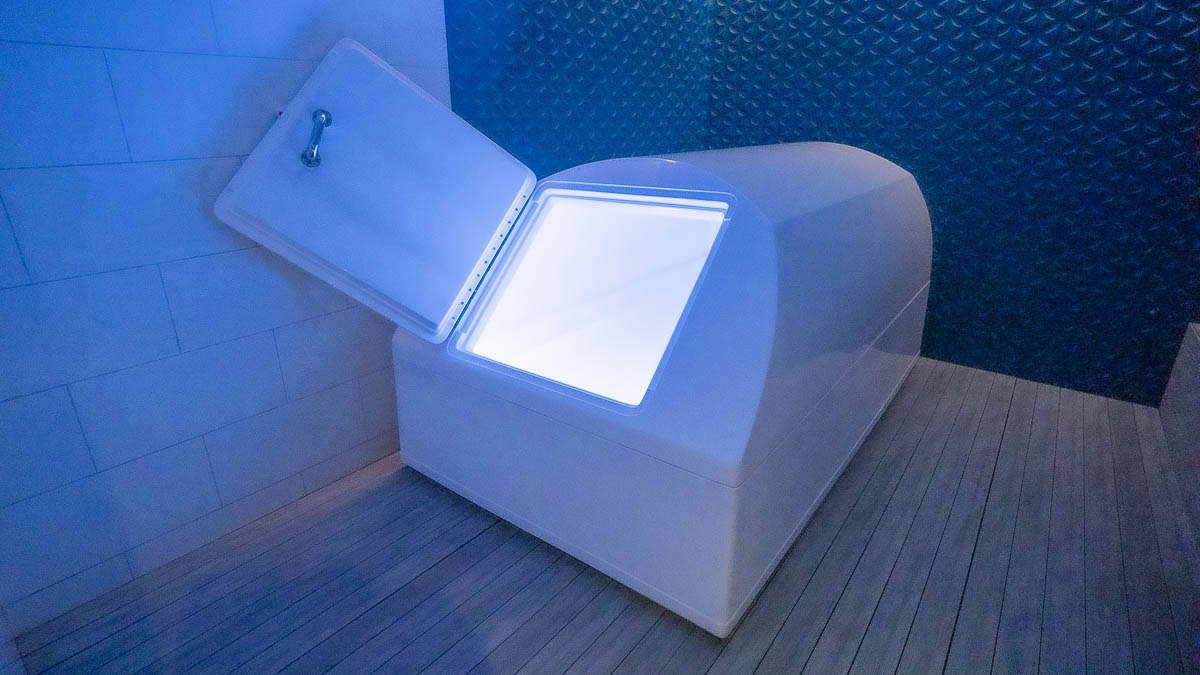 After defying gravity for 1.5 hours, we washed up before enjoying a cup of complimentary tea at the lounge. There are even books here for those who'd like some entertainment.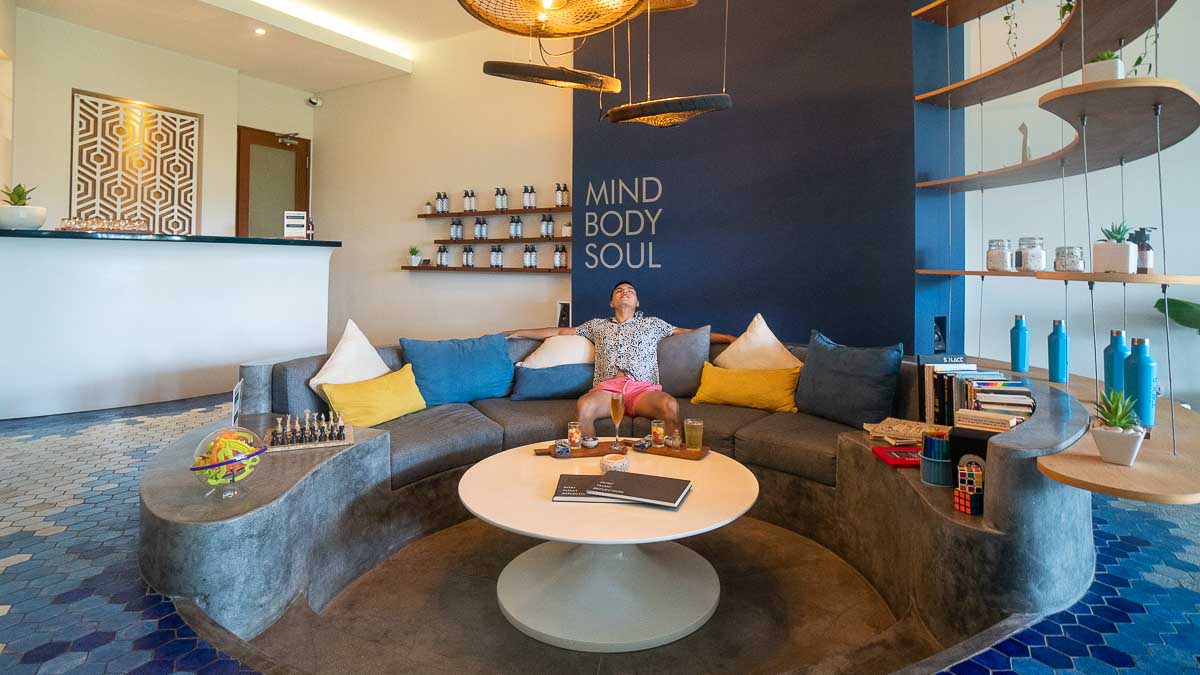 Cost: ~S$46/pax via Klook for a ~2.5hr experience
Opening hours: 7AM – 10:30PM
Address: 84PW+HF Tibubeneng, Badung Regency, Bali, Indonesia
Half-day Wellness Tour to Ubud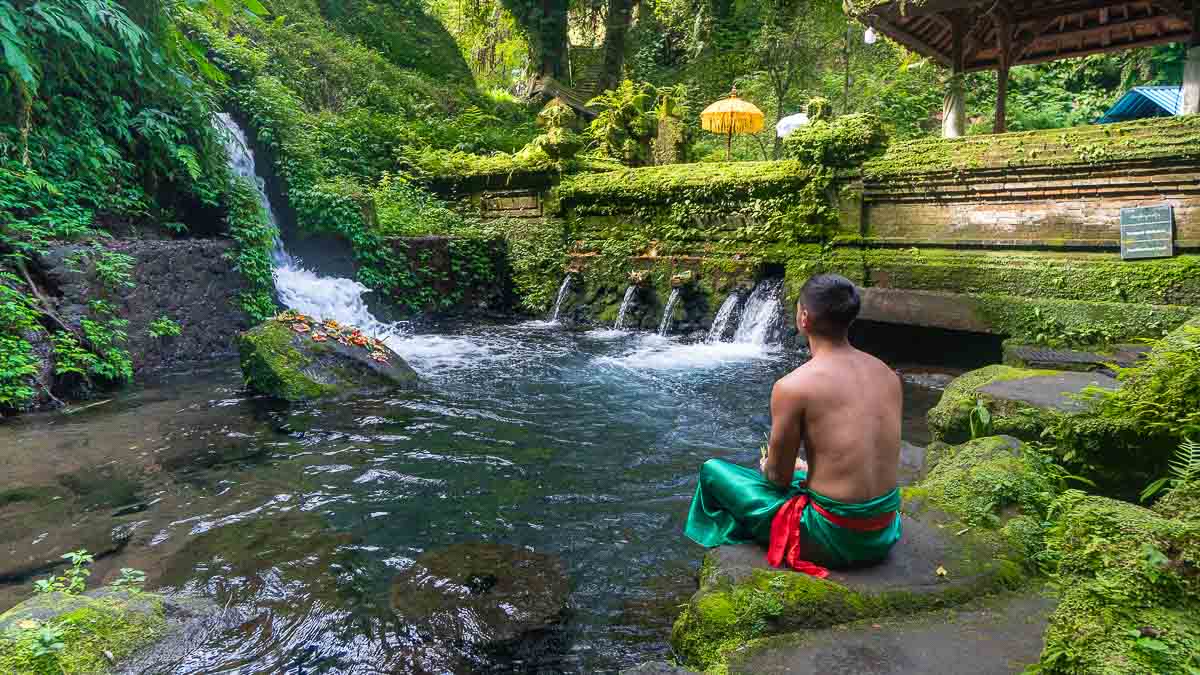 The last item on our itinerary was a half-day wellness tour to Ubud — Bali's cultural centre. First up, a trip to Pura Meninging Water Temple where we took part in a purifying holy water healing ceremony.
We started with a quick 3-minute meditation session. Then, we had to take a sip from each running fountain, splash it on our faces and give our heads a good rinse before moving on to the next one — it was a rejuvenating ritual 😌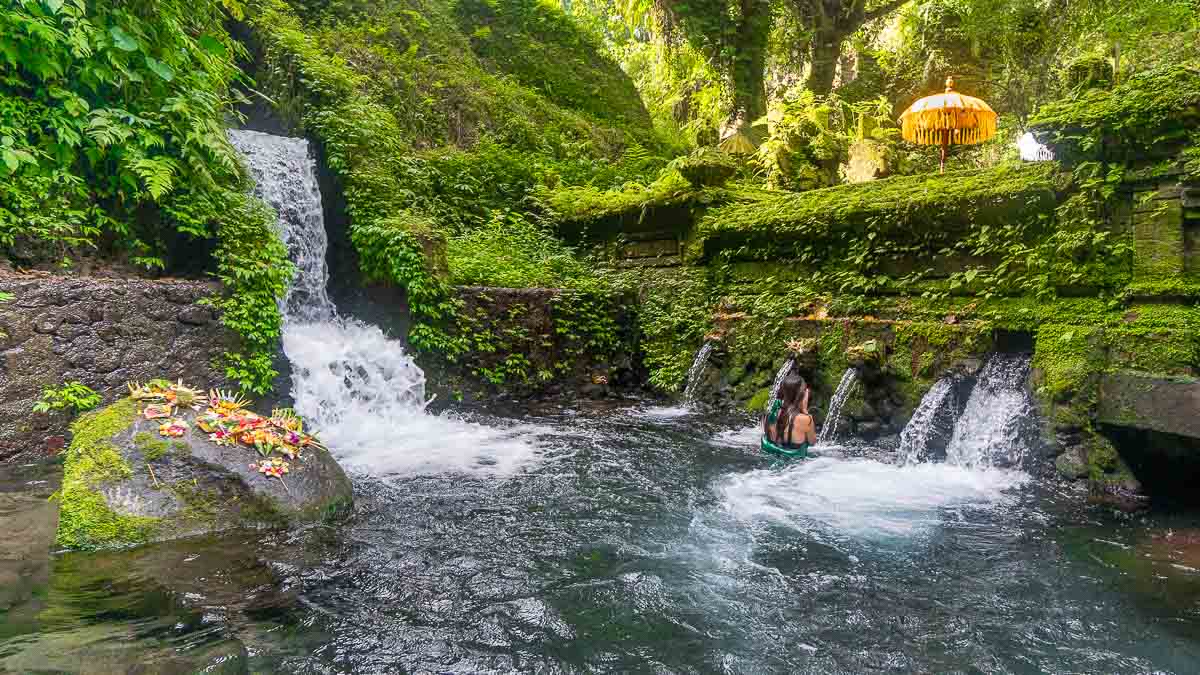 Next, a 5-minute drive to Puri Pandawa Palm Reading where we got our fortunes told by a traditional Balinese healer.
The healer made some predictions about our future by reading our palms and the Mandalas that we coloured. Most were on point, but I've got to admit I was sceptical when she said I aspired to be a monk when I was young (it ain't gonna happen) 😅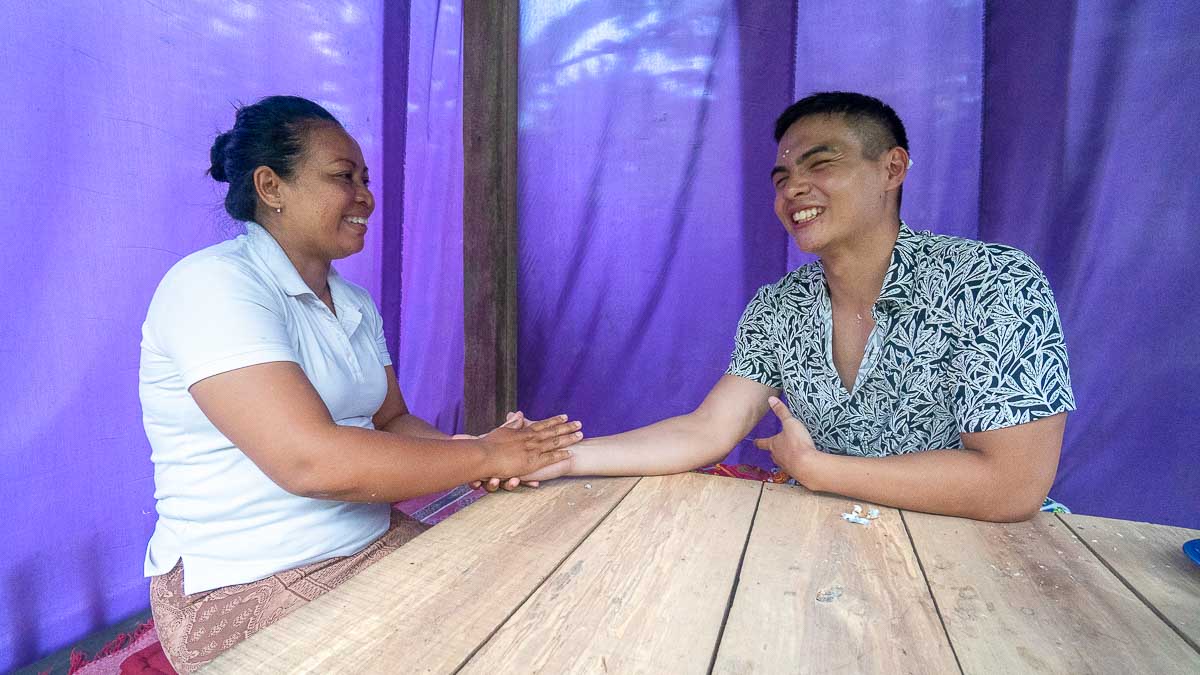 *Pro-tip: Opt for the full-day tour if you'd like to visit the famous Tegallalang Rice Terrace too!
Bali Eat Pray Love Private Tour
Cost: From ~S$46/pax
Timing: 7AM
Meeting point: Hotel pickup
Where to Stay in Bali
Day 0-1: Lovinalife Room & Cafe (Lovina)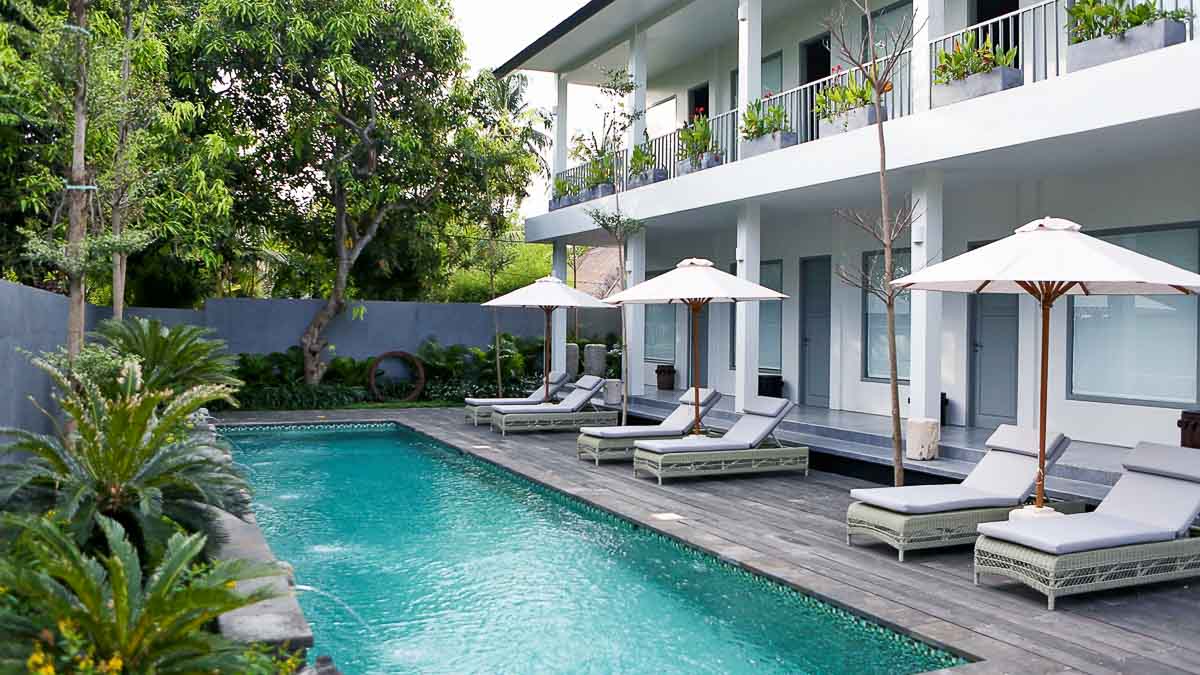 Photo credit: Lovinalife Room & Cafe
Lovinalife Room & Cafe is located just a 5-minute walk from Lovina Beach. The rooms are affordable, huge and clean, and you could chill all day at its outdoor garden and pool 😄
Cost: From ~S$7.50/night (for 1 pax)
Address: R2PF+QP Kaliasem, Buleleng Regency, Bali, Indonesia
Day 2-3: Salang Guest House (Nusa Penida)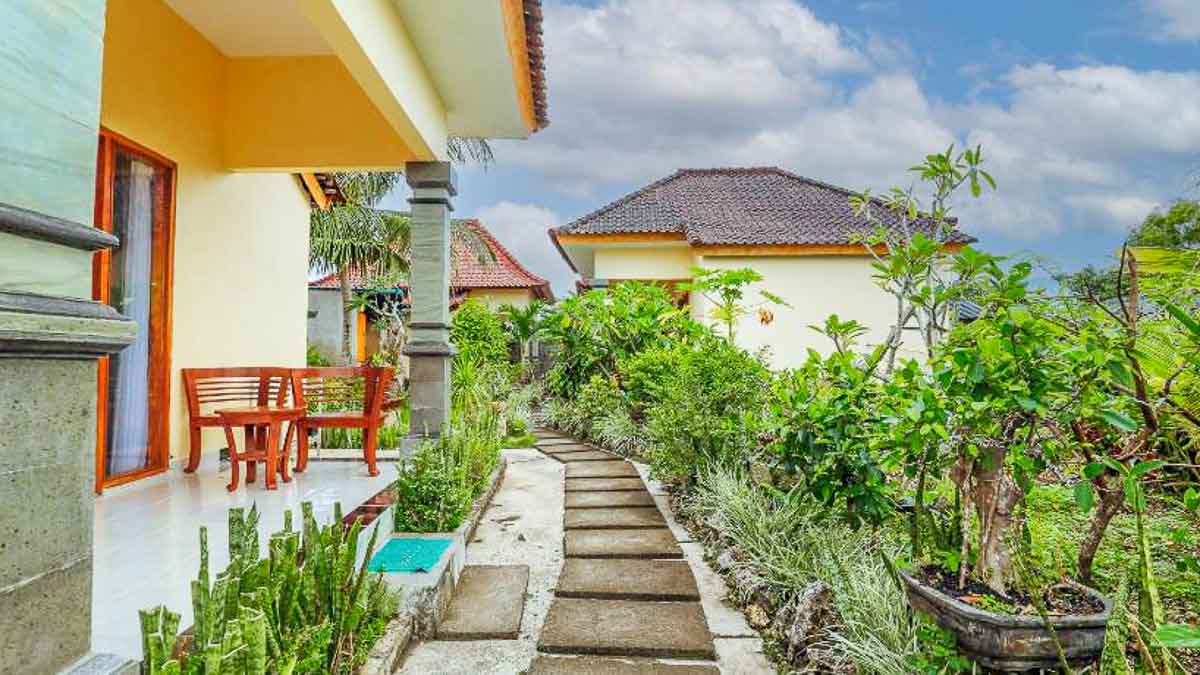 Photo credit: Klook
If you're looking for a place away from the crowds in Nusa Penida, the family-run Salang Guest House is just ~S$10/night. The bed is cosy and they have an amazing breakfast.
Staying at guest houses is also a great way to interact with locals and learn about their cultures, something I love on my travels 🙂
Cost: From ~S$10/night (for 1 pax)
Address: 7G4X+M5 Batukandik, Klungkung Regency, Bali, Indonesia
Day 4: FRii Bali Echo Beach (Canggu)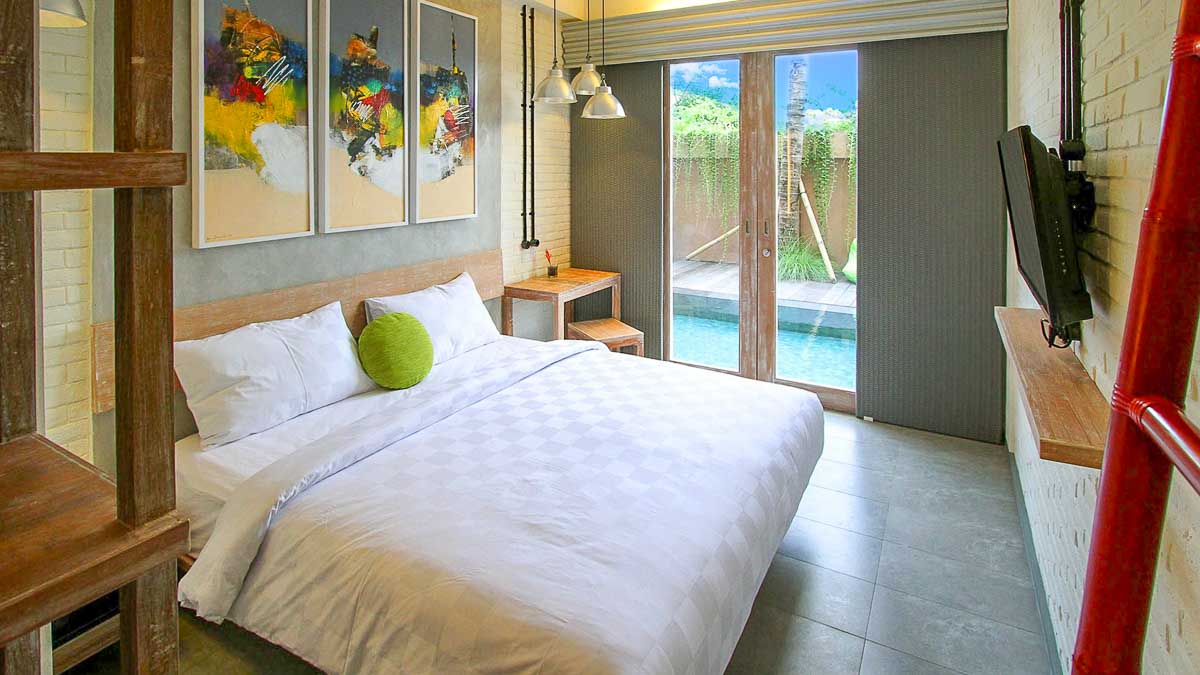 Photo credit: Klook
Located just 500m from Canggu Beach, FRii Bali Echo Beach stands out for its affordable pricing near Canggu's party scene. Check out the pool access rooms and take a dip there while admiring a beautiful sunset view!
Cost: From ~S$24/night (for 1 pax)
Address: 7G4X+M5 Batukandik, Klungkung Regency, Bali, Indonesia
Read more: Where to Stay in Bali — Best Hotels, Villas, and Hostels in Ubud, Canggu, Seminyak and More
Getting Around Bali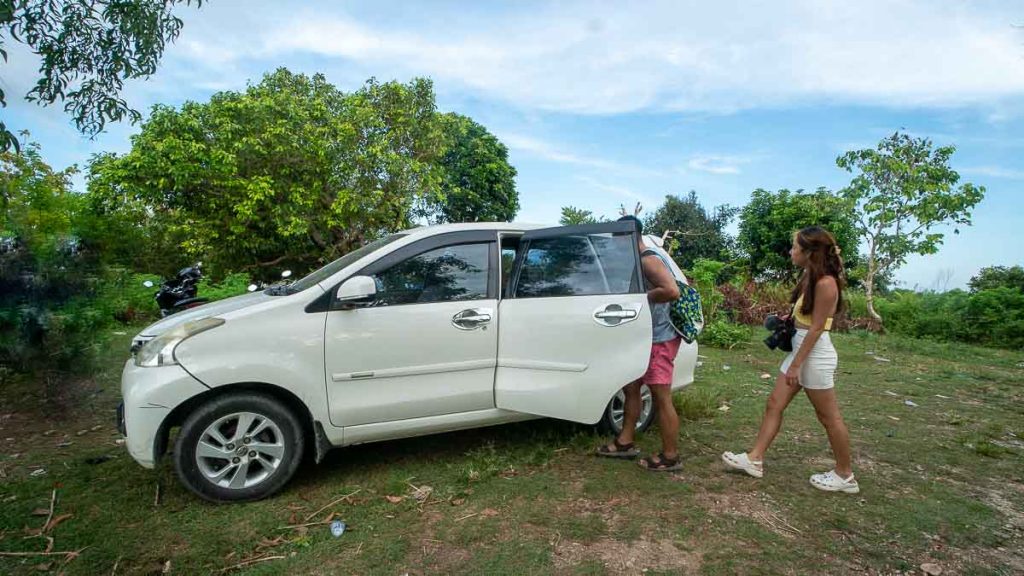 The most convenient way for groups to explore Bali and Nusa Penida is to rent a car since the island doesn't have a very well-developed public transport system.
Getting around mainland Bali: Ride-hailing apps like Gojek and Grab are available and ideal if you plan to just visit two or three places a day. But be prepared to wait up to 15 minutes before getting one.
If you plan on hitting four or more spots in a day, a better option is to book a Bali Private Car Charter (~S$50/car for 4 passengers for 10 hours). We appreciated having a driver ready to go at a moment's notice, especially when we were rushing.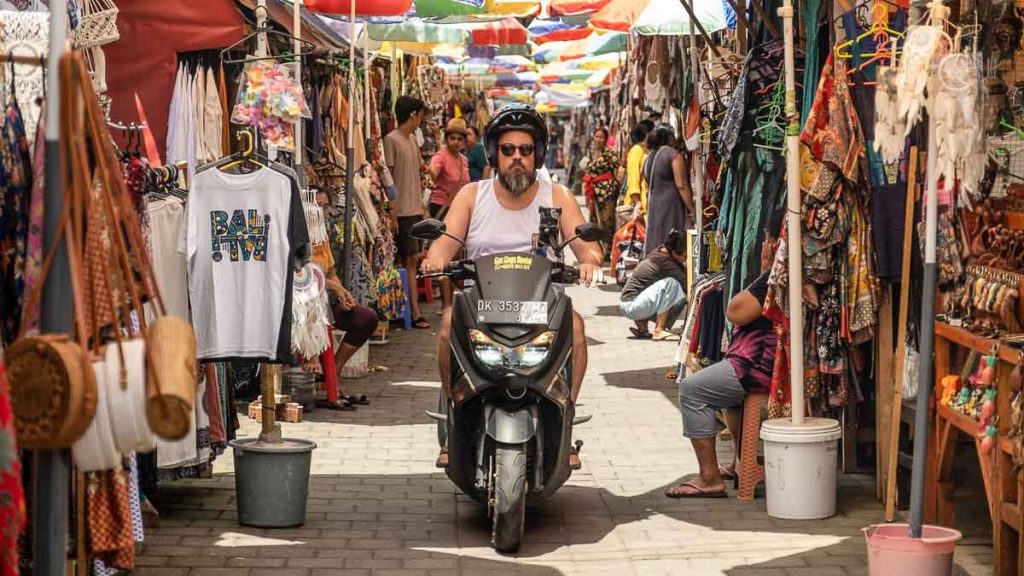 Photo credit: CNN
Exploring the island on a scooter is another option. But travellers should note that Bali may soon be imposing a scooter ban on tourists.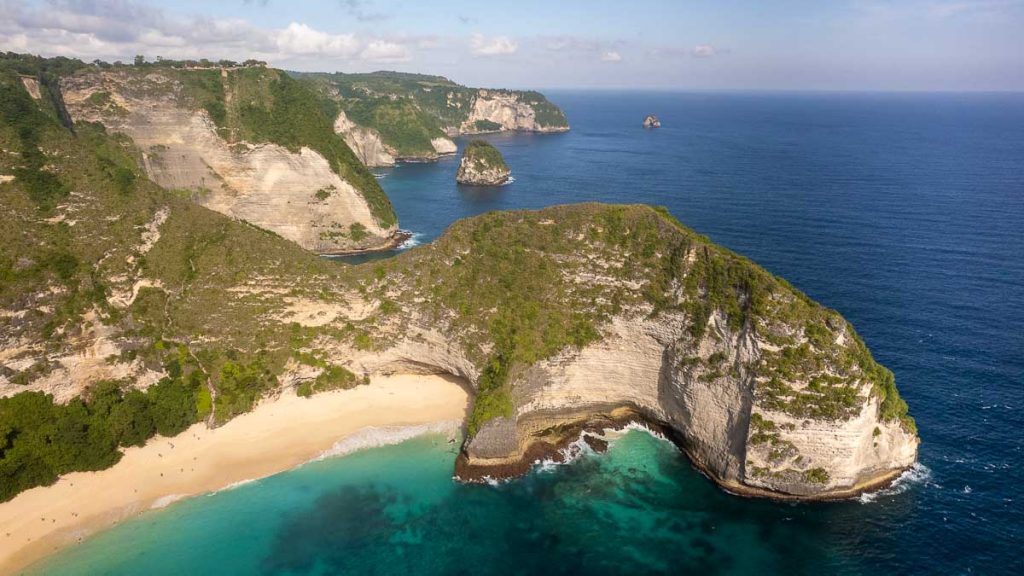 Getting around Nusa Penida: If you're travelling in a group, booking a Nusa Penida Private Car Charter (~S$57/car for 5 passengers for 8 hours) is the best way to get around since Gojek and Grab aren't available in Nusa Penida.
If you're travelling solo, renting a scooter is still an option here although the roads can be bumpy and not recommended for unseasoned riders.
Taxi drivers were offering us a 30-minute ride for an astonishing Rp300,000 (~S$27), so having a private car charter was the more affordable option.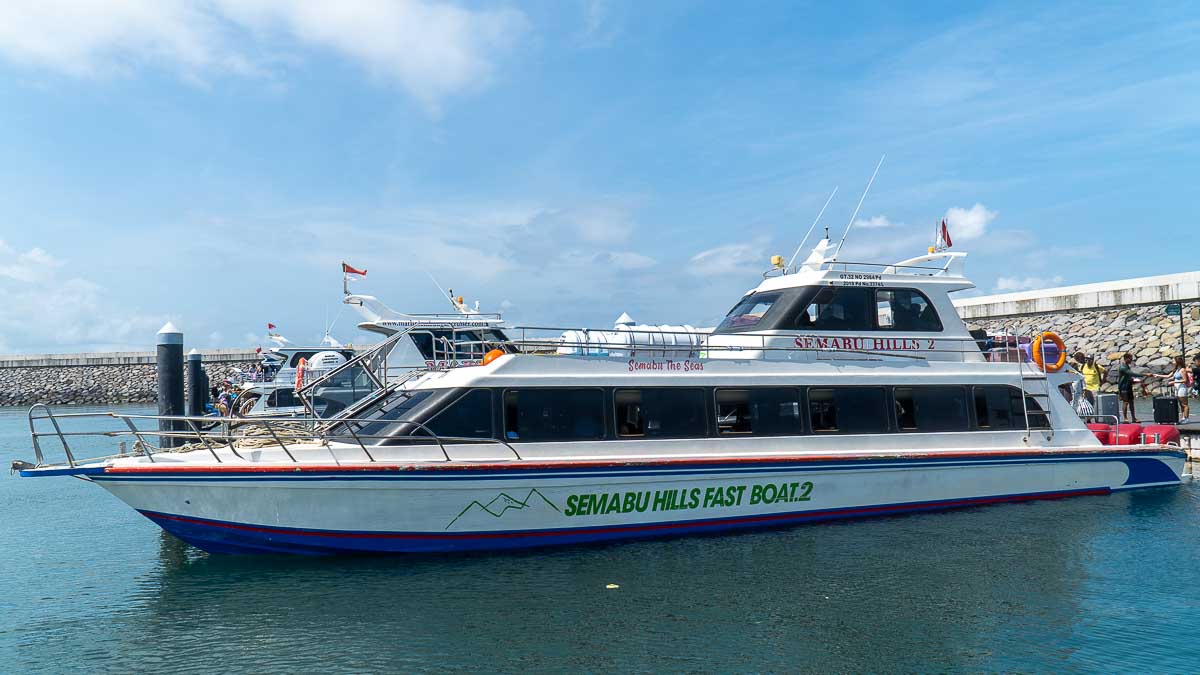 Travelling between mainland Bali and Nusa Penida: We pre-booked the Semabu Hills round-trip fast boat tickets (~S$35.40/pax) for our transport between Bali and Nusa Penida.
The one-way journey takes around 35 to 40 minutes and since the ride wasn't too bumpy, we even sneaked in a quick nap 😜
*Note: Pre-book your ferry tickets early to secure your preferred timing.
*Pro-tip: Save on a day trip to Nusa Penida with the Nusa Penida Day Tour with Optional Snorkelling from Bali (from ~S$47.20/pax for a group of 6). It includes round-trip fast boat ferry tickets, private charter with an English-speaking guide and an option to add-on snorkelling at Crystal Bay.
Tips for Planning Your Bali Itinerary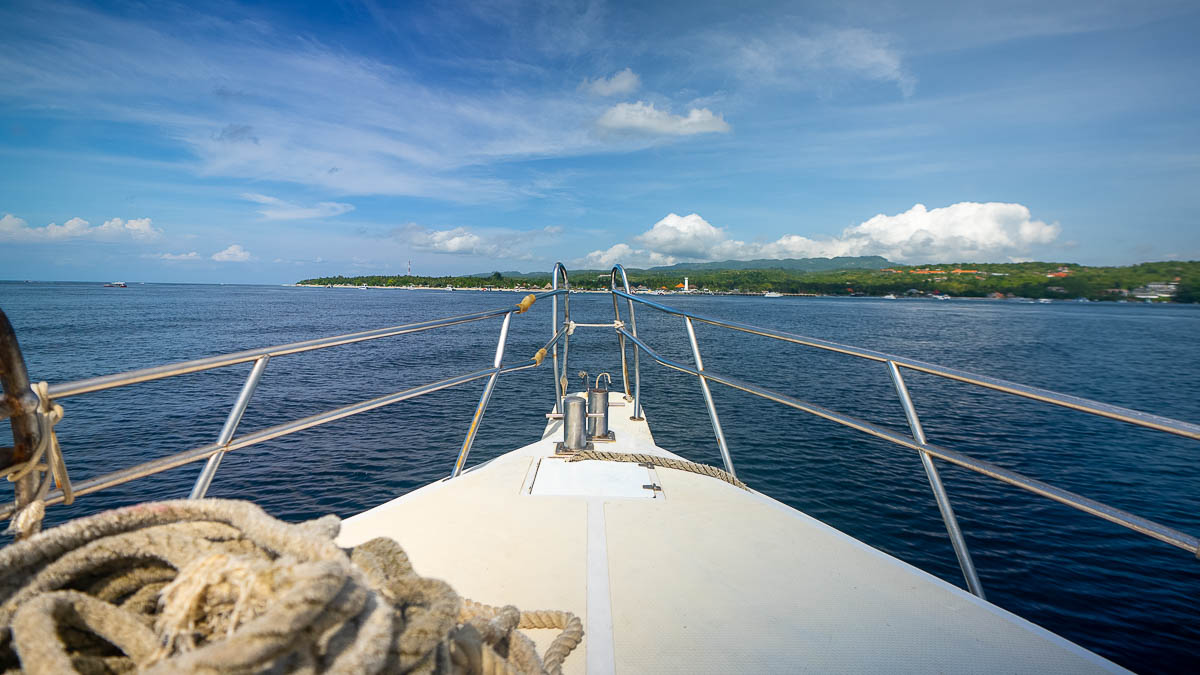 1) Remember to book your pre-trip essentials — including the Semabu Hills round-trip fast boat tickets between Bali and Nusa Penida, airport transfer, travel insurance and e-SIM.
2) Get the Klook Pass Bali to save on attractions and tours — Up to 18 activities available, including Waterbom Bali entrance tickets and the Nusa Penida Day Tour in this Bali itinerary
3) Download the Gojek and Grab apps on your phone — for getting around Bali.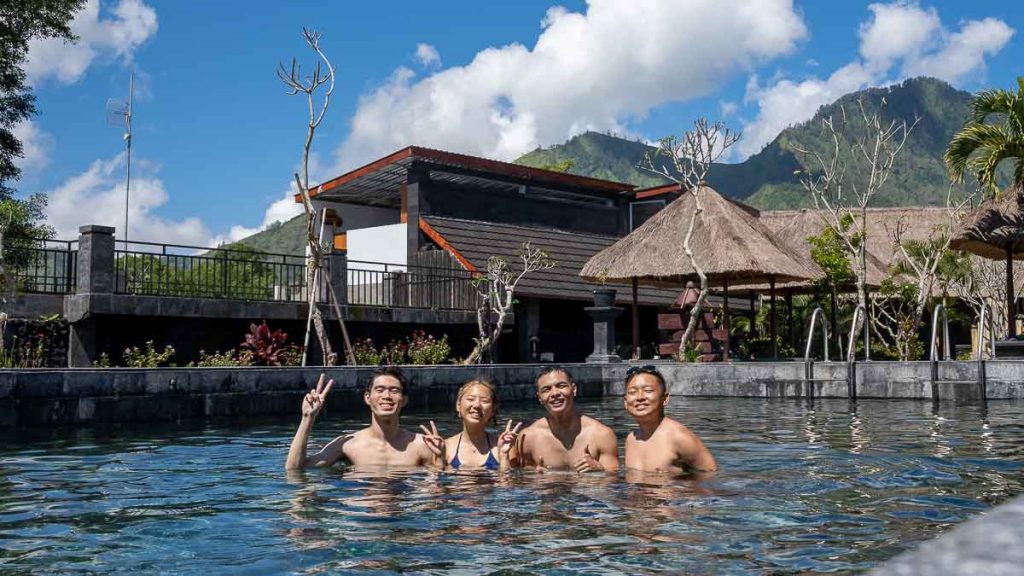 4) Apply sunblock — the sun burns in Bali. If you think Singapore is hot, wait till you get a taste of the Bali weather.
5) Exchange sufficient IDR for your trip — most restaurants, cafes and supermarkets accept card payment. But small local restaurants like Rejeng Bali only accept cash. Plus, it's always good to bring some spare cash for emergencies.
Planning a Bali getaway? Check out these guides and itineraries:
– Bali Photo Guide: 15 Stunning Locations For That Perfect IG Shot
– The Ultimate Bali Food Guide: 21 Things To Eat in Seminyak, Ubud and Nusa Dua
– 10 Best Adventurous Things to Do in Bali Other Than Chilling
– 4D3N Bali Itinerary — The Ultimate Ubud Getaway Guide
What else would you add to a budget Bali itinerary? Let us know in the comments below!
---
This post was brought to you by Klook.