From cities to coasts and national parks to natural beauties, an epic road trip is the best way to explore Australia!
Recently, I rented a Blue SG car with my best friend and had a wild time driving 17km from Yishun to Hougang. It barely qualifies as a road trip, but it reminded me of my last trip to Australia. If you didn't know already, it's one of the sweetest places for a truly epic road trip!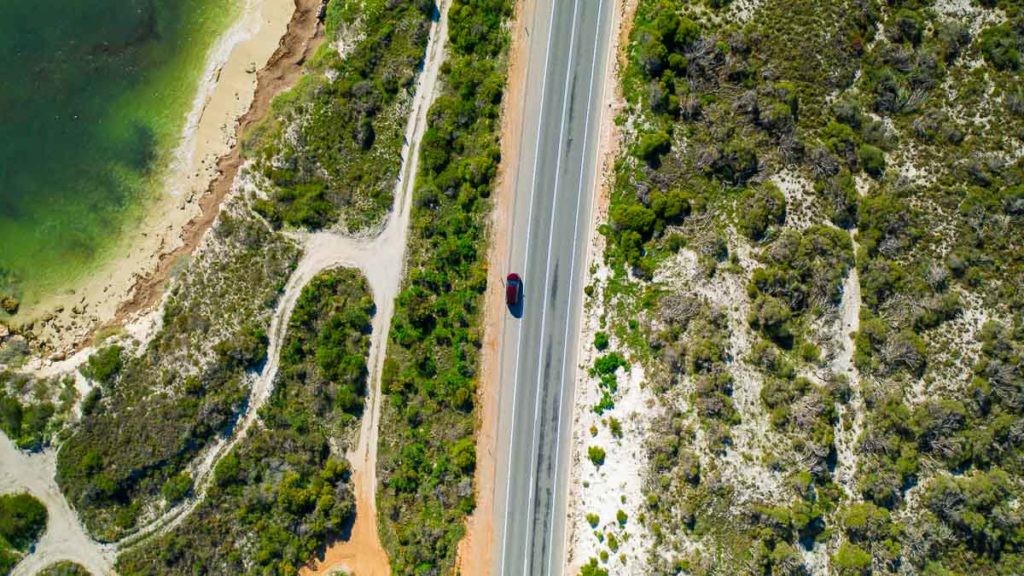 Across the country, there are tons of routes packed with scenery, action and adventure. And it's friendly for beginners (a.k.a. driving noobs) too!
It's a bummer we can't travel right now, but I've found that an instant mood lifter is to get your 'revenge travel' plans in order (i.e. a long post-COVID-19 trip that makes up for lost time) — so here are 10 of the best Australia road trips to go full throttle on once we get the green light! 🟢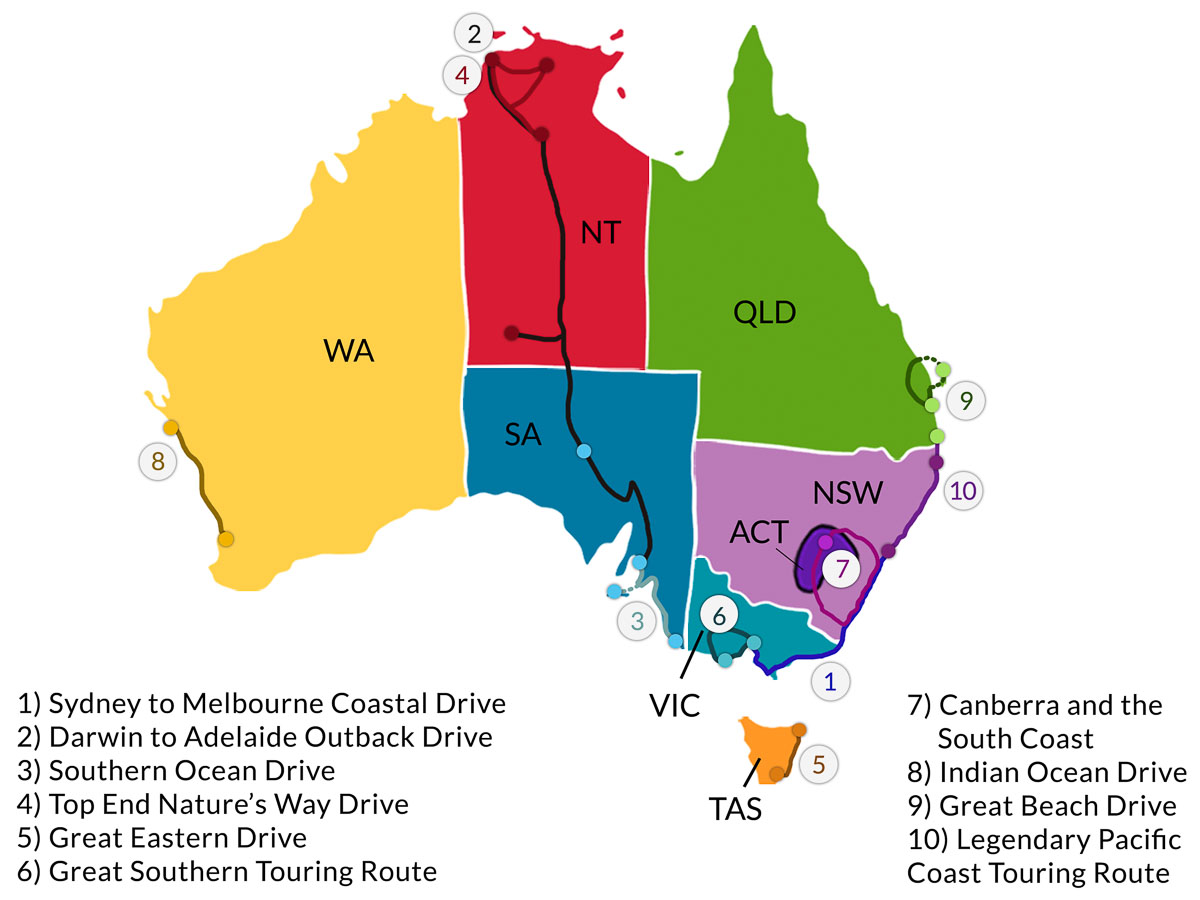 1) Coastal drive from Sydney to Melbourne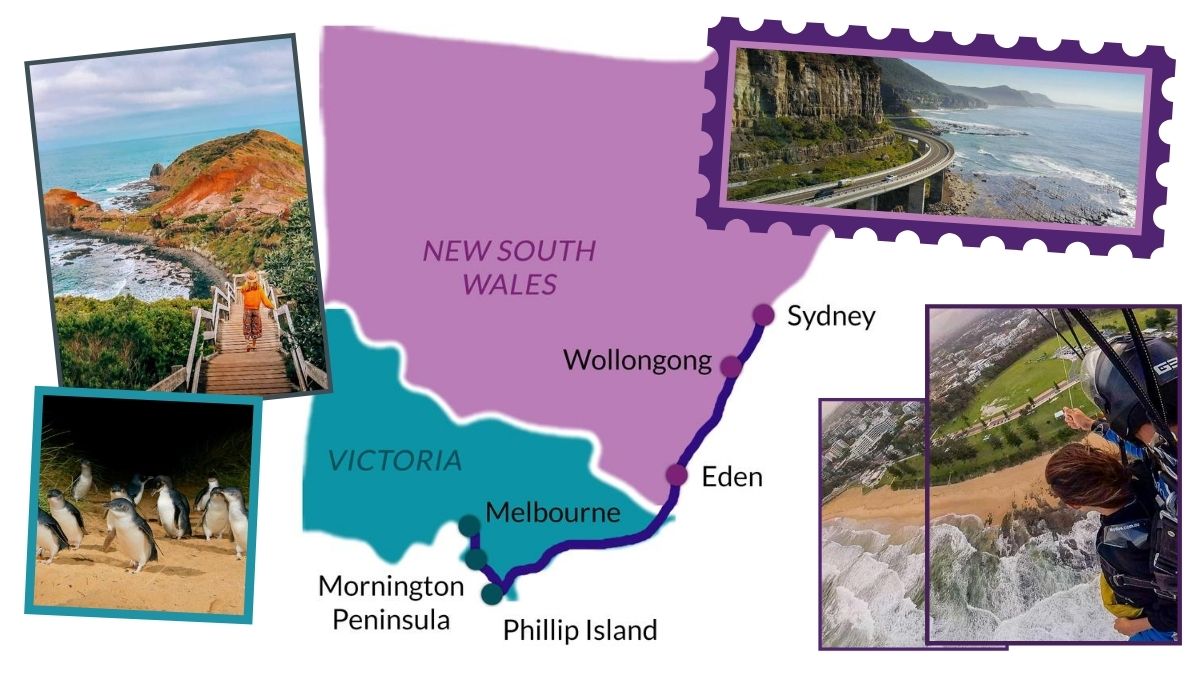 Journey time: 4–8 days (~1,300km)
Starting point: Sydney Airport (~8hr flight from Singapore)
Between two of Australia's largest cities, the coastal drive from Sydney to Melbourne (or vice versa) is sensational. Every inch of the way from New South Wales to Victoria offers quirky seaside towns, golden beaches and wondrous ocean views.
Part of the route includes the Grand Pacific Drive, a 140km stretch along New South Wales's South Coast. It covers gorgeous attractions like the Royal National Park and the stunning Sea Cliff Bridge.
The drive from Sydney to Melbourne is perfectly beginner-friendly. There are many stops along the route whenever you need to stretch your legs.
Read more: Sydney South Coast Road Trip — 7-Day Itinerary From Sydney to Eden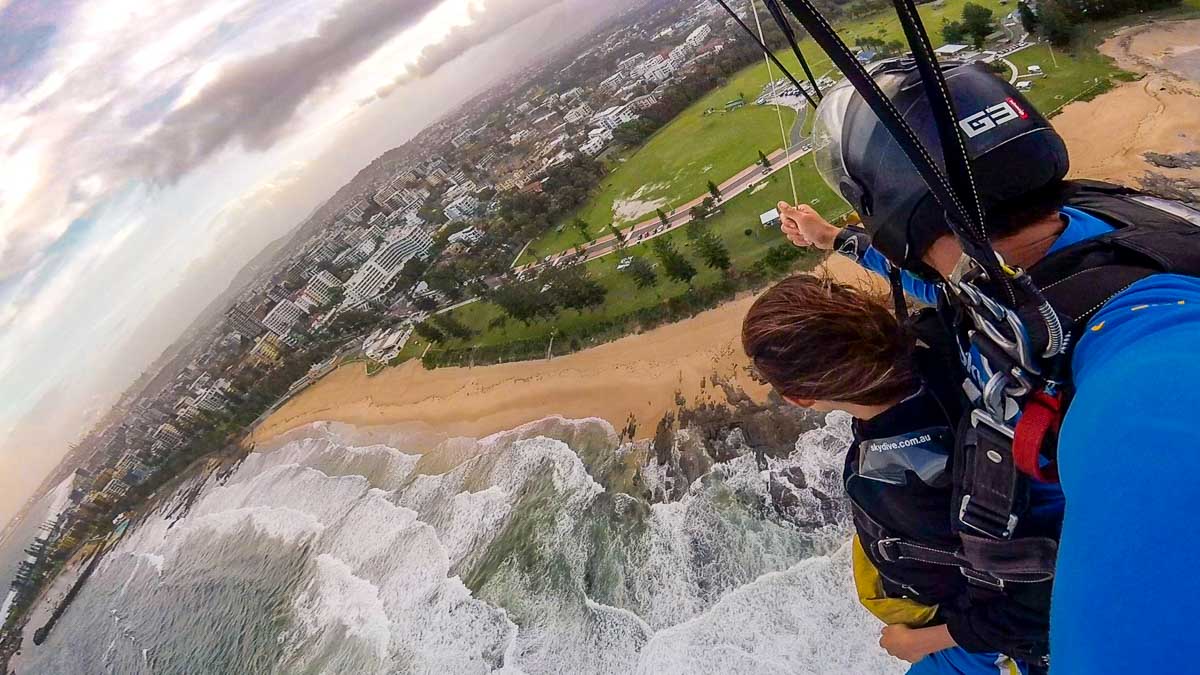 Now, onto the epic must-dos. First, sign up for some adrenaline-pumping skydiving over Wollongong. Above the magnificent coast, you'll freefall at speeds over 200km/h, wayyy faster than you'll ever go on your road trip!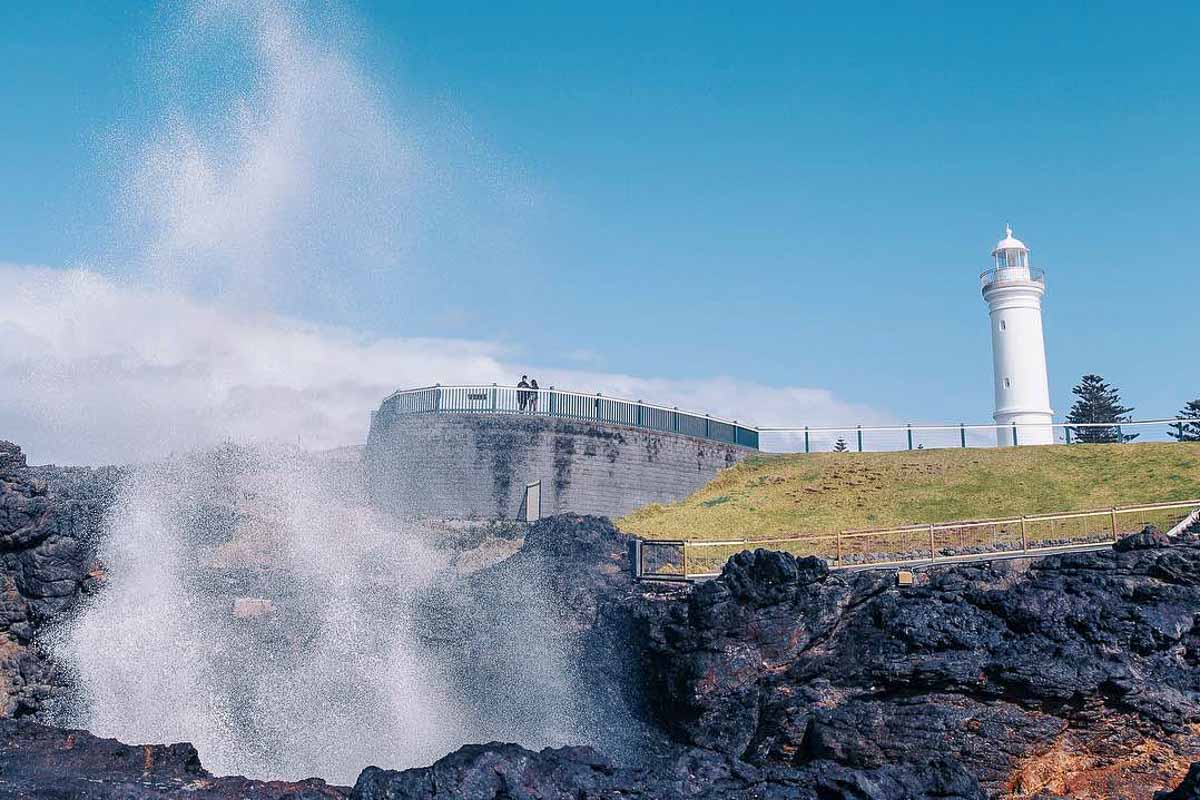 Photo credit: @kattgao via Instagram
After Wollongong, drop by the Kiama Blowhole and be blown away. Well, not literally, but there's a good chance of getting soaked.
Alternatively, if you're road trippin' during summer, spend a night or two in Jervis Bay. You might be lucky enough to catch the phenomenal sea sparkles, or bioluminescence.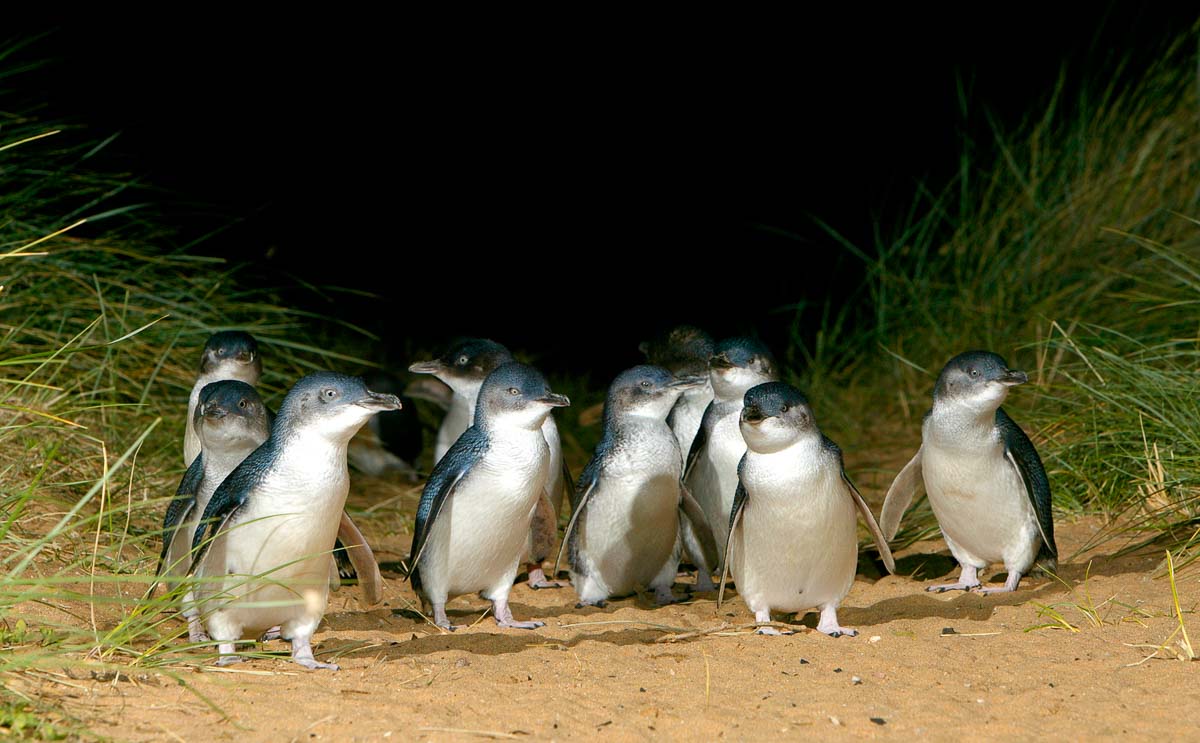 Once you've crossed the border into Victoria, get ready for even more wow's (and aww's). For nature lovers, don't miss the adorable Penguin Parade on Phillip Island. It's a heart-melting treat watching these little fellas waddle out of the ocean and scuttle around the beach.
Check out other island activities like scenic walks and visiting the cuddly Koala Reserve too!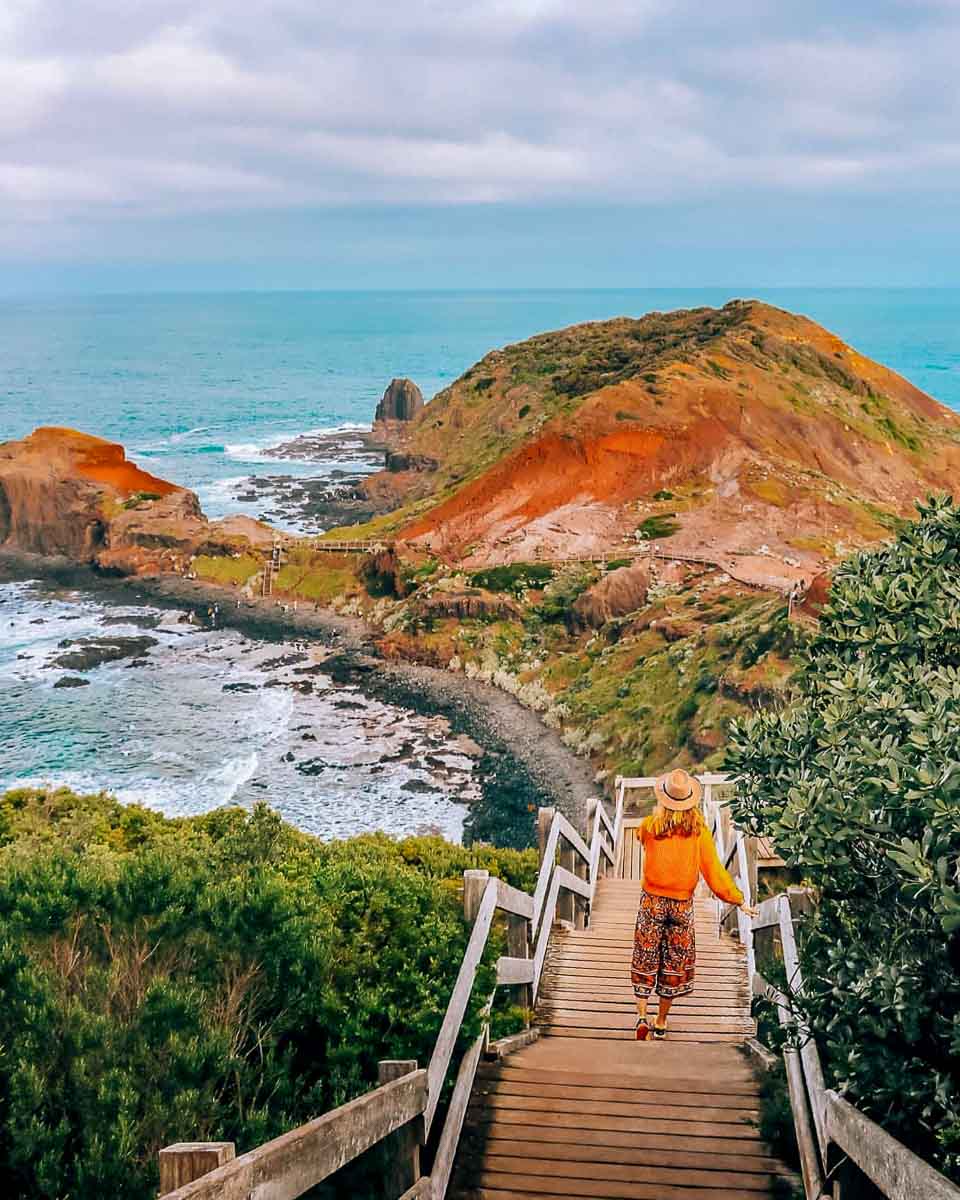 Photo credit: @helenabradbury via Instagram
Before you reach Melbourne, make one last stop at Mornington Peninsula. Here, you can drink deep at exquisite wineries and explore the stellar coastline at Cape Schanck (recommended by Chris Hemsworth 🤩).
Got another week to spare? Extend your road trip from Melbourne to Adelaide just next door! Alternatively, if you're flying out from Sydney, make the return drive from Melbourne to Sydney via the inland route. After coasts and busy beaches, you can now enjoy the quiet countryside and historic gold-mining towns.
2) Ultimate Australian Outback road trip from Darwin to Adelaide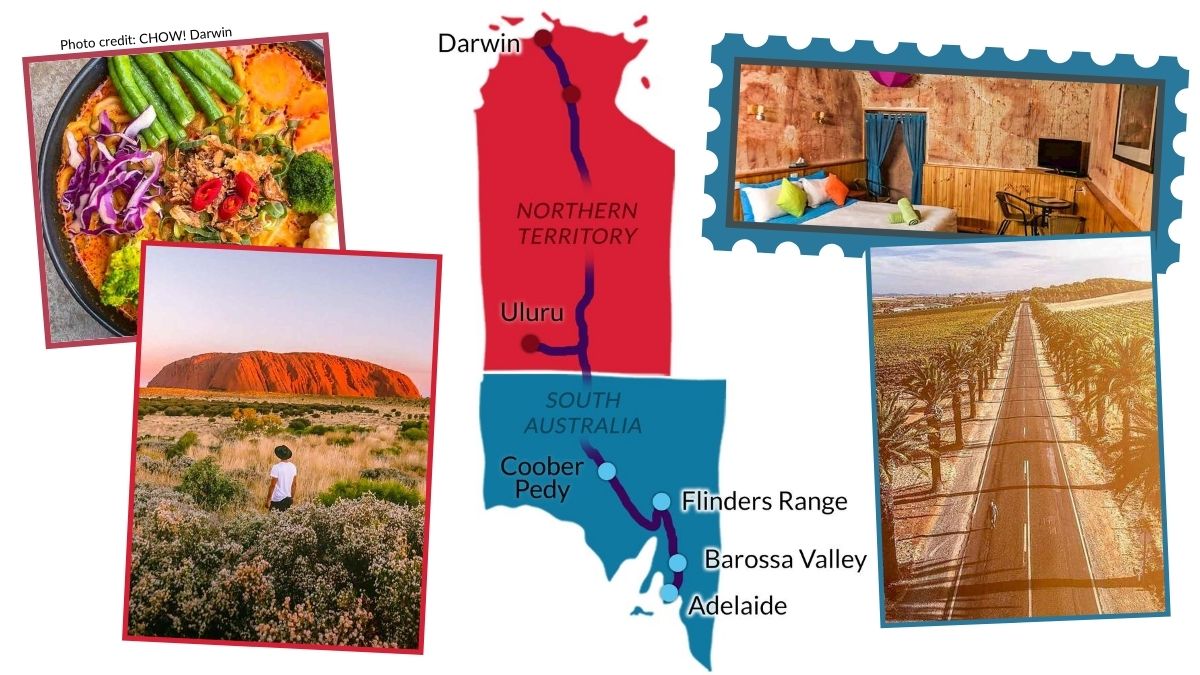 Journey time: 10–14 days (~3,000km)
Starting point: Darwin Airport (4.5hr flight from Singapore)
Cutting across the vast outback, the drive from Darwin to Adelaide takes you through a series of wonderful and unusual landscapes. You'll pass miles of red earth in the Northern Territory before reaching South Australia's world-renowned wineries.
This adventurous route is more suited for seasoned travellers as you might be driving long distances (depending on your itinerary). Petrol stations are also few and far between, so plan carefully and refuel at every stop.
To eager first-timers, don't let the long drives stop you from diving into this road trip! Just add a few more days for exploration and extra rest.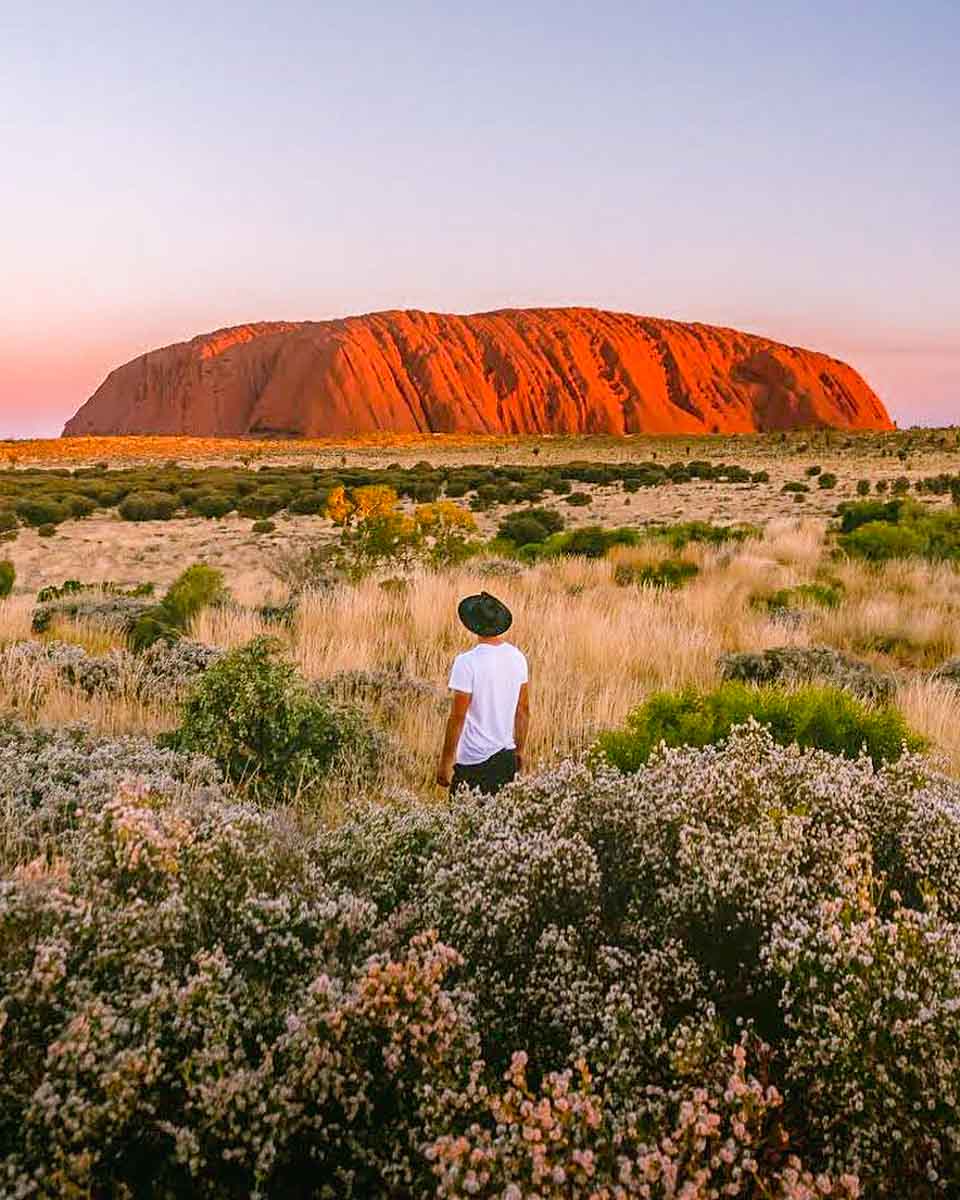 Photo credit: @exploreuluru via Instagram
Deep in the heart of the Red Centre, the hallmark of this outback road trip is the monumental Uluru. Get to know it your way — see it from above with a badass helicopter ride, or join a cultural tour and learn about the sacred land and Aboriginal culture.
Photo credit: @nealjennings via Instagram
Eight hours away lies the strange town of Coober Pedy. It's the opal mining capital of the world, but the show-stealer is that the locals live underground to avoid the scorching heat!
Staying a night here is a must. It's not every day you get to live in a posh B&B carved out of natural sandstone, especially one located 25m below.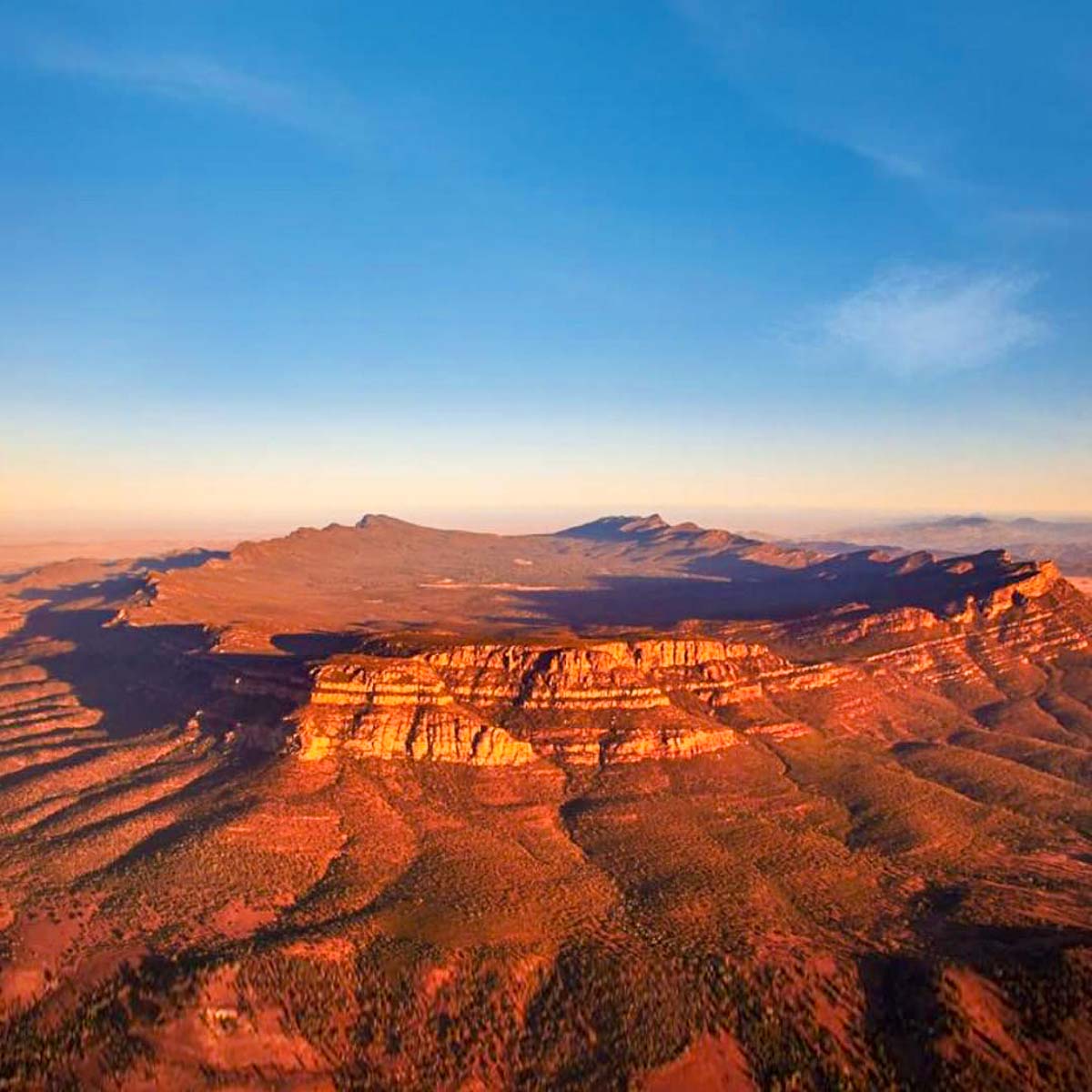 Photo credit: @alan.timms1 via Instagram
If you thought Coober Pedy was mind-blowing, wait till you hit the Flinders Ranges.
The national park is home to incredibly dramatic landscapes like Wilpena Pound, a massive bowl-shaped crater made up of craggy mountains. The best way to see it is through an exciting scramble up to its rugged ridges or a relaxing scenic flight.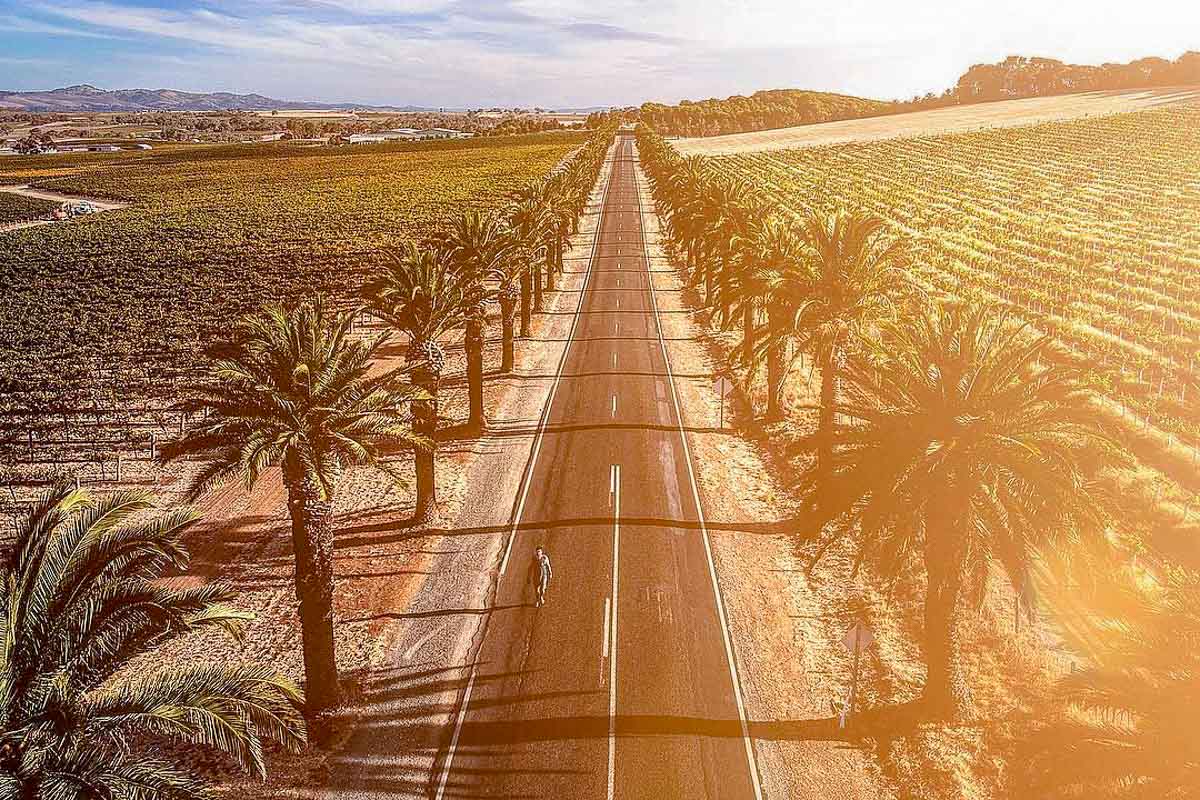 Photo credit: @ashhughesphotos via Instagram
After days of non-stop adventure, wine down in the Barossa Valley — reputed as one of the world's greatest wine regions. There are over 150 wineries and 80 cellar doors, so take your time to swirl and sip Australia's finest Cabernet Sauvignon or special Barossa Shiraz.
The excitement doesn't have to end in Adelaide! Not too far from the city, there are plenty of jaw-dropping coastlines that are ripe for exploring, which brings us to our next route…
3) Scenic South Australia road trip — Southern Ocean Drive from Adelaide to Kangaroo Island and Mount Gambier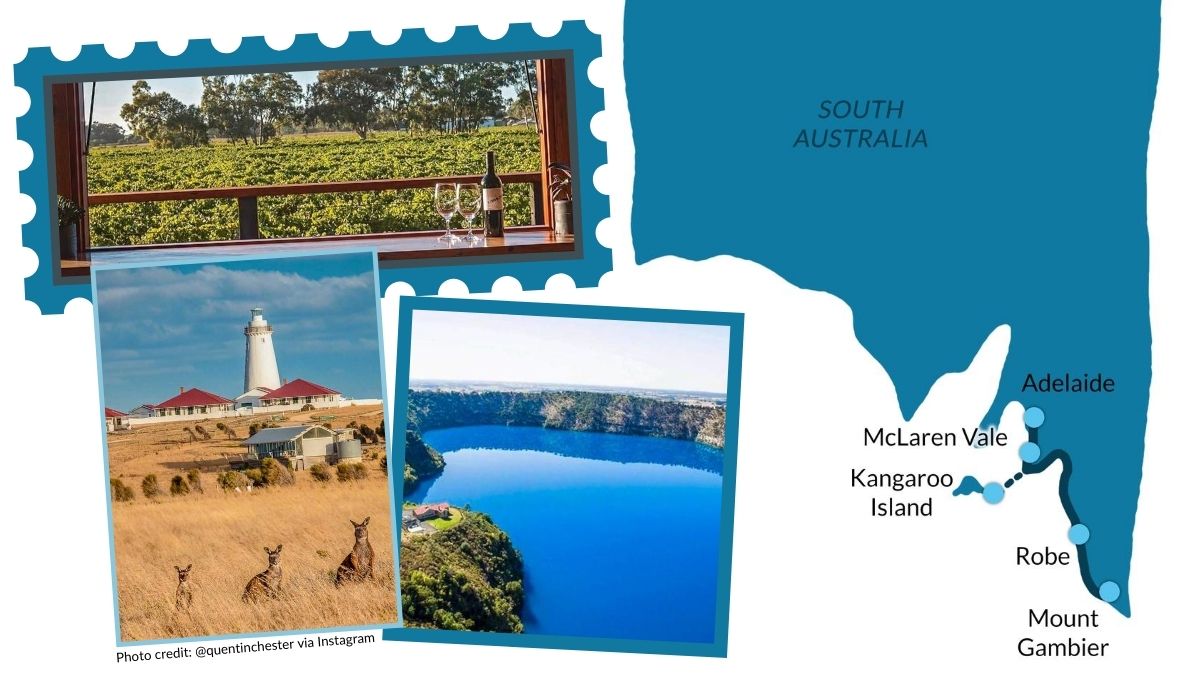 Journey time: 5–7 days (~500–1,200km)
Starting point: Adelaide Airport (~7hr flight from Singapore)
With an abundance of coastal scenery, tasty wines and native wildlife, the Southern Ocean Drive is one of the loveliest, lesser-known road trips in Australia. In fact, some consider it a 'sequel' to Victoria's Great Ocean Road drive (more on this later)!
The route is great for beginner road trippers as there are plenty of stops to pull over at. Plus, attractions are relatively nearby one another. It's likely you won't drive for longer than three to four hours each day.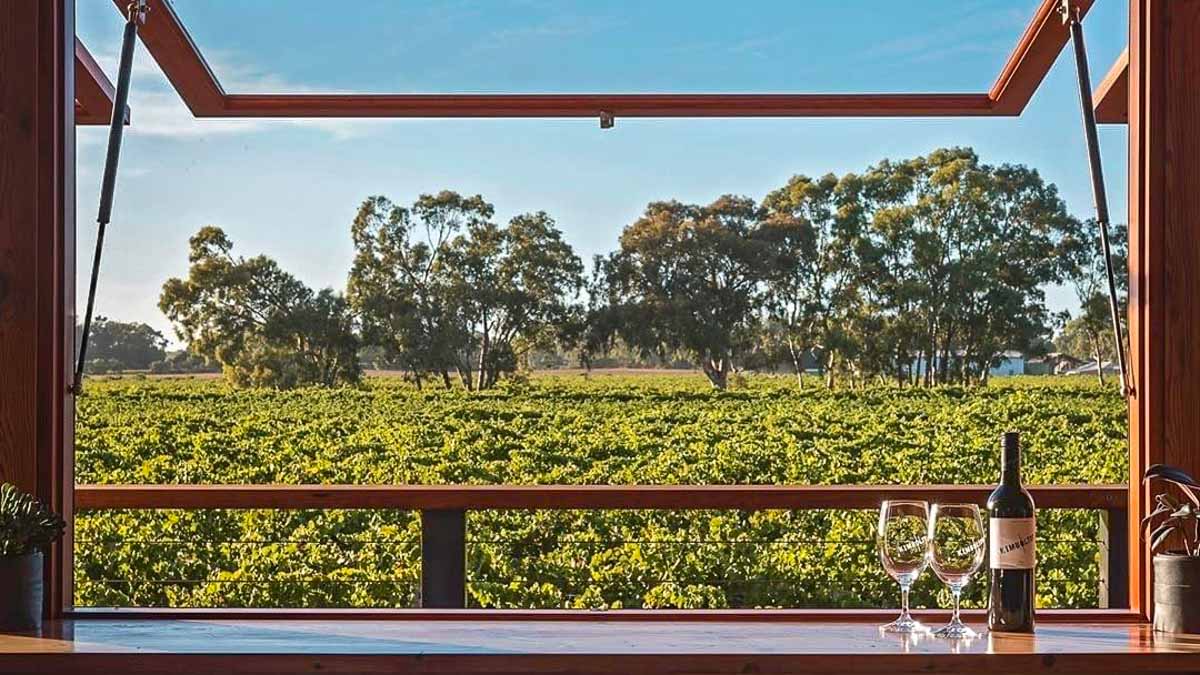 Photo credit: @officialfleurieupeninsula via Instagram
South Australia produces half of all the wine in the country, so there's no excuse not to indulge! Make your first stop at McLaren Vale in Fleurieu Peninsula. It's home to some of the world's oldest grapevines, and serves the most delectable wines and local produce you might ever taste in your life.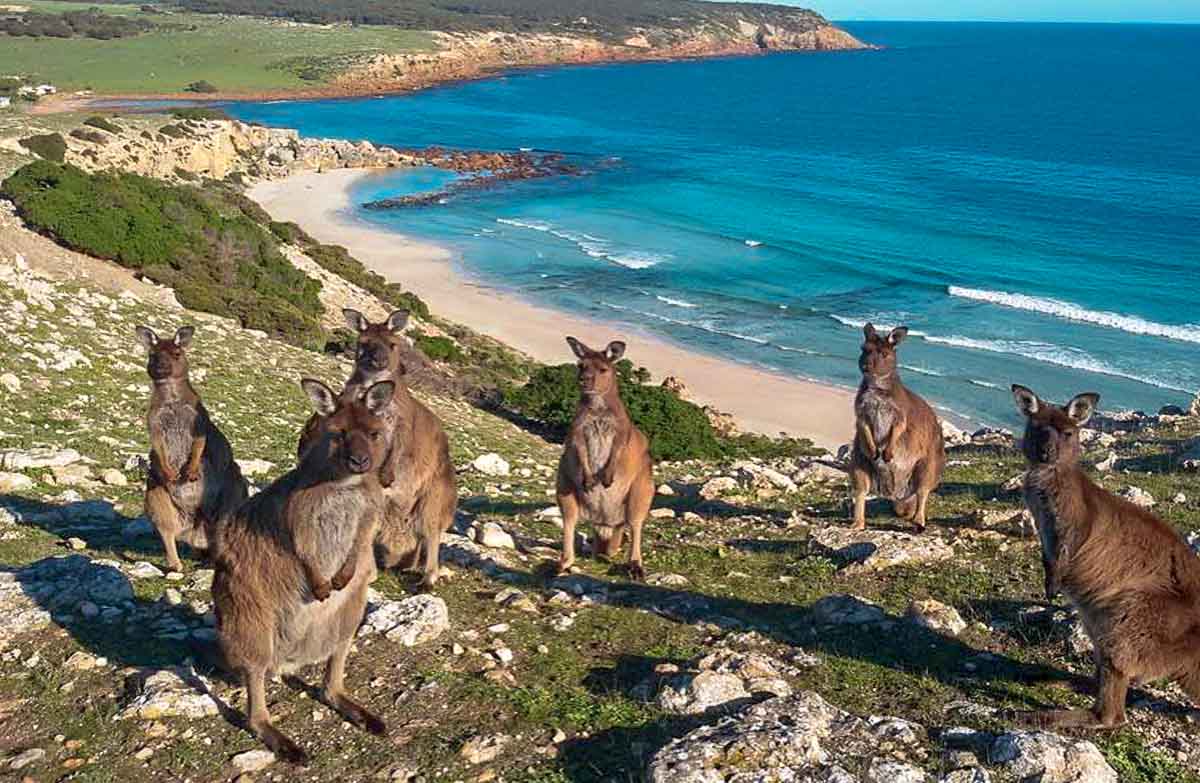 Photo credit: @promotemytown via Instagram
Nature and wildlife lovers would adore Kangaroo Island. A good part of it is protected in nature reserves, so it's no surprise to meet wild 'roos and see other wildlife roaming free!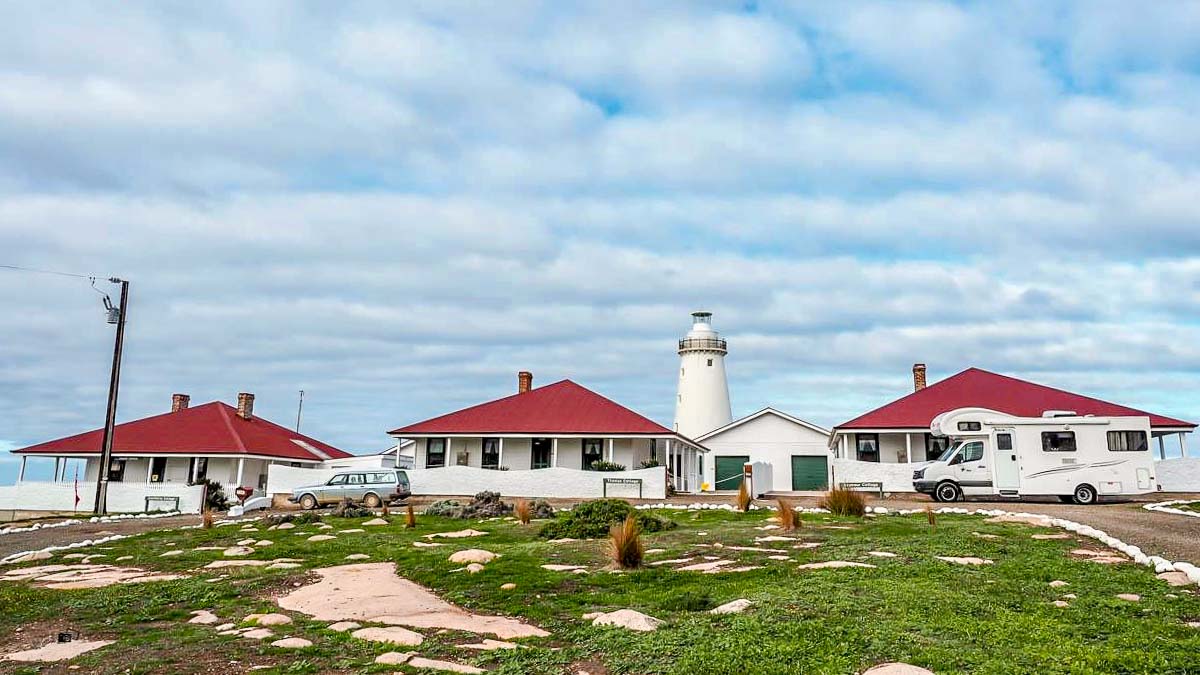 Photo credit: TripAdvisor
To make your Kangaroo Island experience more unique, stay the night in a quaint cottage by Cape Willoughby Lighthouse. You'll enjoy a well-deserved package: Exclusive privacy, calming sounds of crashing waves, and a magnificent sunrise view.
If you only have a few days, keep the road trip short and explore Kangaroo Island fully. Otherwise, take a ferry back to the mainland and continue your coastal journey.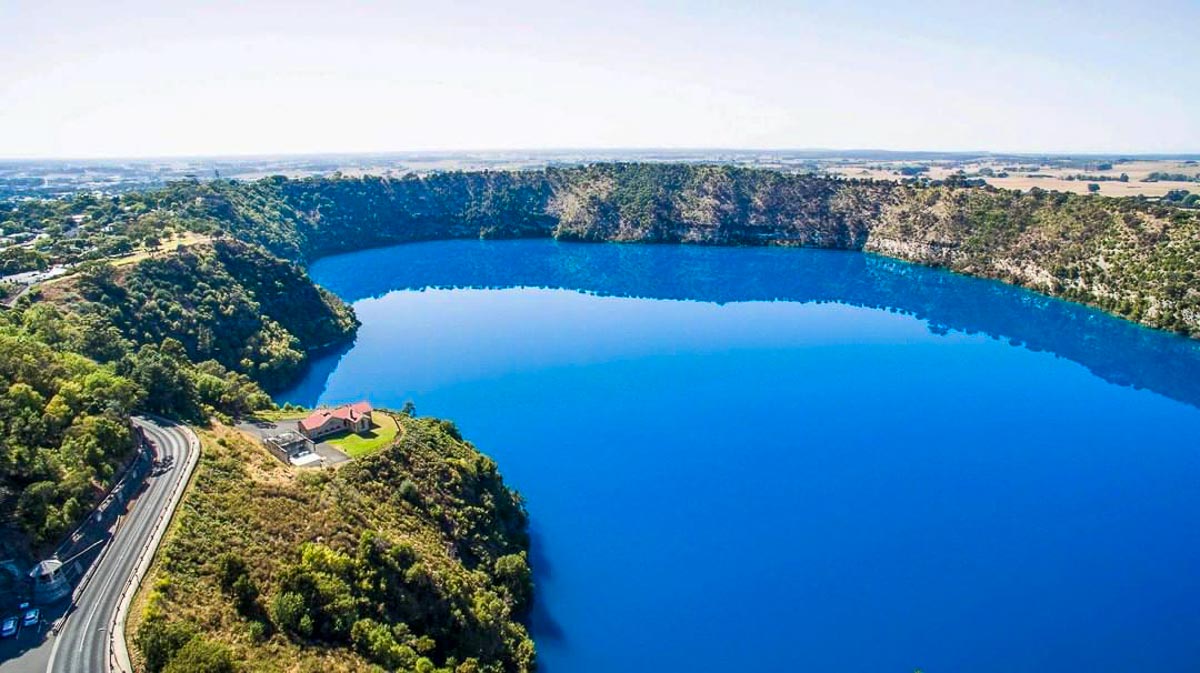 Photo credit: @discover_mount_gambier via Instagram
Situated along the Limestone Coast, Mount Gambier is a city built atop an extinct volcano. Its main attraction is the mysterious Blue Lake, a huge crater lake. From April to November, the water is a distinct greyish-blue colour. But once November rolls around, it transforms into a striking turquoise blue.
The Blue Lake is not permitted for swimming, but its smaller cousin is! Satisfy your urge to dip at the Little Blue Lake, a giant sinkhole filled with pleasantly cool waters. It's free to enter, and makes an awesome photo spot too!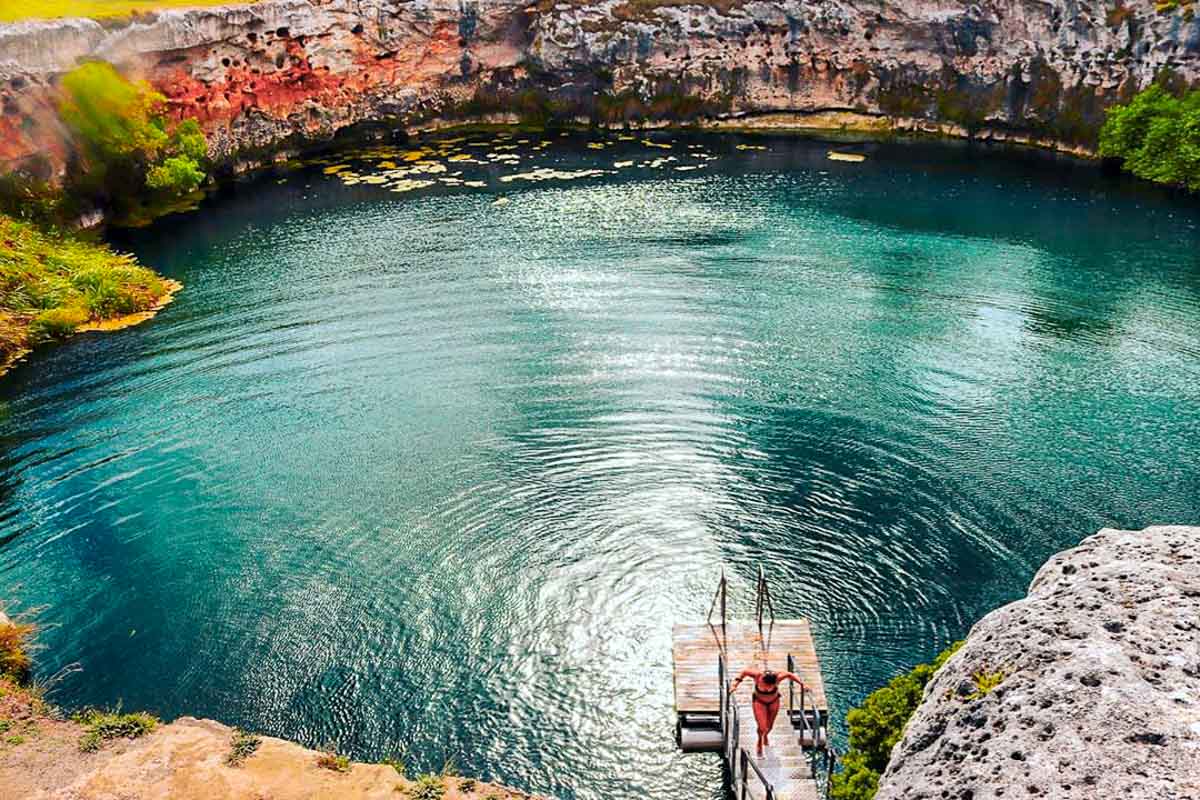 Photo credit: @sarahafindlay via Instagram
4) Northern Territory Top End Nature's Way Drive from Darwin to Katherine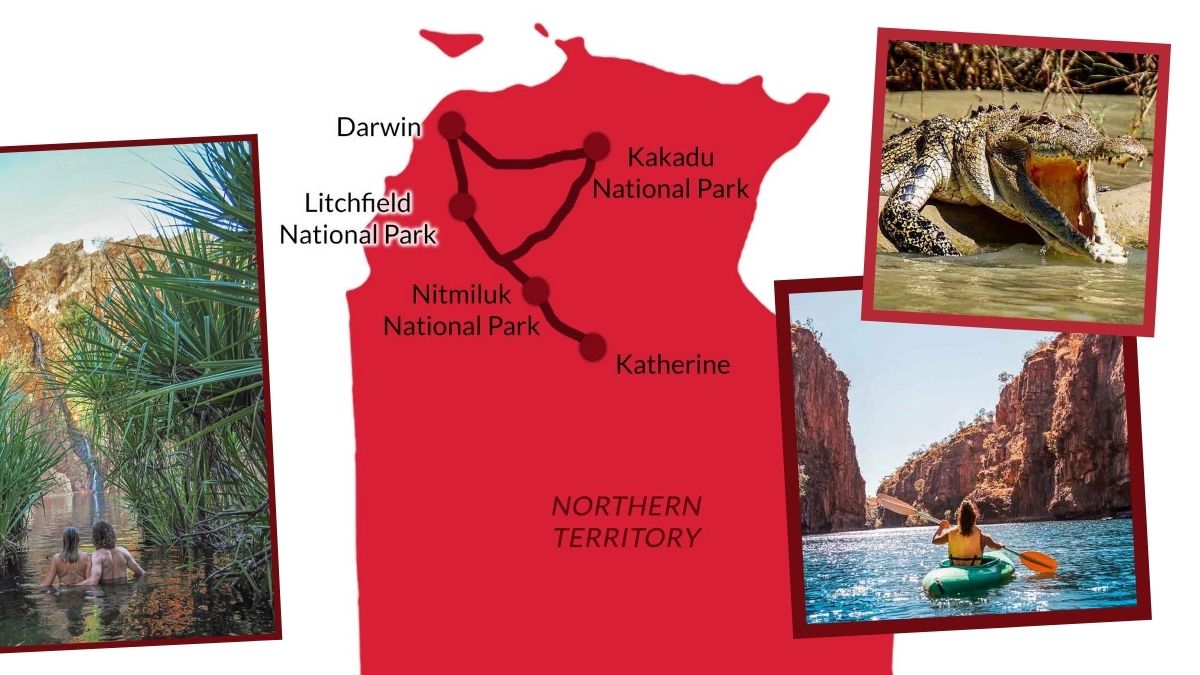 Journey time: 8 days (~900km)
Starting point: Darwin Airport (4.5hr flight from Singapore)
Top End Nature's Way features a fantastic mix of tropical wonders and the fascinating Australian outback. Peppered with spectacular national parks, timeless Aboriginal culture, and the charming town of Katherine — this triangular route is especially geared for outdoor lovers.
Adventurous as it may be, the drive from Darwin to Katherine is actually easy. Main attractions are about three hours from each other. Roads are also well-paved, so you don't need four-wheel drives (4WD). What you do need, though, are your best hiking shoes!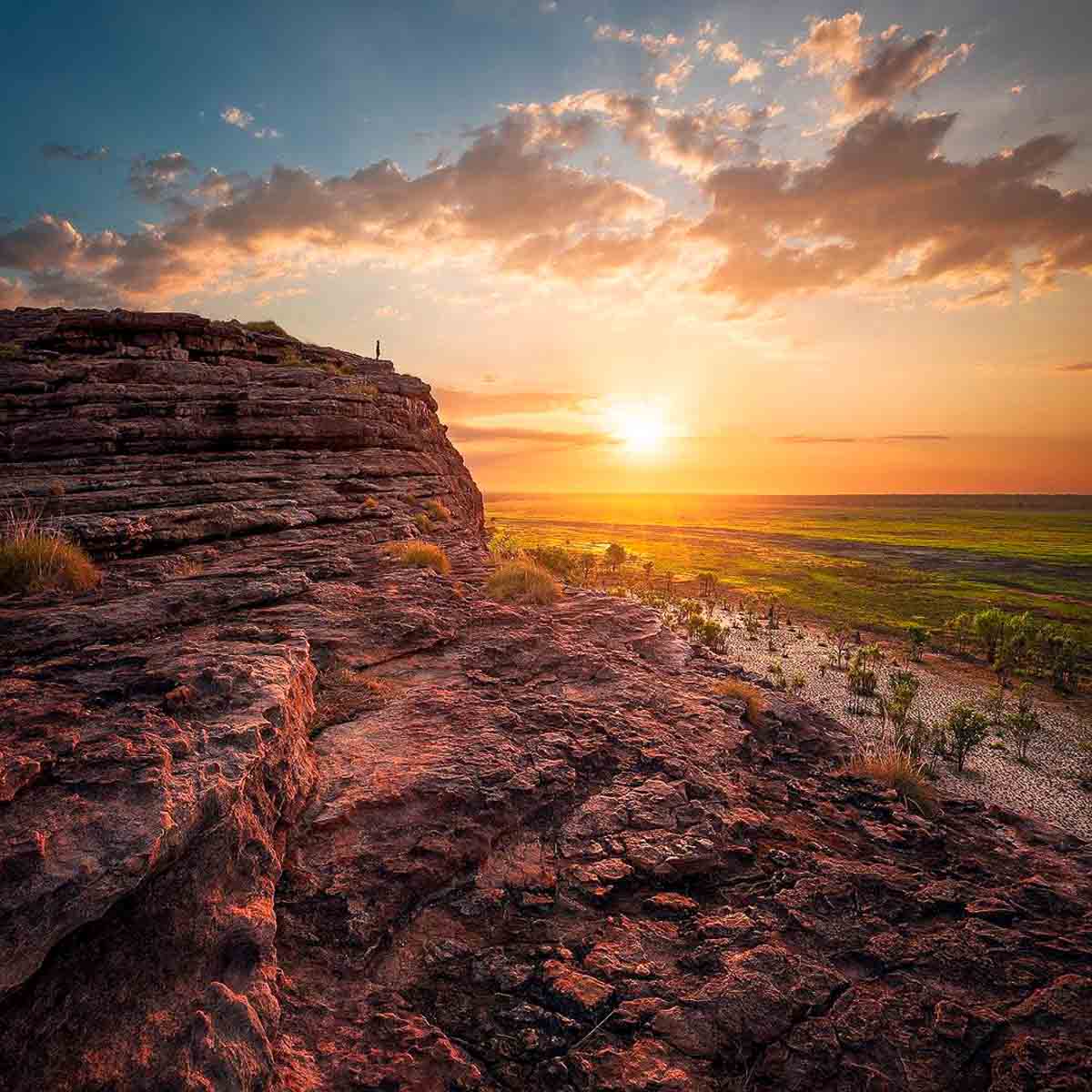 Photo credit: @_danieltran_ via Instagram
The first must-visit is Kakadu National Park, Australia's largest. Take a walk through Burrungkuy (Nourlangie), an ancient rock art gallery that showcases Aboriginal traditions. Or, pack your bathers and dip in the beautiful Gunlom Plunge Pool.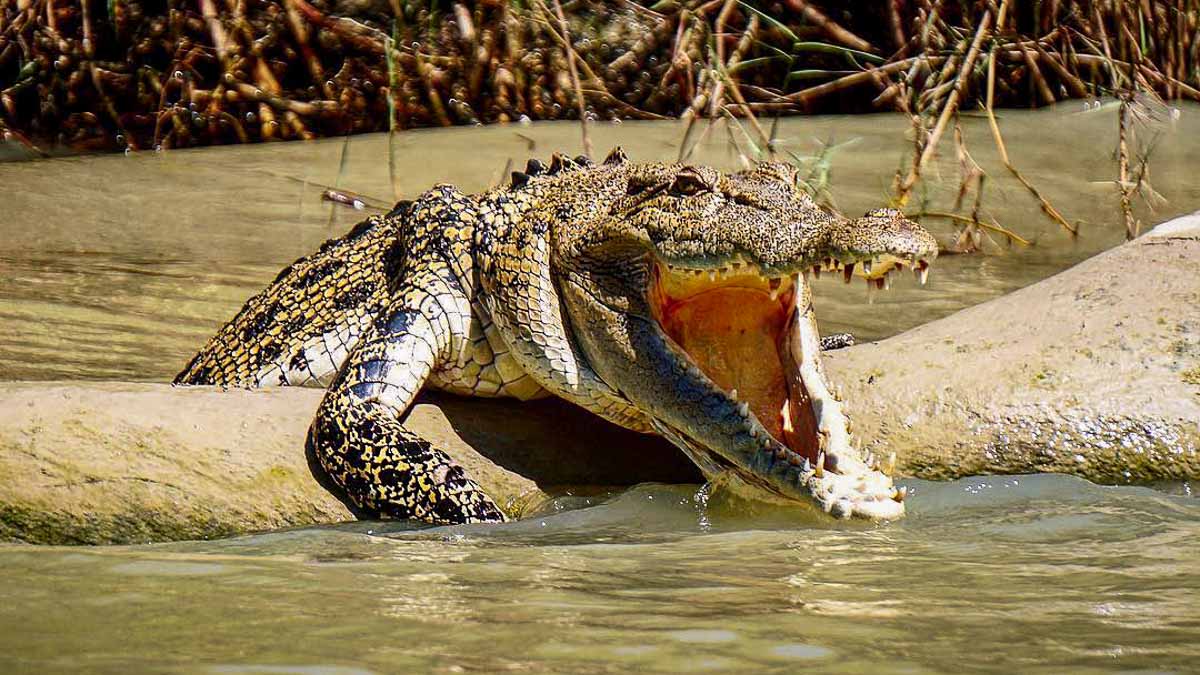 Photo credit: @traveling_yorick via Instagram
The huge park is also home to boatloads of exotic wildlife, including 10,000 crocodiles! Feed your curiosity and join a croc-spotting cruise — you might catch these prehistoric beasts basking lazily in the sun, or silently stalking their next meal.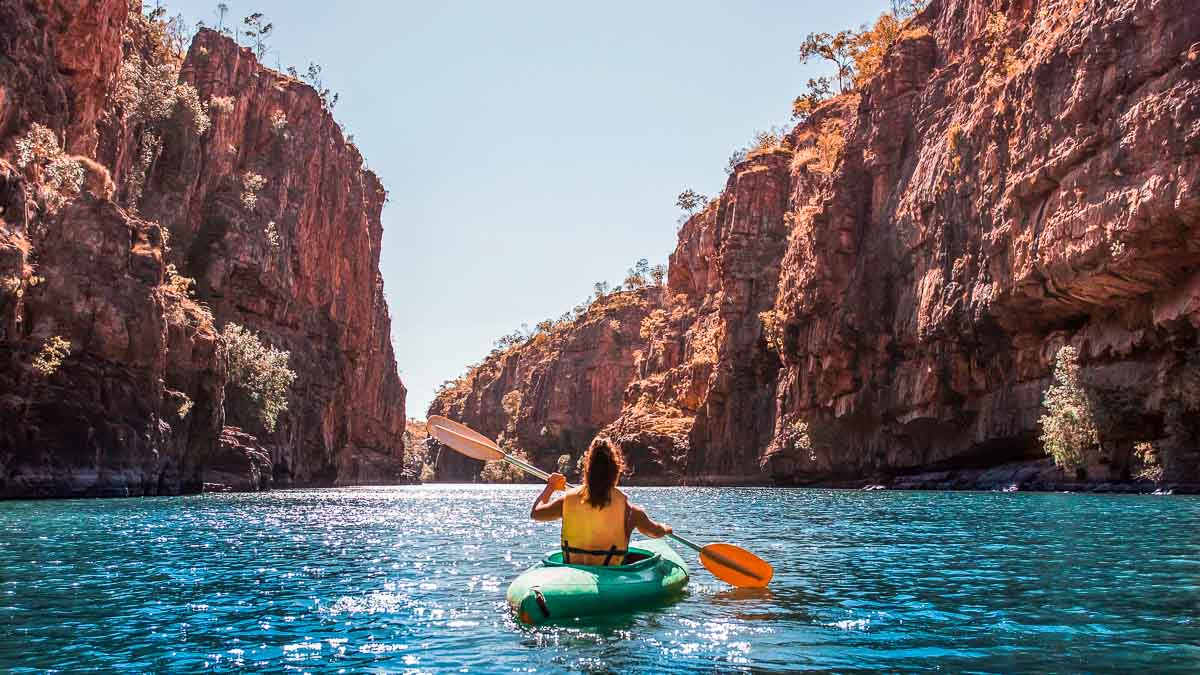 Photo credit: Tourism Australia
In Katherine, travellers usually make a beeline for Nitmiluk National Park, and it's easy to see why. The highlight is the Nitmiluk (Katherine) Gorge, a deep sandstone gorge that transports you to another realm.
While cruises are available, enjoy a bigger thrill by hiring a canoe. During the dry season (May–Sep), you'll get enchanting views while paddling through ancient landscapes.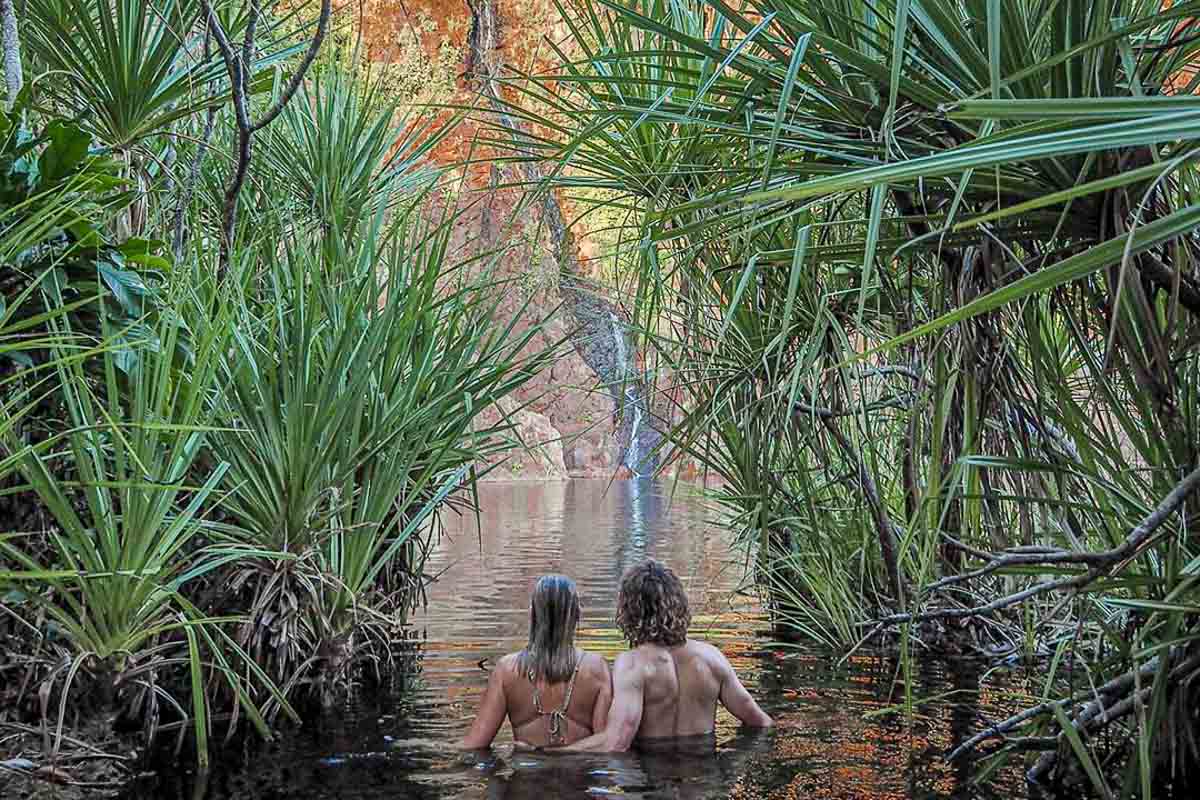 Photo credit: @fewdaysbetween via Instagram
Finally, after days of fast-paced action, cool off at Litchfield National Park on your drive back to Darwin. The park has plenty of lush swimming holes, great for refreshing soaks.
In need of more adventure? Fly down to Alice Springs from Darwin and explore the Red Centre Way! The route snakes through mighty attractions like Uluru and Kings Canyon. Seasoned travellers can rent a 4WD and zip through Mereenie Loop, a dusty dirt road.
Read more: 40 Lesser-Known Things to Do in Australia Highly Recommended by Locals, Travellers and Celebrities
5) Grand Tasmania road trip — Great Eastern Drive from Hobart to Bicheno and the Bay of Fires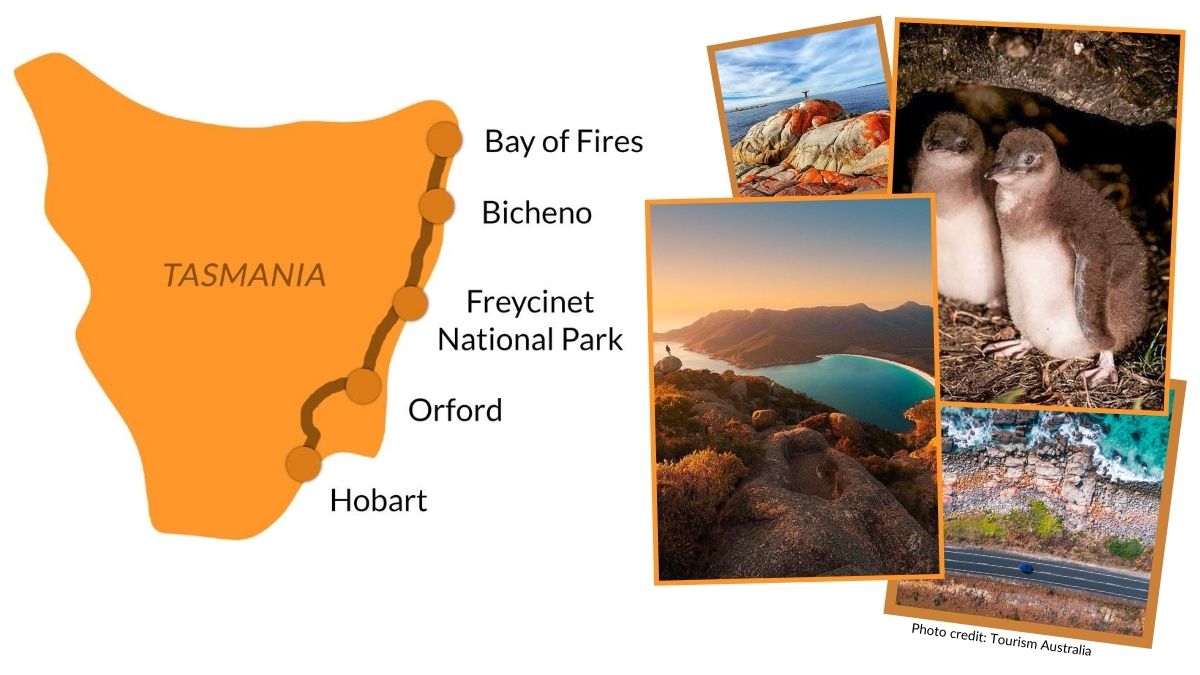 Journey time: 2–5 days (~300km)
Starting point: Hobart Airport (~8.5hr flight from Singapore)
Whether you've got a week or a weekend, Tasmania's Great Eastern Drive promises a road trip getaway that'll clear your head. Expect breathtaking coastal drives, pristine beaches and some of the freshest seafood around.
The drive from Hobart to Bicheno is mainly on sealed roads and highways, making it suitable for both beginners and seasoned travellers. Plus, attractions are less than two hours from each other!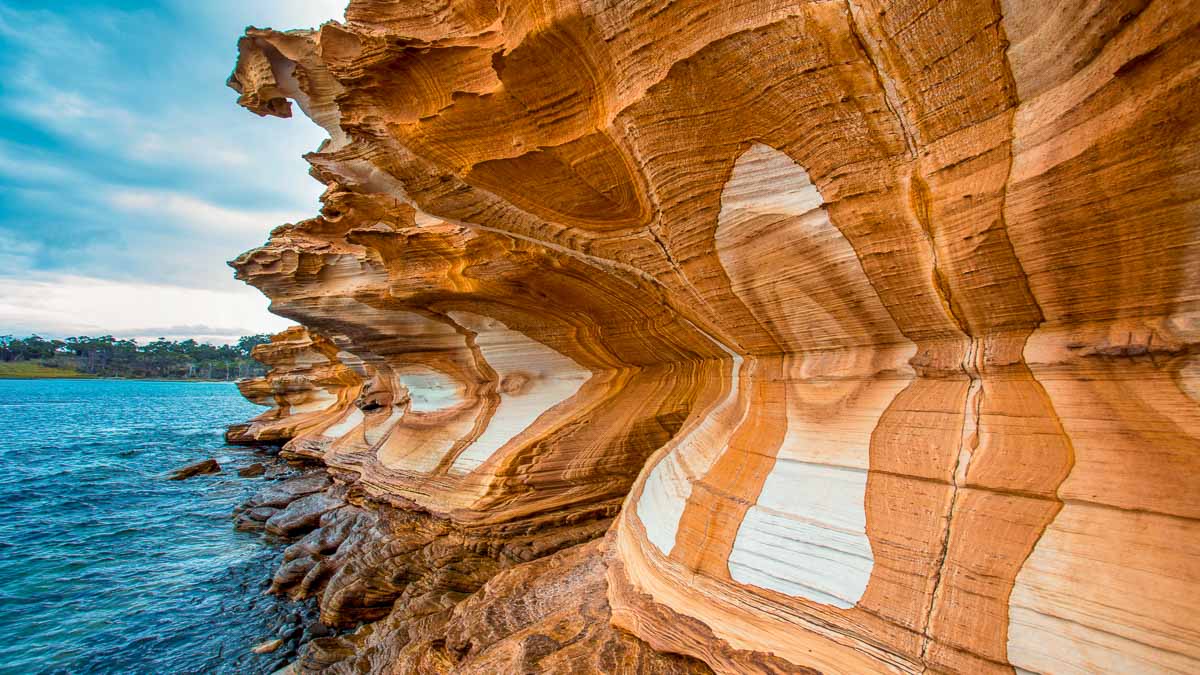 Photo credit: Maria Island Walk / Great Walks of Australia
Start your trip by disconnecting from civilisation. Take a 30-minute ferry ride from Orford to Maria Island. Hike to the Painted Cliffs, made magical by its bold swirls of earthy colours. The best time to view it is at sunset when the colours truly pop — just be sure you make it back to the ferry on time!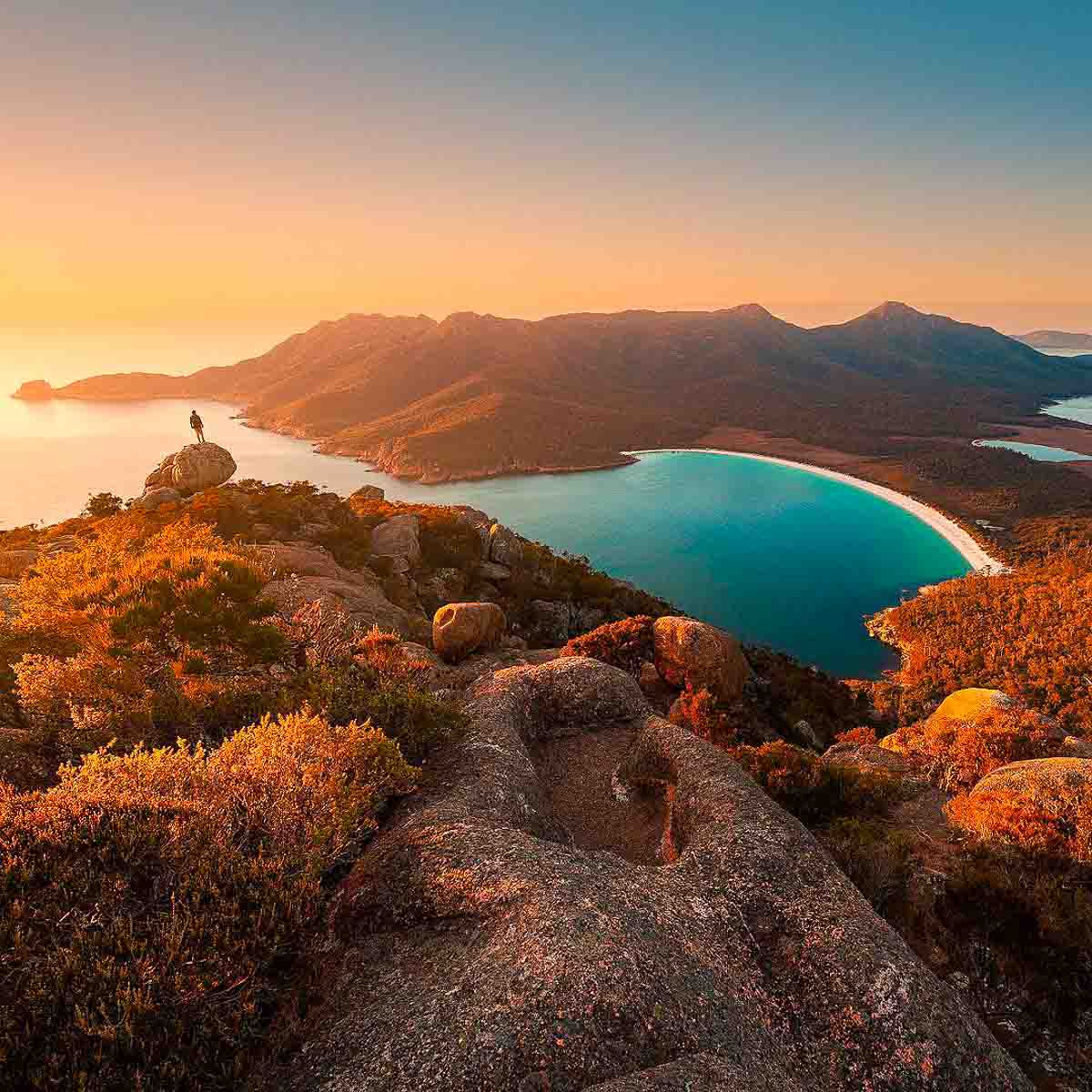 Photo credit: @itsworthashot via Instagram
Back on mainland Tasmania, dedicate a full day for Freycinet National Park. Wake early (or try your best to) and follow the Mount Amos trail to see Wineglass Bay at sunrise. The famous azure bay looks completely different when it's bathed in a warm orange glow.
For the rest of the day, treat yourself to juicy, succulent oysters from Freycinet Marine Farm. Or, you could always work a little harder and harvest oysters straight from the waters.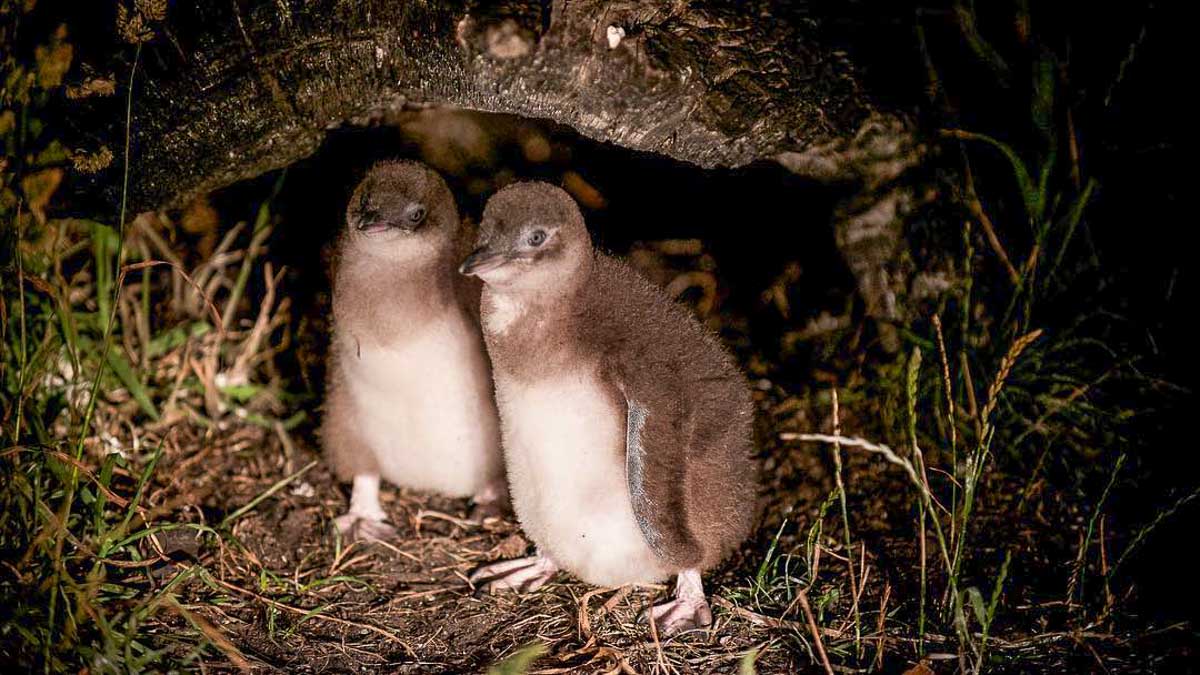 Photo credit: @lady_siu_mei via Instagram
Wildlife lovers, stop by Bicheno for a cute penguin tour. Every evening, little penguins splash out of the waters and waddle around their burrows on the beach. The tour lets you get up close to watch them go about their adorably busy routines.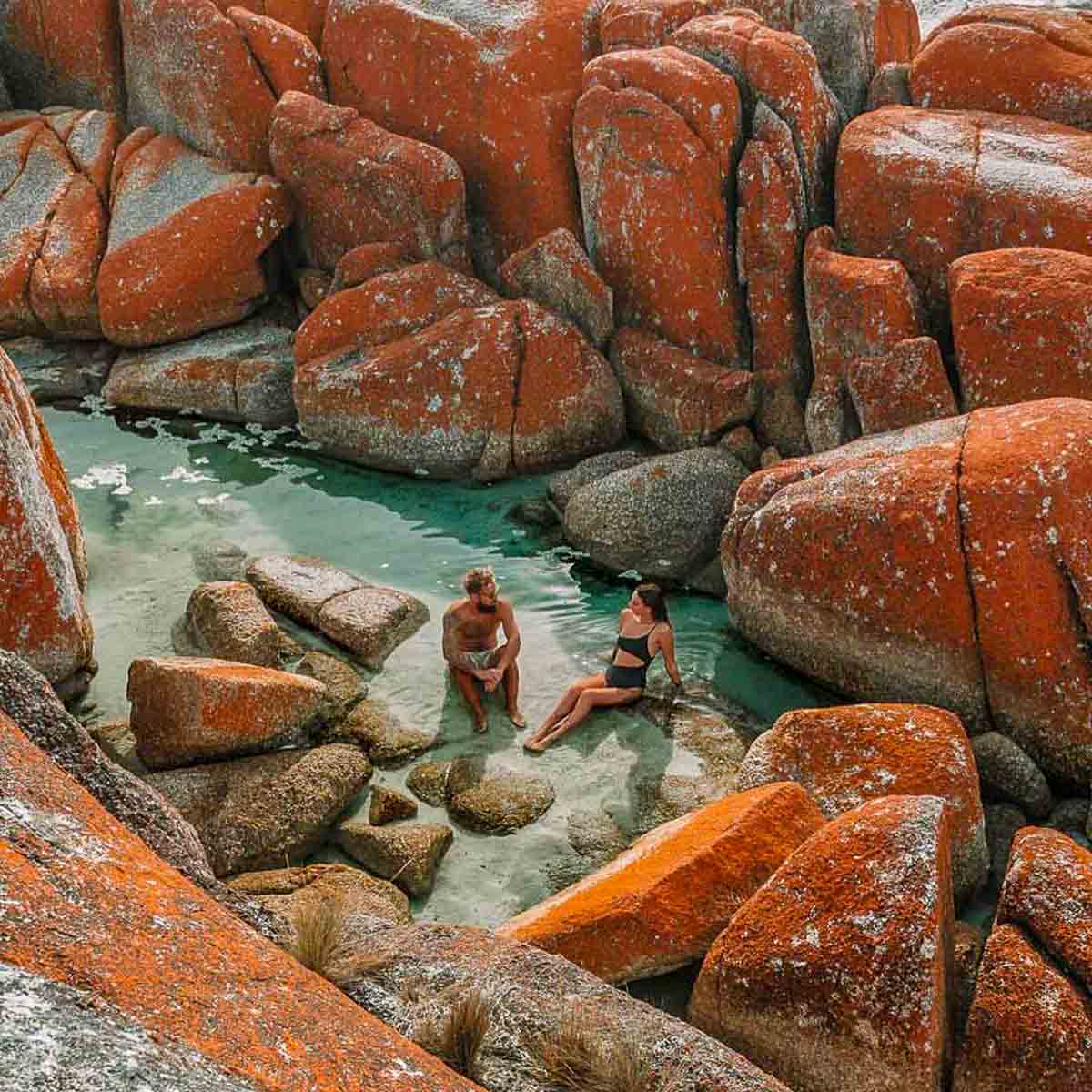 Photo credit: @_aswewander via Instagram
Finally, drive an hour from Bicheno to the legendary Bay of Fires. Clumped together on the white sand beach, the orange lichen-covered granite boulders are a great place to rest, swim, and take lots of lit photos.
Read more: 16 Picture-Perfect Places Every Australia Itinerary Needs
6) Best of Victoria road trip — Great Southern Touring Route from Bellarine Peninsula to Great Ocean Road and the Grampians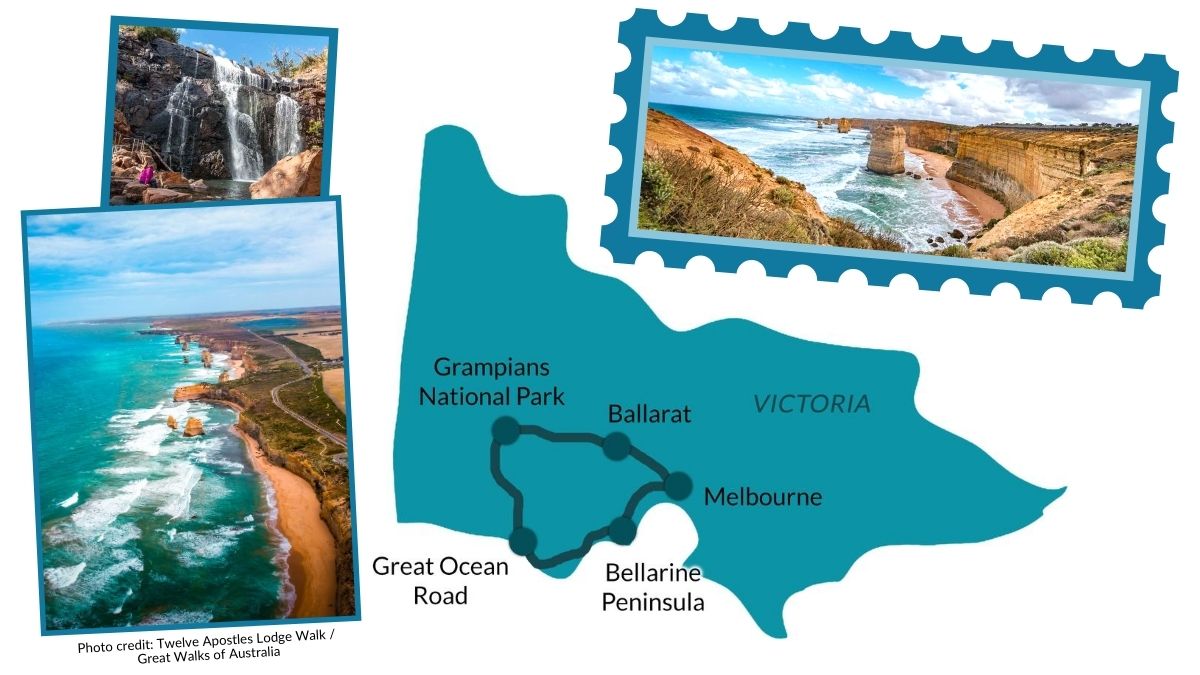 Journey time: 5–8 days (~850km)
Starting point: Melbourne Airport (~7.5hr flight from Singapore)
No Australia road trip is more iconic than the Great Southern Touring Route! You'll feast well at the gastronomical Bellarine Peninsula, before winding along the marvellous coastline of the Great Ocean Road, and end with adventures in the Grampians.
The weeklong, round-trip drive is great for beginners. Most attractions are within two to three hours from each other, and there are plenty of stops along the way for rest and photos. Add more days if possible — this is one brilliant journey you don't want to rush.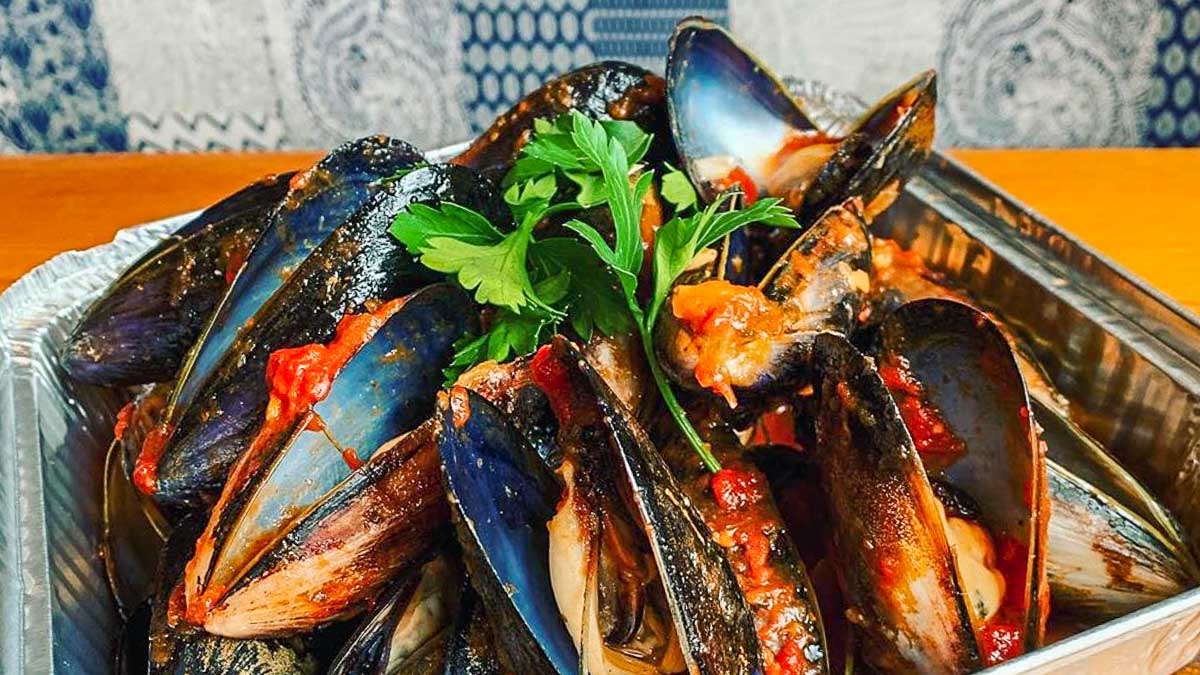 Photo credit: @littlemusselcafe via Instagram
If you're travelling to the coasts first, make a quick detour to the Bellarine Peninsula. Bring an empty stomach — the up-and-coming region serves delicious local produce, from insanely fresh seafood to full-bodied wines and decadent desserts.
Recommended eateries include the Little Mussel Cafe, Scotchmans Hill, and the Scandinavian Ice Cream Company. Or, plan your own yummy Bellarine Taste Trail!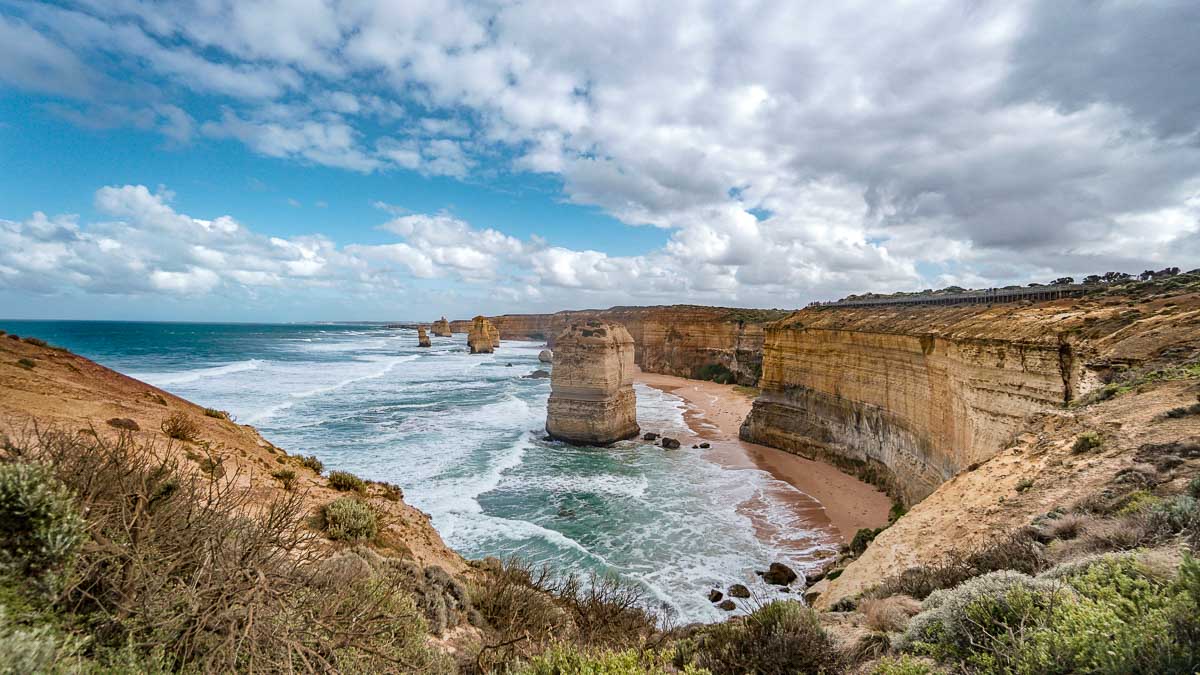 And now, the main event: The Great Ocean Road. Take your time for this leg of the journey! It's totally normal to stop every few minutes and take photos of the unbelievable coastline. But, make sure you've allocated enough time to see all its classic sights — the 12 Apostles, Loch Ard Gorge, the Arch and the Grotto.
As you drive back inland, stop at the Grampians, another must-visit attraction. The National Park is popular with outdoor lovers and travellers, who come to rock climb or conquer its adventurous treks.
If you only have time for one hike, make it the Pinnacle Lookout, one of the park's highest peaks. The journey from Wonderland Car Park is moderately challenging, but filled with scenery that makes it a highly Instagrammable spot.
Read more: 16 Picture-Perfect Places Every Australia Itinerary Needs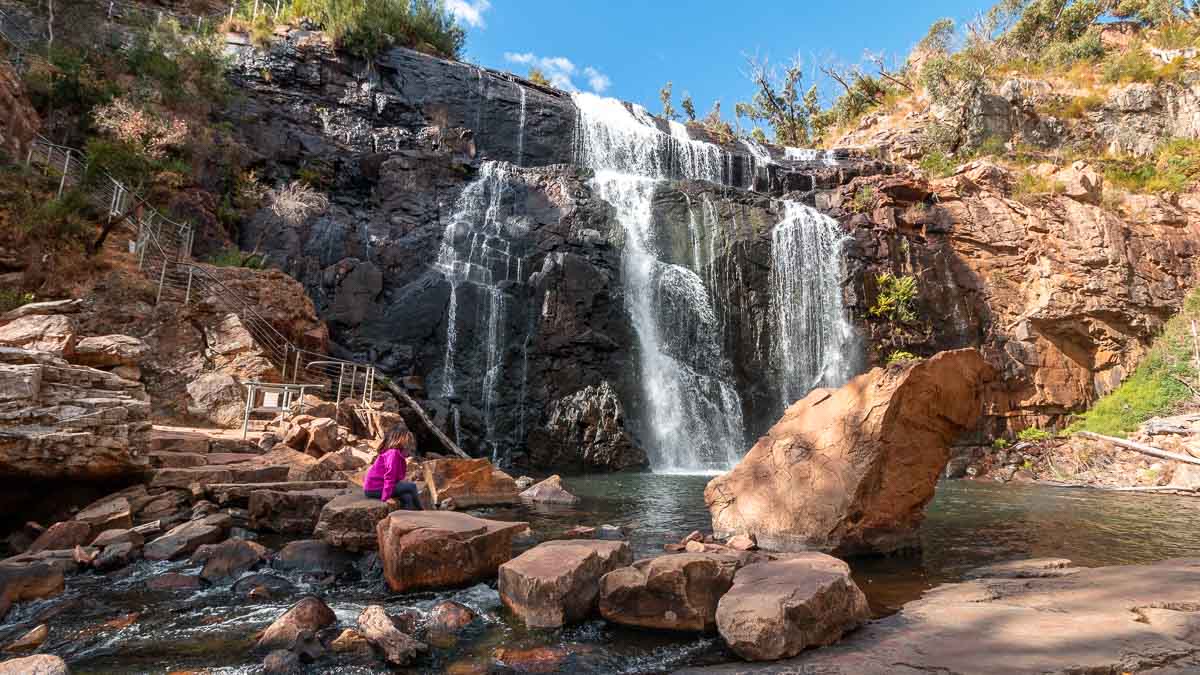 For a less gruelling hike, head to MacKenzie Falls. It's one of the largest waterfalls in Victoria that flows all year round.
Read more: 8D Melbourne Road Trip Itinerary — The Ultimate Road Trip Around Victoria's Best Adventures
If you're craving more coastal scenery, extend your Victoria road trip from Melbourne to Adelaide. The route includes Port Fairy, a whimsical seaside town, and picturesque Mount Gambier.
7) Hidden gems in the Australian Capital Territory — Canberra and Coast road trip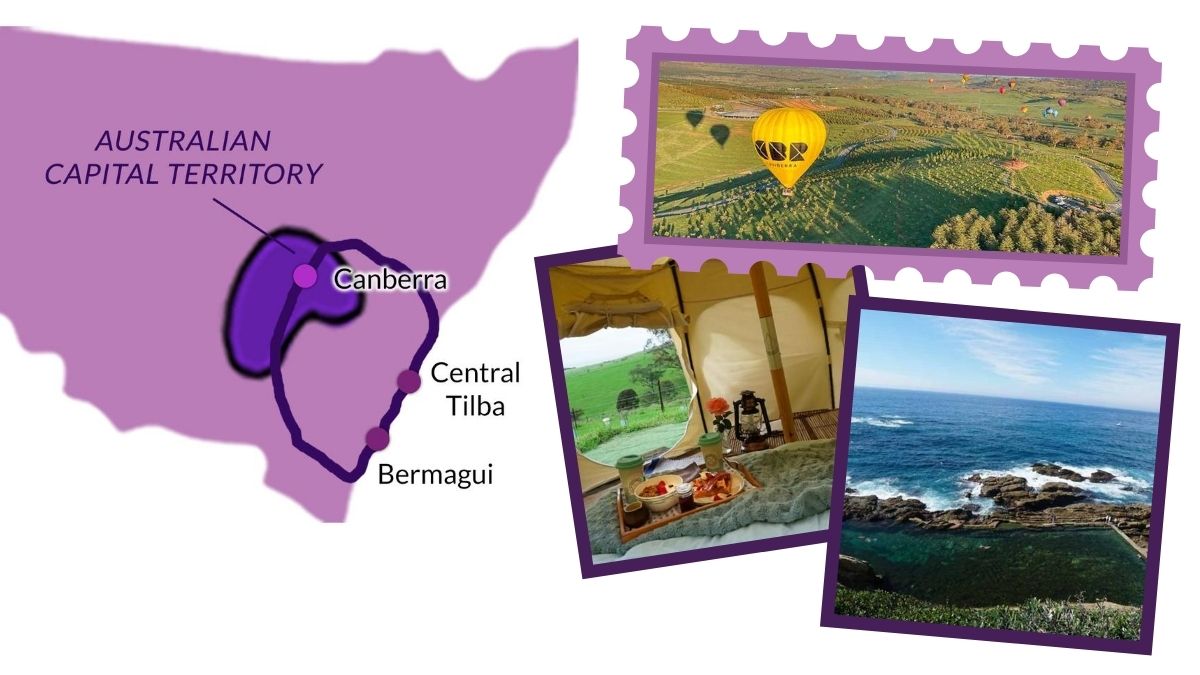 Journey time: 5–6 days (~650km)
Starting point: Canberra Airport (8hr flight from Singapore)
For an unhurried escape, go on a picturesque road trip around Canberra and the South Coast. This round-trip route meanders from the city to the countryside and coast, topped with a mix of culture, adventure, and best of all — food!
As the road trip is relatively short, it's great for beginners. Depending on your itinerary, you might be driving for a maximum of three hours a day. But there are many places to rest and take a breather along the way.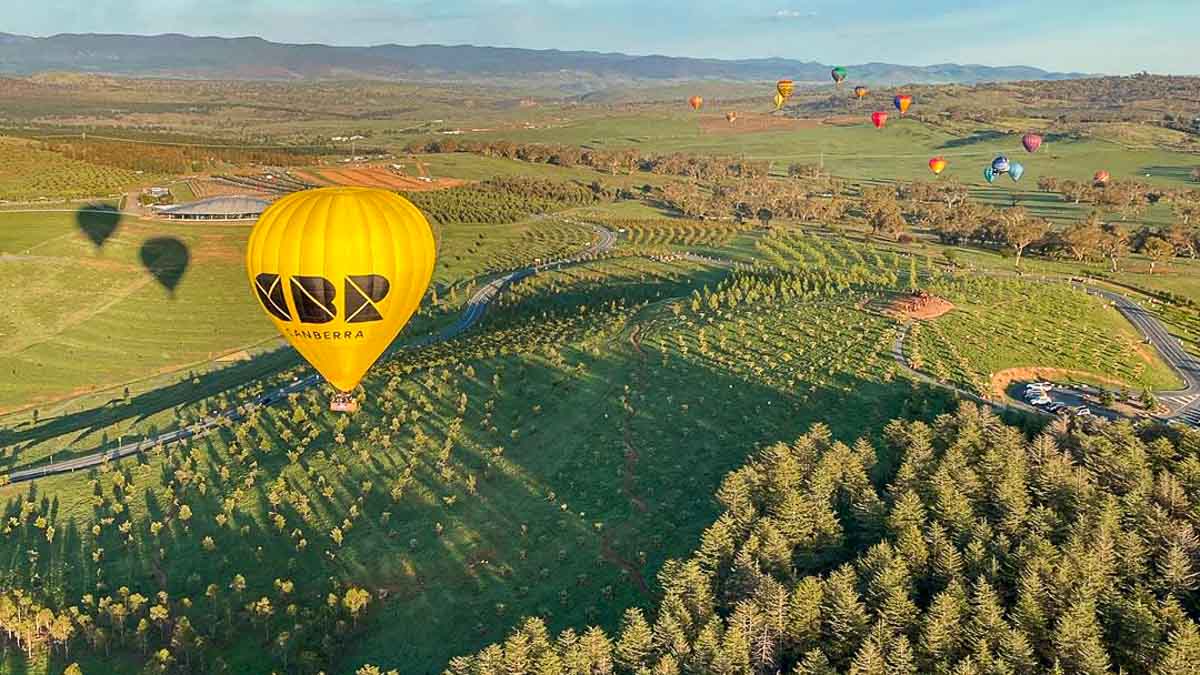 Photo credit: @balloonaloftcanberra via Instagram
Canberra is Australia's capital, but not many travellers get to know the place! Rent a car and explore the city, teeming with friendly locals and cultural gems.
If you're big on views, sign up for a fancy hot air balloon ride over the city. If not, tour around the impressive Australian Parliament House or the scenic National Arboretum.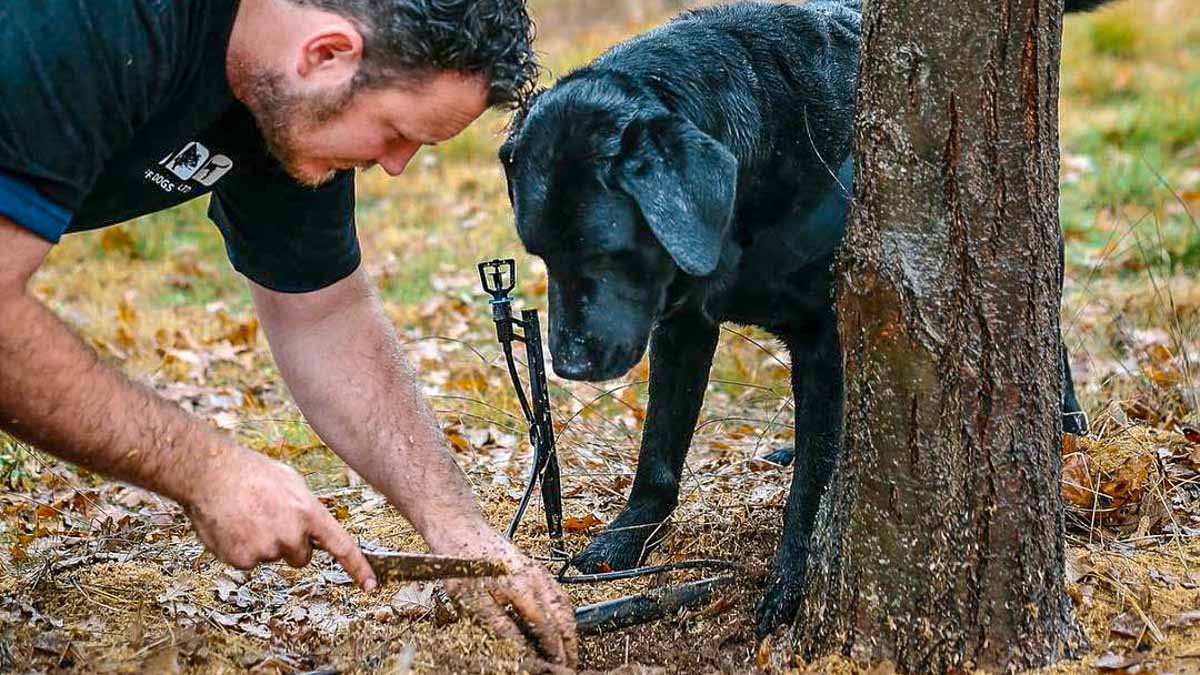 Photo credit: @avenuehotelcbr via Instagram
After ticking off the city's attractions, drive out to the peaceful countryside. There's an abundance of fresh, farm-to-plate produce to savour, so bring your biggest appetite! During truffle season (Jun–Aug), many truffle farms offer hunting experiences, where you get to team up with a cute truffle dog that'll sniff for this superb delicacy.
Other places to check out include traditional cider from Sully's at the Old Cheese Factory, and Tilba Real Dairy for some rich, premium cheeses.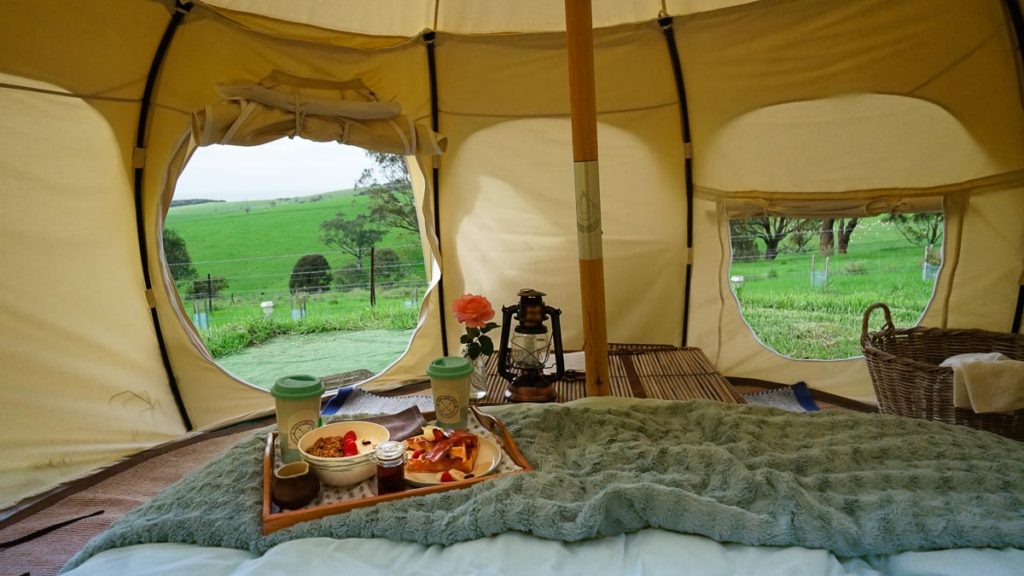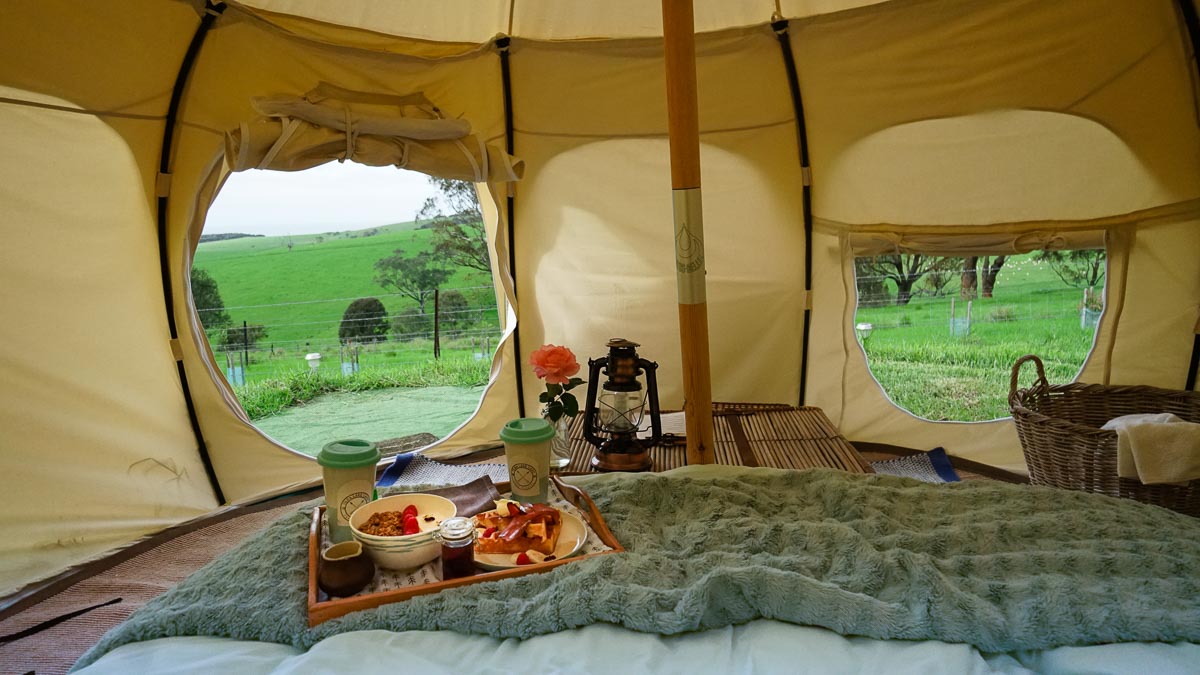 Get some peace and quiet with some overnight glamping! There are many sites to choose from in the South Coast, but the one that holds a special place in our hearts is Tilba Lake Camp. Located in the middle of a sprawling green pasture, you get a cosy lotus bell tent, a comfy bed and a delicious homemade breakfast.
Further down the coast, dip into the beautiful Bermagui Blue Pool. The good news is the natural rock pool offers some of the best views of the ocean, but be prepared — the waters can be quite chilly!
Once you've soaked up enough of the coast, end your road trip in Canberra.
8) Fun-filled Western Australia road trip — Indian Ocean Drive from Perth to Kalbarri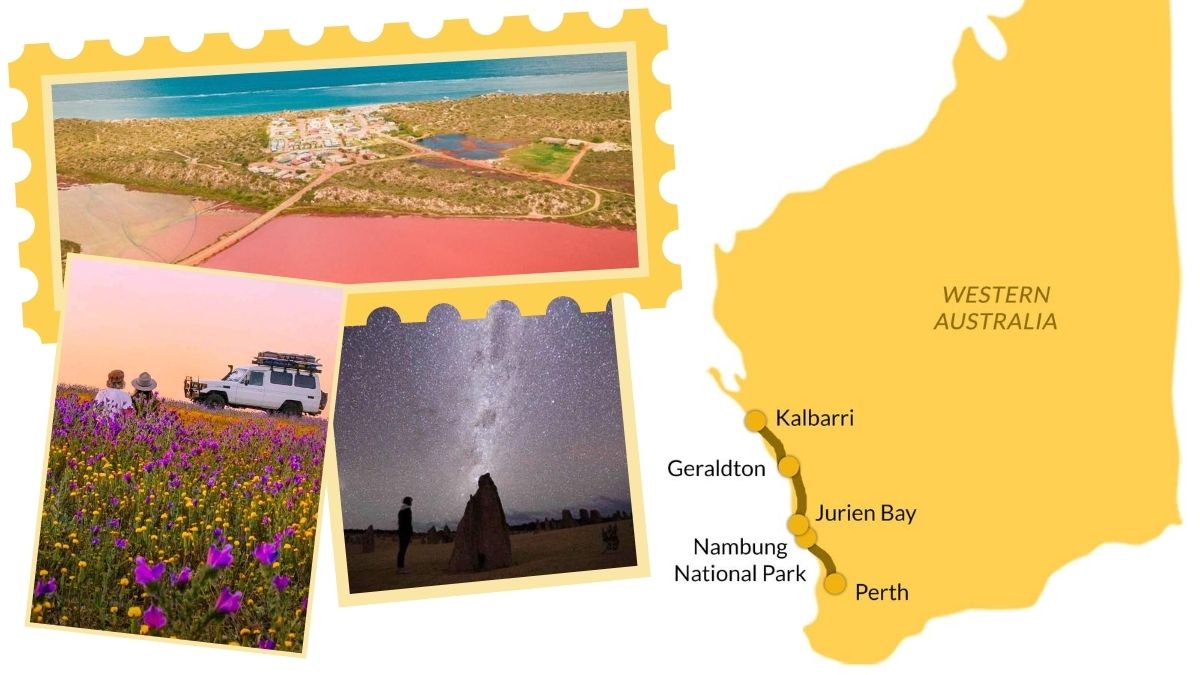 Journey time: 5 days (~1,800km)
Starting point: Perth Airport (5hr flight from Singapore)
Few road trips are as vibrant as the Indian Ocean Drive. From Perth to Kalbarri, you'll get a splash of colour driving past earthy landscapes, pink lakes and rich, red gorges. Arrive between Jul–Oct, and there's also an explosion of multi-coloured wildflowers.
This route is part of Australia's Coral Coast, and highlights some of the most exotic things you'll ever see in the country. It's also fairly easy for first-timers as there are many rest stops along the way. If you're a seasoned traveller, don't overlook this stretch — you might just discover something new!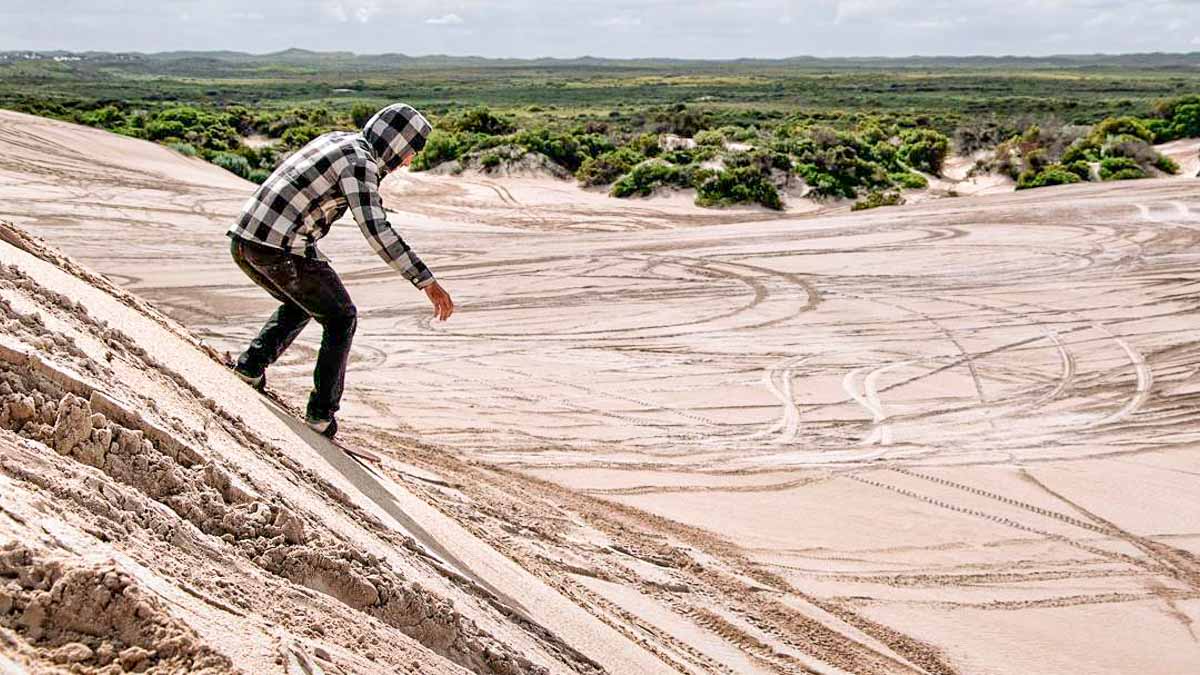 Photo credit: @szjanko via Instagram
Just two hours from Perth, kickstart your adventure with some rad sandboarding at Lancelin Sand Dunes! It's a great winter sport substitute if you're not a fan of cold or frozen snow. Plus, the fine sand makes a soft landing too!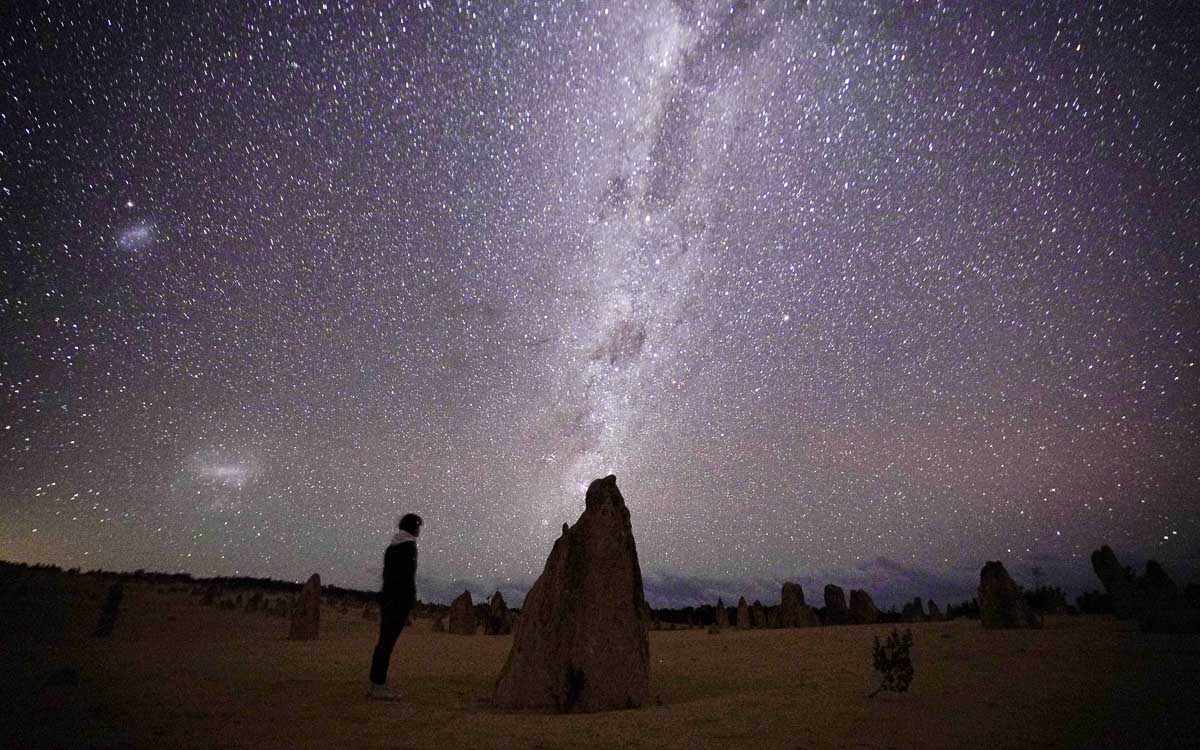 Like the ruins of an ancient city, the Pinnacles Desert at Nambung National Park is one of Western Australia's definite must-sees. Each limestone structure stands perfectly unique, eroded by centuries of wind. You can stroll around in the daytime, but we've found that this place makes an exceptional stargazing site once night falls.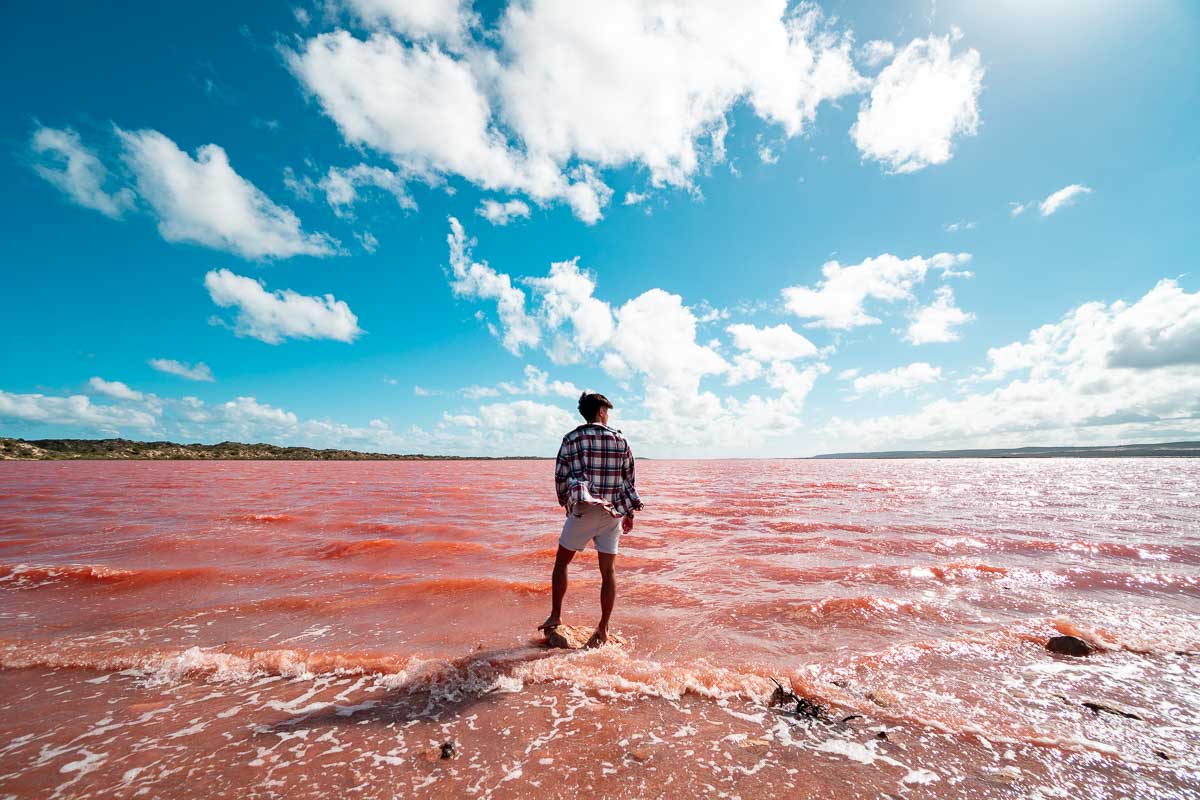 Hutt Lagoon is a classic case of "you must see it to believe it". The high salinity is what gives the lake its striking pink hue, which changes with the seasons and time of day. Naturally, it's an Instagram hotspot — so dress your best and get snapping!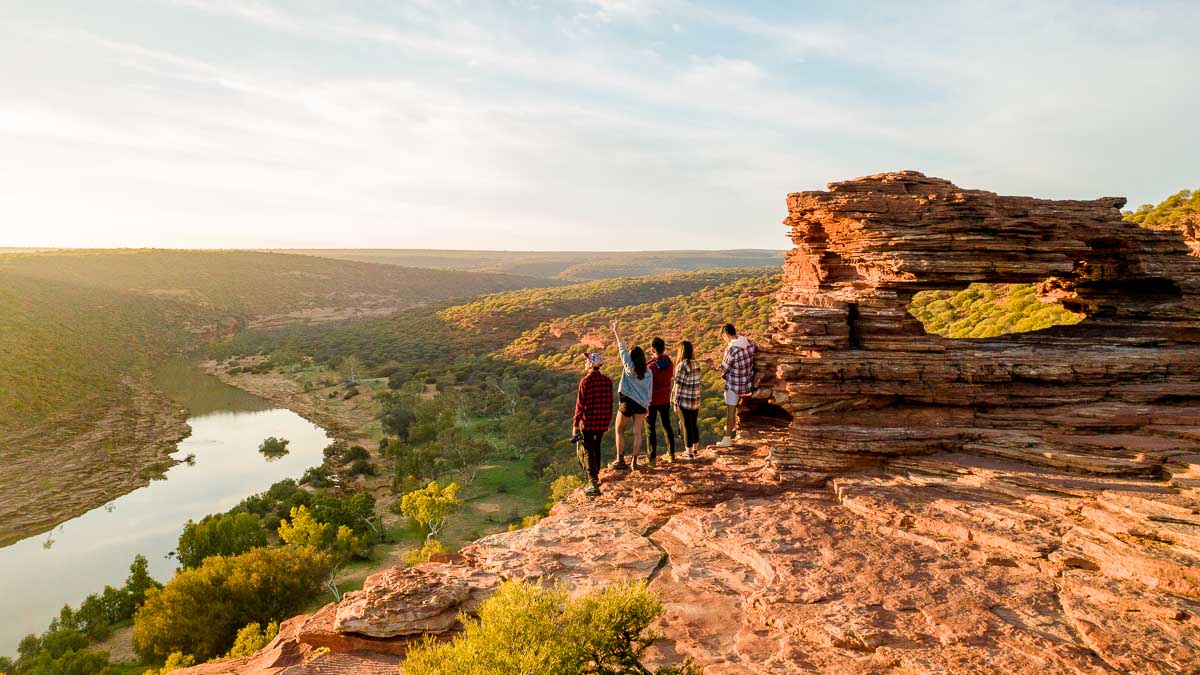 The final stop in the Indian Ocean Drive is Kalbarri National Park. It's one of the most spectacular parks, with beautiful natural attractions around every corner.
Peek through Nature's Window at the rocky gorge beyond, or check out the Kalbarri Skywalk. The park's newest addition hovers more than 100m over the Murchison River, offering panoramic views of the arid landscape below.
If you're here between Jul–Oct, wander around the Everlasting Wildflower Trail. The space comes alive with a burst of pretty, blooming wildflowers.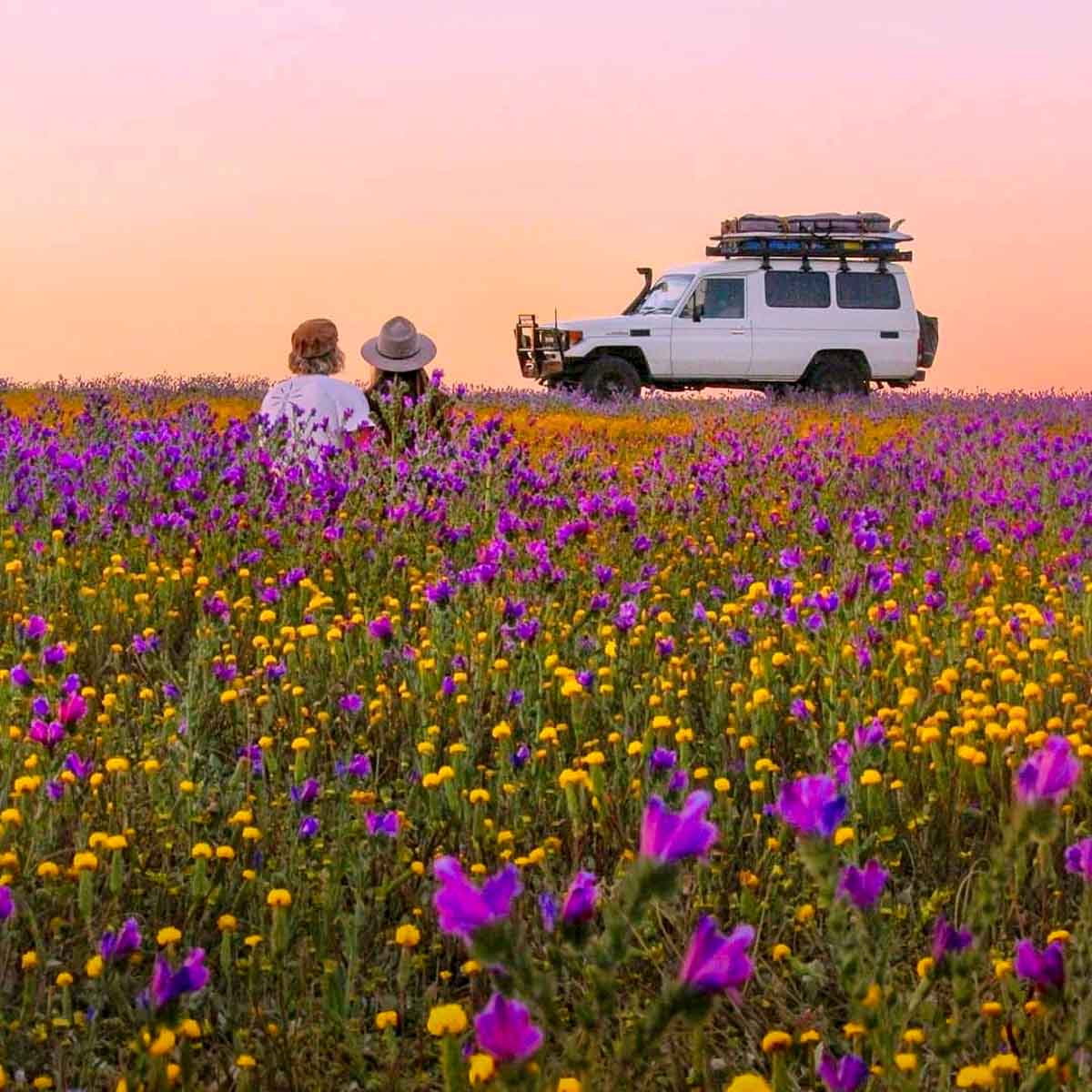 Photo credit: @roadtrippersaus via Instagram
Afterwards, follow the road back to Perth on your final day. But, if you have more time, extend your road trip down the Coral Coast.
Read also: 11D Western Australia Itinerary — Coastal Road Trip From Perth To Ningaloo
9) Epic Queensland road trip — Great Beach Drive from Noosa Heads to Rainbow Beach and Fraser Island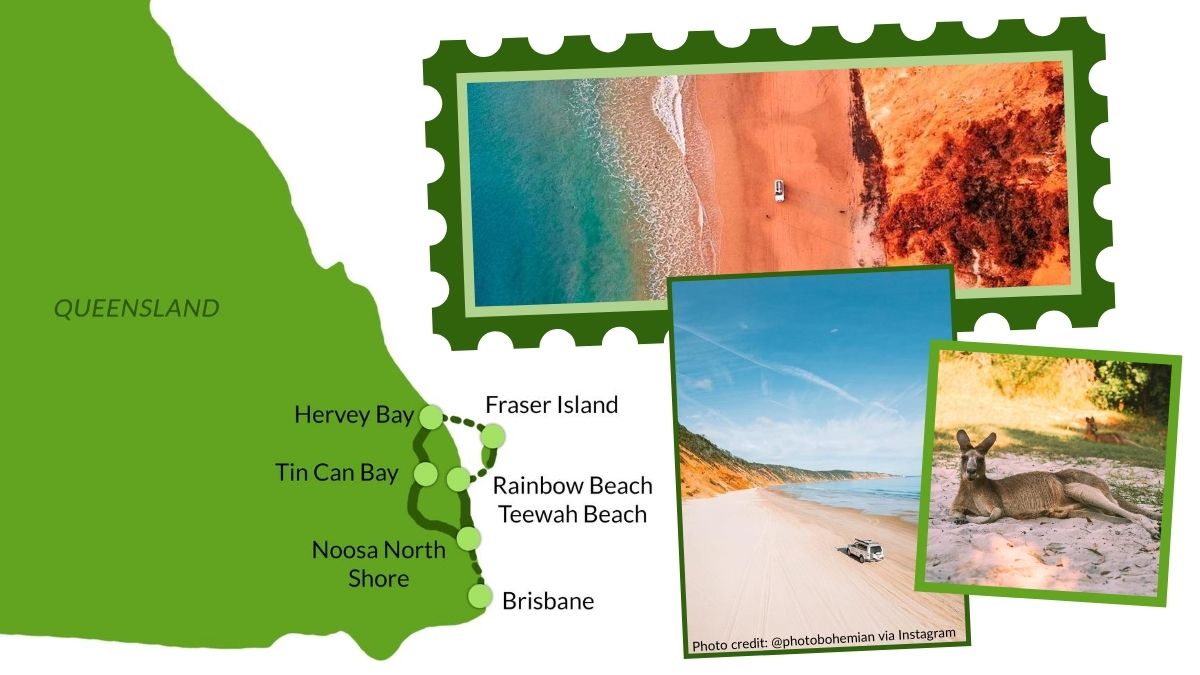 Journey time: 4–7 days (~420km)
Starting point: Noosa Heads (~1.5hr drive from Brisbane Airport, 8hr flight from Singapore)
Here's something for the young, wild and free! The Great Beach Drive to Fraser Island is as rugged as Aussie road trips get. In a comfy 4WD, you'll cruise over 100km of beaches, sandwiched between wild bushland and the dazzling Coral Sea.
As the road trip requires a 4WD for off-road driving, it's perfect for seasoned travellers. The backseat drivers can handle the road trip playlist and the vehicle access permit 😛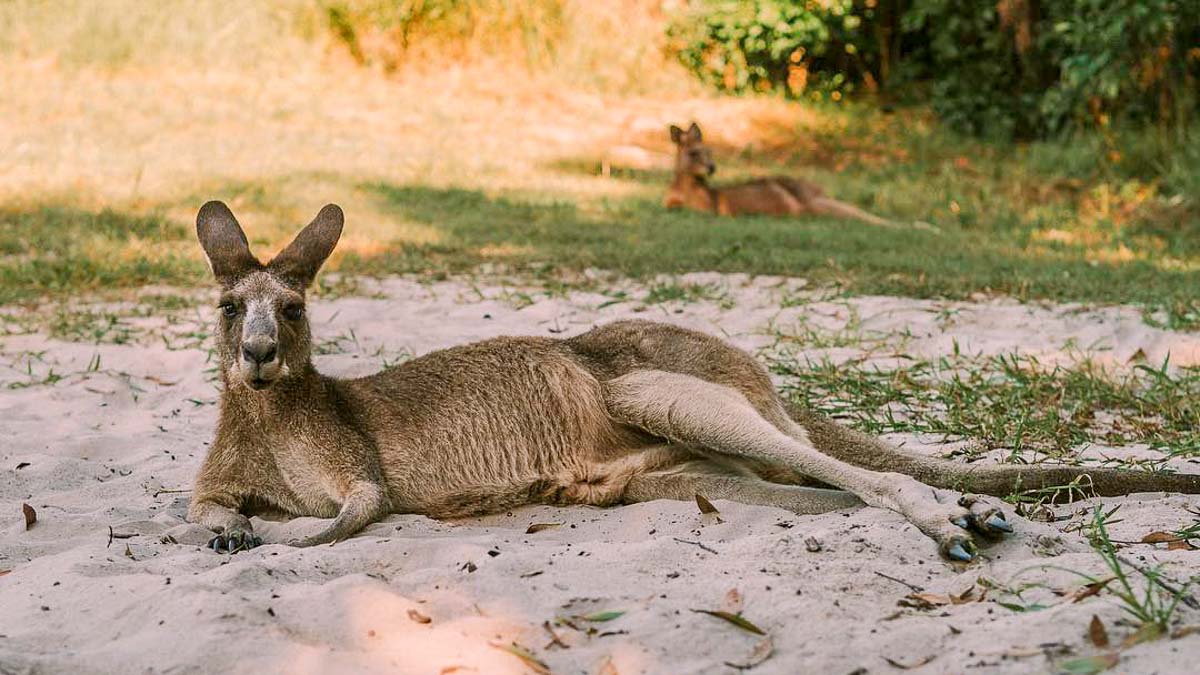 Photo credit: @t.becs via Instagram
Starting from Noosa Heads, take a 5-minute ferry ride from Tewantin or make a 40-minute detour to Noosa North Shore. In this unspoilt paradise, enjoy some beachside activities, or play a game to see who can spot wild kangaroos the fastest.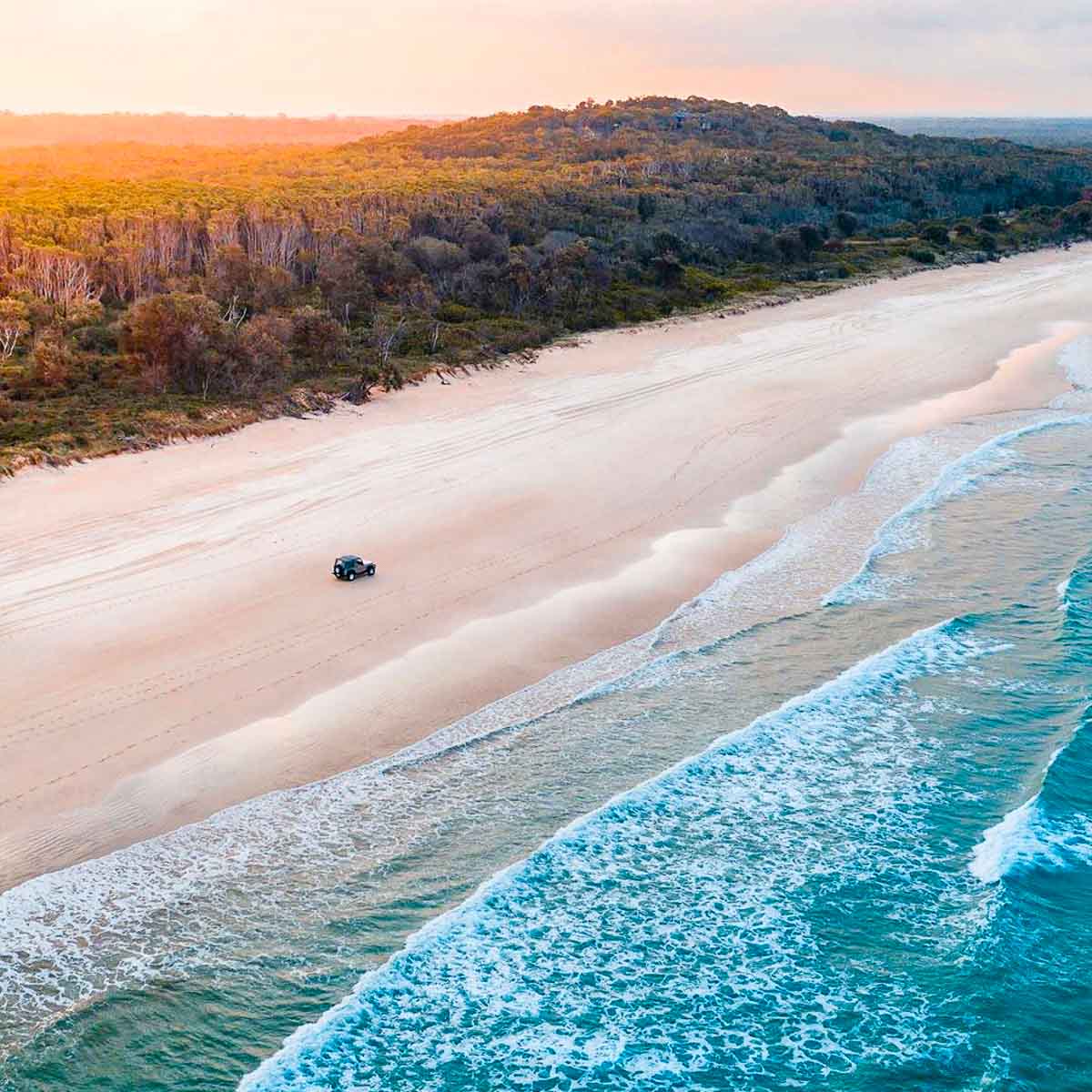 Photo credit: @manuelo.pro via Instagram
Further up, bask in the endless white sands of Teewah Beach. It's only accessible via a 4WD so this is where your beachy journey begins! It's also largely undeveloped — check that you've packed enough water and supplies, especially if you're camping overnight.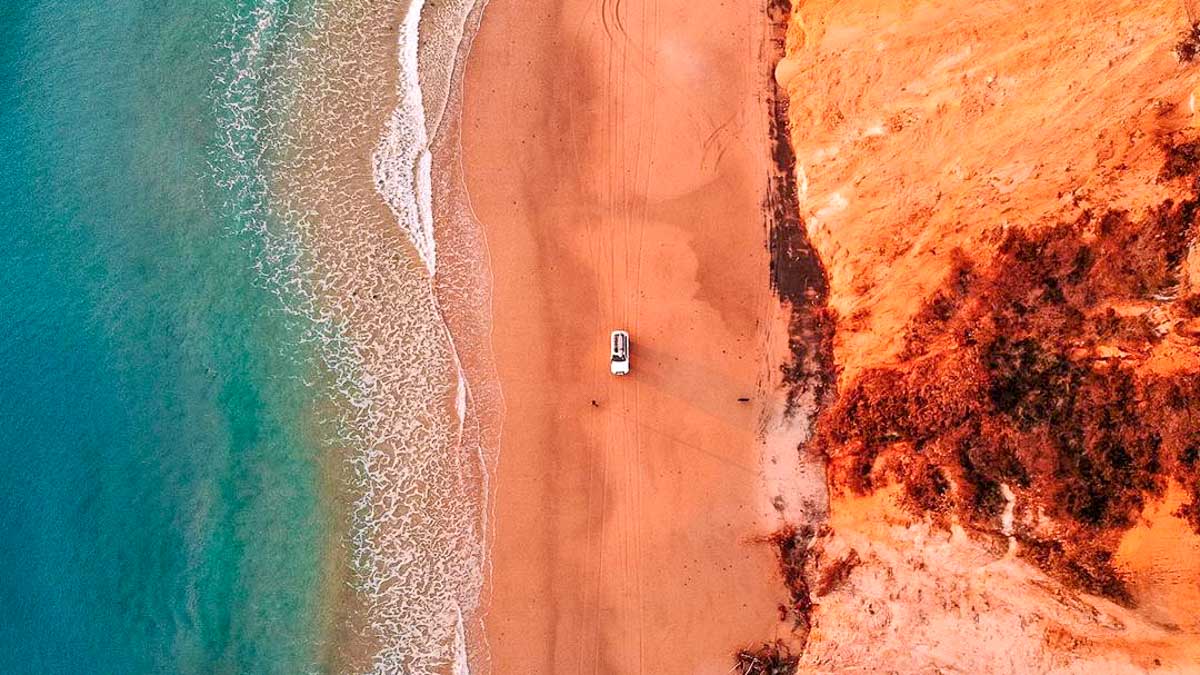 Photo credit: @tracks.we.travel via Instagram
Continue on to Rainbow Beach. The lovely coastal town is famous for its coloured sand cliffs, caused by minerals staining the sand over thousands of years. Take a slow stroll and observe the natural swirl of colours ranging from white to ochre and red.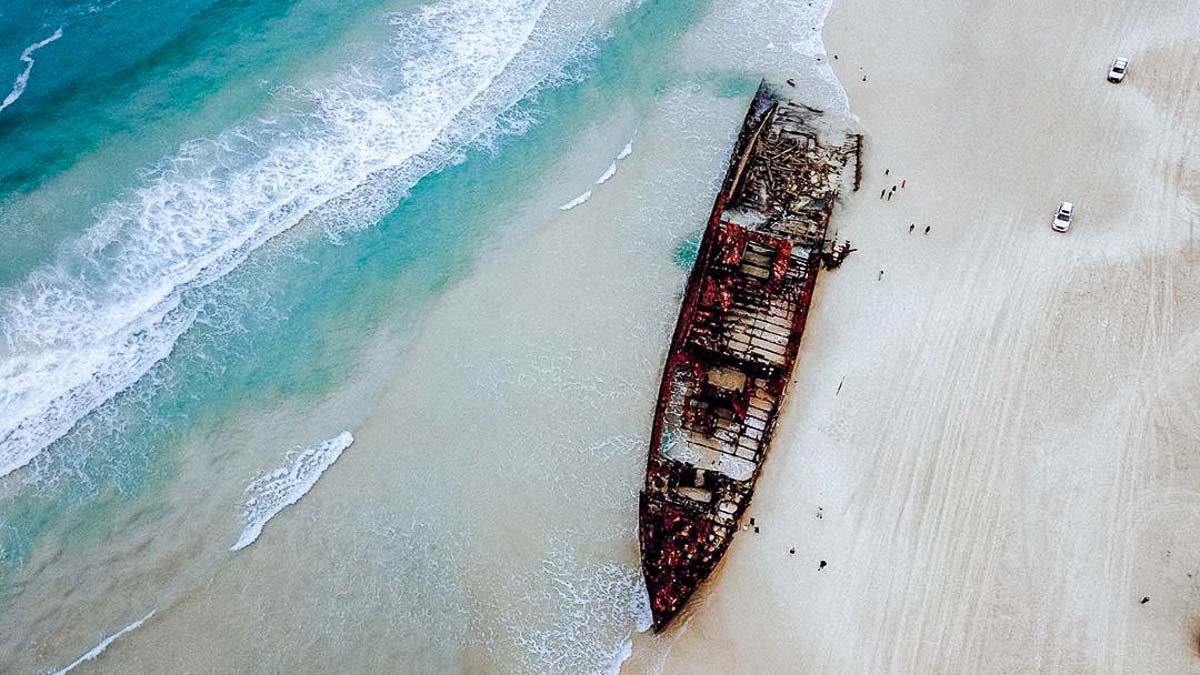 Photo credit: @alexxsadventures via Instagram
Finally, brace yourself for the grand event! From Inskip Point, take a short ferry ride across the ocean to Fraser Island. It's the world's largest sand island, and many come to conquer the glorious 'highway' that is 75 Mile Beach (that's ~120km, FYI).
During your drive, swing by the Maheno shipwreck for photos and the Champagne Pools for a natural bubbling 'jacuzzi'. Be sure to visit Fraser Island's amazing rainforest too — it's the only one on this planet that grows on sand!
10) Legendary Pacific Coast Touring Route from Sydney to Byron Bay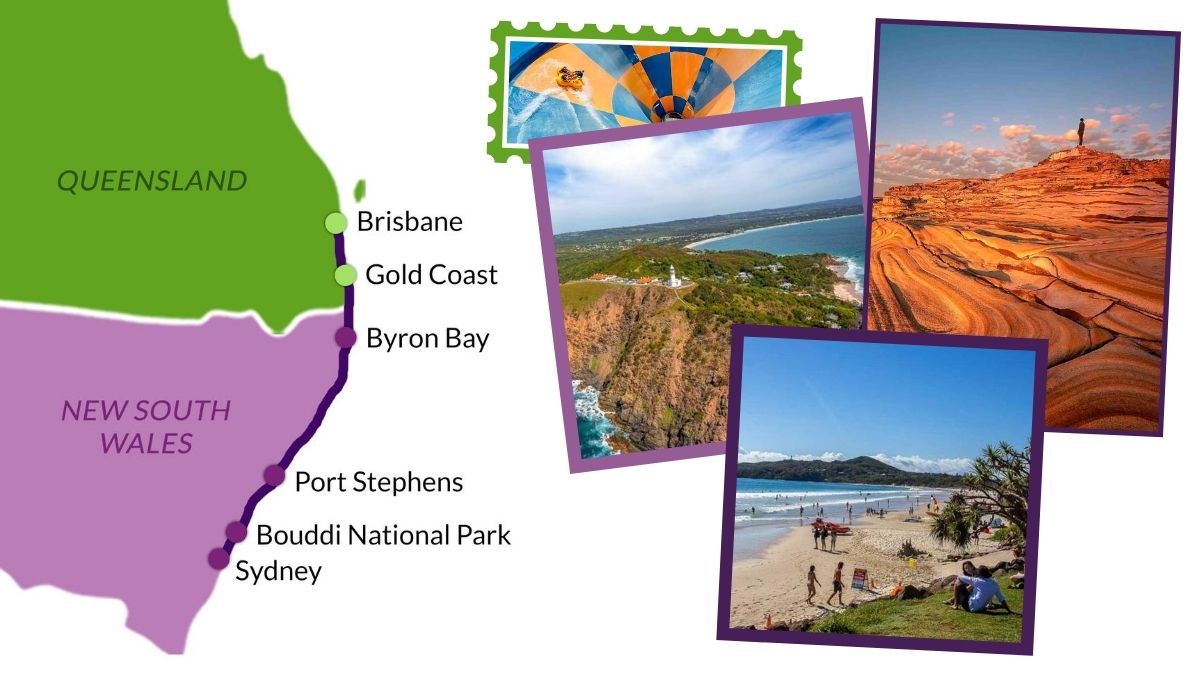 Journey time: 9–14 days (~1,000km)
Starting point: Sydney Airport (~8hr flight from Singapore)
The Legendary Pacific Coast is another iconic route. The drive from Sydney to Byron Bay up to Brisbane is full of quintessential Aussie experiences — bucket-list-worthy adventures, soft, sandy beaches, and countless places to surf.
The route itself is a 10-hour stretch, but it's pretty manageable if you break the distance down over two weeks. Following this, beginners would drive for a maximum of two hours every day on smooth, sealed roads.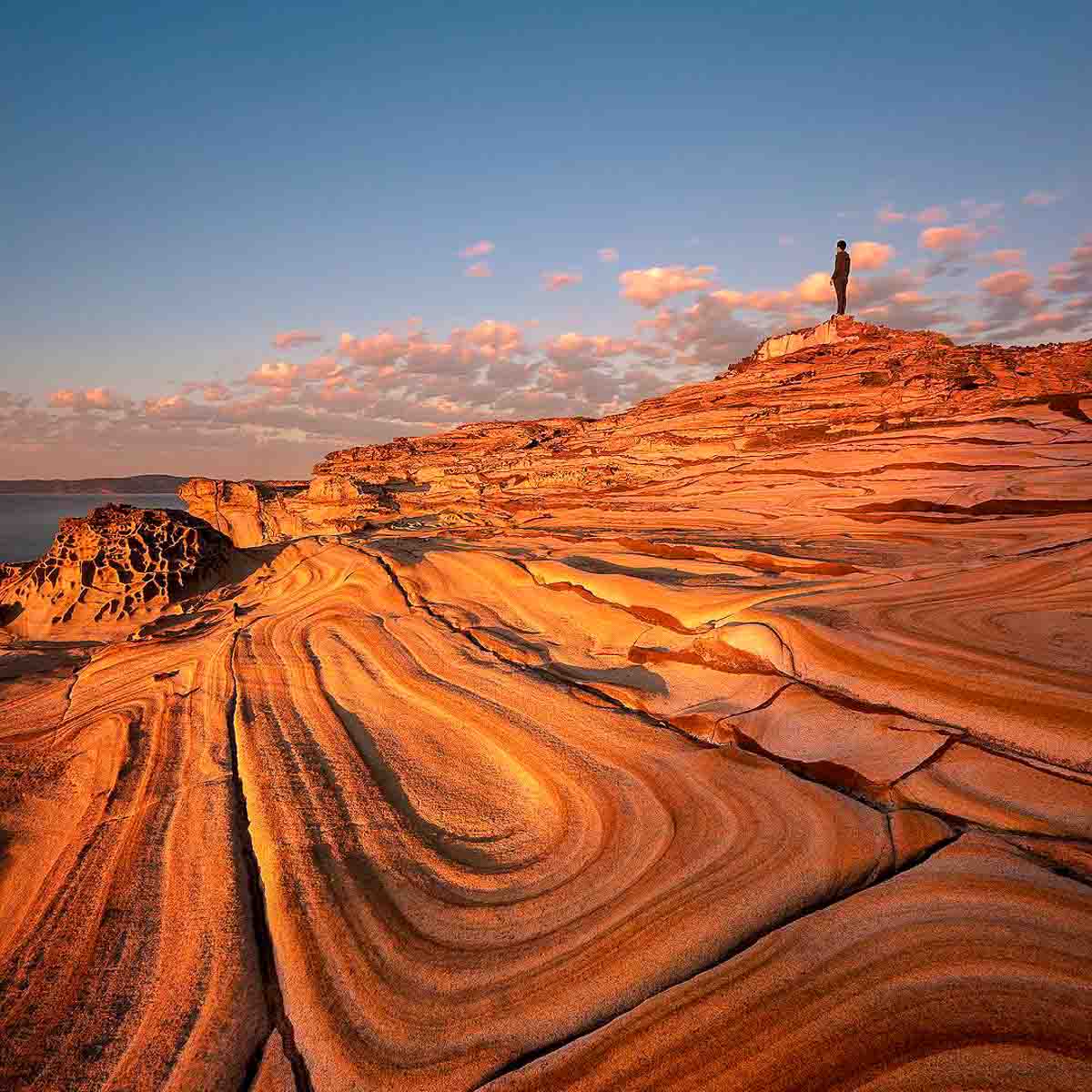 Photo credit: @itsworthashot via Instagram
If you're not keen on exploring the famous Blue Mountains, opt for the quieter Bouddi National Park. Hop on the many scenic tracks, which feature sandstone cliffs, isolated beaches and vibrant native bush.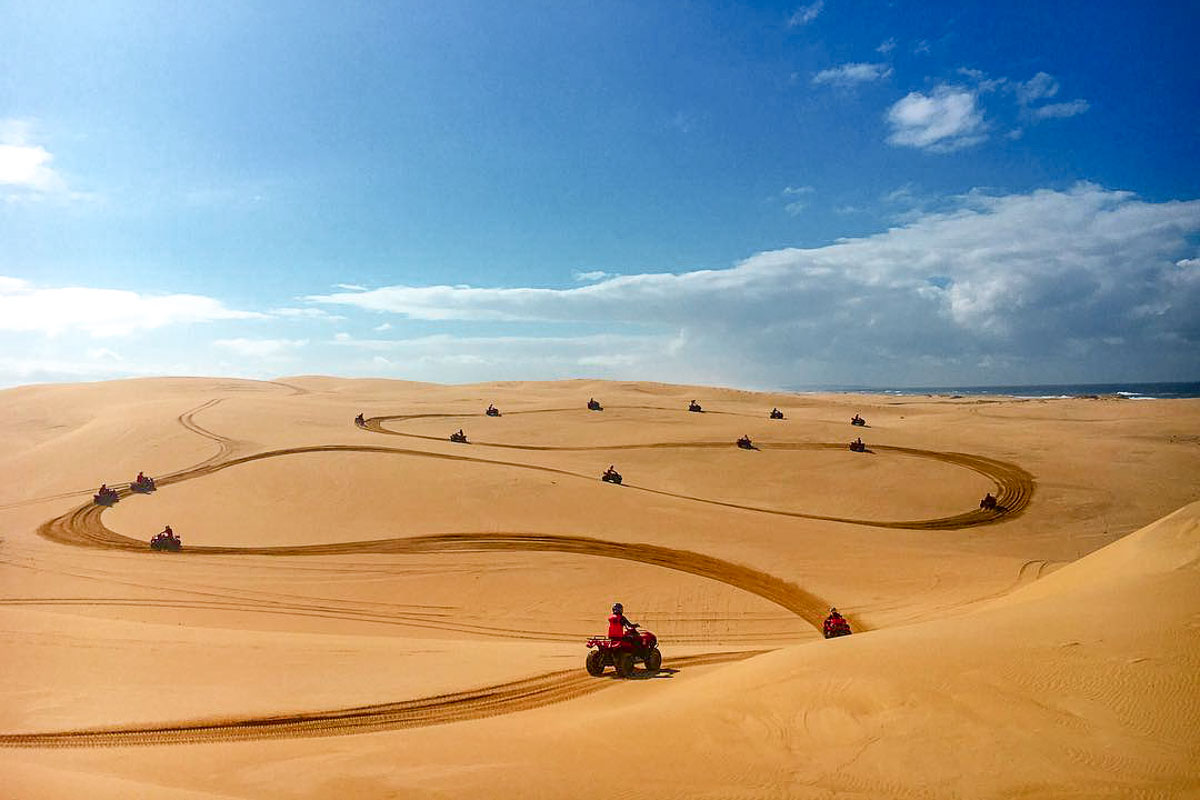 Photo credit: @sand_dune_adventures via Instagram
Further up north, the adventures begin! Port Stephens is where you'll find the Southern Hemisphere's largest moving coastal dunes — and there's no better way to explore this shifting desert than with quad bikes (your first step to a 4WD!).
Read also: 9-Day Australia Road Trip Itinerary Around The Best Of NSW — Sydney, Blue Mountains and Beyond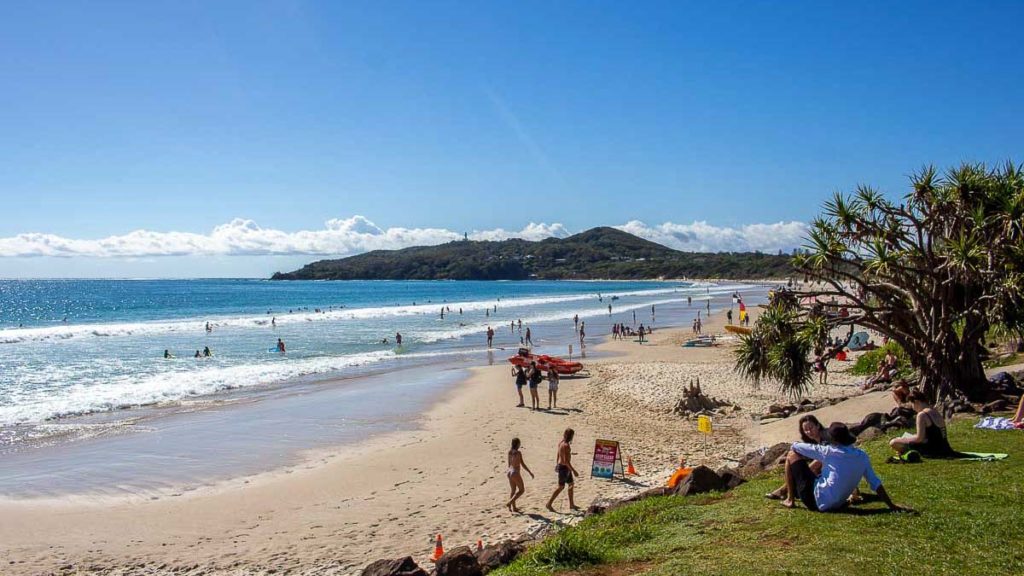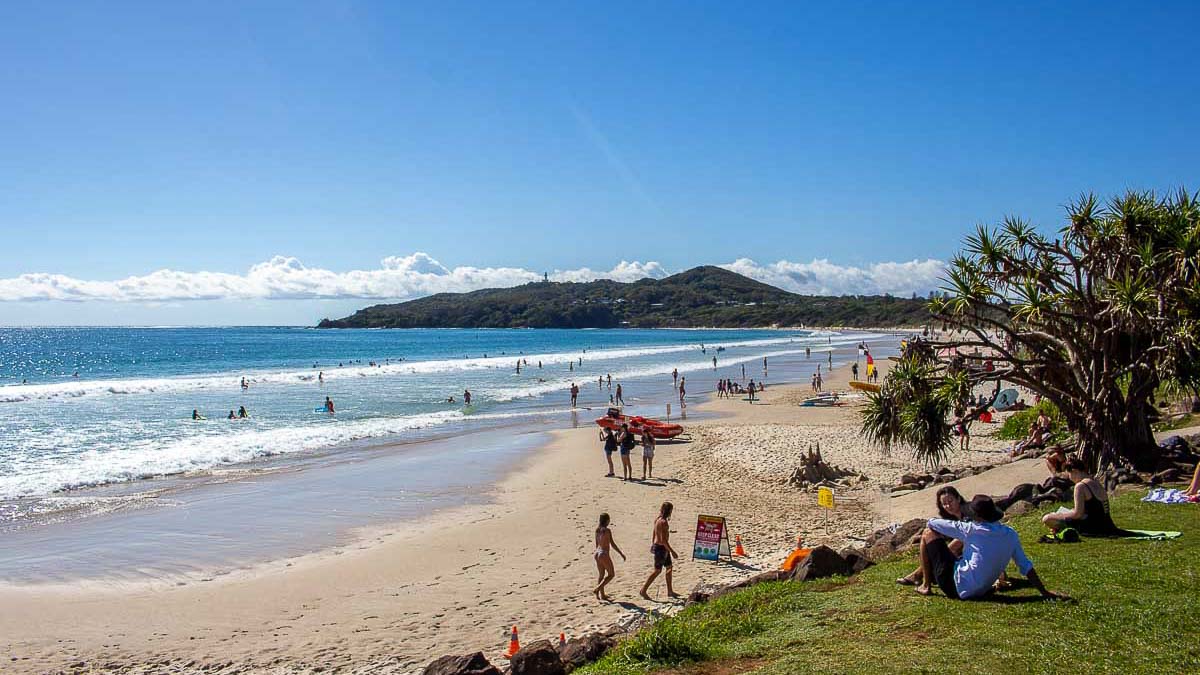 Warning: Once you're in Byron Bay, you might find it terribly hard to leave. The sun-kissed seaside town is arguably the best-kept secret in New South Wales, and there's absolutely no shortage of things to do.
Read also: Byron Bay Guide: 25 Things to Do in NSW's Ultimate Hipster Paradise
Experiences we 100% recommend include surfing at Main Beach, dining on fresh seafood at Catch-A-Crab, and watching the sunrise at Cape Byron Lighthouse. Meanwhile, Chris Hemsworth recommends diving at Julian Rocks (no kidding!).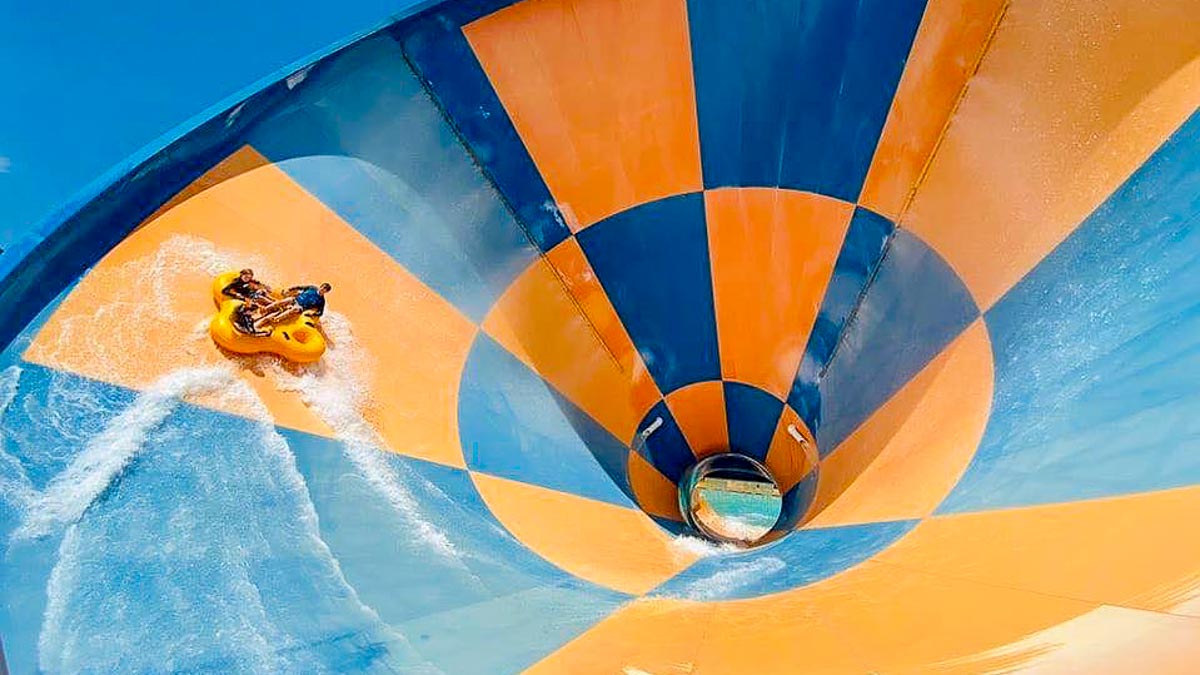 Photo credit: @goldcoast_themeparks via Instagram
If you're itching for more road trip adventures, drive a little further up to the Gold Coast or Brisbane in Queensland. Take your pick from hair-raising Gold Coast theme parks or the mellow Brisbane Brewing Co.
Read more: 2-Week Australia Road Trip from Sydney to Byron Bay — Discovering NSW's Legendary Pacific Coast
Driving tips and planning for an unforgettable road trip in Australia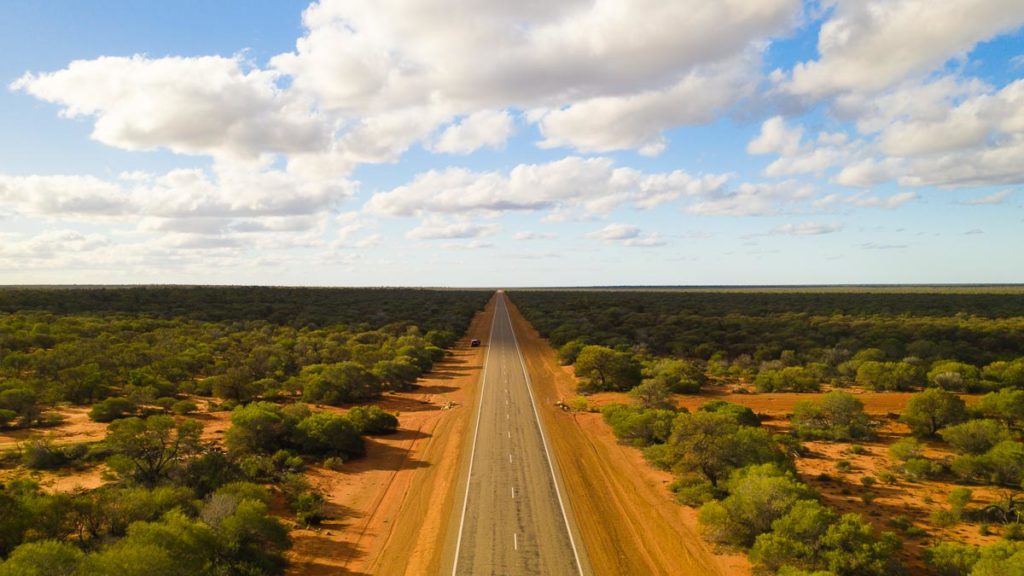 In a land so vast and wondrous, not exploring Australia on a road trip is a real shame. Even then, whether you decide to stay in the cities or hit the road, this country won't have any problems curing your wanderlust!
All you need to do is find underrated things to do, or seek out socially-distant natural wonders. Hey, safety is sexy, no?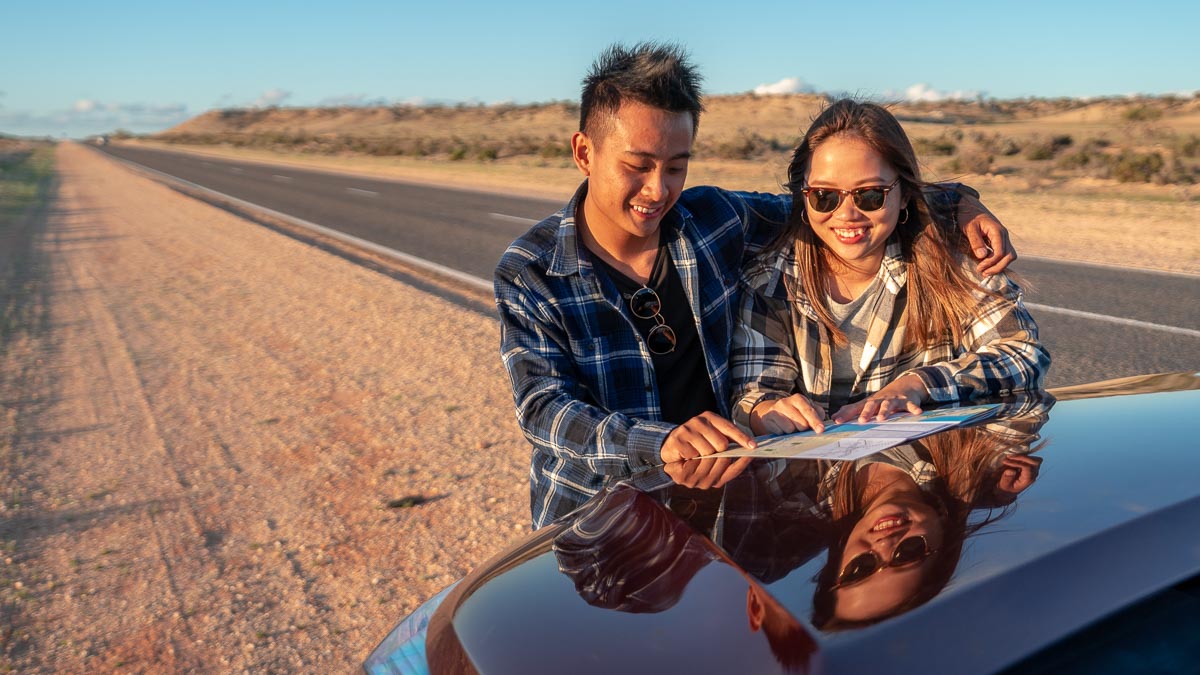 Speaking of safety, here are some useful driving tips for the long road ahead 👇
(1) Rent a GPS or download offline Google maps. Mobile reception isn't available in remote places like National Parks.
(2) Follow the speed limit — even in rural areas. Take it from us, the fines are hefty.
(3) Watch out for wildlife on the roads. Drive at the recommended speeds, so that you can slow down or brake in time if an animal crosses in front of you.
(4) Similarly, avoid driving in the dark as animals are more active then. If you do, use your high beam to see further ahead. Drop it when there are cars in the other direction (they'll do the same too).
Need more ideas to plan your next Australia road trip? Find more guides and detailed maps for self-driving itineraries here!
Featured and Facebook image credit: @tracks.we.travel via Instagram
Which Australia road trip are you keen to go on? Share your plans in the comments!
---
This post is brought to you by Tourism Australia.