Ride on the world's steepest railway at Scenic World, hike New South Wales' (NSW) very own Grand Canyon and explore some of Australia's most remarkable underground world at Jenolan Caves in this 3D2N Blue Mountains Itinerary.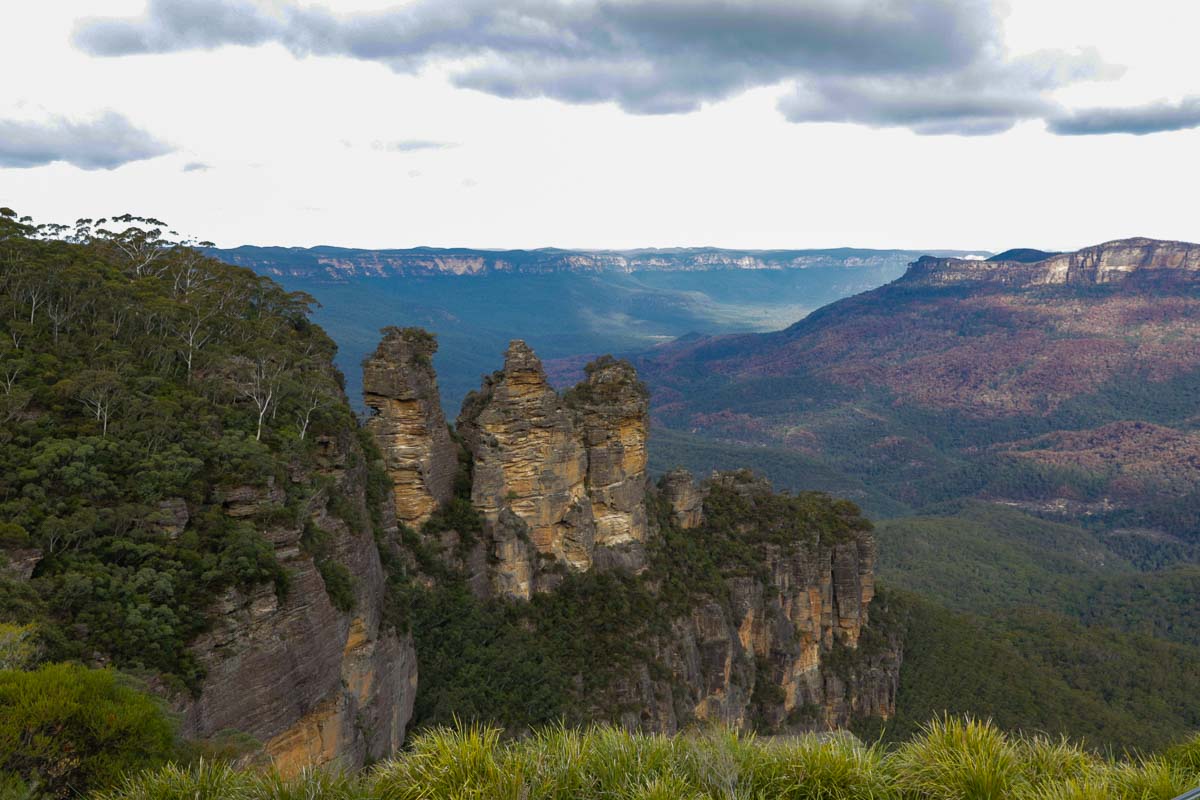 As a kid, my memory of the Blue Mountains was on a road trip with my family, driving for ages just to arrive at Echo Point. A tour bus had just arrived and swarms of tourists were crowding around for the view of a peculiar rock formation — The Three Sisters.
2 decades later, we return to Blue Mountains for 3D2N, and left feeling like we could have stayed an additional day or two. The Blue Mountains turned out to be one of my favourite stops on our 9-day NSW road trip.
Only a 90-minute drive from Sydney city, here's our 3D2N itinerary to exploring the best of the Blue Mountains.
3D2N Blue Mountains Itinerary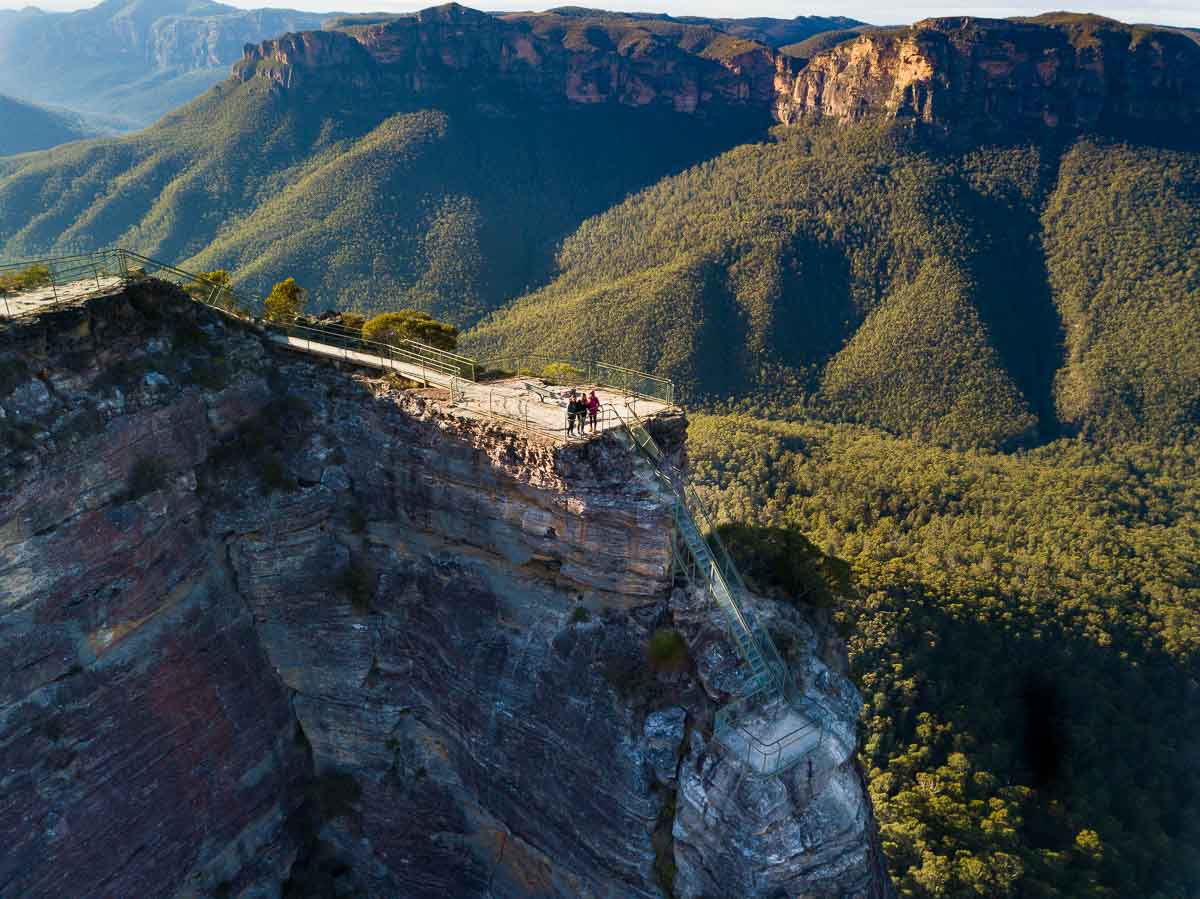 The Blue Mountains has one of the most spectacular terrains, blessed with a lush rainforest, deep valleys, and tons of hiking trails waiting to be explored. From epic sunrise lookouts to intriguing cave formations, here are some of the best experiences you can find in the Blue Mountains.
Self Drive: 90 minutes from Sydney city
If you're renting a car, don't forget to register your rental car with an E-toll account as there will be tolls of ~AU$20 to get from Sydney to the Blue Mountains.
By Train: 2 hours from Central Station
Take the Blue Mountains Line and get off at Leura Station.
Accommodation: Old Leura Dairy — A group of houses here good for 2 – 11 people.
Day 1: Blue Mountains via Scenic World
Bakehouse on Wentworth:
First stop from Sydney, head to the town of Leura and drop by Bakehouse on Wentworth for their gourmet pies and quiches. The pies might seem a little pricey but the portions are generous and enough to be a meal of its own.
Cost: Beef and Guinness AU$7.50; Spinach feta & sun-dried tomato quiche AU$4.90 — there's a 10% surcharge on your bill on Sundays
Opening Hours: 7AM – 5PM (applies only to the Wentworth and Leura Mall outlet; Macquarie's outlet has slightly different opening hours)
3 Outlets: 226 Macquarie Road, 208 Leura Mall, 105 Wentworth Street
Scenic World: One of the best ways to get around the lush vegetation surrounding the Blue Mountains. Start from the Scenic World ticket counter to collect your wristbands for unlimited rides on the railway, cableway and skyway — each allows you to see a different side of the area.
If you pre-purchase your tickets via Klook, not only do you get them at a discount, you'll be able to skip the long queue and head straight for the online queue (strangely this queue was totally empty while the other queue went past the main doors).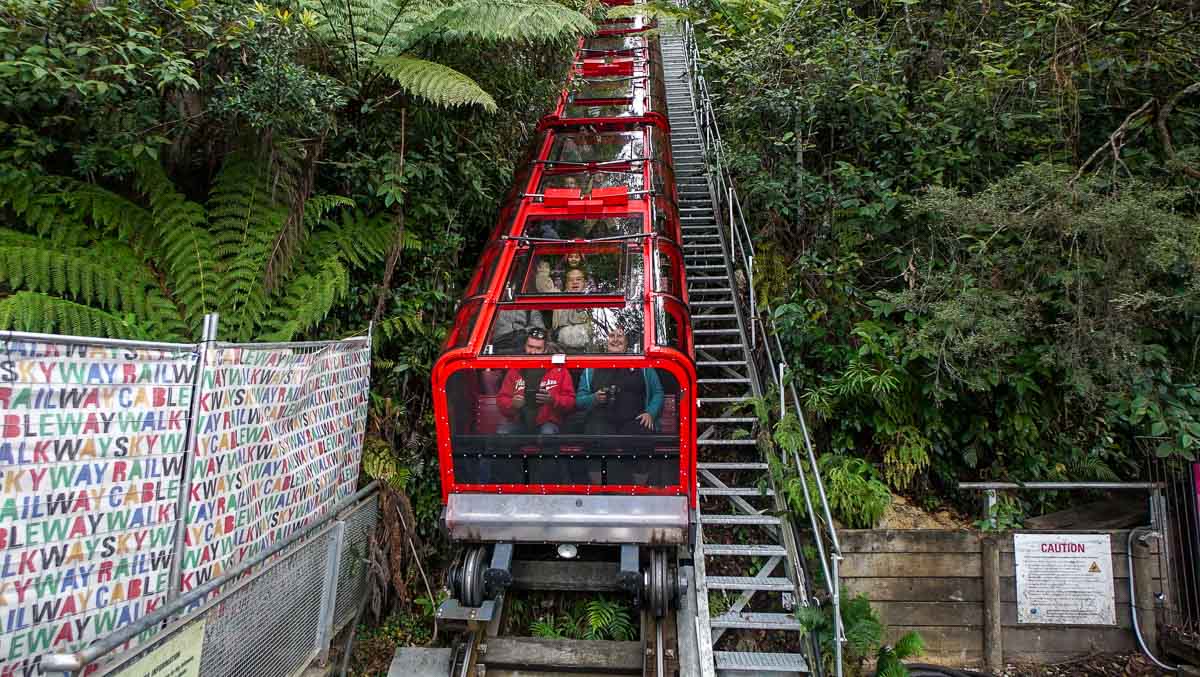 Our suggested route is to begin with the Scenic Railway — it's angled at 52° and is the steepest railway track in the world! This ride will literally have you sitting at the edge of your seat as you descend into the base of the valley.
From here, there's a nice view of the Three Sisters and also access to elevated walkways which makes it easy to explore this ancient rainforest. From here, there are 3 routes you can take to get to the Scenic Cableway Bottom Station — 10, 30 or 50 mins, each offering different sights to uncover.
The Scenic Cableway leaves every 10 minutes and brings you back to the Scenic World Top Station where you can save the best for last — the Scenic Skyway. As the ride ventures out, the opaque glass floor turns transparent to reveal a clear, gorgeous view of Jamison Valley. Look out for the Katoomba Falls too, although the water pressure can vary quite a bit depending on the season.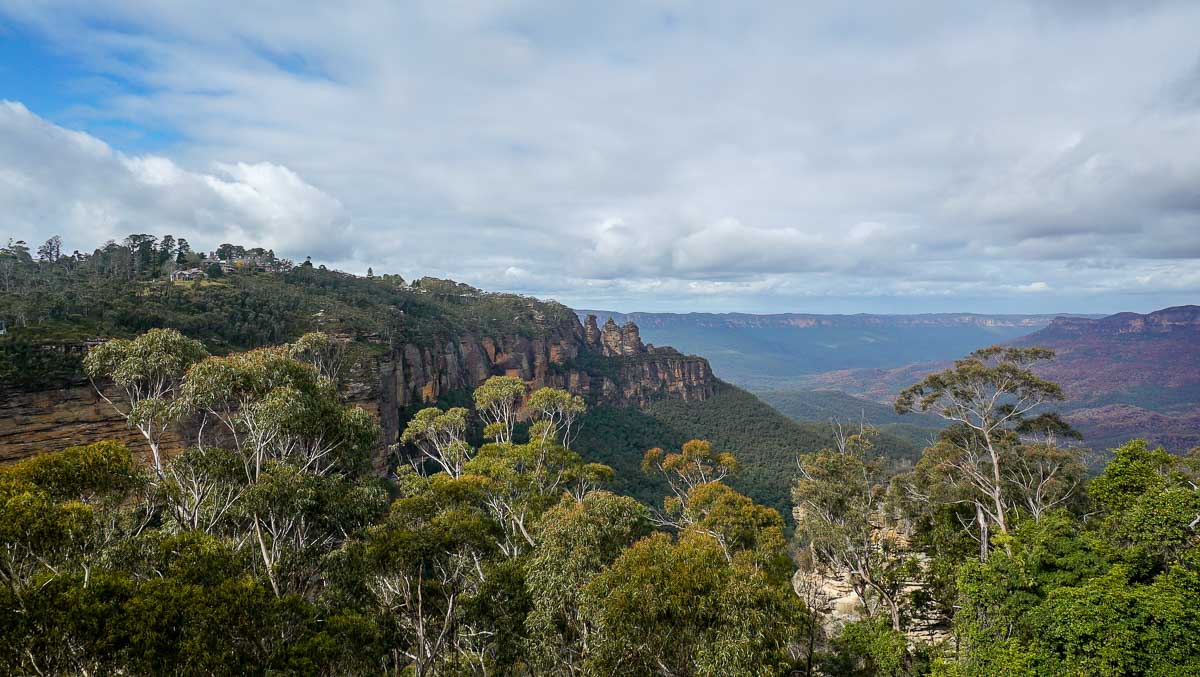 Finally, you'll arrive at Echo Point, the most famous vantage point of the Three Sisters. If you find this spot too crowded, the Queen Elizabeth lookout at the bottom might have lesser crowds since you'll need to walk a little to get there.
Make sure to catch the last cableway ride at 4:50PM back to the Scenic World Top Station.
Cost: Weekdays AU$39/ Weekends AU$43 (S$35 via Klook regardless of day!)
Opening Hours: 9AM – 5PM (all last rides leave at 4:50PM)
Address: Violet St & Cliff Drive, Katoomba NSW 2780, Australia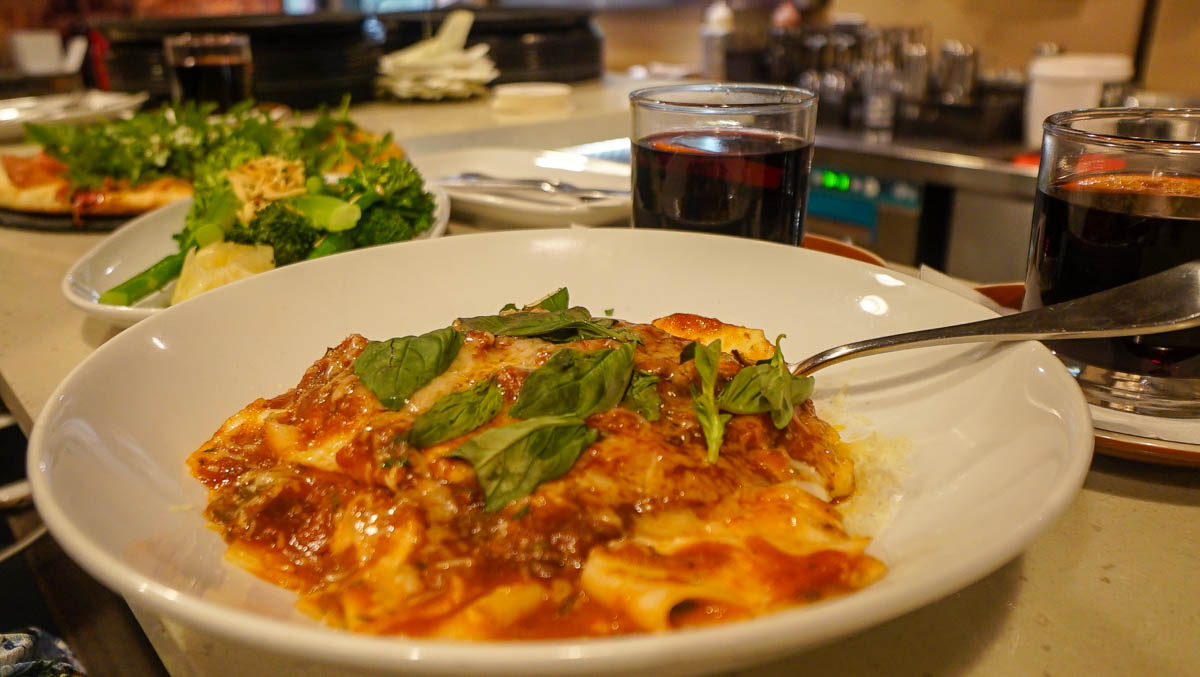 Dinner at Leura Garage: For those looking to dine out, this is a place we absolutely enjoyed! They make delicious mulled wines (AU$12), pizzas (~AU$28) and a really good beef ragu (AU$33). Call to book a table if you're arriving on Friday and the weekends as it tends to run quite full (a 10% surcharge on the bill applies on Sundays).
Opening Hours: 12PM – 9PM
Address: 84 Railway Parade, Leura NSW 2780, Australia
Day 2: Blue Mountain Hiking Trails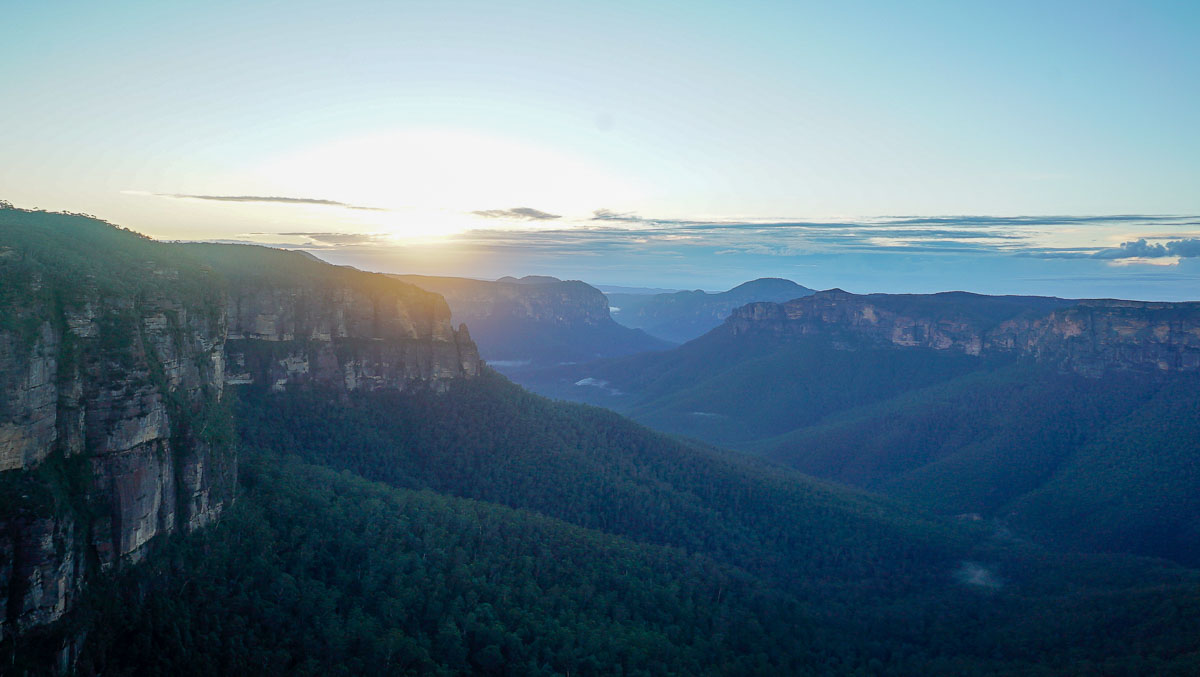 Govetts Leap Lookout: Start the day at dawn and drive up to this scenic lookout spot. A photographer's favourite during sunrise, arrive at the golden hour when the sun rises over Grose Valley. You can park your car nearby so there's no hiking needed to get here.
Difficulty: Easy peasy
Time: 5mins from the carpark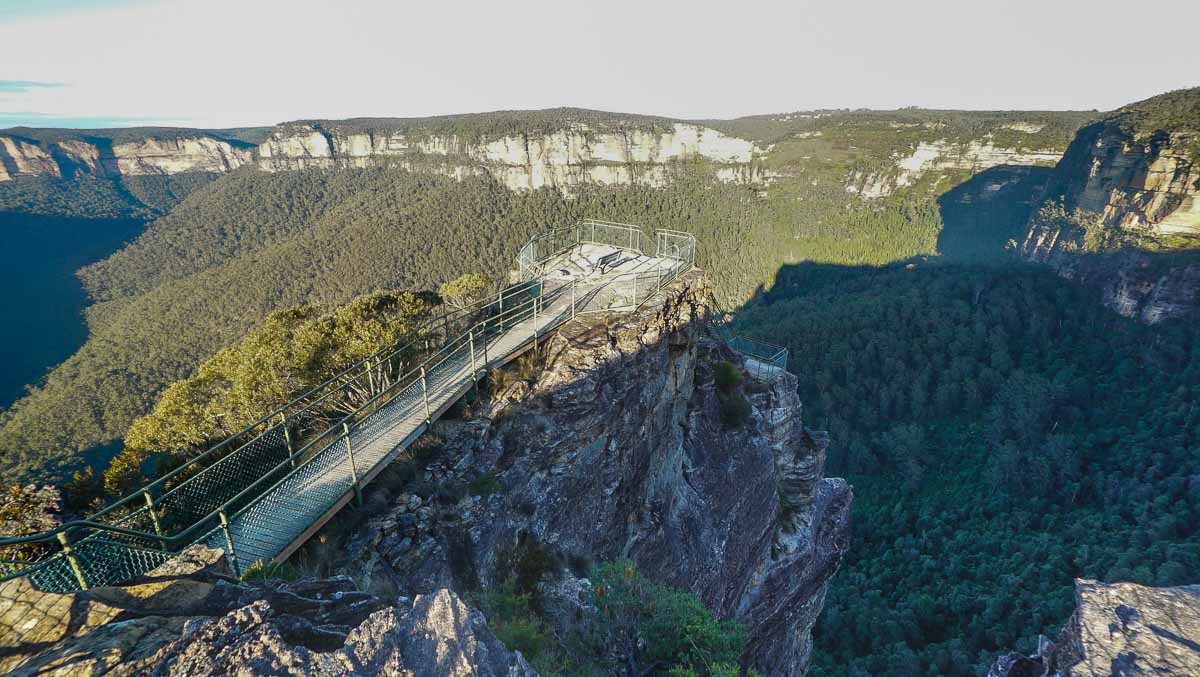 Pulpit Rock lookout: For the more adventurous, this lookout point is a 400m-walk from the car, but well worth the effort for the sight!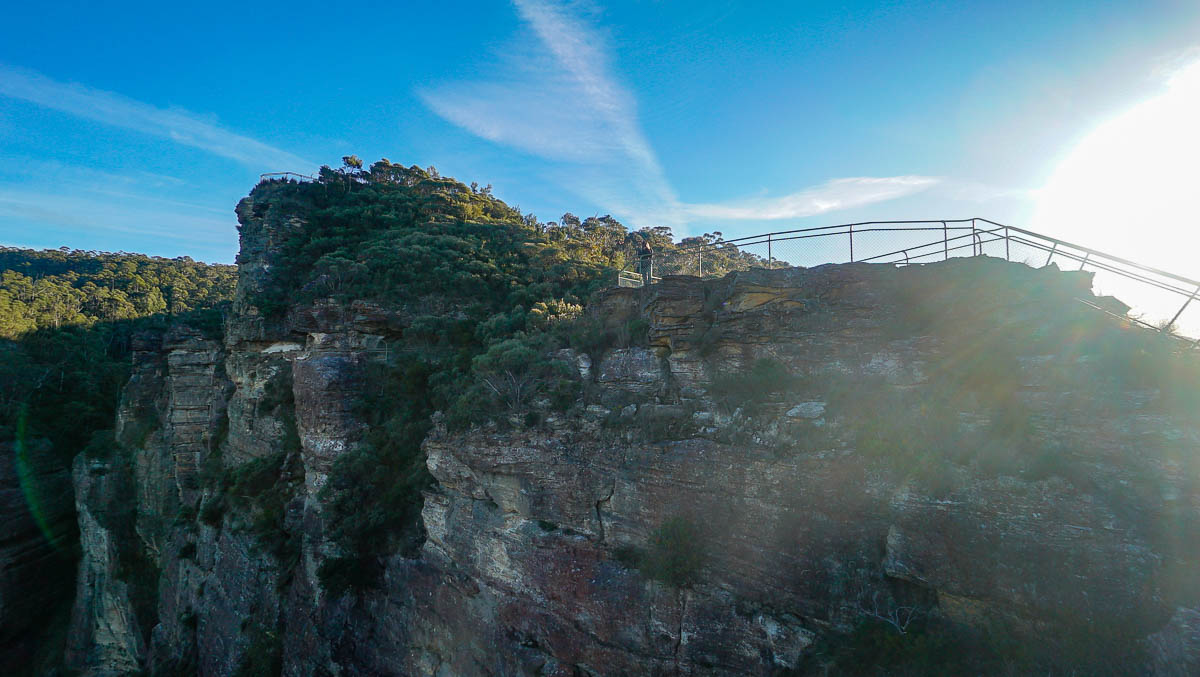 Once you spot the rock, you'll realise there are 4 levels of lookouts — the steps for the last level are pretty steep, but definitely has the best view. You get to see both the vast greens of Grose Valley as well as the side cliff face of the higher lookouts.
Difficulty: Easy (Steps can be quite steep but come with metal railings)
Time: 15mins from the carpark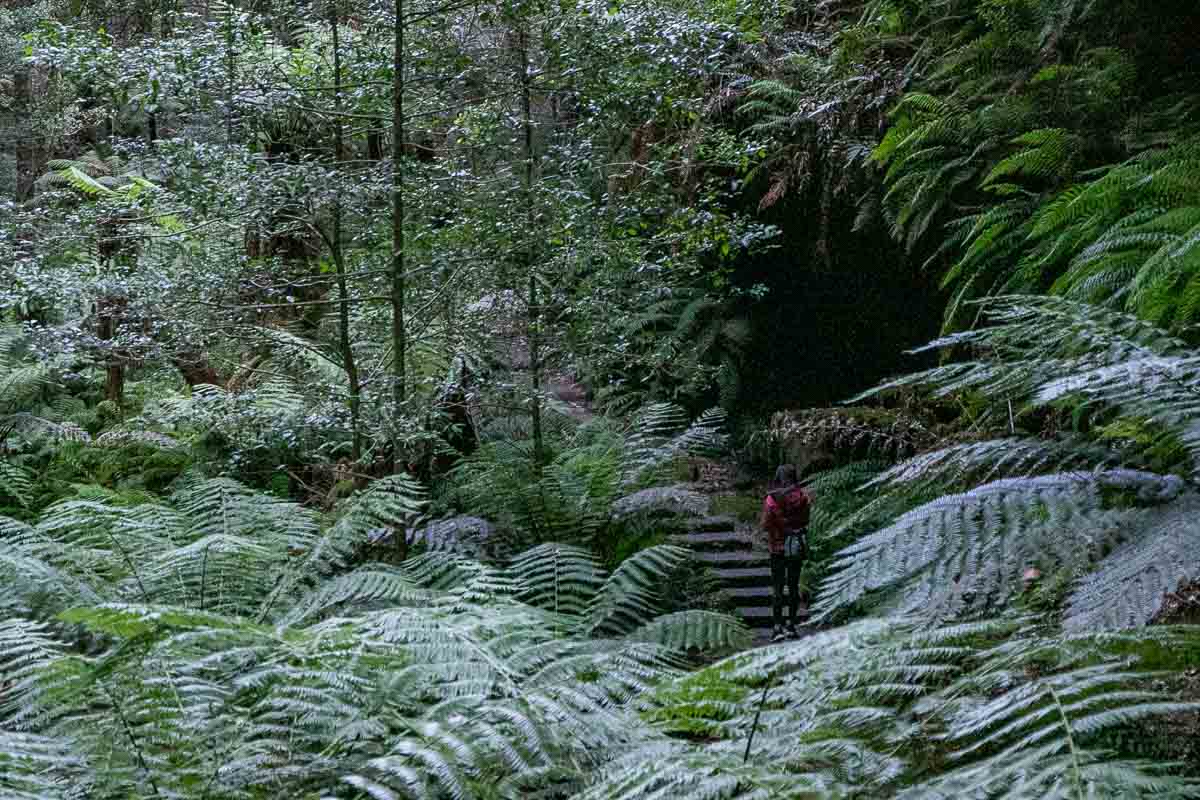 Grand Canyon Walk: Our favourite trail of all goes to the Grand Canyon Walk. It's best to arrive when the sun's really out since it can get quite dark in some sections of the canyon. Photos don't really do the scenery justice here but it turned out to be one of our favourite parts of the Blue Mountains.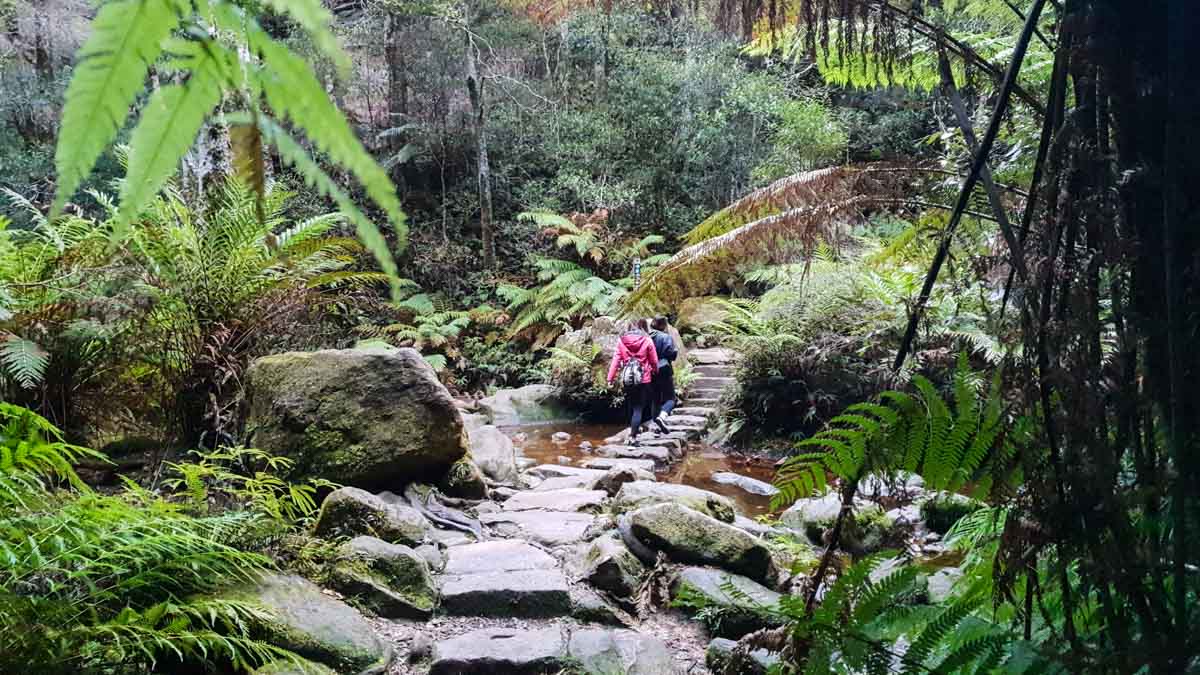 The hike takes around 3 – 4 hours and is rated with moderate difficulty because of steep steps and creek crossings, but unless it's raining, you shouldn't need to get your toes wet. Ratings aside, the track is easy to follow and shouldn't be too challenging for the average 20-something-year-old.
Starting Point: Evan's lookout or Grand Canyon Car Park. You can start from either end and finish at the other. From the end point, it's a 700m-walk to your car.
Difficulty: Medium
Time: 3 – 4-hour loop
Day 3: Jenolan Caves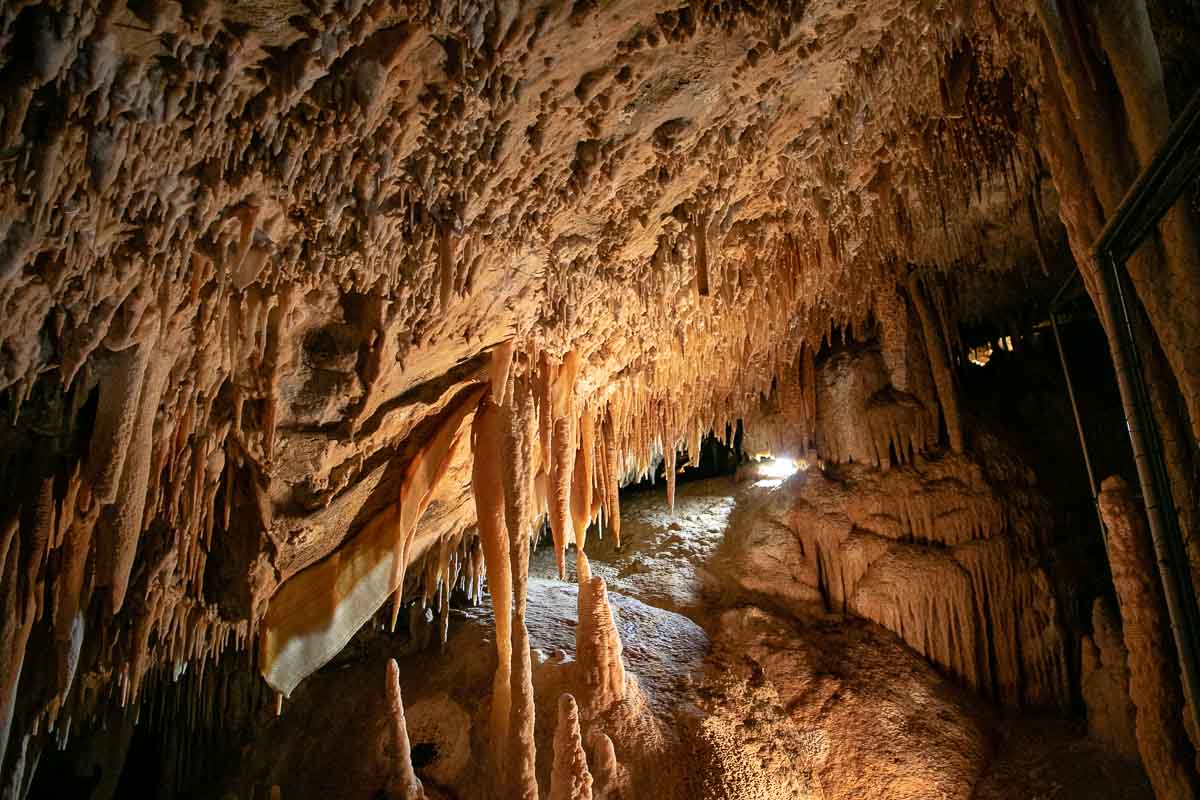 An hour's drive from Katoomba, the Jenolan Caves were formed over 430 million years ago and are the largest caves in Australia. There are 17 cave tours of varying difficulties, from easy strolls on well-formed steps with railings to challenging crawls through cave features.
Most of the tours don't run daily so be sure to check out the cave tour timetable and book your tours in advance!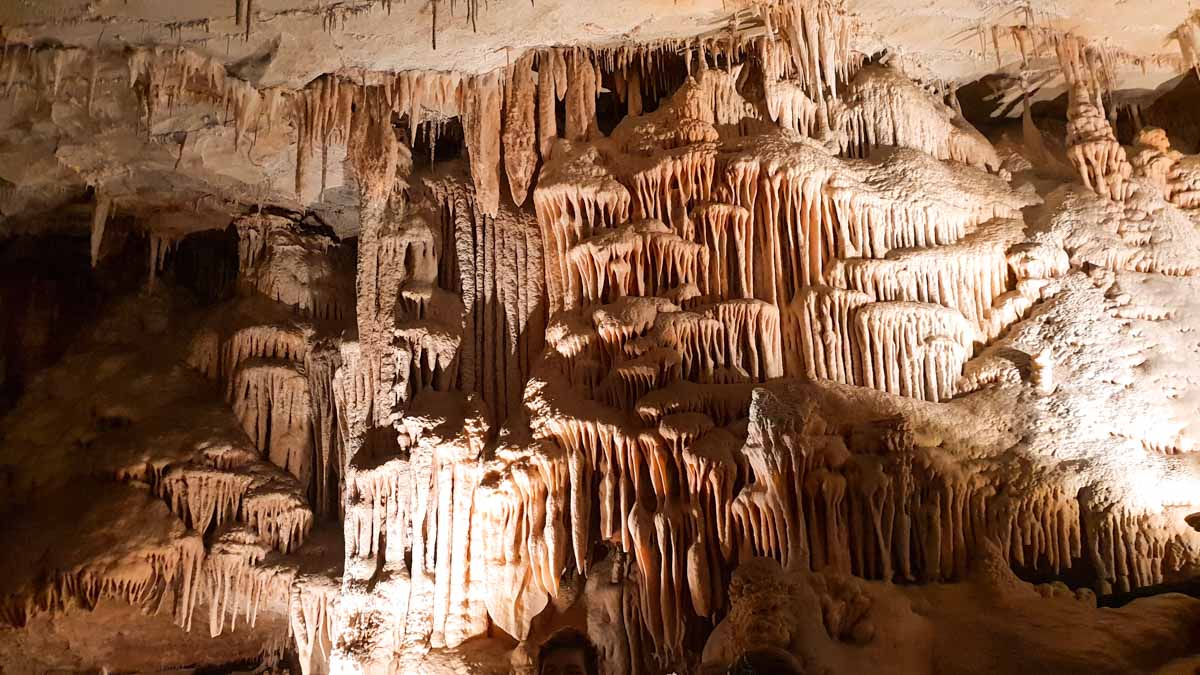 We signed up for a 4PM tour of Lucas Caves (AU$42) which was a relaxing walk-through but had some of the most impressive limestone formations I've ever seen. At some point, we arrived at a large open space once used as a cathedral. Back in its functional days, visitors had to access the space through steep steps carved from rock, then climb a 3 – 5m-long ladder.
Those looking for more of a challenge can try the adventure caving tours like the Aladdin Adventure Cave Tour (AU$140), which will require a moderate level of agility as you traverse and squeeze through rock features while equipped with overalls, a helmet and your own headlamp.
Tour cost: From AU$42 – 250
Opening Hours: 9AM – 8PM (Last tour leaves at 5PM)
Accommodation at Old Leura Dairy
One of our favourite parts about this leg of the trip was returning to our cosy abode at the Old Leura Dairy.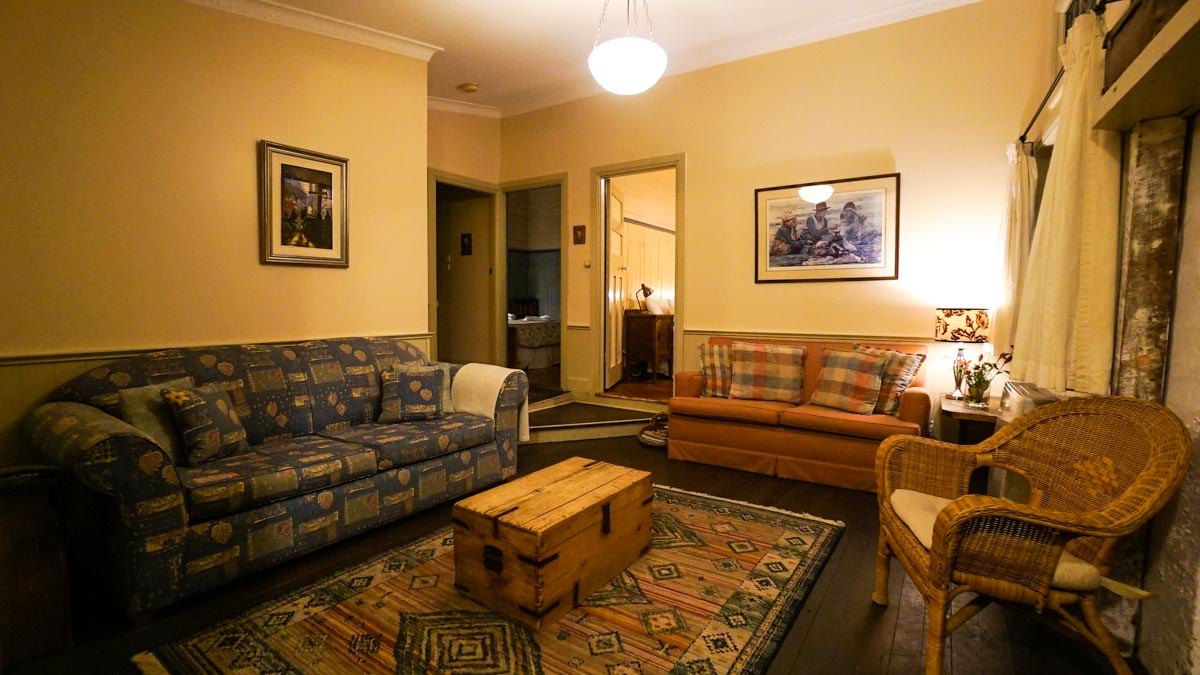 What used to be a dairy plant is now converted into 6 separate homes ranging from a cosy studio that sleeps 2, to a Straw Bale House that can fit a party of 11! Each comes with an entirely different style and character.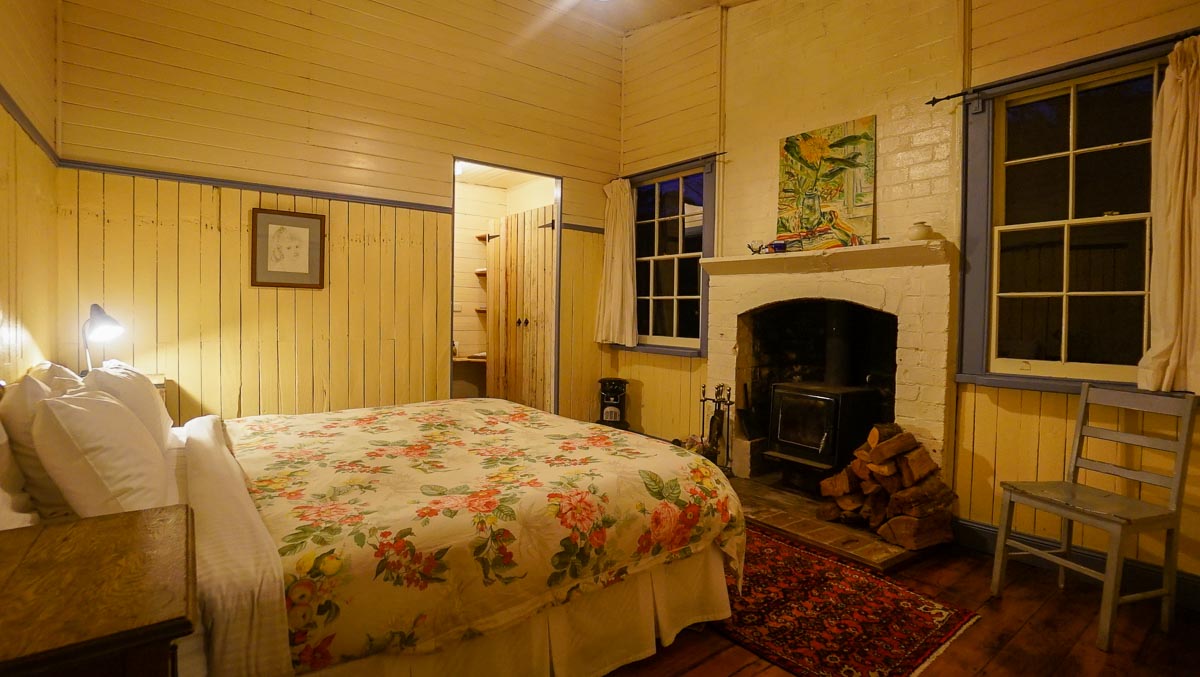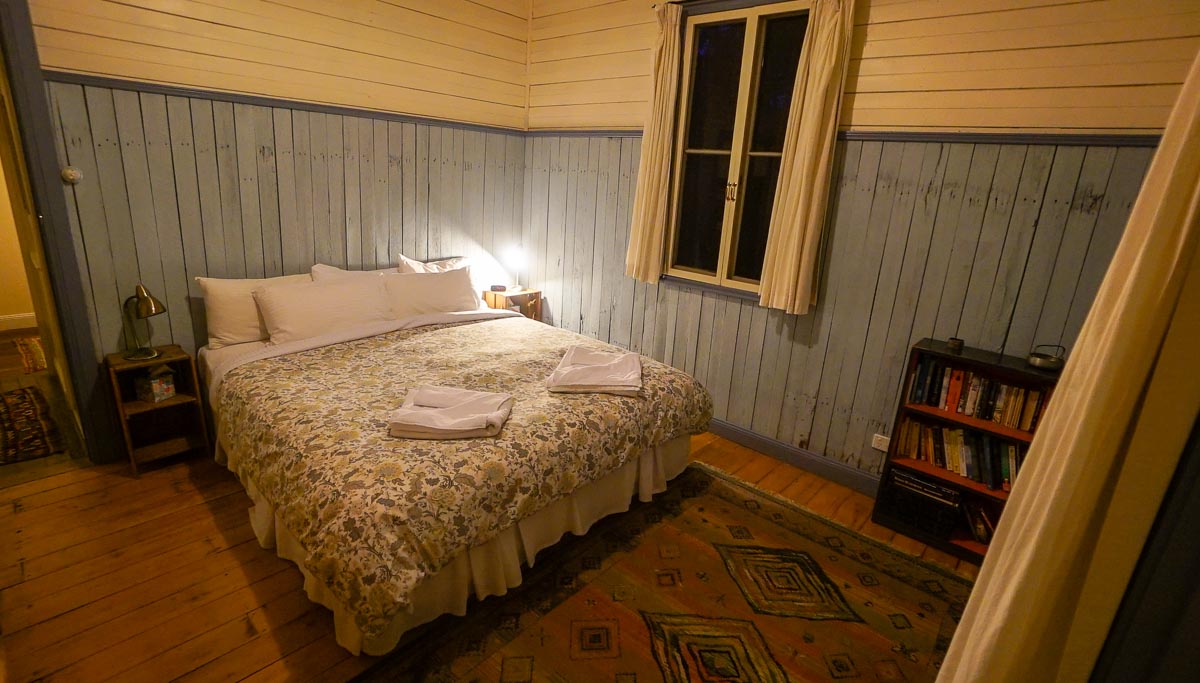 We got the Worker's Cottage — which was originally a shelter for the workers at the dairy. Each room is spacious but cosy, furnished with many interesting features like a vintage wooden chest box used as a coffee table and an old school bread-chopping station. The toilets even had clawfoot bathtubs which were adorable! The home is fully heated and perfect for chilly nights at the Blue Mountains.
Cost: From ~AU$200/night
Address: 61 Kings Rd, Leura NSW 2780, Australia
That wraps up our 3D2N spent in the Blue Mountains before we moved on to Hunter Valley as part of our 9-day road trip! We hope you found this useful. If you'd like to find out more about our road trip, check out our 9-day NSW road trip itinerary!
---
This post was brought to you by Destination New South Wales (DNSW).