When you think of Qatar, the first thing that comes to mind might be the country's flagship carrier. But this small Middle Eastern country is more than just a place for your layover.
At Doha's Hamad International Airport, a member of staff holds a sign bearing two halves. Transfers, with an arrow pointing one way, and Arrivals, with an arrow pointing the other.
As I make my way to the latter, I realise I am the only one. It is midnight, and bleary-eyed travellers on transit are pouring out of the seven hour flight, en route to a dozen different destinations in Europe, North America, Africa.
But there is culture, heritage, and a tapestry of stories to be found in this tiny, oil rich nation that is set to host the FIFA World Cup in 2022. On a four-day whirlwind tour through the capital, I explore some of them.
Understanding the Middle Eastern culture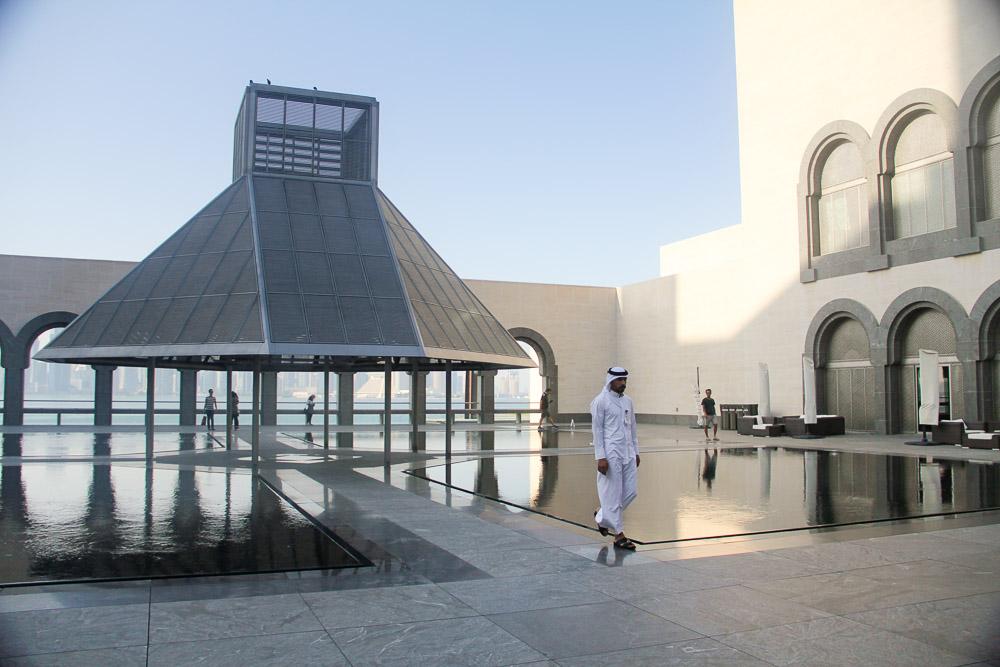 Wandering around Qatar, I am teeming with questions about life in the Middle East. For instance – Why do women wear abayas, or the ubiquitous ankle length black robes? Why do men wear long white garments known as the thowb, or place black rings atop their headscarf? Is it a must for women to cover their faces in public?
Cultural consultancy firm Embrace Doha, which is located within the city's central market called Souq Waqif, helps foreigners to understand aspects of Middle Eastern culture that may seem puzzling to the first-time visitor.
We meet Amal Al Shamari, Founder and CEO of the company, who answers all our questions over dates and qahwa (Qatari coffee) – the former is candy-sweet while the latter strong and bitter; an acquired taste.
The hijab, or head covering for women, is mandatory for all Muslims, while the abaya is a cultural aspect of living in the Middle Eastern, says Amal. Covering one's face, however, is a personal choice, which some women might prefer for privacy's sake.
As for the men, in their white robes – traditional Bedouins, or desert dwellers, used the black rings to tether their camels at night, and kept it on their heads in the day; the rings have, over time, become part of their traditional dress.
The session is extremely enlightening, and I come away teeming with information and understanding. Embrace Doha offers various tours, including one where you can spend a day with a Qatari to experience the local way of life. Visit their website for more details.
Learning about Qatar's oil economy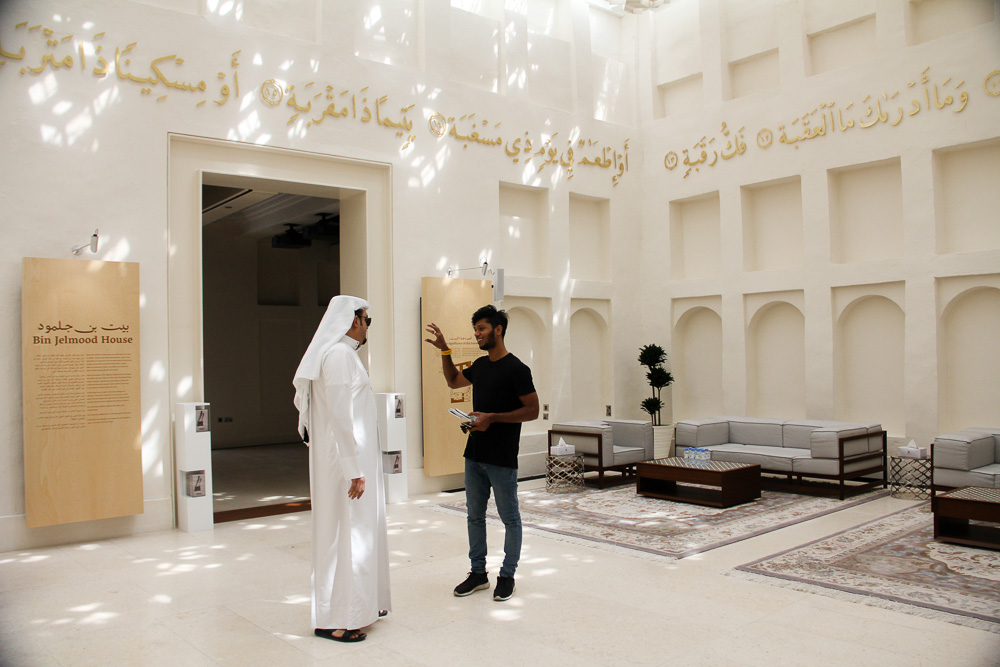 Qatar is an oil-rich nation, and while driving through the city I learn from our guide, Ashok, just how rich it is.
The Qatar Investment Authority (QIA), Qatar's sovereign wealth fund, bought London department store Harrods for a cool 1.5 billion pounds in 2010. A quick Google search reveals other impressive assets, such as 95% of The Shard, Europe's tallest skyscraper, and Al Jazeera media network.
So when we visit the Company House at Msheireb Museum, I am surprised to learn that the country's wealth only came about in the late 1930s, when the first oil fields were discovered in Dukhan. Men would work for a month without rest, returning home to a hero's welcome, to claim their salary, and for a brief day of rest. The next day they would return to the oil fields.
"There is no shame in hard work when you are trying to build a nation," says an anonymous narrator in a short film called With Their Bare Hands.
The Msheireb Museum is housed in four heritage houses in the oldest part of Doha. Besides Company House, the other three houses showcase the Indian Ocean slave trade, development of the Msheireb area, and traditional family way of life.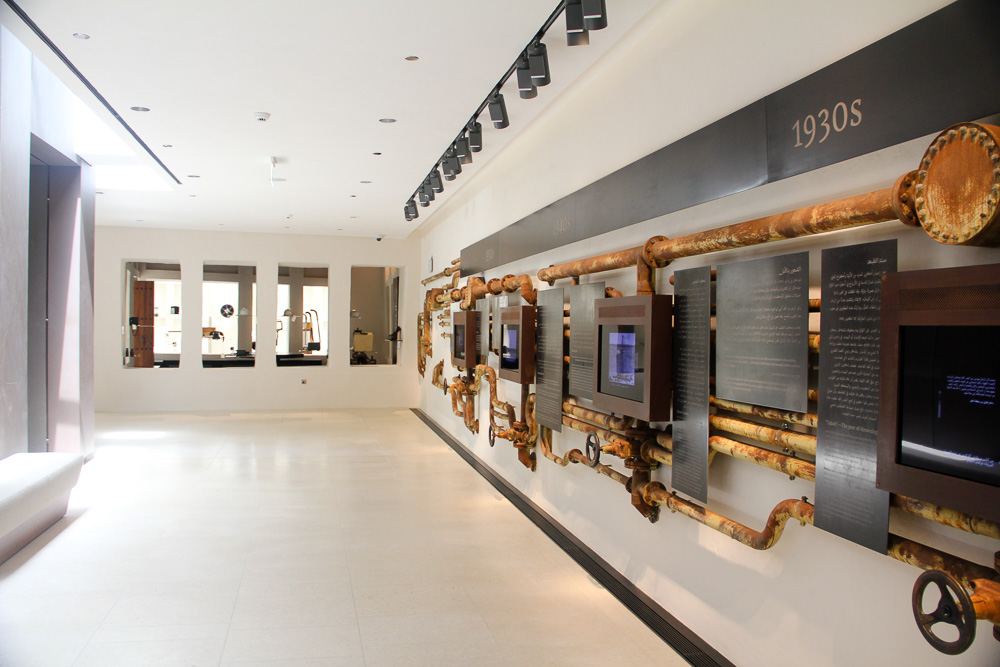 Visitors are allowed and encouraged to touch the exhibits displayed through the four houses – no glass casings here to keep out curious fingers.
Cost: Free
Operating hours:
Monday to Thursday: 9.00am – 5.00pm
Friday: 3.00pm – 9.00pm
Saturday: 9.00am – 9.00pm
Last Admission 30 minutes before closing. Visits are by appointment only. Email [email protected] to book an appointment or fill out an online form for a guided tour.
*Pro tip: If you can, plan to visit early in your stay, as it will provide the context and background for you to understand Qatari culture.
Getting up close to gorgeous horses in the heart of the city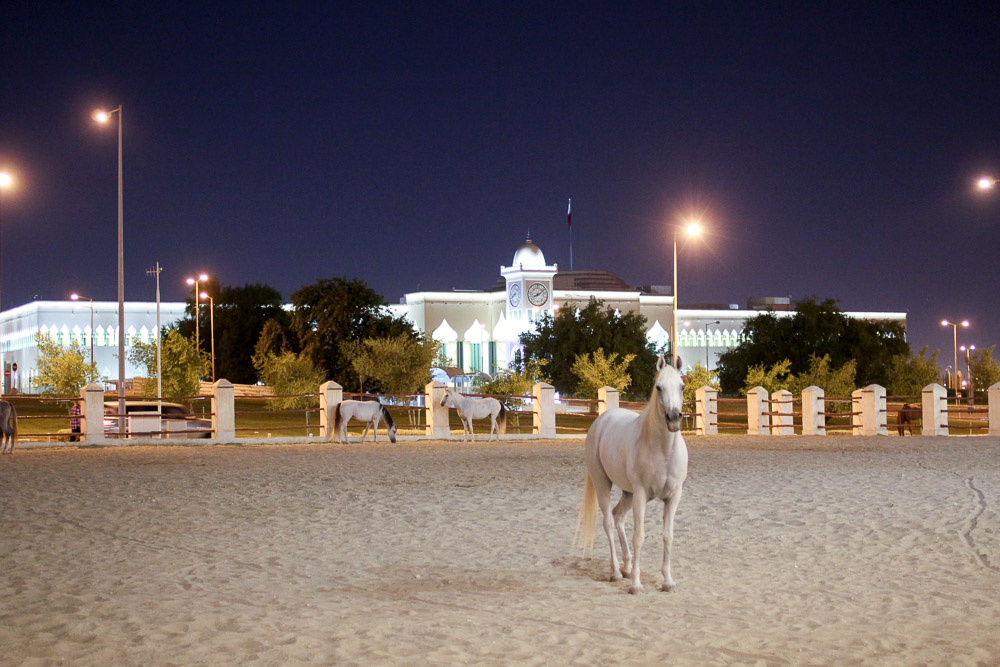 Across the road from the Emiri Diwan, or Presidential Palace, lies a paddock full of pure-bred Arabian horses just chilling out and waiting for their next ride. The horses, which belong to the Emir or King, are sometimes ridden by him and his staff.
During their downtime (which is most of the time), the horses are tame and friendly, and those leaning out of the paddock's fence are usually happy to be stroked. These extremely photogenic horses even have an ornate backdrop to pose against – behind them are rows of stables that are part of the Souq Waqif area. (Another must-see!)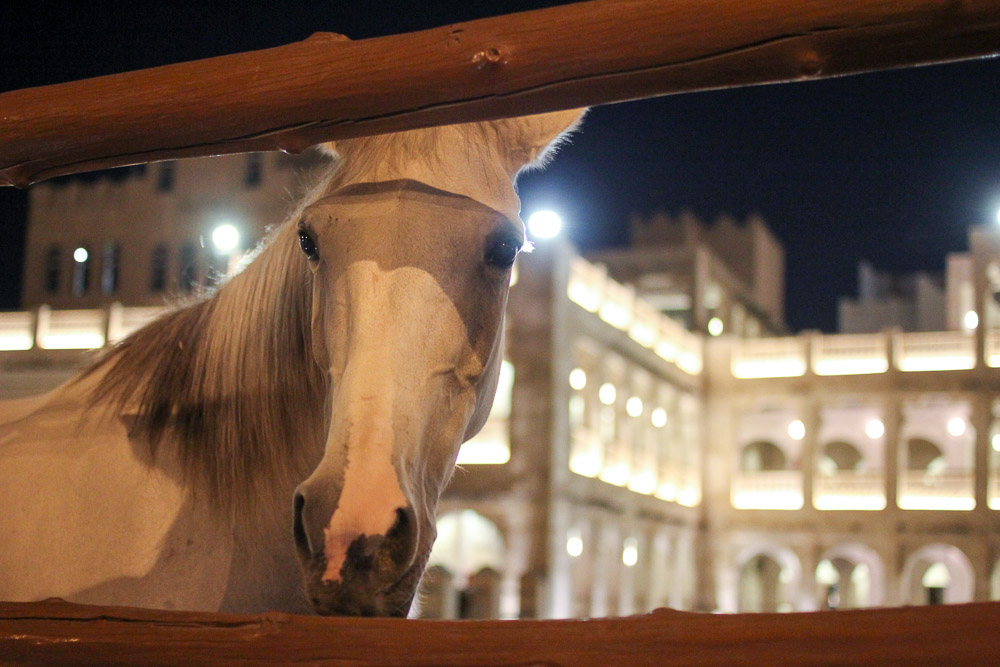 Cost: Free
Operating hours: All day, errday
Shopping at the Souq Waqif — Standing Market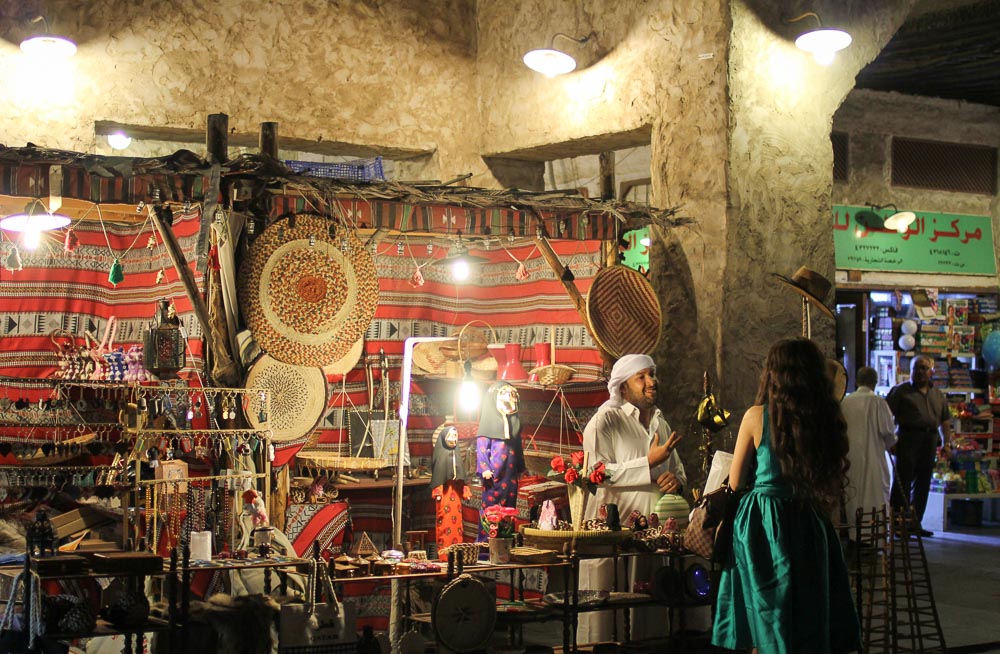 Souq Waqif meaning standing market, a historical location named for the incoming tide that kept traders on their feet as they bought and sold their goods. Every day, wares such as fish and pearls would change hands, items that made up the local economy before Qatar discovered its oil fields in the late 1930s.
Today the souq throngs with locals and expatriates, and any corner of the souq is great to people watch. I load up on nuts, dates and dried figs at a small provision shop, where they are displayed in open cases and sold by weight.
"Which dates do you recommend?" we ask a shop assistant, gesturing at the five different varieties on offer.
"Try," he says simply, and we all pick our favourites.
If trinkets and pretty things are more up your alley, look for souvenirs such as carpets, hand-stitched cushion covers, jewellery and gold.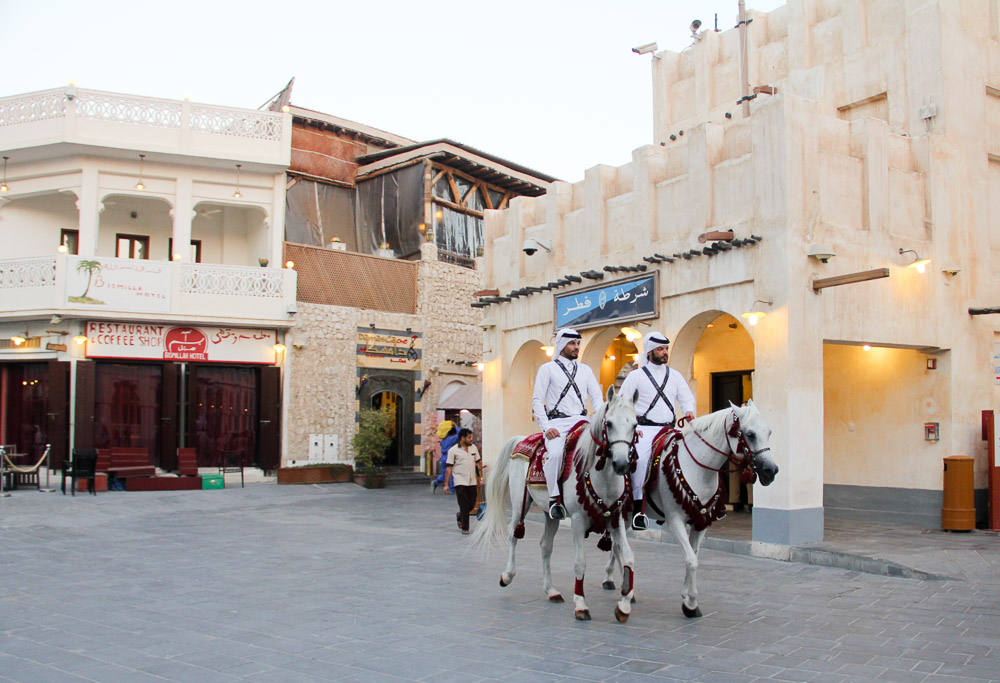 Pro-tip: The best time for photos is from late afternoon to early evening, when dusk creates pastel skies and the evening light makes everyone look good. However, be careful when shooting women wearing the abaya – some may be sensitive about being photographed, so ask first!
Visiting the sand dunes and camels of the Sealine desert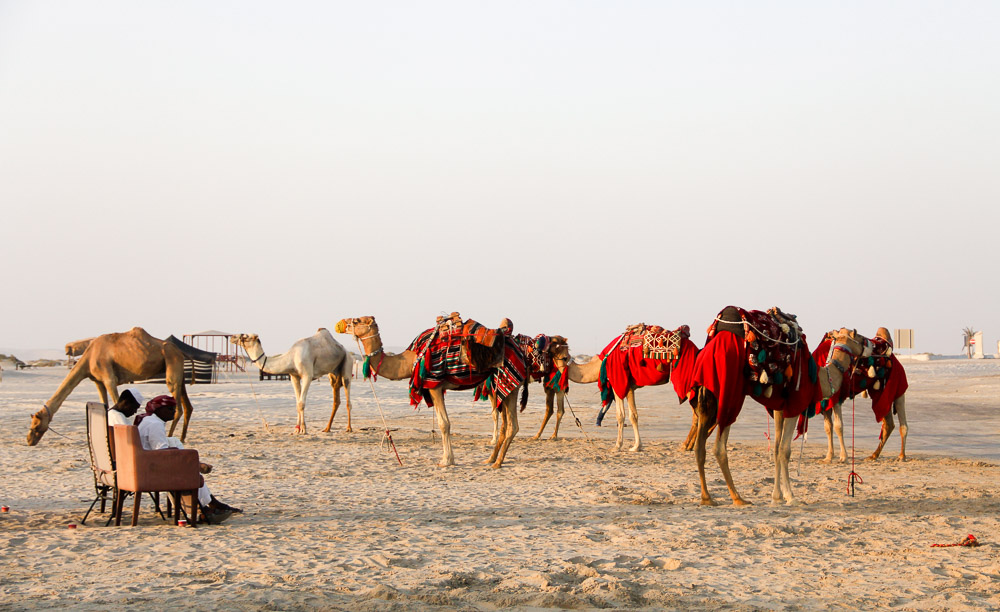 We visit the Sealine desert, named for the inland sea created by encroaching water from the Persian Gulf, to ride up towering dunes of silky white sand and plunge down steep drops that look virtually impassable.
In the backseat of the 4×4 vehicle we are flung about like rag dolls, and all attempts to record the ride are met with shaky and virtually unusable footage. So I put away my camera and take in the desert landscape, beautiful in its sparseness, with mounds and craters that feel almost like a different planet.
Later I hop on the back of a camel while it takes a jaunt through the desert. 20 Qatari Riyals (7.46SGD) gets a five minute ride, which is good enough for photos and more than enough for my butt! Thankfully, the ride is fairly stable – camels are calm and docile, and mine had a small wooden stand which I could grip comfortably. The only wobbly bit is when the camel dips its legs abruptly for my dismount!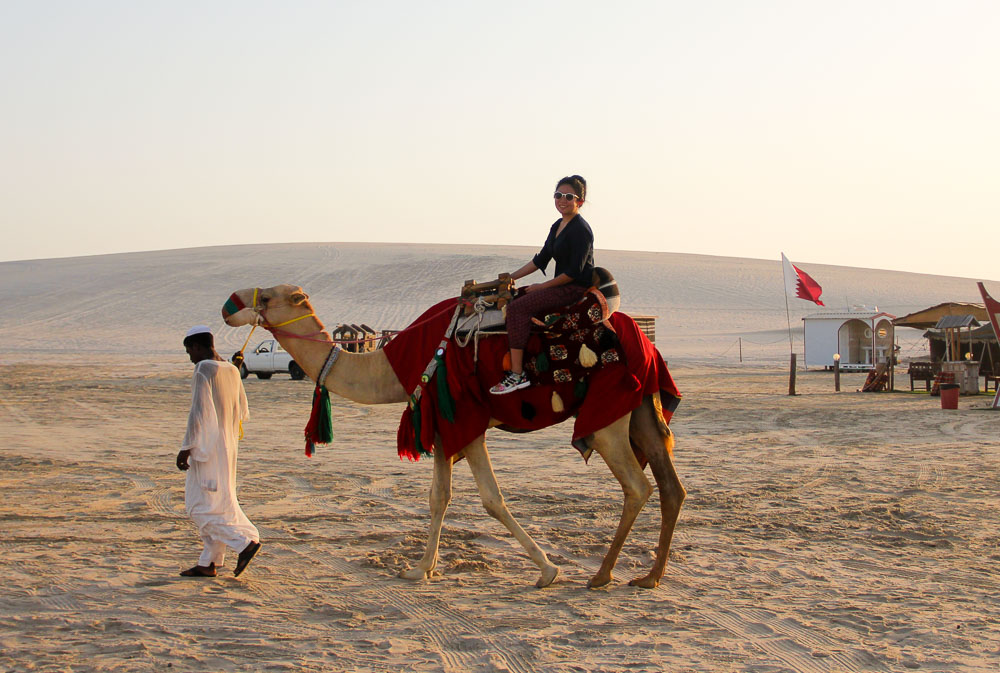 Cost: 700QR (263SGD) per car for a half day desert safari tour by 365 Adventures, which includes a four-hour long dune bashing trip. Each car seats up to six people.
Pro tip: If you think you might suffer from motion-sickness, consider taking some medication for the sand dune bashing ride. There are lots of sharp twists and turns on undulating terrain!
What to note before you go to Qatar
Qatar is modern in many ways – it has large shopping malls, women can drive and hold high-profile professional positions, and foreigners are not required to wear the traditional dress. But the country also holds its culture and traditions dear. Stay safe, sane and happy on your trip with these survival tips:
Dress modestly. Both men and women should avoid sleeveless tops and shorts – pants and dresses should end below the knee. Some places, such as the Museum of Islamic Art, require your legs to be fully covered, and have scarves on loan to cover exposed legs.

Either your right hand, or both hands should be used to give and receive items such as tea, gifts or business card. Avoid using only your left hand.

Qatar has long, hot summers – think 40 to 50 celsius of blistering heat. If you can, visit from December to April instead, where daytime temperatures usually hover around the mid-twenties, and nights and cool and windy. But if you have to go during the hotter months, stay hydrated by drinking lots of water. You can also bring a cap, scarf and a pair of shades to shield yourself from the sun.

Alcohol is not served in regular restaurants, although if you're thirsting for a cold one, most five-star hotels have alcohol licenses and multiple bars.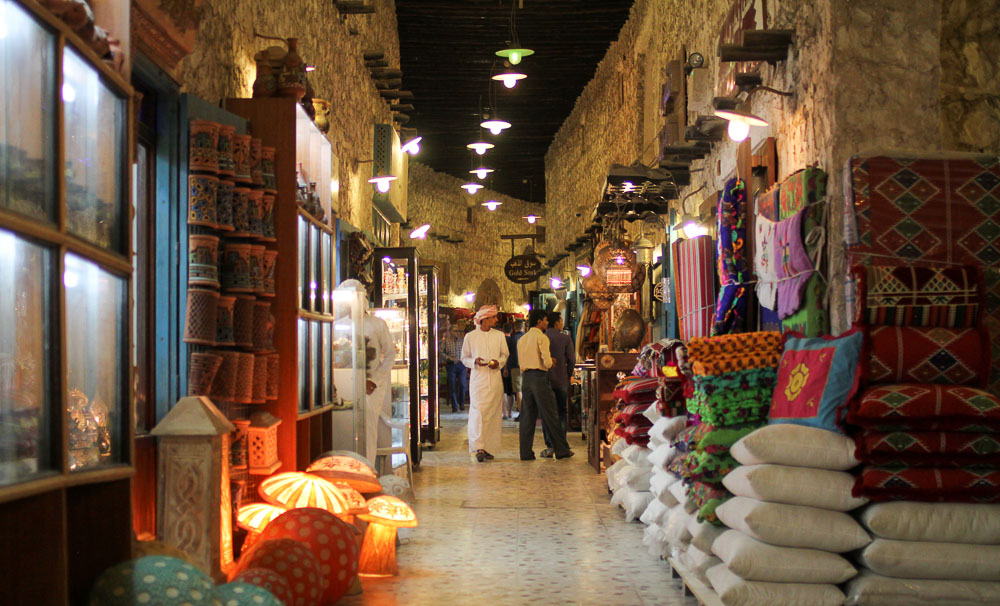 Now how about a trip to Qatar next? Know of any other interesting things to do in Qatar? Share them with us in the comments section below!
For more adventures and stories, do follow us on Facebook and Instagram!