Discover the top tourist spots in this budget Taiwan itinerary covering Taipei, Yilan, Keelung, and Beitou.
I'd admit, Taiwan wasn't the first county I had in mind when looking for a budget-friendly travel destination. But after our recent trip starting from the bustling Taipei, to charming Yilan, and historic Keelung, I'm convinced this is perhaps the best hidden gem.
With a budget of just ₱10,000, we'll show you the best places to enjoy delicious local cuisine, immerse yourself in the vibrant night markets, and explore stunning natural landscapes without breaking the bank.
So if you're ready to embark on an adventure that's equal parts affordable and unforgettable, here's the perfect 5-day, 4-night Taiwan itinerary to help you make the most of your trip.
Taiwan Trip Budget Breakdown
Activities: ₱5,931
Transport: ₱2,663
Night Market Food: ₱883
TOTAL: ₱9,476
(1PHP = NT$0.56)
*flights and accommodation weren't included as prices fluctuate depending on seasonality. We also travelled in a group of four, which means that we were able to split food and some transport costs.
(This also does not include the tour in Pinglin District.)
Day 1: Jiufen, Shifen & Surrounds
Jiufen Old Street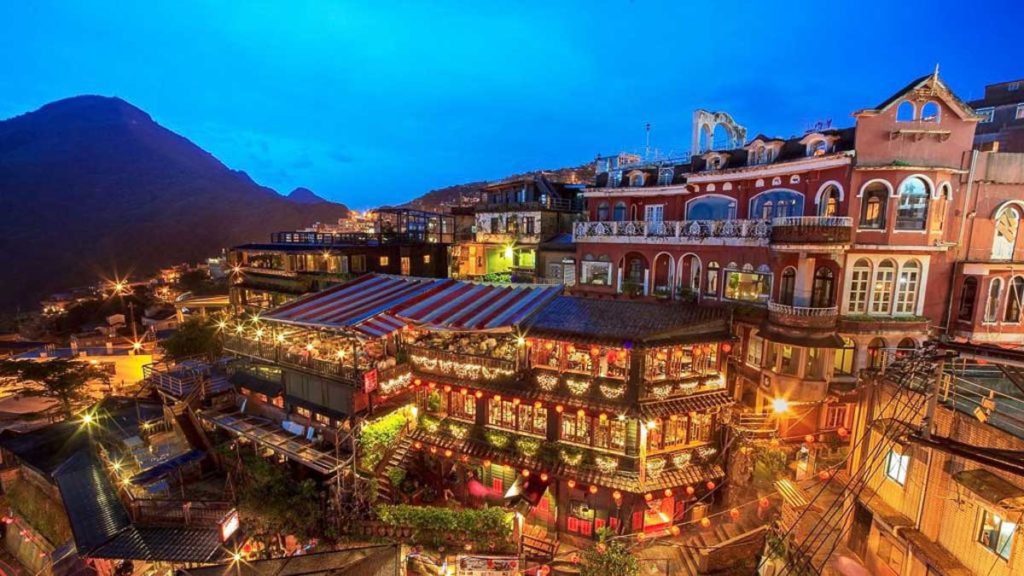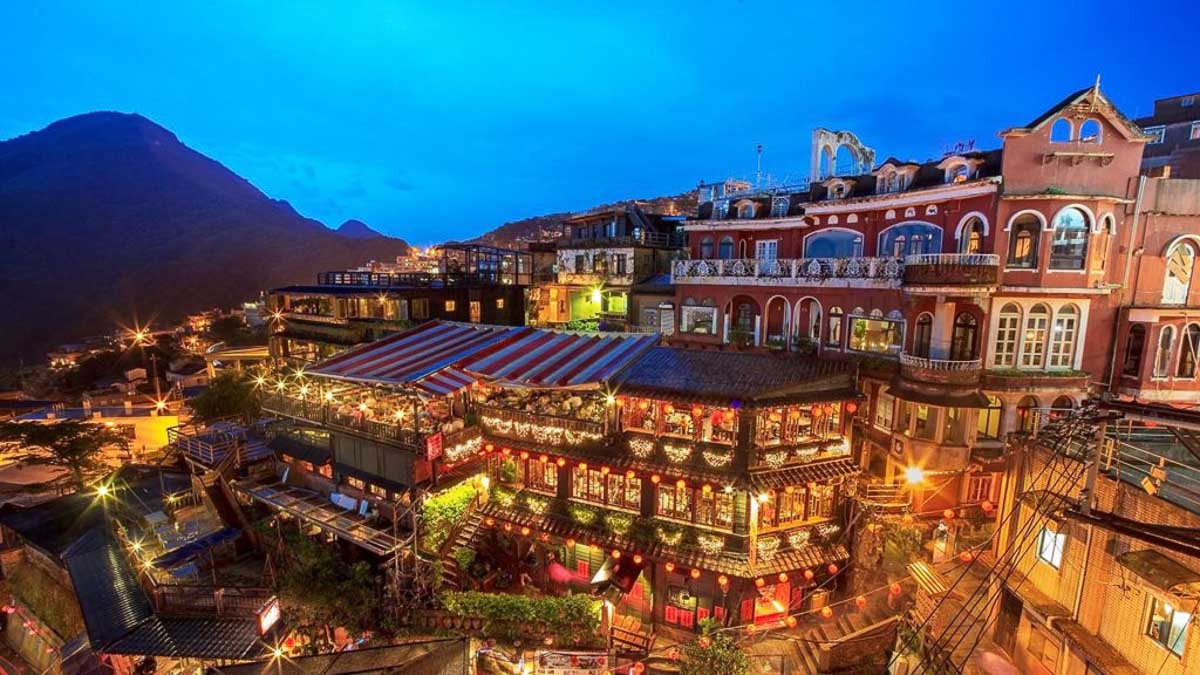 If you're looking for tasty street food in a scenic place, take a day trip to the streets of Jiufen. This alleyway inspired by Spirited Away is filled with cheap but delicious food stalls that will leave you wanting more. Here are some of our most-recommended eats from Jiufen.
1) A-Jou Peanut Ice Cream Roll (~₱90): Contrary to the name, peanut ice cream rolls are actually savory. Peanuts, pork, and cabbage are rolled crepe-style to make for a unique dessert. This isn't sold in a lot of night markets in Taiwan, so I recommend you buy one immediately if you come across a stall that sells this.
2) Ah Po Taro Balls (~₱90): Taro balls are one of the most popular desserts in Taiwan that can be eaten hot or cold. And what better way to know what it tastes like than getting it from the region where it originated?
3) Zhang Ti Traditional Fish Balls (~₱153): Enjoy traditional rice meals like the ones they sell here in Manila but with a Taiwanese twist. Their lo rou fan (braised pork rice) tastes similar to pork adobo, while their dried noodles are like pansit with thicker sauce.
4) Discover Grilled Sausages (~₱72): Taiwanese sausages are usually served in sticks and are great when you want to snack as you go!
Cost: ~₱405 (~NT$226)
Opening hours: 10AM – 9:30PM
A-Mei Tea House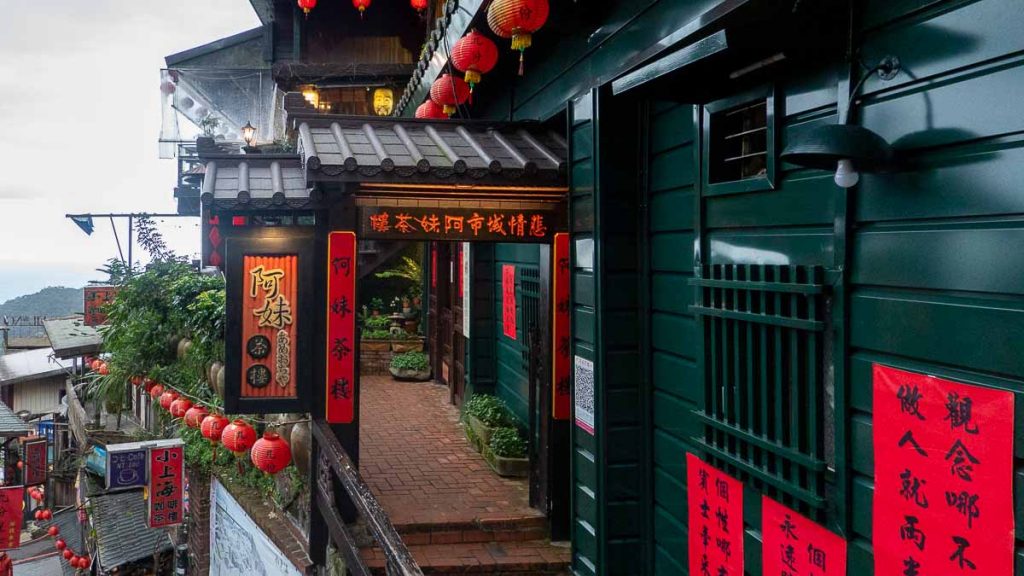 While we didn't get to try out the tea in A-Mei Tea House (we're reserving tea time for later 😉), we visited the place to take photos here since it has a stunning view of Jiufen.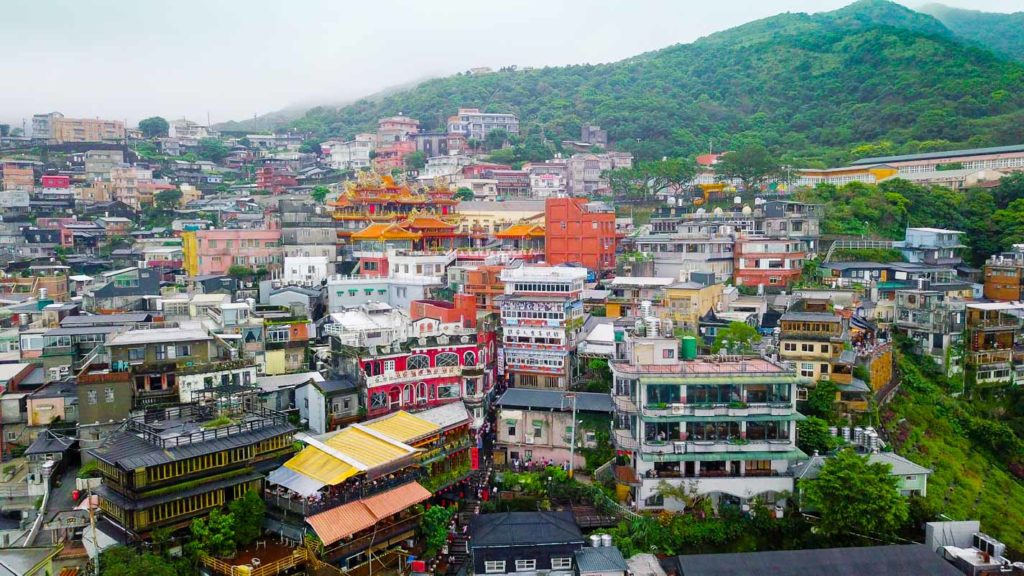 It's typically swamped with tourists not only because of its tea experiences and ceremonies but also because it's rumored to have inspired certain scenes from Spirited Away.
Cost: Free if you're just passing by (~₱535/pax for the tea experience)
Opening hours: 8AM – 7PM (Mon – Thu), 8AM – 10PM (Fri – Sun)
Shifen Waterfall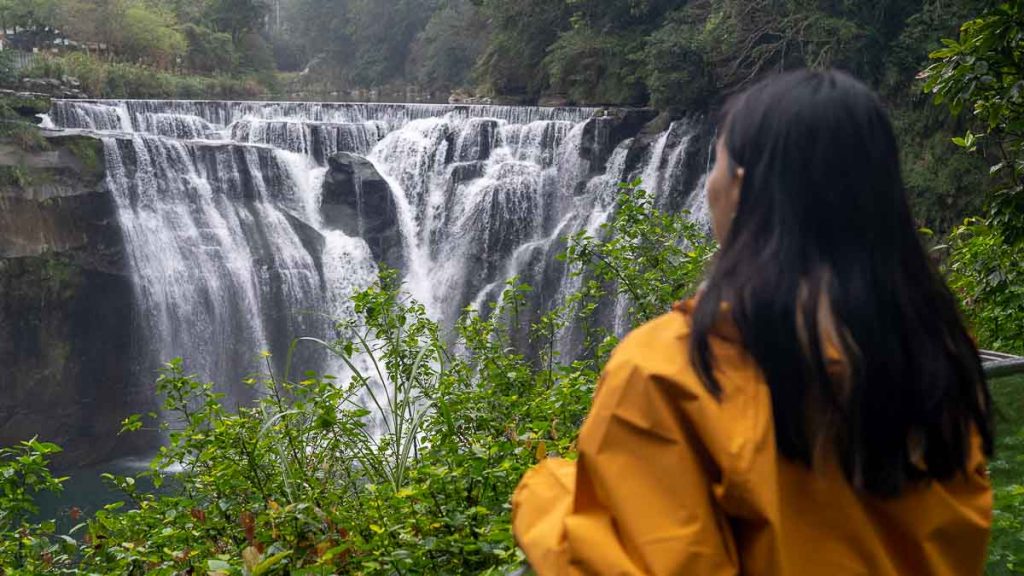 Perhaps one of the most famous natural beauties in all of Taiwan, the 40m cascading Shifen Waterfall is a must-add to your Taiwan itinerary. If you're visiting on a sunny day, you might even be lucky enough to be greeted with the sight of a rainbow radiating over its lake.
Entrance fee: Free
Opening hours: 9AM – 6PM
Address: No. 10, Gankeng Road, Nanshan Village, Pingxi District, New Taipei, Taiwan 226
Shifen Old Street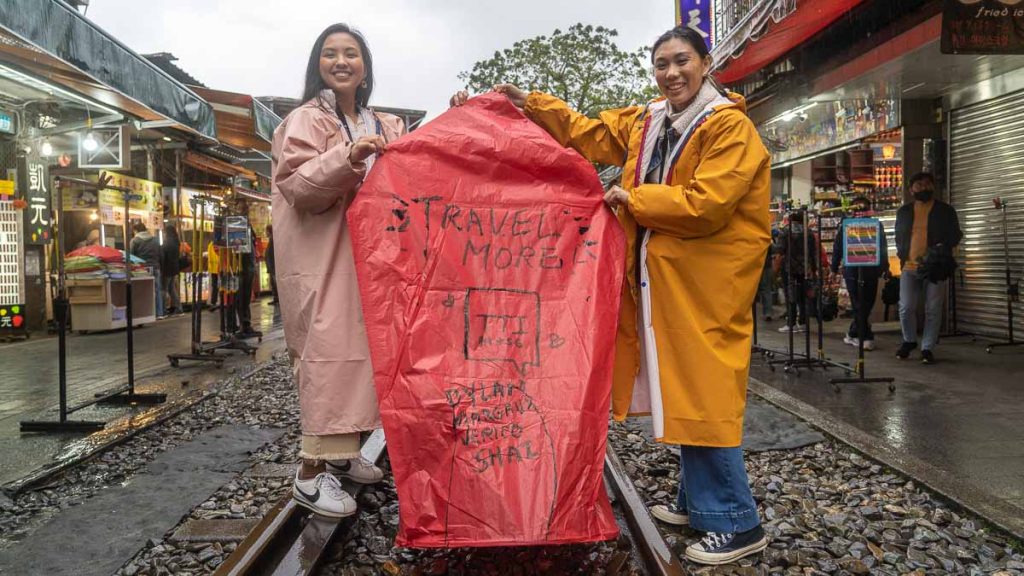 If you've had a friend visit Taiwan, then I bet you've probably seen them post this place on their Instagram feed.
Tourists come to Shifen Old Street not only to walk along its famous train tracks but also to light up and fly sky lanterns for good luck. Just go to one of the many nearby shops that sell lanterns and write down your wishes. Legend has it that gods will be reading whatever's on the lantern so go manifest it, bestie! ✨
Cost: ~₱360/lantern (~NT$200)
Opening hours: 24 hours
Address: No. 81, Shifen Street, Pingxi District, New Taipei, Taiwan 226
Golden Waterfall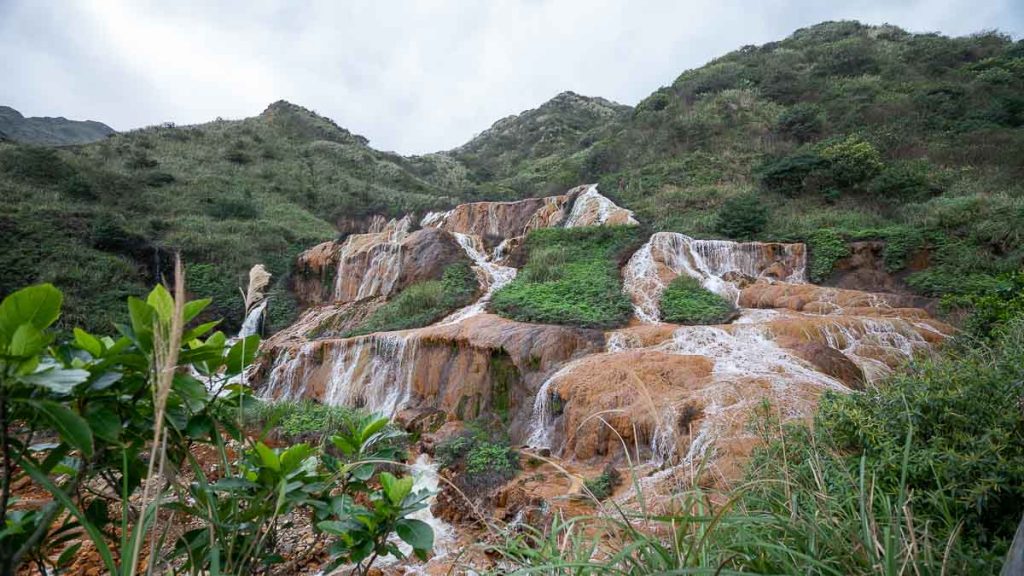 If you're looking for a more unique-looking waterfall to add to your Taiwan itinerary (because let's face it, the Philippines still has better ones 🤭), then consider visiting the Golden Waterfall.
The water from here is a rusty orange color which is a result of mineral reactions and mining activity from the town of Jinguashi. Going on a rainy day is better as you'll get to see the water flow in all its glory.
Entrance fee: Free
Opening hours: 24 hours
How to get there: Drive 40 mins from Yehliu Geopark
Yehliu Geopark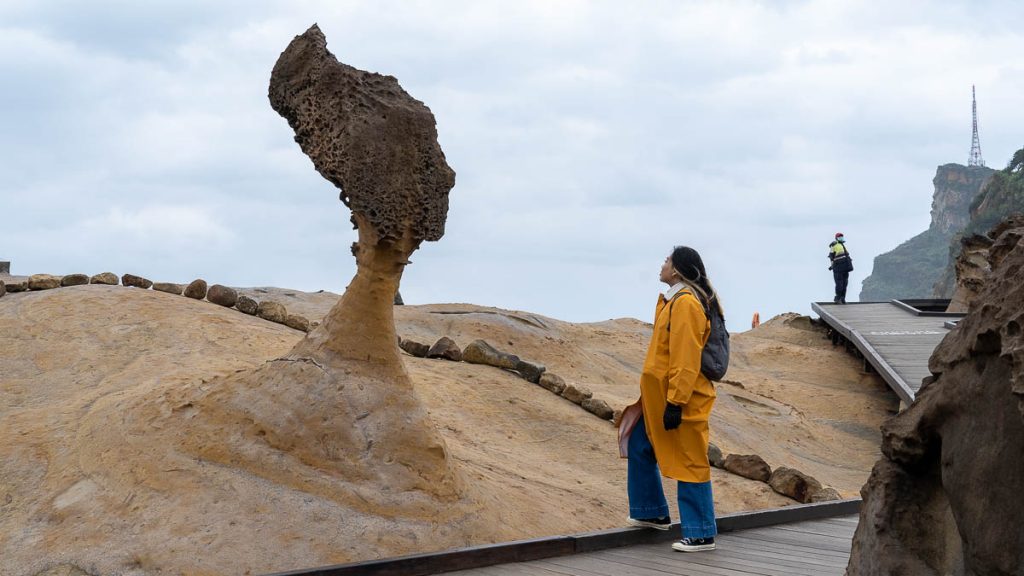 Walk through the 1.7 km-long cape that is the Yehliu Geopark. It's giving Mars vibes with the quirky and unique rock formations scattered all over the place. But what makes it really impressive is the fact that everything's formed by the greatest artist that ever lived: Mother Nature!
Our personal favorites include the Cute Princess Head, the Elephant Rock, and the Fairy Shoe. However, the show-stealer of the park is called the Queen's Head (pictured above) — which resembles Queen Elizabeth if you squint really, really hard and look at it from certain angles. Kinda looks like Disney's Maleficent if you ask me!
Entrance fee: ~₱216
Opening hours: 8AM – 5PM
How to get there: Drive 45 mins from Taipei Main Station
Day 2: Taipei City
Gaki Hip Museum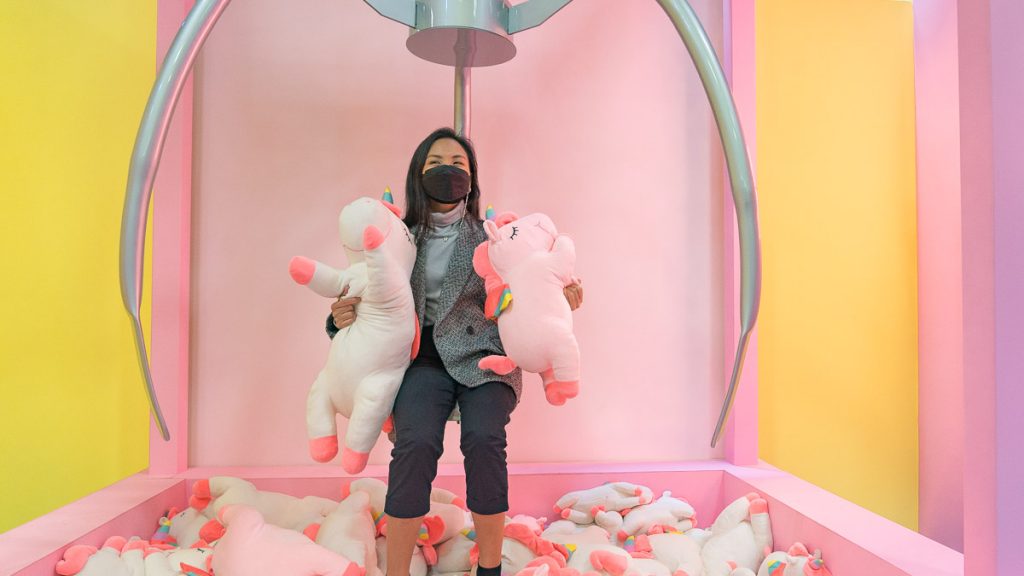 This place is one for the Instagram books! Gaki Hip celebrates Taiwanese culture in modern, hip fashion with immersive experiences and exhibitions. Boba tea lovers will love the room dedicated to the Taiwanese staple.
Or if you're looking to add a playful twist to your feed, take a picture in a giant claw machine filled with unicorns. We even got to exchange inspiring anonymous messages with other museum visitors thanks to the "stranger note exchanger" exhibit.
*Note: Gaki Hip is only open until 12 May 2023, but check out the Gaki Hip page for details of future exhibitions. For similar alternatives in Taipei, check out the Taipei Astronomical Museum.
Entrance fee: From ₱645
Opening hours: 11:30AM – 8 PM
Address: 13F, No. 66, Section 1, Zhongxiao West Road, Zhongzheng District, Taipei City, 100
Taipei 101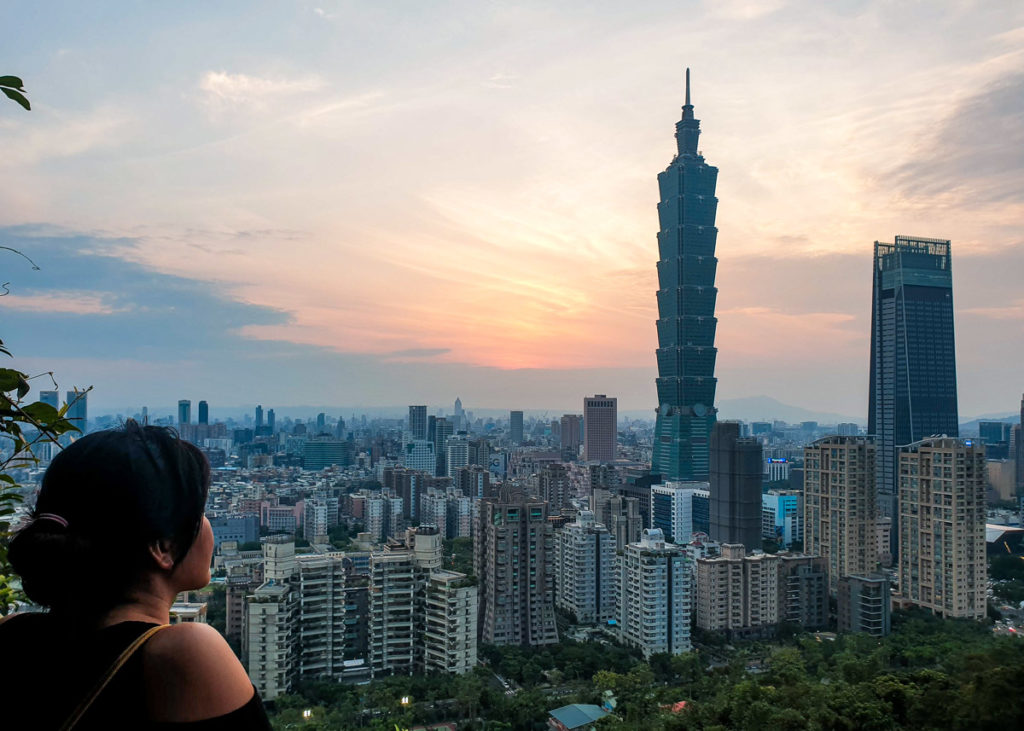 It's a no-brainer to include Taipei 101 in your Taiwan itinerary if you're visiting for the first time. It's hard to miss what was once the world's tallest building, as it sticks out in the best of ways.
The 101-storey building resembles a giant bamboo stalk and is nothing short of magnificent to view, especially if you take a short hike up Elephant Mountain. Or choose to feel like a god by viewing the entire city from the tower observatory instead.
Cost: Free
Opening hours: 24 hours
Address: No. 7, Section 5, Xinyi Road, Xinyi District
Jinmianshan Hiking Trail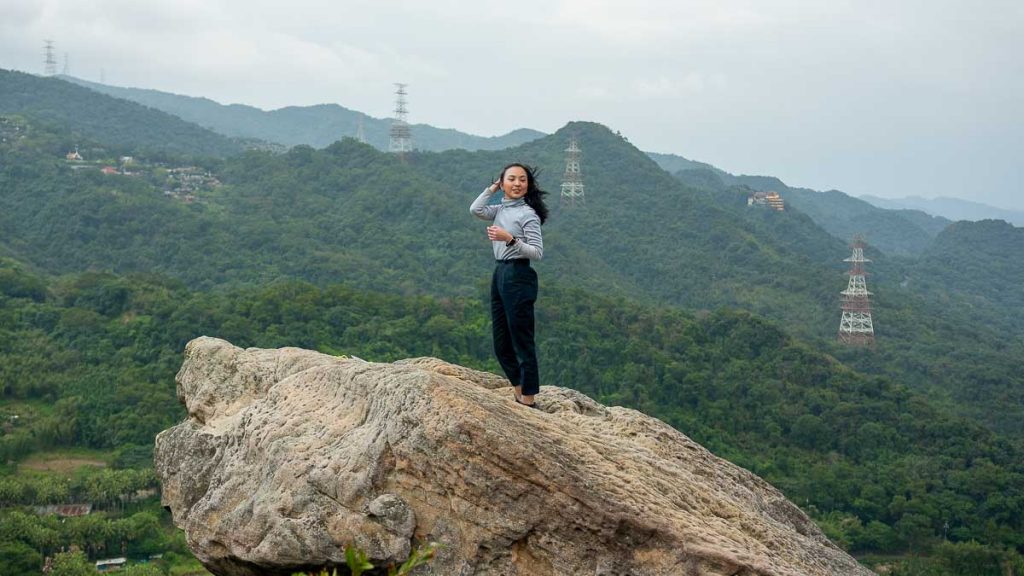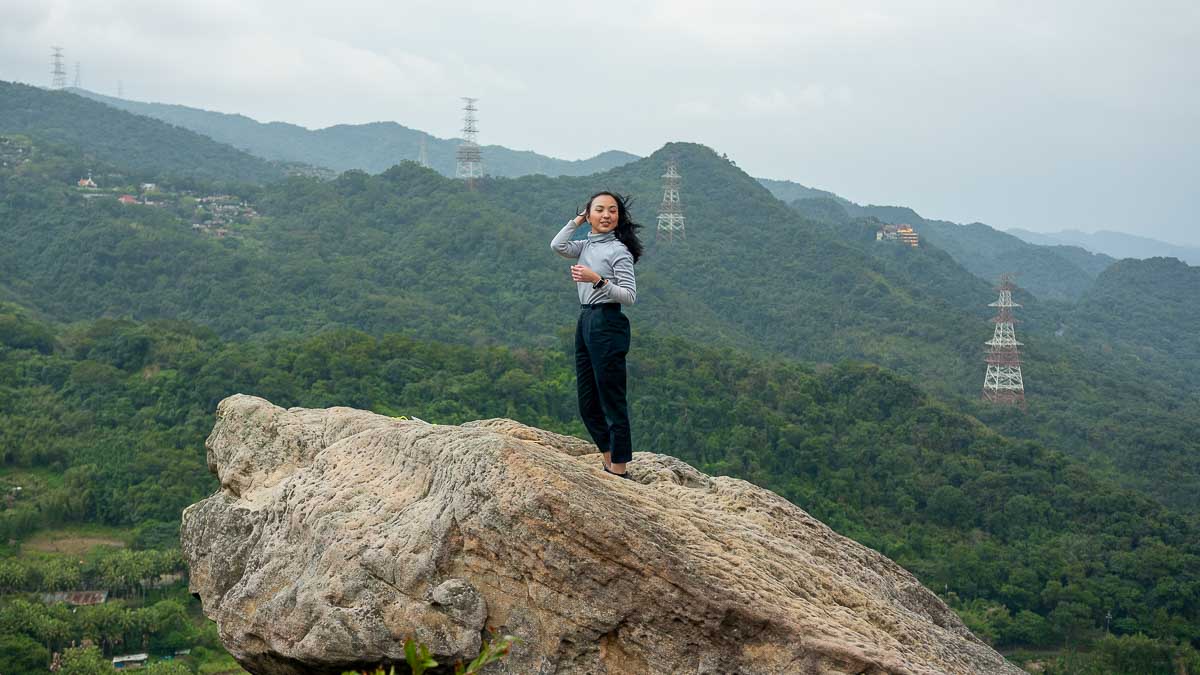 If you don't want to pay for a Taipei 101 observatory ticket or fight crowds in Elephant Mountain, then you might enjoy climbing the Jinmianshan Hiking Trail instead.
While the trail is beginner-friendly, it can be quite steep at times. However, the aunties climbing with you will give you that extra motivation you need! It took around an hour to reach the windy peak where we were rewarded with a picturesque view of the city.
Cost: Free
Opening hours: 24 hours
How to get there: Walk 11 mins from Xihu Station to trailhead, then hike 1hr to peak
Ningxia Night Market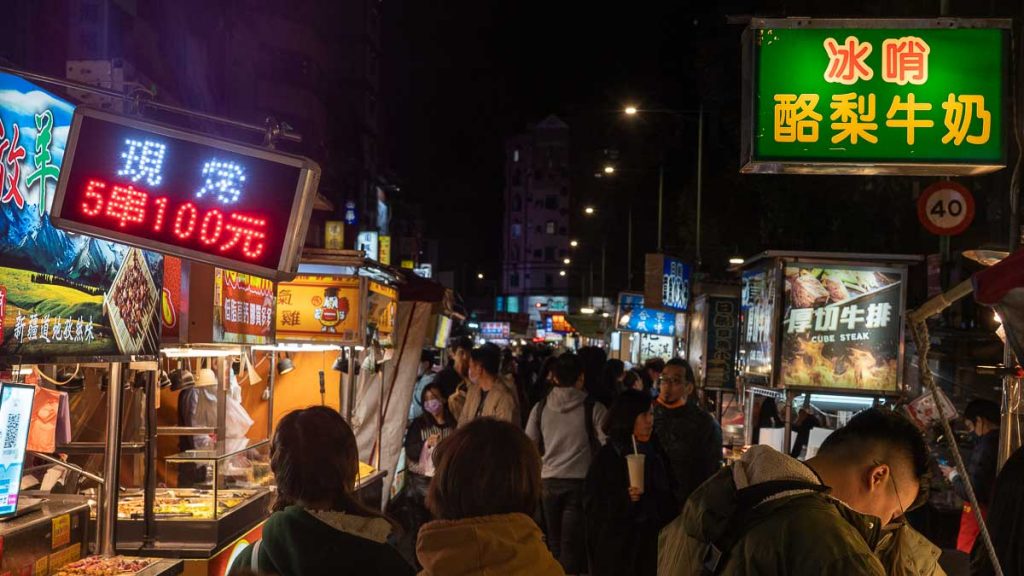 Make sure you always add a night market to your budget Taiwan itinerary since you'll most likely get a lot of good food for cheap. We tried the Ningxia Night Market which has incredibly diverse food options to choose from. Some highlights from our food trip here include:
1) Fried chicken bites (~₱144): I've made it my personal mission to try fried chicken in every country I visit, these did not disappoint! There are various flavors to choose from — my favourite was the chili pepper.
2) Mozzarella churros (~₱117): Churros stuffed with mozzarella sounded crazy enough to work, so of course we had to try it. It's like those Kdrama corndogs but made tastier because they use churros instead of pancake mix!
3) Lok Lok (~₱117): Grilled skewers are a Taiwanese night market staple, and you can never go wrong with trying them out! Just choose the meat that you want and they'll cook it in front of you.
4) Mochi balls (~₱45/pc): Mochi here are different because these balls are fried, and then rolled in different powdered flavors like peanut and black sesame.
Cost: ~₱423 (~NT$237)
Opening hours: 5PM – 1AM
Address: 103, Taiwan, Taipei City, Datong District, Ningxia Rd, 寧夏夜市
Read also: 25 Unique Things To Do In Taiwan Besides Visiting Night Markets
Day 3: Beitou
Travelling here is easy: just ride the MRT Red Line to Xinbeitou Station.
Water House (private bathhouse for two)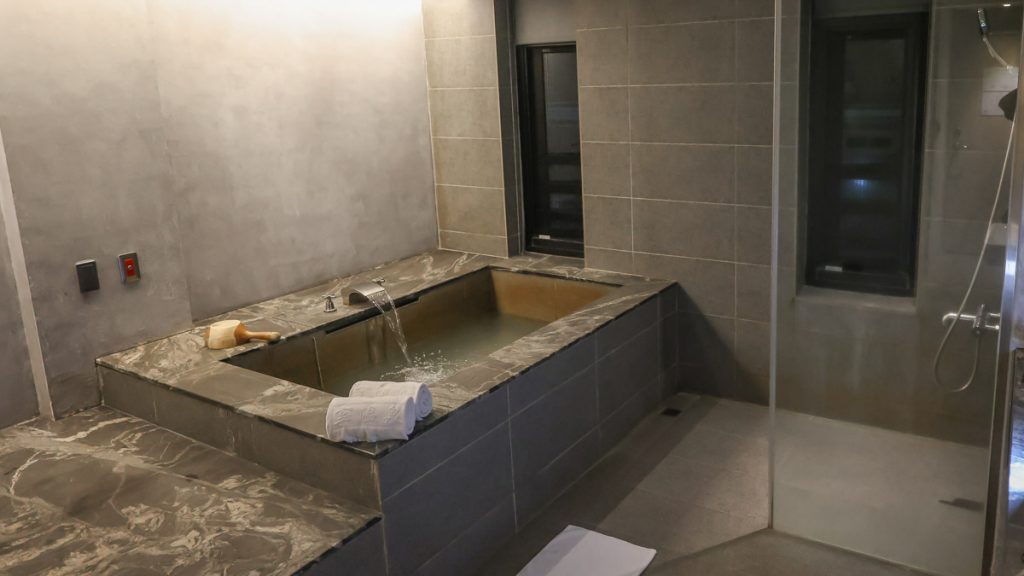 Beitou is the land of hot springs, so of course we had to try one out for ourselves! For this trip, we went to the Water House in Xinbeitou for a relaxing bath.
We opted for the private room instead of the public hot spring because we were tired from the trip, and wanted some total R&R. The Japanese-styled interior added to the mellow vibe that we were after.
And take note you will still need to wear appropriate swimwear to enter!
Cost: ~₱1,680/90 mins (NT$933)
Opening hours: 24 hours
Address: Water House, No. 248, Guangming Rd, Beitou District, Taipei City, Taiwan 112
Beitou Hot Spring Park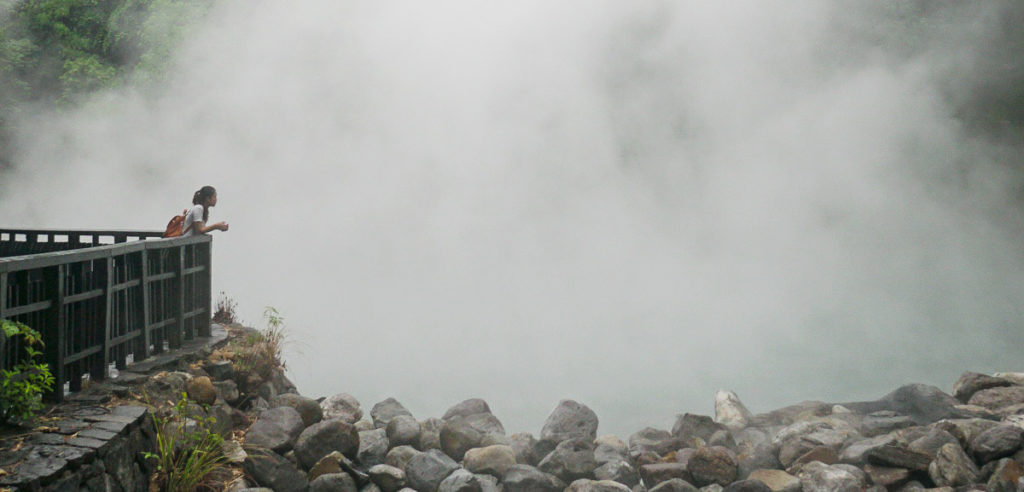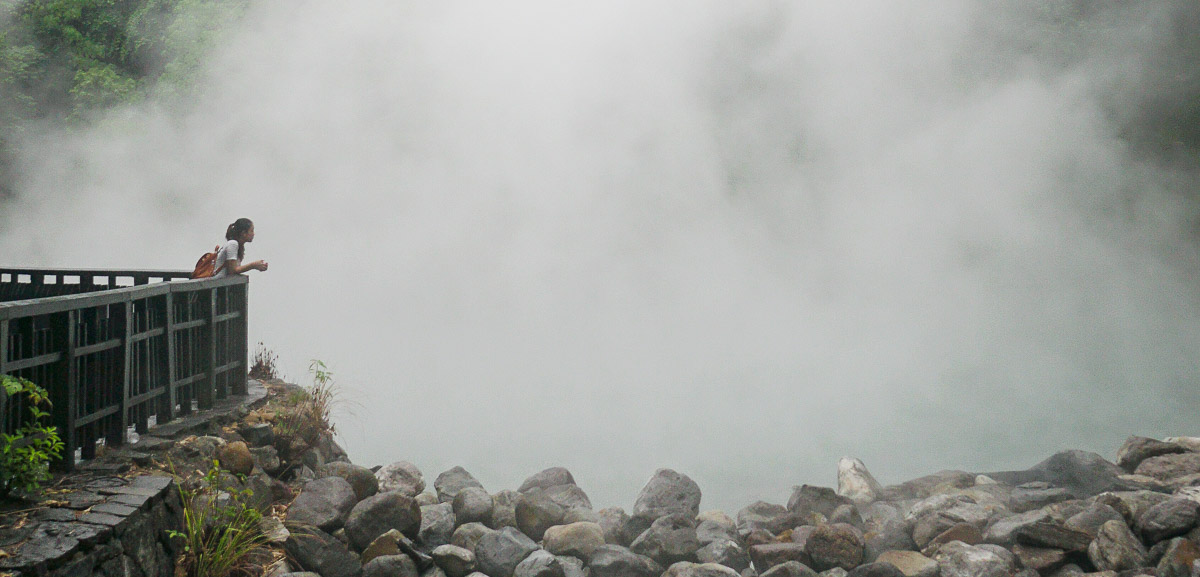 After taking a long bath, take a stroll down Beitou Hot Spring Park to continue the "zen"-liness of your trip. Explore grasslands and see the famous hot spring fountain that encapsulates what the region is all about.
Then get an immersive experience of what it feels like to be a dumpling in a steamer, as you feel the steam from natural hot sulfur springs blowing in your face. Warning: it may not be a pleasant experience when you're visiting during summer!
Entrance fee: Free
Opening hours: 24 hours
Address: No.250 Guangming Road, Beitou District, Beitou, Taipei Taiwan
Beitou Hot Spring Museum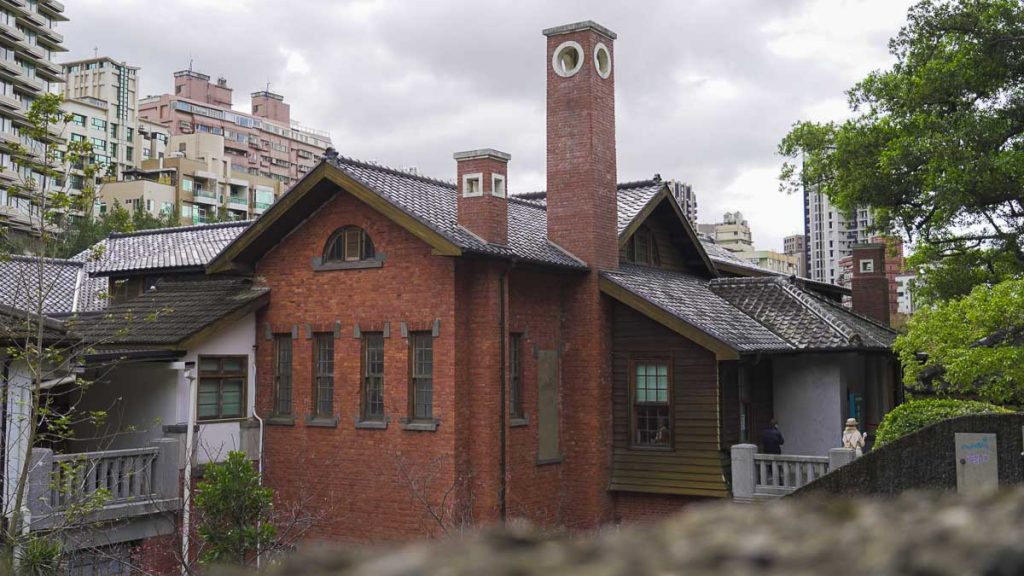 A museum about hot springs may not be for everyone, but for the curious travellers this may be a worthwhile stop.
The Beitou Hot Spring Museum was built during the Japanese colonial period with exhibitions, baths, and historical relics that showcase the history of the region. Great for a quick photo-op!
Entrance fee: Free
Opening hours: 10AM – 6PM, closed on Mondays
Address: No. 2, Zhongshan Rd, Beitou District, Taipei City, Taiwan 112
Junjianyan Hiking Trail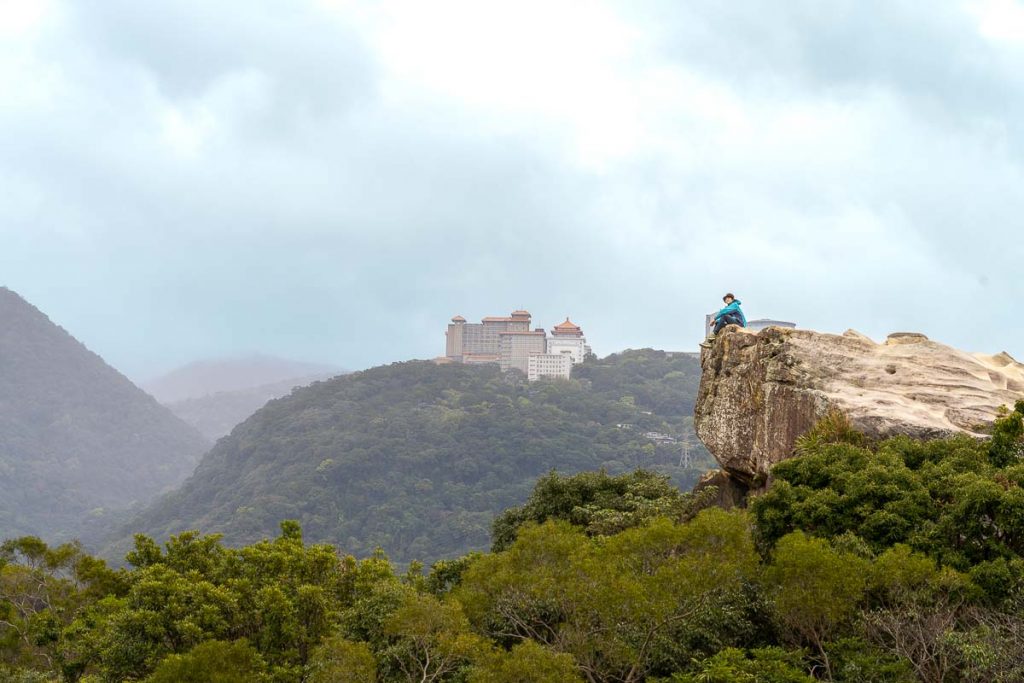 Another beginner-friendly hiking trail, making it great to take on with friends.
On the way, you'll see beautiful rock formations and lush greeneries. When you reach the peak of Junjianyan Hiking Trail, you'll be greeted with a view of the Taipei 101, and the Pacific Ocean coastline. Or if you're lucky, you'll even be able to watch airplanes fly by!
Just be sure to go here during the weekdays since a lot of tourists tend to visit on weekends, although the good news is it's still less frequented compared to other hiking trails like the Elephant Mountain Trail, and the Hushan Hiking Trail.
Opening hours: 24 hours
Address: Qiyan Rd, Beitou District, Taipei City, Taiwan 112
How to get here: Alight at Qilian Station to start from National Yang Ming Chiao Tung University entrance
Day 4: Yilan
Nanao River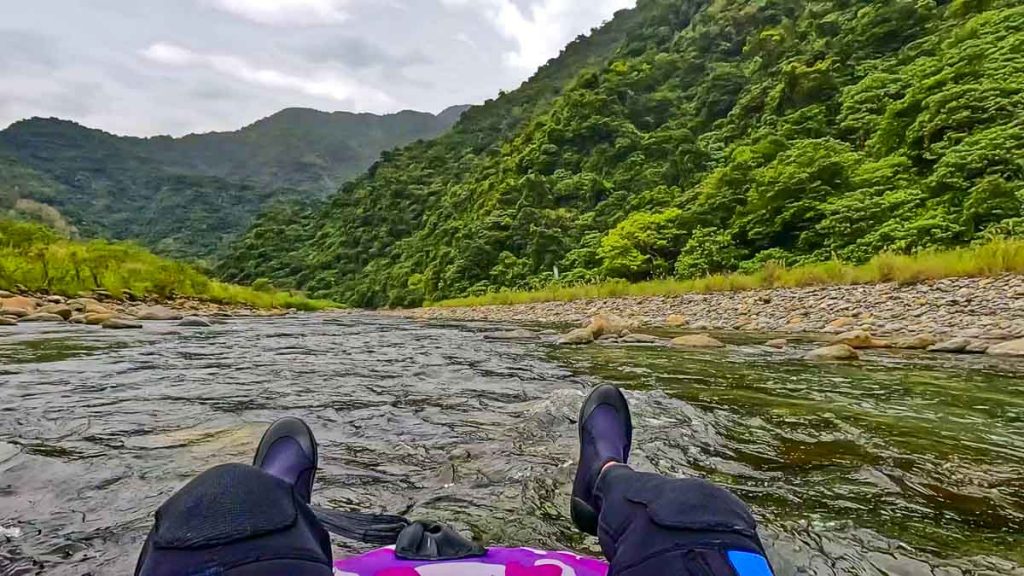 Add some thrill to your Taiwan itinerary by rafting along the smooth waters of the Nanao River. Enjoy the beauty of the countryside in an exciting way that will simultaneously get your adrenaline rush pumping.
The weather was pretty cold when we went (close to 10°C). But the waterfalls and the memories we made screaming together made the whole thing worth it.
Cost: ~₱1,778/pax (~NT$987)
Activity time slots: 9AM or 1PM
Address: Na Sun Na Gu Leisure Farm, No.2, Jinyang Rd, Nan'ao Township, Yilan County 27246, Taiwan
*Pro-tip: Book the 9AM slot so you'll be able to fit in the other activities for the day.
Zhang Mei Ama's Farm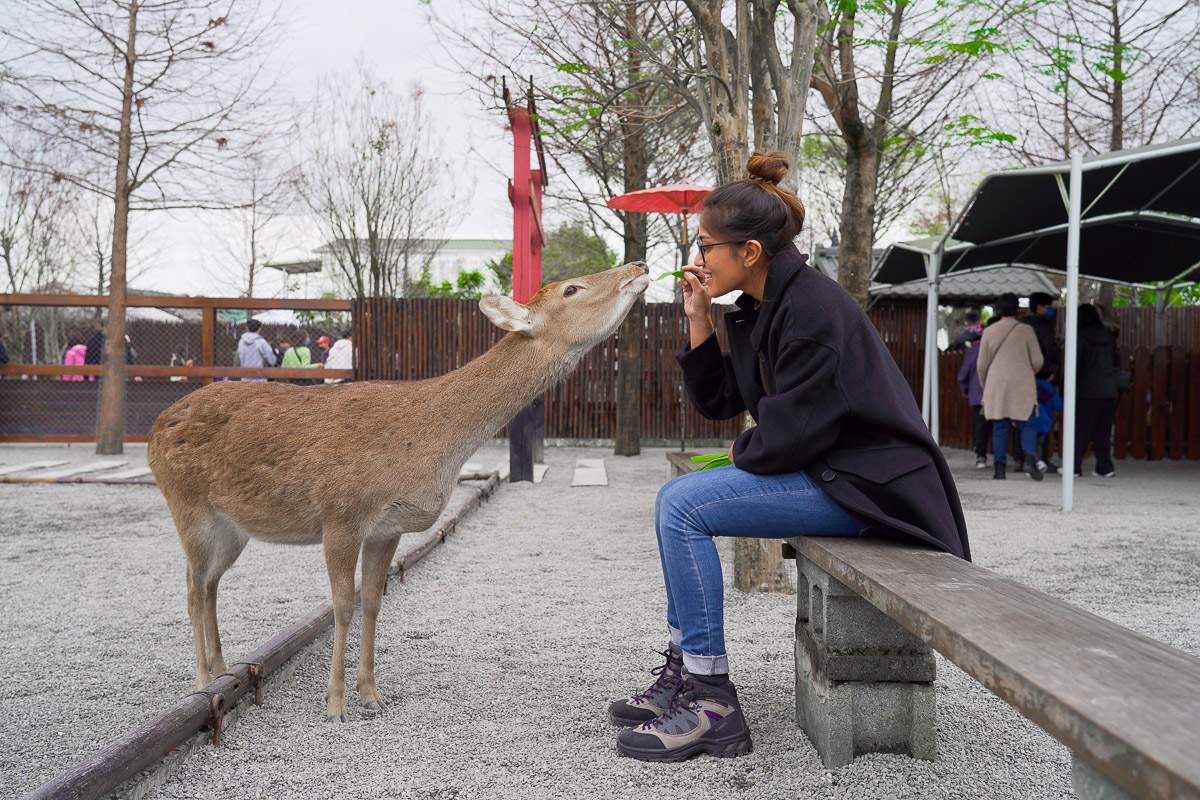 Relax after river rafting and visit some cute little creatures at Zhang Mei Ama's Farm. It's a great place for families and friends alike since you'll get an up-close experience with some animals you may not have encountered before.
Feed Sika Deer, pet capybaras, or take some photos of kangaroos. They also offer cooking classes and vegetable harvesting for a more hands-on experience.
Cost: ~₱360/pax (NT$200)
Opening hours: 9AM – 5:30PM on weekdays, 8:30AM – 1:30PM on weekends
Address: 266, Taiwan, Yilan County, Sanxing Township, 行健溪一路二段161號
Read also: 8D Eastern Taiwan Itinerary: The Gateway to Nature's Best Adventures (Yilan, Hualien, Taitung and Kenting)
Day 5: Keelung City
Heping Island Park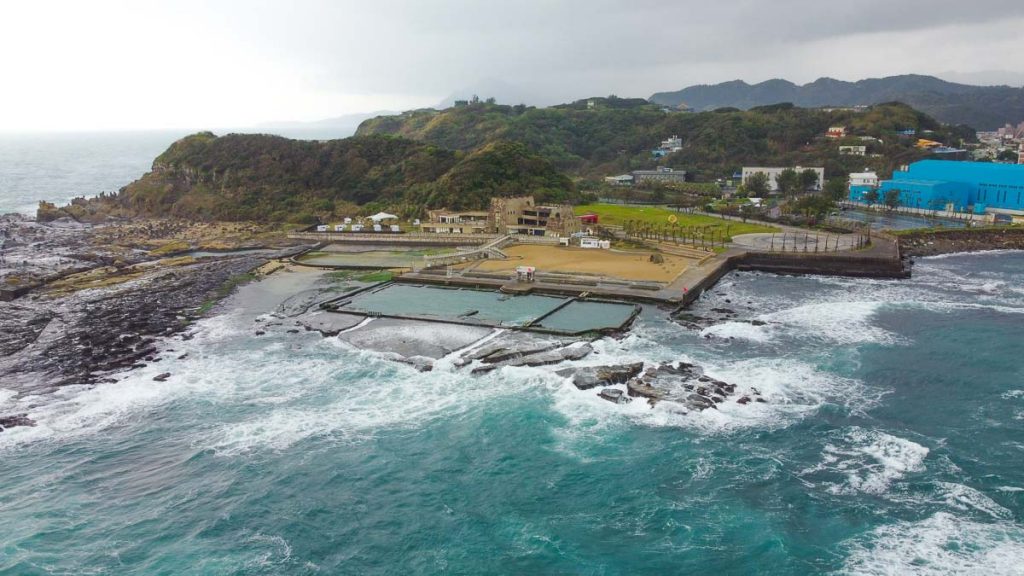 Enjoy great ocean views and see more beautiful rock formations in the shape of a mushroom when you visit Heping Island, much like the ones you'd see in Yehliu Geopark. We were able to hike through the Huanshan trail where we caught an amazing view of waves crashing against the coastline.
There's even a public swimming pool to take a dip in, cabin houses, and numerous food stalls for you to explore here.
Entrance fee: ~₱216/pax (NT$120)
Opening hours: 8AM – 6PM
Address: No. 360, Pingyi Road, Zhongzheng District, Keelung, Taiwan 202
Zhengbin Port Color Houses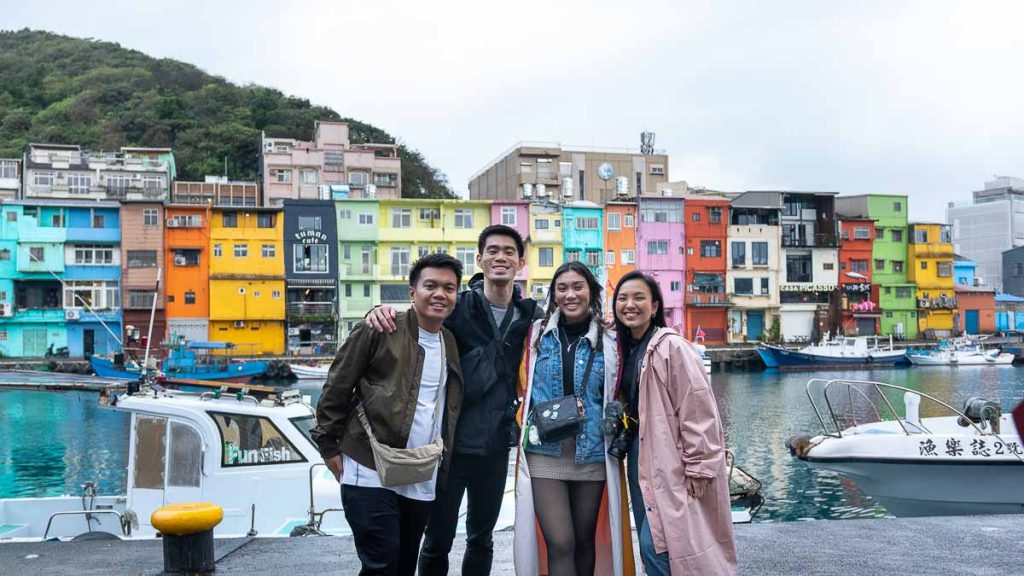 Located south of Heping Island is a popular Instagrammable spot named the Zhengbin Port Color Houses. As the name suggests, tourists love taking pictures against the backdrop of colorful houses, built during the Japanese occupation. It's pretty similar to the Colors of StoBoSa attraction in La Trinidad, Benguet.
Cost: Free
Opening hours: 24 hours
Address: No. 72, Zhengbin Road, Zhongzheng District, Keelung City, Taiwan 202
Wangyou Valley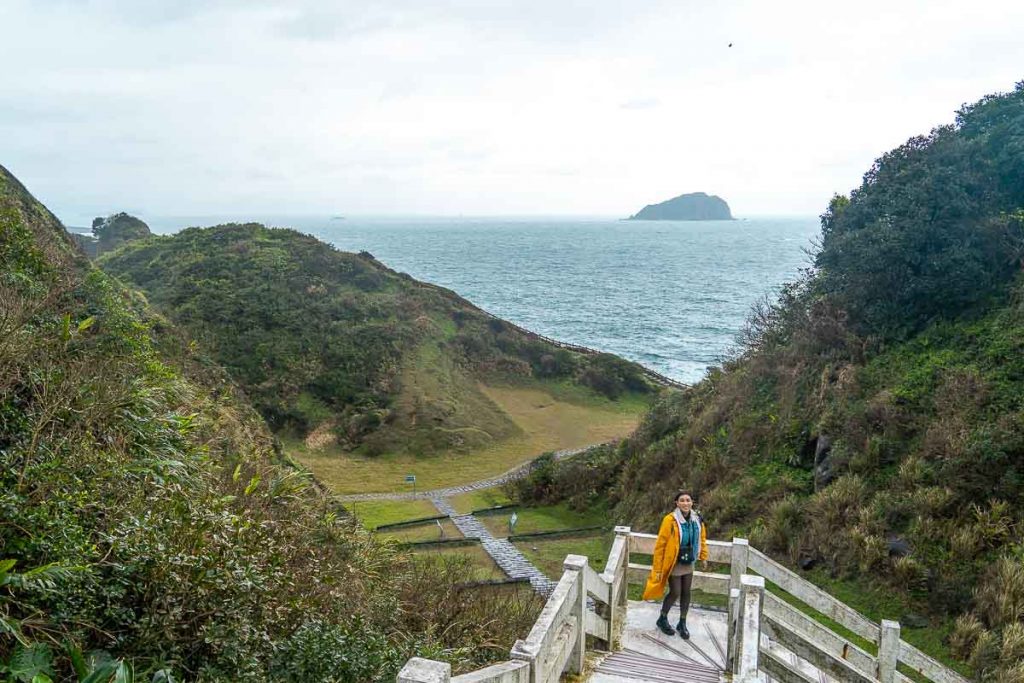 The 40-minute scenic trail along Wangyou Valley was made even more special by the fact that it wasn't packed with tourists when we went (probably because it rained earlier in the day). This made for a peaceful hike where we were able to fully bask in the beautiful views nature had to offer.
Entrance fee: Free
Opening hours: 24 hours
Address: Zhongzheng District, Keelung City, Taiwan 202
Keelung Miaokou Night Market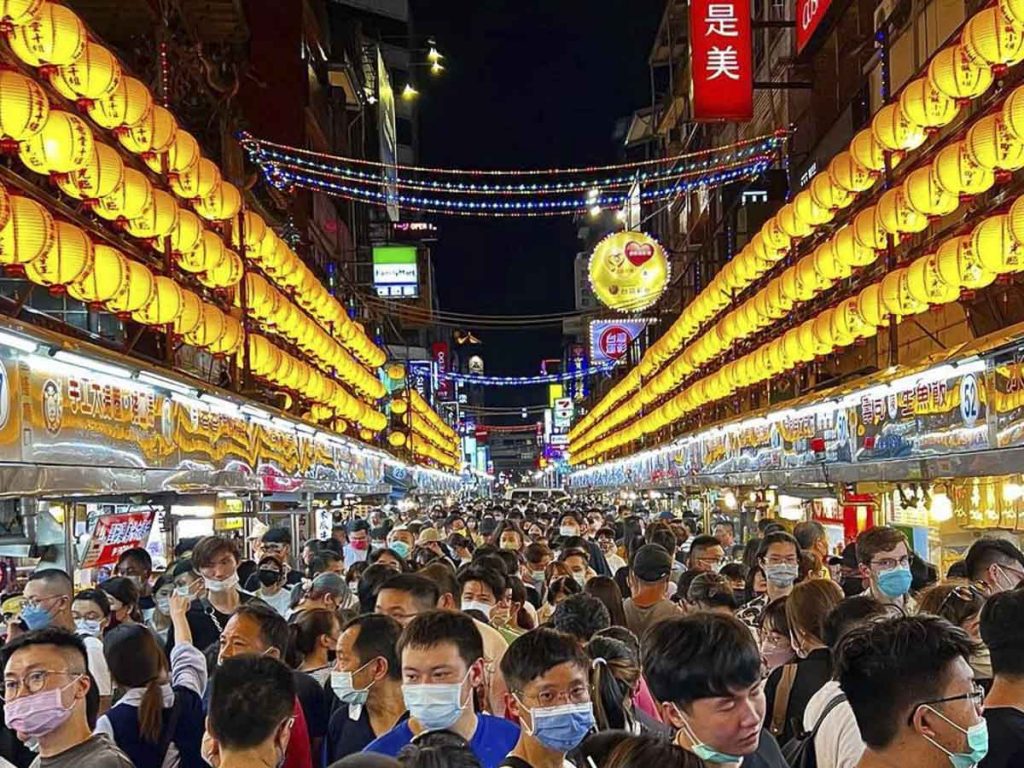 Photo credit: @gz.huang_ via Instagram
Keelung Night Market is probably the most famous night market in the city, so we had to put it in our Taiwan itinerary to see if there was anything remarkable about it.
True enough, we noticed that unlike most night markets in Taiwan, many food stalls had English, Japanese, and Mandarin to cater to tourists.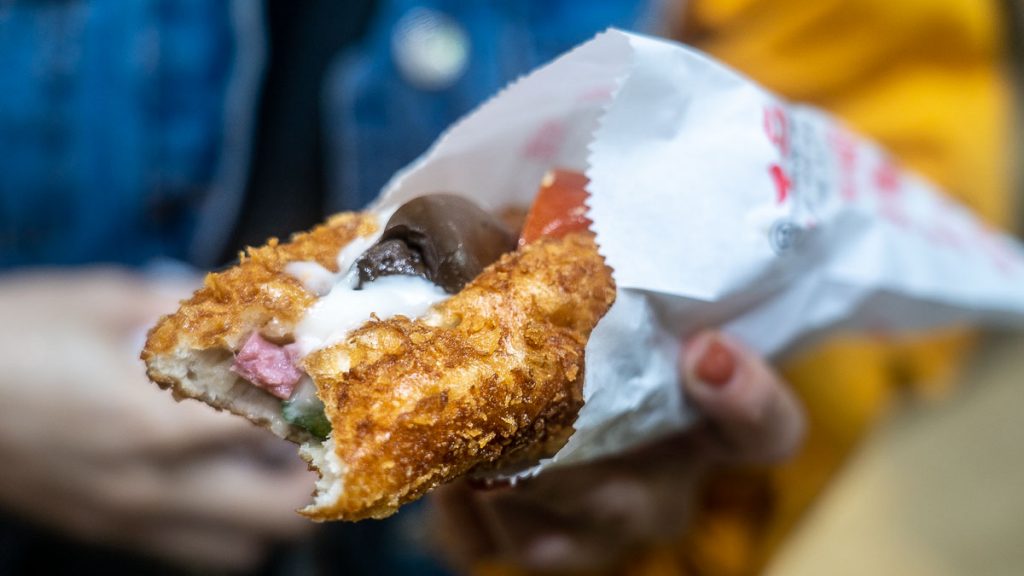 Nutritious Sandwich from Keelung Night Market
Some of the food we tried here included rice toppings, and a milk-flavored Pao Pao Ice Cream (Taiwanese shaved ice with toppings). One of the more unique food items we tried was called a Nutritious Sandwich — fried dough bread filled with braised egg, cucumber, tomato, and meat topped with sweet mayonnaise.
As always, we left the night market with both our stomachs and wallets feeling happy!
Total food cost: ~₱566 (~NT$315)
Opening hours: 12PM – 12 AM (Mon – Sat), 8AM – 12 AM (Sun)
Address: No. 20, Aisi Rd, Ren'ai District, Keelung City, Taiwan 200
Extra Day: Pinglin District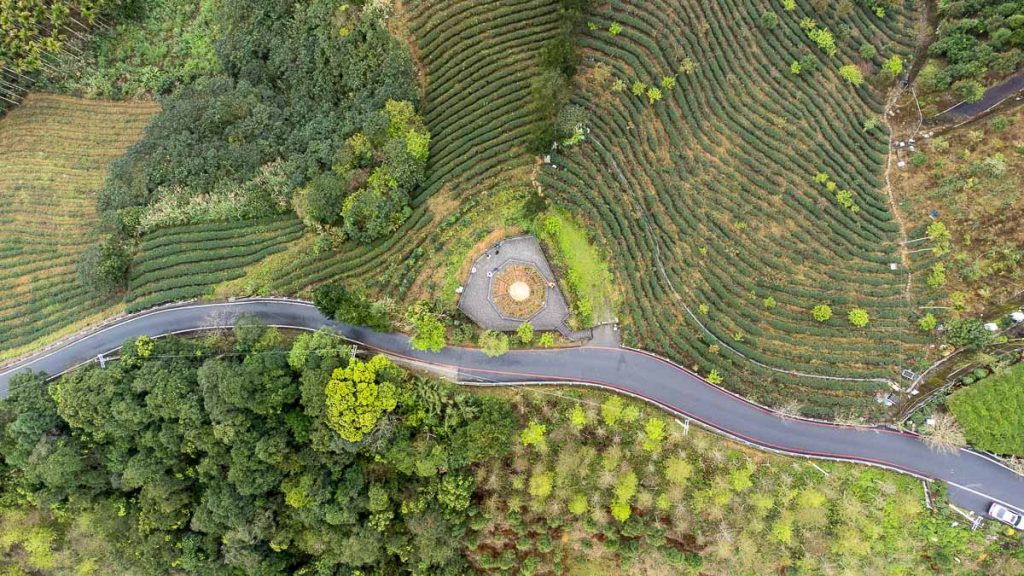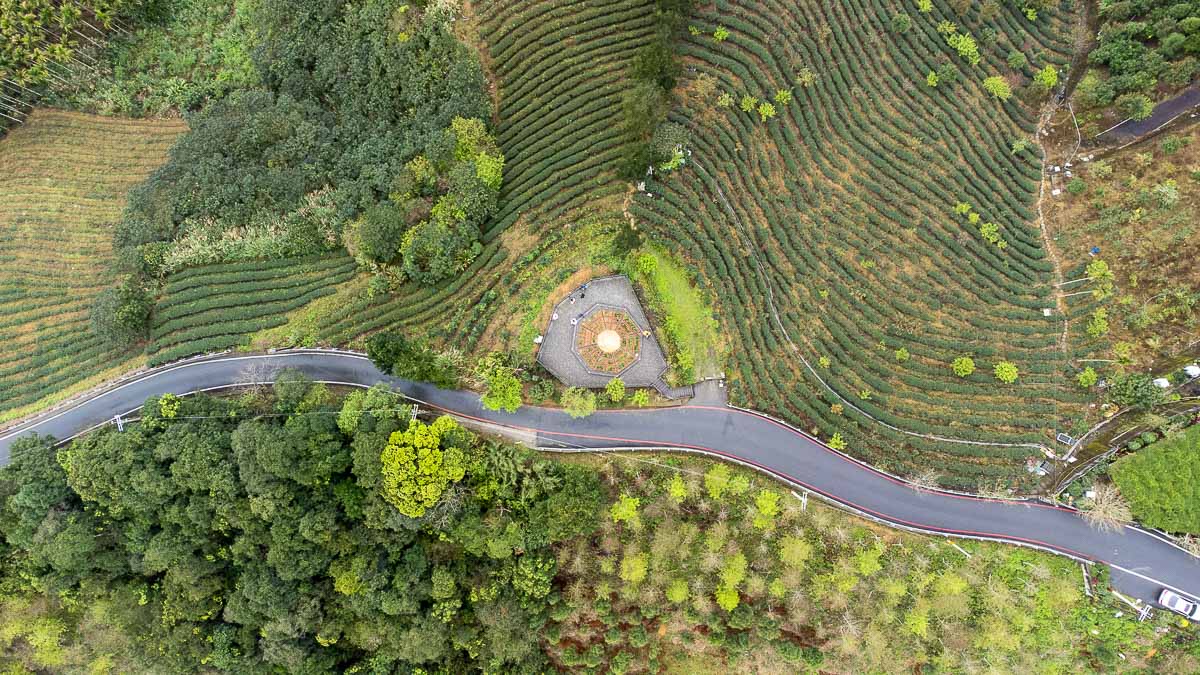 Got some extra time in Taiwan? We'd recommend this unique half-day tour in Pinglin from Taipei!
While we could've just gone to all the attractions below ourselves, it was more convenient to book a tour so we didn't have to worry about how to get from point A to point B.
Cost: ₱2,135/pax (NT$1,186)
Tour timings: 1PM – 6PM
Pick-up point: MRT Zhongxiao Xinsheng Station
Bagua Tea Garden and Thousand Island Lake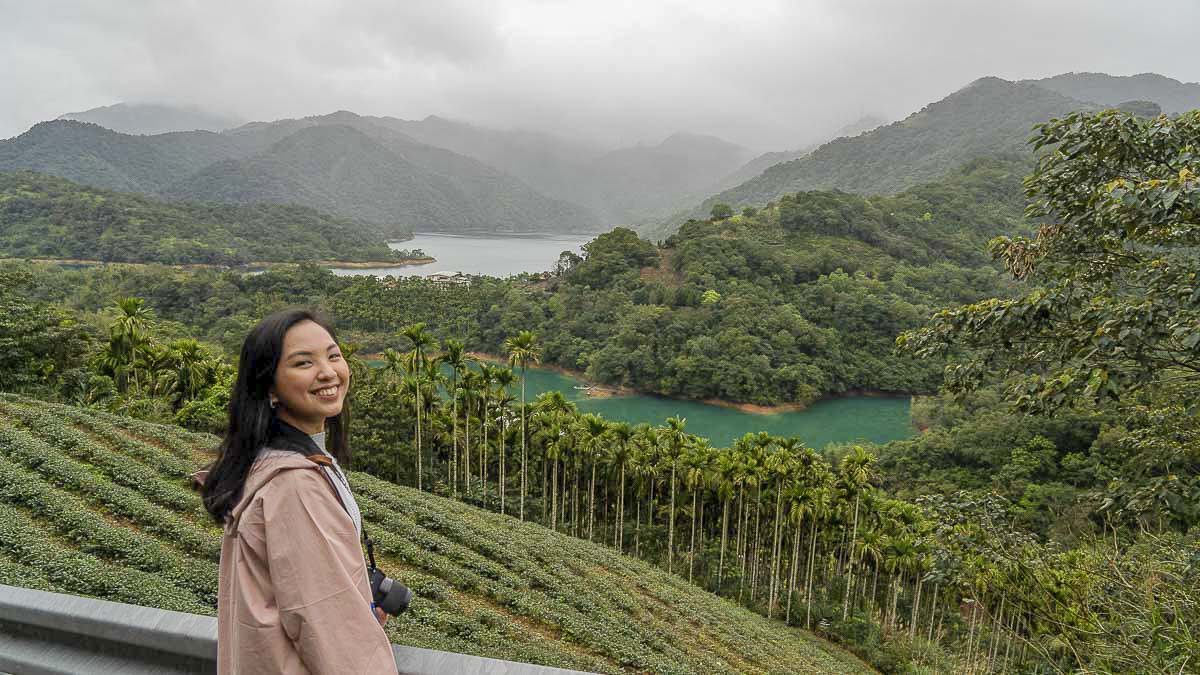 The Bagua Tea Plantation in Shiding was our first stop, where the Taiwan-famous Baozhong oolong tea is grown and cultivated. This place was reminiscent of Banaue Rice Terraces, especially with the amazing views both of them have to offer.
From here, you get to see the emerald waters of the Thousand Island Lake. They're incredibly crystal clear that citizens actually drink water from here. But perhaps one of the things that made this part of the trip memorable was the lack of tourists in the area, making it a peaceful trek.
Entrance fee: Free
Opening hours: 24 hours
How to get there: Drive 50 mins from Zhongxiao Xinsheng Station
Pinglin Tea Museum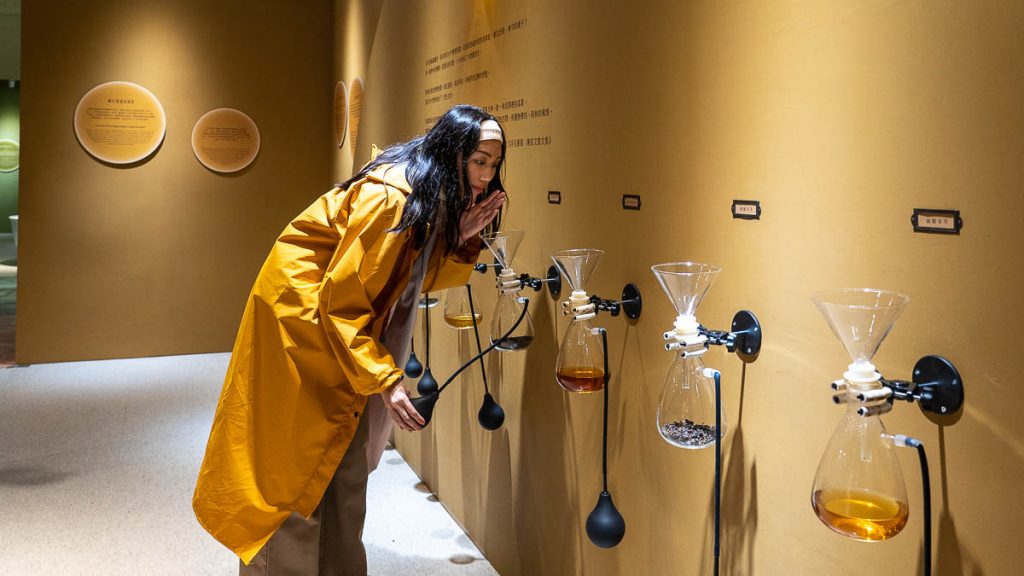 Tea culture is such a big thing in Taiwan, just like how wine is so ingrained in Italian culture. This is why learning about tea — how it's made, its cultural significance, and how to appreciate it better — is a worthwhile activity when you're here.
The Pinglin Tea Museum even has interactive exhibits, like one where we got to smell the different types of tea.
Cost: From ~₱143 (NT$80), included in tour
Opening hours: 9AM – 5PM (Mon – Fri), 9AM – 5:30PM (Sat – Sun)
Address: No. 19-1, Shuisongqikeng Road, Pinglin District, New Taipei City
Shiding Old Street Tea Tasting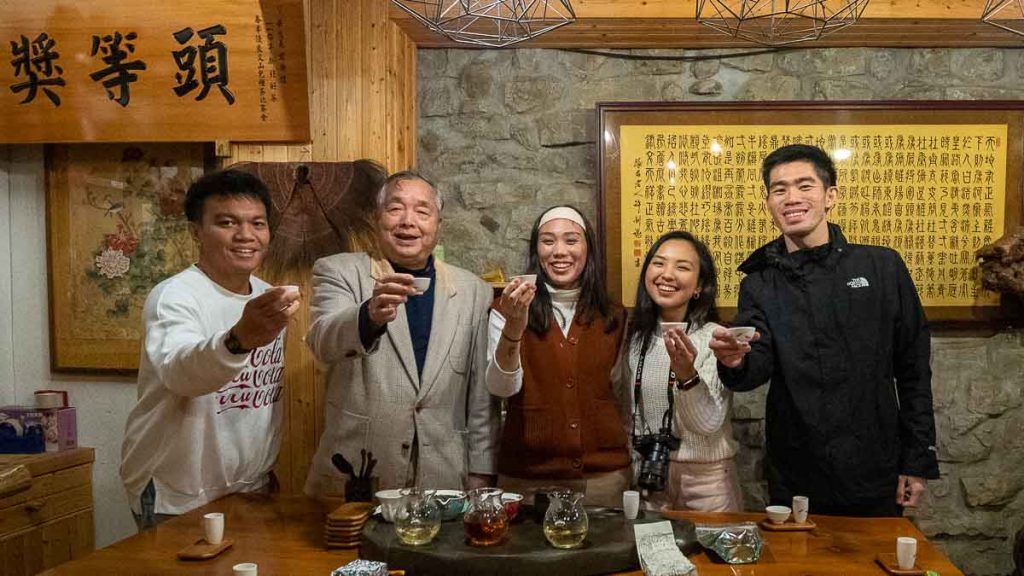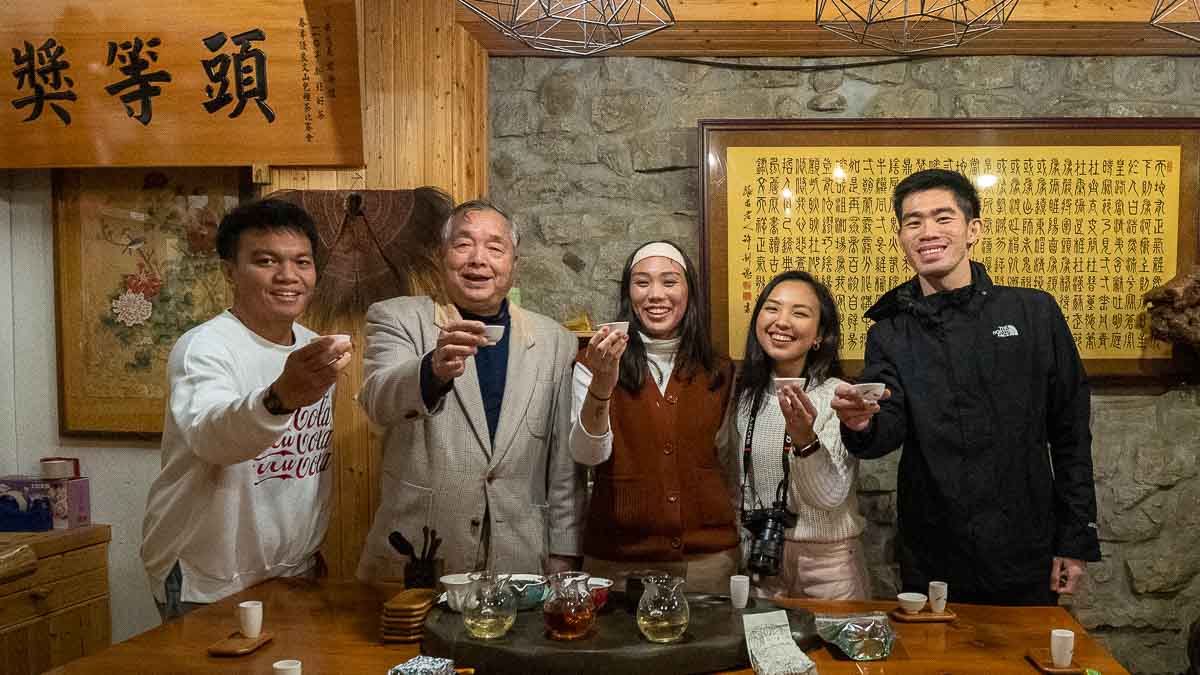 And of course, a trip to Pinglin wouldn't be complete without a tea-tasting experience. We headed to Xuanziwu in Shiding Old Street where a tea master taught us a lot of things about Taiwanese tea culture such as tea ceremony customs.
After learning about how tea should be made, we tried three different types of tea: baozhong oolong tea, tung ting oolong tea, and the honey-scented grasshopper black tea, which was our personal favourite!
Cost: Included in tour
Opening hours: 9AM – 8PM
Address: No. 31, Pinglin St, Pinglin District, New Taipei City, Taiwan 23241
Accommodation in Taipei
To make your trip to Taiwan more convenient (no lugging around your suitcases!) and affordable, it may be better to stay in one accommodation for all nights. They have a remarkable train and bus system anyway, so returning to your accommodation shouldn't be a huge problem.
We recommend staying near the Taipei Main Station as it's a common pick-up point for the day trips in this itinerary.
Finders Hotel: ~₱2,945/night (sleeps 2)
SleepBox Hotel: ~₱1,472/night
Beimen Wow Poshtel: ~₱1,145/night
Transport for day trips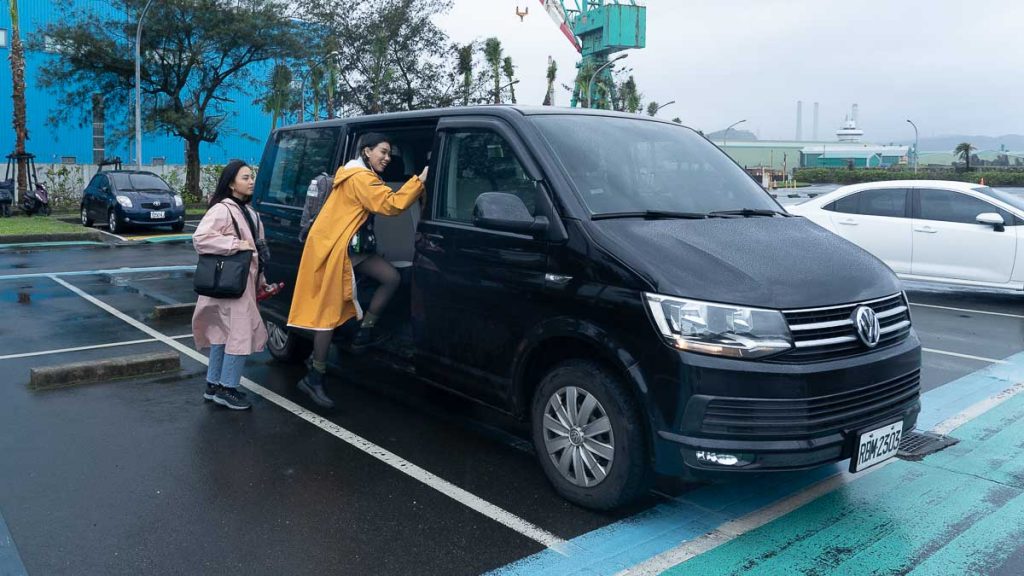 Taiwan has a robust public bus and train system, so getting from one attraction to another is relatively easy. It's your most budget-friendly option when travelling alone or with only one partner. Just be sure to secure an EasyCard (Taiwan's transportation card) when you're there.
For our trip, we chose to take day trips from Taipei, instead of riding public transportation to get to the different places quicker. This is an option you might prefer when you're a group of four like us. Less time lining up for trains and buses, more time for quick naps!
It also comes with the added benefit of our drivers letting us in on what locals like to do and go to. Here are the arrangements we went for:
– Day tour to Jiufen, Shifen and Yehliu
– Private charter to get around Keelung
– Half-day tour to Shiding
For Beitou, we just chose to ride the MRT since it didn't involve any line transfers from Taipei Main Station.
Planning your Taiwan itinerary on a budget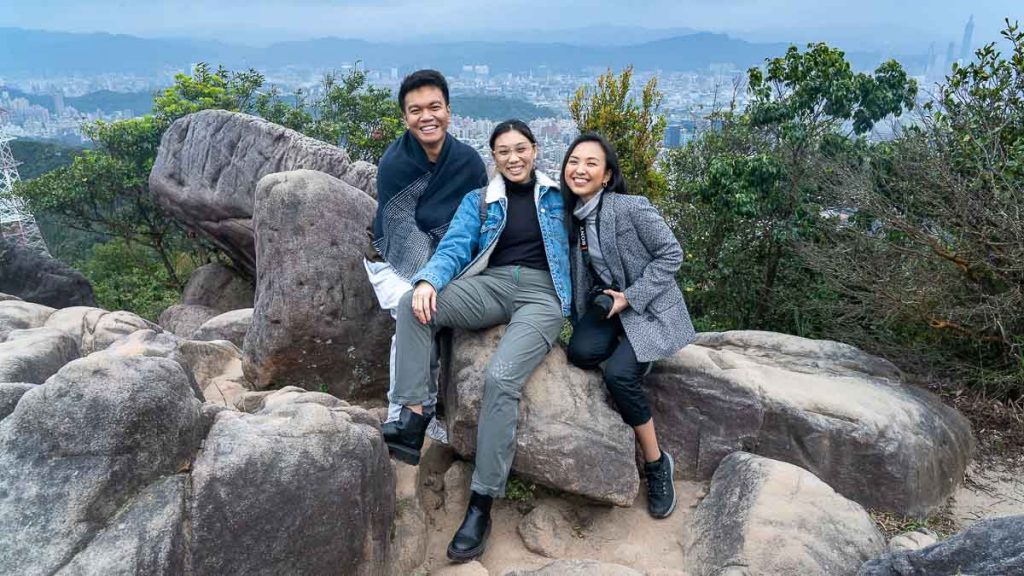 Visiting Taiwan for our company bootcamp trip made me realize that it's a great country to visit with friends since it's beautiful and affordable… as long as you visit the right places.
I have two major tips when you're laying out your Taiwan itinerary:
1) Plan in advance. Accommodation and flights take up a lot of your travel expenses, but both these things can be booked in advance for cheap. Watch out for any piso fare or airline anniversary sales, and travel fairs.
2) Look for options. Sometimes, it's just more ideal to try the cheaper route (e.g. taking the train to Beitou) but it's also important not to tire yourself out when travelling, so taking day tours may be more ideal. Personally, we like browsing through Klook and checking our options there, and tour/admission fees are even cheaper at times.
Check out some of our Taiwan itineraries and guides:
– 9D Taiwan Itinerary Under S$100/day From Taipei to Kaohsiung
– Exploring Taiwan by High-Speed Rail — Guide to Maximising your THSR Pass
– Taipei Day Trip: Shifen & Jiufen Guide To All The Must-Eat-See-Dos
Which places are you definitely placing in your Taiwan itinerary? Share your thoughts with us in the comments!
---