Penang is a big melting pot of cultures and traditions, the artsy picturesque town is also a food paradise where you can feast your eyes and stomach. If you're like me, Penang can also be overwhelming when you want to eat, see and do everything within a short period of time.
After stuffing ourselves silly during the TTI Ambassadors' Bootcamp, here's my attempt at bringing you through Penang's famed Foodie's paradise — Georgetown.
MORNING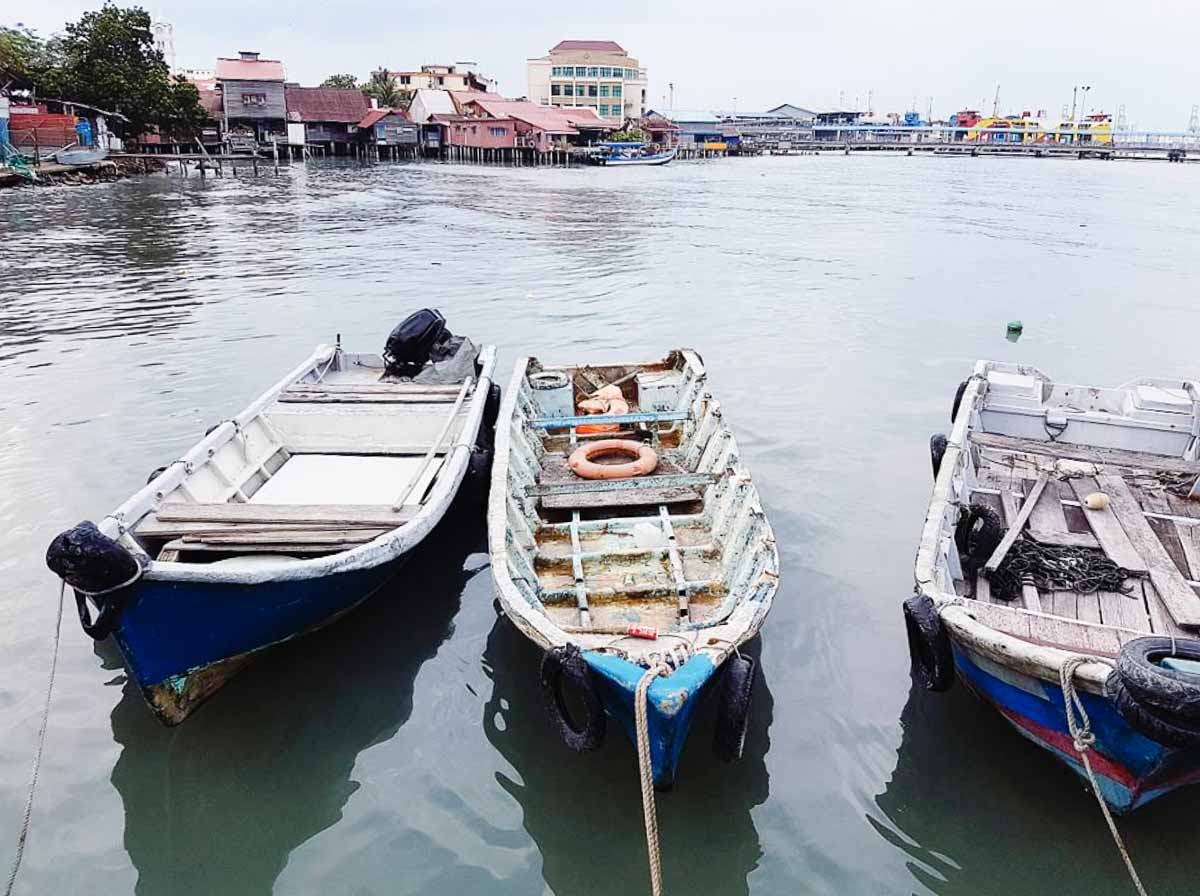 Start your day at the edge of Georgetown with a stroll along Chew Jetty. A symbolic heritage spot, Chew Jetty is the biggest and most vibrant of all six remaining clan jetties in Penang. These famous Chinese clan jetties were built in the 19th century to house Chinese labourers employed at the harbour.
Although a popular tourist spot, Chew Jetty still houses generations of Chew clan residents who might not appreciate guests too early in the morning, so try not to disrupt them too much before 9am.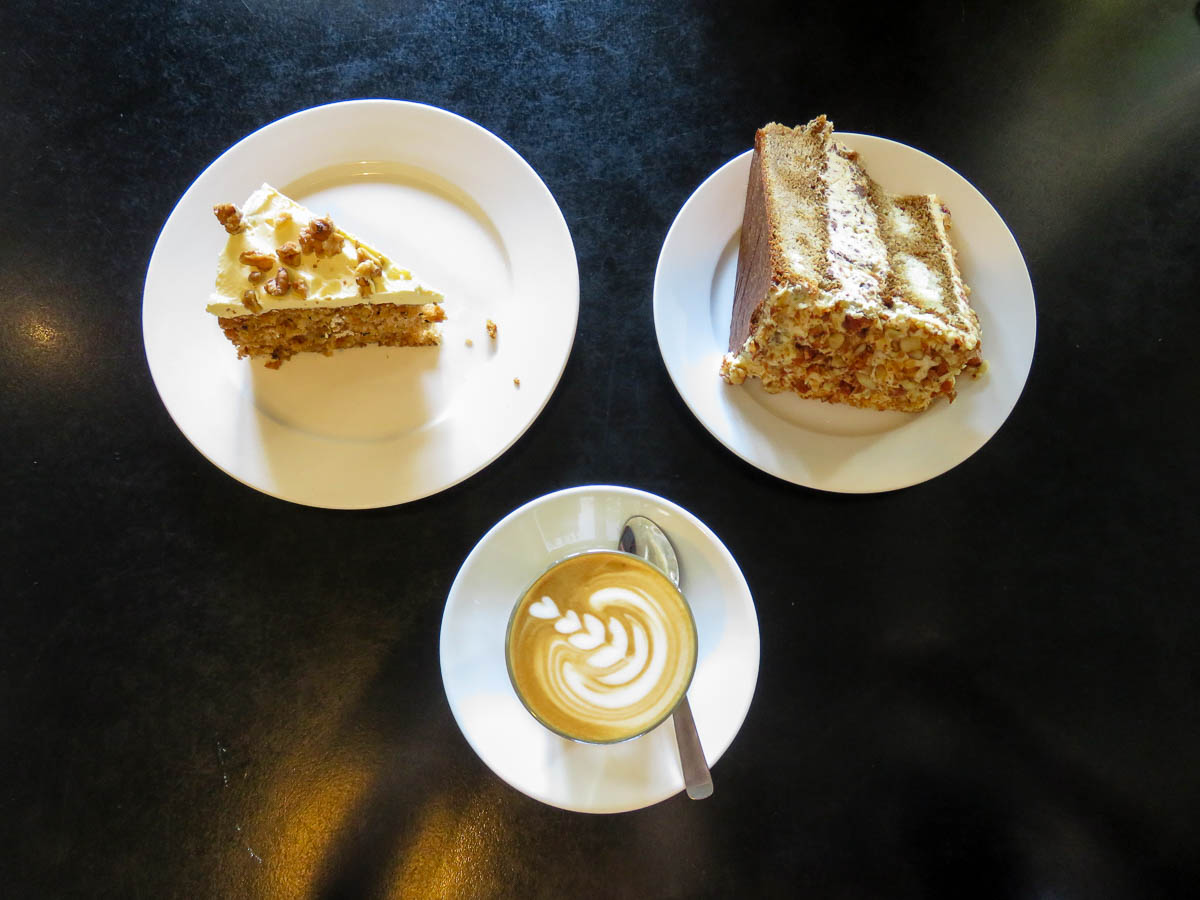 After Chew Jetty, head towards Armenian Street and grab a cuppa to continue your day. We recommend China House — the longest cafe in Penang. Indulge in their specialty coffees and choose from a wide selection of in-house cakes and you'll find yourself truly spoilt for choice! Try their signature Tiramisu cake (RM18) which comes in alcoholic and non-alcoholic versions.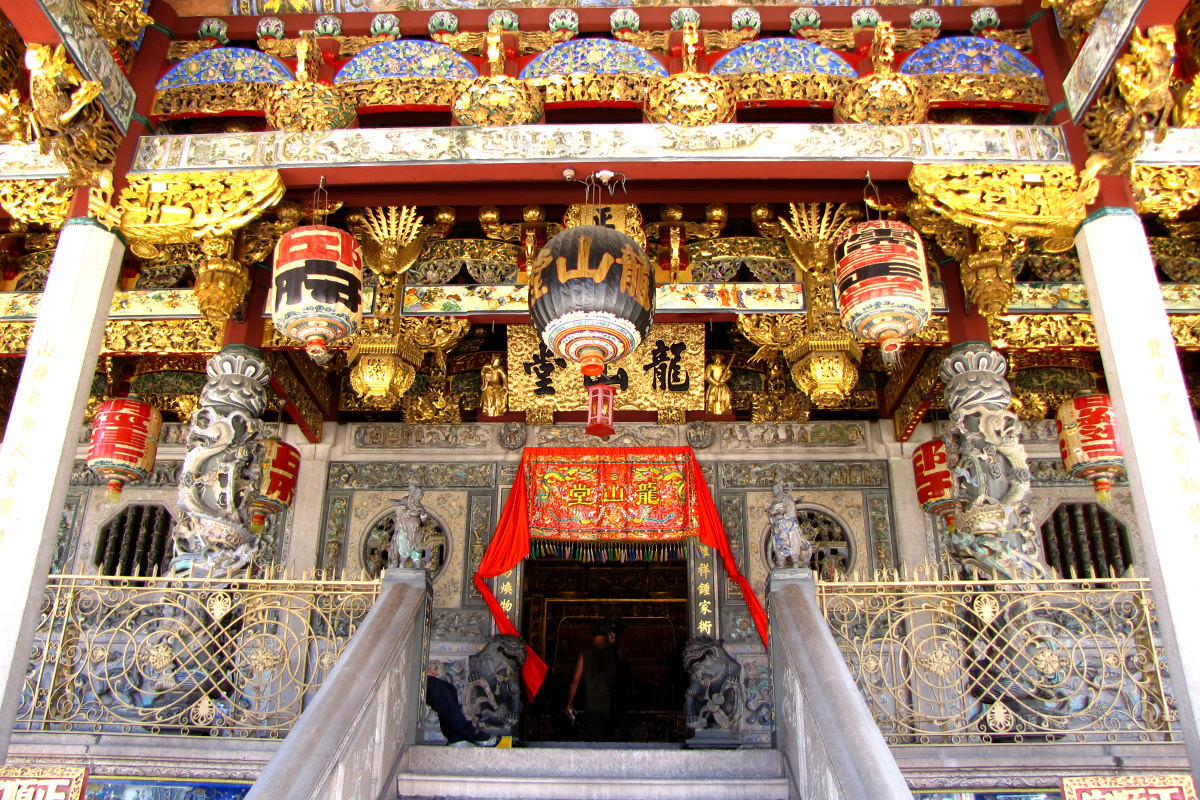 Just across the street from China House is the intricately carved Khoo Kongsi built in 1906, also the biggest clan house in Malaysia. Some say Khoo Kongsi is the most elaborately designed clan house in the entire Southeast Asia!
Walk 2 minutes down the street, and you will see Ming Xiang Tai Confectionaries shop, a great place to get some traditional handmade pastries and biscuits.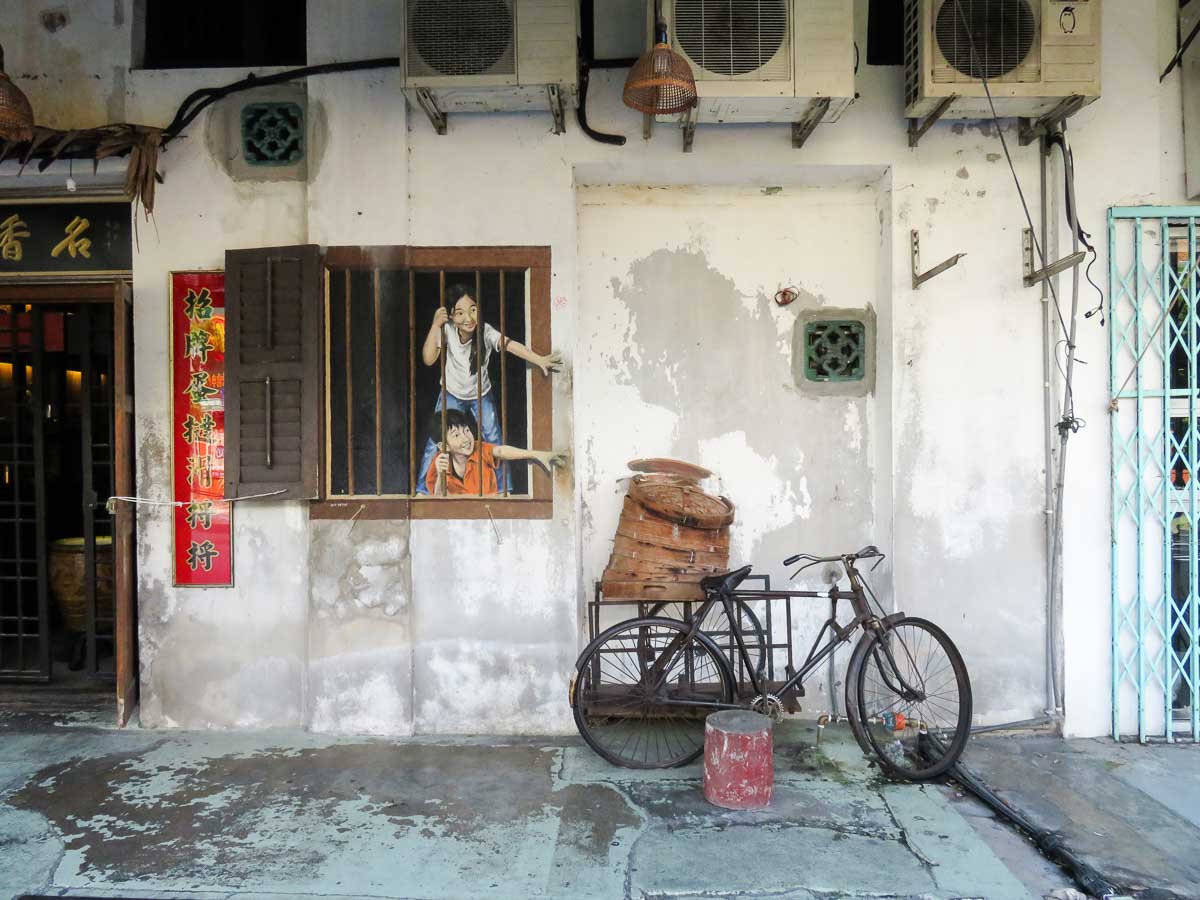 This lifelike mural next to Ming Xiang Tai Confectionaries is hard to miss.
Georgetown is also famous for its beautiful street art murals, some by Lithuanian street artist Ernest Zacharevic, and others by Penang local artists.
Read also: The Ultimate Guide to The Most Iconic Georgetown Street Art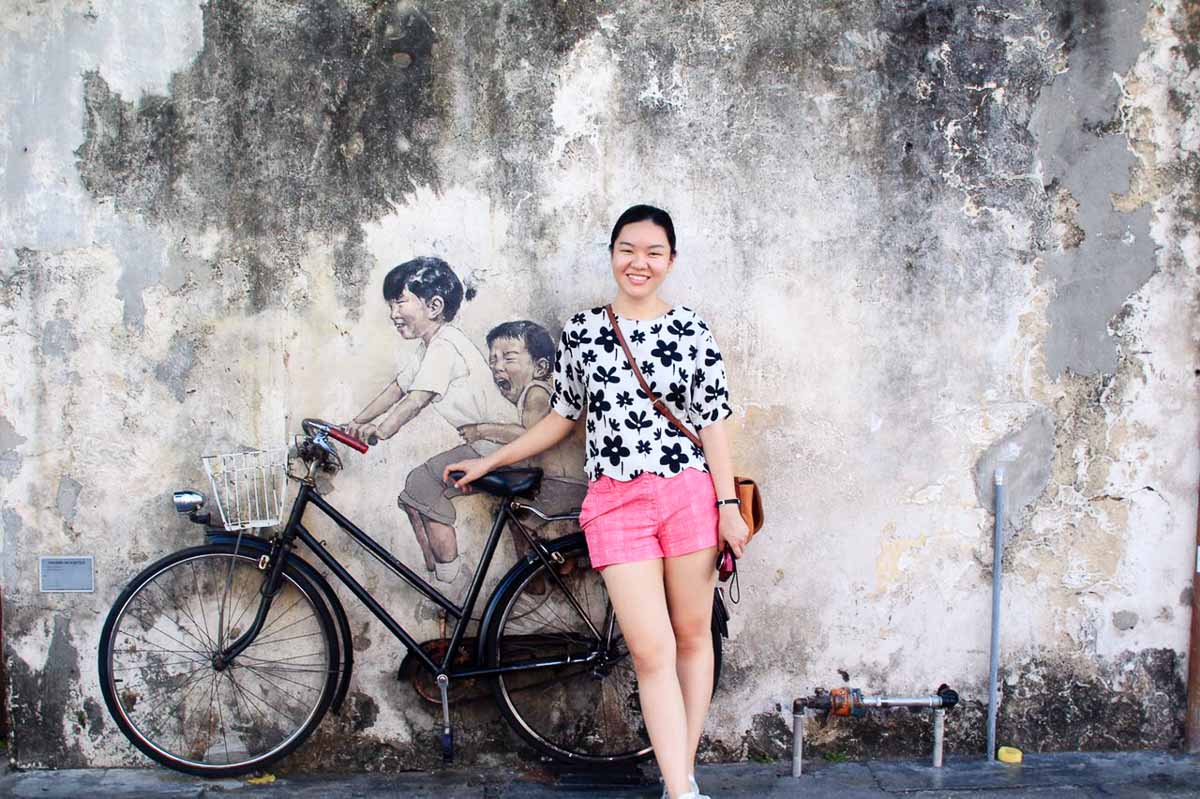 The "Little Children on Bicycle" mural, painted by Ernest Zacharevic, is the most famous and most photographed mural in Penang. There is even a queue for photo-taking with this popular mural!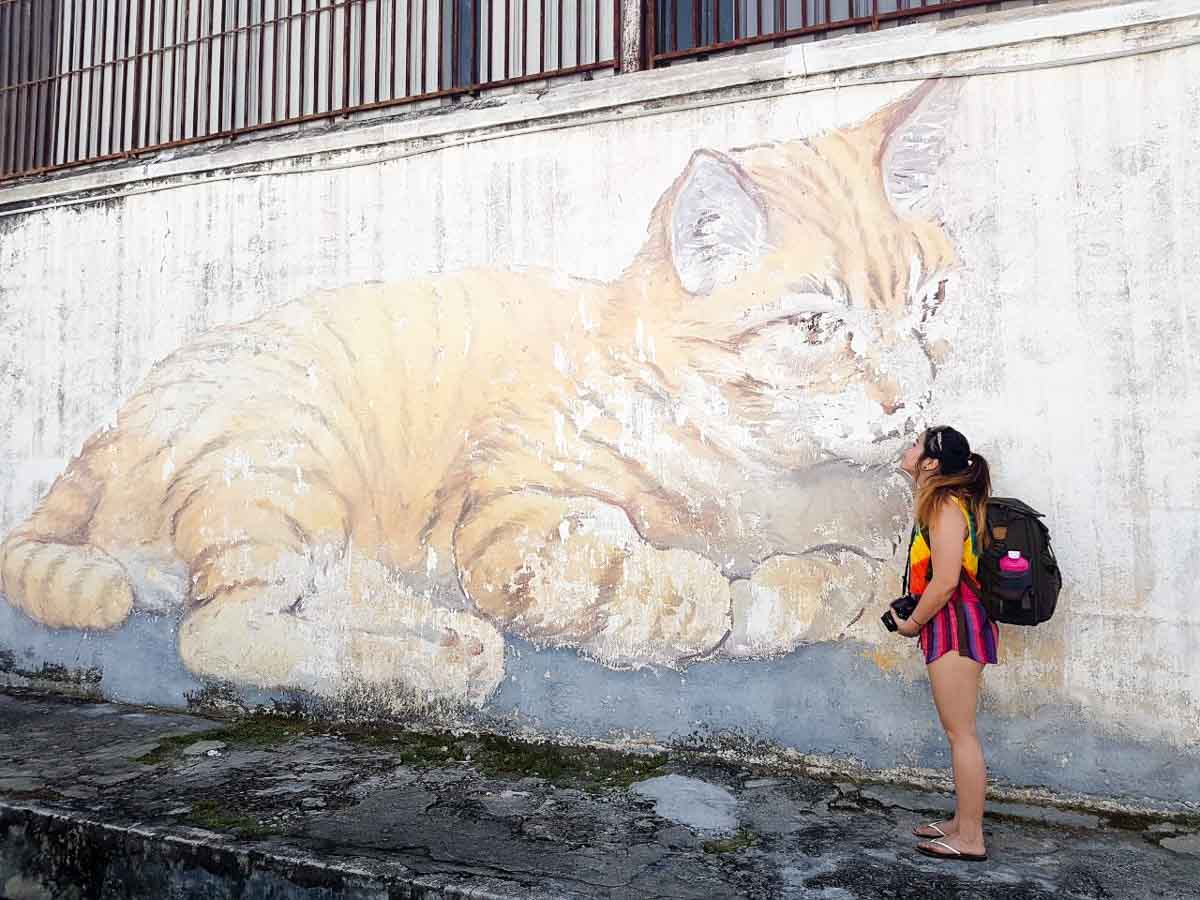 The gigantic cat mural is inspired by a cat with a deformed leg named Skippy. This mural, together with eleven others depicting cats, was painted by Artist for Stray Animals (ASA) to increase animal safety awareness.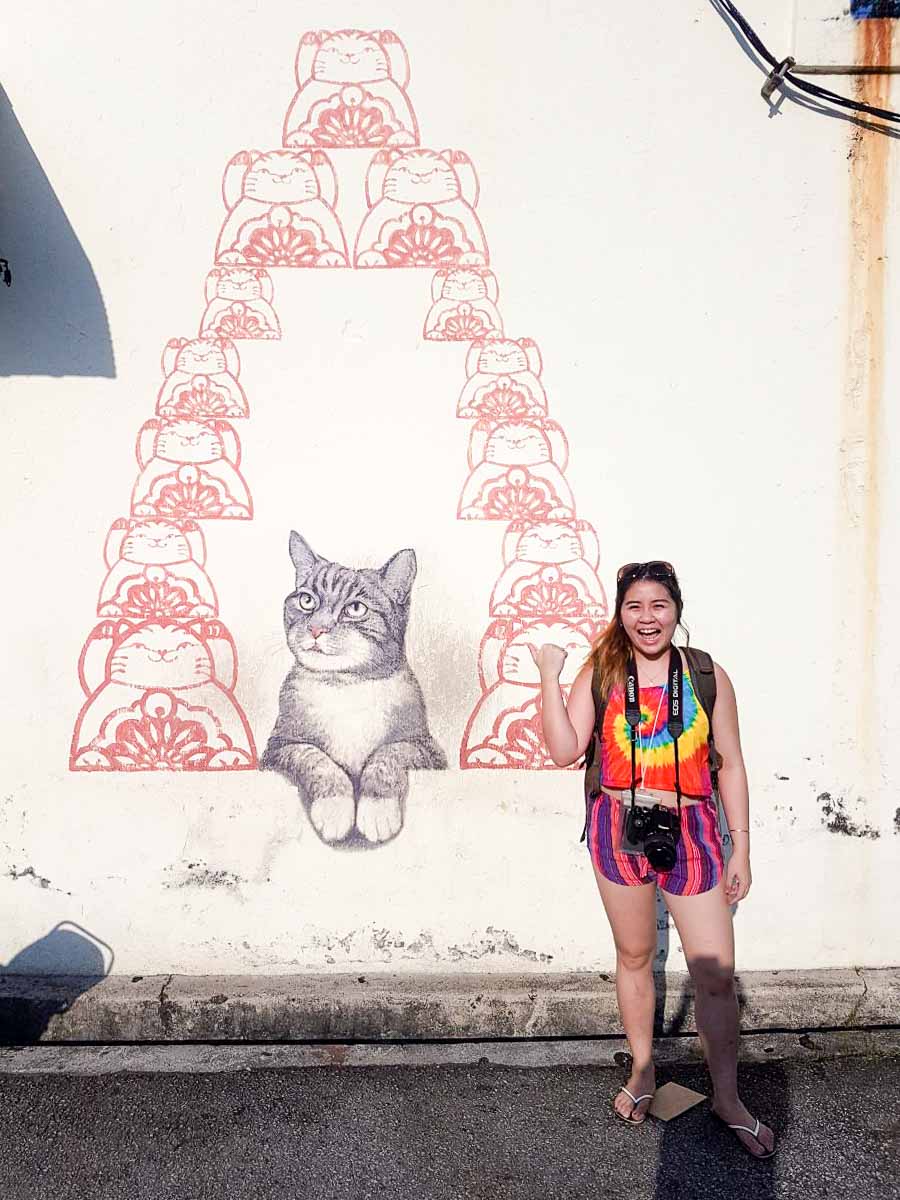 Besides the enchanting wall murals, you will also pass by some prominent architectures of Penang throughout the food trail.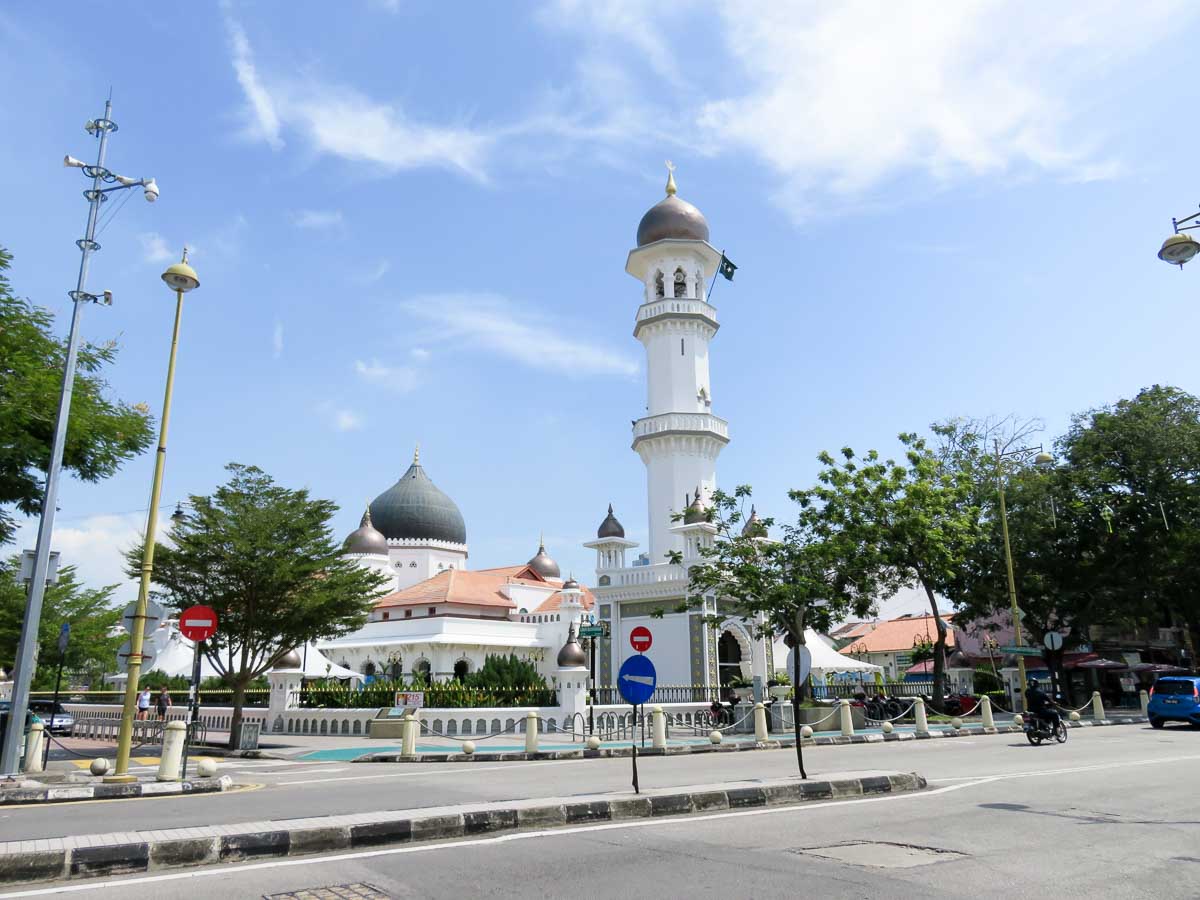 The biggest mosque in Georgetown, Kapitan Keling Mosque, was built in 1801 by the Indian Muslim settlers. The mosque is open to public, although the worship hall is out of bounds to non-Muslims.
BRUNCH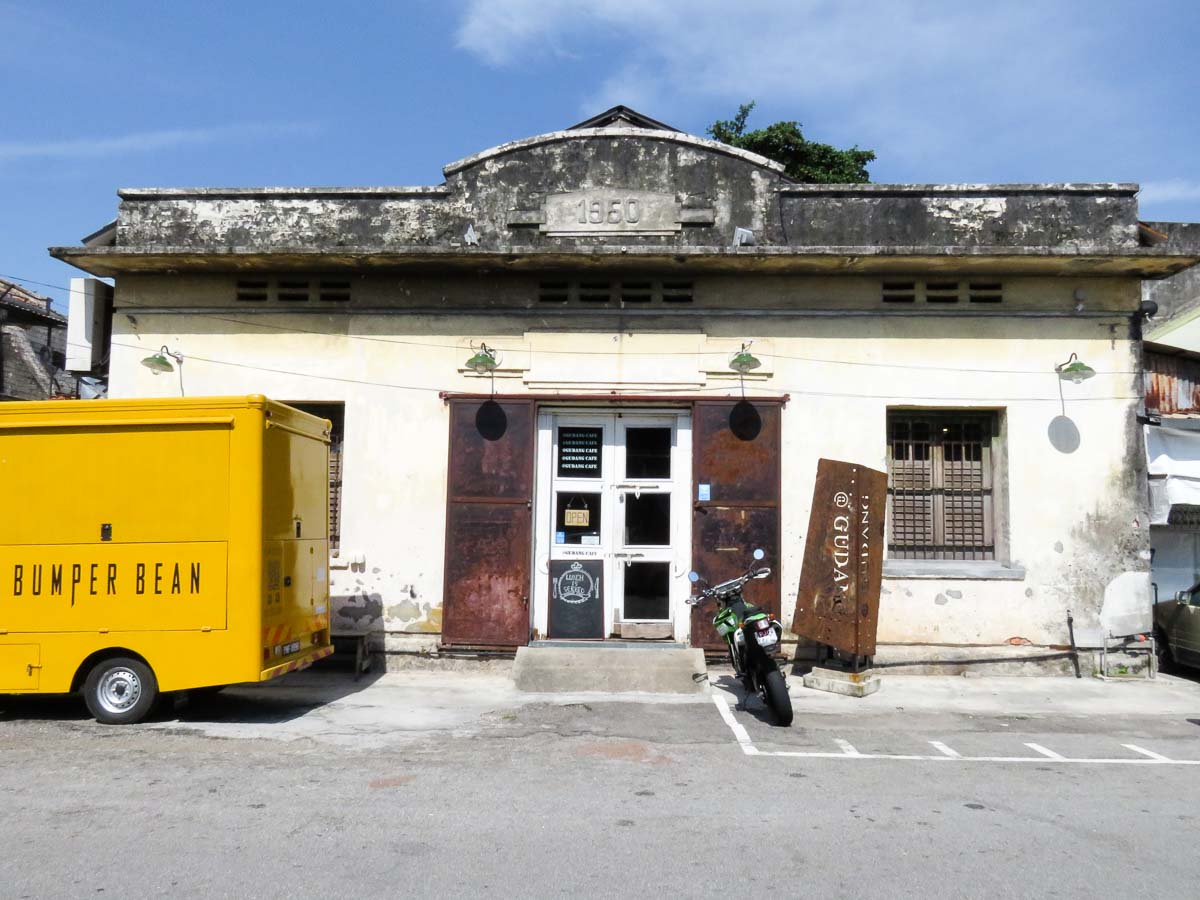 If you are looking for affordable set meals to stretch the dollar, Gudang Cafe is the place to go.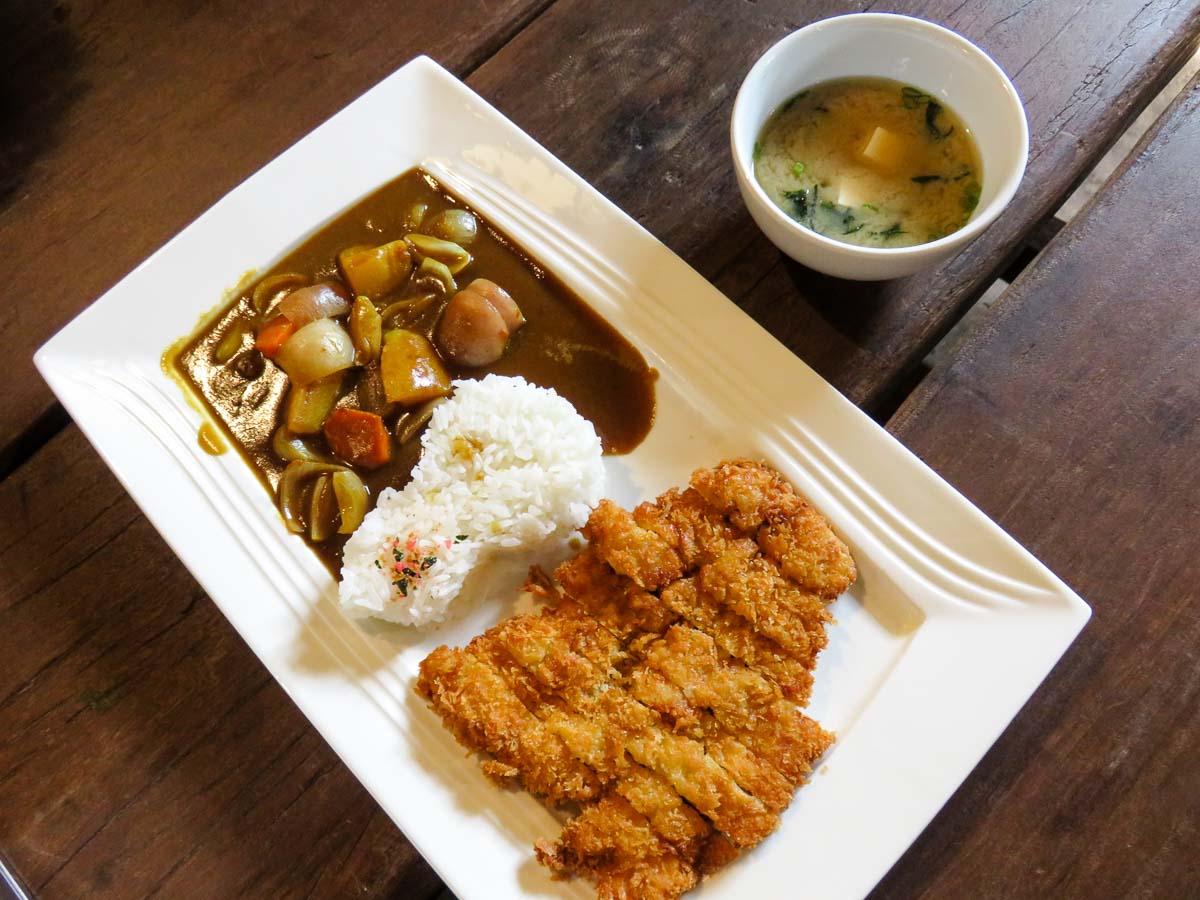 Situated in an old warehouse along Armenian Street, Gudang Cafe offers wallet-friendly set lunches starting at RM17.80 that include a meal complete with soup and a drink. There is no better place to enjoy a cup of aromatic matcha latte with crispy chicken katsu curry and a bowl of savoury miso soup.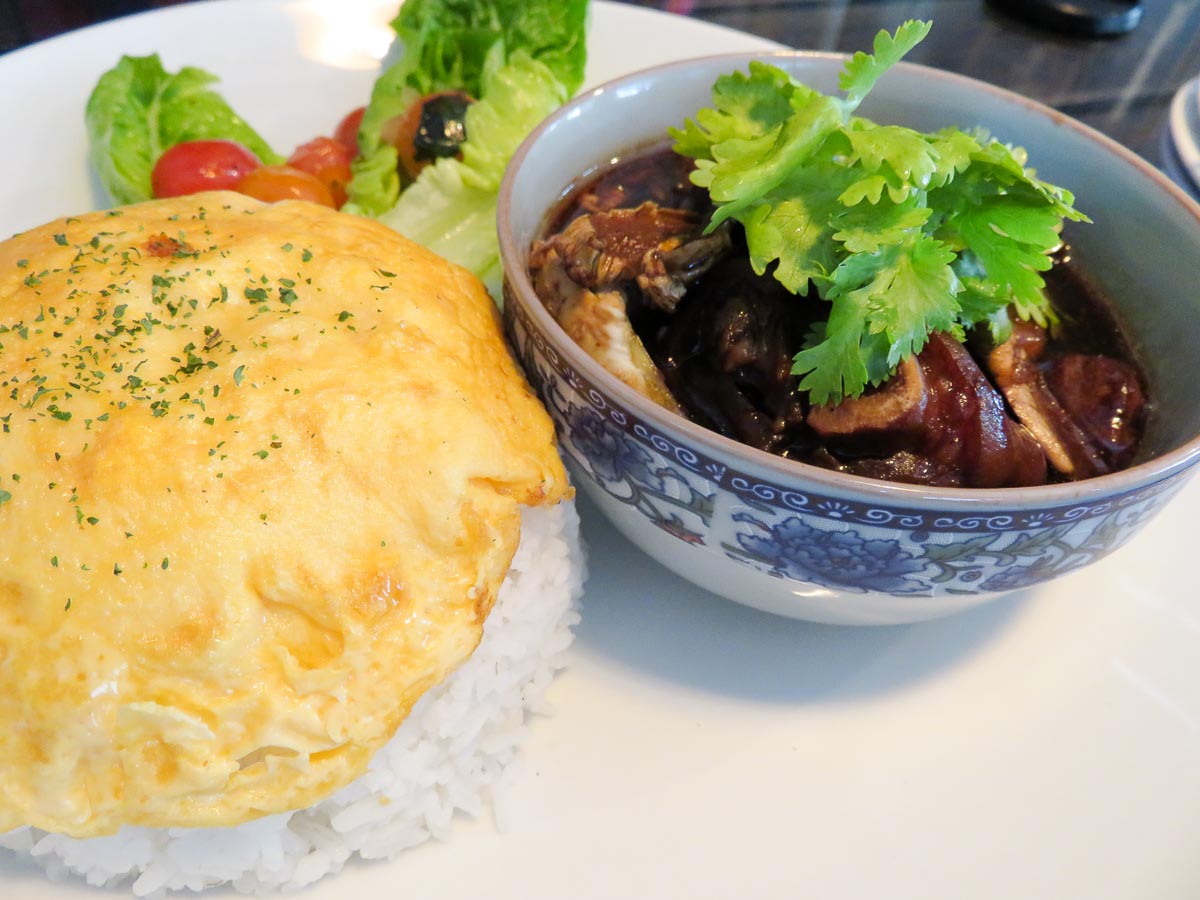 Located along Love Lane, Pit Stop Cafe brings you back to the 50's with its old-school interior, serving up hot plates of slow braised vinegar pork trotter at RM15.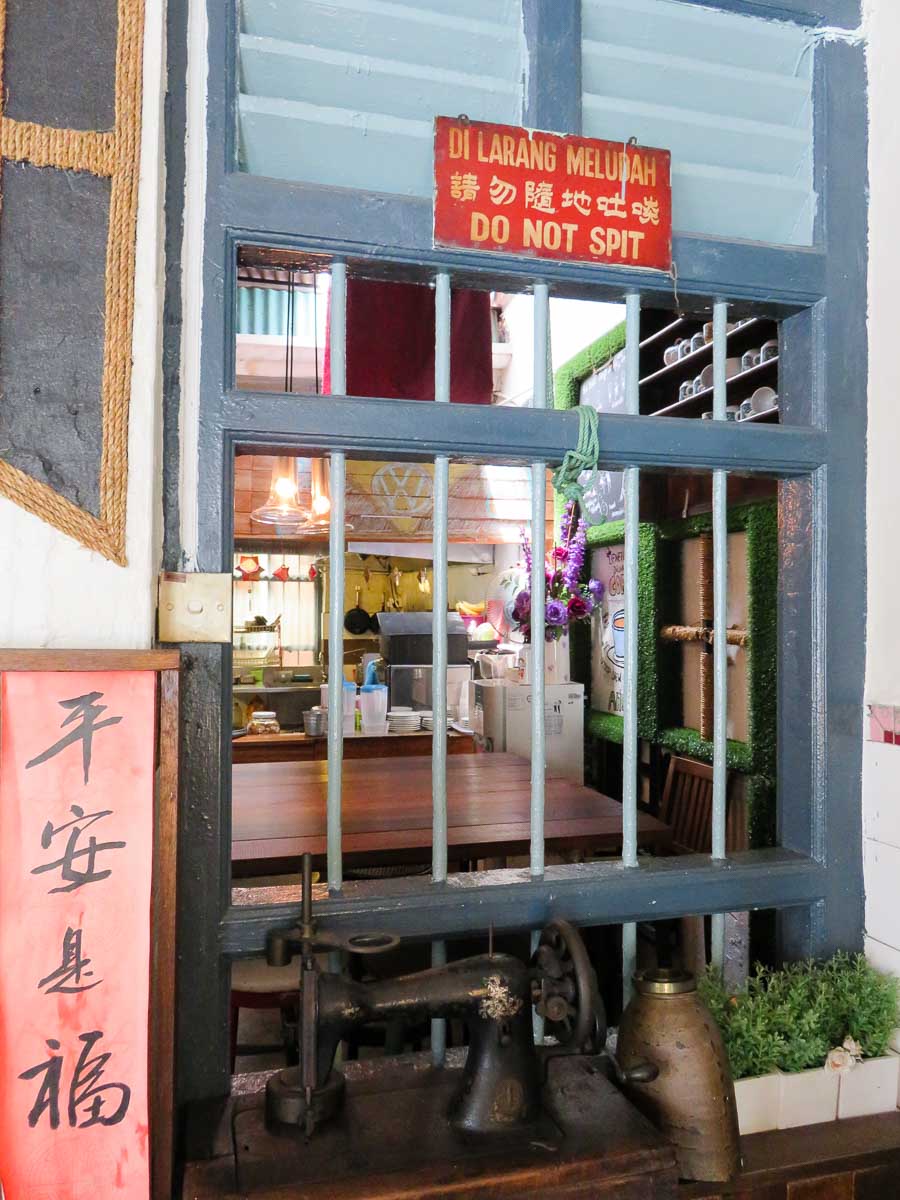 Great for youngsters looking for hipster cafes that scream a vintage vibe, and also for older folks who simply want to reminisce traditional flavours of the yesteryears.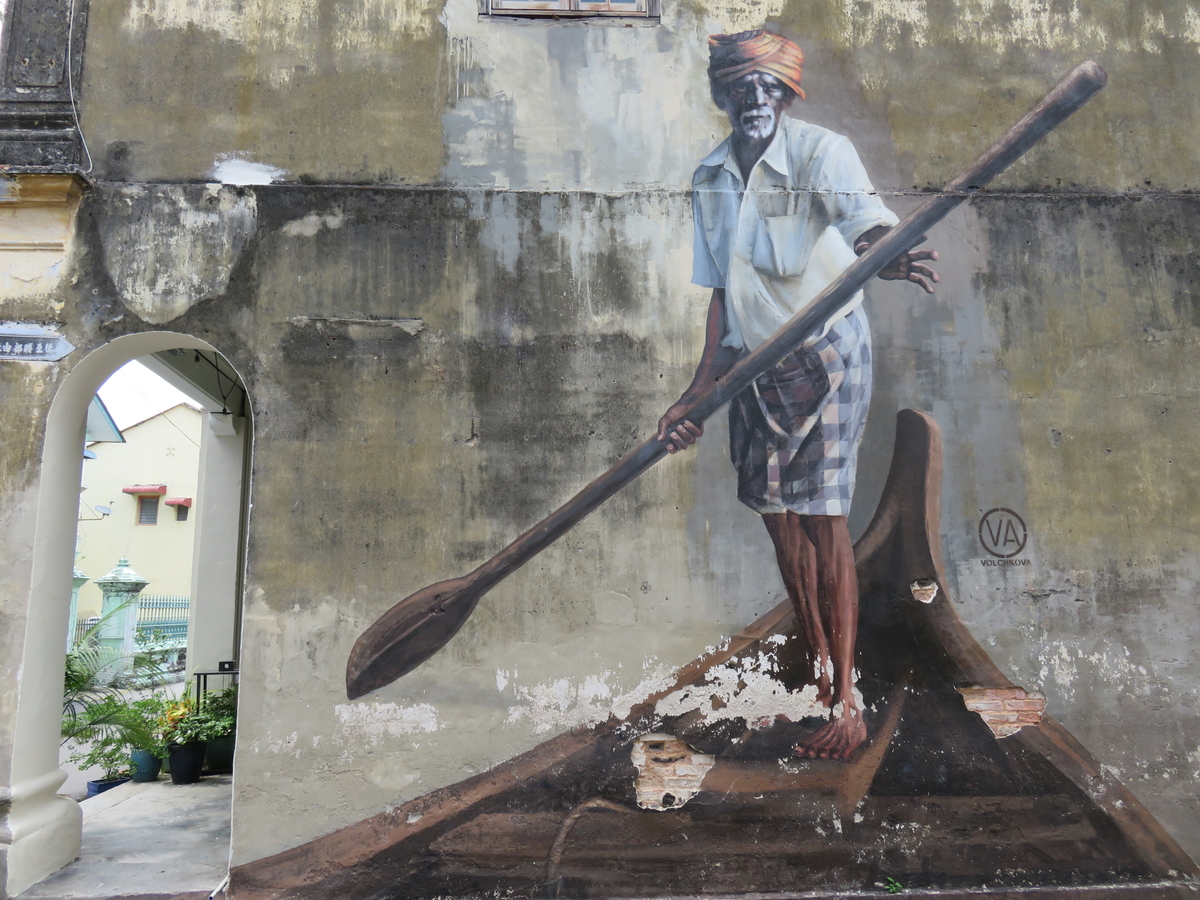 This mural commemorates the role of boatmen who worked on the Penang harbour during the 19th century.
AFTERNOON TEA
Truly a hidden gem located in an alley off Chulia Street, Moh Teng Pheow Nonya Koay & Canteen disappears among the hustle and bustle of Penang. If you have trouble finding Moh Teng Pheow, try looking out for the brightly painted back door of Camera Museum instead, located right next to it.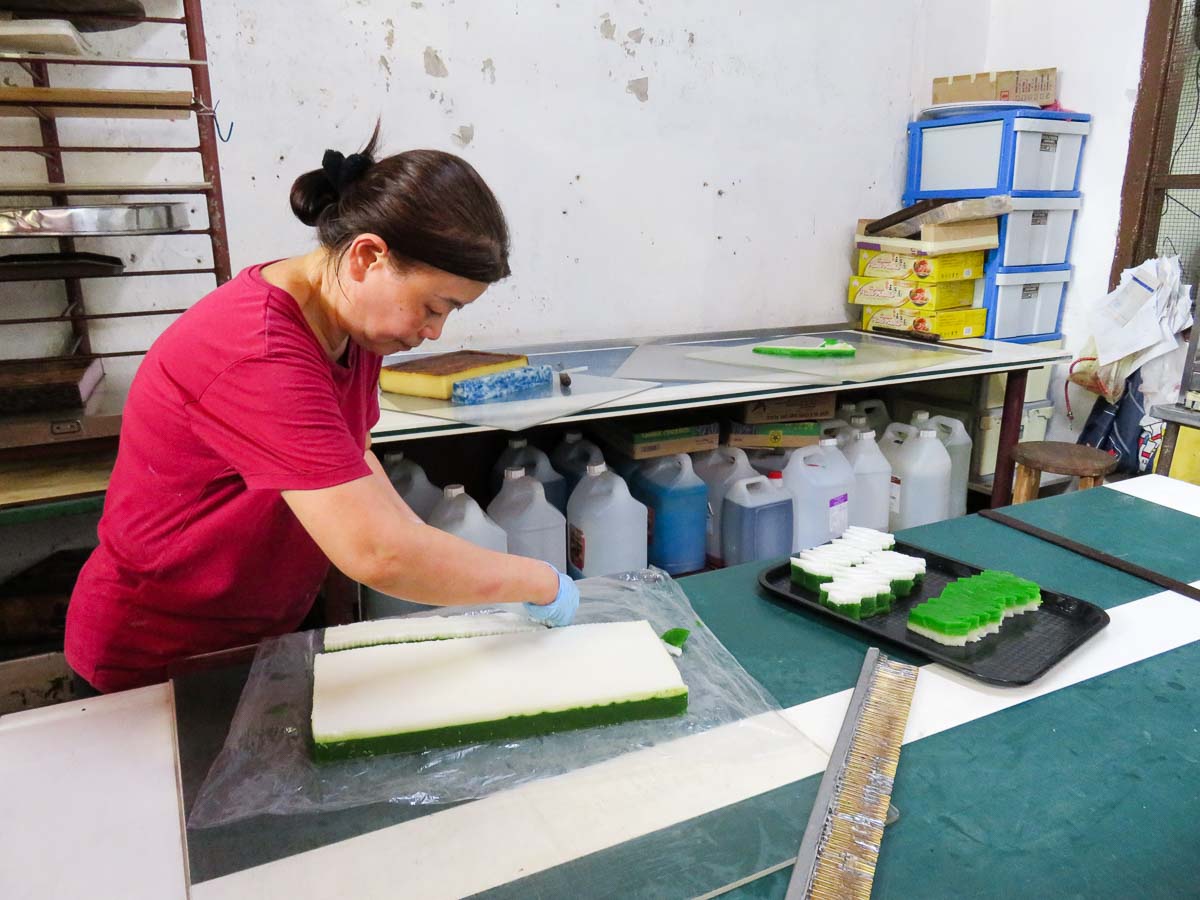 Entering the Nonya Koay Canteen transports you back in time; an army of workers skilfully slice trays of freshly made koays (or kuehs) into bite sized delectables everyone enjoys. We tried the colourful Koay Bengka, Koay Lapis, Koay Talam, Sri Muka, Pulut Tai Tai, and Ang Ku Koay, as they reminded us of our childhood days when such traditional snacks were more common. Prices range from RM0.60 – RM1.50 per piece. Check out Jiaqin's article for reviews on Moh Teng Pheow and other old school street food in Penang.
The gelatinous snacks filled not only the stomachs but also our hearts, reminding us the taste of childhood when such snacks were more commonly found.
The kitchen has been running for some 80 years as a snack production house. It was only 2 years back when part of the area was transformed into a canteen for customers to dine in.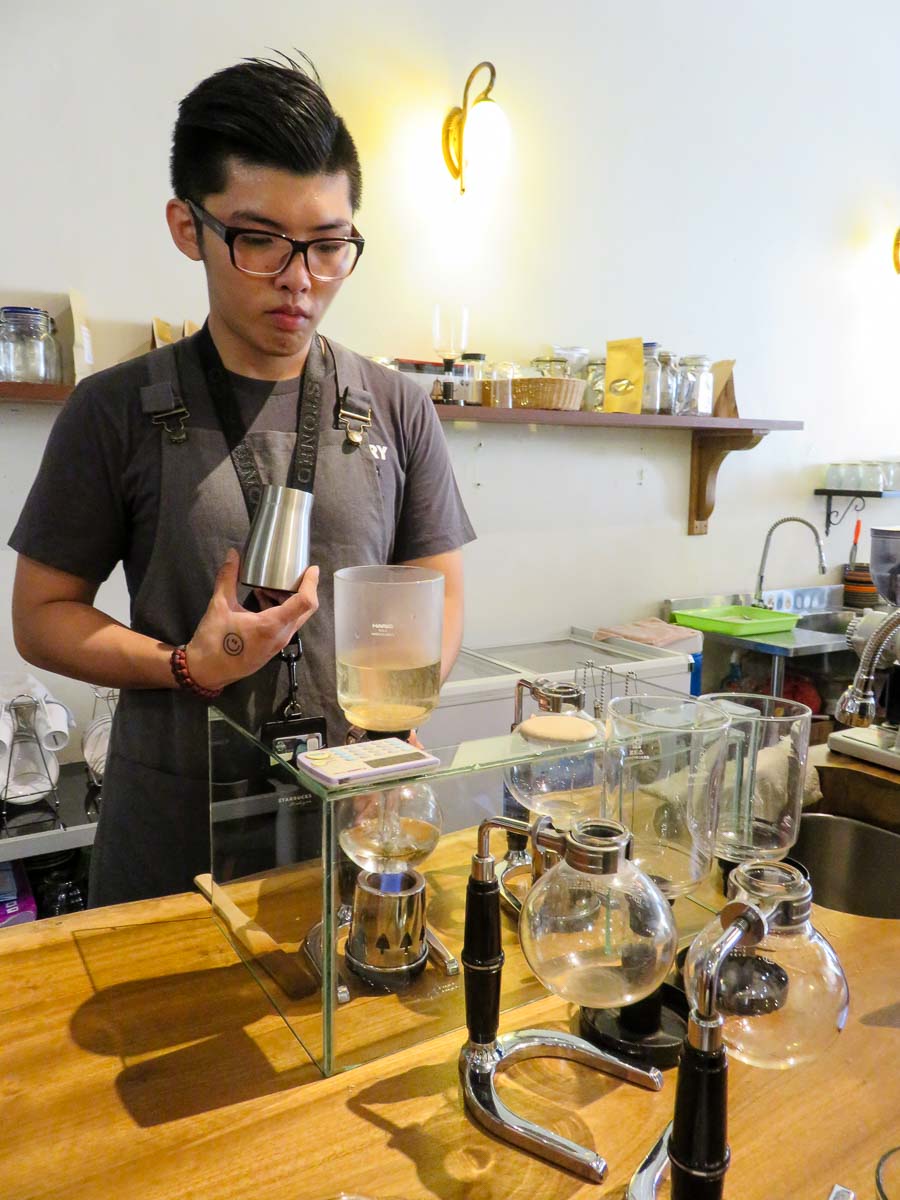 Stop by Coffee Lane for a mid-day boost. Before picking your brew, baristas will let you choose from three kinds of coffee beans — Classic, New Wave, and Artisan. Fancy, but definitely a great experience to have someone very passionate about coffee walk you through it.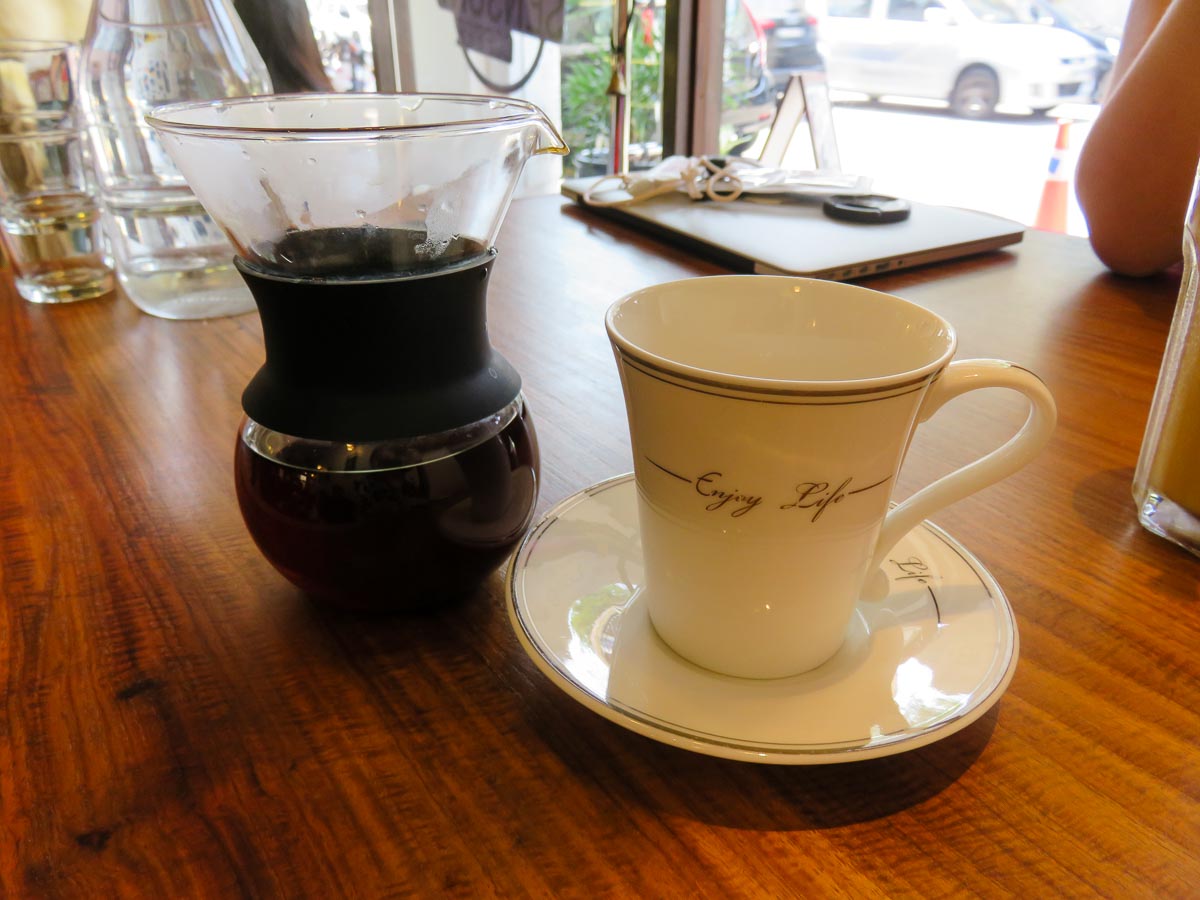 After understanding a little more from the barista, we decided on the Syphon brew with Classic beans. The Syphon brew method filters out coffee sediments, delivering coffee that is smooth and flavourful. Price ranges between RM7 – RM19 for an aromatic cup of fine coffee.
DINNER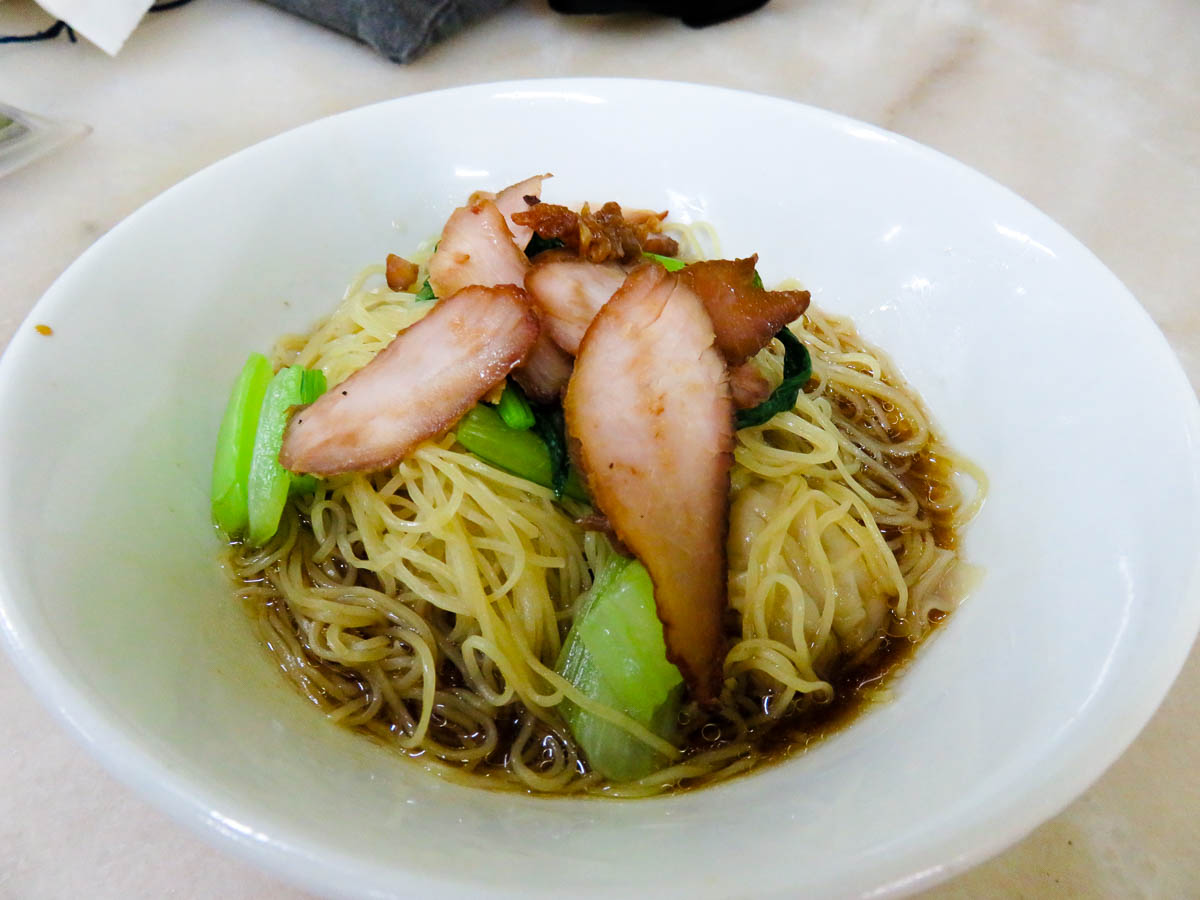 Wanton Mee is no longer a dish you can only enjoy in Hong Kong. In fact, Hong Kee Wanton Mee, situated at Campbell street, serves authentic Cantonese Wanton noodles so good that it'll leave you asking for more.
Read also: 6 Authentic Street Food Stalls in Penang you must try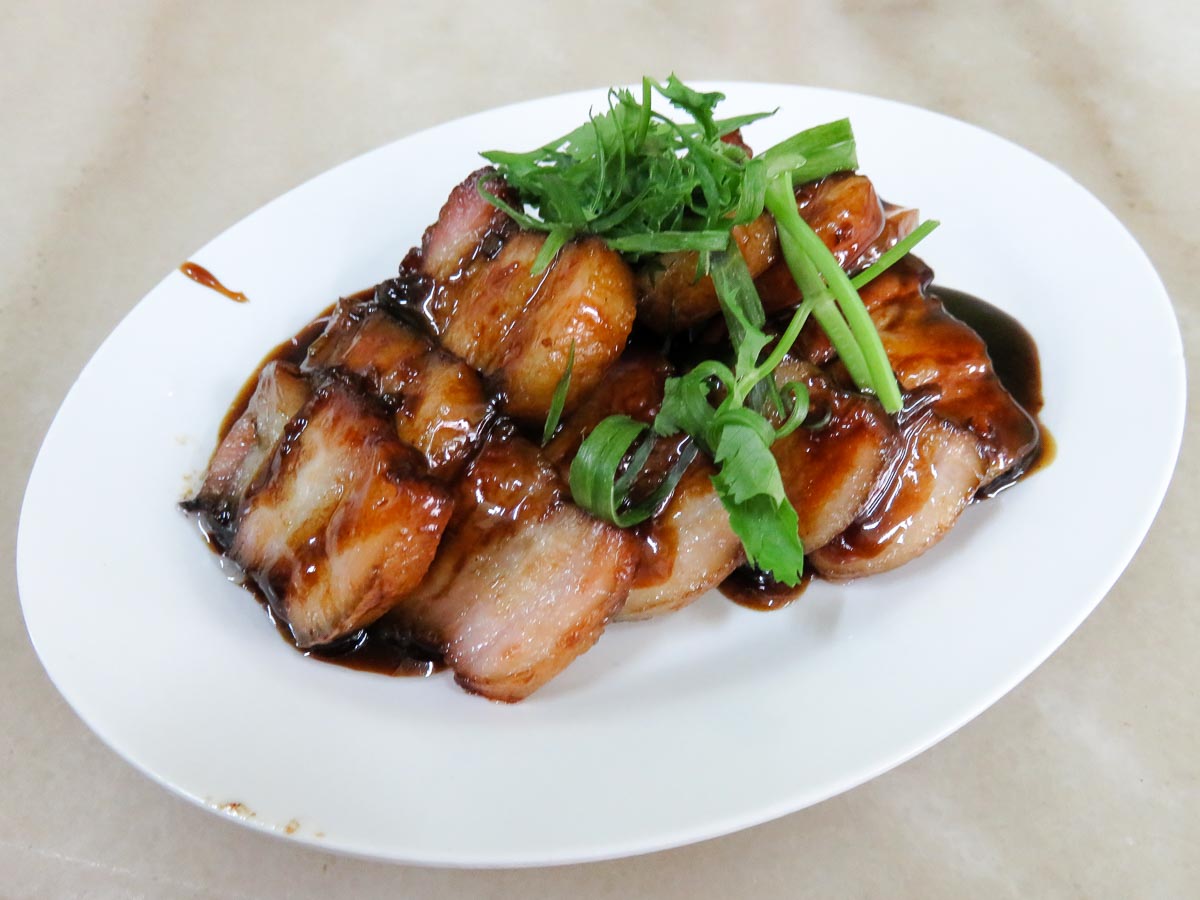 Also, do try the BBQ Sliced Pork with Honey Sauce (Char Siew) and Homemade Deep Fried Beancurd (Fish & Squid cakes wrapped in tau pok).
Taking pictures with so many walls can be very tiring, especially under Penang's hot sun! Next stop, head over to Penang Road to cool down and rehydrate yourself with some ice cold chendol.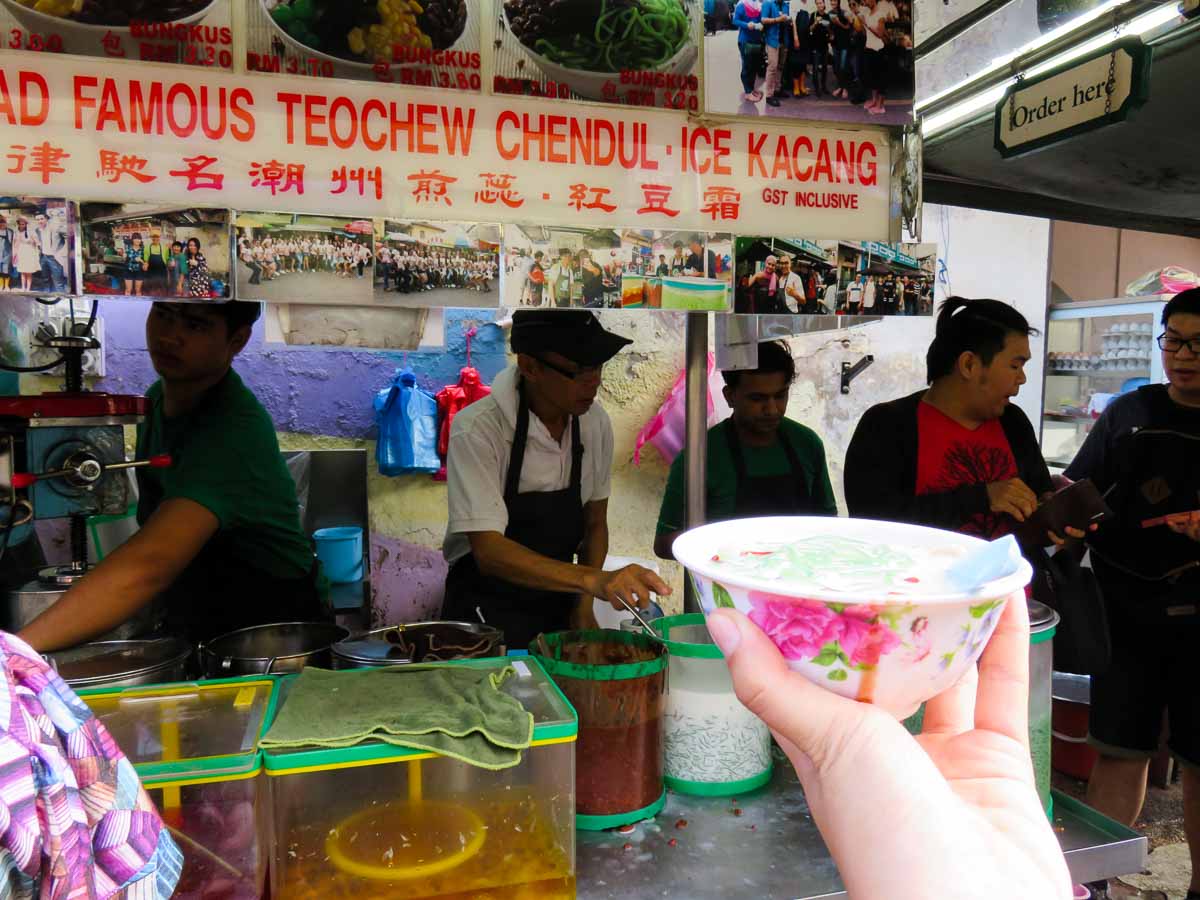 No trip to Penang is complete without trying the famous Teochew Cendol at Penang Road. This push-cart stall is well-loved by both locals and tourists alike!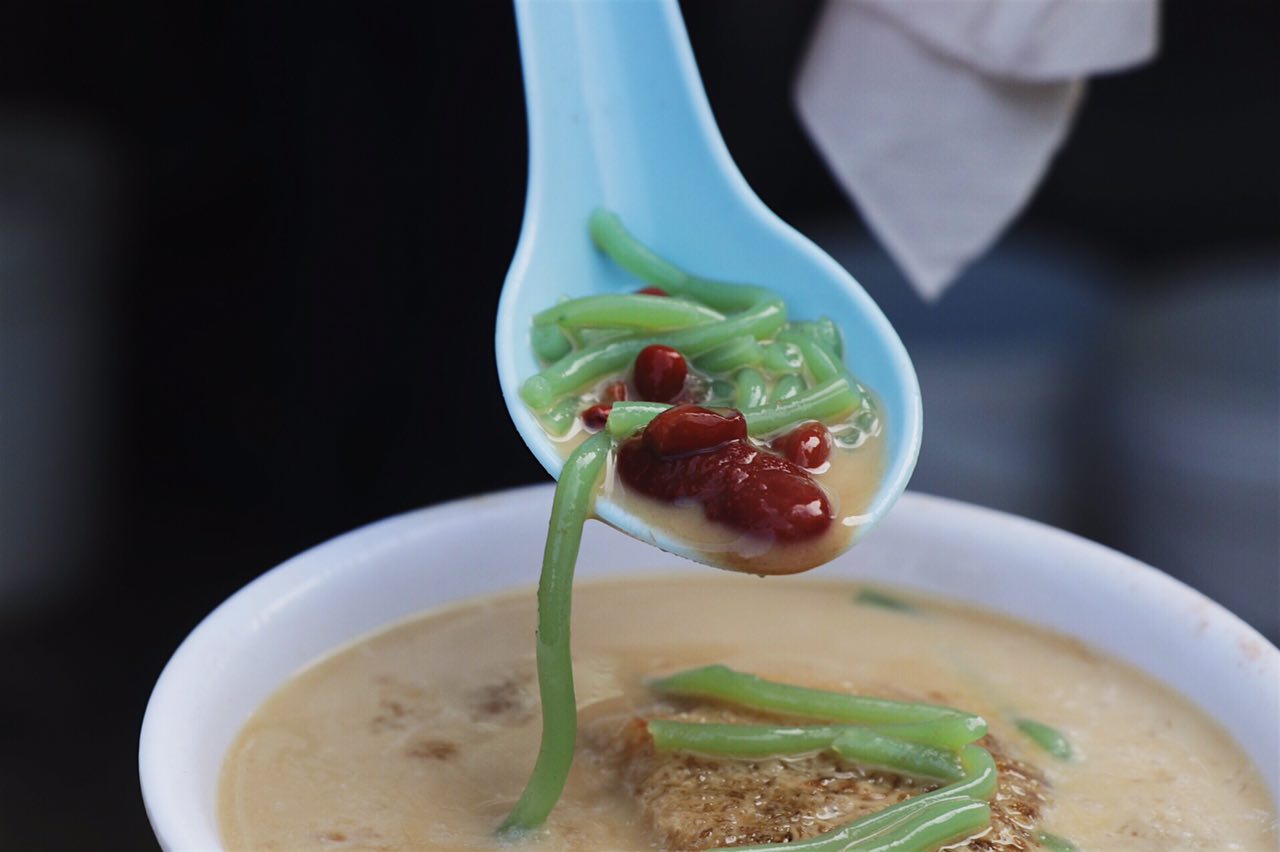 Fun Fact: The owner of Penang Road Teochew Cendol also owns an Assam Laksa stall down the lane!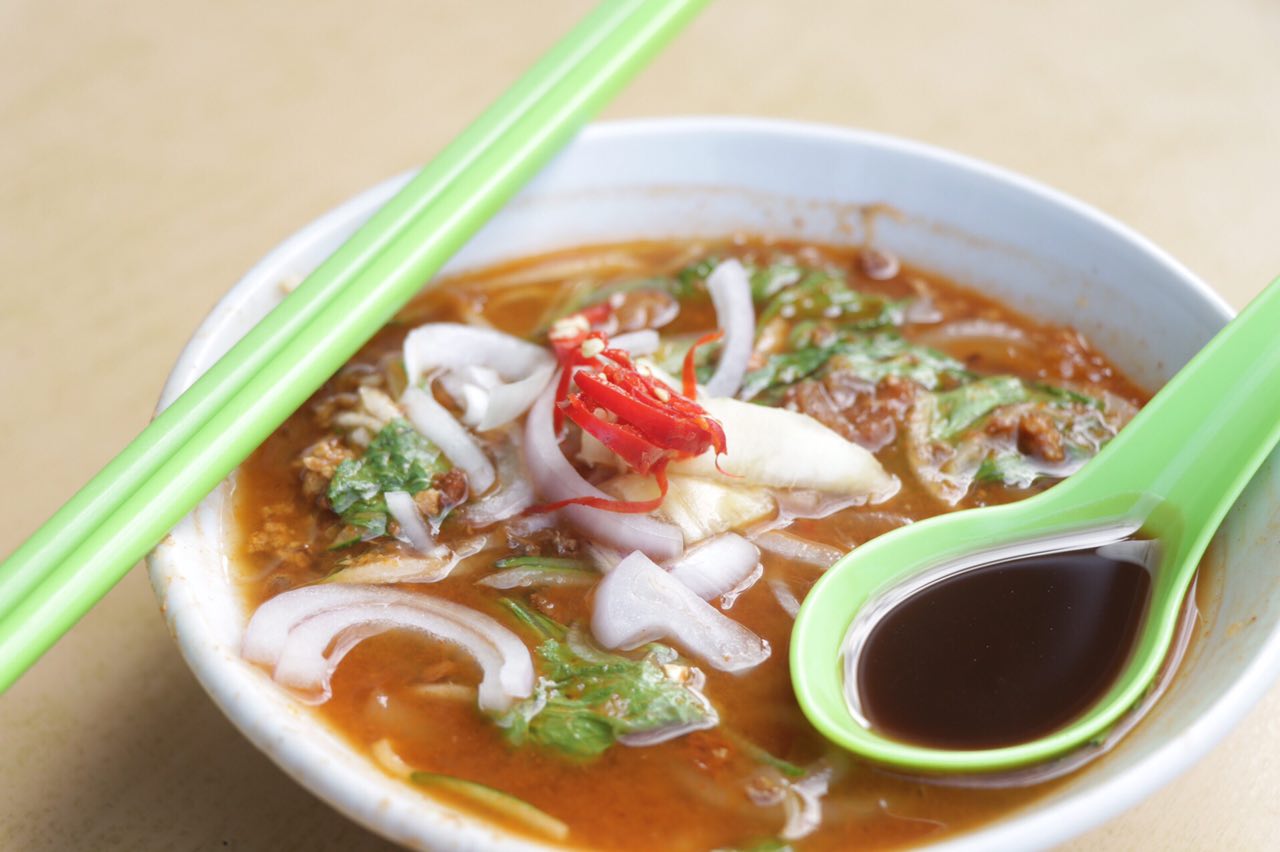 While tourists flock to Gurney Drive for dinner, local Penangites actually head to New Lane at Lorong Baru for some cheap and good food.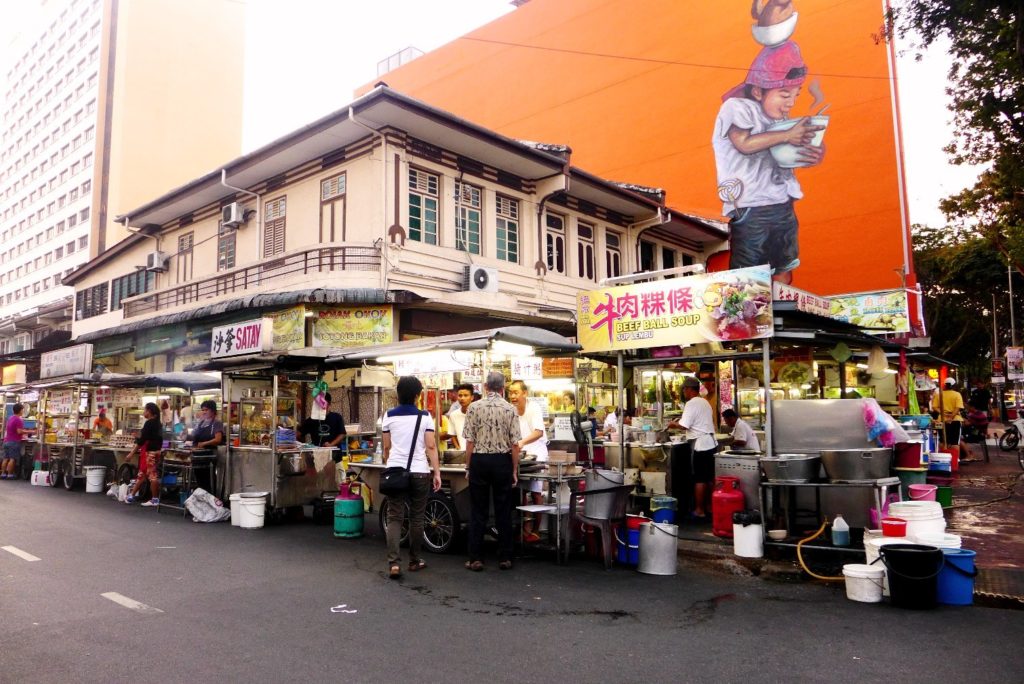 Impossible to miss, the 'Greedy Boy' mural signifies New Lane and its indispensable position of being an important food junction of its time.
Hawkers start setting up their stalls at around 4pm before the dinner crowd hits. From curry mee, assam laksa to apom, you sure can find all kinds of Penang's favourites at New Lane.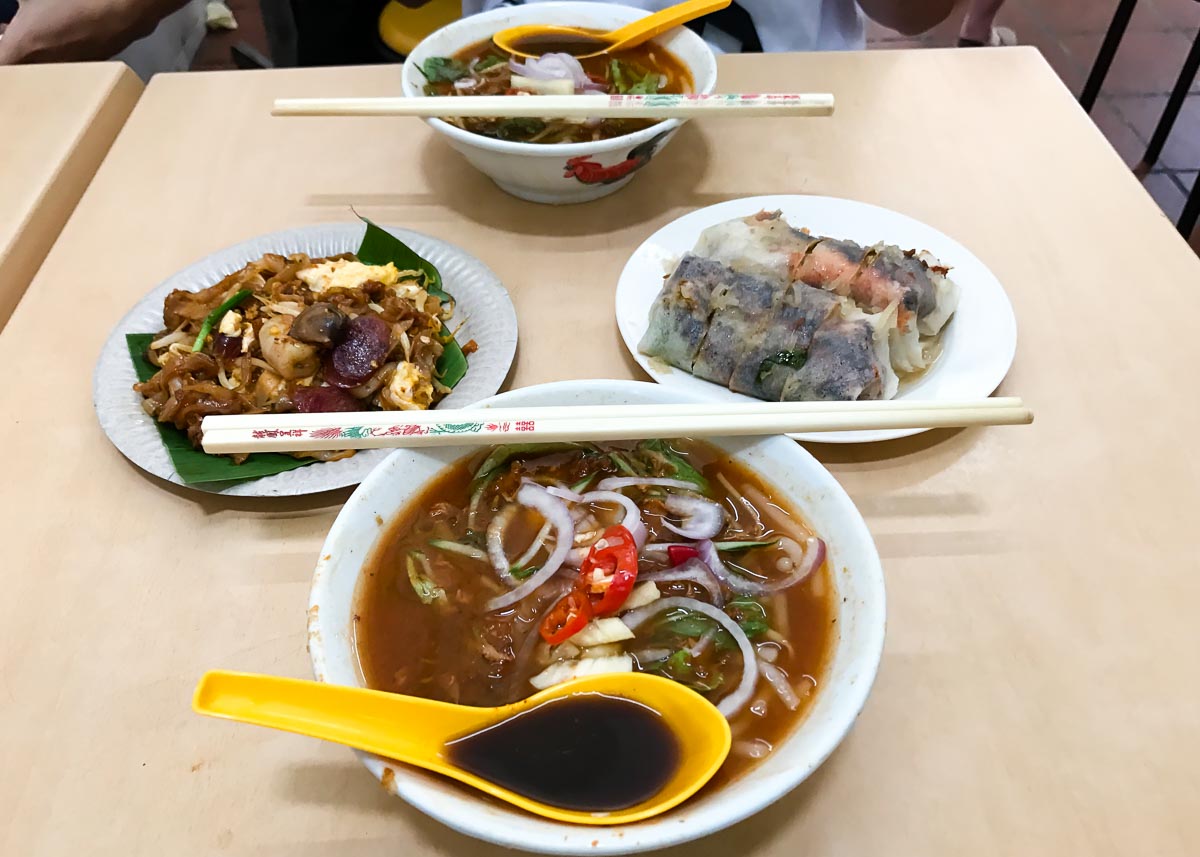 Penang's Georgetown indeed has a lot to offer, and it's no wonder travellers often feel overwhelmed with where to start.
Read also: Cycling in Penang: How to cover Georgetown's top attractions in one day
Next time you're in Penang, tick these off your list and let us know in the comments section below how they fared for you!