The only Kuala Lumpur food guide you need for a good time. Here's how our KL food experience was elevated… literally.
As a Singaporean, I can attest to how much we love food — so much so that we're willing to travel for it. Yes, we're talking about those extensive food hunts from Penang to Japan. But why not go somewhere closer to home the next time?
Besides diving with sharks, bungee jumping at Sunway Lagoon, and scaling Bukit Tabur (all found in our Kuala Lumpur itinerary), one of the best things to do in Kuala Lumpur is savour the mouth-watering eats in Asia's food paradise!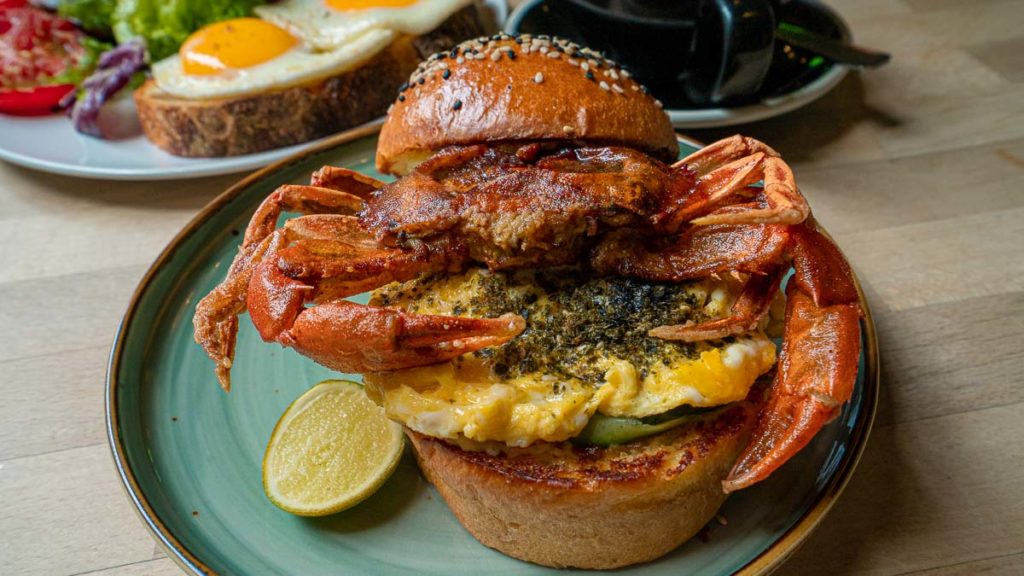 Soft shell crab burger from VCR cafe.
Read on for the ultimate Kuala Lumpur food guide that will take you through everything from street eats and indie cafes to unique dining experiences in KL (how does dining in the sky or firefly-watching sound?).
Kuala Lumpur Food Guide at a Glance
Affordable Street Food in Kuala Lumpur
It's not a Kuala Lumpur food guide without featuring quintessential street food. Here are a few places to check out that are authentic and easily accessible!
Read also: 4D3N Kuala Lumpur Itinerary For Thrill-Seekers — Epic Experiences You Never Knew Existed
1) Cheap Bites at Alor Street Night Market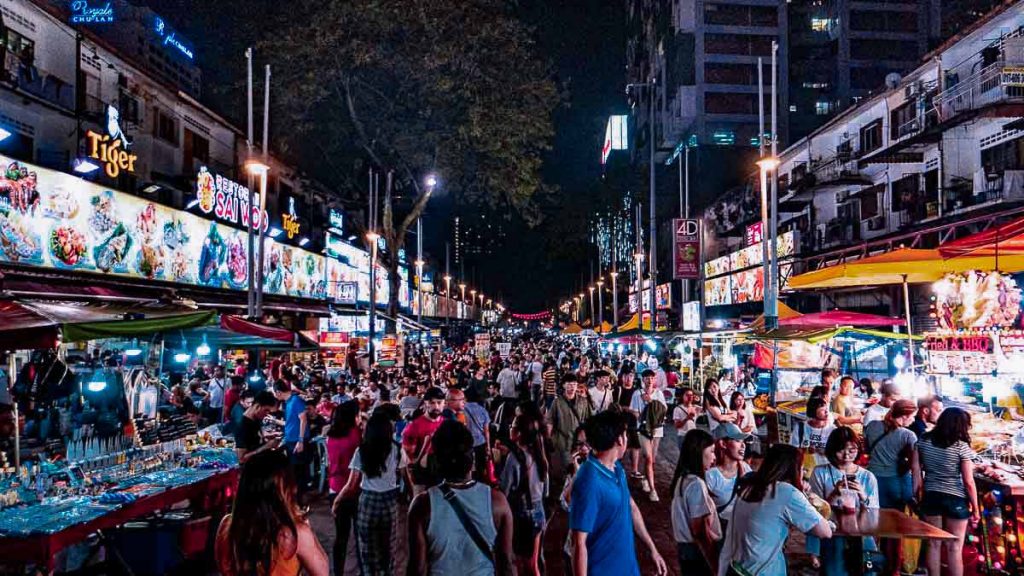 The streets of Jalan Alor are one of the most popular places in Kuala Lumpur at night with rows of Thai, seafood, and tze char restaurants flanking both sides of the street. Beat the heat with scoops of ice cream (RM11.50) from Sangkaya cafe that's served in a coconut husk and the best part — free unlimited toppings!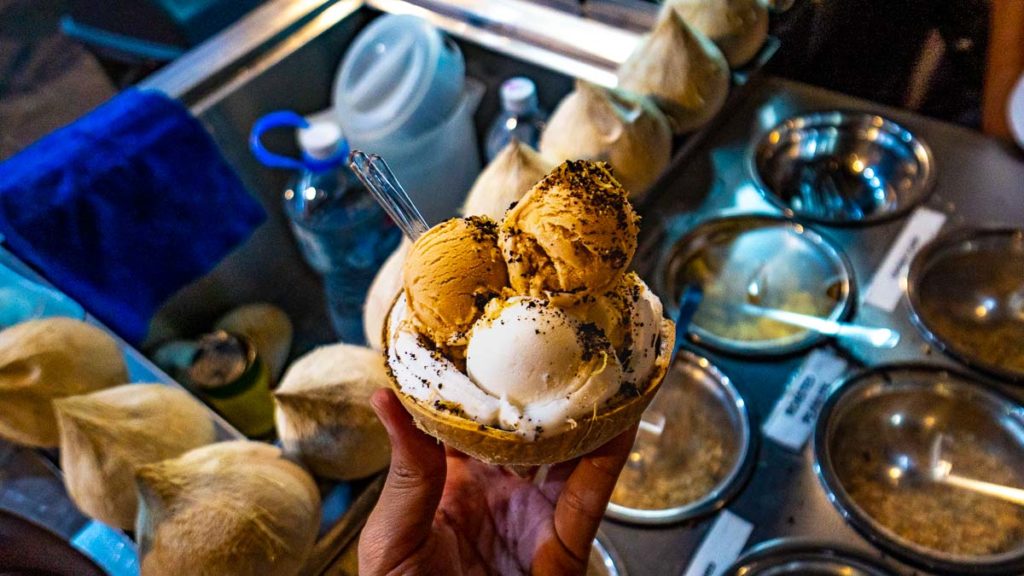 Think of all the free toppings you can spam on top of this…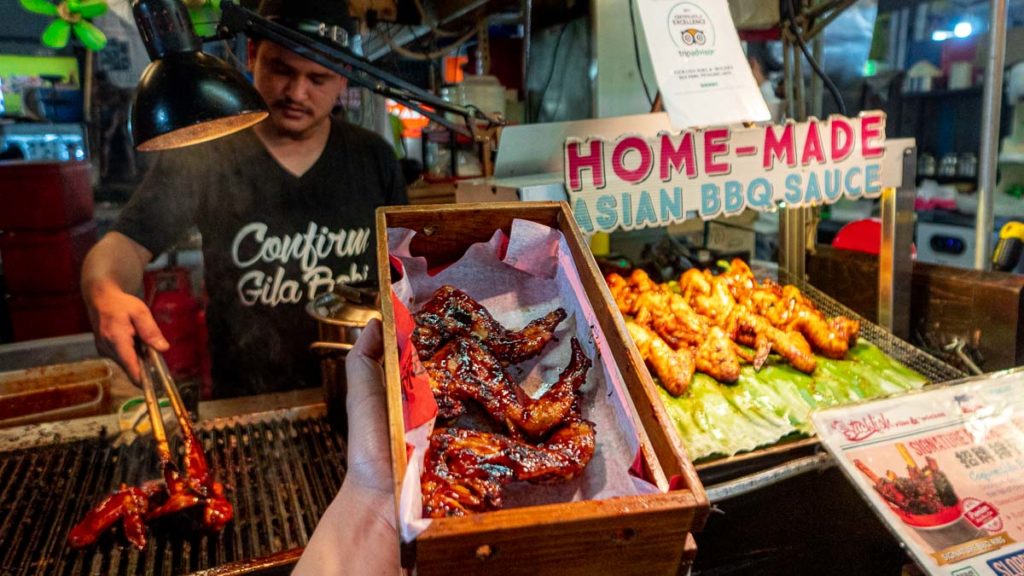 Also try spicy grilled chicken wings (RM10) from the Homemade Asian BBQ stall that's highly raved! If not, choose from a selection of other street bites or go big and have a fuller meal at one of the restaurants. The market is open 24 hours, but come at night when all the stalls are open.

Opening hours: 24 hours
Address: Jalan Alor, Bukit Bintang, Kuala Lumpur, Malaysia 50200
2) Nasi Lemak Wanjo Kampung Baru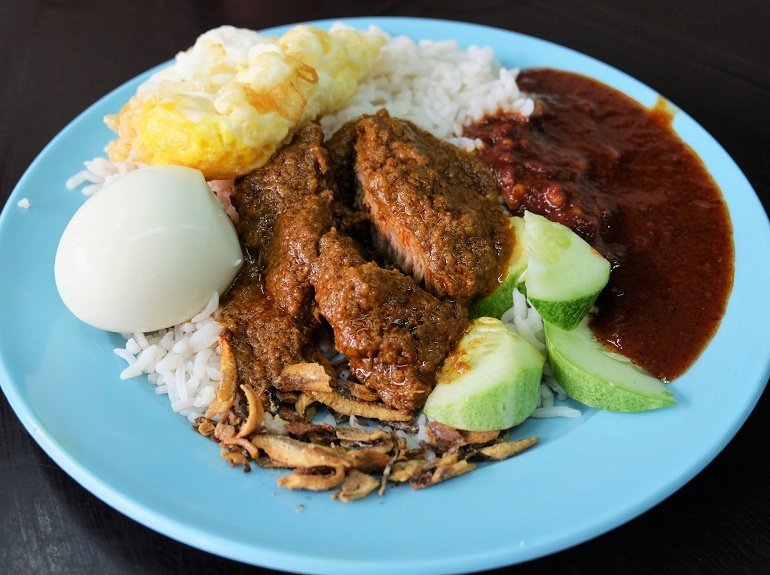 Photo credit: Hungrygowhere.my
When it comes to nasi lemak, this tried-and-tested stall at Nasi Lemak Wanjo Kampung Baru is a winner. You'll see a steady flow of customers (both local and foreign) streaming in from morning till night — signs to us kancheong (helter-skelter) Singaporeans of something worth queuing for.
Choose cai fan (mixed rice) style (from RM12) with dishes like tasty rendang chicken, fish, beef liver, eggs, tempe and more. Top it off with the star of the show: sambal chilli, which for most, makes or breaks the dish. If you're in Kuala Lumpur, you have to hit this up!
Opening hours: 6:30AM – 1AM
Address: 8, Jalan Raja Muda Musa, Kampung Baru, 50300 Kuala Lumpur, Malaysia
3) Silky Smooth Claypot Noodles at China Town Seng Kee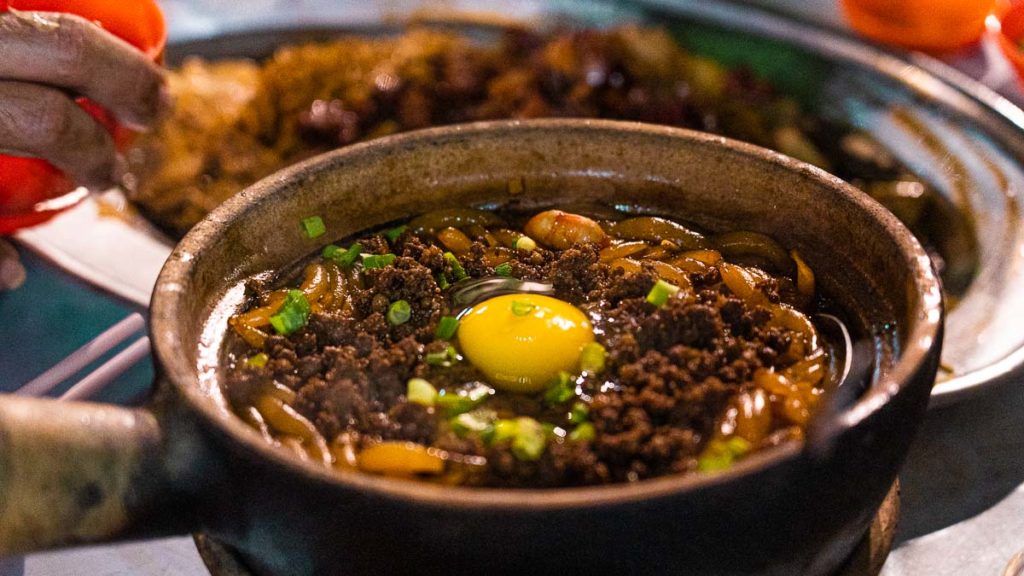 If you love the taste of wok hei, you won't regret coming to China Town Seng Kee. We couldn't get enough of their signature dishes like the Claypot Pearl Noodle (RM12), Garlic Caramelised Roast Pork Noodle (RM12) and Har Jeong Kai wings (from RM15).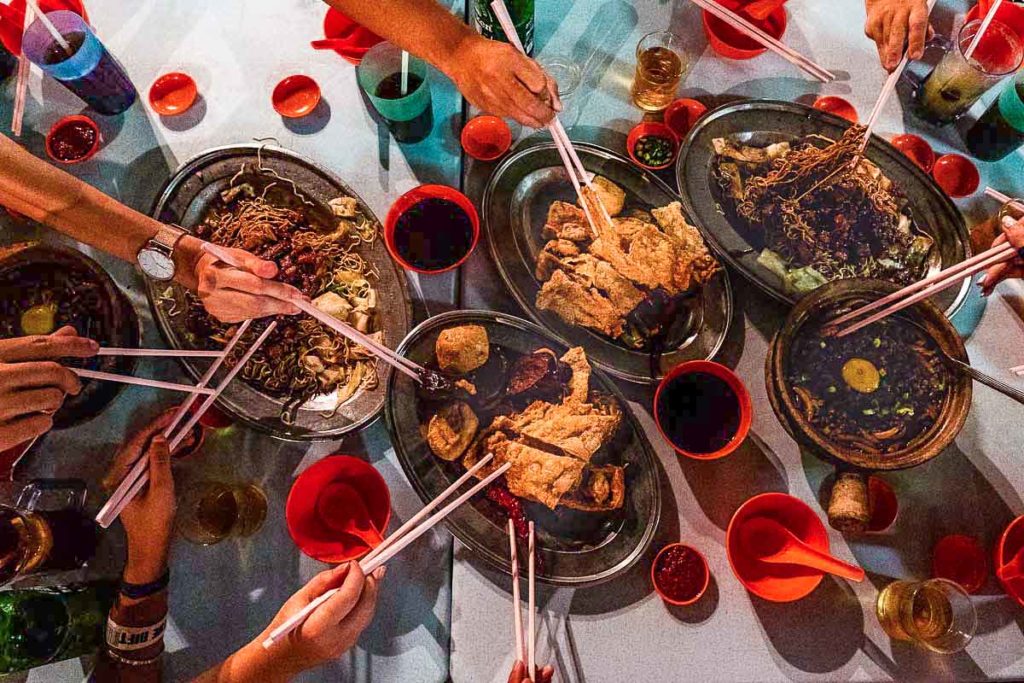 The street factor here is 100% legit, and the staff are friendly. The best part is that it's open till 4AM, making it perfect for late-night supper!
Opening hours: 12PM – 4AM
Address: 52 Jalan Sultan, City Centre, 50000 Kuala Lumpur, Malaysia
4) Soong Kee's Beef Ball Noodles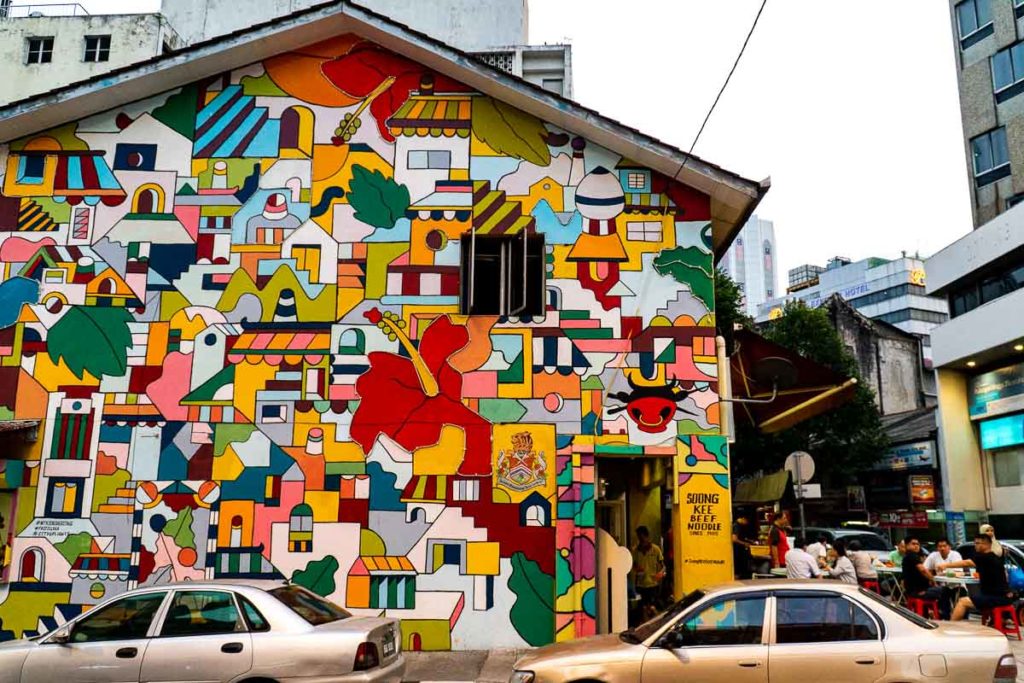 One word: Instagrammable.
Just look for this brightly muralled building and you'll be slurpin' up the popular beef noodles in no time. Plus, get an #OOTD shot by this very aesthetic wall after (or before, if you're wearing a crop top).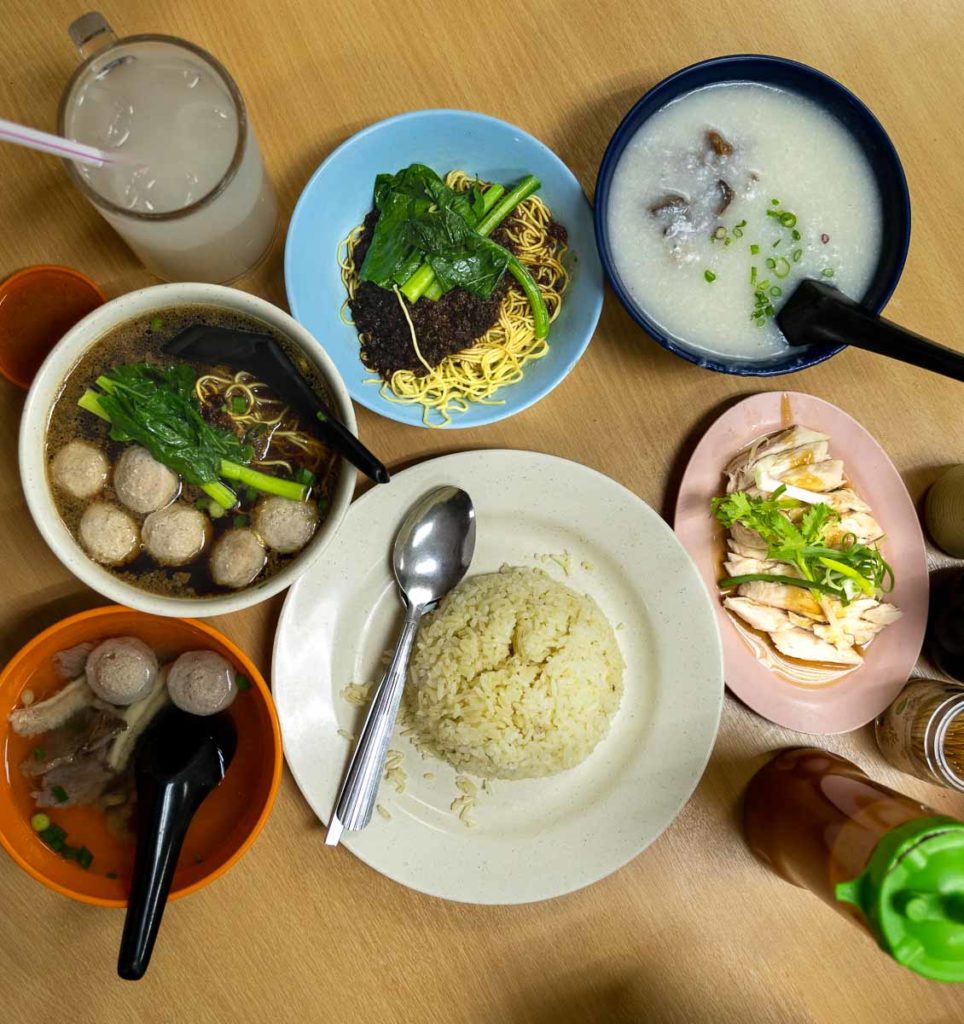 Soong Kee's is best known for their flavourful beef balls, but we were more impressed by the tripe noodles with braised beef option (RM7)!
Opening hours: 11AM – 10PM, closed on Sundays
Address: 86 Jalan Tun H S Lee, City Centre, 50050 Kuala Lumpur, Malaysia
Unique Dining Experiences in Kuala Lumpur
Everyone knows Kuala Lumpur for its street food, but here's the path less travelled for unforgettable dining experiences worth your time and money.
5) Play with Monkeys, See Fireflies Up Close, and Enjoy a Seafood Dinner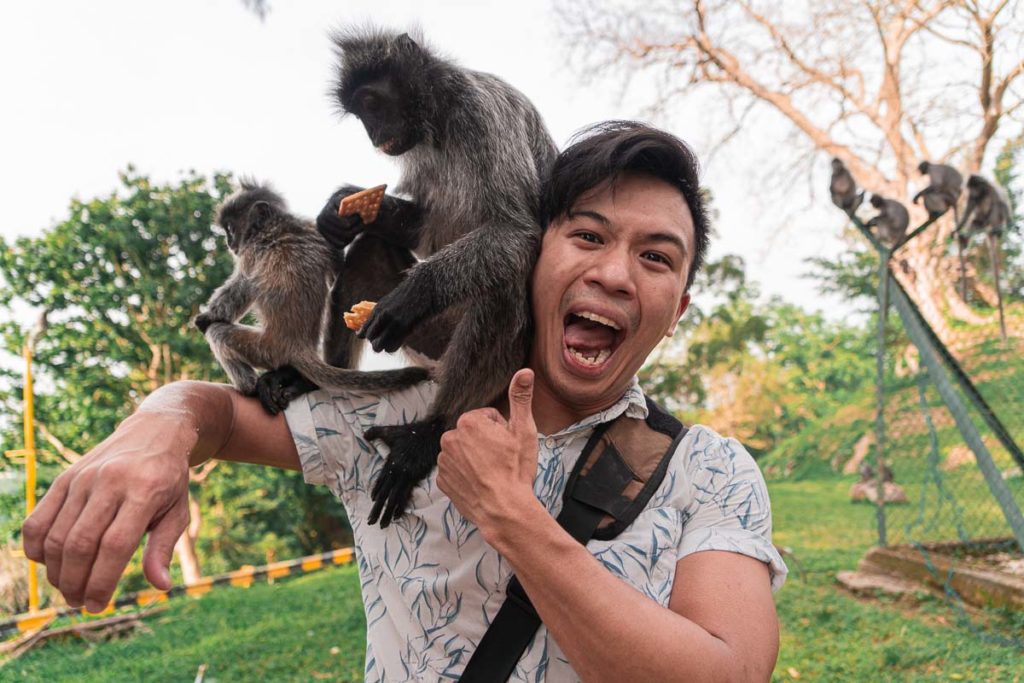 It's not every day you get to see fireflies up close or feed Silvered Leaf Monkeys on your shoulder. And certainly not with a seafood spread waiting at the end of it all! This dining experience which came as a day trip package was truly one of a kind, and I enjoyed it a lot.
The first stop at Bukit Melawati (just outside downtown KL) will captivate you. Surround yourself with the friendliest species of monkeys you'll ever meet — unlike Singapore's mischievous long-tailed macaques. Plus you get to take some sick shots for the 'gram as well!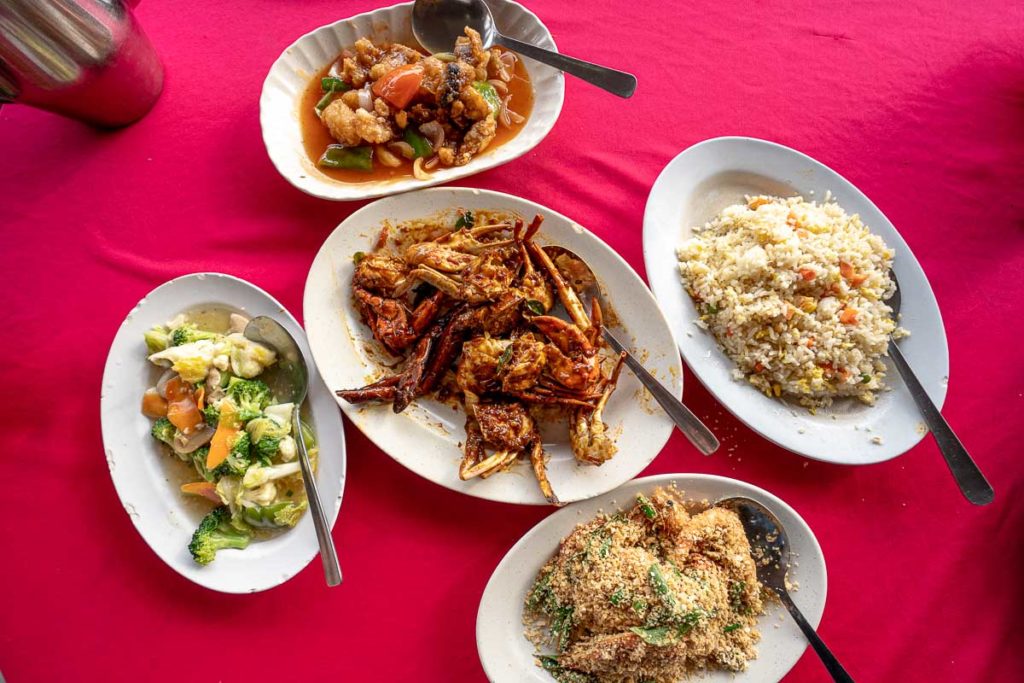 Local seafood spread for two.
Next, enjoy a sumptuous seafood dinner spread at the Bagan Sungai Yu Baru restaurant. We didn't have a say in the menu, but we're not gonna complain about cereal prawns and black pepper crab, especially when there's the tranquil view of the sea!
Dinner wraps up with a beautiful sunset, before you embark on your firefly-watching tour along the mangroves of Kampong Kuantan.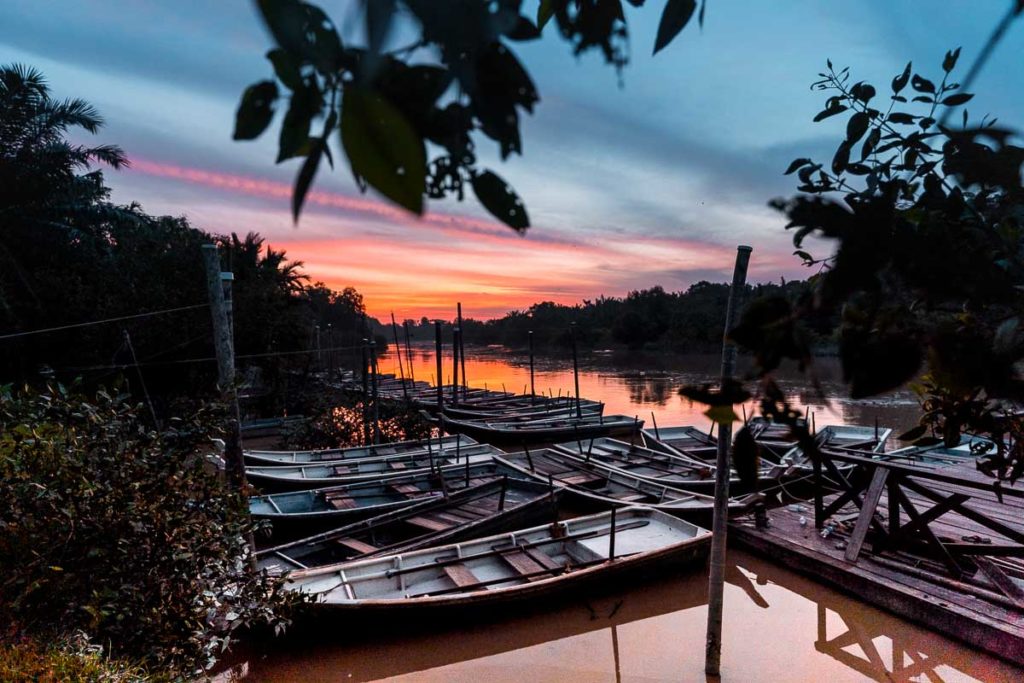 We captured the beautiful sunset over the Selangor River while waiting for nightfall.
The entire day trip will make you feel one with nature, and offers a great respite if you're an urban dweller like me. Definitely worth considering as a short trip (especially since food is provided) when in Kuala Lumpur!
Cost: ~S$59.45 (incl. free pick-up from accommodation in KLCC)
6) Dine In The Dark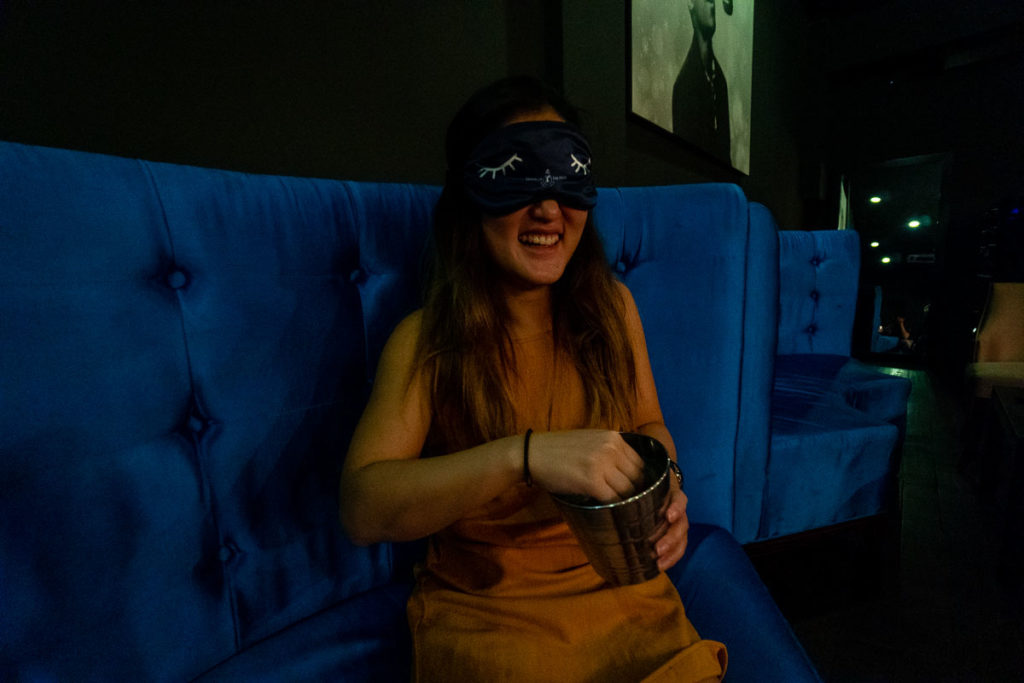 Visiting Dining In The Dark Kuala Lumpur was a great chance to experience something I otherwise wouldn't in Singapore — especially when it's affordable. Let's just say it was seriously an experience (and that's among our other cool experiences in KL).
First, you choose from three surprise menus. Then there's the navigating through four appetisers, two soups, three mains, and five desserts (per pax! But smaller portions each, lah). The mains we had (spoiler alert): butterfish and shrimps, lasagna and beef tenderloin — yum! You'll definitely leave with some heightened senses after the 2.5-hour meal.
Cost: ~S$49.85
Timings: Every 30 minutes from 6PM – 9PM
Address: 50A Changkat Bukit Bintang, Bukit Bintang, 50200 Kuala Lumpur, Malaysia
7) Dine In The Sky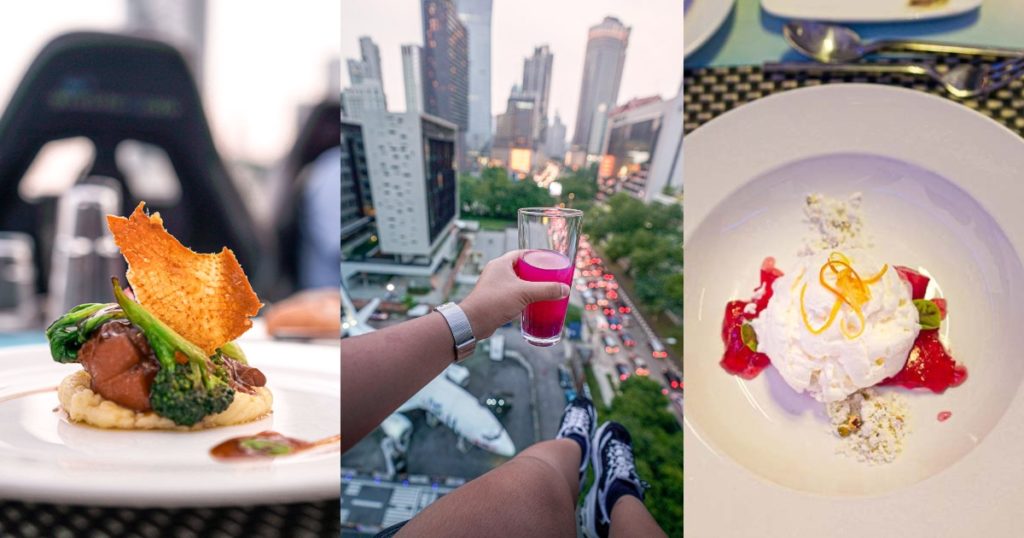 There's dining in pitch-black darkness, then there's dining 50m above ground. We're talking straight-up eating off a table suspended mid-air, which might only sound appetising to daredevils. The chairs can even swivel 360 degrees and recline up to 45 degrees. Yikes!
There are 45 countries you can dine in the sky in, but Malaysia's the only one you can find in Southeast Asia!
Read also: 15 Unique Things To Do In Kuala Lumpur Besides Eating and Shopping — KL Long Weekend Guide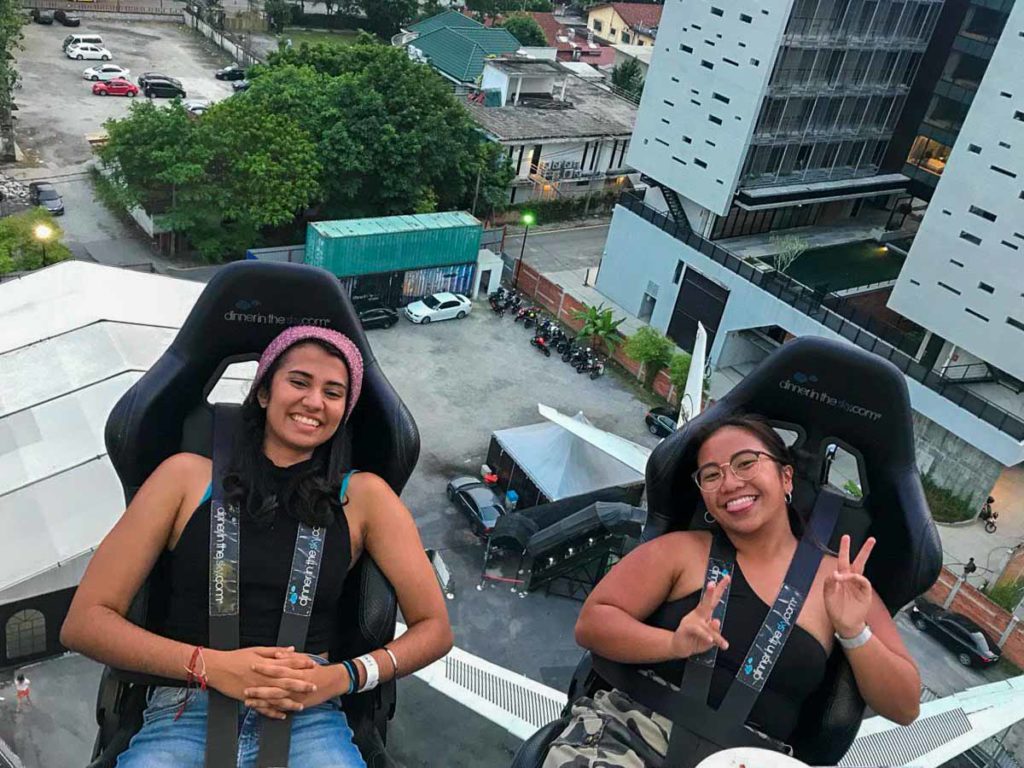 Lesha and Chloe in their reclined seats above ground.
The three-course dinner is cooked right in front of you as you take in the city views. You really get your money's worth because the food served was bougee AF. We got to choose between three main courses — pan-roasted snapper, braised chicken and Angus beef cheeks (we got the first two).
Cost: ~S$121
Opening hours: 6:30PM – 7:30PM, 8PM – 9PM (Tue – Sun), closed on Mondays
Address: 231, Bukit Bintang Street, 55100 Kuala Lumpur, Federal Territory of Kuala Lumpur, Malaysia
*Pro-tip: Choose the 6:30PM timeslot to catch the prime golden hour during dinner!
8) Wong Kar Wai Vibes at The Attic Bar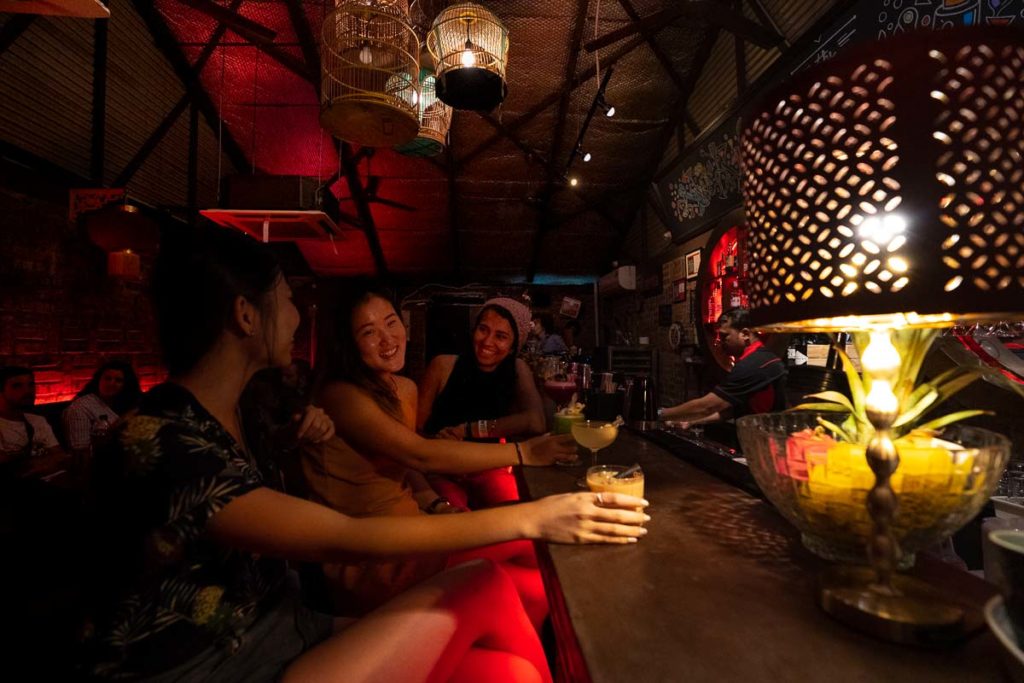 The Attic Bar is a cosy little speakeasy close to Petaling Street Market which left quite an impression on us. If you're a fan of filmmaker Wong Kar Wai, you'll absolutely love the bar's oriental theme and its mysterious elements like spiral stairways, long corridors, and red lanterns — very In The Mood For Love if you ask me.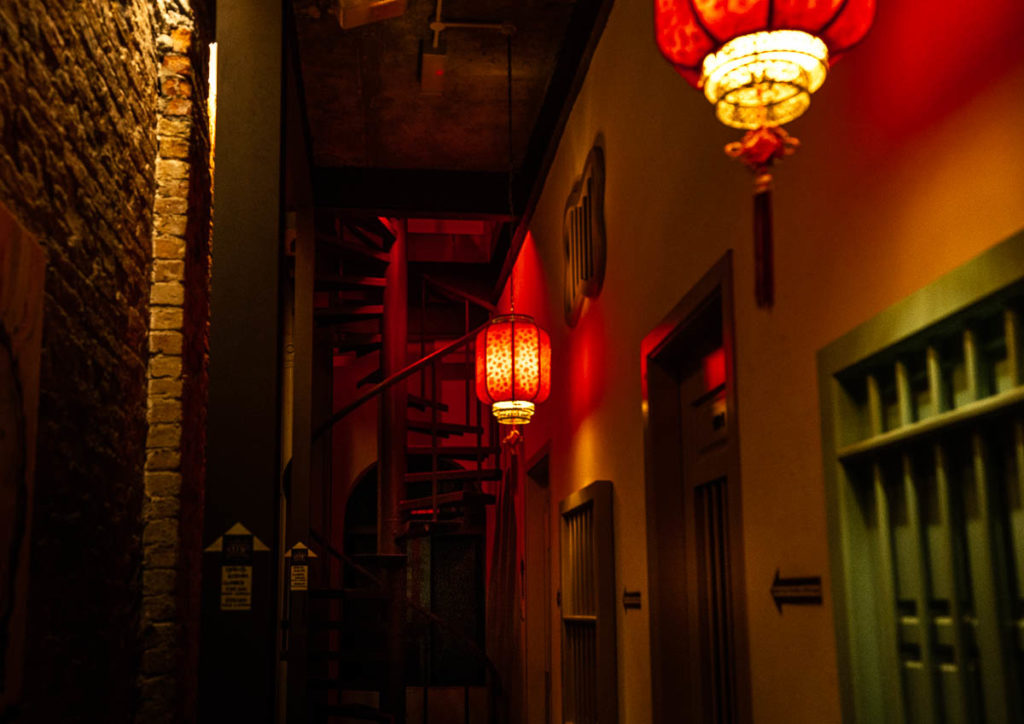 Cocktails come priced below a reasonable RM30 (~S$10). We recommend the Jon Snow (yes, there are Game Of Thrones-themed cocktails), Qing Long, and Borneo Tuak amongst other cool varieties.
Opening hours: 6PM – 1AM (Sun – Thu), 6PM – 2AM (Fri – Sat)
Address: Third Floor, No. 15, Jalan Balai Polis, City Centre, 50000, Kuala Lumpur, Malaysia
Hipster Cafes in Kuala Lumpur
Of course, one cannot complete a trip to Malaysia without the essential cafe-hopping experience (because you can't really do that in pricey Singapore). Kuala Lumpur is home to an array of millennial-friendly cafes with IG-worthy backdrops, chill vibes, or a golden combination of both.
Here are the ones that pass the test for that perfect brunch day out:
9) Zen Out at VCR Cafe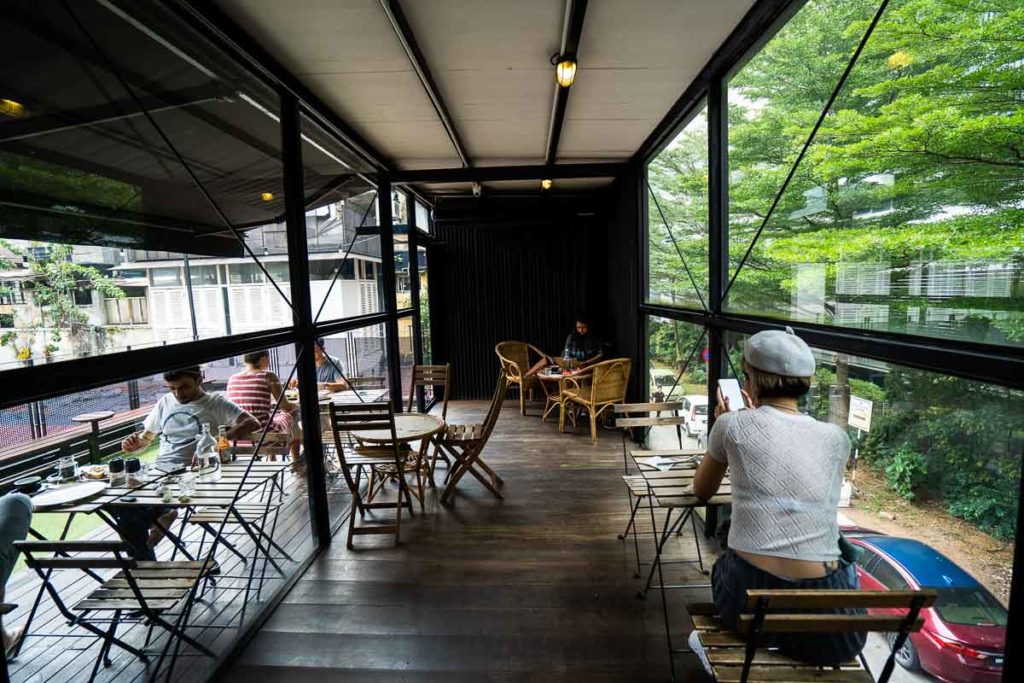 VCR is a popular cafe amongst the locals and after visiting it, I can see why. The aesthetic here is cosy with lots of natural light and rustic wooden furniture. The cafe is also spacious with free WiFi and charging points all around — woohoo!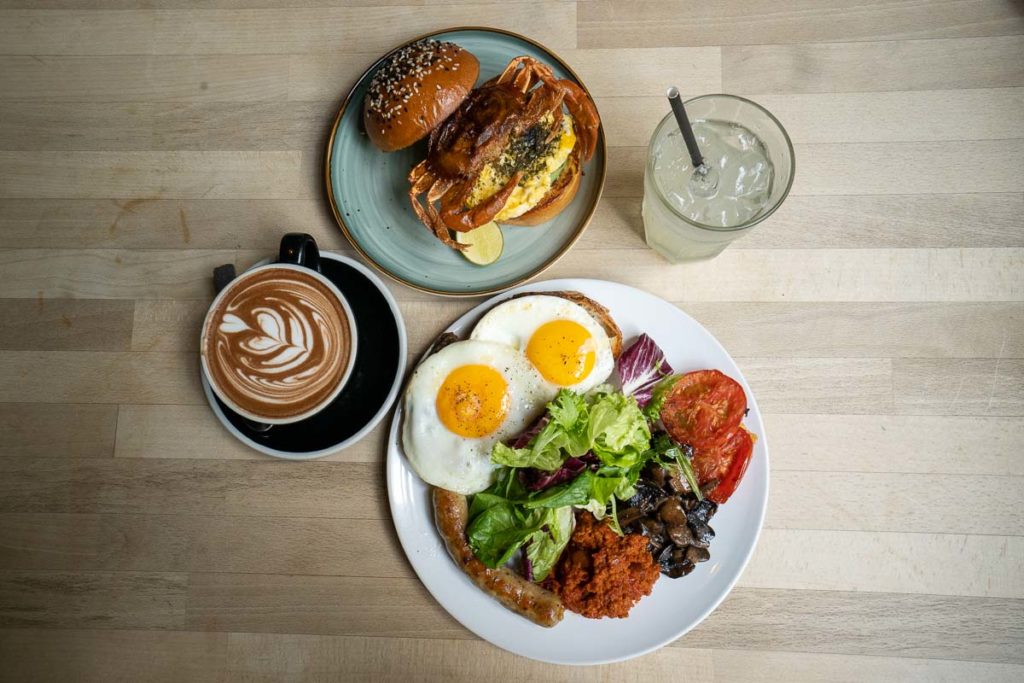 Soft Shell Crab Burger (RM26) and Scandinavian Breakfast Set (RM30)
We were recommended the soft shell crab burger (RM26) and it did not disappoint. The meat was succulent and our Scandinavian Breakfast Set (RM30) was equally as hearty. Definitely the kind of cafe in KL you'd like to return to!
Opening hours: 8:30AM – 11PM
Address: 2 Jalan Galloway, Bukit Bintang, 50150 Kuala Lumpur, Malaysia
10) Breakfast at Antipodean Cafe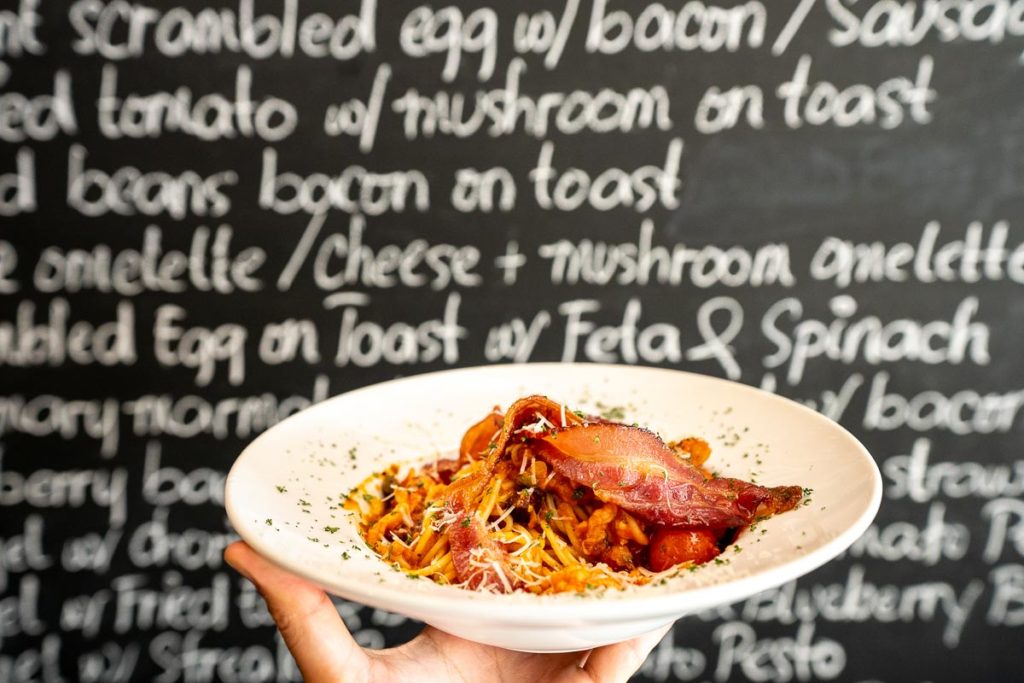 Big Al's Pasta Spaghetti with Tomato Sauce, Olives and Capers (RM24)
We heard great stuff about Antipodean Cafe's large selection of all-day breakfasts and decided to check it out. We were truly spoilt for choice with the breakfast platters, sandwiches, burgers, pastas and salads here, but it's a great go-to for families or those in big groups!
Opening hours: 7:30AM – 10PM
Address: 20 Jalan Telawi 2, Bangsar Baru, 59100 Kuala Lumpur, Malaysia
11) The Inside Scoop on Good Ice Cream in KL
The interior of Inside Scoop will make you want to take photos of your ice cream instead of licking it.
Inside Scoop was introduced by a local friend who claims it's one of the best ice cream shops in Kuala Lumpur! The flavours are rich and come in all sorts of flavours from classic Valrhona Chocolate (RM8) to Durian or Pistachio. Inside Scoop is ideal for that post-meal dessert or a mid-day snack in between cafe-hopping. Bonus points for the aesthetic interior as well!

Opening hours: 1PM – 11PM (Mon – Thu), 12:30PM – 12AM (Fri – Sat), 12:30PM – 11PM (Sun)
Address: No. 9, Jalan Telawi 3, Bangsar Baru, 59100 Kuala Lumpur
*Pro-tip: You can walk around Bangsar after this for more hipster cafes in the area as well.
Dining Experiences in KL Worth Travelling For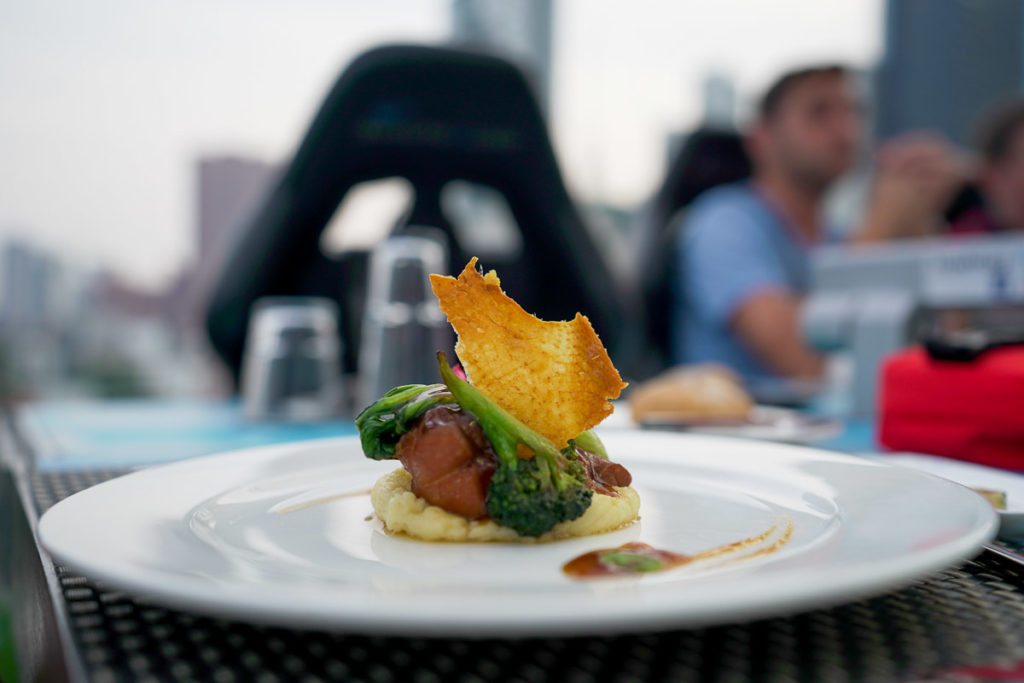 After stuffing our faces at Kuala Lumpur for a few days, I can confirm that one doesn't have to travel far to get a taste of food heaven. Putting aside the bonafide Malaysian street food and the chill cafes, the unique dining experiences we had in KL was enough to make me look forward to a trip there again.
I loved how convenient and efficient it was to book the dining activities, even just two days prior to our visit. Getting there was hassle-free — especially for the firefly-watching tour, which picked us up directly from our hostel.
Here are some of the experiences we booked:
– Fireflies Cruise Tour with Seafood Dinner
– Dining In The Sky
– Dining In The Dark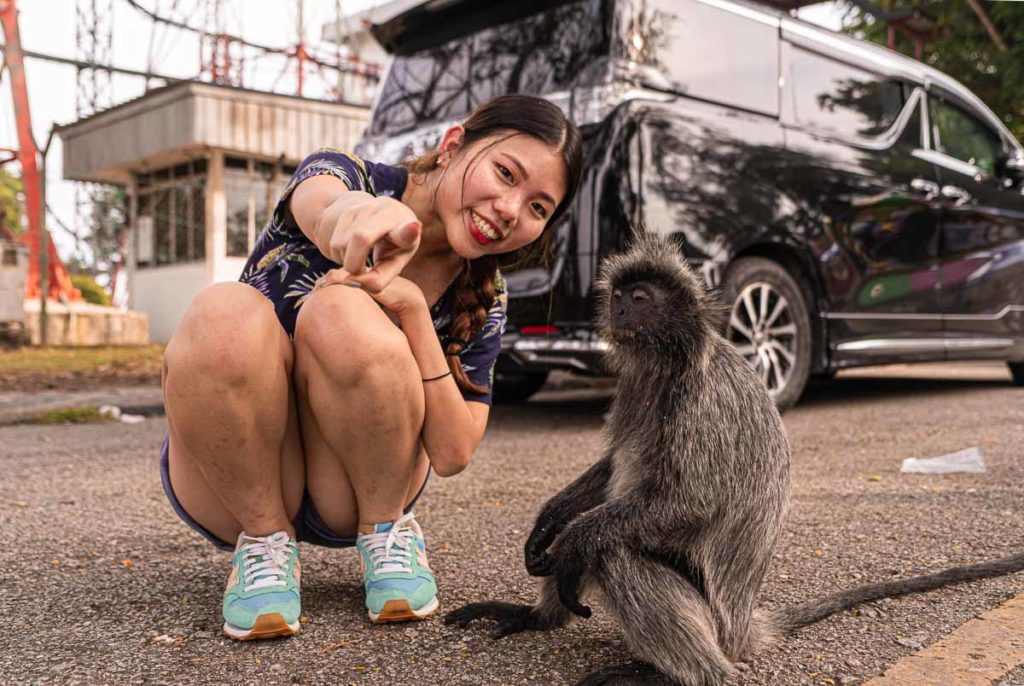 A gastronomical experience is even more enhanced and memorable when it's multi-sensory. Whether it's high above the ground, in darkness, or (my favourite) accompanied by twinkling fireflies and adorable monkeys, they're well worth the time. The next time you catch the travel bug, give Kuala Lumpur a shot!
We hope this Kuala Lumpur food guide came in useful. But if you're a Singaporean homebody or a tourist on a Southeast Asian expedition, check out our Ultimate Singapore Food Guide too!
Looking for more things to do? Here are 15 Unique Things To Do In Kuala Lumpur Besides Eating and Shopping!
Know other interesting food spots that should be in this Kuala Lumpur Food Guide? Let us know in the comments!
---
This post was brought to you by Klook.