"Every day is a fashion show and the world is your runway."
I'm not ashamed to admit that I brainstorm travel outfit ideas weeks before an upcoming trip. There's just something extra special about being in a foreign country. No one knows who you are, and that makes you feel braver. Perfect for trying outfit ideas outside your comfort zone — and getting a fire Instagram photo out of it 🙈.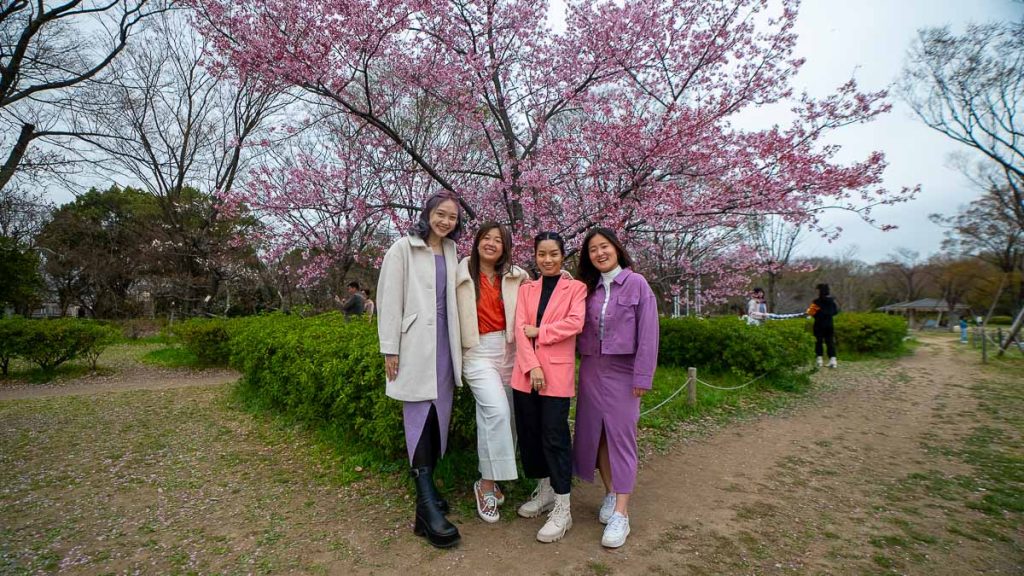 Speaking of outfit ideas, The Travel Intern recently headed to Japan for a fun, fashion-themed video shoot featuring our writer Kimberly and new friends — Denise, Chiara, and Chow (more on this later!).
It was cherry blossom season, so the weather was perfect for styling outfits from Love, Bonito's Spring Collection! Springtime allows for more creative freedom to dress up without worrying about freezing or perspiring. Although with cooler mornings and nights, there's the added challenge of staying warm without overpacking.
So before jetting off on your next cool-weather adventure, here are nine essential styling tips for packing your travel wardrobe:
1) Basics are essential to every travel wardrobe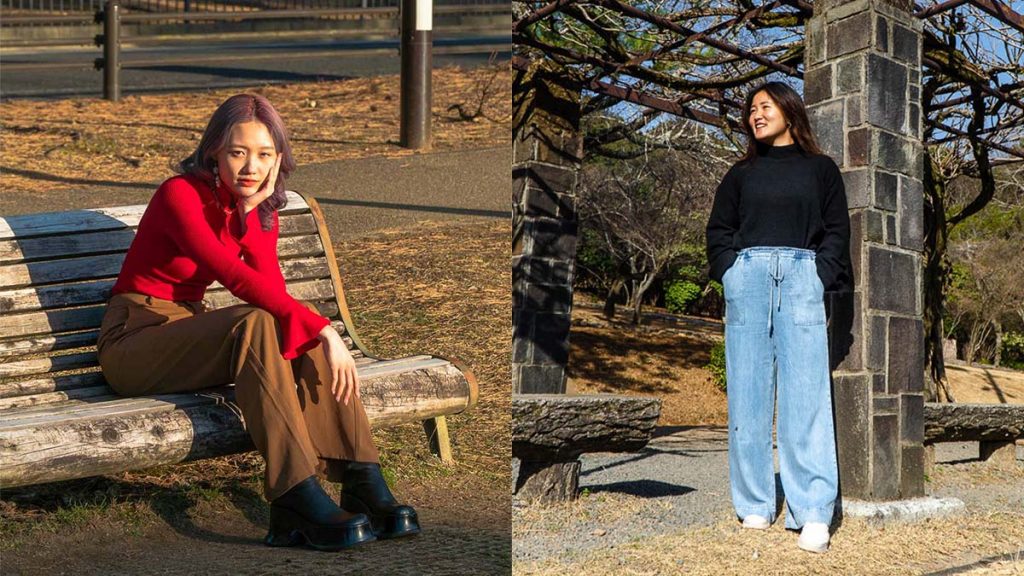 On @deniseteojiaqi (left): Gwyneth Trumpet Sleeve Turtleneck Knit Top in Red (S$55) and Pvara Regular Flare Pants in Toffee (S$65).
On @kimberly_lai (right): Callista Turtle Neck Wool Blend Sweater in Black (S$65) and Jacinth Elastic Chambray Drawstring Culottes in Medium Denim Washed (S$59).
While it might be a dream to wear a whole new outfit every day, your luggage space will disagree! Basics like a solid colour turtleneck, a pair of jeans, or your favourite bottoms that go with everything, offer many different outfit combinations to play around with.
They are also a convenient base for layering or you can wear them as standalone thanks to their timeless silhouette.
2) Invest in a statement jacket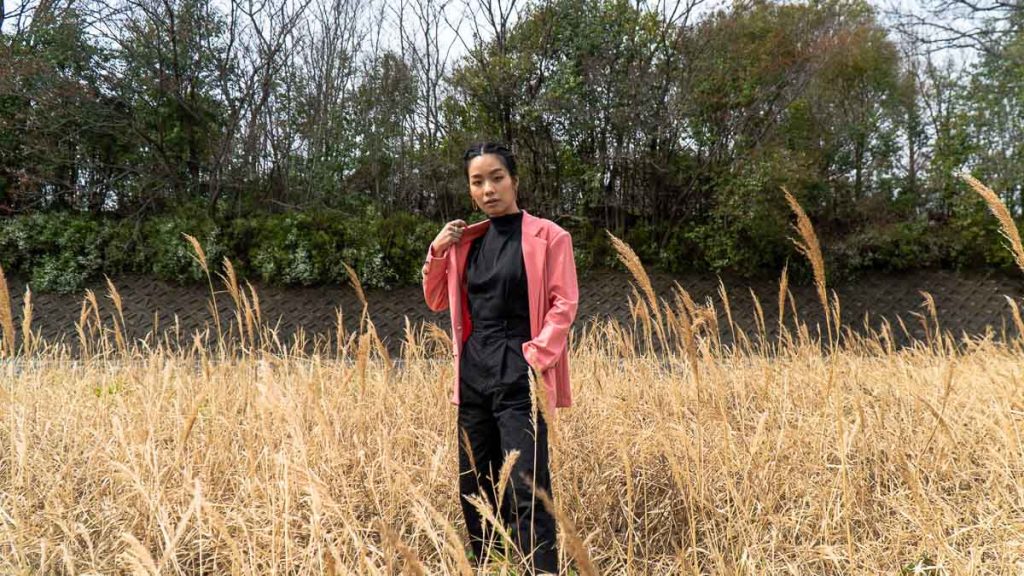 On @chowjiahui: Kalia Classic Tailored Blazer in Coral (S$75), Madelaine Satin Asymmetrical Drape Top in Black (S$39) and Kiko Cropped Barrel Pants in Black (S$46.90).
Investing in a chic jacket can help pull together an outfit while keeping you warm. An oversized blazer with padded shoulders is a trendy yet elegant closet staple that adds structure to any outfit — pair it with trainers to keep it casual.
If your closet is allergic to colour, take this chance to experiment with brighter hues in your outerwear. Pink, peachy and pastel colours are perfect to ring in spring 🌸!
3) Layering is key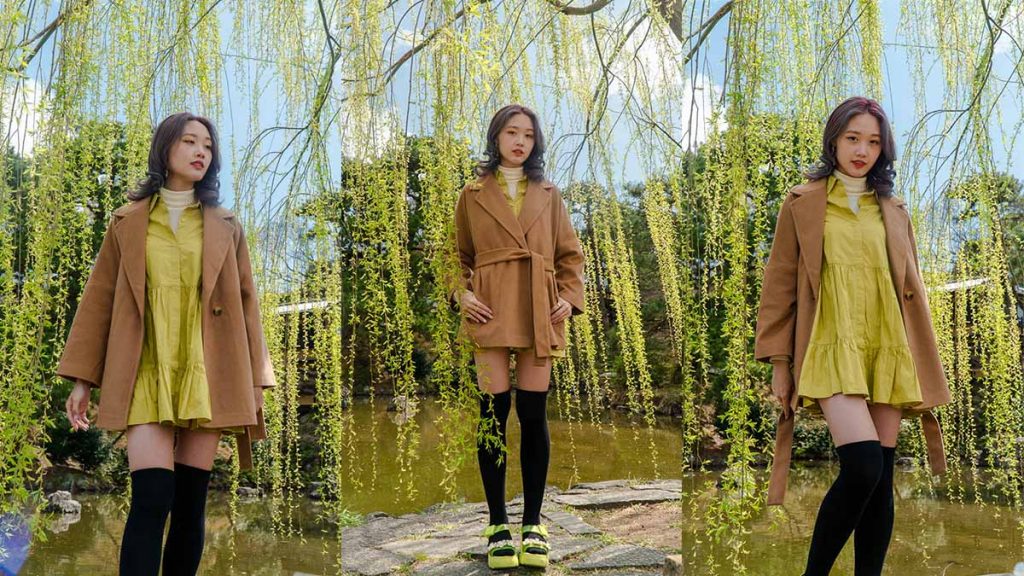 On @deniseteojiaqi: Gracyn Sash Tie Wrap Coat in Tan (S$119) and Debrah Swing Shirt Dress in Dusty Citron (S$55).
The best part of colder weather is the opportunity to layer up. And there are smart ways to bundle up without looking like a walking sleeping bag! Here are some tips that'll help with planning your outfits:
– Wear lightweight fabrics that aren't restrictive or figure-hugging
– Avoid mixing different prints together as it can look messy
– Choose brighter pastel colours for your second or third layer
– Stick to three to four layers so you don't look like you're drowning in fabric
– Create a mood board for more travel outfit ideas!
Read also: What To Wear In Winter — From Stylish To Sub-zero Temperatures
4) Don't shy away from White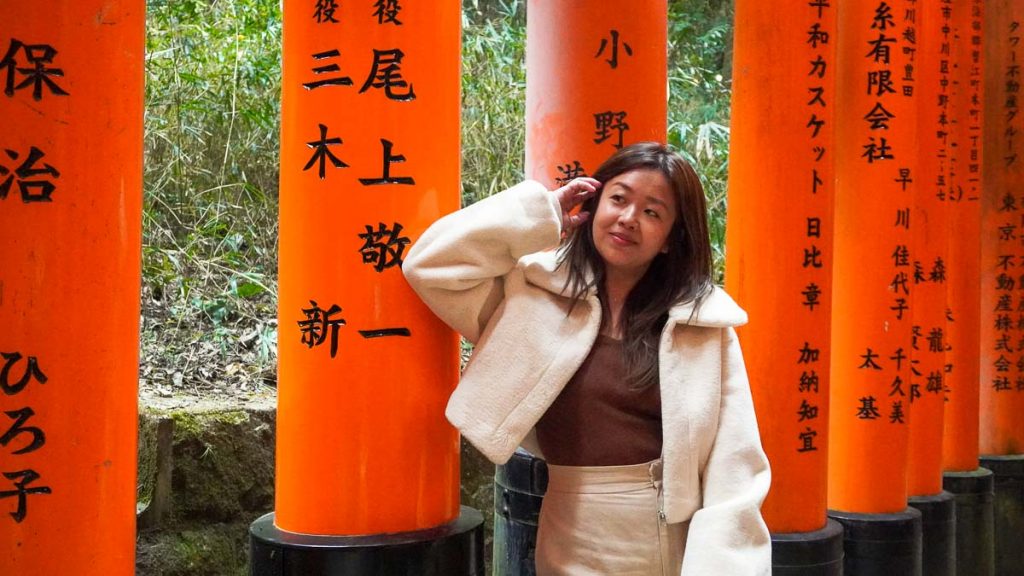 On @chiaraang: Luna Faux Fur Crop Jacket in Cream (S$89), Jaimee Sweetheart Knit Top in Brown (S$52) and Nyra Wide Leg Linen Culottes in Oat (S$59).
While many avoid wearing white for fear of staining their clothes, I will be an enabler. White outerwear or light-wash denim create a seamless, clean look that's perfect for every destination — be it a city or seaside town. Plus, it'll keep you cool under the scorching mid-day sun.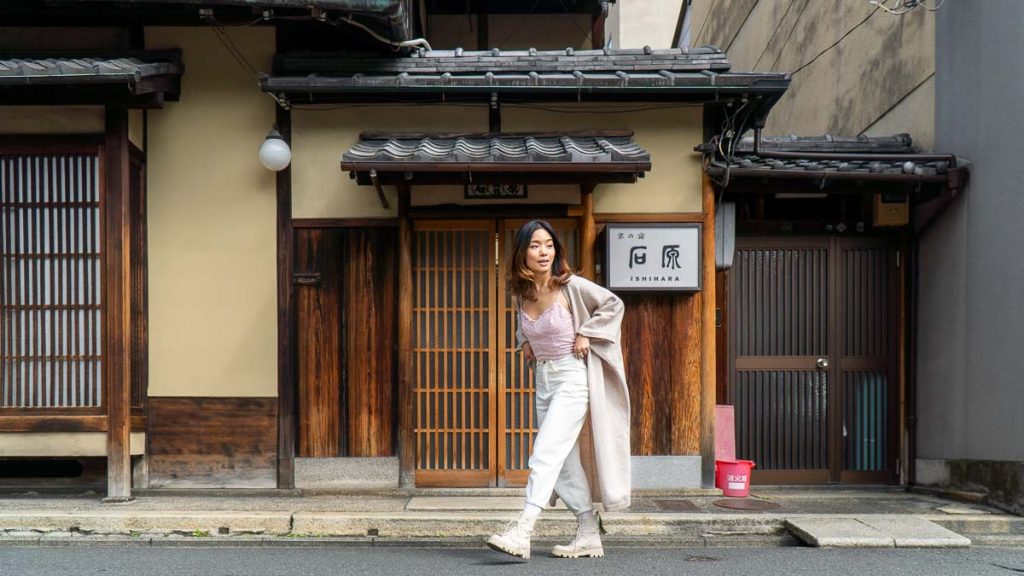 On @chowjiahui: Bayleigh Long Cardigan in Grey (S$55), Daniela Broderie Tie Back Top in Baby Pink (S$45) and Estela Balloon Jeans in White (S$55).
White pants or jeans made with breathable denim are another versatile option. The neutral colour will help you stand out effortlessly in photos too!
5) Have fun with monochromatic co-ord sets!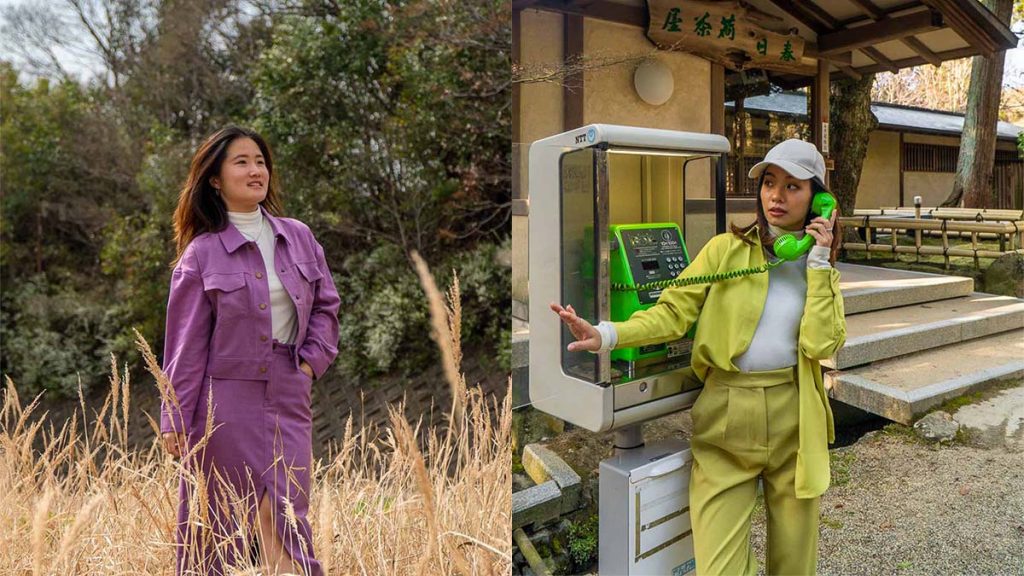 On @kimberly_lai (left): Arinola Brushed Twill Jacket in Amethyst (S$74), Tyanna Ribbed Turtle Neck Knit Top in White (S$45) and Arinola Brushed Twill Column Skirt in Amethyst (S$55).
On @chowjiahui (right): Mitzi Relaxed Fit Shirt in Lime (S$49) and Haidyn Tailored Peg Leg Pants in Dusty Citron (S$59).
Monochrome and co-ord sets are two trends that are back with a vengeance. Combine them to make a statement in your holiday pictures! These sets are also great for between-season dressing as you can separately match the top and bottom with other pieces for a pop of colour — leaving more luggage room for shopping 💅
6) Patterns are your best friend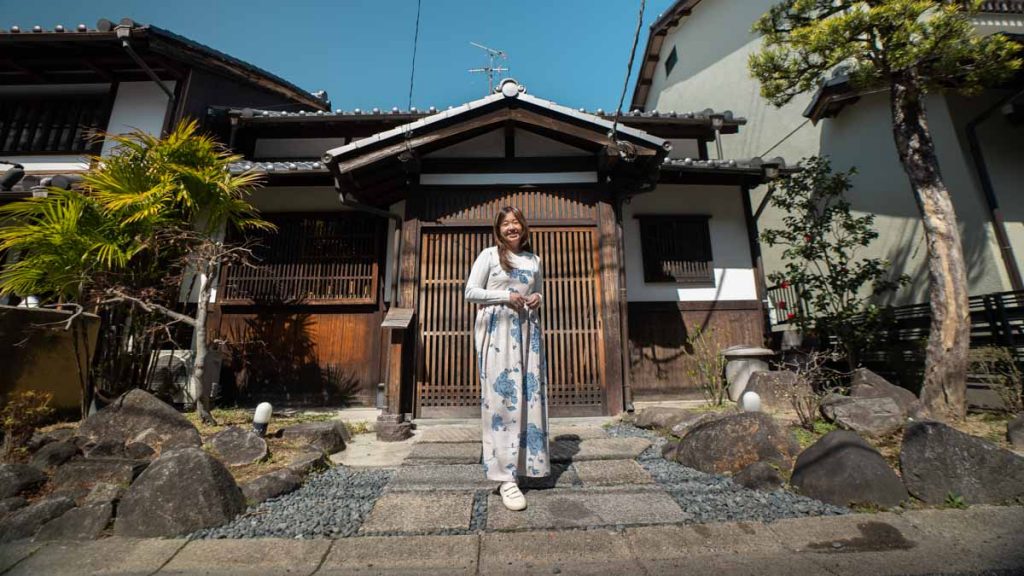 On @chiaraang: Sonya Pointelle Knit Top in White (S$49) and Tanya Ruched Babydoll Dress in Prosperous Blooms in Oat (S$75).
Prints are a fun way to get into the vacation spirit, but they can also overwhelm an outfit if styled wrongly. Pastel and neutral florals are timeless classics for spring, making you look casual and preppy for a day of sightseeing.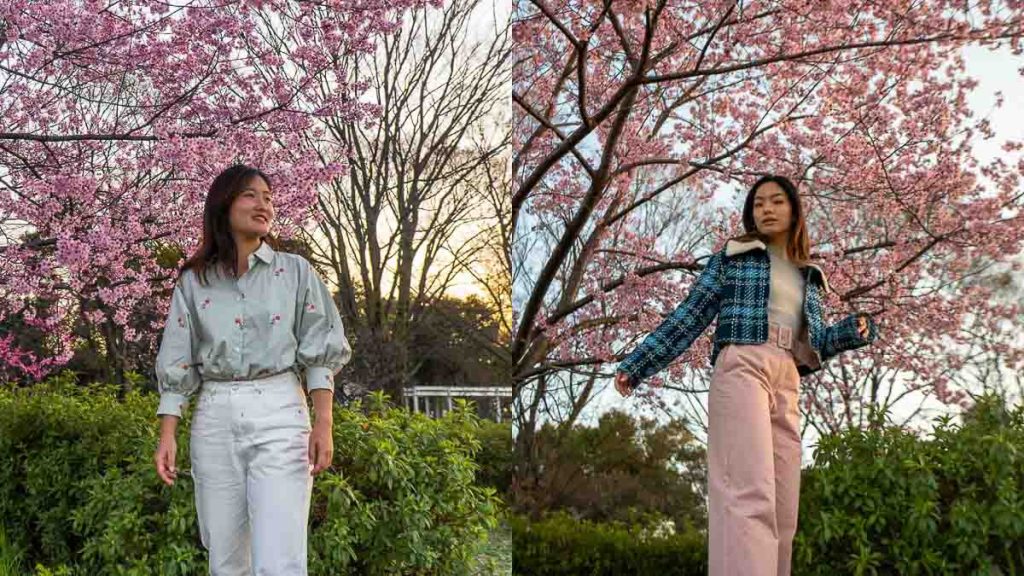 On @kimberly_lai (left): Kacee Embroidered Puff Sleeve Shirt in Willow (S$55) and Brilynn Denim Mom Jeans in Off-White (S$59).
On @chowjiahui (right): Michelle Oversized Tartan Crop Jacket in Navy Blue (S$105), Annie Scallop Edge Mock Neck Top in Light Grey (S$49) and Glydel Belted Culottes in Dusty Pink (S$59).
While plaid is often associated with winter, alternate colourways besides traditional red can make your outfit cool yet understated! Balance out your 'fit with a pair of white jeans or layer it with a light sweater to stay warm.
7) Textures add dimension to your outfit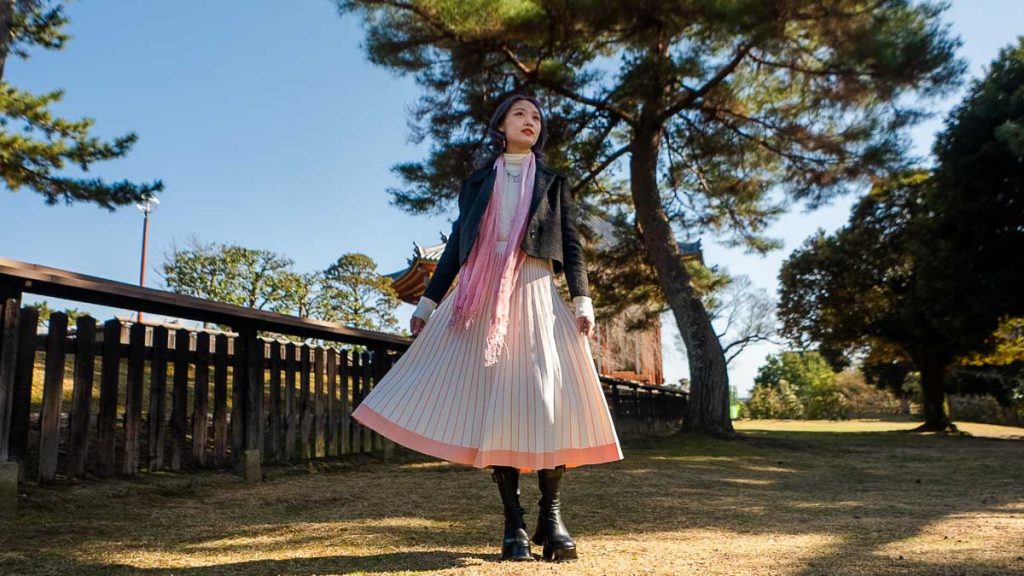 On @deniseteojiaqi: Jacinta Tweed Button Front Jacket in Black (S$79), Chezka Knit Sweater in White (S$55) and Antonia Pleated Knit Skirt in White (S$65).
Take advantage of the colder climate to wear fabrics too warm for Singapore. And incorporating materials like tweed, leather or velvet really add depth to your outfit. While pleats tend to be a summer essential, they are sophisticated yet comfortable enough for a day of walking around. Just pop on a pair of leggings to stay warm!
8) Pack day-to-night dresses
On @deniseteojiaqi: Zoey Heavyweight Cocoon Coat in Oat (S$115) and Ailynn Knit Bodycon Midaxi Dress in Dusty Purple (S$75).
Day-to-night dresses are versatile, comfortable and a cosy one-and-done for all occasions. There's no harm in packing at least one that's appropriate for cocktail bars or a fancier dinner spot.
Maxi dresses that you might usually wear in the Singapore heat are also perfect for destinations with unpredictable weather. Style it with a lightweight coat for chilly mornings and evenings.
9) Orange is the colour of SS23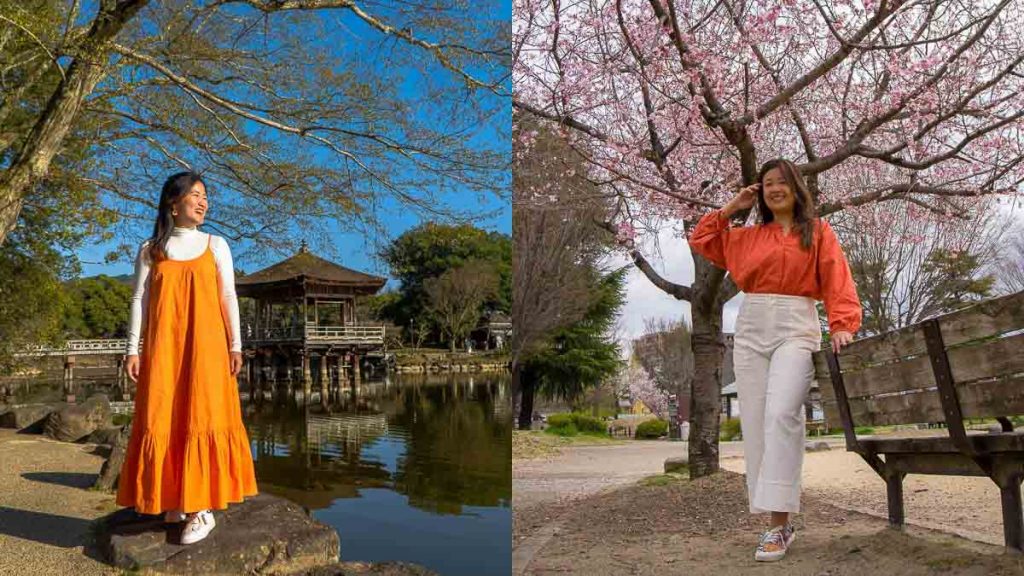 On @kimberly_lai (left): Tyanna Ribbed Turtle Neck Knit Top in White (S$45) and ​​Philippa Cotton Ruffle Maxi Dress in Orange (S$59).
On @chiaraang (right): Lira Textured Tie Cuff Poet Blouse in Terracotta (S$45) and Peanne Wide Leg Culottes in White (S$49).
Orange, specifically tangerine, is the colour of spring 2023! Its bright and cheerful hue complements the season and can be worn as a statement piece or used as an accent to add an extra shot of personality to any outfit.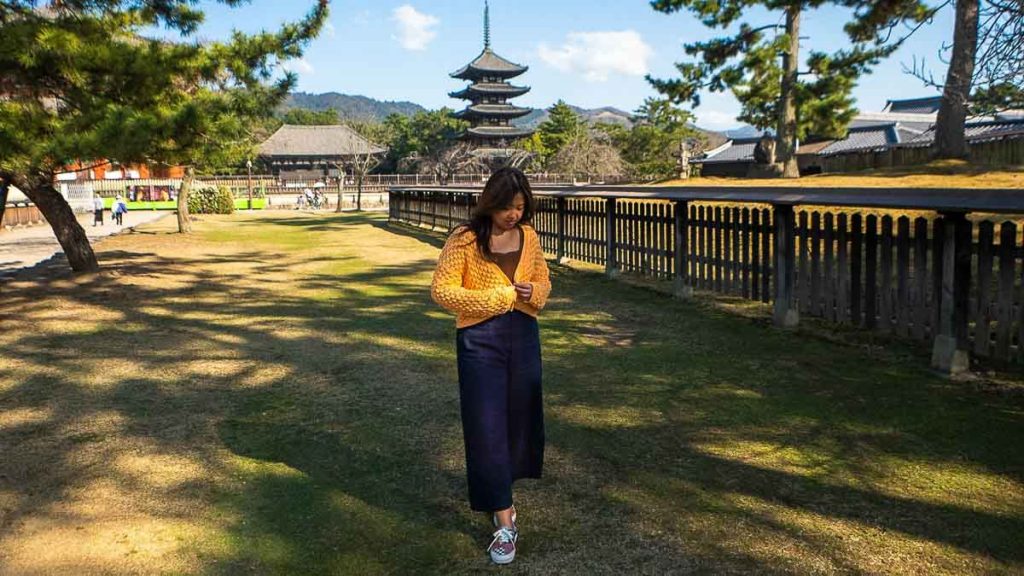 On @chiaraang: Odessa Openwork Knit Cardigan in Butternut (S$55), Jaimee Sweetheart Knit Top in Brown (S$52) and Nyra Wide Leg Linen Culottes in Navy Blue (S$59).
It also radiates positive vibes and captures the spirit of spring. Whether you opt for a bold orange dress or a more subtle accessory, it'll definitely add a fresh element to your travel outfit.
Travel in style with outfits from Love, Bonito
If you love the looks featured above, Love, Bonito is running a special promo* from 13 April to 20 May, so it's a great time to expand your travel wardrobe!
– If you're a new LB customer, get $20 off min $100 spent with the code HELLOIKIMASHOW20
– Existing LB customers get $10 off min $100 spent with the code HELLOIKIMASHOW10
For more outfit ideas, don't miss our 2-part video series Hello, Ikimashow! with Love, Bonito and Klook. Follow our four stylish hosts to explore Kyoto and Nara…with some unexpected twists and turns along the way. Watch till the end of each episode for more exciting promos and giveaways too! 😉
*Promo code is valid online at Love, Bonito's website. Promo code is not applicable to all Gift Cards, sales items, and cannot be used with other promo codes.
Watch Episode 1 now:
Subscribe to The Travel Intern on YouTube for Episode 2!
Win a trip to Japan worth $1,000!
Love the experiences and attractions in Hello, Ikimashow! and can't wait to take on Japan for a quick getaway? This could just be your day as five lucky individuals stand to win a trip to Japan worth $1,000 each, sponsored by Klook!
To gain an entry to this Japan Mega Giveaway, all you need to do is spend a minimum of S$120 on Love, Bonito in a single receipt either online or across all Love, Bonito Singapore retail stores* between 13 and 30 April. Multiple entries are allowed — gain more chances when you spend more during the qualifying period.
*For in-store purchases, fill in an entry form and drop it into the box located acoss all Love, Bonito Singapore stores.
Winners will be announced via @lovebonitosg's Instagram story on 3 May. Find out more.
What are some of your favourite spring outfit ideas? Let us know in the comments section below!
---
This post is brought to you by Love, Bonito.
Like what you see? Follow us on Facebook, Instagram, and YouTube for more travel updates!