From luxury living on Lazarus Island to sleeping with manatees, here are seven fun Singapore staycations that'll help you regain that pep in your step.
Staycations are a great way to treat ourselves to a self-mandated mental health break! But sometimes, even staycays can get a little too routine.
Well, what if I told you that our island home still has some fun surprises in store?
Whether you're a parent looking for a fun experience for your kid (fur kids included), a wildlife lover, or an adventure seeker, this list of Singapore staycations will have something for you!
1) Tiny homes on Lazarus Island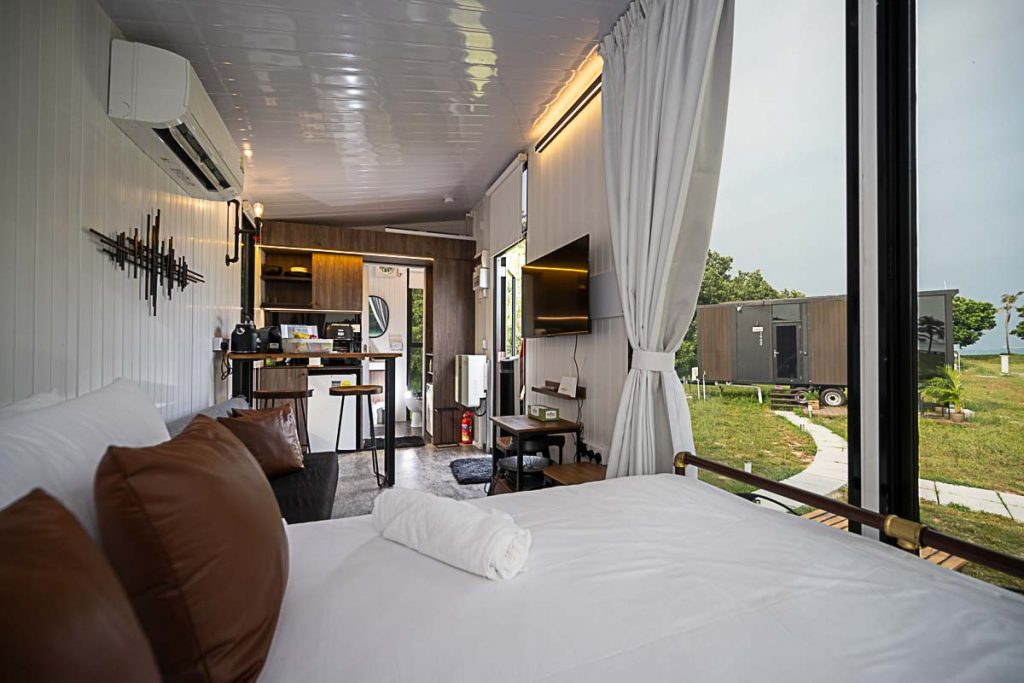 Starting with the newest kid on the block, Escape @ Lazarus is a tiny home experience you can book for the night! These compact getaway pods have built-in air-conditioning, a queen bed, television, kitchen, and a workspace.
Staying overnight at Lazarus Island wasn't permitted prior to this — so this is a new novel exeprience to check out!
The tiny homes are operational from 1 May 2023 but pre-booking is already open to public.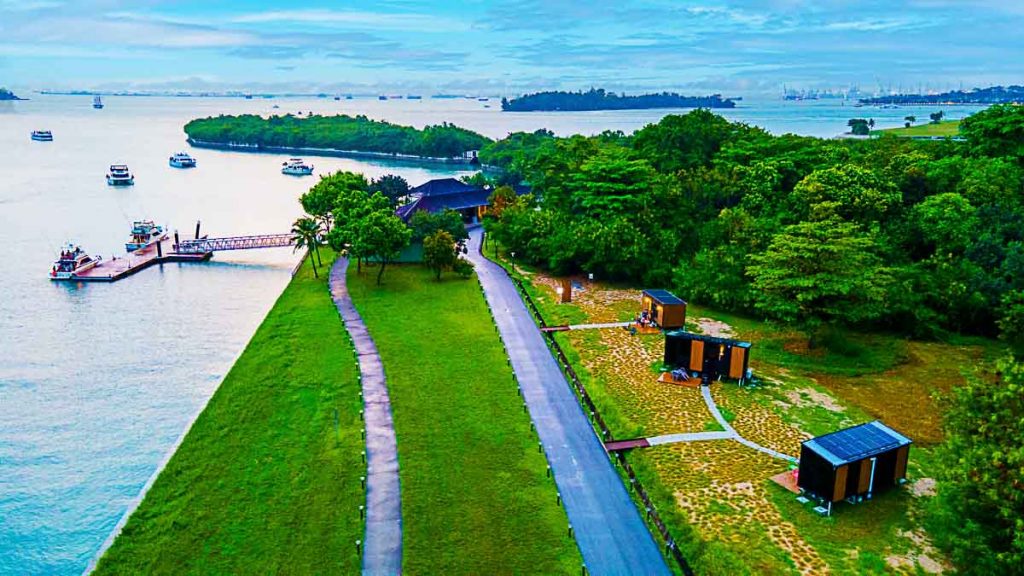 The best part for pet owners — two of the five pods are pet-friendly😄 Hanging out with a four-legged bestie while in the woods away from the city noise sounds quite like heaven.
*Pro-tip: Register your interest for higher chances of securing a slot!
Cost: Promotional rates start from S$199/night
2) Glamp at the Singapore Zoo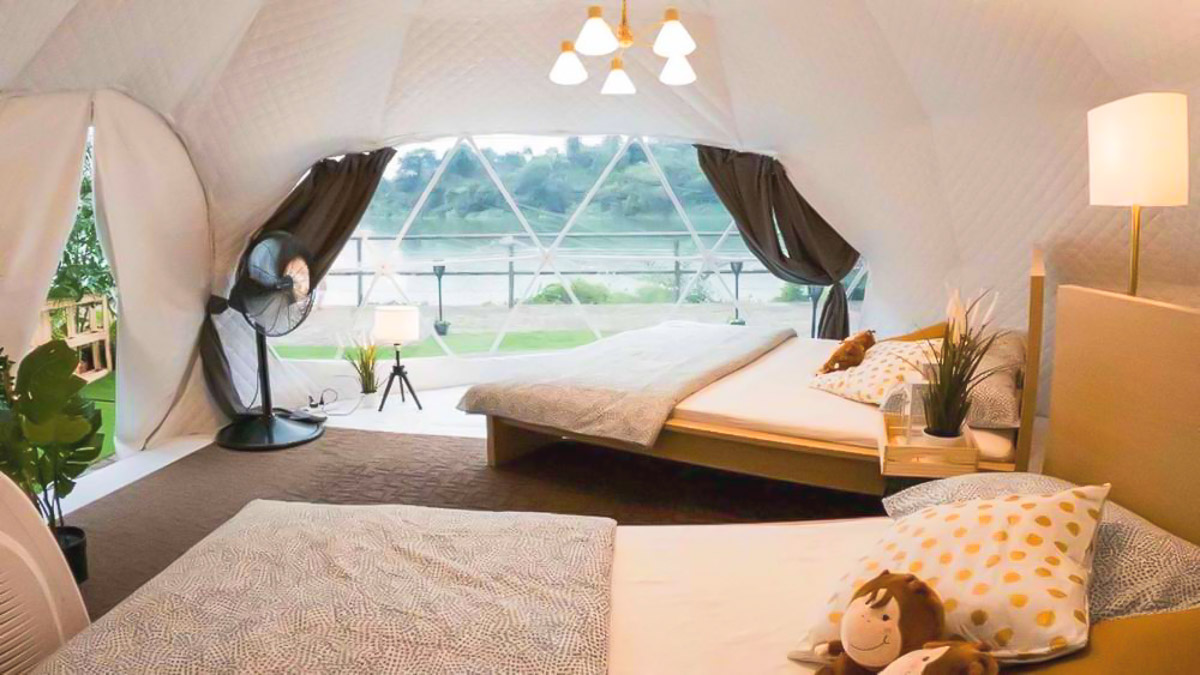 Photo credit: Mandai Wildlife Group
Singapore Zoo's popular 2D1N Glamping in the wild is back! If you missed out on this before, now's your chance to grab slots before they are snapped up again.
Spend a night in this luxurious air-conditioned dome tent which opens to a gorgeous view of the Seletar Reservoir. During the day, a facilitator will take you around the park to meet with the Giraffes, Zebras, White Rhinoceros of Wild Africa.
Embark on an educational journey to the Wildlife Healthcare and Research Centre where you'll see veterinary professionals at work! With a backstage pass, you'll also go where no visitor has before — the Wildife Nutrition Center — to understand more about the dietary requirements of the 15,000 magnificent animals that call the zoo their home.
*Pro-tip: Call first dibs on April's availabilities as March slots are sold out!
Cost: From S$400/pax for 2D1N
Address: Singapore Zoo, 80 Mandai Lake Rd, 729826
3) Glamp with Manatees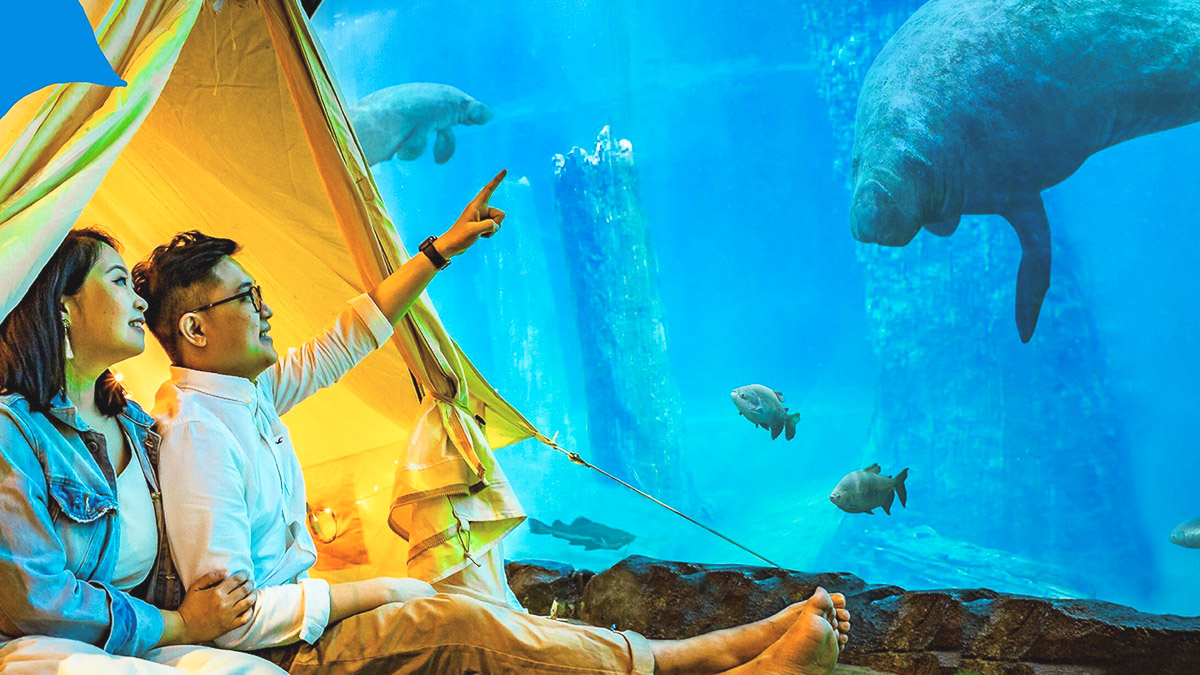 Photo credit: Mandai Wildlife Group
Marine lovers young and old will love this one! Cosy up with manatees and get lulled to sleep by the sound of water during this glamping experience at River Wonders.
Spend 2D1N in the park learning about the marine life there and even get up close and personal with some special animal friends. All program participants will get priority seating at the Once Upon a River presentation so you'll get unblocked views of the capybaras!
To make it even more interesting, you'll go behind the scenes with a trained facilitator to see the magic that happens on the other side of the tanks!
*Pro-tip: Book soon for upcoming dates in April 2023 as they often sell out fast!
Cost: From S$325/pax for 2D1N
Address: River Wonders, 80 Mandai Lake Rd, Singapore 729826
4) Camp at Pulau Ubin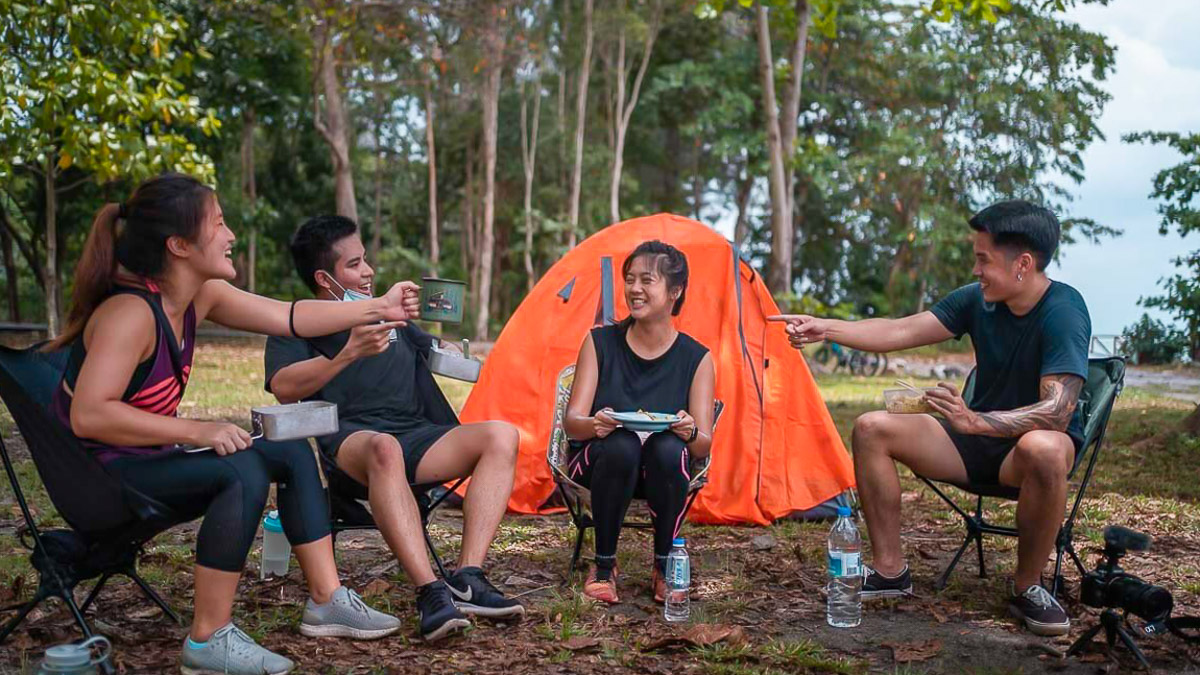 With very little cost involved, you can do so much here at Pulau Ubin — from a 10km cycling trail in Ketam Mountain Bike Park, to kayaking and exploring Chek Jawa. You might even need to spend two nights to partake in all the activities this island has to offer.
If you prefer convenience, set up basecamp at Jelutong campsite — it's nearest to the main village. But if you prefer seclusiveness, Mamam and Endut Senin campsites are worth checkout out! Be aware though, campers have experienced losing 4G signal in the more secluded areas.
Just pack a tent (there are many affordable options at Decathlon), some food, water and grab your best friends — you'll be in for a great time! 😃
*Pro-tip: Applicaitons for permits at Pulau Ubin may have restrictions from time to time. Check NParks website for updates!
Read more: 2D1N Pulau Ubin Itinerary — A First Timer's Guide to Camping in Singapore
5) Staycay With Your Feline Friend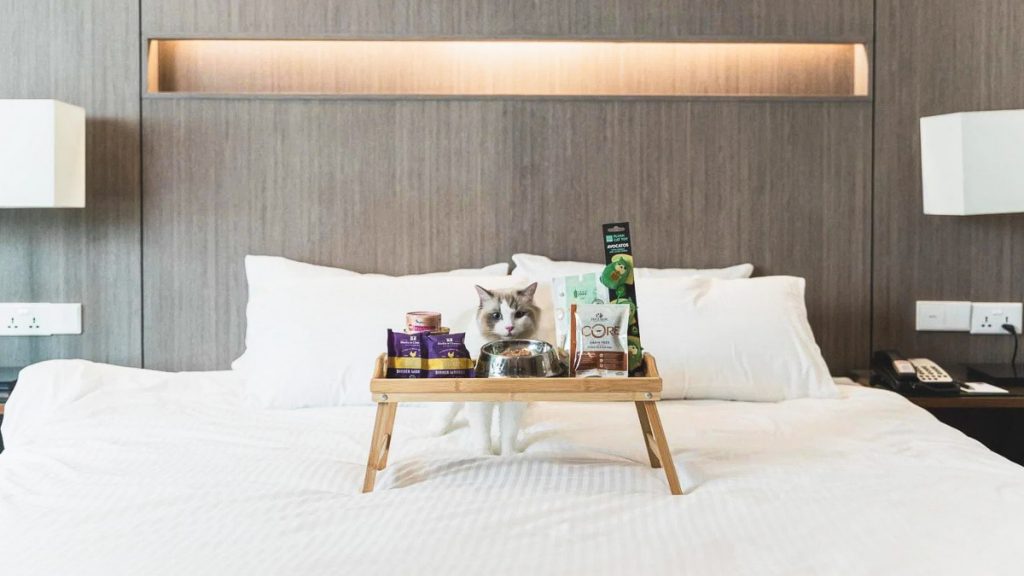 Photo credit: The Straits Times
Time away from home usually means time away from your pets. But Amara Sanctuary is one of the few hotels in Singapore that accommodate staycations with your furry friend!
The Pampered Meows Rooms at the Amara Sanctuary can accommodate two adults and two cats — the second cat is charged an additional S$80. Unless your cat is fussy about where they go potty, you don't have to overpack — rooms come with a litter-box. Kitty guests are also gifted with a welcome box packed with food and other goodies!
Cost: From S$123/pax
Address: 1 Larkhill Road, Sentosa Island, Singapore 099394
6) Experience Vanlife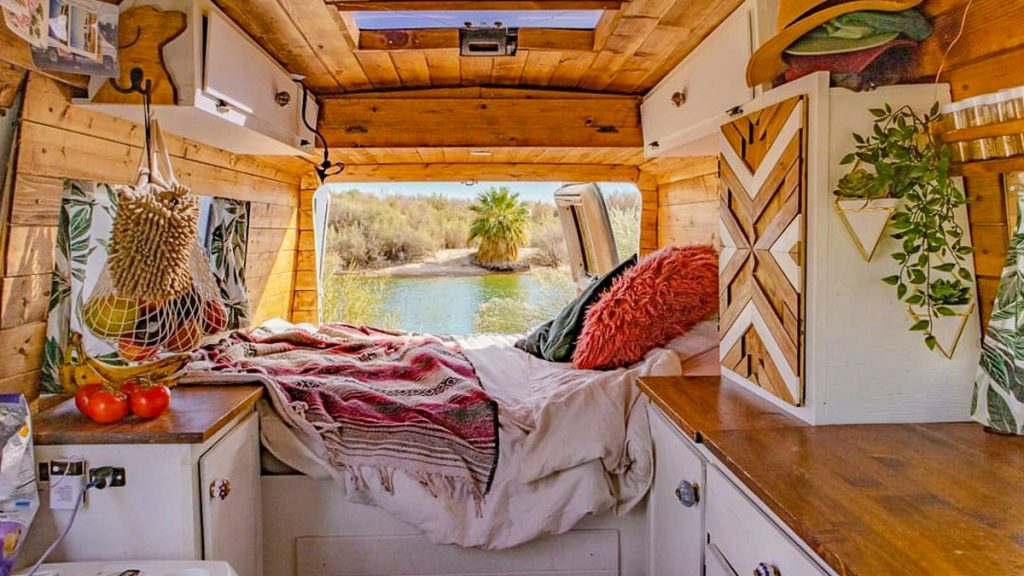 Photo credit: @doratheexplorervan via Instagram
Vanlife is an alternative lifestyle that allows nomads to travel long-term as they make stops in different states and countries along the way. The back of the van is often converted into a functional living space — think of it as a mobile BTO 😉
In fact, some Singaporeans have left their lives here behind and are now travelling across the US continents!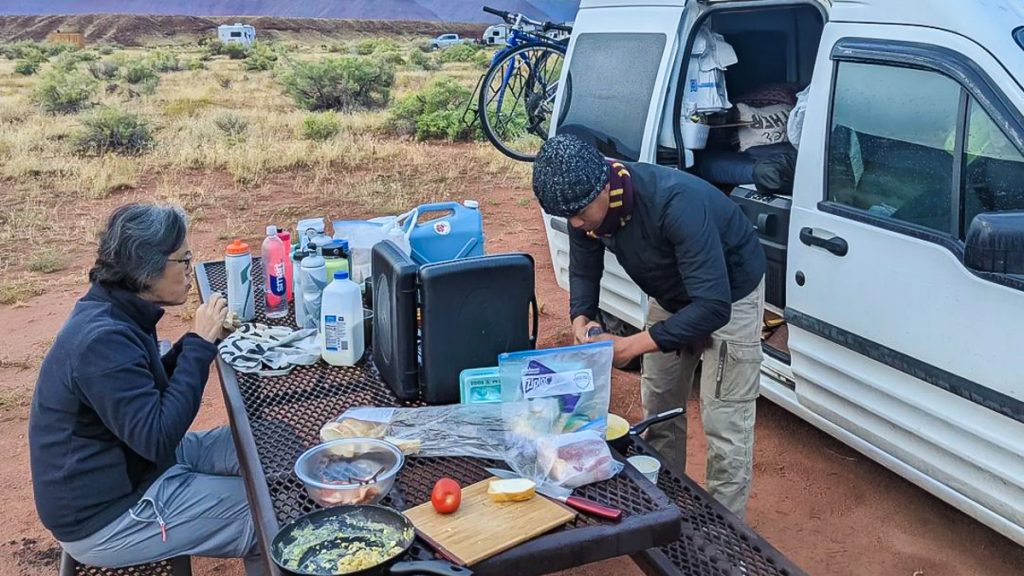 Photo credit: @theproperpaupers via Instagram
If you're not ready to quit your job just yet, why not embark on a mini cross-country roadtrip right on our Little Red Dot? Rent a van, fill it up with cosy blankets and camping gear, and plan your mini adventure!
For starters, possible overnight parking spots include Changi Beach Park and East Coast Park. Bring a couple of foldable chairs so you can sit outside of the vehicle and enjoy the sea breeze! Cook with a portable stove for the full van life experience or keep it simple and just dabao some food for dinner!
*Pro-tip: You can plan your route around Singapore to hit gastronomic spots and attractions before you set up camp for the night.
Cost: ~S$50/day incl. food, petrol, and parking
Read also: The Great Singapore Road Trip — 5 Fun Routes to Check off Your Bucket List
7) For the kids: Camp Goby with The Untamed Paths
Photo credit: The Untamed Paths
Kids need time to rest and recharge too, so why not send them on their very first staycay at Camp Goby (buying you time to go and have your own)!
Camp Goby is an overnight experience in nature for kids conducted by experienced naturalists from The Untamed Paths, Singapore. Here, they'll go on a guided explorative journey to learn more about the rich ecology of Chencharu Stream. There'll also be fun activities like campfire BBQs and microscope work.
Tents and food are provided so all you have to do is to remember to pick them up!
Cost: S$130/pax (ages 6 and up)
Address: Chencharu Stream, 91 Lor Chencharu, Singapore 769194
Read also: 20 New Deals And Attractions in Singapore this March 2023
Which out of all these Singapore staycations interest you the most? Tell us in the comments below!
---