A spirited away bathhouse, an island with over 100 cats and oranges worth a million yen?!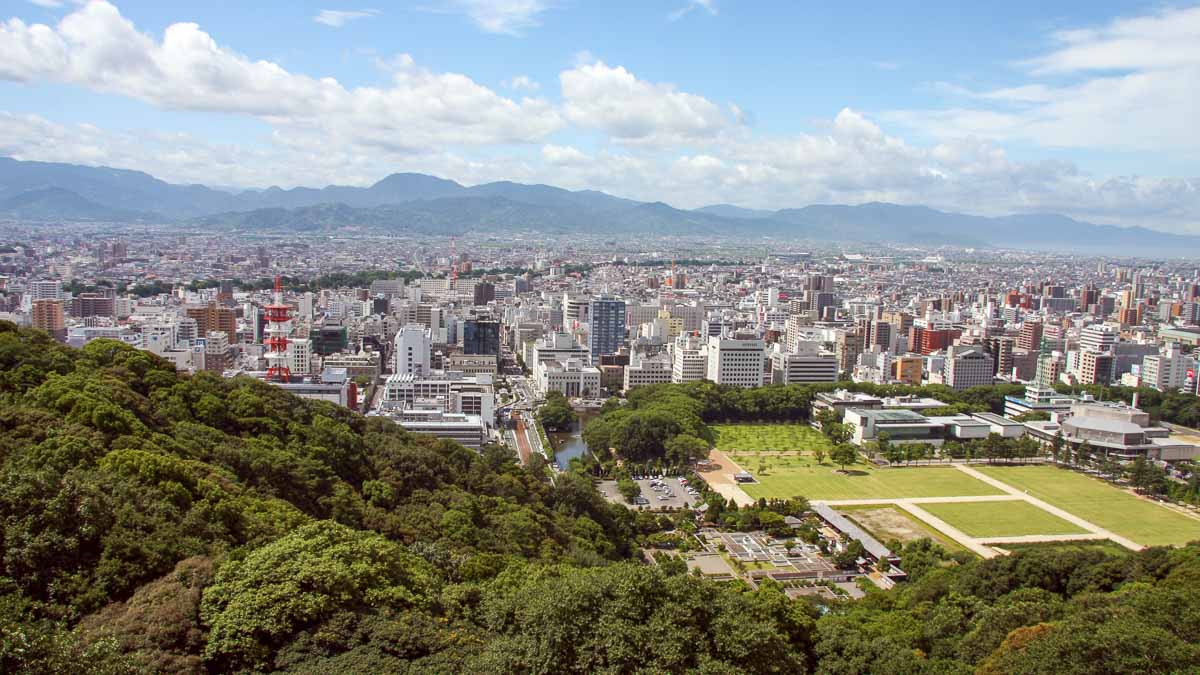 Photo credit: Visit Ehime Japan
Tokyo's Shibuya crossing and Osaka's iconic Dōtonbori Glico signboard are some of the iconic things I miss dearly about Japan. However, when travelling is allowed again, I'm thinking of exploring more than just its iconic sights and attractions. I'm thinking of Ehime Prefecture.
The Ehime Prefecture is a four-hour Shinkansen ride southwest of Osaka. Located in northwestern Shikoku, it's a lesser-known district with lots to offer. It's also rich in history, and has preserved many of Japan's original castles and ancient towns. It's also home to the unassuming Mikan oranges — known to be sweet, jelly-like and one of best mandarins in Japan.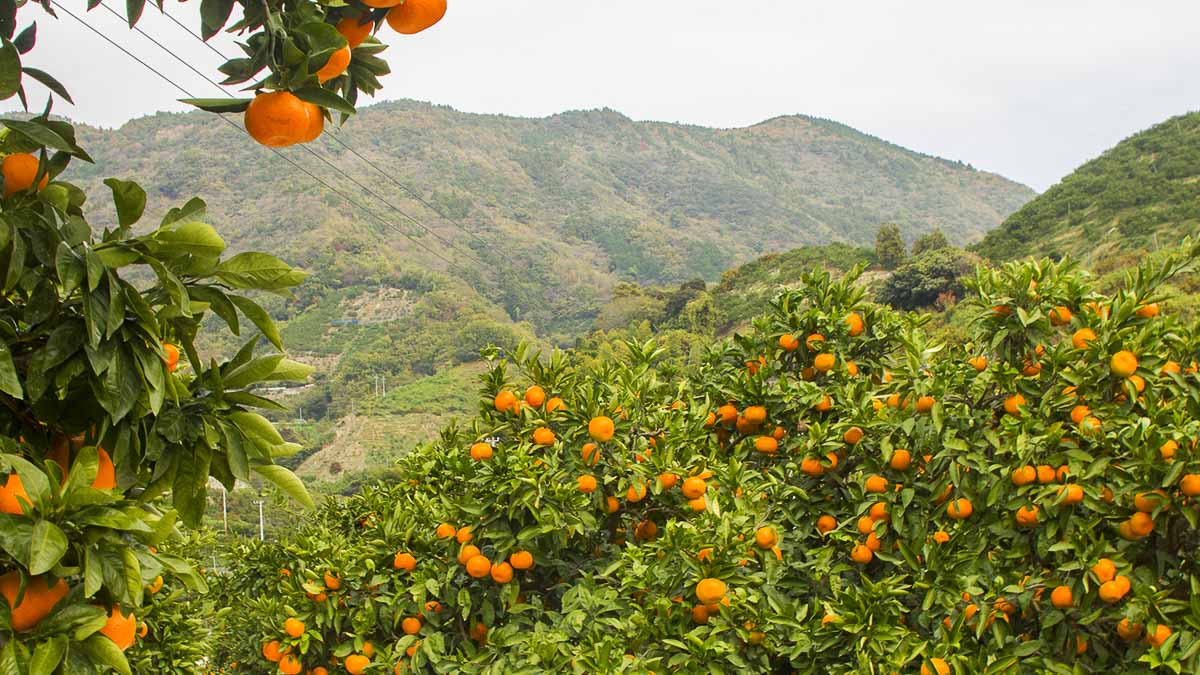 There are many reasons why you should visit Ehime, but here are the nine of the best reasons why you have to visit this underrated gem!
1) Ehime farms oranges worth a million Yen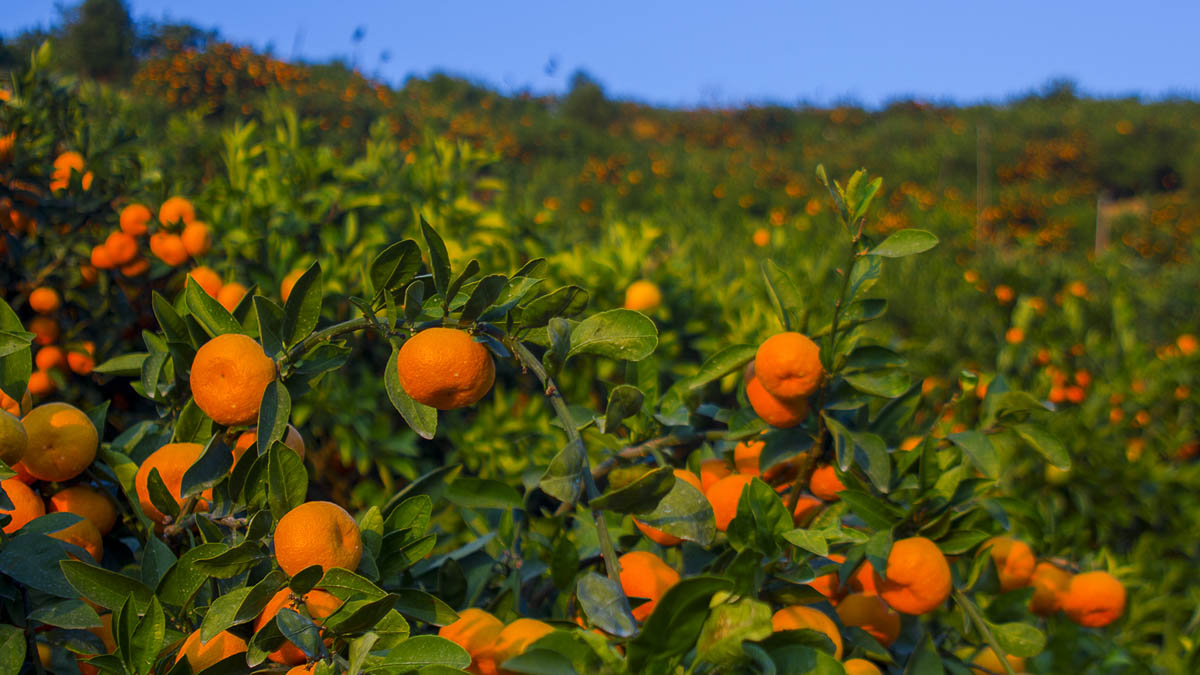 This might sound absurd but in November 2020, a crate of 100 Mikan (also known as Satsuma orange) was auctioned at a million yen (~S$12821.12). Why was it worth so much? Well, the proof is in the pudding orange.
This iconic winter fruit originated in China. But it's been Ehime's pride and joy since its introduction 400 years ago — and they grow the best too!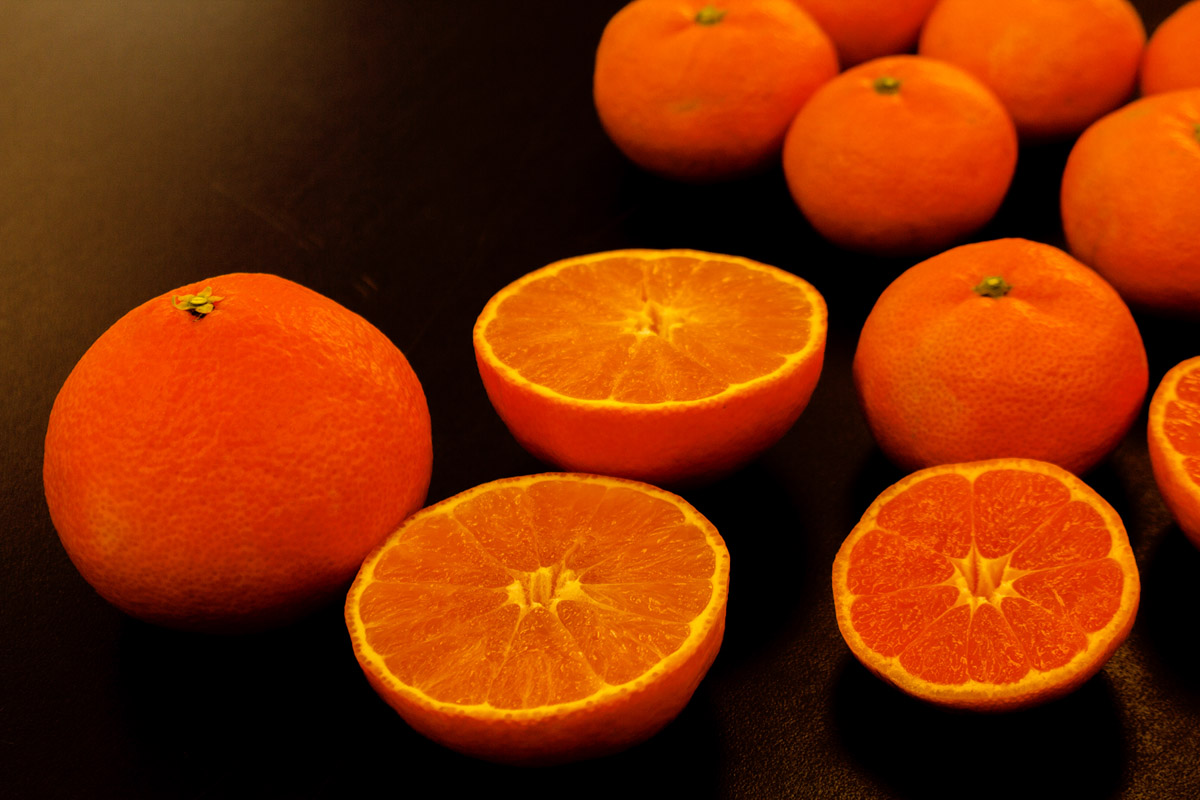 There are 40 varieties of Mikan, but the two most famous types are Beni-Madonna and Kanpei — both unique to Ehime. They're known to be easy to peel and have a yummy jelly-like texture. And, they have the perfect balance of sweetness and acidity — that's a perfect orange in my books!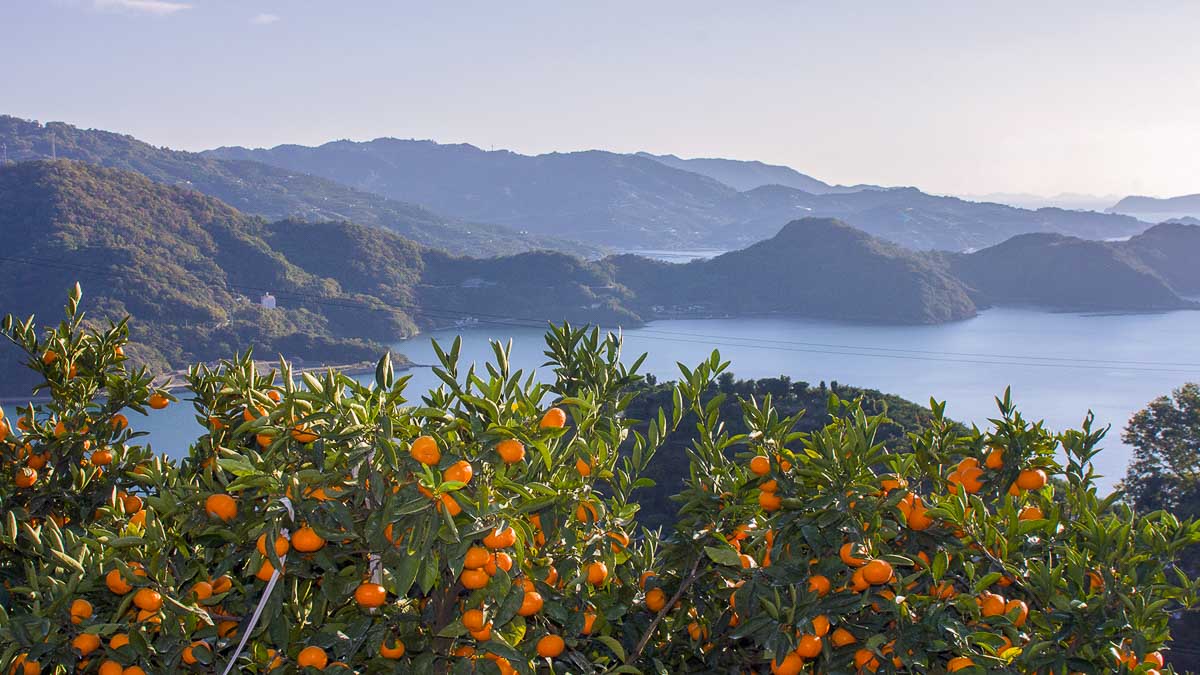 These Mikan owe its delicious taste to being farmed under three types of sunlight. As they're grown on a mountain by the ocean, it not only gets direct sunlight but also its reflections — light from the sea and radiant heat from the surrounding rocks.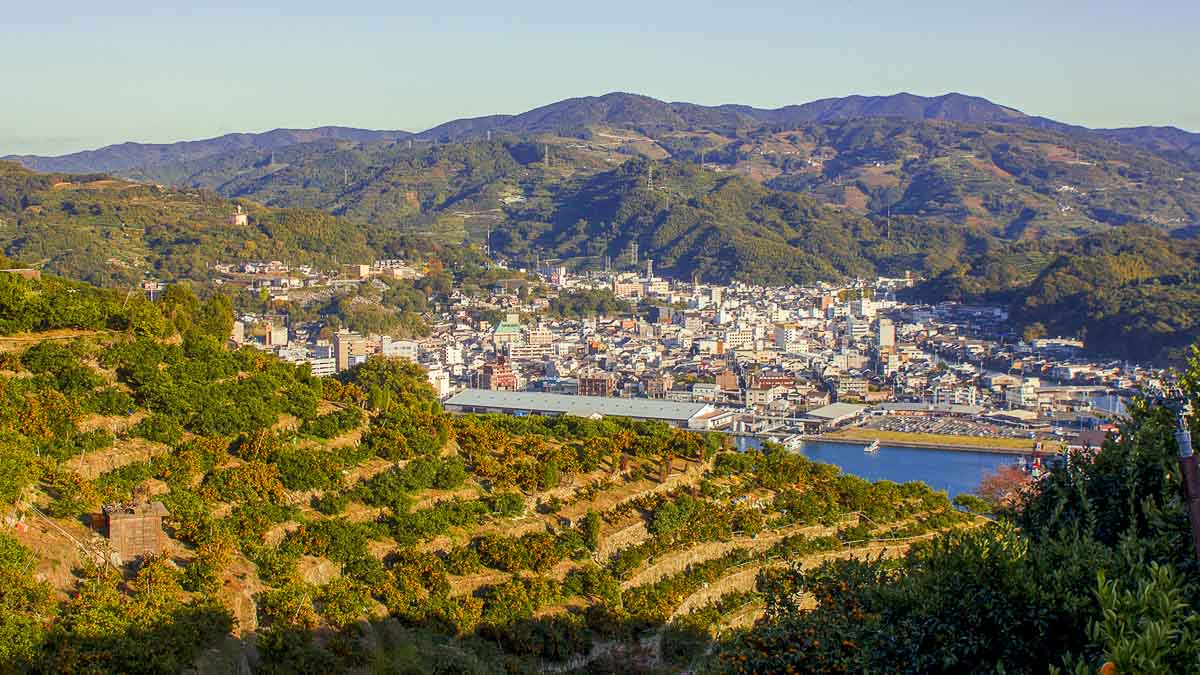 The mountain of Mikan trees at Hamada Farm, Yawatahama City, Ehime Prefecture
Visit the lush orchards between October to December (picking season) and pick some Mikan for yourself! Don't forget to snap some Insta-worthy pics with the vibrant orange trees too 🍊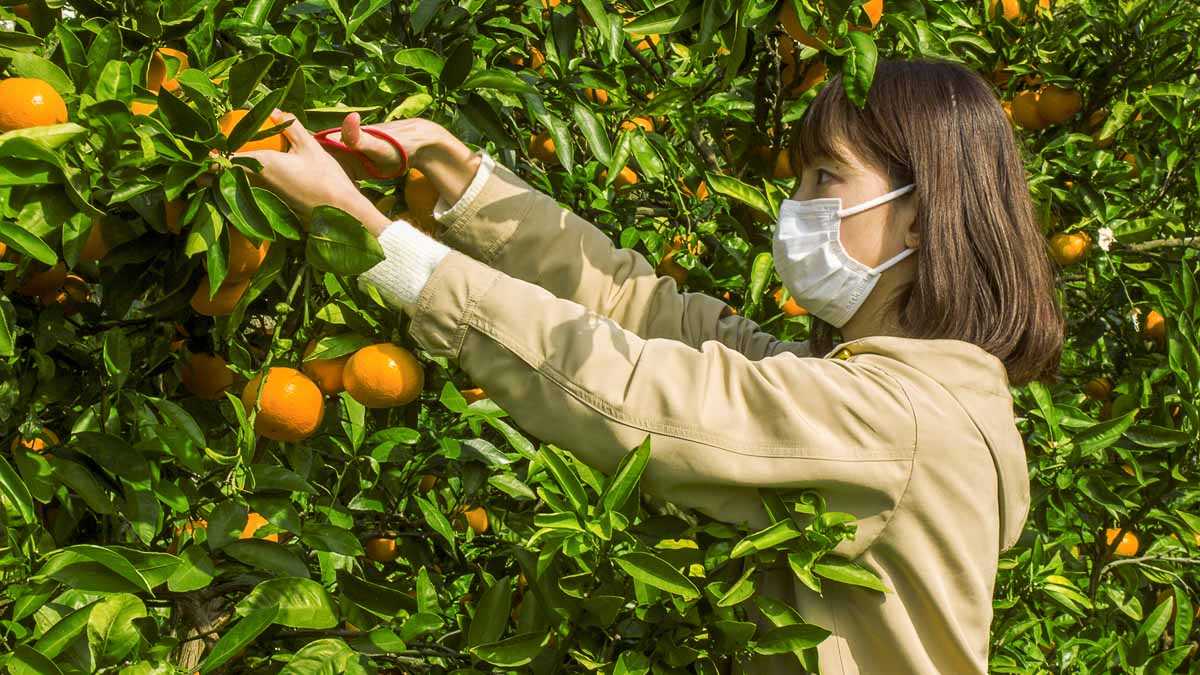 *Pro-tip: The best tasting ones are the smaller, flatter oranges facing the sun.
Akamatsu Noen
Cost: ¥600 (~S$7.69) for basic picking, and an extra ¥400 (~S$5.12) to take home the oranges
Opening hours: 9AM – 4PM
Address: 8-206, Hokezu, Yoshida, Uwajima City, Ehime Prefecture
2) It's where you'll find the original Spirited Away bathhouse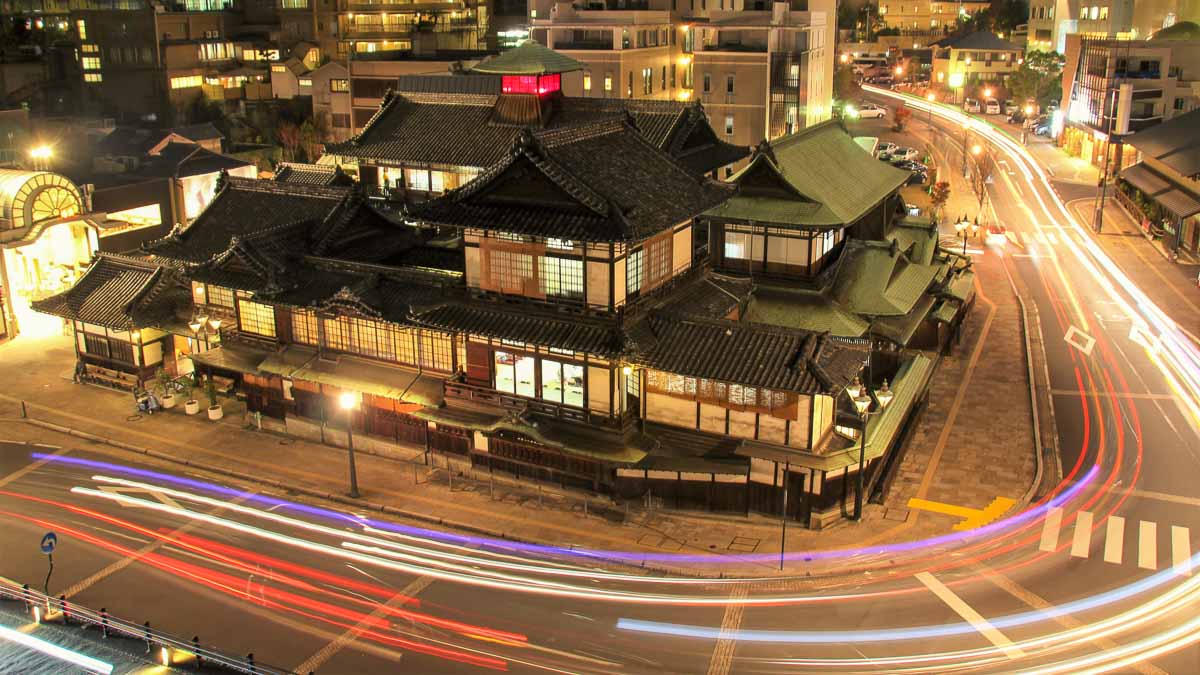 Photo credit: Visit Ehime Japan
The bathhouse that started it all, Dogo Onsen, is located in Matsuyama City — the prefectural capital and also Shikoku's largest city.
Dogo Onsen is one of the oldest bathhouses in Japan and has been around since 1894. The wooden bathhouse's exterior was not the only thing that inspired Miyazaki — the busyness inside, and the maze of stairways and passages reminds you of the bustling bathhouse in the movie!
Cost: ¥420 (~S$5.38)
Opening hours: 6AM – 11PM, last entry at 10:30PM
How to get there: 4min walk from Dogo Onsen Station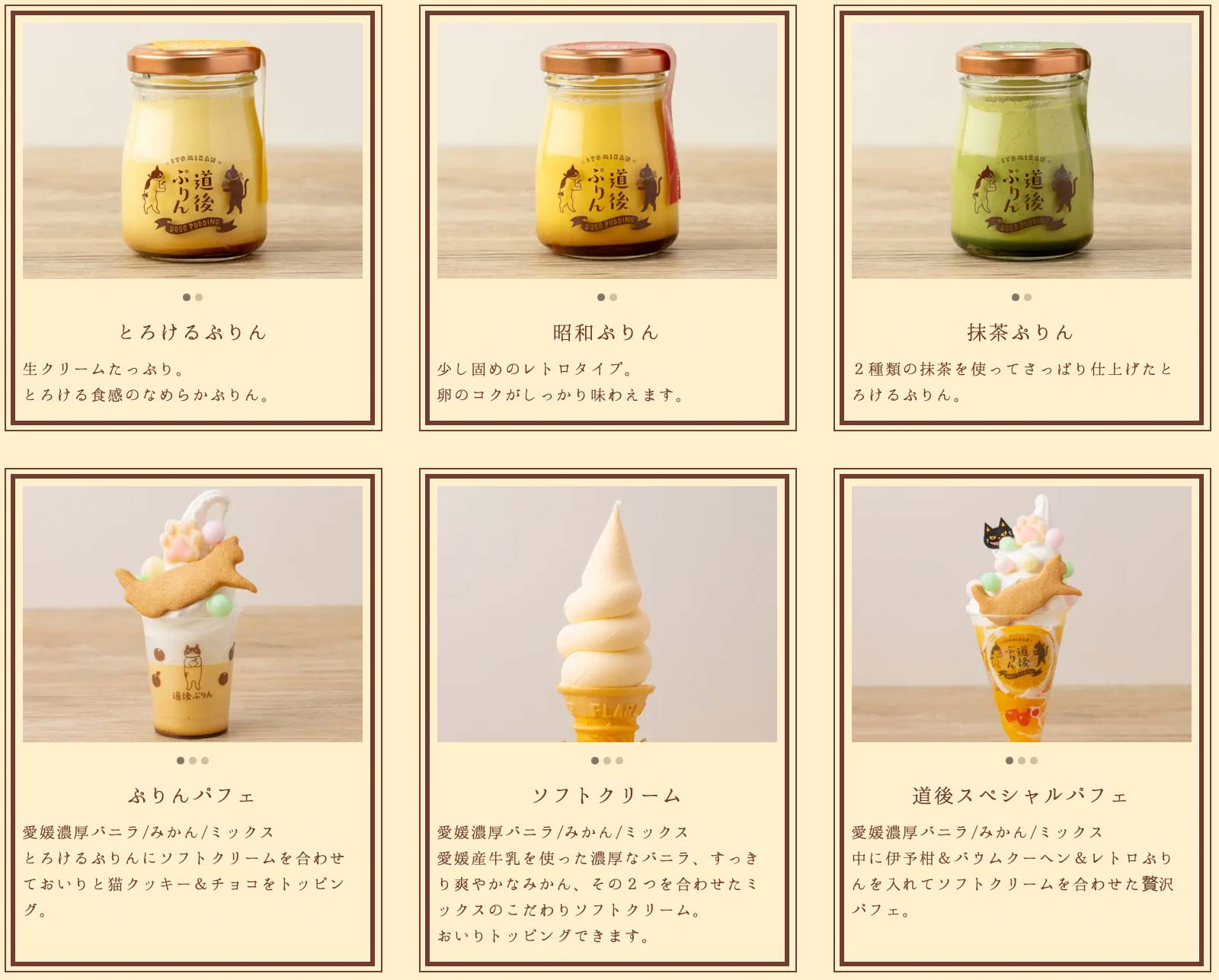 Menu from a dessert shop at Dogo Haikara Dori
While you're in this area, explore the Dogo Haikara Dori (shopping street) nearby. There are many stores selling souvenirs, local products and of course, delicious desserts such as Dogo pudding, juice, soft serve or parfait — all made with Ehime's Mikan!
3) There's an ancient town in Uchiko frozen in time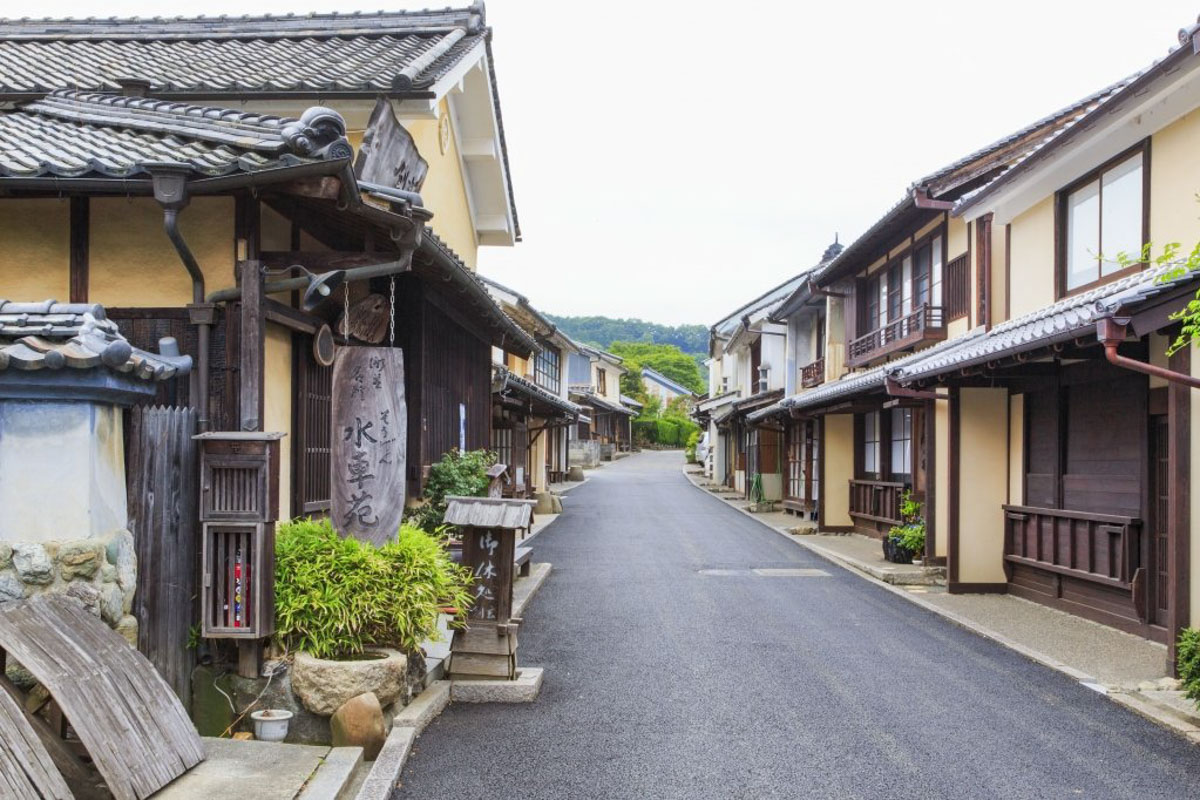 Photo credit: Visit Ehime Japan
Just an hour away from Matsuyama is a small town Uchiko. It was the main hub for wax and paper production during the Meiji period. However, in present-day, it's famous for Yokaichi Old Town, a preserved street of ancient houses. This traditional Japanese village still stands perfectly against the age of time — 100 years to be exact!
The highlight of this ancient town is the impressive Uchiko-za. It's a perfectly maintained, full-scale, kabuki theatre that still hosts occasional shows.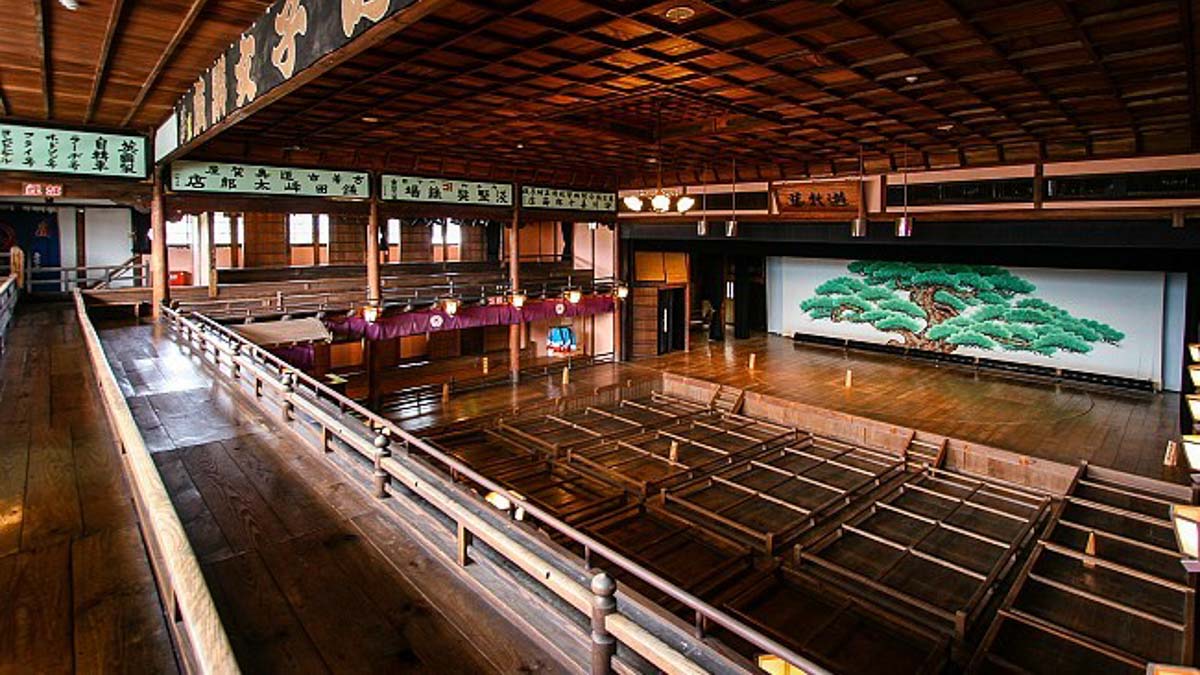 Photo credit: Japan Guide
A day trip to Uchiko is a must when travelling to Ehime. Strolling through the town, you can't help but wonder what Uchiko was like in its prime.
Other interesting activities here include the traditional candle-making workshops — a 200-year-old craft. Or, make your own Washi paper at Tenjin Japanese Paper Factory!
Cost: ¥770 (~S$9.86) for a one-way ticket
How to get there: Take an hour train ride from Matsuyama to Uchiko
4) One of Japan's 12 original castles still stands here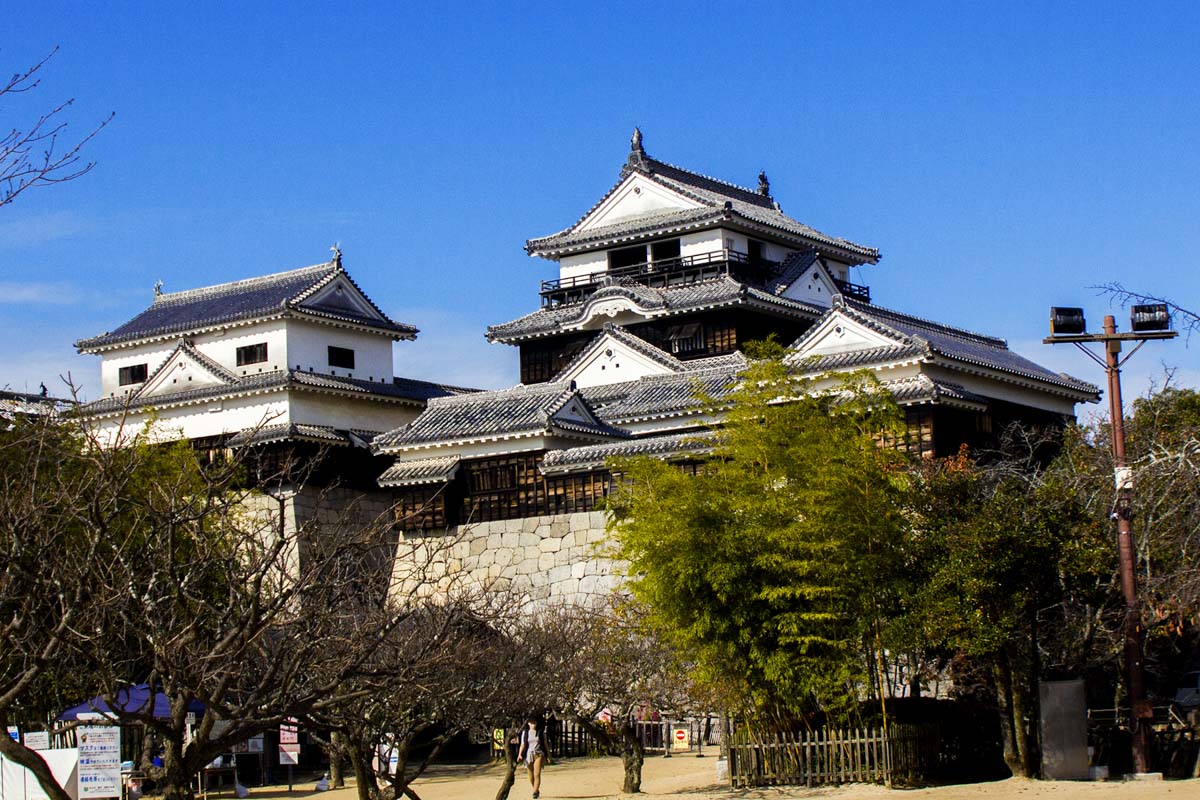 Matsuyama Castle sits proudly atop a hill, towering over the city. This majestic castle has been around since the 1600s and even survived reconstruction after being hit by lightning.
After touring the inside, spend the afternoon picnicking on the grounds! And if you're there in the spring, you'll be surrounded by gardens of soft, pink, cherry blossoms.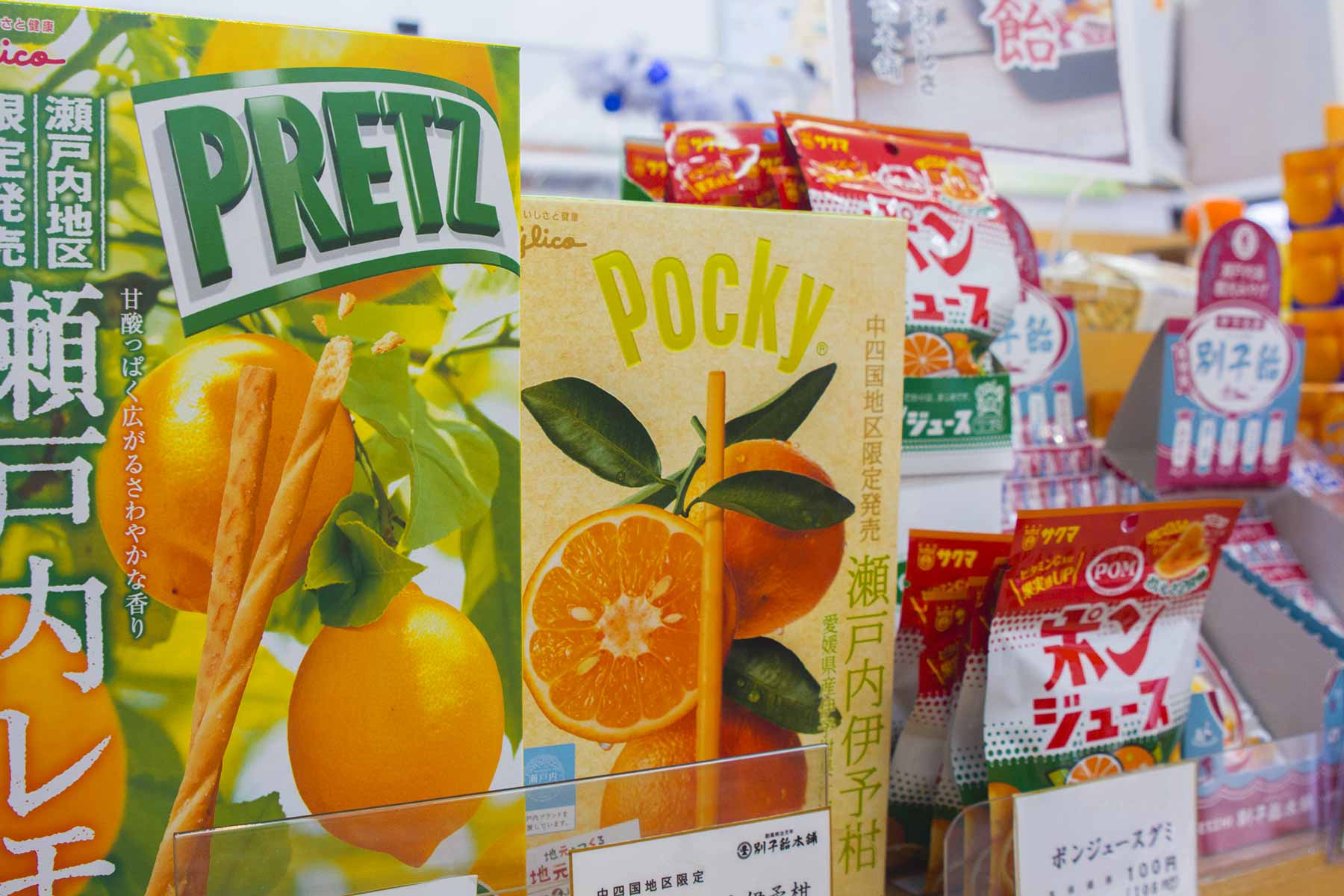 There's also the Matsuyama Okaido shopping street that sells Pretz and Pocky in the limited edition Mikan flavour, as well as other yummy snacks to share with your family back home.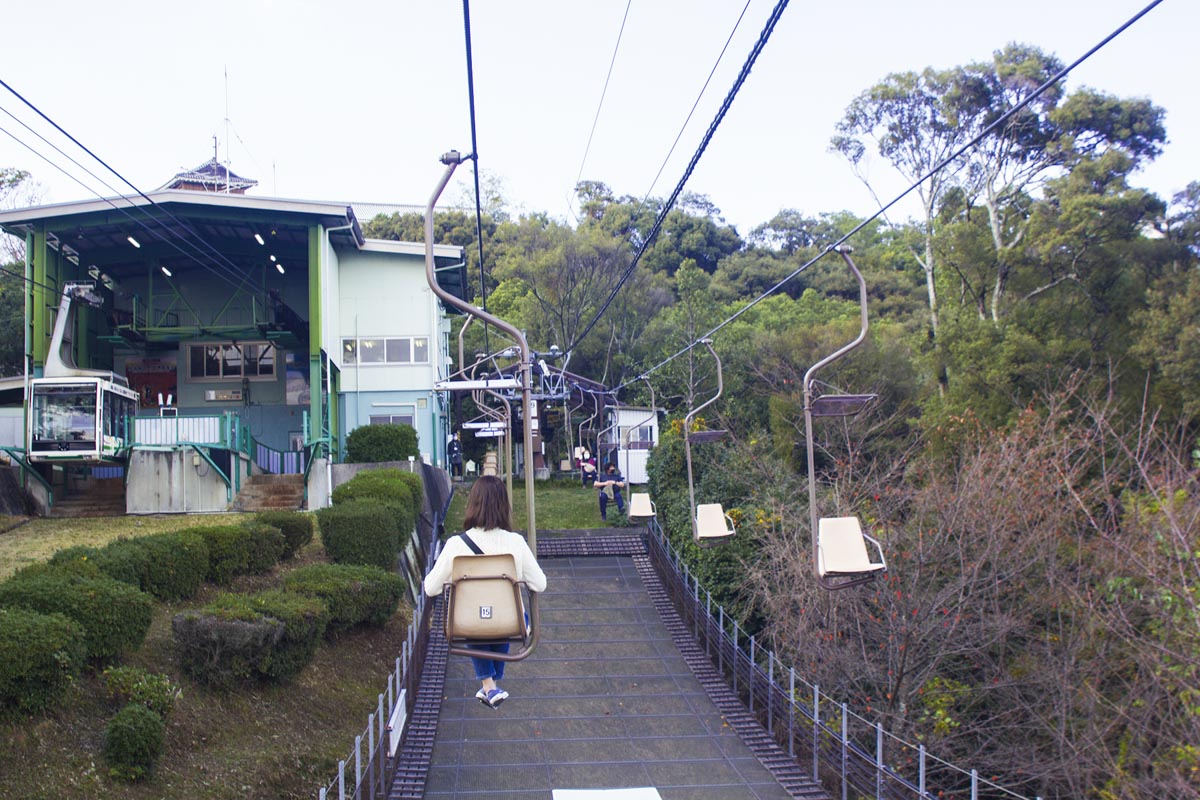 As the castle sits atop a steep hill, the only way to get there is by ropeway or chairlift (¥520).
Cost: ¥520 (~S$6.66)
Opening hours: 9AM – 5PM
How to get there: Take a tram line 5 to Okaido Station
5) There's an island with over 100 cats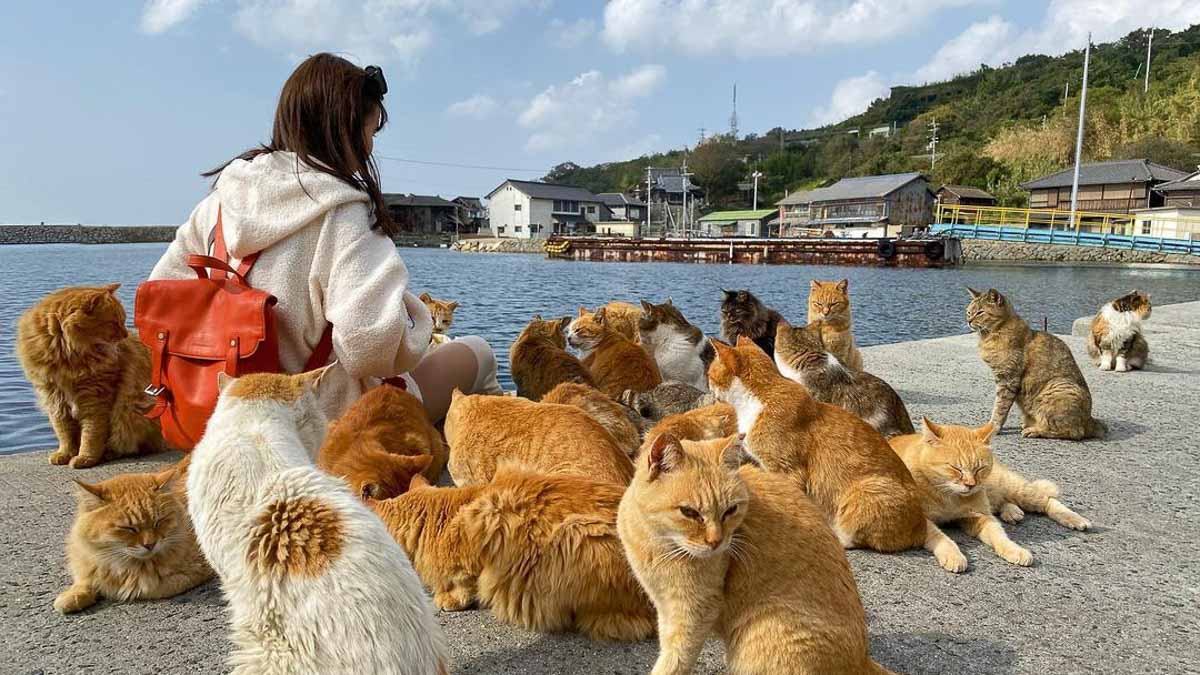 Photo credit: @aoshima_cat via Instagram
If you love animal encounters like the Zao Fox Village or the Ōkunoshima rabbit island, you'll love Ehime's Cat Island.
Also known as Aoshima, this island is home to more than 100 feral cats. They even outnumber the local population by six to one. Even so, these resident felines are friendly and enjoy human interaction.
As Aoshima wasn't meant to be a tourist attraction, it'll be good to bring food for the cats and gifts for the elderly locals. There are no eateries on the island either, so remember to pack lunch too!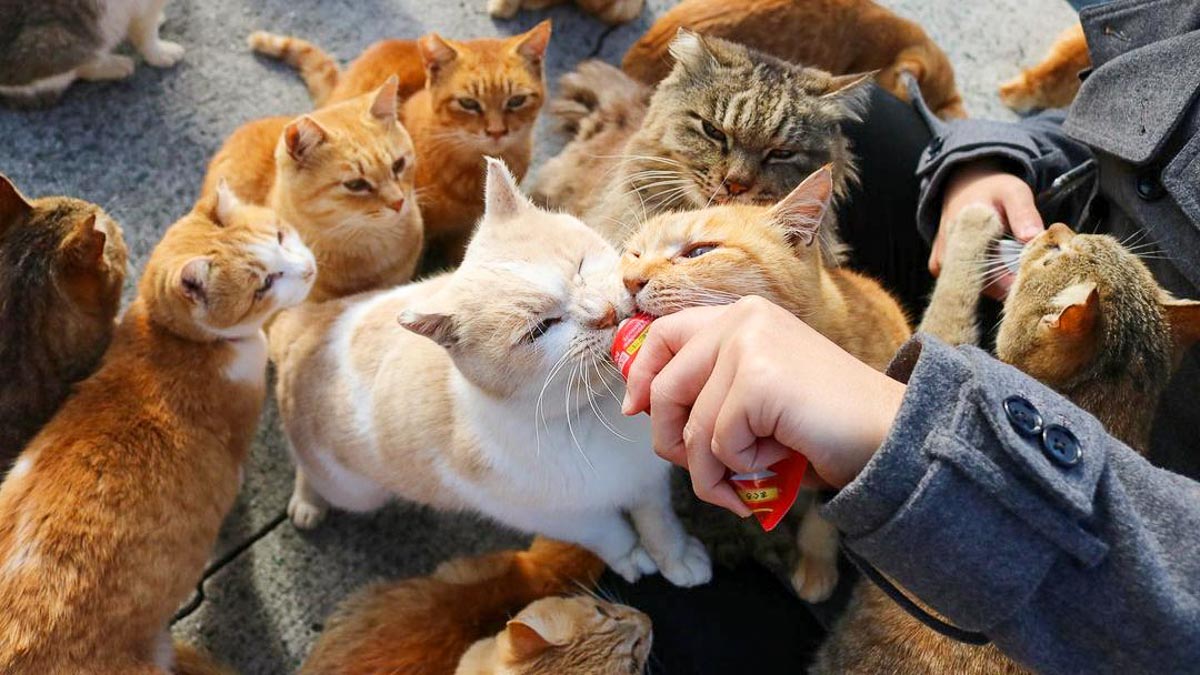 Photo credit: @aoshima_cat via Instagram
Some important things to take note when visiting: Firstly, only feed them at the designated areas. Secondly, don't overfeed the cats — even when they give you puss-in-boots' eyes!
Thirdly, steer clear of the dock. The cats will greet you when you arrive, but don't loiter there as there are other logistics happening on the port. And lastly, just like anywhere else in Japan, don't litter and take your rubbish with you!
Cost: ¥1,360 (~S$17.42) for a round-trip
Opening hours: First boat to Cat Island at 8AM, last boat departing Cat Island at 4:15PM
How to get there: Walk 5 mins from Iyo-Nagahama Station to Aoshima Boarding Area, then take a 40min boat ride to Cat Island

6) It's home to the sacred Mount Ishizuchi — Western Japan's highest peak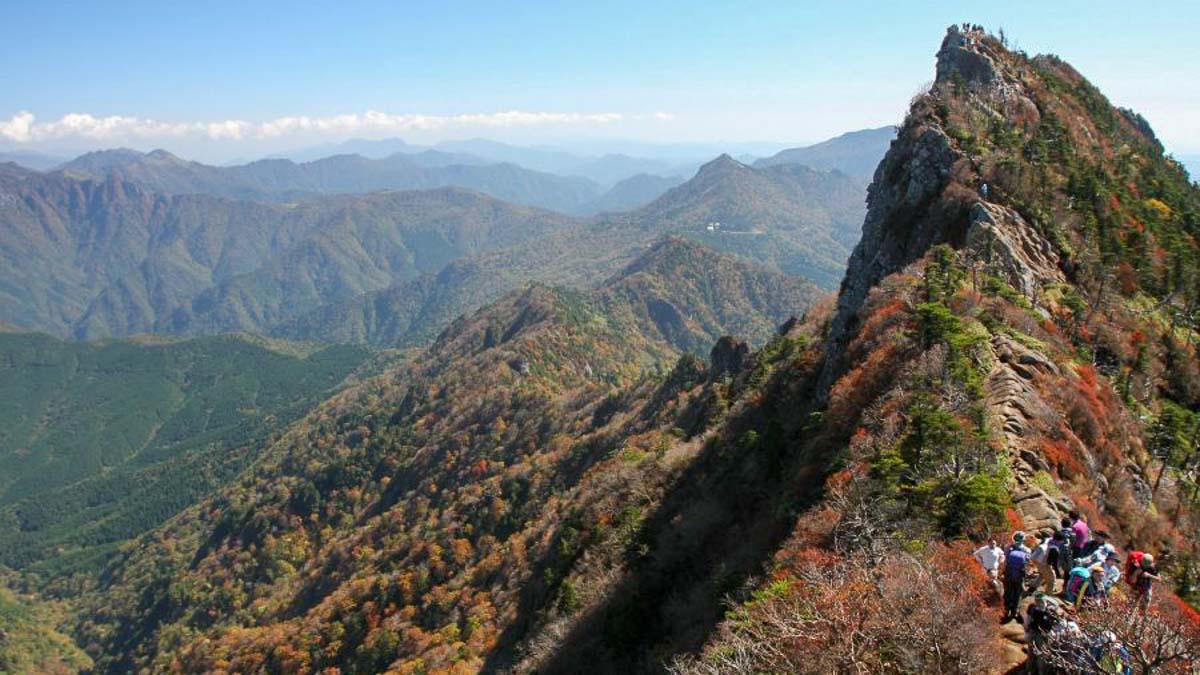 Photo credit: Visit Ehime Japan
Mount Ishizuchi is one of Japan's seven holy mountains, and it attracts hikers all year round.
There are two routes up Shikoku's highest peak. The Tsuchi-goya Hut course is two and half hours long, and considered an easier trail for beginners. If you're a seasoned hiker, the Omote Sando (Joju) route is an hour longer but with more scenic views.
Toward the end, the trek gets a little more challenging with sets of chains you'll need to climb across. But don't worry, there are stairs too if you're not feeling up for it 😂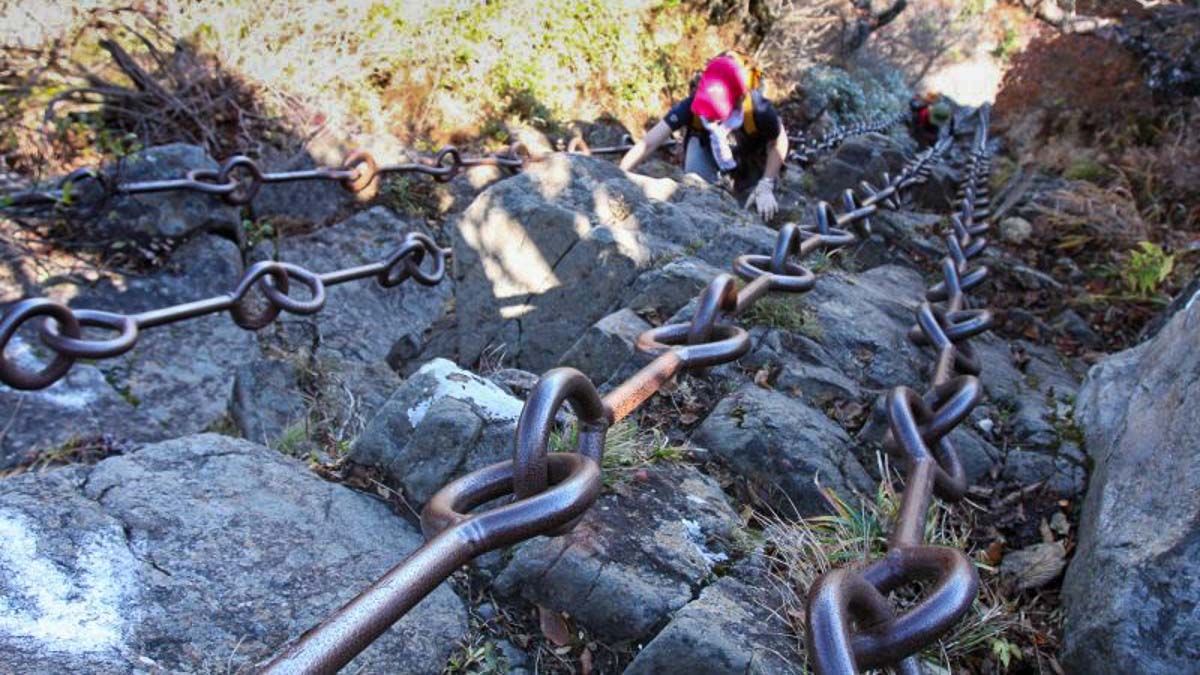 Photo credit: Visit Ehime Japan
At the summit, you're greeted with glorious views stretching from the sea to the other Shikoku mountains in the distance.
*Pro-tip: Visit Mount Ishizuchi during Fall (September to October), and you'll see the mountain beam in vibrant red and gold!
Cost: Free
Opening hours: 24 hours
How to get there: Take a JR Shikoku bus from Matsuyama Station to Kumakogen (2-3 hrs) and stop at Kuma Chugakko. Then, take an Iyo Tetsu bus to Omogo bus stop. Walk 15 mins.
7) You can tour through Ehime on a vintage steam train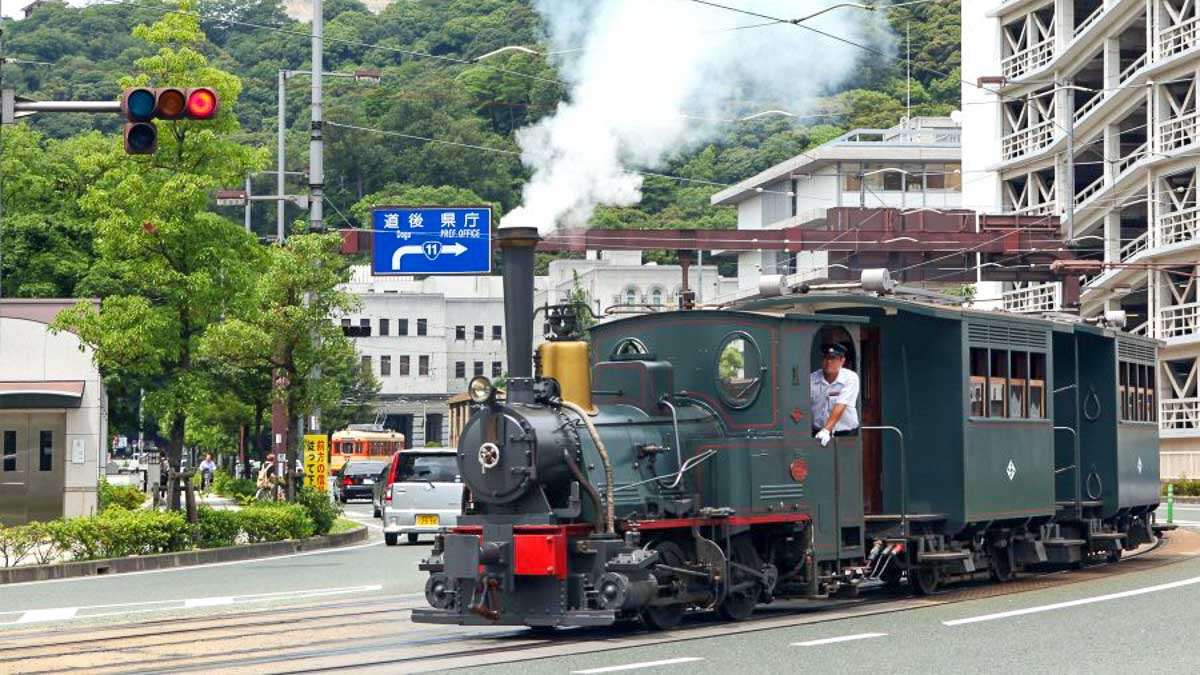 Photo credit: Visit Ehime Japan
Steam trains are quite a rare sight these days but in Ehime, you'll see one making its way through the streets. Called Botchan Train, it's a replica of Shikoku's first steam train from 1888 and can only carry 36 passengers.
Back then, it was the locals' main mode of transportation. But today, it rides alongside modern trams, serving tourists a fun way to sightsee through the city instead!
The train goes one way from Matsuyama City station, and ends at Dogo Onsen station — this is where it gets interesting. Once you alight at Dogo Onsen, you'll witness the train crew manually turning the train to the direction it came from so it can set off again.
Cost: ¥800 (~S$10.25)
Operating hours: 9:30AM – 5:30PM
Starting point: Matsuyama City station
8) Ehime has one of the most popular canyoneering spots in Japan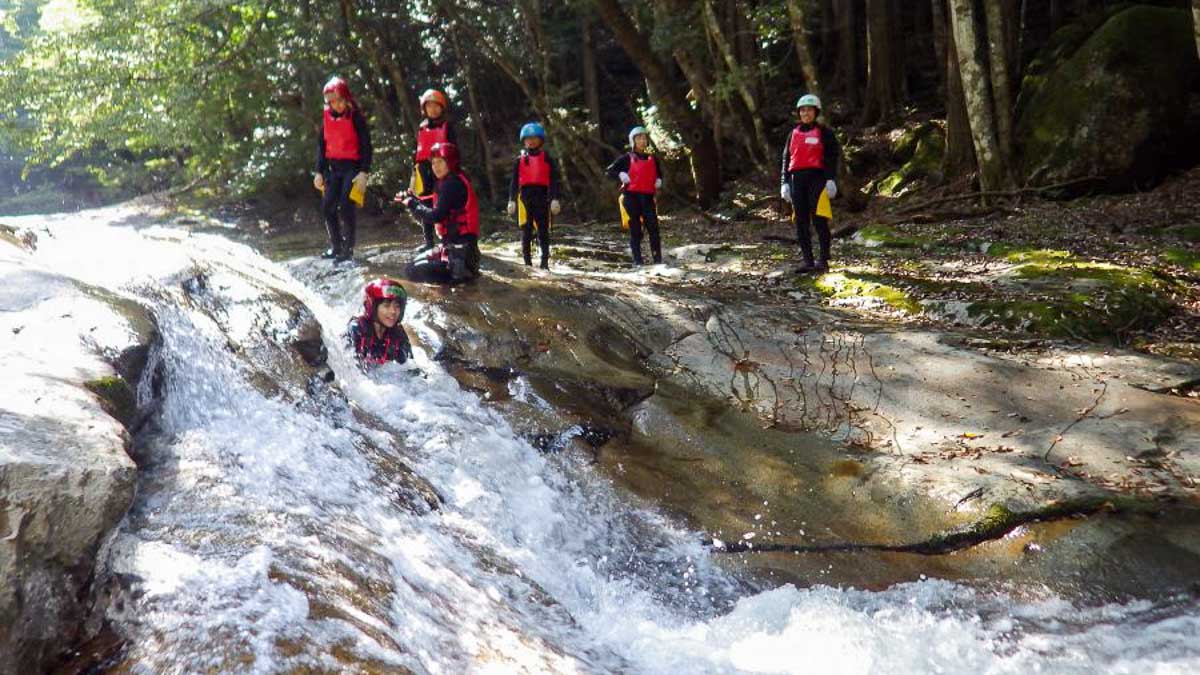 Photo credit: Visit Ehime Japan
Want to do something a little more exciting? Head to the tail end of Ehime and spend a day canyoneering through Nametoko Gorge!
This gorge is one of the tributaries of Shimanto River, known for its many natural slides and smooth granite rock. The rocks are so smooth, you can even slide down Yukiwa Falls, one of Japan's best 100 waterfalls 👌🏼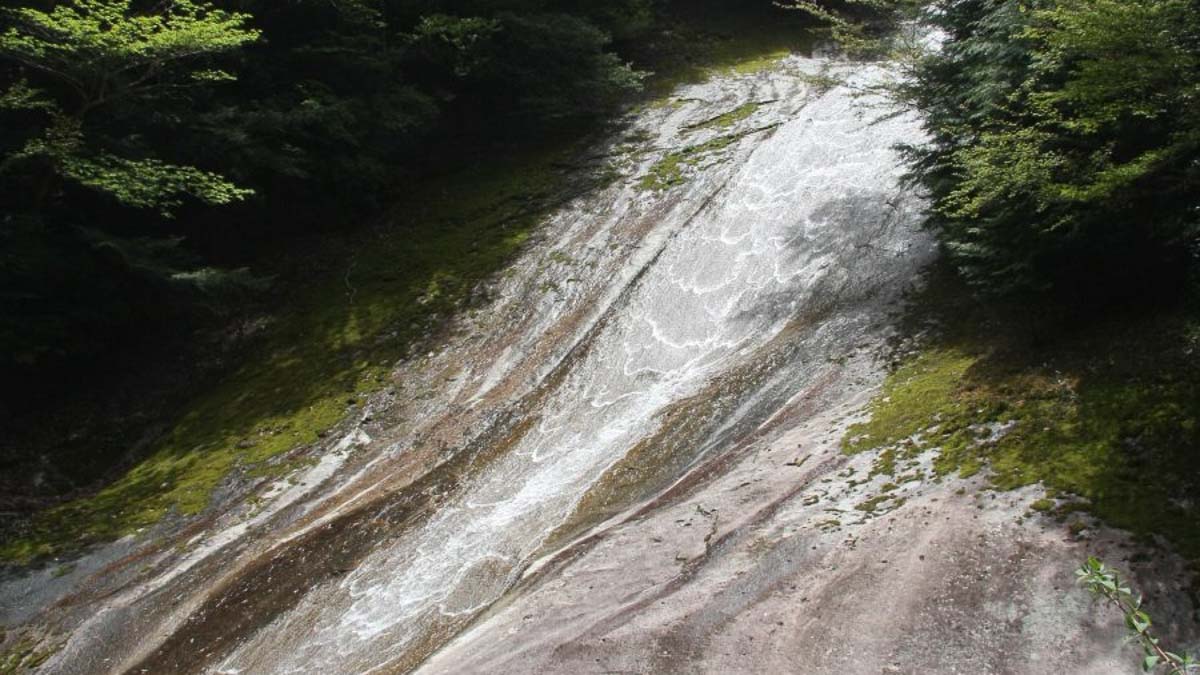 Yukiwa Falls. Photo credit: Visit Ehime Japan
Canyoneering at Nametoko Gorge is beginner-friendly with experienced instructors guiding you throughout. All necessary equipment like life jackets, helmets, shoes and gloves will be provided as well!
Cost: From ¥5000 (~S$64.06)
Tour hours: 10AM – 4:30PM
Pick up point: 2885-5 Meguro, Matsuno, Kitauwa District, Ehime 798-2106, Japan
9) They turned a copper mine in Ehime into an interactive theme park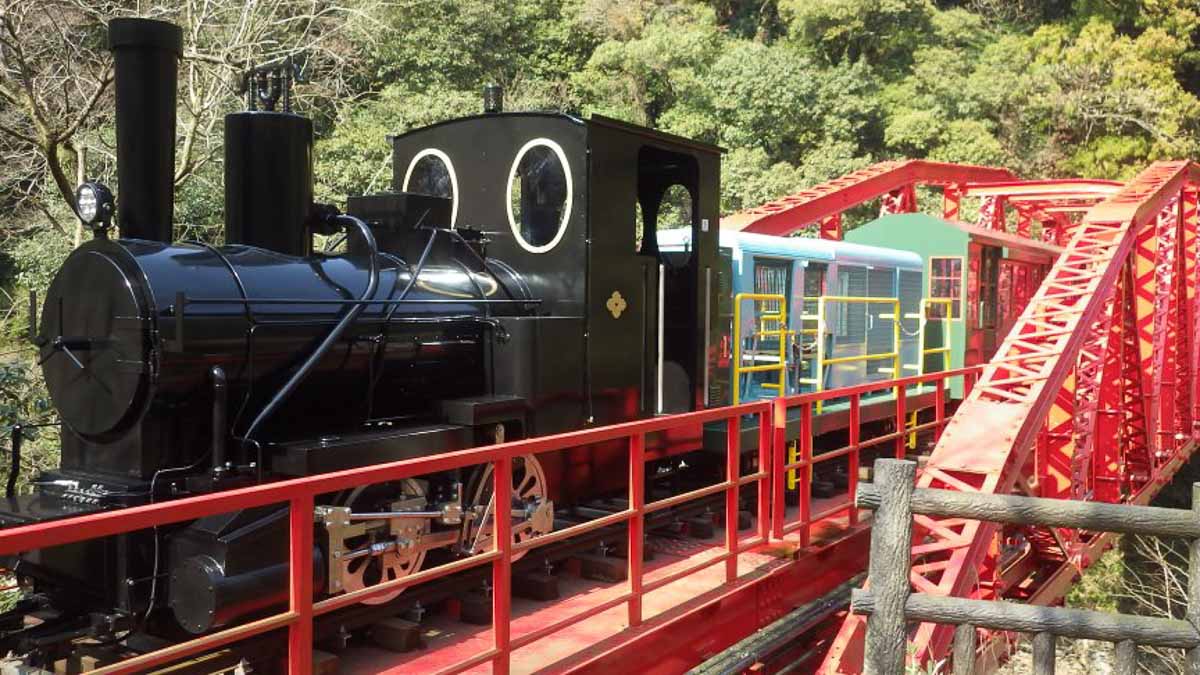 Photo credit: Visit Ehime Japan
Minetopia Besshi is built on two Besshi copper mine sites north of Ehime — Hadeba zone and Tohnaru zone. This unique theme park sits amongst the beautiful untouched nature of Mount Inukeashi. And was built to preserve the mines, while educating the public on its history.
The park's main area, Hadeba, is where you'll start your journey. Hop onto the mini steam train and visit the mine shafts. You'll be taken through tunnels and across bridges along the way too. Explore the tunnels where workers used to extract copper — and don't be stunned to see mannequins reenacting the mining process!
Photo credit: Visit Ehime Japan
If you want a taste of the action, head to the museum's touch pool and pan for your own gold (¥600). The best part? Whatever you find is yours to keep!
After a hard day's work, chill out at the park's Seiko Onsen (¥500) and get your fill at one of their four eateries.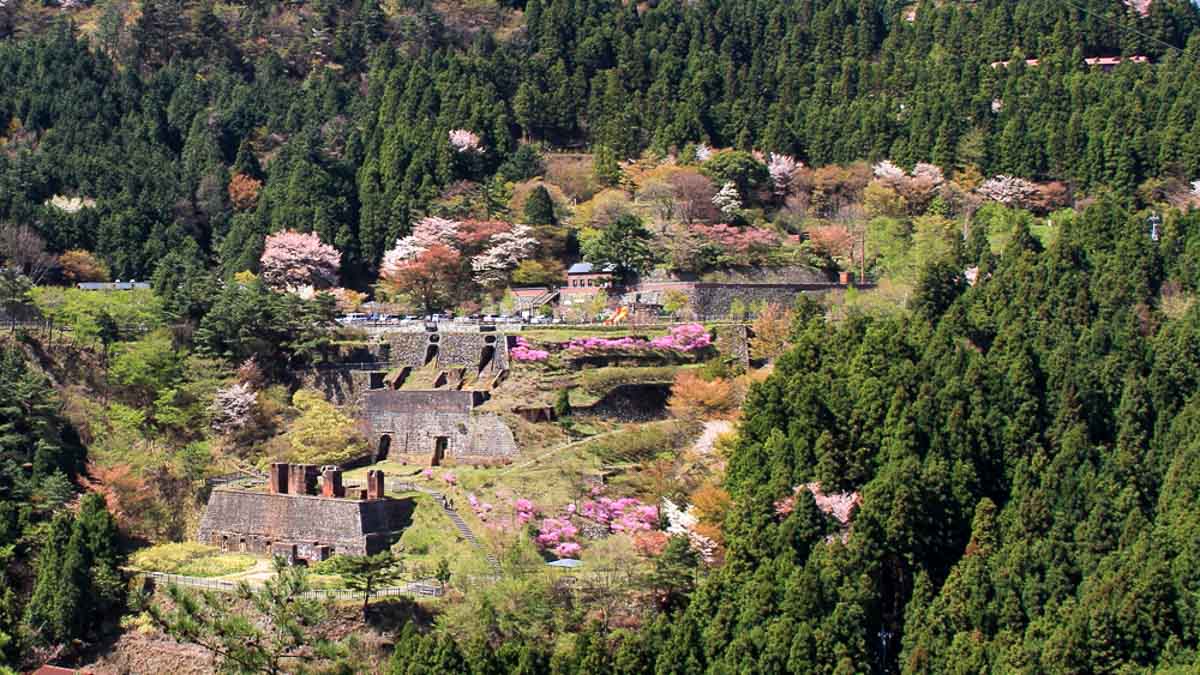 Tohnaru in spring. Photo credit: Gaijinpot Travel
The second mine zone, Tohnaru area, is a 20-minute bus ride up the mountain. It's mainly ruins now, nicknamed the Machu Picchu of the Orient. However, it's still worth a visit in spring when it's covered in Sakura.
Cost: ¥500 (~S$6.41)
Opening hours: 9AM – 6PM
How to get there: 1hr drive from Matsuyama
Ehime Prefecture — a fresh alternative for your next Japan itinerary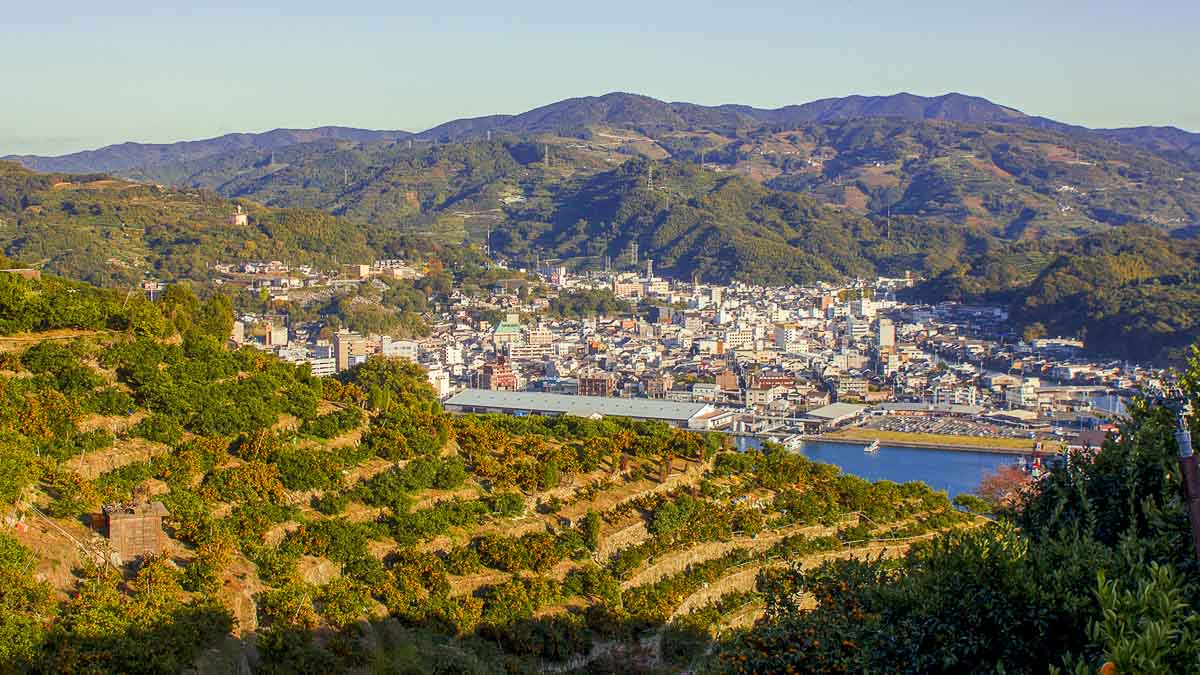 Ehime's Mikan orchards.
Whether you're here to check out the million yen Mikan, the island cats or to relive a piece of Hayao Miyazaki's work, Ehime is a gem just waiting to be explored — when it's safe to travel again of course.
If you'd like to share a piece of Ehime with family and friends back home, be sure to pick up some of the famous local souvenirs — from freshly bottled Mikan juice to Pretz and Pocky flavoured snacks!
Know any other cool reasons to visit Ehime? Share with us in the comments below!
---
This post was brought to you by Ehime Prefecture.