Everything you need to know about the mysterious WWII Marsiling Tunnel.
As someone who'd never say no to scouting hidden rooftops and last minute hangouts — I always thought of myself as adventurous and spontaneous. But that was before I ventured into the abandoned Marsiling Tunnel.
Giant geckos, knee-high sludge and rusty pipes, this underground WWII tunnel feels just like a scene out of an Indiana Jones horror film. One I wasn't sure I'd survive.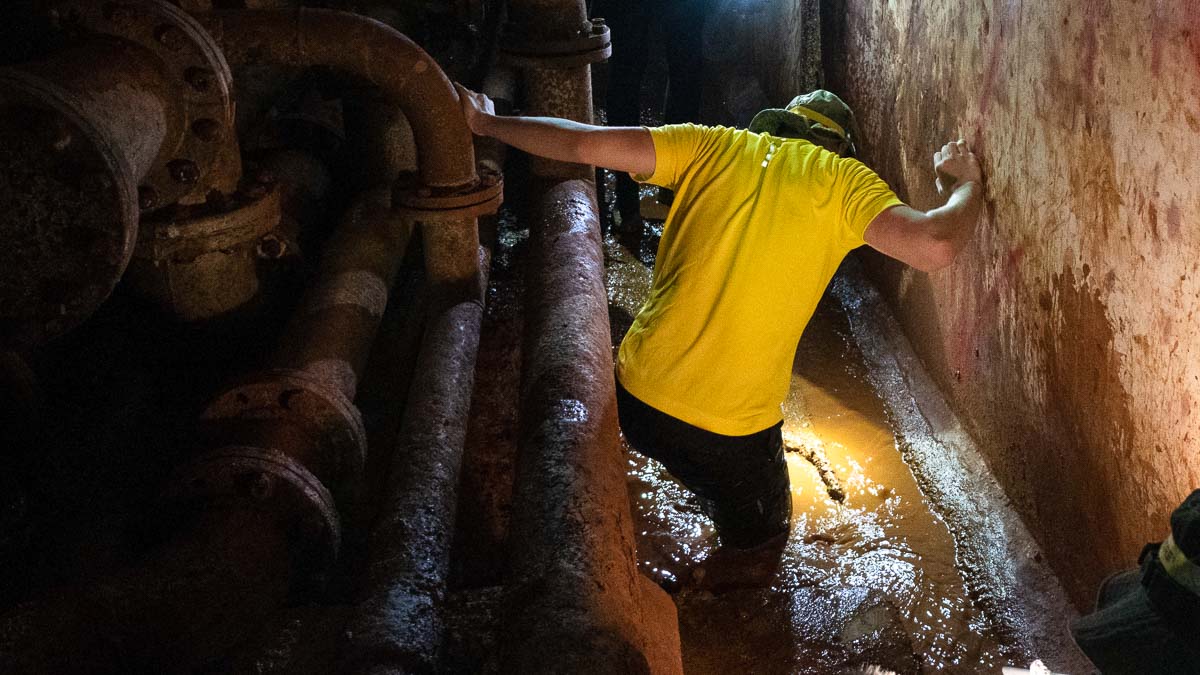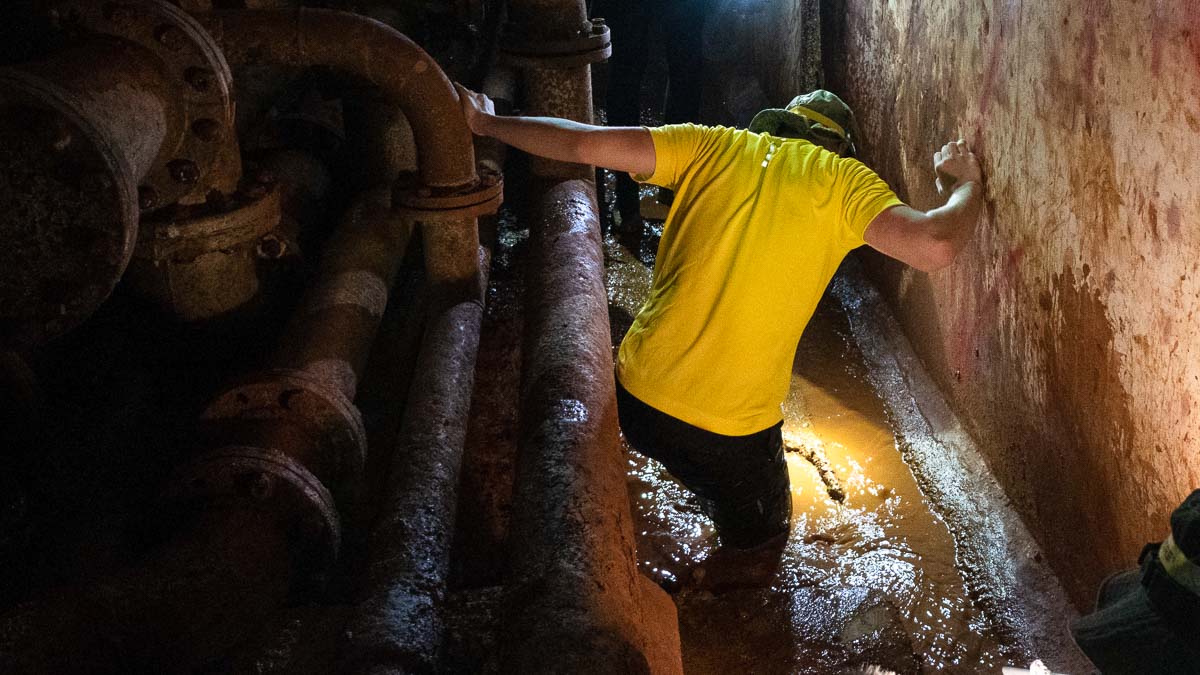 Unbeknownst to many Singaporeans, in a secluded forest in Marsiling lies two WWII relics — the Marsiling Tunnel and a bunker. Here's our experience and helpful tips for those who'd like to explore on their own.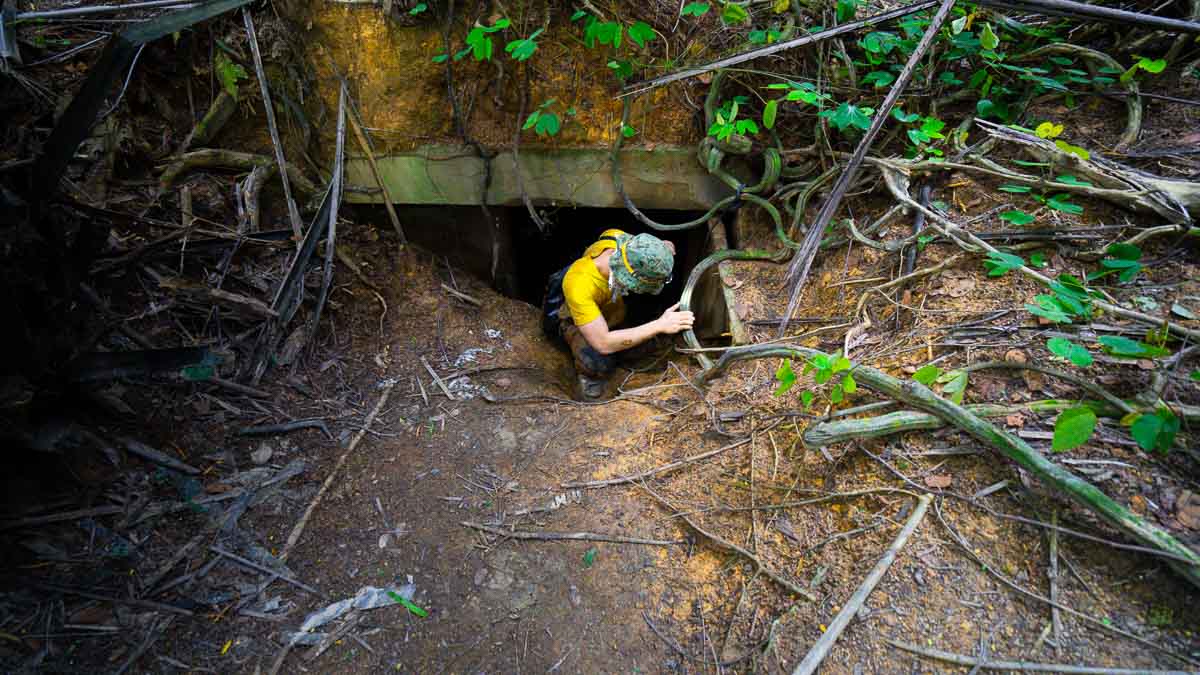 More details on how to get there and what to pack in the FAQ section below.
The Marsiling Tunnel's mysterious past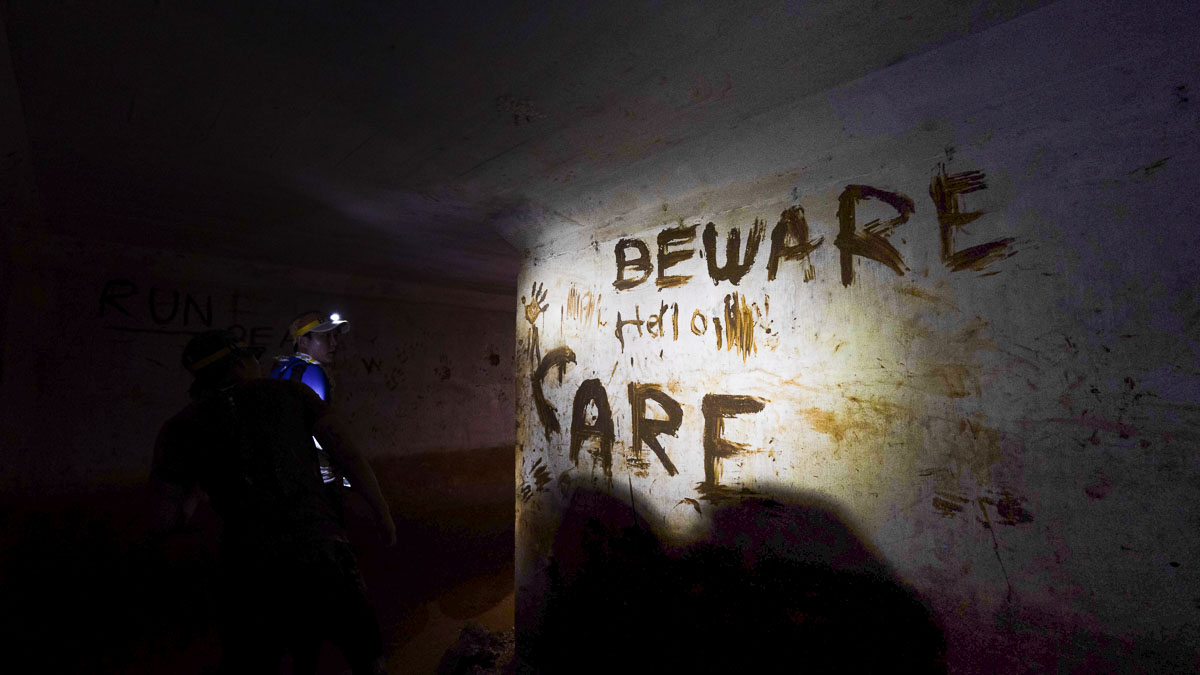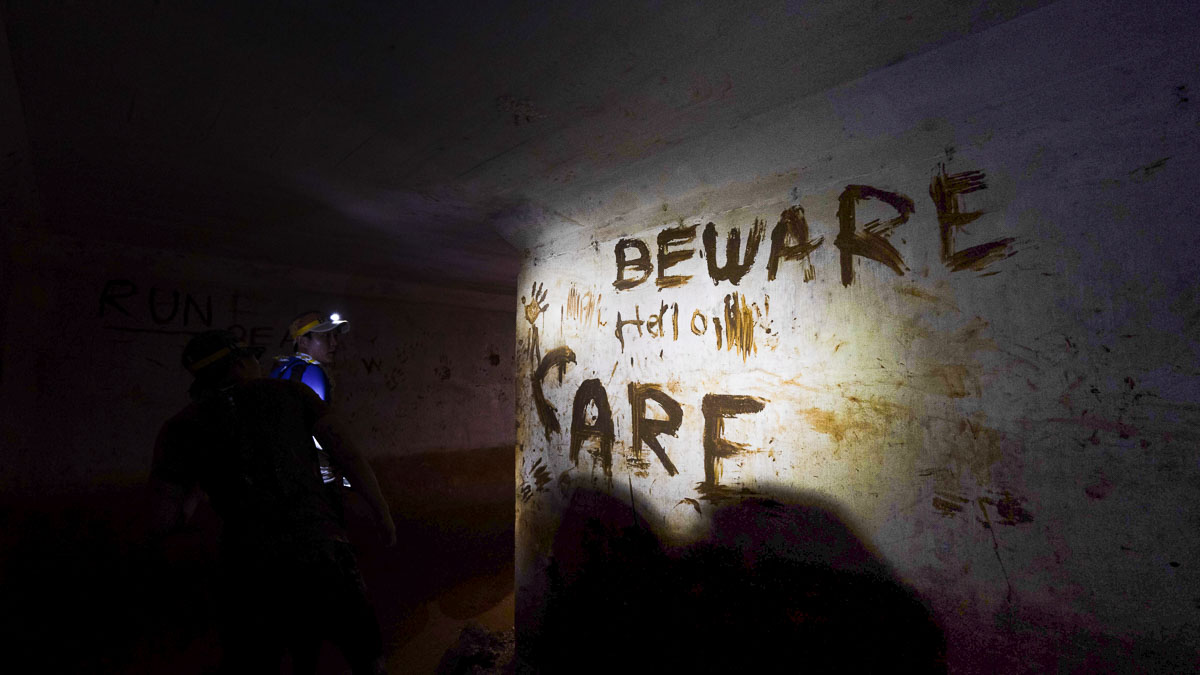 Tons of theories and rumours surround the Marsiling Tunnels. Some speculate that it was a torture chamber, or that it was a secret passage that led to a former mental hospital.
What we know for sure is that the Marsiling Tunnels are part of a Royal Air Force fuel reserve depot built in 1942. Today, it is one of many abandoned historical sites in Singapore open for exploration — if you're adventurous enough, that is.
Read also: 15 Things to Do in Singapore for Outdoor-Loving Singaporeans
How to get to the Marsiling Tunnel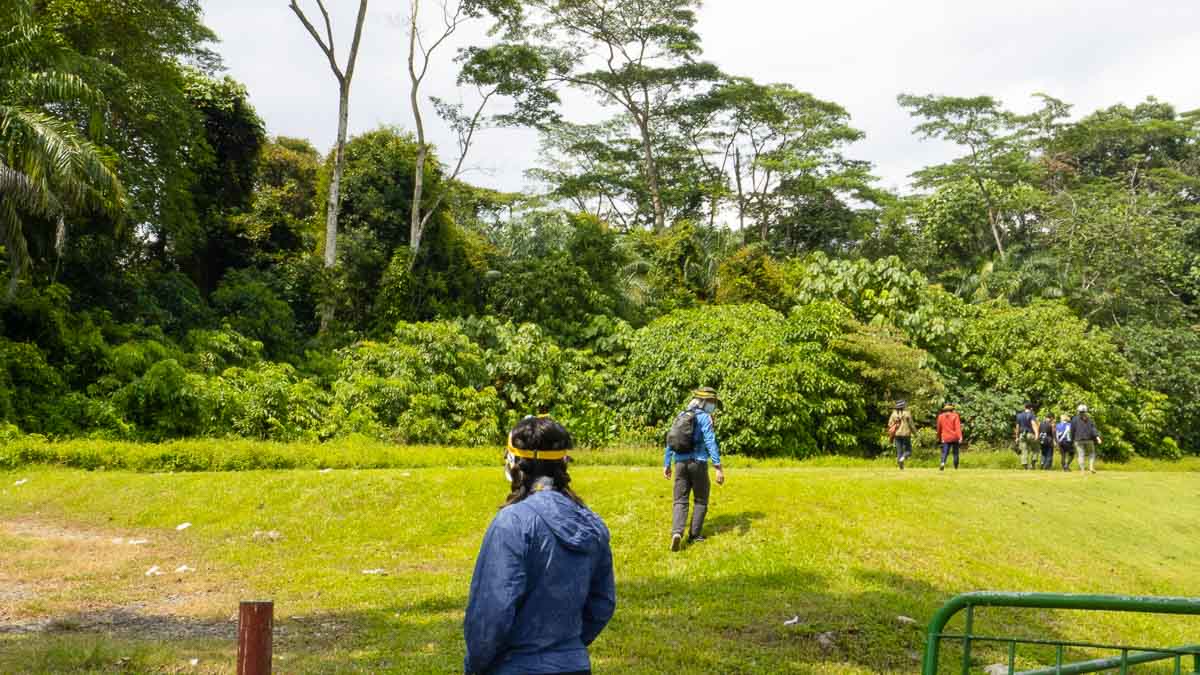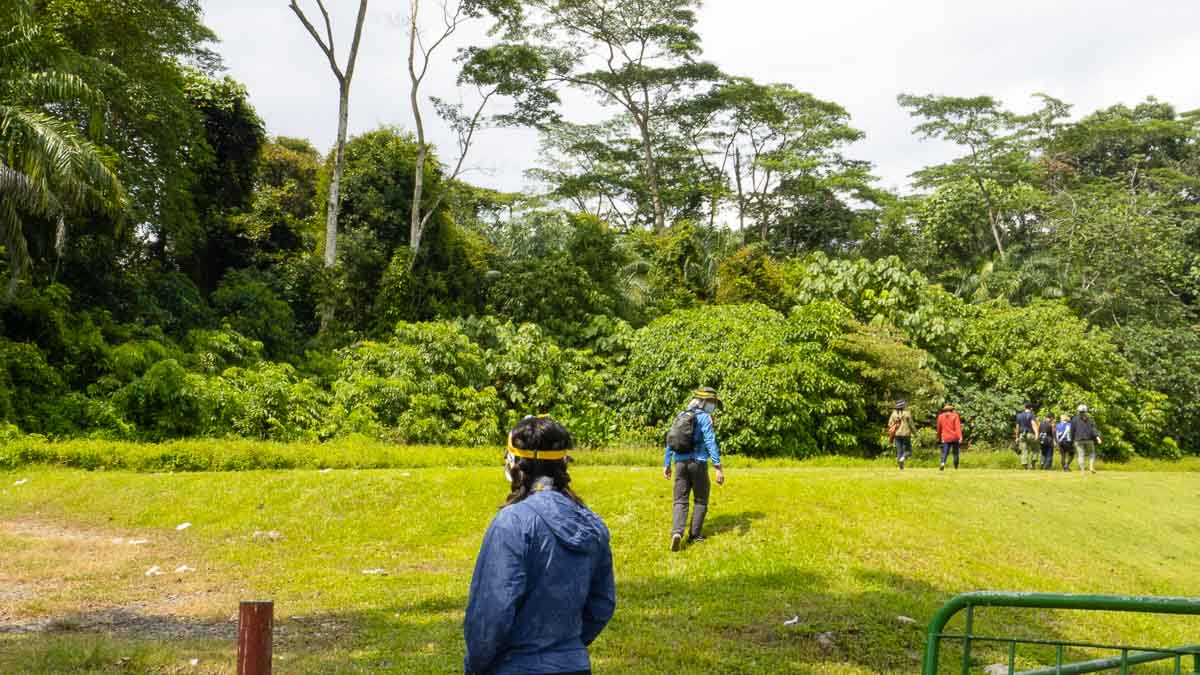 Start your journey at Woodlands Waterfront Carpark. From there, make your way to Marsiling Crescent. Upon reaching, you'll see a field.
Behind those trees is a semi-established trail that will lead you to the Marsiling Tunnel's entrance. There are supposedly four entrances but they're all concealed apart from the South Entrance.
*Pro-tip: Make sure to wear shoes with a tight grip to ensure that you don't slip and fall. Flip-flops are highly unrecommended.
Inside the Marsiling Tunnel
The Marsiling Tunnel's South Entrance is concealed by wild foliage and rambling jungle vines. Immediately, you'll hear trickling water and smell a pungent metallic scent. Don't worry, it might seem intimidating at first, but honestly, it's not that bad.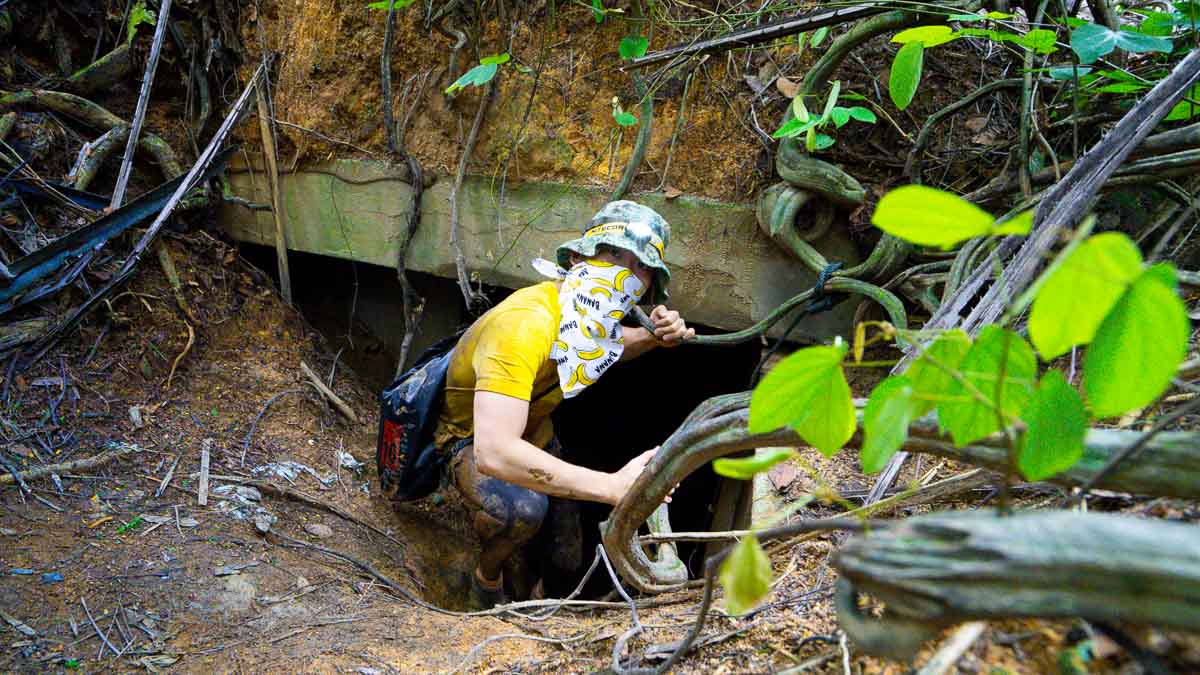 *Pro-tip: To make your way into the tunnel, hold onto the huge vines for support and watch your step as you slowly descend.
Congrats, you've made in into a WWII underground tunnel! Take the stairs down to explore further.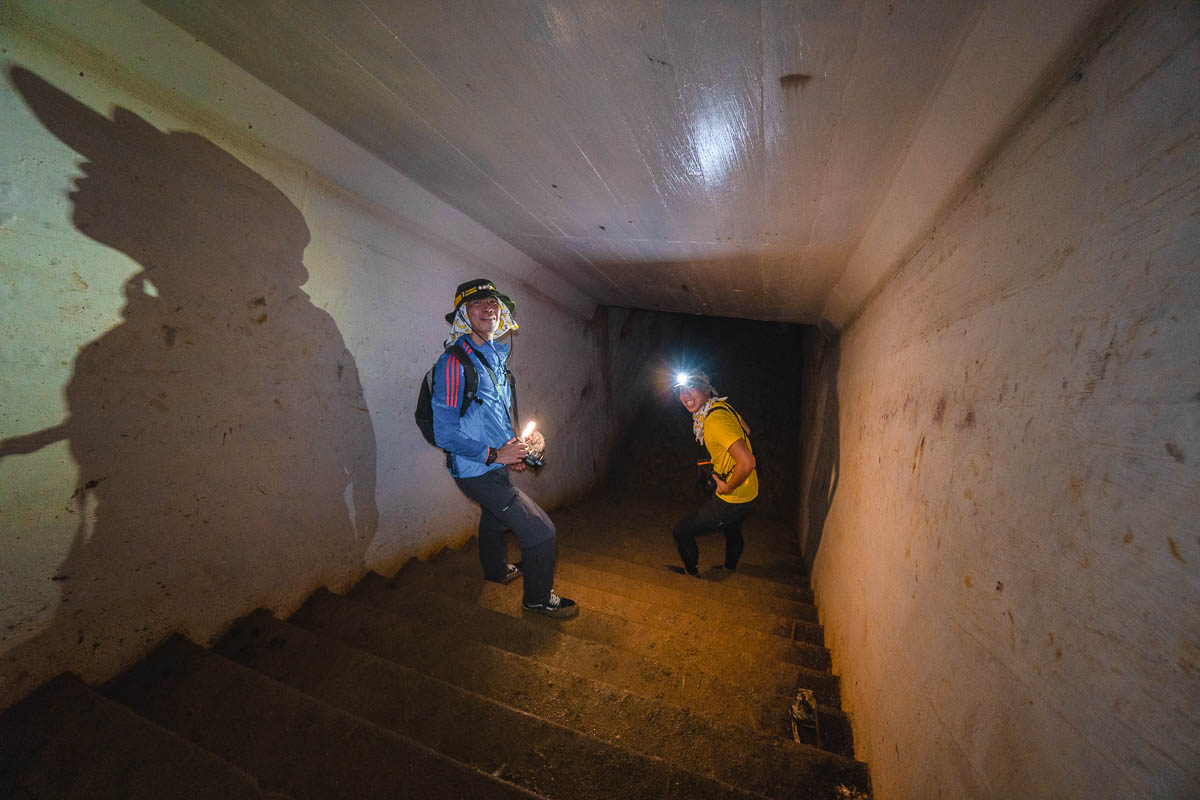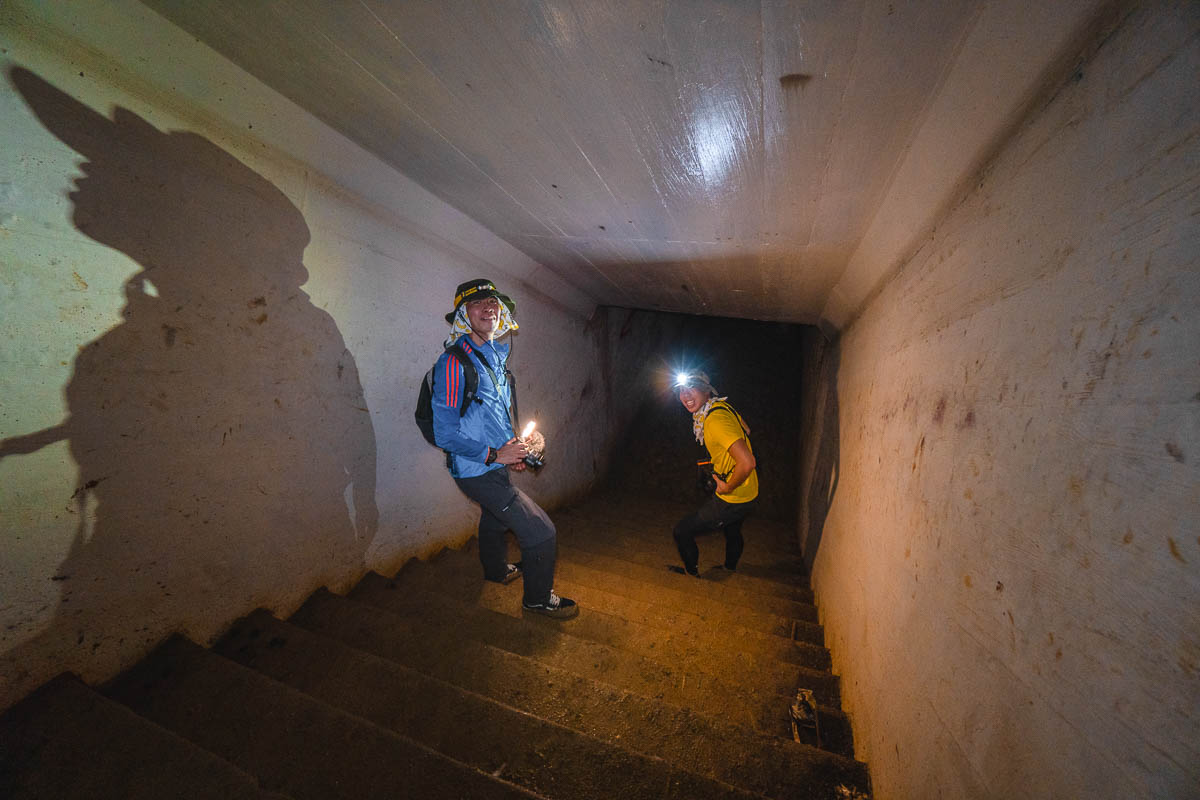 Expect to get down and dirty as mud is everywhere — caked on the floor and spewed on the walls.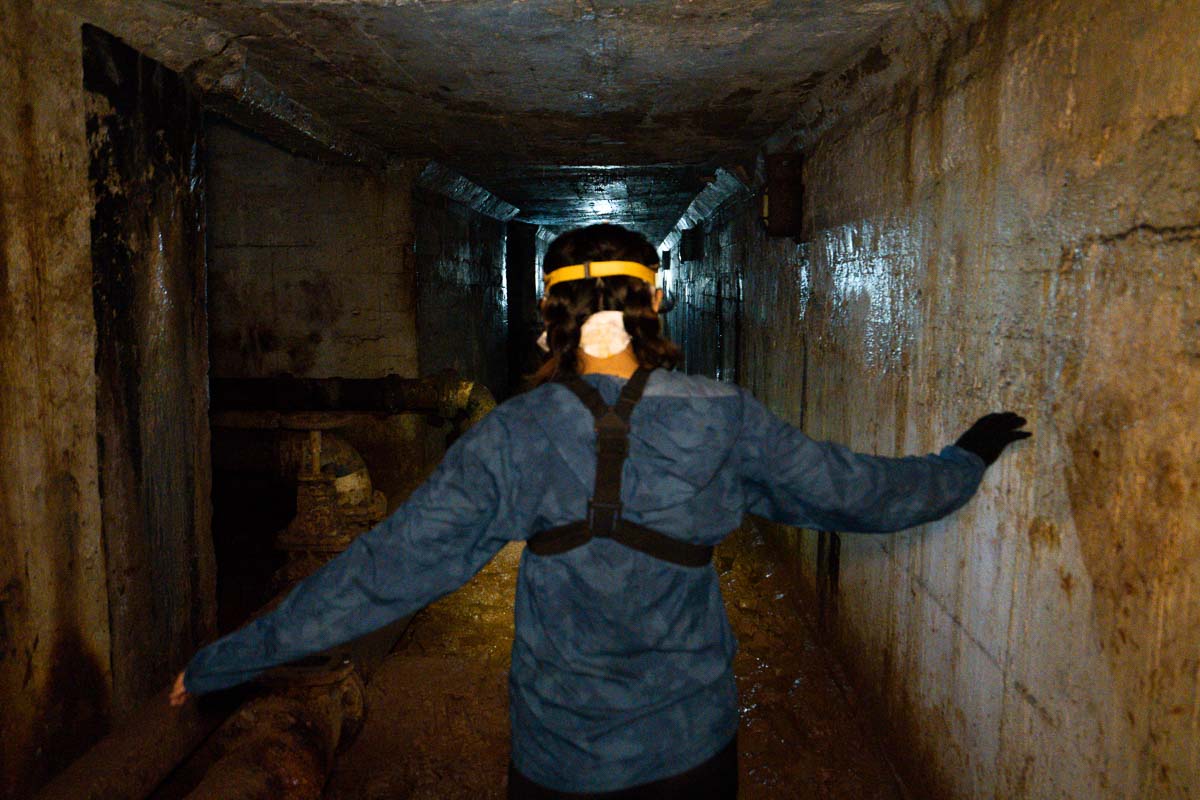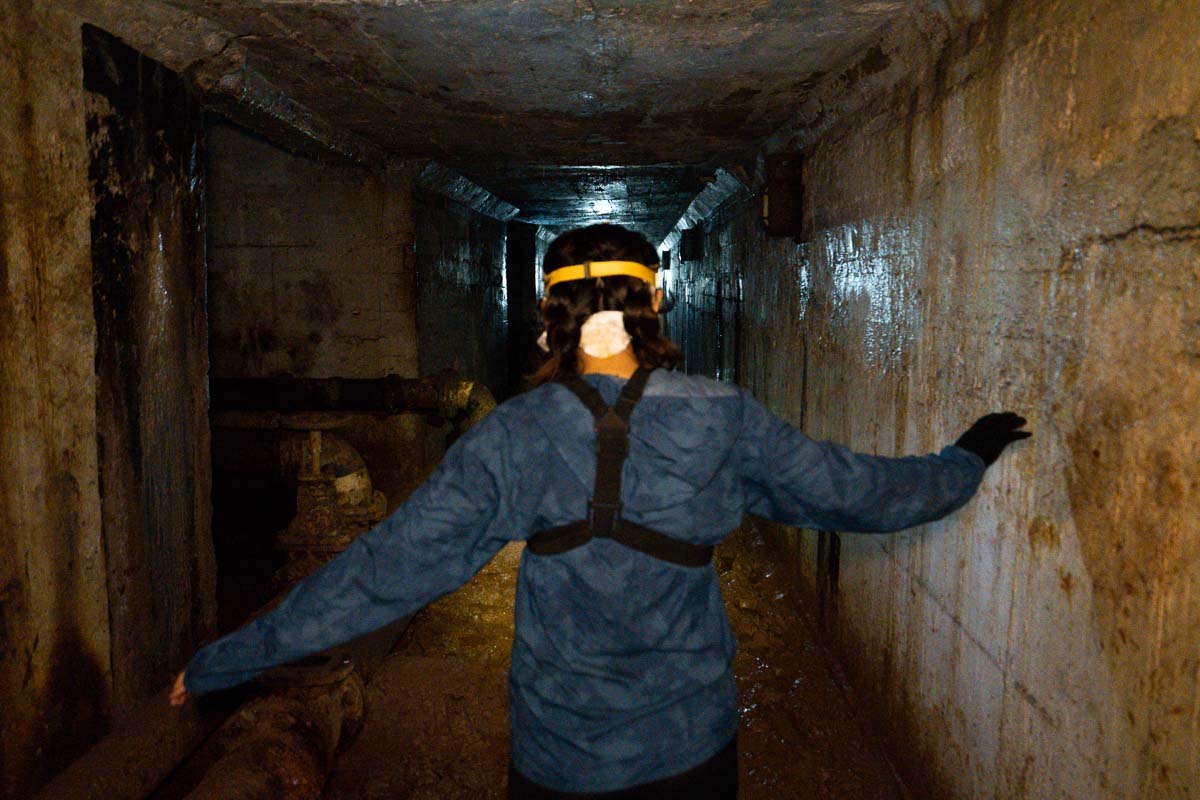 Imagine an apocalyptic adventure film, except without the zombies, phew!
As you venture deeper into the tunnel, your shoes will face a worse adversary — ankle-high sludge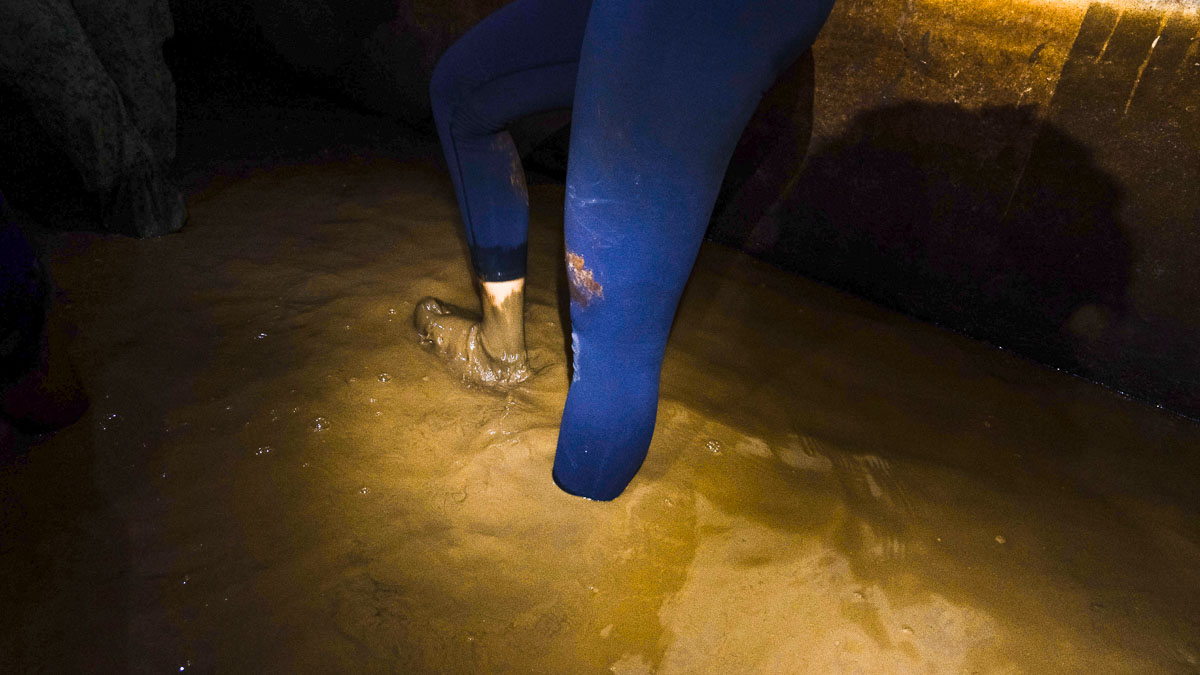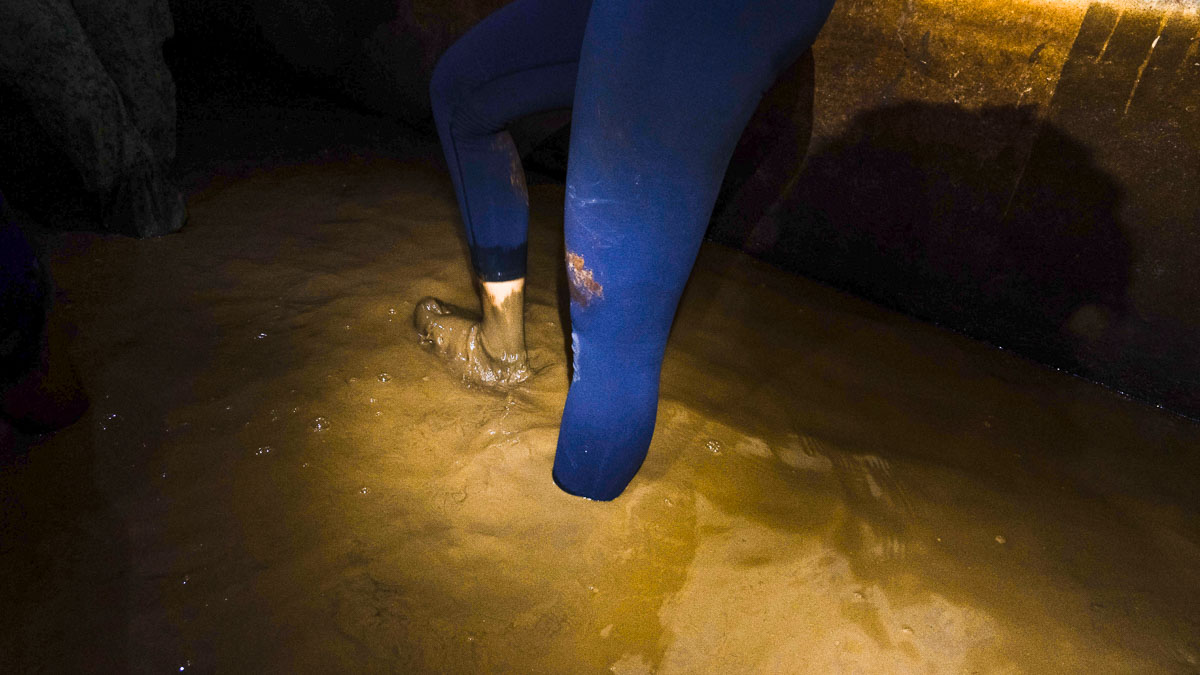 Goodbye shoes 🙁
As the Marsiling Tunnel was formally used as a fuel depot, there are pipes that line the whole tunnel. Be careful if you choose to walk on the pipes as they're rusty and slippery. Alternatively, you could walk alongside the pipes instead.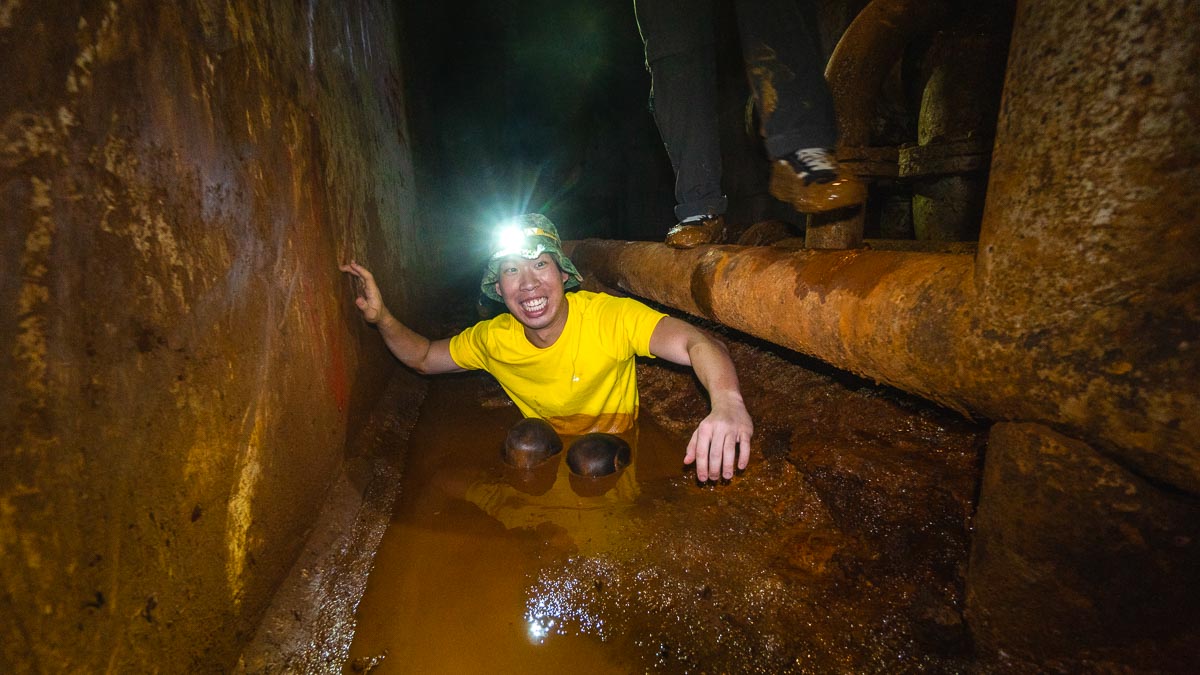 *Pro-tip: Look out for sink-holes! There are handwritten warnings written on the wall.
The tunnels are pitch-black without light sources from your headlamps. If you're feeling brave, try switching off the lights for a bit. It's a surreal feeling of adrenaline as your senses heighten — you'll hear the echo of water dripping and feel the cool underground air.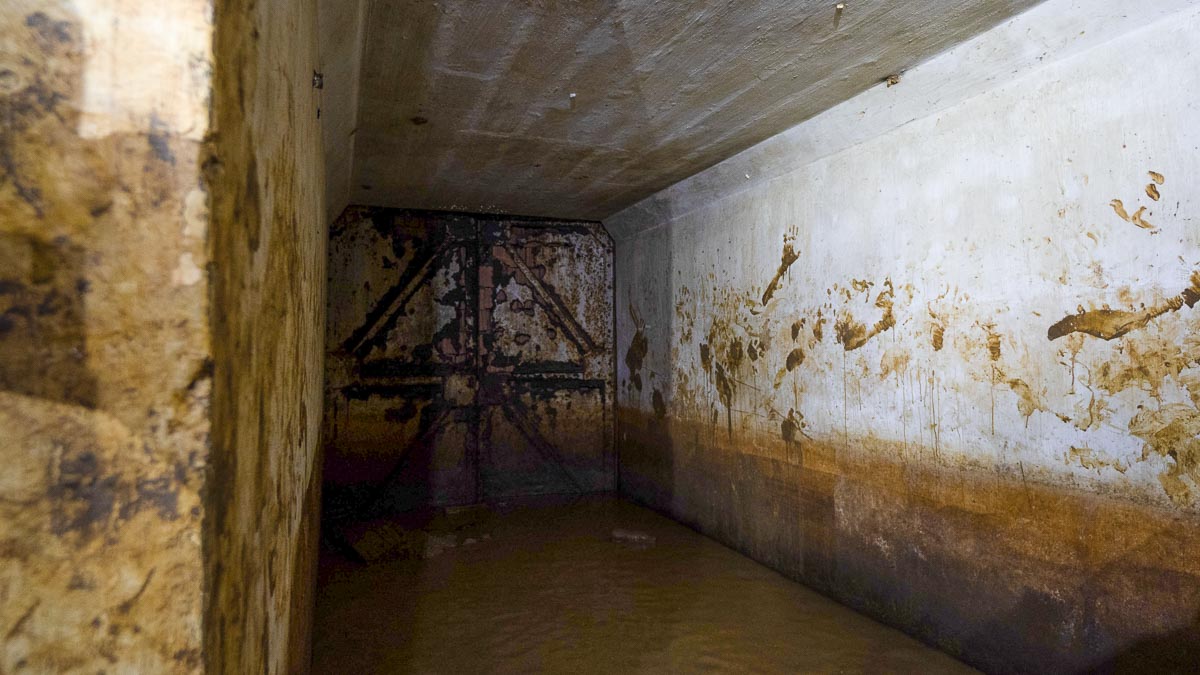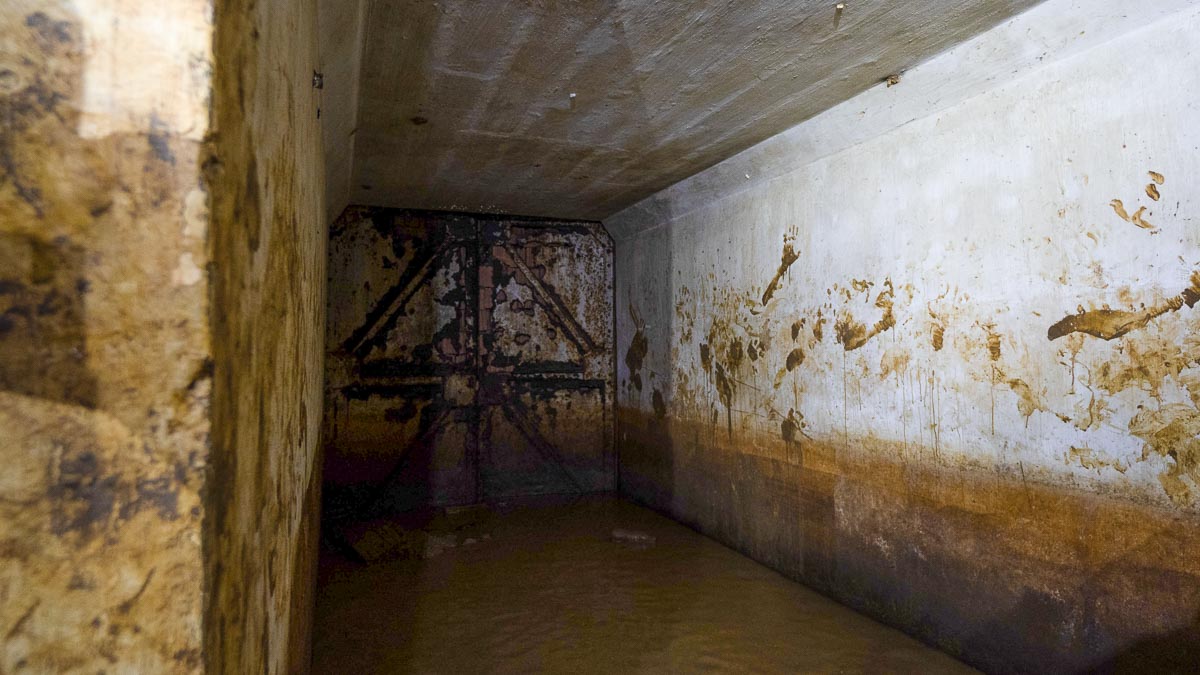 If you find yourself not dirty enough, a literal mud bath awaits at the very end of the tunnel. Heads up though, the mud will feel quite chilly.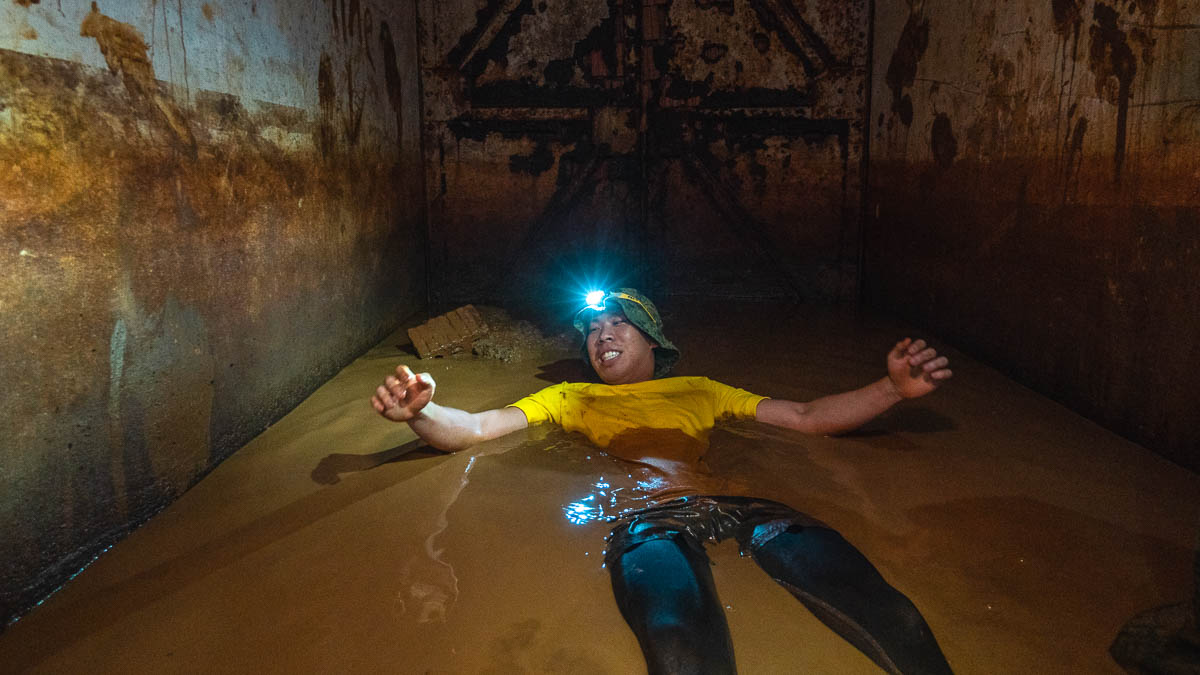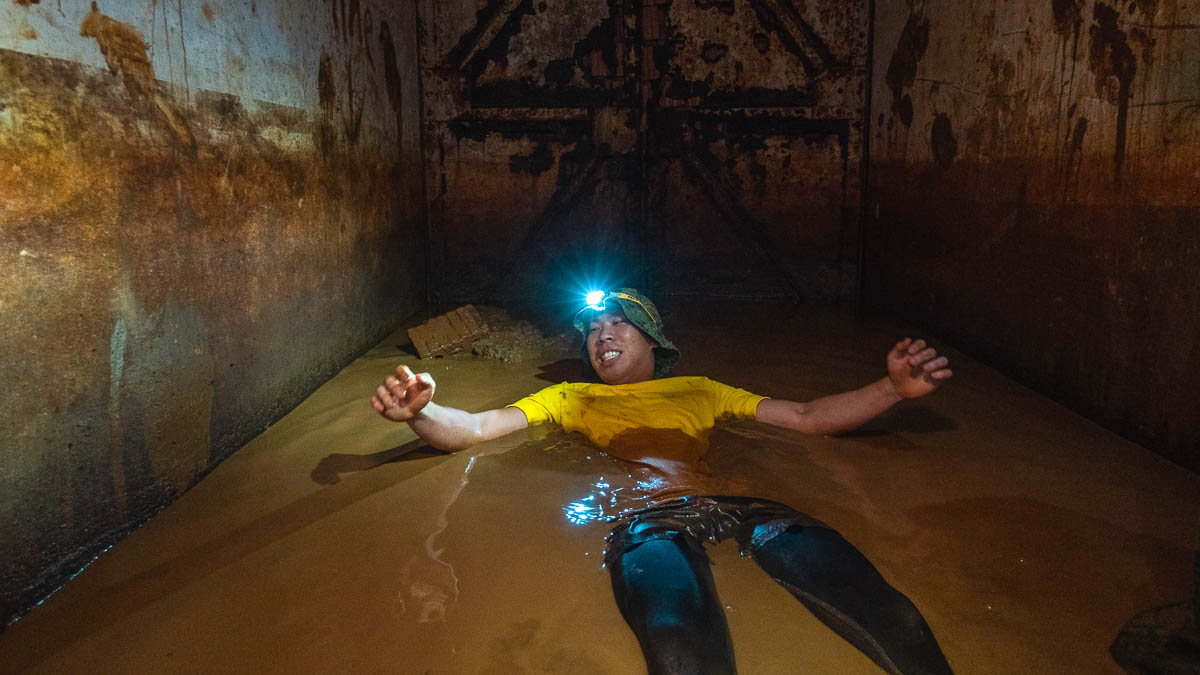 When you're done exploring, backtrack your steps and head back out where you came in from.
If you wish to make the most out of your expedition, we'd recommend checking out the nearby bunker before heading to the Marsiling Tunnel!
How to get to the Bunker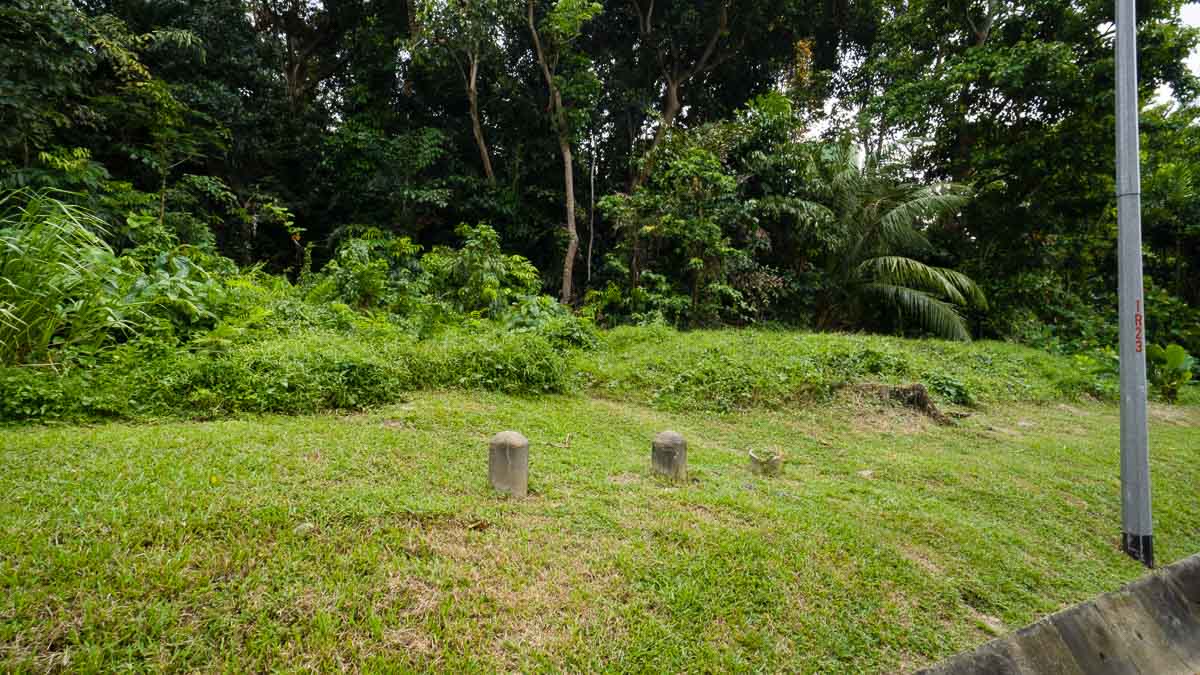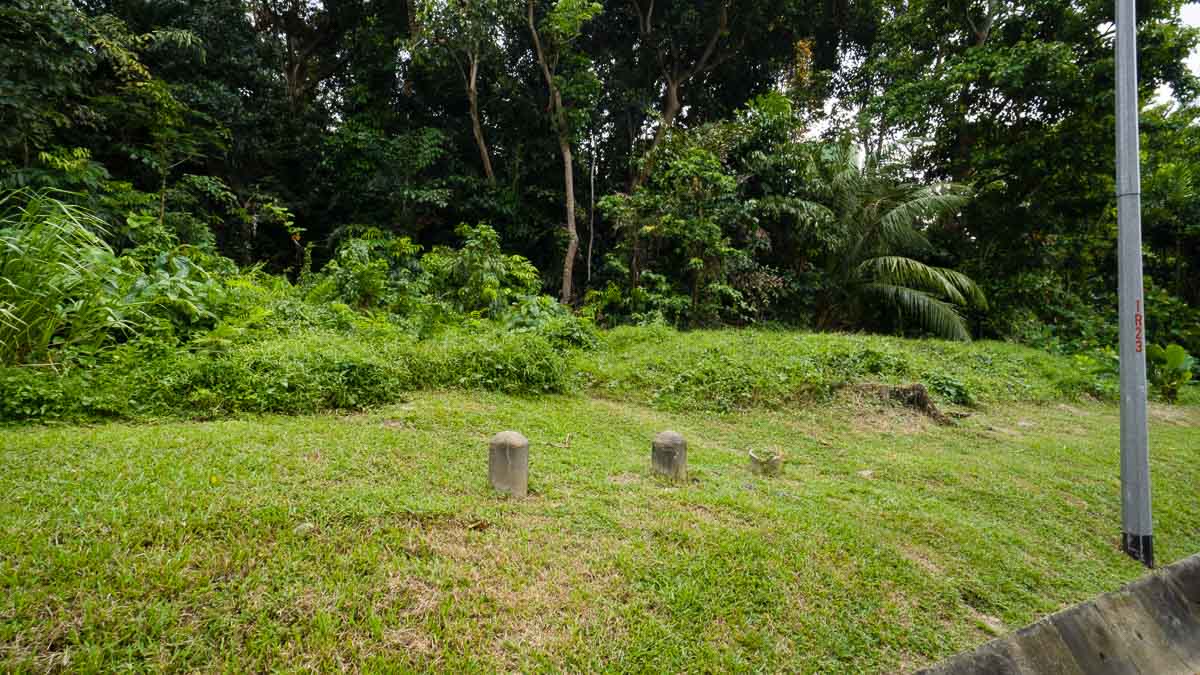 A short distance from the Marsiling Tunnel is another underground area that some refer to as the Bunker. We're not entirely sure what it was used for but it's still a cool site to explore.
To locate the entrance to the Bunker, backtrack to Woodlands Waterfront Carpark. From there, walk along Admiralty Rd W and look out for these stone markers (pictured above).
Upon entering, you'll see a clearly defined path. Stay on the path till you see a makeshift garden on your left.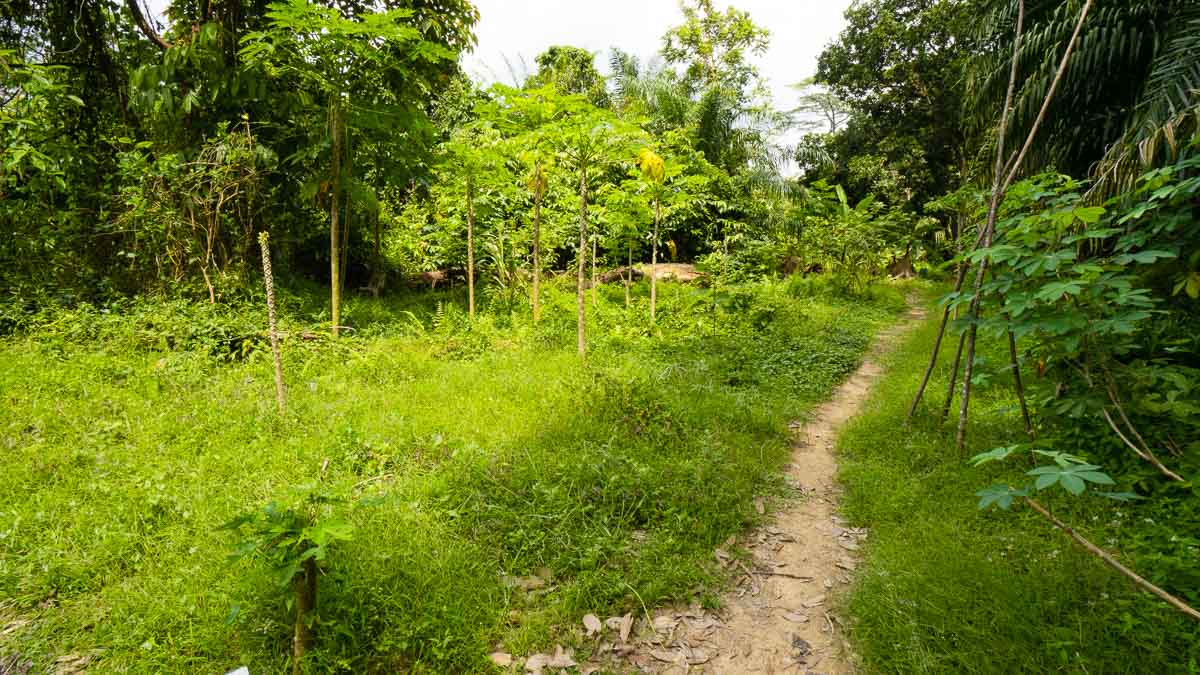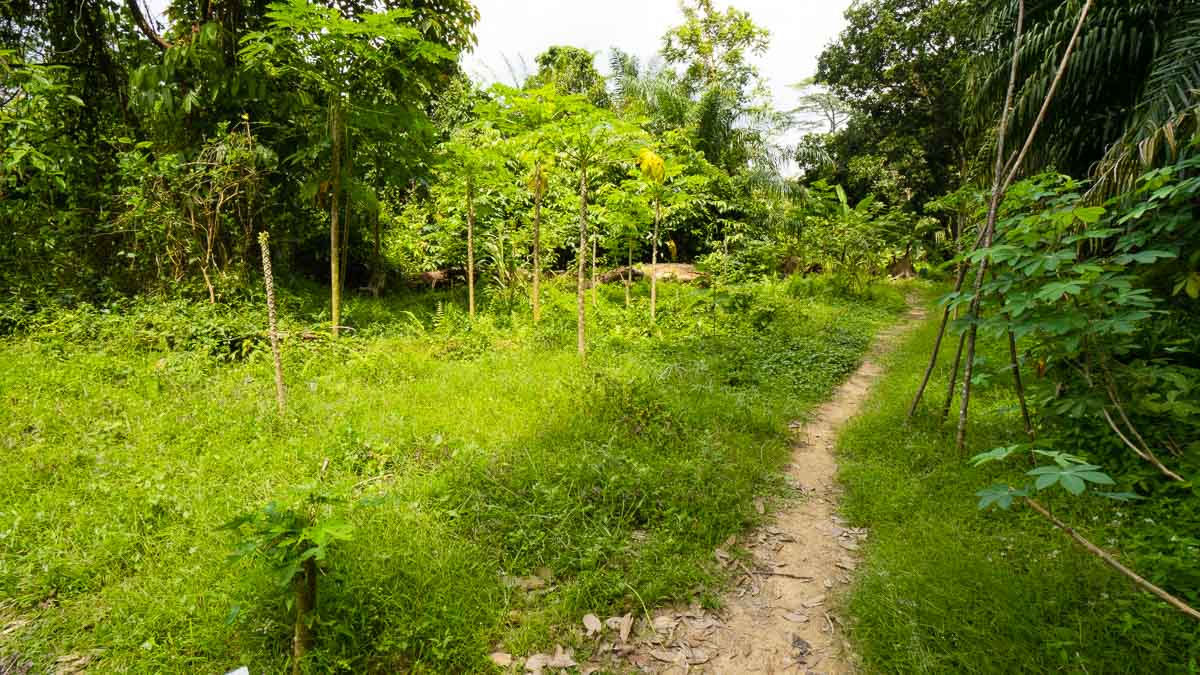 Look out for butterflies fluttering around papaya trees and Chinese money plants.
Once you see the garden, start making your way uphill. The path can be tricky as there is some ground erosion and stray vegetation. If it's your first time, opt to explore with an experienced guide or a group of friends.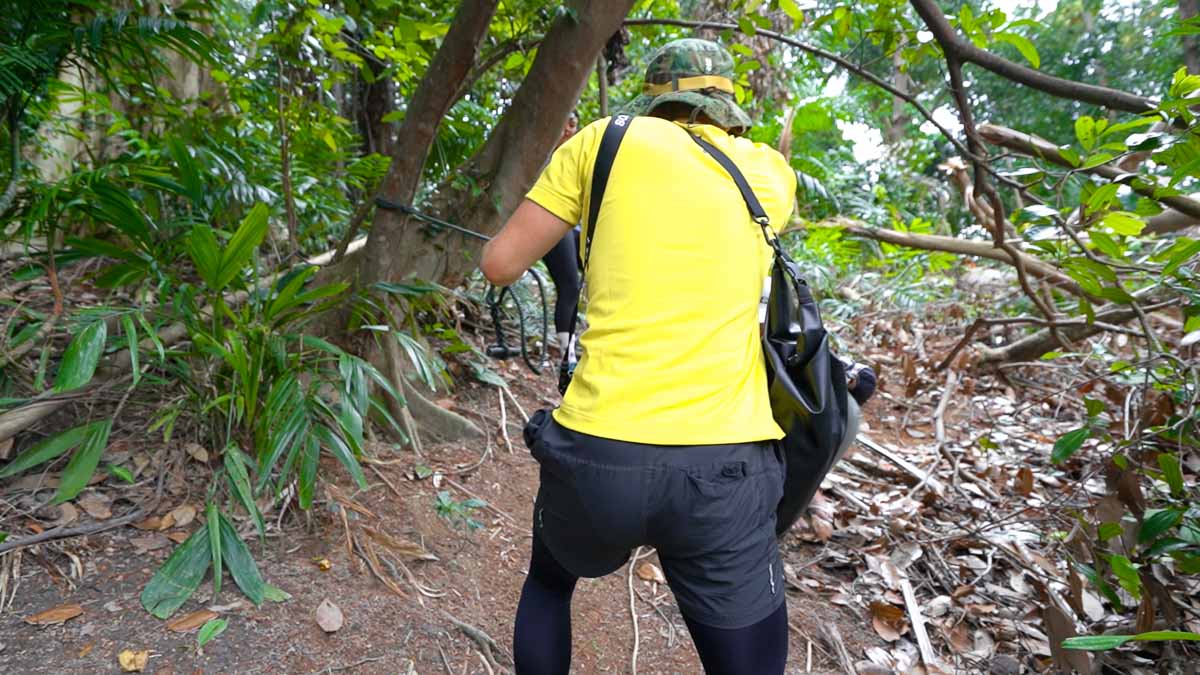 Make use of sturdy ropes tied to the trees to help you climb up.
From the carpark, it takes a total of ~10 minutes to get to the entrance of the Bunker.
What to expect at the Bunker
Compared to the muddy tunnels, the Bunker is easier to navigate and makes for a less dirty alternative. It also serves as a good warmup before the Marsiling Tunnel.
There are two ways one can enter the Bunker. The first is by simply entering through this large opening.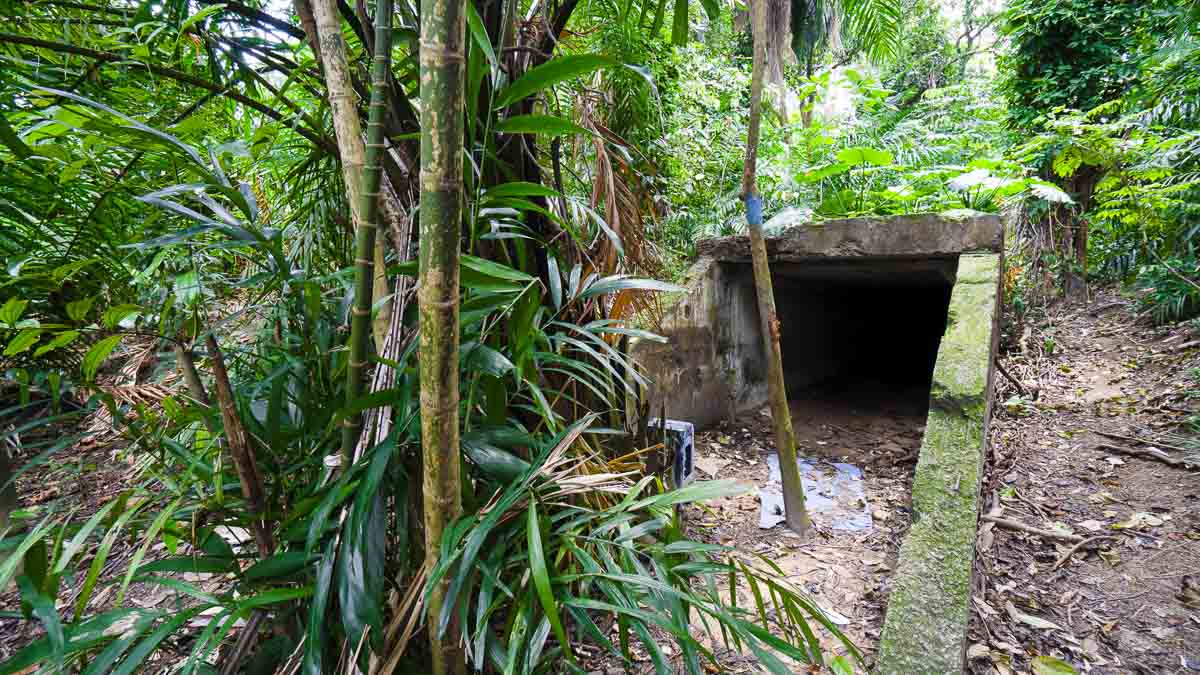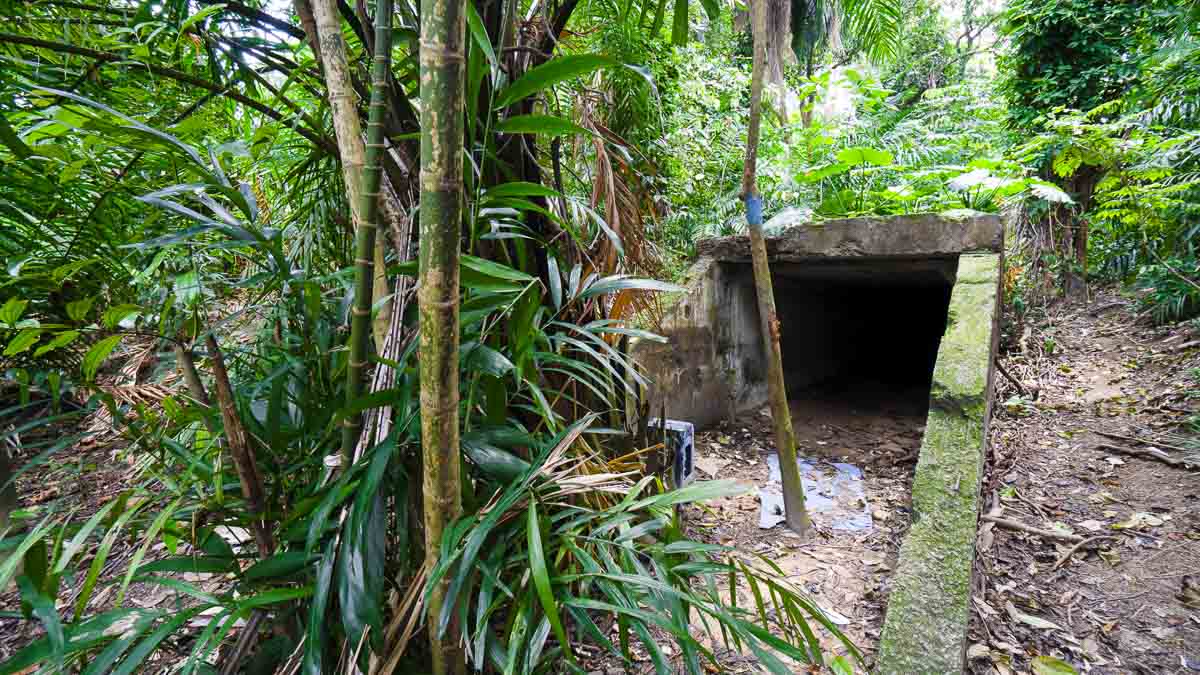 The Bunker's main entrance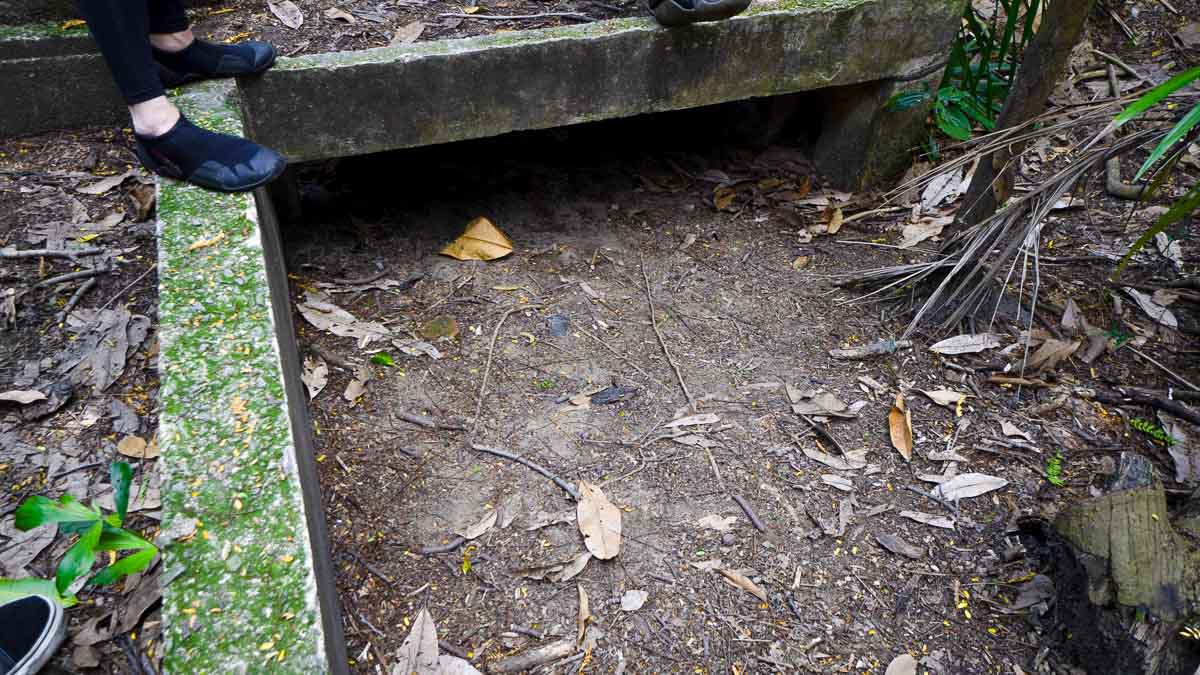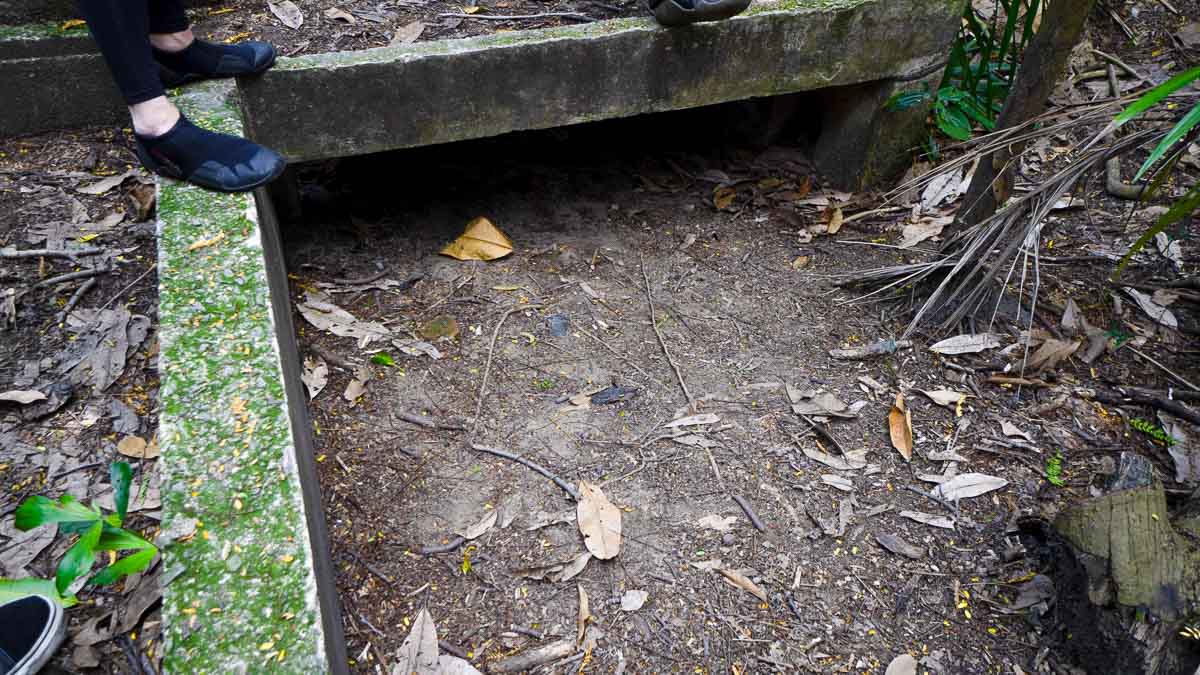 The Bunker's back entrance
Alternatively, a more fun but challenging entrance is through the back. This entrance is only about 30cm high, so you'll have to commando crawl your way in.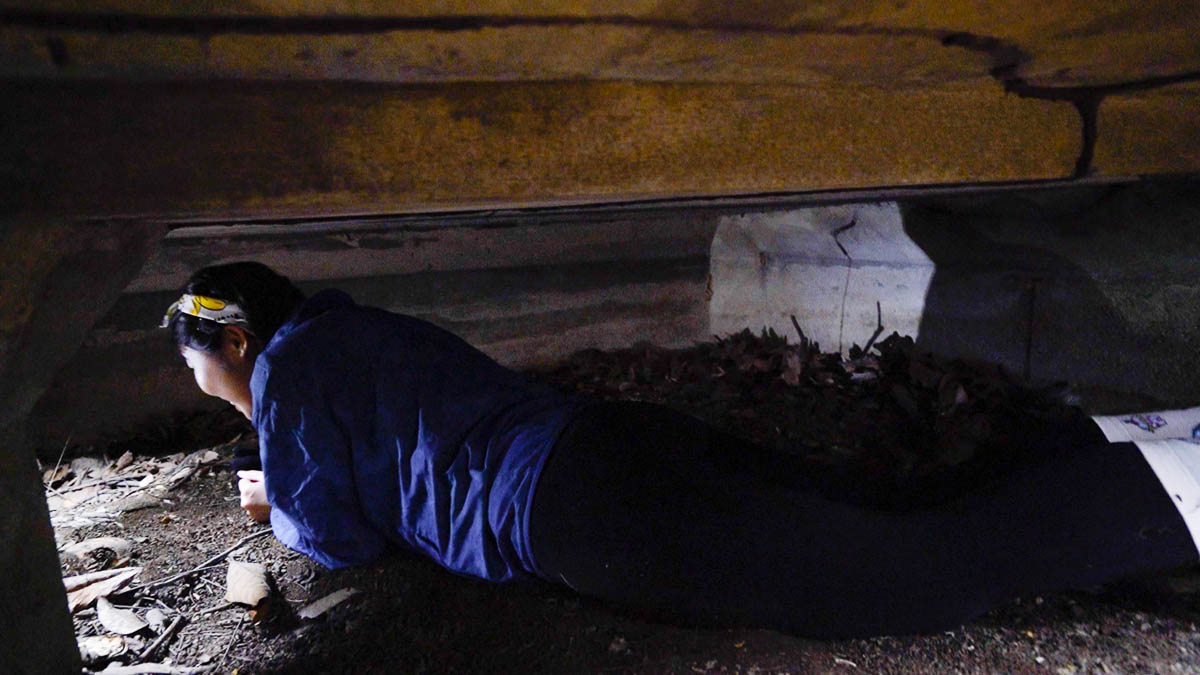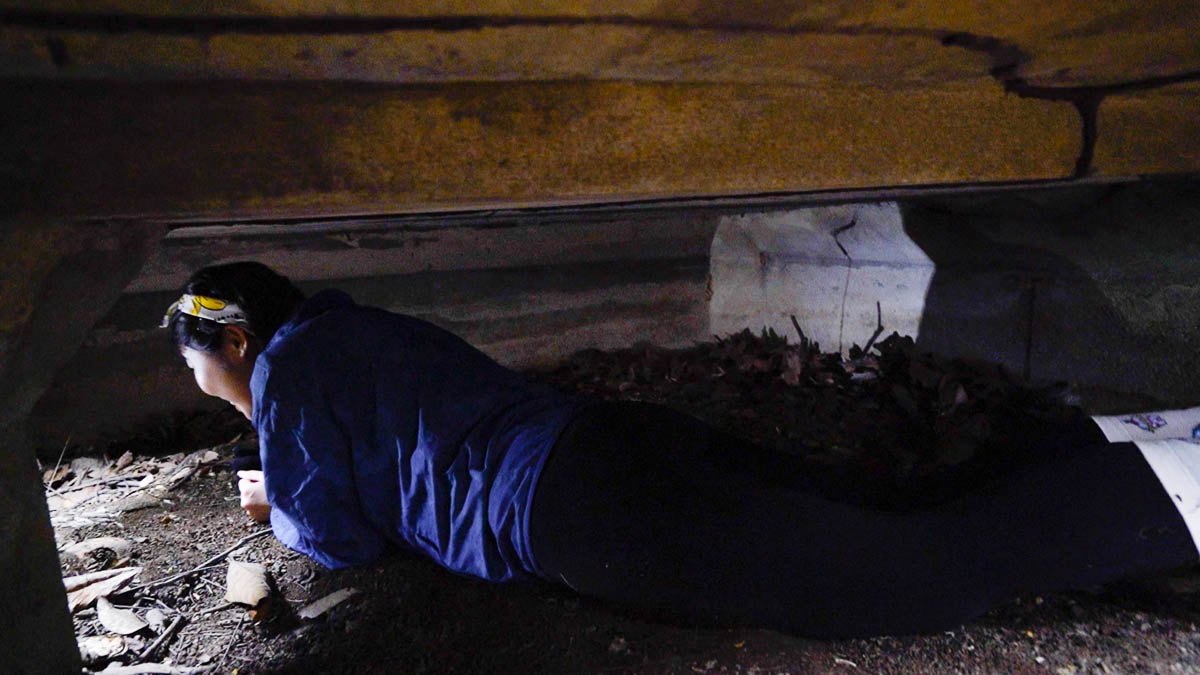 Be sure to look out for sharp rocks and remnants of items left behind by past visitors.
*Pro-tip: Wear a long sleeve top and long pants to prevent abrasion.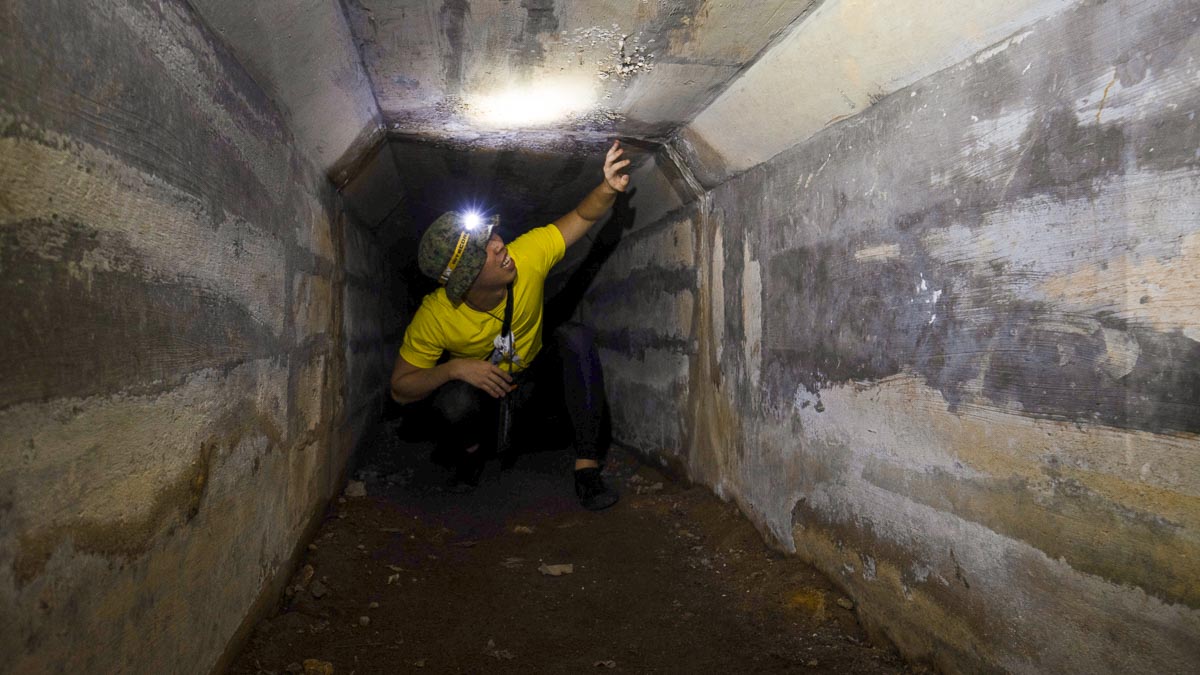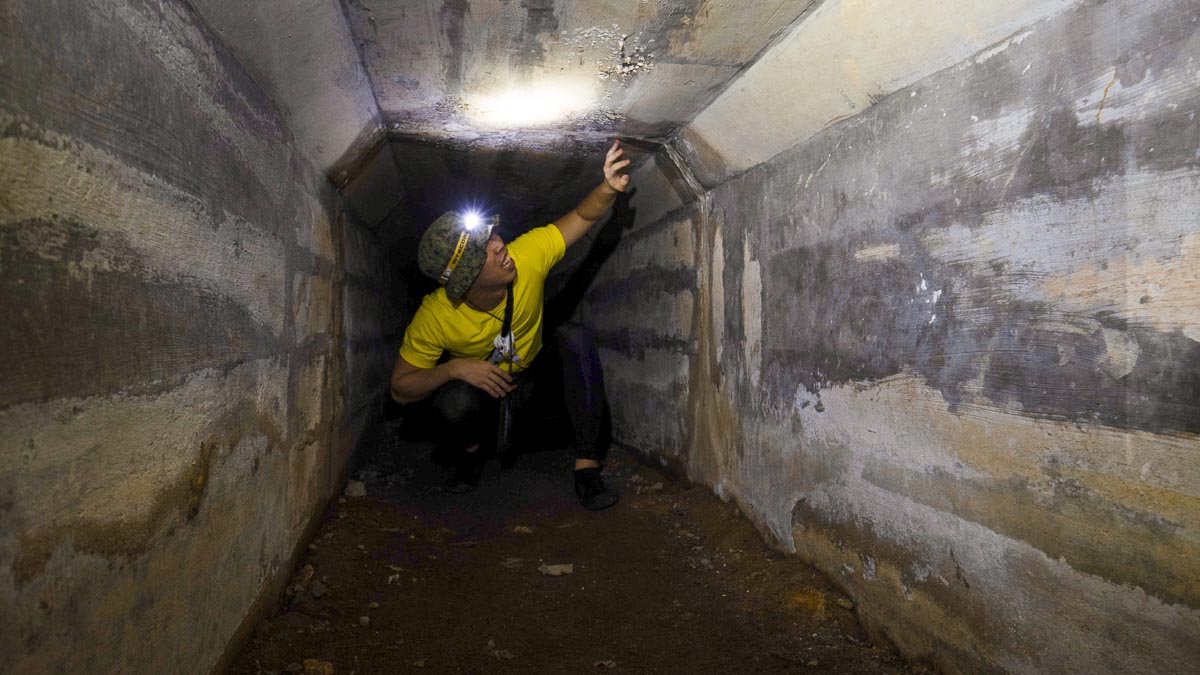 Navigating the short narrow tunnels here will require some duck-walking or even getting down on all fours. You'll reach a big chamber at the end of the tunnel with lots to see.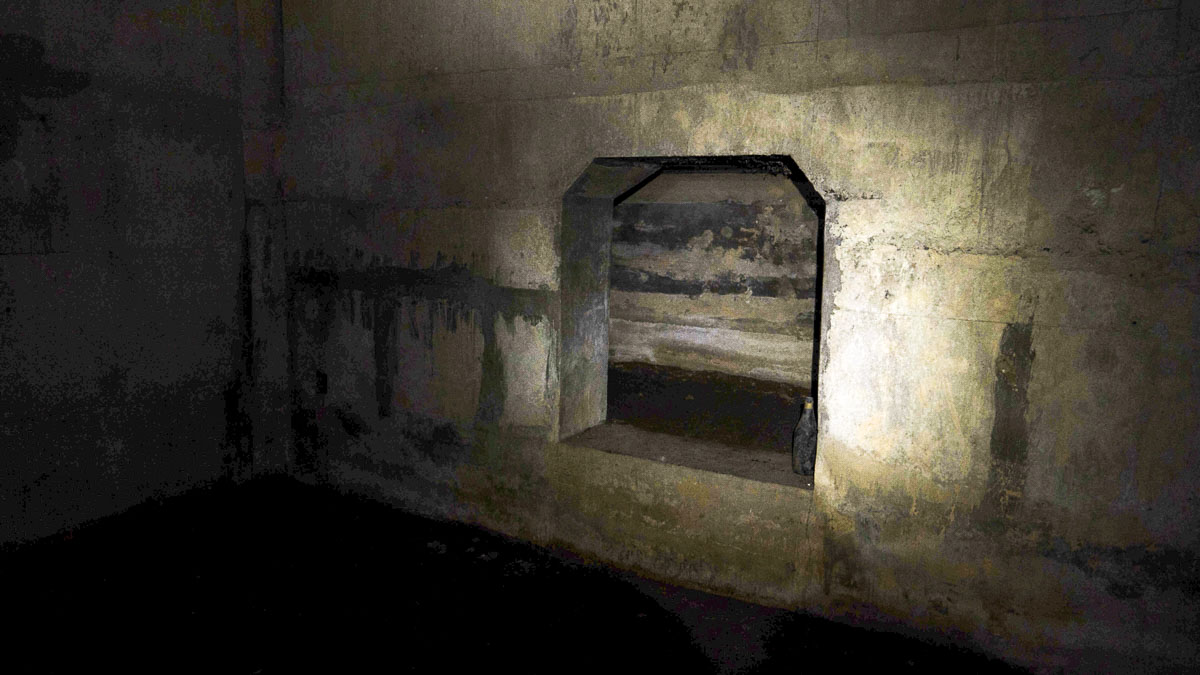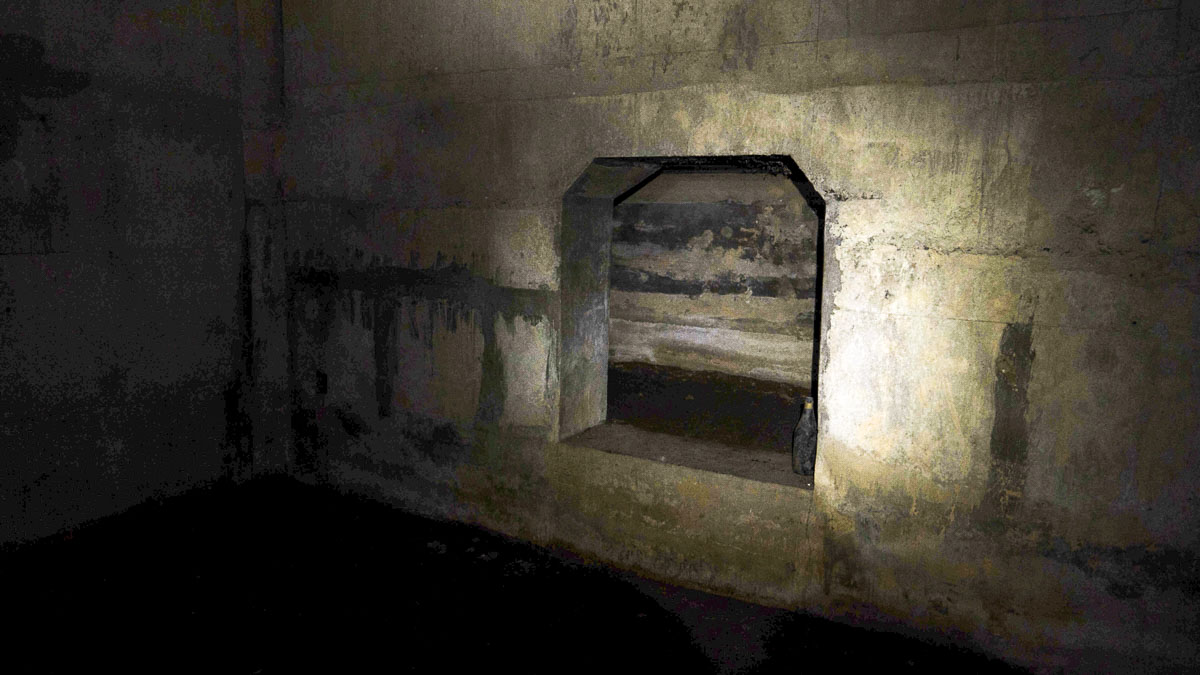 Back in the day, the tunnel was supposedly a hotspot for illicit activities — serving as a brothel and hideaway for secret society members. Today, it's home to countless giant geckos.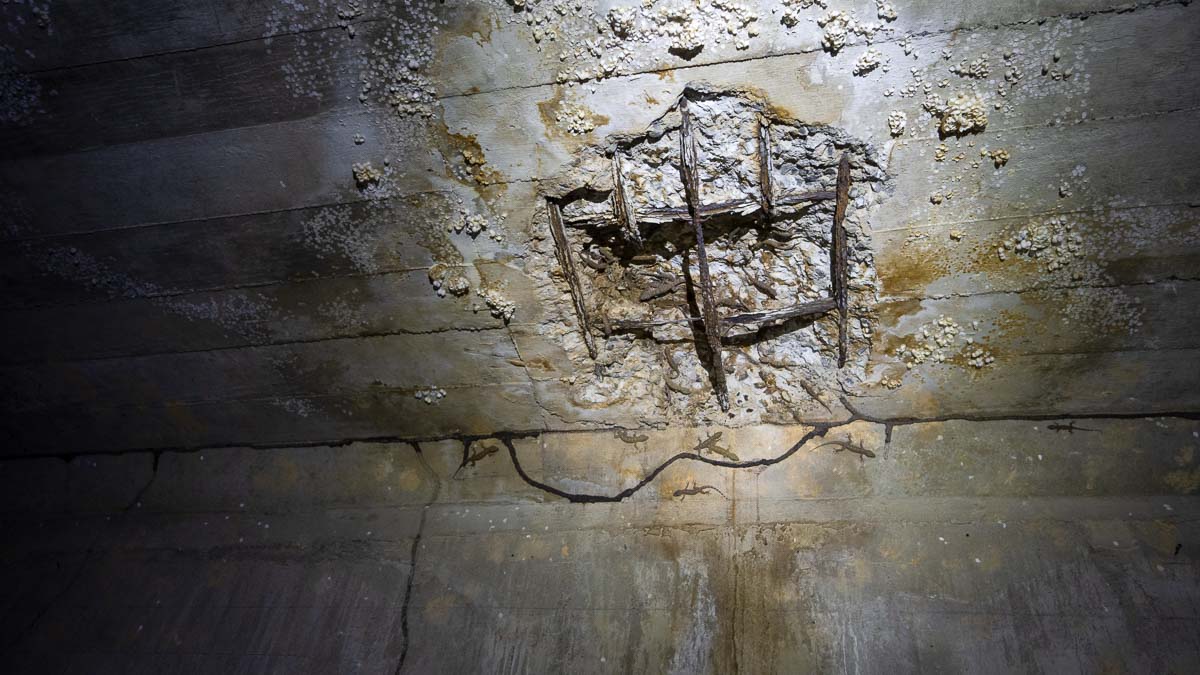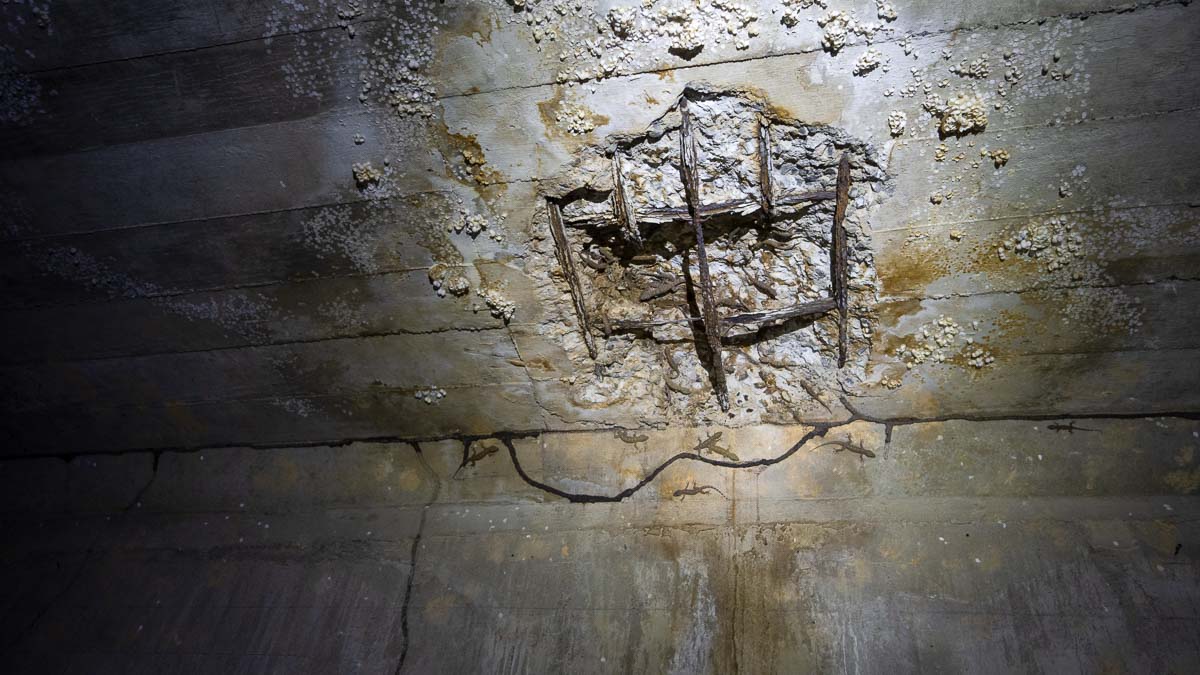 The giant geckos' nest — the geckos are almost as large as our hands!
FAQ
1) Where's the starting point?
From Yishun or Woodlands MRT, take Bus 856 from the bus interchange. Alight at 47011 — Bef R.M.N. Barracks. Woodlands Waterfront Carpark is just a short walk away.
Both the Marsiling Tunnel and The Bunker are a 8–10-minute walk from Woodlands Waterfront Carpark.
– Bunker entrance: Along Admiralty Rd W alongside Woodlands Waterfront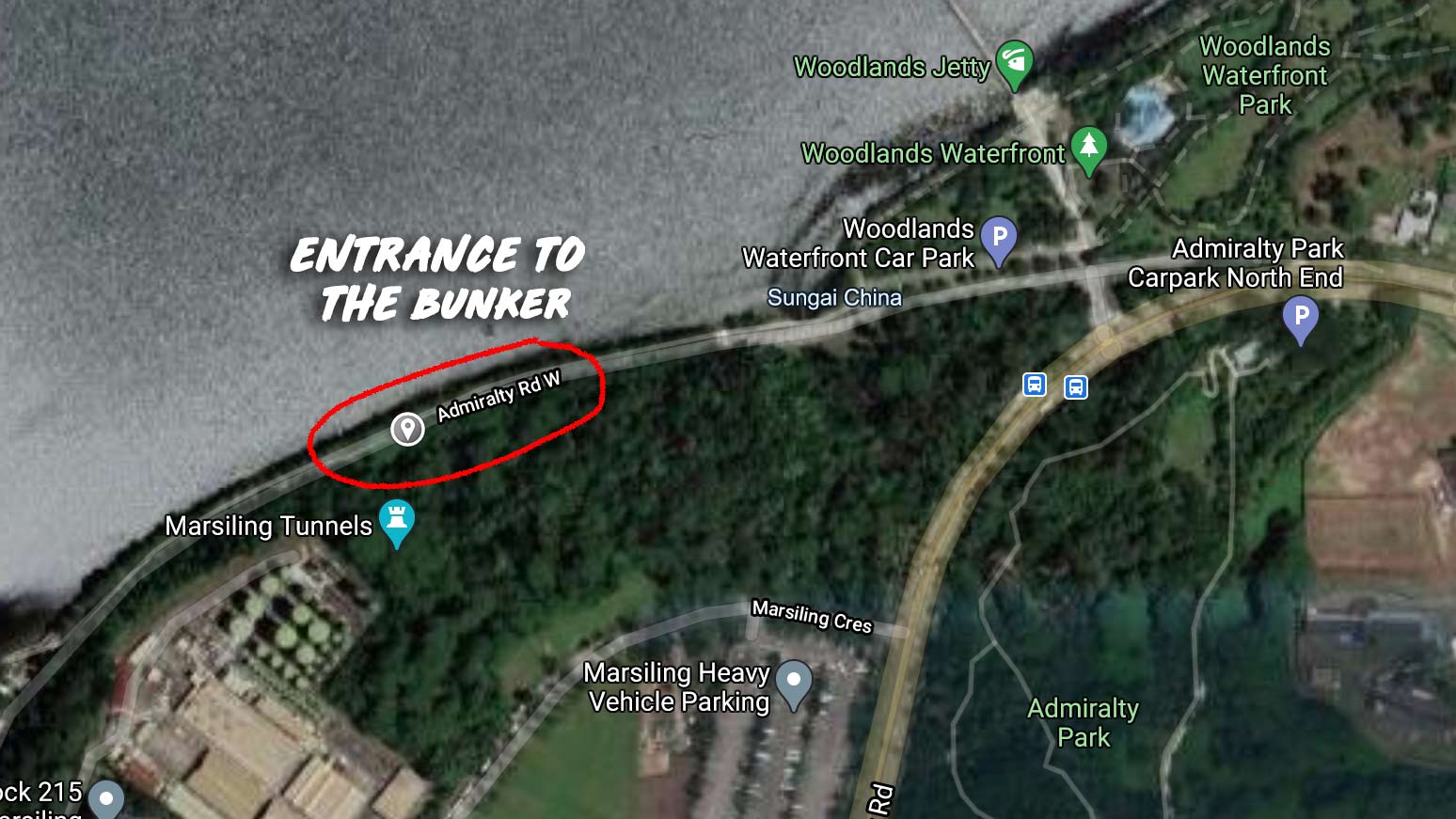 – Marsiling Tunnel entrance: Along Marsiling Crescent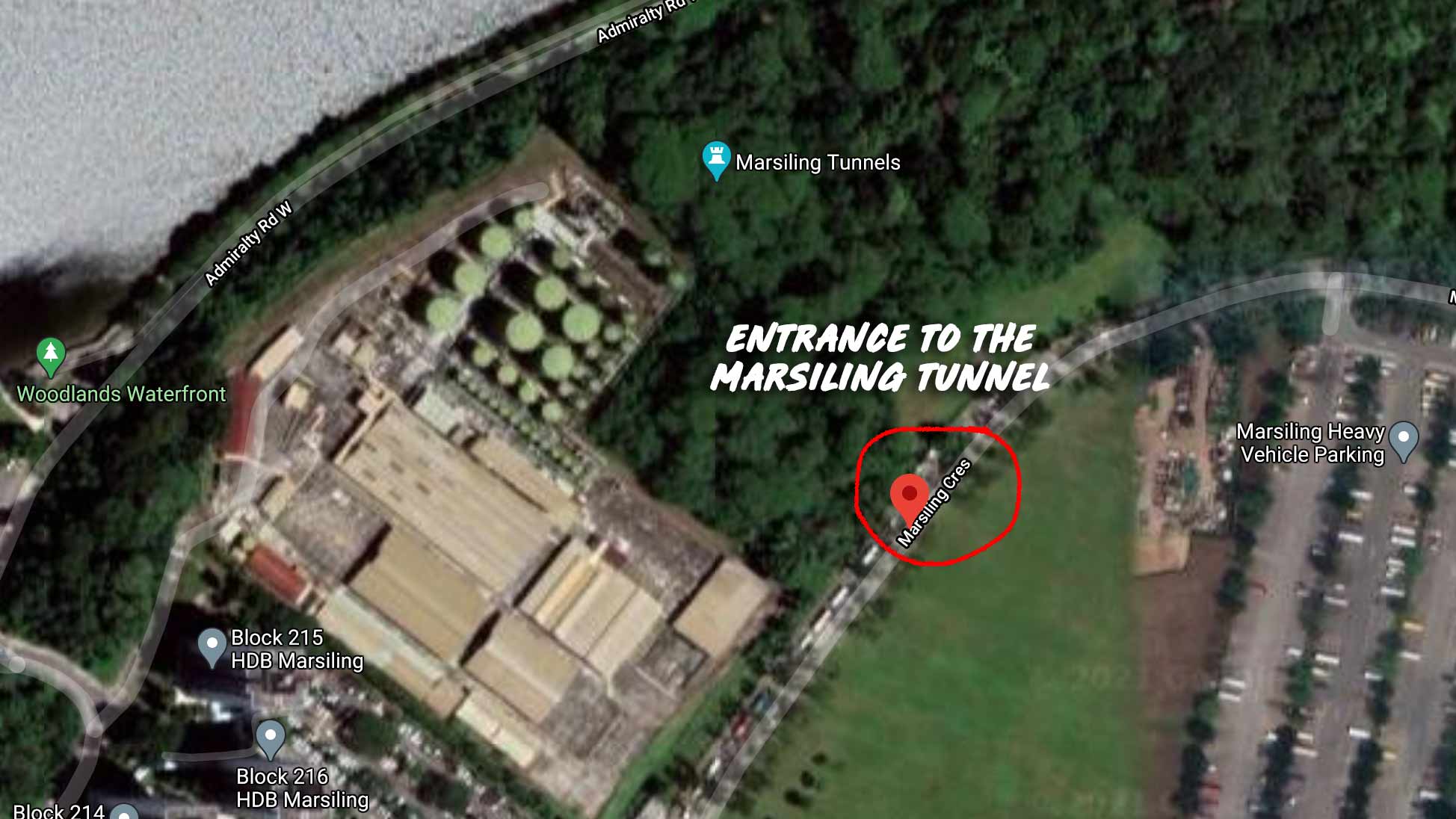 Getting to the tunnels is a challenge on its own, and some end up disappointed because they can't locate the tunnels. If you're not confident of locating them by yourself, Beyond Expeditions holds tours over the weekends. Great for beginners who are just getting started.
2) What should I pack?
The surroundings in the tunnels can be quite rugged. Here are some essentials to bring along:
– Long sleeve shirt and long pants
– Water booties or sport shoes (which you wouldn't mind having soaked in mud)
– Mask(s)
– Hat/cap and buff
– Gloves (optional but good to have)
– Poncho (in case of wet weather)
– A set of clean clothing to change into
– 2 sources of light — headlamp, handheld torch (in case one runs out of battery)
3) Is there a toilet nearby?
The nearest toilet is at Woodlands Waterfront Park.
4) What are the opening hours for the Marsiling Tunnels?
There are no opening hours but we'd recommend visiting in the daytime as it's dangerous to navigate the forest after dark.
Exploring More Abandoned Places In Singapore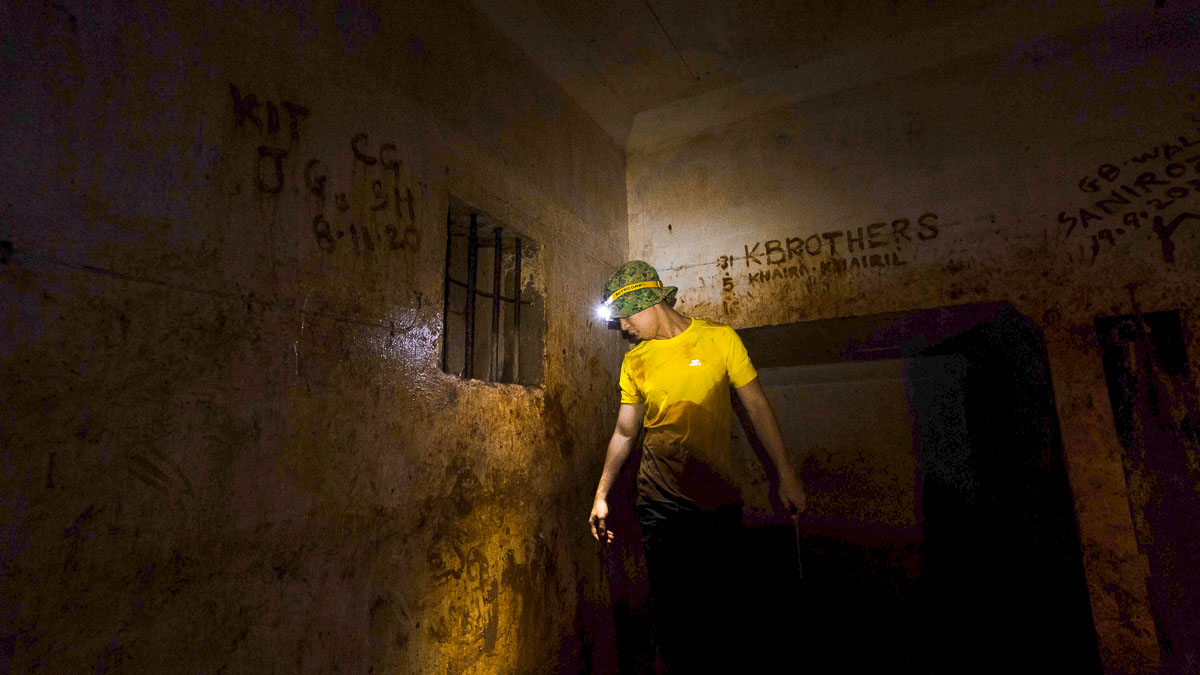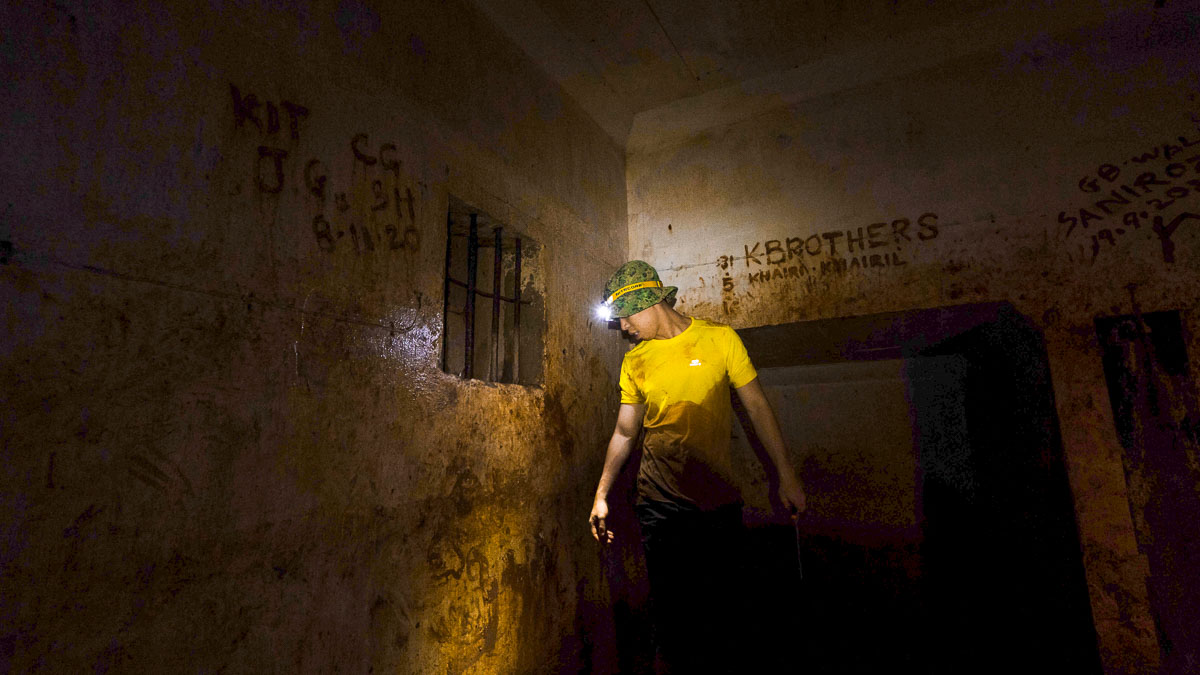 It's strange to think that the Marsiling Tunnels, a relic of Singapore's colonial past, is still standing till this day, hidden and forgotten by civilisation. However, that might change one day — who knows if it'll get cordoned off or even revamped in the future?
But for now, it remains a hidden gem where only the adventurous have been.
If you're looking for something off-the-beaten-track to do in Singapore, add the Marsiling Tunnels to your bucket list.
Read also: 7 Abandoned Places in Singapore — Underground Bunkers, Deserted Mansions and Hidden Railway Tracks
Have you been to any of these abandoned places in Singapore? Share your experience with us in the comments!
---