"Self-care is so much more than a beauty regimen or an external thing you do. A pedicure doesn't last, but meditating every day does." – Carrie-Anne Moss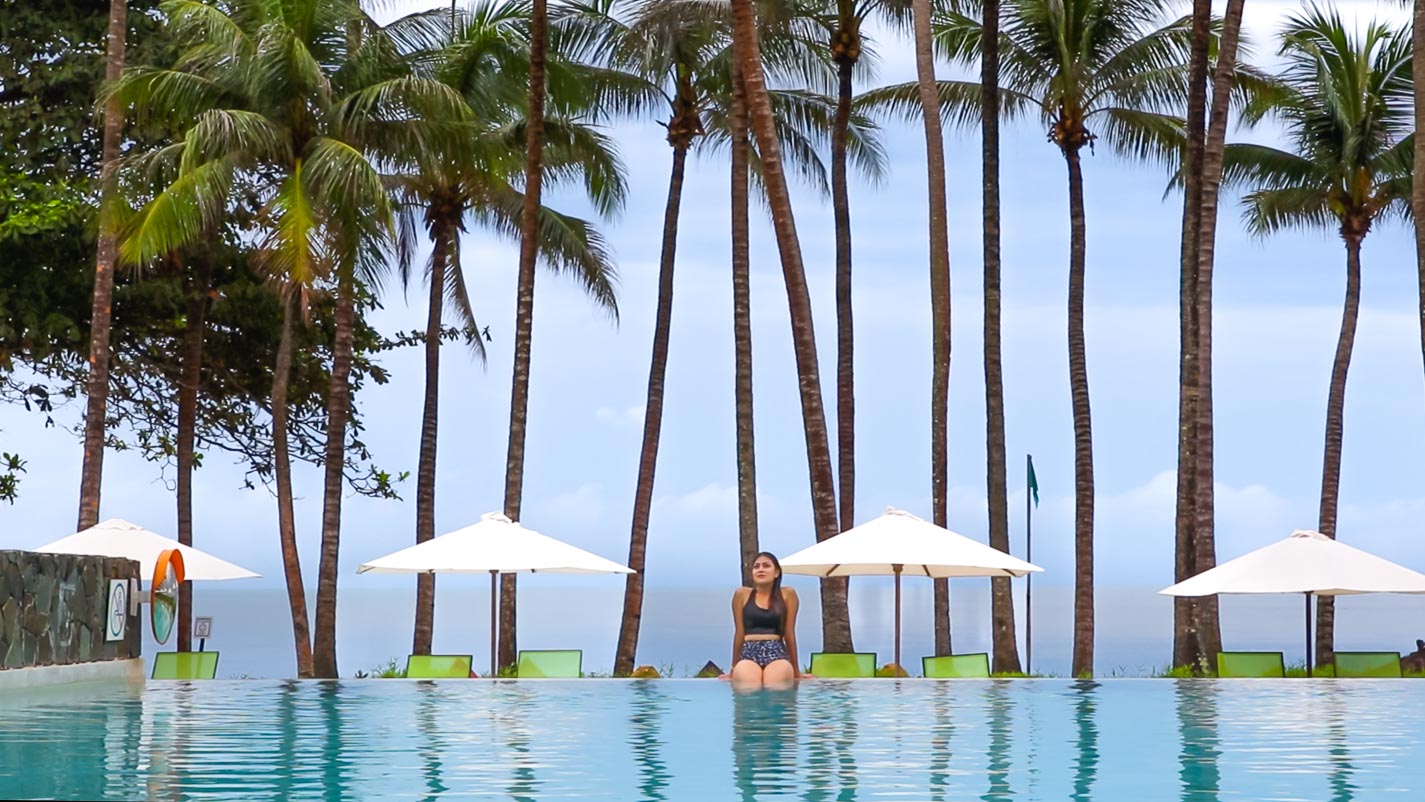 Lounging by the pool at Club Med Bintan.

Bintan is often seen as a destination for seafood, waterparks, and a more upscale version of Batam. But for me, it's more than just that — it's a fantastic escape from the busy life we lead. While many people go there to relax in their hotel rooms, I wanted a proper mental reset that goes beyond simply watching TV in bed.
During my recent trip, I made a conscious effort to recharge in meaningful ways. And what better place to do that than Club Med Bintan? This resort focuses on personal wellness and offers a range of activities to help you rejuvenate. Plus, I was fortunate enough to be there during their Body and Soul programme, which took place from 7 to 25 May 2023. This programme added even more health and wellness activities to the already inclusive resort package.
Here's how I filled my retreat in Bintan doing yoga, indulging in spas, spending quality alone time, and gaining some useful takeaways along the way 😊
Read also: 2D1N Batam Itinerary — Weekend Getaway with Adventurous Things to Do, Hidden Beaches and Cafe-hopping
Day 1
Checking in at Club Med Bintan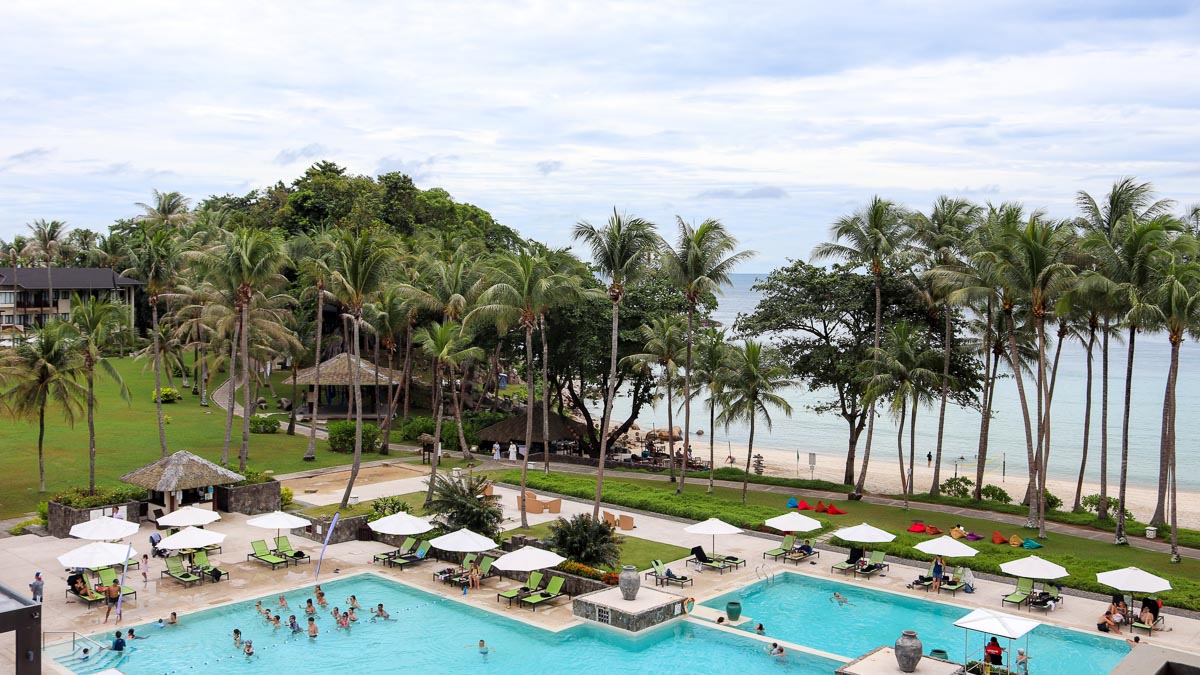 Getting to Club Med Bintan was a breeze cause of the arranged pick-up (a 15-minute coach ride) from the ferry terminal. The staff took care of our luggage too — the moment we cleared the customs, it was taken care of until I arrived in my room!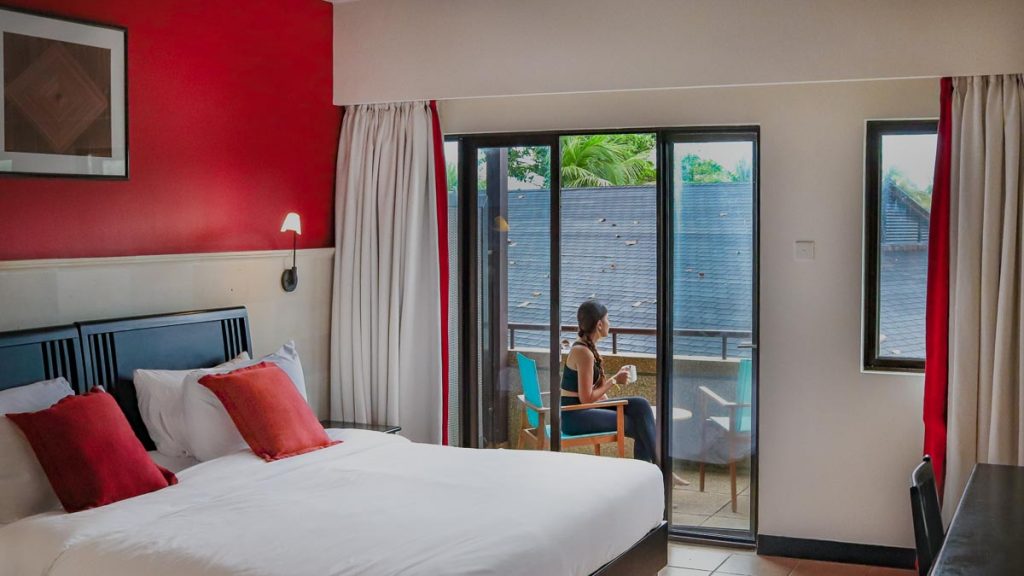 For a solo traveller, the Superior Room with Balcony was more than luxurious. After a quick unpack and shower, you'll be introduced to the resort by the G.O.s (Gentle Organisers) — the multi-talented staff you'll come across often at all the Club Med resorts. They're also the ones who perform during the nightly live shows and conduct sports and wellness activities around the resort.
Cost: From S$584/night
How to get there: Select "with transport" during booking — this includes a ferry ride from Tanah Merah Ferry Terminal and a coach transfer from Bandar Bentan Telani (BBT) Ferry Terminal to the resort grounds in Bintan.
Healthy buffets at Club Med's Bottomless Buffets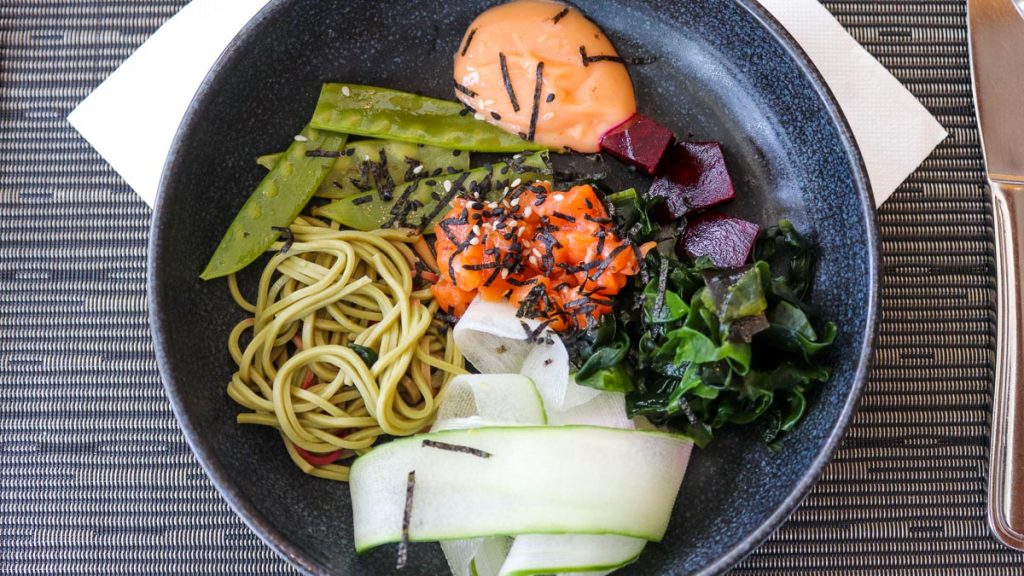 Yummy bowl of Salmon Poke — an excellent option for a batch-cooked meal.
Boy, did I gain weight here! But hey, I believe that being healthy comes in all shapes and sizes. As a pescatarian, I had some concerns about the food options. But to my surprise, there were plenty to choose from. Plant-based dishes were served every lunch and dinner. Pan-seared salmon and meat-free pasta were also a common sight.
There's a three-hour-long buffet every breakfast, lunch, and dinner but the buffet hall is closed otherwise. When I felt like having a nibble in between buffet timings, La Terrasse Specialty Restaurant is always open!
The food here was really good and gave me a lot of healthy and simple recipe ideas for my batch-cooked meals back home.
Plus, the Main Bar and Beach Bar are open for free-flow drinks (for drinks not on the premium menu) daily — so it was endless ice lattes and bottomless mocktails and beers for me!
Buffet hours: 7AM – 10AM (Breakfast), 12PM – 2PM (Lunch), 6:30PM – 9PM (Dinner), closed during non-buffet hours
Opening hours: 9AM – 12AM (Main bar), 9AM – 10PM (Beach bar), 10AM – 9:15PM (La Terrasse Specialty Restaurant)
Aerial Yoga at the Palapa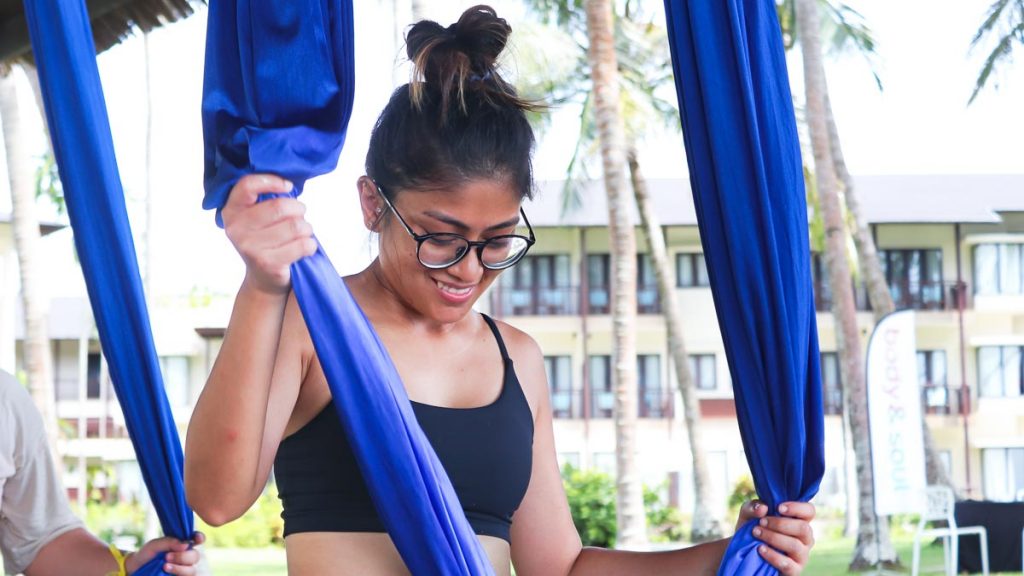 I do yoga sometimes but aerial yoga is a completely different ball game! It takes a lot of core, arm strength, and balance!
Yasuragi is a Japanese word that refers to the gentle feeling of inner peace. Not to be dramatic but I felt Yasuragi while doing the 'superman pose'.
Joining a 45-minute beginner class wasn't as intimidating as I thought it would be and having a knowledgeable instructor (shoutout to Jean!) helped a lot. I love how the poses challenged not only my physical strength but also my composure when I find myself suspended in an uncomfortable position.
There are also Hatha and Yin yoga classes available at varying difficulty levels so you can choose to take the same class every day and get better at it or dabble in each type of yoga to find your forte.
*Pro-tip: Book a slot the day before at the reservation counter beside the theatre. Classes fill up quickly so be the first ones there when the counter opens at 7:45PM.
Activity timing: 10AM and 3:30PM (at the Palapa)
Workshop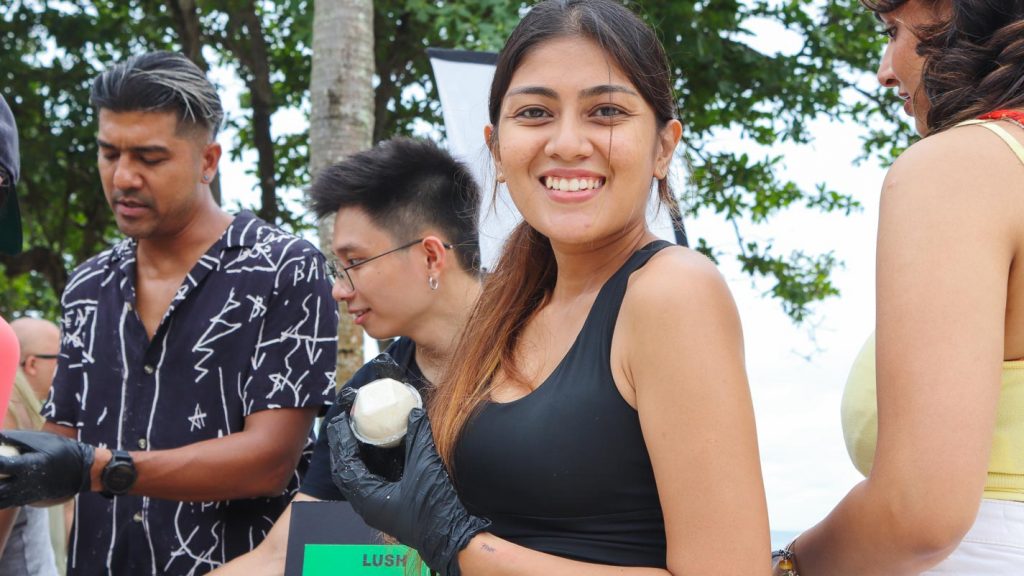 Getting hands-on at a Lush bath bomb-making workshop.
I've been using cruelty-free brands for makeup and skincare for many years now and LUSH is one of them! So it was great to be able to join in the bath bomb-making workshop while on the retreat in Bintan. We were told we'd be making LUSH Shea Butter bath bombs during the workshop by hand-mixing citric acid and sodium bicarbonate powder. The entire process was guided by amazing LUSH employees and all participants got to bring back the bath bomb they made here!
*Fun fact: LUSH tests their products on people who volunteer themselves — usually the staff!
Being around invigorating smells that are synonymous with LUSH products, I was reminded of how I used to treat myself to their products every payday. But somewhere along the path to workaholism, I stopped making time for indulgent self-care rituals. Now is a great time as any to get back into it!
*Pro-tip: Psst! Don't limit yourself to bath bombs! Self-care comes in many forms. Personally, I enjoy lighting a LUSH scented candle during my quiet reading time.
For now, the workshop will only run during the Body and Soul programme so be sure to join in if you're there and get yourself a complimentary bath bomb!
Activity timing: Varies (part of the Body and Soul programme)
Day 2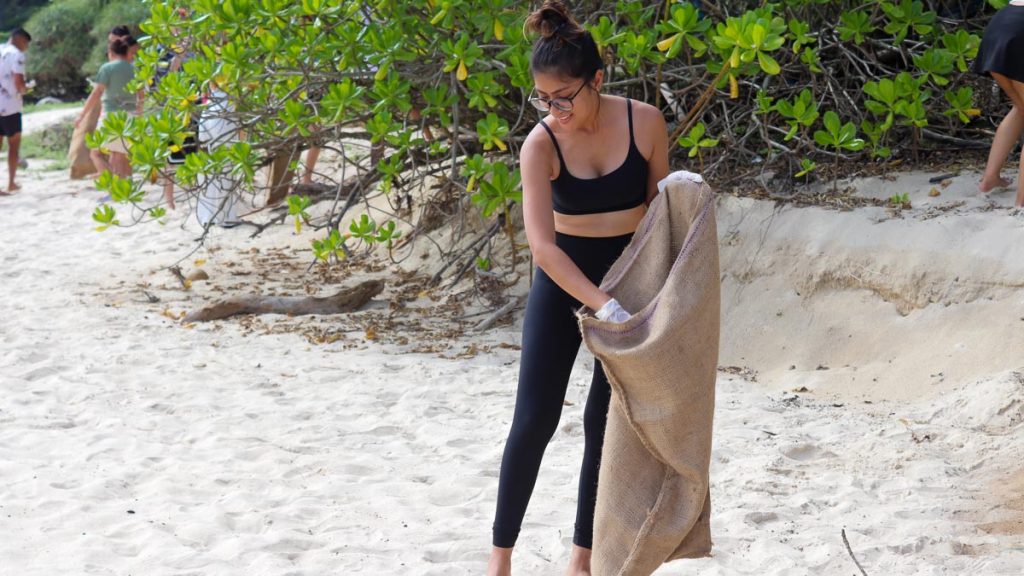 When I was (much) younger, I came across the quote, "The true meaning of life is to plant trees, under whose shade you do not expect to sit." For me, that adequately sums up what it means to care for the environment — something I'm passionate about.
So I was really excited about the weekly beach cleanup at Club Med Bintan. Organised by LUSH, about 20 of us gathered on the beach where we're given a sack and a short safety briefing (to watch out for glass shards) before setting off. By the end of it, most of our sacks were filled with single-use plastics and discarded fishing gear.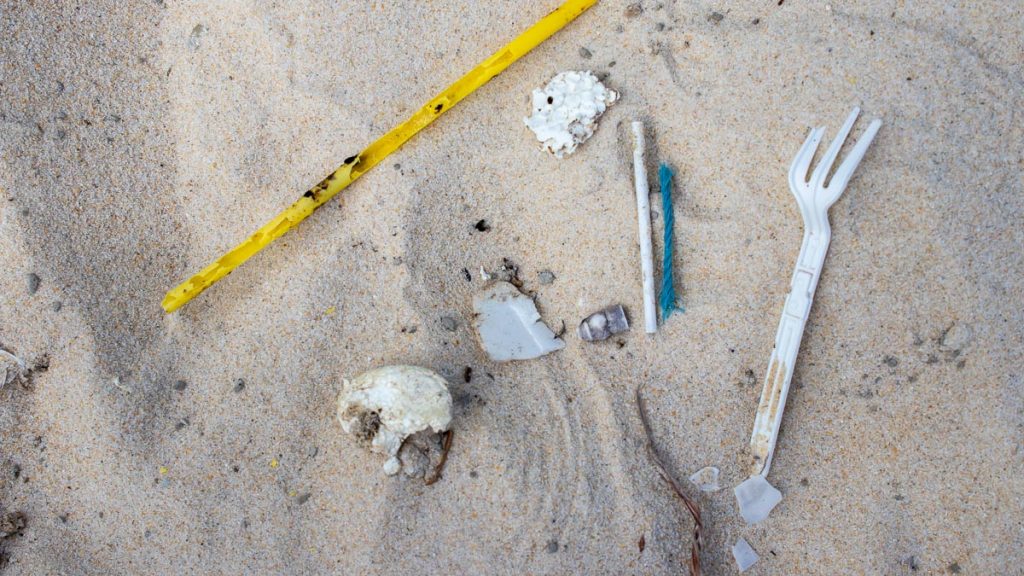 One of my favourite experiences at Club Med Bintan is their on-site Sea Turtle Conservation and Hatchery. To keep the turtle eggs safe from predators, they're carefully dug up and transferred to the sheltered hatchery until they're ready to be hatched. Guests are not allowed to handle the hatchlings but if you're there between May to September, you might be able to witness their release to the sea 🐢
Over the years, I came to understand that it's not about saving the world but it's about creating a positive ripple effect. Picking up microplastics along the beach may not do much about large-scale pollution, but it'll at least give the sea turtles that come to this beach cleaner waters and a fighting chance.
Activity timing: 8:45AM – 9:30AM (part of the Body and Soul Programme)
Bintan Sand Dunes & Blue Lake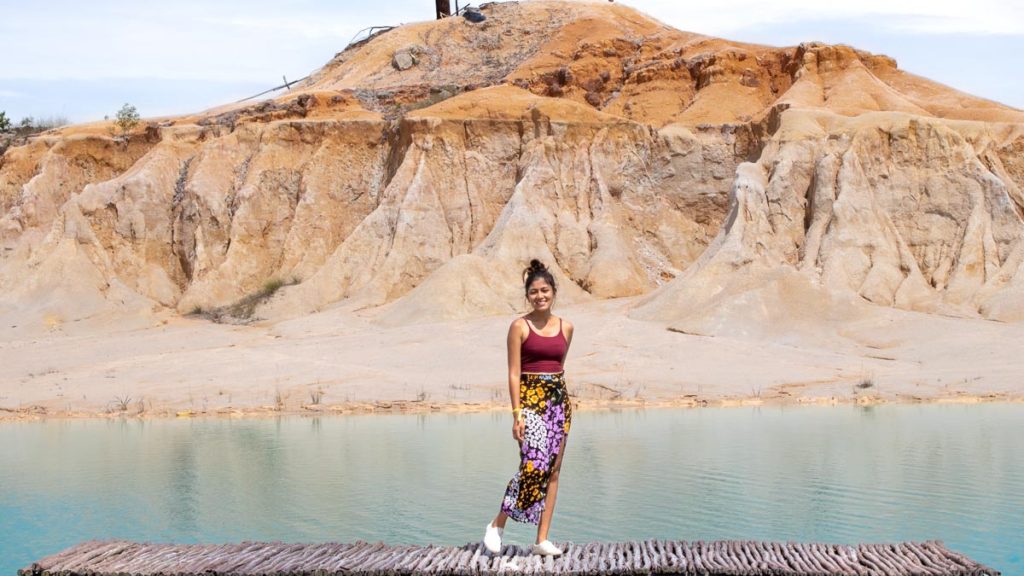 Seeking out lesser-known places is one of my favourite things to do while travelling so while I was in Bintan I visited the lesser-known Bintan Sand Dunes and Blue Lake.
The piles of sand here are a result of the mining which has now ceased, and the blue lake is naturally collected rainwater! While it's become more popular in recent years, it hasn't lost its charm. It was very quiet when I was there on a Monday afternoon but it does get more crowded on the weekends.
*Fun fact: Singapore used to be one of the countries to import sand from these sand dunes!
Other than a photo-op spot, visitors can also enjoy ATV rides or take pictures with a falcon — prices seem to vary depending on your haggling skills! There are also food stalls at the entrance if you fancy a quick bite.
I was there just for some pictures though. It might seem awkward at first walking alone with a tripod and taking pictures of myself but travelling solo (and being an introvert) has taught me to enjoy my own company. Trust me, it's better to go alone than miss out on an experience.
Cost: ~S$32 for 1hr tour (incl. transport)
Activity timing: 10AM or 4PM
Address: Busung, Seri Kuala Lobam, Bintan Regency, Riau Islands 29152, Indonesia
*Pro-tip: Arrange for hotel pick-up with the activity provider. They're pretty flexible and will accommodate your schedule wherever possible.
Spa Treatment at CSpa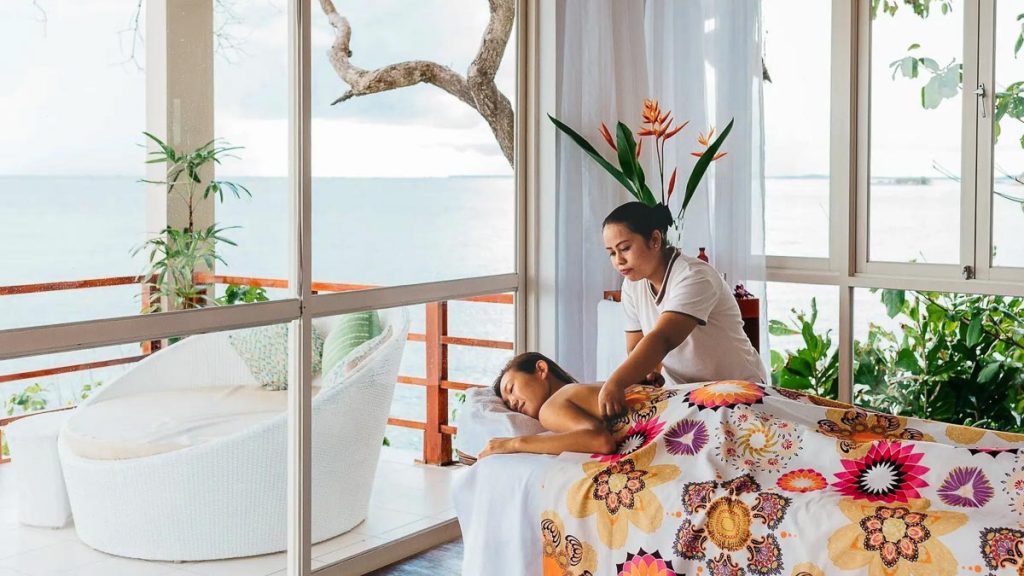 Photo credit: Club Med
Since spas at Club Med are often top-tier, I decided to get a 1-hour traditional massage (1,008,000Rp) after a day out in the sun.
CSpa is tucked away in a tranquil little nook in the farthest corner of the resort. I was greeted with a cup of hot tea before being whisked off to an amazing private sea-view room. I don't recall much after the foot soak and head massage cause I fell asleep once the masseuse got to my pressure points — all I remember is being completely relaxed!
I run pretty often and outdoorsy activities are part of my weekend routine, so taking care of my body becomes increasingly important as I age.
Other than a massage, CSpa also has exfoliating and body wrap treatments which focus more on skin rejuvenation and hydration.
Cost: 1,008,000Rp for a Traditional Massage (book at the level 1 reservation desk)
Opening hours: 10AM – 7PM
Day 3
Sailing Lessons on a Private Beach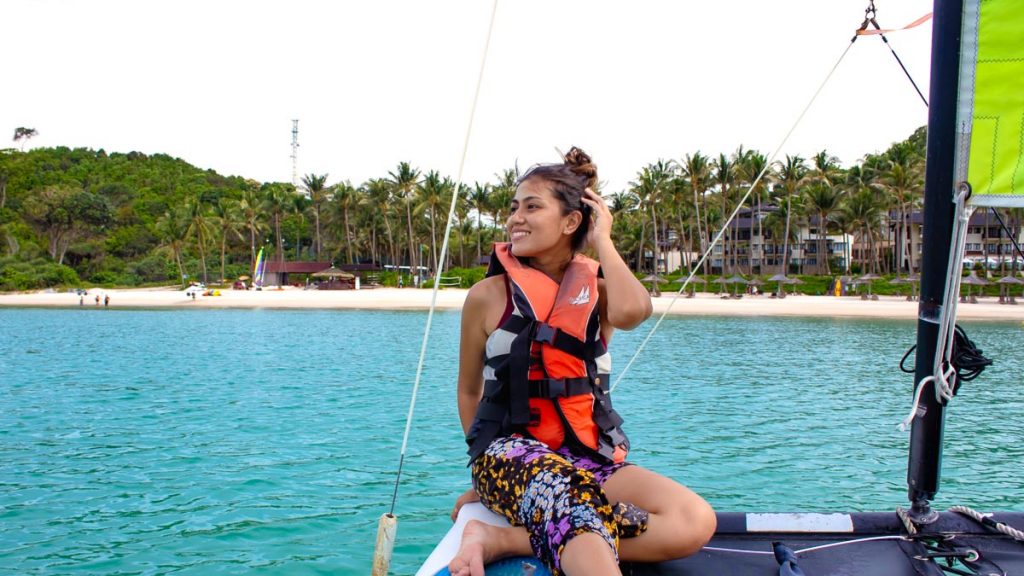 Having a skilled sailing instructor makes all the difference if it's your first time at the sport. Thanks to Rey, I was confidently manoeuvring the yacht by controlling the mainsheet and rudder just 5 minutes in. The key is to orientate the yacht upwind, so the sail catches wind and moves forward.
Trying new activities like sailing and aerial yoga in Bintan is a huge plus point as one trial lesson in Singapore costs a lot more! So get a bang for your buck and experiment with as many things as you can while you're here.
Adult sailing lessons are available in the mornings and afternoons. Duration of lessons vary depending on how many guests have booked a session during that window period, the wind conditions, and the number of instructors available.
Activity timing: 9:30AM – 11:30AM and 2:30PM – 4:30PM (book your session on the day itself at the Watersports Centre)
Wall Climbing to Conquer Old Fears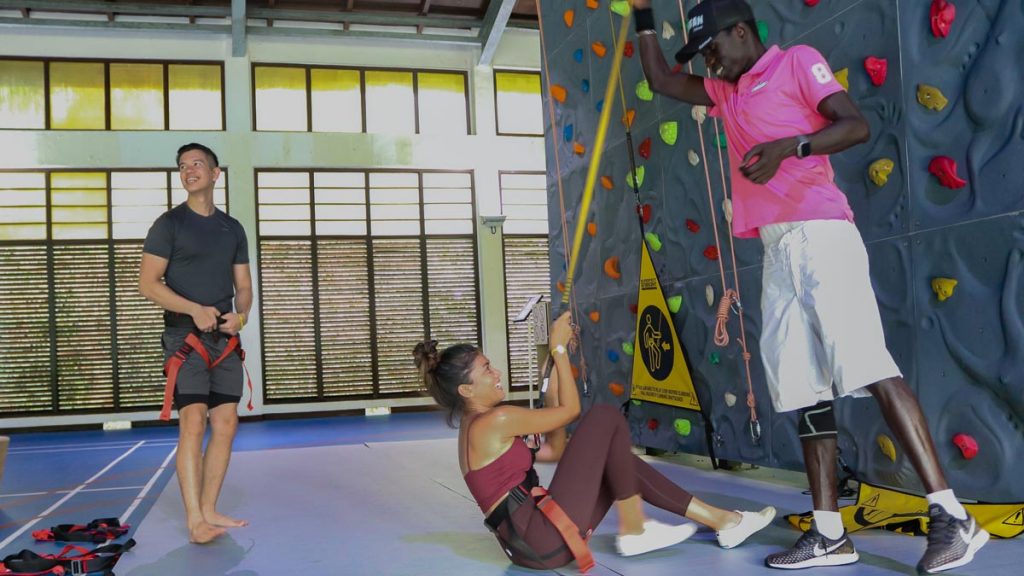 Me falling after landing with my cheer squad around me!
I remember attempting wall climbing when I was 13. My body froze less than halfway up due to my fear of falling from heights and I never attempted it again since then. But with some moral support, and 16 years later, I managed to scale to the top this time. Holding on to a fear that developed years ago seems so foolish now and I can see myself actually doing wall climbing for fun back in Singapore!
The wall here is beginner (and kid) friendly so it was great for practice. There weren't other guests around while I was there so I could scale it repeatedly until my arms gave way. Having a G.O there to encourage me and look out for my safety helped a lot too.
For veteran climbers, this might be good fun but it likely won't be a challenge. If you're looking for something new to try your hand at, the Sports Centre also has archery, tennis, and squash. Activity timings vary so remember to check the schedule online or on notice boards around the resort.
Activity timing: Varies (at the Sports Centre)
Creating Scents and Artwork with THANN and Art Wonderland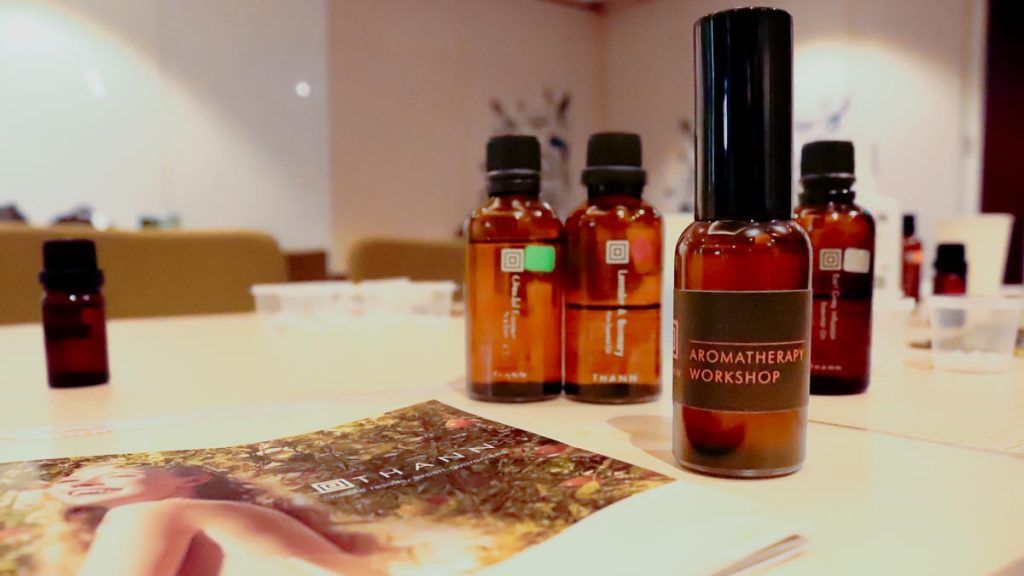 Bringing back my own bottle of room and body spray for free!
During this retreat in Bintan, I engaged my inner child in sensory play for the first time in a long time. I got to create my own scented spray at the aromatherapy workshop by THANN and an art piece inspired by nature during the Printmaking with Nature workshop by Art Wonderland!
Making an aromatherapy spray was really therapeutic. The instructor provided six bottles of essential oils of varying notes — from citrus to floral. We were given the autonomy to create our signature spray by mixing them in any combination we wanted. We got to keep our creation too!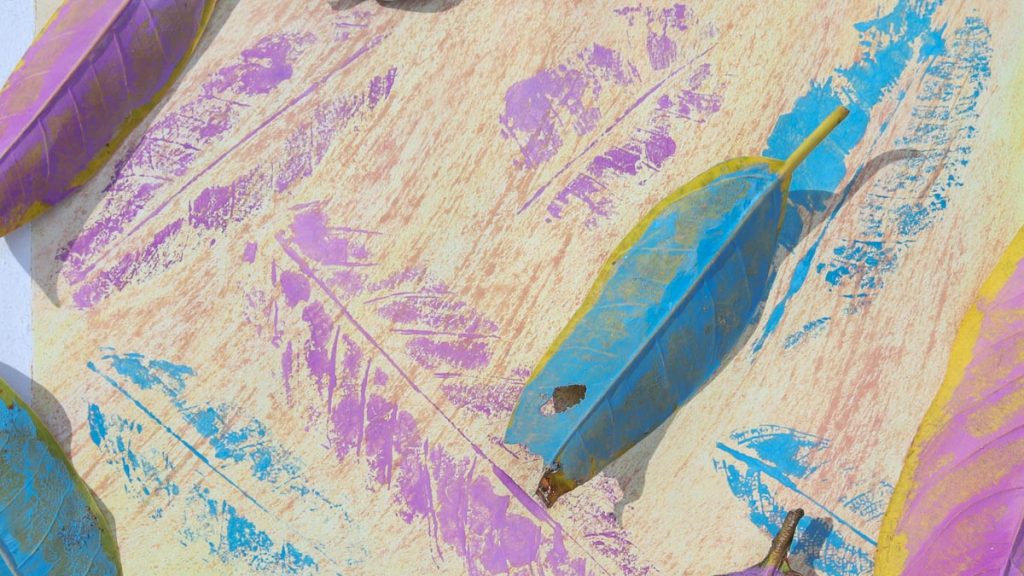 Leaves I collected and my printmaking piece.
Printmaking with Nature is exactly as it sounds! The best part about this outdoor art-jamming session is strolling on the grass searching for leaves — leaves that aren't too fresh or too dry are perfect to be painted on.
As adults, engaging in sensory play is a small yet intentional act that allows us to reconnect with our innate curiosity, cultivate mindfulness, and enhance overall well-being amidst our busy schedules.
*Fun fact: Both THANN and Art Wonderland are Singapore-based companies!
Activity timing: Varies (part of Body and Soul programme)
Takeaways from a Solo Wellness Retreat in Bintan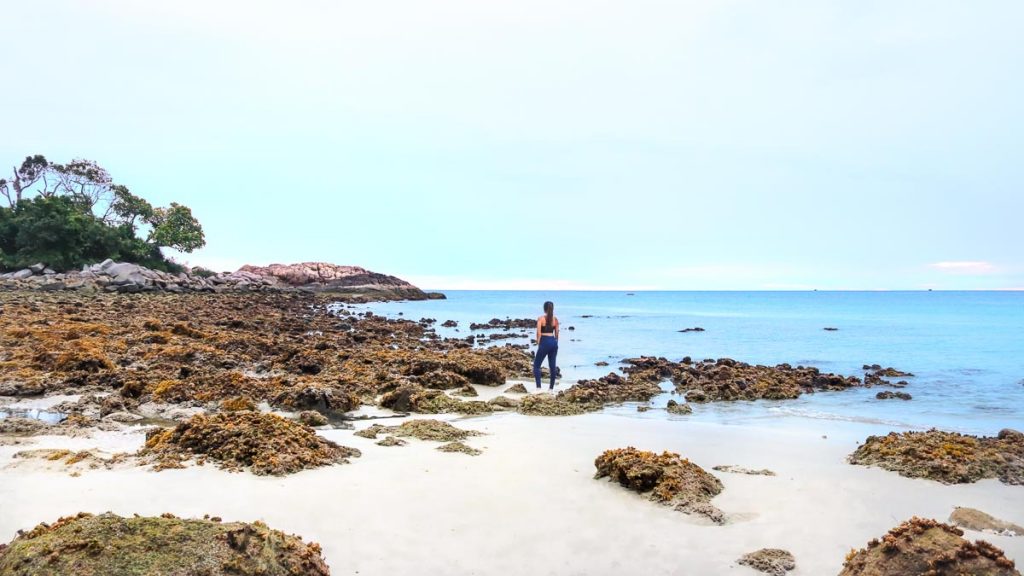 Club Med Bintan's private beach during low tide.
This solo wellness retreat in Bintan was truly transformative. I realised that incorporating habit-stacking and self-care into my daily routine doesn't have to be complicated at all. The activities they had lined up, like fitness sessions and soothing spa treatments, were so immersive and spiritually refreshing. It was an incredible experience of self-discovery and rejuvenation!
Making time for self-care like running myself a bath every week or going for a walk in nature doesn't seem like such a feat now. In fact, habit-stacking is pretty simple. For example, I could load my weekly laundry, go for a 20-minute walk, come back, and run a bath, all before the wash cycle ends 🤯
Volunteers who showed up for the beach clean-up organised by LUSH.
And on top of that, it was just liberating to be able to enjoy these activities within the resort's compounds and not having to worry about the logistics of travelling to classes, workshops, and food.
As a bonus, I had the chance to connect with like-minded individuals, forging meaningful connections that added depth to my journey.
The Body and Soul programme ends on 25 May 2023 but the good news is that it's a recurring programme — so there's always a next time if you miss out on it this year! Plus, they understand that everyone's schedule is different, so you can choose a stay duration that works best for you. Whether you have a free weekend or a whole week of annual leave, your well-deserved mental reset awaits right here.
Planning a trip to Bintan? Check these out:
– 13 Ways To Take Your Bintan Getaway To The Next Level — Cassia Bintan Staycation
– 3D2N Bintan Itinerary — The Perfect Fuss-Free Weekend Getaway
---