Smack in the middle of Southeast Asia is a landlocked country that resembles the shape of a palm tree — incredibly apt, considering the peaceful and laidback air that it abundantly exudes. Make this list of experiences a priority in Laos when planning your Luang Prabang itinerary.
I've been told spending four days in Laos an awful lot of time. Turns out, that is awful advice. You're not meant to only spend four days in Laos. But anyway, that's the predicament we found ourselves in.
We hopped on board Scoot's inaugural flight to Luang Prabang, a quaint city with a rapidly growing tourism industry, in search of an experience unique to the land of a million elephants. As it turns out, this endearing country has its fair share of wonders and curiosities that leave you gasping for more.
Here are seven unique experiences in Laos you should add to your Luang Prabang itinerary.
1) Jump into the elegant Kuang Si Falls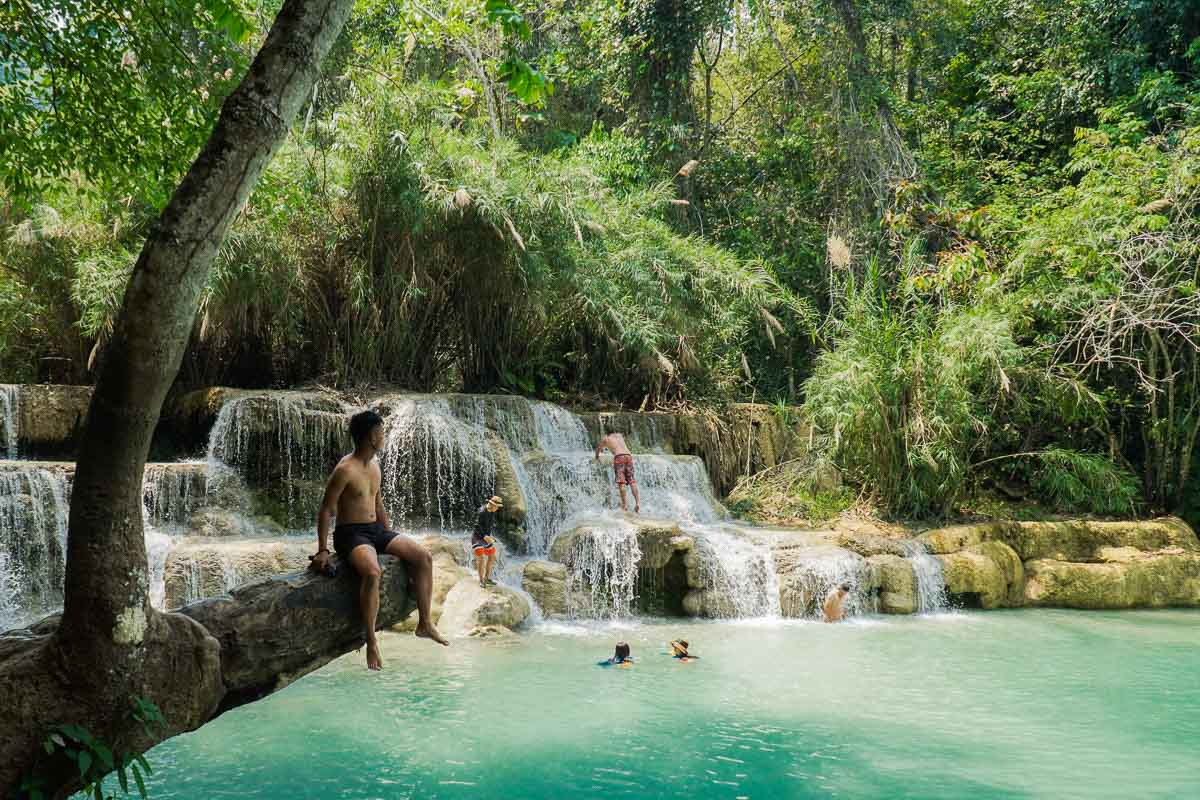 The mother of it all in Laos. You've probably heard of it, and with good reason. Kuang Si is made up of three to four pools of glorious cascading water that are about a 10-minute trek uphill and down. The one closest to basecamp has a convenient tree bark that allows you to take a nervous leap into its chilly cyan lido.
The water wasn't as shallow as I thought it'd be, although that could genuinely be down to my vertically-challenged frame. You might also find several fish nibbling at your feet while you're there. Don't be alarmed, though. They're merely feeding off your dead skin, fish spa style.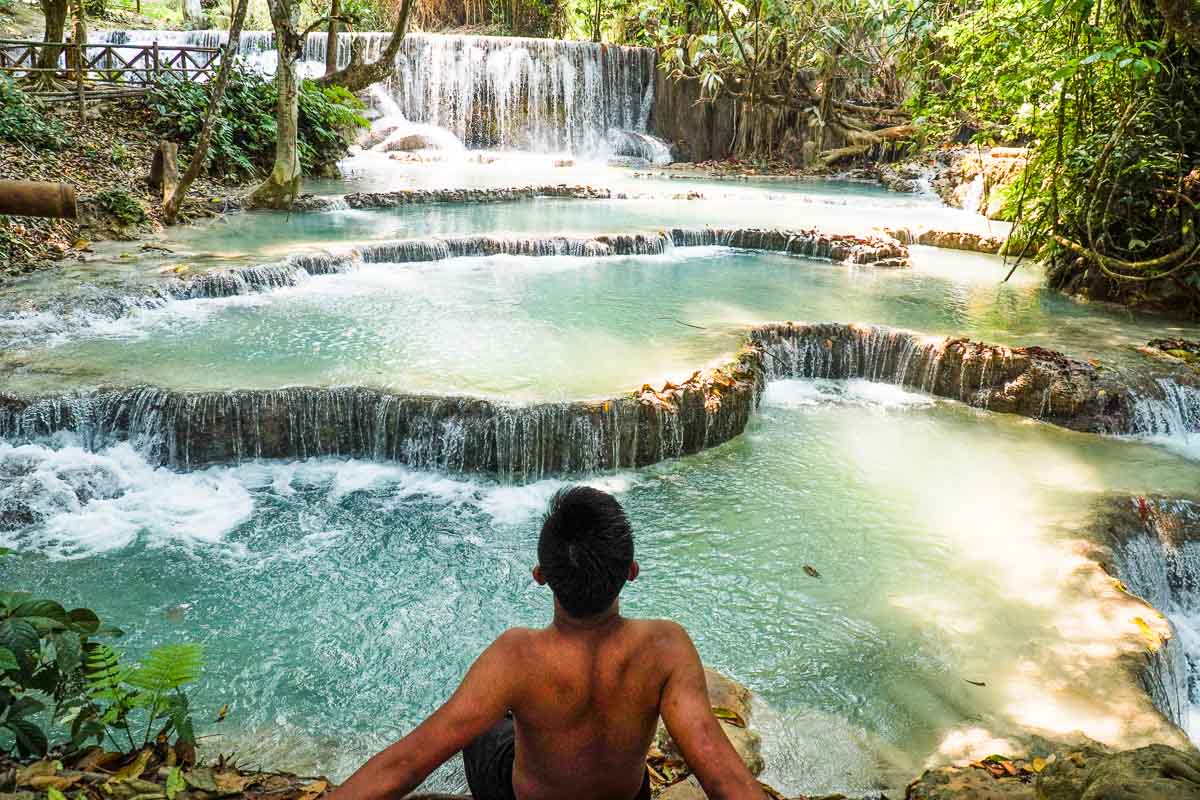 As you make your way up, you'll soon find the most photographed section of the falls to your right. Four intricately partitioned bodies flowing with life, it's a sight that puts all you man-made pools to shame. However, you're forbidden to walk in this particular section, either due to it being considered a holy space or the fact that strong current may drag you down with the force of nature.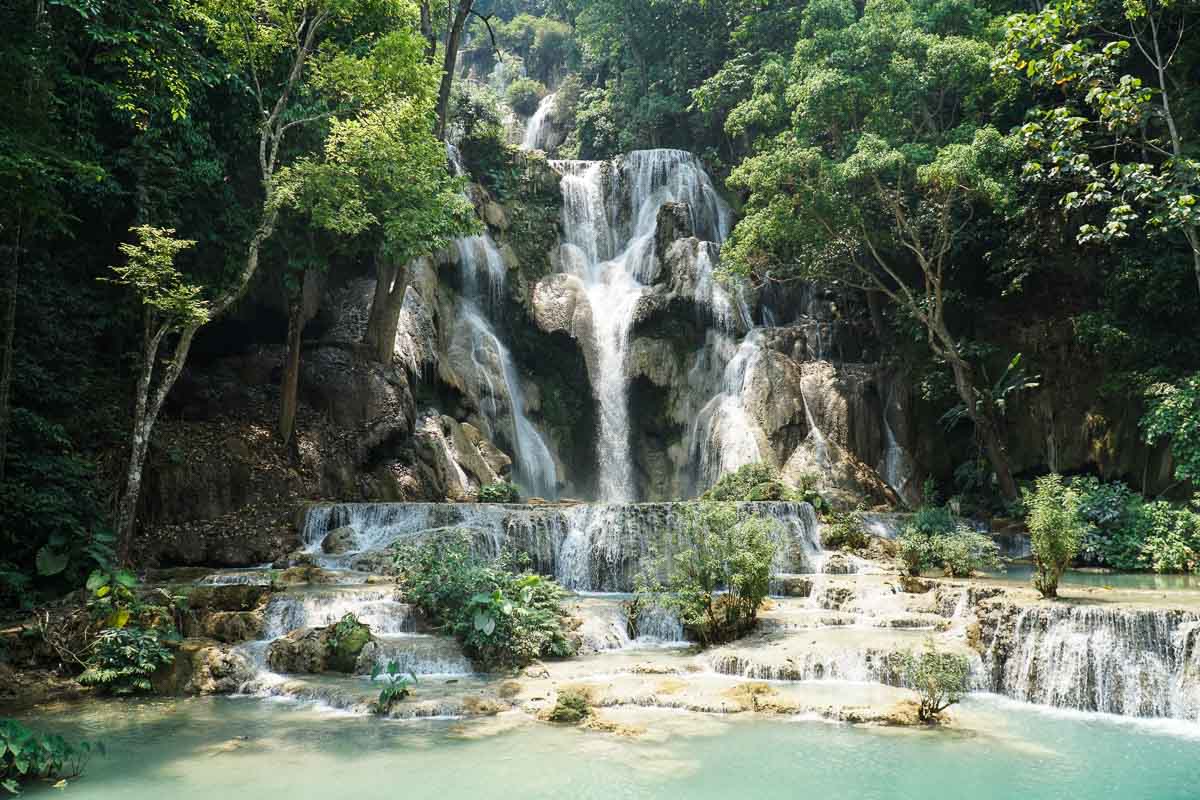 Then there's this. Tall and majestic, it's the perfect place for a romantic couple shot or a pretentious one for your Instagram feed.
Entrance Fee: ₭20,000 (S$3.10)
Opening Hours: 8AM – 5PM, opens 9AM on Tuesdays
Read also: 31D Southeast Asia Itinerary: Backpacking 5 Countries Under S$2.3k — Myanmar, Thailand, Cambodia, Vietnam & Laos
2) Milk Buffalos at Lao Buffalo Dairy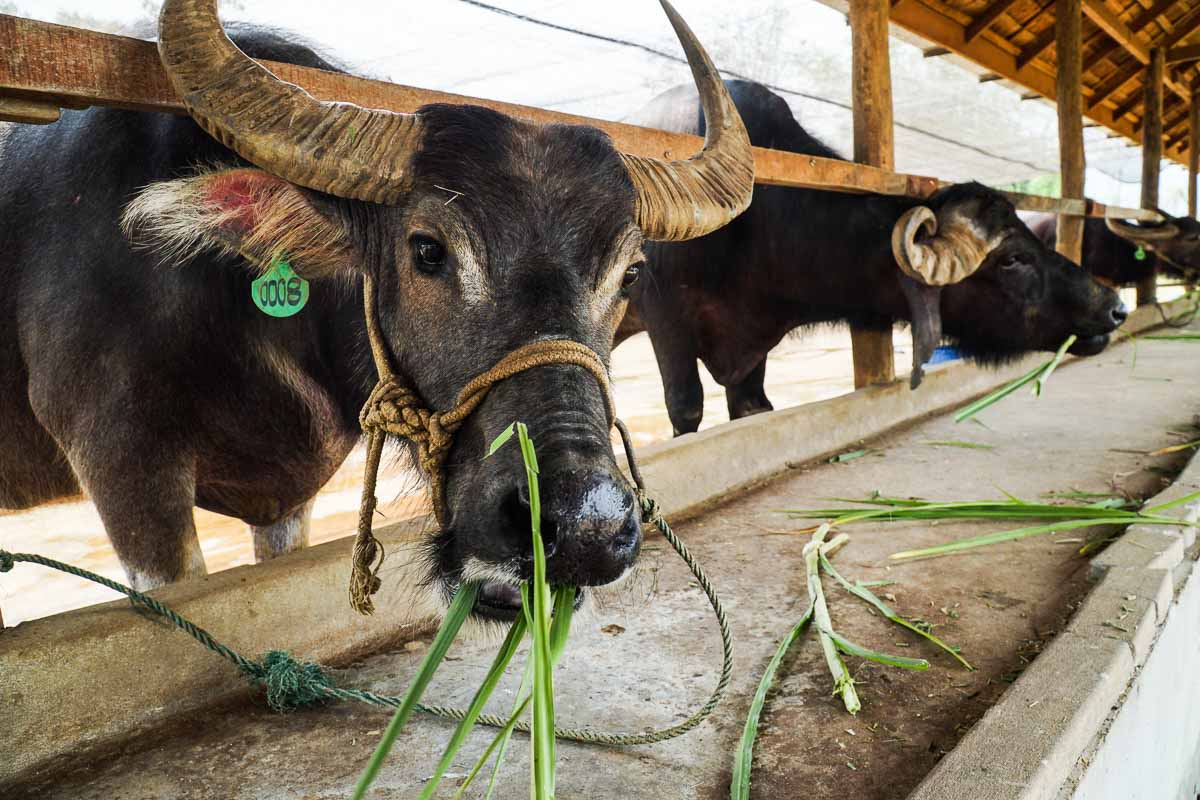 The sky is blue. The grass is green. We get milk from cows — right? Prior to 2014, farmers in Luang Prabang had no idea that milk came from cows (they thought it was a form of coconut juice), let alone the buffalos they owned. They were simply raised until they were of a certain age and then sold for their meat.
The Lao Buffalo Dairy, founded by four Australian expats, helps local farmers better utilise their herd by renting their female buffalos when they are ready to be calved.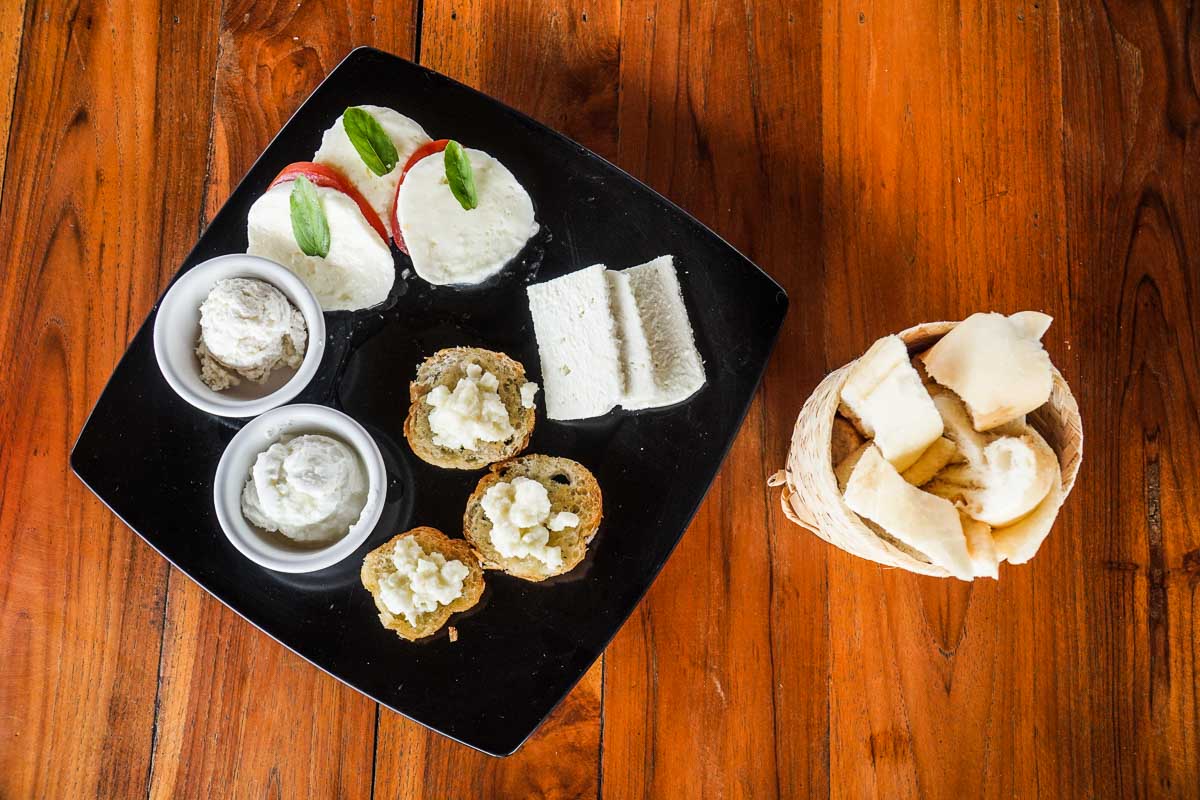 In fact, the milk that buffalos produce are higher in protein, creamier and thicker. The dairy regularly produces various types fresh cheese, ice cream, and even yoghurt with buffalo milk. You'll be able to try these buffalo delectables on your visit to the dairy. But not just that: You'll get to cuddle rabbits, feed and bathe the buffalos — even milk them!
If you've never done that before, I'd say you have to give it a go. Fair warning, though, it feels exactly how it looks — an unsettling, yet oddly accomplished sensation.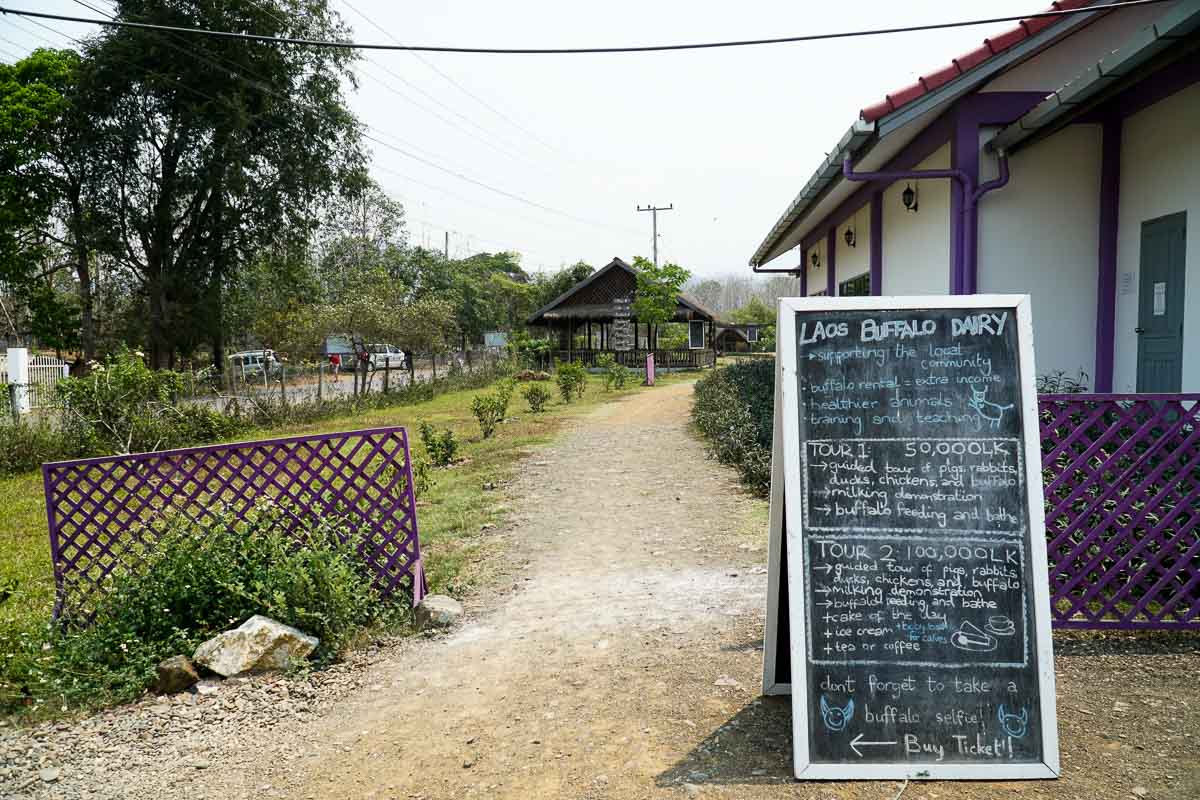 The product of a collective Aussie mid-life crisis has somehow or rather resulted in progressive agriculture in Laos. They are on their way to building a sustainable dairy industry, and a visit will offer you an interesting glimpse into the way a dairy farm is run. Read more about their story here.
Cost: ₭50,000 (S$7.80, basic tour)
Opening Hours: 9:30AM – 5PM
Address: Ban Muang Khay, Luang Prabang, Laos
3) Explore the Luang Prabang Night Market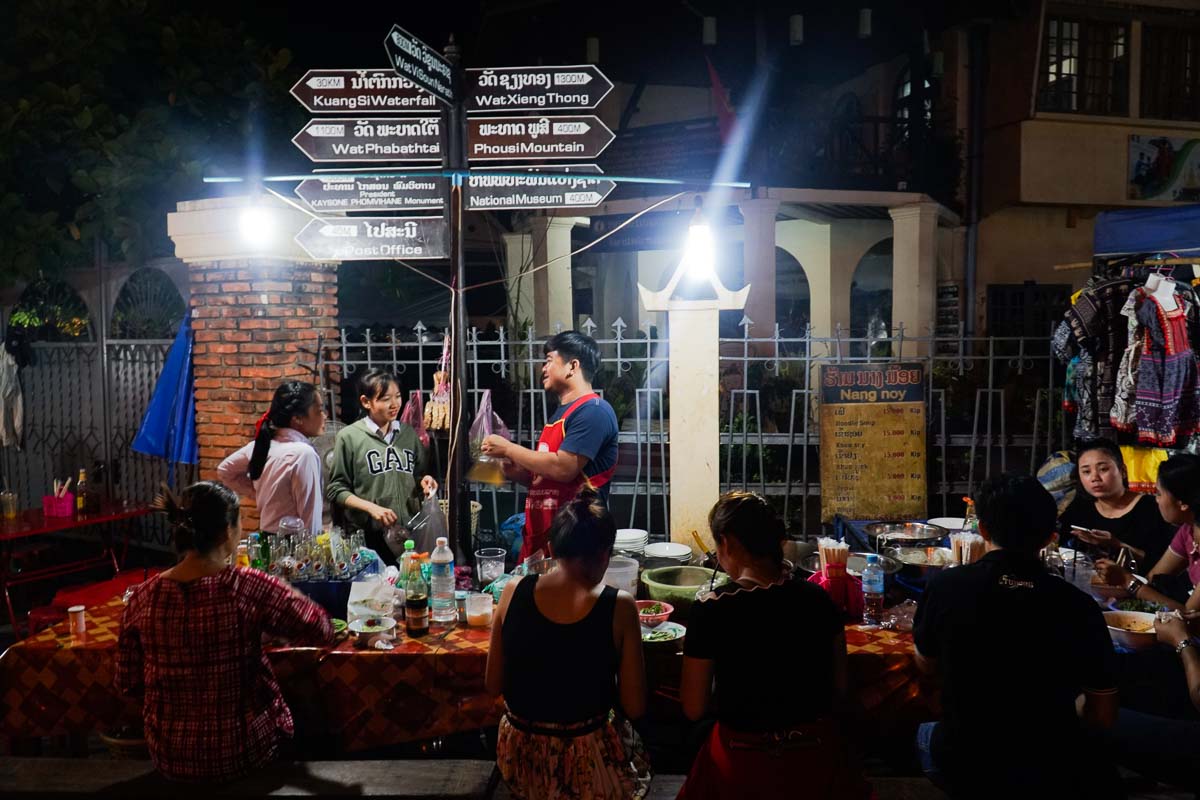 Night markets in Laos are special because the people are vastly different from their hustling counterparts in other Southeast Asian countries. If you've been around the markets of neighbouring Thailand and Cambodia, you'll know that shopkeepers call out at every half-interested customer to begin the inevitable negotiation process — not here.
Read also: 15 Essential Experiences to Add to your Chiang Mai Itinerary — The Adventure Base of Thailand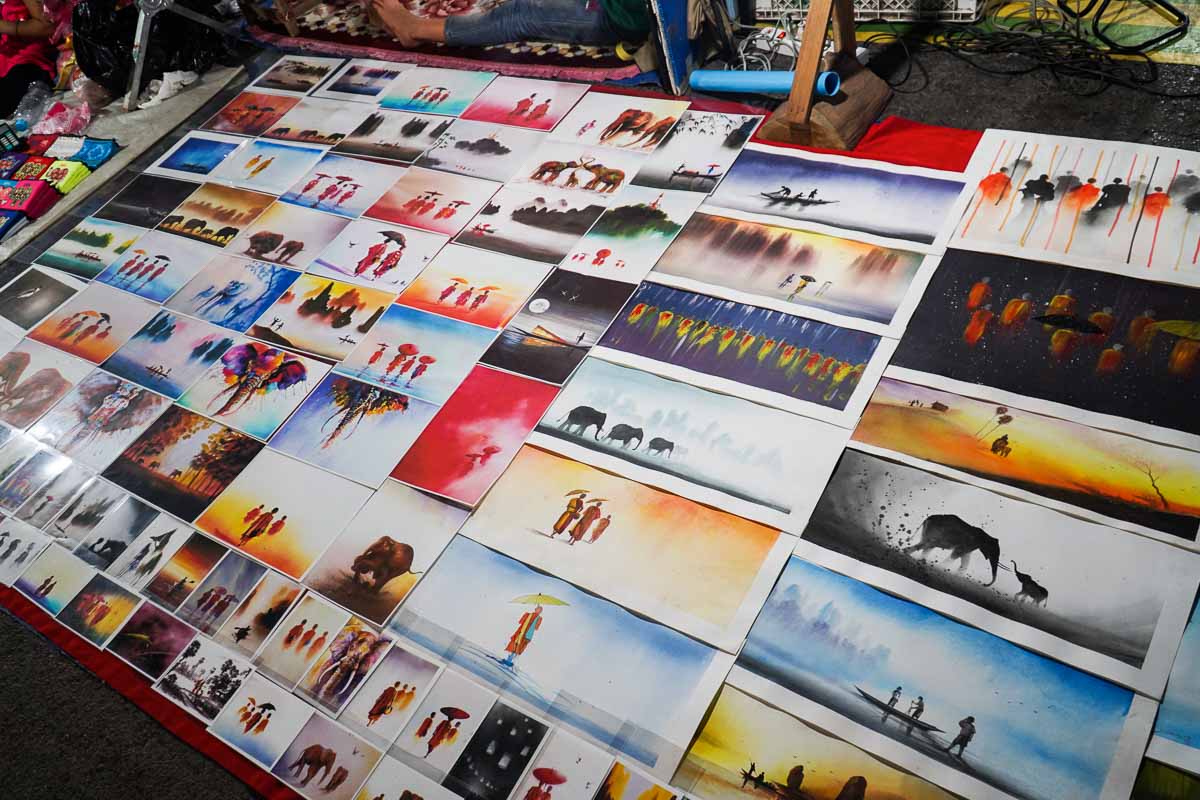 Laotians are incredibly easy-going, almost indifferent in the way they go about their business. They'll greet you with an inviting smile and allow you to sift through the clothes, paintings, textiles and every other offering neatly laid out on their picnic mats, without clamouring for your business.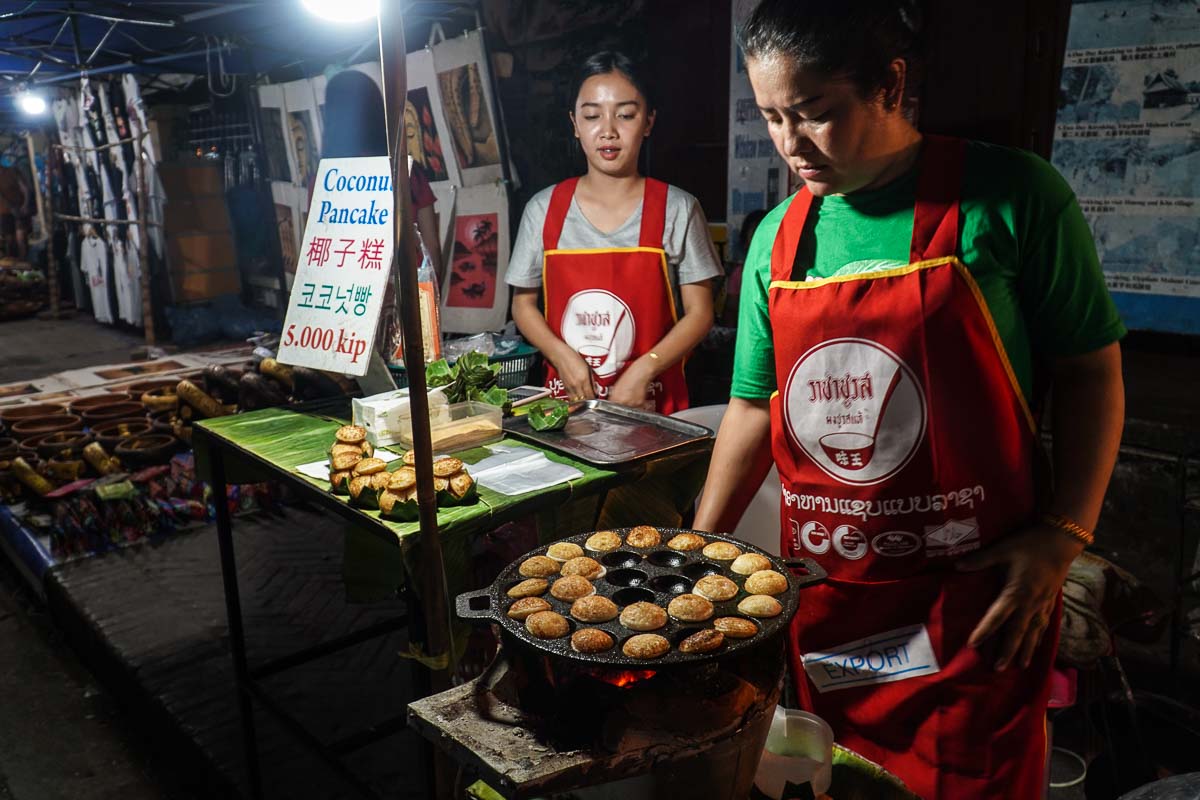 Have Coconut Pancakes (₭5,000), a sweet and savoury local snack served hot in a cute leaf wrap, accompany you on your stroll along the seemingly endless stretch of tentage. If you prefer an alcoholic escort, try an eccentric shot of Sugar Cane Rum (₭5,000). The initial hit will come in like a wrecking ball, though its flavour will shortly turn your taste buds into a delightful sugar cane plantation.
Opening Hours: 5PM – 11PM
Address: Sisavangvong Road, Luang Prabang, Laos
4) Be blessed by a traditional Baci Ceremony

The people of Laos believe that every human is made up of 32 souls, or kwan. For many years, they've performed the Baci Ceremony, a ritual meant to reunite these souls that have scattered or roamed away from the body. From birthdays to marriages, success in an endeavour to all sorts of milestones in one's life, the Baci is seen as an important celebratory observance. The welcoming of important guests is also considered an occasion worthy of Baci.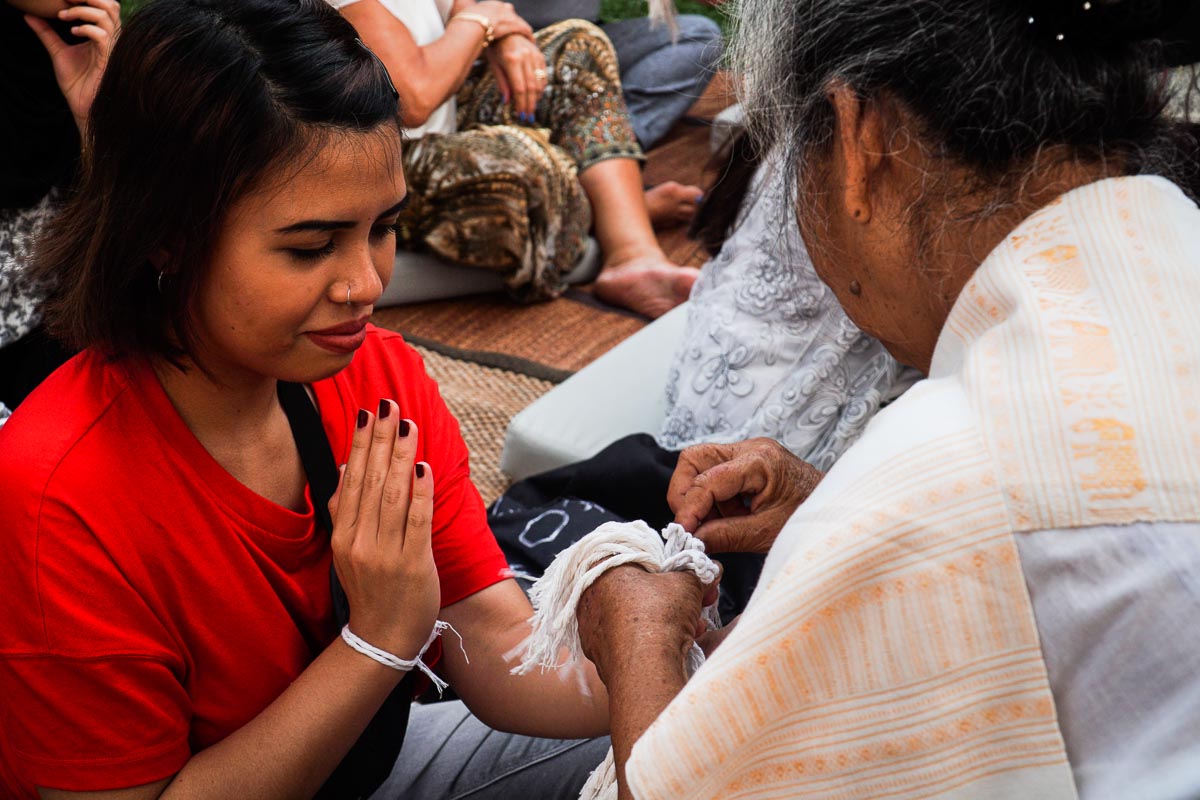 After the prayers are complete, several white strings that symbolise purity will be tied around your wrists to preserve good luck — and according to the locals, help the souls you've lost along the way find their way back home. You're supposed to keep them on you for three days for these prayers to be fulfilled. The ceremony typically ends with a serving of local food and a bowl of strong rice wine.
It's typically tough to participate in a Baci ceremony without first befriending a local (and building a bond strong enough for them to warrant inviting you into their homes). You can either book an authentic experience through Klook, or try asking your reception if they know of any you could observe or partake in.
Cost: S$47.49
Tour Duration: 1 hour (Pick-up and drop-off at your accommodation)
5) Partake in an Alms Giving Ceremony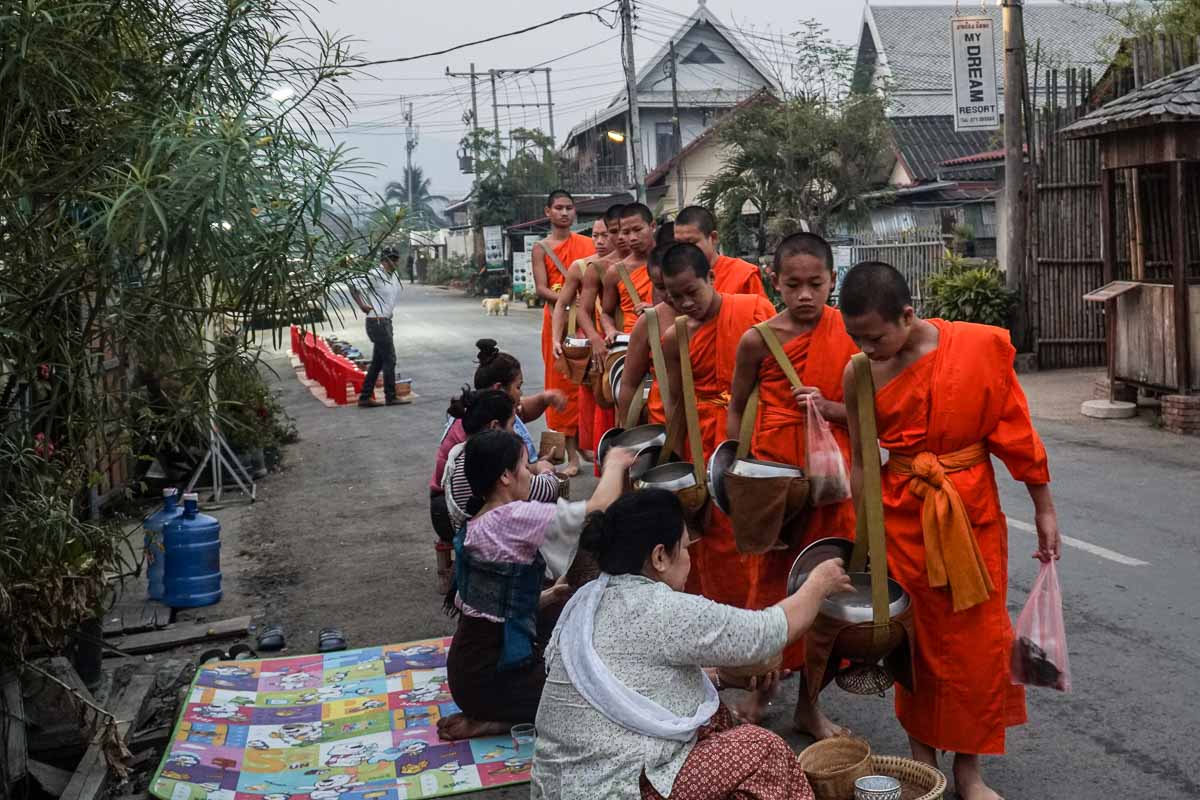 Residents living along several streets in Laos have a custom of getting up early to make fresh food. Not for themselves, but for the hundreds of monks who walk by their houses every single day. As followers of Theravada Buddhism, monks are not supposed to have any form of material possession, which means that they rely on the goodwill of others for their daily sustenance.
We partook in this sacred ceremony with the aid of our local guide, who provided us with small baskets of sticky rice as offerings for the monks. It was a genuinely humbling experience to be a part of this age-old tradition.
If you simply wish to observe the ceremony, you may follow these coordinates to a particular street where the tradition is carried out daily in waves around 5AM – 6:30AM: (19.8886340, 102.1429950).
Important Note: Please be mindful that this is a sacred ritual that is an important part of Lao tradition. Do not disrespect the people or disrupt the ceremony by intruding their space for the sake of a photo, and remind others to do the same.
Cost: S$27.15 (Group of 3+)
6) Cross the Infamous Bamboo Bridge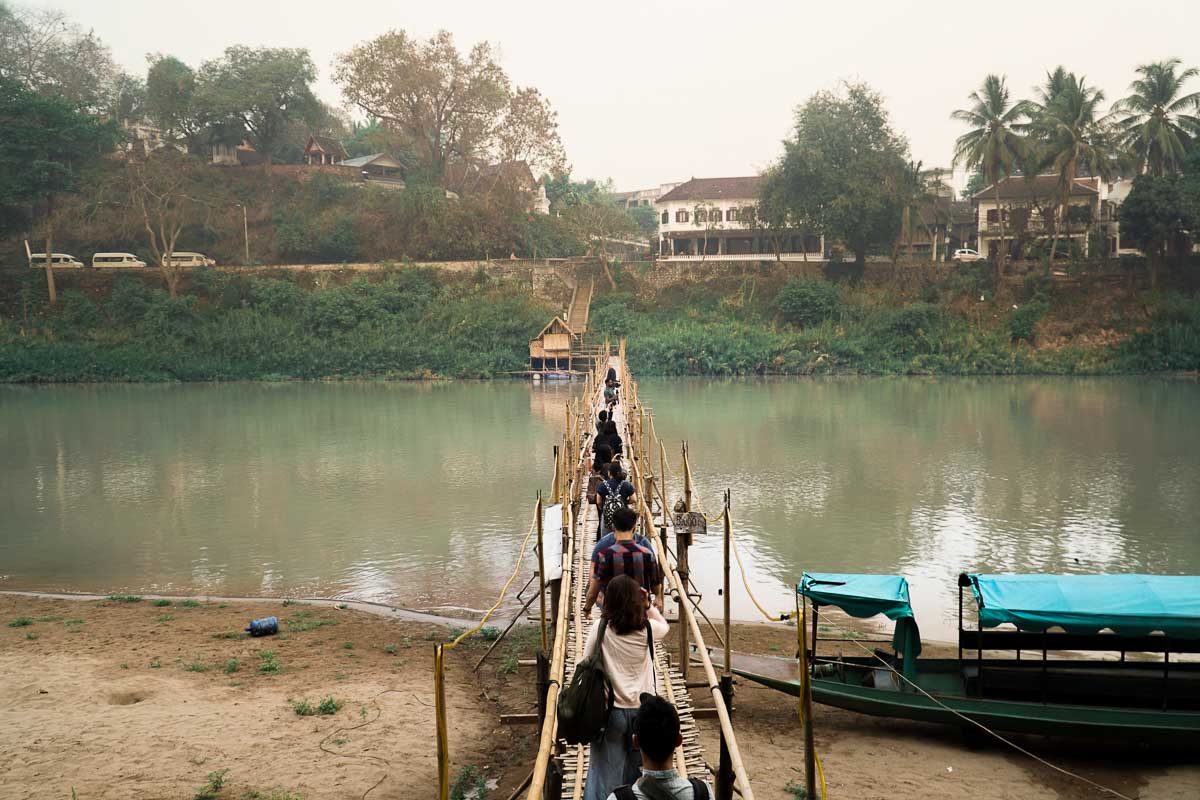 Saying that it is a bamboo bridge would be factually correct, but talking about it as the bamboo bridge, isn't. That's because the bridge is never the same one — it's either dismantled and removed before the wet season, or washed away by the river and rebuilt again by neighbouring villagers.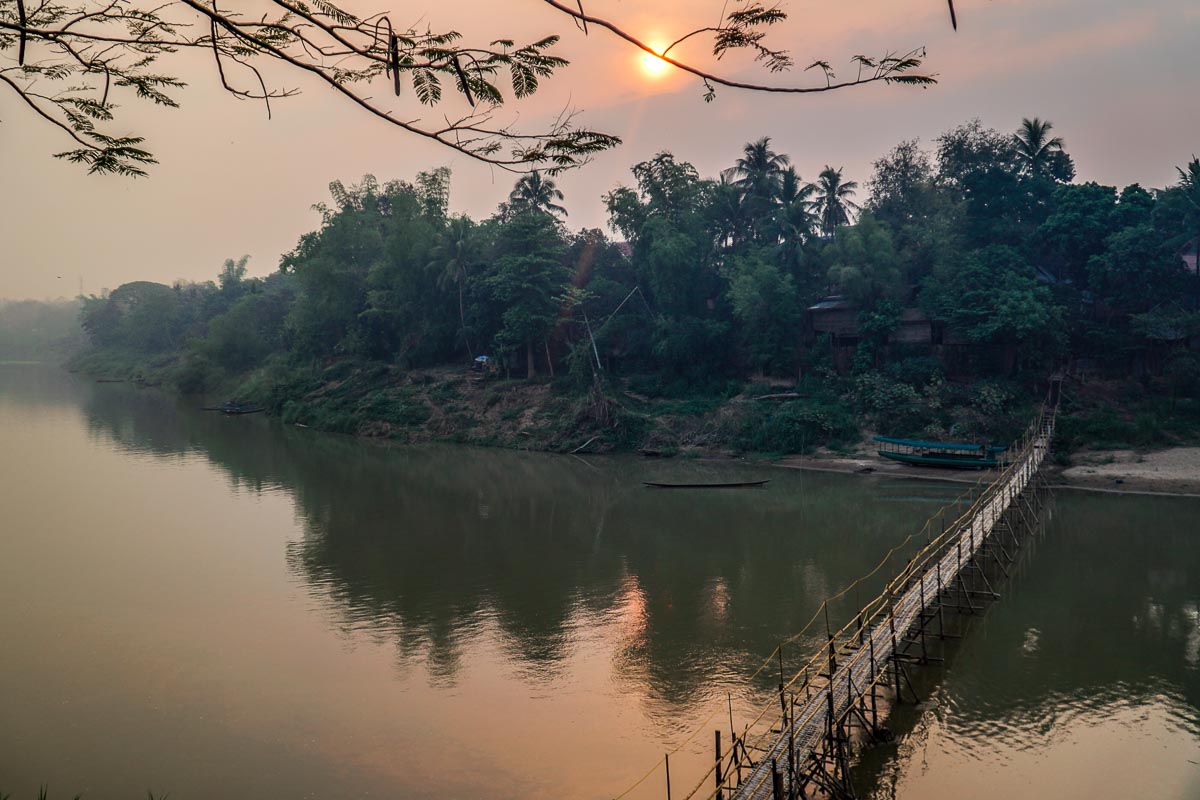 The bridge connects two parts of a village across a confluence of the Nam Khan and Mekong Rivers. Stepping foot on it was a stirring yet unnerving experience. We witnessed the tangerine sun rise from behind the great mountains, all whilst the wooden structure quavered beneath our feet, casually reminding us to keep moving forward.
Note: The monsoon season in Laos usually spans from May to October, so plan your trip in the subsequent months if you intend to visit.
Cost: ₭5,000 (S$0.80)
Read also: 9-Day Adventurous Myanmar Itinerary — Undiscovered Gems in Yangon, Bagan, Mandalay & Lashio
7) Visit the Ock Pop Tok Living Craft Centre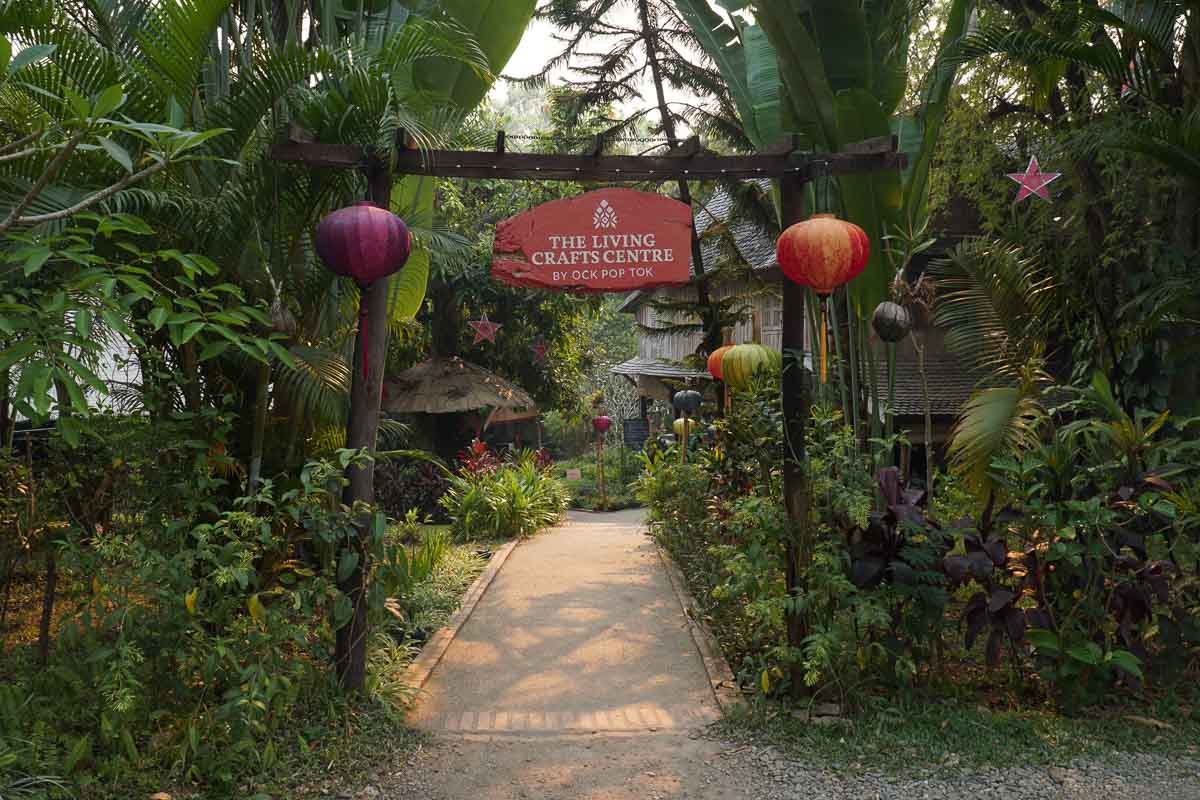 There's a lot to be discovered about a country through its textiles. The Ock Pop Tok (East Meets West) Living Crafts Centre has been providing an avenue for locals and tourists alike to learn about the cultural significance weaved within generations of artisans' crafts.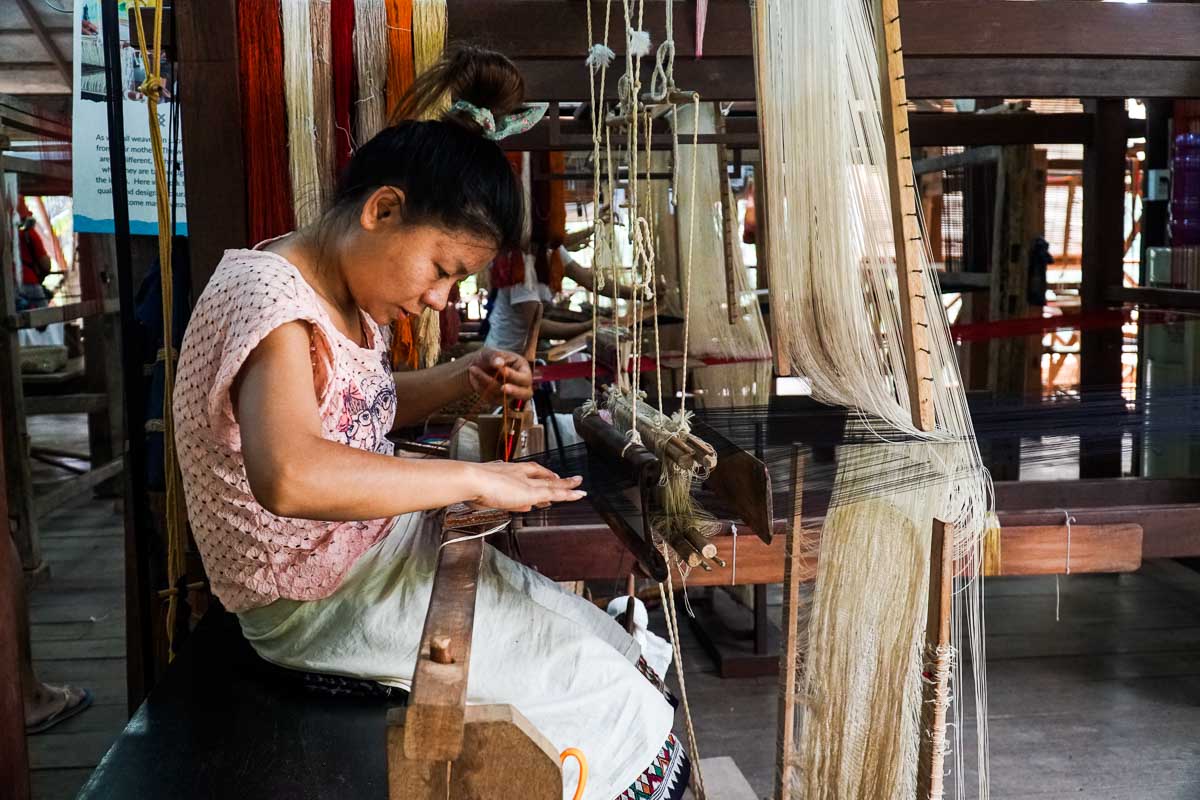 For many women living in Lao villages, producing textiles are their only source of income, a way of life that feeds the family. But opportunities in rural areas are limited — so Ock Pop Tok's team of weavers and designers help to provide training to help them make a better living. In their Luang Prabang centre, you'll be able to see some their skilled workers weave their magic, and even take a class or two depending on your schedule.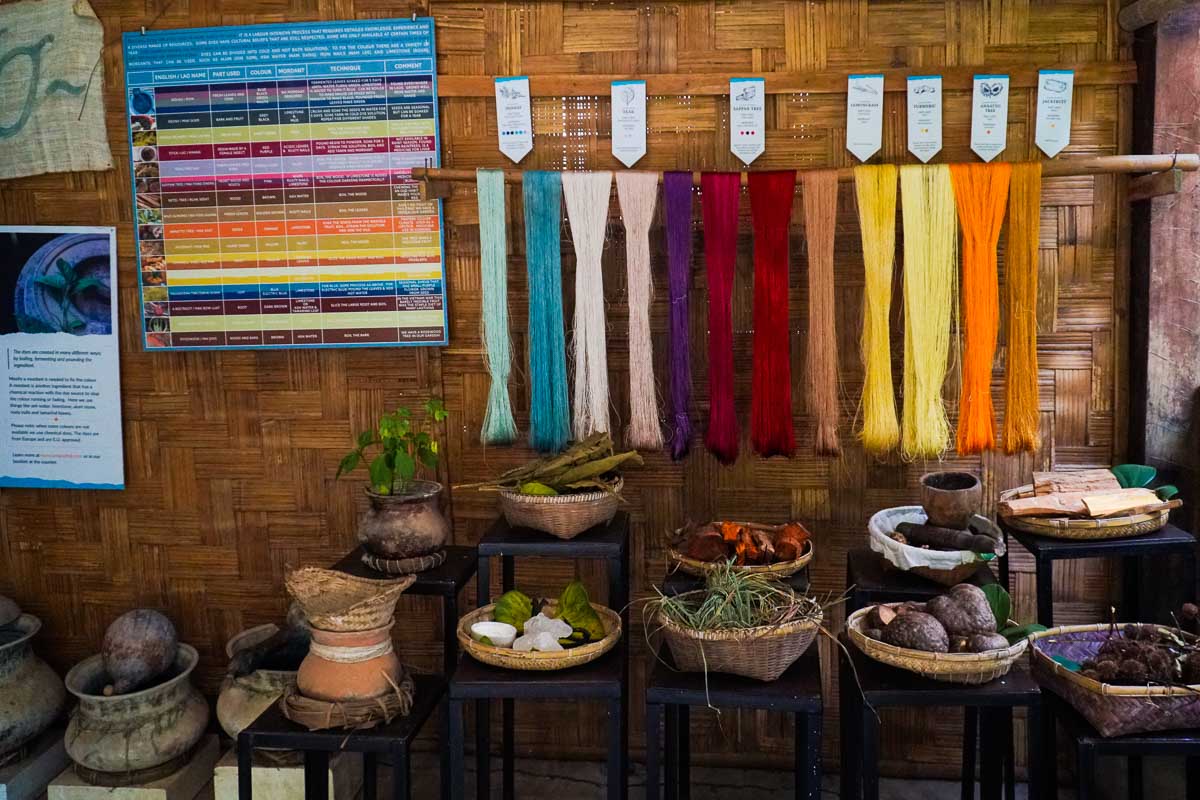 Upon arrival, you'll be guided on a free tour around the complex, learning about how various types of fabrics are derived and the nature of their operations. You'll also be able to kick back with a cup of coffee and relax with a magnificent view of the Mekong River at their riverside cafe.
The items that are sold at their shops are aesthetically wonderful and profound. In fact, they'd fit right in with global designer brands. But the difference is that they are woven with traditional patterns from generations that long precede ours, with a soul that's steeped in Lao history.
Entrance Fee: Free
Opening Hours: 8AM – 7PM
Address: Ban Saylom, Luang Prabang
8) Bonus: Embark on a short trip to Vientiane
A 50-minute flight from peaceful Luang Prabang, Vientiane provides a different, more lively side of Laos. Don't worry about ending your Laos vacation here, because there are direct flights back home to Singapore directly from Vientiane (read on for more details)!
Here are two more unmissable places to visit should you find your way here.
Patuxai War Victory Monument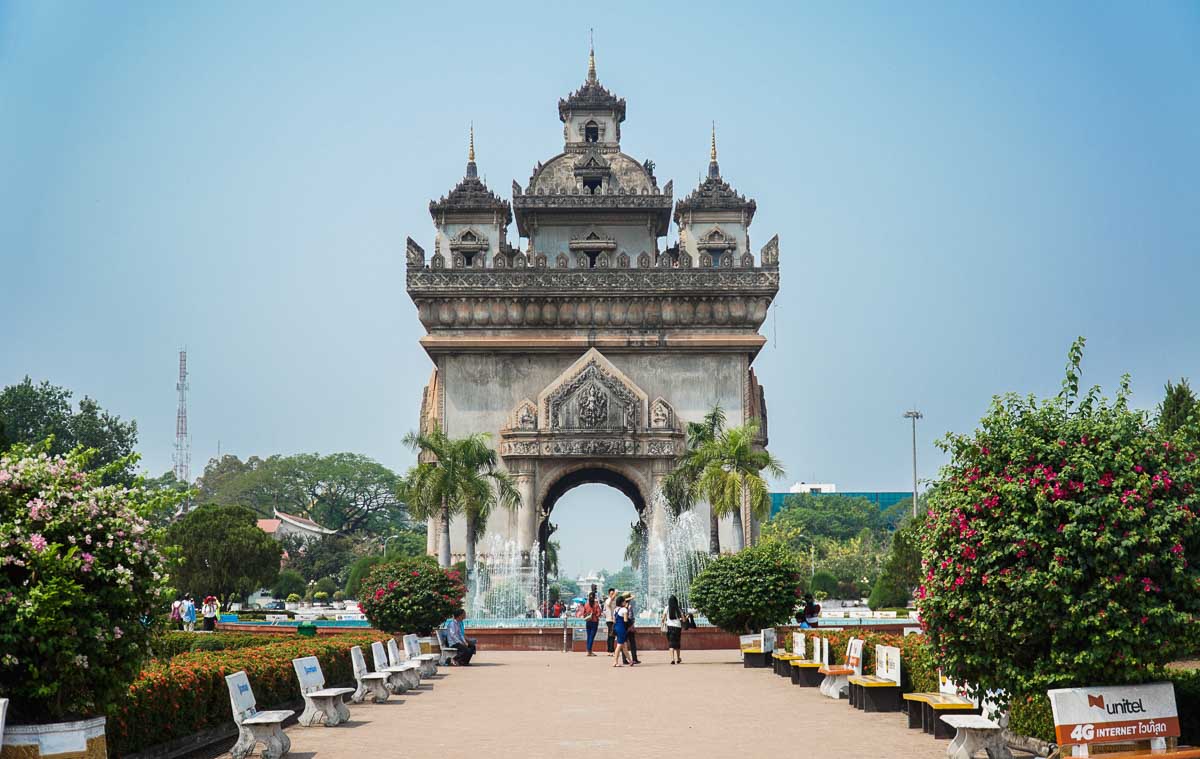 The word Patuxai in Lao language translates to 'Gate of Victory' in English. It was built to honour the Laotian soldiers who sacrificed their lives during the world war fighting for independence. It is also said that the cement used for the construction of this monument was originally meant to build an airport, earning it the nickname of 'Vertical Runway'.
On the outside, it seems as though it is a mere mega standing monument. Make your way underneath the towering structure and you'll find steps leading up to a hidden market living within its walls.
Four entire floors are dedicated to this marketplace behind doors — rows of tables are set up corner to corner selling everything from books and apparels to souvenirs and handicrafts.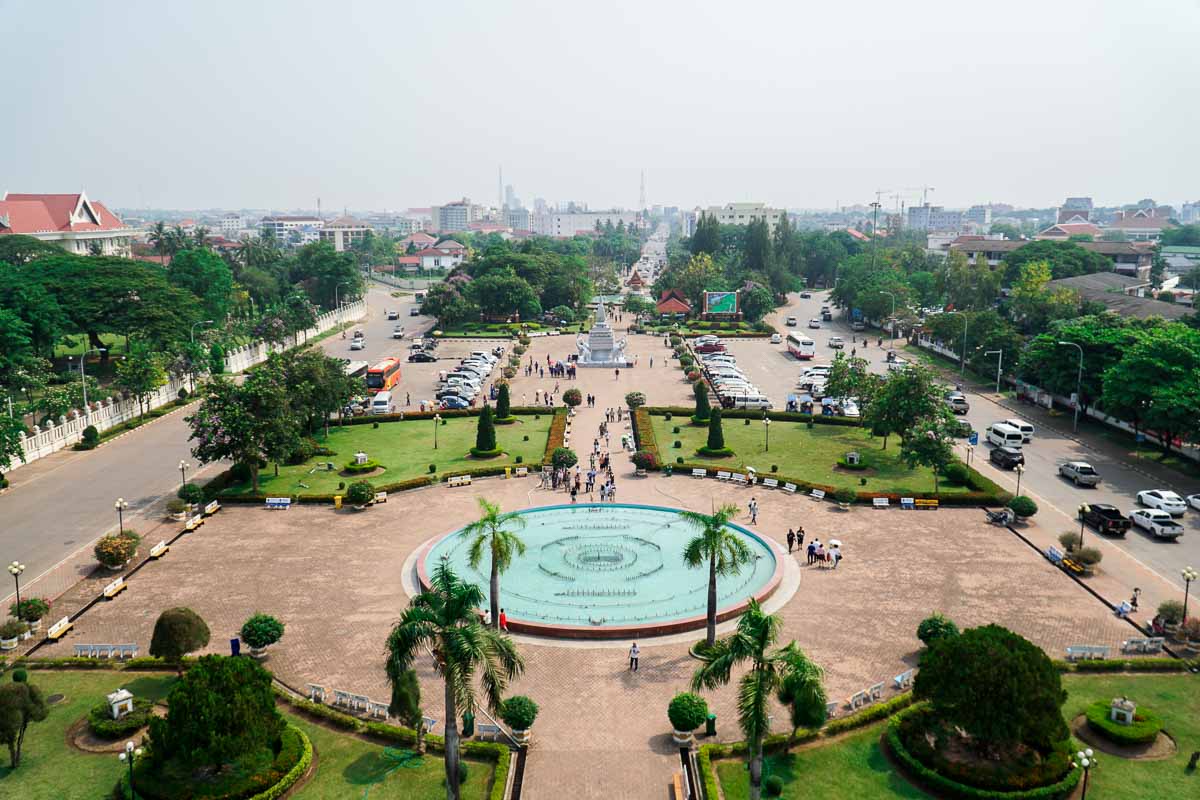 The view from the top is glorious once you're done catching your breath from the climb. It overlooks the city's busy roads and light aqua fountain donated to Laos by the Chinese government.
Entrance Fee: ₭3,000 (S$0.50)
Opening Hours: 8AM – 4:30PM (Mon – Fri), 8AM – 5PM (Sat – Sun)
Buddha Park / Xieng Khuan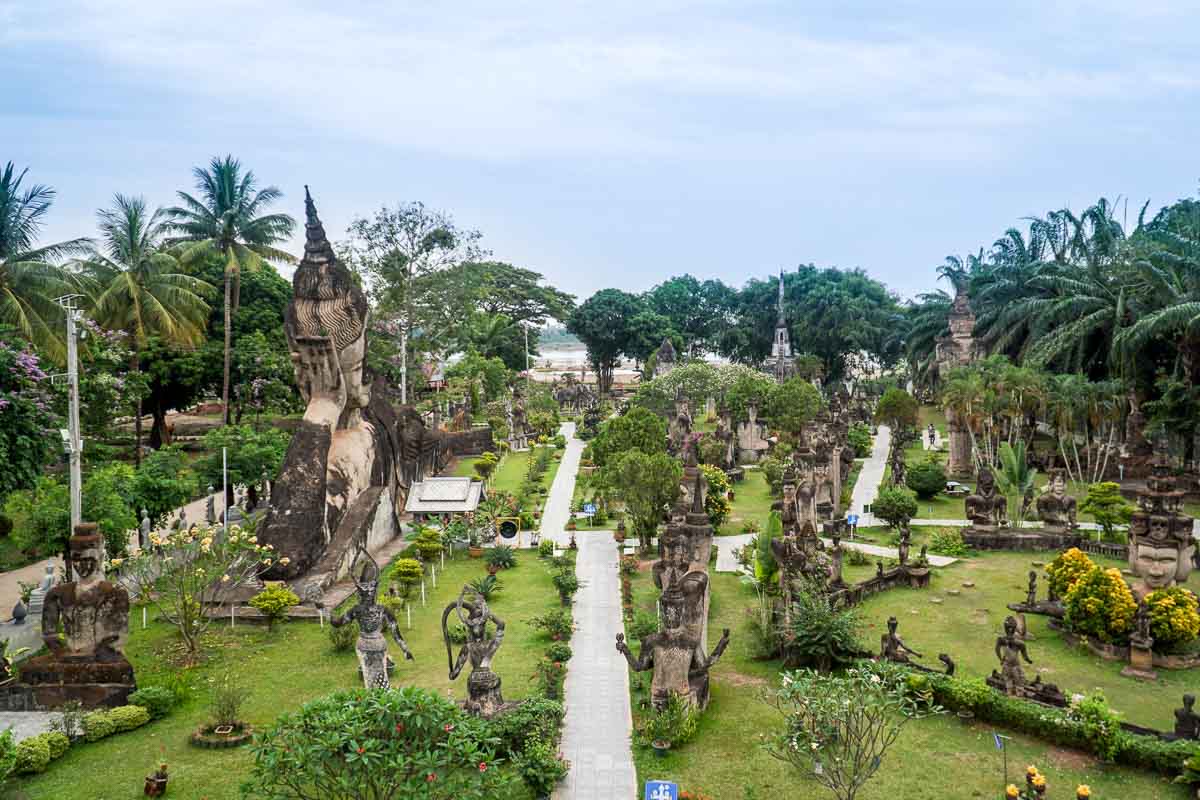 The Buddha Park in Vientiane is an interesting twist to places where religious monuments usually reside. It's not a temple, though. Locals and tourists alike come here to chill out and admire the compelling concrete interpretations of Hindu and Buddhist images, built by Luang Pu Bunleua Sulilat, a local shaman.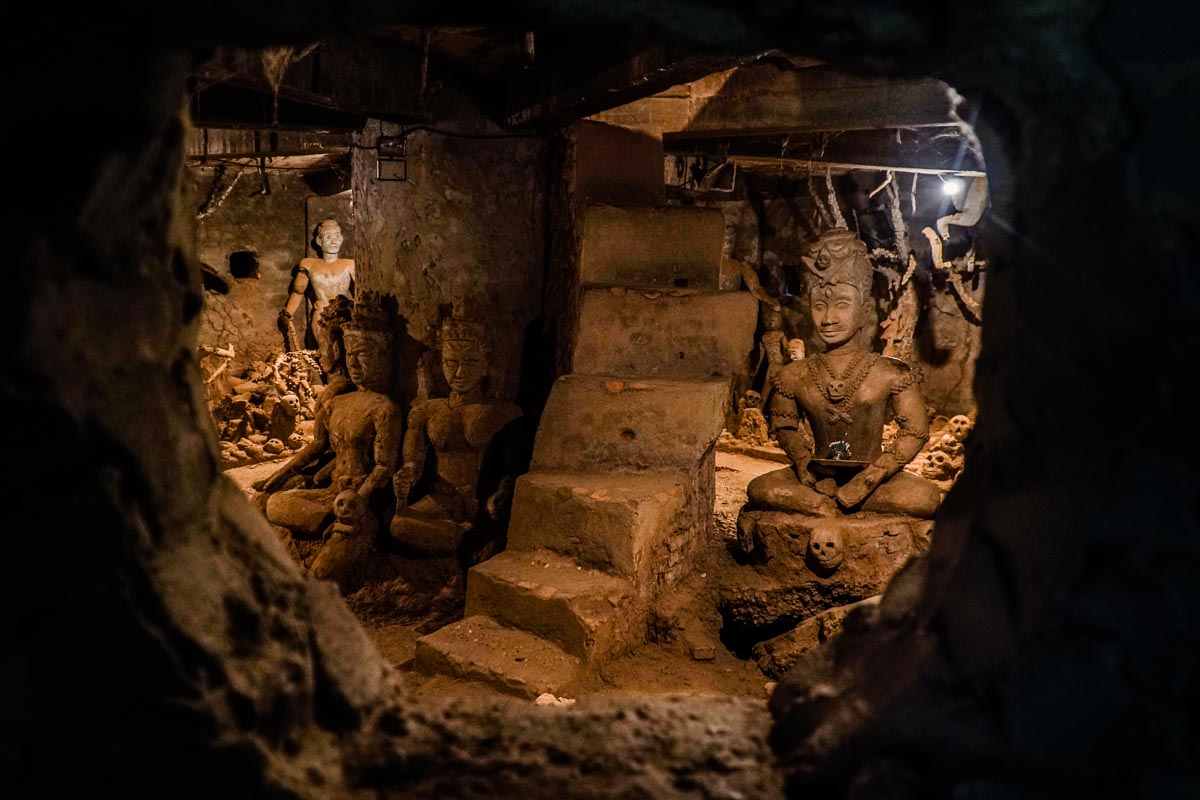 With 200-over sculptures spread out across the park, one of the more fascinating works from the complex is the one you can climb inside of. With a large-enough mouth to serve as an entrance, you're able to carefully make your way up the steep and slippery steps to gain an open-air vantage point of the entire tranquil compound. Inside of it, equally riveting statues reside.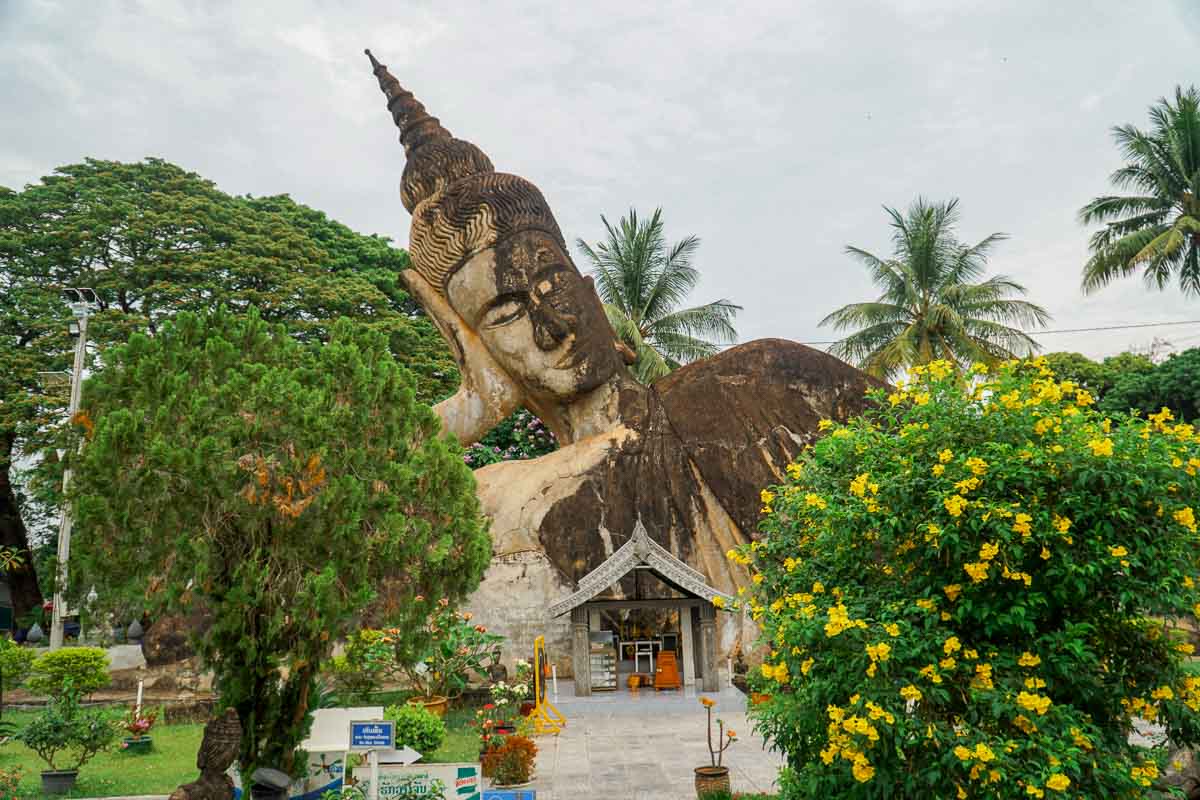 Take a slow-paced stroll towards the north end of the park facing the Mekong River, and you'll see another plot of land on the other side. That's not part of Laos, that's Thailand.
Entrance Fee: ₭5,000 (S$0.80)
Opening Hours: 8AM – 5PM
Getting Around Laos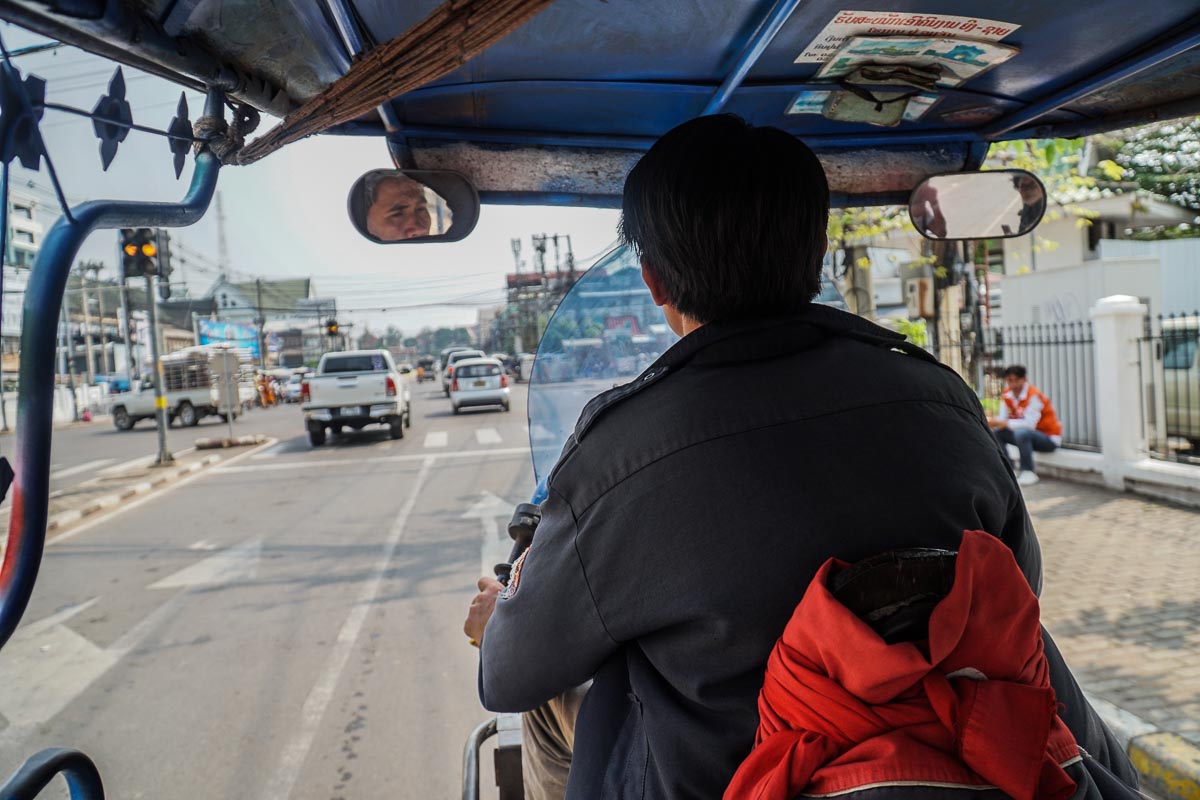 Apps like Grab and Uber are not presently available in Laos, but Loca is currently the only taxi-hailing app operating in Vientiane. You can also try Sixt, a car-rental company that similarly provides car-sharing services, although bookings through the app have to be made at least an hour in advance.
If it comes down to it, hailing a tuk-tuk off the street is still a fairly straightforward process. Rides that take around 10–15 minutes typically set you back ₭30,000 – ₭50,000 (S$4.70 – S$7.80) subject to your haggling skills. Although if you're not on a tight budget, we suggest not being particularly stingy with the prices. The drivers need to make a living after all.
Accommodation in Luang Prabang and Vientiane
Pullman Luang Prabang / Sabai Sabai Hostel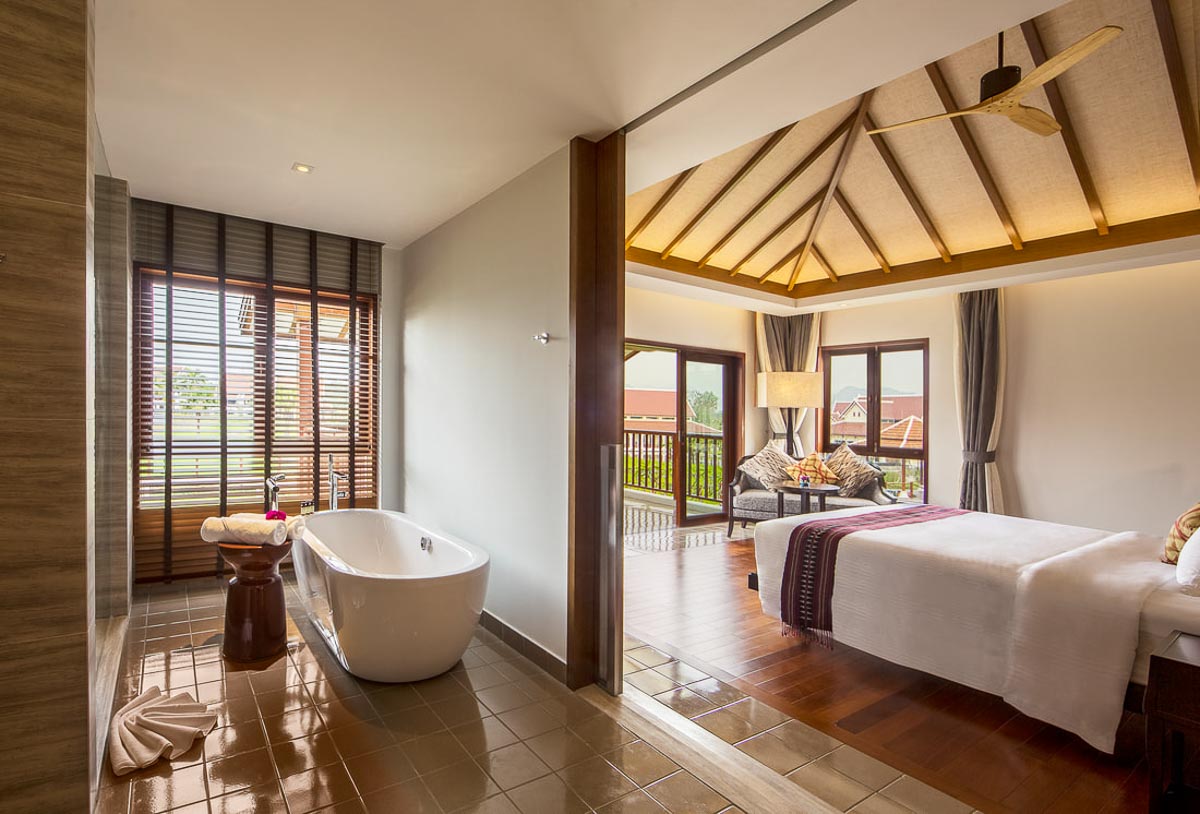 We were fortunate enough to stay in one of Luang Prabang's luxurious five star hotels, Pullman Luang Prabang, a short drive away from many of the city's main sights and sounds. The rooms were immaculate and the views of the garden and overarching hills surrounding the resort from our balconies were exquisite.
Cost: US$84 (S$114) a night for a standard Deluxe Room
For a cheaper option, try Sabai Sabai Hostel, a tidy establishment with friendly and earnest staff.
Cost: S$13.55 a night per bed
Ibis Vientiane Nam Phu / Barn 1920s Hostel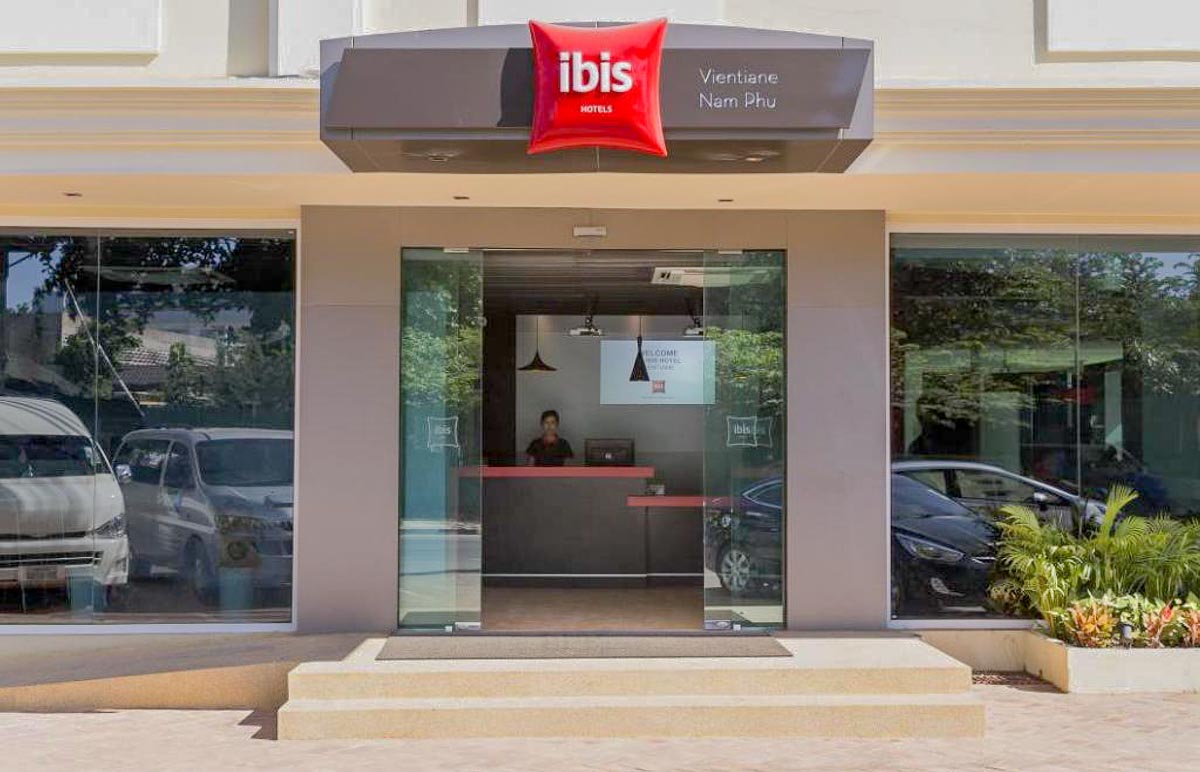 We stayed at Ibis Vientiane Nam Phu for a night and were impressed by the cleanliness of its rooms and staff's willingness to help with our every need. The hotel also provides a free international breakfast buffet spread daily.
Cost: S$69 a night for a Standard Room with Twin Beds
A less expensive option is the Barn 1920s Hostel, located right next to a vibrant night market between the city and the river.
Cost: S$10.80 a night per bed
Fly directly from Singapore to Luang Prabang & Vientiane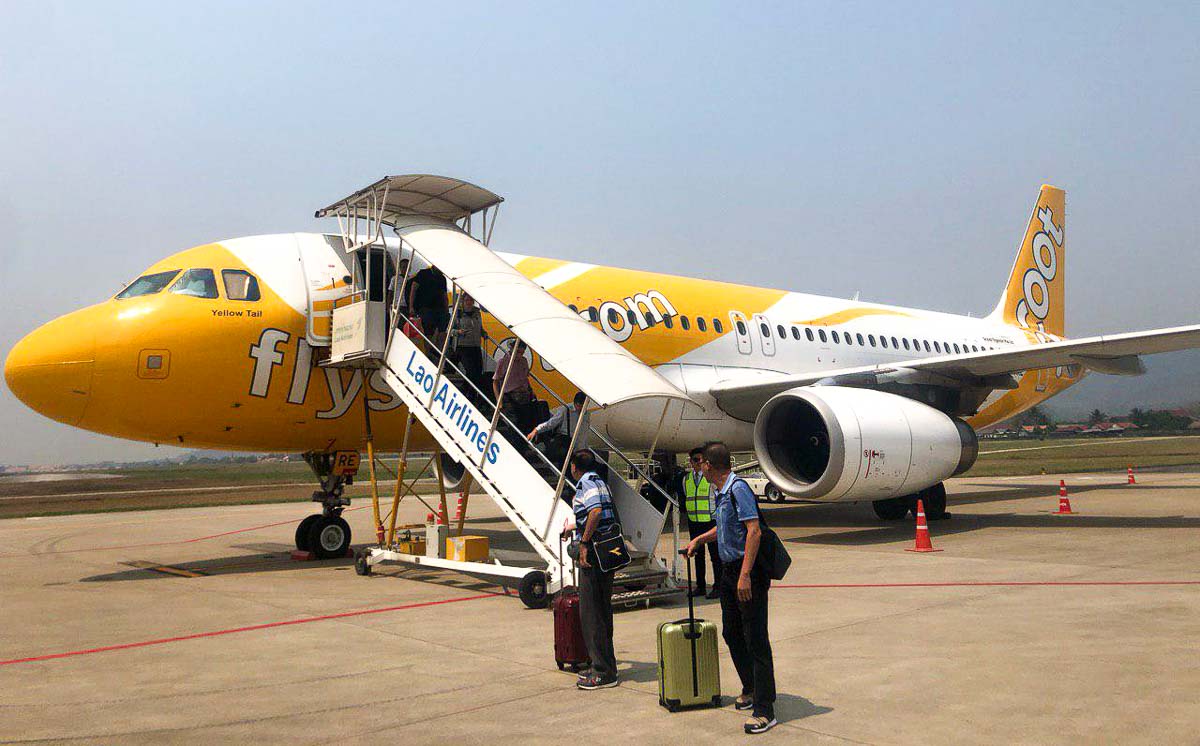 Scoot is currently the only airline offering direct flights between Singapore and Laos, flying to Luang Prabang and Vientiane three times a week!
One-way tickets range from S$99–S$125 including tax, but score flight tickets as cheap as S$69 with Scoot's Got-to-Go Sales every Tuesday. Check out this page on their website with all the latest deals and offers.
Their in-flight meals are pretty flavourful too. On this trip we had their Alfredo Spinach Fusilli and Madras Curry with Basmati Rice, and each meal came with a heavy Ritter Sport chocolate bar which we couldn't get enough of. Though it's only a short three-hour flight, there's no harm in treating yourself every once in a while!
A short getaway can indeed alter your perspective of the world. Although Laos is one of the poorest countries in East Asia from an economical standpoint, it doesn't take away the humbling nature of its rich natural and man-made beauties. That, together with the kindness and generosity of its people, and the meaningful diverse customs they continue to embrace today, makes Laos an unforgettable holiday destination.
---
This post was brought to you by Scoot.
For more travel inspiration, follow us on Instagram, YouTube, and Facebook!
View this post on Instagram