Go beyond your typical JB day trip to KSL and City Square Mall while sticking to a friendly budget!
First published: 5 July 2022
Many of us head to Johor Bahru (JB) for one of two reasons: to shop or to cafe-hop. After all, cheap shopping steals are all there is to JB right? — Not exactly.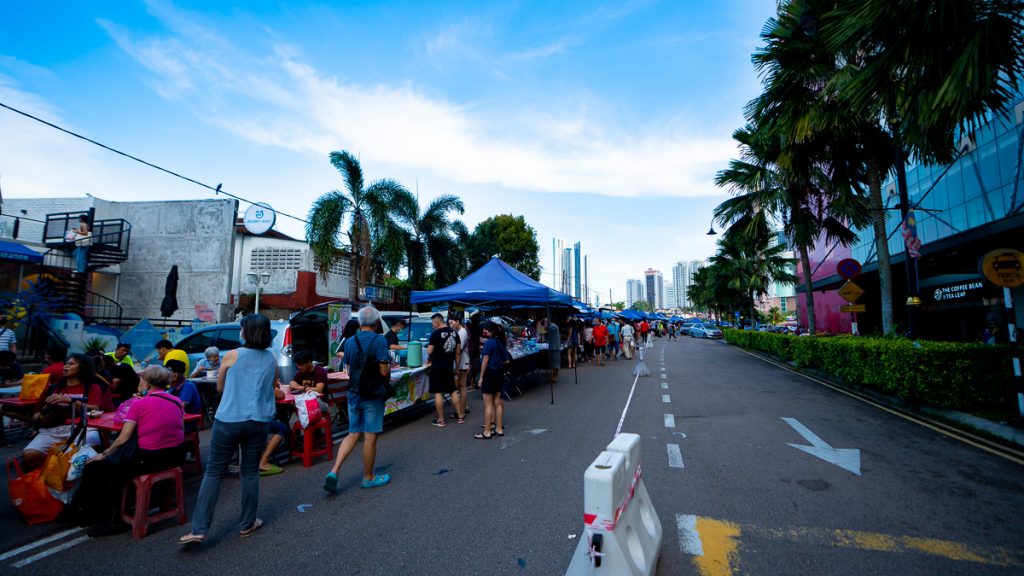 It's true that Johor Bahru is cheap, but there's so much more to eat, play and shop here than just shopping malls or aesthetic cafes.
Apart from your familiar hot spots, this adventurous itinerary will show you how to zhng your Johor day trip with panoramic skyline views, a bustling night market, and an exciting pop-up theme park.
Plus, you don't have to spend much to enjoy these cool experiences at all!
JB Day Pre-trip Essentials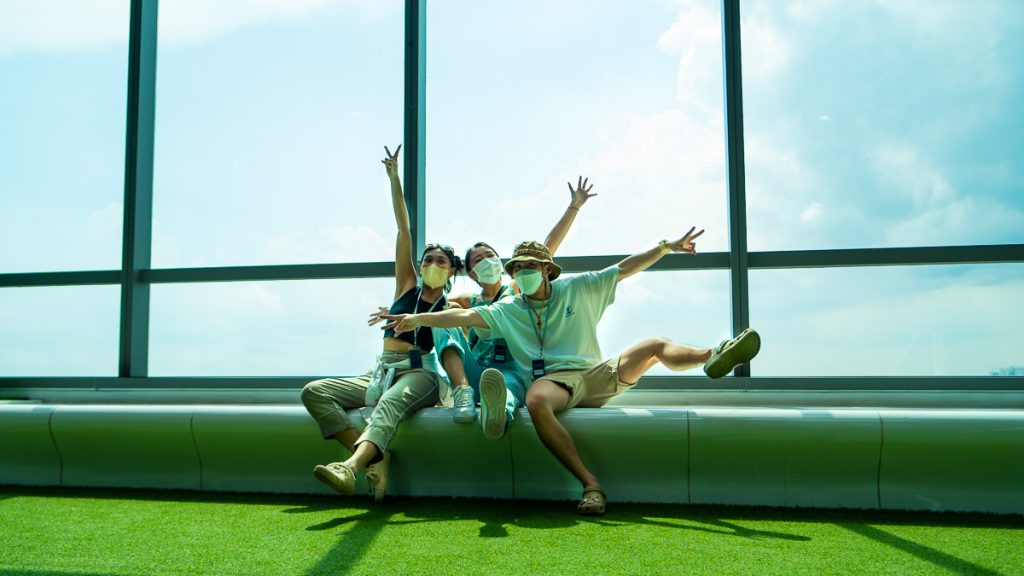 Before anything, you might want to secure some things first for a hassle-free experience.
Connectivity: We booked a 4G eSIM Card, just enough for one day (~S$9 for 2.5GB/5 days via Klook)
Activities: Pre-purchase your tickets online for cheaper prices. For instance, we bought our tickets to Skyscape (also via Klook) and saved ~S$4/adult.
Cash: Cards are accepted in malls and cafes, but not at traditional stalls like Salahuddin or the night market. Hence, we recommend changing cash for the trip. When paying for bigger ticket items in shopping malls, use multi-currency cards like YouTrip or Revolut to avoid lousy exchange rates.
Transportation: We have a dedicated section for getting around JB later on, but you might want to download Grab as it may be the cheaper option for groups. For instance, the bus to KSL from Customs costs RM2/pax but a Grab that can take four people costs RM5.
If you're exploring regions beyond JB, then you might want to take a look at Klook's All-in-One Value Pack for Malaysia. It'll give you discount vouchers for activities, SIM cards, airport transfers, etc. You can save up to ~S$95 when you use all the vouchers included in the pack. Talk about a budget hack!
Budget Breakdown for JB Day Trip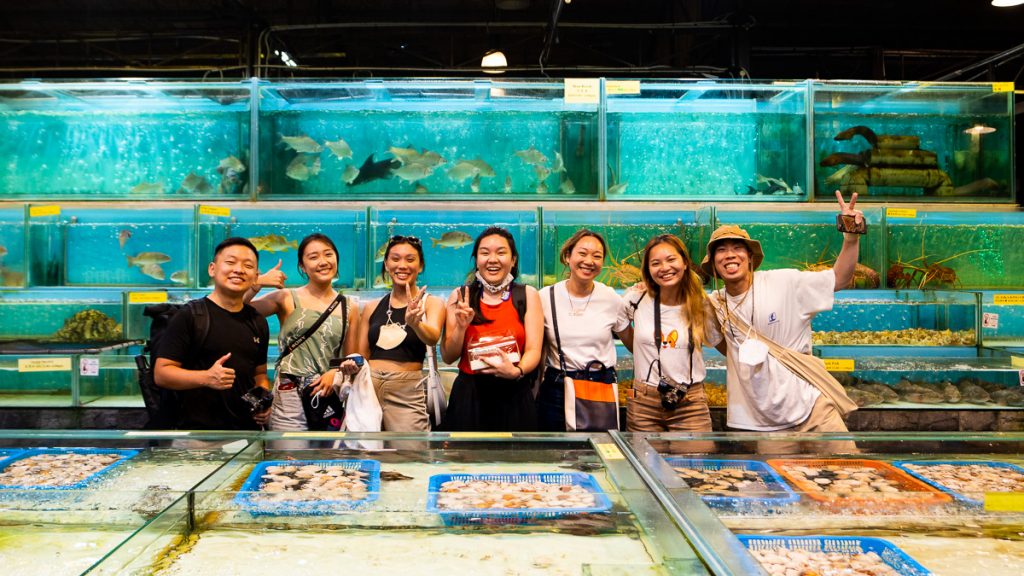 Transport: S$6.36
Activities: S$25.54
Miscellaneous: S$31.66
Total: S$63.56
(detailed breakdown for 1 pax here)
Getting to and around Johor Bahru (JB)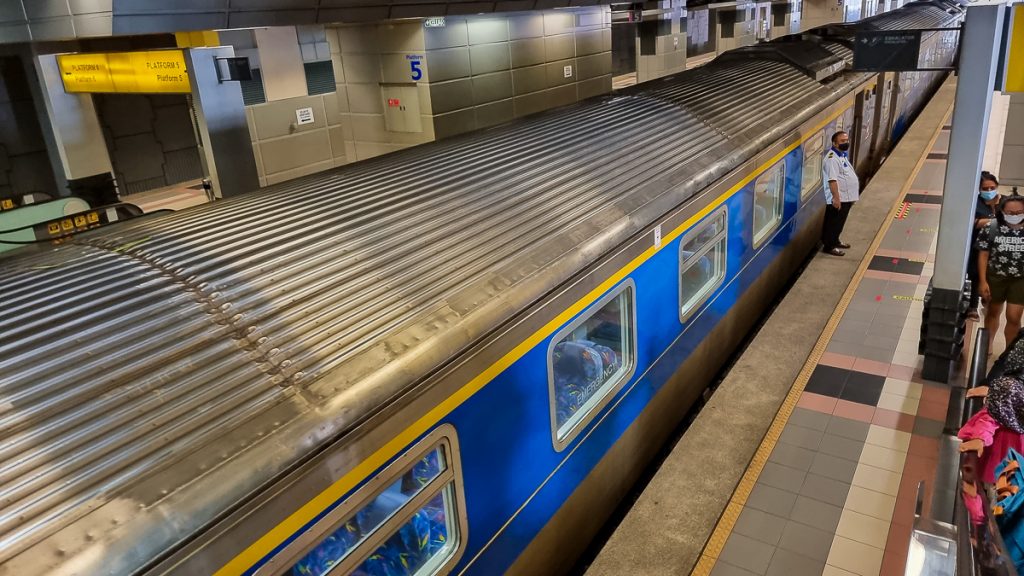 There are three options to get to Johor Bahru via public transport:
1) Train from Woodlands Train Checkpoint (S$5 to JB and RM5 to SG)
2) Bus 160/170 from Opposite Kranji MRT Station, or Bus 170X from Kranji Station (S$1.25/ one-way journey)
3) Grab Bus from various locations like Changi Airport, Expo MRT, Marsiling MRT and more (from S$3 to S$11 per person)
The train ride is a more comfortable option at only S$5/one-way trip (S$5 to JB and RM5 to SG), without having to squeeze compared to the bus.
*Pro-tip: Pre-book your train tickets as seats get sold out quickly.
Meanwhile, public buses offer the flexibility of time without having to rush for your ride. At Kranji Station, all three buses to JB arrive every 15-20 mins (depending on road conditions). Or book a bus on the Grab app to secure a seat and ride in comfort!
You'll have to alight at the Woodlands Checkpoint for immigration, before continuing your journey across the Causeway to Malaysia's checkpoint.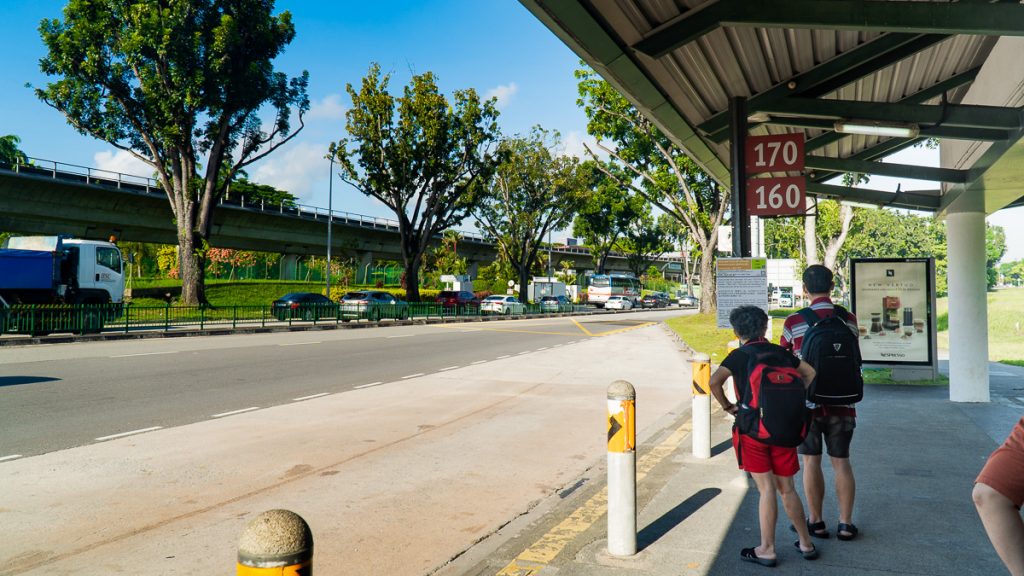 When travelling around Johor for a day trip, Grab is an affordable and convenient option even for those on a budget. From Customs, a ride to KSL Mall costs about RM5, while further places like the Euro Fun Park cost only RM24.
To book a Grab, you'll need to buy data for your day trip. Check out prices for data roaming with your service provider. Or, book a 4GB e-SIM (~S$9) via Klook.
9AM: Breakfast at Jalan Tan Hiok Nee
A short 15-minute walk from Customs, you'll find the heritage street of Jalan Tan Hiok Nee. With various old-school eats and plenty of aesthetic cafes, Tan Hiok Nee is home to both the "old" and the "new" where trends and tradition co-exist.
Hiap Joo Bakery & Biscuit Factory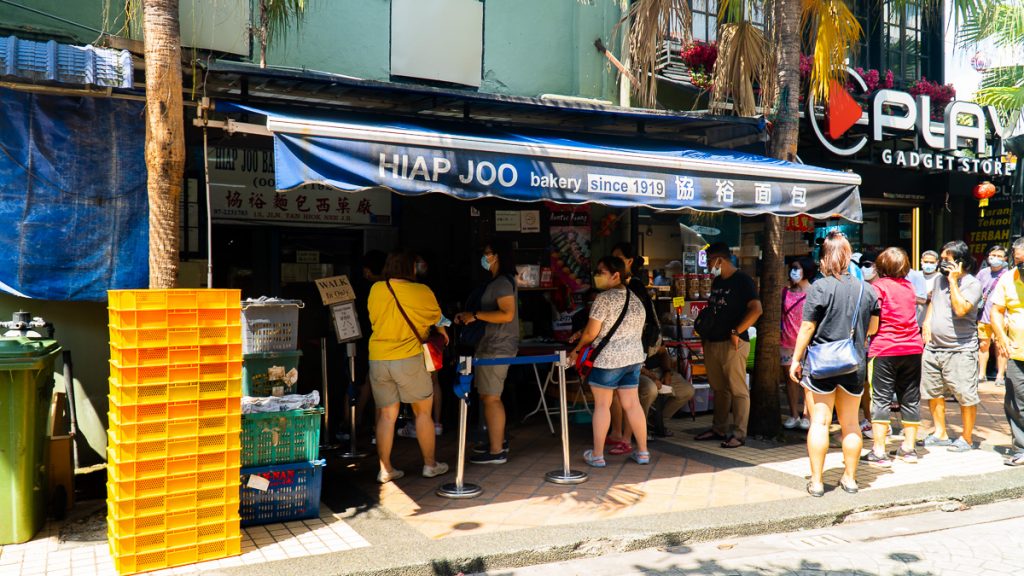 Be prepared to queue.
When visiting the Hiap Joo Bakery & Biscuit Factory, you'll probably find yourself in a long snaking line with people eager to get their hands on their delicious, fragrant banana cake.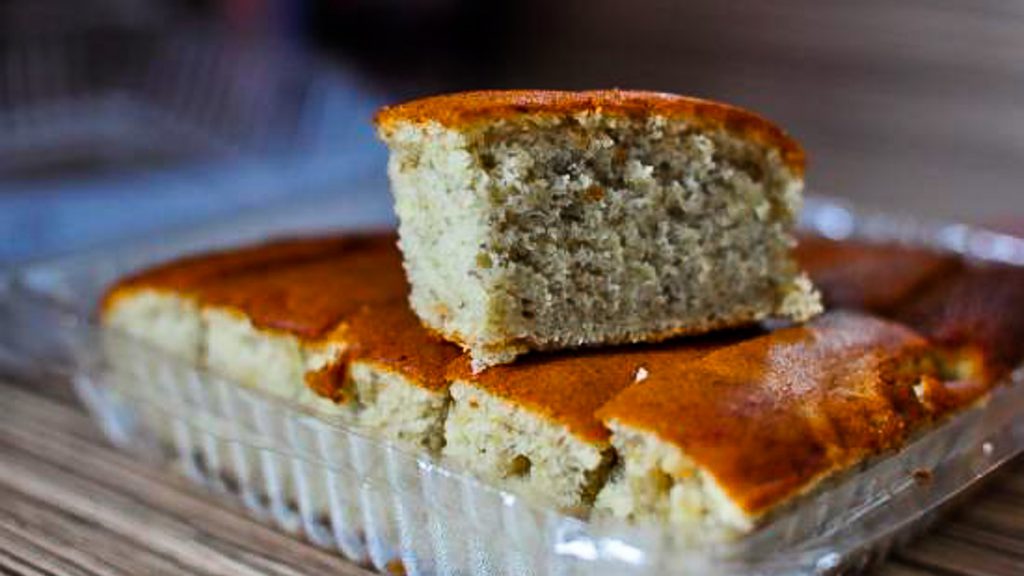 Photo credit: Tripadvisor
While Hiap Joo Bakery does export its banana cakes to Singapore, the cheaper prices and joy of savouring these cakes fresh out of the oven are worth the trip down. Each box comes with 10 slices of cake, just enough to bring some home to your family!
Cost: RM9.60/box (~S$3)
Opening hours: 7:30AM – 4:30PM, closed on Sun
Address: 13, Jalan Tan Hiok Nee, Bandar Johor Bahru, 80000 Johor Bahru, Johor, Malaysia
Restoran Hua Mui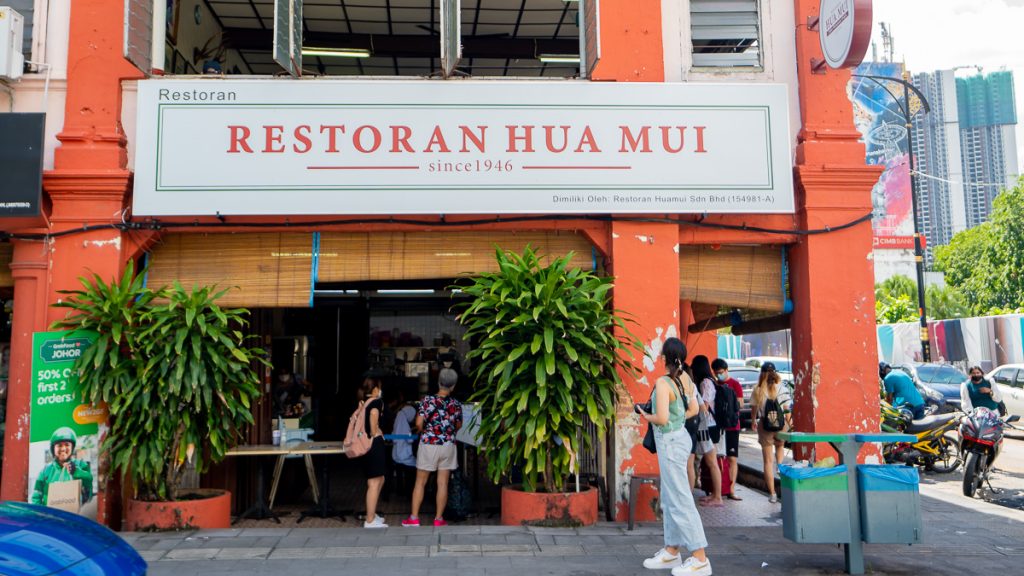 Another great breakfast place to visit before cafes open at 10AM is the open-air eatery, Restoran Hua Mui.
Their signature Hainanese Chicken Cutlet (RM17.90) is what most people go here for, while their toasts and sandwiches are also available if you're looking for something lighter.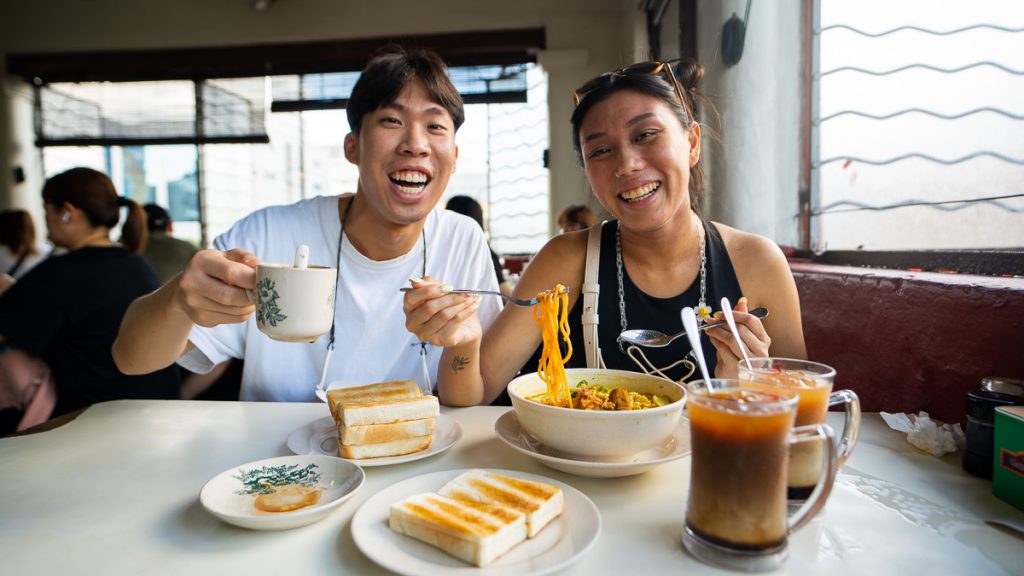 We tried some interesting drinks that you won't encounter much in Singapore, like the Kopi Gu You (RM3.40) (coffee with butter) and the Three Layer Milk Tea, also known as the Milk Kopi (RM6.30).
Opening hours: 8AM – 5PM
Address: 131, Jalan Trus, Bandar Johor Bahru, 80000 Johor Bahru, Johor, Malaysia
Salahuddin Bakery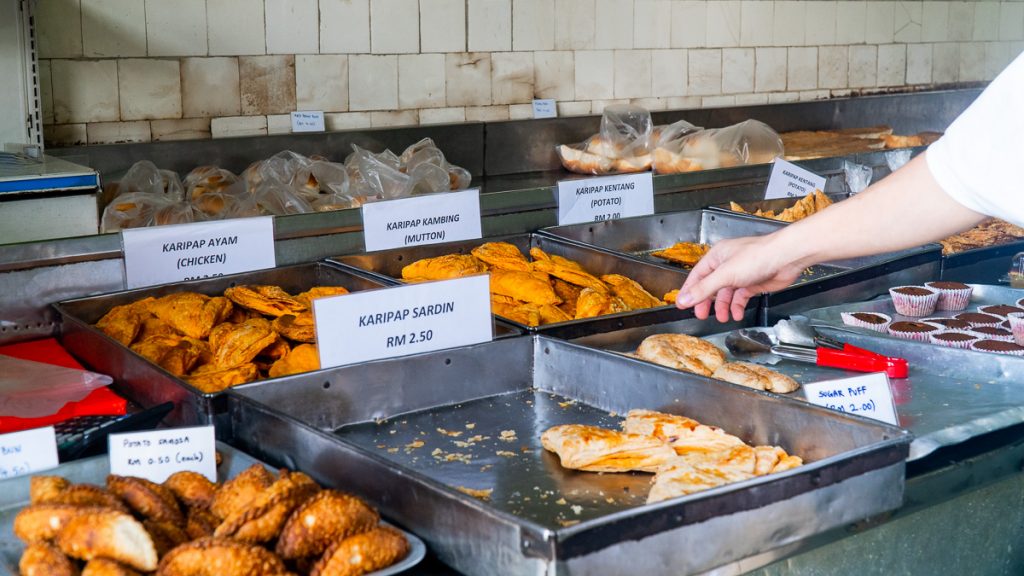 Salahuddin Bakery is one of JB's oldest eateries and feels much like a living museum. Even if it opened back in 1937, they have retained their rustic and antique decor with Peranakan tiles, complete with old-school signages and calendars.
Traditional bakes and pastries sold here include bread, cakes, and curry puffs — all baked in an old wood-fired oven. We tried the Karipap Ayam (RM3.50) and Sugar Puff (RM2), which is a good try if you like flaky and crumbly pastries!
Opening hours: 9AM – 6PM, closed on Fri
Address: 26, Jalan Dhoby, Bandar Johor Bahru, 80000 Johor Bahru, Johor, Malaysia
11AM: Pop-up Art Gallery at 11+ JB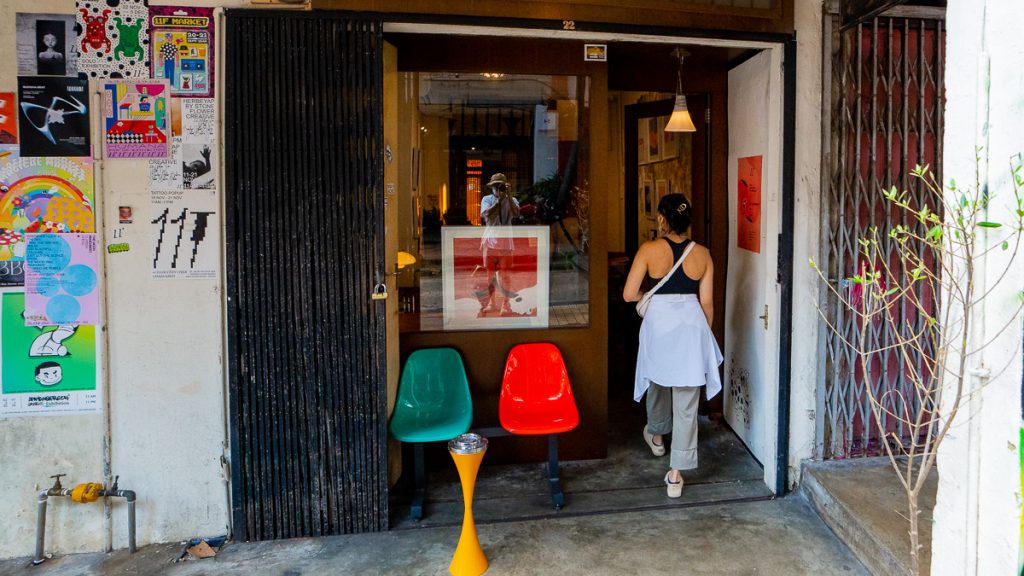 Located opposite Bev C'afe, we noticed a unique display at this storefront that piqued our interest. Turns out, it was a pop-up art gallery featuring a rotating roster of artists!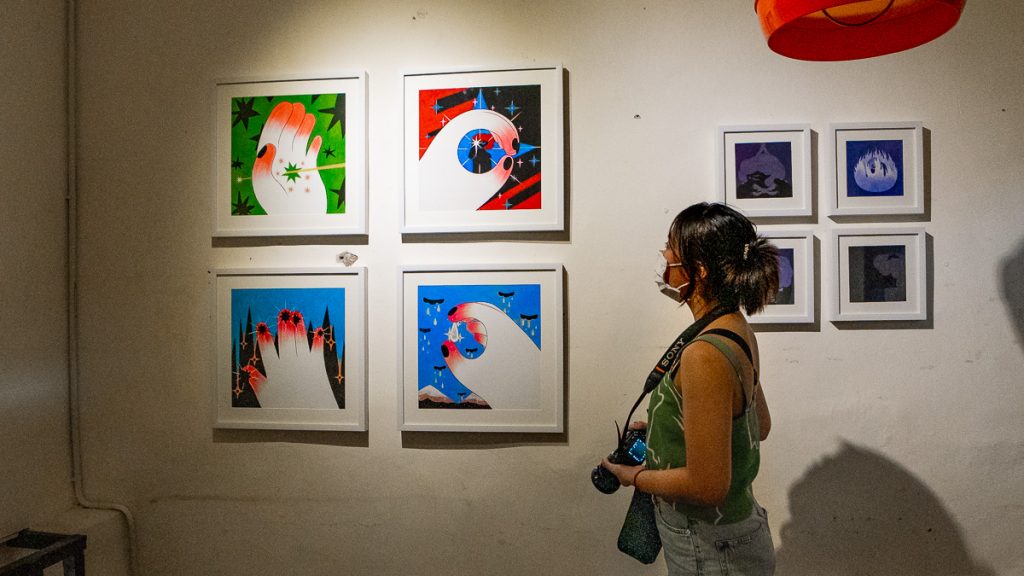 On our visit, we caught the artworks of Lu Shui Rou, an artist from China. This happens to be her first exhibition in South East Asia. The staff gave us a quick introduction to her art before leaving us to appreciate them. Coffee is also sold here as you browse.
*Note: Permanently closed (as of Jul 2023).
12PM: Cafe-hopping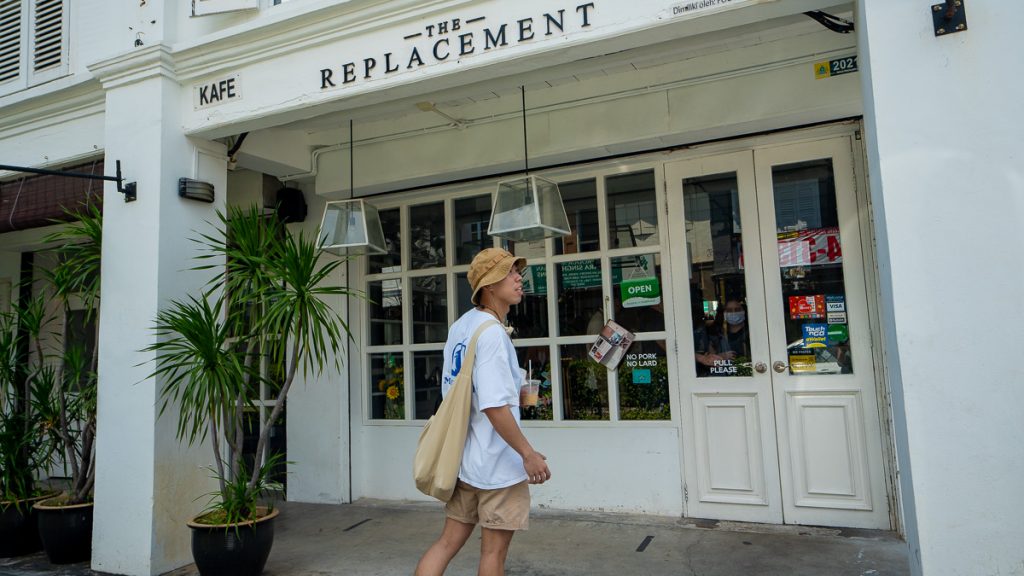 Trust us when we say that Jalan Tan Hiok Nee has plenty of cafes — we saw about 10 cafes within a short 15-minute walk around the neighbourhood.
The well-known ones here are The Replacement – Lodge & Kitchen, Chaiwalla & Co. Container Cafe or Flowers in the Window. But next time you're visiting JB, check out some of these lesser-known ones.
Bev C'afe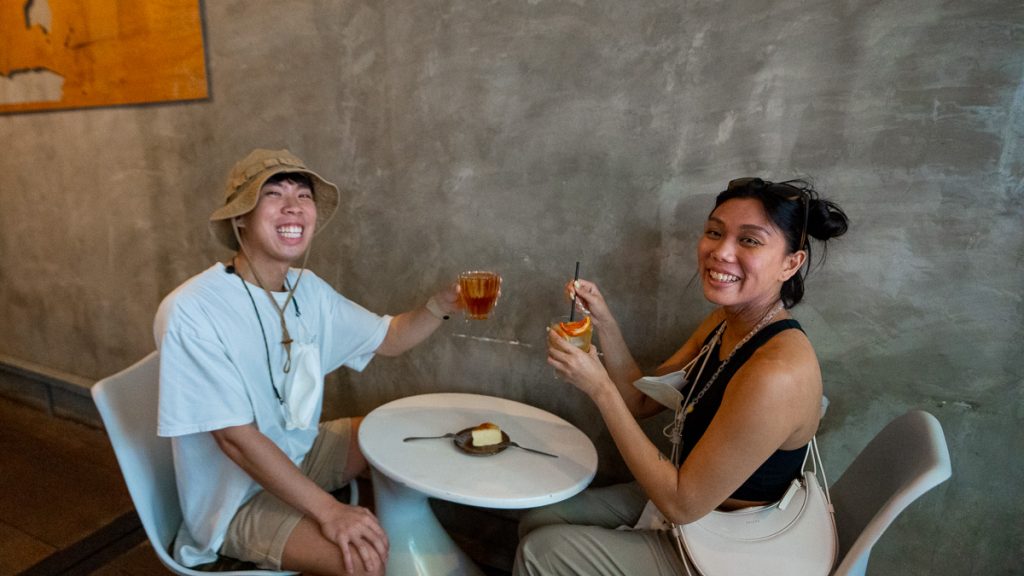 With rustic, woody interiors, Bev C'afe is relatively small but cosy. According to their menu, they serve what they like to eat! We found unique creations such as the Jackfruit Cheesecake (RM10) and Leicha Cake (RM16).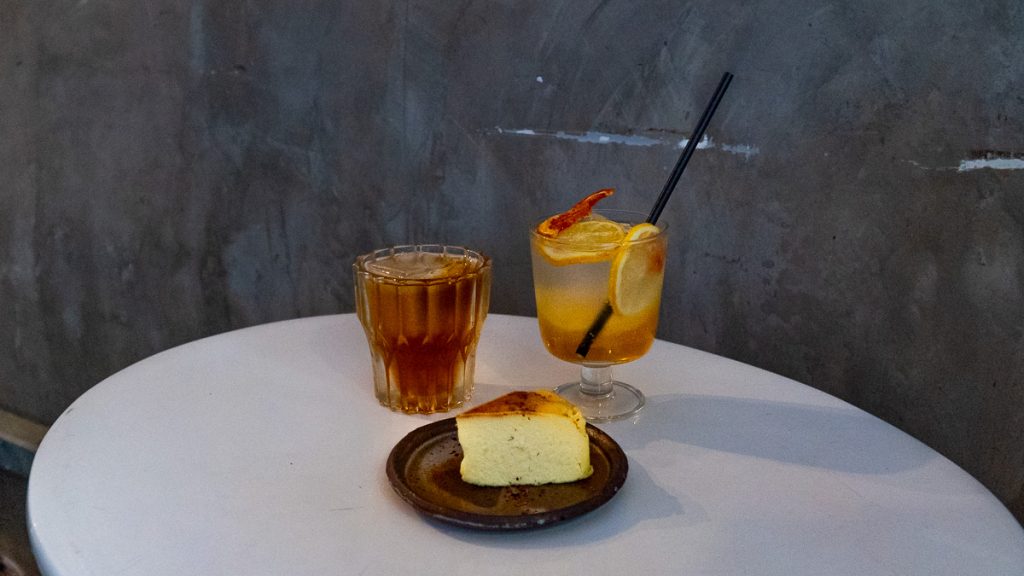 The Jackfruit Cheesecake is an interesting try, albeit a little tiny. The strong scent of jackfruit didn't overpower the taste of the cake — overall, it produced a delicious but balanced flavour. The Citrus Honey Lemon Soda (RM16) also paired well with it and makes for a refreshing finish.
The cafe is located on the second floor, above the Bev C concept store.
Opening hours: 10AM – 6PM, closed on Wed
Address: 54, Jalan Tan Hiok Nee, Bandar Johor Bahru, 80000 Johor Bahru, Johor, Malaysia
Offee Cafe
Recommended by the staff at 11+ JB, the new Offee Cafe (opened in June 2022) boasts a sleek, white modern interior.
One can probably guess what it's known for — yes, coffee! ☕️ They serve interesting creations including the Coconut Latte (RM12) and Oat Latte (RM12).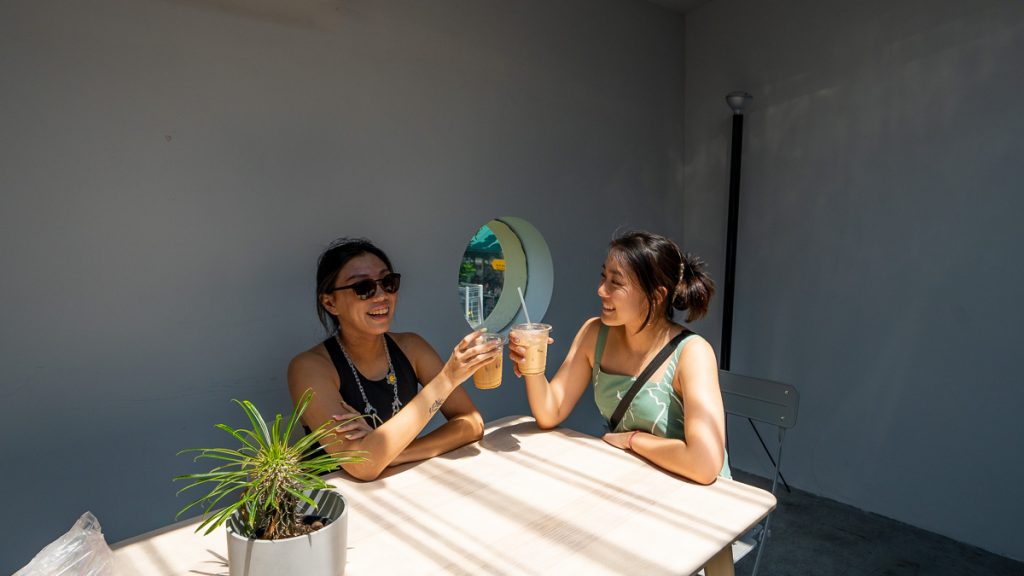 While I'm more of a tea person, coffee lovers Shai and Bren gave the cafe and its coffee an 8/10 for its taste and ambience.
Opening hours: 8AM – 12AM
Address: 30, Jalan Dhoby, Bandar Johor Bahru, 80000 Johor Bahru, Johor, Malaysia
2PM: Panoramic Skyline Views at Skyscape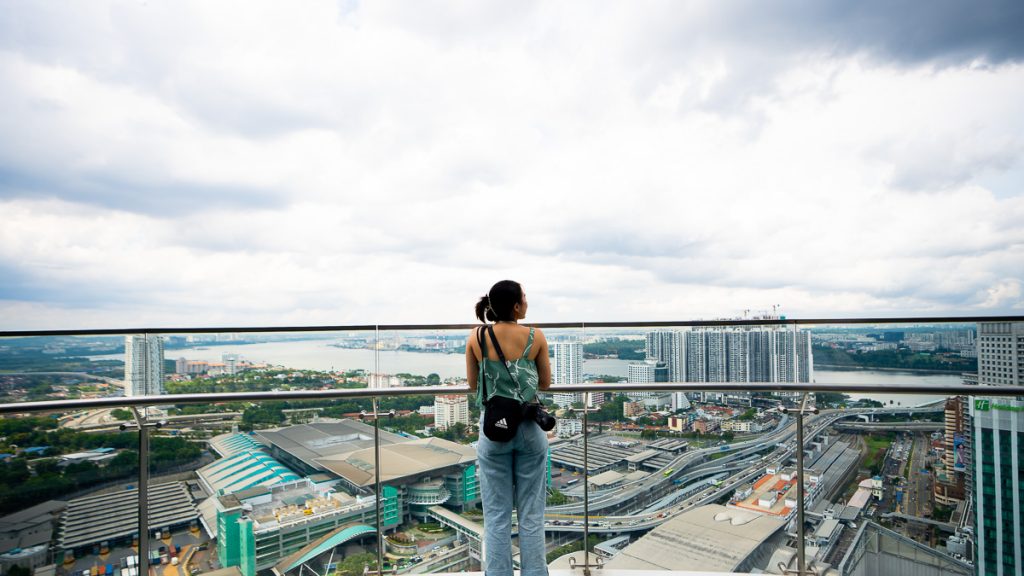 Skyscape is most famous for the glass-floored sky bridge located on the 33rd floor.
At 149m above ground, the translucent glass floor may be challenging for people with acrophobia (fear of heights) — although Bren took it alright! Here, we enjoyed a panoramic overview of Johor Bahru and the Causeway bridge.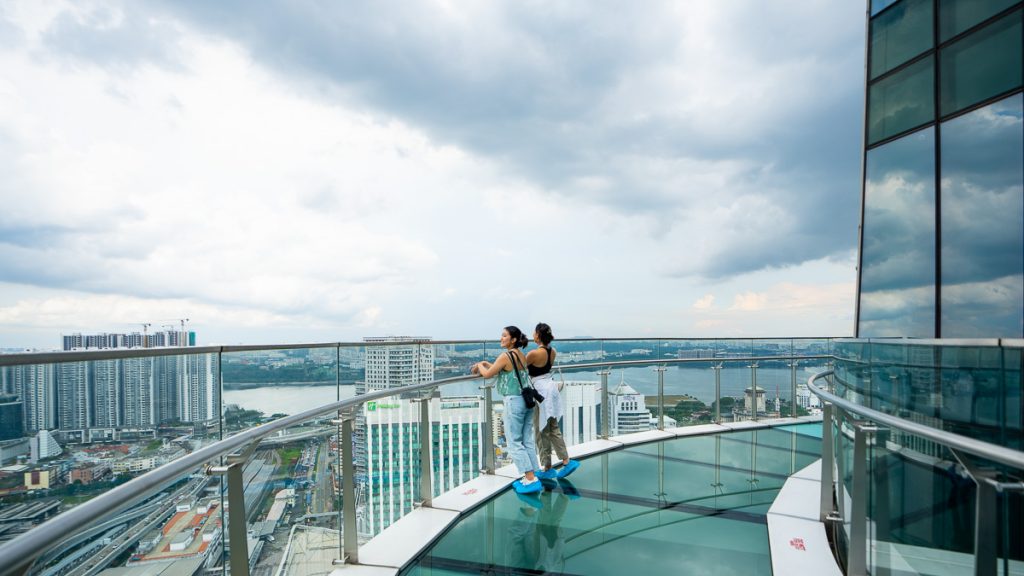 Skyscape also offers complimentary activities included in your ticket, like virtual reality games, access to the observation deck, and the TikTok-famous LED tunnel amongst others.
We pre-booked our Skyscape adventure through Klook, so that all we had to do was have our QR code scanned at the entrance.
Cost: S$7.70/pax, RM1 (~S$0.30) for shoe covers (paid on site)
Opening hours: 9:30AM – 4PM, closed on Sat
Address: Level 34, Menara JLand Johor Bahru City Centre (JBCC, Jalan Tun Abdul Razak, 80000 Johor Bahru, Johor, Malaysia
3PM: Shop Near KSL City Mall
KSL City Mall is no stranger to most Singaporeans; it's easily accessible via Grab or by a feeder bus at the custom. You're guaranteed to have something to do here as they have many establishments like KTVs, massage parlours, and shopping options.
But other than shopping inside the mall, step outside and you'll find new interesting places to explore.
Avery-Day Convenience Concept Store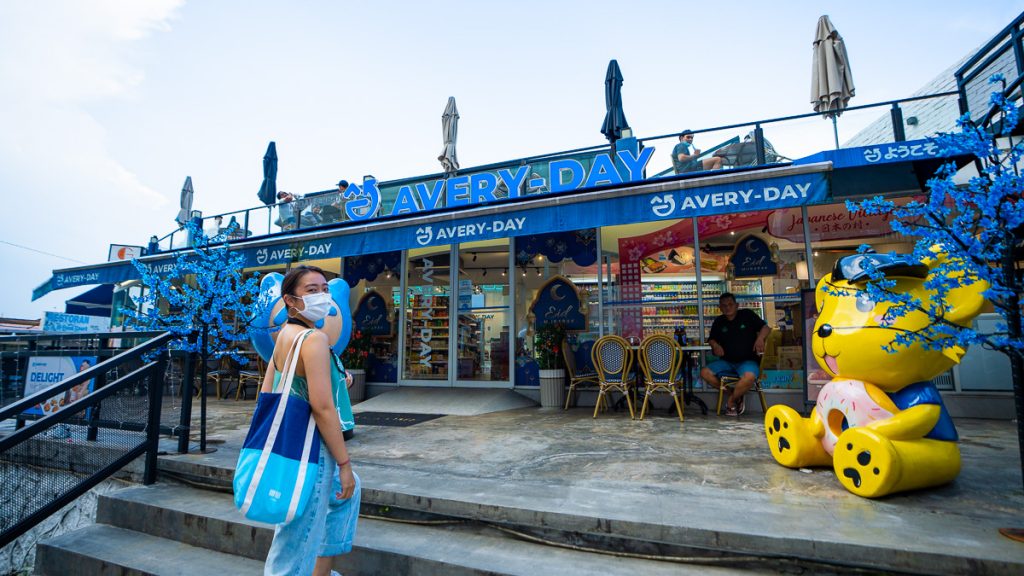 For all snack-lovers like myself, this unique convenience concept store could most probably make for your dream snack heaven 😍
Located outside KSL City Mall at the CBTL entrance, Avery Day sells snacks from various countries: Thailand, Taiwan, China, Korea, Japan… you name it. We recognised some familiar snacks but bought those that are less commonly found in SG.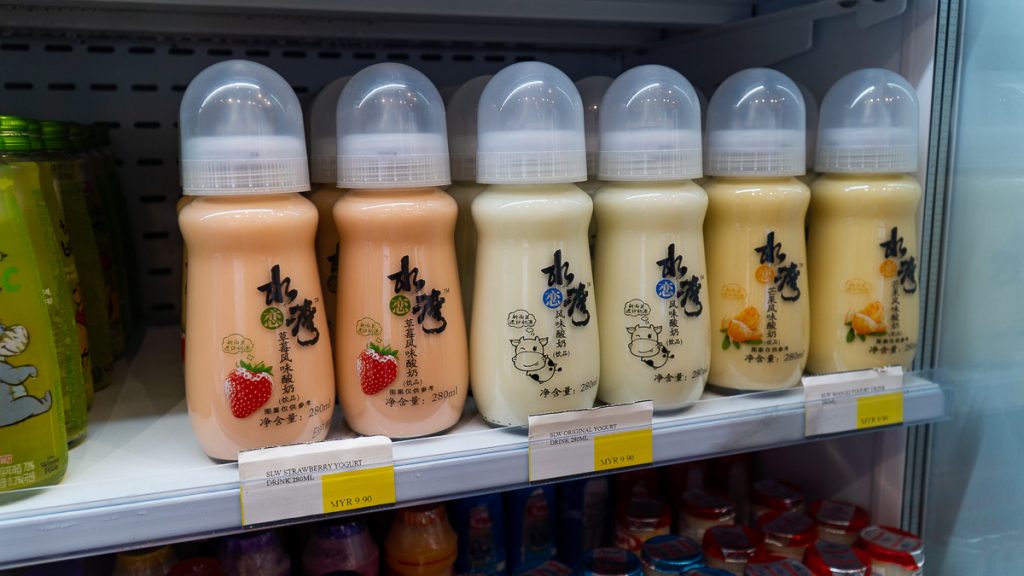 For example, this Taiwanese yoghurt drink (RM9.90) caught our eyes as it came in the shape of a milk bottle. We can't remember the last time we drank from milk bottles but we decided to try it once again that day.
It did feel weird drinking from a teat, but the yoghurt was tangy and refreshing.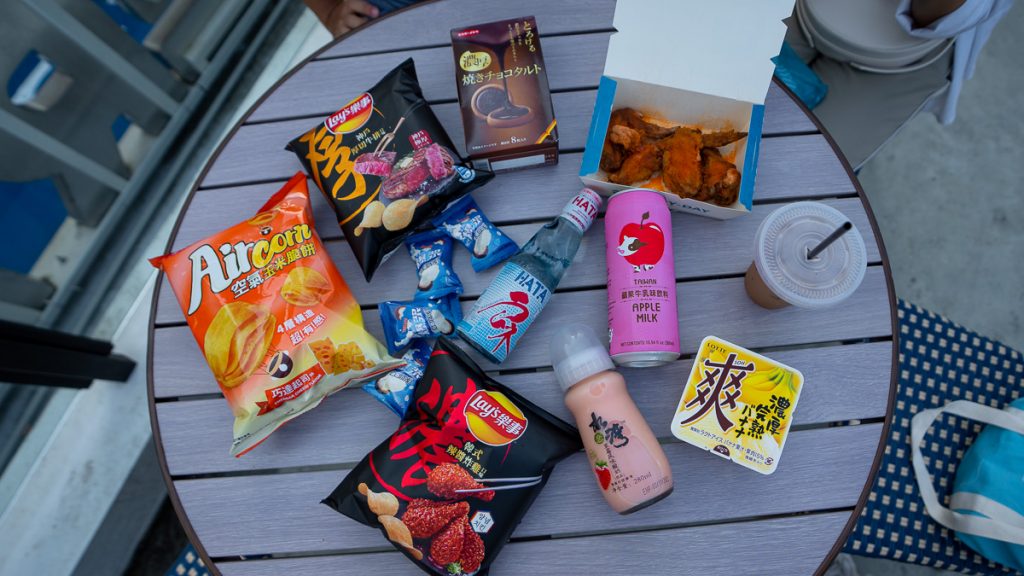 Hot snacks like fried chicken, fries, and nuggets are also available. After you've done your shopping, you can enjoy your snacks at the outdoor sitting area on the second floor!
Opening hours: 9AM – 12AM
Address: 2, Jalan Rusa 6, Taman Abad, 80250 Johor Bahru, Johor, Malaysia
Pasar Karat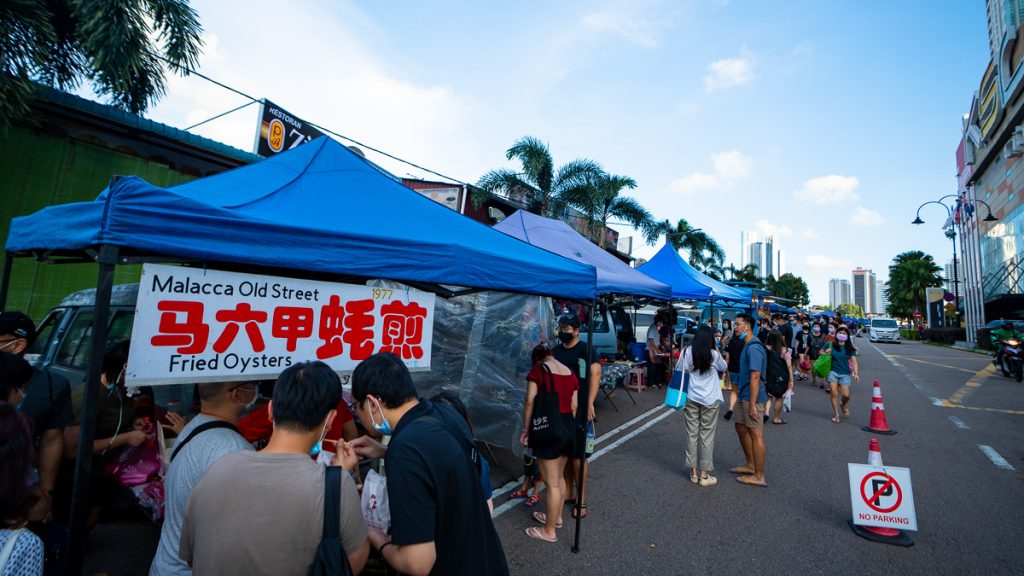 Take a step out of Avery Day and join the crowds at Pasar Karat. It's a night market that stretches a few hundred metres down the street and will probably take a good 30 minutes to walk down the entire lane.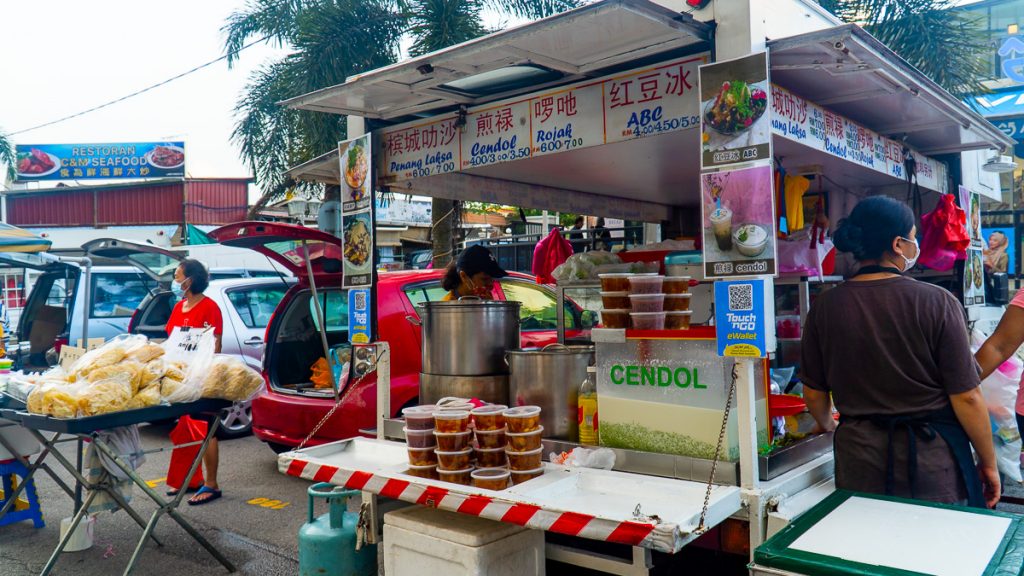 There were many stalls selling local delights such as fried carrot cake, Assam laksa, BBQ skewers, chendol (iced green jelly dessert) — we were absolutely spoilt for choice. We had a great dinner snacking on a little bit of everything.
Some stalls also sold everyday items like nail cutters, fire starters, and water bottles that make for good souvenirs to bring home.
Entrance fee: Free
Opening hours: 5PM – 2AM
Address: 26, 20, Jalan Segget, Bandar Johor Bahru, 80000 Johor Bahru, Johor, Malaysia
7PM: Pop-up theme park at Euro Fun Park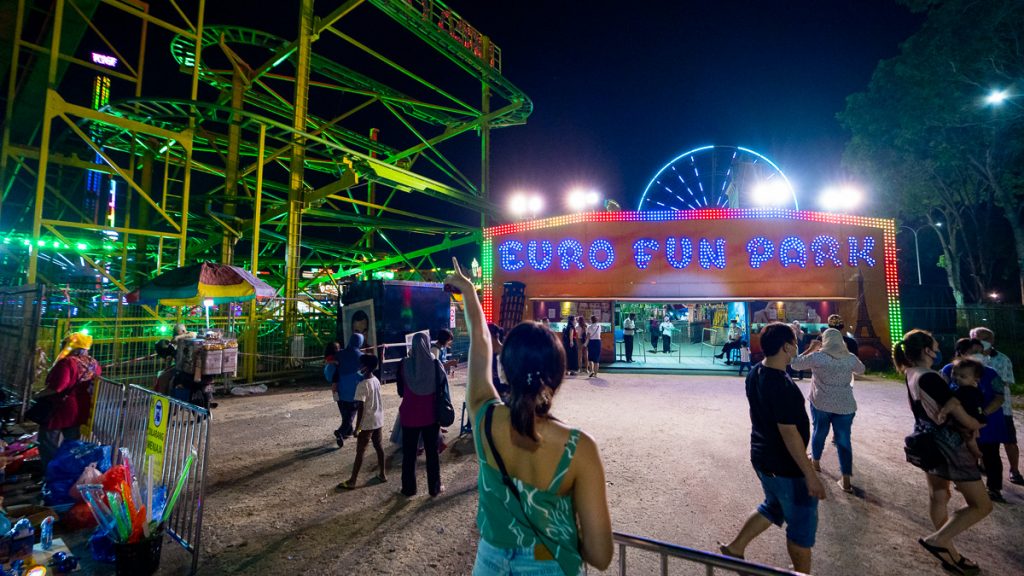 To end off the night with a bang, visit Euro Fun Park, a pop-up theme park!
The rides here are pretty thrilling — I dare say they're better than your typical neighbourhood fairs. Our top choices were definitely the Vortex and Space Flyer.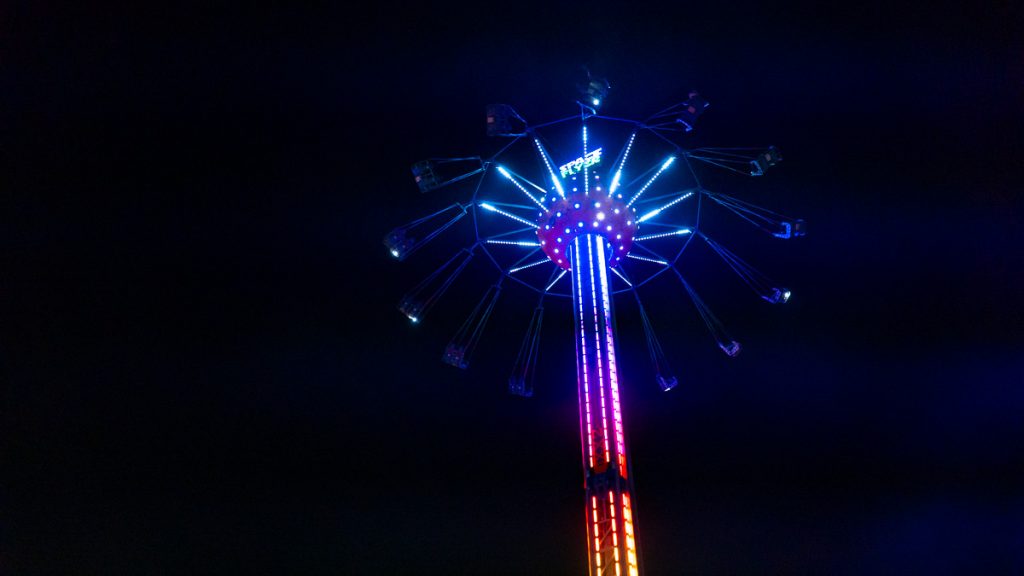 The Vortex takes you cartwheeling high up into the air while you spin around endlessly for a fun yet dizzy experience. The Space Flyer takes the usual spinning chair carnival ride but goes up high to 30m in height.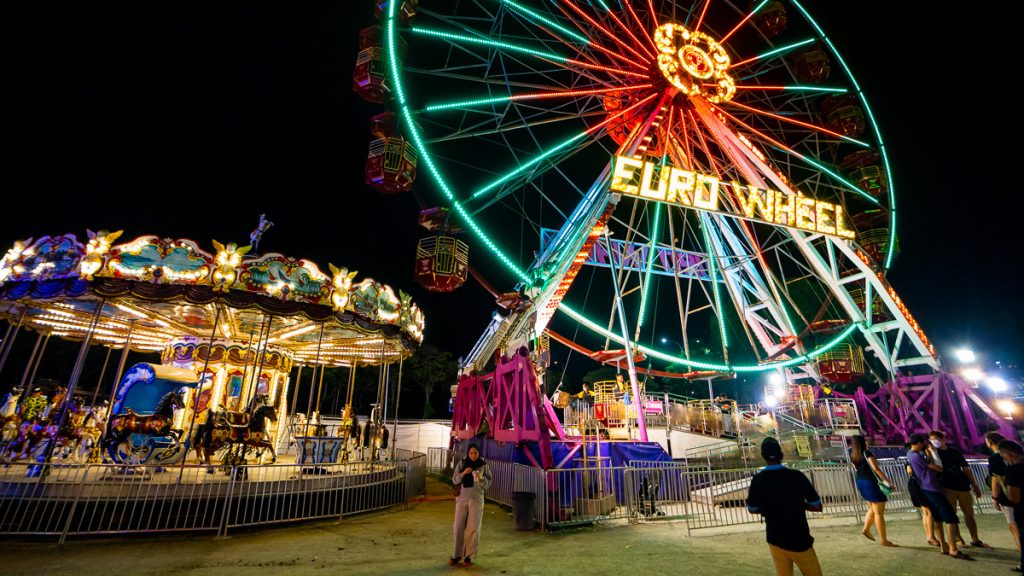 Rides are paid in tokens (RM2 each). For instance, the Vortex requires 15 tokens while the Space Flyer requires 10 tokens.
Entrance fee: RM5 excl. cost of rides
Opening hours: 7PM – 12AM
*Note: The theme park occasionally shifts around to different locations in Malaysia.
Planning your Budget JB Day Trip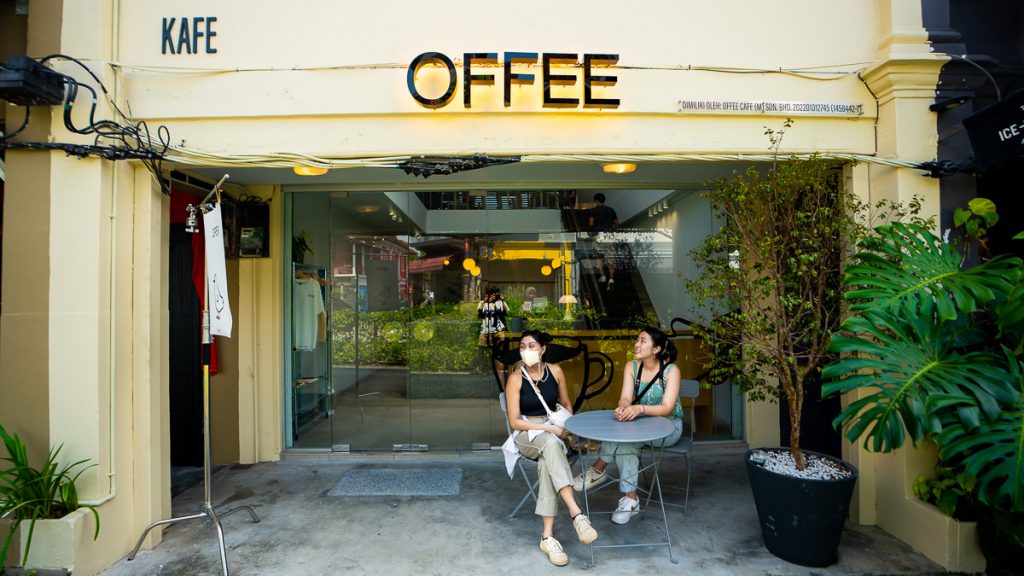 A day trip to JB can be lighter on the pocket if you plan ahead! That means pre-booking activities that you want to do, having your multi-currency cards ready, and planning which transportation to use. That way, you'll have more money for the fun stuff like shopping and cafe-hopping!
If you're also planning to explore the rest of Malaysia, then Klook's all-in-one value pack is something that might pique your interest. That way, you get access to many vouchers to get activities, SIM cards, and other goodies for a discounted price.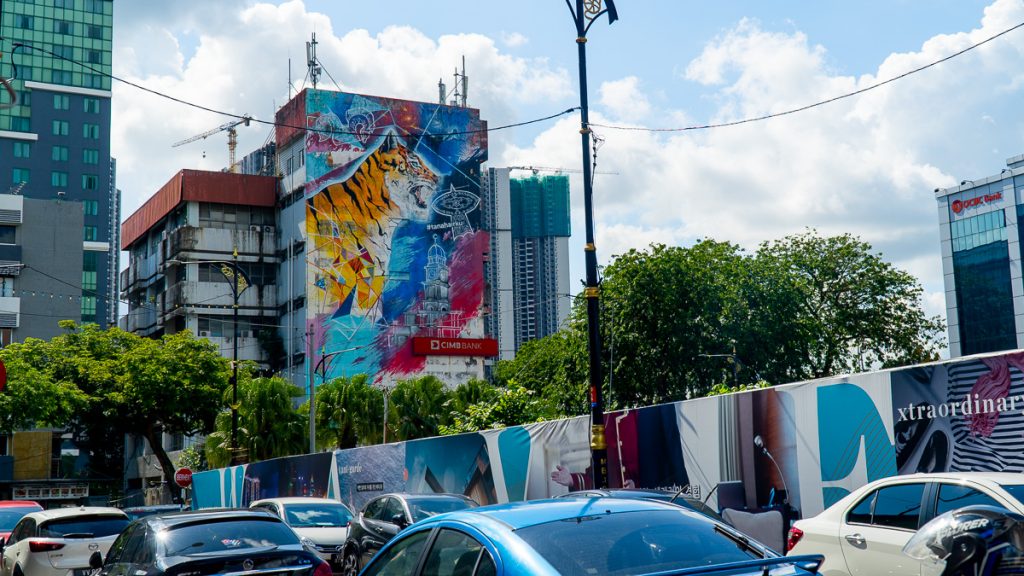 I've been guilty of sticking to shopping malls on my usual visits to Johor Bahru (thank the weather 🥵), but this day trip to JB got me wanting to explore more of the city's not-so-hidden gems that I've long overlooked.
What else do you usually do on a day trip to JB? Let us know in the comments below and we might include it in the itinerary!
---