6D Whale Shark Diving Expedition, Donsol Philippines
Join us and other like-minded adventurers in 2024 as we head off to dive with whale sharks in Donsol Philippines!
6D5N Expedition Dates

Peak Season Trip

17–22nd Feb 2024
24–29th Feb 2024

End-of-Season Trip

18–23rd May 2024
25–30th May 2024
Cost
S$1190 (AOW Course available)
This trip is a full board with no hidden fees or charges, more details on inclusions and exclusions below
This trip is only suitable for participants:
– who have an Advanced Open Water Diving Certification, OR
– will be taking the Advanced Open Water Diving Course with us on this trip
(experienced divers with Open Water Diving Certification, have a chat with us before signing up!)
What's included?
Fun diving buddies for sure, but there's more!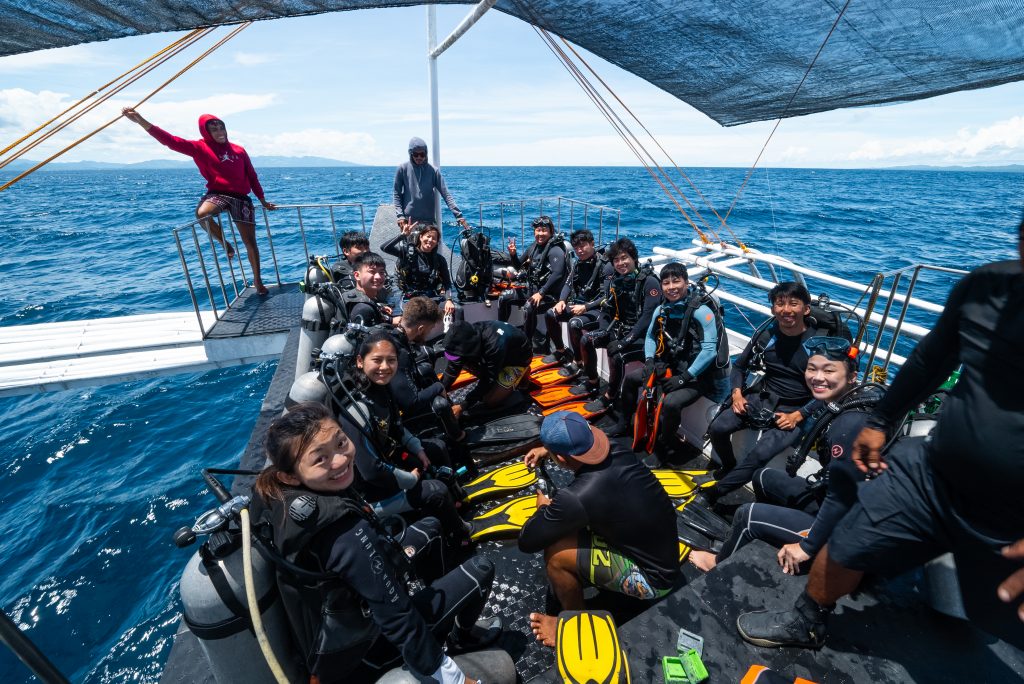 – Airport Transfer
– All Accommodations during the trip
– All Breakfast, Lunch and Dinner during the trip
– 6 Scuba dives over 2 Days
– Dive gear rentals
– Whale Shark snorkelling session
– Island Hopping around San Miguel Island
– English-speaking, experienced local guides
– Misc. taxes, fees and permits
– Edited trip photos and a trip video to commemorate the trip
– Travel photography guidance and pre-trip workshop
BONUS: You'll be travelling with TTI Experiences team who will help to capture different moments from the trip. Feel free to ask for advice on framing your shots and receive some edited photos and a trip video at the end of the trip to remember these moments.
What's not:
– International Flights
– Personal travel insurance
– Meals not stated in the itinerary
– R&R Activities
– Personal expenses
– Emergency rescue (if necessary)
Book the 2024 dive trip of your dreams
Secure your slot by filling in this form (or click on the button below)
| | Expedition Date | Pre-Trip Briefing Date | Photography Workshop |
| --- | --- | --- | --- |
| Peak Season | 17-22 Feb | 25th Jan 2024, 7:30PM | 3rd Feb 2024, 2PM |
| Peak Season | 24-29 Feb | 31st Jan 2024, 7:30PM | 4th Feb 2024, 2PM |
| End of Season | 18-23 May | 25th Apr 2024, 7:30PM | 5th May 2024, 2PM |
| End of Season | 25-30 May | 2nd May 2024, 7:30PM | 12th May 2024, 2PM |
A $300 deposit will be collected and we'll send you a welcome package with more details about what to expect and how to prepare for the trip. We will be collecting the full payment ~1 month before the start of the expedition.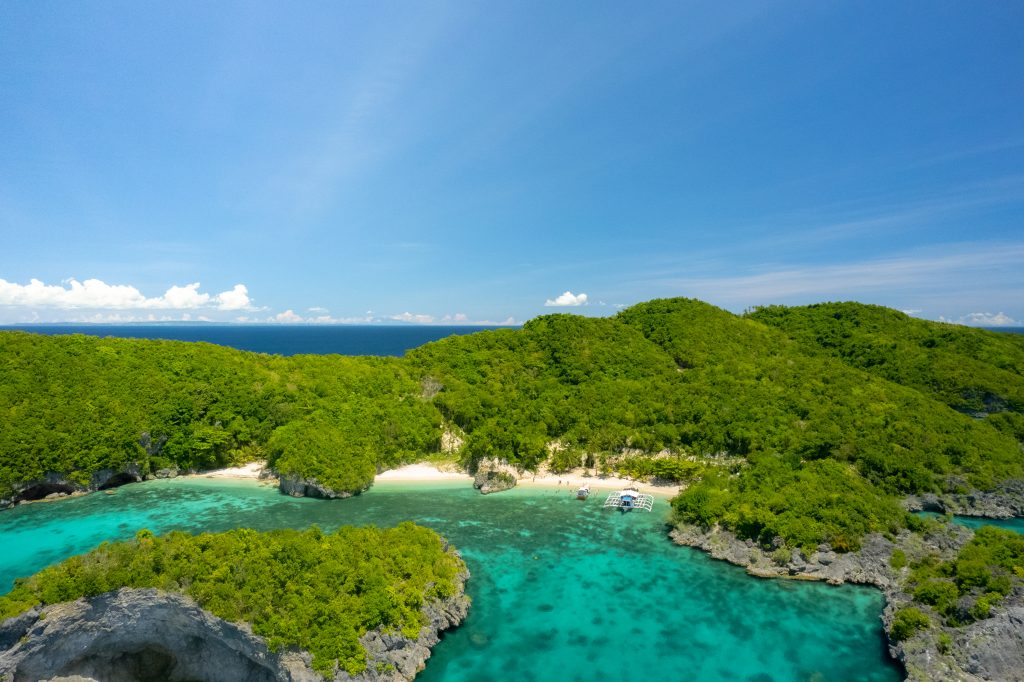 All trips are organised by our travel agency arm More Better Pte Ltd (TA03559), in partnership with licensed local vendors.
Itinerary (6 days, 5 nights)
Day 1
Arrive in Donsol — meet up with your new travel pals and explore the area! Our adventure begins early the next morning so we recommend getting a good night's rest!
Day 2
The expedition begins with our first scuba dives at San Miguel Islands! Popular for coral formations and microcritters, diving here gives us easy access to underwater caves at the Wall. We'll have 3 dives here, just the right amount to get us geared up for tomorrow's big adventure!
Day 3
Our boat anchors at the shallow banks near Ticao Island before we head to the highlight of our expedition, the Manta Ray Bowl. We'll have 3 dives swimming with manta rays, whale sharks, black and white tip sharks, and even tuna! It's going to be a tiring day swimming against the currents of the lower depths, but it's going to be an amazing day!
Day 4
We head out to explore Ticao Islands above water with a little island hopping! Enjoy the beaches or go for a snorkelling session to explore the corals in the area!
Day 5
To wrap up the trip, we're heading out for whale shark snorkeling! We'll be spending the morning out in the water, waiting patiently to get a glimpse of these gentle giants! We're dealing with nature, so we won't know what or when we'll see them!
In the afternoon, we'll head out to Quitinday Hills, the Chocolate Hills of Albay. Similar to the ones in Bohol, the hike brings you to a view point that has views of hills and Mount Mayon in the distance.
Day 6
It's our last day in Donsol. Have a dip in the ocean or have a little snooze in! Remember to pack your bags the night before because we have a late morning flight back home!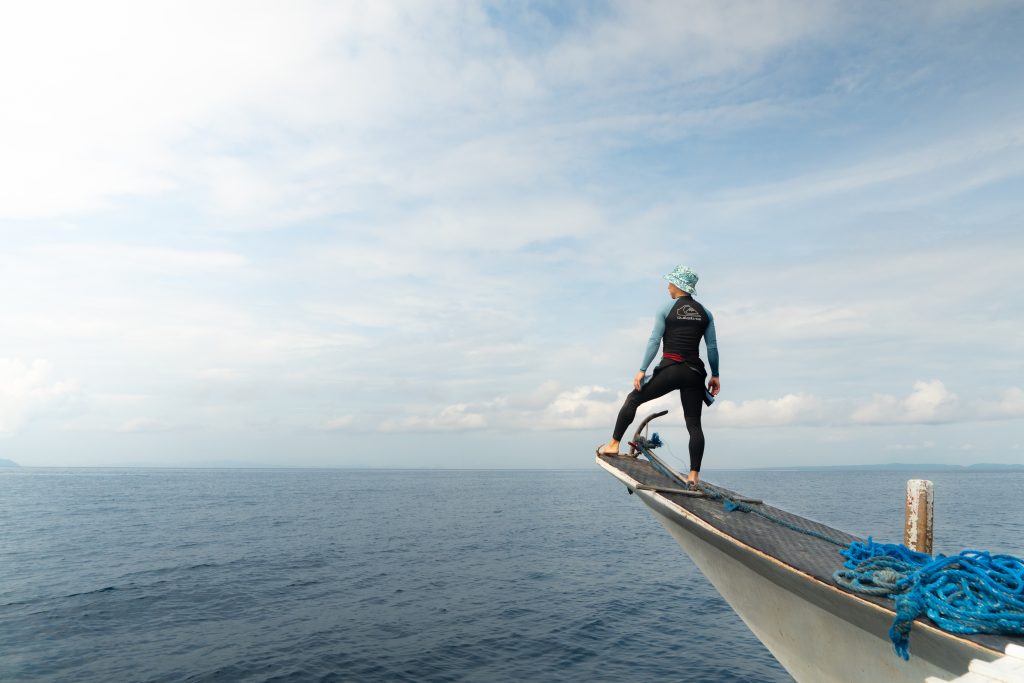 Why Donsol?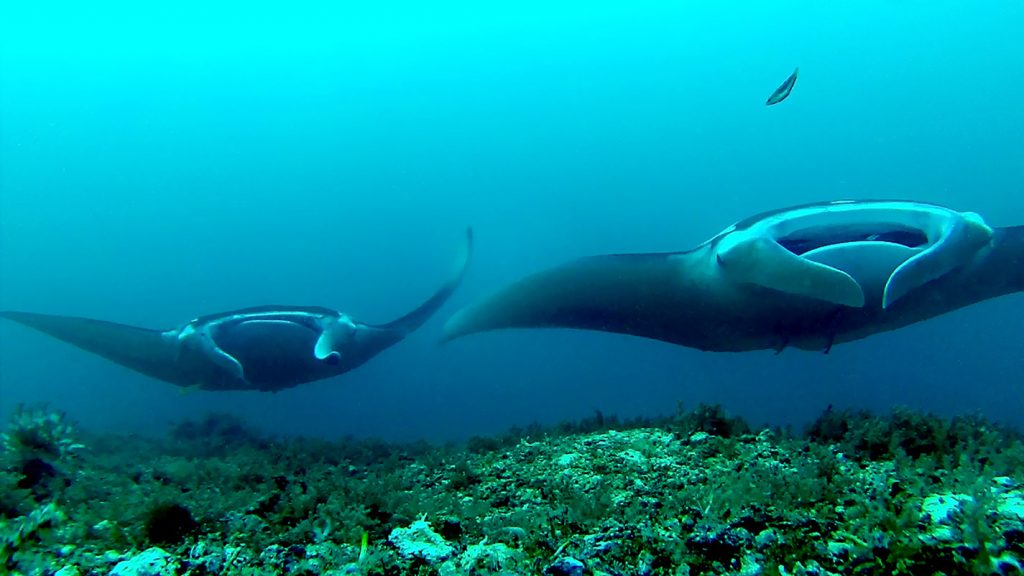 You might have heard of diving with the majestic giants in Oslob. While it's an iconic one to strike off your bucket list, they are known to lure the creatures with food or allow travellers to engage in activities that may negatively impact their behaviours.
So we searched for a way to experience these gentle behemoths (and other underwater creatures) in the most ethical way we could find — Donsol was the answer!
Donsol is monitored by experts in the field of marine conservation of WWF's eco-tourism. Swim among whale sharks and manta rays as we dive into the depths of Ticao Island and the Manta Ray Bowl. And if we're lucky, we'll be experiencing a world vastly different from our own!
Qn: What certification is required?
Advanced open water certification is necessary for this expedition.
From our experience, the currents at the Manta Bowl are very strong. Most of our previous participants who had Open Water certification were assessed by our local guides and were not allowed to dive in the Manta Bowl due to the risk they posed to themselves.
Attending the Advanced Open Water course will place you under the supervision of more instructors, making it safer for dive in the Manta Bowl.
But if you have an Open Water certification and have a lot of dive experience, please feel free to contact us and we can make an exception!
Qn: Can I get Advanced Open Water Certified on this trip?
Absolutely! Not many people can flex and say they got their AOW while diving with whale sharks 😉
Just select it on the form. It will only a S$300 top up and you'll have new friends to take the course with!
Qn: How is this trip different than going on my own?
Trips to exotic destinations are more fun with a big group! But not everyone has friends that are willing to jump onto an adventure at a moments notice! We planned this community trip so you can meet other fellow adventurers from different walks of life that are equally passionate about travel!
What's more, our TTI Experiences team will be on the ground capturing different moments from the trip. We'll be producing a trip video and sharing some edited photos for you to remember all the epic moments.
Qn: Who is this trip suitable for?
If you're adventurous, open-minded, and excited to immerse in a new culture, this is the trip for you!
You should also be ready to embrace the great outdoors. We'll be staying at pretty nice accommodations, so you don't have to worry too much about roughing it out!
Make sure you do a refresher in Singapore if you have not dived in a year! It will make your trip more enjoyable!
Qn: Who will be on the trip?
We're looking for at least 10 fun-loving travellers who'd love to explore together! Whether you're a solo traveler or want to tag along with some friends, you're in for a great time. Rounding off the team are our Travel Intern team and local guides!
Qn: What would the accommodations be like?
The accoms are relatively basic, but clean. Each room is twin sharing and has its own en-suite toilet with hot showers.
Qn: What if I can't make it for the dates above?
If you can't make it for the dates above, come and talk to us as we may be organising more departures!
Qn: Are flights included in my trip?
International flight to and fro are not included in the cost of this trip! We believe in giving travellers the ability to determine how long they'd like to travel for and where they'd want to travel from, so flights can be booked independently.
Qn: Is this trip open to all nationalities?
All nationalities are welcome to join.
Let us know where you're from during the application! If you need a visa, we'll help you out with the info required for the application.
Qn: How safe is this trip?
Safety assessments, precautions, and processes are constantly updated and refreshed. On top of that we'll take the following precautions for a smooth and safe trip:
Travelling in a big group of at least 10 people

Local guides will accompany us at all times, with firsthand knowledge of the areas.

Trip ICs will be first aid trained
The pre-trip briefing will also include precautions and things you should take note of to ensure a safe experience for everyone.
We also only work with licensed local partners in the Philippines. Our local guides are licensed, and have all undergone training at the government affiliated training centres.
Qn: What should I pack?
Upon confirmation, we'll be providing a detailed packing list specifically for this trip.
If you have your own dive gear, let us know! We'll take some cost off for the rental of gear!
Qn: Do I need to bring any cash along?
Yes, you do! There are optional activities and a lot of local food to try at Donsol!.
Have any other questions?