Think winter in Japan and Hokkaido's white powdery Sapporo ski slopes and Nagano's onsen-soaking snow monkeys come to mind. But Japan's natural winter wonders have another secret, and way less crowded, hideout in Yamagata! Best bit, it is only 2 hours out from Tokyo on the JR Yamagata Shinkansen!
There's so many things to explore from the 100 over onsens, puppy-like foxes, melt-in-your-mouth Yonezawa beef, horse sashimi, cotton like snowbeds for the perfect snow angels, and the most kawaii (cute) oba-chans (grandmothers) who double-up as kick-ass chefs! #Bliss.
If you've been searching for a snow adventure close enough to the city, yet far enough from the maddening crowds, Yamagata 'gata-ya' covered (in snow)! Here's our guide to Japan's secret wonderland, some of the key winter activities not to be missed out on in Yamagata.
Jump to relevant section:
Things to do in Yamagata
Where to stay
Famous eats
Purchasing the right JR East Pass
Things to do in Yamagata
1) Mount Zao (蔵王山): Take a cable car ride into the clouds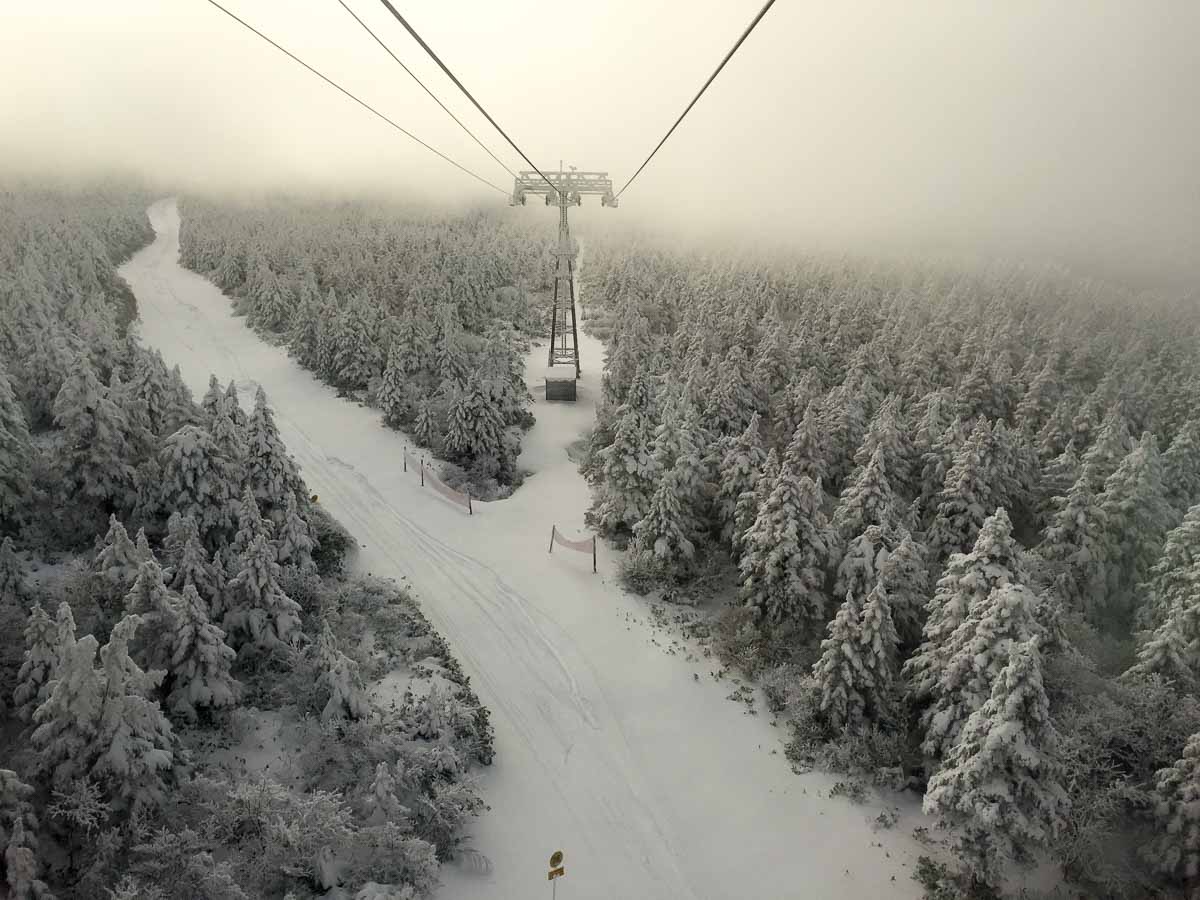 How to get there: Take the JR Yamagata Shinkansen from Tokyo to Yamagata Station (¥11,340 one-way) and catch the public bus to Zao Onsen.
It might look like heaven, but it ain't. I had to slap myself to realize it's the view from the Zao Ropeway cable car. As you move further up the face of the mountain, the fog shifts against the snow covered tree backdrop making you feel as if you're floating in the clouds – I kid you not.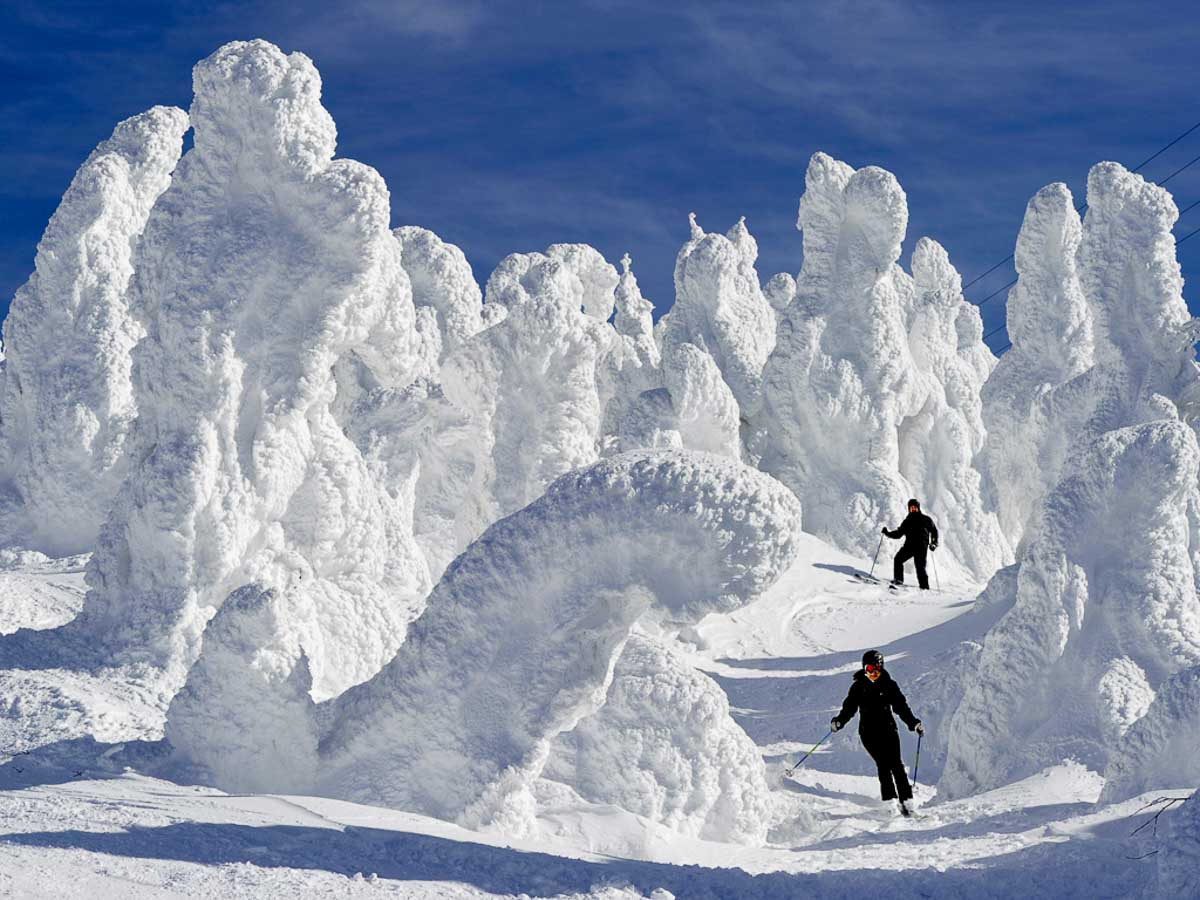 If you're like me and are amazed by how nature can create such surreal landscapes, you need to visit Mount Zao in February. Mid-winter is when the Juhyo Snow Monsters come out to play. The strong winds deposits heavy snow onto the trees and the cold wind freezes the snow, forming silhouettes resembling monster guardians of the mountain.
Apart from being a natural wonder, Mount Zao's well-groomed pistes and clear downhill courses also draws professional skiers, snowboarders and first-time tourists, kids and seniors alike to hit its slopes. There are 14 slopes and 12 courses to explore. If you've never tried skiing before there are private lessons much cheaper than in Hokkaido.
This is great for a day trip, or if you'd like to spend more time on the slopes, you can rest for the night at the Zao Onsen Resort and soak in their outdoor hot spring.
Price for Gondola tickets:
To Jizo Sancho Station (peak) — RoundTrip: ¥2,600 (Adult), ¥1,300 (Child)
To Juhyo Kogen Station (mid-point) — RoundTrip: ¥1,500 (Adult), ¥800 (Child)

Opening hours: 8:45am – 5pm
Address: Zao Onsen, Yamagata City, Yamagata Prefecture, Japan
2) Ginzan Onsen (
銀山温泉
): Stay a night in a hot spring town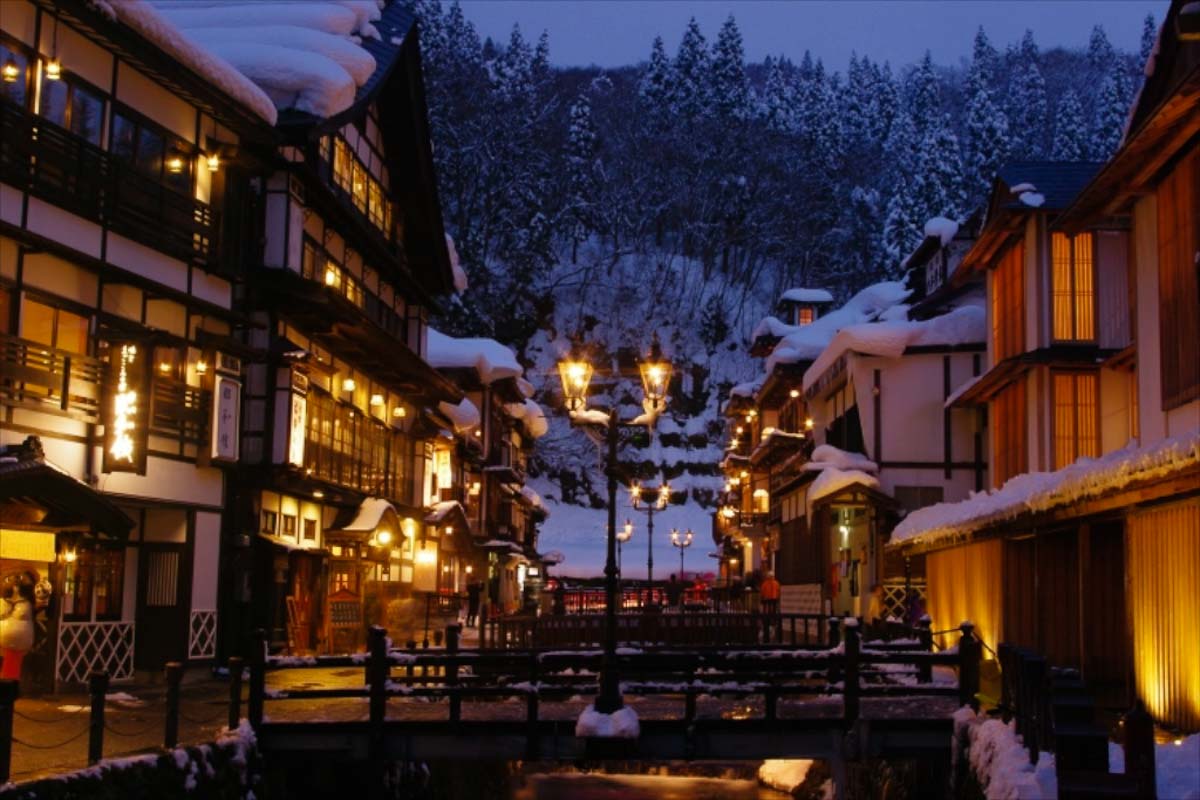 Getting there: Take the JR Yamagata Shinkansen from Tokyo to Oishida Station (¥12,330 one-way) and catch the Bonnet buses (60-90min intervals) to Ginzan Onsen (¥710 one-way). If you are coming from Yamagata to Oishida it is 4 stops on the JR Yamagata Shinkansen (¥1,940 one-way).
If one onsen is not enough for you, you can take your pick from the many at Ginzan Onsen (銀山温泉 'Silver Mountain Hot Spring'). The almost 100-year-old hot spring town sits snugly in a quiet corner of Yamagata's mountains and has a traditional rustic charm with traditional ryokans lined on either side of the river that calmly light up at night.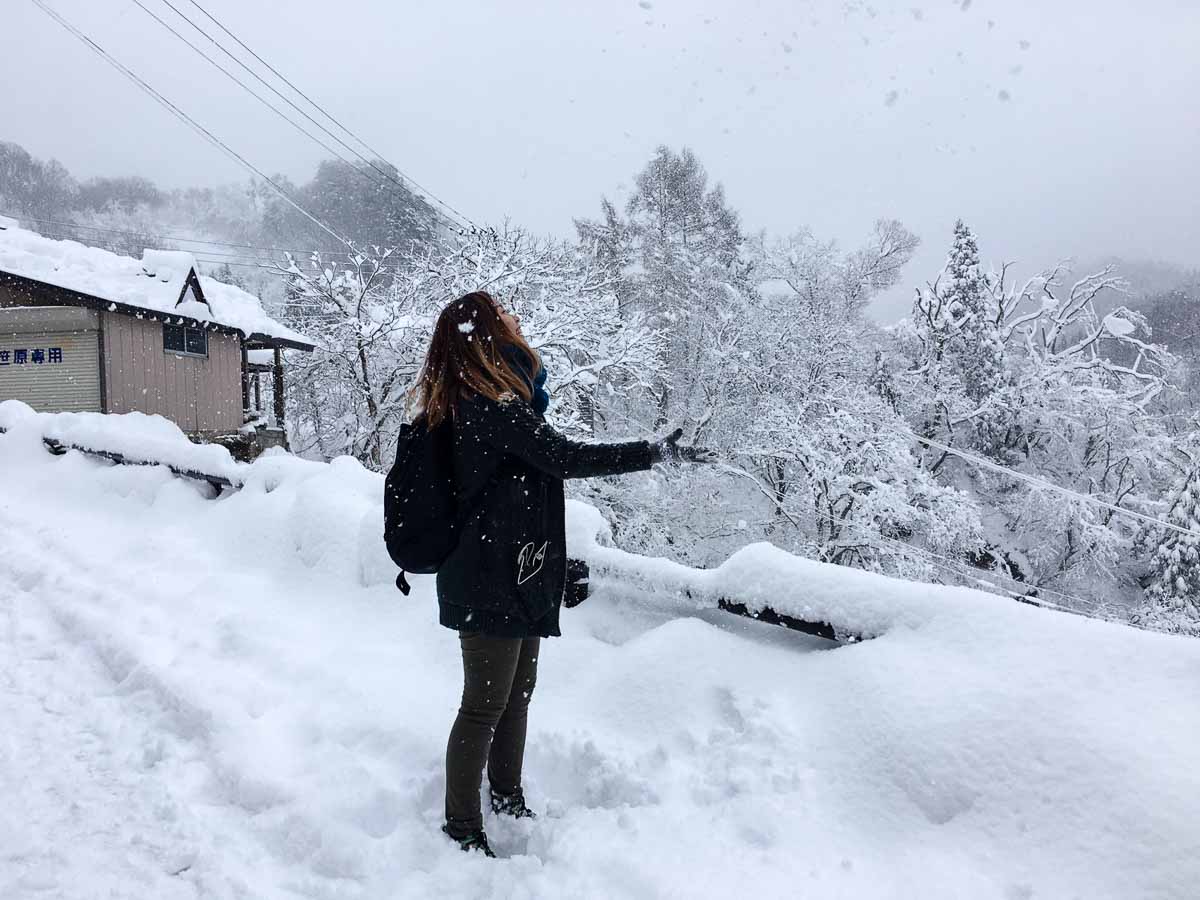 The town center is a pedestrian-only zone, which makes for a nice evening stroll (if you can stand the cold). In the warmer seasons, there is a nature trail that leads into the valley behind the waterfall, and into a section of the silver mine that gave the town its name.
Each ryokan has its own indoor and outdoor onsens for guests to enjoy. If you don't intend to stay the night in a ryokan, there are two public baths (¥300-¥500) and a foot bath along the river (free) where you can see the water streaming down from a 22-meter waterfall that runs from the back of the town. Most of the ryokans also open their baths to the public in the day for a fee of about ¥300-¥1,500.
Recently a few cafes have opened up along the hot spring town where you can sip on a warm cup of coffee after a relaxing soak.
Opening hours: 8:45am – 5pm (for access to public baths)
*Most private ryokan hot baths are open till 9pm but only for ryokan guests

Address: 999-4333 Ginzanshinhata, Obanazawa City, Yamagata Prefecture, Japan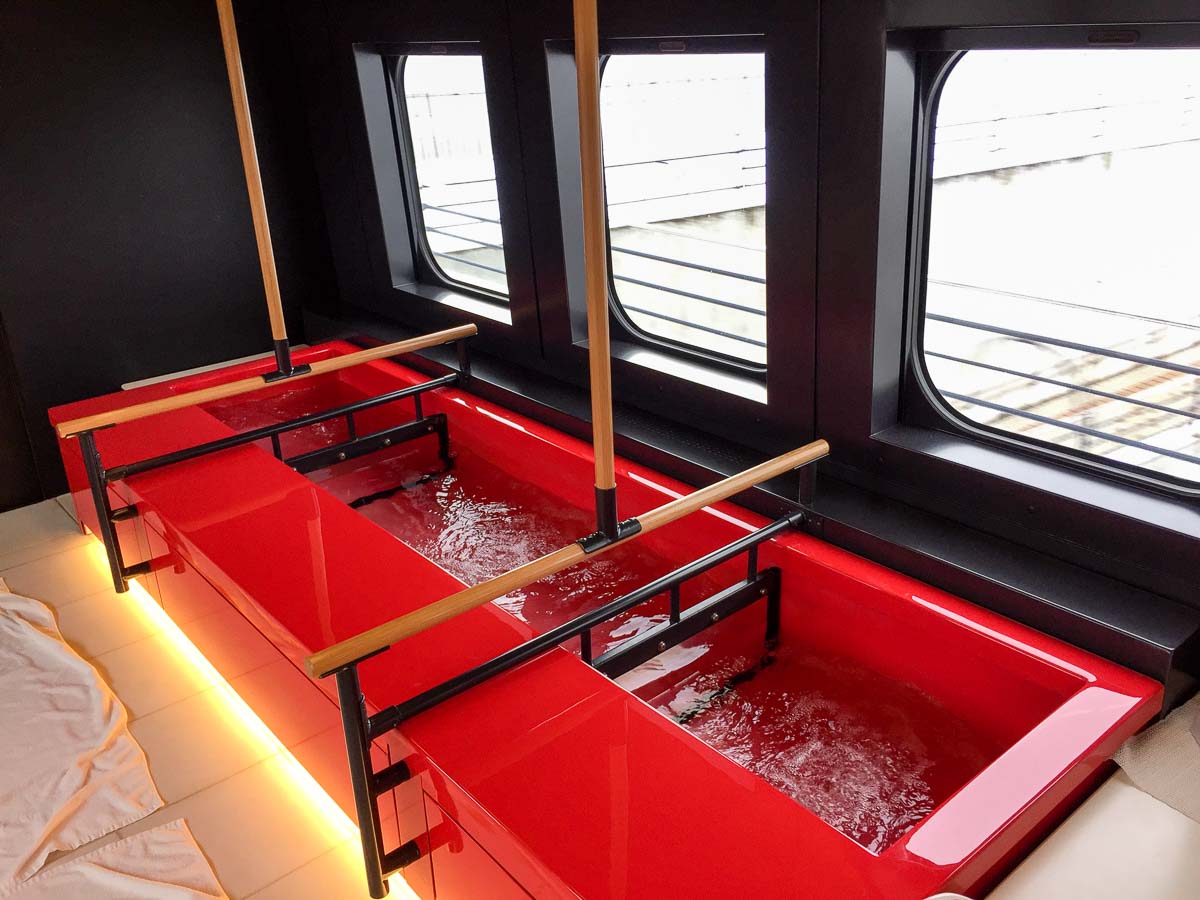 *Pro-tip: Book the Toreiyu Tsubasa, which is one of JR East's Joyful trains that runs along the Yamagata line from Fukushima to Shinjo, passing by Oishida. It has a foot bath IN THE TRAIN! Get your feet warmed up (literally) before the actual Ginzan onsen #zen. The foot bath is only (¥380) with your JR EAST PASS(Tohoku area), but you need to pre-book a slot when purchasing your pass to guarantee your feet its thawing session.
3) Mogami River: Take a cruise while tucking into a warm Kotatsu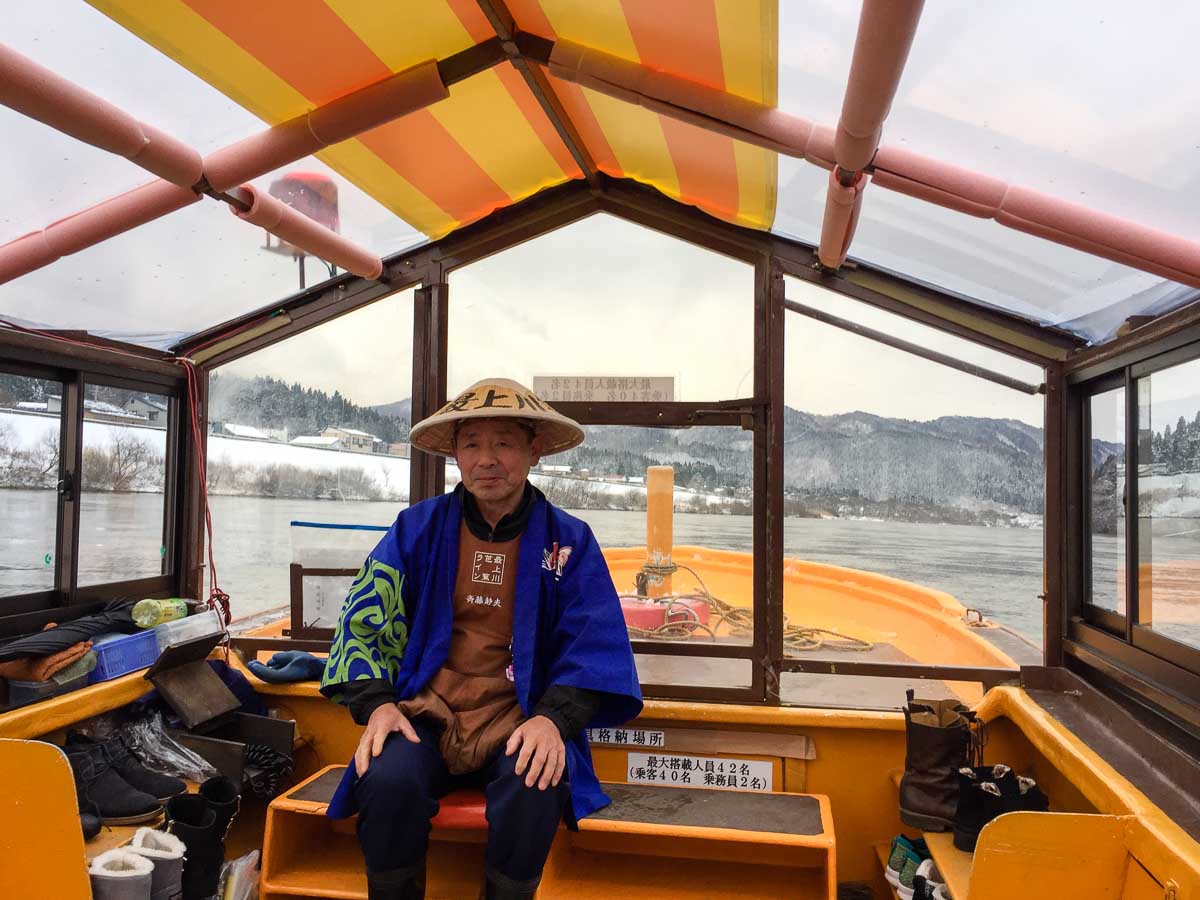 Getting there: Take the JR Yamagata Shinkansen from Tokyo to Shinjo station (¥12,870) and transfer to the Rikuu Saisen Line (Amarume-bound) and alight at Furukuchi Station. The jetty is a 5-min walk from the station.
In the cold of winter, instead of staying indoors, the Japanese bring the warmth out to nature. In the colder seasons, The Mogami River Boat ride is pimped up with kotatsus* to offer guests a truly warm welcome.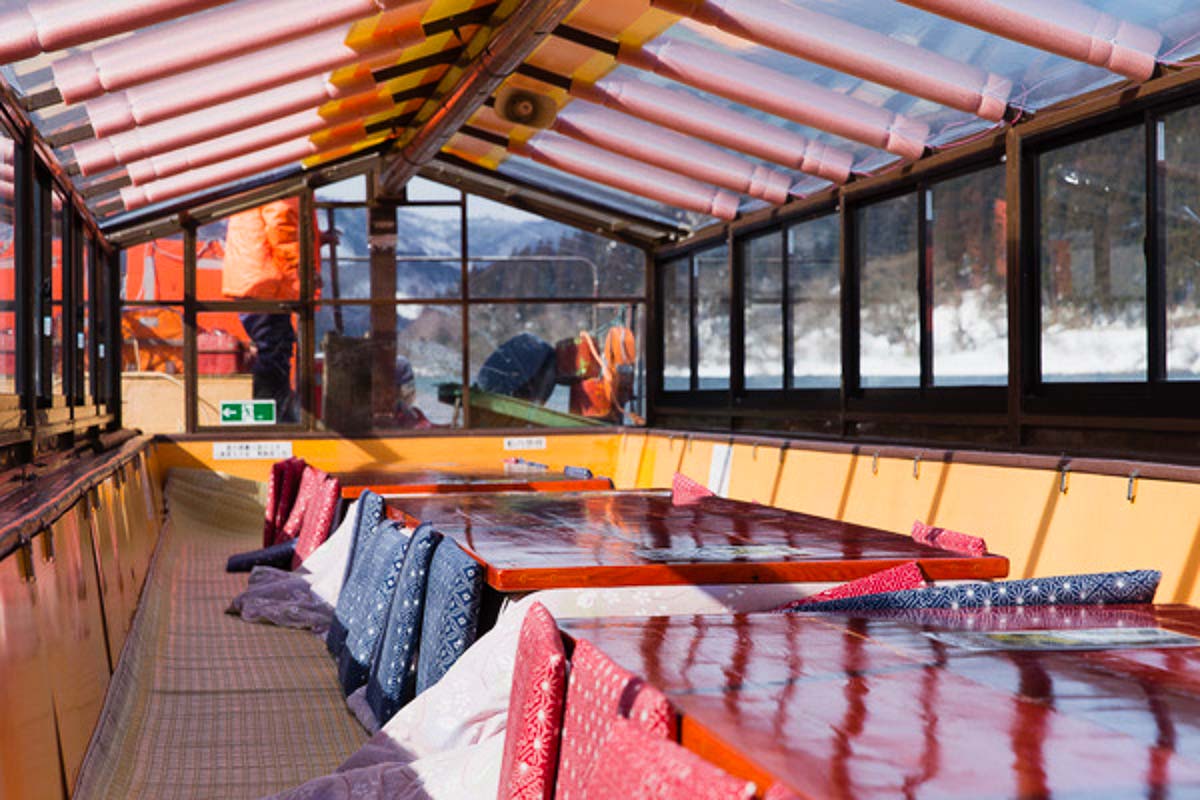 *Kotatsus are low tables with a thick quilt fringe from top to bottom, with a heater under the table. This allows it to retain heat and keep you warm under the quilt.
The Mogami River flows from the north to the south of Yamagata and is the heart of the prefecture. It is also one of the three fastest rivers in Japan, but don't expect rapids. The 13m deep river holds its own against the currents and is a smooth 1-hour ride.
As part of the in-boat entertainment, the boatman sings his heart out through three songs depicting the history and various stories of the prefecture's longest river against the backdrop of Yamagata's snowcapped mountains.
In between songs, he explains of the history behind the Mogami river and the significance it has to its people. The feisty singer then ends off with the crowd favourite, The Mogami River Song, which most of the people from Yamagata learnt as a child.
Price: ¥2,200 (¥1,980/pax for groups of 15 people)

Opening hours: 9:30am – 3:30pm (Apr-Nov); 10:50am – 2:50pm (Dec-Mar) *Boats depart hourly

Address: 999-6401 86-1 Oaza Furukuchi, Tozawa-mura, Mogami-gun, Yamagata Prefecture, Japan
4) Miyagi Zao Fox Village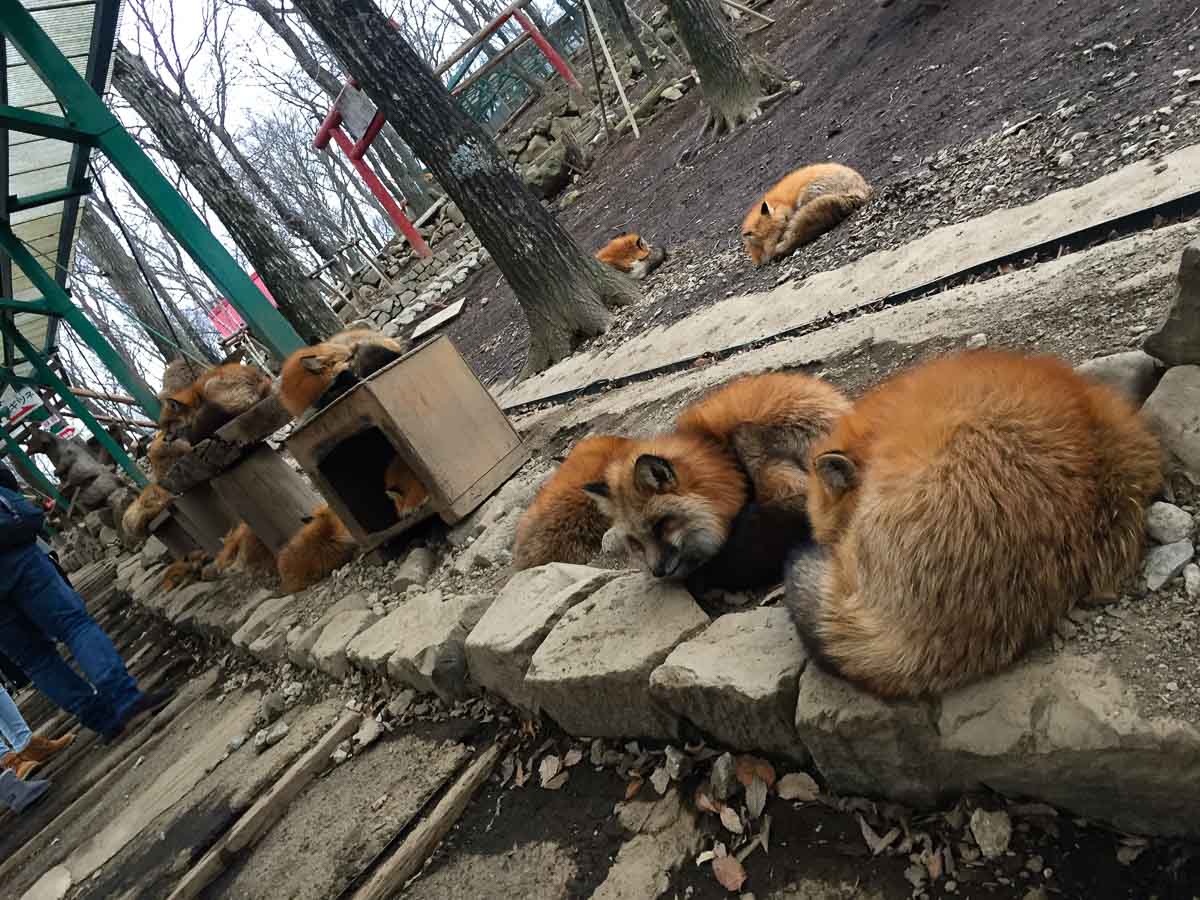 Getting there: Take the Tohoku Shinkansen (Yamabiko) from Tokyo to Shiroishi-zao station (¥10,350 one-way) and from you can take a public bus (¥200 one-way) but it only runs on Tuesdays and Fridays with only one departure from the station at 0758 and a pick up at the fox village at 1355. Your best bet is to take a taxi (¥4,000 one-way) and tell the same taxi driver to pick you up once you're done, as it is hard calling in a taxi from the fox village.
If you ever wondered 'What does the fox say?', you'll find your answer at the Miyagi Zao Fox Village. Let's just say they sound as cute as they look.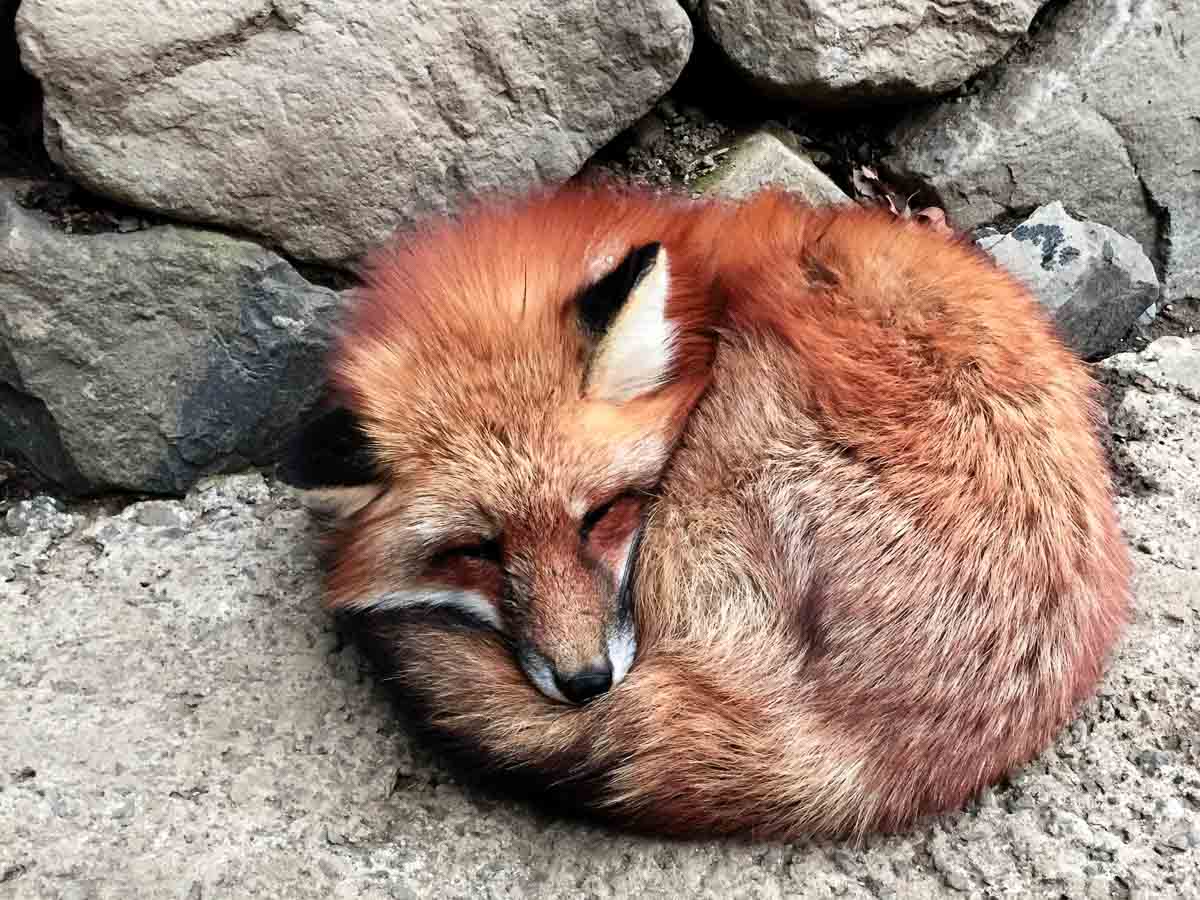 The furry little Japanese Ezo red foxes are the most common at the village and are huddled up into balls and scattered across the enclosed forest.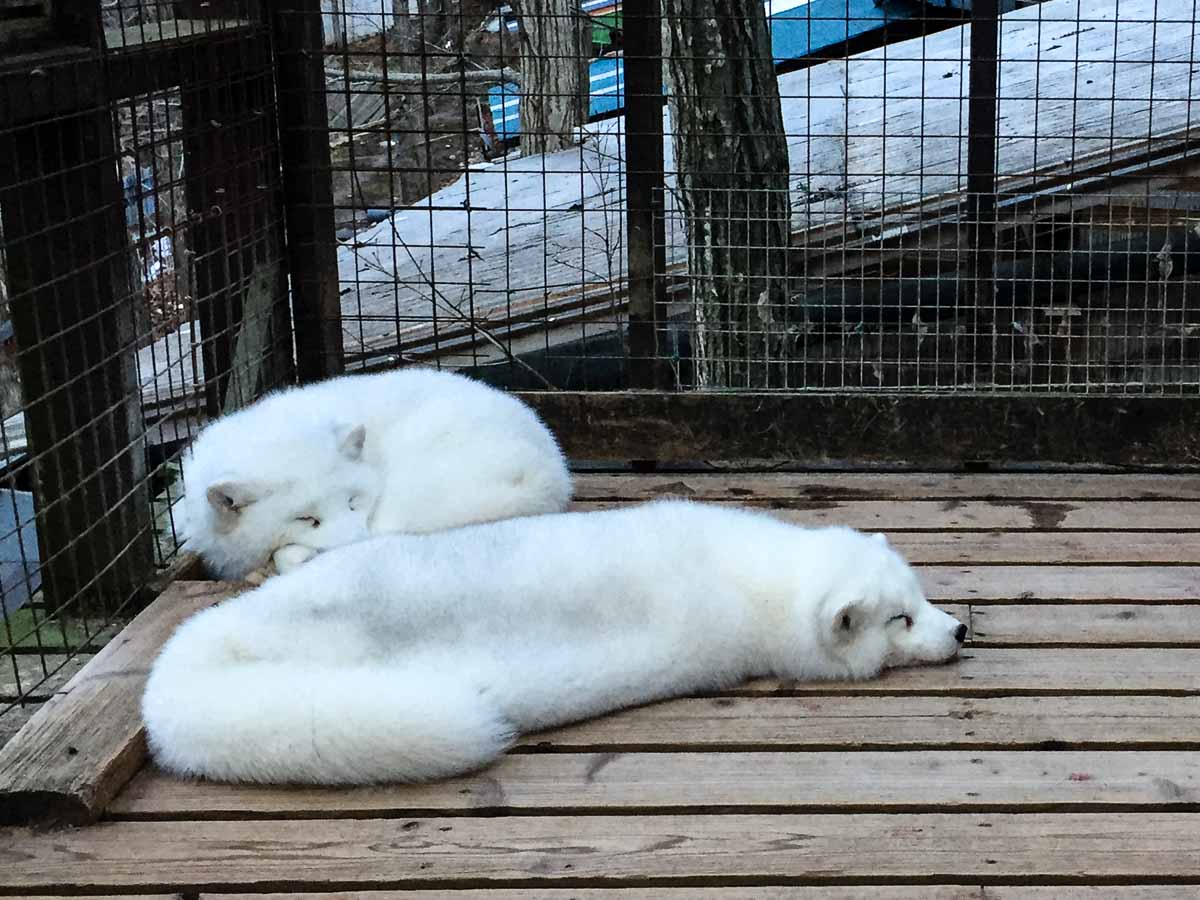 There are also some rare silver foxes and blue foxes that are kept in cages, but all of them are well taken care of by the staff. They are almost dog-like and tend to whimper for food and attention. You can purchase a small bag of hotdogs to feed the foxes for ¥200 along with your ticket purchase.
While they may look harmless, these foxy creatures can get up to mischief, and they like big butts and they do not lie – so watch your back. You are also required to keep everything inside your bag, as the foxes will try and snatch anything that is easily within their reach.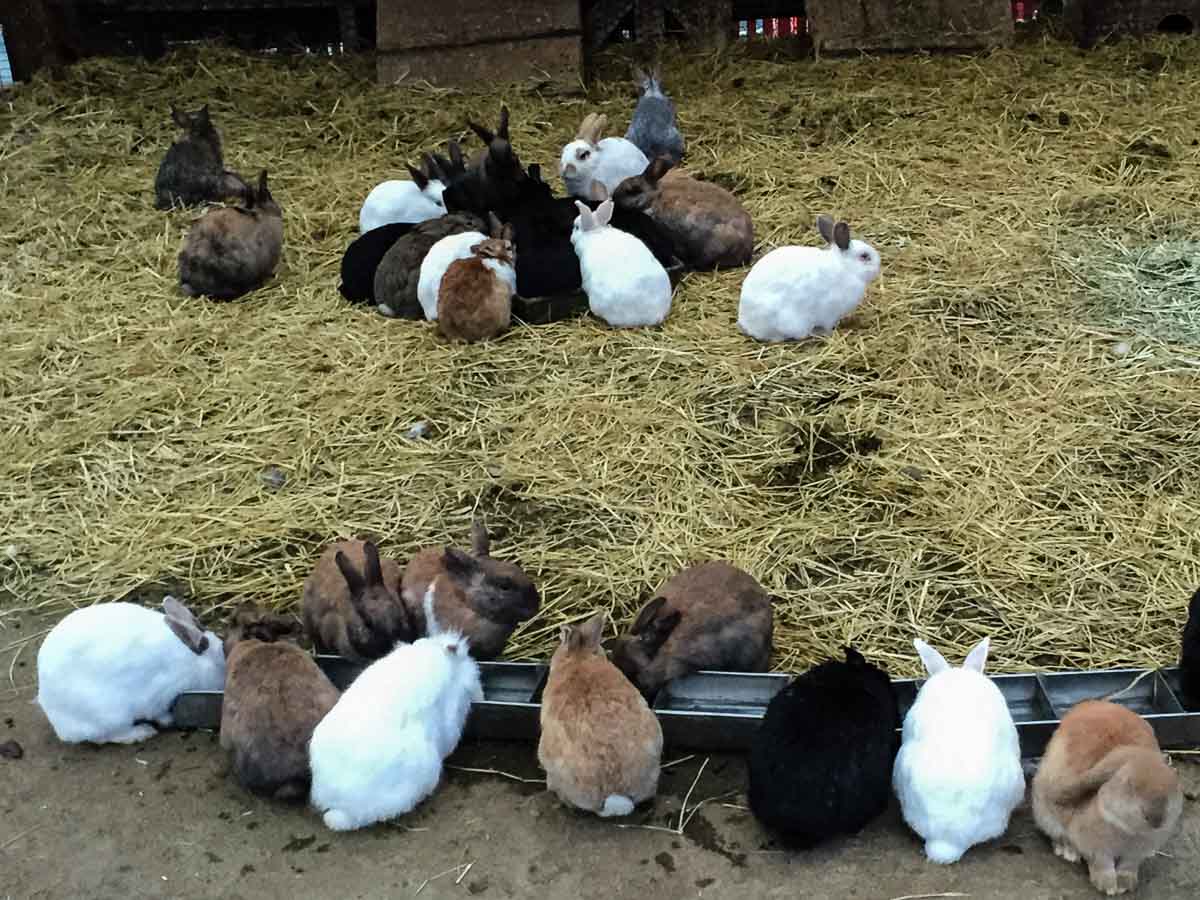 There is also a little rabbit village within the same area that will attempt to steal what's left of your heart from the foxes.
Price: ¥1,000 (Entrance fee). Children under 12 enter for free

Opening hours: 9am – 4pm

Address: 989-0733 11-3 Fukuokayatsumiya Aza Kawarago, Shiroishi City, Miyagi Prefecture, Japan
5) Mahoroba Fuyusaki Botan Festival (Winter Peony Festival)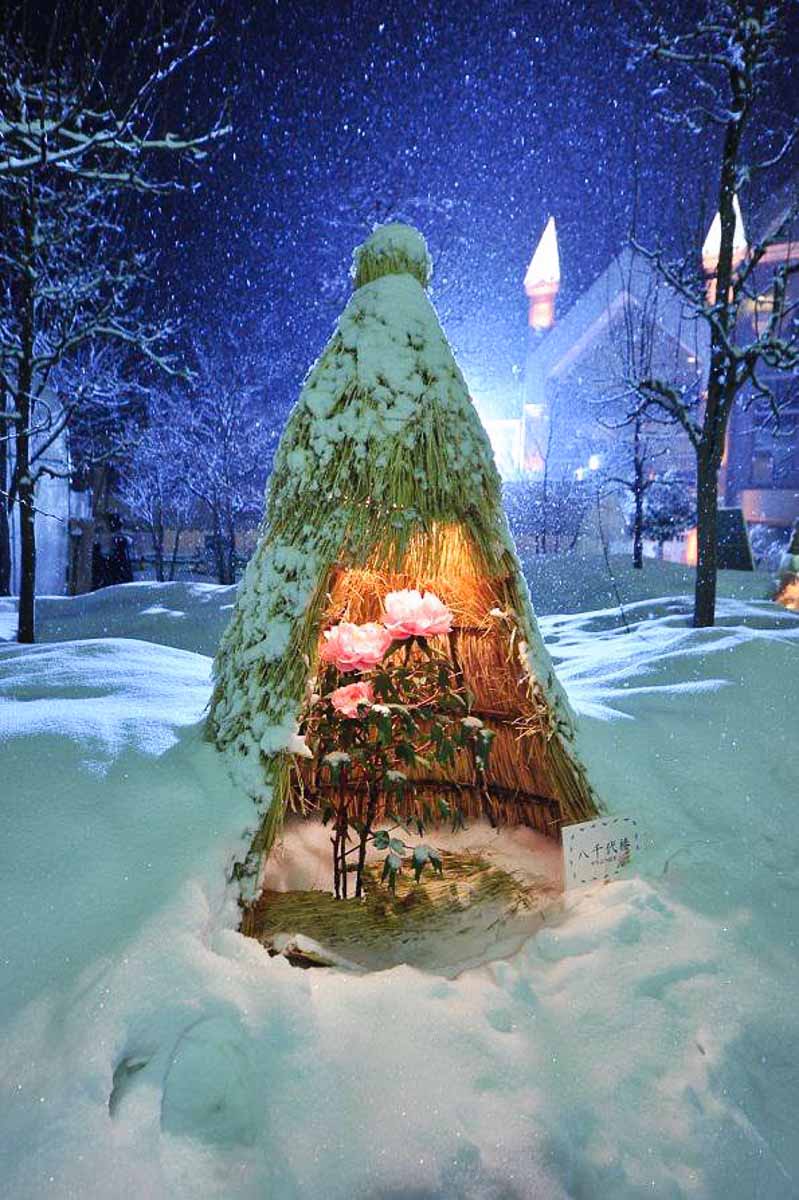 Getting there: Take the JR Yamagata Shinkansen from Tokyo to Takahata station (¥10,710 one-way).
Every February, in the middle of winter, 2 hours north of Tokyo, the residents of Takahata build "komos" to protect their pink peonies from the snow. "Komos" are little straw huts built to house the peonies and shield them from the harsh weather.
Each "komo" has a spotlight shining down on the peonies, illuminating them against the snowy-white backdrop, bringing life and color to Takahata's snow-layered sidewalks. The largest no. of displays are usually found right outside the JR Takahata station, welcoming visitors to the traditional little town. Truly 'A beautiful sight, we're happy tonight, walking in a winter wonderland!'
Yamagata's famous eats
1)Yonezawa Beef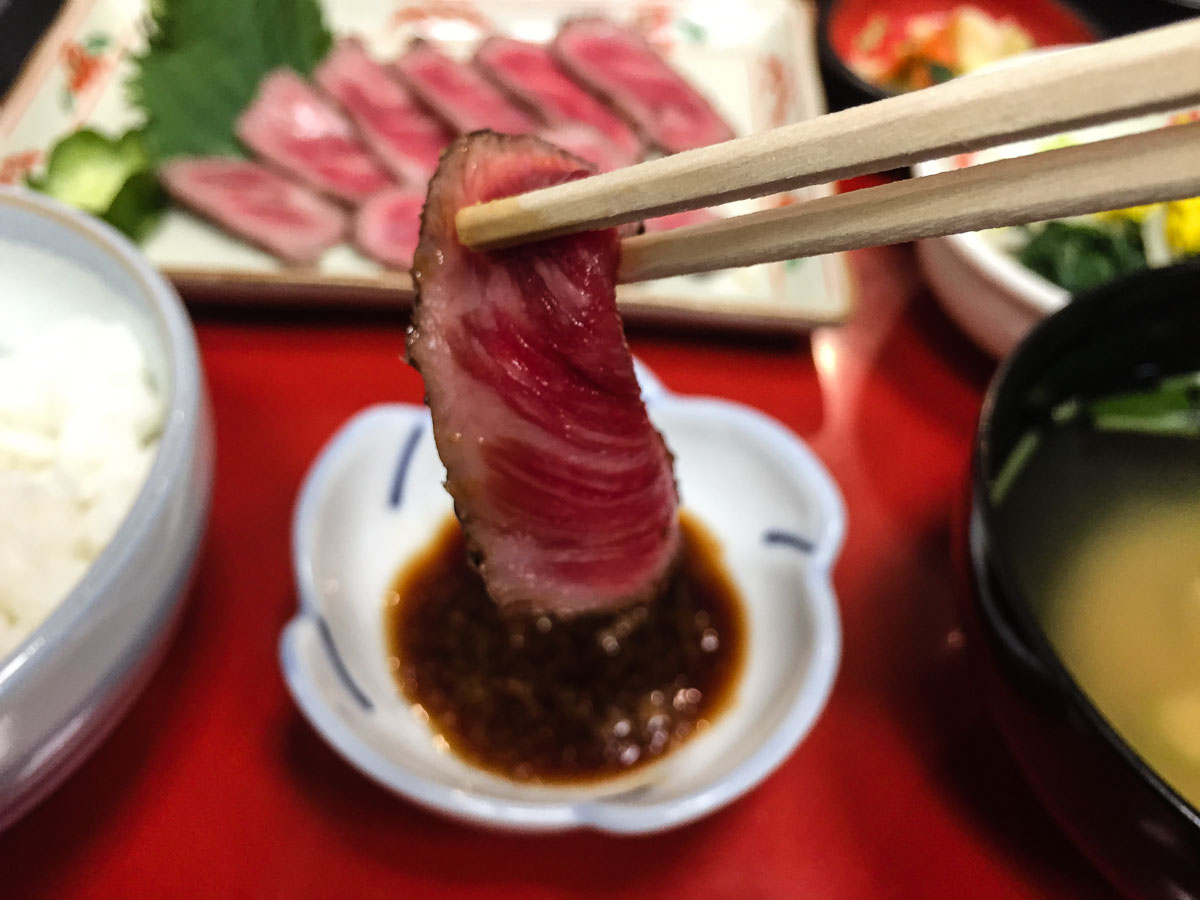 Kobe isn't the only place with melt-in-your-mouth beef. Yonezawa beef is one of the TOP three most celebrated moos alongside the Kobes and Matsusakas. You can enjoy it sukiyaki style, swish it in a shabu-shabu, or, my personal fave, grilled with the fats slightly melted off leaving a slight crisp to the moist meat.
You can find Yonezawa beef in various restaurants, but word on the street is that Yonezawa Beef Dining Bekoya serves them up the best, regardless of cooking style. 'Wagyu'-waiting for?
Yonezawa Beef Dining Bekoya
Address:3-2-34 Higashi, Yonezawa-shi, Yamagata Prefecture, Japan
2) Basashi (Horse Sashimi)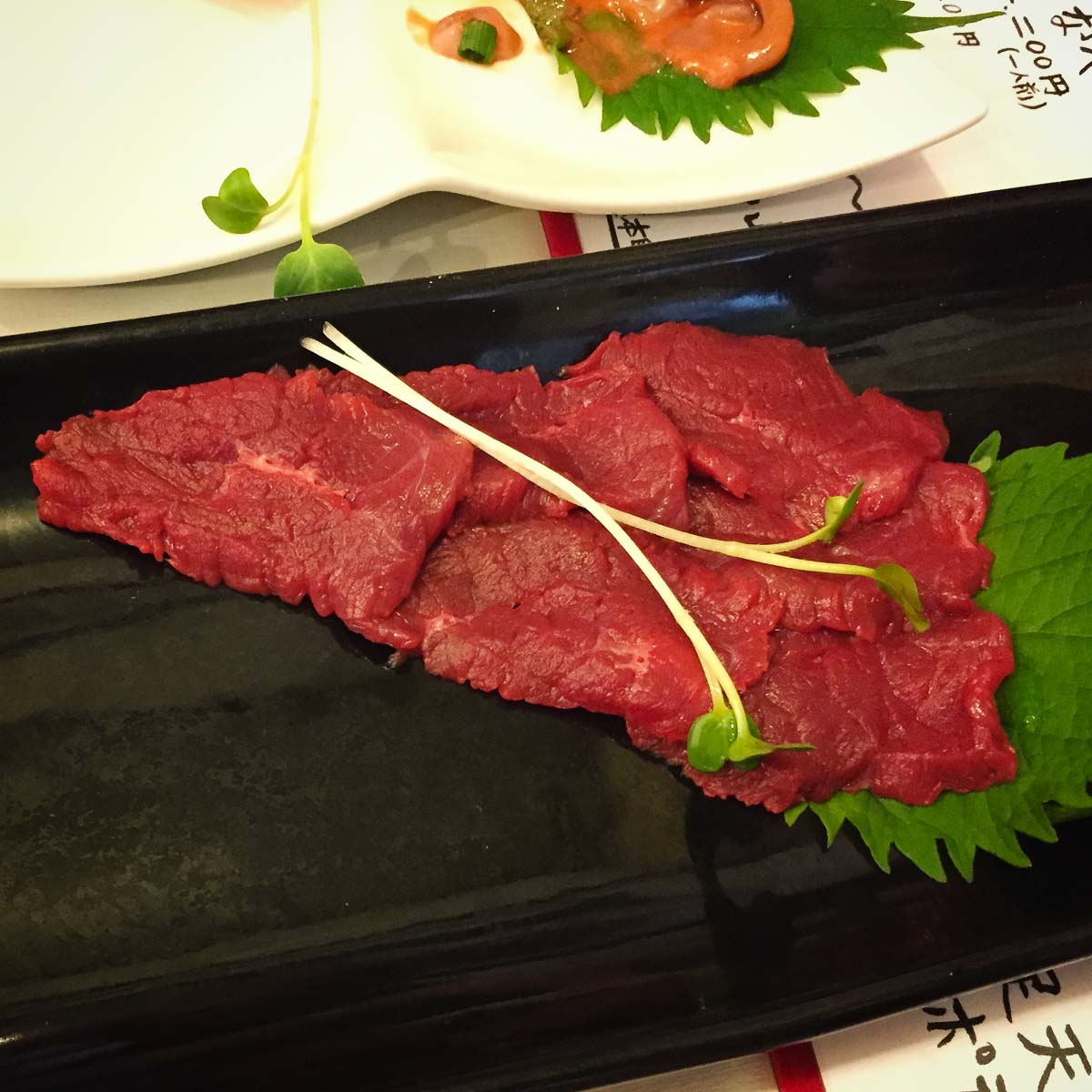 Yes, you read right, horse sashimi. I was apprehensive at first, but you won't know if you don't try. It isn't as bad as it sounds. If you've had beef tartare, it 'horse'-nestly tastes pretty much the same. Plus points for it being low in cholesterol, fat, calories, and much higher in protein compared to pork, beef and chicken.
Best place to try it is at Hotnaru (warming heart) izakaya street. Where you can choose to drown the taste with sakes of the land if it's not your cup of tea.
Hotnaru Izakaya street
Address:990-0042, Yamagata Prefecture, Yamagata, Chome-1-14-16
3) Imoni (Meat Soup)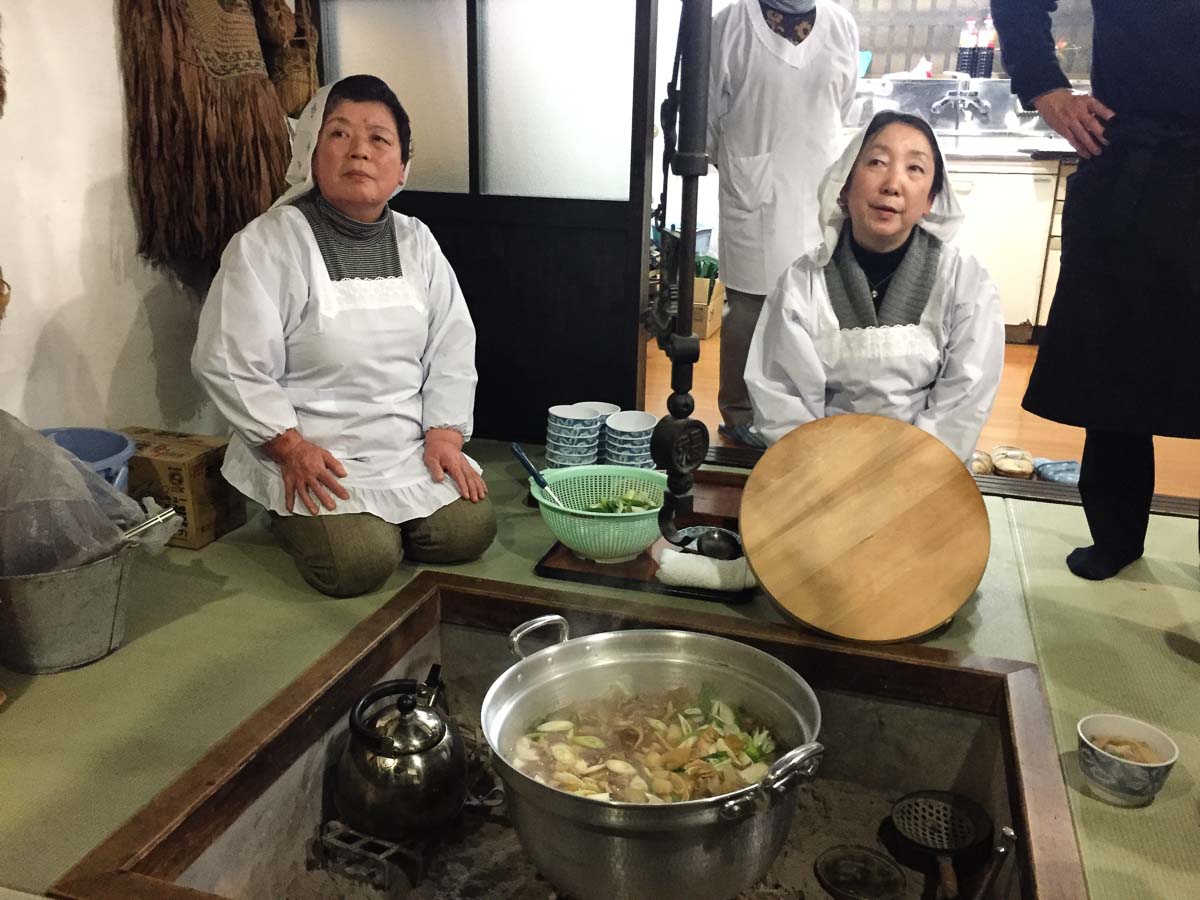 Move over chicken-soup-for-the-soul. Imoni is the salvation you'll be grateful for after a day out in the cold. The taro and meat broth is a staple in Yamagata. While other regions may have similar renditions with a miso-base, those in Yamagata have a clearer shoyu-base, which leaves room for tonnes of flavour from the amazing Yonezawa beef the oba-chans tend to use.
You can find this at almost any restaurant, but the best we had was in Takahata, cooked by the lovely 70-year-old Hat-Chan. You can find her shop, Obakoya, on Showa Main Street. She also serves up a mean Obakoyaki (red bean pancake).
Obakoya
Opening hours: 9.30am – 7pm (or till sold out)

Address: Obakoya, No. 17, Syowa Main Street, Takahata, Yamagata Prefecture, Japan
Where to stay
1) Takinoyu Hotel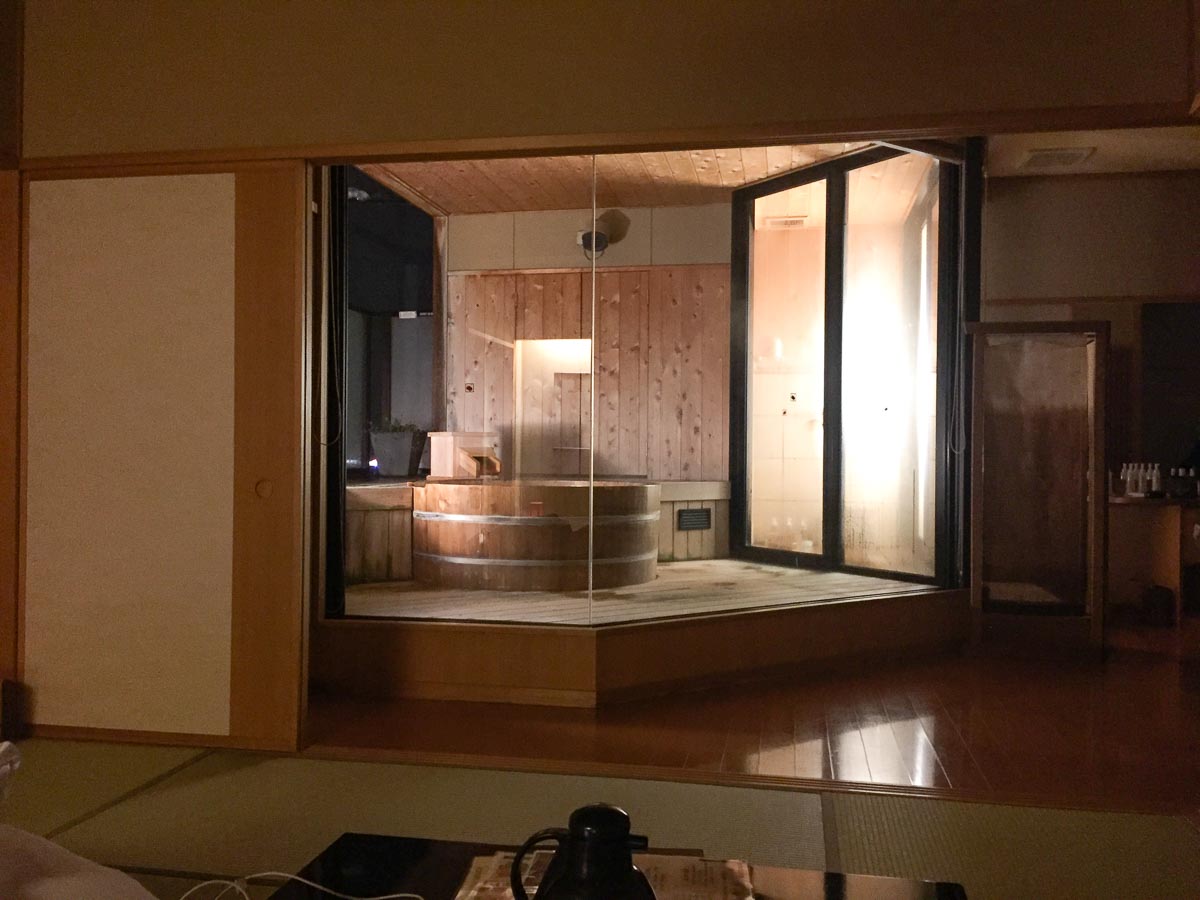 Takinoyu hotel is situated in the onsen town of Tendon with a wide variety of public and private baths to choose from. The hotel has its own in-house onsen complete with massage and spa facilities for all hotel guests – some of the rooms even come with their own glass-encased outdoor onsen.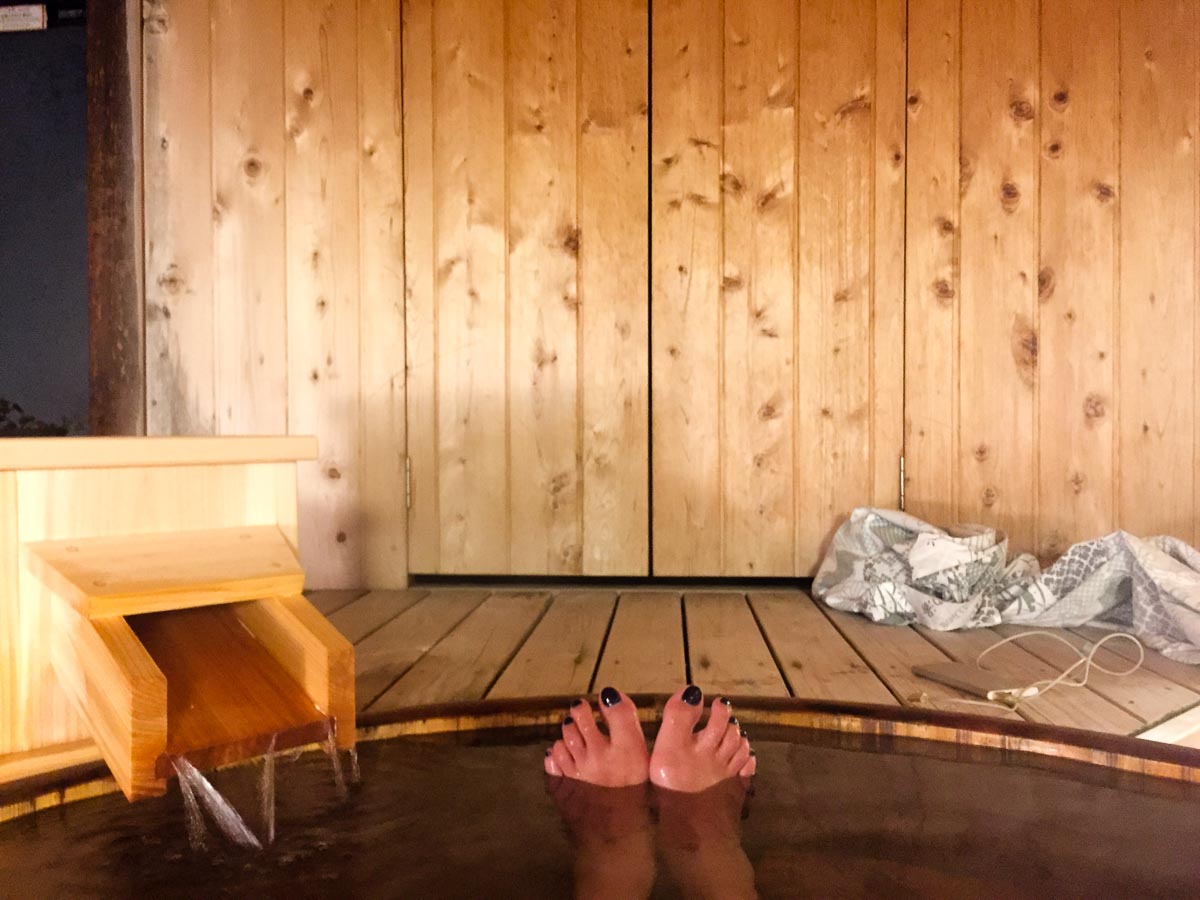 On-Zen…
Room rates: From ¥11,000–¥34,000
Address: 1-1-30 Kamatahoncho Tendo-City, Yamagata, Japan 994-0025
Tel: +81-23-654-2211
2) Hotel Metropolitan Yamagata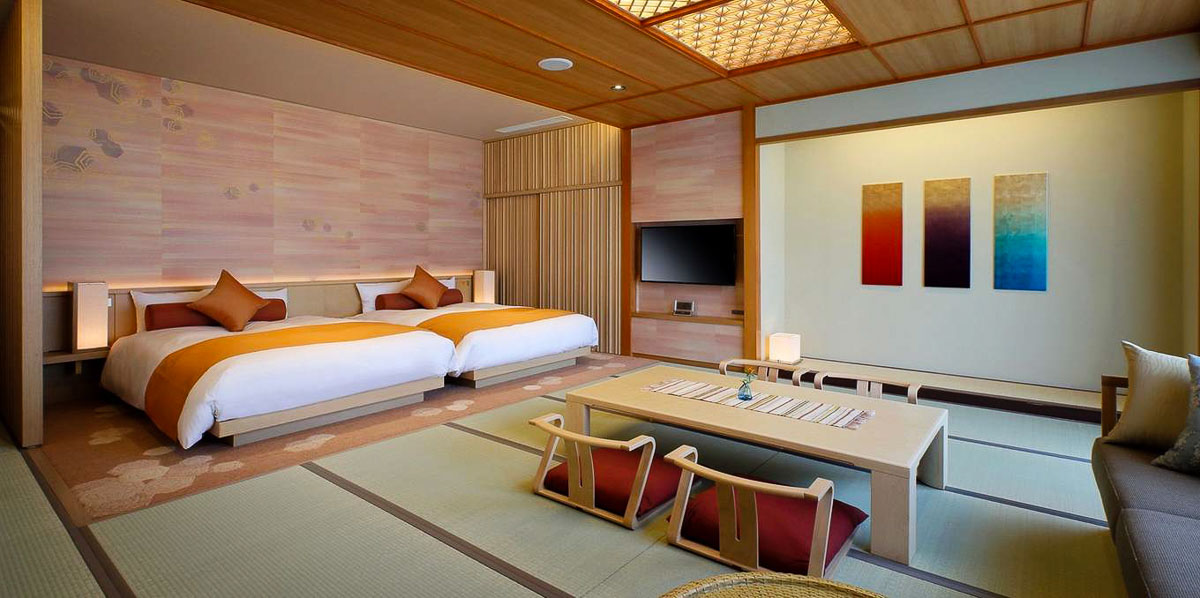 Hotel Metropolitan Yamagata is next to the Yamagata train station and is right at the center of access to the Mogami River, Mount Zao (about 30min drive), and Ginza Onsen (about 30min drive). Which is great if you're planning to visit all three spots (which you most definitely should).
The plus for me was that it's right next to an S-Pal shopping centre where the basement is a treasure trove of Japanese snacks and a Starbucks for familiar warmth in winter.
Cost: About ¥12,000/night for a standard single room (inclusive of breakfast)
Address: 1-1-1, Kasumicho, Yamagata, Japan, 990-0039.
3) Hotel Folkloro Takahata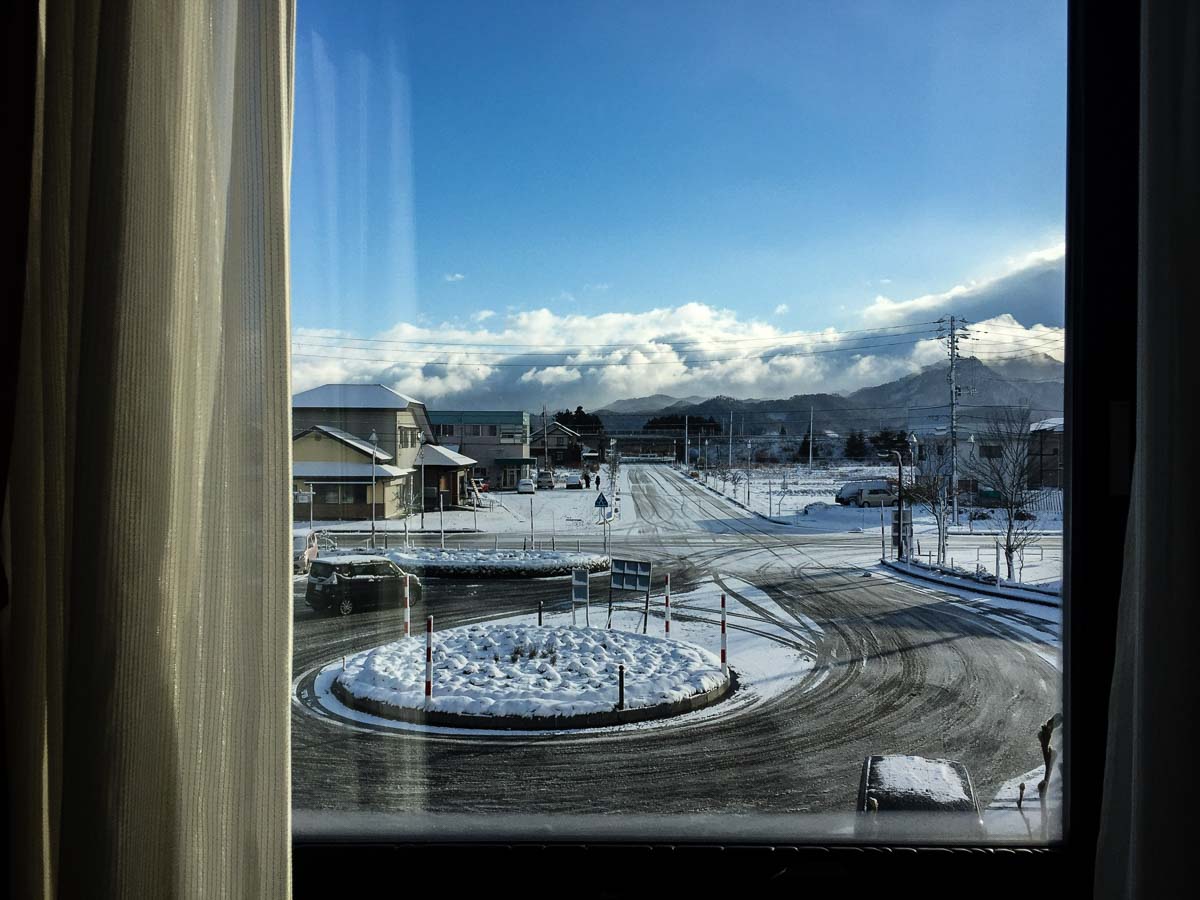 Takahata isn't a big tourist town, so there aren't that many accommodations to choose from. But for ease of access to the city's transport options and to the main train line, Hotel Folkloro Takahata is a great base. The hotel sits right next to the Takahata station and even has access to a public bath.
What sold it for me was waking up to the snow-dusted morning view of the mountains from your room window.
Cost: About ¥13,000/night for a twin-bed room (inclusive of breakfast)

Address: 200 Oaza-Yamasaki, Takahata, Higashiokitama-gun, Yamagata
Cost effective way to getting around Yamagata 
With so many winter hideouts to tick off the checklist, and many being spread quite far apart, getting from place to place can add up to be quite costly — nearly (¥50,000 excluding the Airport Transit).
It is cheaper to get the flexible five-day JR EAST PASS (Tohoku area) which includes unlimited travel on local, limited express and express trains including the Shinkansens. You can use the pass on any five days within a 14-day period starting with the date of purchase or exchange in Japan. You can view the list of valid train routes and train timetable to plan your trip.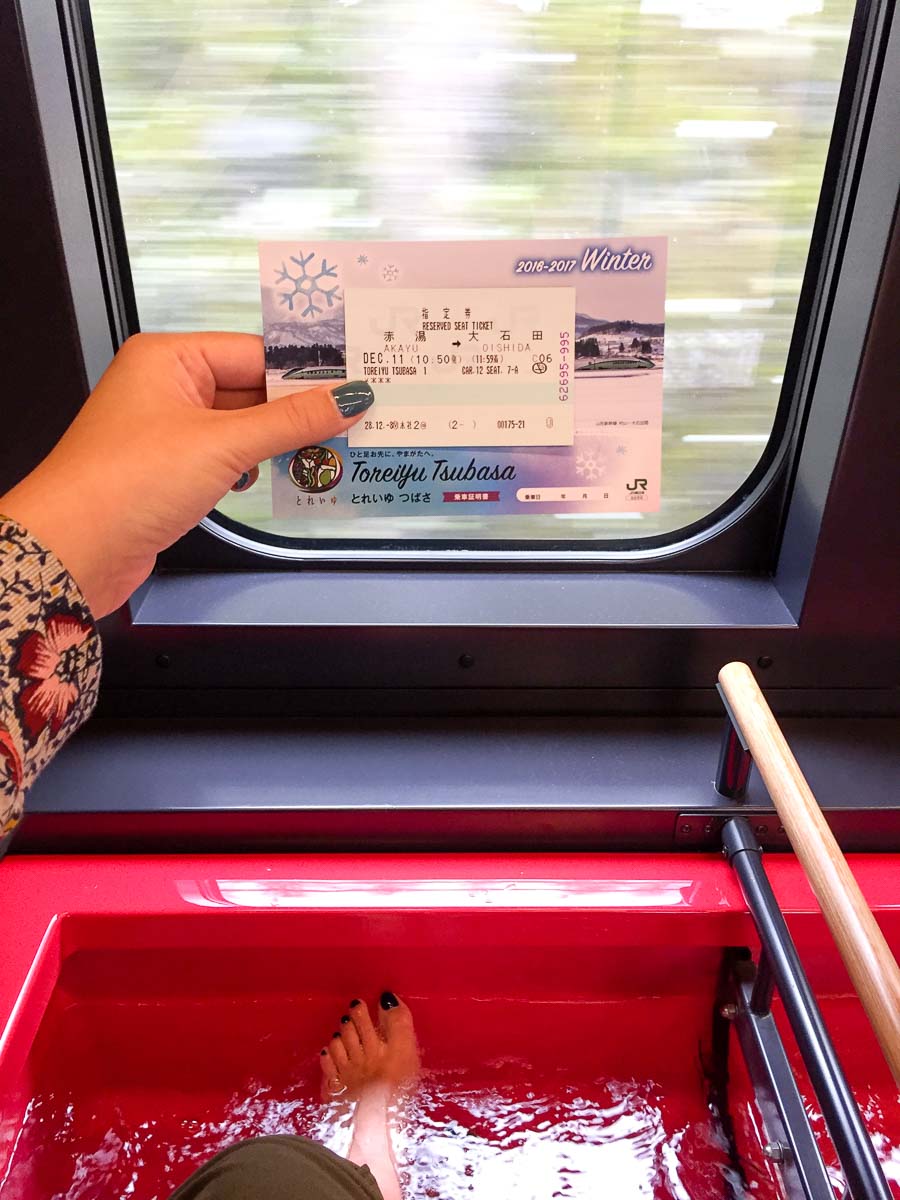 You can purchase the pass at the JR EAST Travel Service Center at Narita or Haneda airport at ¥20,000. But if you purchase your ticket online, or at the in-store ticket counter at JAPAN RAIL CAFE in Singapore, you can get it for ¥19,000, and save that ¥1,000 to pay for your Fox Village entrance fee!
If you'd like to check out how to further maximise your JR EAST PASS or explore the Niigata and Nagano area, check out Cherie's Ultimate guide to maximising your JR East Pass (Niigata, Nagano Area).
This post was brought to you by JR East.