If you'd like to make another purchase, please note that Large-sized masks are fully sold out. Kids- and Medium-sized masks are still available.
Frequently (M)Asked Questions
1) How does your size guide work?
Here's a visual representation 👇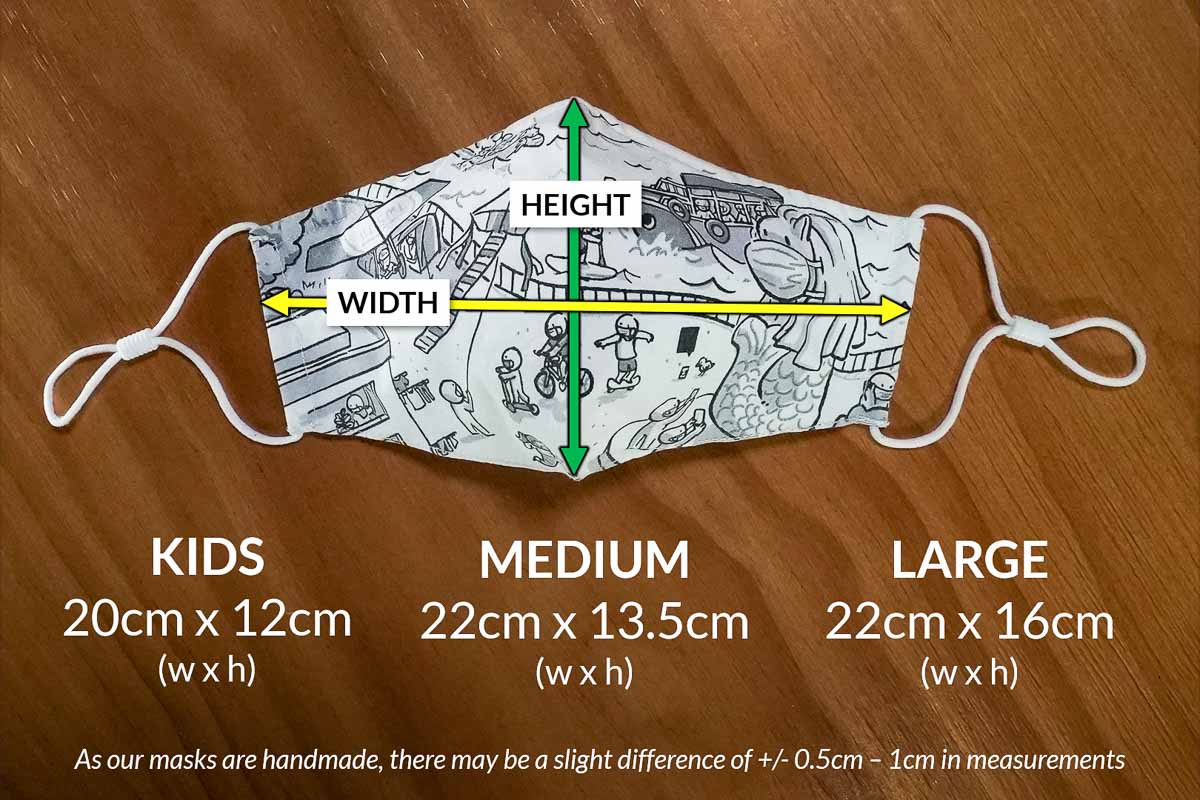 Note: Large-sized masks are fully sold out.
2) How do I choose the right size?
Based on our size guide, we recommend measuring your current mask to choose the best fit.
Alternatively, use a flexible measuring tape to check the width and height of your face. For width, measure from ear-to-ear across the nose. For height, measure from the middle of your nose to slightly under your chin.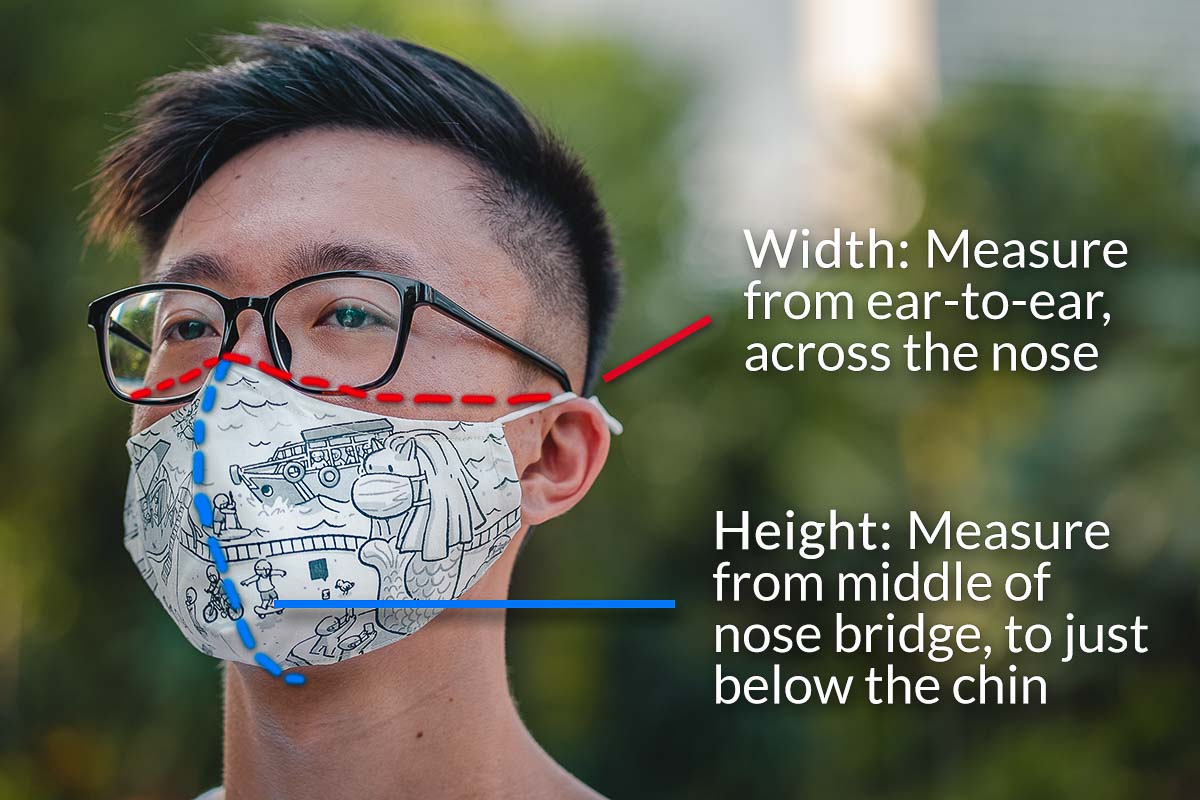 Please choose the right size as we will not offer refunds or exchanges due to hygiene reasons.
3) How do I care for my face mask?
– Gently hand-wash your reusable face masks with warm soapy water
– Hang in a well-ventilated area to air-dry
To ensure longevity, avoid:
– scrubbing or washing your mask in washing machines
– using bleach or antiseptic detergent
– wringing the mask. Instead, gently squeeze the water out. Avoid the nose wire while doing so
Care instructions are also printed on the mask storage bag — so you can refer to that too! 🙂
4) Does the mask come with a filter?
Filters are not included. However, there is an inner pocket to insert filters if you want. Filters inserts can be purchased from CYC.
For a more environmentally-friendly choice, go for the A-shield Antimicrobial Solution. A bottle costs $20, and each spray provides an antiviral coating that can last up to 20 washes.
Alternatively, you can insert a disposable mask into the pocket too.
5) How long will delivery take?
We'll take 2–3 working days to process your order. Then, Ninja Van will deliver your packages within 1–3 working days, anytime between 9AM – 10PM. Your mask(s) may arrive within 6 working days, or less.
If you'd like to track your order, visit https://www.ninjavan.co/en-sg/tracking. (Check your email or phone for the tracking number!)
For questions about cancellation, exchanges or refunds, check out our main page.
6) How much of the mask will go towards donations?
100% of the profits will go to The Courage Fund — our chosen beneficiary. It's managed by the National Council of Social Service, and supports Singaporeans who've lost household income or a family member due to COVID-19.
If you wish to see more of their work or support them, head over to their website.
7) I have some feedback about your reusable face masks. How do I contact you?
As this is our first product, we'd love to hear what you think! We greatly appreciate it if you could complete this simple survey form. It'll help us improve our service in future. 🙂
Otherwise, drop us your comments on Facebook or Instagram. You can also email [email protected].
---
For more questions regarding shipping, exchanges or refunds, check out our main page.