If you grew up playing the the famous RPG games Final Fantasy and Monster Hunter, or watching the anime series Detective Conan and Sailor Moon you're in for a treat at the Universal Cool Japan 2018 event — Attractions only up till June 24th 2018!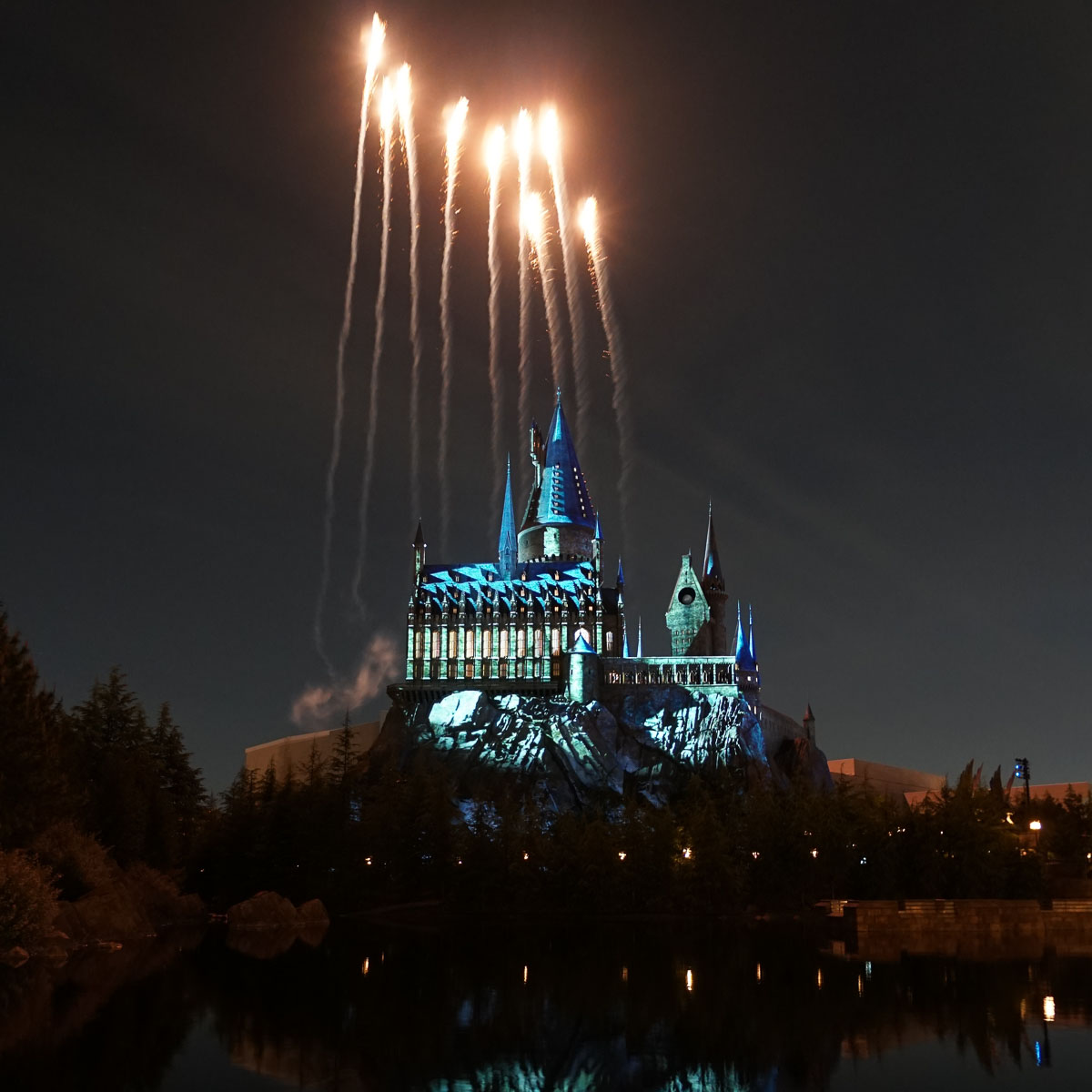 It's my 3rd time visiting Universal Studios Japan in Osaka and every time I return, I seem to leave with a new favourite ride. First it was the Harry Potter and the Forbidden Journey — one of the most immersive 4K3D rides I had experienced at that point.
When Minion Park opened up in April 2017, the Despicable Me Minion Mayhem ride easily took its spot.
On this return, Universal Cool Japan 2018 had just added 2 new popular worlds: Final Fantasy and Sailor Moon on top of refreshing the popular Detective Conan and Monster Hunter worlds from previous years. Here's a sneak peak on the experience.
*Pro-tip: With so much to experience, get yourself a 1.5 day pass from Klook (the official partner of Universal Studios Japan) and save yourself the stress of completing everything in a day! More details at the end.
Universal Cool Japan 2018 Lineup
Currently the hottest new ride in the Universal Cool Japan section, the Final Fantasy XR ride is a must for anyone who's grown up playing the game. Imagine travelling through the numerous worlds of Final Fantasy with Cloud and Sephiroth battling in front of you. But even for those who haven't (a.k.a me), you're equally in for a treat.
Fitted with a VR headset and strapped in tightly to a roller coaster seat, I knew this was going to be exciting. In fact, the ride was so immersive with its 360° views that we soon forgot that we were on an actual roller coaster track!
In the VR world, you are seated in a Mog ship with a Moogle as your co-pilot. Each move was a surprise and at one point, it really felt like we were falling vertically down a cliff!
The visuals were so real you could easily forget you're sitting in a simple roller coaster cart with a big funky device over your head.
If you're a huge fan of Final fantasy, I think it's safe to say this ride deserves a spot on your bucket list.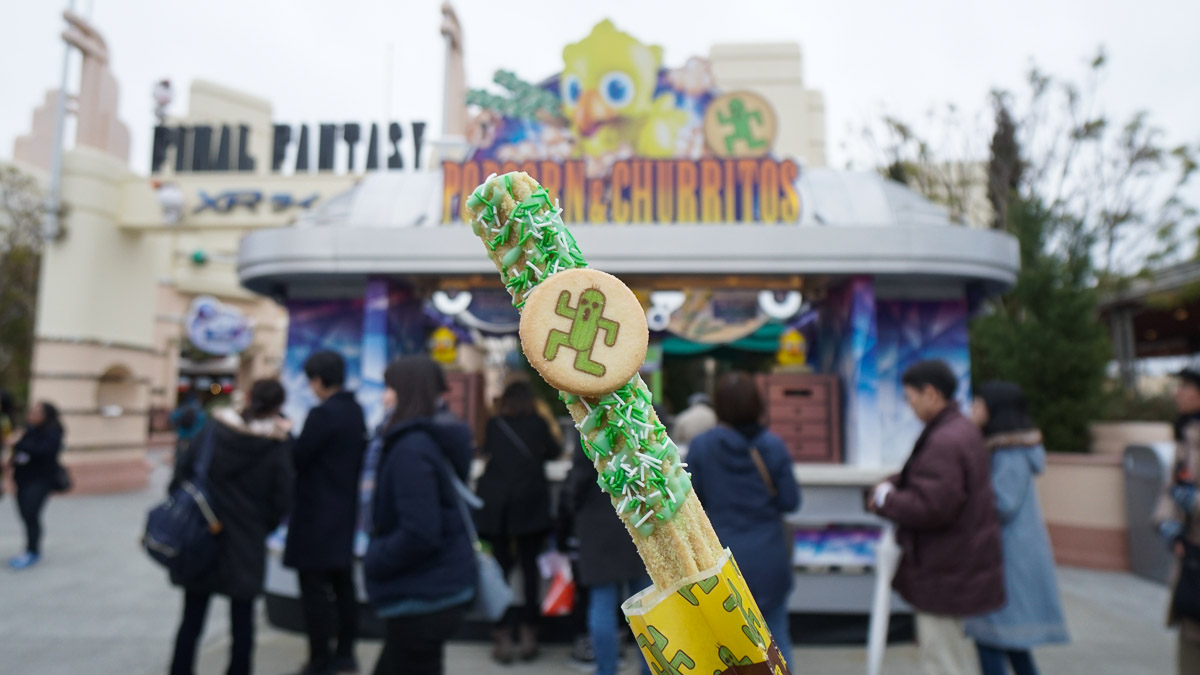 When you're done, grab a Chocobo popcorn bucket (¥3840) or these adorable Cactuar churitos (¥550) from the food cart right outside the Final Fantasy XR ride.
2) Detective Conan: The Escape
(Requires a separate ticket for entry: ¥ 2,980 – ¥3,480, also included in the Japan Cool 3 Express Pass: S$64.40)
I'm a huge escape room fan so when we heard Detective Conan: The Escape caters to English players as well, I felt my palms turn sweaty with excitement. Fans of mystery solving will love this new attraction.
At the entrance, a concert brochure and a tablet (one per team of 4) was put in our hands as we were led to our seats in a concert hall. Do keep the brochure well as you'll be needing it later for the game.
In the first 15 minutes, you're an attendee of a concert and something happens to the diva. A bomb within the music studio threatens to explode in 60 minutes and you are asked to help Detective Conan and Amuro find and diffuse the bomb. While this whole segment was in Japanese, you can easily catch what's happening and when the game begins, all the instructions on the tablet will be in English.
It's a 4 storey facility and although there were around 200 over players vying to solve the mystery the fastest, there wasn't a point where we felt the room was too crowded or that people were in our way.
At some point, the team will need to split up and that's truly where the fun begins so try not to get too caught up with your first 4 tasks 😉
I shan't spoil the game too much for those planning to try it out but the way they brought in the story, the seamless use of technology and the organization involved for over 200 people to take part at the same time was mind blowing.
At the end, there will be a grand reveal so you'll get the answers to your puzzles and see how the story continues to unfold.
The entire experience is about 1.5 hours excluding queue time so you might want to purchase the 1.5 day pass or the express pass to have sufficient time to cover this and all the other quintessential rides. Need more tips to maximising your Universal Studios Japan experience? Check out our Ultimate USJ Guide.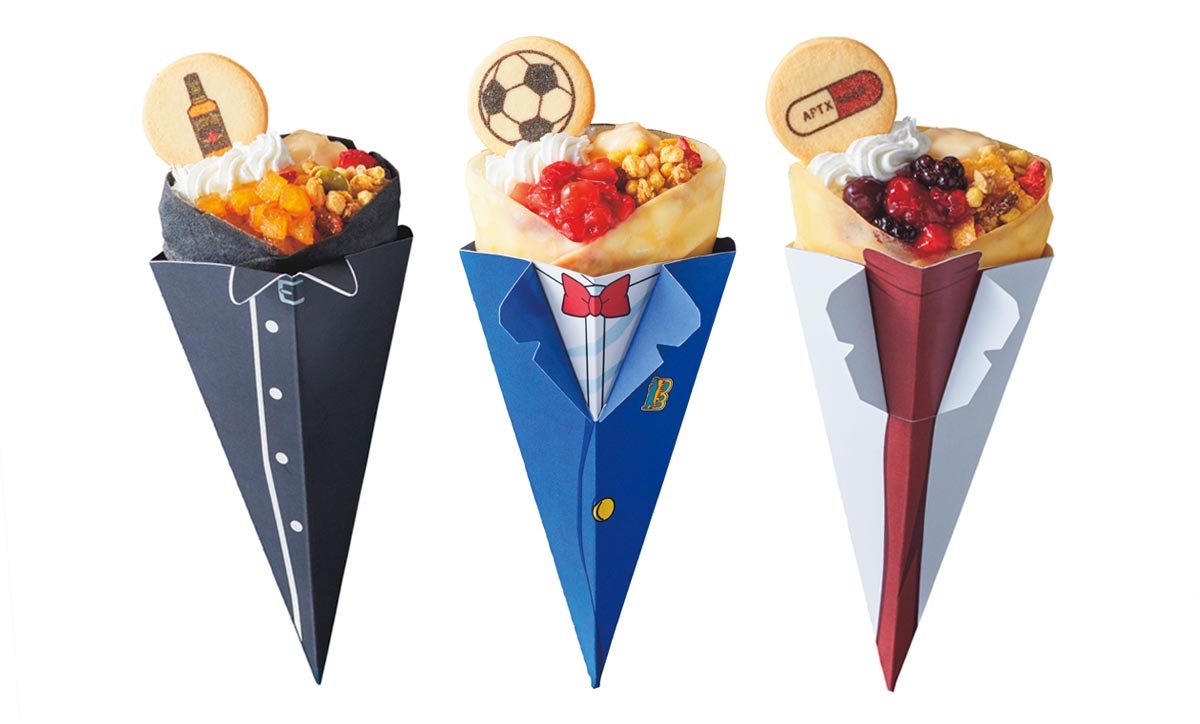 *Pro-tip: Get these cute Detective Conan crepes at Lombard's Landing restaurant in Amity Village (¥690)! Comes in 3 flavours: Amuro (Apple & Caramel), Conan (Strawberry) and Haibara (Mixed Berry).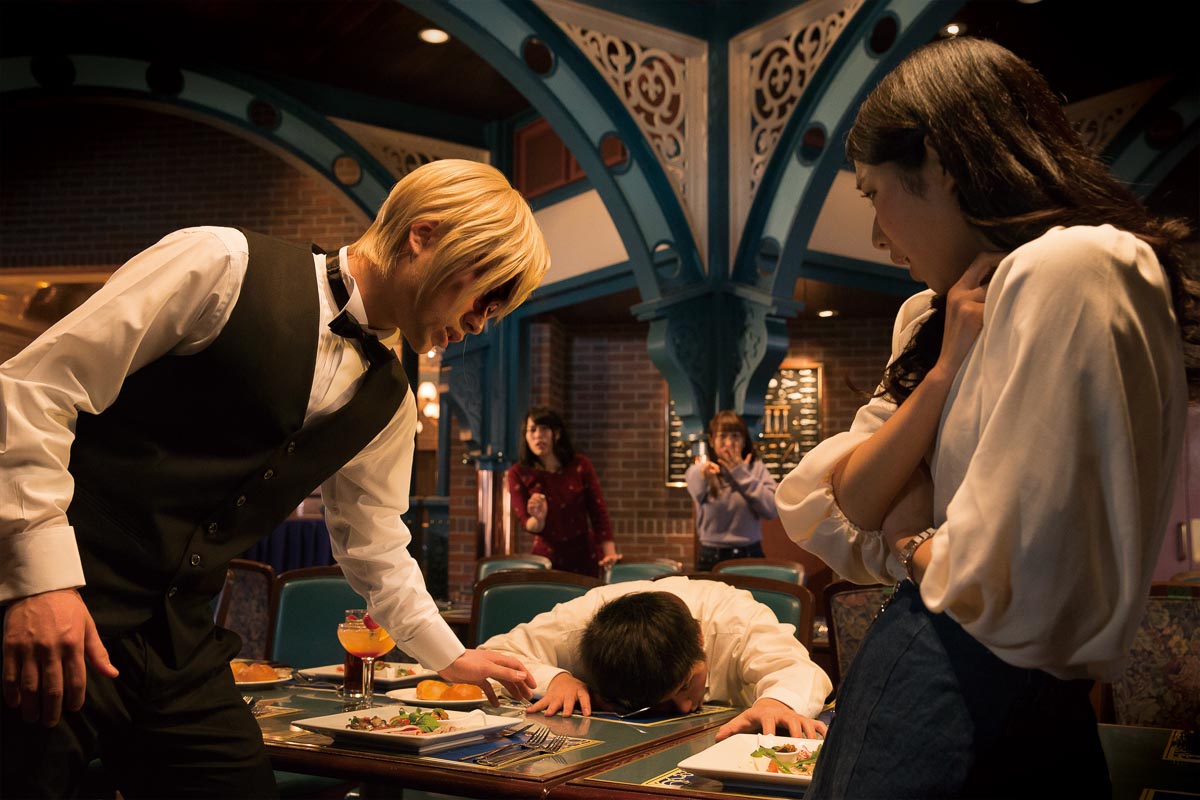 Also at Lombard's Landing (from 1st February onwards) is the Detective Conan Live Mystery Restaurant where you will dine as a guest at the opening party of a new fine-dinning restaurant. For ¥4,980, you will be enjoying a luxurious 4 course meal but don't expect to eat in peace as Detective Conan's world is constantly filled with surprises.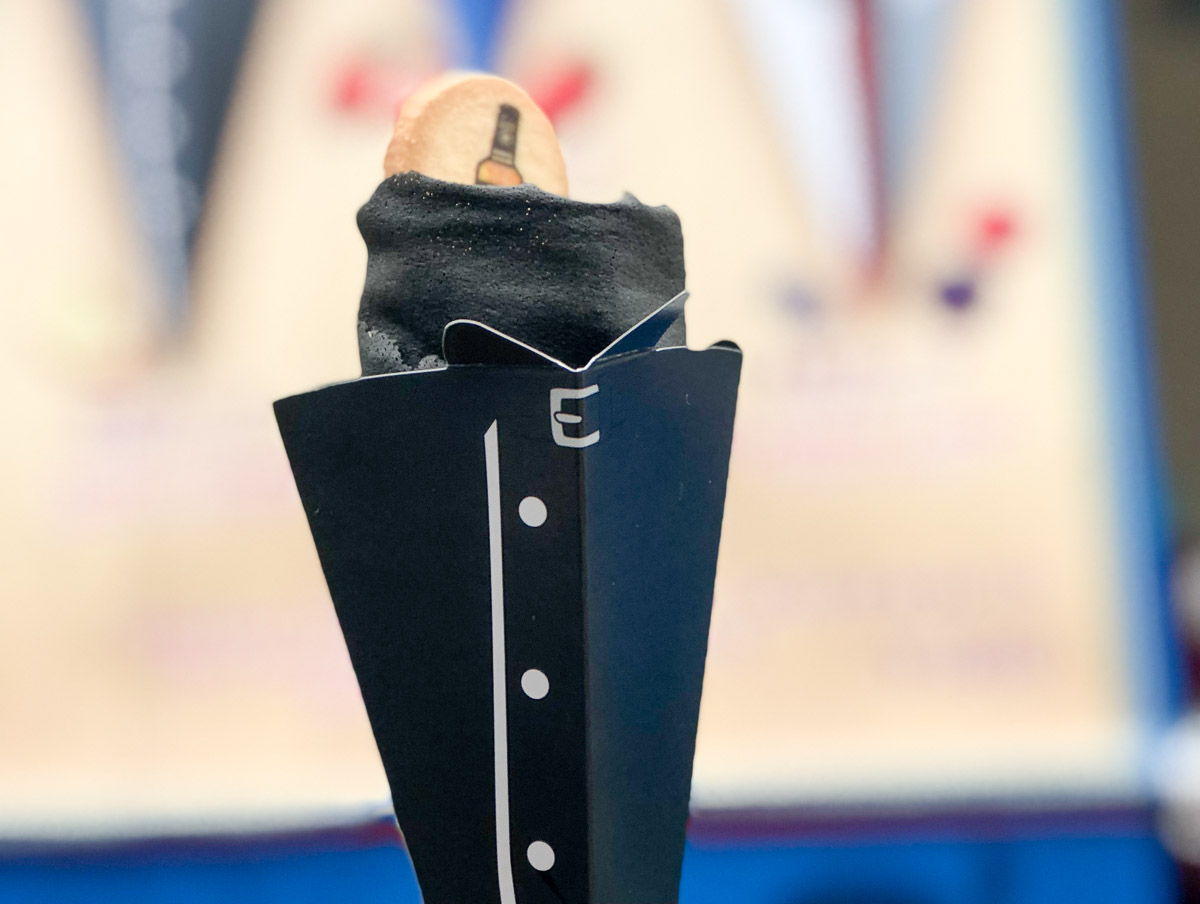 3) Monster Hunter: The Real
For those who aren't familiar, Monster Hunter is a popular action RPG where you play the role of a hunter researcher fending off gigantic monsters in natural environments. While all the other games had their own world, having real life elements brings about a whole different charm.
For the walkthrough experience in Monster Hunter: The Real, you will get a hand-piece in the shape of a cube. Depending how you hold it, you activate 4 different weapons on screen: Long Sword, Bow Gun, Gun Lance or Great Sword.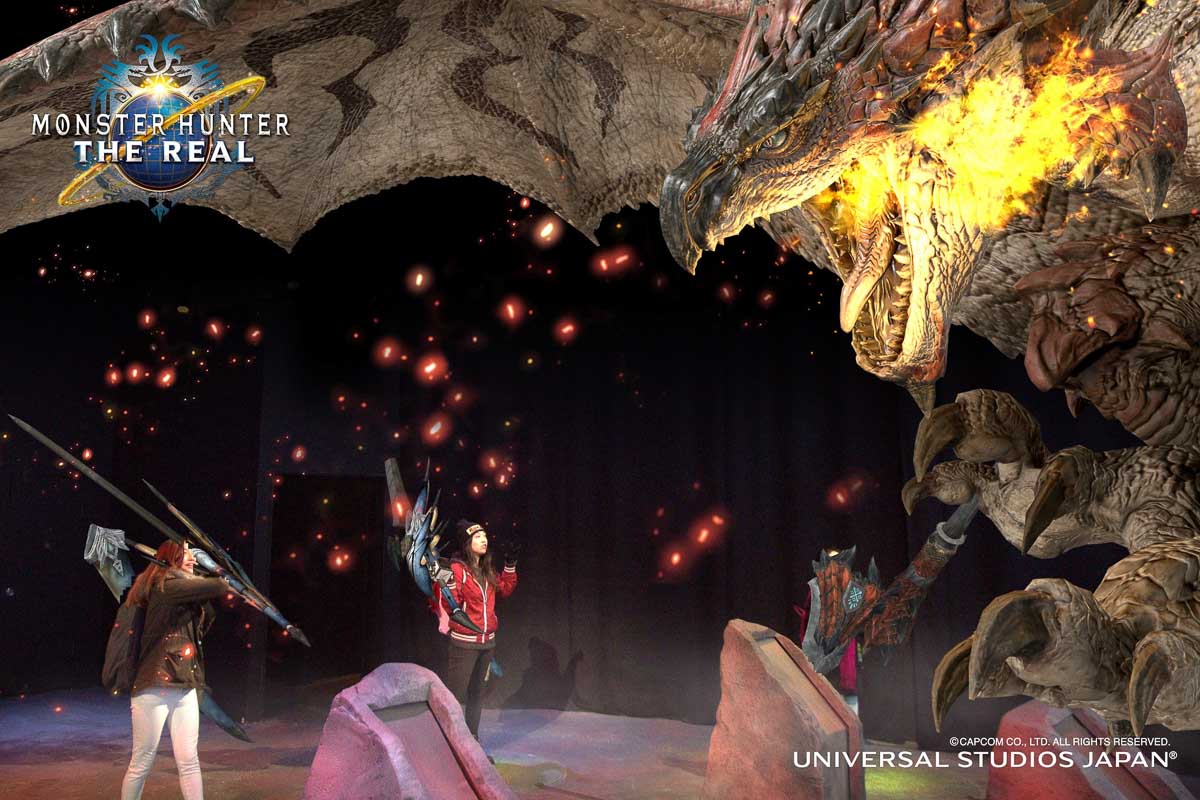 While the monsters appear on screen, there's a staff hyping up the players, running across the room shouting in Japanese. What we didn't know was that this was mainly a photo opportunity, not so much a game so our photos turned out like the above. If you're trying this for yourself, do make a mental note to strike your coolest pose and not be like us! 😛
At the end of the experience, you can purchase the Monster Hunting photos for ¥1800 each which includes digital copies as well.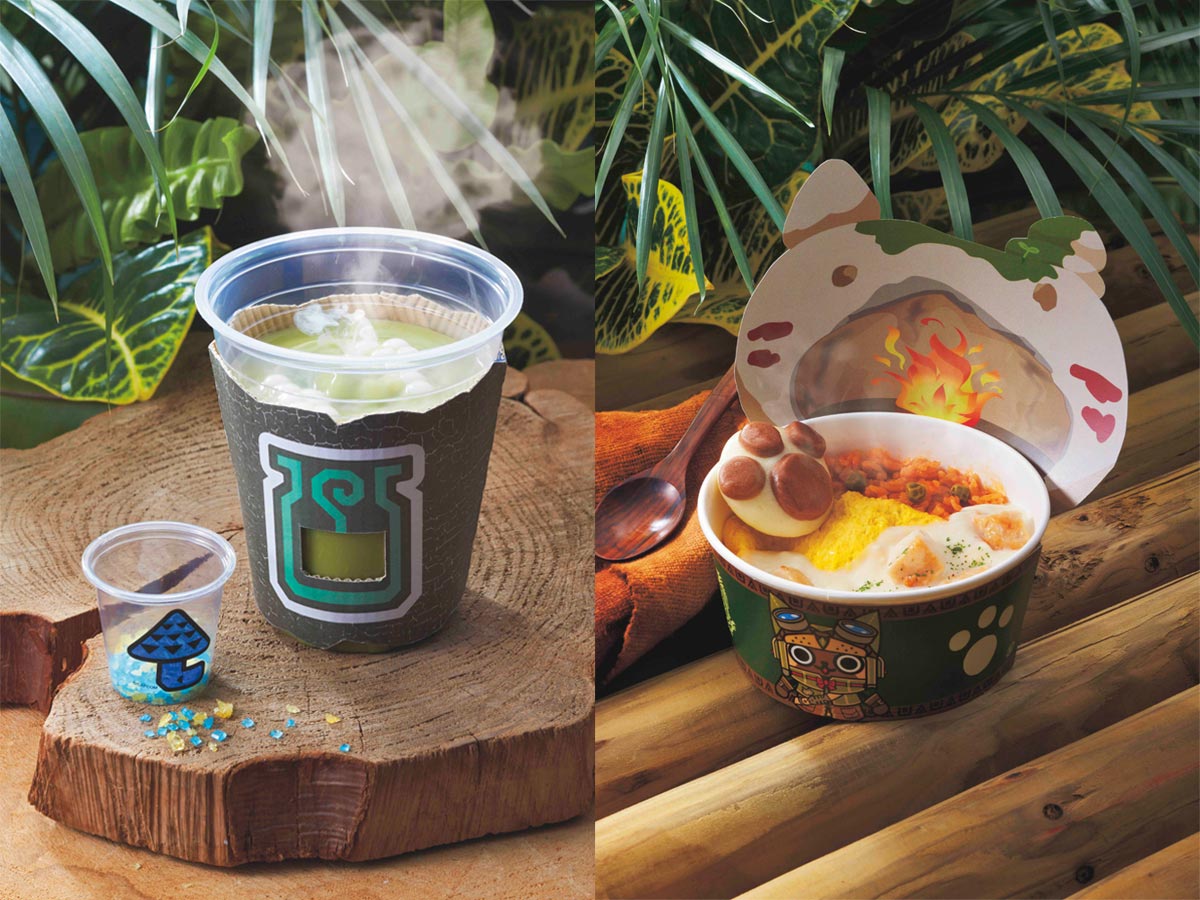 When you're done with the hunt, grab yourself a Monster Hunter Great Recovery Drink (¥600) to give yourself a boost. While it doesn't exactly restore your HP, the Matcha Latte with crackling candy is pretty interesting. There's also an adorable Felyne Pawprint Omurice (¥880) you can purchase from the Happiness Wagon. Kawaii ne!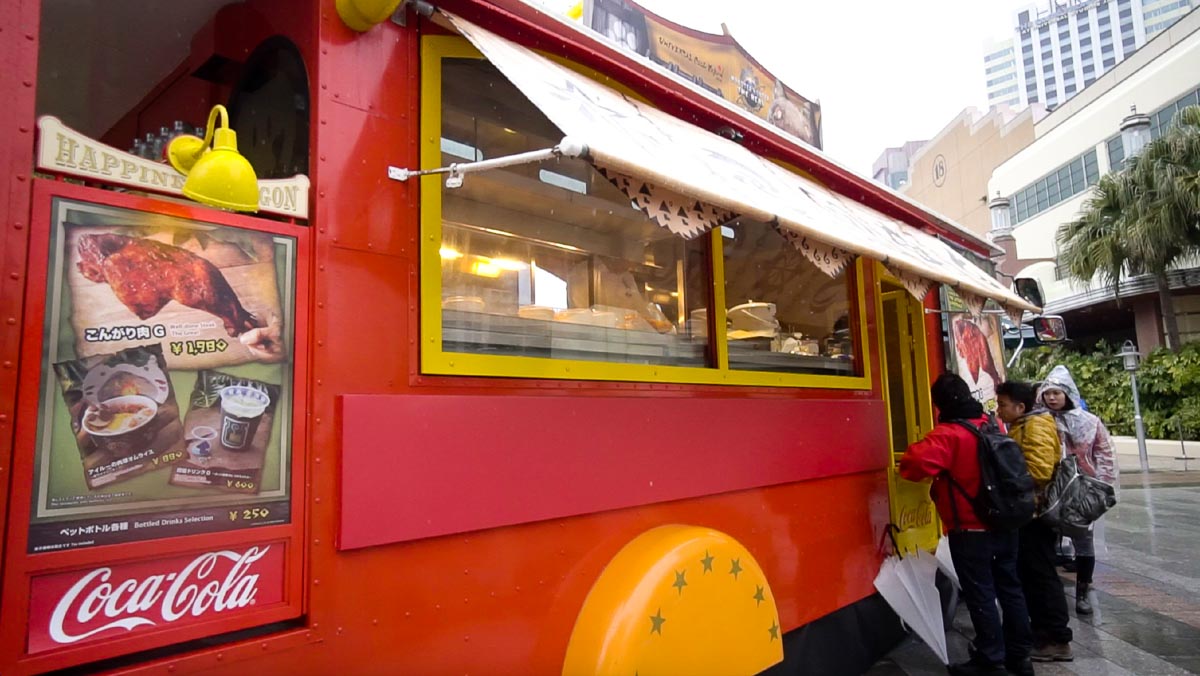 4) Sailor Moon Photo Opportunity
Perhaps one of the more familiar Japanese manga characters in Singapore, Universal Cool Japan will house the world's first Sailor Moon attraction — Sailor Moon: The Miracle 4D which officially opens on 16th March 2018. The 4D show promises to delight fans of all ages with a special story only available at Universal Studios Japan.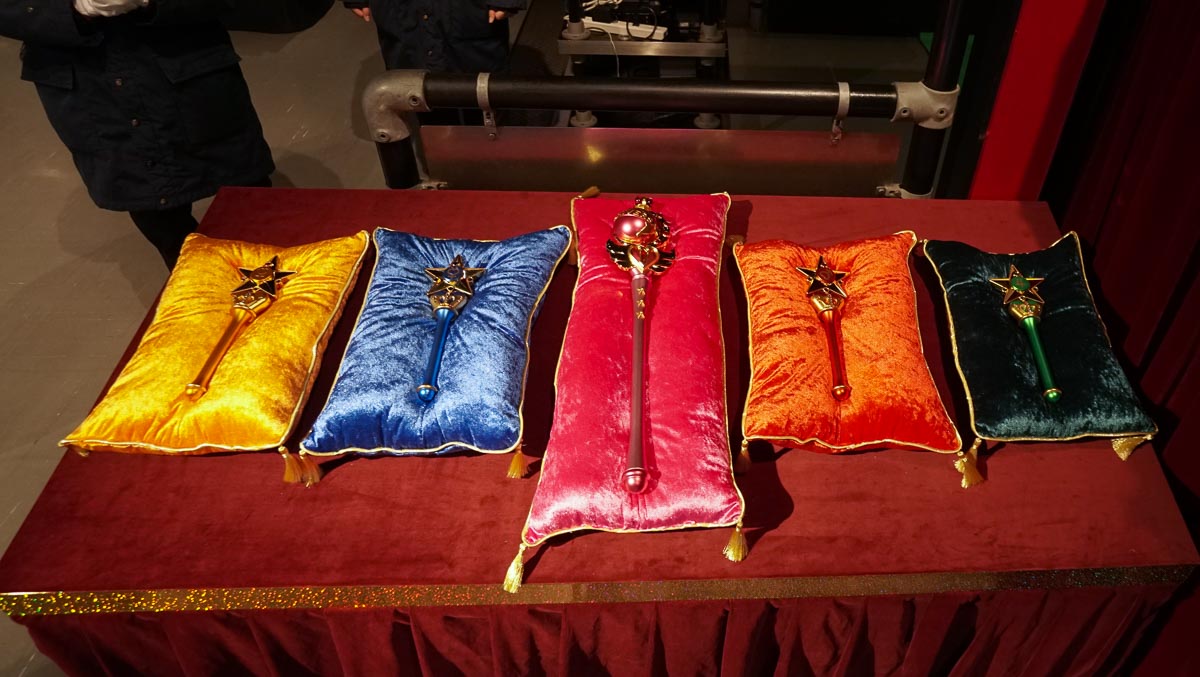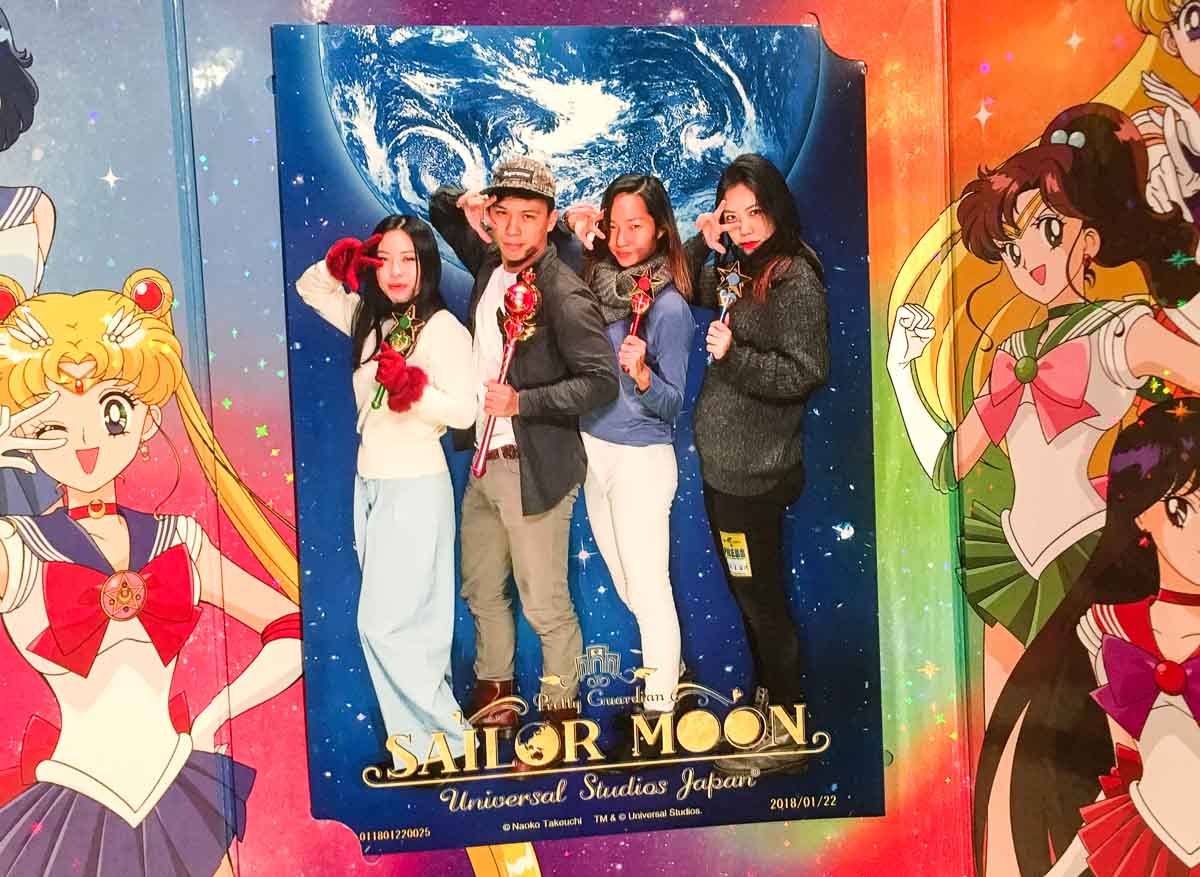 However, if you find yourself in Universal Studios Japan before that, head down to the Wonder Pix photo studio for a special Sailor Moon photo opportunity. Chose either the Moon stick or other Star Power sticks to complete your sailor transformation experience. Each photo is ¥1800 and includes digital versions you can download online as well.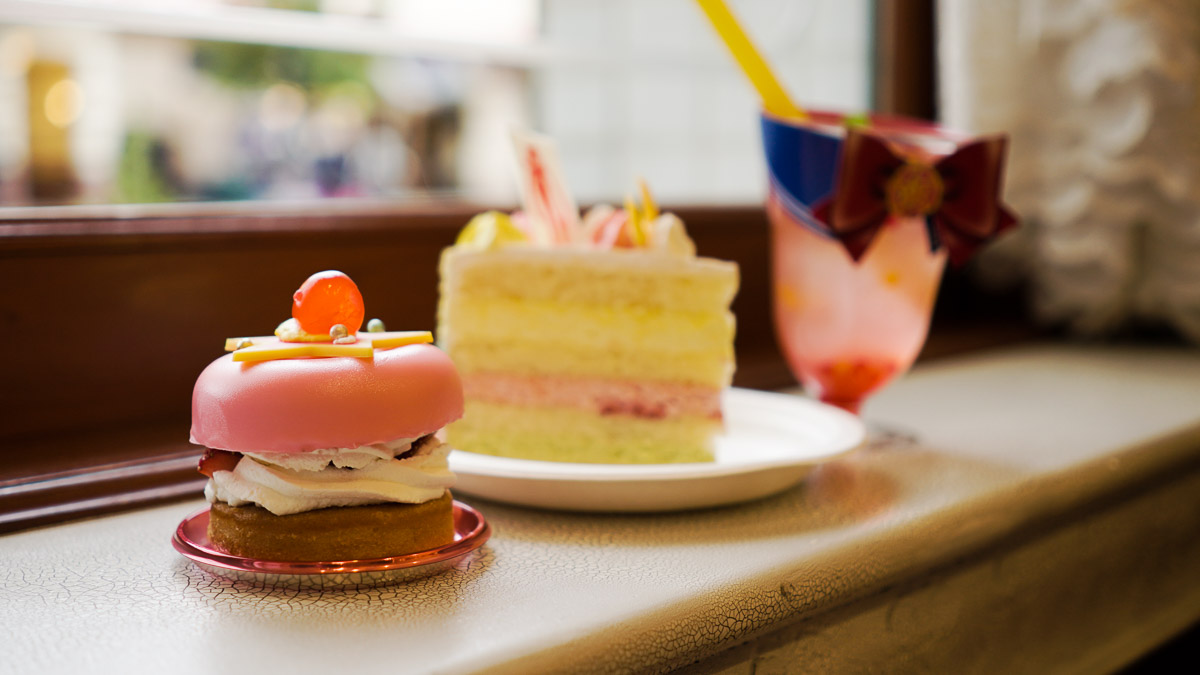 There's also a Sailor Moon drink (¥580), Sailor Moon Prism Power Cake (¥800) and other delightful pastries you can find at the Beverly Hills Boulangerie in Hollywood.
*Prices stated here are accurate as of January 2018 and subject to change without notice.
Universal Cool Japan Express Pass
The Universal Cool Japan rides are massively popular especially amongst the locals so queues can easily extend past the 100-minute mark. Skip to the front of the lines with the Universal Cool Japan Express Pass! Choose from 2 options:
Cool Japan 2
Includes express access to Final Fantasy XR ride and Monster Hunter: The Real.
Cost: ¥2,600 – ¥3,500 on the official Universal Studios Japan website / S$33 on Klook*
Cool Japan 3
Includes express entry Detective Conan's Real Escape Room on top of the Final Fantasy XR ride and Monster Hunter: The Real. Detective Conan's Escape room is only accessible with this pass.
Cost: ¥5,200 – ¥6,800 on the official Universal Studios Japan website / S$64.50 on Klook*
*Prices may fluctuate slightly depending on the exchange rate for the day
Need More Time in Universal Studios Japan?
Entering Universal Studios Japan can sometimes be quite a stressful affair — having to run for Harry Potter World's timed tickets or fighting to get ahead to your favourite rides.
If you're not already getting an Express 5 or Express 7 pass (more about those in our USJ Guide) you might find a better deal with the 1.5 day pass instead.
Prebook your tickets from Klook and enter the park after 3pm on the first day — this is usually when some park goers start to leave — and have the entire 2nd day to check out all your favourite rides and attractions!
---
This post was brought to you by Klook.
For more travel inspiration, follow us on Instagram @TheTravelIntern