On the surface, a trip to Taiwan seems pretty standard — getting stuffed with street food, and hitting the trendy streets of Taipei. But beyond the Ximending buzz, we found a whole gamut of adventures, ranging from the crazy beautiful to just plain crazy. Where else can you get your fortune told by a bird? Or whizz down a slide into a warm spa?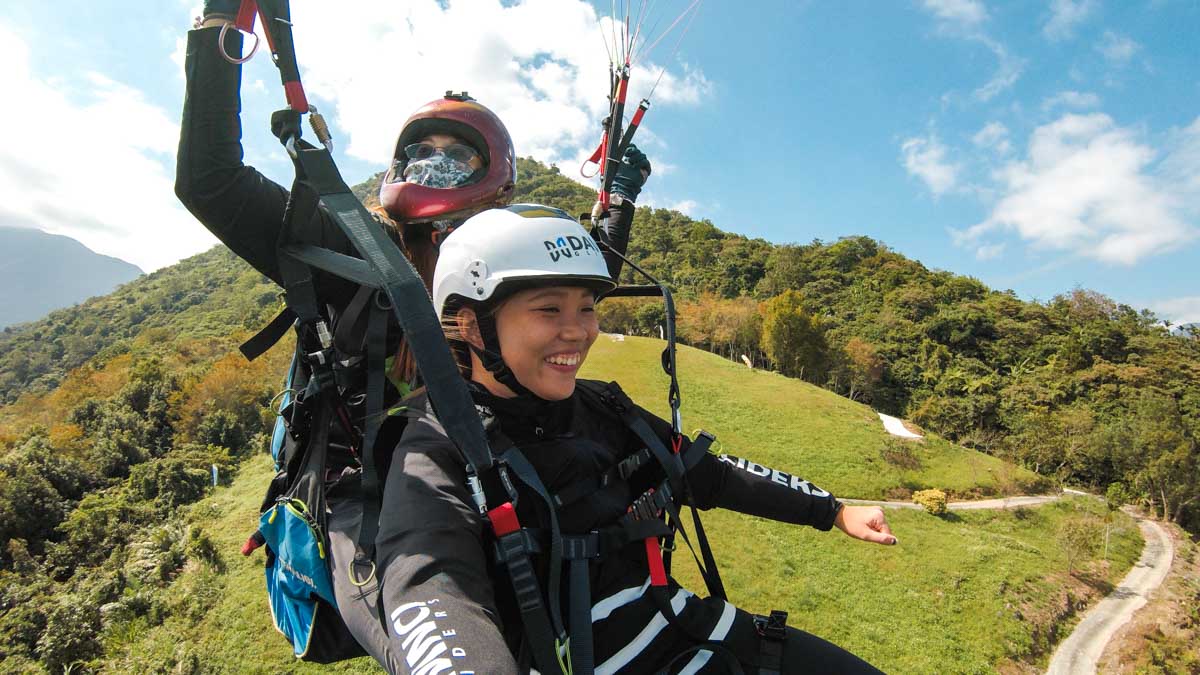 Time to see Taiwan from a whole new angle!
Our trip from Taipei to Kaohsiung through Eastern Taiwan took us through neon-lit cities, coastal towns, and cultural icons, enjoying unforgettable experiences, mind-blowing sights, and crazy ways to dine. It was hard to believe these diverse experiences were all in the same country!

So the next time you're in Taiwan, why not put down that XL Chicken and try these 25 unique activities?
Unforgettable Experiences
1) Visit Fortune-Telling Birds at Longshan Temple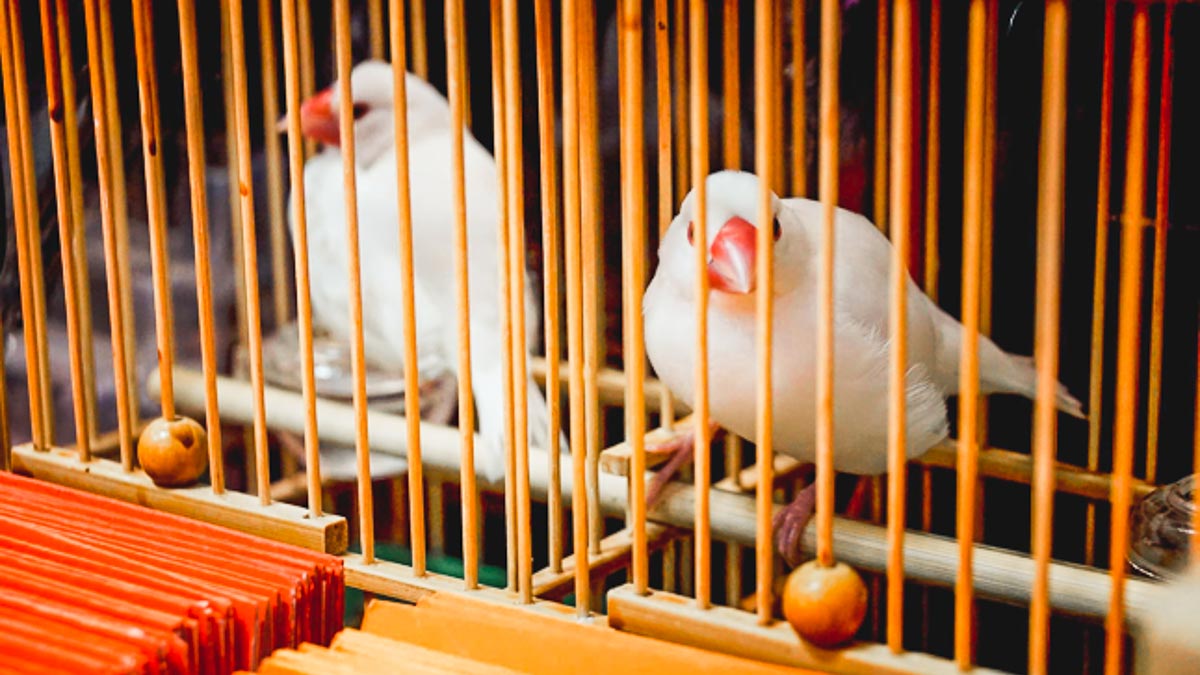 Source: Canadian Chamber of Commerce in Taiwan
Depending on whether you're a believer, fortune telling can be a wacky experience in itself, but here's something even more cuckoo.
Tucked in a booth at Longshan Temple Station's underground bazaar, you'll find the English-speaking Ms Chen and her feathered fortune-tellers, Big Luck Master and Big Fortune. The white java sparrows are purported to have keen psychic instincts, and can provide guidance for the mysterious future.
After intense flittering, the birds will pick your fate from a set of intricate tarot cards, each carrying fortunes based on traditional folk tales. Definitely something cool to do for a lark!
Cost: Ranges around NT$1000 to NT$2000 (~S$44.75 – ~S$89.51) based on the number and complexity of questions
Opening Hours: 11AM – 9PM
Address: Longshan Temple Underground Shopping Bazaar, No.145, Sec. 1, Xiyuan Rd., Wanhua District, Taipei City
How to get there: Take the MRT to Longshan Temple Station, follow the signs for the Longshan Temple Exit and head to the Longshan Temple Underground Shopping Bazaar
*Pro-tip: For the most accurate reading, come prepared with your time of birth — the more specific the timing, the better!
2) Watch out for Ghosts at the Grand Hyatt Taipei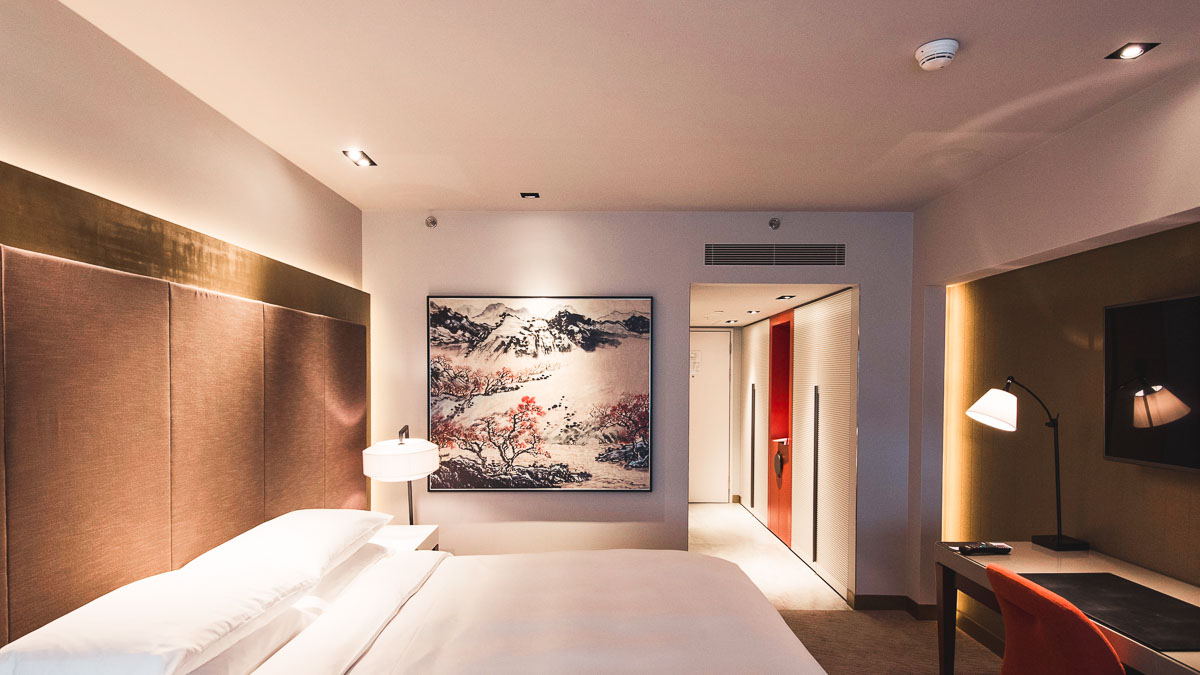 Source: The Shutterwhale
Maybe you should pay more heed to your fortune, especially if you're braving a night at one of Asia's most haunted hotels.
The Grand Hyatt Taipei may be the epitome of luxury, but isn't known for providing a good night's sleep. Rumour has it that behind the hotel's chic, modern appearance lies a sordid history: a former prison camp where many were executed during the Japanese Occupation.
It's all just hearsay, of course, and management is quick to dismiss any ghoulish gossip, but hey, you can only be sure by experiencing it yourself. 🙂
Cost: from S$398 for a standard two-person room
Address: No. 2號, Songshou Road, Xinyi District, Taipei City, Taiwan 110
How to get there: Take the MRT to Taipei 101/World Trade Center station and walk two minutes
3) Ride a Glass-Bottom Gondola Up the Maokong Mountain
Source: Vinjatek
Try the Taiwanese version of high tea with a glass-bottom gondola (cable-car) ride through Maokong, famous for its charming teahouses along the edge of the mountain.
The half-hour ride will take you over lush forest and tea plantations, and provides stunning views of Taipei city. At the top, sip on high-quality local tea, including the premium Tie Guan Yin, an Oolong brew. There's no better way to relax away from the bustle of the city.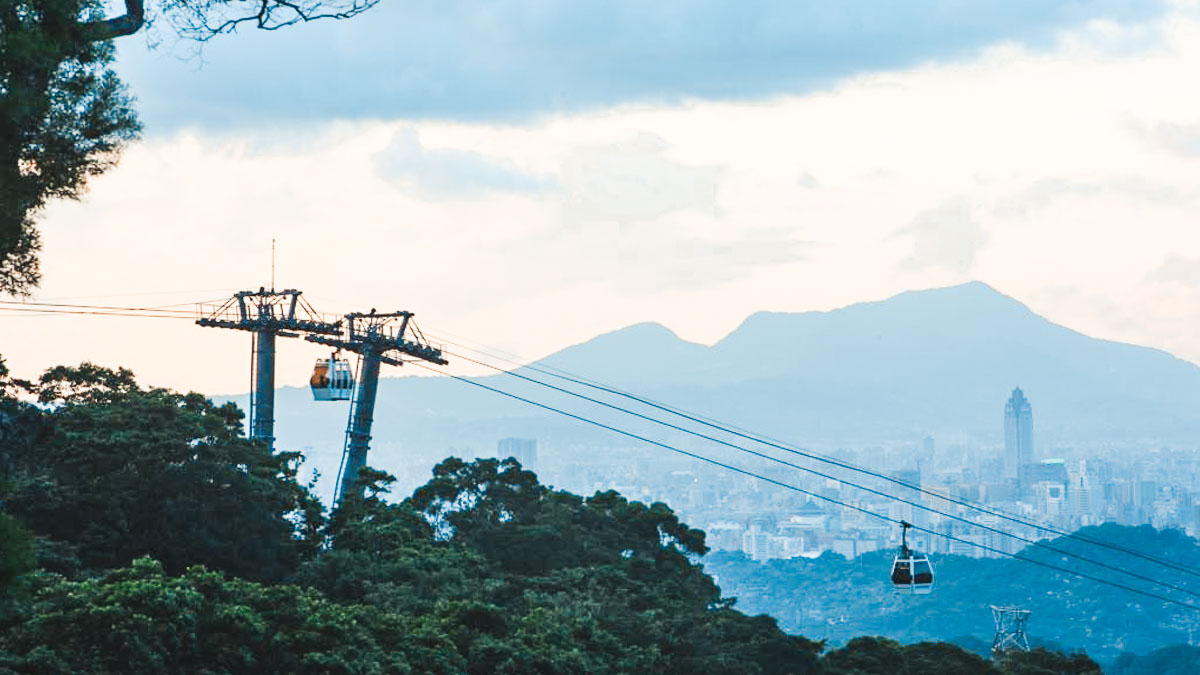 Source: Taipei Travel
If you found the gondola ride a little too relaxing, opt for the minibus (NT$15, ~S$0.67) on the way down — just remember to hold on tight!
Cost: NT$120/trip (~S$5.37); EasyCard holders entitled to NT$20 (~S$0.90) discount on weekdays
Opening Hours: Gondola service usually from 8:30AM – 9PM (Sun – Thu); 8:30AM – 10PM (Fri – Sat). Check weather conditions on the official website before going
How to get there: Take the MRT to Taipei Zoo station, then follow the signs leading to the Gondola. It's three stops to Maokong Station
4) Wish on a Lantern at Shifen Old Street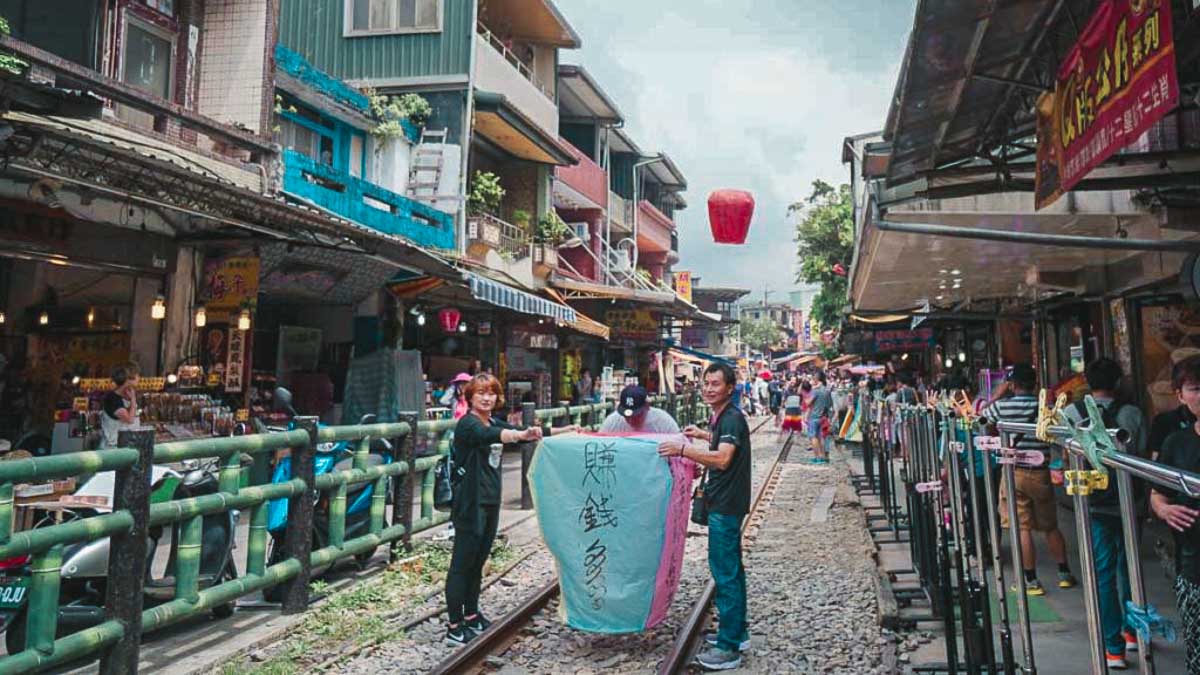 Entering Shifen Old Street feels like stepping into a romantic movie of days past. The outdoor train tracks are lined with quaint shops, while paper lanterns float gently in the sky above.
People flock to this charming town just outside Taipei to experience this beautiful tradition: writing their wishes on the colourful lanterns and releasing them into the heavens. The railway tracks make the perfect backdrop, with old-school trains passing through every little while.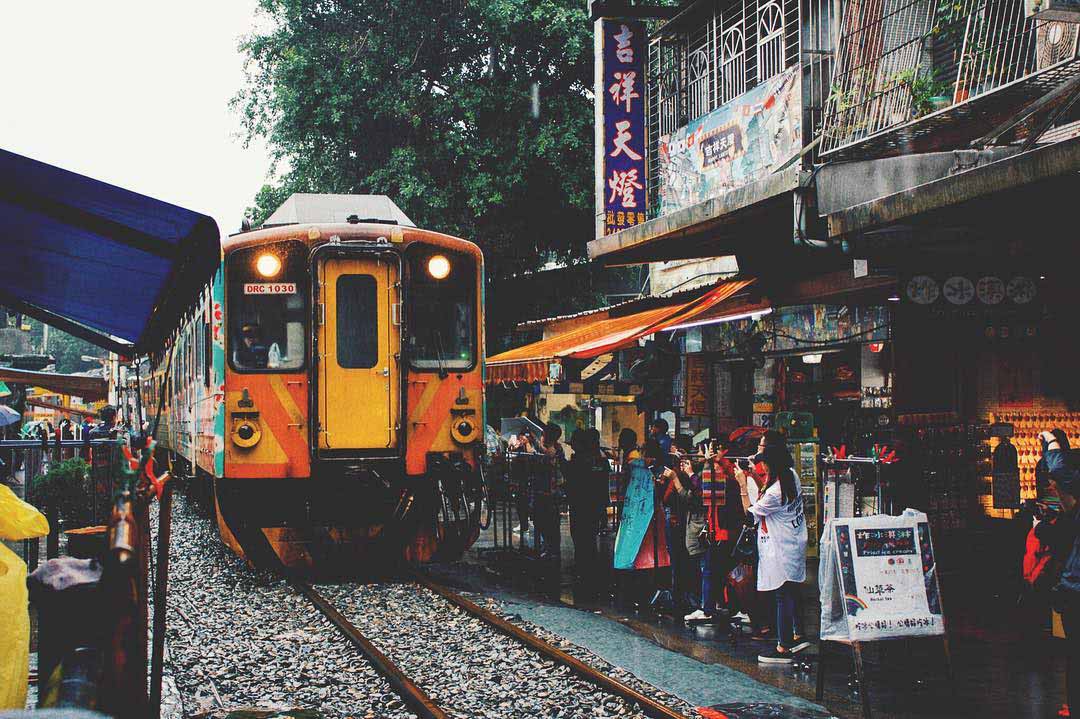 Credit: @traveltalks28
Cost: NT$100 – NT$200 (~S$4.48 – ~S$8.95) per lantern
Opening Hours: Most stalls open from 8:30AM – 6PM
How to get there: From Taipei Main Station, take a northbound train (except Keelung-bound trains) to Ruifang Train Station. Then transfer to the Pingxi Line Train and take the train to Shifen Station
5) Get Spirited Away at Jiufen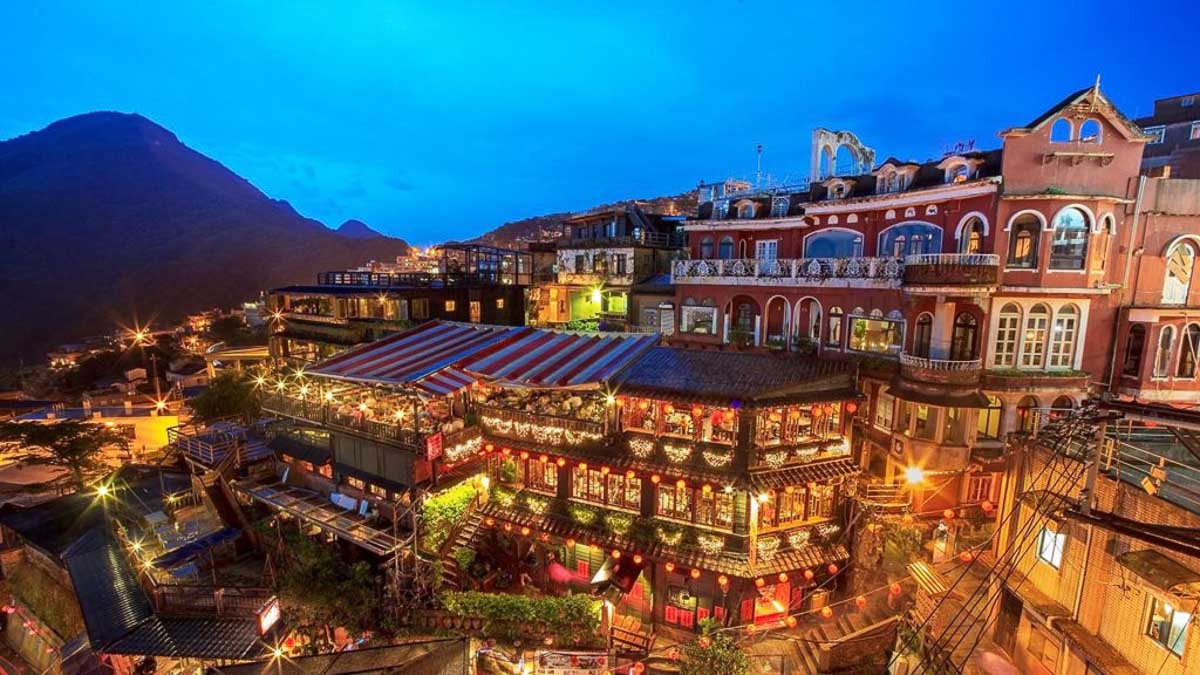 The former gold mining town of Jiufen is truly magical — packed with cobblestone pathways, pretty lights, and historical architecture. It's no wonder that the mountainside village became the perfect inspiration for Miyazaki's Spirited Away.
Wander the winding alleys while munching on delicious traditional snacks, like Wu Di Wild Boar Sausage and A-Zhu Peanut Ice Cream Roll.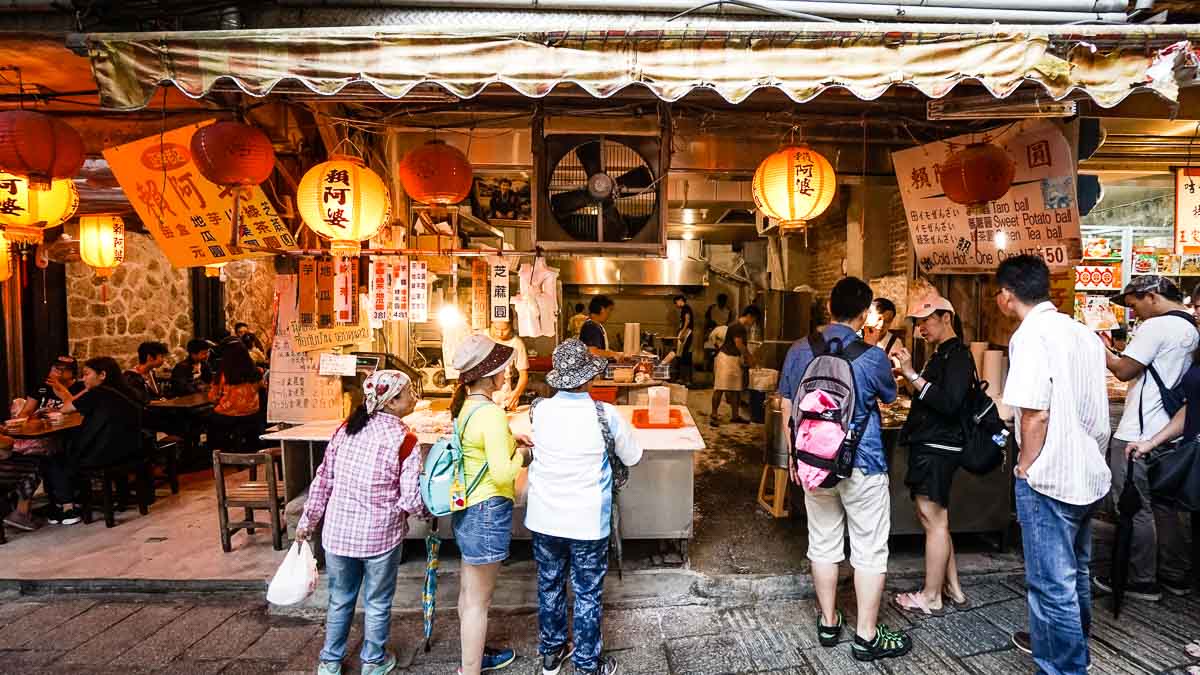 Cost: Food prices average around NT$50 (~S$2.24)
Opening Hours: NA
How to get there: From Taipei Main Station, take a northbound train (except Keelung-bound trains) to Ruifang Train Station. Upon exiting, face the Wellcome Supermarket, turn left and head 200 metres down Mingdeng Road. Next to the police station, you'll see the Local Residents Plaza (區民廣場) bus station. It's a 15-minute bus ride via routes 827, 788, or 1062 to Jiufen Old Street
6) Slide into a Spa at Art Spa Hotel Yilan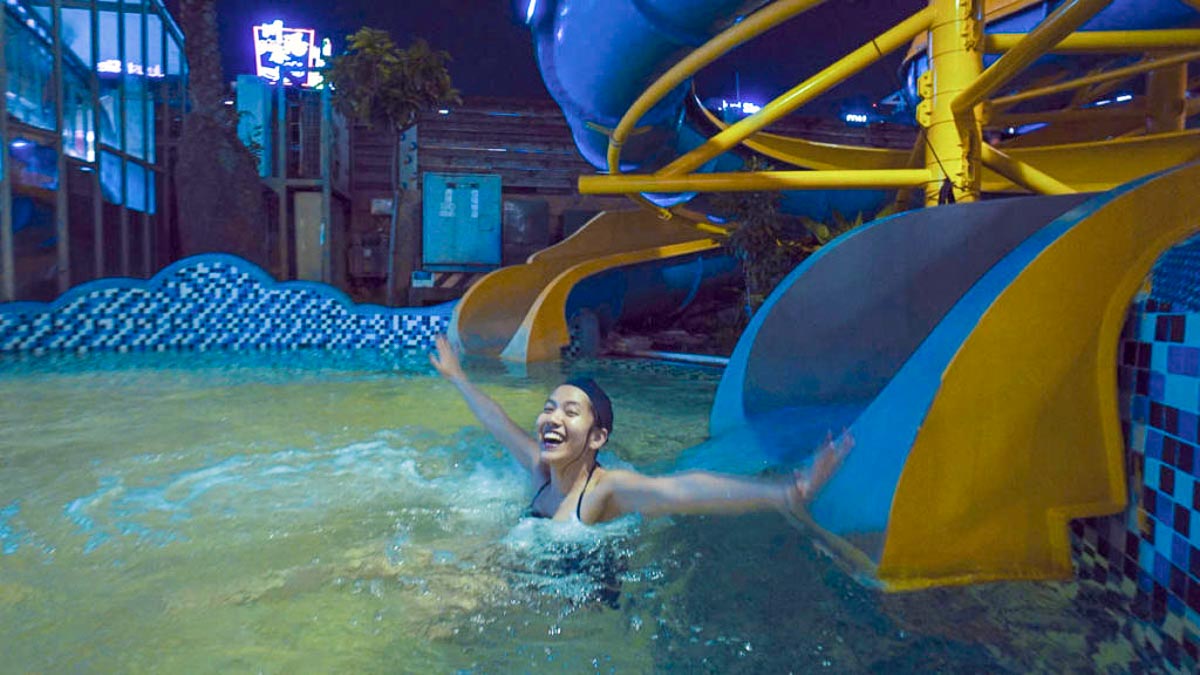 Renowned for its underground hot springs, hotels with spas are a dime a dozen in the Jiaoxi township of Yilan. Art Spa Hotel, however, takes things to another level — specifically five storeys, with a 360° spiral slide that launches you into a warm pool.
It's an honestly thrilling ride which saw us returning for seconds, before cooling (heating?) down in the standard, relaxing hot springs. As for the latter, we were spoilt for choice with 50 indoor and outdoor springs, and even a hot spring tub in each hotel room!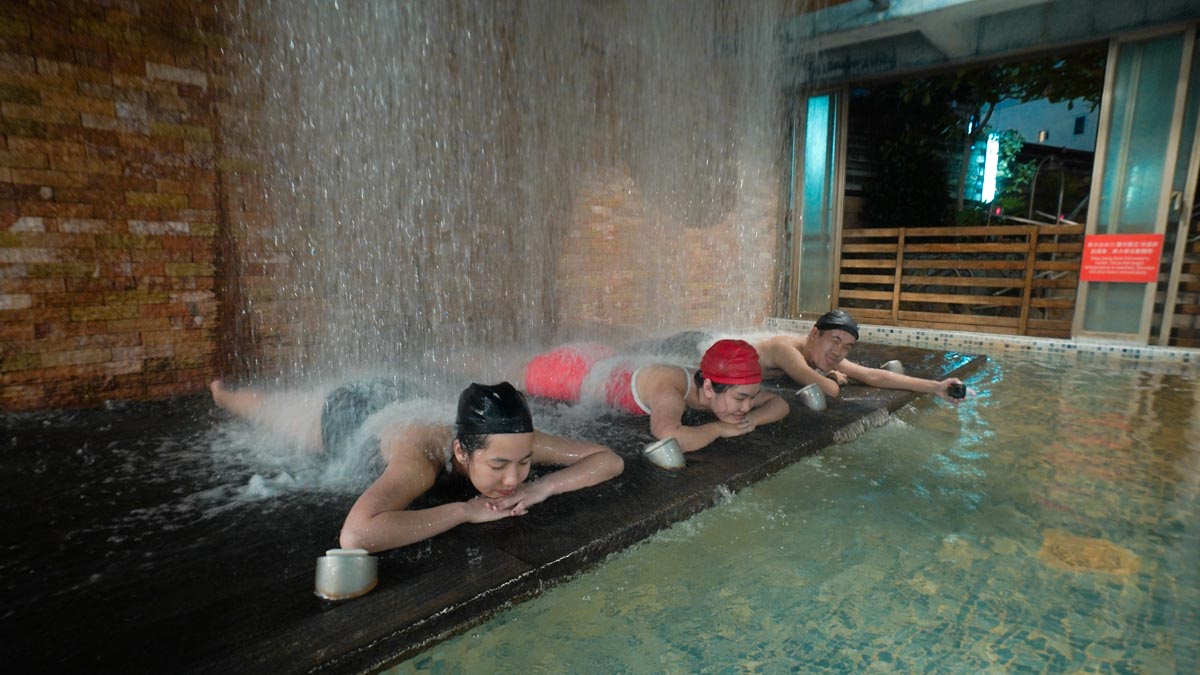 Cost: From S$148/night for a double room
Opening Hours: The hot springs are open daily from 7:30AM – 10:30PM. Slide operates hourly at 10AM, 2PM, 4PM, 7:30PM, and 9PM
Address: No. 6, Deyang Road, Jiaoxi Township, Yilan County, Taiwan 262
How to get there: Four-minute walk away from Jiaoxi Station
*Pro-tip: Swim-caps are a must to enter the springs, so bring your own if you'd rather not purchase one (NT$50, ~S$2.24) from reception.
7) Customise Your Own Whisky At A Distillery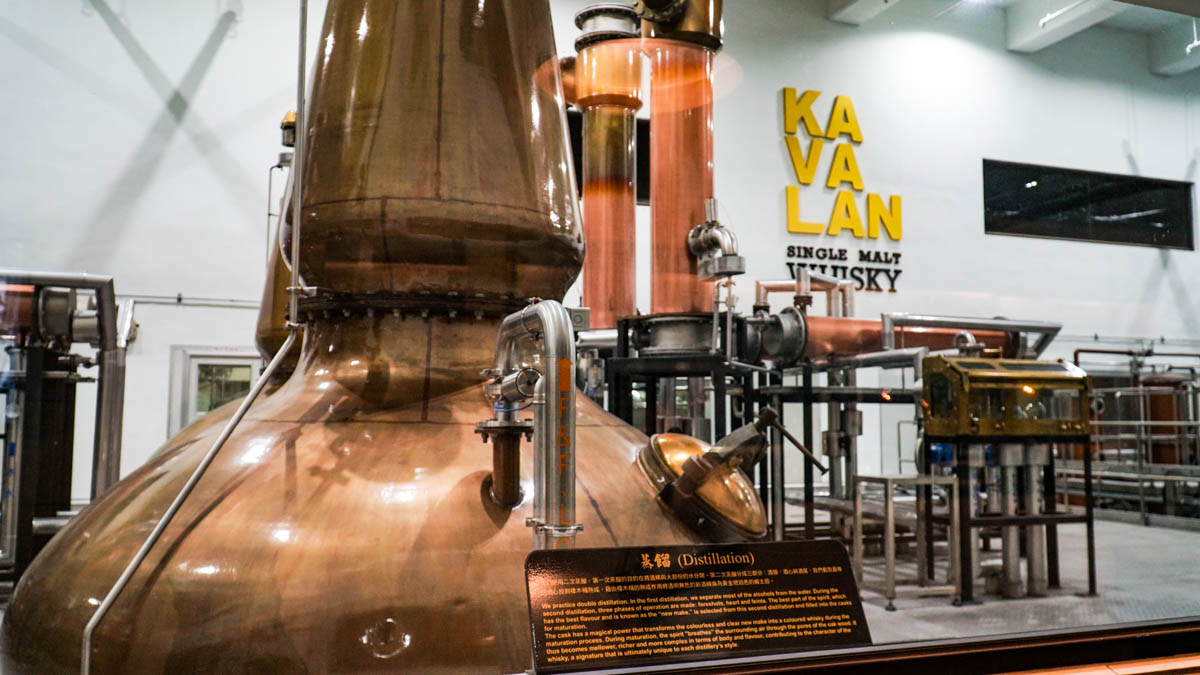 Taiwan's first whisky distillery was a long-held dream of its founder, who believed that Yilan's spring water and fresh air would be perfect for whisky-making. Turns out he was right — Kavalan Whisky Distillery is now internationally-acclaimed, even receiving the 'World's Best Single Malt Whisky' title at the World Whiskies Awards!
At Kavalan (named for the indigenous name of Yilan county), take a tour of the whisky-making process, and even sample a Kavalan Classic on the house. You can also take a shot at being a whisky connoisseur by mixing your own customised brew. There's no sweeter souvenir!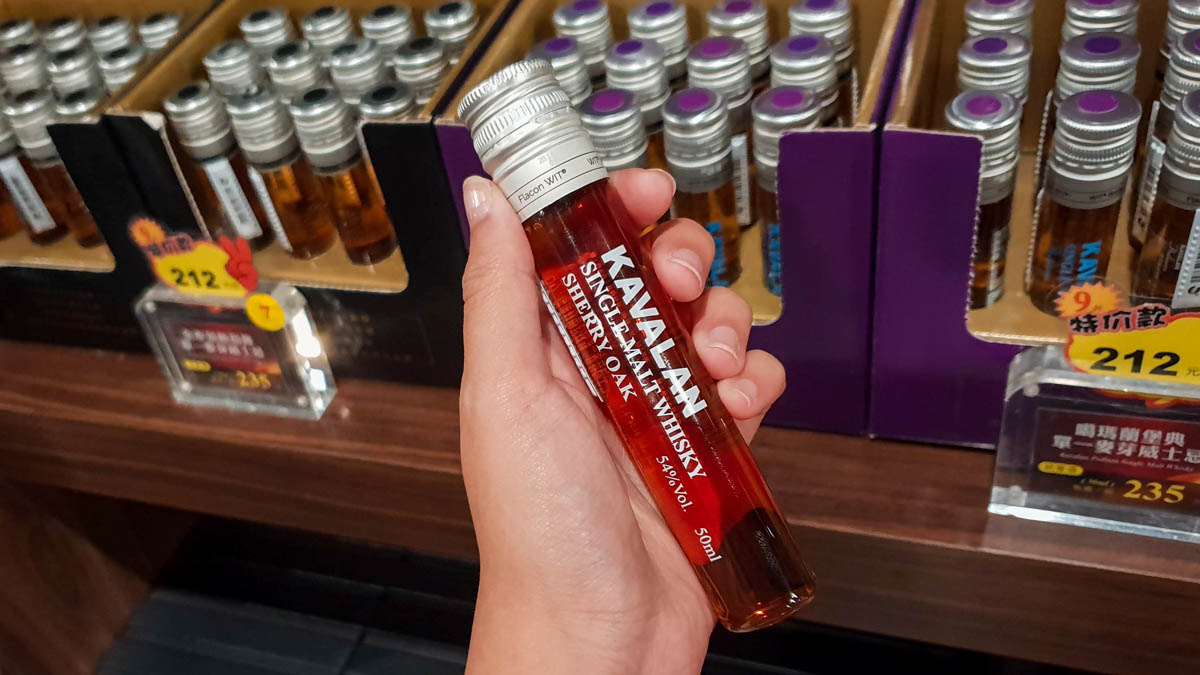 Do register online to reserve your place on the Tasting and DIY Blending tours, available daily from 10:10AM – 4:10PM.
Entrance Fee: Tour is free. DIY Blending at NT$1500 (~S$67.13) per 300ml bottle
Opening Hours: 9AM – 6PM (Weekdays), 9AM – 7PM (Weekends)
Address: No. 326, Section 2, Yuanshan Road, Yuanshan Township, Yilan County, Taiwan 264
To get the most out of your visit, we recommend taking a day tour which includes the Kavalan Whisky Distillery and other cool activities in Yilan: The National Center for Traditional Arts for old-school craft shops and a hilarious Zodiac-themed performance, and Dong Shan River Park for scenic cycling along the river. Our driver, Ben, was super helpful and friendly — even bringing us to local gems when we told him we were craving dessert and lu rou fan (braised pork rice)!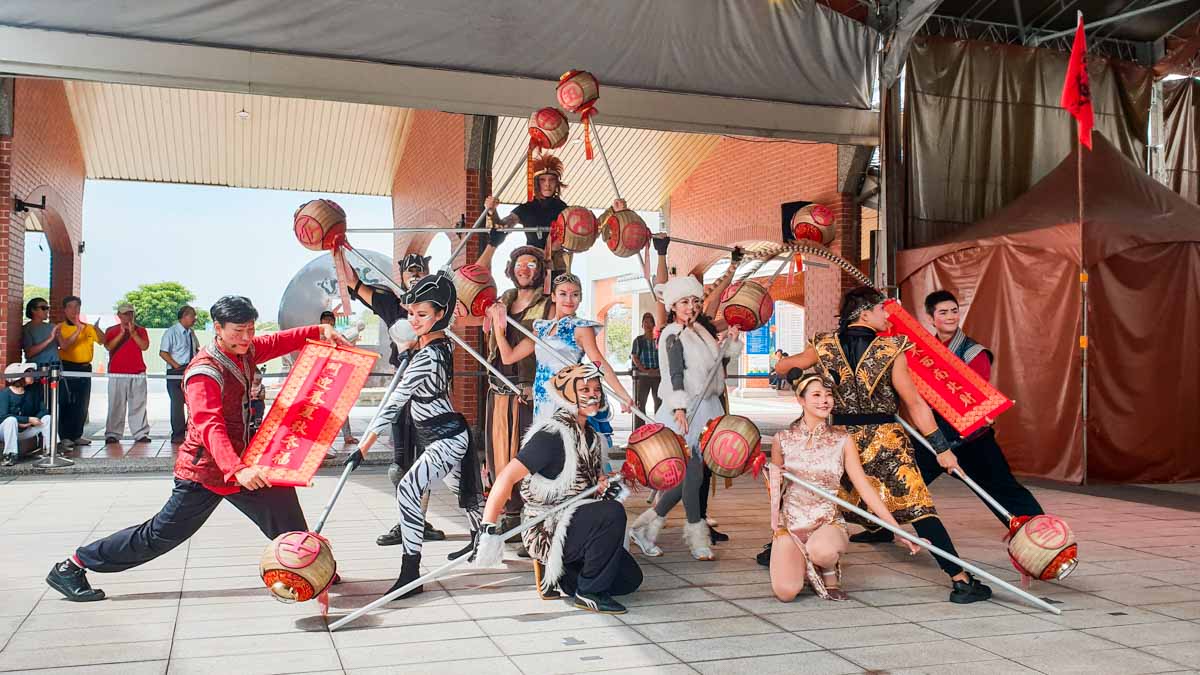 A entertaining (and free!) zodiac-themed performance at The National Center for Traditional Arts
Day Tour from Taipei: Yilan
Cost: S$201 (Chi-speaking driver) / S$224 (Eng-speaking driver) per vehicle (up to four persons).
Pick-up & Drop-off: Any address within Taipei city
8) Paraglide over Palm Trees and Paddy Fields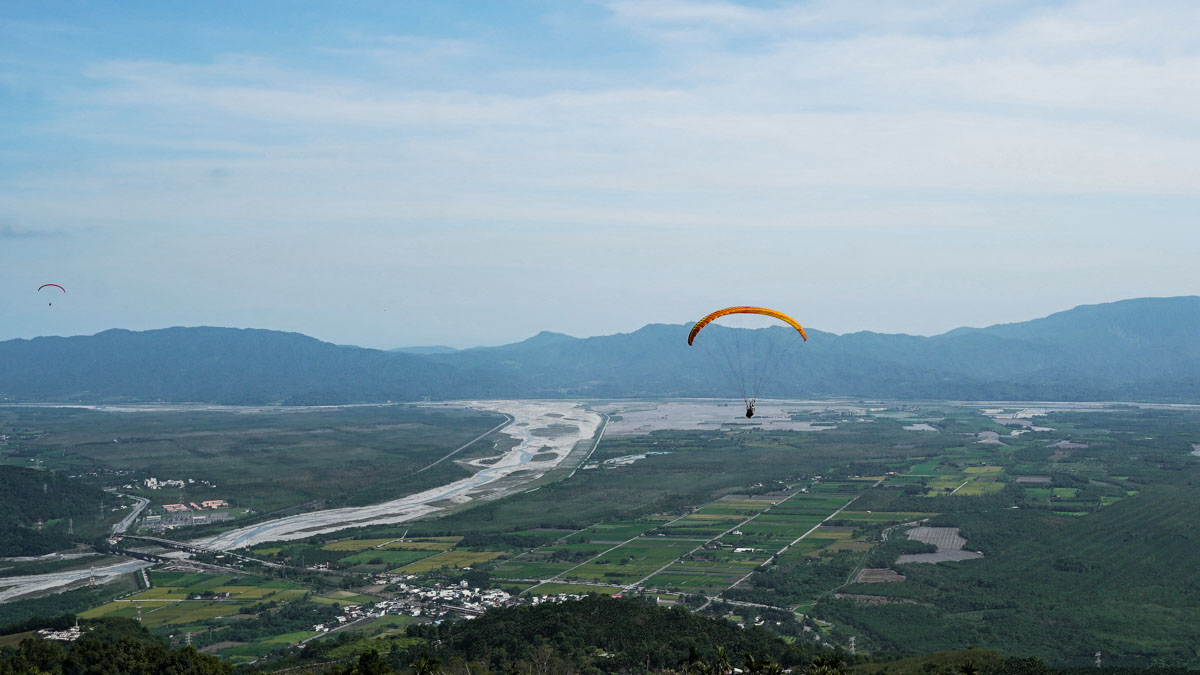 Hands down one of the best things I've done in my life. There's no better feeling than being up in the air, floating in the breeze. You know all those crazy nature drone shots you see in travel videos? That's what you'll get, from all angles — insane views of endless greens, winding blue rivers, and the Taiwanese mountains stretched across the horizon.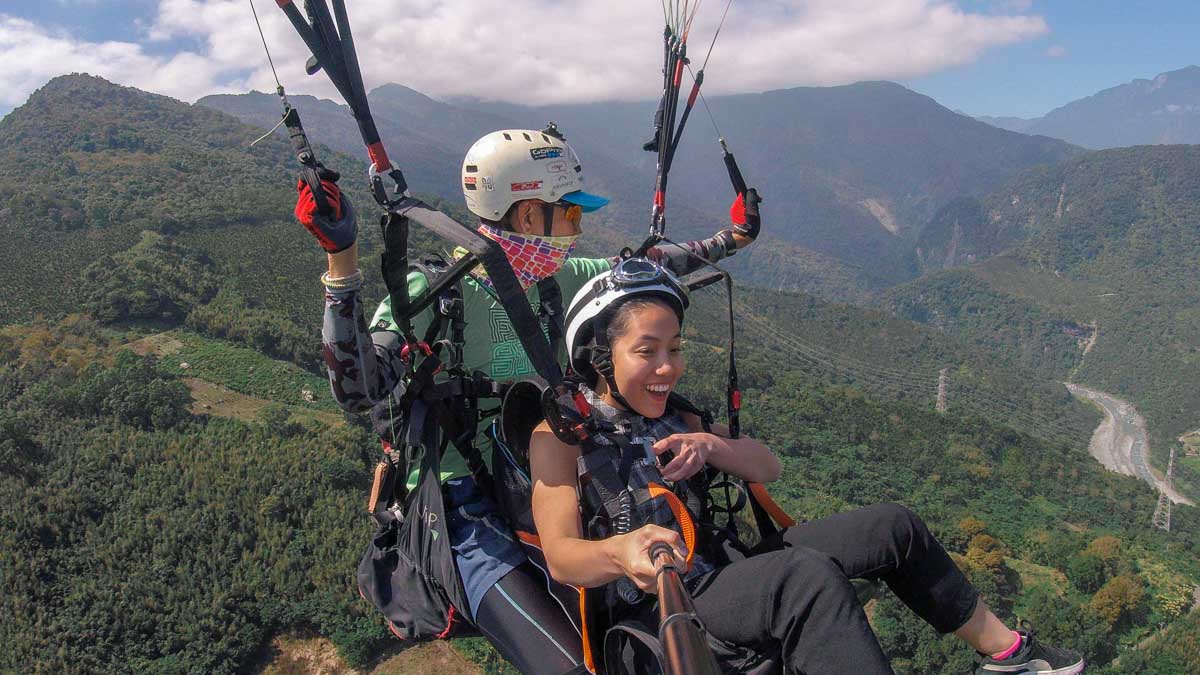 P.S. Toward the end of the 15-minute flight, your instructor will ask if you want to 'spin'. Don't hesitate, hang tight, and say YES!
Hualien Paragliding Experience also gives you all your GoPro footage immediately after your flight — just make sure you have at least 4GB of space on your mobile phone!
Cost: S$114/pax
Address: No.100, Mingli, Wanrong Township, Hualien
9) Go River-Trekking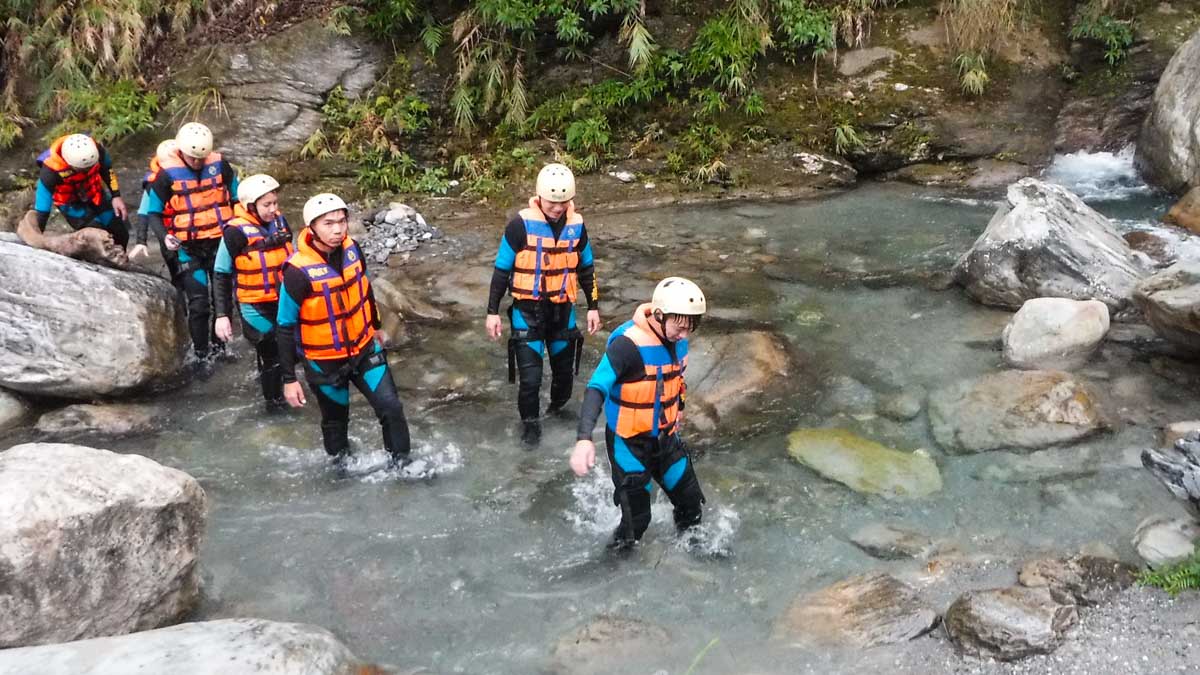 Credit: 溯溪王Riverking Facebook
Refresh yourself with a dip, splash, and slide along Hualien's crystal streams. The river-trekking adventure begins with a quick trek through the forest, before emerging to cyan waters so clear, you'll just want to get right in.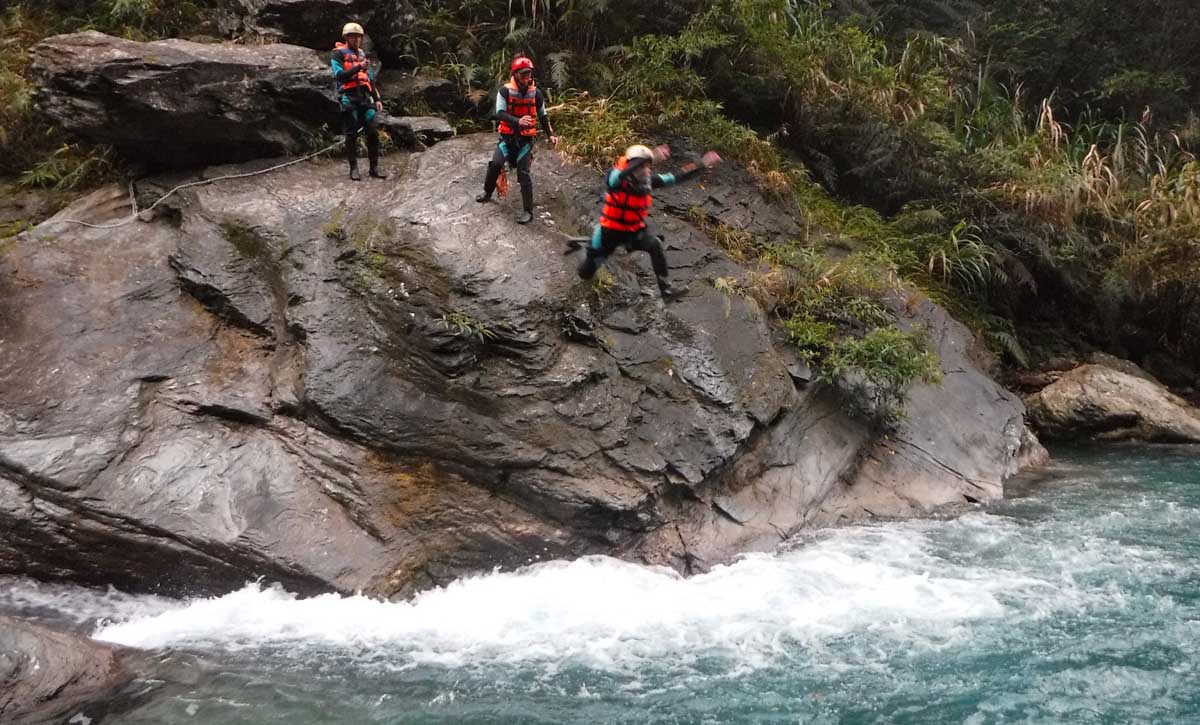 Credit: 溯溪王Riverking Facebook
And get right in you will — jumping off cliffs and rushing down natural water slides! The water is so cool, clean, and refreshing, you'll feel brand-new right after. We were given steaming hot bowls of noodle soup when we were done, which were simple but so delicious to slurp while waist-deep in water.
We took the four hour tour (including transport), but were told that the full-day option comes with far more adventure, as well as pretty waterfalls! It also includes a full camp lunch of veggies and chicken. We'd definitely have opted for that if we had more time.
Take note: You should be of at least decent fitness, as the rocks can be difficult to traverse when wet. Also, the tour is in Mandarin so make sure you know the basics (or go with someone who can translate), as you'll need to understand the safety instructions.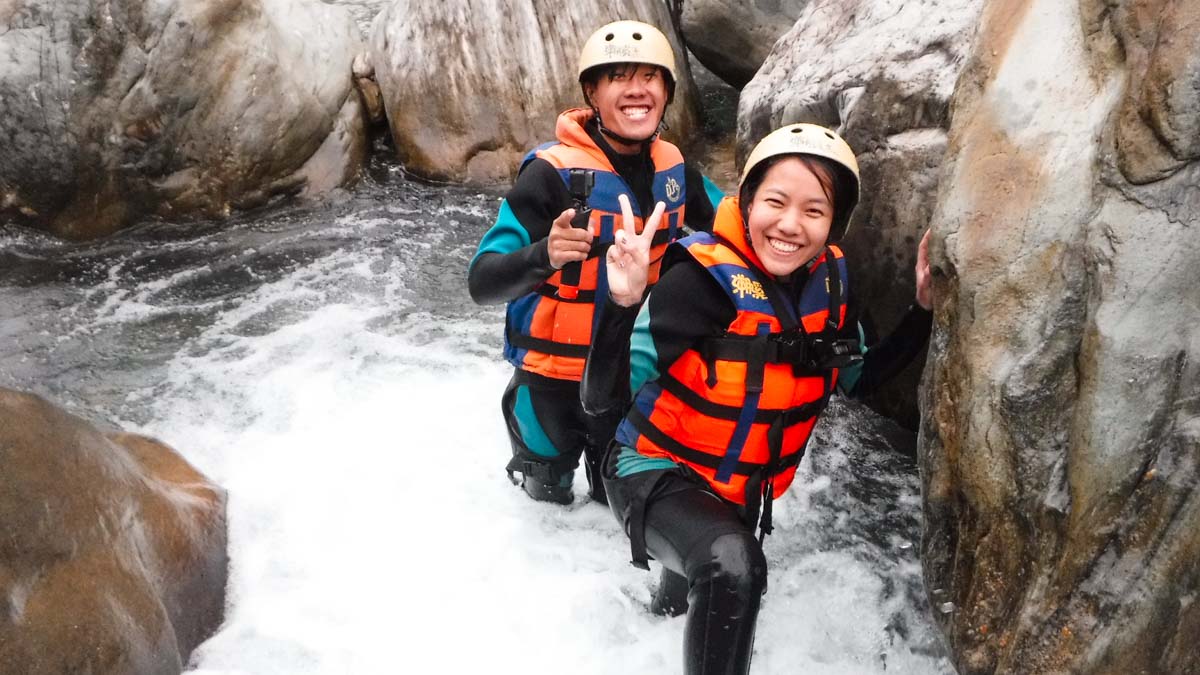 Credit: 溯溪王Riverking Facebook
After, download your photos for free off the Facebook page, so the fun memories don't get washed away!
The Adventure of River Trekking in Hualien
Cost: S$38/pax
Pick-up & drop-off: Any location in Hualien
10) Cycle Along the Pacific Ocean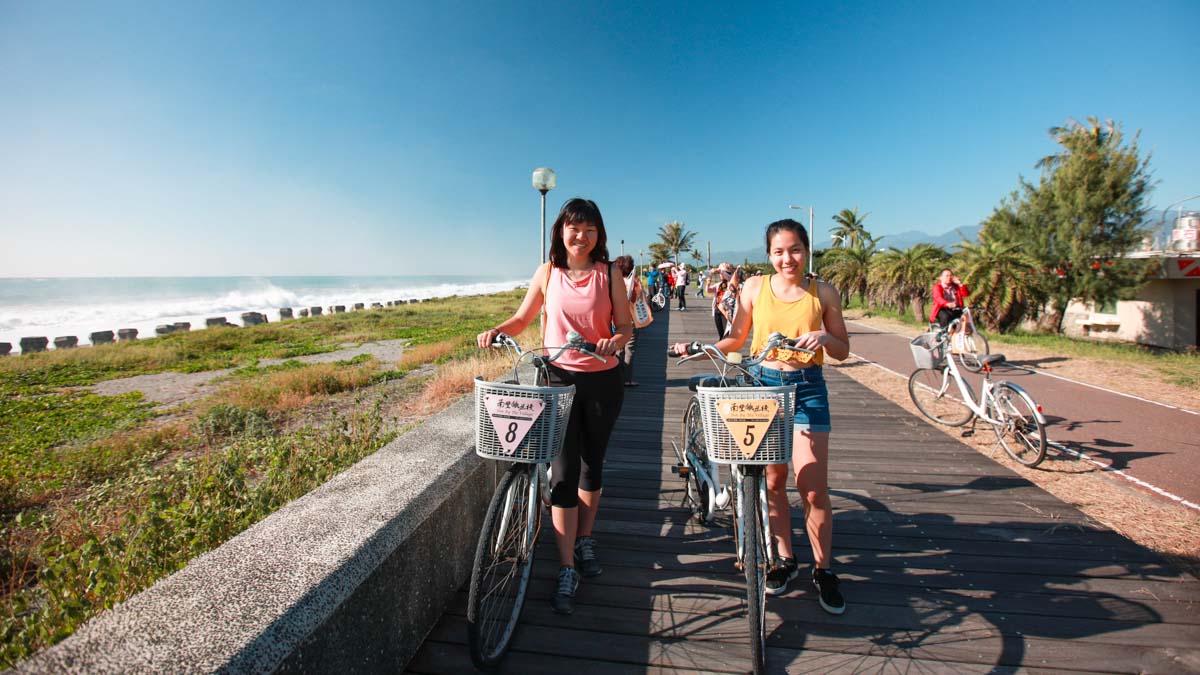 The coastal city of Taitung is famous for its bike trail, with gorgeous views of open skies, mountains, and the enormous Pacific Ocean. The towering blue waves are truly a mind-blowing sight.
We rented bikes for free from Inn by the Village (from S$113 a night), our accommodation in Taitung, and went for an easy, relaxing ride. Set the morning aside to visit the sightseeing spots along the way, including the Railway Art Village and Harbin Park.

How to get there: Choose your bike trail here
11) Skin Diving at Houbihu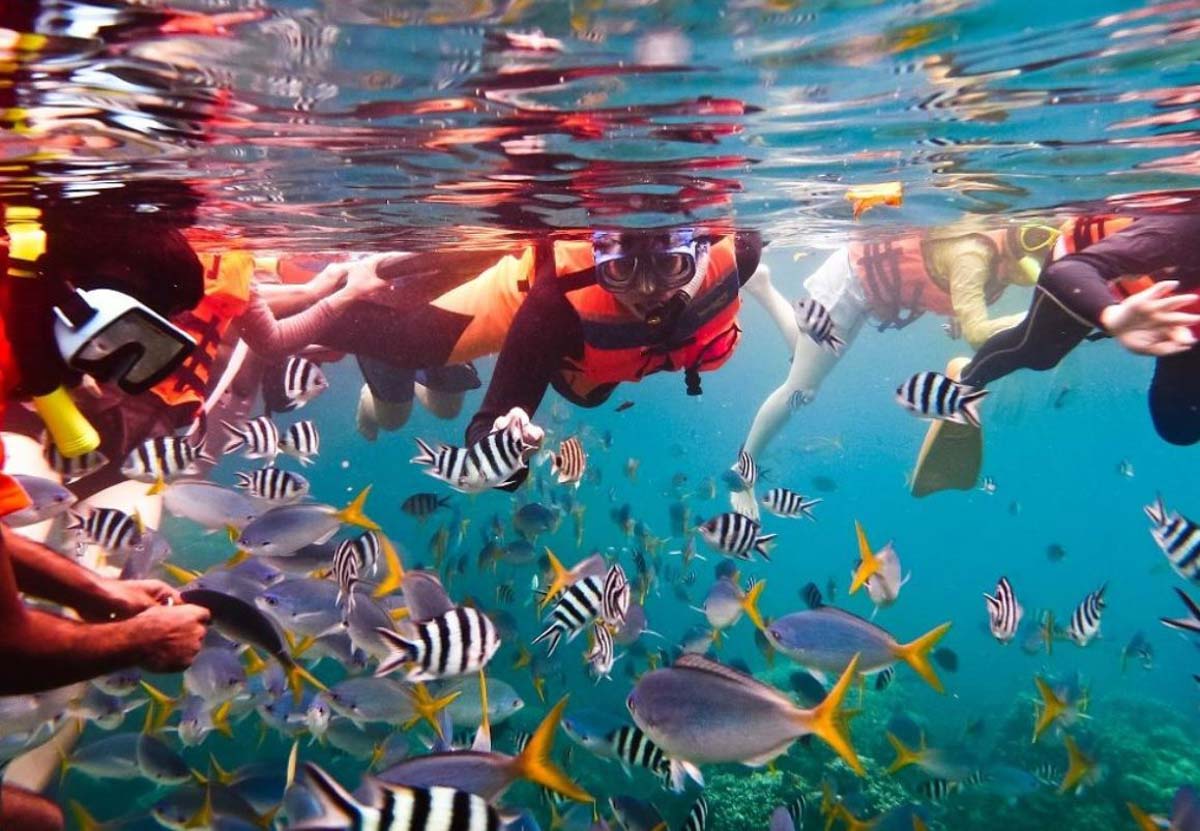 Credit: KKday
Skin-diving a.k.a snorkeling is one of nature's best outdoor activities — low-effort and great for beginners (even non-swimmers are welcome!), but extremely rewarding with its diverse marine scene.
One of the best places to skin-dive is Houbihu, Kenting's coral reef lagoon that's crystal-clear and beautiful through the year. Admire the pretty white beach as you submerge in emerald waters to see scores of colourful reef fish and corals.
Mind-Blowing Sights
12) Hike Elephant Mountain for a Bird's Eye View of Taipei City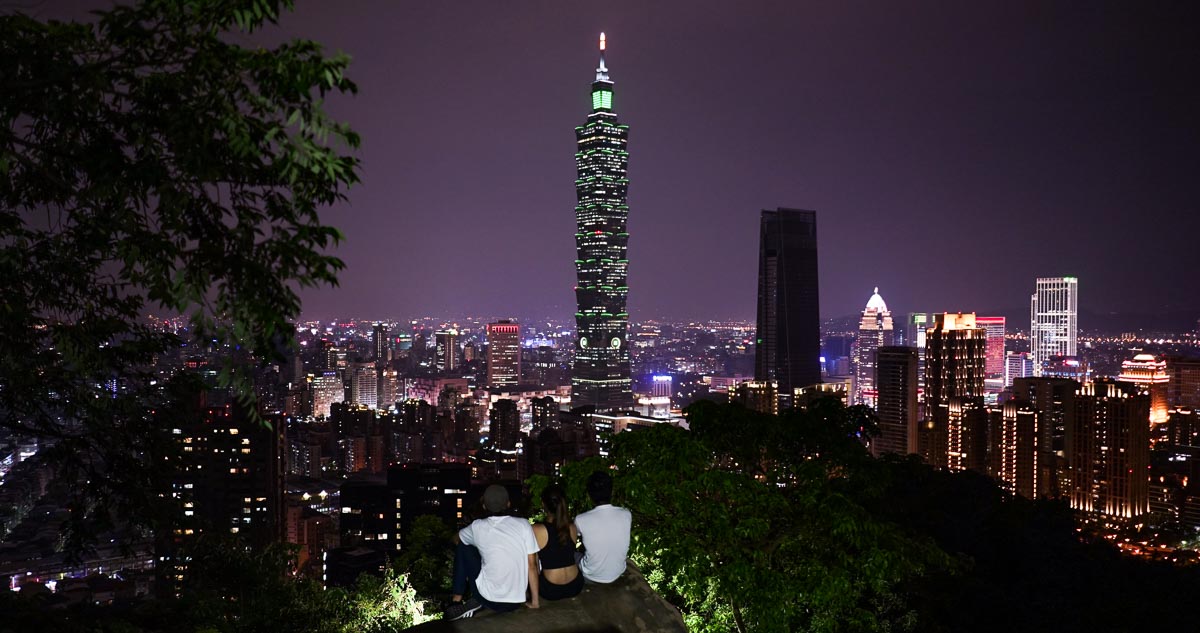 If you've been to Taipei before, you've probably ticked off the basic tourist must-do: a trip to the top of Taipei 101. For those seeking something unique, however, here's one better: free views of Taipei 101 and the entire city skyline, with exercise to boot!
Take the trail up Elephant Mountain — a 20-minute hike with rest stops and viewpoints along the way.
Go at sunset to watch the views change from daytime Taipei to a dazzling array of lights. Bonus: Taipei 101 lights up in the seven colours of the rainbow for each different day of the week!
Entrance Fee: Free
Opening Hours: NA
How to get there: Take the MRT to Xiangshan, walk out via Exit 2, and follow the signs to the trail
*Pro-tip: Bring your own water as there are no shops along the trail.
13) Spot Dolphins around Turtle Island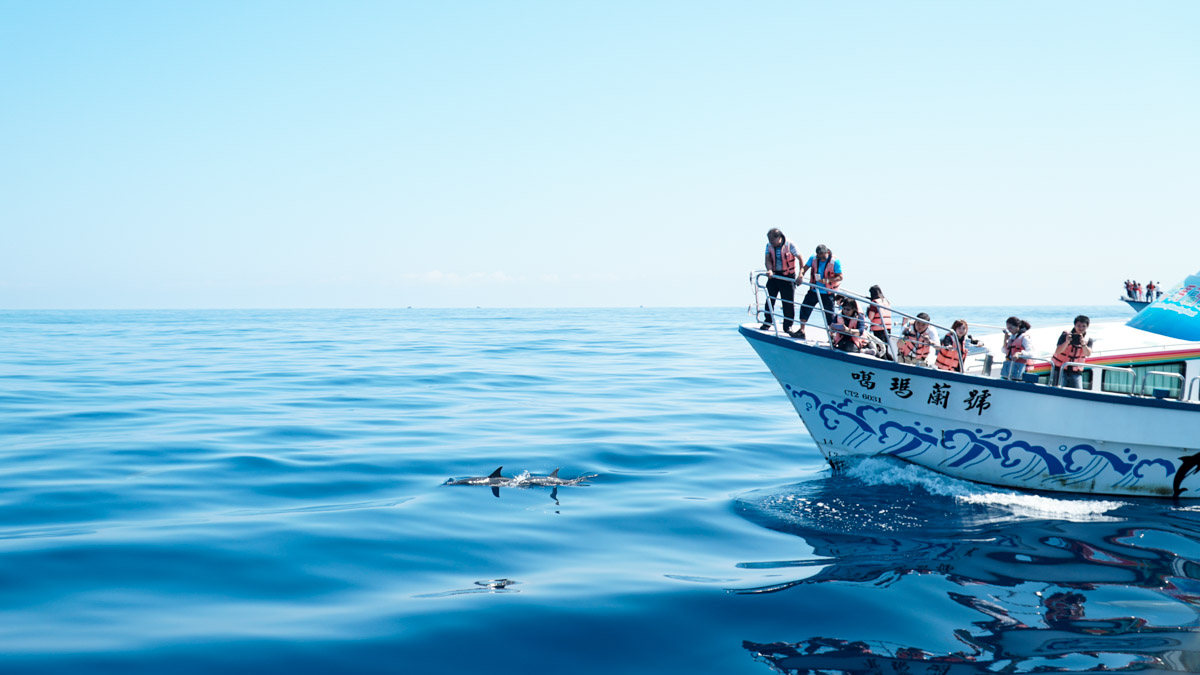 Before going any further, I'll let this picture speak for itself: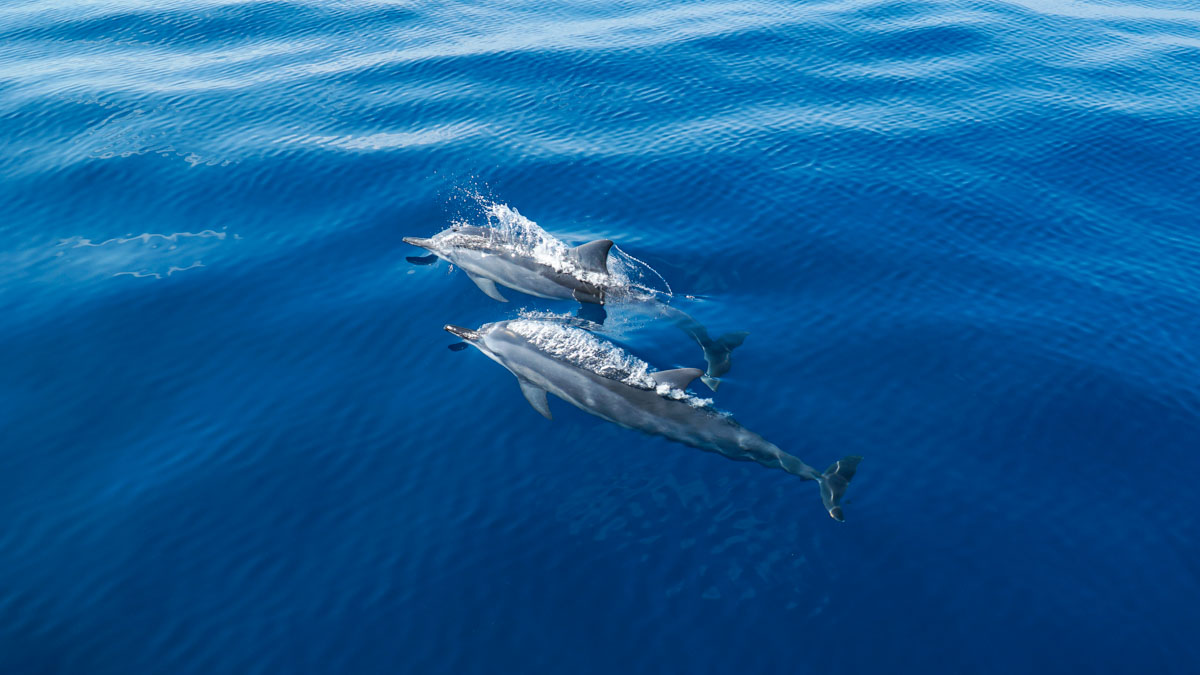 Is this the real life? Is this just finn-tasy?
On the Turtle Island & Dolphin Watching Tour, you'll see one of the coolest sights ever: wild dolphins in clear, sparkling waters, swimming insanely close to your boat. If you're lucky, you'll even spot whales during the warmer months!
Before dolphin-watching, you'll also get to explore the mystical Turtle Island on a guided walking tour. It's named for its shape (guess which animal it resembles), with a tail that supposedly curls northwards in summer and southwards in winter. Do visit from March through May if you can, as the island blooms with beautiful white lilies.
Do you see it? Source: KKday
For slightly over an hour, wander the 7,000-year-old volcanic island as the guide tells interesting stories in Hokkien and Mandarin. It's interesting to see remnants of history, like the island's only primary school, which was vacated and transformed into a military base until as recently as 2000.
The tour is more than worth the price for the dolphin-watching alone, so be sure to book a tour when it's available during March through November.
Day Tour from Yilan, Toucheng: Turtle Island Whale Watching Tour
Cost: S$58/pax (excluding on-site island cleaning fee of NT$100/pax, ~S$4.48)
Address: Wushih Harbour, No. 15-30, Gangkou Rd., Toucheng Township, Yilan County
How to get there: Take the train to Toucheng Station followed by a 25-minute walk, or get a taxi from the station
Duration: 3.5 – 4 hours
14) Admire the Famous Taroko Gorge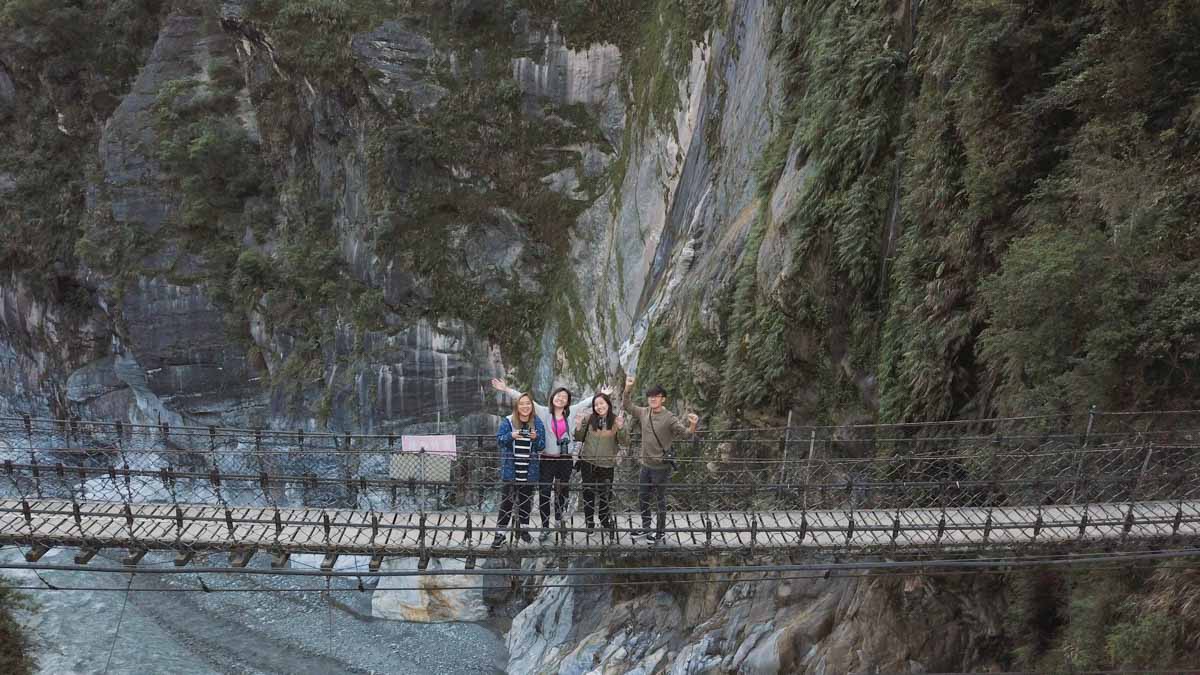 If there's one thing to put on your Taiwan bucket list, it's this. Also known as the Taiwanese Grand Canyon, the gorge is so breathtaking that its native Truku tribe named it 'Taroko', meaning 'magnificent and splendid' in their language.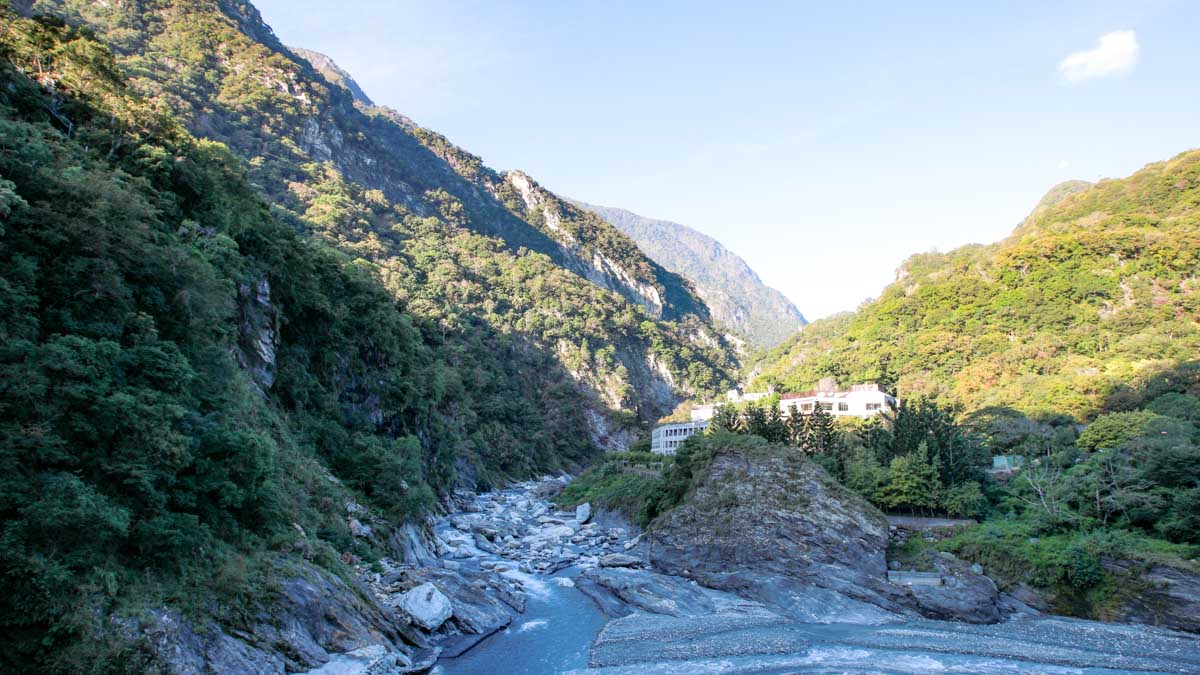 Gorge-ous.
It's one of the biggest and most breathtaking canyons in the world, with over 20km of vertical cliffs, some towering over 1000m. Fun fact: at 920 km², Taroko Gorge is even bigger than Singapore (721.5 km²)!
If you're only there for the day, the best way to get around is by scooter or driving to the top sights, including the Eternal Spring Shrine and Cimu Bridge. Otherwise, spend a day or two hiking around the area for views like no other!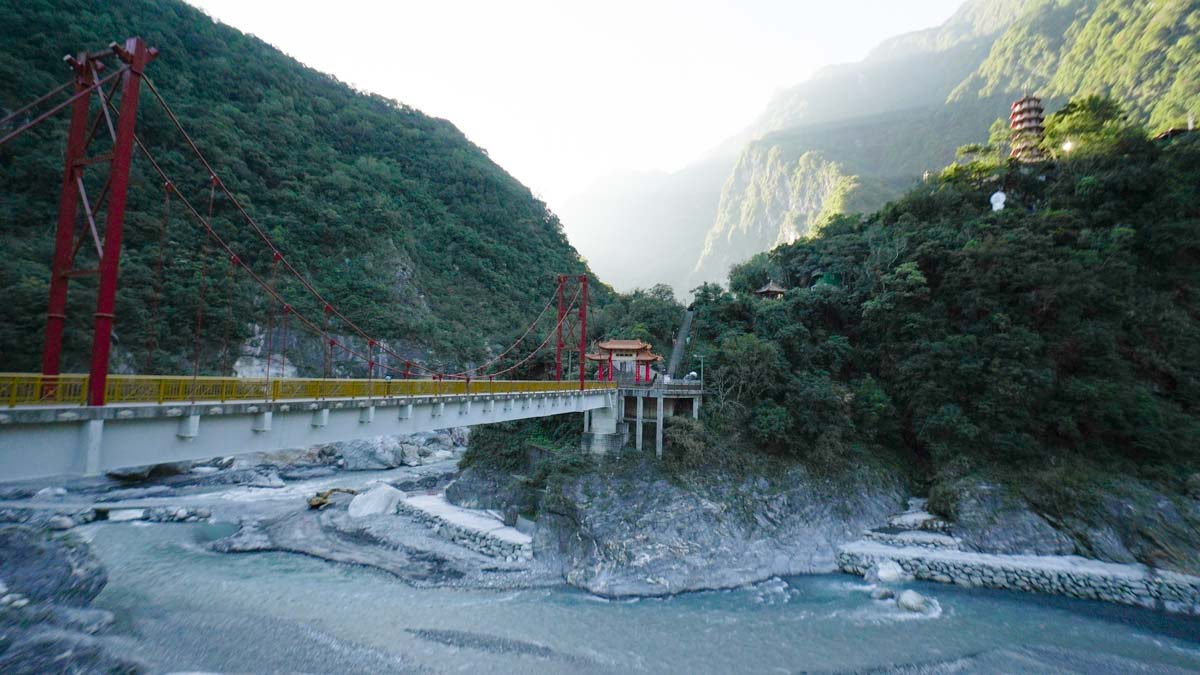 Entrance Fee: Free
Opening Hours: NA
How to get there: From Hualien Station, take a 30 – 40 minute car or scooter ride. Alternatively, take a 10-minute ride from Xincheng Station
15) Enter the Dragon and Tiger Pagodas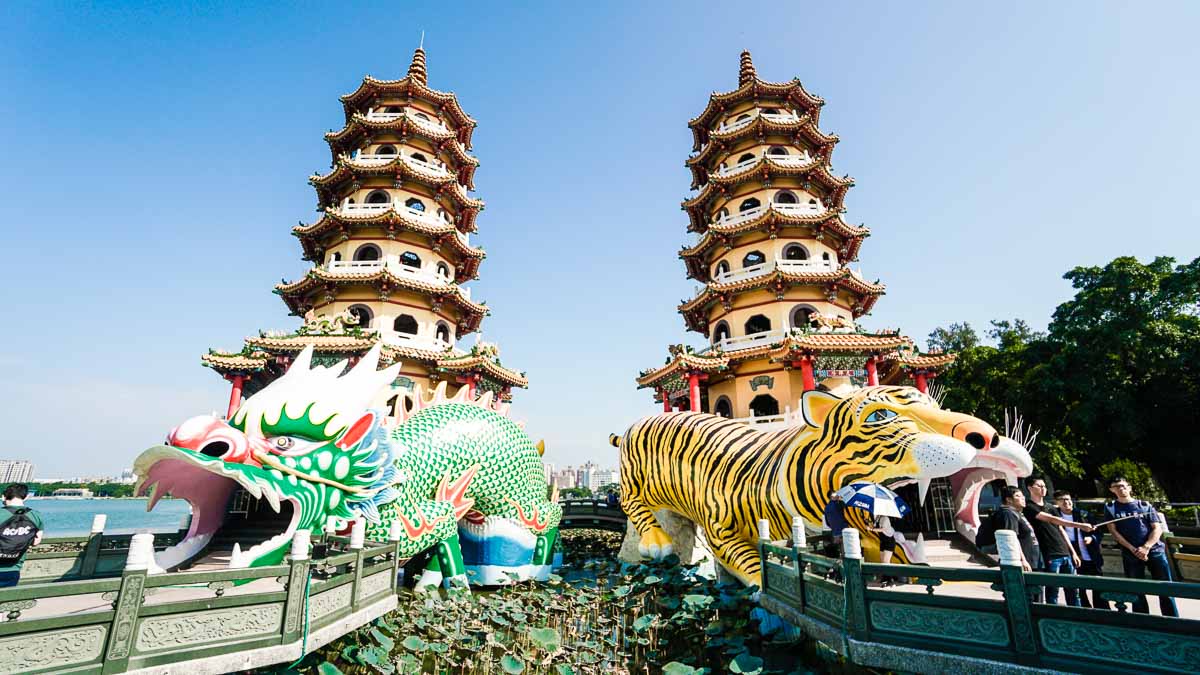 The surreal Dragon and Tiger Pagodas offer an experience like no other. For good luck, walk through the dragon's mouth and exit via the tiger's.
Inside each pagoda, you'll find interesting artwork, graphically depicting traditional stories of heaven and hell.
Entrance Fee: Free-will donation basis
Opening Hours: 8AM – 5PM daily
Address: Liantan Rd., Zuoying Dist., Kaohsiung, Taiwan
How to get there: Take the MRT to Ecological Park Station, and walk for around 20 minutes. Alternatively, take Red Bus 35 from Zuoying High Speed Train Station
16) Stand Under the Dome of Light at Formosa Station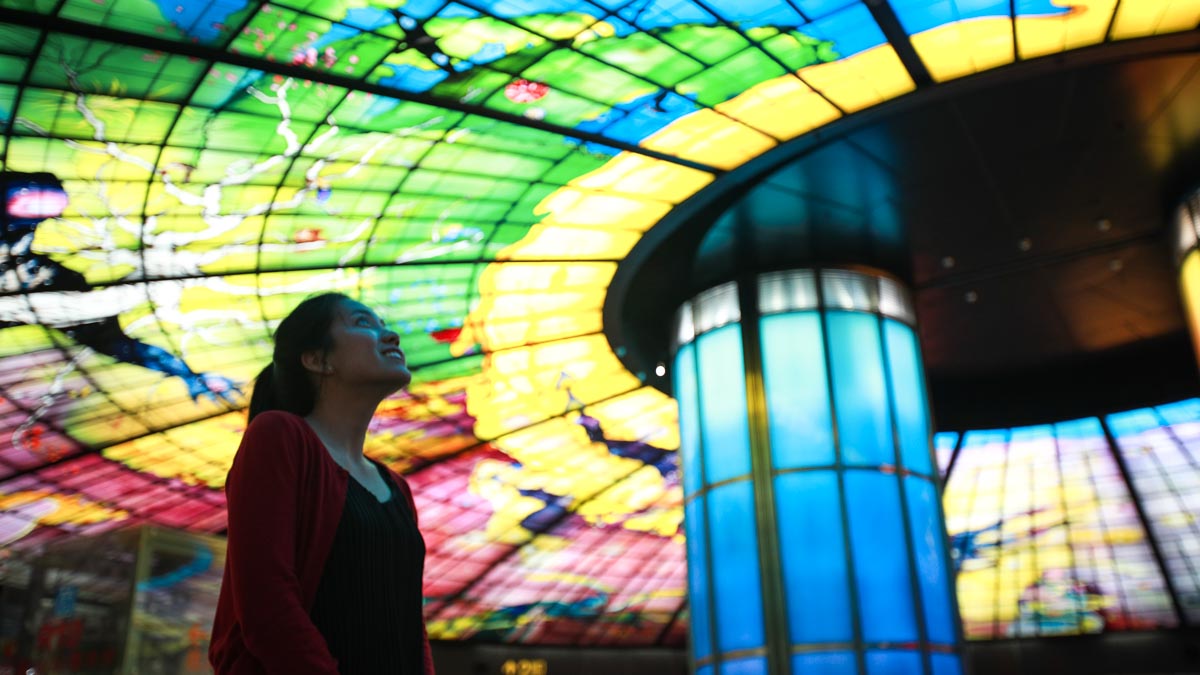 In Taiwan, riding the metro is its own culture complete with souvenirs, anime mascots, and commemorative stamps.
There's also the Dome of Light at Formosa MRT Station, the largest glass artwork in the world created by esteemed Italian artist Narcissus Quagliata. The stunning rainbow kaleidoscope depicts the human life cycle — with Water: The Womb of Life, Earth: Prosperity and Growth, Light: The Creative Spirit, and lastly, Fire: Destruction and Rebirth.
There are also short light shows at 11AM, 3PM, and 8PM daily.
Cost: Free (within public premises of train station)
Show times: 11AM, 3PM, and 8PM daily
Address: Formosa MRT Station, Kaohsiung, Taiwan
17) Sleep in Your Very Own Art Installation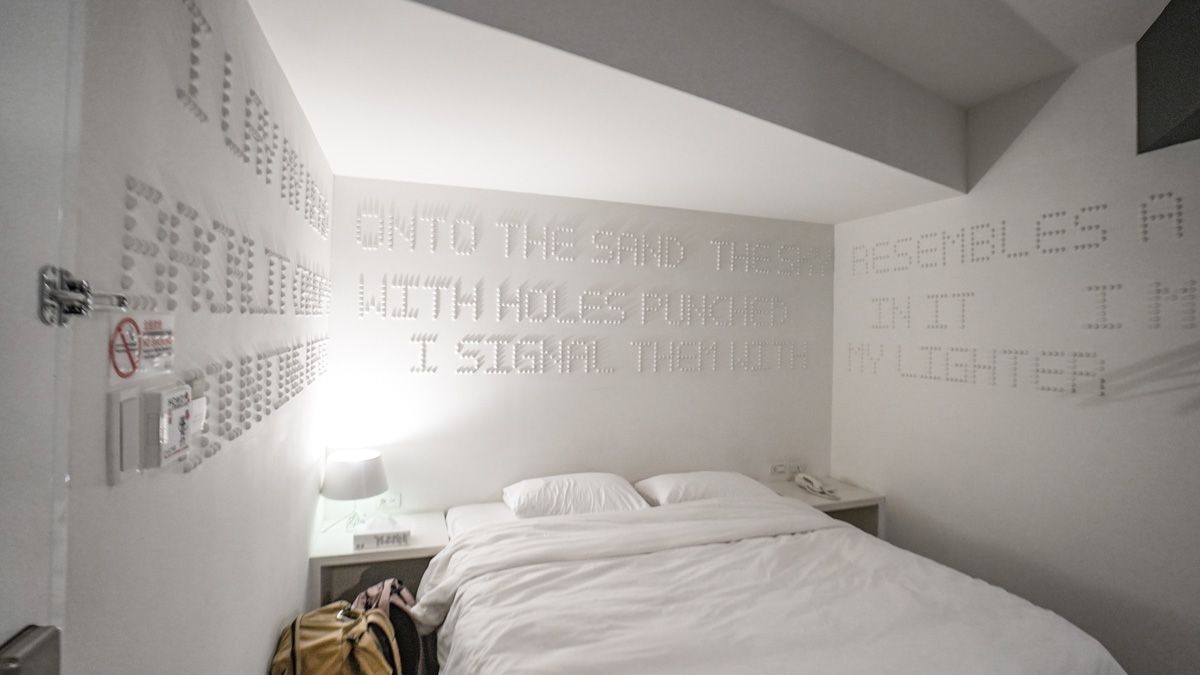 The boutique Icon Hotel in Kaohsiung promises a different experience each time. Every room comes with a unique theme and style, ranging from the artistic to the truly wacky.
We tried two of the rooms — one which felt like we had stepped into a comic book, and the other with huge braille-like messages running over the walls and ceiling.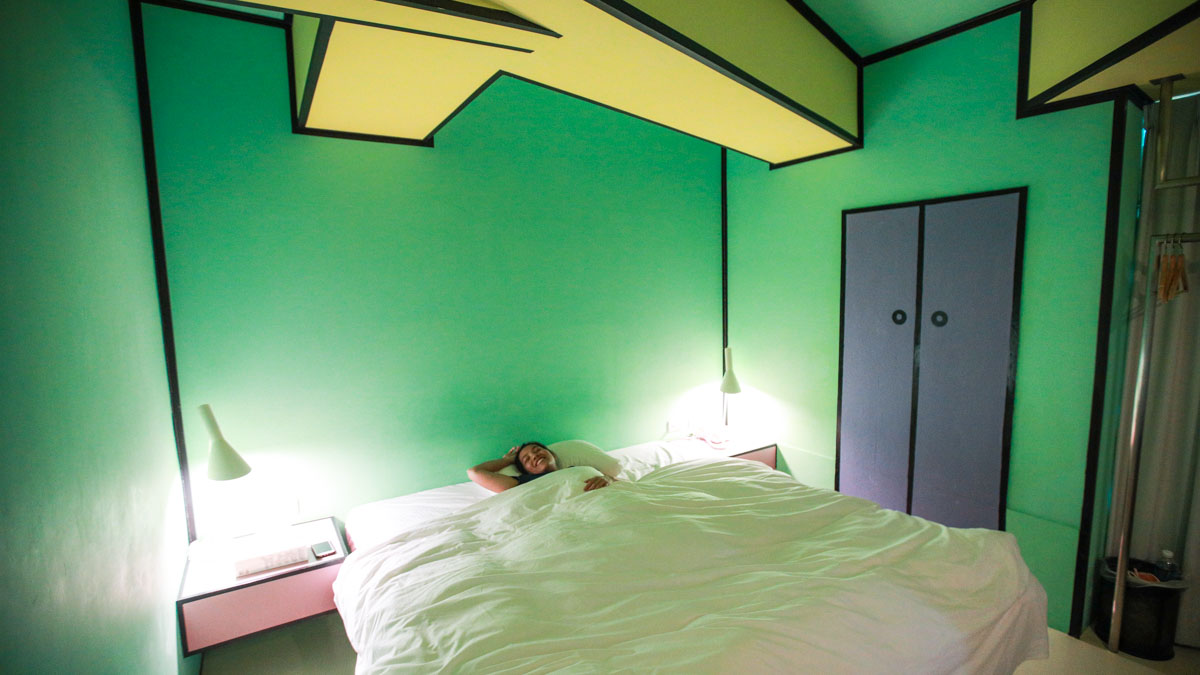 The stay also comes with a hearty breakfast of fruit, french toast, salad, and sausage.
Cost: From S$62/night
Address: No. 328號, Minsheng 1st Road, Xinxing District, Kaohsiung City, Taiwan 800
18) Catch One of the Most Beautiful Sunsets in the World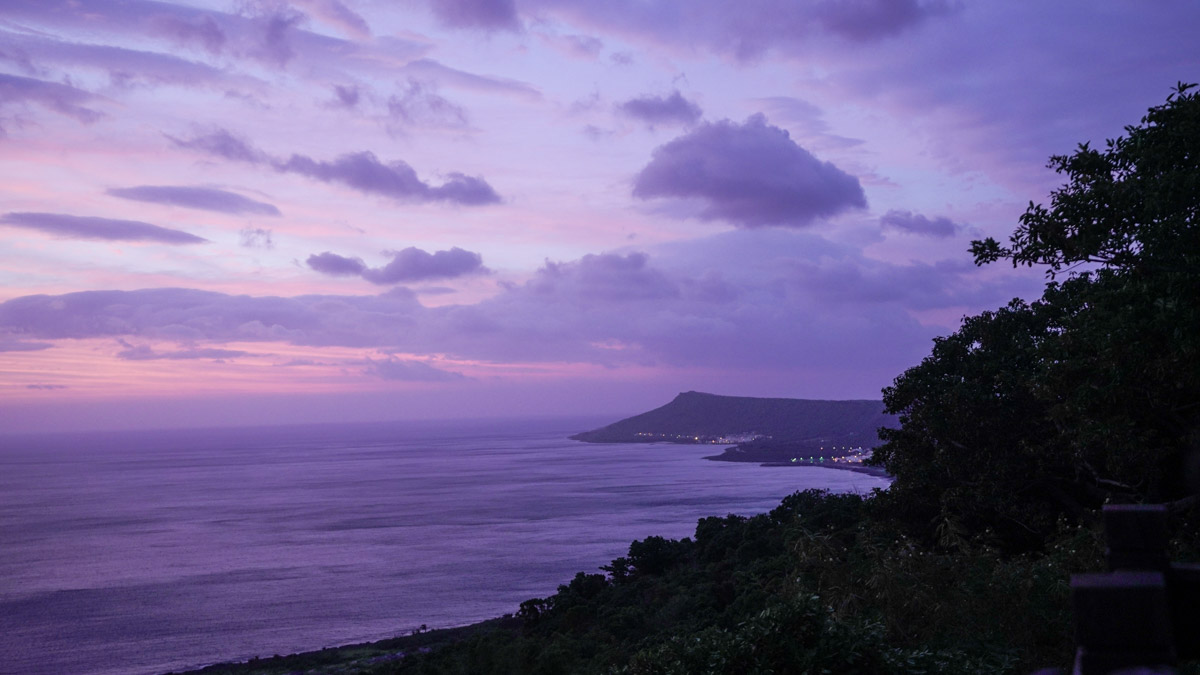 Guanshan Sunset Lookout Point
Nestled in Kenting National Park, Guanshan hill looks unassuming in the daytime. Come sunset however, the sky grows ablaze with light and colour, transforming from hues of brilliant orange to spectacular purples and pinks.
It's a daily sight which has earned Guanshan a spot on CNN's 12 Superb Sunset Spots Around The World, offering unobstructed views of the Hengchun Peninsula, fishing villages, and the stunning coast of Kenting National Park's South Bay.
This is a definite must-go — still the only time I've ever seen a purple sunset, and hands-down the prettiest!
Entrance Fee: NT$60/pax (~S$2.69)
Address: No. 17-1, Binlang Road, Hengchun Township, Pingtung County, Taiwan 946
*Pro-tip: Guanshan's sunset is stunning year round, but locals say it's especially impressive in the months of June to October.
19) Gaze at Fo Guang Shan's Big Buddha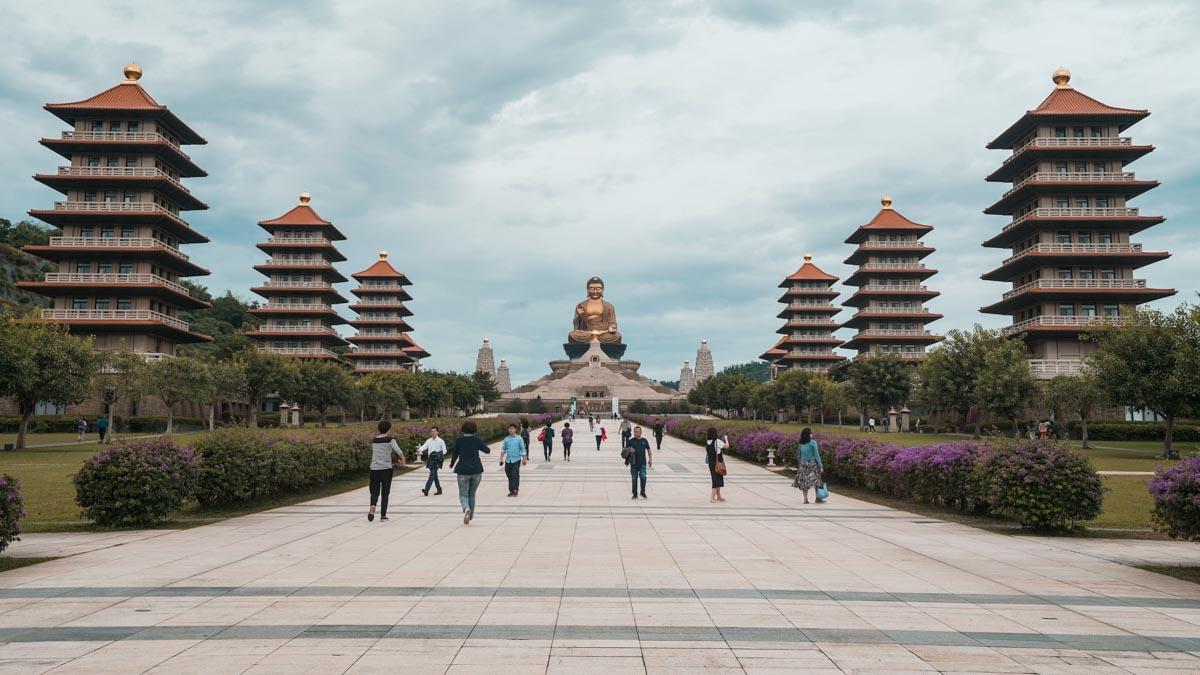 Fo Guang Shan Buddha Museum, Taiwan's largest Buddhist compound is truly a sight to behold, with 480 golden Buddha statues, including an awesome seated Buddha at a towering 108m-high.
Even if you're not Buddhist, it's a great place to spend a day learning about its charming founder, Master Hsingyun, and his philosophy of Humanistic Buddhism, which encourages people to spread love and peace in this life.
There's also an impressive (and free) 15-minute movie about the life of Sakyamuni Buddha. Trust me, it's more entertaining than it sounds — plus it's in 4D!
Entrance Fee: Free
Opening Hours: 9AM – 7PM (Closed on Tuesdays). 'Life of the Buddha' show timings every half-an-hour from 10AM to 12:30PM
Address: No. 1, Tongling Road, Dashu District, Kaohsiung City, Taiwan 84049
How to get there: Driving from Kaohsiung city to Fo Guang Shan takes about 20 minutes. The Harvard Express Bus (NT$70/pax) that shuttles to-fro Kaohsiung HSR station and Fo Guang Shan takes 45 mins. We recommend taxis, which make the same trip at half the time for NT$100/pax. You may contact Mr. Huang at +886933307574 for taxi services around Kaohsiung and Fo Guang Shan
Crazy Food & Drink
20) Eat out of a Toilet Bowl at Modern Toilet Restaurant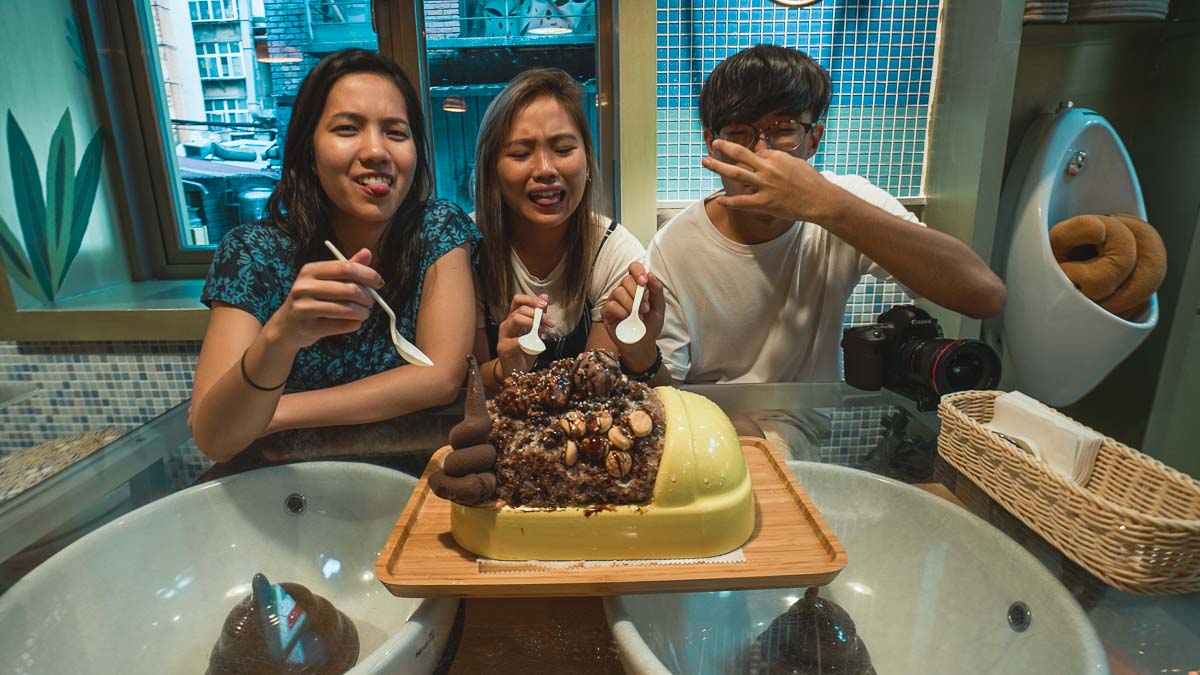 If you thought smelly tofu was bad, you haven't tried sloppy turd-shaped meatballs. The second you step into Taipei's Modern Toilet Restaurant, you'll be graphically reminded of where (and how) your food is going to end up. The self-described 'scatological fantasyland' serves alarmingly realistic dishes that are honestly pretty disgusting.
Sat comfortably on our toilet bowl seats, we feasted on Modern Toilet Poop Meatballs (NT$260, ~S$11.64) and Toilet No.2 (NT$160, ~S$7.16), an overflowing diarrhoea-mess of ice shavings, soft-serve, jelly, and biscuits — all in a shitty shade of poo-brown.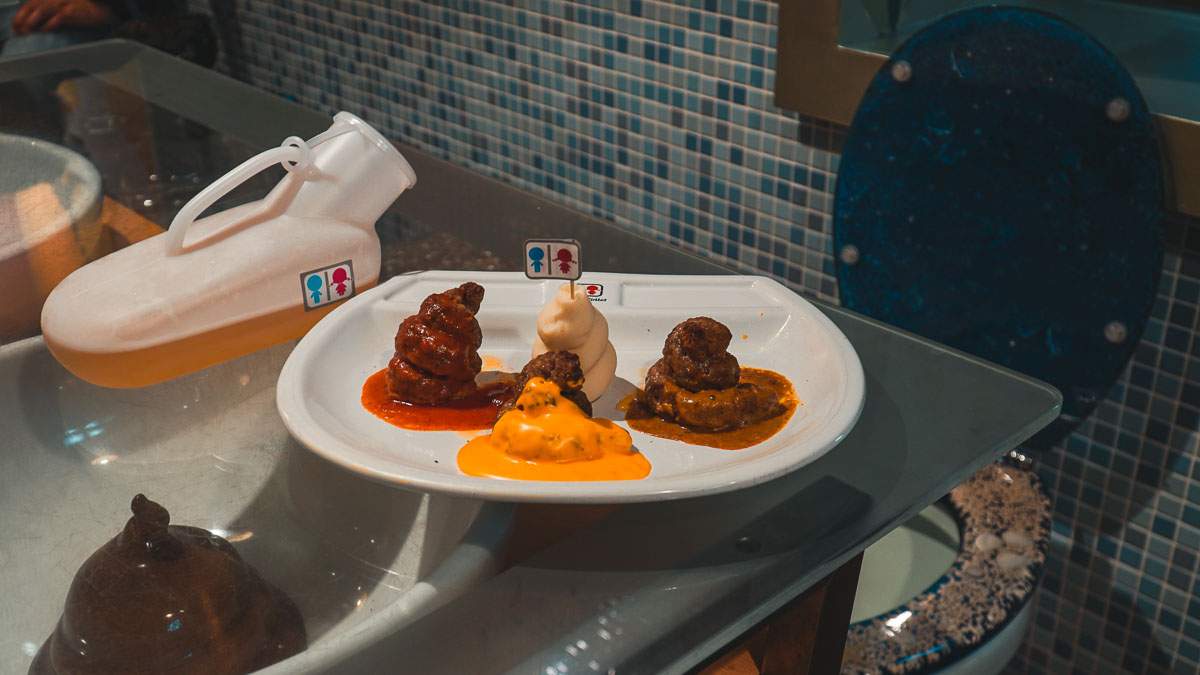 Even the drinks are gross. Our Bleeding Hemorrhoid Strawberry Milk and Taiwanese Urine Beer (NT$200, ~S$8.91 each) came in a medical urine collection container, with a urinal option also available.
Cost: Mains from NT$260 (~S$11.58), and drinks from NT$110 (~S$4.90)
Opening Hours: 11:30AM – 10PM (Mon – Thu); 11:30AM – 10:30PM (Fri); 11AM – 10:30PM (Sat); 11AM – 10PM (Sun). Last order one hour before closing
Address (Taipei Ximending Outlet): 2F, No 7, Ln 50, Xining S. Rd., Taipei City
21) Have Meals with Wheels at the Crazy Cart Café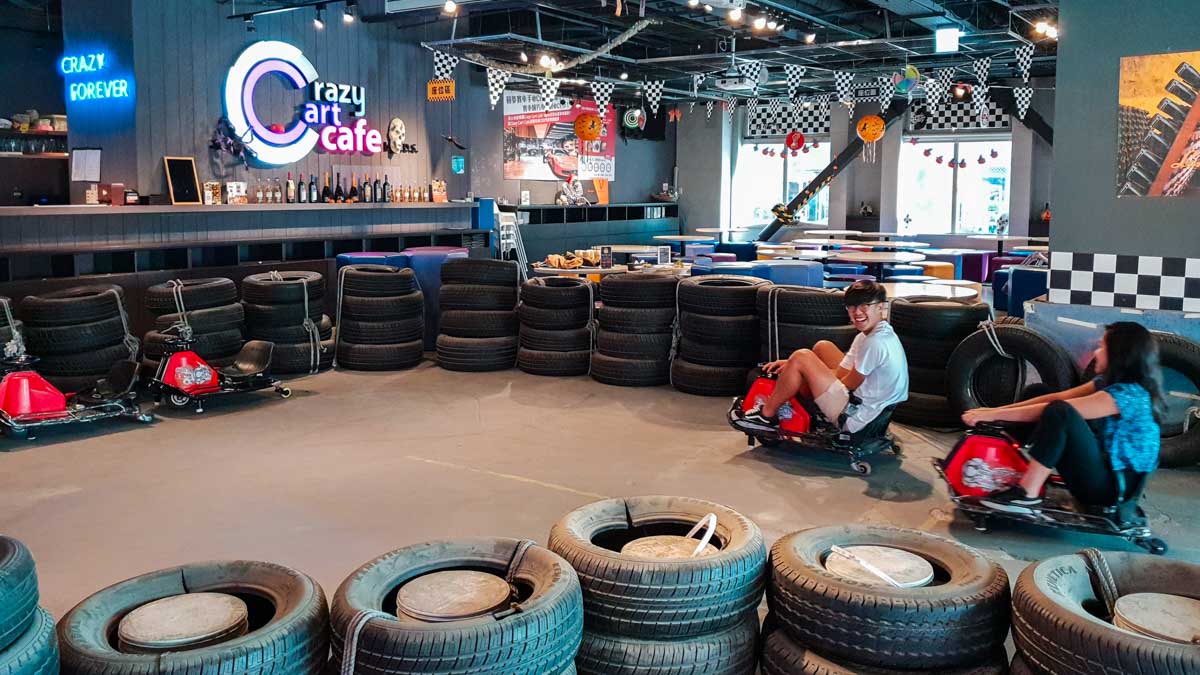 At Crazy Cart Café, whiz around after feasting on classic café fare. The tracks start indoors and wind outside the building, and are complete with looping platforms and steep slopes. Even going at 20km/h, it was pretty thrilling as we attempted to drift, and ended up spinning around uncontrollably. Way to fight off a food coma!
Cost: NT$650, ~S$28.94 (NT$500, ~S$22.27 goes toward the Go-Cart). NT$300 (~S$13.36) minimum order if not doing the go-cart
Opening Hours: 11:30AM – 2PM (Tue, Sat, Sun); 12PM – 2:30PM, 3PM – 5:30PM and 6PM – 8:30PM (Wed – Fri). Closed on Mondays
Address: No. 300, Yangguang Street, Neihu District, Taipei City, Taiwan 114
22) Grab a Cuppa at the Highest Starbucks in the World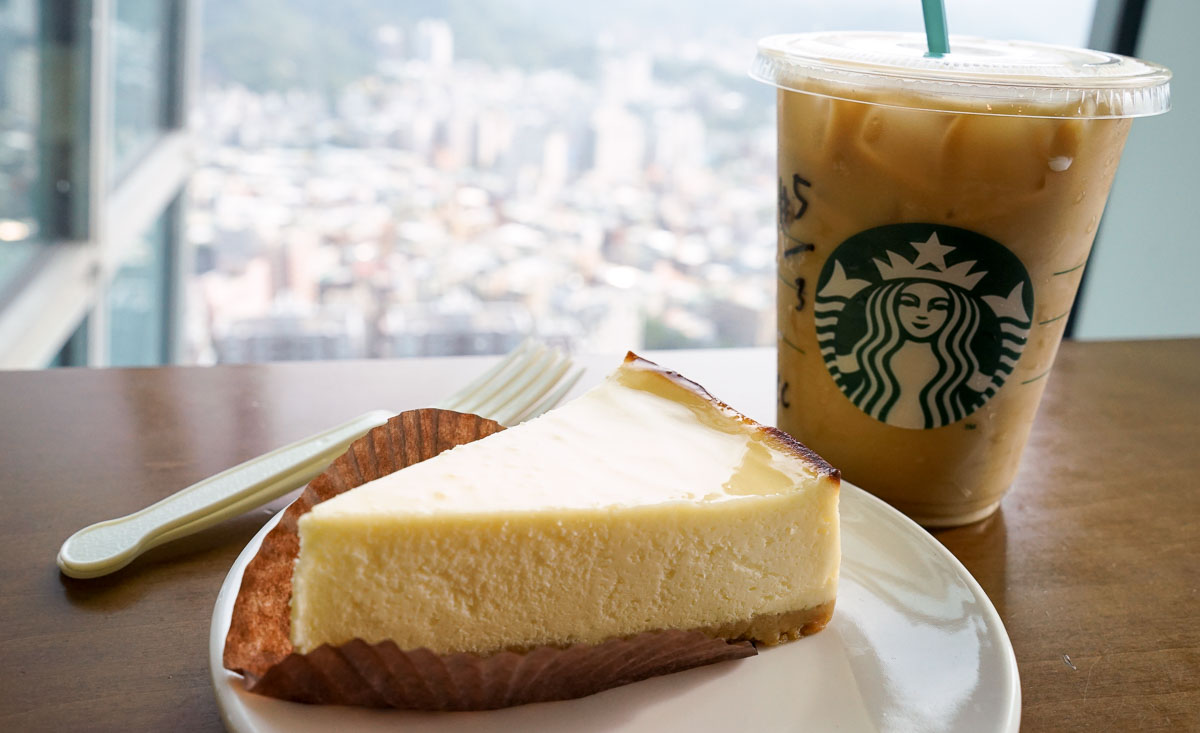 Level up your caffeine buzz with a cuppa at Taipei 101's Starbucks — the highest in the world!
Once a well-kept secret, this scenic Starbucks is now a hit amongst locals and tourists alike, so you'll need to make a reservation at least a day in advance (by phone +886 2 8101 0701). Like an exclusive club, this Starbucks also comes with its own set of rules, including a minimum spend per customer, a 90-minute time limit, and a strict dress code of no slippers or shorts.
Located on Level 35 of Taipei 101, it's a cheaper way to catch the view without shelling out for observatory tickets — plus, of course, bragging rights!

Cost: Minimum spend of NT$200 (~S$8.91) for at least one pastry and drink
Opening Hours: 7:30AM – 6:30PM (Mon – Fri), 9AM – 6PM (Sat – Sun)
Address: 35F., No.7, Sec. 5, Xinyi Rd., Xinyi Dist., Taipei City 110, Taiwan
How to get there: Take the MTR to Taipei 101 Station and look for Door 7
23) Munch on a Penis-Shaped Cake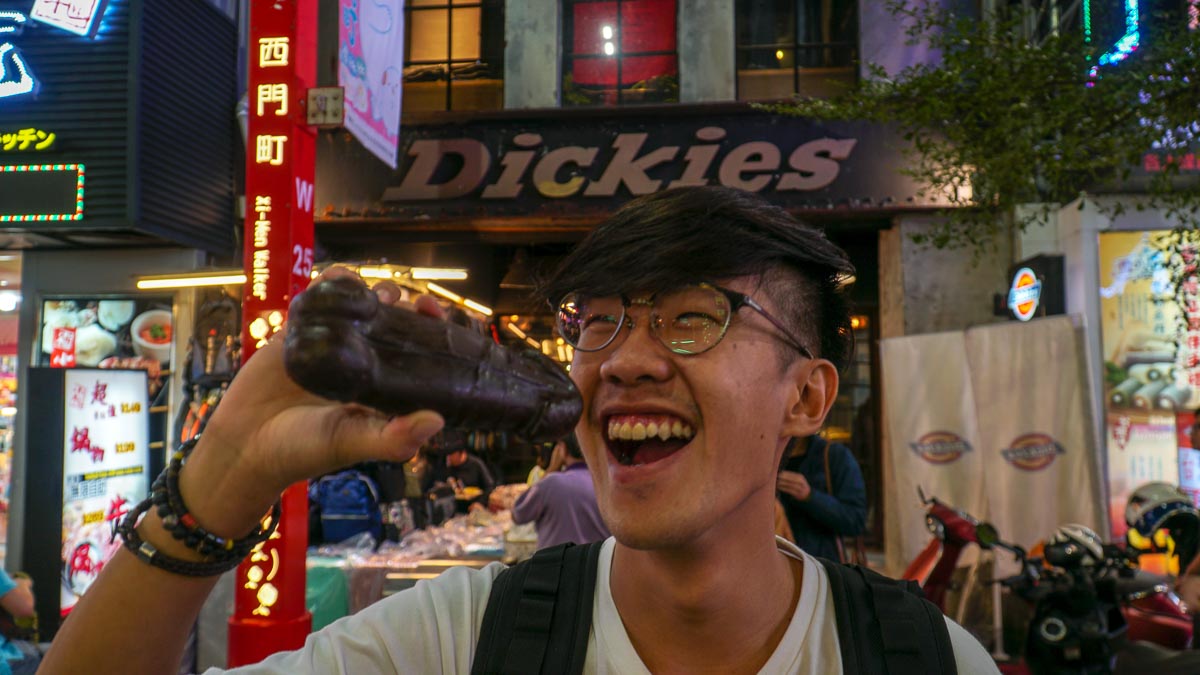 Can you really say you've visited Taiwan if you've never posed with one of these?
This icocknic Taiwanese snack comes as a pineapple cake with PG13 fillings: honey-melon, blueberry, raspberry, or sesame and peanut (NT$300, ~S$13.36 per set). Each is coated in a different colour, but there's no hiding what they're meant to resemble.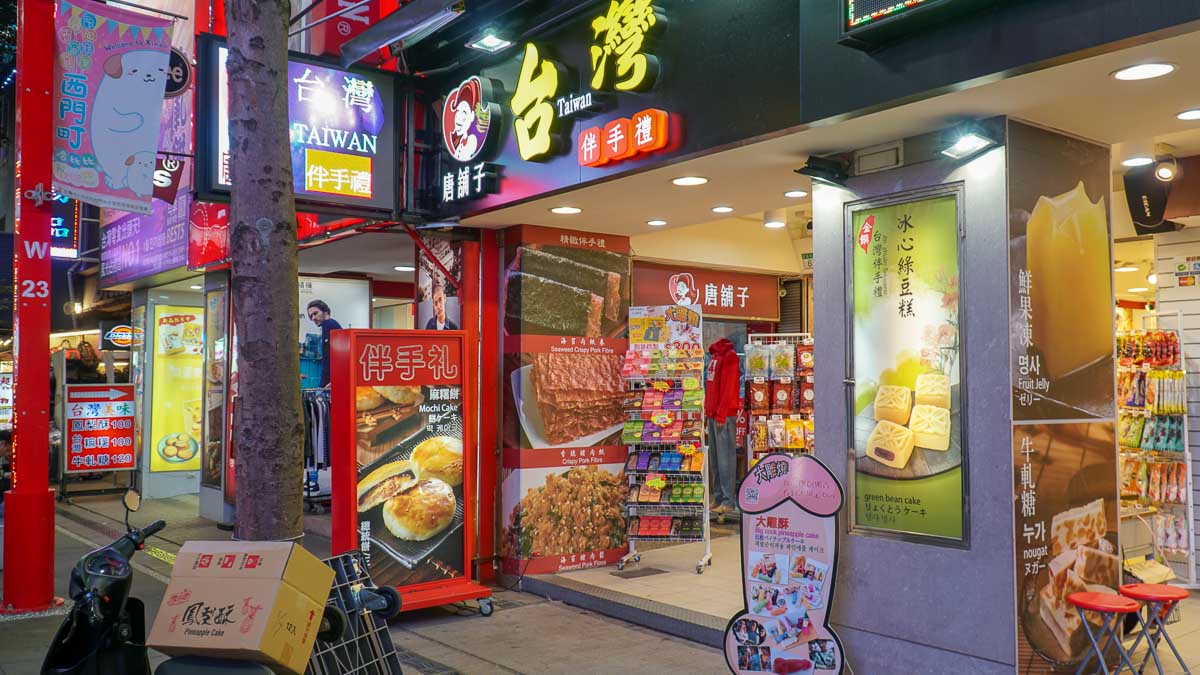 Not the usual Taiwanese sausage
If you're big on realism, there's also a chocolate cake version packed with chocolate filling (NT$320, ~S$14.25) in a skin-tone shade of brown!
Cost: from NT$300 (~S$13.36) for two pieces
Opening Hours: 10AM – 12AM
How to get there: Walk along Ximending Street — the shop is opposite the huge MASA claw machine arcade.
24) Omakase at Four-Generation Farmer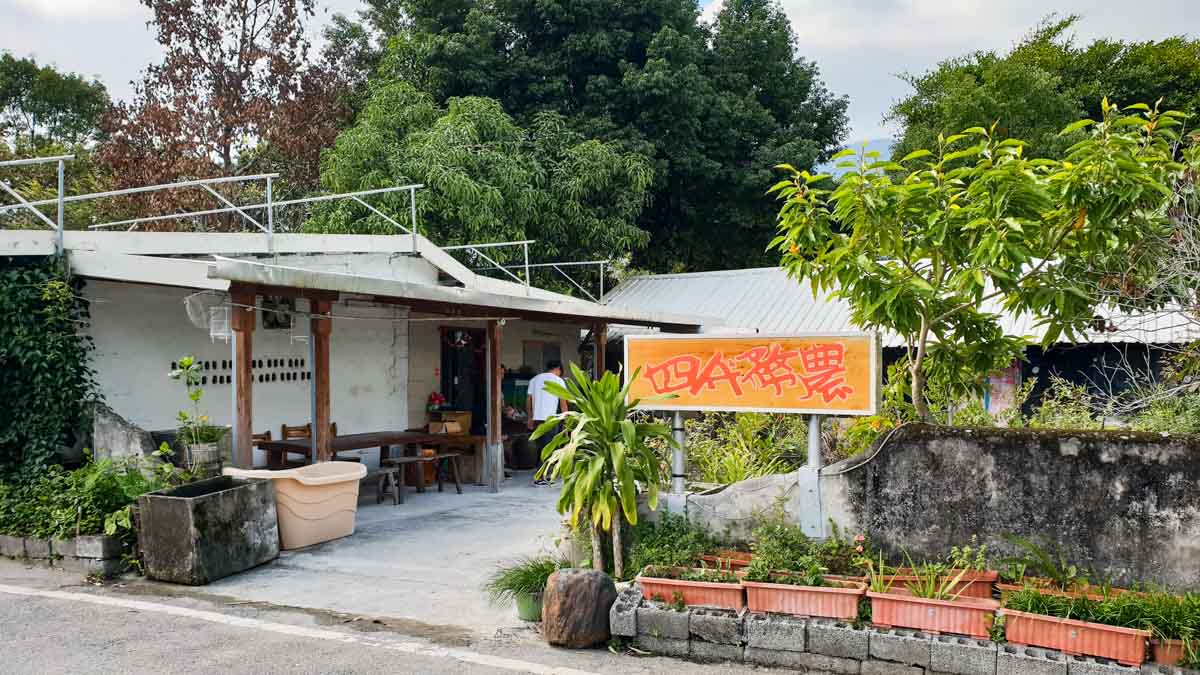 If you've ever visited Taiwan, you'll be familiar with their amazing hospitality. Experience this firsthand at the homely Four-Generation Farmer, an omakase-style family restaurant, tucked in the peaceful countryside of Hualien. At just NT$300/pax (~S$13.36), you'll enjoy a feast freshly prepared with whatever's in the kitchen.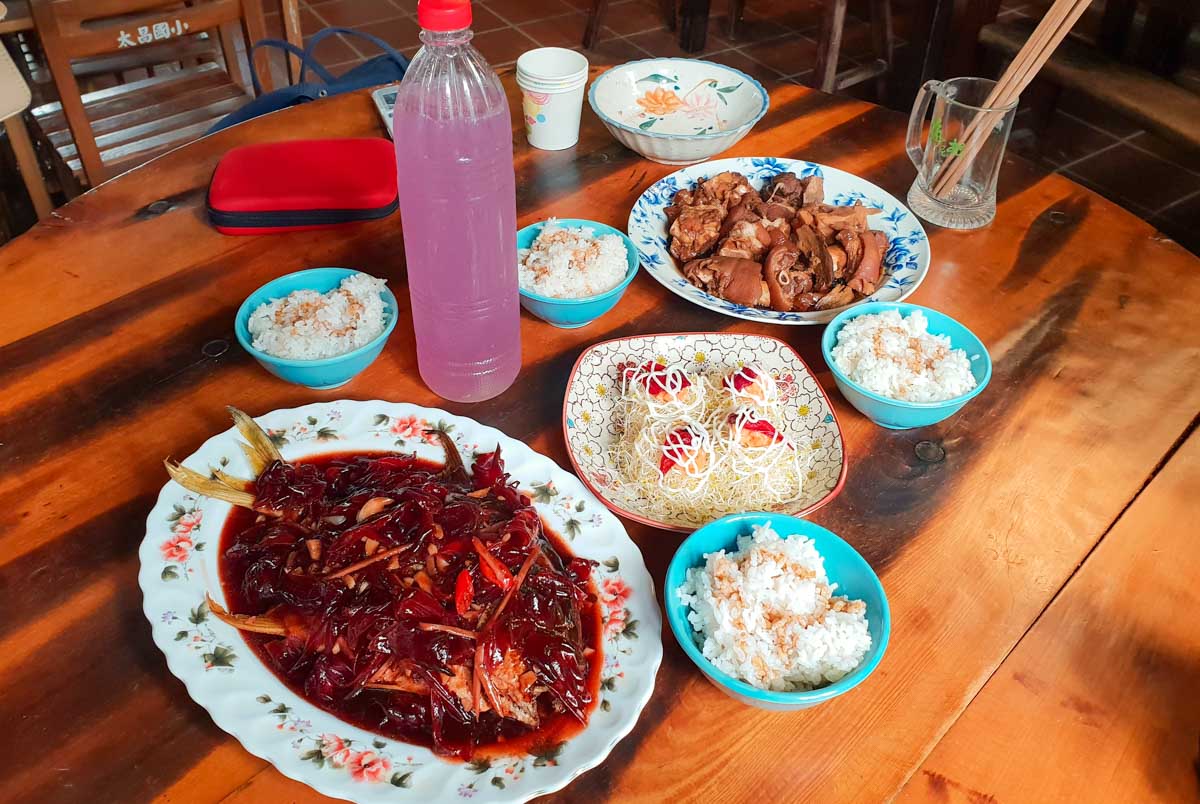 This means it's your luck what kind of dishes you get, but based on our visit there, I can safely say the quality (and quantity) of dishes surpassed way beyond my expectations. The food kept on coming: alfalfa sprout & lobster salad, fried fish with Roselle, braised pork knuckles, omelette with dried radish, long bean soup, kumquat tea, and rice. So delicious, and prepared with so much heart.
Cost: NT$300 (~S$13.36)
Opening Hours: 11AM – 2PM (Lunch), 5PM – 8PM (Dinner)
Address: No. 1, Dazhong Road, Fenglin Township, Hualien County, Taiwan 975
25) River-Shrimping in a Stream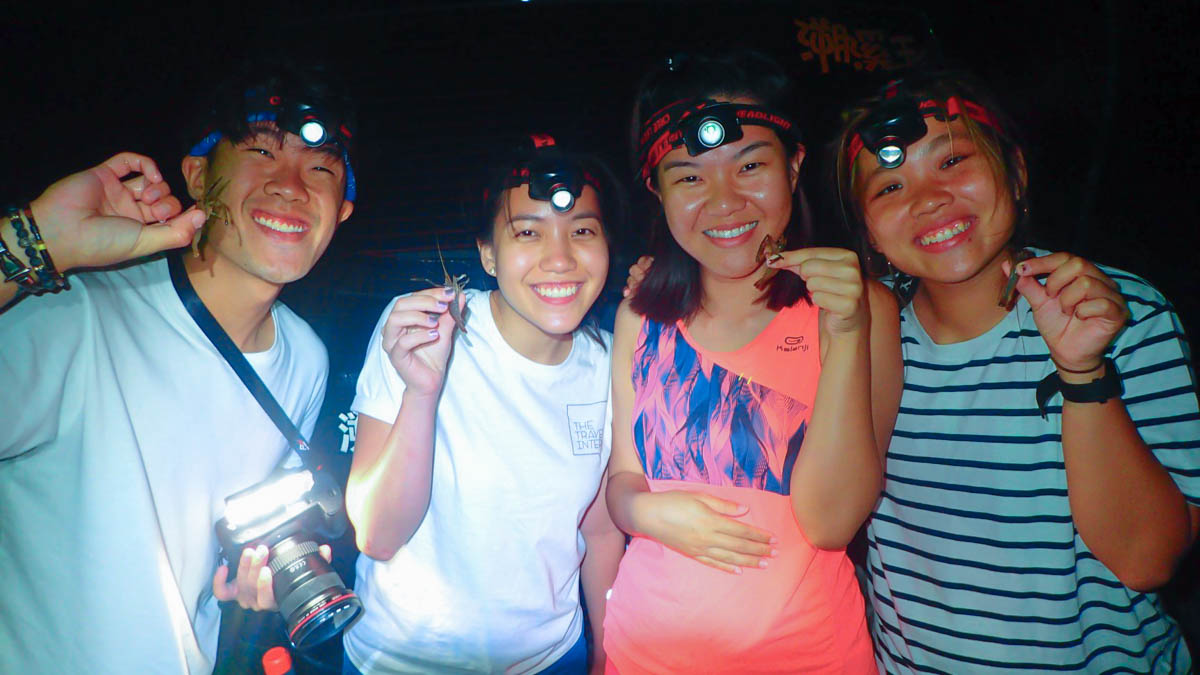 Credit: 溯溪王Riverking Facebook
When the sun has set, go wandering knees-deep in the cool stream and have a go at river-shrimping. It's an exciting experience that's not as easy as it sounds — the shrimp are extremely difficult to spot, and are quick to slip away!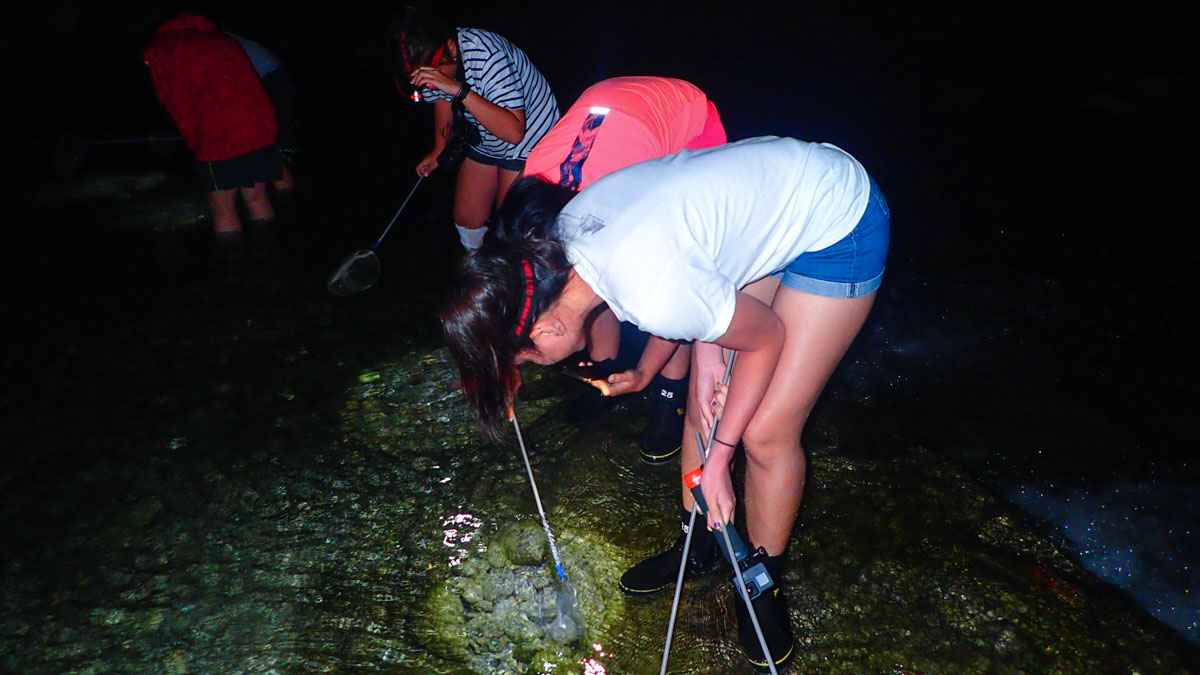 Credit: 溯溪王Riverking Facebook
Wet boots on our feet, nets in our hand, we spent a good 40 minutes trying to spot traces of bright purplish orbs (the shrimps' eyes reflecting under headlamps), getting ridiculously excited whenever we did.
At the end of the session, head back for a delicious hot meal of soup, barbecued meat, and bamboo rice. Definitely a welcome surprise, since we thought we'd only be eating our measly catch — in fact, the shrimps we caught were returned to the stream.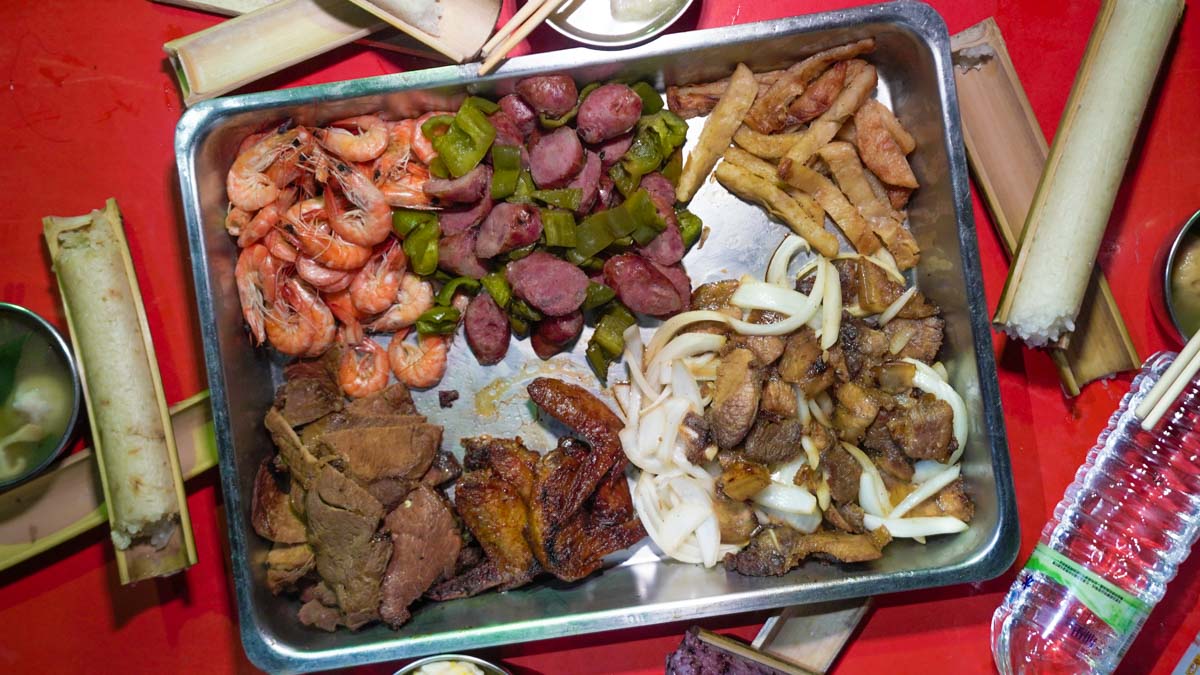 Do note: The tour is entirely in Mandarin, so do ensure you've got someone to translate if necessary!
River Shrimping with BBQ Dinner
Cost: S$38/pax
Pick-up & Drop-off: Any location in Hualien
Experience Taiwan like a Local!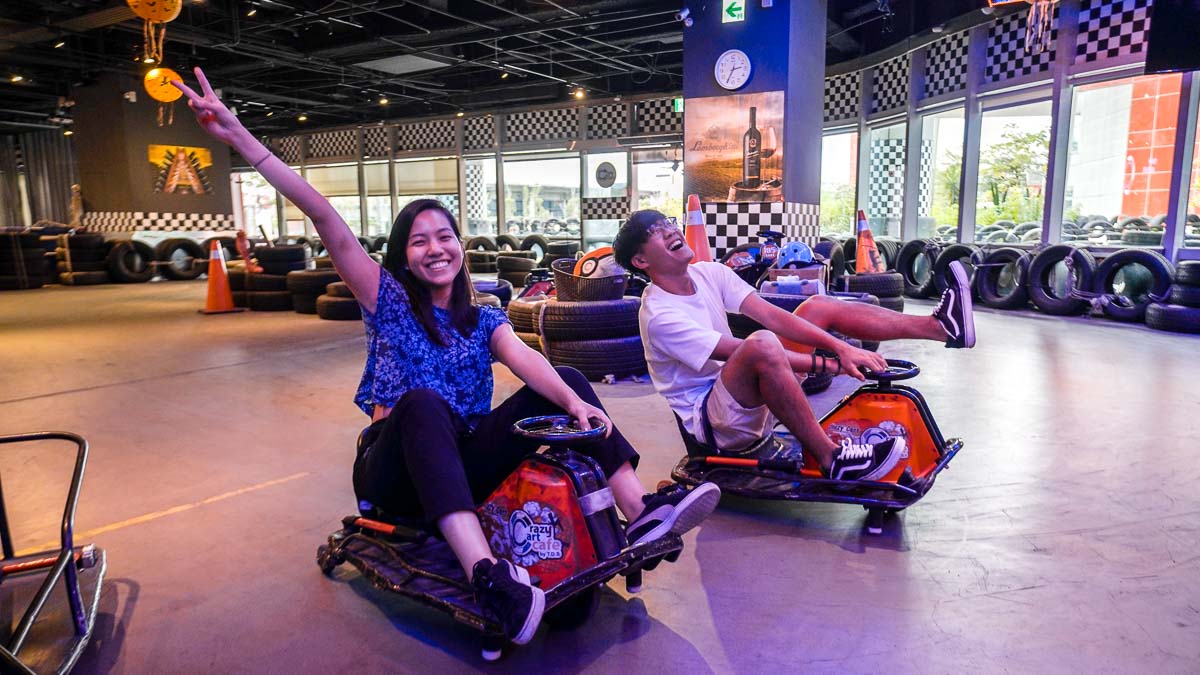 We went to Taiwan wanting to experience authentic local experiences — for that, our best choice was KKday! Based in Taiwan, KKday's on-the-ground expertise and insider's perspective means you get the best deals as you travel through Taiwan.
This is especially useful when exploring the lesser-known Eastern Taiwan, which is full of beautiful outdoor adventures, but less touristy than the popular Western side.
Here's what we got from KKday:
– Day Tour from Taipei to Yilan: S$224/tour (up to 4pax)
– Turtle Island Whale Watching Tour: S$58/pax
– Hualien River Trekking: S$38/pax
– Hualien Paragliding: S$114/pax
– Hualien River Shrimping: S$38/pax
– Kenting Skin Diving: S$14/pax
Unique Accommodation Experiences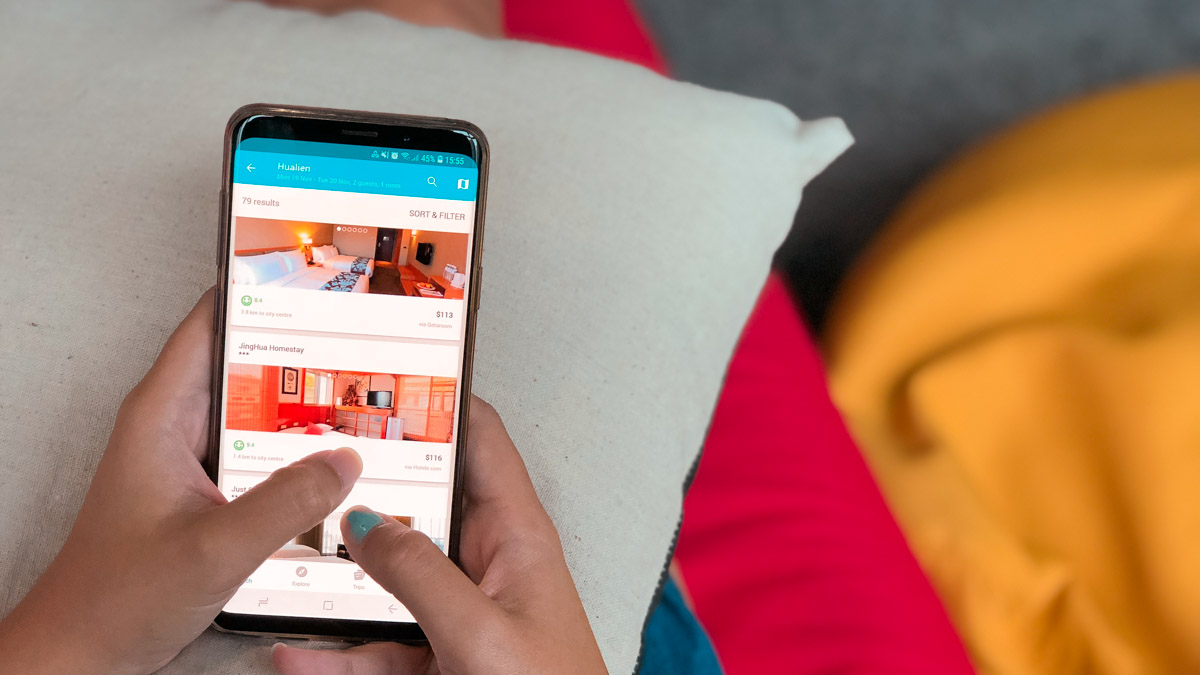 Ready to strike a pose in Insta-worthy rooms or relax in hot spring heaven? We were spoilt for choice on Skyscanner, which had tons of interesting accommodation choices.
Skyscanner was a breeze to use — super easy to find rates, room options, hotel location, and customer reviews.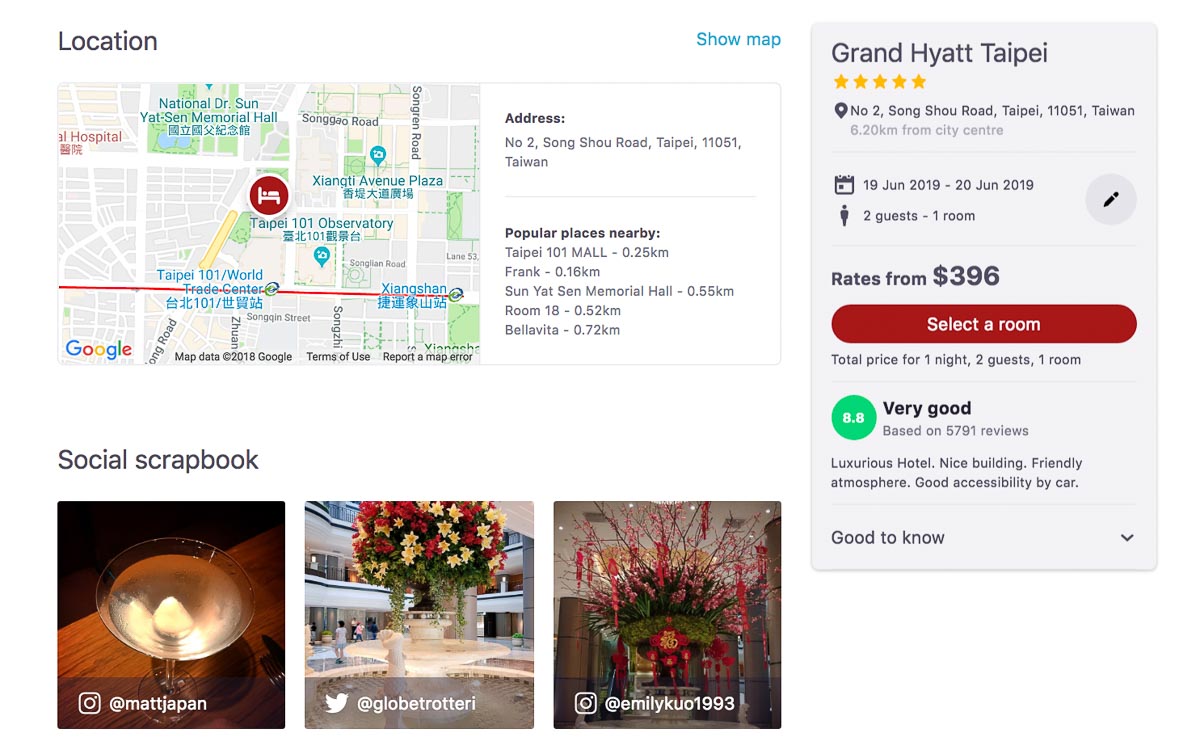 You can even see all the popular places nearby!
I also loved how Skyscanner shows the exact number of available hotels, so you can make better decisions based on your options (and avoid wasting time on hotels that don't have your dates!).
What's more, Skyscanner provides recommendations from the available hotels — based on highest number of stars, highest rating, and lowest price point — so you won't have to think too hard to find the best!
What's the craziest thing you've done in Taiwan? Let us know in the comments below!
---
This post was brought to you by KKday, Taiwan Tourism Bureau Singapore Office, and Skyscanner.
For more travel inspiration, follow us on Facebook, Instagram, and YouTube.