Check out these unique staycations in Singapore for the holidays, with deals like up to 11% upsized Cashback too!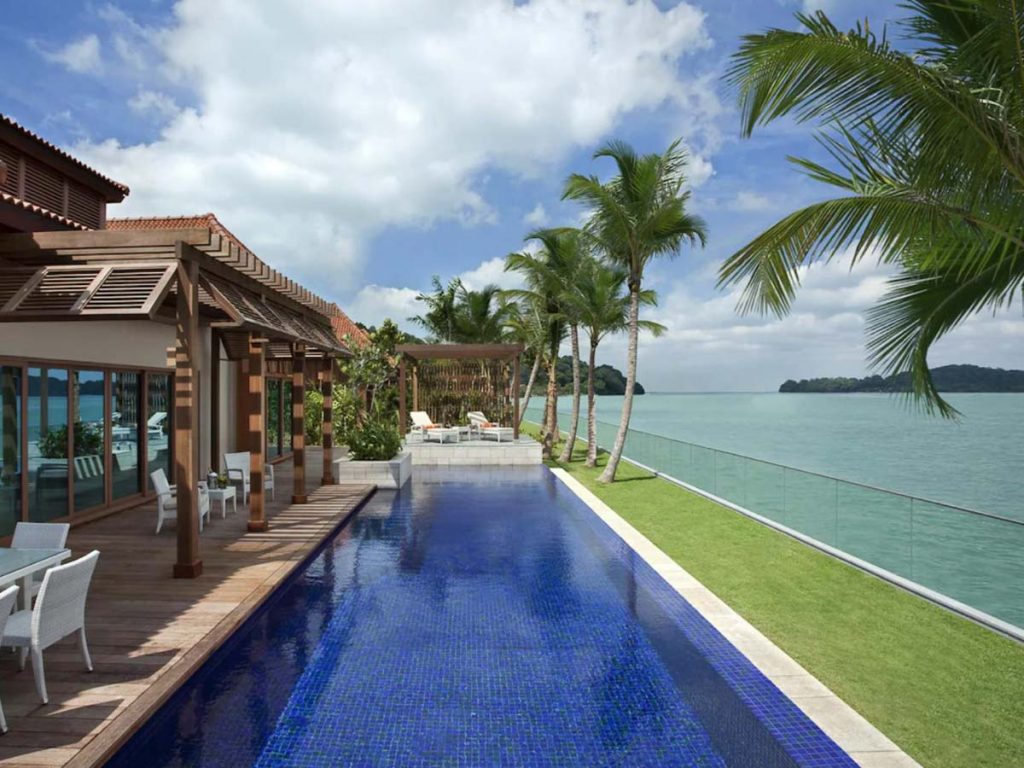 Photo credit: Agoda
Who says you need to go overseas for an epic getaway? Save money (and annual leave) by going for a unique weekend staycay right here in Singapore — we're talking treetop bungalows, private aquariums and even rustic colonial homes!
What's more, you can even get extra Cashback (up to 11%!) when you book accommodations on platforms like Agoda, Tripadvisor, and more via ShopBack. Read till the end to find out more 😉.
So grab your boo, a few good friends or take your family on these 12 incredible Singapore staycations during the holiday season!
1) TreeTop Loft: Bungalow in the trees
Photo credit: Resorts World Sentosa
Let's take things to another level and experience privacy 12m above ground. In your own Equarius TreeTop Loft, live among the trees with balconies overlooking the lush greenery of Mount Faber and Sentosa, a view I'd trade over skyscrapers any day!
With only two lofts (Angsana and Tembusu) available, the exclusivity makes it perfect for a couple's retreat or a memorable family staycay. Each loft features a huge living room, an en-suite bedroom, and your very own bathtub.
TreeTop Loft also comes with personalised butler service for anything you need, 24/7. And if you'd like to go around Resorts World Sentosa, buggy service is available any time of the day.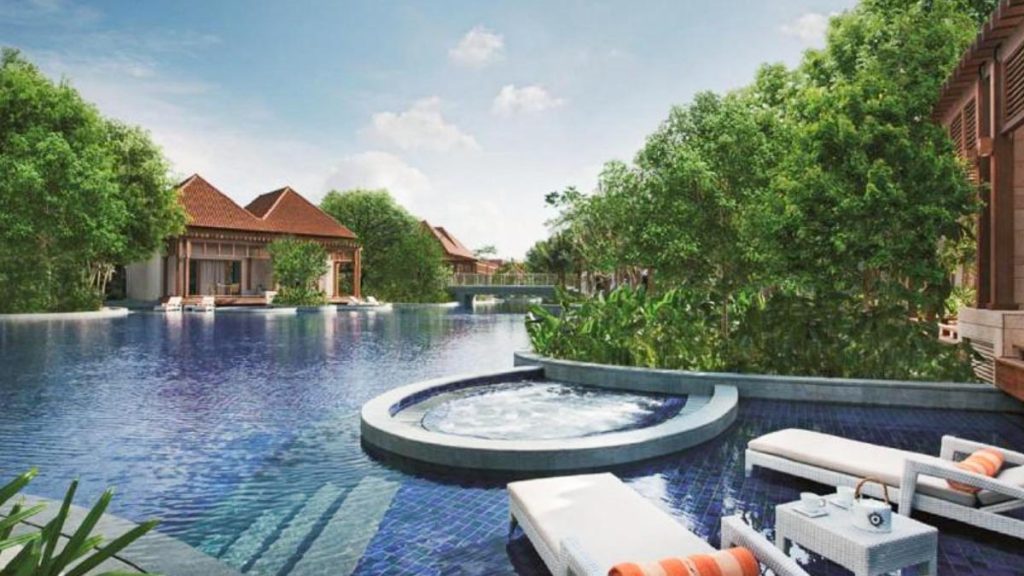 Photo credit: Agoda
But don't worry if you aren't able to snatch up these exclusive lofts. Equarius Villas has other luxurious room options to choose from too, some with their own private pool!
Cost: From ~S$5,050/night
Address: Resorts World Sentosa – TreeTop Loft, 8 Sentosa Gateway, Sentosa Island Singapore 098269
2) The Great Madras: Boutique hotel with Wes Anderson-inspired decor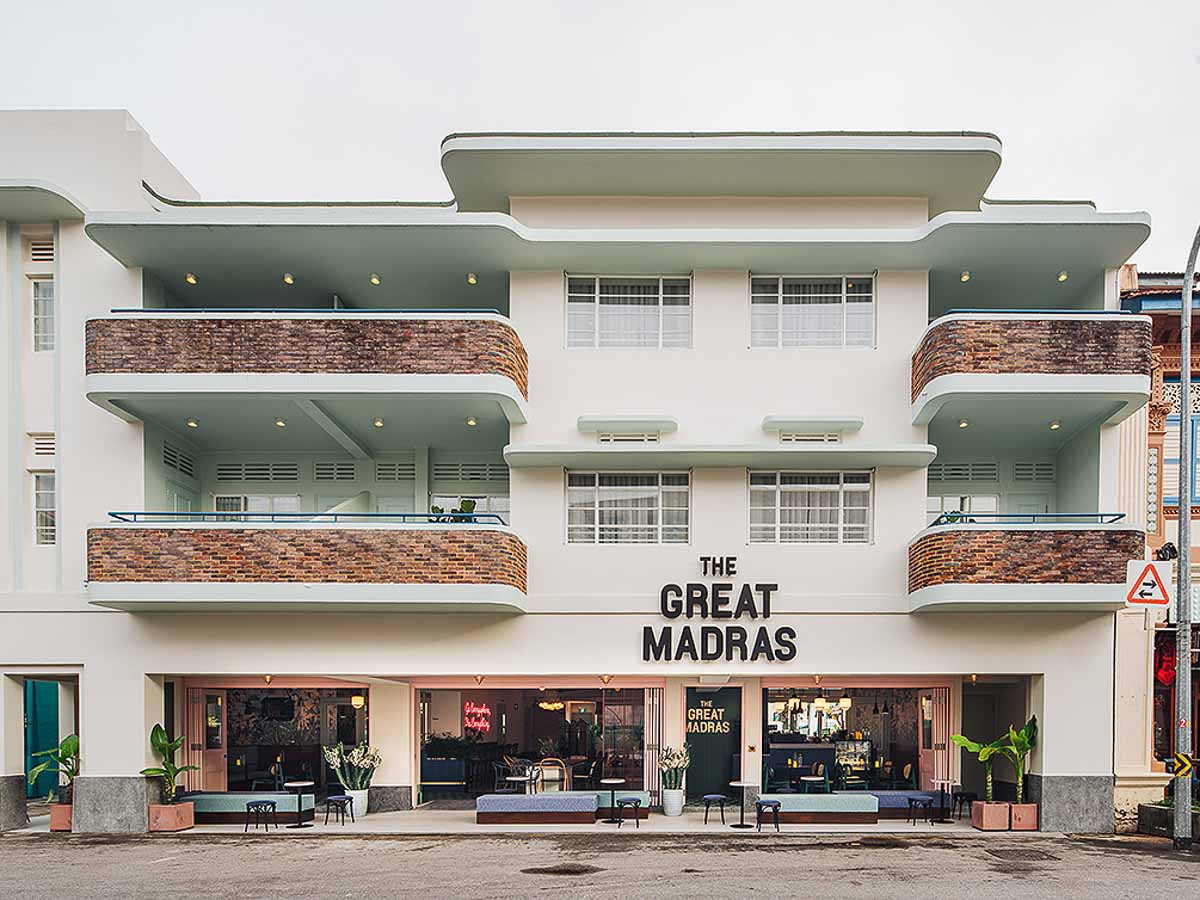 Photo credit: The Great Madras
If you're a fan of the retro-pop Wes Anderson movies, you'll enjoy staying at The Great Madras. The preppy boutique hotel is adorned with fun prints and old-school furnishings that make you feel you're on one of Anderson's movie sets.
Photo credit: The Great Madras
You can choose options from private rooms in a co-living space to a grand suite with a tub, for a different experience with each stay.
The aesthetic facilities also make for Insta-worthy backdrops with their vintage barbershop and tropical laundromat. Take this chance to spruce up your Insta-game!
*Pro-tip: Earn up to 11% upsized Cashback when you activate ShopBack on your browser extension when booking via Agoda!
Cost: From ~S$158/night for a Deluxe Room
Address: 28 Madras St, Singapore 208422
3) Villa Samadhi: Quiet colonial home surrounded by nature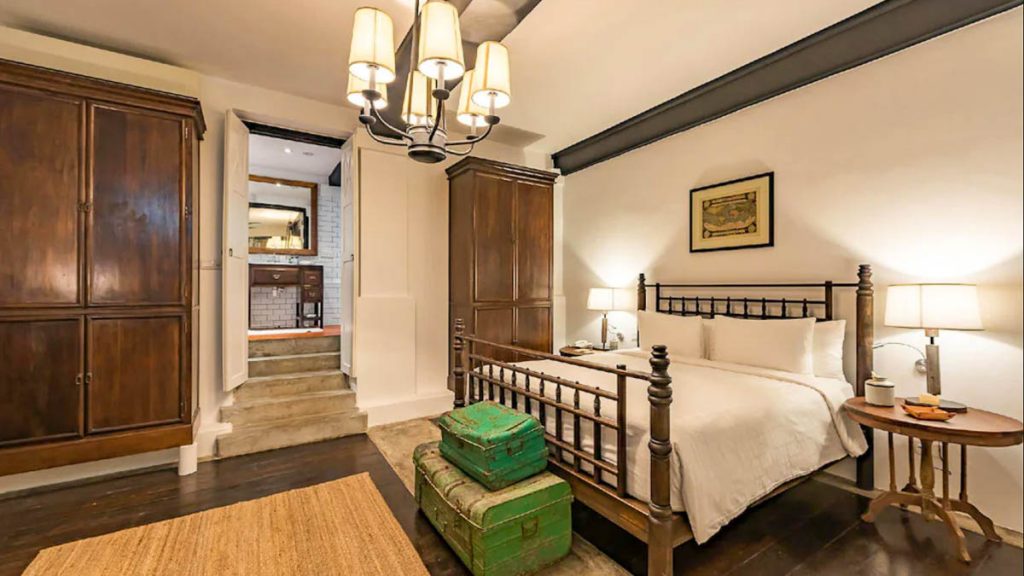 Photo credit: Agoda
Enjoy the slower pace of life at Villa Samadhi. Tucked away in Labrador Nature Reserve, this 1920 colonial home lets you reconnect with nature. Fun fact: The hotel only has 20 rooms, so you're guaranteed a quiet stay!
With dark wood flooring and furniture against a monochrome palette, you can really see how this refurbished garrison reflects its past influence. Opt for the Crib with the wooden tub to enjoy your bath bombs in style or go for the standalone rustic villas with its own plunge pool for a quick dip in privacy.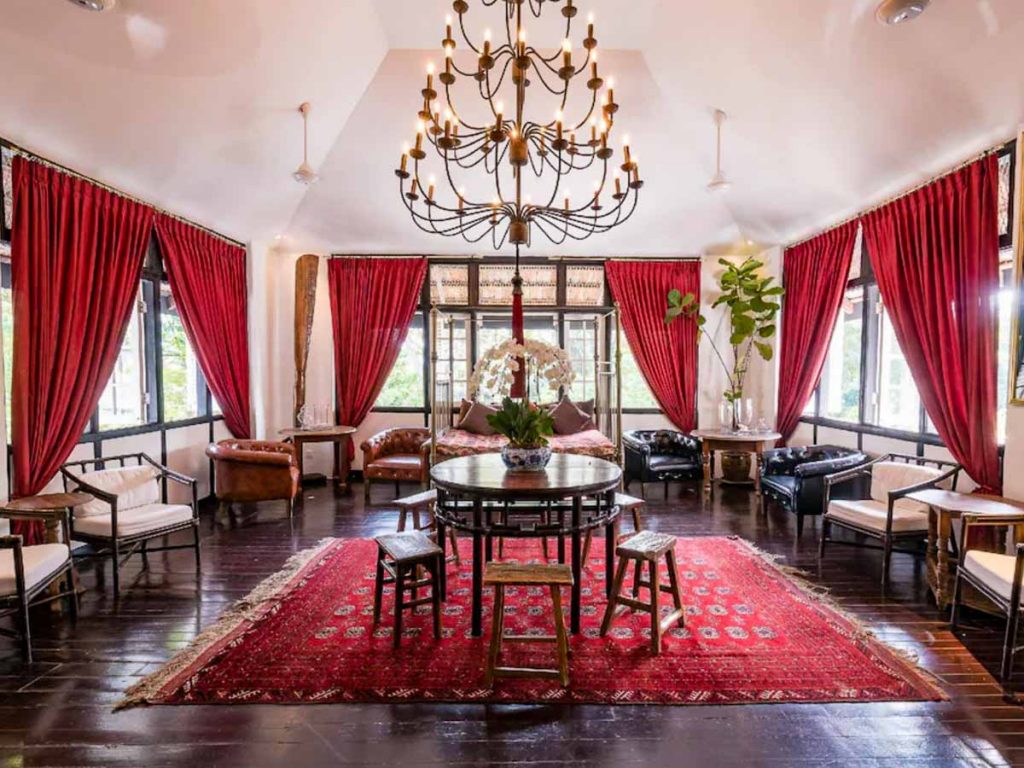 Photo credit: Agoda
But the main highlight here is the Library — an exclusive lounge with a grand 'candle-lit' chandelier in the centre, paired with deep red decor! Attached to an old-fashioned bar, it paints the introvert's dream of sinking into a comfy armchair and escaping into a book while sipping on a cocktail.
Cost: From ~S$347/night for Crib, and from ~S$616/night for Sarang (with a private pool!)
Address: 20 Labrador Villa Rd, Singapore 119193
4) Resorts World Sentosa Ocean Suites — Room with a private aquarium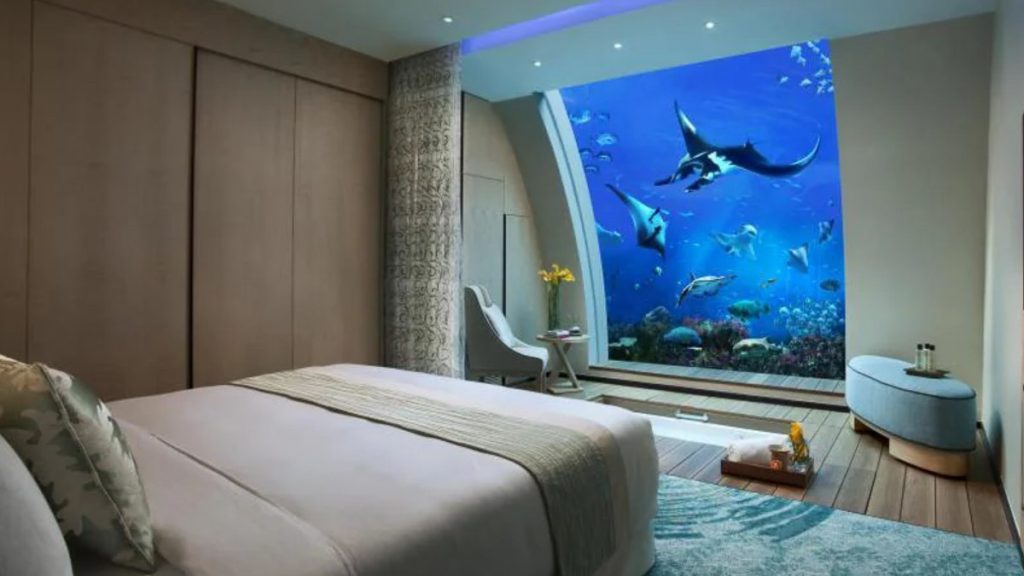 Photo credit: Agoda
Who wouldn't want to watch sea creatures gracefully glide past your window right from the comfort of your bed? The Ocean Suite at Equarius Villas gives you this novel experience with rooms built around the S.E.A. Aquarium. So you can get up close and personal with Nemo and friends!
Each suite comes with free WiFi, cable TV, jacuzzi, and a fully equipped kitchen. But if cooking ain't your thing, there's always the round-the-clock butler service to help you out.
Cost: From ~S$2,437/night
Address: Resorts World Sentosa – Ocean Suites, 8 Sentosa Gateway, Sentosa Island, Singapore 098269
5) Hotel Soloha: From vibrant murals to airy rooms with a private courtyard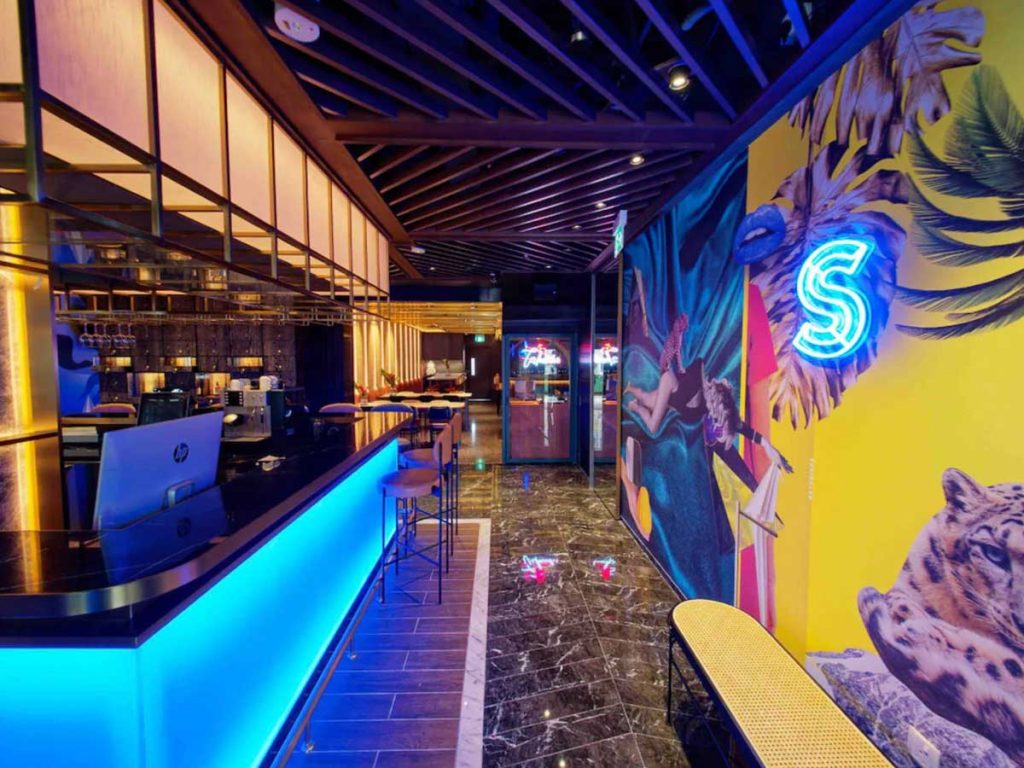 Photo credit: Agoda
The urban chic hotel is electrifying with neon lights and pop-art murals by local artist Ethrisha Liaw. The bold colours set the mood in the bar, perfect for drinks with friends.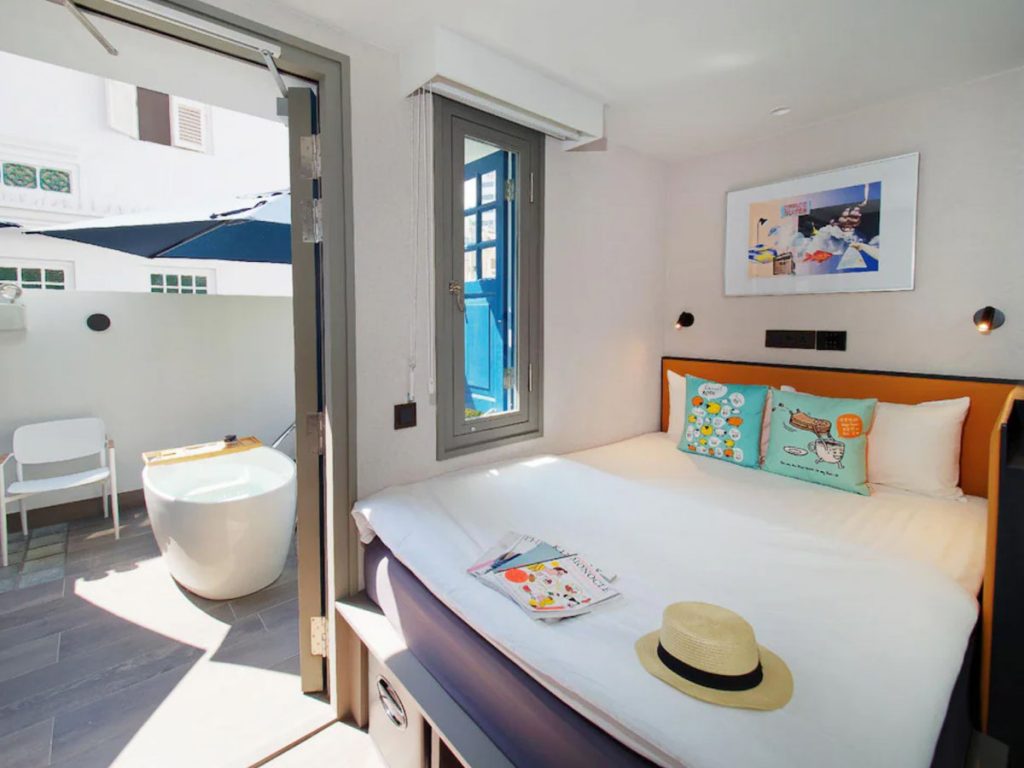 Photo credit: Agoda
The outdoor suite is a popular choice, offering an outdoor tub and private courtyard. The white walls and blue windows will remind you of Greece, whether you're chilling in the courtyard or unwinding in the tub.
Psst, don't forget to rack up extra savings by booking your accommodation via ShopBack! Earn 8% Cashback on Tripadvisor or up to 11% Cashback on Agoda.
Cost: From ~S$231/night for a Deluxe Lite Room, and from ~S$320/night for a Suite with Outdoor Tub
Address: 12 Teck Lim Rd, Singapore 088387
6) The Vagabond Club: Boujie Parisian living with bespoke whiskey on the rocks
Photo credit: Agoda
Bold, gold, and brimming with scarlet red, The Vagabond Club gives you a taste of upper-class living — Parisian-style. French architect Jacques Garcia's interior masterpiece takes you back into the roaring 1920s of jazz clubs and finely-aged liquor, a truly unique experience.
Check out their Whiskey Library, with an impressive collection of 1,000 bespoke pours for you to try.
If you can appreciate the art and the whiskey, you will enjoy the array of artworks that fill the lounge. The hotel's close proximity to Little India inspired Jacques' use of Indian artworks and heritage when designing the hotel's interior.
Cost: From ~S$369/night
Address: 39 Syed Alwi Rd, Singapore 207630
7) AMOY Hotel: A walk through Singapore Chinese history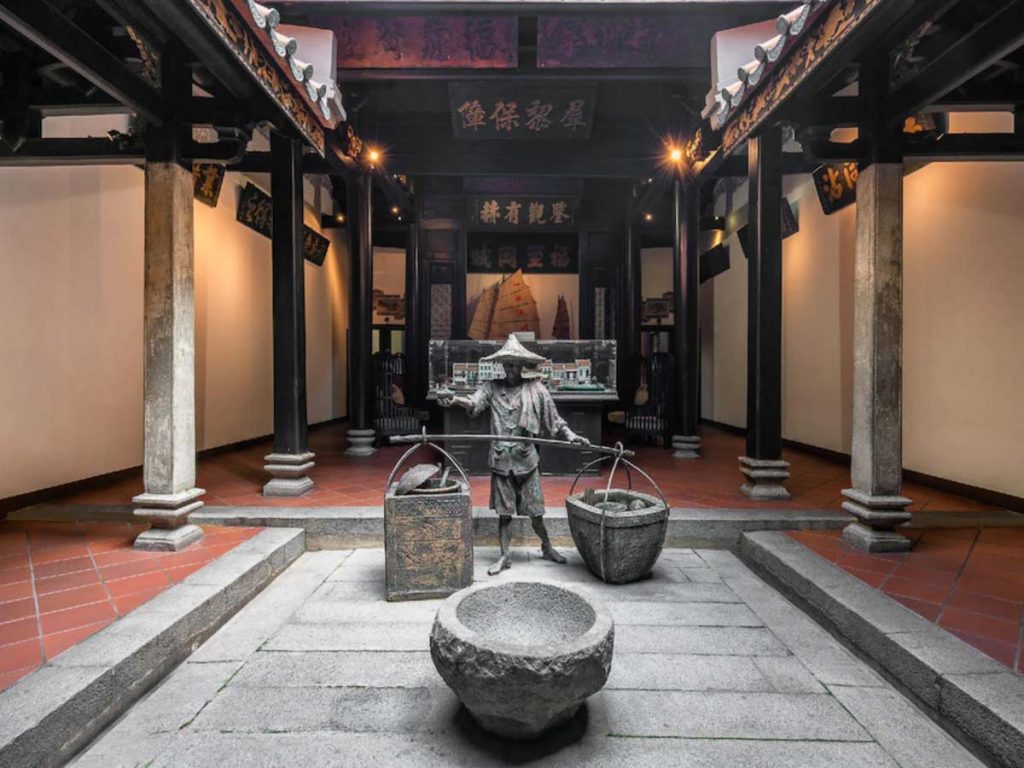 Photo credit: Agoda
At AMOY, a museum greets you before the concierge does. The main entrance of the hotel retains the front of Fuk Tak Chi Temple, whose space it now inhabits. As you enter, you are welcomed with a showcase of Singapore's early Chinese immigrants.
The oriental theme continues throughout the rest of the hotel, reflecting the Fukienese people who came from Amoy, China. The rooms, although modern, have oriental detailing with traditional lattice panels, Chinese calligraphy brushes, beautiful tea sets and blue and white porcelain basins.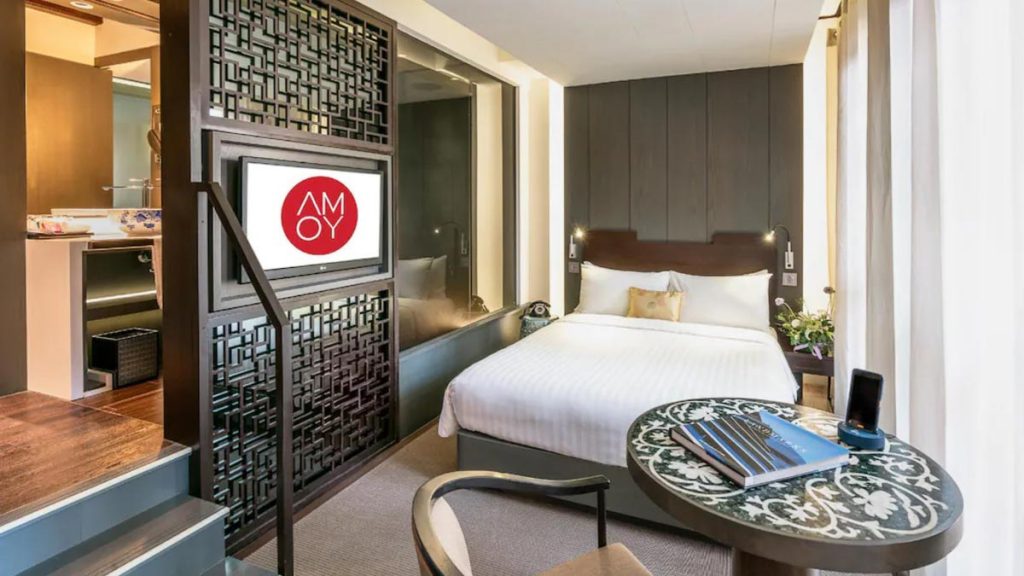 Photo credit: Agoda
Cost: From ~S$267/night for Cosy Single Room, or from ~S$408/night for a Deluxe Room
Address: 76 Telok Ayer St, Singapore 048464
8) Hmlet Cantonment: Hotel-quality co-living with spacious private rooms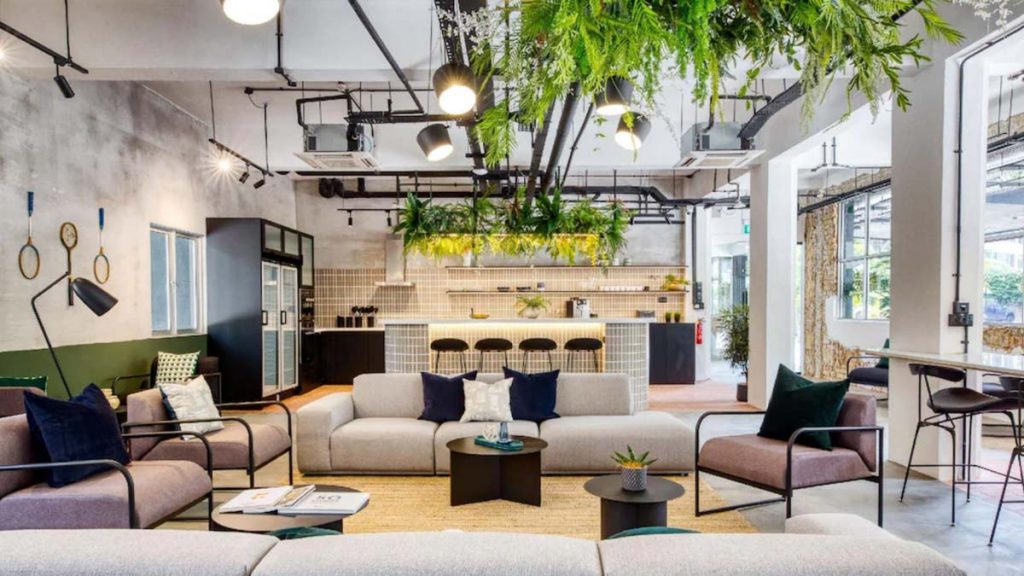 Photo credit: Agoda
Have an extended staycation in Singapore's largest co-living space. Occupying the previous headquarters of the Corrupt Practices Investigation Bureau (CPIB), Hmlet Cantonment has 150 serviced apartment units for you to feel right at home.
You could say this place has the communal space of a hostel but the service of a hotel — with complimentary coffee and tea, plus other facilities like a wellness studio, plunge pool and even an outdoor deck and garden.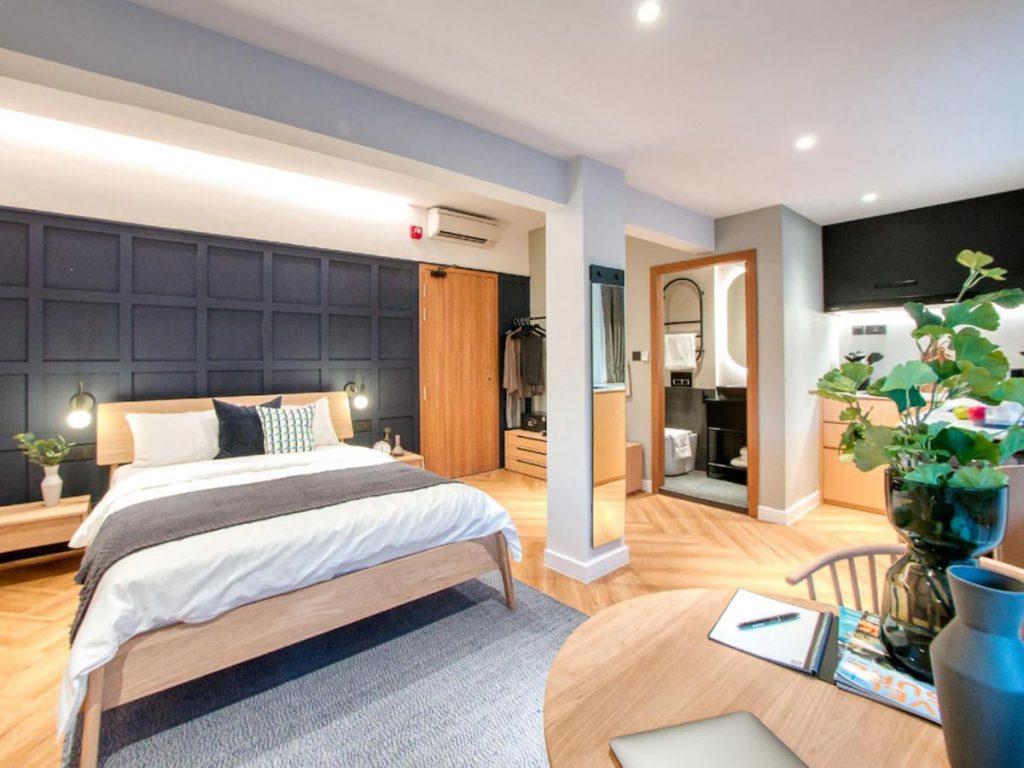 Photo credit: Agoda
Although the lounge encourages conversation between residents, rooms are also fully-equipped if you're not feeling for any interaction. A basic room comes with a queen-sized bed and a private bathroom, and the larger guest room has its own kitchen!
This place requires a minimum stay of 6 nights and is ideal if you're looking for a long staycation without having to pay the full price for a hotel.
*Pro-tip: Book on sites like Agoda or Tripadvisor via ShopBack and get up to 11% Cashback!
Cost: From ~S$158/night for the Small Room, or from ~S$309/night for the Larger Guest Room
Address: 150 Cantonment Rd, Singapore 089762
9) D'Hotel: Nature with a hint of the city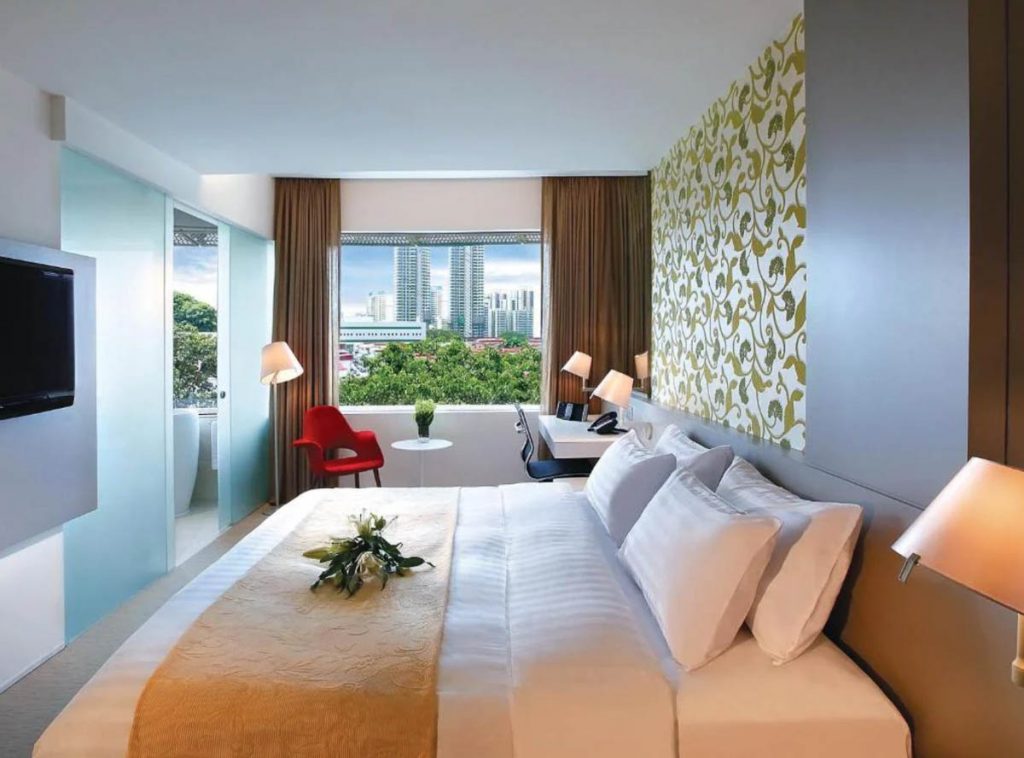 Photo credit: Agoda
Previously known as Wangz Hotel, D'Hotel stands out for its interesting metallic, cylindrical exterior. Once you step inside though, you're greeted with designs combining both nature and modernism.
Every room has different artwork revolving around the theme of nature, either with stunning animal portraits or edgy flora patterns.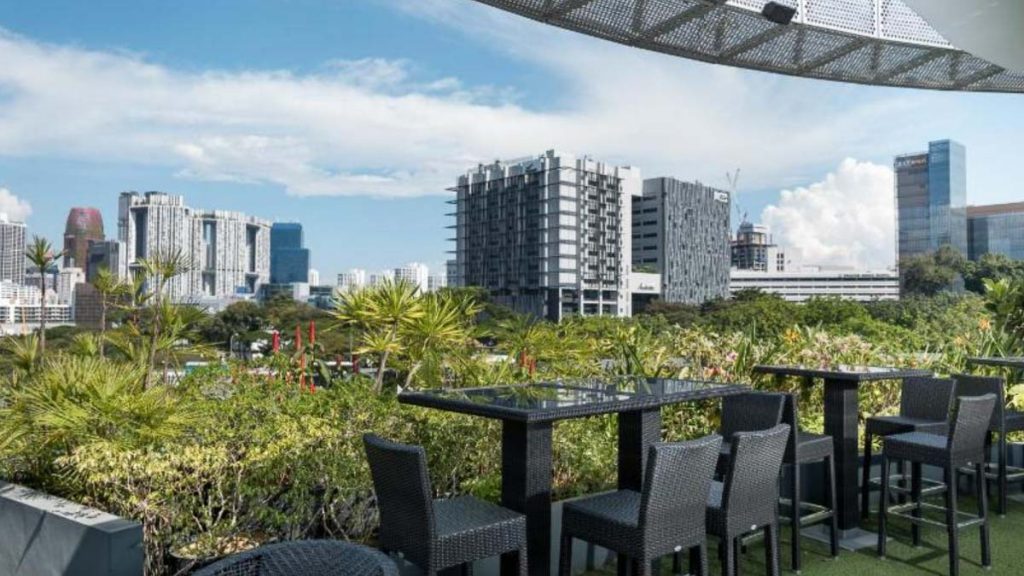 Photo credit: Agoda
The wide windows open you up to views of the garden city, but the best view is from the rooftop bar. D'Hotel is not far from the city, but it's distant enough to see and appreciate the skyline.
Cost: From ~S$225/night
Address: 231 Outram Rd, Singapore 169040
10) Hi Hotel Bugis: Smart living in a trendy space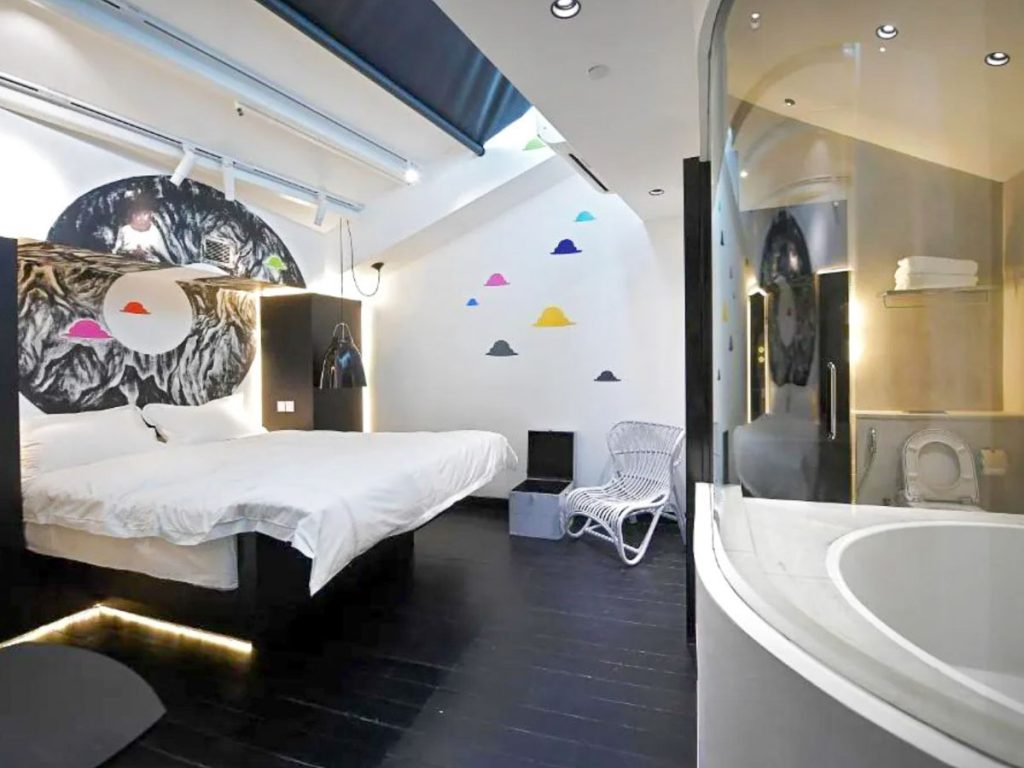 Photo credit: Agoda
This trendy boutique hotel incorporates art and technology. Unique to each brightly coloured room is an original hand-painted artwork by both local and international artists, with furniture matching the colour theme. There are also rooms that open up to the rooftop pool area, which lights up with neon lights at night.
As for technology, the entire room operates on a smartphone. Guests are given a complimentary handphone at check-in that controls everything from unlocking your room door to switching off the lights and drawing the curtains.
Cost: From ~S$188/night
Address: 11 Jln Klapa, Singapore 199323
11) Spend a night under the stars on a yacht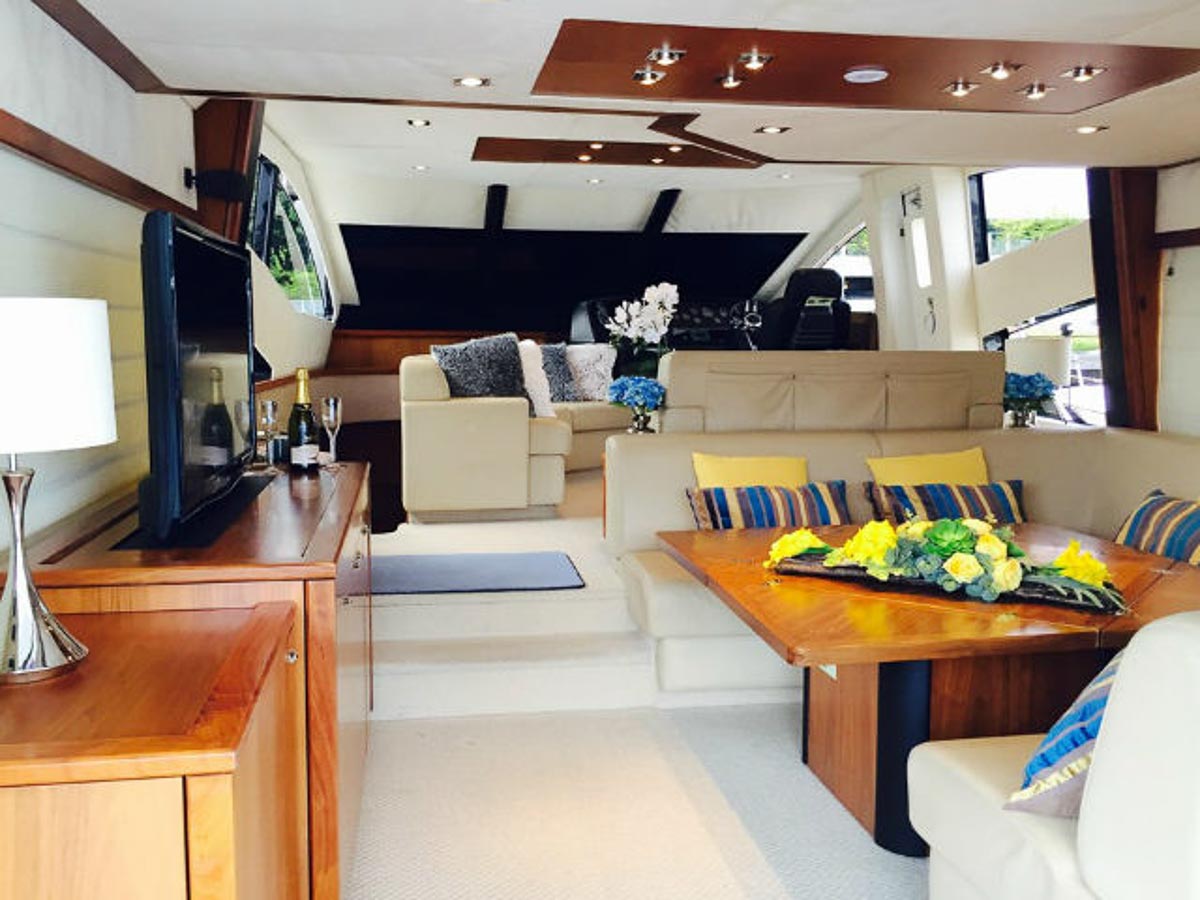 Photo credit: Singapore Yacht Charter
Renting yachts is popular for parties and company events, but did you know you can stay overnight on a yacht too?
This can be easily arranged with Yachtly or Singapore Yacht Charter. Both companies provide you with a variety of yachts to choose from and equipment for water play. Yachtly doesn't provide food on board but you can opt for the bbq ADD-ON.
Alternatively, Singapore Yacht Charter has packages perfect for any occasion — be it a private birthday party, wedding or even a holiday getaway!
Cost: Contact Yachtly or Singapore Yacht Charter for rates
Pick up point: ONE°15 Marina Club, 11 Cove Drive, Sentosa Cove, Singapore 098497
12) Dusit Thani Laguna Singapore — Luxurious rooms with views of the greens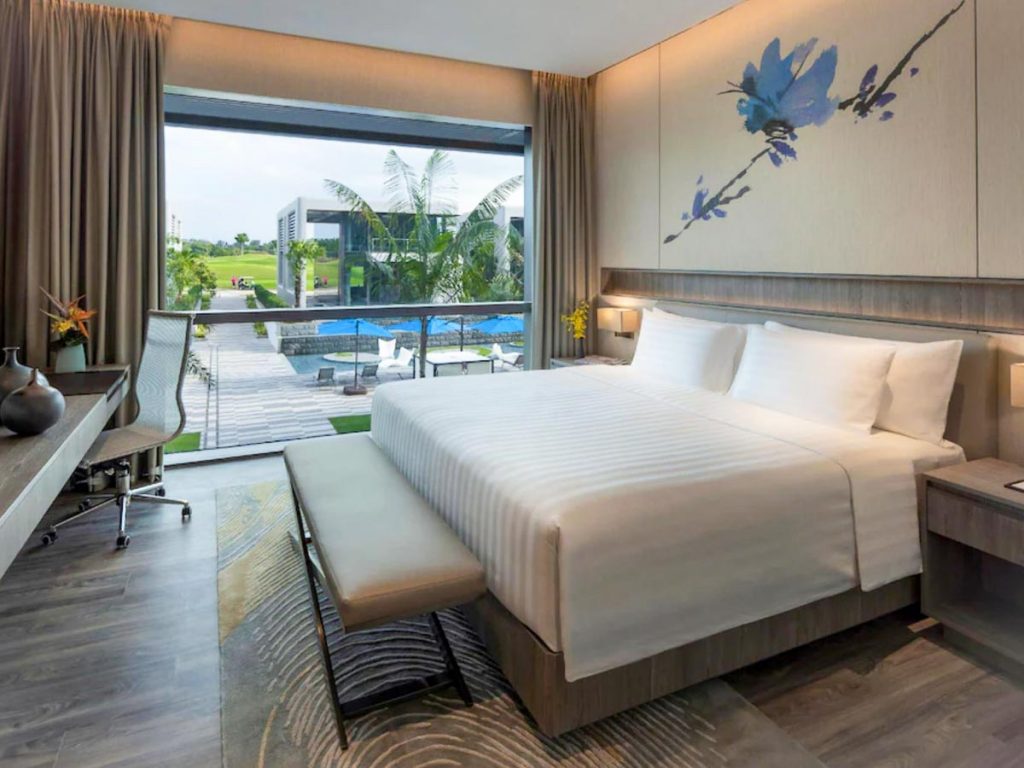 Photo credit: Agoda
As the first hotel in Singapore with direct access to two championship golf courses (the Classic and Masters Course), golfers can now have a week-long golf trip right here at Dusit Thani.
If you're not into golfing though, there are still plenty of facilities to enjoy such as three swimming pools, outdoor tennis courts, a gym, and their signature Devarana Spa. Once you're done exploring, head back to your rooms to relax — with spacious beds, a minibar and for some, a private balcony with a pool view.
*Pro-tip: Don't forget to hit that ShopBack extension button to get extra Cashback when you book from platforms like Agoda!
Cost: From ~S$363/night
Address: 11 Laguna Golf Green, Singapore 488047
Epic deals to save more on your future staycays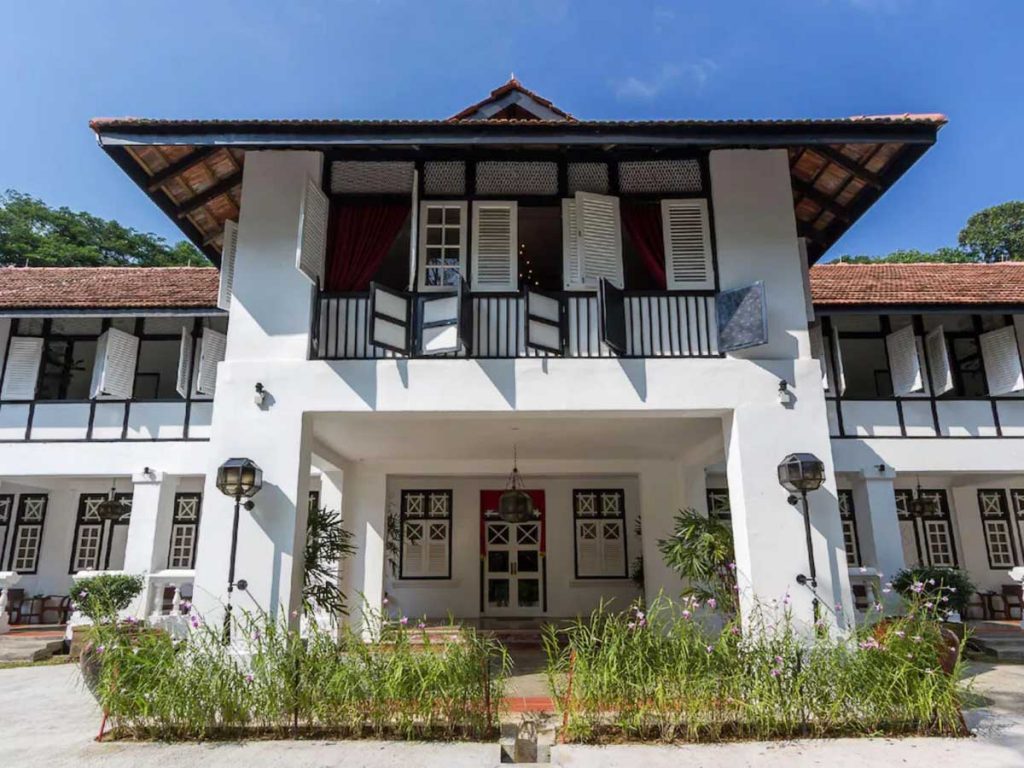 Photo credit: Agoda
Everyone needs to recharge and reset every once in a while, especially since we're usually so busy in our day-to-day lives. So why not grab a quick getaway right here in Singapore?
With that said, some of these experiences can be quite pricey so here are some deals to help you save a little.
For starters, earn up to 11% Cashback when booking your accommodations on sites like Agoda, Tripadvisor, and more via ShopBack! Simply head to the online store and log in through the ShopBack app or browser extension, and it'll activate your Cashback.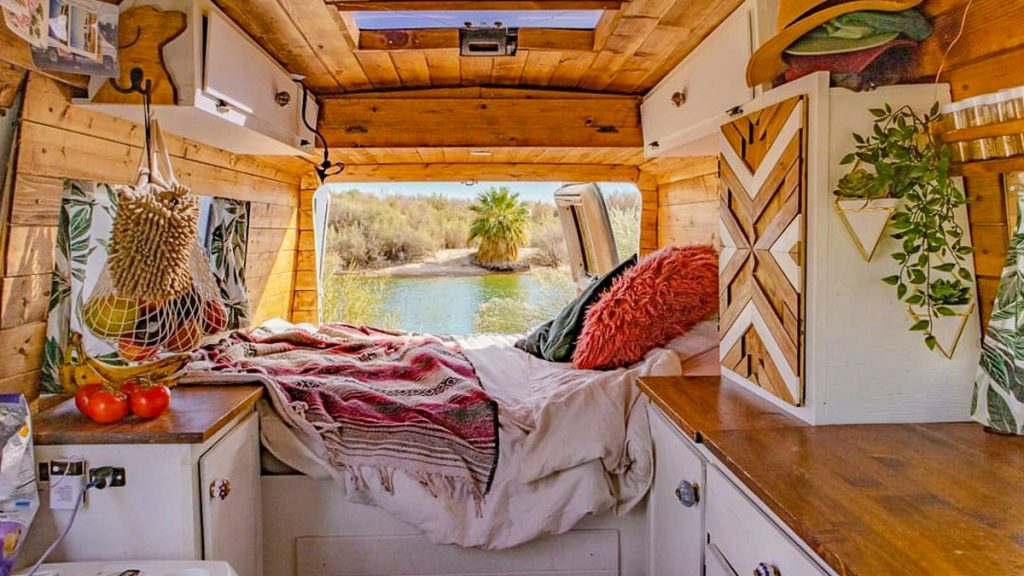 Photo credit: @doratheexplorervan via Instagram
But if these fun staycations in Singapore aren't enough to satisfy your wanderlust, then go ahead and book that flight overseas!
ShopBack has a weekly Travel Thursday campaign where you can get extra Cashback on flights, accommodation, travel insurance, activities and more from a wide range of travel merchants, including:
– Agoda: 11% Cashback
– DirectAsia Insurance: S$70 Cashback
– Tripadvisor: 8% Cashback
– InterContinental Hotels Group: 8% Cashback
Finally, here's a special promo from us to you — new users can get an extra S$15 Cashback when you sign up online, valid till 30 June 2023.
Know of any other unconventional places for a staycation in Singapore? Tell us in the comments below!
---
This post was brought to you by ShopBack.