This tropical getaway is more than just Naha city and suntanning on beaches. Snorkel in cobalt-blue waters, taste Okinawan onigiri and overlook epic coastal views in Japan's little Hawaii! Here's our Okinawa Guide!
At the southernmost end of the Japanese archipelago lies an island paradise — subtropical climate all year round, pristine coasts and cobalt-blue waters. It sounds like the perfect beach getaway, and it is… except with so much more.
Okinawa is the sun-kissed fun-loving prefecture of Japan that shines brightly, charming visitors with her vibrant colours, warmth, and hospitality. She's quite different from the rest of Honshu Japan — throw all your preconceived notions about Japan out the door when thinking about Okinawa. You're not gonna find skyscrapers, torii gates, silky ramen or sake. What you'll get instead are short buildings, natural rock formations for sacred sites, curly yellow soba, and… snake wines. Yep!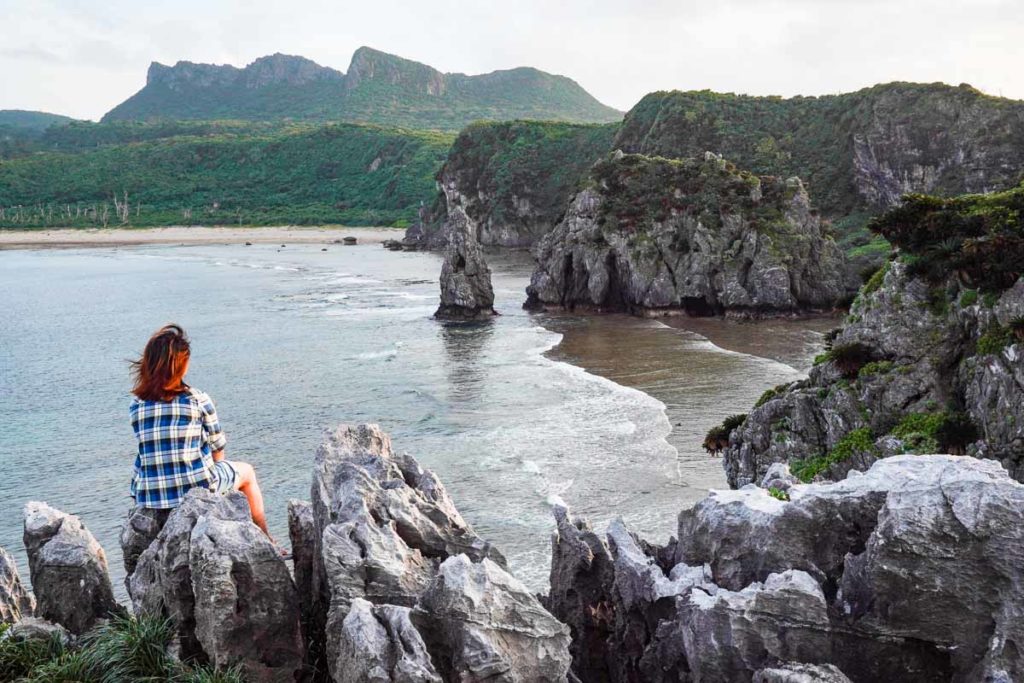 Don't let the unfamiliarity of Okinawa scare you though. Let it be that breath of fresh air you need for your next vacation 😉 Here are 33 things you can look forward to on your next trip to Okinawa.
My advice to anyone thinking to visit Okinawa is to rent a car and go on a road trip. The main island of Okinawa is 112km long, and there are tons to see and do from the northernmost tip to the southernmost edge. The best times to visit Okinawa are from April to October, and you best bring along light clothing and swimwear!
Read also: 7D Okinawa Budget Road Trip Itinerary Under S$1.2k
Things to Do in Okinawa
1) Snorkel in Clear Okinawan Waters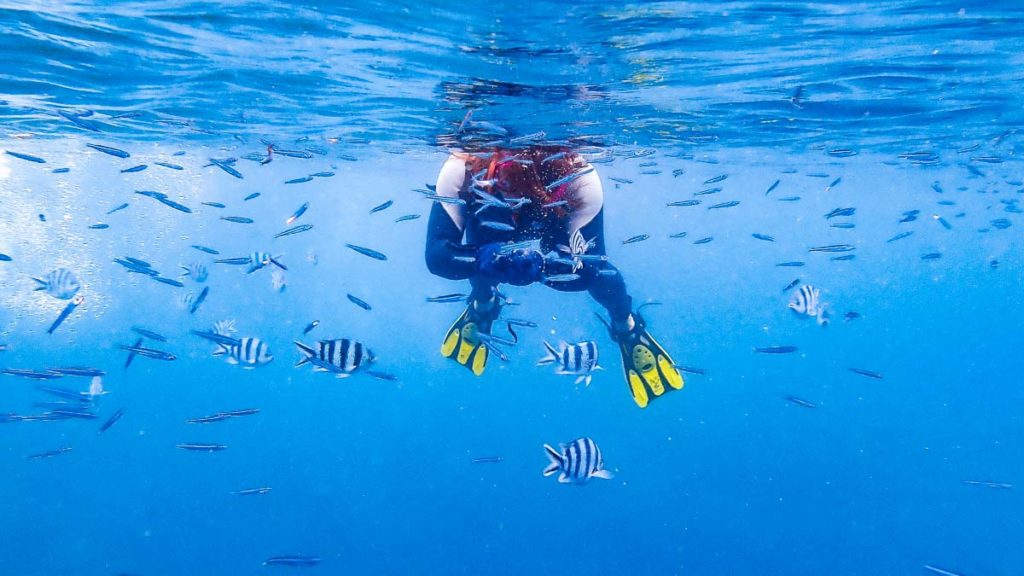 Okinawa's clear blue seas attract beachgoers, divers, and snorkellers. Being situated on the Pacific Ocean, Okinawa's seas get marine visitors all the time.
The most popular spot for snorkelling in Okinawa is the Blue Cave, and for good reason — you'll be visually rewarded with a clear panorama of the bluest waters from the underwater cave.
Cost: ~S$48
2) Learn Okinawan Karate (The True OG)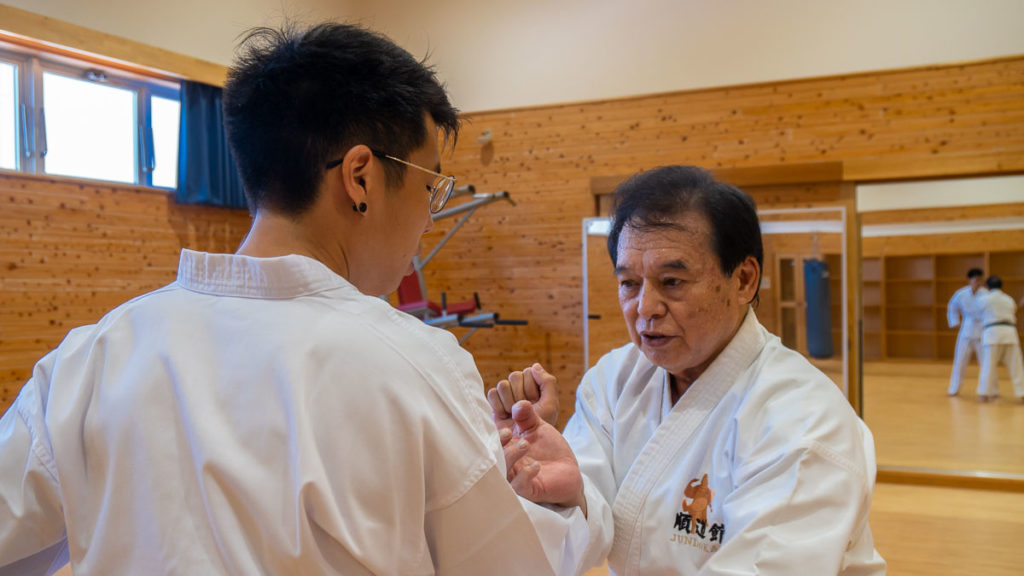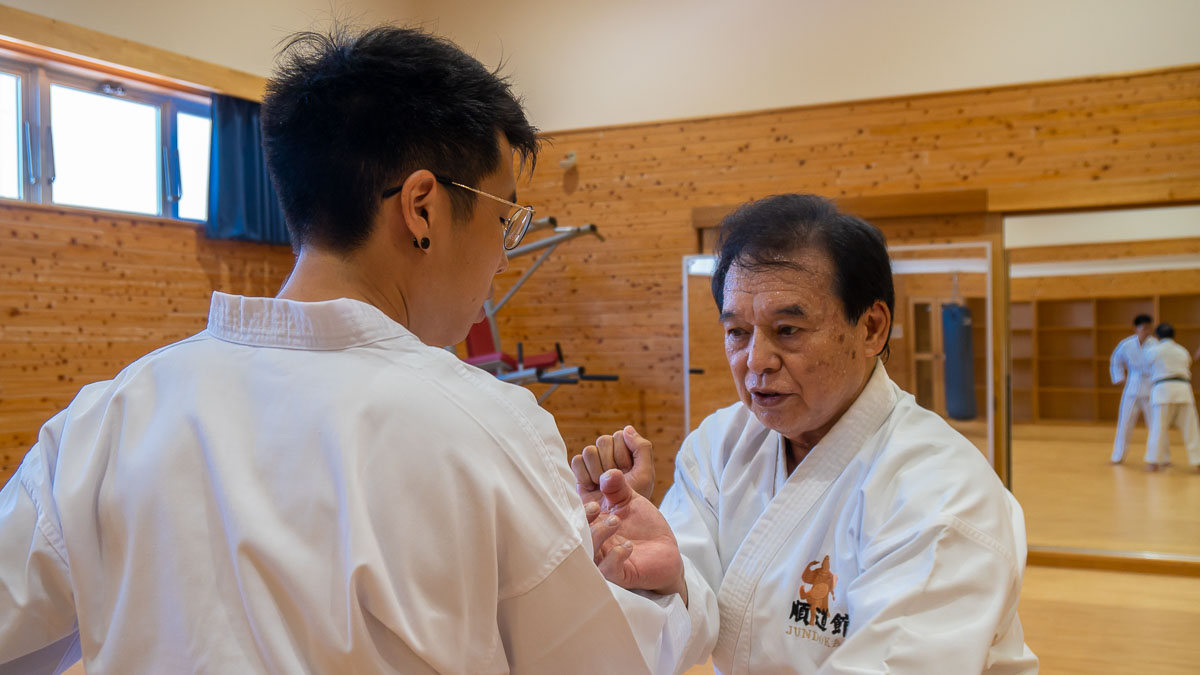 One of the most popular martial arts practised worldwide is karate, and it was first developed in Okinawa's Ryukyu Kingdom! No better place to learn some karate moves than from the OG masters at Okinawa Karate Kaikan.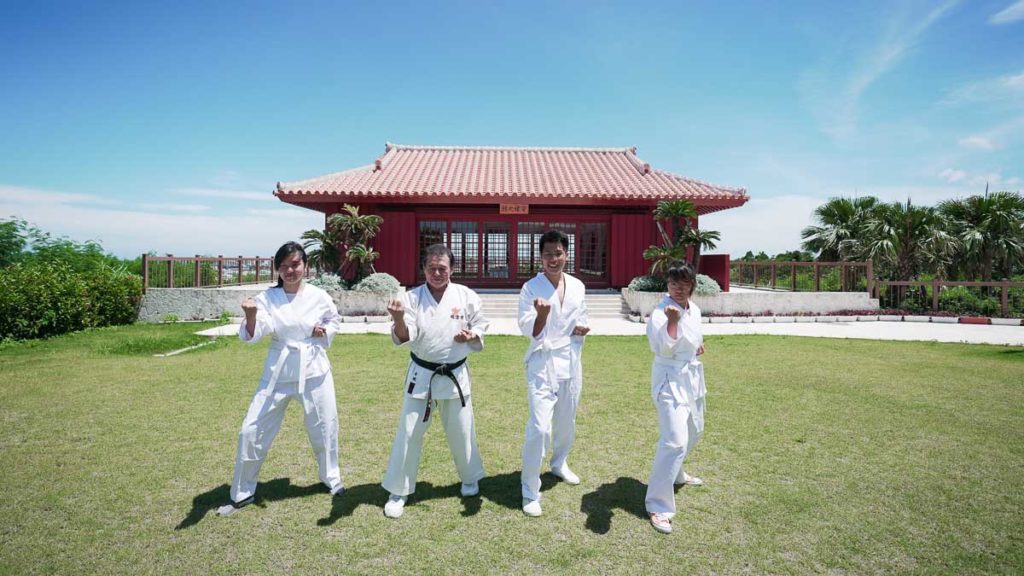 Our sensei taught us some basic self-defence moves — block, kick, strike, and punch. These might sound easy (we thought so too), but after a few minutes punching the air, we started sweating buckets. A nice way to burn those Okinawan snacks we've been munching on, nonetheless!
Cost: ~S$123
3) Parasail Along the Pristine Coast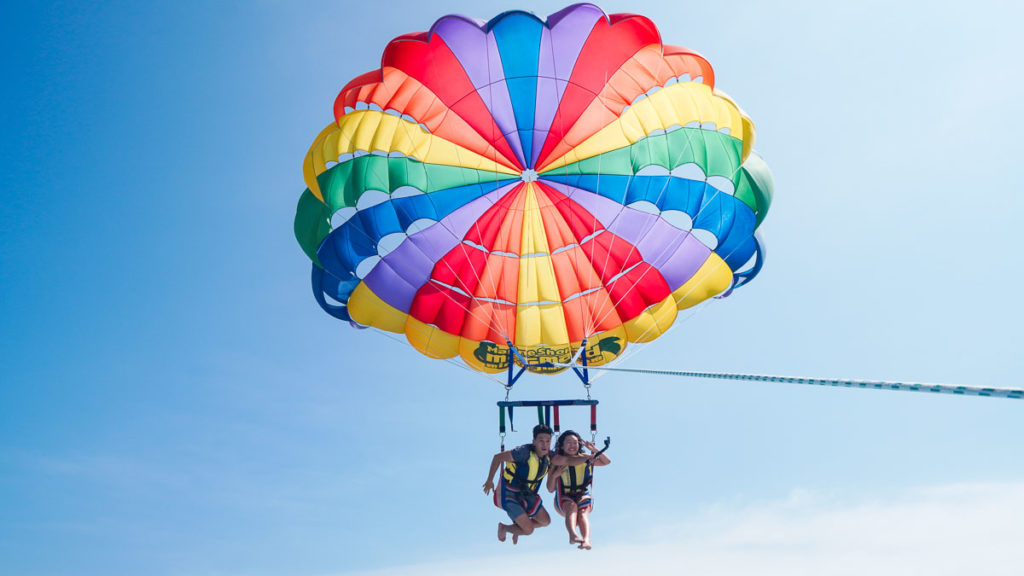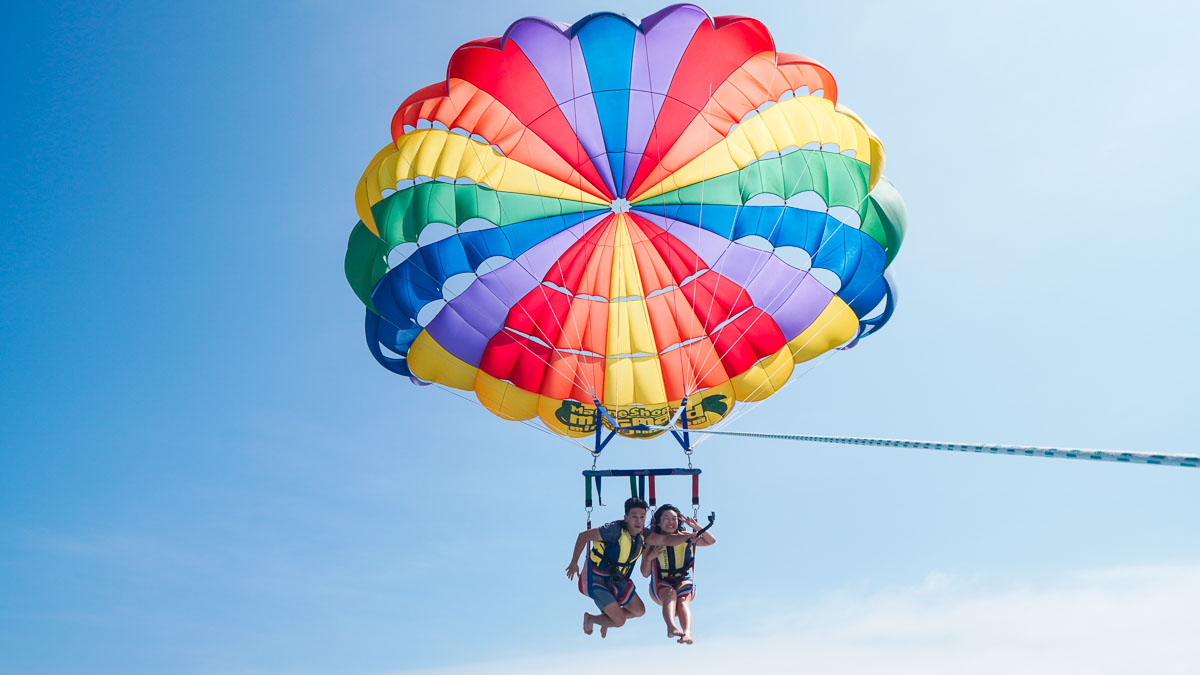 Besides snorkelling, there's another exciting way to enjoy the clear blue seas: from above. Get up in the air on a colourful parachute (fits up to three friends!) after a short boat ride out from Motobu port!
Cost: S$89
4) Marine Walk with Fishes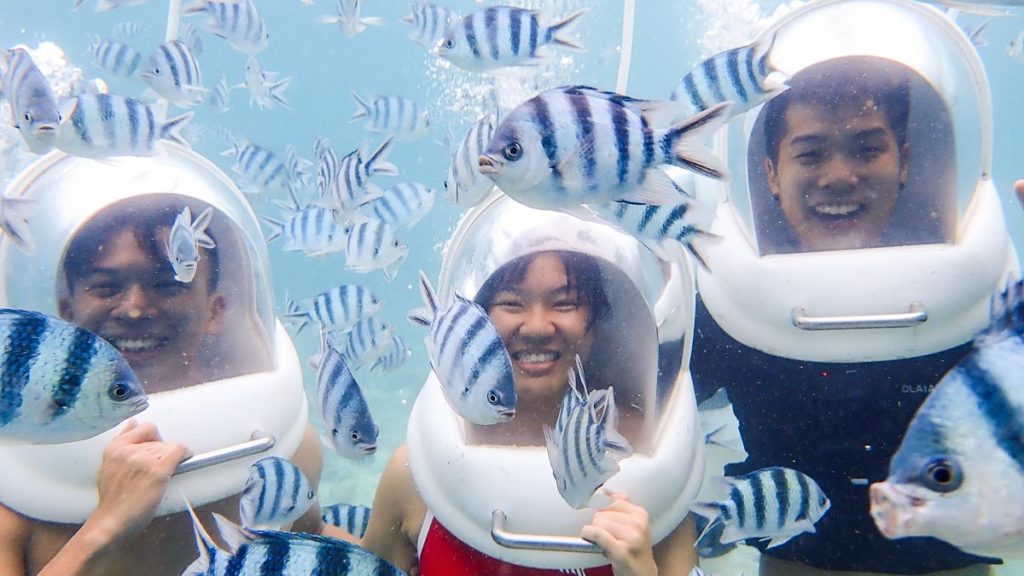 Even if you can't swim, you can still get close to fishes underwater. No diving regulator needed either! The oxygen helmets are heavy at first, but the weight gets displaced in water so you barely feel the 30kg push.
Cost: ~S$88.60
5) Get Close to Marine Life Without Getting Wet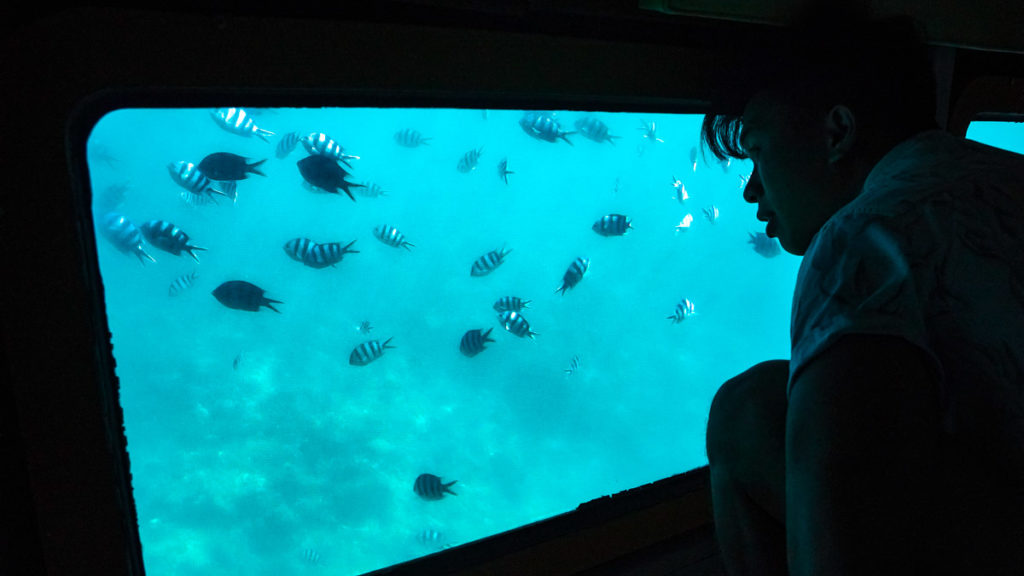 Snorkelling or scuba diving aren't activities for everyone, but if you'd like to get close to fishes anyway, this glass-bottom boat tour is the dry alternative!
The whole experience including the sail out lasts about an hour, with the actual fish-sighting lasting 30 minutes. That's still plenty of time to gawk at the fishes and corals though (water visibility depends on weather conditions). The staff will inform you on visibility levels before departing (ours was a level 3, with 5 being the best).
Cost: ~S$27
6) Understand Okinawa's Past Under the Ryukyu Kingdom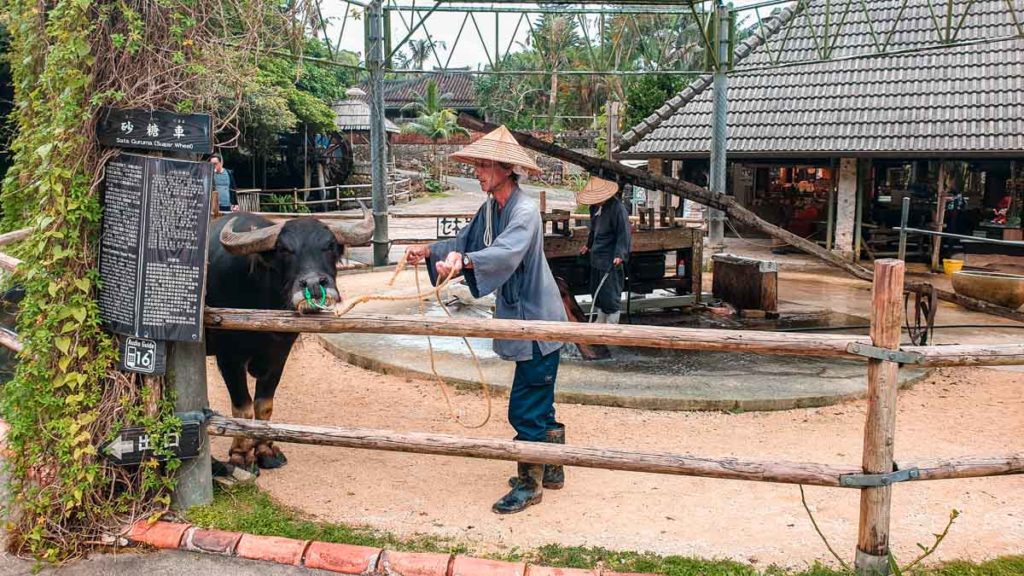 Before Okinawa became a part of Japan, it was part of the Ryukyu Kingdom that had its own culture and customs. While Okinawa has since drastically transformed after uniting with Japan, there are still remnants of Okinawa's past littered around the island.
There's the RyukyuMura (Ryukyu Village), a small theme park about the Ryukyu Kingdom, its culture and way of life. The old houses inside it are actual traditional houses from all over Okinawa, which were relocated to create the village.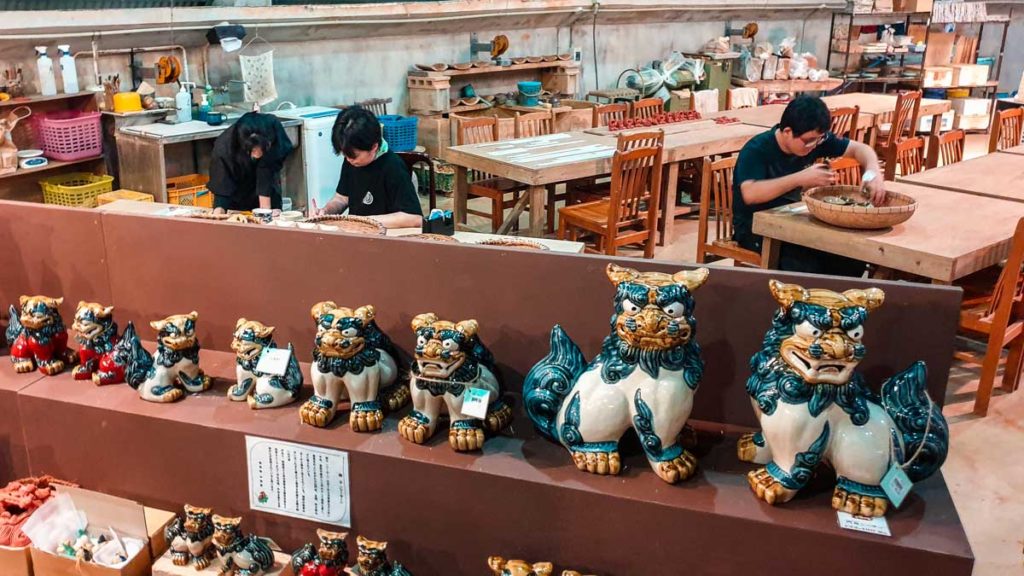 Besides hands-on activities such as textile weaving trials, coral lamp making, and shisa making, there will be live performances of the eisa dance and Shimauta Okinawan folk songs during the day. While the RyukyuMura is a tad too touristy for my own liking, I honestly felt that a trip there made me understand a lot more about the Okinawan culture.
Ryukyu Mura (Ryukyu Village)
Entrance Fee: ¥1,200 (Free with the Churaumi Enjoy Pass)
Opening Hours: 9AM – 6PM
Address: 1130 Yamada, Onna, Kunigami District, Okinawa
7) Go-Kart Down the International Street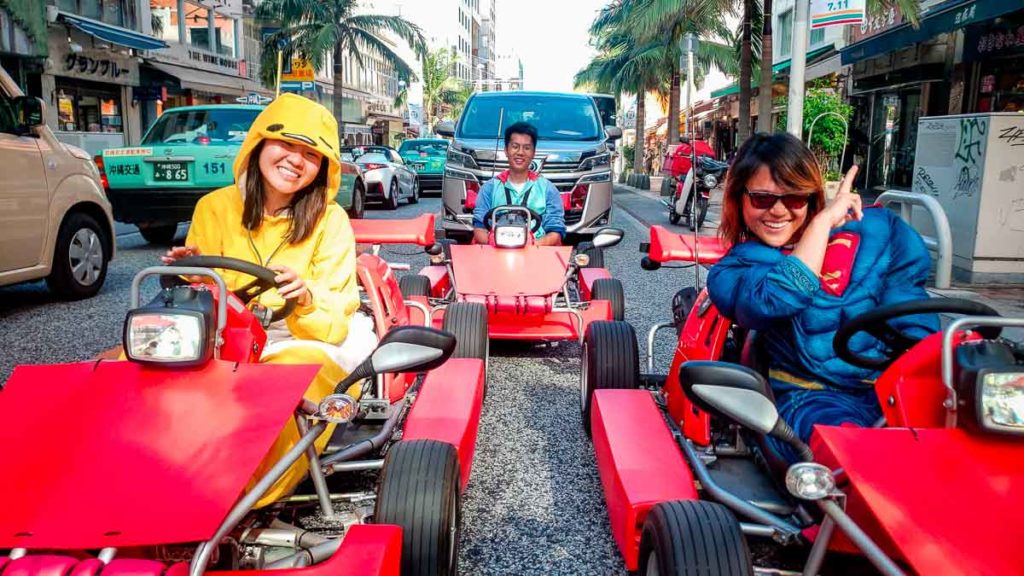 Tokyo's famous Street Go-Kart is also available in Okinawa! Guided by a professional kart driver, you'll be driving (not racing) down actual roads in Okinawa. The most exciting part would be driving through Kokusai Dori (International Street), where locals and other tourists will excitedly wave and snap pictures of you.
Cost: From ~S$78 (1 hour)
8) Watch Bedazzling Fireworks at a Summer Festival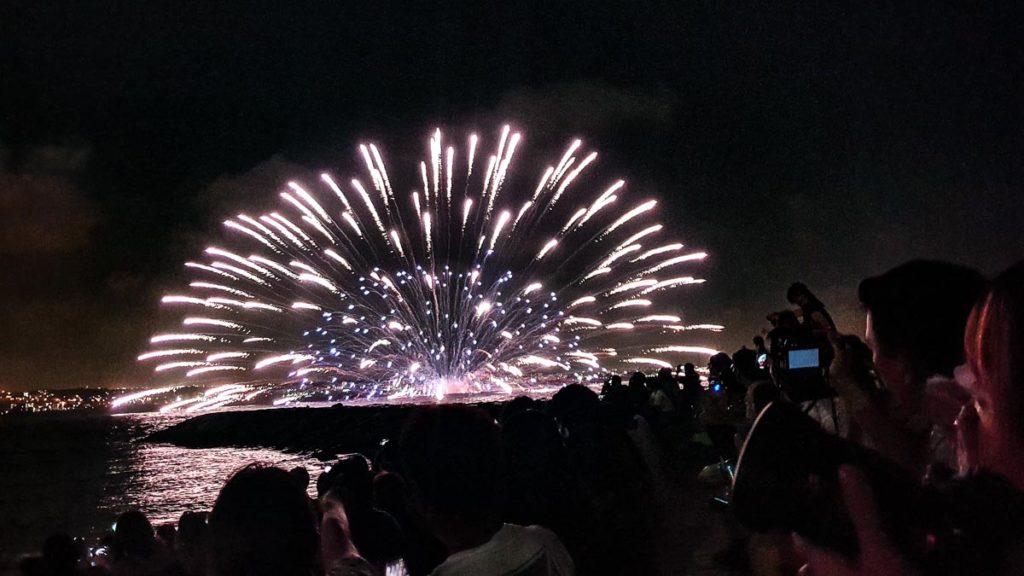 The Japanese take their summer festivals very seriously. Besides traditional music and dance performances, there are also massive fireworks shows that light up the entire night sky. Keep a lookout on the events calendar to see if you're able to catch any summer festivals while you're there!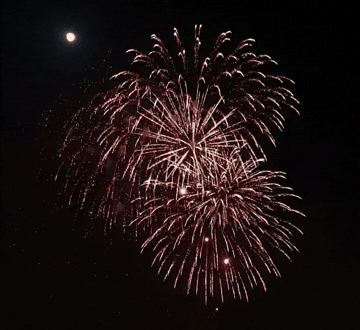 During our trip in July 2019, we managed to catch the Chatan Seaport Carnival, a free two-day festival that focuses on live music and fun in the water before closing with spectacular fireworks (on both days!).
9) Island Hop!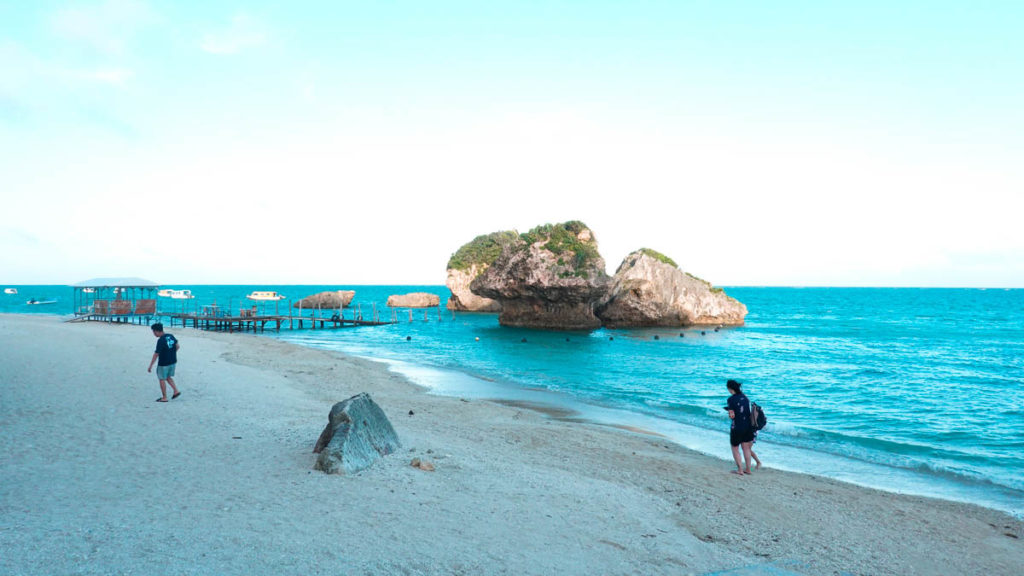 Apart from the main island, Okinawa is made up of dozens of smaller islands. Beach lovers, these islands are where you should head to. Unlike the main island that's pretty commercialised, the smaller islands are less touristy and with that, unspoilt beaches and crystal clear waters.
Most of the islands around Okinawa are accessible via ferry, such as the inhabited Nagannu island that's a snorkelling paradise. Ishigaki is another popular island getaway but it's only accessible by plane. If you're on a road trip with a time constraint, here are five islands you can drive to from the main island of Okinawa.
Read More
10) Dine in a Cave
Okinawa is not short of unusual dining experiences, and what's more hipster than dining at a cafe? Dining at a cafe in a cave.
Valley of Gangala is a limestone cave that's formed thousands of years ago and was opened to the public in 2008, the same year they discovered 3,000-year-old remains of a prehistoric Minatogawa Man. Enjoy a cuppa while being surrounded by nature!
Entrance Fee: Free (~S$39 for a guided tour into Valley of Gangala)
Operating Hours: 10AM – 6PM
How to get there: Opposite Okinawa World theme park
Mapcode: 232 494 476*25
11) Shop Cheap(er)!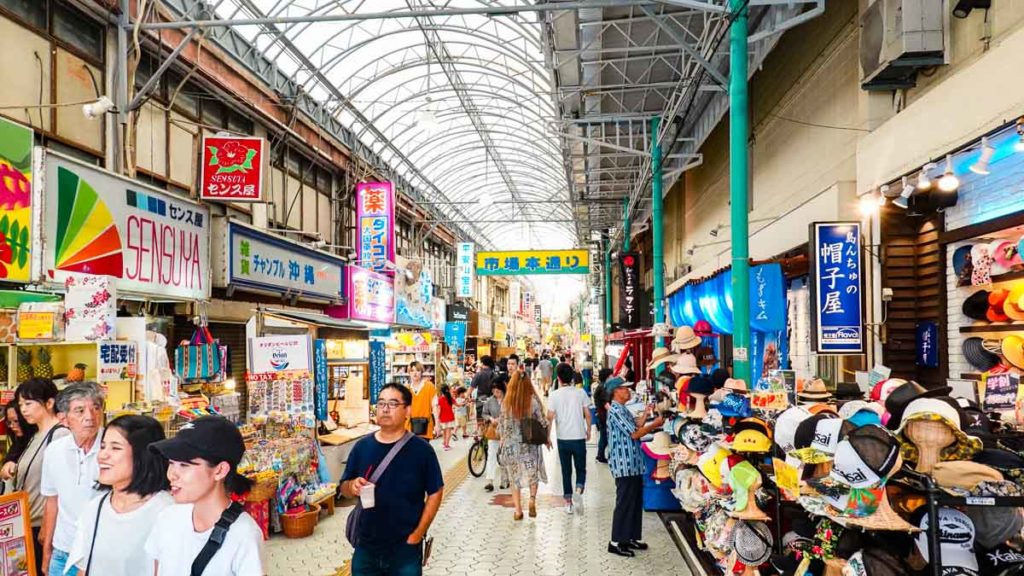 Compared to other major cities of Japan, Okinawa has a lower cost of living. Besides cheaper food in general (and even flights), shopping is also cheaper. Shopping streets such as Kokusai Dori and Heiwa Dori, as well as the Makishi Public Market, are some places to find affordable local food and gift items.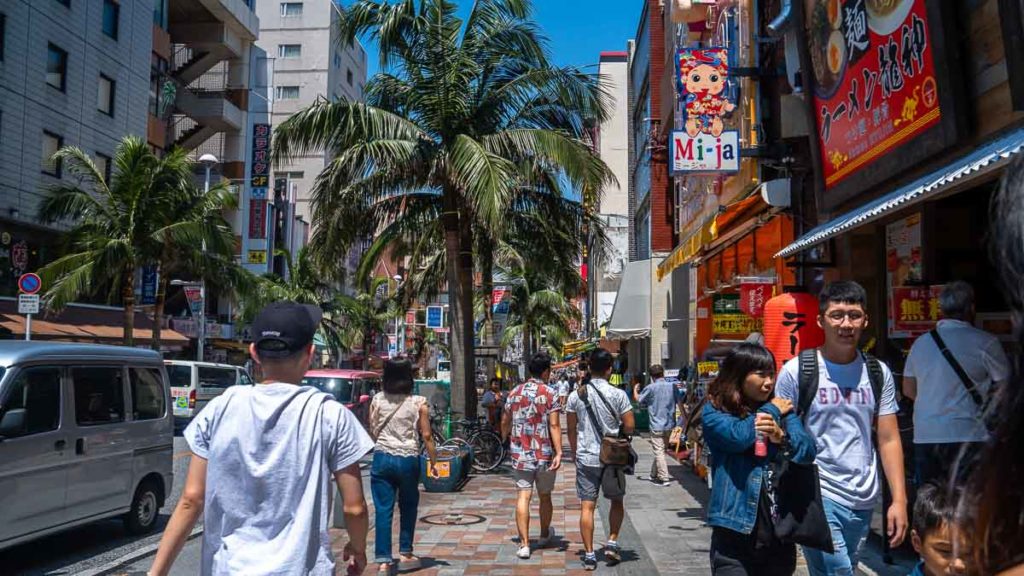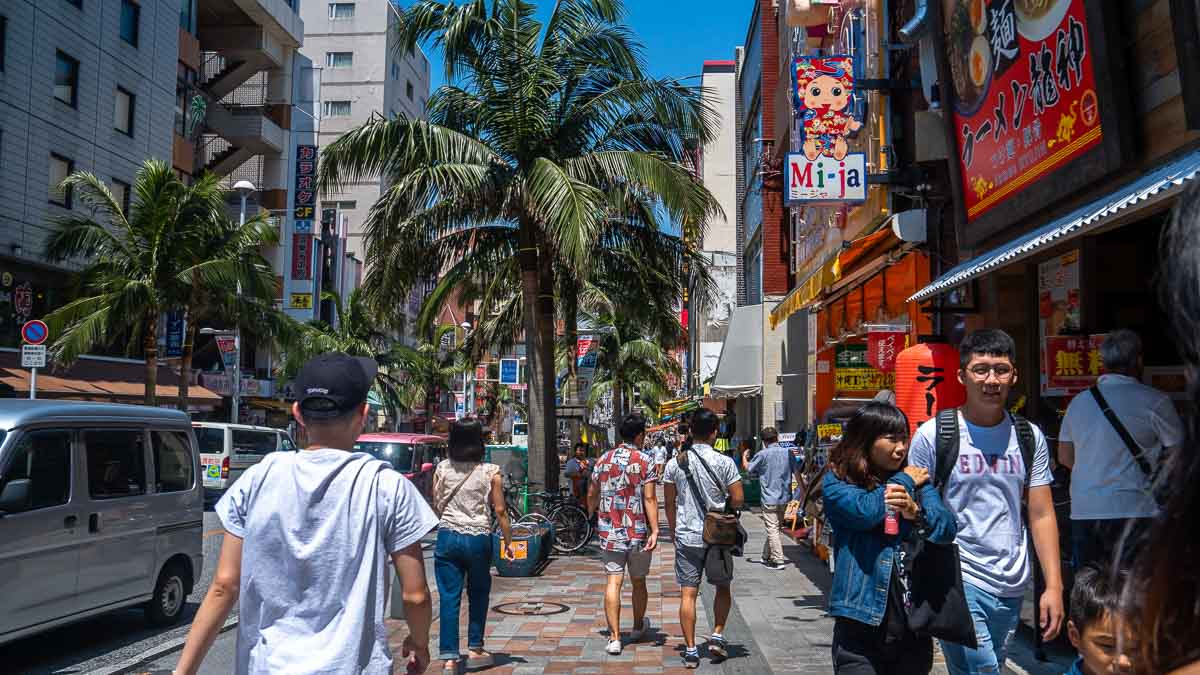 Malls-wise, AEON Malls are huge in Okinawa, and they carry well-known brands like Uniqlo, Daiso, Skechers, GAP, etc. The Okinawa Outlet Mall ASHIBINAA is another shopping paradise near Naha International Airport that's great for last-minute shopping.
12) Dine to Traditional Ryukyu Performances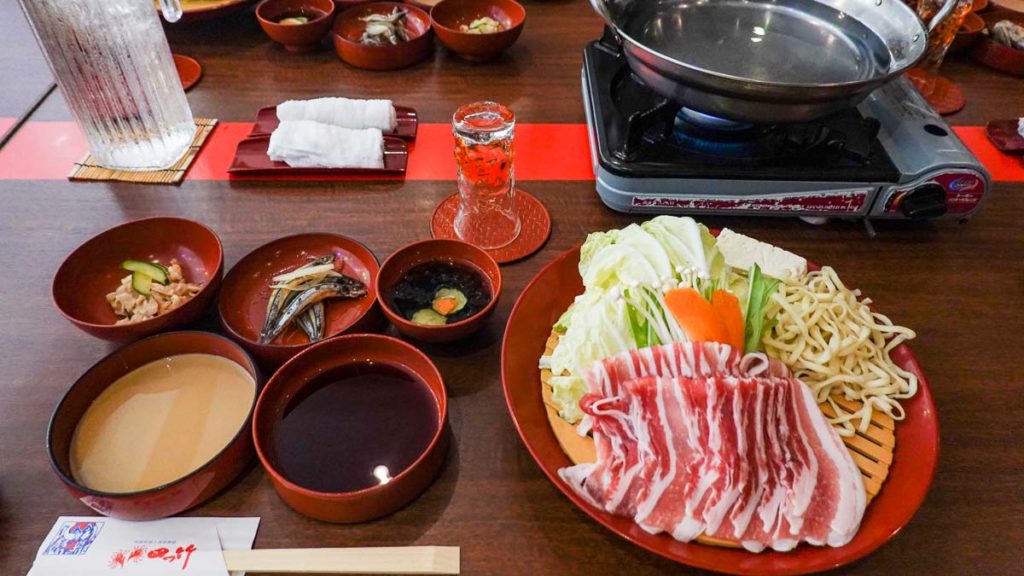 Some izakaya restaurants in Okinawa keep patrons entertained with live performance of Okinawan folk music. We experienced a dinner like no other at Yotsutake (四つ竹), a Benibuta Okinawan Pork shabu-shabu restaurant that has a stage where dancers dance gracefully to Ryukyuan songs as you dine.
Some diners will even be called up to join the dancers! It sure makes for a memorable dining experience, albeit slightly awkward to be called up while you're midway through your meal. Make a reservation here.
Cost: S$51
Time Slots: 6PM, 8PM
How to get there: 7-min walk from Prefectural Office Station
Things to See in Okinawa
13) The Best (and Largest) Aquarium in Japan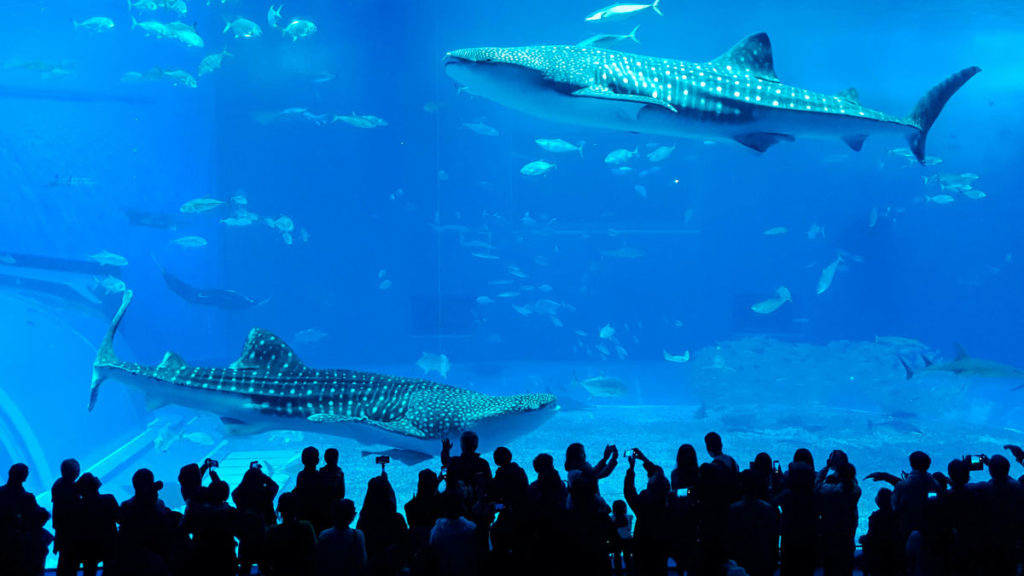 Okinawa's Churaumi Aquarium is a must-visit — first-time or repeat. Japan's largest aquarium houses two whale sharks currently (Osaka's has one), and other marine life include manta rays, other shark species and giant groupers.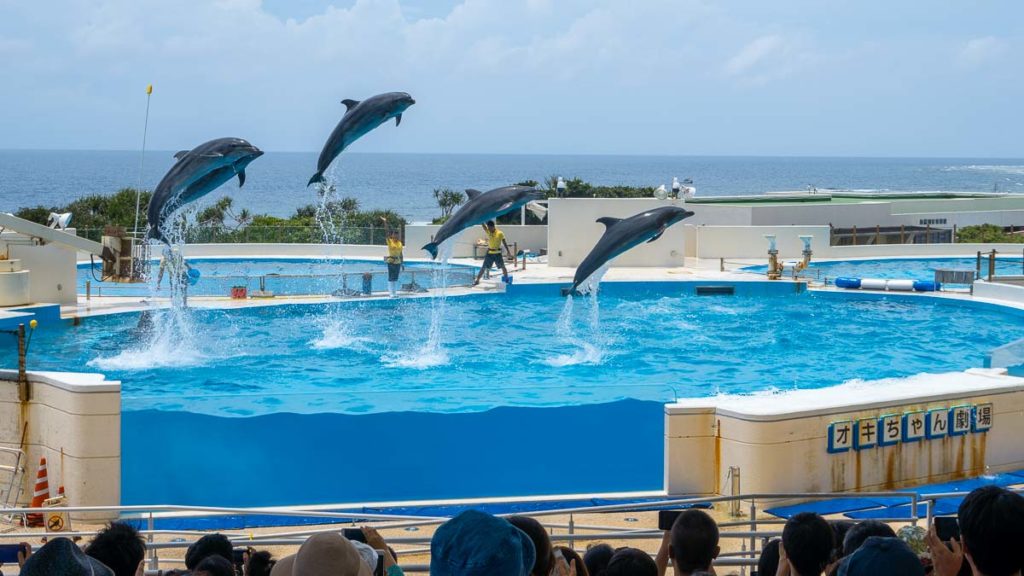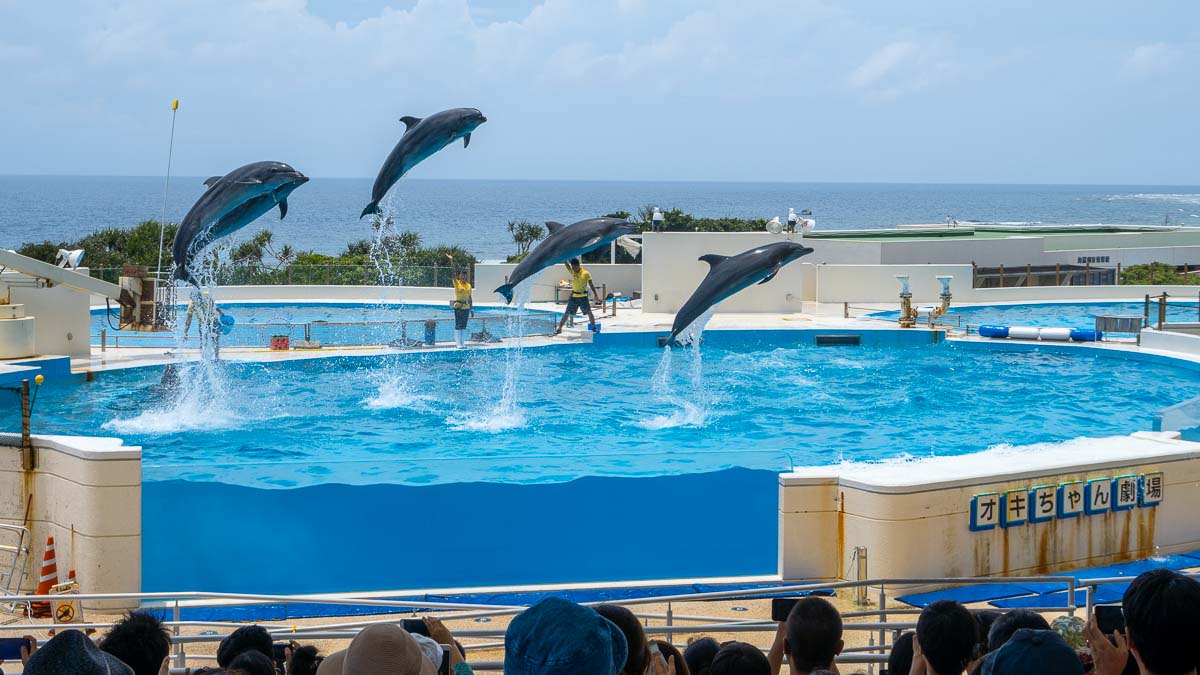 Do not miss the dolphin show when you're at Churaumi! Running three times a day, the shows are a hit with visitors, featuring bottlenose dolphins and porpoise interacting with their trainers and performing spectacular stunts.
Entrance Fee: ¥1,850 (Free with the Churaumi Enjoy Pass)
Opening Hours: 8:30AM – 6:30PM (Oct – Feb), 8:30AM – 8PM (Mar – Sep)
How to get there: Take a shuttle bus from Naha or Nago
Mapcode: 553 075 797*74
14) The World's Largest Tug-of-War Festival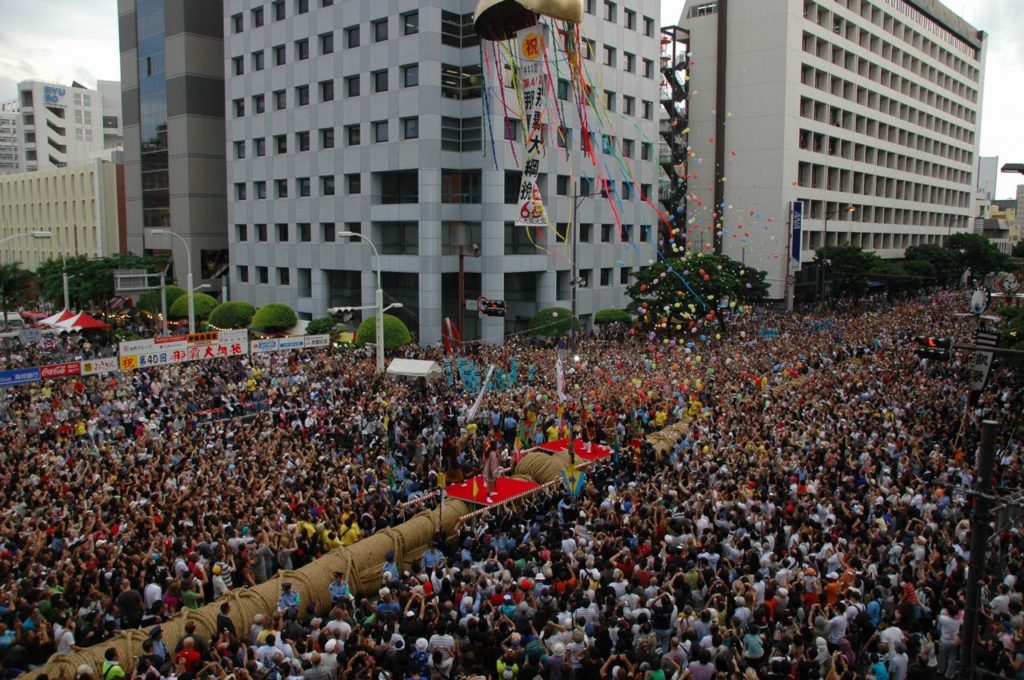 Every year, almost 300,000 attendees come together for a game of tug-of-war. The Naha Tug-of-War Festival is held every October together with a series of parades and celebrations. The rope used is 200m long and weighs 40,000kg!
The festival also holds a Guinness Record for being the largest tug-of-war event in the world.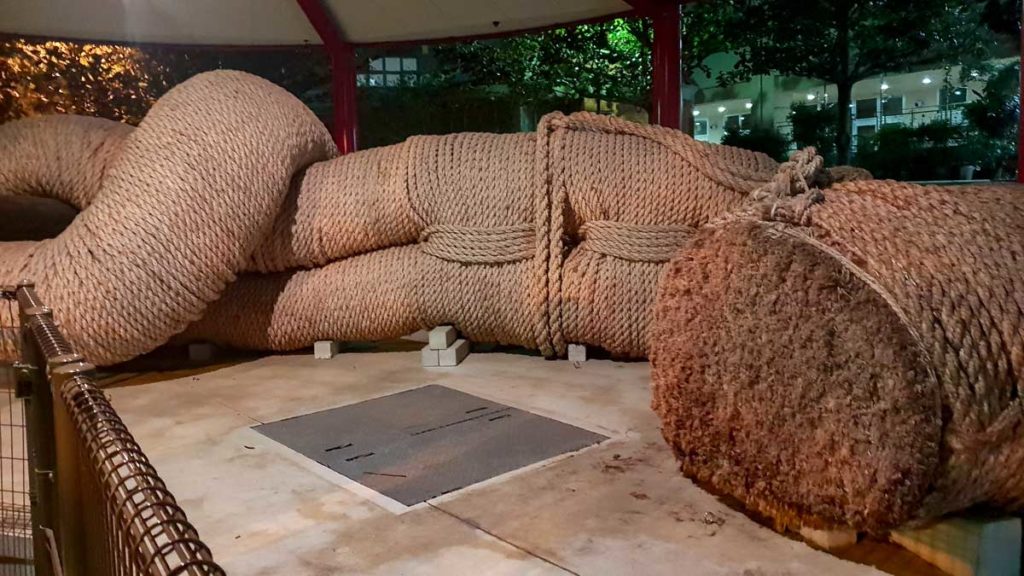 There's a replica rope on permanent display at Kibogaoka Park of Naha City. Measuring 14m long, the replica may look massive but is a far cry from the real deal.
15) Castle Ruins of Ryukyu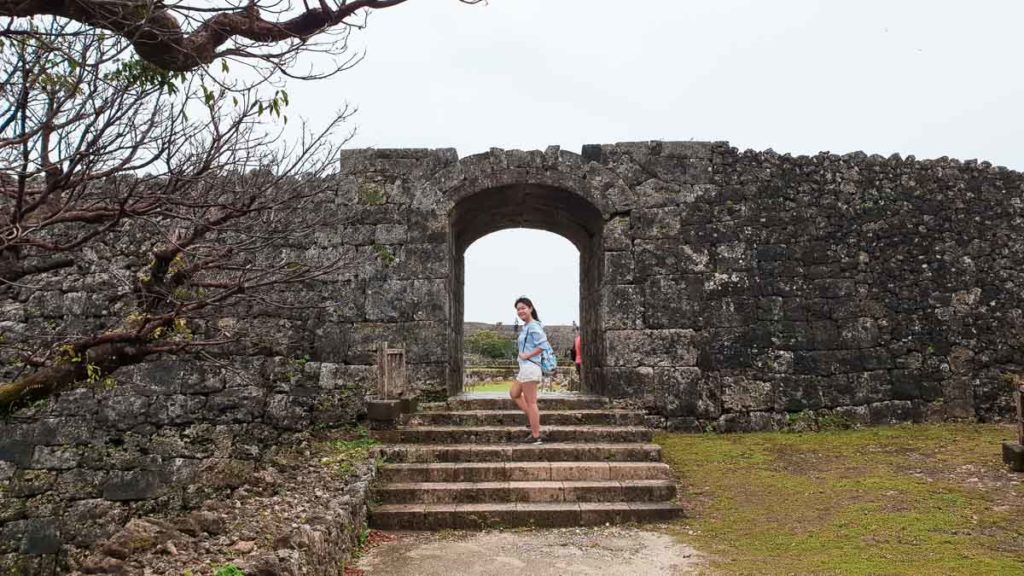 Before 1879, Okinawa was its own country known as the Ryukyu Kingdoms. Till this day, you can find remnants of what was once a thriving empire. "Castle ruins", together with a couple of sacred sites and a garden, are collectively classified and identified as a UNESCO World Heritage site —Gusuku Sites and Related Properties of the Kingdom of Ryukyu.
Read More
16) Capes that Offer Great Vantage Points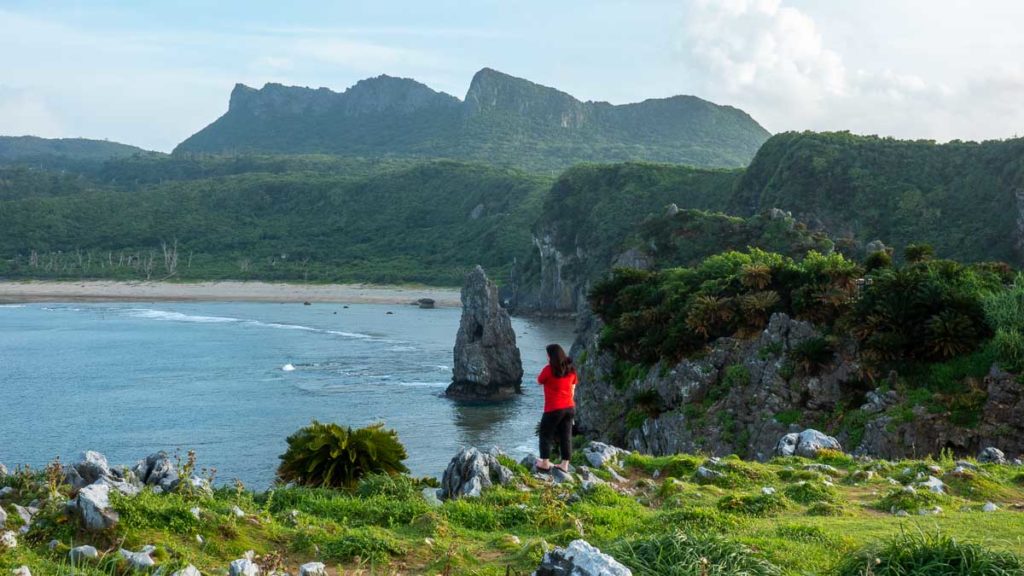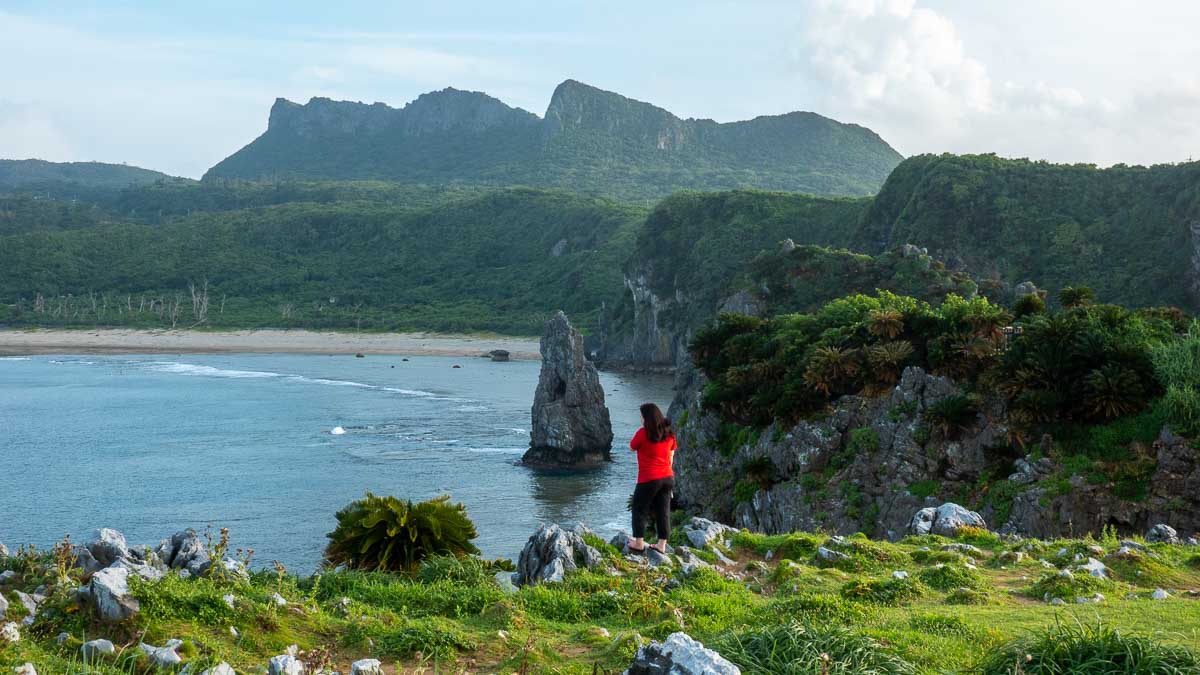 Okinawa is often dubbed a paradise island for her gorgeous clear blue seas and skies, and one of the best places to appreciate the expansive sceneries is on a cape. Below are some of Okinawa's most scenic capes.
Read More
17) Strange figures at a Sacred National Park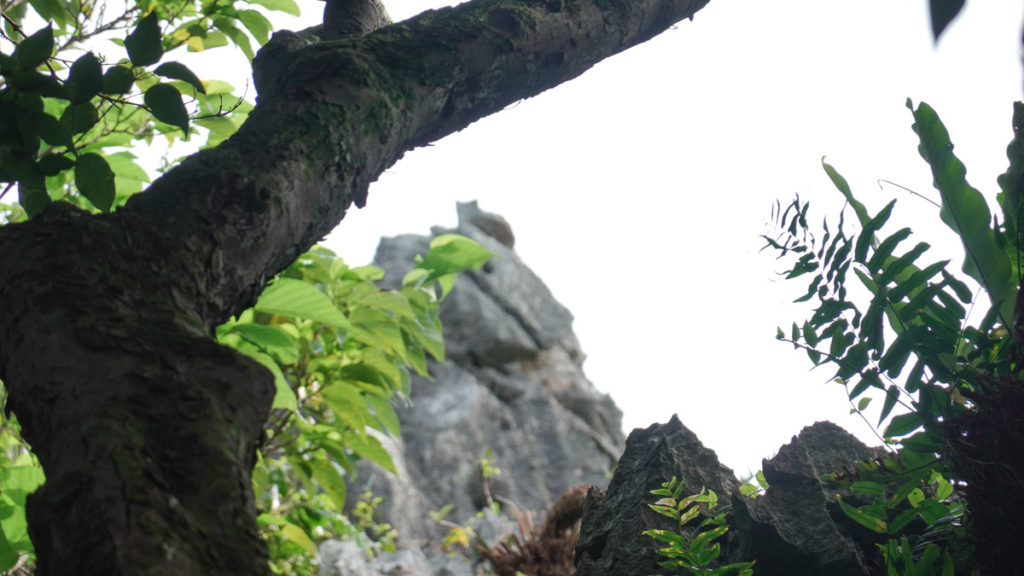 At the northernmost part of Okinawa is the Daisekirinzan Stone Forest, a karst area said to possess healing powers. There are three hiking trails within the forest: Panoramic Trail (60 mins), Forest Trail (30 mins), and the shortcut route (about 30 mins).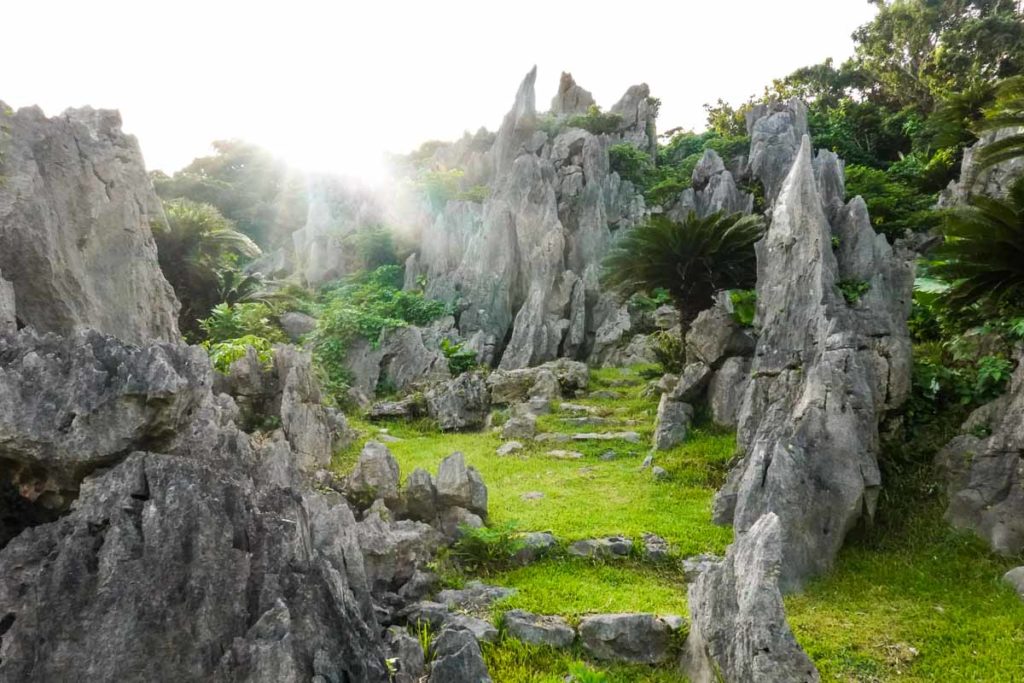 The hike through the stone forest is an easy one, but do wear proper footwear and go prepared with mosquito repellents!
Entrance Fee: ¥1,200 (Free with the Churaumi Enjoy Pass)
Opening Hours: 9:30AM – 5:30PM
Mapcode: 728 675 895*56
18) One of Japan's Longest Cave Systems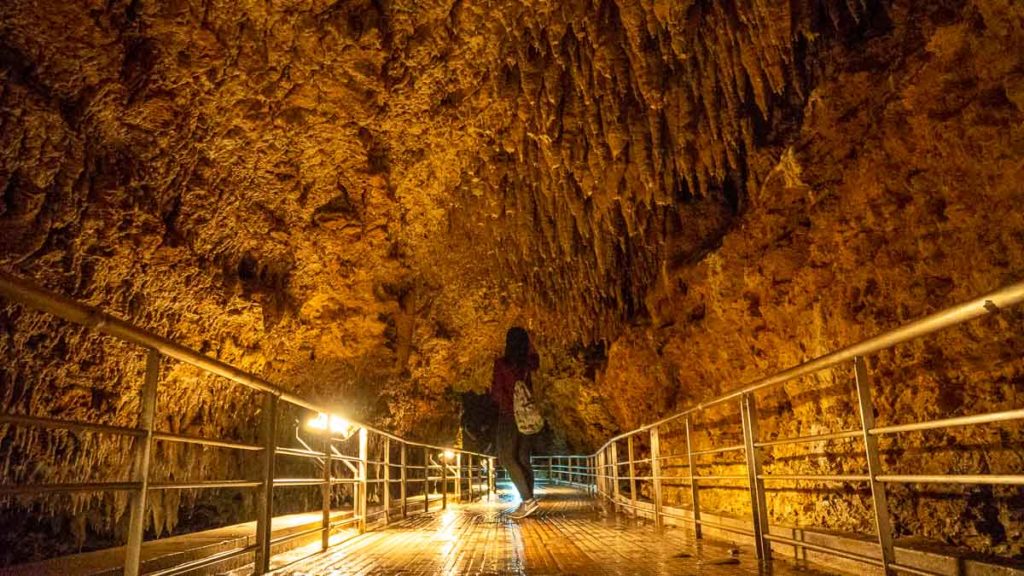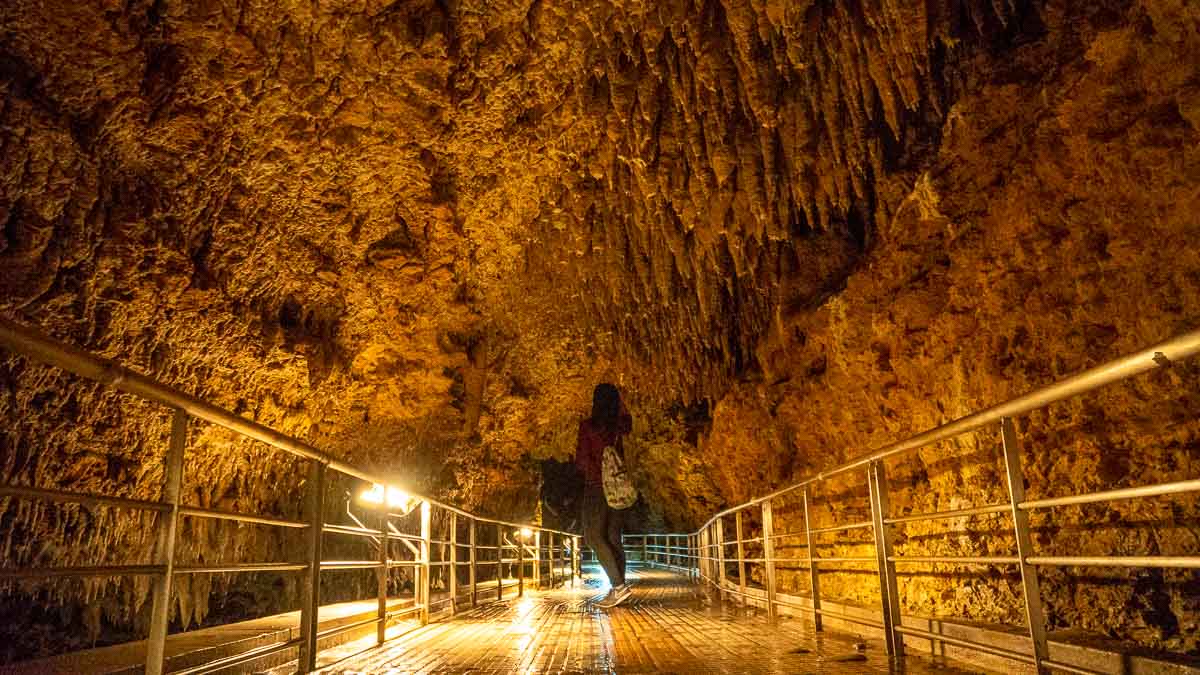 Within Okinawa World is the Gyokusendo Cave, the longest cave system in Okinawa (2nd longest in Japan!) There are more than 1 million stalactites in the 5km-long limestone cave, and 850m of the cave is opened to the public.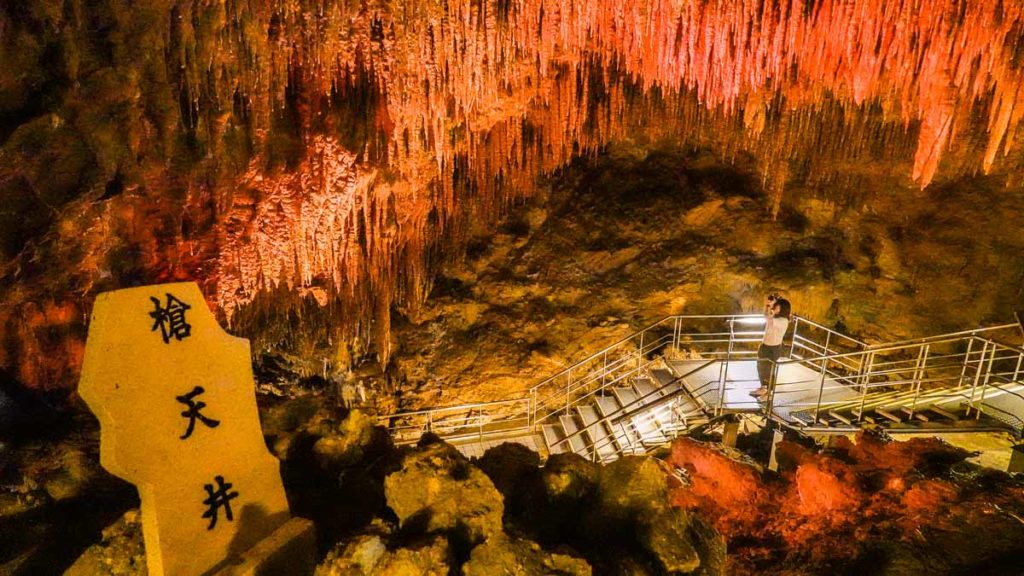 Entrance Fee: ¥1,650 (Free with the Churaumi Enjoy Pass)
Opening Hours: 9AM – 6PM
Mapcode: 232 495 332*71
*Pro-tip: Get the Okinawa Churaumi Enjoy Pass at only S$25 and save up to S$83 for 11 attractions compared to counter prices!
19) Mangrove Kayaking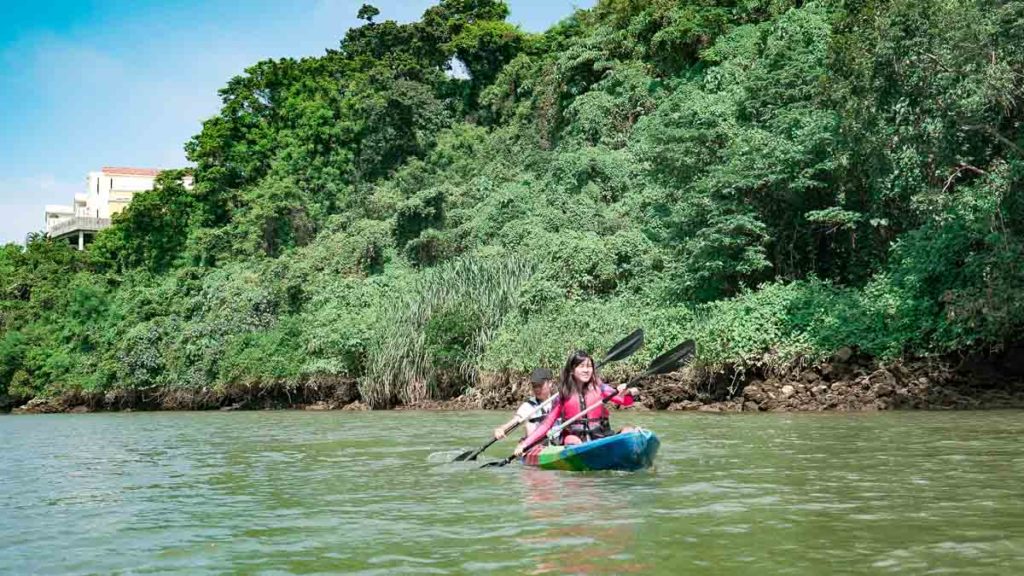 You've probably seen enough pictures of Okinawa's vivid blue seas by now, so how about a change of environment! Somewhere along Hija River near is the merging point of freshwater and seawater, and this swampy mangrove area can be explored on a kayak!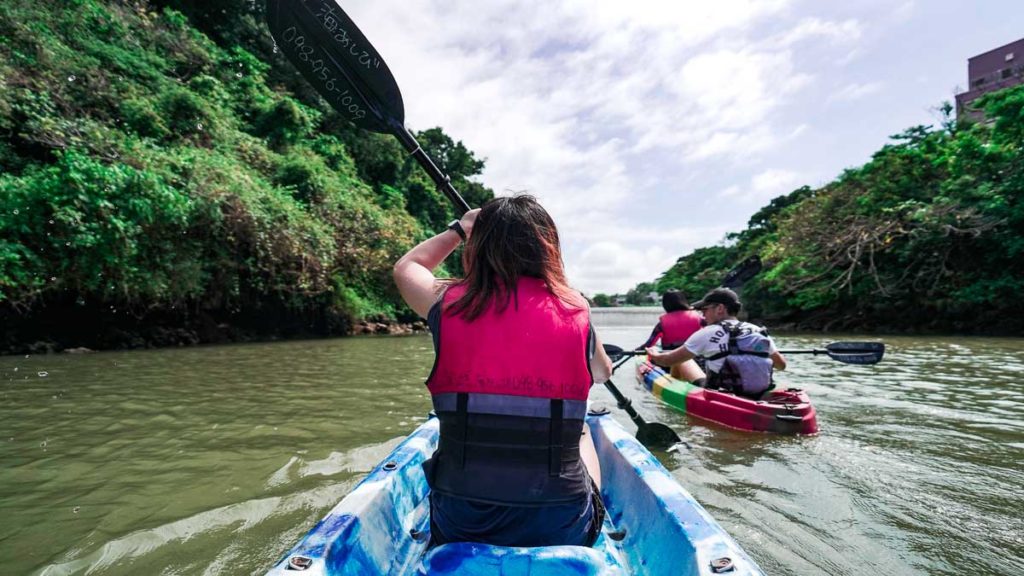 Our guide led us downstream Hija River and made quick stops at the river banks to observe the many tiny Fiddler crabs waving their big claws.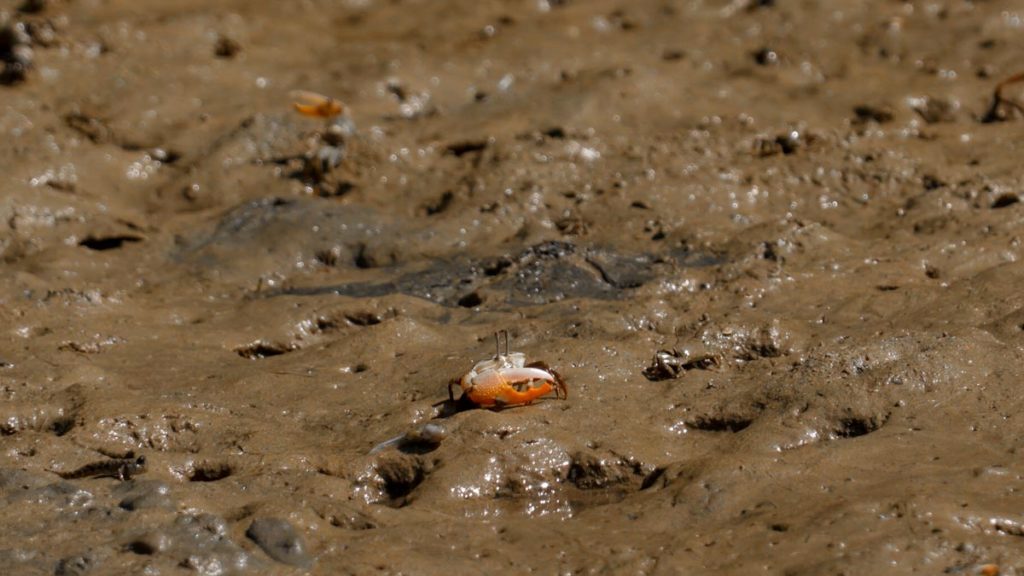 Cost: S$53
Things to Eat in Okinawa
20) Sea Grapes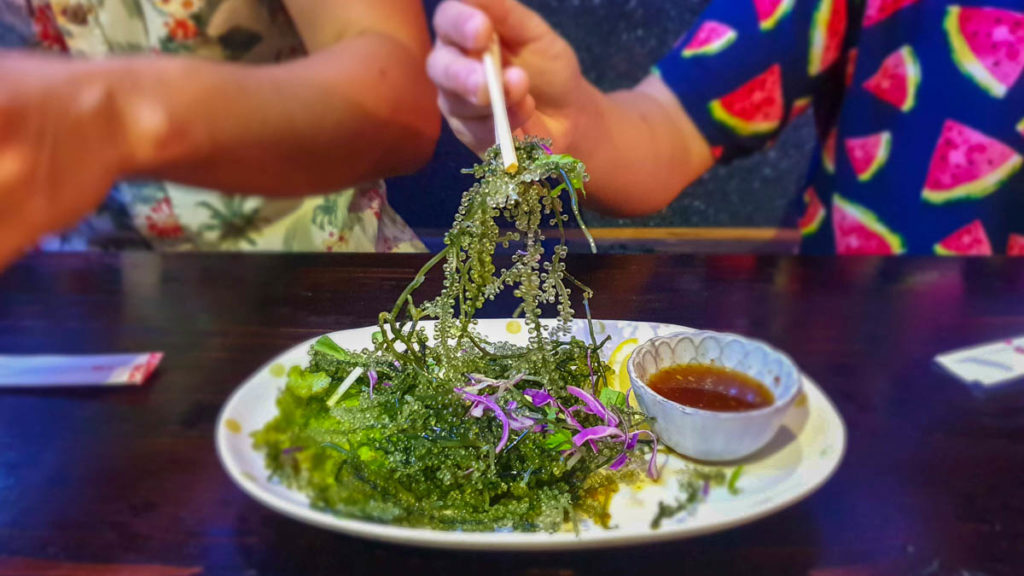 Sea grapes, locally known as umibudo, is a type of seaweed often eaten raw with vinegar in Okinawa. Some people call it the "vegan caviar" as the tiny "grapes" burst as you bite into them, releasing a salty yet refreshing taste. Sea grapes can be found at most Okinawan diners and supermarkets.
21) Pig Head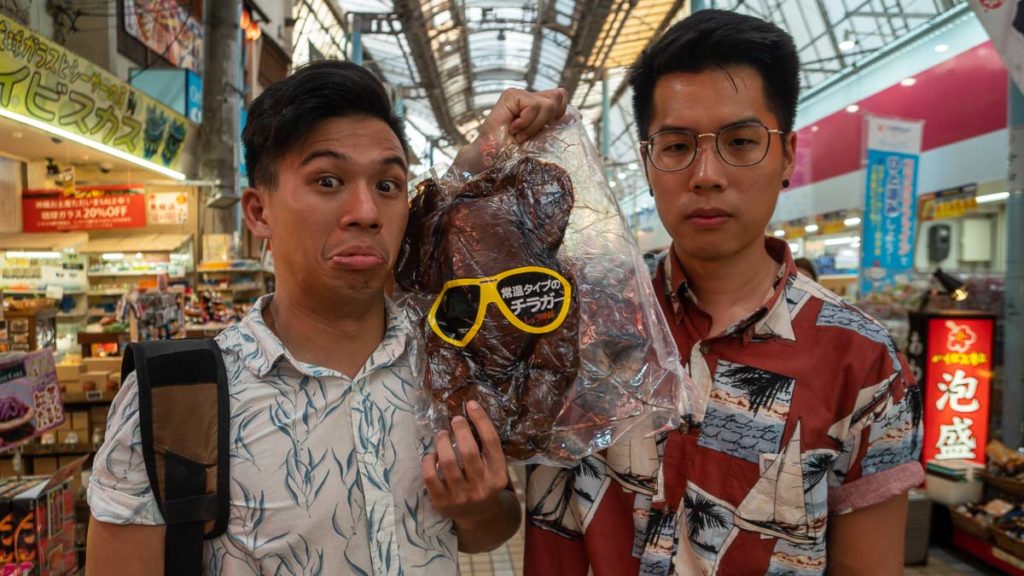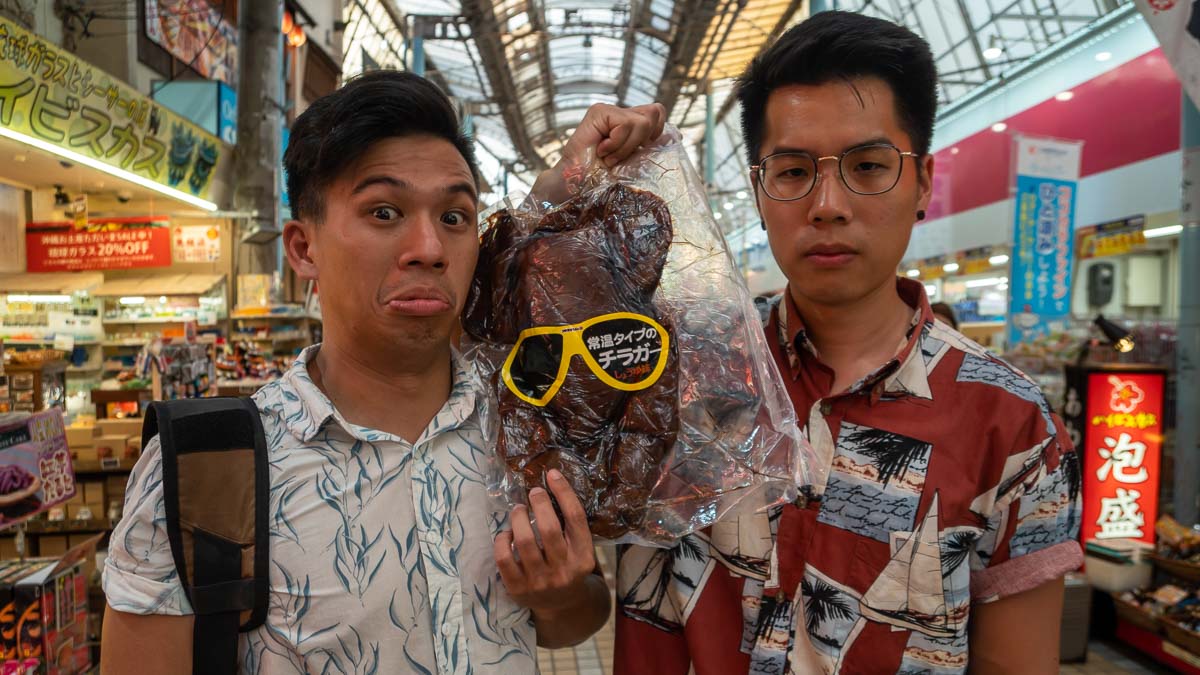 Another oddly interesting food item you'll see a lot in Okinawa is entire pig heads sold in markets. Although the look of it isn't something visually acceptable by everyone, I have to say it's a pretty tasty treat.
22) Okinawan Onigiri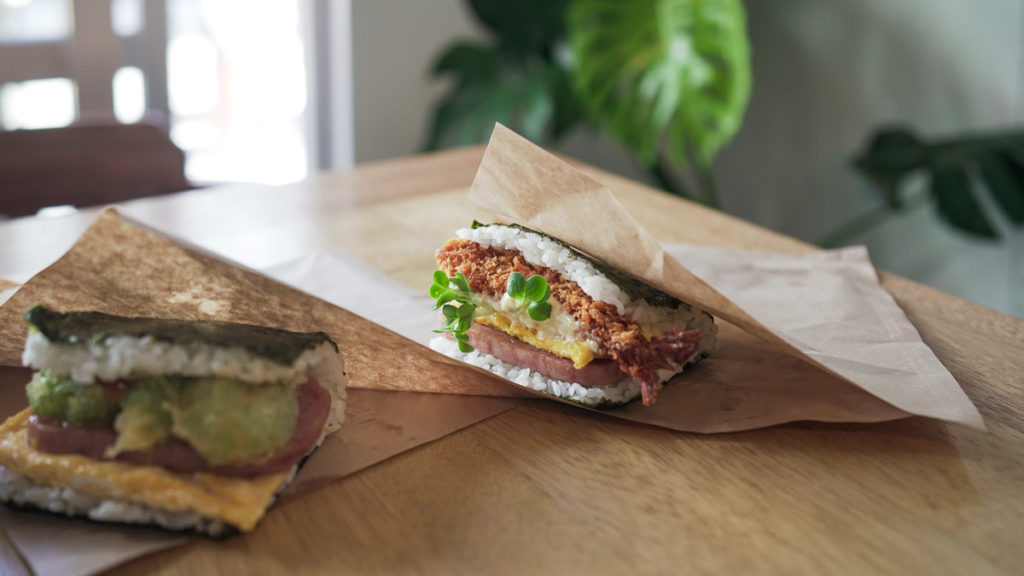 In Okinawa, onigiri are prepared a little differently. Due to influence from the US troops stationed in Okinawa, luncheon meat (or spam) is a prominent plate stuffer in Okinawa. So it's no surprise that onigiri in Okinawa come sandwiched with a slice of luncheon meat!
And to accommodate the size and shape of spam, onigiri in Okinawa are rectangular, instead of the triangular-shaped ones we're used to seeing.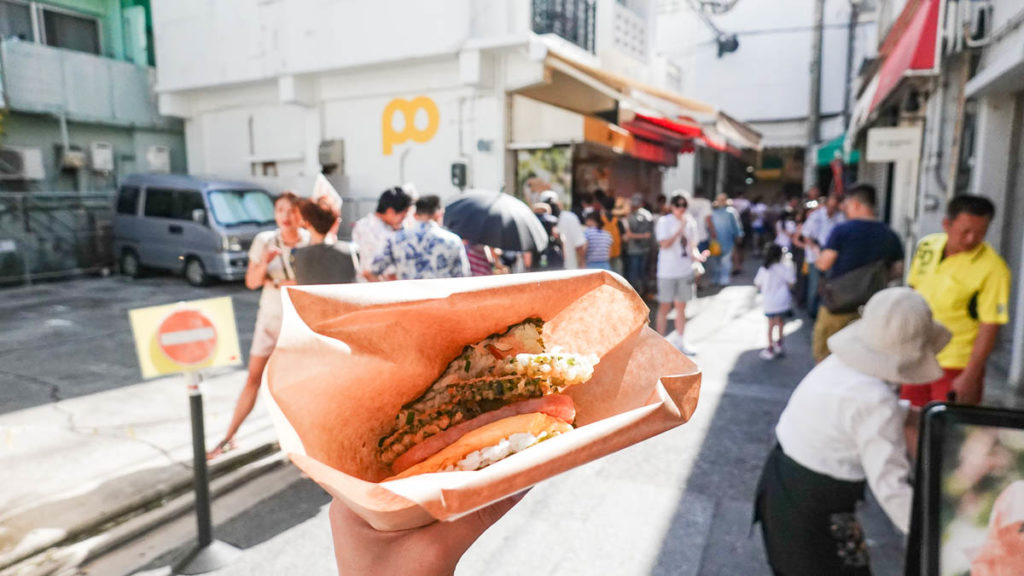 At an alley in Heiwa Dori Street, a snaking queue quietly forms as people wait patiently to order freshly prepared onigiri. Filling choices range from loofah tempura and bitter gourd to tuna. We had our breakfast here, and it was fantastic. Who knew luncheon meat wrapped with rice and seaweed could taste so awesome?
Pork Tamago Onigiri Honten (Kokusai Street branch)
Cost: From ¥250
Opening Hours: 7AM – 5:30PM, closed on Wednesdays
Address: Japan 900-0014, Okinawa, Naha, Matsuo, 2 Chome−8−35
23) Snake Wine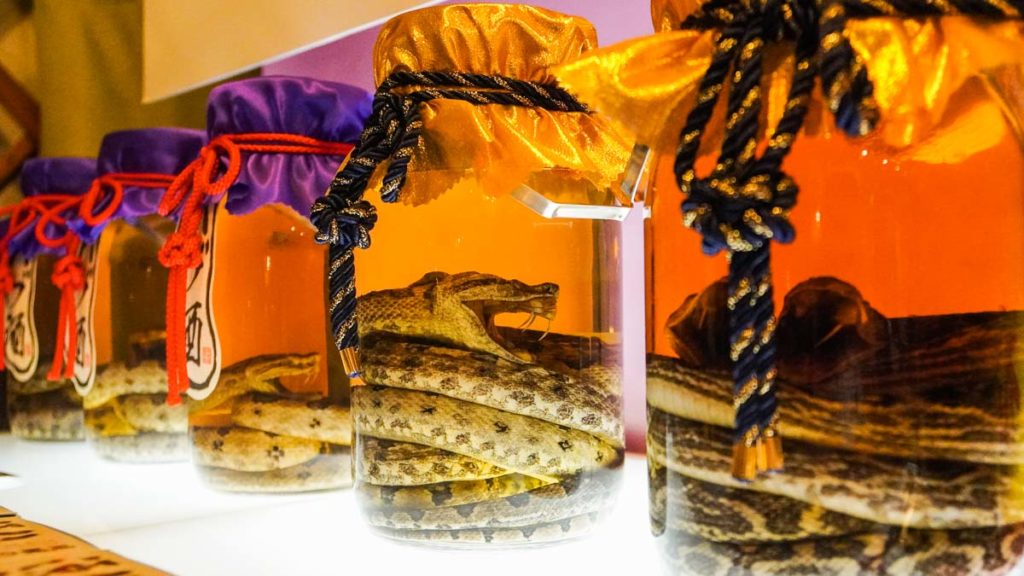 Snake wines, while not the most unusual drink in the world, is unusually common in Okinawa. Habushu (or Habu sake) is an awamori-based liquor made in Okinawa. The snakes used to make habusu are venomous pit vipers found only on the Ryukyu Islands of Japan. Drinking habusu is said to strengthen the body and boost stamina!
24) Snake Soup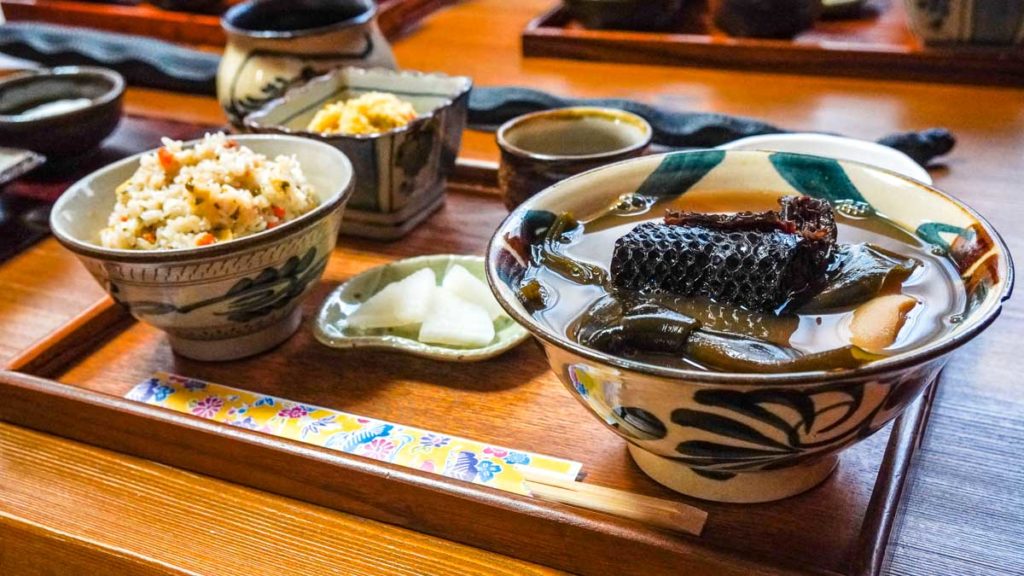 Okinawans do seem really adventurous when it comes to food. Besides snake wines, they also enjoy soups made with venomous sea snakes. The irabu, or black-banded sea krait, is a highly venomous sea snake (10 times more venomous than cobras!) that lives in the waters of Kudaka Island, a small island south of Okinawa's main island.
Till this day, all sea snakes used to prepare the irabu soup are caught wild by elderly ladies using only their bare hands.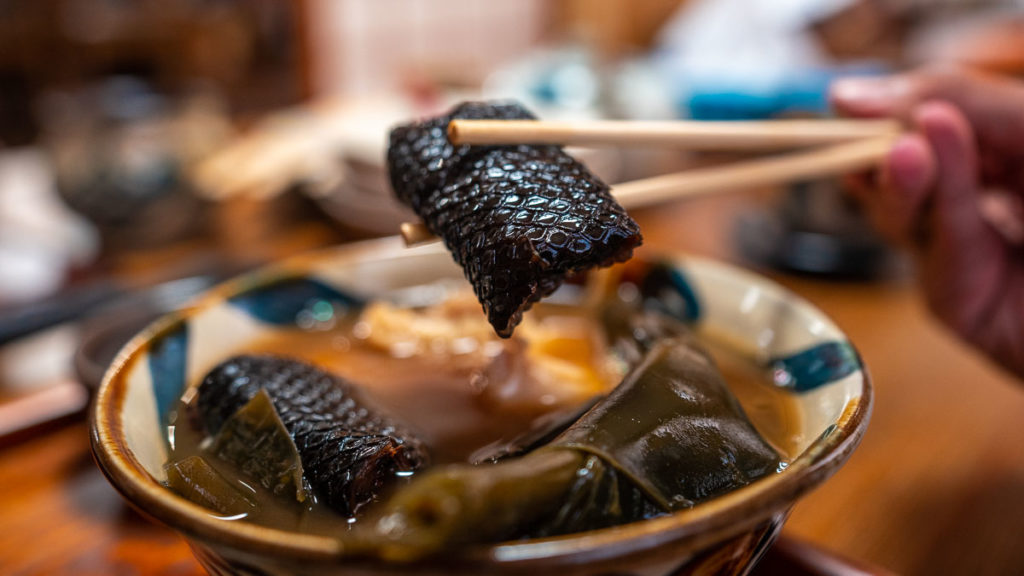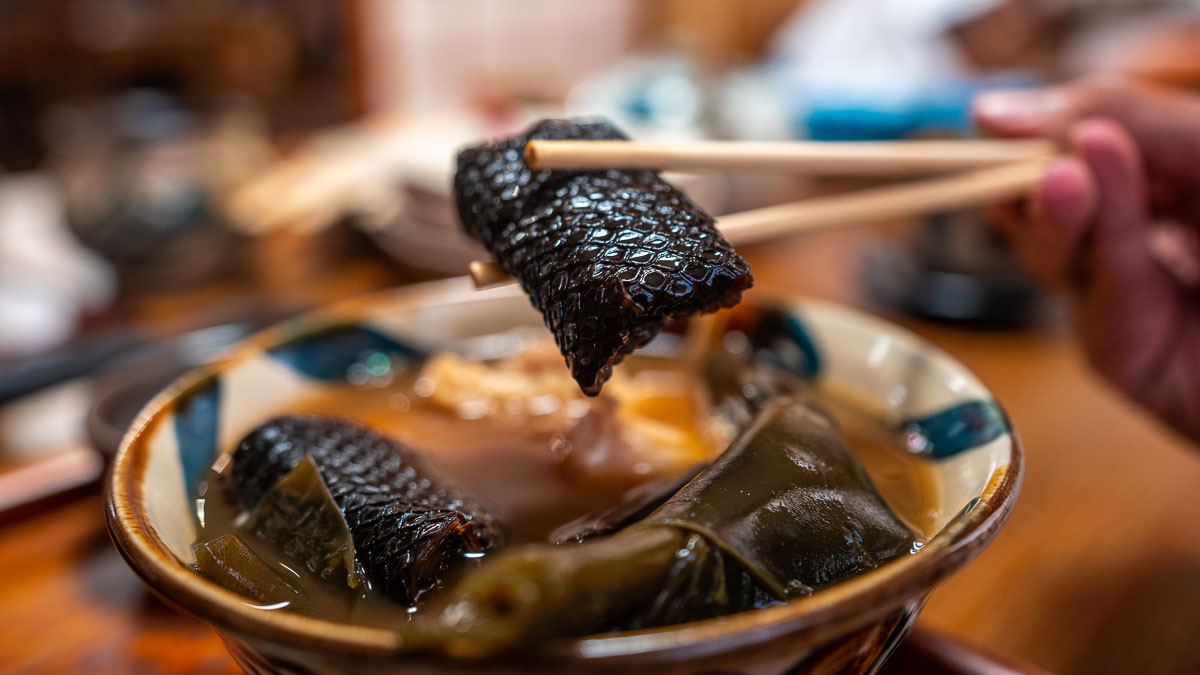 And if the harvesting process doesn't sound wild enough, maybe the preparation process will. Irabu caught will then be smoked for flavouring and preservation. It then takes another 16–36 hours to prepare and cook the smoked snakes before being served to diners. The long hours include scrubbing, deboning, and of simmering the snakes!
There only a few places in Okinawa where you can still have a taste of this dish today. One famous place is Kana, a family-run restaurant that serves up to 30 bowls of irabu soup each week. Reservations at least a week in advance are definitely needed but it's 10/10 recommend if you're daring enough!
Kana Restaurant (カナ)
Cost: From ¥3,800
Opening Hours: 6PM – 9PM, closed on Sundays, Mondays and Thursdays
Address: 515-5 Yagibaru, Kitanakagusuku-son, Nakagami-gun, Okinawa-ken 901-2304
Tel: 098-930-3792 (for reservations)
25) Okinawan Soba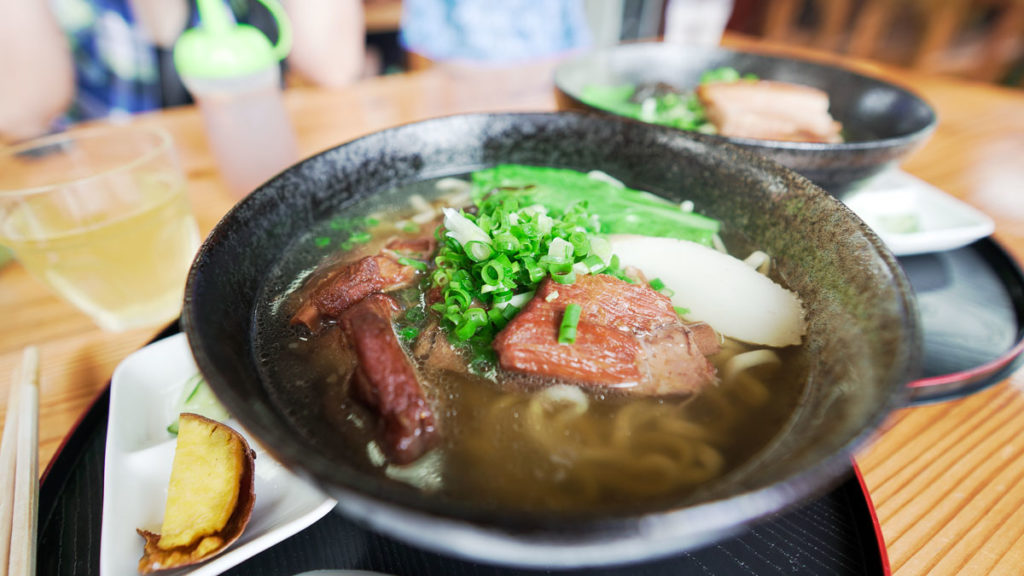 Okinawan soba is the absolute comfort food. It's unlike the typical soba we know of — it's slightly thicker and flatter, kind of curly, and served in clear tasty broth with thick slices of pork belly or pork ribs.
Okinawan soba is a staple dish in Okinawa and can be found almost everywhere, but below are some restaurants we tried and recommend!
Ryukyu Shinmen Tondou (琉球新麺 通堂)
Opening Hours: 11AM – 12:30AM
Address: 5-4-6 Kinjo, Naha City, Okinawa (and 4 other branches)
Ryukyu Sabo Ashibiuna (琉球茶房 あしびうなぁ)
Opening Hours: 11AM – 3PM, 5PM – 11PM
Address: 2-chōme-13 Shuritōnokurachō, Naha, Okinawa 903-0812, Japan
Sacchan Soba (幸ちゃんそば)
Opening Hours: 10AM – 4PM, closed on Mondays
Address: 2 Chome-11-11-3 Ominami, Nago, Okinawa
26) Goat Sashimi
Sashimi is loved by people all over the world, but goat sashimi is one that's definitely something not everyone finds palatable. The raw goat meat smells very gamey and can be revolting for people who don't like the gaminess of mutton.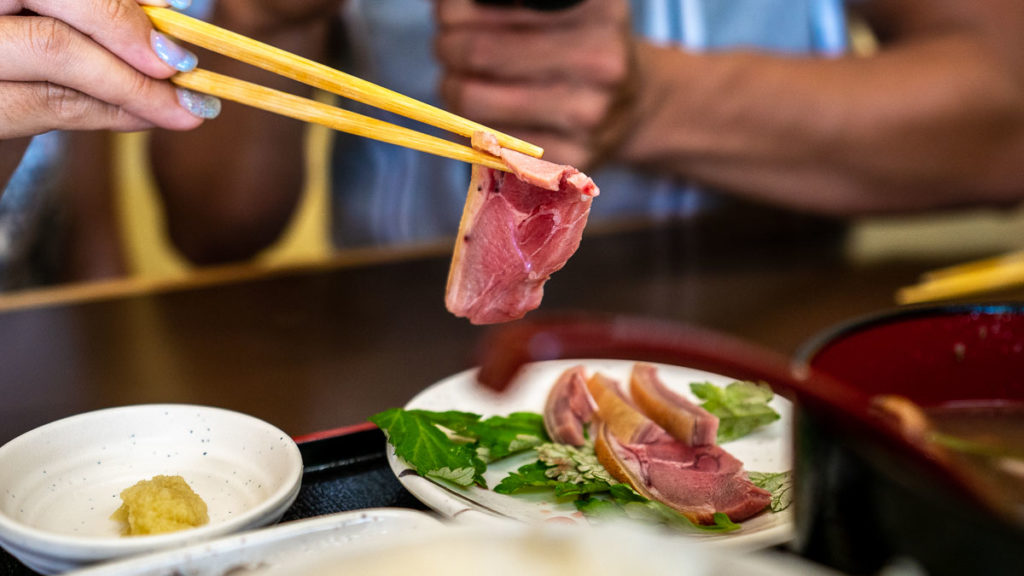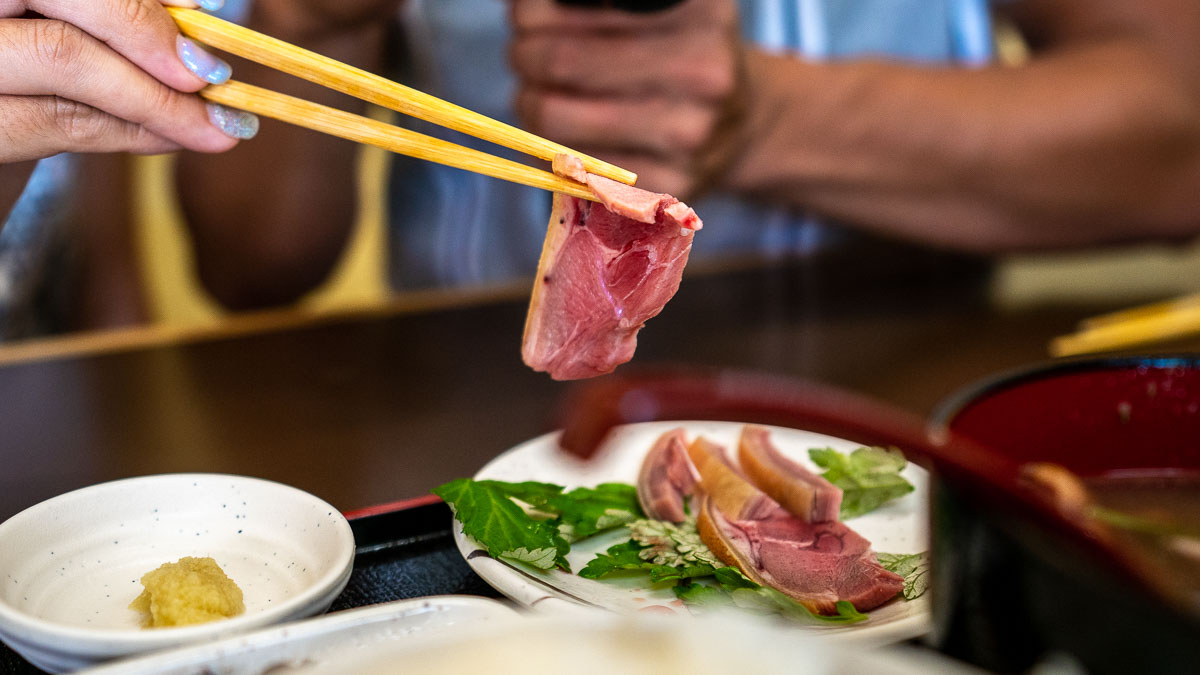 At Yanbarukuinaa, the yukke, sashimi, soup, and stir-fried goat blood are some dishes that are worth trying. It's no doubt an acquired taste, but if you already love mutton, give this Okinawan delicacy a try.
Yanbarukuinaa — Goat Sashimi (山羊料理 山原食いなぁ)
Cost: ~¥1,600
Opening Hours: 12PM – 12AM, closed on Mondays.
Address: 3 Chome-13-1 Nishi, Naha, Okinawa 900-0036, Japan
27) Beni Imo (Sweet Potato) Everything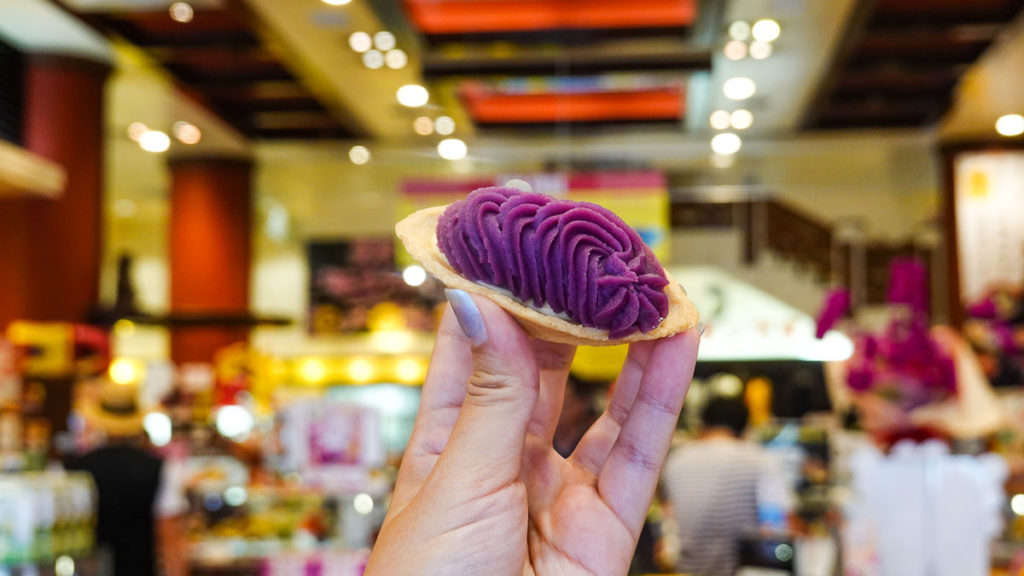 Beni imo is a purple-flesh sweet potato found in Okinawa. This vibrant purple tuberous root is iconic in Okinawa, and there are all sorts of snacks made beni imo flavoured. From tarts, ice cream, puffs, chips, cheesecakes, chocolates and even vinegar, you name it, they've got it.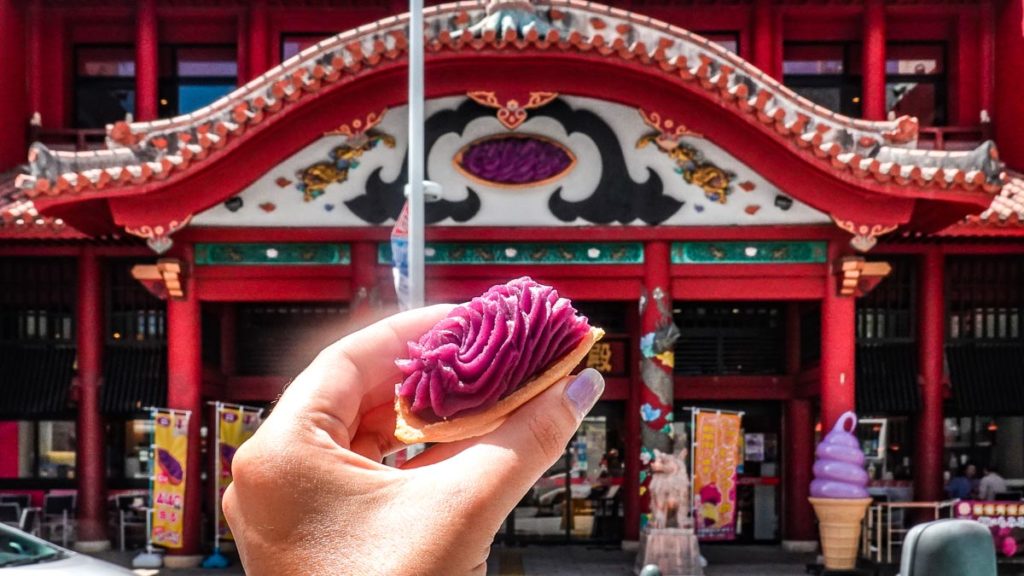 Kokusai Dori (International Street) has numerous shops selling beni imo products, but if you're looking for the one stop shop for all-things sweet potato, head to the Okashi-goten Kokusai Street Matsuo Store. With a store facade modelled after the Shuri Castle, these folks have truly immortalised beni imo as the pride of Okinawa.
Okashi-goten Kokusai Street Matsuo Store (御菓子御殿 国際通り松尾店)
Opening Hours: 9AM – 10PM
How to get there: On Kokusai Street, walk 3 minutes from Kencho-mae Station
28) Okinawan Taco Rice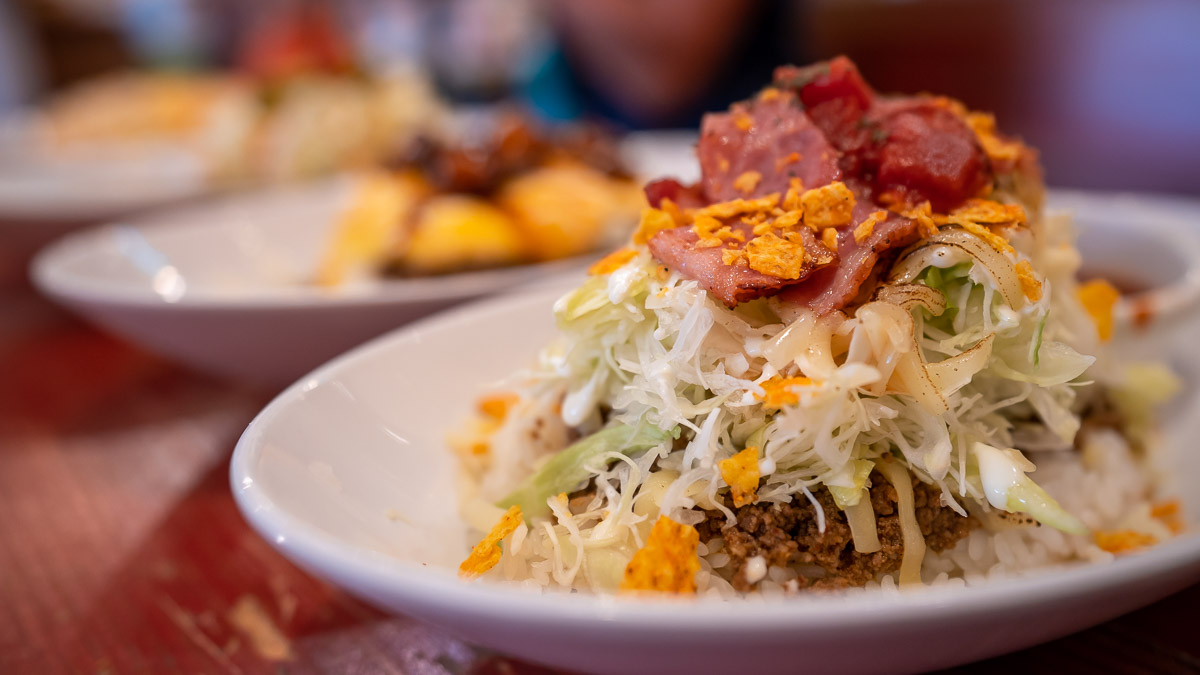 An iconic Okinawan dish, taco rice is a fusion of Mexican and Japanese cuisine just as its name suggests. Instead of taco shells, the usual taco-flavoured ground beef fillings are enjoyed with Japanese short-grain rice instead.
Many diners have taco rice on their menus, but we recommend King Tacos for a taste of the authentic Okinawan comfort food. For something fancier, Taco Rice Cafe Kijimunaa serves up piping hot omutaco — taco rice with a runny omelette on top.
King Tacos (キングタコス)
Cost: ¥400
Opening Hours: 10:30AM – 12AM
Address: 4244-4 Kin, Kin Town Kunigami Okinawa
Taco Rice Cafe Kijimunaa (タコライスカフェ)
Cost: ¥650
Opening Hours: 11AM – 10PM
Address: 2F Depot Island Building C, American Village, 9-1 Mihama, Chatan Town
29) Blue Seal Ice Cream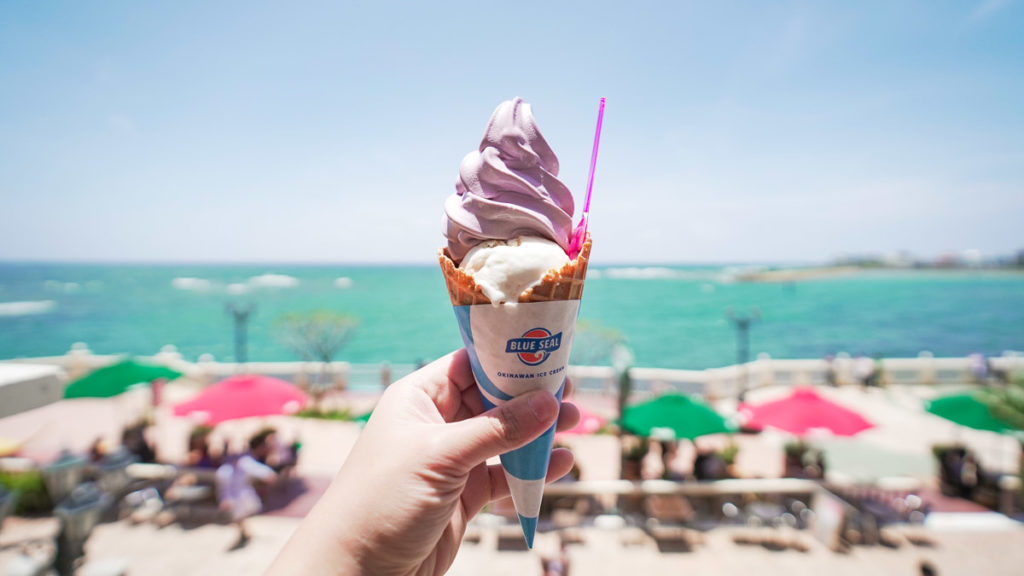 Okinawa is best visited during the summer months for its mesmerising blue seas and skies. But the summer heat can be unforgiving, and that's when you'll appreciate how often you can find Blue Seal Ice Cream stores. This ice cream chain has stores literally everywhere.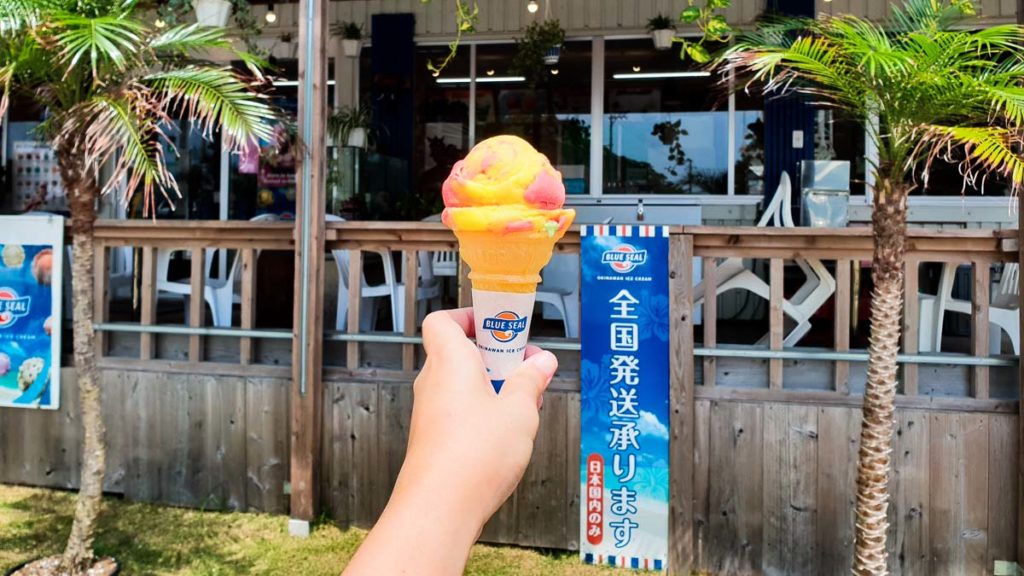 Cost: From ¥350
30) Sea Salt Ice Cream (and Other Sea-Salt Products)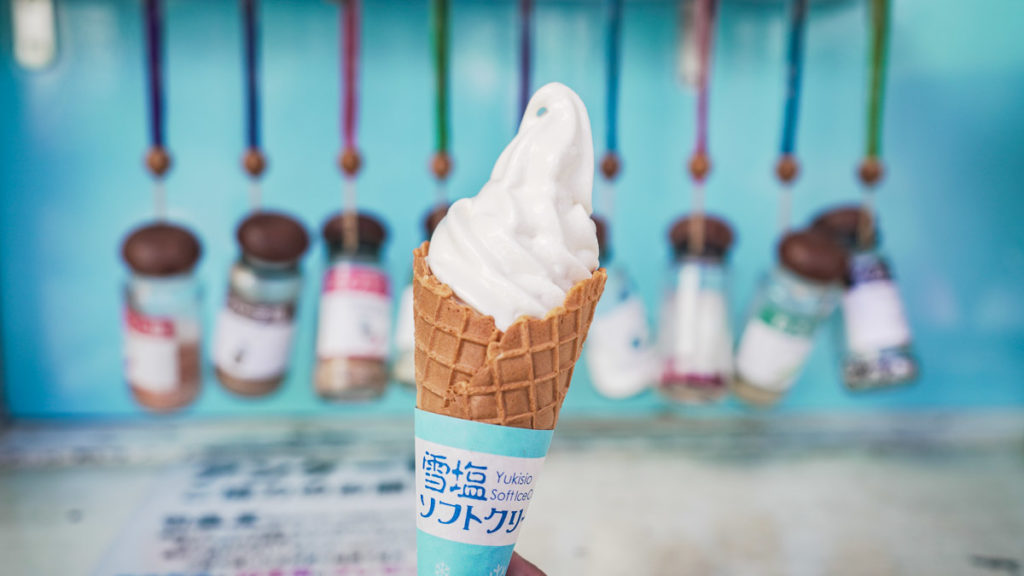 Sea salt from Okinawa is said to be the answer to longevity as the salt harvested there are high in minerals and low in sodium. When nature gives you something good in abundance, make full use of it, gurl!
In Okinawa, you can find sea salt products of every kind, from beauty products to soft-serve ice cream. Yes, the ice cream is salty.
31) Okinawan Brown Sugar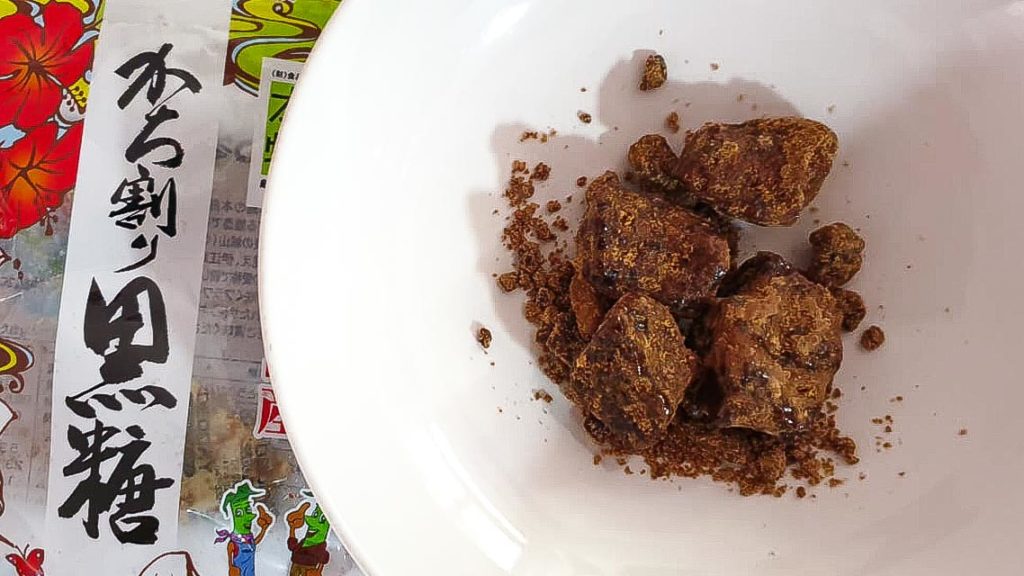 Brown sugar milk tea is all the rage now and if you're a fan of the caramelised goodness, you'll want to try the OG brown sugar in Okinawa.
Also known as kokuto, Okinawa's brown sugar is often taken as they are — raw. Essentially made from sugarcane juice, Okinawan brown sugar is said to be high in calcium and iron, and helps alleviate body heat.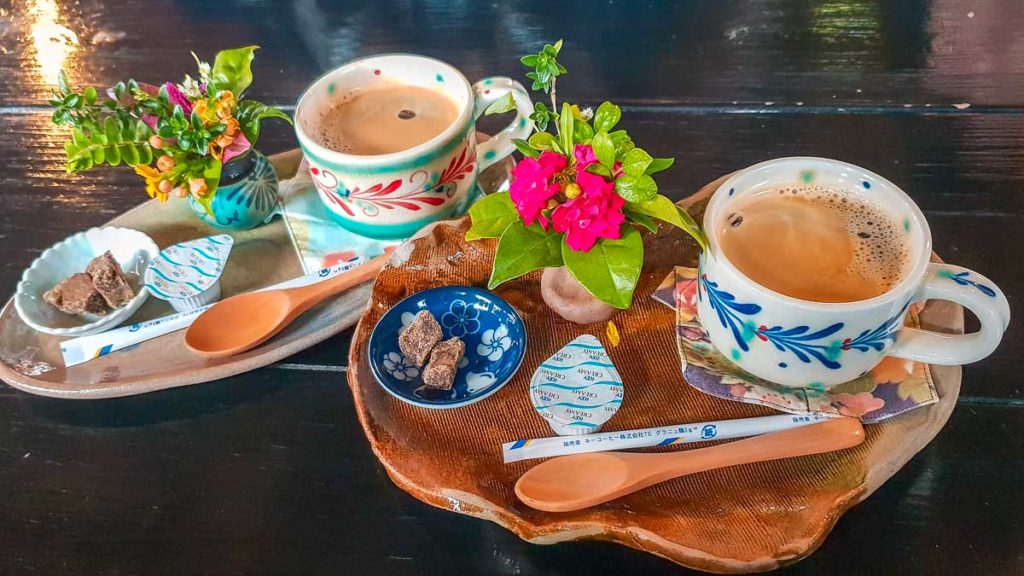 While the brown sugar can be consumed as it is, there are many other ways to enjoy this saccharine goodness. Melt a few cubes in hot water and drink it brewed, use it as a coffee/tea sweetener substitute, or even cook it together with instant noodles!
32) Okinawa's Orion Beer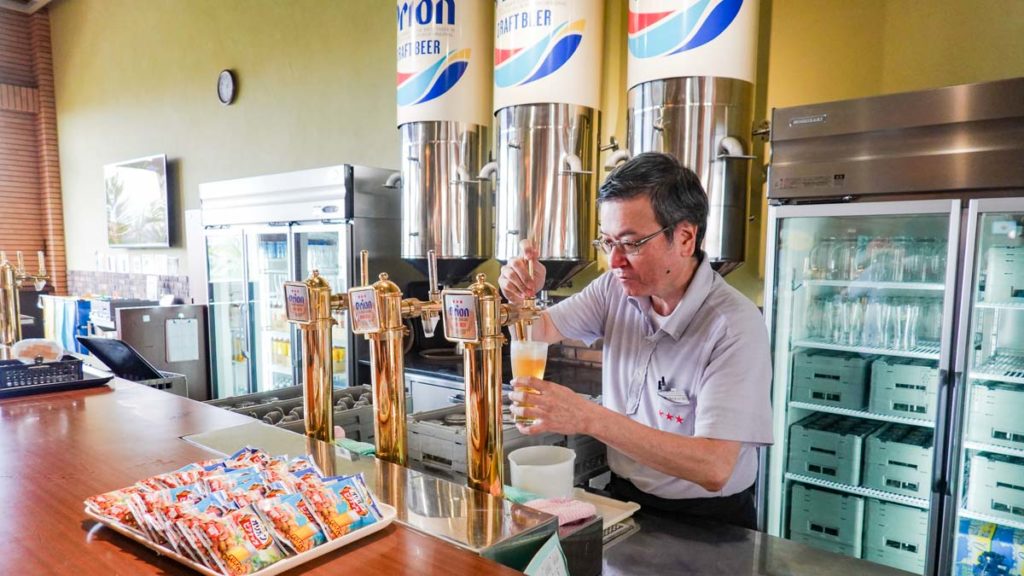 While this may not be as popular as bigger names like Asahi, Suntory, and Sapporo, Orion Beer has its fair share of fans who like American-style beer. Most eateries and diners in Okinawa sell Orion as the only choice of beer, among other stronger liquors such as awamori.
To better understand the history behind Orion Beer, sign up for a free brewery tour at Orion Happy Park (conducted in Japanese only) and enjoy up to two glasses of beer for free.
33) Awamori (Okinawan Rice wine)
Okinawa has another homegrown alcoholic beverage even older than the Orion Beer — the awamori. This rice-based distilled liquor actually originates from Thailand, when the technique of distillation made its way to Okinawa from Thailand in the 15th century.
So unlike every other rice wine of Japan, awamori uses long-grain rice imported from Thailand for production. Awamori is sold for consumption at most restaurants, izakayas and even convenience stores in Okinawa.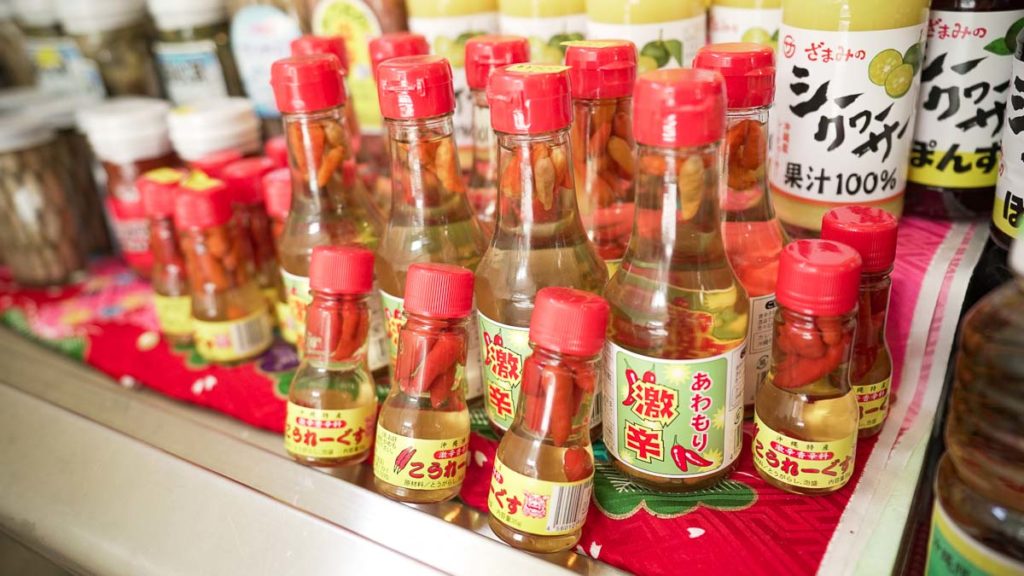 While typically enjoyed on the rocks, awamori is also used in another iconic Okinawan condiment commonly seen in soba houses — the koregusu. The koregusu is a chilli-infused awamori often used as a hot sauce with Okinawan soba.
You'll recognise the clear bottles of liquid with a few chillis in them, which can be found in every soba house and supermarket. The perfect souvenir for the folks who love spice!
Okinawa Trip-Planning Tips
Okinawa awaits you with its fun-filled activities and beautiful sceneries. Don't forget to get the Okinawa Churaumi Enjoy Pass for easy entry into 12 of the most popular attractions in Okinawa!
We went to four attractions mentioned in this guide with the Churaumi Enjoy Pass — Churaumi Aquarium, RyukyuMura, Okinawa World, and Daisekirinzan. The total cost of admission to these four attractions would be ¥5,920 (~S$77), so we managed to save ~S$23 per person with the pass. And we didn't even do all 12! You'll definitely save way more if you complete all 12 attractions in five days.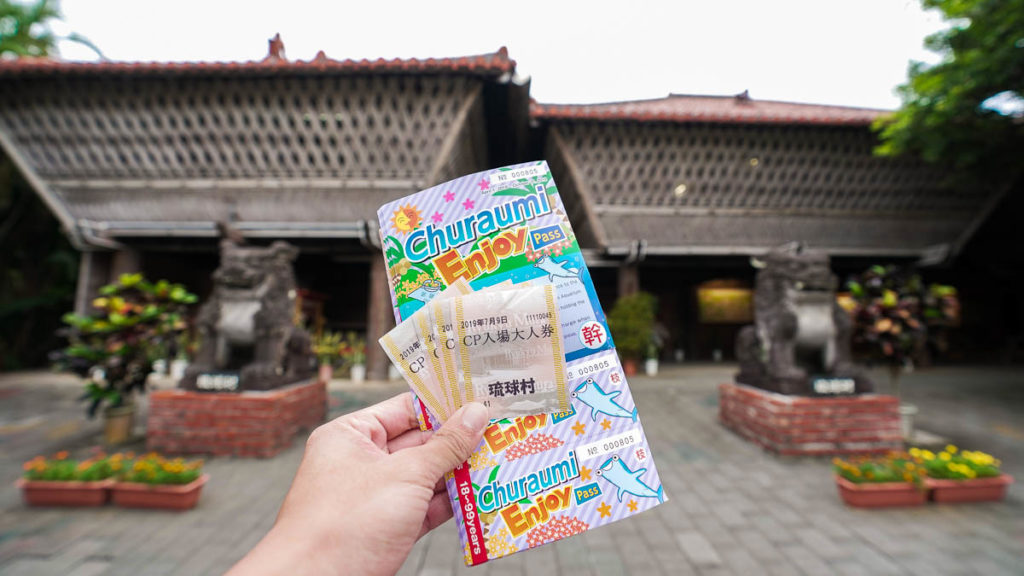 For an even easier time planning your Okinawa trip, purchase all your pre-trip essentials — car rental, food vouchers and activities on Klook. This is especially useful if you can't speak Japanese since everything will be done beforehand and good to go! Here are the useful items that will come in handy:
– Car rental (from ~S$290)
– 4G portable Wi-Fi (from S$3/day)
– Churaumi Enjoy Pass (~S$54)
Okinawa is best explored on a road trip, and this is how we did a 7-day Okinawa road trip on a budget under S$1,200!
Are there any other fun things to do in Okinawa that we missed out? Let us know in the comments section below! 🙂
---
This post was brought to you by Klook.