From trendy shopping districts to vibrant streets lined with mouth-watering local delicacies, I thought I'd seen and experienced all Taiwan could offer. While these parts of Taiwan are still enjoyable (even after being back for the 7th time), boy was I wrong about how much I knew.
In this 8-day Taiwan Itinerary, not only will we cover some of the best, most well-known sights along the west coast of Taiwan (Taipei to Kaohsiung), we've also thrown in a couple of off-the-beaten-path experiences that will definitely re-ignite your interest in Taiwan whether it's your 2nd or 7th time.
Pre-trip Essentials
SIM Card: S$22 for 10 days unlimited data
Airport to City Transport: From Taoyuan International Airport, you can take the THSR to Taipei Main Station in 20 minutes. But if your flight arrives late at night when the train services have halted, the car transfer service (S$35) is the next best option. Not only does it bring you to your doorstep in comfort, it's also cheaper than regular taxis and operates 24/7.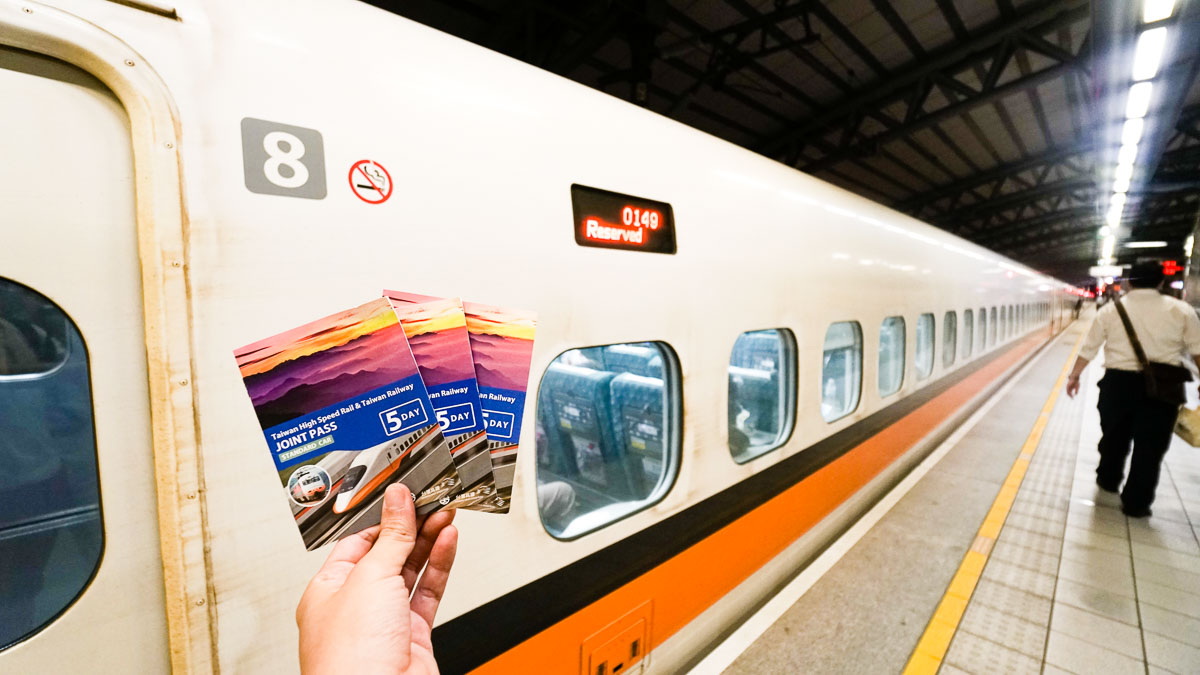 Intercity Transport: For fuss-free travelling through different cities in Taiwan, the THSR pass is essential. We purchased the 5-Day Joint Train Standard Pass which includes unlimited use of the THSR on any 2 days + unlimited use of the TR for 5 consecutive days.
For transport within cities like Taipei or Kaohsiung, you will need the EasyCard 悠遊卡 or iPass 一卡通, which can be purchased from convenience stores.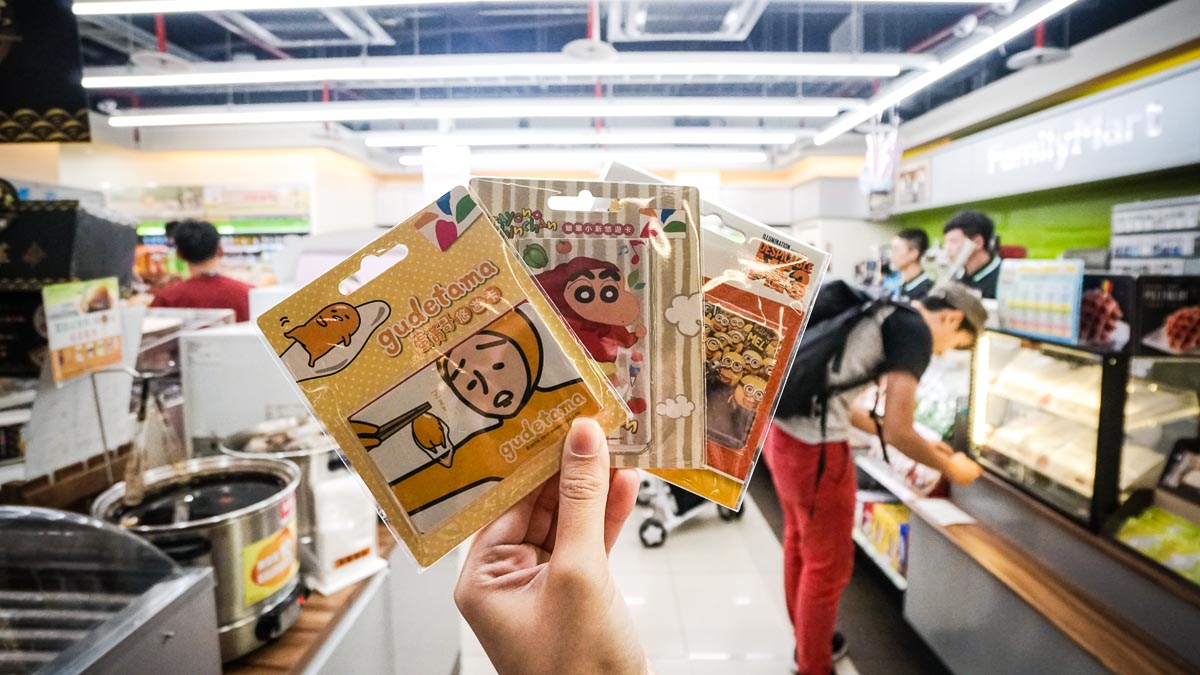 Travel Insurance: With all the extreme activities and eating you'll be doing in this itinerary, it's important to get covered for anything that may arise during or after the trip. DirectAsia Insurance offers really competitive rates and what we really like about it is their efficiency with over 80% of travel claims settled within 24 hours!
Check Flights to Taipei
We excluded flights from our budget since it varies depending on the season and airline. Check flight prices for your dates of travel here:
Can't see the widget above? Click here to check flights from Singapore to Taipei!
D1: Taipei
Despite being a metropolitan city, there are still many things you can eat and do at relatively low prices.
Breakfast at Fu Hang Soy Milk (阜杭豆漿)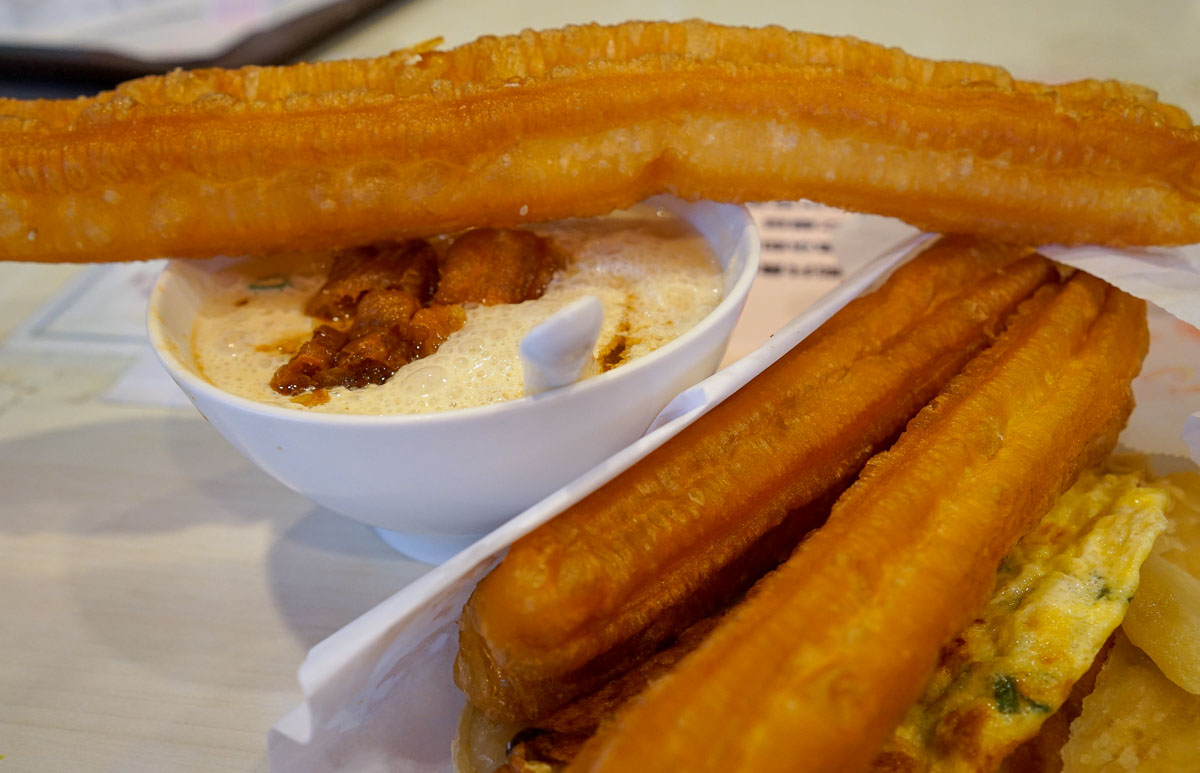 First up, eat like a local. Get up early (and we mean, REALLY early) for breakfast at Fu Hang Soy Milk. Its unique salty soybean curd melts in your mouth and makes the perfect breakfast combi with youtiao 油条 (fried dough sticks). Queues can get really long (and we mean, REALLY long) but it moves along quite quickly.
Address: Level 2, No. 108, Zhongxiao East Road, Section 1, Zhongzheng District, Taipei City, Taiwan [台北市中正區忠孝東路一段108號2樓]
Opening hours: 05:30AM – 12:30PM, closed on Mon
Cost: ~NT$25-60
Zen out at Maokong 猫空
Maokong used to be the biggest tea growing area in Taipei and is now a popular place for tea culture. The premium Oolong variety, Tie Guan Yin 鐵觀音, is still being produced at Maokong.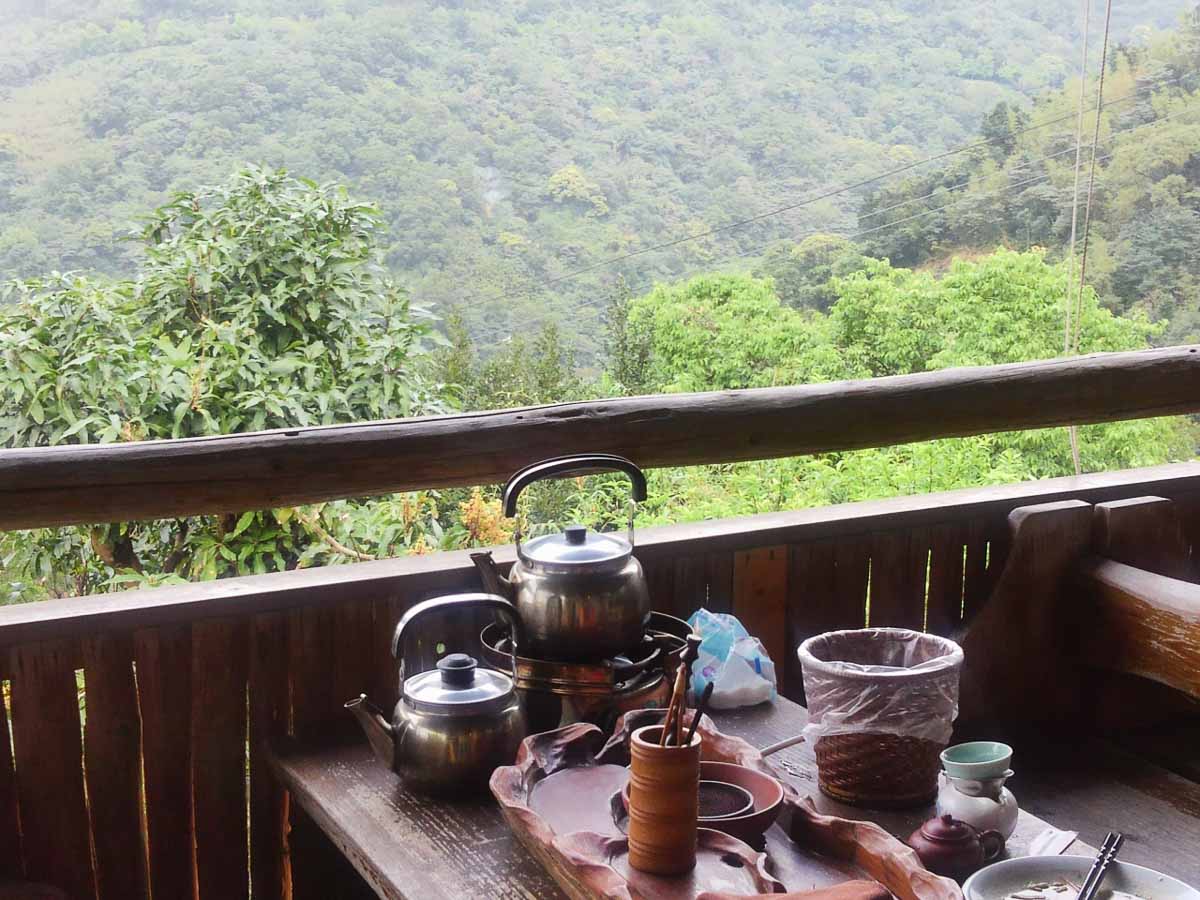 Photo credit: 4travel.jp
Spend a relaxing afternoon in Maokong sipping tea while overlooking the lush tea plantation fields. Get to the top via a gondola service from Taipei Zoo.
Directions: MRT Wenhu Line (Brown Line) 文湖線 to Taipei Zoo → follow signs leading to Gondola → 3 stops to Maokong Stn.
Gondola Fee: NT$120/trip. (EasyCard holders entitled to 20% discount on weekdays)
Taipei 101
The icon of Taiwan, Taipei 101 stands out kinda like a sore thumb in the day being the only tall building around the area. But come nightfalls, the 101-storeyed building lights up and sure is a beautiful sight to look at against the dark sky.
Did you know? The building is lit up according to the colours of the rainbow each night of the week. Mon, Tue, Wed, Thu, Fri, Sat, and Sun.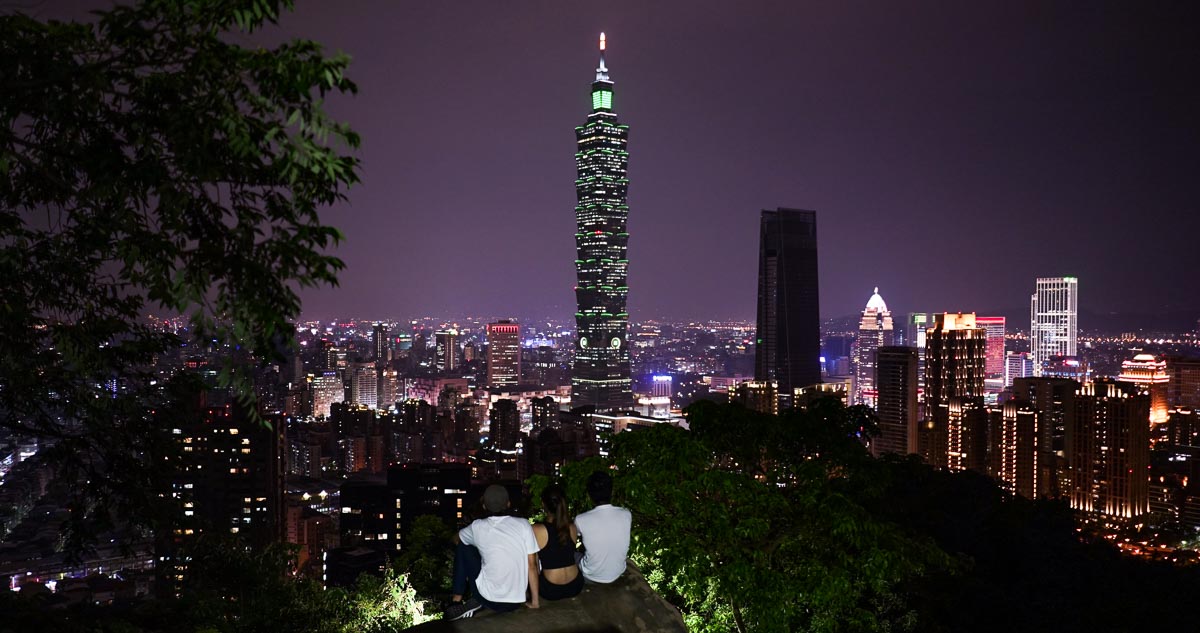 Can you tell which day of the week this was taken?
Accommodation: Meander Taipei Hostel from NT$550 per night
Read also: 4D3N Taipei Itinerary for more local finds in and around Taipei.
D2: Day Trip to Jiufen 九份 & Shifen 十分
How to get there: Take a shuttle bus that leaves from Ximen and arrives in Jiufen in 1 hour.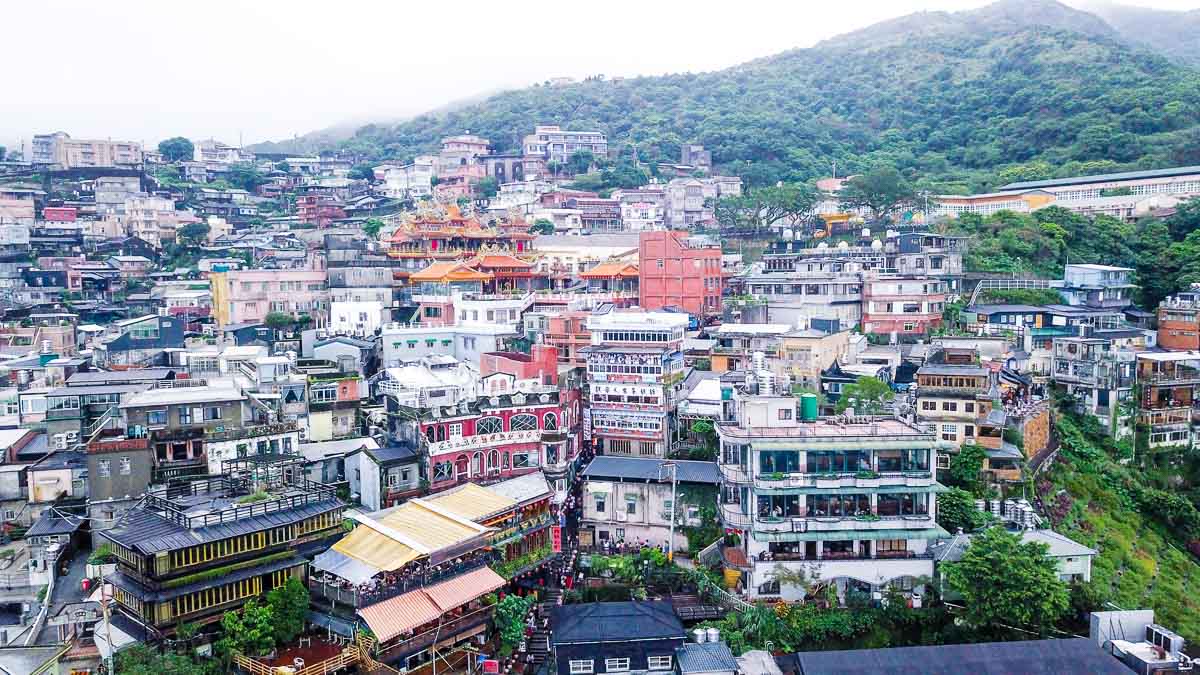 Located just outside of Taipei City, Jiufen and Shifen are popular day-trips for its extremely scenic views and great food; probably why I keep coming back too.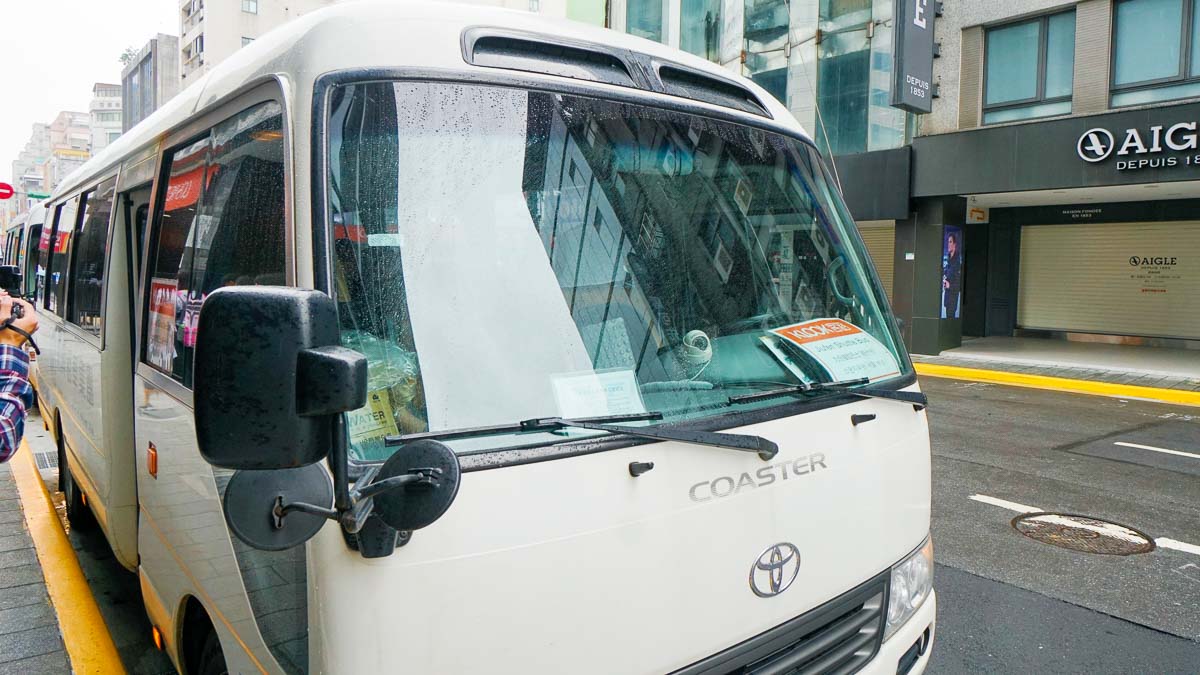 Problem is, it can take more than 2 hours to get there via public transport because of all the transfers required. Hiring a private car can be quite pricey too. The best option perhaps is the recently-launched shuttle bus service (S$20). The bus picked us from Ximen and we arrived in Shifen within an hour. Ultra-convenient!
Shifen 十分
Shifen has been popularised in recent years and many specially visit the quaint old town to light up sky lanterns on the old (and still functioning!) rail tracks.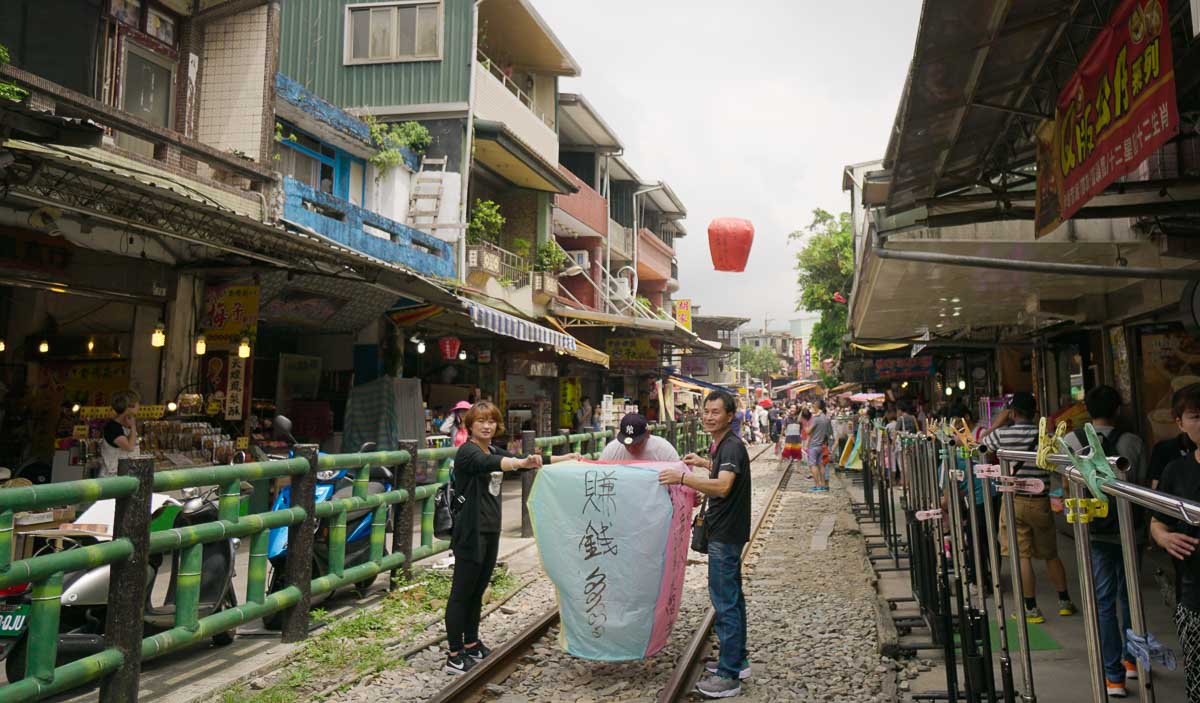 Write your wishes on the paper lanterns and light them up, sending your wishes to the heavens.
Besides lighting up the sky lanterns, another charm of Shifen I love is the old-school vibes. Buy a glass-bottled marble soda to feel really transported back in time!
Jiufen 九份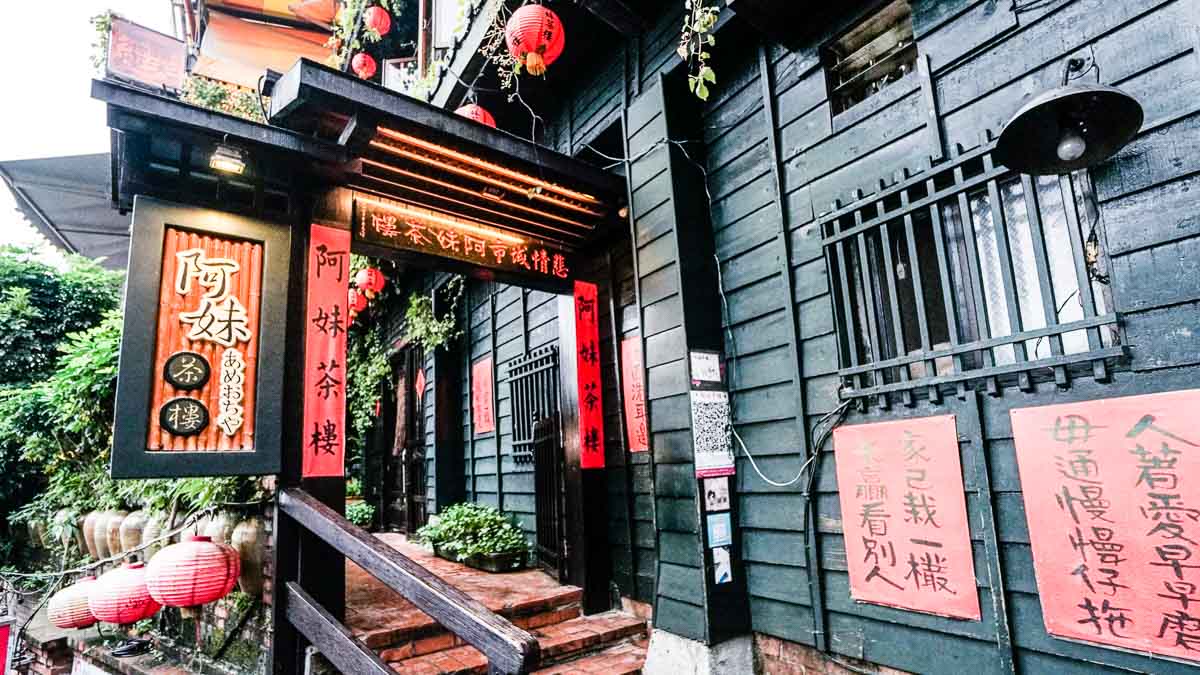 A-Mei Tea House, the inspiration behind Hayao Miyazaki's award-winning Spirited Away.
Jiufen seems like an unassuming laid-back town amongst the mountainous regions, but on closer inspection, it's really an energetic and bustling food paradise filled with endless surprises from beginning till end.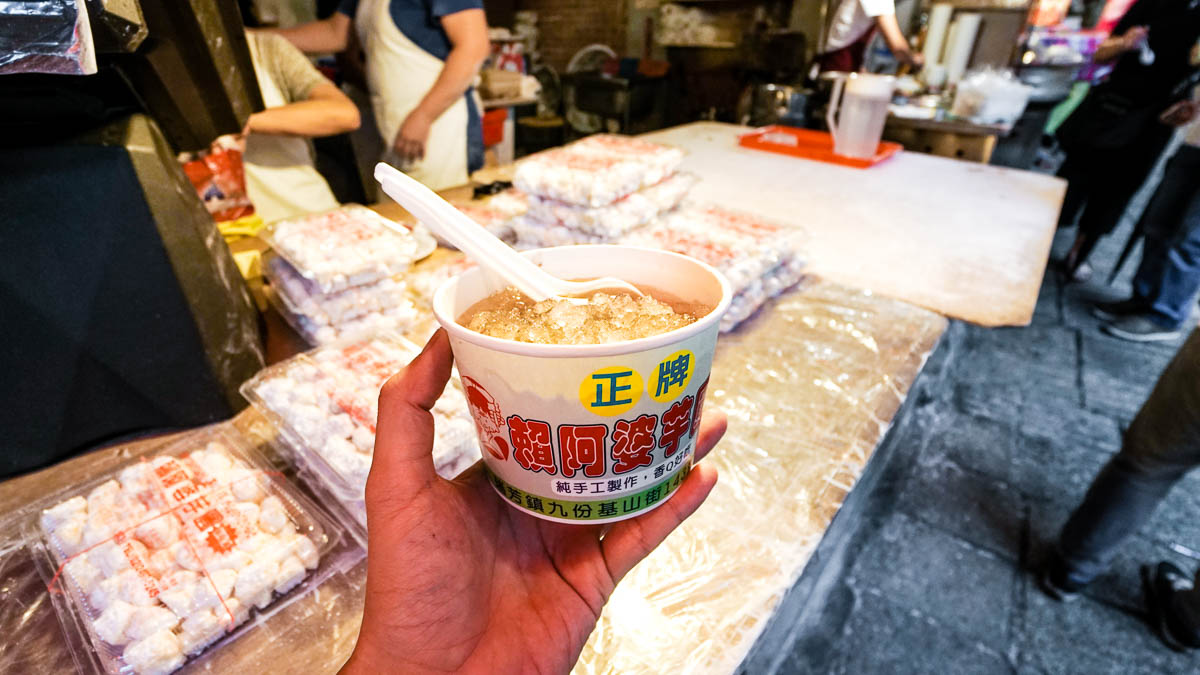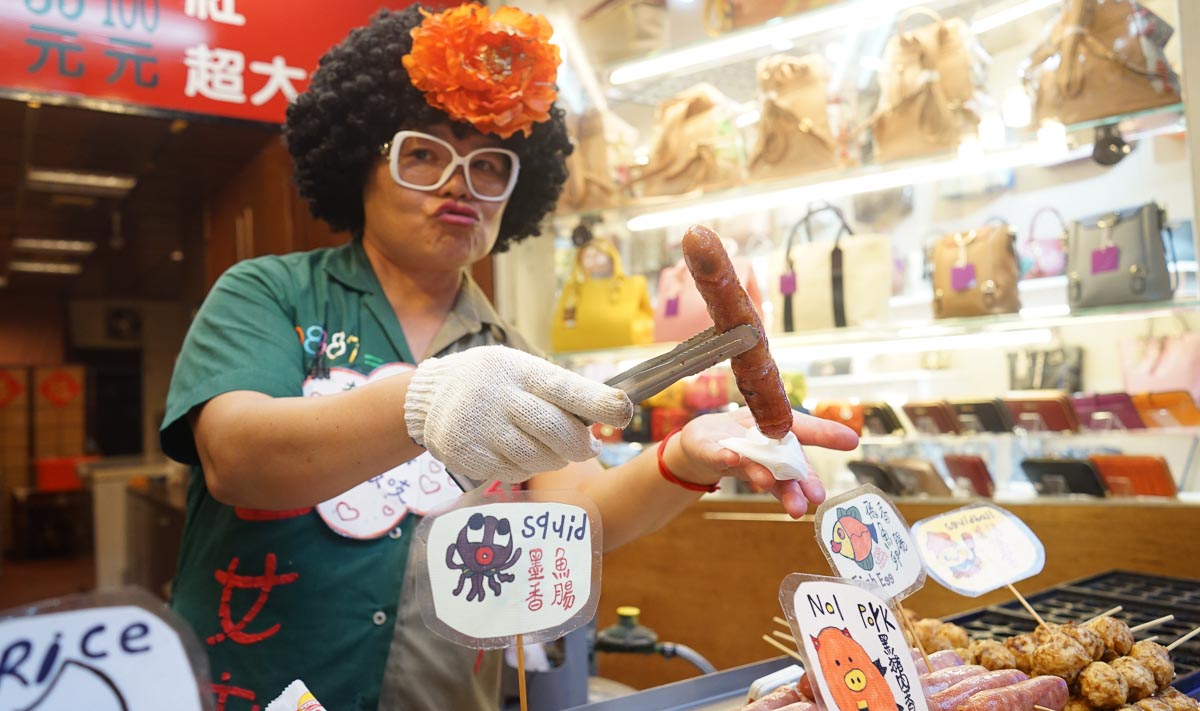 When the stall owner is as unforgettable as the yummy Taiwanese sausage she's selling.
The tour lasts around eight hours and you can either pick the morning slot, which leaves at 9:30AM, or the afternoon slot, which leaves at 1:30PM.
After the eating spree in Jiufen, head back to Taipei and explore the fast-paced and everchanging Ximending.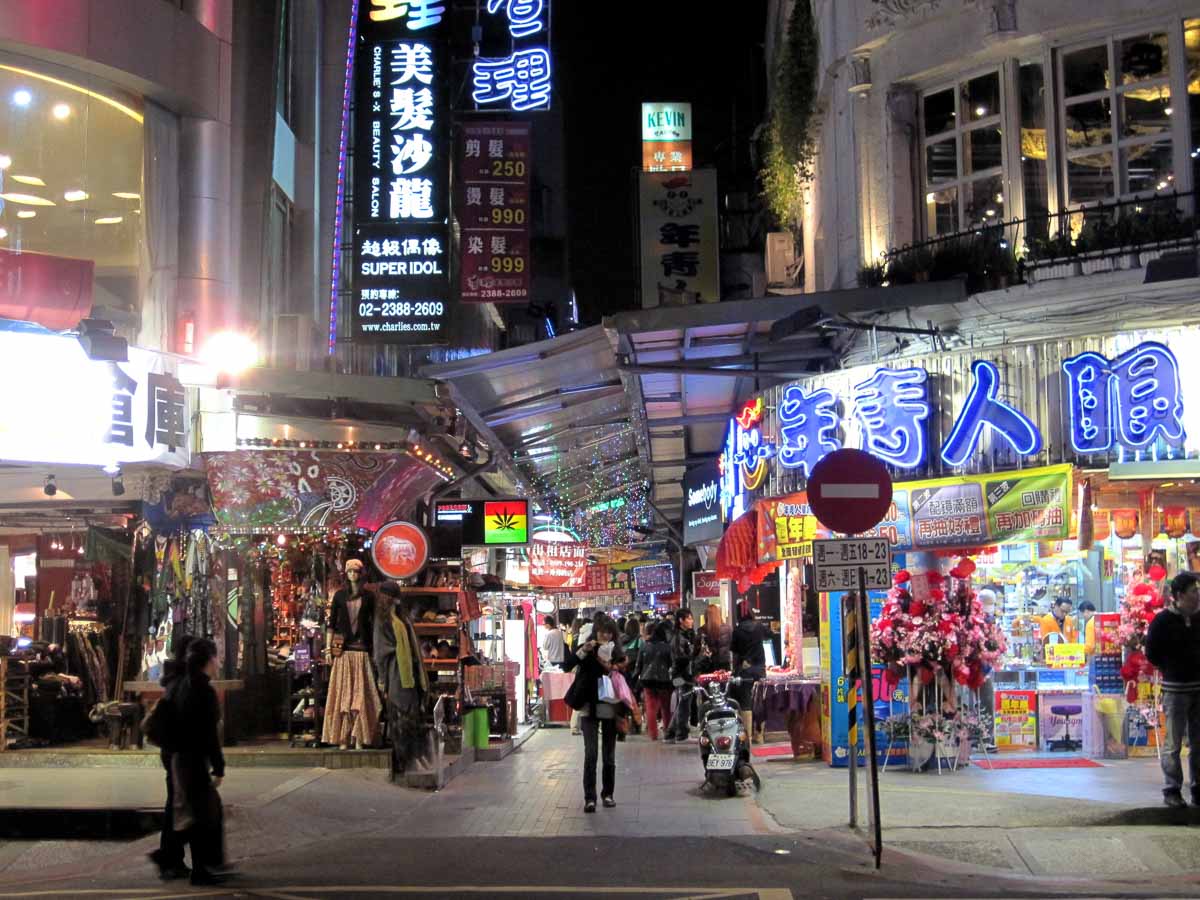 Streets of Ximending. Photo credit: Wikipedia
If Taipei 101 is the icon of metropolitan Taipei, then Ximending can be considered the cultural icon of Taiwan. Popular among the youth and tourists, the bustling streets of Ximending hosts not only apparel shops, but also eateries, cinemas, and scores and scores of budget hotels.
Dinner at San Wei Dining Hall 三味食堂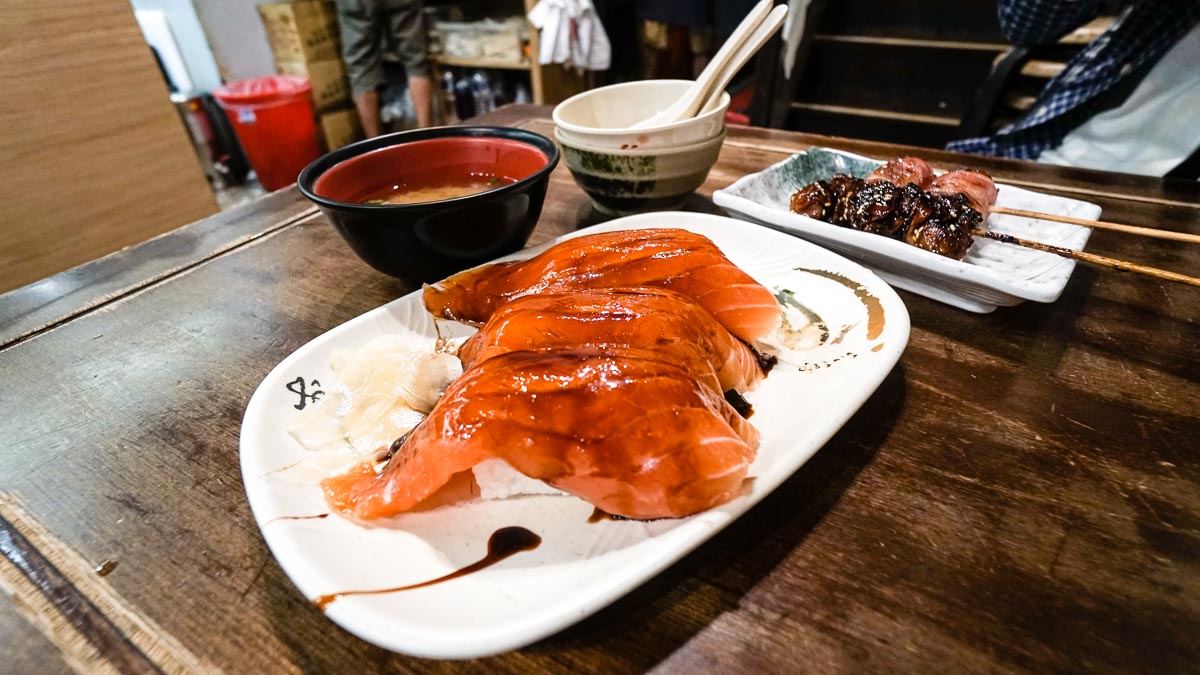 These fist-sized salmon nigiri rolls attract hoards of sushi lovers daily, and queue-time may be up to an hour! Sushi and sashimi plates range from NT$70–580 (~S$3–26).
Address: 116, Guiyang St Sec 2, Taipei City [台北市貴陽街二段116號]
Opening Hours: 11:20AM – 2:30PM, 5:10PM to 10PM (Last orders 9:30PM), closed first two Mon & last two Sun of every month
For more awesome possum local finds in Taipei, check out our 4D3N Taipei Itinerary.
D3: Taichung (via the THSR)
The easiest and fastest way to get from Taipei to Taichung is via the Taiwan High-Speed Rail (THSR) — within an hour for NT$700 (single ticket). As we'd pre-purchased the 5-Day Joint Train Pass (THSR+TR) before our trip, we had to activate the pass at the THSR ticketing counter at Taipei Main Stn.
Do note that when activating the 5-Day Joint Pass, the THSR staff might require you to choose the two dates you want to take the THSR. This is so that they can make seat reservations for you on the THSR.
The journey southwards from Taipei to Taichung took approx. 50 mins for us, however, there are various trains with different timings and stops, so it might take a little longer. Refer to THSR's official website for detailed train timings.
Arrival in Taichung
Since we'll be covering quite a few places within Taichung (also note that Taichung has no MRT system), we rented a car for convenience. We rented a simple sedan car online and collected the car from Taichung THSR station upon arrival. Easy breezy.
Yizhong Street 一中街 is a shopping street In Taichung not unlike the usual night markets of Taiwan, but some shops are open from as early as 10AM in the morning. Prices of food and things are slightly cheaper in Taichung as compared to Taipei, so guilt-free eating and shopping can begin here!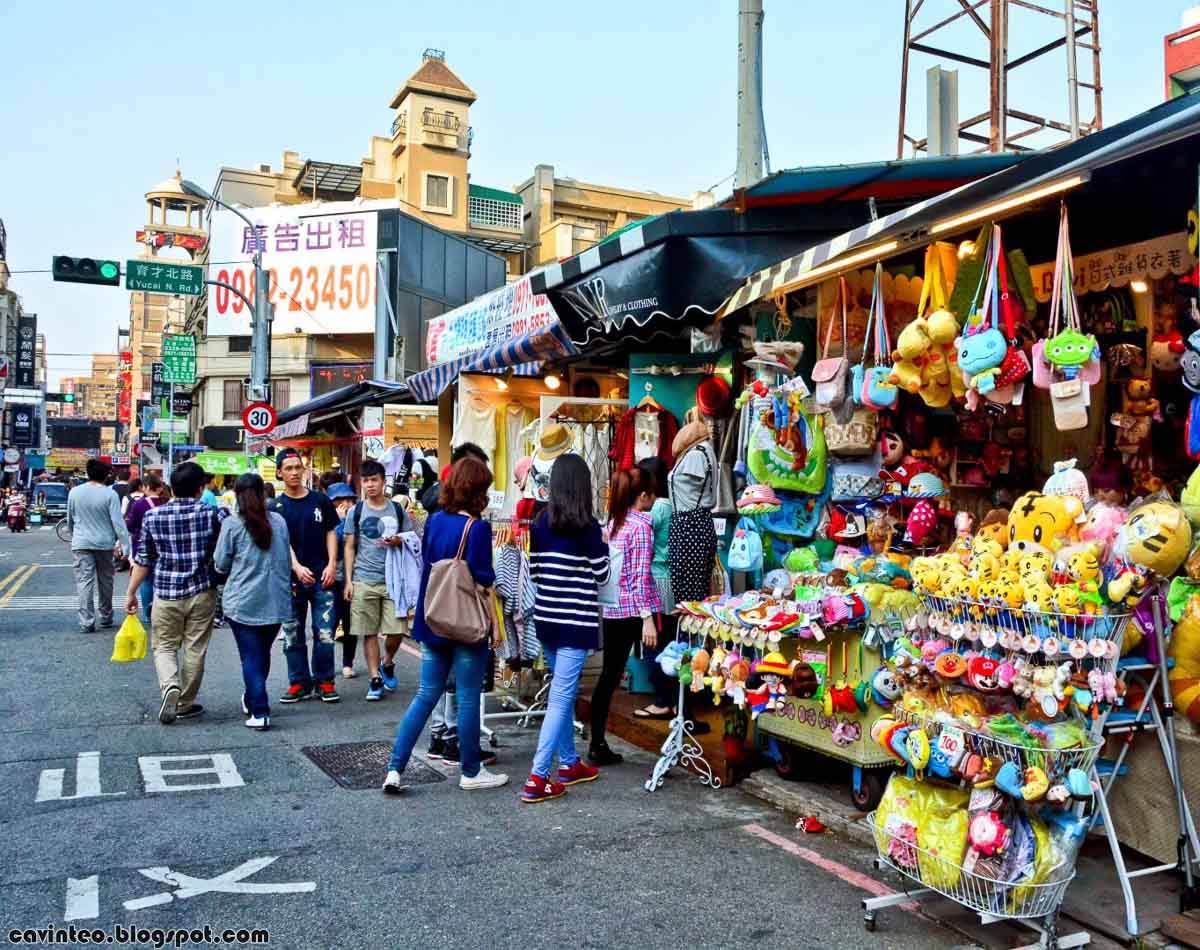 Photo credit: Cavin Teo
After an afternoon in Yizhong Street, we drove to Nantou 南投, where our accommodation for the night is at, ready to welcome the next day we packed with adventures.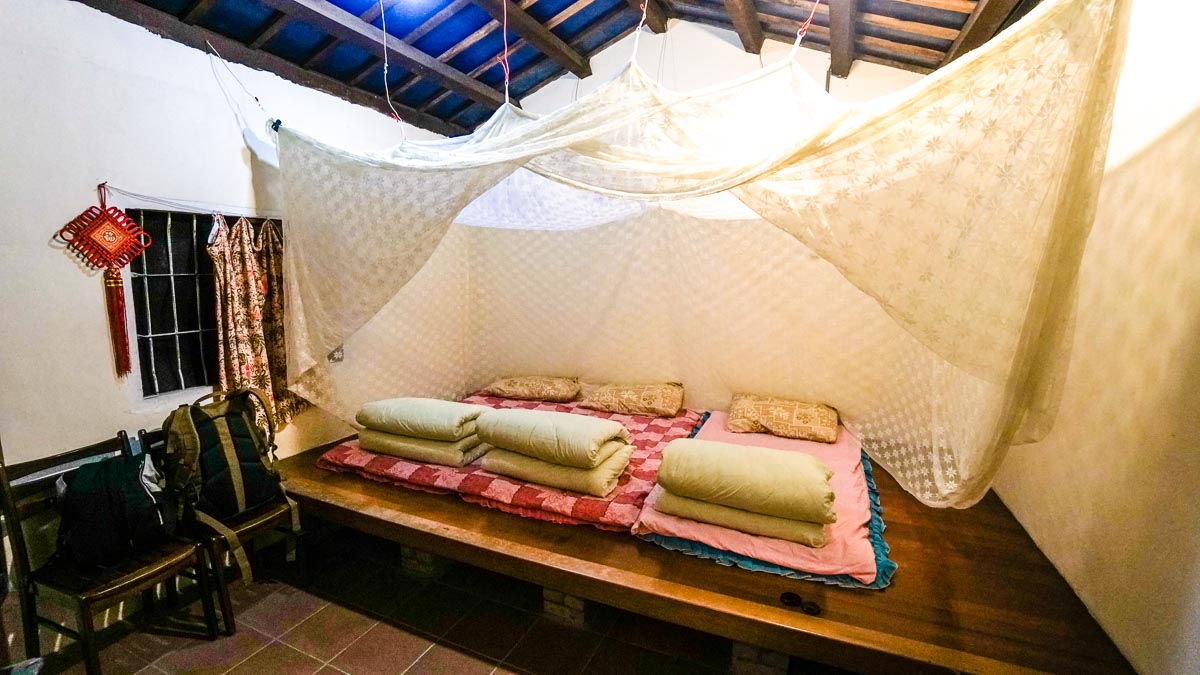 Our cosy bedroom for the night at a local homestay.
Accommodation: Stay with the locals at a rustic Airbnb from S$72 per night.
Read also: Taipei Day Trip: Jiufen & Shifen
D4: Taichung/Nantou – Endless Adventures Among the Most Stunning Sceneries
Standup Paddleboarding (SUP) 立槳體驗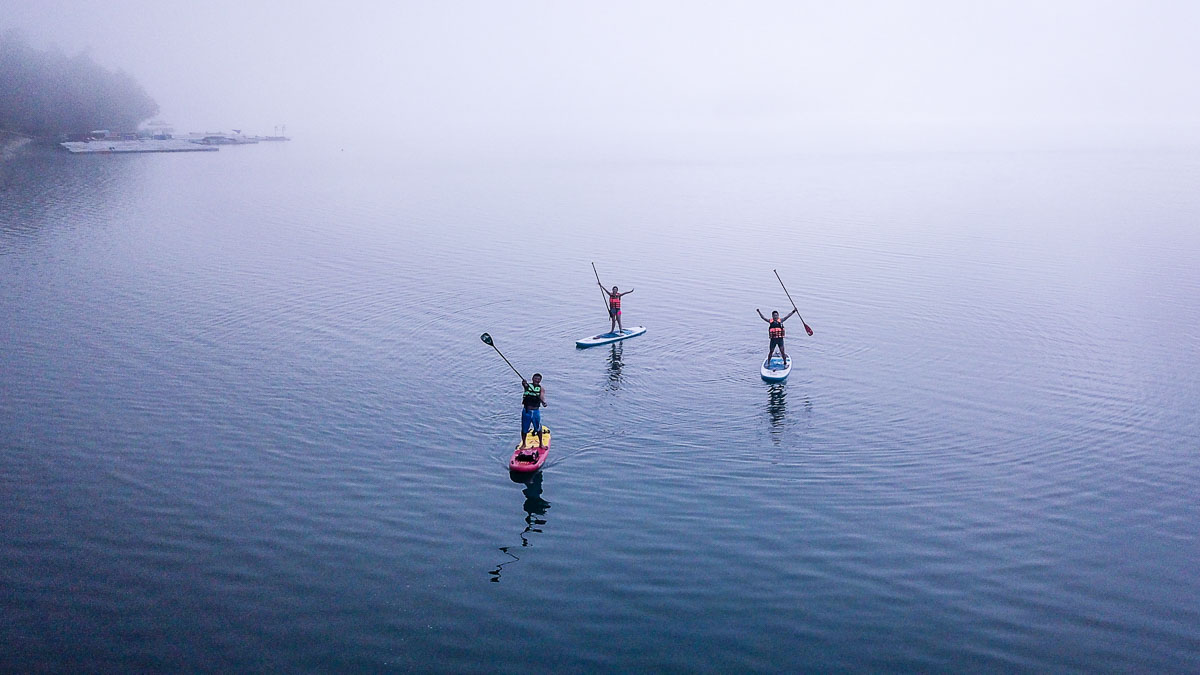 Sun Moon Lake 日月潭 is one of Taiwan's largest freshwater lake, and also arguably the most beautiful natural attraction. We got up super early so as to reach Sun Moon Lake by 5:30AM for our sunrise Standup Paddleboarding experience.
As Sun Moon Lake is a lake, waters are very calm, first-timers like me will have no problems learning how to control the paddleboard.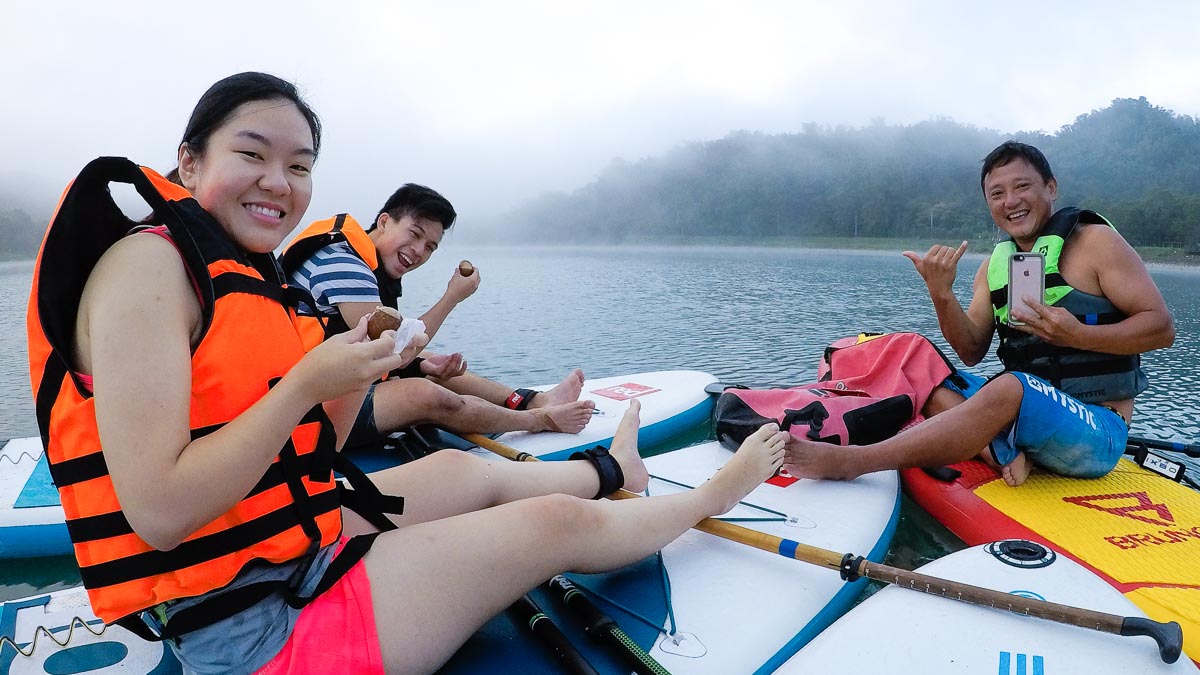 Our jovial instructor even brought along the famous Nantou Jinpen "Ah Mah" Braised Tea Egg 金盤阿嬤茶葉蛋 and bottled Black Tea 紅茶 for us as breakfast. When else can one have breakfast on a paddleboard on a lake with superb views! Coach OA even doubled as a photographer and sent us our SUP photos after the activity.
Price: S$67/pax (3 hours). A similar SUP activity in Singapore would cost ~S$100.
Location: Sun Moon Lake
Brunch at Itashao 伊達邵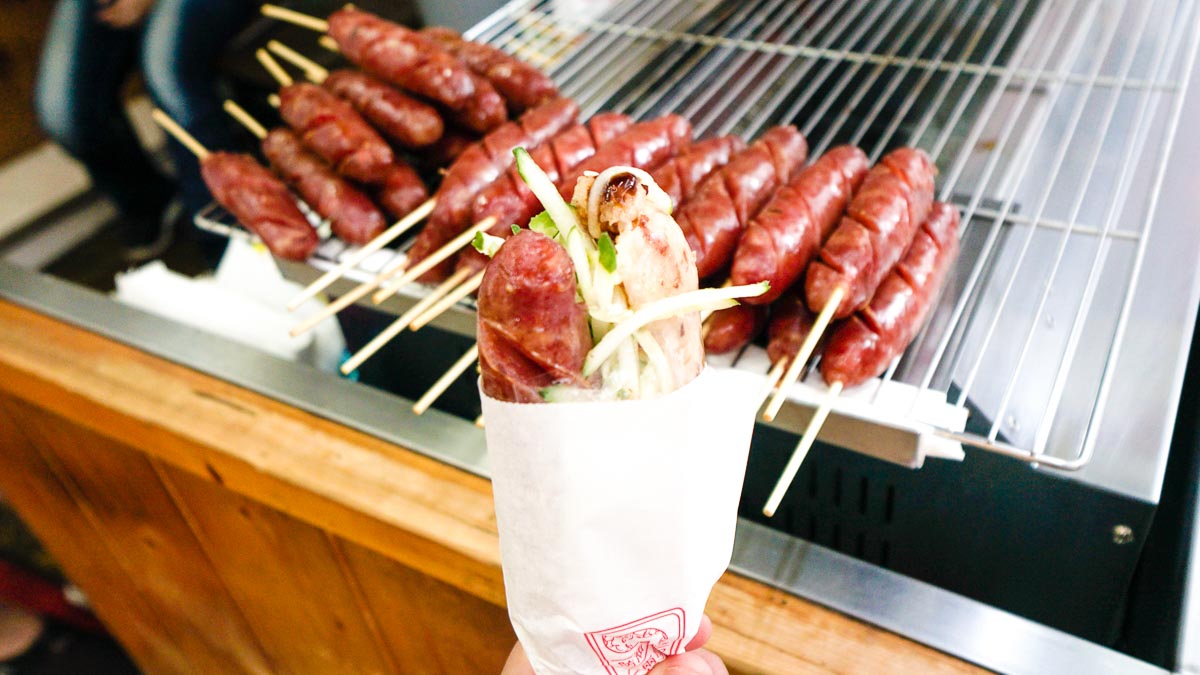 Small sausage in big sausage 大腸包小腸, a Taiwanese snack.
Thereafter, we headed to the nearby Itashao 伊達邵 for some locally-loved Taiwanese snacks. Taiwanese sausage 香腸, Braised pork bun 豆干扣肉總匯刈包, and millet mochi 小米麻糬 were some local snacks we couldn't resist not buying.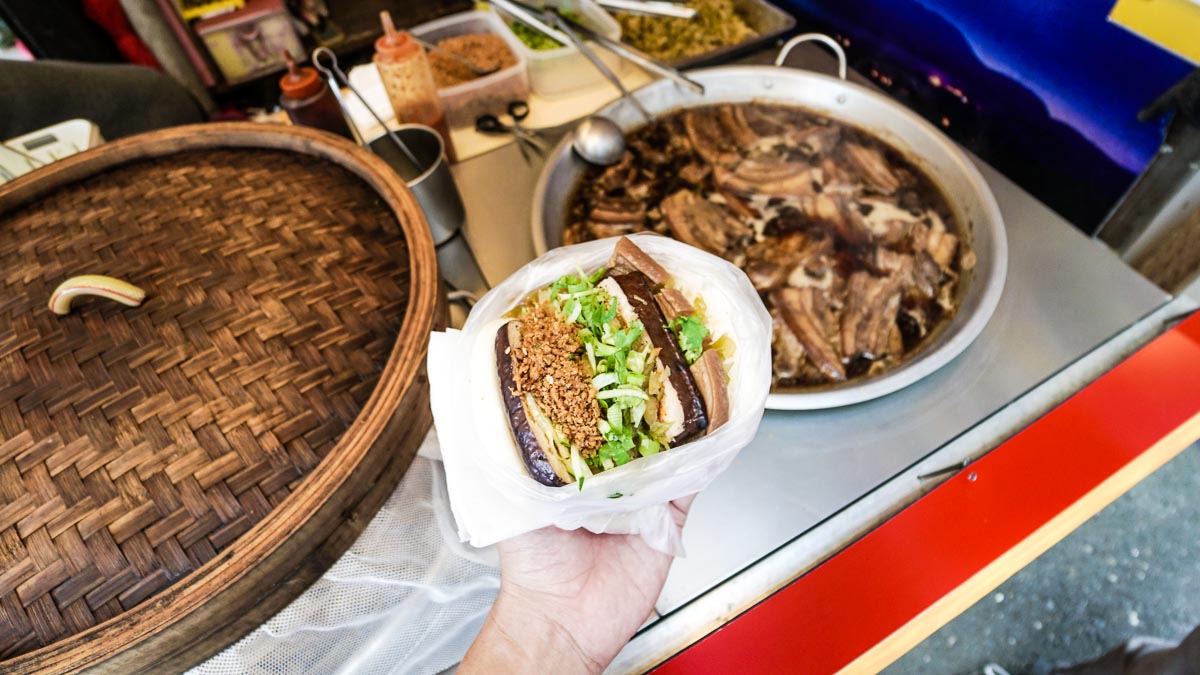 Taiwanese braised pork bun 刈包.
We could understand why these snacks 小吃 are so well-loved by locals and tourists, because not only are they big in portion with generous fillings, they are very reasonably priced too!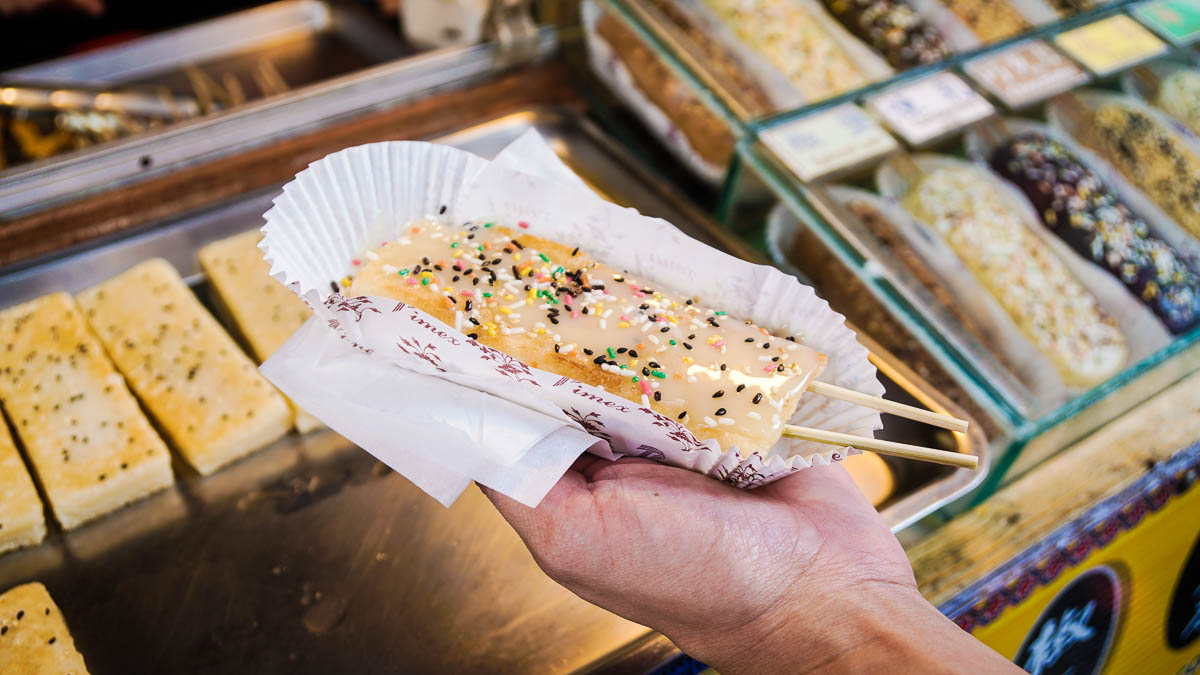 Millet mochi on stick 小米麻糬
Brunch settled munching from the beginning to the end of Itashao. XD
Paragliding 飛行傘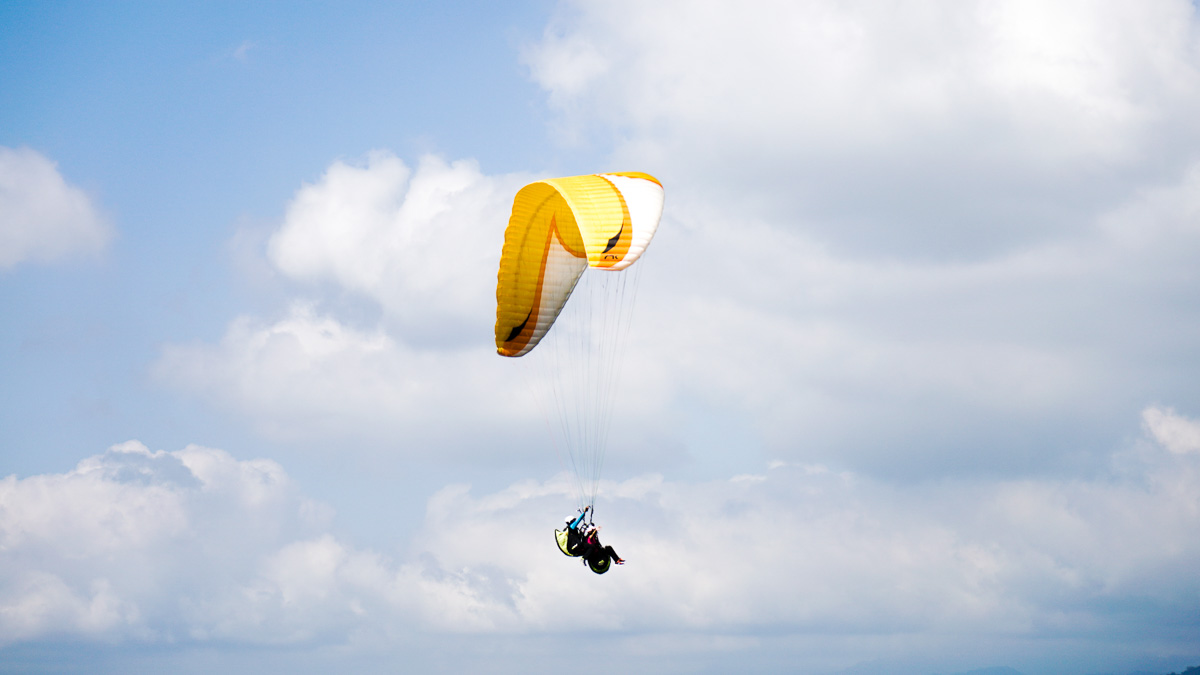 Around Nantou, you can also try paragliding! We met some paragliders who even brought their own paragliding gears along with them from Hong Kong!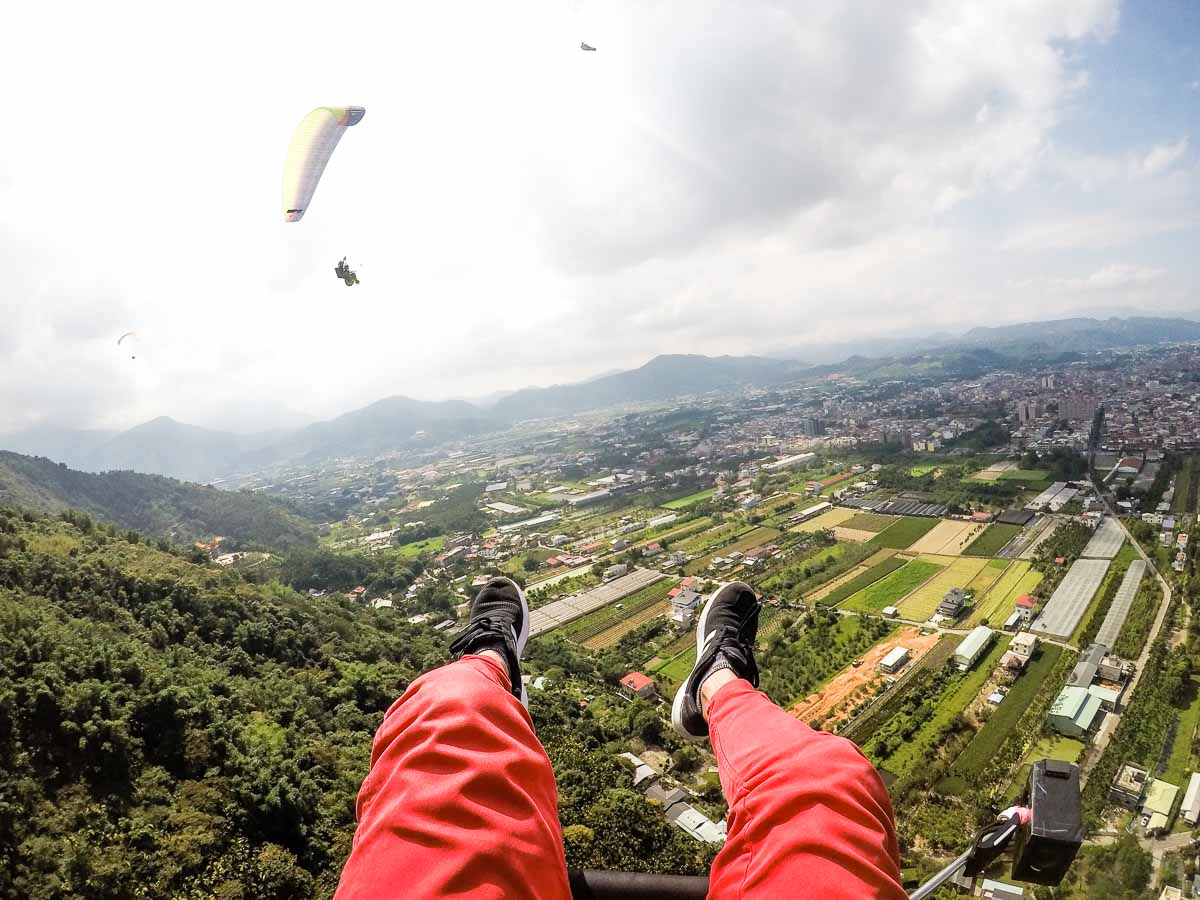 While in the air, we were blown away by Puli's superb views. Mountains, lakes, and acres and acres of vast green lands that seem endless. Breathtaking indeed, no wonder Puli is a popular spot for paragliding.
Our paragliding operator was excellent, even repeating flight twice was for one of us when the first flight time was too short.
Price: S$120/pax (Min. 10 mins flight time guaranteed + video footage provided)
Location: Puli, Hu-Toushan in Nantou county of Taiwan (虎頭山)
Cingjing Farm 清境農場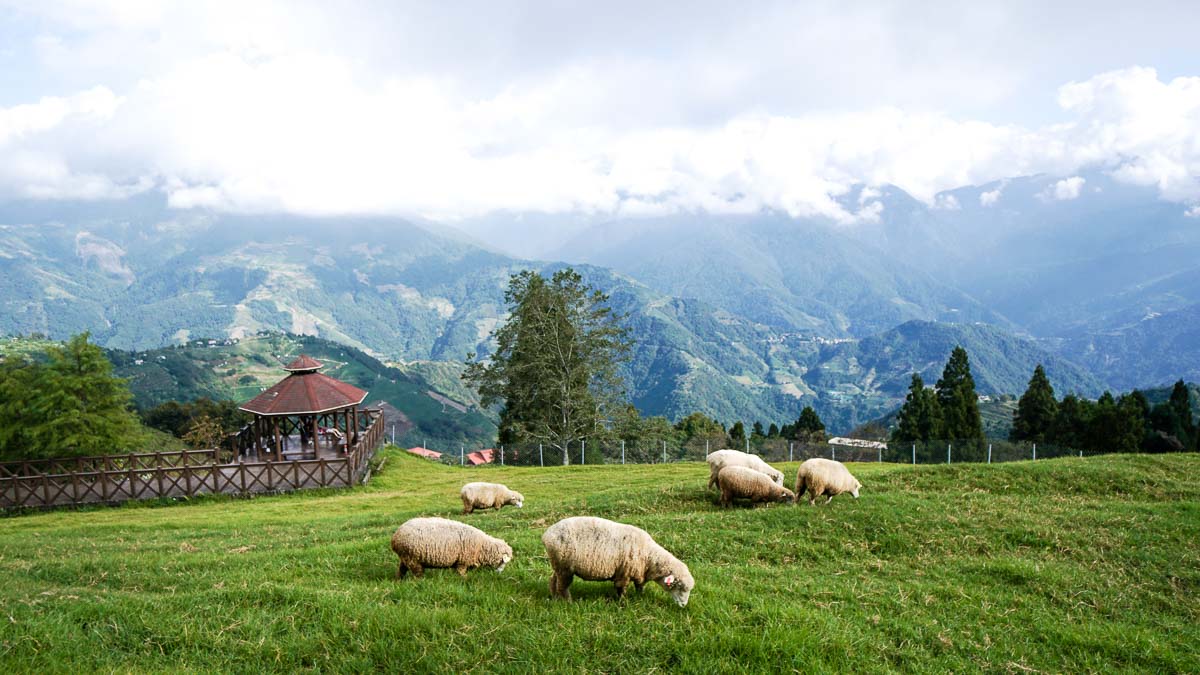 It's another hour's drive to our third and last destination of the day – CingJing Farm. Free-roaming woolly sheep grace pass visitors nonchalantly, granting lots of selfie opportunities with them!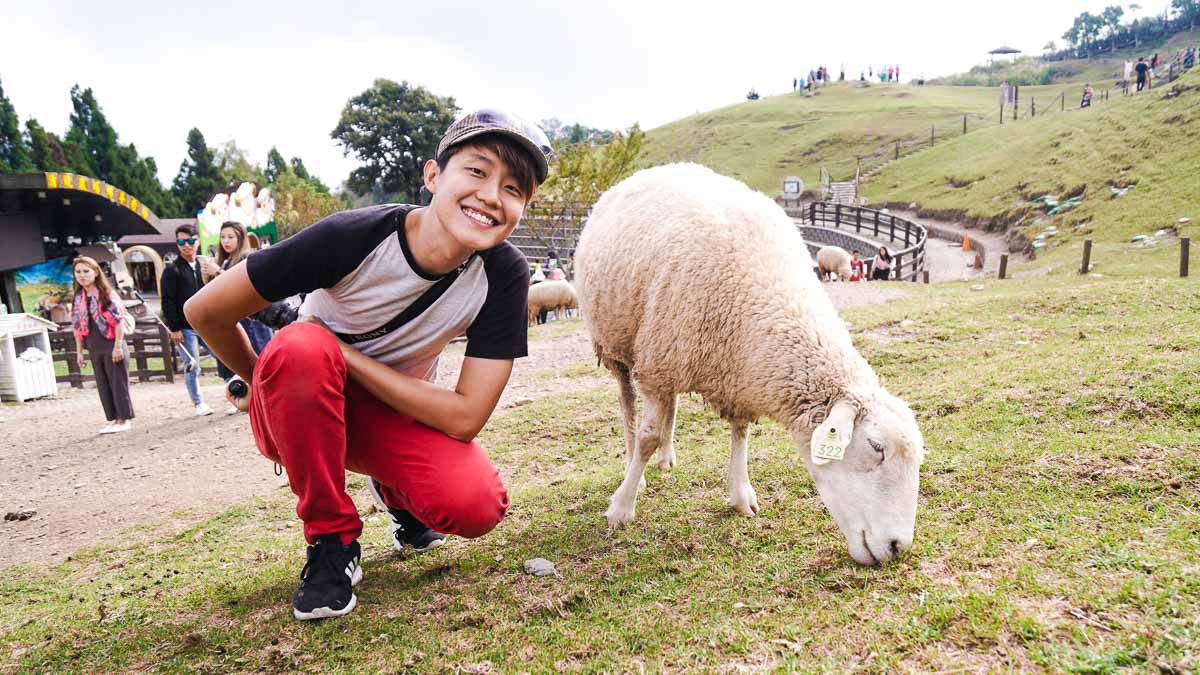 Location: No. 170, Renhe Road, Ren'ai Township, Nantou County, 546 [南投縣仁愛鄉仁和路170號]
Opening Hours: 8AM – 5PM
Admission: NT$160/pax (Mon – Fri) , NT$200 (Sat – Sun)
Night falls, but that's when Taichung becomes even more energetic and alive! We headed to Taichung's most famous night market, Feng Chia Night Market 逢甲夜市 for dinner.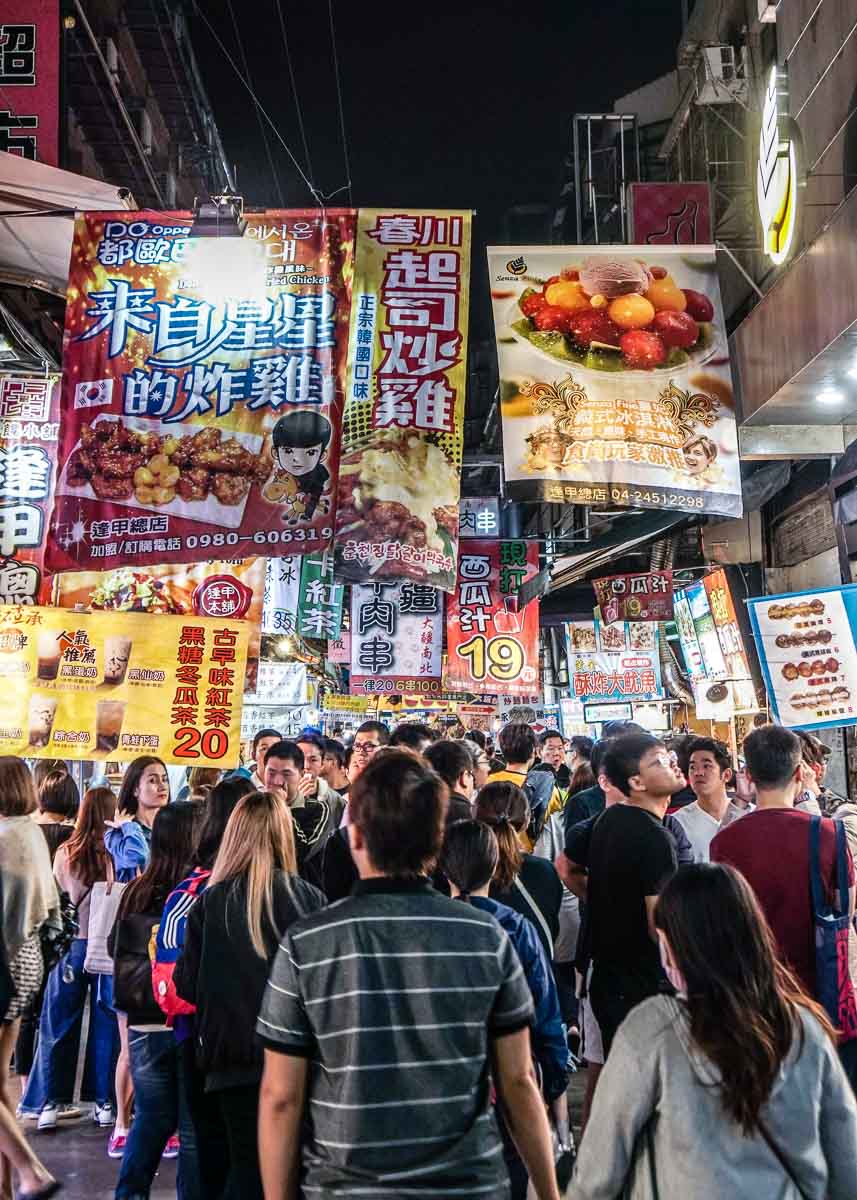 It's insane how many times we had to stop and reach for our wallets just stepping into the market for ten minutes! All my senses were being attacked! It was involuntary and uncontrollable, and we succumbed to all the awesome-smelling/looking/tasting foods!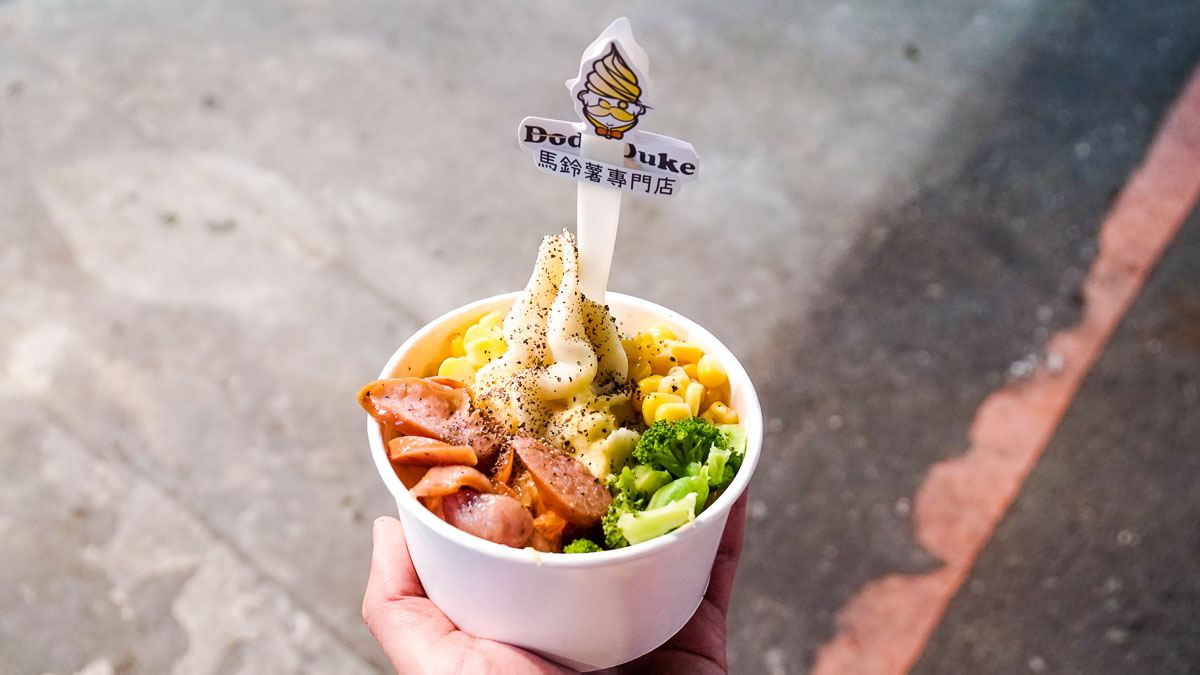 Location: Wenhua Road, Xitun District, Taichung City, Taiwan 407 [台中市西屯區文華路]
Opening hours: 4PM – 2AM (Tue – Sun), 4PM – 1AM (Mon)
Read also: The Ultimate Taiwan Food Guide
D5: Exploring the Locals' Taichung
After a day of non-stop activities in Nantou, we focused on Taichung city the next day. First up, we headed to Rainbow Village 彩虹眷村.
Update Sep 2022: The Rainbow Village is temporarily closed until further notice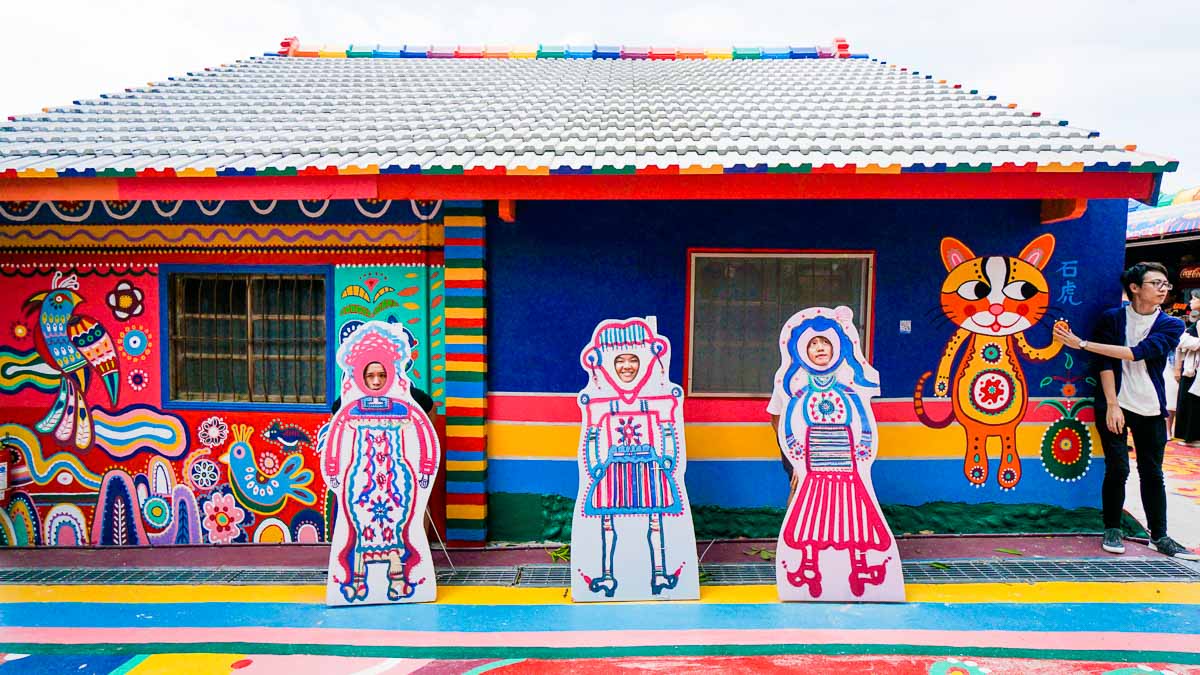 How many silly interns do you spot? XD
Rainbow Village is a cluster of small houses painted in the wildest, most colourful motifs. Do be there earlier as it will get crowded later on in the day.
Address: No.56, Chun'an Road, Nantun District, Taichung, Taiwan [春安路56巷]
Admission: FREE
Opening hours: 8AM – 6PM
*Pro-tip: Travelling on public buses in Taichung is the way to go! Any rides below 10km are FREE.
Located just a 15min walk away from the Taichung Railway Station, we had lunch at Second Market 臺中第二市場, an old market the locals frequent.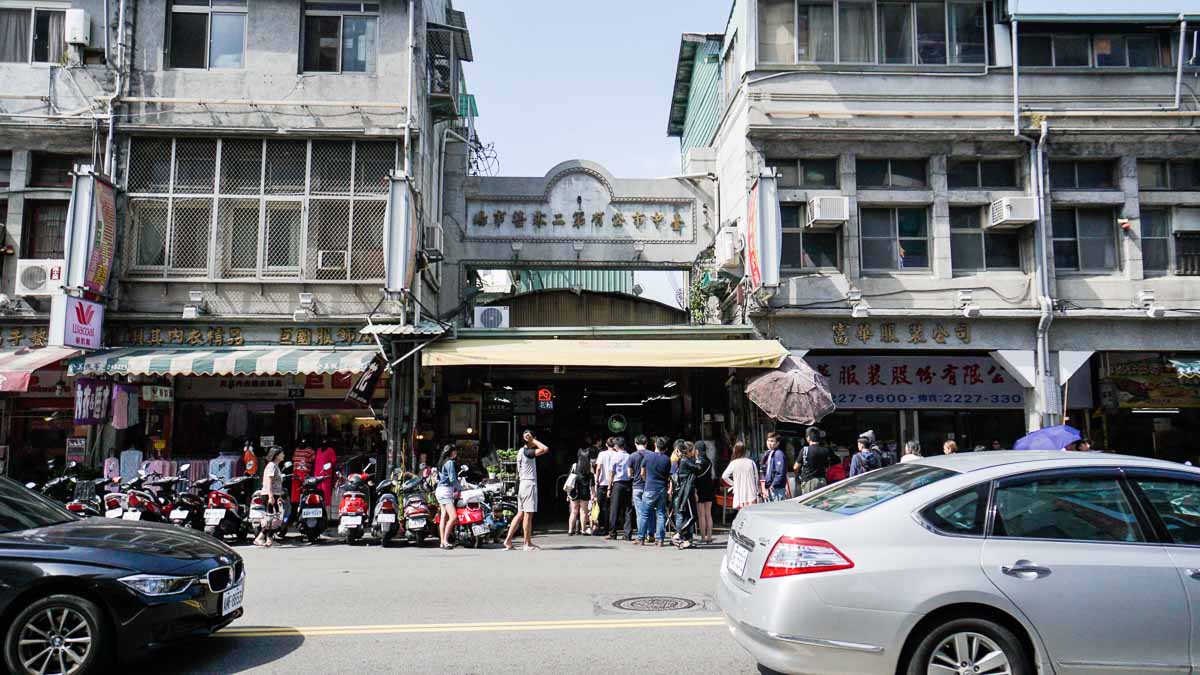 This old market is one that's easily missed if not for the creeping long line that stretches out from the market to the main road. We were curious to see what locals are so patiently waiting for, so we joined the crowd.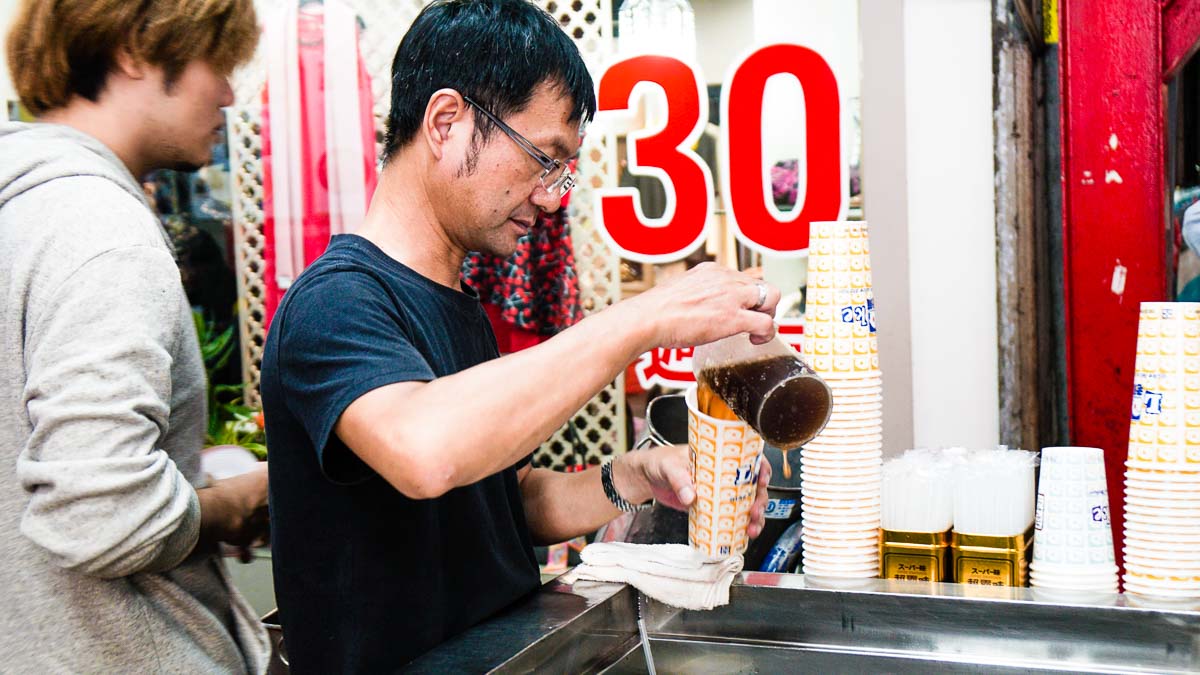 Surprisingly, the queue moves really fast, but the line is always that long because people keep coming! Everyone was apparently queuing up for a cup of Iced Black Milk Tea.
We were also informed by our friendly cab driver that the braised minced pork rice 肉燥飯 is the best in Taichung, of course, we had to try it as well.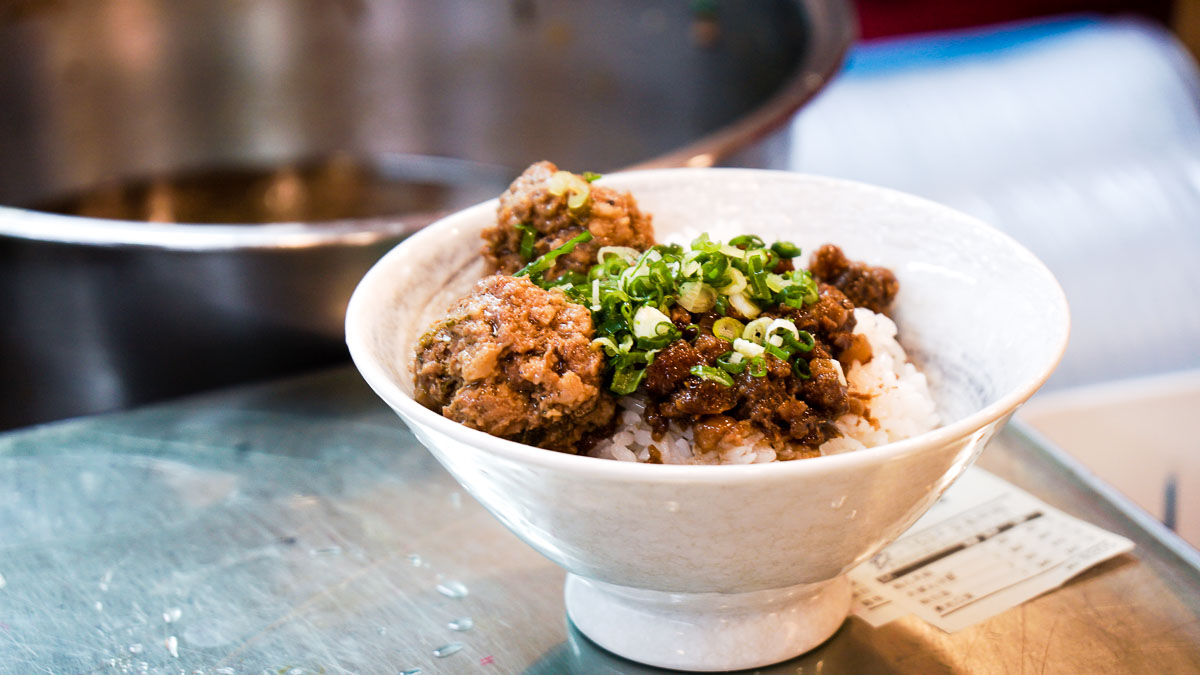 The famous minced braised pork rice in Taichung's Second Market
Address: No. 87, Section 2, Sanmin Road, Central District, Taichung City, Taiwan 400 [台中市中區三民路二段87號]
Opening Hours: 7AM – 8PM (Closed on Mon)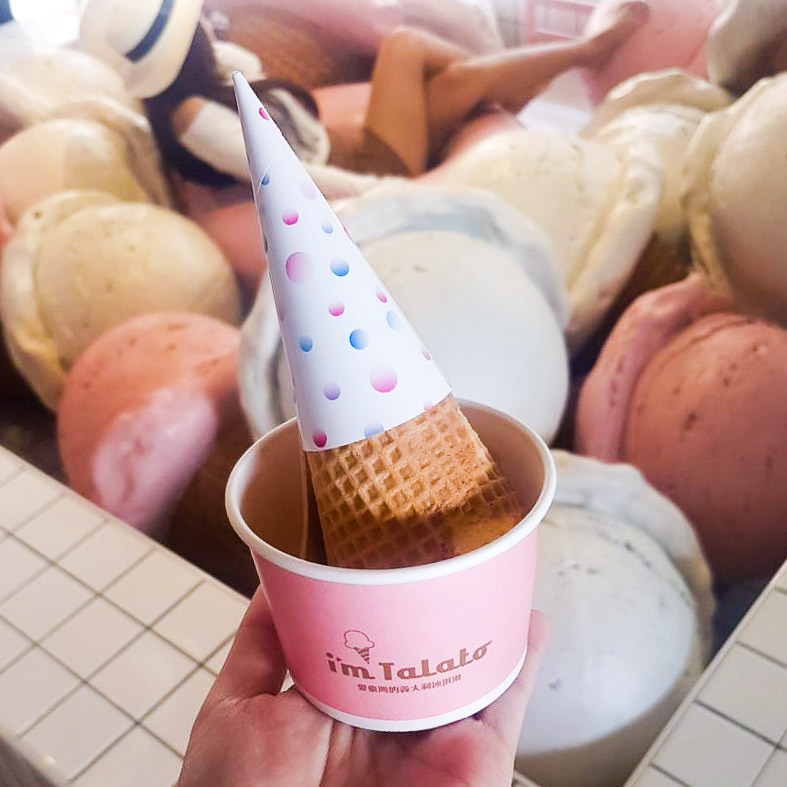 Although it was already autumn when we visited Taiwan in October, the sun was still pretty unforgiving and it felt no different from all-year-summer Singapore. A quick search on desserts in Taichung brought us to I'm Talato, an ice cream parlour all decked in pink. We couldn't resist going in for some ice cream to cool down.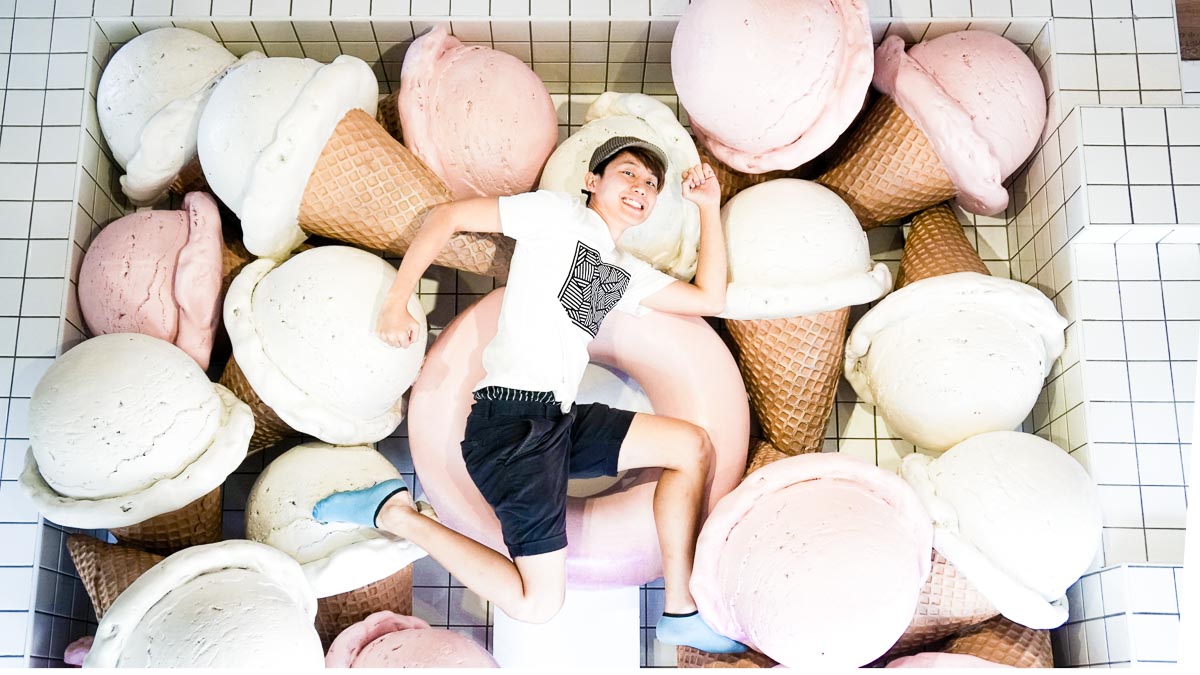 No visit to I'm Talato is complete without a check-in pic at their iconic bed of ice-cream. There, my lifelong dream to live in a pool of ice cream, fulfilled.
Address: No. 451, Yingcai Road, West District, Taichung City, Taiwan 403 [台中市西區英才路451號]
Opening Hours: 11:30AM – 7:30PM daily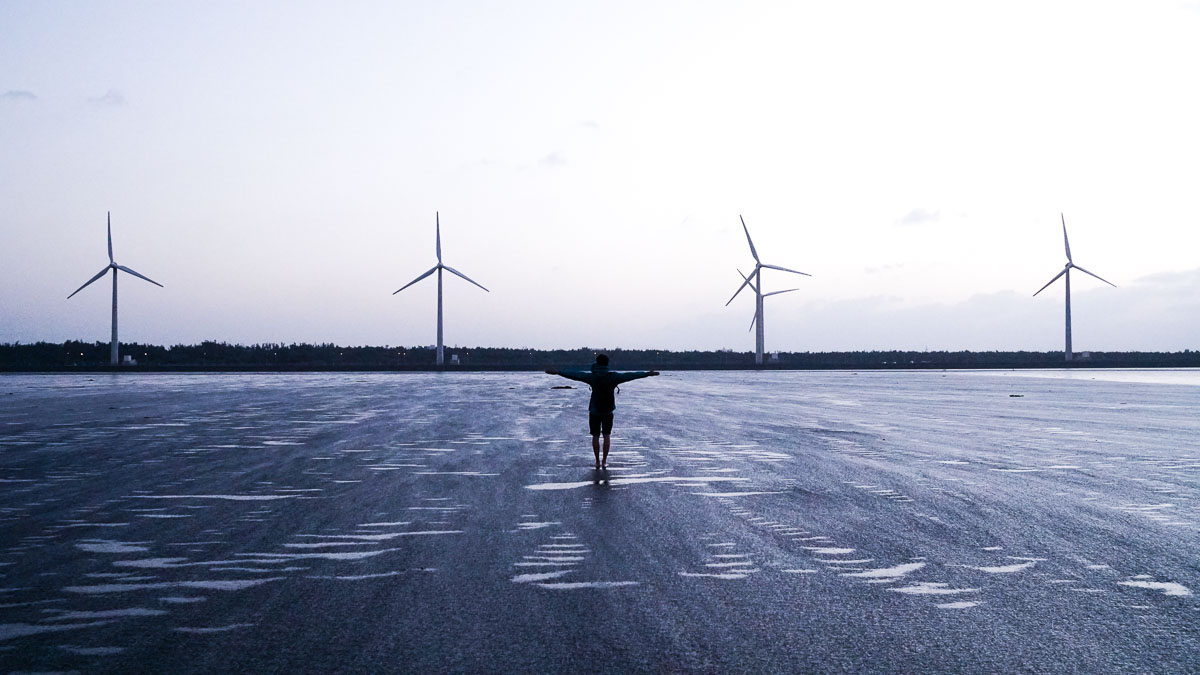 A lesser-known gem in Taichung, Gaomei Wetlands 高美濕地 is a sunset paradise for avid photographers. Rows of windmills line the beach and cast perfect silhouettes against the setting sun. Everything becomes even more breathtaking when the sea acts as a giant mirror reflecting all above the horizon.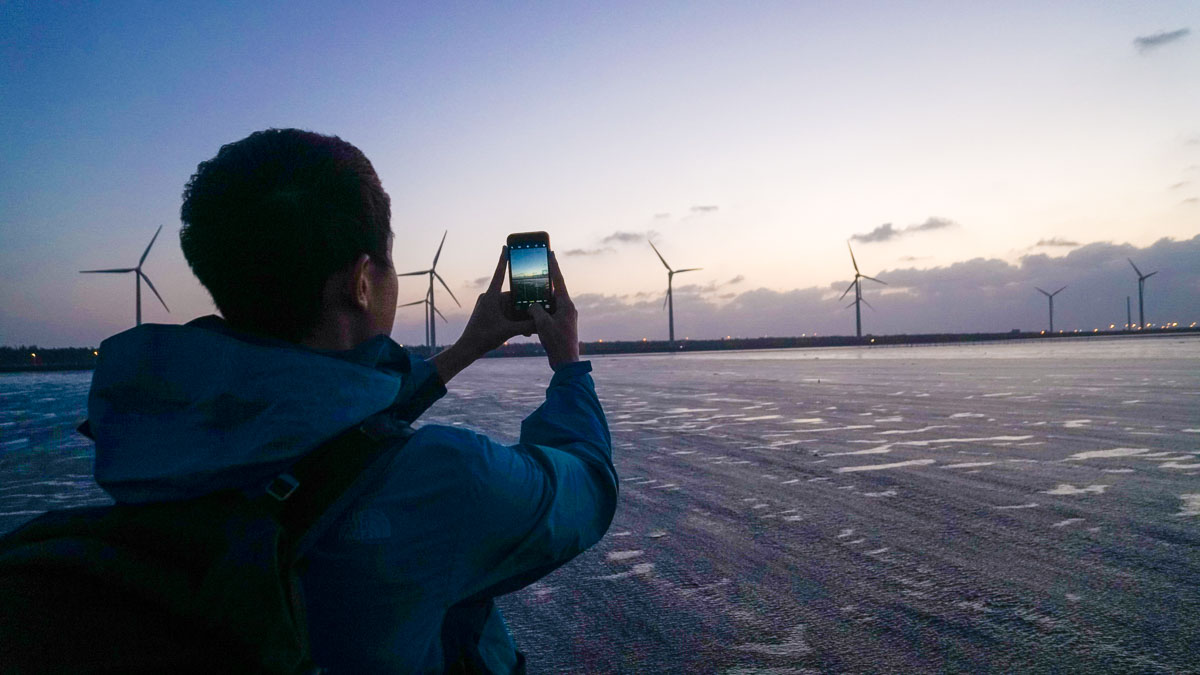 Sunset timings vary throughout the year, but our advice is to be at Gaomei at least an hour earlier to walk around when there's still sufficient sunlight.
Address: Meidi Street, Qingshui District, Taichung City, Taiwan 436
*Pro-tip: If you are planning to visit Rainbow Village and Gaomei Wetlands on the same day, choose a weekend to do so as there's a Bus service #655 that operates only on weekends between these two places.
After Gaomei Wetlands, we boarded the last bus back to Taichung Train station where we began the next leg of our journey: Tainan. If Taichung and Nantou showed us how we could play in Taiwan, Tainan would show us the cultural sides of Taiwan.
We chose the Taiwan Rail, the older train system, to get from Taichung to Tainan. It was a slow ride taking about 3 hours, but it didn't matter as long as we get to our destination before the last check-in time.
Accommodation: MyDeer Backpacker Hostel from S$27 per night
D6: Tainan on Two Wheels!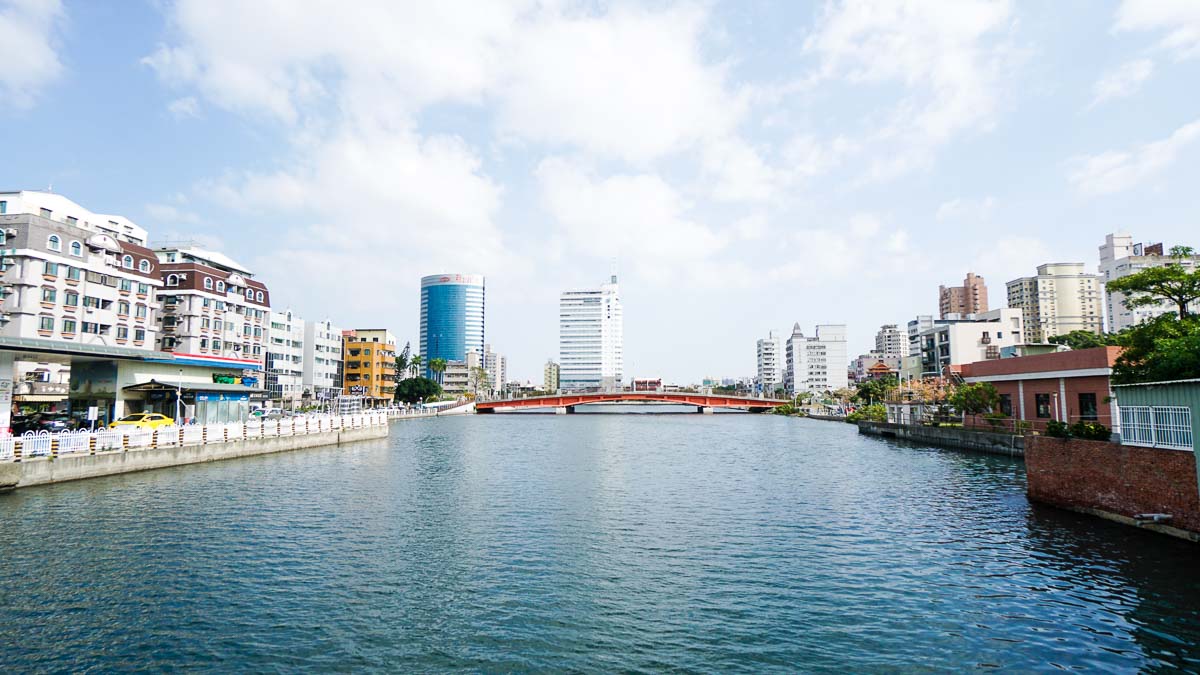 We started our day in Tainan with some morning exercise — cycling. The hostel we stayed at has 3 bicycles available for guests to use, and we decided to make use of them as Tainan's streets are relatively easy to navigate with places of interests situated not far from one another.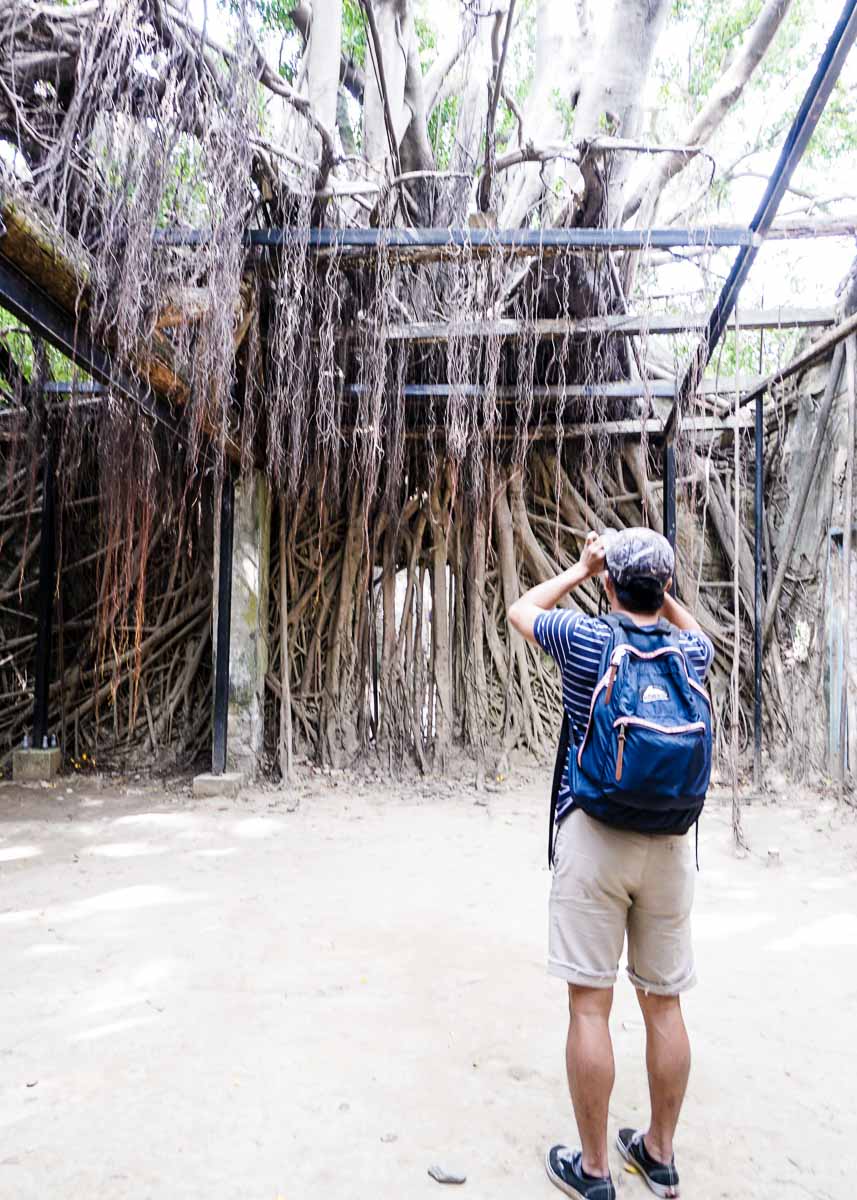 First pit stop we made was the Anping Tree House 安平樹屋, a dilapidated warehouse of the '40s that has since been consumed by a huge Banyan tree. A must-see for those who are into urban exploration!
Entrance Fee: NT$50
Opening Hours: 8:30AM – 5:30PM
Address: No.108, Gubao St, Anping District, Tainan City [台南市安平區古堡街108號]
*Pro-tip: If you are planning to visit 3 or more of the below attractions, getting the Tainan City (4+1) Monument Pass at NT$150 is a better deal. Passes can be purchased from ticketing counters at any of the below:
– Anping Tree House 安平樹屋
– Chihkan Tower 赤崁樓
– Anping Fort 安平古堡
– Eternal Golden Castle 億載金城
– 1661 Taiwan Warship Museum 1661臺灣船園區
Tianhou Temple 安平開臺天后宮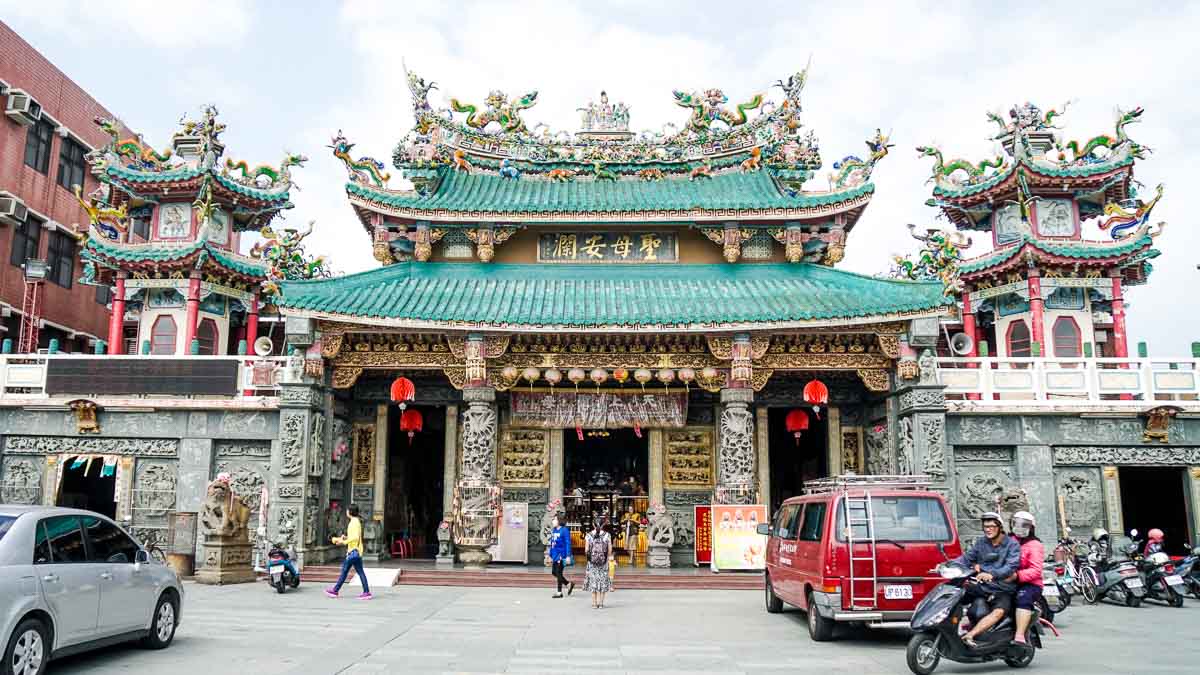 After exploring the Tree House, we continued exploring the Old Streets of Anping, which are kept alive by the constant stream of visitors. Many of whom there to pay the famous Tianhou Temple 安平開臺天后宮 around the corner a visit.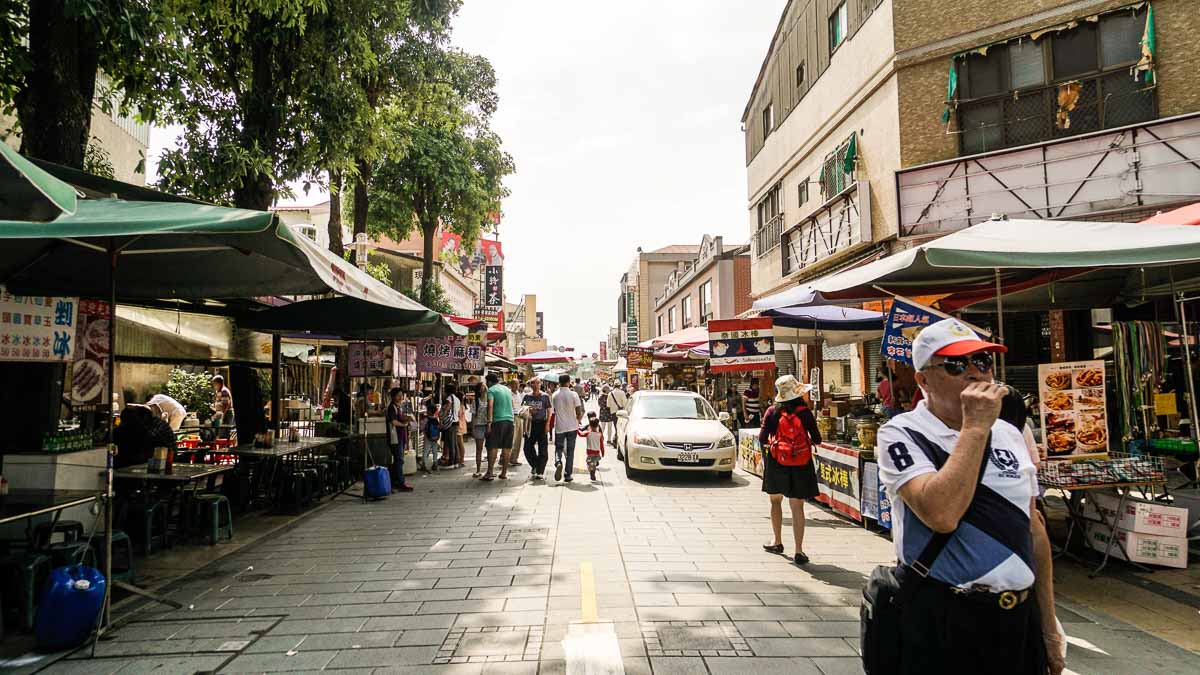 Anping Old Street.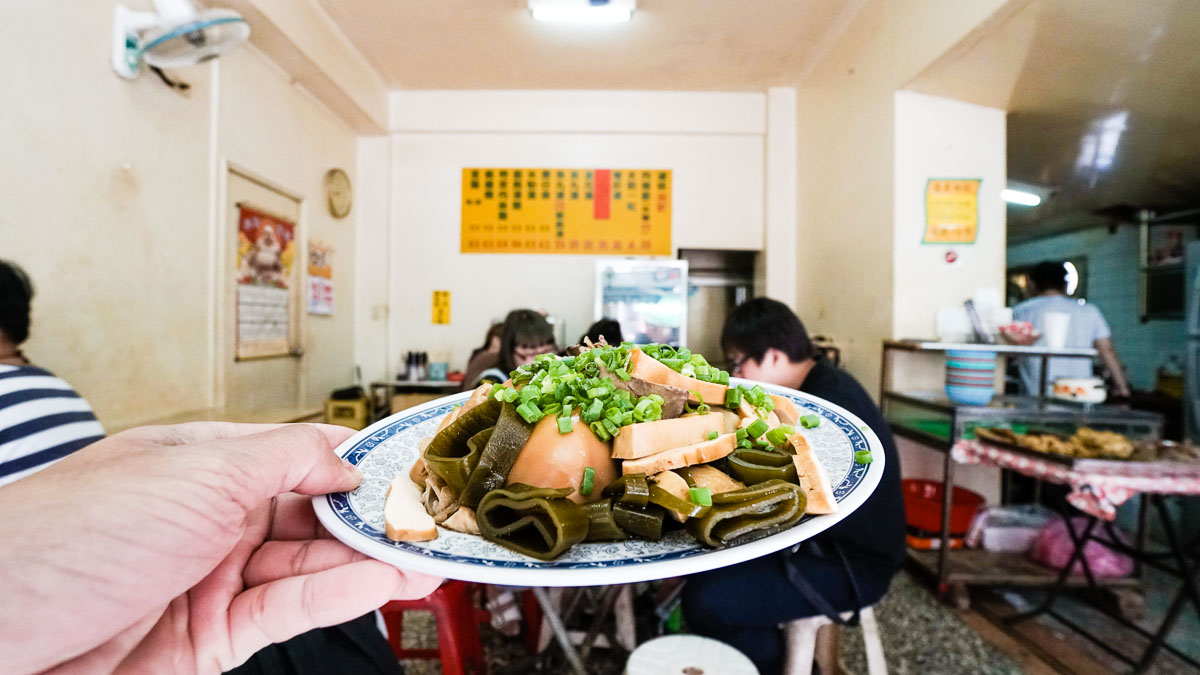 Dayou Xingyi Noodle Shop 大佑興意麵店 is an ordinary noodle stall selling what locals love, the "古早味" (gǔ zǎo wèi), or "tastes of yesteryears". A bowl dry-tossed noodles with assorted braised meats make a simple yet hearty lunch.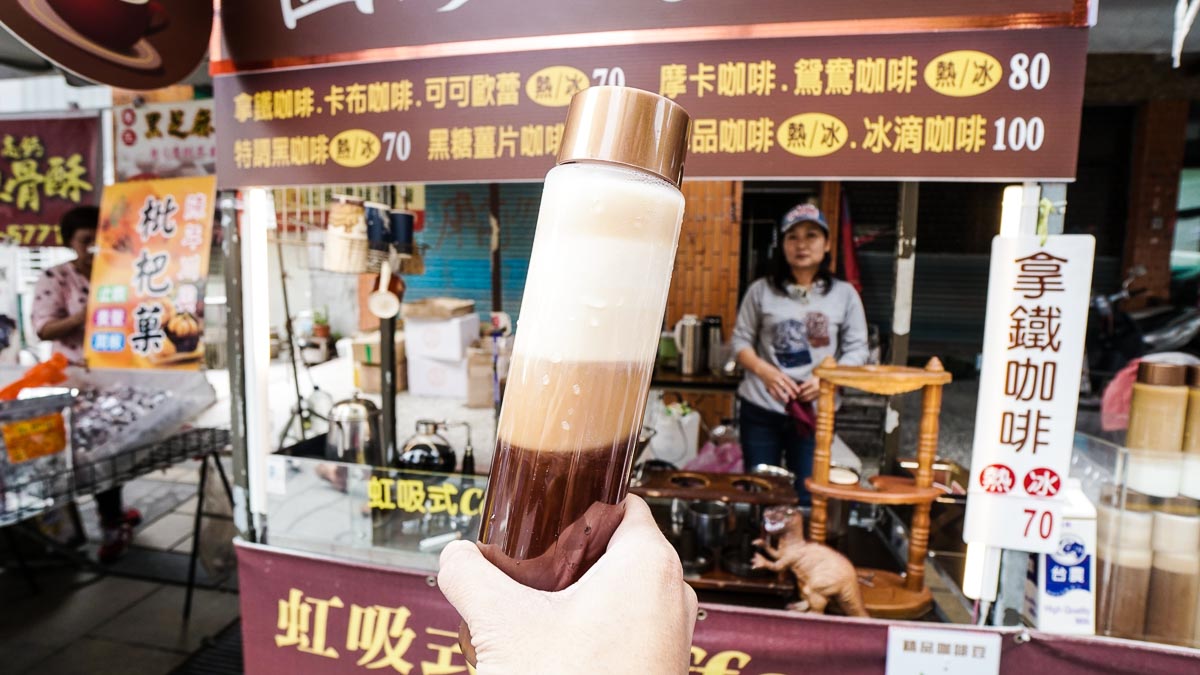 Along the crowded Old Street, we also spotted a small coffee pushcart stall that had a unique coffee-brewing apparatus. Upon asking, we learnt that it's the Vacuum Coffee Maker 虹吸式咖啡, also known as Syphon Coffee. We couldn't resist and bought ourselves a bottle of coffee and milk tea.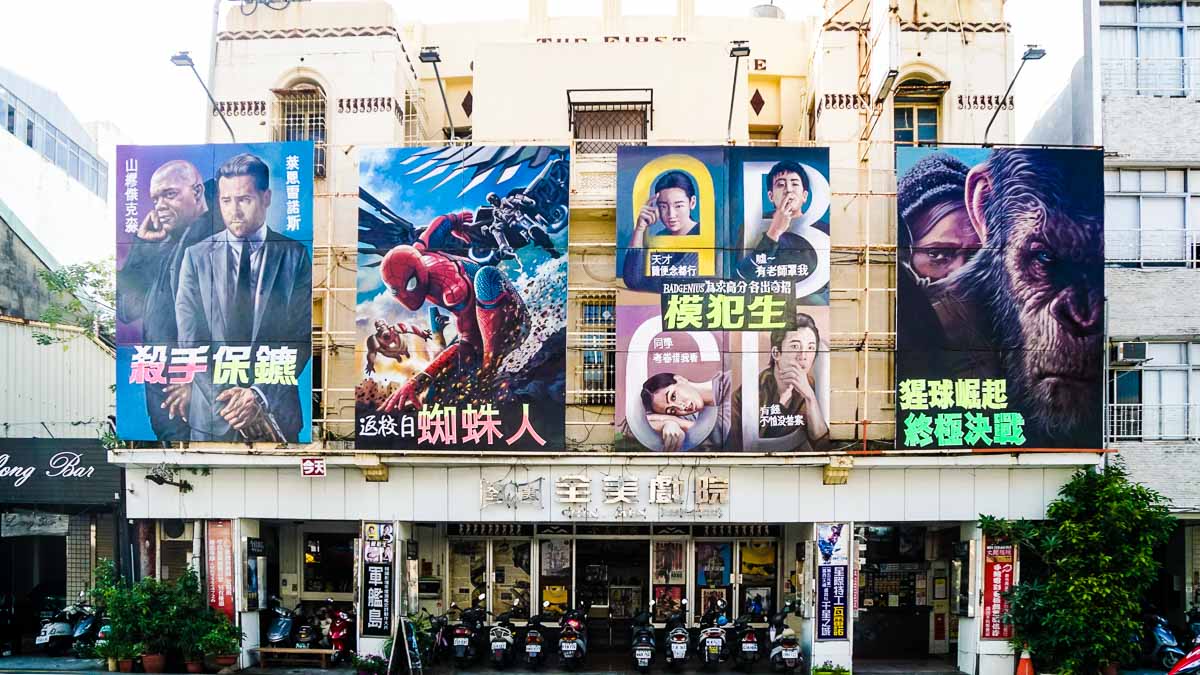 Check out the hand-painted movie posters!
Thereafter, we continued cycling eastwards towards the city centre where we chanced upon the coolest movie theatre. If Tainan is known for her vintagey vibes, then Quan Mei Movie Theatre 全美戲院 is the epitome of all things vintage. Large hand-painted movie posters decorate the building's facade, and what's particularly fascinating is that the posters are those of recent movies!
We understood from locals that the movie theatre shows only reruns. Check out Quan Mei's website to see what's showing!
Cost: NT$140/pax
Opening Hours: 12:30PM – 11PM (weekdays), 10:30AM – 11PM (weekends)
Address: No. 187, Section 2, Yongfu Road, West Central District, Tainan City, Taiwan 700[台南市永福路二段187號]
When in Tainan, be sure to visit also the latest attraction, Blueprint Culture & Creative Park 藍晒圖文創園區.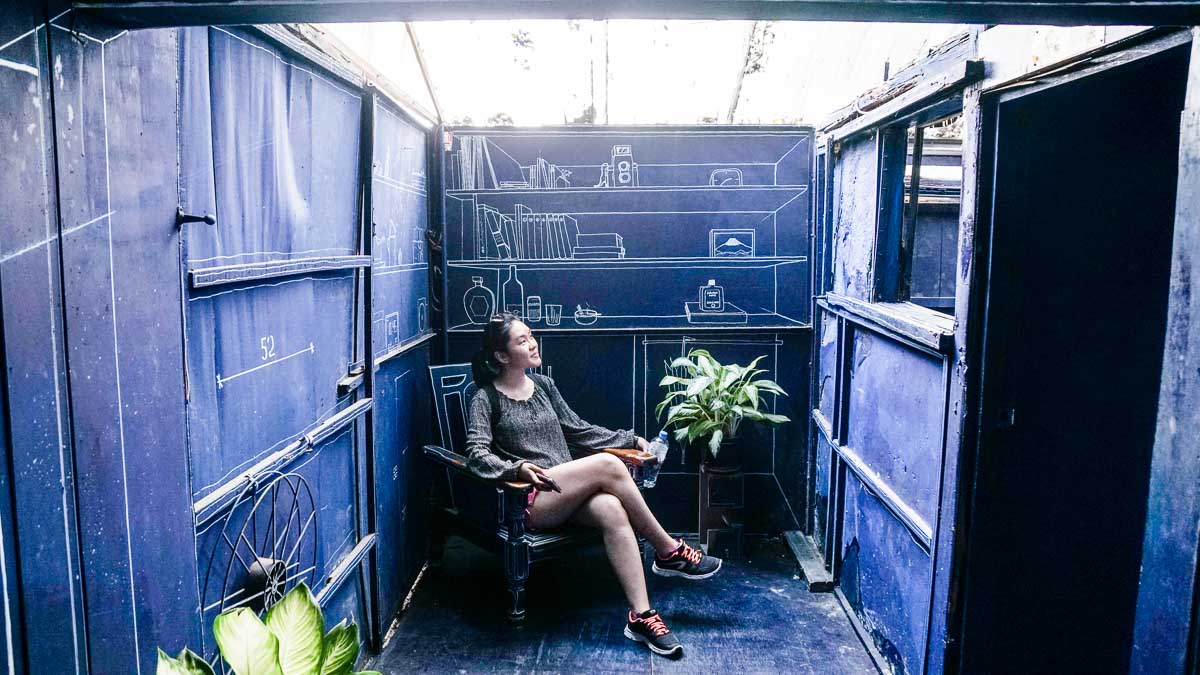 Formally a Japanese Government Dormitory (gasp! that's how old it is!), it has been reimagined, refurbished and re-introduced to visitors as the new cultural playground of Tainan.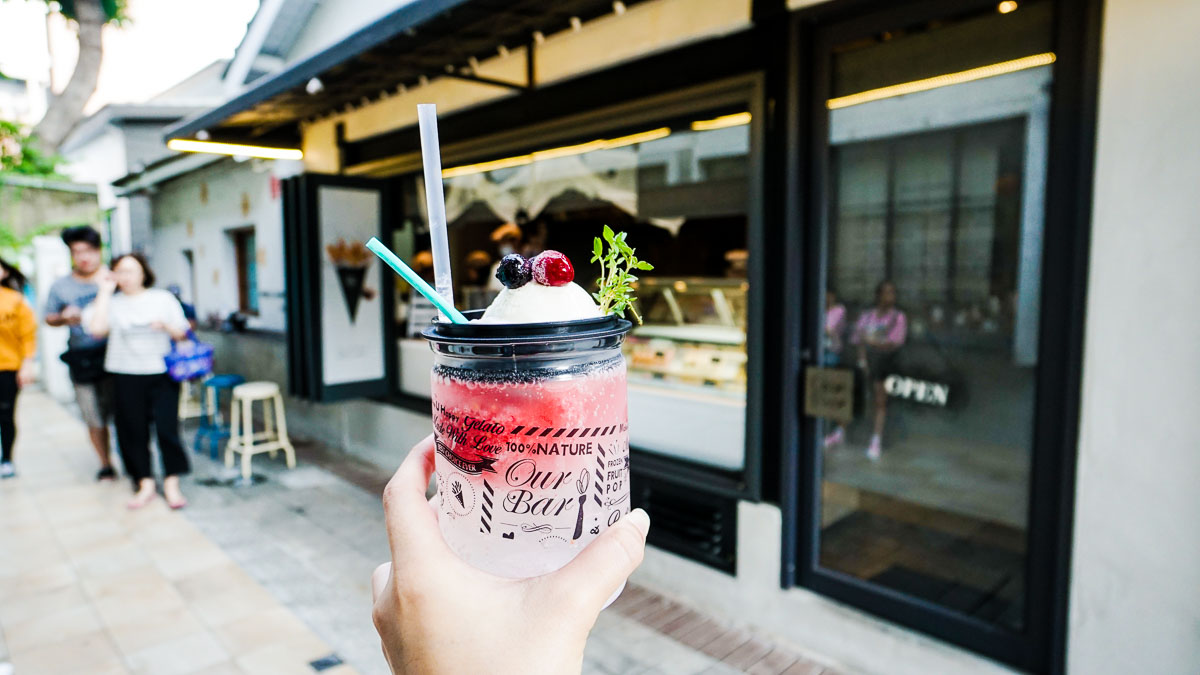 Ice Cream Smoothie from Our Bar at Blueprint Culture & Creative Park.
Within the blue walls, there are indie shops and cafes started up by locals, displaying and selling local crafts and reinvented local delicacies.
Address: Ln. 689, Sec. 1, Ximen Rd., West Central District, Tainan City 700, Taiwan [台南市中西區西門路一段689巷]
Opening Hours: 2PM – 9PM (Closed on Tue)
Admission: Admission into the Blueprint Cultural and Creative Park is FREE
Read also: 7 Underrated Things to do in Tainan
Tainan showed us a side of Taiwan that foreign visitors know less of, the cultural, rustic, and yet homey and flavourful one. Before long, it's time we leave Tainan for the second-most populous city of Taiwan after Taipei, Kaohsiung.
Again, we took the TR for this leg of the journey utilising our rail pass. Within an hour, we found ourselves in Kaohsiung, with our growling stomachs calling out to be filled. From Kaohsiung Train Station, we took the local MRT to Kaohsiung Arena Station.
In Kaohsiung, there are a couple of night markets, but the one we decided to head to was Ruifeng Night Market, just a 5mins walk from the Kaohsiung Arena Train station. Do note that night markets in Kaohsiung do not open every night, unlike those in Taipei.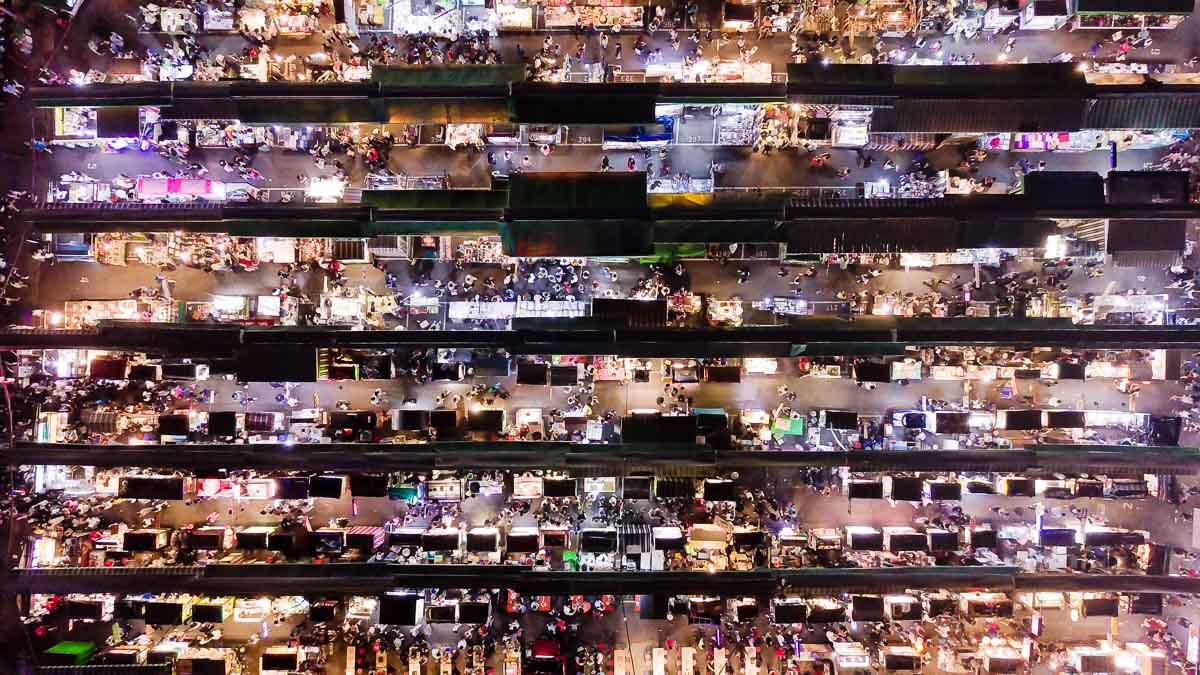 Bird's eye view of Rui Feng Night Market, Kaohsiung.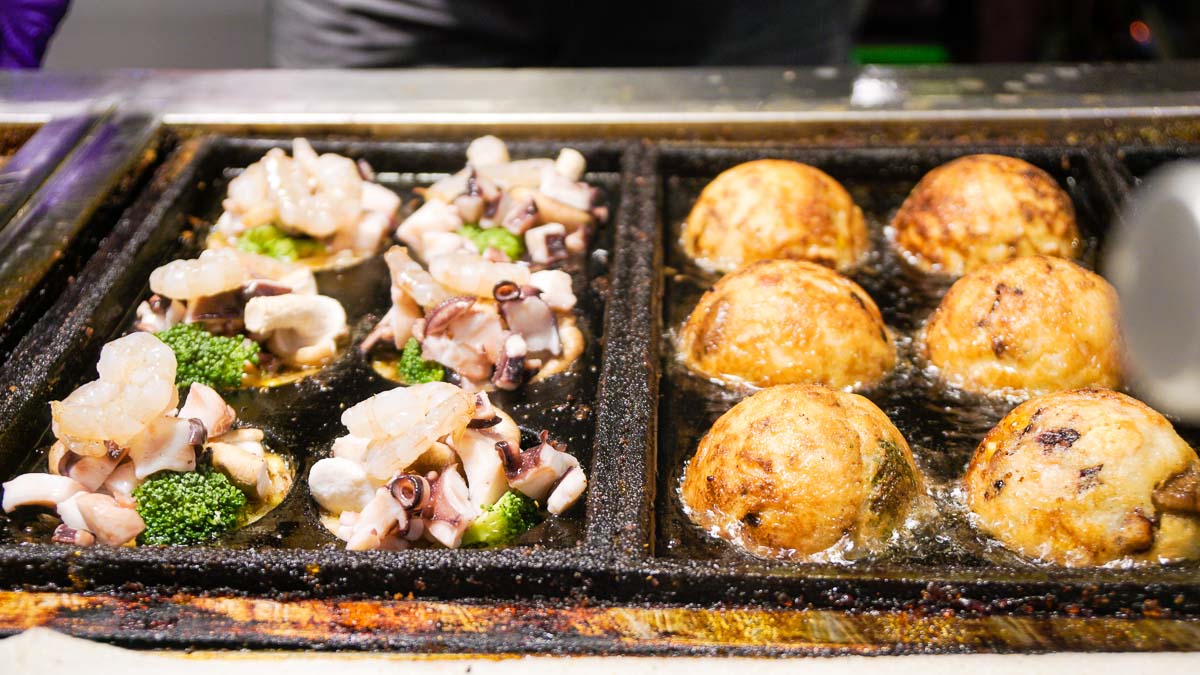 Giant Takoyaki balls at Rui Feng Night Market.
That night, we checked in to the hostel we looked forward to the most, Single Inn because there're hot tubs for guests!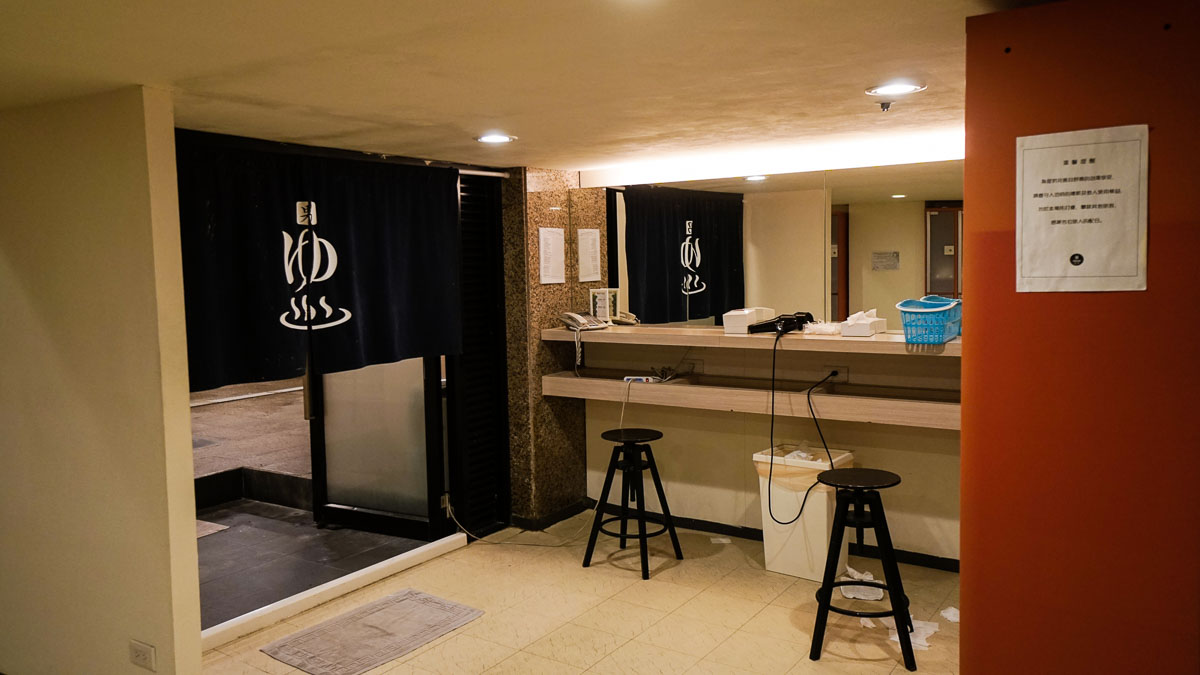 Communal (same-sex) bath area in Single Inn Hostel.
Accommodation: Single Inn from S$28 per night
D7: Finding the Artistic Side of Kaohsiung
We started our day with breakfast at a fast-food chain, and nope, before you diss us for not being adventurous eaters overseas, we'll like to introduce Dandan Hamburger 丹丹漢堡 to you.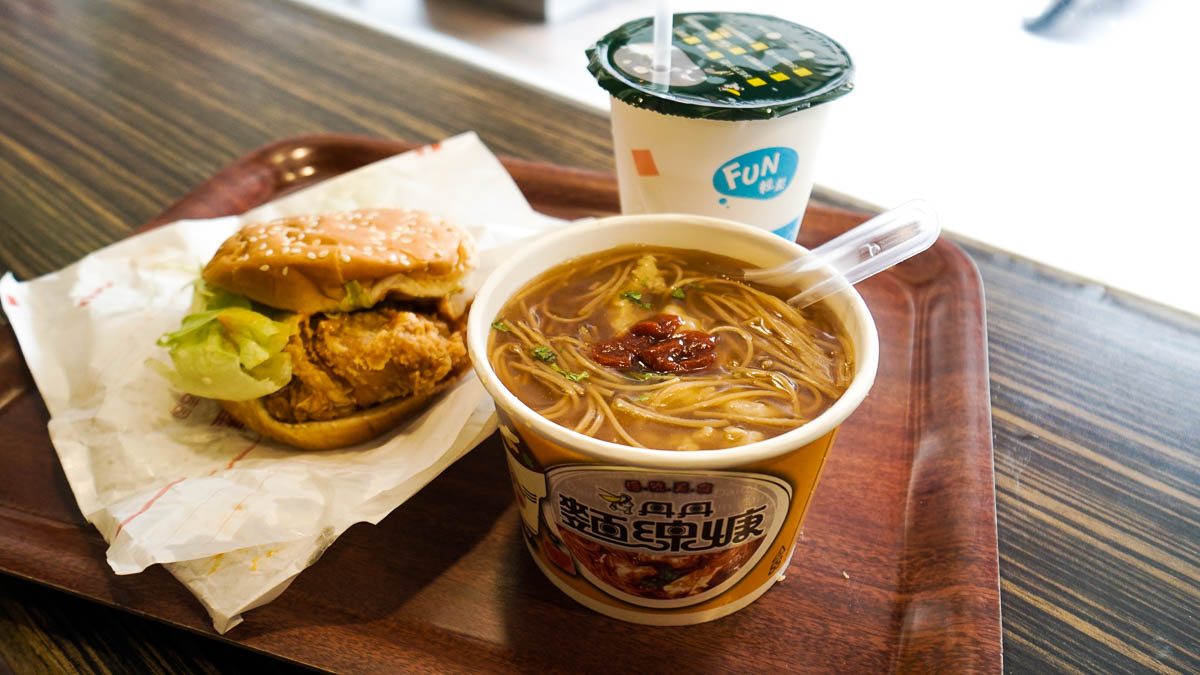 Western fast-food chain with a local Taiwanese twist.
Opened in 1984, Dandan Hamburger is the pride of Kaohsiung's locals. This burger chain specializes in Western-Taiwanese fusion food and can only be found in the southern cities — Kaohsiung, Tainan, and Pingtung.
Address: No. 224, Qixian 2nd Road, Qianjin District, Kaohsiung City, Taiwan 801 [高雄市前金區七賢二路224號]
Opening Hours: 6AM – 9:30PM daily
Next, we explored a repurposed warehouse site that's now used as an event venue for local artists to showcase their artworks, the Pier-2 Art Center.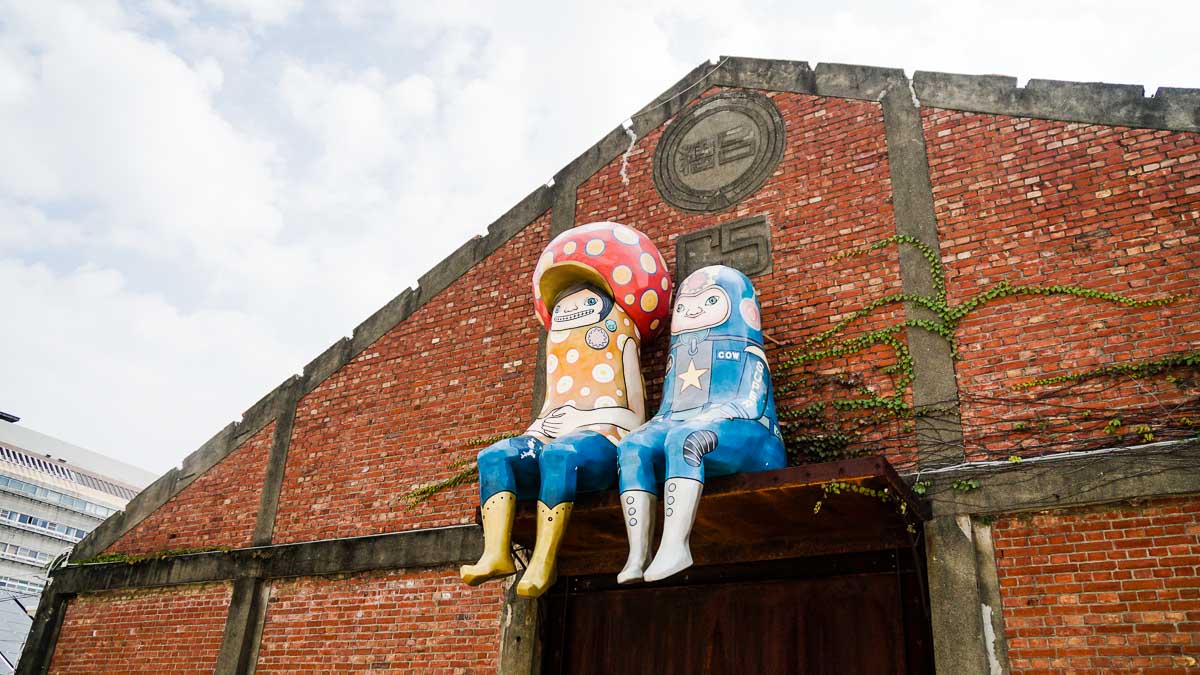 Address: No.1, Dayong Rd., Yancheng Dist., Kaohsiung City 803, Taiwan [鹽埕區大勇路1號]
Opening Hours: 10AM – 6PM (Mon – Thu), 10AM – 8PM (Fri – Sun & PH)
Kaohsiung surprised us with the vibrant arts scene it quietly harbours.
Read more about Pier-2 Art Centre in 7 things to do in Kaohsiung.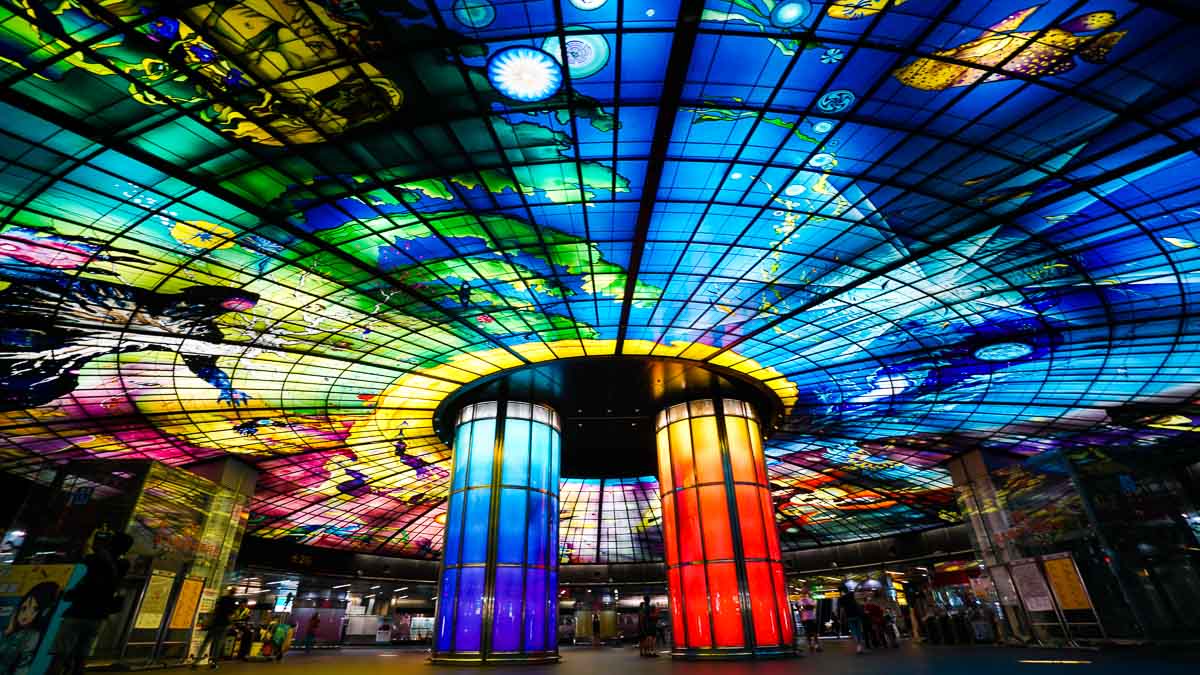 At the Formosa MRT station 捷運美麗島站, there's the Dome of Light 光之穹頂, the largest glass work in the world, designed by Italian artist Narcissus Quagliata.
There will be short light shows daily at 11AM, 3PM, and 8PM. As the Dome of Light is not within the paid premises of the train station, it's literally FREE entertainment you should take note of in Kaohsiung 😉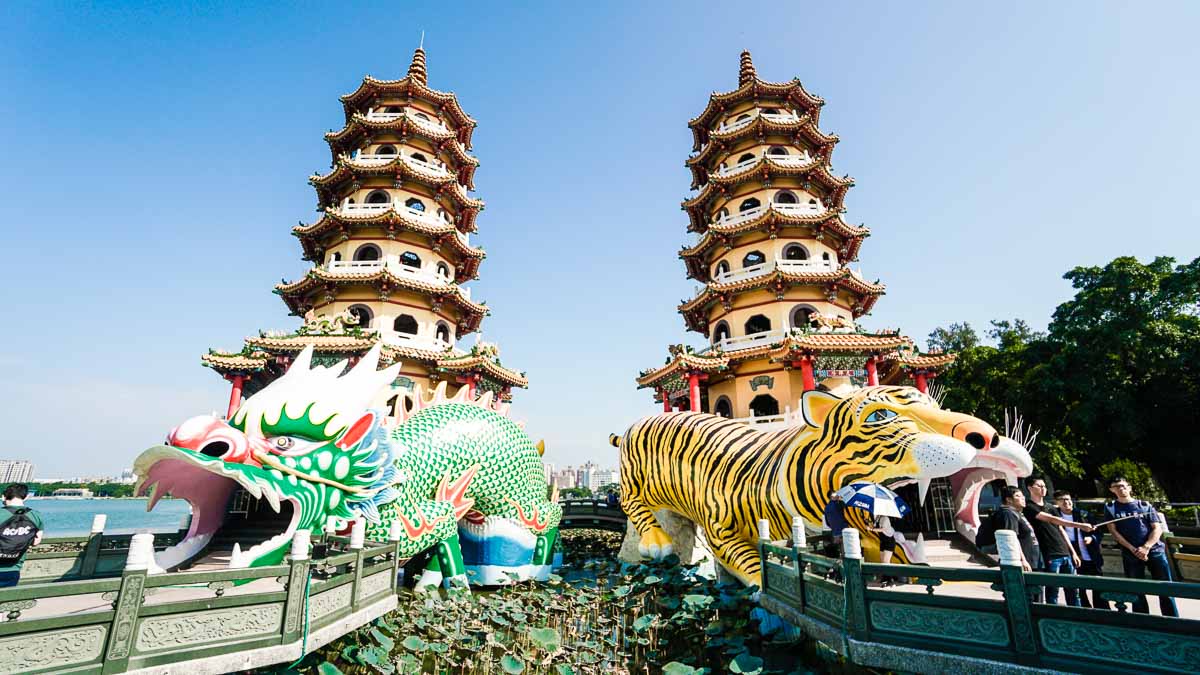 Next up, we headed to the Dragon and Tiger Pagodas 龍虎塔. Folklore has it that walking in through the dragon's mouth and exiting by the tiger's will bring good luck and fortune.
Address: Liantan Rd., Zuoying Dist., Kaohsiung, Taiwan [高雄市左營區蓮潭路與勝利路交叉口旁]
Opening Hours: 8AM – 6PM daily
Admission Fee: FREE, free-will donation basis.
Read also: 7 Things to do in Kaohsiung
Before nightfall, we packed our belongings and boarded the Kaohsiung – Kenting Express Bus from Kaohsiung (Zuoying) HSR Stn. towards our next destination — Pingtung 屏東!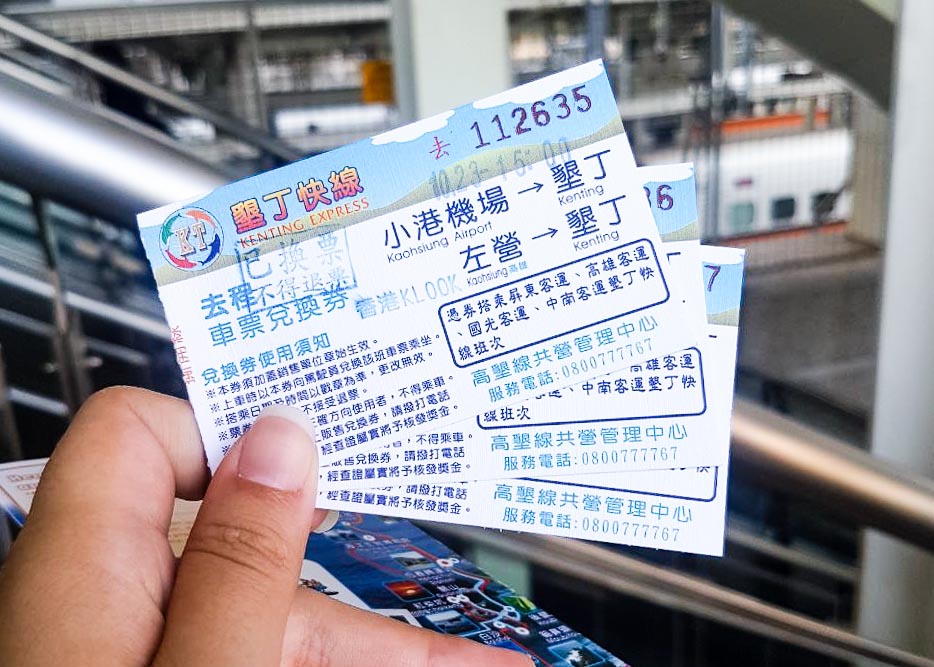 Kaohsiung – Kenting Express Bus Ticket
We booked our bus passes from Klook beforehand, and collected them from the bus pass counter at Kaohsiung (Zuoying) HSR. We recommend for you to get both the Express Bus Return Pass and the Kenting Shuttle Bus Pass for convenience.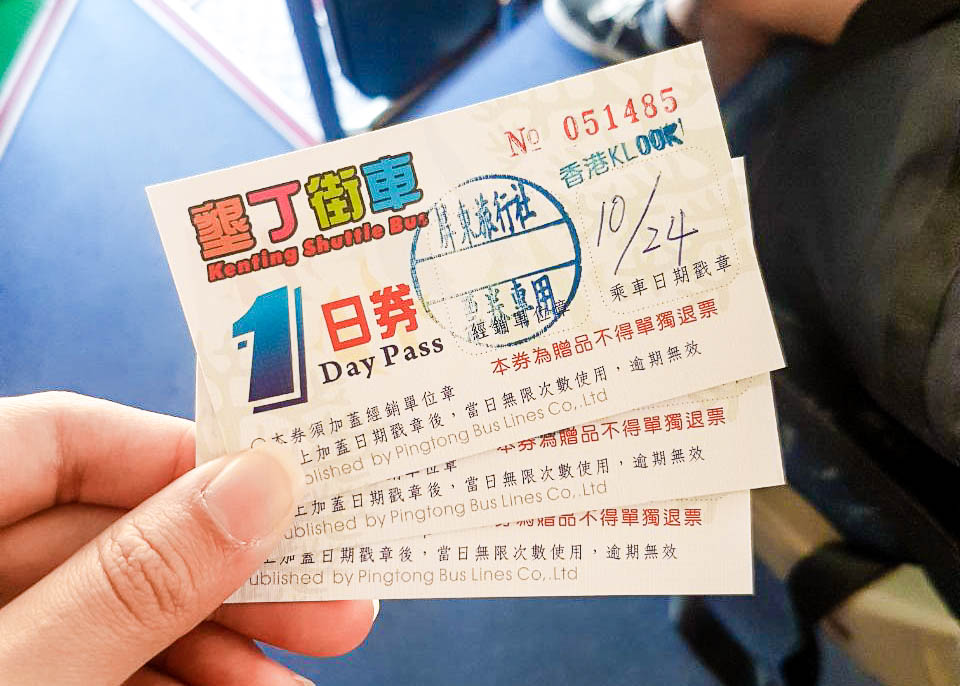 Kenting Shuttle Bus ticket
After a smooth and comfortable 1hr 35 min ride, followed by a hitch (cos' we missed the other transfer bus), we reached our accommodation for the night — National Museum of Marine Biology and Aquarium (NMMBA) 國立海洋生物博物館.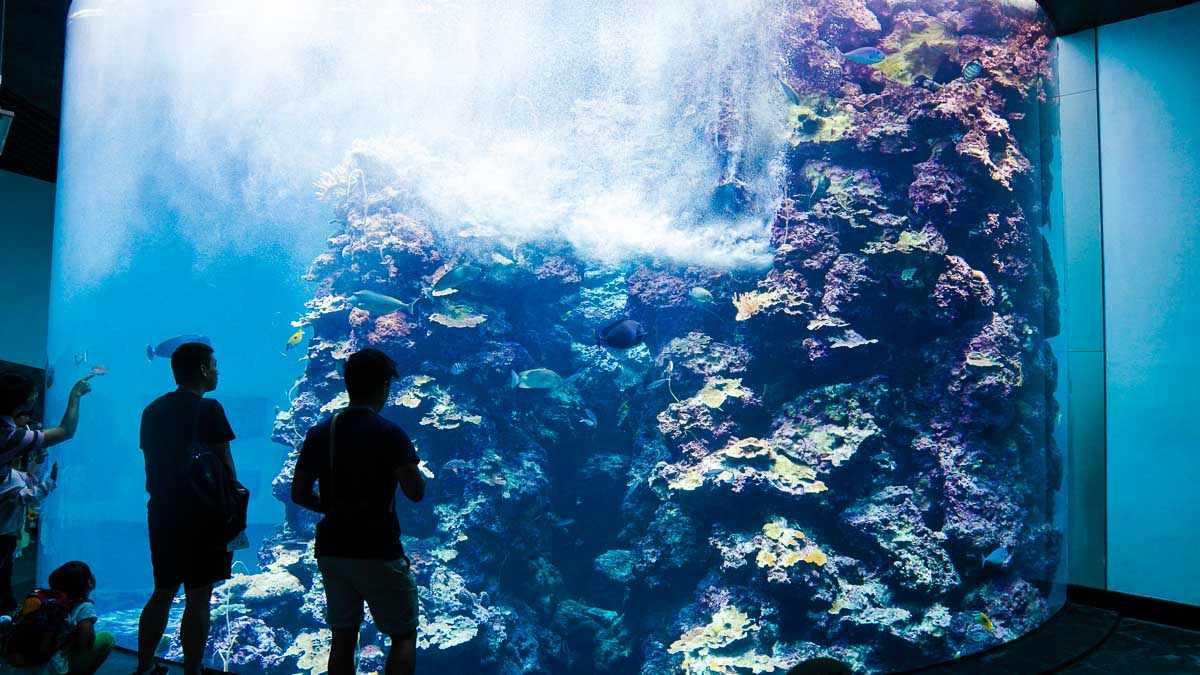 Yes, you read those two words right. Our "accommodation" for the night in Pingtung will be in an "aquarium"! 😀
First up, here's the instruction to get to the aquarium (without needing to hitch a ride like a hobo on the road) if you are travelling via the Kaohsiung – Kenting Express Bus.
Kaohsiung (Zuoying) HSR →(Kenting Express Bus)→ NMMBA Transfer Stn →(Kenting Shuttle Bus from across the road)→ Marine Biology Museum
Important timings to take note:
– Kaohsiung – Kenting Express Bus from Kaohsiung (Zuoying) HSR: 8:30AM – 7:10PM (at 15–30mins intervals. Refer to detailed timetable)
– Kenting Shuttle Bus from NMMBA Transfer Stn: 8:54AM to 3:54PM (at 30min intervals), with one last bus at 5:54PM (Refer to detailed timetable)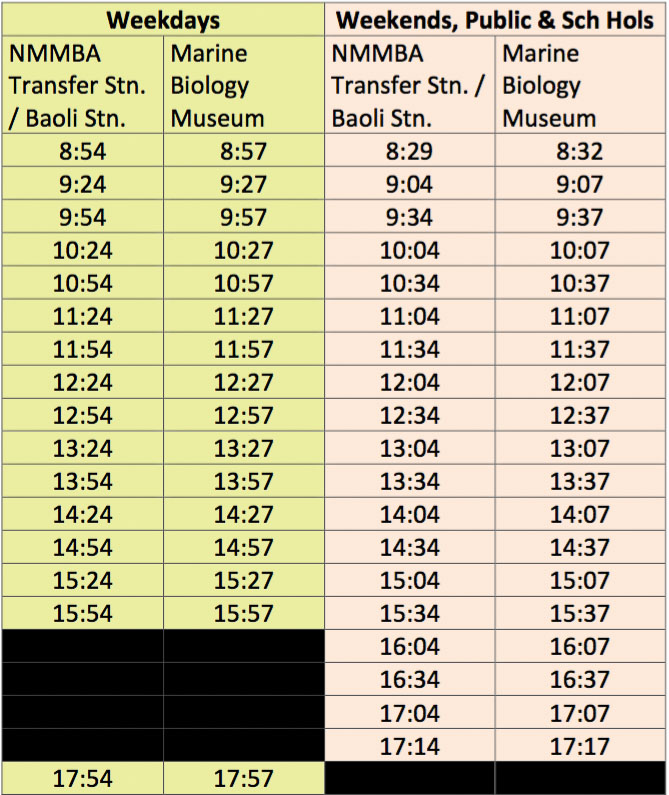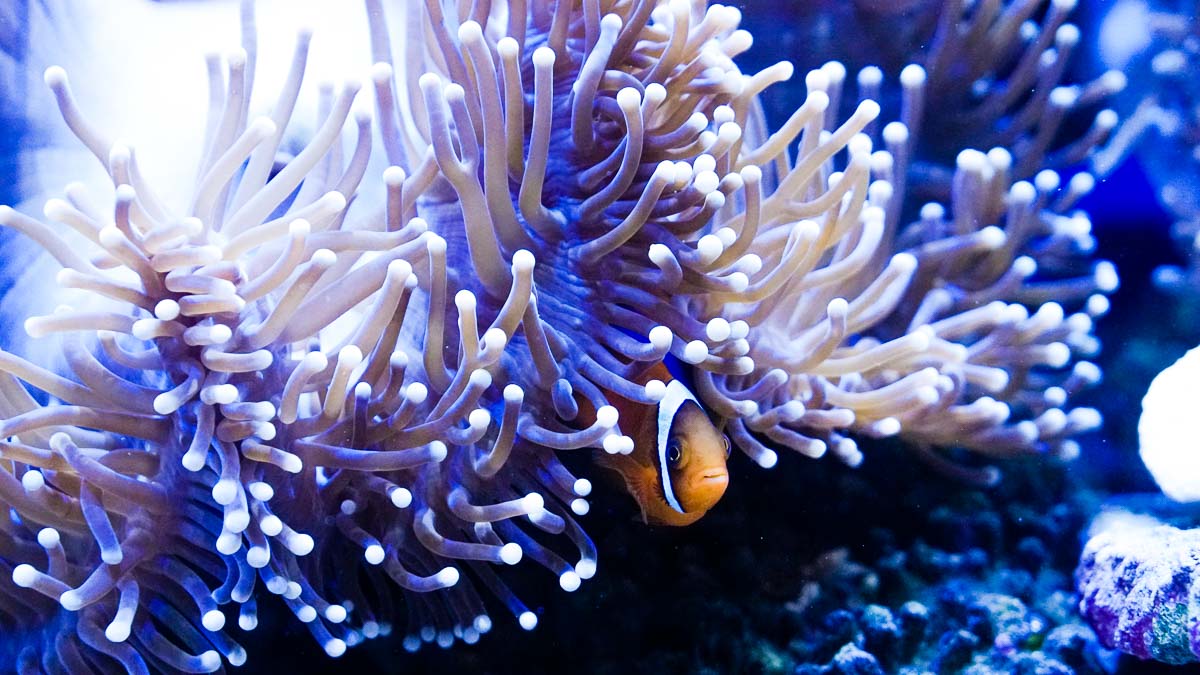 Upon arrival at the aquarium, visitors will be shown around the aquarium, staff areas and out-of-bound premises to day guests. Through this programme, we learnt more about how marine animals were being taken care of in aquariums, the different kinds of corals, anemones, and sea organisms and even feed the fishes.
Dinner is provided in the aquarium sleepover package.
Dinner, supper, and breakfast are also included in the sleepover package, the communal washrooms are clean and there are big lockers for guests to store their personal belongings.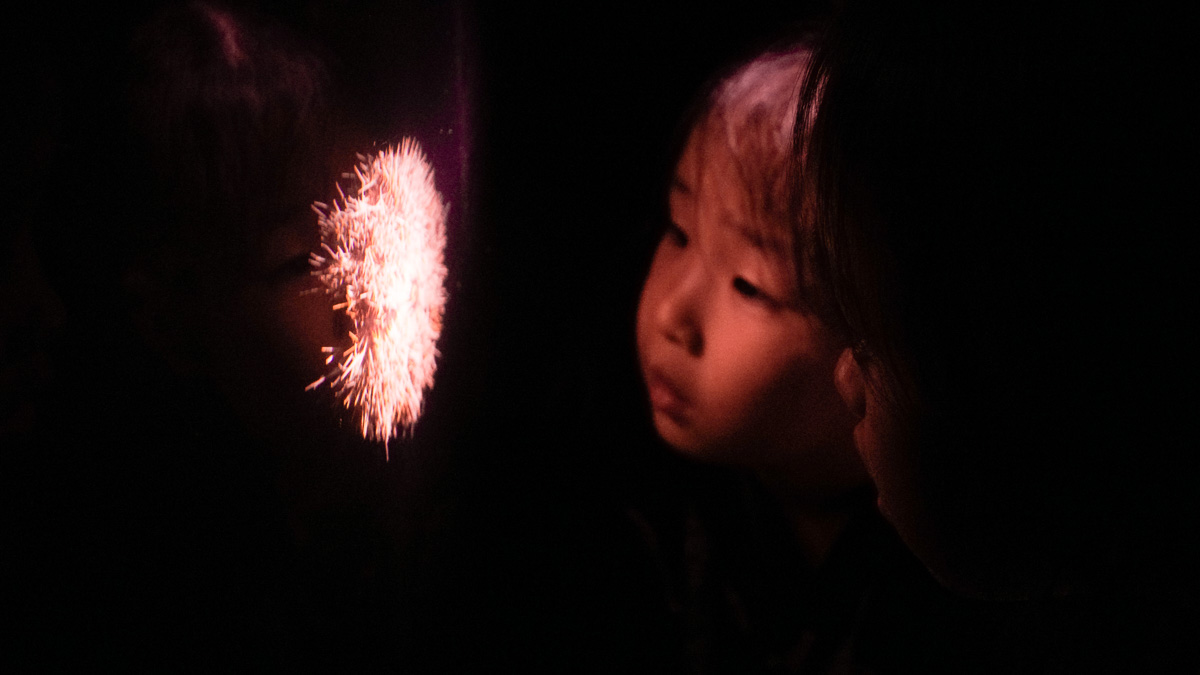 Although we thought that this programme suits younger children if you are a marine life lover, you'll definitely enjoy this too!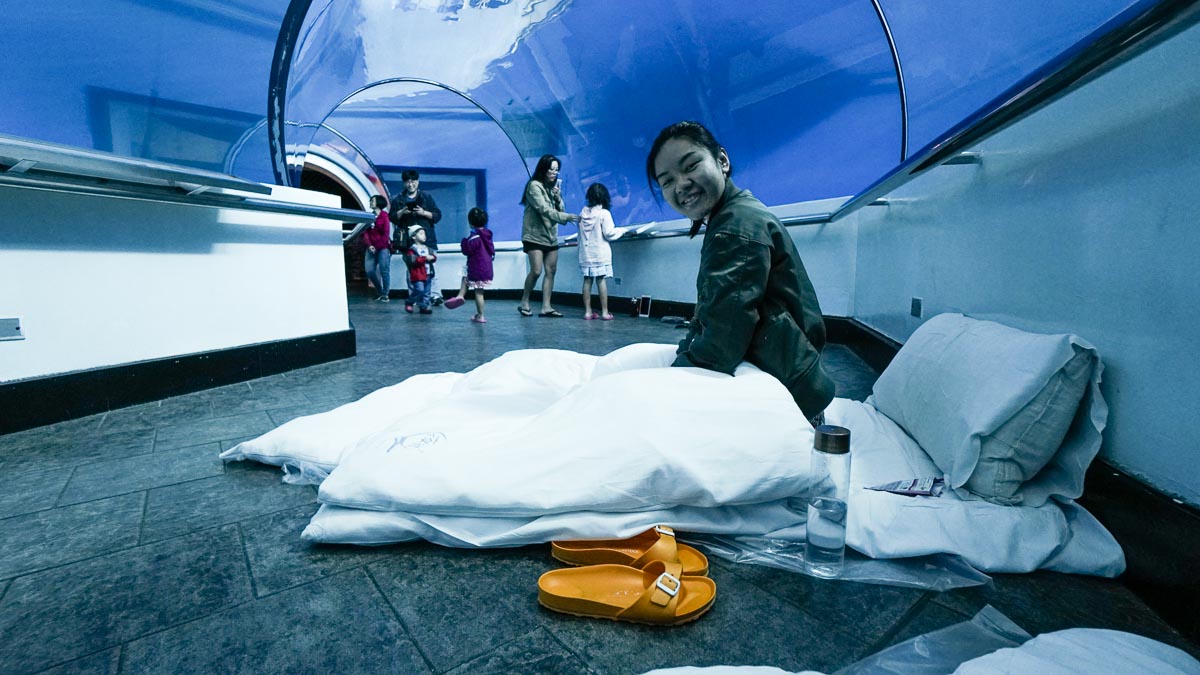 This extraordinary experience of sleeping amongst fish and other marine animals is probably the closest anyone can get to being a mermaid.
Address: 2 Houwan Rd. Checheng, Pingtung County, Taiwan [屏東縣車城鄉後灣村後灣路2號]
Sleepover Duration: 4PM – 10:30AM the following day
Regular Opening Hours: 9AM – 5:30PM daily
Price: S$98/pax
*We did not include the aquarium sleepover in the budget as we felt that it's an optional activity.
D8: Fun Under the Sun in Kenting
After our first ever aquarium sleepover, we continued our journey southwards to Kenting. We boarded the Kenting Shuttle Bus from Marine Biology Museum 海洋生物博物館 stop just outside the aquarium and alighted at Nanwan 南灣 stop for some water sports at the beach.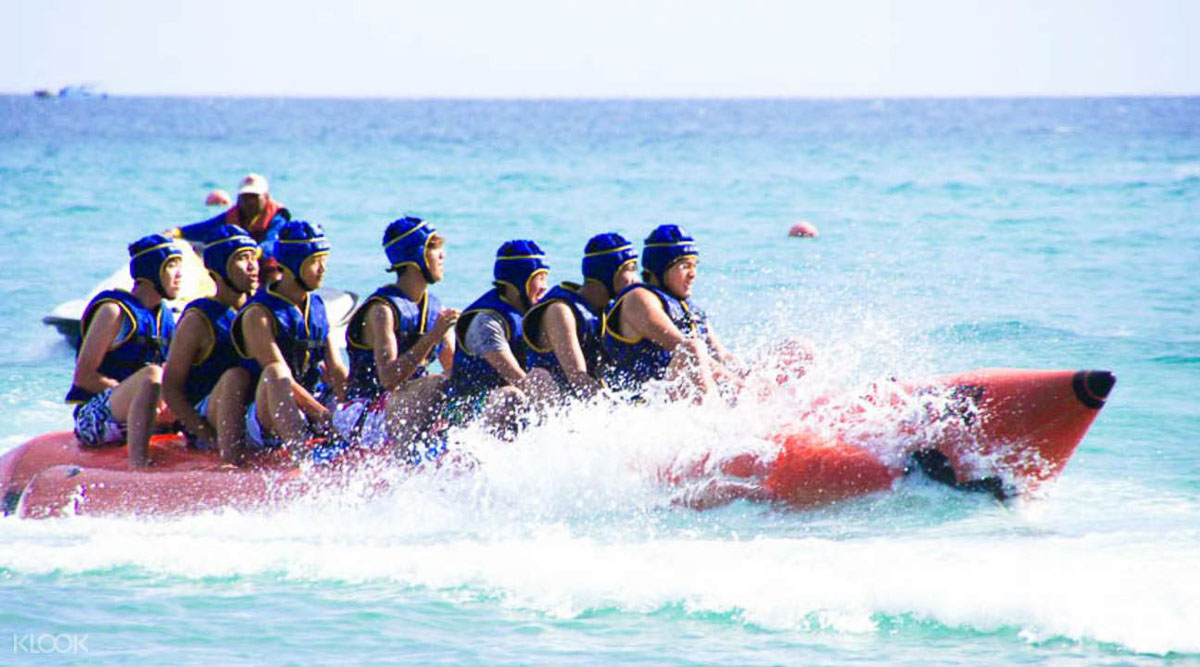 Photo credit: Klook
There are up to 8 watersports available at Nanwan, including Banana Boat, The Flying Bed, and Jetski.
Cost: S$25 for the 2-in-1 Watersports Package
Address: 154 Nanwan Road, Nanwan (South Bay), Hengchun, Pingtung County [屏東縣恆春鎮南灣里南灣路154號]
Operating Hours: 8AM – 6PM (be there at 3PM latest)
As we chose only 2 activities from 8, we ended our watersports relatively quickly. But that's all good because that means we have more time to explore Kenting! After a quick rinse, we boarded the shuttle bus again to our next point — Kenting National Park 墾丁國家公園. Alight at Kenting stop.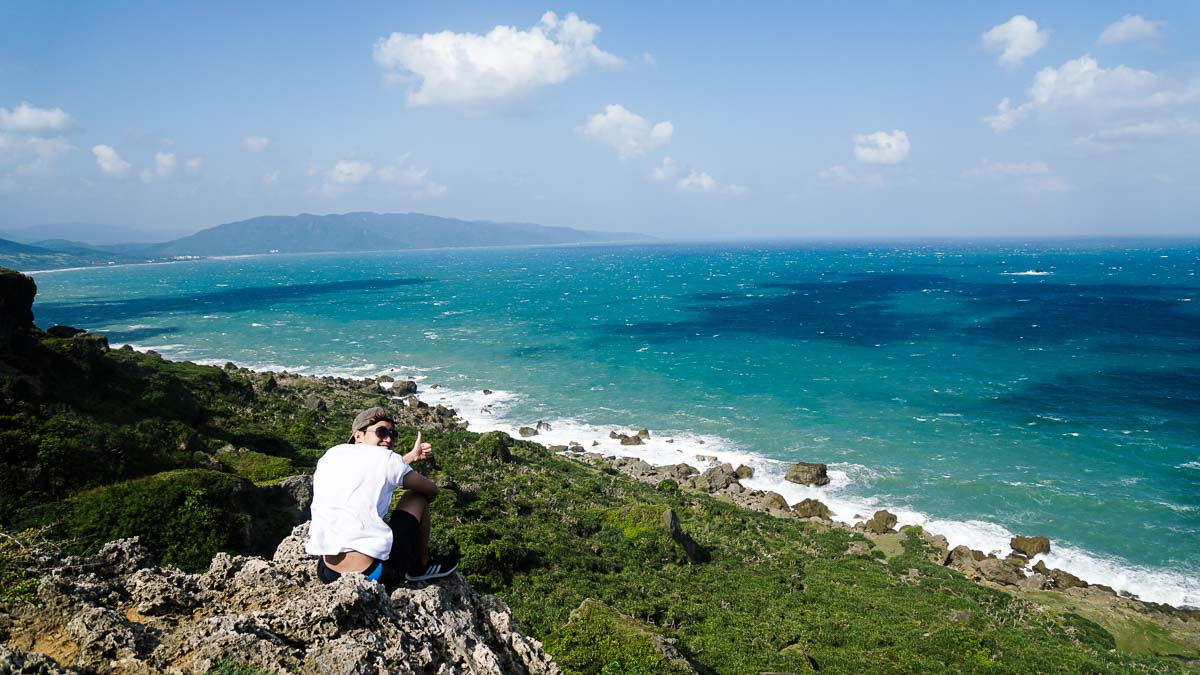 Long Keng cliff at Kenting
Kenting National Park is situated at the southernmost tip of Taiwan, famous for her stunning coastlines. At Kenting, it's not difficult to spot scooter bike rental shops. Travelling on a scooter bike is perhaps the easiest and most convenient way to explore Kenting if you are not staying overnight in Kenting, like us.
We rented our battery-operated scooter bikes from Starry Night Capsule Hotel for NT$700 per bike. We even managed to deposit our heavy baggage at Starry Night Capsule Hotel, a relief for us all as there are no luggage deposit areas or lockers available at Kenting area :')
From the starting point at Kenting stop, a bike ride upwards to Eluanbi Lighthouse will take approximately one hour.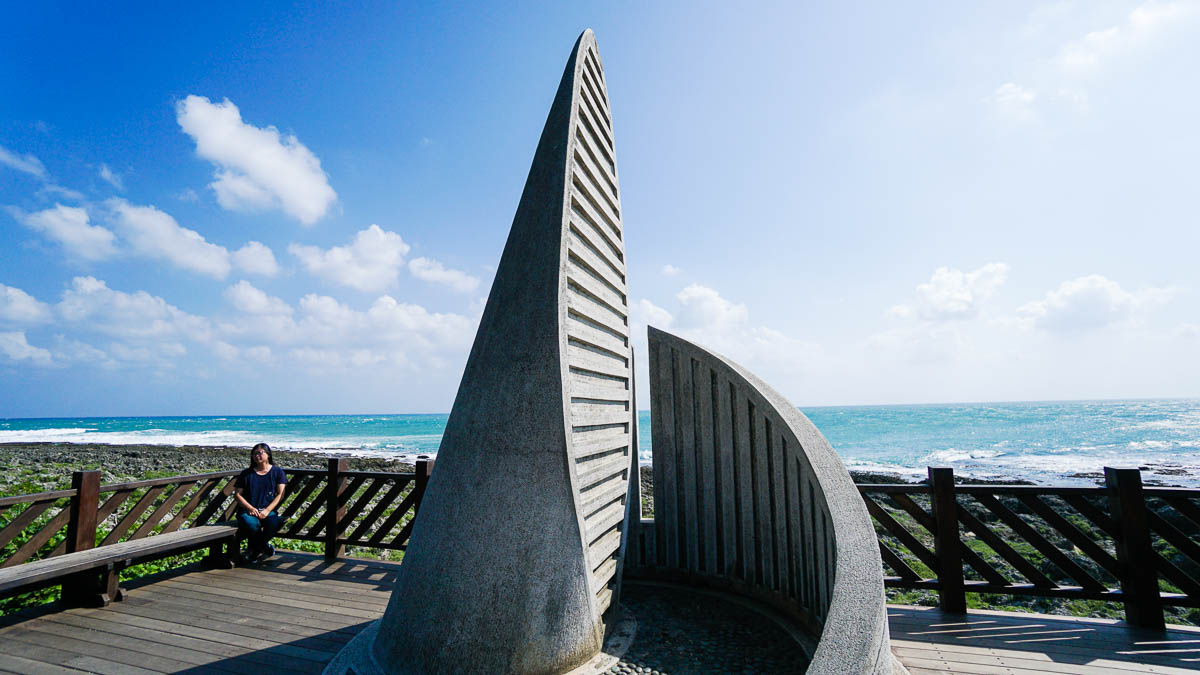 Scenic spots along the way:
– Sail Rock, or a.k.a "Richard Nixon's Submerged Head" 船帆石
– Eluanbi Lighthouse 鵝鑾鼻燈塔 (Opening Hours: 8:30AM – 4PM; Admission: NT$40)
– Taiwan Southernmost Point 台灣最南點
– Longpan Park 龍磐公園
*Pro-tip: Do not be shy to ask shop owners if they allow bags storage for a couple of hours while you head out to explore Kenting National Park. Of course, it will be a lot easier if you ask the scooter rental shops you rent the bikes from.
Scooter Bike Rental/Recommended Accommodation: Starry Sky Capsule Hotel from S$44 per night
After the fun and carefree time we had biking around Kenting, it was time to get back to Kaohsiung then Taipei. First, we got onto the Express bus back to Kaohsiung (refer to bus timetable). It's a 2-hour bus ride back to Kaohsiung (Zuoying) HSR Station, the best time to take forty winks. Then, take the northwards HSR from Zuoying to back to Taipei HSR Stn.
D9: Last stop in Taipei
With a little time left in Taipei before heading home, why not check out the cutest cafe in Taipei — Polar Cafe?
With a marshmallow polar bear peeking out of the cup of cafe latte, it is almost too cute to be consumed. Being one of the most popular cafes in Taipei now, how can you miss this? Be there, or be square, or be a bear.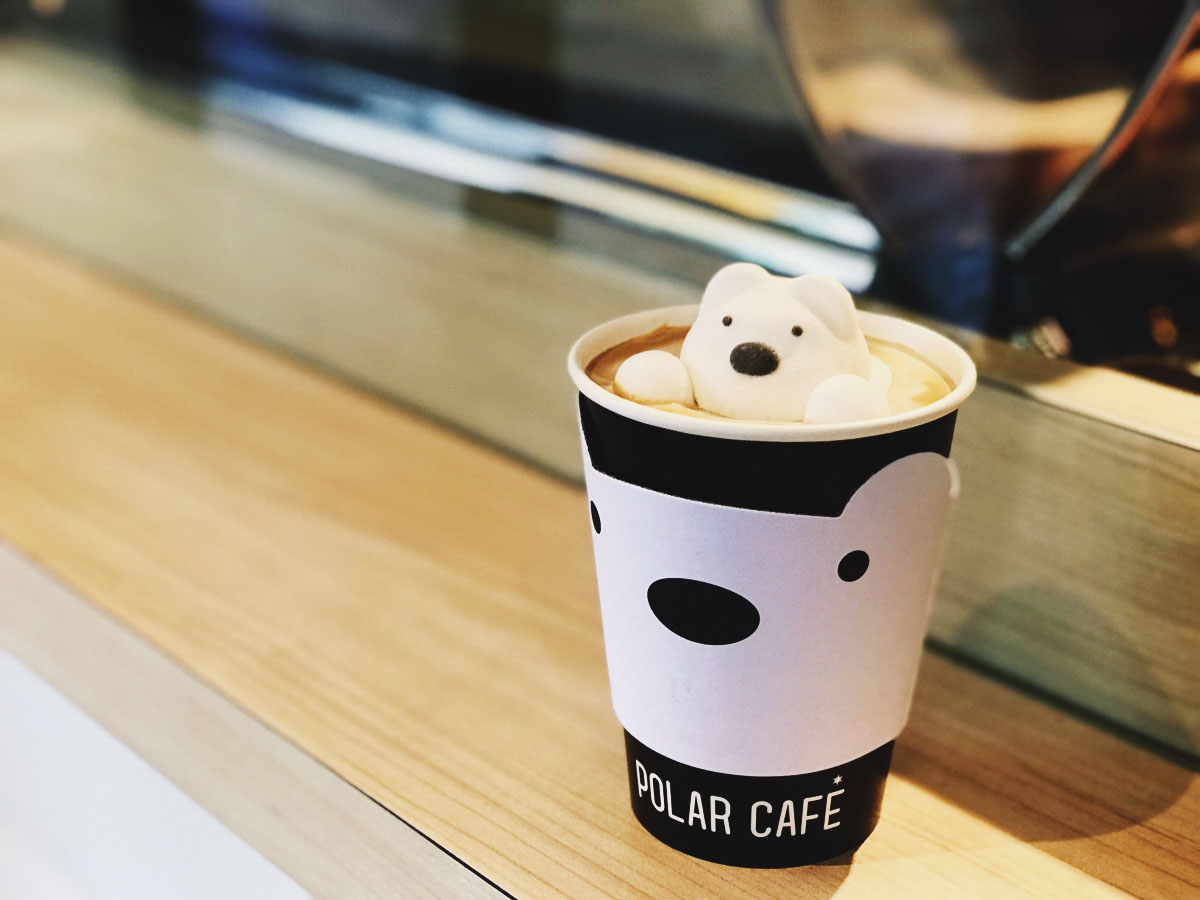 Photo credit: bettereverythingblog
Address: 9fl, No. 116, Hanzhong Street, Wanhua District Taipei City, 108 [台北市(西門町)漢中街116號9樓]
Opening Hours: 11AM – 10PM
And with that, we conclude our 8-day roundabout Taiwan trip. We hope we've shown that it's not difficult nor expensive to travel and experience the lesser-known gems of Taiwan.
Budget Breakdown for 8 Days
Transport: S$250
Accommodation: S$141
Activities: S$216
Food: $100
SIM Card: $13.50
Total: S$720.50 (excl. flights)
Kickstart your adventures to Taiwan now! We've got what you need:
– 4D3N Taipei Itinerary
– Ultimate Food Guide: All Around Taiwan
– Taipei Day Trip: Jiufen & Shifen
– Underrated Things to do in Tainan
– Food Guide: Shilin Night Market
Check Flights to Taipei
If you can't see the widget above, click here to check flights from Singapore to Taipei!
---
This article was brought to you by Klook.