We handpicked 12 of the best things to eat in Tokyo if you're all for taste, quality, and dining experience.
Tokyo actually has the most Michelin-starred restaurants per city in the world. Surprise, surprise — that's more than New York's and Paris' combined!
We've covered Tokyo's famous must-eats before, but this time we decided not to hold back on our budget to experience the slightly fancier side of things and the best things to eat in Tokyo. And boy, oh boy, were the splurges all worth it.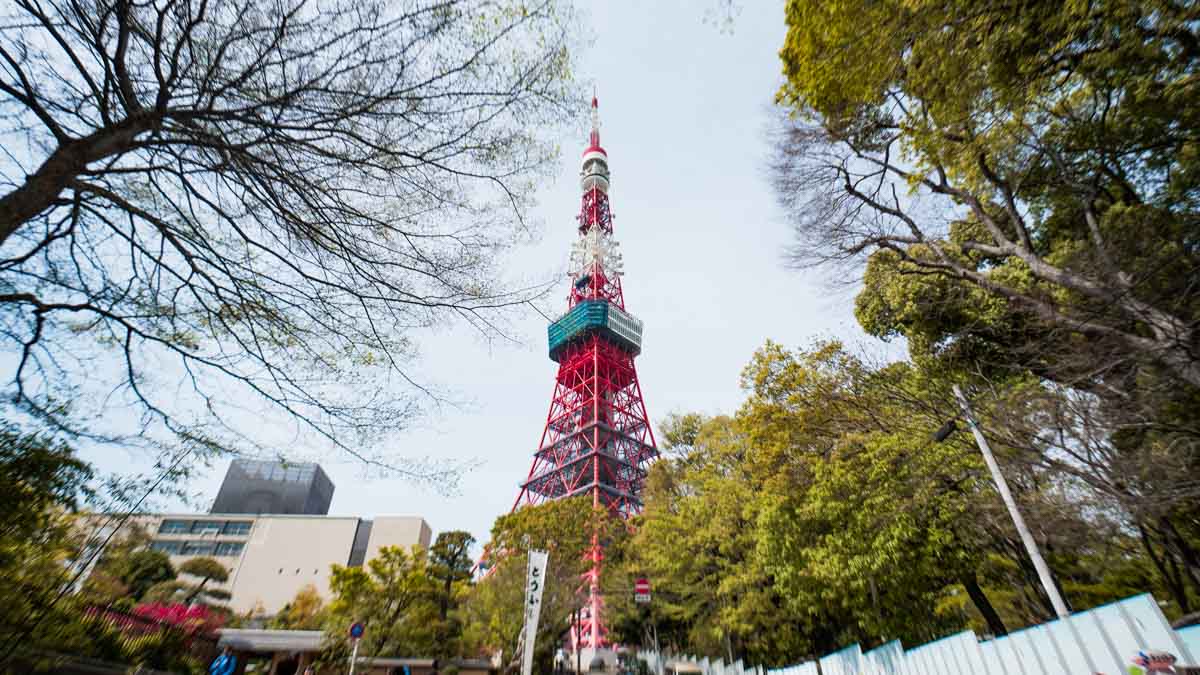 This Tokyo food guide introduces 12 of Tokyo's best restaurants for those seeking a gastronomic adventure in the capital of Japan. Tonkatsu, yakitori, soba and tempura may sound ordinary on paper, but we think these restaurants have perfected these aspects of Japanese cuisine and best represent them. Gourmets, you're in for a treat.
1) Tonkatsu Hasegawa (とんかつ はせ川)
Tonkatsu Hasegawa is well-loved by locals for their high-grade meat at affordable prices (¥1,800 – ¥2,800/dish). On Tabelog (think TripAdvisor, but for food ratings for the Japanese), this joint rates 3.72/5 based on 23,000 reviews, and an insider source tells us anything above 3.5 is already impressive! 
Every tonkatsu piece is thick and succulent, deep-fried to a delectable crisp on the outside without losing any of the incredible juice inside. The most popular dish on the menu, the 220g Super Deluxe Pork Loin Cutlet (¥2,800, pictured above) uses their highest grade of marbled pork loin. Don't be surprised to find it sold out by lunchtime — it's that popular.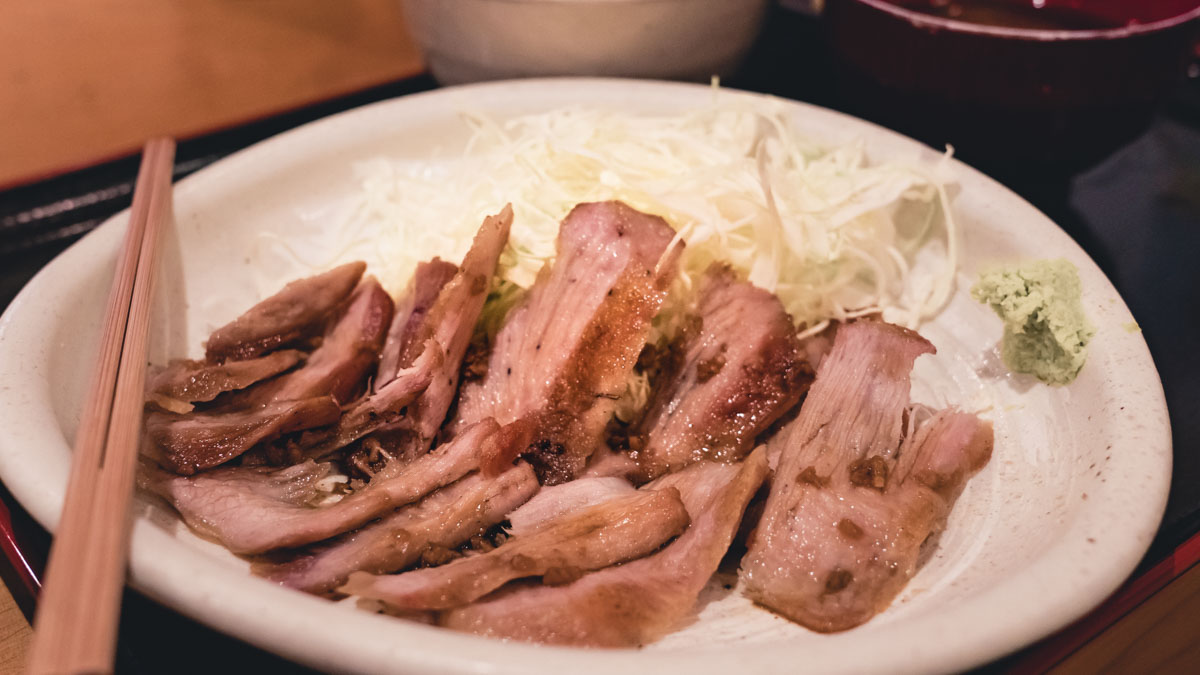 We had Hasegawa's 180g Deep Fried Deluxe Pork Cutlet (¥2,300), which is a super thick cut stuffed with cheese and scallions in the middle before it's deep fried. Another recommended dish is the Grilled Fatty Pork Set (¥1,000, pictured above) that's nicely seasoned with salt and garlic to bring out the fatty pork's authentic taste.
Reservations: Accepted, but not necessary
Opening Hours: 11:30AM – 2:30PM (Lunch), 5PM – 10:30PM (Dinner)
How to get there: 6min walk from JR Ryogoku Station.
2) Sumibi Kushiyaki Fuku (炭火串焼 ふく)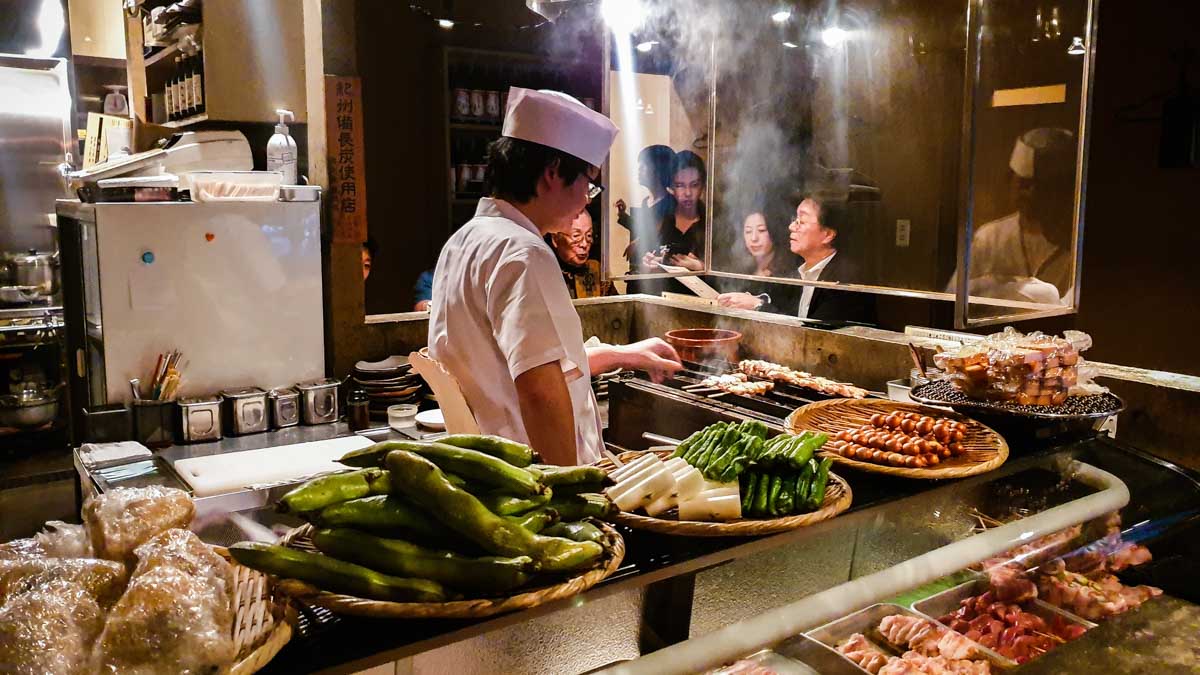 This hole-in-the-wall restaurant only accepts reservations, so you'll have to first get a taste of making phone call reservations in Japanese before getting a taste of Bib Gourmand yakitori/kushiyaki.
Some staff members do speak English and the restaurant has English menus available though, which is good news for foreign diners like us who will be overwhelmed by the skewer selection at Fuku.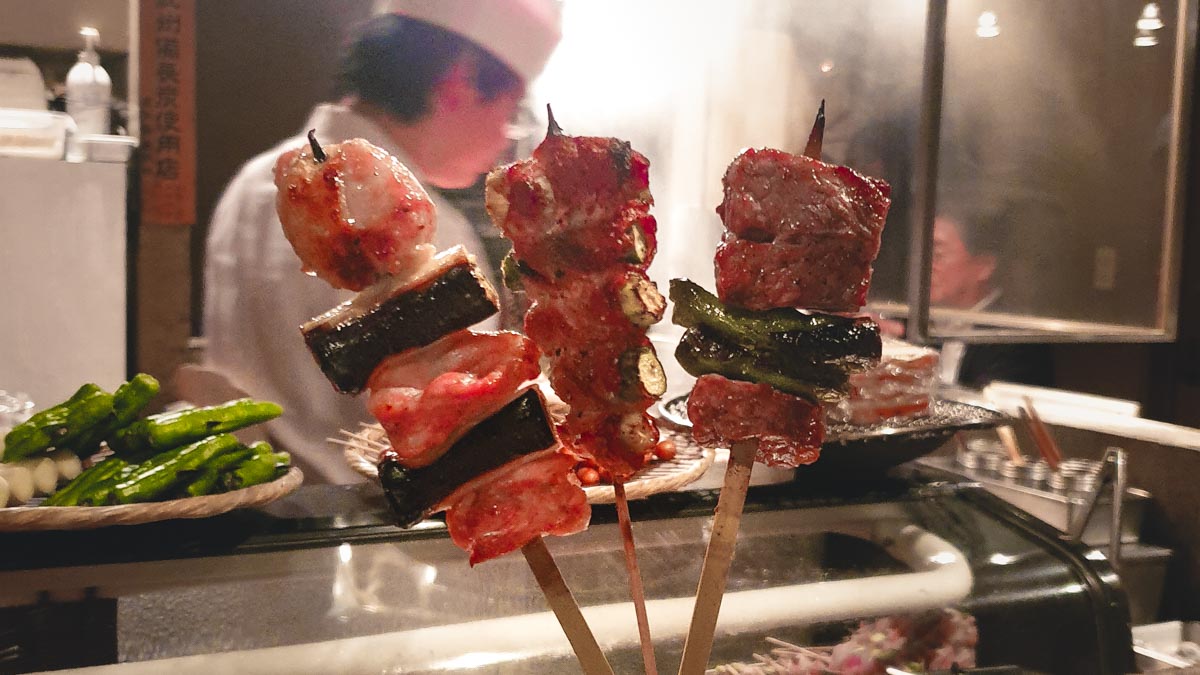 The chef prepares the skewers in front of diners behind the bar counter, and you can't help but be mesmerised by the never-ending slathering of sauces and sprinkling of salt on the skewered meat.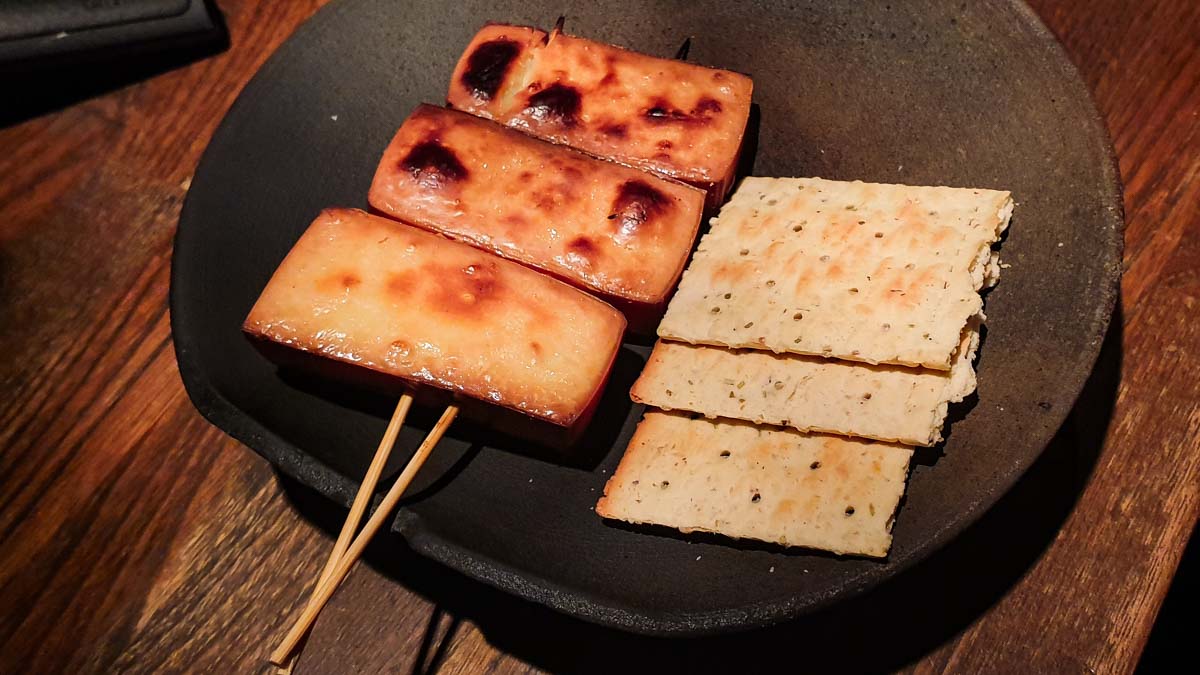 The safe choices are the standard skewered chicken and/or other chicken parts, but the real shocker (in a good way) has to be the grilled cheese skewer that's served with crackers at the side. It's an original creation by Fuku that's not only fragrant but also very creamy to taste, which was very un-yakitori-like for us. Another highly recommended must-try is the chicken meatball that's lightly-charred and juicy on the inside.
Each skewer costs between ¥260 to ¥320, or you can order the yakitori set that comes with five skewers for ¥1,400. 
Reservations: Necessary. Tel: +81-3-3485-3234
Opening Hours: 5:30PM – 11:30PM. Closed on Wednesdays
How to get there: Walk 5 minutes from Yoyogi-Uehara Station.
3) Tsuta (蔦)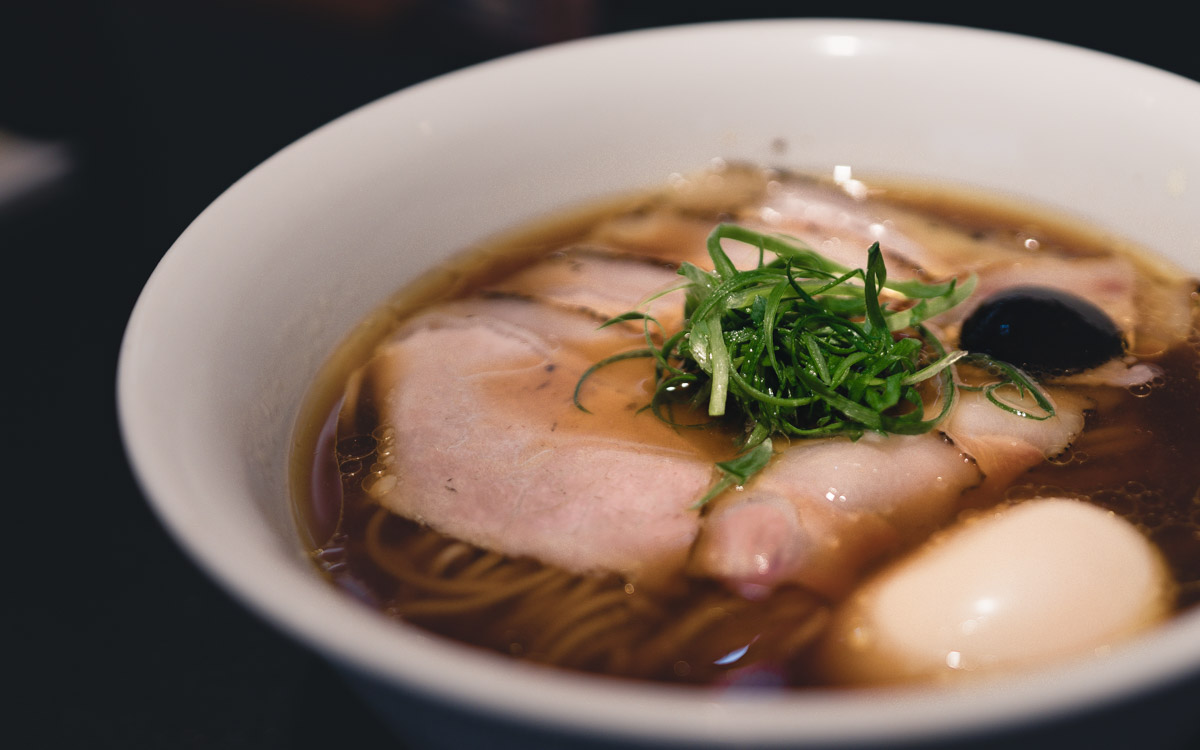 Although there are three Tsuta restaurants in Singapore, dining at the original Tokyo store is nothing short of an exciting experience. Firstly, your experience begins at 7AM — thanks to the daily limit of 70 bowls sold only, queues form way before their 11AM opening time. 
We arrived at around 7:30AM, and the ticket stubs for 11AM's lunch slot were already out. Each slot is so highly coveted, there's even a ¥1,000 deposit for each dining stub. With only nine seats in the small restaurant, expect to wait up to half an hour before you get to dine even if it's your allocated time slot.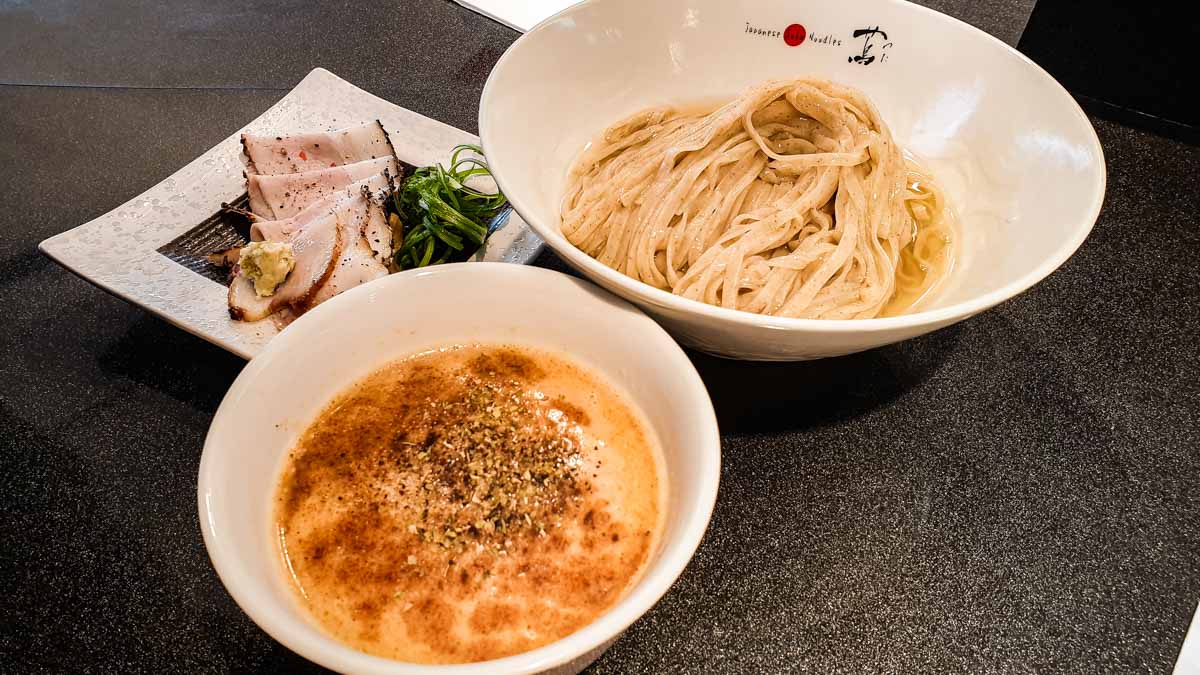 The top-seller on their menu is the shoyu ramen, but we also recommend the shio ramen and tsukemen dipping noodles. The texture of the soba is divine, and the pork slices are also not miserly-portioned. As you select your choice of soba via the food ordering vending machine, do bring along cash! Each bowl of soba costs between ¥1,200 and ¥1,600, and you can top it up with truffle for ¥1,000.

*Pro-tip: The entire dining party doesn't need to be present to get the ticket stubs. So if you aren't an early riser, get a friend who is, to get the ticket stubs early (with the ¥1,000 deposit) on your behalf!
Reservations: Not available. Dining slots stubs are given out from 7AM until they run out.
Opening Hours: 11AM – 5PM. Closed on Wednesdays.
How to get there: Walk 5 minutes from Sugamo Station.
4) JUNISOH at Hilton Tokyo (日本料理 十二颯 ヒルトン東京)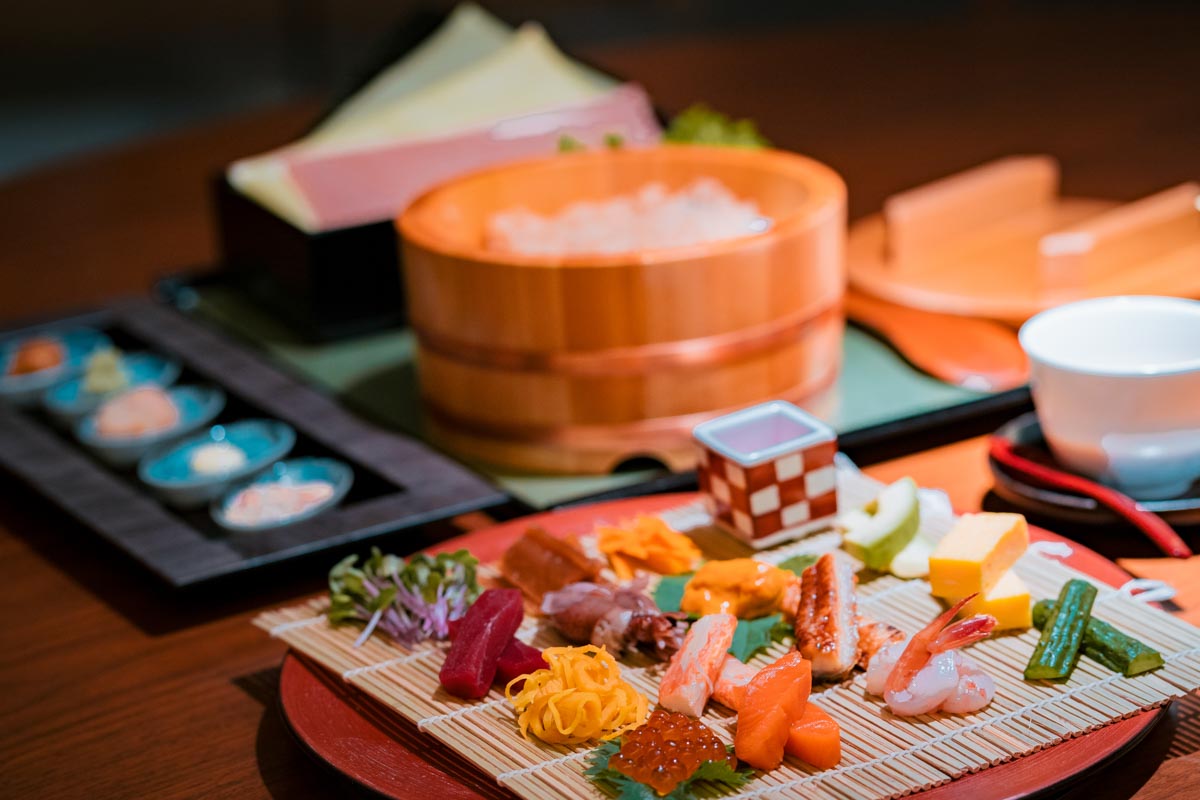 For premium traditional Japanese cuisine, try JUNISOH, a Japanese restaurant located in Hilton Tokyo. There's a make-it-yourself hand roll sushi course meal (¥4,500) that's available till 30 June 2019 for hotel guests and walk-in diners!
Choose between two types of sushi rice — mixed with either white vinegar or red vinegar — and top them with an assortment of fresh goodies from tuna (toro) and salmon to uni. We'd say it's a different (and fresher) sushi-eating experience with everything DIY.
Reservations: Not necessary.
Opening Hours: 5PM – 8:30PM. Closed on Sundays.
How to get there: Walk 5 minutes from Nishi-Shinjuku or Tochomae Stations.
5) Tsukiji Bunkajin (つきじ 文化人)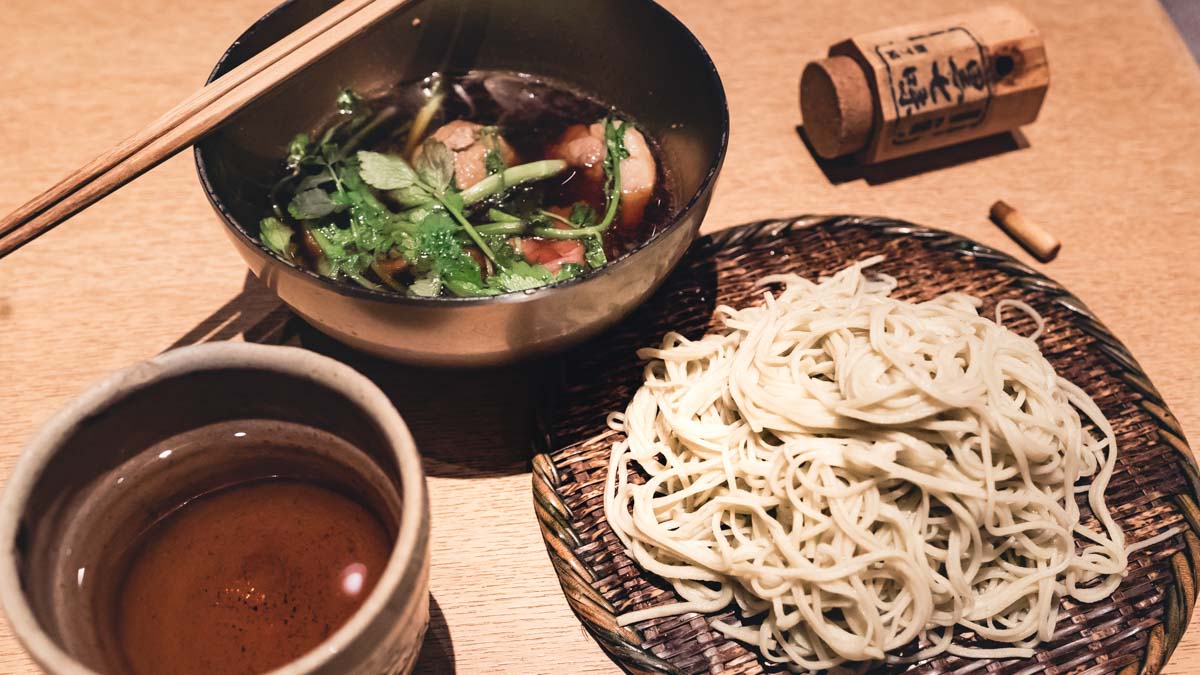 This humble restaurant is so plain you'll most likely walk past it without even noticing it. It's one of those food joints where no-frills decor means the food is 100% on point. 
Specialising in both hot and cold soba (~¥1,030–1,650/bowl), Tsukiji Bunkajin is frequented by locals who come back throughout the year for the seasonal sides that come with their delightful soba. 
Ingredients are freshly purchased from Tsukiji (now Toyosu) market every morning, and food items tend to be seasonal. The only caveat for tourists is there's no English menu in the restaurant, and staff only speak minimal English, so ordering food is like playing a game of roulette. Just point and choose on the handwritten menu!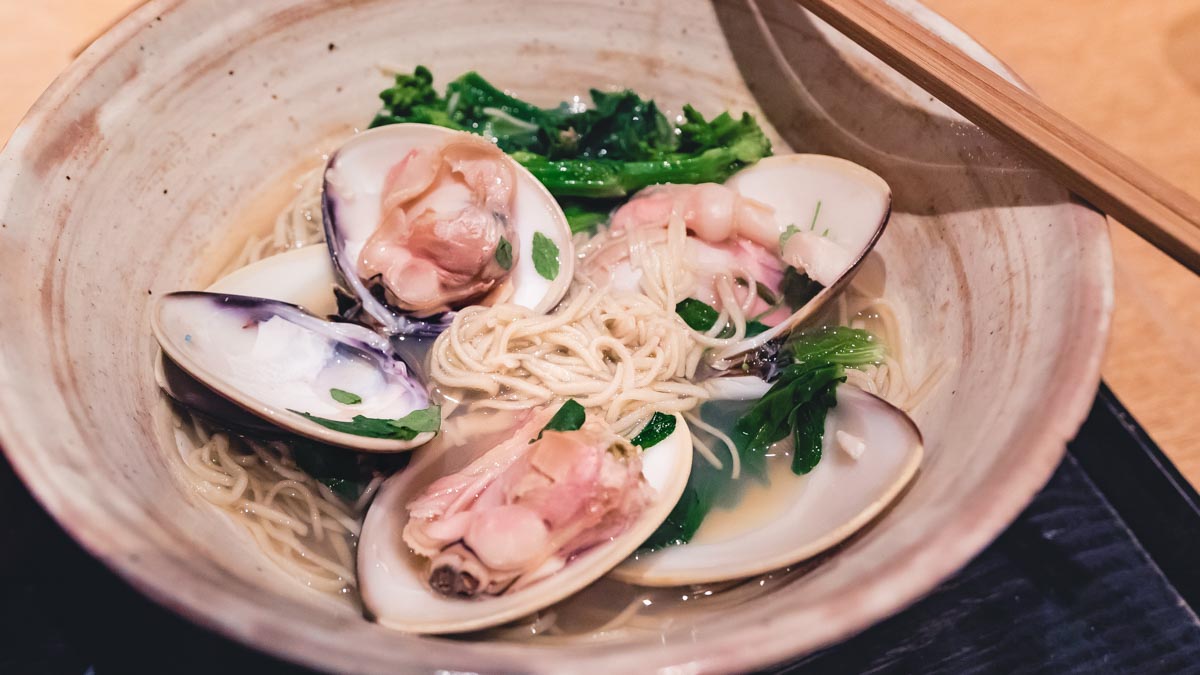 Our random picks: hot clam soba and cold duck soba, which only happened after speaking in a mix of broken English and Japanese with the restaurant staff. Both orders turned out fantastic!
Do note that the restaurant only sits 19 pax, so if you want to get a taste of Bib Gourmand soba, you'll have to make a reservation prior (by phone), or just get there early enough.
Reservations: Recommended for dinner service. Tel: +81-3-6228-4293
Opening Hours: 11:30AM – 1:30PM (Lunch), 5:30PM – 9:30PM (Dinner). Closed on Sundays.
How to get there: Walk 5 minutes from Higashi-Ginza Station.
6) Shimbashi Kamata Oden (新橋 かま田)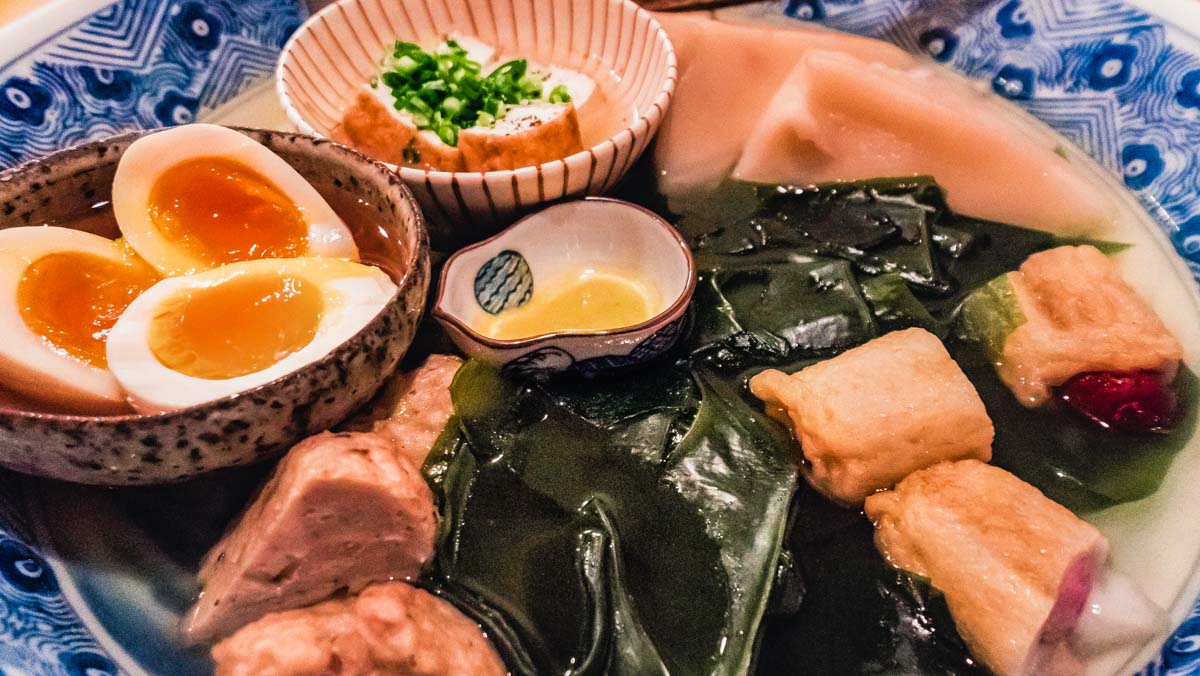 Kamata is located in Shimbashi, Tokyo's salaryman district where you'll find bars at every corner of the streets. Hence this oden joint serves diners looking for something light to eat before hitting the bars later in the night. 
For the course meal (~¥2,480/pax), diners get a serving of tofu, pickled veggies, clams, sashimi and sweet prawns as appetisers before a big oden bowl gets served by the friendly service crew.
Every patron is given only an hour to dine, so the service crew would often come by the tables to check if you're done with your starters. The big oden bowl includes onsen eggs, kelp, sausage rolls, meatballs, tofu, and fishcake pieces. 
Note that patrons who make reservations are only allowed to order their ¥3,500 course meal, with a longer time limit of two hours.
Reservations: Not necessary. Tel: +81-3-3502-5133
Opening Hours: 5PM – 11:30PM. Closed on Sundays and PH.
How to get there: Walk 3 minutes from Shimbashi Station.
7) Nodaiwa (野田岩)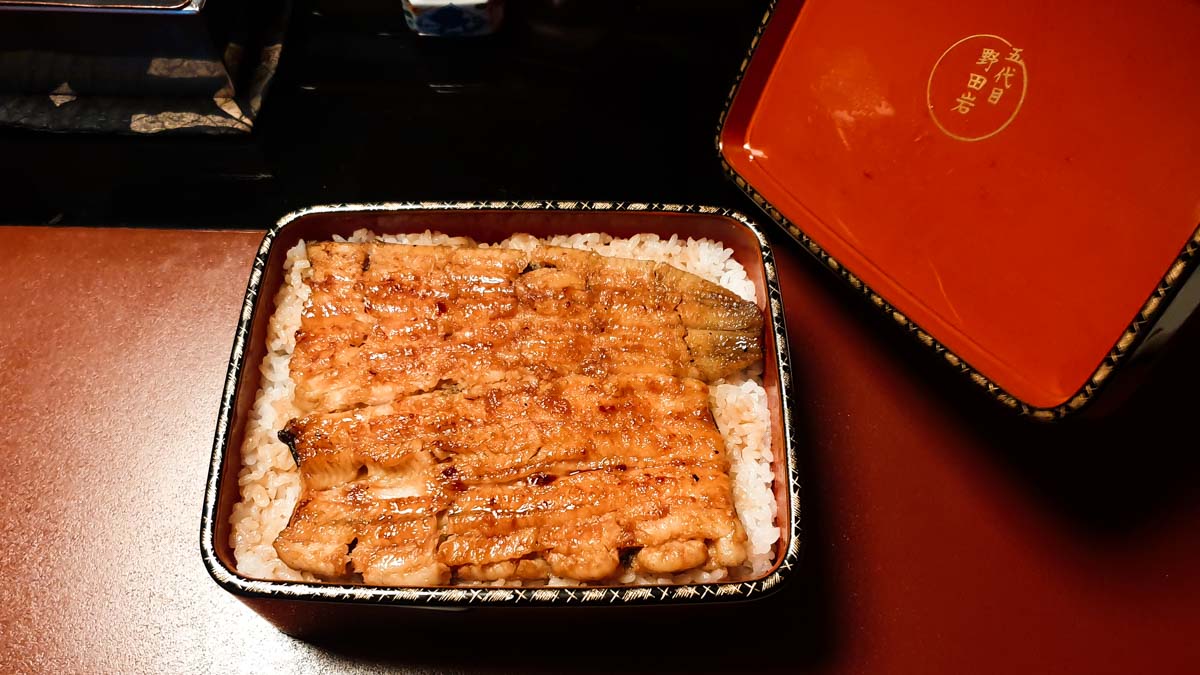 At Nodaiwa, you're going to be paying for both quality unagi and a great dining experience. This one Michelin-starred restaurant is located in an old building that has 160 years of history to it, and for the added traditional Japanese feel, all female service crew are dressed in kimono.
Their speciality dish is the unaju, grilled eel served with rice in a bento box, that comes in various size cuts. The prices range from ¥2,300 to ¥5,700 per rice box.
Nodaiwa only uses fresh catches of wild eels for their dishes, promising tastes, unlike other unagi restaurants that use frozen eels. As someone who was never a fan of unagi, Nodaiwa was almost life-changing for me. If I were to eat unagi again, it has to be Nodaiwa's.
Reservations: Recommended for parties of four and above. Tel: 03-3583-7852
Opening Hours: 11:30 – 2PM (Lunch), 5PM – 8PM (Dinner). Closed on Sundays.
How to get there: Walk 7 minutes from Akabanebashi Station.
8) SOUTEN at The Prince Gallery (蒼天)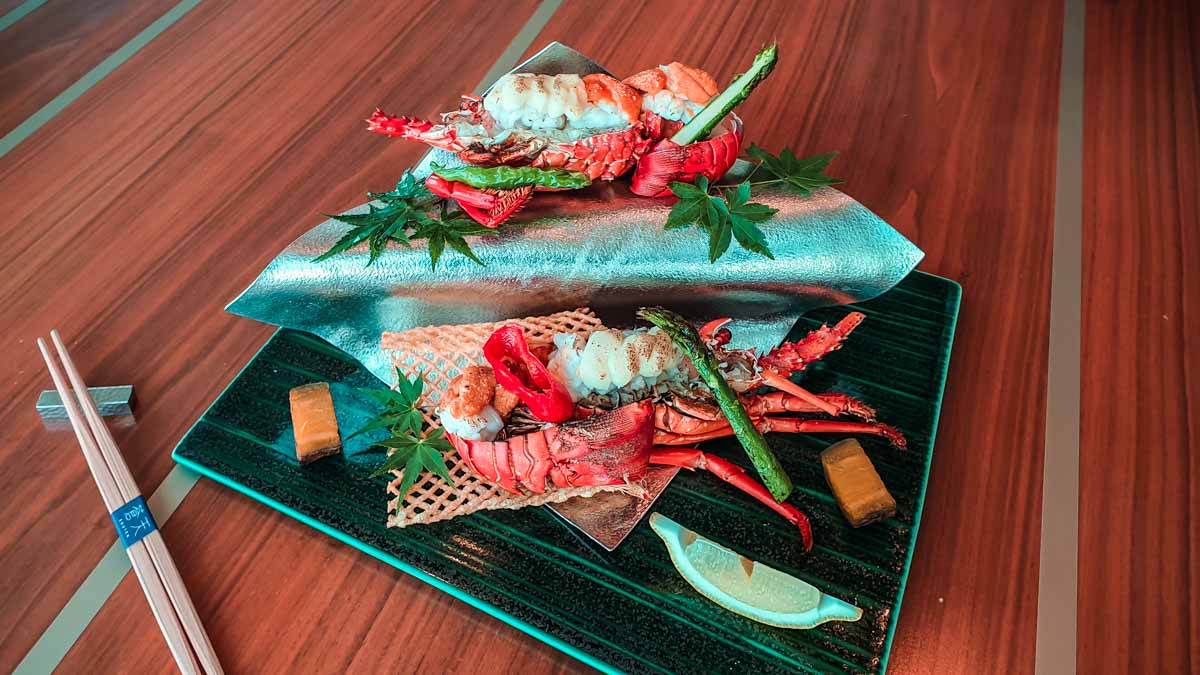 For contemporary Japanese cuisine, SOUTEN is a great choice. Located on the 35th level of The Prince Gallery Tokyo Kioicho, diners at SOUTEN can have one of the best views of Tokyo city while enjoying a speciality seasonal meal prepared by the chefs of SOUTEN.
The grilled spiny lobster with sea urchin and potato salad (¥10,500) steals the show, while the deep-fried Iberian pork with black vinegar in dragon fruit (¥3,800) is an interesting blend of sweet and savoury.
Reservations: Recommended online
Opening Hours: 11:30AM – 3:30PM (Lunch), 5:30PM – 10PM (Dinner). Lunch till 5PM on weekends and PH.
How to get there: Walk 8 minutes from Akasaka-Mitsuke or Nagatacho Stations.
9) Chanko Kawasaki (ちゃんこ 川﨑)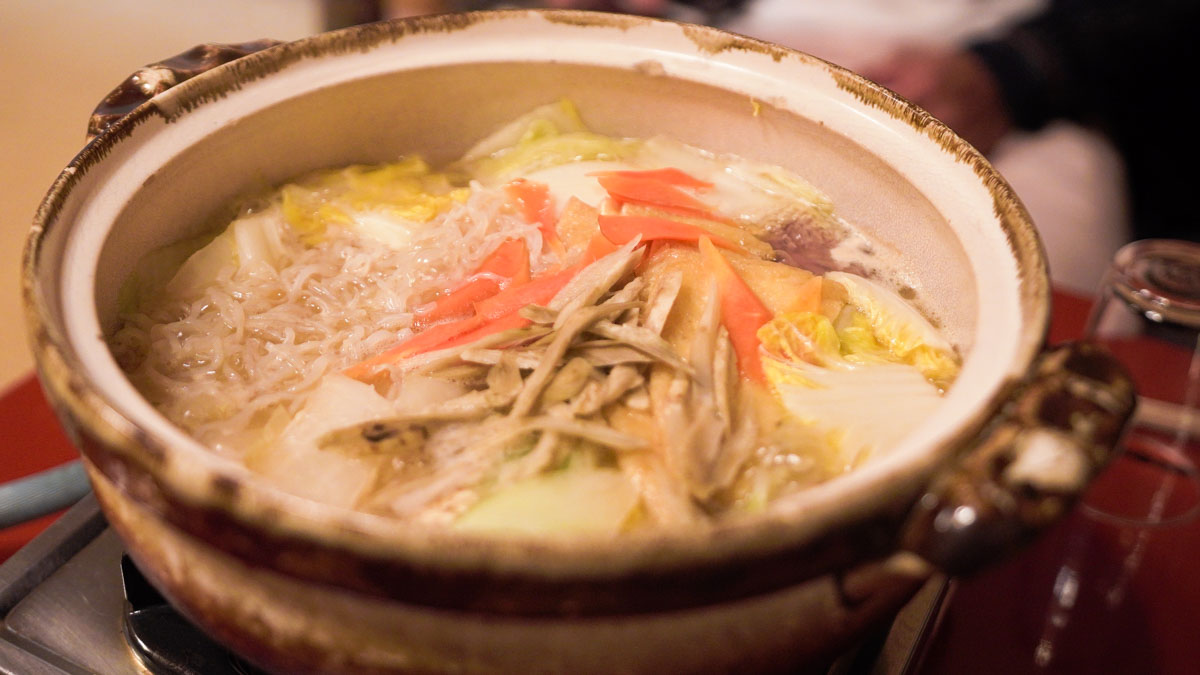 A staple food of sumo wrestlers in Japan, chanko nabe (or sumo stew) has become food enjoyed by the masses too. If you're especially in Tokyo for the colder seasons, warm yourself with this tasty hotpot of chicken broth slowly simmered with vegetables, lean chicken meat and chicken parts like liver and gizzard. This hearty stew (¥2,900) is very tasty for something that's actually healthy.
Don't worry about turning into a sumo after a meal at Chanko Kawasaki — sumo wrestlers down five to 10 bowls of rice with these every meal. Your waistline is safe!
Do note that there's a minimum order of two pax of food if you have a party of three or more. 
Reservations: Recommended. Tel: +81-3-3631-2529
Opening Hours: 5PM – 8:30PM. Closed on Sundays.
How to get there: Walk 5 minutes from JR Ryogoku Station.
10) Tempura Tensuzu (てん婦羅 天寿ゞ)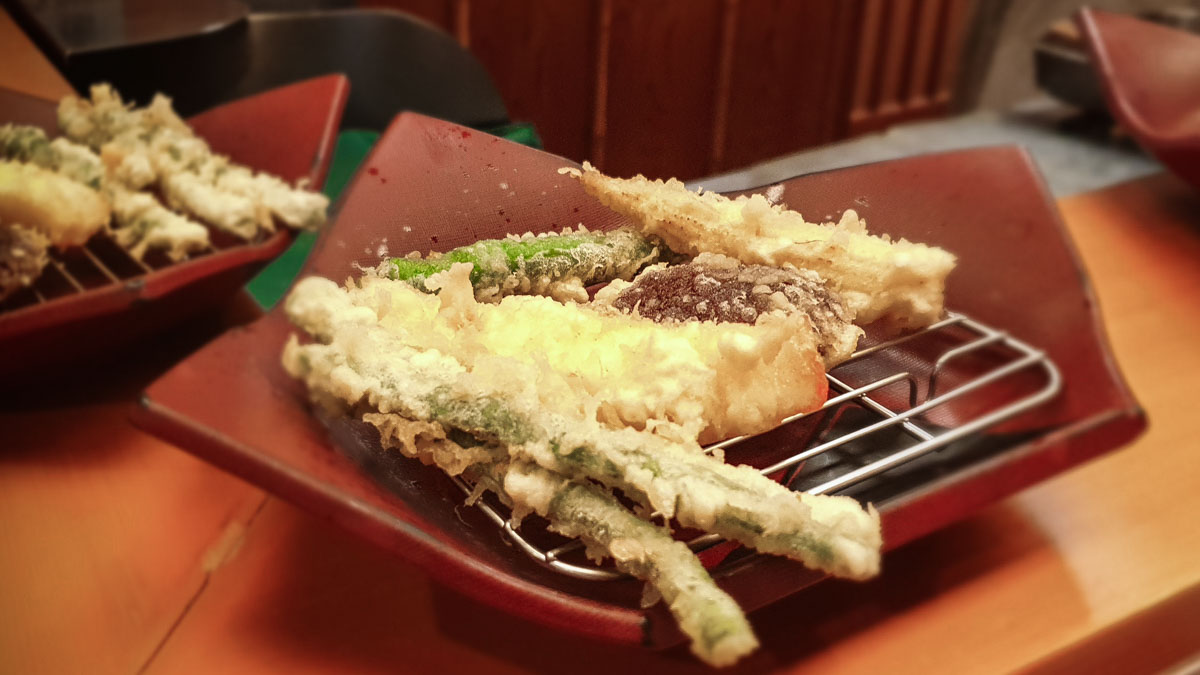 I've never given much thought about eating tempura until I dined at Tempura Tensuzu, and the feeling was almost ethereal. This fourth generation tempura restaurant serves tempura omakase style, with the head chef delicately and skilfully frying tempura items piece by piece with a pair of giant chopsticks.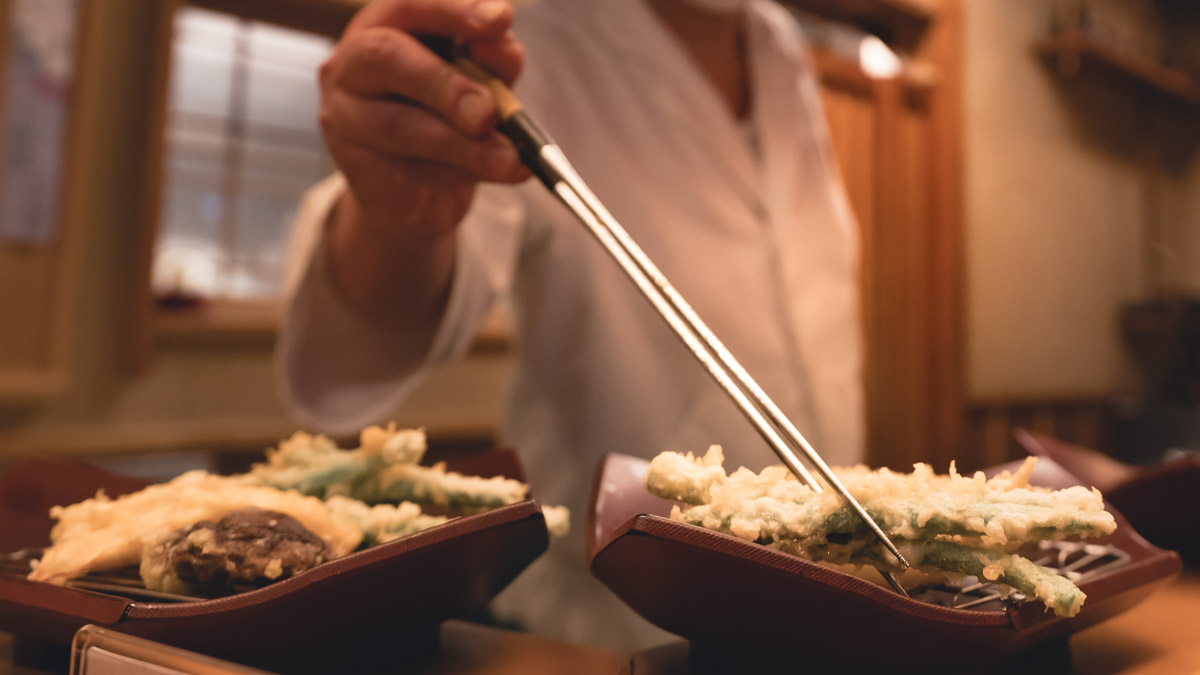 For diners at the counter seats, the chef will place each freshly fried tempura on the diners' plates. In Tensuzu, diners can choose between ordering a tempura set or a tempura course — the latter comes without rice but with an additional seasonal seafood item. Prices range from ¥3,600 to 6,000 per set containing nine to 11 tempura items per set.
Reservations: Not necessary.
Opening Hours: 5PM – 8:30PM. Closed on Sundays.
How to get there: Walk 3 minutes from Ueno-Hirokiji and Ueno-Okachimachi Stations.
11) Gyukatsu Motomura (牛かつ もと村)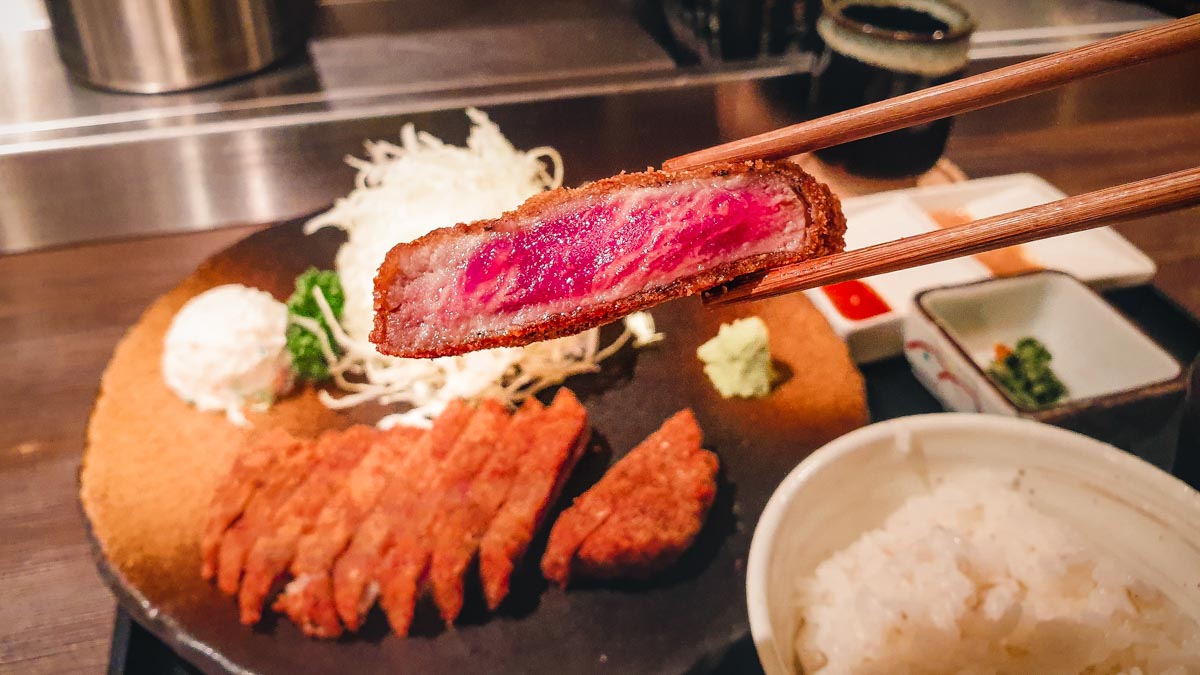 If you're a beef lover, you must treat yourself to a gyukatsu meal at any Gyukatsu Motomura store. Gyukatsu is the beef variant of tonkatsu — deep fried beef cutlets that are served still rare in the middle. To get your preferred doneness, every diner gets a personal mini hotplate stove to cook the gyukatsu on.
For only ¥1,400, you can get a generous portion of beef cutlet together with a bowl of rice.
Reservations: Not necessary.
Opening Hours: 5PM – 8:30PM. Closed on Sundays.
How to get there: Walk 4 minutes from Ginza Station.
12) Ginza Enzo (銀座炎蔵)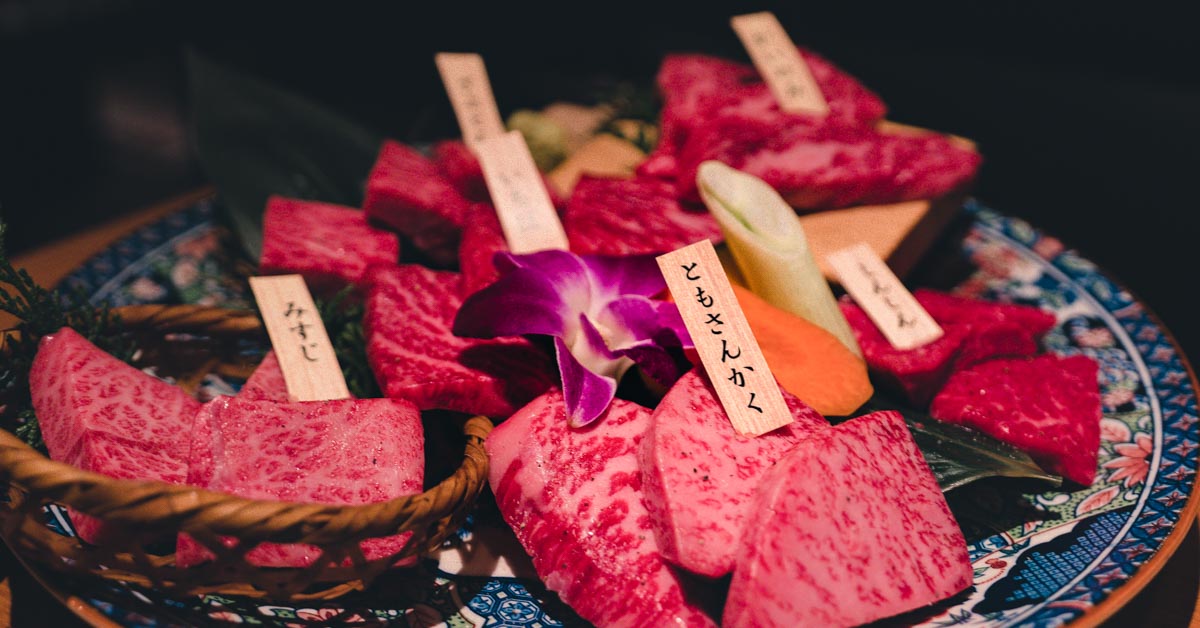 What's a trip to Japan without trying Kobe beef? Prior to 2012, the famous melt-in-your-mouth Kobe beef was never exported out of Japan, and even until now, the marbly Kobe beef remains highly sought after.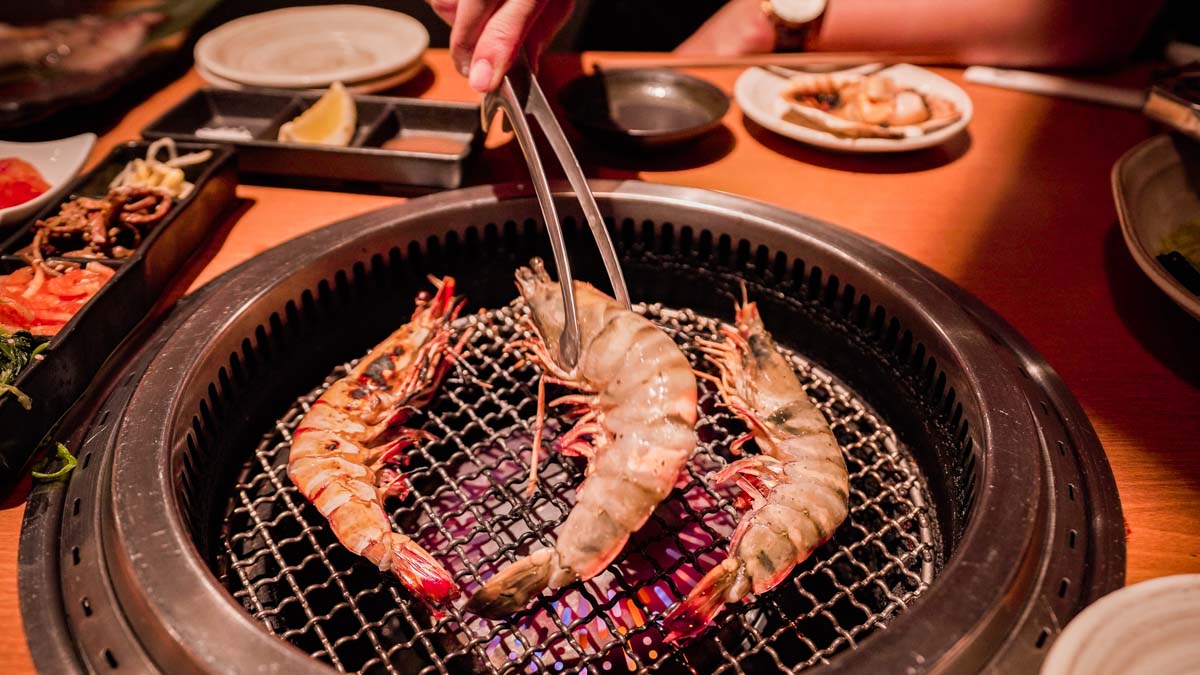 If you're staying in the Ginza district, you'll probably be spoilt for choice by the area. At Ginza Enzo, there are various high-quality cuts of Kuroge Kobe beef that diners can enjoy over a BBQ. Besides beef, the dinner course (~S$130/pax) also includes a platter of seafood with shrimp, squid, and scallops. While it's not a cheap meal, it was definitely worth the money spent on the quality Kobe beef served.
Reservations: via Klook
Opening Hours: 11:30 AM – 3:00 PM, 5:00 PM – 11:00 PM on weekdays; 11:30AM – 11PM on weekends and PHs
How to get there: 4min walk from Ginza Station.
Good food isn't difficult to find in Tokyo, but often times, popular eateries and diners require a reservation prior, and that honestly will deter visitors away especially when they don't speak Japanese. There's actually a way to get around such situations, which is to purchase meal vouchers via Klook, like how we did for that epic wagyu and kobe beef BBQ meal at Ginza Enzo. There are also famous shabu-shabu, yakiniku and kaiseki restaurants that you can pre-purchase meal online too, saving the hassle of waiting in long lines for a table or even worrying about language barriers trying to make reservations through the telephone.
We've pinned the restaurants we went to in Tokyo for your reference 🙂 

Know of other good food places in Tokyo that should be on this list? Let us know in the comment section below!
---
View this post on Instagram