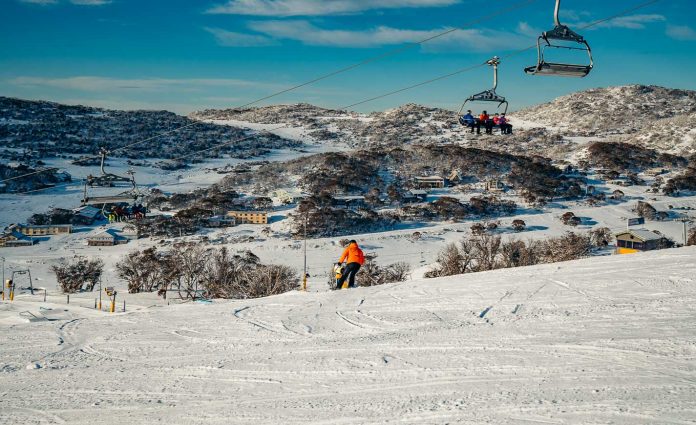 Winter is ending in the northern hemisphere, but there's still a way to comfortably escape the heat during this time of the year.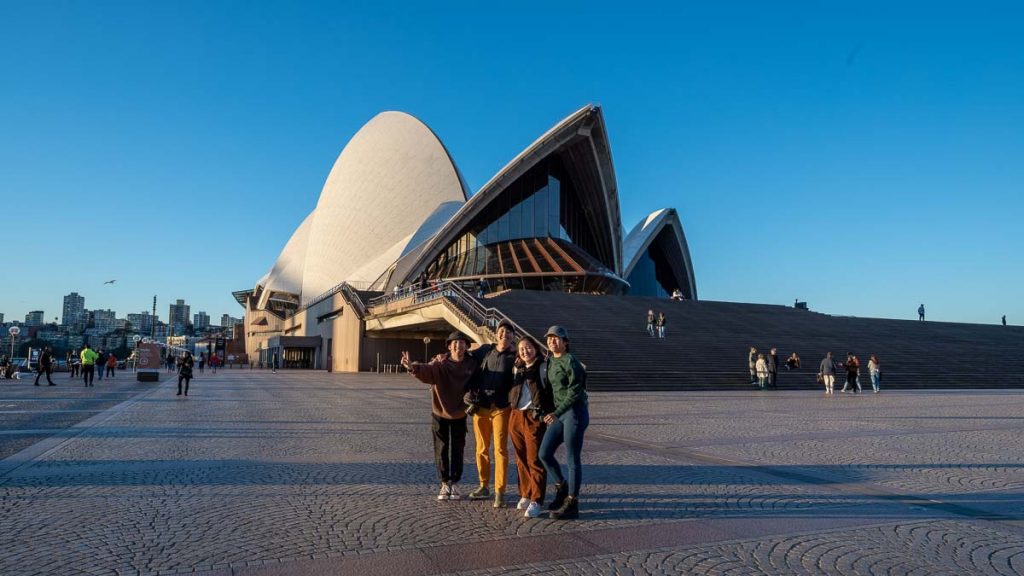 Last year, we spent a month exploring New South Wales in June — early winter in the southern hemisphere. While I used to think of Sydney as a summer holiday destination, I'm now a convert — a winter vacation Down Under is pretty great too.
For starters, I loved the mild, cool weather (Sydney's winter months average 8.8 – 17°C) so I didn't have to pile on layers and layers of clothes. It also means you can enjoy your usual summer activities, such as harbourside and coastal walks. You can even go surfing during winter — which we did, at Bondi Beach.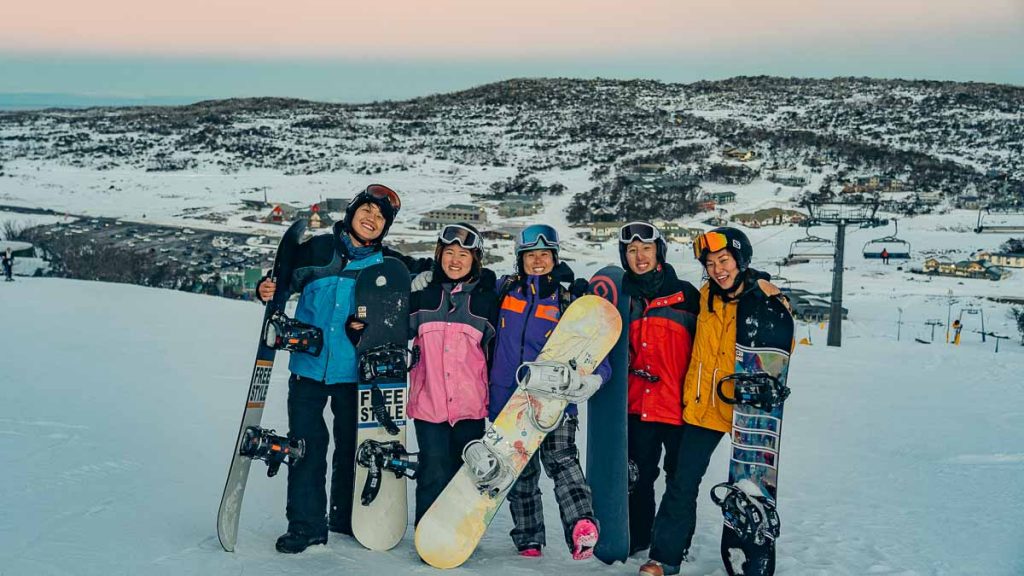 Snowboarding at Perisher.
Venture south from Sydney and you'll find world-class ski resorts like Perisher (Australia's largest!) in the Snowy Mountains. Not to mention New South Wales' wide variety of seasonal experiences like truffle hunting and whale watching.
So the fact that I could enjoy winter activities like snowboarding, plus have access to "summer activities" in the same trip? Truly the best of both worlds!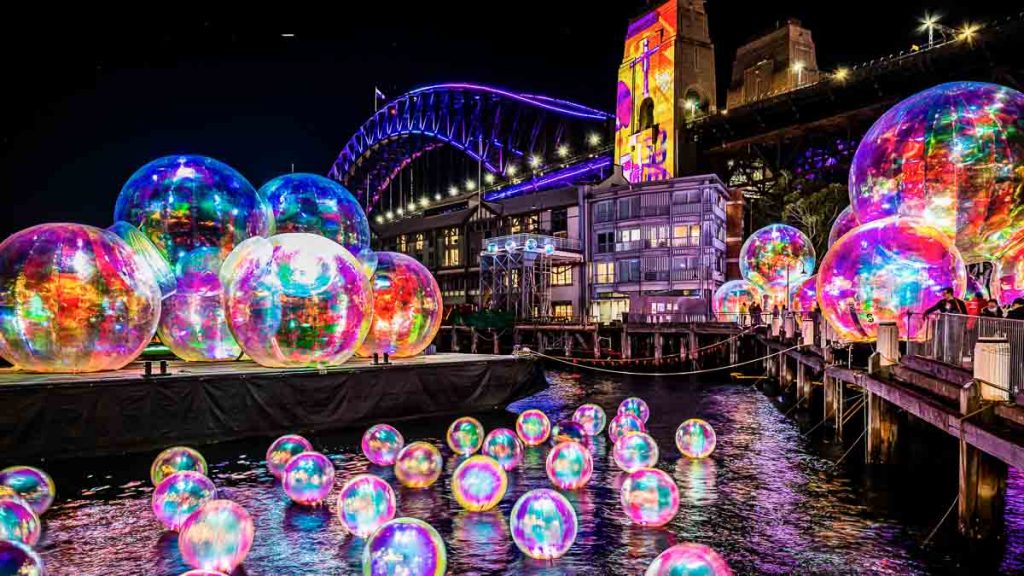 Vivid Sydney light installation at Walsh Bay. Photo credit: Destination NSW
And you know how some cities are kinda dead during the cooler months? Not Sydney. This lively capital isn't just business-as-usual during the mild winter. Instead, she ramps things up by several notches. Visit Sydney from late-May to mid-June for Vivid Sydney, the largest festival of its kind in Australia (more on this later!).
Thinking of visiting Sydney during the cooler months? Here are the best things to do in Sydney and New South Wales:
Snowy Mountains
1) Snowboard at Perisher Resort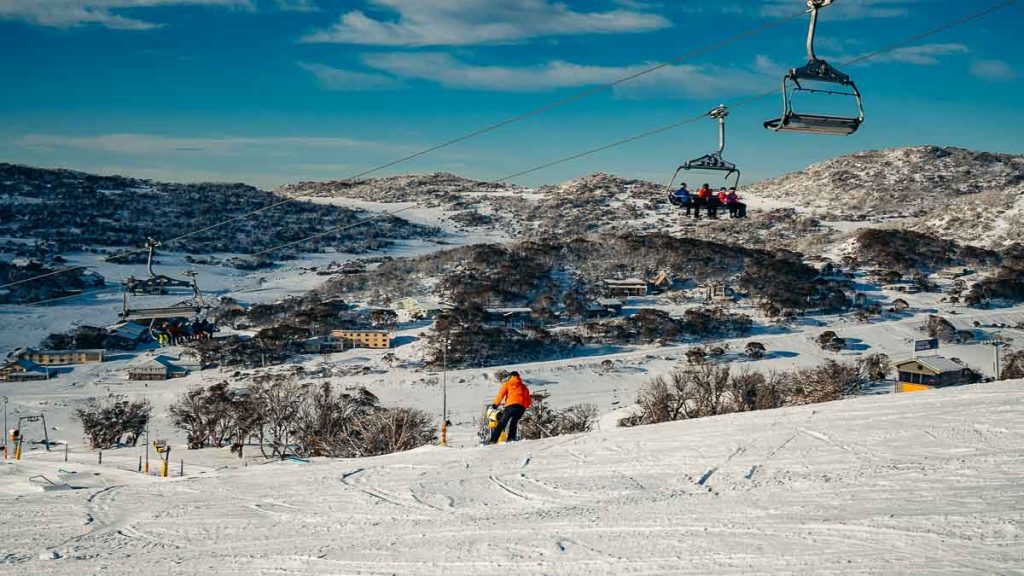 Good news for those visiting New South Wales in winter — this state is home to some of Australia's best ski resorts. Take a scenic 6-hour road trip (stopping en route) from Sydney to reach the Snowy Mountains, where you can stay at resorts which offer ski-in ski-out accommodation such as Perisher and Thredbo.
We went snowboarding at Perisher, the largest ski resort in Australia. It's actually a complex combining four areas (Perisher Valley, Smiggin Holes, Guthega and Blue Cow). This totals 47 chair lifts across seven peaks!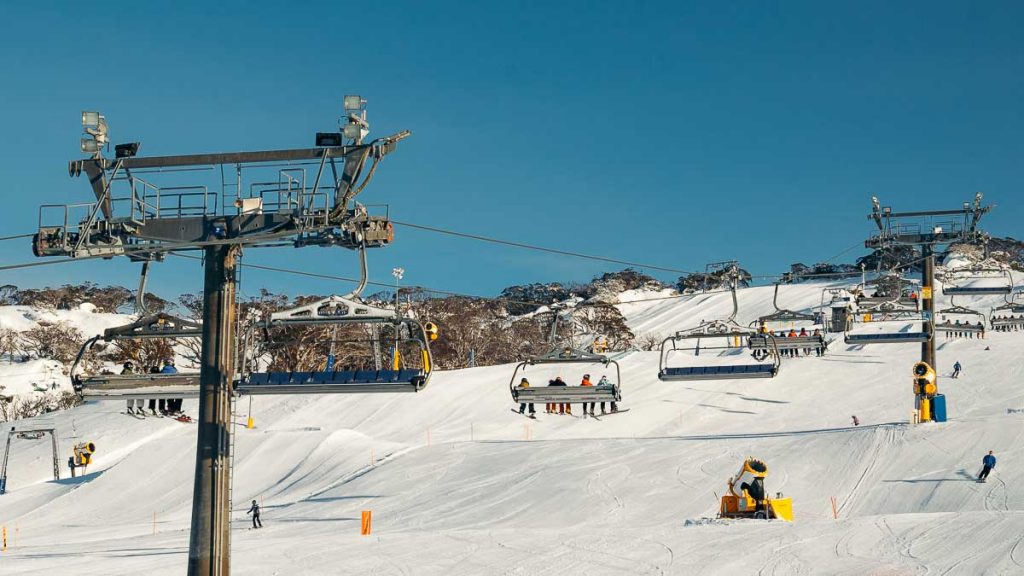 If you're new to skiing or snowboarding, it'll be good to join a lesson. Perisher Resort offers 2hr lessons (2023 prices to be released) where you'll learn the basics and get priority access to lift lines.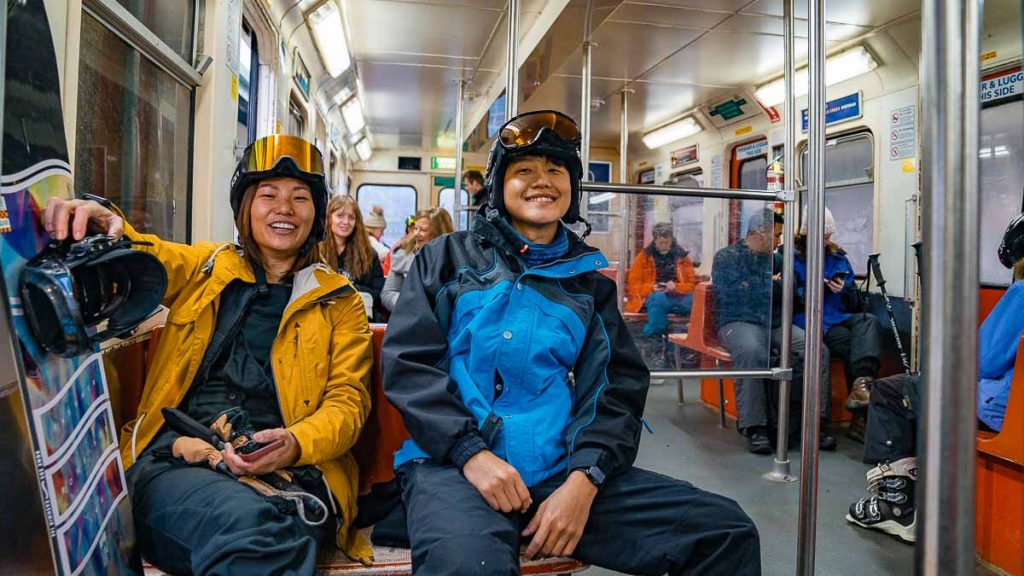 The fastest way to get around this massive resort is via the Perisher Skitube. It transports passengers from Bullocks Flat to Perisher, passing through Australia's longest transport tunnel!
Cost: 2023 prices to be released
Snow season: 10 Jun – 2 Oct 2023
Address: Bullocks Flat, NSW, Australia (Carpark for the Perisher Skitube)
If you plan to spend a few days in the Snowy Mountains, check out the nearby Thredbo Alpine Resort as well! They're the first Australian snow resort to achieve Gold Sustainability certification for two years in a row.
2) Snowshoe Tours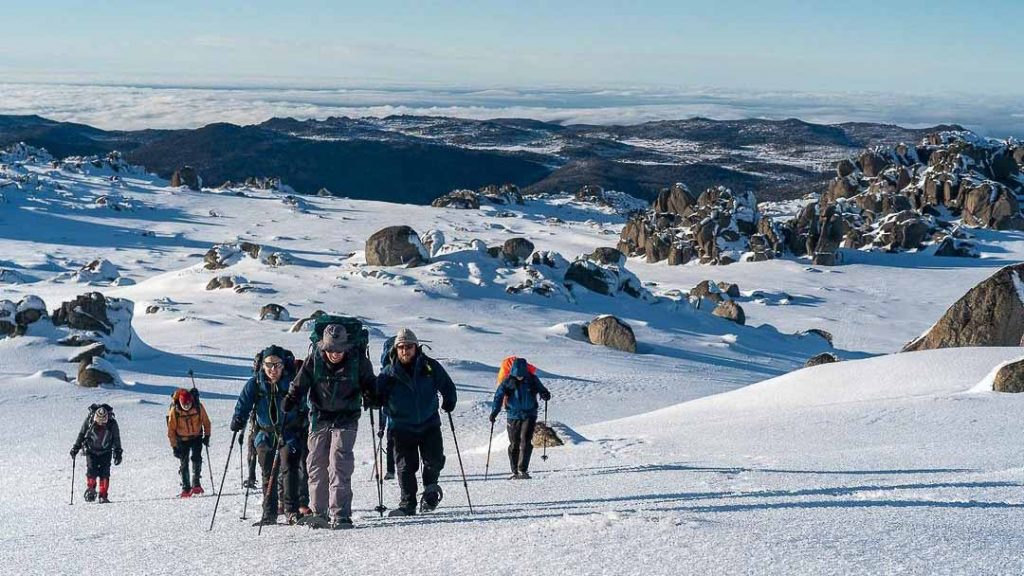 Photo credit: @k7adventures via Instagram
Here's a unique way to explore the Snowy Mountains — a snowshoe tour! Choose from half-day tours to Ramshead Ramble and Porcupine Rocks, or full-day tours to Mt Kosciuszko and South Ramshead.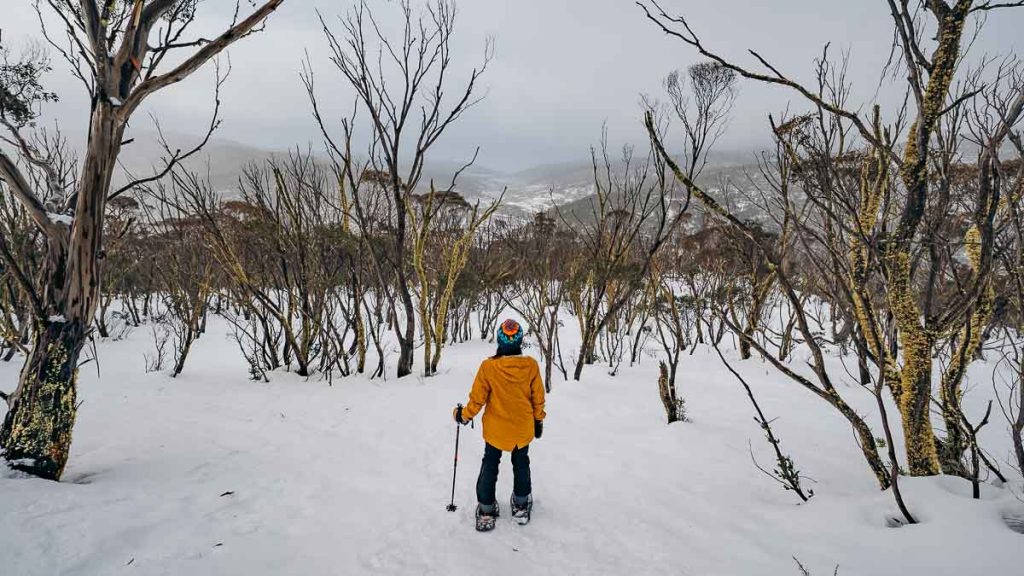 It was my first time hiking in snow and I gotta say, it was pretty peaceful. There are few people, and everything was covered in a blanket of snow — a winter wonderland indeed!
Note: Snowshoes and walking poles are provided, but you'll have to bring your own windproof jacket and waterproof boots.
Cost: A$200/pax (half day), A$300/pax (full day); family/group packages available upon enquiry
Tour timings: 8:15AM or 8:30AM (depending on tour)
Meeting point: Will be advised before the tour as it's weather dependent
Southern Highlands
3) Truffle Hunting at Robertson Truffles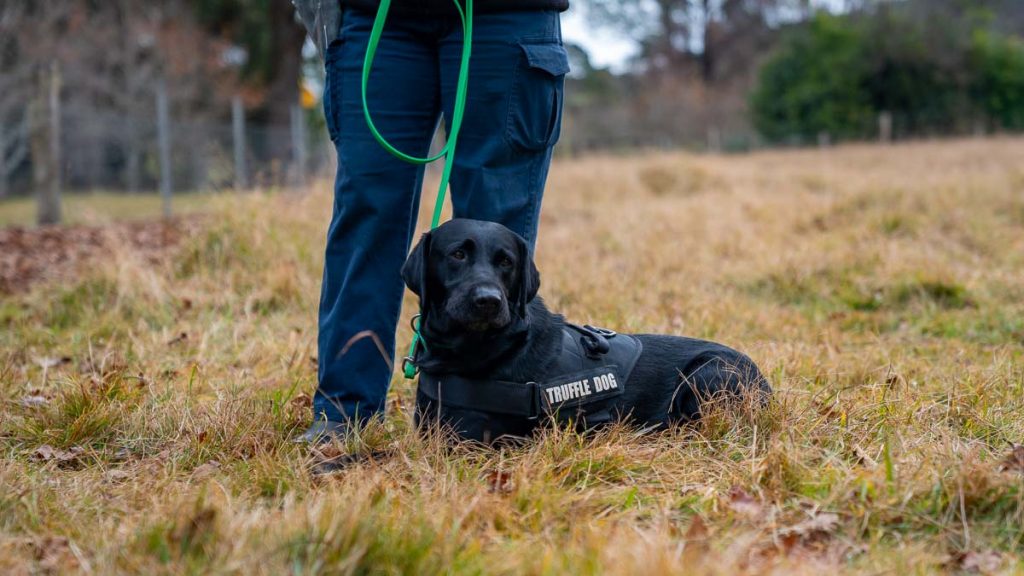 I enjoy truffles, but never really spared a thought about where they came from. It turns out that they can be found just a 90-minute drive from Sydney, in the Southern Highlands. After going on a 2hr truffle hunting tour, I now have a deeper appreciation for it.
I learnt that truffle hunting dogs are great at locating truffles, but can't tell whether they're ready for harvest. Here's the tricky part: once a truffle is harvested, it no longer ripens. Truffles that are picked too early or too late don't have the right taste.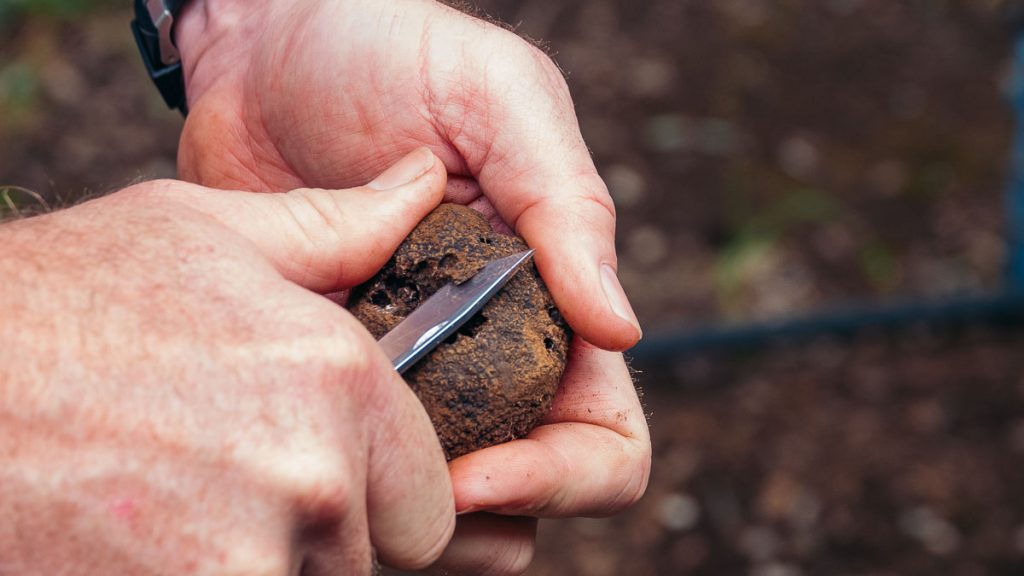 That's where truffle farmers come in — they have to check the aroma to see whether it's ripe. Then comes harvesting, which is done by hand. It's done carefully, to avoid damaging the truffle.
It's an extremely tedious process and I totally get why truffles are so pricey now.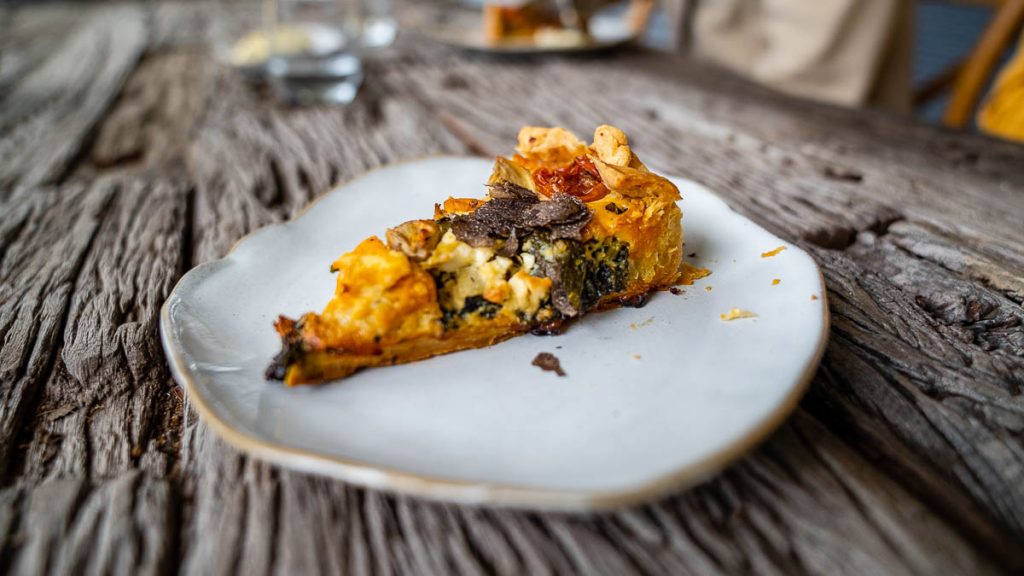 We ended the session with my favourite part — sampling the goods. Bread with truffle butter, plus a yummy quiche topped with generous truffle shavings. 😋
Cost: From AU$160
Tour timings: Truffle season runs from Jun till Aug — check the website for exact timings
Address: 151 McEvilly Road, Robertson, NSW 2577, Australia
While you're in the Southern Highlands, don't miss the Pie Time festival (throughout June) which coincides with truffle season. The annual event celebrates the region's award-winning pie makers — they take their pies seriously!
4) Grab a Bite at Berry Donut Van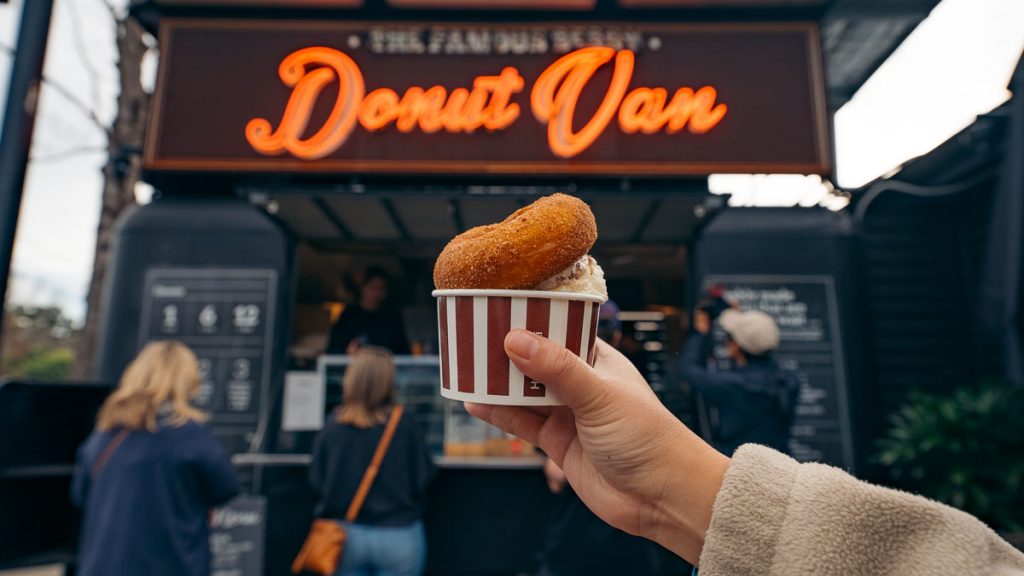 Berry Donut Van has been serving up top tier donuts since 1964! Their signature is the cinnamon donut (~S$2.10), but we couldn't resist the Donut and Cream special — a fluffy cinnamon donut that sits atop a mountain of rich vanilla ice cream. 🤤
Cost: AU$7 (~S$6.70) for the Donut and Cream combo
Opening hours: 8:30AM – 4:45PM
Address: Lot 2/170 Greens Rd, Greenwell Point NSW 2540, Australia
Looking for a lunch spot in Berry? Drop by Hungry Monkey Berry for hearty burgers and loaded fries!
5) Explore the Quaint Town of Berrima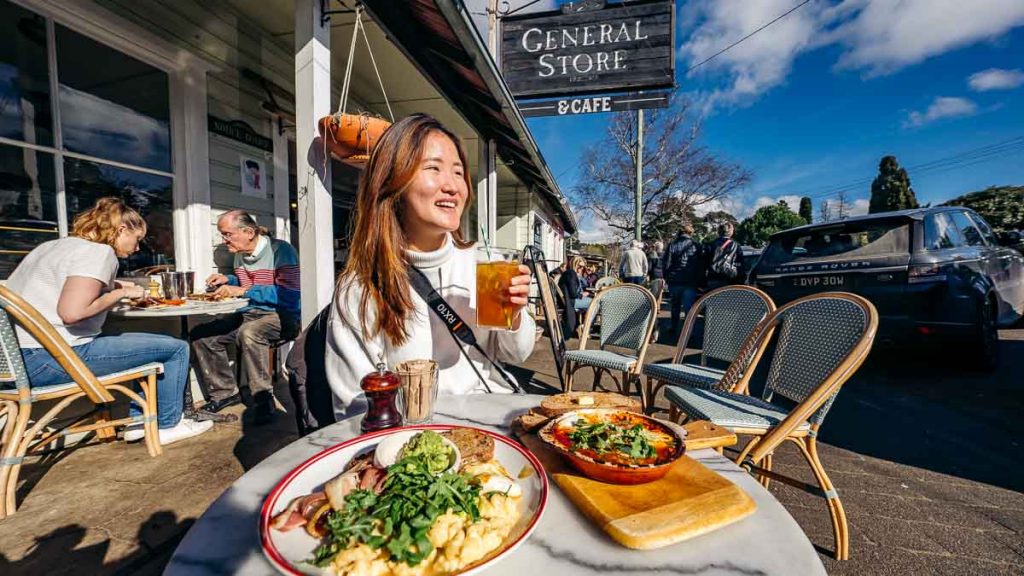 Break up your drive by stopping at Berrima's General Store Cafe for lunch. Here you can expect all the brunch classics — shakshouka baked eggs (~S$21.05), chilli scramble eggs (~S$22), and assorted cakes and pastries.
General Store Cafe 
Cost: ~S$21 for a main
Opening hours: 7:30AM – 4PM
Address: 1/13 Old Hume Hwy, Berrima NSW 2577, Australia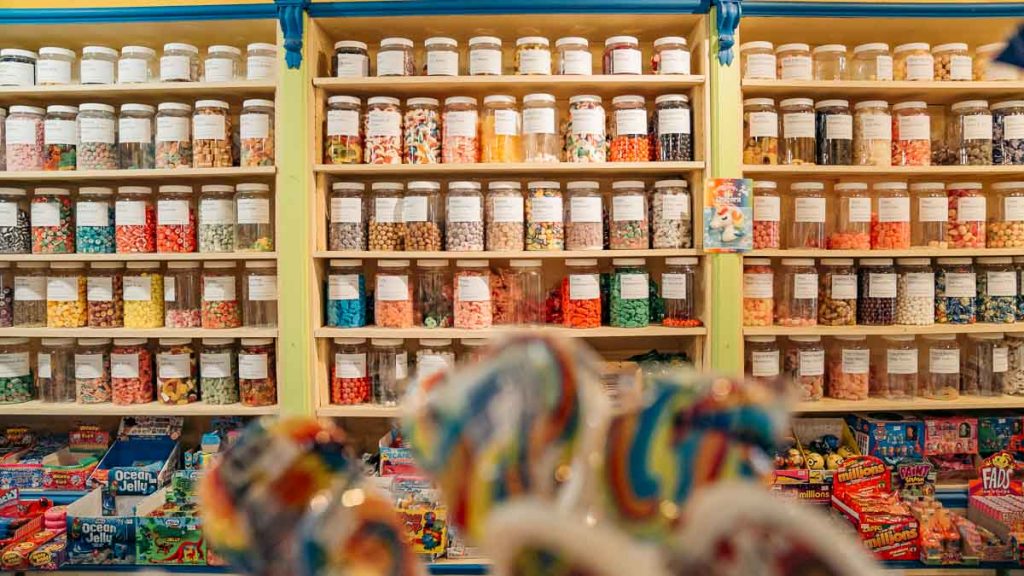 Within walking distance from the General Store Cafe is Lolly Swagman. It's an old-school candy store that's a dream for those with a sweet tooth (aka, me). This store has sweets from all over the world — Swedish Fish, Wonka Bars, Stroopwaffles, the works.
Lolly Swagman
Opening hours: 9:30AM – 4PM (Mon – Fri), 9:30AM – 5PM (Sat – Sun)
Address: 116 Old Hume Highway Berrima, NSW 2577, Australia
6) Admire Fitzroy Falls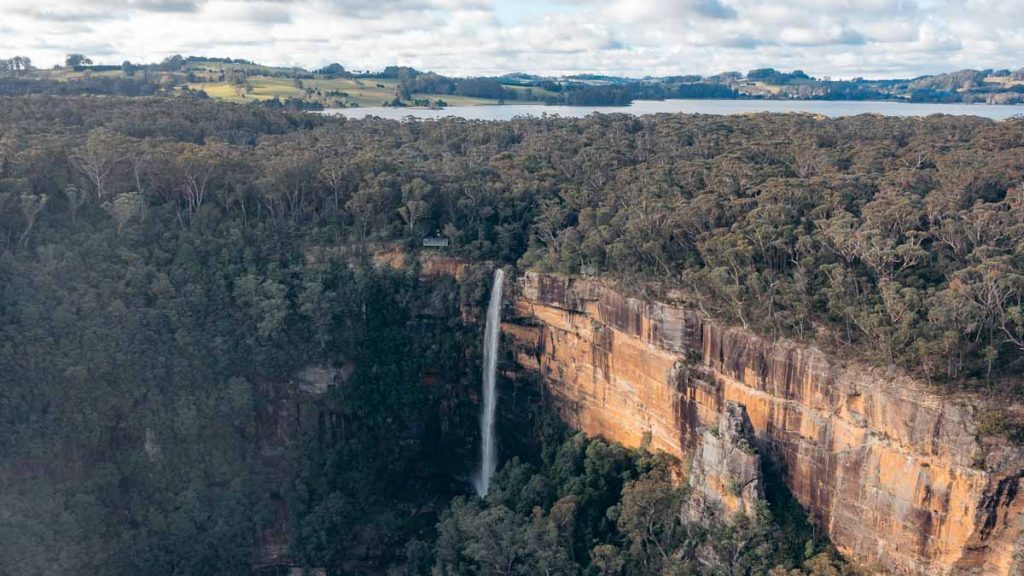 The star of Morton National Park is the 81-metre Fitzroy Falls. It doesn't even take long to reach the viewpoint; Fitzroy Falls lookout is a short 150m walk from the carpark!
After snapping pictures of the valley, enjoy a chill hike around the area. There are two treks — the West Rim Track (3.6km, 1.5hrs total) and the East Rim Track (6.7km, 2.5hrs total). If you only have time for one, the West Rim Track is the more scenic of the two.
Entrance fee: Free
Opening hours: 24 hours
Address: 1301 Nowra Road, Fitzroy Falls, NSW 2577, Australia
Blue Mountains National Park
7) Autumn Colours
Autumn at Mount Wilson. Photo credit: Destination NSW
Also a 90-minute drive from Sydney, the Blue Mountains is famous for the misty blue haze over its mountain ranges. Come autumn time, it's a must-visit for the sight of red and gold foliage across its scenic gardens.
One of the best places to soak in the atmosphere is the Blue Mountains Botanic Garden, Mount Tomah, with its cool climate gardens. A short 25-minute drive away lies the garden village of Mount Wilson, and within it, the heritage-listed Breenhold Gardens. There are many things to do at Mount Wilson, such as hiking, camping, canyoning and sightseeing.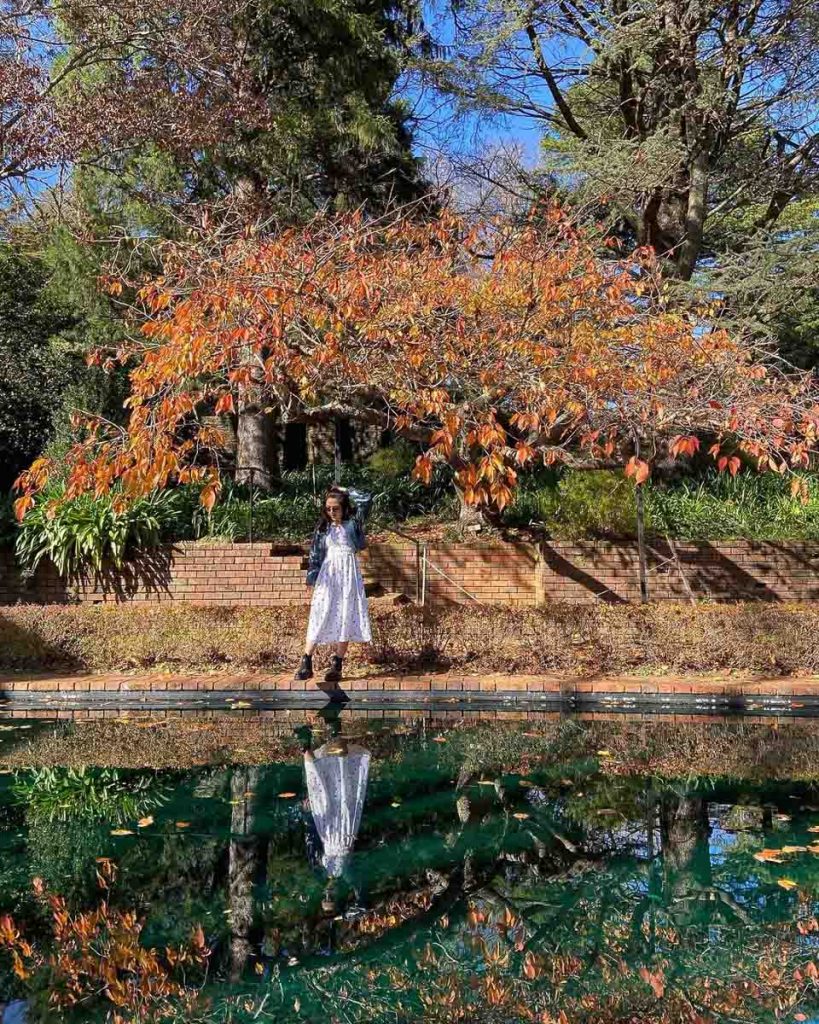 Photo credit: @lydialiemena via Instagram
Over in Leura village, the Everglades Historic House and Gardens is popular for its European-style terraced gardens and Art Deco architecture.
8) Epic Hikes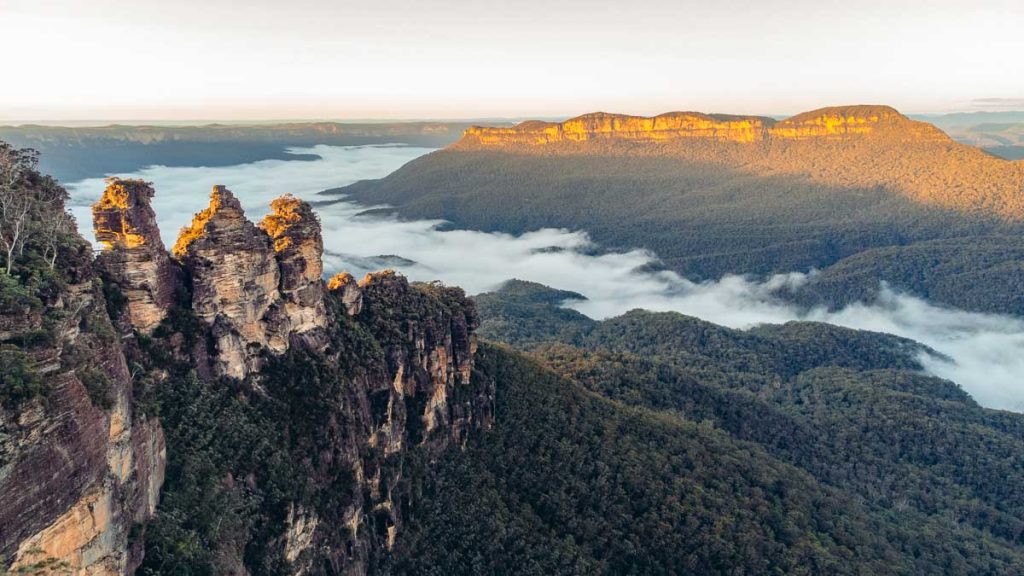 Is it a complete New South Wales itinerary if you didn't include a hike in the Blue Mountains? It's my favourite way to take in this postcard-worthy World Heritage-listed site.
There are several trails to pick from. Like the Prince Henry Cliff Walk (7km one-way, 3.5hrs) which starts at Scenic World and ends at the Gordon Falls Lookout! This hike features several viewpoints — like Echo Point (the main lookout point for the Three Sisters) and Elysian Rock Lookout (above).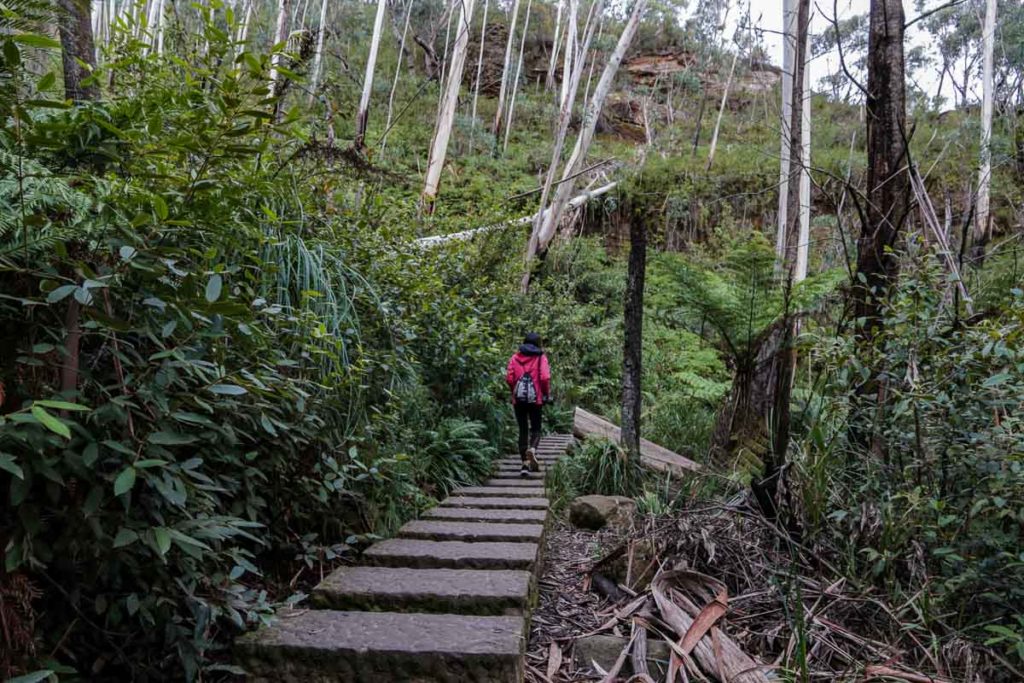 Other popular hikes include the Grand Canyon Walk (6.3km loop, 3.5hrs) and the more challenging Wentworth Pass Loop Walking Track (5km, 3.5hrs). Many of the hiking trails overlap, so you can easily shorten or extend your hike.
Read also: 3D2N Blue Mountains Itinerary: The Perfect Getaway Just 90-Minutes From Sydney
9) Rocky Outdoor Adventures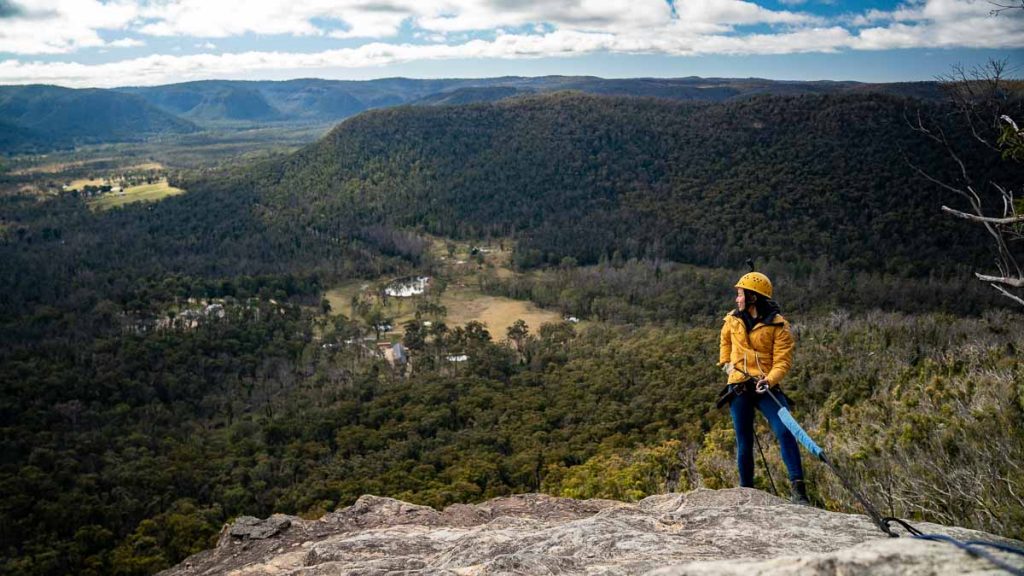 Want to up the thrill factor during your trip to the Blue Mountains? Go on an abseiling or canyoning tour — we did this in late-autumn during our trip!
Abseiling tours (from AU$90) with High and Wild Adventures starts off with a five-metre abseil. Throughout the session, you'll progress onto much higher drops ranging from 15m to 75m.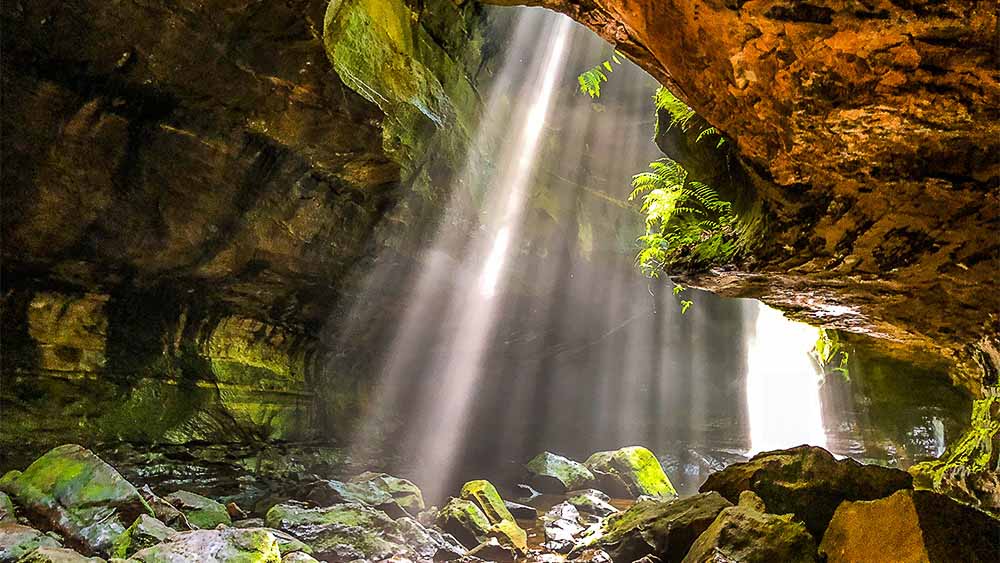 Photo credit: High and Wild
If you've never tried canyoning, the Blue Mountains is a fantastic place to do so.
Canyoning tours (from AU$285) are the ultimate adventure — a mix of abseiling, climbing and wading through shallow waters. Coupled with the dramatic backdrops of the Blue Mountains? It'll be like you're starring in your very own action film.
Cost: AU$90 (~S$85.49) for a 3.5hr tour
Tour timings: 7AM, 8:30AM, — Check the date for exact timings
Meeting point: 207 Katoomba St (Inside the YHA) Katoomba, NSW 2780, Australia
10) Stargazing with an Astrophysicist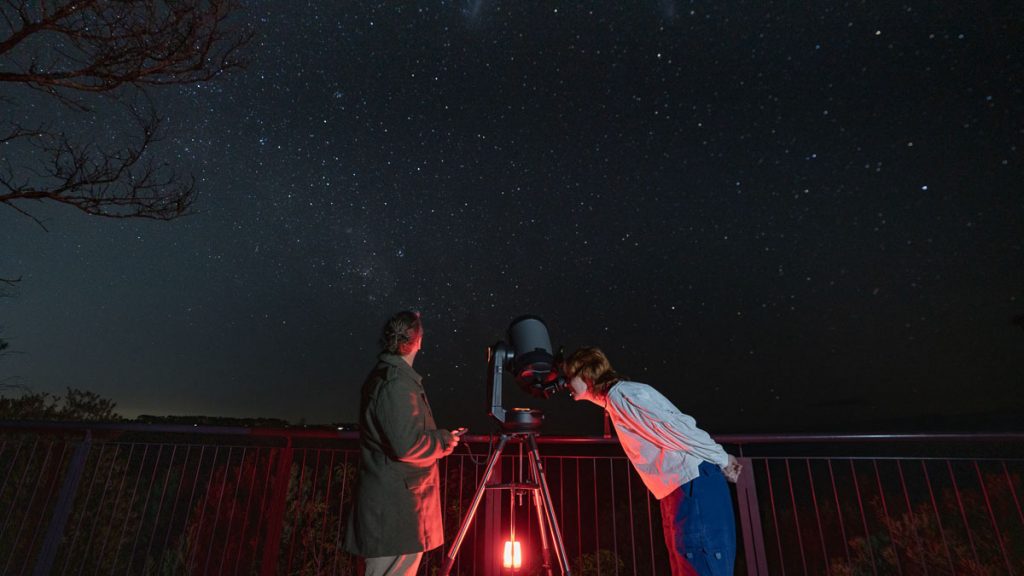 Photo credit: Blue Mountains Stargazing Tour
Experience the Blue Mountains in a new light (or total darkness) by going on a stargazing tour! This tour is led by an astrophysicist, who'll share about astronomy and how to identify constellations like Orion's Belt.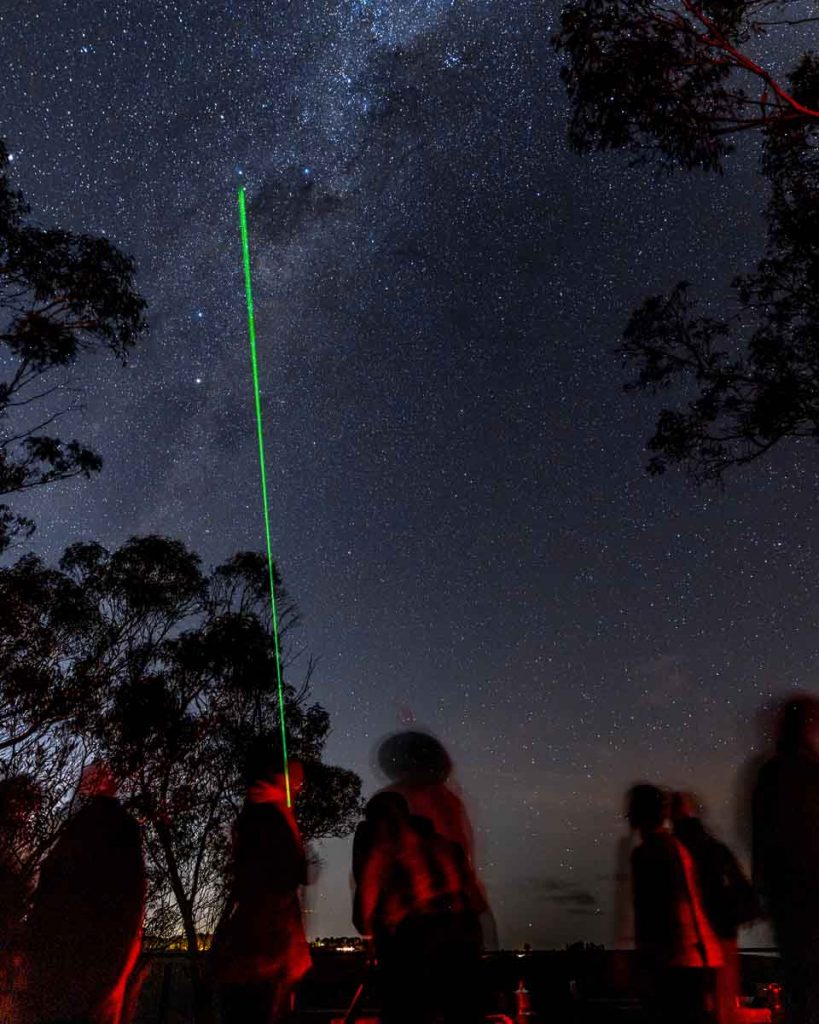 Photo credit: Brenden Neaton
Observe the night sky through a professional-grade telescope. Depending on the time of year, you might see Saturn's rings, Jupiter or even shooting stars! The tour takes place outdoors, but hot chocolate and blankets are provided keep guests warm.
Cost: AU$85/adult (~S$80.74) for a 1.5hr tour
Tour timings: After sunset — Check the schedule for exact timings
Address: Wentworth Falls Picnic Area, Wentworth Falls Lookout, Sir H Burrell Drive
Central Coast
11) Breakfast with Alpacas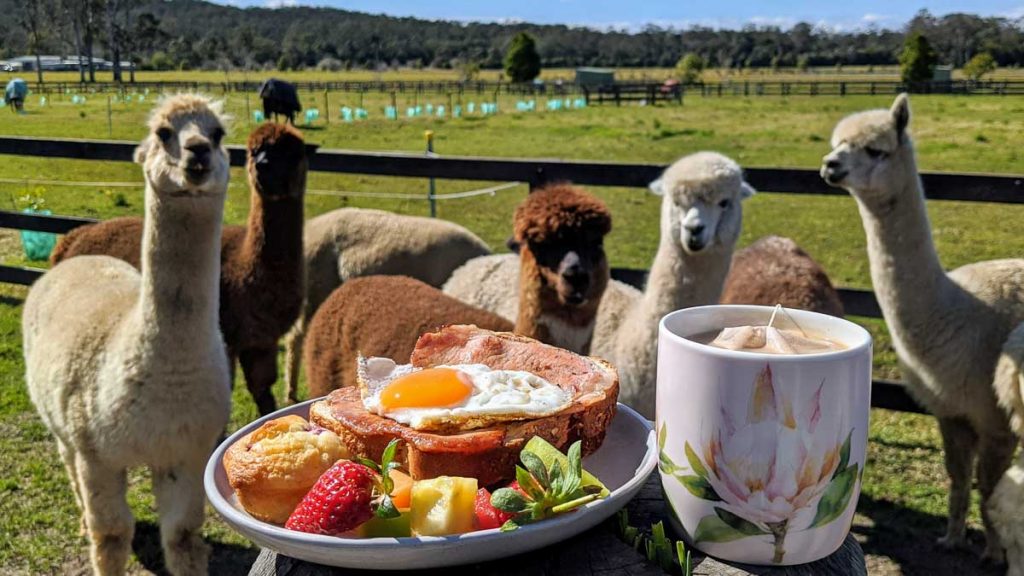 Photo credit: Iris Lodge Alpacas
Breakfast is enjoyable, but breakfast surrounded by adorable alpacas? That's pure bliss. Just over an hour's drive from Sydney, Iris Lodge Alpacas is home to around 70 alpacas, plus llamas, sheep, horses, and cows!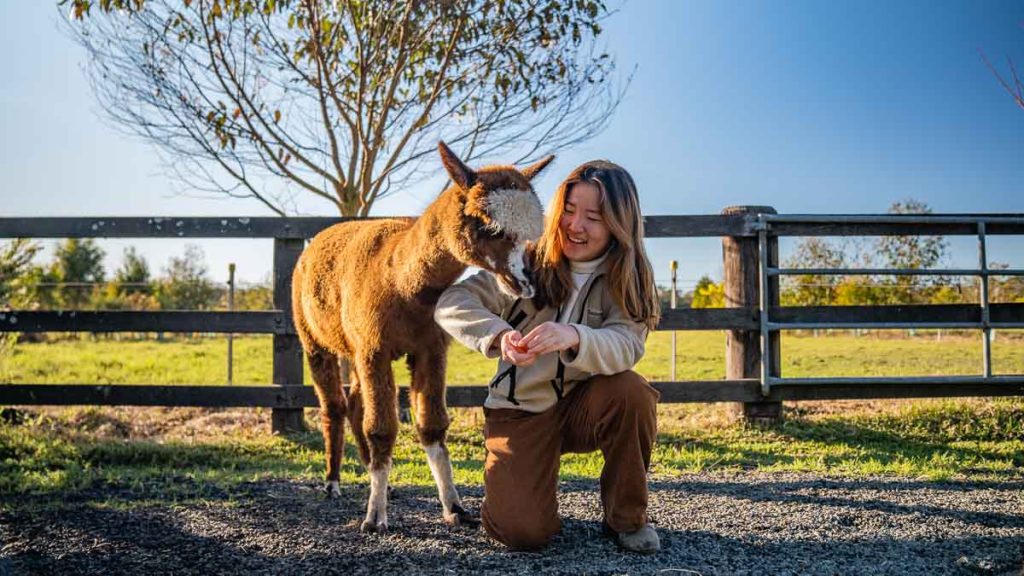 We started by touring the farm, where we got to feed the alpacas with carrots, bananas and hay. They're exactly like what I imagined: soft and fluffy. Like clouds with legs 😂
The session ends with a hearty breakfast prepared by our hosts — cereals, fruits, muffins, and sandwiches.
Cost: AU$55 (~S$52.24) for 2.5hrs — Alpaca meet and greet sessions without breakfast are available too!
Tour timings: 8:30AM (Sat – Sun, PH), open every day during New South Wales school holidays
Address: 33 Dunks Ln, Jilliby NSW 2259, Australia
12) Mixology at Firescreek Botanical Winery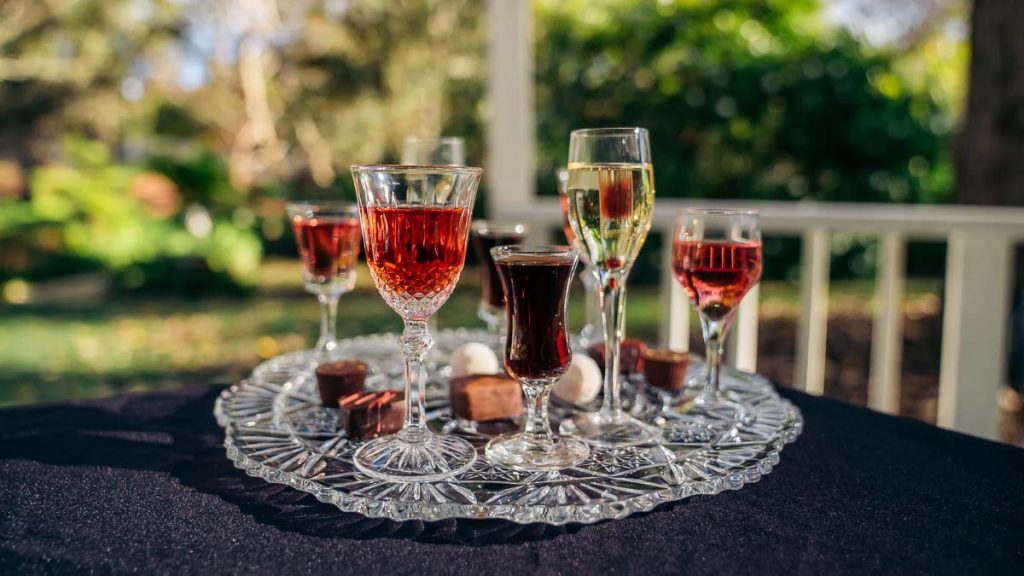 Here's another favourite Australian past-time: wine appreciation.
At Firescreek Botanical Winery, you can enjoy a Chocolate and Wine Pairing session! Guests are served four house-brand botanical wines paired with handmade chocolates. Our favourite was the nectarine and elderflower wine — we ended up buying a bottle each (~S$27.50) to bring home.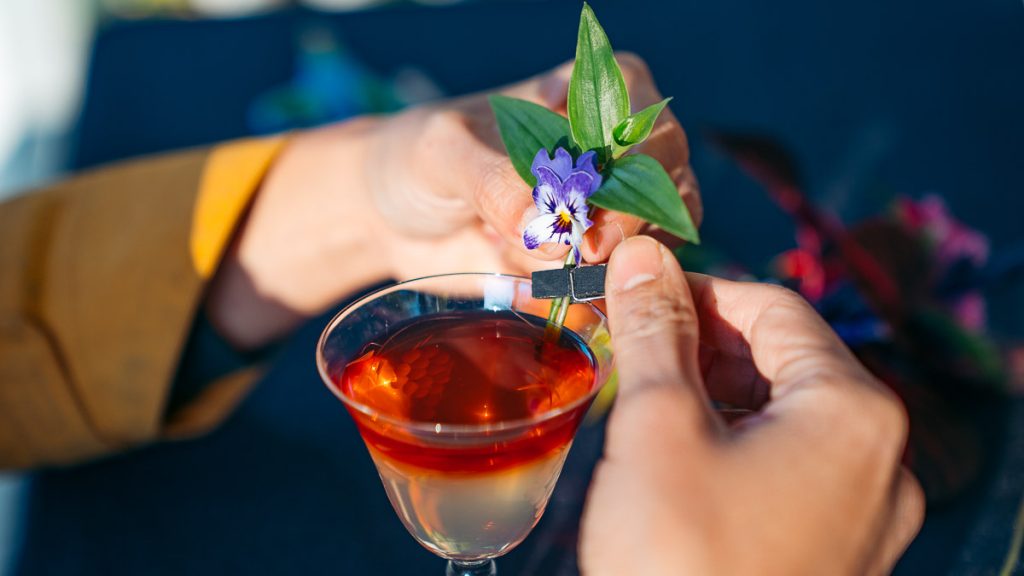 We also attended a Foraging and Mixology Workshop where we learnt how to forage for garnishes and create our own cocktails.
Cost: AU$25 (~S$23.75) for the Chocolate and Wine Pairing, AU$45 (~S$42.75) for the Foraging and Mixology Workshop
Opening hours: 10:30AM – 4:30PM (Wed – Sun), Closed Mon – Tue
Address: 192 Wattle Tree Rd, Holgate NSW 2250, Australia
13) Sunset at Long Jetty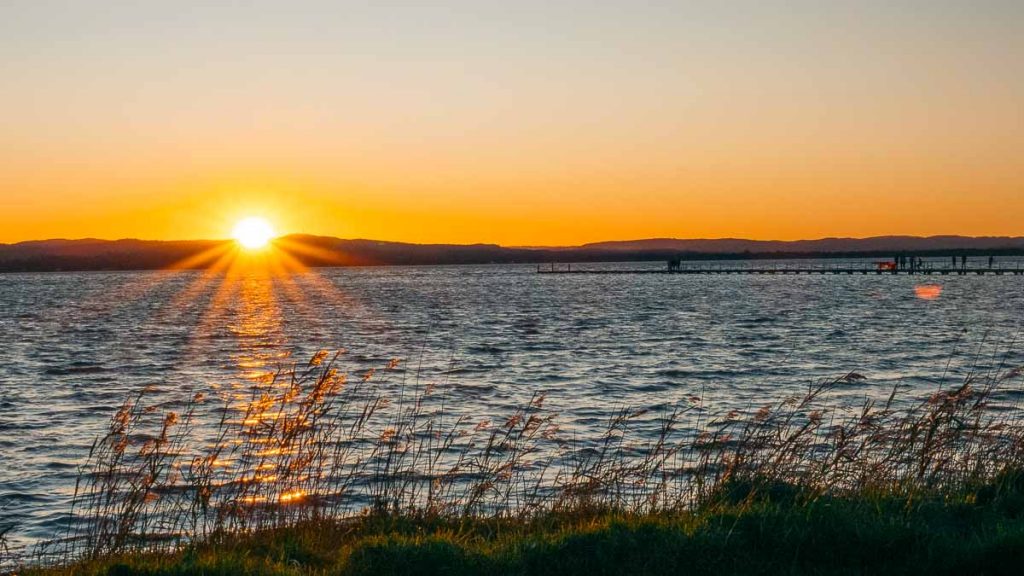 Catch the sunset over Tuggerah Lake at Long Jetty. It's a small town in Central Coast, and is also the name of their 351m-long jetty — the longest in New South Wales! 😂
Entrance fee: Free
Opening hours: 24 hours
Address: 103A Tuggerah Parade, Long Jetty NSW 2261, Australia
South Coast
14) Whale Watching at Jervis Bay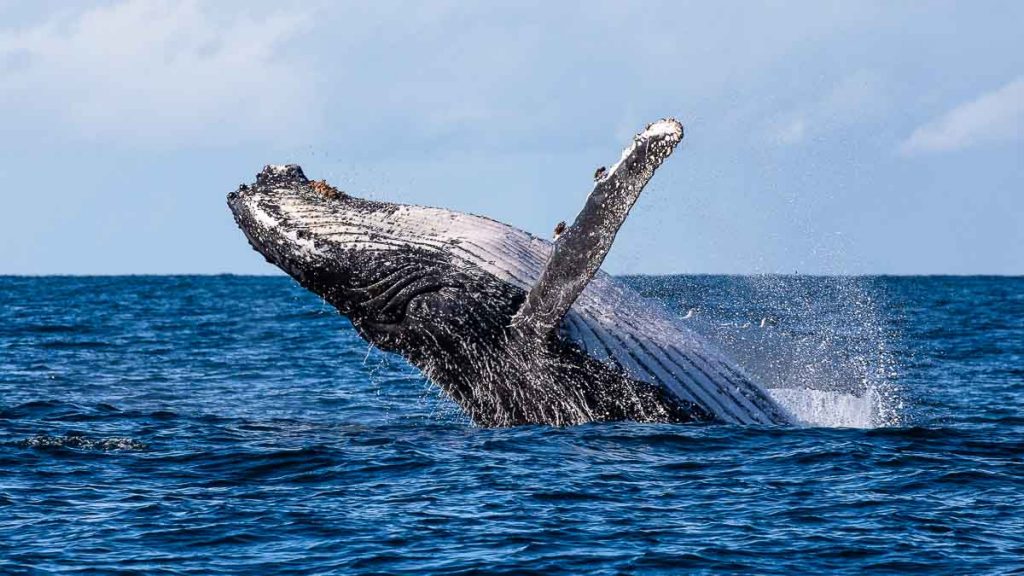 Photo credit: Jordan Robins
Between May and November, over 30,000 whales pass through New South Wales' waters as part of their annual migration.
One of the best places in Australia to spot humpback whales is Jervis Bay, a 3hr drive from Sydney. It's located in a prime position along the "Humpback Highway" and has calmer waters that invite whales to rest with their newborn calves.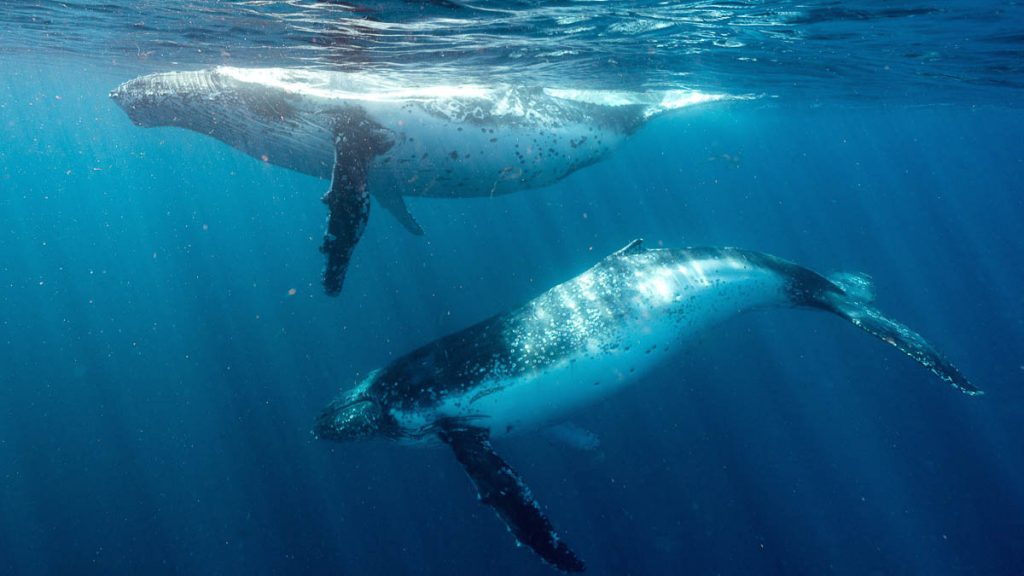 Photo credit: Jordan Robins
Go on a whale-watching cruise to see these gentle giants and learn about them from passionate guides!
Cost: AU$75/pax (~S$68) for a 2hr tour
Tour timings: 10:30AM, 1PM
Meeting point: Terminal inside Portside Cafe (15 Field Street, Huskisson)
15) Fresh Oysters at Jim Wild's Oysters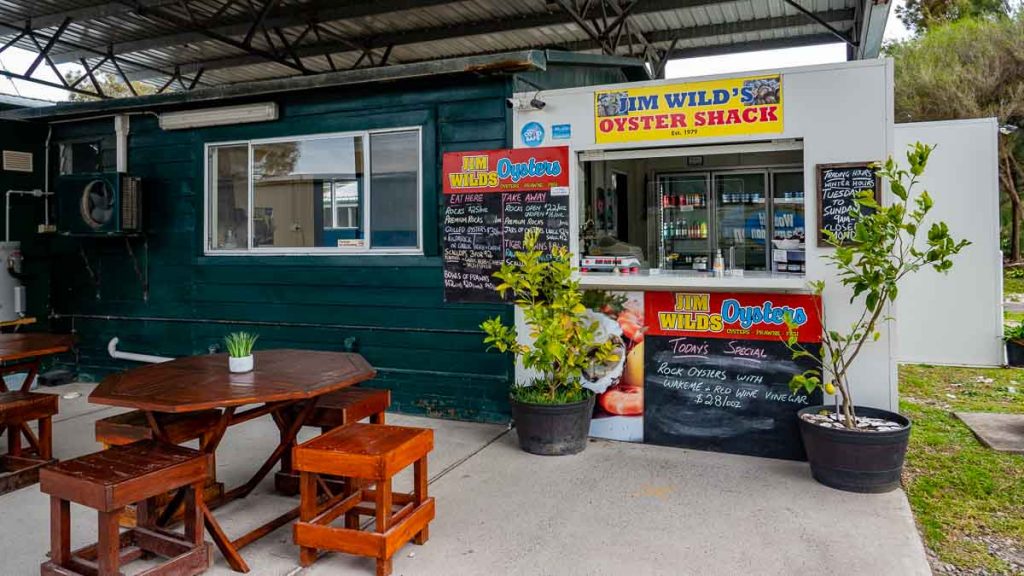 If your idea of a good time includes feasting on fresh, juicy oysters — you've gotta visit Jim Wild's Oysters. A rustic family-run oyster farm, Jim Wild's Oysters has been farming Pacific oysters and Sydney rock oysters since 1979.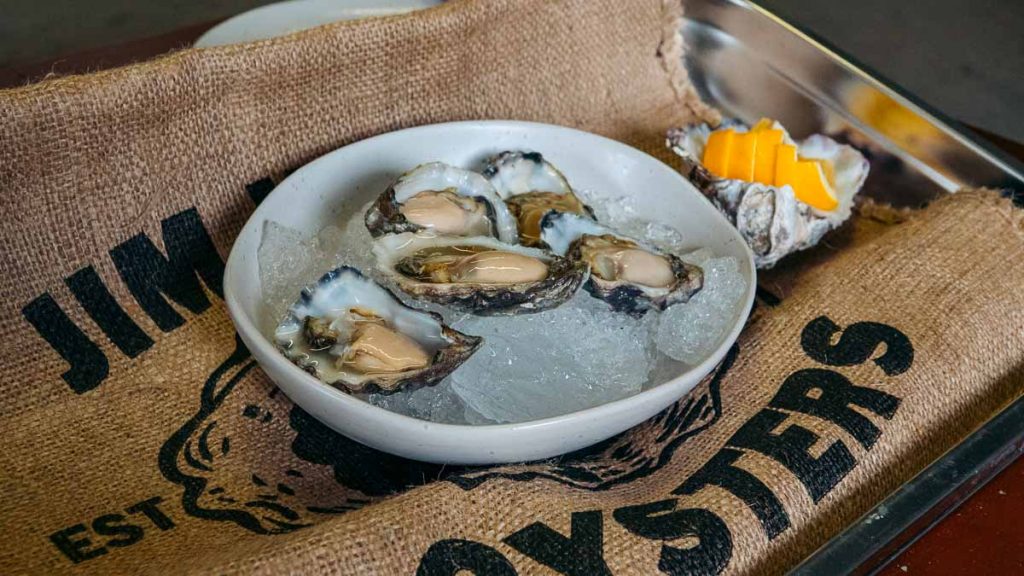 The menu here is reasonably priced — we had Sydney rock oysters (AU$25/dozen), grilled oysters (AU$30/dozen), garlic and cheese scallops (AU$12 for three) and prawns (AU$12/250g). Visitors can order takeaway, or dine in at the oyster shack!
Cost: AU$25/dozen (~S$24)
Opening hours: 9AM – 3PM (Tue – Sun), Closed on Mon
Address: Lot 2/170 Greens Rd, Greenwell Point NSW 2540, Australia
16) Unique Ways to Experience the Grand Pacific Drive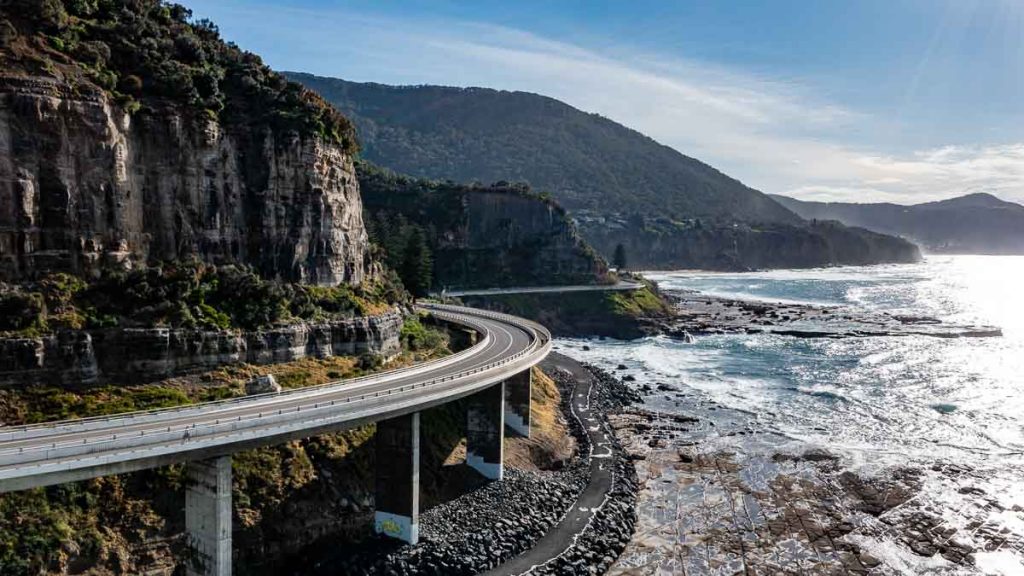 The iconic Sea Cliff Bridge.
No matter the season, the Grand Pacific Drive is a must-see on any New South Wales road trip.
Of course, you could just drive along and check it off. But if you're looking for unique experiences in the area, here are a couple of ideas. First up, a motorcycle tour with Just Cruisin.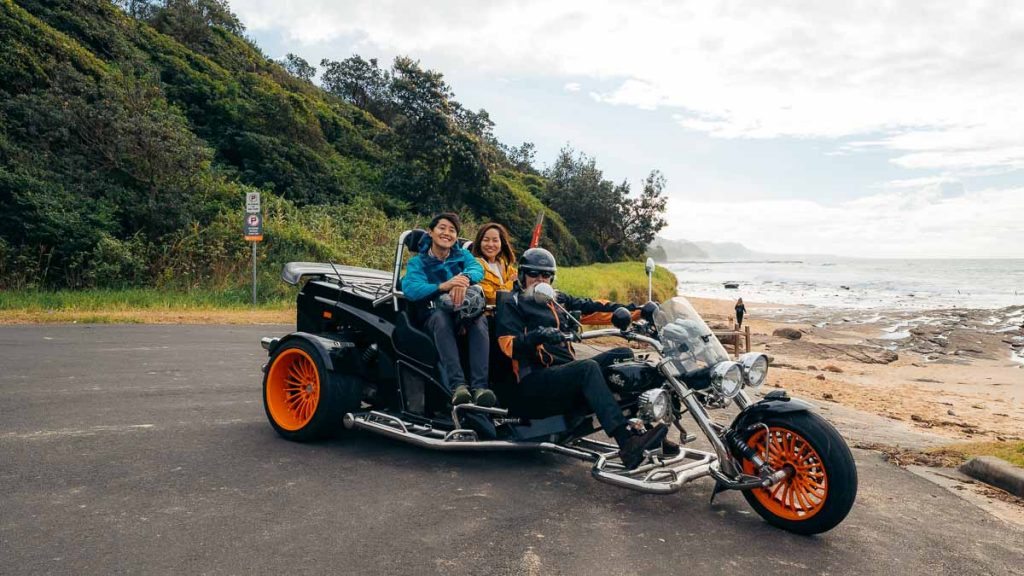 The hour-long ride is on a rare Harley-Davidson BOOM trike — there are only 200 of them in Australia! You'll journey through the Royal National Park, Sublime Point, Bulli Pass, Stanwell Park, and the famous Sea Cliff Bridge.
Just Cruisin' Motorcycle Tour
Cost: AU$110/pax (~S$105) for a 1hr tour
Tour timings: 8AM – 4PM (Hourly slots)
Meeting point: Bald Hill (Stanwell Tops NSW 2508, Australia)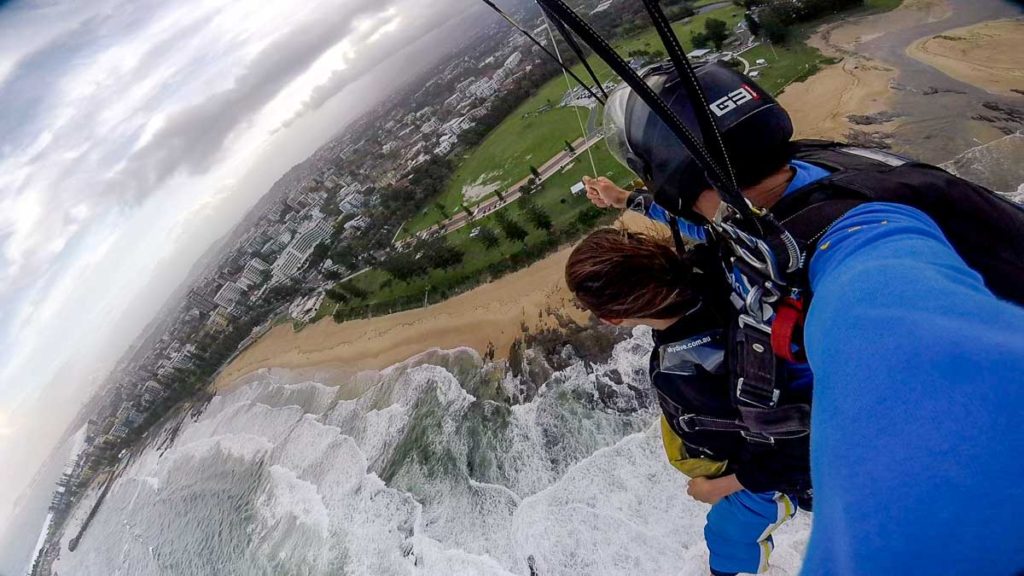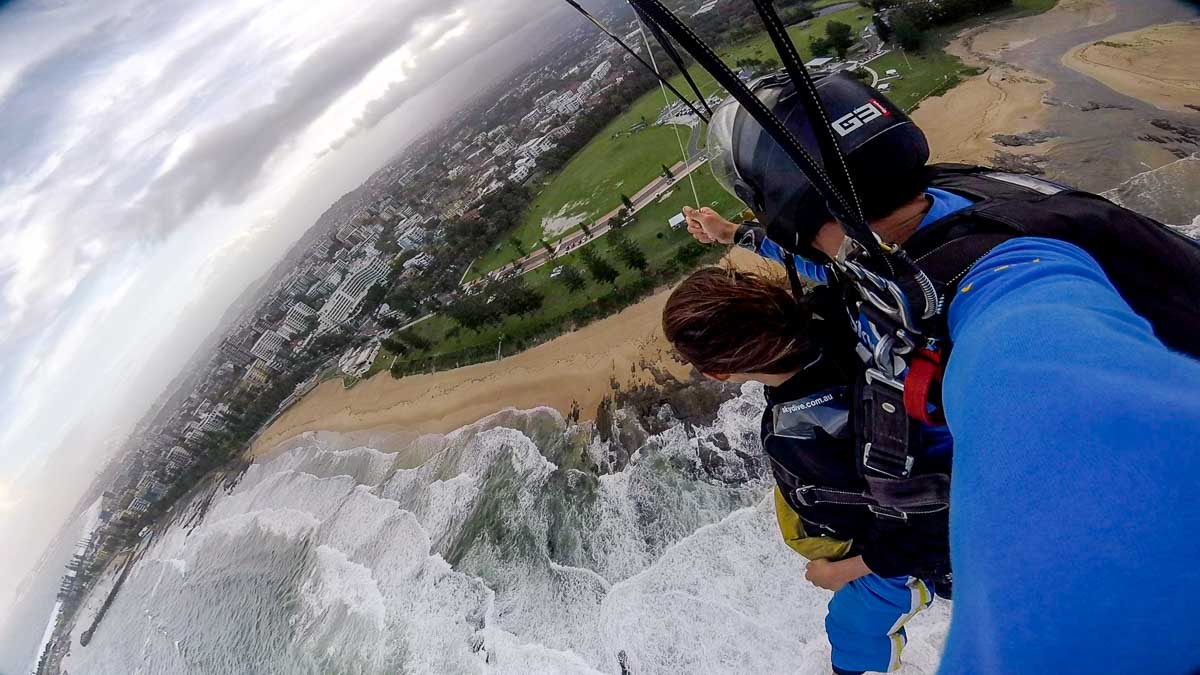 Prefer to take in New South Wales' stunning South Coast from the sky? Tick off skydiving at Wollongong!
Take a scenic plane ride up to 15,000ft before taking a leap of faith — you'll free fall for around 60 seconds before the parachute gets deployed. Then it's up to seven minutes of cruising and soaking in epic views.
Skydive Sydney-Wollongong
Cost: AU$379 (~S$344) for a tandem skydive — minimum age 16 years old
Timings: Hourly slots from 7AM – 12PM
Address: Skydive Sydney-Wollongong, Stuart Park, George Hanley Dr, Wollongong, NSW 2500, Australia
Sydney
17) Festivities at Vivid Sydney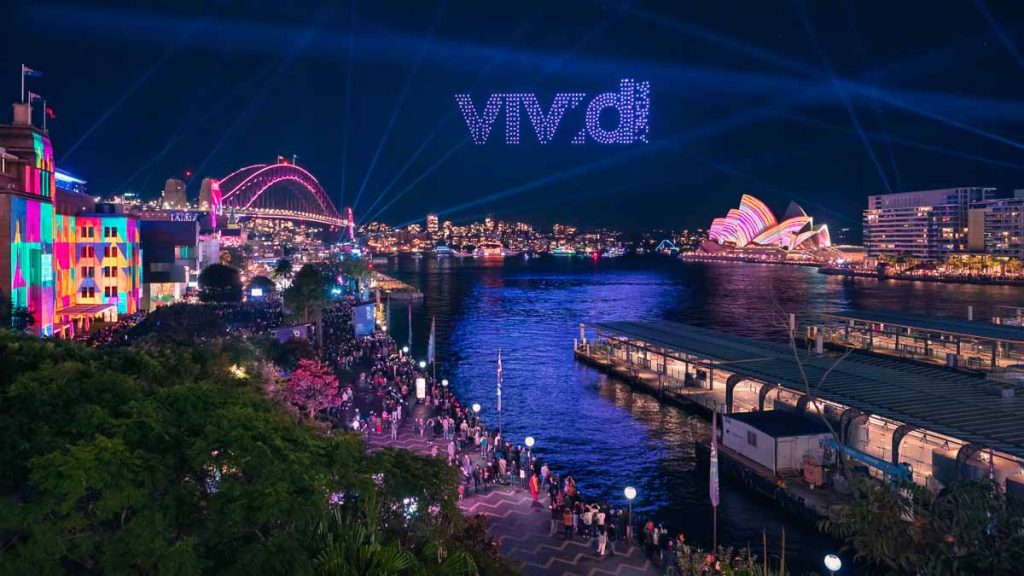 Photo credit: Destination NSW
Here's something you can look forward to in the cooler months: Sydney's annual festival of light, music and ideas — Vivid Sydney.
This year is the festival's 13th edition and trust us, the city gets completely transformed. The main attraction is seeing the vibrant light projections on iconic buildings like the Sydney Opera House!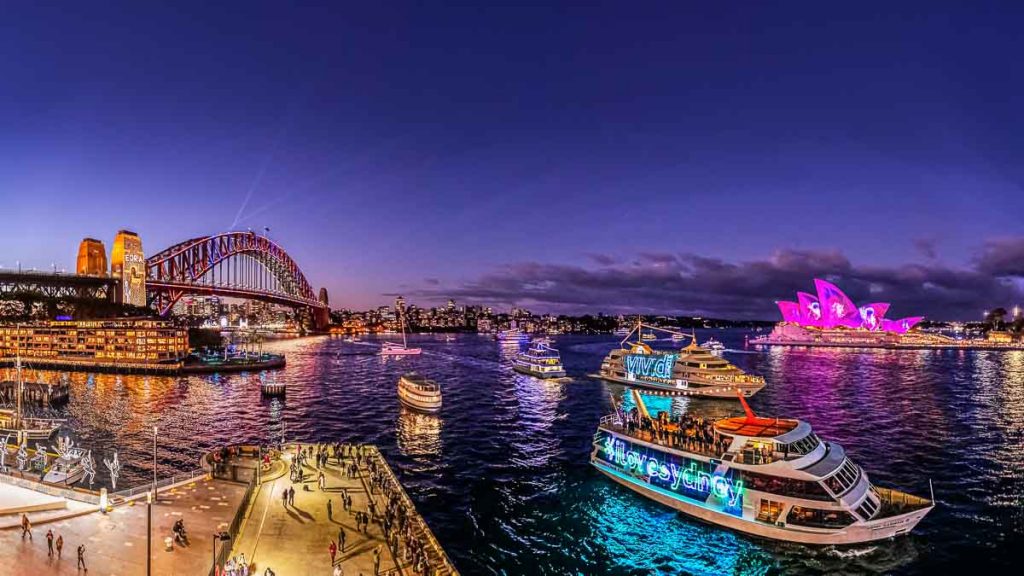 Photo credit: Destination NSW
There's also a programme of live music performances, plus the newly introduced Vivid Food which will highlight Sydney's culinary scene in a creative light. It's essentially a three-week-long party and the whole city's invited.
Entrance fee: Free (tickets required for some events)
Festival period: 6PM – 11PM (26 May – 17 Jun 2023)
Address: Vivid Sydney takes place all over Sydney's city centre — Check the event map on where to go
18) Cafe Hopping in Bustling Neighbourhoods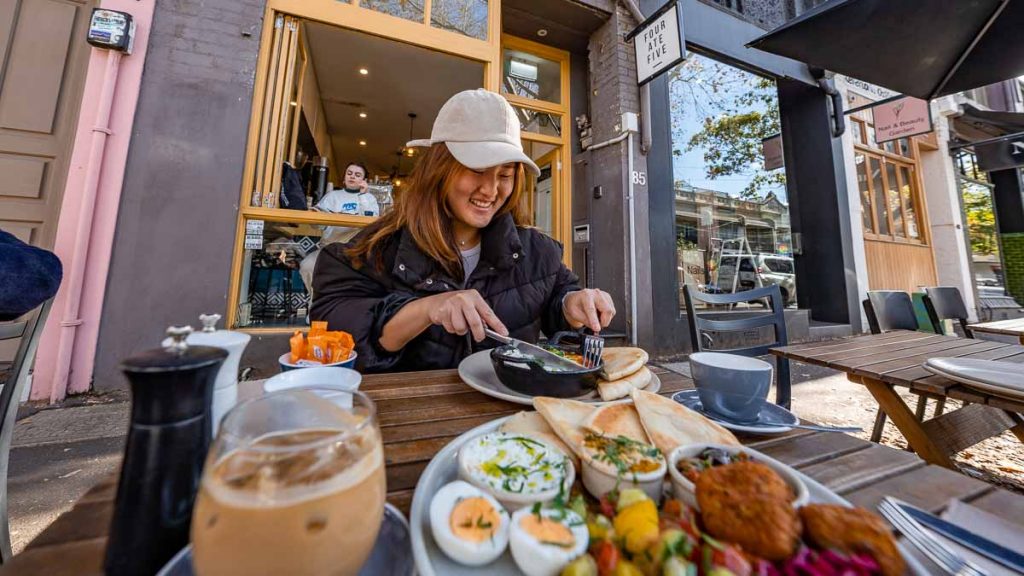 Brunch is a Sydney institution — one I'd gladly partake in. Luckily, there are great cafes on practically every street in central Sydney.
One of the best neighbourhoods in Sydney to visit for brunch is Surry Hills. There's dozens of excellent cafes such as Cuckoo Callay, Four Ate Five and Bourke Street Bakery!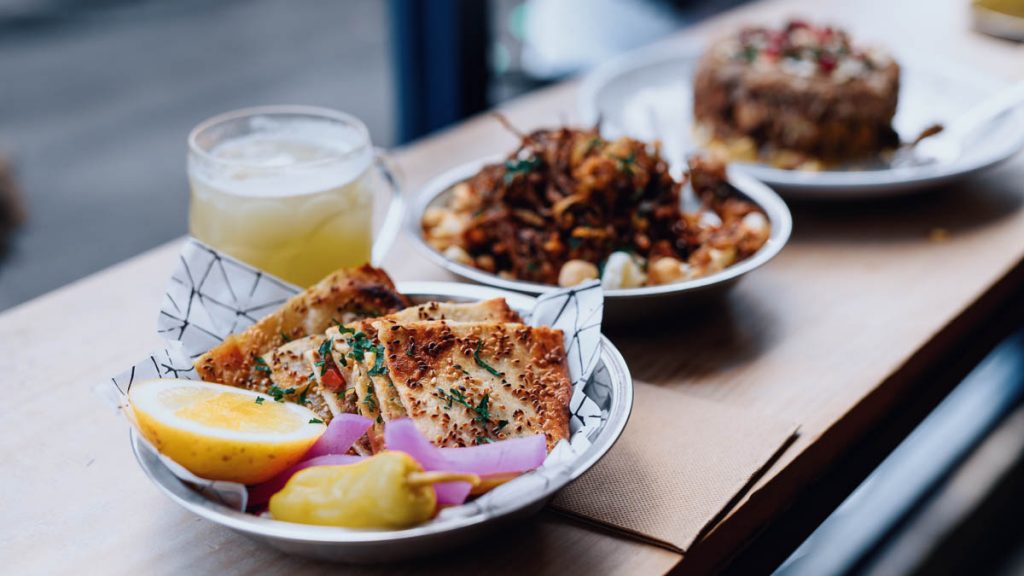 Photo credit: Destination NSW
Be sure to also hit up the youthful neighbourhood of Newtown. After checking out Newtown's cafes, stop for some dessert — try Black Star Pastry for their Instagram-famous strawberry watermelon cake, and Messina for some of Sydney's best ice cream.
19) Local Markets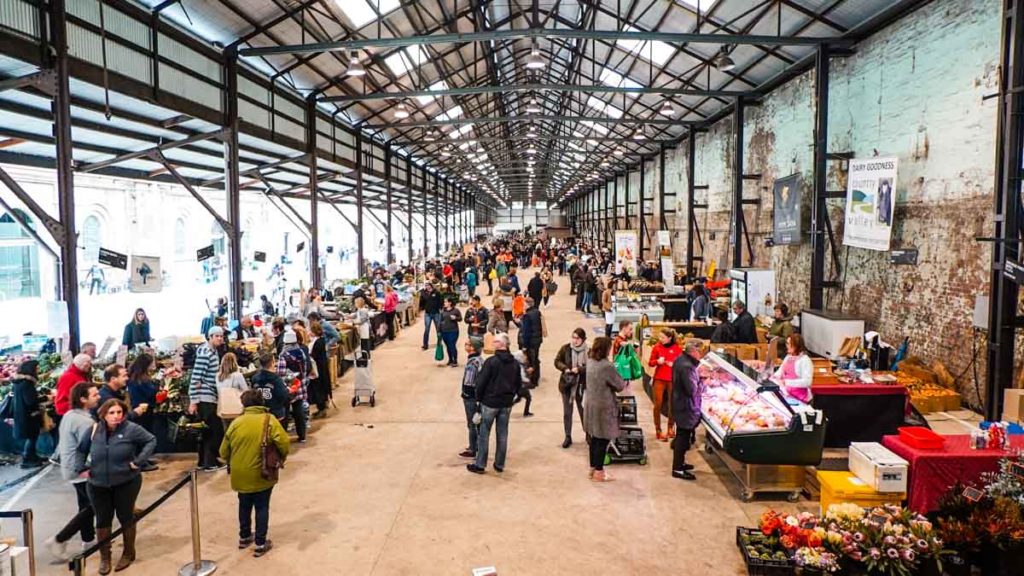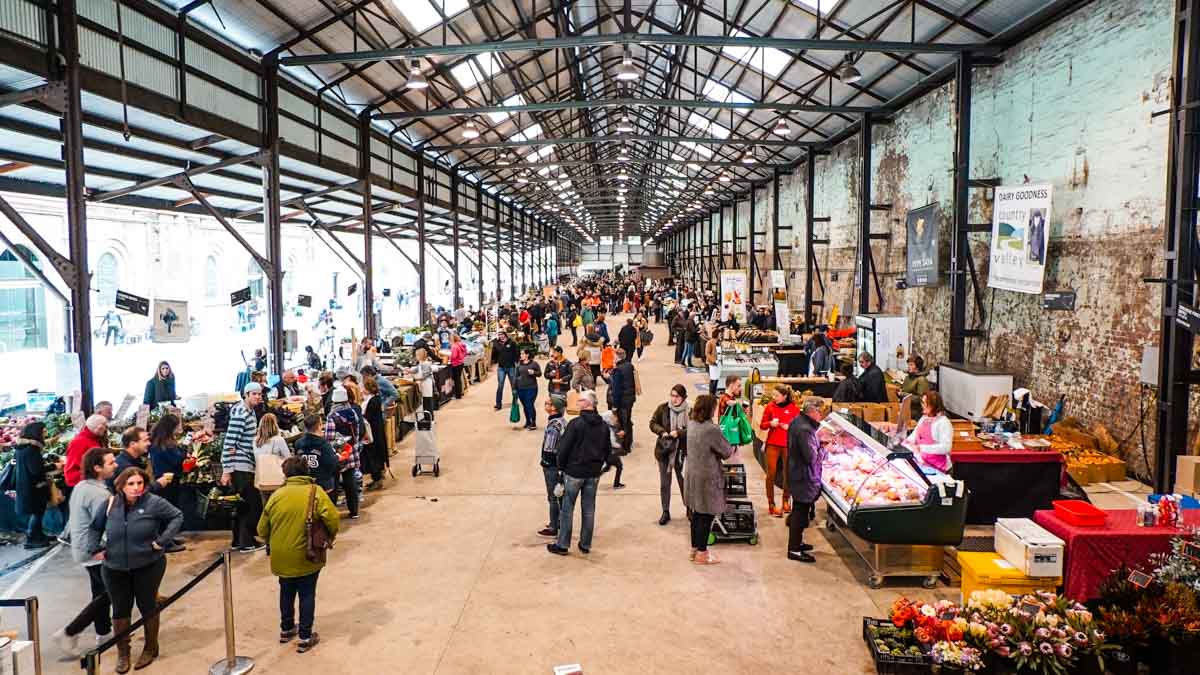 Visiting local markets is one of my favourite things to do in Sydney. It's where the locals hang out — plus there's always food and shopping involved, which is always fantastic.
Every Saturday, there's the Carriageworks Farmers Market, where you'll find everything from organic produce to baked goods to flowers. The rotation of stalls switches up regularly, so there's always something new to see and taste.
Over in Bondi, the Bondi Markets happen every Sunday near the beachfront. Clothing, jewellery, art — the vibe of this market mirrors Bondi's hip, laid-back personality.
Read also: 13D Best of New South Wales Itinerary — Hidden Gems and Epic Getaways From Sydney Under S$2.3k
Suggested 10-Day New South Wales Itinerary
Day 1-2: Fly from Singapore to Sydney. Scoot operates 1-2x daily flights, and the earlier one gets in at 11:35AM! Rent a car after you arrive. Explore Surry Hills and Newtown, check out local markets and join the celebrations at Vivid Sydney.
Day 3: Head to the South Coast via the Grand Pacific Drive. Drive across the Sea Cliff Bridge, dig into oysters at Jim Wild's Oysters and go on a Whale Watching Tour at Jervis Bay.
Day 4-5: Experience New South Wales' best ski resorts in the Snowy Mountains! Spend a day or two snowboarding or skiing at Perisher Resort, then go on a snowshoe tour.
Day 6: Next up, the Southern Highlands. Pass through the towns of Berry and Berrima and visit Fitzroy Falls. Stop by Robertson Truffles to learn about harvesting truffles!
Day 7-8: From the Southern Highlands, drive onward to the Blue Mountains. Spend the first day going on hikes and checking off sights like the Three Sisters, then go on a canyoning or abseiling tour on day two.
Day 9: The last stop of this New South Wales itinerary is the Central Coast. Have breakfast with alpacas at Iris Lodge Alpacas, try local wines at Firescreek Botanical Winery and catch the sunset at Long Jetty. Drive back to Sydney to spend the night.
Day 10: Enjoy your last day in Sydney before flying home! Opt for the later of Scoot's two daily flights to maximise your day before the 8:45PM departure.
Autumn & Winter Vacation in Sydney and Surrounds — Just an 8hr Flight Away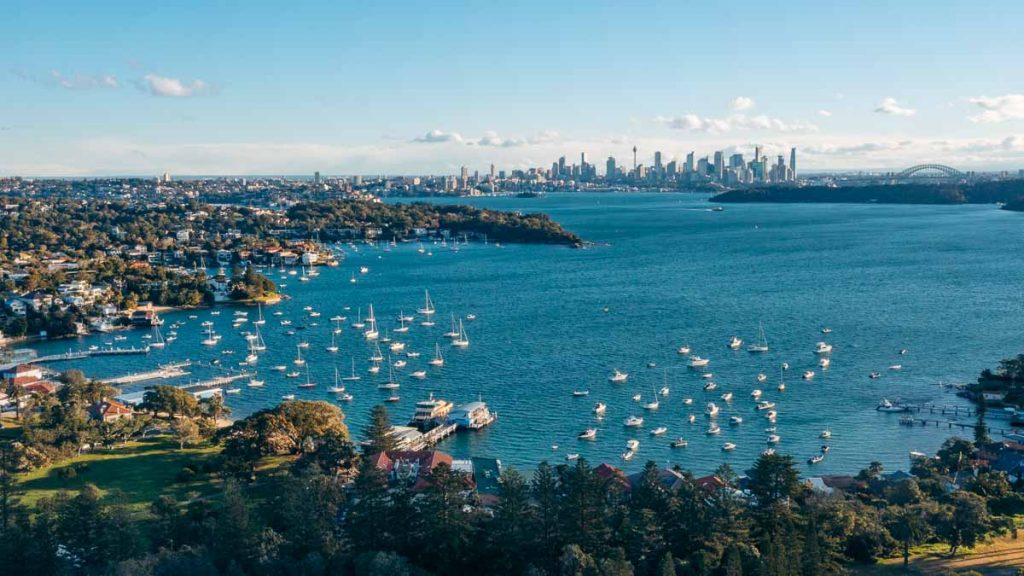 New South Wales is a pretty great choice for a getaway during autumn and winter. Activities are value-for-money (~S$68 to see humpback whales? Yes, please) and it's a direct flight to get to Sydney.
From now to 28 May, enjoy promo fares to Sydney with Scoot from S$219* (one-way). It's the perfect excuse to start planning your escape from Singapore's heat.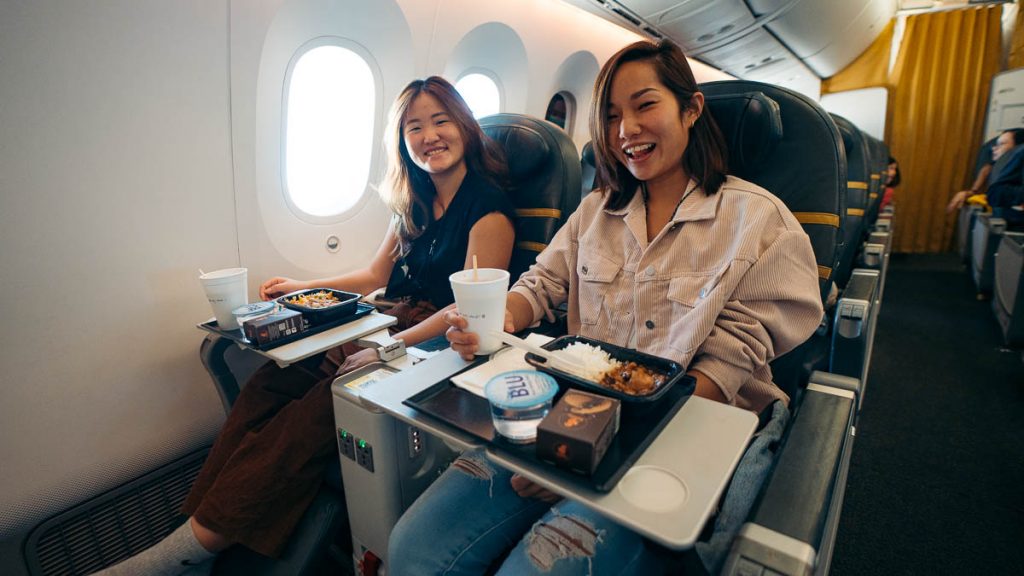 We flew into Sydney on ScootPlus which includes larger seats with double legroom. Other perks include two pieces of cabin baggage, up to 30kg of check-in, priority check-in, plus meal and drinks! Promo fares start from S$475* (one-way).
*T&Cs and travel periods apply.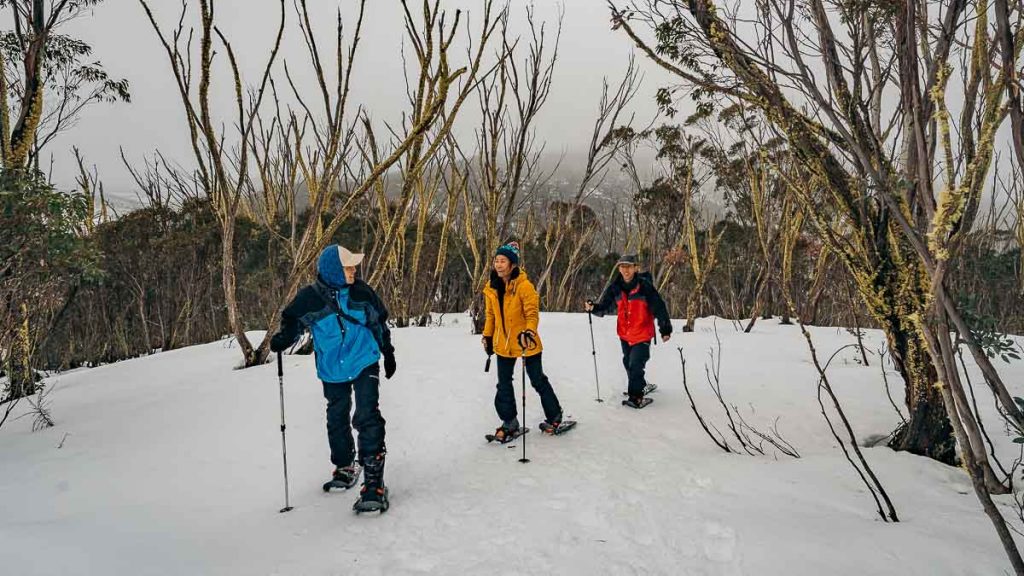 Planning to spend autumn or winter in Sydney and New South Wales? Check out other fun things to do during the cooler months!
---
This post is brought to you by Scoot and Destination New South Wales.