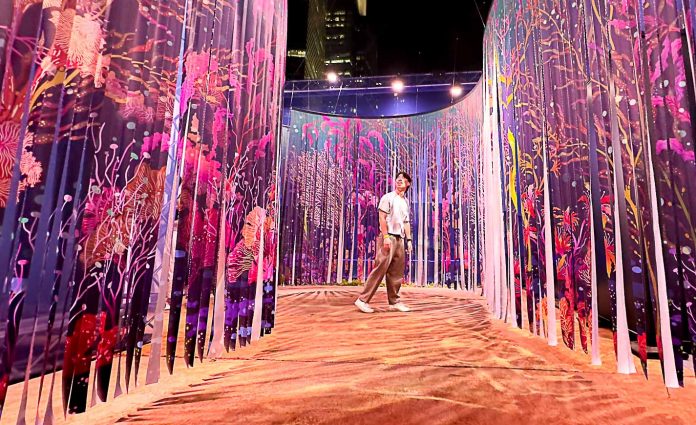 There's always something new to check out!
We're approaching the halfway mark of the year, and things are just about to get even more exciting and fun in Singapore! It's also the June holidays so do expect to see a bunch of family-friendly attractions and events popping up. 🥳
Here's what you can look forward to this month:
What's New in Singapore
1) i Light Singapore 2023 illuminates from 1 – 25 June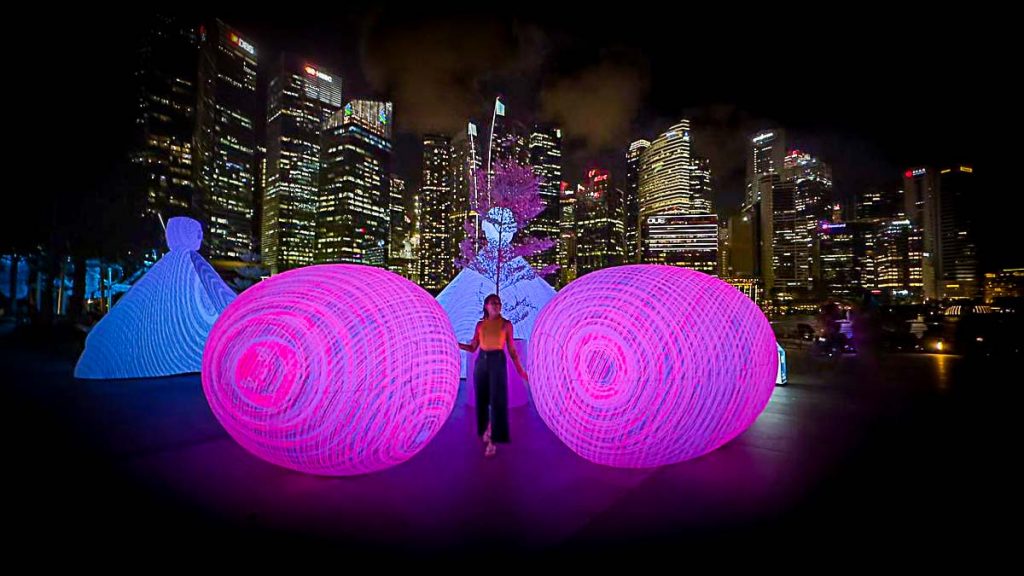 i Light Singapore 2023 is here, bigger than ever!
This year, the festival is expanding to three locations — Marina Bay, South Beach, and Millenia Walk, so you can catch even more amazing light art installations. The theme for this year's i Light is the colour Blue, a colour that's ever so present in our natural environment and also associated with emotions.
And it's not just about the pretty lights — i Light Singapore 2023 is also about sustainability. All of the light installations are designed to be energy-efficient, and the festival is committed to reducing its environmental impact. So you can feel good about having a good time while doing your part for the planet.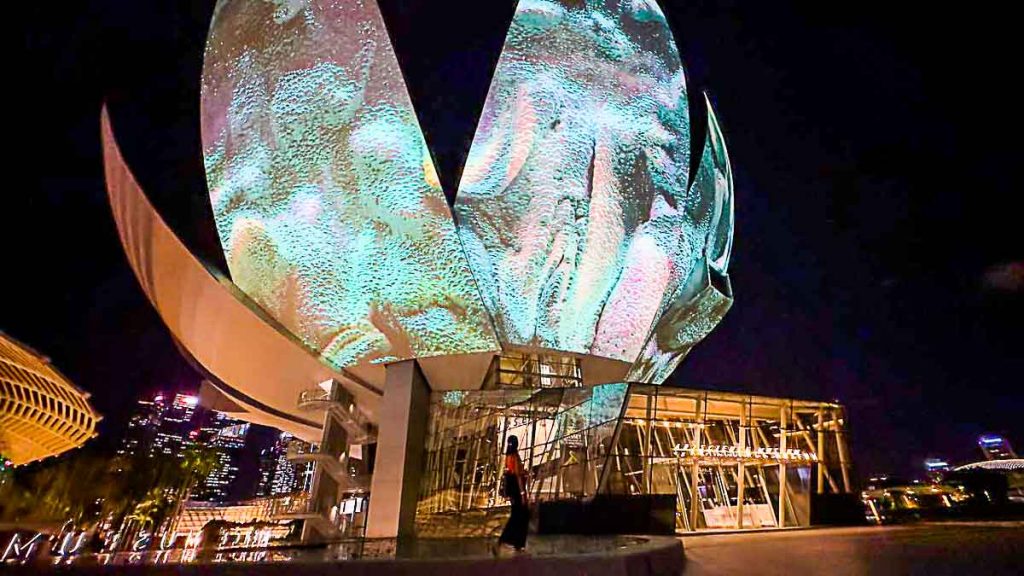 Some of the artworks this year include Glacier Dreams, a large-scale projection on ArtScience Museum, and Lightwave: Turning the Tide, a new immersive light experience that invites visitors into a world where rising sea levels have submerged humans in an underwater world. 
Entrance fee: Free (charges apply for certain programmes)
Opening hours: 7:30PM – 11PM (Sun – Thu), 7:30pm – 12AM (Fri – Sat)
Event period: 1 – 25 June 2023 
Locations: Marina Bay, South Beach, and Millennia Walk
2) GastroBeats Festival at Bayfront from 1 to 25 June
GastroBeats is back as part of i Light Singapore 2023, and this time admission is free! 
Look forward to live music performances every Friday to Sunday from local talents like 53A, Jive Talkin', Peep Show, Shirlyn + The UnXpected and Jack & Rai.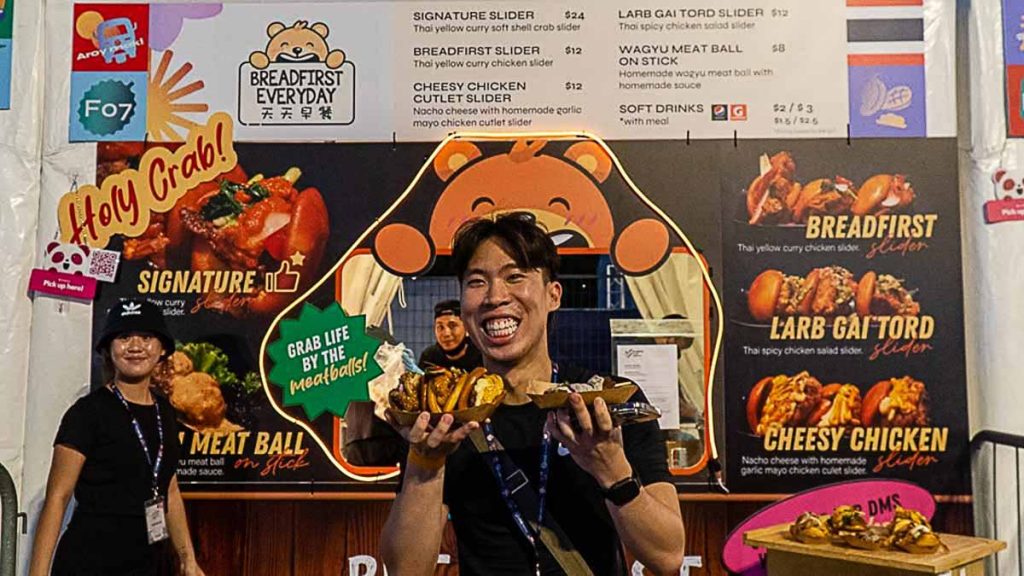 Expect a varied line-up of almost 50 food stalls curated by foodie personality Zermatt Neo. There are even two themed food streets — Taste of Thailand and Flavours of Taiwan — to transport you to your favourite bustling night markets. 
Activity-wise, there's no shortage. Over at the DBS Zone, there are six interactive game stations (also free!) ranging from a red carpet photoshoot to a rowing station. Complete four stations and you'll get a free DBS goodie bag! For the young ones, get ready for Jumptopia — a sprawling complex of bouncy castles, inflatables and slides. 
Entrance fee: Free
Opening hours: 4PM – 11PM
Event period: 1 – 25 June 2023
Address: 12A Bayfront Ave, Singapore 018970
3) Science Centre — The ELECTRIFIED Show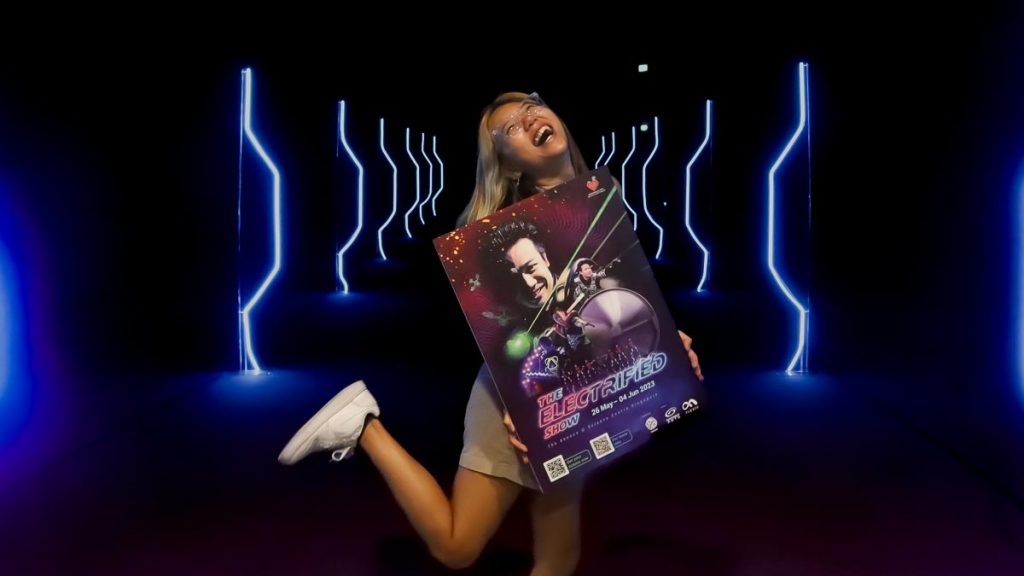 The ELECTRIFIED Show is the first large-scale STEM⁺ (an acronym for Science, Technology, Engineering, and Mathematics) special effects production in Singapore! 
Accompanied by an enthralling display of lights, lasers, robotics, drones, dance, fire and magical special effects, the show follows the adventures of a janitor who discovers a glowing orb in his trolley. What was a routine day quickly becomes an adventure of a lifetime as he transcends space and time into what we assume is the multiverse!
Photo credit: Science Centre Singapore
For us, the highlight of the show was the dance choreography and the fire displays. But kids in the audience were really enjoying the comedic narrative and STEM⁺ animatronics too. There's also a chance for the kiddos to go on stage and ride on a space shuttle — super cool! 
This limited-time show is happening from now till 4 June 2023 at the Science Centre and it's perfect for ages 7 and above! So be sure to get tickets for the whole fam as there's no confirmation yet if there'll be a repeat showcase. 
Cost: From S$38/pax 
Show timings: 10:30AM, 2PM & 4:30PM (each show runs for 1hr)
Event period: 26 May – 4 June 2023
Address: The Annexe, 15 Science Centre Rd, Singapore 609081
4) Changi Airport and Jewel June Holidays Event — Hasbro Gaming and Marvel's Avengers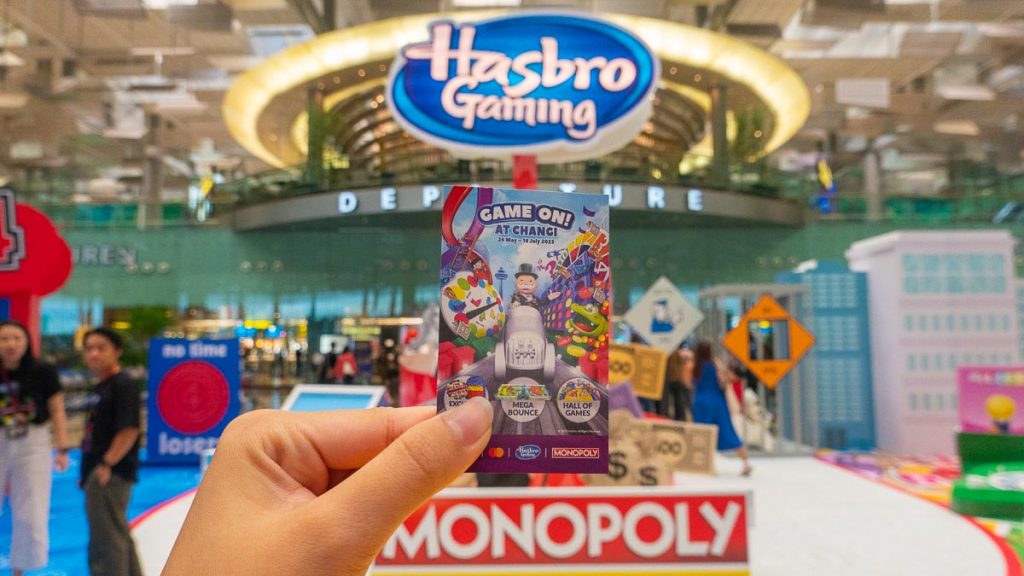 You don't need to book a flight overseas to celebrate the June holidays, because Changi Airport and Jewel are bringing the holidays to you.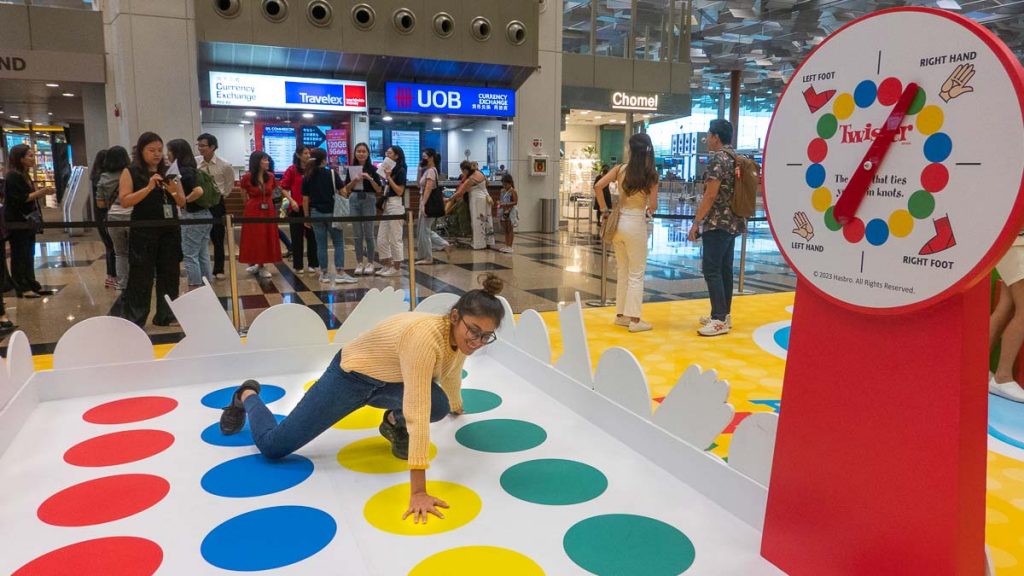 Over at Terminal 3, our childhood dreams came true at the Hasbro Game On pop-up — where we got to play with life-sized displays of iconic games like Connect 4 and The Game of Life! While these are phygital games, there's also the fully physical Twister to test your limits.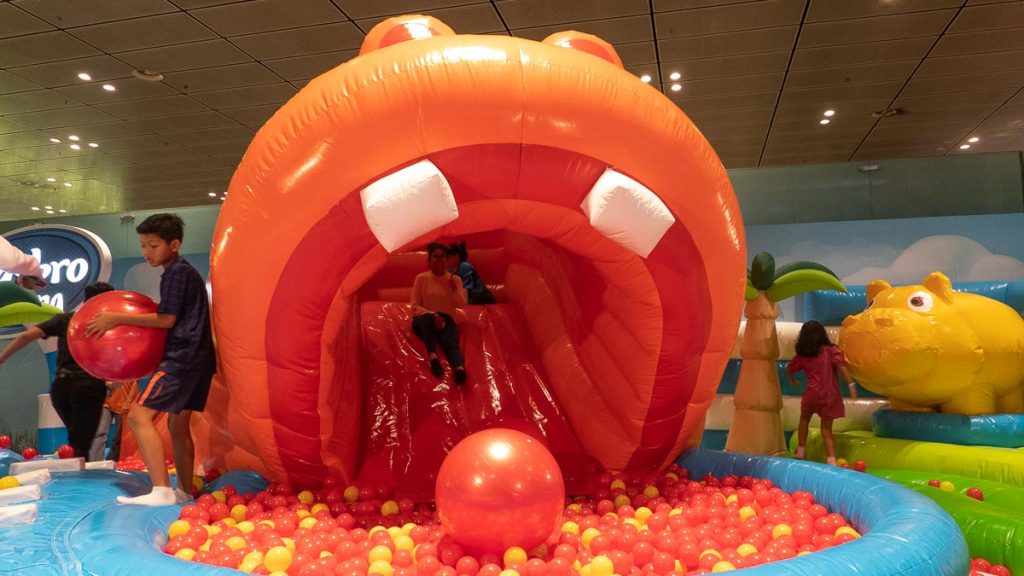 After you're done, drop by Row 11 and bounce around at the Mega Bounce Playground, with slides and ball pits that'll make you feel like a kid again! 
If you're too cool for games, head to the Shiseido Forest Valley instead where the Avengers have assembled. We were greeted with a 5m-tall statue of Iron Man, and huge recreations of Captain America's shield and even Thor's hammer. But let's face it, we're probably not worthy enough to lift Mjolnir :')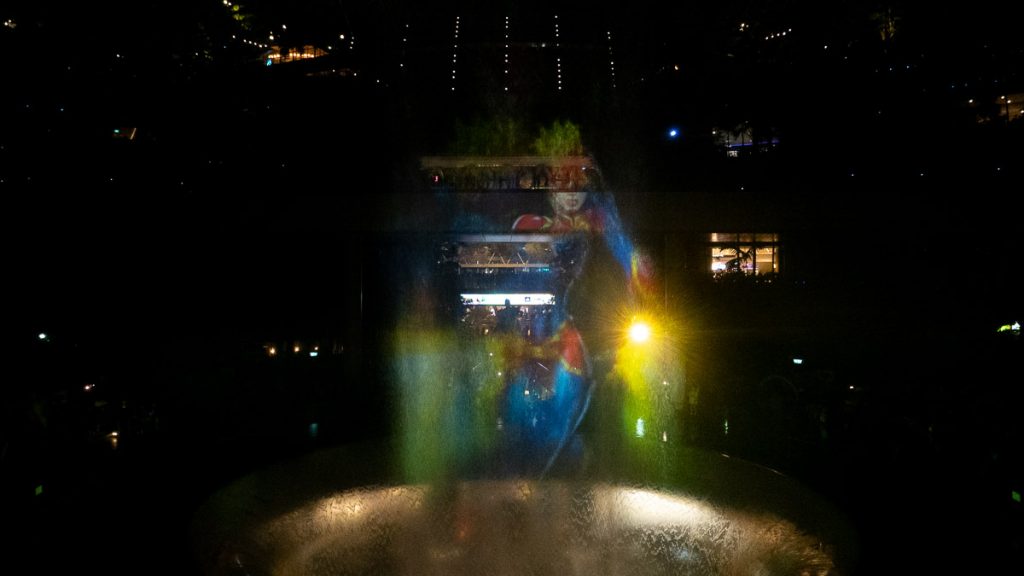 There are other photo-ops here too where we got to sit on Wakanda's throne and show our strength at the Hulk-Out metre. But the main attraction is the HSBC Rain Vortex light show with a Marvel-lous twist, featuring some of our favourite Avengers like Iron Man and Captain Marvel.
And if you're interested in the evolution of this superhero dream team from comic books to films, check out the exhibition at Canopy Park. Needless to say, we geeked out at life-sized displays of Captain America and Thanos' Infinity Gauntlet!
Hasbro Game On
Cost for games: S$5/game via iChangi app (only Twister is free), or redeem 1 free game with min. S$50 (or S$80 for supermarket) spend at participating outlets in Changi Airport
Cost for Megabounce: S$15/game via iChangi app or S$5/game with every S$50 (or S$80 for supermarket) spend at participating outlets in Changi Airport
Opening hours: 5:30PM – 9:30PM (Fri – Sun), 12PM – 10PM (Weekends, PH, June School Holidays)  
Event period: 26 May – 16 July 2023
Address: Changi Airport Terminal 3 Departure Hall, Central Immigration, 65 Airport Boulevard, Singapore 819663
Avengers: Beyond Earth's Mightiest at Jewel
Entrance fee: Free for Shiseido Forest Valley, from S$6/pax for Canopy Park (Singapore Residents)
Opening hours: 10AM – 10PM 
HSBC Rain Vortex light show: 8PM (Mon – Thu), 8PM and 10PM (Fri – Sun)
Event period: 26 May – 13 Aug 2023
Address: Jewel Changi Airport, 78 Airport Boulevard, Singapore 819666
5) Gardens by the Bay — Rose Romance 2023 from 2 June to 16 July
You don't have to fly all the way to Italy to experience Puglia's romantic charm — this year's edition of Rose Romance brings the idyllic southern Italian region to the Flower Dome at Gardens by the Bay!
Bask among the landscape of roses inspired by southern Italy, as well as the UNESCO World Heritage List-recognised trulli (traditional limestone houses with conical roofs).
Presented in collaboration with the Embassy of Italy in Singapore, Rose Romance takes place from 2 June to 16 July with tickets from S$12 for Singapore Residents.
Entrance fee: From S$12
Opening hours: 9AM – 9PM 
Event period: 2 June – 16 July 2023
Address: Flower Dome, 18 Marina Gardens Dr, Singapore 018953 
6) National Gallery Singapore Has Free IG-Worthy Exhibits Like Ceramic "Photos" & Pop Art-Inspired Paintings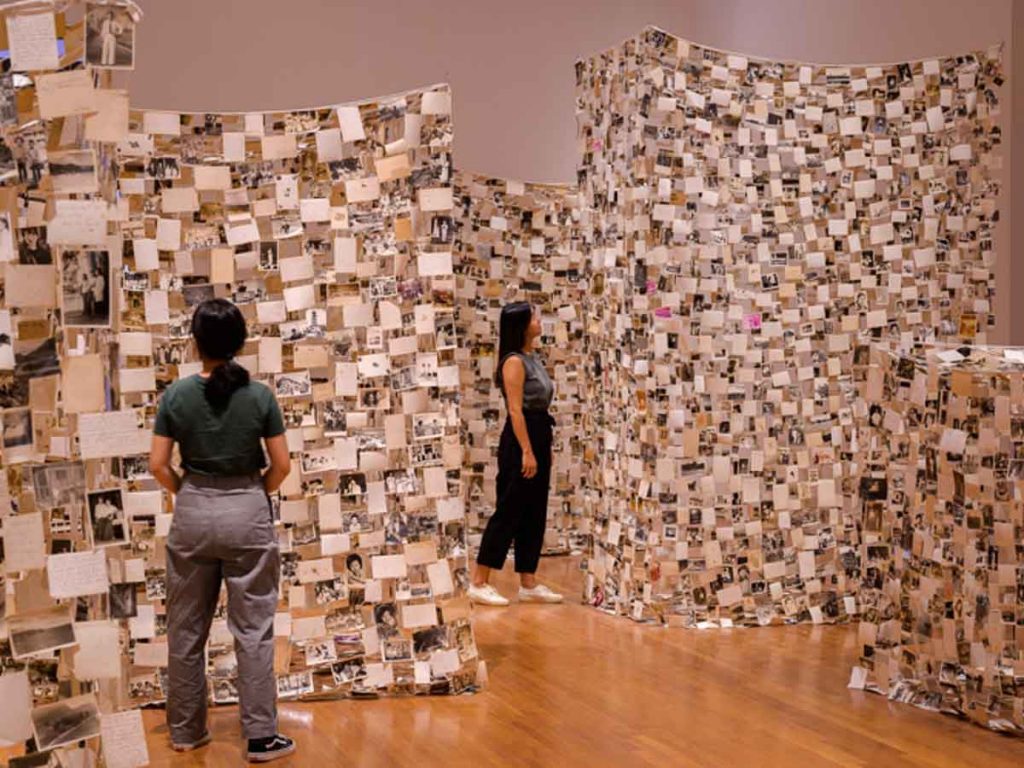 Photo credit: National Gallery Singapore
LIVING PICTURES: PHOTOGRAPHY IN SOUTHEAST ASIA is a journey through five sections about the ever-changing role of photography. It covers its beginnings as a tool of European exploration and documentation, to a medium of expression — including the memes and selfies that saturate social media today.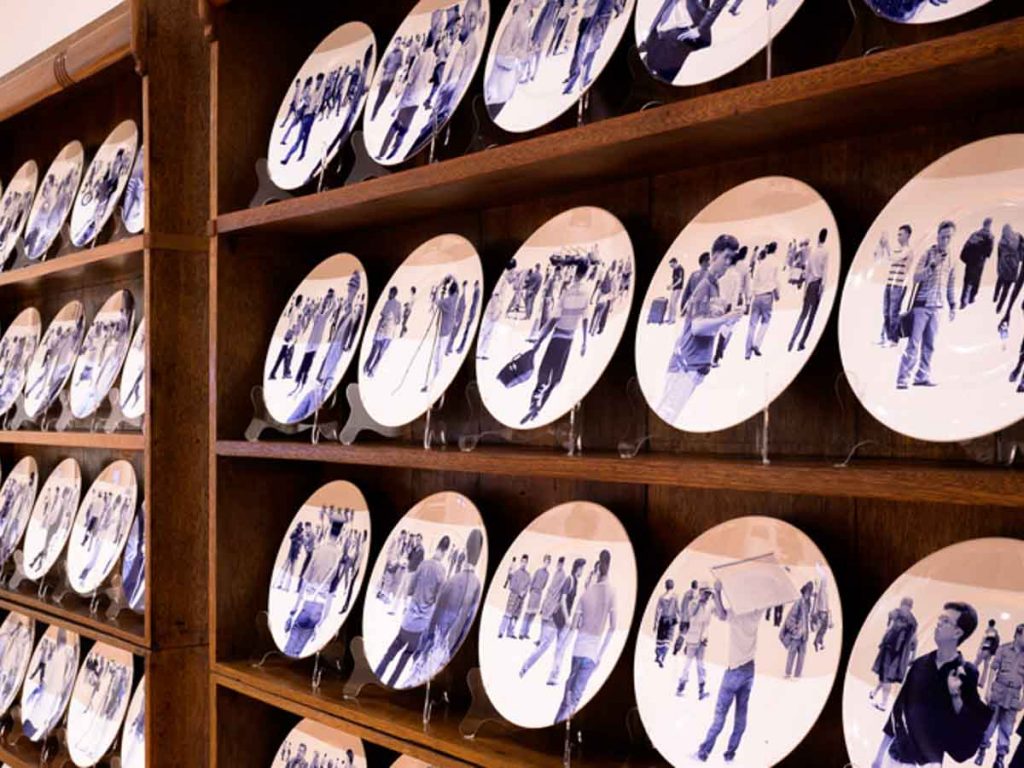 Photo credit: National Gallery Singapore
A highlight from the exhibition is Tabled — a play on the typical blue and white pottery and porcelain. Instead of the traditional floral patterns we're used to seeing, the ceramic plates are printed with photos of urbanites from Malaysia and Indonesia going about their day in blue ink!
For a unique photo op, be surrounded by over 5,000 old photographs in Dinh Q. Lê's Crossing the Farther Shore. The piece features photographs from Southern Vietnamese families and homes during the Vietnam War.
Entrance fee: Free (Singaporeans and PR)
Opening hours: 10AM – 7PM
Event period: Now till 20 August 2023
Address: National Gallery Singapore, City Hall Wing, Level 3, Singtel Special Exhibition Gallery
7) Wellness Festival Singapore from 17 June to 9 July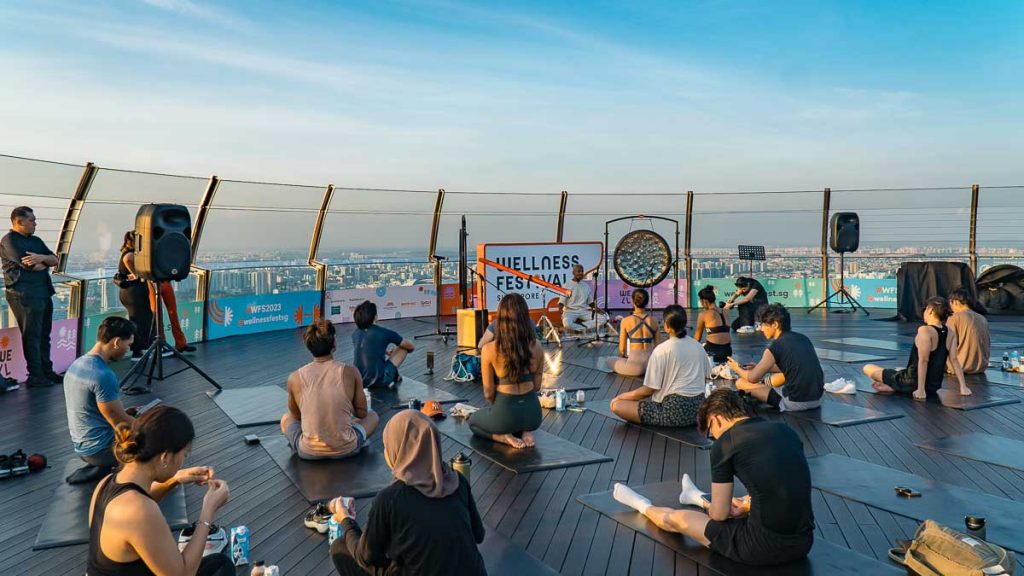 If you love dragging friends to try new activities, this festival is made for you. Wellness Festival Singapore is back with an exciting fitness and wellness lineup that aims to promote holistic well-being in our city in nature!
There's a wide range of fun activities happening all over Singapore, including intense workouts like spin sessions at Jewel and muay thai classes at Marina Bay, to more Zen experiences like animal yoga at Mandai Wildlife Reserve. 
Besides fitness classes, you can try out fragrance workshops, sourdough baking classes and art therapy!
Cost: Varies
Opening hours: Varies
Event period: 17 June – 9 July 2023
8) Explore Human-Ocean Interdependence at S.E.A. Aquarium's Ocean Fest 2023: One Shared Future
Photo credit: Resorts World Sentosa
Calling all ocean lovers! The S.E.A. Aquarium's Ocean Fest is making a grand return with its 4th edition this June, aiming to inspire visitors to protect our planet's oceans.
From 2 June to 13 August 2023, you can join a diverse range of programmes including an immersive art installation, captivating photo exhibition, and educational booths focused on ocean sustainability! 
Plus, parents can enjoy quality time with their young ones during the Junior Ocean Protector programme that runs from 27 May to 25 June. Through a series of engaging and enriching activities, families will have the chance to deepen their understanding of marine biodiversity and conservation efforts.
Entrance fee: S$43/Adult, S$32/Child (included in regular admission to S.E.A. Aquarium)
Opening hours: 9AM – 5PM
Event period: 2 Jun – 13 Aug 2023   
Address: 8 Sentosa Gateway, Sentosa Island, Singapore 098269
9) Plaza Premium Lounge at Singapore's Changi Airport Terminal 1 Departure Lounge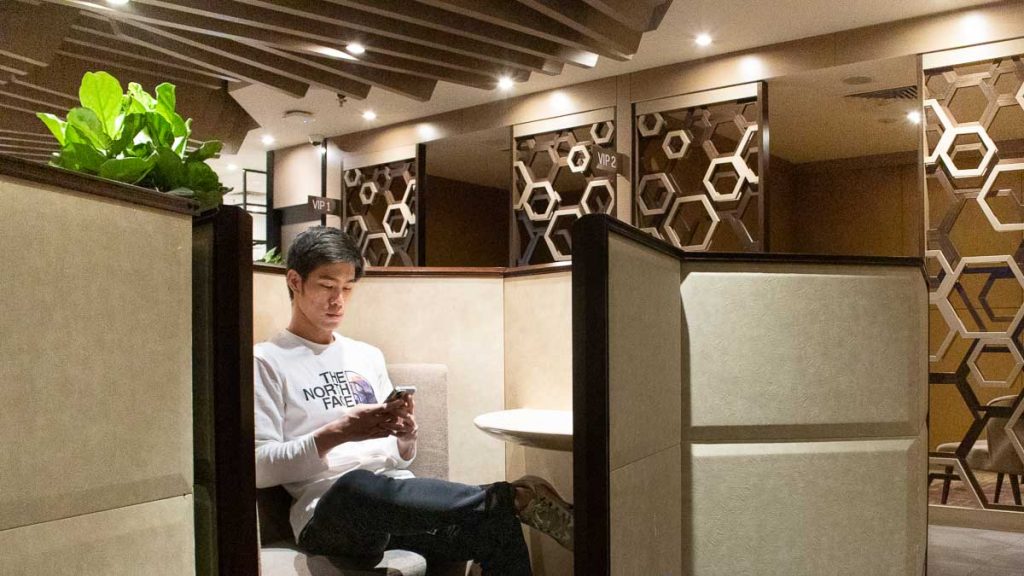 Whether you're looking for a mouth-watering international buffet, high-speed Wi-Fi or handy charging station during your layover at Changi Airport, the pay-per-use Plaza Premium Lounge in Terminal 1 has got you covered. 
While here, we enjoyed chilling at the lounge's private pods, without any distractions. But if that doesn't sound relaxing enough, treat yourself to a rejuvenating shower and spa treatment — though these will come at an additional cost.
There are even private rooms here with massage chairs for those who'd like to get a proper rest before catching their next flight!
Entrance fee: Varies
Opening hours: 24 hours
Address: Level 3, Departure/Transit Lounge West, Terminal 1, Singapore Changi Airport
10) The Singapore Zoo is celebrating its Golden ZOObilee on 27 June
Photo credit: Singapore Zoo
You've probably been to the Singapore Zoo during different phases of your life — early childhood, a primary school excursion or even on a date! And how time flies, because the Singapore Zoo is celebrating its 50th anniversary on 27 May, with activities lined up till August for their Golden Zoobilee!
To kick off the festivities, join the ART-ZOO Happy ZOObilee Party featuring giant inflatable art sculptures and an inflatable art playground.
Photo credit: Singapore Zoo
Also, get up close to the zoo's animal stars in the Animal Encounter sessions or sign up for an art workshop to bond with your loved ones. Special tours will also be rolled out — with the Backstage Pass tour delving deeper into insects within the Fragile Forest.
If you're looking for a good workout, the Mandai Wildlife Run will be back from 23 – 24 September, where you'll get to run alongside your favourite animals at Singapore Zoo, River Wonders and Night Safari! So strap on your comfiest shoes and get ready to walk down memory lane 🦒.
Entrance fee: From S$45/pax 
Opening hours: 8:30AM – 6PM
Event period: 27 May 2023 – 27 Aug 2023
Address: 80 Mandai Lake Road, Singapore 729826
11) Encounter the Upside Down at the Stranger Things immersive pop-up at Bugis+ from 30 June
Photo credit: Mighty Experiences
Get ready for things to turn uʍop ǝpısdn because Stranger Things – The Encounter is finally in Singapore! If you've been keeping up with the Netflix series, this is your chance to join the Hawkin's High Hellfire Club and be transported back to the 80s.
Visit iconic locations like the Palace Arcade, Joyce's House, The Upside Down, and more — you might just run into a handsome stranger that's actually a monster in disguise!
Photo credit: Mighty Experiences
The pop-up will feature six rooms over two floors and visitors will be treated to a trip to Starcourt Mall at the end. Ever wanted to eat the food on screen? Try Scoops Ahoy and Surfer Boy Pizza, while also doing a little retail therapy. 
*Pro-tip: Purchase the VIP Entry (S$109/pax) to skip queues and get exclusive merch!
So prep your Vecna wake up song and head down with your loved ones for an unforgettable journey through the Stranger Things Universe.
Entrance fee: From S$39/pax
Opening hours: 2PM – 10PM (Mon – Thu), 10AM – 10PM (Fri – Sun)
Event period: 30 June 2023 – 1 Oct 2023
Address: Bugis+, Level 2, 201 Victoria St, Singapore 188067
12) Test out SG's 1st Outdoor 5G-enabled Extended Reality Experience
Photo credit: Sentosa Development Corporation
Members of Sentosa Islander are invited to participate in a trial run of the world's first outdoor 5G-enabled Extended Reality (XR) experience at Fort Siloso Skywalk, Sentosa!
The Battle of Fort Siloso: A 5G-enabled XR Experience is a heritage-themed experience that brings guests into a fictional WWII battle through virtual imagery and gamification. The experience is the first of its kind where members of the public can get to try out the combined capabilities of XR technology and 5G on Sentosa. 
This experience is currently still being tested, and members of Sentosa Islander programme can register for the trial experience between 2 to 24 June 2023. 
Entrance fee: Free, (for members of Sentosa Islander programme only)
Event timings: 7PM – 9PM
Event period: 2 – 24 June 2023 (Fri and Sat only)
Address: Level 2, Fort Siloso Skywalk, Siloso Road, Singapore 099981
38) SAFRA Choa Chu Kang Open House — 10 June to 9 July 2023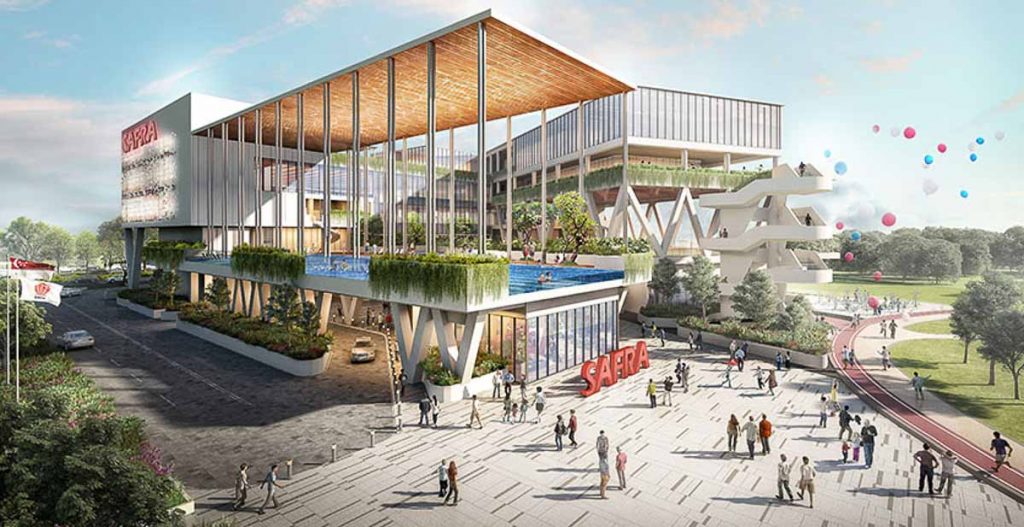 Something is brewing in the North West and we don't mean Kim Kardashian's daughter. The newly opened SAFRA clubhouse in Choa Chu Kang is having a month-long Open House from 10 June with thematic events and deals for NSmen and their families.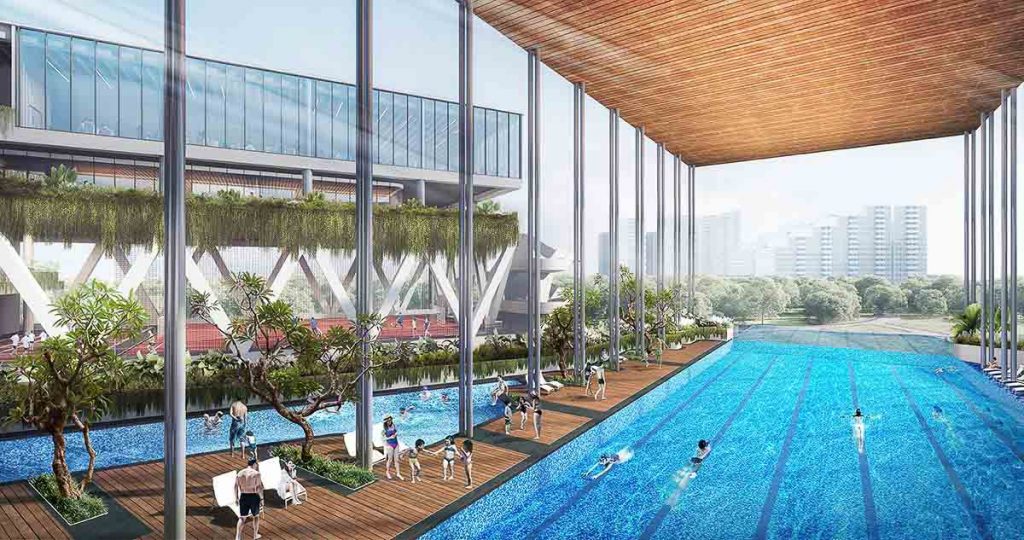 Some activities available at SAFRA CCK include life-size carnival games, FFL Hydro Hurdles, HIIT in the water, Piloxing and even Virtual Reality fitness games.
For more details, head over to SAFRA's website to find out what's offered every weekend from 10 June to 9 July. Certain activities and deals require pre-registration or redemption through m.safra.sg or via the SAFRA app.
Event period: 10 Jun – 9 Jul 2023
Opening hours: Varies
Address: 28 Choa Chu Kang Dr, Singapore 689964
Ongoing Events & Deals in Singapore
13) Singapore's Bird Paradise and Mandai Wildlife West opens on 8 May 2023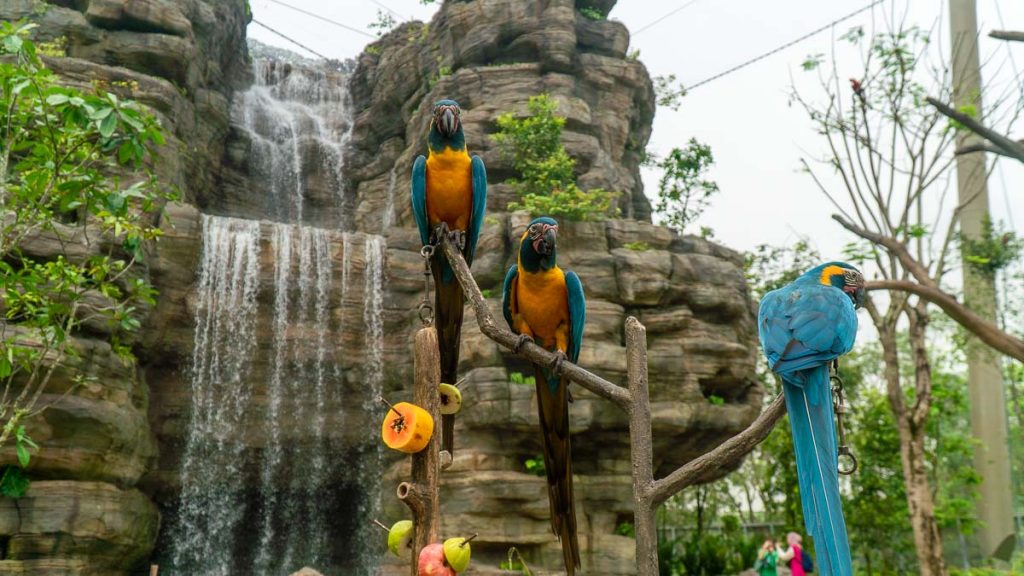 The new Bird Paradise at Mandai will welcome visitors from 8 May this year, and visitors can pre-book tickets from 24 April. Home to 3,500 birds of 400 species, the new park features eight outdoor walkthrough aviaries where the birds fly freely — each inspired by different parts of the world.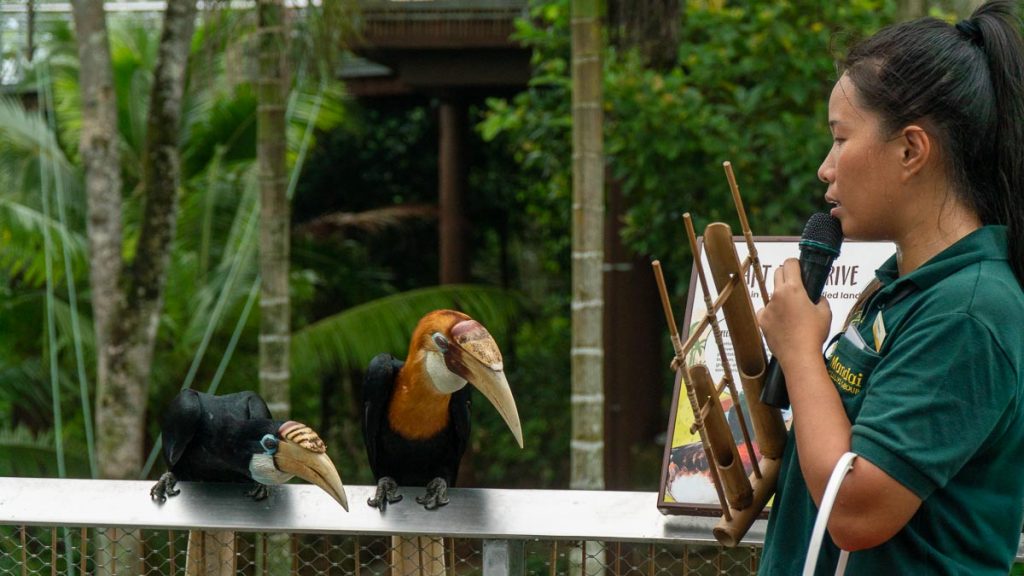 Visitors can also get up close and personal with the birds by signing up for feeding sessions, keeper-led interactions and bird presentations at the Sky Amphitheatre. If you're a bird fanatic, sign up for the exclusive 'backstage passes' that will take you behind the scenes to learn how the park's feathered residents are being cared for.
From casual eateries to themed dining, refuel at one of the many F&B options. For those looking for a unique dining experience, Crimson Restaurant and the Penguin Cove Restaurant offer specially curated fine dining menus, while serving views of avian wildlife and their respective habitats.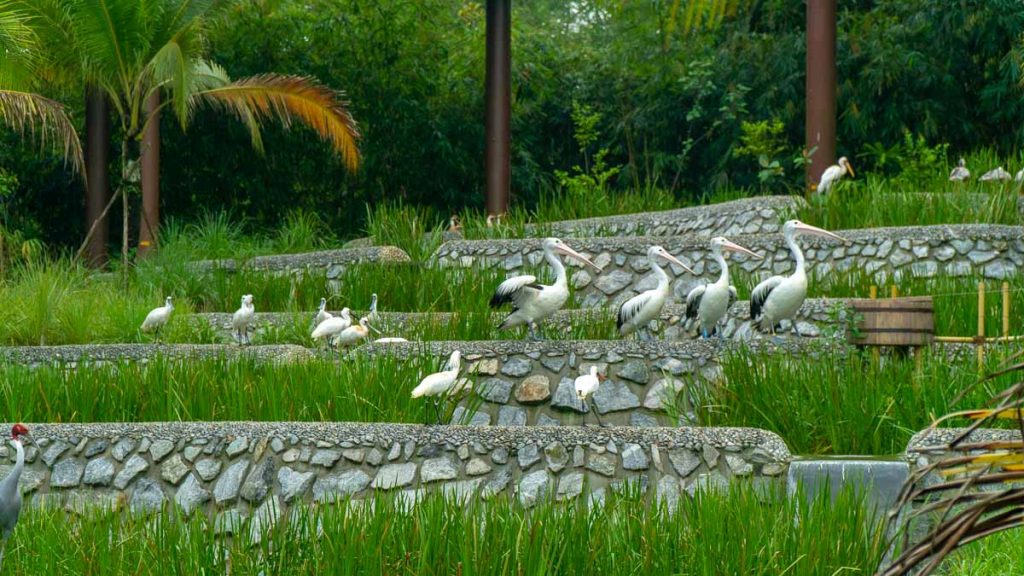 Enjoy a special-priced entrance fee ($38/adult instead of $48/adult) to Bird Paradise when you pre-book your tickets from 24 April 2023. To get even more savings, join the Friends of Wildlife membership (from S$195) that provides year-round access to all four of Singapore's wildlife parks — Bird Paradise, Singapore Zoo, Night Safari, and River Wonders.
Entrance fee: S$38/adult, S$23/child between 8 May – 26 May 2023. Pre-booking starts on 24 April 
Opening hours: 9AM – 6PM 
Address: 20 Mandai Lake Road, Singapore 729825
14) Singapore Cable Car's new Pokémon Experience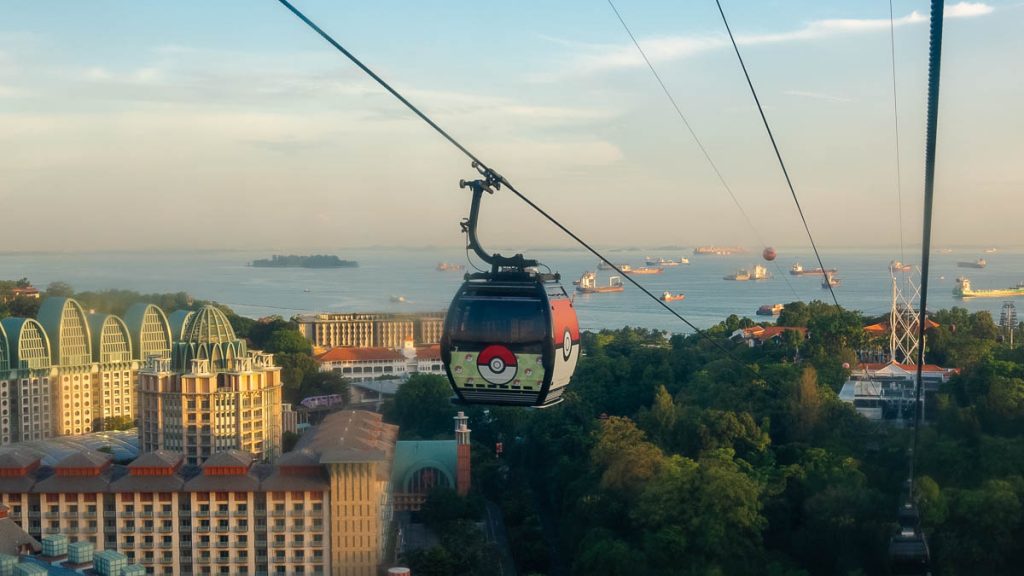 Calling all Poké fans! Singapore Cable Car has been taken over by your favourite Pokémons in celebration of its 50th anniversary. Each cabin has been transformed into a mystery Poké Ball, with a surprise character awaiting on the inside.
There are five different cabins featuring iconic characters like Pikachu and Eevee, and newer ones like Sprigatito, Fuecoco and Quaxley!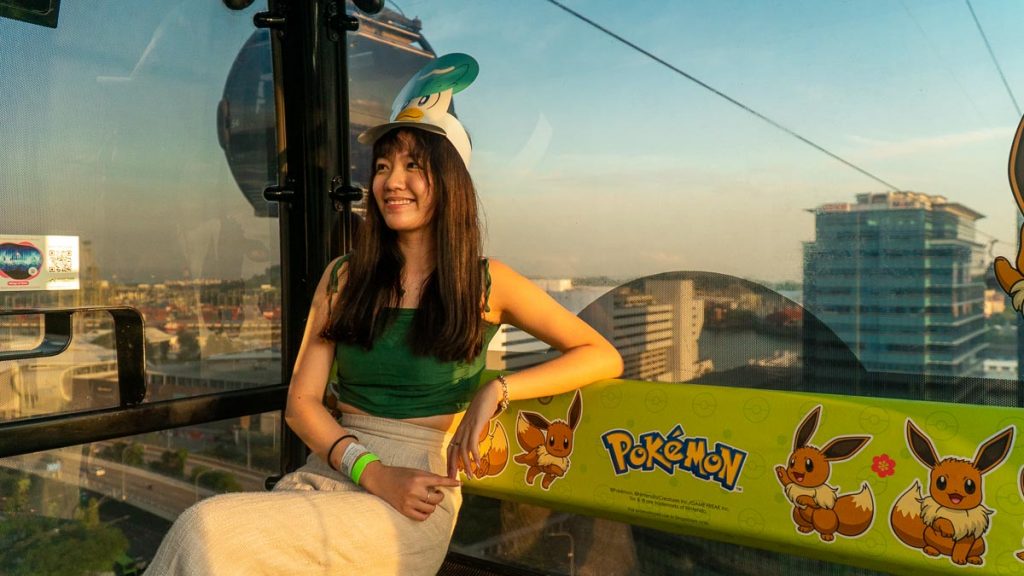 Want to catch 'em all? You can top up S$10 for one day of unlimited rides! Stand to receive a free Pokémon sun visor, while stocks last when purchasing tickets over the counter.
We recommend coming at sunset to catch the gorgeous golden hour glowing over Sentosa Island — the perfect backdrop for making memories with your loved ones. 
Cost: From S$35/pax (book online for 20% off Mount Faber Line – Round trip)
Event period: 1 May – 30 Sep 2023 
Cable car operating hours: 8:45AM – 10PM
Address: 109 Mount Faber Rd, Mount Faber Peak, Singapore 099203
15) Singapore Art Museum Launches New Public Art Trails in Tanjong Pagar and the Rail Corridor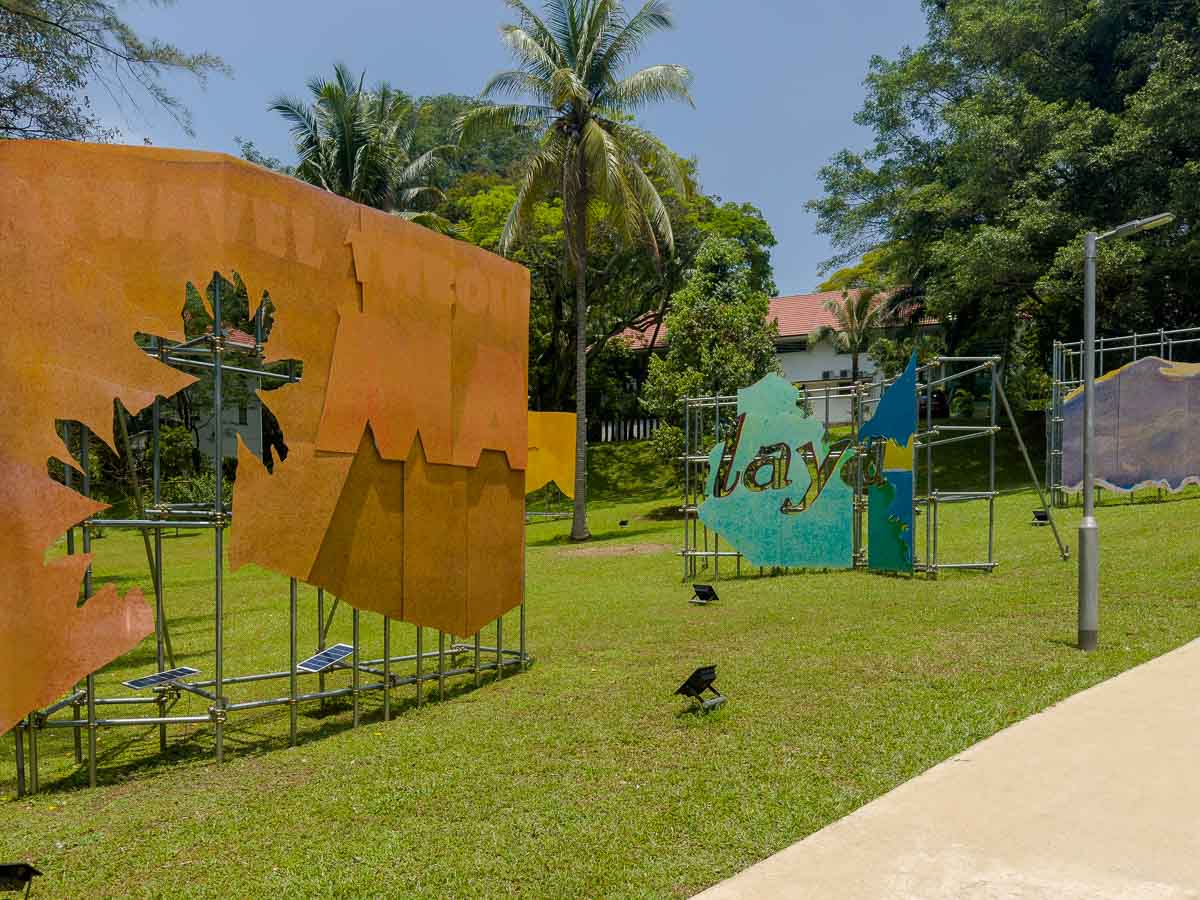 Singapore Art Museum (SAM) has launched two new public art trails Port/raits of Tanjong Pagar: Encounters with Art in the Neighbourhood and Singapore Deviation: Wander with Art through the Rail Corridor. As part of its long-term public art initiative, The Everyday Museum, the trails will feature works by local artists Aki Hassan, Space Objekt, Hilmi Johandi and more.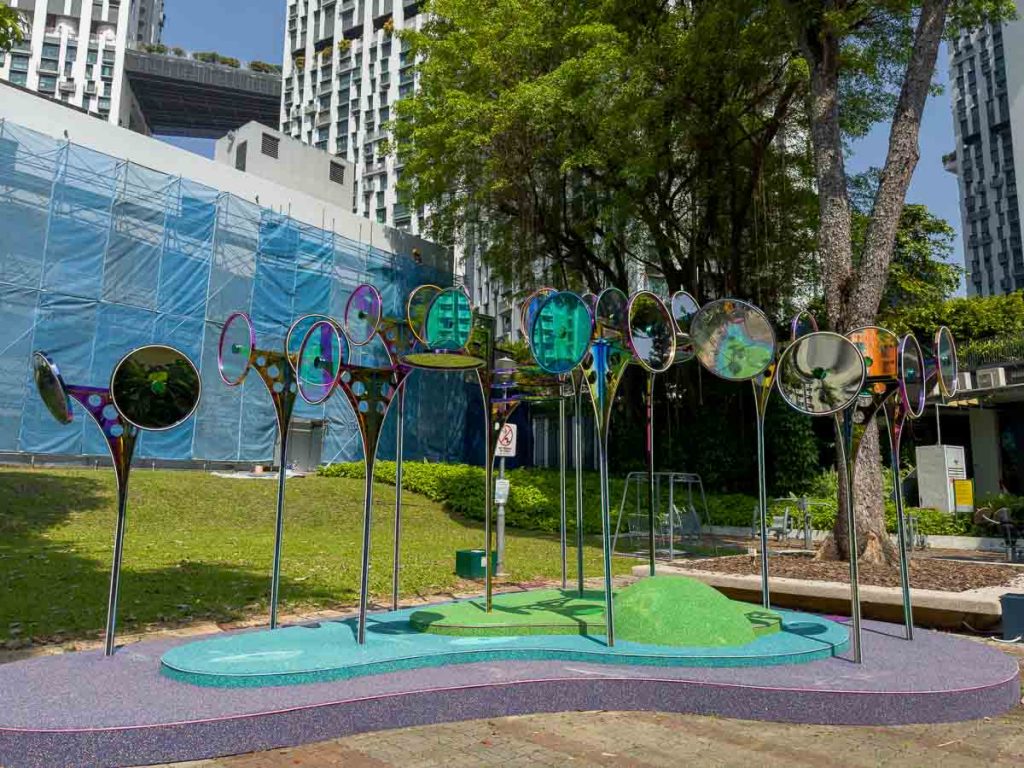 The trails will feature public art installations in the Tanjong Pagar area and Rail Corridor respectively, engaging with familiar spaces and transforming them anew. What better way to clock in your daily steps than by going on a mini-hike and encountering art like a ✨mysterious local​​✨? 
While we recommend going on the full trail, you can also check out the individual artworks located at Duxton Plain Park, Everton Park, Tanjong Pagar Plaza, Tanjong Pagar Distripark, Kampung Bahru Bus Terminal, and Wessex Estate.
Port/raits of Tanjong Pagar: Encounters with Art in the Neighbourhood
Event period: 29 April 2023 – 9 March 2025
Starting point: Tanjong Pagar Distripark Facade, 39 Keppel Rd, Singapore 089065
Singapore Deviation: Wander with Art through the Rail Corridor
Event period: 29 April 2023 – 9 March 2025
Starting point: Kampung Bahru Bus Terminal, 11A Spooner Rd, Singapore 168795
16) The Karting Arena — Bundle Promo for Go-Kart & Laser Tag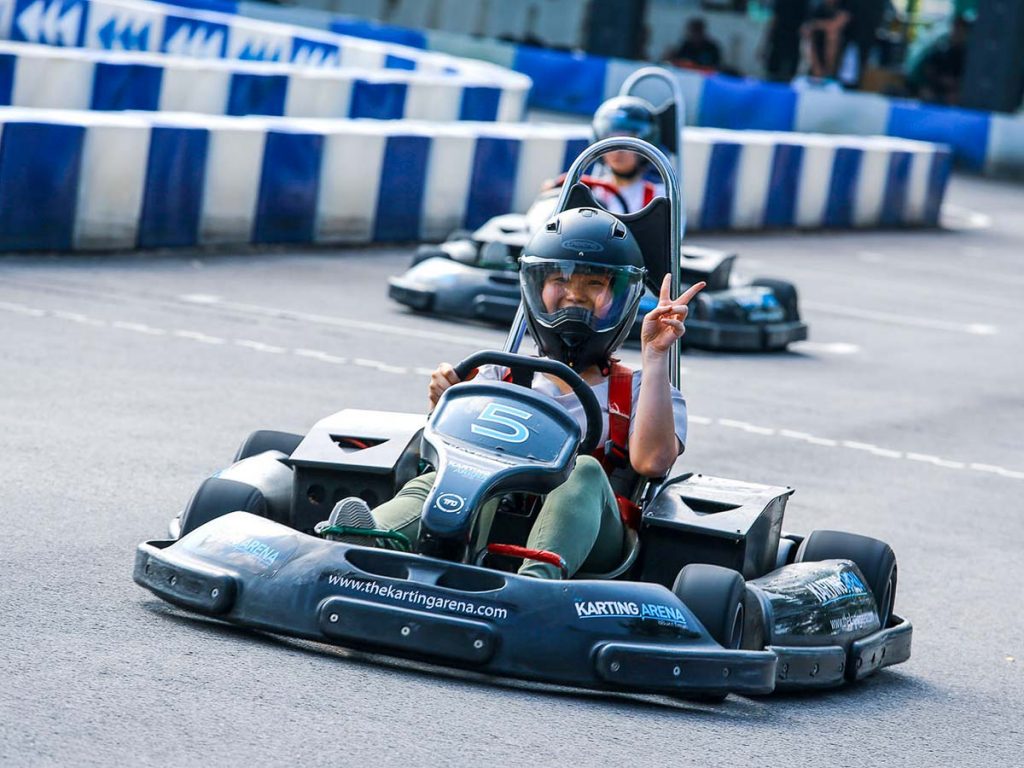 Photo credit: The Karting Arena
Put down your Mario Kart console and head to The Karting Arena @ Jurong to challenge your friends to an offline match. Zoom up to 50km/h and navigate your way around the twists and turns on the track (Disclaimer: you'll need a driver's license for the faster kart).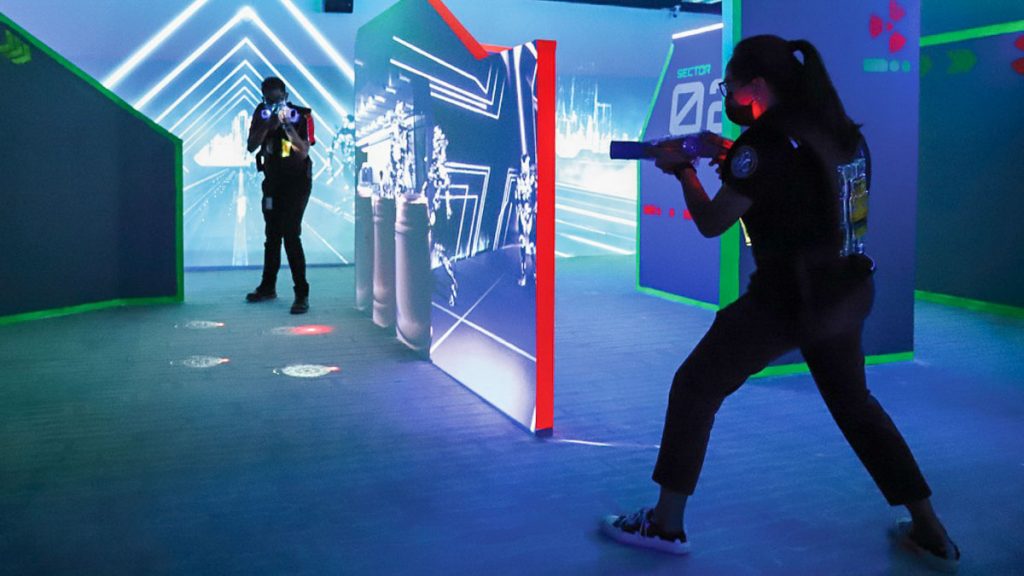 Photo credit: Singapore Discovery Centre
But the adrenaline doesn't stop there. Head over to Black Lake Laser Battlefield at the Singapore Discovery Centre for round two — laser tag. Be transported into a literal video game as you encounter aliens, zombies, or other creatures while trying to take the opposing team down. 
This is your sign to assemble the squad as The Karting Arena @ Jurong released a special bundle package of both racing tickets and laser tag tickets for four. You can purchase the package by emailing contact-j@thekartingarena.com with the participant's details.
Cost: S$360/bundle for 4 pax (U.P. S$600). Additional parties (S$90/pax)
Opening hours: 1PM – 9PM (Tues – Fri), 9AM – 9PM (Sat – Sun), Closed on Mon
Event period: Until 30 June 2023
Address: 511 Upper Jurong Rd, Block B, Singapore 638366
17) Naruto 20th Anniversary Exhibition in SG from 29 May to 2 July 2023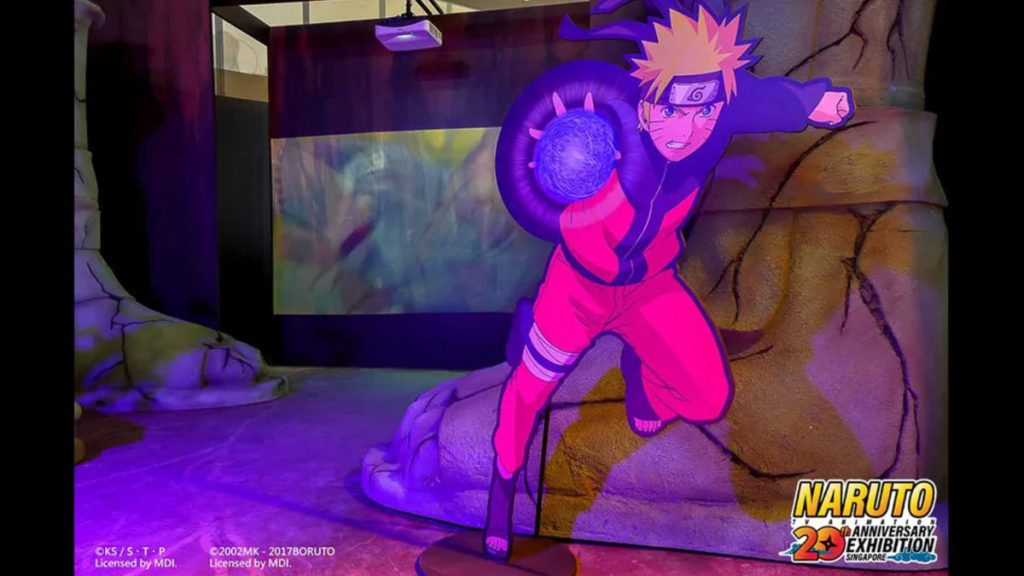 Photo credit: NARUTO TV Animation 20th Anniversary Exhibition Taipei via Trip.com
Shinobi run, don't walk because everyone's beloved yellow-haired ninja is coming into town! It's been 20 years since Naruto became a Japanese cultural icon — believe it or not dattebayo.
So to celebrate its 20th anniversary, there will be a special Naruto exhibition right here in Singapore. Fans can look forward to recreating iconic scenes in the anime at eight various sets, including Naruto and Sasuke's battle in The Final Valley. Plus, some sets even offer interactive experiences where you can perform jutsus — with effects like flashing lights and sounds.
After you're done being ninja for a day, drop by the pop-up store to get limited edition merchandise like stationery, home goods, and exclusive souvenir shirts!
Entrance fee: S$22 (Weekdays), S$25 (Weekends)
Opening hours: 10AM – 8PM (last entry at 7PM)
Event period: 29 May – 2 July 2023
Address: 6 Raffles Boulevard, #03-208/209 Marina Square, Singapore 039594
18) Rink @ Punggol East — SG's Largest Indoor Roller Sports Rink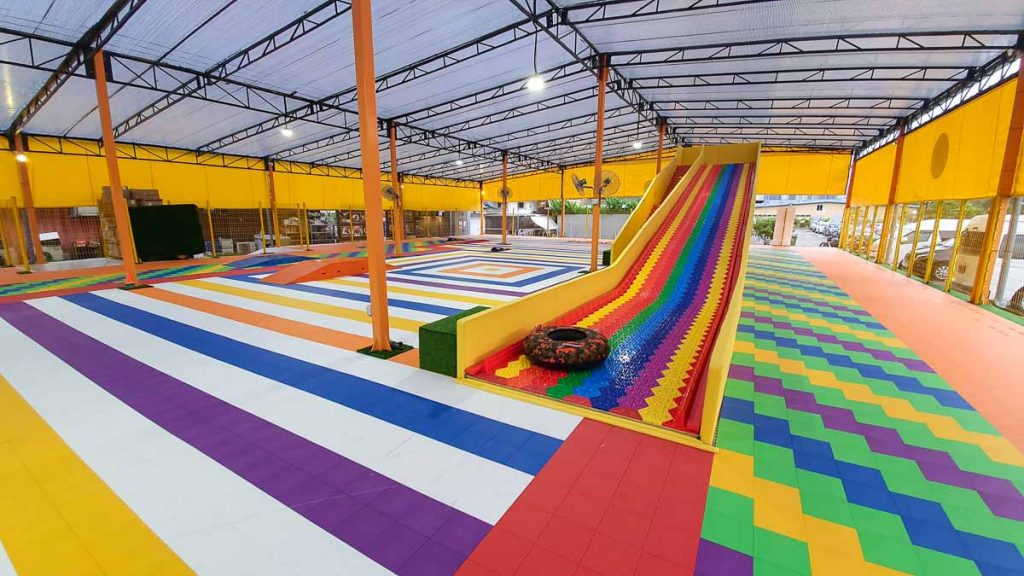 Photo credit: Rink at Punggol East via Facebook
Rollerblade to your heart's content at Rink @ Punggol East — Singapore's largest indoor roller sports rink spanning more than 12,000 sqft. Other than rollerblading, you can also skateboard, longboard and even ride a scooter or a pedal go-kart here! 
Go free and easy, and take it slow at your own pace or learn from a professional by signing up for in-line skating lessons. The Rink is also connected to the Punggol Promenade Riverside Walk, where you can bring out the rental equipment for a ride to Coney Island and Punggol Waterway Park 😉 
Currently, there's a limited promotion with tickets priced at S$16 (instead of S$21), inclusive of equipment rental. No end date has been stated yet, so do check their website for any updates!
Cost: S$16 (limited promo) for 2-hour pass, S$21 (usual price)
Opening hours: 10AM – 8PM (Fri – Sun), Closed from Mon – Thu
Address: 50 Punggol E, Container Park, Singapore 828826
19) Love the Last March — Witness the World's Longest Sculpture to Save Wildlife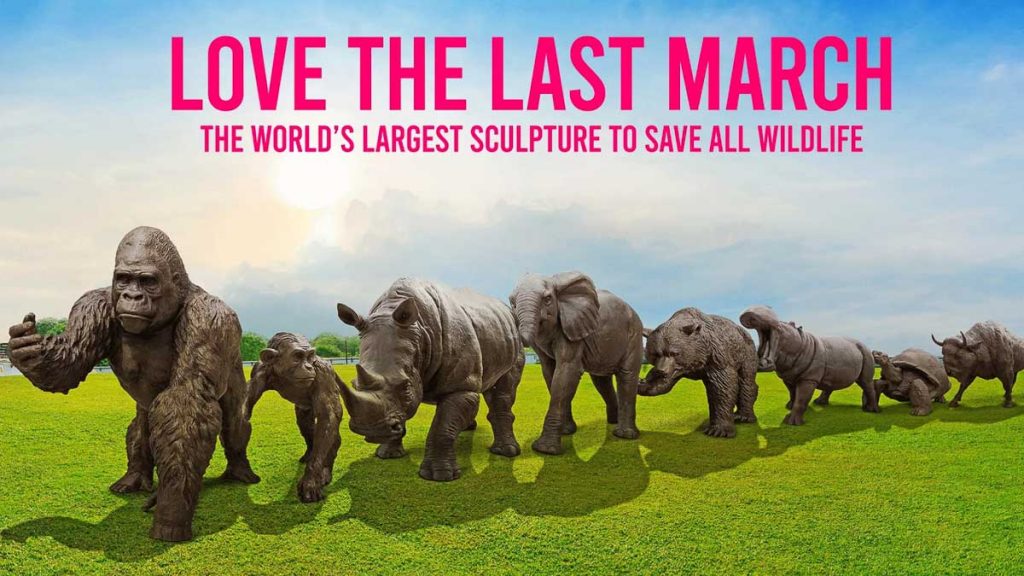 Photo credit: Love the Last
Did you know that every third Friday in May is known as National Endangered Species Day?
This year it falls on 19 May and to celebrate it, Singapore will be hosting the longest sculpture in the world at 192m long! Love the Last March will be displayed at Gardens by the Bay and is meant to highlight the issue of wildlife extinction, as well as how we can play our part to help. 
Designed by international artists Gillie and Marc, the sculpture features 45 endangered species around the world like gorillas and elephants. Plus, it's interactive too — visitors can scan QR codes on the animals to learn more about their diets, behaviours and why they're at risk.
You can also use an app to scan a QR code to unlock an augmented reality feature, with 3D animals looking as though they are actually marching together for their lives.
Entrance fee: Free
Opening hours: 24hrs   
Event period: 19 May 2023 – 18 May 2024
Address: Gardens by the Bay, 18 Marina Gardens Dr, Singapore 018953
20) Changi Airport's Retired Analogue Flip Board on Display at National Museum from 27 May 2023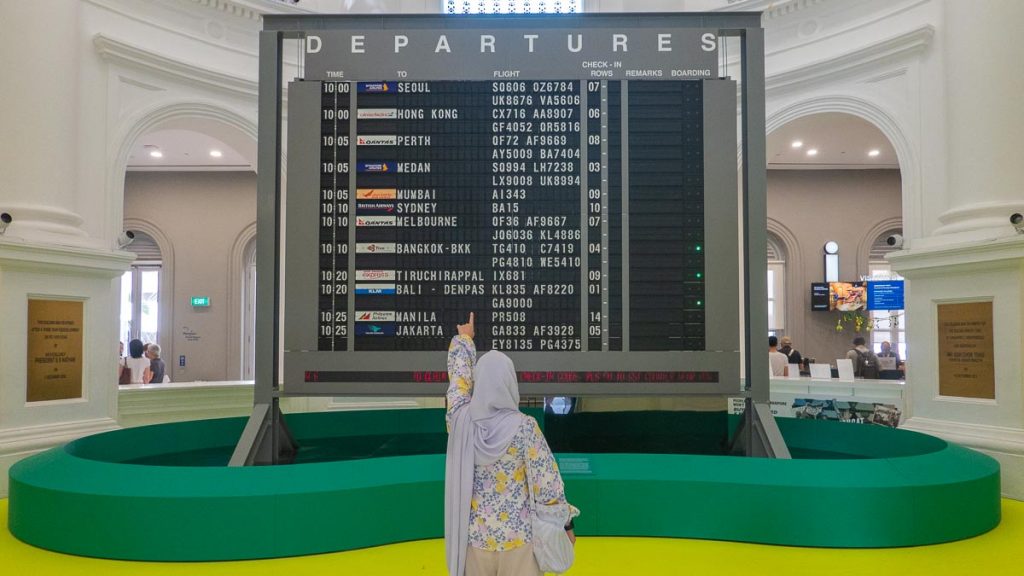 Calling for all passengers — we are Now Boarding: Experiencing Singapore through Travel, 1800 – 2000s! Held at the National Museum of Singapore from 27 May to 19 November, this travel-themed exhibition showcases Singapore as a travel destination throughout the years.
Get ready for a wave of nostalgia as you'll be greeted by Changi Airport's now-retired analogue flip board at the entrance, with the signature clacking sound to boot! Once you head in, there are four different sections to explore: Getting Around, Place to Stay, Sights and Shopping, and Eating Out.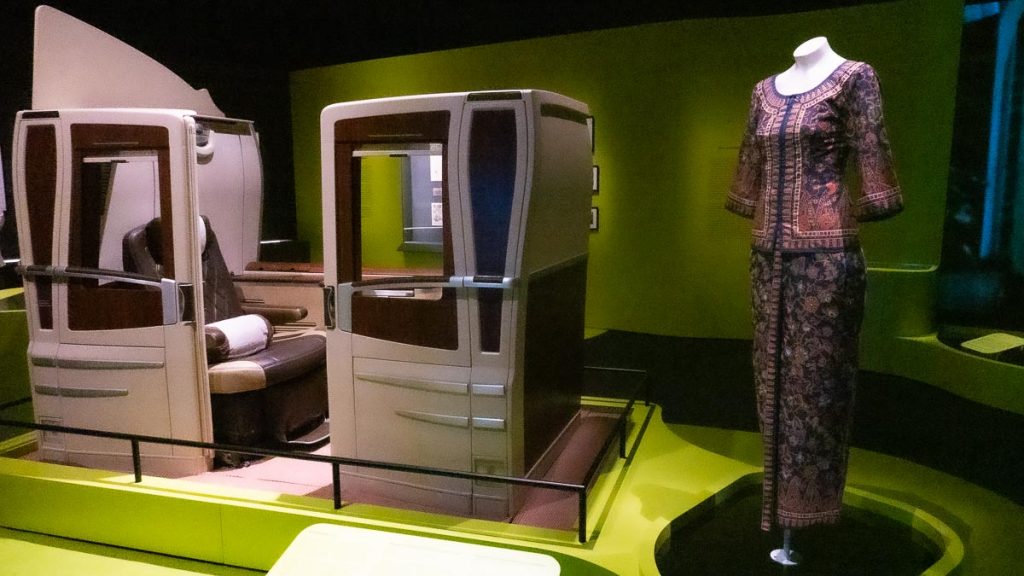 Some of the really cool highlights we saw were the actual Singapore Airlines A380 Suites cabin seat from 2007 (with sliding doors and window blinds for privacy), an impressive collection of old MRT card designs (ahem Taiwanese boy band Little Tigers fans?), and old menus of iconic restaurants like A&W and Swensens.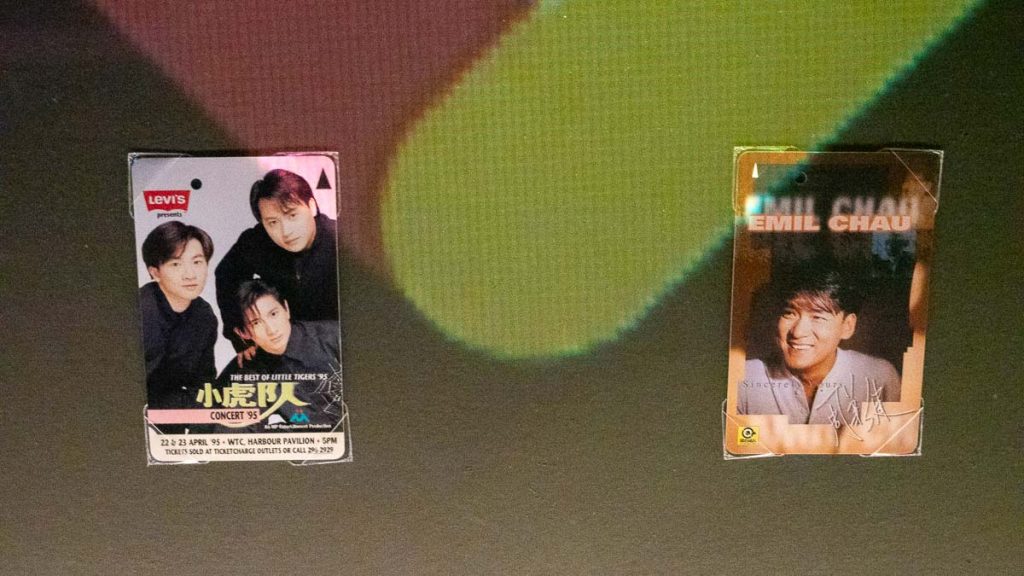 Remember when Zouk bade farewell to Jiak Kim Street in 2016? Yup, they have the signature sign here too. Those a little older may also remember the Neptune Theatre Restaurant from the 1970s to 2006 — it's now on display and lit up with its original neon!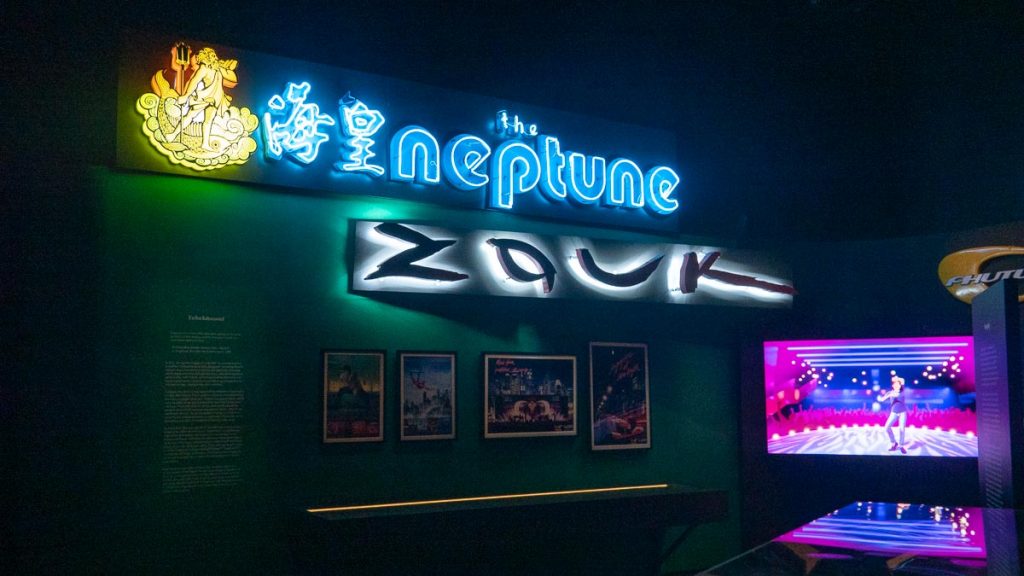 After reminiscing about old-school Singapore, we got our dance pants on at the pop-up disco room right outside the exhibition room. Scan a QR code to create your own National Heritage ID and choose from three different tracks to get boogey with.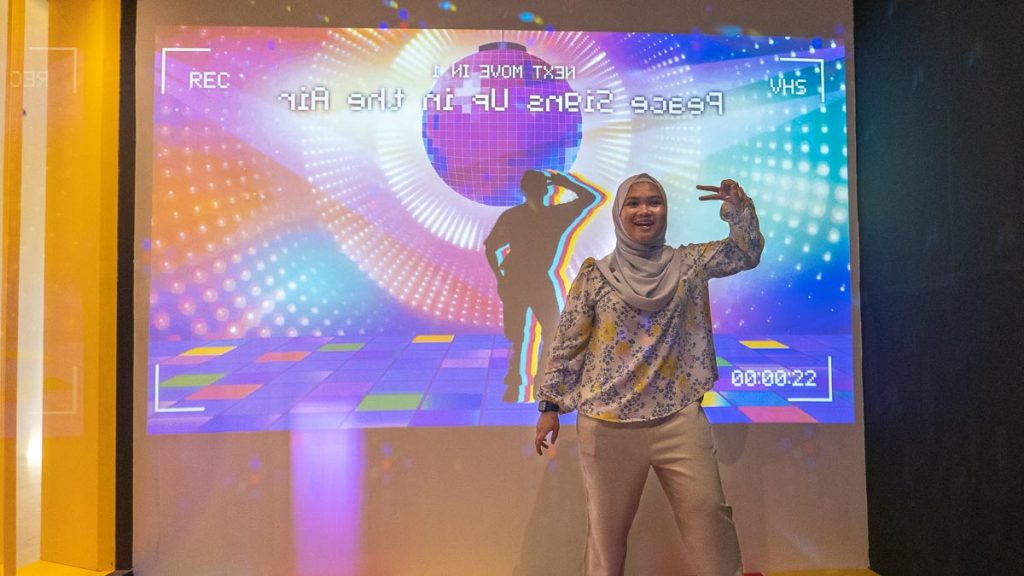 Since there was no one in the queue, we went for all three rounds 😛 You can even download the dancing video via the QR code too! Come August, look out for two more pop-up rooms and a special theatrical tour!
Entrance fee: S$15/pax (Free for SC and PR)
Opening hours: 10AM – 7PM   
Event period: 27 May – 19 Nov 2023
Address: National Museum of Singapore, Exhibition Gallery, 93 Stamford Rd, Singapore 178897
21) Sensory Odyssey — A New Immersive Exhibition at ArtScience Museum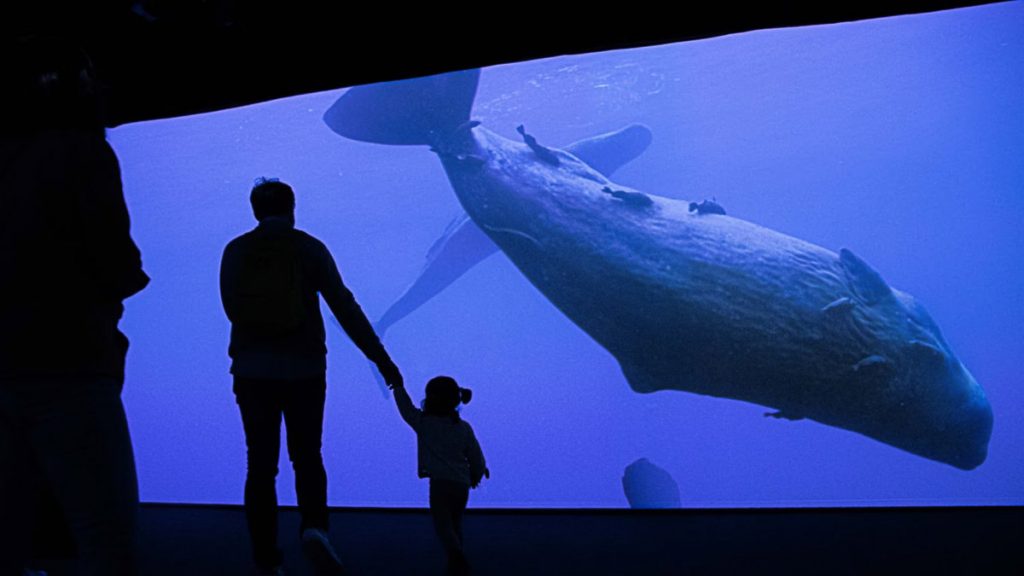 Photo credit: Marina Bay Sands
Sensory Odyssey is a new immersive exhibition that focuses on nature. Created by Sensory Odyssey Studio in collaboration with the French National Museum of Natural History in Paris, it's making Singapore its first stop on a global tour!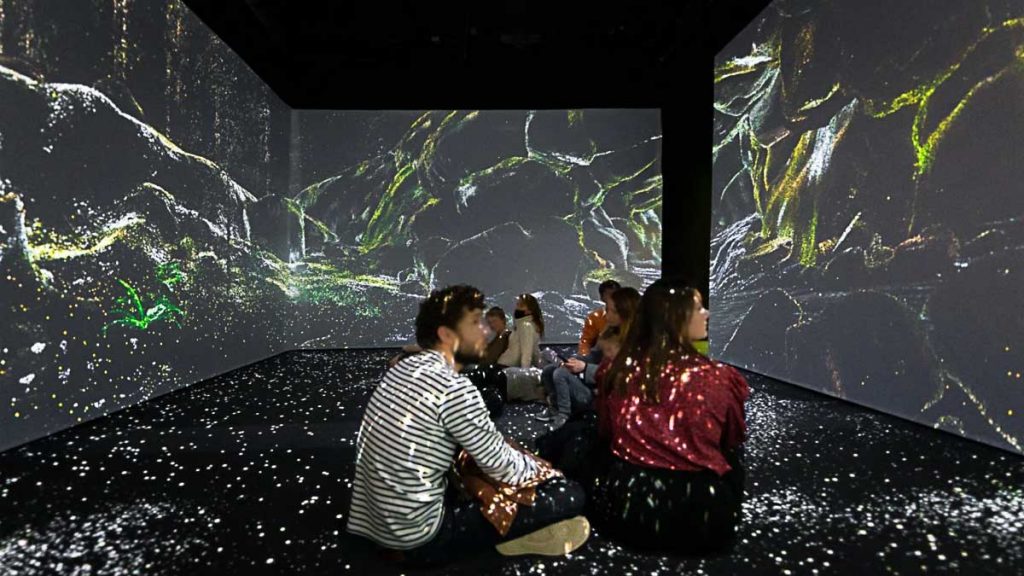 Photo credit: Marina Bay Sands
The exhibit aims to bring visitors into seven different naturescapes through more than just the usual visual elements. Visitors will be able to see, hear, smell, and feel nature via large screens projecting ultra high-definition 8K videos, together with the use of scents and sound effects. 
Exhibition-goers will also be able to "encounter" a variety of virtual plants, animals, bacteria, and mushroom species through this immersive expedition. 
Entrance fee: Tickets to go on sale soon
Opening hours: 10AM – 7PM
Event period: 27 May – 29 Oct 2023
Address: ArtScience Museum, 6 Bayfront Avenue, Singapore 018974
22) Singapore International Festival of Arts Returns on 19 May 2023
Performance "We Will Slam You with Our Wings", an installation of SIFA 2023. Photo credit: sifa.sg
Singapore International Festival of Arts (SIFA) is returning this year, titled "The Anatomy of Performance – Some People". 
Happening from 19 May to 4 June, SIFA 2023 explores the spectrum of the human experience — we live in the same world but don't experience the world in the same way. SIFA 2023 will feature local and international artists on physical and digital platforms, through music, theatre performances, film, and mixed-media installations. 
Refer to SIFA 2023's site for more information on the programmes available. 
Event period: 19 May – 4 June 2023 
Locations: Various
23) ORTO Yishun Moves to West Coast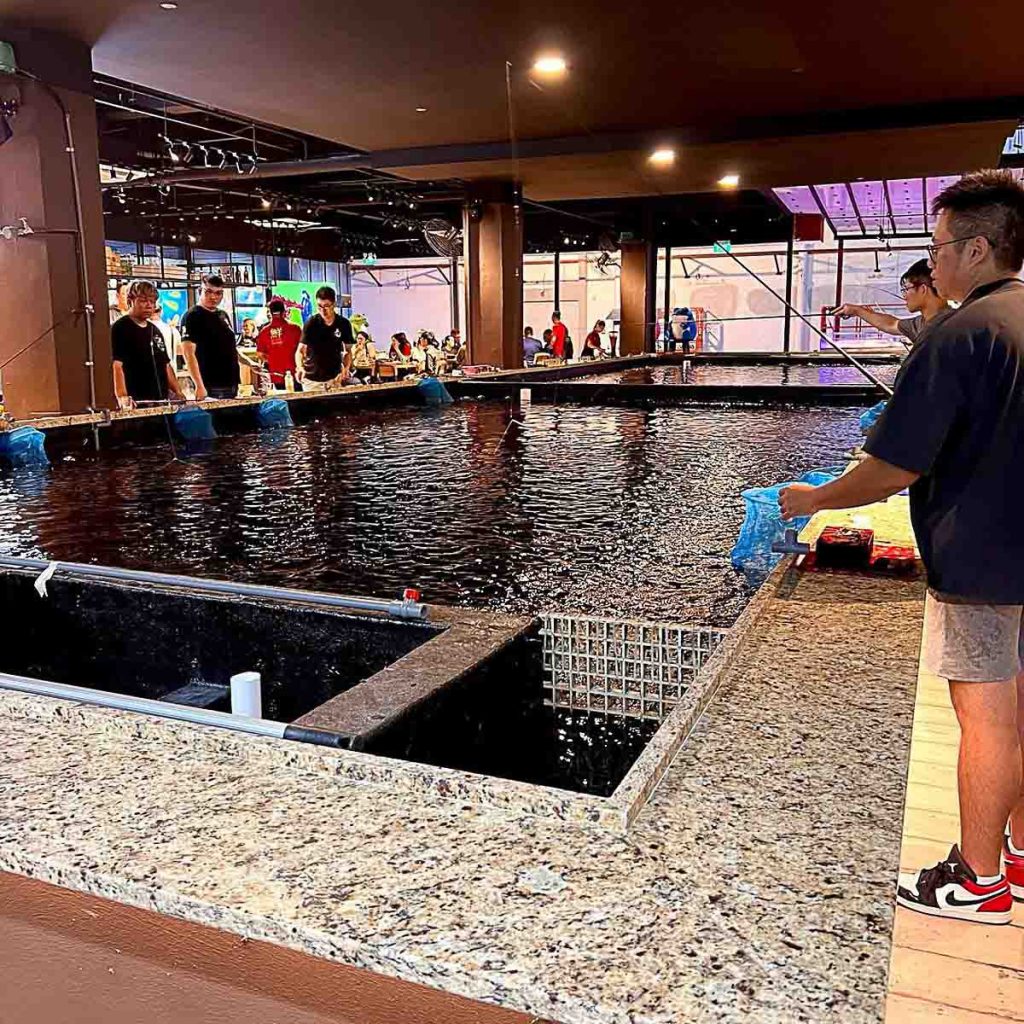 Photo credit: @prawningatorto via Instagram
ORTO Leisure Park in Yishun may be closing down in June this year, but don't fret as some of ORTO's original tenants will be moving to the West Coast of Singapore. 
Located just opposite Haw Par Villa, the new ORTO West Coast is currently operational, and the original tenant Prawning at ORTO has already resumed business in the new premise, together with other F&B outlets. So, visitors can still enjoy a leisurely day of prawning and eating with their homies!
Eateries that are currently in operation include 88 SGMY Seafood Restaurant, RedDot BrewHouse, Mo's Grill & Bar, Coastal Acoustic, Kinn Derm and Volta Bistro. Plus, visitors can also look forward to The Mermaid Bar & Restaurant and a fencing facility in the future. 
Opening hours: 24 hours   
Address: 27 West Coast Highway, Singapore 117867
24) Learn more about Early Chinese Mutual Aid Organisations at Sun Yat Sen Nanyang Memorial Hall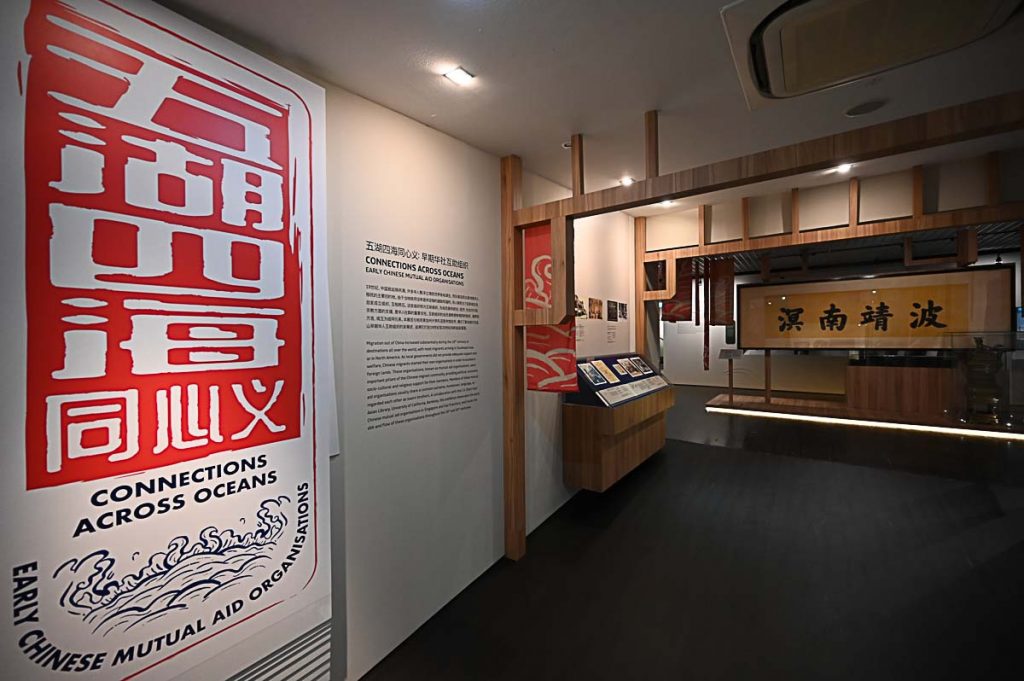 Most Singaporean Chinese are descendants of immigrants from southern China during the 19th and 20th centuries. The migration was not unique to only Singapore. Many people left China then and went to different places around the world, mostly to Southeast Asia and North America. And that's when mutual aid organisations, or "clan associations", came into existence — for the Chinese to help and support each other when the local governments could not.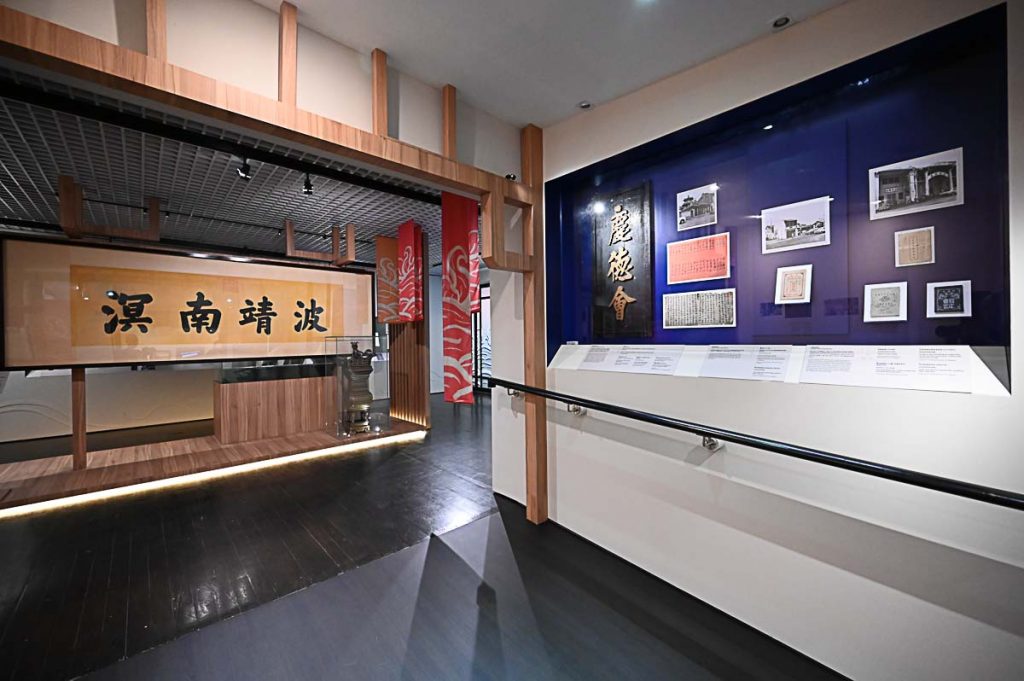 From now till 10 December, Sun Yat Sen Nanyang Memorial Hall (SYSNMH) is presenting the exhibition titled Connections Across Oceans: Early Chinese Mutual Aid Organisations, showcasing the amplitude of Chinese clan associations and welfare organisations throughout the 19th and 20th centuries.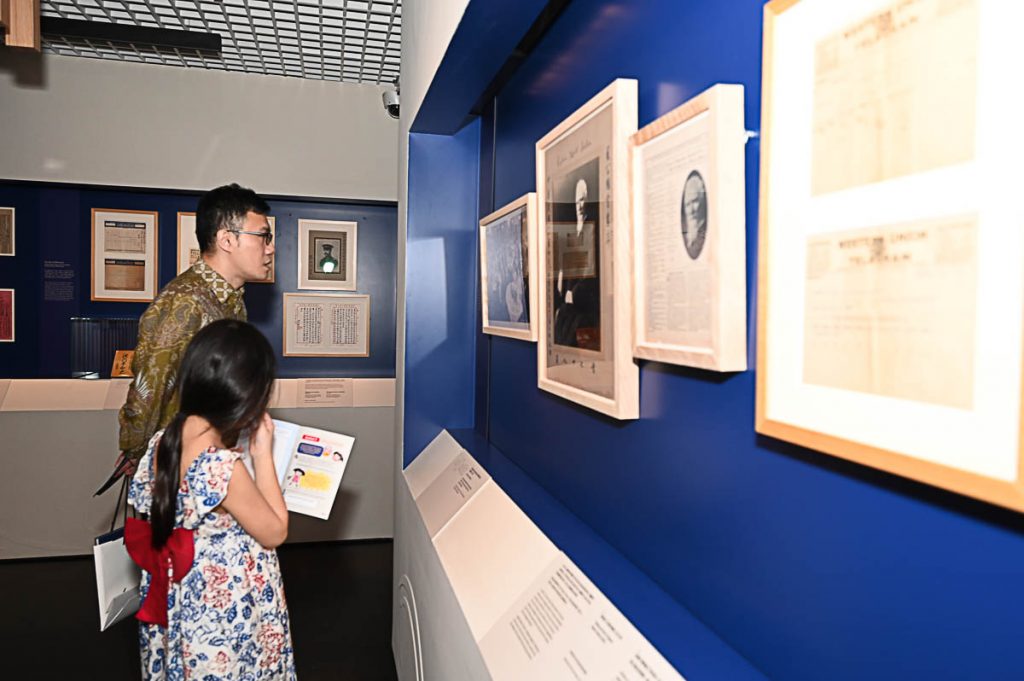 Besides showing the extent of the reach of the associations in Singapore, the exhibition also sheds light on early Chinese mutual aid organisations in San Francisco, which was another sought-after destination among Chinese migrants in those periods.
Entrance fee: S$8/pax (Free for SC and PR)
Opening hours: 10AM – 5PM, closed on Mon
Event period: Until 10 Dec 2023
Address: 12 Tai Gin Road, Singapore 327874
25) Open Systems – Virtual Exhibition Exploring the Relationship between the Real and Virtual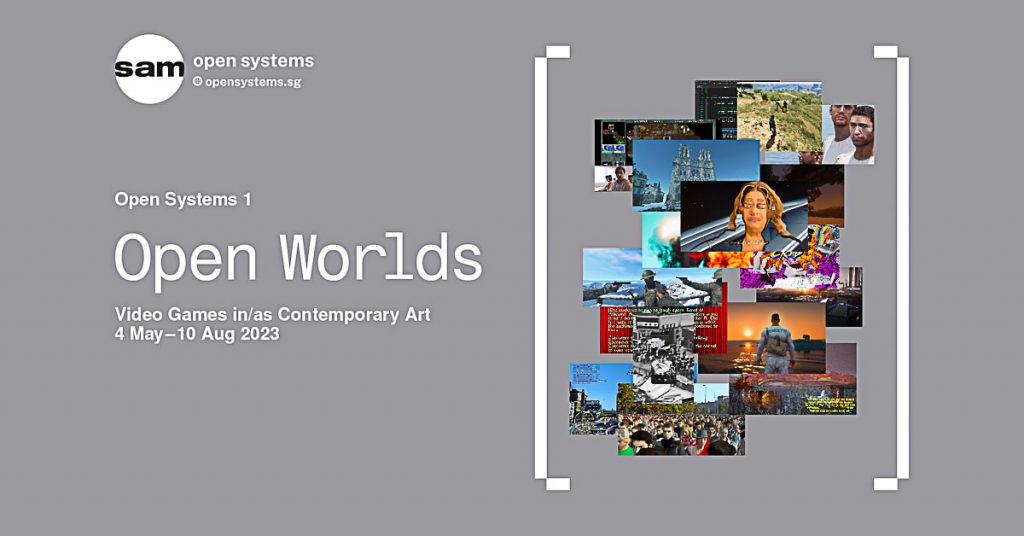 The pandemic pushed the entire world to a standstill in 2020, and that's when mankind started seeking normalcy in another world – the metaverse, a shared virtual reality space. Though semblance of digital life has been around in the last two to three decades, it was super-accelerated within the last three years where every and anything imaginable can be turned virtual. 
Right now, Singapore Art Museum (SAM) is hosting an exhibition titled Open Systems that explores the relationship between real and virtual worlds through video games and digital culture. And nope, you don't have to make your way to SAM as this exhibition is fully virtual and accessible via opensystems.sg. Take a look and interact with specially curated artworks by artists from different countries who reimagine digital realms and through films, music videos, video essays and computer games. 
26) Three New Contemporary Art Exhibitions Open at Singapore Art Museum on 18 May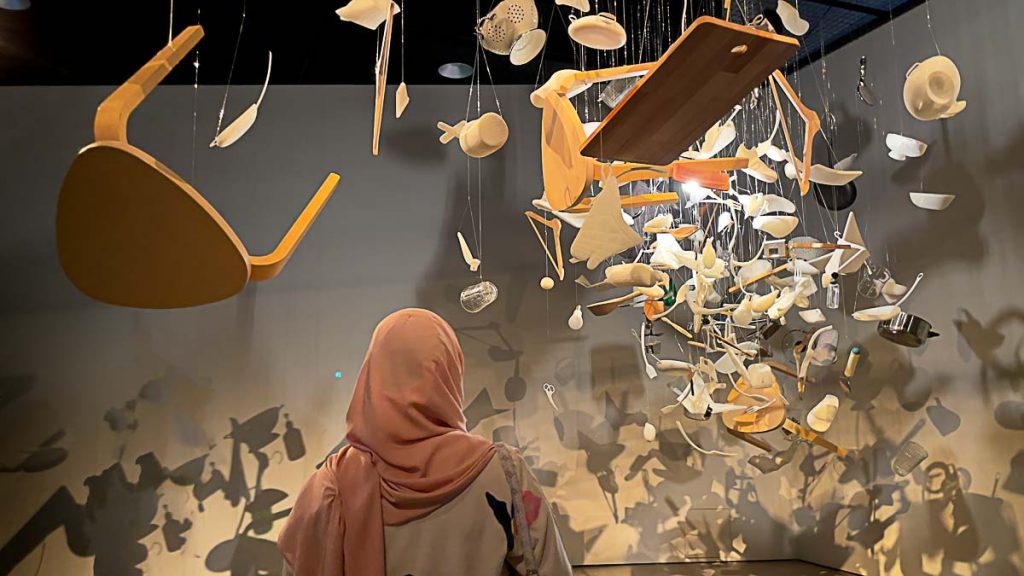 And for exhibition-goers who still prefer actually stepping into a physical art museum for the experience or ✨aesthetics✨, SAM is launching three different contemporary art exhibitions on 18 May 2023 — Hito Steyerl: Factory of the Sun, Lila: Unending Play by Jane Lee, and SAM Contemporaries: Residues & Remixes.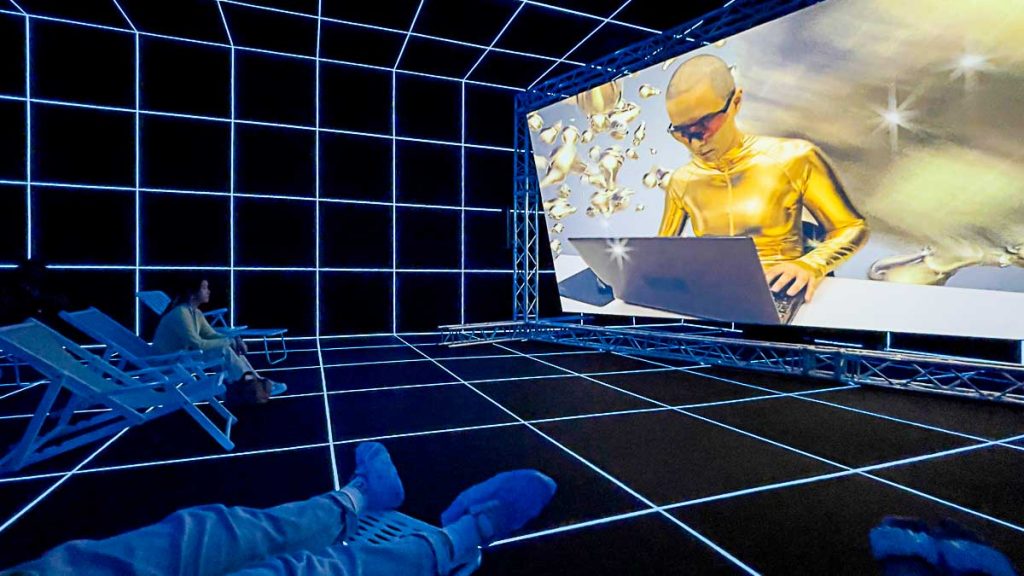 First up there's Hito Steyerl: Factory of the Sun, a showcase by German filmmaker and artist, Hito Steyerl. At the centre of the installation is a film that blends truth and fiction through a montage of video footage. This is also the first time Factory of the Sun is presented in Southeast Asia.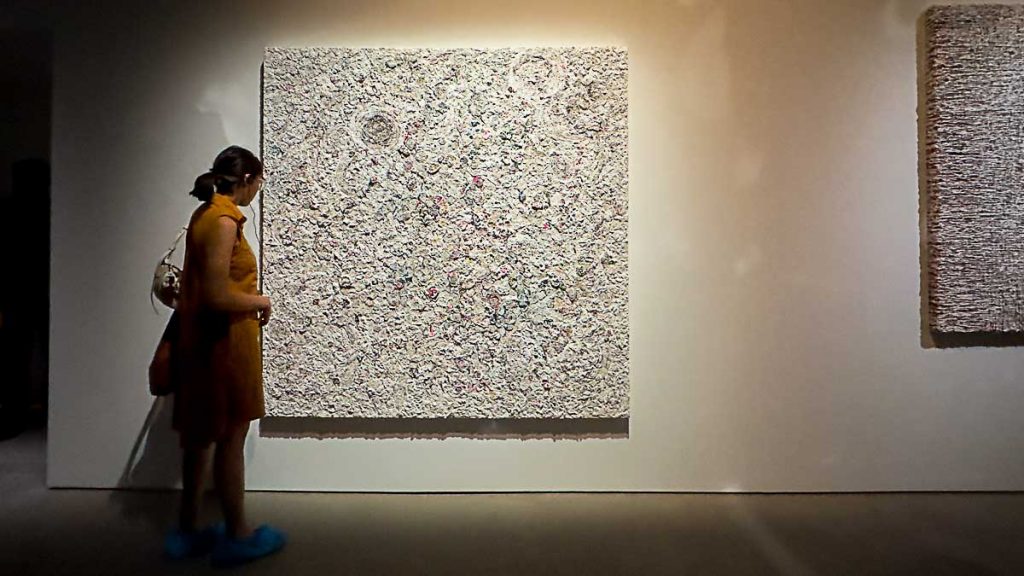 Next, Lila: Unending Play by Jane Lee is the Singaporean artist's first solo exhibition. 
Jane Lee is widely known for her unique exploration of the core elements of painting, going beyond traditional techniques and forms to extend the boundaries of the art form into its surrounding environment.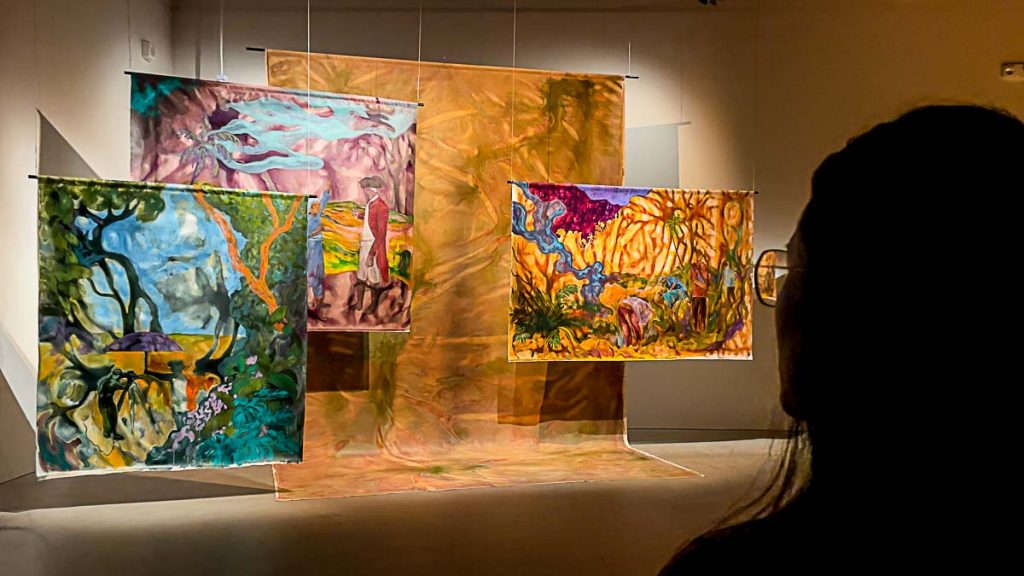 Besides the above two independent exhibitions, happening at the same time is SAM Contemporaries, a biennial project that showcases new and developing trends within contemporary art in Singapore.

This year, SAM Contemporaries is titled Residues & Remixes, and it looks at how objects from the past and the influence of new technologies impact how we view the world. The exhibition features six Singapore-based artists Yeyoon Avis Ann, Anthony Chin, Fyerool Darma, Priyageetha Dia, Khairulddin Wahab and Moses Tan. 
Beyond SAM at Tanjong Pagar Distripark, audiences can also experience two other artworks by Yeyoon Avis Ann and Fyerool Darma on SAM's hoardings along Bras Basah Road and Queen Street. 
Hito Steyerl: Factory of the Sun
Exhibition period: 18 May – 24 Sep 2023
Location: Gallery 2, SAM at Tanjong Pagar Distripark
Lila: Unending Play by Jane Lee
Exhibition period: 18 May – 24 Sep 2023
Location: Gallery 1, SAM at Tanjong Pagar Distripark
SAM Contemporaries: Residues & Remixes
Exhibition period: 18 May – 24 Sep 2023
Location: Gallery 1, SAM at Tanjong Pagar Distripark
SAM hoardings along Bras Basah Road and Queen Street will be up till 29 Oct 2023
27) Tiny Houses at Lazarus Island for a Weekend Getaway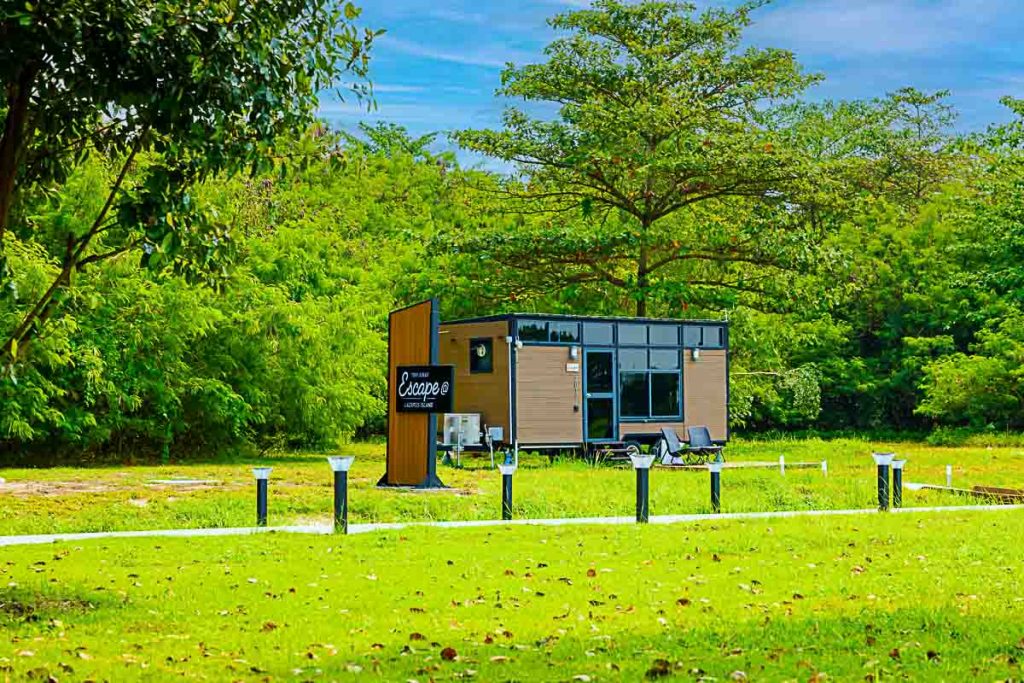 Staying overnight at Lazarus Island will finally be an option come May 2023. Best known for its clean white sandy beach and C-shaped lagoon, visitors to Lazarus Island can have a chance to catch the starlights at one of Escape @ Lazarus' five Tiny Homes units.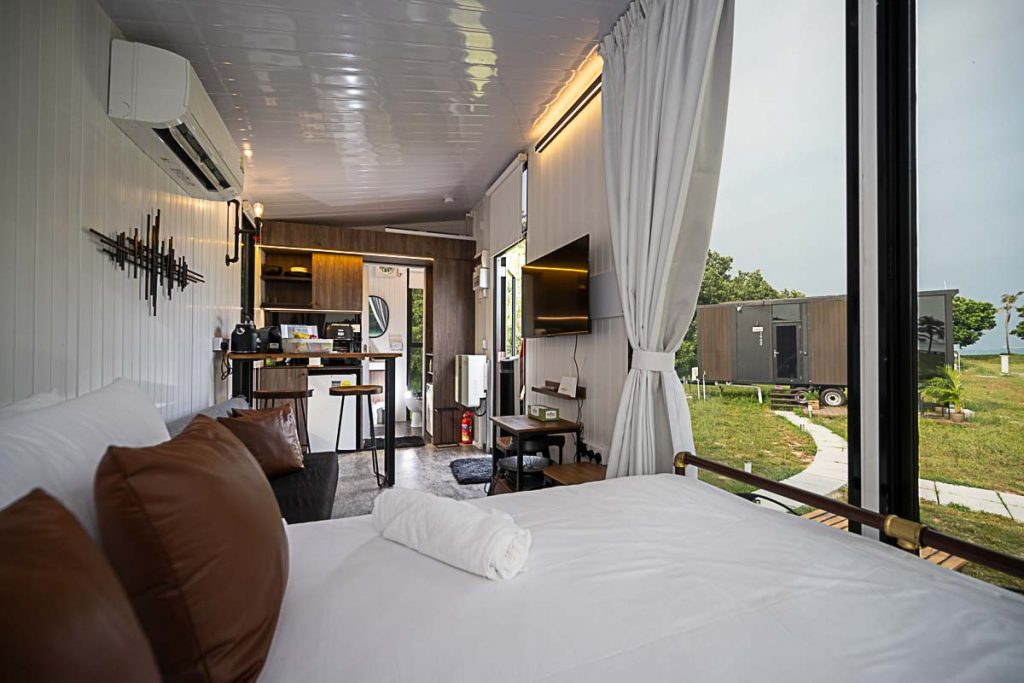 The Tiny Homes fit two persons each and come with an attached bathroom, air-conditioning, a queen-sized bed, a television, a small functional kitchen, and a workspace.
Besides just chilling in the tiny homes, guests can also engage in fun outdoor activities like fishing or non-motorised watersports for a fee starting June 2023. Bicycles are also available for rent on the far side of the island.
If you're looking for new staycation ideas or just want a different kind of island getaway, try Tiny Away Escape @ Lazarus Island. 
Cost: From S$199 per night (promo)
Booking Starts: April 2023
Stay From: 1 May 2023
28) STEM-themed Escape Rooms at Science Centre Singapore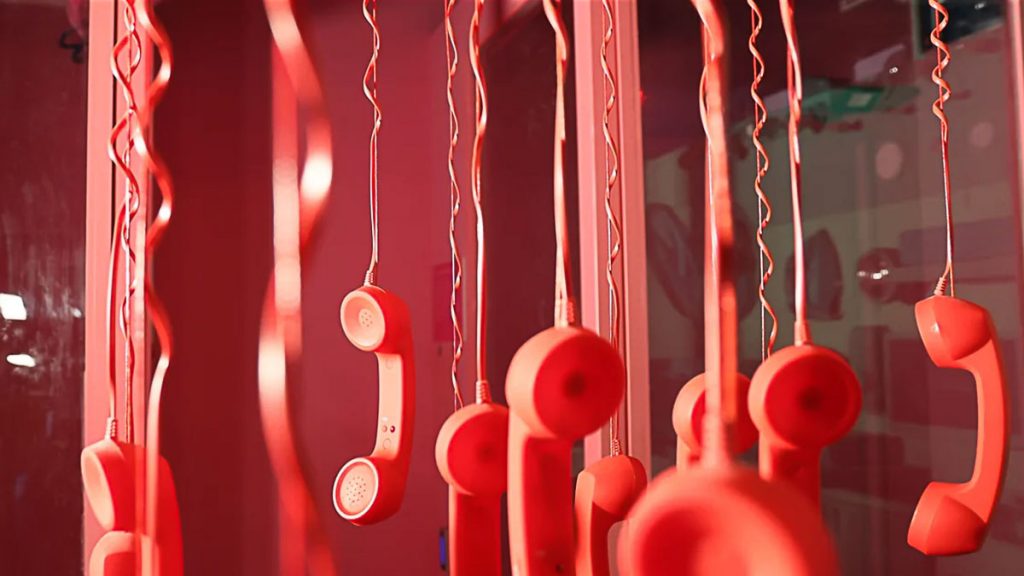 Photo credit: Science Centre Singapore
Are you a STEM (Science, Technology, Engineering and Mathematics) geek who also loves solving escape room mysteries? Here's where you can have the best of both worlds. Escape @ Science Centre is a newly opened STEM-themed escape room where you'll be tested for knowledge, skills and tenacity. So if you've always been solving escape room puzzles with sheer luck, you might wanna put on all six thinking caps for this, or bring friends in the STEM department to help with the thinking.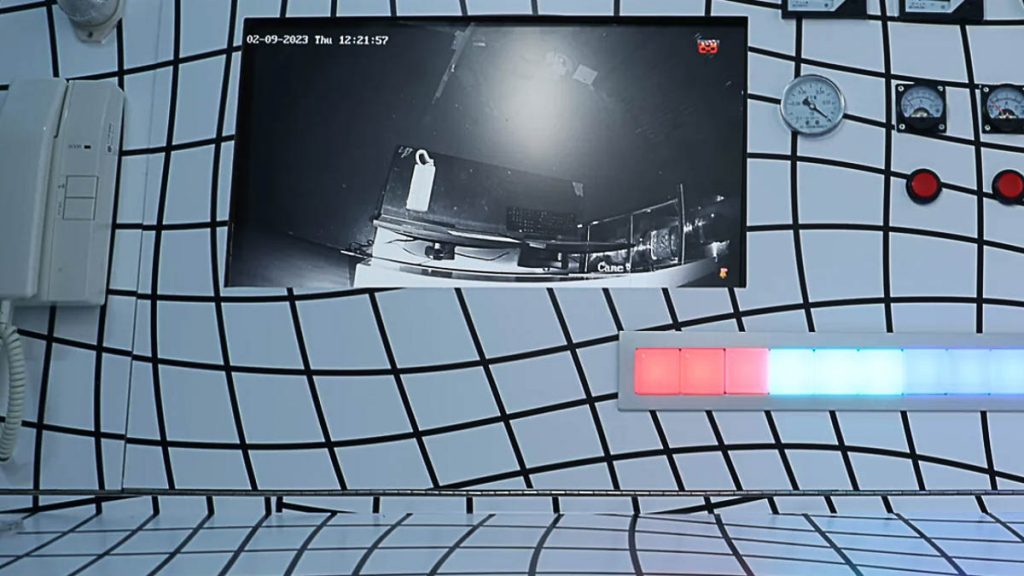 Photo credit: Science Centre Singapore
And unlike most other escape rooms, Escape @ Science Centre allows participants to bring along their phones, so not only can you use your phones to help solve the puzzles, you can even snap photos within the escape rooms for memory's sake. 
Cost: S$25/pax (10% discount with 3 or more tickets purchased for the same room; 20% discount with 6 or more tickets purchased for the same room)
Activity slots: 10AM – 9:15PM
Address: ​15 Science Centre Rd, Singapore 609081
29) Singapore's 1st Manga Pop-up Library at City Square Mall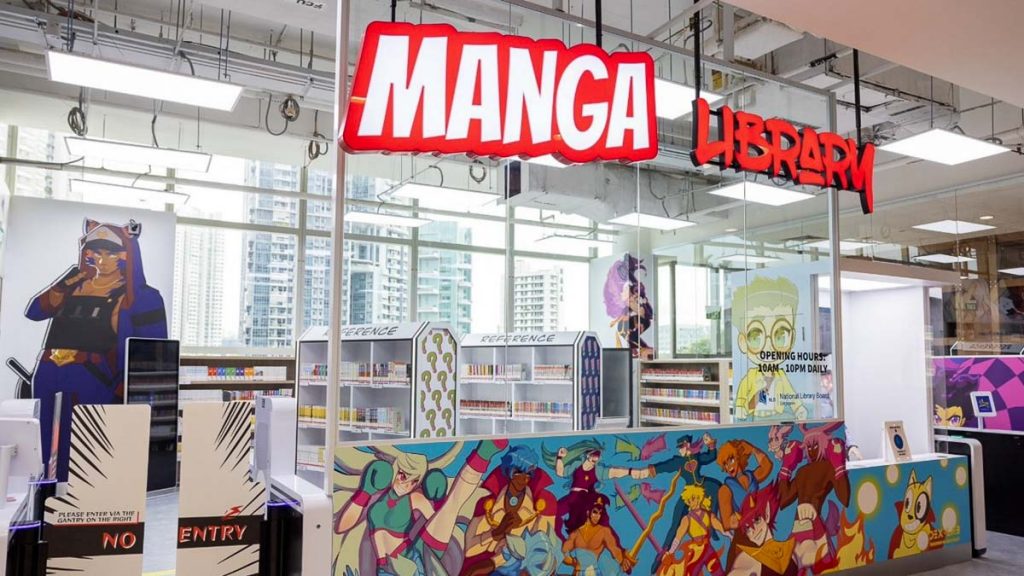 Photo credit: National Library Board
Otakus rejoice! NLB has launched The Manga Library@City Square Mall and is specifically dedicated to all things manga. The pop-up library is decked out with iconic characters and houses over 5000 books — including e-books and local comics donated by collectors.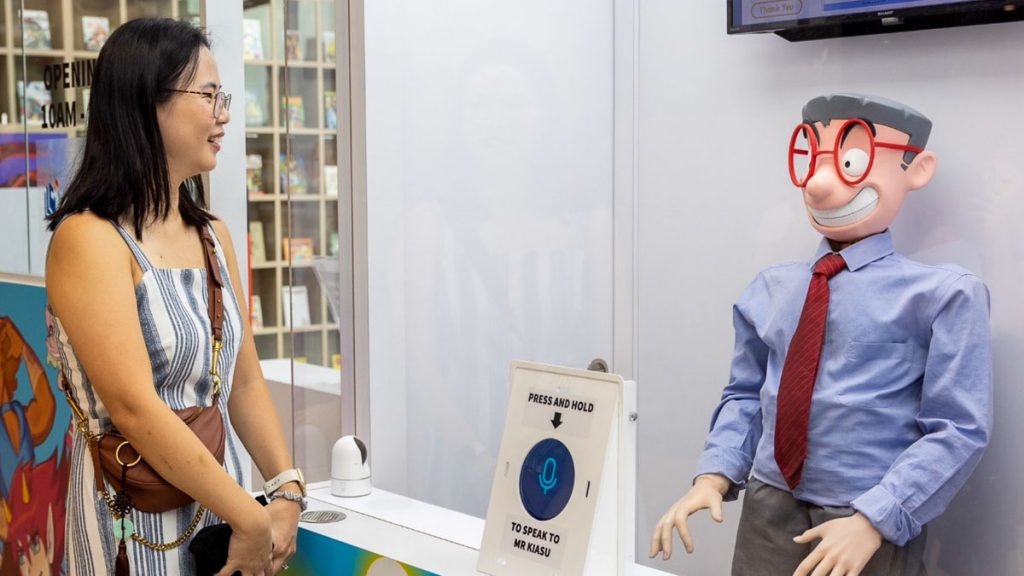 Photo credit: National Library Board
This library is part of the NLB's Grab-n-Go programme and operates on an automated self-checkout system — but visitors can rely on Mr Kiasu for all queries! Brought to life from the literal pages of a comic, Mr Kiasu is a robot concierge that is programmed to guide you on using Grab-n-Go to give book recommendations.
*Note: To enter the library, you'll need an NLB eCard or NLB-compliant card.
Entrance fee: Free
Opening hours: 10AM – 10PM
Event period: Till Aug 2023
Address: 180 Kitchener Road, City Square Mall, #04-11/12/13, Singapore 208539
30) World's 1st NFT Hotel Comes to Singapore — Hotel by Wassies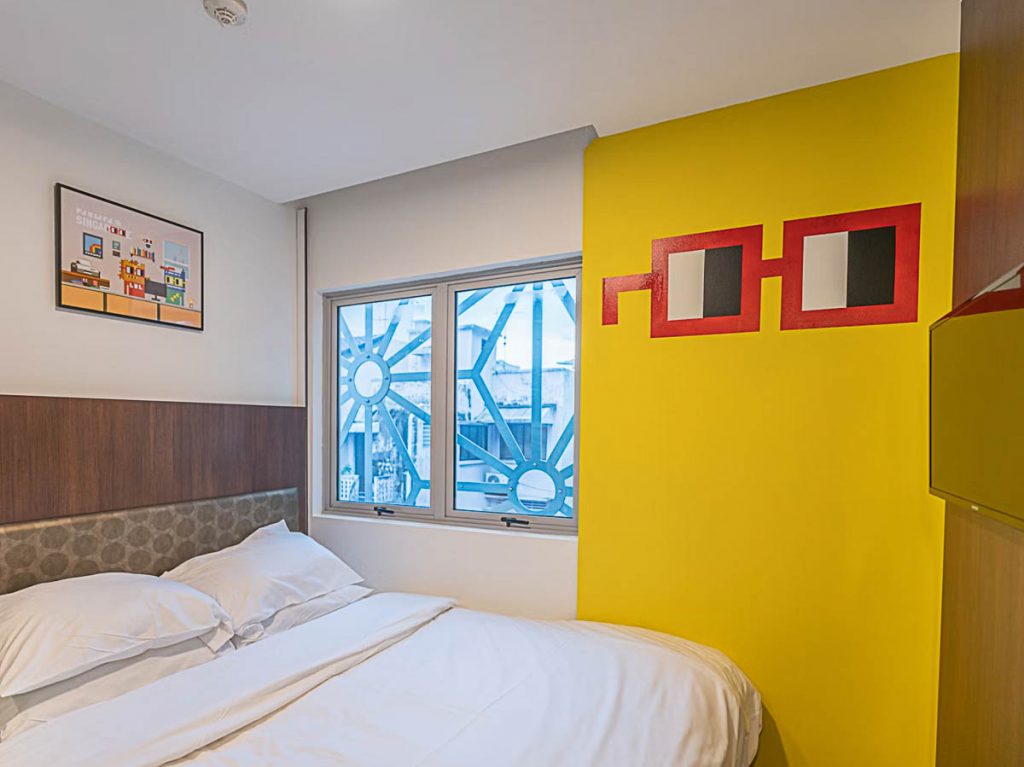 Photo credit: Hotel by Wassies
We're sure you would have heard of what an NFT (non-fungible token) is by now. But do you know that there's an NFT hotel in Singapore now? The pop-up hotel is the first of its kind in the world, and will only be accepting guests till September 2023 in Singapore.
The 55-room pop-up hotel is located at 5 Hong Kong Street, with rooms furnished in shades of Wassie-themed purple, featuring selected art pieces created by the global Wassie community.
So if you're looking for yet another unique staycation in Singapore or are visiting Singapore from abroad, you may wanna consider a fuss-free stay at Hotel Wassie. Though this is a stay you probably can't tokenise.
Cost: From S$148.75/night (sleeps 2 pax)
Address: 5 Hongkong Street, Singapore 059648
31) Free airport tours for visitors in transit are back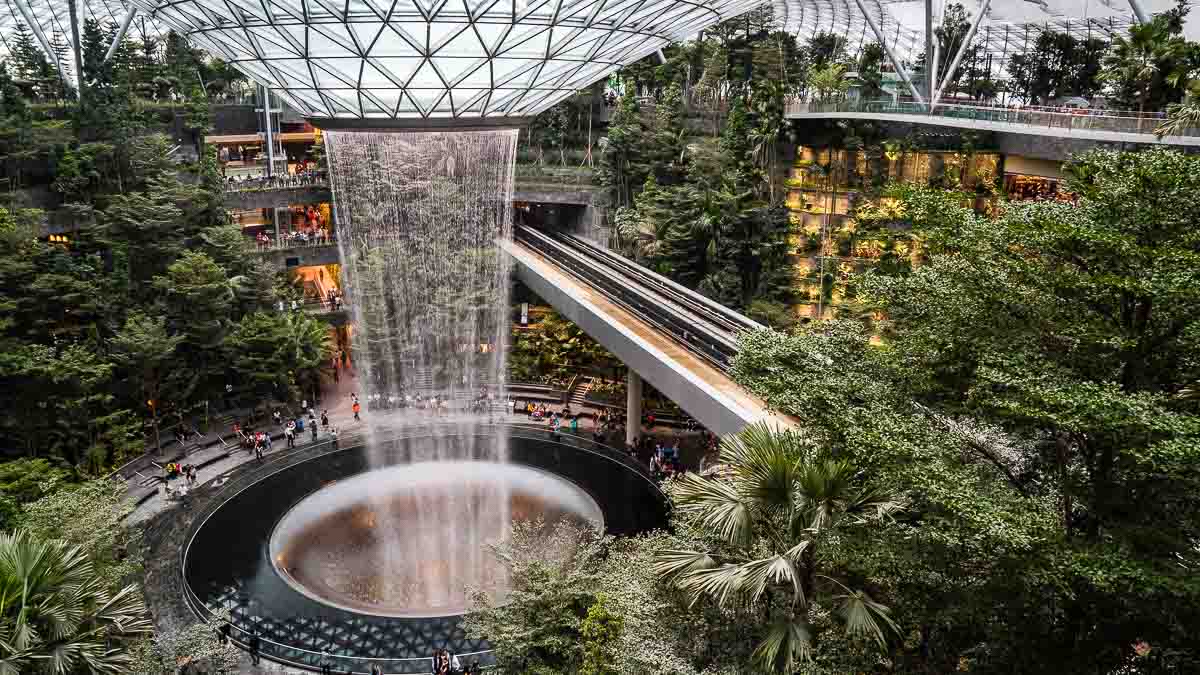 Changi Airport has brought back its Free Singapore Tour for travellers who are transiting through Singapore with a layover of at least 5.5 hours. As of now, there are three tours available, each lasting for 2.5 hours.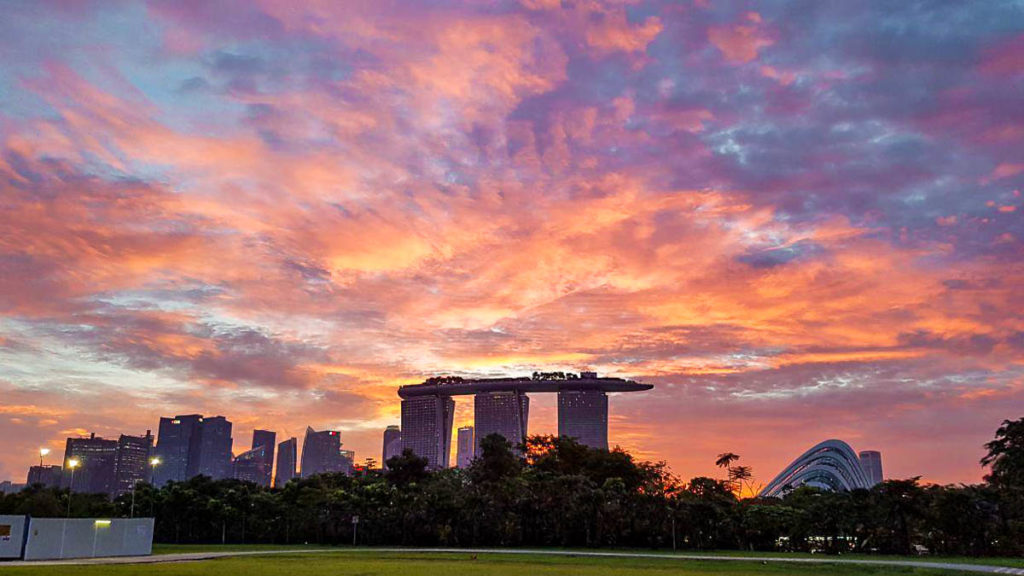 Transit travellers can choose from three tour itineraries, three are bus tours and one is a walking tour to Jewel Changi Airport. The three bus tours include a Changi Precinct Tour, a City Sights Tour to Singapore's Civic District and Downtown areas, and the *Heritage Tour around Chinatown and Kampong Gelam.
*The Heritage Tour will commence in June 2023.
Travellers who are interested to participate in the Free Singapore Tours will need to register at the Free Singapore Tour service counters at Terminal 2 and Terminal 3 Transit halls.
32) New Murder Mystery Experience: A Novel Homicide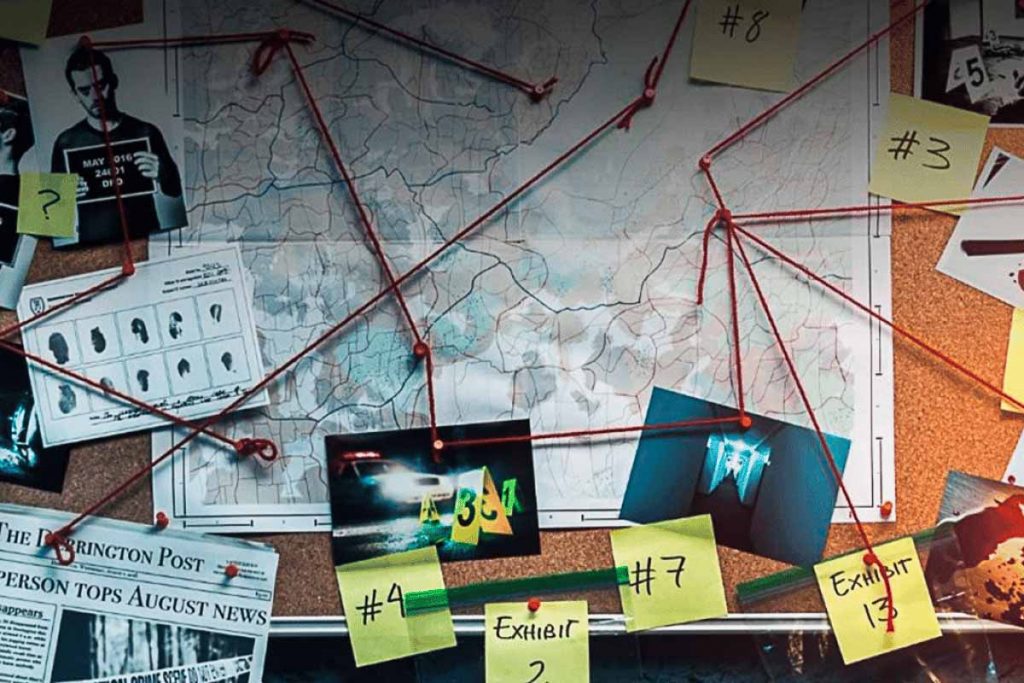 Photo credit: Secret Singapore
Put your deduction skills to the test in a brand new immersive roleplay experience, Murder Mystery: A Novel Homicide. Reminiscent of an Agatha Christie whodunnit novel, the experience features six actors who'll slip into the role of suspects in the murder of a mystery novelist.
Fairy Point has been transformed into an active crime scene and it's up to you to put on your best detective hat to crack the codes and interrogate suspects to catch the killer. If you're looking for a suspense-filled weekend activity, this will be an unforgettable experience — just don't get accused of murder! 
Cost: From S$68
Event period: From 14 April
Address: Fairy Point 6, 3 Andover Rd, Singapore, 509987
33) Changi Airport opens rock-climbing and bouldering facility at T3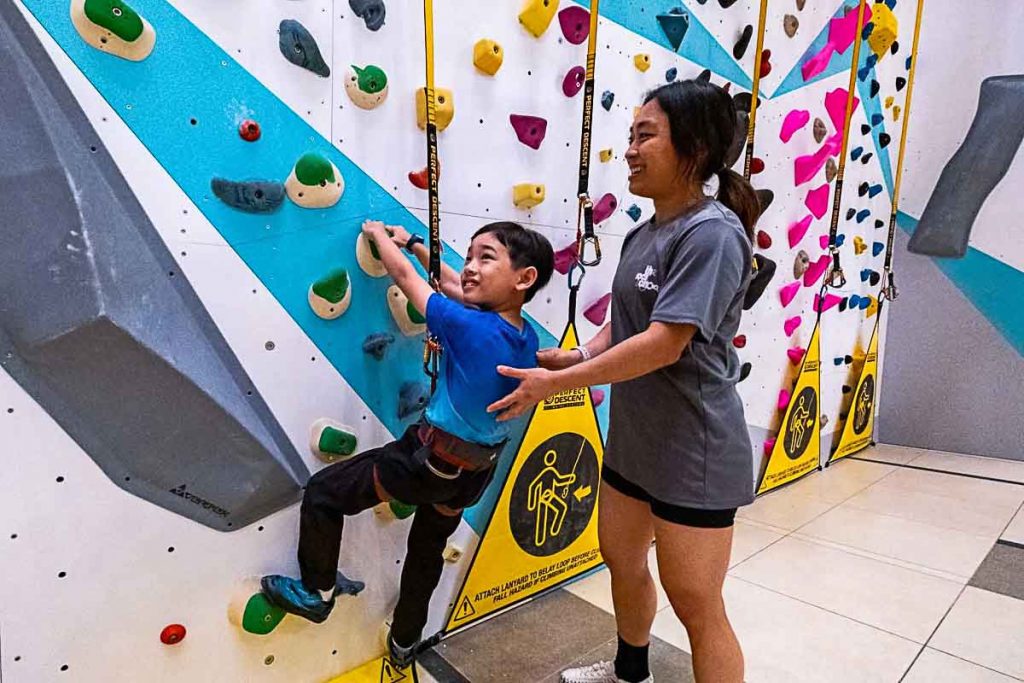 Photo credit: Climb@T3
Changi Airport has, for a while, been more than just an airport. And from 3 March, its directory board saw a new entry — Climb@T3, a rock-climbing and bouldering facility.
Featuring an 8m-tall High wall and a 12.5m-long Bouldering Wall, Climb@T3 is not only for climb enthusiasts but also welcomes people without prior experience to try their hands, and feet, on rock climbing. There are guided hour-long sessions for participants who are less confident and would require safety supervision from the instructors. There's even a Rock Tots session for children as young as two!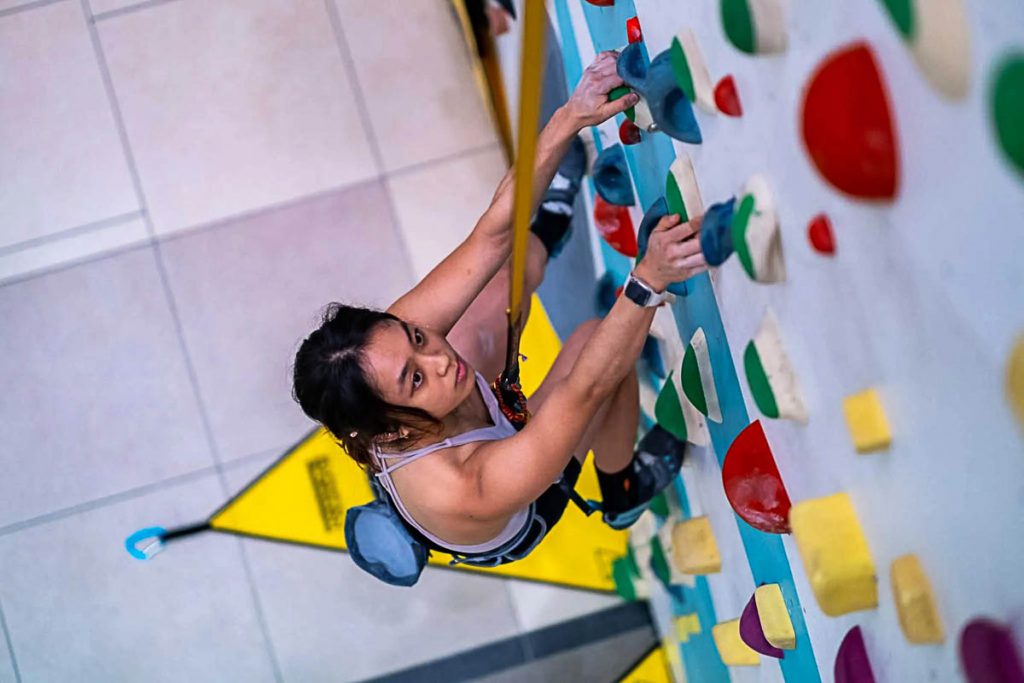 Photo credit: Climb@T3
If you have experience with rock walls and would prefer unguided climbs, there are also free & easy sessions on both the boulder and high walls. Children up to the age of 12 will need to have a supervising adult.
Cost: S$15/2-hour Climb and Play (Unguided) session, S$25/1-hour Climb and Play (Guided) session, and S$30/1-hour Rock Tots session. Registration required.
Opening hours: 12PM – 9:30PM (Mon – Fri), 10AM – 9:30PM (weekends & PH)
Location: Changi Airport Terminal 3, #B3-01/02. Next to Slide@T3
34) Van Gogh: The Immersive Experience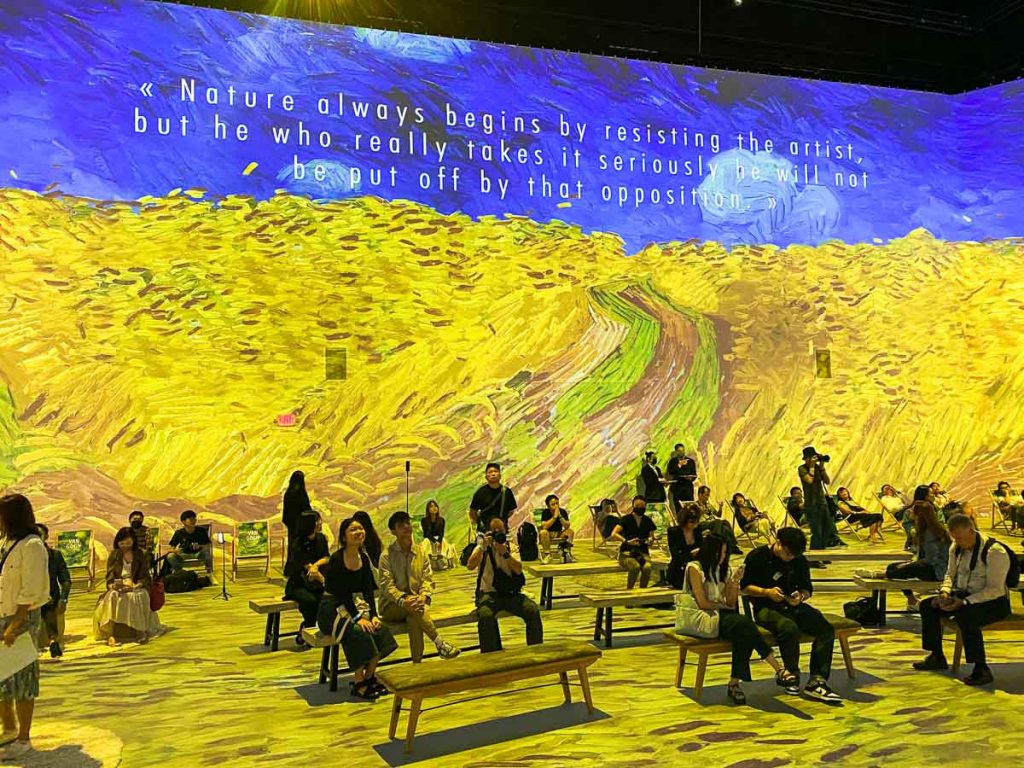 Art lovers would want to bookmark this — Van Gogh: The Immersive Experience is heading to Singapore for the first time!
The 360° multi-sensorial exhibition will combine both art and virtual reality (VR) in showcasing over 300 artworks by well-known Dutch artist Vincent Van Gogh, such as the famed Starry Night and Sunflower.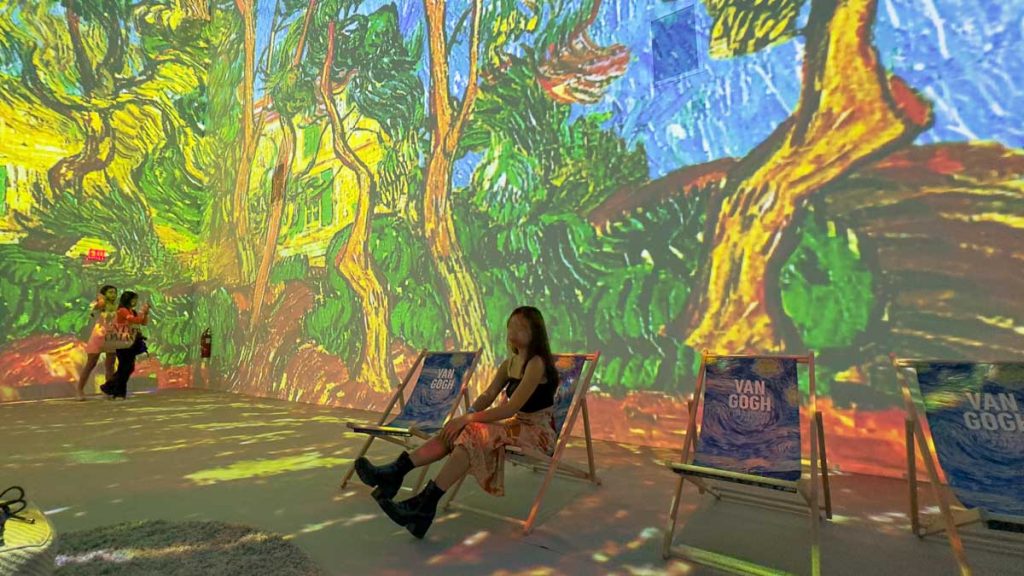 For something a little more unique, you can even take a VR tour to sneak a peek into  "A Day in the Life of the Artist" and find out the inspirations behind his iconic works.
Entrance fee: S$24/adult (early bird tickets on sale at 4PM on 19 Jan)
Exhibition date: From 1 Mar 2023
Opening hours: Varies
Address: Sentosa Gateway, B1 Forum, Singapore 098269
35) Gardens By The Bay — 1-For-1 Flower Dome tickets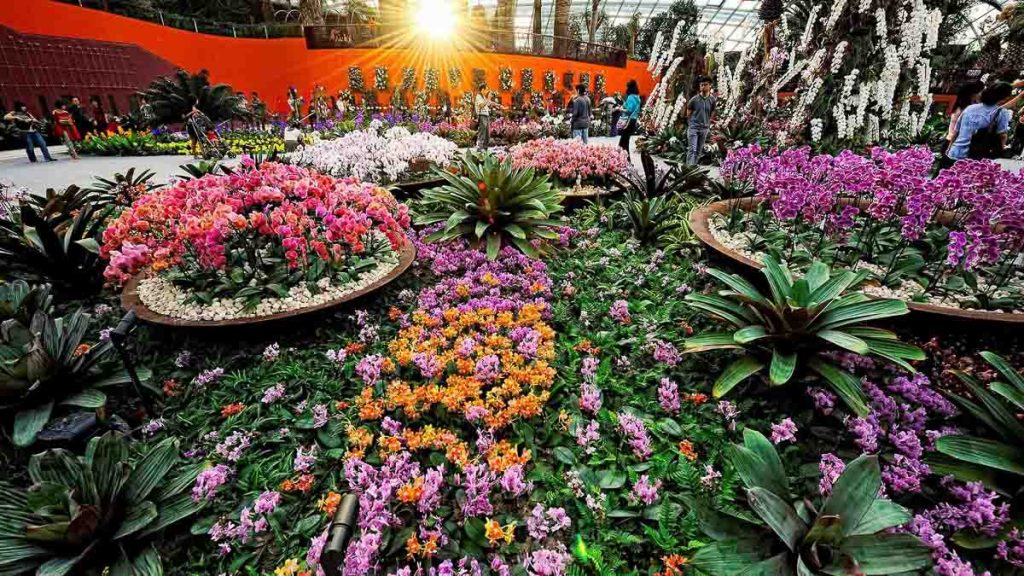 Photo credit: Gardens by the Bay
The season of blooming is here again. Some would say that spring is best spent chasing cherry blossoms in Japan, but if that sounds too extravagant an activity for you, how about a visit to Gardens by the Bay's Flower Dome?
Spring all year round, Flower Dome houses a variety of flowering plants from a range of unique habitats — from the Mediterranean region to South African savannas and arid deserts.
Right now, there's also a 1-For-1 Flower Dome ticket promotion happening till 10 December 2023.
How it works is, you'll receive an additional free ticket if you purchase via a PAssion-POSB or HomeTeamNS-PAssion-POSB Debit Card on the 10th day of every month. But, it's only limited to the first 100 tickets and cardholders can only purchase up to four tickets per transaction.
*Note: The deal is only valid for Singaporean residents (Singapore Citizens, Permanent Residents) and holders of a Work Permit, Employment Pass or Dependent Pass.
Cost: S$12/pax
Event period: 10 Feb – 10 Dec 2023
Opening hours: 9AM – 9PM
Address: Flower Dome, 18 Marina Gardens Dr, Singapore 018953
36) Sneakertopia: Step Into Street Culture at ArtScience Museum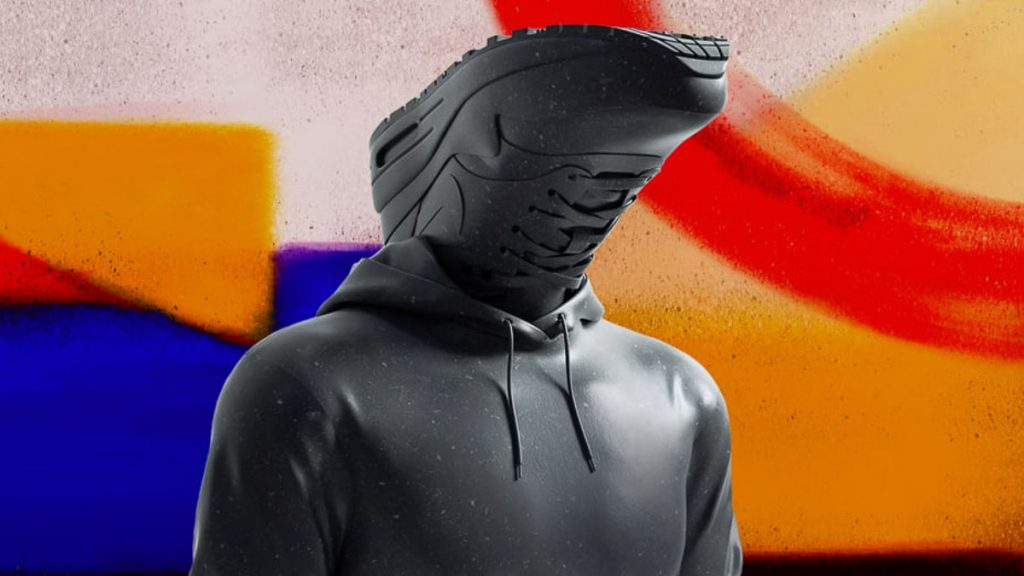 Photo credit: Marina Bay Sands
Calling all sneakerheads — Sneakertopia is landing in Singapore and making its Southeast Asia debut 👟.
First launched in Los Angeles, the interactive exhibition will feature over 100 pairs of limited edition sneakers — including Singaporean designer, Mr Sabotage's personal collection of vintage Air Jordan Ones!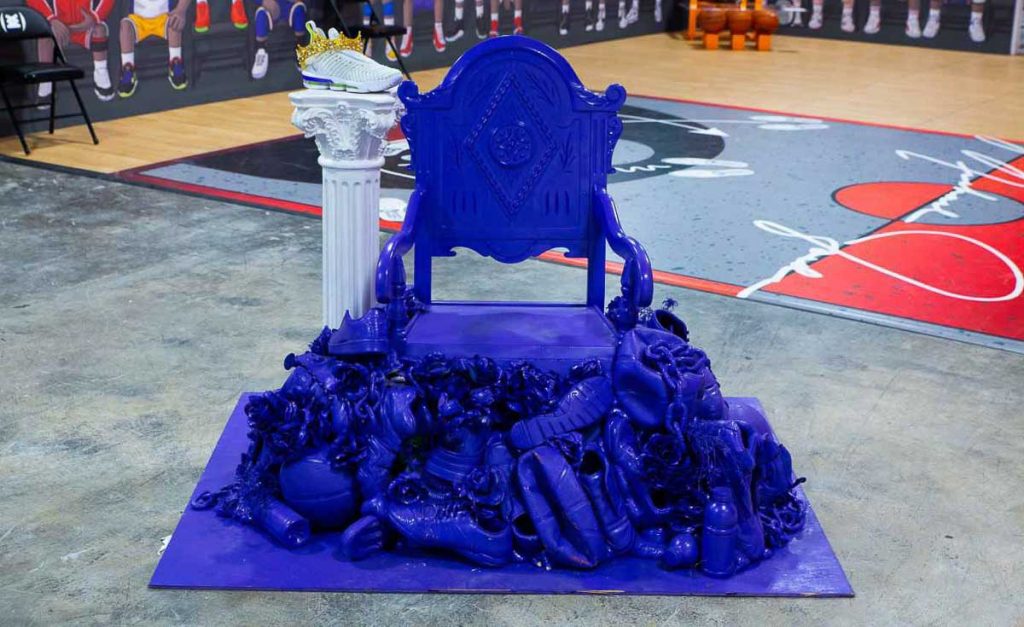 Photo credit: Marina Bay Sands
Installations and works by renowned international and local artists, brands, and creatives will also be spotlighted, celebrating the cultural impact of sneakers. You just might run into your sole-mate here!
Cost: S$18/adult
Exhibition date: 25 Feb – 30 Jul 2023
Opening hours: 10AM – 7PM (Last entry 6PM)
Address: 6 Bayfront Avenue, Singapore 018974
37) The Peranakan Museum reopened 18 February
Photo credit: Peranakan Museum Singapore via Facebook
As the saying goes: out with the old and in with the new — the Peranakan Museum reopened on 18 February after almost four years of closure for renovation works!
The refurbished building (former Tao Nan School) now features permanent galleries with a fresh new design.
Photo credit: Peranakan Museum Singapore via Facebook
Look forward to nine galleries with showcases, objects, interactive displays and programmes spanning three grand themes of the Peranakan identity — "Origins", "Home", and "Style". 
During the hiatus, the museum also worked closely with Peranakan communities to explore different aspects of the culture. So if you're a Peranakan yourself, you might even find one of your family's stories mentioned here. 
Entrance fee: S$12/pax (Free for Singapore Citizens and Permanent Residents)
Opening hours: 10AM – 7PM (Sat – Thu), 10AM – 9PM (Fri)
Address: 39 Armenian St, Singapore 179941
39) Find hidden giant statues by Copenhagen artist Thomas Dambo at Sentosa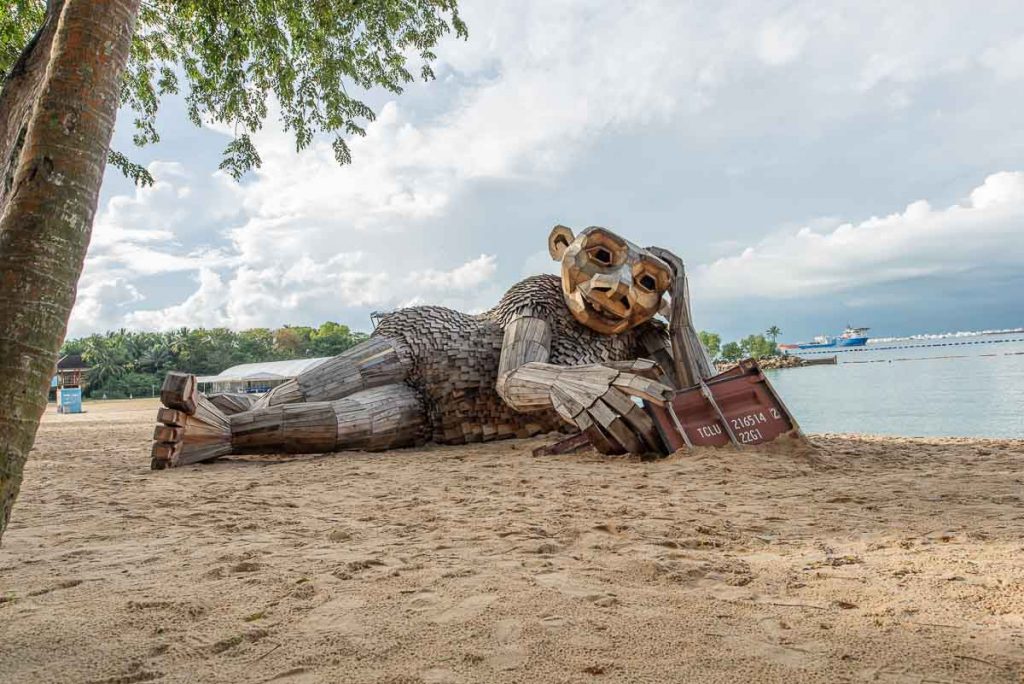 Photo credit: Sentosa Development Corporation
One man's trash is another man's treasure — and this is what Copenhagen-based artist Thomas Dambo aimed to present with four giant statues purposefully hidden around Sentosa. 
Made out of 5.5 tonnes of reclaimed wood material — such as pallets and floorboards — donated by local enterprises, Dambo's upcycled creations encourage people to rethink the value of trash.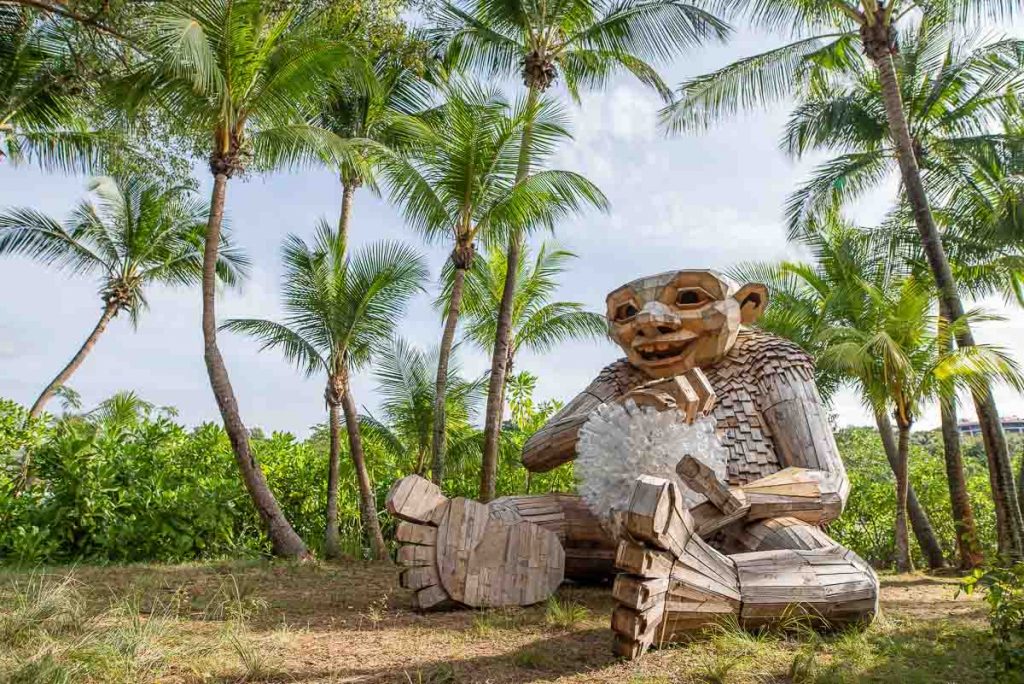 Photo credit: Sentosa Development Corporation
Don't know where to start? Here's a hint: Seach along Palawan Beach and don't miss out on any nooks and crannies!
Cost: Free 
Exhibition period: Until 2024
Address: Along Palawan Beach, Sentosa
40) HomeTeamNS clubhouse opens at Bedok Reservoir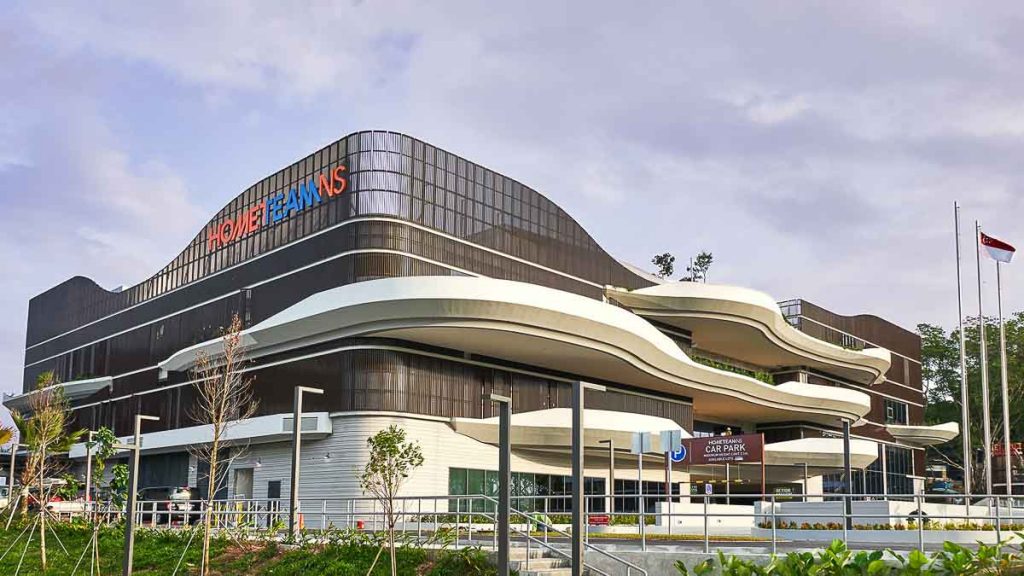 Photo credit: HomeTeamNS
In the west, we have a new SAFRA clubhouse but in the east, we have… a new HomeTeamNS Clubhouse! It's located within Bedok Reservoir Park, giving yet another reason why the east side is clearly the better side 😉
The clubhouse is packed with a range of facilities such as a water adventure centre, an indoor obstacle playground, a cross-fit gym, and an infinity pool.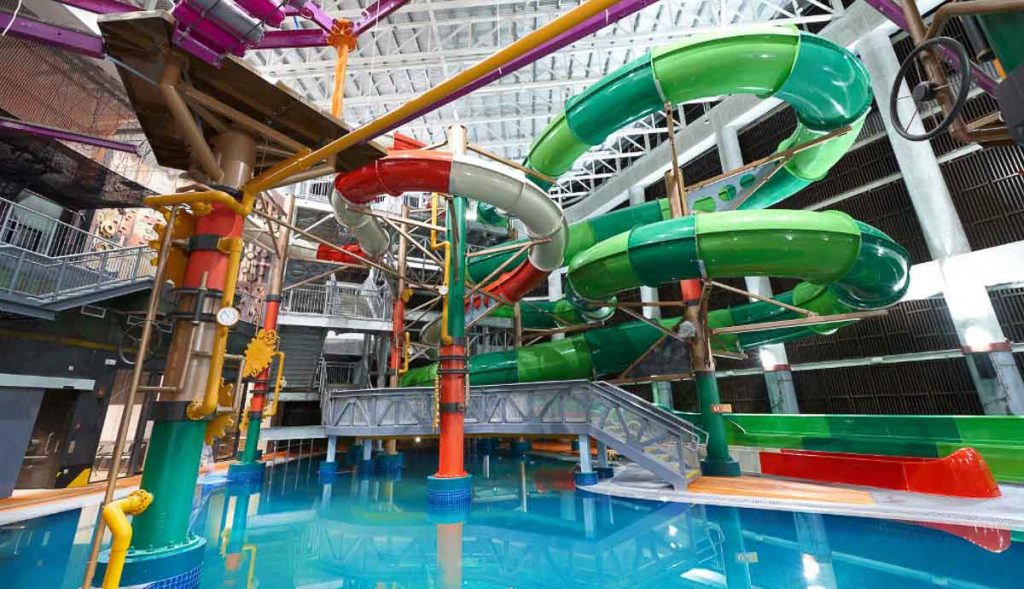 Photo credit: HomeTeamNS
The three-storey indoor water adventure centre houses Singapore's longest indoor water slide at a whooping 114m long, as well as a wet obstacle-rope course and rock climbing walls!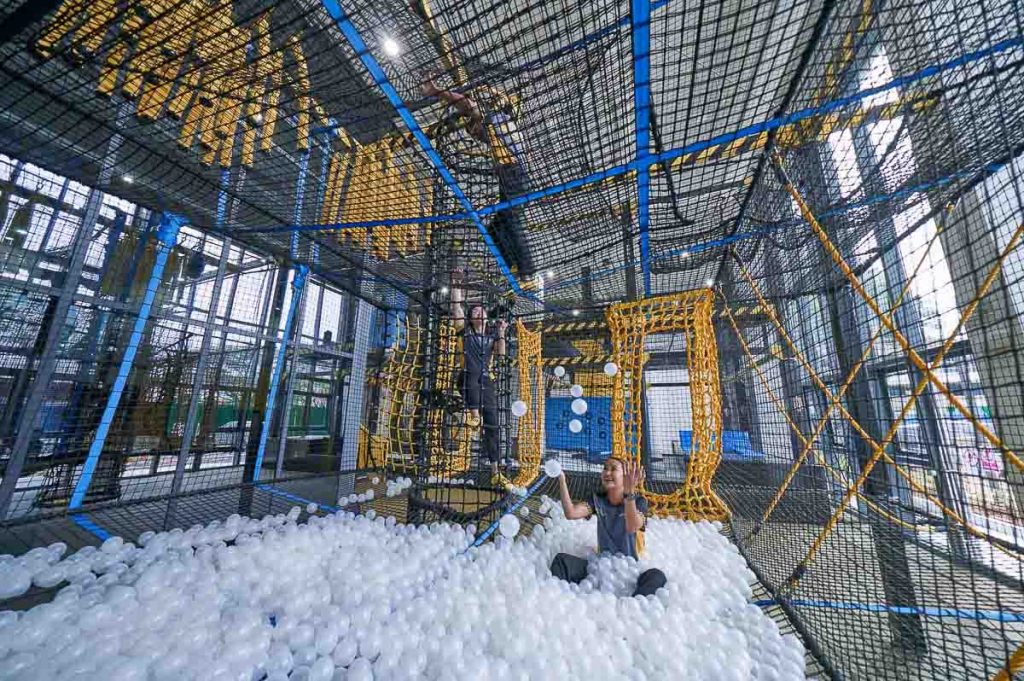 Photo credit: HomeTeamNS
Hold fun team-bonding activities with your peers and colleagues here, or consider one of the ten well-furnished and equipped villas for your next staycation.
Cost: Varies
Opening hours: 10AM – 8PM (Mon – Thu), 9AM – 9PM (Fri – Sun)
Address: 900 Bedok North Road, Singapore 479994
41) New Installations at ArtScience Museum's Future World Exhibition & MBS' Digital Light Canvas Show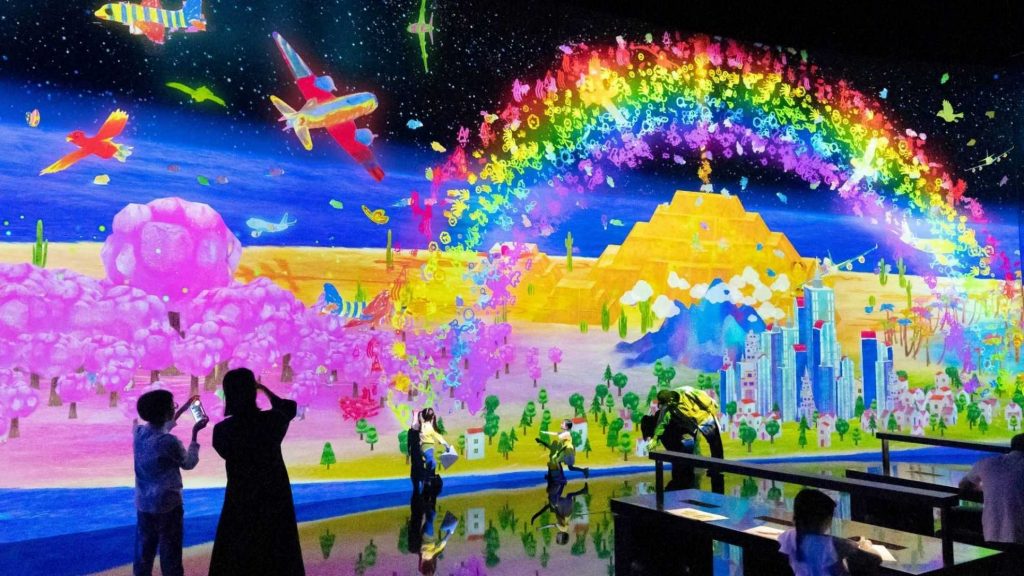 Photo credit: teamLab
ArtScience Museum's Future World exhibition has recently unveiled three new permanent installations by teamLab — its most extensive refresh since its debut in 2016!
Autonomous Abstraction: Continuous Phenomena From The Universe To The Self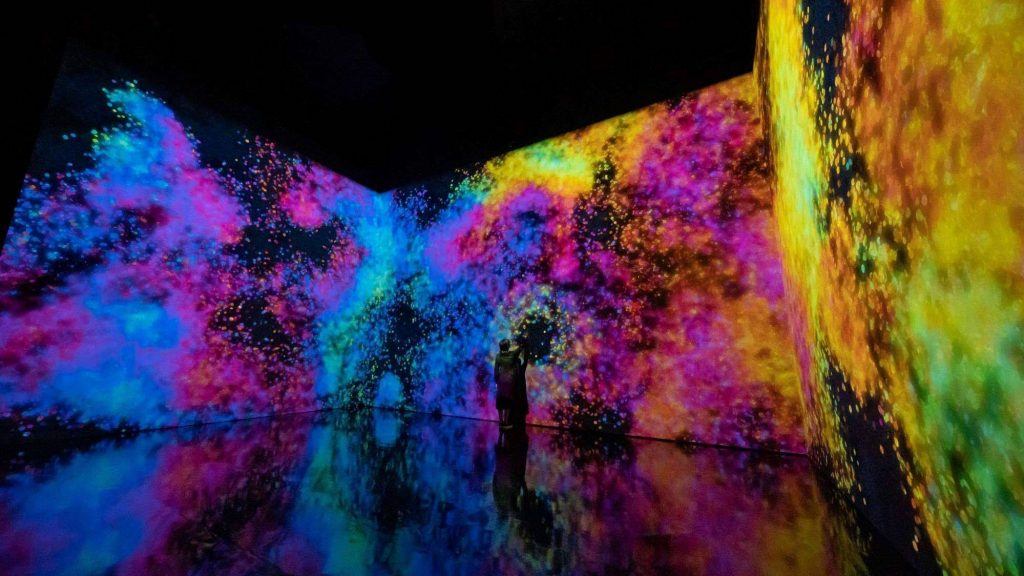 Photo credit: teamLab
Inspired by the spontaneous order phenomenon, this artwork features colourful dots blinking in individual cycles and synchronising when near each other. But when touched, they disperse with a sound. 
Aerial Climbing Through A Flock Of Coloured Birds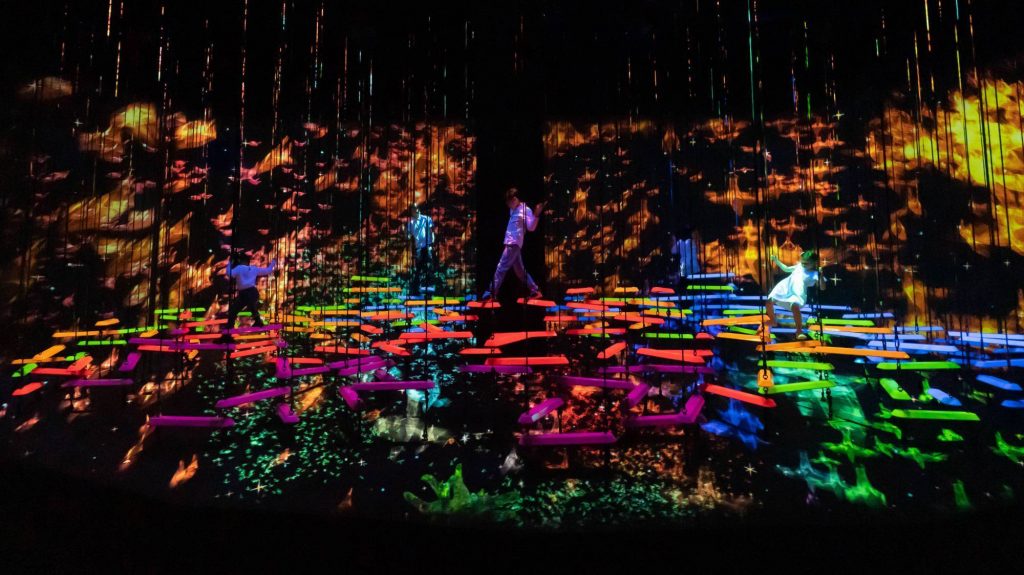 Photo credit: teamLab
Step onto this 3D installation of colourful hanging bars and watch as they become brighter and emit a sound unique to their colour. The bars are all linked so as people navigate across them, it affects other people's interaction with the artwork too. 
Sketch Flight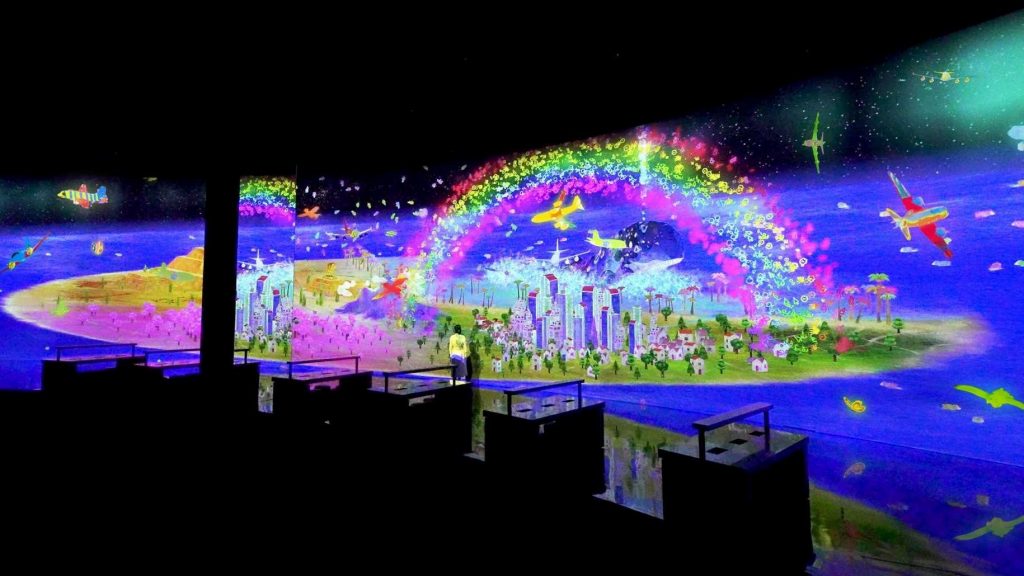 Photo credit: teamLab
Lastly, Sketch Flight allows you to see the world from the perspective of a hawk, butterfly, or aeroplane (whichever you prefer). All you have to do is sketch it on paper and watch it come to life on the screen.
Cost: S$23/adult
Opening hours: 10AM – 5:30PM
Address: ArtScience Museum, 6 Bayfront Ave, Singapore 018974
42) Singapore's First Children's Museum Opens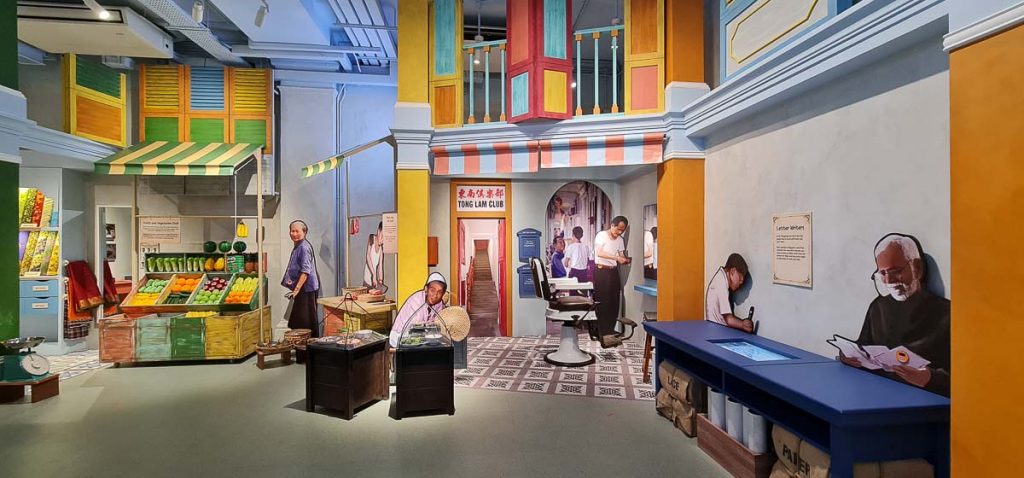 Photo credit: Children's Museum Singapore
Singapore's first-ever museum dedicated to children of ages 12 and below has opened its doors. The Children's Museum Singapore (CMSG) will function as a "starter museum" for young visitors to the museum-going experience.
Children can get to learn about Singapore's heritage and culture through the hands-on interactives at the museum.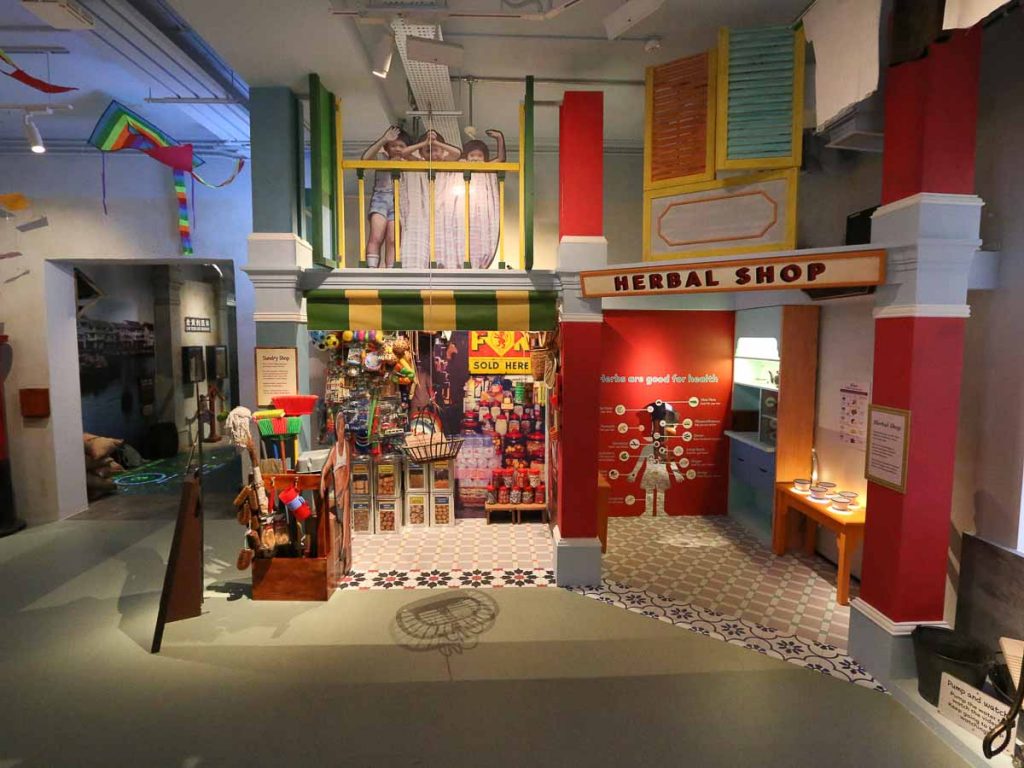 Photo credit: Children's Museum Singapore
The CMSG features a permanent exhibition — A Voyage Back in Time, which spans four galleries on the ground floor. There are also three special galleries that will be refreshed regularly.
Cost: $15/pax, free for SC and PR (Pre-booking required)
Opening hours: 9AM – 1PM & 2PM – 6PM, Tue – Sun
Address: 23-B Coleman Street, Singapore 179807
43) The Bearbrick Stay Package at M Social Singapore from S$210/night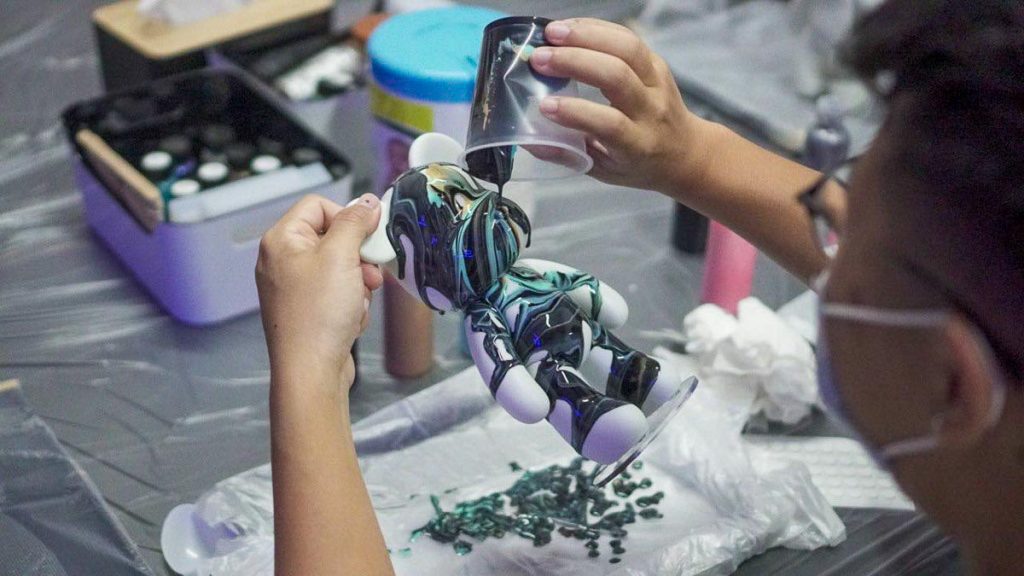 Photo credit: M Social Singapore via Facebook
If you're a BE@RBRICK fan, an un-bear-ably relaxing staycation awaits at M Social Singapore. This playful collaboration includes an art jamming session where you can unleash your creativity by pouring paint and creating a one-of-a-kind bear figurine — basically priceless 💅. 
Aside from the art therapy, the stay also includes complimentary breakfast and dining credits so you can escape the city and relax indoors for the entire day — an introvert's dream.
Cost: From S$210/night
Event period: Till 31 Dec 2023 
Address:  90 Robertson Quay, Singapore 238259
44) Win CapitaMall Deals with Decode CQ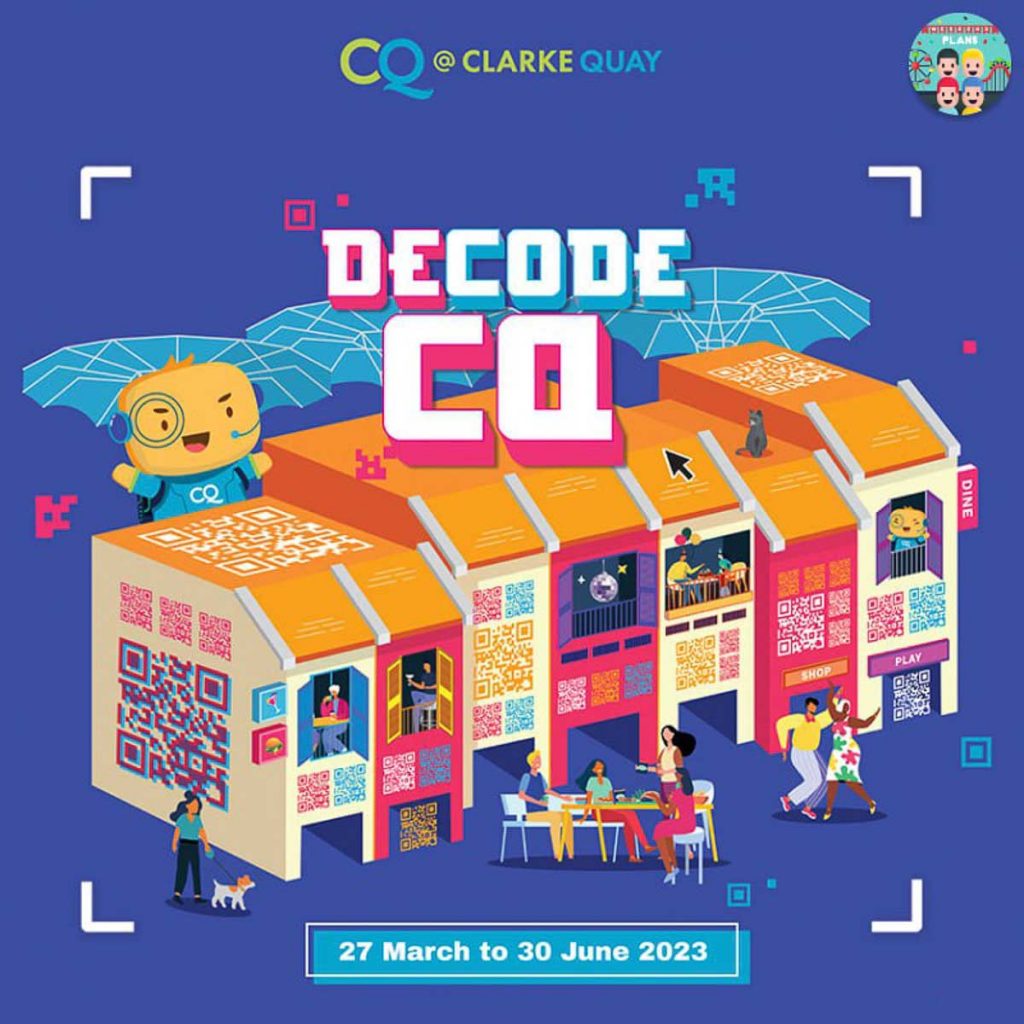 Photo credit: CapitaLand
It's a universal truth acknowledged that Singaporeans are motivated by promo codes and free things. DECODE CQ takes it to the next level, creating the largest and only wall on the island filled with 100 QR codes leading to prizes to be won!
Embark on a journey to uncover CQ's rich heritage & take a peek at the new CQ @ Clarke Quay within these QR codes. $10 eCapitaVoucher, dining eVouchers and more prizes are up for grabs every day so grab your smartphones, harness your inner kiasu-ness, and good luck!
Event period: Till 30 Jun 2023
Address: 3 River Valley Rd, Singapore 179024
Looking for new things to do in Singapore?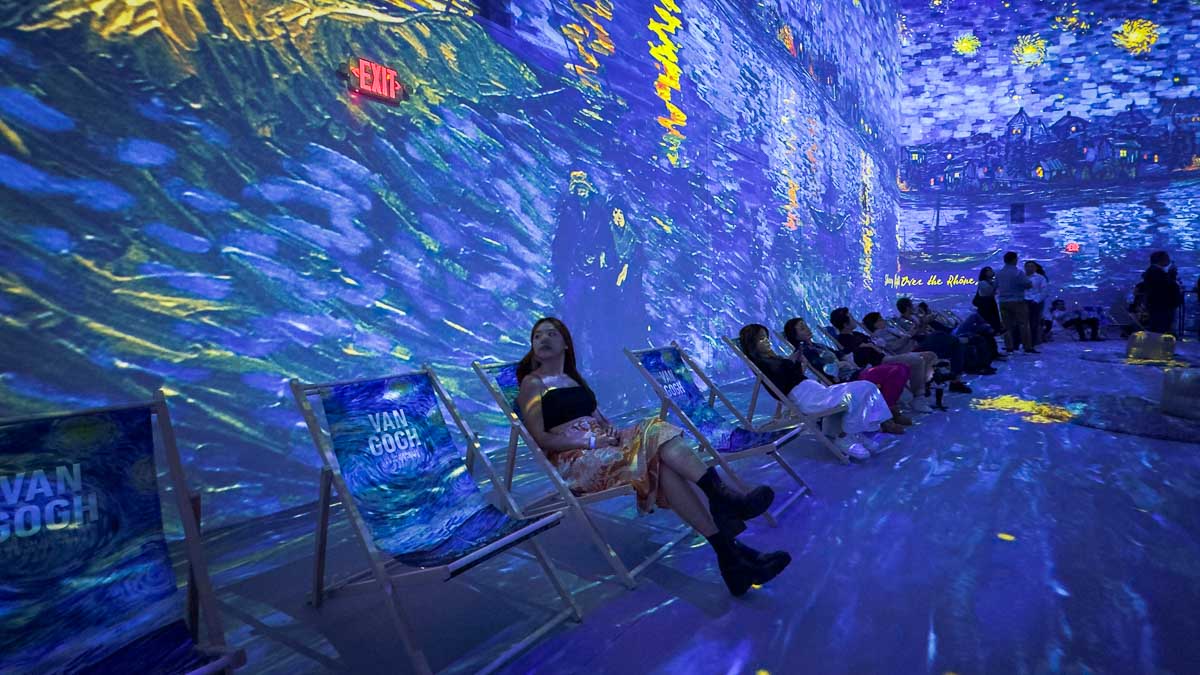 Singapore may just be a little red dot but there's never a dull moment on this vibrant island! Be it exhibitions indoors or hunts for hidden gems outdoors, there's always something for everyone to check out.
Still bored? Here are some cool Singapore content that we've created aside from the usual overseas travel guides and itineraries we're used to doing 🙂
– Singapore Public Holidays 2023 — How to Have 9 Long Weekends With 6 Days of Leave
– 10 Hidden Gems You Never Knew Existed Around Singapore Neighbourhoods
– 11 Lesser-Known Instagrammable Spots in Singapore at Night #ShotOniPhone
What are your favourite things to do in Singapore? Share with us in the comments!
---