Easily accessible from Osaka via rail, San'in and Sanyo are hidden gems in plain sight.
You might know that Japan has 47 prefectures, but we bet you didn't know you could ride camels across sand dunes and walk through 300-million-year-old limestone caves in Japan!
In this article, let us introduce to you the underrated regions of San'in and Sanyo — collectively called Chugoku.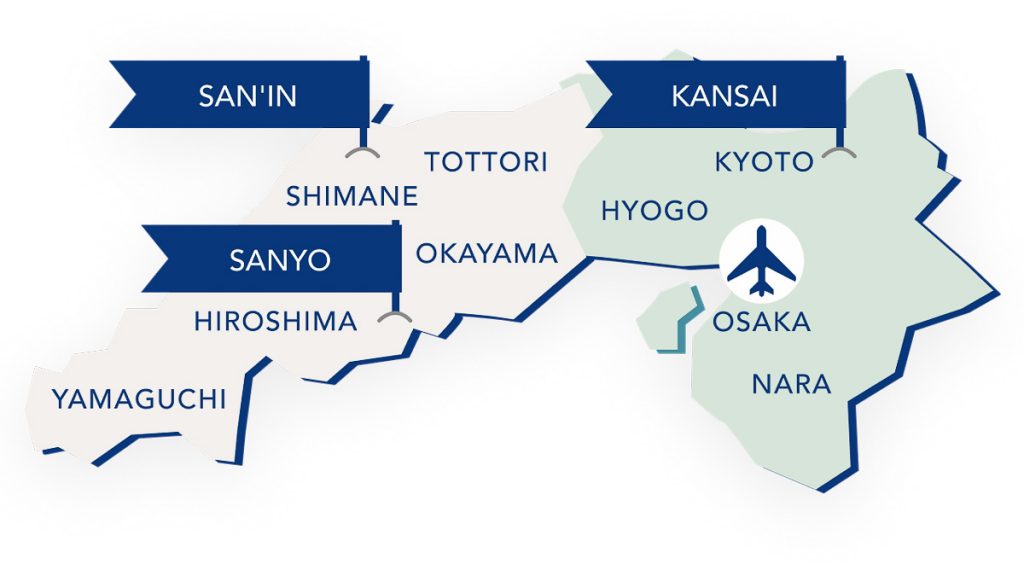 Photo credit: San'in Tourism
Chugoku makes up the western portion of Japan's main island, Honshu. San'in consists of two prefectures — Shimane and Tottori — while Sanyo includes Hiroshima, Okayama, and Yamaguchi.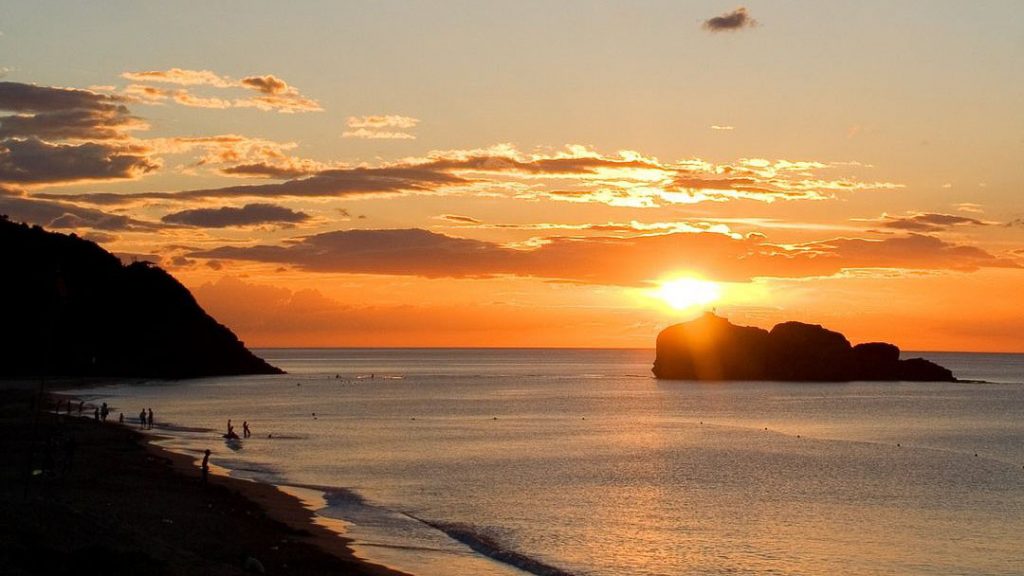 Photo credit: @sanin_stagram via Instagram
San'in and Sanyo has a wide range of landscapes and experiences — think vast sand dunes, grand castles surrounded by cherry blossom, and stunning coastlines all waiting to be explored!
Essentials for Travelling Around Chugoku
Getting to San'in: From Osaka station, there's a 2.5hr JR train to Tottori station
Getting around: The best way to get around Chugoku is by driving. From Tottori station, there are a few car rental companies — a five-seater compact car starts from S$65.50/day.
Activities: Discover Another Japan Pass includes unlimited admission to over 100 attractions in San'in and Sanyo, including all the activities listed below — more on this later!
Tottori Prefecture, San'in
1) Tottori Sand Dunes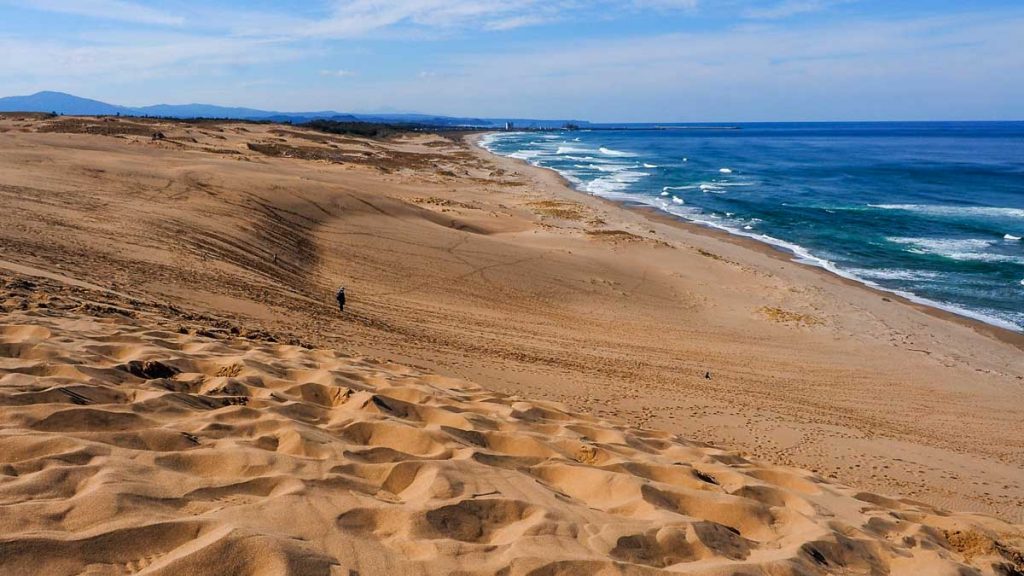 Photo credit: @shinok via Unsplash
The Tottori Sand Dunes is arguably Tottori's most well-known attraction. Stretching 16km along the coast of the Sea of Japan, the sand dunes are a result of the coastal tides and winds. It's like a continuously evolving work of art!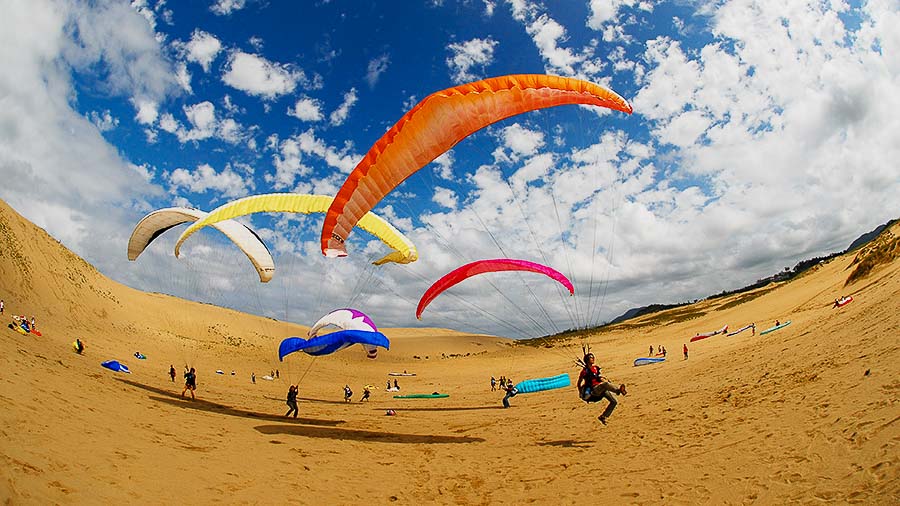 Beyond exploring on foot, there are several things to do at Tottori Sand Dunes for adventure seekers. Ride a camel or horse across the dunes, or try paragliding or sandboarding.
Entrance fee: Free
Opening hours: 24 hours
Address: Fukube-cho, Yuyama, Tottori City, Tottori Prefecture 689-0105
2) Yonago Waterbird Sanctuary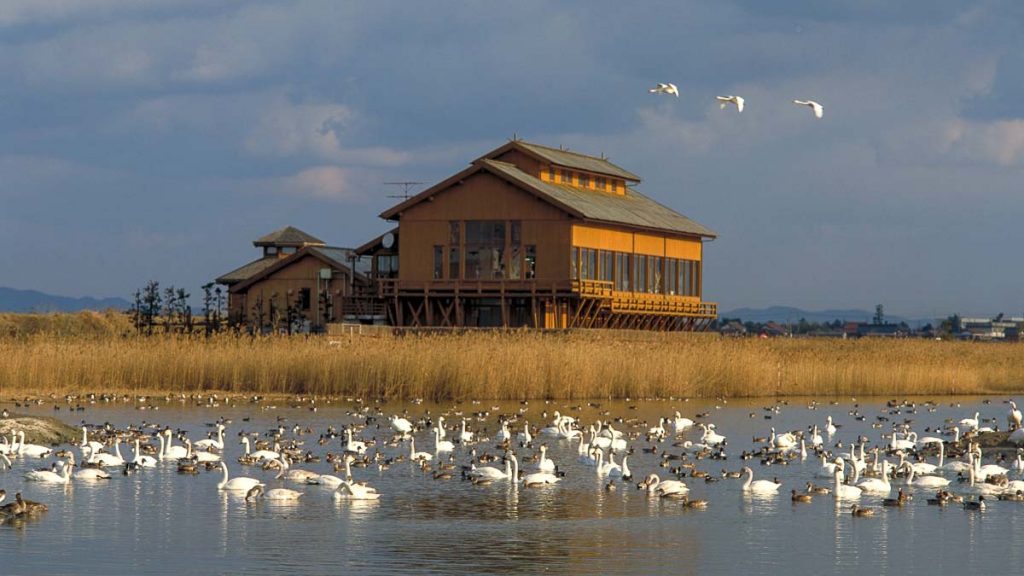 Yonago Waterbird Sanctuary is one of Japan's largest bird sanctuaries. The area has recorded around 40% of wild bird species in Japan, making it a fantastic place for bird spotting.
Photo credit: @nomusanken3 via Instagram
One commonly spotted species is the tundra swan — approximately one thousand of these birds flock here during the colder months of October till March. Other species that pass through include white-tailed eagles and greater white-fronted geese.
The park also offers great views of Mt. Daisen, one of Japan's most iconic peaks.
Entrance fee: ¥310 (~S$3)
Opening hours: Varies
Address: 665 Hikona Shinden, Yonago City, Tottori Prefecture 683-0855
3) Mitokusan Sanbutsuji Temple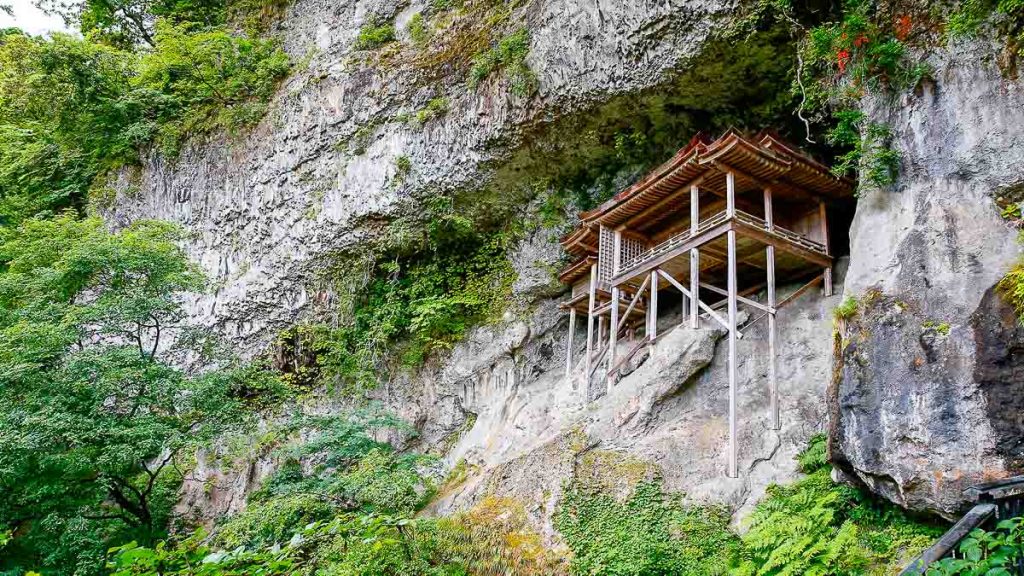 Japan has many temples, but not many sit in the mouth of a cave. The prayer hall of Mitokusan Sanbutsuji Temple can be found on the side of the 900m-high Mt. Mitoku.
According to legend, it was built through the spiritual power of the monk En no Gyōja, the founder of shugendō (mountain asceticism).
To get to Mitokusan Sanbutsuji Temple, visitors have to climb a steep mountain trail (~2hr round trip). However, there's also a viewpoint along the main road if you'd like to skip the hike!
Entrance fee: ¥800 (~S$7.70)
Openings hours: 8AM – 3PM
Address: 1010 Mitoku, Misasa-cho, Touhaku District, Tottori Prefecture 682-0132
Shimane Prefecture, San'in
4) Matsue Castle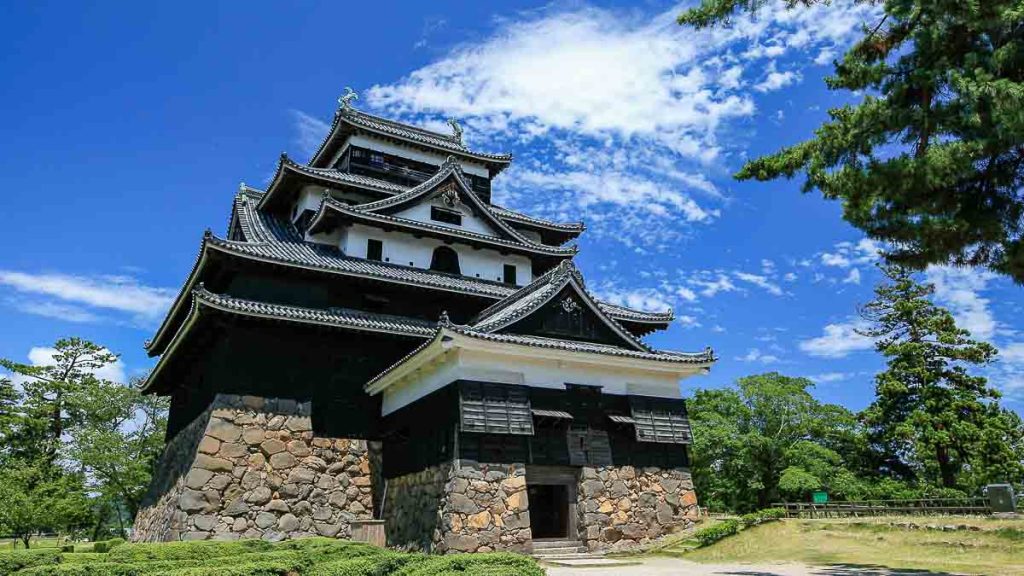 Completed in 1611, Matsue Castle is one of 12 original castle structures in Japan. From end of March to early April, cherry blossoms in the surrounding Jozan Park are in full bloom. Be sure to check out the Jozan Inari-jinja Shrine in the park!
Another way to experience the beauty of Matsue Castle is by taking a sightseeing boat tour (¥1,200) around the castle moat. You'll also pass by Shiomi Nawate Street, a picturesque samurai neighbourhood.
Entrance fee: ¥470 (~S$5.50)
Opening hours: 7AM – 7:30PM (Apr – Sep), 8:30AM – 5PM (Oct – Mar)
Address: 1-5 Tono-machi, Matsue City, Shimane Prefecture 690-0887
5) Matsue Vogel Park
Matsue Vogel Park is a great place for a day out amongst nature and feathered friends. There are 32 hectares of lush garden, with two bird greenhouses and a flower greenhouse — kinda like if Gardens by the Bay and Jurong Bird Park were combined.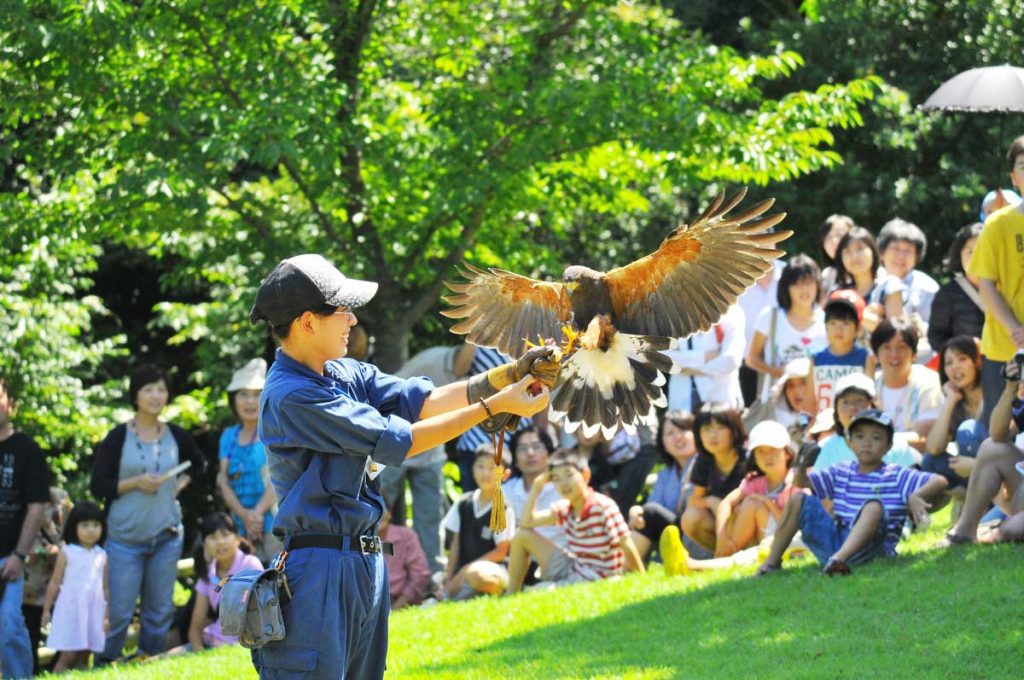 Guests can enjoy bird shows throughout the day — catch adorable penguins waddling along or majestic falcons performing tricks. The park also has some incredible Instagram-worthy flower displays, the backdrop for photos.
Entrance fee: ¥1,050 (~S$10)
Opening hours: 9AM – 5:30PM (Apr – Sep, Last entry 4:45PM), 9AM – 5PM (Oct – Mar, 4:15PM)
Address: 52 Ogaki-cho, Matsue City, Shimane Prefecture 690-0263
6) Yuushien Garden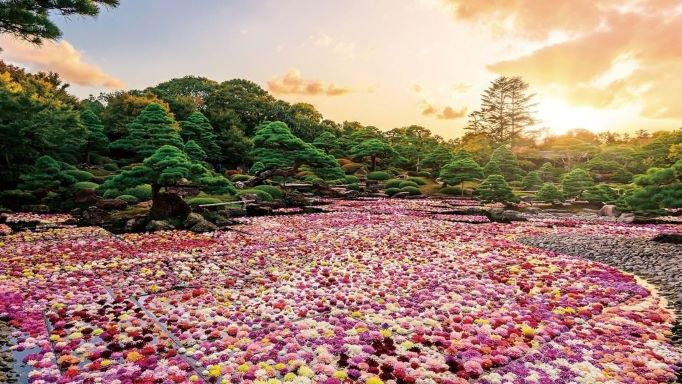 Photo credit: @saninheart via Instagram
Home to 250 types of Japanese peony flowers, The Yuushien Garden may be one of Japan's most beautiful gardens. Located on the small island of Daikonshima, you'll find different varieties of peonies across the four seasons.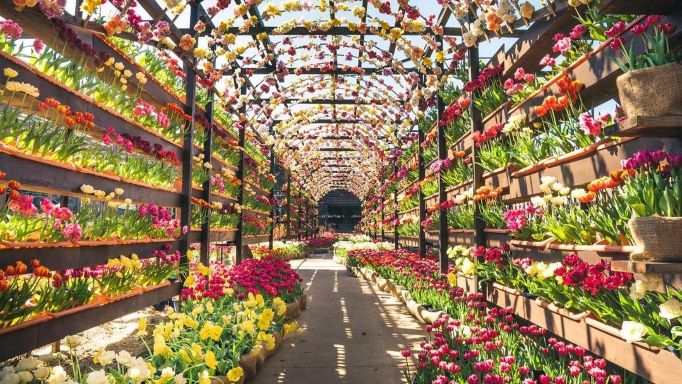 Photo credit: @yuushien_official via Instagram
While you're there, drop by the restaurants to try out local dishes like the Korean Ginseng tempura dishes or the tea house for a cup of Korean ginseng tea.
Entrance fee: ¥1000 (~S$10)
Opening hours: 10AM – 8PM (Mon – Fri), 10AM – 8:30PM (Sat – Sun, PHs)
Address: 1260-2 Yatsukacho Hanyu, Matsue, Shimane Prefecture 690-1492
Hiroshima Prefecture, Sanyo
7) Orizuru Tower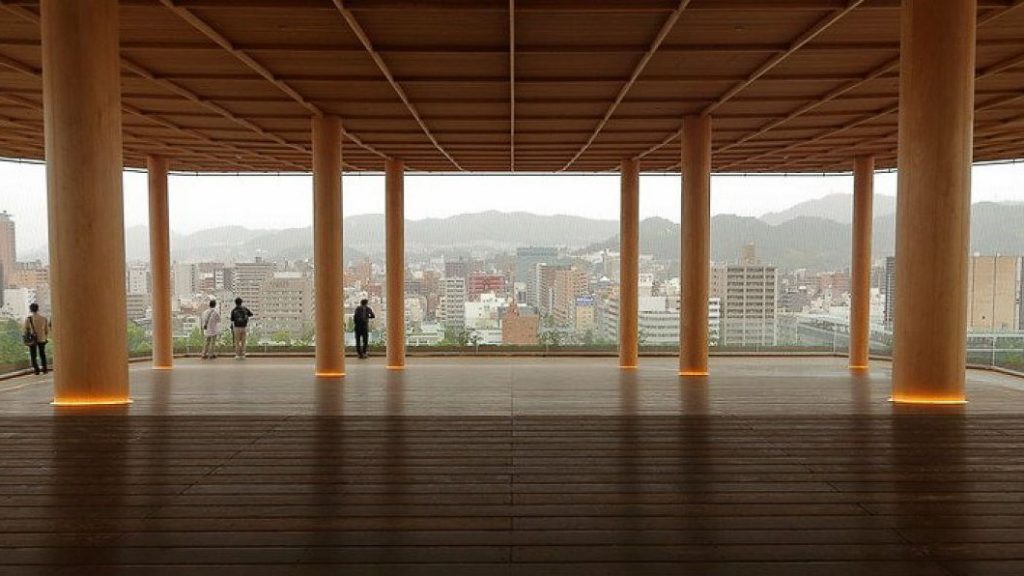 Photo credit: Orizuru Tower
Orizuru Tower offers one of the best views of Hiroshima. The main attraction is the RF Observatory, an open-air wooden observation deck that overlooks Peace Memorial Park and the Atomic Bomb Dome. It's a nice place to relax and take photos of this historic city!
Another highlight is the 70m-long spiral slide which runs from the 12th to first floor. To increase speed, visitors can opt for "slide sheets" which are free to use.
Entrance fee: ¥1,700 (~S$16.40)
Opening hours: 10AM – 6PM
Address: Ote-machi, Naka-ku, Hiroshima City, Hiroshima Prefecture 730-0051
8) Taishaku Gorge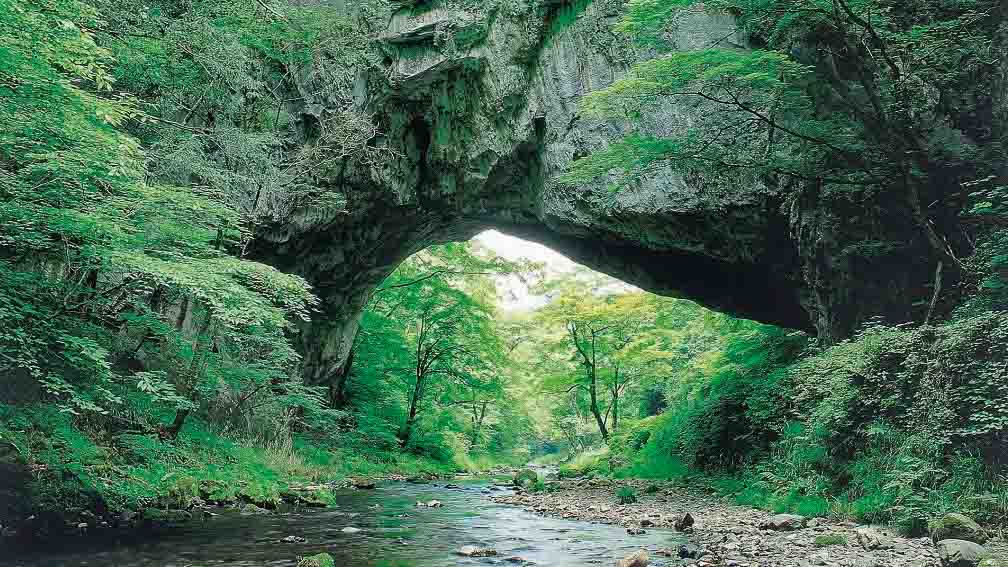 Courtesy of Hiroshima Prefecture
Taishaku Gorge is 18km of natural beauty, stretching across Hiroshima, Tottori, and Shimane prefectures. It's best seen from a pleasure boat tour! Along the way, soak in the striking red bridges and rock formations.
The nearby Kamitaishakuyo area is also worth checking out. Visitors can hike along the stream, and even pass by Hakuundo Cave, a famous 200-meter-long limestone cave.
Entrance fee: Free
Opening hours: 24 hours
Address: Jinseki Kogen, Jinseki District, Hiroshima Prefecture 729-3602
Okayama Prefecture, Sanyo
9) Tsuyama Castle and Kakuzan Park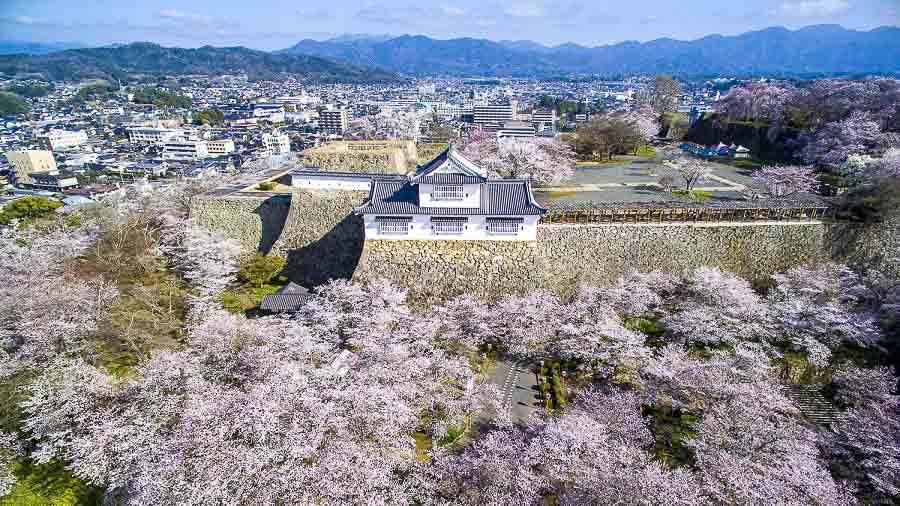 Photo credit: Okayama Prefectural Tourism Federation
One of the most popular things to do in Japan is experience cherry blossom season, and Tsuyama Castle and Kakuzan Park is a great place to do so.
Tsuyama Castle is 400 years old and sits atop 10m stone walls, making it an ideal vantage point to see surrounding landscapes. One unique feature of the castle is its large number of turrets — the third highest for a castle in Japan.
*Pro-tip: Each year, the Tsuyama Cherry Blossom Festival is held at Tsuyama Castle. Visitors can taste local specialties and try other activities!
Entrance fee: ¥310 (~S$3)
Opening hours: 8:40AM – 7PM (Apr – Sep), 8:40AM – 5PM (Oct – Mar)
Address: 135 Sange, Tsuyama City, Okayama Prefecture 708-0022
Yamaguchi Prefecture, Sanyo
10) Akiyoshido Cave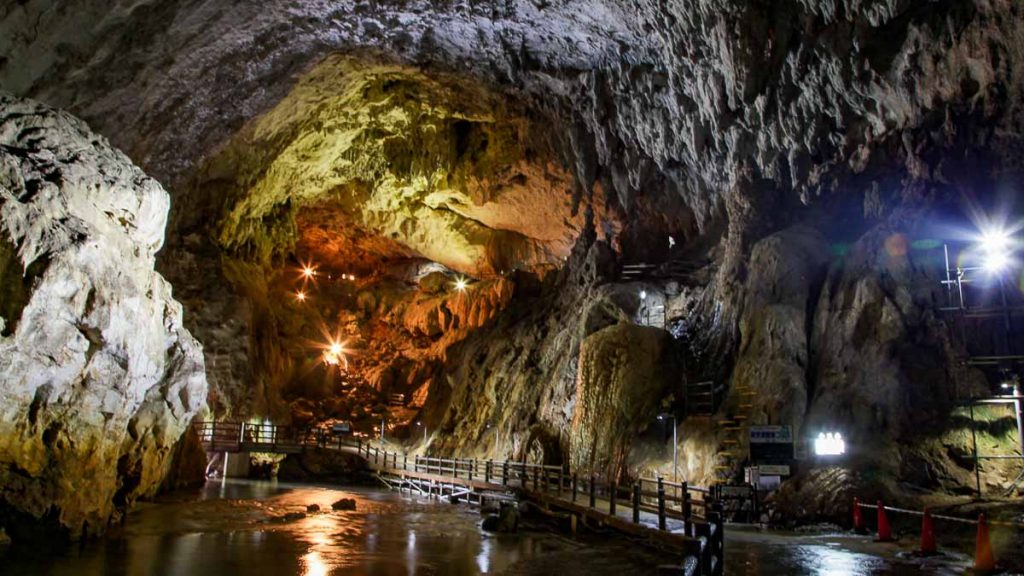 Akiyoshido Cave is one of Japan's largest limestone caves, dating back to 300 million years ago. Temperatures in the cave remain around 17°C throughout the year, so it's always pleasant to visit.
The cave is 10km long, but the 1km section that's open to tourists is more than enough to soak it all in. Marvel at the natural formations in the cave — like towering stone columns and cave terraces.
*Pro-tip: Akiyoshido Cave is located in Akiyoshidai Quasi-National Park. There are many hiking trails here to explore after checking out the cave!
Entrance fee: ¥1,300 (~S$12.50)
Opening hours: 8:30AM – 4:30PM (Dec – Feb), 8:30AM – 5:30PM (Mar – Nov)
Address: 3506-2 Akiyoshi, Shuho-cho, Mine City, Yamaguchi Prefecture 754-0511
11) Omijima Cruise Ship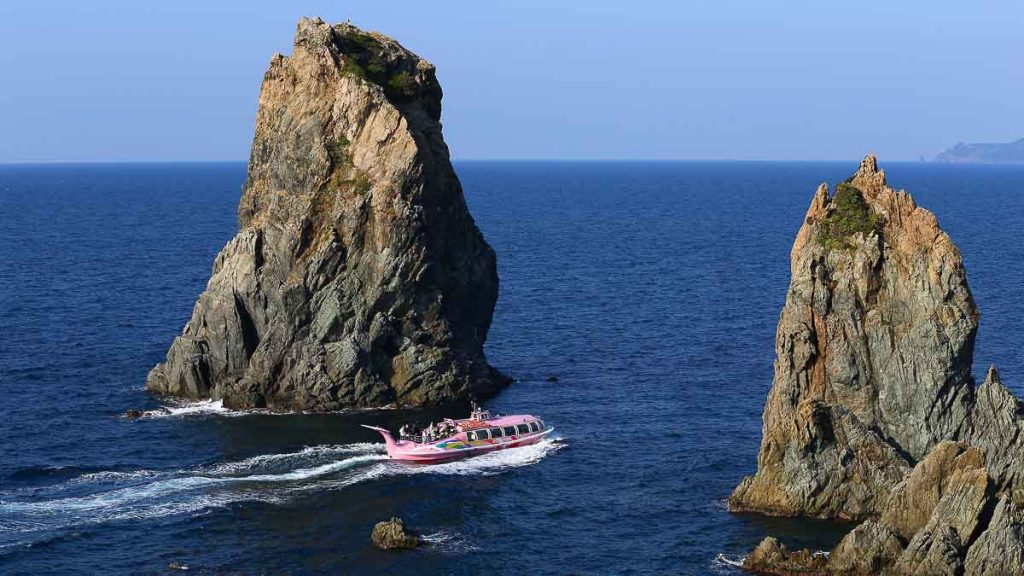 Home to stunning coastlines with unique rock formations, it's no wonder Omijima Island is nicknamed the "Alps of the Sea". The island rests in Kita Nagato Kaigan Quasi-National Park and is best seen via cruise.
Choose between three different cruise experiences — dolphin-style boats (smaller and makes sharper turns), whale-style boats (larger, with an observation deck), or fishing fire cruises (sunset cruise).
Cost: ¥2,200 (~S$21.20)
Opening hours: 8AM – 5PM (Mar – Nov), 9AM – 4PM (Dec – Feb) — Check their website for exact departure timings
Address: 4297-2 Senzaki, Nagato City, Yamaguchi Prefecture 759-4106
Getting around San'in and Sanyo with the Discover Another Japan Pass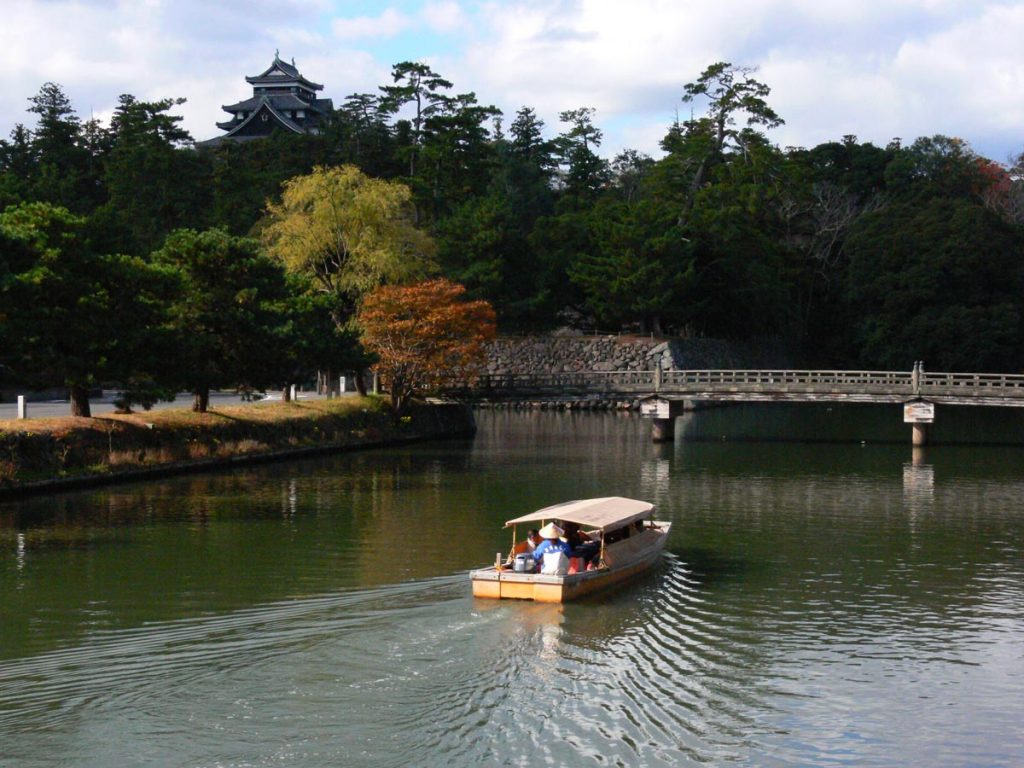 Here's a little pro-tip to exploring the San'in and Sanyo region of Chugoku — get the Discover Another Japan Pass. It gives you unlimited access to over 170 major tourist attractions in the Chugoku region. Attractions include entries into historical buildings, museums, boat rides, and even bicycle rental at JR stations.
It comes in 3, 5, and 7-day passes starting from ¥6,000.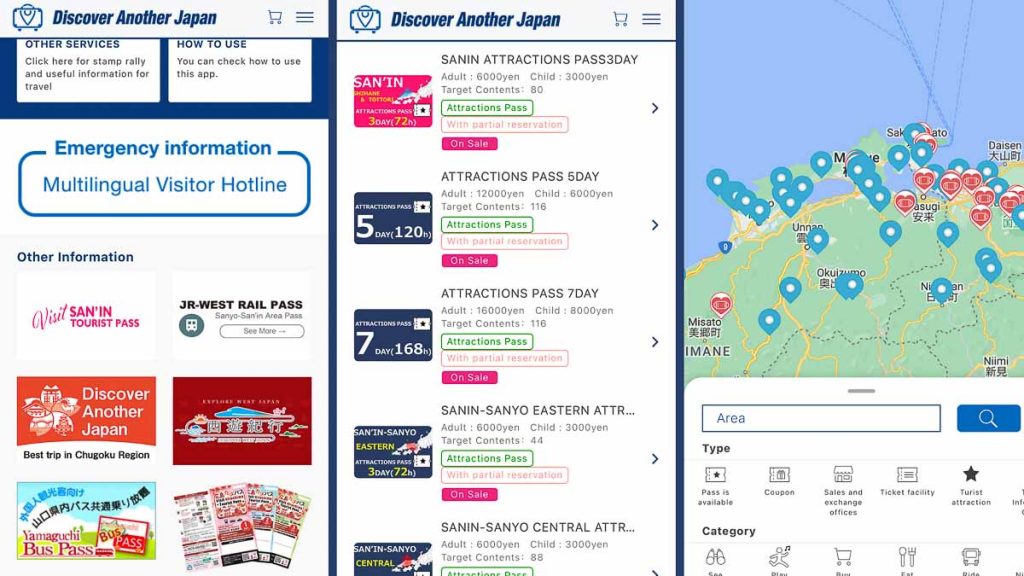 Photo credit: San'in Tourism
To purchase the Discover Another Japan pass, just download the Discover Another Japan app to make the purchase. You can then show your pass from your phone for entry into attractions. The app also acts as your guide to discover other things to do in San'in and Sanyo.
San'in and Sanyo have a great mix of landscapes and culture, many of which are unknown to most foreign tourists. So for your next trip to Japan, why not go on an epic road trip around Chugoku's underrated prefectures?
Featured image credit: ©Tottori Prefecture
Facebook image credit: Okayama Tourism, JNTO and @shinok via Unsplash
Know of other exciting things to do in San'in, Japan? Share with us in the comments!
---
This post was brought to you by Japan National Tourism Organization (JNTO).
Like what you see? Follow us on Facebook, Instagram, Tiktok, and YouTube for more travel updates!