An underexplored countryside escape from the usual tourist cities in Japan.
After a week in Hokuriku, surrounded by stunning mountain landscapes and coastal views, I definitely feel more recharged.
Located by the Sea of Japan, Hokuriku is an under-the-radar destination that's a stark but welcoming difference from the bustling favourites of Japan like Tokyo and Osaka.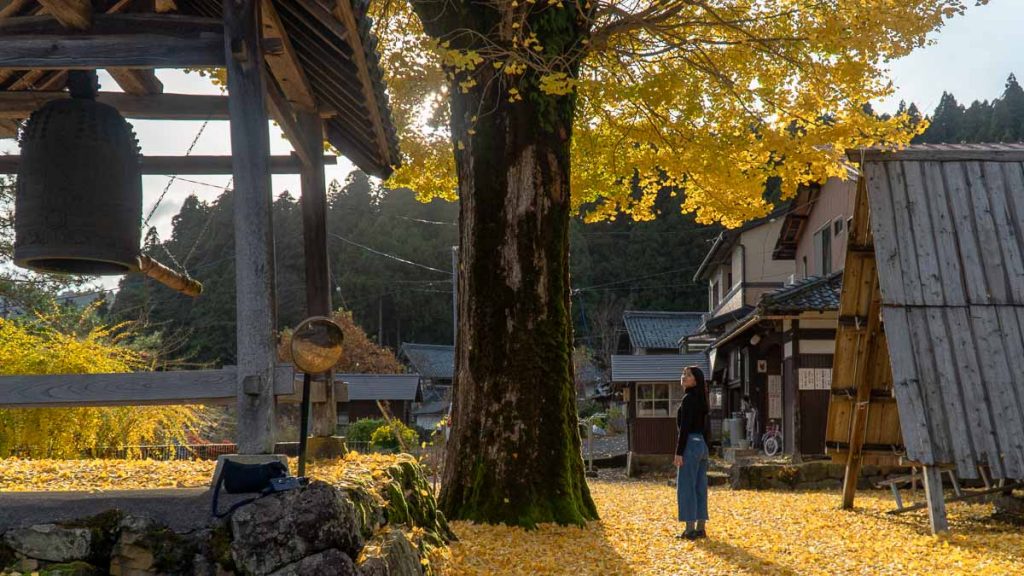 If you're looking for a relaxing getaway in Japan, here's a sneak peek of the best things to do in Hokuriku the next time you're planning your Japan itinerary.
Where is Hokuriku?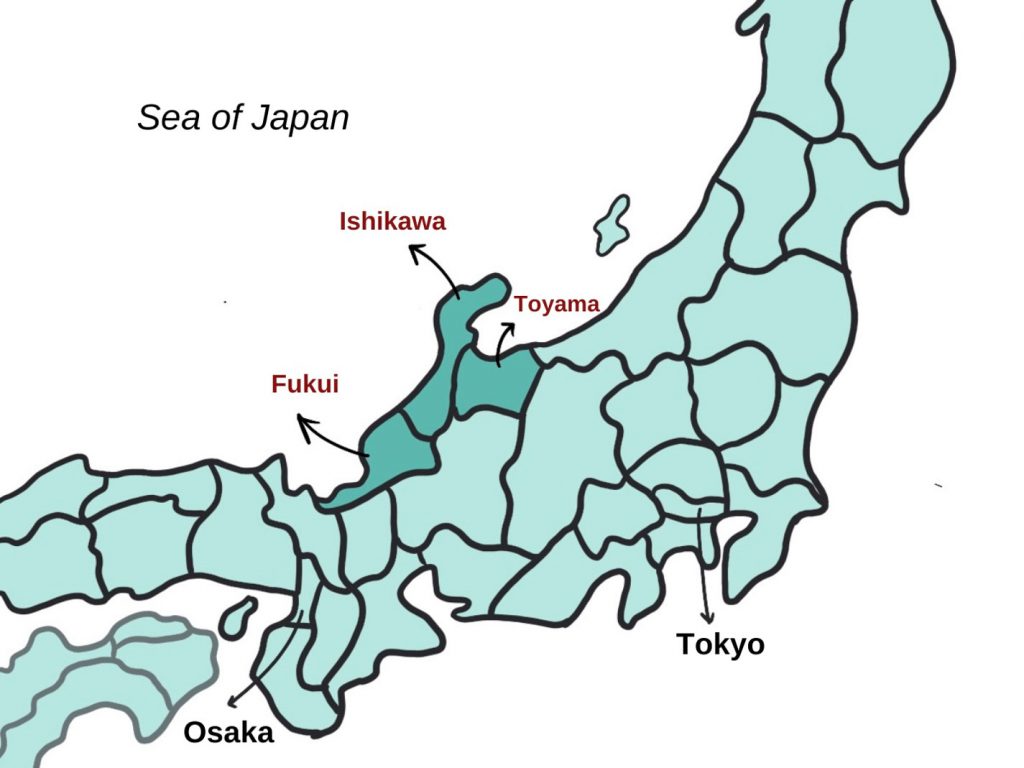 But first, I'm sure many are wondering where exactly Hokuriku is.
Saddled along the western coast of central Japan, the Hokuriku region is home to three prefectures — Fukui, Ishikawa and Toyama.
There are three domestic airports in the region — Komatsu, Toyama, and Noto, but most international travellers either take the train from Tokyo Station or Kansai Airport Station.
How to get to Hokuriku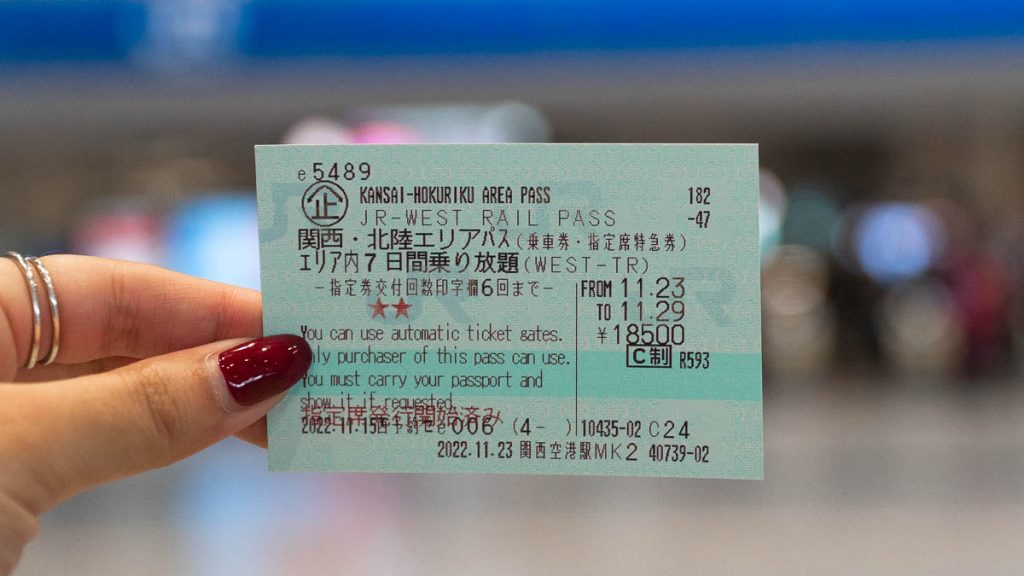 From Kansai Airport: Take the Limited Express Haruka to either Shin-Osaka or Kyoto Station. From there, board the Limited Express Thunderbird towards Fukui. The total journey takes around three hours (~¥8,240).
From Tokyo Station: Take the JR Hokuriku Shinkansen Line to Toyama Station — the nearest prefecture in Hokuriku to Tokyo. The journey takes about two hours (~¥12,760).
*Pro-tip: Get the 7-Day Kansai-Hokuriku Area Pass (¥18,500) if you're travelling from Osaka, or the 7-Day Hokuriku Arch Pass (¥24,500) if you're travelling from Tokyo. Other than covering the major journeys from Tokyo or Osaka, it also covers local transport within the city.
Read also: JR Pass Guide — 9 Things You Need To Know Before Getting Your First Japan Rail Pass
Getting around in Hokuriku
Within the towns, buses are well-connected but infrequent — some run thrice a day, depending on the area. An interesting thing to note about the buses in Hokuriku is that some charge flat fares while others go by distance. The latter will usually have the fare displayed on a screen at the top of the bus.
Boarding is from the back door where you will draw a numbered ticket to pass the conductor at the end of the trip. Bus fares are paid either in cash or with a reloadable IC card when alighting from the front of the bus.
*Pro-tip: Carry coins as the driver may not have change for large notes.
What to do in Hokuriku
1) Kaga Fruit Land — All-You-Can-Eat Fresh Fruits
If you love Japanese fruits, Kaga Fruit Land is where you can get them as fresh as they can be — right off the vine!
We visited during the apple-picking season and got to roam freely through the orchard. For ¥1,650/person, you can pick all-you-can-eat Fuji apples. The apples were so juicy yet crunchy and honestly, the sweetness puts Granny Smiths to shame!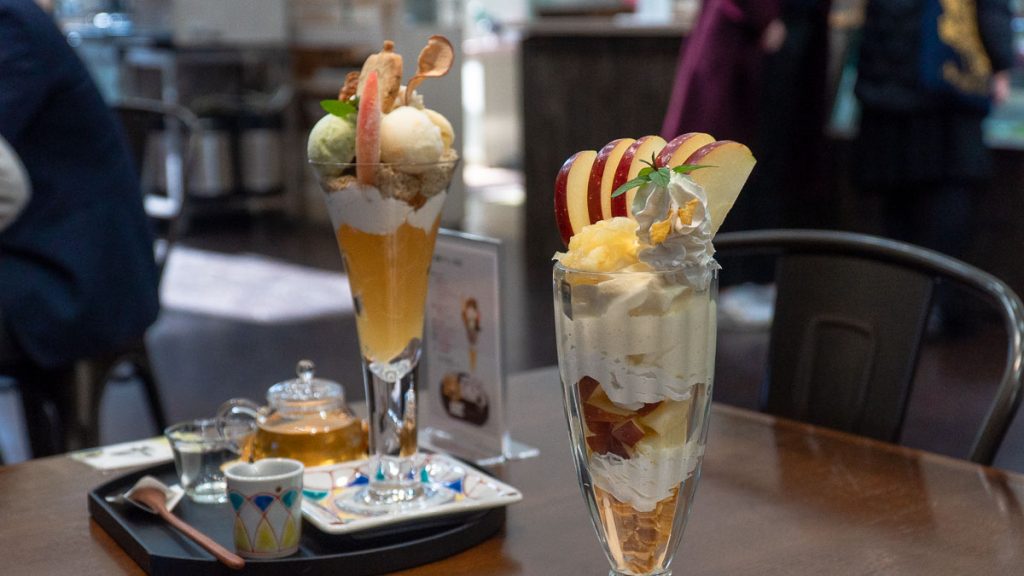 After you're done, cool down at the cafe and try their parfaits made with fruits from their orchards. Each cup ranges from ¥860–¥1000 and is great for sharing.
*Pro-tip: Time your visit according to the season of your favourite fruit — cherry (Jun), blueberry (Jun – Jul), grape (Jul – Sep), apple (Oct – Nov), or strawberry (Dec).
Cost: Varies depending on the fruit season
Opening hours: Varies
Address: I-59-1 Yutakamachi, Kaga, Ishikawa 922-0563, Japan
*Note: Reservations are required for strawberry, cherry and blueberry picking.
2) Tateyama Kurobe Alpine Route — Japan's Snow Wall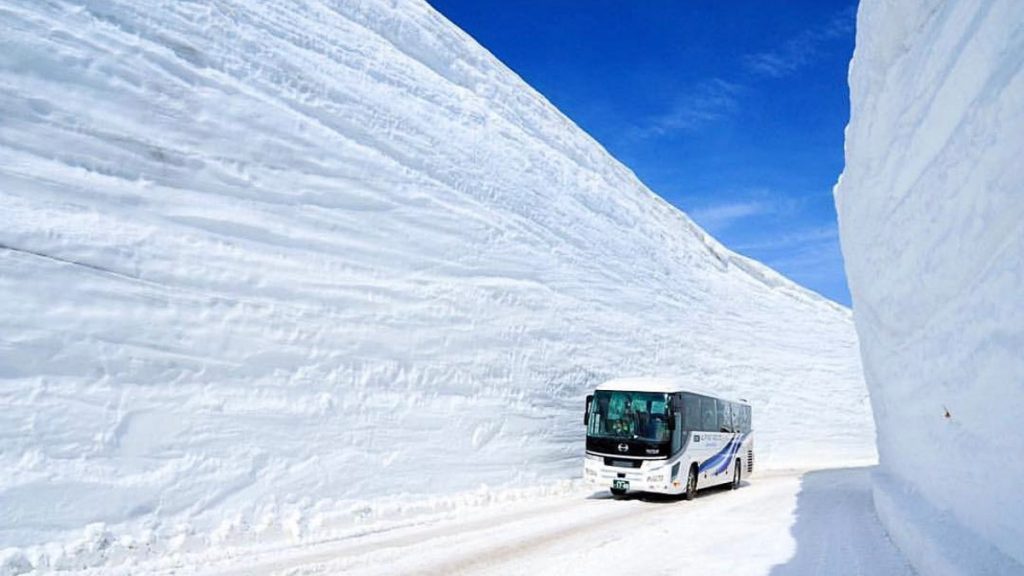 Photo credit: @tateyamagirl via Instagram
The famous Yuki-no-otani snow wall which goes up to 7-storeys (20 metres) high, exists on the Tateyama Kurobe Alpine Route that runs between Toyama and Nagano.
The craziest part is that you can only see it in the early summer — the Alps receive the heaviest snowfall in the world, making the area inaccessible for months.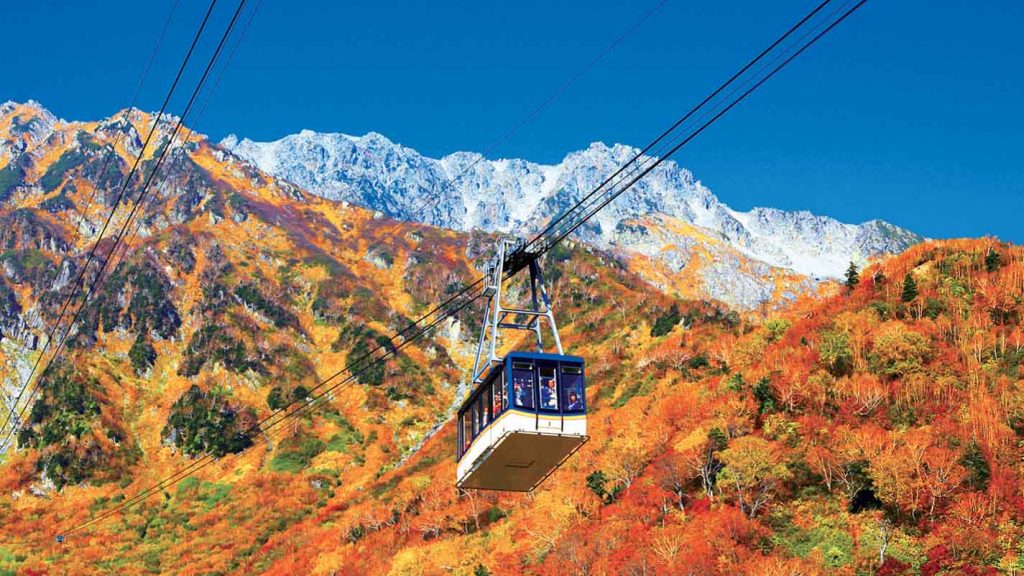 Photo credit: Tateyama Kurobe Alpine Route
Part of the Japanese Alps, Tateyama is one of the three sacred mountains in Japanese culture — up there with Mt Fuji. The route is also home to stunning nature parks, waterfalls and many alpine hiking trails on the mountain range.
If you want to complete the whole route, you'll need to take different types of transportation such as cable car, tunnel trolley bus, ropeway or bus, thanks to the terrain. Pre-book your Tateyama transport ticket online or opt for a guided tour.
*Note: The route is only open from mid-April to November, while the Snow Corridor is open from mid-April to June. Operating hours vary.
3) Etchū-Yatsuo — Home to the Owara Kaze-no-bon Festival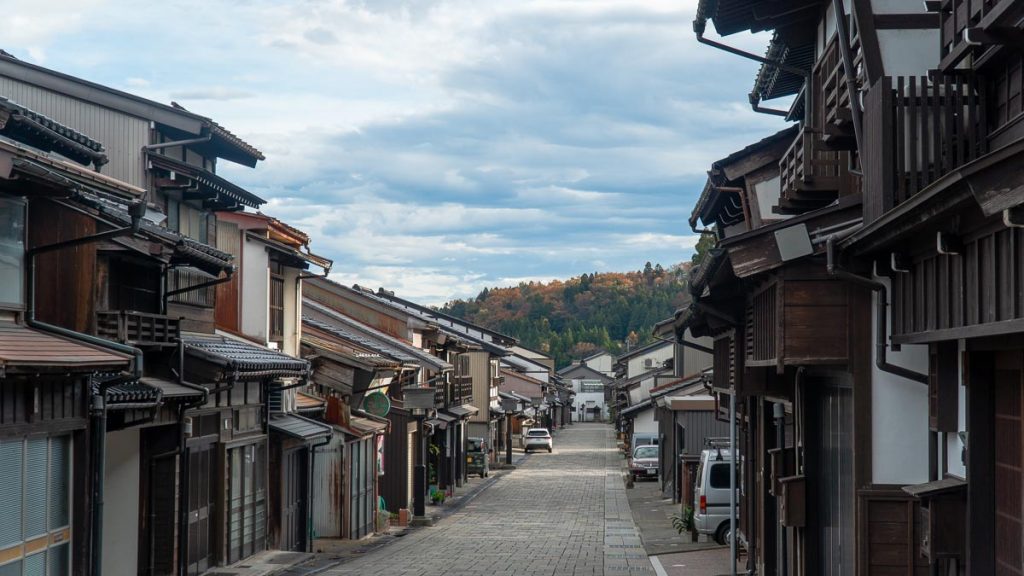 Etchū-Yatsuo is reminiscent of the bustling Gion in Kyoto. The difference here is, you'll have the entire cobble-stoned street to yourself. The town is lined with beautiful traditional Edo wooden houses and its iconic street, Suwamachi, was once voted as one of the best roads in Japan!
Photo credit: @_taka23_ via Instagram
Don't be fooled by the quiet streets. The town comes to life every year between 1st and 3rd September in celebration of the Owara Kaze-no-Bon-Festival! Running for almost 300 years, tourists and locals flock to the lantern-lined streets to watch the dancers perform.
Unlike the raucous nature of other Japanese festivals, this festival takes on a calmer tone, with slow and elegant synchronised dance movements — said to appease the wind gods.
How to get there: From Toyama Station, take the JR Takayama Line to Etchū-Yatsuo Station
4) Keijusha — Traditional Washi Papermaking Experience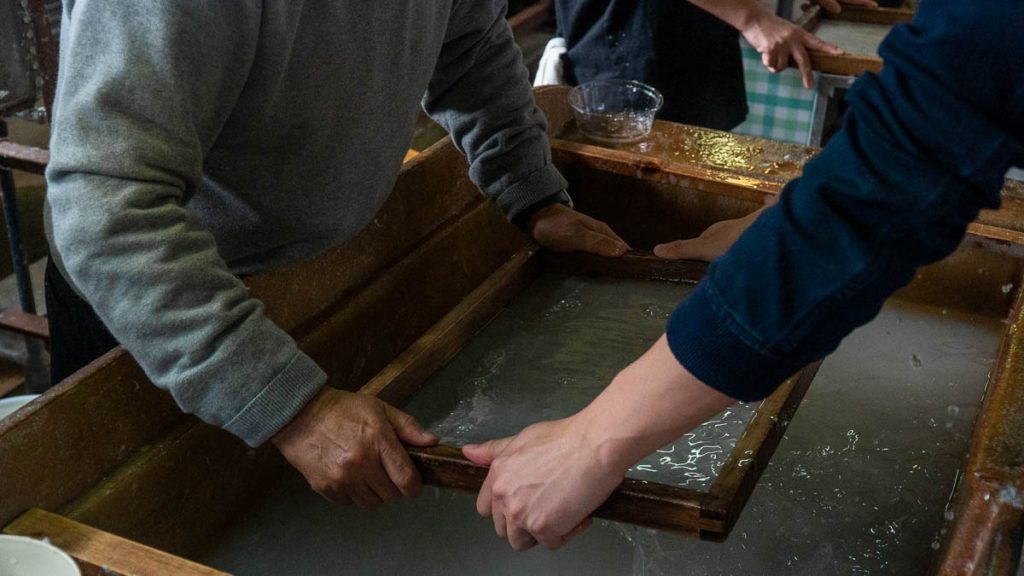 For ¥700, have a hand at making your own Washi paper, sprinkled with fancy gold leaves at Keijusha.
The Washi paper industry in Yatsuo dates back to the 14th century, and with modern technology phasing out the need for washi, Keijusha is the only maker in town left to preserve the legacy of making strong handmade paper once used to store medicine.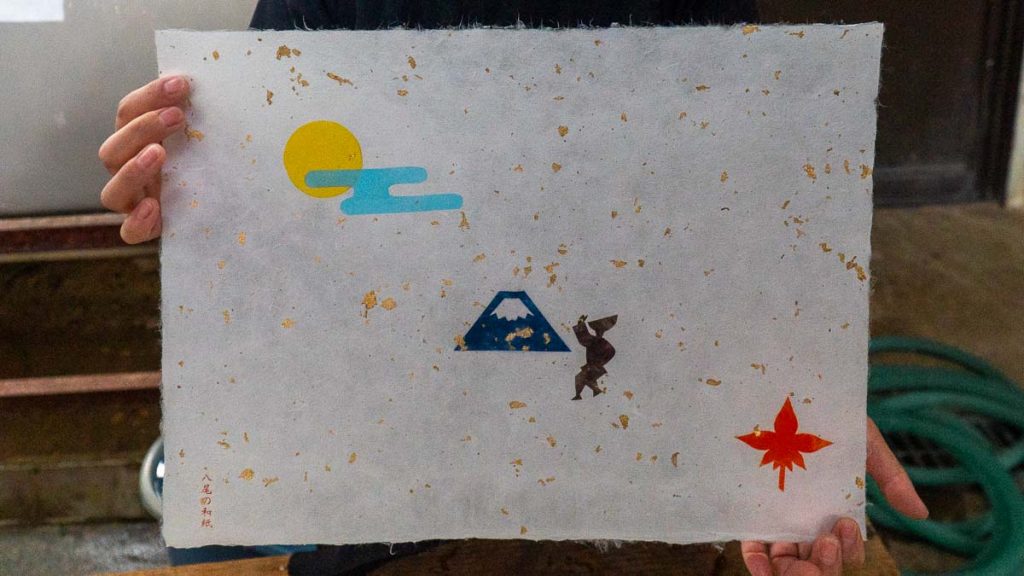 My Washi masterpiece!
We got a chance to try our hand at making our very own washi paper and I decorated it with motifs that summed up my trip to Japan. Before drying, the washi master will pour a layer of gold leaves that are embedded into the paper — officially the fanciest piece of paper I own.
While paper may not be widely used today thanks to our e-devices, it's heartwarming to witness how knowledge and tradition evolve. Keijusha now creates whimsical stationery products that are exported around Japan!
Cost: ¥700/person
Opening hours: 9AM – 4PM (Tue – Fri), closed between 12PM – 1PM
Address: 668-4 Yatsuomachi Kagamimachi, Toyama, 939-2341, Japan
Booking: Reservations are required at least a week in advance, with a minimum of 2 pax
5) Kansui Park — Japan's Most Scenic Starbucks Location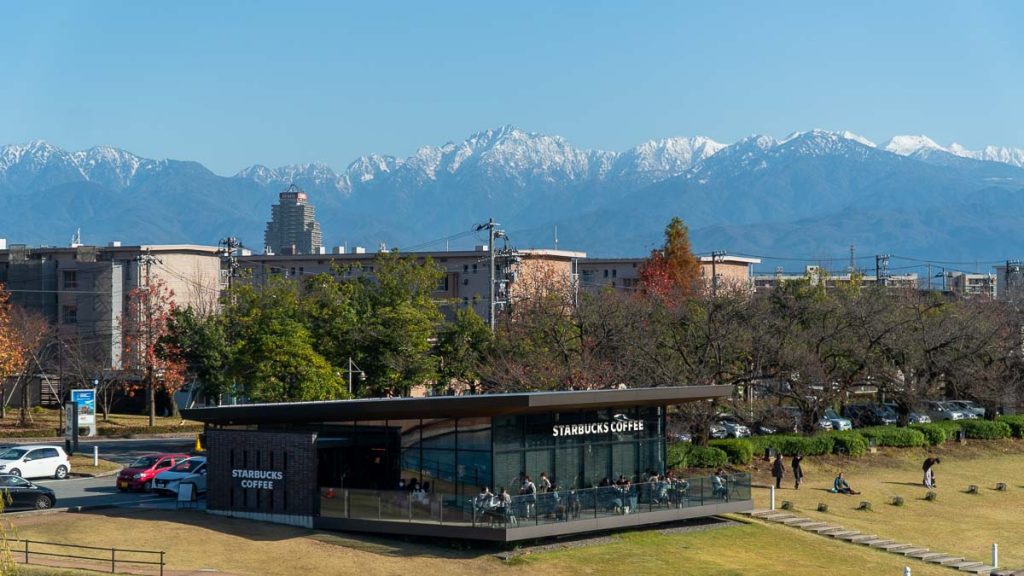 One of the most beautiful Starbucks locations in Japan has to be the one at Kansui Park. I mean, it has the Japanese Alps as its backdrop!
We decided to copy what many parkgoers were doing by grabbing a cup of coffee and laying on the grass. The autumn foliage accompanied by clear skies made the afternoon extra peaceful.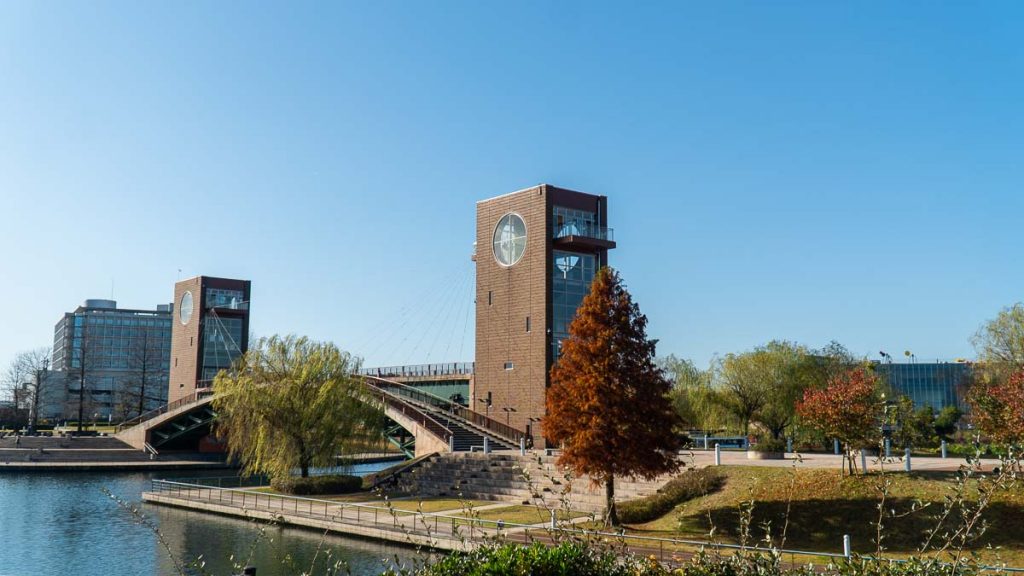 The park is stunning no matter the season but is notably popular for its sakura corridor in spring 🌸! You can also hop on a cruise down the Fugan Canal to Iwase Canal Hall while admiring the foliage and mountain view.
Entrance fee: Free
Opening hours: 24 hours
Address: Minatoirifunecho, Toyama, 930-0805, Japan
6) Kenroku-en Garden — Kanazawa's Most Beautiful Garden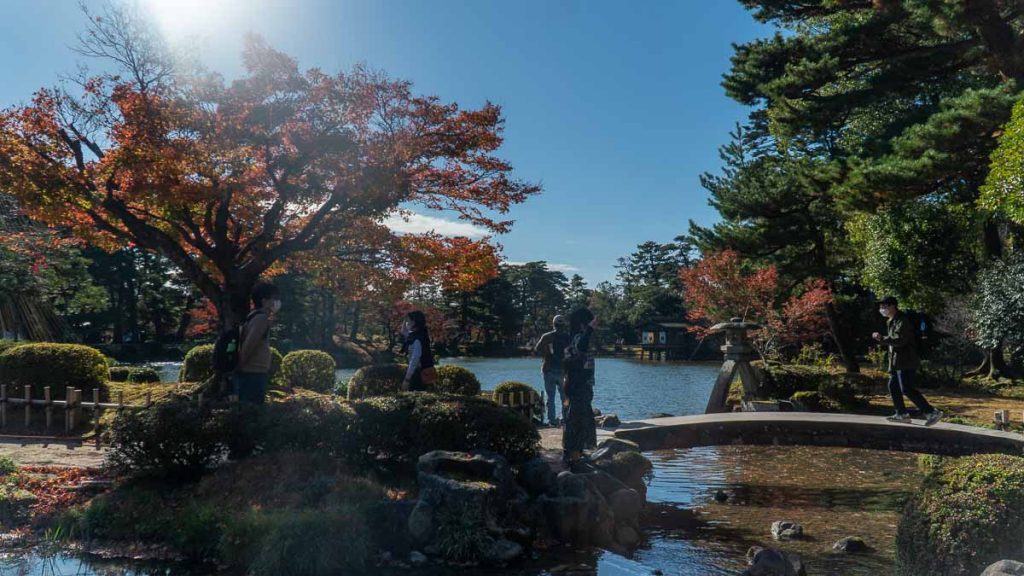 From traditional landscaping to a teahouse you can dine in, it's easy to feel like you've stepped into the past when you're in Kanazawa's Kenroku-en Garden.
This has been one of the most famous gardens in Japan for centuries. It transforms dramatically through the seasons, with sakura blossoms in the spring and a snowy wonderland in the winter. We went in November and the trees were in vibrant shades of orange and red.
Fun fact: In the past, the garden was strictly exclusive to the lords only.
*Pro-tip: Visit earlier in the morning as it gets very crowded during the afternoon.
Entrance fee: ¥320/person
Opening hours: Varies
How to get there: Take a 20min bus ride from Kanazawa station. Alight at Kenrokuen Garden・Kanazawa Castle Park bus stop.
Read also: 13 Tips to Travel in Japan Over Peak Seasons — Cherry Blossoms, Autumn Foliage, Golden Week
7) Toyama Port Observation Tower — Sunset view of the Japanese Alps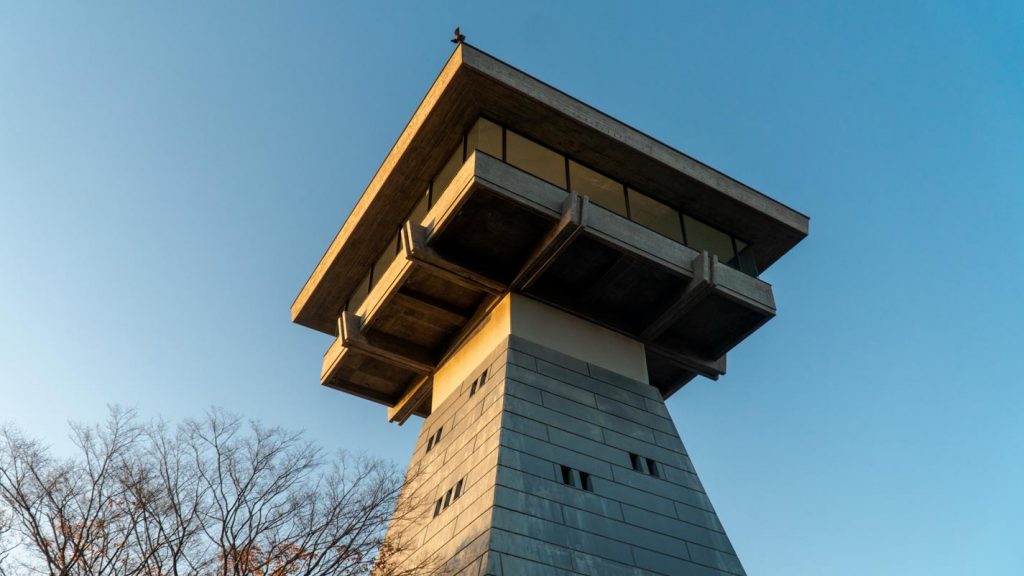 We dropped by Toyama Port Observation Tower at sunset and the view was magical.
At the top of a 25-metre structure, we were greeted by a 360° panoramic view of Toyama Bay and Iwase Old Town.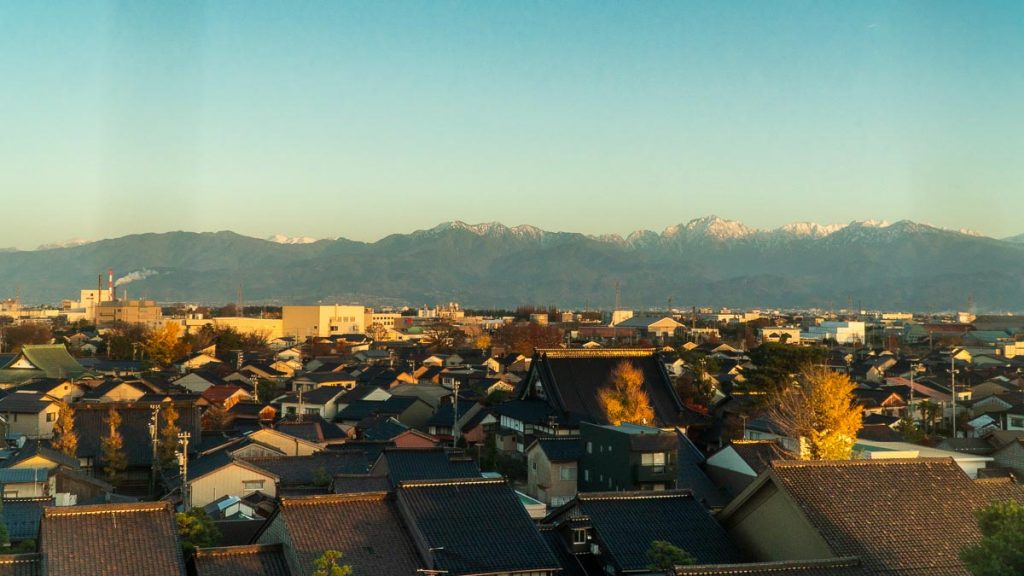 Oh, and you get a good look at the Japanese Alps in all its glory! There are markers on the window that'll help identify the different mountains and binoculars for a close-up view of the snow peaks.
*Pro-tip: Instead of taking the bus, take the tram to enjoy the scenic view of the Japanese Alps on the way!
Entrance fee: Free
Opening hours: 9AM – 4:30PM
How to get there: 9min walk Keirinjo-Mae Station (Toyama Chihou Railway Toyamako Line)
8) Shokoji Temple — Toyama's National Treasure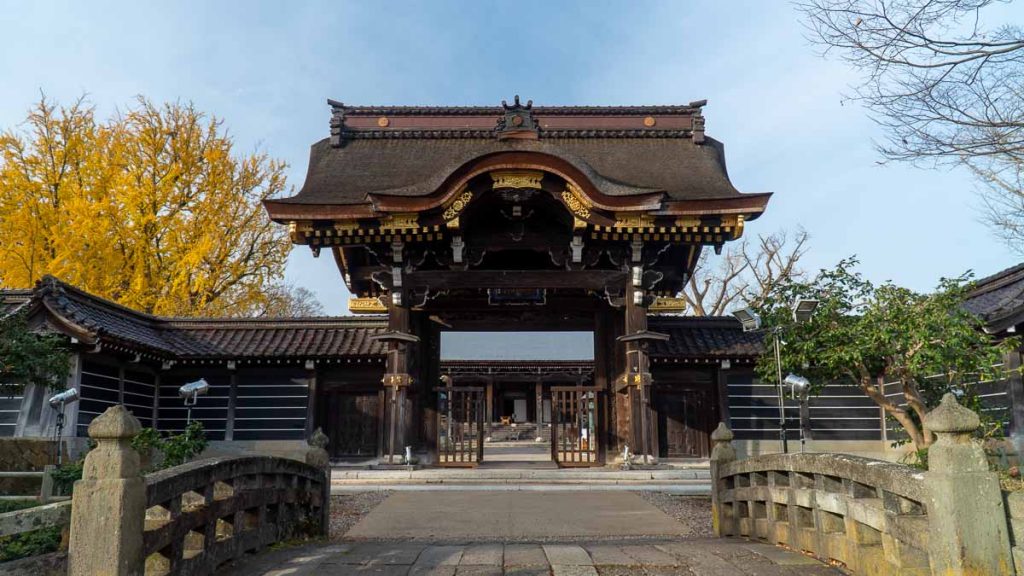 Designated as a National Treasure in 2022, Shokoji Temple is an ancient Buddhist temple belonging to the Jodo Shinshu sect.
We spent some time walking around the sprawling grounds and admiring the detailed carvings on the temple's gates and roof — some parts come from Kyoto!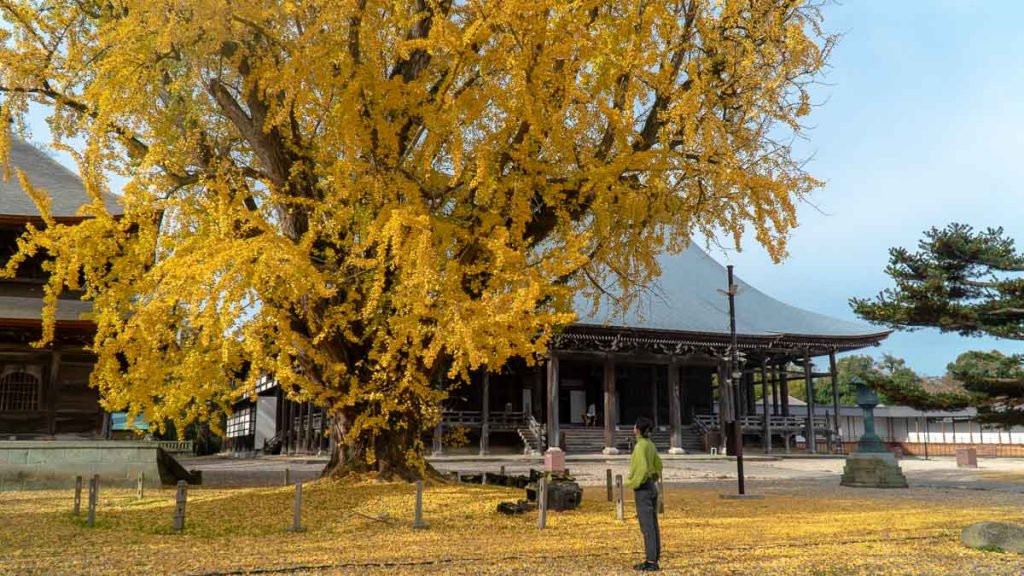 We had so much fun uncovering the seven mysteries hidden throughout the temple's grounds! We'll give you the first one: the Fruitless Ginkgo Tree.
Entrance fee: ¥500
Opening hours: 9AM – 4PM
How to get there: 5min walk from Fushiki Station
What to eat in Hokuriku
9) Snow Crab at くいもん家 ふるさと加賀店 (Kuimonya Furusato)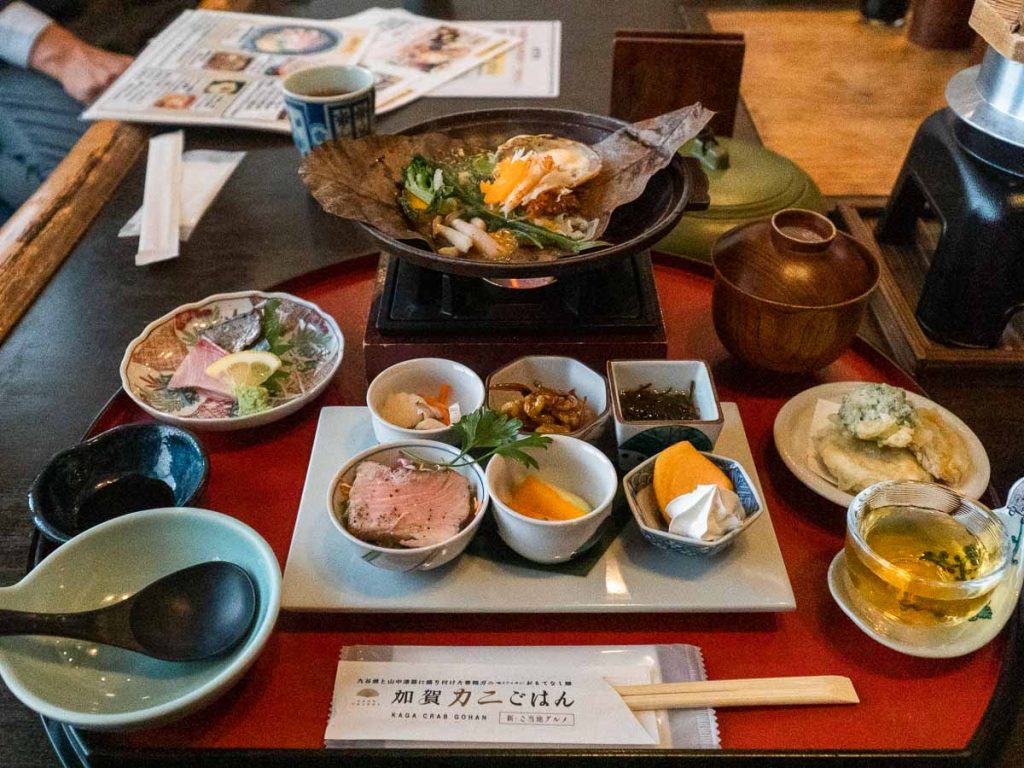 Did you really go to Kaga if you didn't eat snow crab?
Kuimonya Furusato serves kobakogani, female snow crab freshly caught from the nearby port in Kaga City. Snow crabs are expensive in Singapore so my jaw dropped when I found out you could get so much for only ~S$30!
We got the Kani Gohan set which includes sashimi, crab kamameshi, crab leg miso soup and the crown jewel — roe. My favourite was the kamameshi, a rice dish with crab, mushrooms and veggies cooked inside an iron kettle-like pot, which felt super nourishing in the cold weather.
*Note: Snow crab season falls between November to March, off-season offerings are usually frozen.
Cost: ¥3,280/set
Opening hours: 11AM – 10PM, closed between 3PM – 5PM, closed on Tue
How to get there: 5min walk from Kaga Onsen Station
10) Sake tasting at Masuda (Masuizumi) Sake Brewery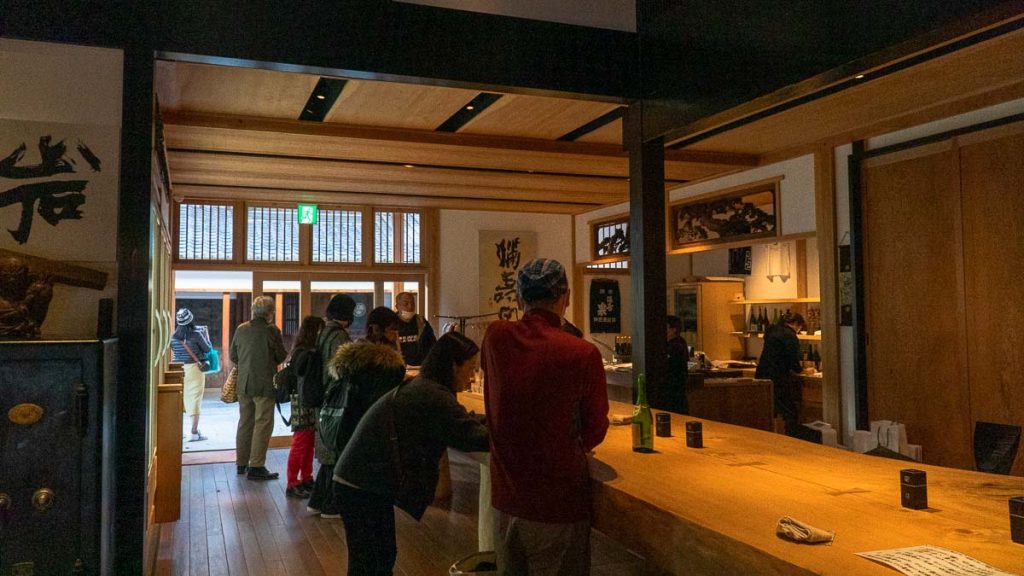 Unlike typical brewery tours that require advanced bookings, Masuda Brewery runs sake tastings differently — best described as a walk-in, self-service tasting.
We purchased a tasting cup (¥220) and got to pick any bottle we wanted to try from the fridge. The tasting is charged by the shot and ranges from ¥200 to ¥500 per sample.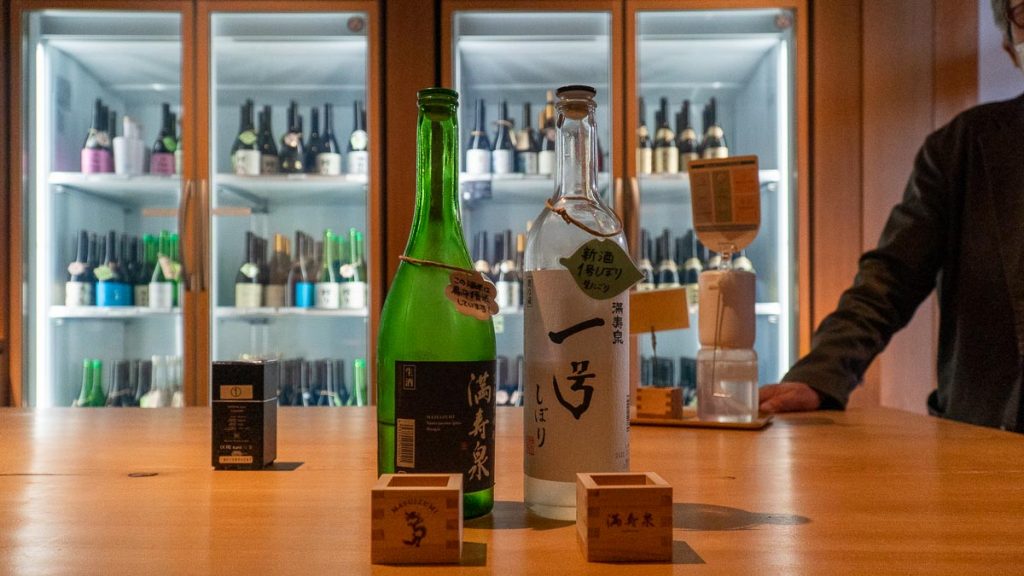 Everything is self-service so we took advantage and filled the cup to the brim!
I found this concept more suitable for people looking to try sake but cannot commit to a full tasting. It's also budget-friendly because you can choose what and how much you consume — perfect for lightweights or those looking for cheap thrillz.
Cost: ~¥200 – ¥500/a glass
Opening hours: 10AM – 5PM, closed on Tue
Address: 93 Higashiiwasemachi, Toyama, 931-8356, Japan
11) Buri Shabu-shabu at Shigehama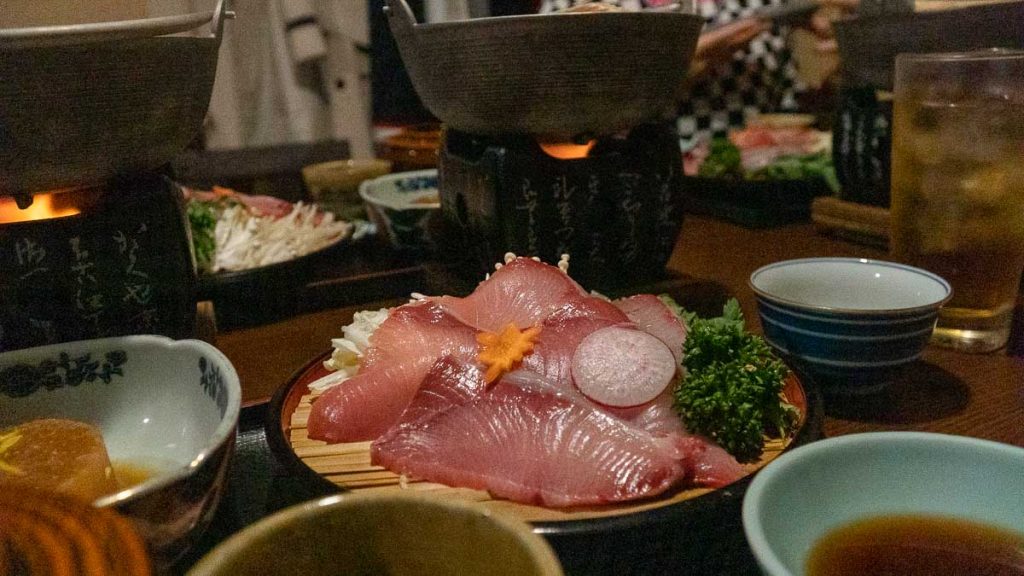 Toyama is famous for its seafood thanks to its prime location by the bay, and what better way to try Buri, known as Japanese Amberjack or Yellowtail fish, than in Himi City where it's caught?
While sashimi is the most popular way to eat Buri, I'm not exactly a fan of raw fish and Shigehama's shabu-shabu was the perfect way for me to control the fish's done-ness. The fish is super tender thanks to its fatty nature and is so flavourful without being pungently fishy!
Cost: ¥4,500/set
Opening hours: 2-18 Marunouchi, Himi, Toyama 935-0017, Japan
Address: 5PM – 10PM (Mon – Fri), closed on Thur, 12PM – 10PM (Sat – Sun), closed between 3PM – 5PM
12) Gold leaf ice cream at Kanazawa
Kanazawa is known for producing 99% of Japan's gold leaves and you can find it on almost anything including miso soup and ice cream!
Kon-ya Zaka street is where you'll find a few ice cream stalls selling this treat. We got ours from a shop with no signboard but had different kinds of ice cream and Japanese confectionery.
The ice cream was yummy (obviously) but I was slightly disappointed to learn that gold is tasteless 😧
Cost: ~¥680
Address: Japan, 〒920-0936 Ishikawa, Kanazawa, Kenrokumachi, 2−3 金澤兼六屋
13) Toyama Black Ramen at Ramen Ihora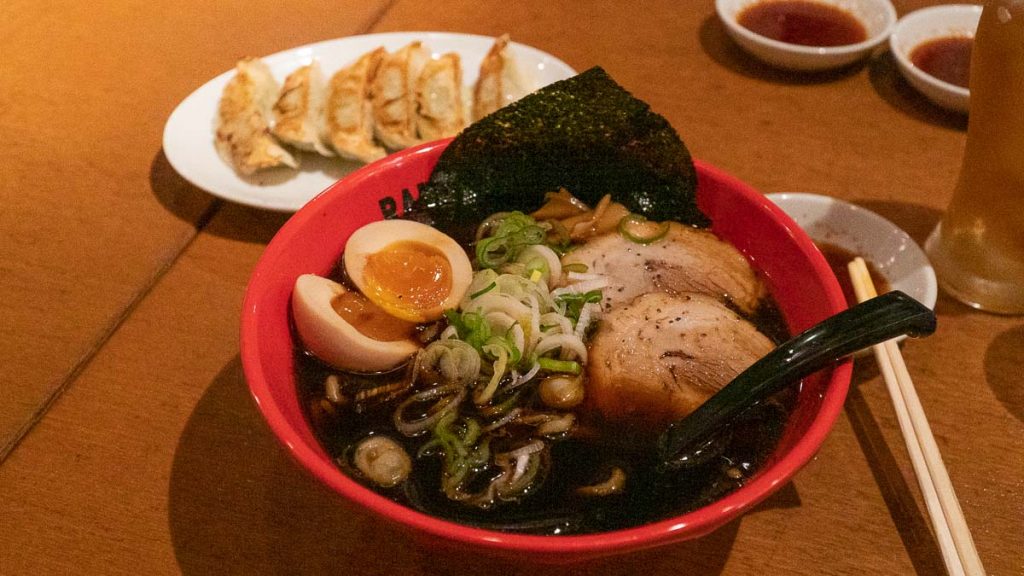 Our local guide highly recommended Ramen Iroha for Toyama Prefecture's speciality — black ramen.
While the dark broth appears intimidatingly salty, we were pleasantly surprised at how balanced it tasted! It has a shoyu soup base and the charshu was melt-in-your-mouth tender — Ramen Iroha's winning dish at the Tokyo Ramen Show for three years.
Passed the oishii vibe check 🍜.
Cost: From ~¥850/bowl
Opening hours: 11AM – 10PM
How to get there: 10min walk from JR Toyama Station, Basement 1 of CiC department store
14) Sabae dog from Meat & Delica SASAKI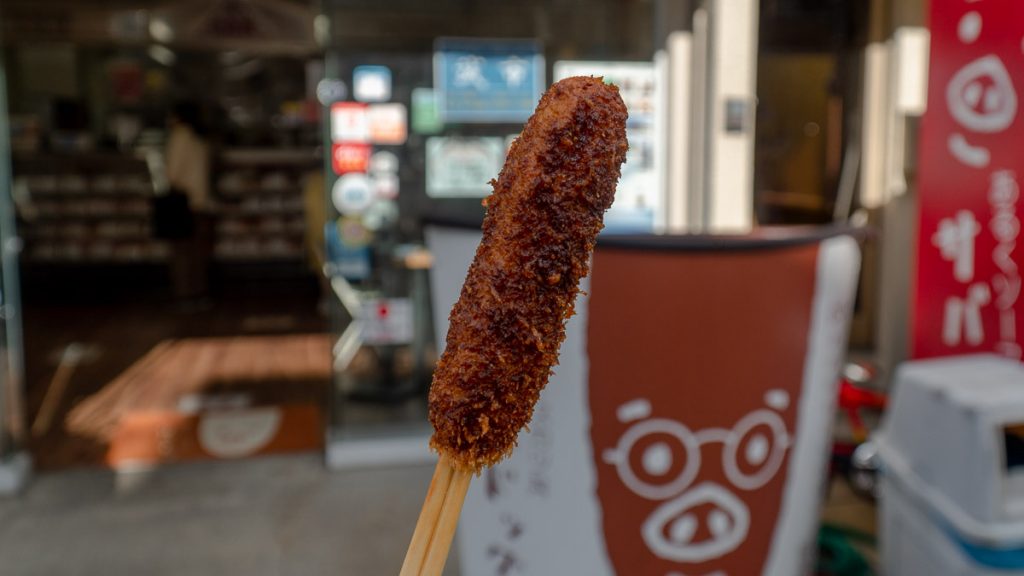 If you find yourself in Sabae City, you need to drop by Meat & Delica to try their stellar invention, the Sabae dog.
Unlike what the name suggests, there is no hotdog inside the snack. Instead, it's rice wrapped in a thin layer of sliced pork. It's then coated in a batter similar to tonkatsu and deep-fried. Served fresh out of the oil, it's drizzled in a delightful sweet and sour sauce.
The rice inside made it quite filling and not to be dramatic, but this is one of the best snacks I've had in Japan 🤤.
Cost: ~¥320/stick
Opening hours: 10AM – 7PM (Last order 6:30PM), closed on Sun
Address: 3 Chome-1-5 Honmachi, Sabae, Fukui 916-0026, Japan
Where to Stay in Hokuriku
15) Mori no Sumika — Recharge in Luxury
Kaga Onsen in Ishikawa is an ancient hot-spring town that is popular among locals for its healing waters — a perfect stop for rest and relaxation.
We stayed at Mori no Sumika Resort & Spa, in the spacious Japanese-style room that comes with a private garden and a massage chair! If you're feeling extra boujee, you can opt for a room with a private outdoor onsen.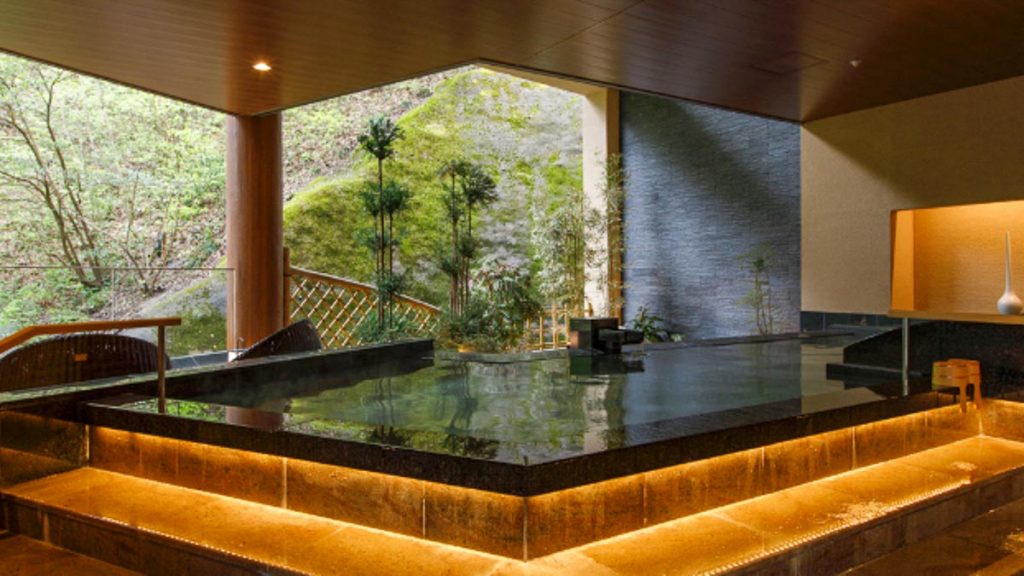 Photo credit: Mori no Sumika Resort & Spa
While I've been to an onsen before, I'm still a little shy when it comes to public nudity so I was lucky to find the whole place empty immediately after dinner. My favourite was the outdoor bath, which comes with jacuzzi jets and overlooks a forest — zen is an understatement ♨️.
Cost: From ~¥11,000/night per person
How to get there: The hotel provides a shuttle service to and from Kaga Onsen station. Contact them in advance to make reservations!
16) Daikansō — A Seaside Getaway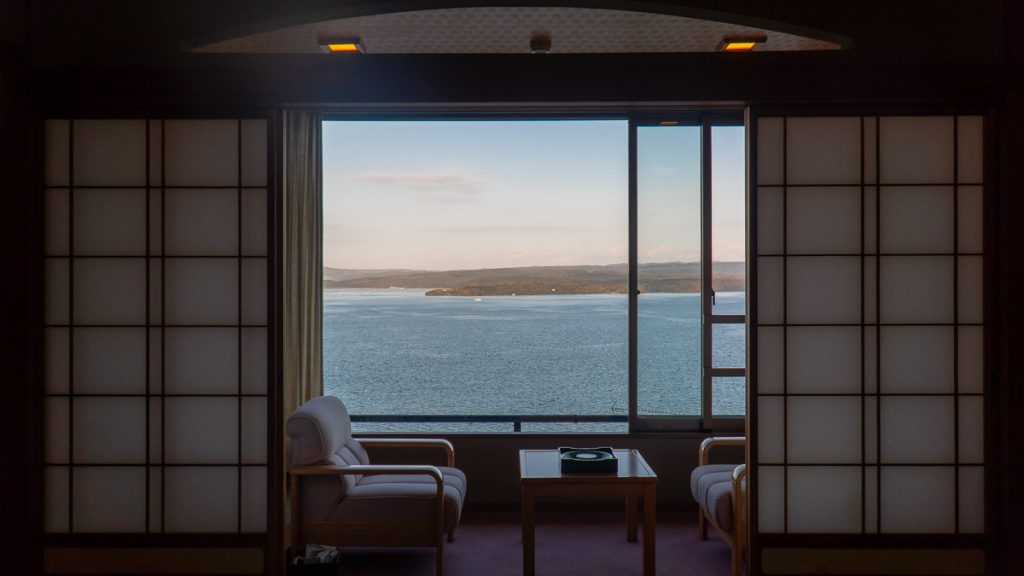 Ever woken up to the Sea of Japan?
Daikansō is a ryokan that sits along the tip of the Noto Peninsula in Ishikawa, overlooking the bay area. Drinking a cup of tea while looking at the dreamy unobstructed view was a core memory for sure.
The ryokan is located in Wakura Onsen, which is quite quiet at night. We recommend having a kaiseki dinner and breakfast at the property itself to enjoy the freshly caught Japanese Amberjack (Yellowtail) native to the area.
The onsen baths are saltier as it's an "Onsen of the Sea" — unique to Wakura Onsen!
Cost: From ~¥16,500/night per person (including meals)
Address: 6-5-1 Wakuramachi, Nanao, Ishikawa 926-0175, Japan
Read also: 5 Singaporeans Share Awkward First-Time Japanese Onsen Stories
17) 椀 de 縁 — Traditional Japanese Farmstay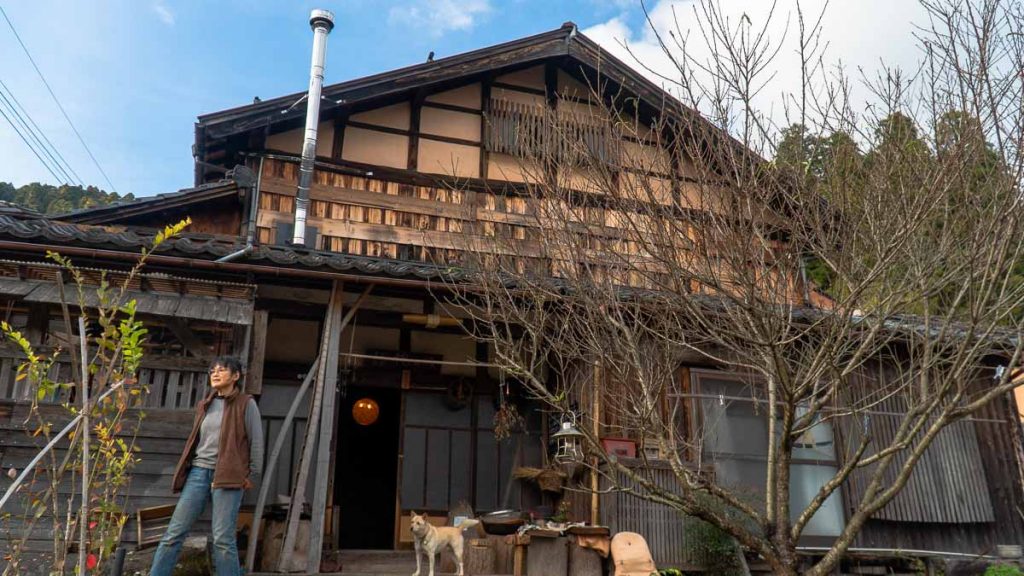 Rei-chan is the adorable resident dog you can take on walks!
I've always stayed in hotels or ryokans in Japan, so experiencing a night at 椀 de 縁 (Wan de En) burst that little tourist bubble I've been living in.
Wan de En is located deep within the countryside of Kawada in Fukui Prefecture. It's an immersive experience of traditional Japanese culture — and I don't mean the flashy, elaborate geisha experiences catered for tourists.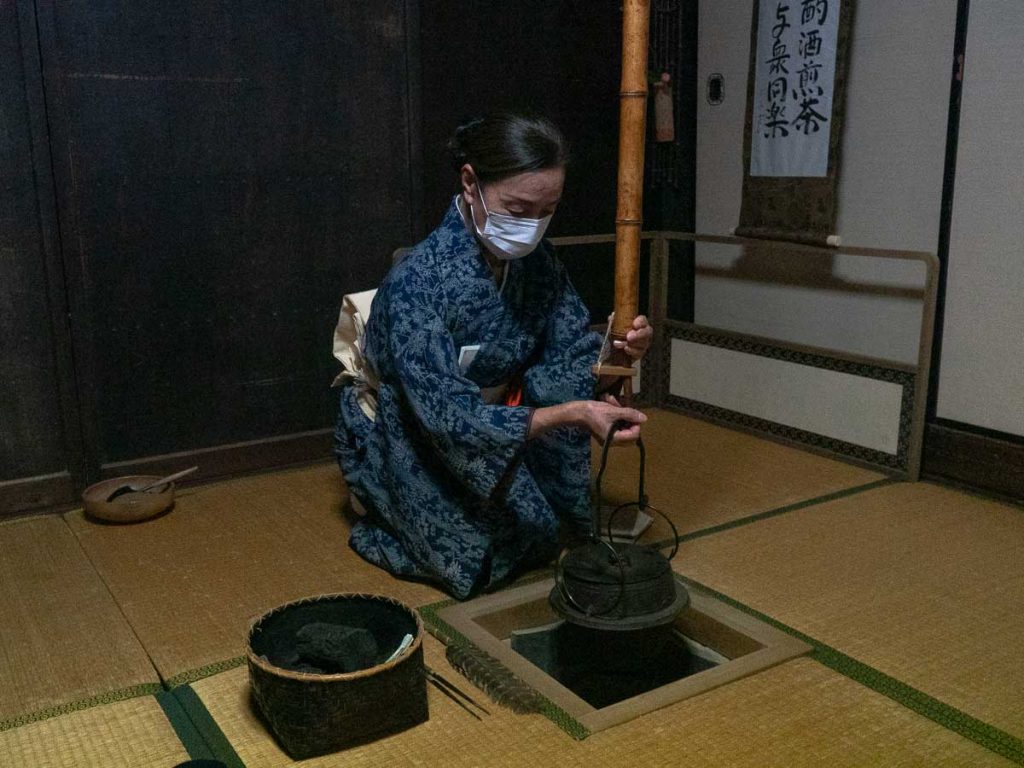 While the sleeping quarters are simple — tatami mat, futon and a heater, the main highlight of the stay was the chaji.
Conducted by our host, Mayumi-san and her friend Mieko-san, the chaji is split into two parts — a dinner ritual followed by a tea ceremony. Knelt around the fire pit, we watched them prepare our dinner in a carefully choreographed sequence.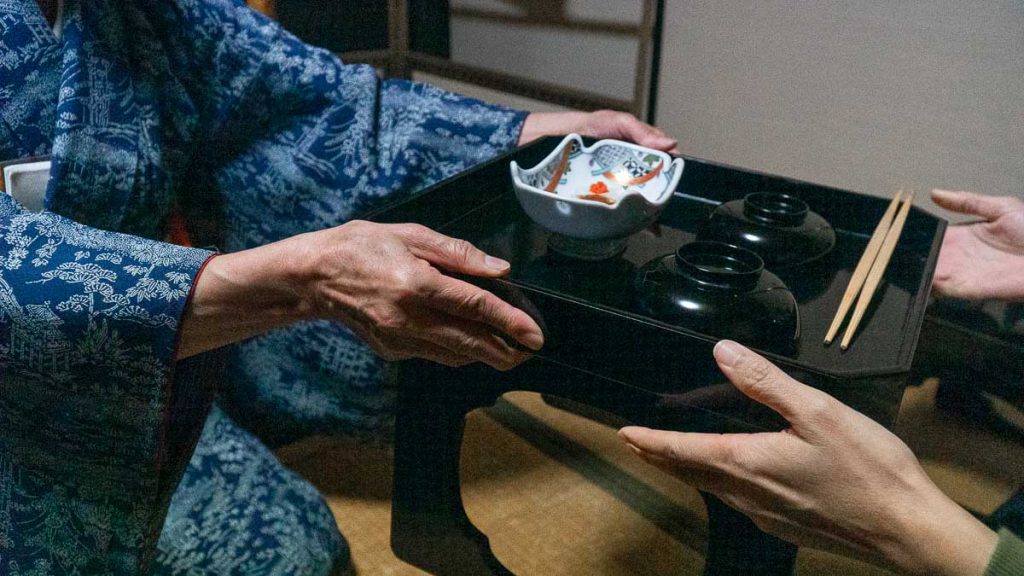 From learning traditional dining etiquette to a farm-to-table candlelight dinner, the entire experience lasted three hours! The food was freshly prepared and harvested by our hosts themselves — a meal that I'll be dreaming of for life.
While staying in a 150-year-old house was pretty cool, my favourite part was feeling like I was actually living there. Late-night conversations about life over tea (despite the language barrier), sorting red beans, and a morning walk to the nearby Shikki Shrine had the much-needed soul-healing effect on this city girl.
Cost: ¥15,000/night per person (including two meals and tea ceremony), ¥8,000/ night per person (without meals and tea ceremony)
Address: 14-25 Kawadacho, Sabae, Fukui 916-1222, Japan
*Pro-tip: Pack warmer pyjamas as it's cold at night during the autumn and winter seasons.
Pro-Tips for Travelling in Hokuriku
Store your luggage in a coin locker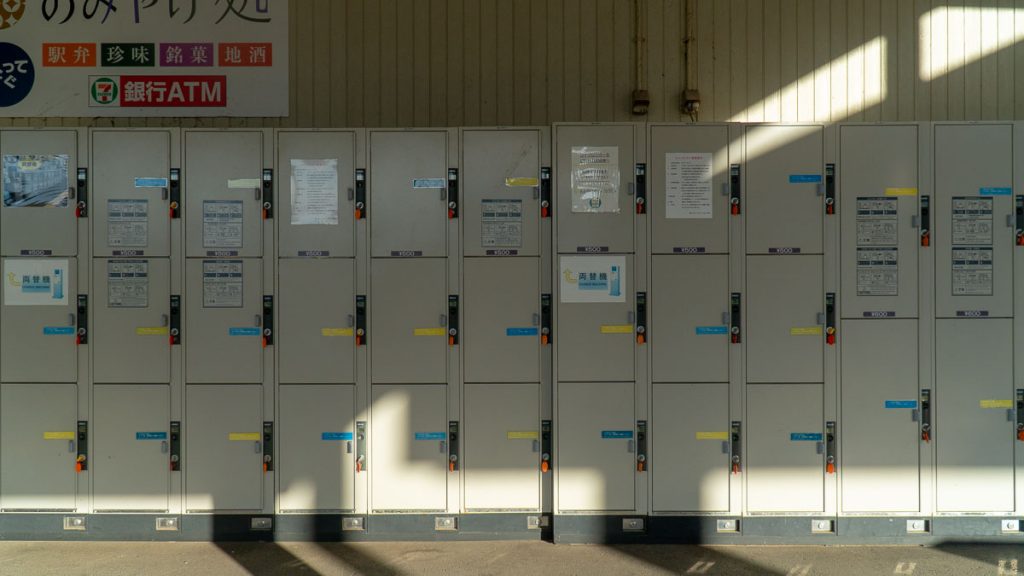 Leave your luggage in one of the coin lockers if you're stopping by briefly for a day trip. A large luggage-sized locker costs ~¥600/day.
Every station will have a coin locker but the availability varies depending on the town so do check with the station in advance.
Rent a car to explore smaller towns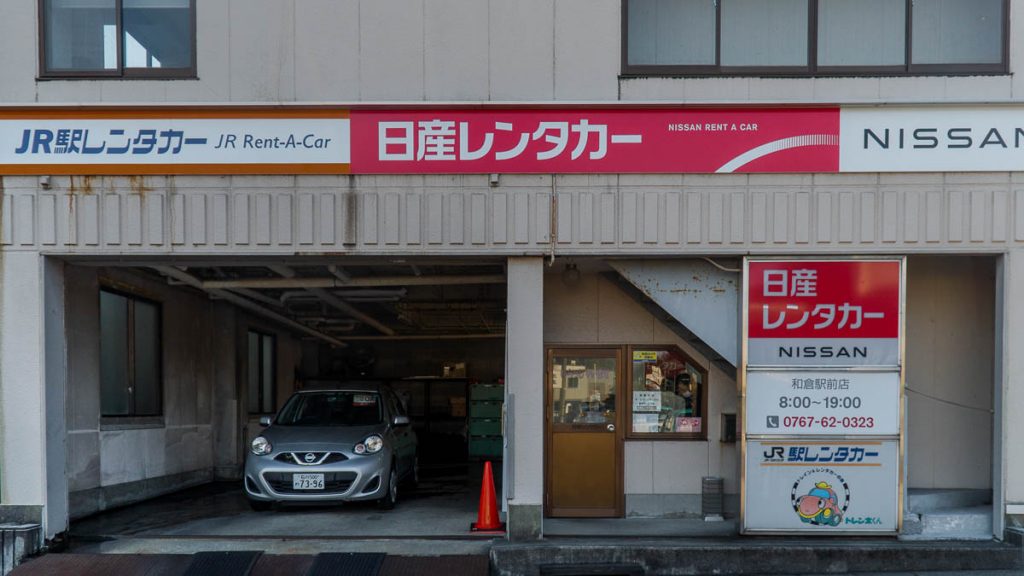 Public transport is infrequent in smaller towns, with some buses only running thrice a day. Taxi fares can be steep — a 20-minute drive in Kaga can cost ~¥4,000!
If you don't have the time to wait for public transport, we suggest renting a car from local rental shops such as TOYOTA Rent a Car and NISSAN Rent a Car for more convenience and flexibility.
Read also: Japan Self-Driving Guide for First-timers — 15 Things You Need to Know Before Renting the Car
Google Translate is your best friend
Most menus and tourist information brochures are available only in Japanese, and English is not as widely spoken in the countryside. Thanks to Google Translate's camera function, I knew what I was ordering during meals!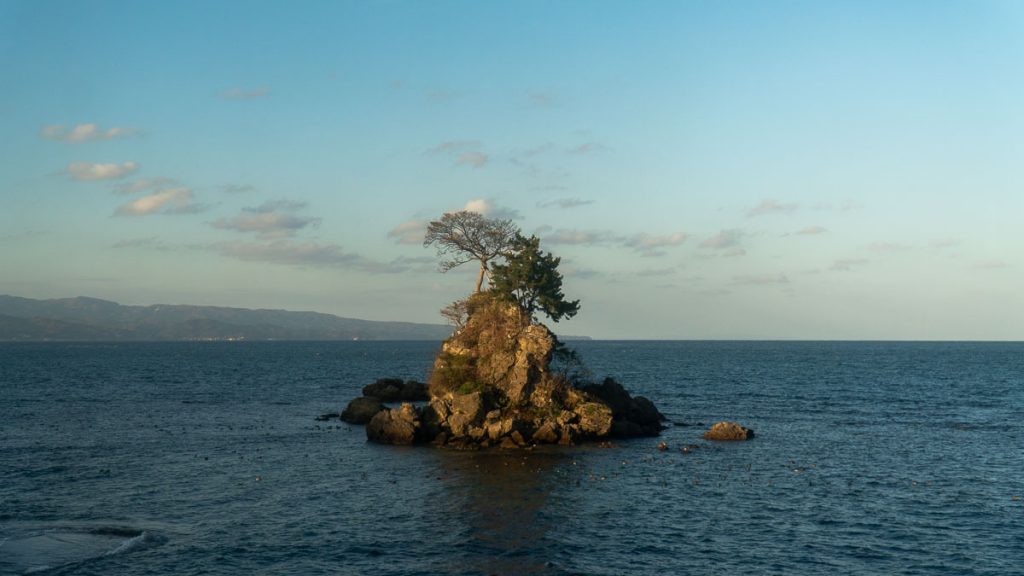 A tree in the middle of the Sea of Japan we passed on the train from Himi to Toyama City
Hokuriku is a region beloved by local tourists and overlooked by foreign travellers. Many choose to vacation there for the fresh yet affordable seafood, gorgeous nature views and relaxing onsen towns.
While the language barrier in the countryside can seem intimidating, having a mobile translator ready at hand makes venturing outside the larger cities more reassuring — thank you technology!
Until then I can't wait to ikimashou back to Japan!
What are your favourite things to do in Hokuriku? Let us know in the comments!
---
Like what you see? Follow us on Facebook, Instagram, YouTube, and Telegram for more travel inspiration!