It was my first time in Ho Chi Minh but I was determined to find things to do other than the quintessential tourist hotspots.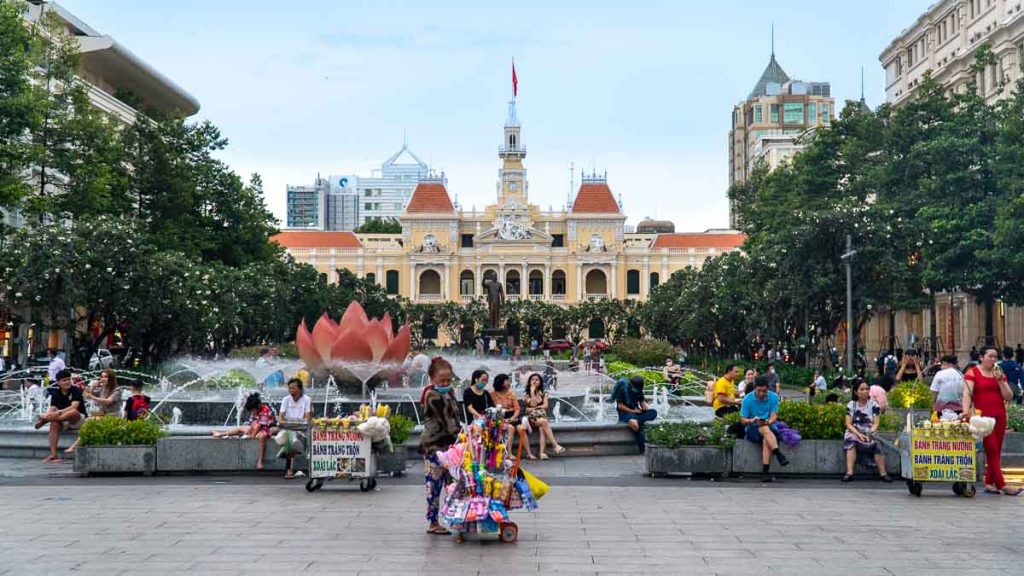 I'm a city girl. But I gotta admit, without digging deeper, exploring a city is limited to shopping and tourist traps. So, we embraced the city limits. We did the usual shopping and hit the tourist areas, but while talking to locals, managed to uncover some interesting recommendations that revealed the city's quirks and charm.
So, here we are sharing nine things to do in Ho Chi Minh City to check out the next time you plan your Vietnam itinerary.
1) Free chocolate tasting class at Maison Marou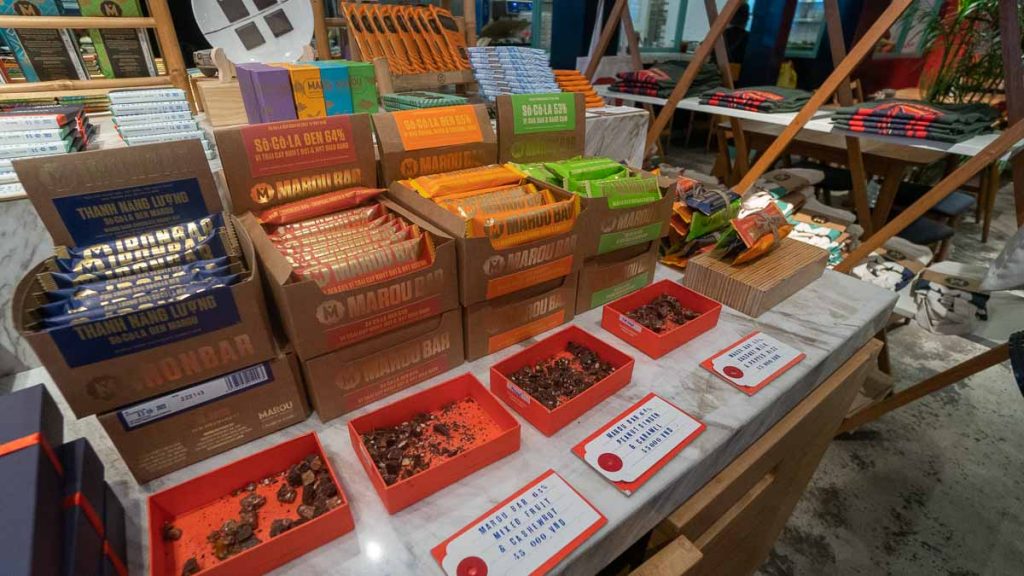 I didn't think Pho Spices could be a chocolate bar flavour.
Seeing the bakers move like clockwork through the glass window of the open kitchen, the vibrant colours of the store, and hearing the monotonous whirring of the 19th-century cacao roaster transports you to what seems like Willy Wonka's chocolate factory.
As Vietnam's first bean-to-bar chocolate maker, Maison Marou's chocolate is crafted entirely in their Saigon factory using 100% local ingredients. To produce special bars like Mekong Kumquat Tien Giang and Ginger Lime Ba Ria, Cacao beans are carefully selected from six provinces in Southern Vietnam.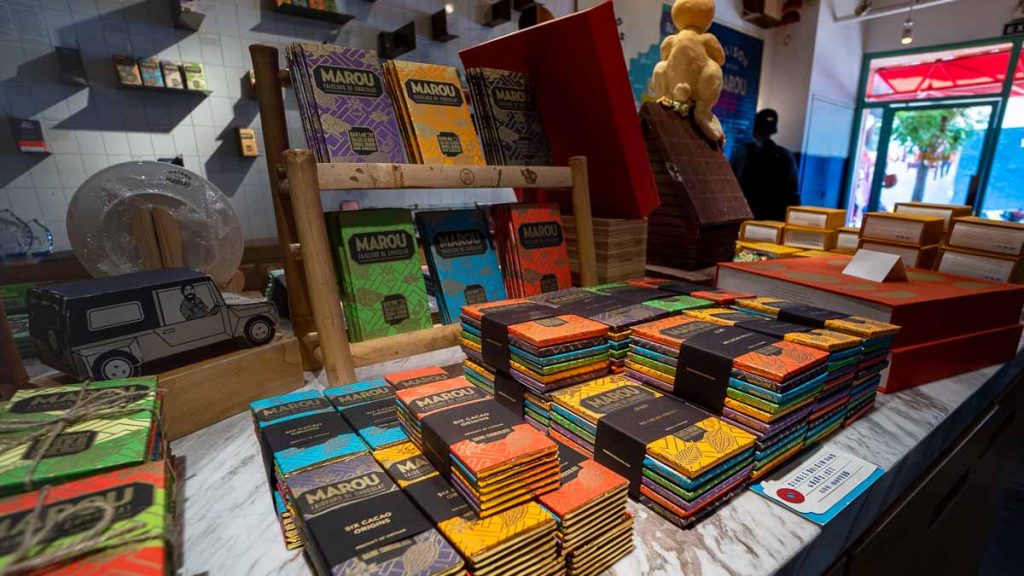 There are 18 flavours to choose from so take your pick — full-sized bars start at 100,000₫! If you're too overwhelmed by their selection, consider attending Maison Marou's free chocolate tasting class on weekends! Learn about their bean-to-bar process, develop tasting techniques and appreciate the nuances of their single-origin bars during this class.
*Pro-tip: Spots are on a first-come, first-served basis so come early to secure a seat.
Cost: Free
Opening hours: Varies (3 – 4PM for chocolate tasting class)
Address: Multiple locations in Ho Chi Minh City (the class is only conducted in the Saigon and Thao Dien flagship stores)
2) Get a tailored outfit within 12 hours at Ben Thanh Market
Ben Thanh Market is a popular tourist spot for snacks, dried goods, cheap garments, and traditional food. However, not many know you can get an affordable bespoke outfit tailored in under 12 hours. Suits, dresses, traditional garments — you name it, they'll make it.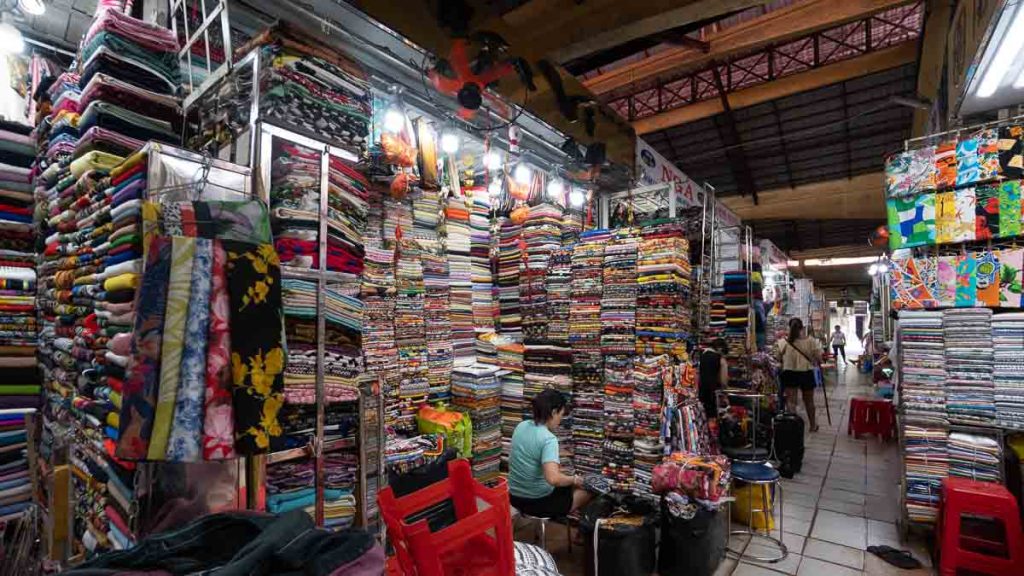 Ben Thanh Market is divided into different sections. To get to the textile section, enter from the Southern Gate.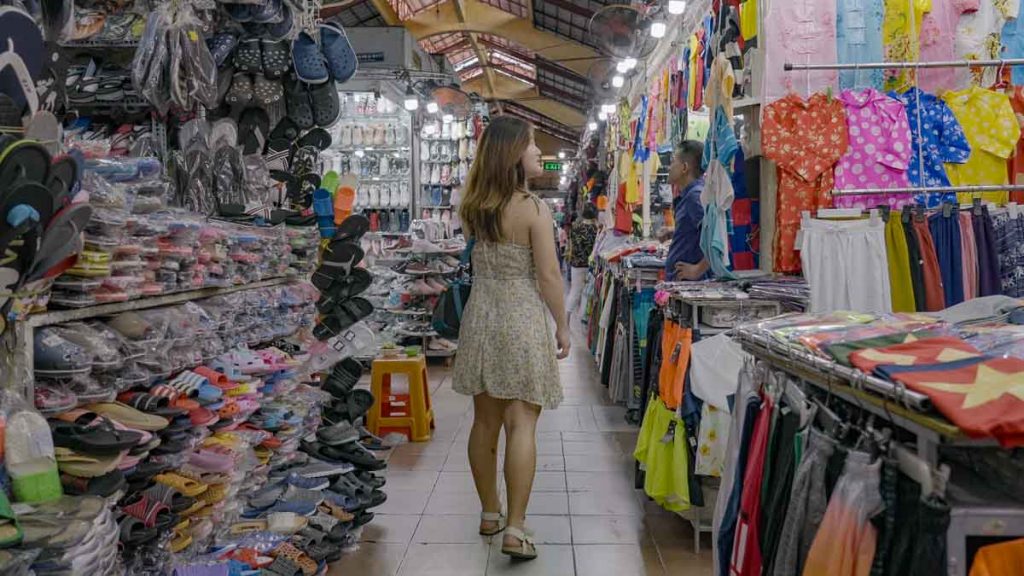 Keep walking until you find a store you like — just don't feel pressured by the enthusiasm of the sellers down the line. I ended up at shop No.300 because the seller dragged me in 😅 zealously asked "Nak buat baju (Want to make an outfit)?". Lady really sold me with speaking Malay.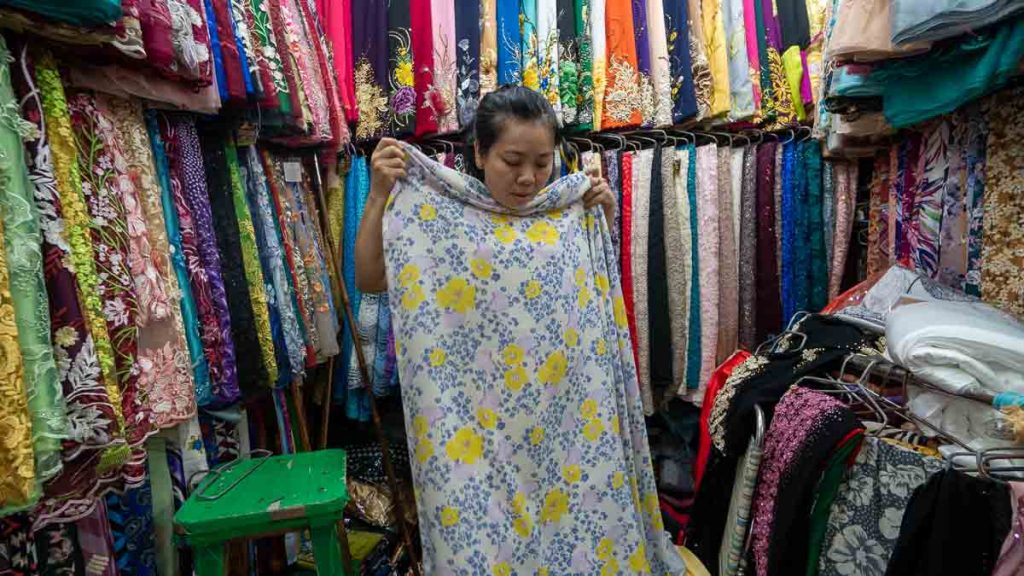 It's quite an experience — pick your fabric, choose your style, and get meticulously measured in less than an hour.
The best part is receiving your tailored garment on the same day, delivered right to your accommodation. I left the store at 8:30AM and received the garment at 7PM that same night.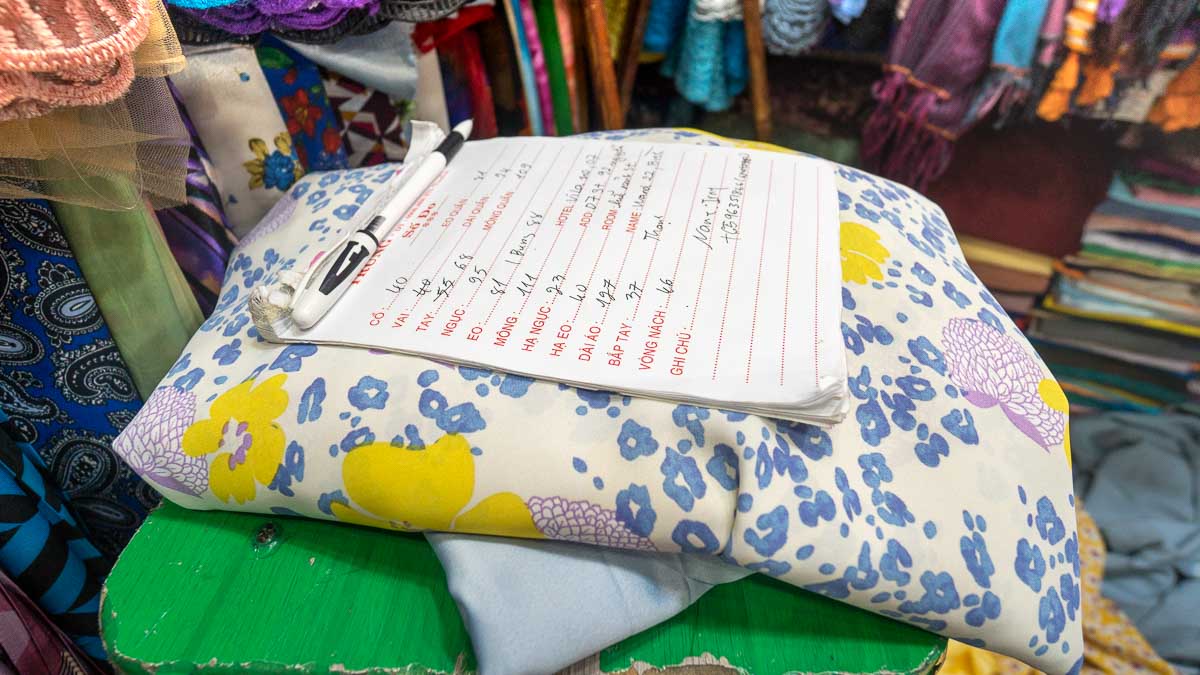 It cost 623,390₫ (~S$37) for a custom Áo dài (Vietnamese traditional garment) and 311,690₫ (~S$18.70) for a blouse, inclusive of the fabric and tailoring. I didn't bargain as the price was a steal compared to tailoring in Singapore.
*Pro-tip: In case you don't have enough Vietnamese Dong, other currencies like Malaysian Ringgit and US Dollars are accepted as well.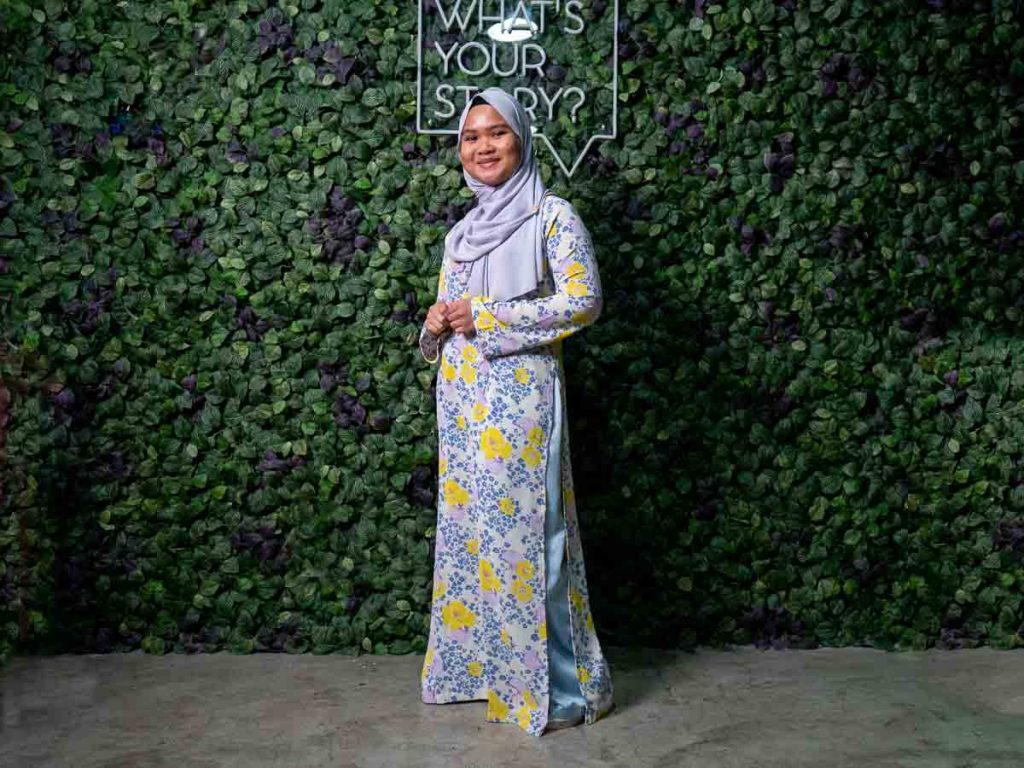 The fit of the Áo dài (Vietnamese traditional garment) was spot on but the blouse needed alterations. The stitching was not the neatest but for a day's work and under S$20 for a tailored fit, I'm not complaining.
Our local tour guide shared that Vietnamese believe the first customer brings good luck. So go early and you might have a better chance of getting the price you want. Some sellers will refuse to let you go until the sale is made — even if at a loss.
Cost: From 311,690₫ (~S$18.70)
Opening hours: 6AM – 4PM (most shops only open at 7:30AM)
Address: Đ. Lê Lợi, Phường Bến Thành, Quận 1, Thành phố Hồ Chí Minh
3) Romanticise your life at Ho Chi Minh City Book Street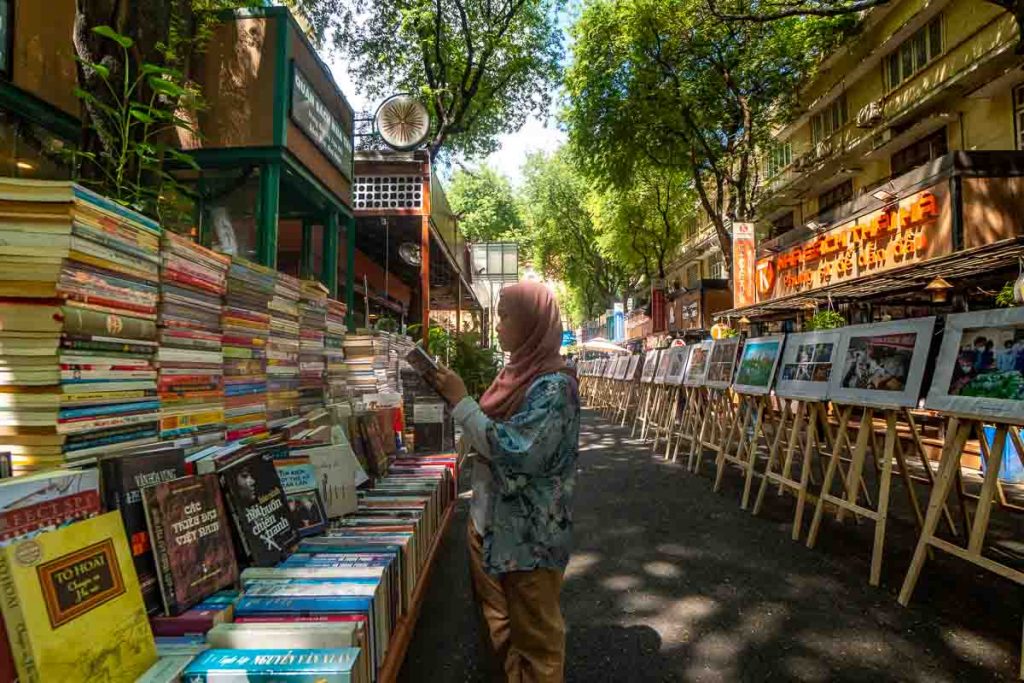 You're a foreigner from abroad just wandering the busy streets of Ho Chi Minh. But what's this? You turn the corner and the atmosphere dampens. You see charming stores and never-ending rows of books, gently lit by the sunlight peeking through the curved trees.
As you walk into Ho Chi Minh City Book Street, you'll realise it's significantly quieter than the rest of Ho Chi Minh City — the perfect escape to slow down.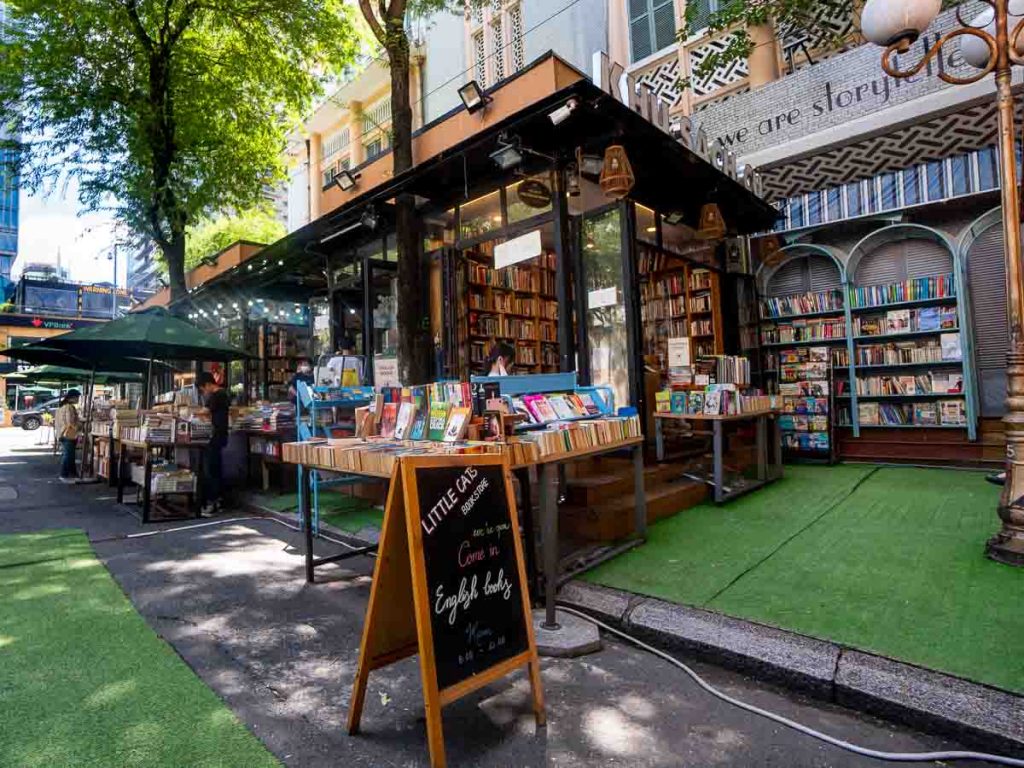 This pedestrian-only street is lined with Vietnamese books, but English books can be found in stacked piles or in the English bookstore at the end of the street.
Second-hand and brand-new books of various genres are sold here. One store even has a collection of rare books in Vietnamese. Used books start as low as 5,000₫ (~S$0.30) and new books start at 80,000₫ (~S$4.80).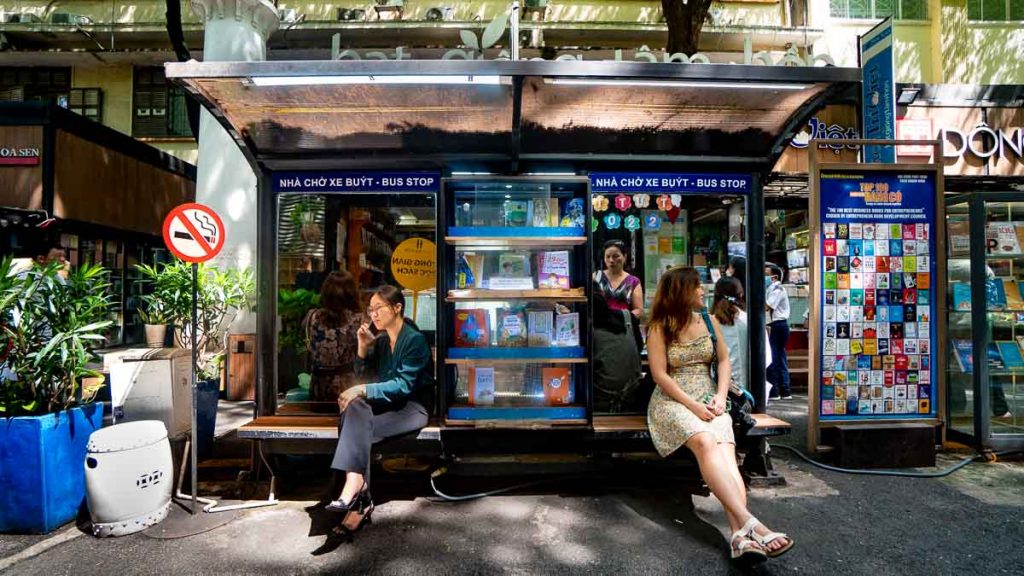 But this place isn't just for book-lovers. You can simply appreciate the space by sitting at the makeshift bus stop or other sitting spots. There are even cafes to grab a bite or a drink.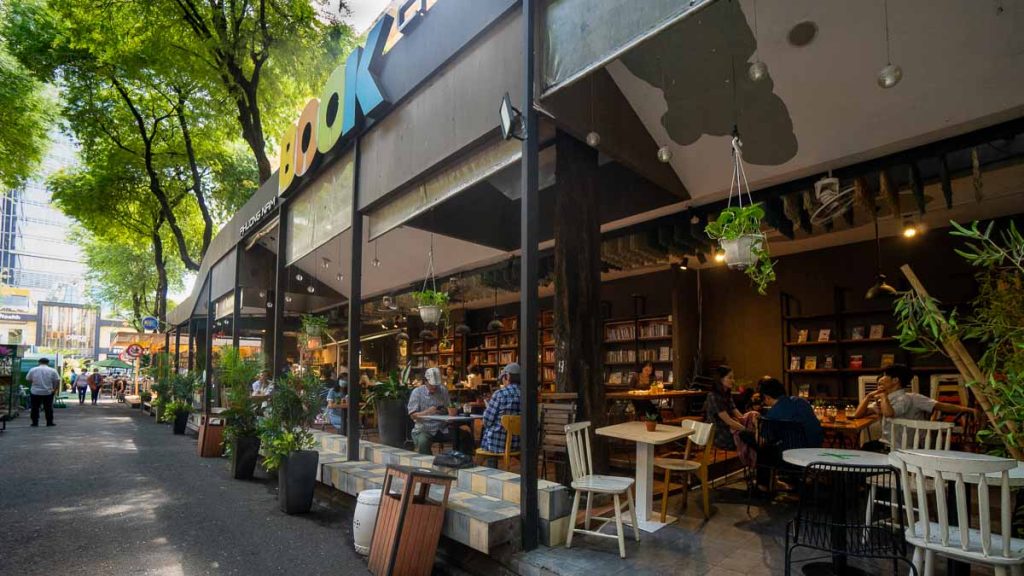 Entrance fee: Free
Opening hours: 8AM – 10PM
Address: Đường Nguyễn Văn Bình, Bến Nghé, Quận 1, Thành phố Hồ Chí Minh
4) Send a postcard to your future self at Sai Gon Central Post Office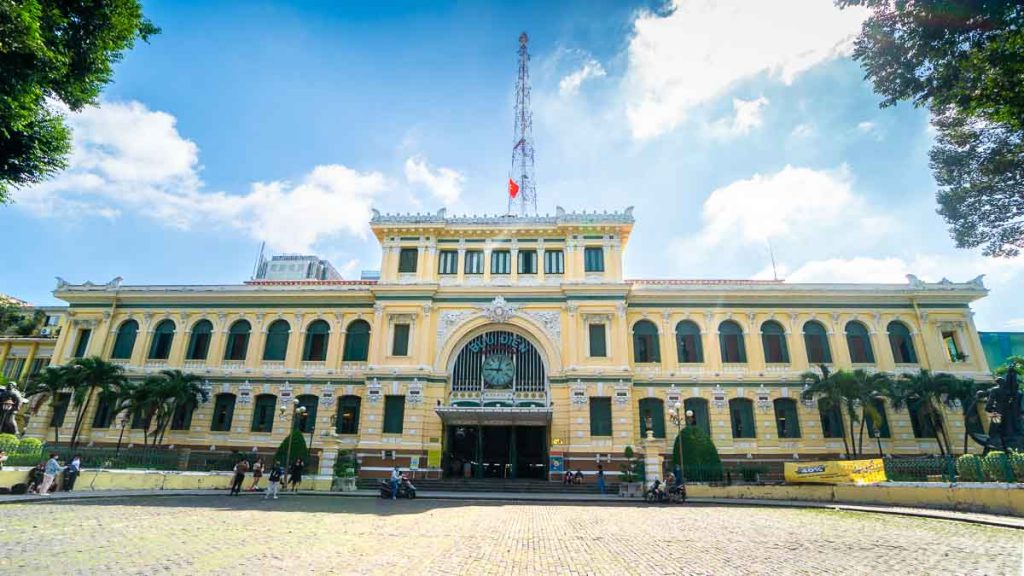 A short walk away from Ho Chi Minh City's Book Street is Sai Gon Central Post Office. Its gothic architecture is the perfect time capsule of what the post office looked like in 19th century Saigon.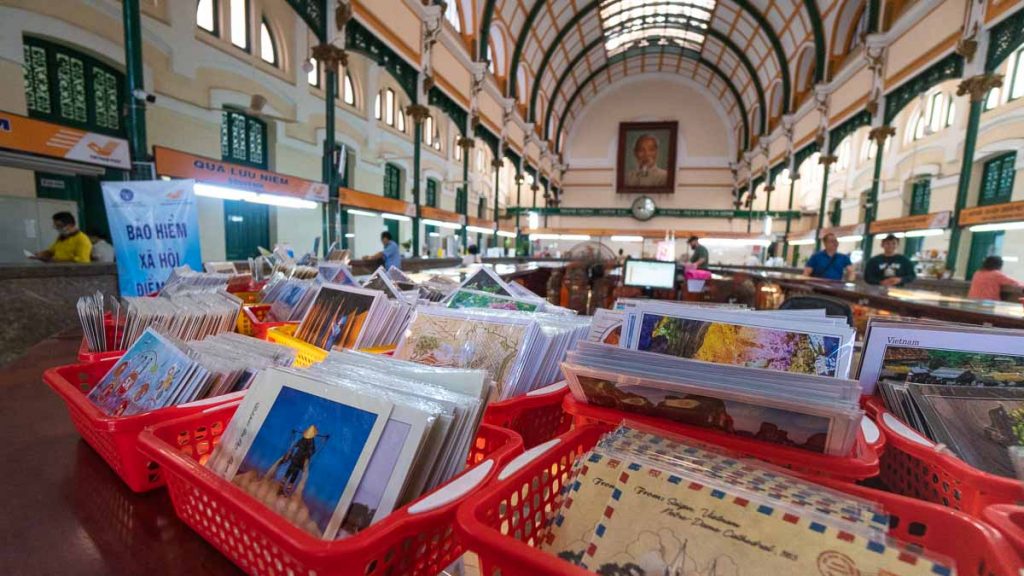 Something fun you could try here is to pick from the selection of postcards and purchase one to send to your future self or your loved ones.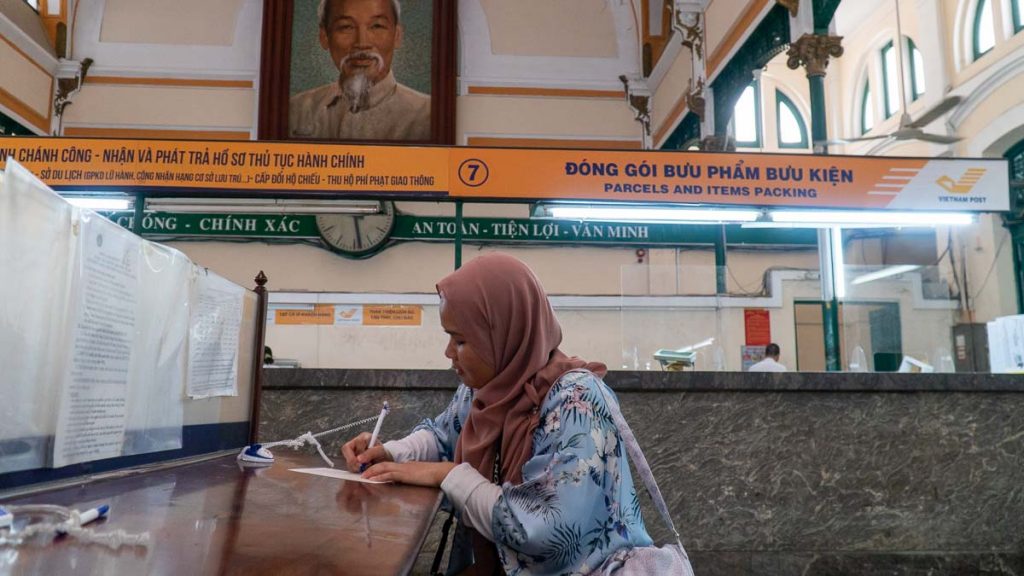 Write and mail your postcard on the spot for that 19-century-French-colonizer-writing-back-home experience.
My postcard to Singapore arrived exactly a week later.
Cost: Postcards from 5,000₫ (~S$0.30), stamps from 15,000₫ (~S$0.90)
Opening hours: 7:30AM – 5PM, closed on Sun
Address: 02 Công xã Paris, Bến Nghé, Quận 1, Thành phố Hồ Chí Minh 70000
5) Grab a drink at The Cafe Apartments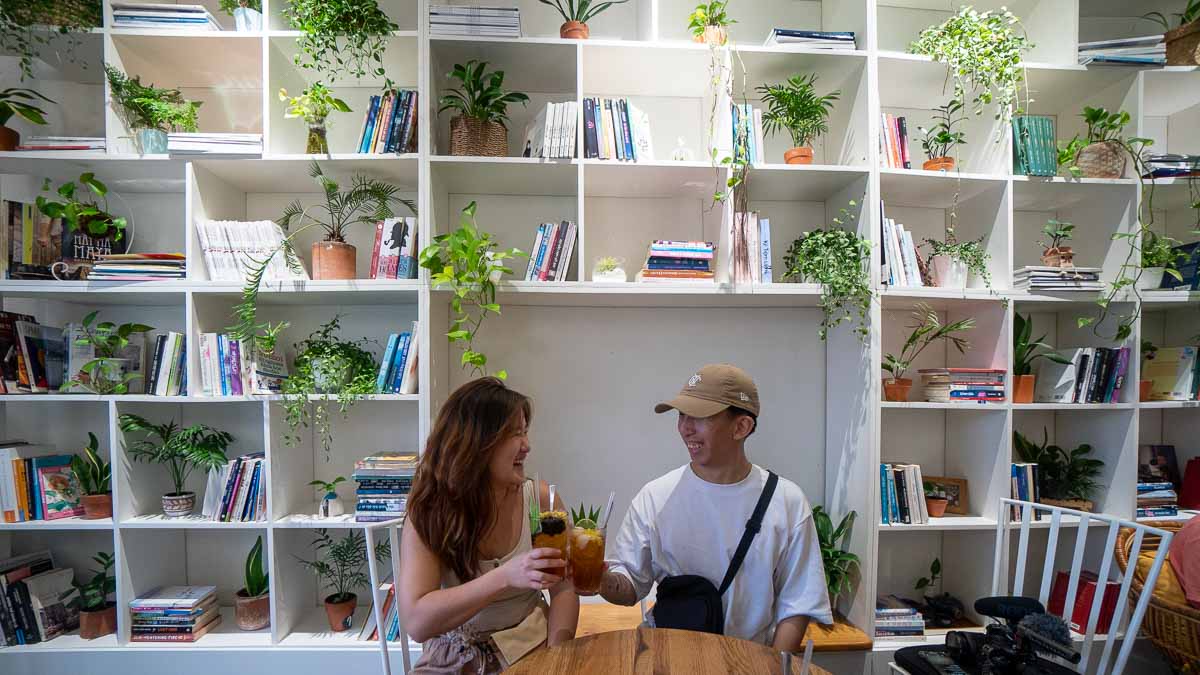 The Cafe Apartments are nine levels of cafes and shops in an old apartment building at Nguyen Hue Walking Street. Its exterior is a facade, making it look like there are more shops than there actually are.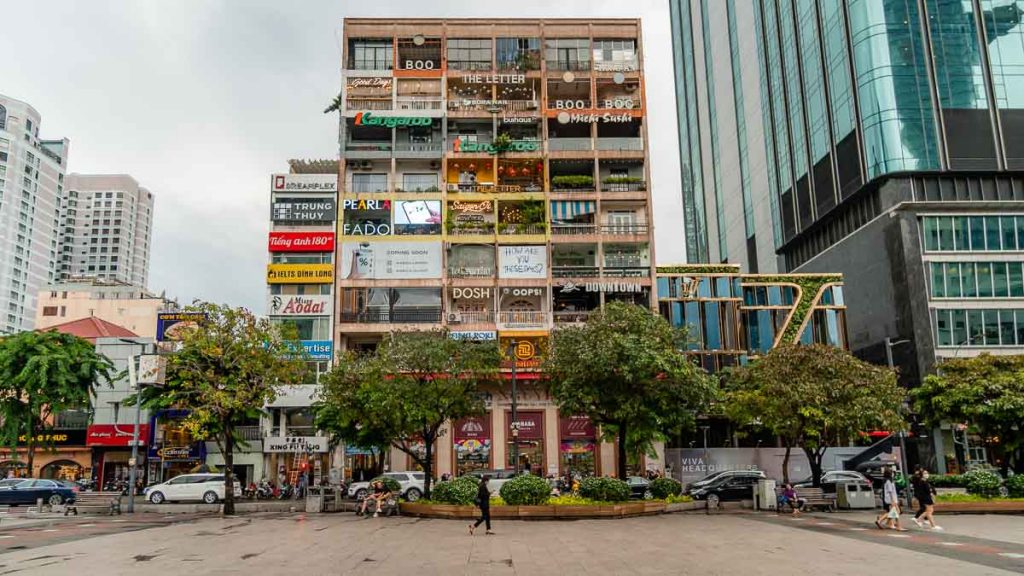 The entrance to the apartments is…dingy. Parked with motorcycles, you'll think that you've gone to the wrong place. Locate the stairs at the end of the hall and make your way up the apartments.
You can explore the levels via elevator as well, but note that it costs 5,000₫ per person to use it.
*Pro-tip: Take the lift from the second level to avoid the security guard and fees — but you didn't hear it from us.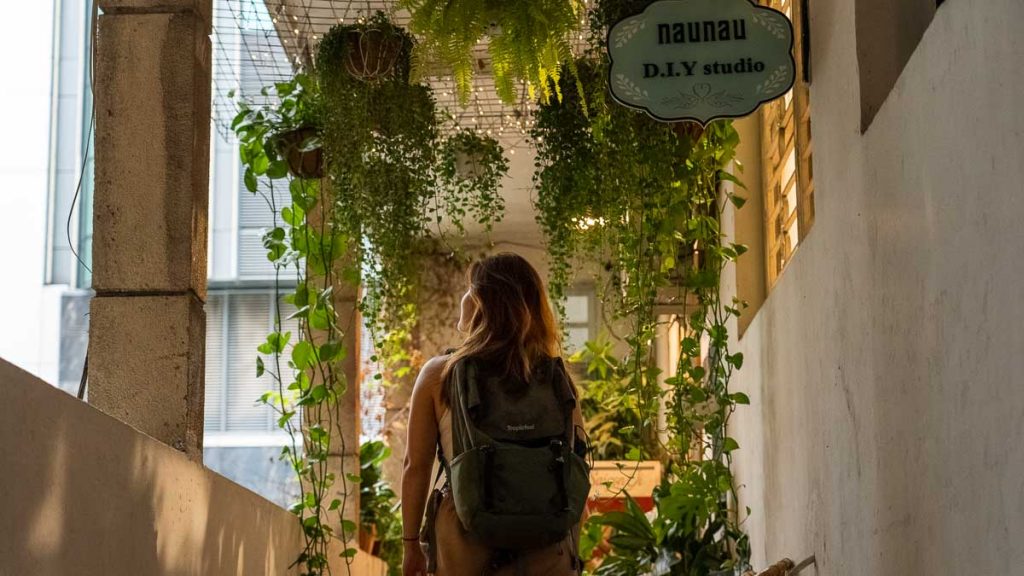 Each level has about two to three shops and cafes. Take your time to survey each level and find a cafe that fits your vibe. We settled for Saigon Oi on the fifth floor — what we thought was the prettiest cafe.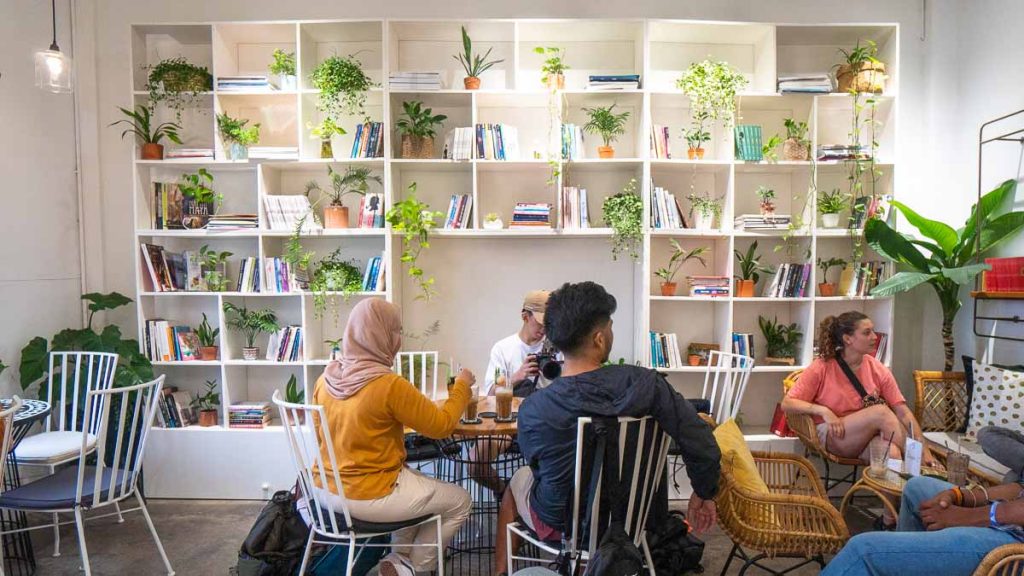 Drinks start at 48,000₫. Their coffee with condensed milk was nicely sweet and concentrated. Their fruit teas were refreshing and light on the palette.
If possible, get a balcony seat for an aerial view of the walking street.
Entrance fee: Free
Opening hours: 7AM – 10PM (Sat – Thu), 7AM – 11PM (Fri)
Address: 42 Nguyễn Huệ, Bến Nghé, Quận 1, Thành phố Hồ Chí Minh
6) Experience Ho Chi Minh City from 49 stories above at the Saigon Skydeck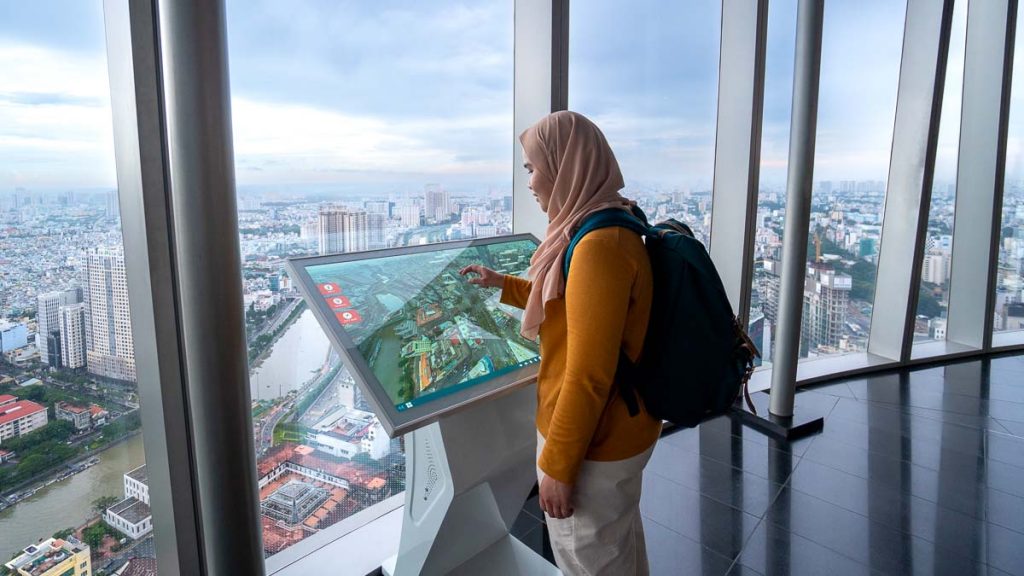 If you're itching for a view of the skyline, visit the Saigon Skydeck located in the Bitexco Financial Tower.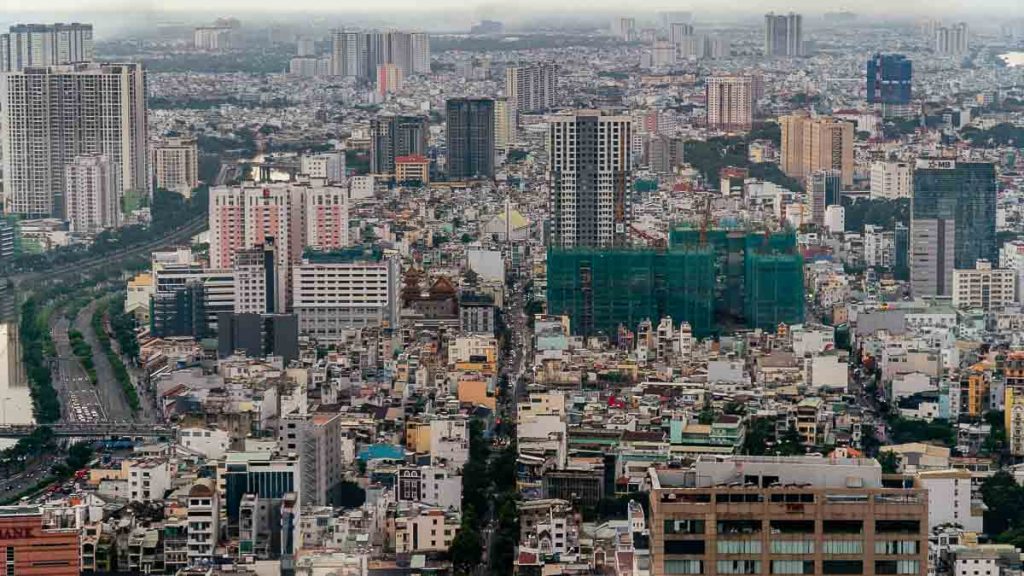 Soak in the views and different sights with the binoculars available. You could even use the interactive map to explore new parts of the city and plan your next stops.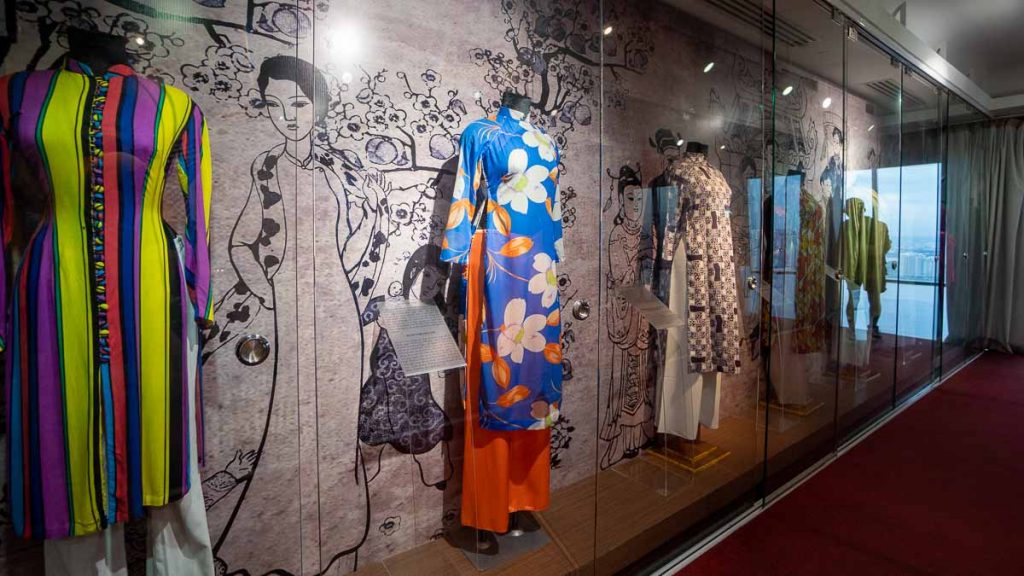 For a quick dose of culture, the skydeck also has an Áo dài exhibition which features the traditional Vietnamese national garment throughout the ages. Inspiration for your next tailored Áo dài, maybe?
*Pro-tip: Visit around 5PM – 6PM to catch the sunset, but stay longer to watch the city light up when darkness falls.
Entrance fee: ~S$11.90/pax
Opening hours: 12PM – 8PM, opens 10AM on weekends
Address: Bitexco Financial Tower, No. 36, Ho Tung Mau Street, District 1 (Enter through the skydeck's entrance a few doors down from the main tower's door)
7) Wind down and watch the Golden Water Puppet Show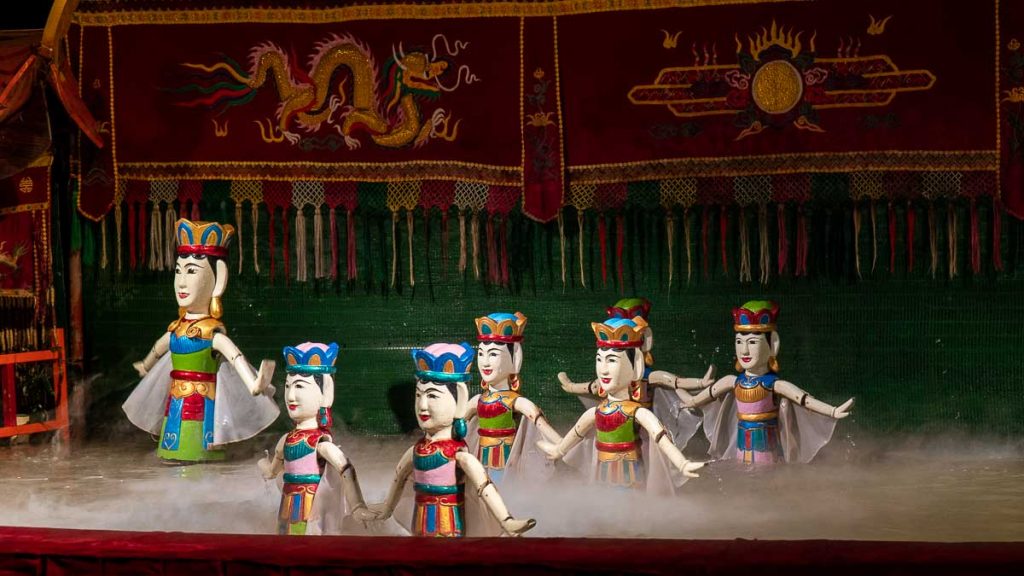 This puppet show was a good way to wind down while appreciating Vietnam's history and culture in a light-hearted way.
Immersing yourself in arts and culture tends to be on the touristy side, but I've never seen a puppet show in water. I found myself in awe and even giggly at times. The storylines were easy to understand, despite being entirely in Vietnamese.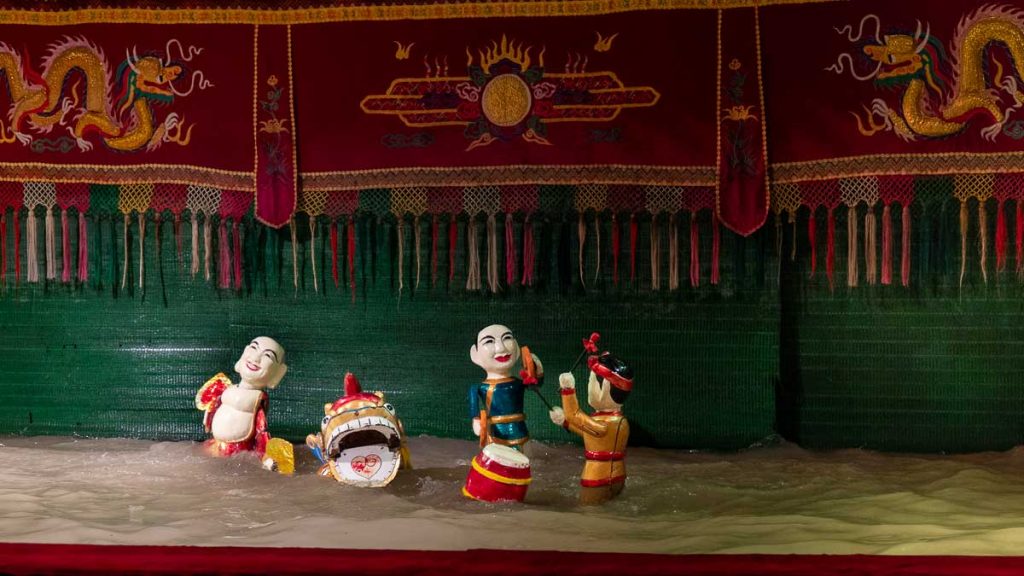 Given Vietnam's network of rivers and waterways, It's quite fitting that the puppetry in the Golden Water Puppet Show takes place in water. This 45-minute live puppet show recounts Vietnamese folk tales, legends, and festivities with accompaniment from a live orchestra.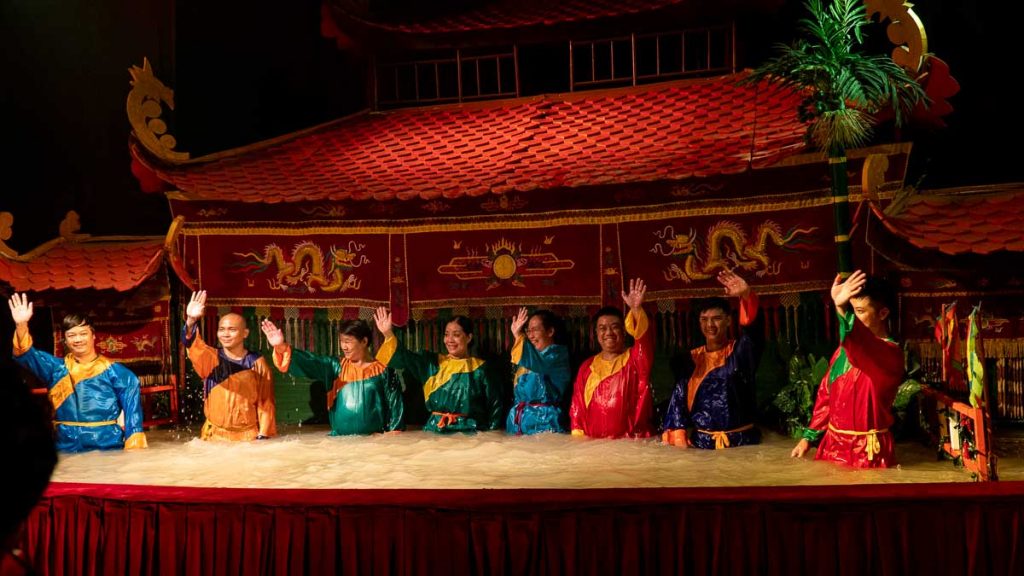 This particular puppet show has been around since the 11th century and has toured all over the world — with only eight people operating the intricate puppets.
Cost: ~S$ 19.30/pax
Show times: 6:30PM (Tue and Fri)
Address: The Golden Dragon Water Puppet Theater
55B Nguyen Thi Minh Khai Street, Ben Thanh Ward, District 1, Ho Chi Minh City
8) Go on a Cu Chi Tunnel & Mekong Delta Tour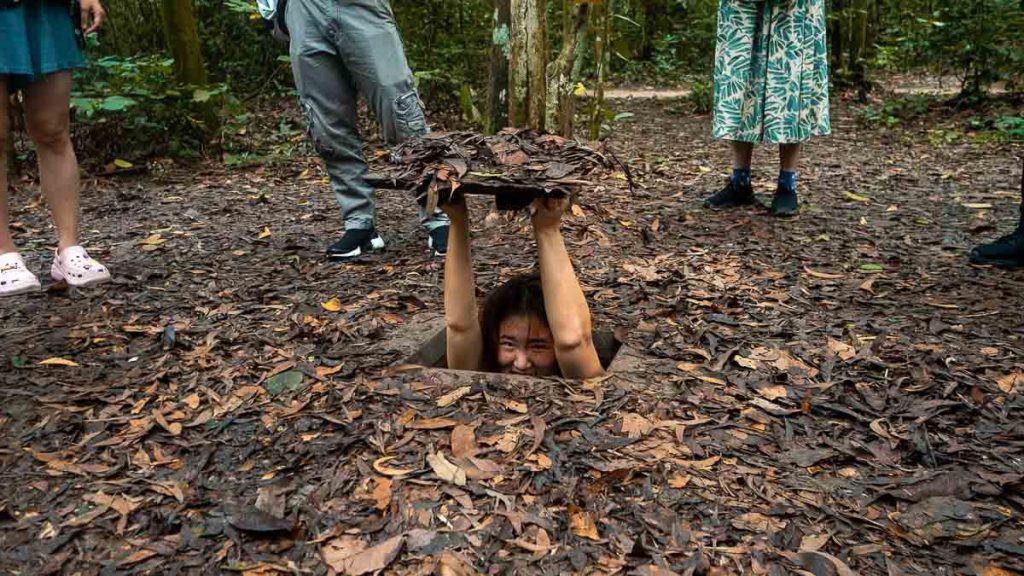 When looking up 'Things to do in Ho Chi Minh City', the Cu Chi Tunnels and the Mekong Delta Tour were listed as number one so I guess we couldn't miss this experience.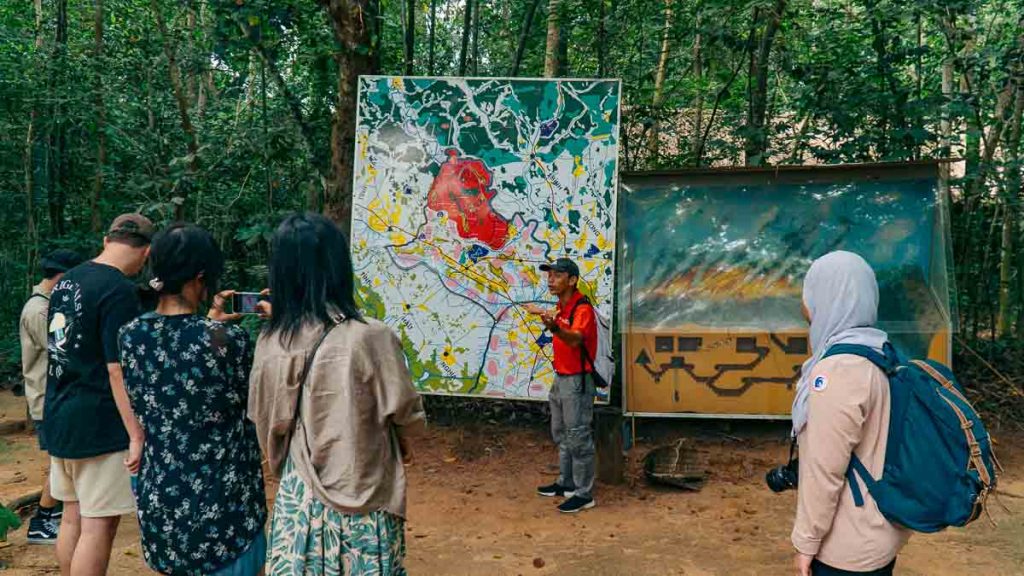 The Cu Chi Tunnels were integral for the Viet Cong soldiers' (pro-communists in Southern Vietnam) survival during the Vietnam War. Our guide explained how the network of tunnels served as hiding spots and living areas during the war.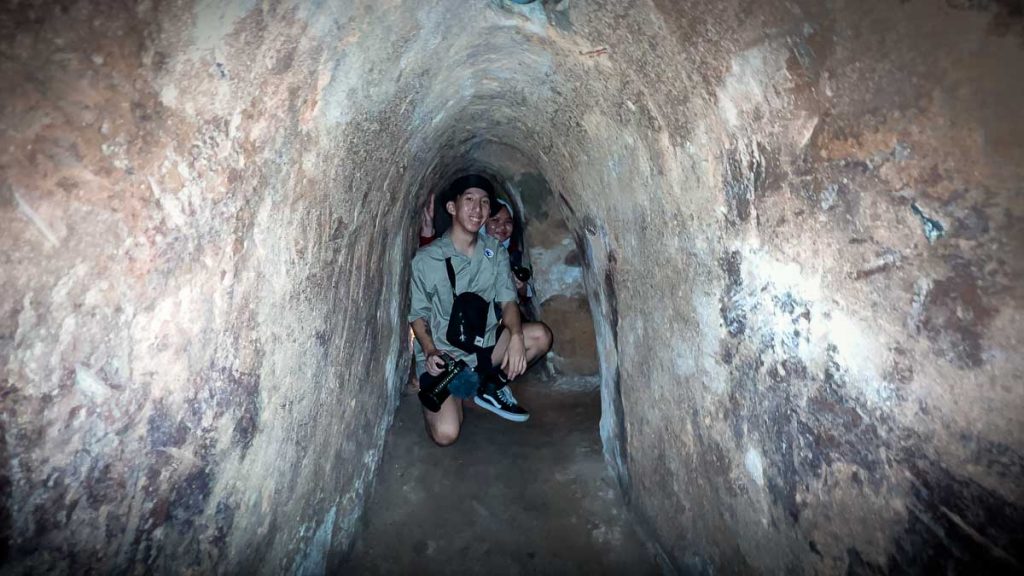 We crawled the full 80 meters in the tunnel, but you're welcome to choose a shorter distance. I'm not claustrophobic but I wanted to give up at times. Just make sure you can handle the tight space before committing to it.
*Pro-tip: Pack insect repellent and wear clothes that you don't mind getting dirty. When in doubt, dress for the trenches!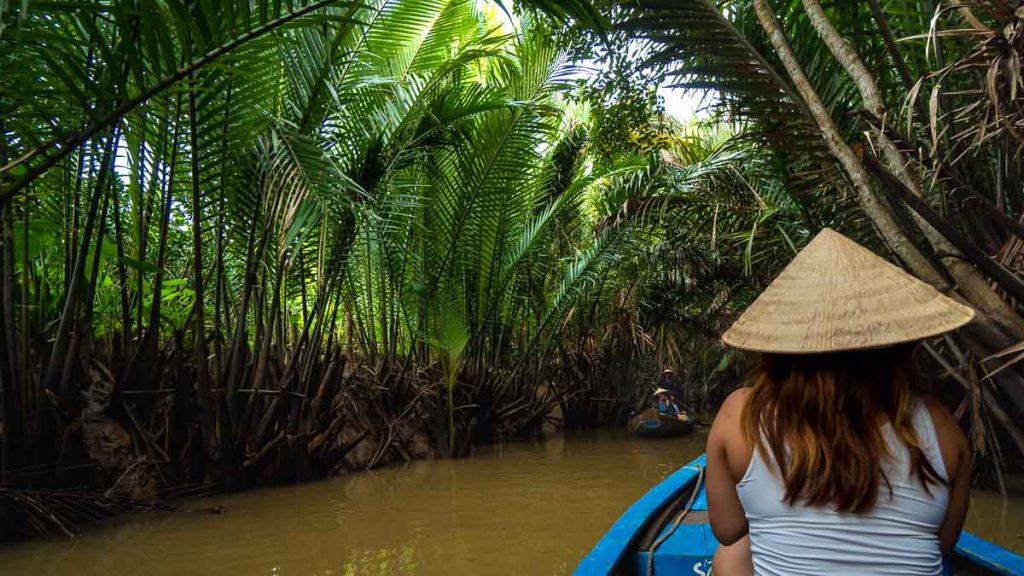 The second half of the tour takes place at the Mekong Delta — a maze of rivers, swamps, and islands only accessible by boat.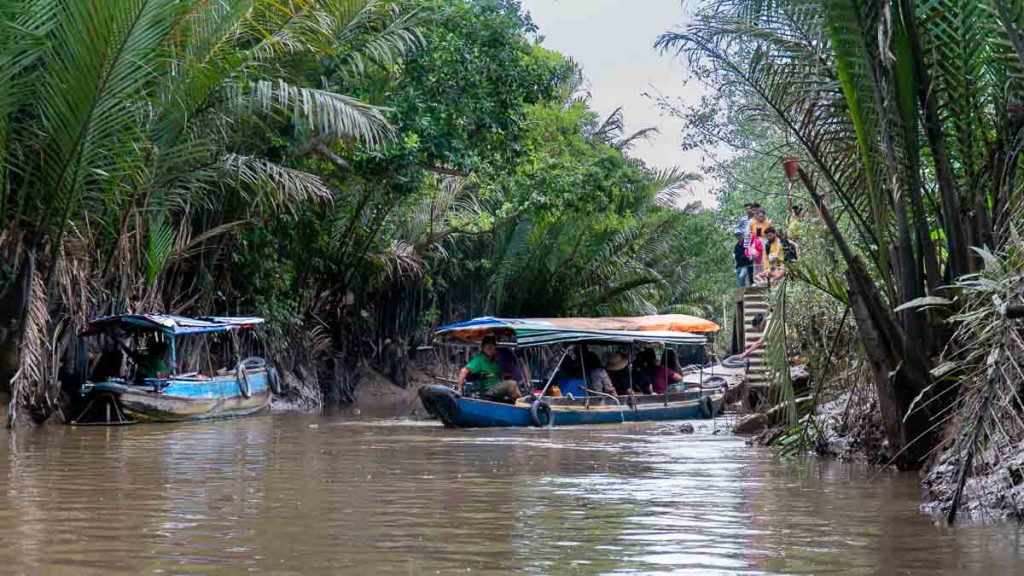 We sailed in a row boat, stopped by a coconut candy workshop, and visited Unicorn Island for honey tea and fruits.
This one-day tour covers both the Cu Chi tunnels and Mekong Delta — so you can tick those off your list of things to do in Ho Chi Minh City pretty quickly!
If you're pressed for time, choose a half-day tour of either the Cu Chi Tunnels or the Mekong River Tour. We recommend the former because if you didn't crawl through the tunnels, did you really visit Ho Chi Minh City?
Tours are as touristy as it gets but use your local guide as an entry point to understanding Vietnam's history and local spots! Our guide was happy to answer any question and share recommendations on the best bánh mì (short baguette with savory ingredients) and lesser-known markets.
*Pro-tip: You can start your trip with this tour to get the best local recommendations from your guide.
Cost: ~S$83.50/pax for a 12hr tour
Tour timings: 6:45AM
Pick up: For accommodation within District 1
Meeting point: 112 Trần Hưng Đạo Street, Phạm Ngũ Lão Ward, District 1
9) Play food roulette at 200 Market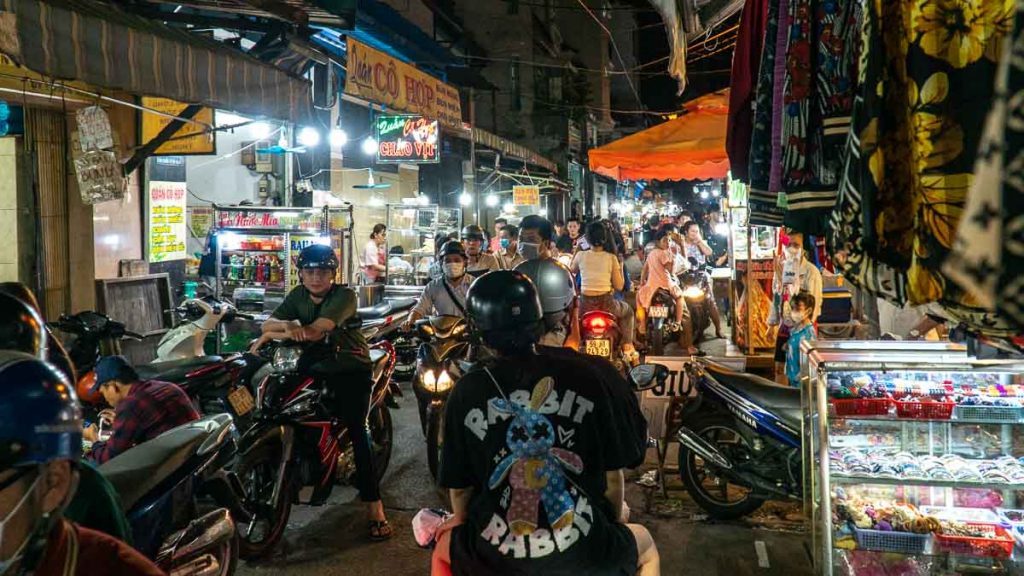 Imagine: a narrow, food cart-lined street lit by white lights too bright for your eyes. A cacophony of vrooms make you feel like you're in line at a drive-thru. It's a sensory overload — but in an enlightening way.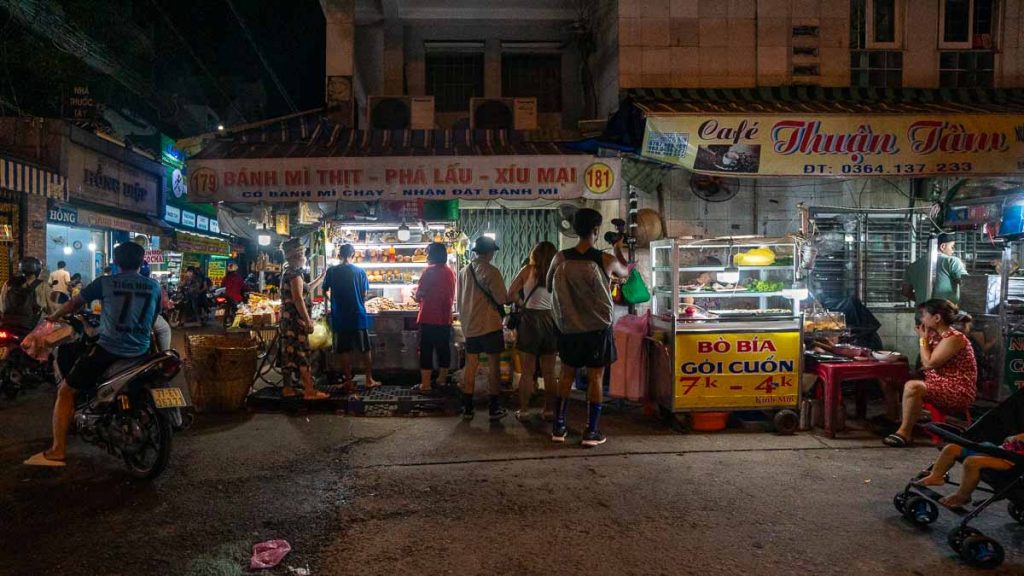 Recommended by our guide, 200 Market in District Four is a buffet of local gastronomy. The catch — no one speaks English.
Menus and signs are all in Vietnamese so get ready to point to a dish and hope for the best. Sure, you can enlist the help of Google Translate but where's the fun in that?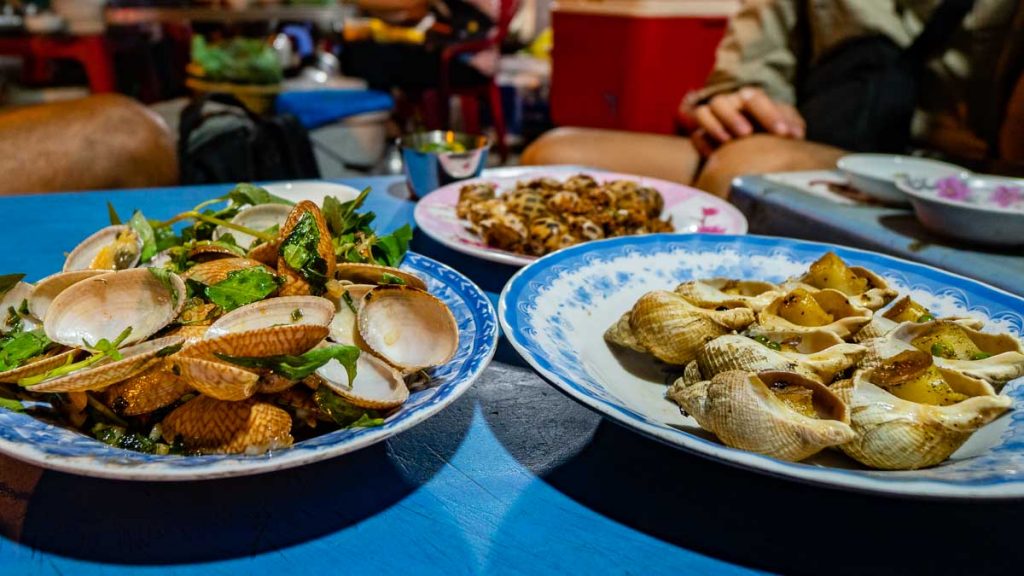 We started with familiar items like bánh mì (30,000₫), but slowly progressed to some mystery noodles (45,000₫), Bánh xèo (crispy Vietnamese shrimp omelette, 40,000₫) and freshly barbecued clams and snails (50,000₫/plate).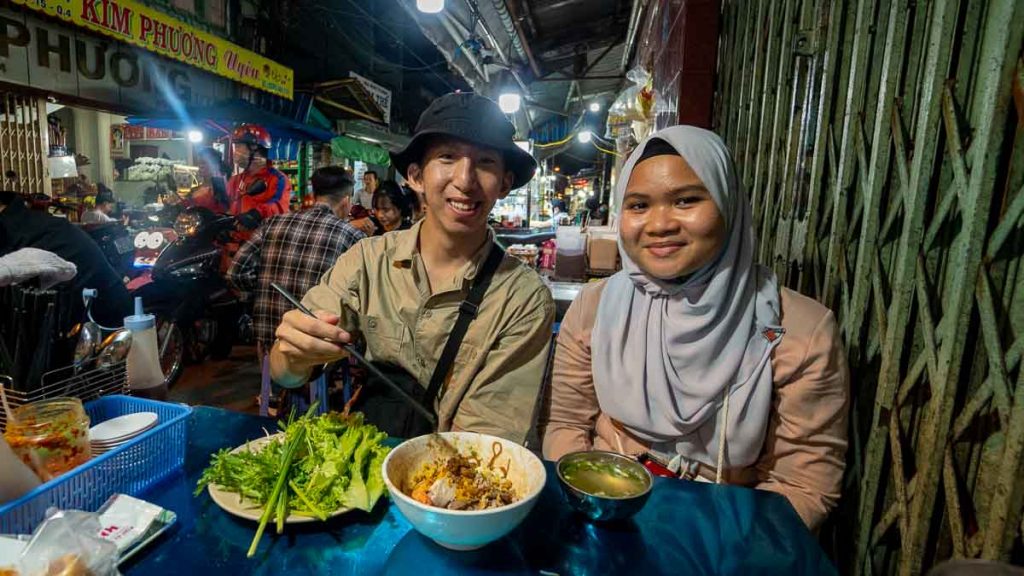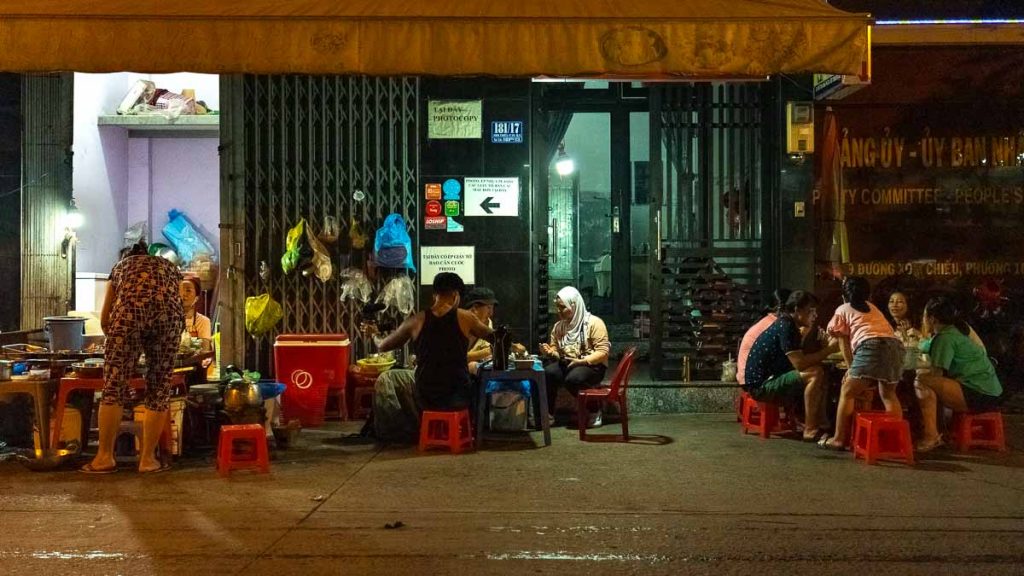 Though nothing was Halal for me to eat, sitting on the tiny stools, soaking in the atmosphere, and seeing the new foods was an experience itself.
Opening hours: 5AM – 11PM
Address: Nhà thờ, Xóm Chiếu, Phường 15, Quận 4, Thành phố Hồ Chí Minh 70000, Vietnam
The best way to find interesting things to do in Ho Chi Minh City
I loved the stories and advice that came with asking the locals or anyone about anything.
Our local guide during the Cu Chi Tunnels tour was the reason why we found out about the very obscure 200 Market and the unfortunate but cheeky story about the best bánh mì in Ho Chi Minh City! He made it clear that we could ask him anything at any point in time and he always had an answer.
Other than recommending 200 Market, he gave us advice to "Support local, but always bargain!"
When I'd taken a liking to the tops the rural women were donning at the Mekong Delta, he told me it was the Áo bà ba (traditional southern Vietnamese garment associated with rural Southern Vietnam). I wanted one and asked where I could tailor one in a day but he advised me to get an ao dai instead, given my tight timeline.
He was the only local we had spoken to, but I can't imagine how differently our trip would've turned out had we spoken to more locals!
I noticed they're happy to explain anything! Ask the right questions and you're sure to find a fresh perspective of the city. Ask away whenever you get the chance — just make sure to be polite about it.
Exploring more of Vietnam? Check out our other guides:
– Ultimate Southern Vietnam Guide — 13 Best Things to do in Ho Chi Minh, Da Lat, Phu Quoc, and Mui Ne
– 2-Week Vietnam Itinerary — Heart-Pumping Experiences through Northern and Central Vietnam from Hanoi to Da Nang
– 15 Pho-nomenal Experiences You Must Add to Your Northern Vietnam Itinerary — Halong Bay, Hanoi and Sapa
Did we miss out on any hidden spots in Ho Chi Minh City? Let us know in the comments below!
---
For more travel inspiration, follow us on Facebook, Instagram, Tiktok and YouTube for more travel updates!