From the Great Wall of China to lesser-known scenic day trips, these exciting things to do in Beijing are a must on your first trip!
Home to one of the seven wonders of the world and a multitude of UNESCO World Heritage Sites, it's easy to see Beijing as just another culture-heavy, sightseeing country to visit. But hey, we're not complaining. It's quite a spectacular sight walking atop a mountain on a centuries-old wall, or exploring one of the largest palaces in the world.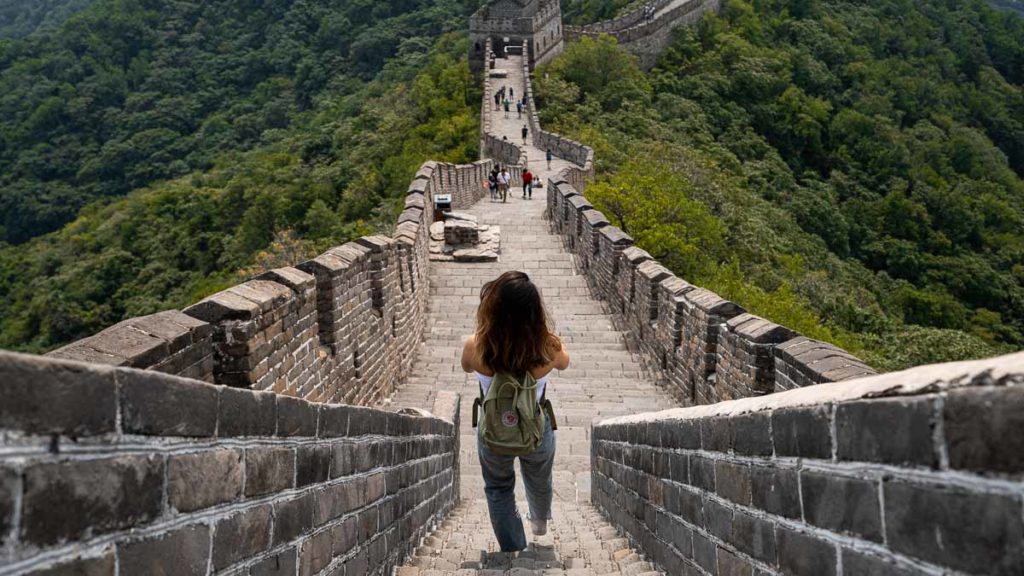 Now ain't that a beautiful sight?!
But beyond the iconic attractions, Beijing also offers plenty of exciting things to do that will get your adrenaline pumped, and change your perception of it being a purely sightseeing destination!
Here are 14 things to do in Beijing that will make you see the city in a different light.
We got around mostly with ride-hailing app Didi and the occasional private charter for places further out, so it was a smooth and relatively inexpensive journey. More about transport details (and other trip planning tips) below!
Read also: 10 Essential Apps You Must Have for Travelling in China
Must-See Attractions in Beijing
For a 3,000-year-old city, it'd be a shame not to experience her rich history and iconic attractions!
1) Climb one of the Seven Wonders of the World — then slide down it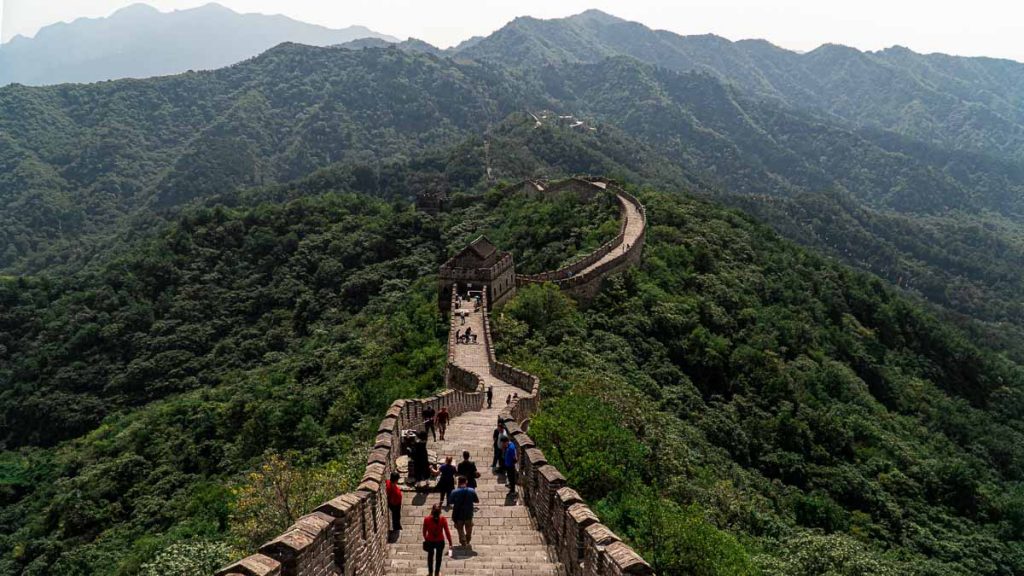 You can't say you've been to Beijing if you haven't seen the Great Wall of China. I finally got to tick this off my bucket list! There are many sections of the wall open to tourists, but the Mutianyu section is less crowded compared to the popular Badaling section with an equally grand view.
We booked a round trip bus ride that included the admission ticket, a fantastic lunch at a local restaurant, and a friendly tour guide who explained the wall's history to us before we explored on our own.
What most people don't know is the part where you can literally slide down the Great Wall. Take the cable car up to Tower 14, and then hike down to Tower 6 where a toboggan ride to the bottom awaits you for 100RMB (~S$19.39)! Now that's an interesting way to experience the Great Wall.
Cost: ~S$61.05
Opening Hours: 8AM – 5PM
Address: Mutianyu Rd, Huairou, Beijing, China
2) Interact with locals at Beihai Park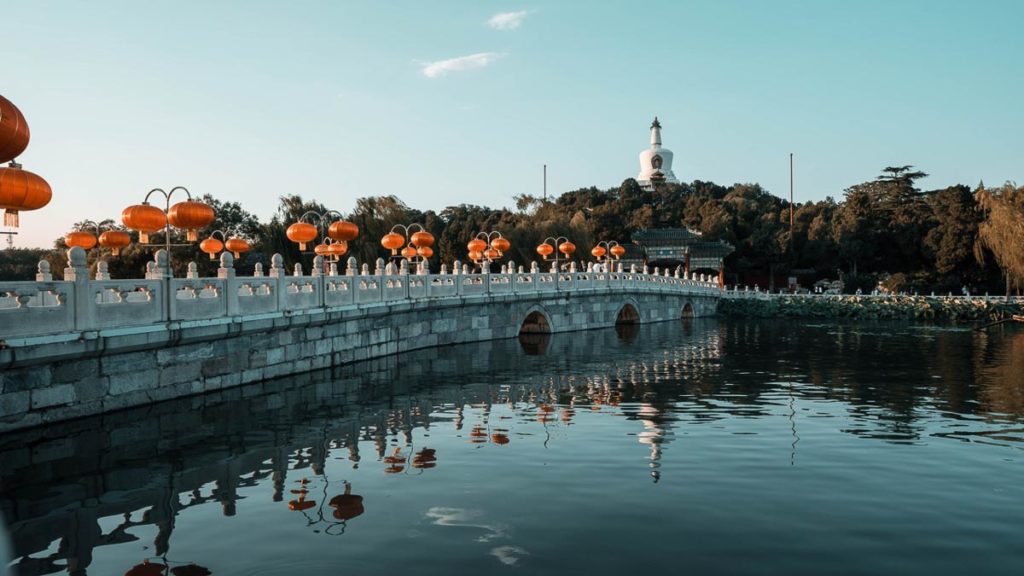 Beihai Park used to be attached to the Forbidden City as an exclusive imperial garden. But it's now open to the public where you can really interact with locals and see their way of life — all whilst surrounded by the beautiful pagodas, bridges, and lakes!
We even got to dance with a cute bunch of retired Beijingers who were singing in the park with their friends 😂
Entrance Fee: 10RMB (~S$2)
Opening Hours: 6:30AM – 9PM
Address: 1 Wenjin St, Xicheng, China, 100034
3) Walk The Same Grounds As The Emperors of Ancient China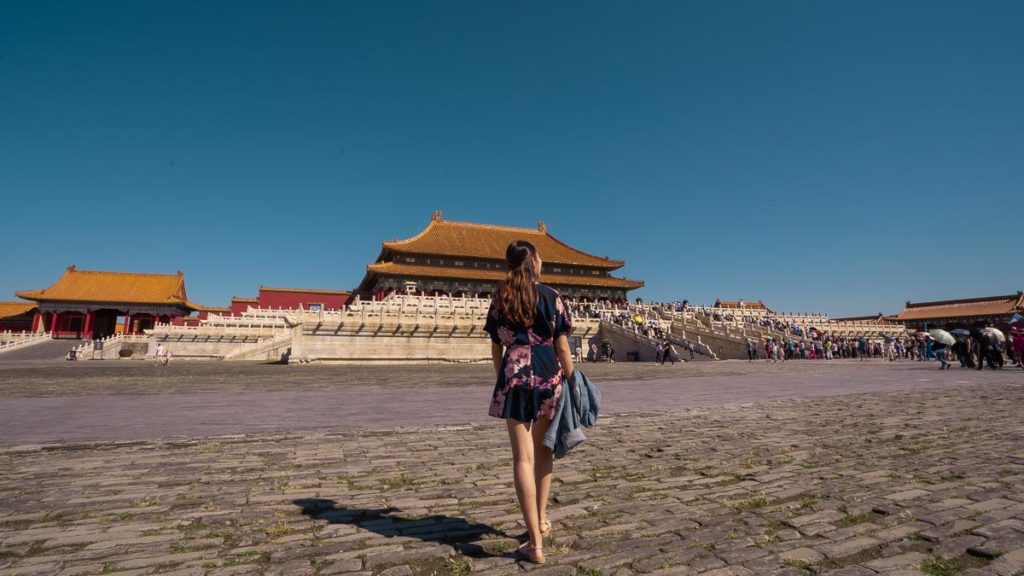 The ancient imperial palace of China, also known as Forbidden City, is truly a marvel to see up close. It houses 980 buildings and spans about 72 football fields!
That being said, it's best to get a tour guide so you can navigate the palace complex easily and get a deeper understanding of what you're looking at. Otherwise, you'll really be aimlessly wandering around.
Entrance Fee: 60RMB (~S$11.60 from Apr – Oct), 40RMB (~S$7.80 from Nov – Mar)
Opening Hours: 8:30AM – 5PM, closed on Mondays
Address: 4 Jingshan Front St, Dongcheng, Beijing, China, 100009 (故宫博物院)
*Pro-tip: Come on the weekdays as early as possible because it gets crowded fast!
4) Marvel at an ancient architectural feat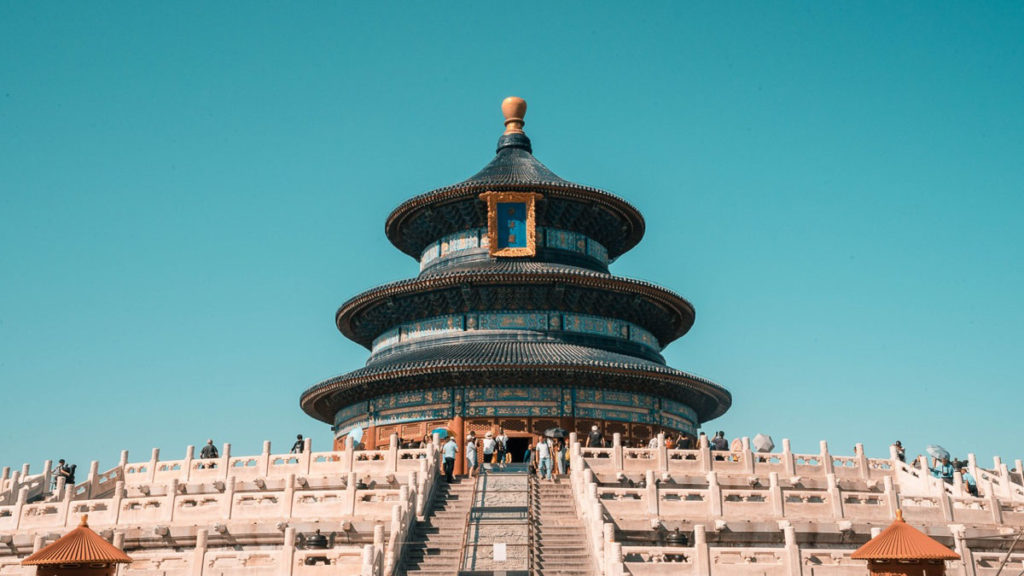 Search up on Beijing and you'll likely see the Temple of Heaven pop up. Not only does it look different from any other ancient Chinese temple — it's also an architectural feat that's stood for centuries despite having zero nails in its construction!
Apparently, 27 emperors have worshipped in this temple since the ancient times so it's well worth to see it in person.
Entrance Fee: 30RMB (~S$5.82)
Opening Hours: 6AM – 8PM
Address: 1 Tiantan E Rd, Dongcheng, China, 100061 (故宫博物院)
5) Soak in the beauty of the Summer Palace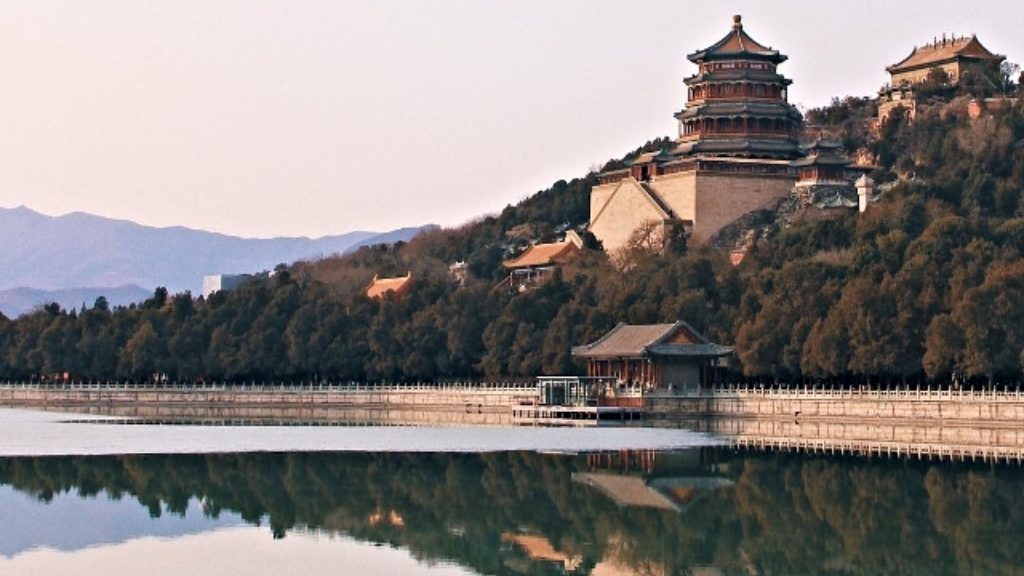 There are four famous classical gardens in China and the Summer Palace is the largest and most well-preserved of them all. You can choose to stroll down the 700m-long corridor to take in the scenery, or take a boat ride (30RMB) across the lake instead!
P.S: The palace is especially beautiful in the autumn months with the foliage and fragrance of sweet osmanthus flowers in the air — no wonder the Empress Dowager Cixi loved this place so much.
Entrance Fee: 20RMB (~S$3.90)
Opening Hours: 7AM – 5PM
Address: 19 Xinjiangongmen Rd, Haidian, China, 100091 (颐和园)
We took a full-day tour that brought us to the Forbidden City, Summer Palace and Temple of Heaven. This was really convenient for us because it came with pick-up service, lunch, and even a private tour guide to take us through the attractions!
Iconic Beijing Tour
Cost: ~S$242.75
Tour Timing: 9AM – 5PM
Lesser-known Attractions in Beijing
From post-industrial art districts to exhilarating rides and more, these are the best off-the-beaten-path things to do in Beijing!
6) Wander Through An Aesthetic Art District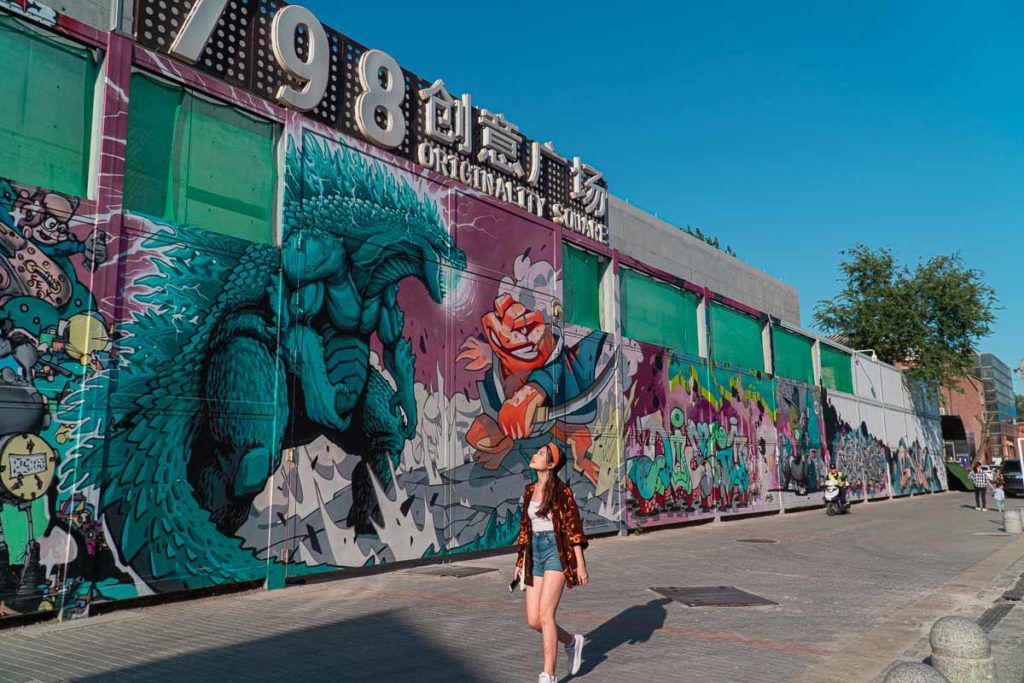 Left behind from the German military days, the 798 Art District with its Bauhaus-style architecture has become a hotspot for modern art and design in Beijing today. I absolutely loved wandering through the graffiti-laden streets, contemporary art museums, and aesthetic cafes.
If you come in the fall, you might even catch the Beijing Design Week and Beijing Queer Film Festival that take place there!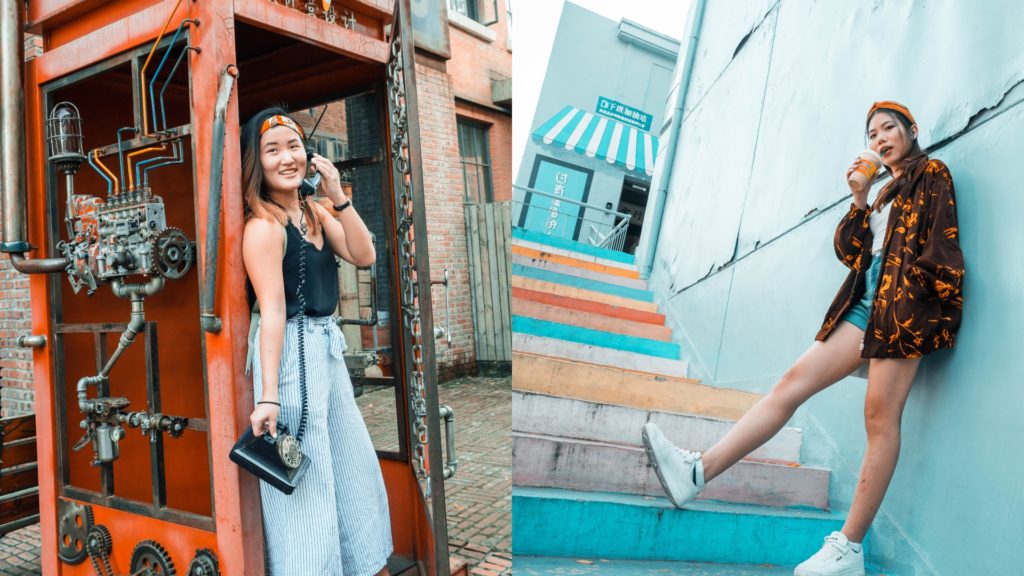 Entrance Fee: Free
Opening Hours: 10AM – 6PM (Most shops and museums closed on Mondays)
Address: 2 Jiuxianqiao Rd, Chaoyang Qu, Beijing Shi, China (798艺术区)
7) Catch an epic Kungfu performance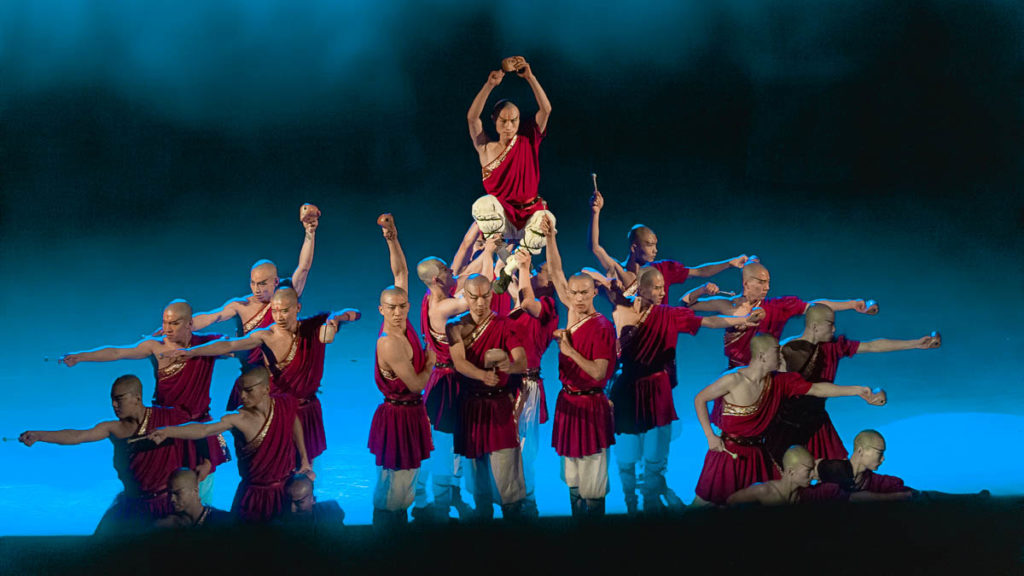 If you're a Kungfu Panda fan like me, you'll be captivated by the Legend Of Kungfu Show as well. With an intriguing plot (it's about a young boy on a journey to find his identity in the Kung Fu world amidst setbacks from himself and his masters), stage props and jaw-dropping stunts, you'll be surprised at how impressive the entire show is from start to finish.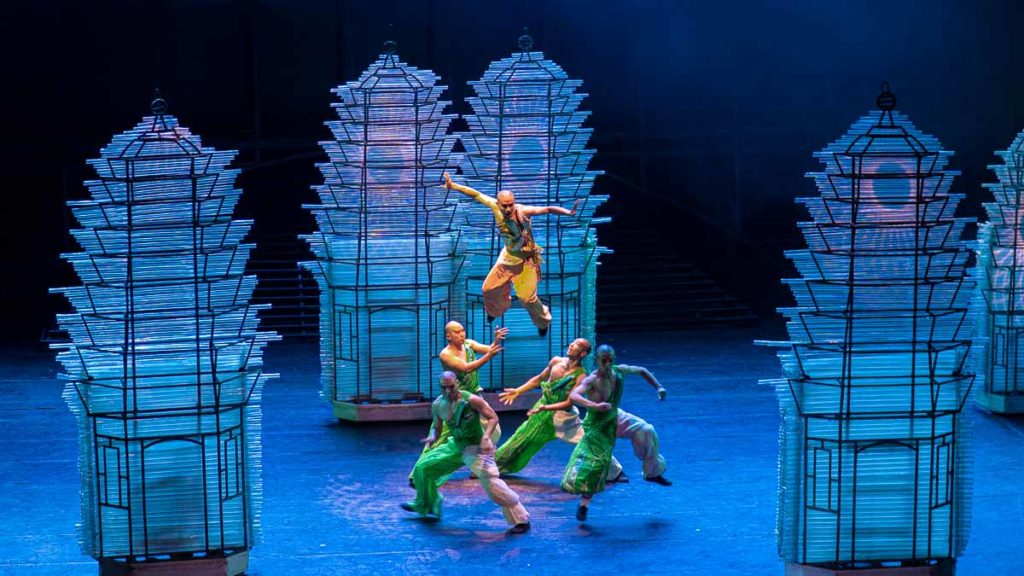 And good news if you're not fluent in Mandarin — the show is performed in English! Nothing lost in translation either — the quality still felt amazing.
Cost: ~S$38 (incl. free pick-up from accommodation within Beijing)
Show Hours: 6:30PM – 8:30PM
8) Go Rollercoaster-Hopping
You can really see the fear written across our faces…
Don't be fooled by how harmless Happy Valley sounds — this amusement park has five crazy rollercoasters (some with 360-degree loops), a plunging water ride and countless high element activities that'll send your adrenaline into overdrive. You can see the look on our faces riding the Extreme Rusher above.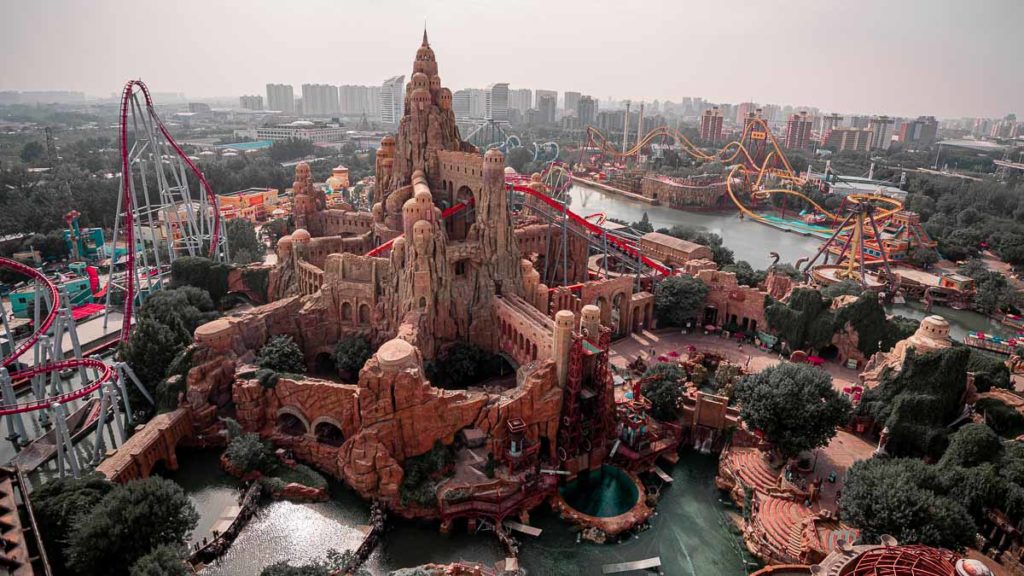 Even if the thrill ain't your thing, there are also milder but still enjoyable rides throughout the park. Go on a midweek day for a smaller crowd and shorter queues! We managed to sit on all the exciting rides with enough time to repeat our favourites.
Entrance Fee: 299RMB (~S$58.09)
Opening Hours: 10AM – 9PM
Address: Xiaowujibei Road, Dongsihuan, Chaoyang District, Beijing 100023, China (北京市朝阳区东四环小武基北路)
*Pro-tip: Most rides open from 10:30AM – 12 PM so have a hearty breakfast (because the food inside is pricey) before purchasing your tickets.
9) Embark On An Adventurous And Scenic Day Trip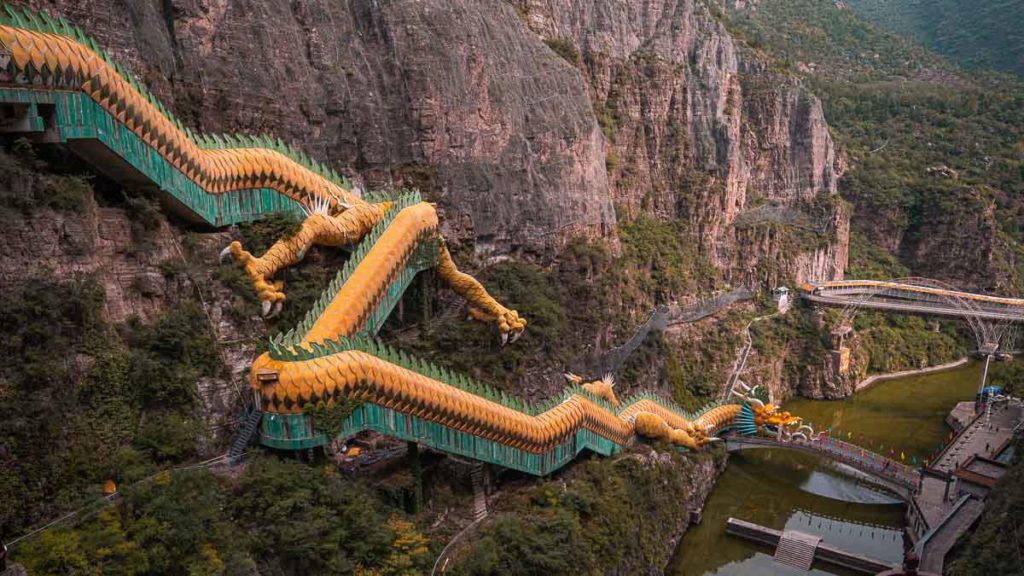 Not many tourists know about Longqing Gorge, a scenic canyon away from the city centre featuring the world's longest outdoor escalator — in the shape of a dragon, no less. And if that isn't enough to intrigue you, then the open-air boat ride through the rock canyons on jade green waters definitely will (definitely do this for the views!).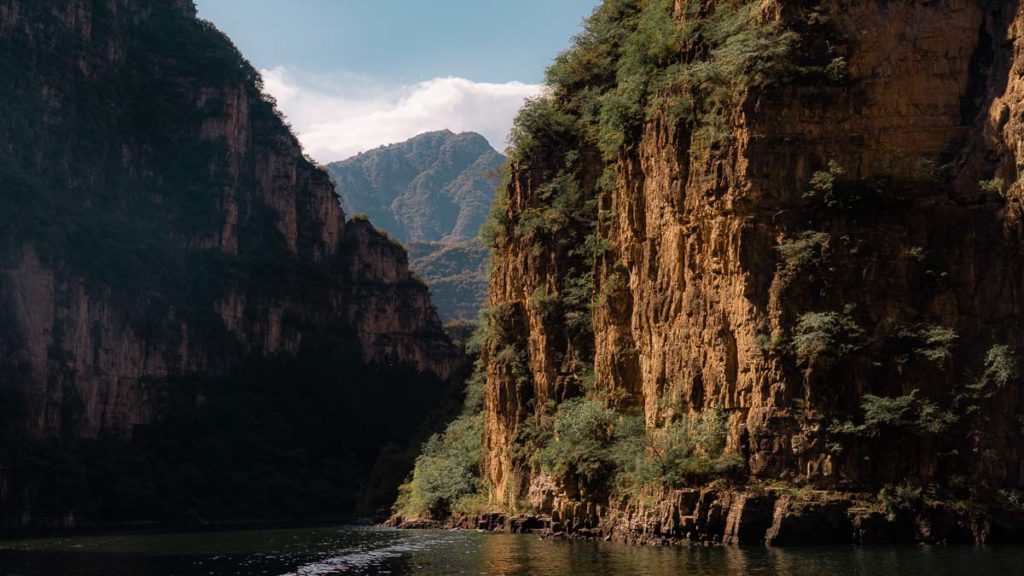 Aside from the gorge-ous scenery, there are exhilarating activities too — bungee jump into the gorge (260RMB) or zip-line across it instead (50RMB). I recommend choosing one of the two and ending your day trip with a luge ride down the gorge for 30RMB!
The scenery was beyond gorge-ous!
Entrance Fee: 140RMB (incl. boat ride)
Opening Hours: 7:30AM – 4:30PM
Address: Guchengcun, Jiuxianzhen, Yanqing, Beijing, China (延庆县旧县镇古城村北龙庆峡景区)
10) Check Out Beijing's Nightlife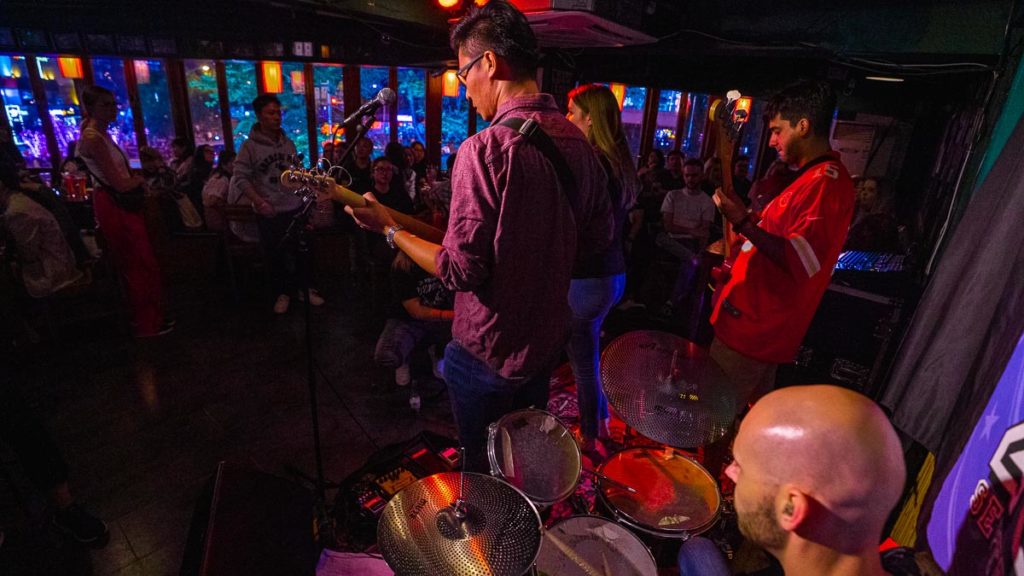 Located near many universities in Beijing, the streets of Wudaokou come alive at night — and with affordable alcohol! We went to Lush which also had great food and nightly events like open-mics, live music performances and movie screenings.
Lush
Cost: 50RMB – 80RMB (~S$9.62 – S$15.39)/Pax
Opening Hours: 8AM – 4AM
Address: 2/F, Bldg 1, Huaqing Jiayuan, Chengfu Lu (海淀区成府路华清嘉园1号楼2层)
Authentic Beijing Eats
11) Indulge In Crispy, Juicy Peking Duck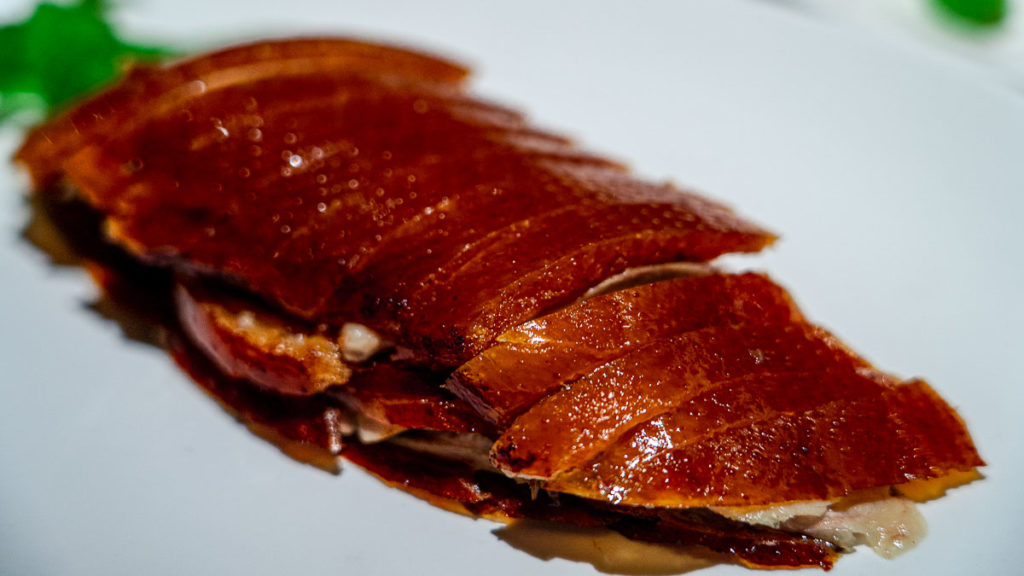 Peking Duck is probably the culinary equivalent of the Great Wall. For the unfamiliar, a chef slices chunks of skin off a freshly oven-roasted duck, which you then wrap in a mini crepe alongside sliced cucumbers, picked radish and a sweet bean sauce.
There are many famous Peking Duck restaurants in Beijing but our driver recommended Siji Minfu as one of the better and less-touristy ones to visit (he was right!). Be prepared to spend a bit more — it's an imperial cuisine after all.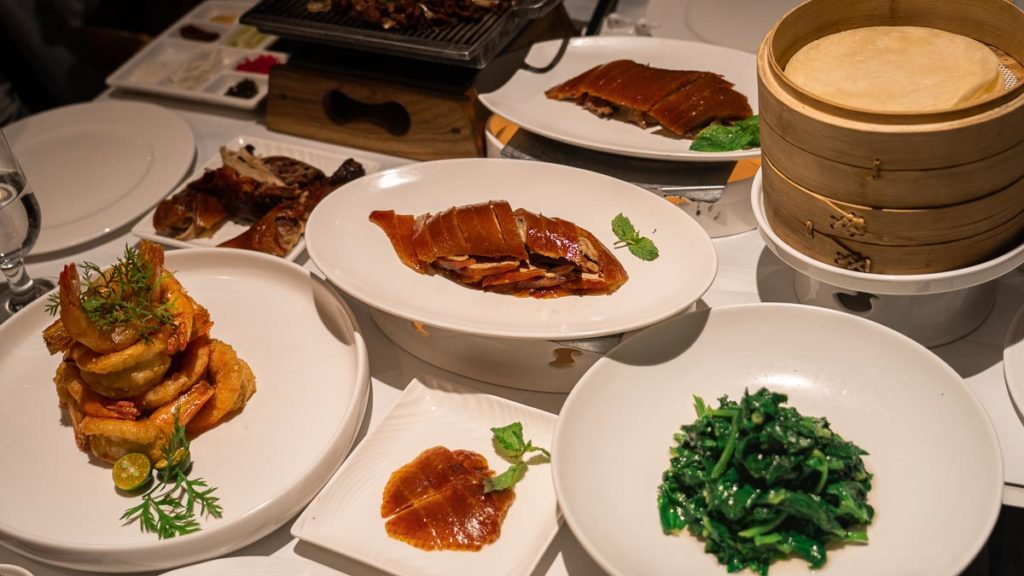 Note: Come at least one and a half hours before to queue for a slot.
Cost: 108RMB (~S$20.94) for half duck and 198RMB (~S$38.39) for whole
Opening Hours: 7AM – 5PM
Address: 1/F, Donghua Restaurant, No.32 Dengshikou West Street, Dongcheng District, Beijing, China (and many other branches)
12) Blast To The Past With Lao Beijing Snacks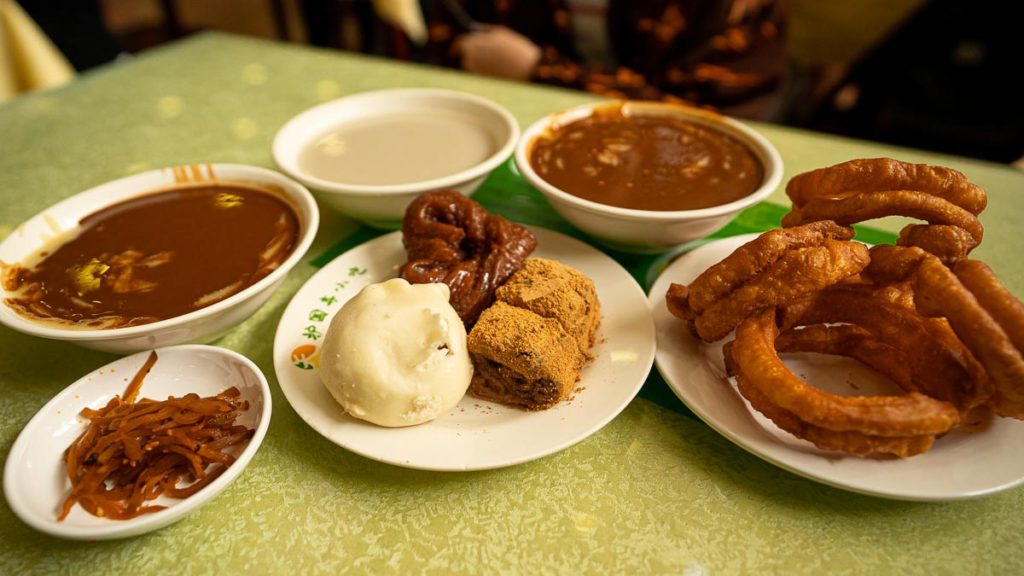 Lao Beijing snacks have been around Beijing since hundreds of years ago and are still a part of the locals' diet today. Must-trys include staple Beijing breakfast items like miancha (a porridge made from flour), tang er duo (sugar-coated fried dough sticks), douzhi (a fermented mung bean soup known to be potent for even the Beijingers themselves), and doujiang (hot soybean milk).
Since the government is cracking down on street vendors, the best place to try them all is at Huguoxi Snacks (护国寺小吃店) which you can find at Huguoxi Hutong.
Address: 68 Huguosi St, Xicheng, Beijing, China 护国寺小吃店 (西城区护国寺大街93号)
13) Cheap and good street eats at Hutongs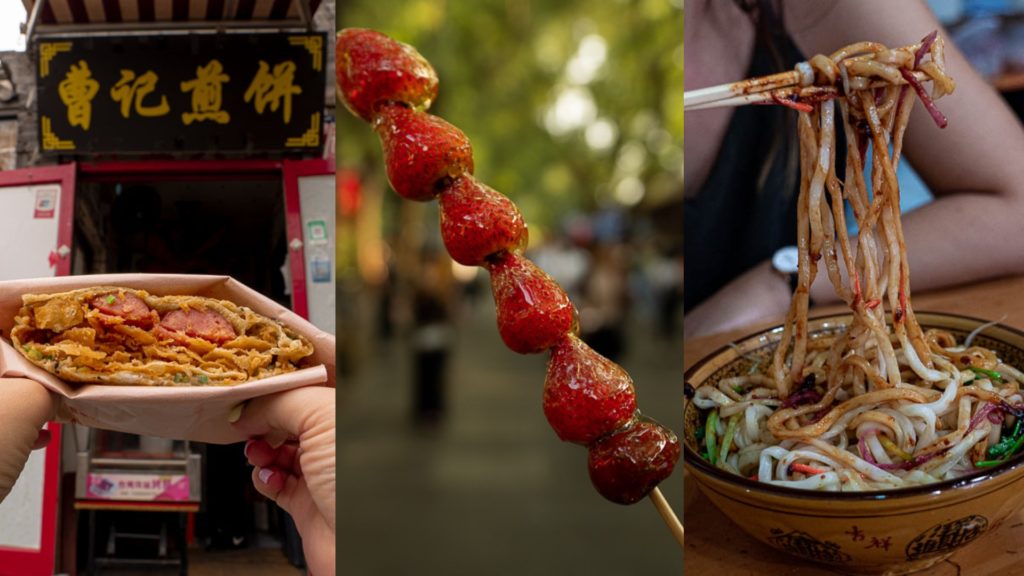 Apart from traditional snacks, the streets (or widely known as hutongs) of Beijing also offer a plethora of piping hot street eats and desserts. Our favourites include: tanghulu (草莓糖葫蘆, fruits dipped in sugared syrup on a stick), zhajiangmian (炸酱面, soybean paste noodles with minced meat), jianbing (煎餅, a savoury crepe), and stinky tofu (臭豆腐) if you're up for it.
You can easily find these along the hutongs of Nanluoguxiang, Shichahai/Houhai, and Huguosi area.
14) Feast on spicy crawfish at Ghost Street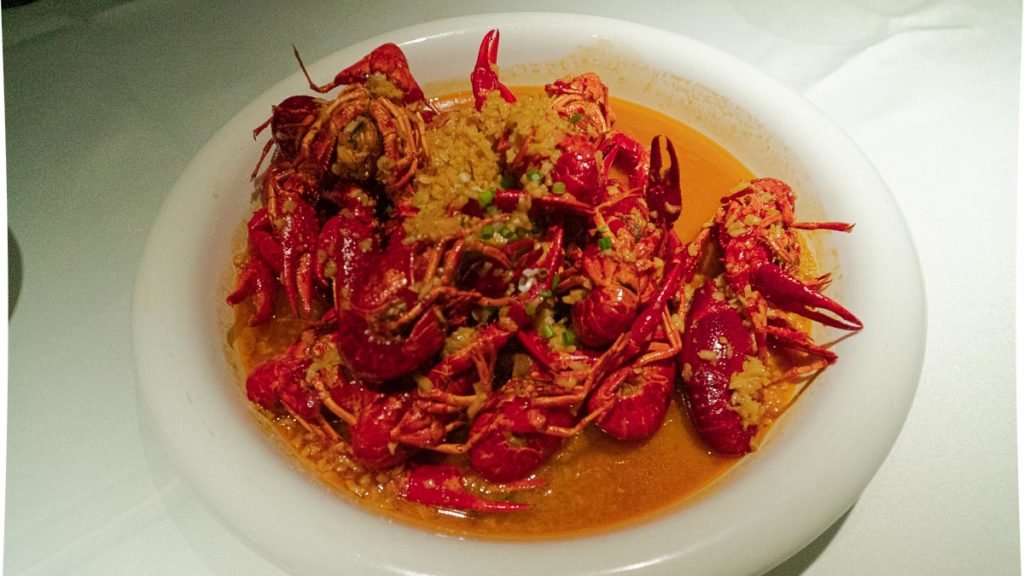 Ghost Street or Gui Jie (簋街) got its name because it was once lined with coffin shops. But heebie jeebies no more — today, ghost street stands as a popular 600m-long supper stretch from night snack bars to spicy crawfish (the main attraction), and are open all night long!

Hit up Hu Da Restaurant (胡大饭馆) for their Garlic Crawfish and Braised Bullfrog in Chilli Sauce (total ~99RMB) — you won't regret it!
Opening Hours: 24 hours
Address: 284 Dongzhimen Inner Street, Dongcheng District, Beijing China, 胡大饭馆
Check out our Beijing food guide (coming soon) for more information on the best eats and where to find them!
Accommodation in Beijing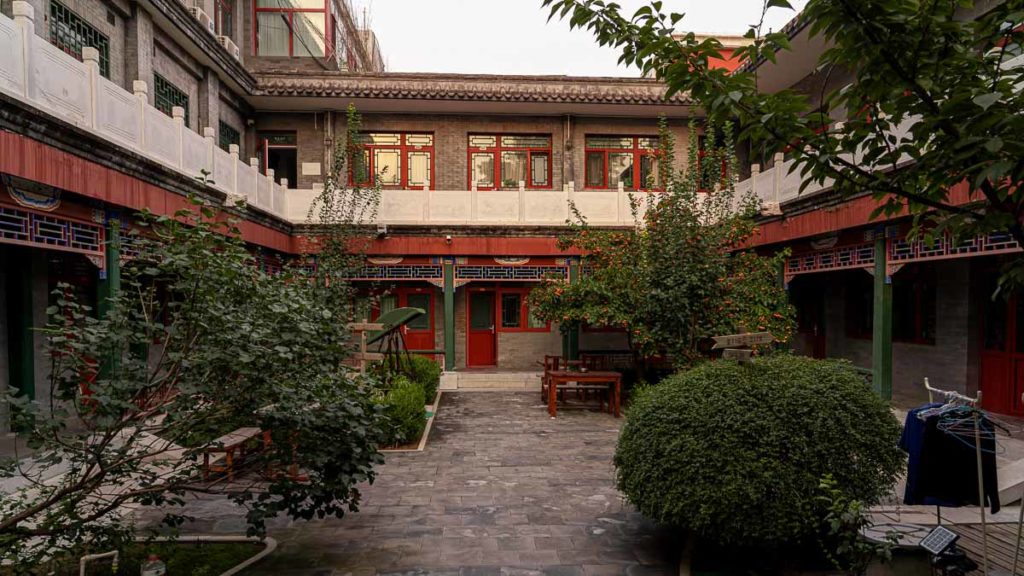 Generally anywhere within the 1st, 2nd, and 3rd Ring Road of Beijing is a good location. We stayed at Beijing Heyuan Courtyard International Hostel which is conveniently located near the city centre, and easily accessible for pick-ups and drop-offs by car. The traditional courtyard is serving real period drama vibes.
Oh, and did we mention there's a resident corgi there too?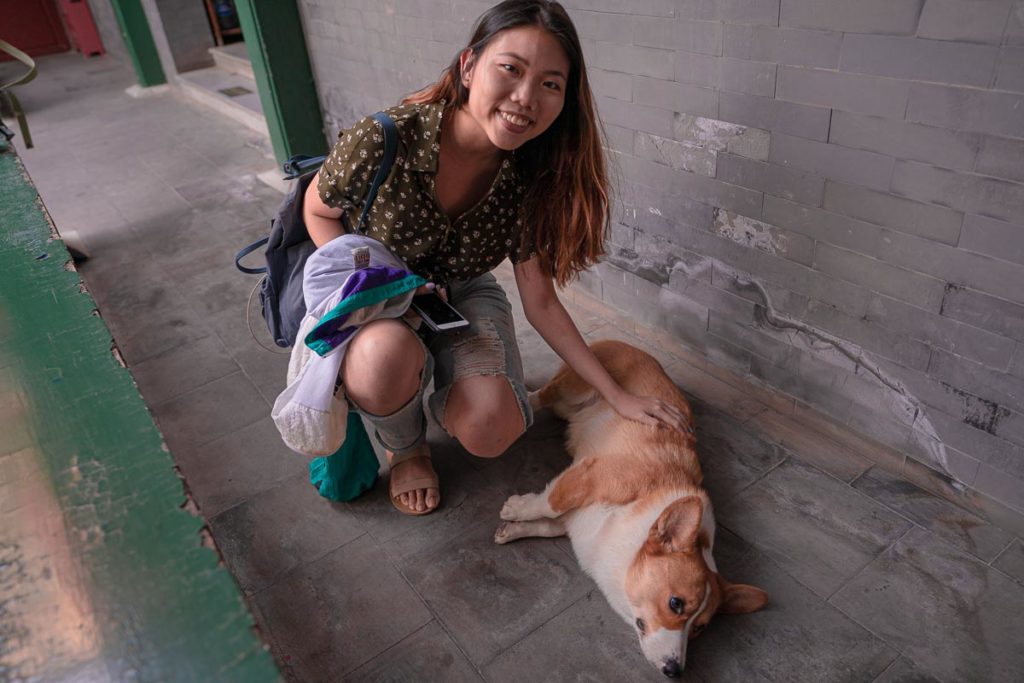 Security protocols can be quite tight in Beijing so its more difficult to get Airbnbs. Hostels, on the other hand, are already familiar with international guests. So it's much easier to liaise with them! Plus, you can easily get tips and recommendations from the staff if you're unsure about something 😚.
Beijing Trip Planning Tips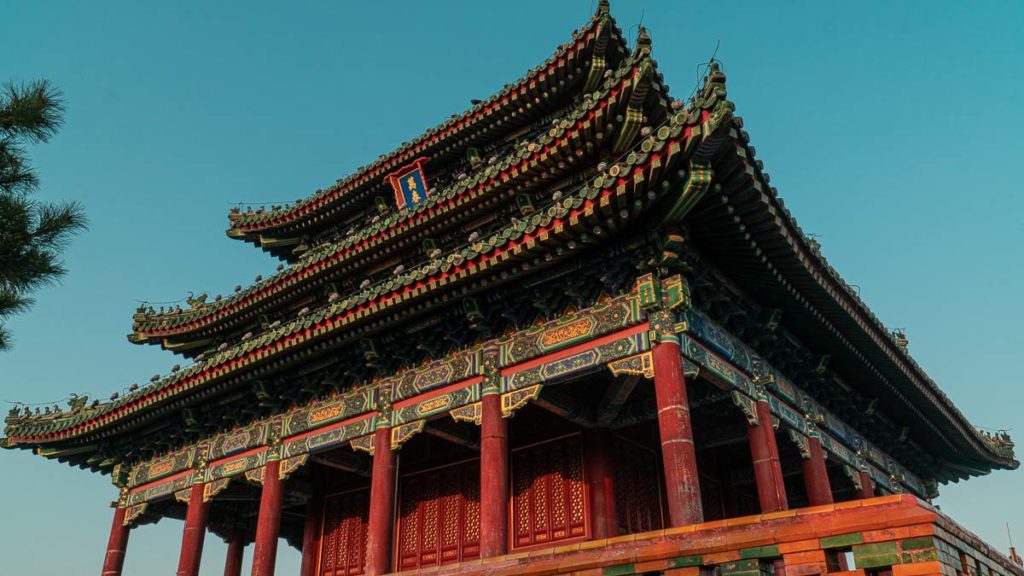 1) Transportation Options
There a number of ways that you can get around Beijing and depending on your activities, here are some options:
(1) Tours: We didn't have to worry about transport for popular tourist attractions because they're already included in our tour package. We'd recommend that because you spend less time travelling, and some tours come with a private tour guide to explain what you're seeing. The tours we booked were:
– Iconic Beijing Tour (Forbidden City, Summer Palace)
– Mutianyu Great Wall-Downtown Beijing Round Trip Bus Pass
– Legend of Kungfu Show
(2) Private Charter: When we had to travel further for day trips like Longqing Gorge, private charters made the entire process breezy and we didn't have to worry about getting lost. Here are some useful options:
– Airport transfers
– Day trips in Beijing
– Railway transfers
(3) Didi App: Didi is basically China's version of Grab/Uber and super convenient to get around with. Even if you don't have WeChat or Alipay, you can still use Didi and pay with cash. Language settings can be toggled to English, and it even has an in-app translation feature to communicate with your driver.
(4) Walking: While Beijing has a fairly extensive transport system, I wouldn't recommend using it often as a tourist because public transport gets insanely crowded, and will probably cause delays. We found the metro only useful if it's near a hutong or specific area you want to explore. Otherwise, walking a few kilometres doesn't hurt!
2) Staying Connected
Without a VPN, it's virtually impossible for foreigners to communicate or surf the net. Download a VPN app before you go (and more than one just in case), and while there's WiFi in most hostels/hotels, you should also get a SIM card (~S$15 for 6GB) to get around.
Read also: 10 Essential Apps You Must Have for Travelling in China
3) Best Time to Visit
Avoid major public holidays at all cost! Domestic tourism gets so crazy around Chinese New Year, Golden Week and Mid-autumn Festival that even the locals told us to avoid that period.
The best time to visit Beijing is during the months of March to May, and September to October. The weather is most pleasant, and you get to see the autumn and spring foliage!
Beijing is great on its own but make the most of your China trip and explore other cities too! Check out our other China guides and itineraries:
– 5D4N Suzhou and Hangzhou Itinerary
– 2-Week China Itinerary — Beijing, Shanghai, Suzhou, Hangzhou
– 25 Exciting Things to Do in Shanghai
– 12D Central China Itinerary to Ancient Gems & Undiscovered Sights — Wuhan, Changsha & Zhangjiajie
Check Flights to Beijing
The Beijing Capital International Airport serves many major international airlines you can fly with. Check flight prices with this nifty widget:
If you can't see the widget above, check flight prices from Singapore to Beijing here.
Are there any other fun things to do in Beijing that we missed out? Let us know in the comments section below! 🙂
---
This post was brought to you by Klook.