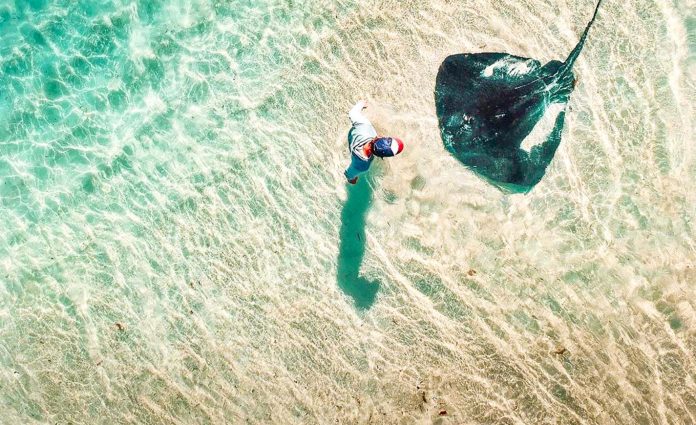 We asked our friends to dish out underrated things to do in Australia — and mate, we're not disappointed.
Call me FOMO, but my pre-trip prep includes asking everyone I know for travel recommendations. Sure, I can Google — but it's more exciting to get the scoop straight from the horse's mouth!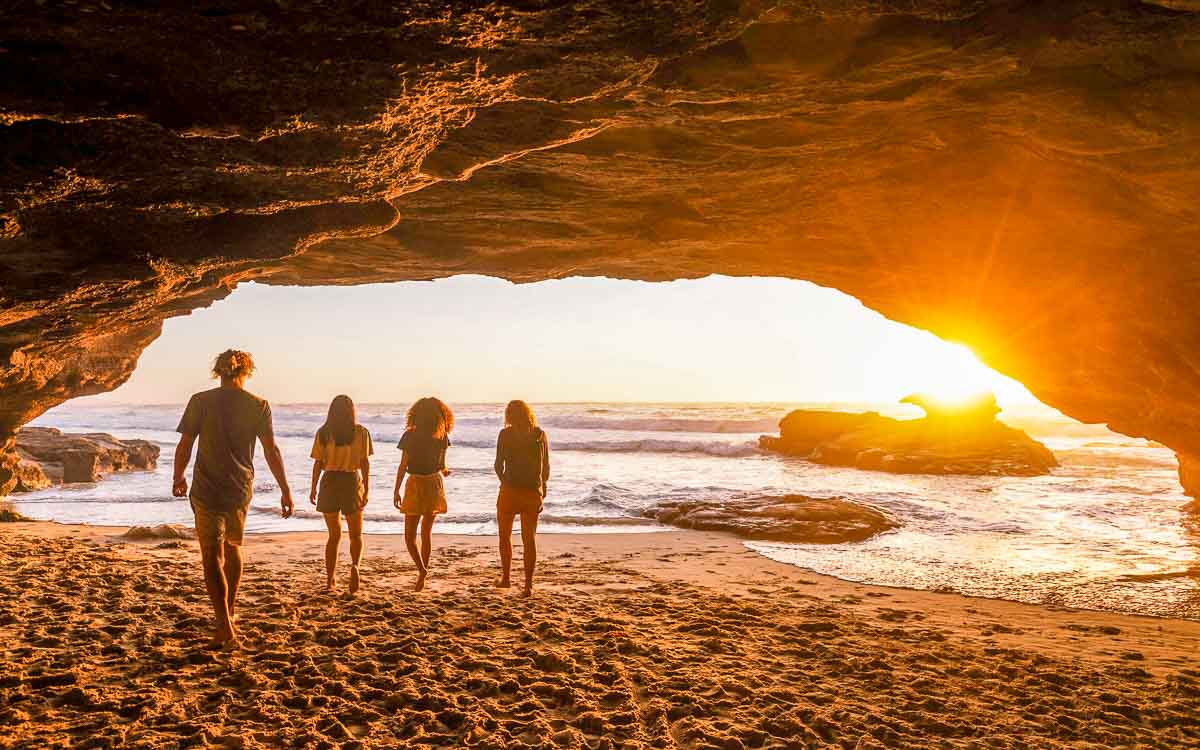 Photo credit: Destination NSW
This trick comes in handy when travelling to familiar favourites like Australia. I mean, we all know about the Sydney Opera House and the infamous nude beaches 😉. But what about the heaps of other "secret" spots we're missing out on?
This time, we asked all our friends — Aussies, frequent travellers, international students living there, Aussie Specialists and a couple of celebs — to tell us their favourite things to do across Australia. And we gotta say, we're surprised and impressed.
Go ahead, save the image above for planning your future adventures in Australia!
Here are the top five things to do in each of Australia's states and territories — from gorgeous gems like Tasmania, South Australia, the Northern Territory and Australian Capital Territory, as well as popular favourites like Victoria, Western Australia, Queensland, and New South Wales.
Read also: 16 Picture-Perfect Places Every Australia Itinerary Needs
Top 5 things to do in South Australia
1) Visit Australia's natural amphitheatre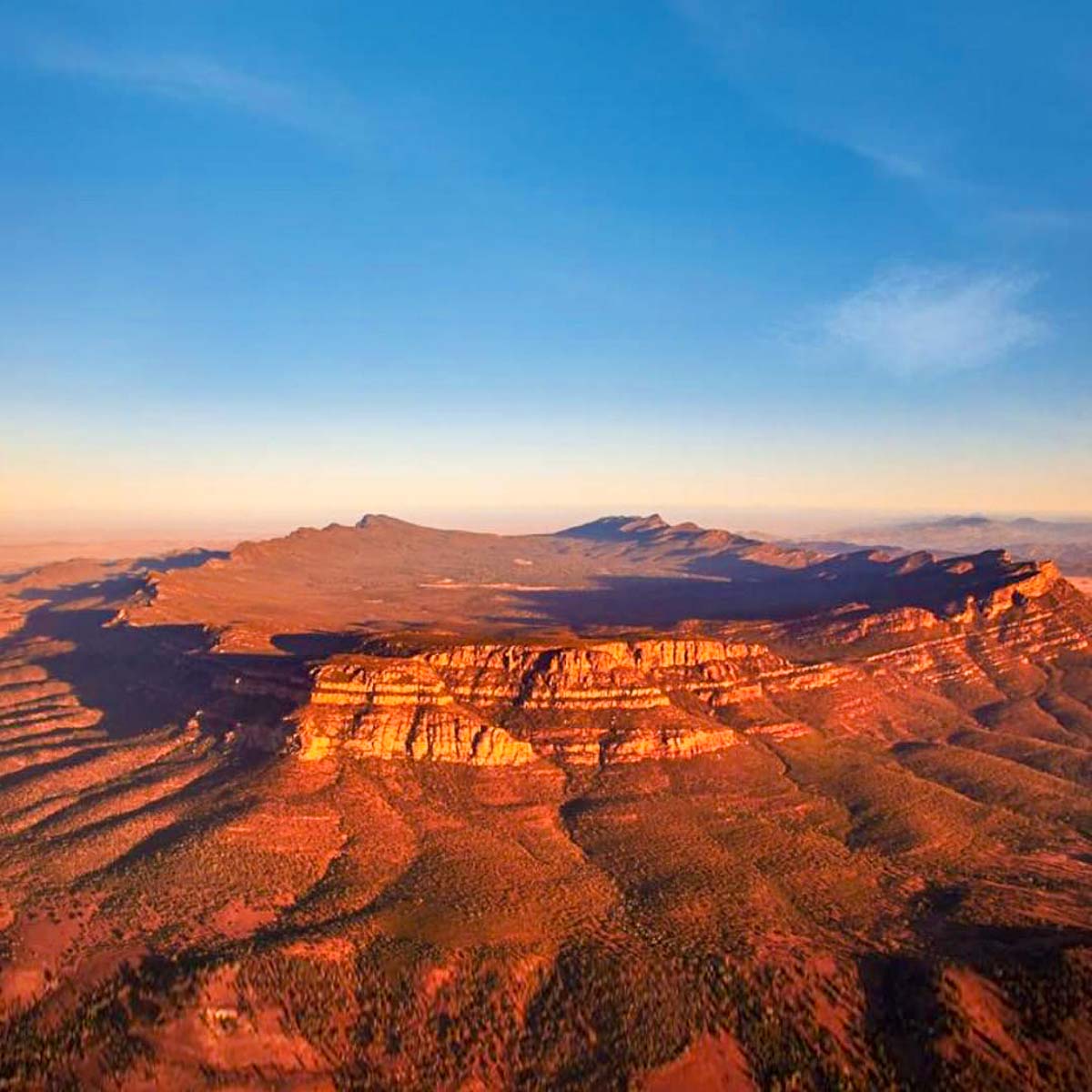 Photo credit: @alan.timms1 via Instagram
This recommendation singlehandedly blew our minds. Deep in the heart of Flinders Ranges National Park, Wilpena Pound is a colossal amphitheatre of mountains. It's also well hidden under the radar — surprising, considering it's eight times the area of Uluru!
There are two main ways to explore this immense beauty. On ground, follow bushwalking trails that traverse the Pound or hike up to the rugged ridgeline. Alternatively, take to the skies with a scenic flight. You'll also get astounding aerial views of natural wonders like Edeowie Gorge and St Mary Peak.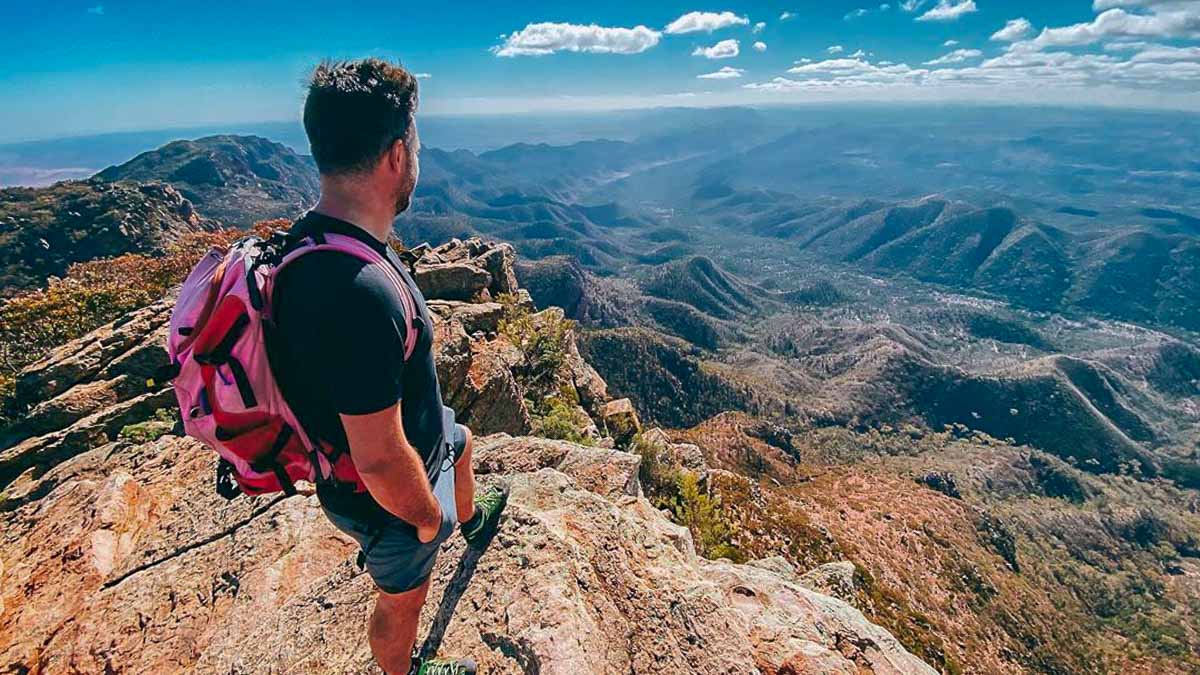 Photo credit: @atunnadine via Instagram
Entrance fee: AU$11 per car
Opening hours: Walking trails are accessible from 8AM – 5PM (may be closed during summer)
How to get there: ~5.5hr drive from Adelaide Airport
2) Chill out at Adelaide's playground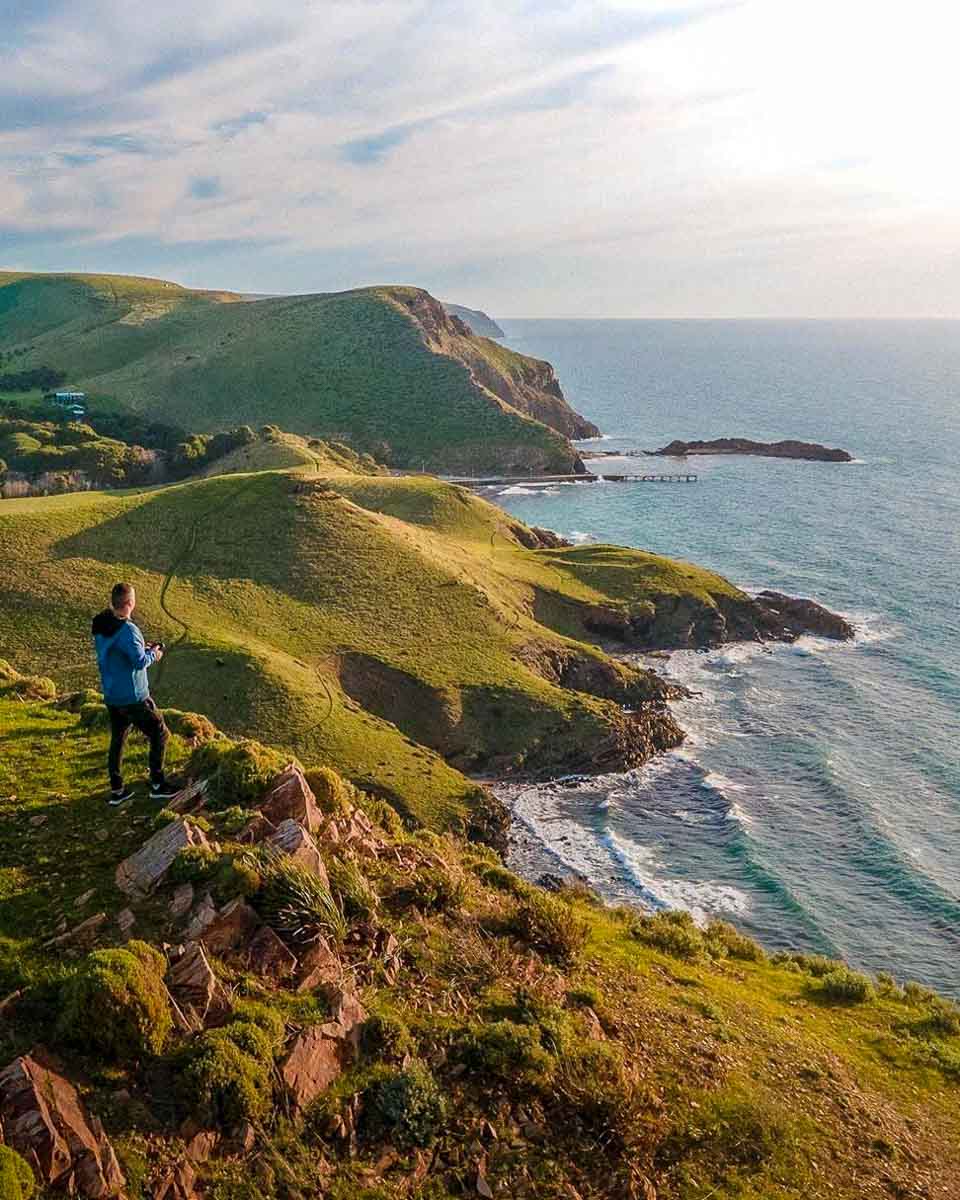 Photo credit: @abcaustralia via Instagram
Our Aussie friend tells us that the Fleurieu Peninsula has some "absolute stunners". And he would know best — he works there!
This beautiful region hosts dramatic coastlines, stunning nature spots, Australia's oldest wineries, and heaps to do. Thrill-seekers will love cliff jumping or trekking at Second Valley. Meanwhile, introverts can relax in the secluded Inman Valley, packed with rolling green hills and a multitude of bushwalking trails.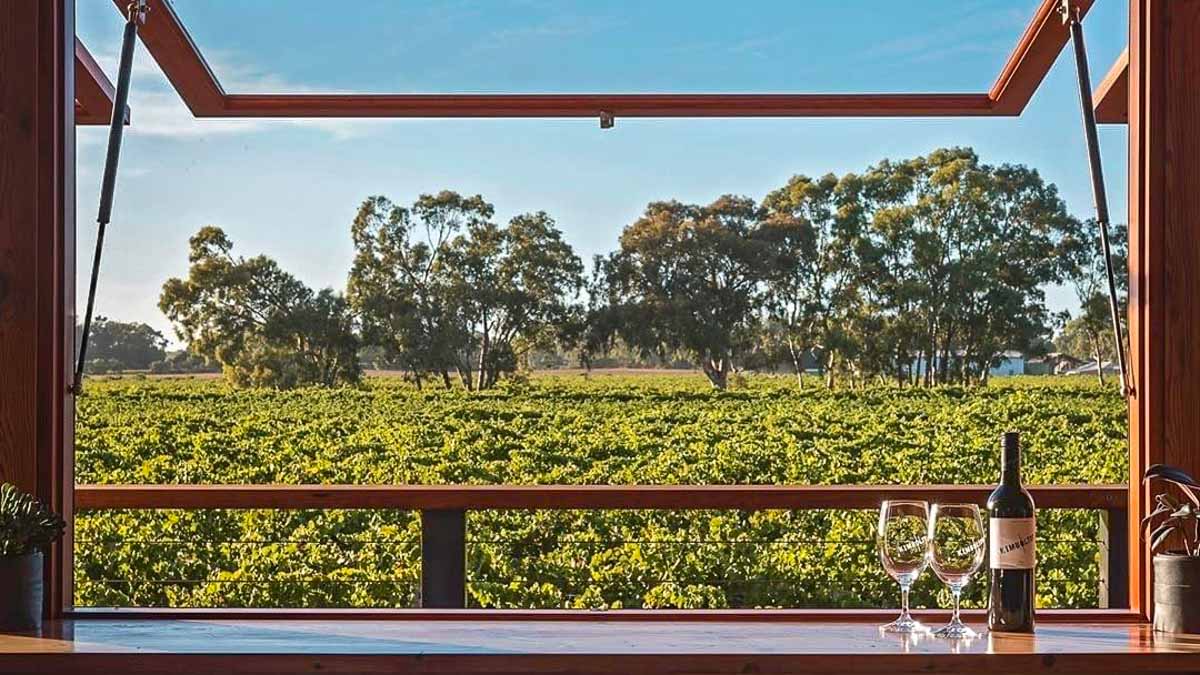 Photo credit: @officialfleurieupeninsula via Instagram
Wine lovers have to make a stop at McLaren Vale wine region. The wineries and cellar doors here offer "some of the most polished and scenic wine-tasting experiences around." After all, South Australia produces half of all Australian wine, so you know you're getting the finest!
How to get there: 1h15min drive from Adelaide Airport or city centre
3) Party hard at Adelaide's arts and music festivals
Photo credit: @adlfringe via Instagram
Between Feb – Mar, the small city of Adelaide comes alive with major festivals like WOMADelaide, Adelaide Fringe, and Adelaide Festival. During these two months, there are buskers and artists everywhere — putting on a kaleidoscope of striking art displays, electrifying concerts and thrilling performances.
4) Meet one of Australia's largest lion prides and other unique wildlife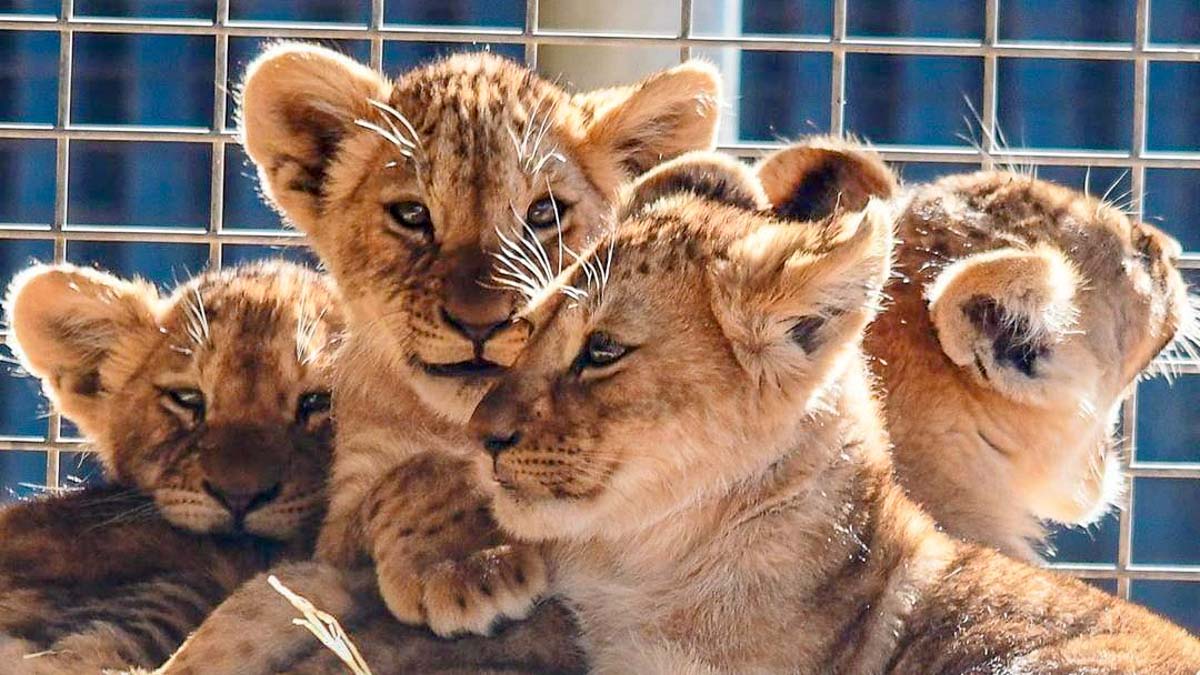 Photo credit: @abcadelaide via Instagram
Over 2,500 football fields wide, Monarto Safari Park is one of the largest zoos in Australia. Great for families with curious kids, it features more than 50 species of exotic and native mammals, birds and reptiles. Expect a mix of Tasmanian Devils, wallabies, ostriches, giraffes and big cats to marvel at.
Feeling brave? Take your sense of adventure to the next level with a 360-degree lion encounter, where you'll get closer than ever to one of Australia's largest lion prides. The hair-raising experience includes feeding the fearsome beasts, and watching them claw away at the metal cage you're in!
Cost: AU$38 (~S$37)
Opening hours: Varies
How to get there: 1hr drive from Adelaide Airport or 50min drive from city centre
5) Eat the freshest catch on an oyster farm tour
Photo credit: @heyitsjessvalentine via Instagram
Calling all seafood lovers: Add a Coffin Bay Oyster Farm tour to your itineraries! It's the only tour in Australia that travels to a working Oyster Farm, situated at the breezy coastline of the Eyre Peninsula.
There, magic happens. The interactive tour takes you out to the waters, where you get to dine on Pacific oysters plucked right out of the sea. The guide will also teach you how to shuck an oyster — a neat skill to impress your friends with!
Cost: From AU$40 (~S$39)
Tour timings: Varies
How to get there: 7h15min drive from Adelaide Airport
Top 5 things to do in Victoria
1) Check out breathtaking coastlines at Cape Schanck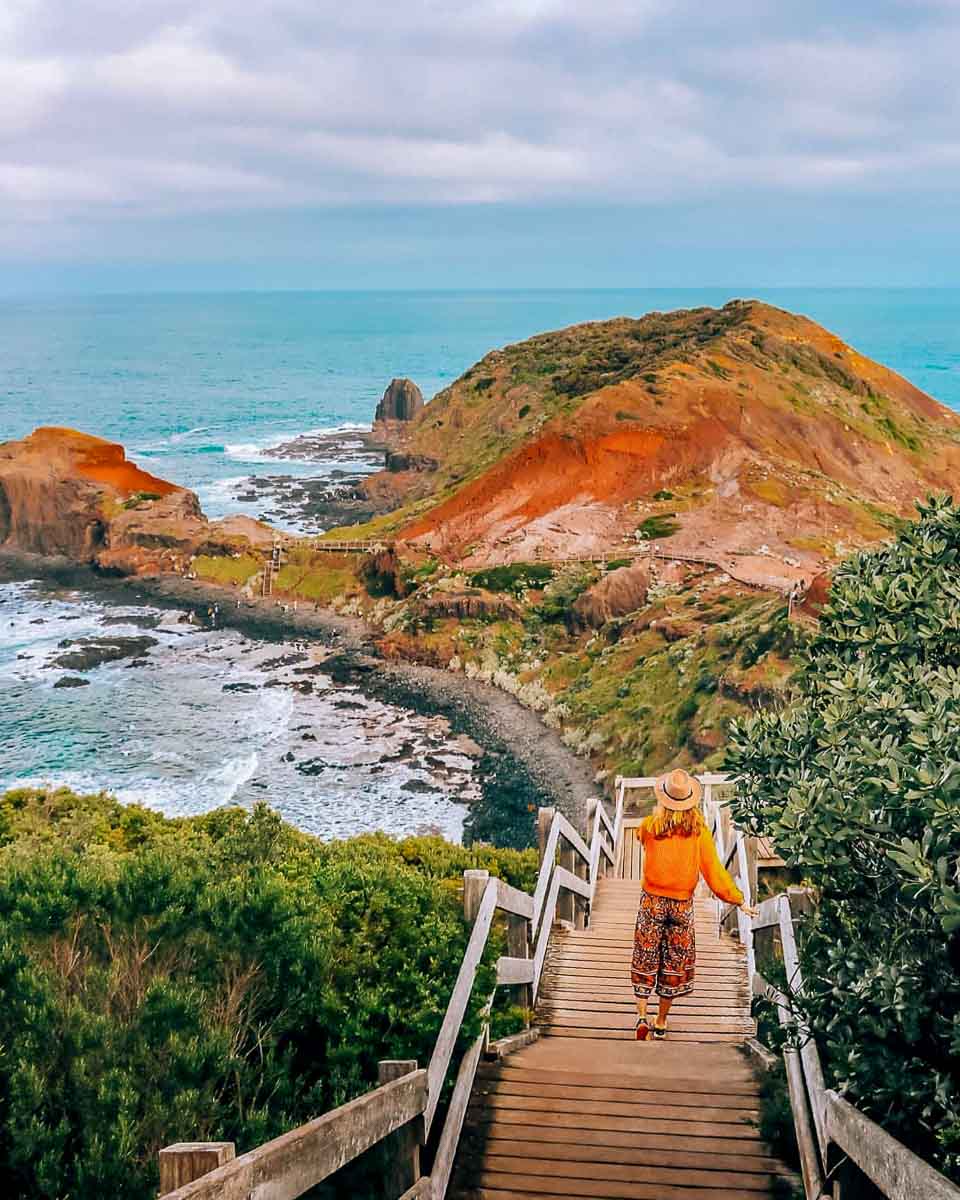 Photo credit: @helenabradbury via Instagram
Recommended by Chris Hemsworth (😍), Cape Schanck boasts a "raw and rugged coastline, paired with some of the most incredible bush walks you'll ever experience".
Nestled at the southernmost tip of Mornington Peninsula, it's easy to see why Chris loves this wondrous place. Cape Schanck wows with its jagged basalt cliffs, cerulean waters and oceanside breezes. Pop on your comfiest shoes as there are plenty of walking trails to hop on, whether you're in for a chill stroll or out to conquer the full 30km coast.
How to get here: 1.5hr drive from Melbourne Airport or 1h15min drive from city centre
2) Search for ghosts at Old Melbourne Gaol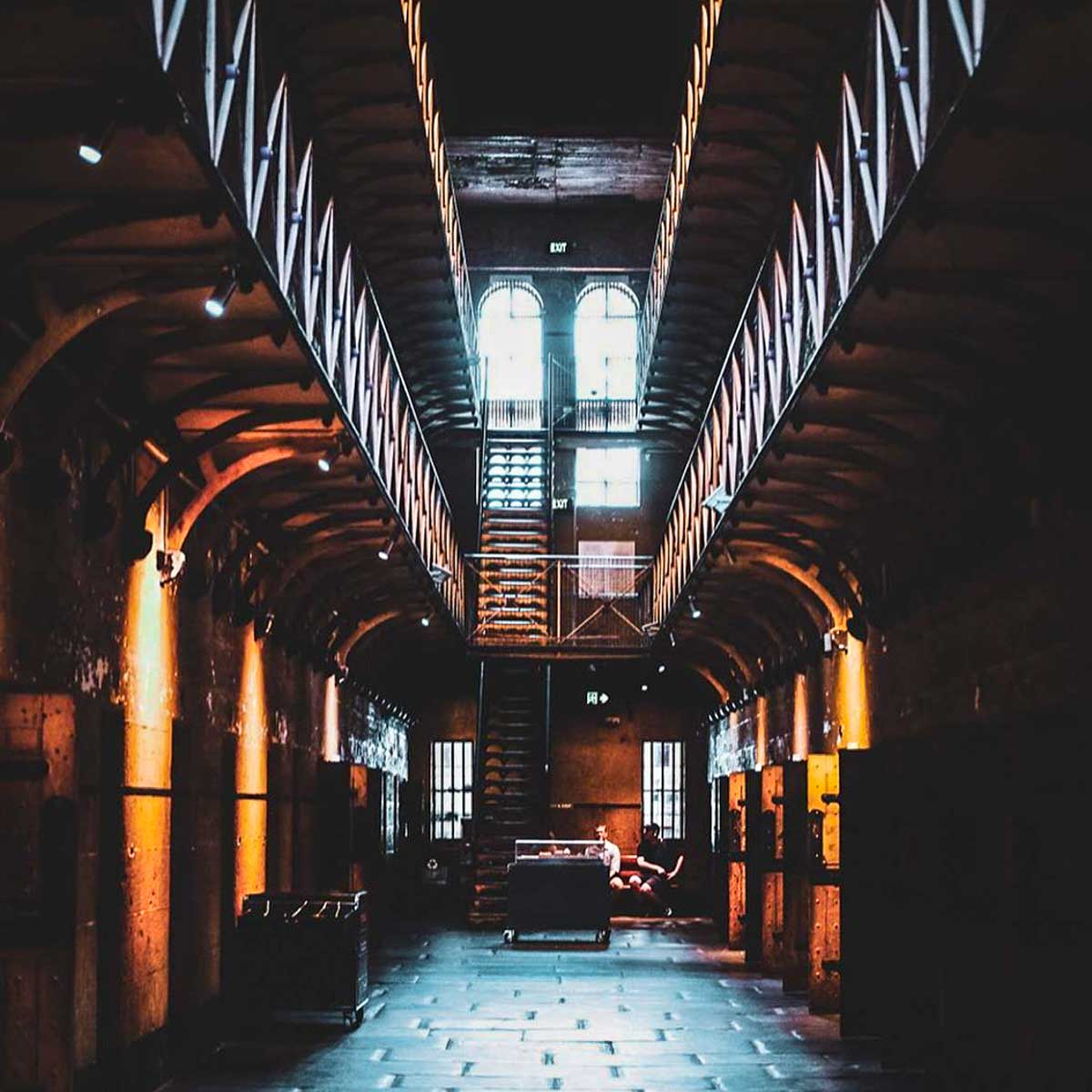 Photo credit: @axixe via Instagram
Here's something for aspiring ghosthunters, supernatural sceptics and jittery cowards. At the Old Melbourne Gaol, sate your paranormal curiosity with the 'Ghosts? What ghosts!' tour.
Raved by Emily Tsoi, the tour was "a fantastic experience", led by a guide who's an "amazing and immersive storyteller". He brought them to different areas of the gaol, from an old trapdoor to the most haunted cell, and told eerie stories gathered from history, current and former staff, and previous visitors. He also showed pictures of alleged apparitions.
And the cherry on top? "It's dead quiet (no pun intended) aside from the guide talking. After a while, you can't help but wonder if the gaol is really haunted." Yikes.
Cost: AU$38 (~S$36.80)
Tour timing: 8:15PM
How to get there: 25min drive from Melbourne airport
3) Hike up a dormant volcano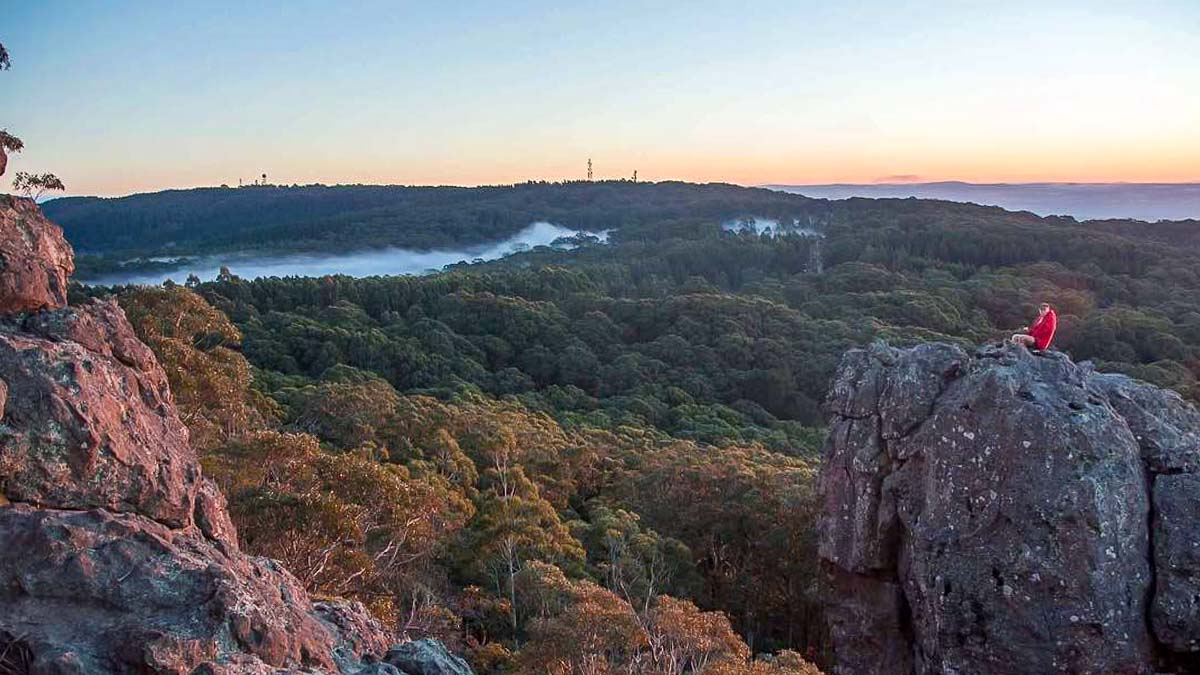 Photo credit: @daniel_hallowell via Instagram
Less than an hour's drive from Melbourne, Mount Macedon is where you can get a quiet and rewarding workout away from the big city. Enjoy a steady uphill climb to Camel's Hump, the highest peak of the Macedon Ranges.
At the summit, you'll see flourishing greenery that seems to go on forever — except during wintertime, when a blanket of heavenly snow covers the views.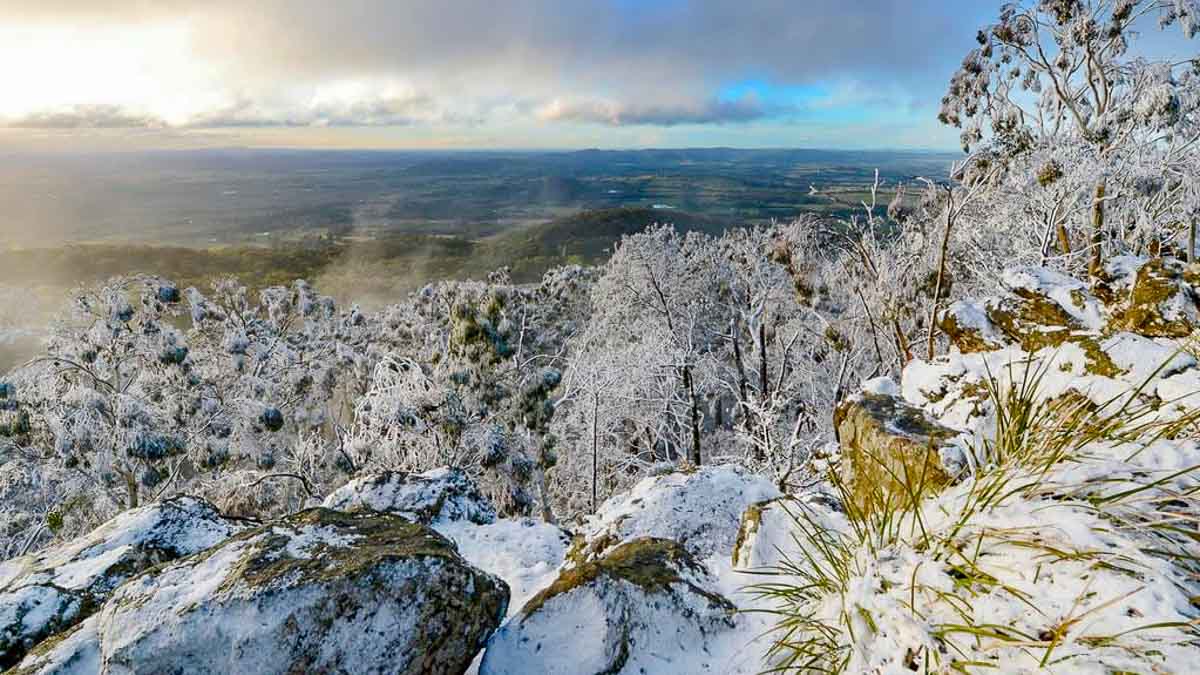 Photo credit: Weeklytimesnow.com.au
Hiking distance: 1.8km (30–40min one-way)
Starting point: Camels Hump Car Park
How to get there: 45min drive from Melbourne Airport
4) Eat your way through Melbourne's top eateries
Photo credit: @gradigroup via Instagram
Amidst the colourful street art and bustling vibes, Melbourne's food scene is out of this world! Cafes are everywhere, dishing out a buffet of international cuisine from handmade pasta to the potent Espresso Martini. Deciding what to eat is the hard part.
Our friends recommended a ton of things to feast on, such as the "best Margherita Pizza" at 400 Gradi in Brunswick. There are also hearty snacks like the ingenious cruffin and crisp pastries from Lune Croissanterie. Finally, wash it all down with a special brew from Brother Baba Budan, or tasty gelato (and Nutella on tap!) from Bibelot.
5) Embark on a night tour at a wildlife sanctuary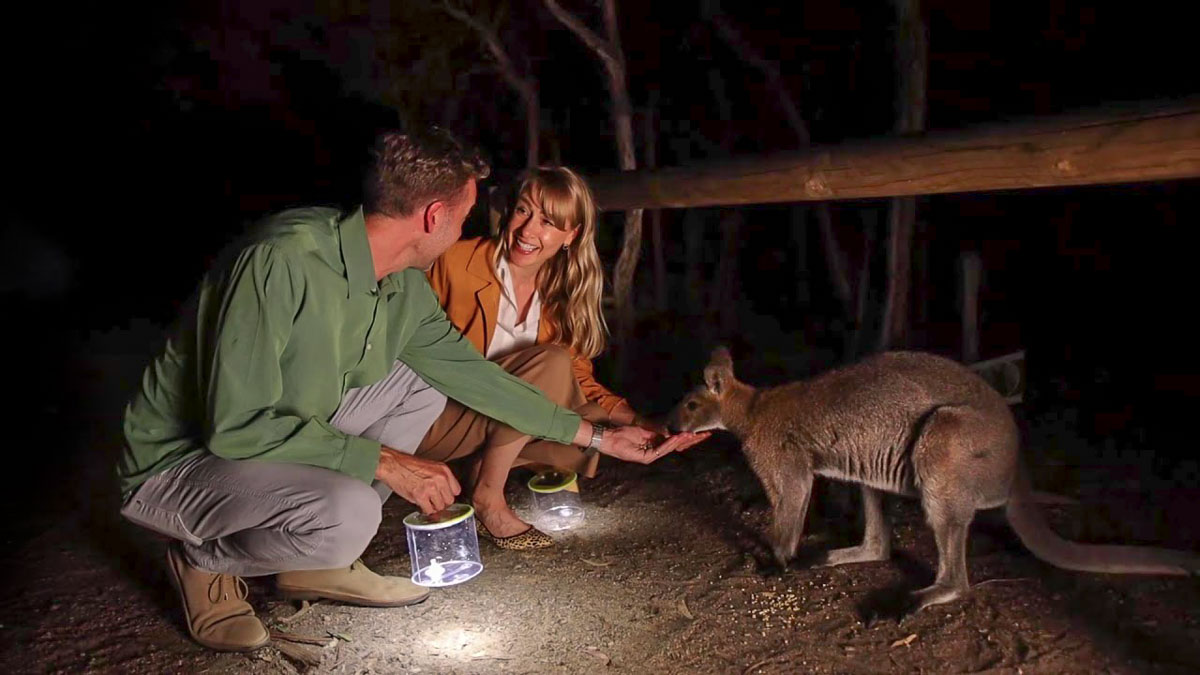 Photo credit: Moonlit Sanctuary Wildlife Park
Recommended by a friend, we think a night tour at Moonlit Wildlife Sanctuary is excellent for all night owls. It's an awesome experience that lets you meet fellow nocturnal friends in their natural environments.
Led by a passionate guide, the two-hour tour brings you through a series of close animal encounters. During the tour, you can expect experiences like carrying a snake, feeding Tasmanian devils, watching kangaroos and wallabies roam freely, and even meeting the sanctuary's oldest member: "A granny wombat"!
Cost: AU$55 (~S$53.50)
Tour timing: Varies
How to get there: 1h15min drive from Melbourne Airport or 1hr drive from city centre
Top 5 things to do in Tasmania
1) Join the weird side at Dark Mofo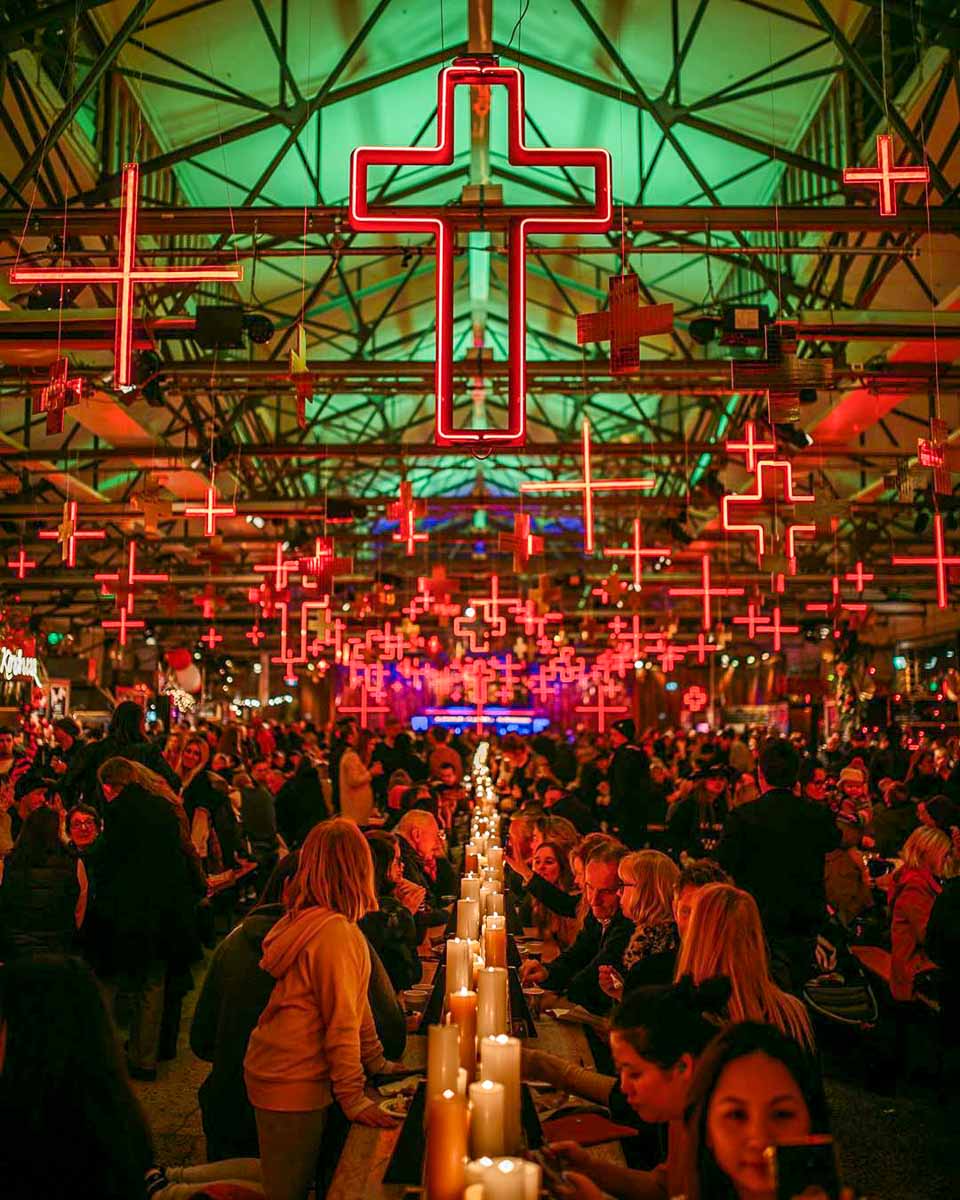 Photo credit: @dark_mofo via Instagram
Dark Mofo is a gripping winter solstice festival like no other. It celebrates the longest night in Australia with captivating art exhibitions, freaky performances and raging fire pits. If you've got an appetite for surreal experiences, you'll almost feel at home here.
Although Dark Mofo is extremely popular with a cult-like following, it's a thought-provoking event that's worth travelling for. One of the most blazing events to watch is the burning of the Ogoh-ogoh, where a fearsome statue used in a traditional Balinese ceremony is set on fire to spiritually cleanse the environment.
The twist is that festival-goers are invited to write down their fears and worries, and add them into the statue's body. Everything then goes up in flames in a bizarre, cathartic way.
Dates for Dark Mofo 2021 will be announced soon!
2) Take a day trip to Bruny Island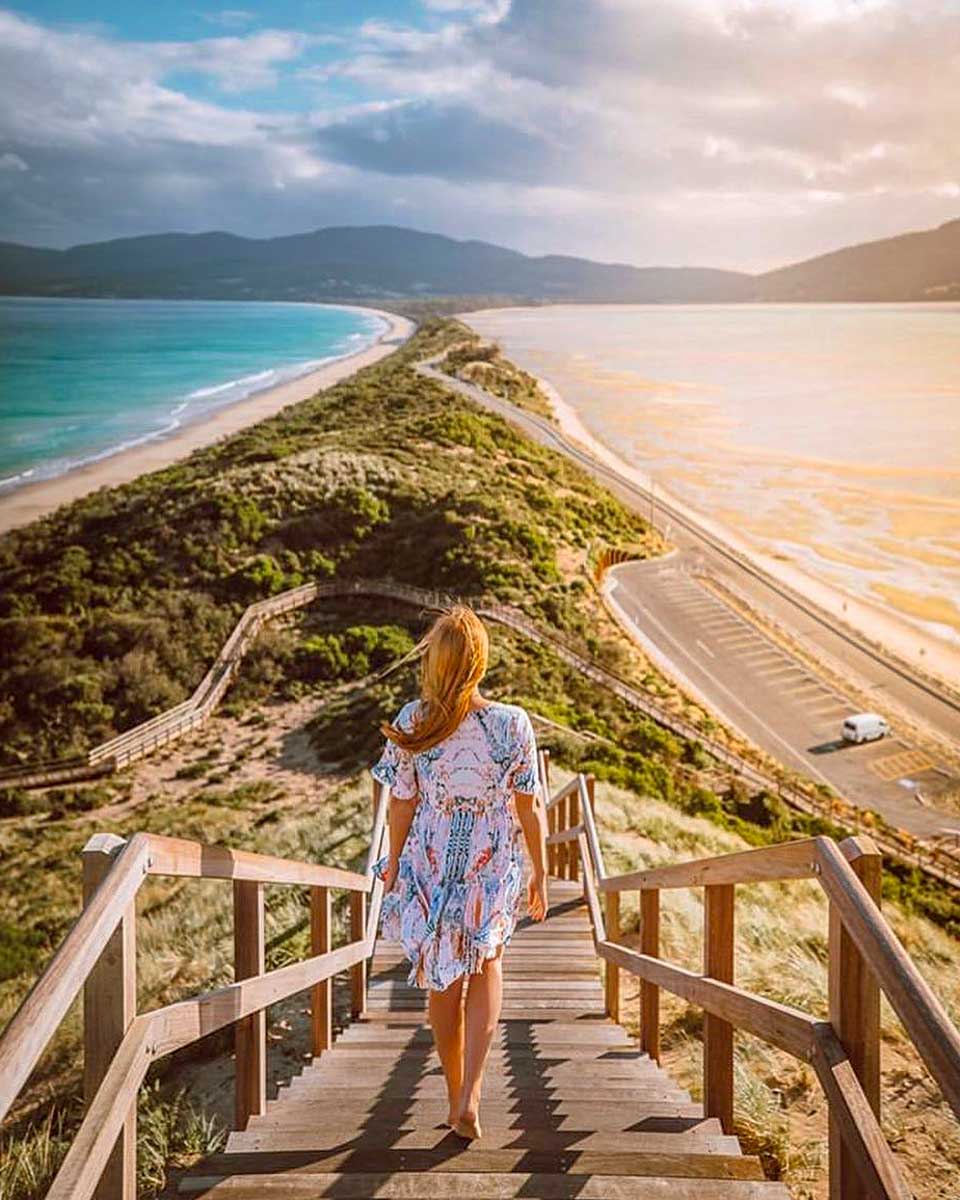 Photo credit: @travelpassion.io via Instagram
Half the size of Singapore, Bruny Island is truly spectacular. It's a short ferry ride from Kettering Ferry Terminal, but the journey is worthwhile. The island is home to jaw-dropping bushwalks, unique wildlife, and (of course) glamourous Instagram spots.
Within a day, it's possible to cover iconic spots like the rocky Cape Queen Elizabeth Arch, and the beautiful Neck Lookout — a narrow strip of land that joins the island's northern and southern parts.
Foodies have much to look forward to as well. Dig into sensational local produce from cheese to oysters, chocolate and wine. Just a few more things that make Bruny Island hard to leave in the evening!
Cost: Return ferry from ~AU$32.20 (~S$31)
How to get there: Drive ~1hr from Hobart Airport to Kettering Ferry Terminal, then a 15–20min ferry to Bruny Island Ferry Terminal
3) Stay at the family-owned Curringa Farm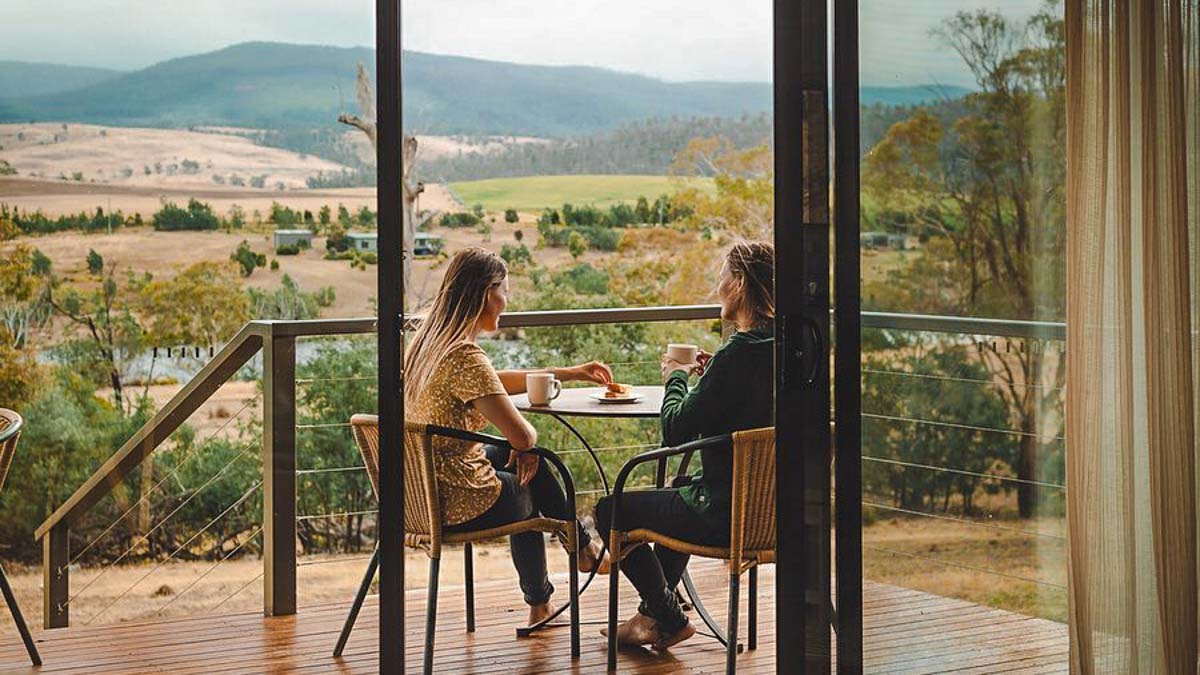 Photo credit: @mooskicreative via Instagram
Over 500 football fields wide, Curringa Farm is a quaint place to take it slow. Aussie Specialist MJ Lai recommends staying a night in its beautiful, award-winning cottages. You'll also get to connect with the locals and listen to stories about the farm and Tasmania.
The farm tour is another must-do. It includes a forest walk, sheep shearing, and watching farm dogs chase sheep around. The tour ends with a lovely tea session of fresh homemade scones, cream and jam.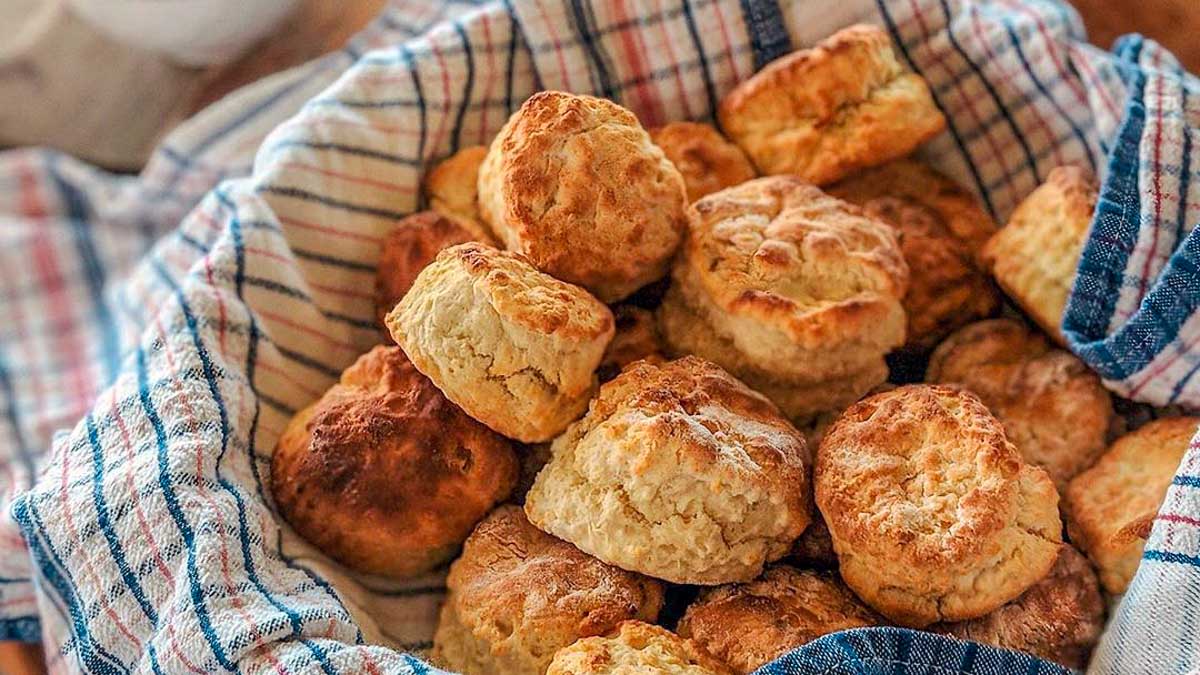 Photo credit: @cassakating via Instagram
Cost: From AU$199/night (~S$193.50); AU$65/adult (~S$63) for farm tour
How to get there: 1h15min drive from Hobart Airport or ~2hr drive from Launceston Airport
4) Devour an unforgettable seafood pie at Blue Eye Seafood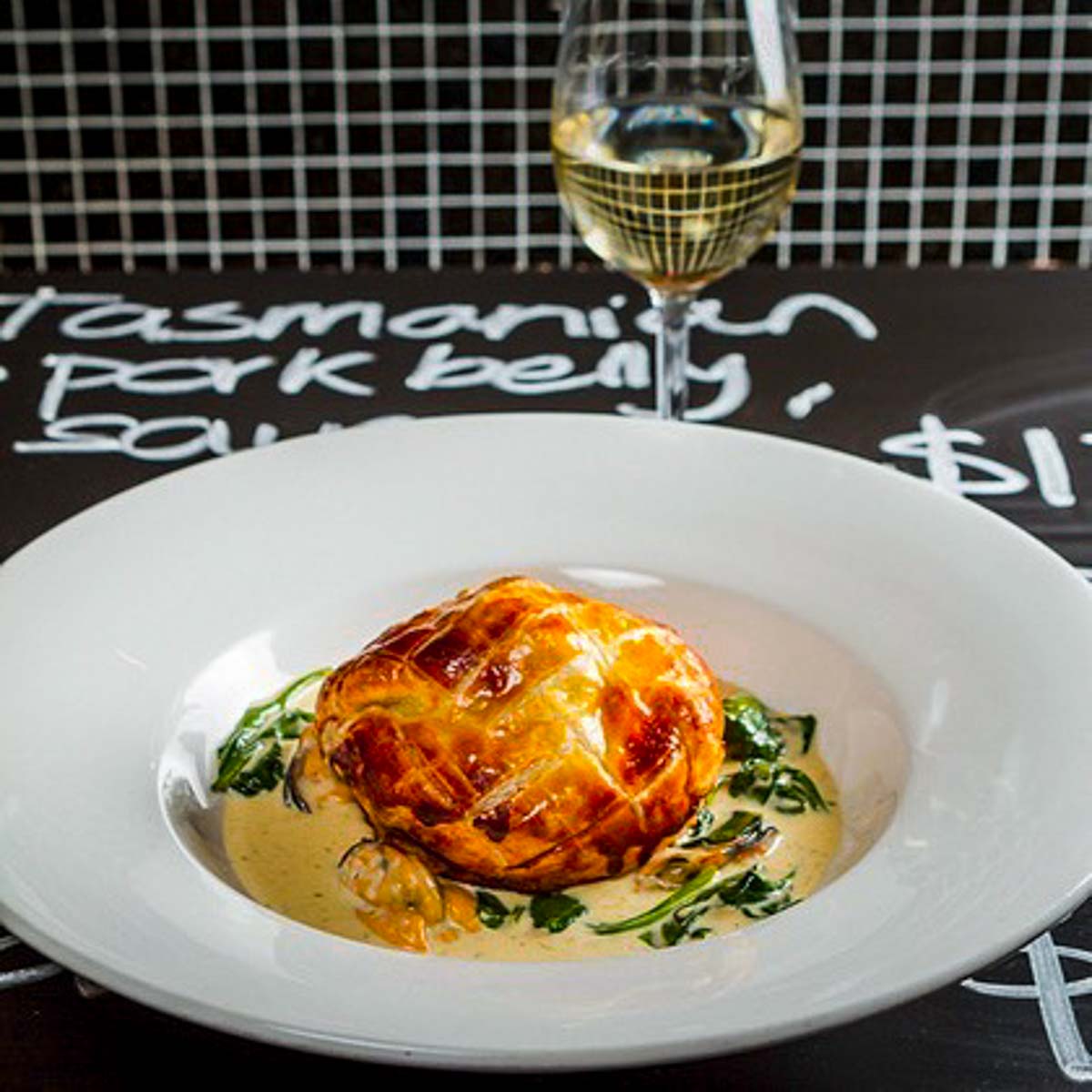 Photo credit: @blueeyeseafood via Instagram
Fresh seafood is rampant in Tasmania, but Blue Eye Seafood elevates this dish with one simple trick: Serve it in a crisp, buttery pie. Mmm.
Recommended by Alan Khor, the hearty seafood pie is generously stuffed with salmon, white fish with a tantalising mussel cream sauce. It's one of the best pies he's ever had in his life — and that's not all. Other amazing dishes include the curried seafood chowder and seared scallops (psst, ask for the chilli sauce if you want a good spice kick!).
Cost: Mains from AU$29.50 (~S$29)
Opening hours: 11AM – 10PM, closed on Mon and Sun
How to get there: 25min drive from Hobart Airport
5) Explore rugged coastlines at Freycinet National Park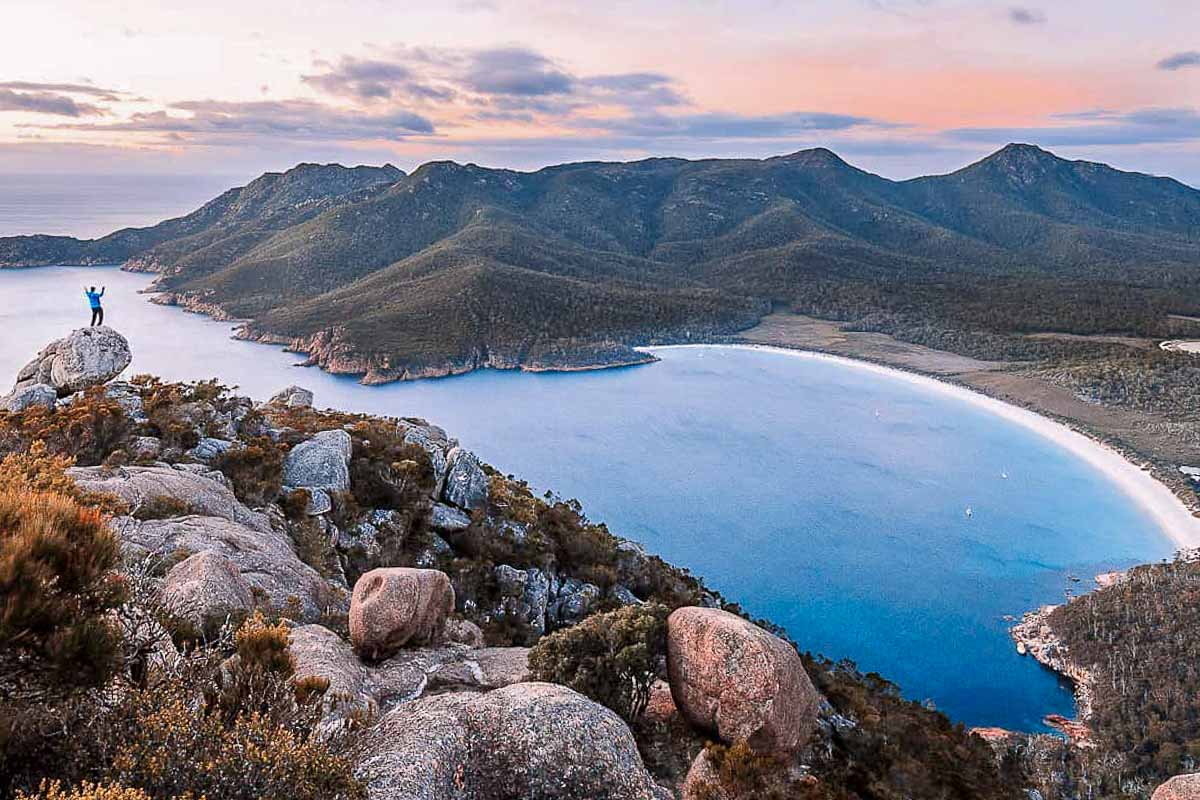 Photo credit: @agustin.delaparra via Instagram
One of the most popular national parks in Australia, Freycinet National Park is chock-full of relentless charm and wild beauty. It's renowned for Wineglass Bay, a distinctly curved pristine beach 'filled' with deep blue waters. For impressive views, follow the 90-minute trail to Wineglass Bay lookout. For the sickest views, arrive before sunrise!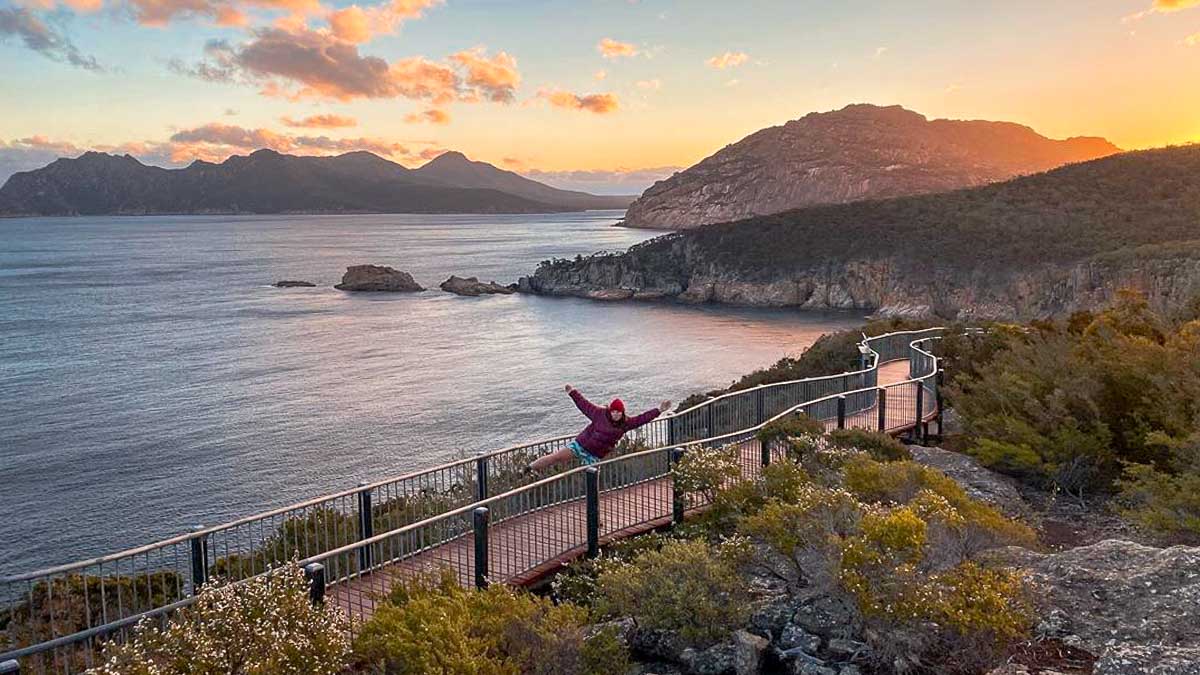 Photo credit: @alice.bromfield via Instagram
Cape Tourville Lighthouse also has spectacular coastal views. The 600m boardwalk is perfect for an easy, scenic stroll along rocky cliffs and a cerulean ocean.
Entrance fee: AU$24 per car, up to eight people (~S$23.30)
Opening hours: 24hrs
How to get there: 2hr drive from Hobart Airport
Top 5 things to do in the Northern Territory
1) Cool off in waterholes at Litchfield National Park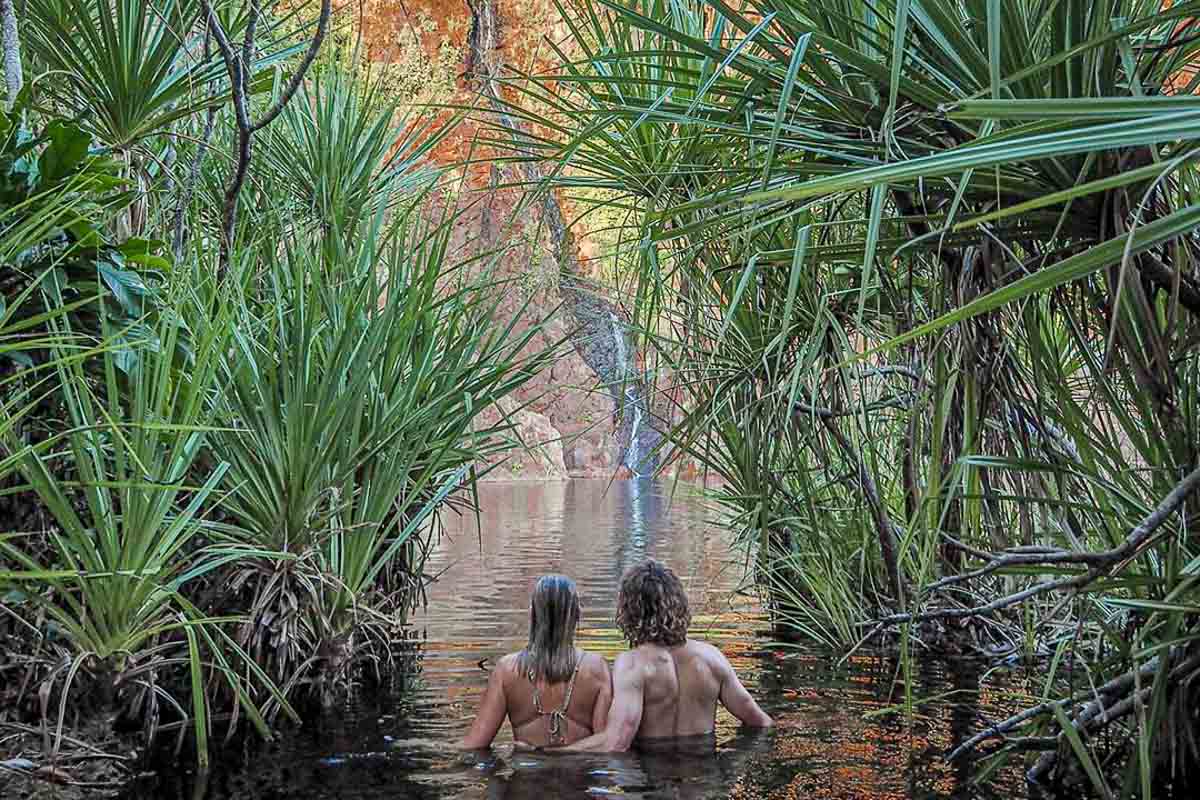 Photo credit: @fewdaysbetween via Instagram
Just outside Darwin, the journey to Litchfield National Park is as impressive as its waterfalls and plunge pools. We're told: "Don't expect to see trees and blue skies on the way. It's gonna be red sand and termite mounds" — another reminder how remarkable Northern Australia can be.
The star highlights, though, are the waterholes. Suitable for aquaphiles and non-swimmers, soaking in the refreshing waters is a sweet way to beat the heat. Head to Wangi Falls, where you can see lush waterfalls, rainforests, and fishes tickling your legs!
If you'd rather stay dry, stretch your legs and follow an easy trail to Florence Falls, a pair of cascading waterfalls surrounded by earthy sandstone.
Entrance fee: Free
How to get there: ~1.5hr drive from Darwin Airport or city centre
*Pro-tip: Download offline Google Maps as there isn't mobile reception in certain areas of the park.
2) Indulge in Asian-influenced cuisine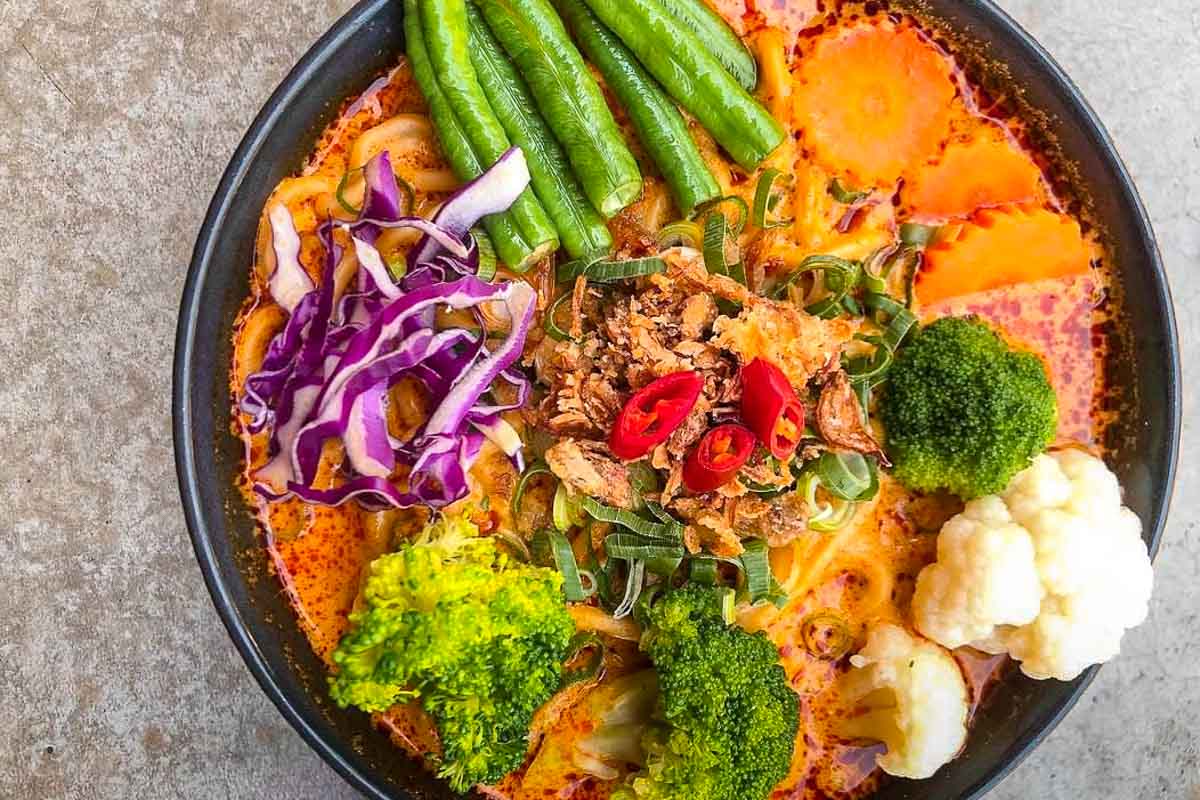 Photo credit: @chowwaterfront via Instagram
Thanks to its proximity to Southeast Asia (4.5hrs from Singapore!), Darwin has loads of food that are inspired by Asian flavours. In fact, laksa is claimed to be one of the city's national dishes! Compared to the version we know, Darwin's laksa apparently resembles chicken curry noodles. That said, it's best you try it for yourself!
Recommended restaurants include Laksa House, a no-frills eatery specialising in Indonesian and Timor cuisine. There's also CHOW, which serves favourites from Indian curries to Vietnamese pho (and a yummy Coconut Crushie). Nirvana has a similar variety, and holds live music performances on Tuesdays.
3) Learn more about the fascinating Indigenous culture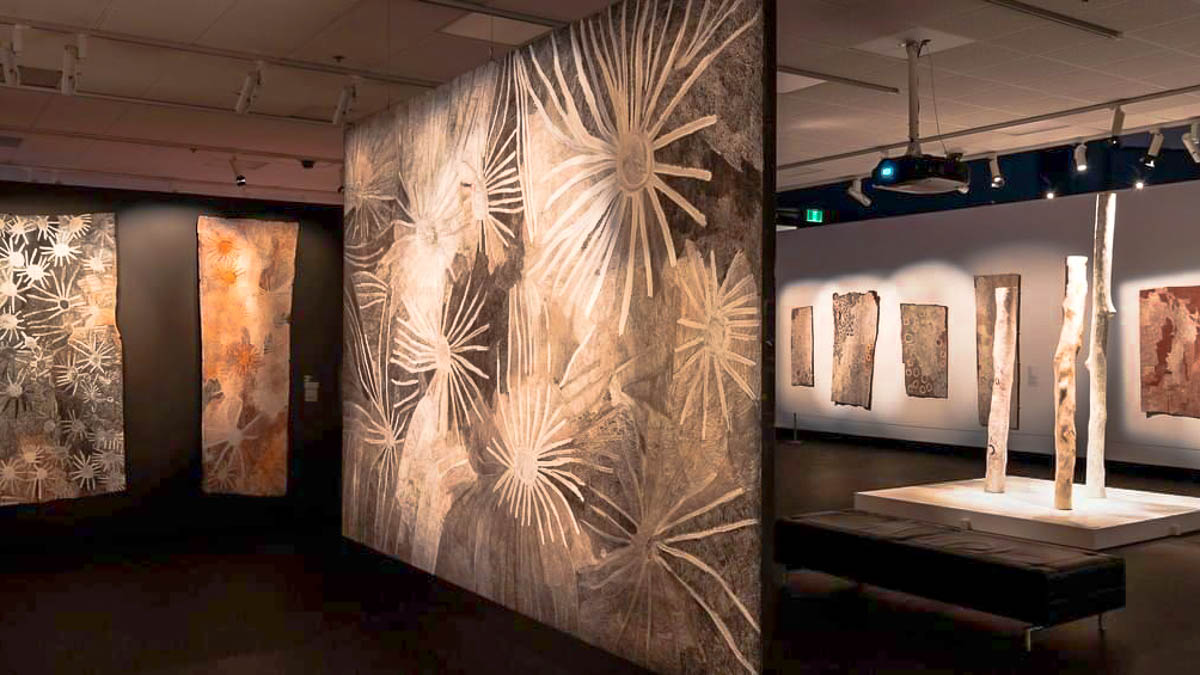 Photo credit: @mag_nt via Instagram
Just beside the waters, the Museum and Art Gallery of Northern Territory is rich with award-winning artistic collections. Culture vultures can look forward to informative exhibitions about the Aboriginal Australians, from their native heritage to Indigenous artwork.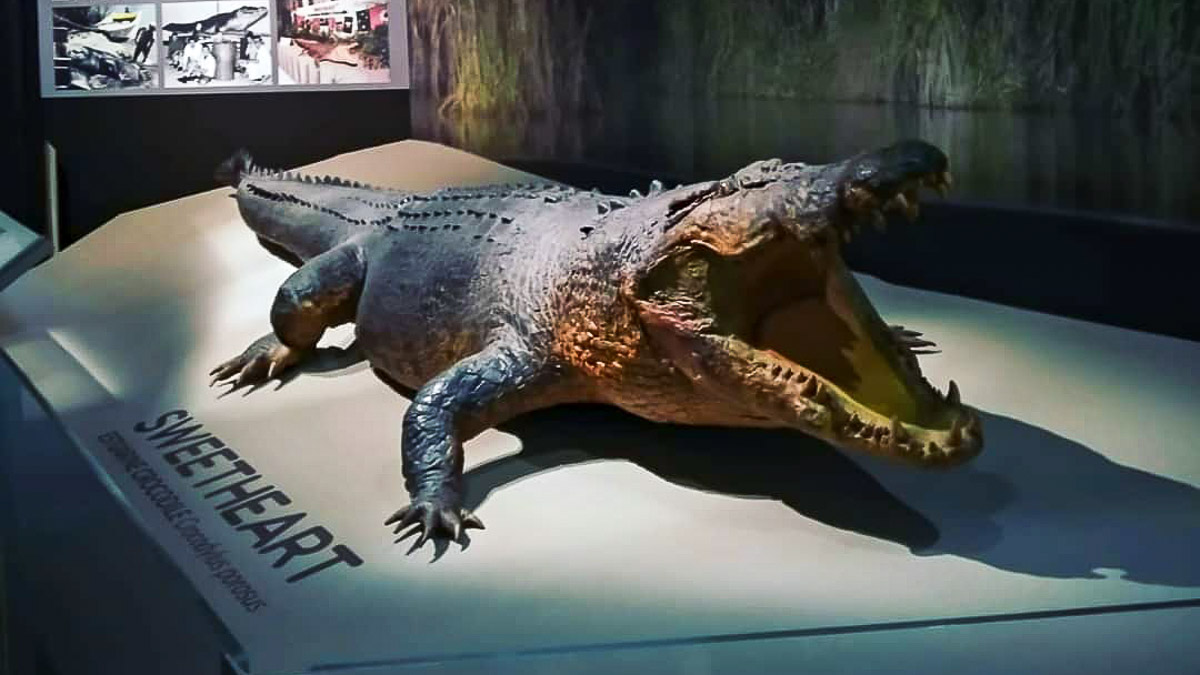 Photo credit: @jv_anny via Instagram
You can also visit Sweetheart — a crocodile that once terrorised a popular fishing spot in the 1970s. Iconic, yet ironic.
Entrance fee: Free; AU$8 for Museum of Central Australia
Opening hours: Varies
How to get there: 15min drive from Darwin Airport
4) Catch a magnificent sunset on a cruise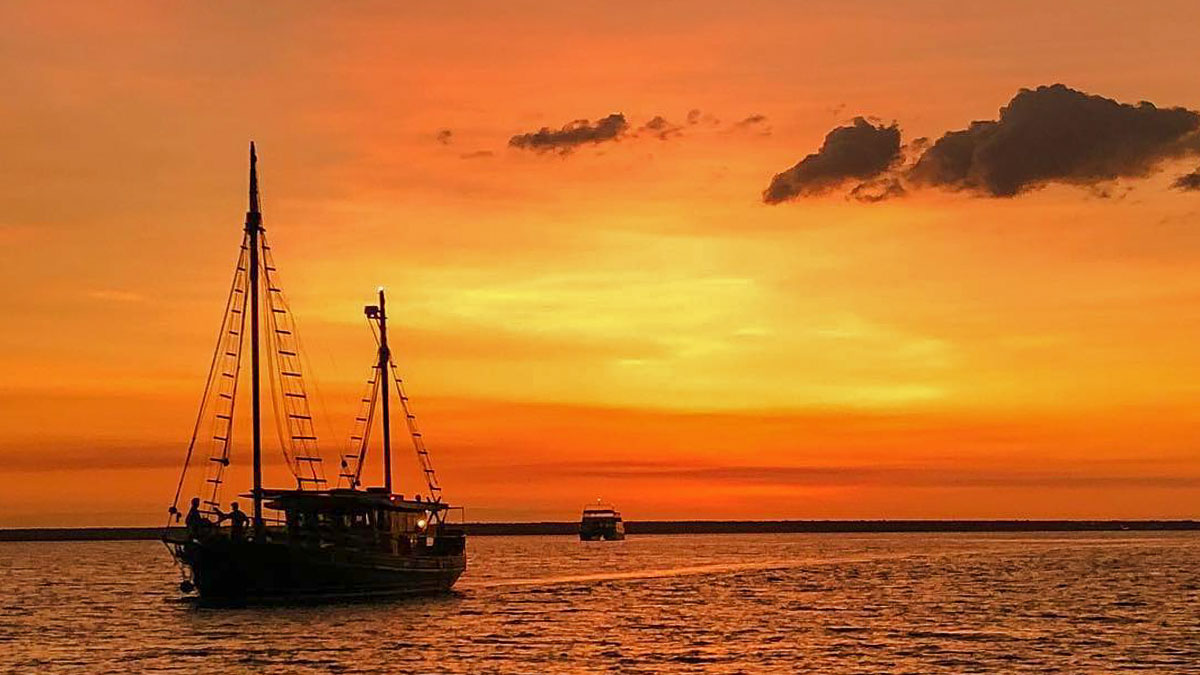 Photo credit: @seadarwin via Instagram
Ending the day with a sunset is nice, but ending it out at sea is an even better idea! Sign up for a scenic Darwin Harbour Sunset Cruise, which sails out to the harbour and nearby landmarks. It includes a classic fish n' chips dinner, along with top-notch views of a grand Top End sunset.
Cost: AU$69 (~S$67)
Tour timings: 5:30PM (operation dates vary)
Meeting point: Dock 2, Stokes Hill Wharf
How to get there: 20min drive from Darwin Airport
5) Go back in time at Darwin's WWII sites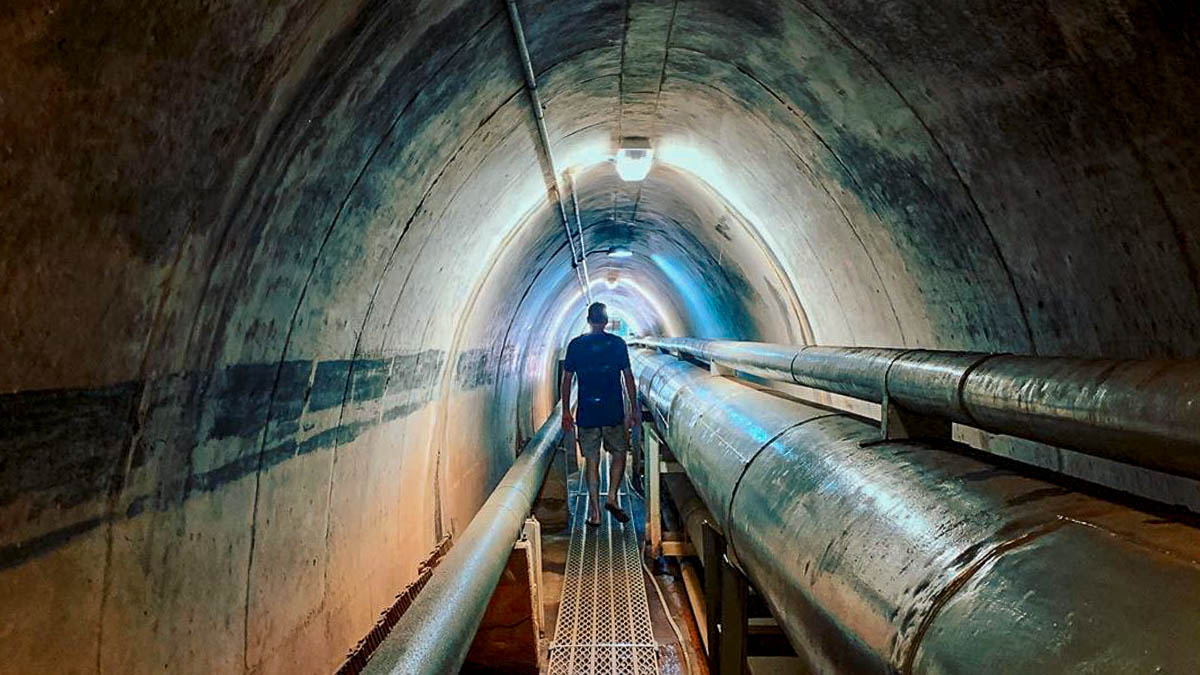 Photo credit: @accordingtovan via Instagram
All our friends' recommendation don't just excite — they school too. According to Karen Tay who's a war buff, Darwin was actually the first frontline of defence in WWII before Southeast Asia was attacked.
Hence, she recommends fellow historians dedicate some time to visit war relics. Captivating sites include WWII Oil Storage Tunnels, where you'll uncover the sombre remains of WWII and what happened after.
Stokes Hill Wharf is another historic spot. Visitors can stroll around the waterfront, and check out the Royal Flying Doctor Service. The interactive facility features a decommissioned aircraft, past and present medical kits, and an immersive VR show about the fateful Bombing of Darwin Harbour.
Top 5 things to do in Queensland
1) Explore the Southern Great Barrier Reef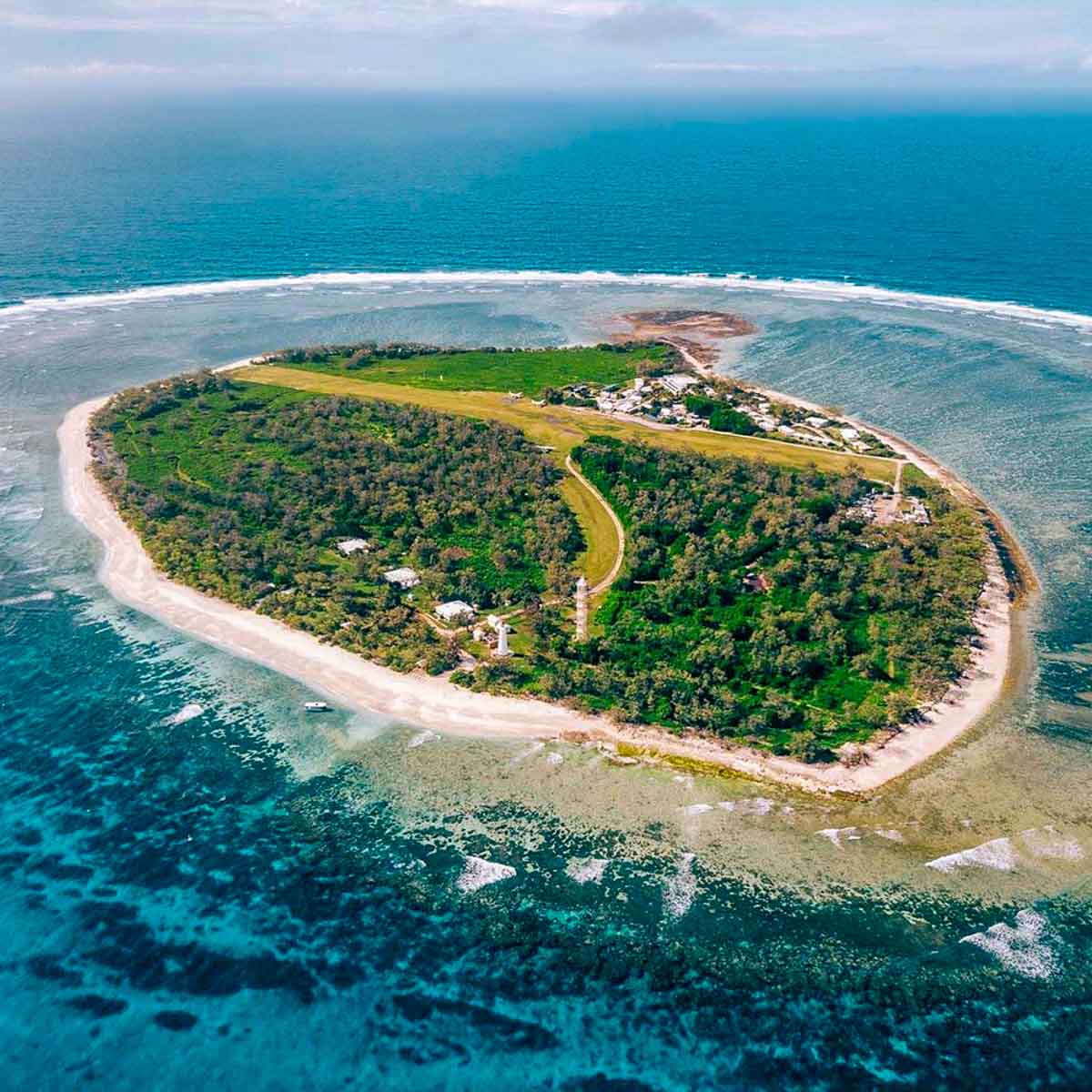 Photo credit: @thelondonerinsydney via Instagram
For an unforgettable eco-experience, spend a night (or two) on Lady Elliot Island. It's where David Attenborough filmed his splendid Great Barrier Reef documentary — reason alone to visit!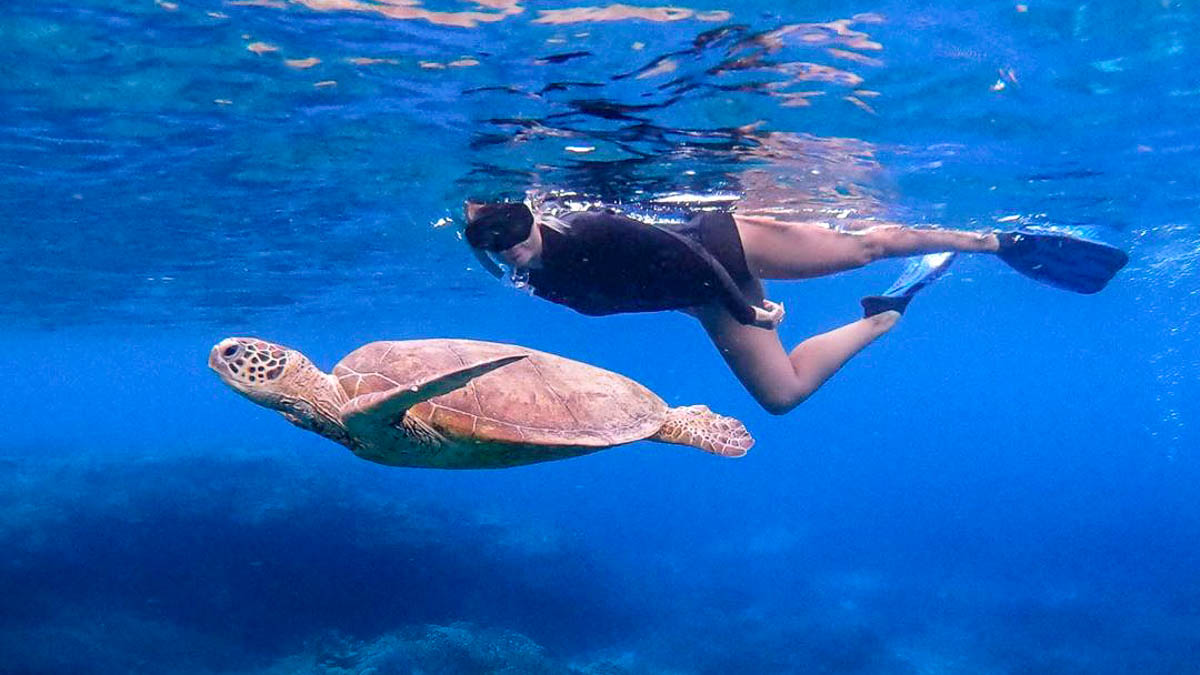 Photo credit: @ladyelliotislandecoresort via Instagram
That aside, this tiny island is home to an abundance of marine life. Time your visit right, and you might catch manta rays mating or baby turtles hatching! There's also no WiFi or spas around, so prepare to disconnect and snorkel/dive to your heart's content.
Cost: From ~AU$185/night (~S$180)
How to get there: Take a scenic flight from Bundaberg, Hervey Bay, Brisbane or Gold Coast
2) Stay in a hipster train carriage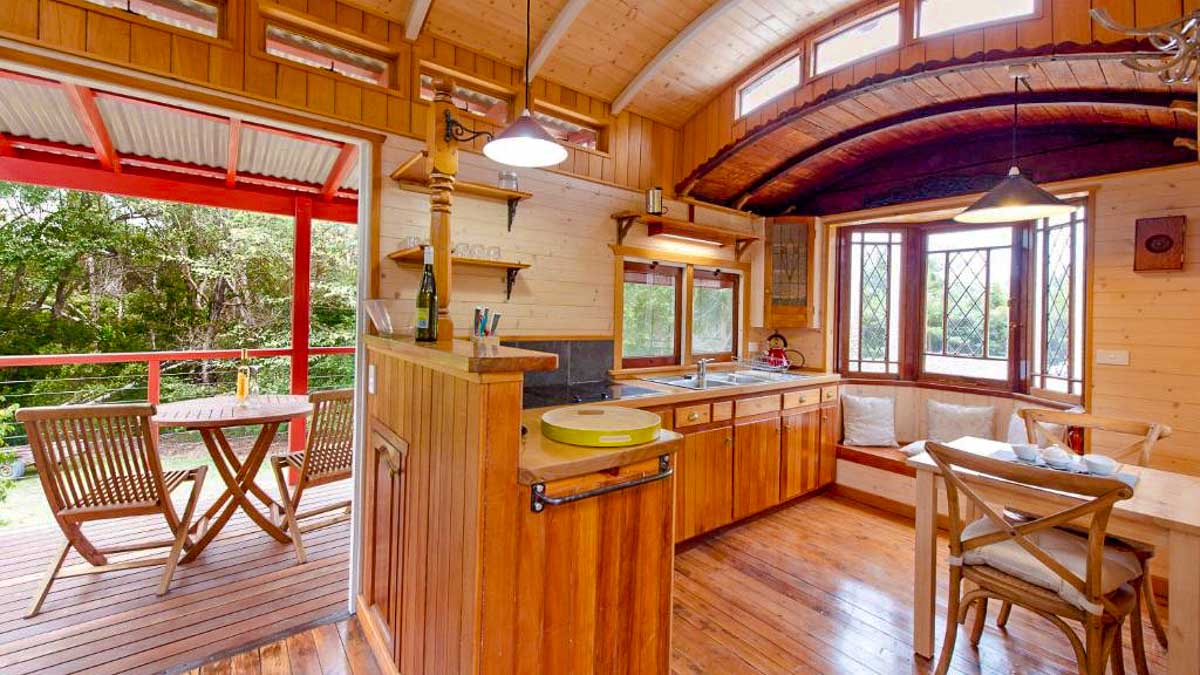 Photo credit: Booking.com
Alternative accommodations are always a good idea, and the cosy Glasshouse Mountain Ecolodge offers two historic train carriages to rest in. Choose from a 19th century Victorian Train Carriage or a rustic Queensland Train Carriage. Both are fully-equipped with modern amenities like a kitchen and a private outdoor deck.
Cost: From AU$205/night (~S$200)
How to get there: 50min drive from Brisbane Airport or 2hr drive from Gold Coast Airport
3) Relax in a quiet National Park near the Gold Coast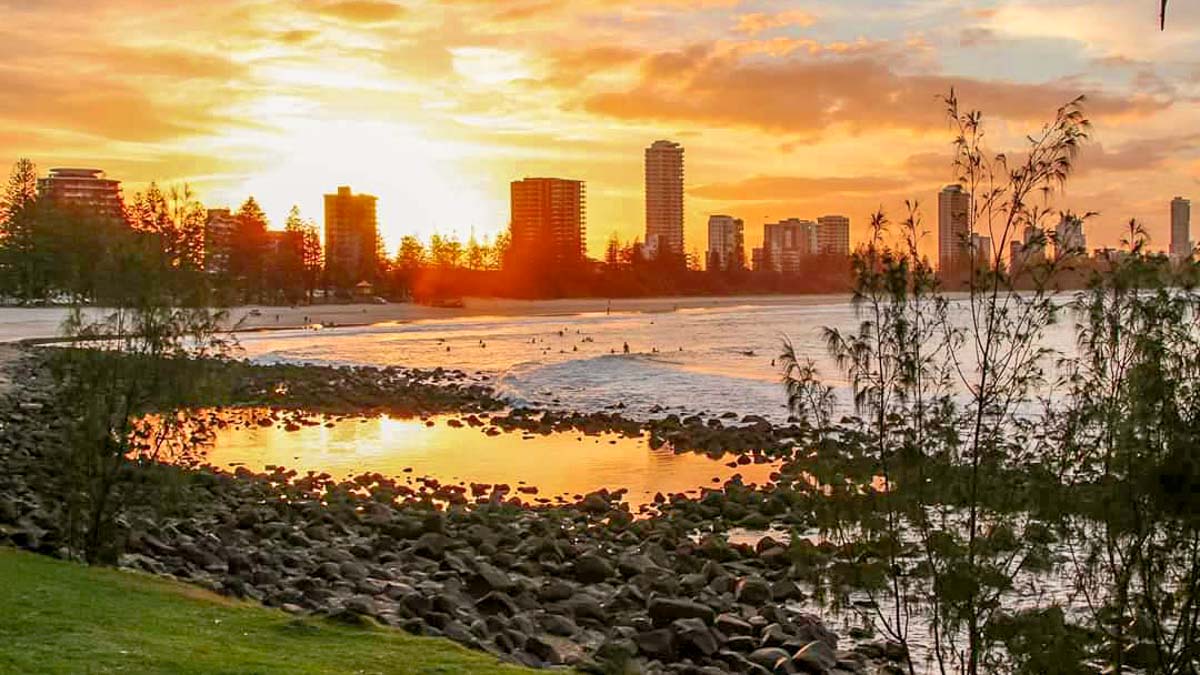 Photo credit: @travellingturtle_ via Instagram
Burleigh Head National Park is the ideal getaway when you want to escape city life (without travelling too far). The walking tracks take an hour to complete, and feature vast sea views and rich greenery. At the trailhead, you'll also get a gorgeous sunset along the Gold Coast skyline — not bad for a small national park!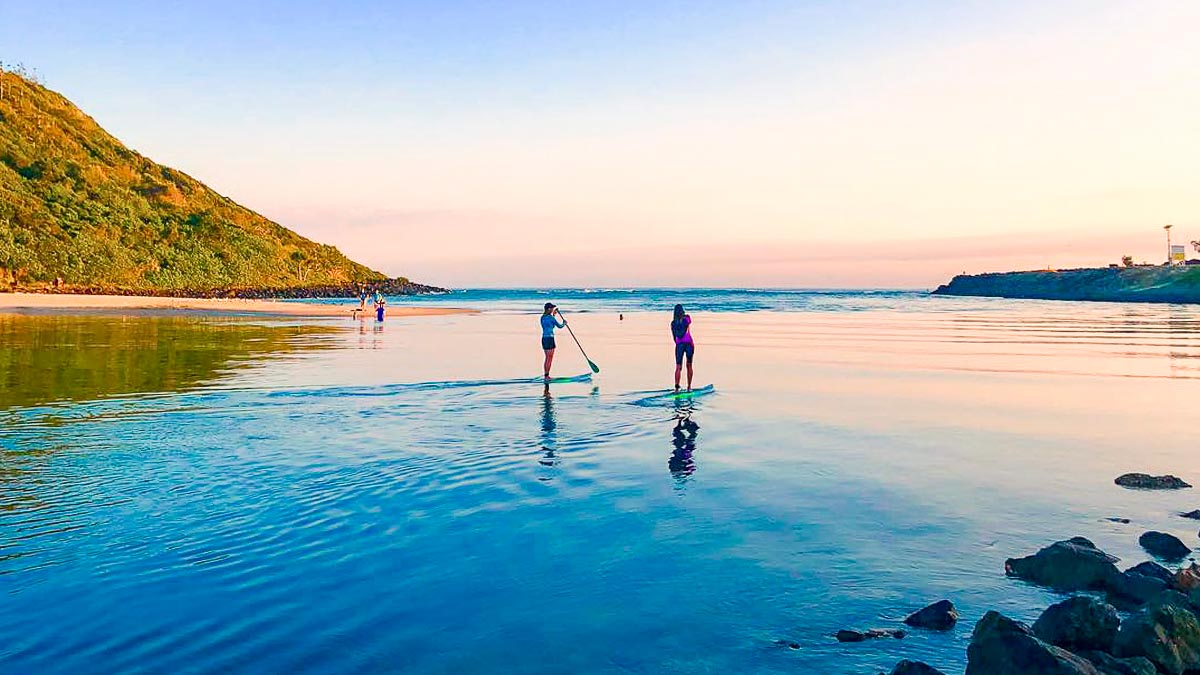 Photo credit: @goldcoast.living via Instagram
Just beside Burleigh Heads is Tallebudgera Creek. The clear waterway stretches over 20km, and is a great place for swimming and stand-up paddling.
Opening hours: 24hrs
How to get there: 15min drive from Gold Coast Airport or 25min drive from city centre
4) Soak up the #goodvibes at Miami Marketta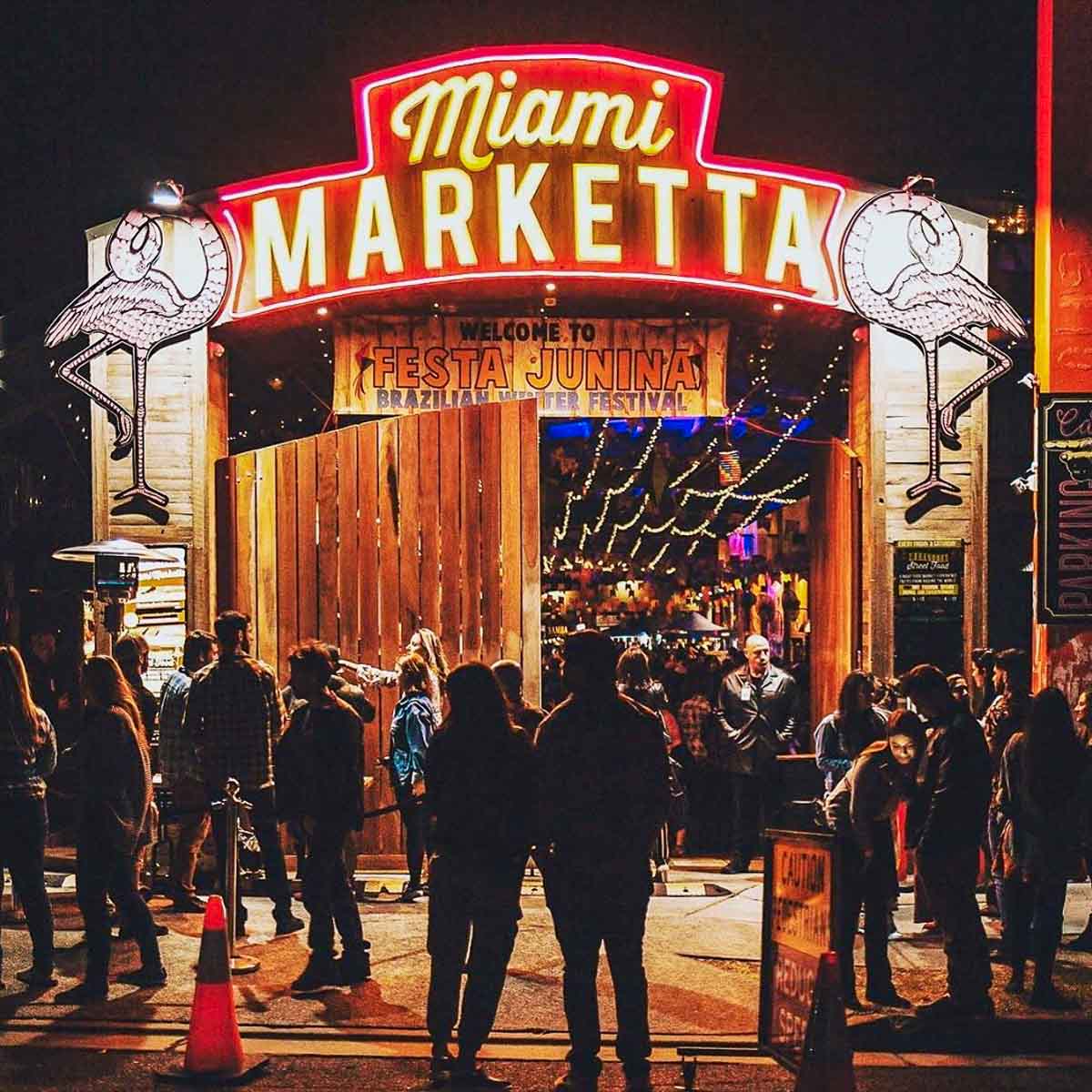 Photo credit: @foliasentertainment via Instagram
Far from touristy areas, Miami Marketta is a night market that oozes hipster charm and chill vibes. It's a foodie's paradise, serving a wide range of international street food from Japanese to Turkish. There's also live music performances that'll surely hype up your dining experience.
For an extra fee, you can take part in wild events like Drag Queen Bingo!
Opening hours: 5PM – late on Wed, Fri and Sat (food stalls close at 9PM)
How to get there: 25min drive from Gold Coast Airport or 1.5hr drive from Brisbane Airport
5) Chase waterfalls at Lamington National Park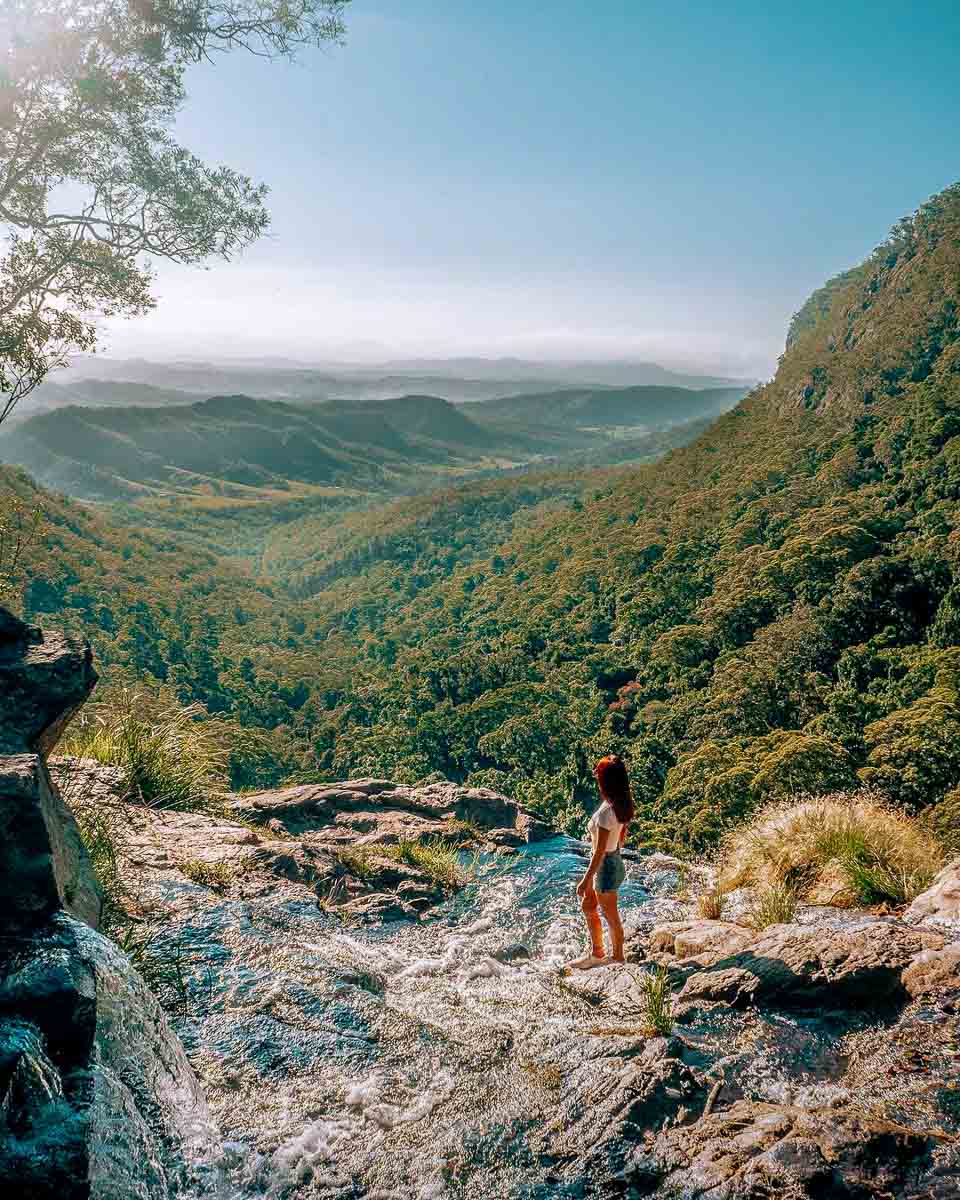 Photo credit: @wherescatarina via Instagram
"There's a secret gorge at the back of the Gold Coast with amazing waterfalls, swimming holes and places to jump off rocks into deep water. I was first taken there by professional surf lifesaver Trevor Hendy, and it was truly spectacular." — Hayden Quinn
Spoilers: Hayden stays tight-lipped about this 'secret gorge' 😢, but here's the next best thing for adventure-junkies! Tucked inside Scenic Rim, Lamington National Park has a number of incredible falls. Must-chases include the cascading Elabana Falls, the thunderous Moran Falls, and the elusive Larapinta Falls.
How to get there: 1hr drive from Gold Coast Airport or ~1.5hr drive from Brisbane Airport to Lamington National Park
Top 5 things to do in the Australian Capital Territory
1) Learn the art of coffee cupping at Highroad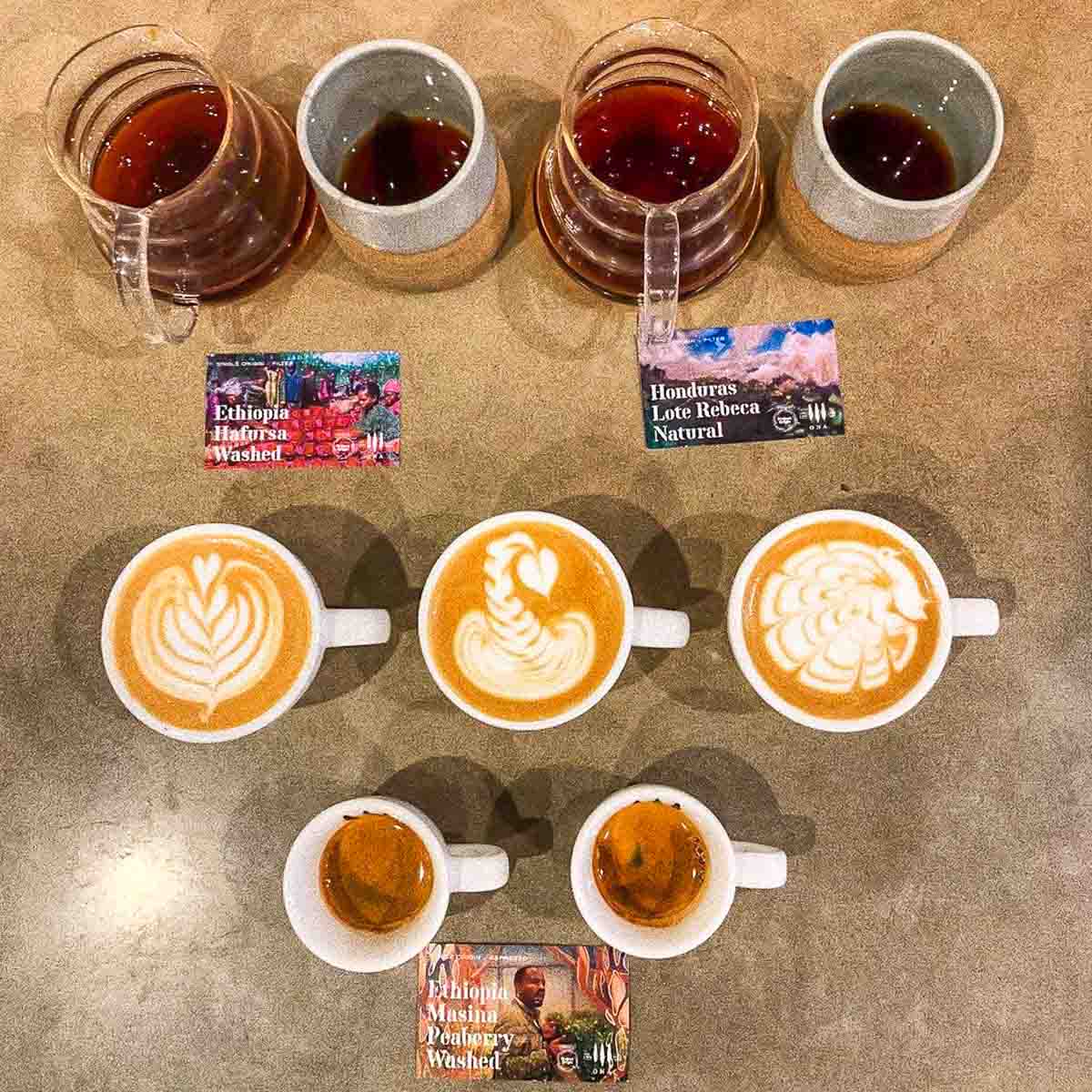 Photo credit: @highroad.cbr via Instagram
For the uninitiated, coffee cupping is the process of observing aromas, flavours and quality of brewed coffee. One of the best places to practise this delicate art is at Highroad, a cafe set up by the legendary ONA Coffee, a specialty coffee company in Canberra.
During Highroad's coffee cupping sessions, participants get to sample a selection of award-winning coffee blends, and learn to taste subtle nuances between the intriguing flavours. Who knows, you may never find your kopi the same again!
2) Conquer Gibraltar Peak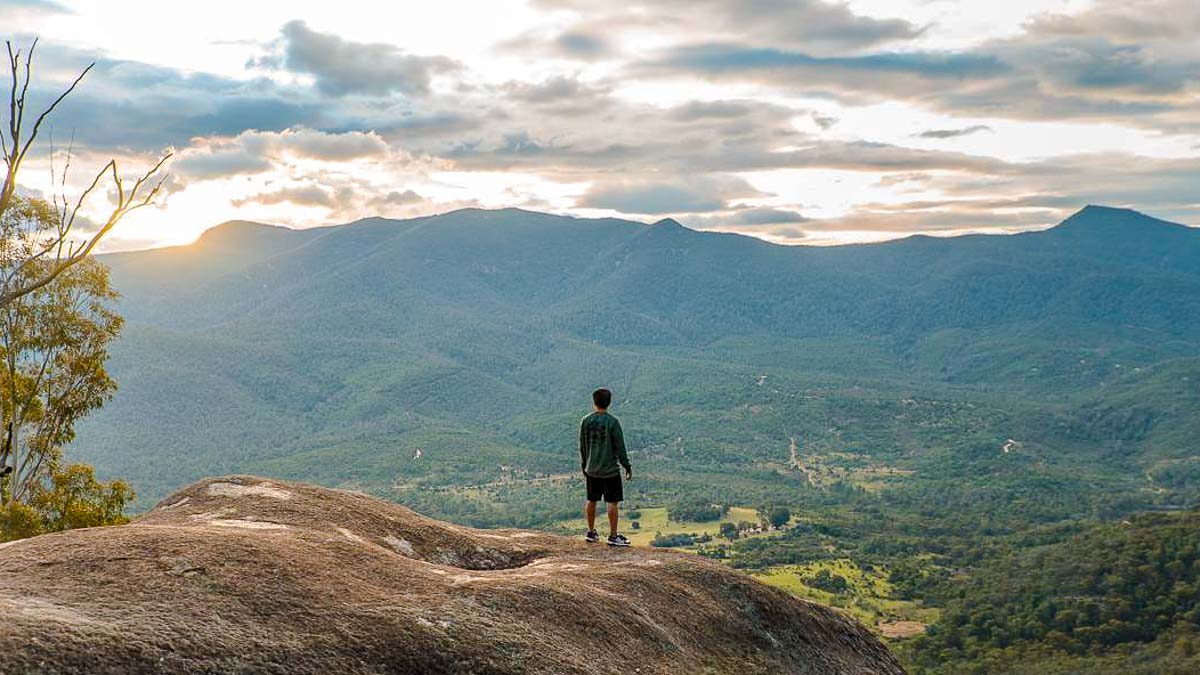 Photo credit: @deeenester via Instagram
Located in Tidbinbilla Nature Reserve, Gibraltar Peak is a moderate uphill hike. Once you reach the rocky summit, you'll get breathtaking views of neighbouring hills. For the adventure seekers, there are also a few large rocks to try scaling for a better view.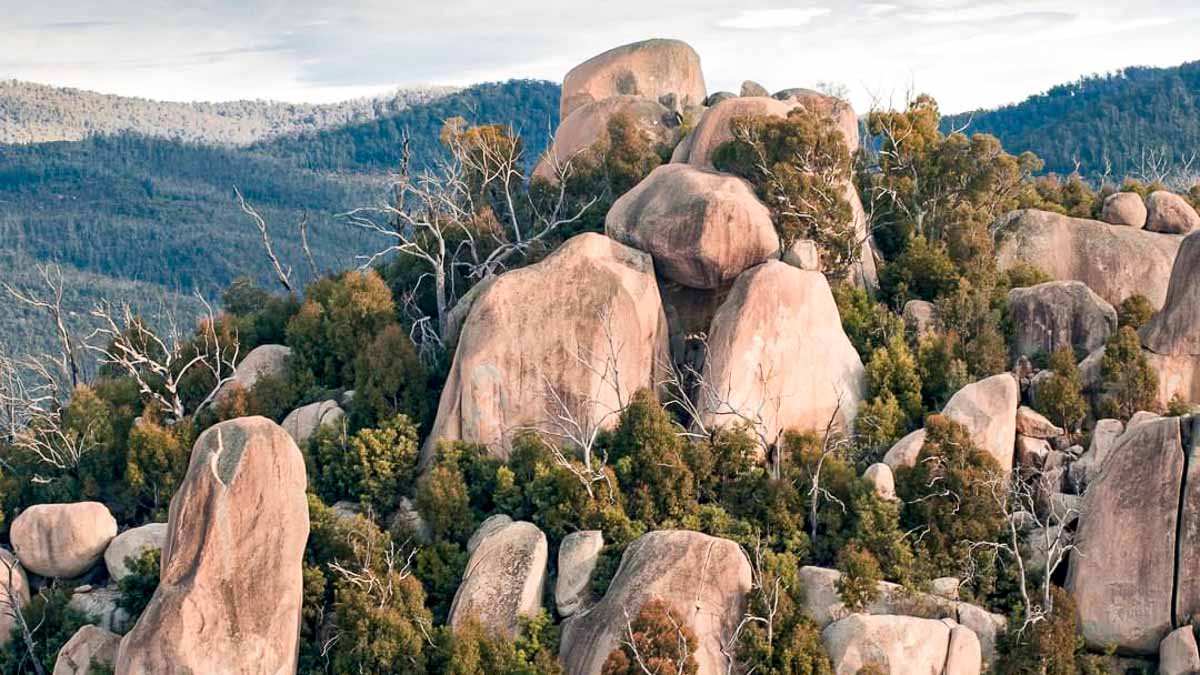 Photo credit: @australianjourneys via Instagram
Entrance fee: AU$13.50 (~S$13)
Hiking distance: 8.8km (2–4hr return)
Starting point: Dalsetta Car Park
How to get there: 45min drive from Canberra Airport or city centre
3) Sleep in a luxurious jungle at Jamala Wildlife Lodge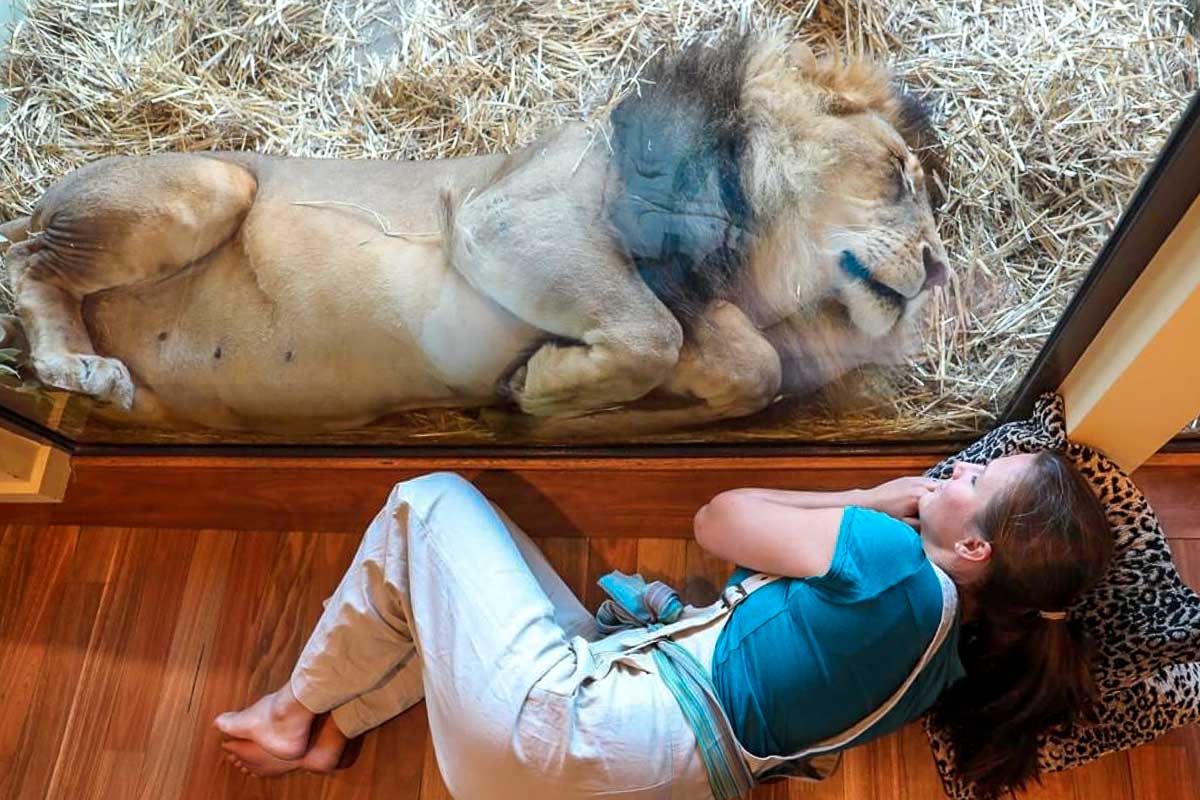 Photo credit: @jamalalodge via Instagram
If you're a wildlife lover like Kelly Koh, then a night at the luxe Jamala Wildlife Lodge is a must. It's Australia's first all-inclusive wildlife lodge, where you get the unique opportunity to live next to the zoo residents. Yep — you can bathe beside a bear, or feed a giraffe from your own balcony. Don't be surprised if you're woken up by a lion's roar too!
Cost: From AU$1,160 (~S$1,130)
How to get there: 15min drive from Canberra Airport or 10min drive from city centre
4) Hunt for mouthwatering truffles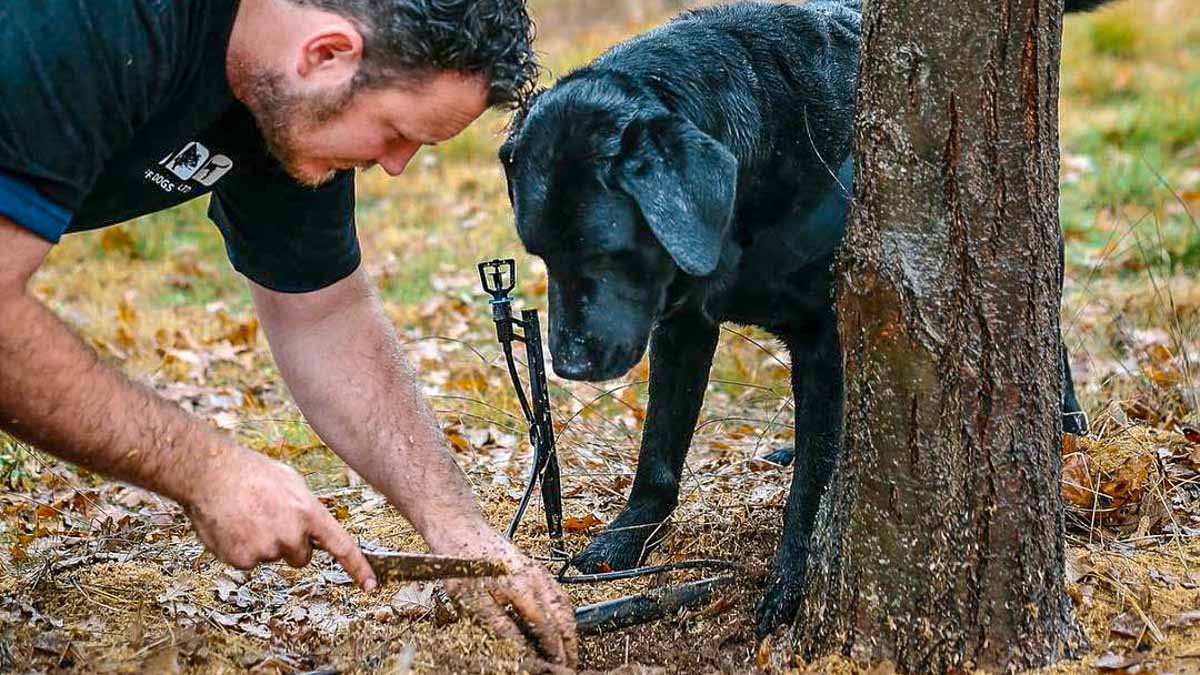 Photo credit: @avenuehotelcbr via Instagram
In the gastronomic world, truffles are known as black gold — and an exhilarating truffle hunt is the best way to get to know these morsels!
Team up with Australia's top truffle hunting dogs and scour through oak trees for them. You also get the chance to dig up fresh truffles from the ground, and relish them later in a decadent brunch.
Cost: AU$60 (~S$58)
Tour timings: 10AM – 11:30AM, held between Jun – Aug
How to get there: ~10min drive from Canberra airport or 20min drive from city centre
5) Brighten up your night at Enlighten Festival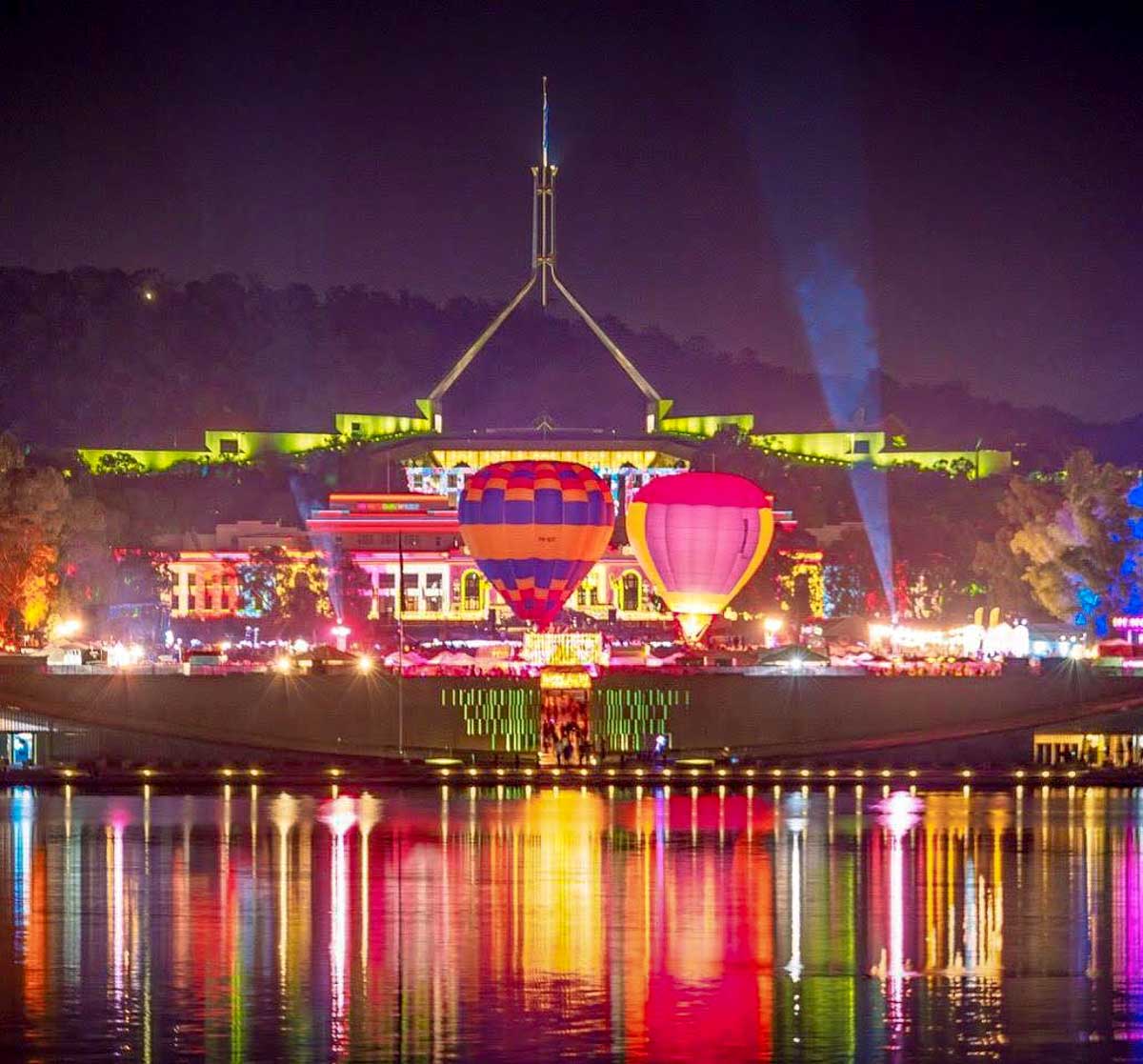 Photo credit: @simplycheecky via Instagram
Exciting and inspirational, Canberra's Enlighten Festival is an annual outdoor art and cultural festival. It showcases tons of vibrant art installations, light projections and performances that lend a whole new vibe to the city. Movie buffs can also get their fix at Lights! Canberra! Action!, a free event that screens local short films.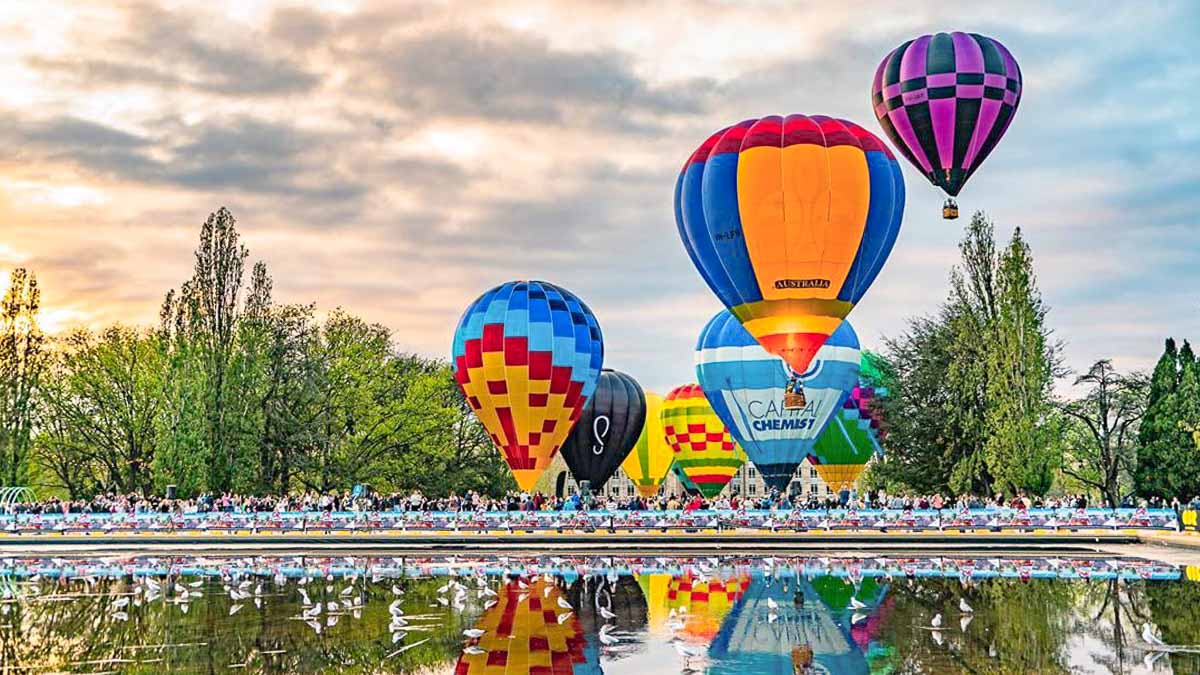 Photo credit: @junoleon_anu via Instagram
For an extra special experience, catch the Canberra Balloon Spectacular. At sunrise, several hot air balloons take flight — adding a whimsical touch to the waking city.
The next Enlighten Festival is slated to take place from 26 Feb – 14 Mar 2021.
Top 5 things to do in New South Wales
1) Plunge into this underwater paradise
Photo credit: @tipofthegower via Instagram
Byron Bay is where you go to 'eat, sleep, beach, repeat'. It's the ultimate beach town, crawling with easygoing locals, a strong surf culture, and an insane amount of untouched nature.
One of the best places to get your dose of vitamin sea is at Julian Rocks. The protected marine park is a real stunner — so much that Chris Hemsworth recommends divers experience it for "an abundance of sea life". Think turtles, octopuses, sharks and over 500 species of fish. You might also spot humpback whales migrating between May – Sep!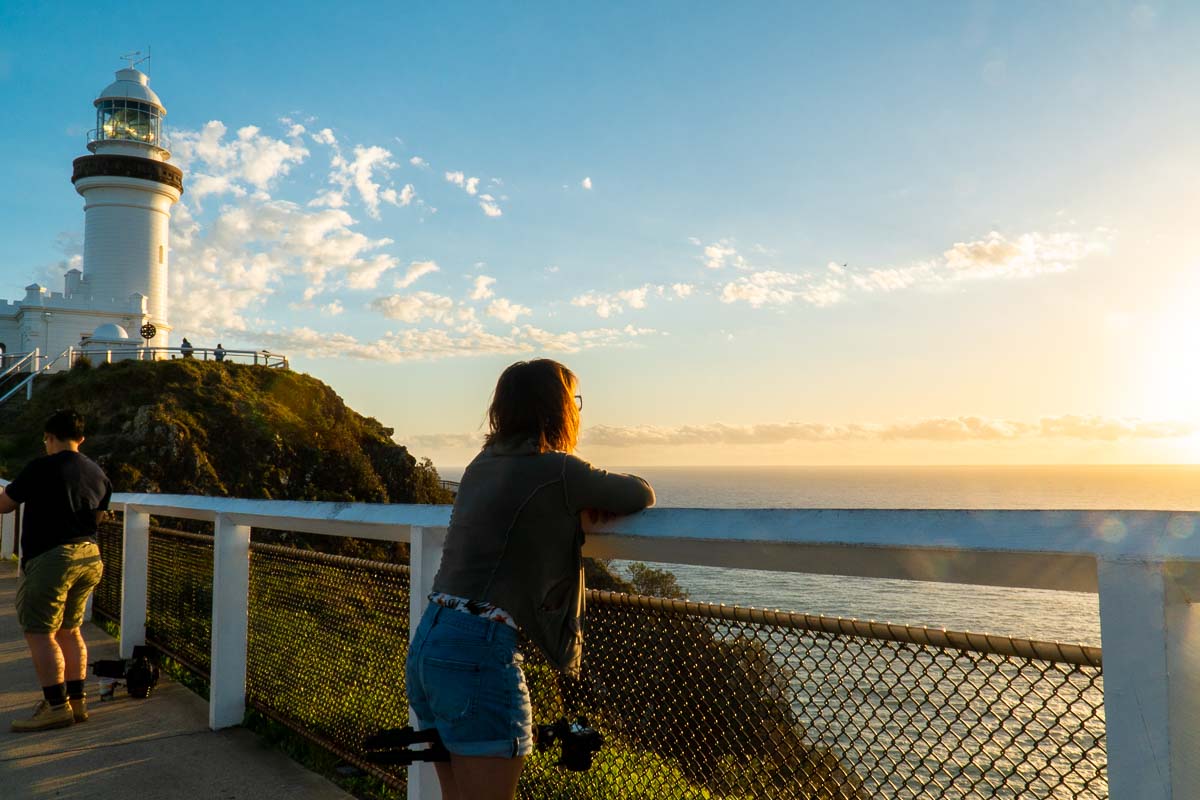 Once you've had your fill of the ocean, explore the rest of Byron Bay. My personal fave is catching the sunrise at Cape Byron Lighthouse. Absurdly early, but worth every moment.
How to get there: ~1hr drive from Gold Coast Airport or 9hr drive from Sydney Airport
Read also: Two-Week Australia Road Trip from Sydney to Byron Bay — Discovering NSW's Legendary Pacific Coast
2) Catch the phenomenal bioluminescence in Jervis Bay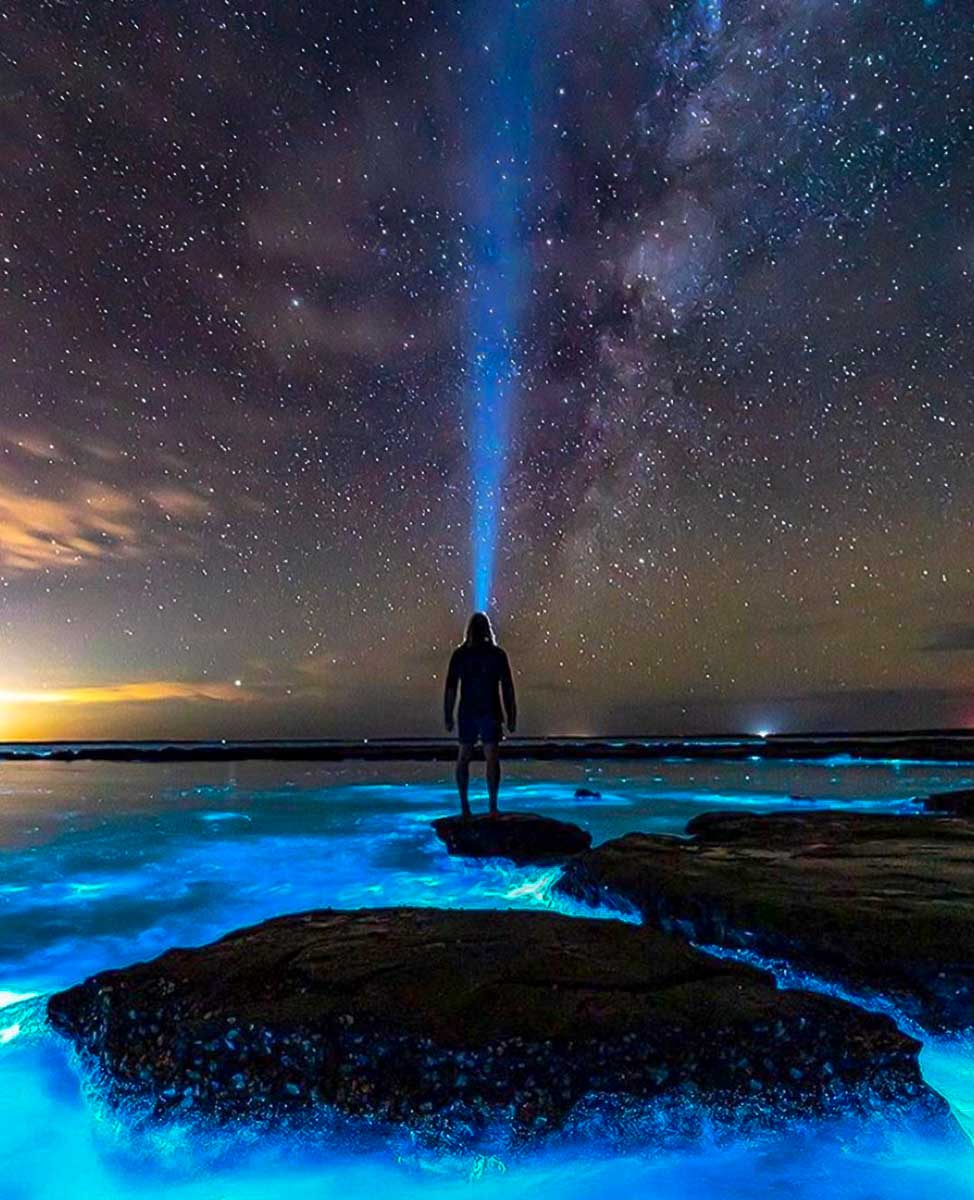 Photo credit: @jordan_robins via Instagram
Straight out of a sci-fi film, Jervis Bay is one of the best places in Australia to witness spectacular bioluminescence.
The neon blue glow up happens when agitated bioluminescent algae (Noctiluca scintillans) experience a chemical reaction that emits light. The results are enchanting 'sea sparkles' that make your hands glitter, and produce lit night photography shots! ✨
Bioluminescence may be found any time of the year, but they commonly appear during warmer weather. Keep your eyes peeled for red-coloured algae bloom on the surface of the water. A good time to check will be after a rainstorm, when you've had a few warm and sunny days prior.
How to get there: 2h40min drive from Sydney Airport
3) Dive into Sydney's craft beer scene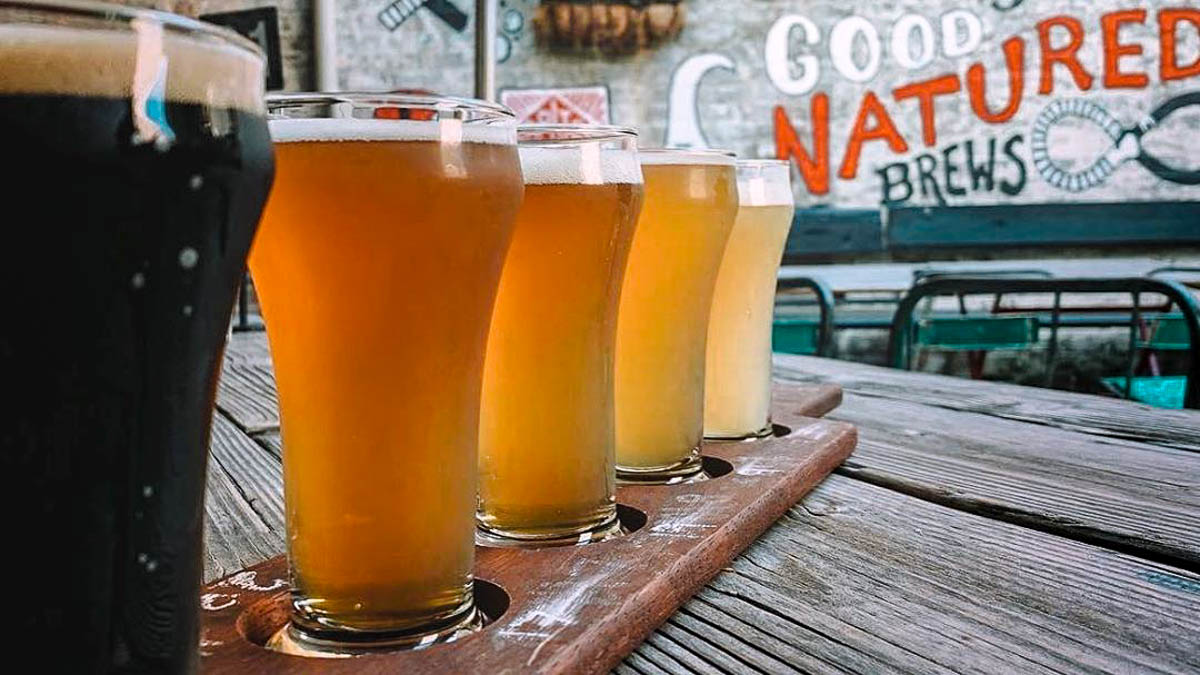 Photo credit: @quarrymanshotel via Instagram
If you're looking to quench a certain thirst, make your merry way to Quarryman's Hotel. The laidback pub is revered as a "craft beer heaven", offering up to a whopping 30 on tap! The selection changes frequently, so revisit time and time again to sip what's new.
Cost: From AU$5/pint
Opening hours: 11AM – 12AM, closes 10PM on Sun
How to get there: 16min drive from Sydney Airport
Read also: 9-Day Australia Road Trip Itinerary Around The Best Of NSW — Sydney, Blue Mountains and Beyond
4) Glamp under the stars in the South Coast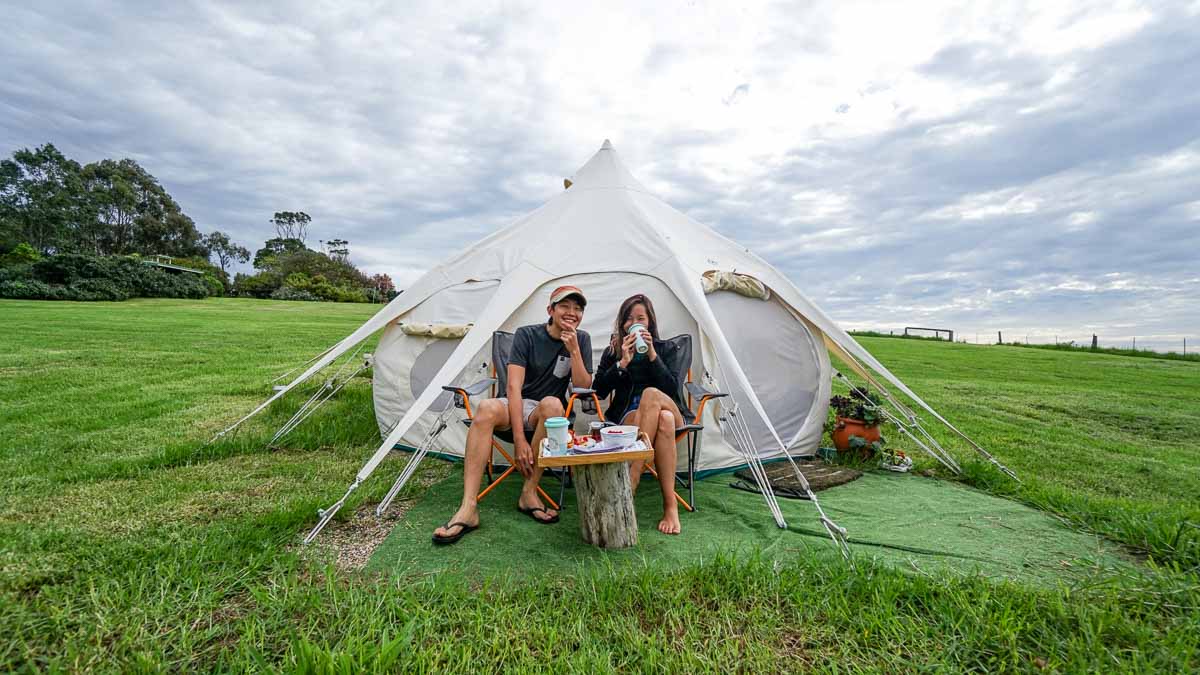 Miles away from Sydney, New South Wales's South Coast is an exceptional getaway that's teeming with scenic coastlines and nonstop adventure. The best way to experience this fantastic region is with an epic road trip, and a night (or two!) glamping in the breathtaking outdoors.
There are many cosy accommodations, but the top picks include the quirky Lotus Belle tents at Tilba Lake Camp. It's in the middle of a huge farm, so you get peaceful solitude in the charming countryside. For a more boujee experience, opt for the stylish Paperbark Camp or luxurious Faraway Domes.
How to get there: 5hr drive from Sydney Airport
Read also: Sydney South Coast Road Trip: 7-Day Itinerary From Sydney to Eden
5) Catch a flick at a drive-in cinema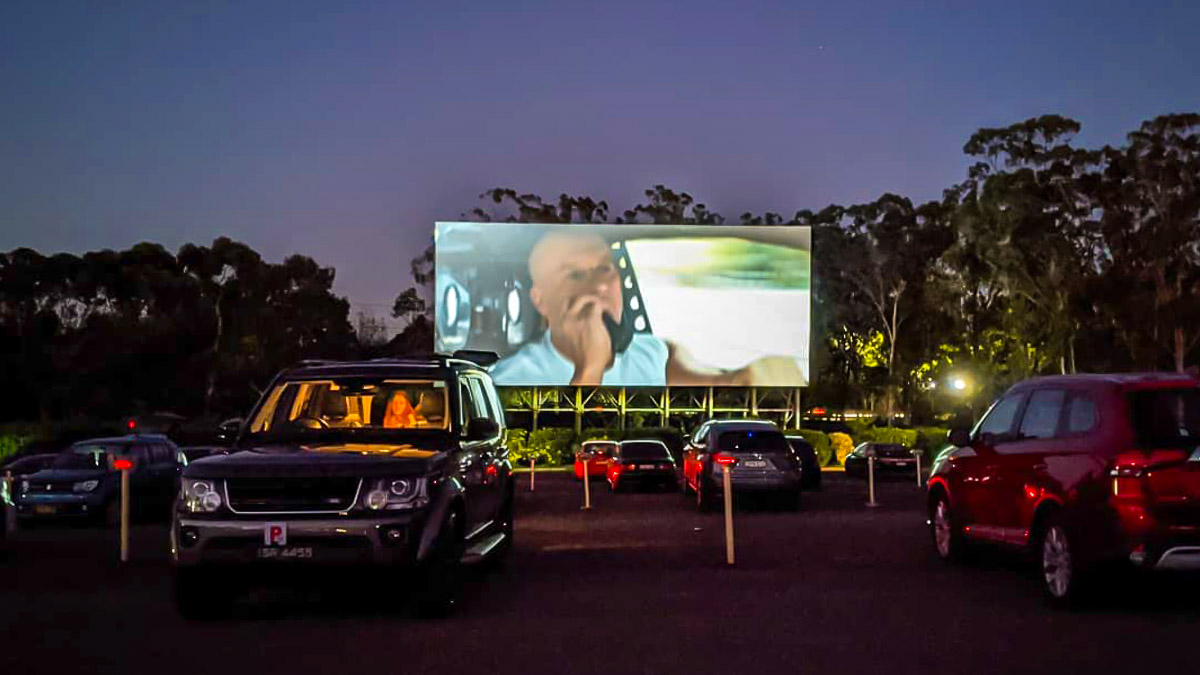 Photo credit: @gerryflorestorres via Instagram
Reminiscent of the 1960s, Skyline Drive-in gifts modern movie-goers with a nostalgic blast from the past. Just rock up in a car, and enjoy new releases or cult classics on the massive outdoor screen! It's a buzzing joint for families and friends to hang out, or for a romantic date night with your Sandy or Danny 😉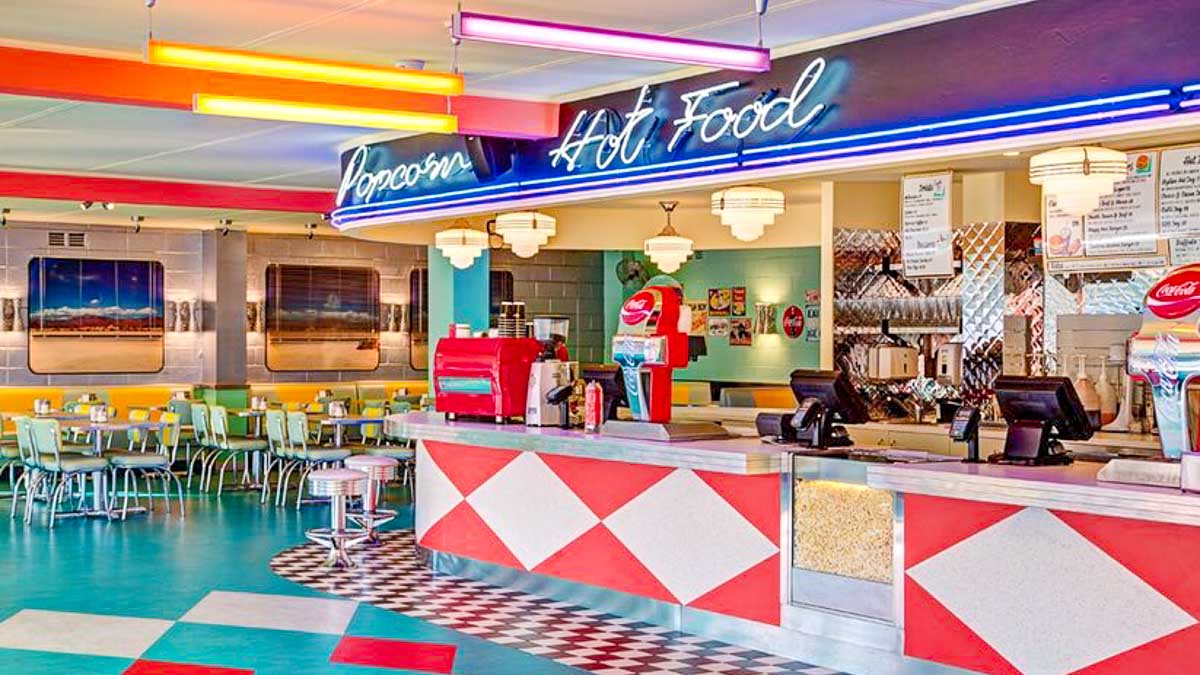 Photo credit: @sydneygirlmagazine_travel via Instagram
Got the munchies? Hit up Happy Days, the onsite retro-styled diner that serves iconic American grub like burgers, fries and milkshakes.
Cost: AU$35 per car, up to six people (~S$34)
Movie timings: After 5PM
How to get there: ~35min drive from Sydney Airport or city centre
Top 5 things to do in Western Australia
1) Get close to wild stingrays at Hamelin Bay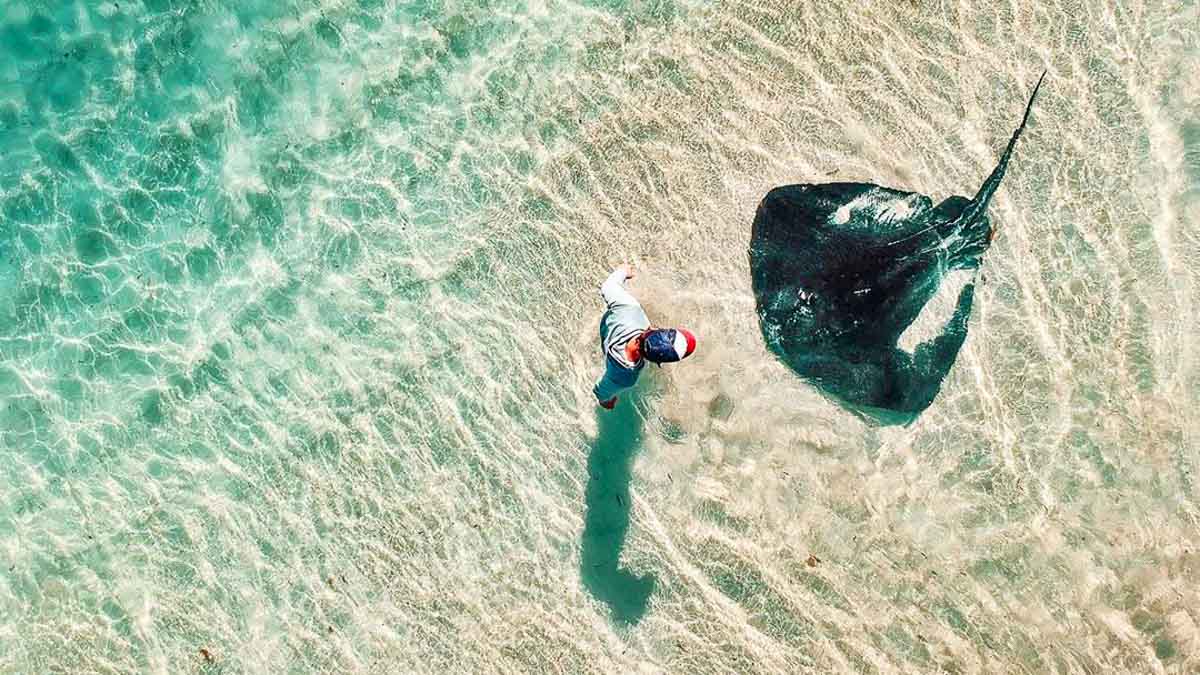 Photo credit: @nomadelovers via Instagram
South of the picturesque Margaret River, Hamelin Bay is famous for fine sand, crystal clear waters, and loads of majestic stingrays. It's a marvellous sight to watch them glide gracefully by the shore, foraging for food. They might even swim right up to you if you're lucky!
The stingrays tend to appear on most days during summer (Dec – Feb), usually in the early mornings or late afternoons. They're occasionally spotted during winter as well.
How to get there: 3h20min drive from Perth Airport or city centre
2) Bask in a magical seaside town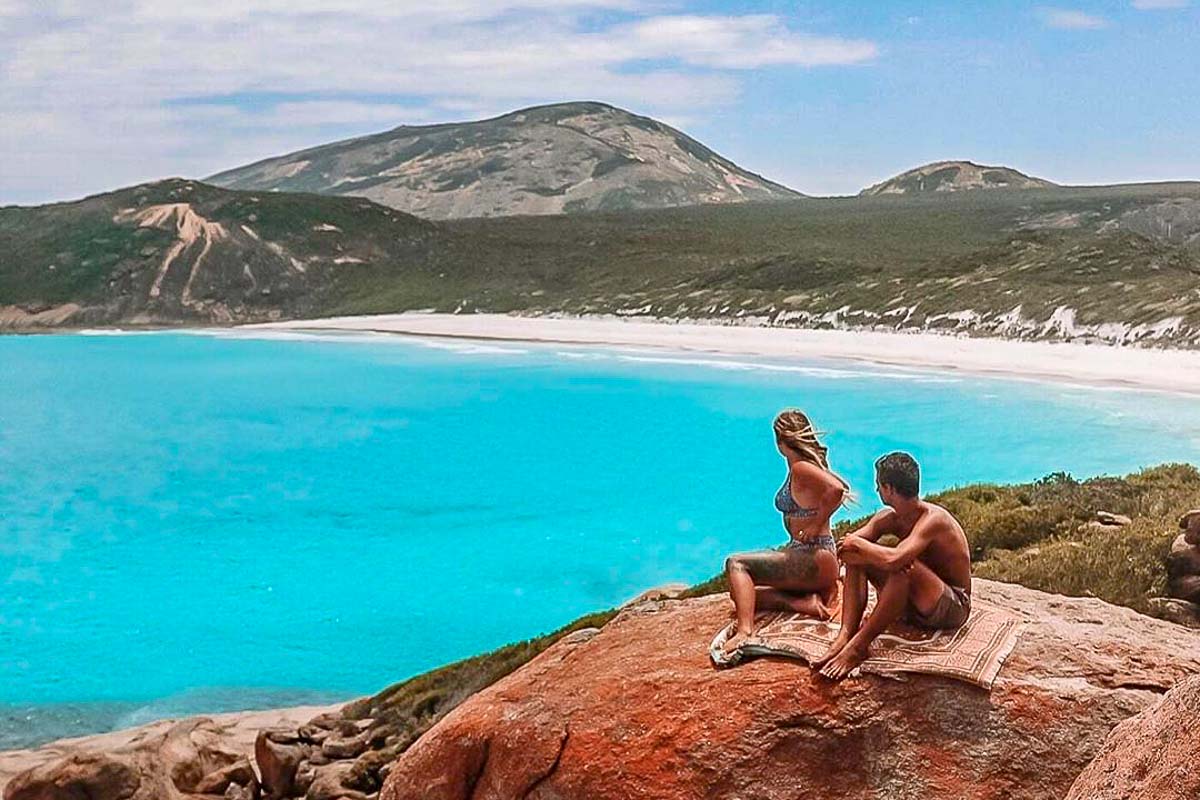 Photo credit: @perthvibes via Instagram
We all know about Western Australia's fab Coral Coast, but a friend revealed another must-visit destination. Dreamy and charming, Esperance is an exquisite town that "hands down, has the best beaches WA has to offer, with super clear waters and the softest sand ever!!!"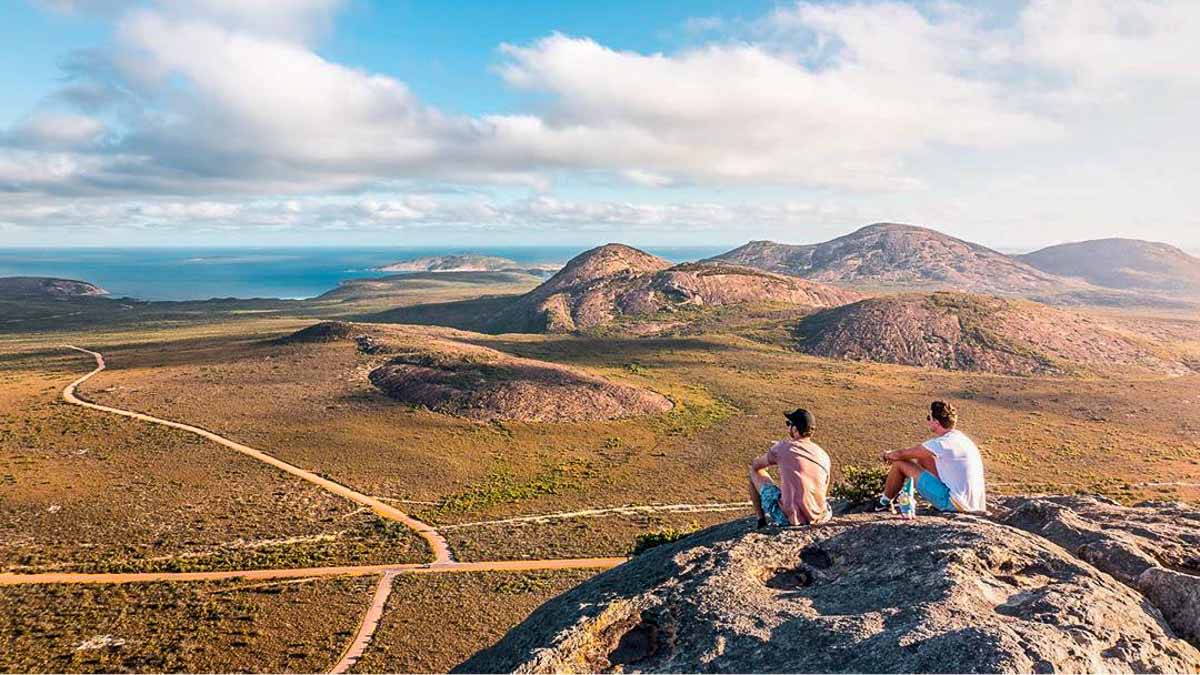 Photo credit: @los_travel via Instagram
Whether you're a beach bum or a fearless daredevil, this south coast gem has a ton to do. At the very least, catch a fiery sunset at Hellfire Bay or scale the challenging Frenchman's Peak. Both spots promise epic views, enviable photos and priceless adventures.
At night, drive into forested areas for stargazing — "you can see the Milky Way, and catch the Aurora Australis if you're lucky." Oof.
How to get there: ~8hr drive from Perth Airport
Read also: 11D Western Australia Itinerary — Road Trip From Perth To Ningaloo
3) Hang out in Perth's oldest National Park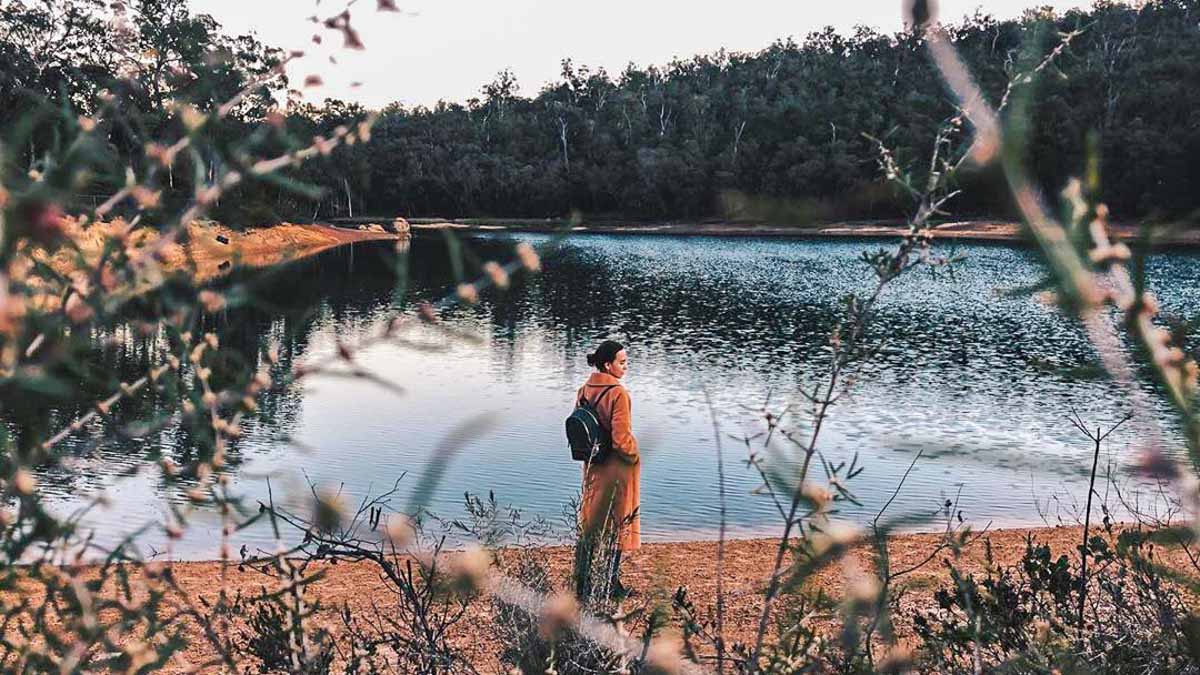 Photo credit: @ira_riazantseva_perth via Instagram
Recommended by a friend who studied in Perth, John Forrest National Park is a terrific spot when she wants to get away from the city's hustle and bustle. Compared to other places, it's less crowded, giving visitors some much-needed peace and intimacy.
Raw and natural, it's perfect for adventurous hikes and picnics. Or, take it easy and chill out with the friendly 'roos that live near the Tavern!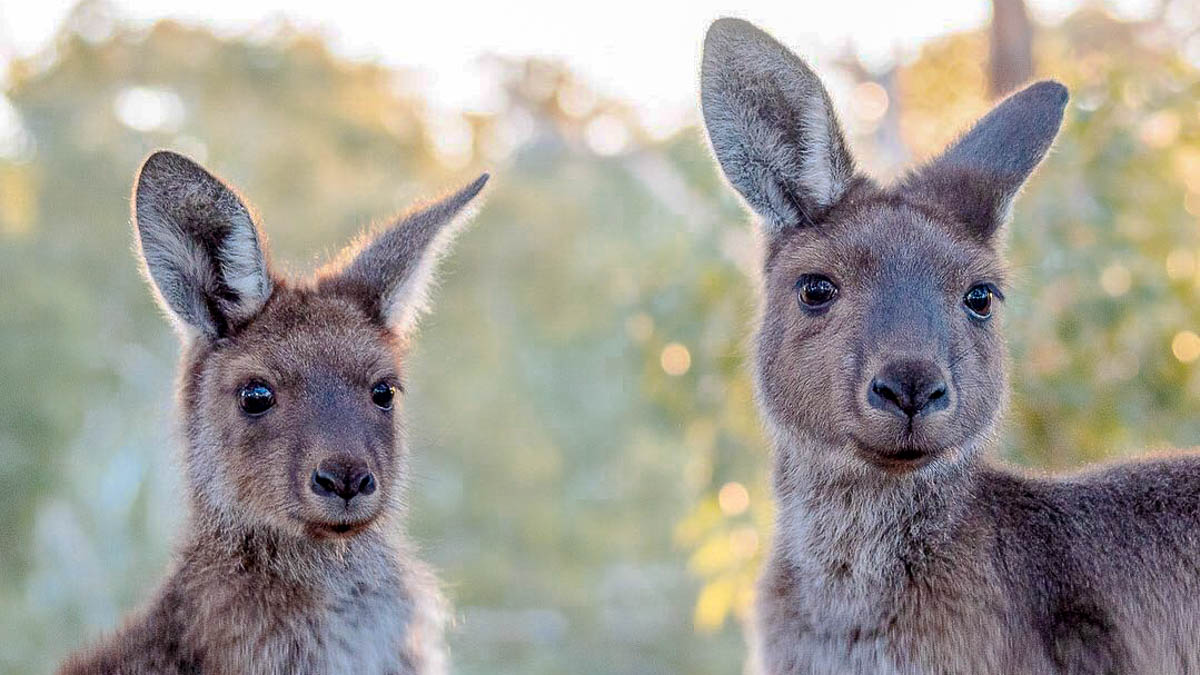 Photo credit: @daniel_moeckel via Instagram
Entrance fee: AU$15 per car, up to 12 people
Opening hours: 24hrs*
How to get there: 20min drive from Perth Airport or 30min drive from city centre
*Note: The park entrance opposite Bilgoman Pool closes daily at 4PM. However, you can still access the park at any other time via the Great Eastern Highway opposite Glen Forrest Shopping Centre.
4) Go outdoor bouldering at Castle Rock Bay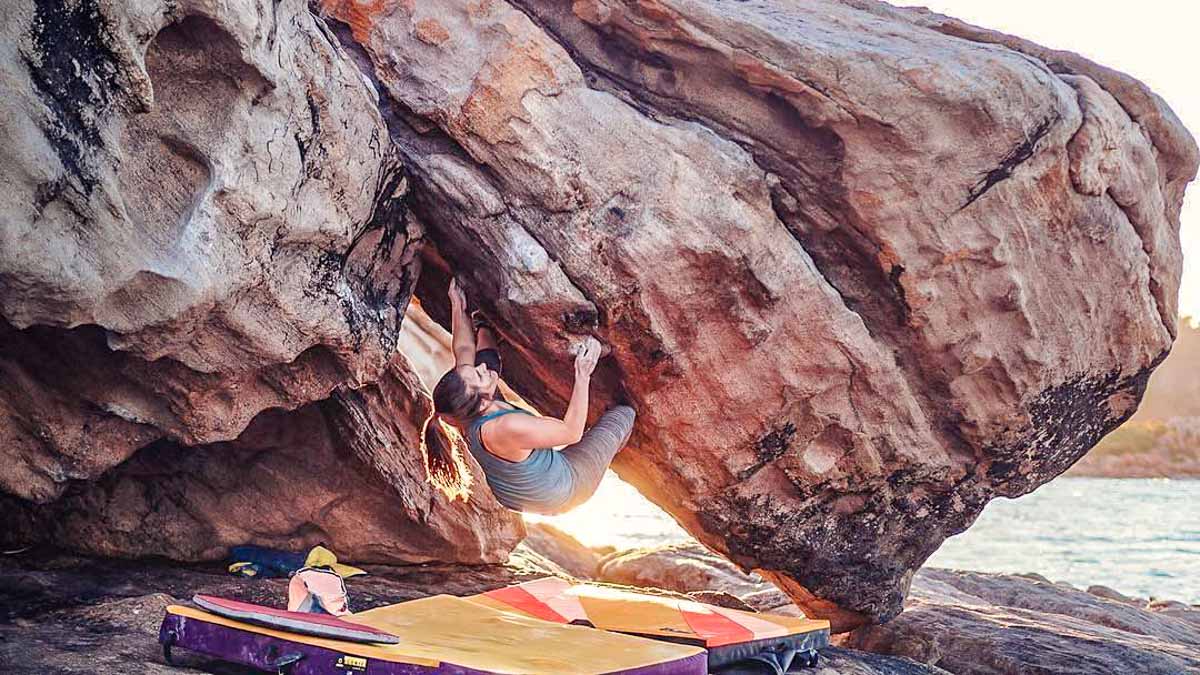 Photo credit: @girlsboulder via Instagram
An avid climber tells us that Castle Rock Bay is great for climbers of all levels, as well as outdoor lovers. The locals' favourite is Copper Rocks, where a cluster of chunky boulders reside next to calm, clear waters. You can easily spend the whole day bouldering, snorkelling, or relaxing on the sand — or doing all three!
Entrance fee: Free
Opening hours: 24hrs
How to get there: 3hr drive from Perth Airport or city centre
5) Hike to granite domes in Porongurup National Park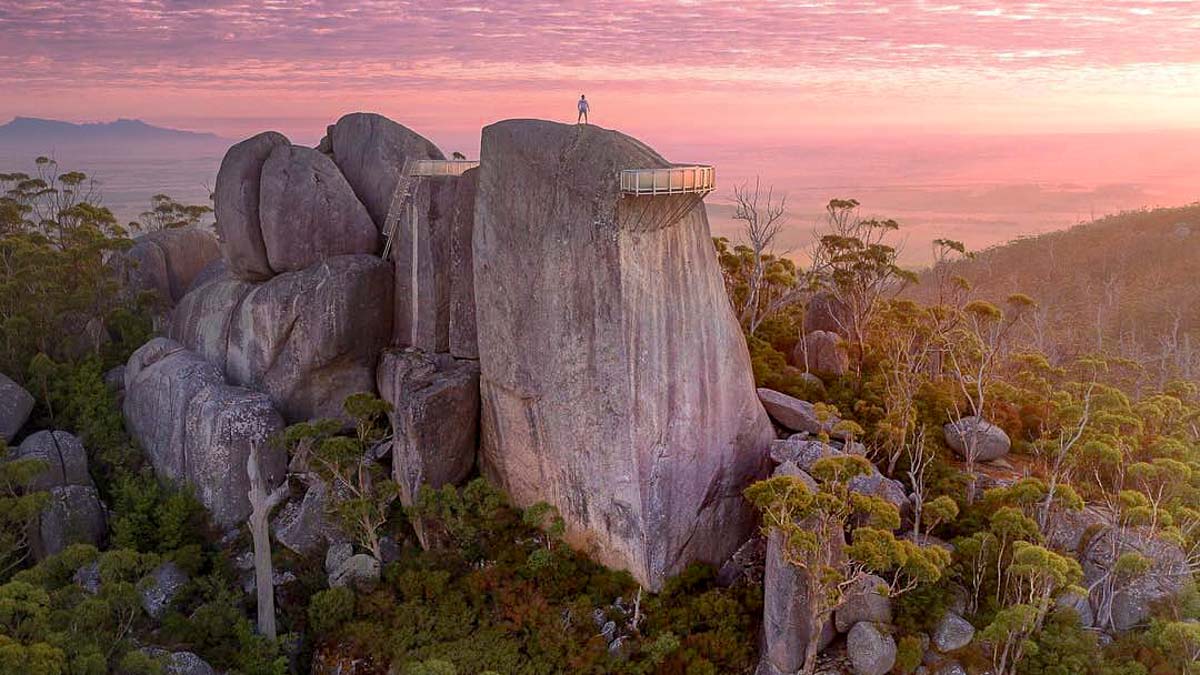 Photo credit: @discoveralbanywa via Instagram
Best known for its towering granite domes, Porongurup National Park is the perfect challenge for outdoor adventurers and photographers.
The trek up to the Granite Skywalk is no easy feat — you'll need grit and a pair of good knees to complete the steep route. For an added push, head to the upper lookout! You'll have to clamber over some rocks and climb a 6m ladder to get there, but for the wonderful views and sweet sense of accomplishment? Worth it!
Entrance fee: AU$15 per car, up to 12 people
Hiking distance: 3km (2–3hr return)
Starting point: Granite Skywalk & Castle Rock Parking
How to get there: 4h15min drive from Perth Airport
Get to know another side of Australia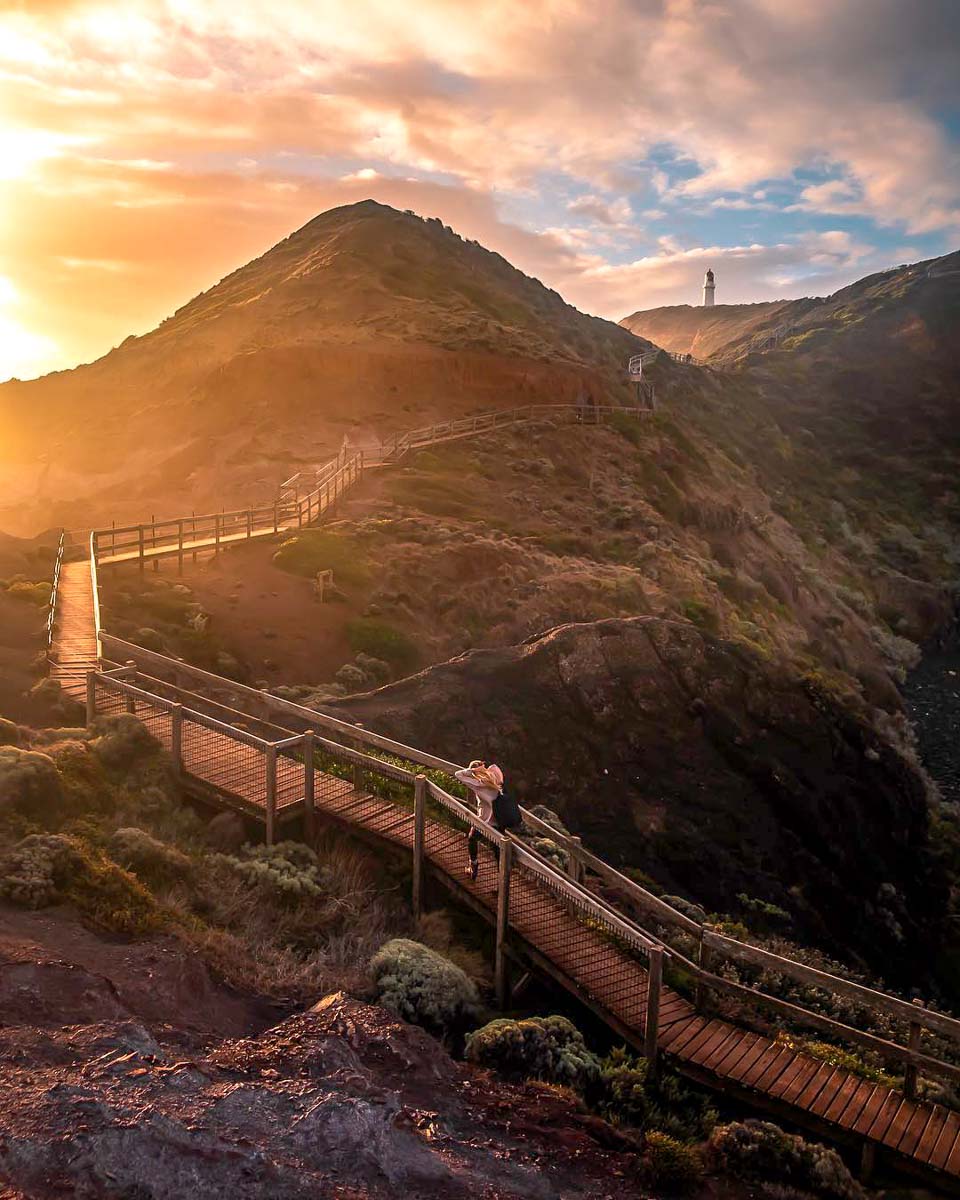 Photo credit: @tavishhhphoto via Instagram
There's always something new to experience in Australia, whether it's your first time or nth time visiting.
Far from run-of-the-mill shopping and dining, there are lots of underrated things to do — from unique wildlife encounters to attending upbeat/offbeat festivals. So take the path less travelled, follow our friends and try some of these ideas for your next Australia adventure! 😉
Many thanks to Chris Hemsworth, Hayden Quinn, Aussie Specialists MJ Lai, Kelly Koh, and Alan Khor Kean Kok, Tony Lee, Vincent Chen, Karen Tay, Clancy, Melvin Pan, Daniel Tay, Liying, Ross McGachey, Lyndsey Long, Emily Tsoi, Koh Chen Pin, Sheryl Chua, Amelia Goh, Shairel Foo, Joelle Goh, Cherie Sim, @hopedreamslove and @jameztham for your stellar recommendations!
Featured image credit: @nomadelovers via Instagram
What's your favourite thing to do in Australia? Share your recommendations in the comments!
---
This post was brought to you by Tourism Australia.
Disclaimer: All entrance fees and opening hours are correct at the date of publishing.
Like what you see? Follow us on Facebook, Instagram, YouTube and Telegram for more travel inspiration!