Pictures & stories of a destination that seem straight out of a movie — not even exaggerating.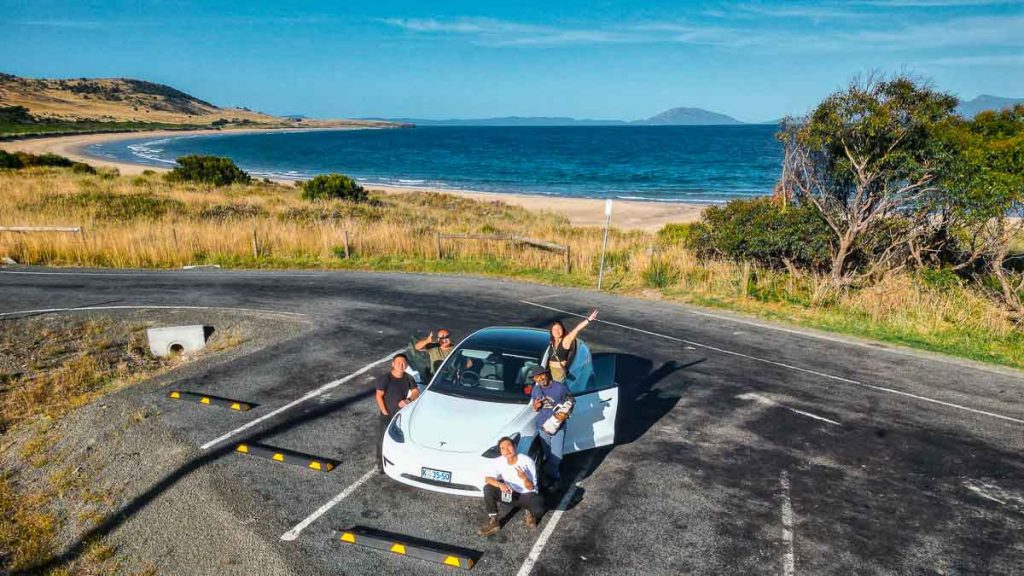 Near Piermont Retreat, Swansea.
As creators, we take hundreds of photos each day — but only a small portion of them get seen. So I thought it'll be fun to do a visual diary to share more photos we captured during our 10-day Tasmania road trip!
This time, Cedric and I were joined by a group of talented creators — Dan Ng, Jayaprakash Bojan (aka JP), Cheryl Tay and Grace Huang.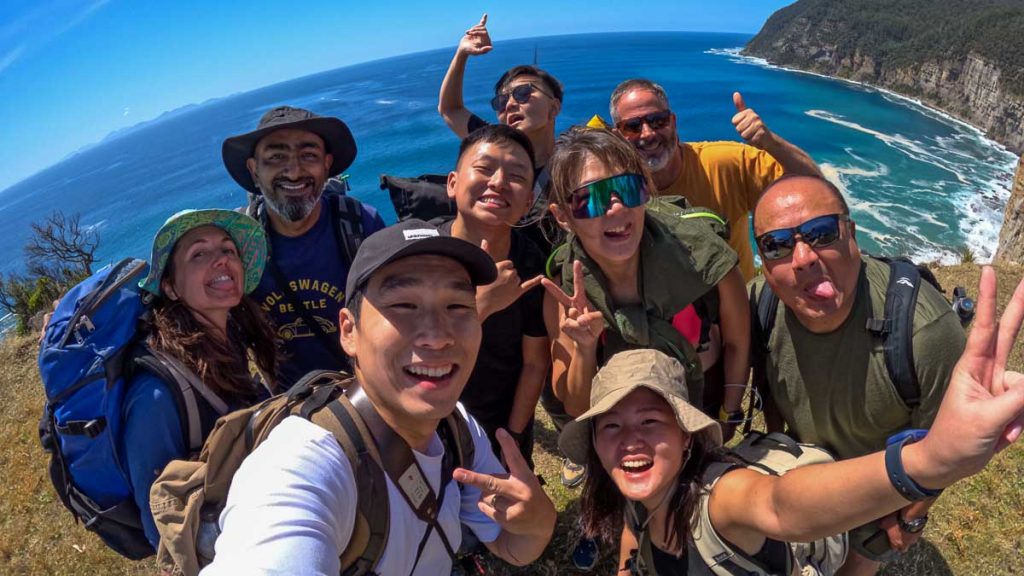 Dan and JP (the guys wearing hats) are incredible wildlife photographers and filmmakers; you might recognise them from this viral video featuring the wildlife of Pasir Ris Park!
Cheryl and Grace (the women wearing sunglasses) are huge advocates of fitness and wellness. Cheryl has completed 13 half-ironman races and Grace co-founded a martial arts gym — totally badass.
Psst. Cedric is in the centre, and I'm the one wearing a hat at the bottom right 😊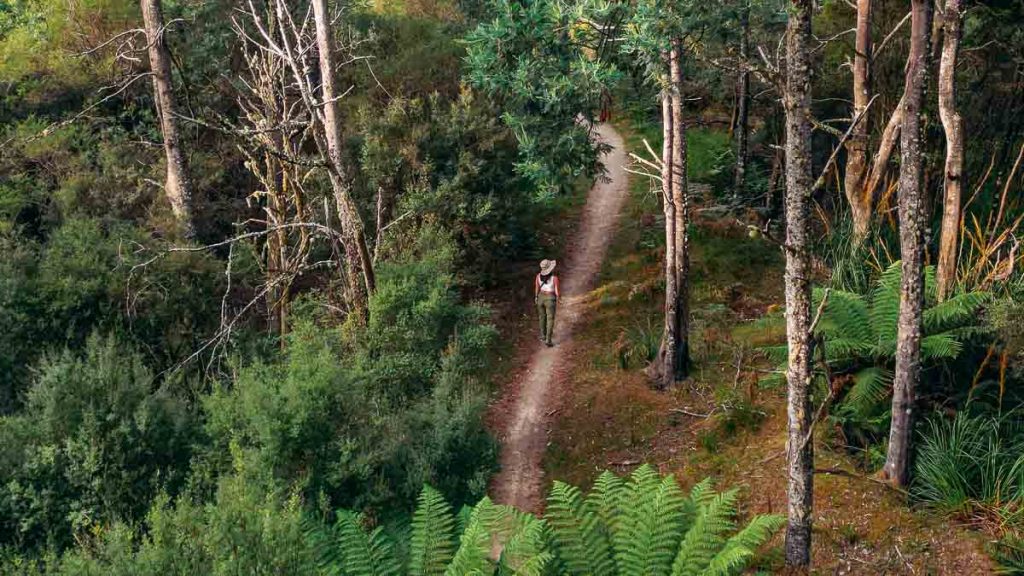 Valley Ponds, Derby.
In this Tasmania guide, we'll let our travel pals tell you more about the experiences while sharing some behind-the-scenes photos of our trip 😊
For the full Tasmania itinerary, check out: 10D Tasmania Itinerary — A Road Trip for Adventure Seekers
Maria Island
1) Incredible, relatively untouched landscapes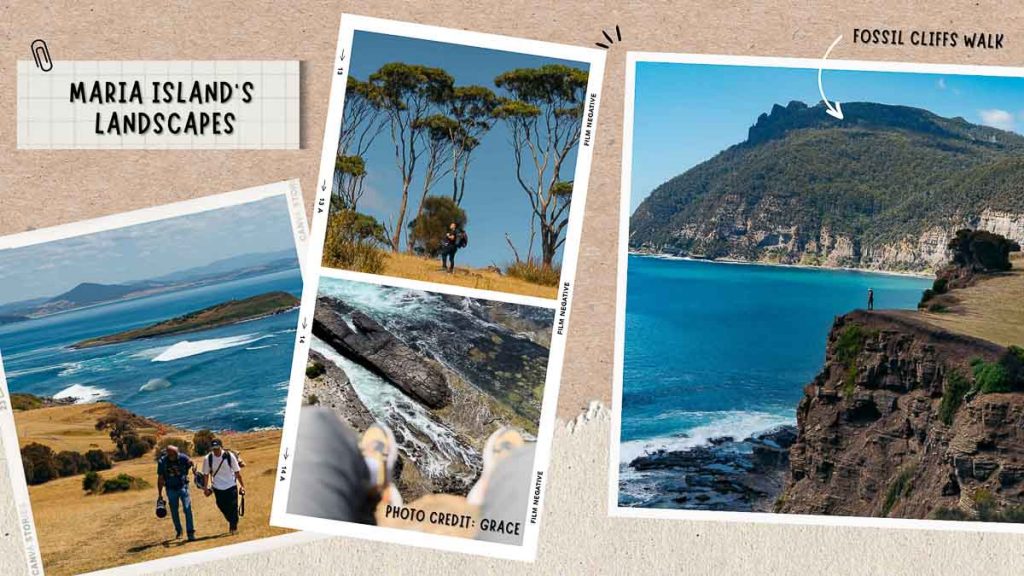 Being big on nature and wildlife, Maria Island was a collective highlight for all of us. Everywhere was a photo opportunity and we could have easily spent a few days here.
"The cliff faces are so beautiful and just being in this almost untouched landscape was spectacular. There's also the historical part of Maria Island which was interesting and so quaint. It was hard to leave the island, I wished we had more time there." – Grace
"I like how you are just fully immersed in nature with very little to compromise the state of nature, eg. there were no shops, no commercialisation. We even refilled our bottles from a tap! I thoroughly enjoyed my time here. A full-day trip or an overnight stay (to catch the sunrise) would be perfect." – Cheryl
2) Abundance of free-roaming wildlife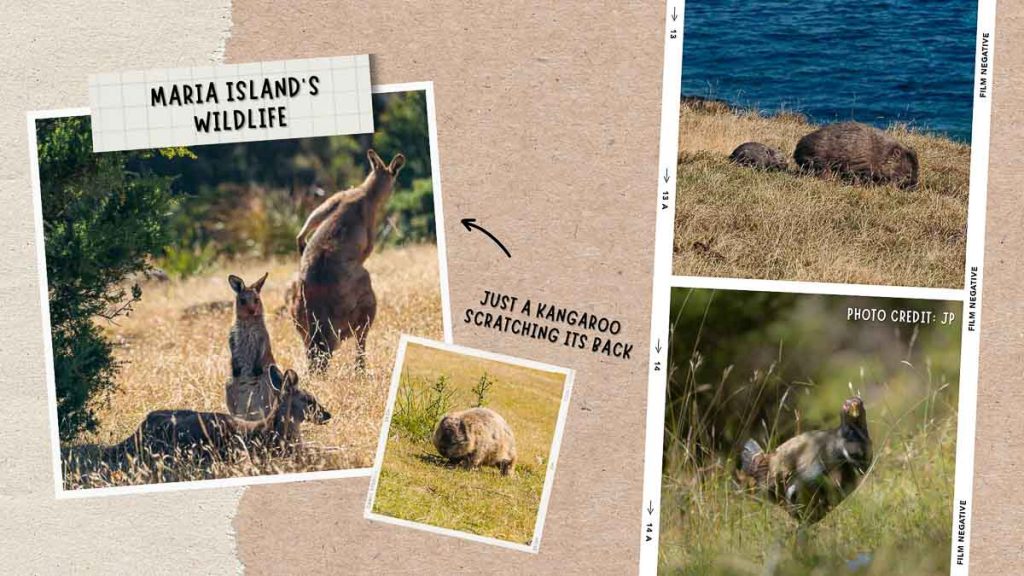 Maria Island is nicknamed Wombat Island due to the sheer number of wombats that reside there! Our guide shared that on a cool day, there are wombats everywhere.
It was really hot when we visited, so we only saw about 10. We'd never seen wild wombats before so it was still a great experience.
"Seeing the mother wombat with her baby for the first time in the wild was a heartwarming sight." – Dan
"Every animal I saw there was my first time seeing in the wild. I loved the small baby wombat that trailed its mom closely. Our guide shared that wombat pouches are reversed and they enter from behind — that's probably what it was trying to do." – Cedric
"I absolutely loved that the animals were free to roam on this island." – Cheryl
Read more about our experience at Maria Island.
Derby
3) Arguably the most Instagrammable sauna we've seen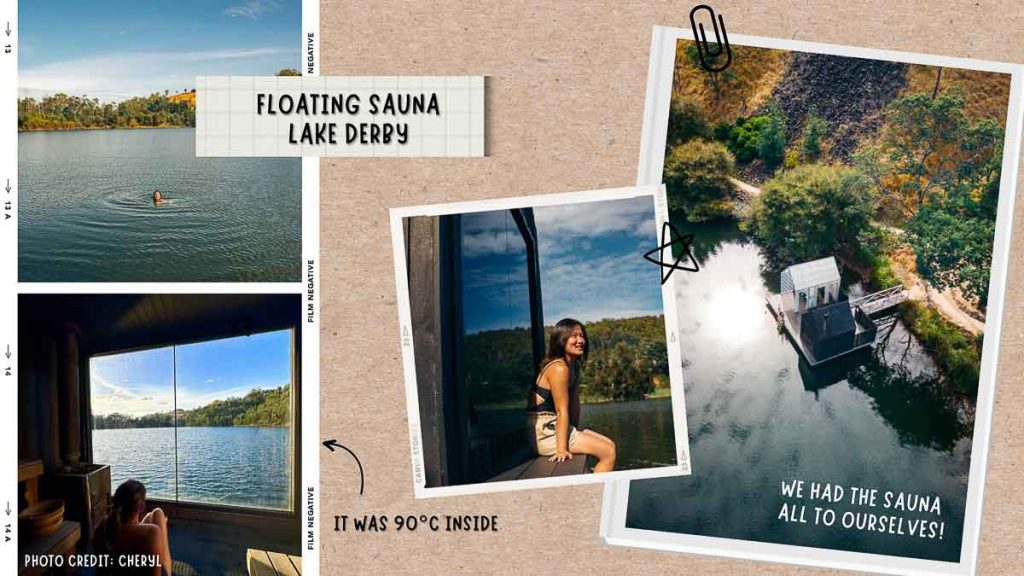 Derby is mainly known for mountain biking, but our favourite experience here was the Lake Derby Floating Sauna — Australia's only floating wood-fired sauna!
"This is a must-do, whether as a stop on your way to someplace else or whether you're staying at Derby for mountain biking. It's a pretty simple setup — alternate between the sauna and the cool waters of the lake, but very relaxing!" – Cheryl
I'm not a huge sauna gal, but this experience was definitely special. It felt like I had the entire postcard-worthy lake to myself, apart from this annoying duck that kept trying to peck my toes. You can see me splashing water at it in the drone videos we shot 😂.
"Views were really nice. The lake was too cold for me, but the experience of jumping in was definitely enjoyable and just one of those simple joys in life that we don't get to experience in Singapore." – Grace
4) Mountain biking in Tasmania's biking town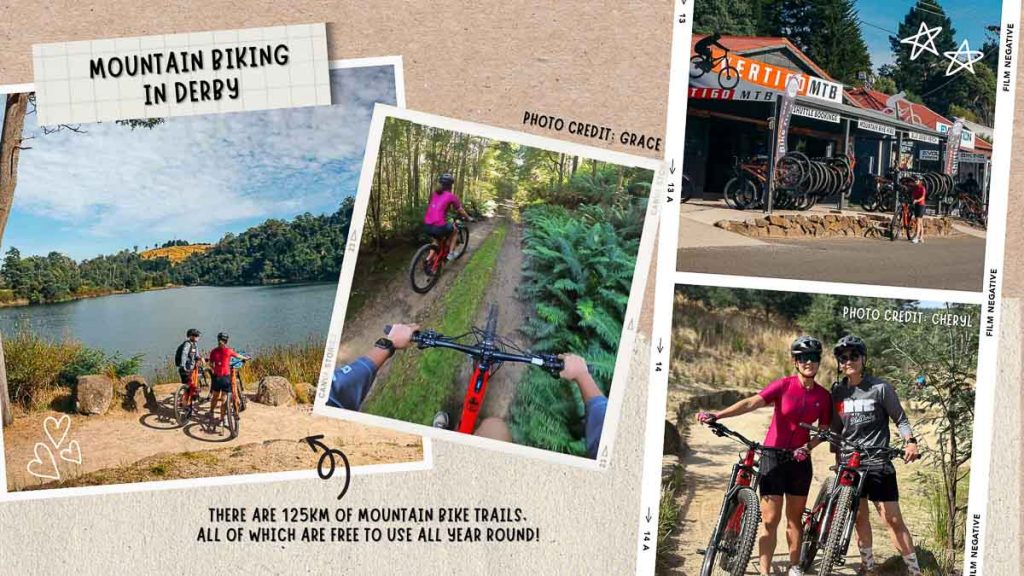 But of course, we couldn't visit Derby without trying mountain biking.
"The sweet thing about Derby is that there are different types of trails to suit the varying ability levels. We started with a simple route around the lake, before exploring other routes. There are new routes being opened at Derby all the time, so this place is full of adventure." – Cheryl
"They have a good system with various companies bringing you up the different routes via vans and buggies if you don't want to grind your way up (like at ski resorts). We took a buggy ride and just the ride was a nice experience because you're really almost off-roading, going through mud and forest. And because Derby used to be a mining town, there were some pieces of old equipment around the routes on the way up, which was interesting to see. " – Grace
5) Short walks around Derby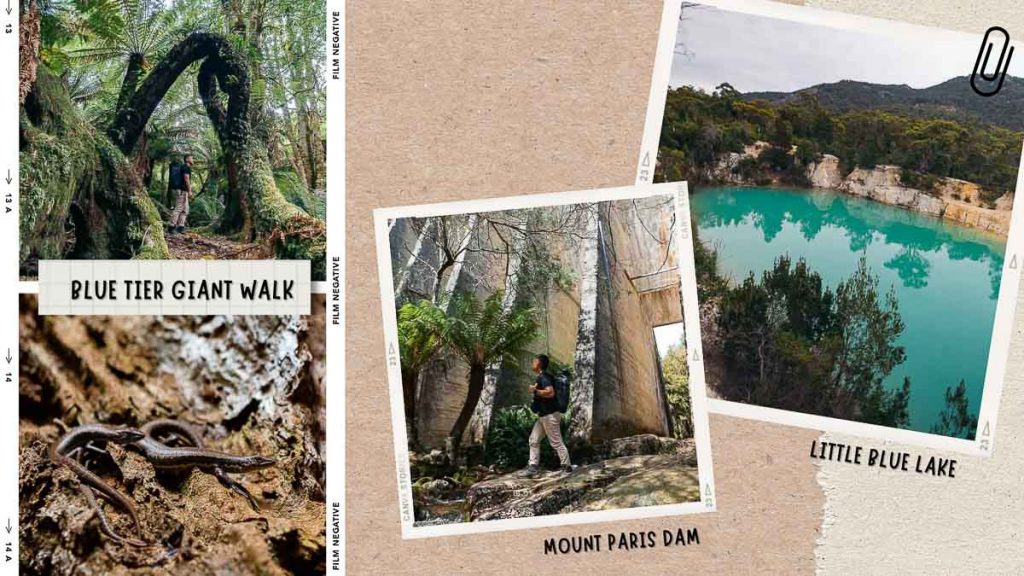 We visited a couple of hiking spots and viewpoints a short drive from Derby, like the Blue Tier Giant Walk, Little Blue Lake, and Mount Paris Dam. You'll only need about an hour or less at each location, so it's easy to see them all in half a day.
"It was amazing to walk through the moss-covered forest. Felt very mystical and magical." – JP
My favourite stop was the Blue Tier Giant Walk. There were massive ferns shading the entire forest, like natural umbrellas!
Read more about our experience at Derby.
Swansea
6) Staying at a magazine-worthy luxury retreat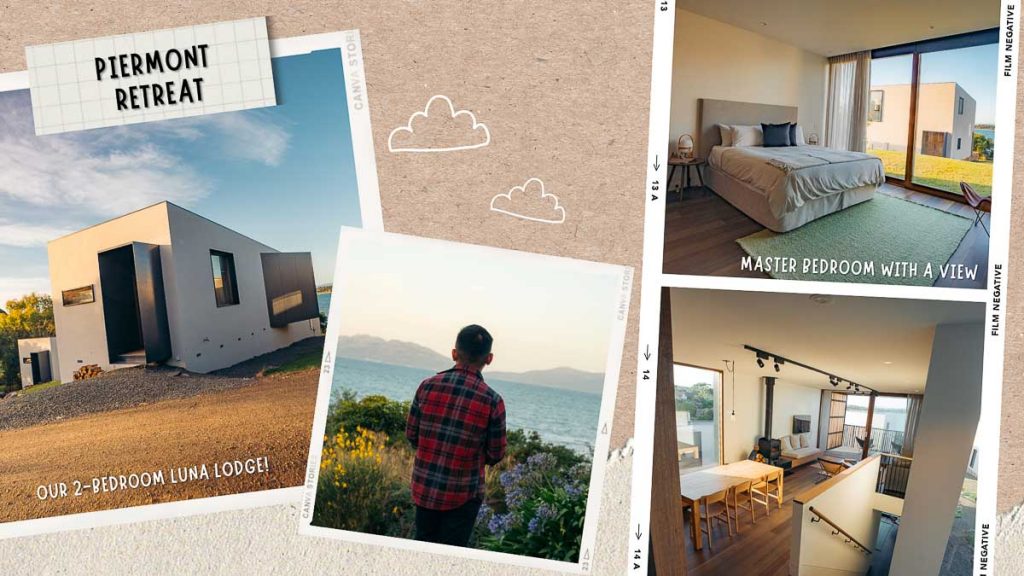 We arrived during golden hour and the light hit the apartment in all the right spots!
"First thought — CAN WE STAY HERE FOREVER? The apartment was so comfortable and so quiet and peaceful. I really enjoyed it. The bathroom was HUGE. 10/10 would go just for the bathroom." – Grace
Piermont Retreat might be the nicest place I've ever stayed in. The architecture and interior design is stunning, and the location is spectacular — I felt like I was on an episode of Architectural Digest.
"The place is really dreamy. It's so close to the beach and the sun hits right in all the correct places. Wished we stayed a second night!" – Cedric
7) Staying up to capture the Milky Way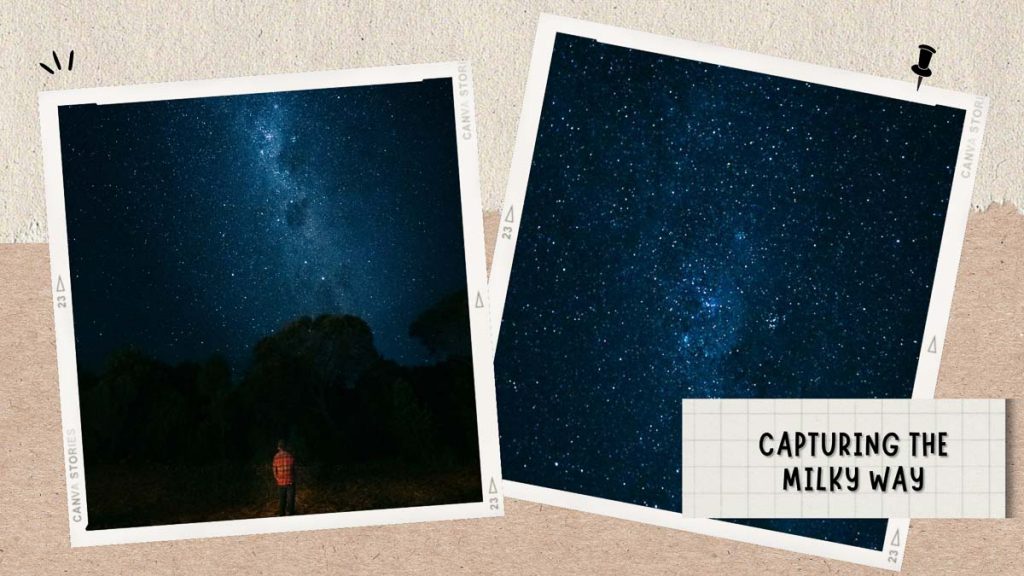 "Very little light pollution, making it a great place to shoot the stars and the Milky Way." – JP
"A core memory was instilled when I stayed out in the cold to capture a timelapse of the Milky Way for the first time :)" – Dan
The pictures above were taken right outside our apartment, literally a few metres from the front door. We even left a camera outside for a few hours to shoot a timelapse — it was remote and safe enough to do so!
"This place gives off the feeling like you are really disconnected." – Cedric
8) Beautiful and private sunrise by the beach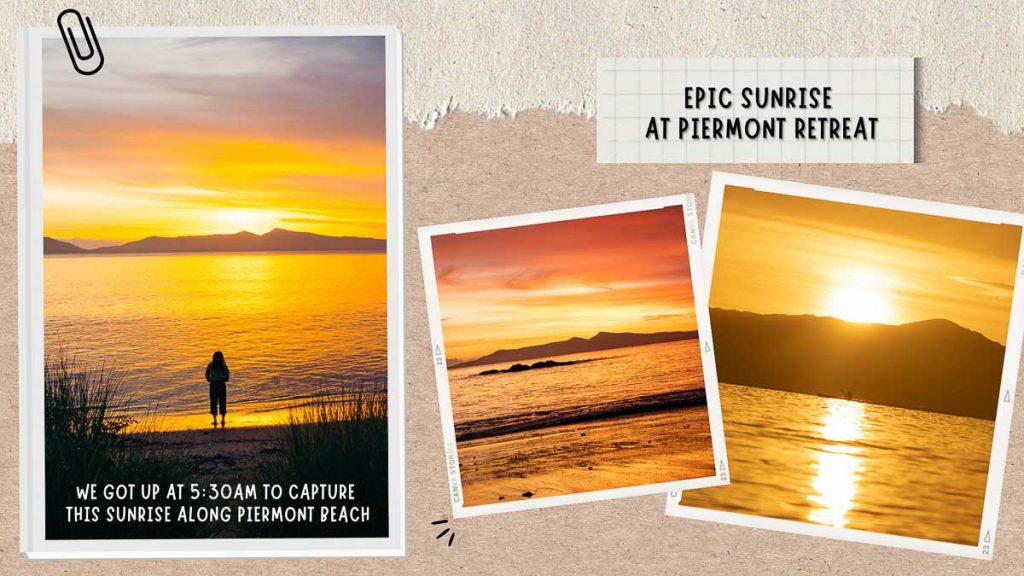 "Sunrise here was one of the best — my eyes only saw orange." – Cedric
A couple of hours after shooting the Milky Way, we were up to catch the sunrise. Life of content creators, ya know — we couldn't resist. Piermont Retreat sits along a private beach, facing Freycinet National Park and the Tasman Sea.
"There's lots of small birds around the area. We spotted a huge flock of Yellow-tailed black cockatoos." – JP
I love sunrises. Not many people wake up to watch the sunrise, so you get to enjoy a bit of calm before the day starts. It's like Mother Nature invited you to a private showing.
Read more about our experience at Swansea.
Tasman National Park
9) Spotting wildlife from a cruise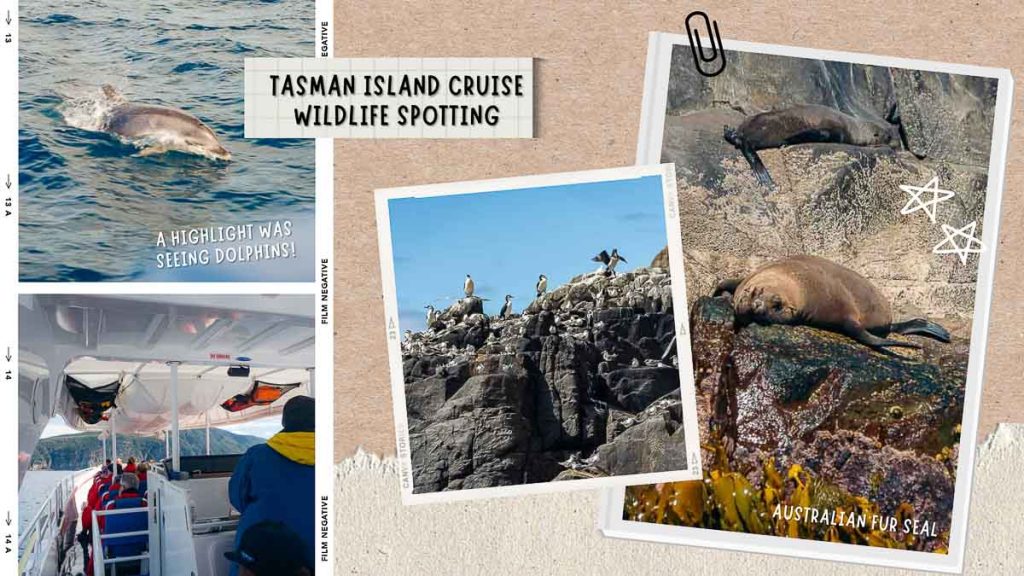 The Tasman Island Cruise was really enjoyable. The whole place just felt very much alive — seabirds hunting for a meal, fur seals chilling on the rocks, and dolphins playfully leaping out of the ocean.
"FREAKING SAW DOLPHINS. AND THE WATER WAS DAMN CLEAR. We could see the dolphin even when it was below the surface." – Cedric
I asked JP to identify the birds — because I had no idea what most of them were. JP: Silver gulls, Gannets, Albatross, Terns, Crested terns.
"I would love to come back during whale watching season, but it was still nice seeing the cliffs from an alternative angle (from the sea as opposed to on land)." – Cheryl
10) Checking out photo spots around the area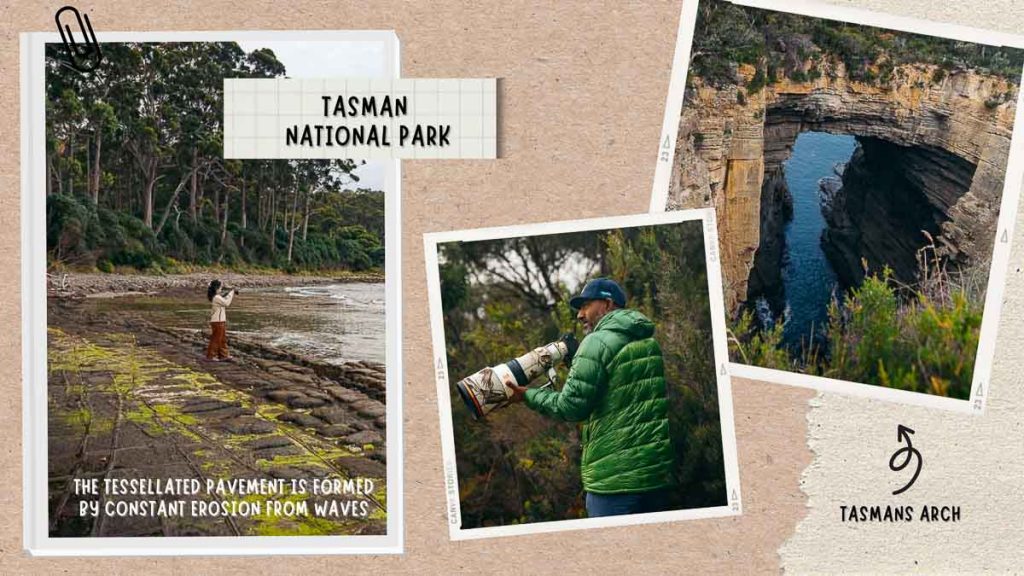 After the cruise, we checked out some landmarks around Tasman National Park. The weather wasn't the best, but the rain and clouds made the place more dramatic.
"The view from Tasmans Arch was beautiful. Great place to see nesting sea birds." – JP
"Best is the Tessellated Pavement for me, a dope place for sunrise and sunset." – Cedric
Read more about our experience at Tasman National Park.
Hobart
11) Meeting Tasmania's unique wildlife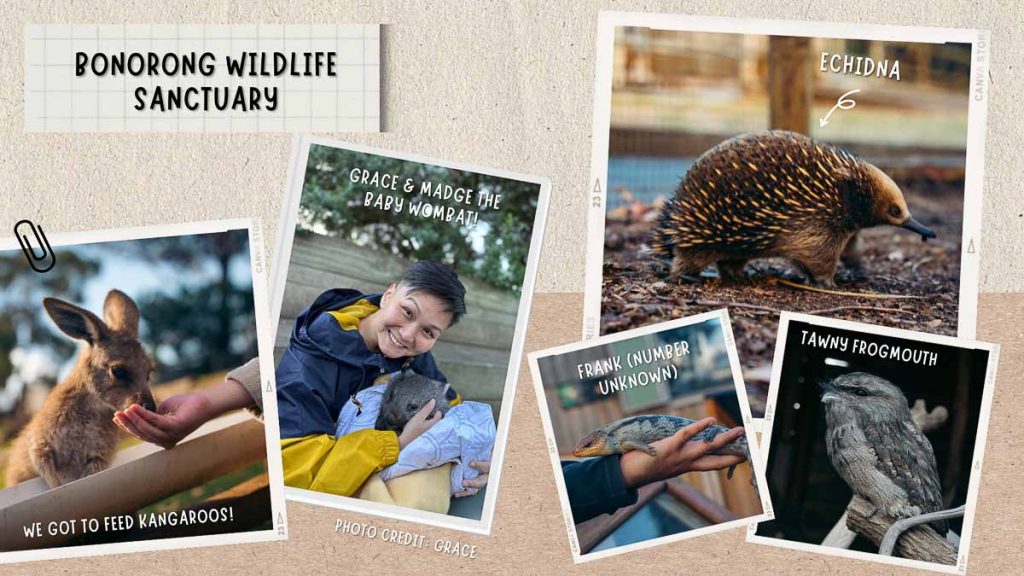 "O.M.G. Hands down my top highlight of the trip! Hard to choose a favourite lah, between the kangaroos and the furry potato baby wombat and the Tamagotchi Echidna" – Cheryl
Yes, the Echidna is named Tamagotchi.
"The Blue-tongued skink is one of my favourite species. I learned that they use the blue tongue as a defence mechanism to scare predators. Also met some really passionate people who care for wildlife. Overall, it was great to get insights into the conservation efforts of the local species on the island." – JP
Our guide shared something that made us all laugh — apparently, their Blue-tongued skinks can't be differentiated as they look almost identical — so they're named Frank 1, Frank 2.. and there are currently 13 Franks at Bonorong. 😂
12) Soaking in Hobart's charm by the pier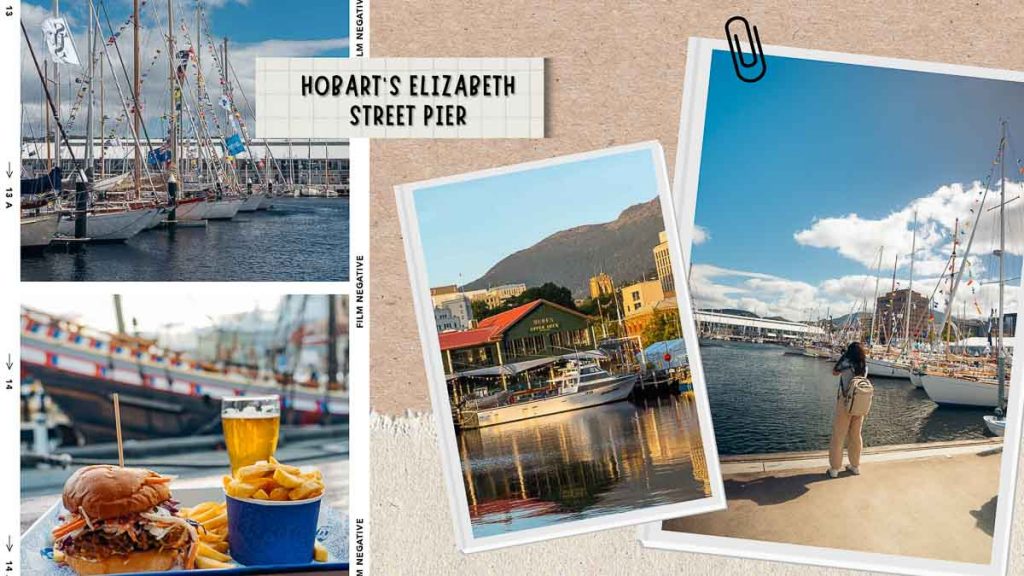 "Love the architecture and the old colonial feel to this place. Beautiful cafes with great, fresh seafood. Enjoyed the sunrise at the harbour front and walking around this beautiful town." – JP
Hobart is like a charming city straight out of a movie. We were lucky to be there during the Australian Wooden Boat Festival so the atmosphere was extra lively!
"I feel like there was a lot more to Hobart we didn't get to explore. Also, of all the oysters we ate throughout the entirety of the trip, the ones at Hobart were the freshest!" – Cheryl
There were all these classic big ships with colourful flags docked at the pier, and we had an awesome view of the fighter jet fly-by performance from Mures Upper Deck during lunch.
Read more about our experience in Hobart.
Bay of Fires
13) Binalong Bay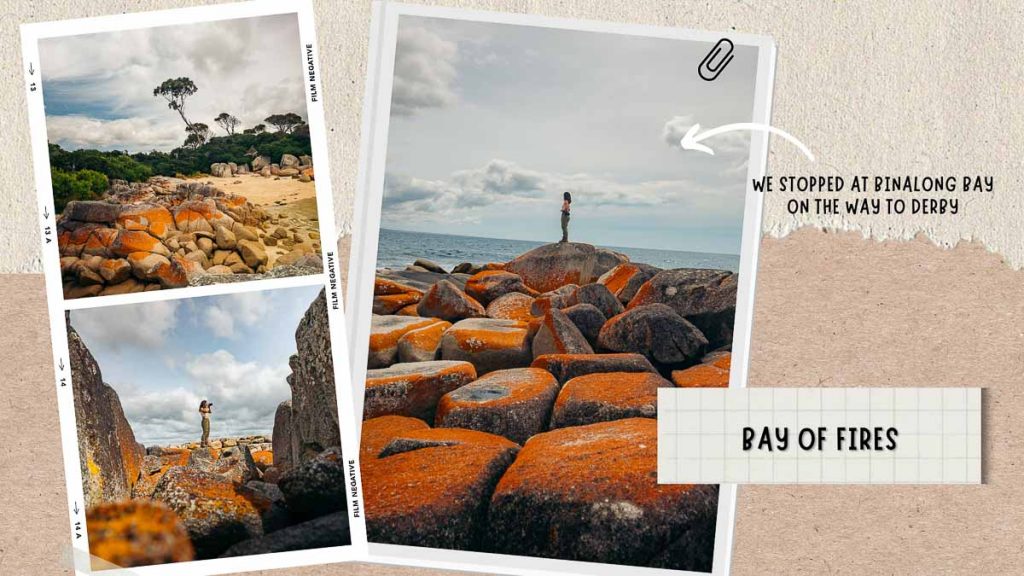 "Very unique landscape with the brown and orange boulders and stones. Definitely an Instagram-worthy place 😀. Also lots of seabirds around the area. Good location to create unique images." – JP
We visited Binalong Bay along the way to Derby. It's only a small section of the Bay of Fires — which I wished we had more time to cover. Still, it was fun exploring the area and trying to find the best angles for photos!
Read more about our experience at the Bay of Fires.
Discover Tasmania Through Your Own Lens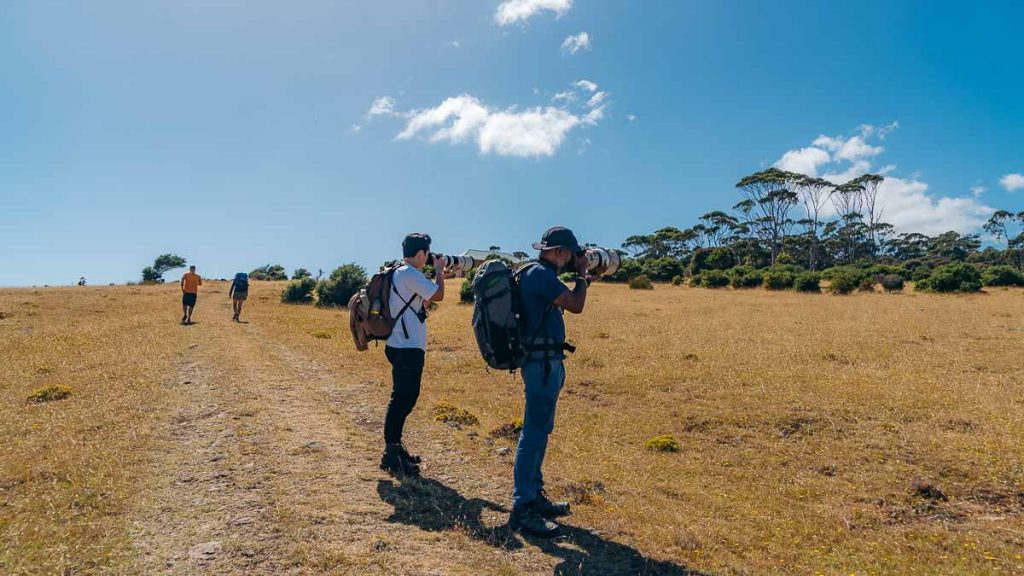 Maria Island.
I asked everyone how they felt about Tasmania and I got pretty much the same response: "I'll be back".
"It was a perfect wilderness getaway for me. Love the countryside, capturing stunning landscapes, sunrise, sunsets, and wildlife. The weather is amazing and to top it off, the amazing food everywhere." – JP
"I FELL IN LOVE WITH TASMANIA AND I WANNA GO BACK." – Cedric
Tasmania is a great escape for those who love nature, wildlife, and adventure. During our road trip, it felt easy to stay disconnected and enjoy a break from our usual routines and responsibilities back home.
Possibly our favourite sunrise of the trip, taken at Derby.
"I knew Tasmania was beautiful, but wow the extent of its beauty really blew me away, I really really did not expect that. It was the break I needed from the hustle of owning a business and the bustle of living in the city." – Grace
"I love Tasmania and all that it has to offer. I feel like the people in Tasmania have a deeper appreciation for living this one life we've got and they sure know how to live it really well." – Dan
There are certain places that leave you wanting more — Tasmania is one of them. It really is no exaggeration to say that this island state is something straight out of a movie.
Inspired to go on your own Tasmania road trip? Check out our 10D Tasmania Road Trip Itinerary!
---
This post was brought to you by Tourism Tasmania.