Trust us, Tasmania is the next go-to road trip destination — and it's only a matter of time before the rest of the world finds out.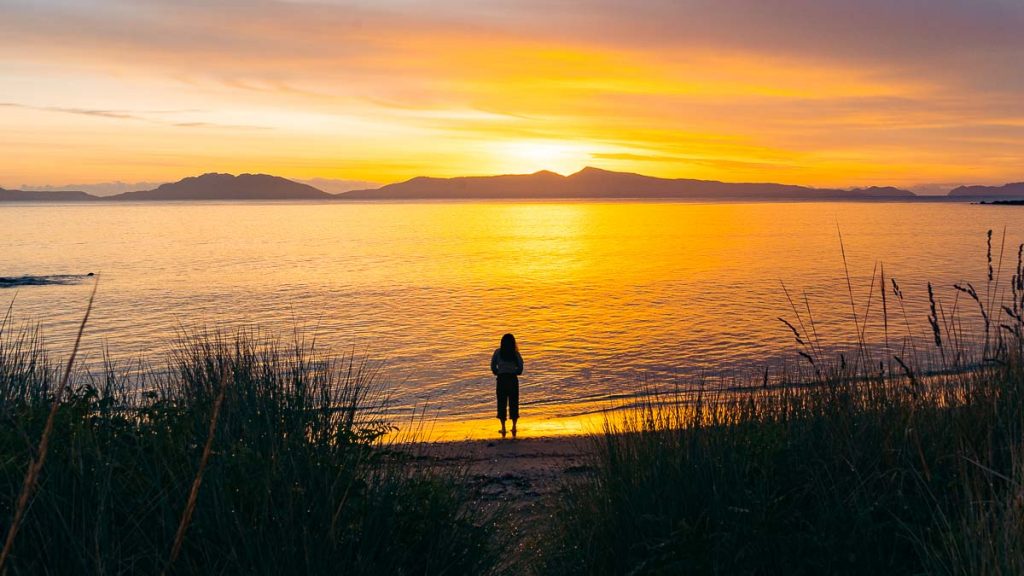 Sunrise at Piermont Retreat, Swansea.
As someone who loves nature and wildlife, I knew I'd enjoy road tripping around Tasmania. What I didn't expect was how easy it would be to fall in love with this under-the-radar island state.
The word I'd use to describe Tasmania is colourful.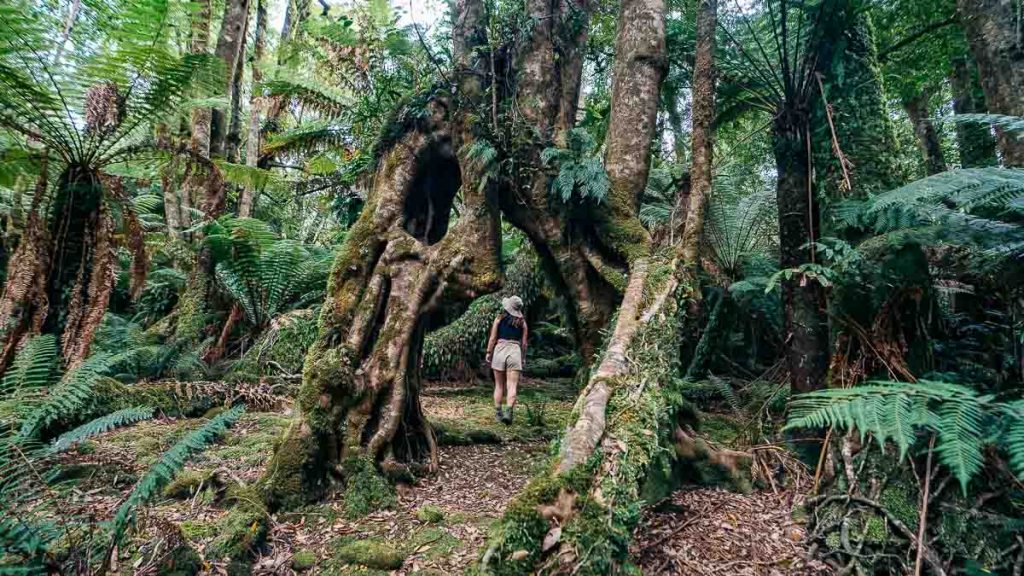 Blue Tier Giant Walk, Derby.
There's the gorgeous sunrises each morning; a vibrant mix of orange and pink hues. Then there's the whimsical, calming greens of the forests — home to trees that are hundreds of years old. And of course, the deep azure blues that colour the oceans and skies.
Wild wombat, Maria Island.
The wildlife that inhabits these lands is also pretty incredible. Tasmania is home to several species found nowhere else in the world — like the Tasmanian devil and the Tasmanian pademelon!
Intrigued? We've put together this 10-day Tasmania itinerary for the ultimate Tassie road trip!
Tasmania Itinerary Road Trip Overview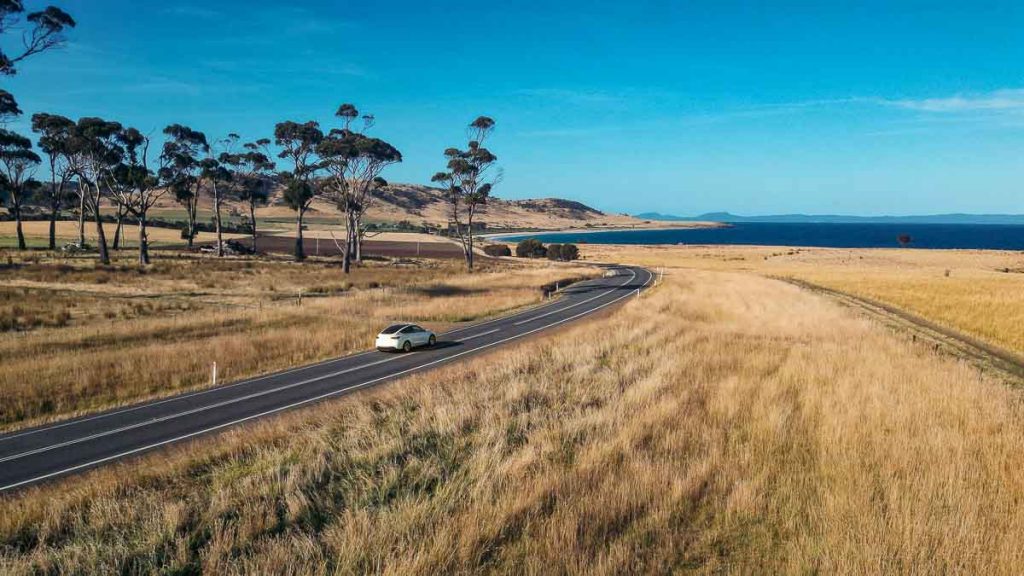 Our Tasmania itinerary focuses on the eastern side of the island — starting from Hobart in the south and ending at Launceston in the north.
Click to jump to each section.
Day 1: Hobart
Day 2: Tasman National Park
Day 3: Maria Island
Day 4: Freycinet National Park
Day 5: Bay of Fires
Day 6-7: Derby
Day 8: Derby to Launceston
Day 9: Cradle Mountain-Lake St Clair National Park
Day 10: Launceston and Flight Home
More information: Flights to Tasmania | Planning Tips and Pre-trip Essentials
We flew via Qantas into Hobart Airport in Tasmania after transiting in Melbourne — more flight information at the end!
Day 1: Hobart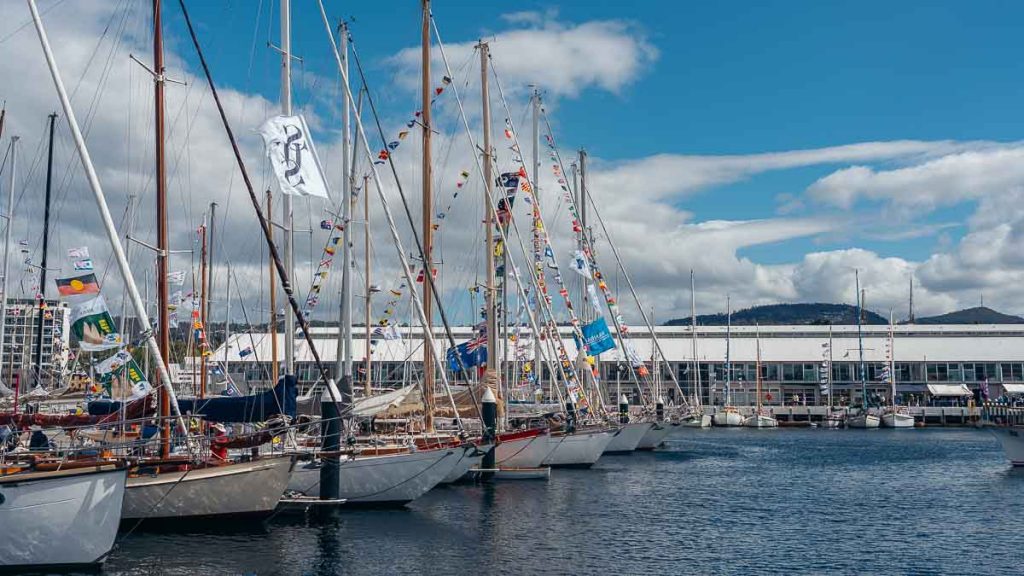 Hobart is Tasmania's endearing seaside capital and the first stop on our Tasmania itinerary! It's Australia's second-oldest city, home to almost half of Tasmania's population.
This city is known for a rich culinary scene (especially seafood), the beautiful Mount Wellington and just all-round good vibes.
Lunch at Billy's Burgers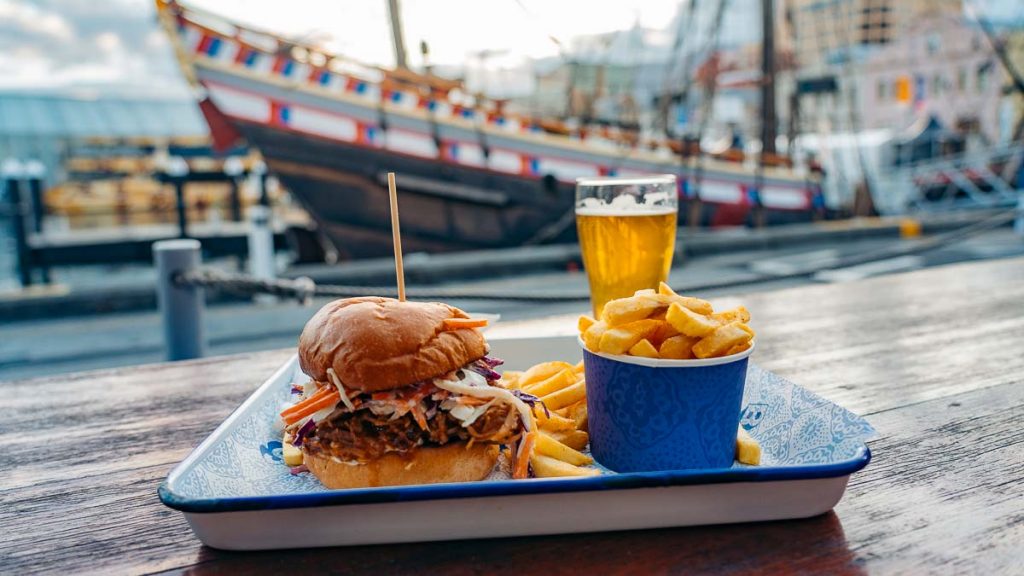 Billy's Burgers had humble beginnings as a food van, and is now a popular establishment among locals. It's situated in a prime spot along Elizabeth Street Pier — perfect for people-watching.
I had a Sticky Pulled Pork Burger (AU$17) which came packed with slow cooked pulled pork and slaw, hoisin marinade and apple sauce. Plus a Billy's Brew tap beer to wash it all down!
Cost: From AU$11.50/burger (~S$10.60)
Opening hours: 11AM – 9PM (Mon – Sat), 11:30AM – 9PM (Sun)
Address: Elizabeth St Pier, Hobart, Tasmania 7000
Bonorong Wildlife Sanctuary
Hobart to Bonorong Wildlife Sanctuary: 30min drive (29km)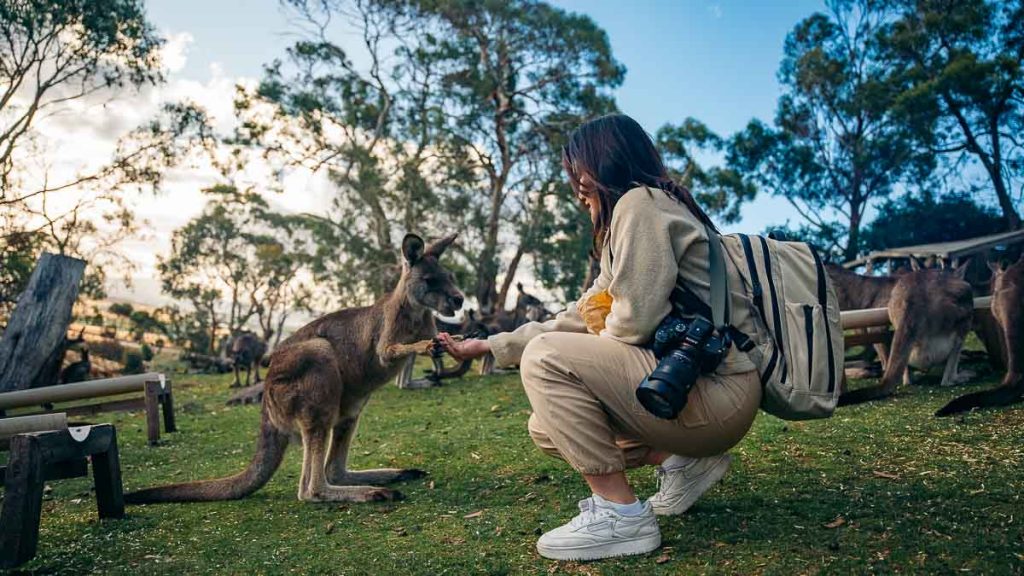 Tasmania is home to unique wildlife like Tasmanian devils, wombats and sugar gliders! We got to meet some of these animals at Bonorong Wildlife Sanctuary — Tasmania's largest 24/7 rescue service, where the goal is to release the animals back into the wild.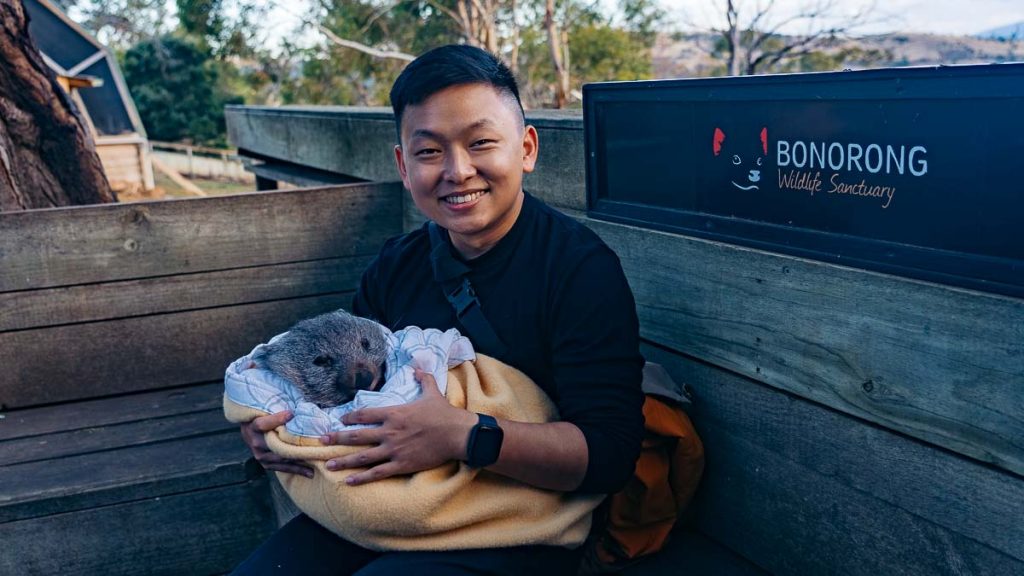 This is Madge, a rescued baby wombat. We love Madge.
We joined a daily tour (included in the entry fee), where our guide Miguel shared about Bonorong's furry residents. It was fascinating to learn about Tasmania's wildlife — did you know wombats can run up to 40km/hr? That's almost as fast as Usain Bolt!
Psst. Bonorong offers Animal Encounters (AU$25/pax) where guests can enjoy a more intimate experience with their favourite critters — like what we did with Madge.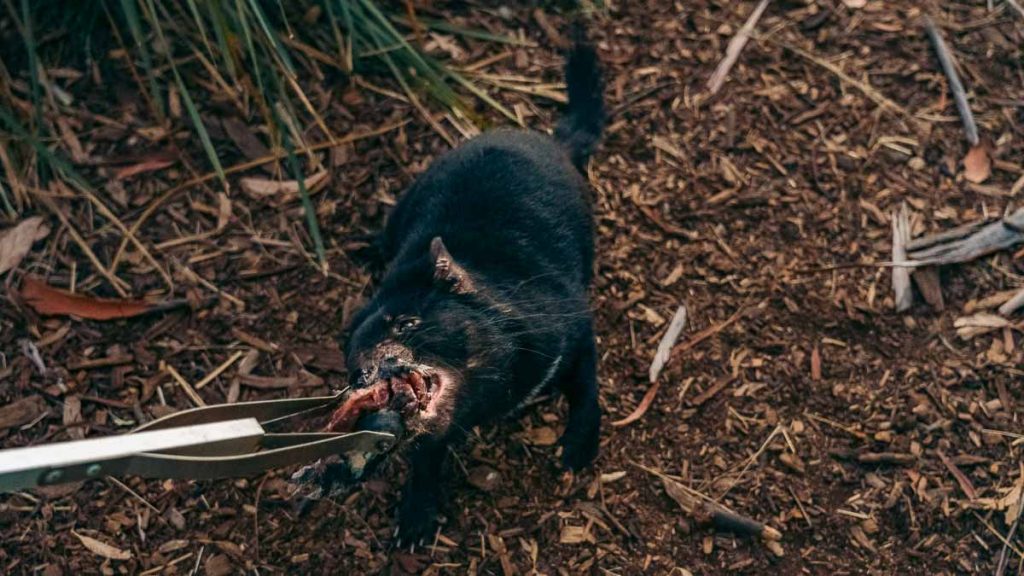 We also learnt about Bonorong's rescue and rehabilitation efforts, while watching the animals being fed!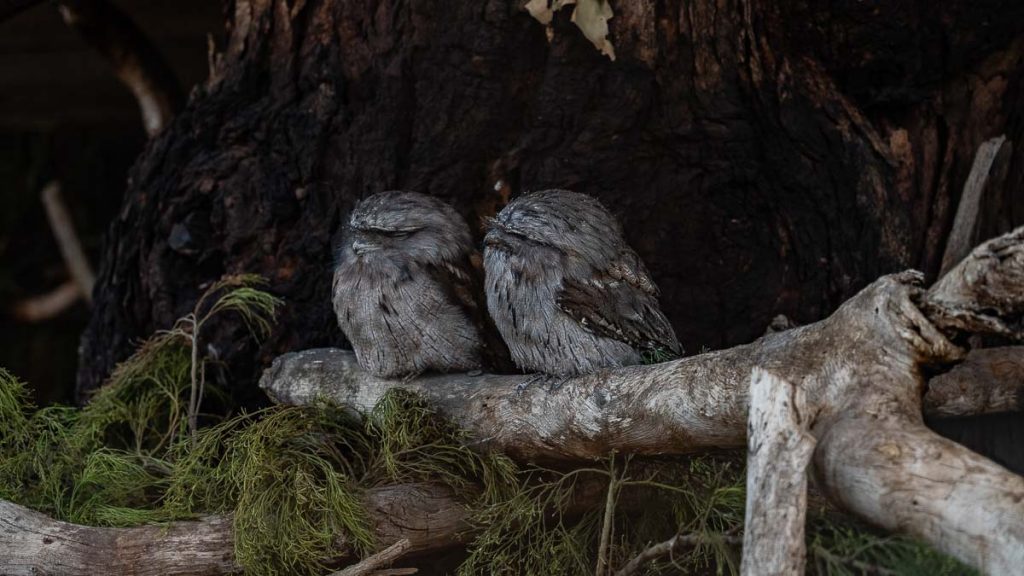 Bonorong Wildlife Sanctuary is fully funded by entry fees and donations, so visiting plays a part in local animal conservation!
Entrance fee: AU$32.50 (~S$30) — Experiences like Animal Encounters and Feeding Frenzy are available at additional cost
Opening hours: 9AM – 5PM (Night tours are available after 5PM)
Address: 593 Briggs Rd, Brighton Tasmania 7030
kunanyi/Mount Wellington
Bonorong Wildlife Sanctuary to kunanyi/Mount Wellington: 51min drive (44km)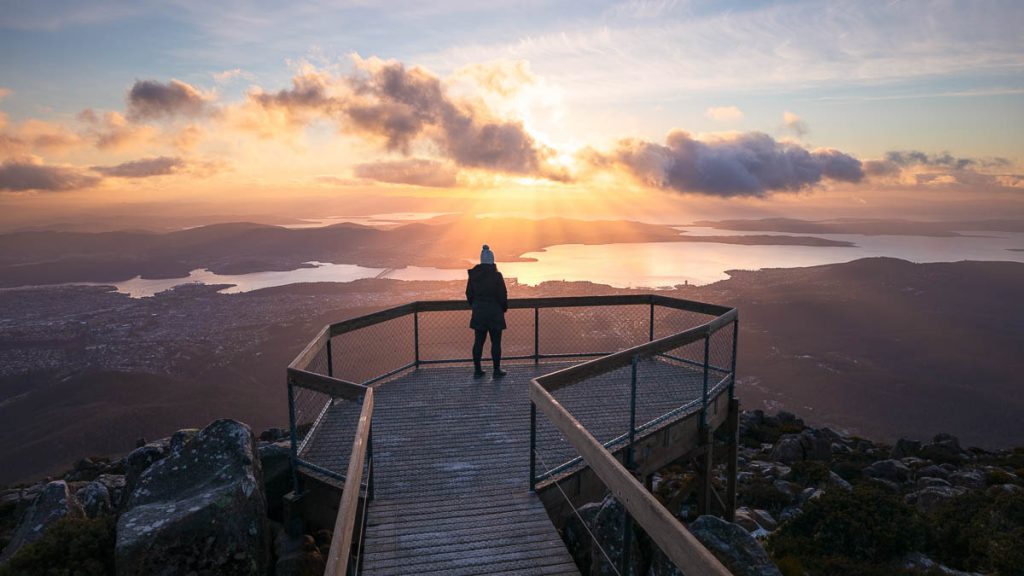 Photo credit: Tourism Australia
Overlooking Tasmania's capital city of Hobart is the 1,271m-tall kunanyi/Mount Wellington. This iconic peak is easily accessed from the city centre via a short 30-minute drive.
There are plenty of trails available such as the Organ Pipes Track, an easy 2.5km walk that showcases the dolerite cliffs. If time permits, visit during golden hour and watch the sunset from the top!
Entrance fee: Free
Opening hours: 24 hours
Address: kunanyi/Mount Wellington, Wellington Park, Tasmania 7054
Dinner at Mures
Mount Wellington to Hobart: 30min drive (17km)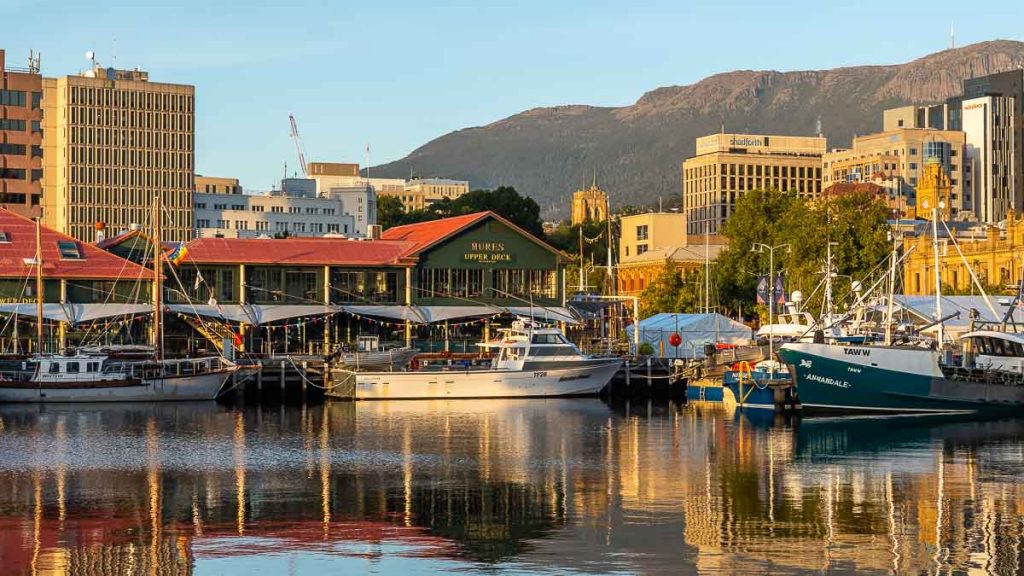 Mures is a third-generation family business that's all about seafood. It started as a fish house in 1973 and grew to become a household name in Hobart. Mures is now the go-to place to buy and eat fresh seafood — at any of its three seafood restaurants along the city's waterfront!
On the ground floor sits Mures Lower Deck. It's for casual bistro dining; diners can get anything from seafood platters to 32 flavours of ice cream! Locals also purchase seafood from fishmongers here.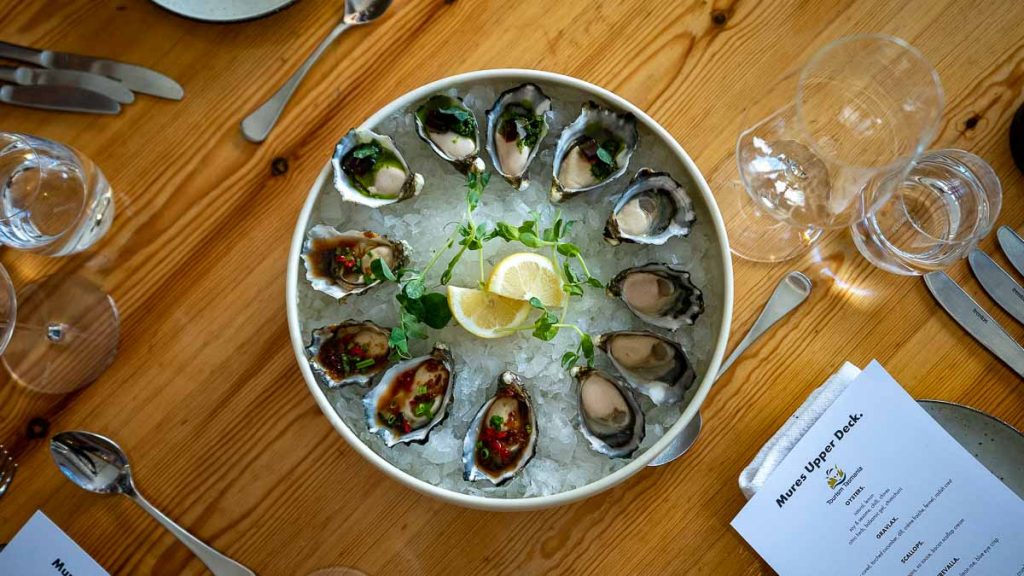 Then there's Mures Upper Deck, a renowned seafood restaurant overlooking Victoria Dock.
Everything we ate was fantastic, but my favourite was the oysters. We had a dozen Tasmanian Pacific Oysters (AU$52) with different seasonings — including a soy and chilli mix, and a citric herb with white balsamic gel.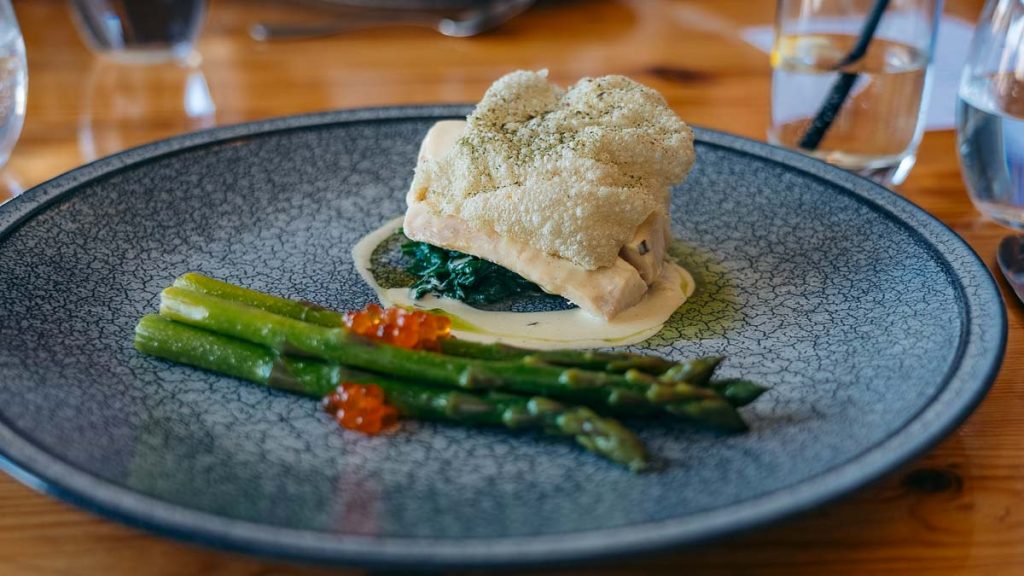 Their signature Mures Blue Eye Trevalla (AU$39) is also worth trying — the meat is nice and firm, and paired well with creamy lemon tarragon sauce.
Cost: From AU$19/main (~S$17.60)
Opening hours: 8AM – 9PM (Mures Lower Deck), 11AM – late (Mures Upper Deck)
Address: Victoria Dock, Hobart Tasmania 7000
Where to Stay in Hobart (2 nights)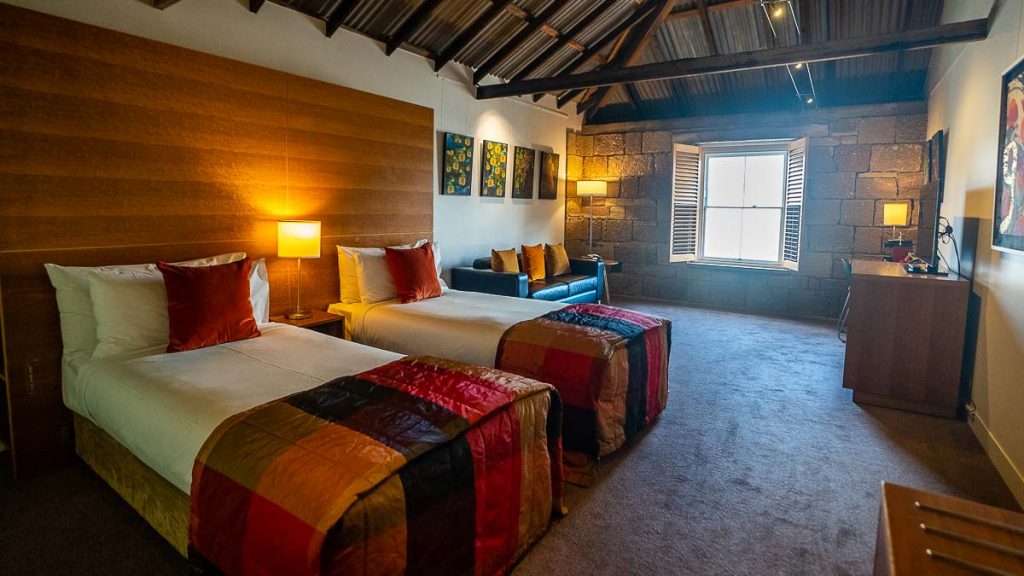 Henry Jones Art Hotel — conveniently located right across Victoria Dock and Mures.
Budget: Alabama Hotel Hobart (from ~S$91.50/night)
Mid-range: ibis Styles Hobart (from ~S$165/night)
Luxury: Henry Jones Art Hotel (from ~S$266.81/night)
Day 2: Tasman National Park
Tasman Island Cruise
Hobart to Tasman National Park: 1hr 30min drive (94km)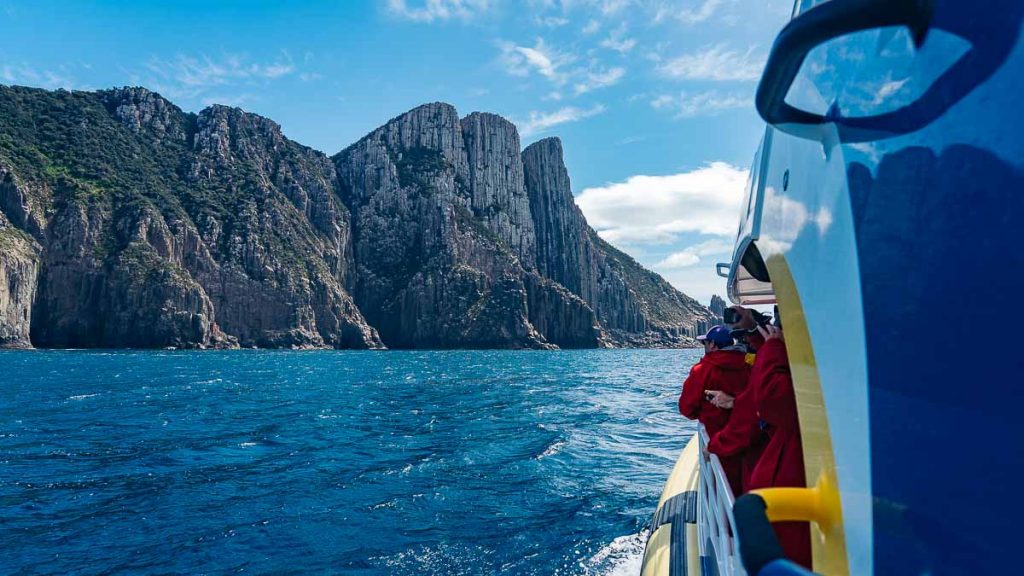 Tasman National Park covers the coast in southeastern Tasmania. The best way to see this national park is therefore by boat!
Pennicott Wilderness Journeys is a family-run cruise operator that offers excellent wilderness cruises around Tasmania. We experienced a three-hour Tasman Island cruise, which explores the coastline between Port Arthur and Eaglehawk Neck.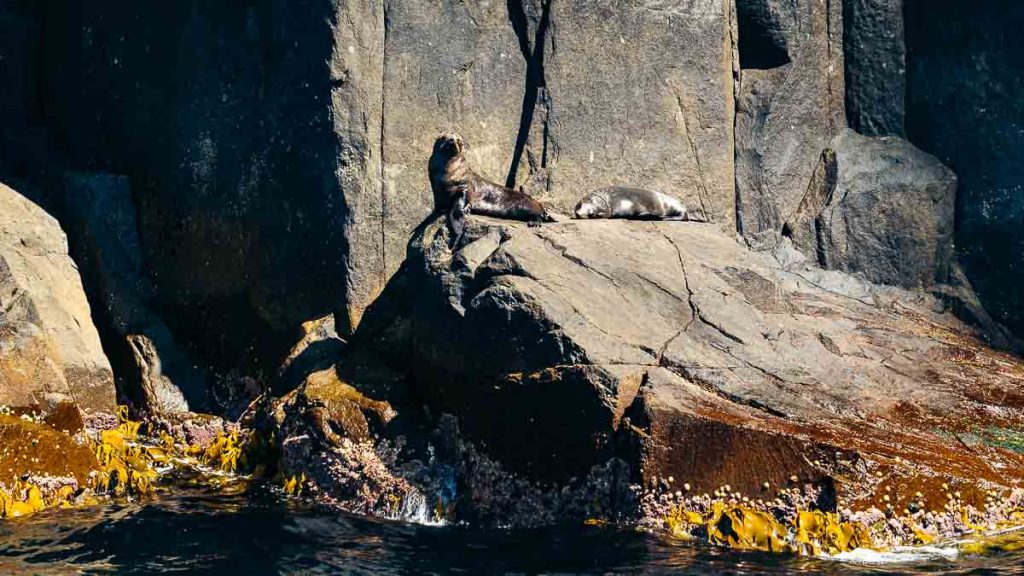 During the cruise, we got up close to several of Tasman National Park's wildlife. There were seals basking on the rocks, sea birds diving for fish, and dolphins playfully leaping out of the ocean.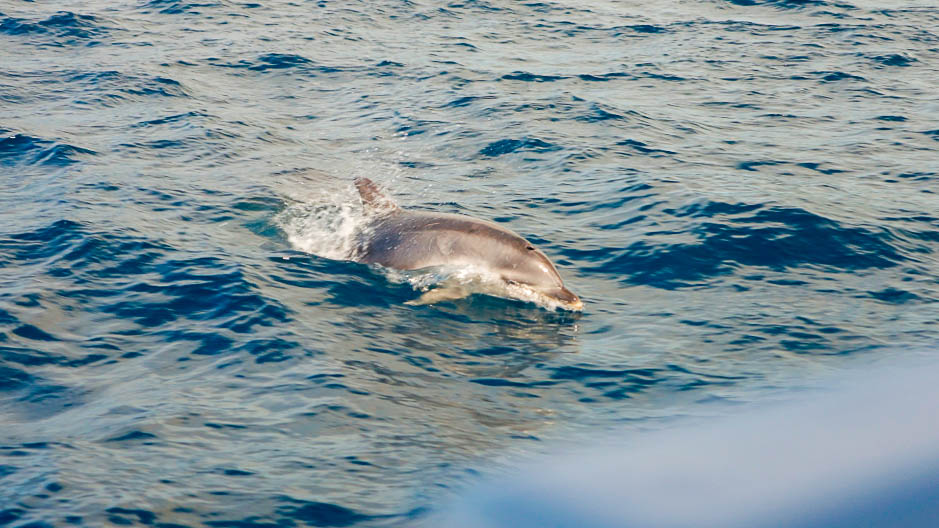 It wasn't the right season for whale spotting, but the area is frequented by migrating whales!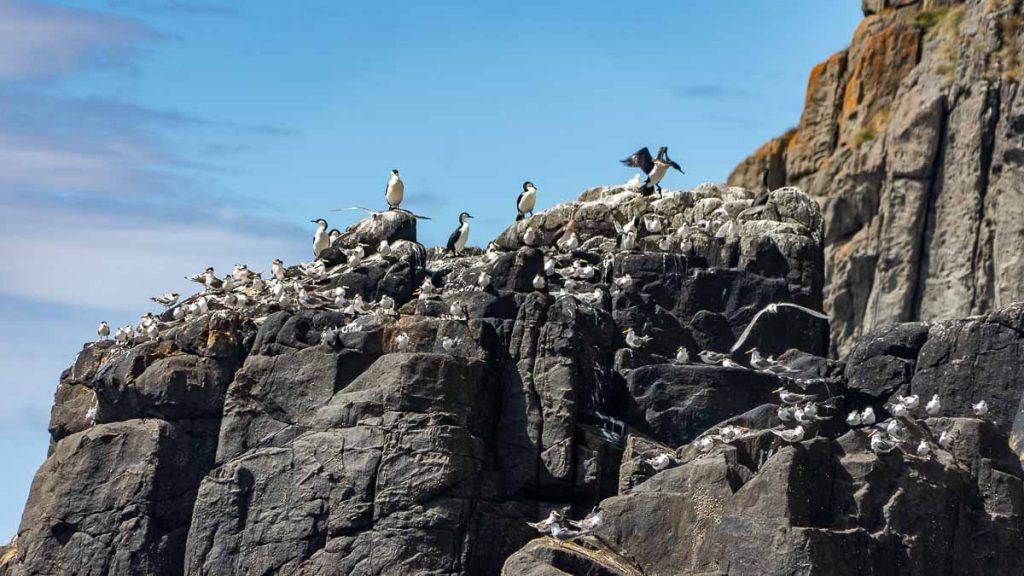 The tour also took us to the entrances of deep-sea caves and beautiful rock formations — including Australia's tallest cliffs (300m-high!). Our guide pointed out landmarks along the way, such as the Tasman Island Lighthouse and Cape Pillar.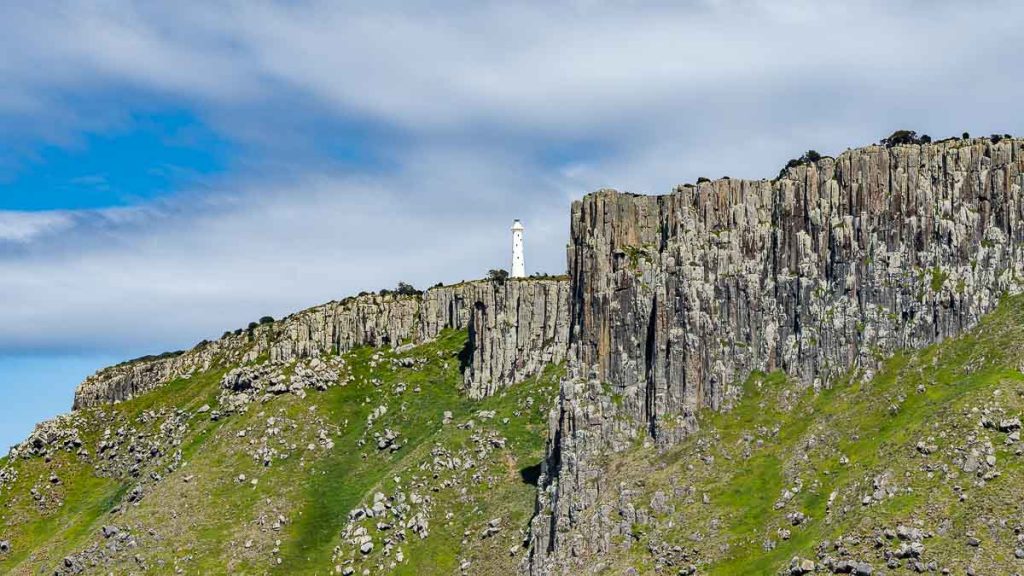 Tasman Island Cruise
Cost: AU$155 (~S$143) for a 3hr cruise
Tour timings: 10AM, 2PM
Address: Tasman Island Cruises Booking Centre (6961 Arthur Hwy, Port Arthur Tasmania 7182)
Lunch at Port Arthur Lavender Farm
Tasman Island Cruise to Port Arthur Lavender Farm: 5min drive (4km)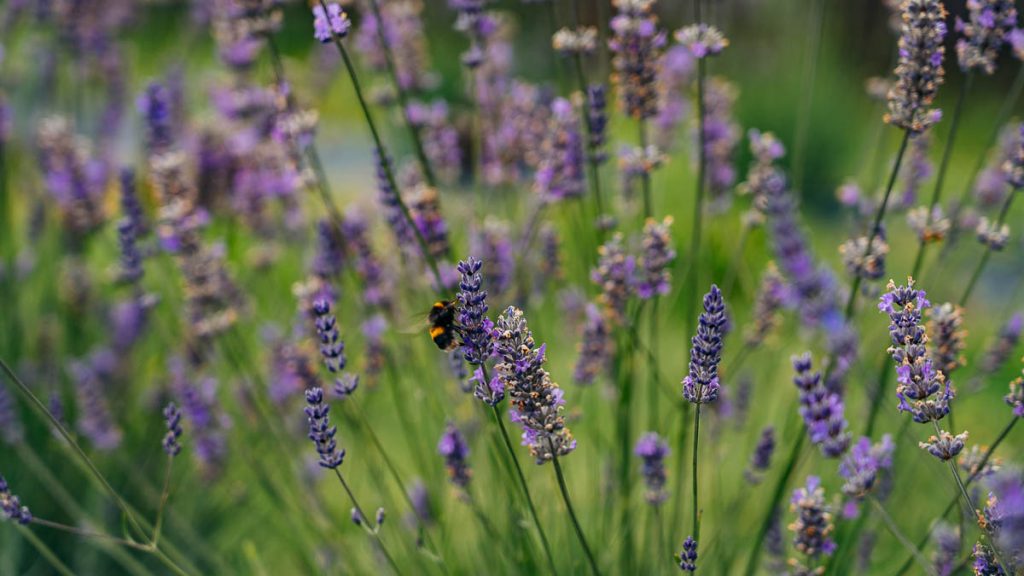 Drop by Port Arthur Lavender Farm for lunch and lots of lavender! They own 18 acres of land — growing and harvesting, and creating all sorts of lavender products from jewellery to tea to bath salts.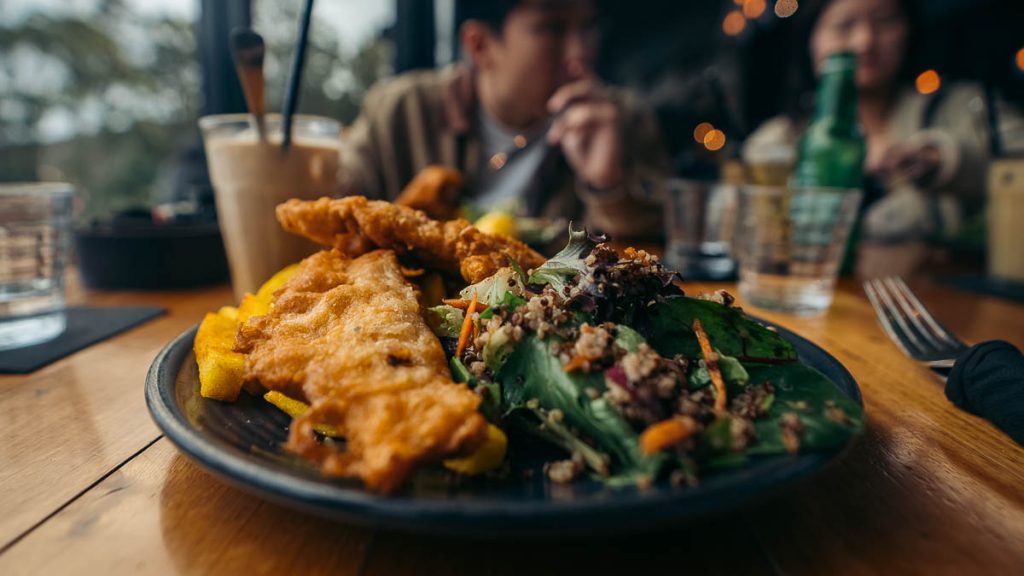 We dined at their onsite restaurant which offers panoramic views of Long Bay. We got the beer battered fish and chips (AU$32), Tasmanian scallops and chorizo skewers (AU$32) and lavender lattes (AU$5).
There's also a gift shop beside the restaurant, where you can purchase lavender products.
Cost: From AU$24/main (~S$22.20)
Opening hours: 10AM – 4PM
Address: 6555 Arthur Highway, Port Arthur, Tasmania 7182
Tessellated Pavement
Port Arthur Lavender Farm to Tessellated Pavement: 15min drive (16km)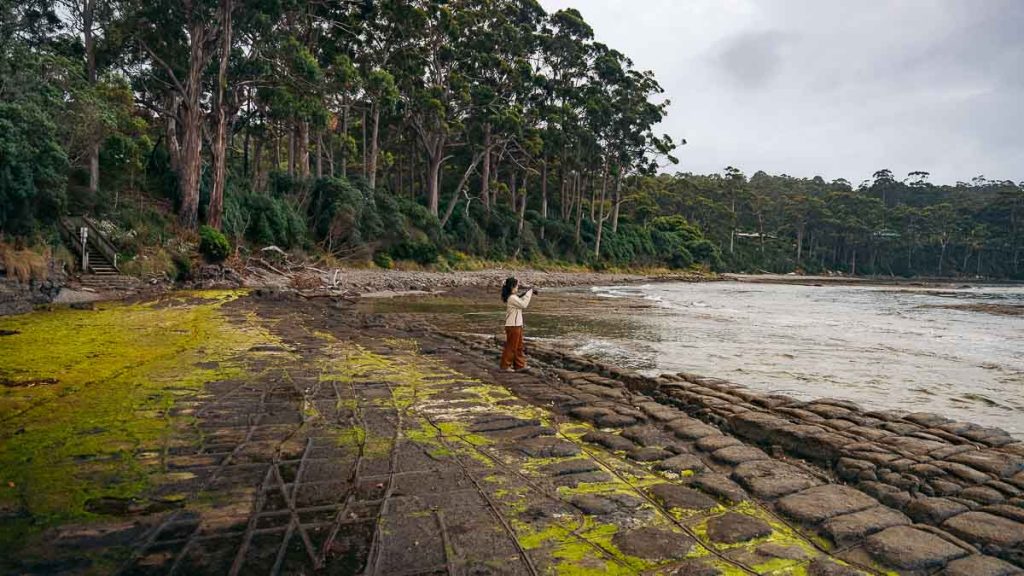 At first glance, the Tessellated Pavement looks too neat and manicured — like it's been carefully carved out by hand. But this rock formation was crafted by Mother Nature herself!
Earth's movements caused the rocks to fracture, resulting in joints. Constant erosion by the crashing waves deepened these joints and formed a tessellated pavement. It's a great spot for photography, especially when it's covered in water and there are beautiful reflections.
Entrance fee: Free
Opening hours: 24 hours
Address: 380 Pirates Bay Dr, Eaglehawk Neck Tasmania 7179
Tasmans Arch
Tessellated Pavement to Tasmans Arch: 8min drive (5km)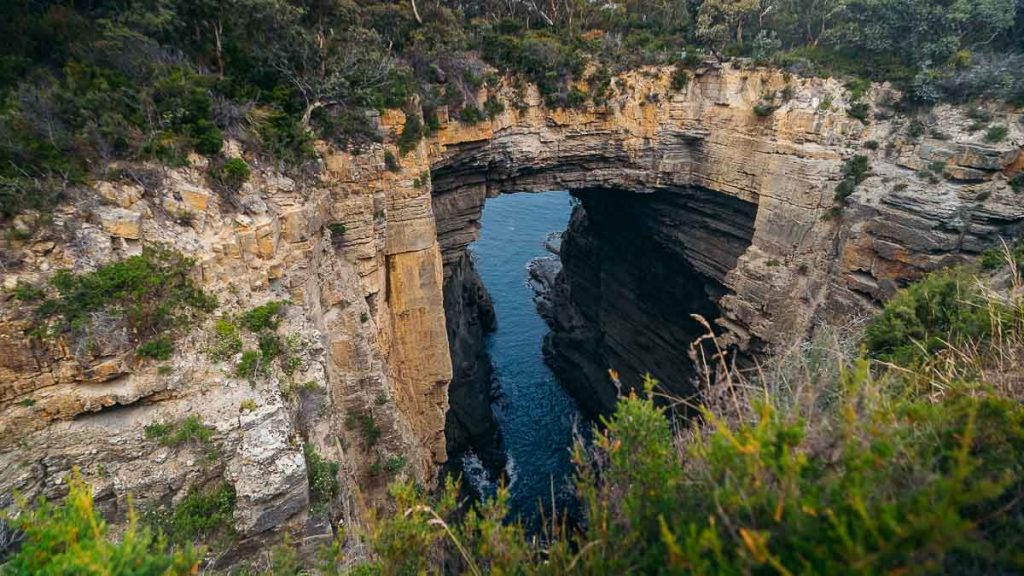 A short drive from the Tessellated Pavement stands the Tasmans Arch. It's a bridge-like rock formation, created by constant erosion from the Tasman Sea. The name might ring a bell — it's named after Abel Tasman, the first known European explorer to reach Tasmania!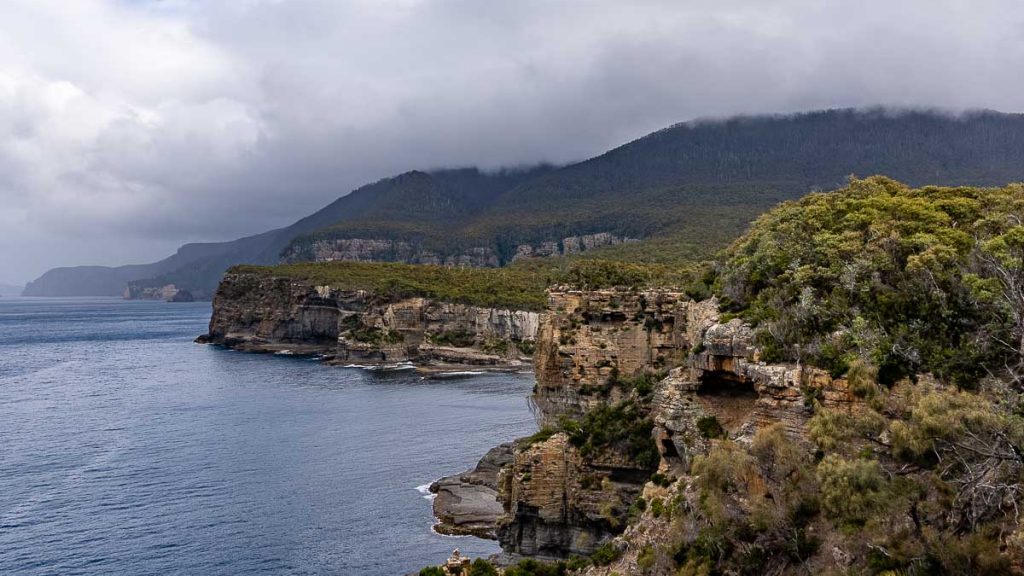 Check out the nearby Fossil Bay Lookout and Devil's Kitchen while you're there — both a short walk from the Tasmans Arch.
Entrance fee: Free
Opening hours: 24 hours
Address: 16/20 Tasmans Arch Rd, Eaglehawk Neck, Tasmania 7179
After spending the day exploring Tasman National Park, drive back to Hobart to stay a second night.
Tasmans Arch to Hobart: 1hr 15min drive (80km)
Day 3: Maria Island
Hobart to Triabunna Ferry Terminal: 1hr 15min drive (85km)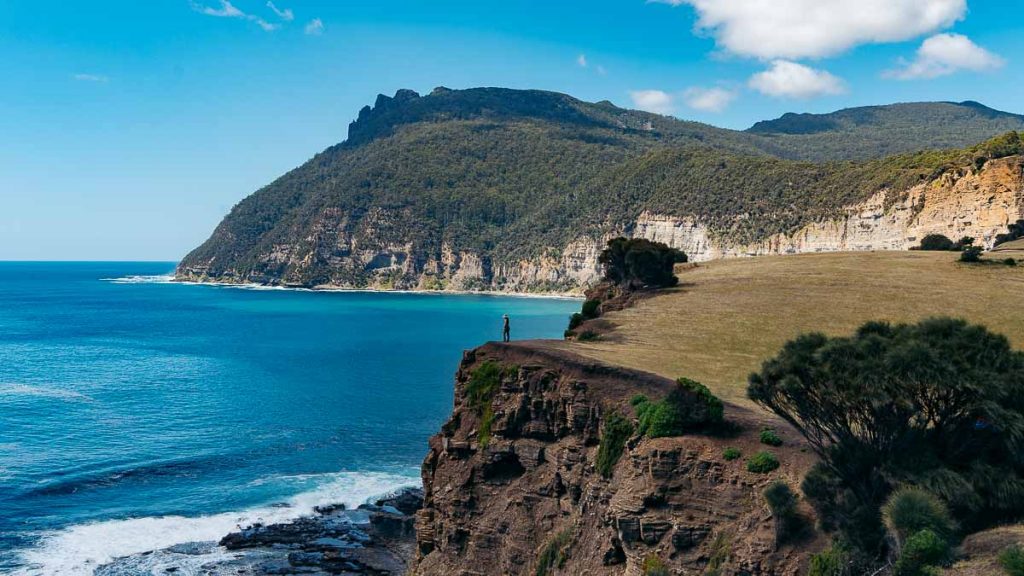 A beautiful island with a rich history, Maria Island wore many hats in the past. She was a penal settlement in the 1820s, an agricultural station in the 1850s and was eventually declared a national park in 1971.
We visited Maria Island just for a day trip, enough for a taste of this stunning park. To cover the entire island though, will take around four days — it's almost 12 times the size of Pulau Ubin!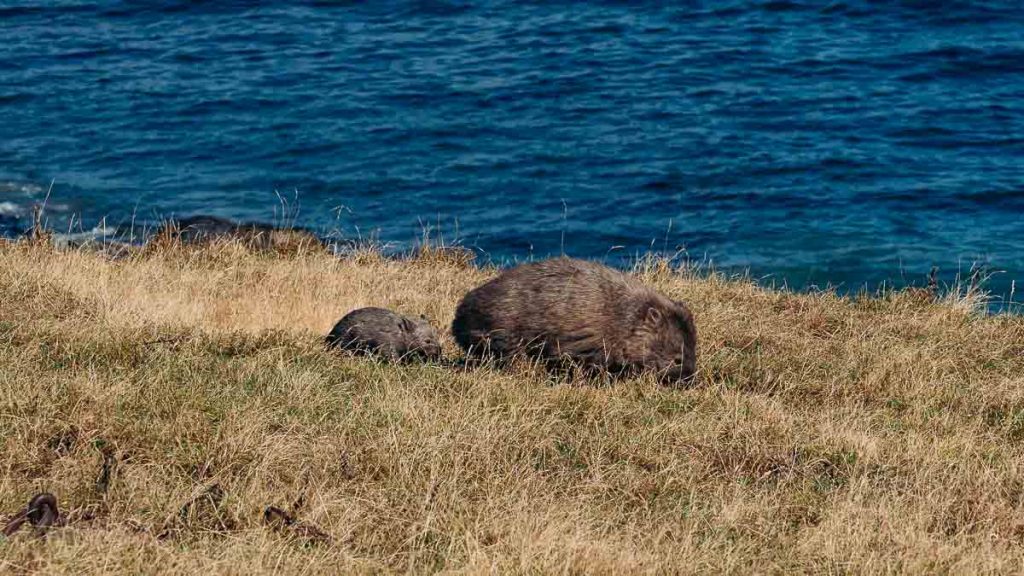 The first thing you'll notice about Maria Island is her abundant wildlife. It's home to more than 2,000 wombats, easily spotted on cooler days. We were lucky enough to spot a mother and baby just 10 minutes into our walk!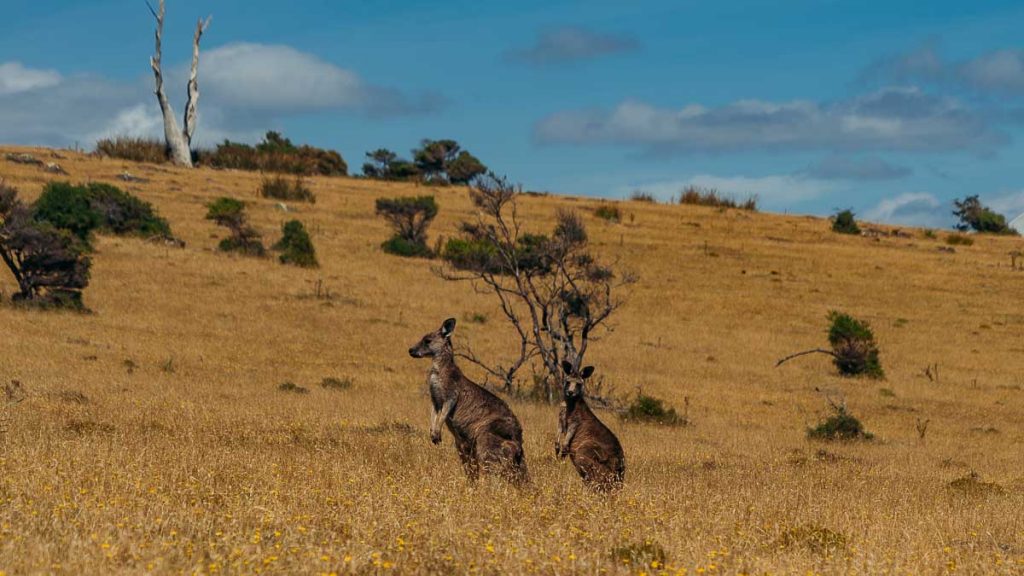 Maria Island is also home to kangaroos, wallabies, Tasmanian devils and a wide range of bird life (including all of Tasmania's endemic species!).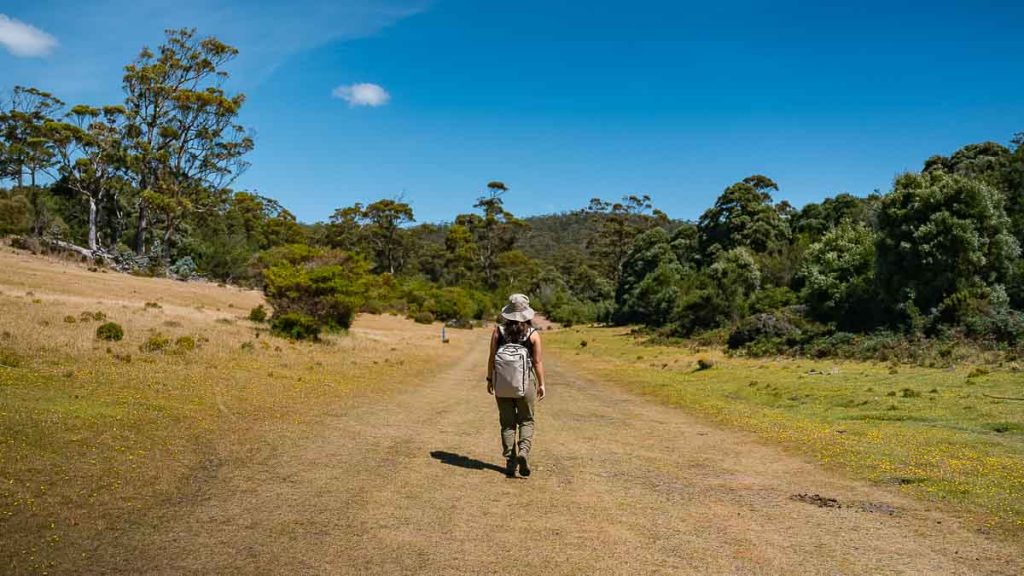 If you're there for a day trip, there are several short walks like the Painted Cliffs (2hrs, 4.3km) and Bishop and Clerk (5hrs, 11km). For those with more time to spare, there's the Maria Island 4-Day Walk — which covers most of the island.
Besides hiking, you can rent bikes at Darlington or go snorkelling!
*Pro-tip: There aren't any shops on Maria Island. Pack your own lunch, water (there's no potable water) and snacks!
Cost: AU$52/pax (~S$48.10) for a round trip ferry ride. As Maria Island is a National Park, all visitors require a valid National Parks Pass (AU$20.60/pax)
Ferry timings: Four times daily — Check the schedule for exact timings
Address: Triabunna Ferry Terminal (Charles St, Triabunna, Tasmania 7190)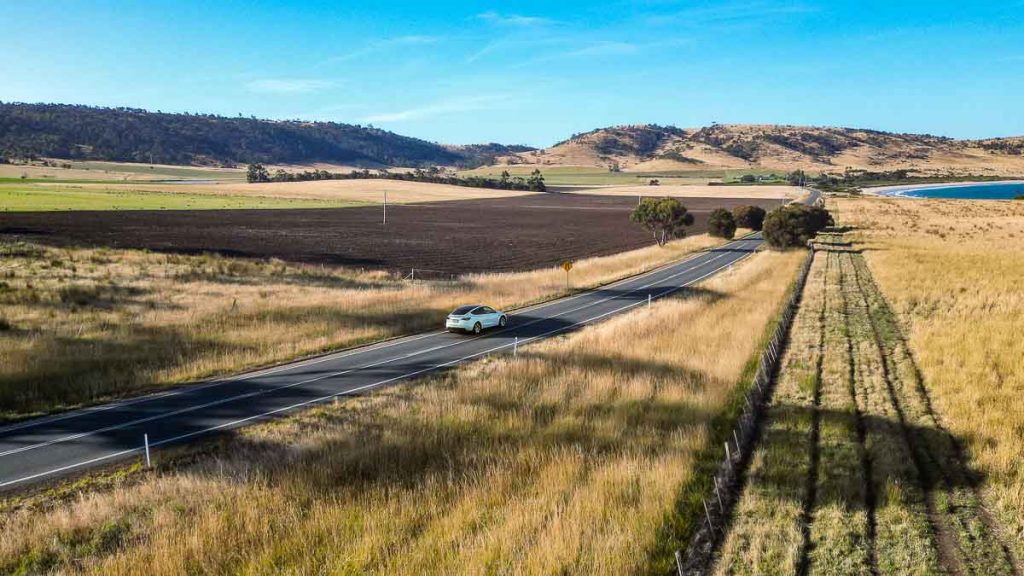 Triabunna Ferry Terminal to Coles Bay: 1hr 30min drive (109km)
Go Stargazing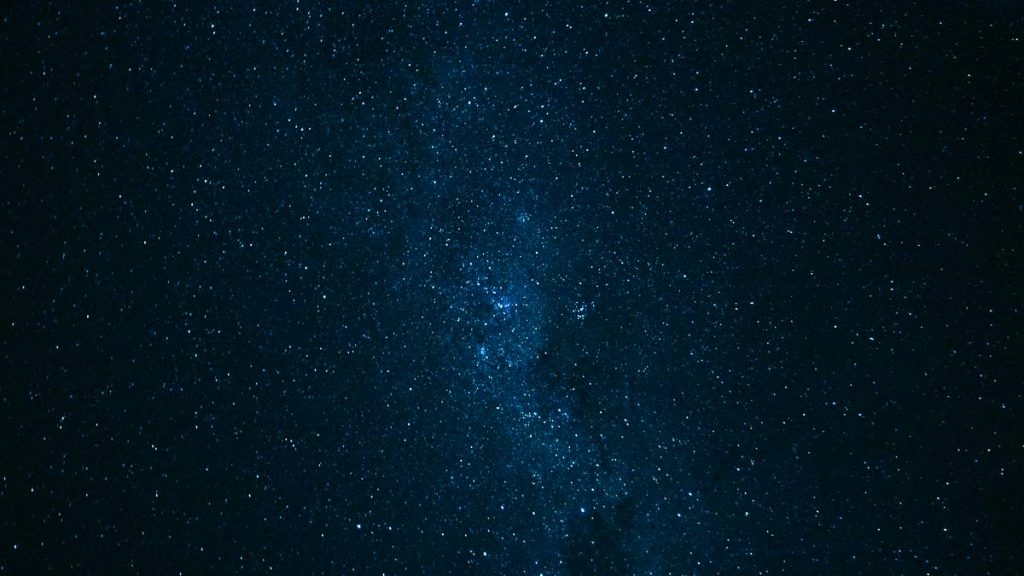 Drive on to Swansea or Coles Bay, where you'll spend the night before exploring Freycinet National Park the next day. Coles Bay is the closest town to Freycinet National Park, but it's small. Consider some of the other accommodation options in Swansea as well!
These areas are more remote and less light pollution means a clearer Milky Way. This was our view at night from Piermont Resort in Swansea. 😍
Where to Stay in Swansea or Coles Bay (2 nights)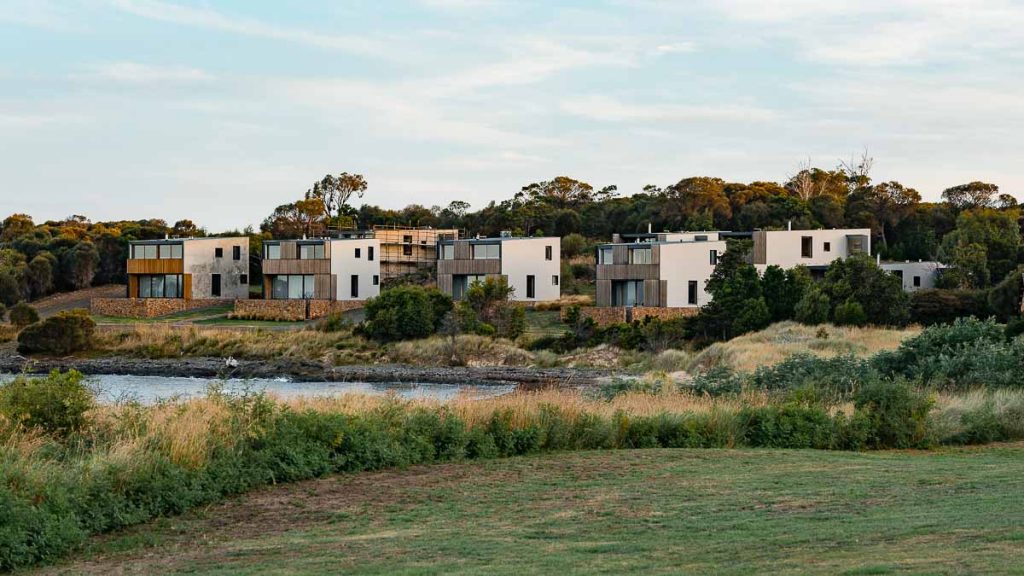 Piermont Retreat. We had an amazing stay here, catching the Milky Way at night and a gorgeous sunrise the next morning. Treat yourself and add this to your Tasmania itinerary!
Budget: Swansea Backpackers (from ~S$82/night)
Mid-range: BIG4 Iluka on Freycinet (from ~S$170/night)
Luxury: Piermont Retreat (from ~S$426/night) — minimum two nights
Day 4: Freycinet National Park
Coles Bay to Freycinet National Park: 9min drive (4km)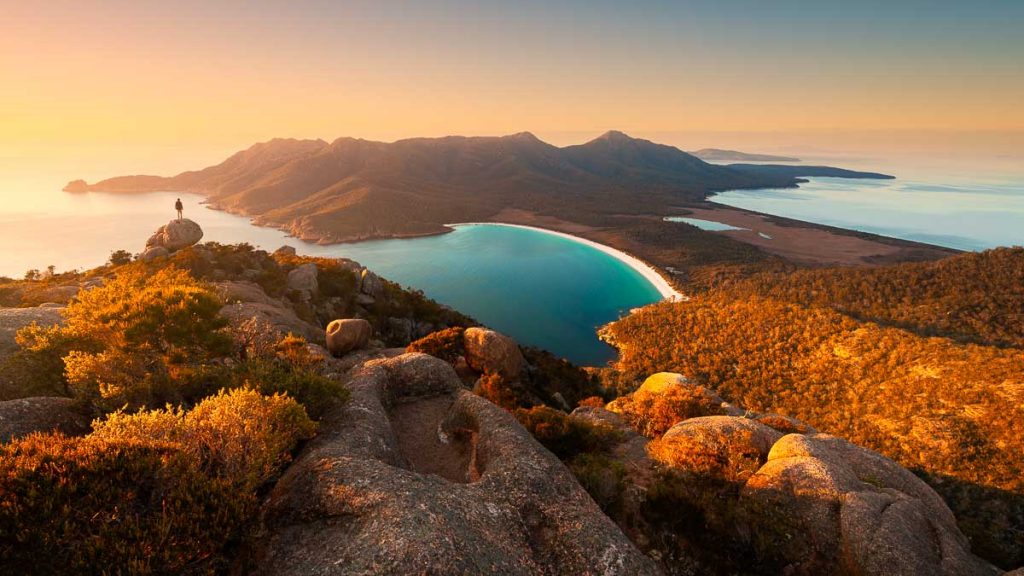 Photo credit: Matthew Donovan
Your Tasmania itinerary won't be complete without a trip to Freycinet National Park. Established in 1916, it's one of Tasmania's oldest national parks. The main attraction is Wineglass Bay, a beautiful curved beach framed by The Hazards (a line of granite peaks).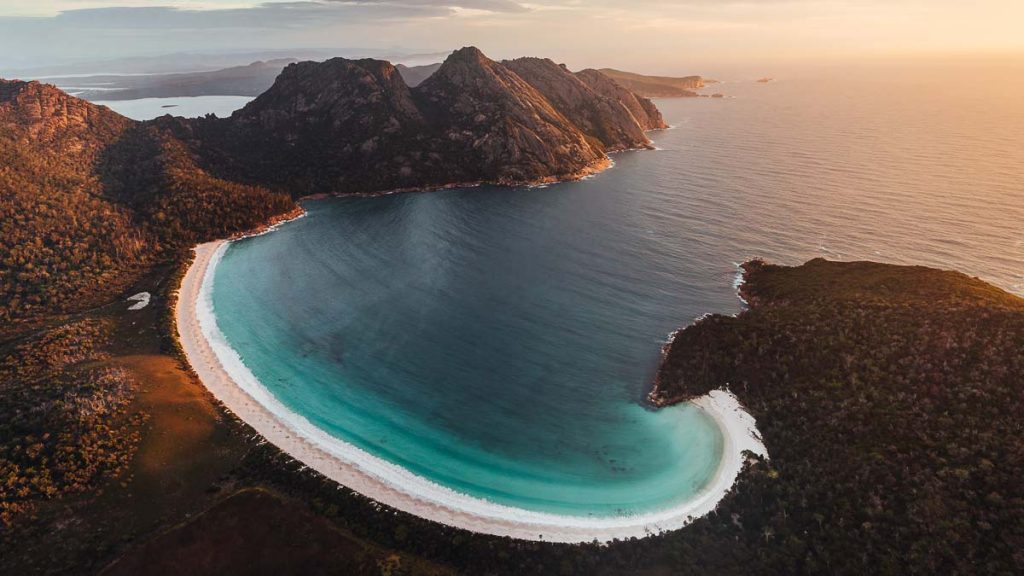 Photo credit: Jason Charles Hill
Wineglass Bay Lookout offers the best vantage point of the bay and it's just a short 1.3km hike to get there from the car park. Have more time to spare? Try the Wineglass Bay and Hazards Beach Circuit (11km, 5hrs) or for experienced hikers, the more challenging Mount Amos Trek (3.6km, 3hrs).
There are plenty of other exciting things to do in Freycinet National Park, like kayaking, swimming and camping!
Entrance fee: S$41.20/vehicle (~S$37.90) for a 24 hour National Parks Pass
Opening hours: 24 hours
Address: Coles Bay Rd, Coles Bay, Tasmania 7215
After exploring Freycinet National Park, head back to your accommodation in Swansea or Coles Bay for a second night.
Day 5: Bay of Fires
Binalong Bay
Coles Bay to Binalong Bay: 1hr 50min (124km)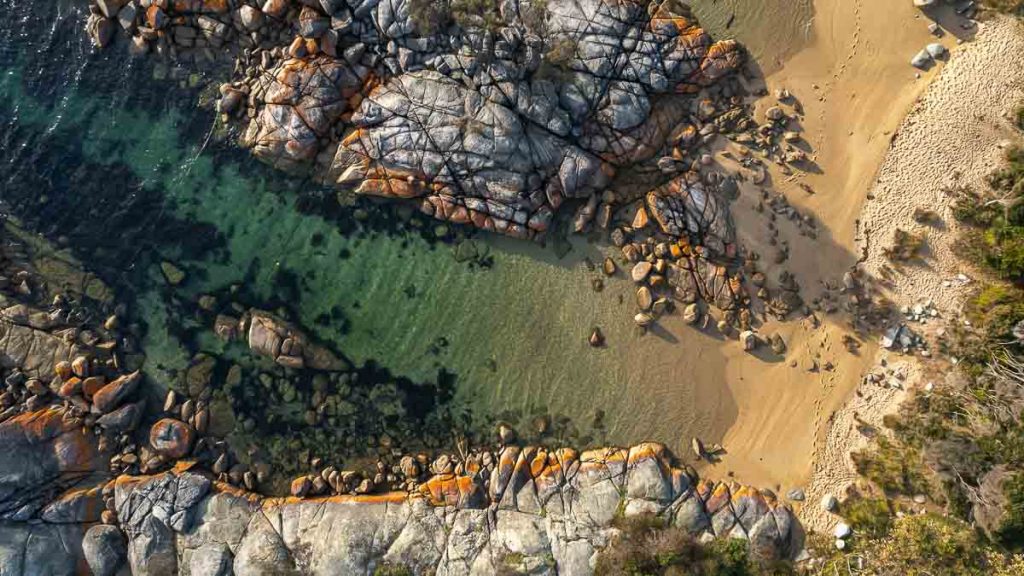 Photo credit: Tourism Australia
To soak up some sun, head to Binalong Bay. It's the main beach along the Bay of Fires, an incredible 50km-long coast lined with white sand beaches and clear turquoise waters.
A unique feature of the area is the lichen-covered (a type of algae) boulders that give the coastline its distinctive orange shade.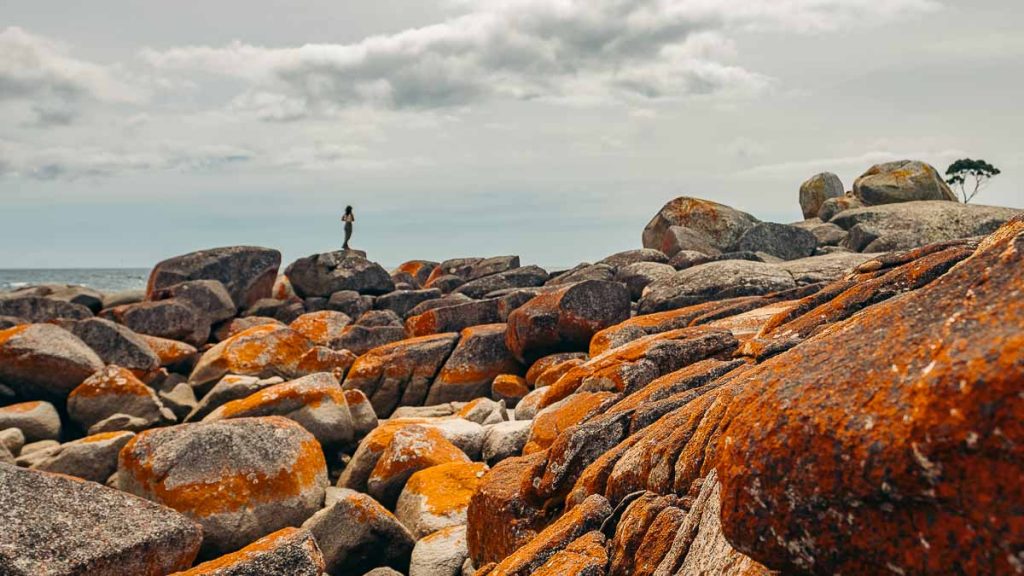 You won't have trouble finding things to do here — Binalong Bay offers a wide array of activities like surfing, snorkelling and kayaking! The area is also known for its rich marine life, best seen by joining a Bay of Fires Eco Tour.
Entrance fee: Free
Opening hours: 24 hours
Address: Binalong Bay, Tasmania 7216
Lunch at Skippers Fish Shop
Binalong Bay to Skippers Fish Shop: 11km (13min drive)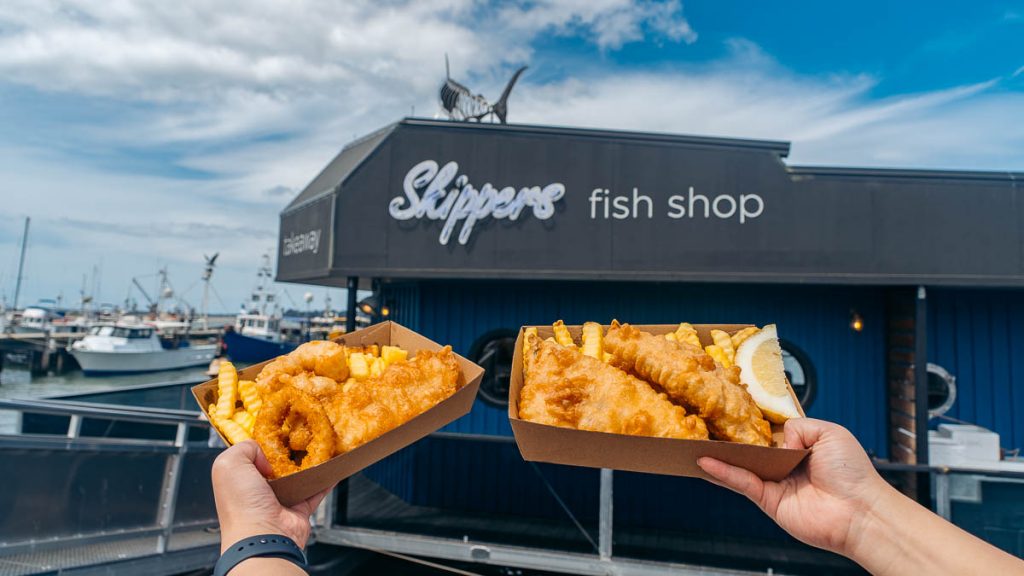 For lunch, we stopped by Skippers Fish Shop. It's a small floating eatery, parked by the pier in St Helens. There's no indoor seating, just a few tables outdoors.
Their signature is the Blue Eye Fish and Chips (AU$24.50). If you crave a bit more variety, get the Skippers Box (AU$19.50) instead. It includes a mix of fish, prawn, squid, scallop and chips. Everything was fried really well and had a nice crunch — 10/10 would recommend!
Cost: From AU$12.50/main (~S$11.50)
Opening hours: 11:30AM – 2:30PM (Wed – Thu, Sun), 11:30AM – 7PM (Fri – Sat), Closed on Mon – Tue
Address: 5 Marina Parade St Helens, Tasmania 7216
Skippers Fish Shop to Derby: 1hr 9min drive (66km)
Where to Stay in Derby (3 nights)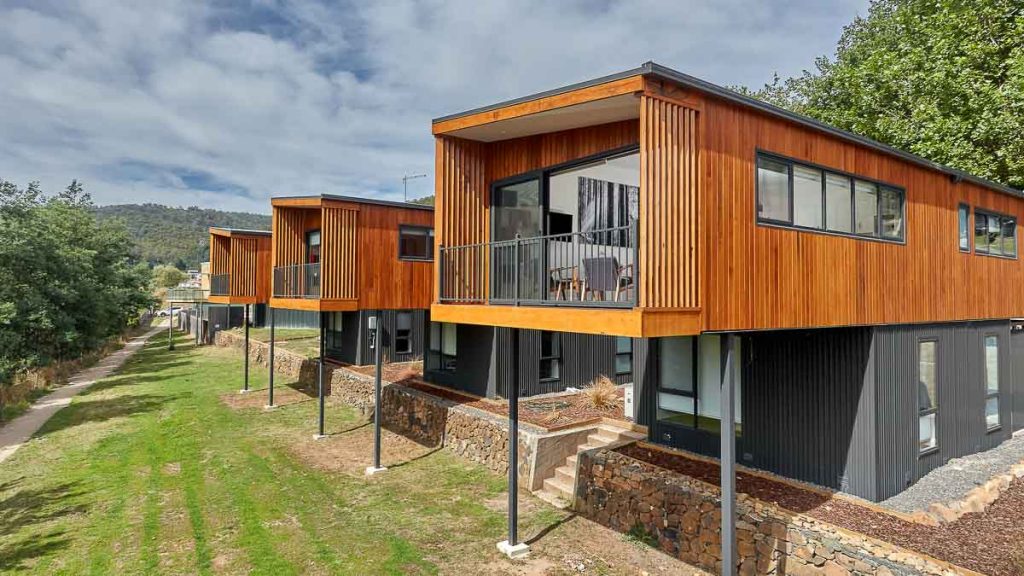 Photo credit: Tin Mountain
Budget: The Dorset Hotel (from ~S$111/night)
Mid-range: Pilgrim Blue Derby (from ~S$183/night)
Luxury: Tin Mountain (from ~S$355/night) — minimum 2 nights
Day 6-7: Derby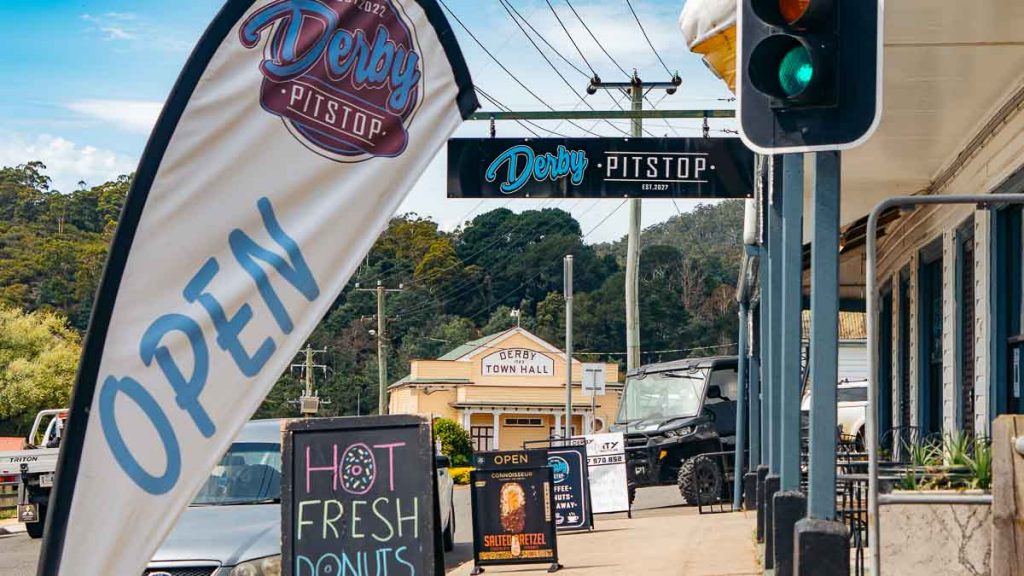 The next stop on our Tasmania itinerary is Derby — a small town with massive character.
A former tin-mining hub, Derby has since transformed into a world-class biking hub! That ain't all, this town has a couple of unique experiences (floating sauna, anyone?) and beautiful hiking trails that'll surprise you.
Mountain Bike Experience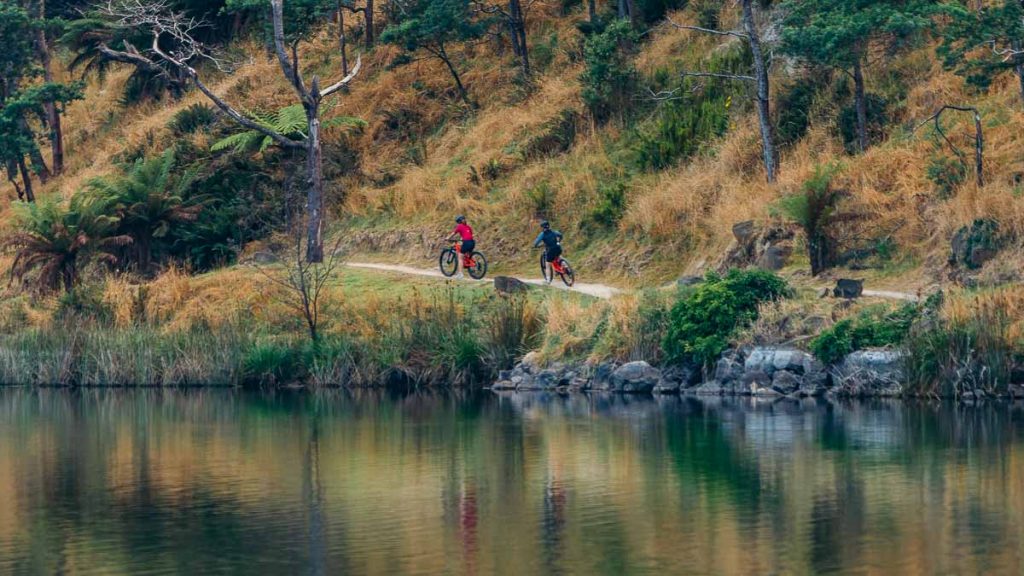 If you weren't into mountain biking before, Derby might just convert you. It's home to some of the world's best mountain bike trails!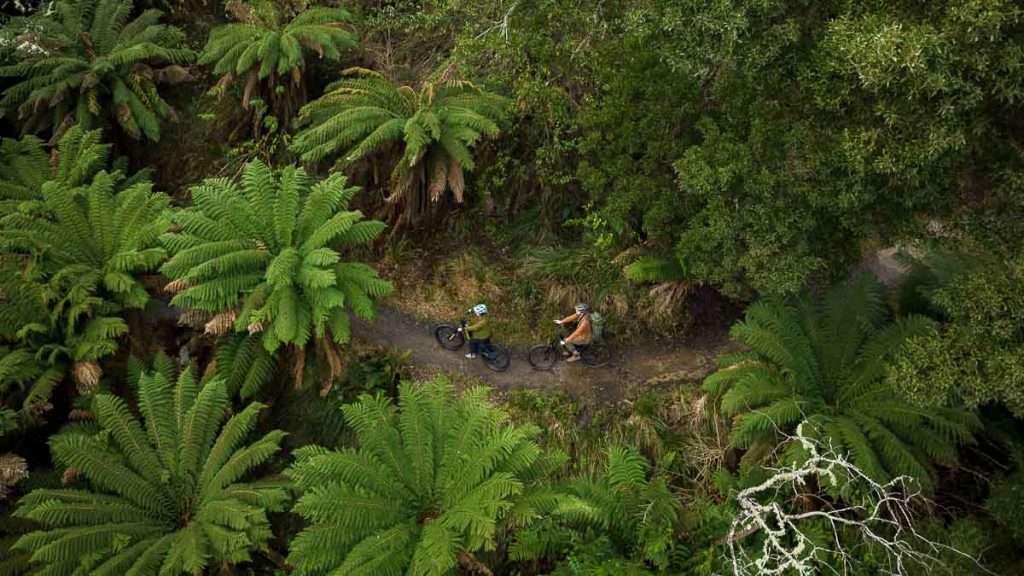 Photo credit: Jason Charles Hill
There are 125km of mountain bike trails, all of which are free to use all year round. Biking trails for all levels are available, from easy green routes to more advanced black diamond trails.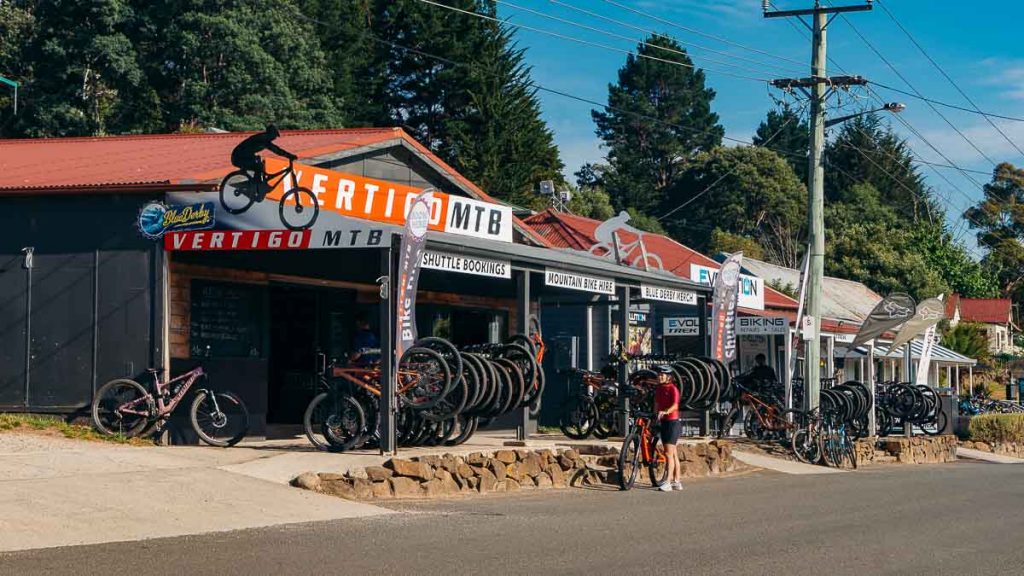 It's easy to rent a bike at one of the many bike stores along Main Street and head off on your own. But if you're new to mountain biking, we'd recommend booking a tour. You'll be in the safe hands of an instructor who knows the trails like the back of their hand.
*Pro-tip: Many bike rental stores offer free shuttle service to the biking trails! The schedules can be found at the shop entrances.
Cost: From AU$75/day (~S$69) for mountain bike rental
Opening hours: Varies
Address: 66 Main St, Derby, Tasmania 7264
Main Street Derby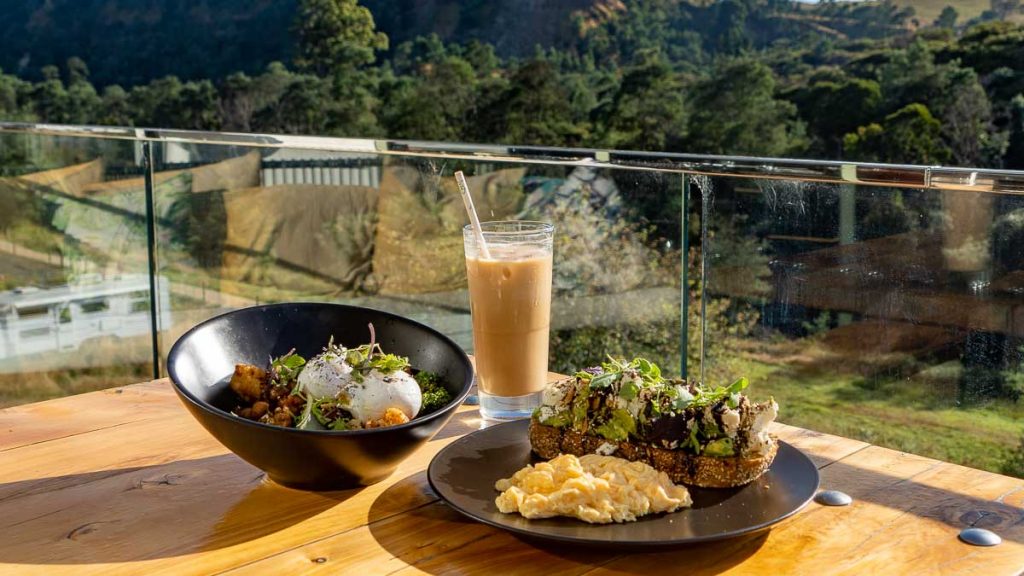 Main Street Derby is located along the same street as all the mountain bike stores — so it's easy to get to. The food is tasty with generous portions; we ended up dining here more than once!
For breakfast, there's all the brunch classics — Avocado Toast (AU$20), Breakfast Bowls (AU$20) and our collective favourite, the Bacon and Egg Burger (AU$14). It came doused in bacon and jalapeño jam, and was just really yummy.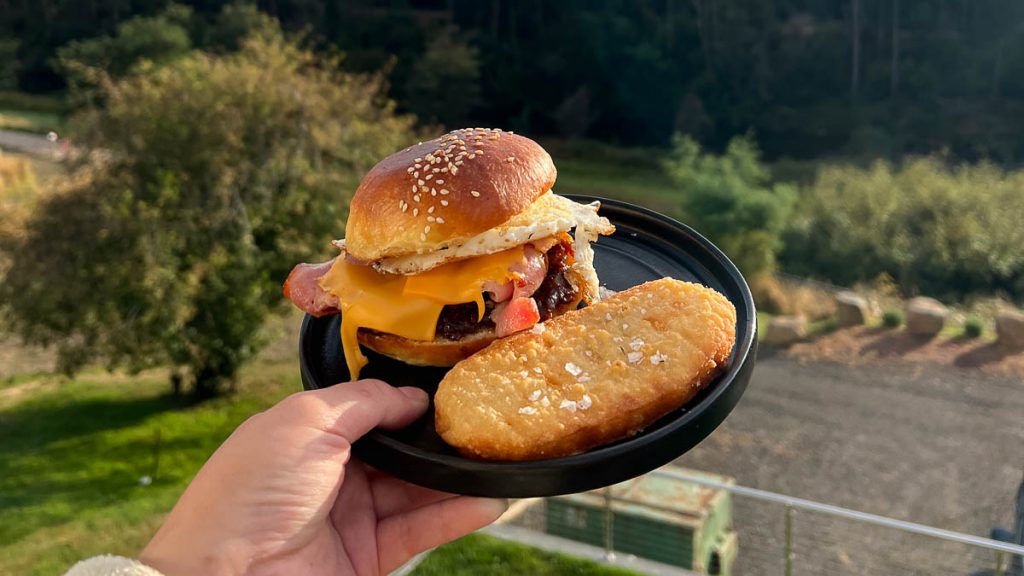 During lunch and dinner, the menu switches up. We had the Scotch Fillet Steak with rosemary butter (AU$45) and Seared Pork Chops with mustard and honey (AU$36). Both didn't disappoint 😋
Cost: From AU$13/main (~S$11.90)
Opening hours: 7:30AM – 8:30PM
Address: 69 Main Street, Derby, Tasmania
Lake Derby Floating Sauna
Main Street Derby to Lake Derby Floating Sauna: 12min walk (1.2km)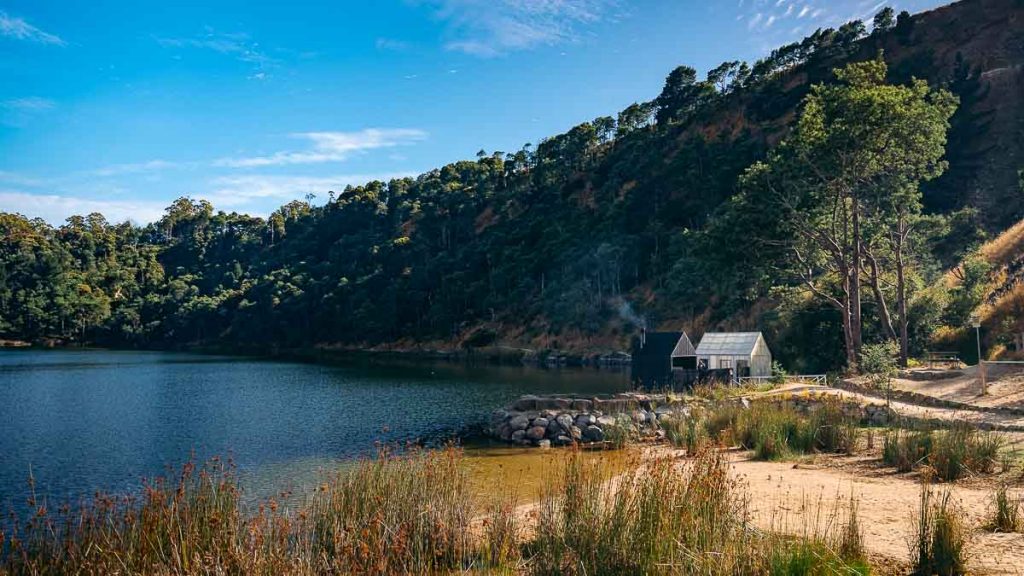 Lake Derby Floating Sauna is Australia's only floating wood-fired sauna — and the perfect place to wind down after biking. Its location is also unbelievably picturesque, at the edge of Lake Derby (or the Briseis Hole to locals).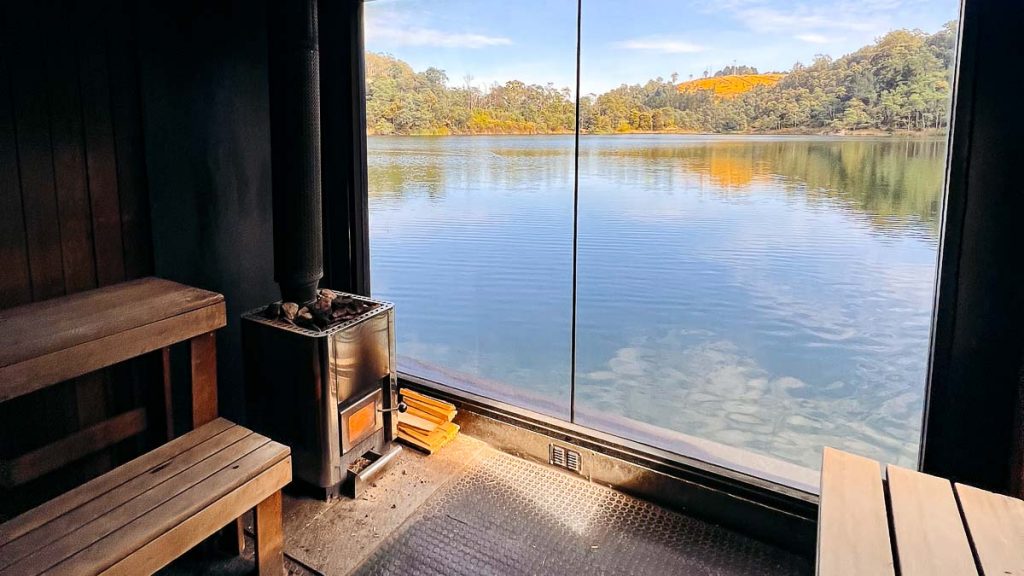 Unwind in the sauna (kept at a sweltering 90°C), then cool off by jumping in the water. The temperature was a refreshing 22°C when we visited, and a dip in Lake Derby immediately jolted me awake. It was a really nice place to relax and it felt like we had the whole lake to ourselves!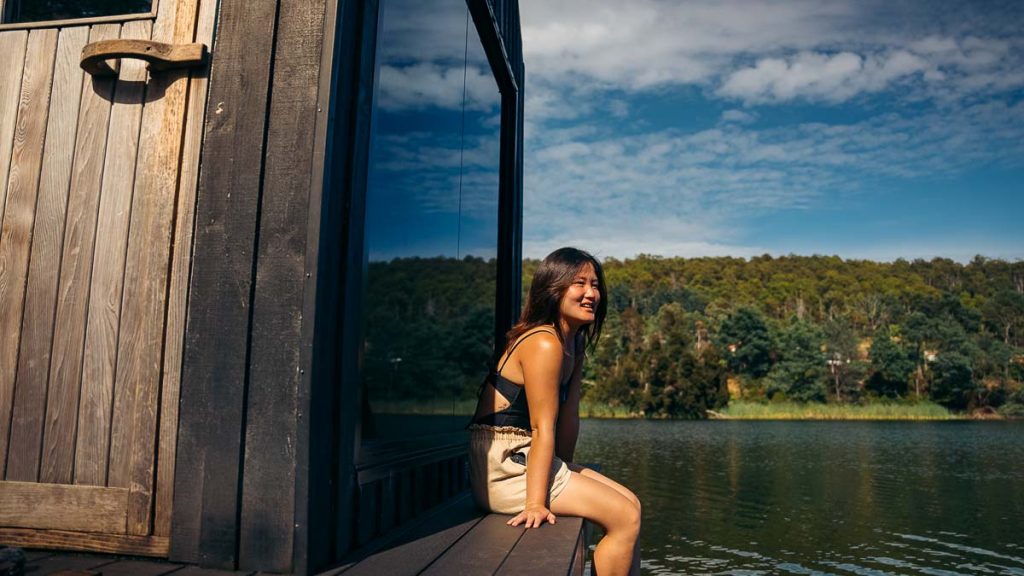 The Lake Derby Floating Sauna is booked on an hourly basis, with a maximum of five people per session (AU$45/pax). If you want the entire sauna to yourself, it's AU$225 for the hour.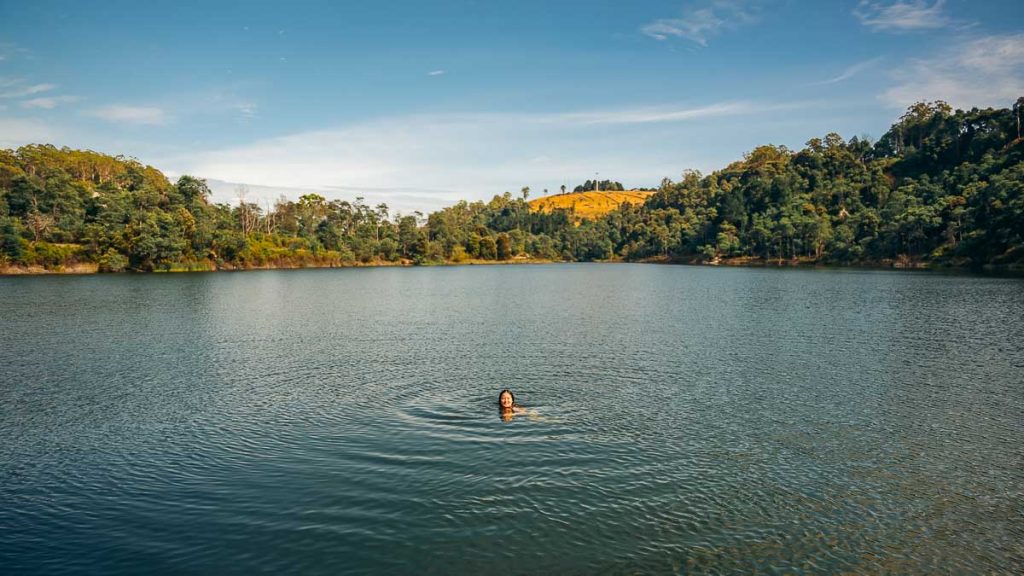 Note: Bring a towel and change of clothes! Changing rooms are available but there are no showers at the sauna.
Cost: AU$45/pax (~S$41.20) for 1hr
Opening hours: 8AM – 9PM
Address: Derby Tasmania 7264
The Hub Derby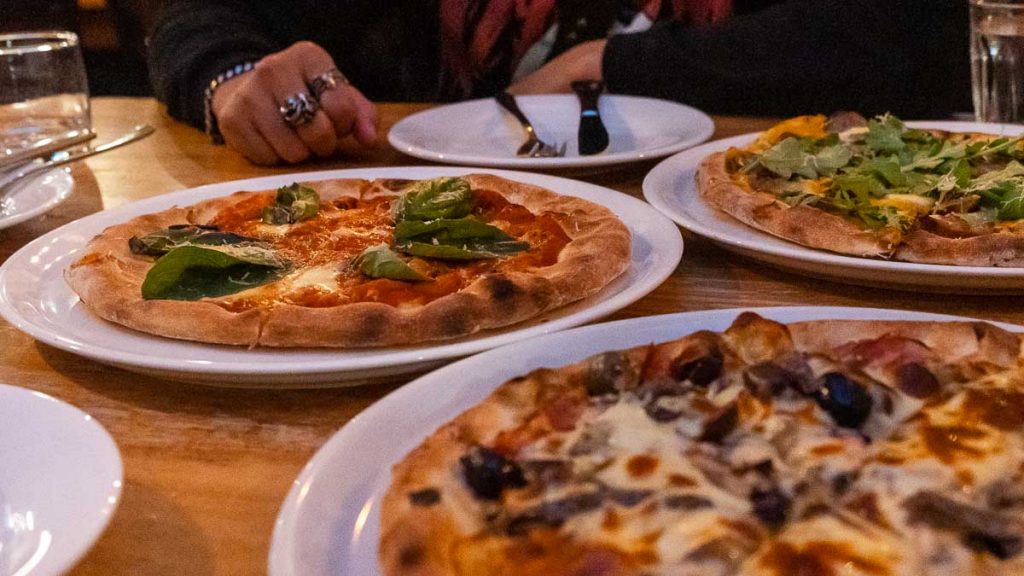 The Hub Derby serves up hearty wood-fired pizzas — all handmade!
There were familiar favourites such as Margherita (AU$15) and Pepperoni (AU$19), plus some more interesting options. Like the True Blue (AU$21) — onion marmalade with mozzarella, blue cheese and walnuts — and Fennel Sausage and Pumpkin (AU$18.50).
Cost: From AU$15/pizza (~S$13.70)
Opening hours: 12PM – 9PM (Wed – Sun), Closed Mon – Tue
Address: 72 Main St, Derby Tasmania 7264
After exploring Derby, spend the next day checking out these nearby spots — all less than an hour's drive away!
Mount Paris Dam
Derby to Mount Paris Dam: 13min drive (13km)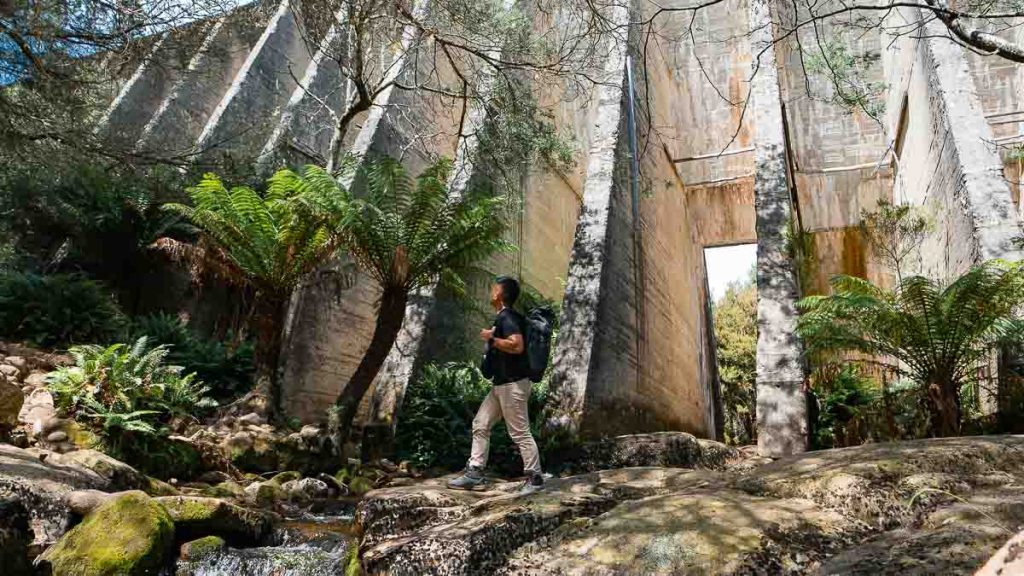 The 250m-long Mount Paris Dam used to lead to the Mount Paris tin mine. Now, visitors can hike along a short section of the dam — the entire loop takes less than 30 minutes to complete.
Entrance fee: Free
Opening hours: 24 hours
Address: Mount Paris Dam Rd, Branxholm, Tasmania 7261
Blue Tier Giant Walk
Mount Paris Dam to Blue Tier Giant Walk: 31min drive (22km)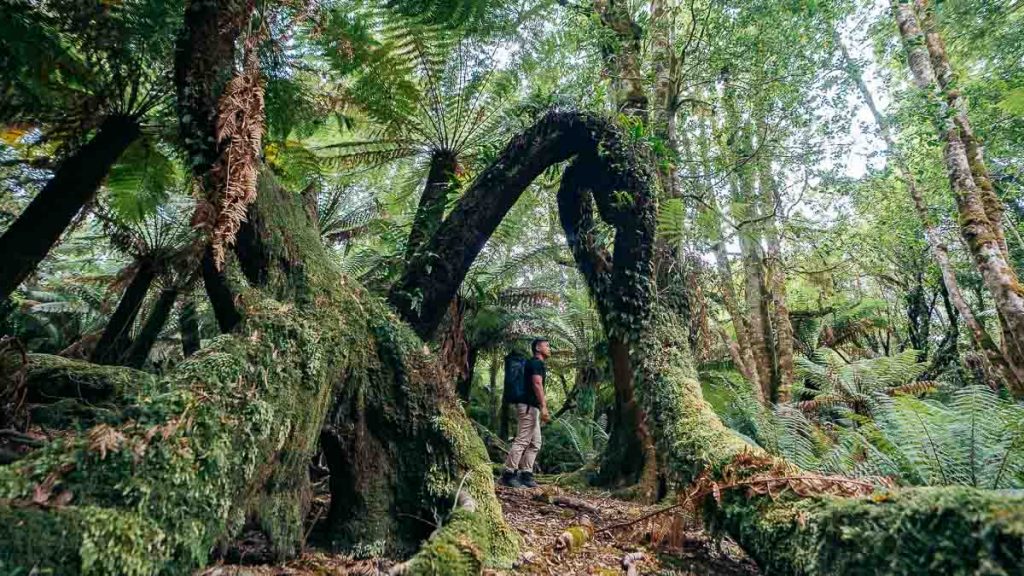 The Blue Tier Giant Walk is a short 3.2km return trek that's extremely scenic. It's home to Giant Ash trees which soar up to heights of 60m! Large man ferns decorate the forest, adding both character and shade.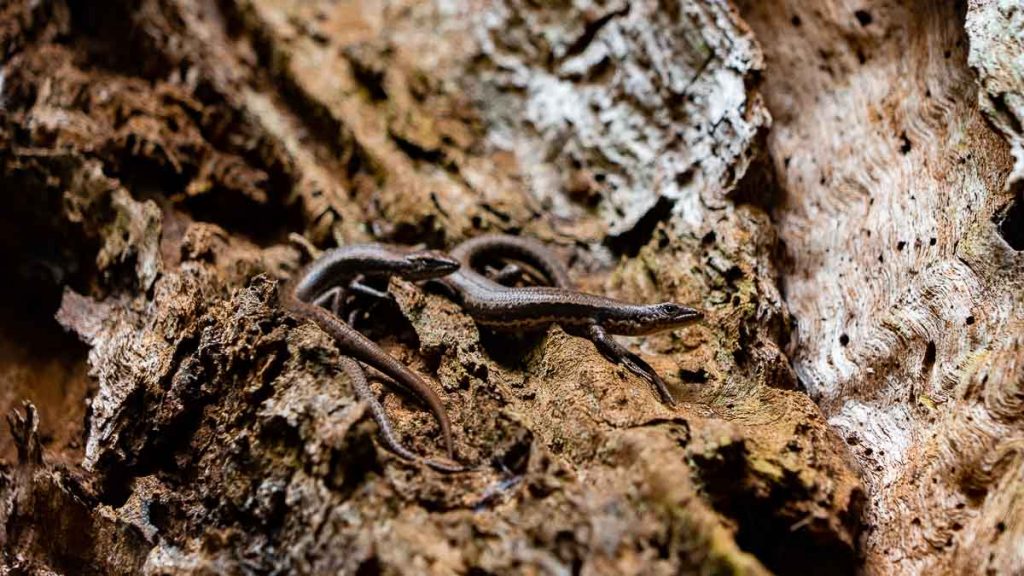 We saw a couple of skinks and birds along the way.
It was a peaceful walk; we didn't see another soul the entire time. I loved that while there was a clear trail to follow, it wasn't paved — leaving the forest mostly untouched.
Entrance fee: Free
Opening hours: 24 hours
Address: Weldborough, Tasmania 7264
Little Blue Lake
Blue Tier Giant Walk to Little Blue Lake: 44min drive (38km)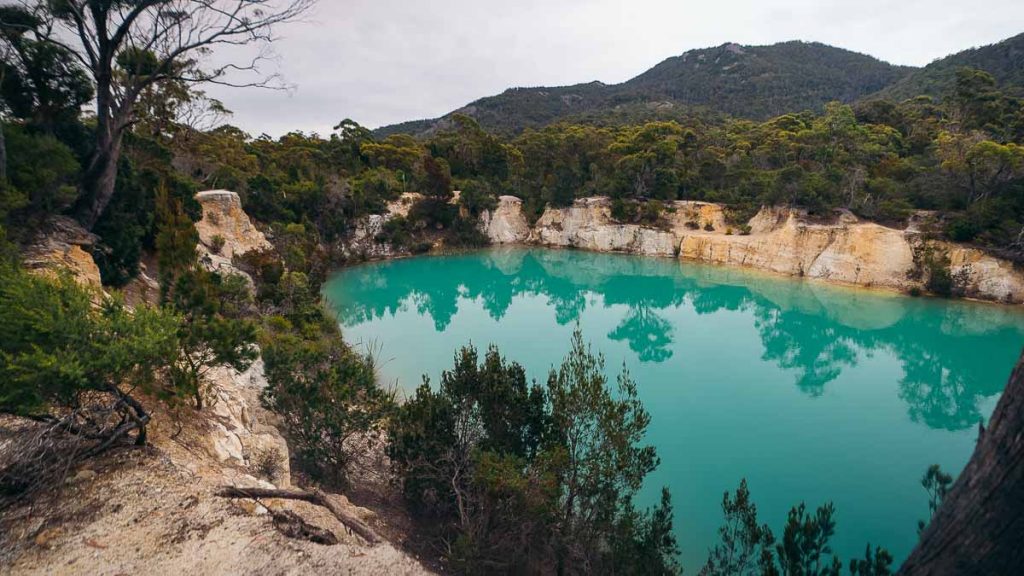 If you've got time to spare, consider dropping by the Little Blue Lake. It was once a mining hole which was later filled in. Due to the mineral content in the ground, the lake now appears bright turquoise!
Note: Unfortunately, swimming isn't allowed due to the water's high acidity.
Entrance fee: Free
Opening hours: 24 hours
Address: 1753 Gladstone Rd, South Mount Cameron Tasmania 7264
Little Blue Lake to Derby: 24min drive (27km)
Day 8: Derby to Launceston
Derby to Fork It Farm: 55min drive (65km)
Fork It Farm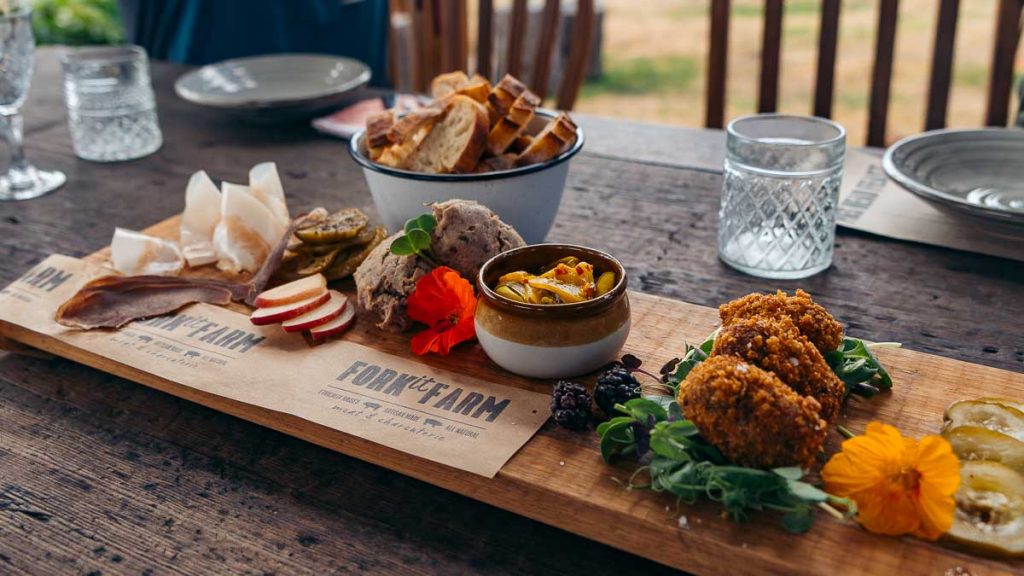 Interested in experiencing a unique paddock to plate meal? Consider dropping by Fork It Farm! It's a local family-run farm that produces small-batch meats and charcuterie.
They offer paddock picnics daily (AU$35/pax) that visitors can enjoy on their farm. Additionally, there are Long Table Feasts (AU$190/pax) on the first Saturday of each month. This includes the works — a full selection of Fork It Farm's produce, plus Tasmanian wines and beers.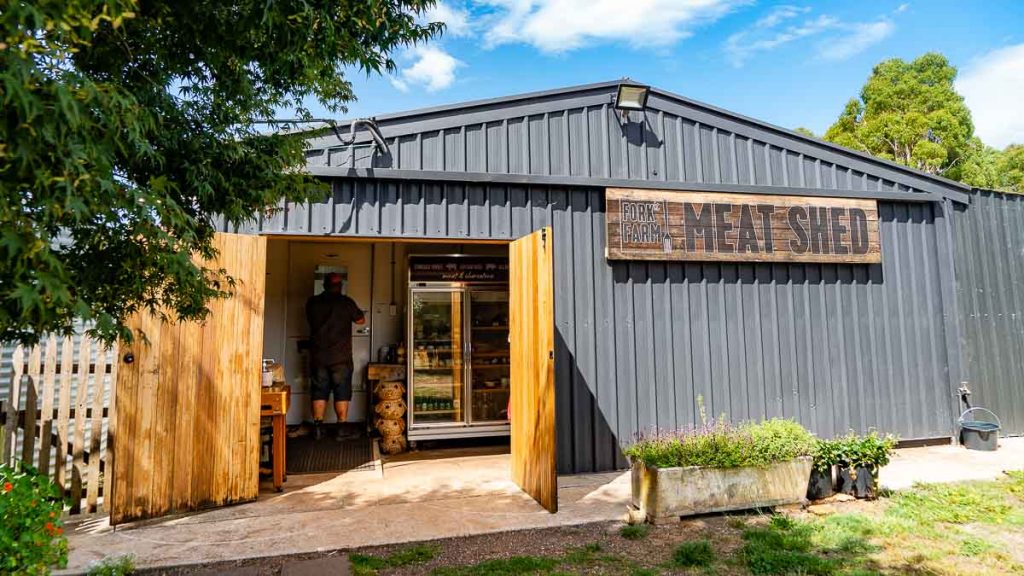 You can also pick up some of their products while there.
Cost: From AU$35/pax
Opening hours: 11AM – 4PM (Wed – Sun), Closed on Mon – Tue
Address: 311 Adams Rd, Lebrina Tasmania 7254
Hollybank Treetops Adventure
Fork It Farm to Treetops Adventure Hollybank: 25min drive (24km)
Soar through Tasmania's lush forests at Treetops Adventure Hollybank. We experienced the zipline tour which includes six ziplines of different heights and lengths. The highlight was the 400m zipline — Tasmania's longest!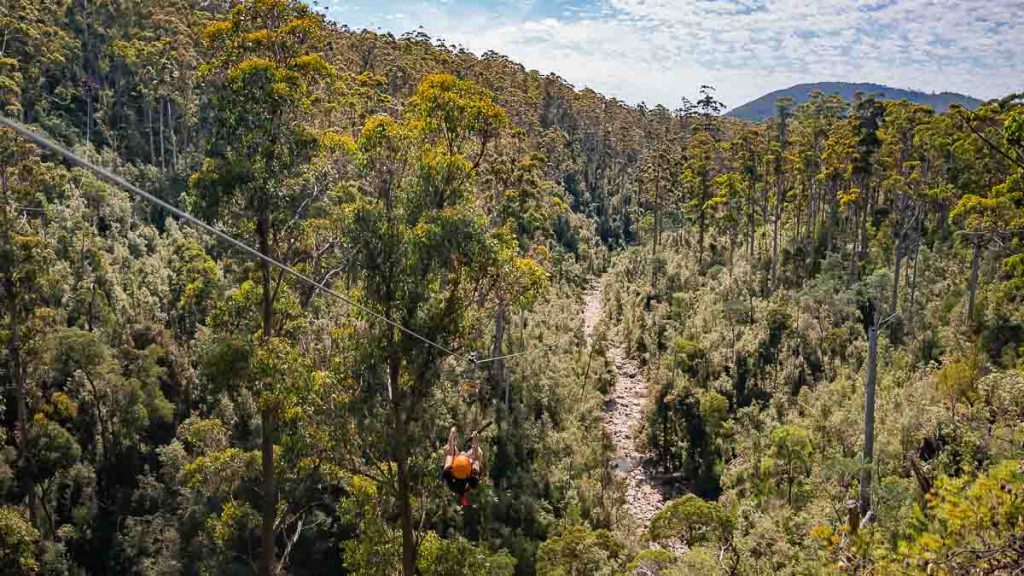 We had to go in full cannonball position to gain speed, which upped the thrill factor. Our friendly instructors were really engaging and made the whole experience even more fun.
Besides zipline tours, Treetops Adventure Hollybank offers segway and mountain biking tours as well as tree ropes courses!
Cost: AU$139/pax (~S$127) for a 2.5hr Zipline Tour
Opening hours: 9AM – 5PM, Closed on Christmas Day
How to get there: 66 Hollybank Rd, Underwood Tasmania 7268
Launceston to Cradle Mountain: 2hr drive (140km)
Stop by Launceston for dinner, before driving on to Cradle Mountain-Lake St Clair before dark to spend the night. Alternatively, spend the night in Launceston and drive to Cradle Mountain the next morning!
Where to Stay at Cradle Mountain-Lake St Clair National Park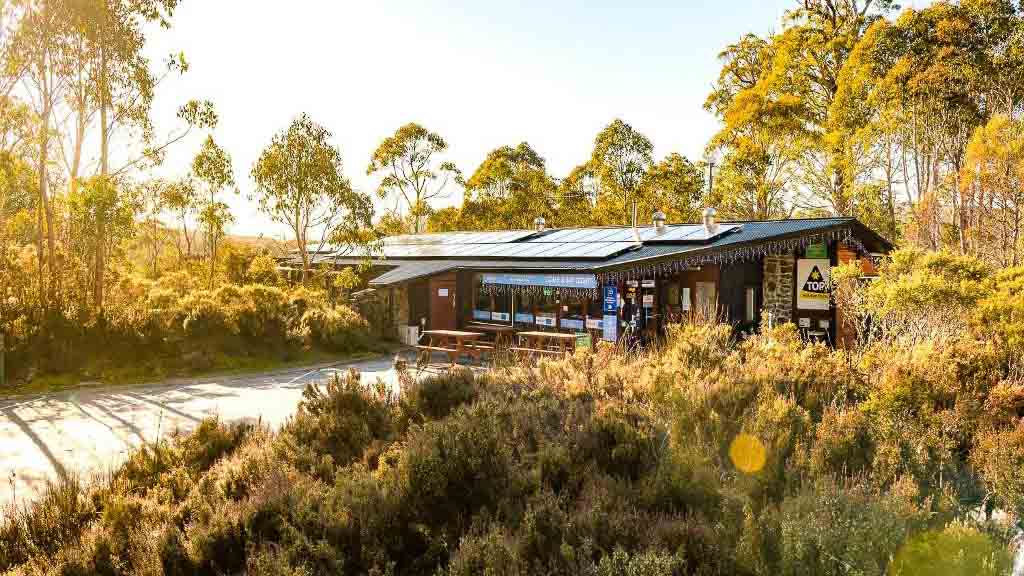 Photo credit: Discovery Parks
Budget: Discovery Parks – Cradle Mountain (from ~S$66/night)
Mid-range: Cradle Alpine Retreat (from ~S$220/night)
Luxury: Peppers Cradle Mountain Lodge (from ~S$411/night)
Day 9: Cradle Mountain-Lake St Clair National Park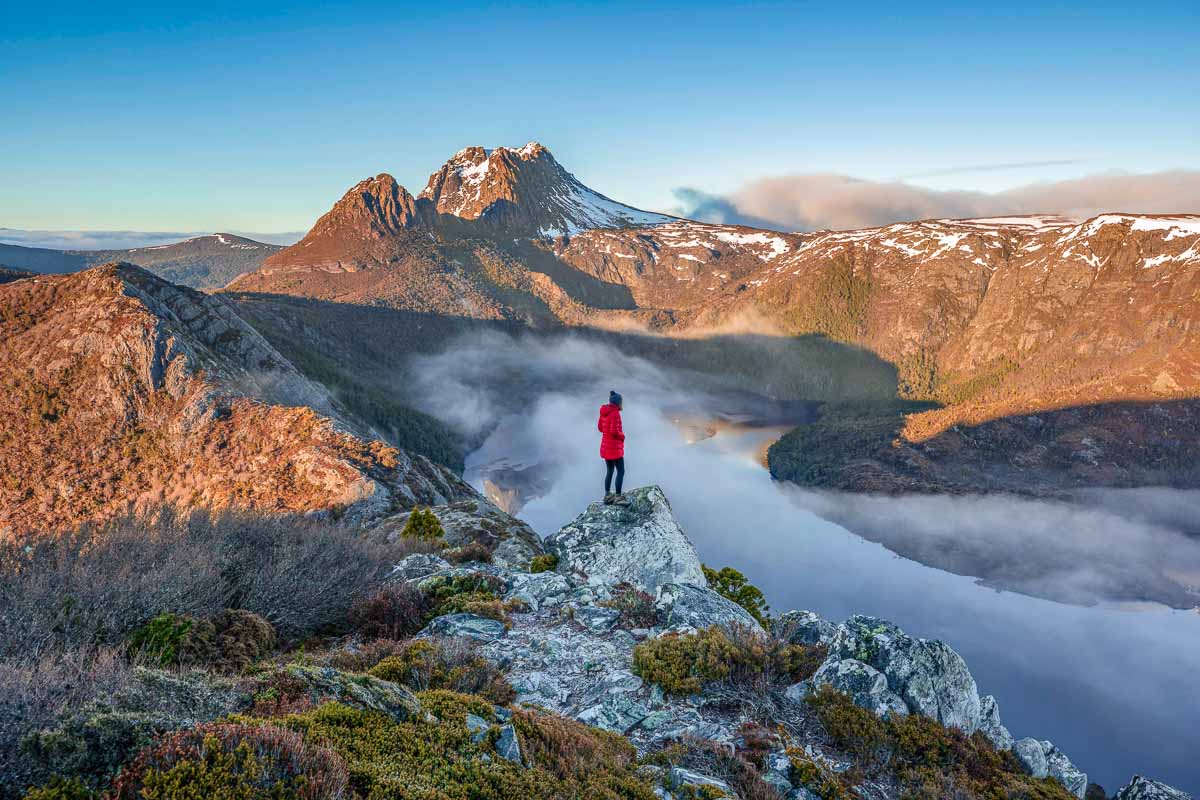 Photo credit: Tourism Australia
Visiting Cradle Mountain is one of the best things to do in Tasmania. Especially if you're into hiking! It's part of Cradle Mountain Lake-St Clair National Park, a designated Tasmanian World Heritage Wilderness Area.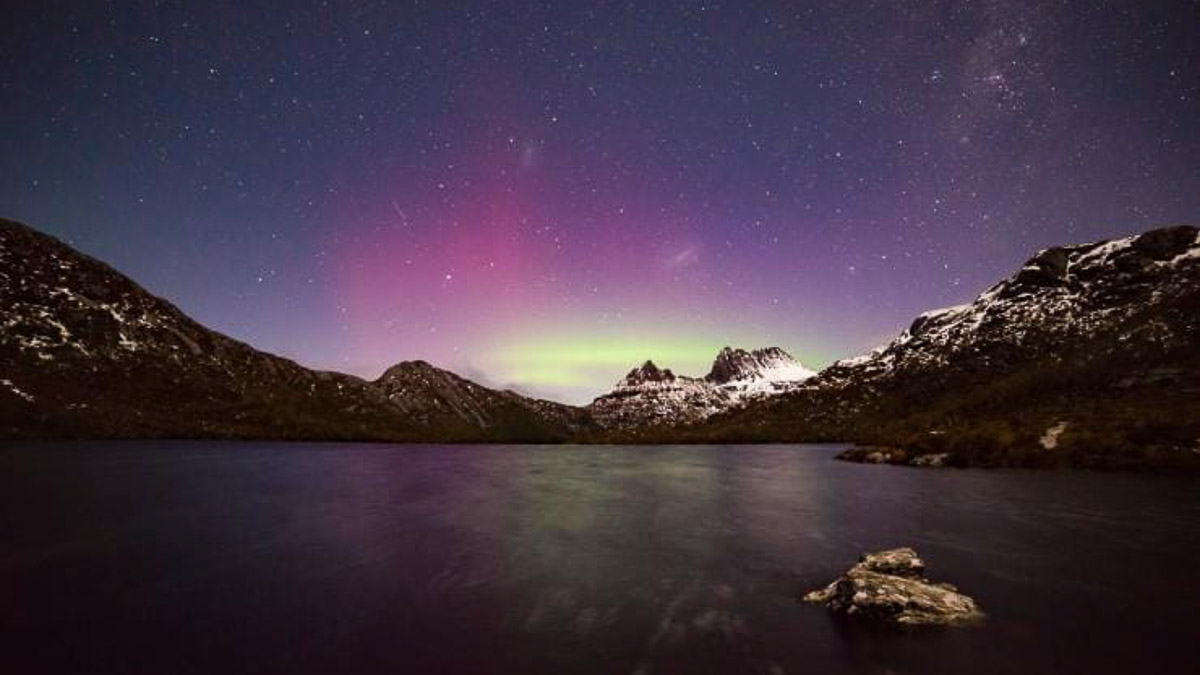 Photo credit: Tourism Australia
Take on the Dove Lake Circuit (6km, 3hrs) or Crater Lake Circuit (5.7km, 2hrs) — both great ways to see Cradle Mountain and its surroundings.
National Park shuttle buses run between the Cradle Mountain Visitor Centre and Dove Lake (8AM – 6PM from Oct to Mar, and 9AM – 5PM from Apr to Sep). Private vehicles are not permitted on the road during these times.
Entrance fee: AU$25.75/pax (~S$23.70) for a Daily Icon Park Pass
Opening hours: 24 hours
Address: 4057 Cradle Mountain Rd, Cradle Mountain Tasmania 7306
Cradle Mountain to Launceston: 2hr drive (140km)
Where to Stay in Launceston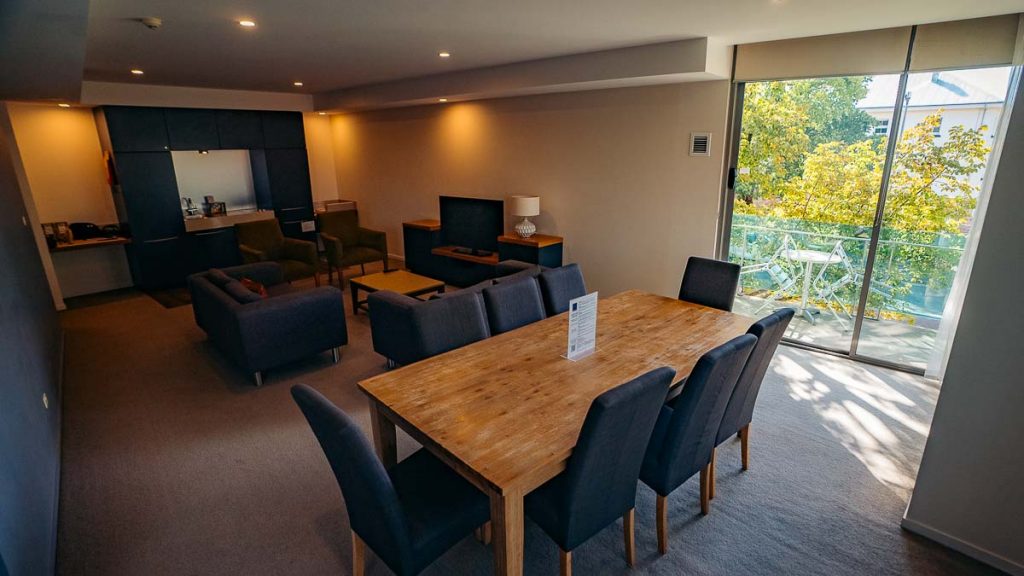 The Sebel, Launceston.
Budget: Pod Inn (from ~S$64/night)
Mid-range: Coach House Launceston (from ~S$123)
Luxury: The Sebel (from ~S$182/night)
Day 10: Launceston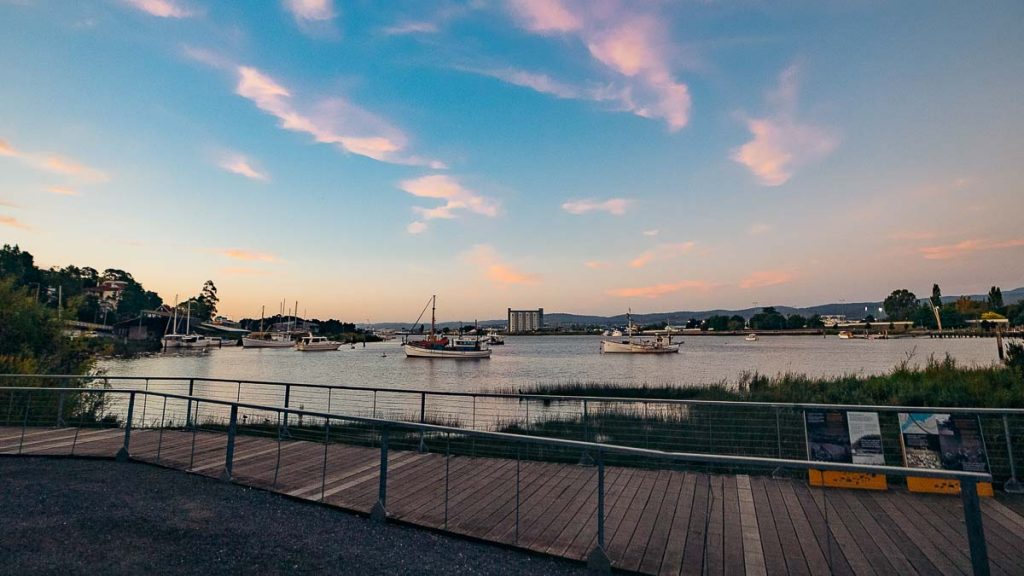 Chill out on the last day of your Tasmania road trip! Explore the streets of Launceston and stock up on souvenirs and snacks before heading home. Places to visit in Launceston include the Launceston Seaport Boardwalk, City Park and Princess Square.
Stillwater Restaurant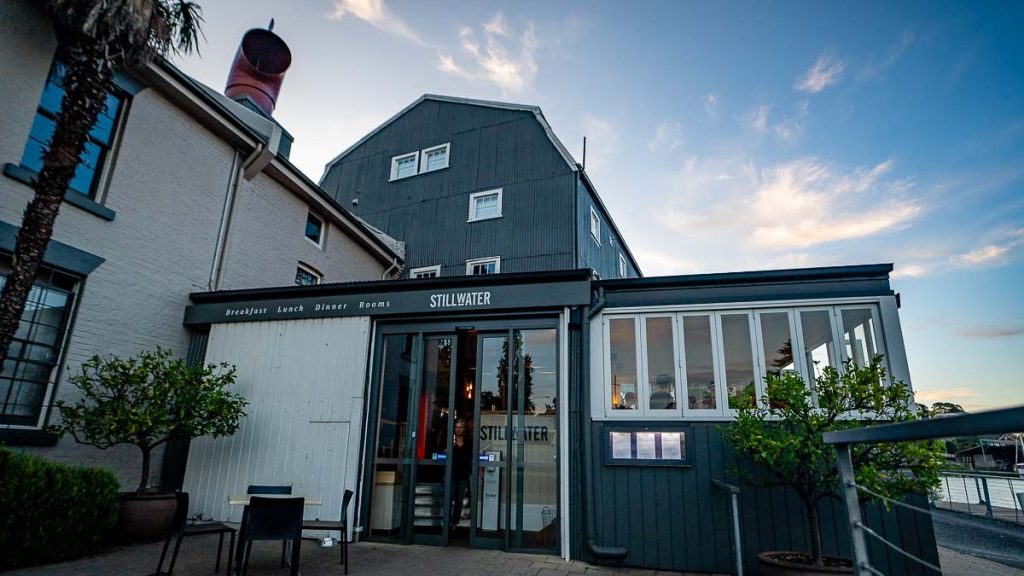 Our Tasmania itinerary ends with a scrumptious meal at Stillwater. Launceston is one of Australia's two UNESCO Cities of Gastronomy, after all!
The building occupied by Stillwater is filled with history — it used to be an old flour mill in the 1800s and supplied water to the town in the 1900s. Today, it houses one of Launceston's top restaurants.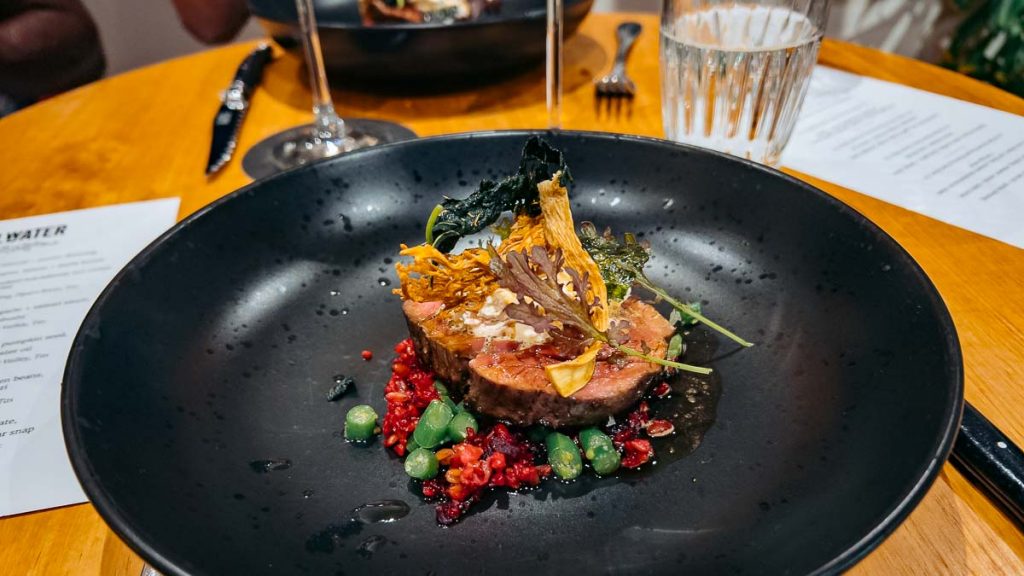 We had the Stanley octopus with udon as an entree and for the main, a Koji aged eye fillet that literally melts in your mouth. 🤤
Cost: From AU$36/main (~S$33)
Opening hours: 8AM – 10PM (Tue – Thu), 8AM – 11PM (Fri – Sat), 8AM – 3PM (Sun – Mon)
Address: 2 Bridge Rd, Launceston Tasmania 7250
Flights from Singapore to Tasmania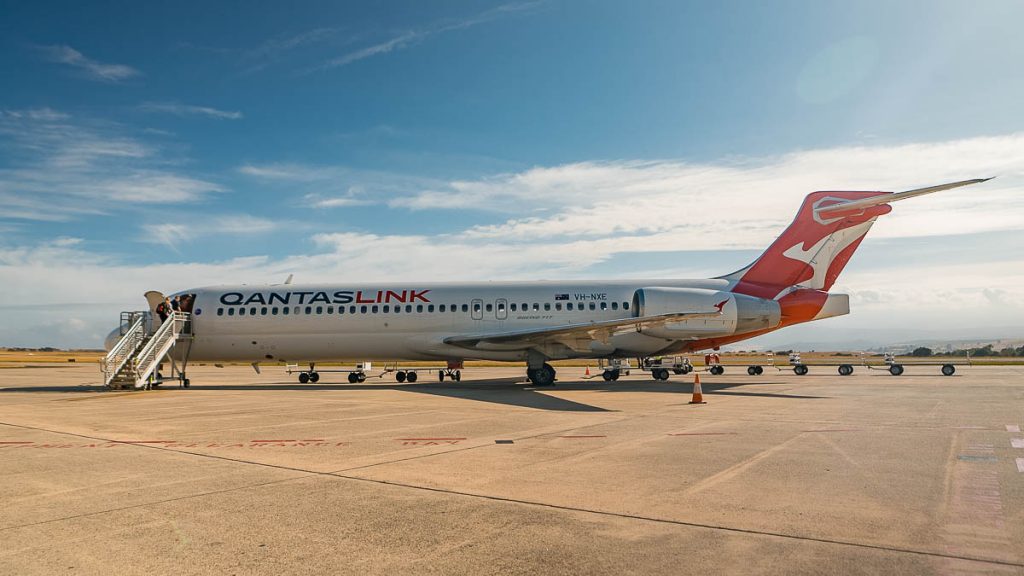 Currently, there are no direct flights from Singapore to Tasmania.
The fastest way to get to Tasmania is to fly to Melbourne (7hr 10min), then to Hobart (1hr 20min) — the starting point in our Tasmania itinerary. We took an open jaw flight, flying out of Launceston at the end.
We flew via Qantas, which was really enjoyable. The check-in process before was fuss-free, plus every staff member we came across was really friendly.
The seats were spacious and comfy (blankets and pillows are provided!) and the inflight entertainment was great — I managed to watch two recently released films.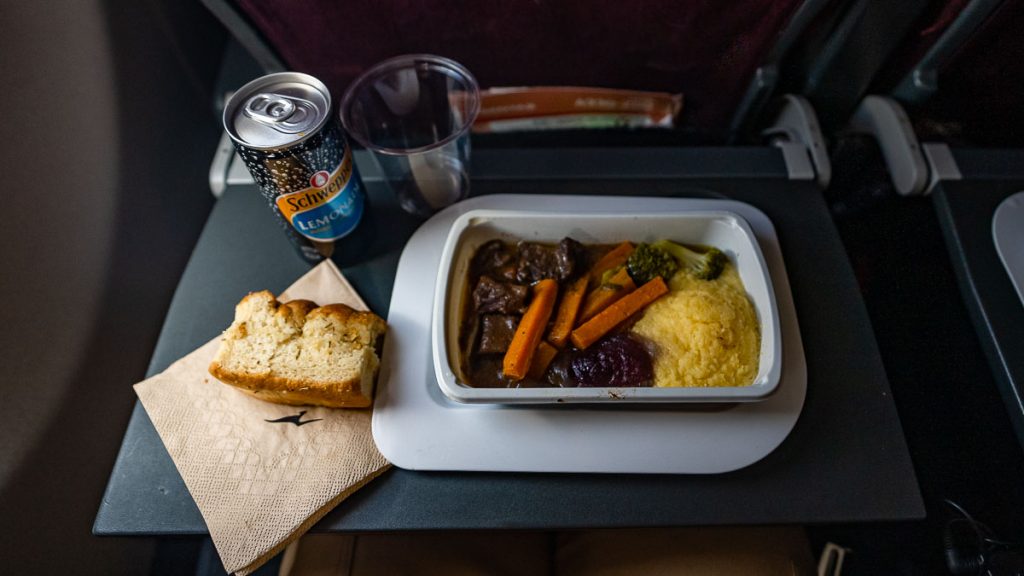 During our seven-hour economy flight, we were served one meal and three rounds of snacks — pretzels, chips and a chicken pie. I honestly can't recall the last time I ate so much on a flight.
Tips for Planning Your First Tasmania Road Trip
1) Pre-Trip Essentials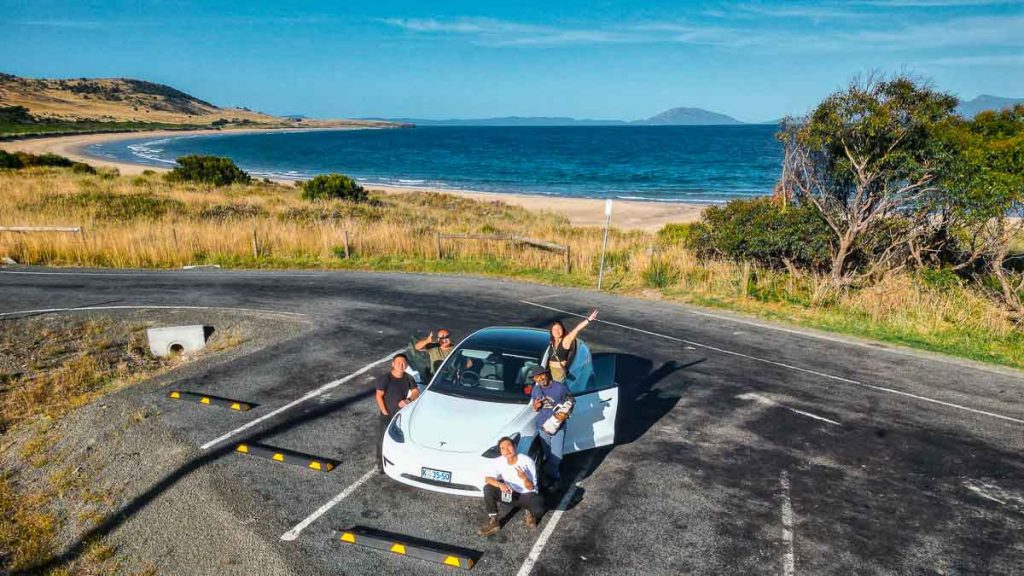 Travel documents: Visitors to Australia must apply for an Electronic Travel Authority visa (subclass 601)* via the Australia ETA app. The processing fee is AU$20. It usually gets approved within a few days, but it's better to be safe and complete this at least a week before your flight!
*Note: This applies to ETA-eligible passport holders, including Singapore.
Connectivity: There are no phone shops at Hobart Airport. Purchase a SIM card either at Melbourne Airport (Optus offers 60GB for 30 days at AU$25, Vodafone offers 8GB for 14 days at AU$20) during your transit, or in Hobart city.
Insurance: TravelCare (from ~S$51/pax for 10 days)
Car rental: From ~S$100.20/day
2) Purchase a National Parks Pass online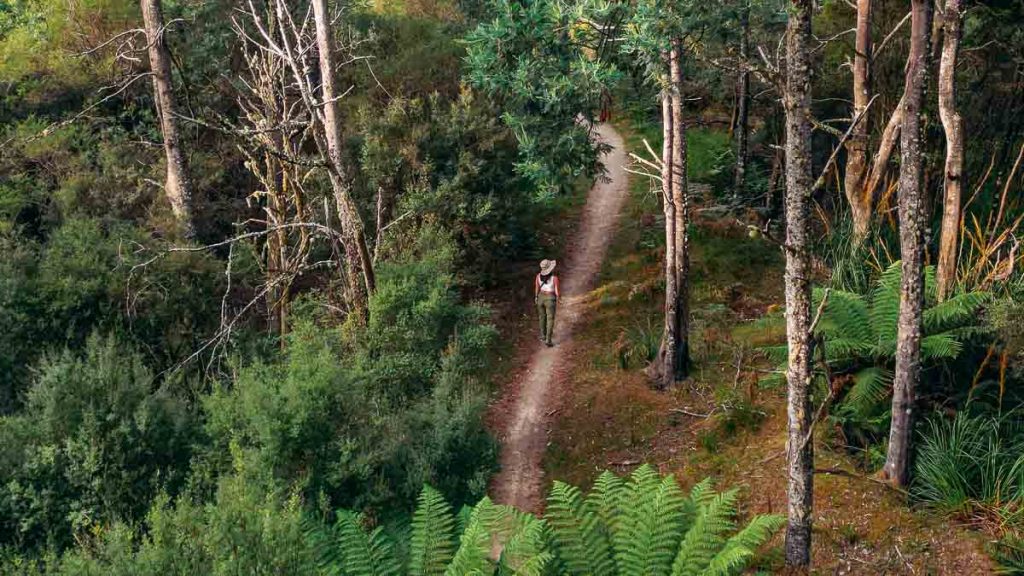 A National Parks Pass is needed to enter all of Tasmania's national parks. Over 40% of the country is a designated world heritage area and the fees go towards maintaining these parks!
A Daily Pass costs AU$41.20/vehicle (up to 8pax) and the price is the same for all parks except for Cradle Mountain. As our Tasmania itinerary includes a few national parks, we'd recommend getting a Holiday Pass (AU$82.40/vehicle). It includes entry to all national parks (including Cradle Mountain!) and is valid for two months.
3) Check out Tourism Tasmania's Trip Planner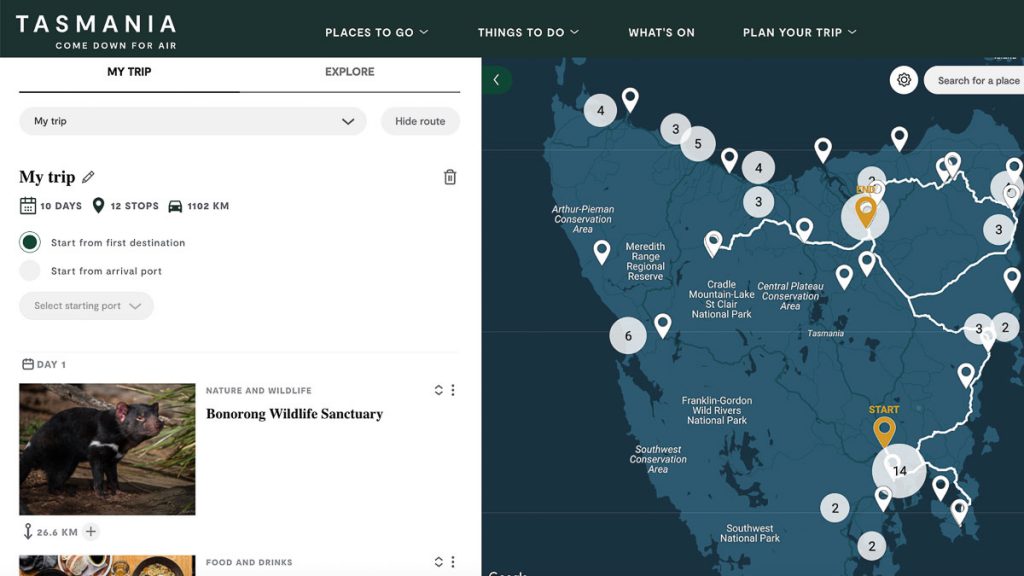 The Trip Planner allows you to find new things to do in Tasmania and map out a travel route and itinerary by day. You can also save your trip and share it as a collaborative link with your travelling party, so your travel mates have no excuse not to contribute to the trip planning 😉
4) Keep a Lookout for Mother Nature and Wildlife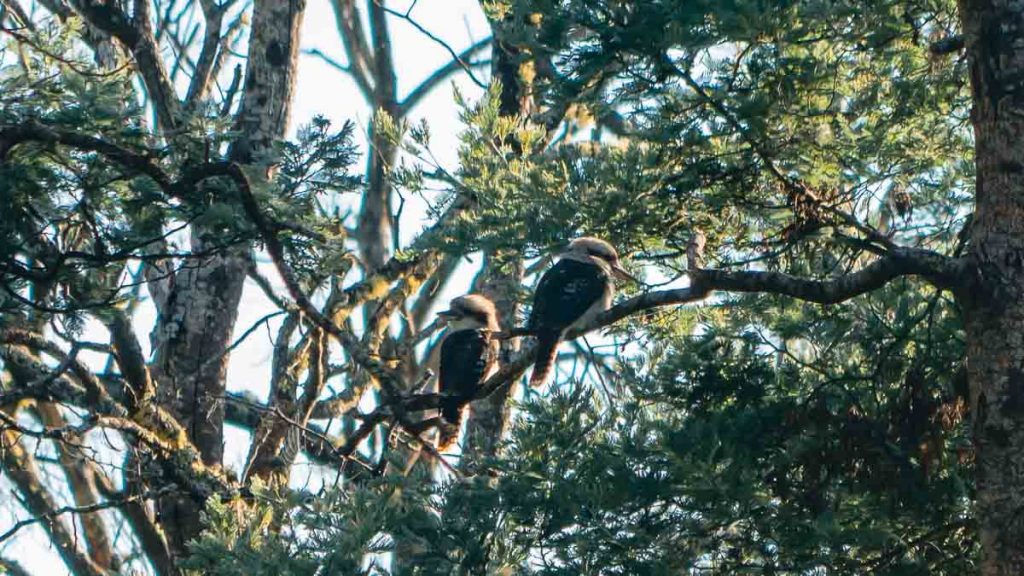 What makes a Tasmania road trip incredible is there's nature and wildlife in every corner. Not just in national parks or wildlife sanctuaries! In Derby, we saw wild kookaburras, wallabies and even a platypus — all in the heart of town.
*Pro-tip: Tasmania is one of the best places in the world to see the elusive Southern Lights! It's hard to predict when they happen — join local Facebook groups like Aurora Australis Tasmania Alert NOW and Aurora Australis Tasmania to stay updated on aurora sightings.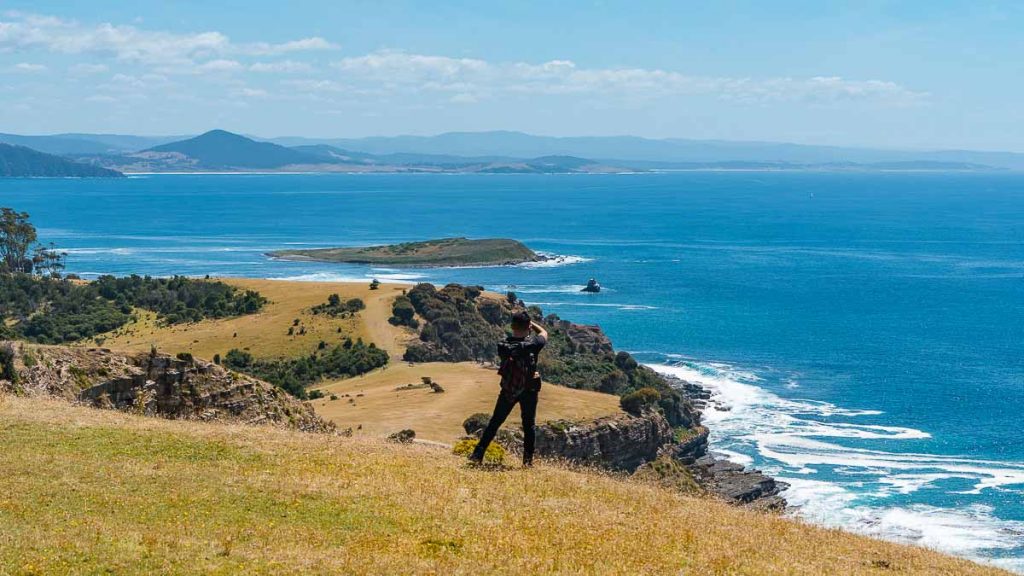 After experiencing Tasmania, I feel like I've been let into a big secret. The whole island state is a hidden gem — and it won't be long before the rest of the world catches on.
Looking for more exciting things to do in Tasmania? Check out our Ultimate Tasmania Bucket List!
Read also: Visual Diary: Tasmania Road Trip — Our Favourite Photos and the Stories Behind Them
Did we miss out any fun things to do in our Tasmania itinerary? Share with us in the comments below!
---
This post was brought to you by Tourism Tasmania.