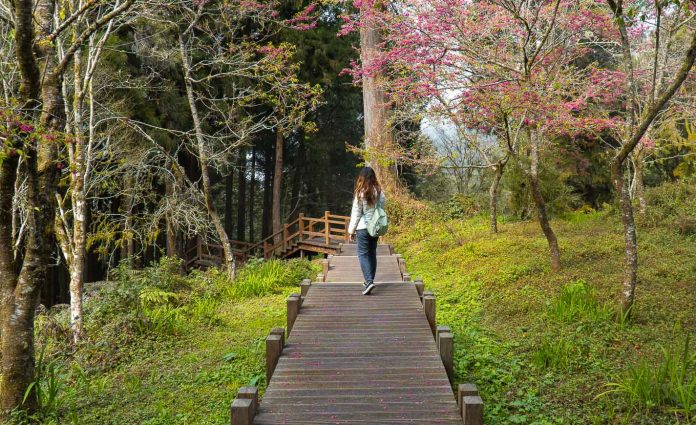 Here's the best way to explore Taiwan on a budget, without scrimping on both iconic and unique experiences!
Taiwan has always been one of our favourite destinations — it's affordable, the locals are super friendly and the street food is literally to die for (stinky tofu anyone?).
But Taiwan isn't just an eating and shopping destination, there are other scenic landscapes and outdoor activities to explore too.
Compared to other East Asia cities like Japan and Korea, where experiences can be slightly more expensive, it's definitely possible to cover this beautiful country for under S$100/day — without compromising on must-dos, must-eats, and even hidden gems!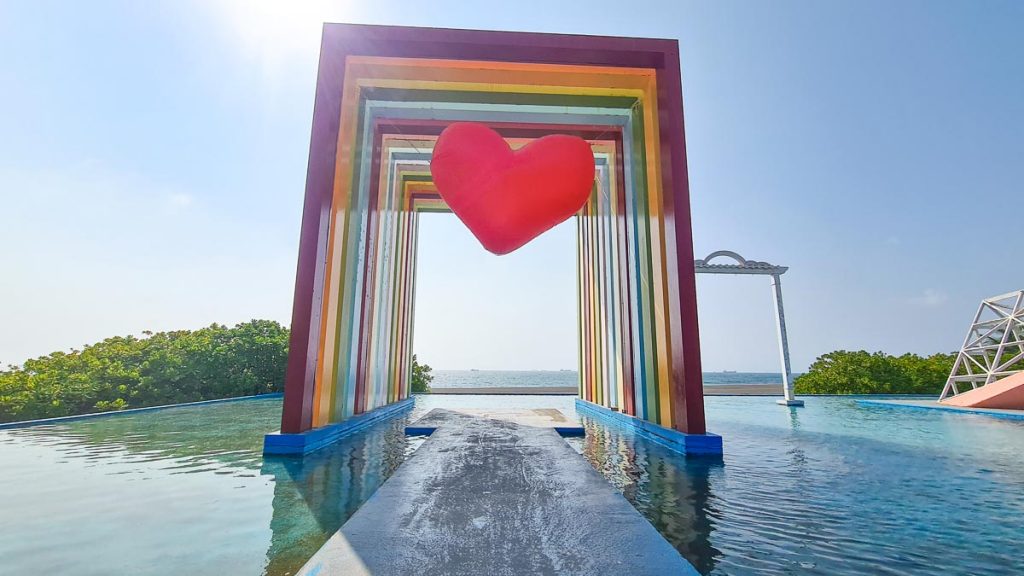 On our last trip, we explored the beautiful nature escapes of Eastern Taiwan. So this time, we wanted to visit the lesser-known regions along the West Coast 🤩.
From the world's once-tallest skyscraper in Taipei to an IG-worthy getaway island in Kaohsiung — here's how we uncovered the best of the West in this nine-day budget Taiwan itinerary.
Read also: 8D Eastern Taiwan Itinerary: The Gateway to Nature's Best Adventures (Yilan, Hualien, Taitung and Kenting)
Taiwan Itinerary Route via the High-Speed Rail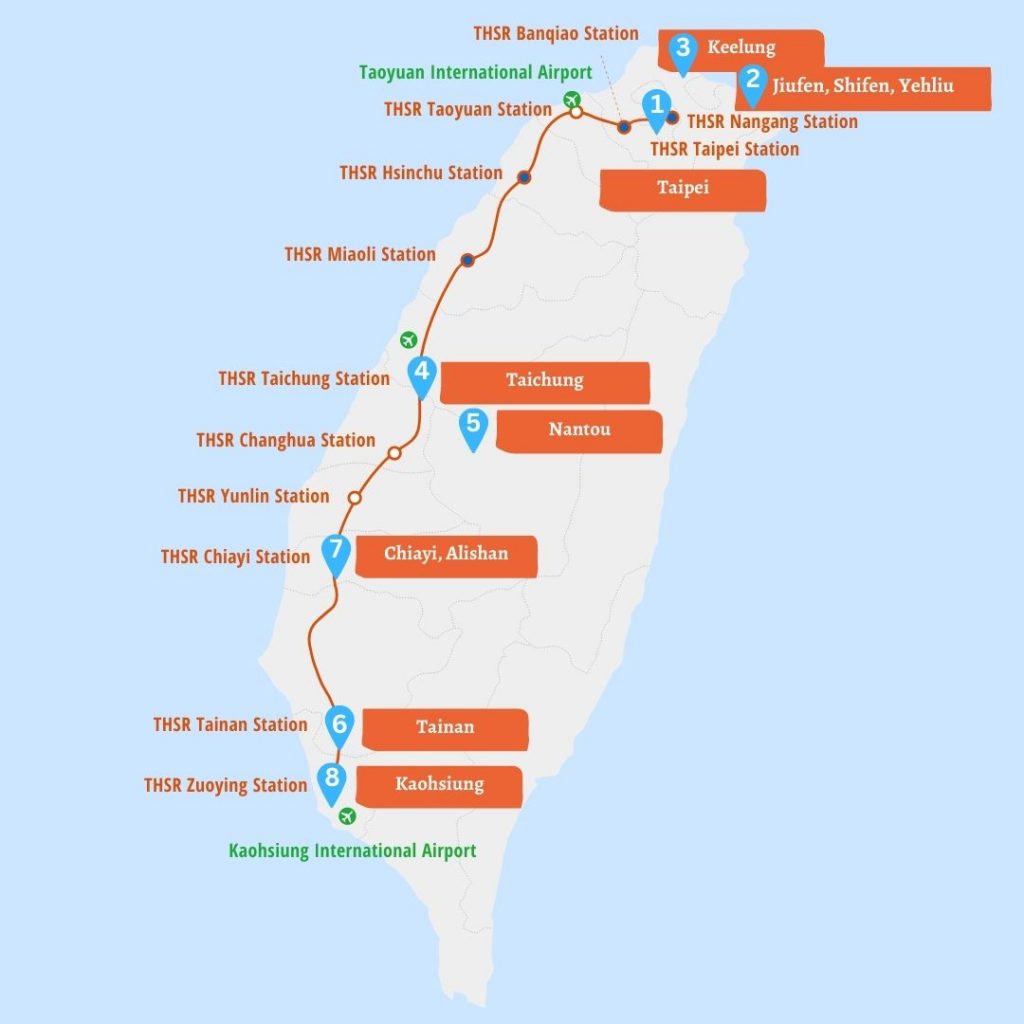 Photo credit: Taiwan High-Speed Rail
This Taiwan itinerary starts from Taipei, before working south towards Kaohsiung, stopping by several cities like Taichung, Tainan, and Chiayi along the way.
Fun fact: Taiwan's high-speed rail system is mainly based on Japan's Shinkansen (which explains why the trains are super punctual)!
The high-speed rail (HSR) is one of the quickest and most convenient ways to explore Taiwan's West Coast 🚅. There are 12 main stations on the line, stretching around 350km from Nangang to Zuoying — taking only less than 2 hours to travel from Taipei to Kaohsiung.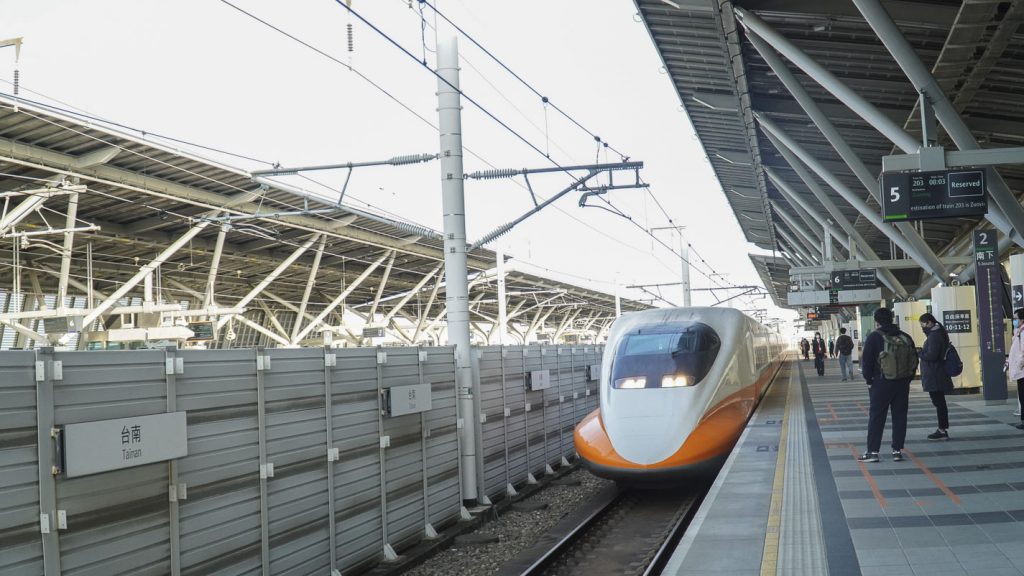 Plus, the stations are connected to the local metro, which made it easier for us to travel to certain attractions. For example, the HSR Tainan Station is located next to the Shalun metro station, which is just four stops away from attractions like Ten Drum Cultural Village.
*Pro-tip: Book your tickets online to reserve your seats as the trains can be quite packed during the holiday seasons.
Read also: Exploring Taiwan by High-Speed Rail — Guide to Maximising your THSR Pass
Budget Breakdown
8N Accommodation: S$244
Transport: S$133.20 (excl. flights)
Activities: S$279.10
Food & Misc: S$210.60
Total: S$866.90 (~S$96.30/day)
(1SGD = 22.68)

(detailed breakdown for one pax here)
Day 1: Taipei | Day 2: Jiufen, Shifen, Yehliu | Day 3: Keelung | Day 4: Taichung | Day 5: Nantou | Day 6: Tainan | Day 7: Chiayi, Alishan | Day 8 – 9: Kaohsiung | Where to Stay | Tips
Day 1: Taipei 台北
THSR from Taoyuan to Taipei: ~20mins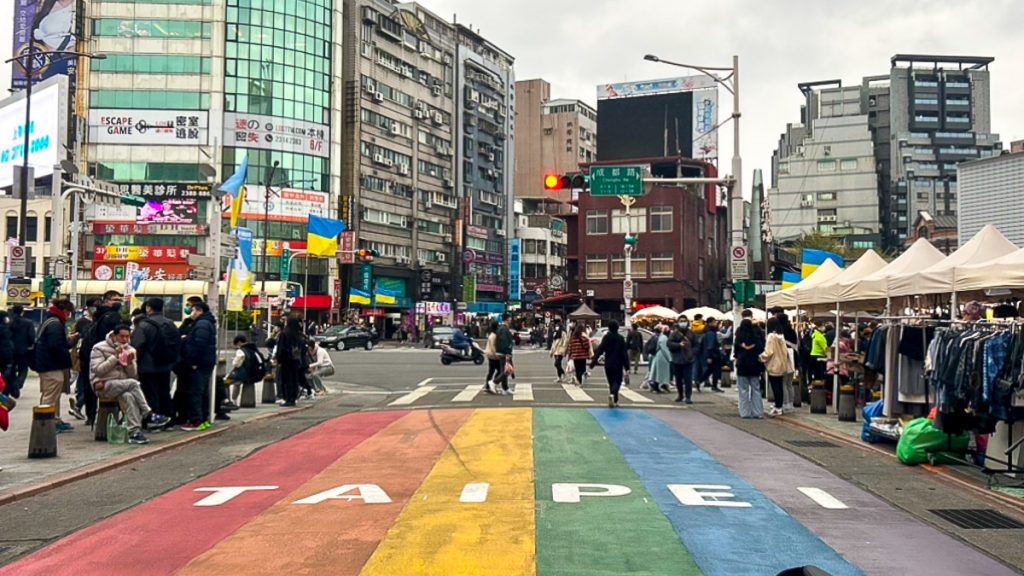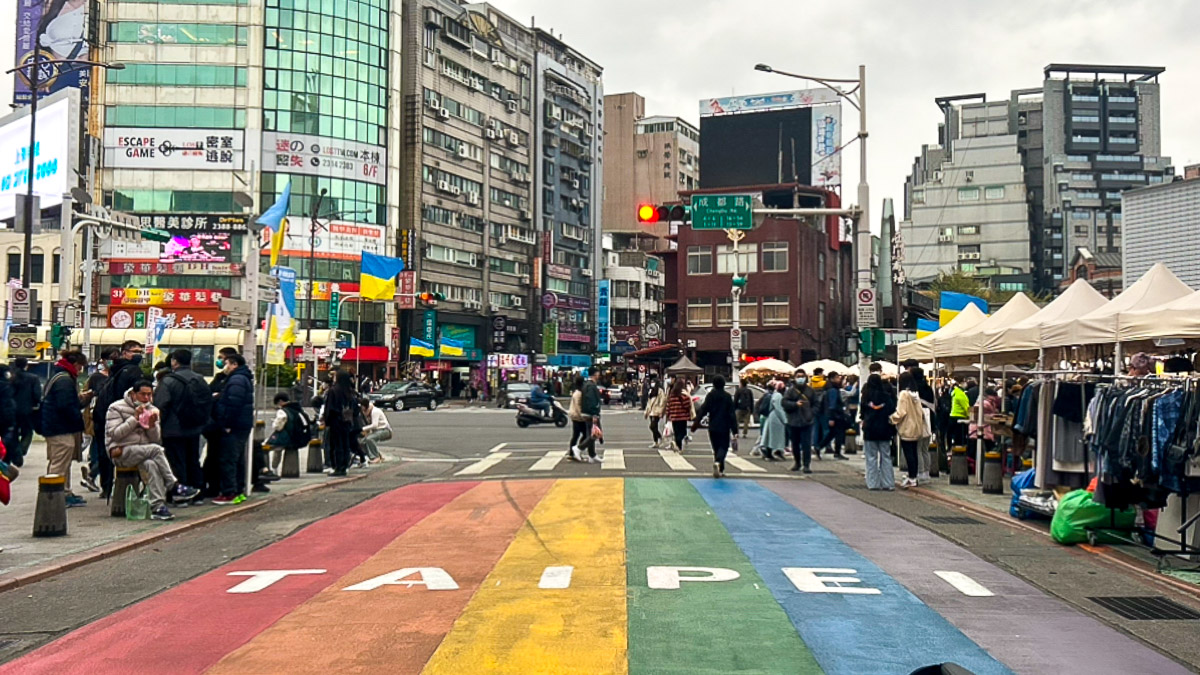 Tall skyscrapers, quirky museums, and lively shopping streets — Taipei is a one-stop destination for fun. Since we wanted more time out of the city, we only spent a day here but still managed to check out some unique places in Taipei.
Gaki Hip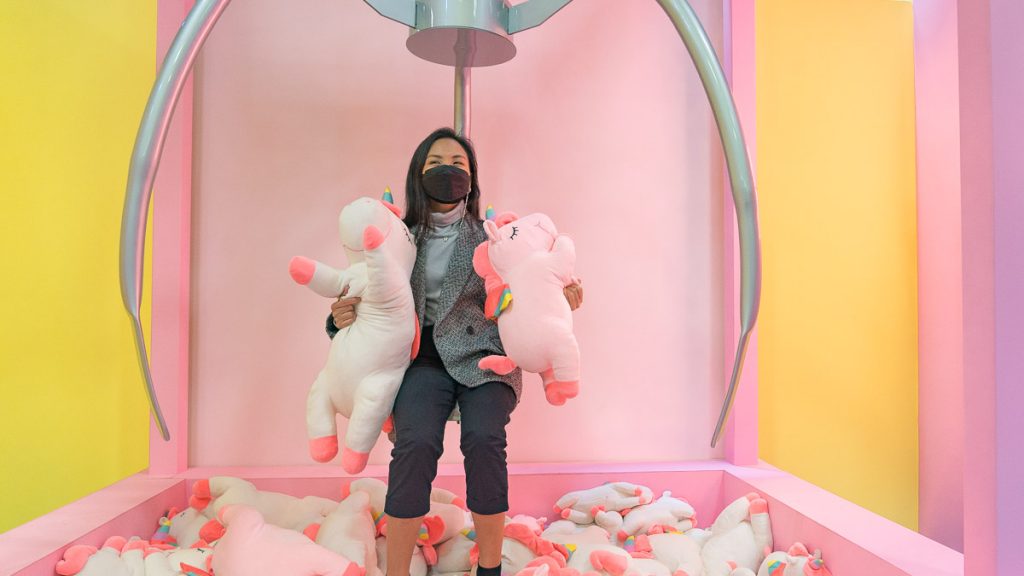 The first attraction on our Taiwan itinerary is Taiwan's first IG Museum, Gaki Hip. In the local dialect, the name sounds like words for: "take a picture by oneself" or "selfie" — and that's what we did!
The various themed rooms are inspired by the local culture such as old telephone booths, claw machines with stuffed toys, and even bubble tea.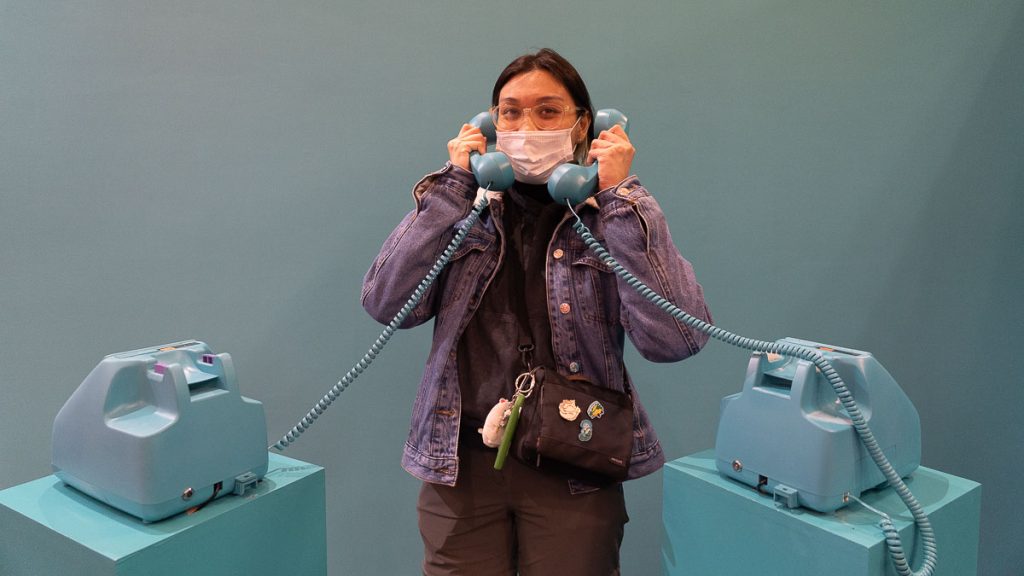 An interesting exhibit to note was one where you could drop a handwritten note into a machine, and receive a new one from a random stranger.
We were given a card with the keyword "Friendship", so we wrote something along the lines of treasuring friendships. In return, we received a card regarding "Courage" and even though our Mandarin isn't the best, we figured it had something to do with how choosing our own path is the hallmark of our generation (but let us know if you have a more accurate translation in the comments below!)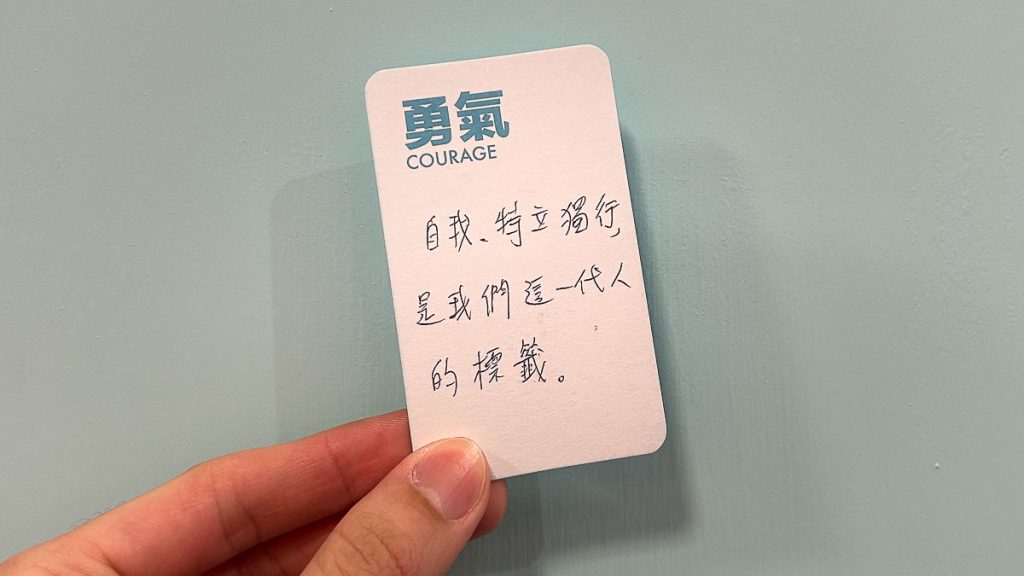 The general ticket includes five basic exhibitions in total, but you'll have to purchase a VIP ticket to access the special exhibitions like the Sky Lantern room.
*Note: Unfortunately, the museum is only open till 12 May 2023 but you can look out for other permanent and quirky museums such as an astronomical and even a raptor museum on Taiwan's official tourism site!
Cost: ~S$15.90/pax
Opening hours: 11:30AM – 8PM
Address: 13F, No. 66, Section 1, Zhongxiao West Rd, Zhongzheng District, Taipei, Taiwan 100
Lunch at Hao Ji Dumpling Noodles 豪季水餃專賣店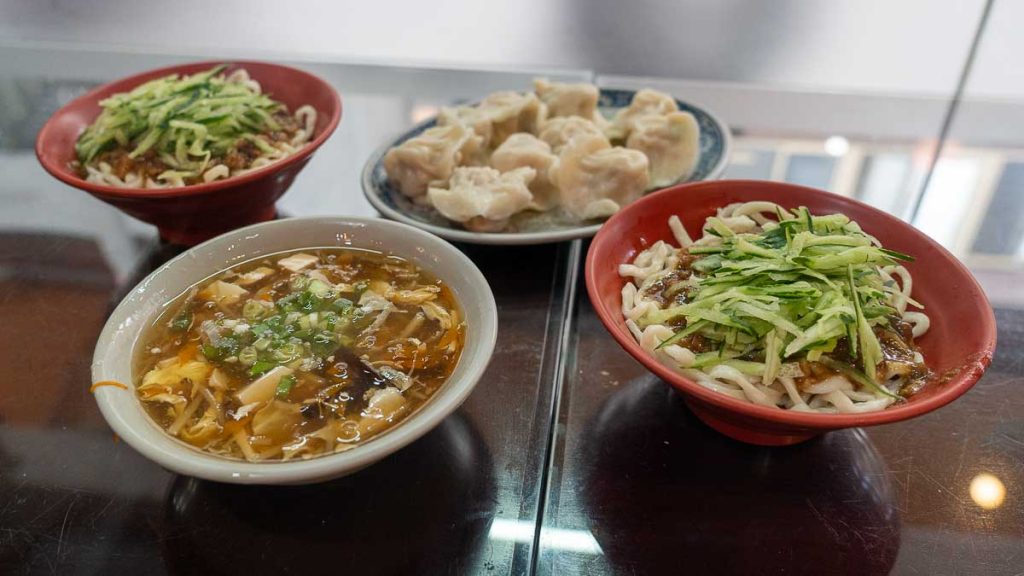 For lunch, head to Hao Ji Dumpling Noodles store for their zha jiang mian (NT$50) and hot sour soup (NT$35) near Taipei Main Station. While it was really crowded during the lunch period, the wait was worth it.
Both dishes cost less than S$4 and came with pretty generous portions — we'd say it was a value-for-money meal!
Opening hours: 10:30AM – 8PM (closed on Sun)
Address: No. 1, Lane 29, Section 1, Zhongxiao W Road, Zhongzheng District, Taipei, Taiwan 100
Huanshan 1914 Creative Park 华山1914文化创意产业园区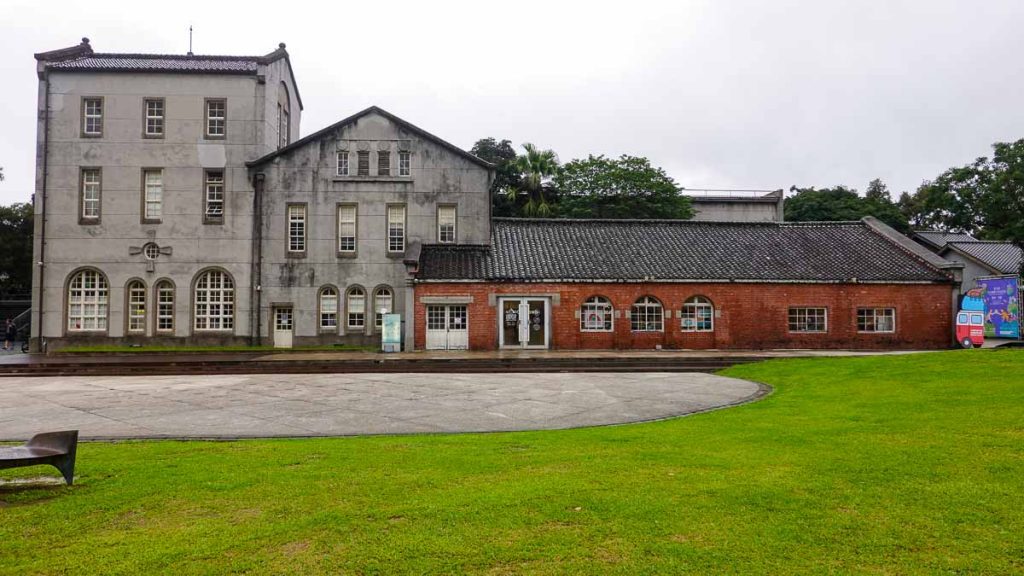 Originally a Japanese sake plant in 1914, Huashan 1914 Creative Park was later refurbished into an arts and culture space housing various exhibitions and performing arts showcases.
While we were there, we came across a Mickey Exhibition (till 5 Apr 2023) dedicated to the history of the OG Disney character — which showcases artworks of different styles from around 30 international artists.
Opening hours: 24hrs (shops open from 11AM – 9PM)
Address: No. 1, Section 1, Bade Road, Zhongzheng District, Taipei, Taiwan 100
Taipei 101 台北101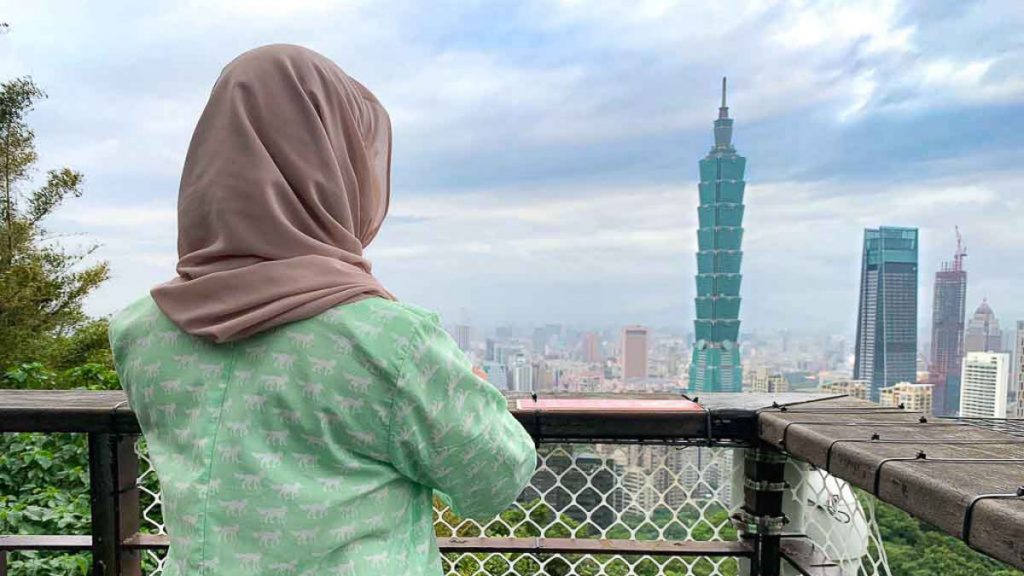 You could say Taipei 101 is the pride of Taiwan. After all, it was formerly the world's tallest architecture in 2004 at 508m tall, before it was taken over by Dubai's 828m-tall Burj Khalifa in 2010 😲.
That said, the building still holds a record for having one of the world's fastest elevators — taking you to the top in just 37 seconds! Once at the top, there are various observation decks to take in a panoramic view of the city, including an outdoor area on the 91st floor.
Entrance fee: From ~S$26.50/pax
Opening hours: 11AM – 7PM (Weekdays), 10AM – 7PM (Weekends), last entry at 6:15PM
How to get there: Take the train to Taipei 101 World Trade Center and walk 5mins
Read also: 4D3N Taipei Itinerary incl. Day Trips and Lesser-Known Things To Eat-See-Do
Day 2: Jiufen 九份, Shifen 十分, Yehliu 野柳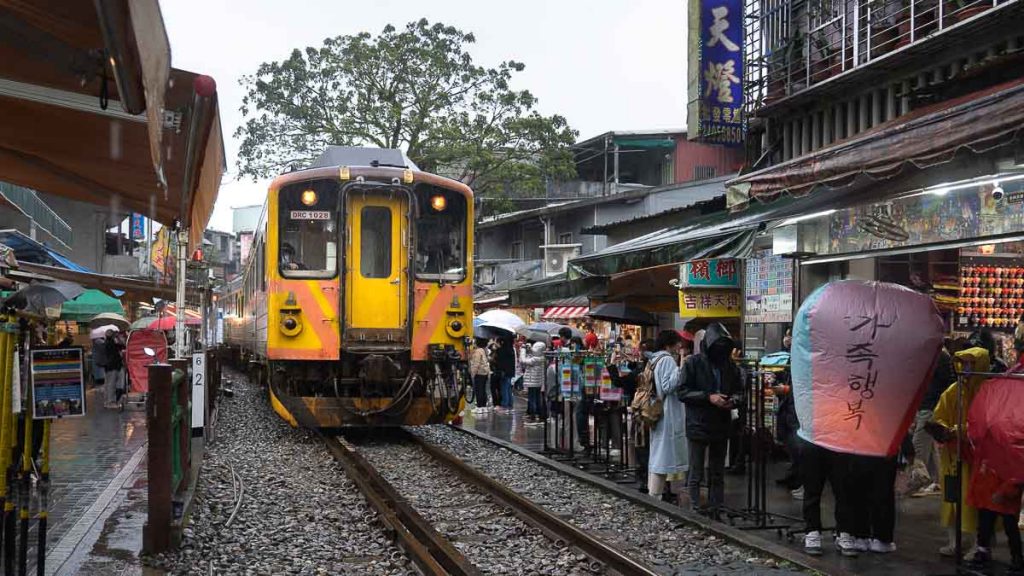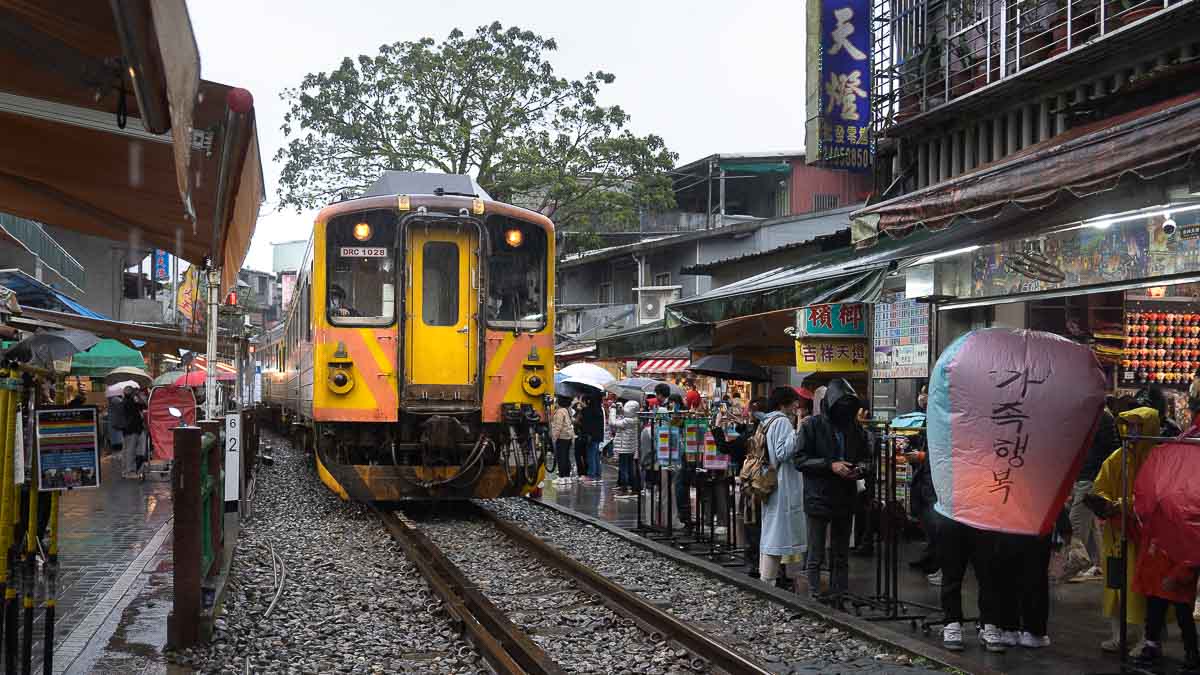 Jiufen and Shifen are one of our favourite day trips from Taipei — roaming along their traditional old streets and lighting up sky lanterns along the railway are just some of the iconic experiences on most Taiwan itineraries.
Since these cities can be covered in half a day, we decided to take a short detour to Yehliu first as it's in the area and along the way from Taipei too!
Yehliu 野柳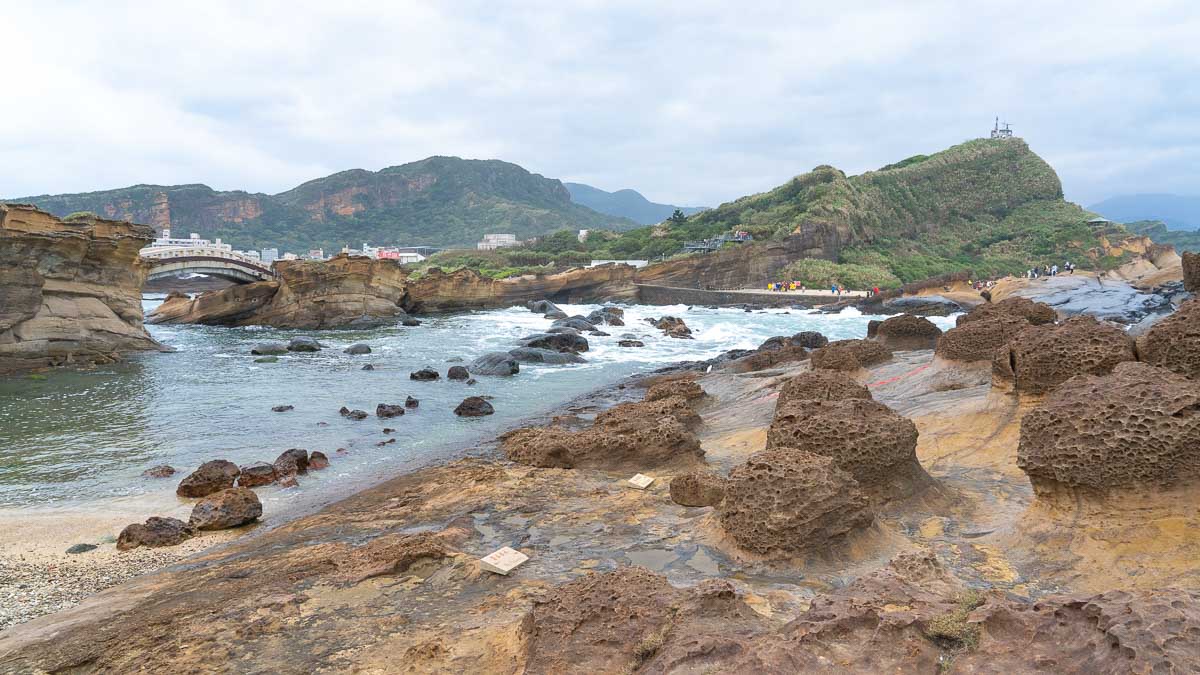 First stop, Yehliu Geopark — a 1.7km long cape that's home to several rock formations formed by natural erosion. The area is separated into three sections, each housing its own rock star (heh).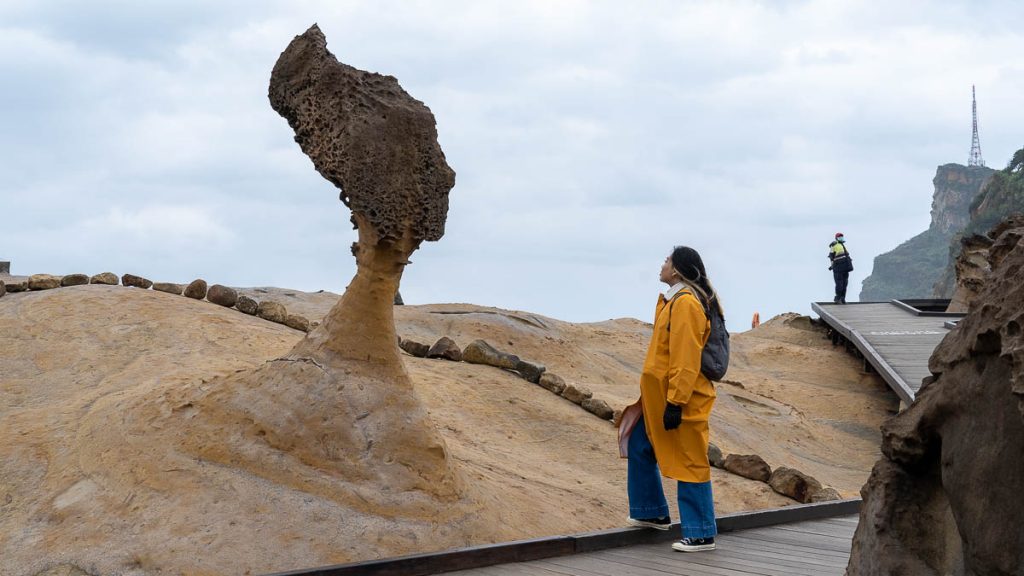 Section one is known for its diverse mushroom-shaped and candle rocks. Section two includes famous rocks like Fairy's Shoe and the Queen's Head — which we thought really resembled the late Queen Elizabeth. Section three is an important ecological conservation area of the park featuring sea-eroded caves and pearl rock.
Overall, 1 hour was enough to cover the whole park but we'd recommend giving an extra hour to fully soak in nature's creations at a leisurely pace.
Entrance fee: ~S$5.50/pax 
Opening hours: 8AM – 5PM
Address: No. 167-1, Gangdong Road, Wanli District, New Taipei, Taiwan 207
Jiufen 九份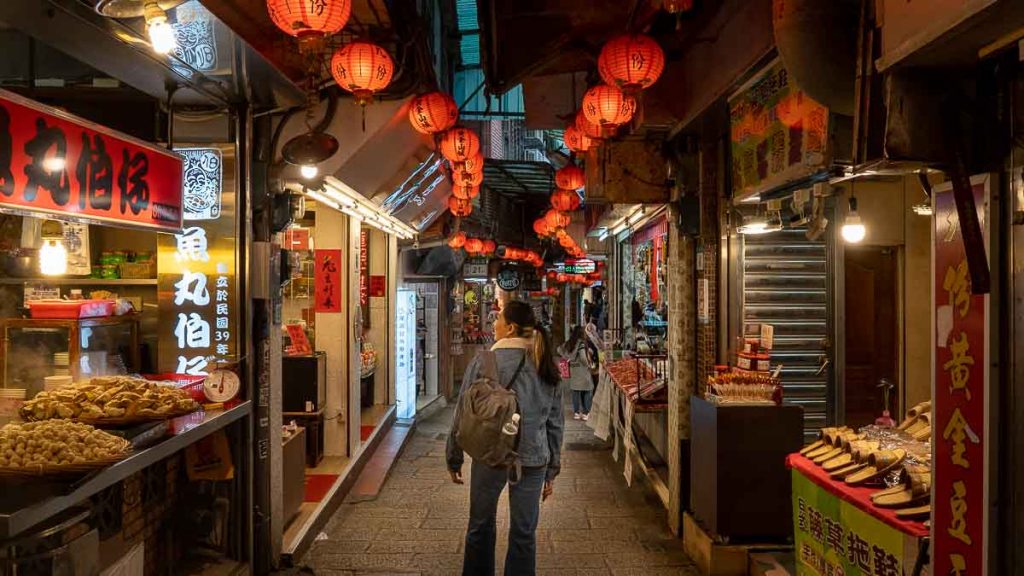 Jiufen Old Street is like going to your grandma's house stocked with food — I know, weird comparison, but there are just so many different food stalls and tea houses along the narrow alleyway, it was hard not to stop and try everything we saw. If you're short on time, here are our top picks: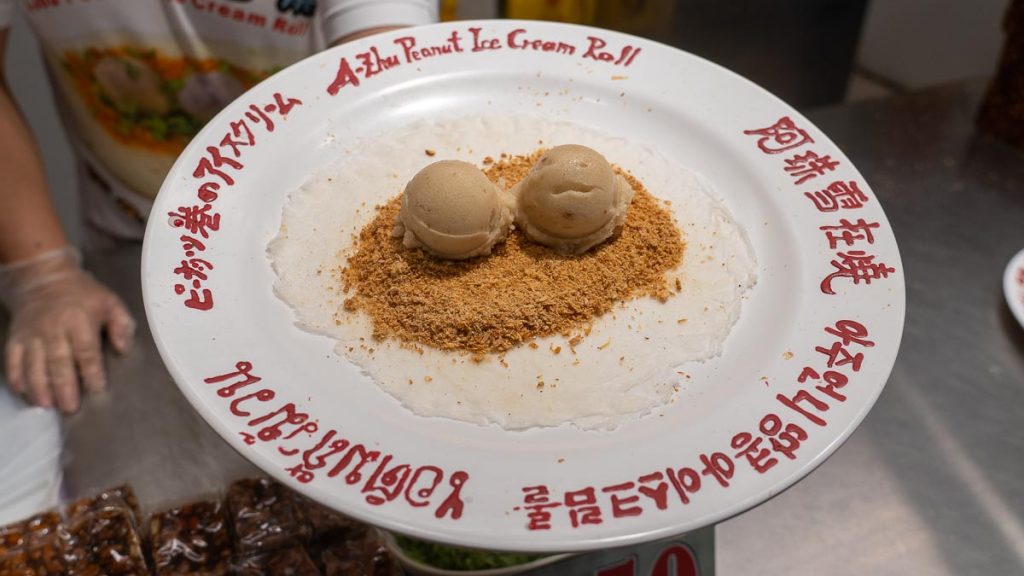 Tasty braised pork rice (NT$40) from Zhang Ji Traditional Fishballs and A-Zhu Peanut Ice Cream Roll (NT$50) — which gave us two generous scoops of peanut ice cream wrapped in a thin crepe. Plus a bowl of taro ball soup (NT$40) from Lai Ah Po Taro Balls, which warmed us up on a rainy day.
Opening hours: 8AM – 7PM (Mon – Thu), 8AM – 10PM (Fri – Sun)
Address: Jishan Street, Ruifang District, New Taipei, Taiwan 224
Shifen 十分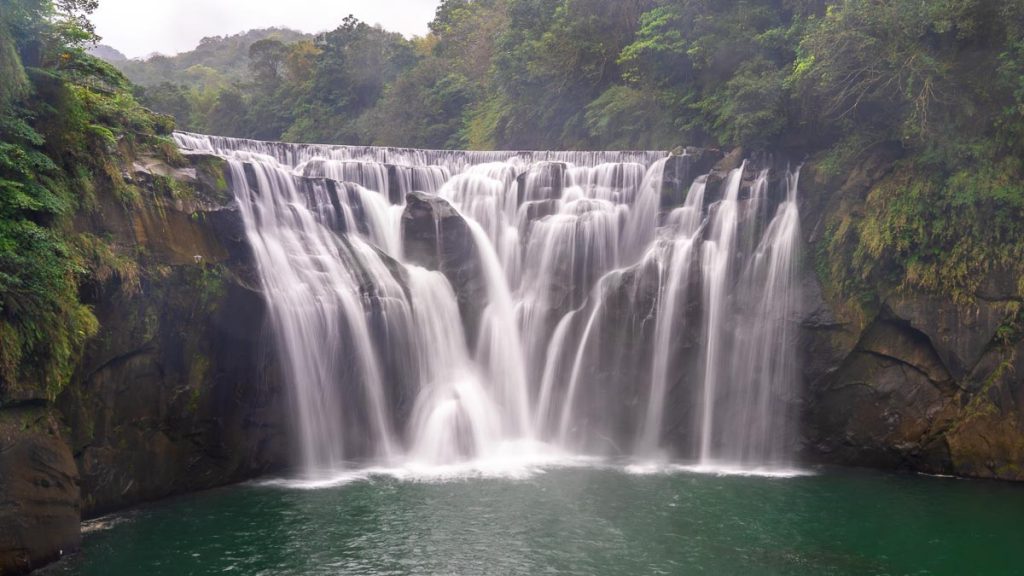 Before making our last stop of the day at Shifen Old Street, we sidetracked a little to the nearby Shifen Waterfall. The 40m waterfall is dubbed Taiwan's own Niagara Falls, and we could clearly see why.
*Pro-tip: Check the weather forecast before going and you might even catch a rainbow here on sunny days!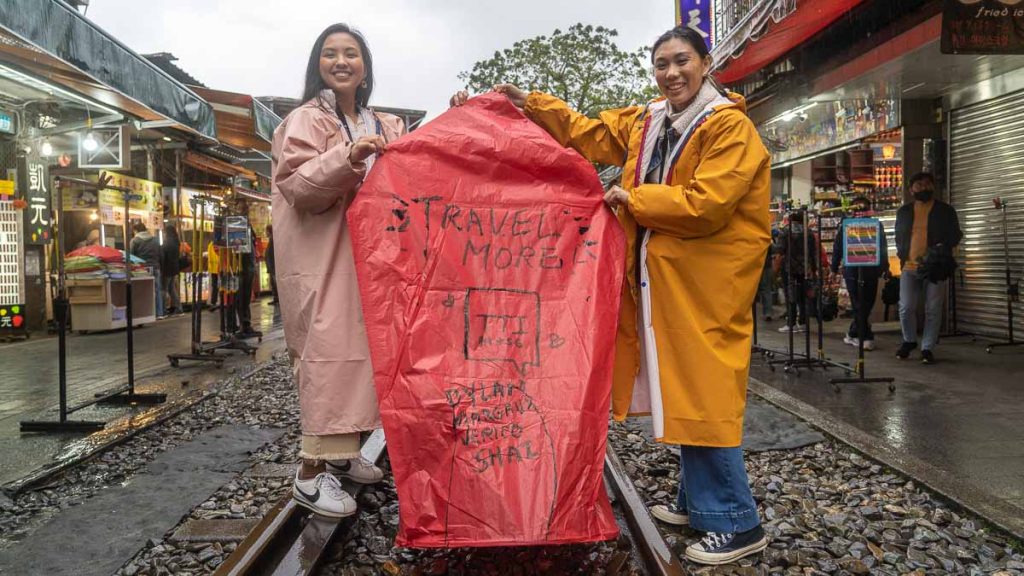 Setting off sky lanterns at Shifen Old Street is one of the most iconic experiences in Taiwan. Write your wishes on the paper lanterns, light them up, and watch them float up to the skies hoping the heavens answer it — ours was definitely to travel more 🤞🏻
Shifen Waterfall
Entrance fee: Free
Opening hours: 9AM – 6PM
Address: No. 10, Gankeng Road, Nanshan Village, Pingxi District, New Taipei, Taiwan 226
Shifen Old Street
Opening hours: 24hrs
Address: No. 81, Shifen Street, Pingxi District, New Taipei, Taiwan 226
Read also: Taipei Day Trip: Shifen & Jiufen Guide To All The Must-Eat-See-Dos
Day 3: Keelung 基隆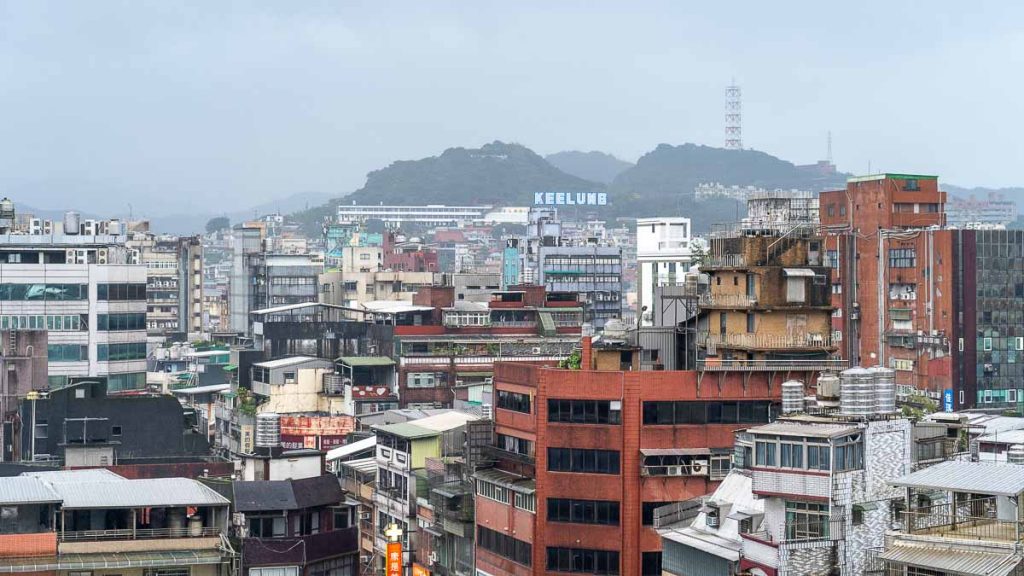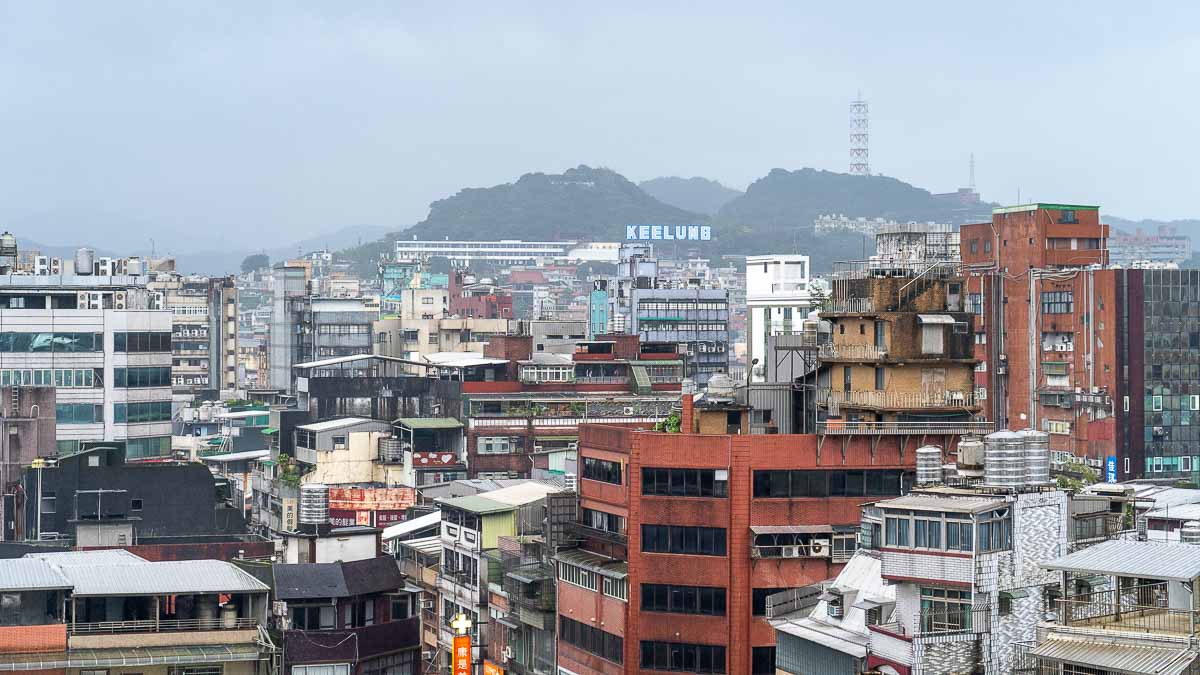 Keelung may not be as well known as Jiufen and Shifen, but it has its own natural charm with beautiful ancient forts, temples, and colourful photo spots.
Heping Island Park 和平島海濱公園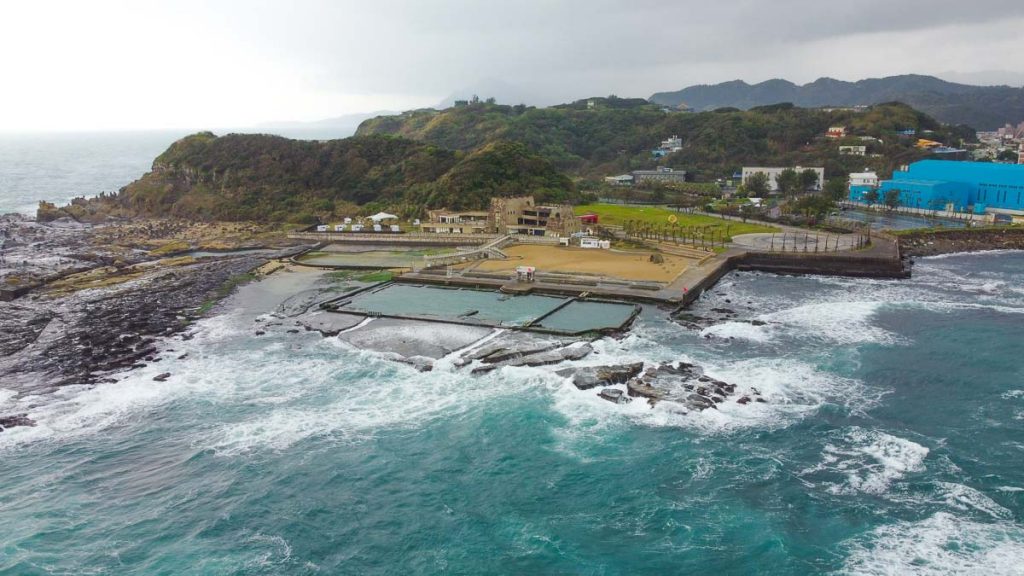 Our day started with a trip to Heping Island Park or Peace Island Park. The small island felt like a weekend getaway with cabin houses, a seaside pool, and even a beach to relax at.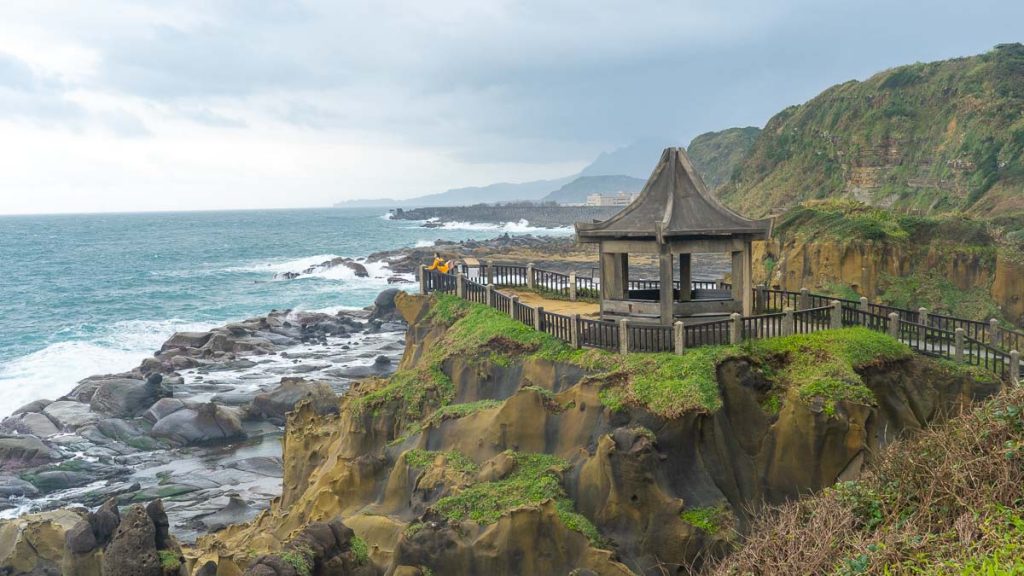 Feeling a little more adventurous, we opted for a 30-minute (round-trip) hike on the Huanshan trail to Hepingdao Lookout Point. It was a relatively easy climb and the view overlooking the sea was just majestic.
Entrance fee: ~S$5.20/pax
Opening hours: 8AM – 6PM
Address: No. 360, Pingyi Road, Zhongzheng District, Keelung, Taiwan 202
Khoo Tsu-Song Old Mansion 許梓桑基隆古厝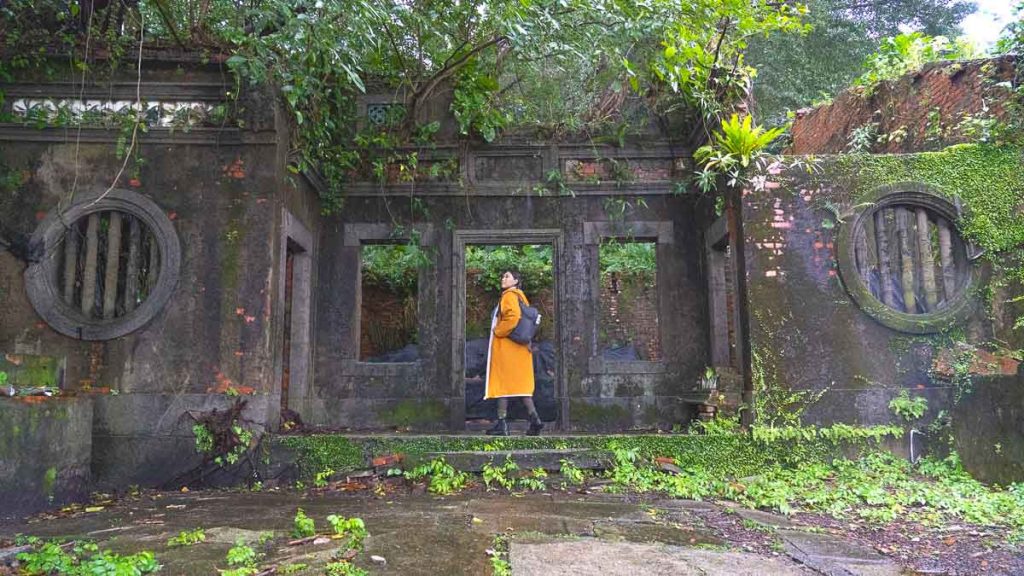 Back on the mainland, an iconic historical site we visited was the Khoo Tsu Old Mansion — a 93-year-old building from the Japanese colonial era. The mansion was named after its owner, a local who was a prominent figure in politics and civic matters in the past.
Although abandoned and covered in vines, it didn't feel spooky at all but gave off a tranquil atmosphere among nature.
Entrance fee: Free
Opening hours: 24hrs
Address: No. 15, Lane 2, Aisi Road, Ren'ai District, Keelung, Taiwan 200
Xiandongyan (Fairy Cave) Zuisheng Temple 仙洞巖最勝寺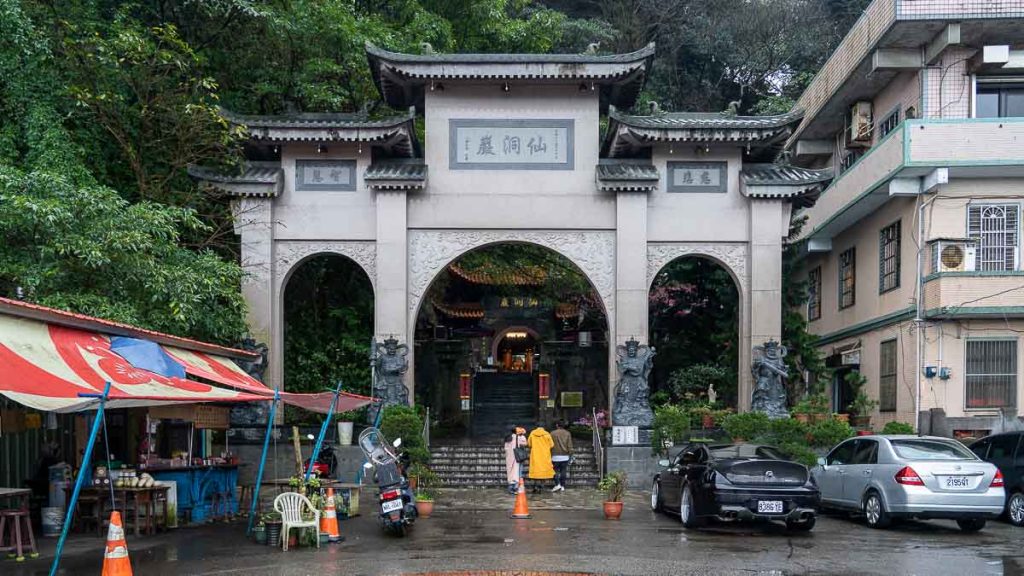 What makes Xiandongyan Zuisheng Temple temple special compared to other temples is that it's built in a natural sea cave — one of the biggest in Keelung at over 80m long!
Here's some background: The caves were once a natural refuge for local fishermen during bad weather but were converted to a Buddhist temple during the Japanese colonial period.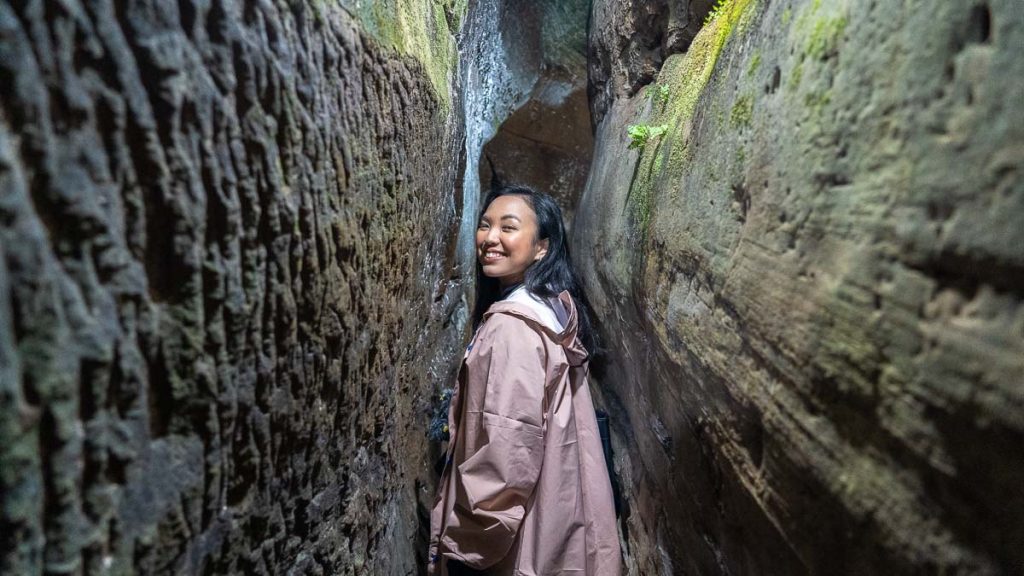 While exploring, we came across a narrow path on the left of the entrance leading to a Buddhist shrine. But be mindful, the path is only wide enough for one person and we had to squeeze through to pass.
Entrance fee: Free
Opening hours: 8:30AM – 4PM
Address: No. 1, Renan Street, Zhongshan District, Keelung, Taiwan 20343
Zhengbin Port Colour Houses 正滨渔港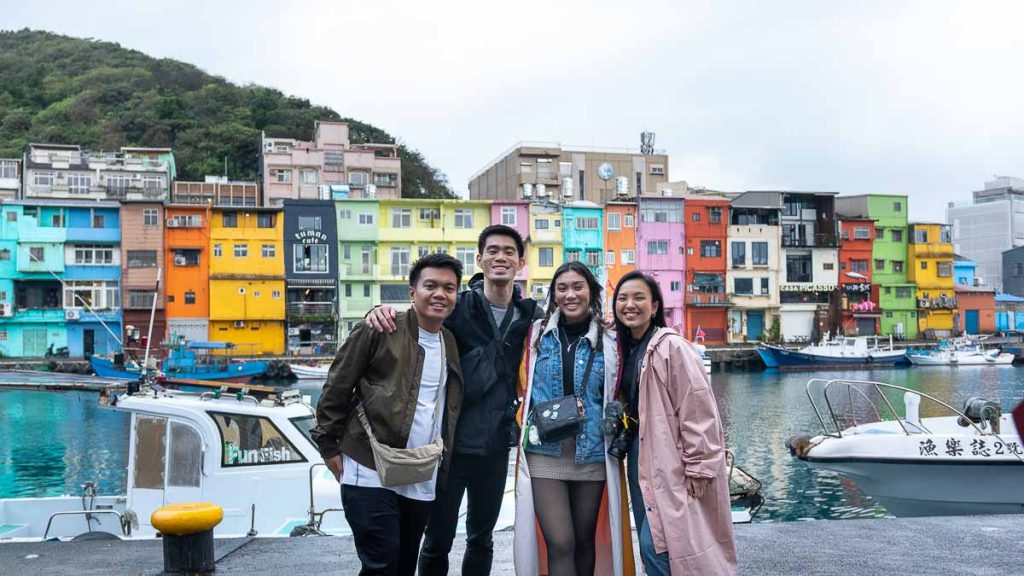 Google "Keelung" and one of the first few images you'll see are the 16 vibrantly coloured houses at Zhengbin Port!
It was once the largest fishing port in Taiwan back in 1934 and was later re-developed by the local government. After colouring the building facades and introducing new cafes and restaurants by the sea, this place is now one of the most popular attractions in Keelung.
Guess we'll now be contributing these photos to Google, including a 5-star review 💫.
Entrance fee: Free
Opening hours: 24hrs
Address: No. 391, Zhongzheng Road, Zhongzheng District, Keelung, Taiwan 202
Read also: 5D4N Taiwan Itinerary Under S$400 — Scenic Roadtrip Uncovering Hidden Gems in Taipei and Yilan
Day 4: Taichung 台中
THSR from Taipei to Taichung: ~20mins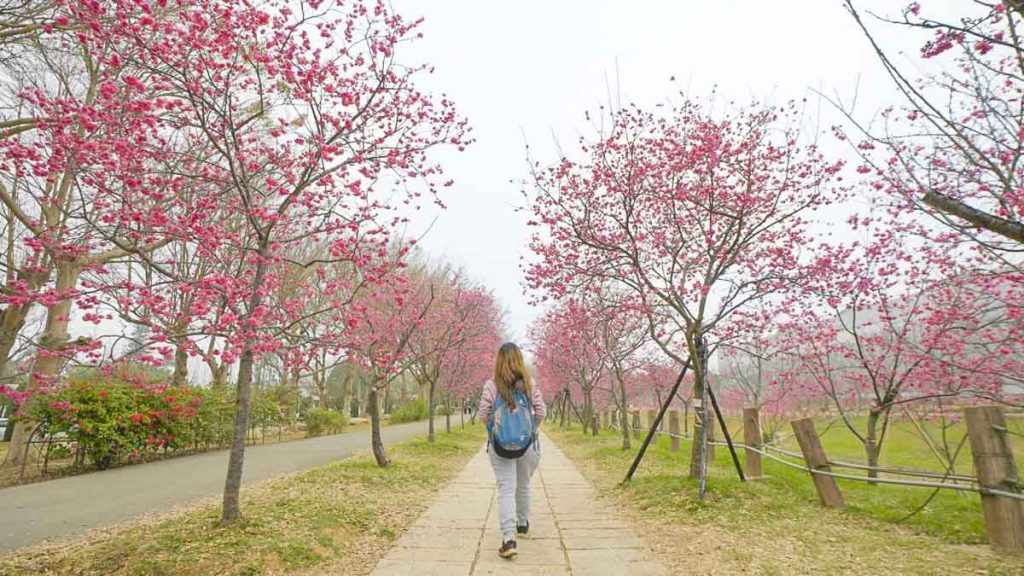 Did you know? Taichung is Taiwan's second-largest city and is the birthplace of many delicious Taiwanese treats like sun cakes and bubble tea! It's also a great base to head out for day trips to other cities like Taian and Nantou.
Sun Cake Museum 太阳饼博物馆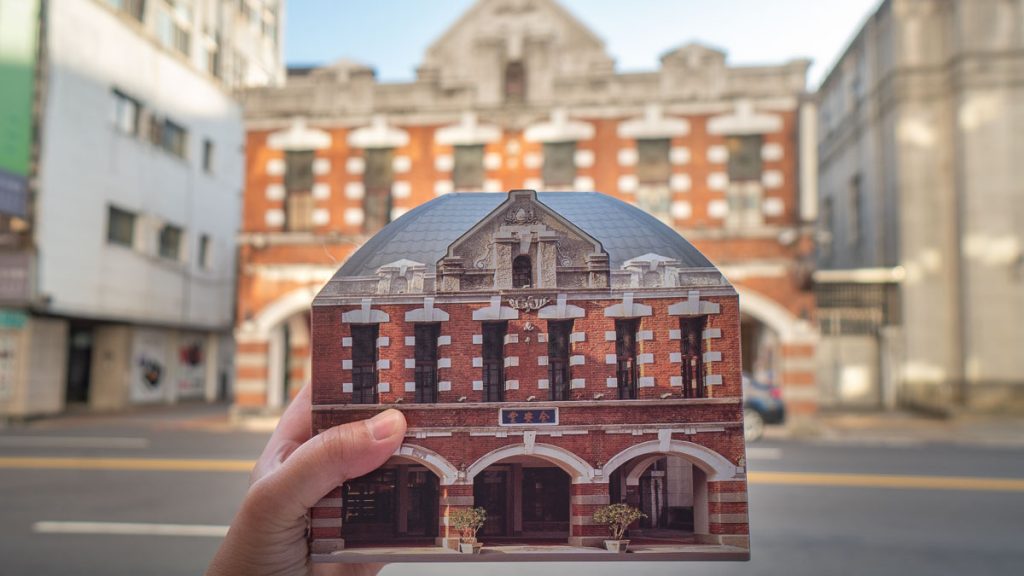 I was today years old when I learnt that the famous Taiwanese delicacy tai yang bing (太阳饼) or sun cakes originated from Taichung 🤯. For those who're unfamiliar, it's a buttery and flaky pastry with a maltose filling.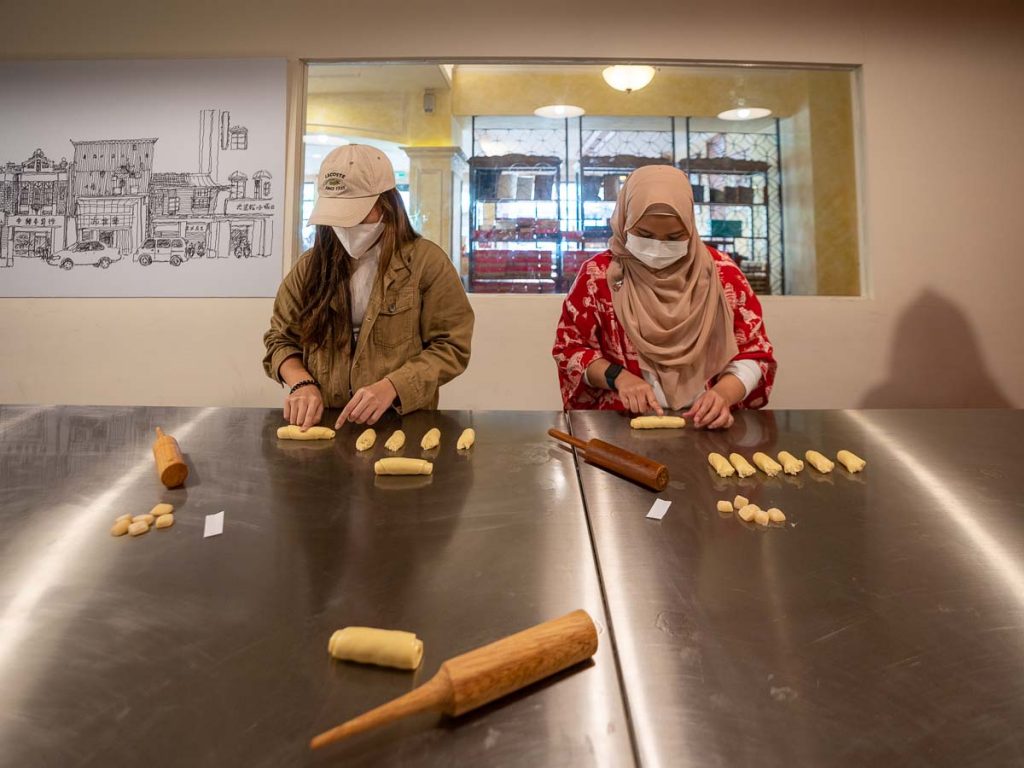 Learn about sun cakes at the Sun Cake Museum but what we're really here for is the sun cake-making workshop! We joined a 1-hour session with a professional chef to create six freshly baked sun cakes.
Not to boast but ours turned out really well, being sweet on the inside and crispy on the outside.
Entrance fee: Free
Cost of workshop: NT$250/pax
Opening hours: 9AM – 5:30PM
Address: No. 145, Section 1, Taiwan Blvd, Central District, Taichung, Taiwan 400
Desserts at Chun Shui Tang 春水堂 and Miyahara 宮原眼科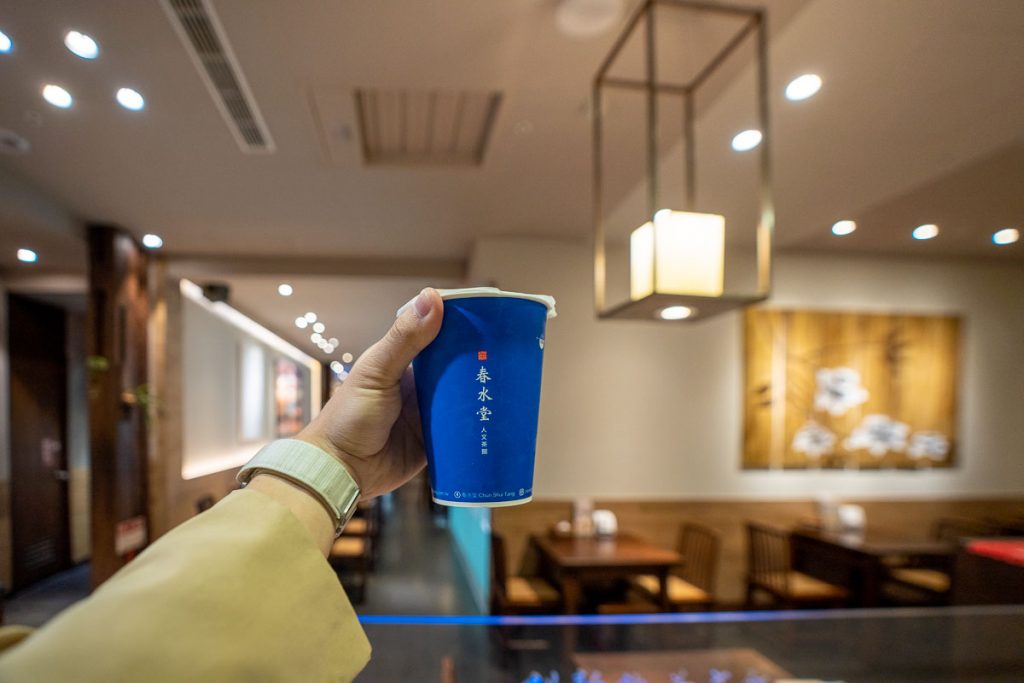 Apart from innovating sun cakes, Taichung is also where my favourite drink was created. Dating back to the 1980s, a local tea shop named Chun Shui Tang 春水堂 is said to be the inventor of bubble tea.
After having been there though, we found it to be slightly overpriced at NT$90 for a small cup of pearl milk tea. But hey, never forget your roots, so it's still worth a try to taste how it all began.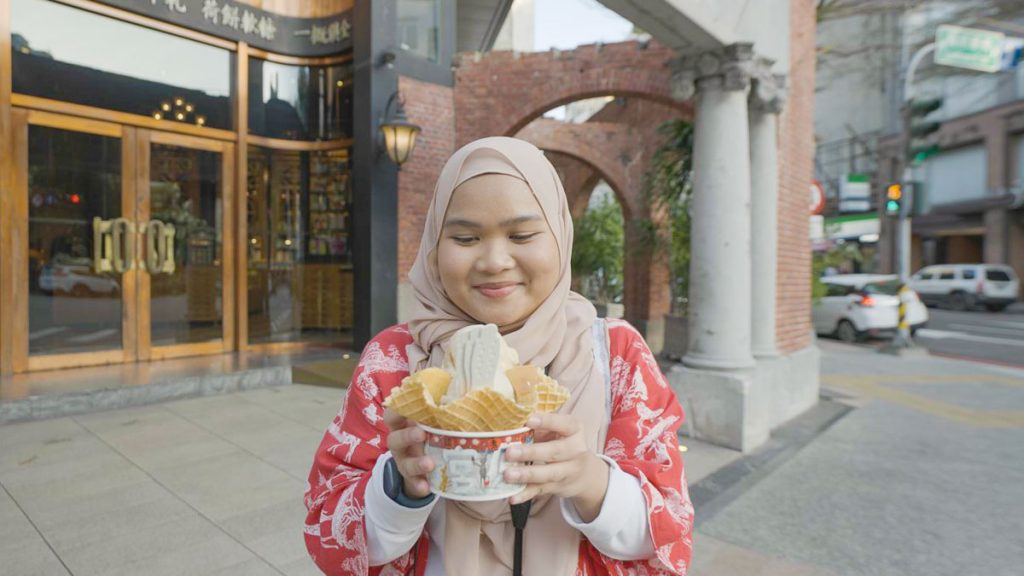 Miyahara's ice cream is another dessert we highly recommend. There are over 50 flavours, including 18 different types of chocolate ice cream. Some interesting flavours we got were the Alishan osmanthus oolong, and caramel apple — which tastes just like an apple pie.
Chun Shui Tang
Cost: NT$90/cup
Opening hours: 8AM – 10PM
Address: No. 30, Siwei Street, West District, Taichung, Taiwan 403 (Siwei Original Store)

Miyahara
Cost: NT$200 for 2 scoops and 2 toppings
Opening hours: 10AM – 9PM (closed on Tue)
Address: No. 20, Zhongshan Road, Central District, Taichung, Taiwan 400
Yizhong Night Market 中夜市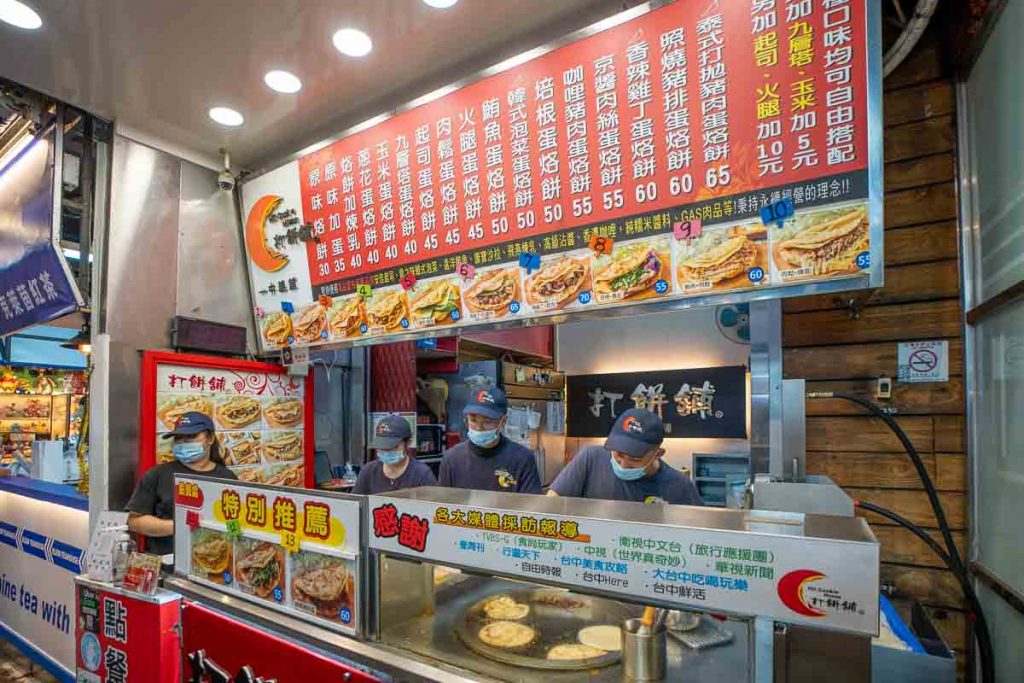 There are plenty of night markets in Taichung but Yizhong Night Market is the one to visit. It's open daily, quite spread out, and not too crowded. Most importantly, we found the best bubble tea here (sorry Chun Shui Tang).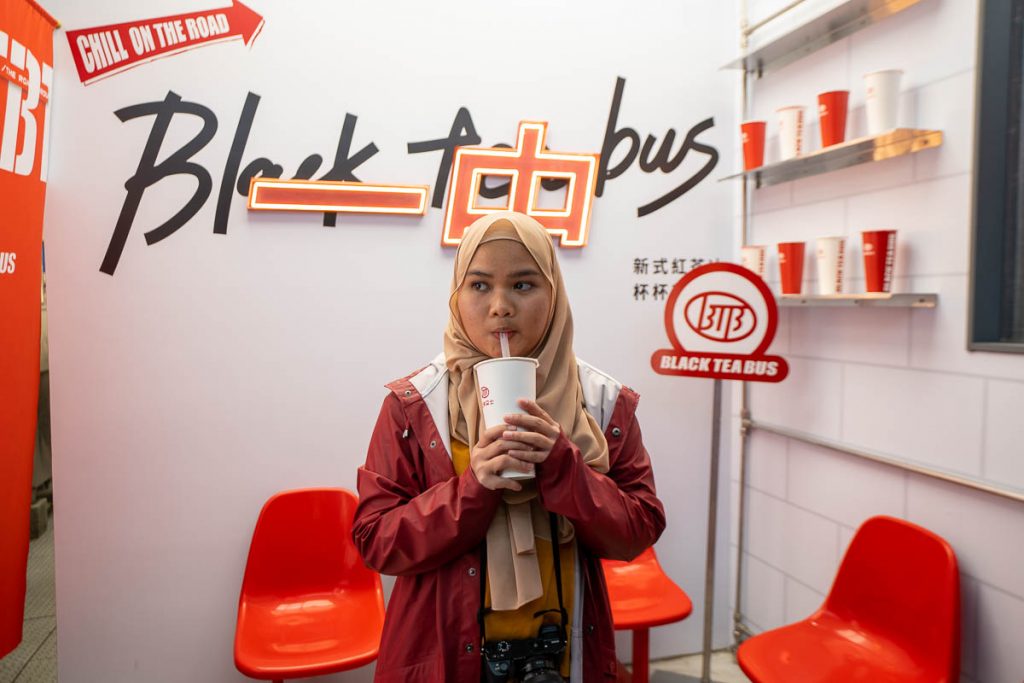 The milk tea (NT$40) from Black Tea Bus is really sweet and fragrant, and topped with mini pearls! Other local delicacies here are the usual chicken cutlet, papaya milk, and fried pancakes with interesting fillings like pork with curry.
Opening hours: 11AM – 10PM (Weekdays), 11AM – 11PM (Weekends)
Address: Yizhong Street, North District, Taichung, Taiwan 404
Bonus: Day Trip to Taian 泰安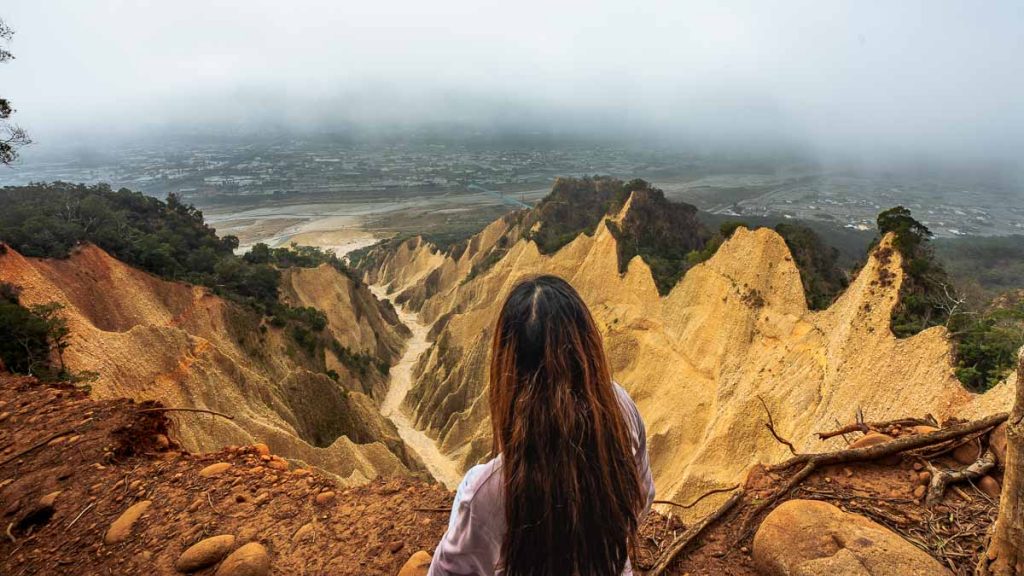 If you have extra time to spare, take a day trip to Taian — a mountain indigenous town located in Miaoli County.
It's only 30 minutes from Taichung by train and is famous for its Huoyan Shan hike which can take up to 3 hours (round-trip). The incline is steep and may not be an easy hike for beginners but we assure you, the views at the top are worth it 💯.
*Note: Check the train/bus timings to Huoyan Shan Trailhead regularly on Google maps as they are infrequent.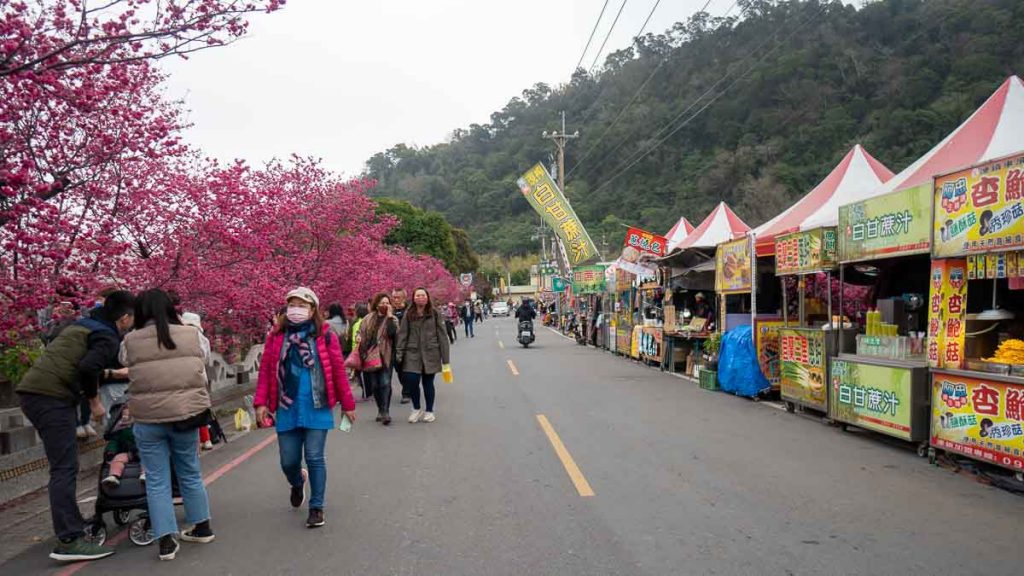 We were here during spring (between Feb – Mar) and managed to catch the beautiful pink blooms! Some places we recommend are Wele Cherry Blossom Park and outside the Taian Police Station — with street vendors selling food like scallion pancakes and Taiwanese sausages.
*Pro-tip: Check Google reviews regularly to see if flowers are still in bloom in these areas.
Read also: The Ultimate THSR Taiwan Food Guide: 25 Must-eats in Taipei, Taichung, Tainan, and Kaohsiung
Day 5: Nantou 南投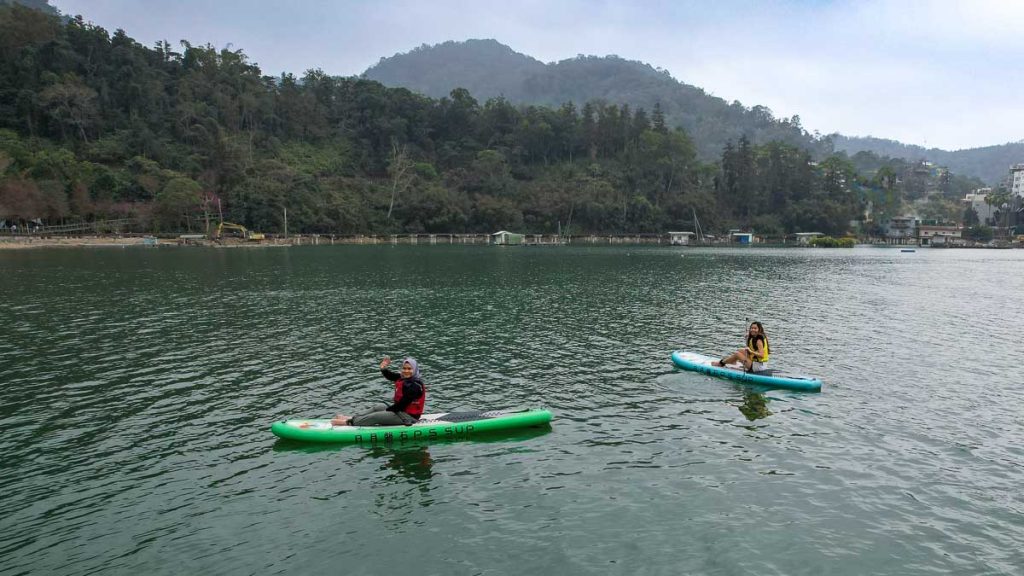 Fun fact: Nantou is Taiwan's only non-coastal county but ironically, one of the country's most beautiful lakes is found here!
Sun Moon Lake 日月潭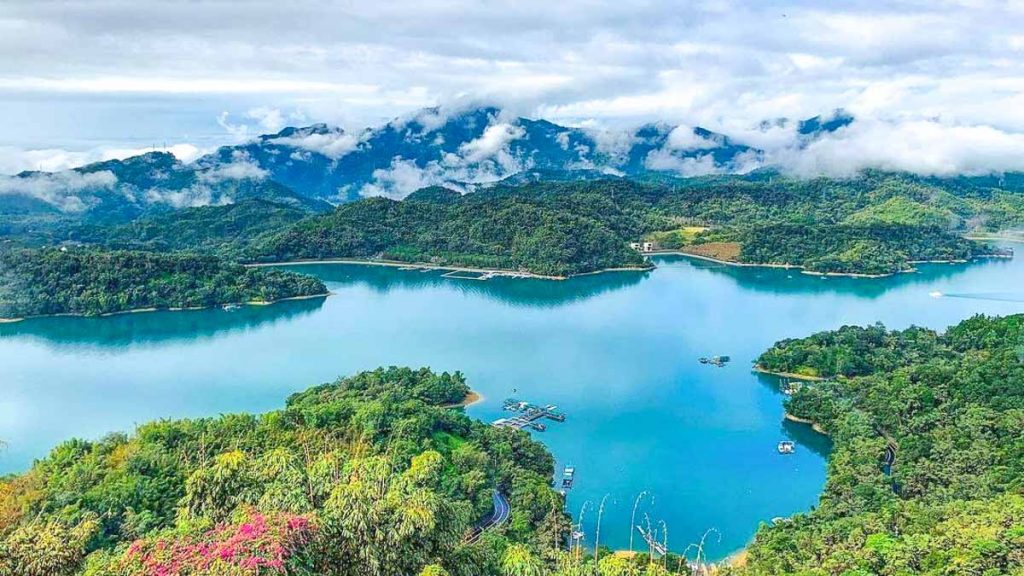 Photo credit: @grave_before_shave_ via Instagram
Surrounded by gorgeous mountains, Sun Moon Lake is one of the most scenic landscapes in Taiwan. It's a popular day trip from Taichung, being only 2 hours away by bus.
To fully revel in its beauty, we went for a 1-hour Stand Up Paddling experience. Even without an instructor, it was surprisingly beginner-friendly and no one ended up falling in the water 🤭 .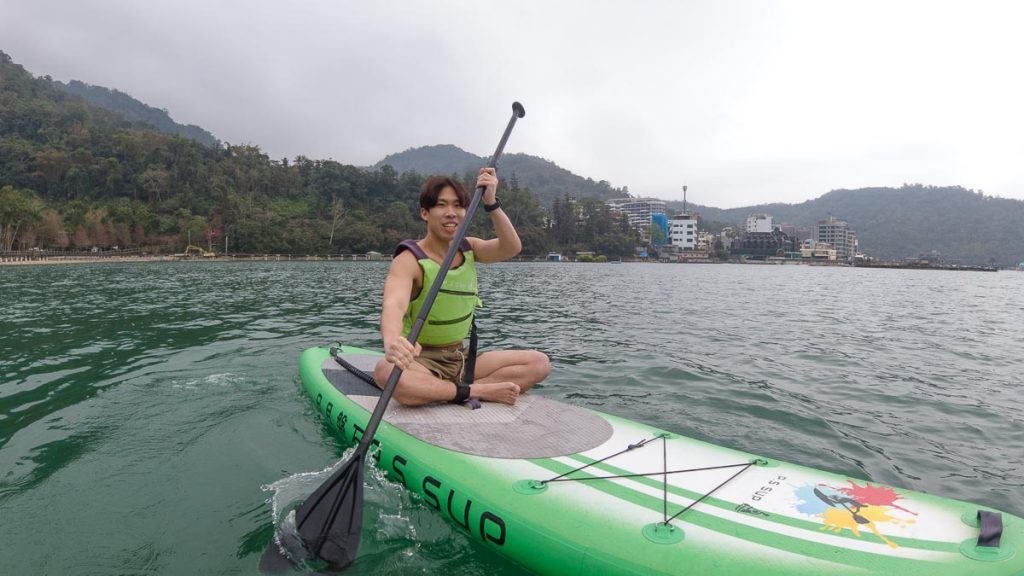 Something else we learnt is that it's easier to stand up when your board is moving — probably due to calm lake waters! If you're not too confident, it's also nice to just sit and paddle while taking in the views.
Other attractions to explore in the area (if there's time), include Wenwu Temple, Yidashao Lakeside Trail, Riyuetanlan Station and Ci'en Pagoda.
Cost: ~S$30.50/pax for 1hr
Timing slots: 9AM – 4PM (hourly session)
How to get there: Various buses available from THSR Taichung Station to Sun Moon Lake
Formosan Aboriginal Cultural Village 九族文化村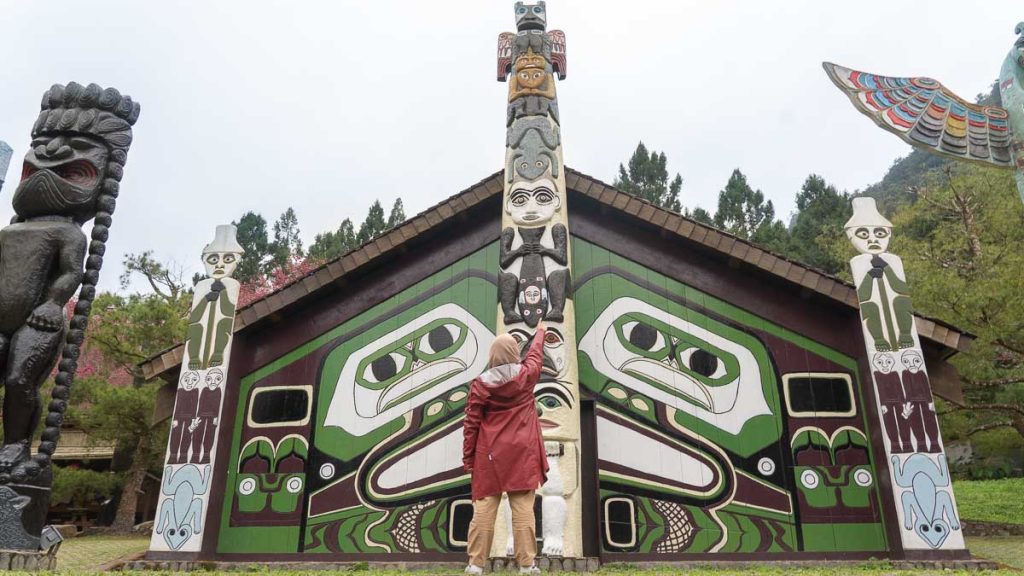 As the Stand Up Paddling experience was near the Sun Moon Lake ropeway, we hopped on it to get to Formosan Aboriginal Culture Village.
The village has a section dedicated to replicas of aboriginal villages which you can enter and explore, but we definitely didn't expect a full-on amusement park there too!
We took the Gold Mine Adventure — a water ride with two decent drops, and Maya Adventure — a rollercoaster that drops from a height of 11 stories.
If you are up for the challenge (unlike us), the toughest one here is the UFO Gyro Drop — hailed as the highest free-fall drop tower in Taiwan at 85m 😱.
Entrance fee: From ~S$34/pax (incl. Sun Moon Lake Ropeway ticket)
Opening hours: 9:30AM – 5PM
How to get there: Take the ropeway from Sun Moon Lake to Formosan Aboriginal Cultural Village
*Note: The last bus from the village departs at 5:45PM but do leave earlier as drivers may depart early.
Day 6: Tainan 台南
THSR from Taichung to Tainan: ~55mins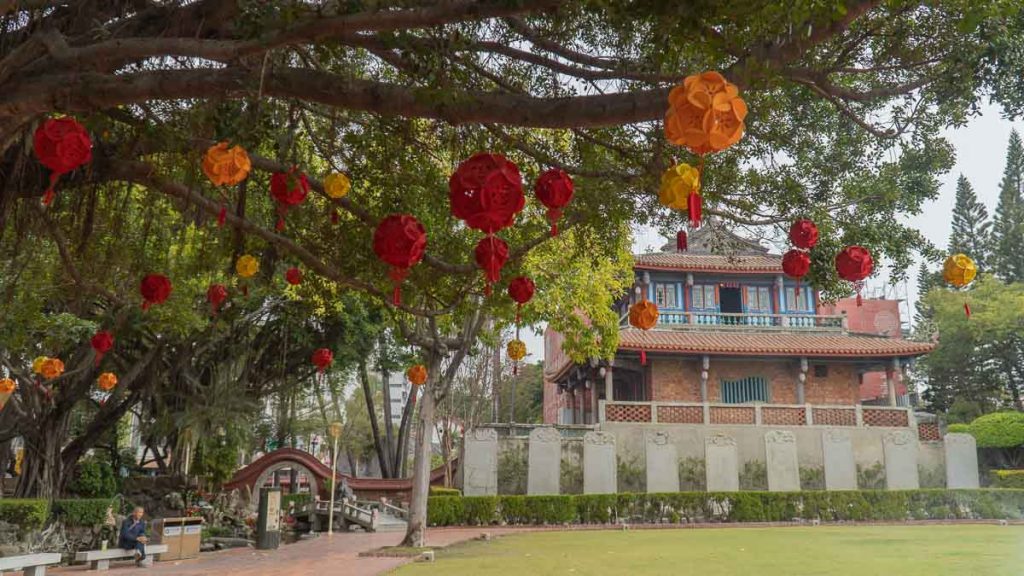 Established in 1661, Tainan is the oldest city in Taiwan with many historic temples, artsy streets, and unique villages.
We also chose to set up base here for the last few days of our Taiwan itinerary as it's less than 30mins away by train to cities like Chiayi and Kaoshiung!
Chihkan Tower 赤嵌樓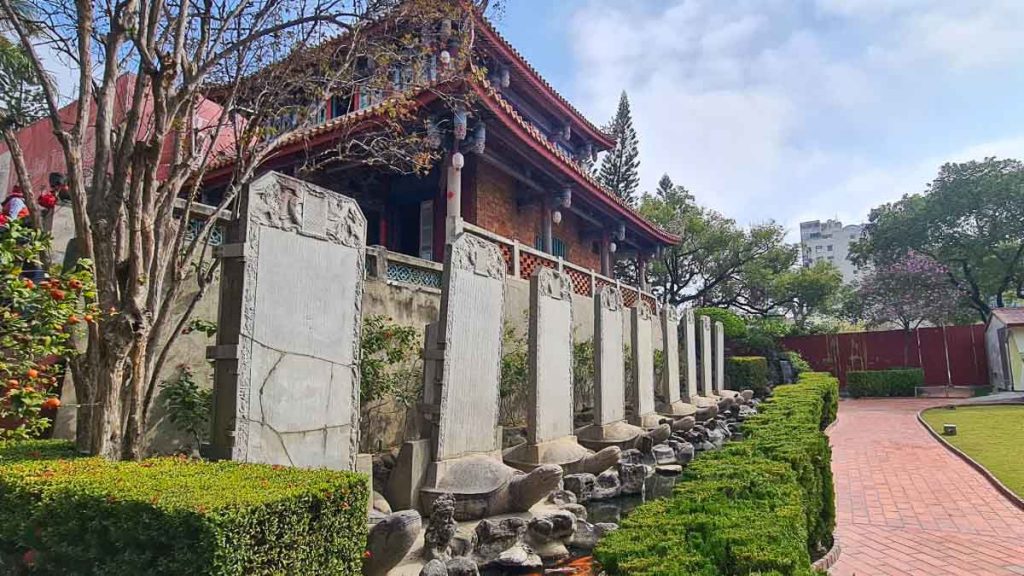 With more than 300 years of history, Chihkan Tower is the oldest building in the West Central District and one of Tainan's most famous landmarks.
It was formerly built in 1653 as a fort by the Dutch, and now it's a national historic site comprising Haisheng Temple (海神廟), Wengchang Pavilion (文昌閣) and Penghu College (蓬壺書院).
Besides the beautiful traditional architecture, what caught our eye were the nine imperial steles carried by stone bixi — a mythical half-dragon, half-tortoise creature.
Entrance fee: ~S$2/pax
Opening hours: 8:30AM – 9:30PM
How to get there: Walk 10 minutes from Tainan Station
*Note: Wenchang Pavilion and Penghu Academy are currently under renovation until end 2023.
Hai'an Road Art Street 海安路藝術街 and Snail Alley 蜗牛巷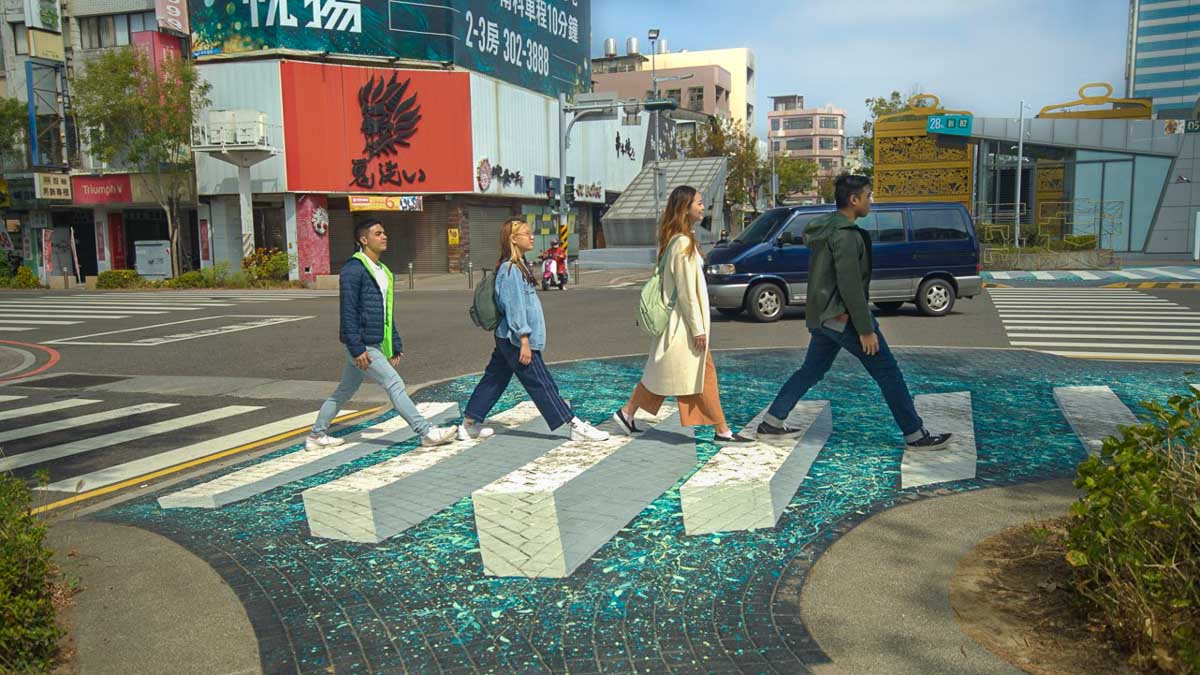 At first glance, Hai'an Road might seem a little run-down and covered in graffiti. But as we walked around, we realised it was just a huge public art exhibition.
Some of our favourite artworks were the 3D pedestrian crossing — where we couldn't resist recreating that iconic Beatle photo, and the rainbow blocks sculpture — which symbolises the diversity of gender and family 🏳️‍🌈.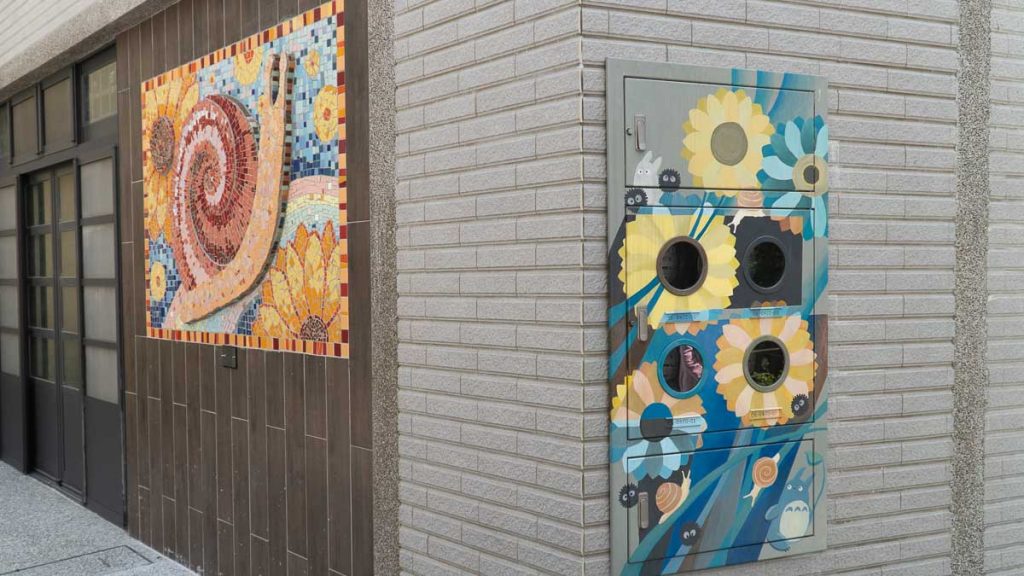 Another lesser-known art street is Snail Alley, just a 10-minute walk away. Its name was based on a fictional alley in a novel by Ye Shitao, a literary writer in Taiwan who used to live in the area.
Snails were his metaphor for taking life slow and steady, so take your time while strolling around the residential area looking for snail-themed decors such as murals, artwork and even signposts 🐌.
Hai'an Road Art Street
Opening hours: 24hrs
Address: No. 5, Section 2, Hai'an Road, West Central District, Tainan, Taiwan 700
Snail Alley
Opening hours: 24hrs
Address: Lane 97, Section 2, Yongfu Road, West Central District, Tainan, Taiwan 700
Ten Drum Cultural Village 十鼓仁糖文創園區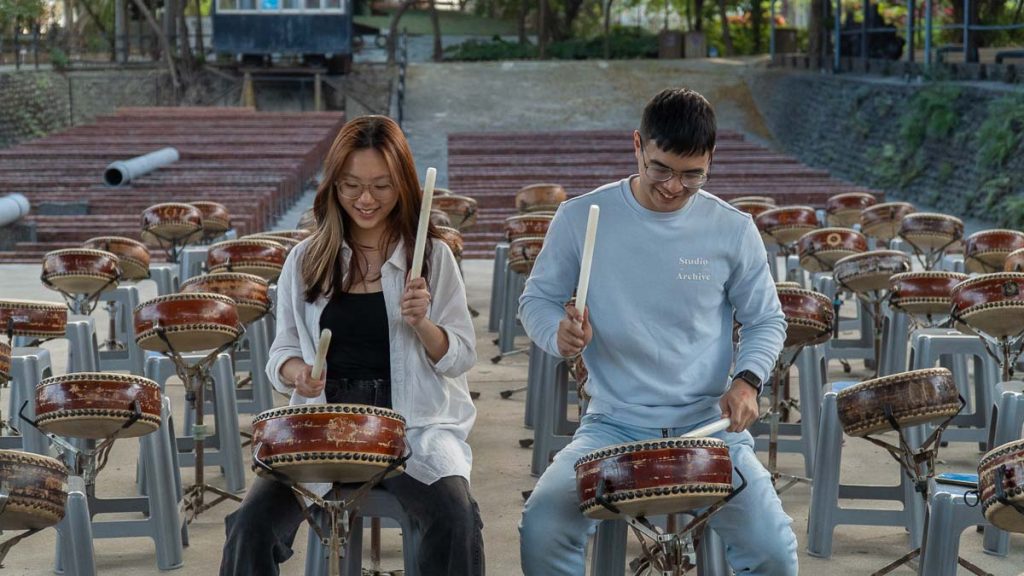 After roaming the streets for photo-ops, we visited Ten Drum Cultural Village — a former sugar refinery during the Japanese colonial period, now converted into Asia's first drumming-themed international art village 🥁.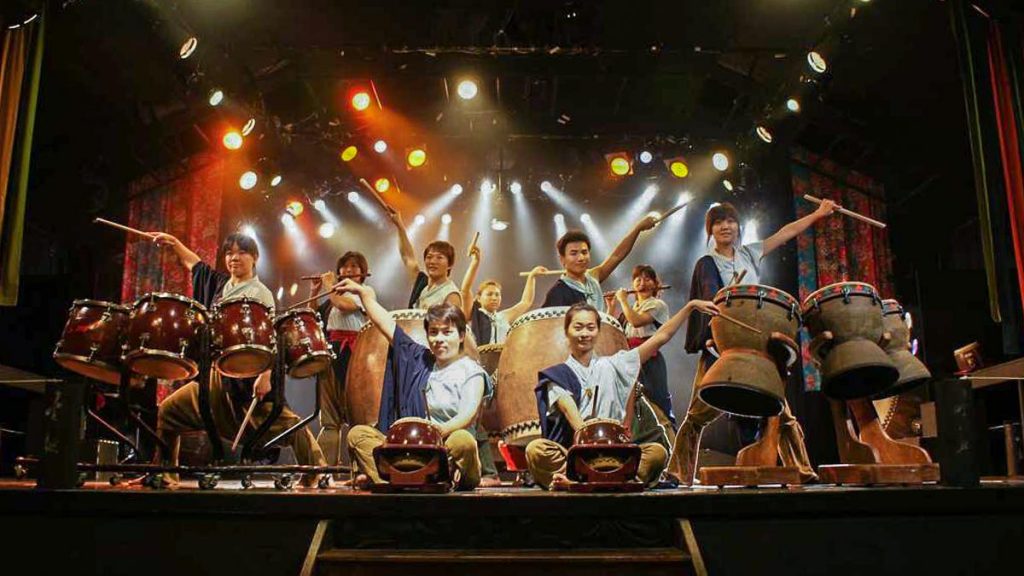 Photo credit: Tourism Bureau of Tainan City Government
Our main highlight here was the 45-minute music performance by Ten Drum, an internationally acclaimed Taiwanese percussion group. Besides drums, the group also used other instruments like flute and cymbals to create an amazing medley.
*Note: There are only two musical performances in the day, at 11AM and 3PM.
But the village isn't just about drums, it's also home to various thrilling activities and unique cafes. We were surprised to find fun attractions here like a seven-storey free-fall drop, zipline, sky swing, and even a 360 VR experience.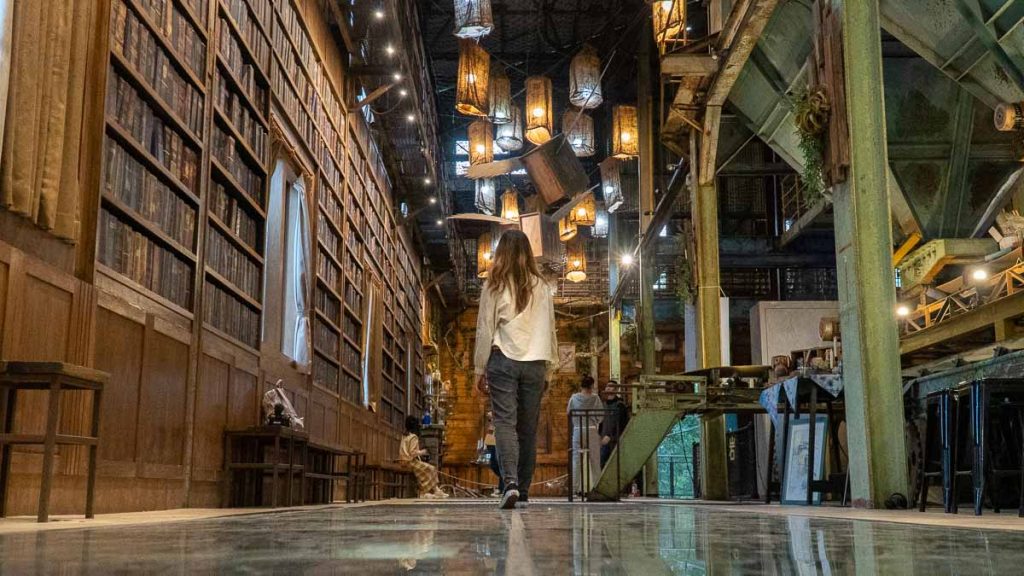 As someone laidback though, I preferred chilling in the Magical Space Cafe — which looked straight out of a Harry Potter movie with spellbooks floating in the air and "magic potions" for sale.
Entrance fee: S$19/pax
Opening hours: 10AM – 8:20PM (Weekdays), 9:30AM – 8:20PM (Weekends)
How to get there: Take train to Bao'an Station and walk 15mins
Read also: 7 Underrated Things To Do in Tainan
Day 7: Chiayi 嘉義, Alishan 阿里山
THSR from Tainan to Chiayi: ~20mins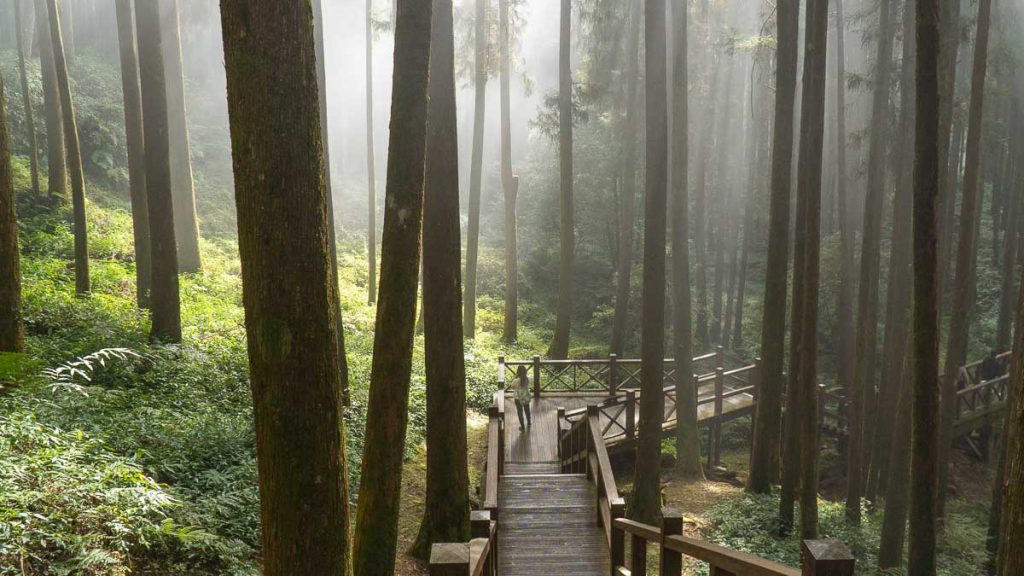 Compared to the larger Taichung and Tainan cities, Chiayi is often overlooked. But we say it's worth a day trip out for its star attraction — the Alishan National Forest Recreation Area — plus other hidden gems too.
Alishan Forest Recreation Area 阿里山國家森林遊樂區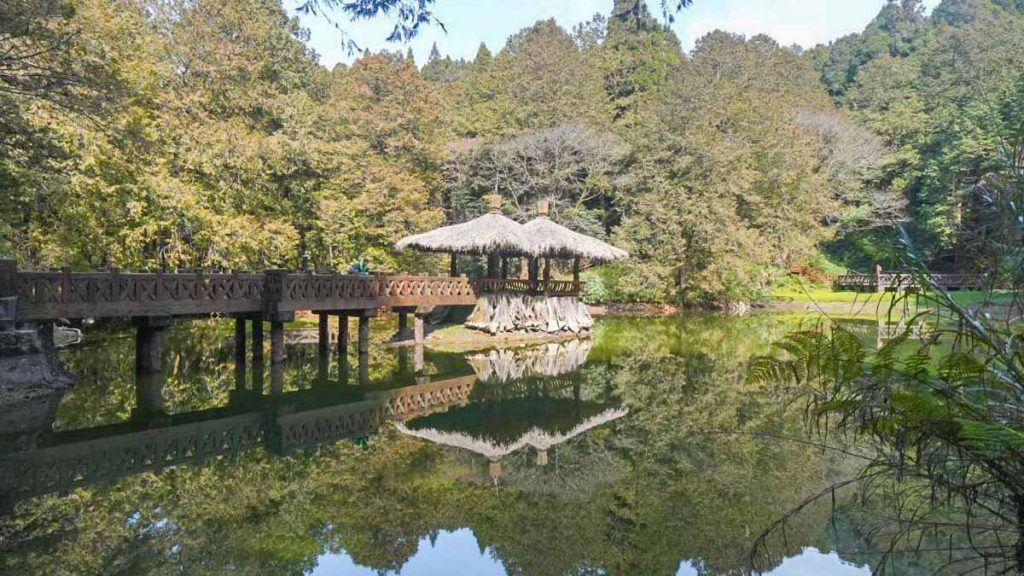 Contrary to popular belief, Alishan is not a mountain. Rather, it's an entire mountainous area covering more than 1,400 hectares! To us, it looks straight out of a fairy tale with beautiful lakes surrounded by a misty forest.
It can take up to 3 – 4 hours (round-trip) to hike from Alishan Railway Station, but for people who are bad at hikes (like me), here's our cheat code to cut that time by half — without missing out on iconic landmarks.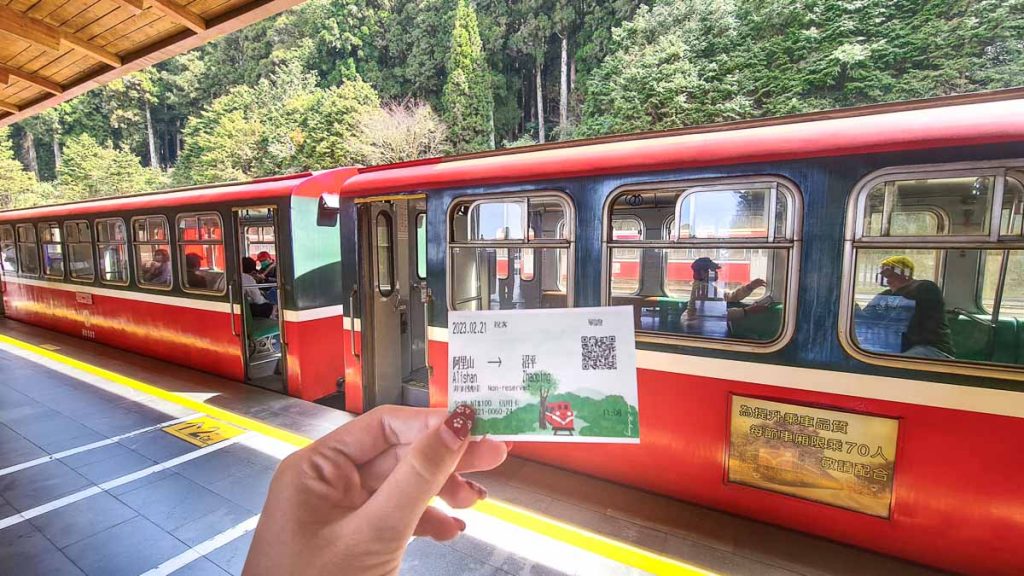 Take the train from Alishan Railway Station to Zhaoping Station and go on a leisurely stroll towards Shenmu Station before taking the train back down to Alishan Station.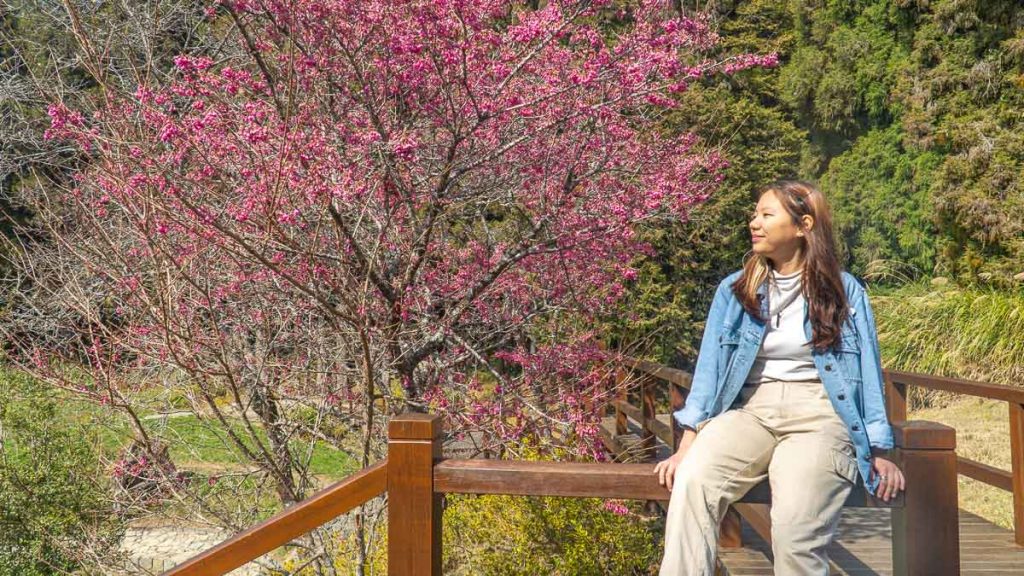 Overall, we managed to cover attractions like the Sisters Pond, Magnolia Garden, and Shouzhen Temple (currently under renovation) in a span of 2 hours, taking our time snapping photos. We were even treated to a few pink blooms during the hike — which really made all the walking worth it.
*Pro-tip: Travelling out of the city into the mountainous region can be a bit of a hassle, so we recommend joining a day tour instead! Plus, lunch is provided too.
Cost of tour: ~S$88.20/pax (1 day tour)
Tour timing: 8:15AM – 6:30PM
Meeting point: THSR Chiayi Station
Hinoki Village 檜意森活村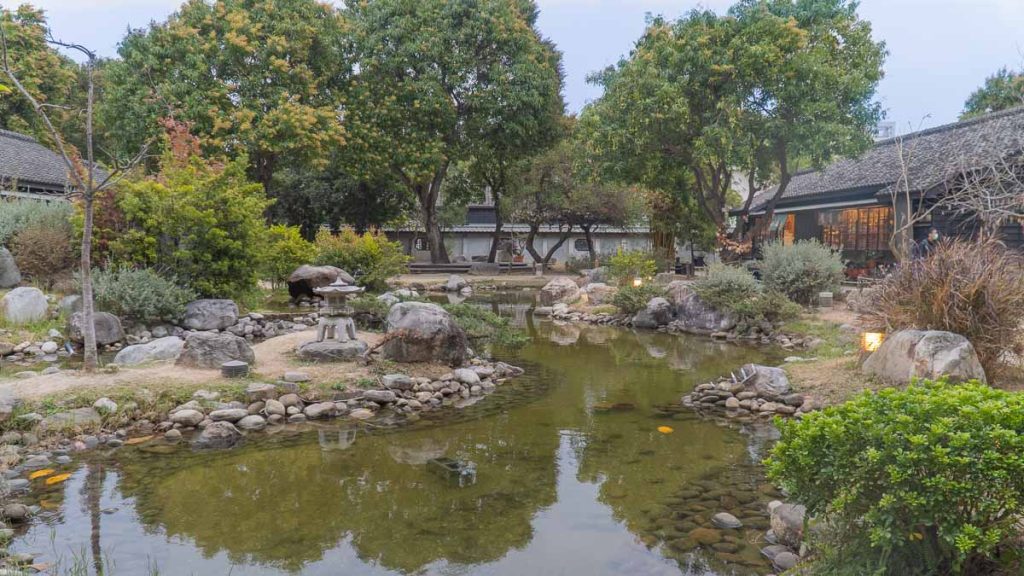 After returning to Chiayi from Alishan, our guide also brought us to Hinoki Village — a cultural village comprising of 28 Japanese-style buildings.
Being a self-proclaimed Japan otaku (nerd), I was really excited to see a replica of the traditional houses and zen gardens in Japan here. There were even various shops selling Japanese souvenirs and food like gold-leaf ice cream!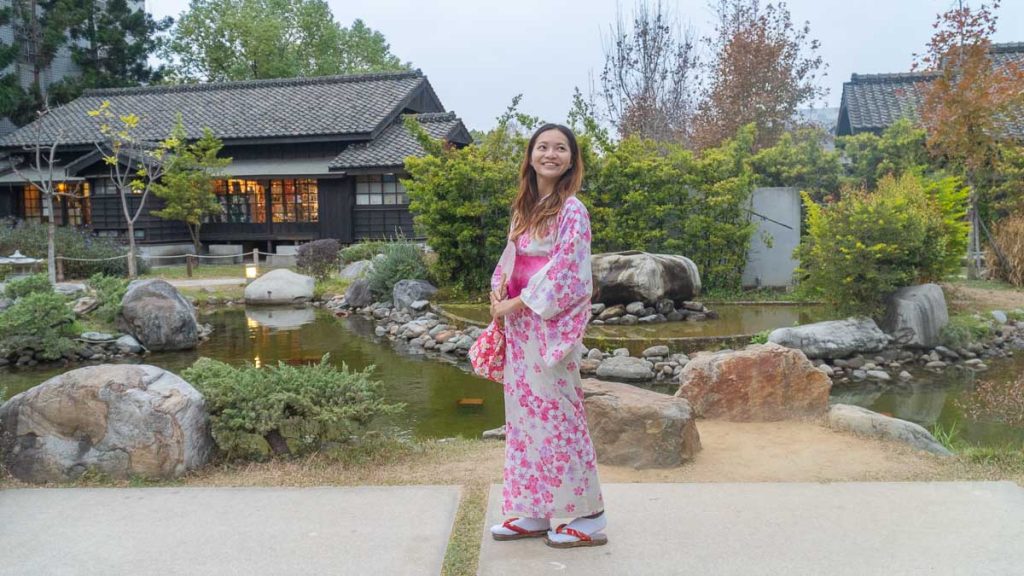 Mochiron (of course), I had to rent a yukata (NT$550 for 2 hours) to truly immerse in the Japanese culture but mostly take pretty photos while exploring the village.
*Pro-tip: Head to Hinoki Village early as most shops close by 6PM.
Opening hours: 10AM – 6PM
Address: No. 1, Linsen East Road, East District, Chiayi, Taiwan 600
Dinner at San He 三禾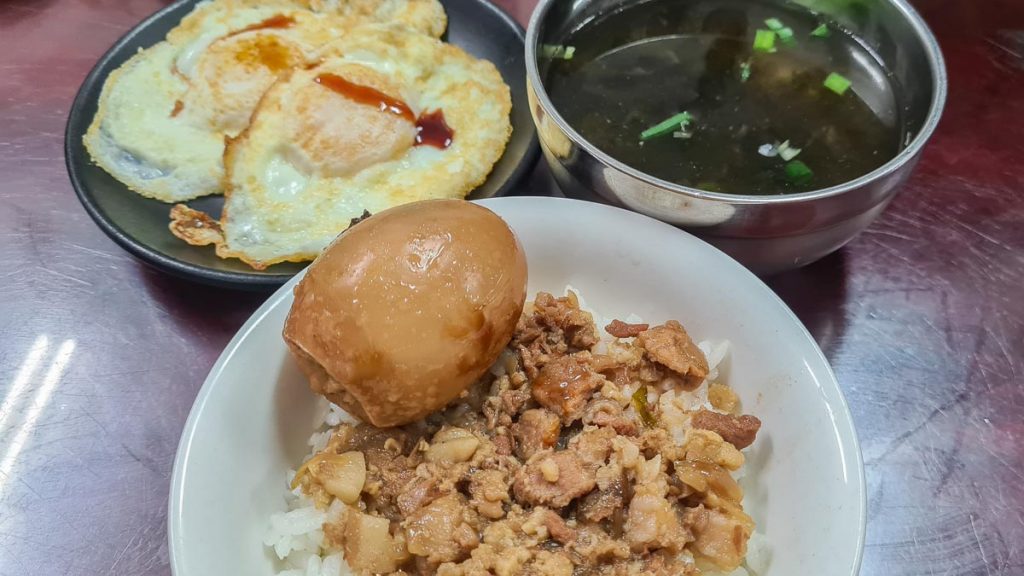 Tired and hungry after a long day of walking, we asked our guide for dinner recommendations and he was kind enough to drive us to a local restaurant called San He.
We ordered the braised pork rice (NT$35) and turkey chicken rice (NT$35) to try, and the former was possibly one of the best I've had — literally melt-in-your-mouth soft 😋. Other add-on side dishes were available, such as braised egg, seaweed soup, miso soup, and vegetables.
Opening hours: 10AM – 7PM (Closed on Thu)
Address: No. 97, Minquan Road, East District, Chiayi, Taiwan 600
Day 8 – 9: Kaohsiung 高雄
THSR from Tainan to Kaohsiung (Zuoying): ~15mins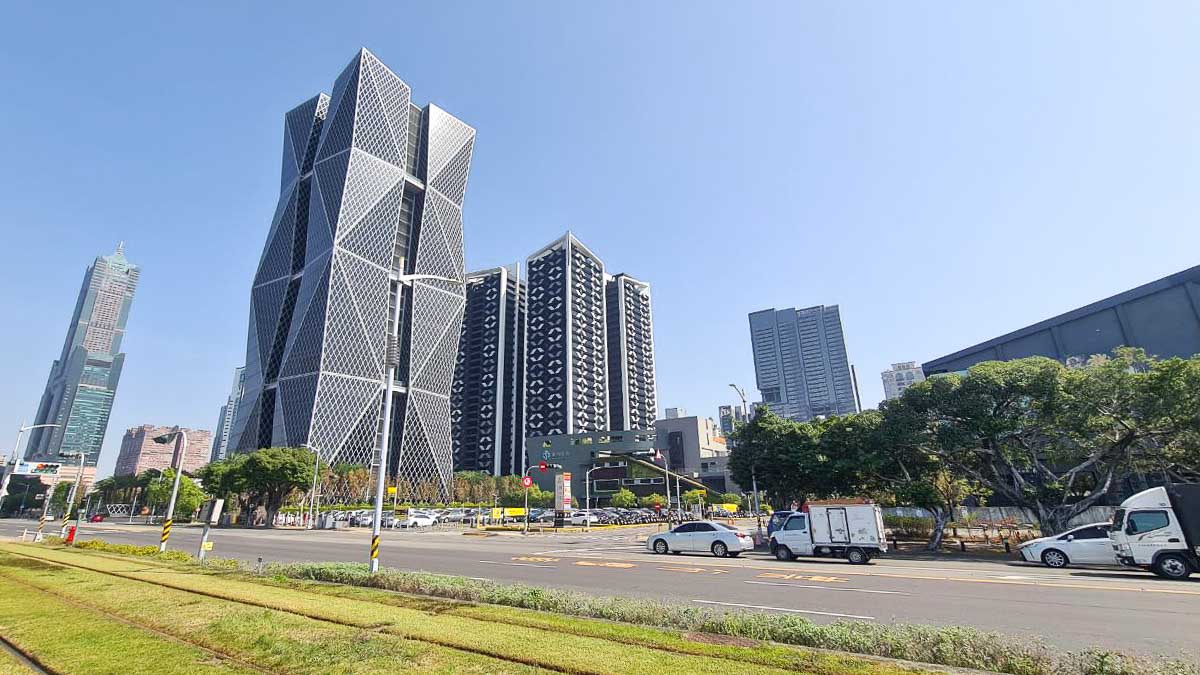 On the last leg of our trip, we headed to Kaohsiung — home to several attractions such as the Dragon and Tiger Pagodas, as well as The Pier2 Art Center.
But since we visited those on our previous trip there, we wanted to explore new places and try new experiences.
Cijin Island 旗津島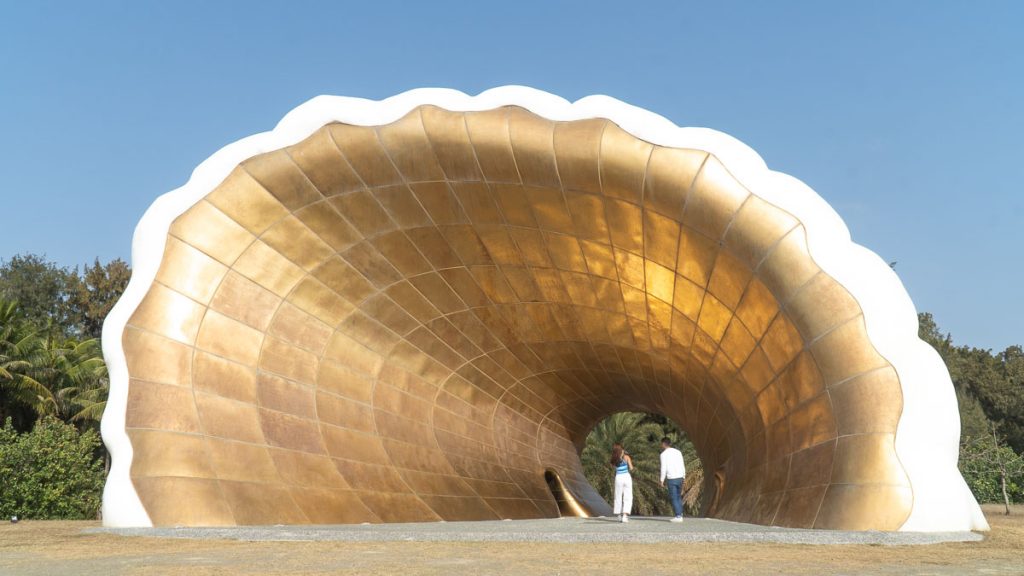 Our first stop in Kaohsiung was out of the city and on a quaint little island named Cijin. It's known for several iconic photo spots like the Kaohsiung Lighthouse, Starlight Tunnel, Cijin Shell House, and Rainbow Church.
After browsing through many IG-worthy pictures on the Internet, we were really looking forward to visiting Cijin Island and it didn't disappoint — I mean just look at this 👇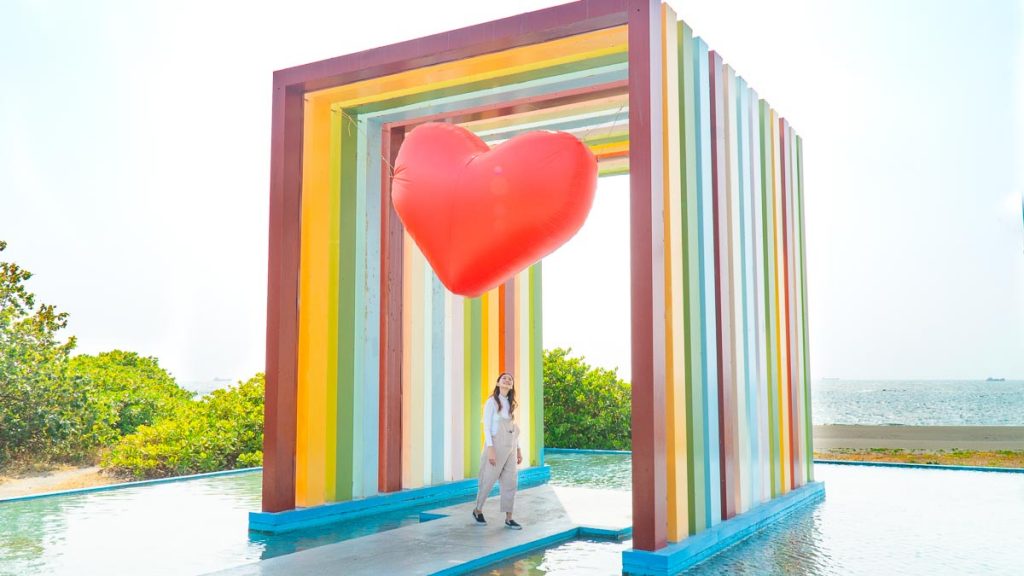 My personal favourite was this hidden spot along the beach that resembled a mini Santorini!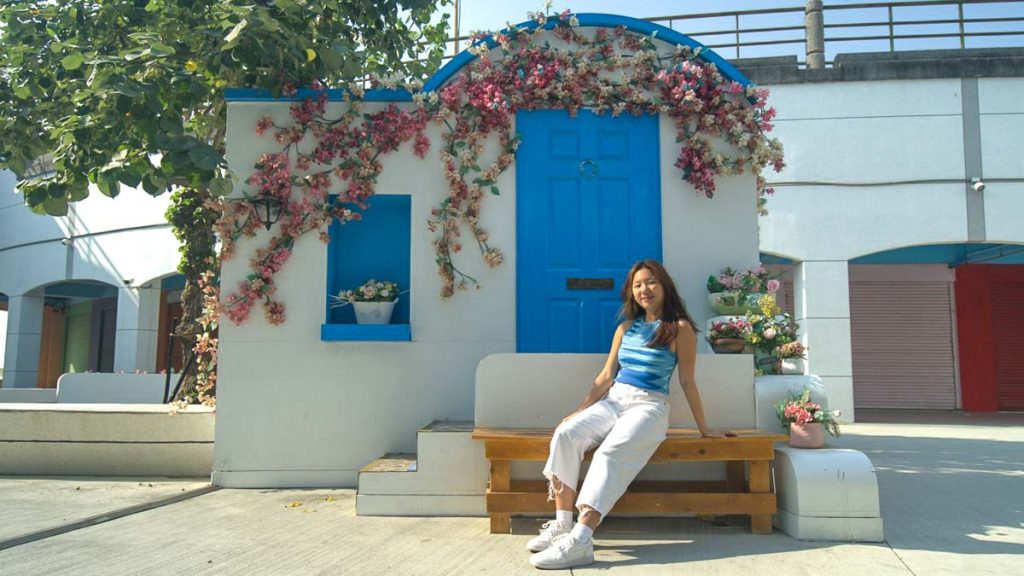 *Pro-tip: Rent an electric bike (~NT$600/hr for a 4-seater bike) to save time and cover these spots around the island under 2 hours!
How to get there: Hop on a 5-minute ferry ride to Cijin Island from Gushan Ferry Pier
Glory Pier 光榮碼頭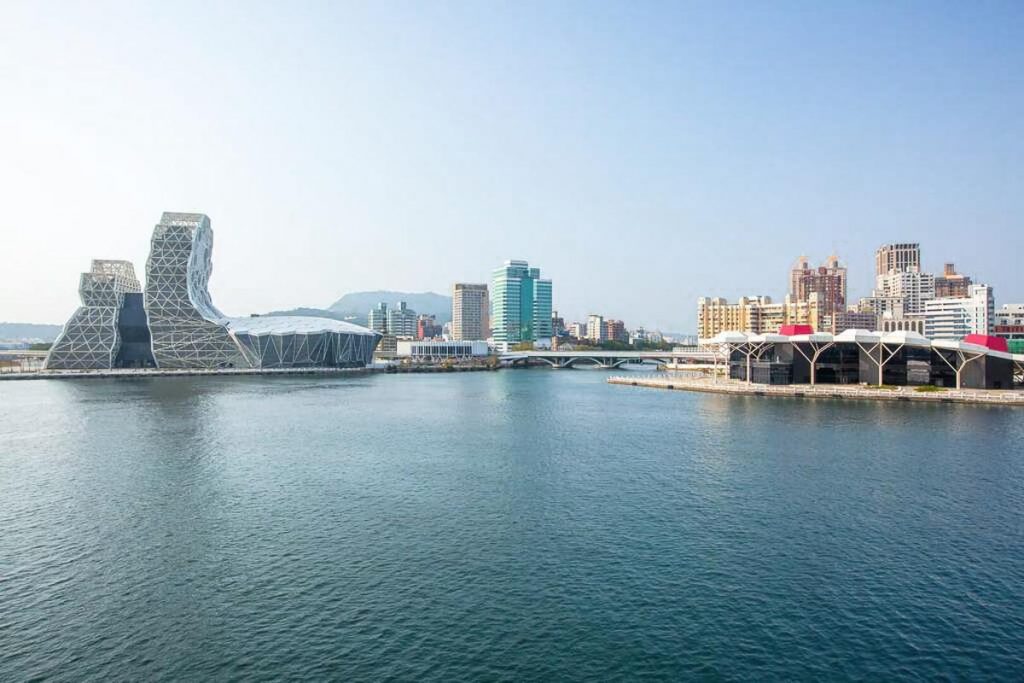 Photo credit: Kaohsiung Travel
Previously known as Pier 13, Glory Pier is located at the river mouth of Love River in Kaohsiung.
It used to be an important transport hub to the island areas of Kinmen and Matsu but now it's a tourism and leisure attraction with a music centre — complete with three concert halls, an art gallery, and even a library!
Most people might also recognise a big yellow ducky at the pier but sorry to ruffle your feathers, it's no longer there :')
Opening hours: 24hrs
How to get there: Take the Kaohsiung Light Rail to Glory Pier Station and walk 3mins
Liuhe Night Market 六合夜市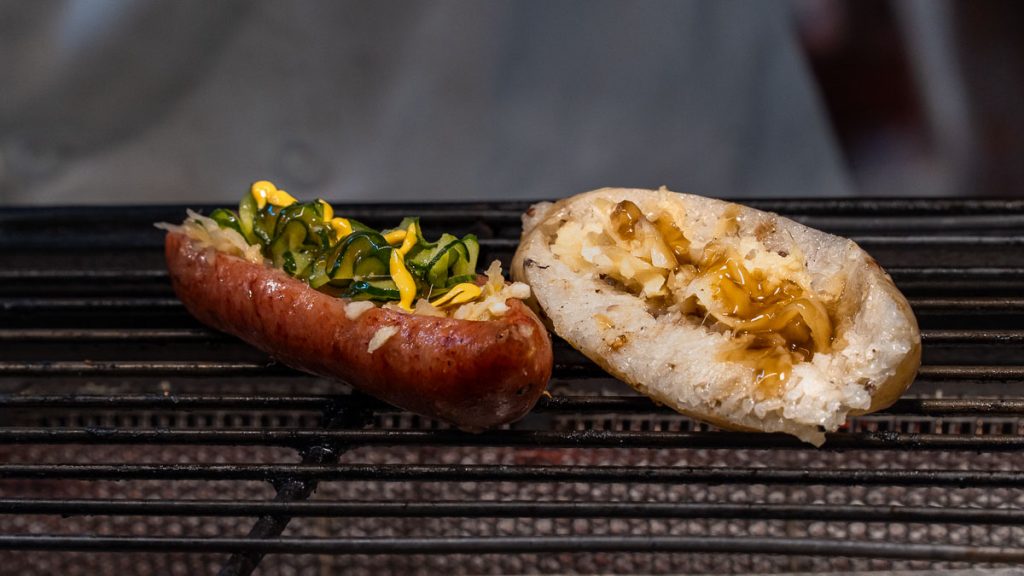 In true local fashion, we ended our last night in Taiwan by visiting a night market!
Since Ruifeng Night Market was closed on the day we were in Kaohsiung, we went to Liuhe Night Market instead. It may be smaller but it's still packed with lots of delicious local food.
We tried the Taiwanese hot dog (NT$50) — a sausage stuffed into a larger sausage made of pork intestine casing filled with sticky rice, topped with peanuts and shallots. Wow, that was a mouthful, literally.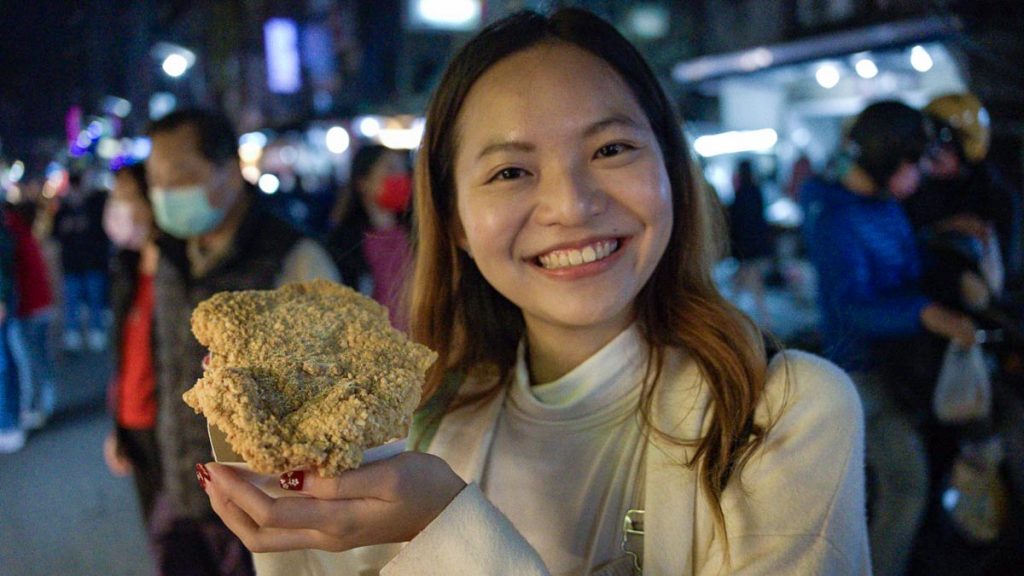 Of course, we also had the Taiwanese huge fried chicken which was so good that someone said and I quote: "I could make love to it". Disclaimer: I swear it's not me.
Opening hours: 6PM till late
How to get there: Walk 8mins from Formosa Boulevard Station
Breakfast at Good Morning 早安美芝城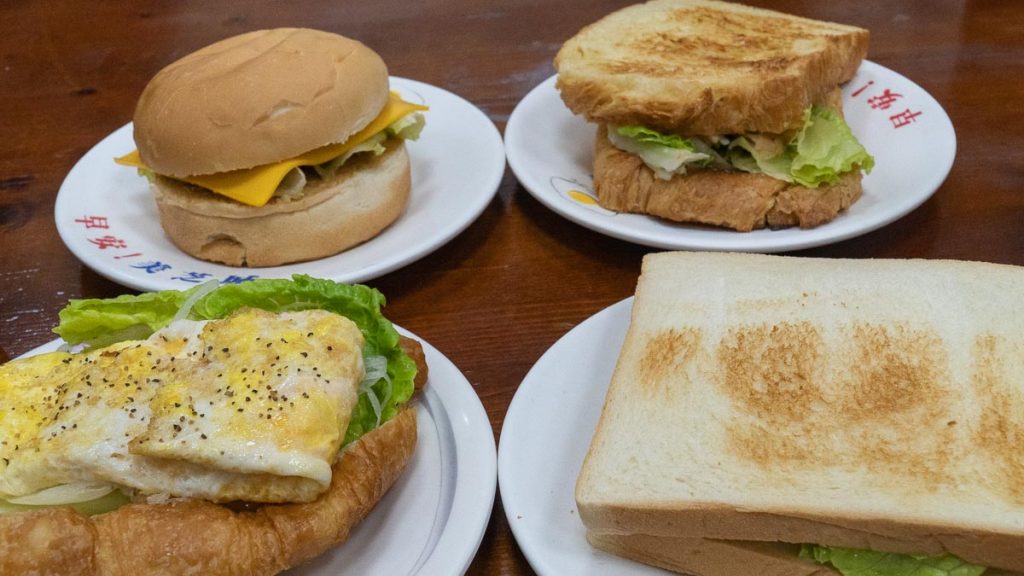 Serving up fresh toast, croissants, and burgers, Good Morning breakfast place was an unintended gem while walking around Kaohsiung city.
Some of the flavours were interesting, including a signature toast with a pork patty (NT$40) and a beef burger with peanut sauce (NT$55) — the burger actually tasted pretty good, without the peanut taste being too overpowering.
Opening hours: 6AM – 11:30AM
Address: No. 56, Zhengqin Road, Qianzhen District, Kaohsiung, Taiwan 80674
i-Ride Kaohsiung (5D Visual Flying Theater)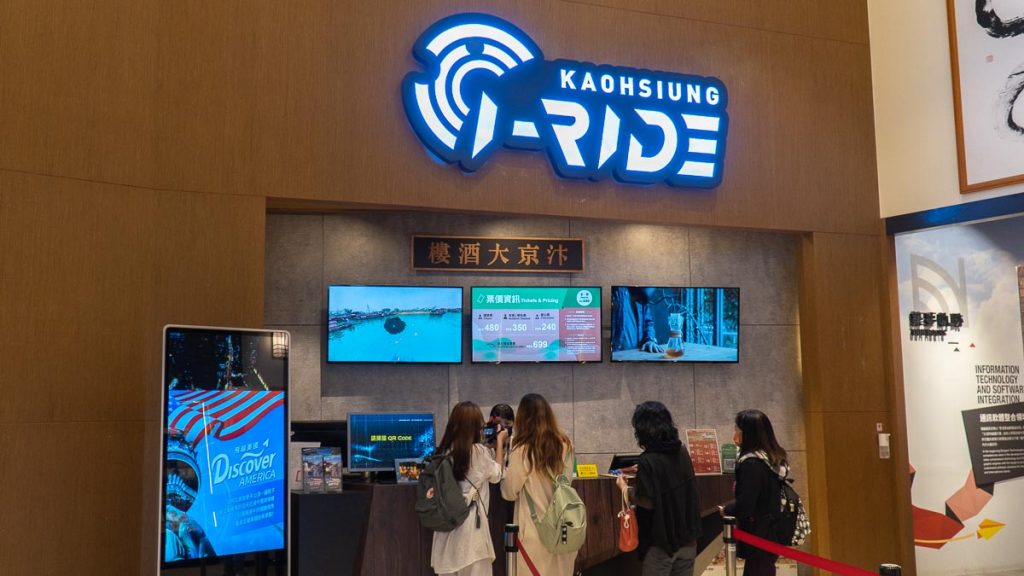 Before heading off to the airport, we squeezed in one last activity to explore all of Taiwan (in just 5 minutes) — i-Ride Kaohsiung!
It's a 360° visual flying theatre where we "soared" over mountains, valleys, and cities in Taiwan. The 5D elements also took us by surprise with sprays of water and blasts of wind when diving into the sea or flying into the sky.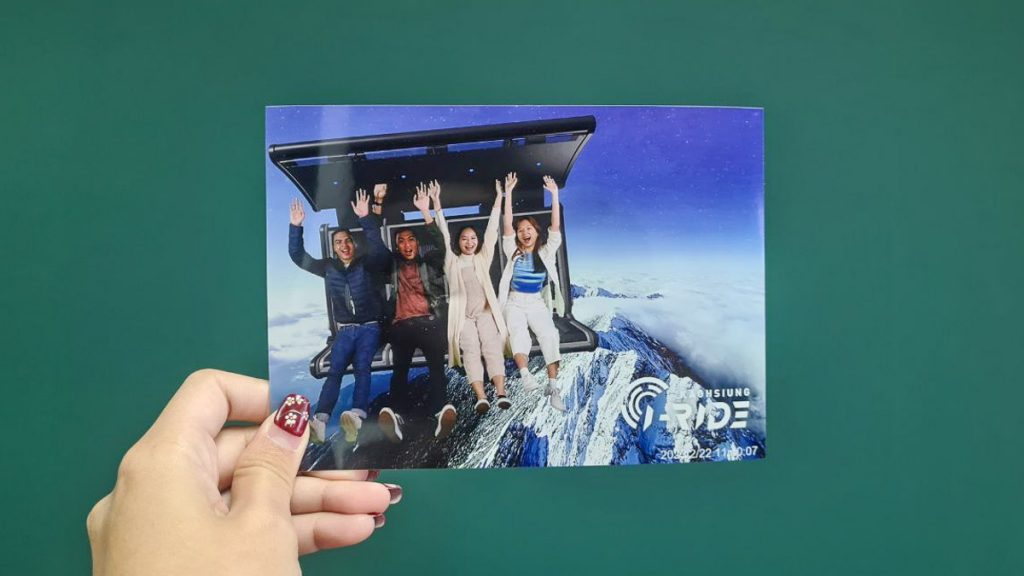 To commemorate our adventure, we even snagged a photo souvenir for NT$100.
Cost: ~S$17/pax
Opening hours: 9:30AM – 5PM (Wed – Sun), closed on Mon and Tue
How to get there: Take the Kaohsiung Light Rail to Software Technology Park Station and walk 5mins
Read also: Top 7 things to do in and around Kaohsiung — Gateway to Taiwan's laid back South
Where to Stay in Taiwan
As we were travelling down from Taipei to Kaohsiung, we based ourselves in three main locations — Taipei (Day 1 – 3), Taichung (Day 4 – 5) and Tainan (Day 6 – 9). So it was easier for us to take day trips to nearby regions without the hassle of constantly moving around.
Day 1 – 3: Finders Hotel (from ~S$36.50/night)
Our crib in Taipei was Finders Hotel — while the rooms weren't as big as we thought, it was still pretty cosy and comfortable.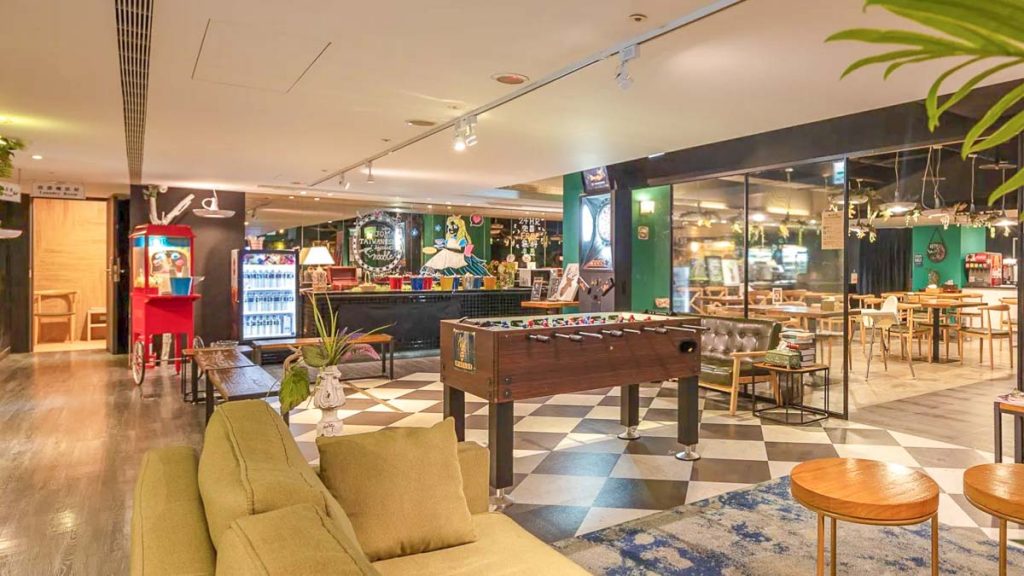 Photo credit: Klook
We also loved hanging out in the lobby to play darts and foosball, as well as grab free food like cup noodles, tea and biscuits whenever we got hungry 😋.
The hotel is conveniently located near attractions like Taipei 228 Memorial Park and National Taiwan Museum too!
Cost: From ~S$36.50/night (for 1 pax)
Address: No. 86, Section 1, Chongqing S Rd, Zhongzheng District, Taipei, Taiwan 100
Day 4 – 5: Green Hotel – Midori (from ~S$38/night)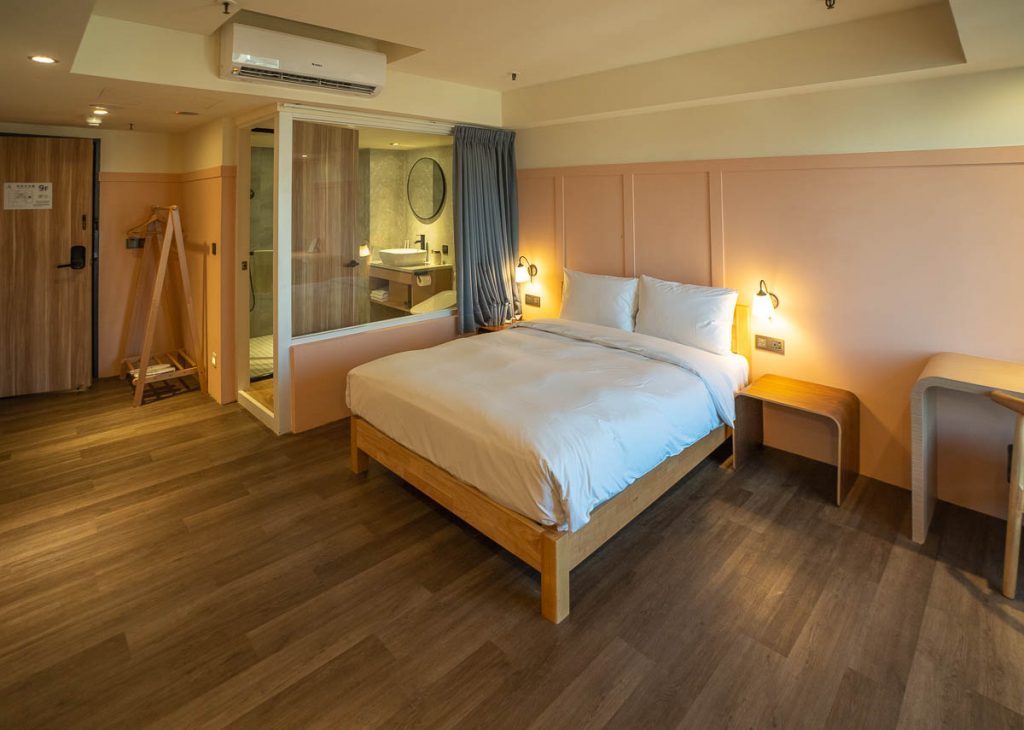 Not gonna lie, Green Hotel – Midori was probably the best accommodation we stayed at on this trip. It's clean and spacious, and here's the best feature — the toilets are fitted with a bidet!
What's more, it's situated in a mall called ASEAN Square with various food options like Vietnamese and even Indonesian cuisine. It's also a 5-minute walk from Taichung station and nearby places like the Sun Cake Museum, Miyahara restaurant, and Taroko mall.
Cost: From ~S$38/night (for 1 pax)
Address: 12F, No. 123, Luchuan W. Street, Central District, Taichung, Taiwan 400
Day 6 – 9: House Inn House (from ~S$19.50/night)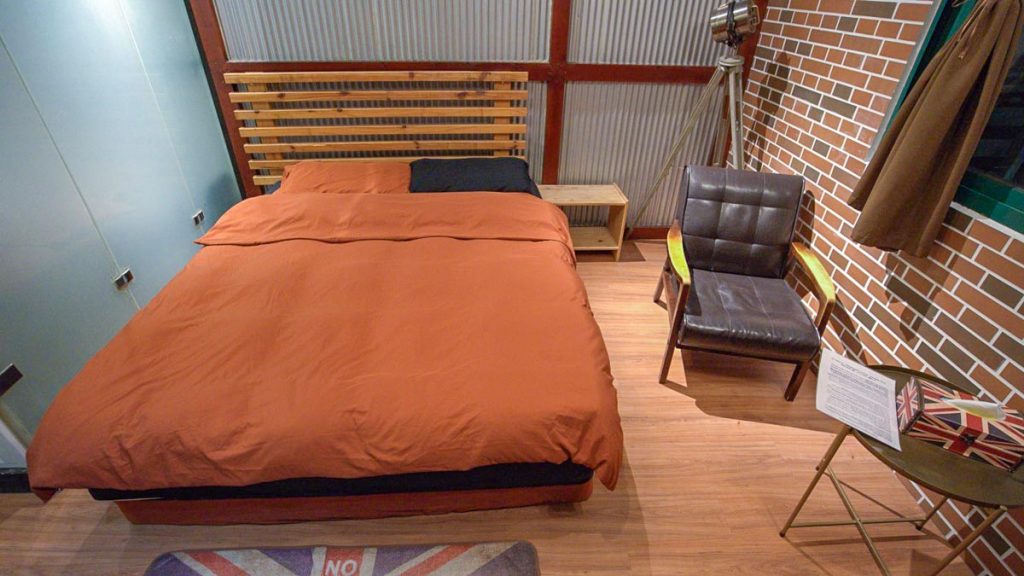 House Inn House may not be a fancy five-star hotel, but each room is really cosy with its own unique design — ours was retro-themed with a comfy couch and had prop items like a film light stand and even a standing karaoke mic.
It's also just a 10-minute walk to Tainan station, which worked great for us since we planned to head out from Tainan and explore nearby cities like Chiayi and Kaohsiung!
Plus, there are also plenty of local clothing shops and fast food options nearby such as KFC and McDonald's for a quick bite 😉
Cost: From ~S$19.50/night (for 1 pax)
Address: No. 33, Lane 108, Weimin Street, West Central District, Tainan, Taiwan 700
Tips for Planning Your Taiwan Itinerary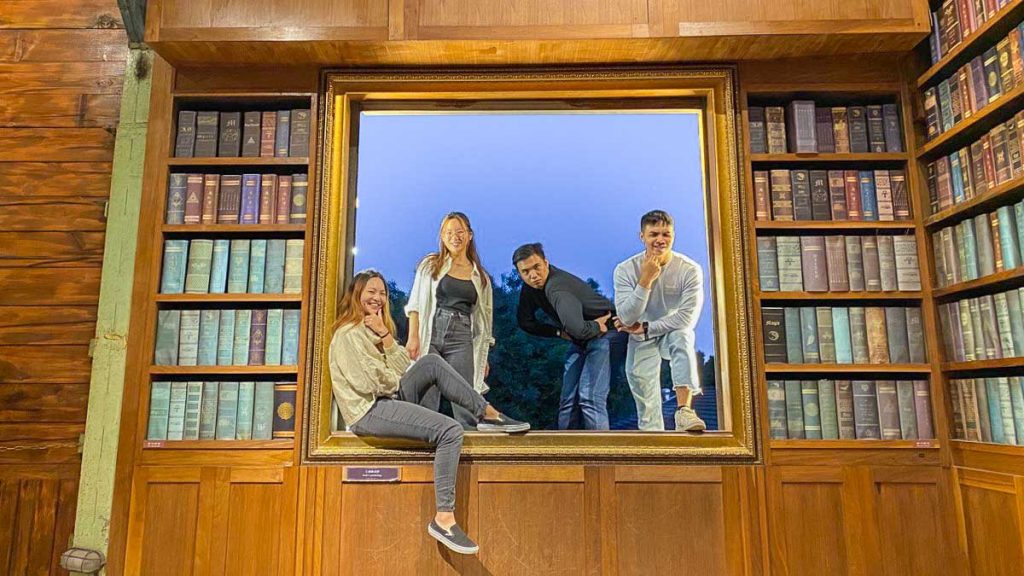 Having mostly been to Taipei and its surrounds, it was refreshing to explore other regions and hidden gems in Taiwan!
I've fallen in love with newly discovered cities along the West Coast like Tainan and Kaohsiung for their picture-worthy spots, and was even lucky to catch some pink blossoms in areas like Alishan during spring!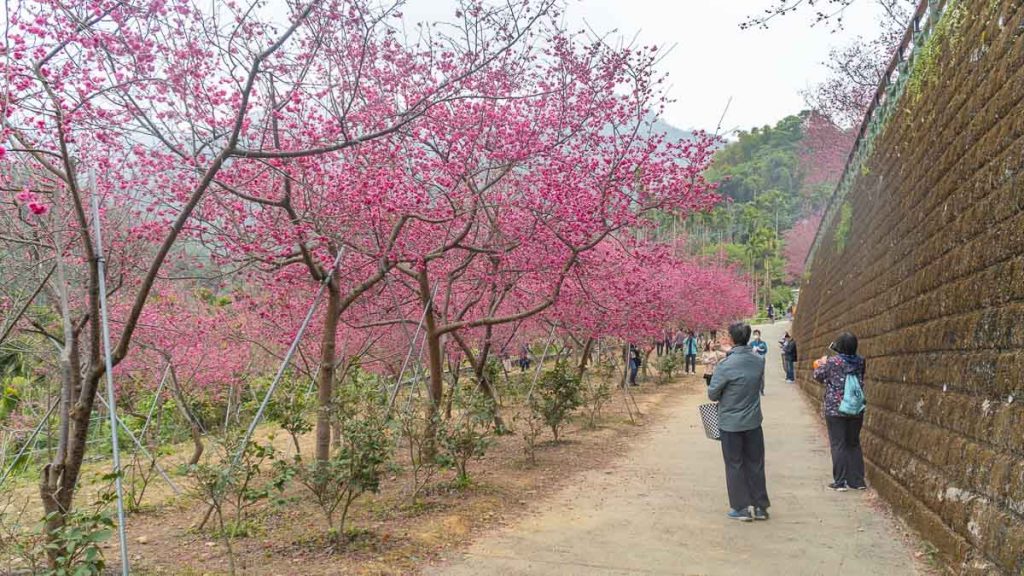 Before you go, here are some tips for your future Taiwan itinerary:
1) Bring sufficient cash: not all shops accept cards, especially at local night markets.
2) Download useful apps like:
Taiwan Railways Administration — to check the train schedule
Uber — there's no Grab
Google Translate — to ask locals for directions 📱
3) Pre-book travel essentials: travel insurance, SIM card and EasyCard (reloadable transport card) for a hassle-free trip!
4) Pack plenty of face masks: current rules state that it's required on public transport. But you're free to take it off when outdoors.
Bonus: Check out our cherry blossom guide and visit during spring (Feb – Mar) to catch pretty pink flowers.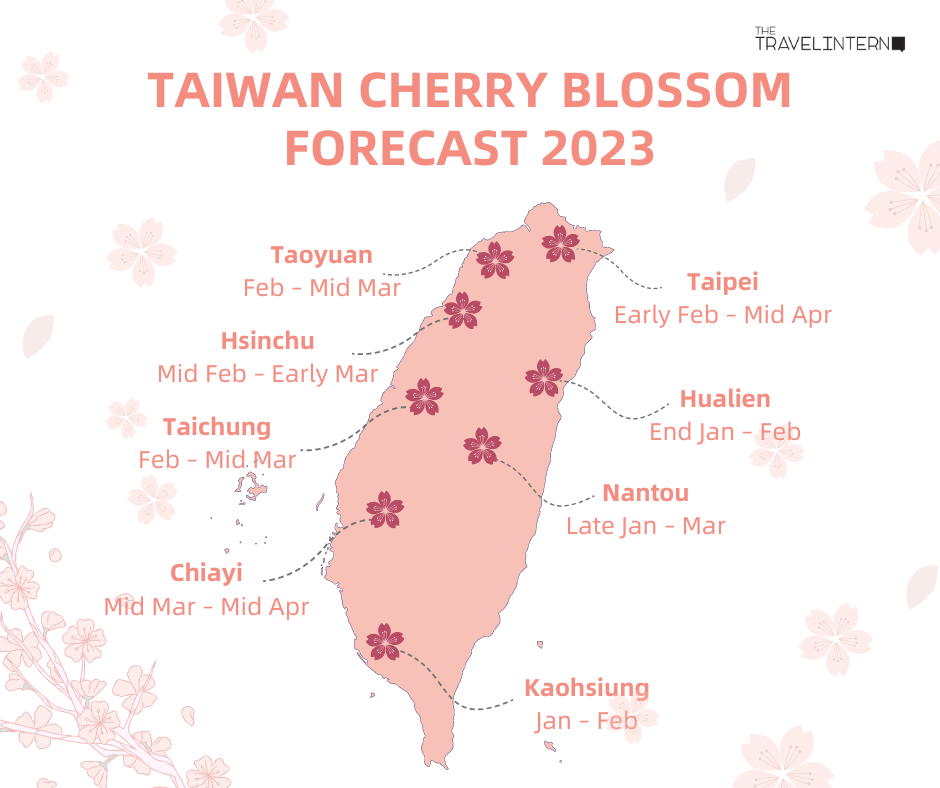 Read also: 25 Unique Things To Do In Taiwan Besides Visiting Night Markets
Did we miss any other interesting places in this Taiwan itinerary? Share with us in the comments below!
---