Taiwan is just as nice if you're looking for a cheaper destination for that sakura experience.
Hanami is a very popular springtime activity in Japan — about 63 million people travelled to and within Japan to view the bloom last year! That's a very packed Japan if you ask me, and I'm not a fan of crowded places. Not to mention, airlines and hotels tend to have unspoken "sakura surcharges" that lead to unbelievable price surges during the sakura hanami season.
For a more budget-friendly cherry blossom experience sans the crowd, consider neighbouring Taiwan. Expenses in Taiwan, in general, are lower in comparison to other East Asian countries such as South Korea or Japan. Tourist essentials like the THSR 5-day Standard Pass (~S$132) and the Taipei Fun Pass (~NT$1,200) may seem hefty at first but they're cost-saving in the long-run!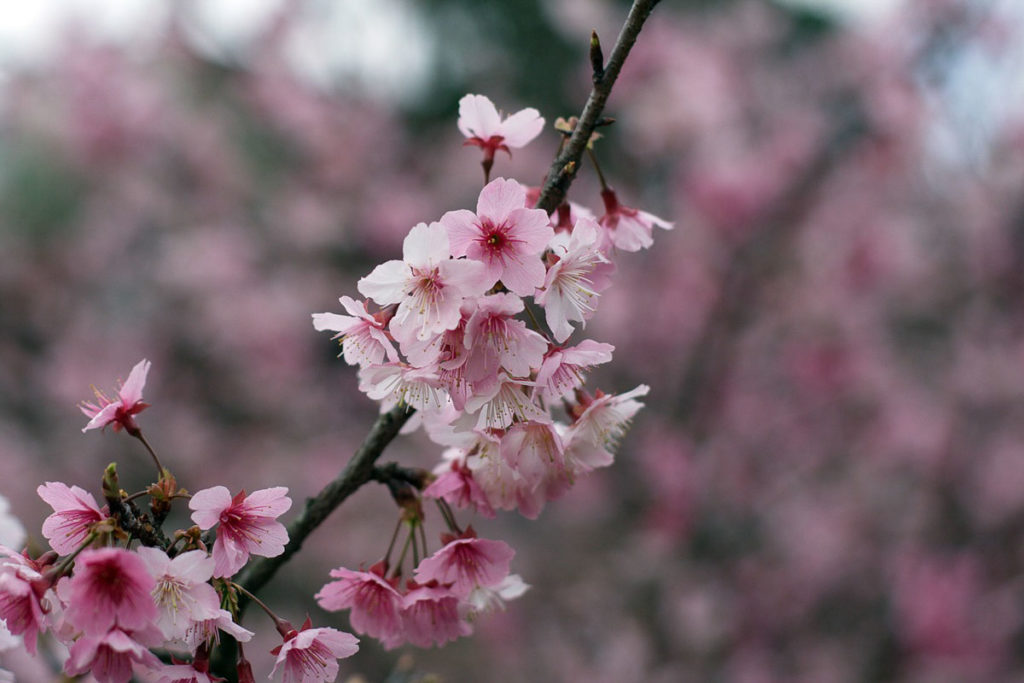 Photo credit: ni19680
Airfares to Taiwan are also considerably lower as several low-cost carriers operate flights between Singapore and Taiwan's Taoyuan and Kaohsiung! Check flight prices to Taiwan's Taoyuan International Airport or Kaohsiung International Airport with this nifty widget:
Lastly, the hanami experience in Taiwan doesn't pale in comparison to other countries, as cherry trees in Taiwan tend to flower for a longer period of time — typically between late Jan to late April. Read on to find out just where are the best cherry blossom viewing spots in Taiwan!
Read also: South Korea Cherry Blossom Guide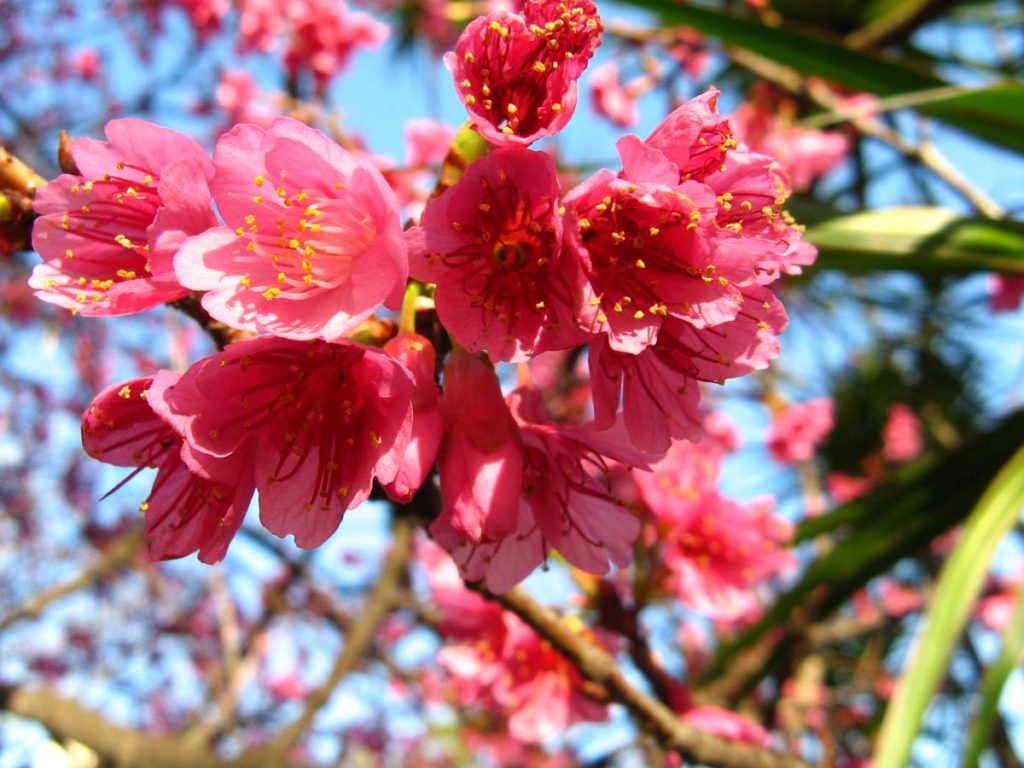 Photo credit: Mauro Halpern
Taiwan's Cherry Blossom 2020 Forecast
Cherry blossoms in Taiwan start blooming as early as January and can still be seen till April, depending on the cherry variety. Cherry blossom viewing in Taiwan can very much dependent on weather conditions too. If it's rainy, flowers are likely to be sparse, and trends from recent years have shown the flowers to be blooming around two weeks later than usual. Do come back around late December or January for updates on the cherry blossom forecast!
Northern Taiwan — Taipei and around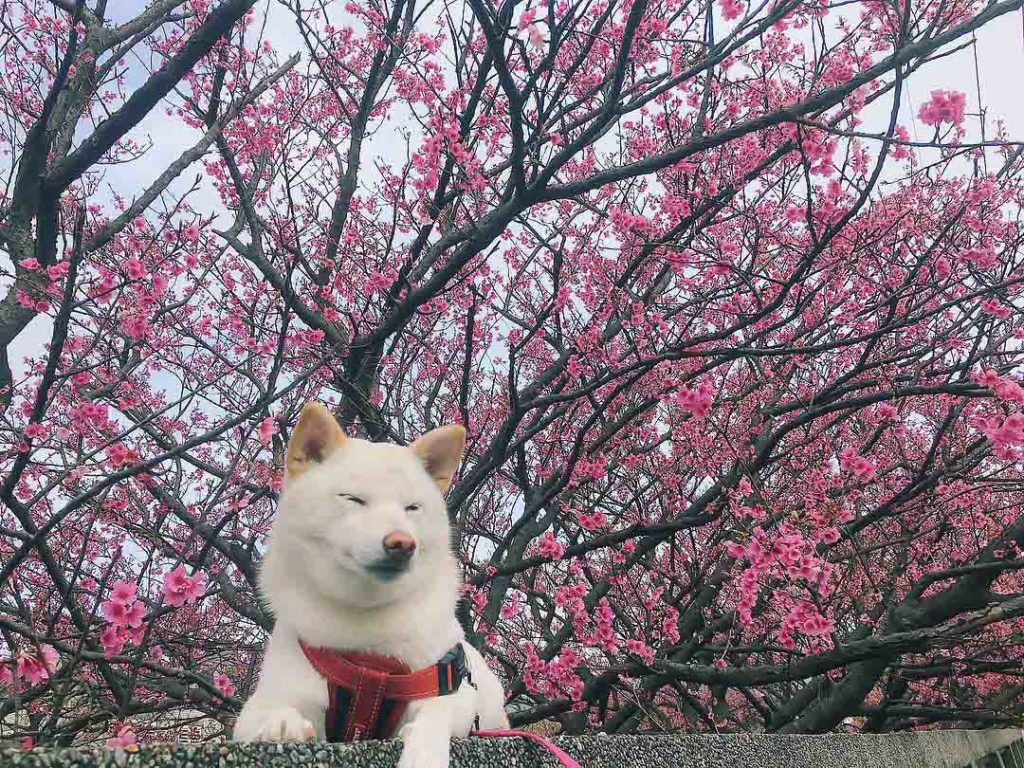 Photo credit: @niniii.shiba. Yangmingshan National Park and the nearby Pingjing Street Lane 42 are IG hotspots during springtime in Taipei.
Northern Taiwan typically sees the earliest cherry blossom blooms with certain varieties of blossoms blooming as early as winter (mid-January). In Taipei city itself, there are several places with cherry blossom blooms that are not only accessible to the general public, but also free to view! Yangmingshan National Park and Chiang Kai-Shek Memorial Hall are two places that see many visitors during spring when cherry trees are in full bloom.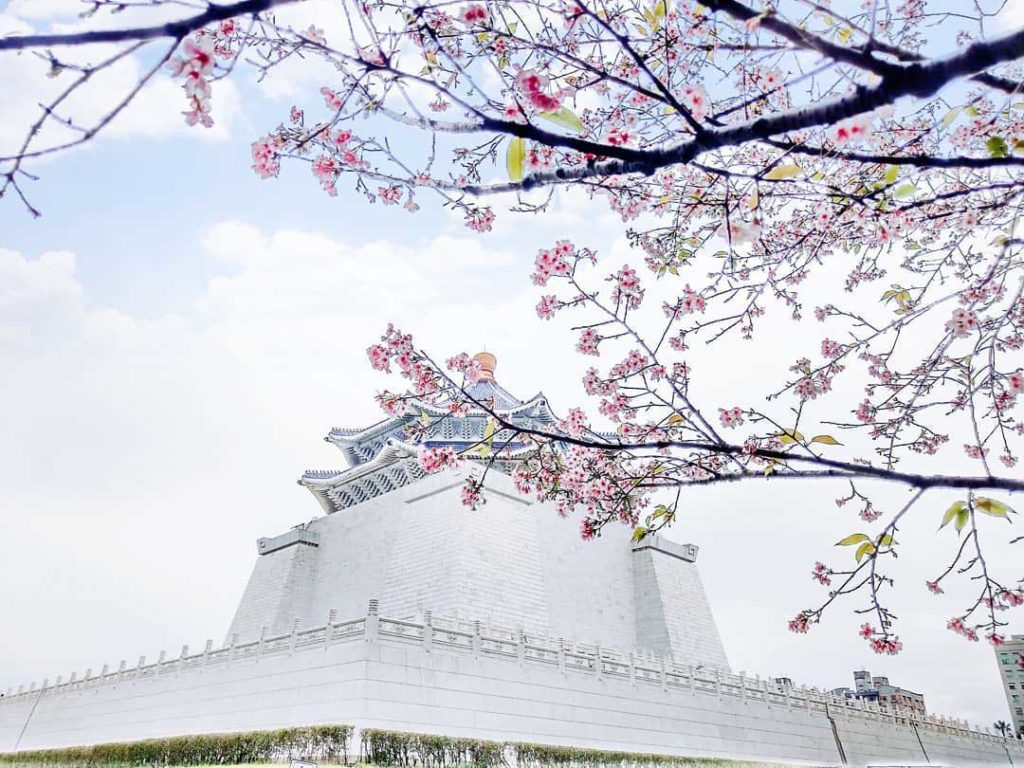 Photo credit: @niu0501
Best viewing spots: Taipei — Yangmingshan National Park (陽明山), Chiang Kai-Shek Memorial Hall (中正紀念堂), Pingjing St. Lane 42 (平菁街櫻花巷); Tamsui — Tianyuan Temple (天元宮); Taoyuan — Lara Mountain Loving Farm (拉拉山恩愛農場); Wulai — Wulai Waterfall (烏來瀑布); Hsinchu — Mt. Shibajian (十八尖山)
Spring festivals: Yangmingshan Flower Festival (Jan – May), Wulai Cherry Blossom Festival (Feb – Mar)
Getting around: Taipei city is connected by the public bus and MRT systems. Taoyuan and Hsinchu counties are reachable via the THSR from Taipei.
Central Taiwan — Taichung, Nantou, and around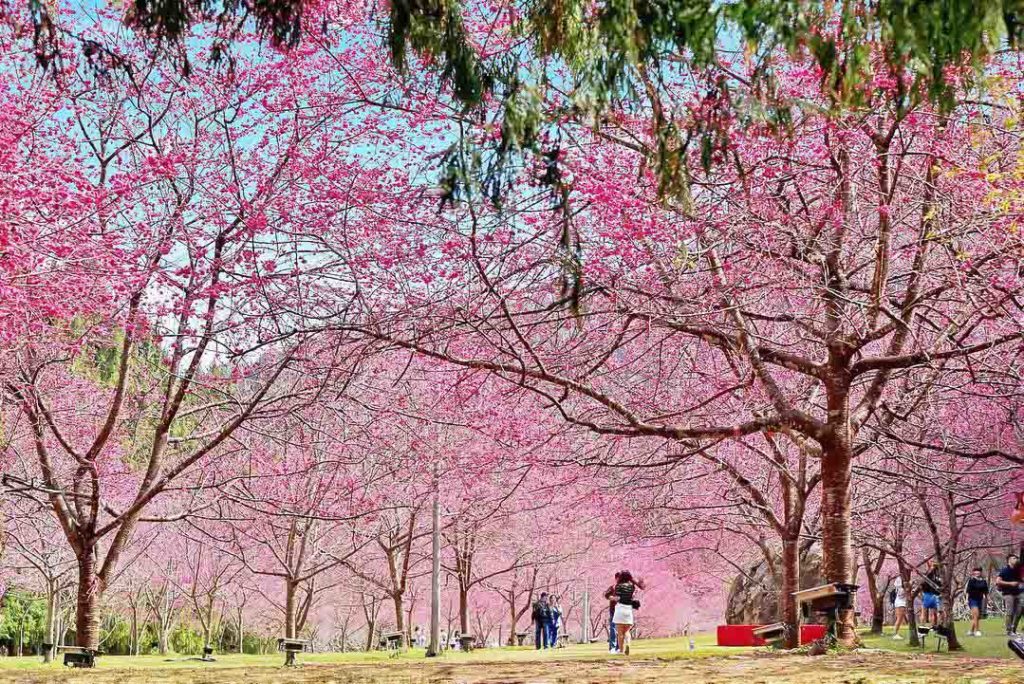 Formosan Aboriginal Culture Village is the first and only Japan-certified cherry blossom location outside of Japan. Photo credit: @beckhamhong66.
Central Taiwan has some of Taiwan's prettiest cherry blossom blooms every spring. At Nantou's Sun Moon Lake, the Formosan Aboriginal Culture Village (~S$80/pax) puts up a cherry blossom festival annually from February to April. Besides thousands of flowering cherry trees, there are also Japanese-themed activities and performance put up for visitors to enjoy.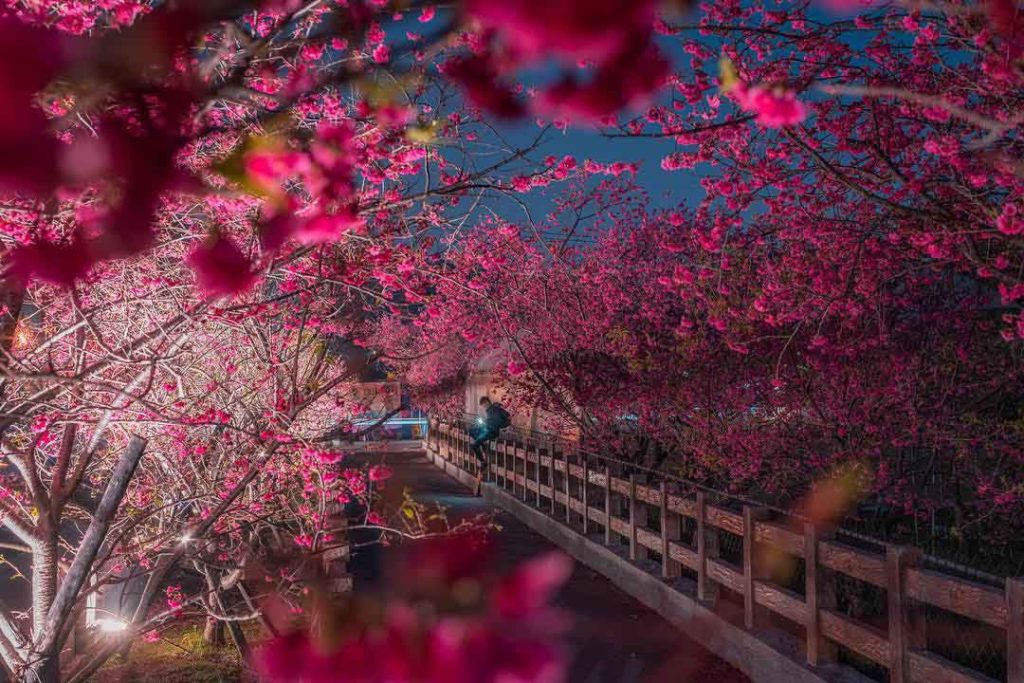 Tai'an Police Station is visited by hundreds of visitors daily during spring for photo opportunities of the vibrant cherry blossoms. Photo credit: @tw.luoyin.
Interestingly, one of the most captivating clusters of blooms in Taichung is located behind a police station — Tai'an Police Station (泰安派出所). Special shuttle bus services operate every mid-February to early March to ferry visitors from Tai'an railway station to the police station to view the cherry blossoms.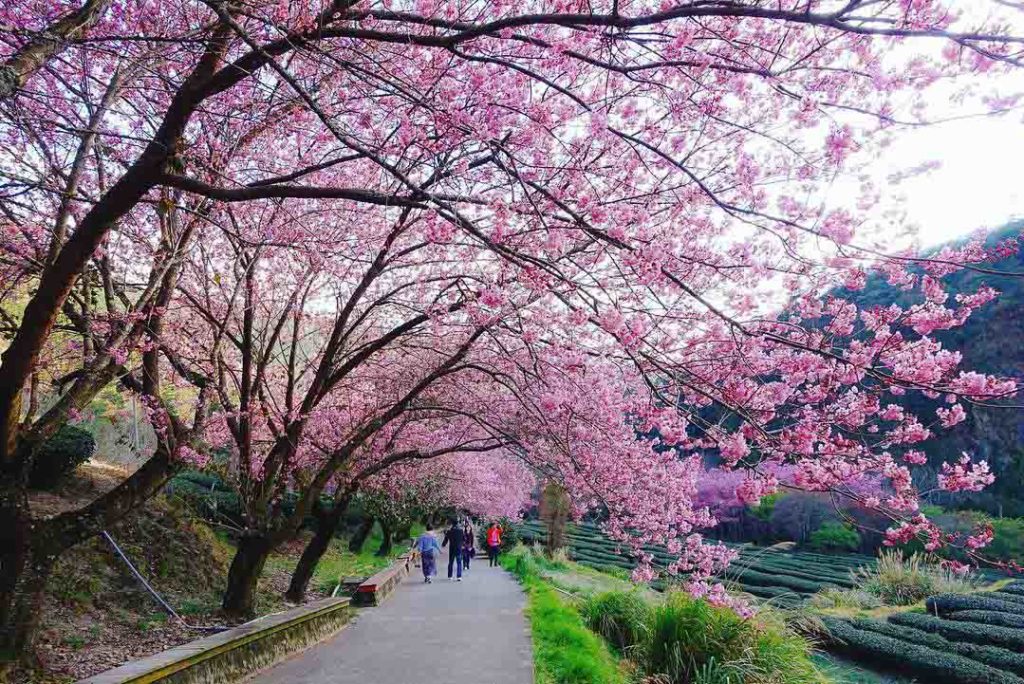 Wuling Farm is said to be one of the nicest cherry blossom blooms in Taiwan. Photo credit: @eeooa0314.
If you're a hardcore cherry blossom fan and don't mind travelling slightly further out of Taichung city, you should really head to Wuling Farm! There are some 30,000 cherry trees (Oshima cherry, Yaezakura cherry, and Wusheh cherry) planted in the farm, promising a gorgeous sight of pink. Guesthouses around Wuling Farm open their bookings for spring the following year around the first week of November. You can even explore Wuling Farm as a day trip from Taipei!
Best viewing spots: Taichung — Tai'an Police Station (后里泰安派出所), Houli Huatian Pinbu Park (后里花田拼布公園), Dong Shi Lin Park (东势林场), Wuling Farm (武陵農場); Nantou — Formosan Aboriginal Culture Village (九族文化村)
Spring festivals: Formosan Aboriginal Cultural Village-Cherry Blossom & Lavender Festival (Feb – Mar), Wuling Farm Cherry Blossom Festival (Feb)
Getting around: Miaoli and Taichung counties are connected via the THSR, while the TRA connects Taichung and Nantou counties. Self-driving or car-charter is also a convenient way of getting around Central Taiwan.
Southern Taiwan — Kaoshiung and around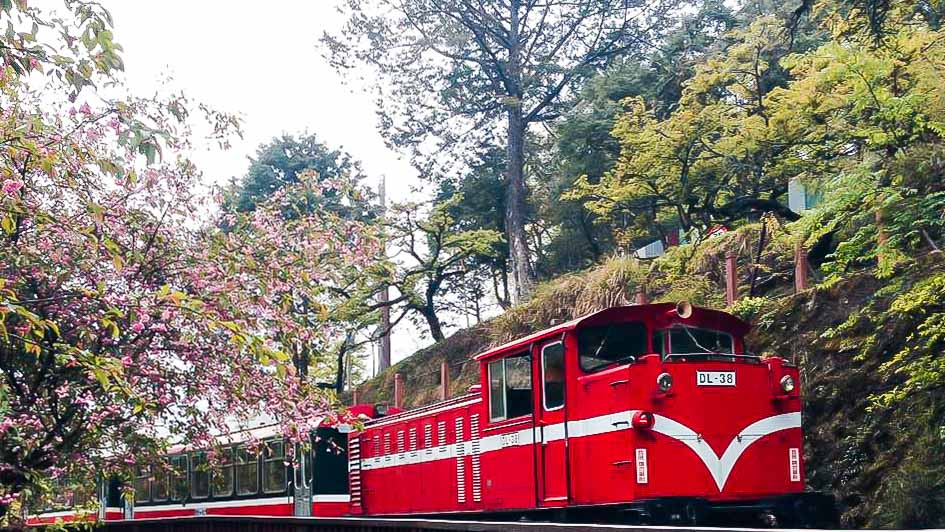 Cherry trees in Alishan during springtime. Photo credit: @trieee_
While southern Taiwan isn't as popular as the northern and central areas, many people still flock to Chiayi County for a Taiwanese hanami experience at Alishan mountain. The Japanese cherry variety, Yoshino cherries, are planted along the train tracks of Alishan mountain bloom every February, creating picture-perfect moments whenever an iconic red Forest Railway train passes by.
Best viewing spots: Chiayi — Alishan Mountain (阿里山); Kaohsiung — Bao Shan Er Ji Tuan Cherry Blossom Park (寶山二集團櫻花公園38甲櫻花公園)
Spring festivals: Alishan Cherry Blossom Festival (Mar – Apr)
Getting around: Chiayi, Tainan and Kaoshiung (Zuoying) are connected via the THSR system. TRA also connects from Chiayi to Alishan. Kaohsiung city has its own metro system.
Eastern Taiwan — Hualien and around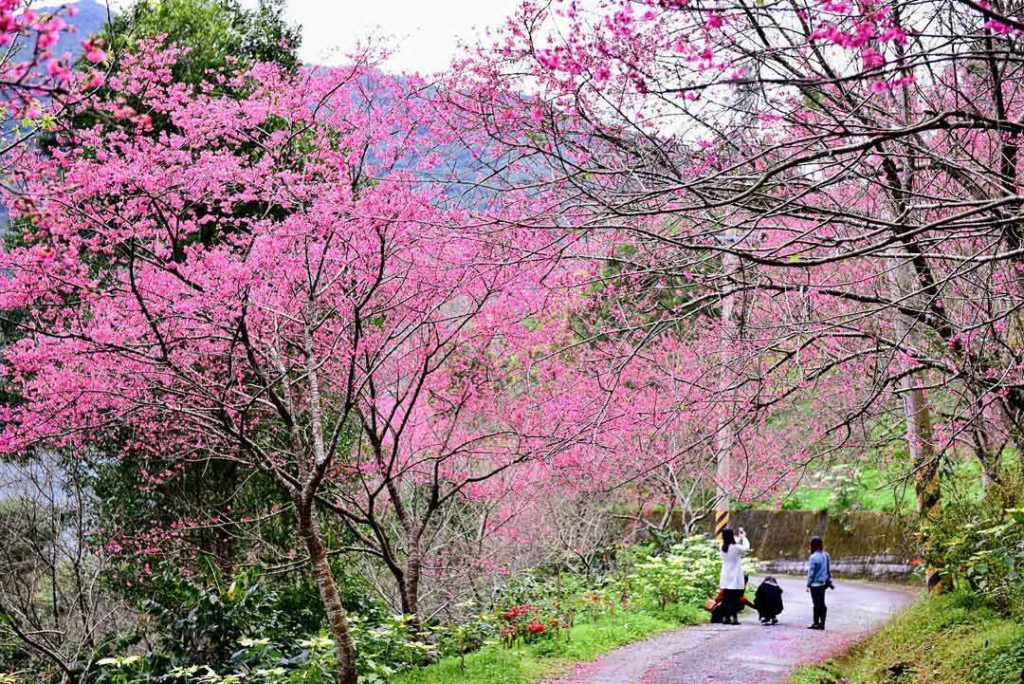 Cherry blossom in full bloom at Yu-Shan Theological College and Seminary of Hualien. Photo credit: @z.soup.
If your sole purpose of visiting Taiwan is for cherry blossoms, then you might want to skip eastern Taiwan altogether as there aren't as many blooms as the western side. But if you've other places up your itinerary for eastern Taiwan, do check out Yu-Shan Theological College and Seminary (玉山神學院). There's said to be 5,000 cherry trees planted within the college's compound, attracting many local tourists to visit the magnificent blooms each year.
Best viewing spots: Hualien — Yu-Shan Theological College and Seminary (玉山神學院), Shuhu Cherry Blossoms Trail (樹湖櫻花步道); Taitung — Taimali Qingshan Farm (青山農場)
Getting around: Eastern Taiwan isn't as connected as the western counties, so your transportation options are limited to the TRA, car-charter, or self-driving a rented car.
Other Budget Spring Activities to Do in Taiwan
Hot Springs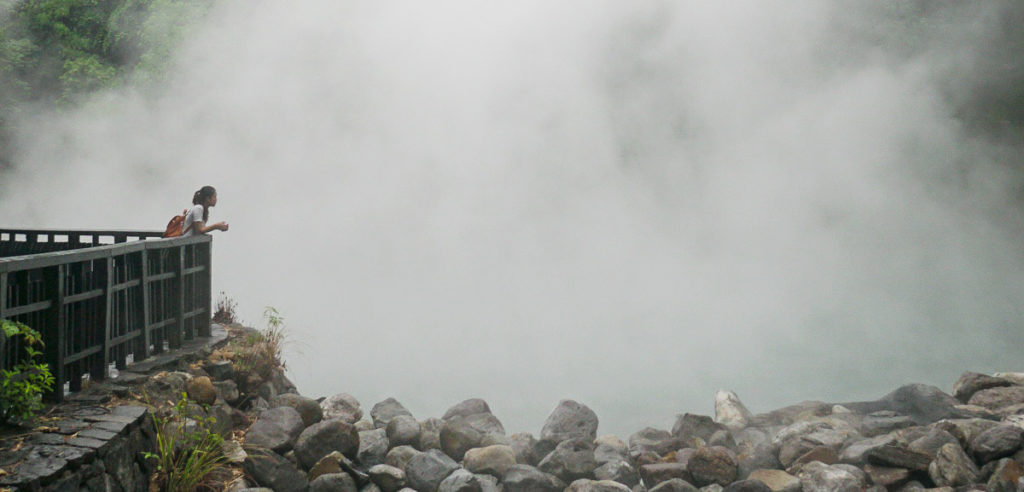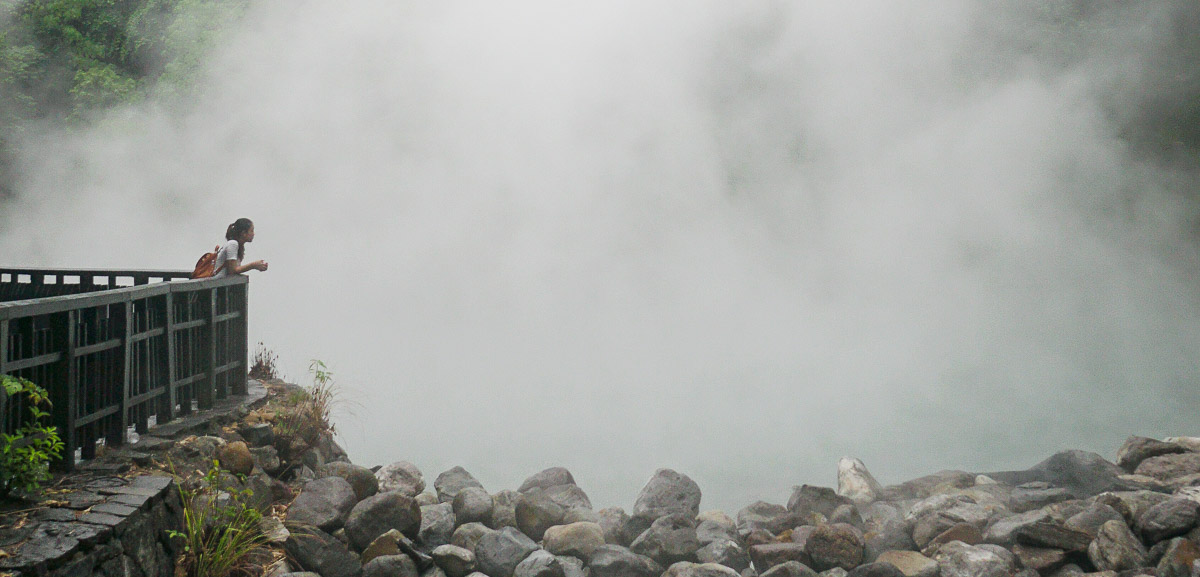 Nothing beats dipping into a hot spring during springtime. Just an MRT ride away from Taipei city is Beitou, a sleepy town that's most famous for its hot springs. For just NT$40 (that's less than S$2), you can soak in both the hot and cold pools at Xinbeitou Public Hot Springs (新北投千禧湯露天溫泉). If public baths ain't your thing, there are also hot spring resorts in the quiet town of Wulai, an hour south of Taipei, for people who prefer dipping in private.
Seasonal Fruits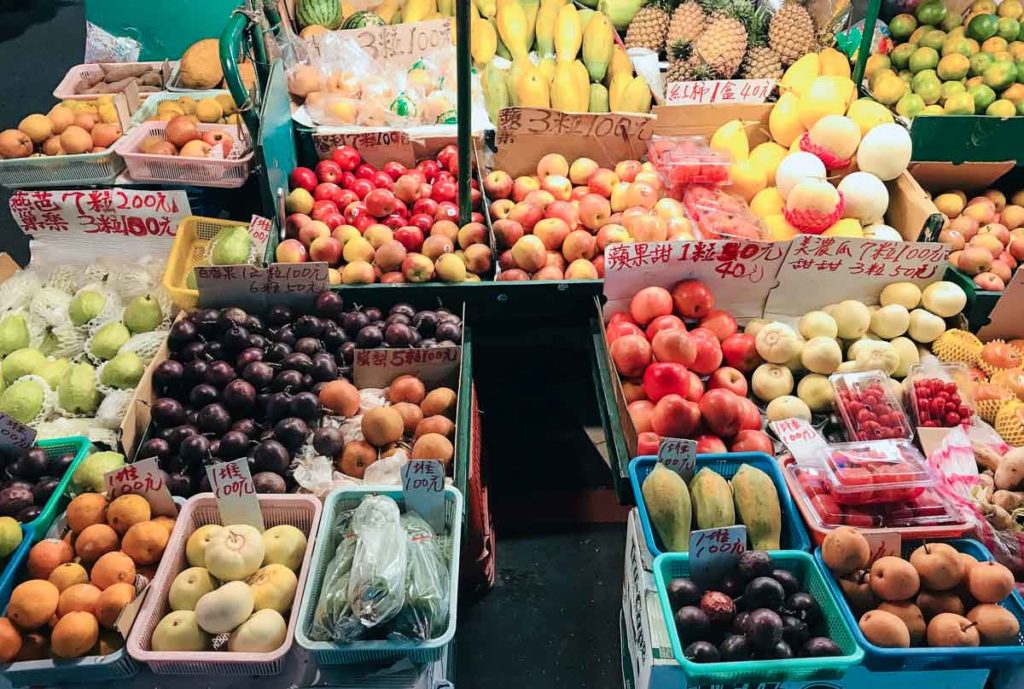 Photo credit: Wikimedia Commons
Taiwan is known as the "Kingdom of Fruits (水果王國 )" in Asia, and "Fruit Tourism" is actually a thing in Taiwan. Situated in the subtropical zone, Taiwan's geographical location makes it an ideal place for growing all kinds of fruits. Different seasons see the harvest of different fruits in Taiwan, and in spring, these fruits are in season: apple, soursop, starfruit, strawberry, orange, Kyoho grapes, tangerine, peach, tomato, pumpkin, kiwi, corn, and banana.
Just be mindful not to purchase cut fruits from mobile carts on the streets as they're usually exorbitantly-priced. For cheaper (and fresher) fruits, get whole fruits at markets or from supermarkets such as Carrefour.
Hiking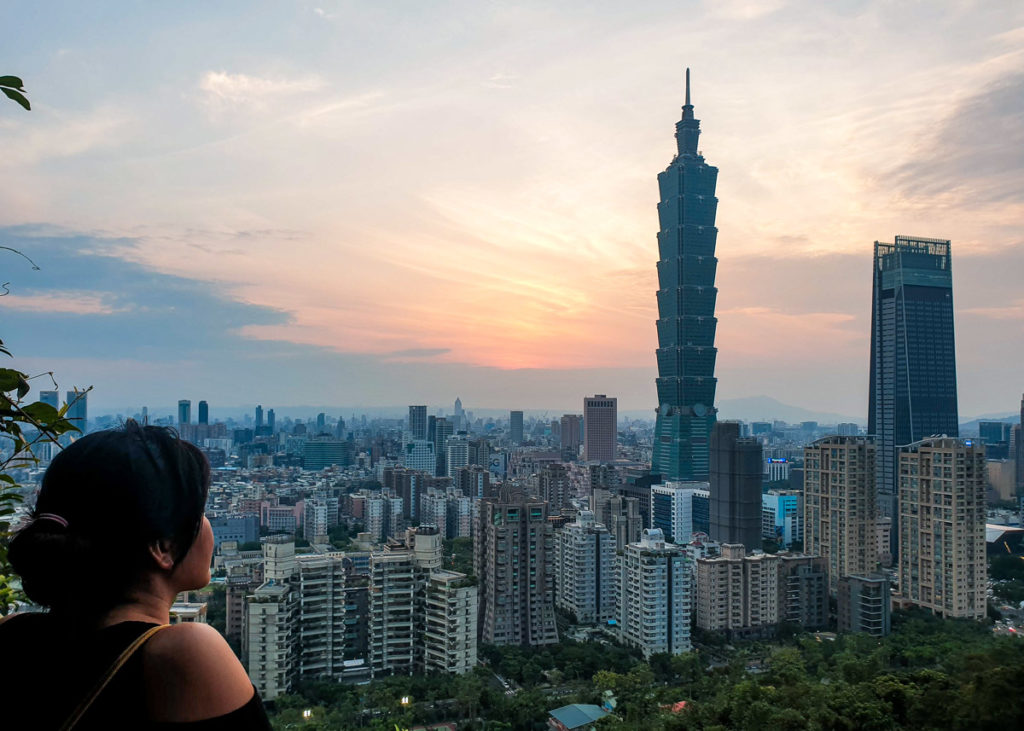 View of Taipei 101 at the end of the hiking trail of Elephant Mountain.
Personally, I find spring the best season to visit Taiwan as the weather's cooler and florae are in full bloom. And one of the most fulfilling activities (that cost nothing) that can be done during springtime is hiking. In Taipei, Yangmingshan National Park and Elephant Mountain (xiangshan 象山) are great easy hiking spots that not only reward with superb views but also justify that second boba tea you're getting for the day.
Lantern Festival in Taichung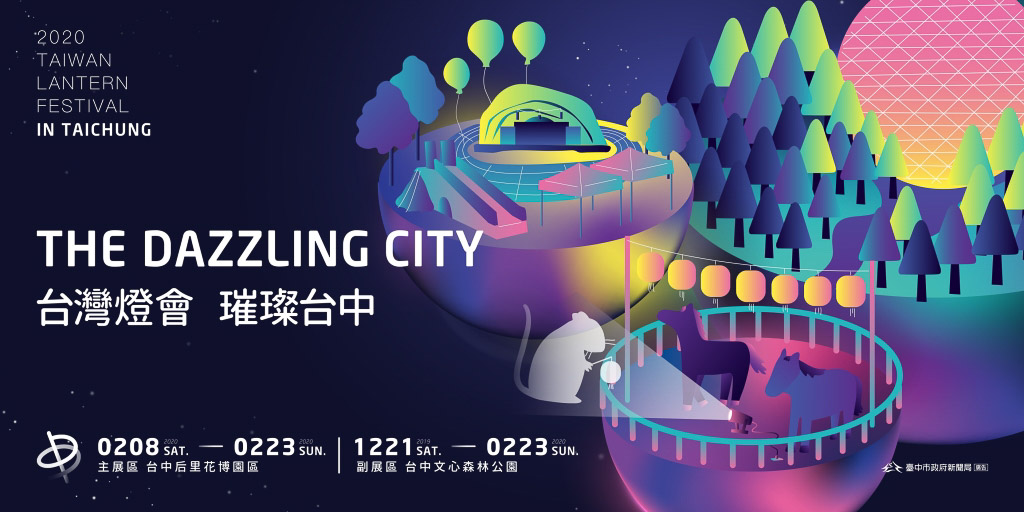 Photo credit: Taichung Travel Net
Happening from 8th to 23rd February, the 2020 Taiwan Lantern Festival (臺灣燈會) will be held in Taichung's Houli Horse Ranch (后里馬場) and Forest Expo Site (后里森林園區). Art installations, light projections and parades designed along the theme of "Fantasy Forest" will be showcased.
Shop CNY goodies for cheap at Dihua Street 迪化街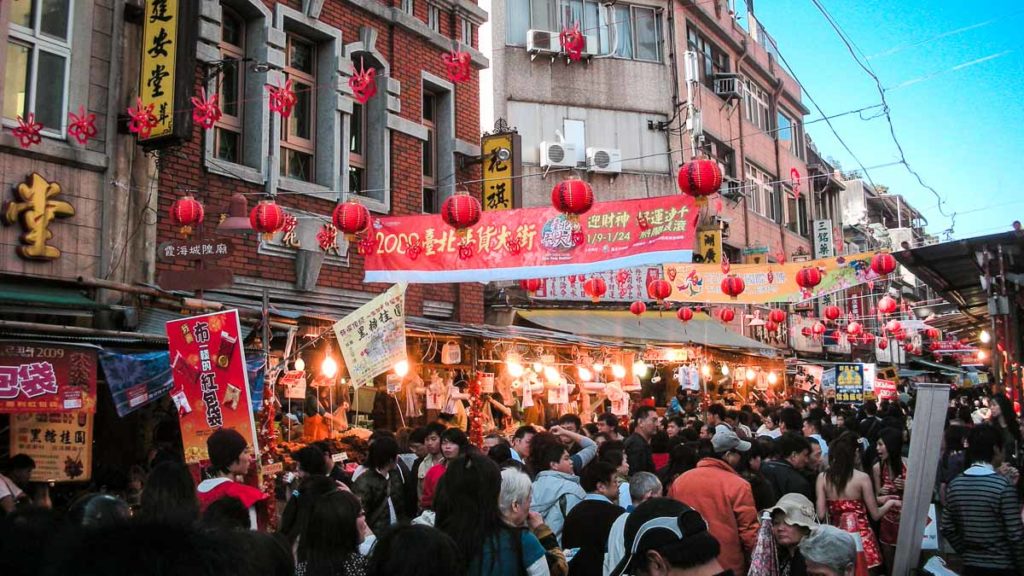 Photo credit: Wikimedia Commons
For a couple of weeks leading up to Chinese New Year, Dihua Street (迪化街) in Taipei turns into a bustling marketplace with unending stalls of vendors selling all-things CNY. From candies to dried goods, you'll be in for a (free!) feast of food samples given out by the vendors to attract customers.
Getting Around Taiwan
Transportation within Taipei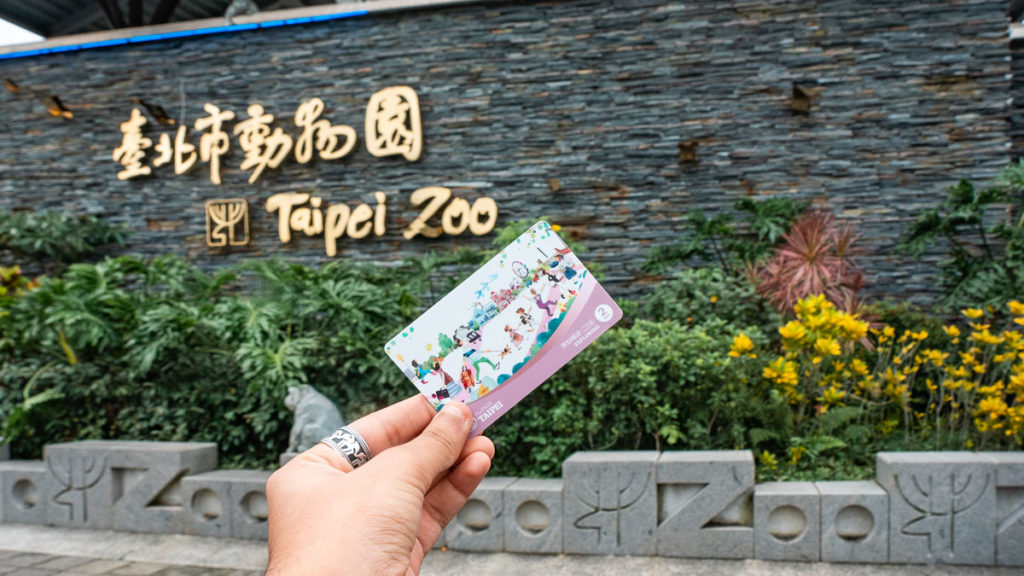 Taipei Fun Pass: This handy all-in Taipei Fun Pass (~NT$1,200) includes unlimited transportation on the MRT and public bus systems of Taipei, as well as one-time entries to 16 different attractions in Taipei within three days.
EasyCard/iPass Card: For repeat visitors who ain't looking at rushing through attractions, arm yourself with rechargeable transportation cards such as the EasyCard (悠遊卡) or iPass (一卡通), which can be purchased from convenience stores.
Getting around the whole of Taiwan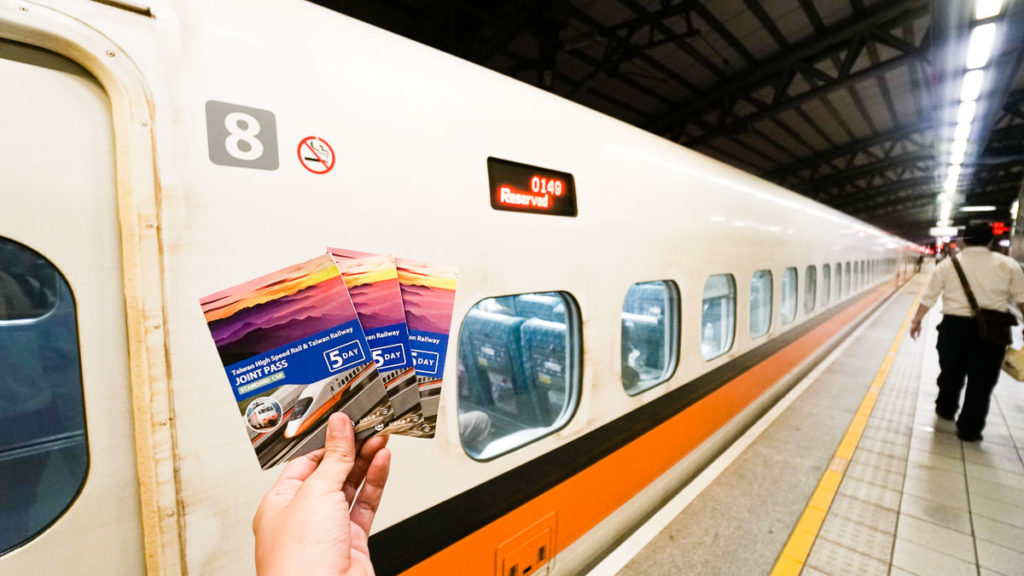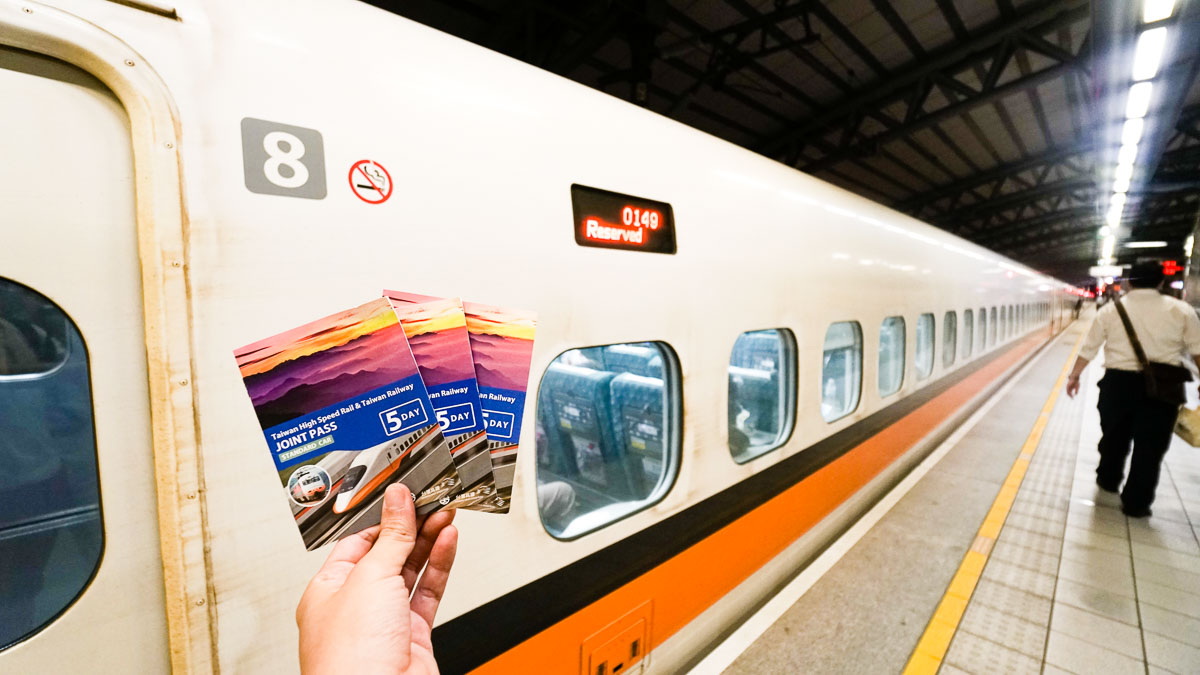 Via railway: The THSR pass is essential for fuss-free travelling through different cities in Taiwan. Get the 5-Day Joint Train Standard Pass (~S$125) which includes unlimited use of the THSR on any 2 days + unlimited use of the TRA for 5 consecutive days.
Self-driving: Renting a car (~S$54/day) to self-drive around eastern Taiwan is the easiest and most efficient way!
FAQs about Cherry Blossoms in Taiwan
Are cherry blossom trees native to Taiwan?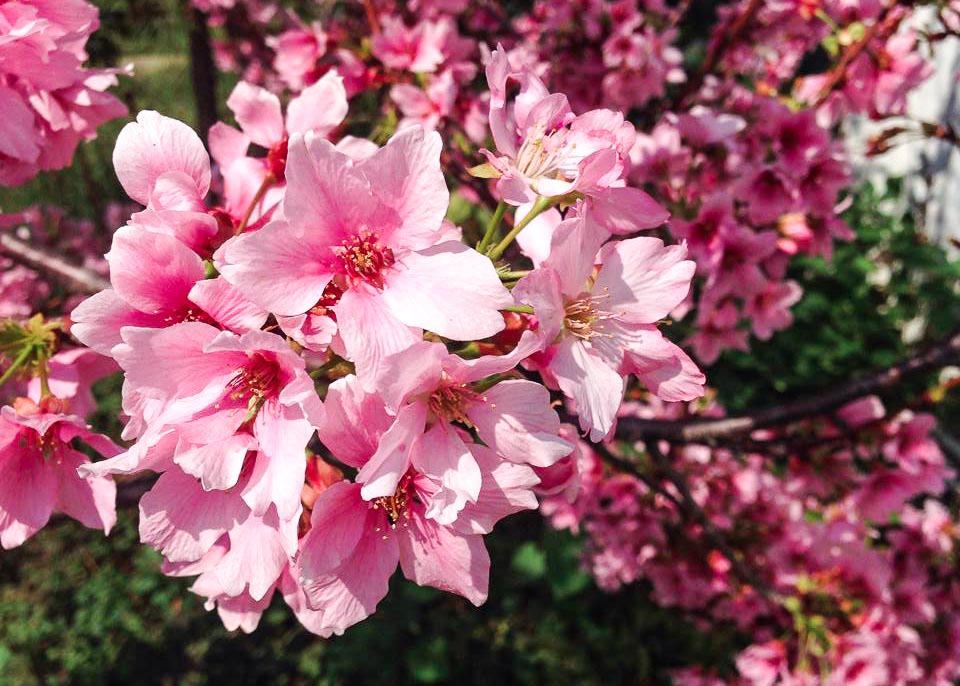 Taiwan Cherry (a.k.a. Formosan Cherry). Photo credit: Tricia To.
Yes. There are cherry trees that are native to Taiwan, specifically the Taiwan Cherry (or Formosan Cherry) that's distinctively deep pinkish in colour with overlapping petals. Another cherry tree endemic to Taiwan is the Prunus transarisanensis Hayata that has pale pink, almost white, petals.
The more popular Yoshino cherry trees, however, are native to Japan. But many Yoshino trees have been planted and cultivated in Taiwan after the growing popularity of Hanami in Japan.
Other seasonal blooms of Taiwan if you're visiting outside of springtime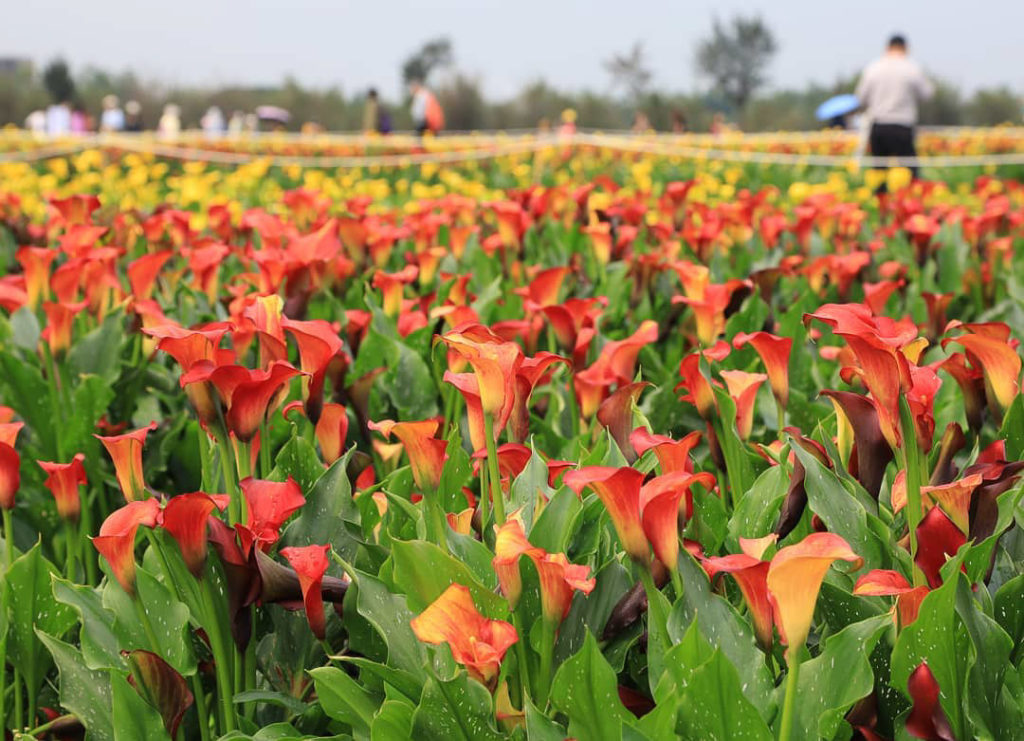 Photo credit: @ncbekjb
January — Tulip, Plum blossom, Rapeseed flower
February — Tulip, Cherry Blossom, Hollyhock, Apricot Blossom, Azalea, Camellia, Wild Peony, Peach Blossom
March — Cherry Blossom, Golden Trumpet Tree, Calla Lily, Camellia, Wild Peony
April — Cotton Tree, Wisteria, Paulownia, Wild Peony
May — Lily, Cassia, Wild Peony
June — Hydrangea, Lotus flower, Bengal Clock Vine flower
July — Lotus, Sunflower
August — Daylily
September — Daylily, Osmanthus, Chrysanthemum
October — Maple, Silver grass (lalang), Chrysanthemum
November — Maple, Lavender
December — Maple, Lavender, Plum Blossom
Other budget itineraries and guides to Taiwan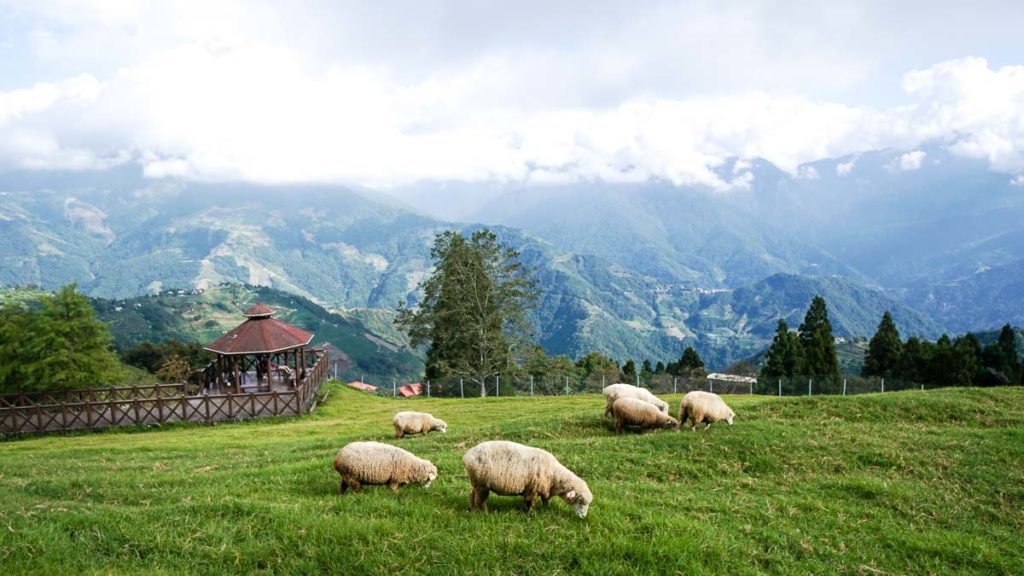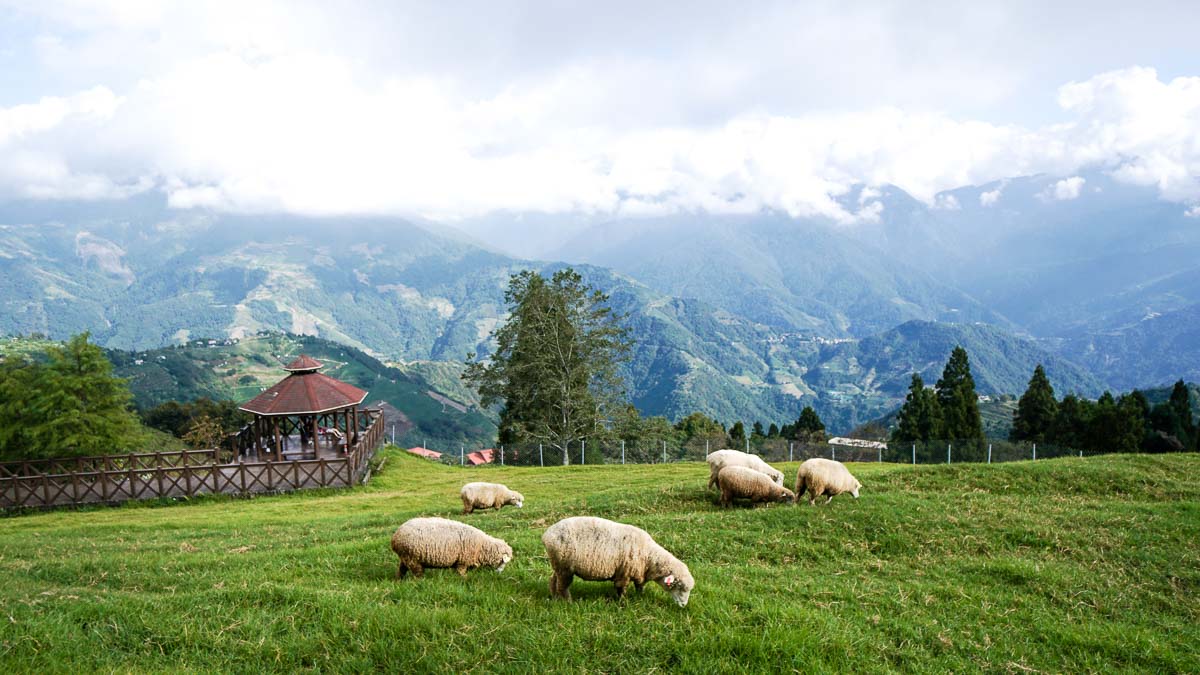 Viewing blossom blooms is just a convenient excuse for me to visit Taiwan again. For me, anytime's a good time to visit Taiwan as it's the one destination that's perfect for a short getaway yet also works for a long road trip with so much it has to offer. From gastronomic expeditions in Taipei city to scenic adventures in other counties such as Yilan or Kenting, there's something for everyone in Taiwan. Here's a list of Taiwan itineraries and guides that might come in handy.
Which other beautiful and budget springtime travel destinations do you know of? Let us know in the comments section below! 🙂
Featured image credit: weibo.com
---