Literally our coolest (and warmest) trip ever. Practical tips on surviving the sub-zero temperatures below!
When you're travelling in sub-zero climates, there are three words which are so useless and obvious, they should never need to be said. Yet you'd hear them every waking moment — a trembling chorus of "itssoocoeee" (it's so cold) when hopping off a jeep, shouted on horseback, and even while gargling toothpaste and icy water.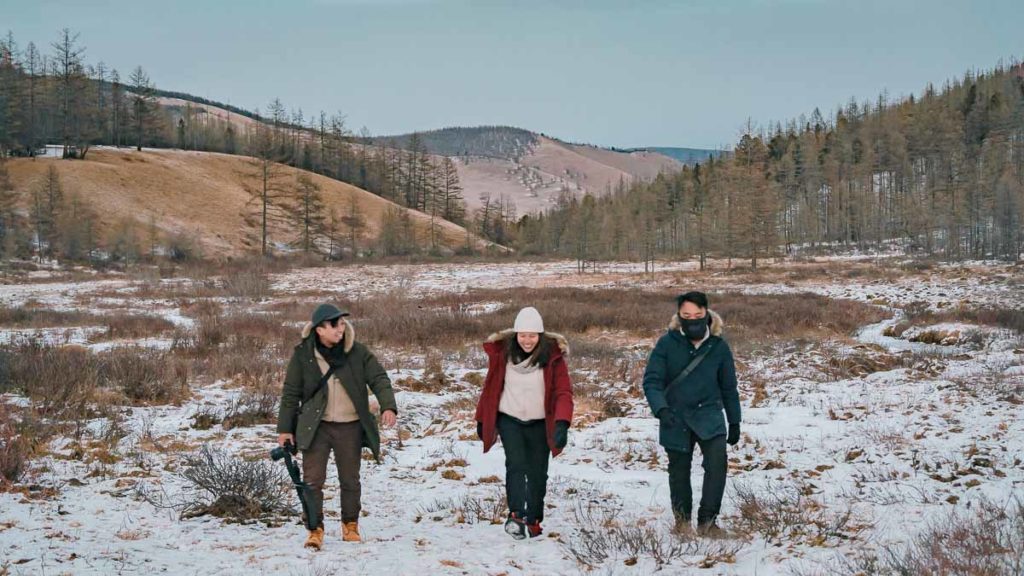 That's what happens when you throw 23 tropical city slickers into freezing North Mongolia, a.k.a the perfect setting for TTI's first community trip! It was a crazy 11 days of photography and adventures with newfound friends: riding wild horses, pooping in the wild, and going an entire week without internet.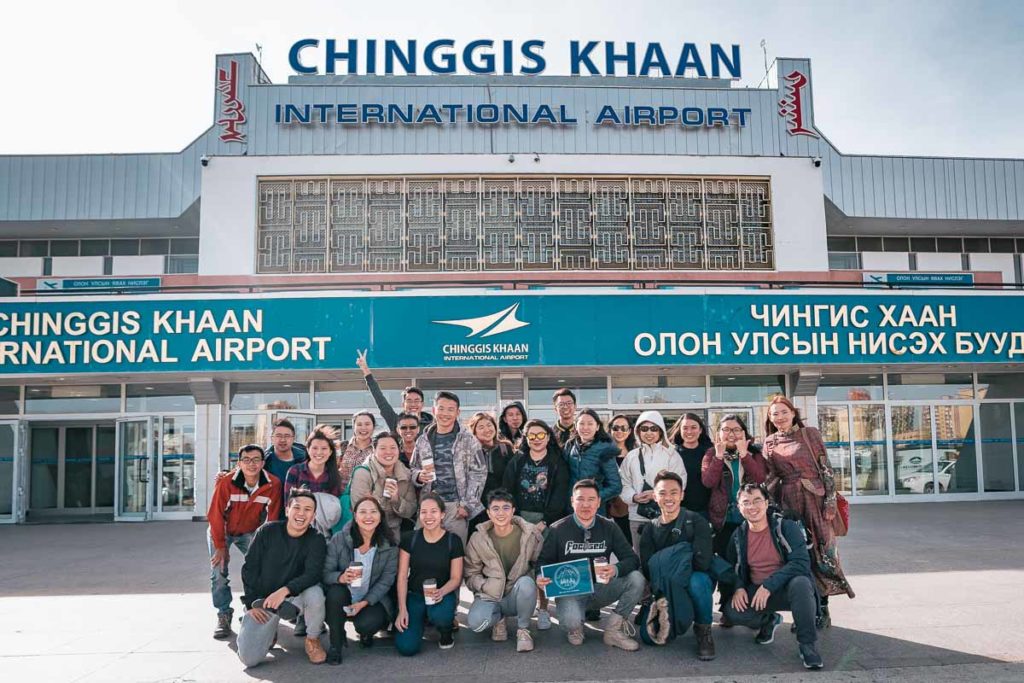 Our happy group of adventurers on TTI Experiences' Mongolia trip!
With Bobbi, Sagua, and Zaya, our amazing Mongolian guides, we travelled from Ulaanbaatar city all the way up to the Russian border. Here, we found the Tsaatan reindeer herders, one of the last groups of reindeer nomads left in the world. Their way of life is almost extinct — only 40 Tsaatan families remain in Mongolia — so there's no better time to visit if you want to experience their rich culture.
The pretty reindeer that Tsaatans depend on for their livelihood, providing transport, food, and fur.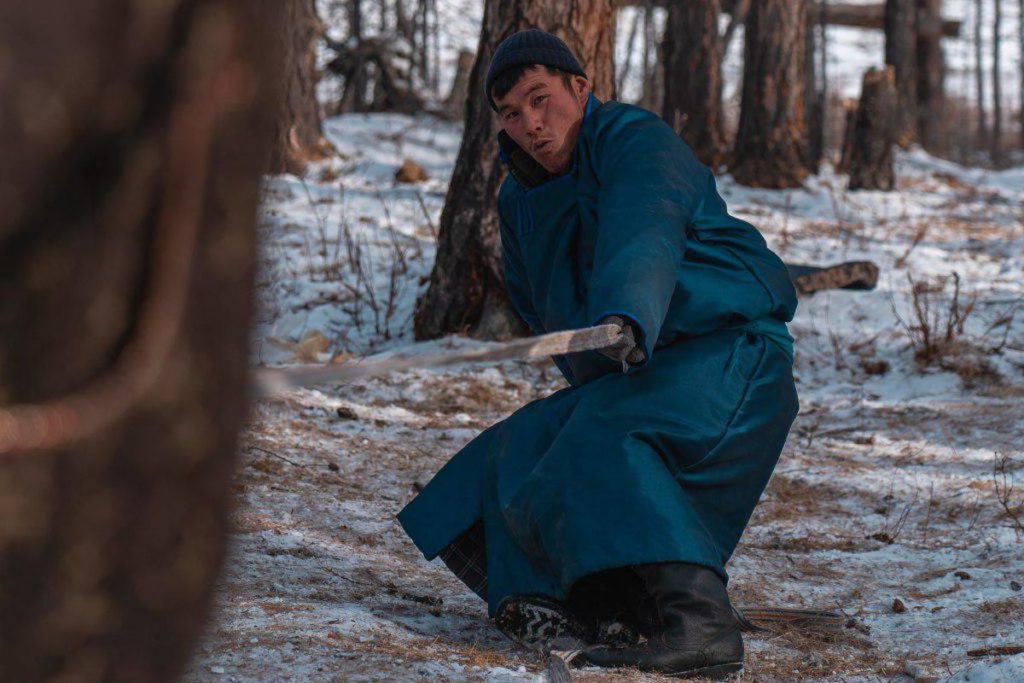 The Tsaatan reindeer nomads indulging in one of their hobbies — competitive rope pulling.
Hardship is always part of travelling off the beaten track, and in our case it was camping without creature comforts in below-freezing temperatures. But we found surprising ways to stay warm — and not just in the physical sense.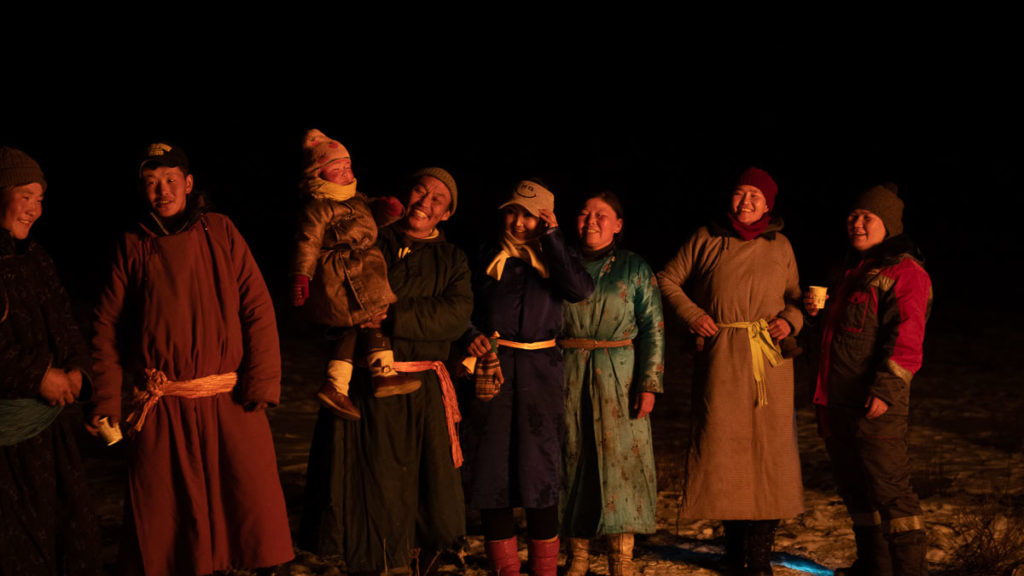 Here's the wildest things we did on our TTI community adventure to Mongolia, leading to many warm, fuzzy memories:
1) Taking furry, farting transport across epic landscapes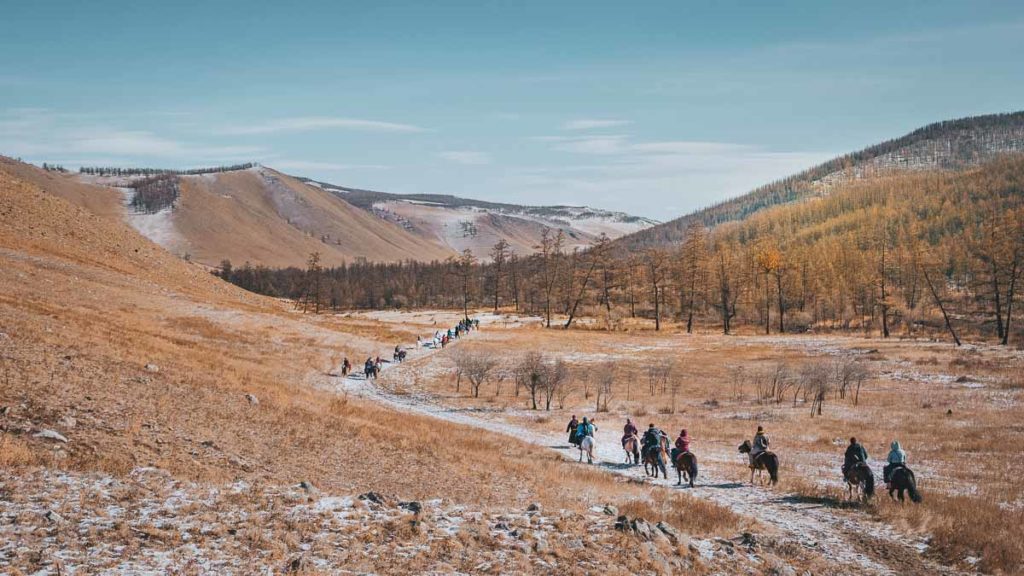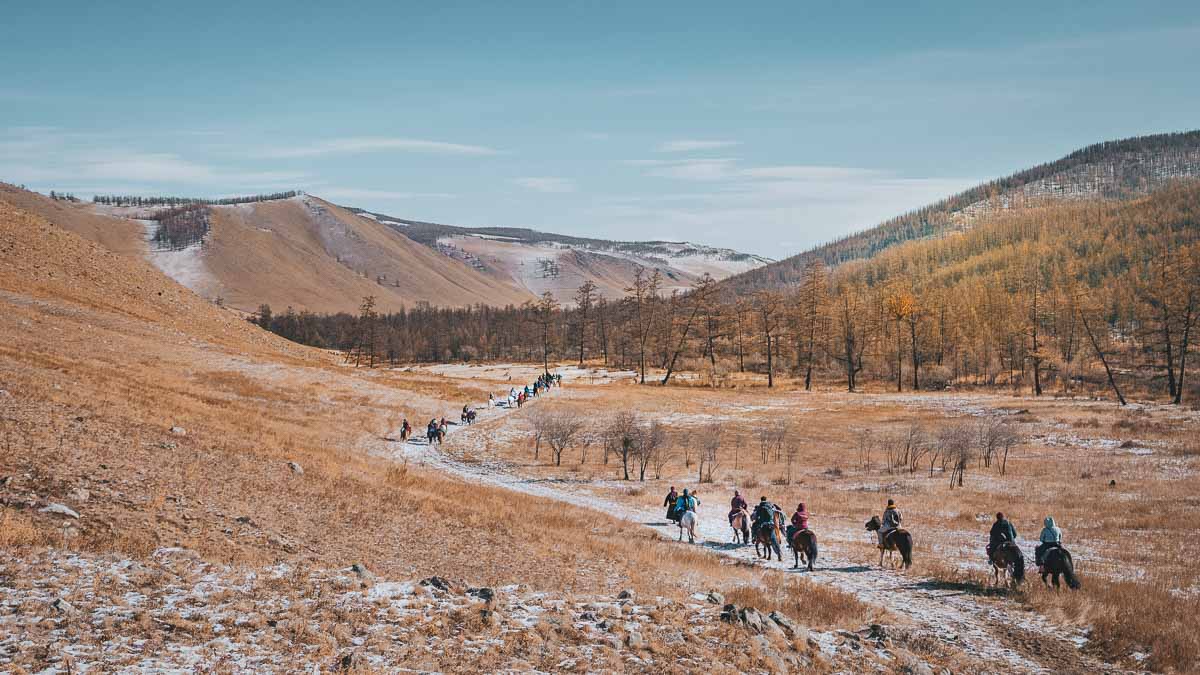 Expeditions have one epic destination that's difficult to get to, and in our case, it was a 650km journey — 13-times the length of Singapore! That said, getting to the Tsaatan reindeer camp was a scenic adventure, on two unique modes of transport.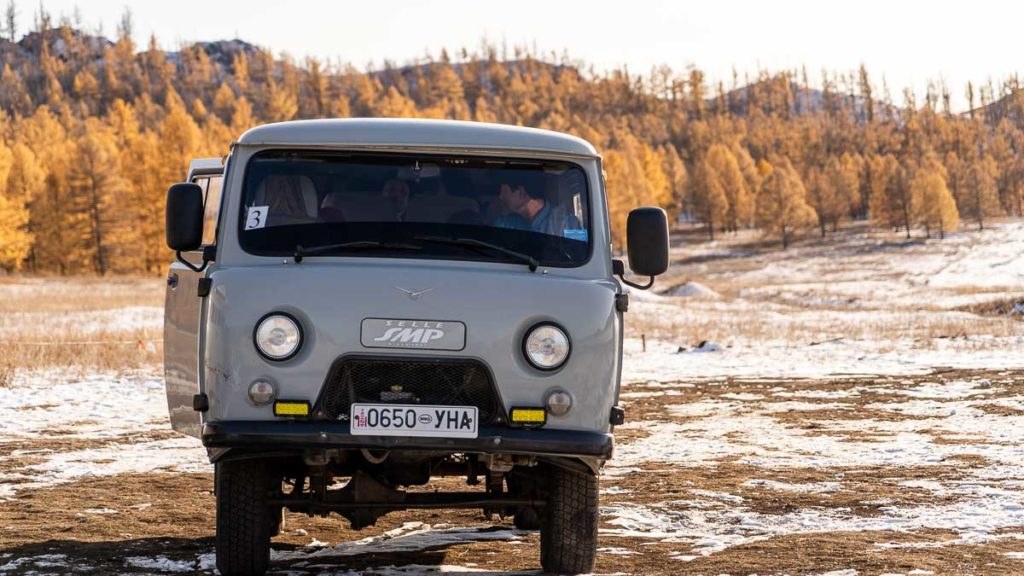 I'd never ridden a jeep before. So I was really impressed when I stepped in and saw not just lots of space, but also a fully-cushioned seat, door, and ceiling!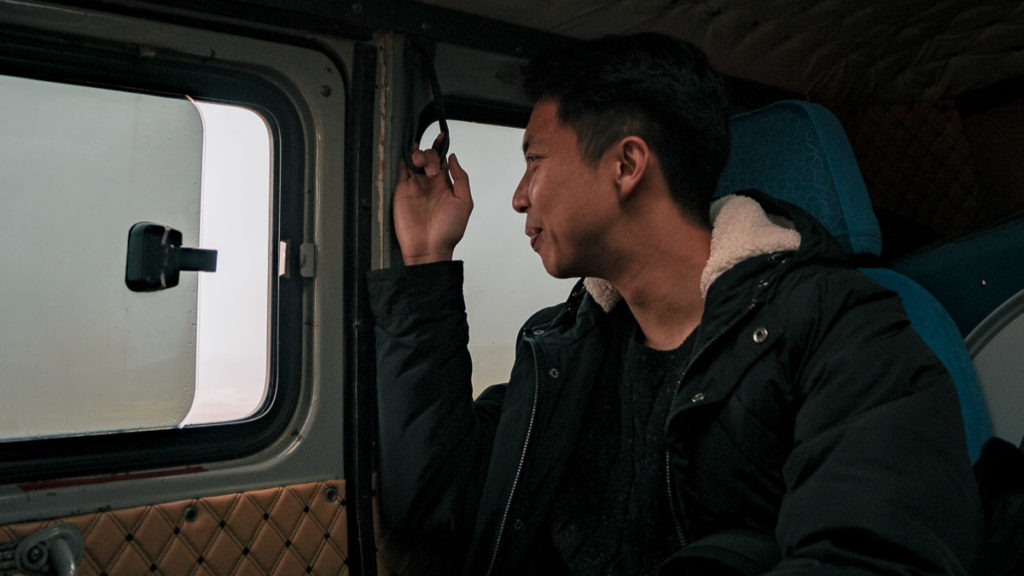 This will be the best road trip ever, I thought. And then we hit the road.
I mean we literally hit the road, going hard over mini cliffs and ridges, without any paths or paved routes.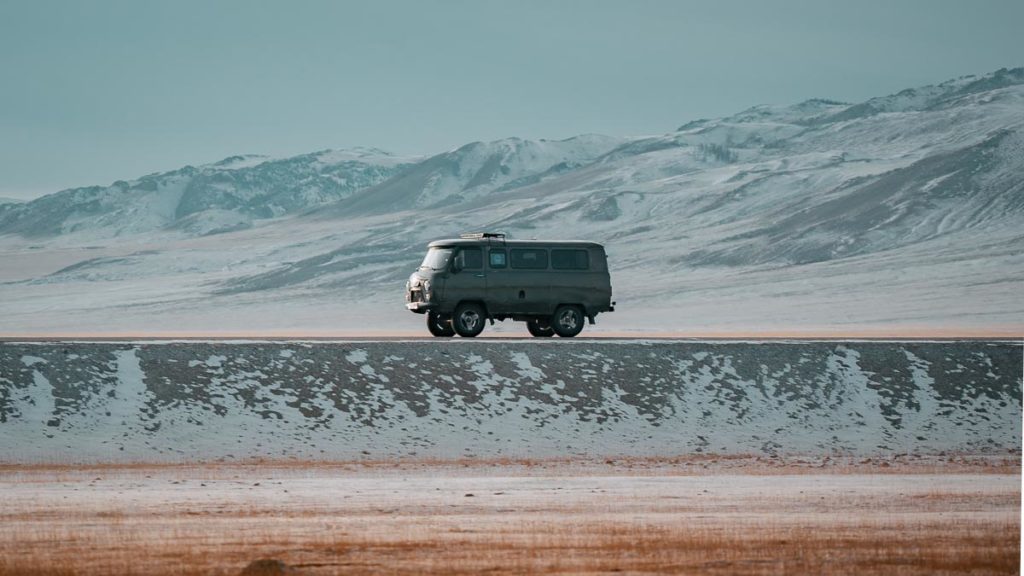 Going off the beaten track means lots of surprises — we even saw camels!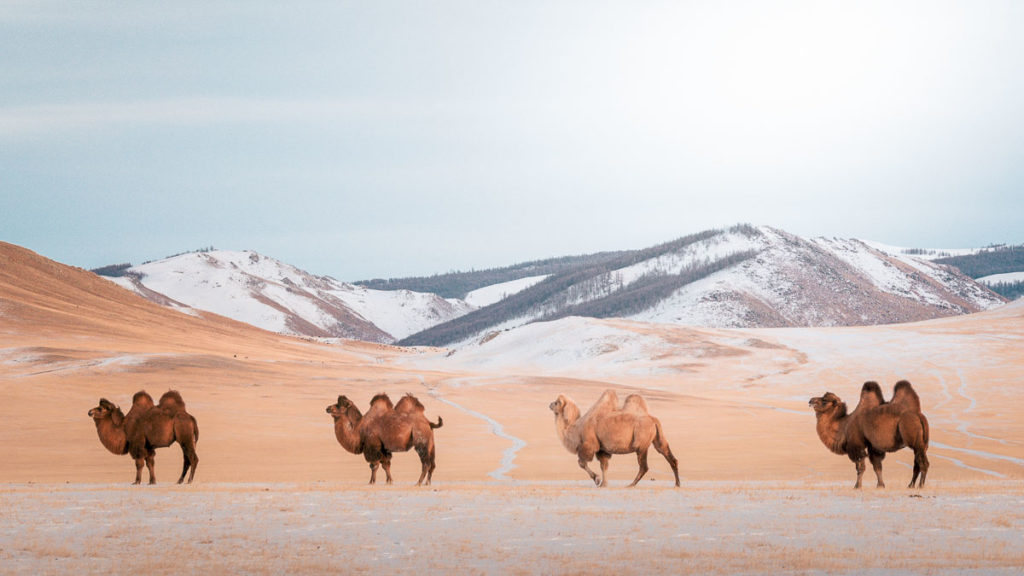 There were hardly any roads on the way to camp. Not even a dirt road like those in Southeast Asian villages. In fact, our five jeeps lost sight of each other all the time, with the drivers carving their own routes based on experience and gut feel. Forget Initial D, Mongolian drivers are the real deal.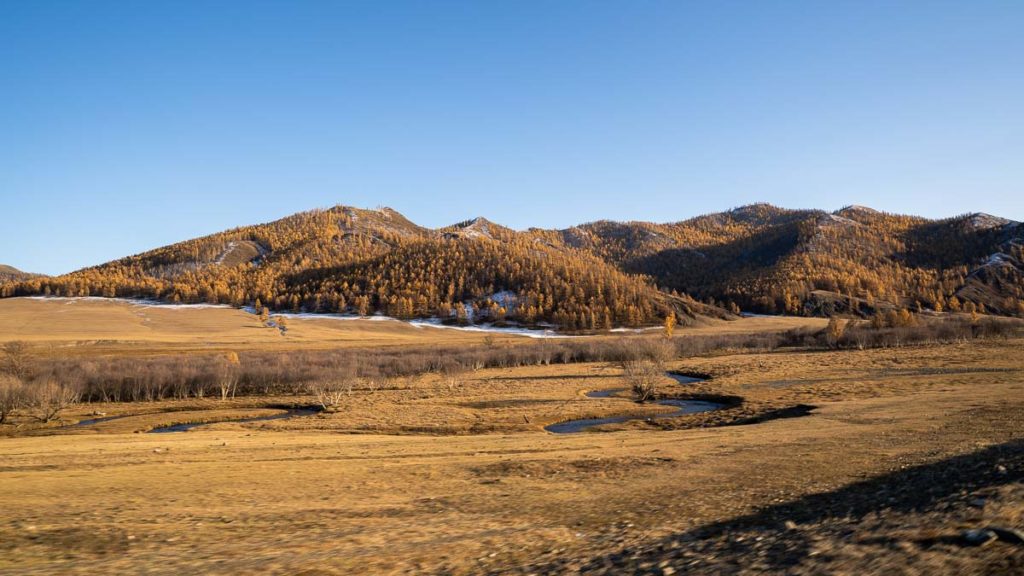 No roads anywhere, just pure, epic landscape.
This was the bumpiest journey we'd ever been on, but by day two, we're proud to say that we were able to knock out completely either way.
"Sleep clubbing". Photo credit: Chong Kah Long
The last stretch to the Tsaatan camp crosses slim valleys and icy streams, so we traded our jeeps for a different four-limbed beast, one that was constantly hungry and had a mind of its own.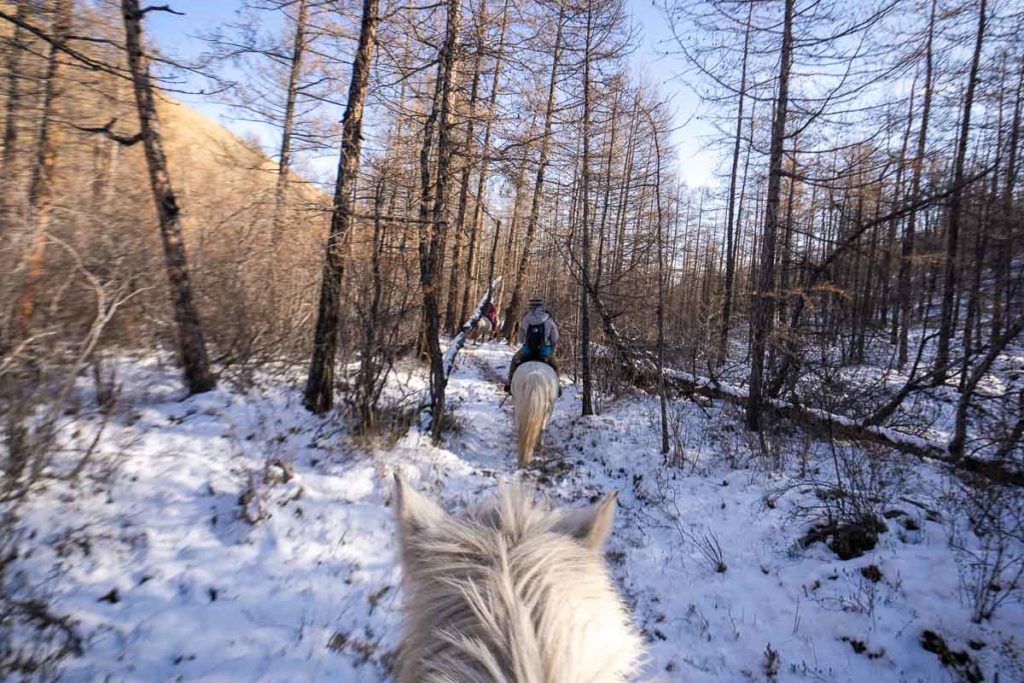 Our guides taught us commands to use on the wild horses, which are used to wandering the woods on their own. However, the highly-intuitive creatures could tell we weren't experienced, and would test us by straying off-path, or constantly stopping to eat. While the Mongolians had no issue steering their horses like a bike, most of ours refused to move beyond a lazy stroll, no matter how much we commanded them to "CHUT!" (speed up).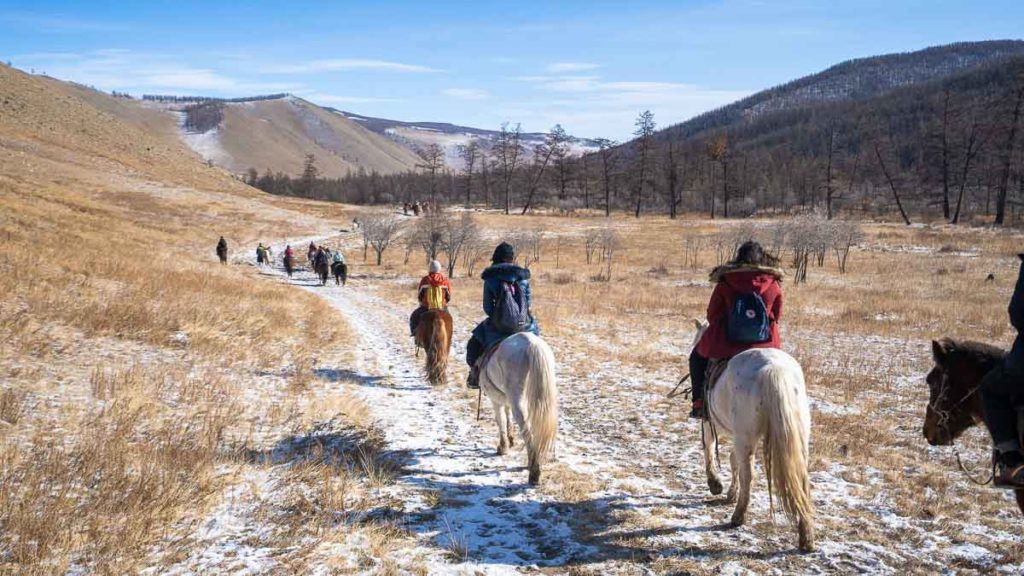 Despite their naughtiness, I now understand why Genghis Khan chose horses as his war machines — Mongol stallions are super stable and comfy, like a sofa on legs.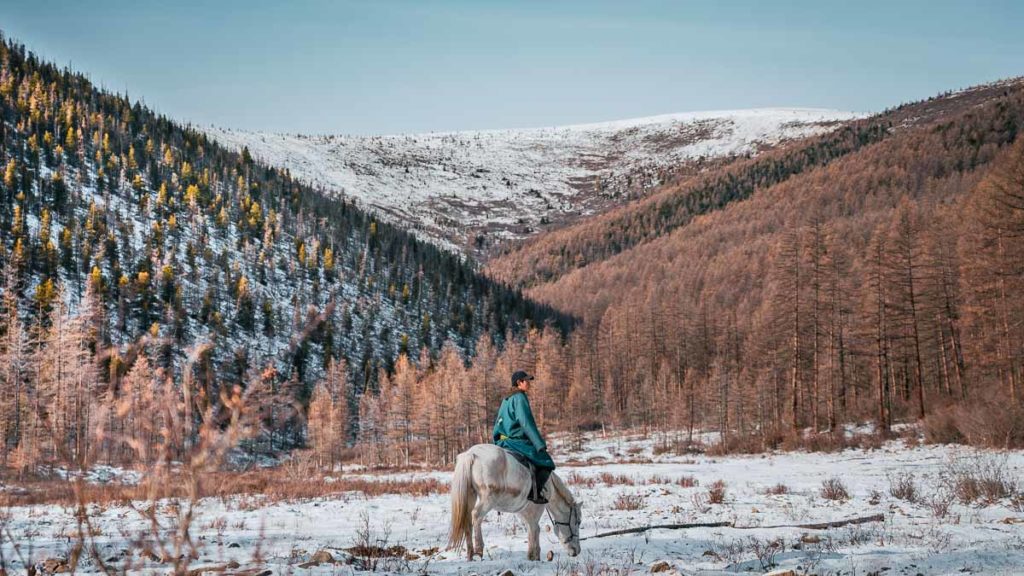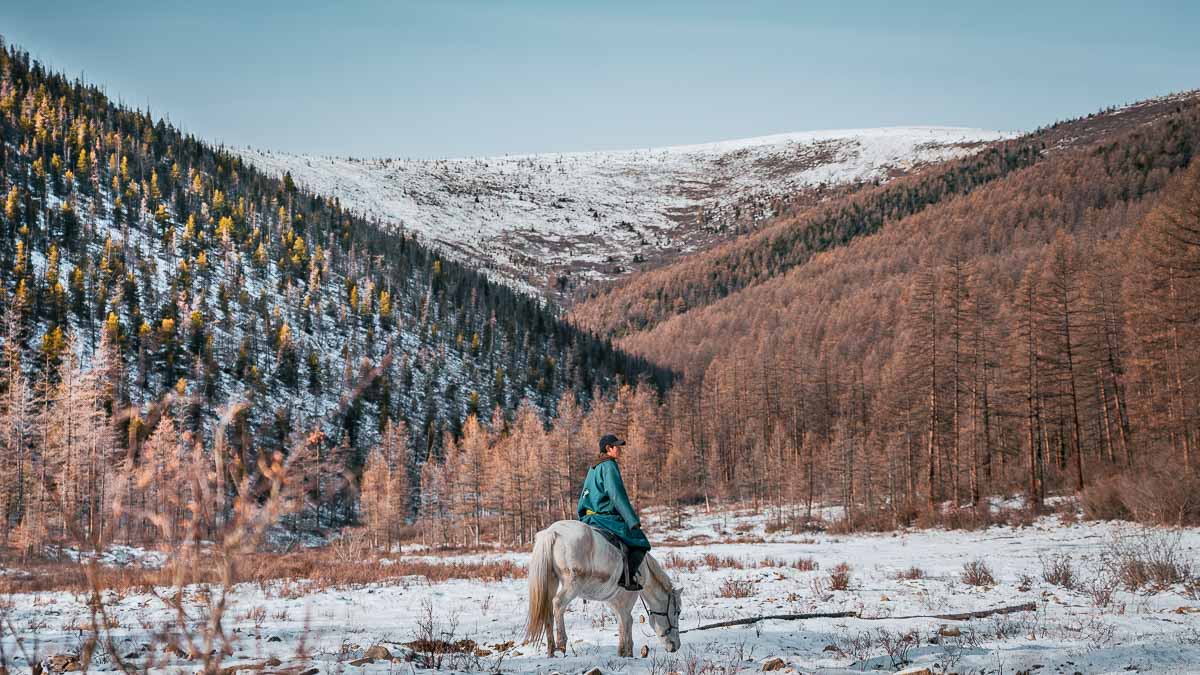 *Pro-tip: When travelling through harsh winter landscapes, wear trousers that protect you from the wind, rain, and snow (i.e. cotton/ wool pants are big no-nos). We wore Uniqlo's HEATTECH Warm Lined Pants, which come with HEATTECH fleece lining that kept our legs insulated and protected from the elements.
2) Chewing barbecued brain, tongue, and eyeballs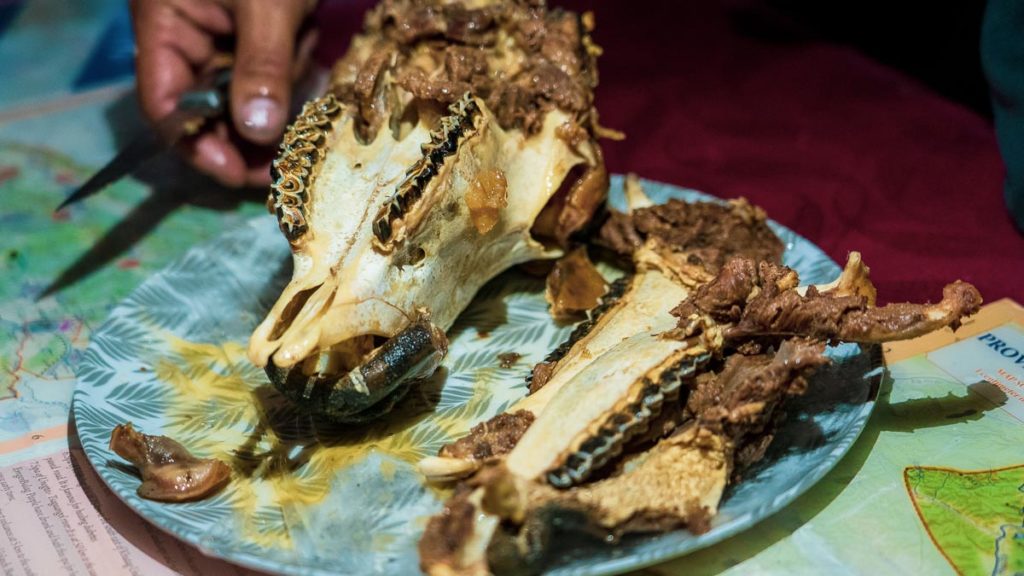 I love trying strange food around the world, so I was excited to taste what Mongolia had to offer.

Like an entire goat's head — tongue, brains, eyeballs, cheeks and all. This dish is a staple of nomadic culture, where nothing is wasted since food is scarce and you can't store leftovers for long.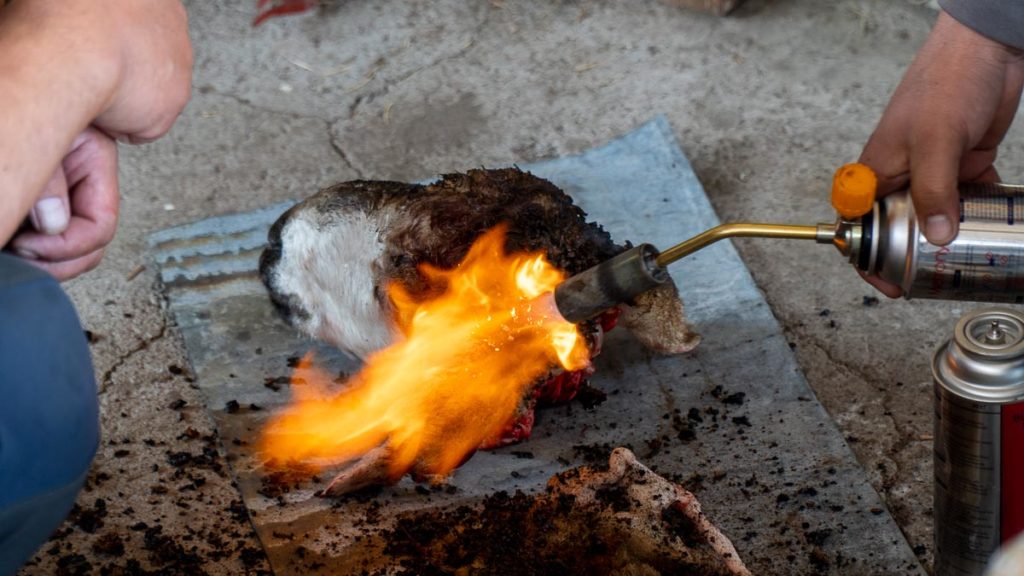 Preparing a goat's head by flaming it before scraping the fur off.
As for the flavour, well… eyelids taste like chewy fat, and goat tongue is tough and spongy. Brain tasted oddly familiar — imagine a more eggy, undercooked bak chor mee pork liver!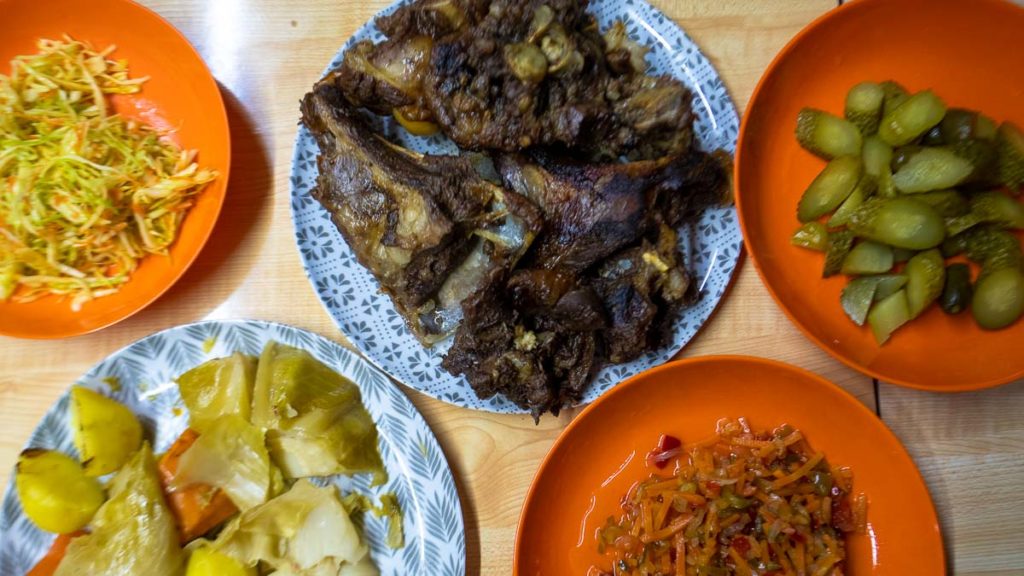 Even the squeamish among us enjoyed the spread of charred, fatty meat, whose rich flavour was complemented by a mix of sour veggies.
Besides traditional Mongolian food, we also enjoyed some of the yummiest fusion-style meals from our on-trip Mongolian chef: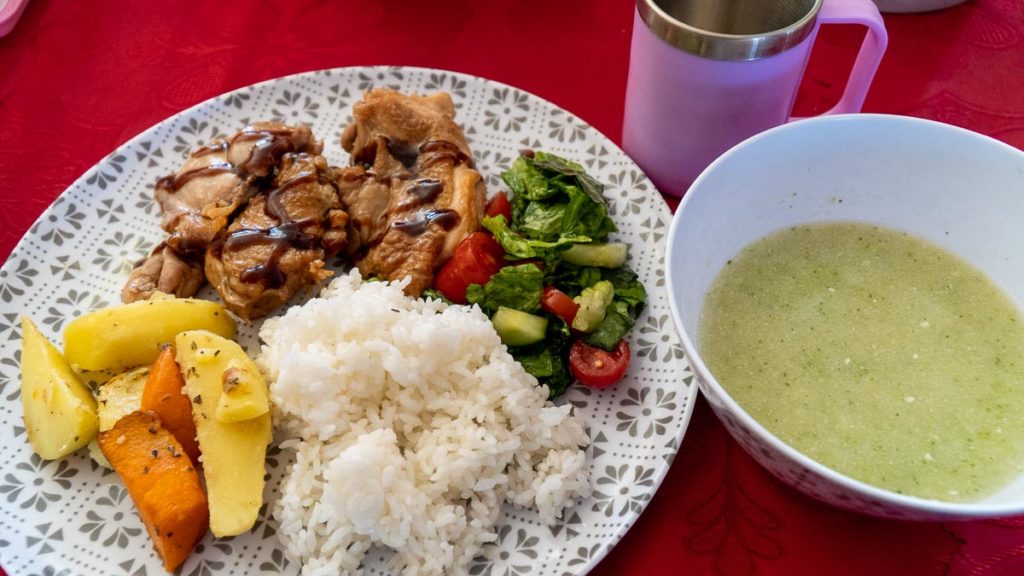 Unanimously agreed to be one of the best chicken chops and broccoli soups we'd ever had.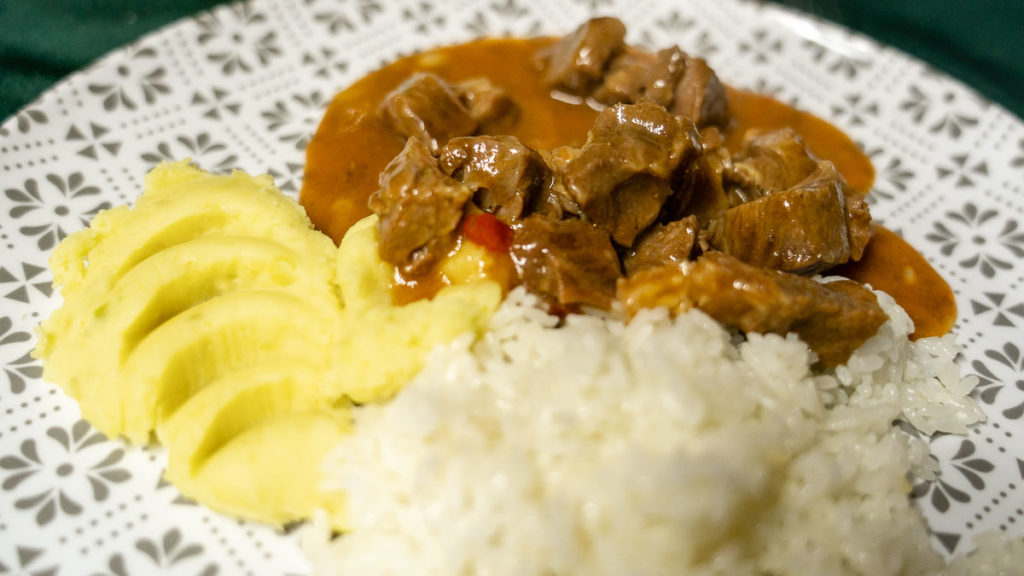 A hearty mutton stew and mash.
Funny enough, the real horror that entered our bellies was a Mongolian childhood snack — a seemingly harmless "crispy milk curd". After 10 of us eagerly tried it, all remaining packets were donated to our Mongolian guide Sagua.
Our typical reaction to the milk curd.
And you know what else happens when you eat foreign food in a foreign place…
3) Enjoying Number 2 with a view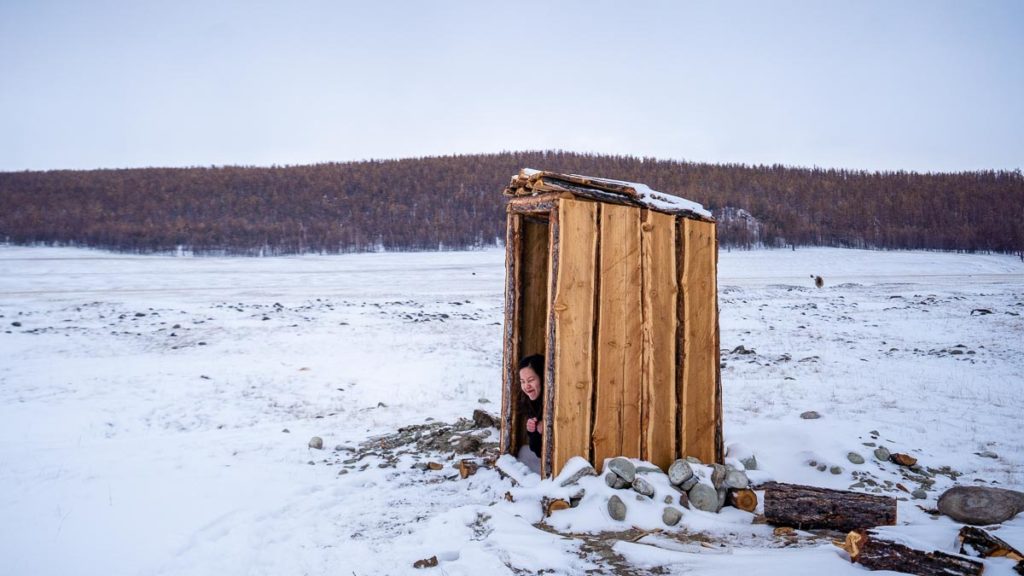 Not exactly a posed pic.
As a city civilian who's never stepped into jungles, the wilderness is pretty new to me. Even out of the city, there's always been a toilet and shower nearby, no matter how gross or basic. I've even squatted above long gutters in China, watching 50 shades of brown float beneath. But the toilets in Mongolia were still a surprise.

Out of Ulaanbaatar, the toilets were far more basic — a small wooden shed, with planks over a deep, dark hole.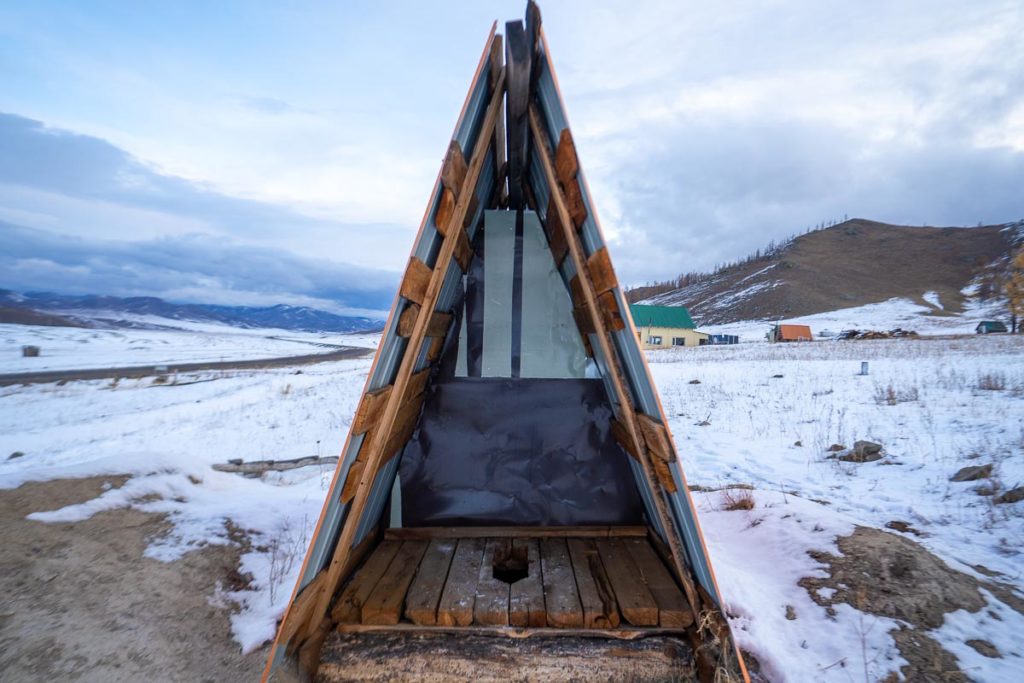 Some have doors and some don't, so we learnt to approach carefully.

There was also no flushing system, so every morning, our noses paid dearly for a whole night's worth of waste. We truly felt (and smelt) our past coming back to haunt us. For those of us without face masks, good ol' Axe Oil helped do the trick.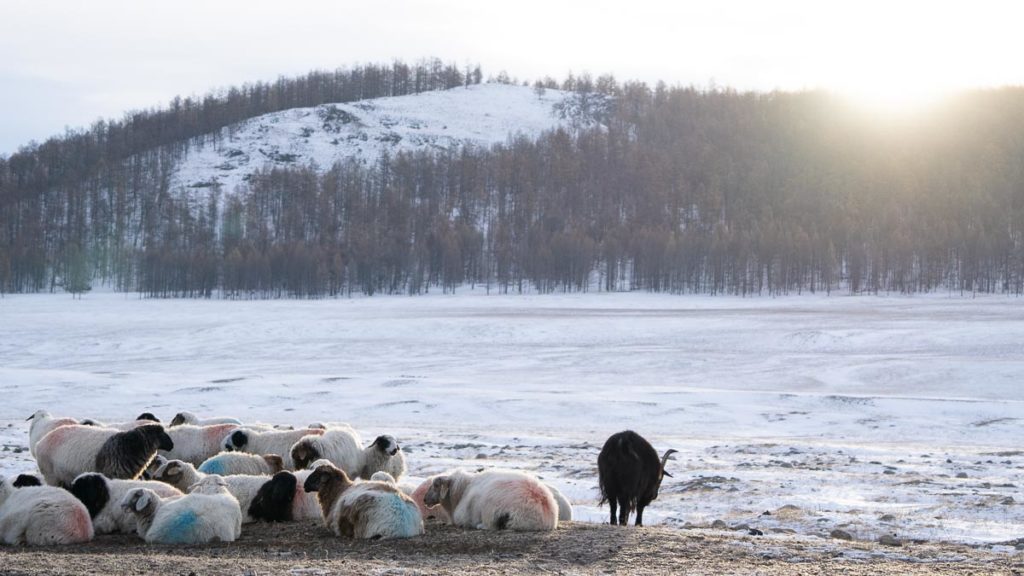 As we went further north toward the reindeer herders, we soon learnt that toilets are a state of mind. Without a single squat toilet in sight, we came to the revelation that the toilet… is… everywhere.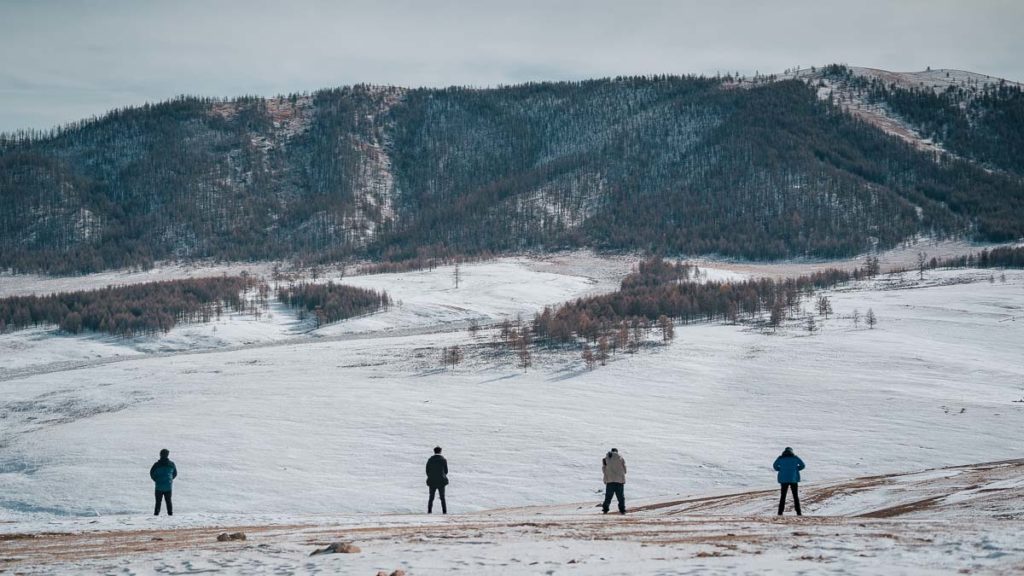 This was new for a lot of us on the trip, including myself — I've watered plants before, but never fertilised them. In the end though, I enjoyed the woods situation far more than squat toilets. There's no smell because waste isn't accumulated in one area, what you do produce immediately freezes up, and most importantly, no insects! Another huge plus was watching reindeer casually strolling by, which made every toilet break truly first-class.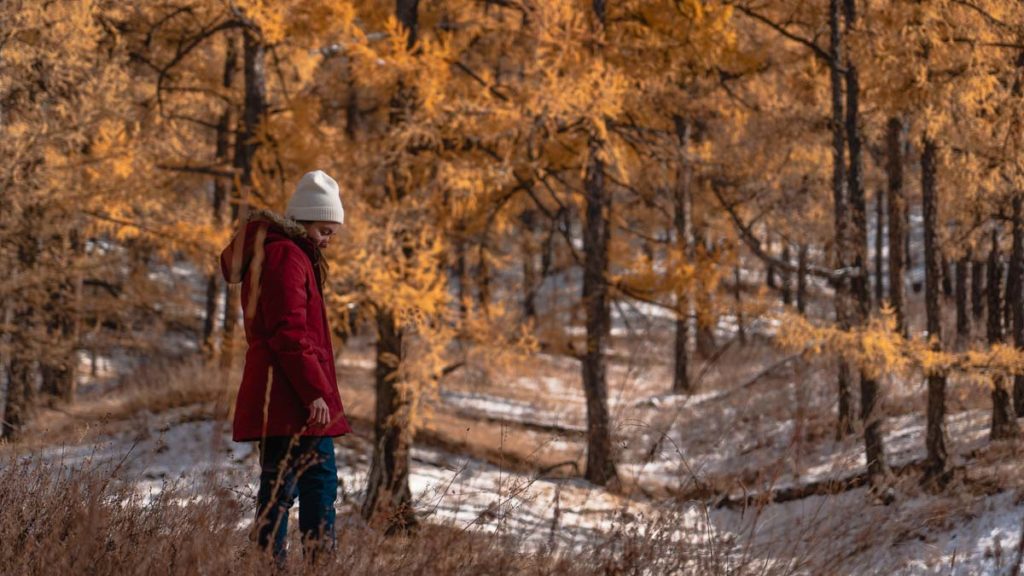 Scenic photo spot or scenic toilet? Why not both! 🙃
*Pro-tips:
1) Since you'll be leaving waste in the hole or in the woods, bring biodegradable tissues and wet wipes. Some brands we recommend are Cloversoft and Nootrees!

2) Wear secure winter accessories. Items like the HEATTECH Snood and Neck Warmer were designed to stay on your neck, so we never had to worry about it touching the ground, or worse, falling into the dreaded hole.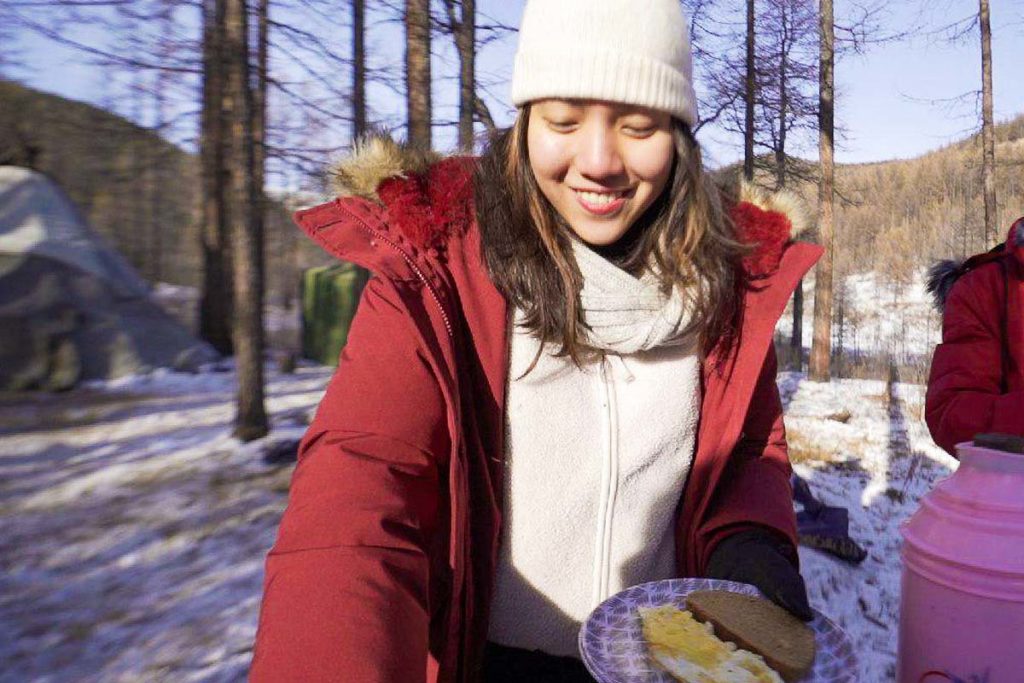 3) In sub-zeros, wet wipes easily freeze into a solid block, so put them in your fleece jacket's side pocket and add a heat pack (fleece also works great as a middle layer)!
4) Traditional dancing around a campfire (and how Phua Chu Kang bonds nations)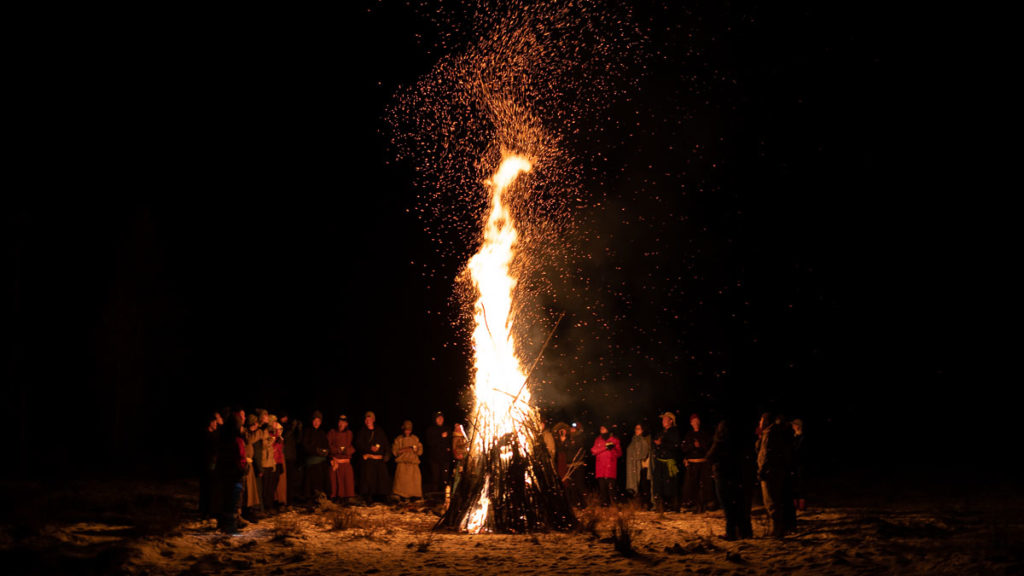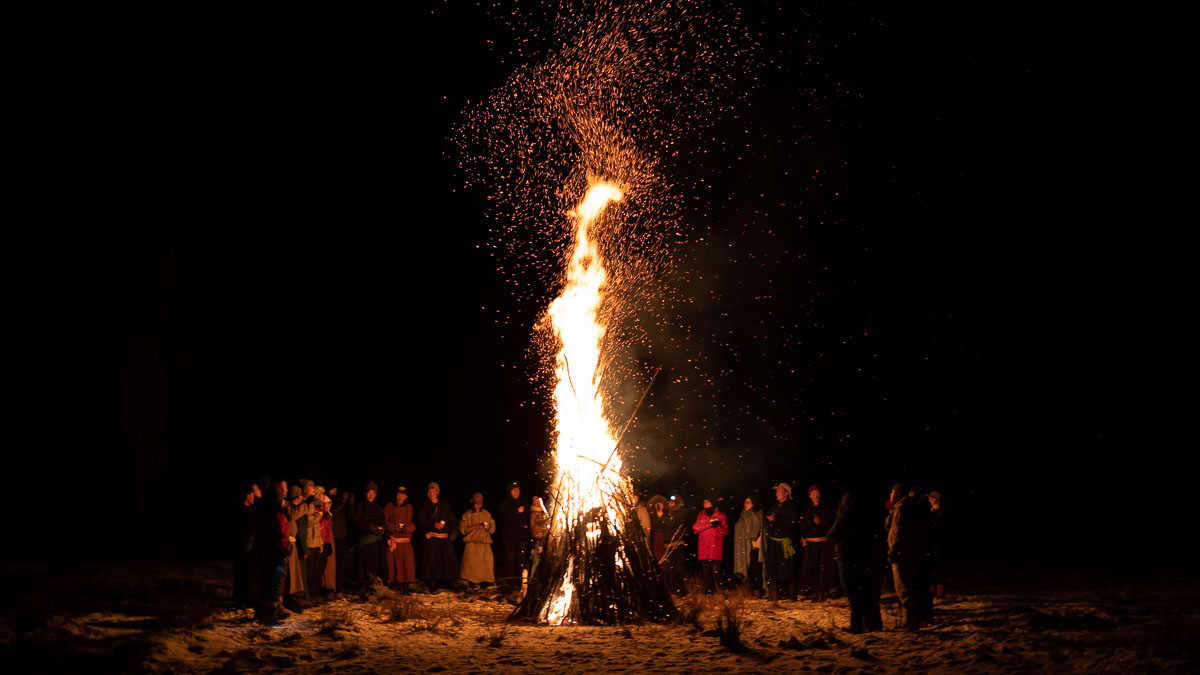 None of us foreigners could speak Mongolian, but we could certainly understand the smiles and hospitality from the Tsaatan reindeer nomads.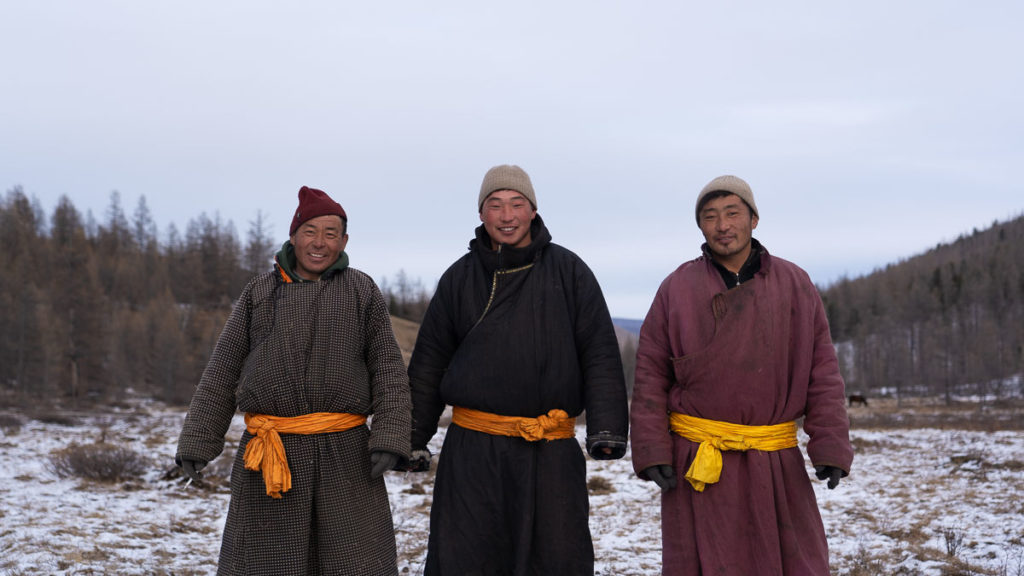 We spent two days in their home, learning what we could about their disappearing culture — how they ride and herd reindeer, the rough wrestling that the men do for fun, how they gather firewood and stay warm through the long, wintry nights.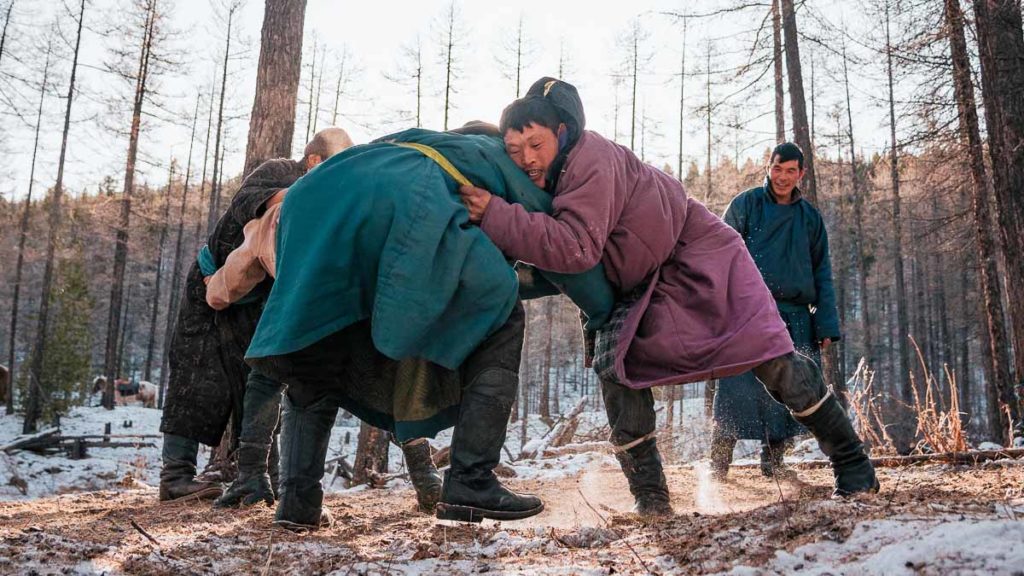 Rough Mongolian wrestling — with its own rules and greeting dance (like the Hakka, but Mongolian style).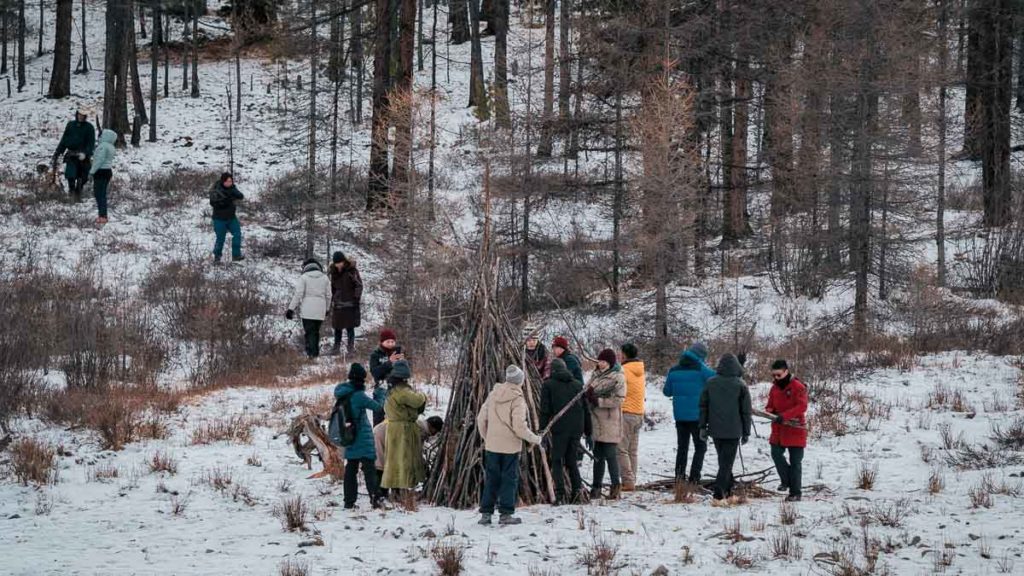 Collecting firewood in the forest.
This culminated in the highlight of our expedition, the nighttime campfire where everyone came together to celebrate each other's culture — which in our case also included our favourite ah beng construction worker.
Even our guides switched out their city streetwear for traditional garb as they joined the nomads singing Mongolian ballads, with themes like friendship and how women are like the sun.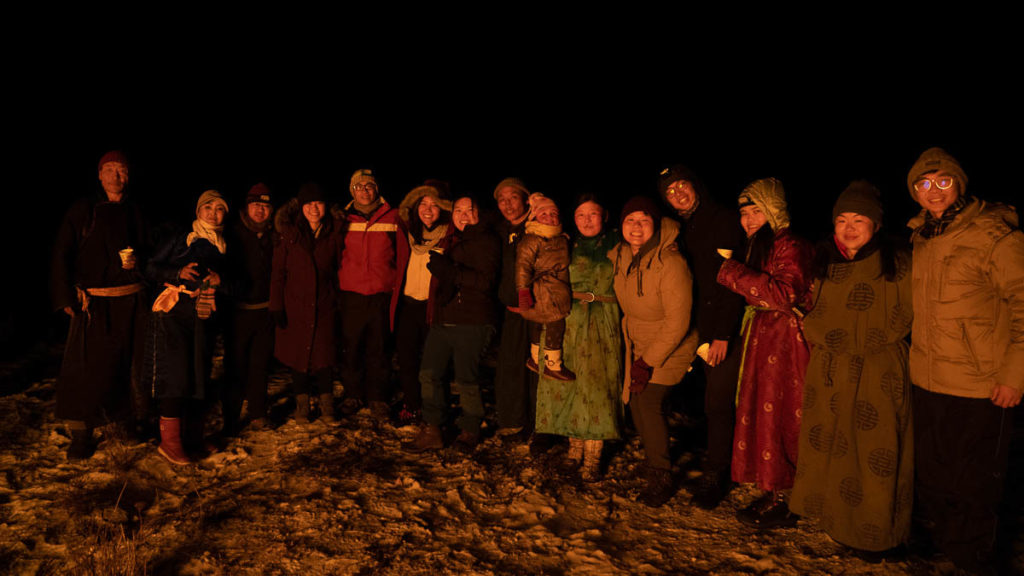 After every few Mongolian songs, it would be the Singaporeans' turn. No TOTO prize for guessing what we sang — Majulah Singapura and the entire medley of national day songs. But that still couldn't match centuries of Mongolian music and culture, and we were finally forced to bring out our big, yellow-booted guns.

Shouting at the top of our voices, we had the nomads repeating each line:
Some say leh, some say lah! Uncle Phua say have to fight SARS!
And that's how, amid a timeless mix of traditional music and culture, the PCK SARS rap was introduced to North Mongolia.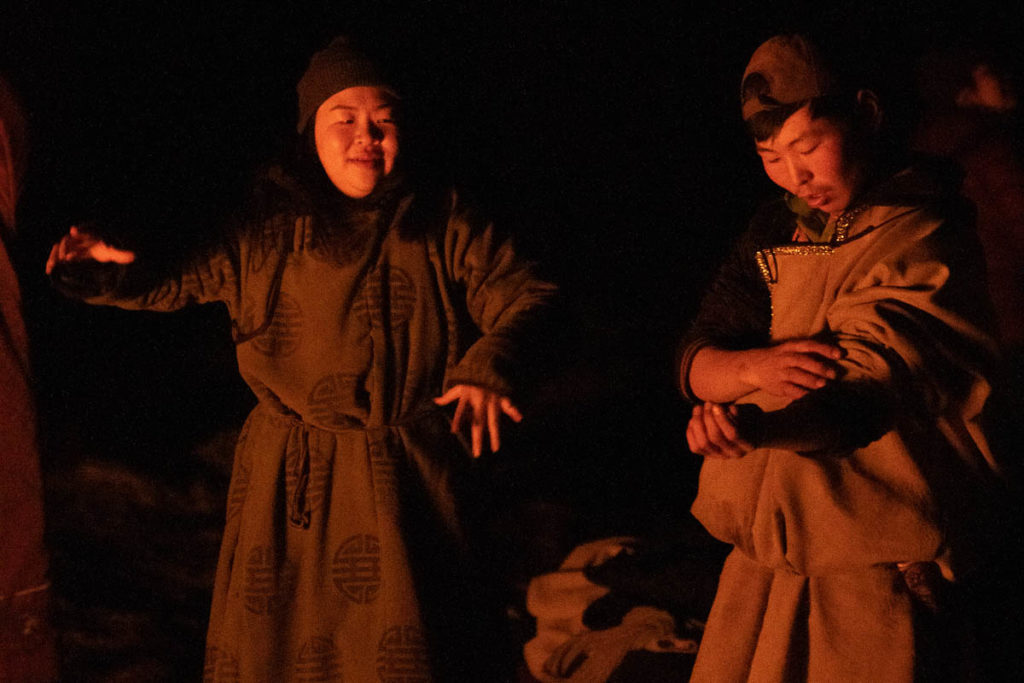 The rest of the night whizzed by with modern dancing and Mongolian waltzing to 80s hits (and even Mr. Brightside).
Although technically our coldest night in Mongolia at -10 degrees, this was also when I felt the warmest, in all senses of the word. For one, dancing around a fire is sweaty work, and I actually stripped down to just my HEATTECHs, which thankfully didn't look obscene or out-of-place.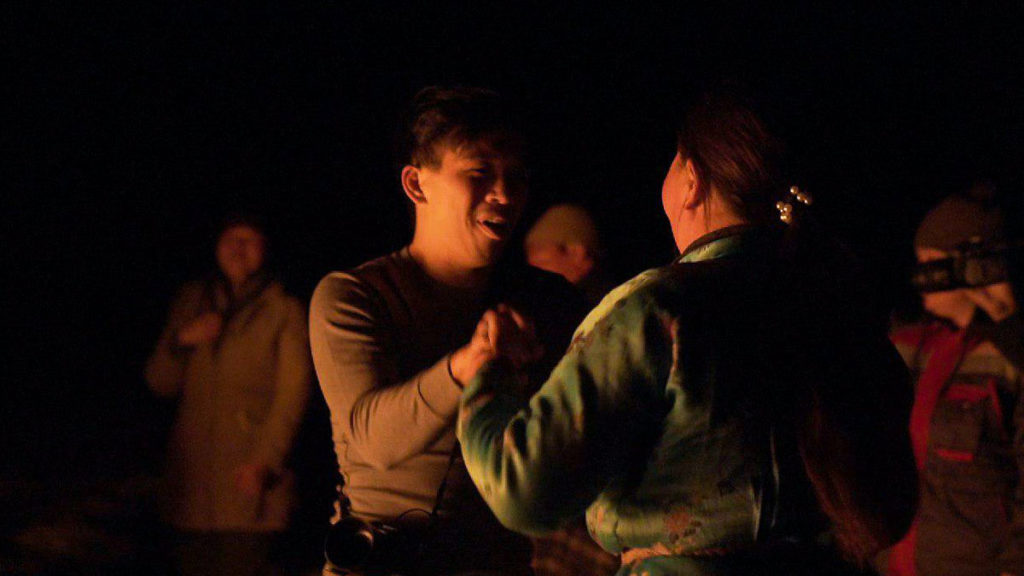 Jerome wearing the HEATTECH Ultra Warm Crew Neck T-shirt and HEATTECH Ultra Warm Tights.
And of course, nothing's warmer than the smiles and singing of the nomads and our friends on the trip. Cheesy but true. :,)
5) Getting stuffed like sardines in a teepee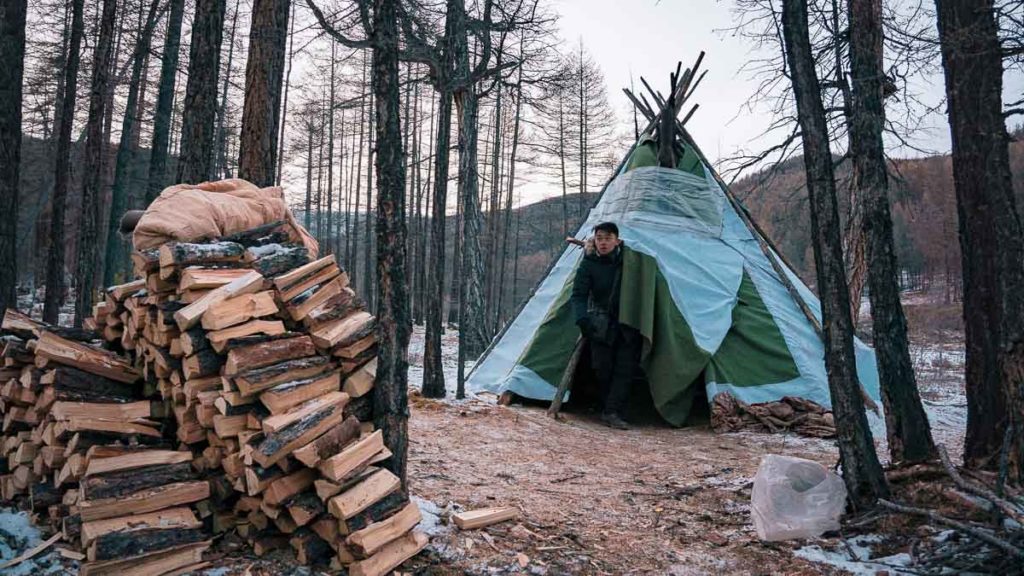 It's 3AM. You stir in your sleeping bag, wondering why you were dreaming of spikes in your skull. After slowly moving numb, frozen hands, you pick dirty twigs out of your hair. That's when you smell the burning.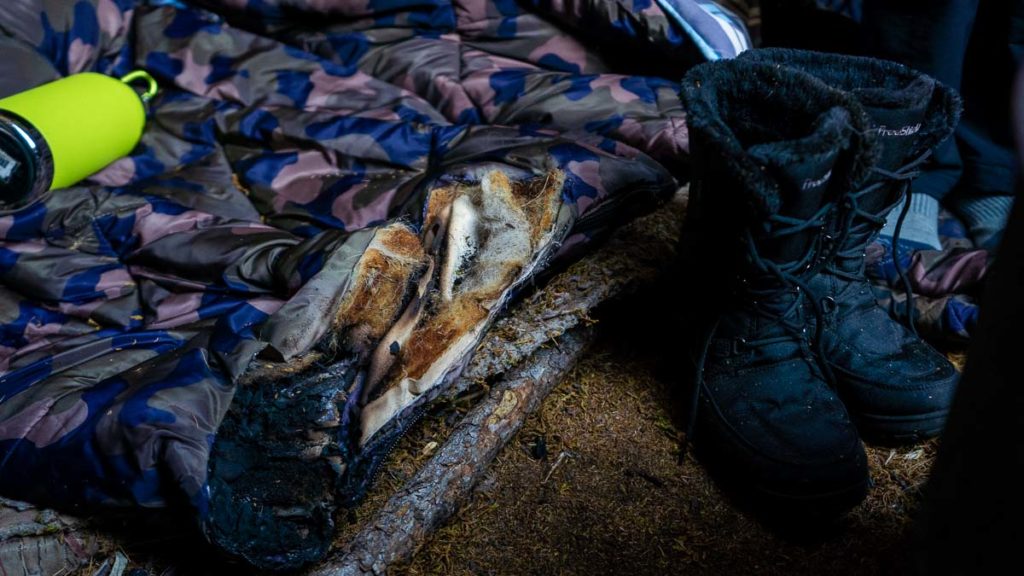 I never thought I'd say this, but it's tough striking a balance between getting close enough to the stove to stay warm, and burning your sleeping bag. Keeping the fire going was also something new we had to learn, with kind souls waking up through the night to add more wood.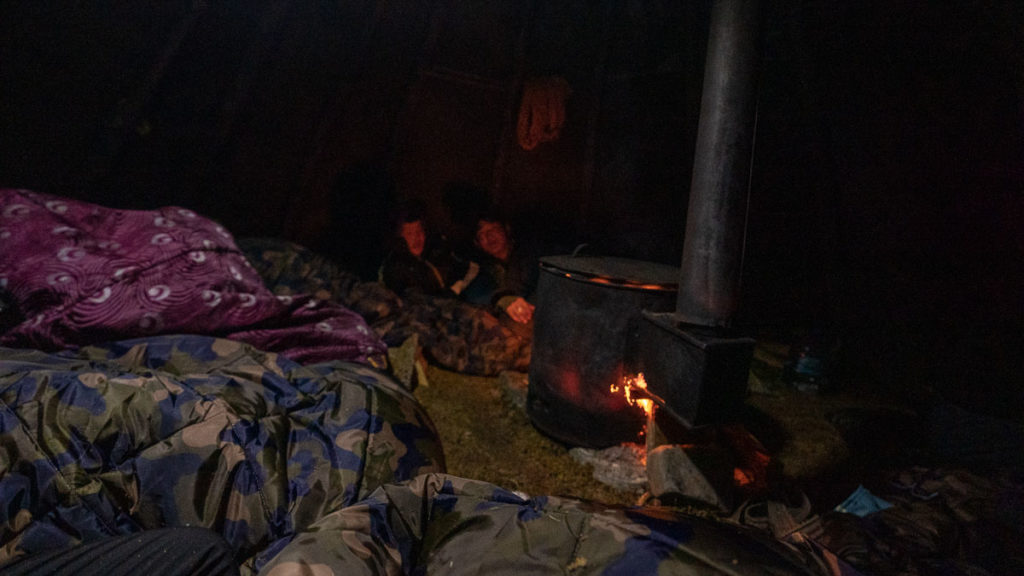 Traditional gers are a warmer alternative to the teepee, as they're insulated with furs and skins, but they're also heavier. However, as the Tsaatan camp is inaccessible by car and reindeer can't carry heavy loads, they've resorted to lighter (and thinner) teepees instead.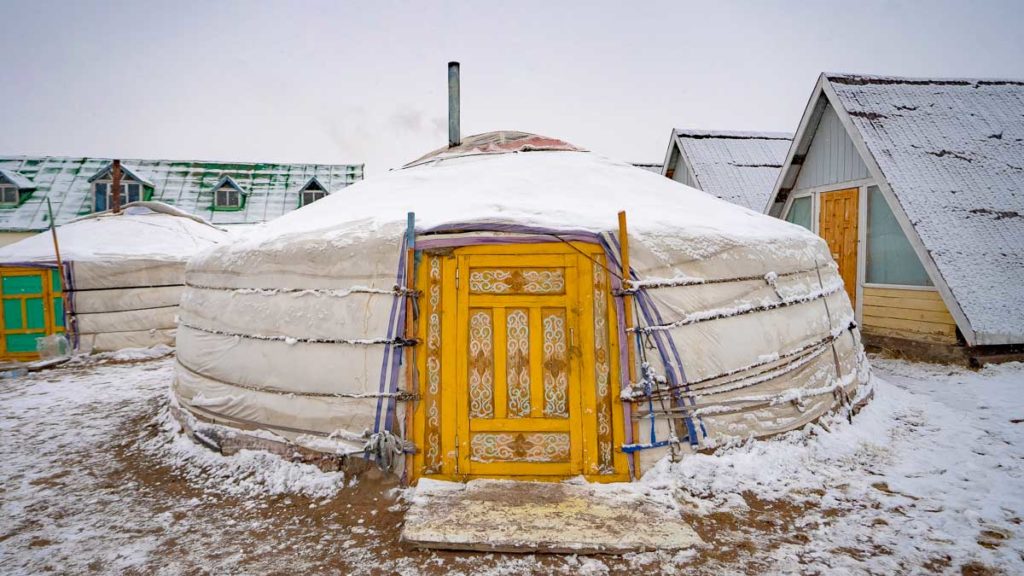 A traditional ger in Murun City.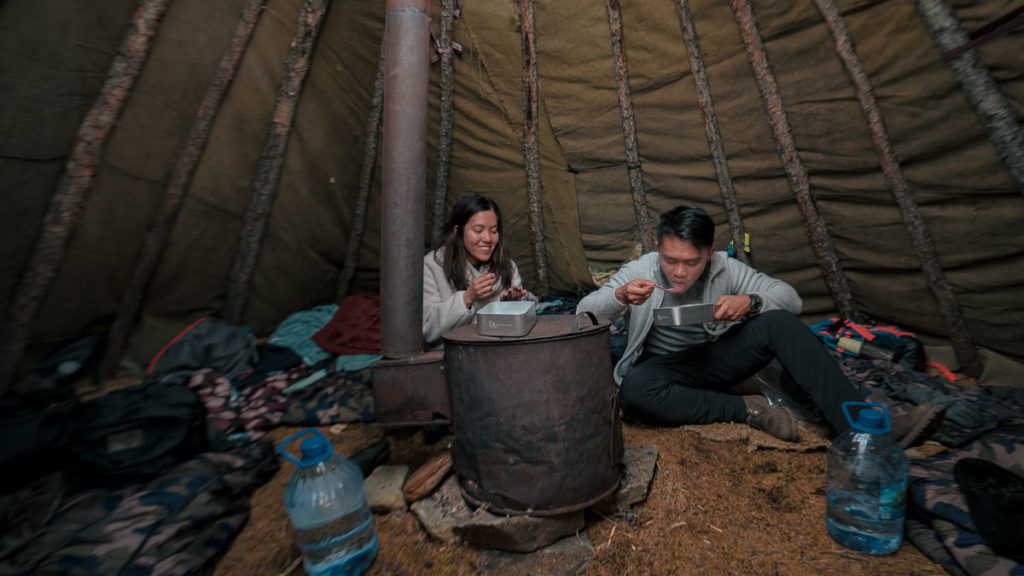 Inside our teepee, we slept in fleece to stay warm as it's breathable and traps heat very well!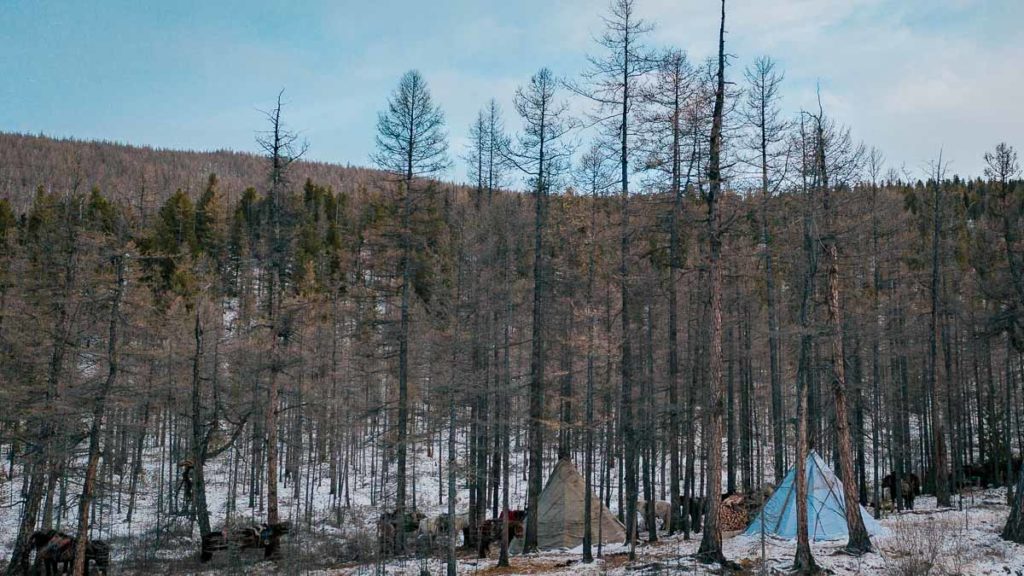 *Pro-tip: Stuff your down coat at the bottom of your sleeping bag for extra warmth — just make sure you're not touching the stove!
6) Magical sunrises and stargazing
We said nothing more than a "Wah" during these moments, so I'll just let pictures do the talking: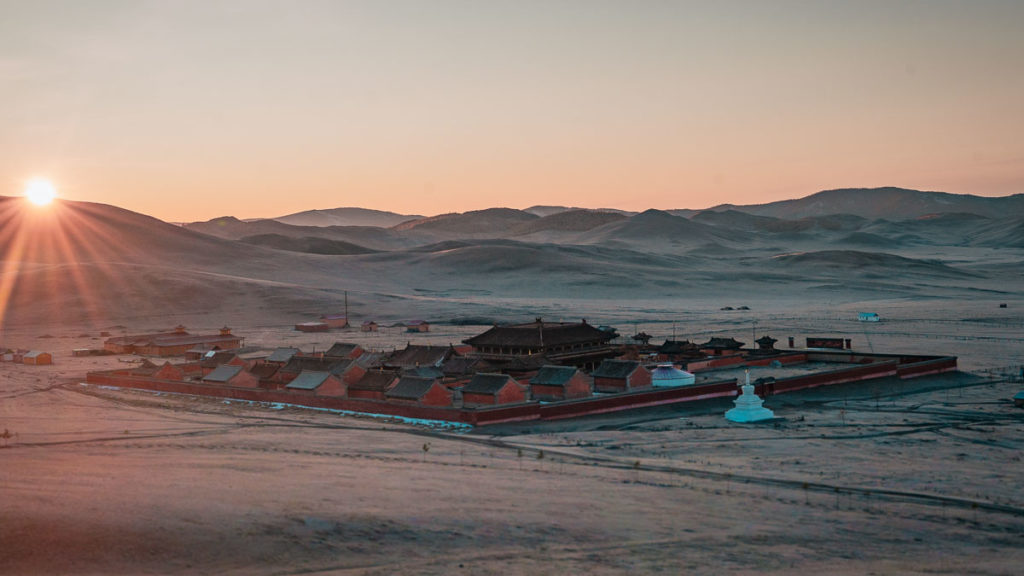 Sunrise at Amarbayasgalant Monastery, a beautiful sanctuary surrounded completely by vast steppe.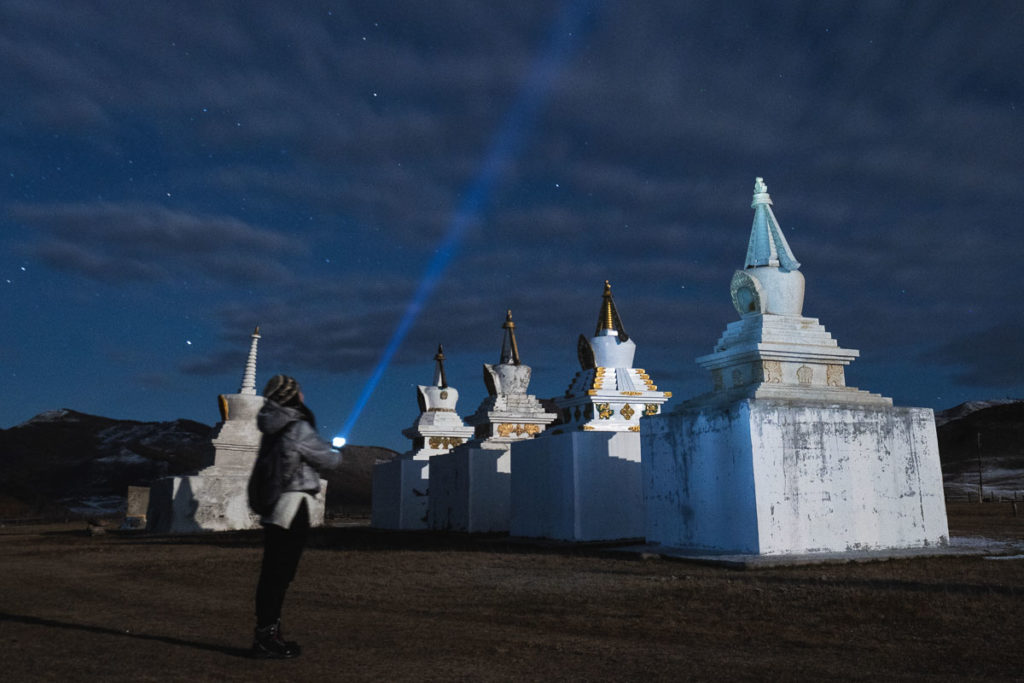 Stargazing at Amarbayasgalant Monastery.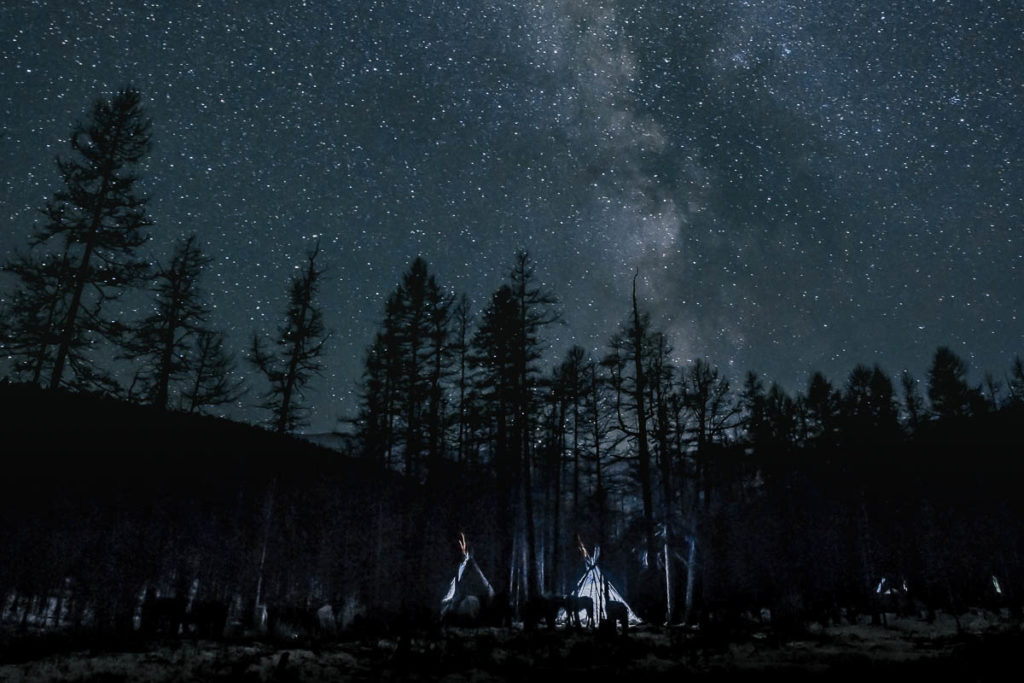 The Milky Way above teepees at the Tsaatan reindeer camp.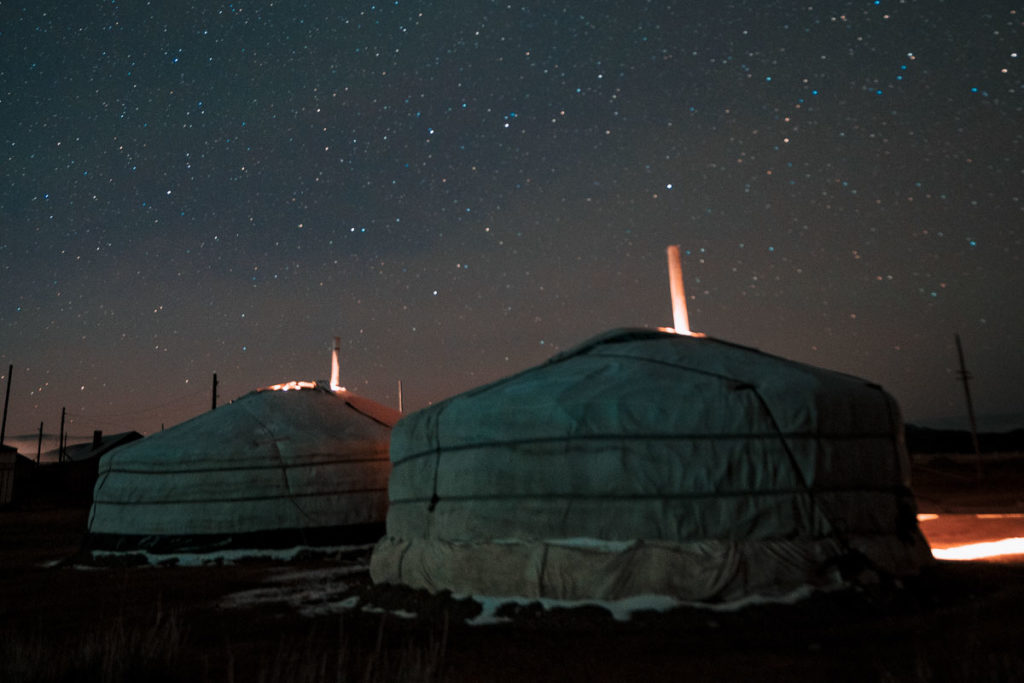 Stars above our gers at night.
I don't know what's the science behind this, but whenever we were faced with sights like these, we'd suddenly not feel so cold.
7) Warmest of all — new friendships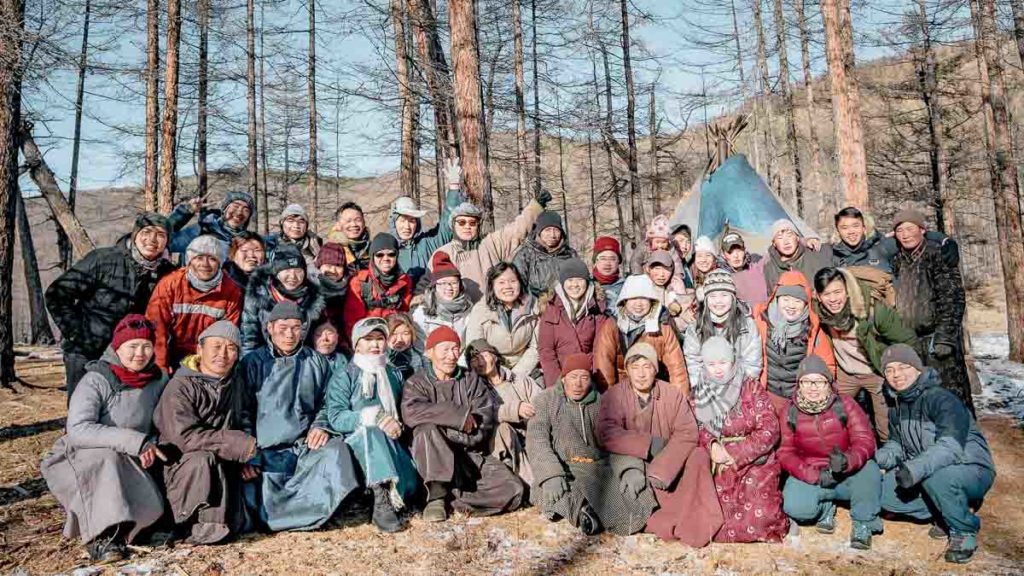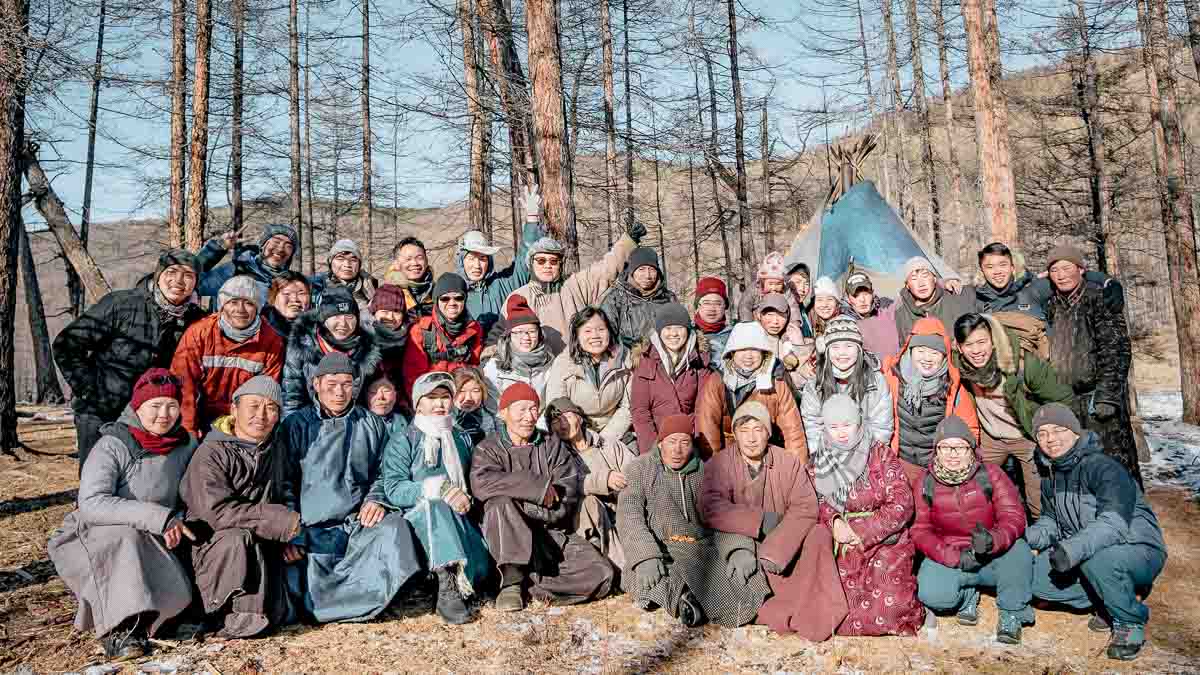 This was the first time we brought others with us on a TTI trip, which came with some nervousness on our part. Travel can be difficult and uncomfortable, especially on an expedition like this. What if people couldn't adapt? Would everyone get along?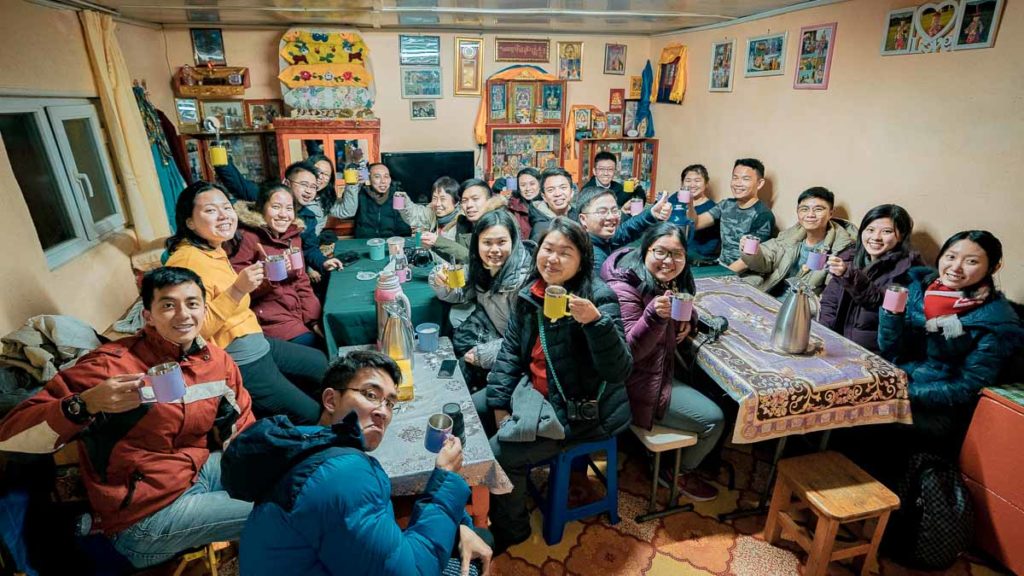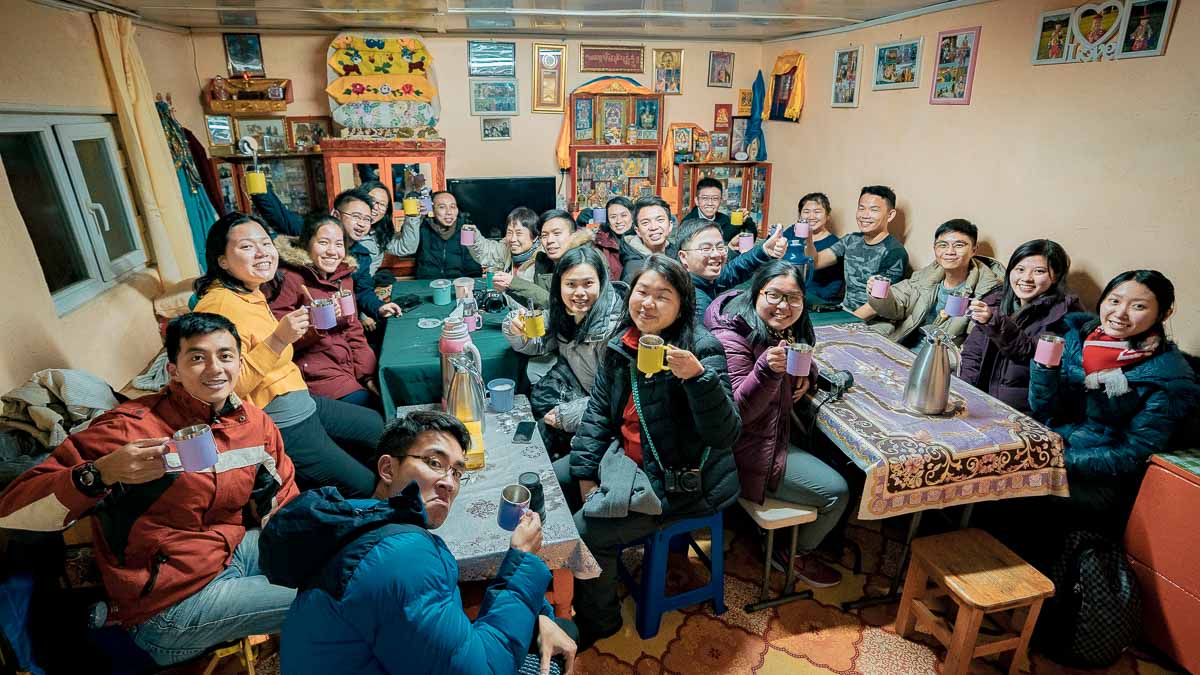 Turns out we needn't have worried at all! The 20 travellers that came with us were the most fun, caring group we could have asked for — looking out for each other, joking around, and spreading warm encouragement. We had a lot of first-time solo travellers with us, and even couples who were tired of travelling alone. But through this adventure, real friendships were forged by the end.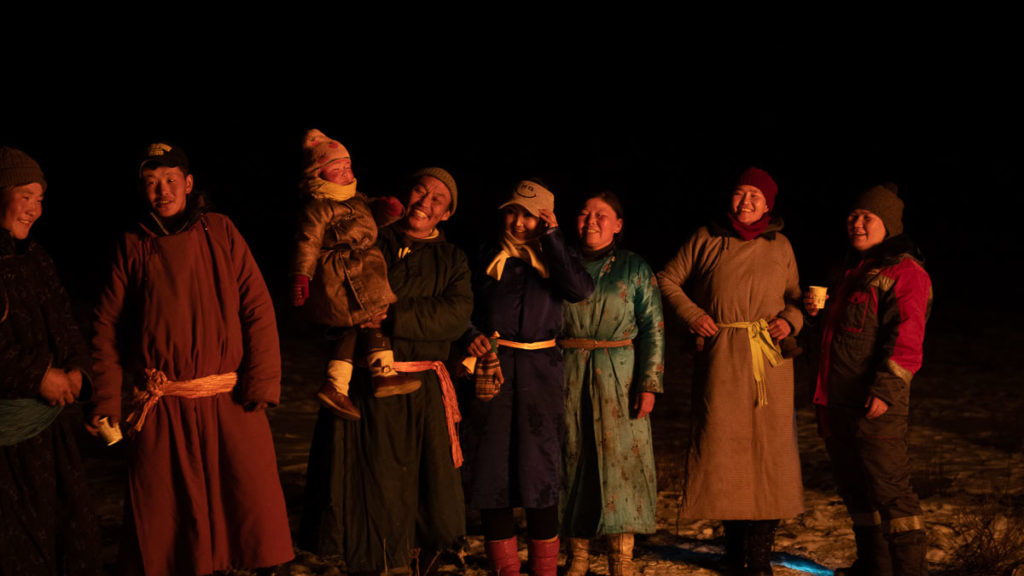 And I'd never have imagined meeting the friendliest, funniest locals on the trip, who were so eager to let us experience their culture, living space, and way of life. They'd cook for us, check on our fires through the night, and invite us to join in activities, all while teasing us with their cheeky brand of humour. As Ken (one of our participants) said, "Mongolia's climate can be harsh and cold, but here we experienced the warmth and kindness of its people".
Surviving Sub-Zero Temperatures in Mongolia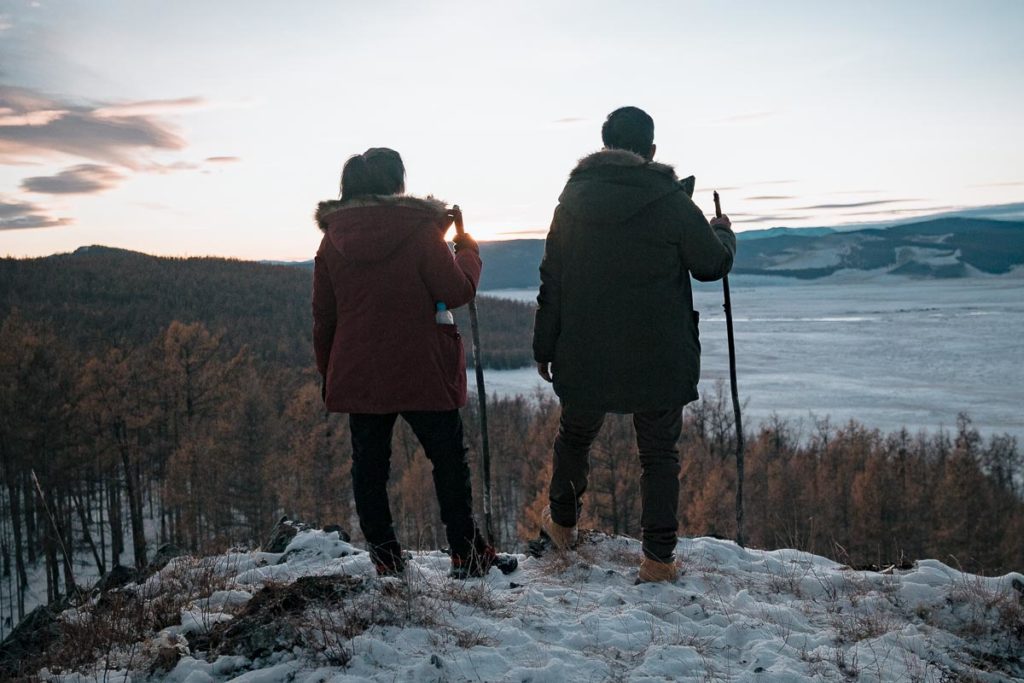 When it comes down to it, I'm much better suited for the beach than a snowy blizzard. After coming close to getting frostbite in Iceland, I was anxious about winter in Mongolia, especially since we'd be camping in the wild!
This time, however, I was well-prepared. What a difference education can make — learning what materials to wear in winter, and how to not look and feel like a ball in the cold.
Experiencing such extreme cold also taught me some new tricks, like how it's most important to keep your upper body warm even if you're only out for a short while. I'd pile on my fleece or Hybrid Down Ultra Warm Short Coat for midnight toilet runs, keeping me warm enough even if I was just in slippers. Uniqlo's warmest jacket also comes in lovely colours — my striking red ensured that people would spot me peeing from afar (as a warning sign for them to go the other way)!
Creating content in the cold is also a big challenge, as moving around is tough, and camera and phone batteries tend to freeze up. Uniqlo's Pile Lined Fleece Jacket was a lifesaver for keeping both us and our batteries warm. Its sheepskin-style surface has air pockets to trap more warmth, and it also has inner pockets (perfect for storing heat packs).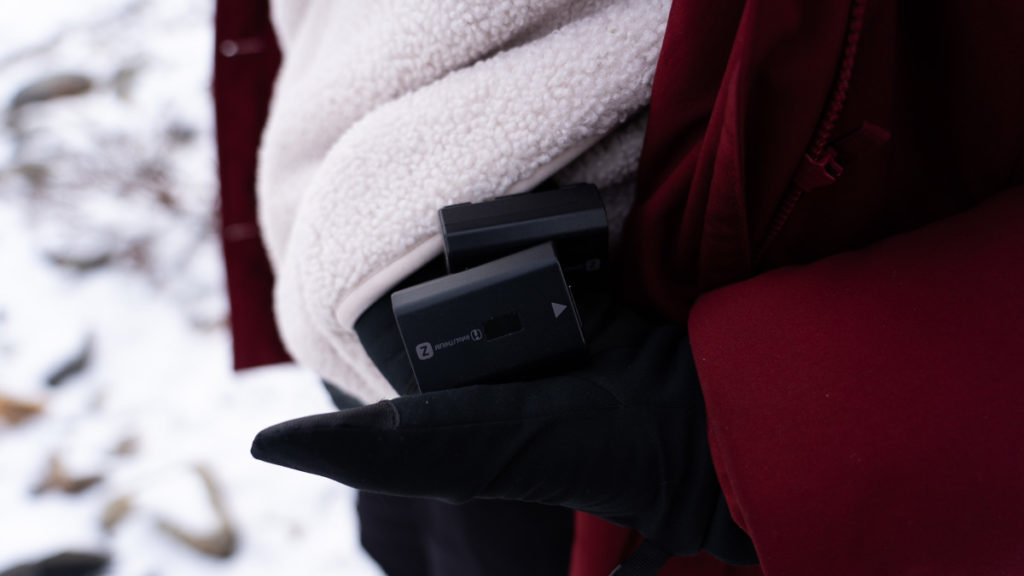 Smart-lined gloves allowed us to operate our gear without needing to go bare-handed. I had to remove my gloves when checking my phone/camera in Iceland, which left my hands bleeding by the end. Not fun!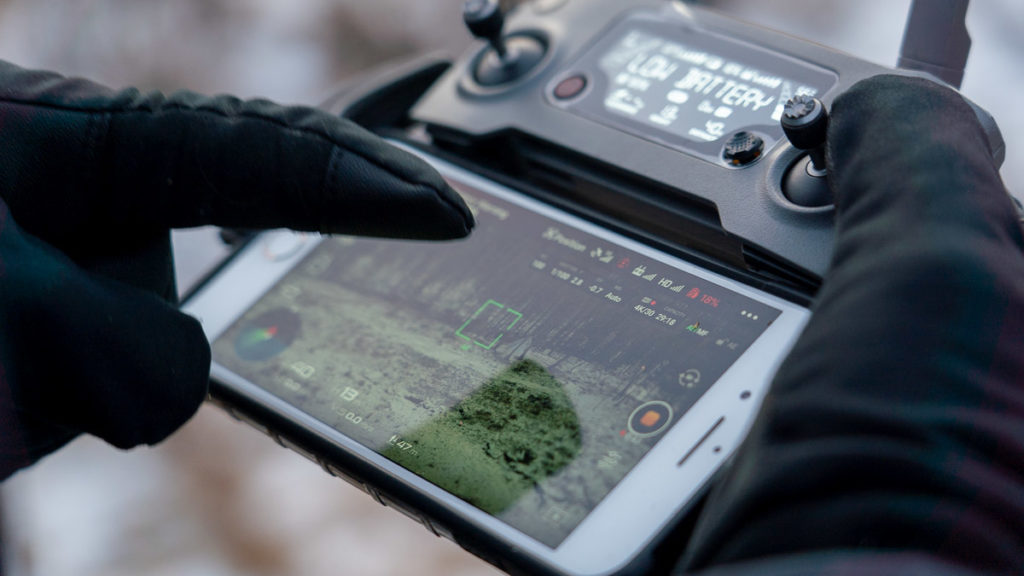 Operating a drone with the HEATTECH Lining Function Gloves.
When it comes to staying warm and hands-free in the cold, check out the Uniqlo winter collection that's thoughtfully designed to keep you active even in freezing temperatures!
Read also: Winter Travel Tips — How To Dress For The Cold Without Looking Like A Ball
Interested in joining us for a trip like this? Let us know! 😉
Where should TTI Experiences head to next? Leave a comment and maybe we'll see you there. 😉
---
This post was brought to you by Uniqlo Singapore.
Like what you see? Follow us on Facebook, Instagram, and YouTube for more travel updates!