JOIN US
STUDENT AMBASSADORS
Be a TTI Student Ambassador (Jan – Jul 22)
Applications are now closed. Thank you for applying!
HEY THERE!
We're expanding our Talent team, and here's your chance to join us as a Student Ambassador! You'll get to go on adventures across the island with us (and maybe even travel overseas once borders open)!
If you've been following us for a while, you'll know that we run internship calls twice a year.
The internship programme is perfect for content creators — Videographers and Writers looking to sharpen their craft while going on adventures. Yes, we hear you — if you've always wanted to apply but couldn't due to commitments, prefer to talent, or don't have the relevant video editing or writing skills:
SO HERE'S HOW YOU CAN JOIN US!
We're launching a separate programme for tertiary students to join us as Student Ambassadors!
WHAT TO EXPECT
– 6 months ambassadorship, renewable per semester
– Paid talent opportunities and sponsorship for activities
– Be part of a growing community of like-minded adventurous explorers
WHO ARE WE LOOKING FOR?
If you're:
– Fun, energetic, and always down for an adventure
– Still in Uni or Poly
– Savvy with social media (Instagram, TikTok, Facebook)
Also if you:
– Love being on camera
– Have a flair for hosting or looking to build your portfolio
– Have been a fan of The Travel Intern 😉
What you could be doing if you join us.
Other traits we look for in our Student Ambassadors:
– A keen passion for exploration
– Hungry for new adventures
– Enjoy making connections
– Excellent communications skills
– Highly-motivated, enthusiastic, and approachable
– Creative, resourceful, and reliable
HOW TO APPLY!
Step 1: Show us your personality in a 60-second video
(Tell us why you want to join us and why you deserve the coveted spot!)  
Step 2: Fill in this beautiful form

Very important step: Capture our attention, interact with us on our social channels. We're on Facebook, Instagram, YouTube, and TikTok!
You can share photos or clips of your favourite travel moments, or the best memories of places you visited in Singapore. Remember to tag us @thetravelintern and #thetravelintern.

[IMPORTANT]: Make sure your social media profiles are set to public, so we can see your posts/stories 
IMPORTANT DATES
Application closes: 22 Oct 2021
Applicants shortlisted & contacted by: 1 Nov 2021 [Updated]
Interviews for shortlisted applications: 3 Nov 2021 onwards
Other Opportunities with The Travel Intern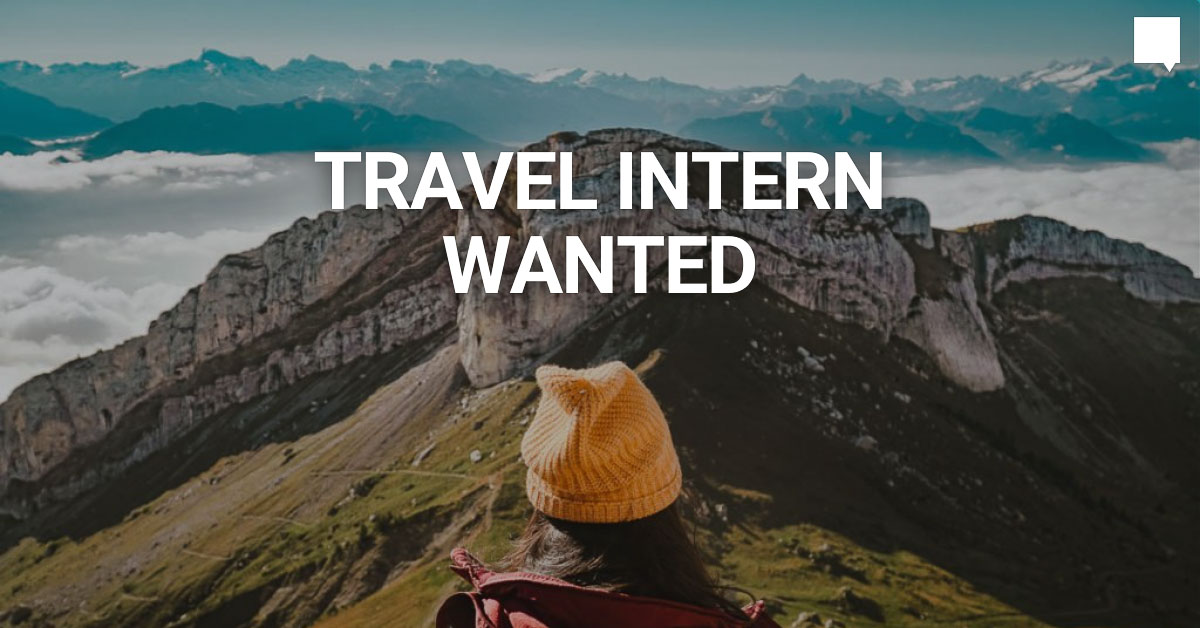 Content Creators Internship: Looking for the OG internship programme at The Travel Intern? Applications are open too! Head over to the internship's recruitment page to find out more.
Media Partnerships: If you're a media platform or agency looking for collaboration opportunities, drop us a mail and we'd love to discuss further.
Planning to apply for future intakes?
Take this time to build your portfolio! Create a website and fill it with stories or videos of your own! Inspiration can be found any and everywhere so don't let border closures constrain your creative juices!
These channels are also where we'll be announcing open positions so do follow us if you have not:
Have questions about the application or what working at The Travel Intern is really like? Check out our FAQ page or the articles below by past interns!
If you have questions that aren't listed there, drop us an email at [email protected].
Meanwhile, follow our adventures on Facebook, Instagram and YouTube!
Life At The Travel Intern
Working from home rule #1: It is not an extended weekend.You probably know by now that all over...
Literally our coolest (and warmest) trip ever. Practical tips on surviving the sub-zero temperatures below!When you're travelling in...