Just a 2-hour flight away from Singapore is a land rich with history, lush natural landscapes, and delicious food! We've put together an epic Southern Vietnam itinerary to explore this gorgeous country.
First published on: 28 September 2022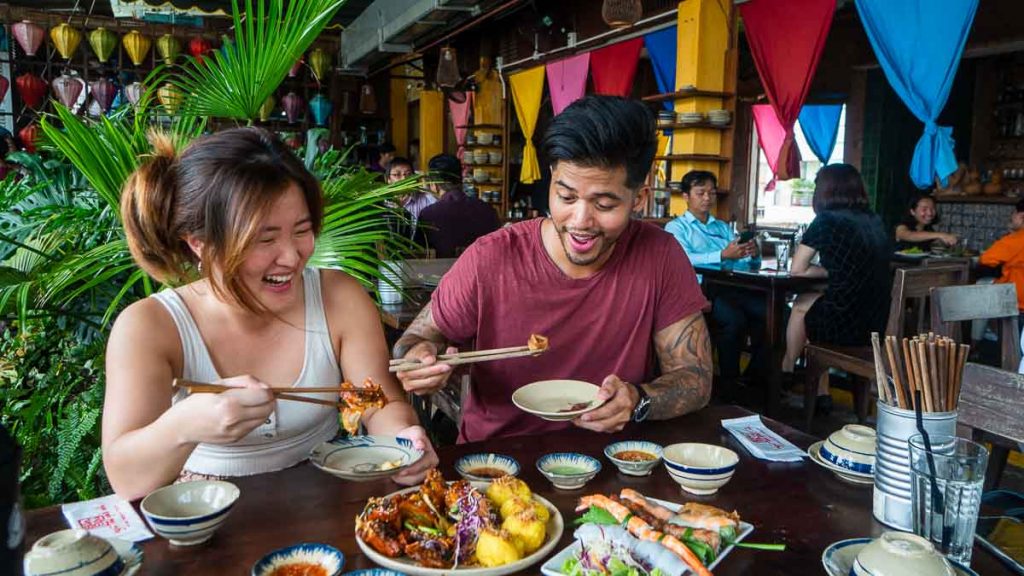 Bustling city life, cheap food and shopping haven — that's how I pictured Vietnam as a go-to holiday destination.
Never would I have imagined walking on sand dunes or exploring idyllic islands in this Southeast Asian country just a few hours away from Singapore.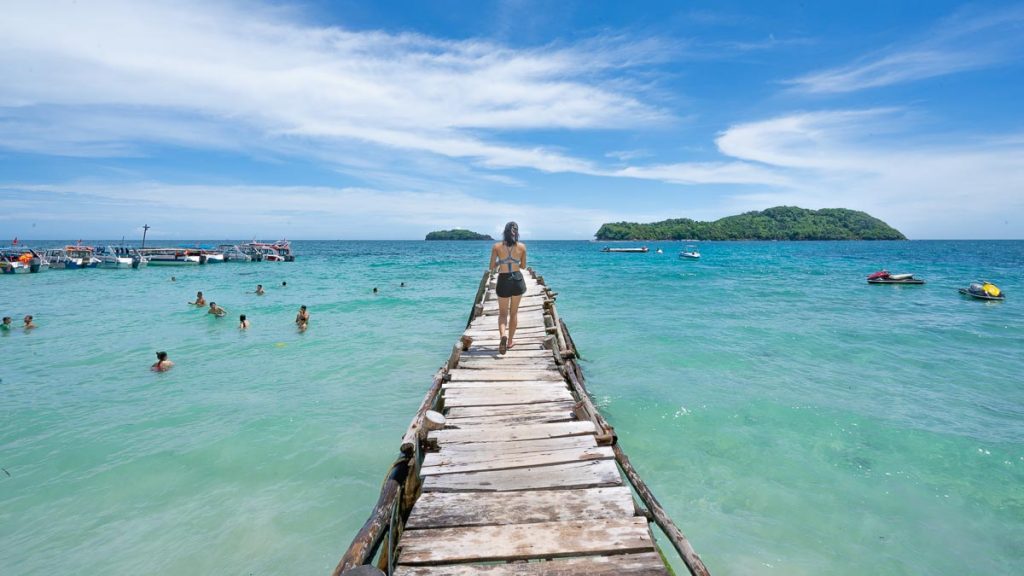 But that's exactly the charm of Southern Vietnam. And we'll prove why it's worth visiting in this seven-day itinerary — covering the best of Phu Quoc, Ho Chi Minh, Mui Ne, and Da Lat!
Read also: 2-Week Vietnam Itinerary — Heart-Pumping Experiences through Northern and Central Vietnam from Hanoi to Da Nang
Southern Vietnam Itinerary Route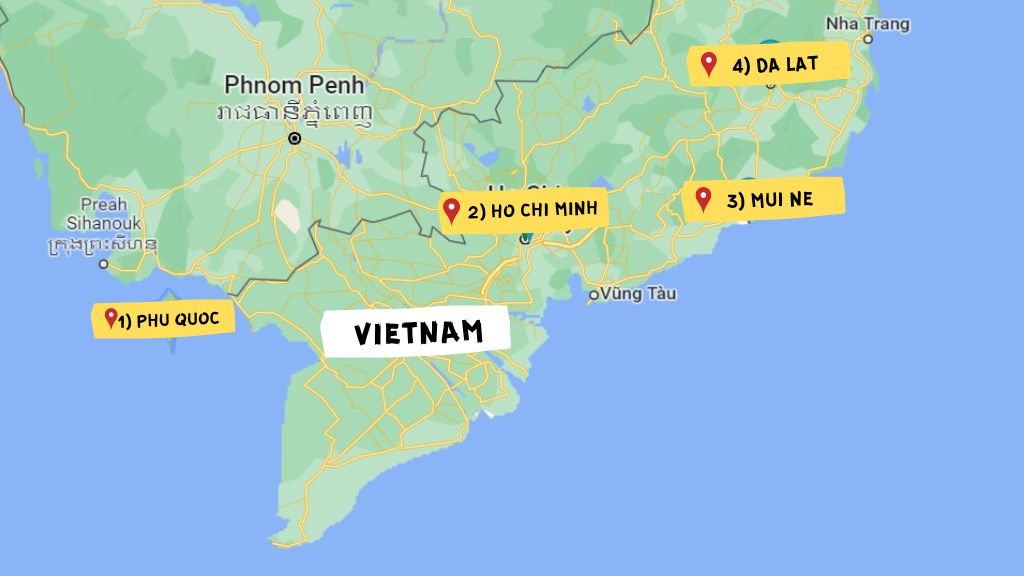 We took a direct flight from Singapore to Tan Son Nhat International Airport in Ho Chi Minh City (HCMC), Vietnam (~S$142 return trip).
Then we took a domestic flight to Phu Quoc Airport. We spent two days in Phu Quoc before flying back to HCMC. We spent another two days in the city and travelled to Mui Ne by bus, staying a night there.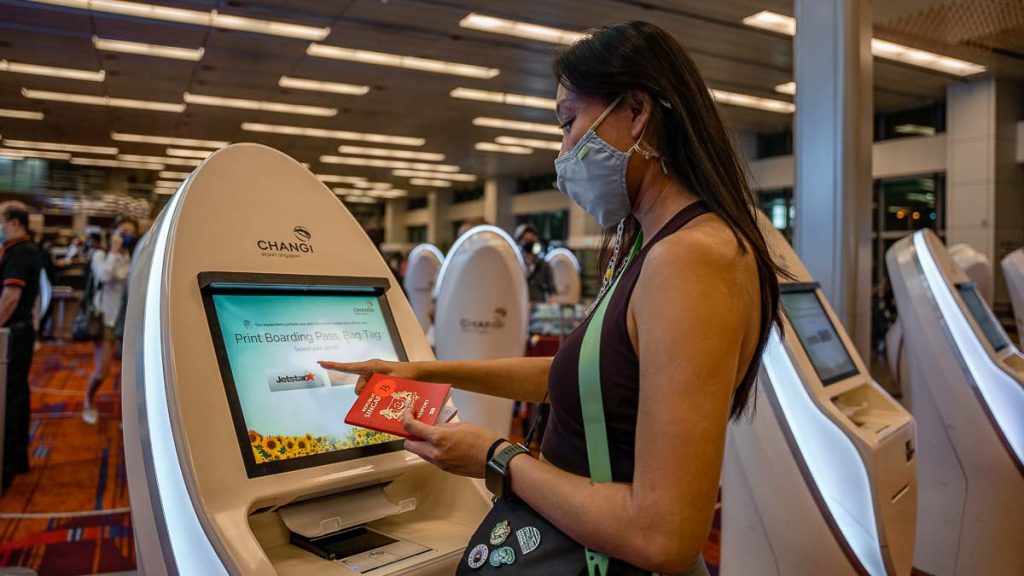 From Mui Ne, we took a bus to Da Lat and after two days, flew directly back to HCMC and returned home to Singapore.
Day 1-2: Phu Quoc | Day 3-4: Ho Chi Minh City | Day 5: Mui Ne | Day 6-7: Da Lat
Budget Breakdown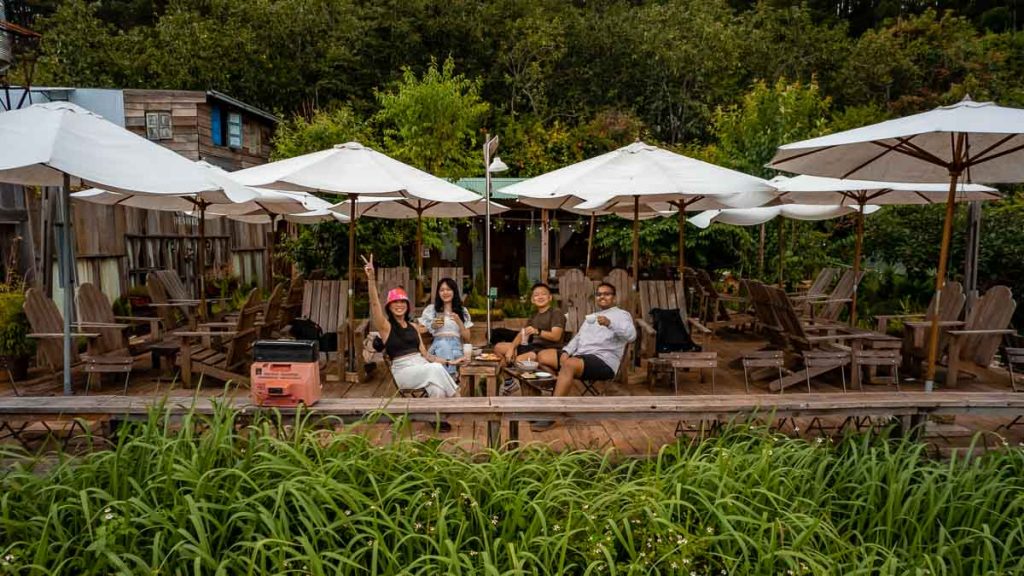 Flights (incl. domestic): S$292
Accommodation: S$176.50
Transport: S$74.49
Activities: S$179.63
Misc (incl. food): S$166.01
Total: S$888.63
Detailed breakdown for one pax here. Note that flight prices change depending on season.
Day 1-2: Phu Quoc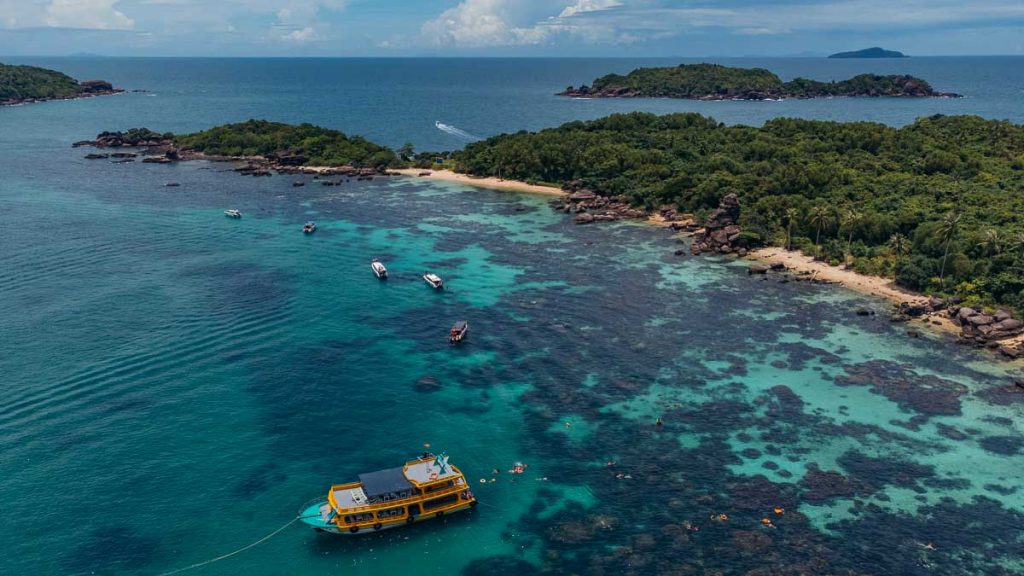 Boasting pristine waters and white sandy beaches along the coastline, Phu Quoc makes for a great getaway from the city.
It's also rich in biodiversity — more than half of the island is covered by a large forested area and protected by a UNESCO Biosphere Reserve since 2006.
However, there's barely any public transportation so we suggest booking a private car charter for convenience!
Must-dos in Phu Quoc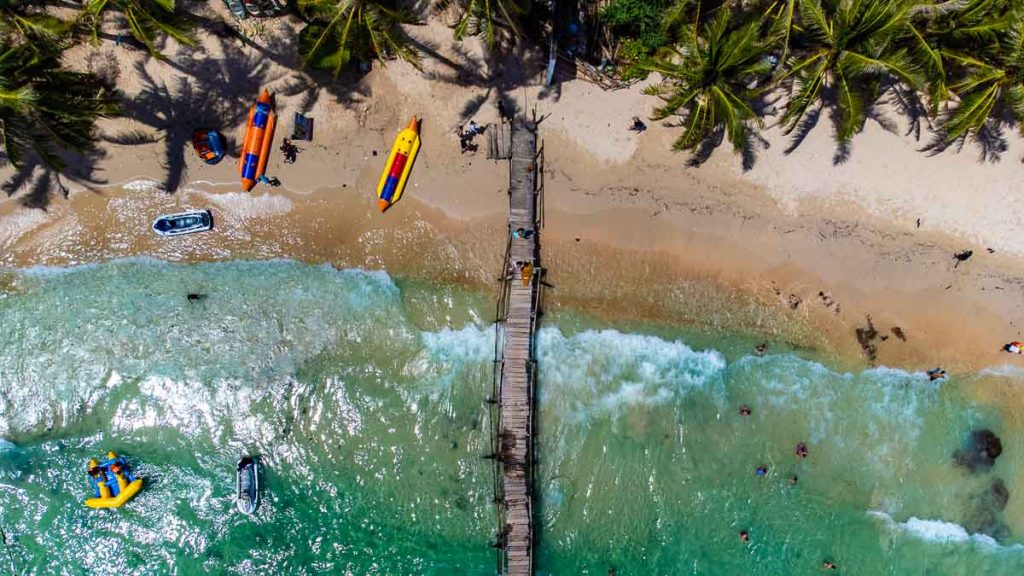 Hop on a day tour and explore Phu Quoc's nearby Buom Island, Gam Ghi Island, and May Rut Island by boat! Along the way, snorkel in the blue waters to get up close and personal with the exotic fishes too 🐠.
Phu Quoc Island Hopping Day Tour
Cost: ~S$34/pax (incl. lunch and round-trip transfers)
Tour timing: 8AM – 4:30PM
Meeting point: Hotel pickup available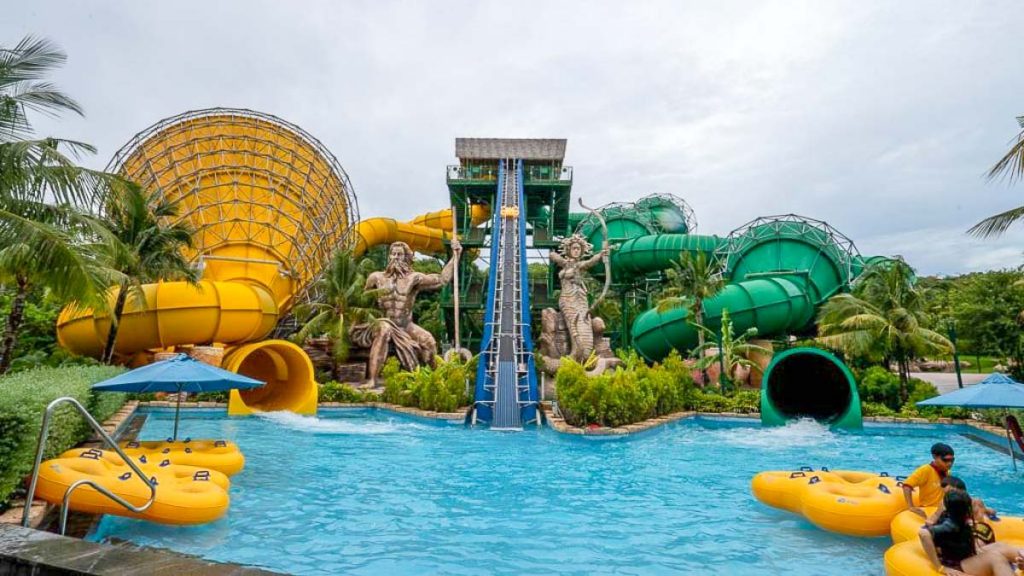 Besides island-hopping, you can also play at a huge theme park in Phu Quoc! Within Sun World Hon Thom Nature Park (~S$33/pax) lies Aquatopia Water Park and Exotica Park, featuring wet and dry attractions respectively.
Due to time constraints, we only managed to cover the water theme park but still had loads of fun sliding down Poseidon's Revenge — a yellow funnel slide with twists and turns.
If you want to cover both parks, we suggest setting aside a whole day so you won't have to rush!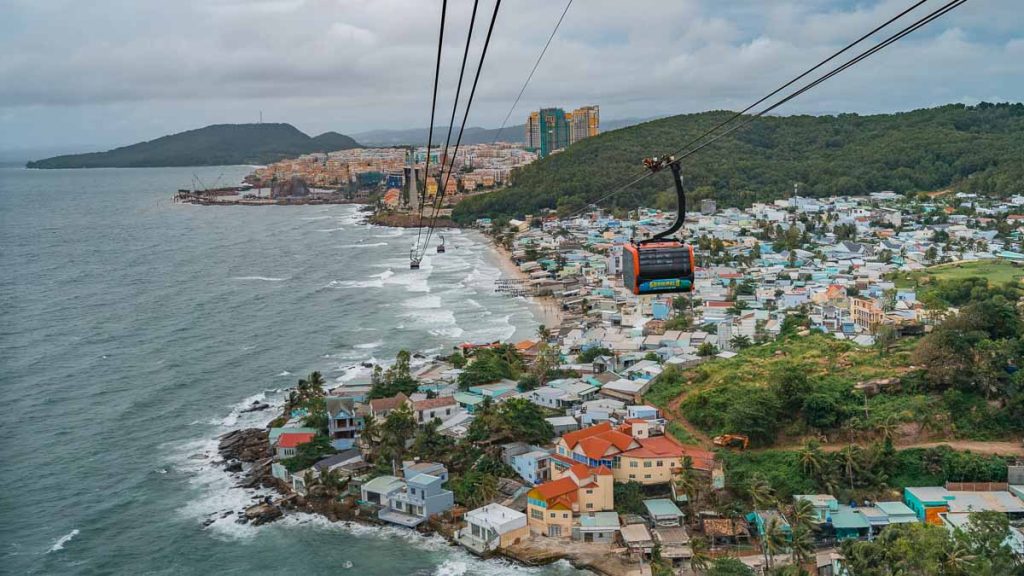 To get here, you'll need to take a cable car from An Thoi Town. It's the longest sea-crossing cable car system in the world, stretching over a distance of 7,899.9m 🚠!
*Note: The cable car only operates at certain times of the day, so check operating hours before going.
If you have more time in Phu Quoc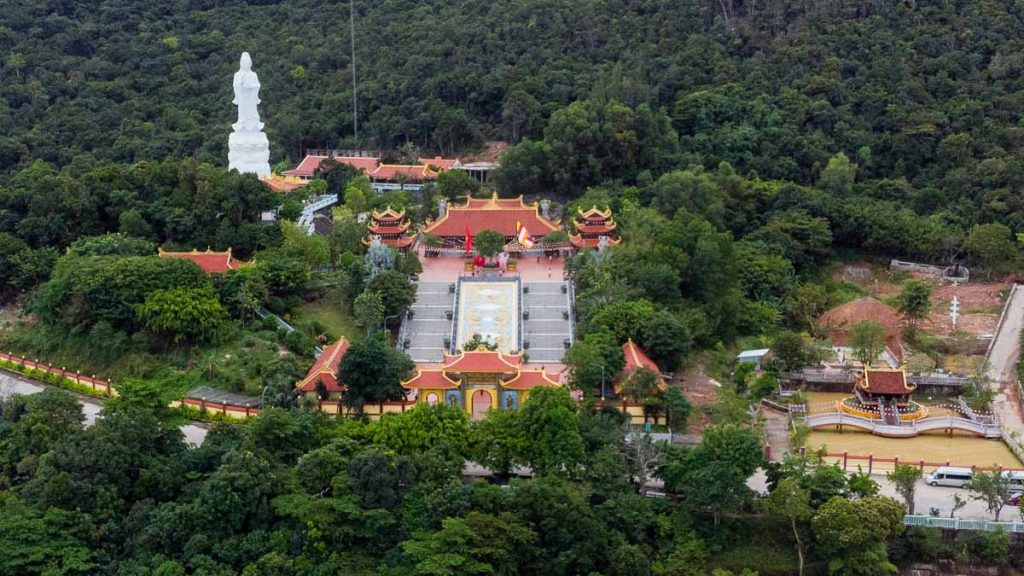 Visit Ho Quoc Pagoda, recognised for its dragon staircase marked with intricate designs from the Han dynasty, and a huge Goddess of Mercy statue.
This is the largest temple in Phu Quoc and has one of the best sunrise views as it's situated on a mountain overlooking the sea.
*Note: Dress appropriately and avoid wearing sleeveless or short clothing as this is a holy temple.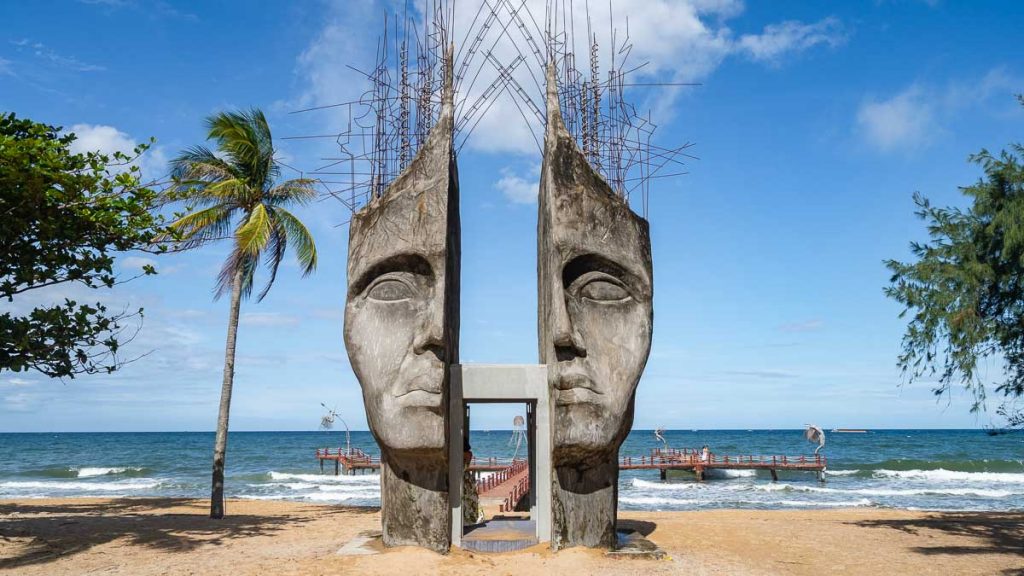 Other points of interest to add to your Southern Vietnam itinerary include Sunset Sanato and Suoi Tranh Waterfall. The former (~S$5/pax entrance fee) is an Instagrammable beach scattered with many interesting photo backdrops like stone statues and jellyfish-looking sculptures.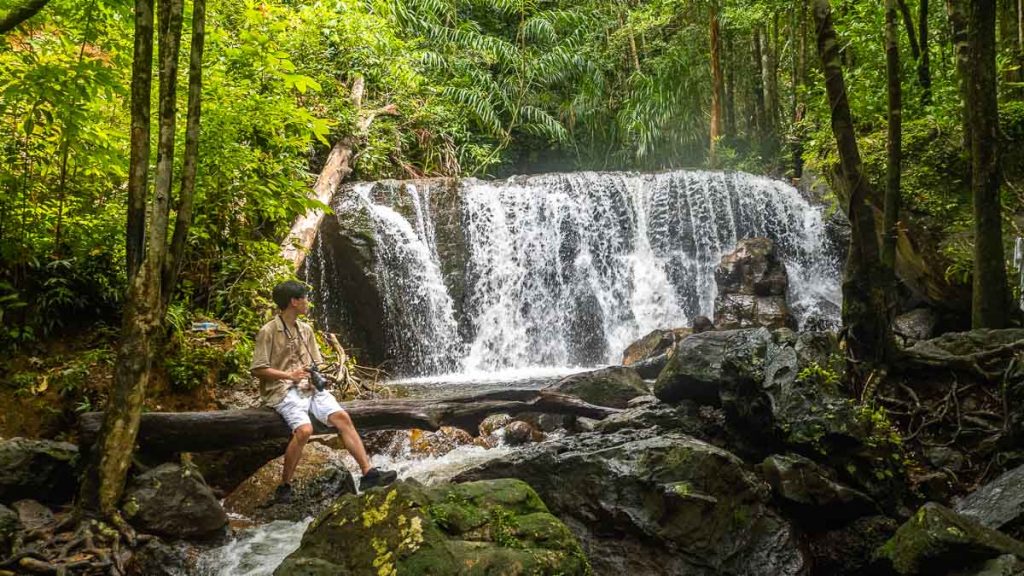 The latter (30,000₫/pax entrance fee) is a small cascading waterfall just a 20-minute walk from the entrance of Suoi Tranh Eco Park. Visitors can swim or have a picnic at the foot of the waterfall, surrounded by tranquil nature 🍃.
*Pro-tip: Book a free and easy tour to visit sites in Phu Quoc which you've hand-selected.
Must-eats in Phu Quoc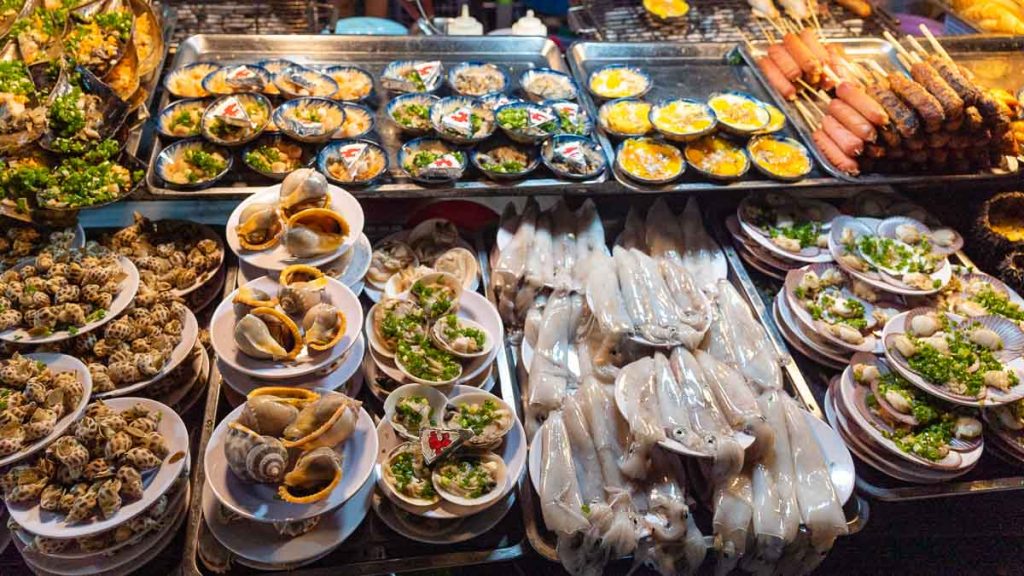 Phu Quoc is known for delicious seafood and Phu Quoc Night Market is one of the best places to try it — with a variety of options to choose from.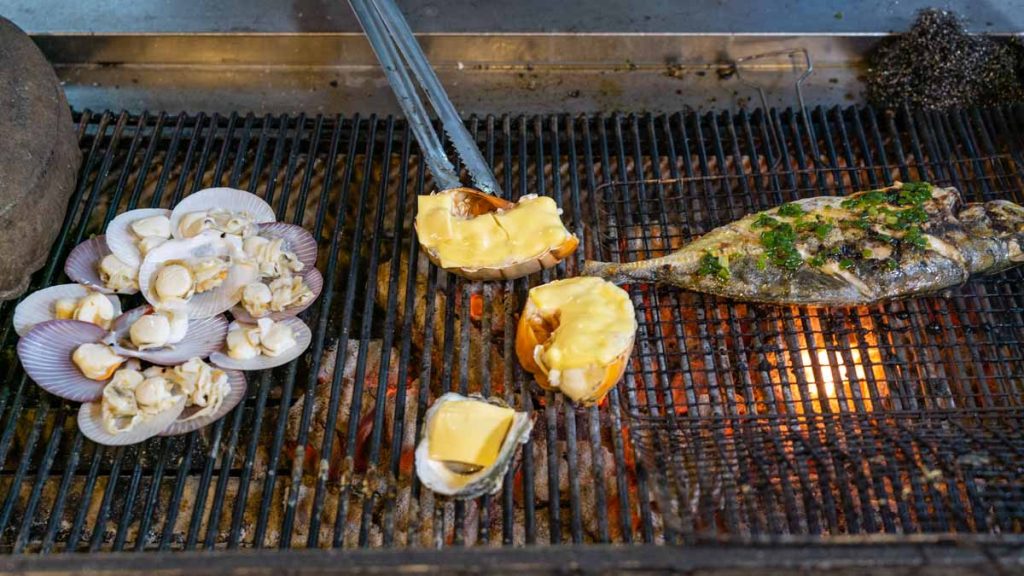 We had grilled scallops for around 120,000₫/set of eight, which is really worth it! Some other local specialities to try include Ham Ninh crab flower, crayfish with cheese, and fish cooked with mango stew.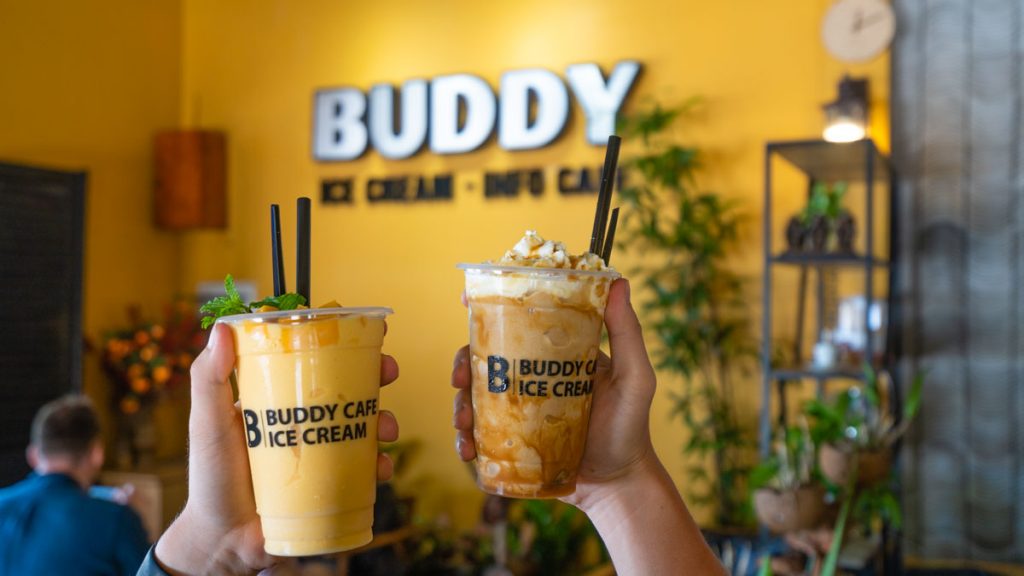 After a long day, drop by Buddy Ice Cream – Info Cafe for a refreshing coconut ice coffee blend (50,000₫). The Vietnamese coffee combined with coconut cream left a rich and flavourful taste in our mouths 😊.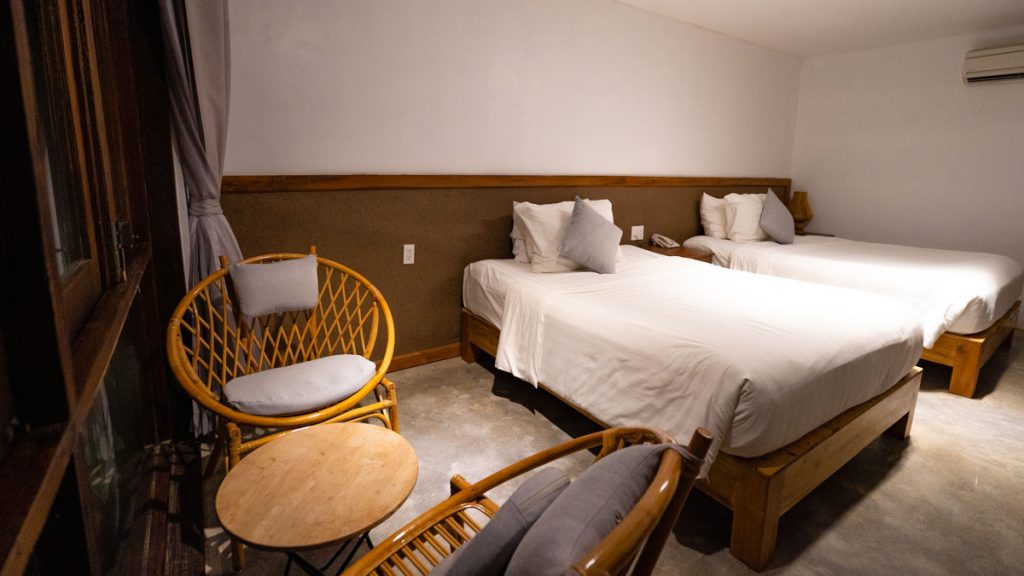 Where to stay: M Resort Phu Quoc — the garden twin room was really spacious and clean, with a fresh set of sheets provided daily (from ~S$58/night). We were also greeted with a tropical citrusy drink upon arrival. For those on a budget, Phu House Hostel (from ~S$30/night) is a good option, boasting a beautiful interior decorated with red lanterns.
Day 3-4: Ho Chi Minh City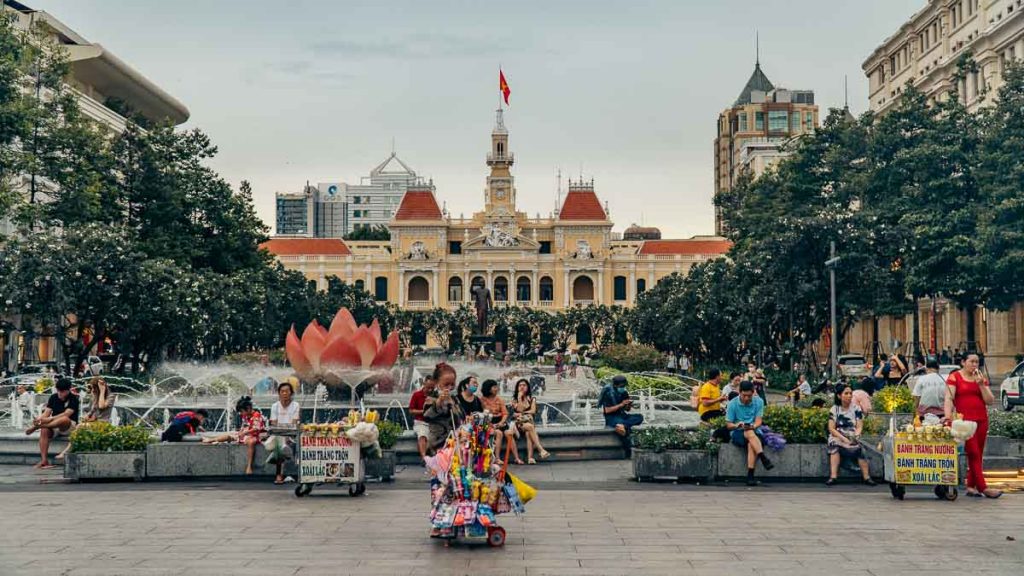 Flight to Ho Chi Minh City from Phu Quoc: ~1hr
*Note: You can also take a ferry, followed by a bus to reach HCMC but we opted for flight as it's the fastest and most convenient way 😉.
Formerly known as Saigon, Ho Chi Minh City is Vietnam's largest city and financial hub. Its history dates back hundreds of years, with many attractions showcasing its traditional culture and wartime past during the French occupation.
Must-dos in Ho Chi Minh City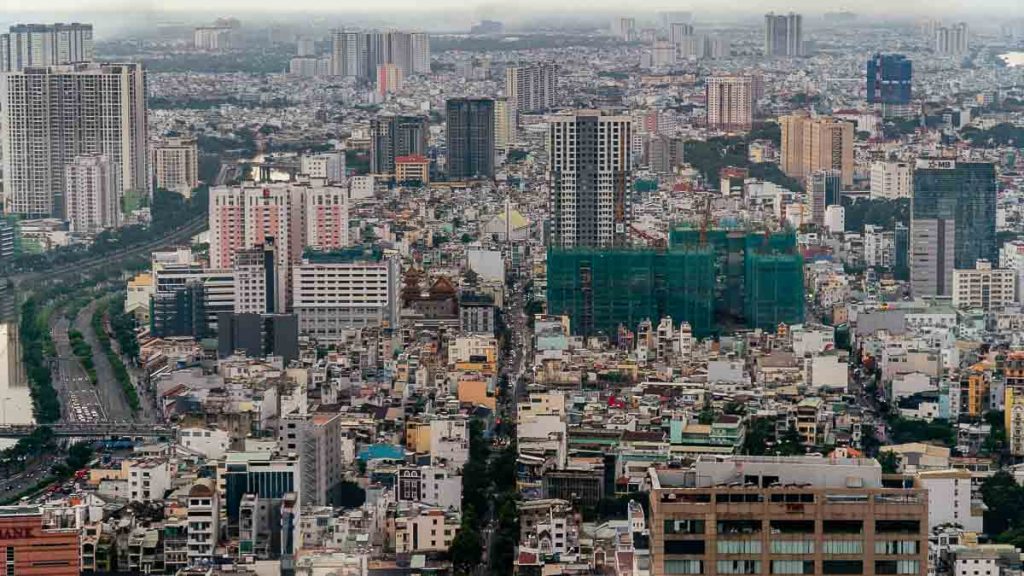 Head up to Saigon Skydeck (~S$12/pax), HCMC's second-tallest building, via a high-speed elevator. Here, you'll have a panoramic view of the city from the 49th floor of Bitexco Financial Tower.
While there, walk through the Ao Dai Gallery on the same level to learn more about traditional Vietnamese costume culture!
*Pro-tip: Visit between 5PM and 6PM for a mesmerising view of the city lighting up as the sun goes down.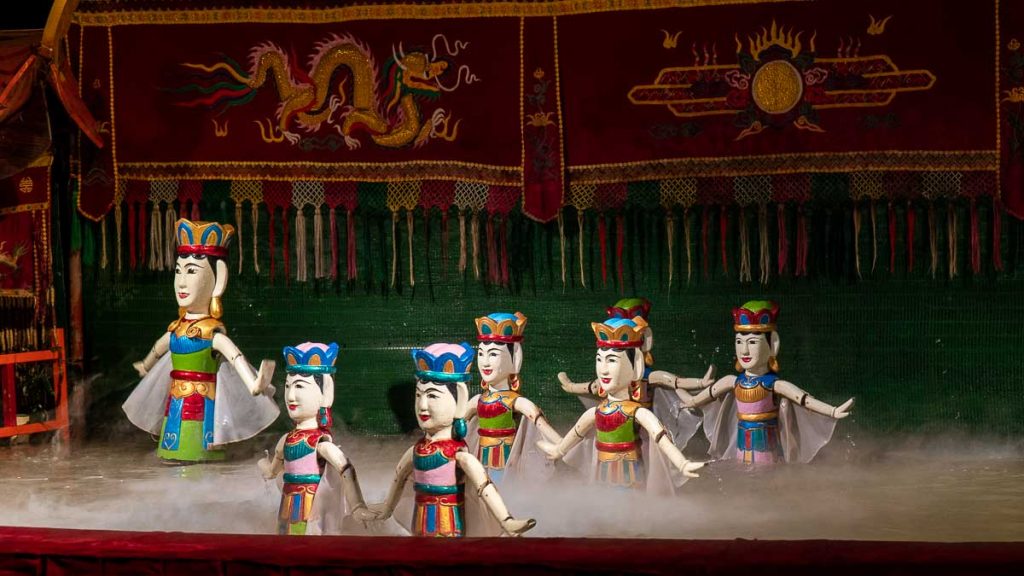 Speaking of culture, the Golden Puppet Water Show (~S$18/pax) is a unique way to learn more about local history. Located at the Golden Dragon Water Puppet Theater in Tao Dan Park, watch as performers use puppets against a water stage to showcase folk tales.
Although it's entirely in Vietnamese, we could still appreciate the creativity and dedication to the craft in this 50-minute performance!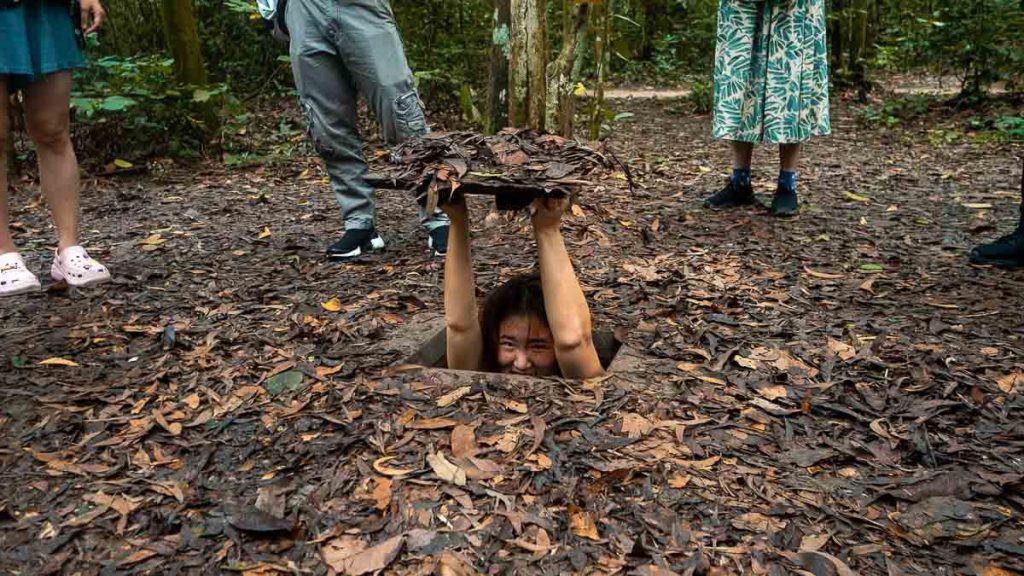 Don't miss a trip to the Cu Chi Tunnels too! We joined a half-day tour and had a local guide share about Vietnam's history — we learnt that the tunnels were part of a major battleground during the Vietnam war!
Soldiers once used these underground tunnels to transport communications and supplies and even set up booby traps for their enemies.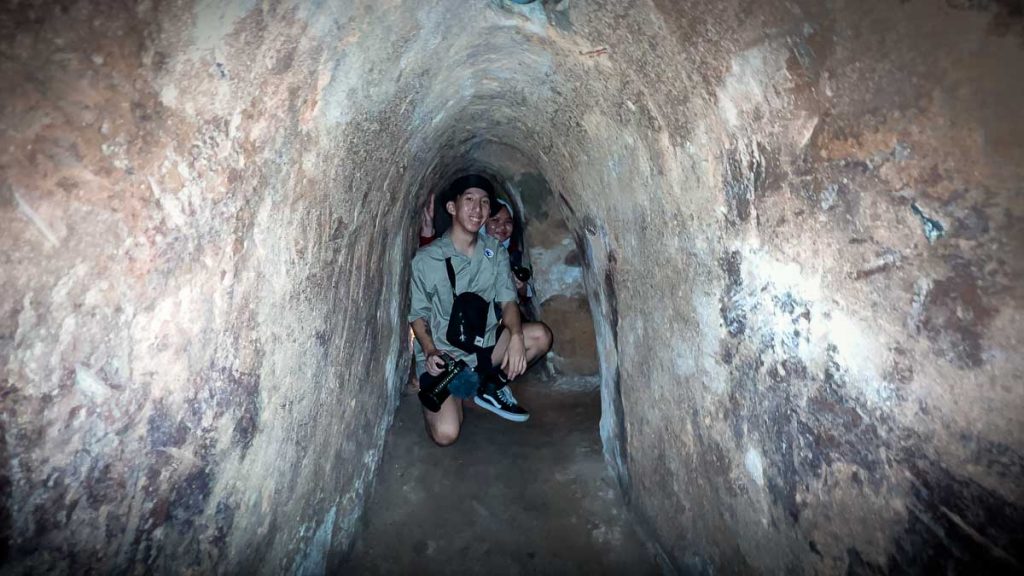 We got to walk through a short section of the tunnels — which was very dark and cramped, so at times we couldn't even stand up straight. But it was still a worthwhile experience, especially since it's part of Vietnam's rich history!
Cu Chi Tunnels Half Day Tour
Cost: ~S$31/pax for a 7hr tour (incl. round-trip transfers)
Meeting point: Hotel pickup is available
*Pro-tip: Opt for a full-day tour to visit the iconic Mekong Delta together with the Cu Chi Tunnels too!
If you have more time in Ho Chi Minh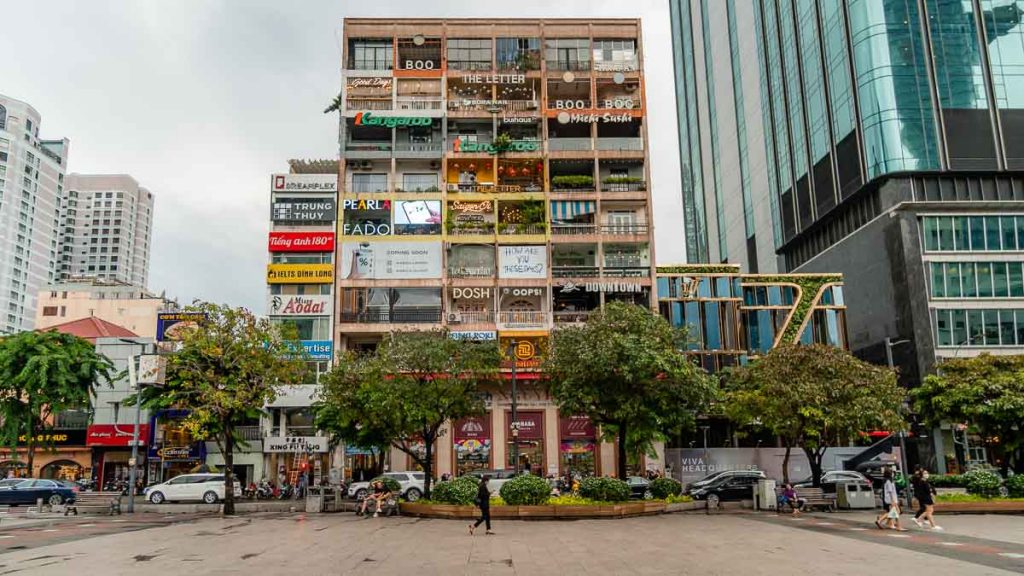 Presenting Vietnam's famous Cafe Apartments — an old apartment building turned into a hipster cafe paradise, spanning nine floors. It'll take some time to cover everything, so we suggest a quick coffee run if you want to catch 'em all.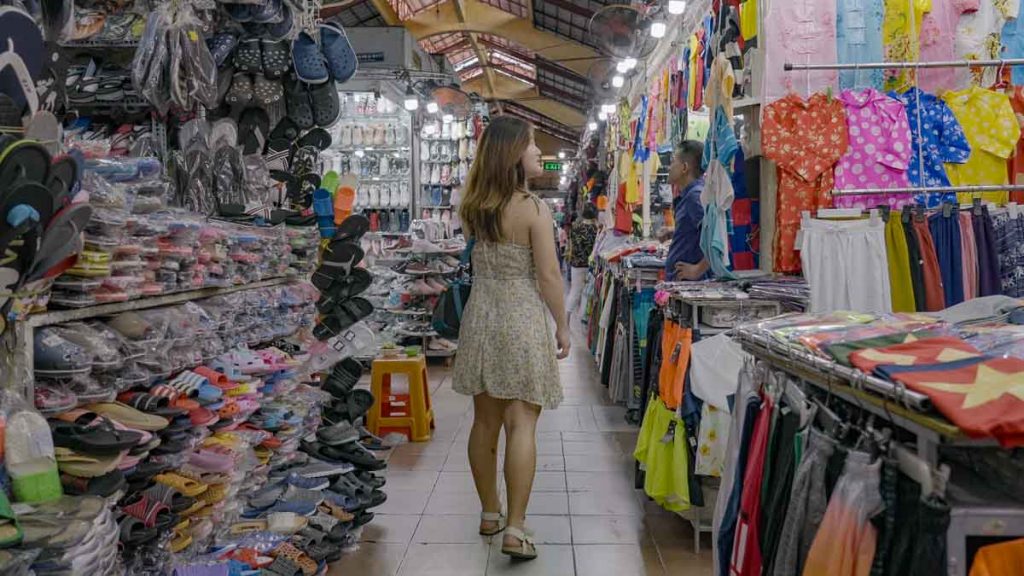 Southern Vietnam also has plenty of local markets to explore, with Ben Thanh Market being the biggest in Ho Chi Minh City. It's popular among both locals and tourists, selling everything from food to clothes and even souvenirs!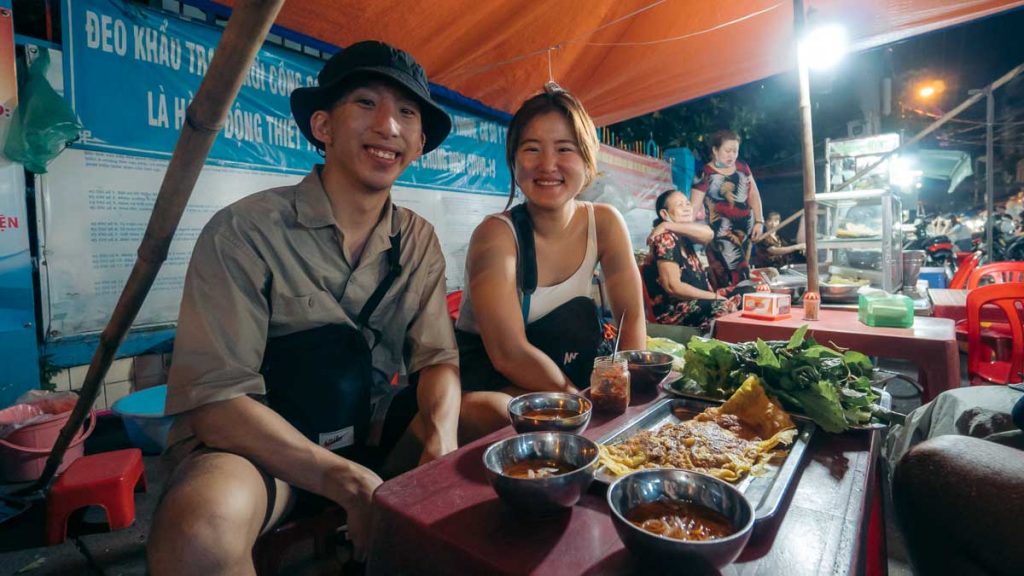 Here's a lesser-known one though — 200 Market was introduced to us by our Cu Chi Tunnel tour guide and boasts many local delicacies like bahn mi (30,000₫) and prawn omelette (40,000₫). Food here is cheap, and the best part is that you won't find large tourist crowds here 😏!
Must-eats in Ho Chi Minh City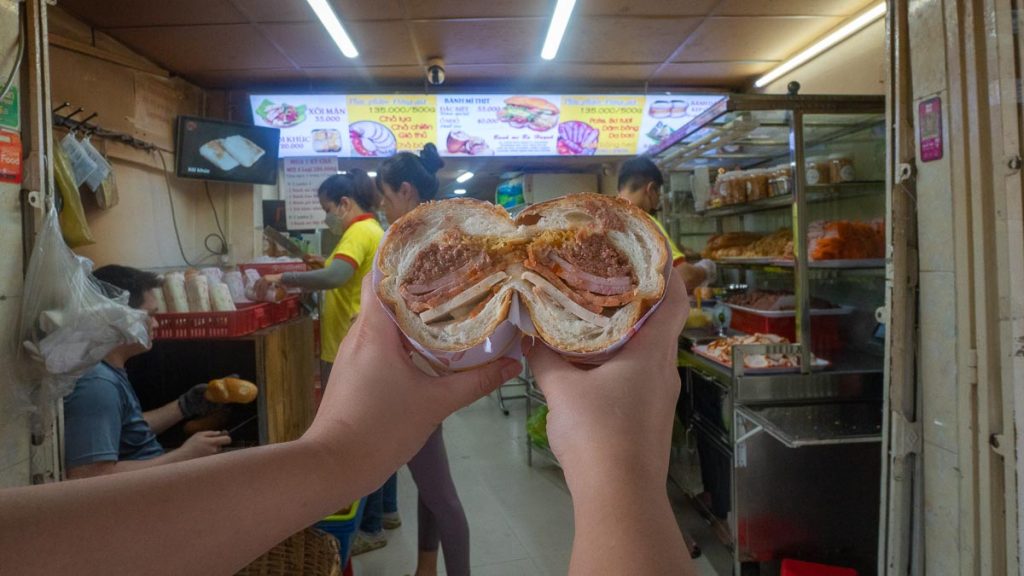 Rather than searching for what's good to eat in Ho Chi Minh City, we asked locals for recommendations and came across Banh Mi Ba Huynh.
We ordered the banh mi house special (55,000₫) and compared to the usual ones we found on the street, this was particularly generous with its ingredients — consisting of many types of cold cuts and pickled vegetables.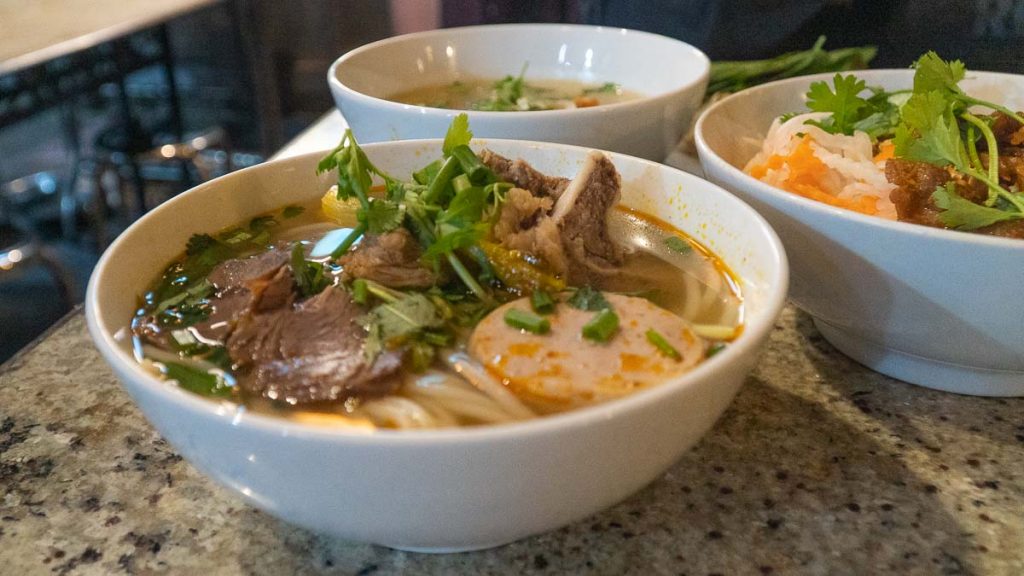 Noodles-lovers can also try Nam Giao Restaurant, hidden in a side alley which we actually discovered on TikTok! It's located just across the street from Ben Thanh Market, so drop by for dinner after an afternoon shopping.
We ordered the bánh canh cua (crab tapioca noodles), bún bò huế (spicy beef noodle soup) and bún thịt nướng (grilled pork noodle salad) for around 70,000₫/dish. The food was so satisfying that we returned a few days later and ordered the exact same thing 😂.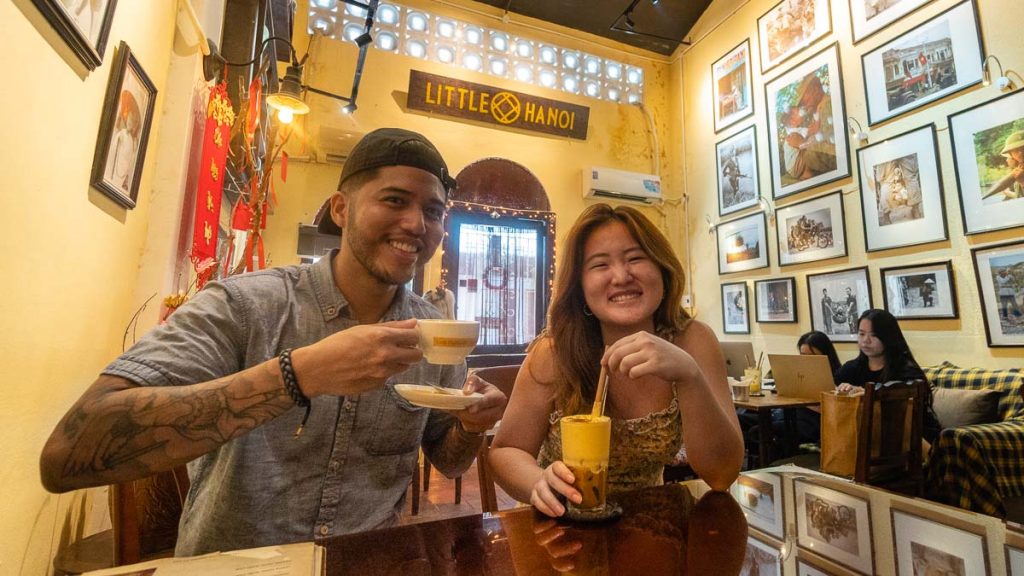 As for drinks, we loved the iced egg coffee (40,000₫) at Little HaNoi Egg Coffee! What makes the coffee special is the foam at the top, made by whipping egg yolk and sweetened condensed milk together ☕.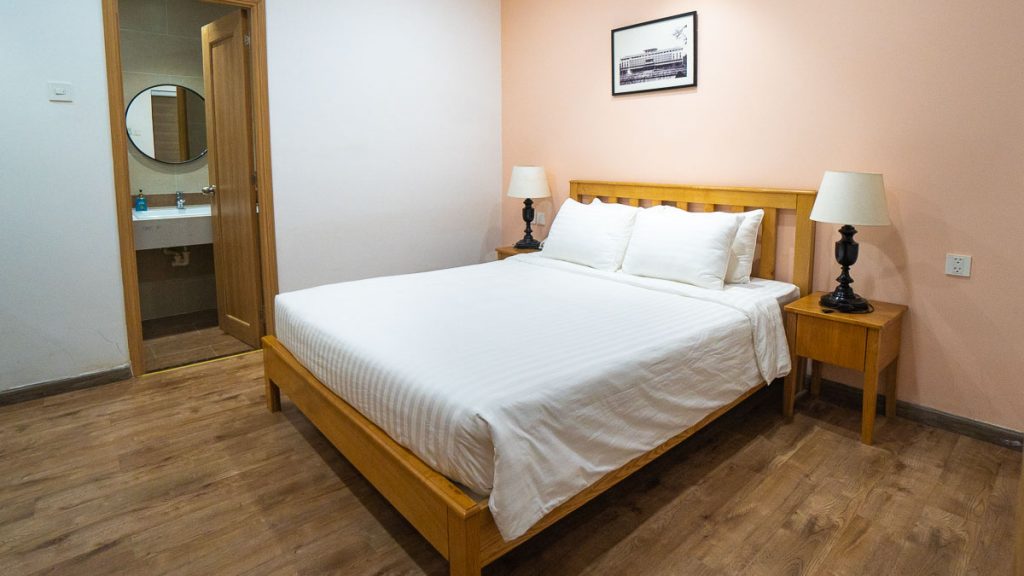 Where to stay in Ho Chi Minh City: Dai Nam Sai Gon Hotel — a deluxe room with a comfy queen bed (from ~S$32/night). It's located near attractions like Japan Town, Opera House and Ho Chi Minh City Hall Square.
Read more: 9 Best Things to do in Ho Chi Minh City — A Less Touristy HCM Guide
Day 5: Mui Ne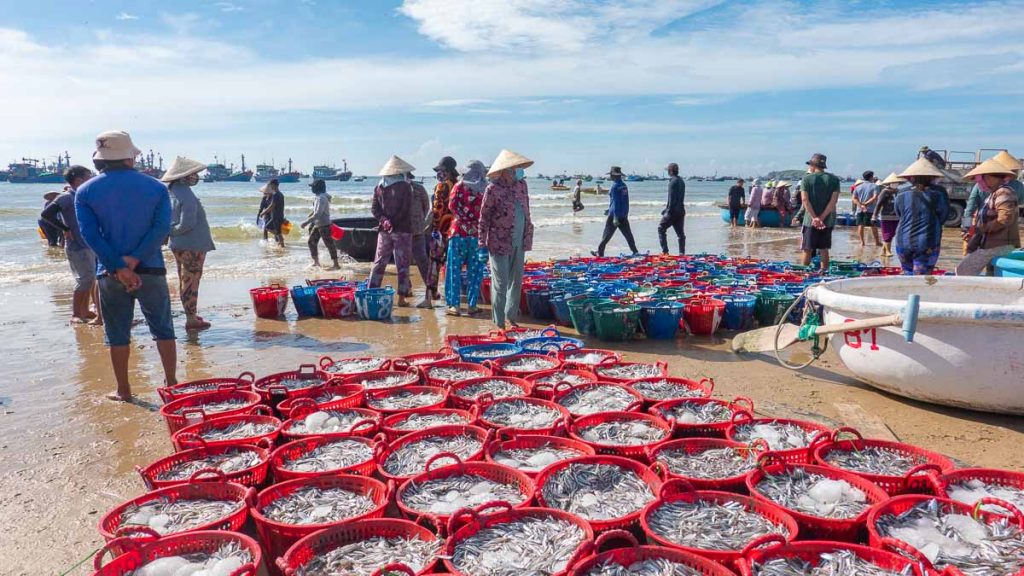 Bus to Mui Ne from Ho Chi Minh City: ~4.5-5hrs (~S$12/pax)
*Pro-tip: Hire a private transfer instead if you're not comfortable sharing a long ride with 40 strangers 🙈.
Mui Ne is most well-known for its beautiful sand dunes and numerous beach resorts — earning it the moniker, the Resort Capital of Vietnam.
But did you know that this coastal town once came from a humble beginning? It started as a fishing village and continues to have a strong fishing culture, producing its own local fish sauce!
Must-dos in Mui Ne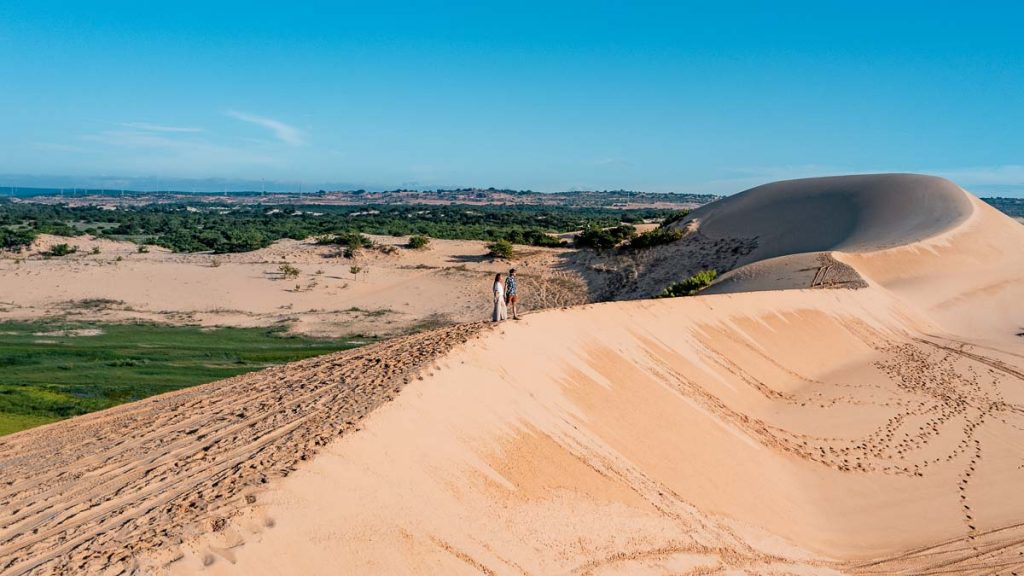 Mui Ne's White and Red Sand Dunes are a must-visit on your Southern Vietnam itinerary.
It may not be as huge as the Sahara Desert, but you can still experience many exciting activities there such as riding an ATV along the White Sand Dunes (600,000₫/hour) or sandboarding down the Red Sand Dunes (30,000₫/board).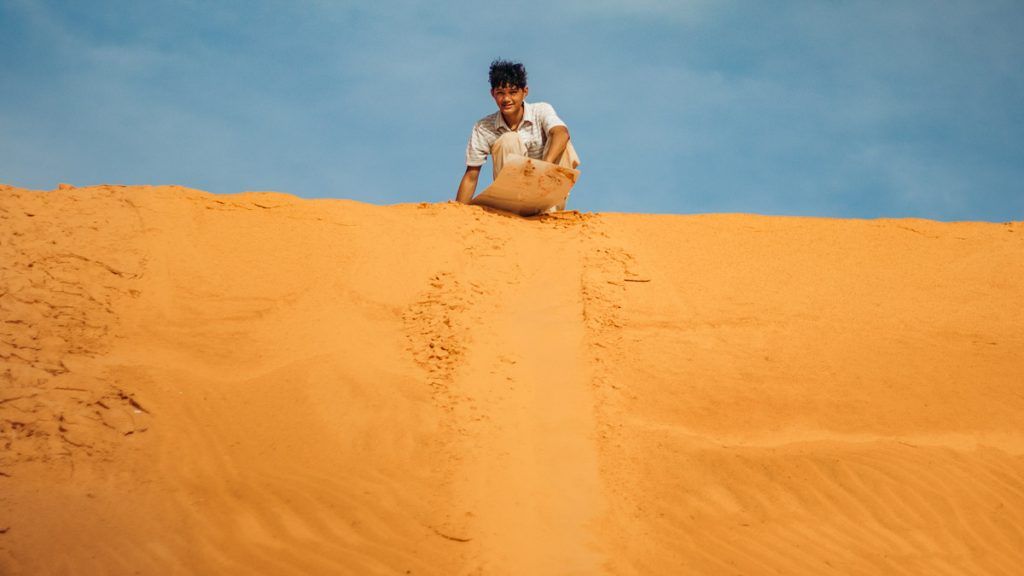 My favourite was the White Sand Dunes, because all I could see were rows and rows of white sand, making for a very scenic picture. It definitely felt like I was transported to another world and away from civilisation!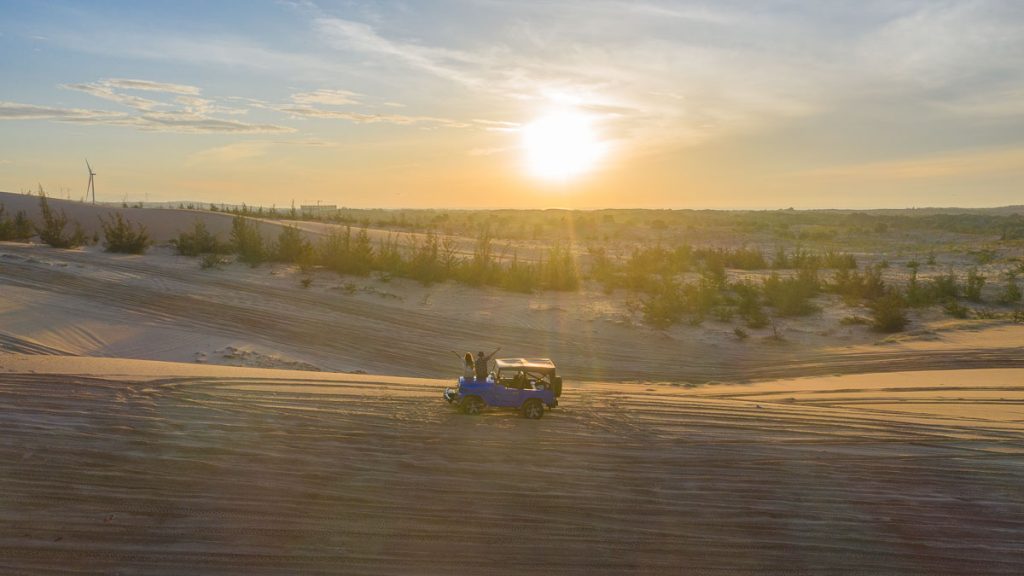 We recommend catching the sunrise or sunset at either sand dune as you'll be rewarded with a majestic view of the area when the rays hit the sand. Plus, you'll avoid the sweltering midday sun too 😉.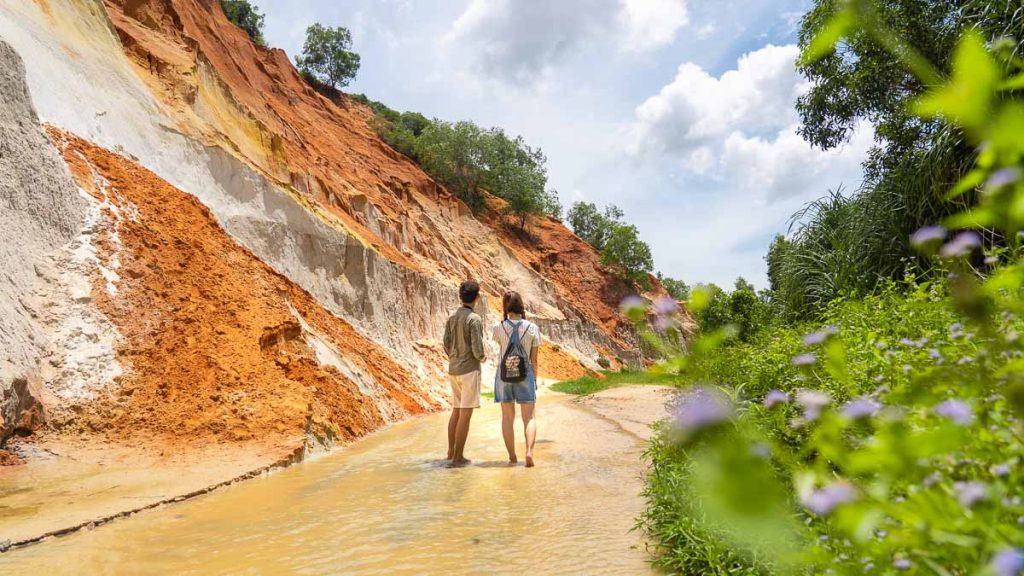 Apart from the sand dunes, check out the Fairy Stream too. Legend says that the limestone rock formations at the sides of the stream could be the perfect hiding place for fairies and that's where its name comes from.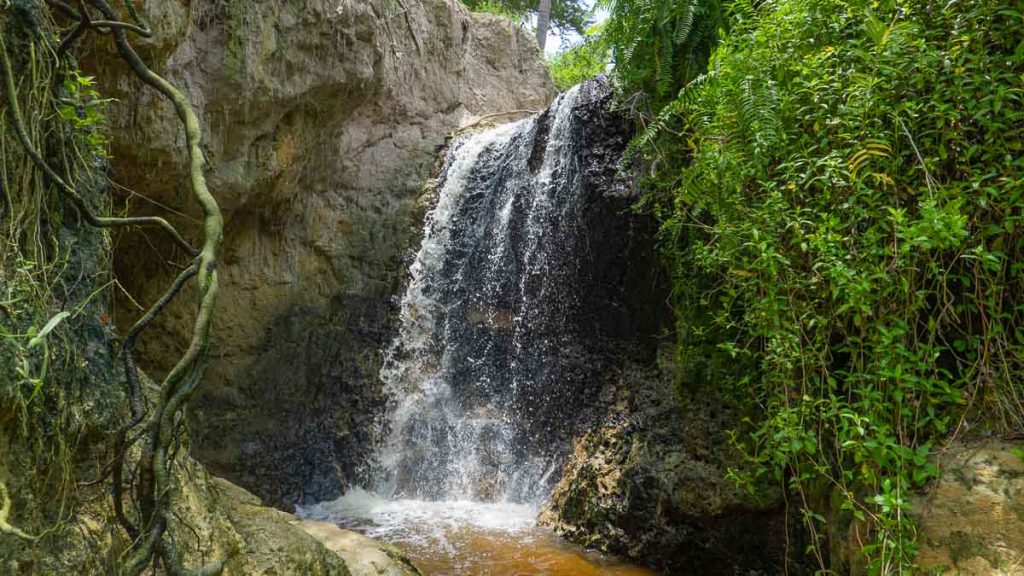 So keep a lookout as you wade through the ankle-deep stream along the canyon landscape. Don't worry if you miss the fairies, you'll still be rewarded with a mini waterfall at the end of the hour-long stroll.
*Pro-tip: Book a private jeep tour to explore all these attractions in one go, with a local guide sharing interesting facts about the areas!
Mui Ne Private Jeep Tour
Cost: From ~S$30/jeep (max 4pax)
Tour timing: 4:30AM – 9AM or 1PM to 6PM
Meeting point: Hotel pickup available
If you have more time in Mui Ne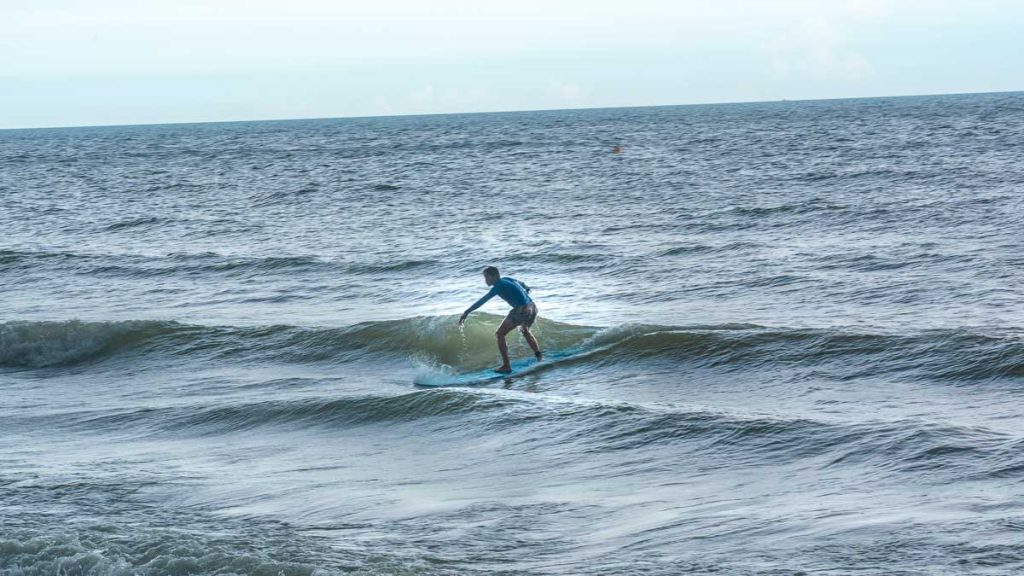 Instead of heading to Australia, why not go for surfing lessons in Vietnam? It's cheaper and less crowded — we went for a private lesson at 700,000₫/hour by Mui Ne Local Surf School at a hidden beach behind Allezboo Beach Resort.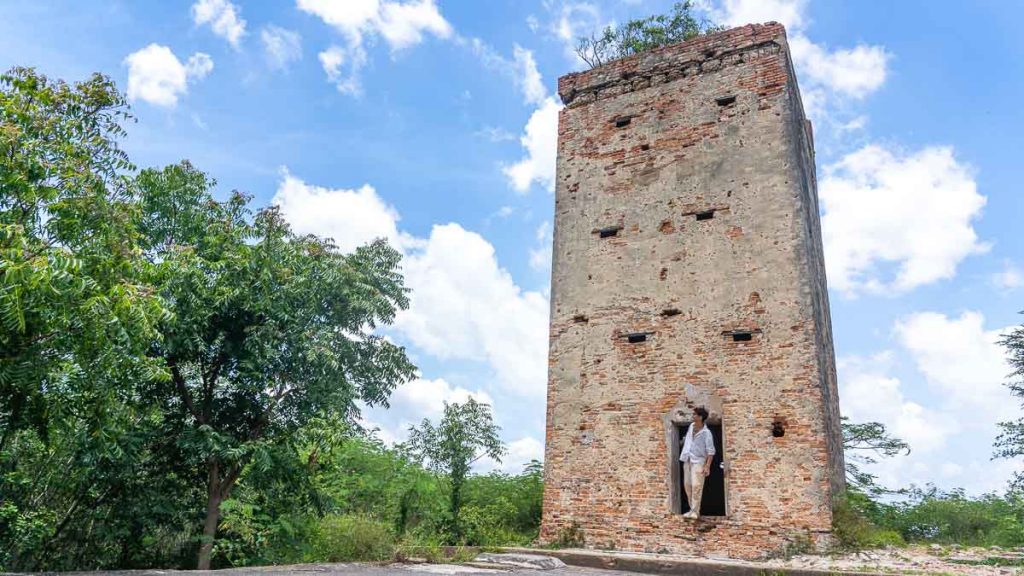 For those who don't mind venturing a little further out of Mui Ne, visit Prince's Castle atop Ong Hoang Hill. Unlike its name though, all that stands now is an old watchtower and military bunkers once used during the French occupation of Vietnam.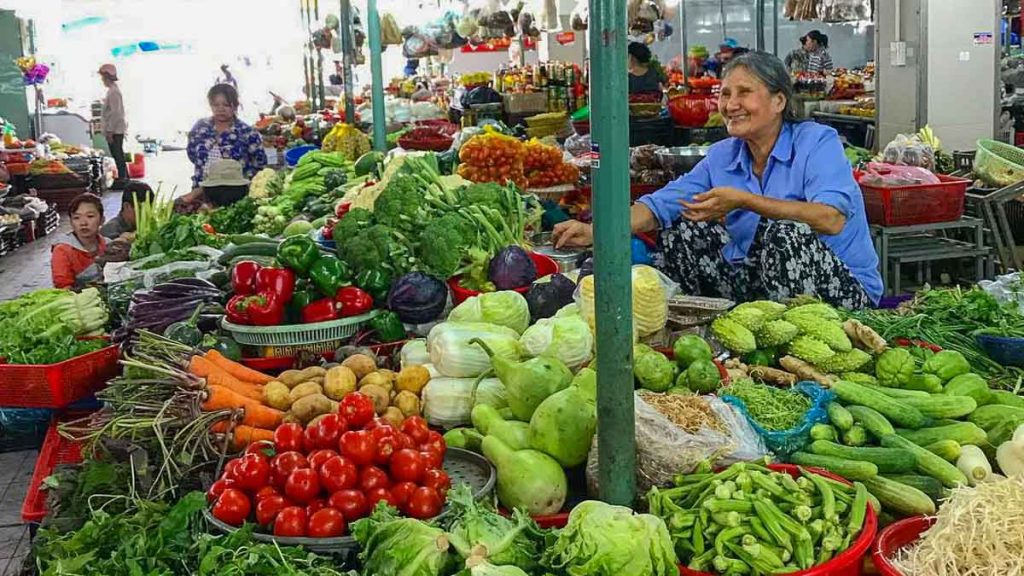 Photo credit: @victor.glmt via Instagram
Browse through Phan Thiet Central Market and snag some fresh produce or household items such as textiles and ceramic bowls!
Must-eats in Mui Ne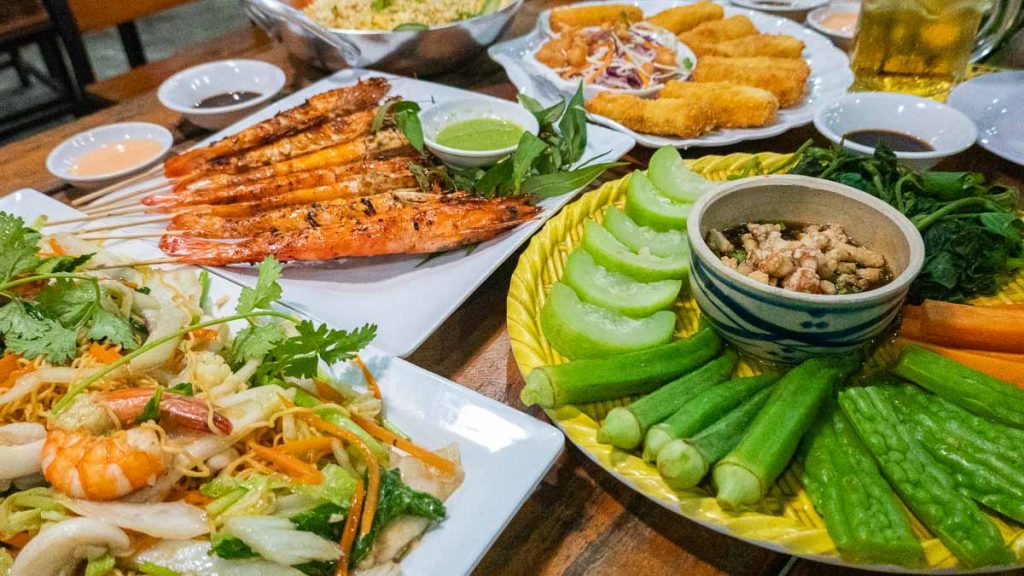 Being a coastal town, there's fresh seafood in every corner of Mui Ne! We had delicious grilled tiger prawns and seafood noodles for dinner at Pho Mui Ne Restaurant, with a side of steamed veggies dipped in a savoury, local fish sauce — totalling 248,000₫ for the entire meal.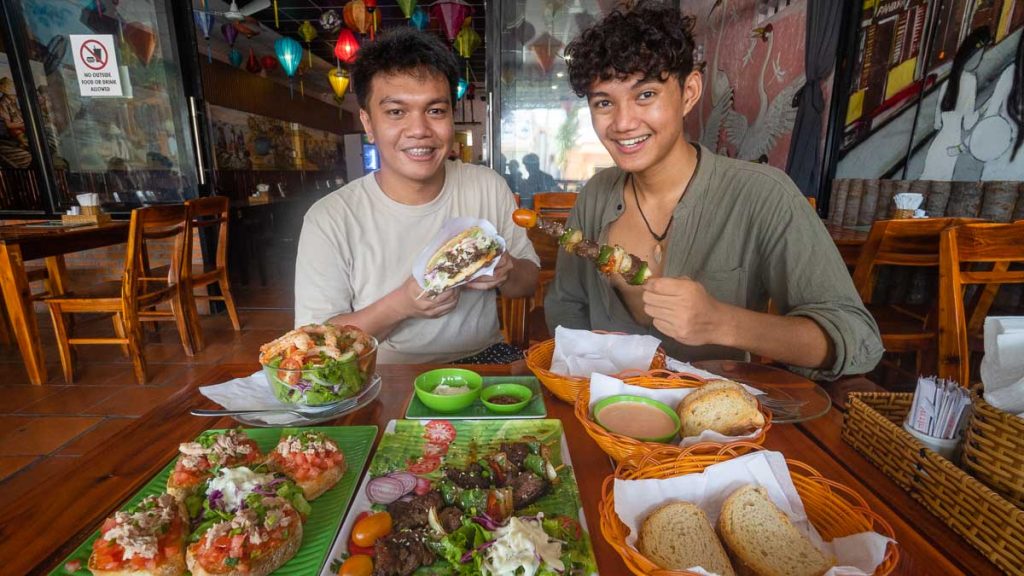 Pandora Doner Kebab is also famed for its shish kebabs (99,000₫) and shawarma beef (67,000₫), which is thinly sliced meat wrapped in pita bread.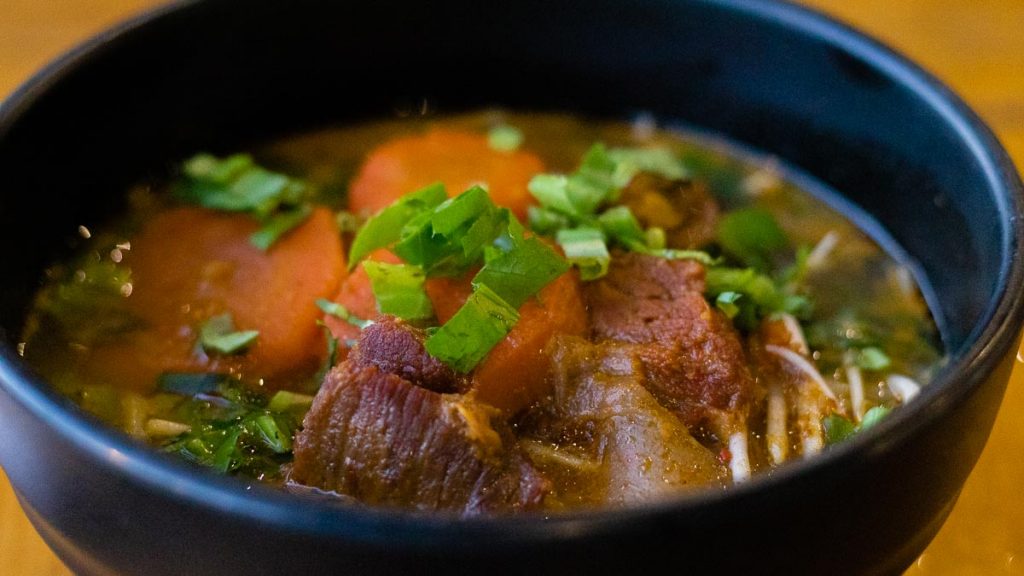 But one of our favourites was the melt-in-your-mouth beef stew or bo kho (40,000₫) at Momo Cafe Restaurant — recommended to us by our surfing instructor 😋.
Where to stay in Mui Ne: Muine Bay Resort — two-bedroom apartment with a bathroom and garden view (from ~S$57/night). There's even a pool and complimentary breakfast buffet serving both local and international cuisines!
Day 6-7: Da Lat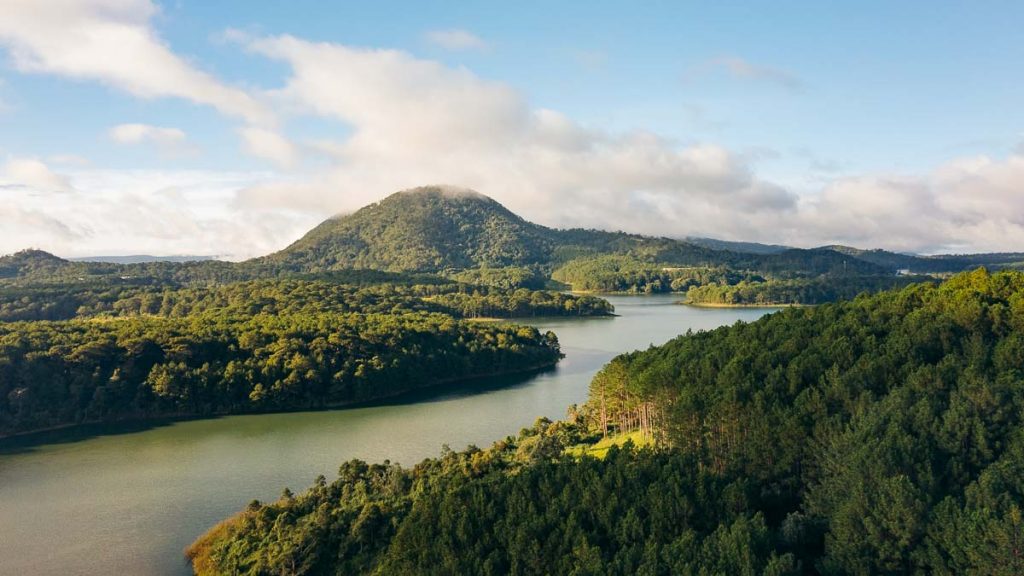 Bus to Da Lat from Mui Ne: ~4.5-5.5hrs (~S$14/pax)
Surrounded by hills, pine forests, lakes and waterfalls — Da Lat is known as the City of Eternal Spring in Vietnam. Despite the serene surroundings, there's no lack of activities for adventure-seekers here!
Must-dos in Da Lat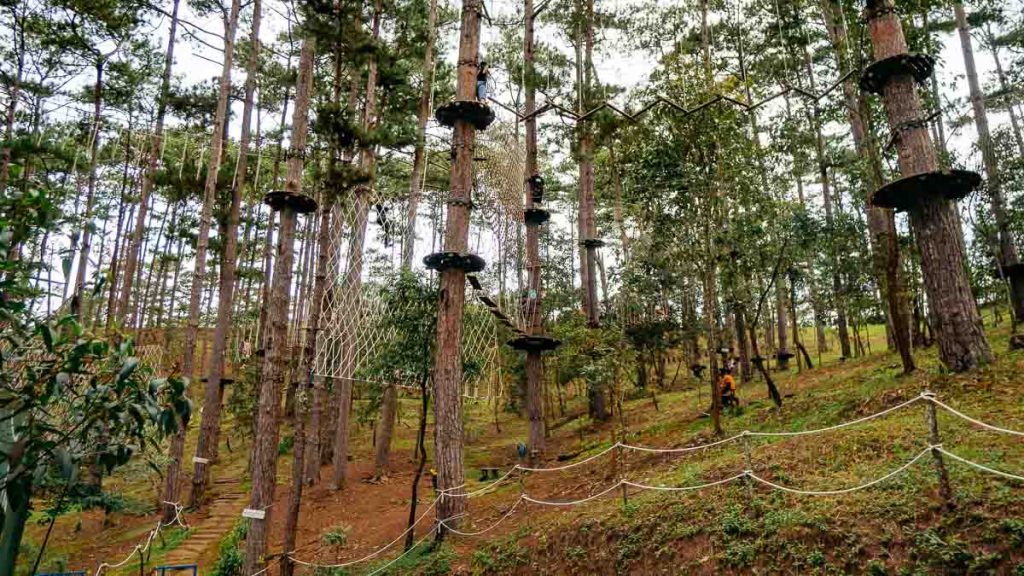 Conquer your fear of heights on Da Lat's high rope course adventure among lush pine trees, with seven different sections of obstacle courses to try.
There are varying levels of difficulty for people of all ages, including a practice section with monkey bridges, and a more advanced section — zipline 39m across the landscape and end off with a 15m-cliff jump into the Datanla Waterfall!
Alternatively, take it up a notch and go for the Datanla Waterfall Canyoning Tour instead. Other than ziplining, you'll also engage in activities like rappelling and sliding at waterfalls. There'll be a guide along the way, so rest assured you're in safe hands!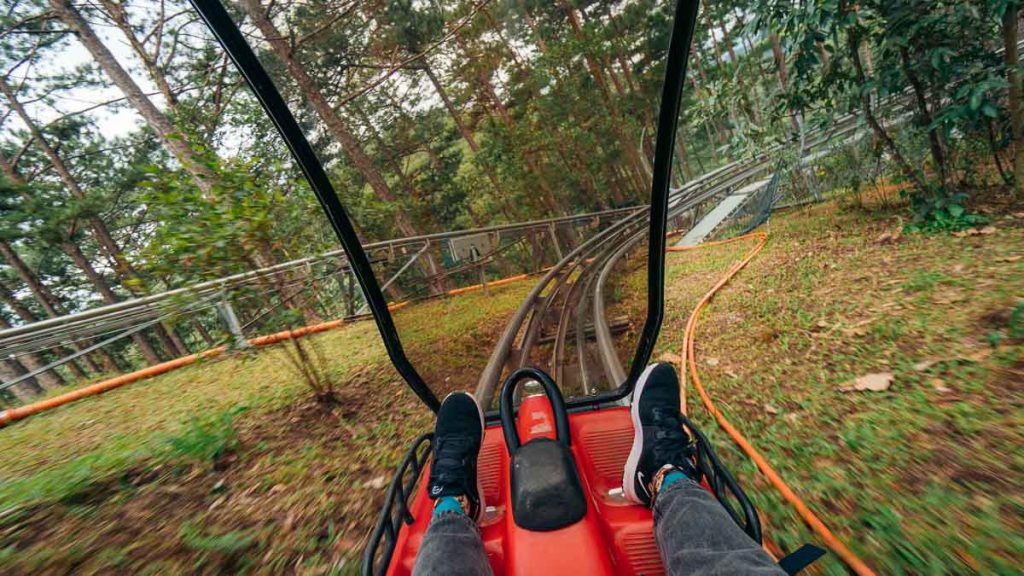 Elevate your experience even further with the Datanla New Alpine Coaster — the longest in Asia at 2,400m-long! Don't worry though, there are sensor breaks installed so riders can control their speed accordingly 🎢.
*Pro-tip: Book the combo package for the high rope course adventure and alpine coaster via Klook at discounted prices!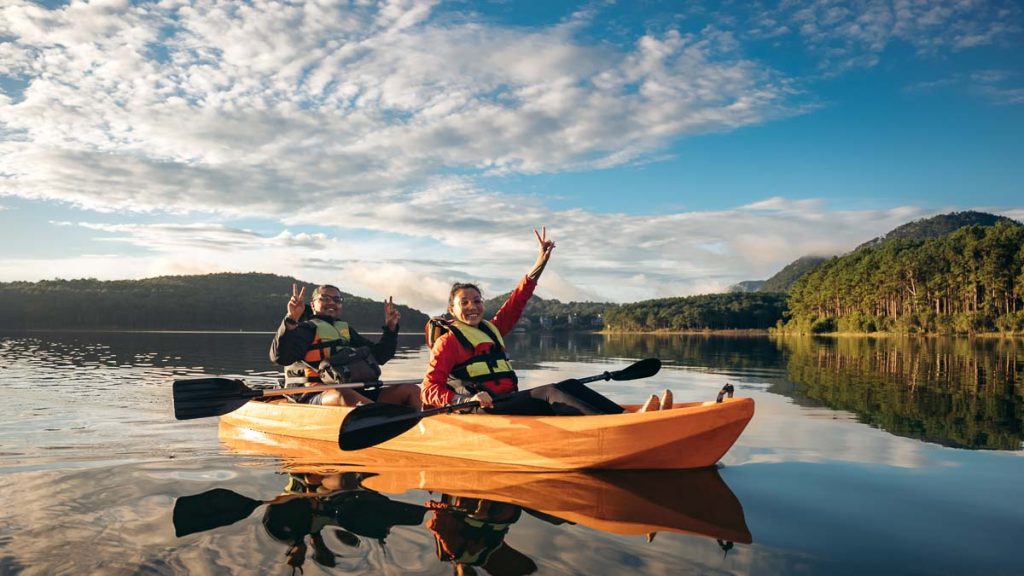 For a truly memorable experience in Da Lat, take a half-day kayaking tour along Tuyen Lam Lake. After a scenic journey through the lake, we arrived at Lux Camp Da Lat where we indulged in freshly brewed Vietnamese coffee for breakfast!
Tuyen Lam Lake Kayaking Tour
Cost: ~S$23/pax for a 3hr tour
Tour timings: 5AM, 8AM, 2:30PM
Meeting point: Hoa Cam Tu Cau, Ward 3, Da Lat, Vietnam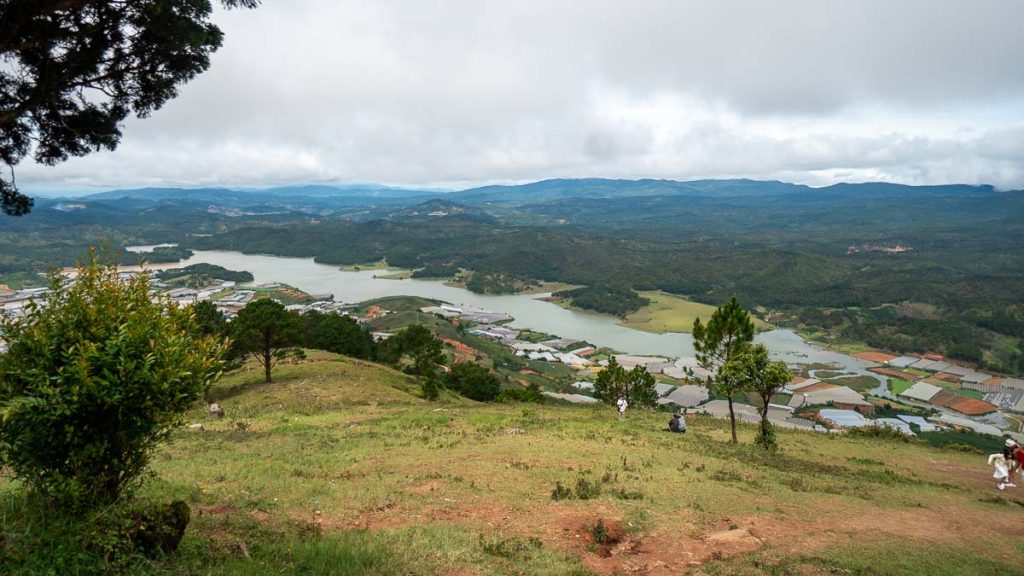 Lang Biang Mountain (50,000₫/pax entrance fee) is also worth adding to your Southern Vietnam itinerary for some amazing views of the Silver and Golden Streams.
Named the roof of Da Lat, it's one of the highest mountains in the city at 2,167m. Either hike this challenging route for around 2 hours or take the easy way out (like us) and opt for a jeep ride (100,000₫/pax) up instead.
If you have more time in Da Lat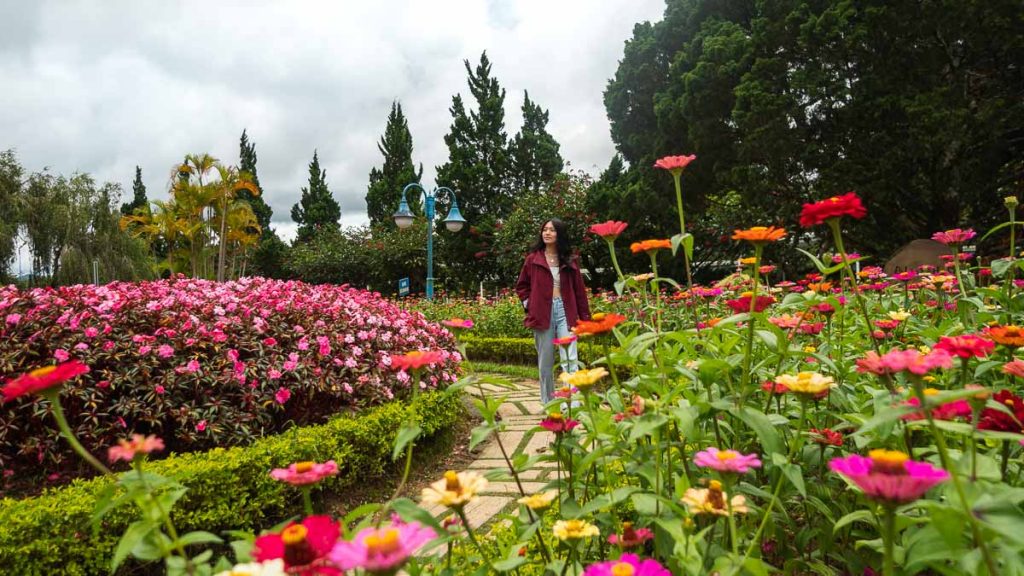 We had some spare time and a local recommended visiting Da Lat Flower Park! We were treated to a beautiful flower arrangement of tulips, roses, and hydrangeas — perfect for a colourful photo-op 🌷.
And unlike regular temples, the Linh Phuoc Pagoda or Ve Chai Pagoda is influenced by both European and Asian cultures. It's built from debris of glass, pottery bowls and porcelain, and distinguished by iconic shapes of flying dragons.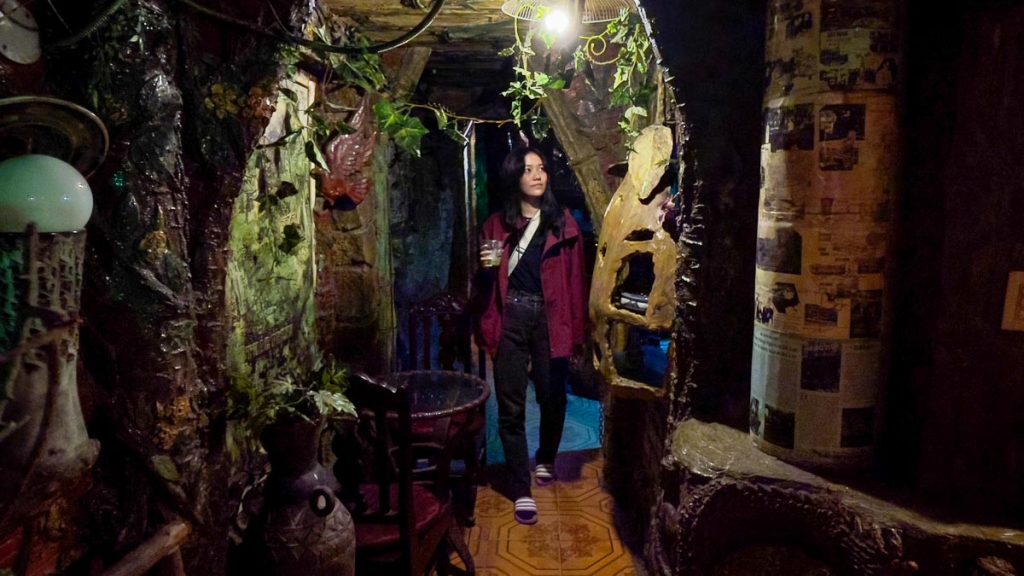 Fumble your way around the Maze Bar (AKA 100 Roofs Cafe) as you pass through different themed rooms with creepy faces, vines and underwater creatures. It truly felt like a labyrinth as we kept bumping into dead ends.
*Pro-tip: Book a private car to take you around Da Lat city and its surroundings. Thanks to that, we got to squeeze in a couple more places in our Southern Vietnam itinerary 😎.
Must-eats in Da Lat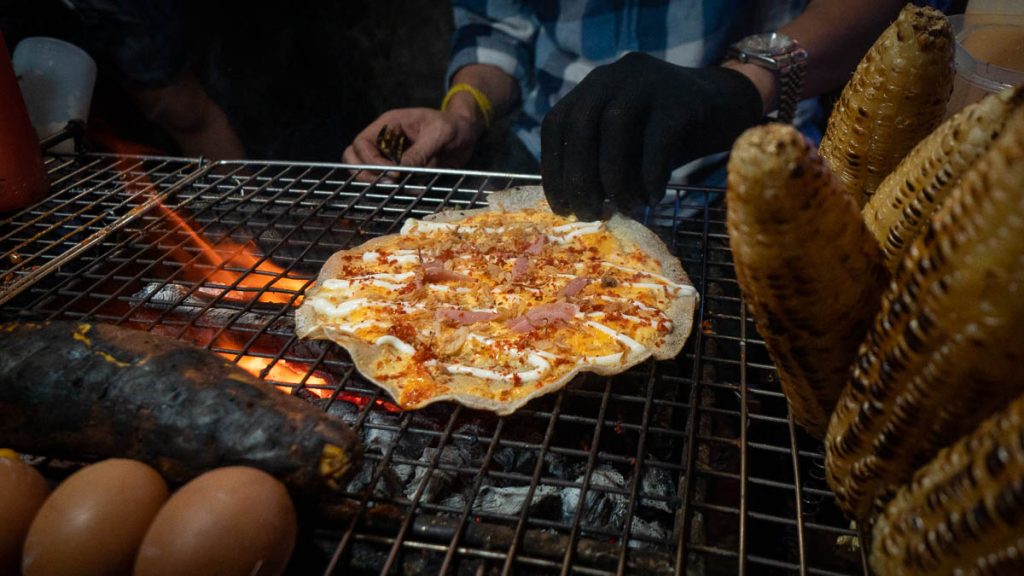 Da Lat Night Market offers plenty of street food but one of our top picks was the Da Lat pizza (25,000₫). It's made of grilled rice paper filled with egg, ham, and dried shrimp bits topped with chilli sauce.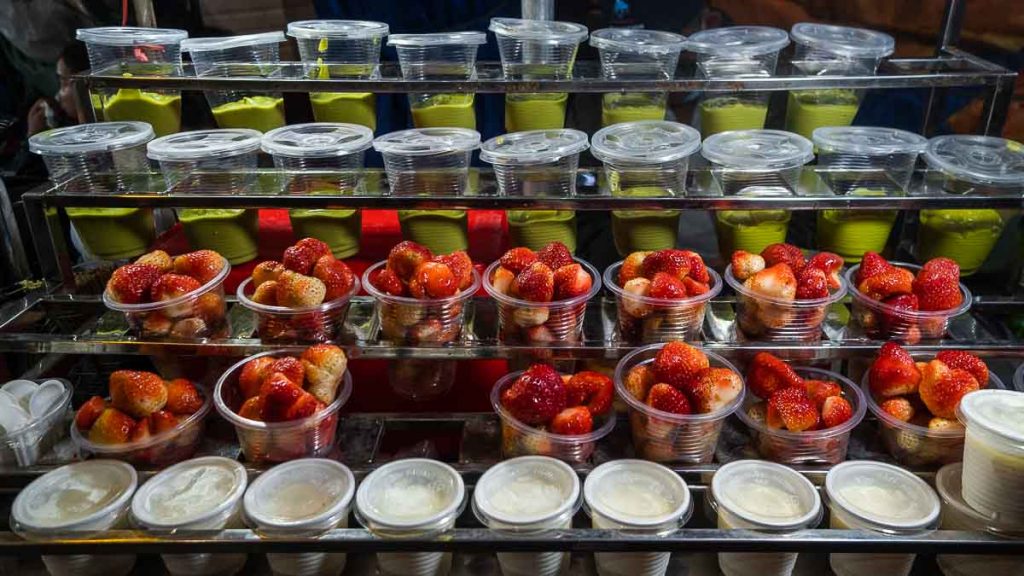 We also tried fresh strawberries drizzled with fish sauce and shrimp powder. Contrary to how it sounds, the flavours blend together quite well!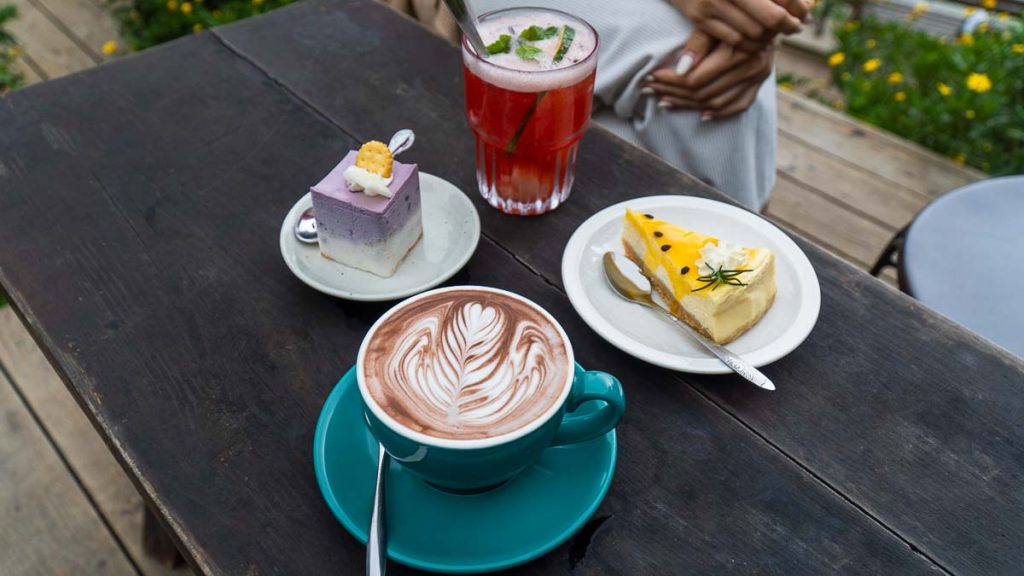 Desserts-wise, head to the highly-raved Cafe Tui Mo for coffee, pretty cakes and good vibes.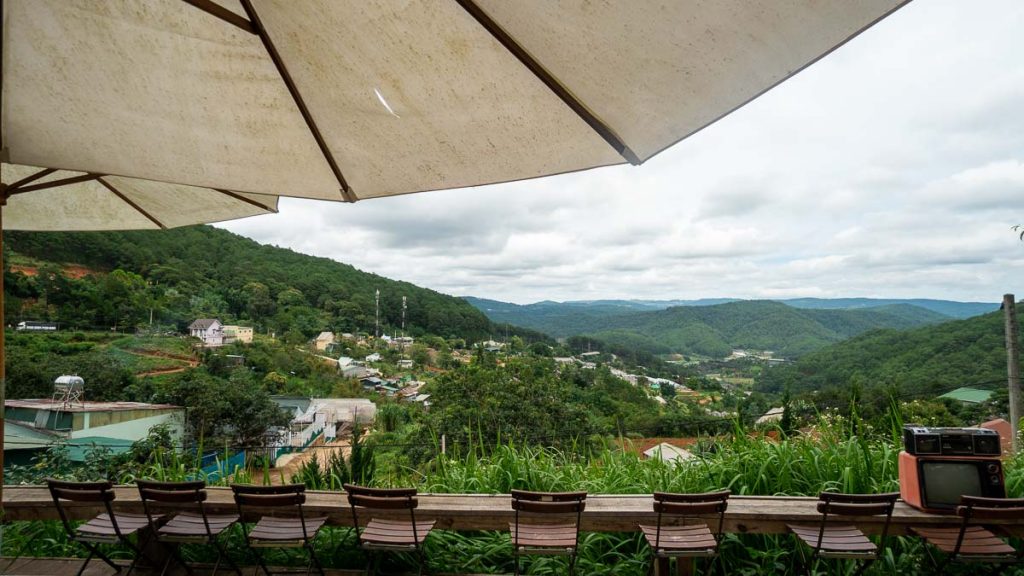 Bonus: If you're looking for something less touristy, another local recommended Cabin in the Woods. The food isn't much to brag about but the views were worth the trip!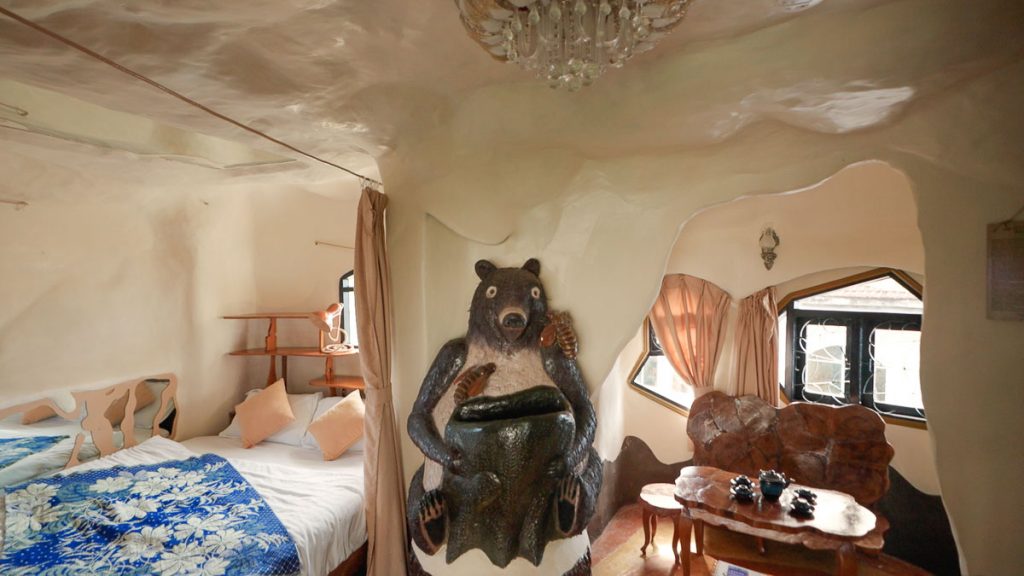 Where to stay in Da Lat: Crazy House — aptly named, this complex has unique themed rooms ranging from bears and tigers to more normal ones like bamboo (from ~S$43/night). While the animal statues kind of scared us, it was a really interesting experience in our Vietnam itinerary!
Read more: 3D2N Da Lat Itinerary — A Magical Alpine Adventure in Southern Vietnam
Getting Around Vietnam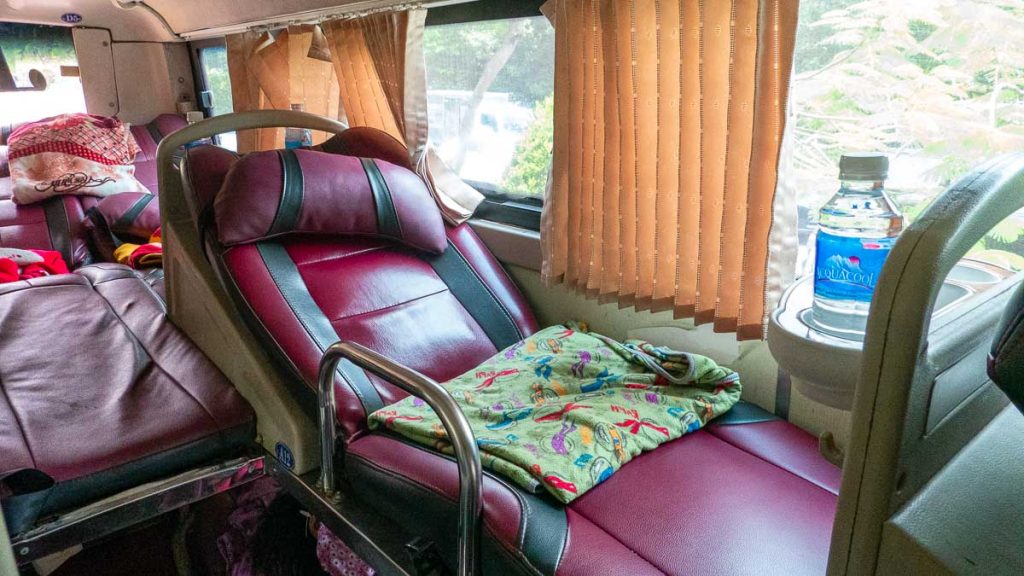 Public transport: There are buses and trains available within city areas like Ho Chi Minh City and Da Lat. But if you're travelling from city to city, take sleeper buses to relax in comfort on the long journey.
Private charter: Consider private car charters too when travelling around places with barely any public transport such as in Phu Quoc.
Grab/Taxi: Alternatively, take a Grab or hail a taxi in Vietnam. We preferred this to public transport because it's cheap (around ~S$2-4 per car ride) and gives us more flexibility for our Southern Vietnam itinerary.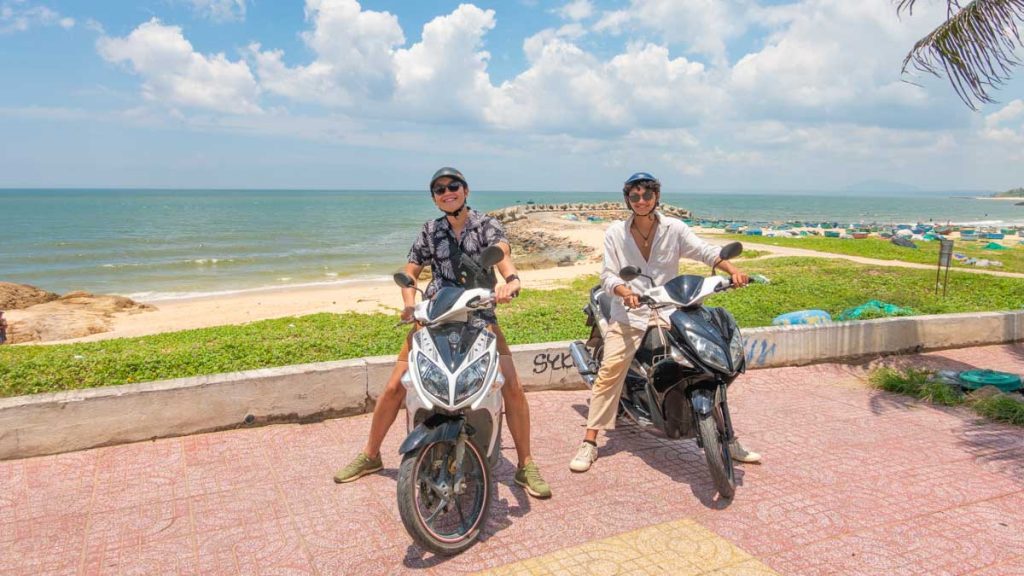 Motorbike: You can also rent a motorbike if Grab isn't available! In Mui Ne, we rented motorbikes for 150,000₫ per bike per day and saved on travel time by zipping past traffic.
Tips for Planning Your Southern Vietnam Itinerary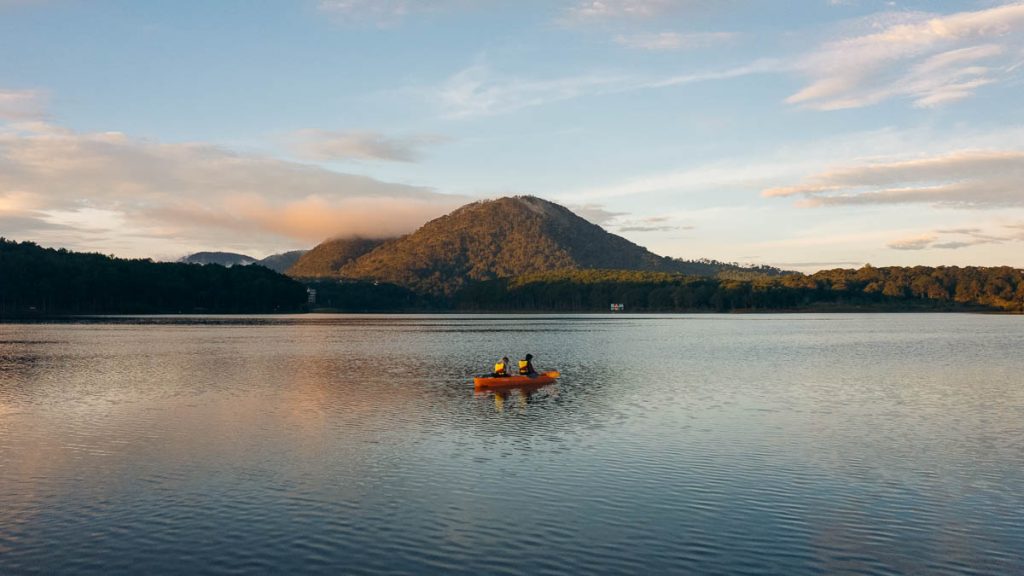 Before you go, here are some tips for planning your Southern Vietnam itinerary:
1) Bring sufficient cash as not all shops accept cards, especially in local markets.
2) Download the local Taxi Mai Linh app — Grab works in Ho Chi Minh City but not in other areas like Mui Ne. Use the app to get a local taxi instead to travel around the area!
3) Pre-book your travel essentials such as travel insurance, SIM cards, airport transport and even accommodations via Klook! The prices are competitive and it helps to have all your important bookings in one App. You can also reserve activities online at a discounted price to save a few bucks 😎.
Compared to its more well-known Northern and Central parts, Southern Vietnam is truly a hidden gem. We weren't expecting vast sand dunes and epic mountain backdrops in a country known for its bustling city life — but we hope you'll get to experience them yourself with the help of this itinerary.
Read also: Ultimate Southern Vietnam Guide — 13 Best Things to do in Ho Chi Minh, Da Lat, Phu Quoc, and Mui Ne
Are there any cities you'd love to see on this Southern Vietnam itinerary? Share them with us in the comments!
---
This post was brought to you by Klook.
Like what you see? Follow us on Facebook, Instagram, YouTube, and Telegram for more travel inspiration!