Race over sand dunes, stuff yourself with the best local street food and take on Asia's longest coaster — this is our complete guide to Vietnam's best experiences in the South!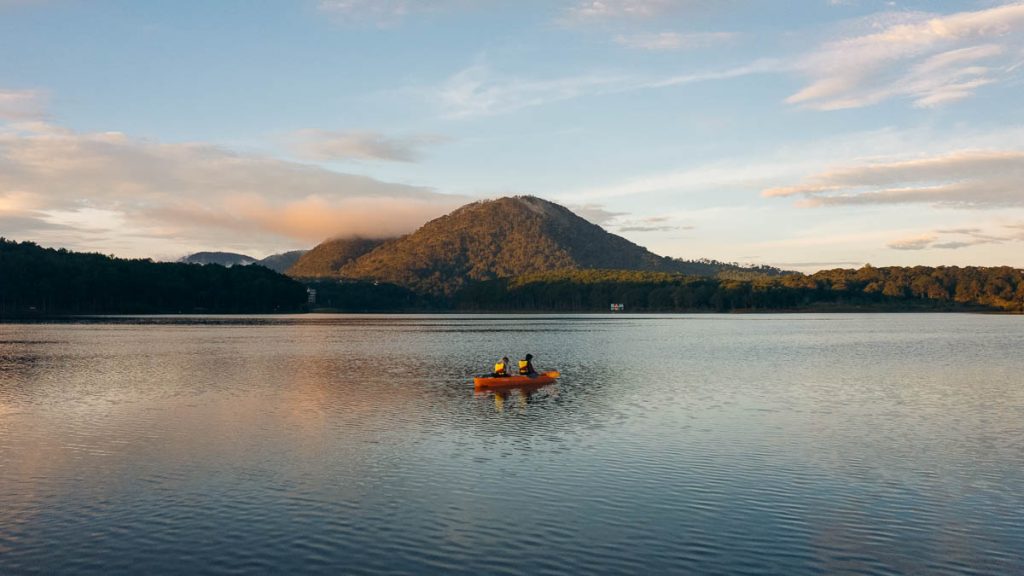 During our last trip to Vietnam, we got to explore the central area (Hoi An, Hue, Da Nang) and we loved it. This time, we headed to Southern Vietnam to delve deeper and get to know Vietnam even better.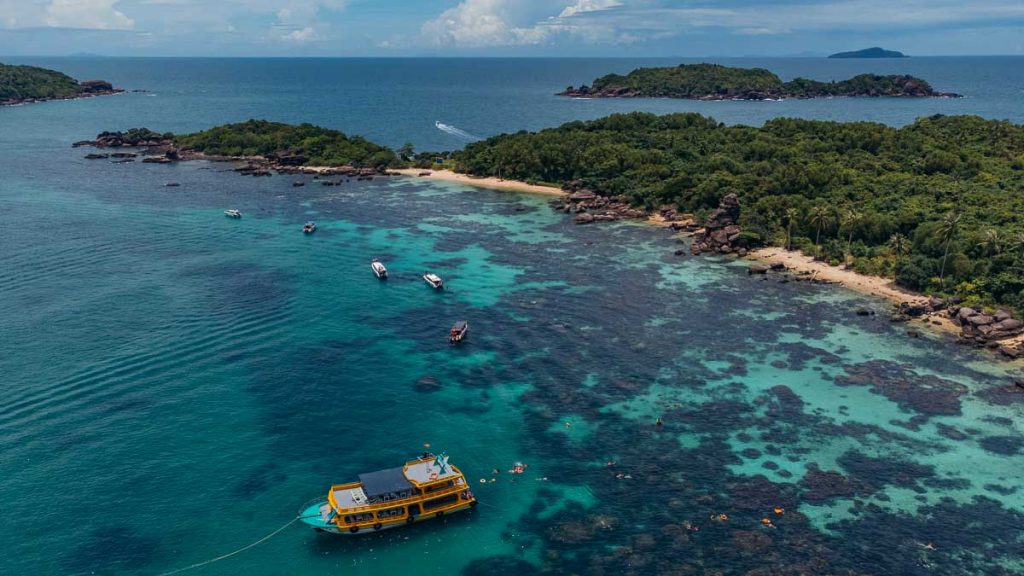 After exploring Southern Vietnam, I understand why it's such a popular destination. Each city had something unique to offer — it's almost like packing several mini trips into one.
Here's our ultimate Southern Vietnam Guide — the best experiences in Ho Chi Minh, Da Lat, Phu Quoc and Mui Ne!
Ho Chi Minh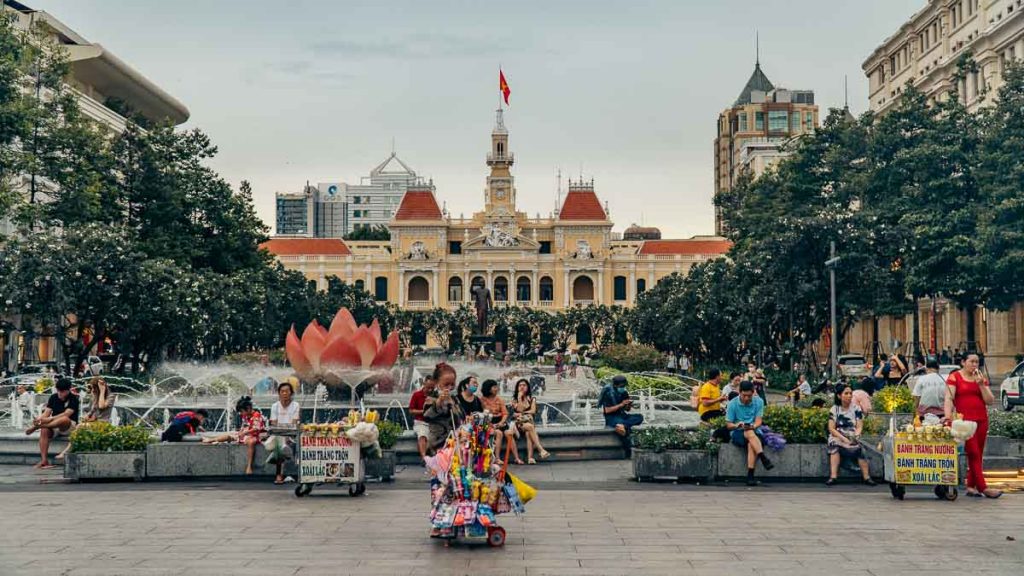 First up on our Southern Vietnam guide is Ho Chi Minh (formerly Saigon till 1975), Vietnam's bustling capital and largest city. Ho Chi Minh was previously colonised by the French and still retains much of its European architecture.
The city is bursting with delicious food and rich history, and it's also a good base to explore the rest of Southern Vietnam!
1) Day Trip to Cu Chi Tunnels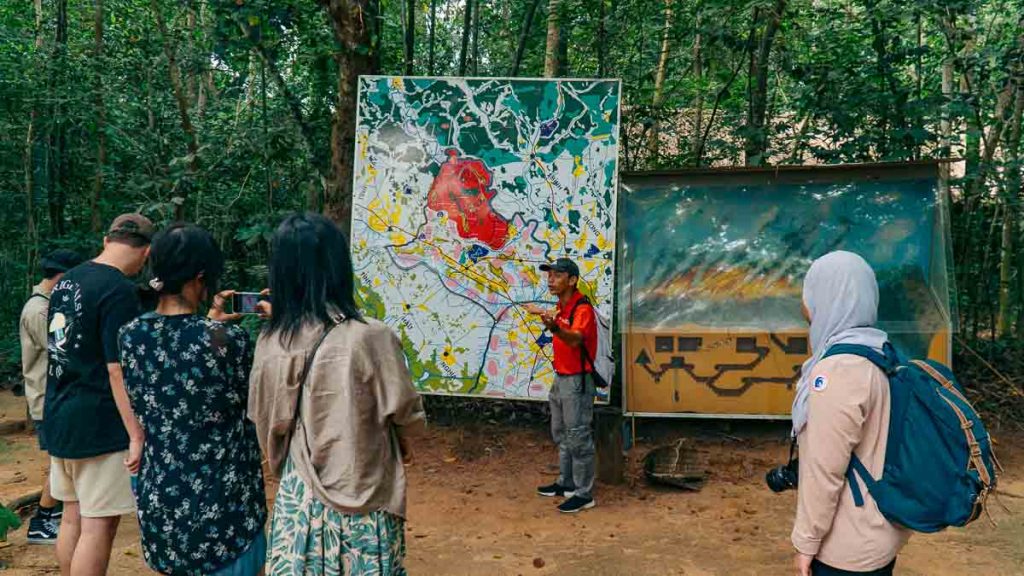 The Cu Chi Tunnels is a popular day trip from Ho Chi Minh city. I'd admit I didn't know much about Vietnam's history before the trip.
But our guide was very knowledgeable, and helped paint a clear picture of Vietnam's milestones from her time as a French colony to the country's independence!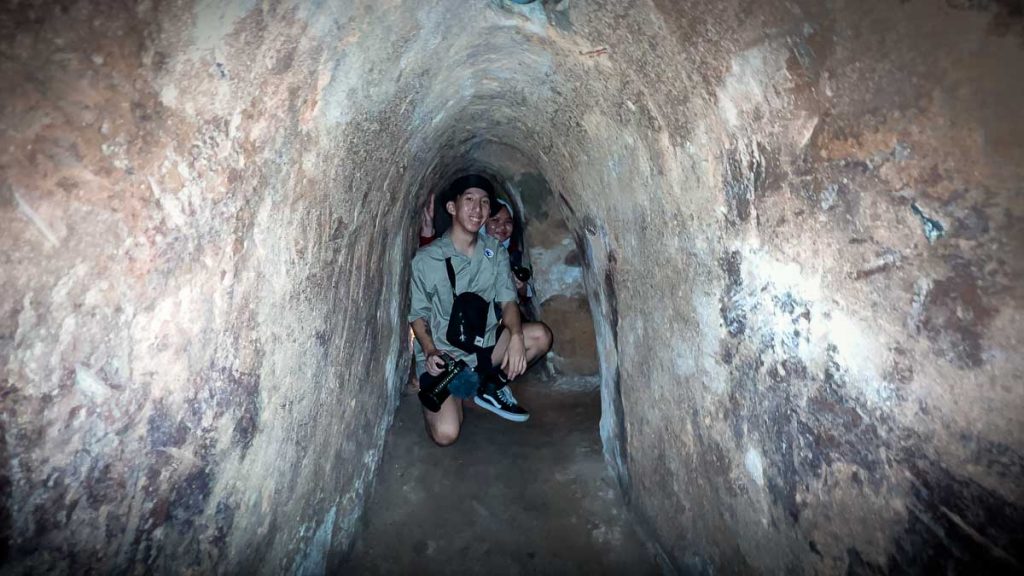 The Cu Chi Tunnels is a 250km-long network of tunnels, used by Viet Cong troops (pro-communists in Southern Vietnam) during the Vietnam War to combat American soldiers! The Americans had more advanced technology, so the Vietnamese had to move underground to evade aerial bombing.
We walked through a small section of the tunnels and caught a glimpse of what it was like to be living in that era. Overall, the tour was really insightful — it'll be useful to start your Vietnam adventure with this.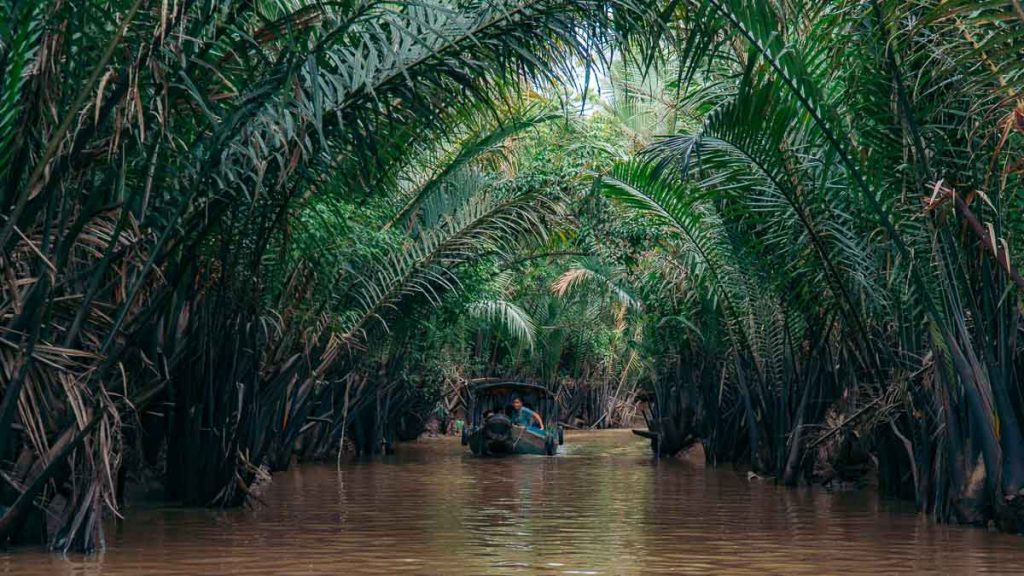 If you'd like to extend the day trip, consider the Cu Chi Tunnels and Mekong Delta full day tour! This includes a local lunch and a relaxing boat ride down a canal off the Mekong Delta.
Cost: ~S$31/pax for a half-day tour
Tour timings: 7:30AM – 12:30PM, 1PM – 6:30PM (Tour operator will confirm pick up timing the night before)
Meeting point: Pick up from hotel
2) Explore Local Markets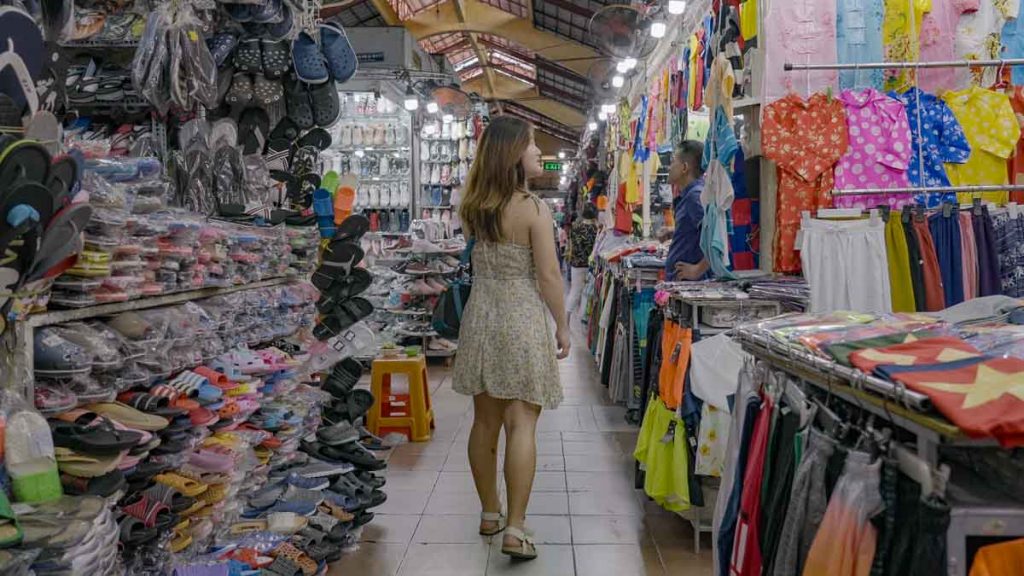 Markets are a way of life in Vietnam and the ones in Ho Chi Minh don't disappoint. Ben Thanh Market is the city's most well-known market, located centrally in the heart of district one. It's a touristy spot, but still worth a visit if it's your first time in Ho Chi Minh.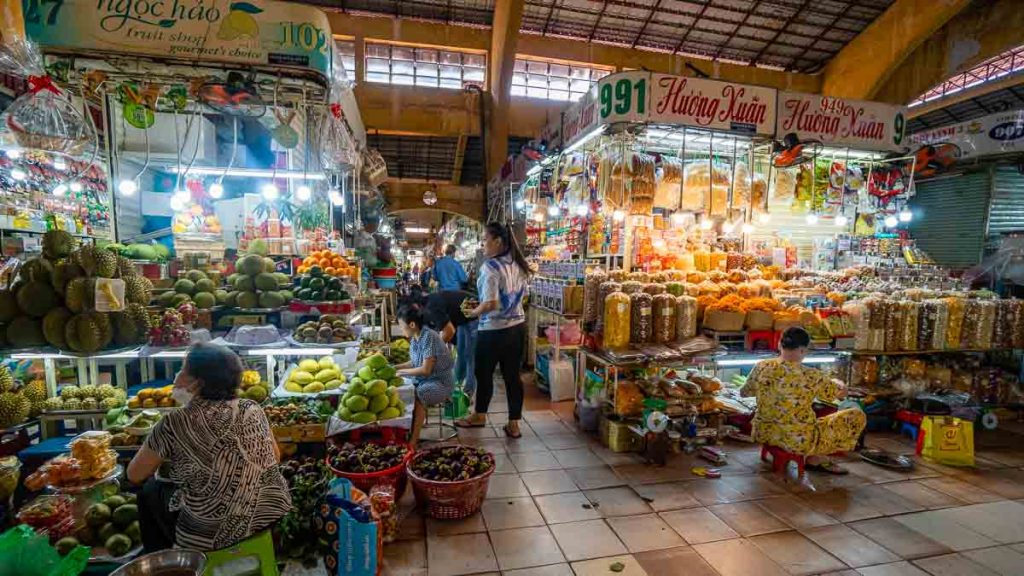 You'll find all sorts of things here — clothes, spices, souvenirs, and my personal favourite, a section dedicated to local food.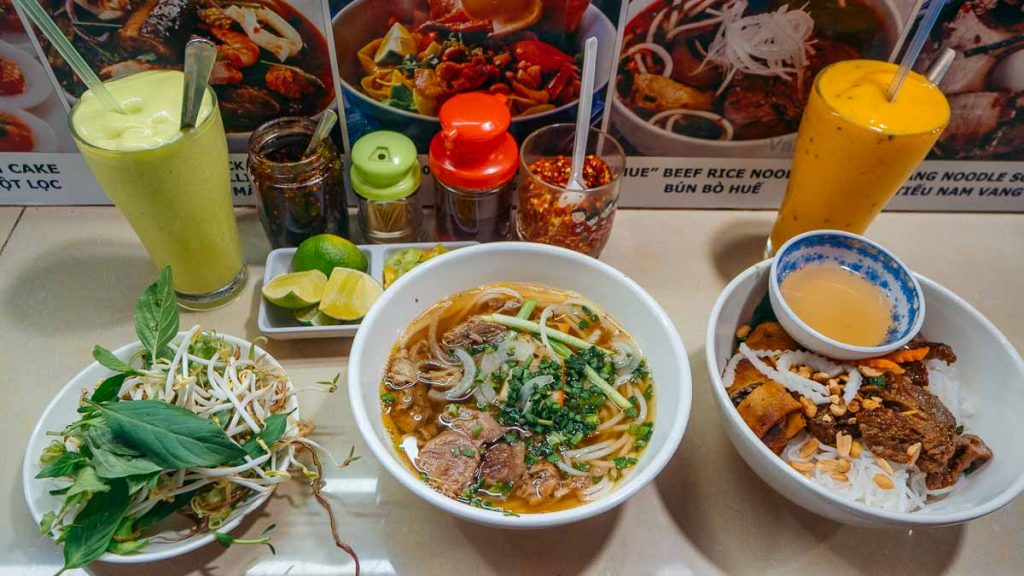 There are several stores selling a variety of Vietnamese cuisine. We had barbecue pork noodles (60,000₫), beef vermicelli noodles (50,000₫) and fruit smoothies (30,000₫) — a satisfying meal for under S$10 total!
Ben Thanh Market
Opening hours: 6AM – 8PM
Address: Đ. Lê Lợi, Phường Bến Thành, Quận 1, Thành phố Hồ Chí Minh, Vietnam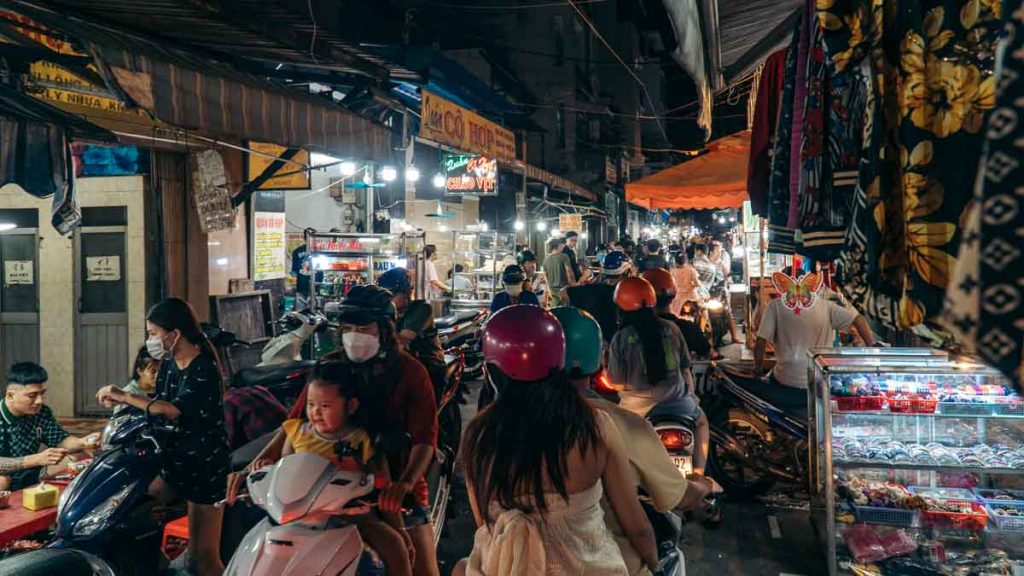 200 Market in district four came highly recommended by our Vietnamese guide. We arrived at a chaotic intersection of street food stalls — motorcycles constantly weaving through the crowds, hawkers barking out orders.
Be warned — it's not catered to tourists, so menus are only in Vietnamese. Despite this, 200 Market turned out to be one of our favourite street food experiences in Ho Chi Minh!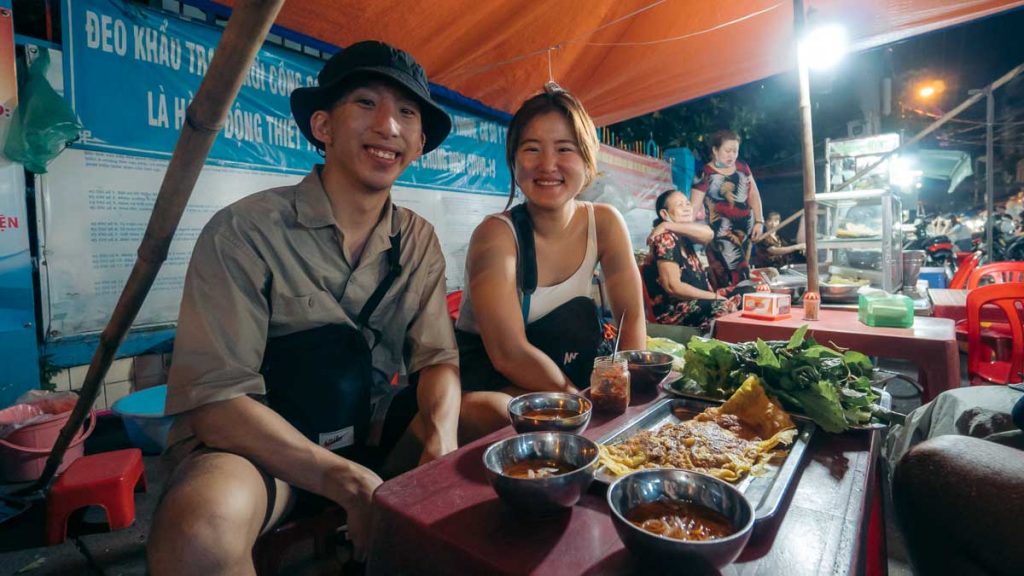 The language barrier turned into a game of "point at food and get surprised", and we ended up loving every dish that came. Plus, eating on little red stools inches from the road is truly as local as it gets!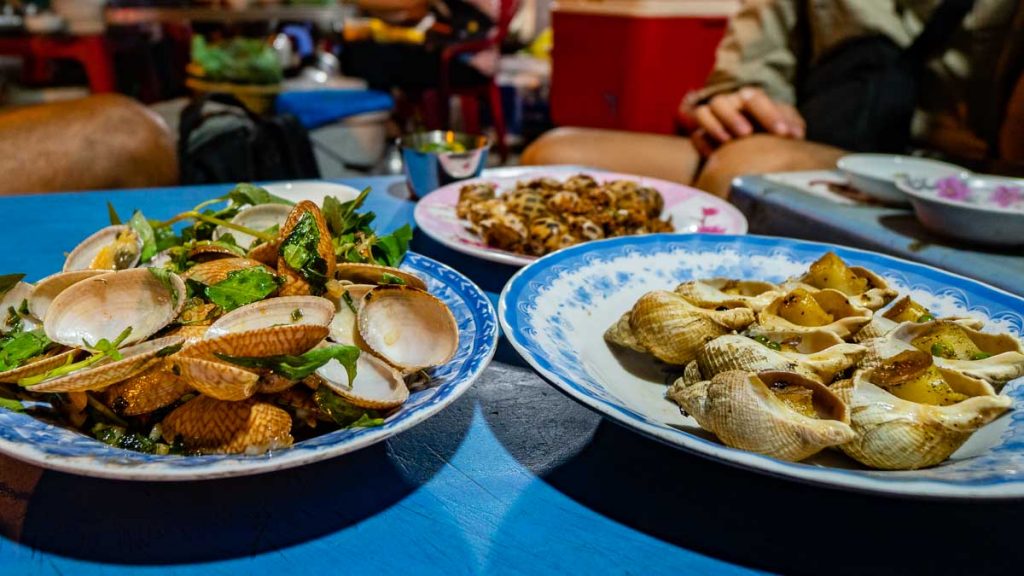 Dishes we tried include banh xeo (crispy Vietnamese shrimp omelette, 40,000₫), bahn mi (30,000₫), noodles (45,000₫), barbecue clams and snails (50,000₫/plate) — all pretty affordable.
*Pro-tip: Bring small change! The locals don't enjoy having to break up large notes. Don't use wet wipes if you don't need them too — restaurants in Vietnam charge extra for it!
200 Market
Opening hours: 5AM – 11PM
Address: Nhà thờ, Xóm Chiếu, Phường 15, Quận 4, Thành phố Hồ Chí Minh 70000, Vietnam
Read also: Southern Vietnam Food Guide — 17 Best Places to Eat at Ho Chi Minh, Da Lat, Mui Ne, and Phu Quoc
3) Visit Saigon Skydeck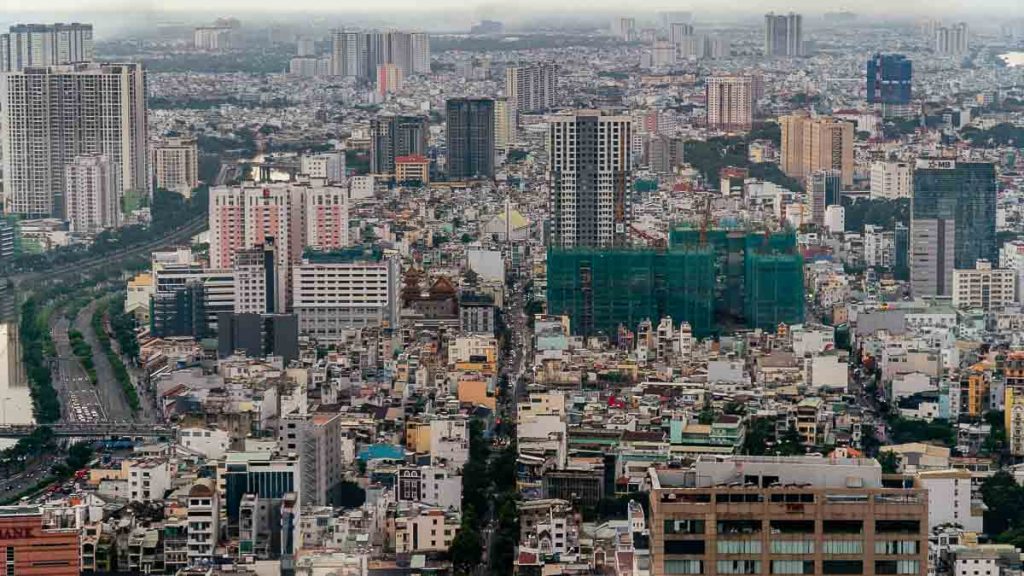 Fun fact: The design of Bitexcon Financial Tower was inspired by a lotus, Vietnam's national flower!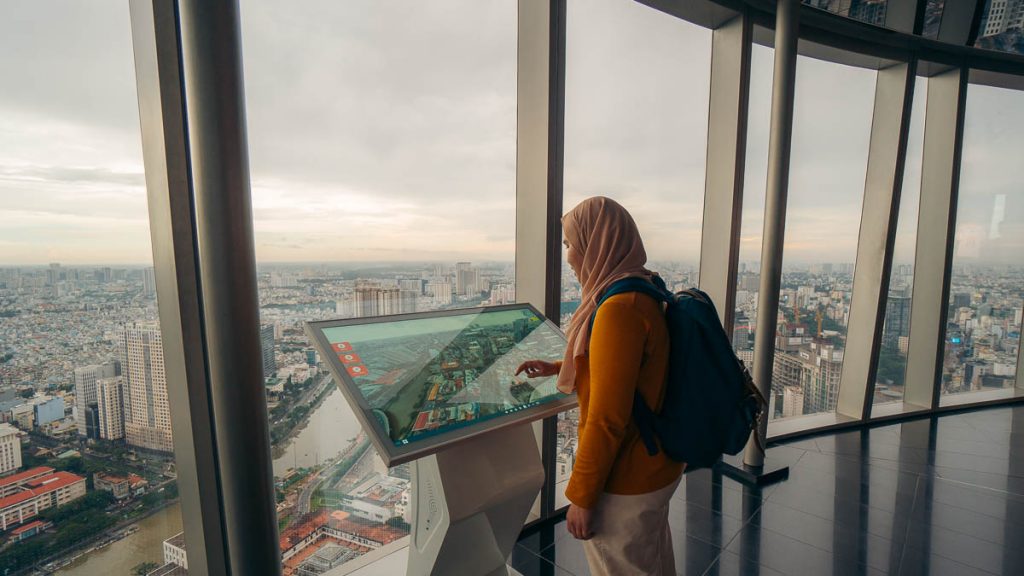 For unobstructed views of Ho Chi Minh, head up to Saigon Skydeck. It's located on the 49th floor of the Bitexcon Financial Tower and has informative touch screens where you can learn about the city's landmarks like the Sai Gon Central Post Office.
Cost: ~S$11.90/pax
Opening hours: 9:30AM – 9:30PM (Last entry 8:45PM)
Address: 36 Đ. Hồ Tùng Mậu, Bến Nghé, Quận 1, Thành phố Hồ Chí Minh, Vietnam
4) Sightsee at Nguyen Hue Walking Street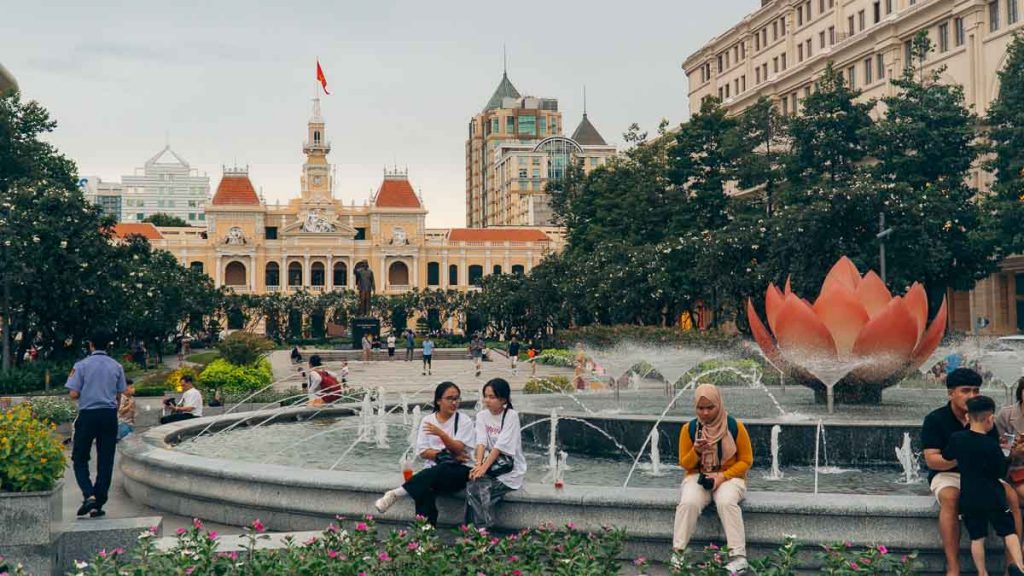 Nguyen Hue Walking Street is Ho Chi Minh's main pedestrian street. It's the heart of the city — both sides are lined with cafes and shops; at the end, there's a lotus fountain centrepiece and the Ho Chi Minh government office.
We passed by both in the day and at night and the street really comes to life after dark. There are a few street performers and street food stalls too!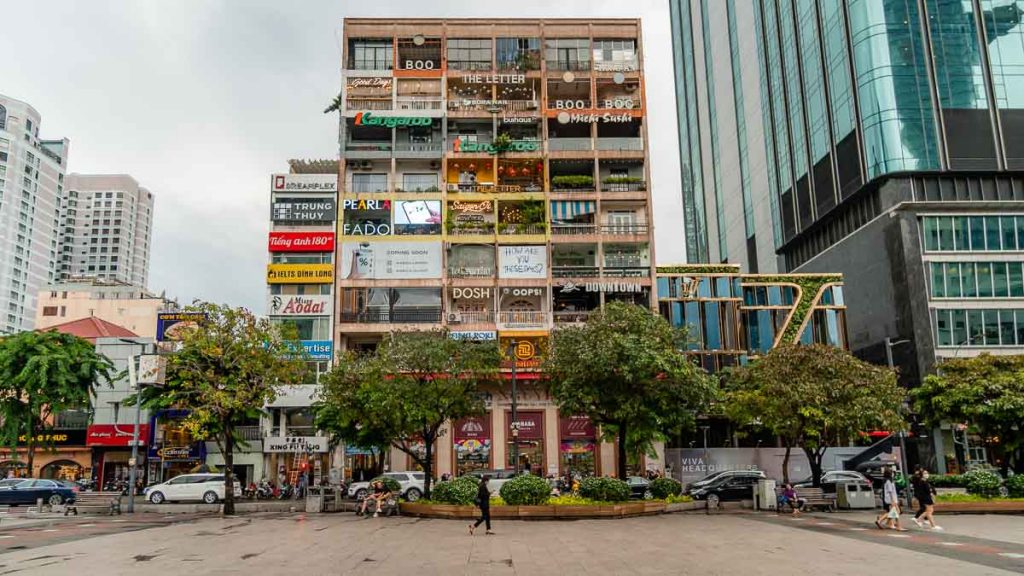 Along Nguyen Hue, one particular building stands out. That's The Cafe Apartments — a refurbished apartment building now housing several cafes and shops.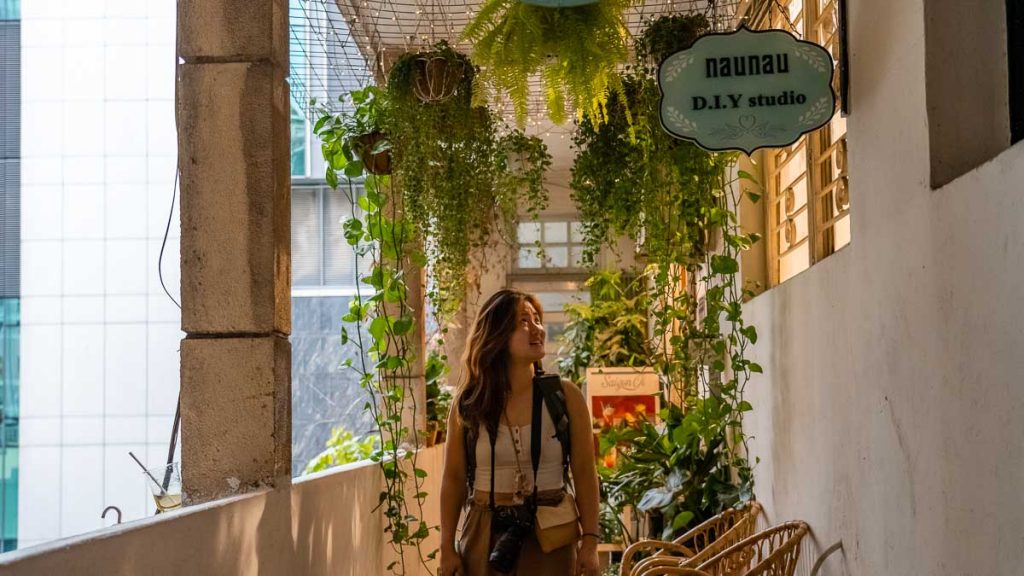 We walked all nine floors in search of the most aesthetic cafe (they charge 3,000₫ to use the lift) and settled on Saigon Oi on the fifth floor.
This cafe has a minimalist interior and large windows with views of the walking street — great for people watching! Drinks start from 43,000₫.
*Pro-tip: Fork out the cash and pay to use the lift! We only found out after that most cafes reimburse the fee for customers.
Nguyen Hue Walking Street
Entrance fee: Free
Opening hours: 24 hours
Address: 22 Nguyễn Huệ, Bến Nghé, Quận 1, Thành phố Hồ Chí Minh 700000, Vietnam
Read also: Things to do in Ho Chi Minh City — A Less Touristy Guide of Vietnam's Capital
Da Lat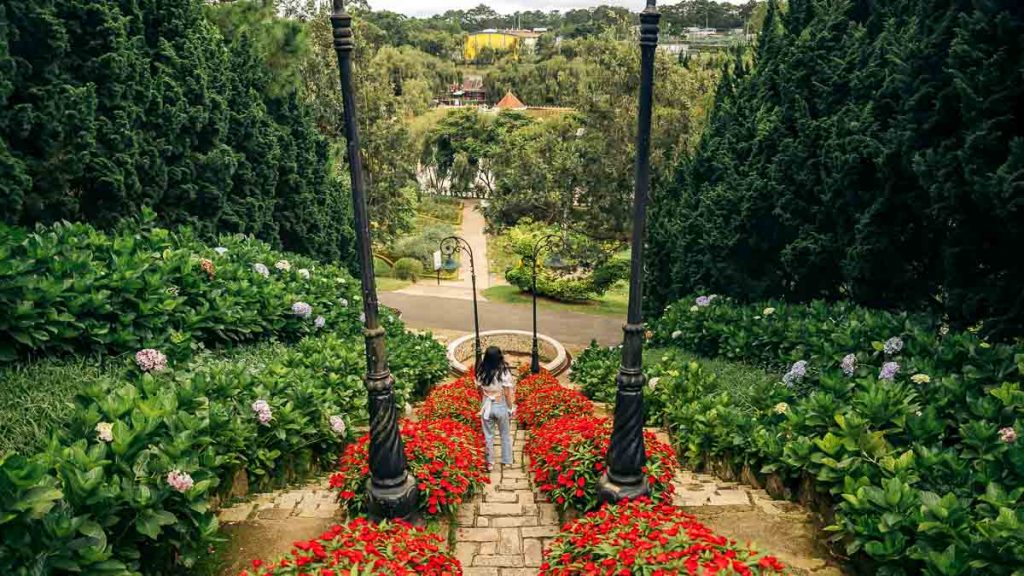 Next up on our Southern Vietnam guide is Da Lat. It's just an hour's flight from Ho Chi Minh, but you'll find completely different landscapes — mountains, lakes, and waterfalls!
Da Lat was once a summer getaway destination for the French, so a lot of the architecture here is European. Another reason to visit: Da Lat has a mild temperate climate, with average yearly temperatures of 20°C. Yes, we'd recommend packing a jacket.
Getting to Da Lat from Ho Chi Minh: 55min flight (from ~S$34 one-way)
5) Kayak at Tuyen Lam Lake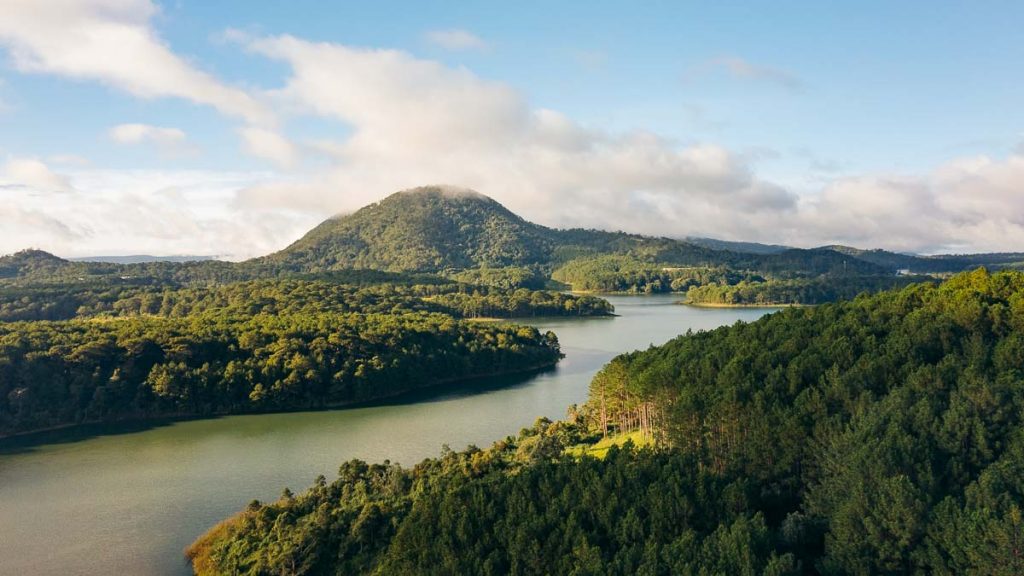 Da Lat's Tuyen Lam Lake looks like something straight out of Jumanji. It's vast and tranquil, with plenty of activities for outdoor enthusiasts. We went on a sunrise kayaking tour, where we got to watch Da Lat come to life in the wee hours of the morning.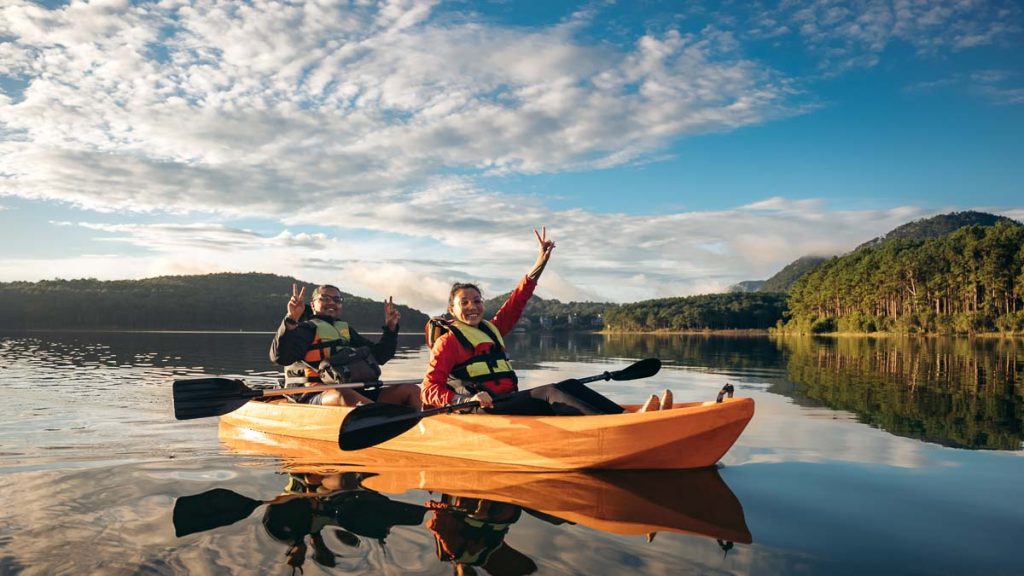 Waking up at 4AM was so worth it. After a quick lesson, our guide let us paddle out on our own for around 30 minutes to enjoy the sunrise. We had the entire lake to ourselves, apart from another couple on the tour — and it was an incredibly surreal experience.
Then, we kayaked down the lake to our breakfast spot. Breakfast was coffee and instant noodles — the perfect comfort food for the chilly Da Lat weather. We had our meal in a serene forest, before kayaking back to the starting point.
This tour was easily a highlight of our Southern Vietnam trip and in our opinion, one of the best things to do in Da Lat!
Cost: ~S$22.80 for a 3hr tour
Tour timings: 5AM – 8AM, 8AM – 11AM, 2:30PM – 5:30PM
Meeting point: Kayak Tuyen Lam Station (Hoa Cẩm Tú Cầu, Phường 3, Thành phố Đà Lạt, Lâm Đồng 66115, Vietnam)
6) Take on Dalat's Alpine Coaster and High Rope Course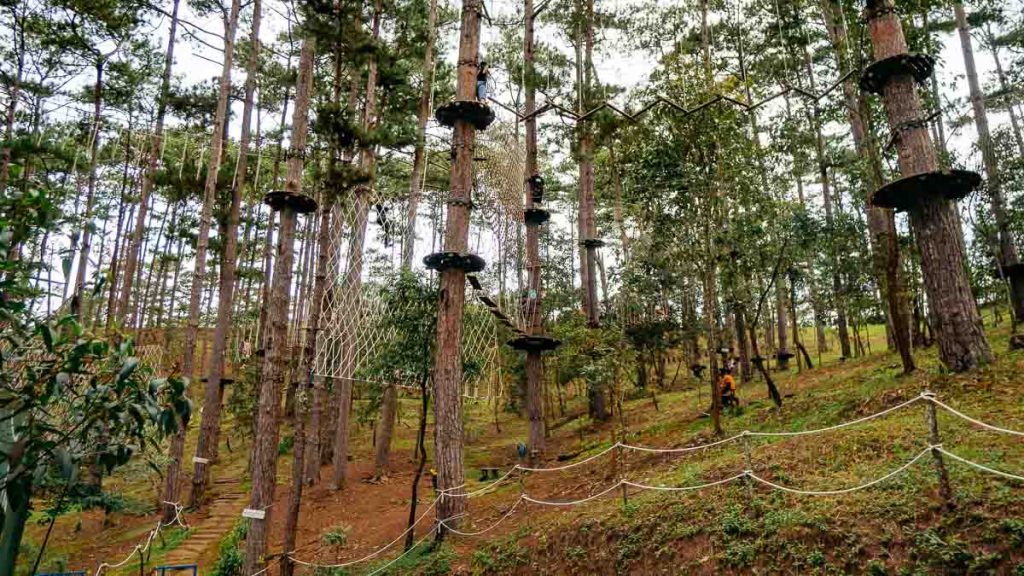 Conquer Da Lat's high rope course adventure — seven areas of high elements obstacles! Visitors get a thorough safety briefing on how to attach the carabiners properly and navigate obstacles.
After that, it's pretty much a do-it-yourself adventure. There were guides on standby, ready to assist when needed. Our favourite part of the course was the 200m-long zip line that goes through the forest!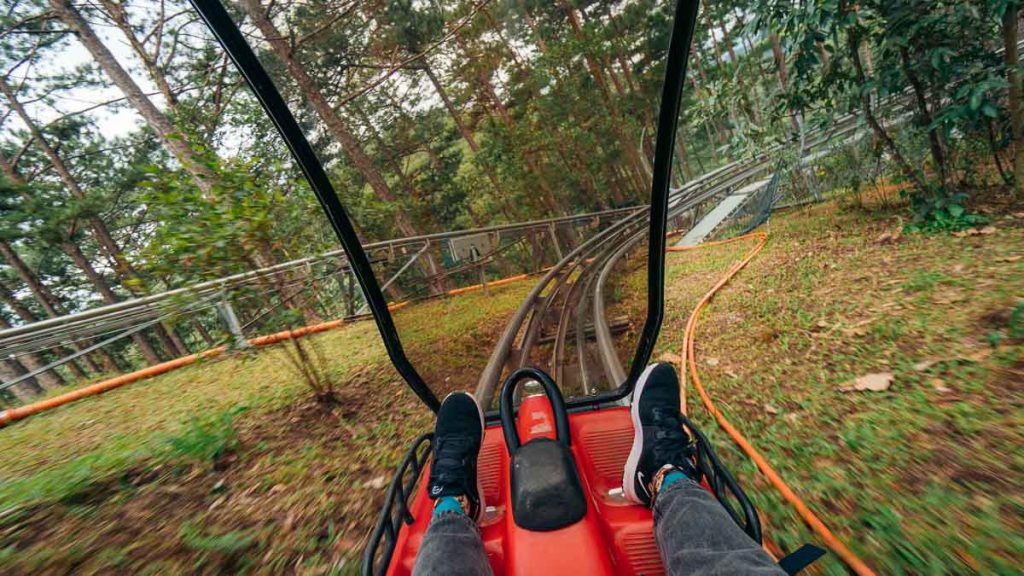 After that, take on Asia's longest coaster trail, stretching for 2.4km! This ride isn't for the faint-hearted — you'll speed through scenic pine forests and experience sharp turns. Don't worry though, there's a brake to slow down if needed.
Cost: ~S$27.10/pax
Opening hours: 7AM – 5PM (New Alpine Coaster), 8AM – 4PM (High Rope Course)
Address: Prenn Pass, Ward 3, Da Lat City, Lam Dong Province
7) Go Cafe-hopping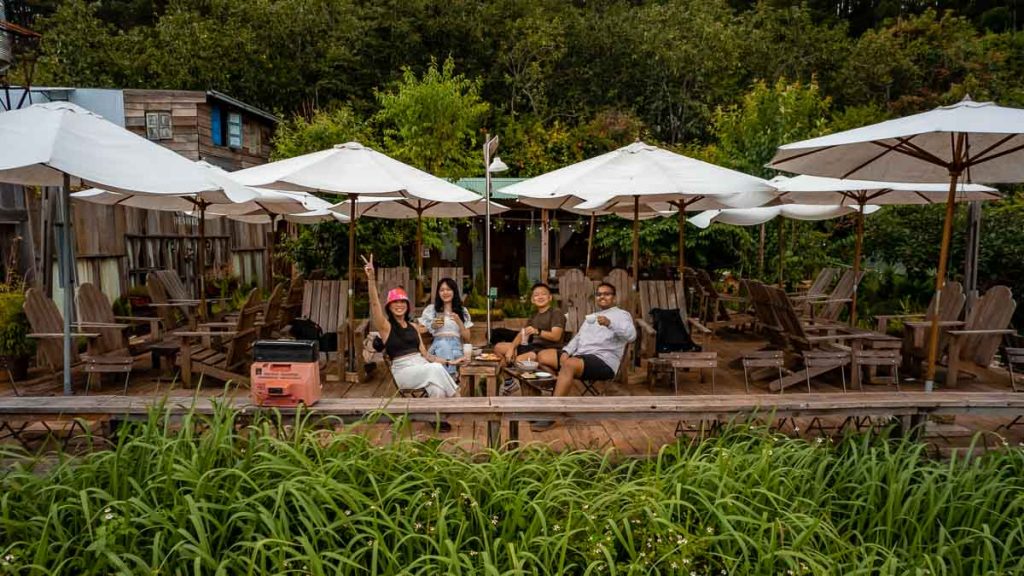 Another must-do in Da Lat is to tick off Instagrammable cafes with a view of mountainous landscapes. Like Cabin in the Woods, a rustic cafe filled with wooden furniture and fun photo spots!
This cafe is a hidden gem — the road there is narrow and more suited to bikes than cars. But trust us, the cafe is really pretty and worth the journey.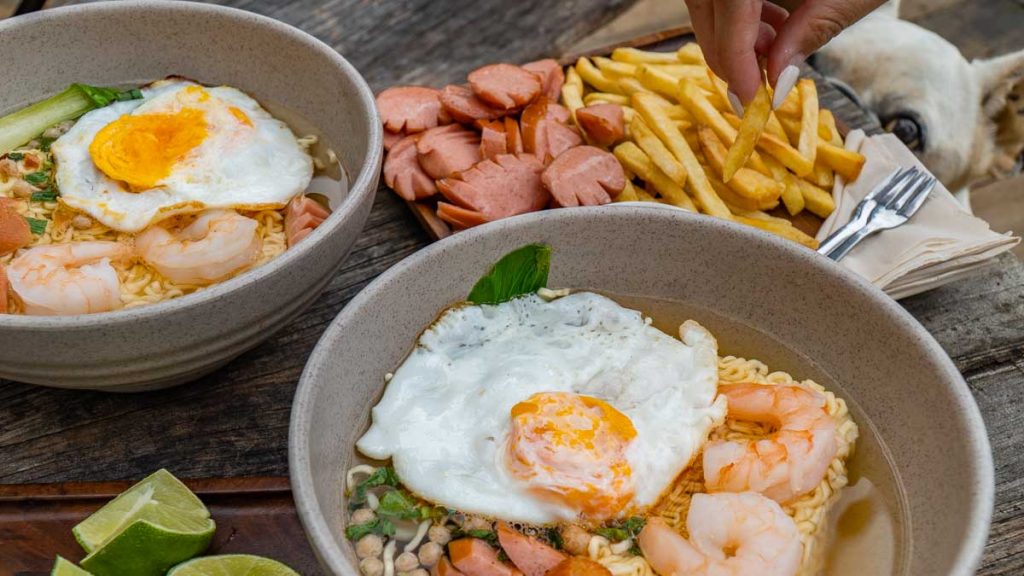 There are both Western and Asian dishes — we got tom yum noodles (50,000₫), sausage and fries (70,000₫), and a variety of drinks!
Cabin in the Woods
Cost: From 50,000₫ (~S$3) for a main dish
Opening hours: 7AM – 8PM
Address: Đà Lạt, Lâm Đồng Province, Vietnam 670000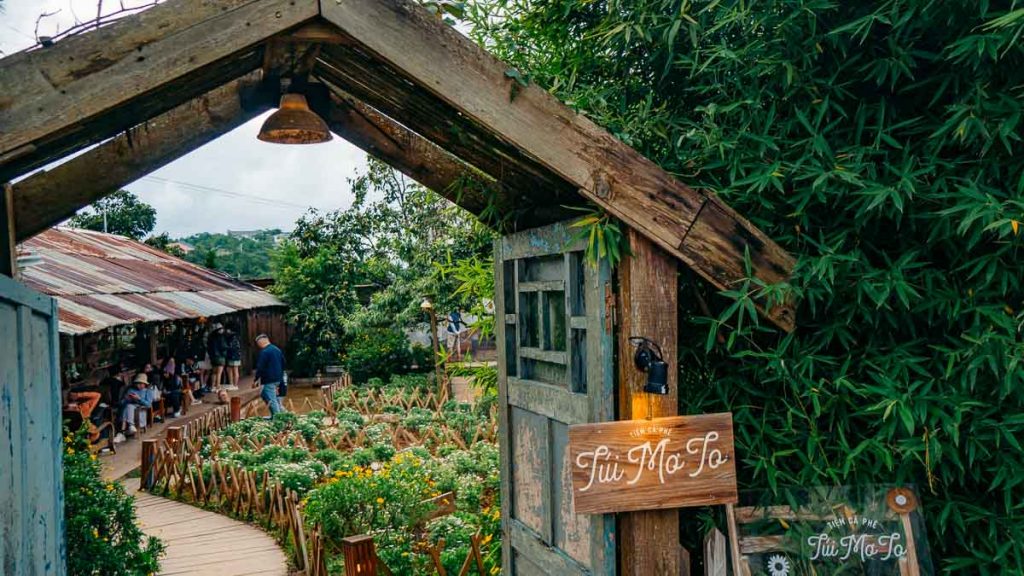 Tui Mo To is a well-known cafe in Da Lat. The interior looks like it's made for photoshoots — lots of windows for natural light and aesthetic furniture.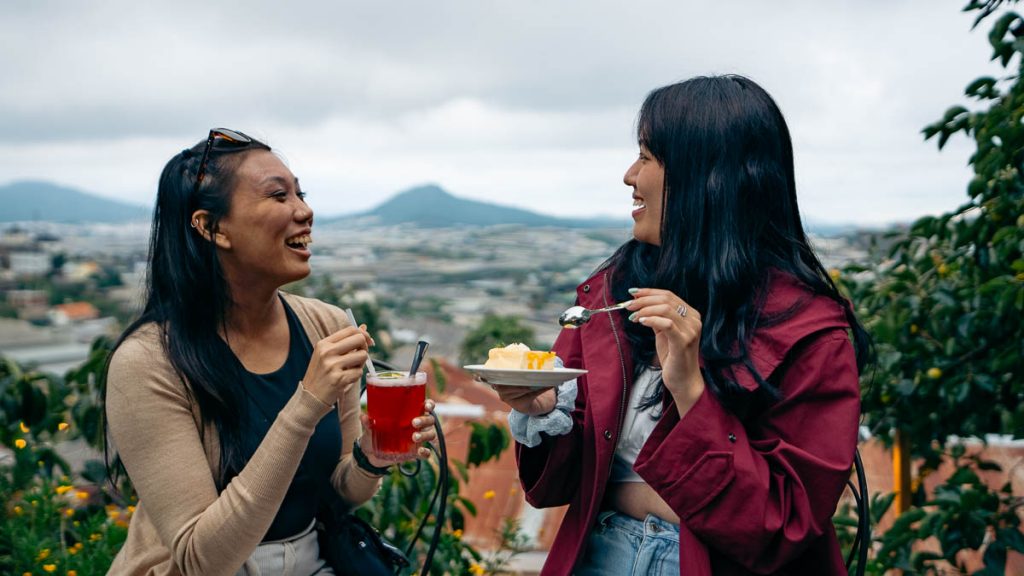 They sell interesting desserts, like passionfruit cheesecake (55,000₫) and purple mousse (45,000₫) — which we enjoyed while taking in the views of the city.
Tui Mo To
Cost: From 45,000₫ (~S$2.70) for a dessert
Opening hours: 7:45AM – 9:45AM
Address: Hẻm 31 Sào Nam, Phường 11, Thành phố Đà Lạt, Lâm Đồng 66118, Vietnam
Read also: 3D2N Da Lat Itinerary — A Magical Alpine Adventure in Southern Vietnam
Phu Quoc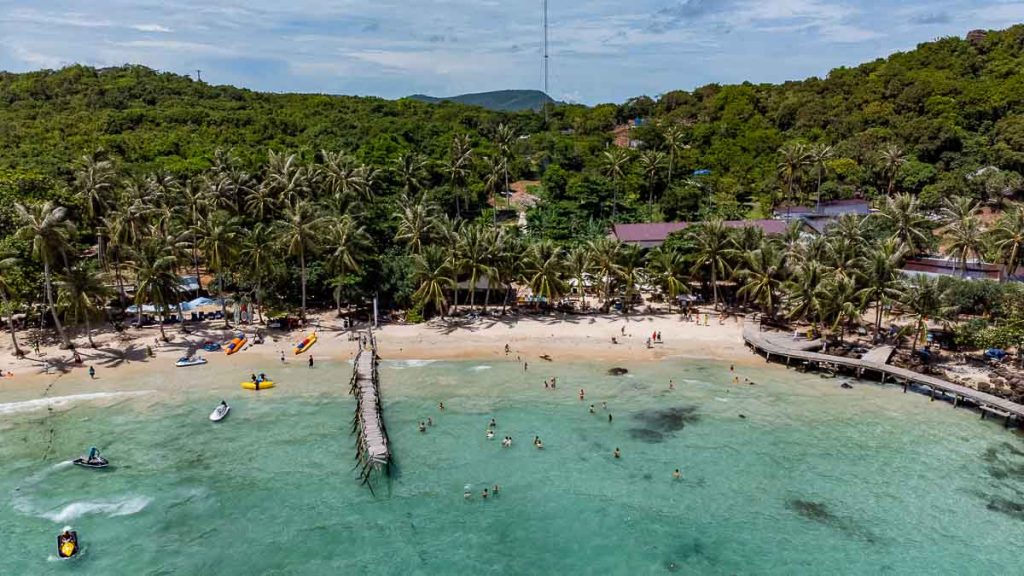 Step aside, Ha Long Bay, there's another beautiful island paradise in Vietnam. This is Phu Quoc, Vietnam's largest island — with a 150km-long coastline offering white sandy beaches and turquoise waters.
Getting to Phu Quoc from Ho Chi Minh: 1hr flight (from ~S$34 one-way)
8) Day trip to Phu Quoc's Pristine Islands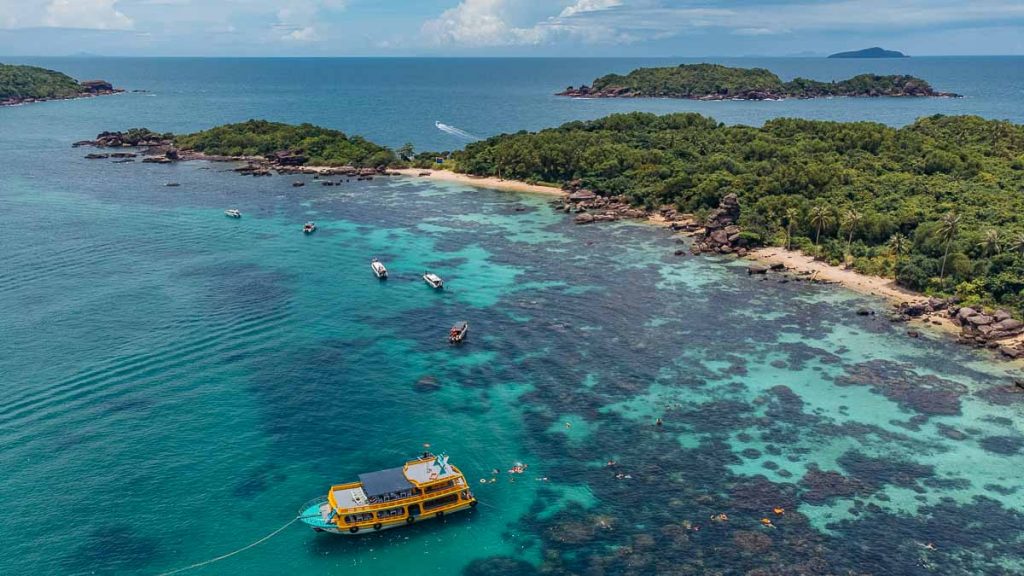 There's no way we could visit Phu Quoc without seeing the islands. Our full-day island-hopping tour included trips to Fingernail Island, Gam Ghi Island, and May Rut Island.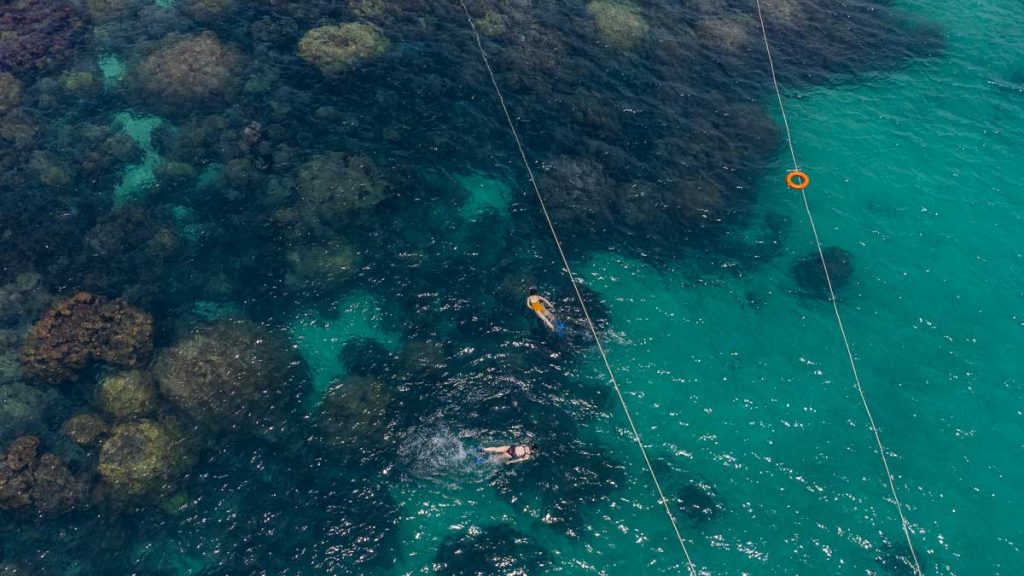 We went snorkelling at the first two, exploring reefs and a teeming marine life. Lunch was then served on board with seafood and hot soup, before setting off to the next island.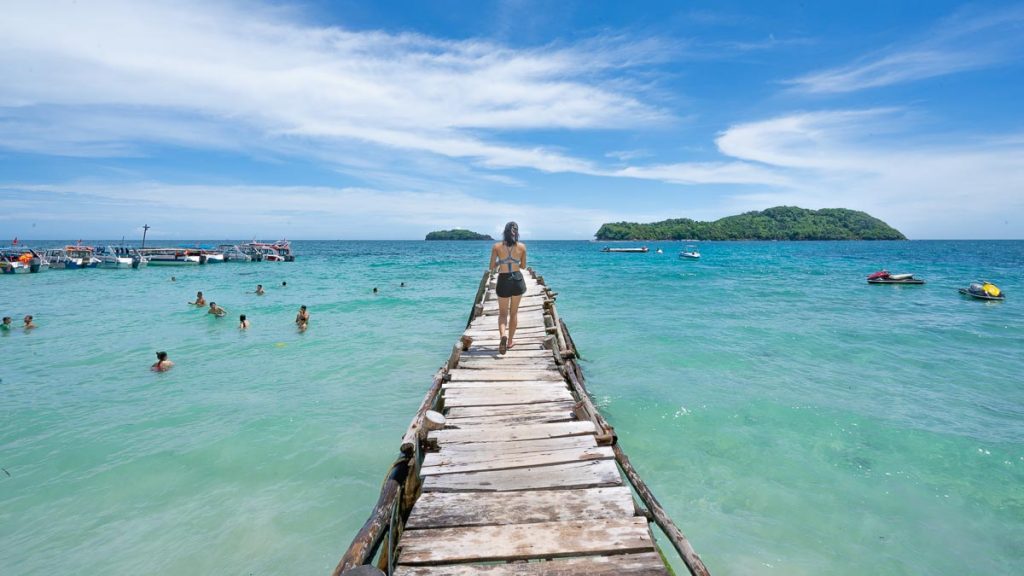 After expending our energy at the first two islands, May Rut Island was the chill respite we needed — we docked and spent around an hour exploring on our own.
There's a gorgeous beach on the other side (accessible via a short hike!), with beach chairs for rent if you'd like a brief afternoon nap. Just note that the shore has some sharp rocks so thread into the waters carefully — someone lost their toenail here, just saying.
Cost: ~S$35.50 (incl. of lunch, snorkelling equipment)
Tour timing: 8:30AM – 4:30PM
Meeting point: Hotel pick up available
9) Take Photos at Sunset Sanato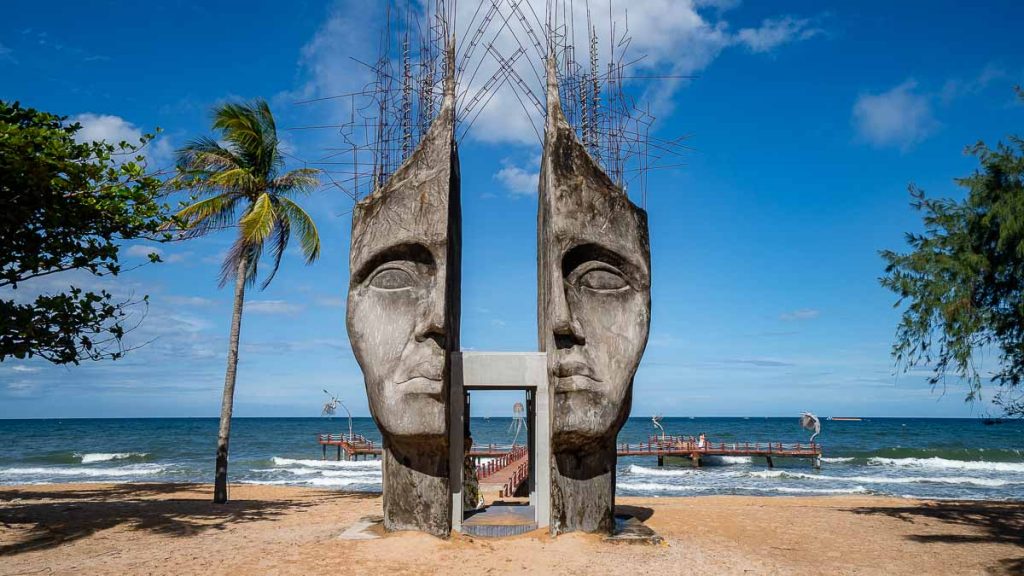 Sunset Sanato isn't just another beachfront resort. What makes it special is its collection of unique art structures, right by the ocean! It's kinda like an outdoor museum, with art pieces designed by architect Nikita Marshunok.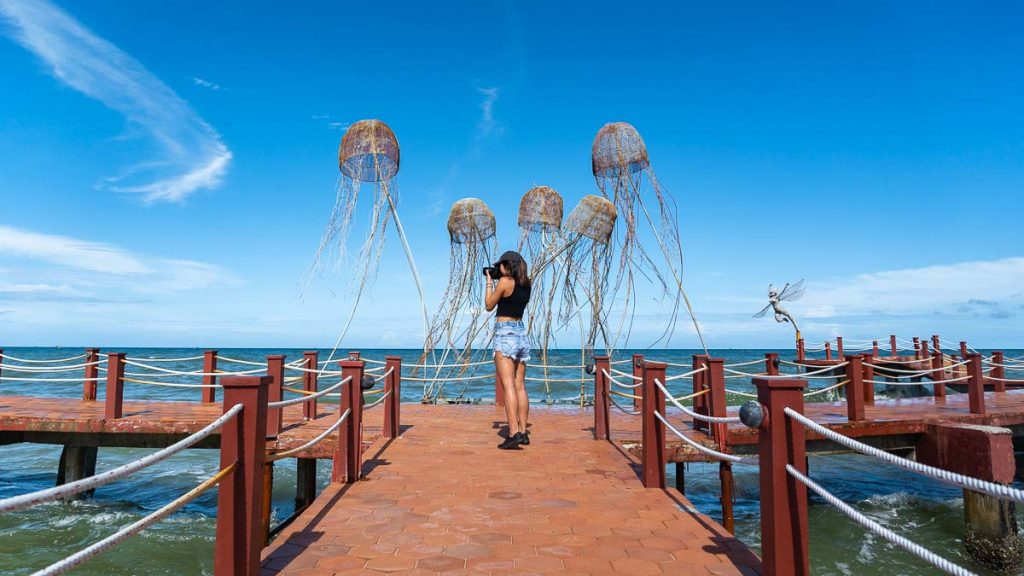 It's the perfect spot to capture photos!
Entrance fee: 70,000₫ (~S$4.20)
Opening hours: 9AM – 9PM
Address: Dương Tơ, Phu Quoc, Kien Giang, Vietnam
10) Tick off Thrilling Rides at Sun World Phu Quoc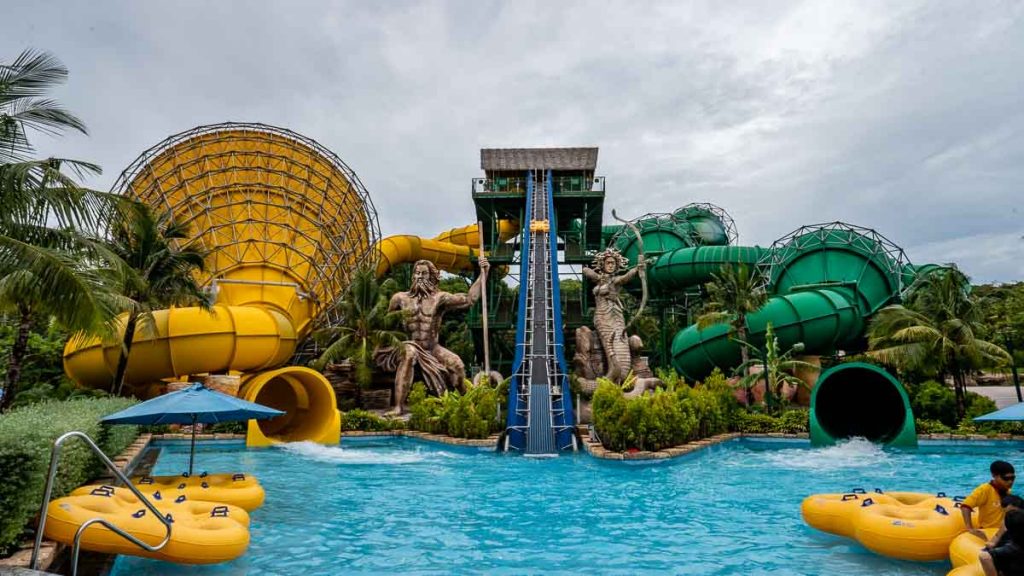 Here's another way to cool off — a trip to Aquatopia Water Park within Sun World Phu Quoc. There are six themed zones, and our favourite ride was Tropical Twister, a water slide with lots of twists and turns!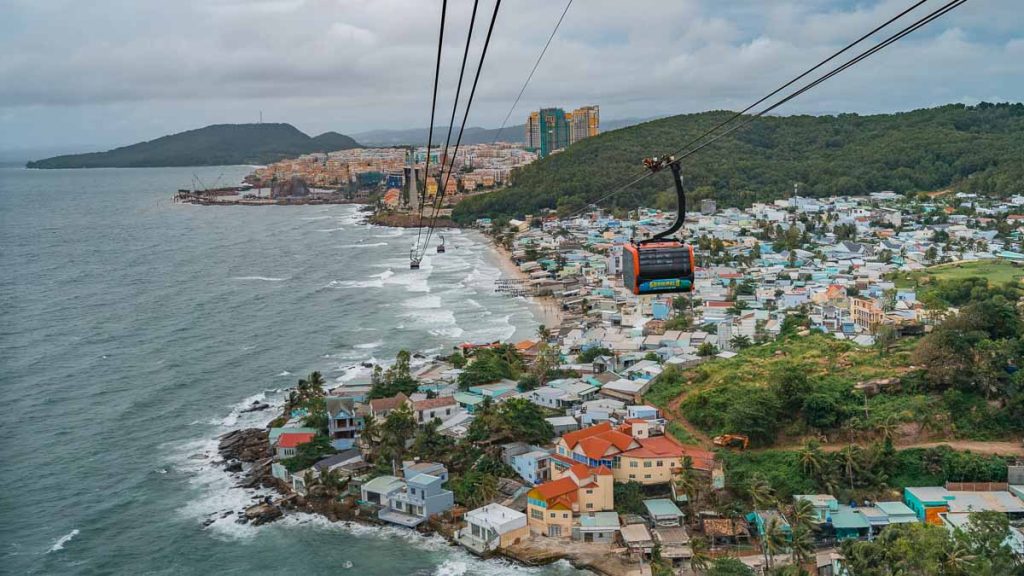 Getting to Sun World Phu Quoc is an adventure in itself — a ride on the world's longest non-stop cable car. It's 7,899m long and is the only way to get to Sun World! Along the way, soak in views of the An Thoi Archipelago.
Entrance fee: ~S$30.70 (incl. of round trip cable car ticket)
Opening hours: 8:30AM – 5:30PM
Address: Bãi Đất Đỏ, Phú Quốc, Kien Giang, Vietnam
Read also: 3D2N Phu Quoc Itinerary — A Pristine Beach Retreat in Southern Vietnam's Hidden "Pearl Island" (Coming soon)
Mui Ne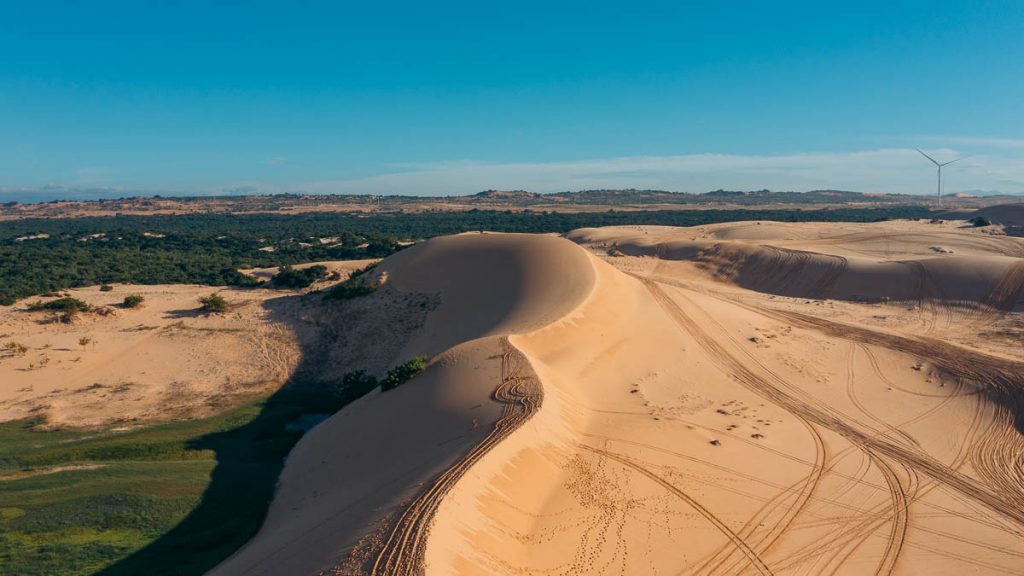 The last place on our Southern Vietnam guide is Mui Ne. Google Mui Ne and you might think you're looking at photos of Dubai instead. It's home to vast sand dunes — the perfect playground for adventure seekers.
Getting to Mui Ne from Ho Chi Minh: 5hr bus ride (from S$11 one-way)
11) Explore Red and White Sand Dunes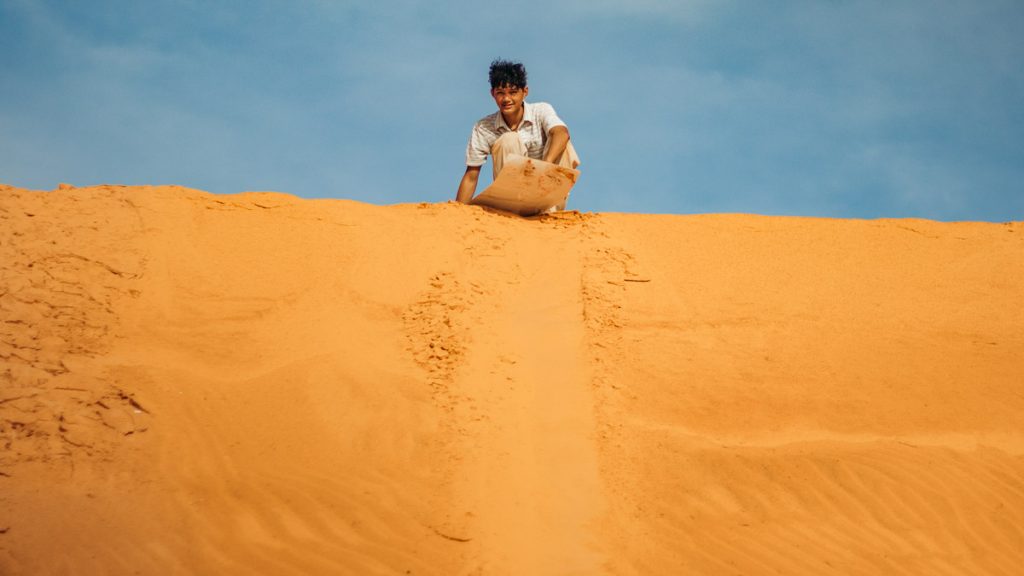 Book a private jeep tour to visit Mui Ne's stunning sand dunes. First stop, the Red Sand Dunes. They're a bright reddish-orange shade, and snake along the coast. Here, you can rent a board (30,000₫) to surf the sand dunes!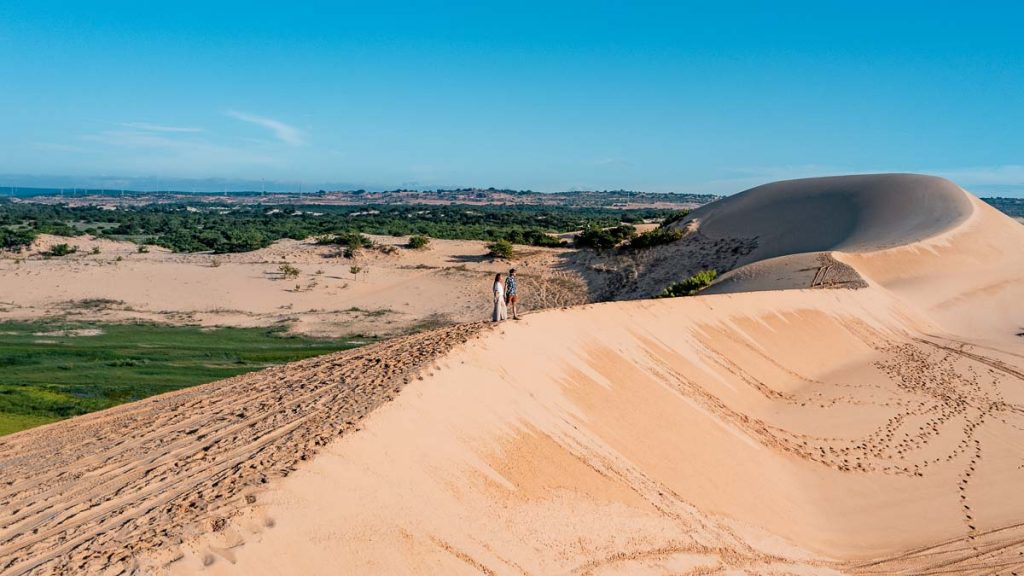 After that, it's a roughly 30-minute drive to the White Sand Dunes. They're the main attraction — a lot bigger than the Red Sand Dunes and more impressive. It costs a bit more (~S$24.60/group) to visit the White Sand Dunes, but it's worth it — select it as an add-on when booking the tour!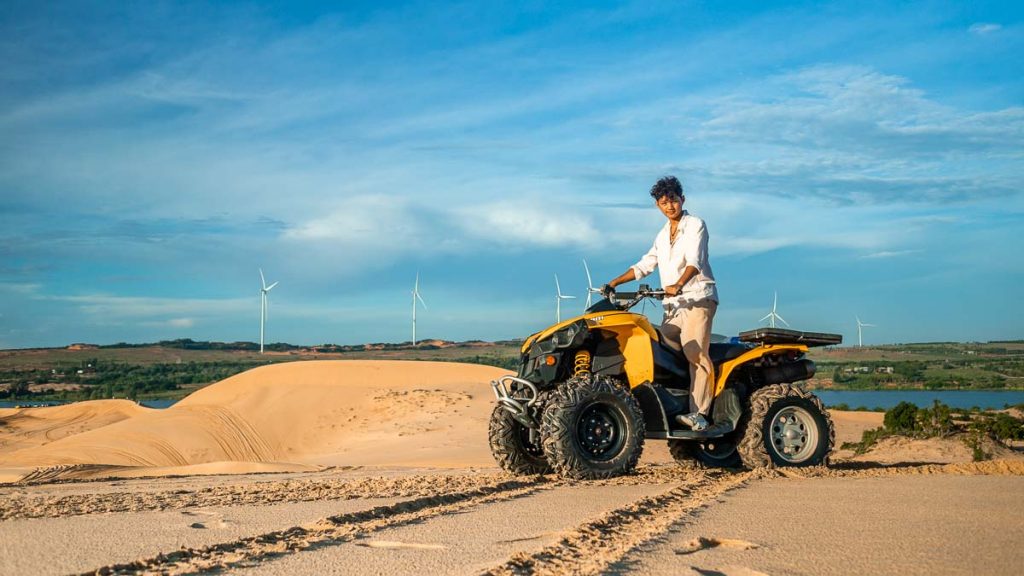 There's the option to rent an ATV on the spot for 600,000₫ (~S$36) for 1 hour, which sits up to two guests! Unfortunately, there's a staff member driving the ATV — but we got to steer it ourselves after giving a tip.
Cost: From ~S$31.70/jeep (up to 4 pax), incl. of round trip hotel transfer
Tour timings: 4:30AM, 9AM, 1:30PM
Meeting point: Hotel pick up available
12) Surf at Little Buddha Beach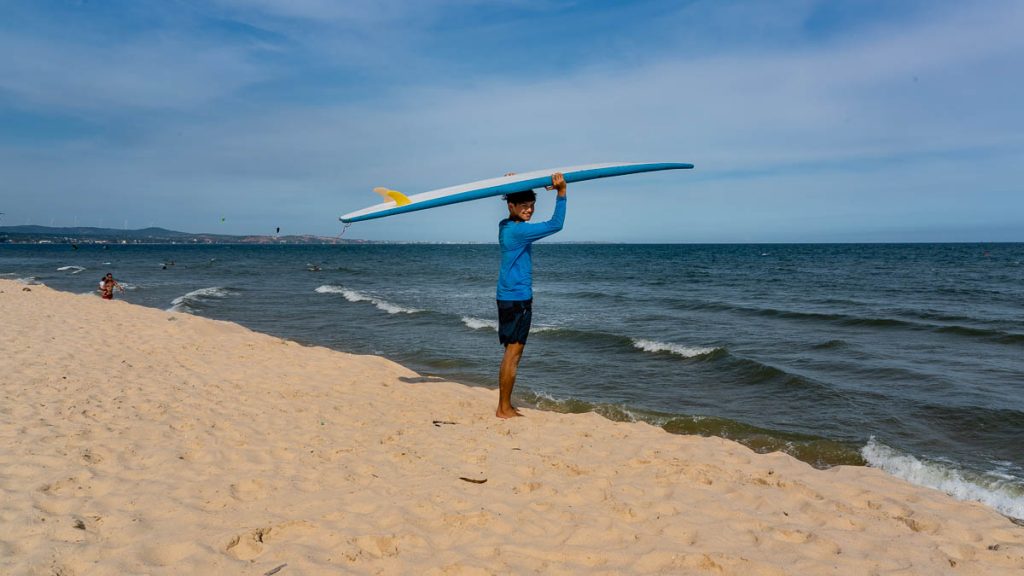 This might come as a shock — in a town that's mainly known for sand dunes, surfing is also one of the best things to do in Mui Ne! At Mui Ne Local Surf School, both beginners and intermediate surfers can sign up for surf lessons.
Lessons take place at Little Buddha Beach, where kitesurfing is also popular. There are private and group classes available, as well as board rental (without lessons) for experienced surfers.
Cost: ~S$35/hr for a group lesson, ~S$28/day for board rental
Opening hours: 6AM – 6PM
Address: 246/2B Nguyễn Đình Chiểu, khu phố 3 Phan Thiet, Bình Thuận Province, Vietnam 800000
13) Walk Along Fairy Stream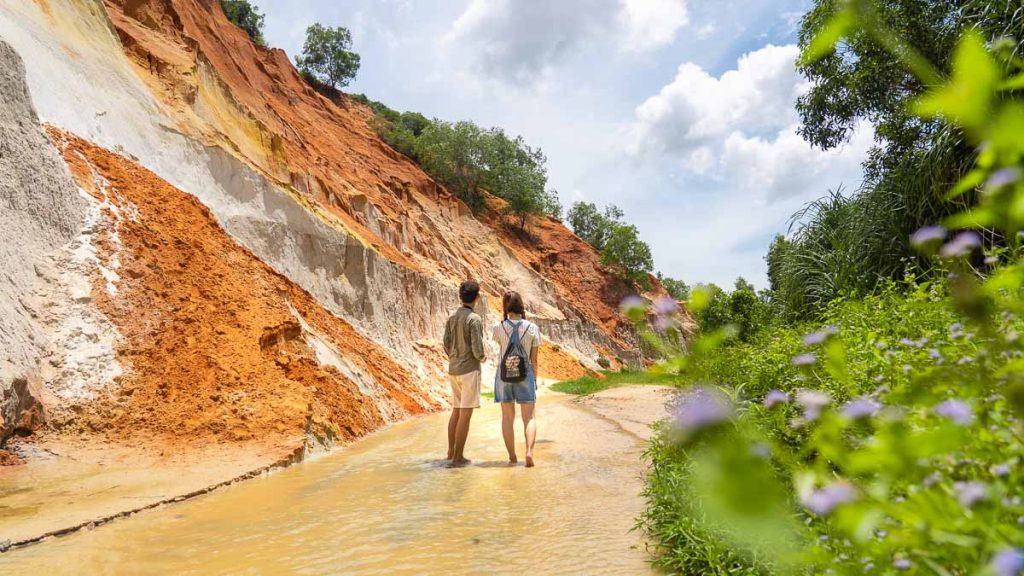 Walking along the Fairy Stream is another popular thing to do in Mui Ne. It's essentially a shallow stream nestled between bright orange and red limestone rocks! Most people take off their shoes to walk in the water — we did as well.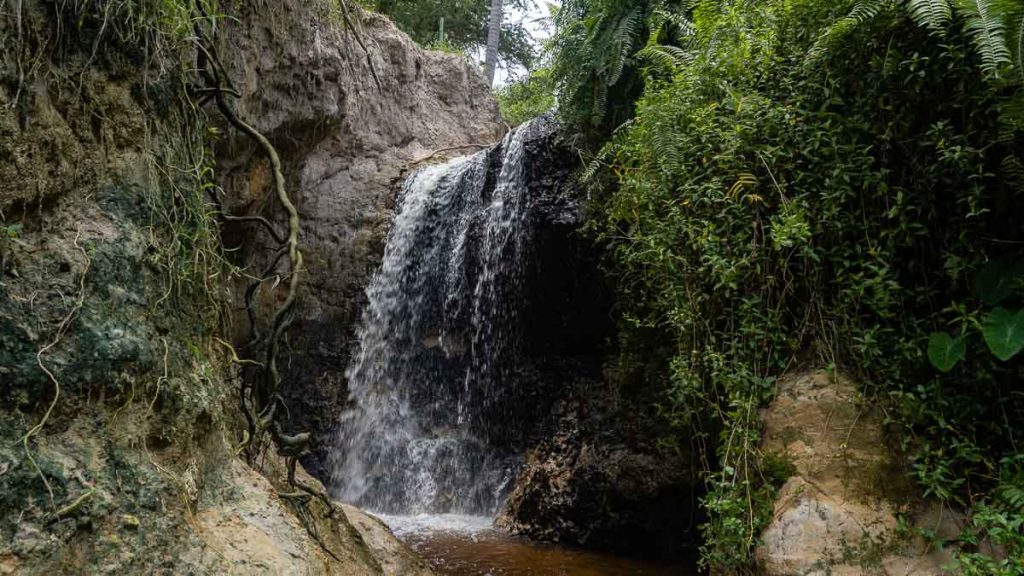 At the end of the path, there's a small waterfall. In total, the journey takes about an hour! There are also stalls along the way selling snacks and souvenirs.
Entrance fee: Free — but there's a parking fee of 10,000₫
Opening hours: There aren't any official opening hours, but we'd avoid going after 5:30PM when it starts to get dark
Address: 40B Huỳnh Thúc Kháng, Phường Hàm Tiến, Thành phố Phan Thiết, Bình Thuận, Vietnam
Pre-trip Essentials and Tips for Your Southern Vietnam Adventure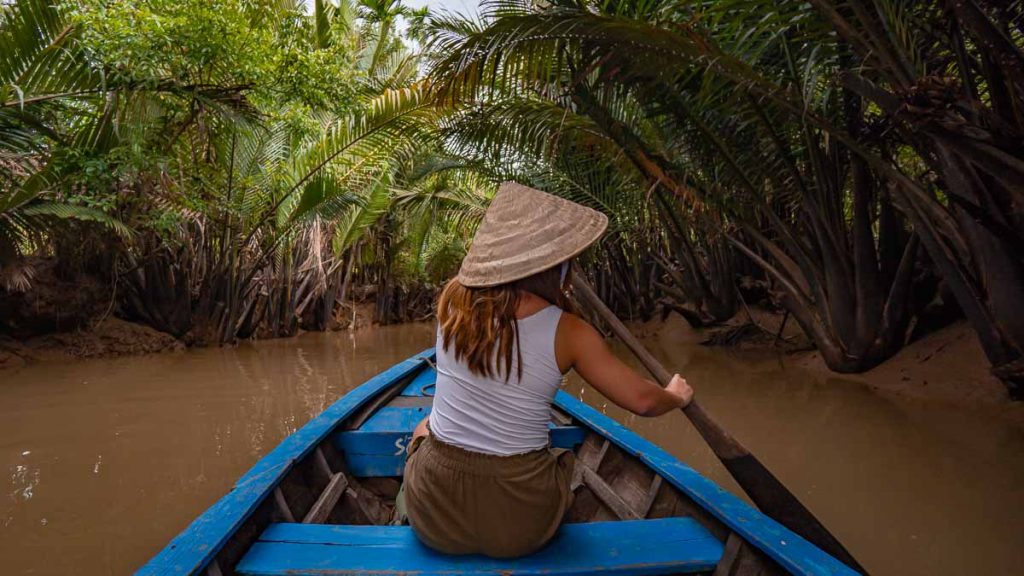 Vietnam has many faces — the historian with a library full of stories to tell, the explorer seeking new adventures, the foodie on the hunt for the best street eats.
They're all very different, but each is definitely worth getting to know.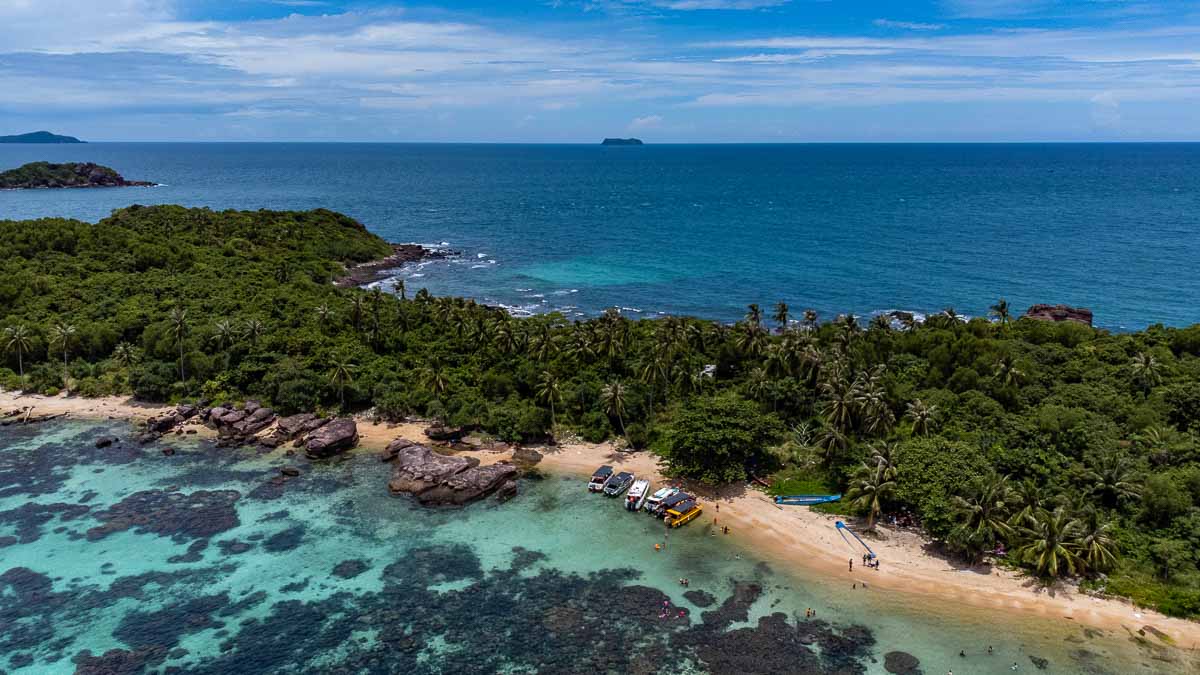 Before you go, here are some pre-trip essentials to note:
Flights: Direct flights from Singapore to Ho Chi Minh take ~2hrs
Travel insurance: Chubb's travel insurance starts from ~S$4.80/day — not mandatory to enter Vietnam but always good to have!
Connectivity: 10-day SIM card with unlimited data (~S$11.20). Pick up from Tan Son Nhat International Airport in Ho Chi Minh

Getting around: Grab was our go-to mode of transport in Ho Chi Minh, Phu Quoc and Da Lat. Mui Ne doesn't have Grab but there are local taxis — download the local taxi app Mai Linh or flag a cab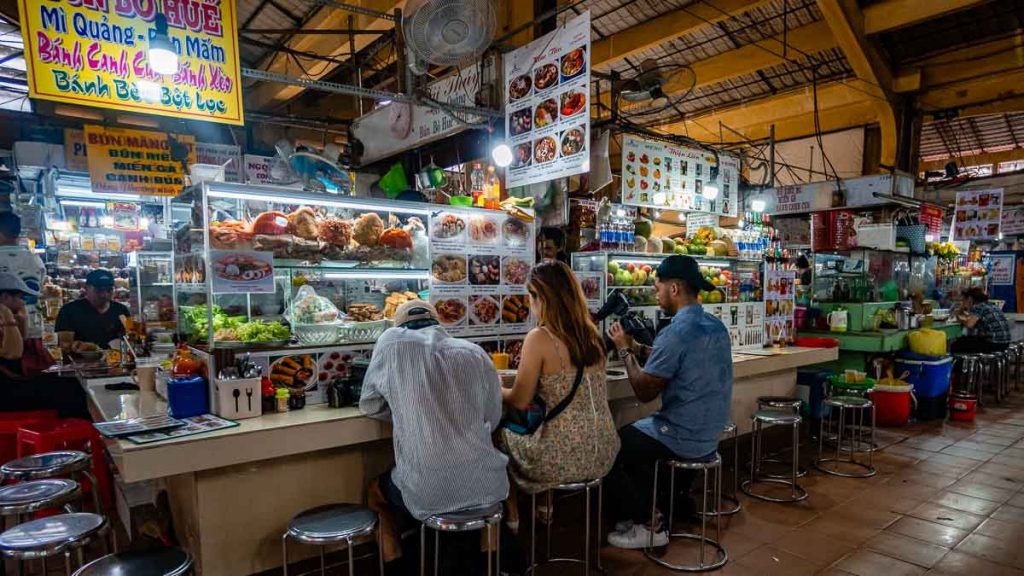 Check out our other Vietnam guides and itineraries:
– 7-Day Southern Vietnam Itinerary Under S$900 — Best Things to Do in Phu Quoc, Ho Chi Minh, Mui Ne, and Da Lat
– 5-Day Central Vietnam Itinerary — Off The Beaten Path In Ba Na Hills, Da Nang, Hue, and Hoi An
– 2-Week Vietnam Guide — Heart-Pumping Experiences through Northern and Central Vietnam from Hanoi to Da Nang
Know of any hidden gems we should add to our Southern Vietnam guide? Share with us in the comments!
---