From hidden cafes to bustling night markets, this Southern Vietnam food guide covers everything in Ho Chi Minh City, Da Lat, Mui Ne, and Phu Quoc that will have you saying 'ngon'!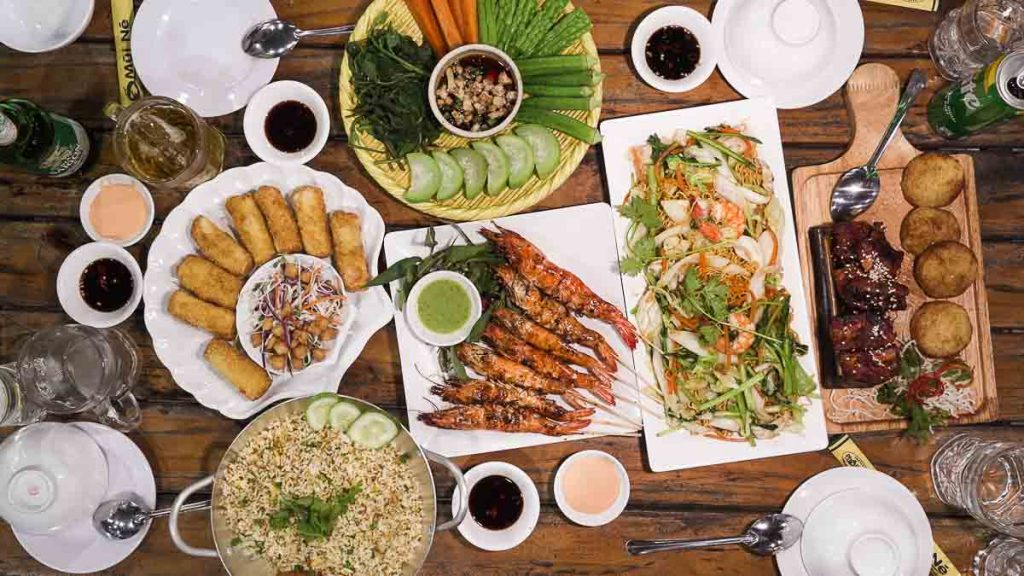 When one thinks of Southern Vietnam, the aroma of Vietnamese drip coffee, fresh spring rolls, and fresh mint atop a piping bowl of pho immediately comes to mind.
Being the largest city in the country, Ho Chi Minh is a haven for foodies, with cultures converging in gastronomic matrimony.
But why should the food trail end here? We ventured a little further to the lesser-known cities of Da Lat, Mui Ne, and Phu Quoc on the hunt for some of the best food spots. From hidden cafes to bustling night markets, here are 17 food places to try in Southern Vietnam!
Click to jump to each city: Ho Chi Minh | Da Lat | Mui Ne | Phu Quoc
Where to Eat in Ho Chi Minh City
1) The Cafe Apartments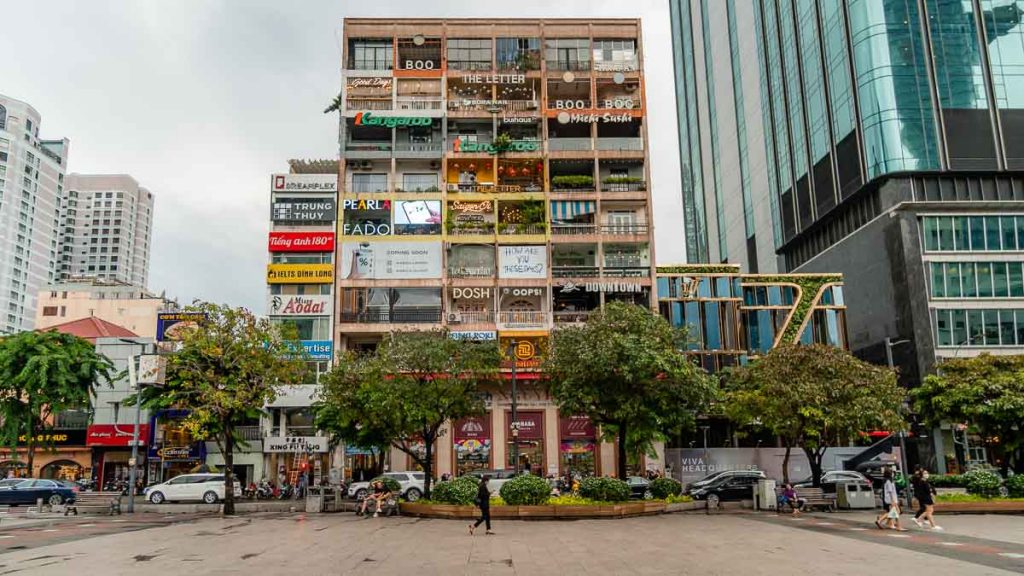 Located in the heart of Ho Chi Minh City, The Cafe Apartments is a towering matchbox-looking building with… you guessed it, cafes stacked across every floor.
Remodelled shops are scattered across the nine-storey building so take your time to explore.
Most cafes have a balcony overlooking Saigon Walking Street, making it the best place for people-watching over a cuppa.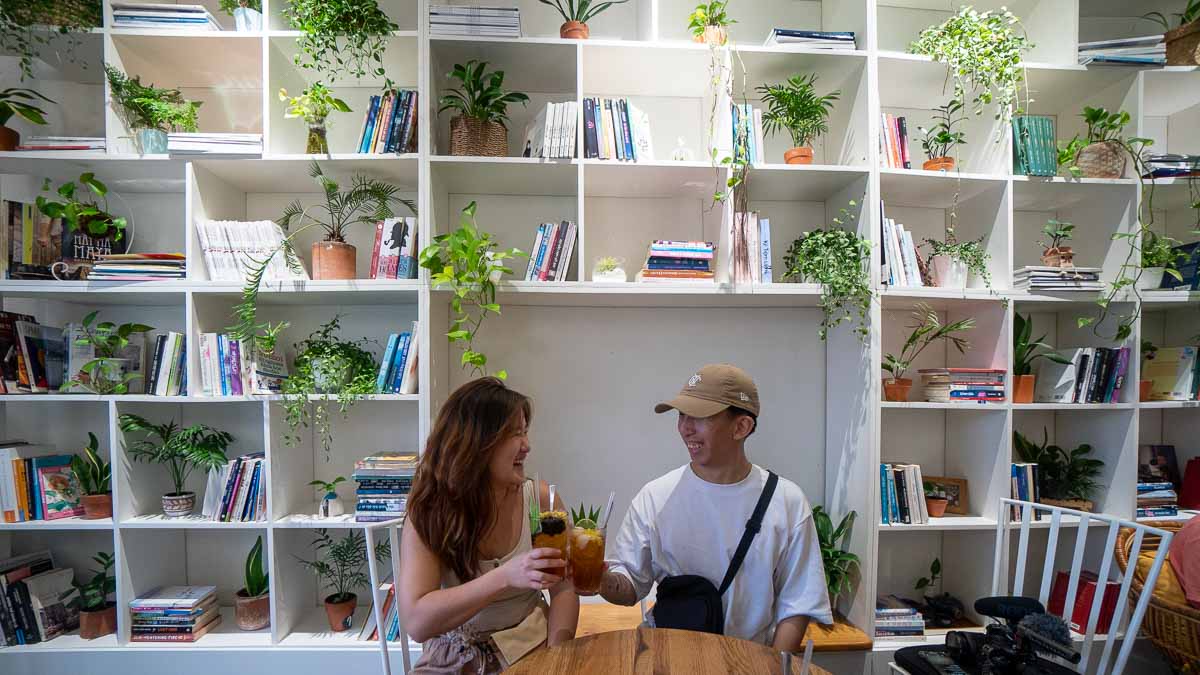 After spending some time exploring the building, we settled for Saigon Oi Cafe on the fifth floor for its charming boho-chic interior. We tried their iced fruit tea (58,000₫) and Iced Vietnamese Coffee (48,000₫), which helped us cool off from the humidity outdoors. Unlike regular lattes, coffee drips through a special Vietnamese filter before being paired with condensed milk — a real shot of energy!
*Pro-tip: Taking the elevator is a fee of 3,000₫. but will be offset when you purchase a drink or meal at most cafes.
Cost: From 43,000₫ (~S$2.60)
Opening hours: 7AM – 10PM (Varies for different cafes)
Address: 42 Nguyễn Huệ, Bến Nghé, Quận 1, Thành phố Hồ Chí Minh, Vietnam
2) Nam Giao Restaurant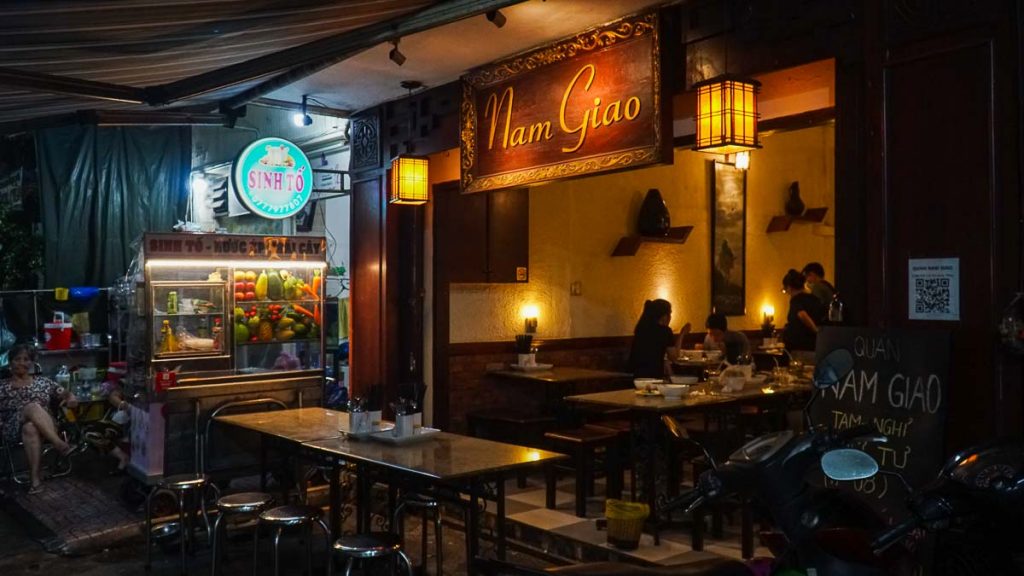 Nam Giao Restaurant is a hidden gem tucked behind an alley near Ben Thanh Market, known for authentic Hue cuisine.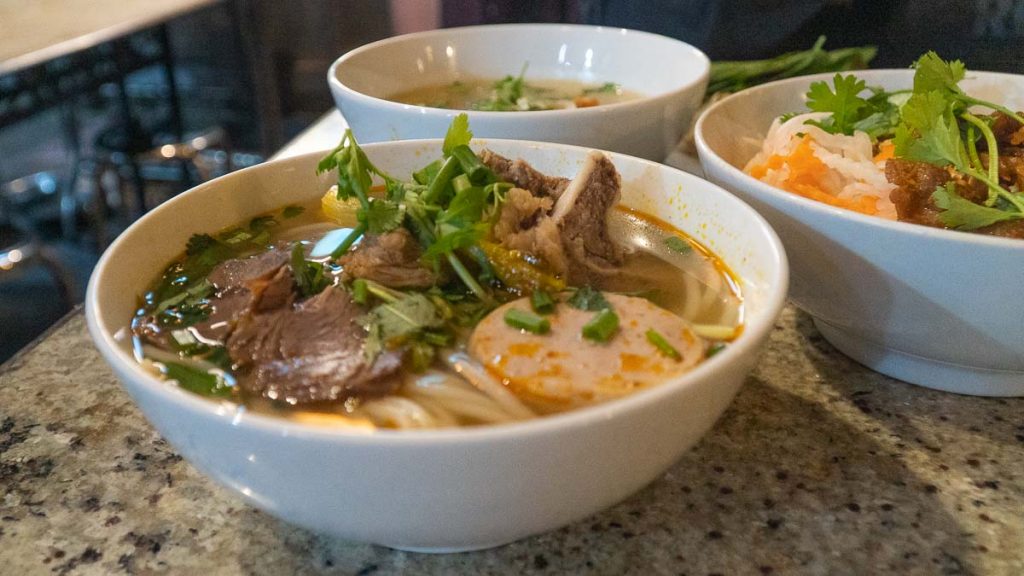 We visited twice, because of how much we loved their banh canh cua (70,000₫), a Vietnamese crab and shrimp tapioca noodle soup with a gravy-like texture bursting with flavour! It has an explosive seafood flavour that is umami and hearty — chef's kiss! :*
One of the most iconic dishes that originated in Vietnam's ancient capital, Hue, is the bún bò huế (70,000₫), a spicy beef rice noodle soup. Unlike pho, the dish isn't as well-known outside of Vietnam and is more popular among the locals. The noodles are on the thicker side and the broth has a rich lemongrass fragrance — very yummy indeed 😋.
Cost: From 45,000₫/dish (~S$2.70)
Opening hours: 7:30AM – 10PM
Address: 136/15 Lê Thánh Tôn, Phường Bến Thành, Quận 1, Ho Chi Minh City Hồ Chí Minh, Vietnam
3) Bánh mì Bà Huynh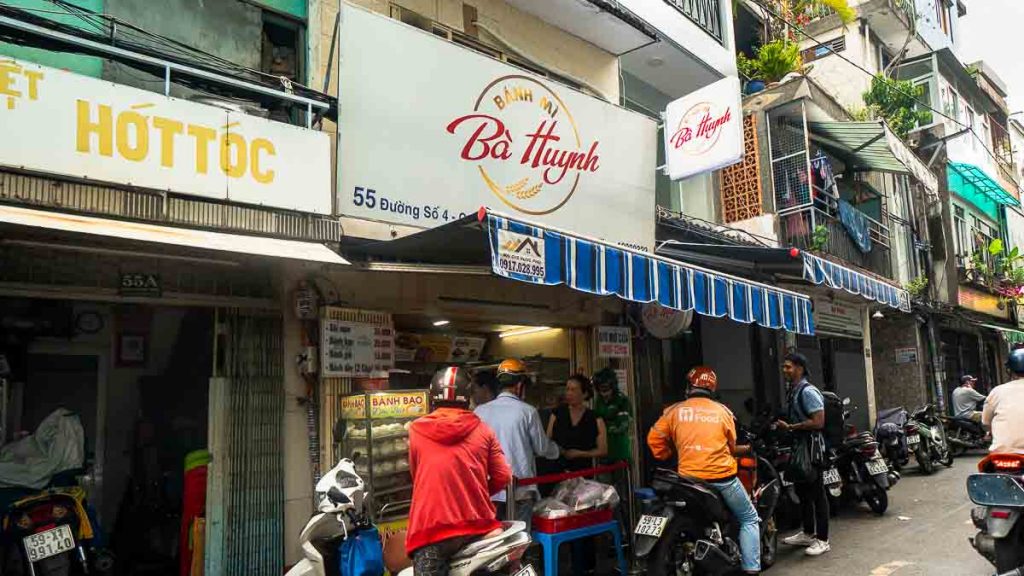 No trip to Vietnam is complete without bánh mì and we decided to try one recommended by our Mekong River tour guide. Bánh mì Bà Huynh houses the original recipe of a popular shop once owned by a couple. When they went their separate ways, they became Bánh mì competitors, where one took the name and the other the recipe. #NoLongerBánhMates 😔✊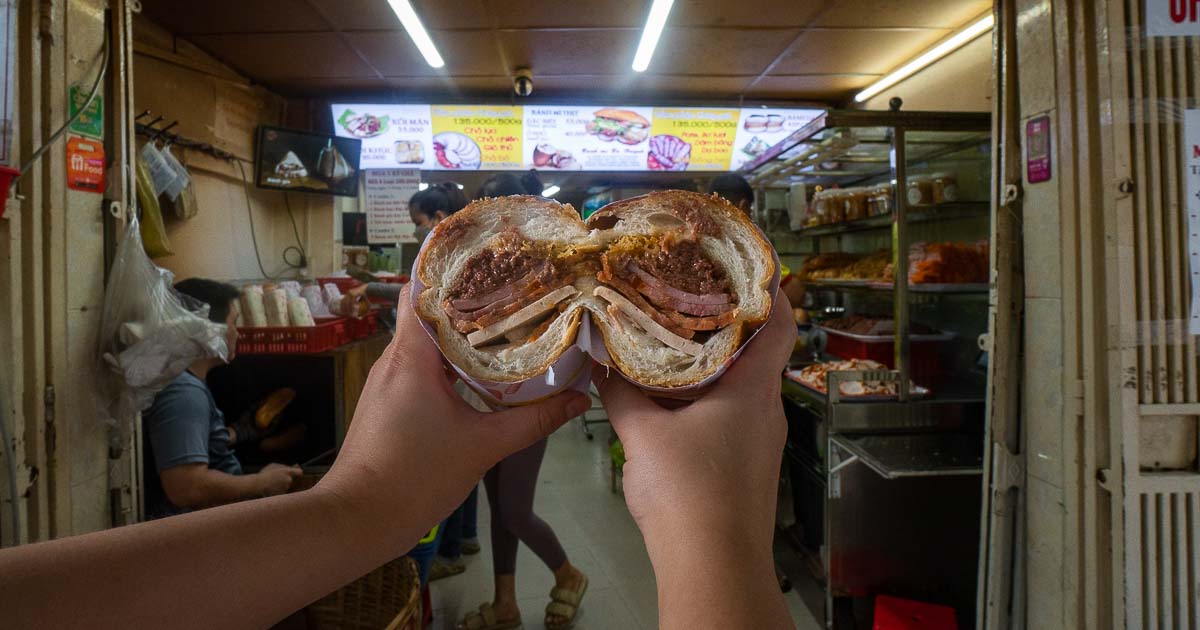 We tried the bánh mì house special (55,000₫) which comes with four different types of ham, slathered with a layer of Pâté (pork liver spread), topped with a generous serving of pork lard and served in a crunchy baguette. Utterly sinful and delicious, this is one of our favourite spots on the list.
Cost: From 40,000₫ (~S$2.40)
Opening hours: 6AM – 11PM
Address: 55 Đường Số 4, Phường 4, Quận 3, Thành phố Hồ Chí Minh, Vietnam
Read also: Where to Eat in Hanoi — 31 Local-Approved Places to Eat in Vietnam's Charming Capital
4) Secret Garden Restaurant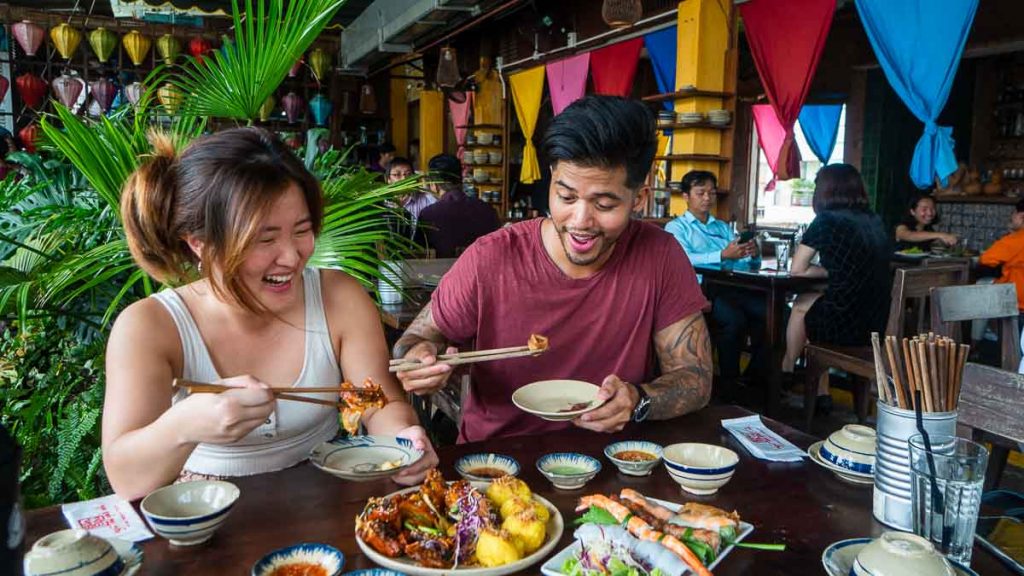 TikTok once went crazy over this dinner spot and rightfully so.
Overlooking Ho Chi Minh City's skyline, Secret Garden is decked out in colourful Vietnamese lanterns and traditional decor. It felt like we were transported to Hoi An's Ancient Town.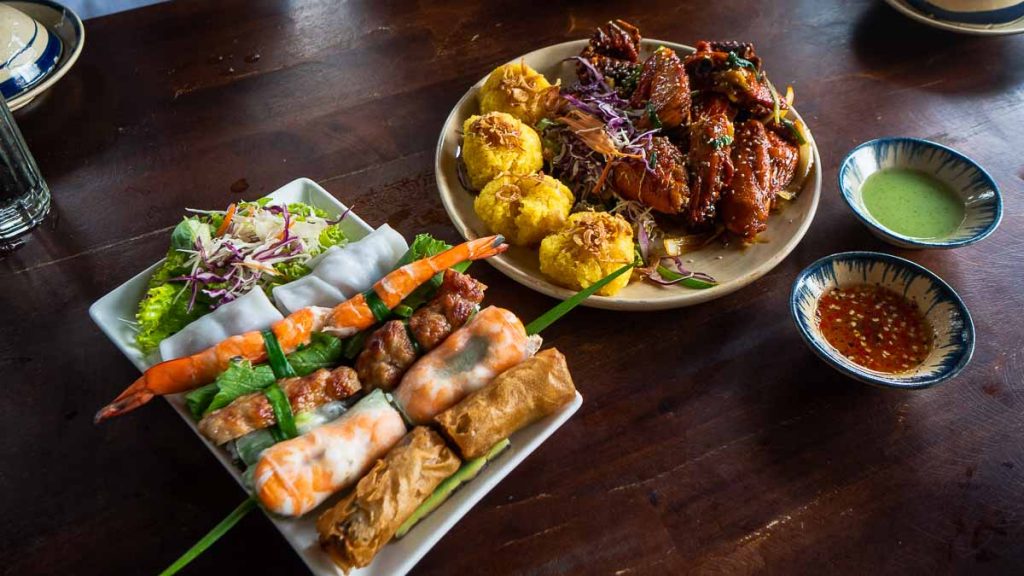 We ordered the roasted chicken & sticky rice (265,000₫) and the mixed rolls (250,000₫) to share. The mixed rolls had a platter of fried, fresh, and grilled rice paper rolls, with dipping sauces — that absolutely slapped! 🤤 Our favourite was the green lemongrass-mint sauce which was light and tangy!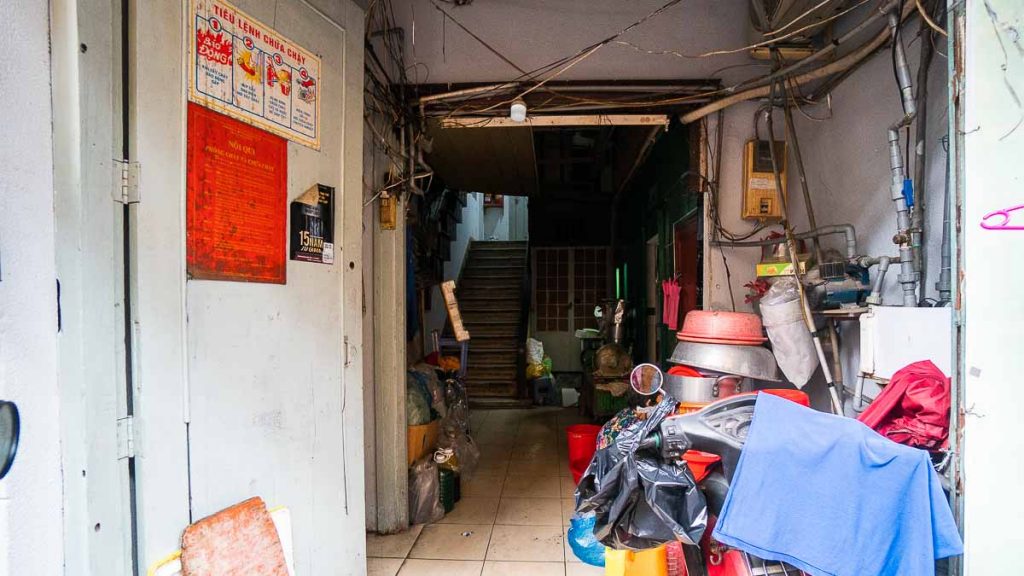 The entrance might look a little shady but don't worry, you're in the right place!
As its name suggests, getting to this restaurant is a journey itself. Aside from the 'Secret Garden' signboard pointing into a dodgy-looking entrance of an apartment building, there is no other indication of a dining establishment. Nonetheless, we had a lot of fun trying to find the restaurant and walking past actual residential homes — an actual treasure hunt!
Cost: From 85,000₫/dish (~S$5.10)
Opening hours: 11AM – 10PM
Address: 158 Pasteur, Bến Nghé, Quận 1, Thành phố Hồ Chí Minh 70000, Vietnam
5) Malaysian Street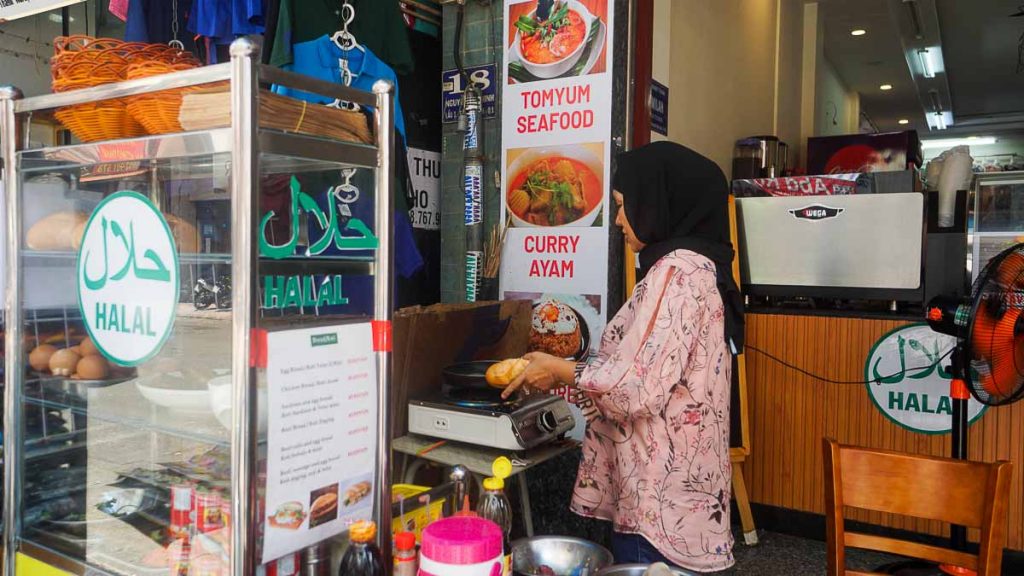 For halal-certified Vietnamese food, Malaysian Street is the place to go. Located in downtown Saigon, this stretch of road is popular among Vietnam's Muslim community as there are multiple eateries, clothing, and souvenir shops owned by Malaysians and Indonesians.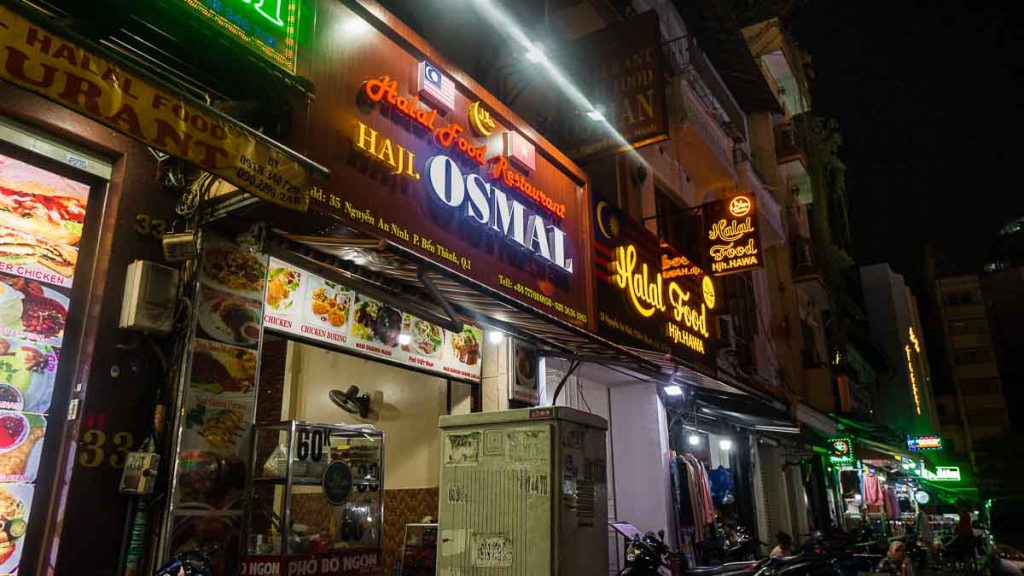 We visited Restaurant Halal Osman and tried their Roti Vietnam (40,000₫), which is a chicken bánh mì without pickled vegetables. The sauce was on the sweeter side and the portions were generous!
While the dishes offered here stray away from the traditional Vietnamese style, it's still a good option for those looking for halal options
Opening hours: 6AM – 9PM (Varies for different stores)
Address: QMCW+PRW, Nguyễn An Ninh, Phường Bến Thành, Quận 1, Thành phố Hồ Chí Minh, Vietnam
6) 200 Market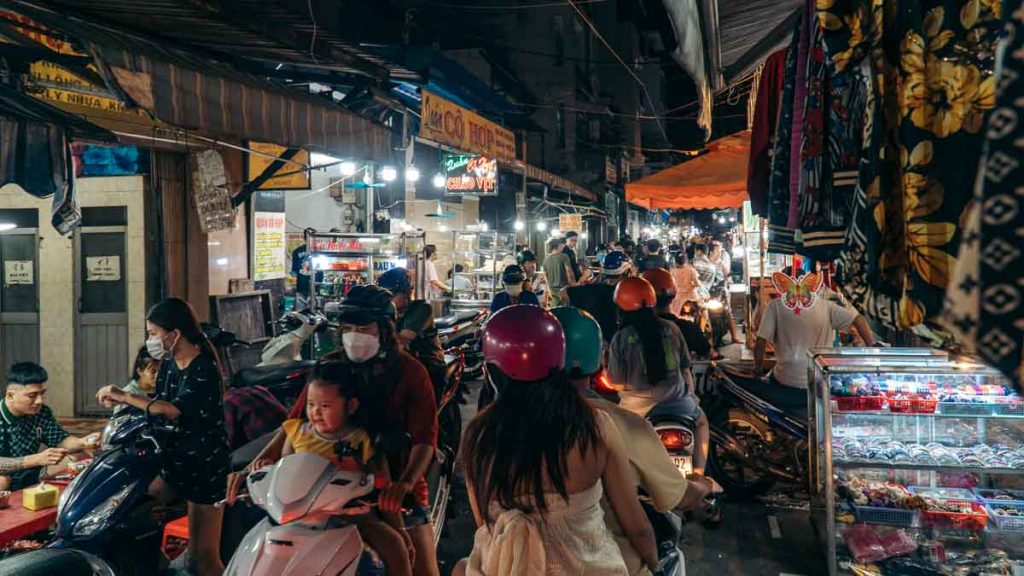 Another spot recommended by our tour guide is 200 Market. Getting its name from the rumour that 200,000₫ is enough to eat through the entire 300m street, you'll be able to find anything from crab soup to pig brains here.
The street is narrow and filled with motorcyclists that will drive up to the stalls like a drive-through, so do be careful when crossing the street!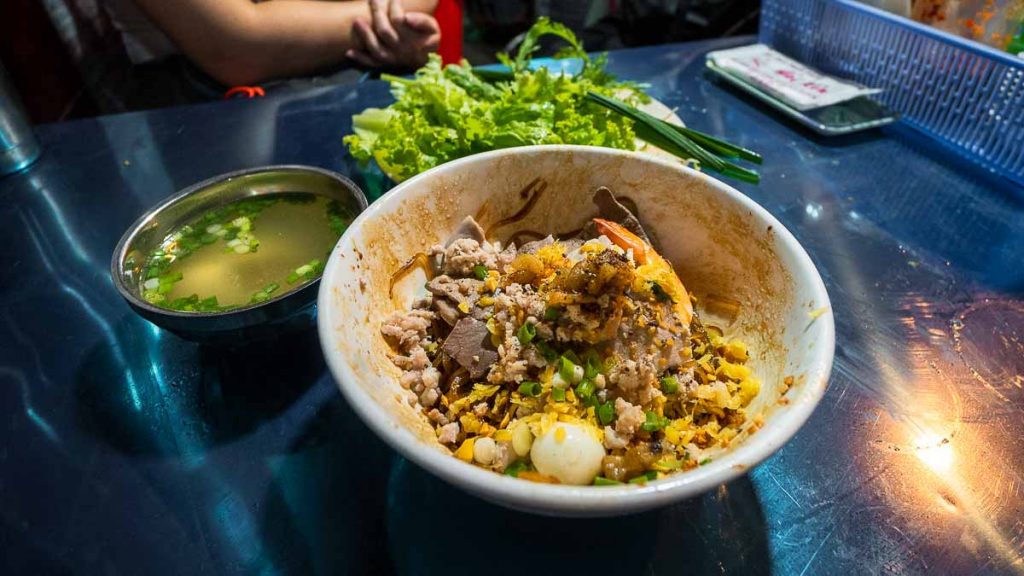 Most of the dishes were listed in Vietnamese so we pointed at what looked good and hoped for the best. We ended up with vermicelli noodles with mince pork and prawns (40,000₫), which tasted like a sweeter version of mee pok. Each bowl was served with raw vegetables on the side, and a bowl of clear soup to cleanse your palette.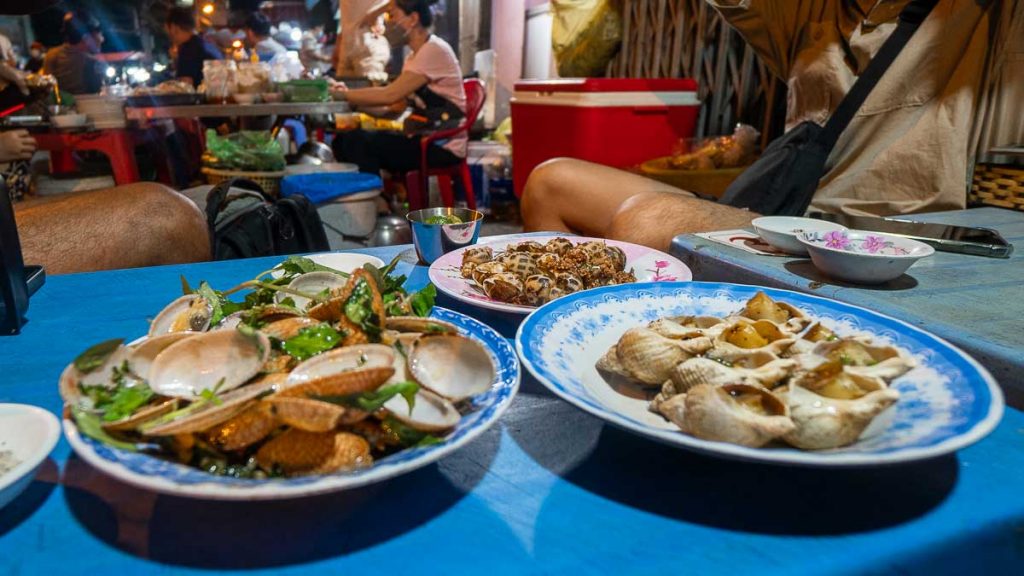 We also ordered clams and snails(~50,000₫/plate), marinated in a savoury garlic sauce. If you are an adventurous eater, don't give 200 Market a miss!
Opening hours: 5AM – 11PM
Address: Nhà Thờ, Xóm Chiếu, Phường 15, Quận 4, Thành phố Hồ Chí Minh 70000, Vietnam
Read also: Ultimate Southern Vietnam Guide — 13 Best Things to do in Ho Chi Minh, Da Lat, Phu Quoc, and Mui Ne
Where to Eat in Da Lat
7) Curry Chaaa
Da Lat is known for its aircon weather and enjoying a piping hot bowl of curry noodles really hits the spot. The dish originates from the Cham minority group, drawing influences from Indian and Khmer cuisine. It's also one of the only places in Da Lat to sell curry noodles!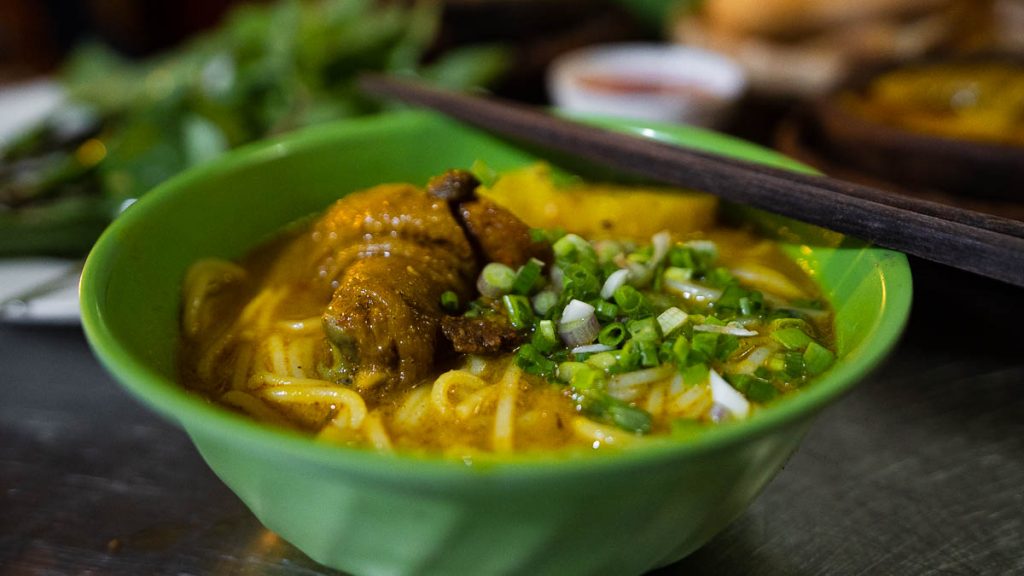 We tried the chicken curry (30,000₫) and the beef curry noodles (35,000₫), which had a strong lemongrass and spices flavour. Curry Chaaa only opens in the evenings and is usually packed so head down early to beat the dinner crowd!
Cost: From 30,000₫/bowl (~S$1.80)
Opening hours: 4:30PM – 9PM, closed on Tue
Address: 32 Đường Ánh Sáng, Phường 1, Thành phố Đà Lạt, Lâm Đồng, Vietnam
8) Cabin in the Woods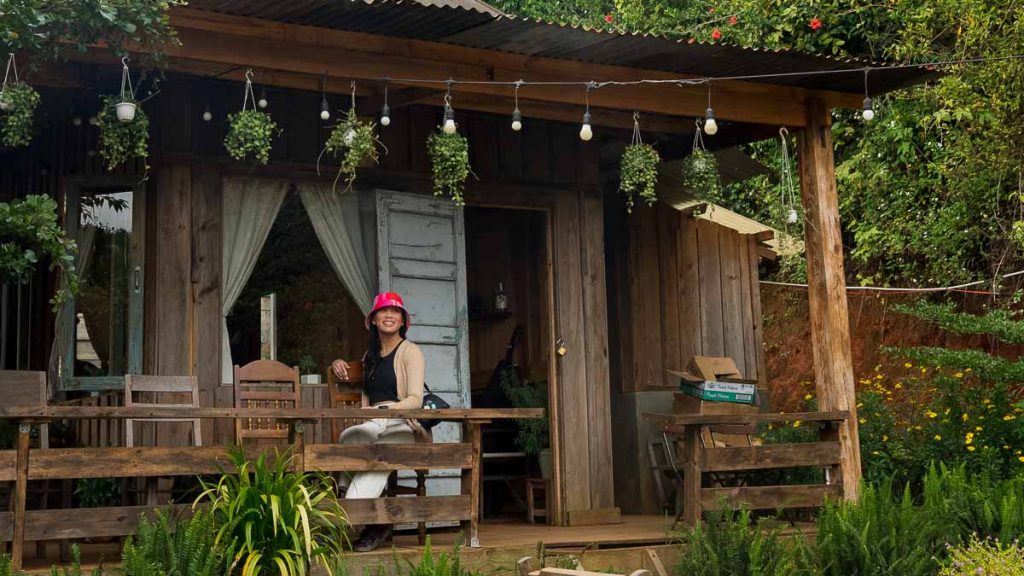 Recommended by a Da Lat local, Cabin in the Woods is a hidden gem — literally.
Located down a dirt road with no signboards leading up, we were pleasantly surprised to find a rustic cafe with Instagrammable spots at every corner. Decorated with plants, dangling vines, and mirrors that look like they belong in a European castle, we spent half an hour snapping shots before eating.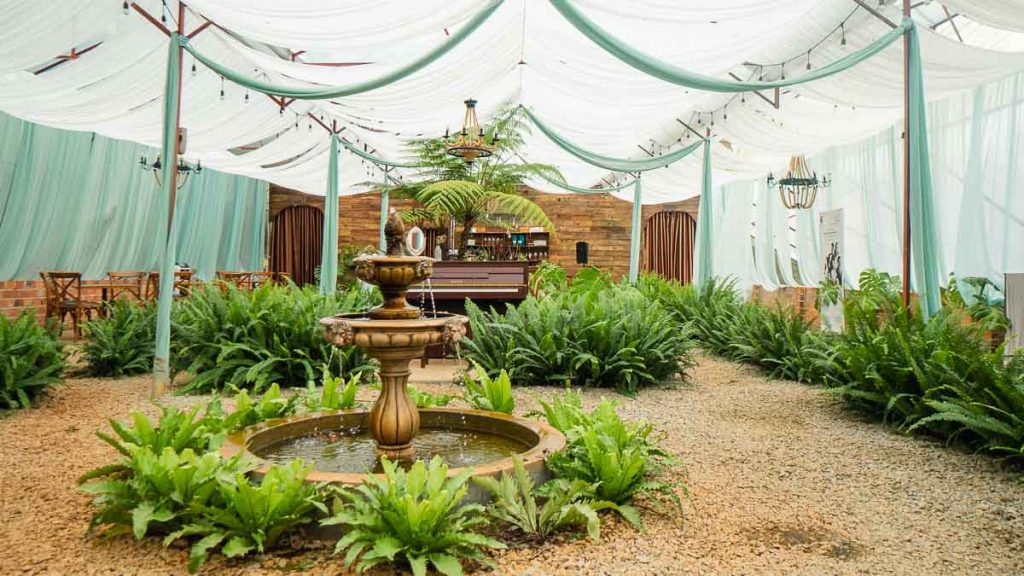 *Pro-tip: We suggest taking a scooter or GrabBike for convenience as the path leading to the cafe is quite narrow.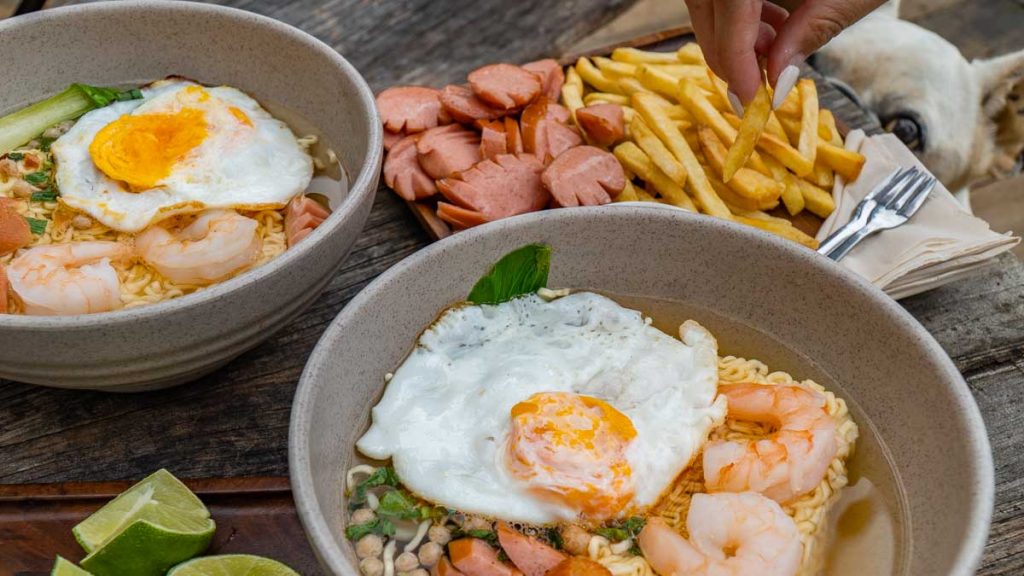 The cafe mostly serves light bites like the mì tôm đặc biệt' (50,000₫), which is tom yum instant noodles, and a sausage with fries platter (70,000₫) to share.
We also had great company with the local doggos during our meal, so guard your food (but be generous with your cuddles!) 🐕
The main stars were the drinks. The Cabin Coffee (65,000₫) and tra vai hoa nhai (60,000₫) are our favourites, the latter being an iced lychee tea that was crisp and had just the right level of sweetness.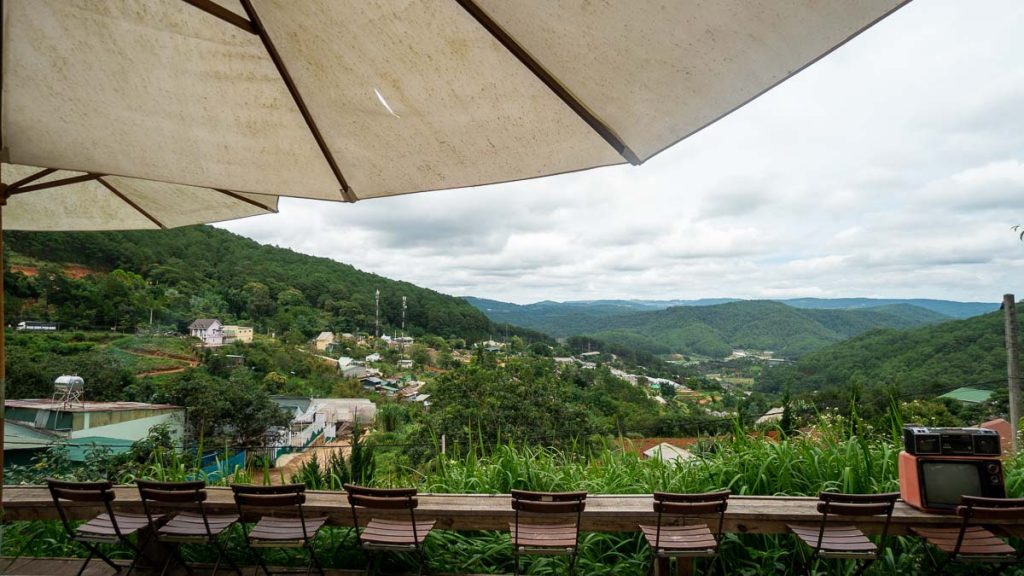 The cafe also has a panoramic outdoor seating area — perfect to stay and watch the sunset.
Cost: From 45,000₫ (~S$2.70)
Opening hours: 7AM – 8PM
Address: 2 Đường Phù Đổng Thiên Vương, Phường 8, Thành phố Đà Lạt, Lâm Đồng, Vietnam
9) Café Túi Mơ To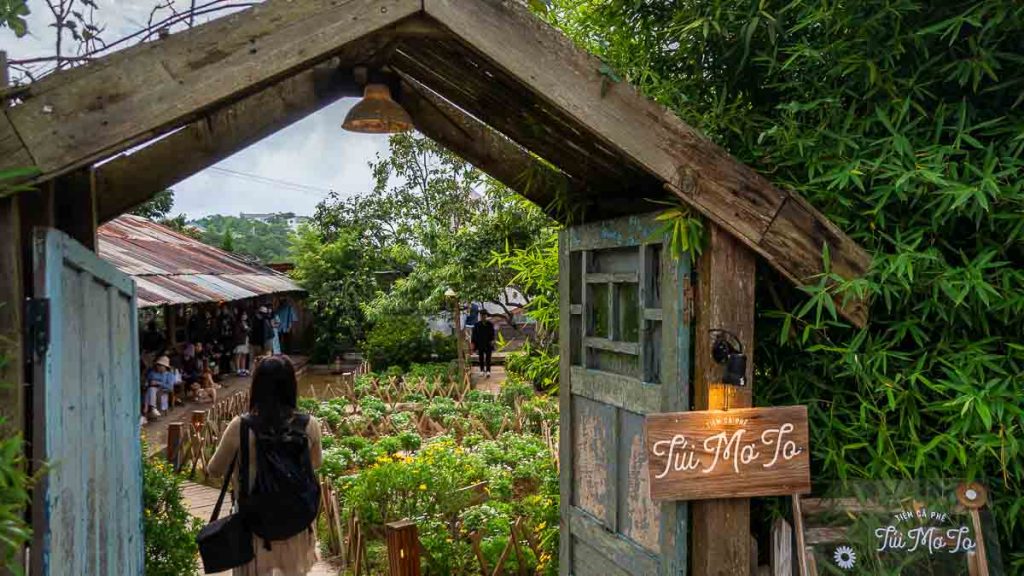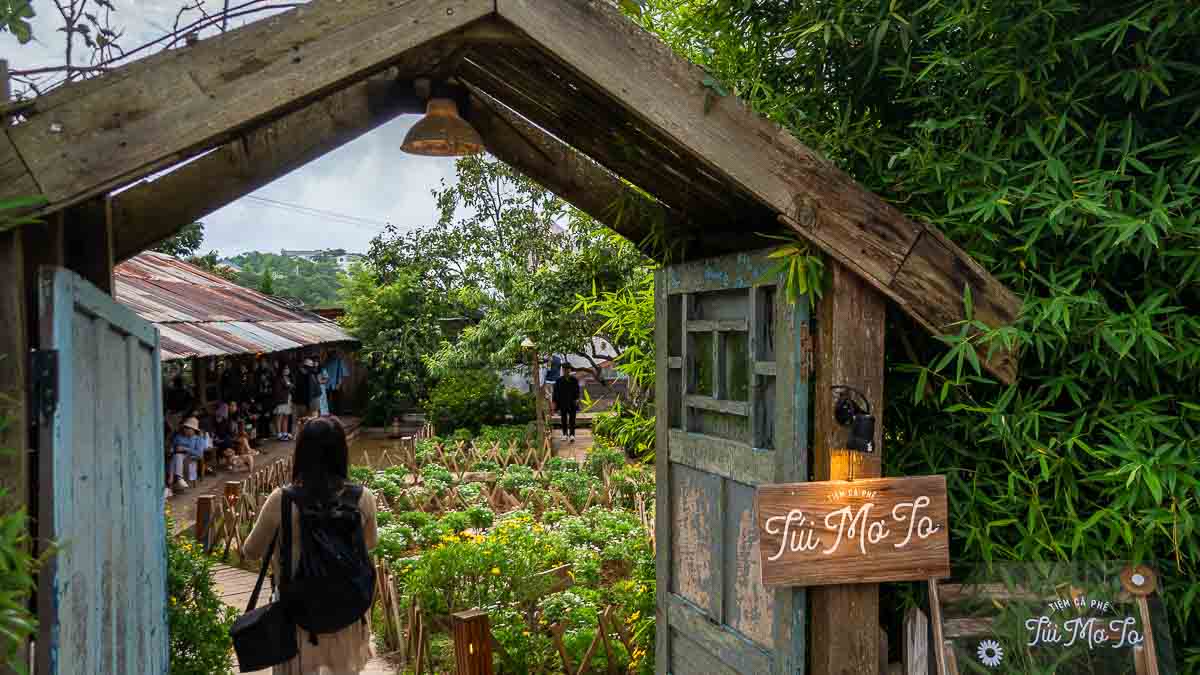 Café Túi Mơ To is highly recommended on every Da Lat cafe list, so we had to try it! A cosy cottage overlooking the town and mountains, the cafe looks straight out of a fairytale novel. Not to mention, it's decorated with twinkling fairy lights and daisy bushes— perfect for the cottage-core girlies🧚🏻‍♀️.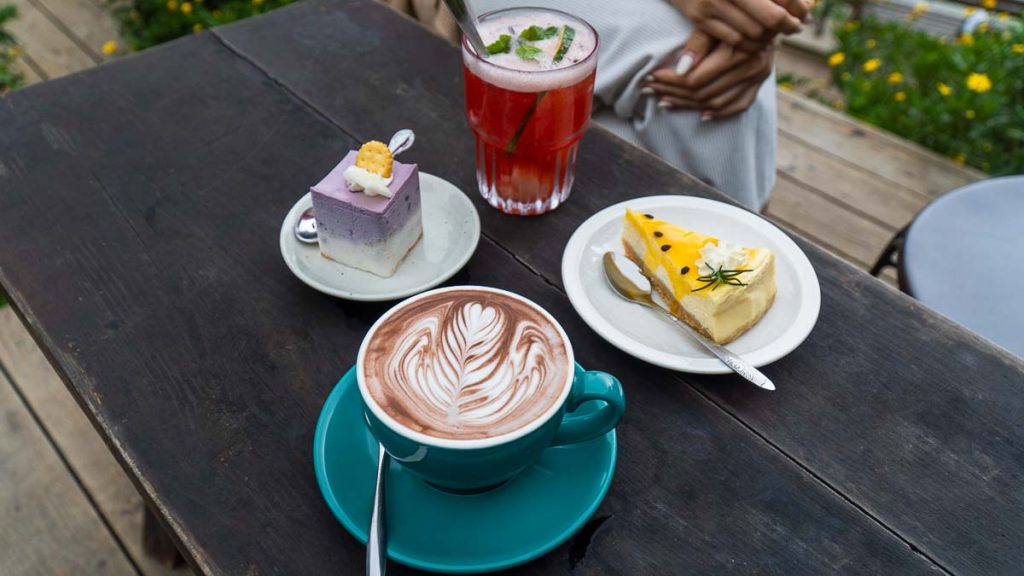 The cafe has a variety of hand-crafted drinks and desserts to choose from. We tried the hot cacao (60,000₫) and the iced tra vai cam dau (65,000₫), a delightful mixed fruit tea. The desserts were a pastel feast for the camera and the Passionfruit Cheesecake (55,000₫) is a must-try for its creamy and tangy flavour!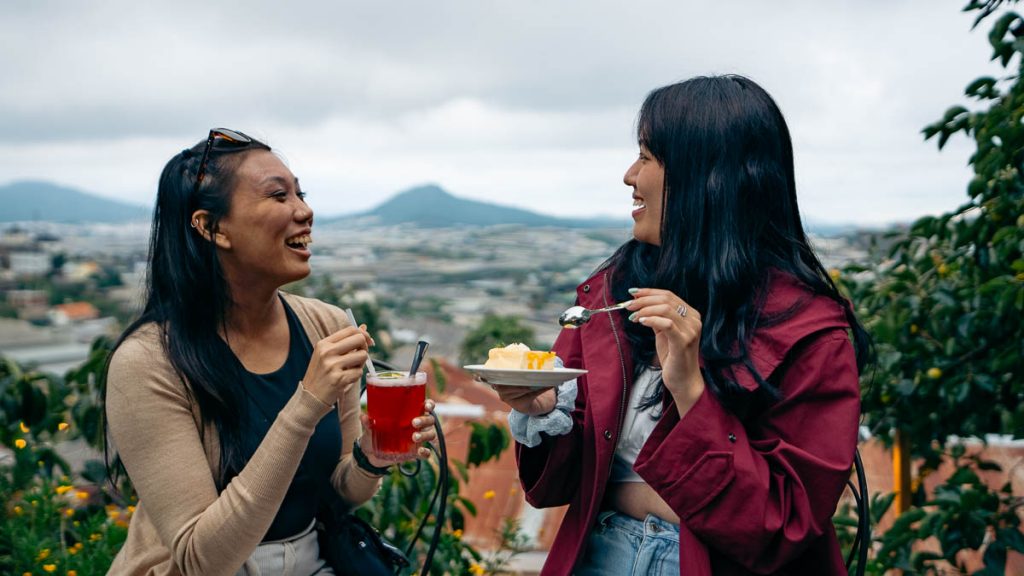 Cost: From 45,000₫ (~S$2.70)
Opening hours: 7:45AM – 9:45PM, closes 10PM on Sun
Address: hẻm 31 Sào Nam, Phường 11, Thành phố Đà Lạt, Lâm Đồng 66118, Vietnam
*Pro-tip: Arrive before 4:30PM to secure the best seats to catch the sunset as it gets crowded during the evening.
10) Da Lat Night Market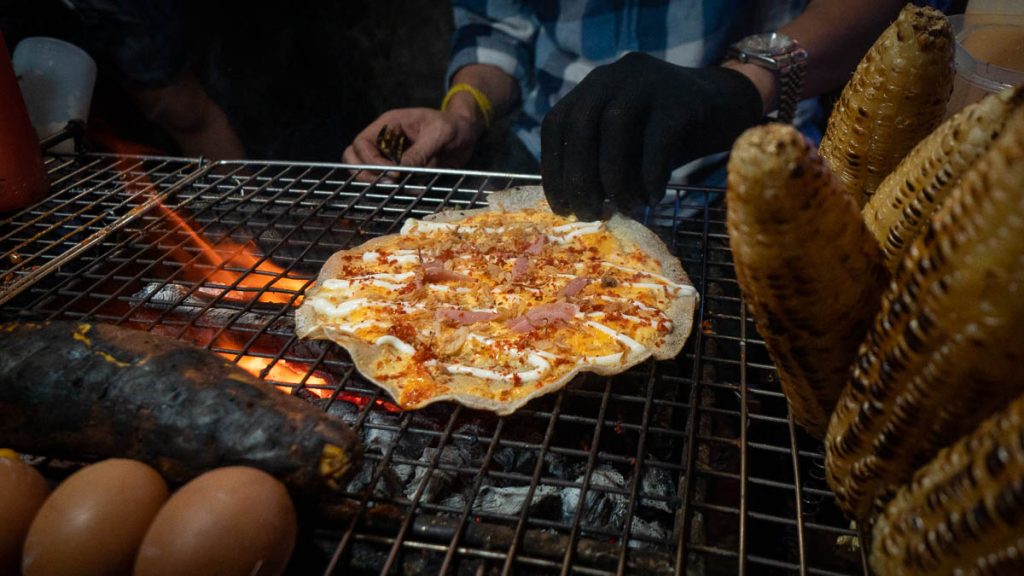 Ever heard of Vietnamese Pizza? Unlike a regular dough pizza, it's made of rice paper and topped with eggs, ham, dried shrimp, spring onions, sweet chilli, and mayo. Originating from Da Lat, there are numerous stalls selling this speciality dish at the Da Lat Night Market for around 25,000₫/piece.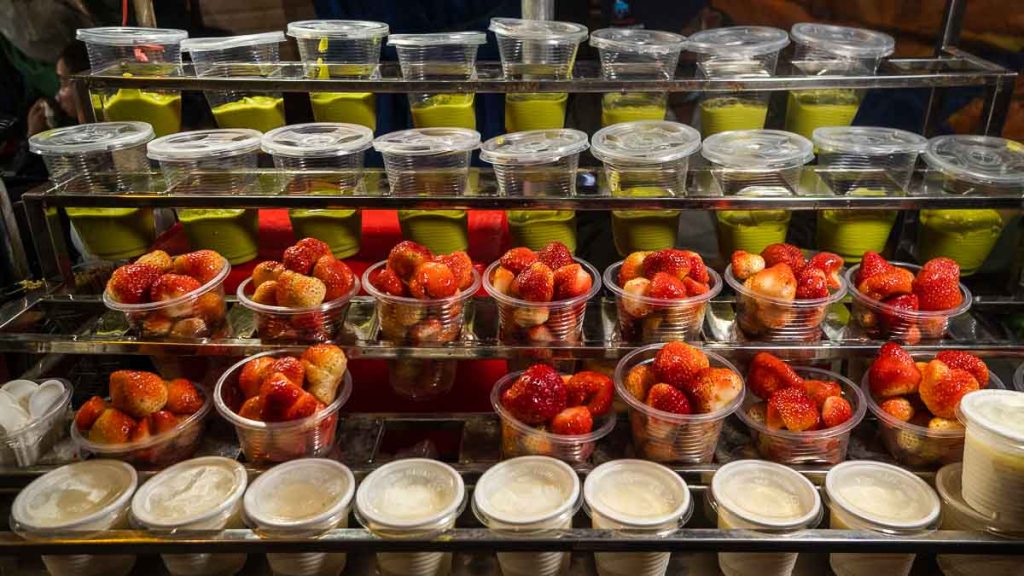 Drinking a hot cup of soybean milk (15,000₫) is popular among both visitors and locals alike. An excellent spot to savour the beverage and enjoy the lively market atmosphere is the staircase by the roundabout.
As there are many strawberry farms in Da Lat, you can find street vendors selling fresh strawberries. Those sold in a cup are usually served with a combination of fish sauce and shrimp powder — the way the locals enjoy it
Opening hours: 6PM – 7AM
Address: 6b Nguyễn Thị Minh Khai, Phường 1, Thành phố Đà Lạt, Lâm Đồng 690000, Vietnam
Where to Eat in Mui Ne
11) Pho Mui Ne Restaurant
Being a coastal town, Mui Ne is known for its affordable, fresh seafood and locally-manufactured fish sauce. We got the Grilled Tiger Prawns (99,000₫), Seafood Noodles (89,000₫), and Salt and Pepper Grilled Pork Ribs (129,000₫) — which were generously portioned with a bang-for-buck price!
We also tried the speciality Steamed Vegetables served with local fish sauce (59,000₫), consisting of lady's fingers and carrots that paired well with the dip.
The Mui Ne fish sauce has a thicker consistency and is sweeter than regular store-bought ones so we highly recommend you to try this combination!
Cost: Varies
Opening hours: 10AM – 11PM
Address: 55 Huỳnh Tấn Phát, Mũi Né, Thành phố Phan Thiết, Bình Thuận, Vietnam
12) Pandora Doner Kebab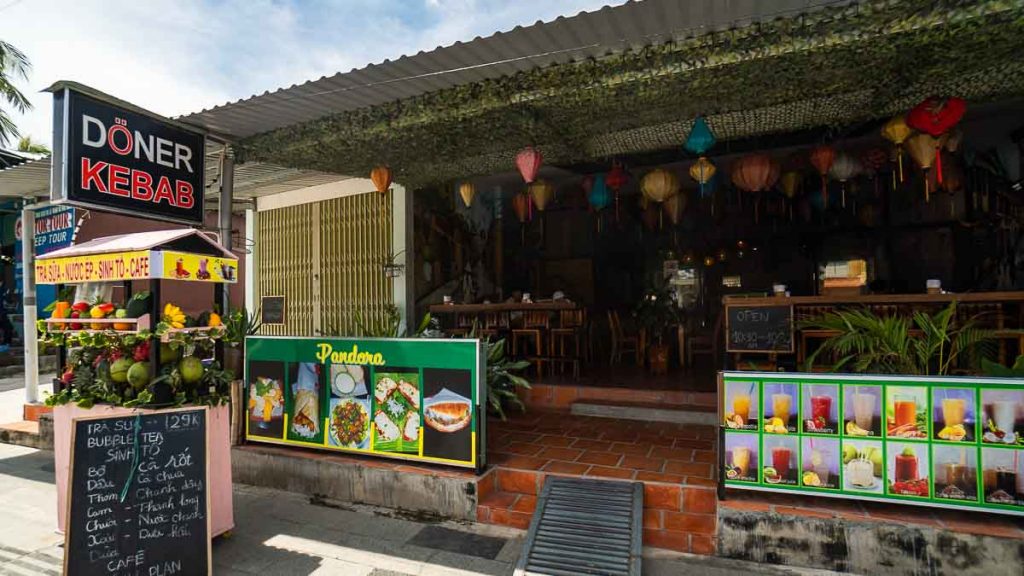 After seeing the high ratings online, we dropped by Pandora Doner Kebab to load up on carbs before spending the day catching waves.
They are well known for the shish kebabs (99,000₫) and shawarma beef wrapped in pita bread (67,000₫), which were not too chewy and extremely flavourful. If you are looking for something healthier, the shrimp salad (80,000₫) is a refreshing alternative.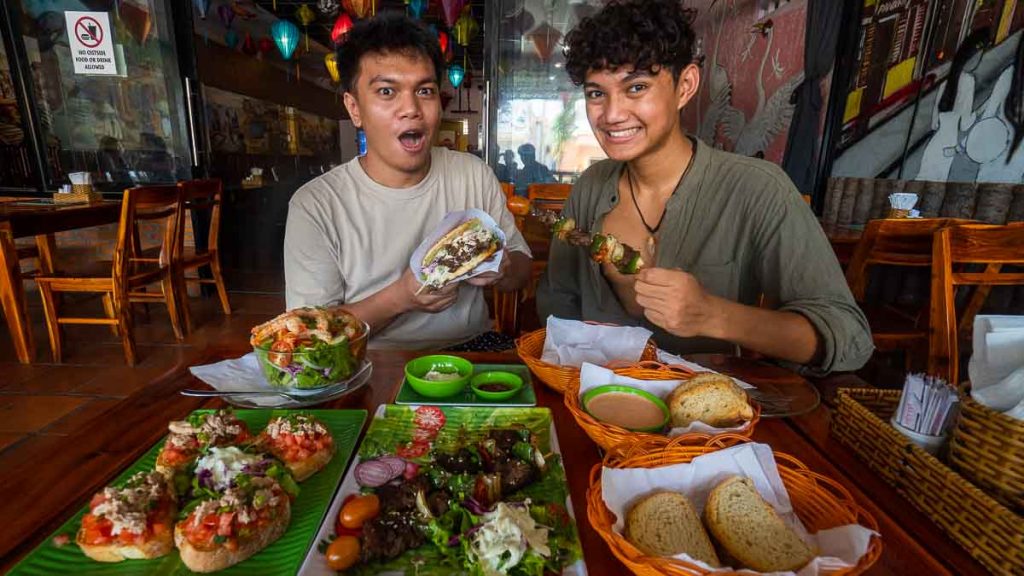 *Note: The restaurant is not Halal.
Cost: From 29,000₫ (~S$1.75)
Opening hours: 10:30AM – 11:30PM
Address: 235A Nguyễn Đình Chiểu, khu phố 2, Thành phố Phan Thiết, Bình Thuận, Vietnam
13) Momo Cafe Restaurant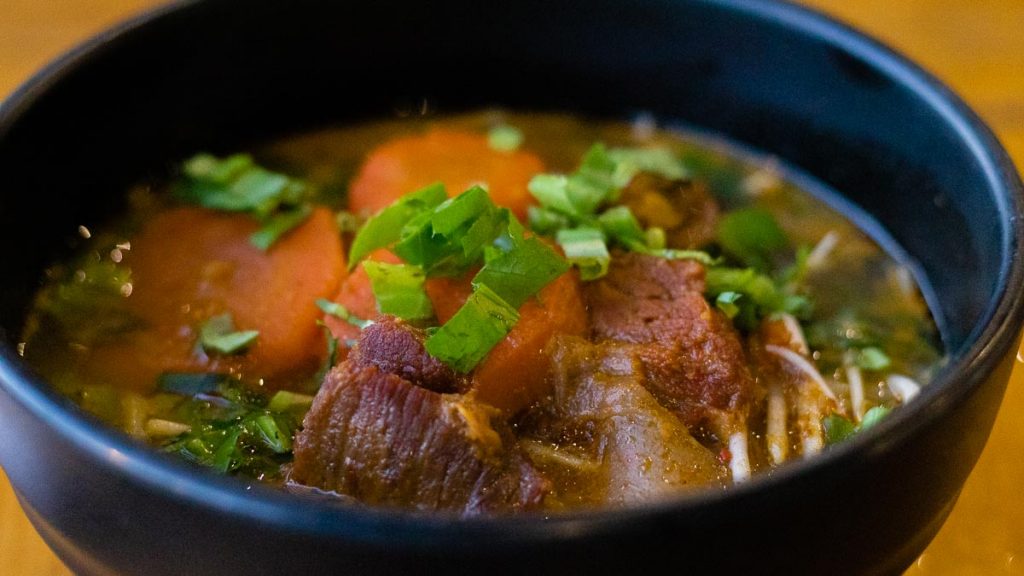 Momo Cafe Restaurant is a fusion restaurant that serves both traditional Vietnamese and Japanese dishes. We tried their bo kho as recommended by our surf instructor.
It's a Vietnamese beef stew served with either rice or noodles. The stew has a soup-like consistency that was sweet and savoury. The beef was melt-in-your-mouth soft — one of our favourite meals in Mui Ne.
We also ordered the beef pho which was served with a plate of fresh vegetables on the side. The restaurant is also well-known for its sushi rolls.
Cost: 40,000₫/bowl (~S$2.40)
Opening hours: 7AM – 10PM
Address: 177 Nguyen Dinh Chieu, Ham Tien, Phan Thiet 800000 Vietnam
Where to Eat in Phu Quoc
14) Phu Quoc Night Market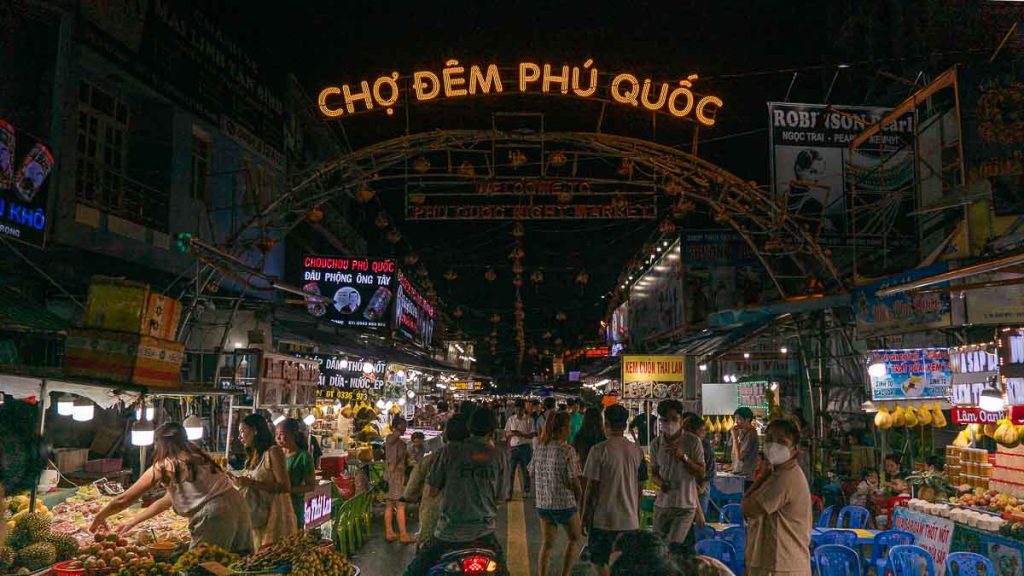 Ever heard of S$1 Uni? The sea urchins (22,000₫/each) at Phu Quoc Night Market were succulent and creamy-smooth. We recommend trying the grilled uni that is topped with spring onions and peanuts — the epitome of umami!
We also had juicy oysters (30,000₫/each) and flower crab fried rice (120,000₫) for the main course. Most of the seafood at Phu Quoc Night Market is caught in a nearby fishing village, so it'll be one of the cheapest and freshest you'll ever taste! 🤤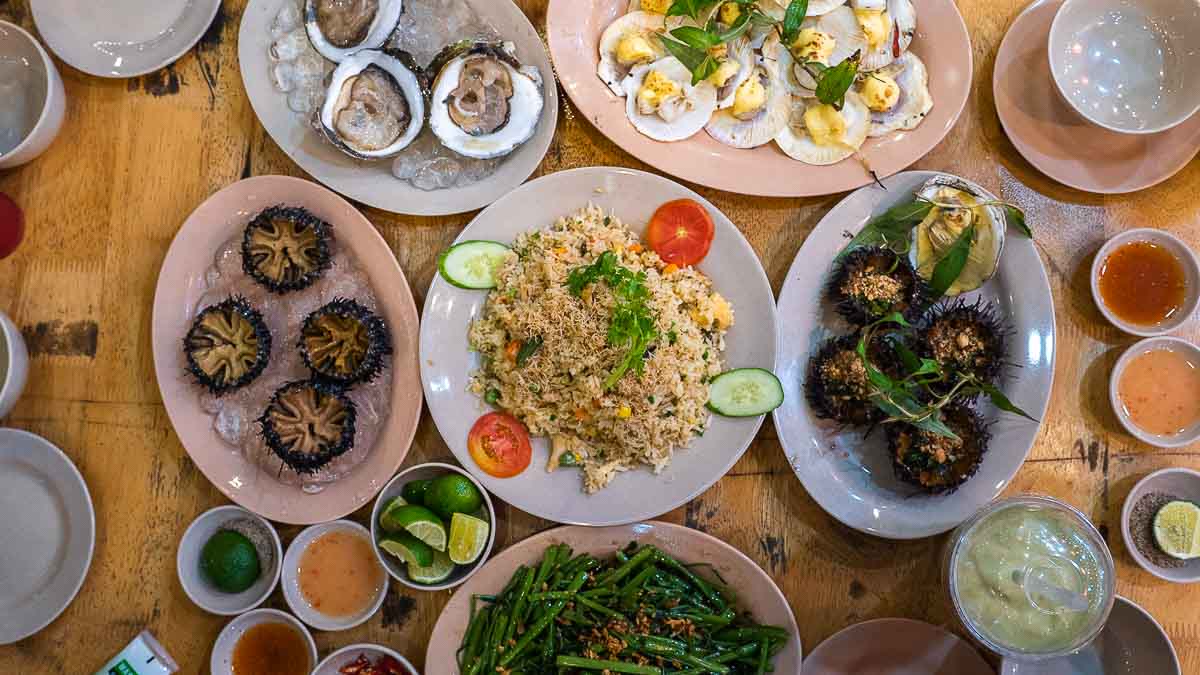 Opening hours: 5PM – 10PM
Address: 54 Đường Nguyễn Trãi, Khu 1, Phú Quốc, Kiên Giang, Vietnam
15) Buddy Ice Cream – Info cafe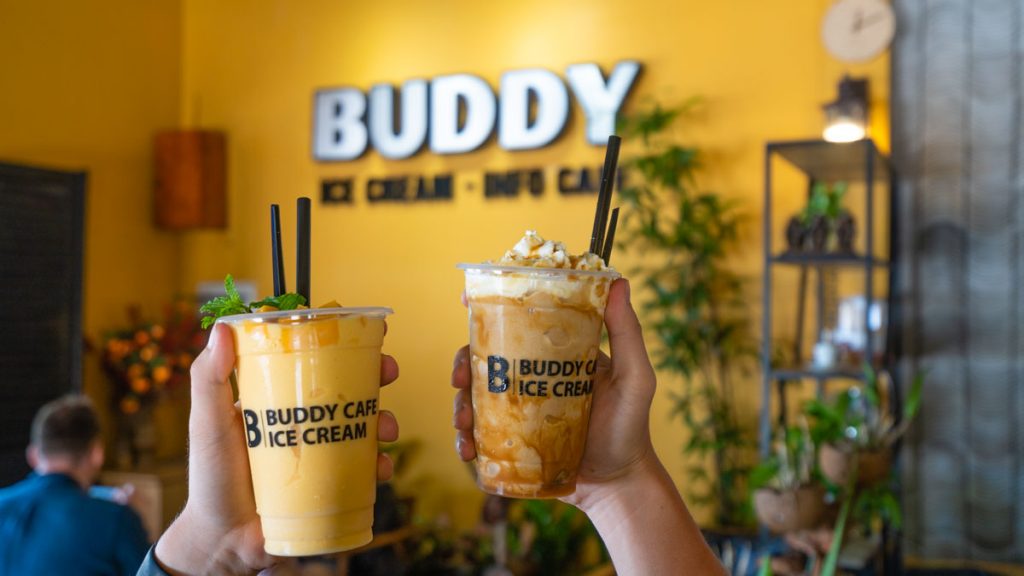 The sinh tố xoài (50,000₫) at Buddy Ice Cream – Info Cafe is an ice-blended mango smoothie that was thirst quenching — great to escape the heat! Ice cream is also available in a variety of flavours from 40,000₫.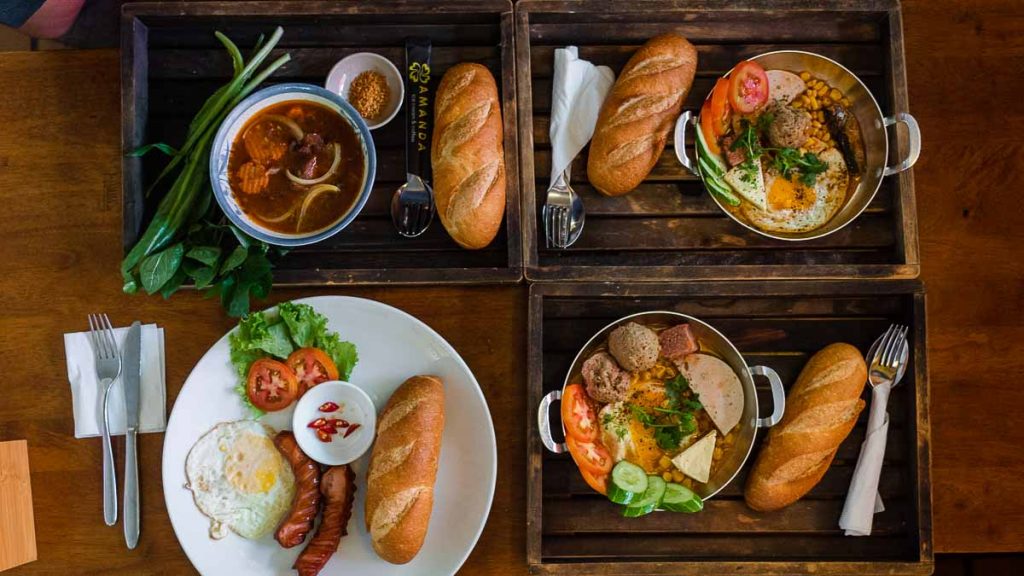 Other than ice cream, this cafe also sells lunch mains. We tried the bánh mì chảo which caught our eye with how interesting it sounded.
Essentially it's a deconstructed bánh mì with different ingredients to choose from depending on the combo. We recommend Combo 1 (55,000₫), which has the meatball and luncheon meat filling, but there are sardines and sausage options available as well.
Cost: From 30,000₫ (~S$1.80)
Opening hours: 8AM – 10PM
Address: 06 Đường Bạch Đằng, Kp2, Phú Quốc, Kiên Giang, Vietnam
16) The Coffee Vegan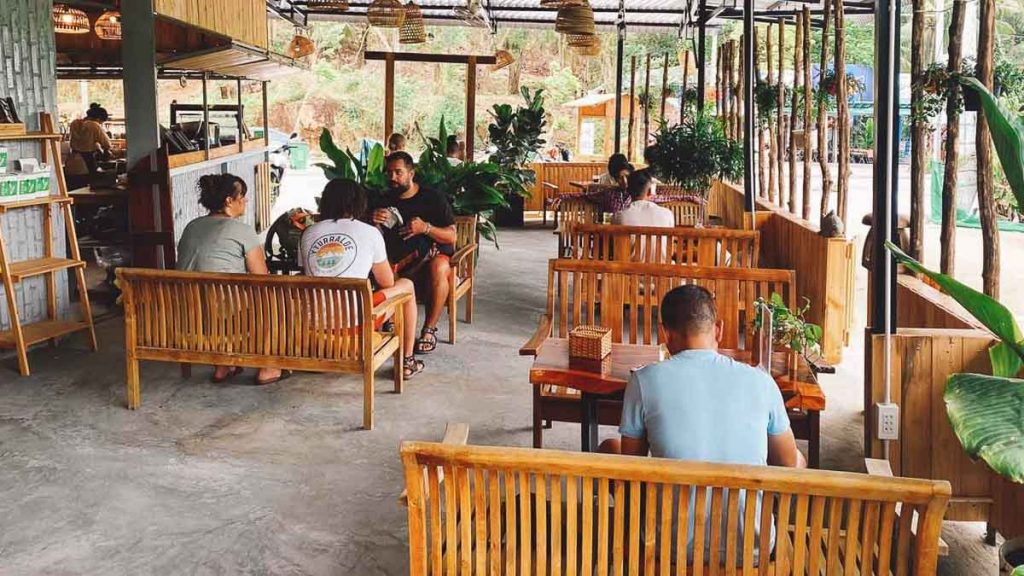 Photo credit: The Coffee Vegan
The Coffee Vegan is a beacon for all coffee lovers on the island. We were intrigued by the concept of espresso coconut (55,000₫) and pleasantly surprised that the richness of the coffee paired seamlessly with the fresh cream of the coconut. The cafe also has a laid-back vibe, so it's a good location for a chill morning.
Cost: From 30,000₫/drink (~S$1.80)
Opening hours: 9AM – 10PM
Address: 134 Đường Trần Hưng Đạo, Khu Phố 7, Phú Quốc, Kiên Giang, Vietnam
17) Tiếu Ngạo Quán
A universal love that most Asian countries share is that of hot pot. We tried the Seafood set at Tiếu Ngạo Quán served with squid, prawns, fish, vegetables and rice noodles. The broth was fragrant and flavourful, and we were in a food coma by the end of the meal!
Cost: 290,000₫/set for two (~S$17.30)
Opening hours: 3PM – 2:30AM
Address: Cửa Lấp, Phú Quốc, Kien Giang, Vietnam
Tips for Planning Your Southern Vietnam Food Trip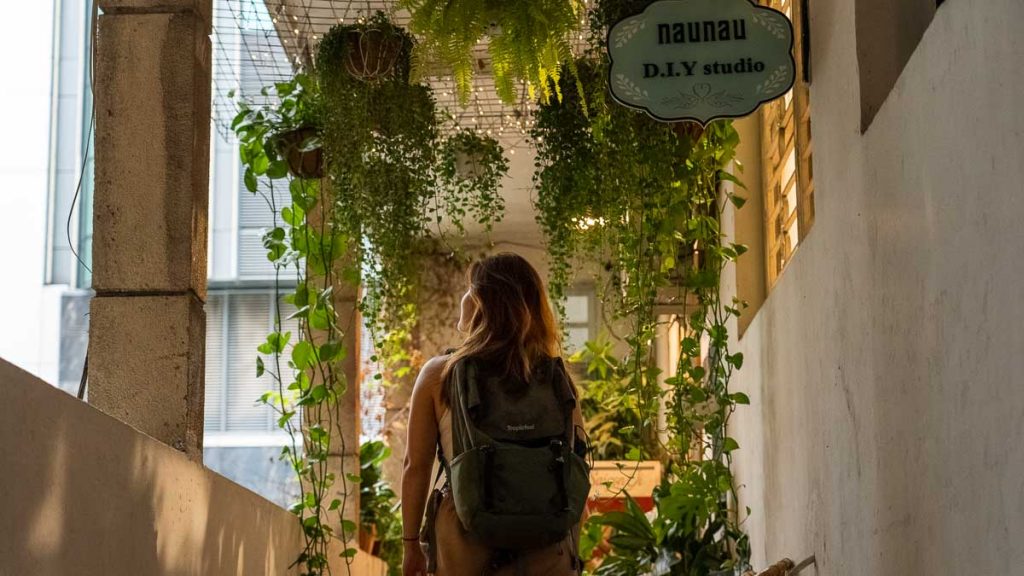 Writing this Southern Vietnam Food Guide has me salivating over the memory of drip coffee and itching to book another flight to Vietnam. Before you go off on your own food Tour-de-Vietnam, here are some tips:
1) Change enough cash
Cashless payment isn't common in Vietnam, particularly in smaller cities like Da Lat, Phu Quoc and Mui Ne. While some restaurants allow bank transfers, we strongly suggest changing enough cash to avoid any inconveniences.
2) Use Google Translate
English isn't as widely spoken and printed so downloading the Google Translate app on your phone will be helpful. It helped us translate menus and communicate with the locals.
3) Check with the shop for specific food restrictions
If you have food restrictions, you can contact the shop ahead of time via Facebook Messenger. Many stores may not be familiar with the term 'Halal' but you can ask if it's suitable for Muslims.
4) Check out our Vietnam Itineraries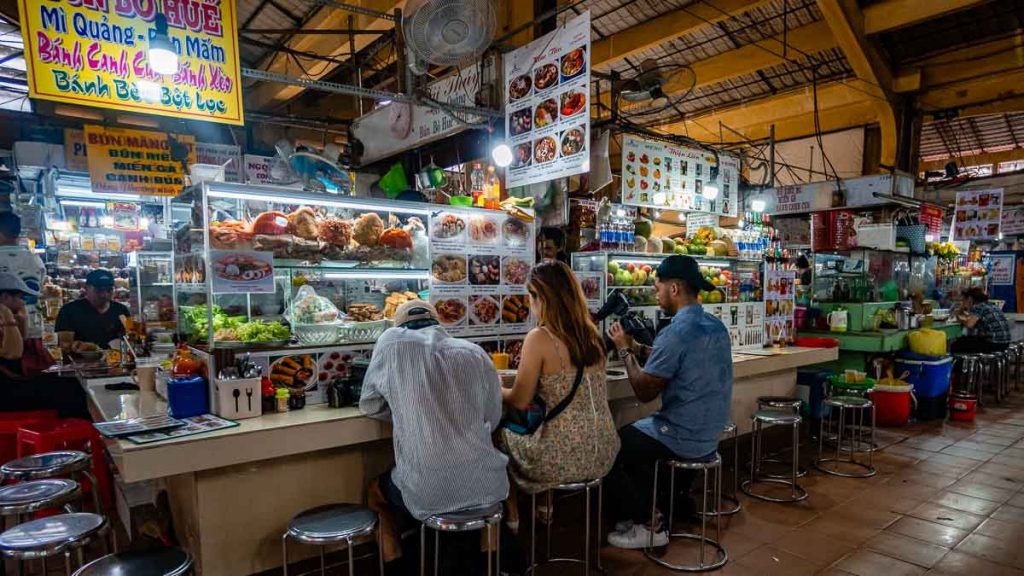 Plan your trip in advance so you can maximise your time for food and activities! Here are some of our Vietnam itineraries to help you get started.

– 3D2N Da Lat Itinerary — A Magical Alpine Adventure in Southern Vietnam
– 9 Best Things to do in Ho Chi Minh City — A Less Touristy HCM Guide
– 7-Day Southern Vietnam Itinerary Under S$900 — Best Things to Do in Phu Quoc, Ho Chi Minh, Mui Ne, and Da Lat
Did we miss anything in this Southern Vietnam food guide? Let us know in the comments!
---
Like what you see? Follow us on Facebook, Instagram, YouTube, and Telegram for more travel inspiration!