A secret bunker, an abandoned reservoir that was taken off the Singapore maps until 2014, and a mysterious tomb with Japanese inscriptions, in the middle of nowhere.
If you've been to Sentosa (Harbourfront), you're probably somewhat familiar with this area. But few know of the secrets that exist in the forest behind Seah Im carpark.
Bring a torch (or other light sources), spray on insect repellent and get ready for some muddy adventures! This guide will bring you through the best route to exploring the abandoned Keppel Hill Reservoir as well as the Seah Im Bunker and some of the lesser-known secret spots between Seah Im and Mount Faber.
Recommended Route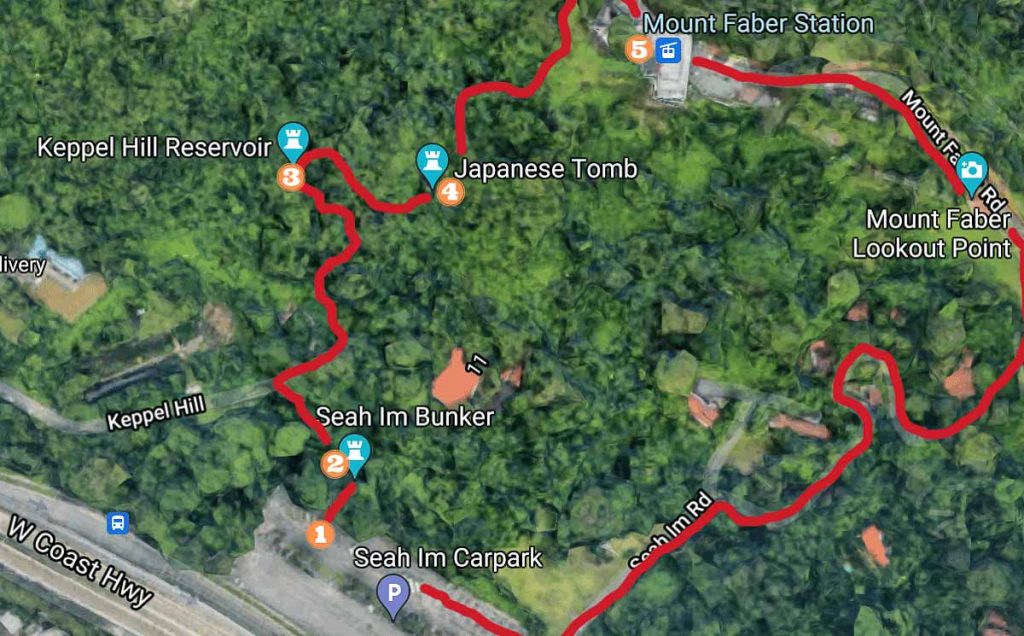 The hike isn't long so if you have extra time and the weather is good, you could extend the hike through Mount Faber to the Henderson Waves. If not, take a quick loop down a flight of stairs to get back to the Seah Im Food Centre and Seah Im carpark.
Distance: ~2.8km
Time: 1.5–2hrs
Difficulty: 2/5
1) Starting Point: Seah Im Carpark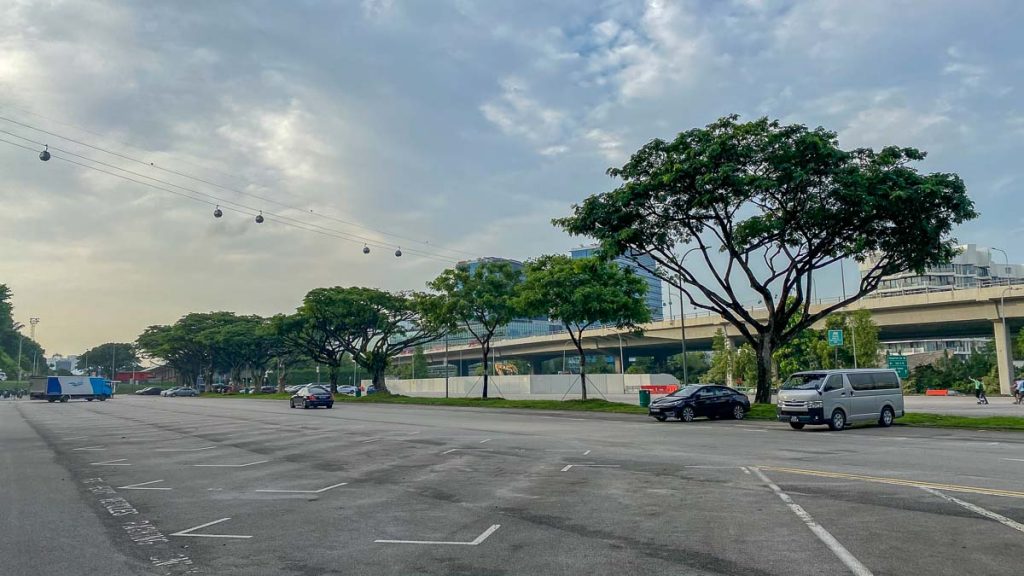 Public Transport: From Harbourfront MRT, take Exit A towards Seah Im Food Centre and walk towards the carpark on the left (facing the food centre).
Drivers: Park at the Seah Im Carpark (before Seah Im Food Centre). The car park rates are $0.60/30mins regardless of day.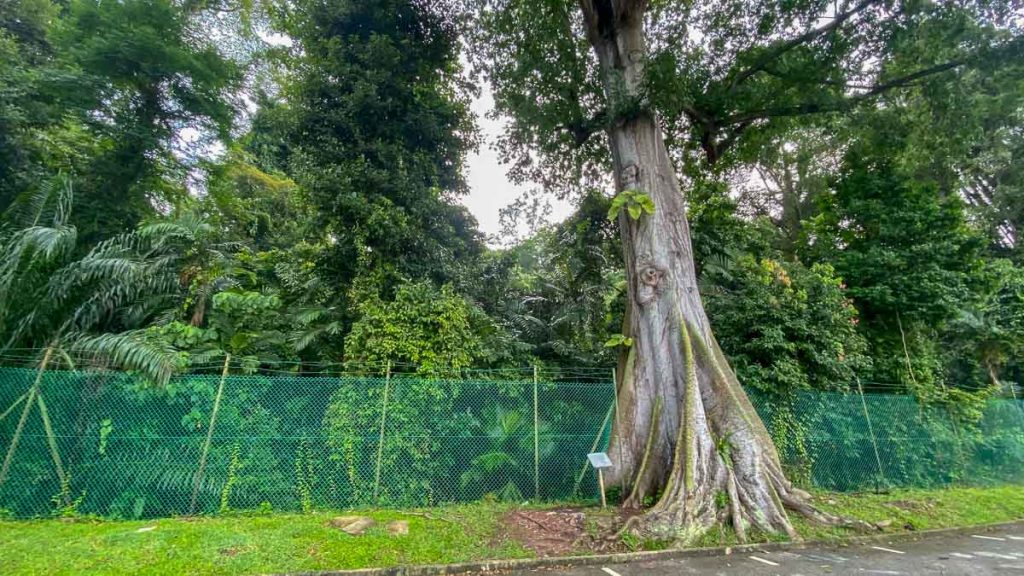 The entrance is near the fence, marked by a tall Kapok Tree. Beside the tree is a gap big enough to get through. Look out for the drain behind as it can get quite flooded if it's been raining. What did I say, get ready to have your shoes muddy on this route!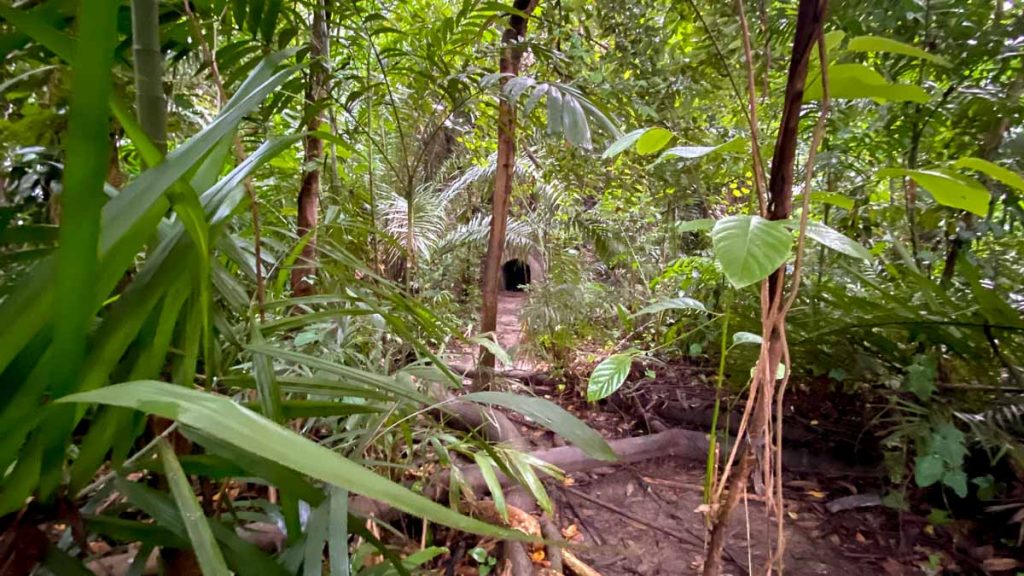 The Seah Im bunker is just a short 50m behind the fence. Here's where your light sources will come in handy! The front portion is around a metre high so you'll have to crouch a little but the ceiling gets taller once you're inside. It isn't very big so don't worry about getting lost!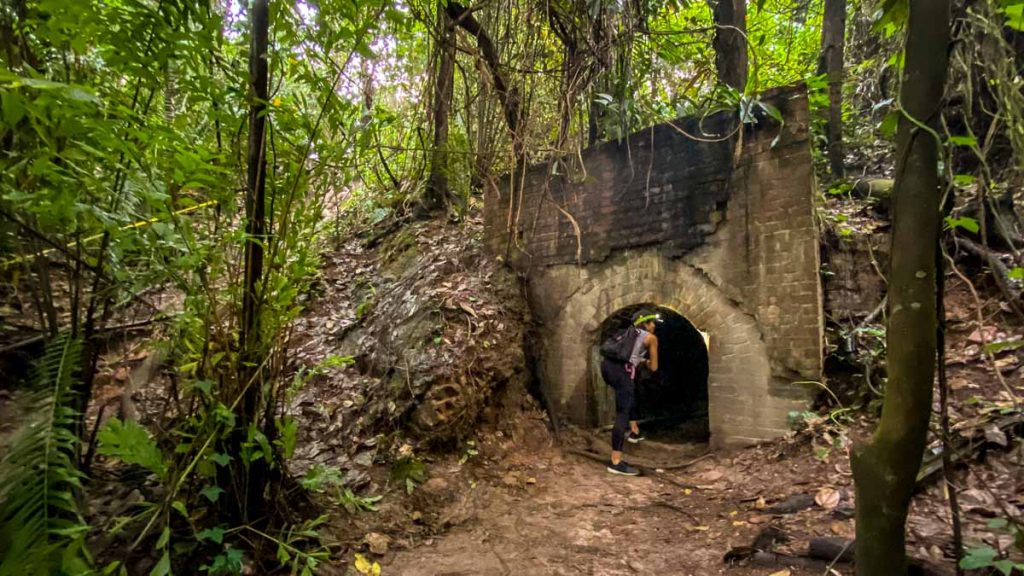 Some believe that the bunker was built shortly before WWII to store equipment and ammunition but not much else is known about the bunker.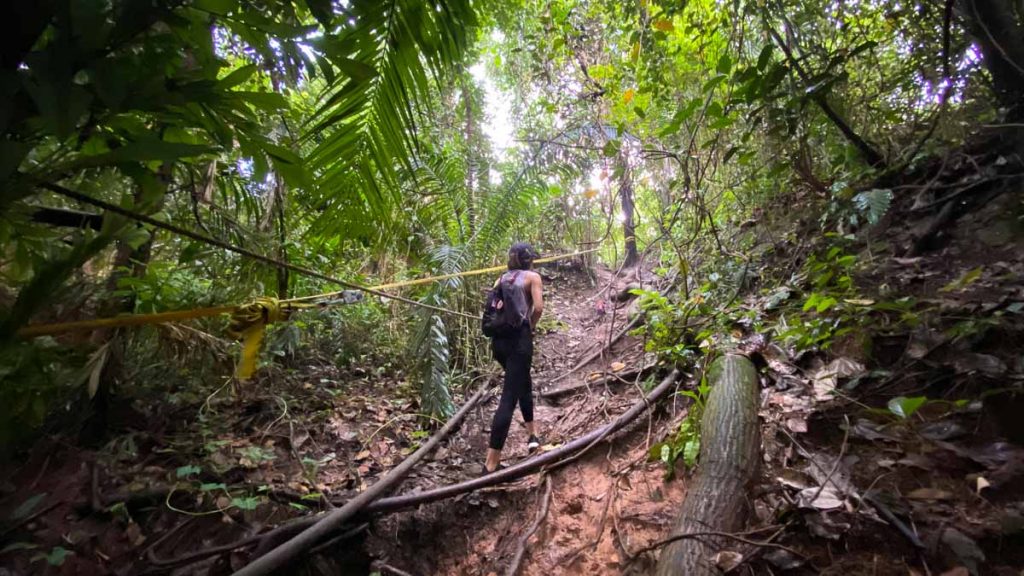 When you're done exploring, there's a steep hill on the left of the bunker. If it gets too slippery, there's a thick rope securely tied to a trunk on top so you can use that to make your way up.
At the top, follow the clearing until you hit a tarmac road. There are a few fallen branches on the track but nothing too difficult to climb over or around.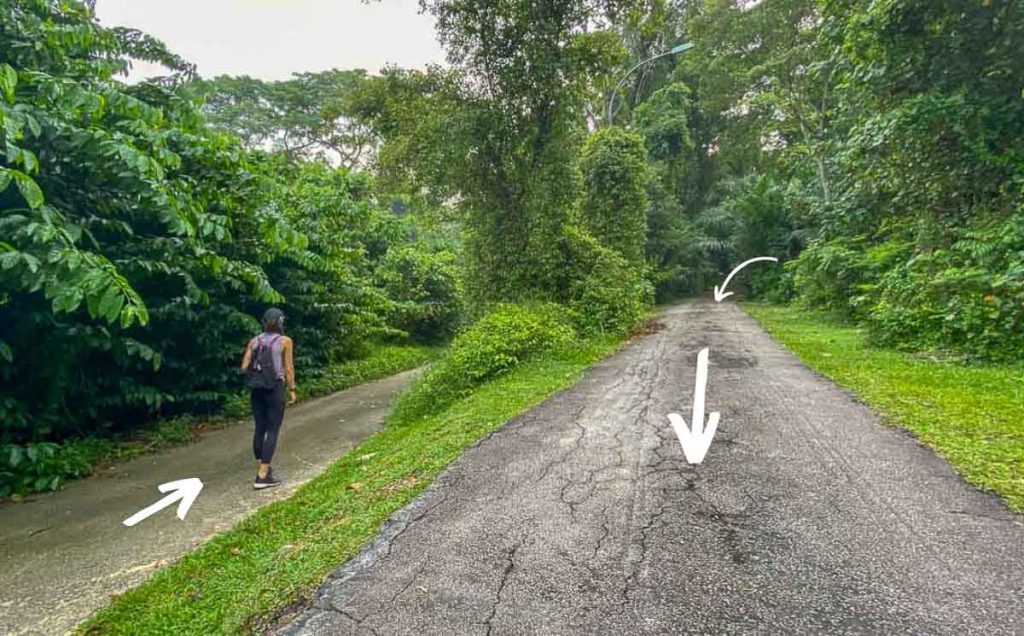 Once you see the road, take a left until you see a split road on your right.
Walk down the gradual slope until you see a green field with tall grass.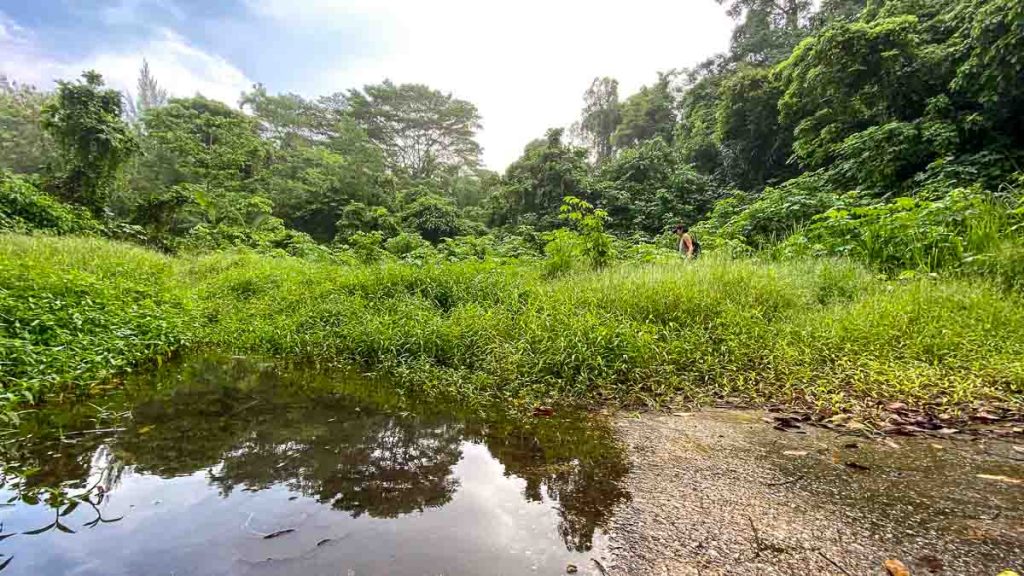 There's a narrow clearing on the right side with planks and rocks laid out, but do expect to get your shoes a little muddy here.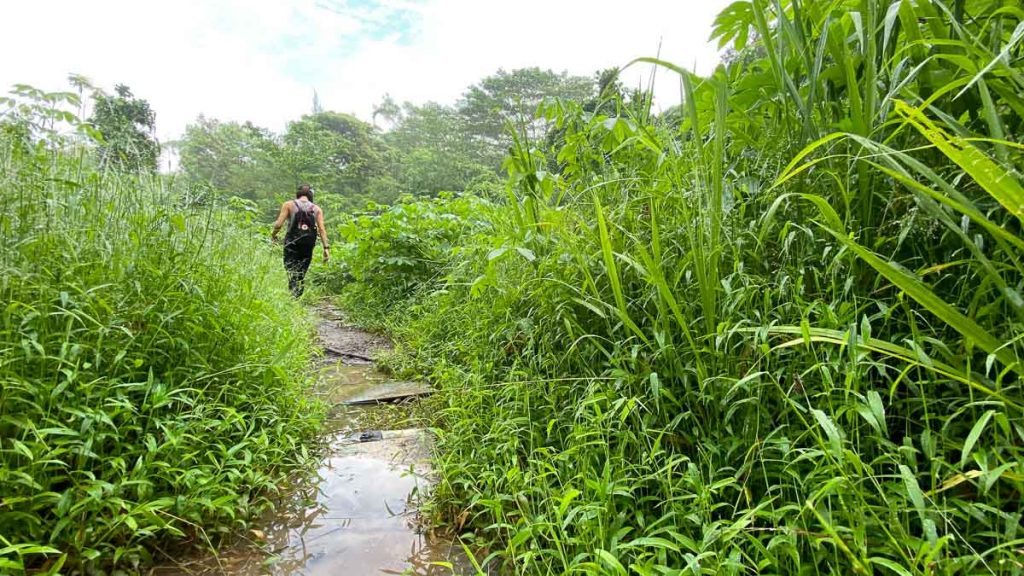 From here, it's a straightforward path that leads to the Keppel Hill Reservoir.
3) Keppel Hill Reservoir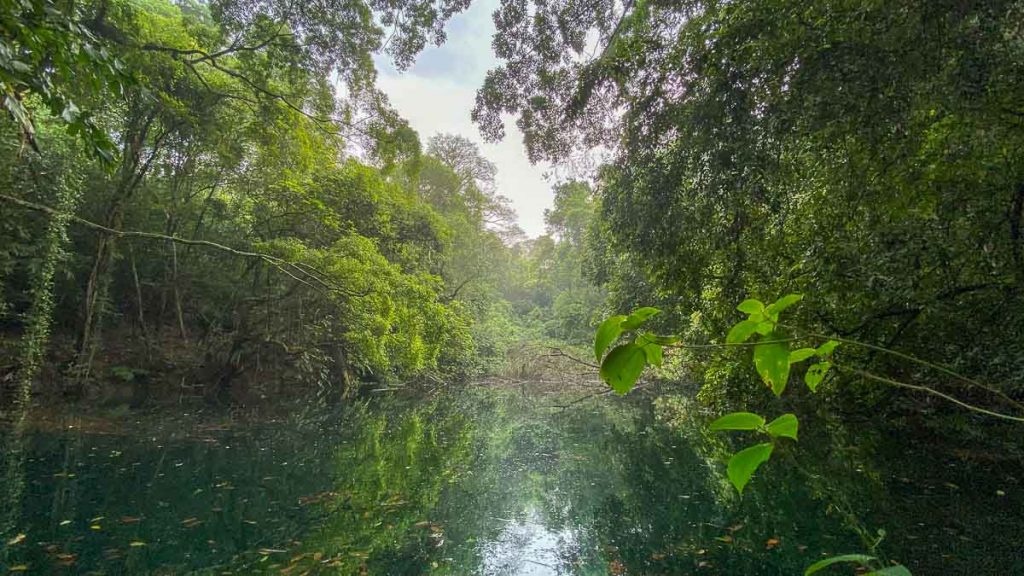 Today, you'll find 'Keppel Hill Reservoir' if you key it on Google Maps. But this did not exist on official maps until 2014. Where did the reservoir originate from then?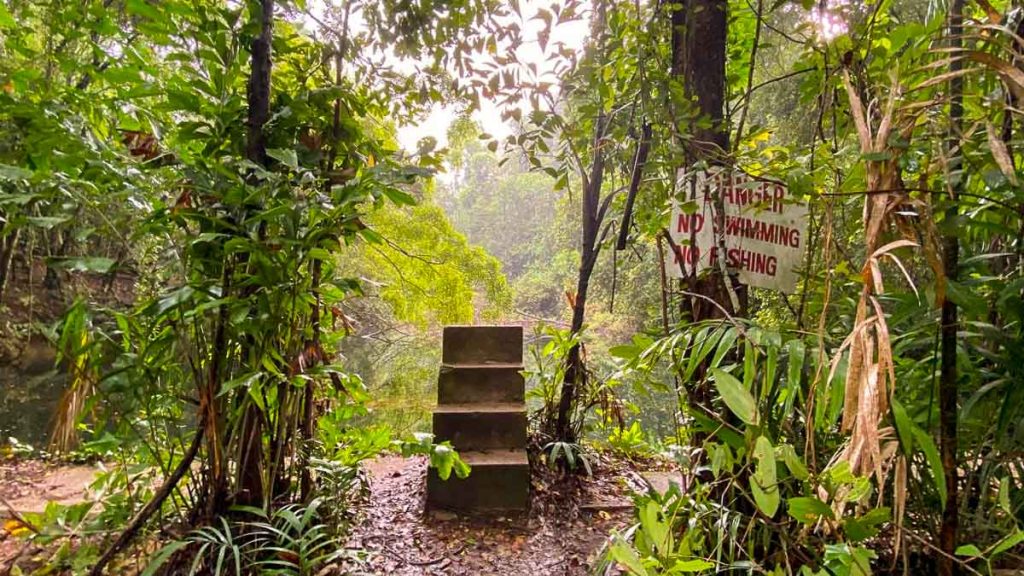 The reservoir isn't big but there are interesting elements around such as these steps that might have been used to mount a diving board. Perhaps at some point it was used as a recreational swimming pool. On a clear day, the top layer is a clear turquoise shade but you can't quite see how deep it goes.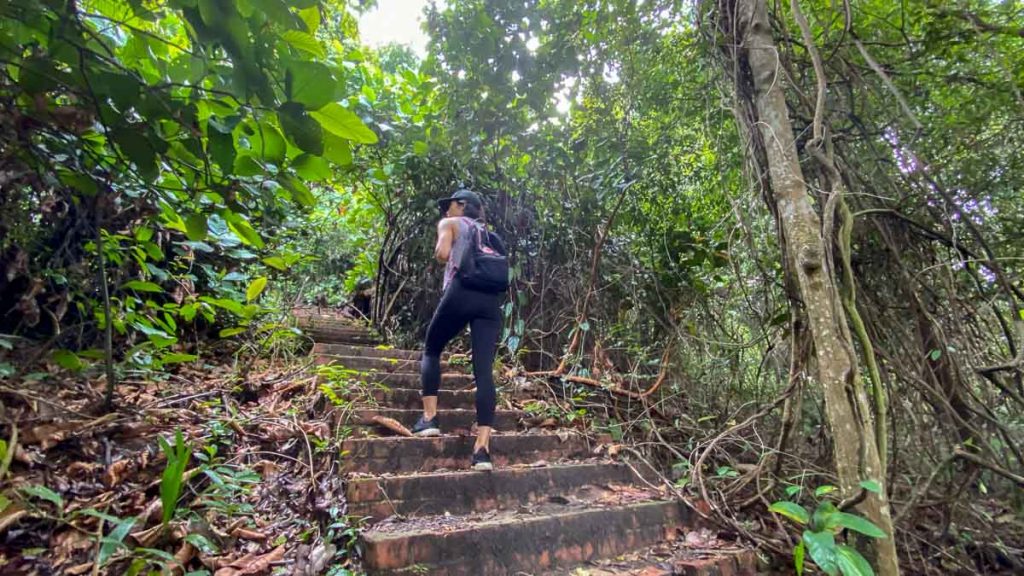 On the right side of the reservoir is another flight of steps. This one actually goes somewhere.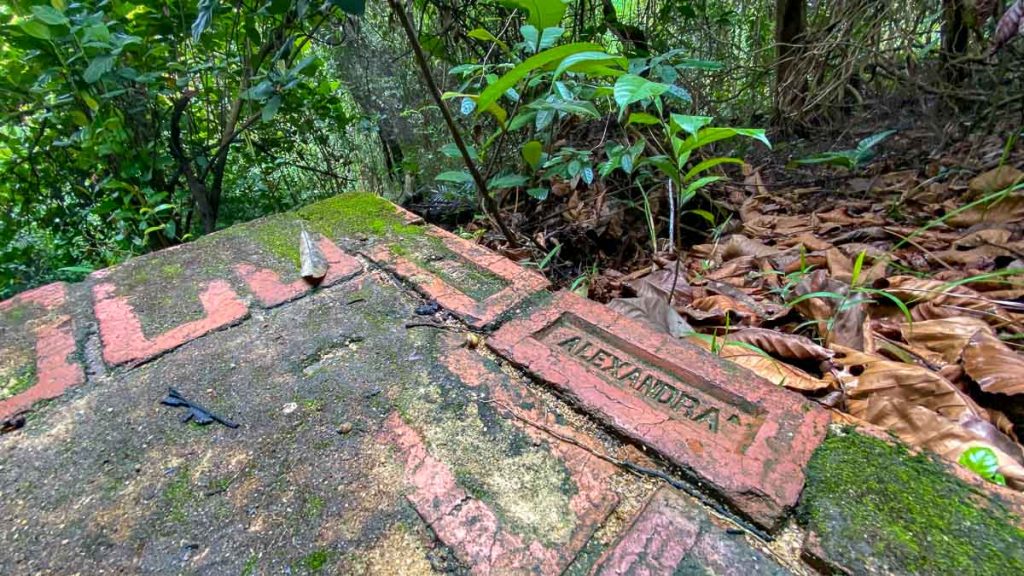 Fun fact: If you look closely at the bricks, you'll notice they're stamped with the text "Alexandra" on it. These bricks were made at the Alexandra Brickworks — Singapore's first brickyard that used modern machinery.
4) A Mysterious Japanese Tomb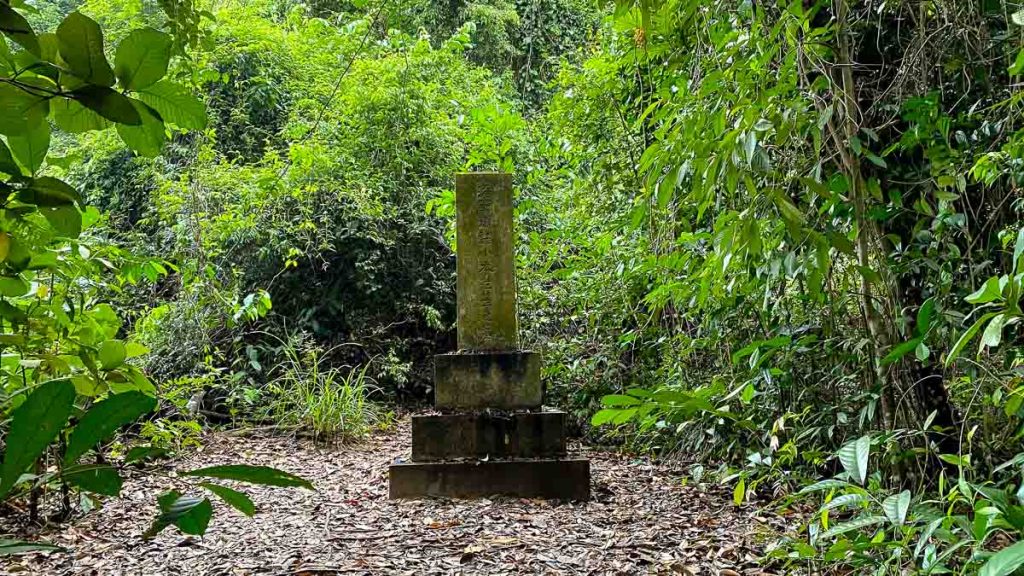 At the top of the stairs is a tombstone with Japanese inscriptions. After some research, we found that it belonged to a civilian naval engineer Komoto Ekasa (小本江笠), a Japanese who worked in Singapore during the 1940s but had died four months later due to over-exhaustion. Not much else is known as to why the tombstone was erected at this spot.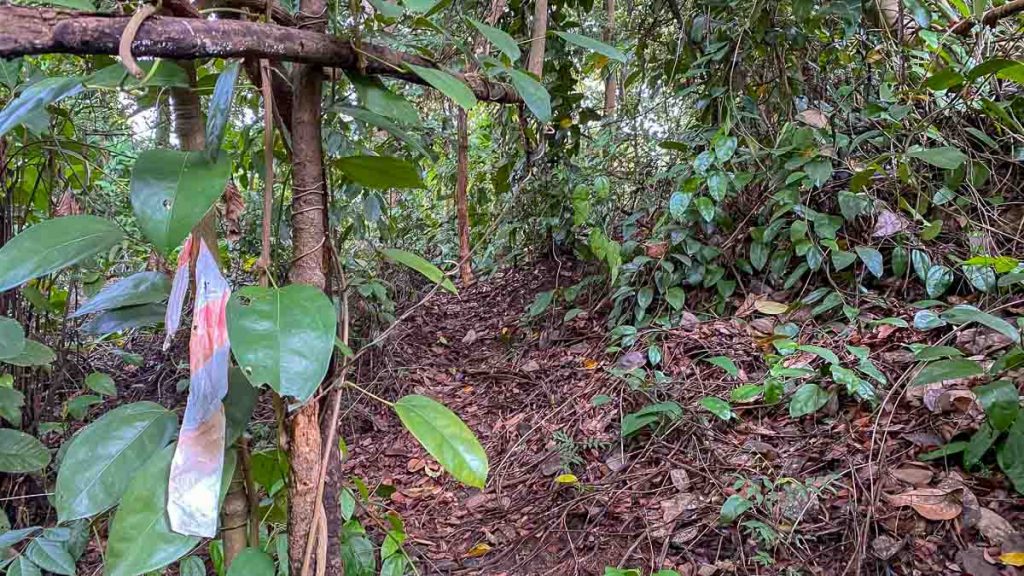 When you start feeling ants crawl up your legs (yes, there's a lot here), head to the right until you find a path going up. This will lead you to Mount Faber Station.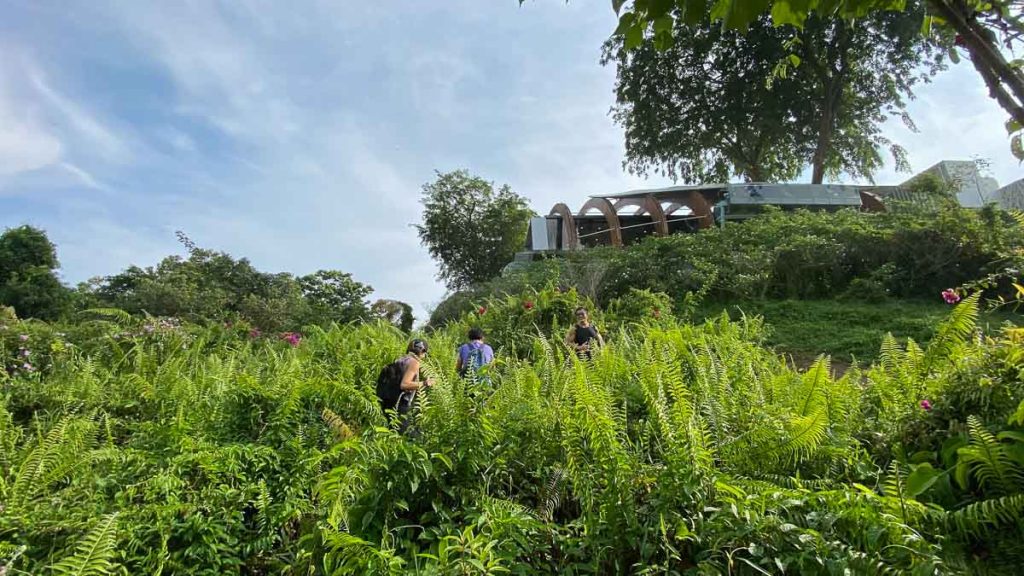 5) Secret scenic spot at Mount Faber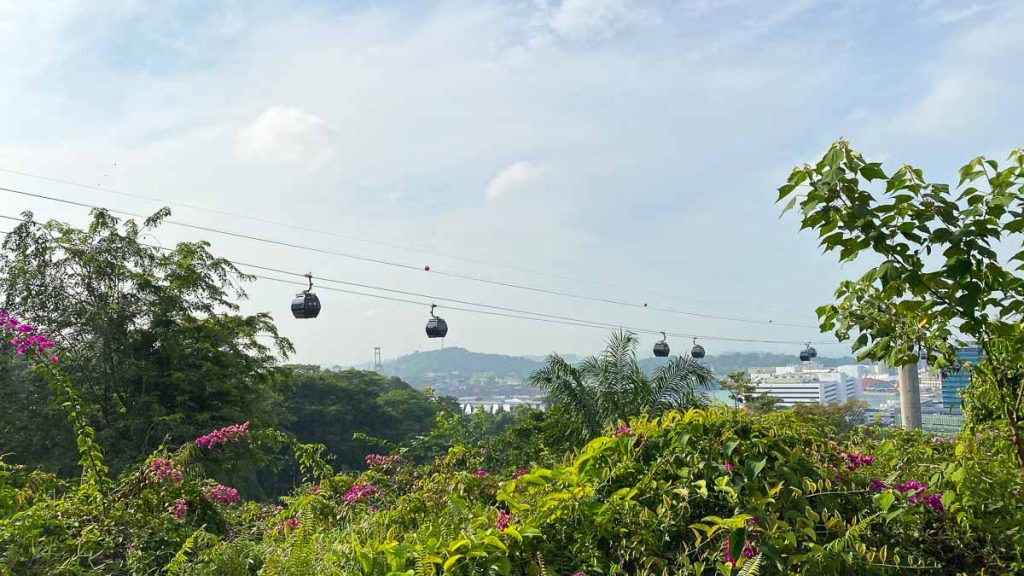 Look to your right and you'll spot cable cars streaming in the distance.
To return to Seah Im carpark, get your feet ready for more mud and ants! JK — from Mount Faber station, turn right and walk down the hill towards the Mount Faber lookout point. There's a flight of stairs that will lead you straight to Seah Im carpark.
Exploring Abandoned Places in Singapore
Hope this Singapore guide to the Keppel Hill reservoir along with other abandoned gems was helpful! If you love these guides to discovering the outdoors in Singapore, let us know in the comments section below and we'll cover more!
---
If you like what you see, follow us on Instagram, YouTube, Facebook and Telegram for more adventures!