A challenging nature trail not for the faint of heart. Here's our guide to Bukit Batok Hillside Nature Park!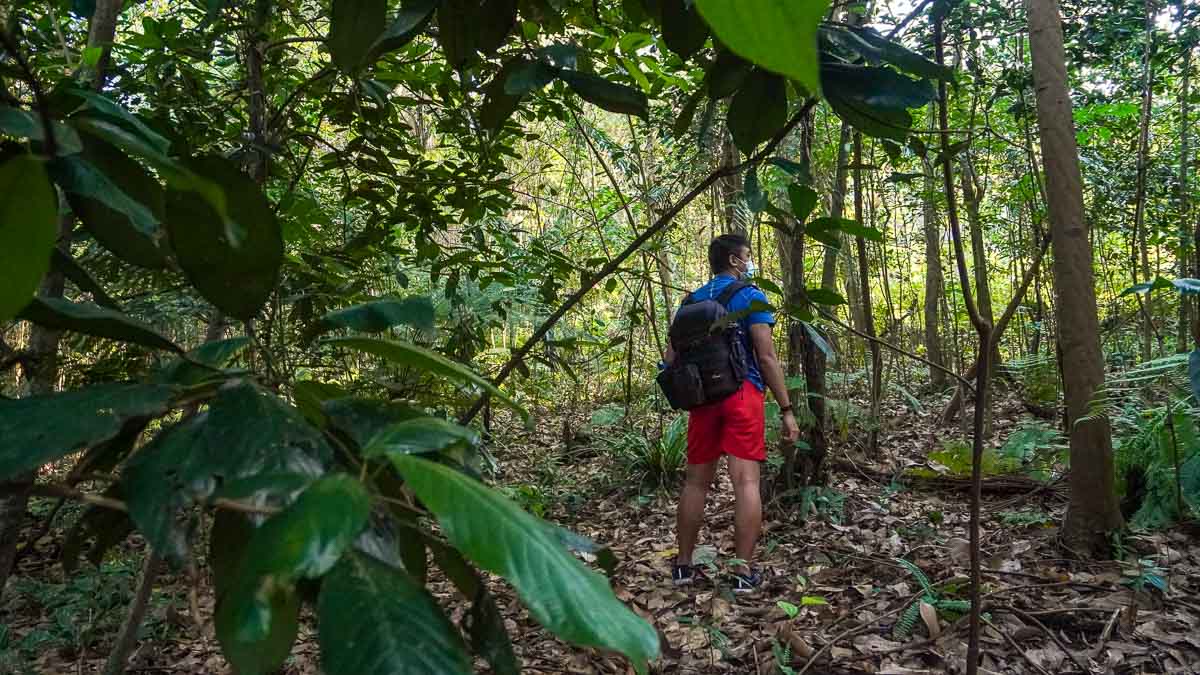 Recently, we found a forest trail leading to Bukit Batok Hillside Nature Park — an abandoned park hidden in plain sight.
This hiking trail runs through a secondary regenerating forest that's on its way to being converted into a public park. There's also Build-To-Order flats scheduled to pop up in the next five years.
There are ongoing petitions to conserve it so what will happen of this green patch is uncertain.
If you're up for the adventure, here's how to locate and explore the Bukit Batok Hillside Park before it's gone (or forgotten)!
How To Get To Bukit Batok Hillside Park
By foot: It's an 11 to 14-minute walk depending on the park's starting point (more about that below). From Bukit Gombak MRT, walk along Bukit Batok Avenue 5 towards Bukit Batok Avenue 2. Make a right on avenue 2 to get to starting point (1), or keep going on avenue 5 until you see a clearing by a fire hydrant (jungle bashing route).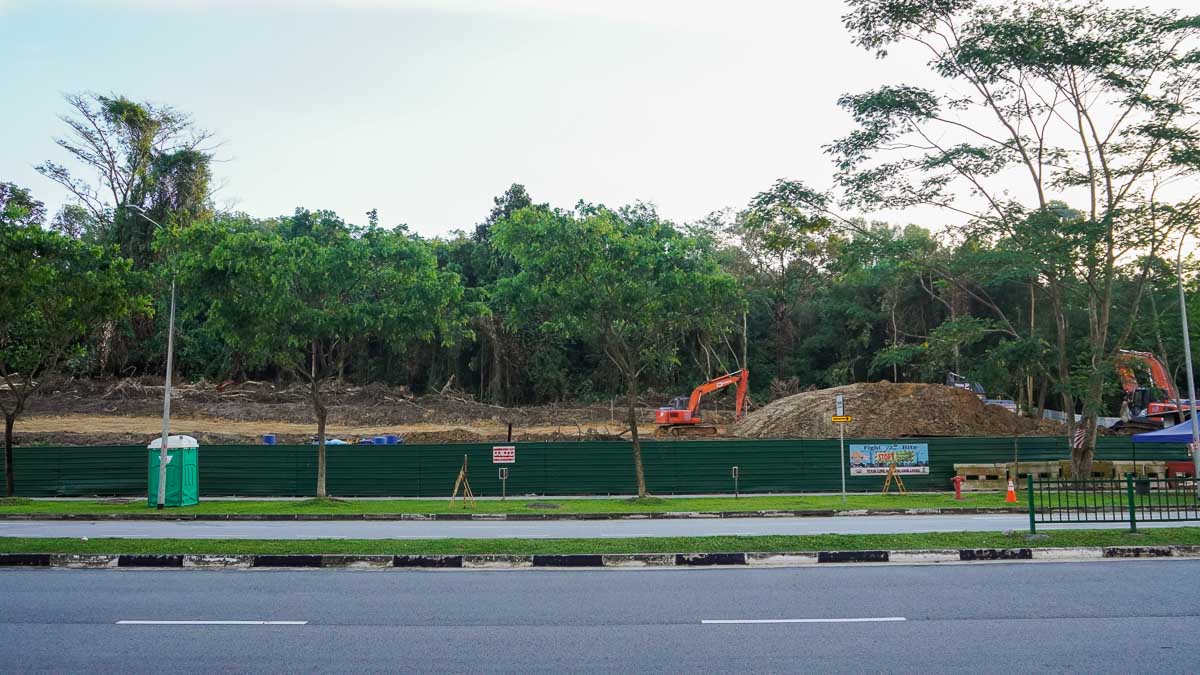 Public transport: From Bukit Gombak MRT (NSL) take bus 991 towards Bukit Batok Interchange and alight in two stops at Blk 467 Cp. Across the bus stop, you'll notice a construction site — that's your landmark.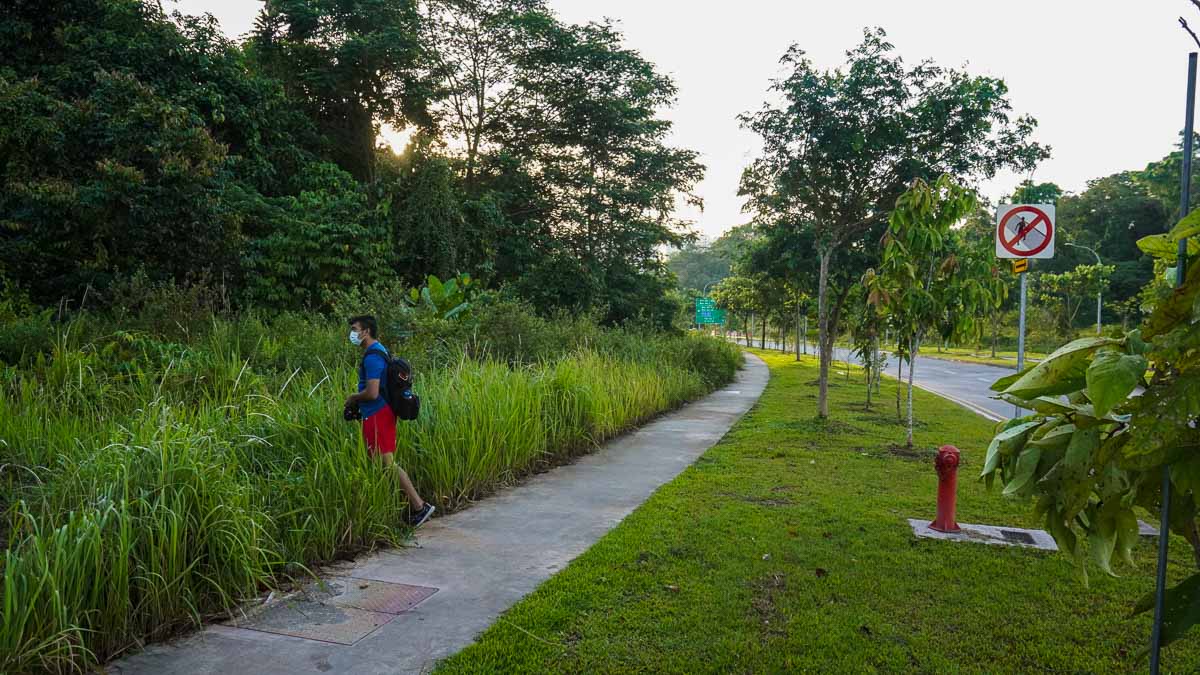 Cross over to the construction site and head toward Bukit Batok Avenue 2 (one of the starting points). Walk until you see a fire hydrant and a stop sign.
Drivers: Park at Block 303 Bukit Batok street 31. Then, head to the main road and walk along Bukit Batok Avenue 5 toward Bukit Batok Avenue 9.
Starting Point for the Bukit Batok Hillside Nature Park Track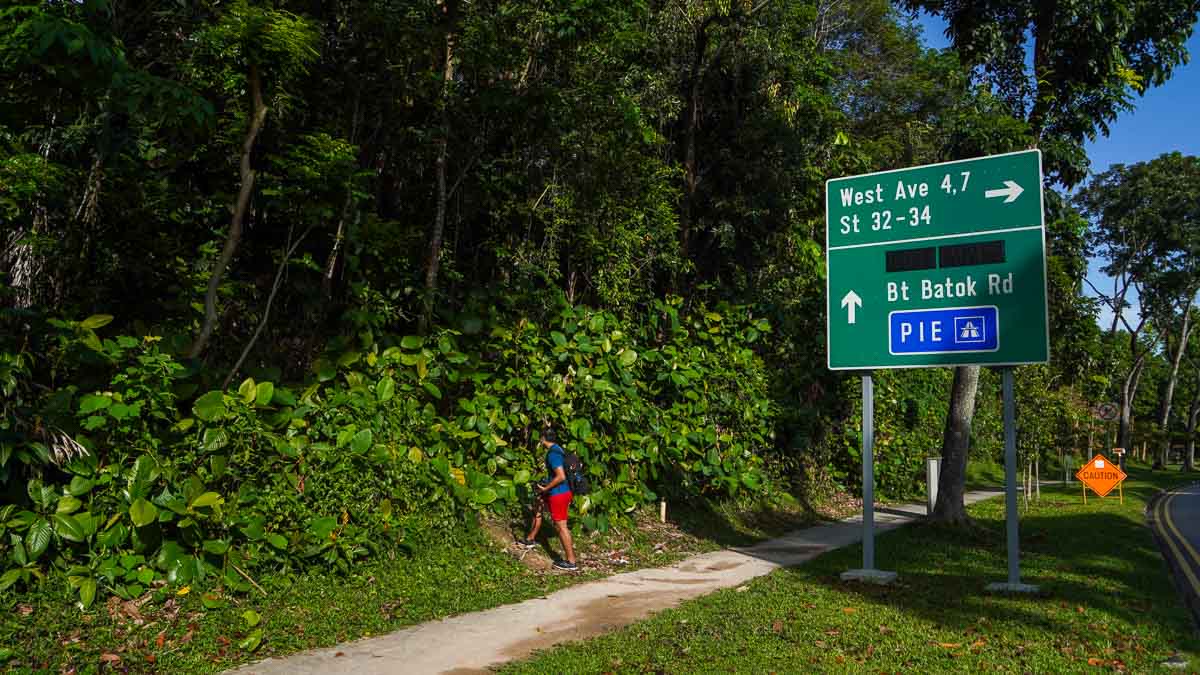 There are two starting points to the abandoned park:
(1) Easy: On Bukit Batok Avenue 2, look for a small clearing beside this road sign (pictured above). This leads you directly to the park's large stone steps so it's fairly straightforward.
(2) Challenging: On Bukit Batok Avenue 5 — the path on this route isn't as beaten so some bashing may be required.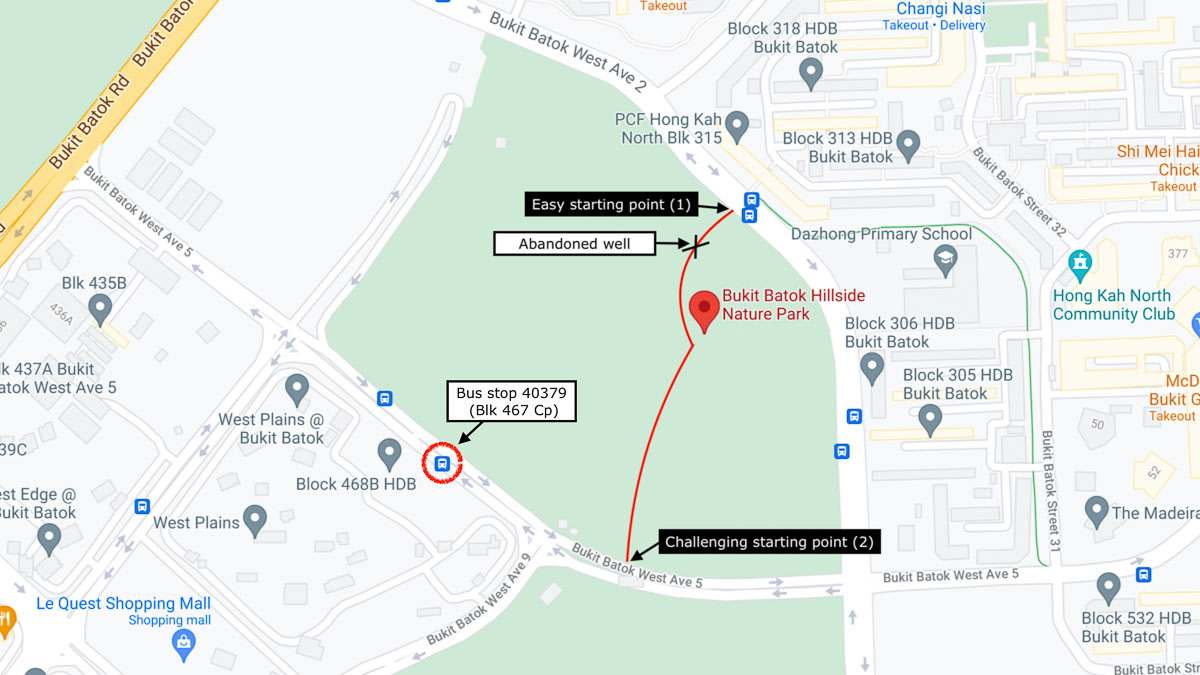 Of course, in the spirit of a little adventure, we took up the challenge and tried start point (2).
The entry point is hard to miss. However, this is the only part of the trail that's clearly marked. Look out for red and white striped ribbons left behind by past hikers for general guidance.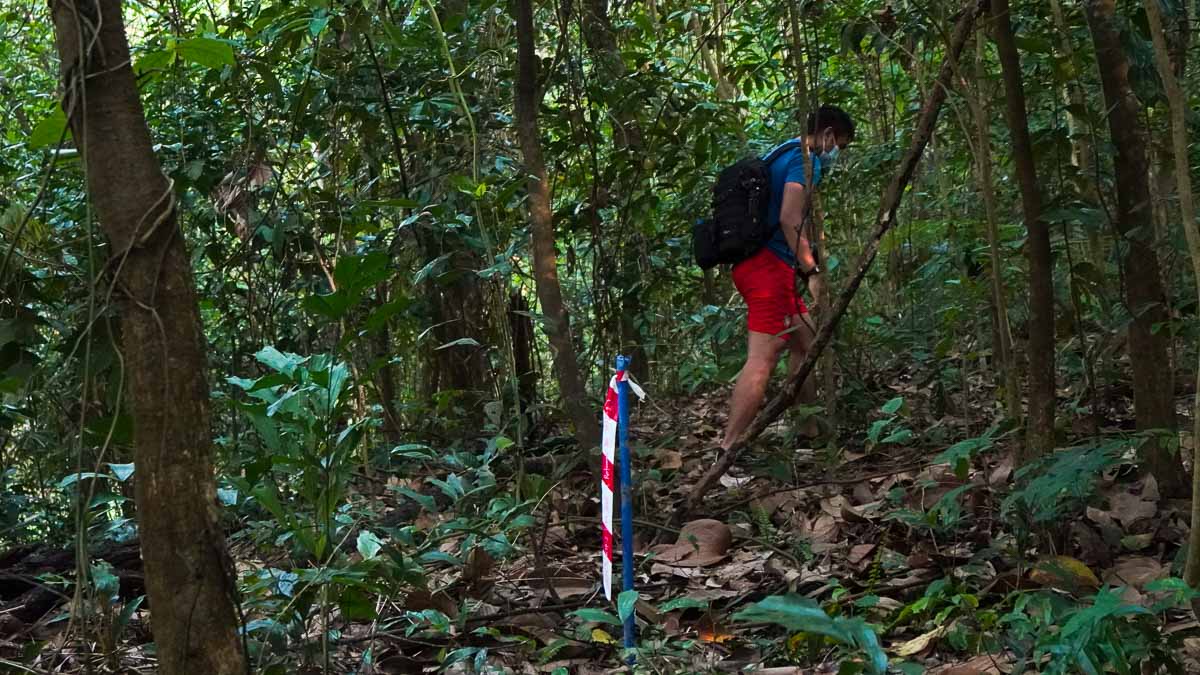 The terrain is rugged, uneven and slopey. Most of the ground is covered in damp deadfall, so proceed with caution!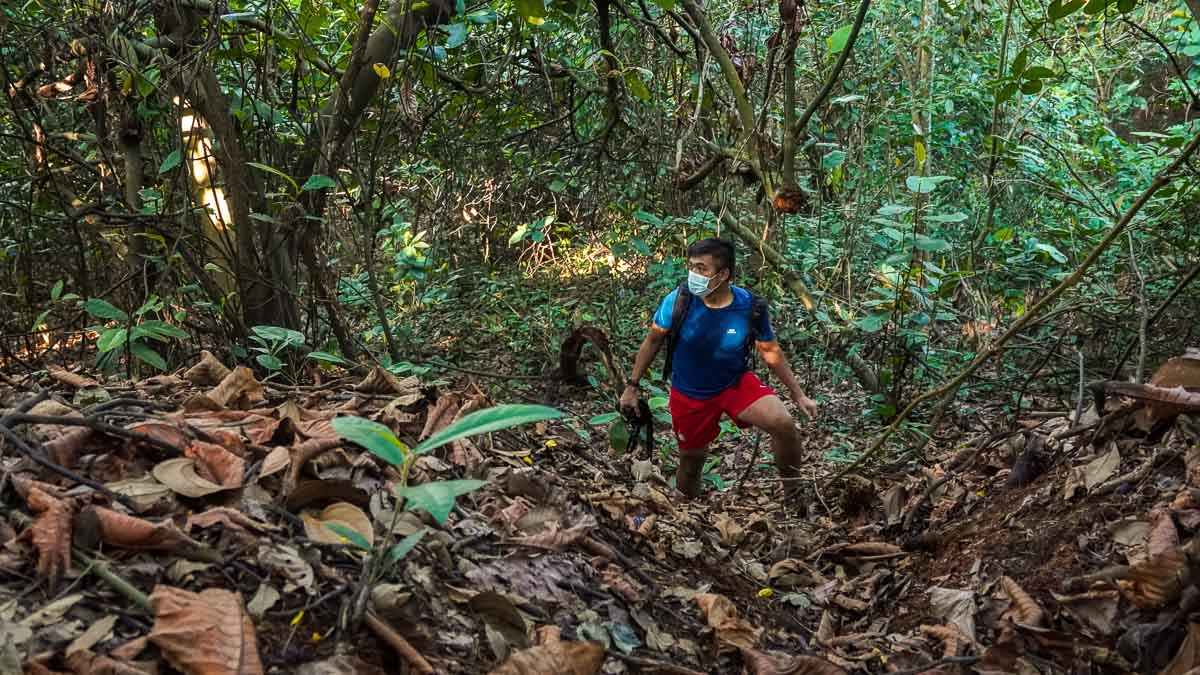 To be extra safe, avoid any steep downhill descents at all costs. Some of these descents might lead you into a ditch or lead you elsewhere. We kept to this personal rule while moving toward "Bukit Batok Hillside Nature Park" pinned on our Gmap.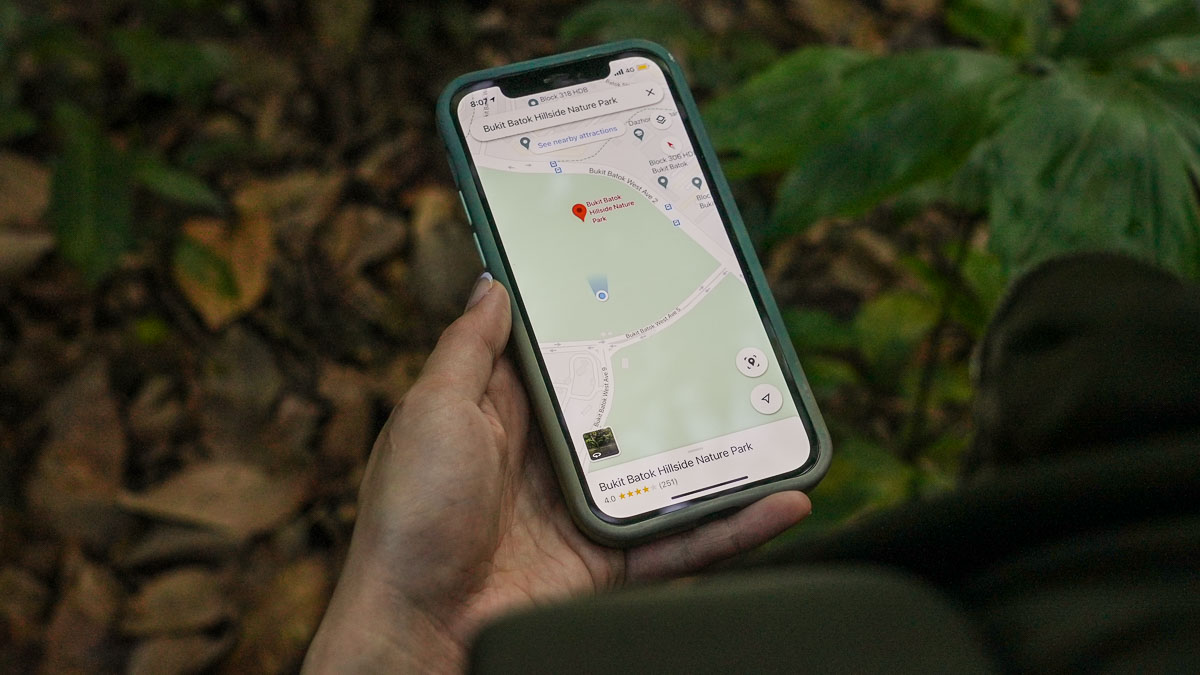 Navigating through the dense forest will take you around an hour. But soon enough, you'll reach the shell remains of what might have been a sheltered walkway — welcome to Bukit Batok Hillside Nature Park!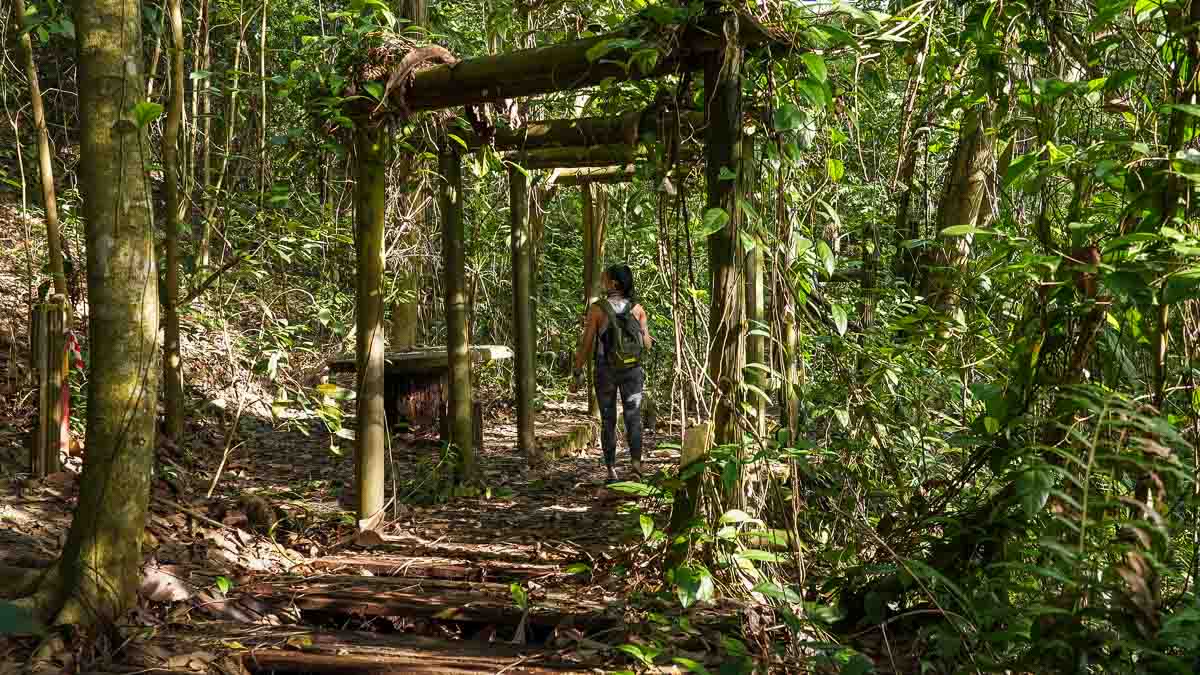 The frames look like the famous Torii Gates. It's a great photo-worthy spot, especially for those who miss Japan!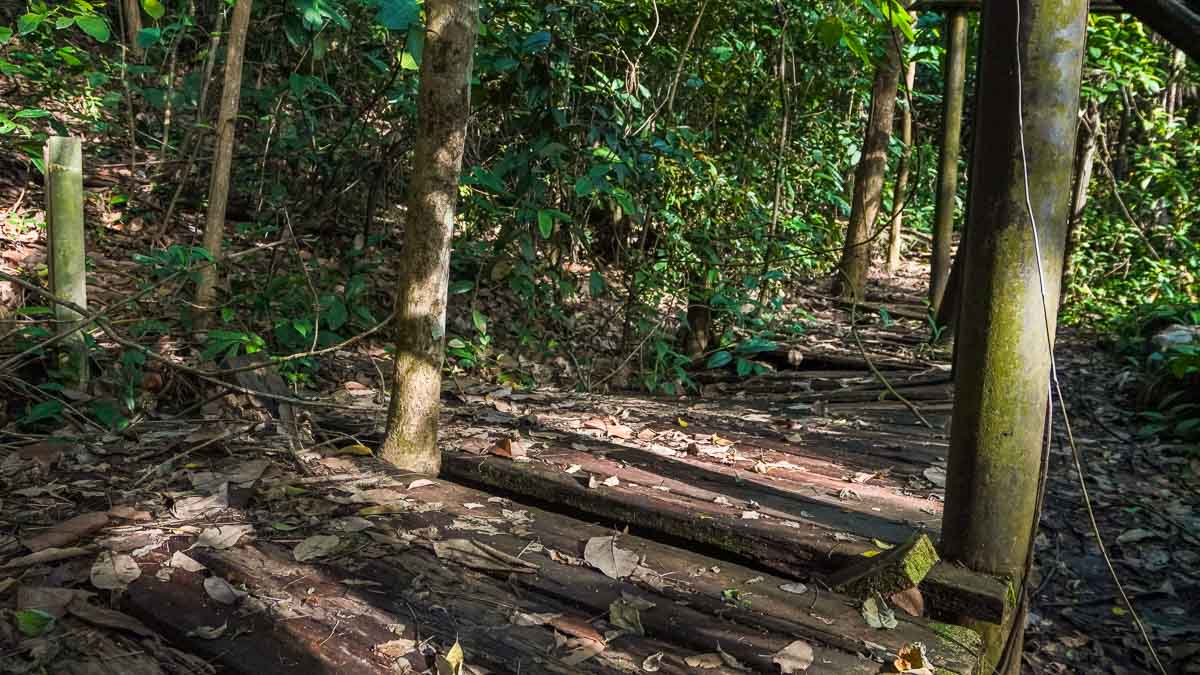 Be extra careful as you walk along the jagged wooden floorboards. Some have crumbled over time and with a few wonky ones in between. Remember to test each plank before taking the next step!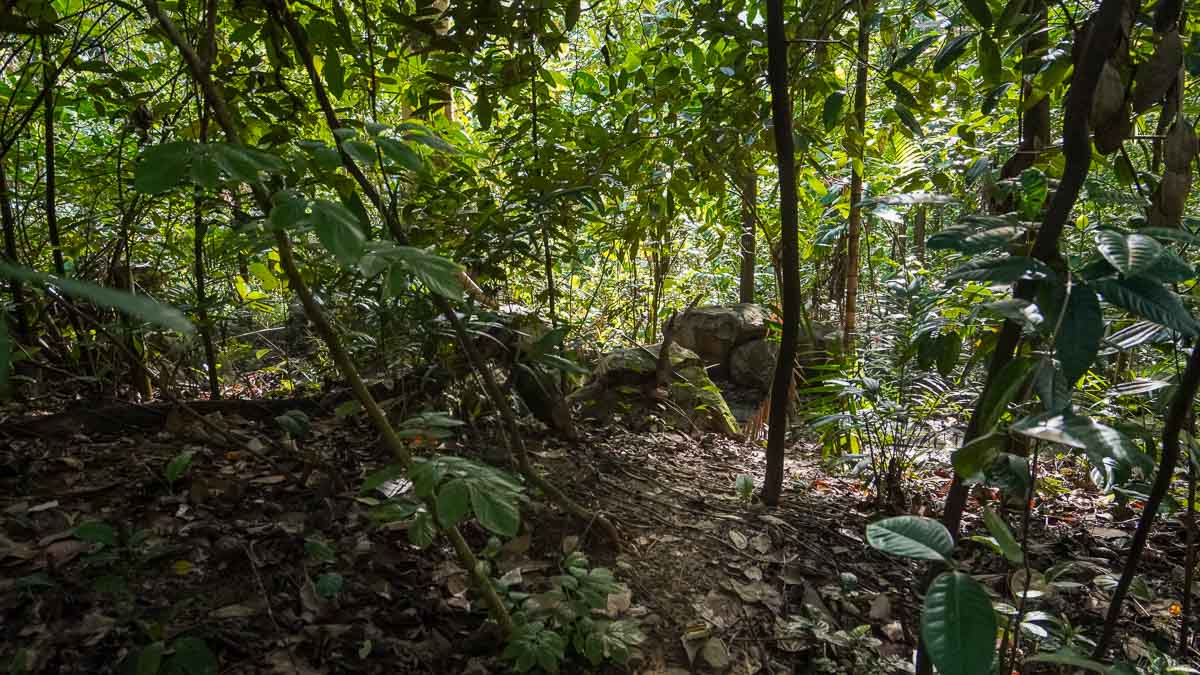 Once you've reached the other end of the "Torii Gates", head downwards to check out the rest of the park. The large stones (pictured above) are part of a walkway that leads to an abandoned well on your left, and a flight of stone steps on the right.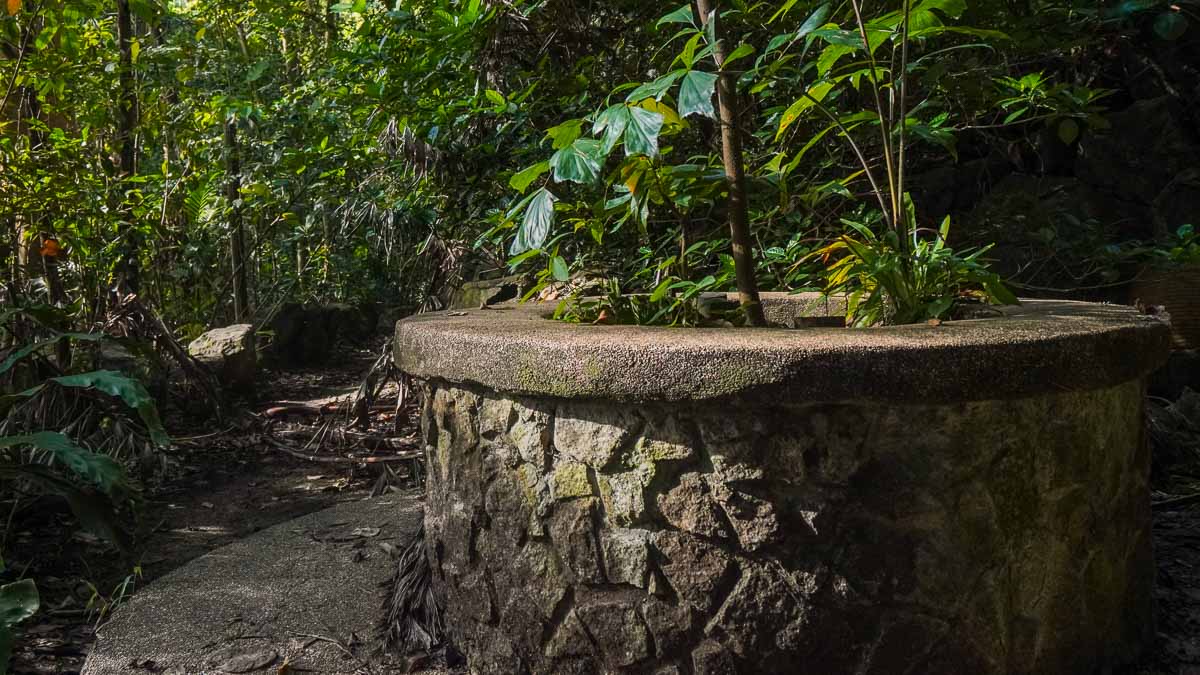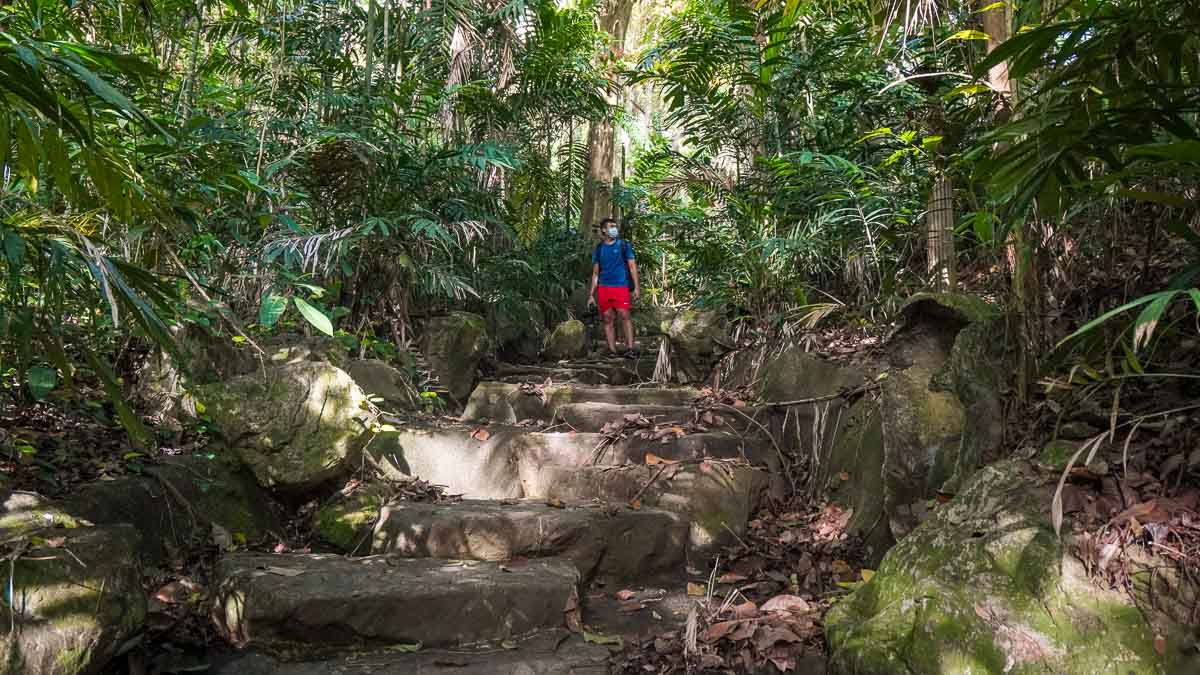 These stone steps lead to the entry point along Bukit Batok Avenue 2.
This trek is tough but very rewarding, especially once you finally find the 'Torii Gates' and emerge from the other side! However, if you're short on time and prone to getting lost, you can start from the first starting point instead!
What To Prepare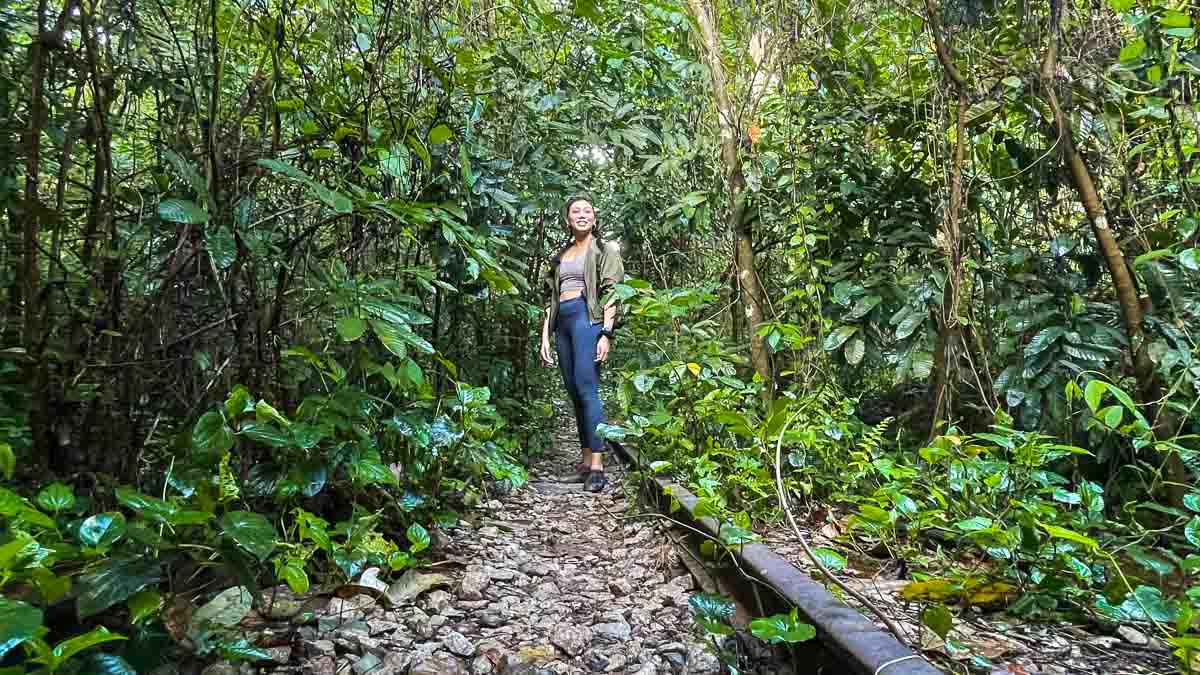 Hiking to Bukit Batok Hillside Nature Park is mostly jungle bashing, so wearing long sleeves, pants and a hat keeps you protected from prickly shrubbery — but more importantly, against mozzie attacks!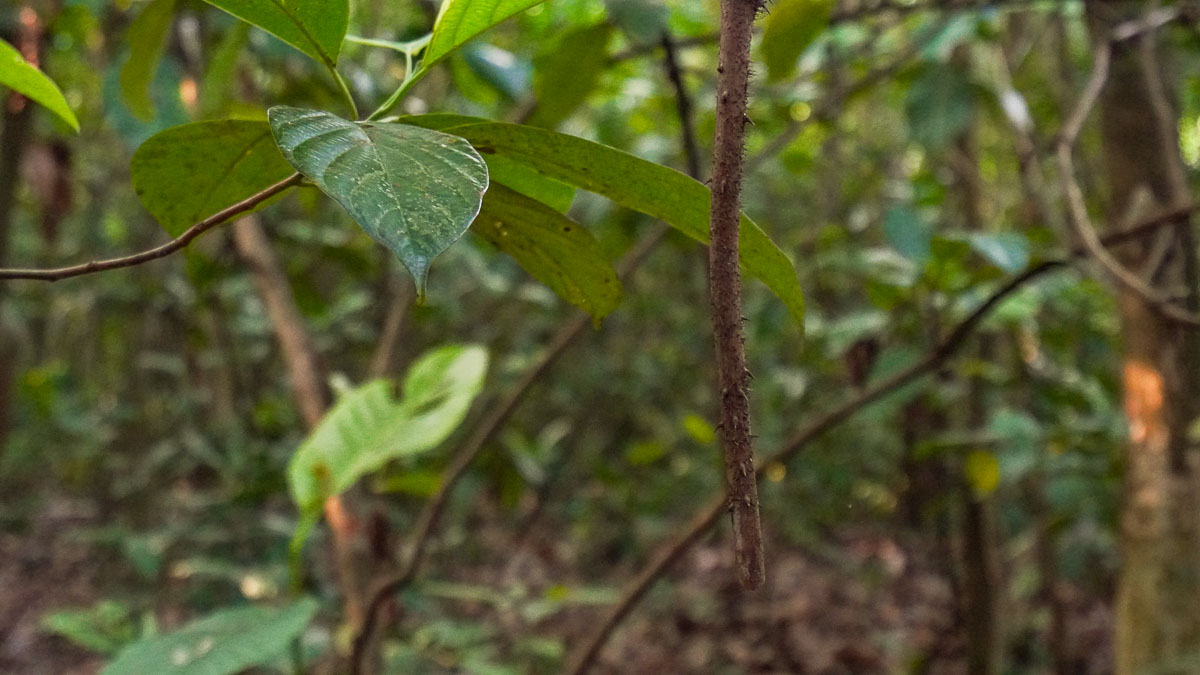 Be careful of thorny branches hanging from the trees!
In dense forests like these, the key is to keep moving and douse yourself in insect repellent before entering the park. Trekking poles could come in handy too, especially when moving up or down steep terrains.
Last but not least, pack light and bring at least a litre of water! This isn't your easiest hike so it's important to stay hydrated.
Is this a trek you'd hike in Singapore? Let us know what you think about it in the comments below!
---
Like what you see? Follow us on Facebook, Instagram, YouTube, and Telegram for more travel inspiration!