The ultimate Seoul food guide that'll make you go mashisoyo! (delicious) 😍
Thanks to the Singapore South-Korea VTL scheme, we not only managed to revel in the country's gorgeous hikes, iconic attractions and epic day trips but also, indulge in delicious local food.
So we've put together this Seoul food guide for all our fellow foodies — things you definitely can't miss while you're in town!
Read also: 7D Singapore-South Korea VTL Itinerary Under S$2.9k incl. Covid Expenses
1) Korean Barbeque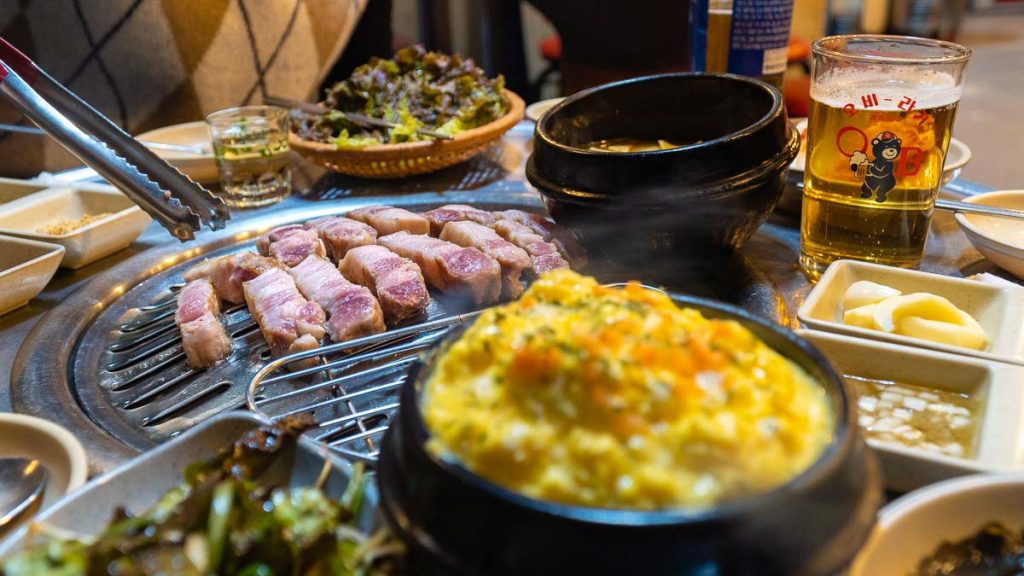 What's a trip to Korea without some authentic KBBQ?
Best eaten traditionally by wrapping the meat in a lettuce leaf, some restaurants even offer eight flavours of samgyeopsal or grilled pork belly — such as wine, ginseng and curry.
But if you're on a budget or prefer original flavours, Old House Charcoal Meat Restaurant in Hongdae (옛날집 참숯구이) is one of our favourite KBBQ spots.
We loved the thick and juicy pork belly, pork ribs, beef ribs, as well as other side dishes like the fluffy Korean Steamed Egg (Gyeran Jjim 계란찜). Best part is, it's open till the wee hours of the morning — perfect for a late dinner or supper!
*Pro-tip: Book on Klook (min two pax) to skip the queue.
Cost: From ~S$14
Opening hours: 4PM – 5AM
Address: 169-6, Donggyo-dong, Mapo-gu (Hongik Univ. Station, Exit 8)
2) Dakgalbi 닭갈비 — Spicy Stir-fried Chicken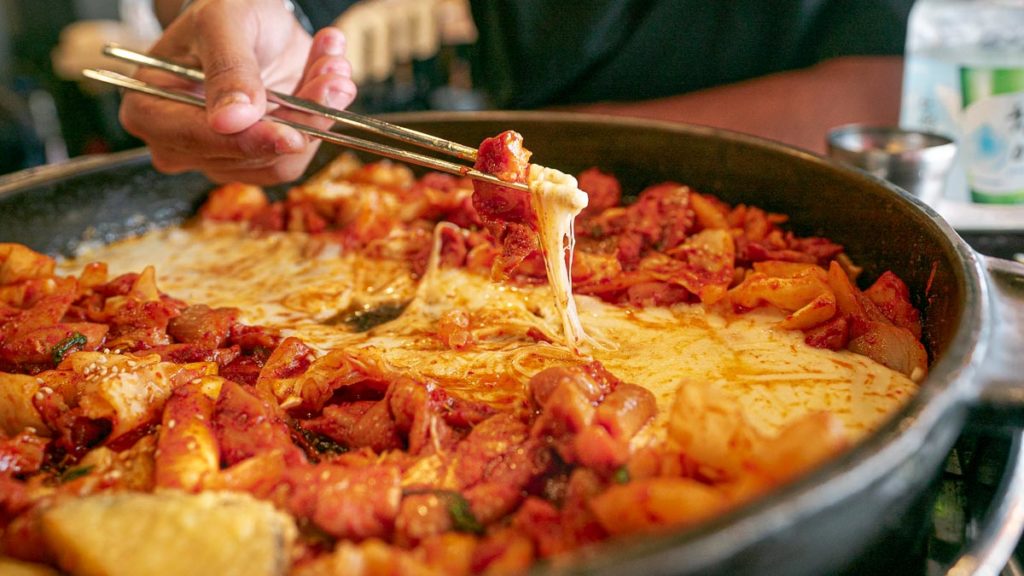 Dakgalbi is a spicy stir-fried chicken dish mixed with rice cakes, onions, cabbage and cheese. Or as I like to call it, heaven in a pot.
Hong Chun Cheon Dakgalbi is a restaurant famous for this dish, with many outlets across Korea. Leaving hungry isn't a possibility — the servings here are huge! But if you're still feeling peckish, add on cheese fried rice. It comes with seaweed, sesame and of course, loads of cheese.
Cost: From ₩10,000 (~S$12)
Opening hours: 10:30AM – 11PM
Address: Hongik-ro 6-gil, Seogyo-dong, Mapo-gu (Hongik Univ. Station, Exit 9)
3) Fresh Seafood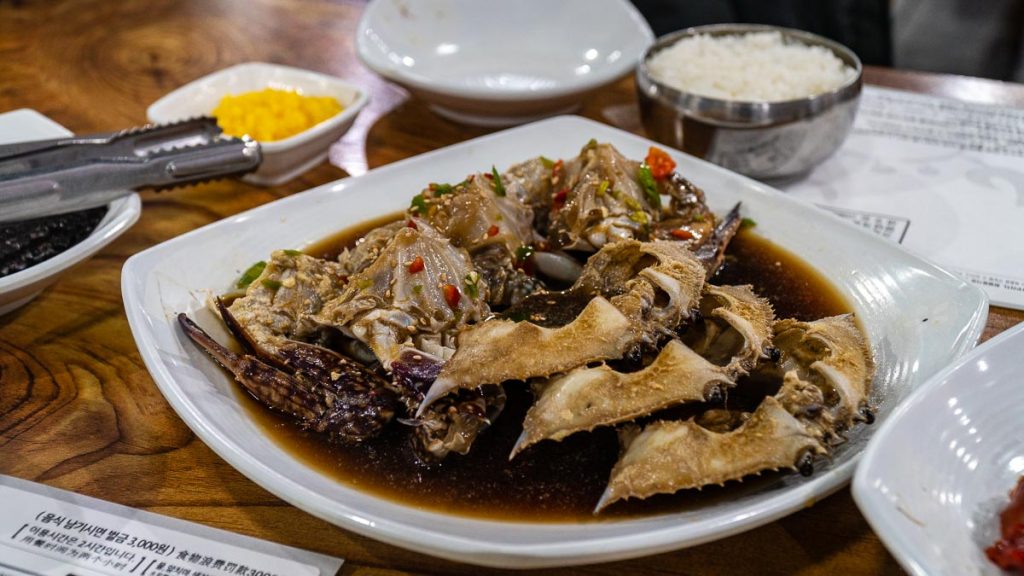 Honestly, raw crab meat didn't sound too appetising at first. But after trying, I couldn't get enough of it. 🤤
The crabs served at Sunmine Hengbok Gejang in Dongdaemun (순미네행복게장) are marinated in soy sauce and spicy sauce — no strong fish smell at all! The restaurant also provides aprons so you won't dirty your clothes while eating.
*Pro-tip: Use the crab shell to scoop some sauce with the meat and eat it directly from the shell. It gives the meat a lot more flavour!
Cost: From ~S$23
Opening hours: 10:30AM – 11PM (Weekdays), 10:30AM – 10:30PM (Weekends)
Address: 38 Eulji-ro 43-gil, Euljiro 6 (yuk)-ga, Jung-gu (Dongdaemun History and Culture Park Station, Exit 14)
4) Grilled Intestines (Gopchang 곱창)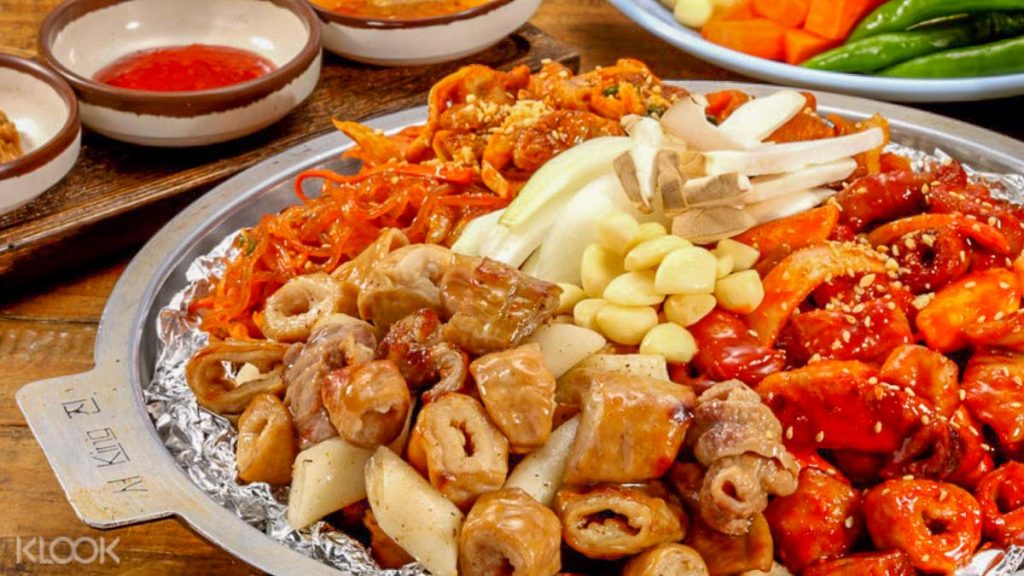 Photo credit: Klook
In Korea, gopchang refers to a cattle's small intestines. Despite how it sounds, it's actually really delicious.
The chewy salted and seasoned pork intestines come in a generous portion at Aunt's Grilled Intestines (Gopchang Restaurant) (이모네 곱창) — also available on Klook at a discounted rate!
Cost: From ~S$15
Opening hours: 5PM – 10PM (Closed on Sun)
Address: 131-1, Chungmuro 4-ga, Jung-gu (Chungmuro Station, Exit 8)
Read also: 23 Best Things To Eat In Seoul's Most Popular Districts — Hongdae, Myeongdong, Dongdaemun
5) Dalgona Candy (달고나 캔디)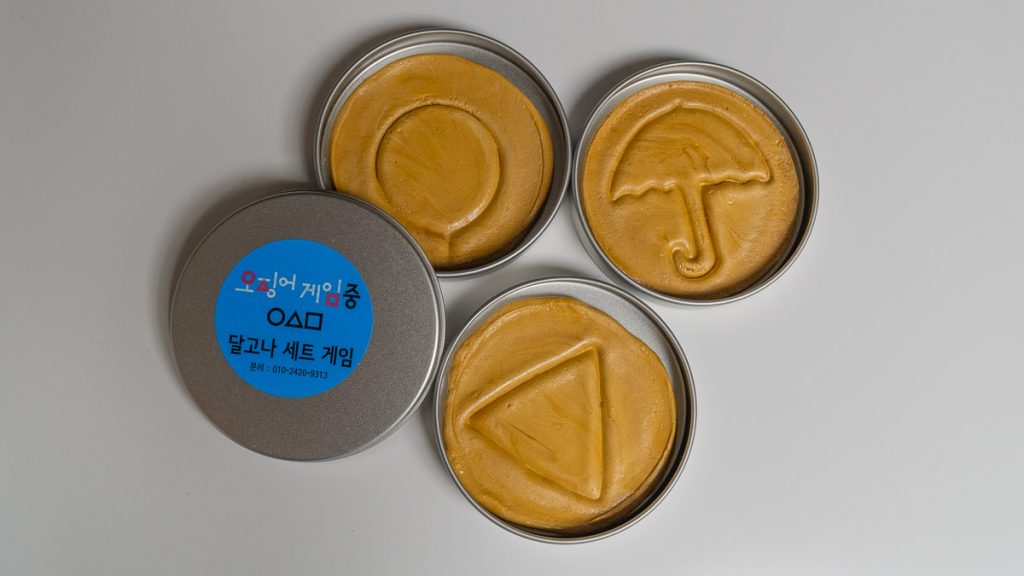 Popularised by K-drama 'Squid Game', dalgona candy is a common snack in Korea made with melted sugar and baking soda.
You can easily find it anywhere on Seoul's streets. We got ours at a street stall along the famous Myeong-dong shopping street, which comes in a 'Squid Game' casing!
Needless to say, we had to buy safety pins (we couldn't find needles) from a nearby convenience store to try out the game. True to the show, the triangle design took little effort to cut out while the umbrella design cracked under a minute. 😭
Cost: ₩4,000 (~S$4.60)
How to get there: Myeong-dong Station, Exit 6
6) Sundubu Jjigae 순두부찌개 — Spicy Soft Tofu Stew
Here's the best dish to warm up your body during winter — spicy soft tofu stew.
Most restaurants serve this Korean staple, but we really loved the stew at this small eatery we chanced upon after hiking Naksan Park.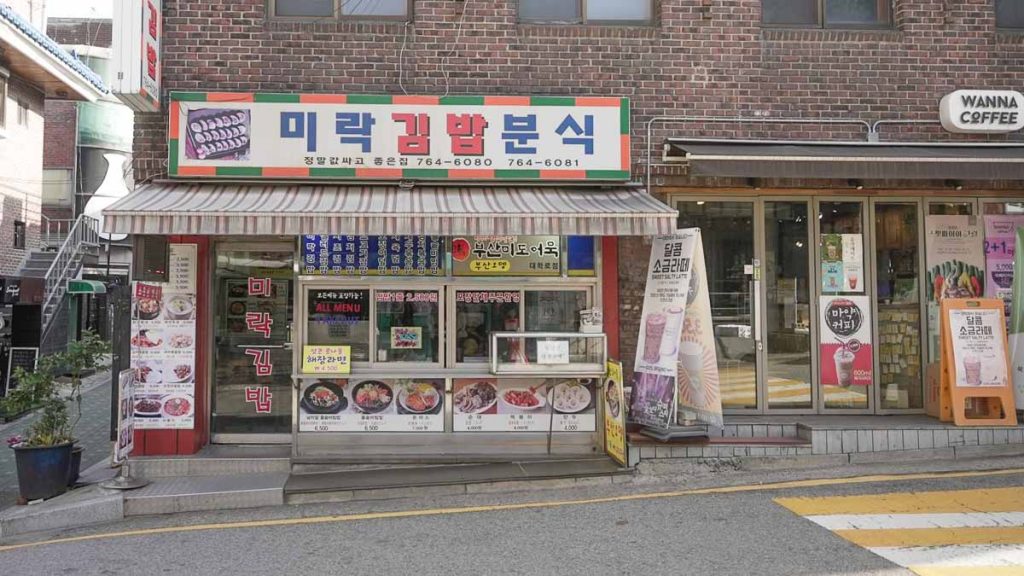 This cosy shop located near Hyehwa Station serves both affordable and delicious noodles and soups, as well as gimbap (seaweed rice roll). We're not exactly sure of the shop's name, but you'll spot it right beside WANNA COFFEE cafe.
Cost: From ₩5,000 (~S$6)
Opening hours: 10AM – 10PM
Address: 2 Dongsung 2-gil, Donsung-dong, Jongno-gu (Hyehwa Station, Exit 2)
7) Tteokbokki 떡볶이 — Spicy Rice Cakes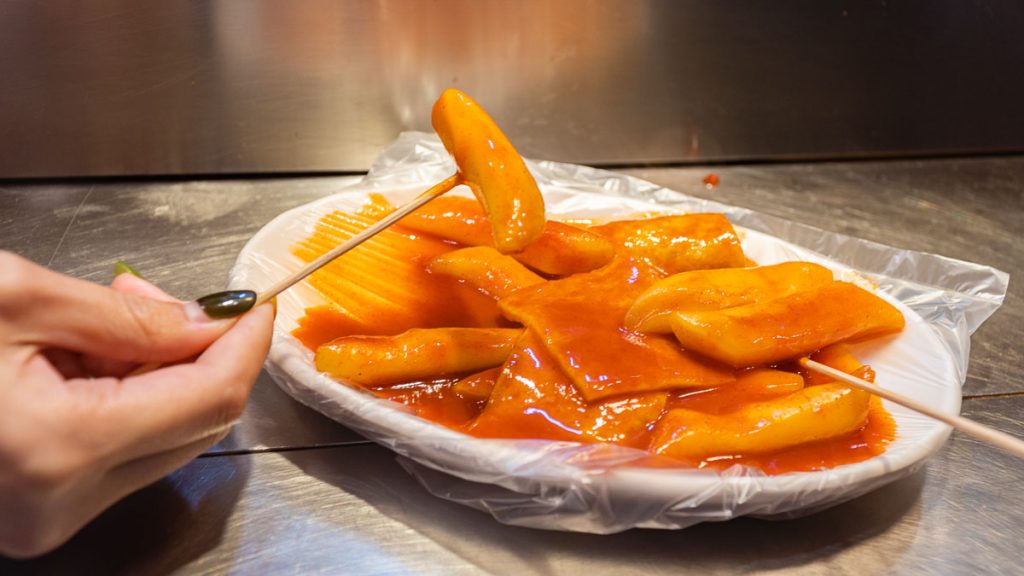 You can find tteokbokki (rice cakes) everywhere in Korea, both in restaurants and street stalls. It's a popular local snack, perfect for a quick bite as you brave the cold winters!
Most days, we couldn't resist buying a plate of tteokbokki on our way back home for supper 😆
Cost: ₩3,000 (~S$3)
How to get there: Dongdaemun History and Culture Park Station, Exit 1/2 (We got ours at a street stall opposite Dongdaemun Design Plaza)
8) Samgyetang 삼계탕 — Ginseng Chicken Soup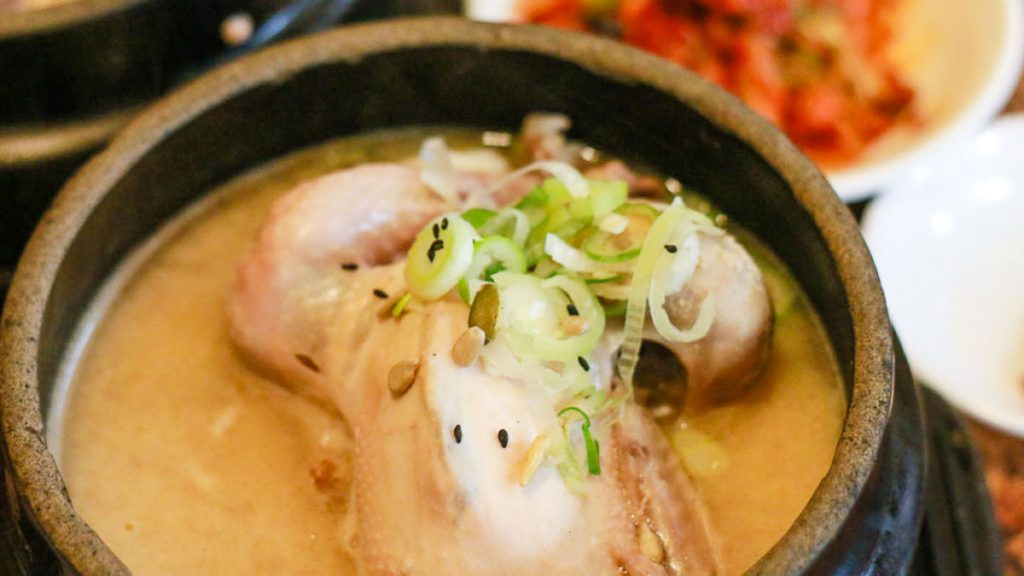 Truly a chicken soup for the Seoul, samgyetang is a Korean traditional ginseng chicken soup meant to help cool down the body during hot and humid weather.
It's made up of a whole chicken stuffed with garlic, rice and of course, ginseng. Tosokchon Samgyetang is a popular spot for this dish among tourists. It's near Gyeongbokgung Palace, one of Seoul's most iconic landmarks.
Cost: From ₩15,000 (~S$17)
Opening hours: 10AM – 10PM
Address: 5, Jahamun-ro 5-gil, Jongno-gu, (Gyeongbokgong Station, Exit 2)
9) Chicken and Beer (Chimaek 치맥)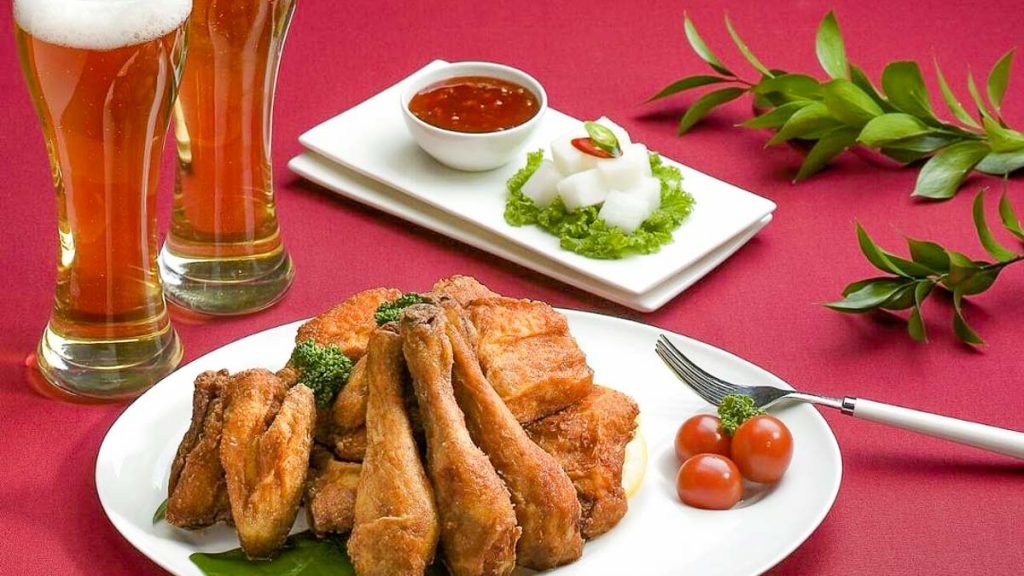 Photo credit: @chickentwotwo via Instagram
No Seoul food guide is complete without the ultimate OTP (one true pairing) — chicken and beer 😍
Two Two Chicken is a popular chain with multiple outlets across Korea. Expect a large portion of crispy fried chicken with a variety of flavours such as soybean, teriyaki, garlic and green onion.
We stuck to the original, which was still finger-lickin' good and juicy on the inside!
Cost: From ₩17,000 (~S$20)
Opening hours: 10AM – 1:30AM
Address: 6-4 Namsandong 2(i)-ga, Jung-gu (Myeung-dong Station, Exit 3)
10) Budae Jjigae 부대찌개 — Army Stew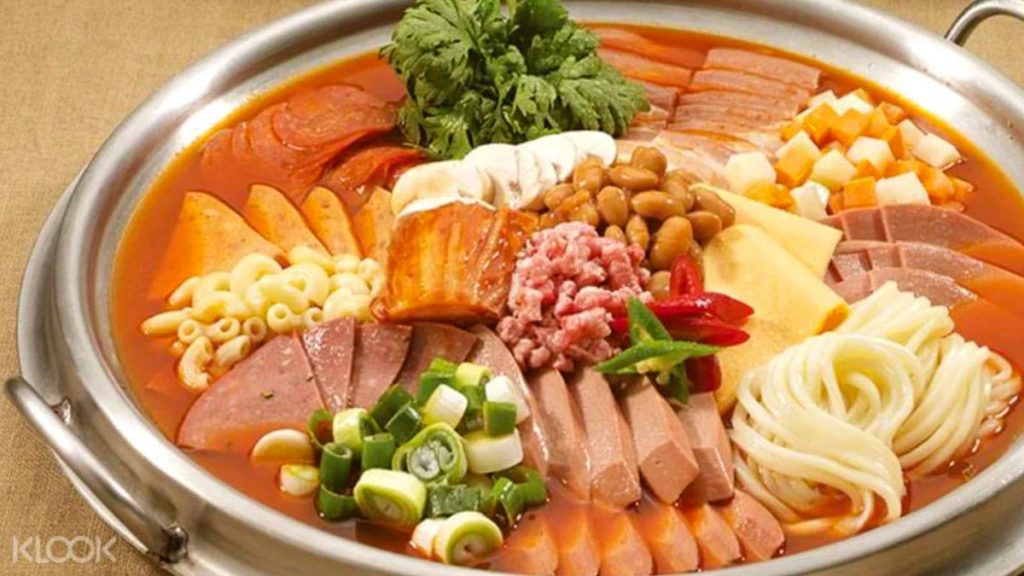 Photo credit: Klook
Also known as budae jjigae, army stew is a Korean hotpot filled with ramen, noodles, sausages, spam and rice cakes.
Indulge in a free-flow buffet of kimchi, ramen, fries and drinks at Nolboo Budae Jjigae and Cheolpangui restaurant — you're sure to leave fully satisfied.
Cost: From ~S$13
Opening hours: 11AM – 11PM
Address: 33-43, Changcheon-dong, Seodaemun-gu (Sinchon Station, Exit 2)
Read also: 7 Korean Dishes You Must Try Outside Seoul – Jeonju, Geoje and Yeosu Edition
11) Bingsu 빙수 — Shaved Ice Dessert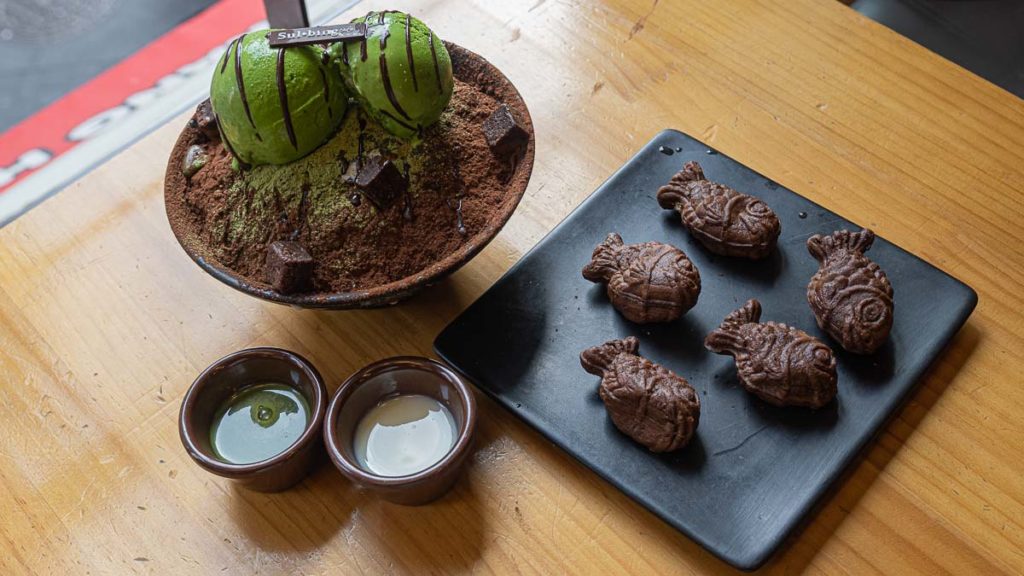 The number one dessert cafe in Korea has got to be Sulbing, which serves one of the best bingsus (shaved ice dessert)!
You won't have trouble locating an outlet — there's more than 400 in Korea. Some bestsellers include the signature Injeolmi Sulbing consisting of shaved milk, red bean and rice cake, as well as Matcha Cocoa for green tea lovers. One serving is plenty for two people to share.
Cost: From ₩7,000 (~S$8)
Opening hours: 10AM – 11PM
Address: 20 Myeongdong 10-gil, Myeongdong 2(i)-ga, Jung-gu (Myeung-dong Station, Exit 8)
12) Bibimbap 비빔밥 — Korean Rice Bowl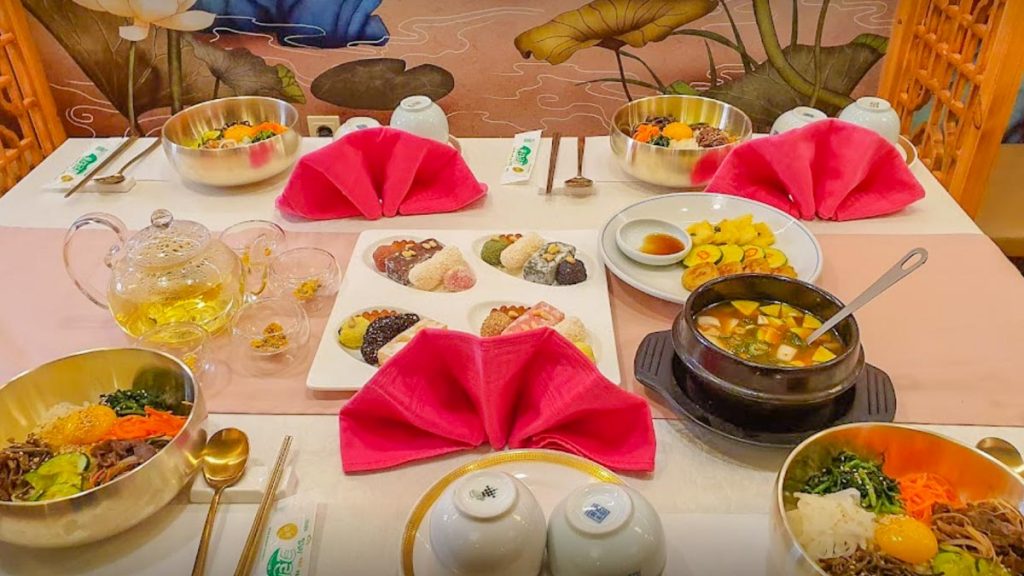 Photo credit: Myeongdongjeong
You can't leave Korea without having bibimbap — a rice bowl mixed with seasoned vegetables and meat.
At Myeongdongjeong, feast on bibimbap like royalty in your very own private dining area. Feeling a little extra? Purchase the set meal on Klook — you'll get to wear a hanbok while dining.
Cost: From ~S$29 (2pax set)
Opening hours: 11AM – 4PM (Lunch), 5PM – 11PM (Dinner)
Address: Seong Chang Building 1F (Parking lot beside Sejong Hotel), 299, Samil-daero, Jung-gu (Myeong-dong Station, Exit 10)
13) Pancakes (Jeon 전)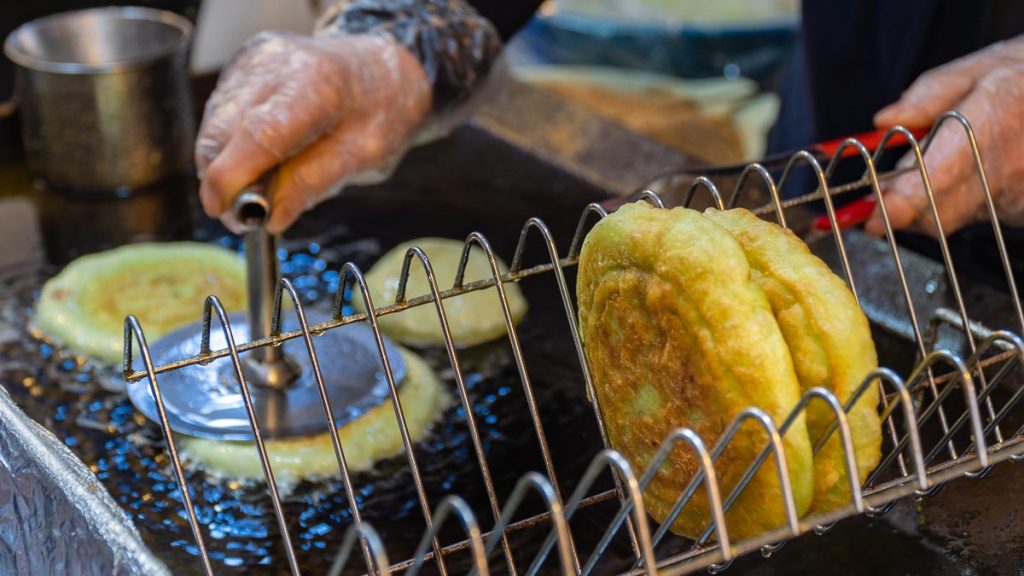 Nothing beats freshly made Korean pancakes at the street stalls found along Sinpo International Market. We were surprised at how fluffy yet crispy the pancakes were, compared to the ones we usually eat in cafes!
The market has a history of over 100 years. Besides mung bean pancakes, it's also known for dakgangjeong — a fried chicken dish glazed with sweet and spicy sauce.
Cost: ₩1,000 per piece (~S$1)
Opening hours: 10:30AM – 11PM (Weekdays), 10:30AM – 10:30PM (Weekends)
Address: 11-5, Uhyeon-ro 49beon-gil, Jung-gu, Incheon (Dongincheon Station, Exit 2)
14) Traditional Korean Tea and Dessert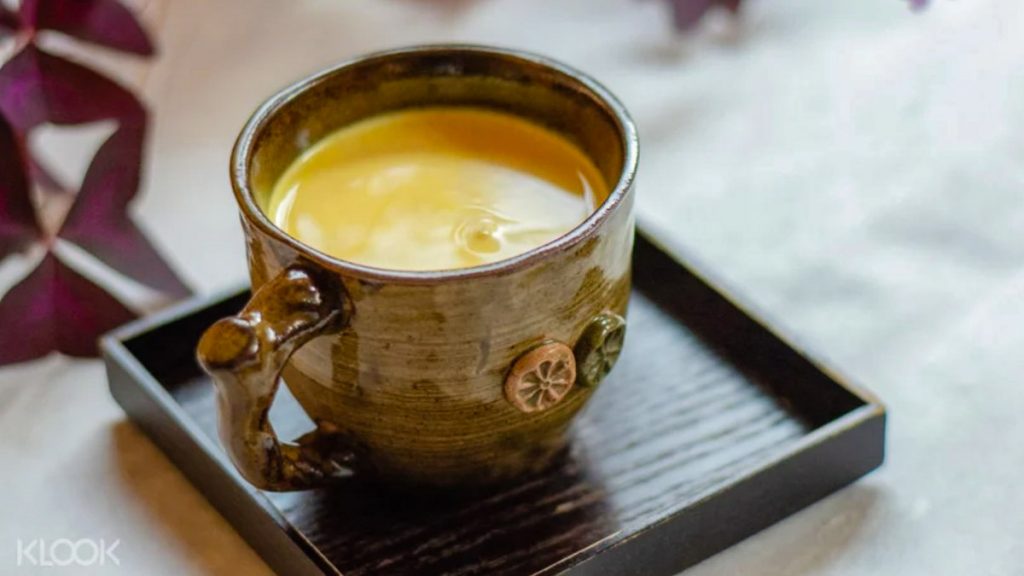 Photo credit: Klook
After working up an appetite from shopping at Insadong, treat yourself to tea and desserts in a cosy cafe!
What sets Banjak Banjak Bitnaneu apart from other cafes in the area is that it's a traditional Korean tea house famous for handmade tea. Besides tea, there's also fruit smoothies and desserts like rice cakes and bingsu.
Cost: From ~S$8
Opening hours: 11AM – 10:30PM
Address: 28-1 Insadong-gil, Gwanhun-dong, Jongno-gu (Jongno 3-ga Station, Exit 5)
15) Jeju Green Tea and Giant Pastries at Starbucks
Here's something you probably can't find in a Singapore Starbucks: Malcha (green tea, yes it's spelt that way) latte from an organic farm in Jeju.
For someone who doesn't really like green tea, the malcha or green tea latte was surprisingly my favourite drink on the menu. I loved how it doesn't give off a very strong tea taste but rather, blends nicely with milk to create a really creamy taste.
The pastries were also considerably larger than in Singapore, with a thick and crispy crust!
Cost: From ₩6,100 (~S$7)
Opening hours: 9AM – 8PM
How to get there: There's a Starbucks outlet everywhere in Seoul
Bonus: Convenience Store Snacks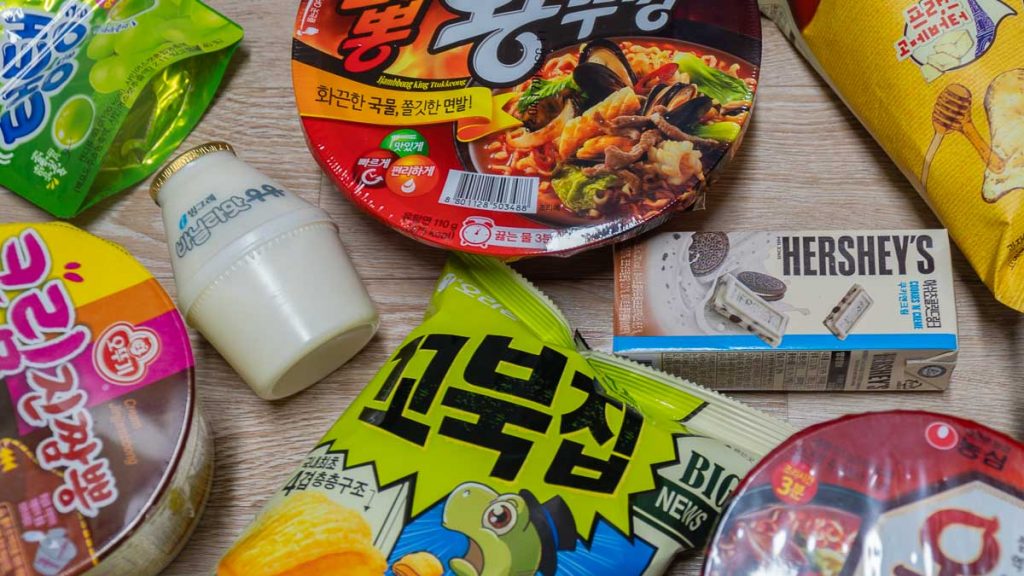 Convenience stores can be found at almost every corner in Korea. It's here you'll find some pretty interesting snacks!
Like the famous banana milk drink which comes in different flavours — vanilla, honey and strawberry. Or the super addictive corn chip snacks. And of course, spicy ramyeon is a must-have for late-night supper!
Cost: From ₩1,500 (~S$2)
Convenience stores to look out for: GS25, emart24, CU
Read also: 15 Korean Food You Must Eat in Seoul
Korean Phrases to Know Before You Go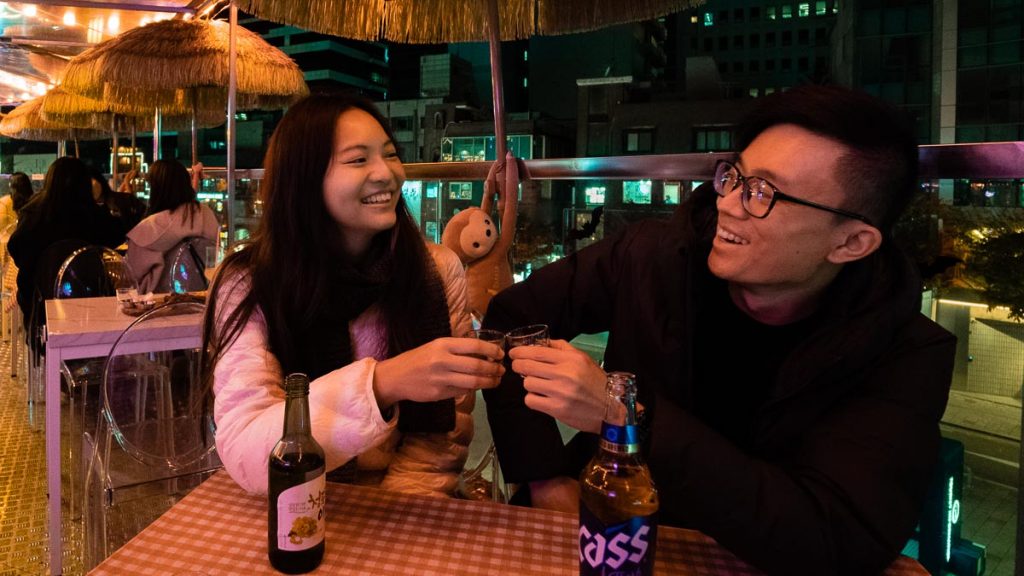 It's always helpful to learn the local language as some restaurants don't have English menus. Here are some commonly used phrases:
| | | |
| --- | --- | --- |
| English | Korean | Korean Pronunciation |
| Hello | 안녕하세요 | annyeonghaseyo |
| Do you have an English menu | 영어 메뉴 있어요 | yeongoh menyu isseoyo |
| Excuse me, I'd like to order | 실례합니다, 주문하고 싶습니다 | sillyehabnida, jumunhago sipseubnida |
| Can I get the bill, please | 청구서를 받을 수 있습니까? | cheongguseoleul badeul su issseubnikka |
| How much is this | 이거 얼마에요 | igeo eolmaeyo |
| Where is the washroom | 화장실이 어디에요 | hwajangsili eodieyo |
| Thank you | 감사합니다 | gamsahabnida |
| It's delicious | 이 맛있어요 | i masisseoyo |
While there's no doubt Singapore is a food paradise, feasting in South Korea is always something we enjoy. There's both familiar favourites and unique dishes you can't find anywhere else — and we can't wait to return to try them all 🤩
Foodies — check out these food guides for inspiration on your next trip:
– Shanghai Food Guide — 15 Mouth-Watering Dishes You Won't Regret
– Ultimate Hong Kong Food Guide: 50 Best Eats Incl. Halal Food
– Okinawa Food Guide — From the Unusual to the Unapologetically Delicious
What's your favourite dish in this Seoul food guide? Share with us in the comments below!
---
Like what you see? Follow us on Facebook, Instagram, YouTube and Telegram for more travel updates!