This new heritage trail in Sembawang lets you explore Singapore's rich naval history and the diverse heritage of its communities.
Most people think of Sembawang as a suburban residential town with nothing much to see or do. Chong Pang Food Centre, Sun Plaza, and a hot spring park… that's about all I knew of Sembawang before discovering this new Heritage trail.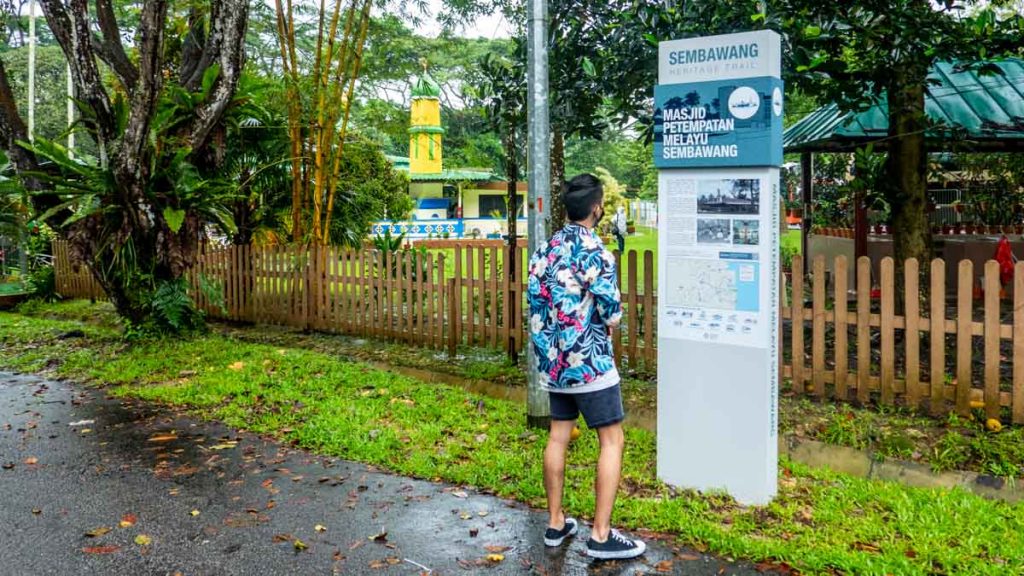 Not many know this but Sembawang used to be the site of a naval base. It's where the Royal Navy warships were repaired and also housed thousands of sailors from the British Far East Fleet.
There are 31 sites on the Sembawang Heritage Trail, including nine heritage sites. These sites are specially curated by National Heritage Board (NHB) with contributions from past and present residents of Sembawang.
From these, NHB designed three thematic trail routes which make it easy for self-guided explorations around Sembawang.
Read also: Cycling on Pulau Ubin — A Scenic 9-Hour Route Around The Island's Best Sights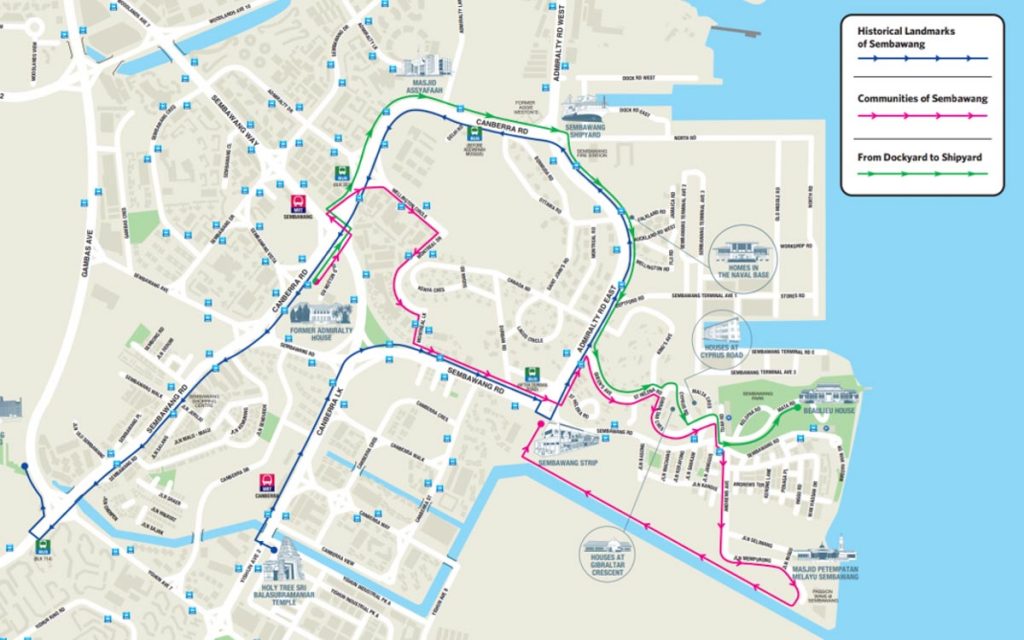 Photo credit: National Heritage Board of Singapore
The three thematic trails of the Sembawang Heritage Trail range from 5 to 8km and can be completed within three hours each on foot with public transport.
*Pro-tip: Access the E-versions of the trail companion guide and map while on the go.
The Walkabout Route Around Sembawang Heritage Trail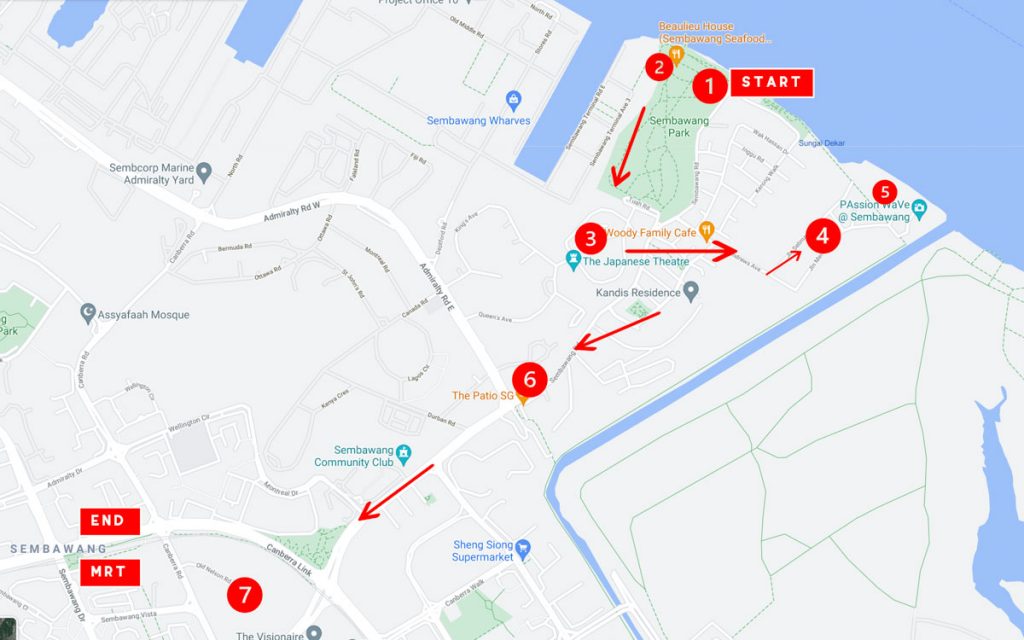 In this guide, we shorten the trail to a walkable one that covers five heritage sites and other notable landmarks around the area. The walking route takes approximately two hours and is a great alternative for an urban hiking adventure solely on foot.
Starting Point: Sembawang Park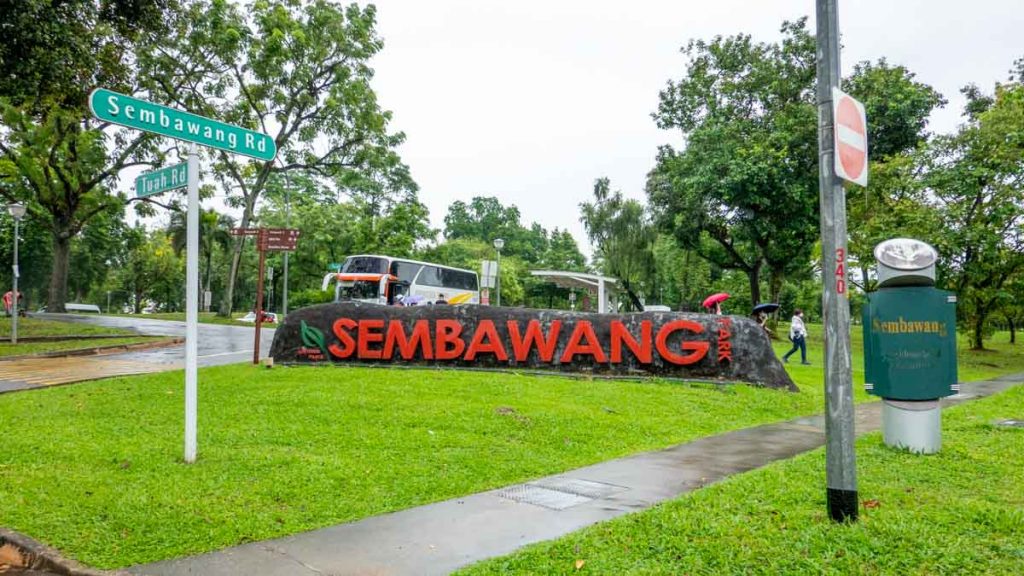 By public transport: From Sembawang (NSL) MRT station, take bus 882 and alight ten stops later at Sembawang Park (Stop no. 58091)
Drivers: There are two car parks at Sembawang Park — Car Park 1 is on Sembawang Road while Car Park 2 is on Tuah Road (free parking for both car parks). Both car parks aren't far from one another but Car Park 1 is closer to Beaulieu House.
1) Sembawang Park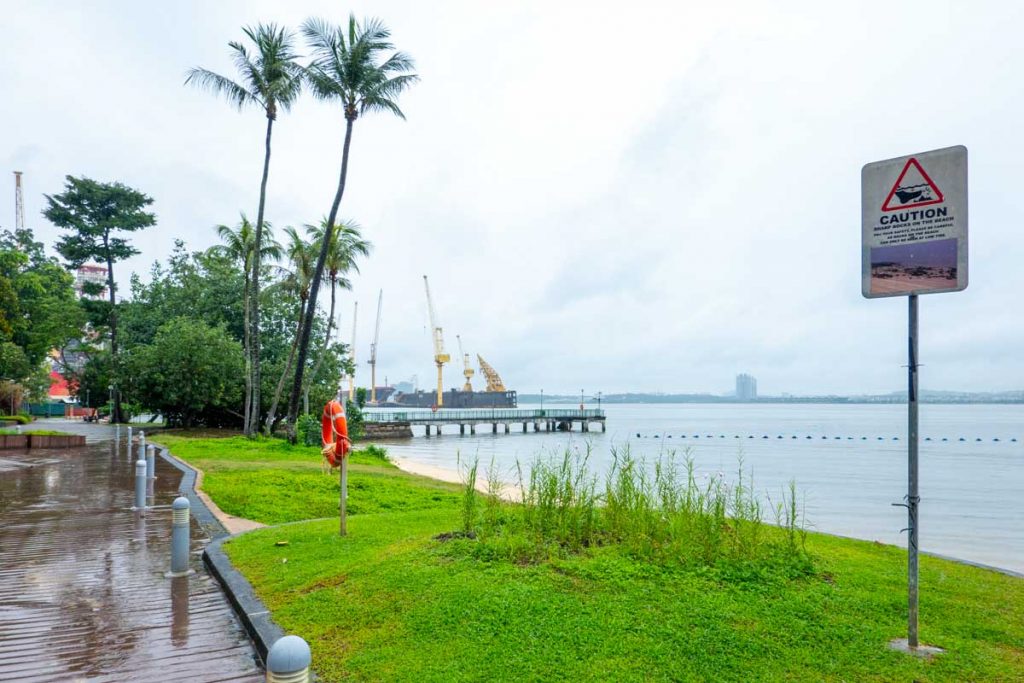 At the northern edge of Singapore, Sembawang Park is a spacious recreational park with a natural beach. It may seem like any typical park until you start hearing marine horns sounding periodically from vessels docked at the Sembawang shipyard.
Sembawang Park was once part of a busy naval base that was vastly different from the rest of Singapore that were not yet developed. Decades have passed and Singapore has transformed greatly, but Sembawang Park is still fondly remembered as an important part of Singapore's maritime history.
Within the park, there's a maritime-themed children's playground in the form of a battleship!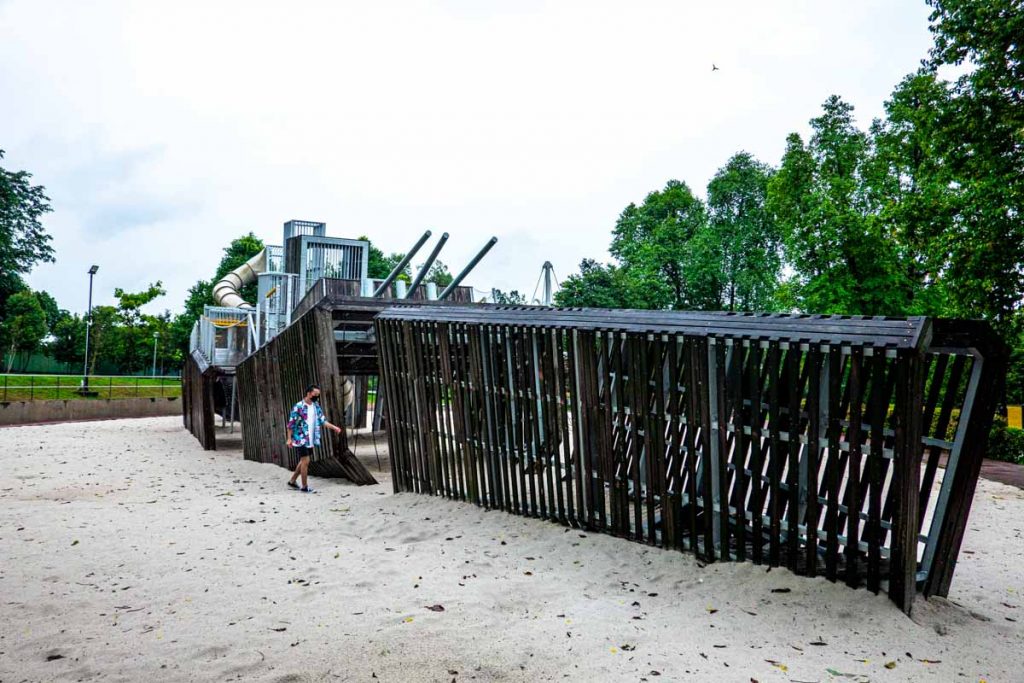 2) Beaulieu House & Beaulieu Jetty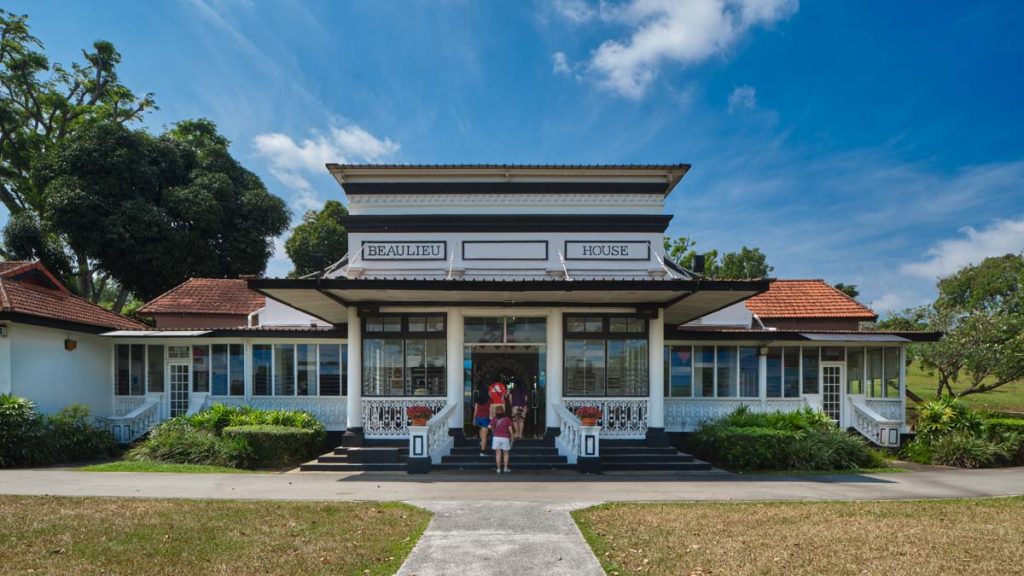 Photo credit: National Heritage Board of Singapore
One prominent building in Sembawang Park is the Beaulieu House, a neo-classical bungalow overlooking the Johor Straits.
A seaside home of the 1910s, Beaulieu House was acquired by the British in 1923 and served as the residence of several military officials in the 1960s. Now, Beaulieu House is a restaurant.
Fun fact: beaulieu translates to "beautiful place" in French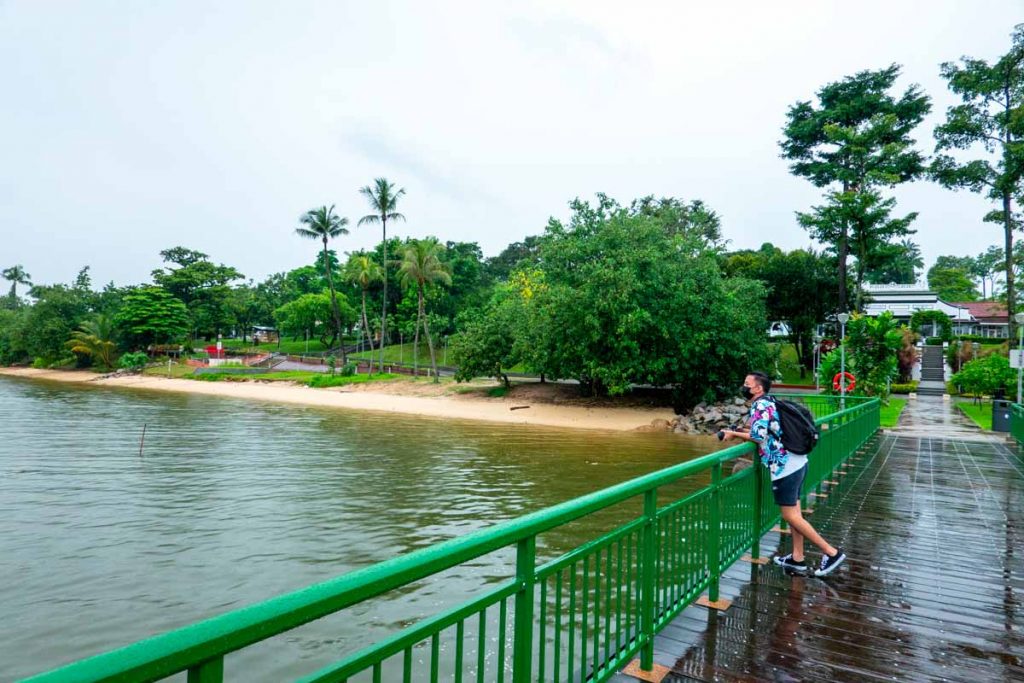 A short flight of stairs from Beaulieu House leads to a 30m long jetty also known as the Beaulieu Jetty. This jetty was once a pier where the Chief-of-Staff of the Royal Navy's Far East team would greet warships heading to the naval base. After the British withdrew from Singapore and Sembawang Park got later developed, the jetty became a popular spot for recreational fishing.
3) Former homes in the naval base at Gibraltar Crescent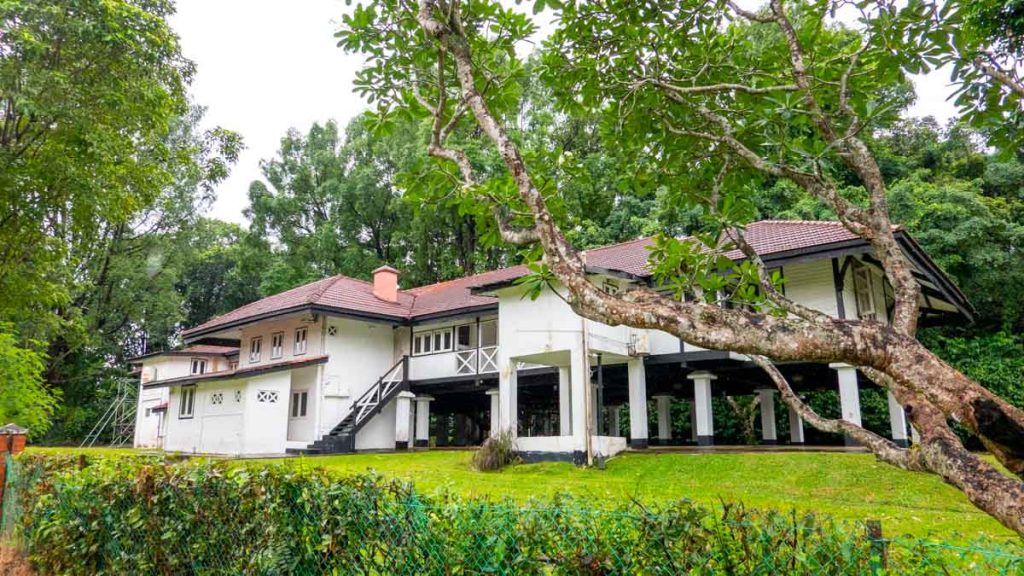 Along Gibraltar Crescent sits some of the oldest black-and-white houses in Sembawang. These colonial bungalows were built in 1929 and used to house British staff of the naval base. Today, the black-and-white houses are private residences.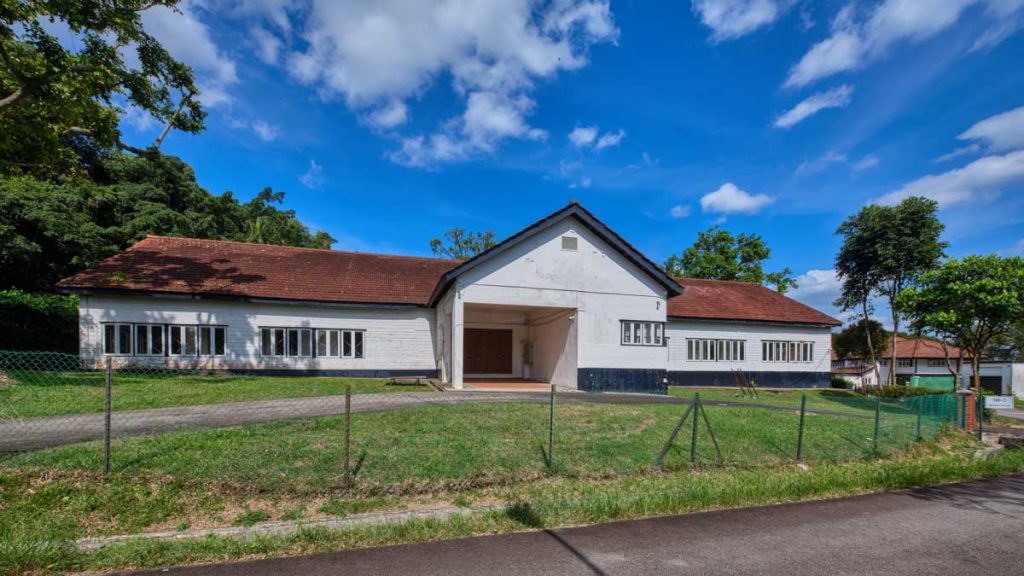 Photo credit: National Heritage Board of Singapore
All of the black-and-white houses are built raised for better ventilation, except for one single-storey building that's marked "Japanese Theatre" on Google Maps. The story behind it is an interesting one. The house was destroyed during WWII and replaced by the current building by the Japanese to screen propaganda films.
Fun fact: Many roads in Sembawang are named after countries, capitals, and cities of the Commonwealth, such as Gibraltar Road, St Helena Road, Cyprus Road, Montreal Road, and Wellington Road.
4) Masjid Petempatan Melayu Sembawang
Sembawang was home to many coastal villages before it became more developed as it is today, however, fragments of the past can still be seen.
Along Jalan Mempurong far off the main roads, sits Masjid Petempatan Melayu Sembawang, a kampong mosque constructed in 1963 to cater to the Muslim community in the villages.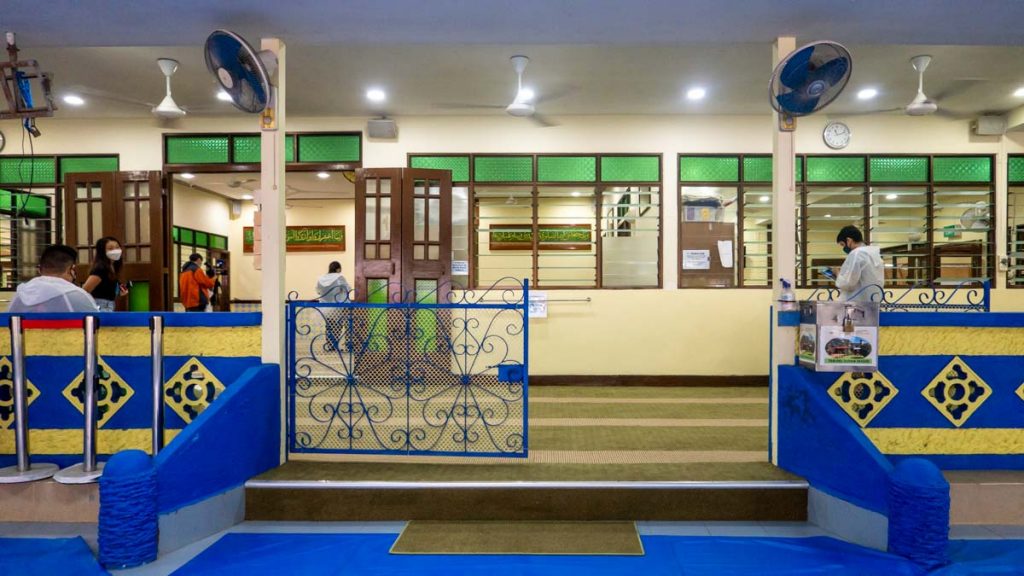 Withstanding the test of time, Masjid Petempatan outlived the village it served and is the only surviving landmark of the former village.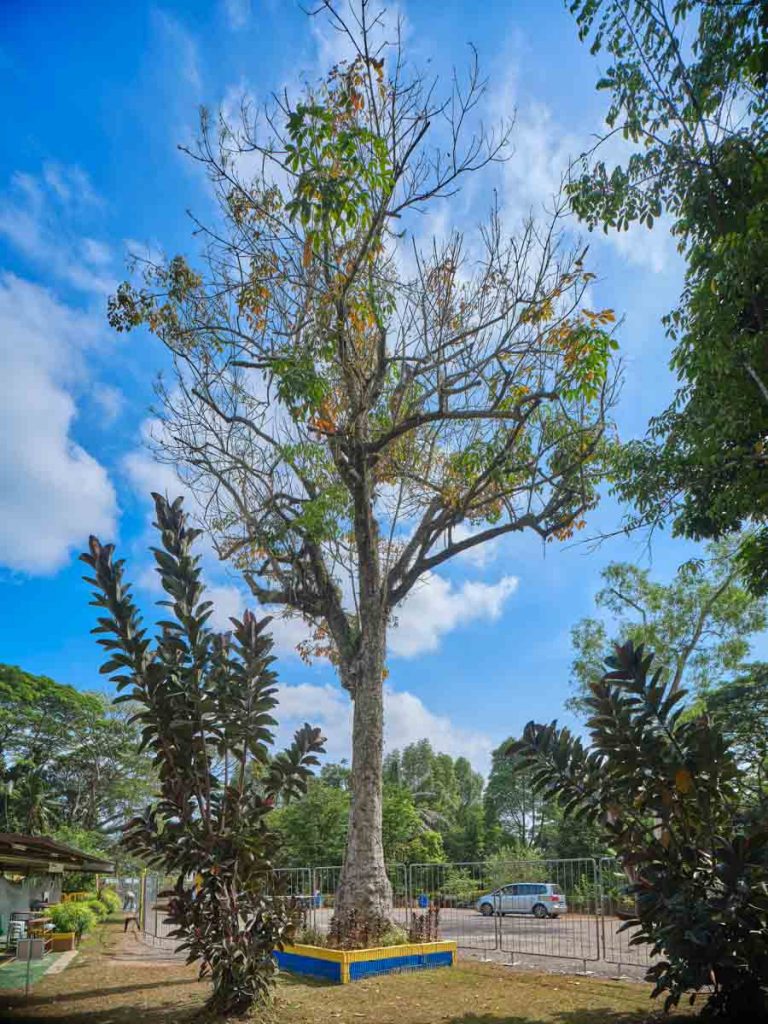 Photo credit: National Heritage Board of Singapore
If you're visiting, do keep a lookout for a rubber tree at the entrance of the mosque. It's probably the oldest rubber tree in Singapore, and also the only remnant of the former rubber estates of Sembawang.
Masjid Petempatan is about a 10-minute walk from Sembawang Park.
Address: 27B Jln Mempurong, Singapore 759055
5) Abandoned gate at Jalan Selimang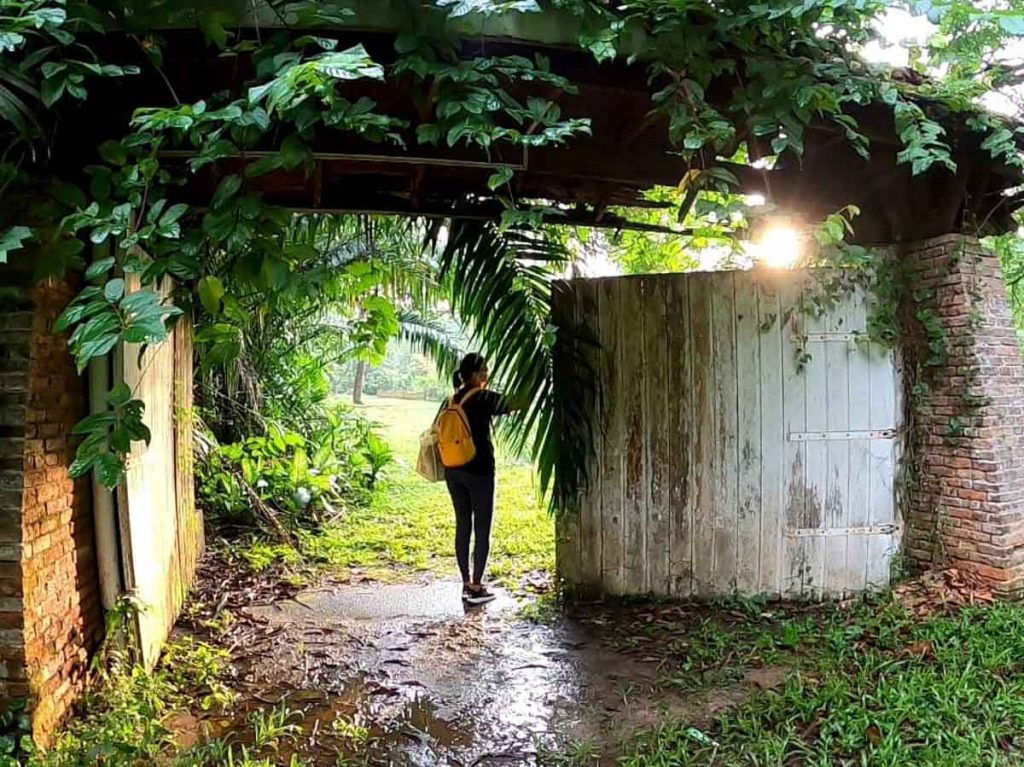 Photo credit: LAYAS ng Singapore Facebook
Not far from Masjid Petempatan is an old abandoned gate that's surrounded by nothing but vegetation. Although this gate has a shorter history than the mosque, its mysterious existence intrigues and attracts urban explorers to the remote location.
The abandoned gate is said to be part of a former seaside bungalow belonging to a rich businessman. The bungalow and other seaside villas of Sembawang were demolished in the late 80s to early 90s. It's not known exactly why the gates are left untouched until today.
Read also: Ultimate Guide to Exploring the Abandoned WWII Marsiling Tunnel
5) Sembawang Strip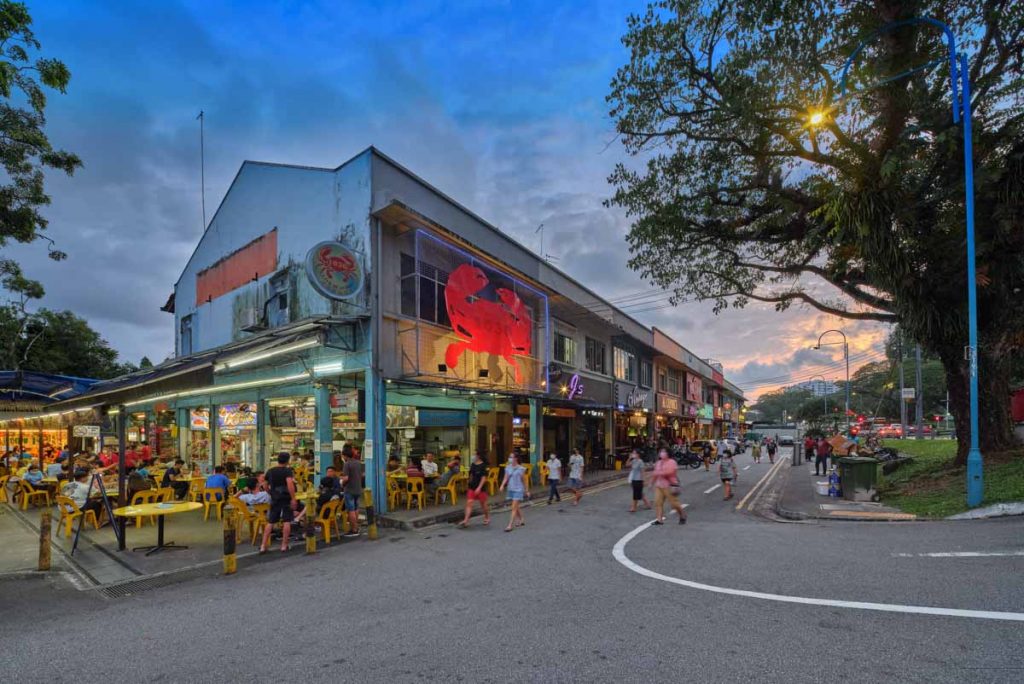 Photo credit: National Heritage Board of Singapore
The only surviving part of the old Sembawang Village is the Sembawang Strip — a row of shophouses that was once a stretch of bars serving sailors looking for a place to drink. Nelson Bar, which occupies unit 1028A at the Sembawang Strip, is the longest (and only) surviving bar at the Sembawang Strip.
6) Former Admiralty House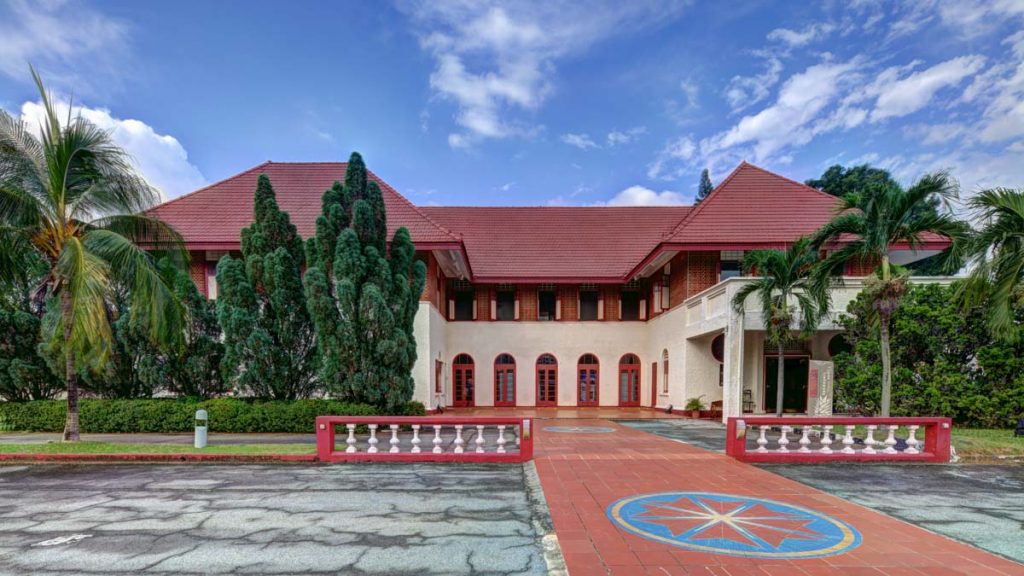 Photo credit: National Heritage Board of Singapore
About 2km from Sembawang Strip is the Former Admiralty House, built to house the most senior officer of the naval base in 1939. The building then changed hands several times after the war, from housing high-ranking officials to being used as a recreational country club and even as a boarding school.
The Former Admiralty House is now undergoing refurbishment for use as part of an integrated community hub.
Former Admiralty House is an eight-minute walk to Sembawang MRT station, the endpoint of this walking trail. Drivers can take bus 882 from Sembawang MRT Station back to Sembawang Park Car Park 1.
Things to note when embarking on the Sembawang Heritage Trail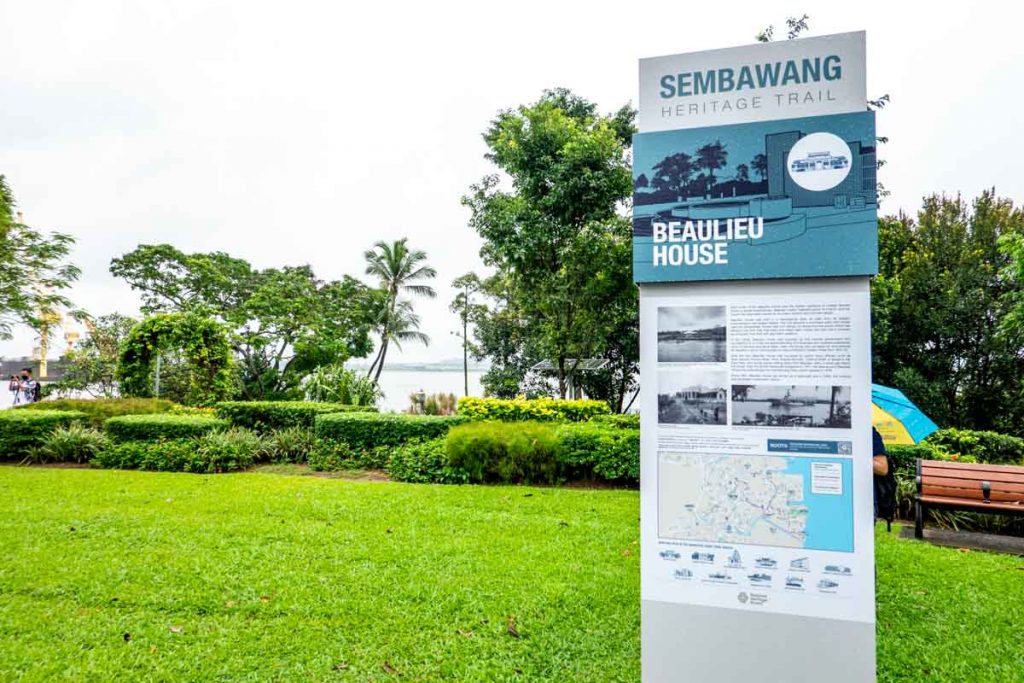 The Sembawang Heritage Trail is not a nature trail but one that requires you to walk along roads with traffic. So do look out for vehicles on the road.
Some heritage sites such as the colonial houses along Gibraltar Crescent are private residences, so the residences may not enjoy their house being photographed.
Do also bring along your EZ-link transportation card when exploring the NHB's Sembawang Heritage Trail as some of the sites are a few bus stops apart.
If there's anything good this travel drought has done, it's that we've been spending more time getting to know the little-known gems outdoors while in Singapore. From nature trails to great daycation ideas, Singapore ain't boring at all — we just gotta be a little more curious.
Do you know of other gems in Sembawang other than the Heritage Trail? Let us know in the comments below 🙂
---