Address: Clearwater Bay Avenue, Yingzhou Town, Lingshui County, 572427 Hainan, China
Cost: From S$143.90/night (before GST)
Check-in/Check-out: Check-in from 3PM. Check-out by 12PM.
Tel: +86 898-8338-9888
Website: Raffles Hainan by Accor Hotels
TL;DR:
– Ideal hideout for couples and families seeking seclusion
– Bali-/Hainan-themed rooms are lavish and spacious but homely
– Pristine, private beach for hotel guests only
– Bevy of experiences like yoga, cocktail lessons and spa treatments
Raffles Hainan Hotel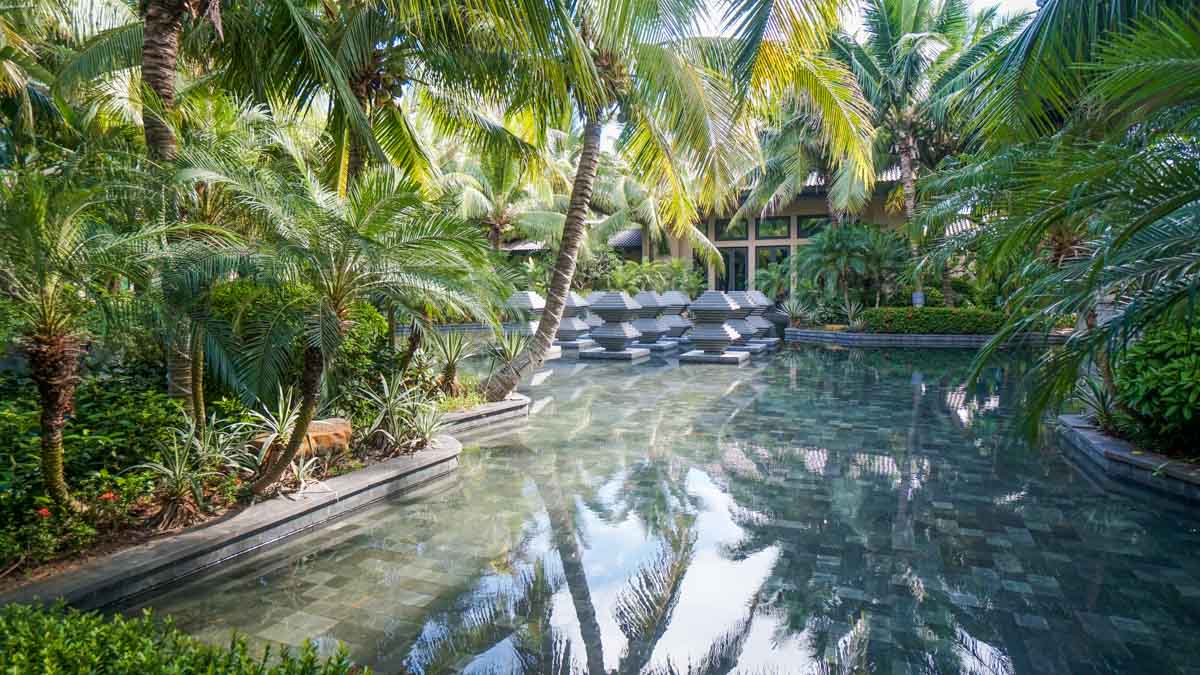 One foot into the humongous grounds of Raffles Hainan, and you'll be led into an immaculate tropical paradise that's taken a page out of Balinese resorts — and made them better. Artisanal stone sculptures, clear waters and lush palm trees galore, all before you even step inside the main reception.
Not many international tourists actually know of this quiet sanctuary tucked away in Lingshui County, located right beside the more frequently-visited Sanya. As the largest Raffles Hotel in the world, you rarely cross paths with other guests in the gigantic complex, even on nights with high occupancy.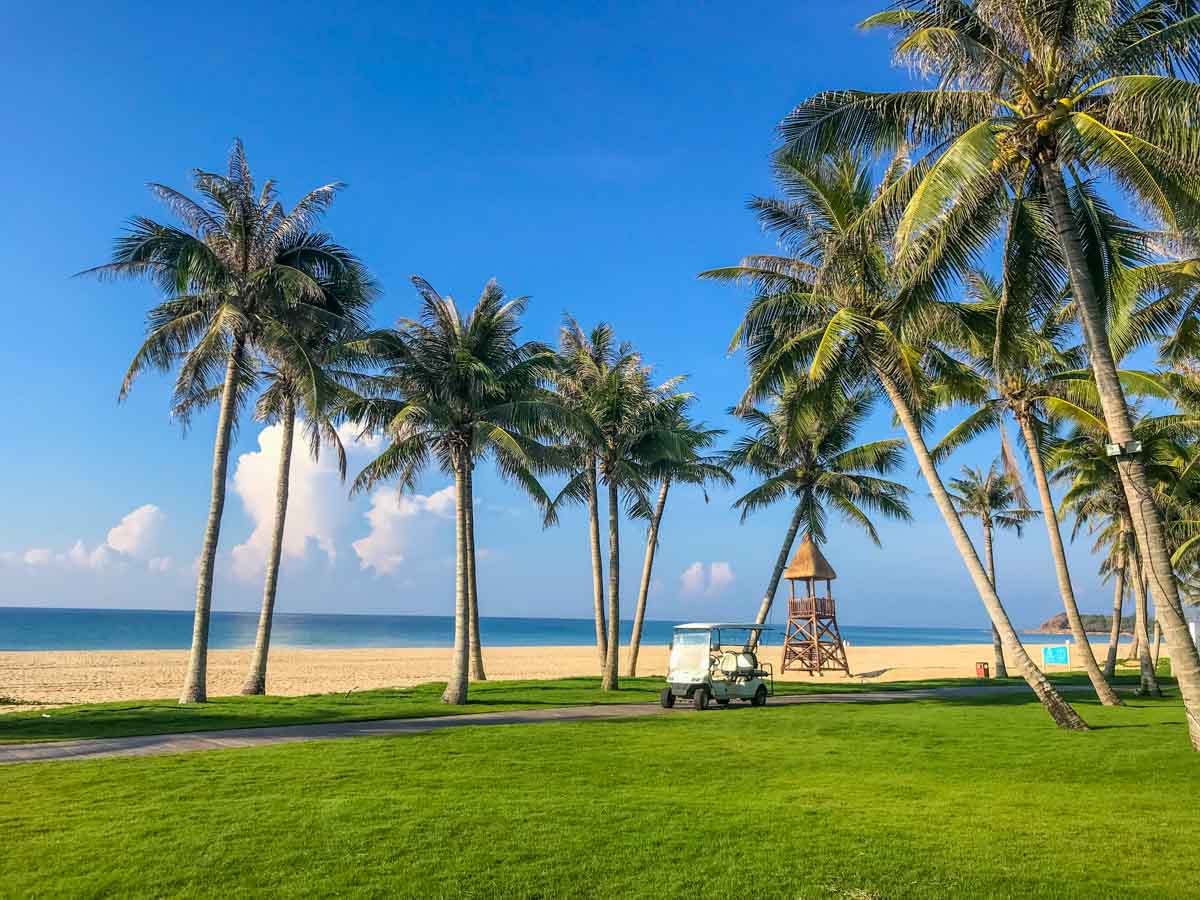 Beaches stretch for days with pristine white sands in Hainan Island, but what makes Raffles Hainan's special is that it's enclosed within the hotel compound — completely exclusive to hotel guests.
Also read: 11 Reasons Why You Should Visit Hainan Island For Your Next Resort Holiday
Our Premium Ocean Front Room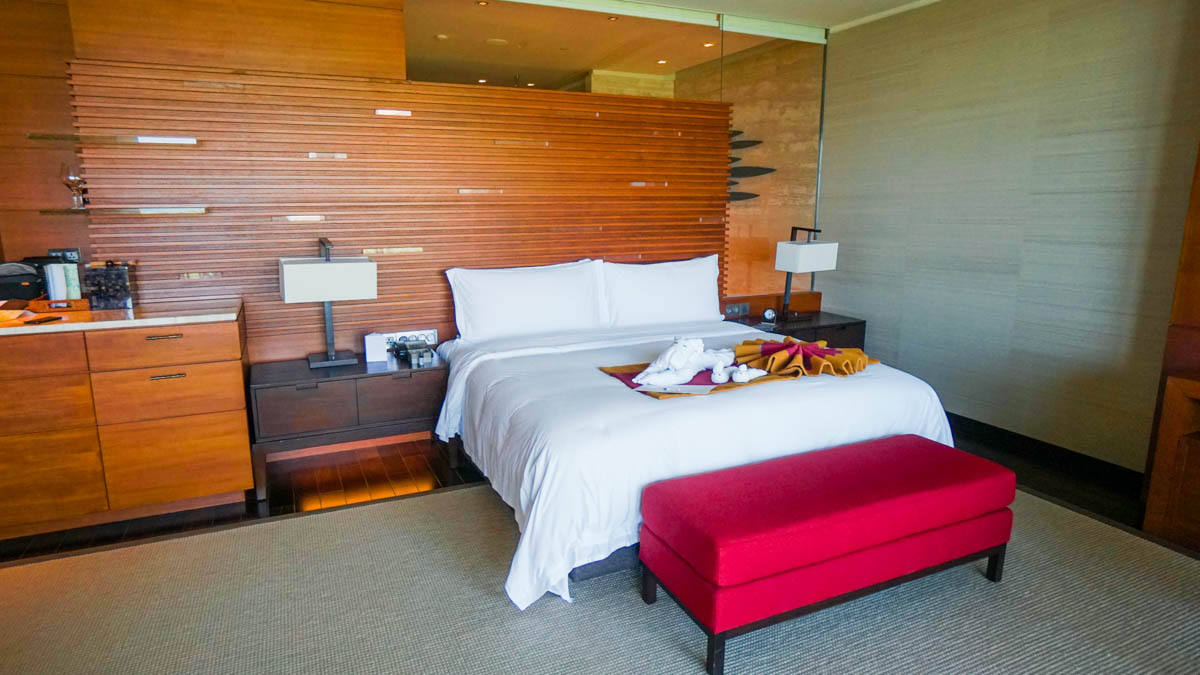 The next thing I knew, I was already swept up to my bedroom, followed shortly by the hotel staff with my luggage in tow.
Few steps in, the drapes grandiosely move apart to reveal almost floor-to-ceiling sliding glass doors that lead to the private balcony, which offers a sweeping view of the hotel complex's garden beneath, and Clearwater Bay in the horizon.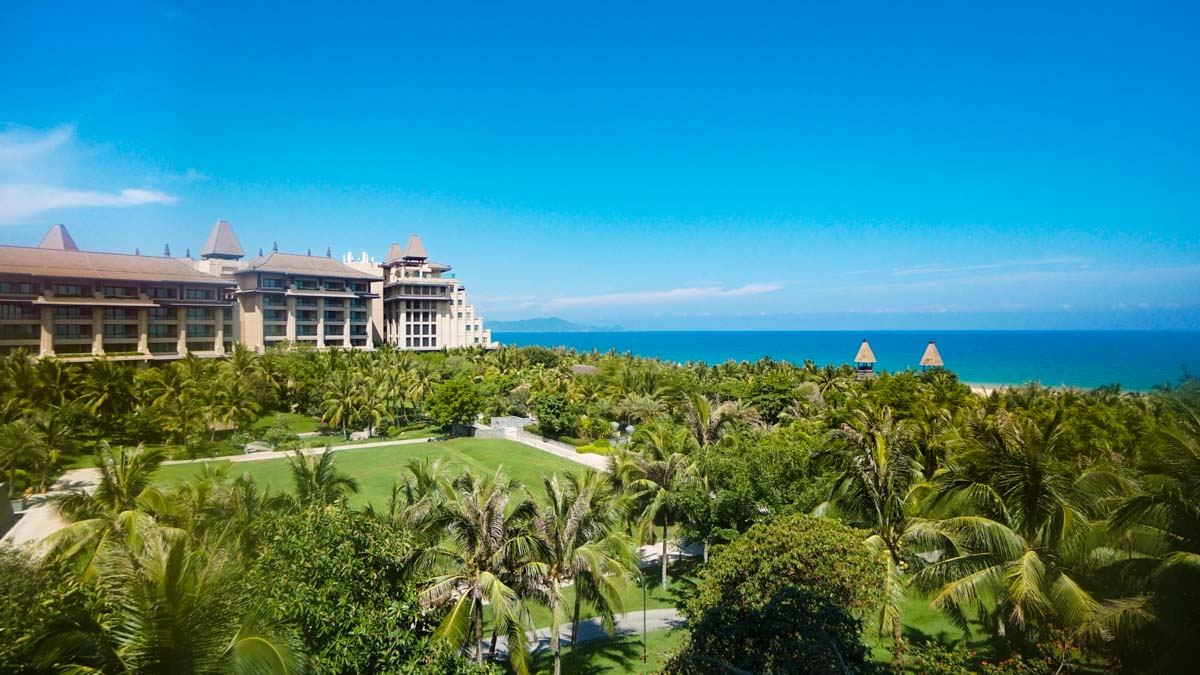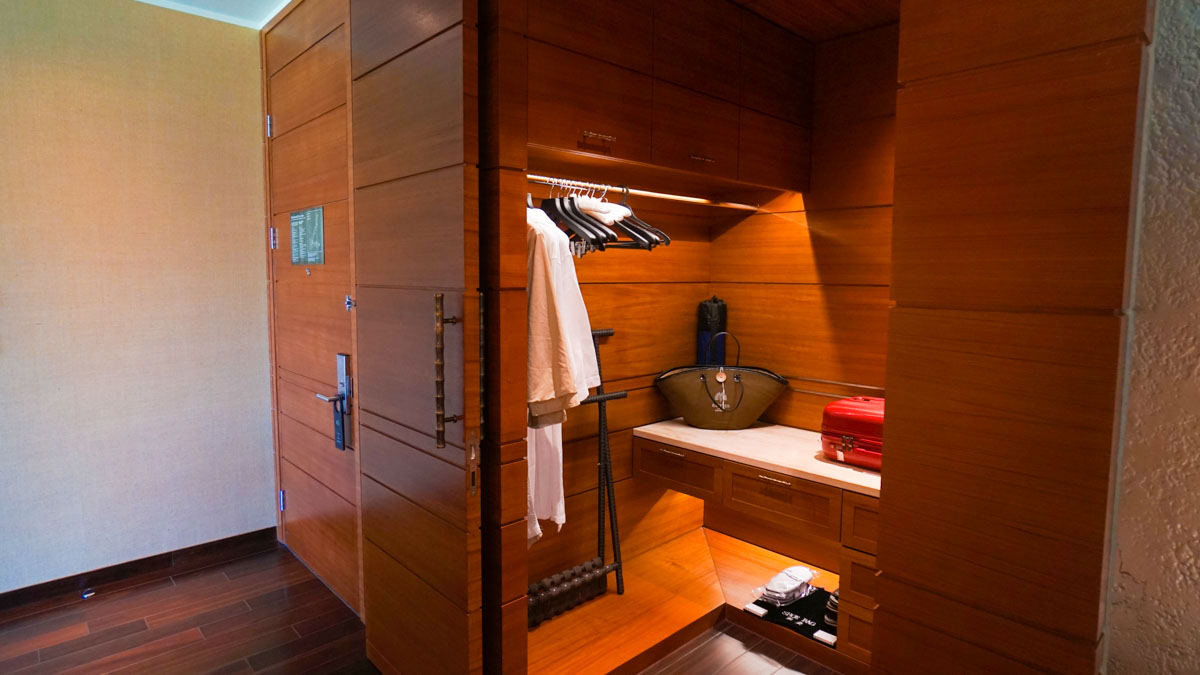 I'm no architect or interior designer, so 80 square metres didn't seem or mean much to me. But the room was actually HUGE! Like, you-can-dance-around-without-knocking-into-things huge. And your-BTO-flat-has-nothing-on-this huge.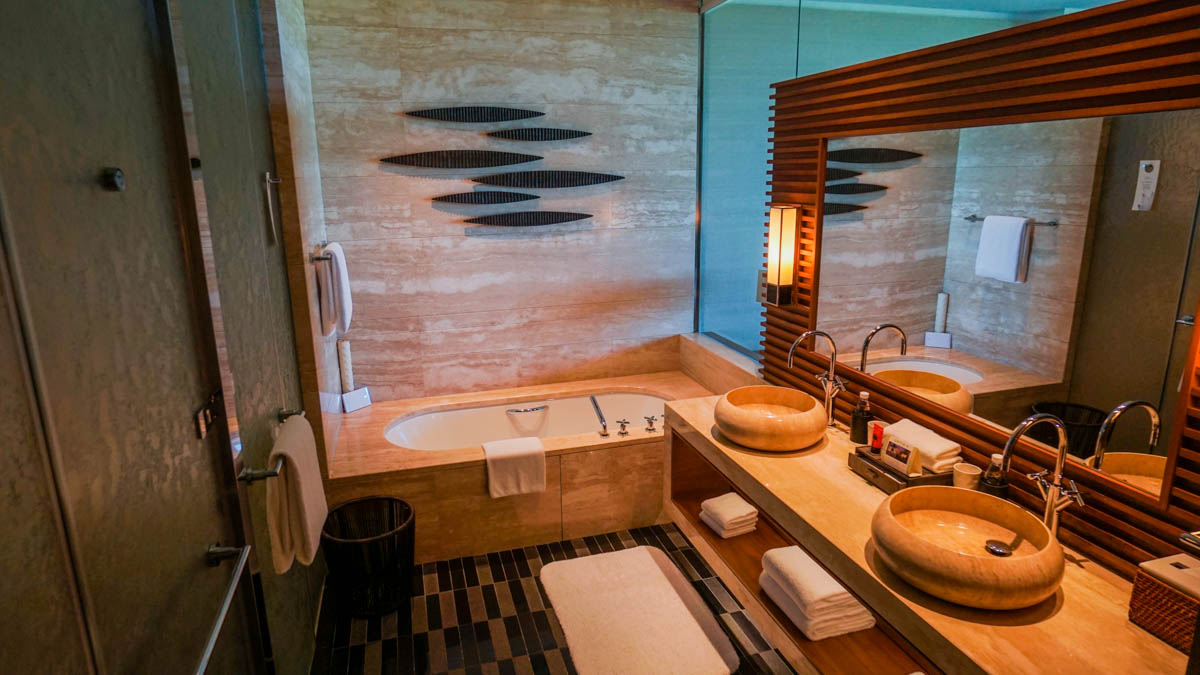 Marbled floor, table and bathtub in earthly hues that exude warm, homely vibes. Opposite the sinks are 2 separate rooms — 1 with a mechanised, Japan-style toilet (you know we love them heated seats and automatic bidets), and another with a walk-in shower.
The latter oddly has a black marbled bench by the side, which turned out to be a hero I never knew I needed.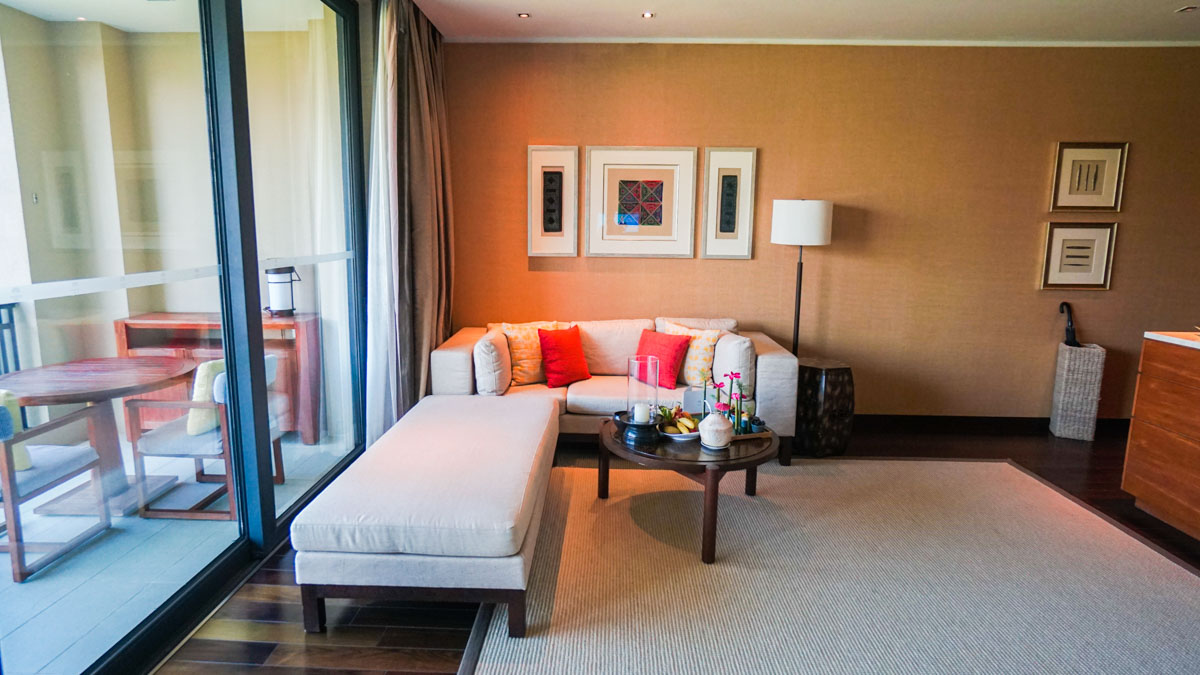 Another addition to Raffles Hainan's top-notch service is having a private butler a phone call away, on standby 24 hours. While I never needed it during my stay, I think it's neat knowing there's someone always available to personally see to your needs.
Other in-room facilities: Free Wi-Fi, bathroom speaker, mini bar, Nespresso coffee machine
The Other Rooms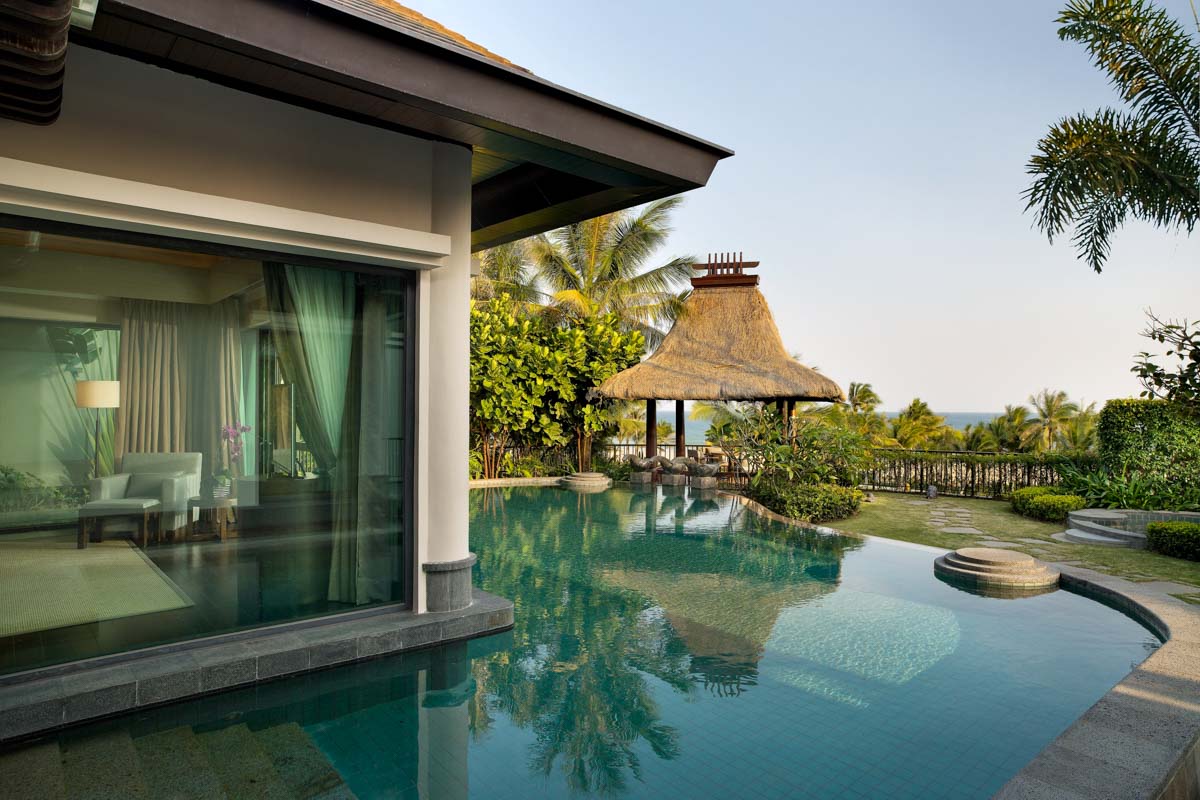 For families who want a private getaway, there are also 32 villas that's a buggy ride deep into the complex, reminiscent of Capella Singapore's villas in Sentosa.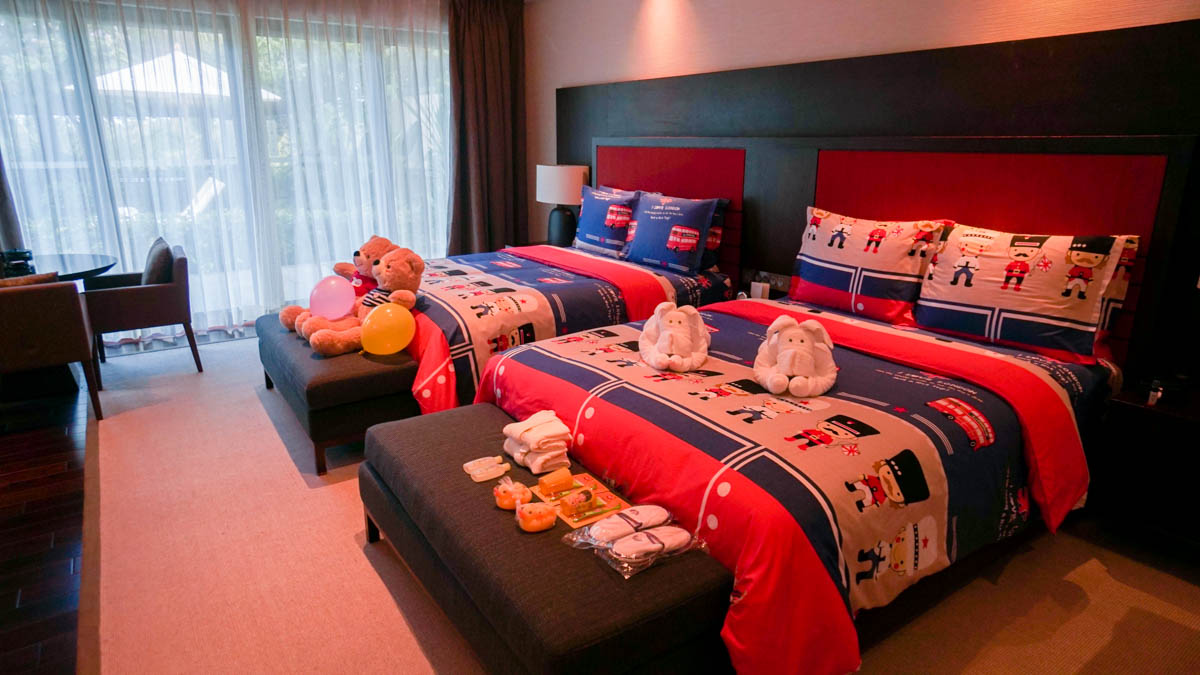 The Food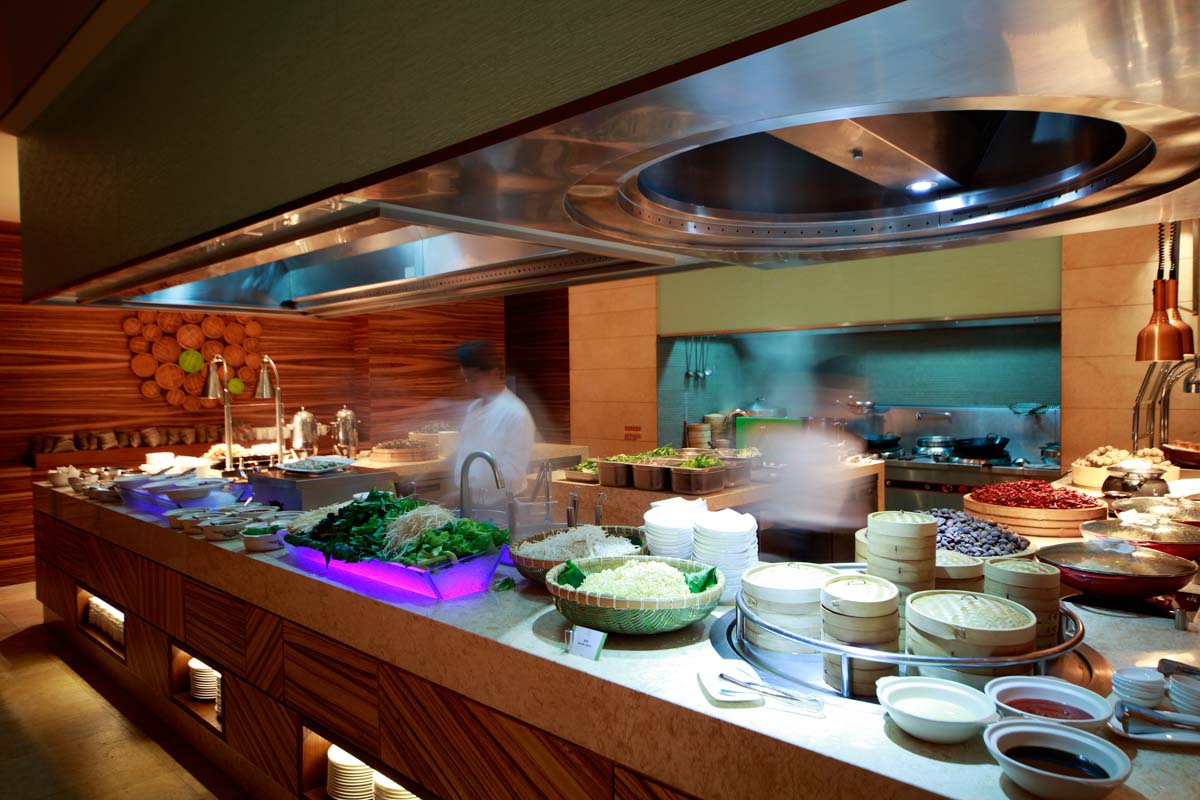 Guests are entitled to a breakfast buffet from 7AM – 11AM every morning at Desa, one of the 4 restaurants in Raffles Hainan.
Other than an assortment of breads and pastries, there's also a live egg station and noodle stall. The latter serves up a mean beef broth with your choice of noodles from flat rice to "dao xiao" (knife cut), and you can add tender chunks of beef brisket by yourself — really yummy.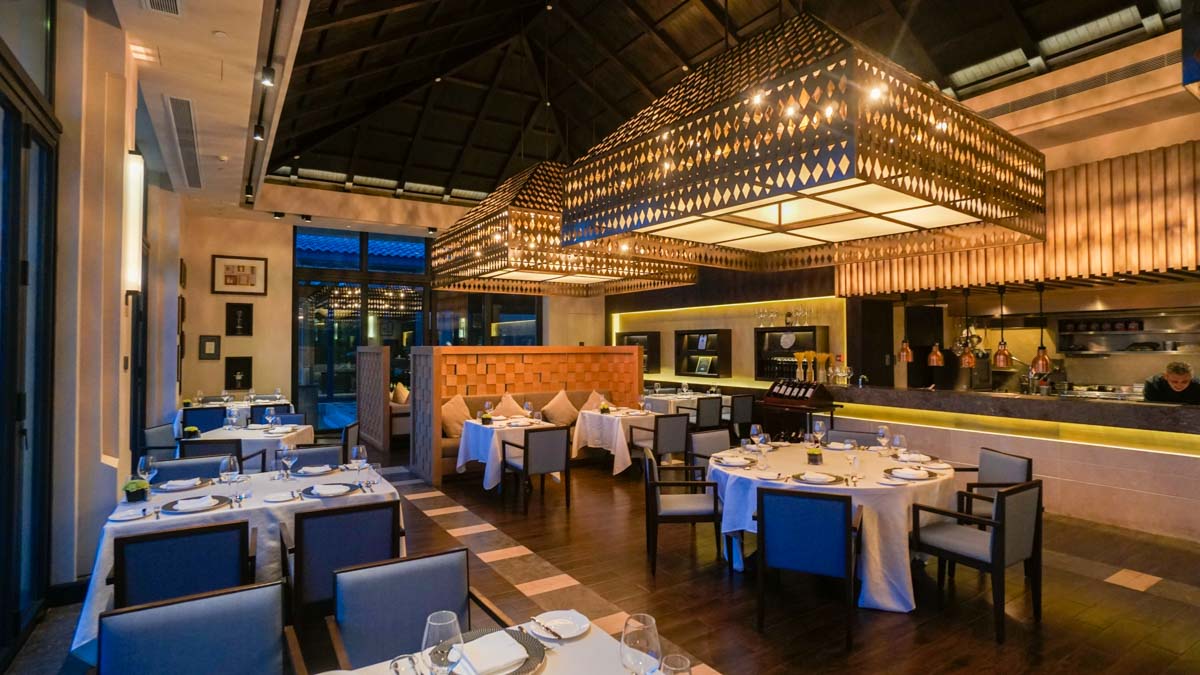 For other dining options, Chinese restaurant Bai Wei also offers various Chinese cuisines, while Sapori dishes out Italian fare, with outdoor seating and sea views.
Facilities & Activities
What's around: 24-hour gym, tennis courts, bicycle rentals, swimming pool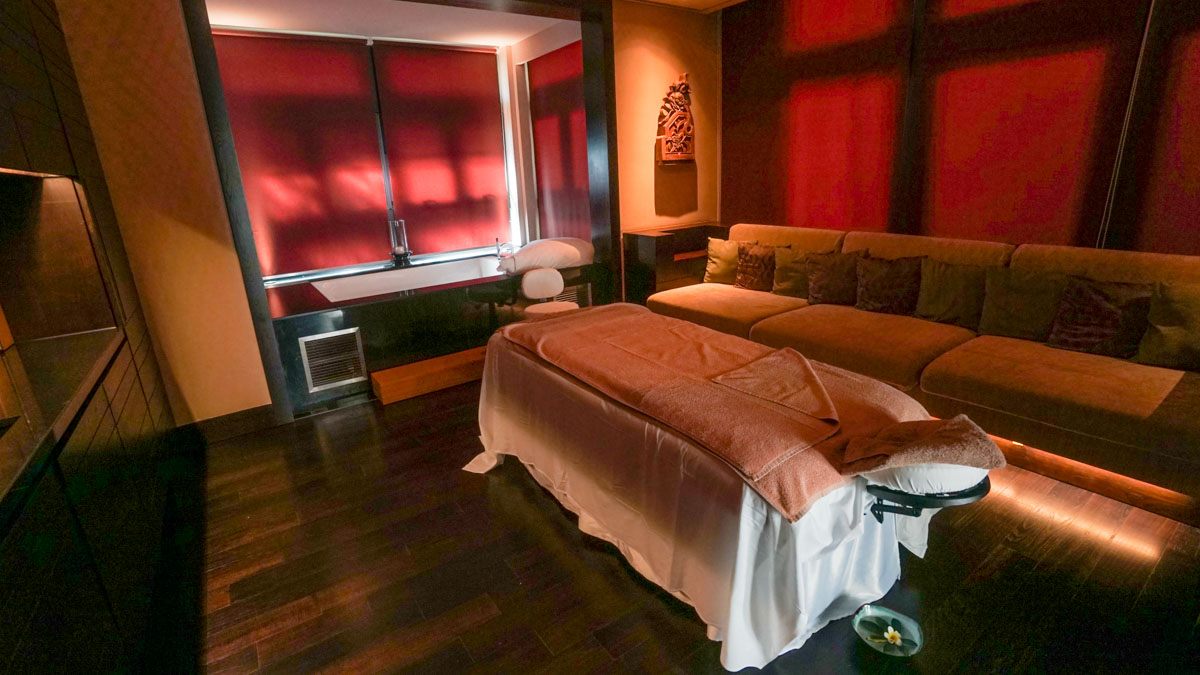 If you're in to pamper yourself, Raffles Spa offers treatments up to 2 hours long in the comfort of your own private villa, with shower facilities. Our treatment included a 25-min body scrub, 50-min full body massage and 45-min facial. Everything was so relaxing we fell asleep towards the end (oops).
Cocktail Class at Raffles Longbar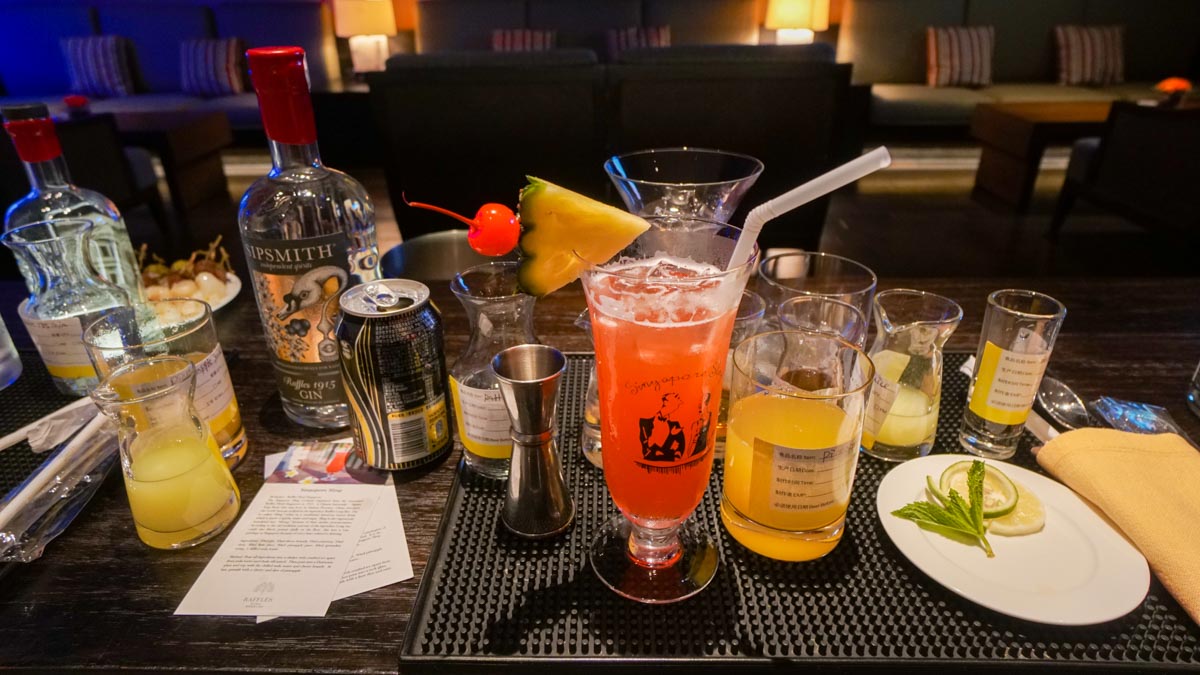 "I only drink it, not make it," you say? The Raffles Long Bar schedules cocktail-making classes that let guests concoct their own classic Singapore Sling a la Raffles Hotel Singapore (the OG makers), or the country-exclusive Hainan Sling. You'll even get to use the bespoke Sipsmith Raffles 1915 Gin in them!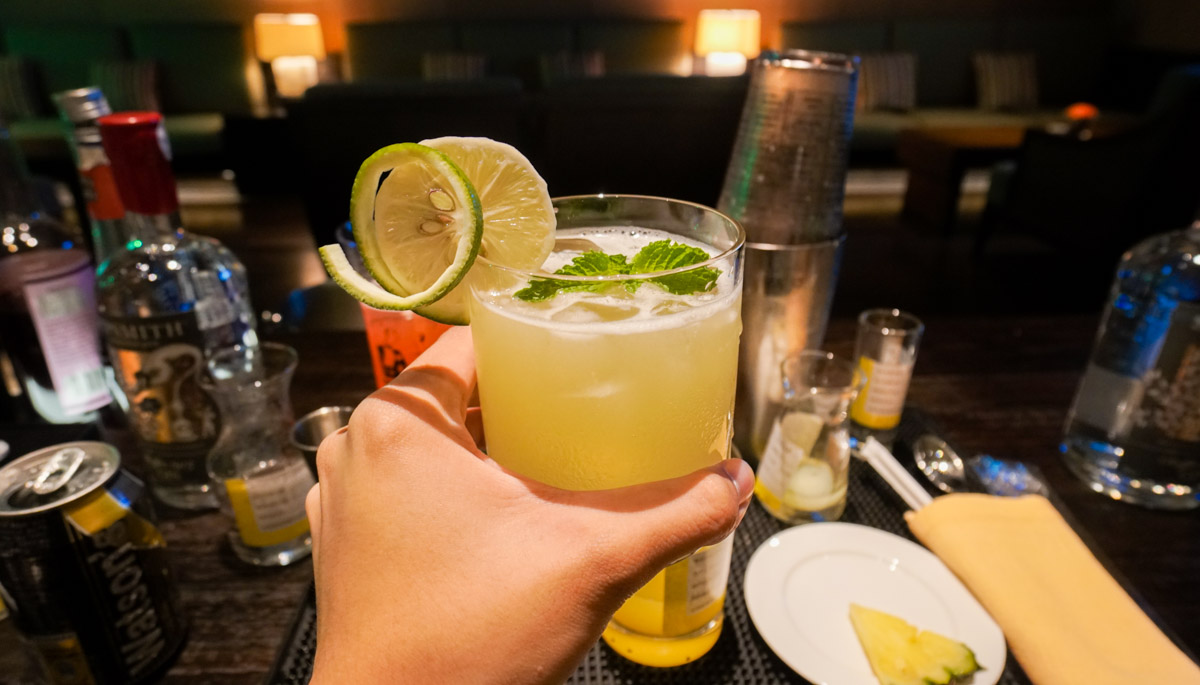 There are also a chock-full of other activities like workshops to create your own soap, yoga, aqua zumba and cooking classes — just look out for the activity timetable in their newsletter, placed in every room.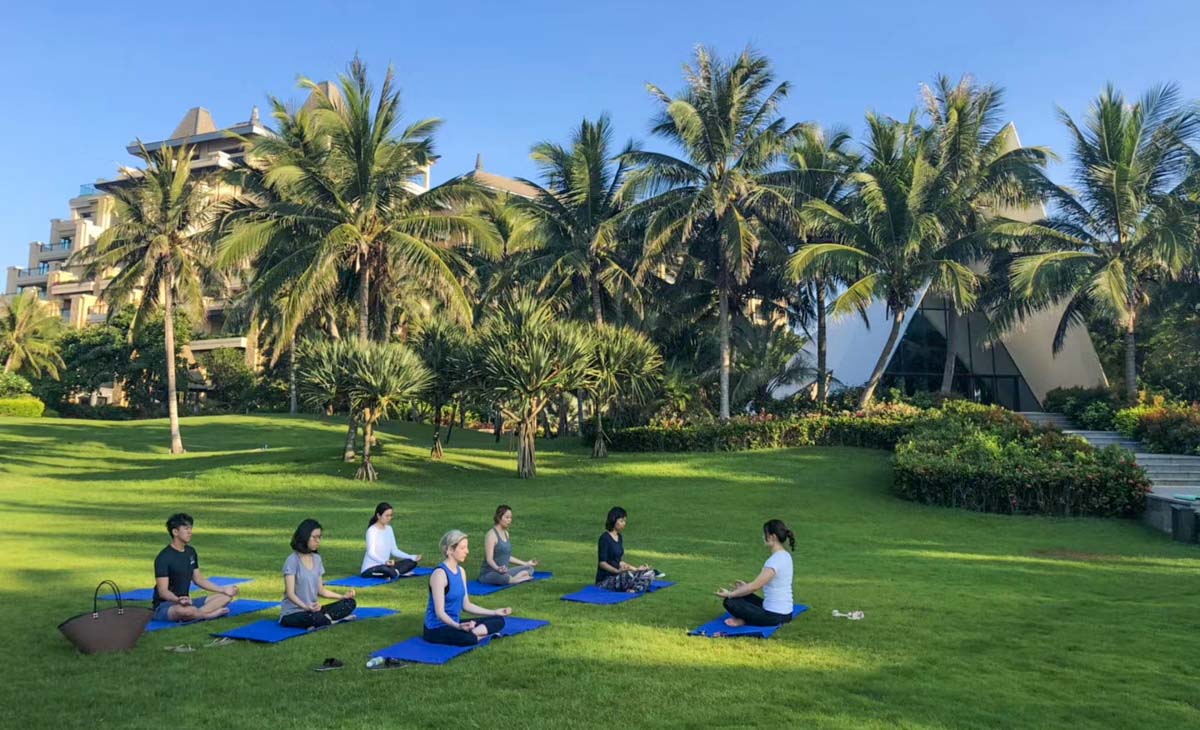 Directions to Raffles Hainan Hotel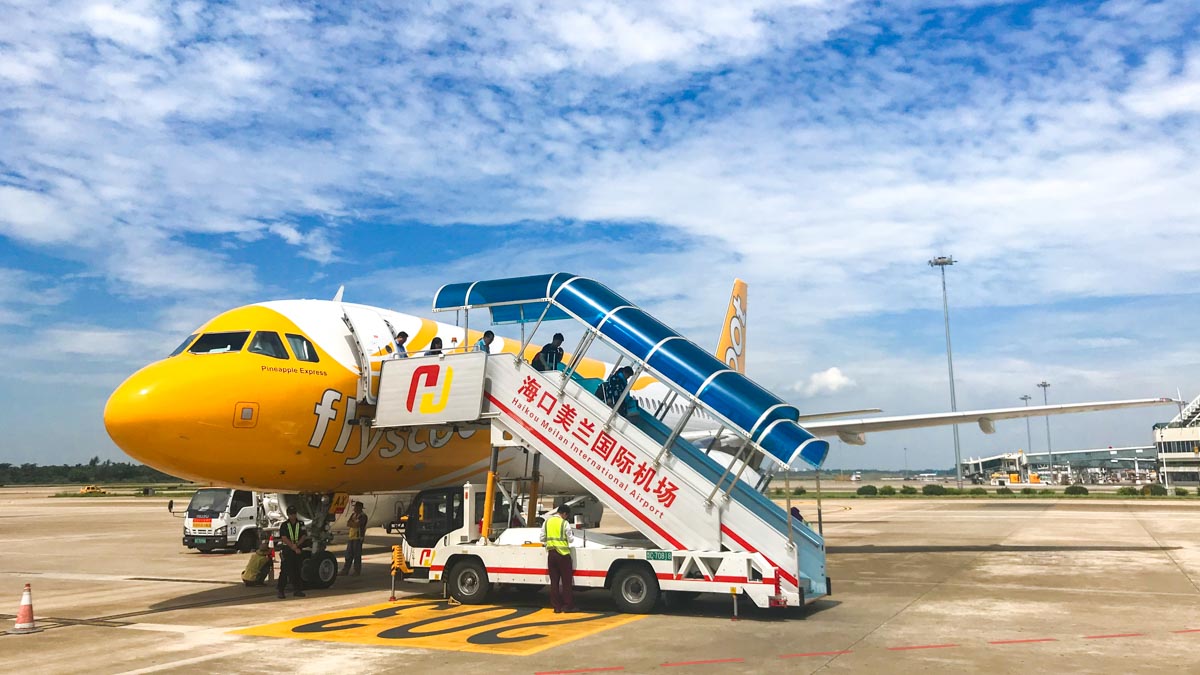 The fastest way to get to Raffles Hainan from Singpaore is to land at Haikou Meilan International Airport — low cost carriers like Scoot offer affordable flights only 3–4 hours long from S$215 for a round trip. While the hotel is nearer to Sanya Phoenix International Airport (40-min drive) down south, flights from Singapore to Sanya take upwards of 7 hours as they first transit in Mainland China.
To get to Raffles Hainan from Haikou Airport, it's advised to take a taxi (~600RMB, ~S$125) — it'll be a 2h 45min drive, but at least you can soak in the nature on the way, and not be crammed in an airplane. Alternatively you can also rent a car and get there yourself, especially when attractions in Sanya are rather far in between and tough to get to via public transport.
If you will be landing at Sanya Phoenix International Airport, Raffles Hainan offers free shuttle bus services to and from the airport and hotel.
Things to do around Raffles Hainan Hotel
If you're not so much of a homebody, there are lots to do in the surrounding areas of the hotel in Sanya as well, be it cultural or adventurous experiences. As mentioned, it's best to rent a car or grab a taxi to these attractions as they take 45 min–1h 15 min to reach from Raffles Hainan.
Nanwan Monkey Island (南湾猴岛)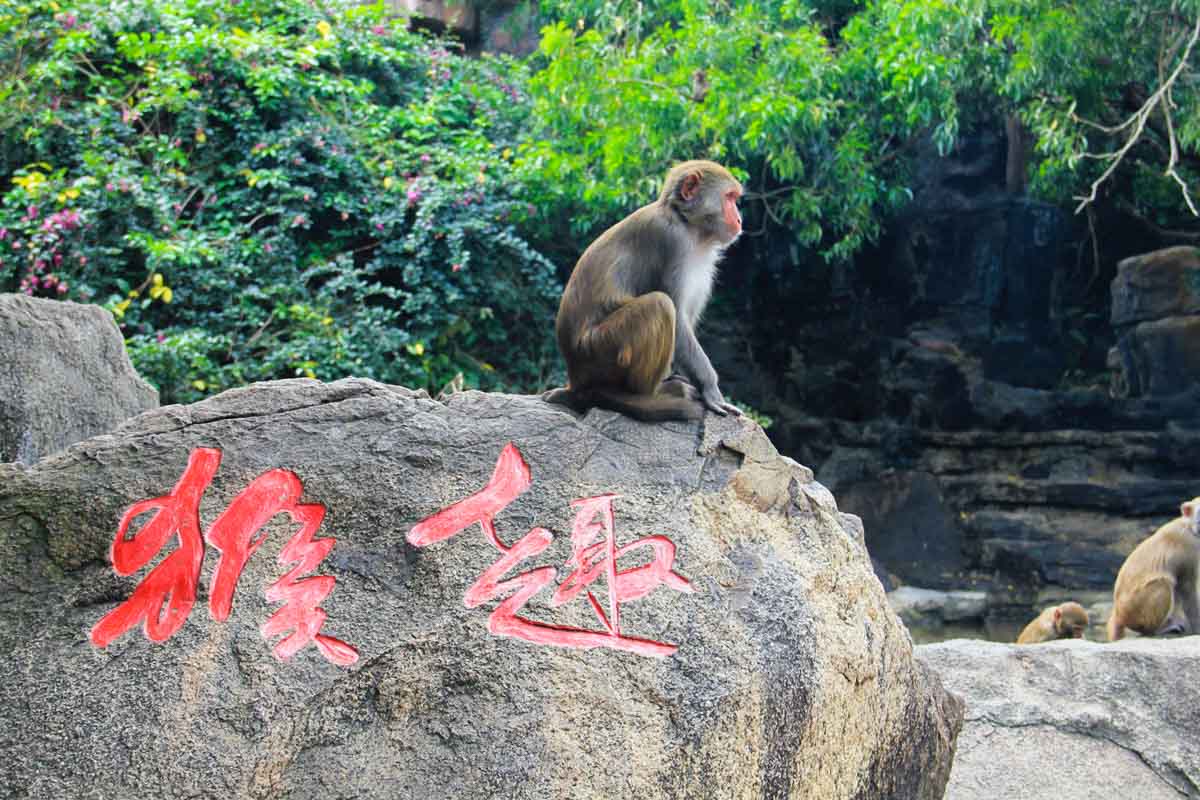 Get friendly with these macaques at Nanwan Monkey Island, the only protected monkey island nature reserve in the world. With 95% covered in greenery, spend the afternoon in nature or hop on a gondola ride to soak in sights of the fishing village nearby.
Entrance Fee: 160RMB (~S$33.30)
Opening Hours: 8AM – 5PM (Last entry 4:30PM)
Address: Lingshui, Hainan, China, 572400 (海南省陵水黎族自治县)
Binglanggu Li & Miao Cultural Heritage Park (槟榔谷)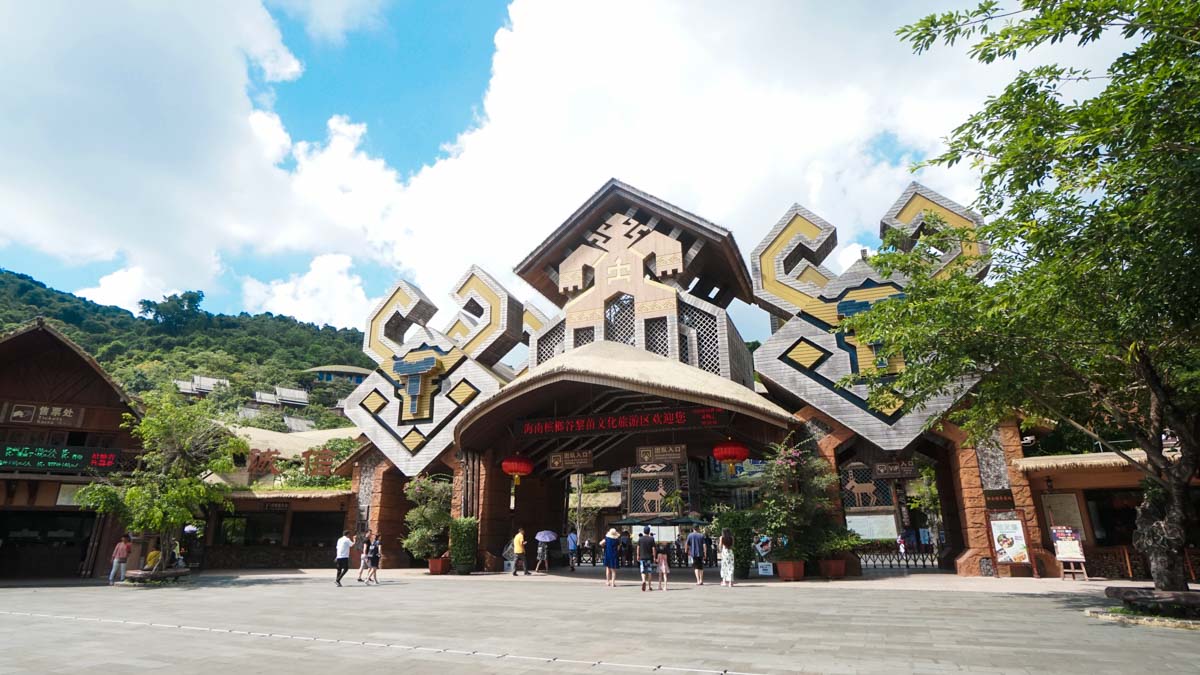 Have a glimpse at the lives of local ethnic Li and Miao minority villagers at Binglanggu. The area spans over 600 football fields, so be sure to set aside an entire afternoon to see everything! There are tons of museums focusing on each aspect of the culture, restaurants, samples of Shanlan rice wine, live performances, and even a zip line for 35RMB (~S$7.30).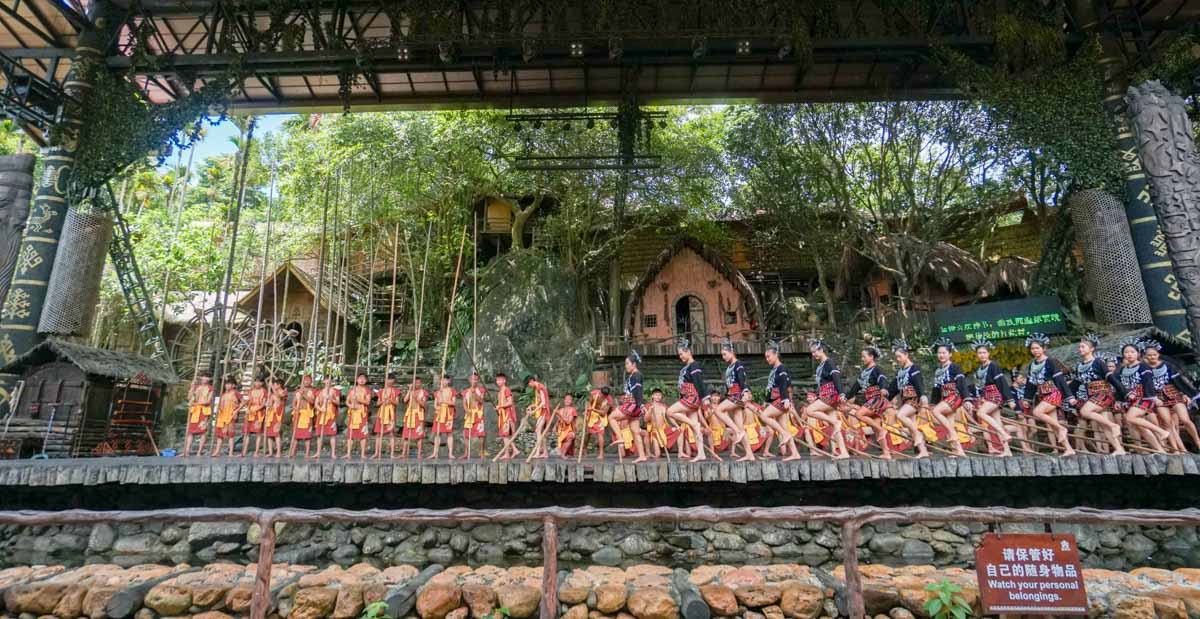 The hour-long live cultural show runs every 2 hours from 10AM – 4PM which sets the ethnic Li culture in motion, where you get to see how the traditional bamboo pole dances are performed during auspicious occasions, or learn about the custom of pinching a partner's ears as a show of love (ouch!).
At one point there were even hoards of goats and geese on stage which was confusing, but amusingly entertaining.
Entrance Fee: 120RMB (~S$25)
Opening Hours: 8AM – 5:30PM
Address: 224 National Rd, Baoting Lizumiaozuzizhixian, Hainan Sheng, China (海南省保亭黎族苗族自治县224国道)
Yanoda Rainforest Cultural Tourism Zone (呀诺达雨林文化旅游区)

The entrance fee to Yanoda Rainforest includes a hop-on-hop-off shuttle bus ticket when you're within the complex, and a GPS-enabled audio guide.
The forest is split into two valleys — the Dream and Rainforest Valley. In the former you get to cross treetop bridges and explore multiple waterfalls with activities like stream trekking (100RMB, ~S$20.80), whereas in the latter you get to do a zipline (100RMB, ~S$20.80) or play real-life counter strike (80RMB, ~S$16.70) in the forest!
Entrance Fee: 160RMB (~S$33.30)
Opening Hours: 7.30AM – 6PM
Address: Yanoda Rain Forest, Baoting, Hainan China (呀诺达雨林, 海南省三亚市保亭黎族苗族自治县三道镇三道农场)
Nanshan Culture Tourism Zone (南山文化旅游区)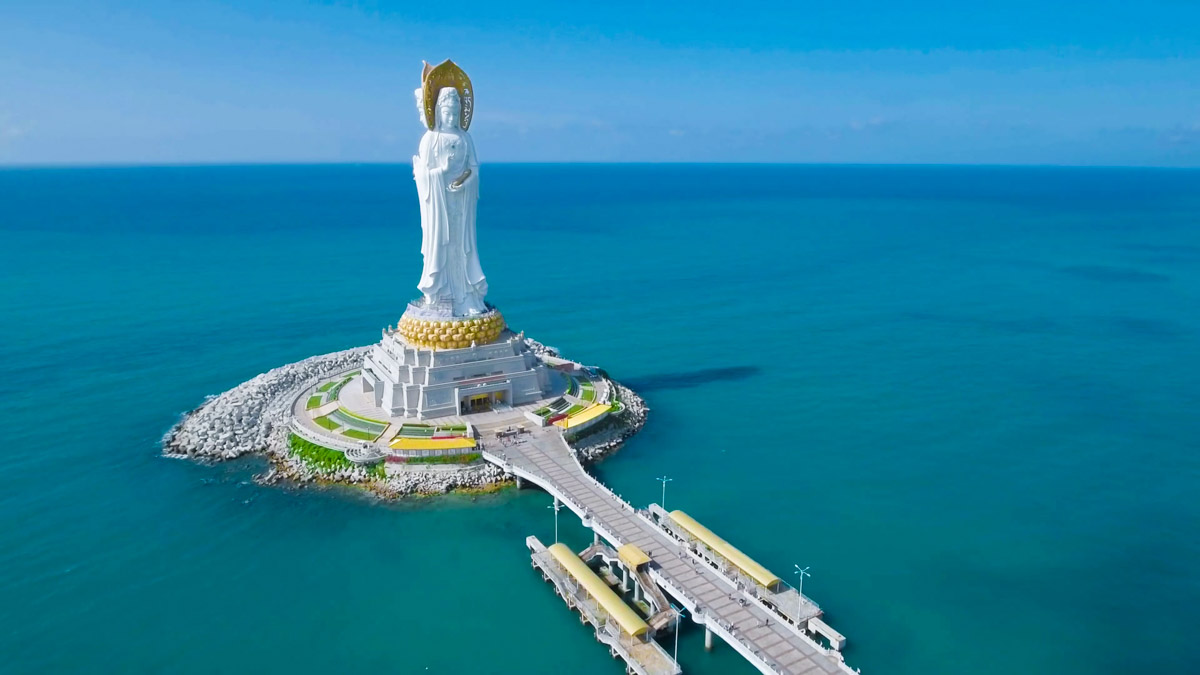 An area heavily influenced by buddhism, it's hard to miss the 108m-tall statue of Guan Yin in the Nanshan Cultural Tourism Zone, among other sights like the Tang Dynasty-inspired Nanshan Temple.
For RMB30 (~S$6.25) you can also opt to sightsee on a shuttle bus.
Entrance Fee: 145RMB (~S$30.20)
Opening Hours: 8AM – 6PM
Address: Nanshan Cultural Tourism Zone, Yazhou Qu, Sanya Shi, Hainan (南山文化旅游区, 三亚市崖州区)
Diaoluo Mountain National Forest Park (吊罗山国家森林公园)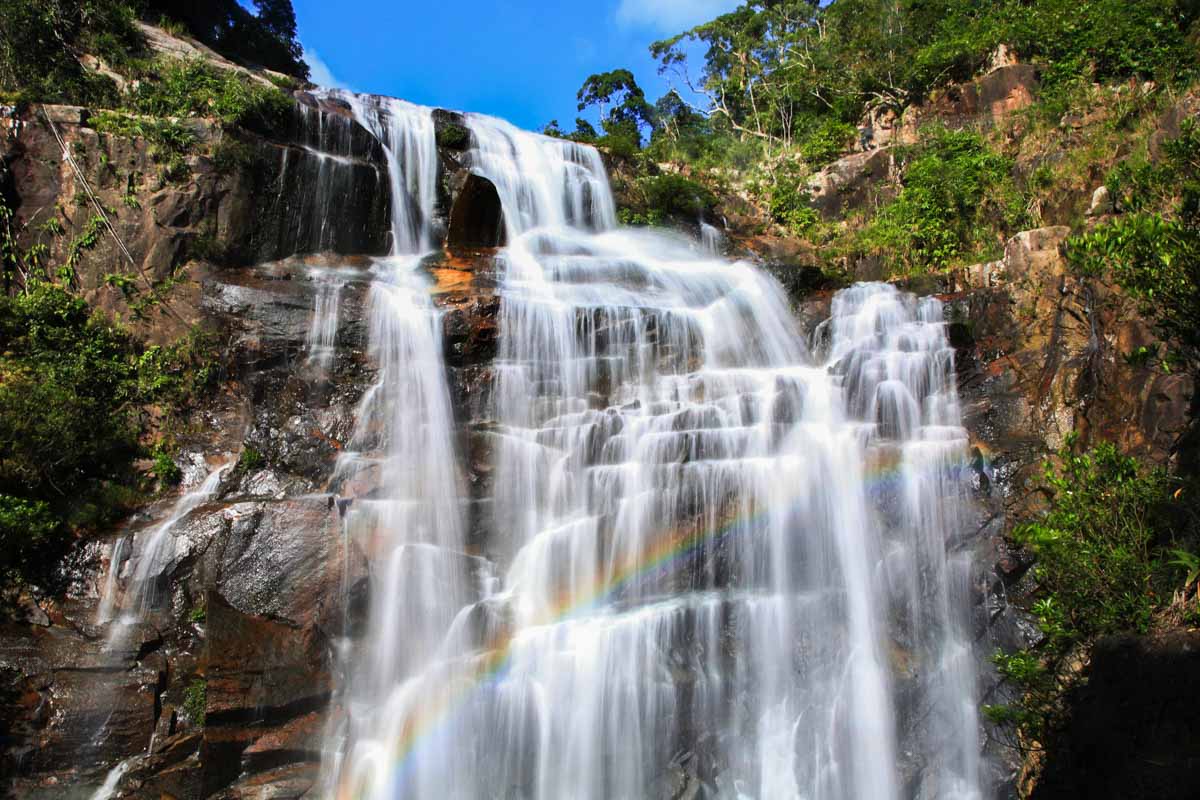 Diaoluo Mountain National Forest Park is home to a rainforest rich with lush greenery, tranquil lakes and breathtaking waterfalls, like the Fengguo Waterfall, also known as the Maple Hill Waterfall (pictured above).
It's a relatively rural area, so prepare walking shoes for an easier hike! You're also required to present your passport when buying your entrance ticket.
Entrance Fee: 40RMB (~S$8.30)
Opening Hours: 8AM – 6PM
Address: Diao Luo Shan, Lingshui, Hainan (吊罗山, 海南省陵水黎族自治县)
Conclusion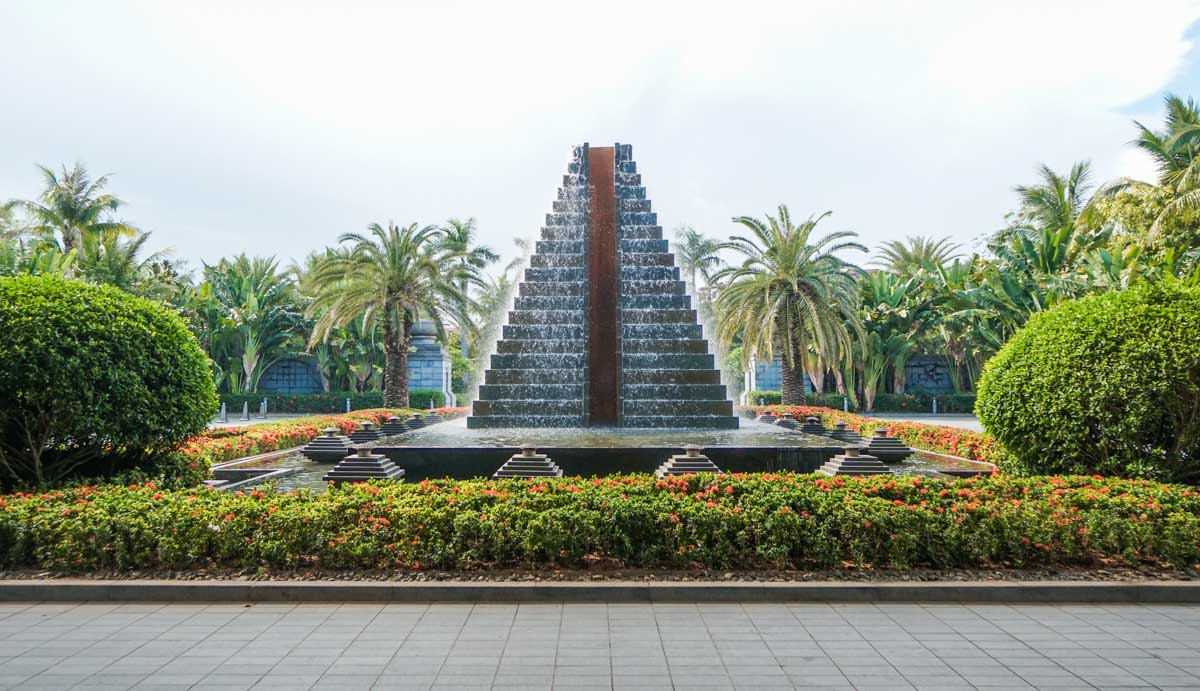 Raffles Hainan is as leisurely as it can get, but still luxurious through and through. The vibes here are a stark contrast from the opulent Raffles Singapore, but that's exactly what we love about it. The warm, carefree atmosphere is what makes this unique retreat go against the grain of conventional high-end establishments — and at a service quality expected of a 5-star hotel.
Its large complex is also neatly compartmentalised for specific needs, making it ideal for weddings, conferences, functions, family vacations and honeymoons — all at the same time. You can literally remain inside for your entire vacation without missing out on the resort-like experience Hainan Island is popular for. Best of all, rooms are really affordable during off-peak periods (Apr–Jul), starting from ~S$145 a night.
BOOK A NIGHT AT RAFFLES HAINAN
---
This post was brought to you by Accor Hotels and Scoot as part of a media familiarisation trip.
For more travel inspiration, follow us on Facebook, Instagram, and YouTube.